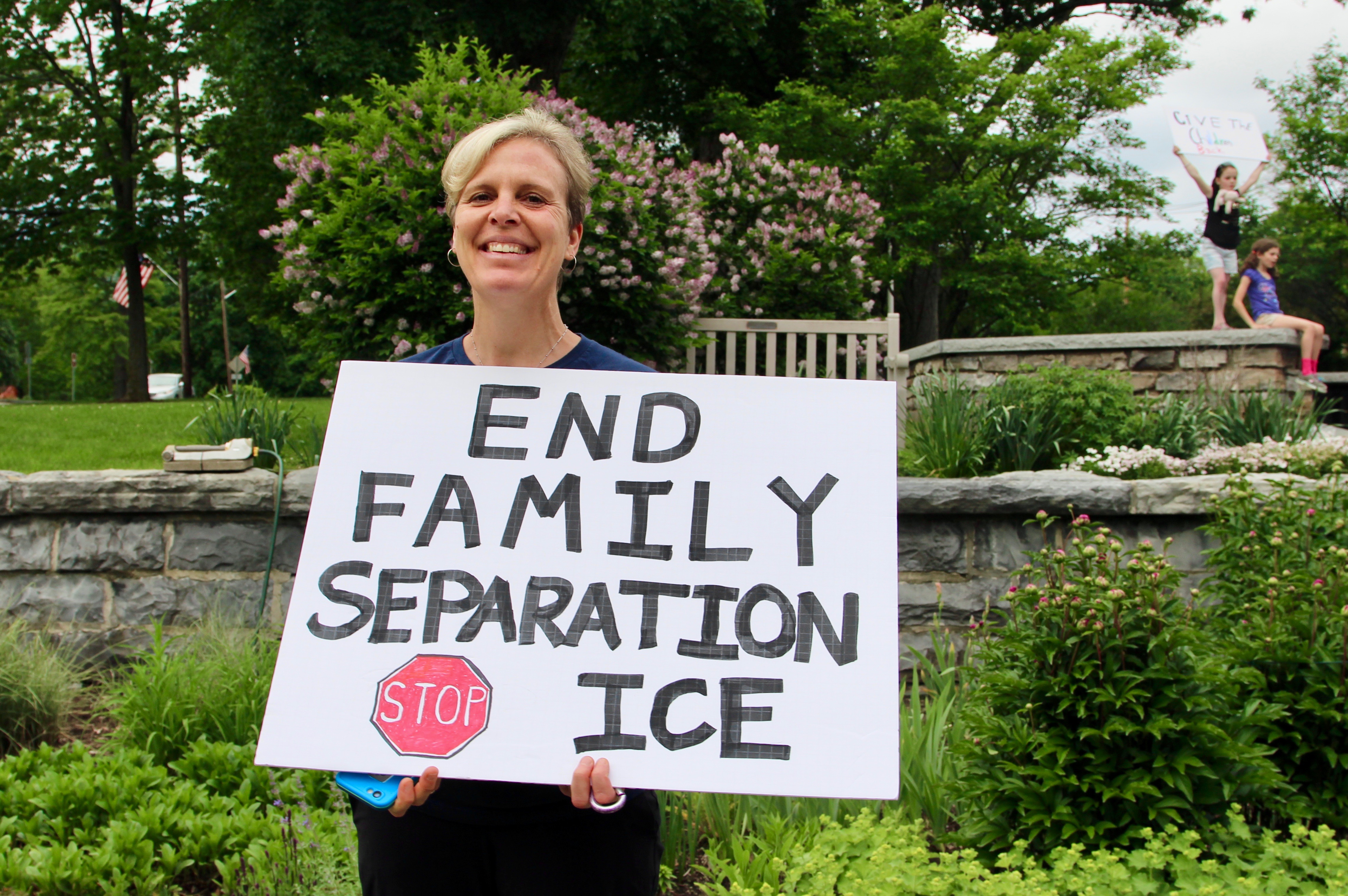 Greylock Together Rally to End Family Separation, Field Park, Thursday, 31 May 2018
Keeping Track (of some things), Staying Outraged (it is possible), and Resisting (it's essential)
Passages in bold in the body of the texts below are my emphasis. This is an ongoing project, and I update the site frequently. Because I try to stay focused on what has actually happened, I usually let the news 'settle' a day or so before posting. I hope readers will peruse the articles in full for a better understanding of the issues and their context; our democracy and our future depend on citizens who can distinguish between facts and falsehoods and who are engaged in the political process.
Friday, 1 June 2018, Day 498:
Trump Announces Summit Meeting with North Korea's Leader Kim Jong-un Is Back On, The New York Times, Peter Baker, Friday, 1 June 2018: "President Trump will fly to Singapore this month after all for a landmark summit meeting with North Korea's leader, Kim Jong-un, but he now anticipates a more drawn-out negotiation than once envisioned and indicated that he will stop increasing pressure on the regime while talks proceed. Eight days after abruptly canceling the June 12 meeting citing North Korea's 'open hostility,' Mr. Trump just as abruptly announced on Friday that it was back on, the latest head-spinning twist in a diplomatic drama that has captivated and confused much of the world. After complaining of North Korean bad faith, he said, in effect, never mind." See also, Trump reinstates summit with North Korea's leader Kim Jong Un for June 12 in Singapore, The Washington Post, David Nakamura, Friday, 1 June 2018. See also, The North Korea Summit Is Back On–But Don't Expect Miracles, The New Yorker, Robin Wright, Friday, 1 June 2018: "Trump appears to have finally recognized that the art of diplomacy is more complex, more nuanced, and potentially takes much longer than the art of the business deal. As he has been hinting over the past week, the President acknowledged on Friday that Singapore will be only 'a beginning' after decades of hostility."
The United States Vetoes a U. N. Resolution to Protect Palestinians and Condemn Israel, The New York Times, Rick Gladstone, Friday, 1 June 2018: "A bitter divide over who is to blame for scores of Palestinian deaths from Israeli fire at protests near Gaza's border shifted Friday to the United Nations, where the United States vetoed a measure backed by Arab countries to protect Palestinians and condemn Israel. Nikki R. Haley, the American ambassador to the United Nations, described the measure, a United Nations Security Council resolution drafted by Kuwait, as one-sided. She accused the measure's authors of inexplicably absolving Hamas, the militant group that controls Gaza and organized the protests. The United States, a permanent Security Council member with veto power, was the sole no vote on the measure, which was enough to defeat it. Ten members voted in favor and four abstained. A separate American resolution proposed by Ms. Haley, which would have condemned Hamas for the Gaza violence, failed to gain any support from fellow Council members…. Kuwait's draft resolution condemned the use of 'excessive, disproportionate and indiscriminate force by the Israeli forces against Palestinian civilians' and demanded a halt to such actions."
Fred Fleitz, John Bolton's Deputy, Draws Ire of Jewish and Muslim Groups, The Wall Street Journal, Dion Nissenbaum, Friday, 1 June 2018: "Jewish and Muslim groups are objecting to the appointment of a former Central Intelligence Agency analyst to a top White House post because of his controversial views of Islam. The Anti-Defamation League, Council on American-Islamic Relations and other groups said Fred Fleitz shouldn't serve as chief of staff to national security adviser John Bolton because he has advanced what they call Islamophobic views. As a conservative analyst, Mr. Fleitz has called for the U.S. to formally declare war on a broadly defined Global Jihad Movement; suggested that most mosques in America are incubators for subversion or violence; and denounced some interfaith dialogue efforts in America as a move by "stealth jihadists" to undermine the country's democratic values. Mr. Bolton's decision to bring Mr. Fleitz into the key White House role suggests that the new national security adviser might be moving back toward a more confrontational approach to Islam such as that favored by President Donald Trump's first national security adviser, Mike Flynn, critics said. 'The appointment of Fred Fleitz speaks volumes about the administration's prioritization of fearmongering and racism over actual national security issues,' said Scott Simpson, public advocacy director for Muslim Advocates, a Washington-based group."
Continue reading Week 72, Friday, 1 June – Thursday, 7 June 2018 (Days 498-504)
New data from the Puerto Rico Department of Health shows deaths increased by 1,400 after Hurricane Maria as compared with the same time the previous year, The Washington Post, Arelis R. Hernández, Friday, 1 June 2018: "The Puerto Rico Department of Health released data late Friday that shows there were at least 1,400 additional deaths on the island in the months after Hurricane Maria as compared with the same time the previous year. It was the first time in months that the territorial government has released mortality data, and the numbers indicate that the death toll from the hurricane was far greater than the official tally of 64. The data additionally show that deaths were far higher in September and October of 2017 than in the prior two years."
European Union opens a case at the World Trade Organisation against Trump's steel and aluminum tariffs, The Guardian, Jennifer Rankin, Friday, 1 June 2018: "The European Union is pressing ahead with countermeasures in response to what it said was Donald Trump's 'pure protectionist' and 'illegal' decision to impose trade tariffs on steel and aluminium. The EU has opened a case at the World Trade Organisation after the US imposed a 25% duty on European steel and a 10% duty on European aluminium on Friday morning." See also, Trump's New Tariffs Are Causing America's Closest Friends to View Him as a Hostile Threat, The New Yorker, John Cassidy, Friday, 1 June 2018: "Ever since Trump's election, many Canadians and Europeans have regarded him as a blundering ignoramus. Increasingly, they are now seeing him as a hostile threat."
U.S. in Early Talks for Potential Summit Between Trump and Putin, The Wall Street Journal, Brett Forrest and Peter Nicholas, Friday, 1 June 2018: "The White House is planning for a potential summit between President Donald Trump and President Vladimir Putin of Russia, according to people familiar with the efforts, a meeting that would bring to the international stage one of the world's most enigmatic political relationships. A senior administration official said Friday that Jon Huntsman, the U.S. ambassador to Russia, has been in Washington to help arrange a meeting between Messrs. Trump and Putin."
NAACP and special-education advocates sue Education Secretary Betsy DeVos over her department's handling of civil rights cases, The Washington Post, Moriah Balingit, Friday, 1 June 2018: "For the past several years, the Education Department has received thousands of civil rights complaints: victims of alleged sexual assaults saying their universities mishandled their cases, blind students encountering inaccessible textbooks, girls basketball teams seeking equal access to gymnasiums. In an effort to reduce a backlog of cases, the Education Department under Secretary Betsy DeVos began dismissing complaints that placed 'an unreasonable burden' on the department. And it dispensed with cases filed by the same person or group against multiple institutions — a tactic commonly used to show a pattern of violations. But three civil rights groups allege in a lawsuit that by doing so, the Education Department may be unlawfully dismissing complaints even if students or their families provide ample proof of discrimination. They say this closes a critical avenue for students — particularly those with disabilities — to defend their right to an education in classrooms and on college campuses. The NAACP, the National Federation of the Blind and the Council of Parent Attorneys and Advocates — which represents lawyers that advocate for students with disabilities — sued Thursday in federal court, saying the new procedures violate the law and are 'arbitrary and capricious.'"
Hate in the White House-May 2018, Southern Poverty Law Center, Friday, 1 June 2018: "The following is a timeline of instances of extremism in the Trump administration in May. President Trump has opened the White House doors to extremism, not only consulting with hate groups on policies that erode our country's civil rights protections but enabling the infiltration of extremist ideas into the administration's rhetoric and agenda. Once relegated to the fringes, the radical right now has a toehold in the White House."
President Trump has made 3,251 false or misleading claims in 497 days, The Washington Post, Glenn Kessler, Salvador Rizzo, and Meg Kelly, Friday, 1 June 2018: "In the 497 days since he took the oath of office, President Trump has made 3,251 false or misleading claims, according to The Fact Checker's database that analyzes, categorizes and tracks every suspect statement uttered by the president. That's an average of more than 6.5 claims a day. When we first started this project for the president's first 100 days, he averaged 4.9 claims a day. But the average number of claims per day keeps climbing as the president nears the 500-day mark of his presidency."
Trump tweeted about the May employment report more than an hour before the numbers were released, breaking protocol and jolting markets, Politico, Ben White, Friday, 1 June 2018: "President Donald Trump moved markets and busted norms on Friday morning with a tweet about the May employment report more than an hour before the numbers came out. The post appeared to skirt strict rules on government employees not commenting on the highly sensitive economic data until an hour after its public release at 8:30 a.m. Eastern time. Trump, who received the numbers Thursday night on Air Force One, did not include any of the jobs data in his tweet. But it appeared positive enough to suggest to Wall Street that a good number was coming Friday morning. 'Looking forward to seeing the employment numbers at 8:30 this morning,' the president tweeted at 7:21 a.m…. Former Obama administration officials pounced on Trump's tweet even before the public got to see the numbers, saying it violated rules banning federal employees with access to the jobs data from saying anything at all about it until 9:30 a.m. Eastern time." See also, Trump Touts Jobs Report Before Official Release, Breaking Protocol, The New York Times, Jim Tankersley and Matt Philips, Friday, 1 June 2018.
Steve Hart, the Lobbyist Whose Wife Rented a $50-a-Night Condo to Scott Pruitt, Failed to Disclose Environmental Protection Agency Lobbying, The New York Times, Eric Lipton, Friday, 1 June 2018: "The lobbyist whose wife rented a $50-a-night condo to Scott Pruitt, the head of the Environmental Protection Agency, has revised his disclosure reports after his firm concluded he had not properly disclosed additional efforts to influence Mr. Pruitt and the agency — including appeals when Mr. Pruitt was living in the condo. The lobbying firm, Williams & Jensen, has refiled lobbying disclosure reports from 2017 to acknowledge that Steve Hart, the firm's former chairman, lobbied the E.P.A. on behalf of Coca-Cola and a government board from Puerto Rico helping the island address its fiscal debts. Lobbyists are legally required to disclose which agencies they target and the topic of their lobbying work. The revisions come after an outside review of the activities of Mr. Hart, whose wife, Vicki Hart, rented the condo to Mr. Pruitt. The E.P.A. chief lived in the unit from shortly after his confirmation in February 2017 until August 2017."
Ivanka Trump, Samantha Bee, and the Strange Path of an Ancient Epithet, The New Yorker, Katy Waldman, Friday, 1 June 2018: "Last Sunday, Ivanka Trump, an adviser to the President, posted on Instagram an image of herself cuddling her young son, even as reports of families torn apart by the Trump Administration's immigration policies flew around the Internet. On Wednesday night, as outrage continued to crest, the comedian Samantha Bee censured the President's daughter on her TBS show, 'Full Frontal.' 'You know, Ivanka, that's a beautiful photo of you and your child,' Bee said, 'but let me just say, one mother to another: do something about your dad's immigration practices, you feckless cunt!'… It is [Ivanka's] complicity in her father's agenda, most recently in policies that actively traumatize immigrant parents and children, that is obscene—far more than any four-letter word." See also, Trump says Samantha Bee has 'no talent' and asks why she hasn't been fired, The Washington Post, John Wagner, Friday, 1 June 2018: "President Trump on Friday lashed out at Samantha Bee, asking why the comedian who used a vulgar term to describe his daughter had not been fired and saying she has 'no talent' and low ratings. 'Why aren't they firing no talent Samantha Bee for the horrible language used on her low ratings show?' the president wrote on Twitter. Trump also called Bee's continued employment by TBS 'a total double standard,' an apparent reference to ABC's decision to cancel Roseanne Barr's show this week following a racist tweet. Barr is an outspoken Trump supporter."
Saturday, 2 June 2018, Day 499:
In a Confidential Memo to Special Counsel Robert Mueller, Trump's Lawyers Made Sweeping Claims of Executive Power to Head Off a Historic Subpoena, The New York Times, Michael S. Schmidt, Maggie Haberman, Charlie Savage, and Matt Apuzzo, Saturday, 2 June 2018: "President Trump's lawyers have for months quietly waged a campaign to keep the special counsel from trying to force him to answer questions in the investigation into whether he obstructed justice, asserting that he cannot be compelled to testify and arguing in a confidential letter that he could not possibly have committed obstruction because he has unfettered authority over all federal investigations. In a brash assertion of presidential power, the 20-page letter — sent to the special counsel, Robert S. Mueller III, and obtained by The New York Times — contends that the president cannot illegally obstruct any aspect of the investigation into Russia's election meddling because the Constitution empowers him to, 'if he wished, terminate the inquiry, or even exercise his power to pardon.' Mr. Trump's lawyers fear that if he answers questions, either voluntarily or in front of a grand jury, he risks exposing himself to accusations of lying to investigators, a potential crime or impeachable offense. Mr. Trump's broad interpretation of executive authority is novel and is likely to be tested if a court battle ensues over whether he could be ordered to answer questions. It is unclear how that fight, should the case reach that point, would play out. A spokesman for Mr. Mueller declined to comment…. The lawyers acknowledged that Mr. Trump dictated a statement to The Times about the 2016 Trump Tower meeting between some of his top advisers and Russians who were said to have damaging information about Hillary Clinton. Though the statement is misleading — in it, the president's eldest son, Donald Trump Jr., said he met with Russians 'primarily' to discuss adoption issues — the lawyers call it 'short but accurate.'" See also, The Trump Lawyers' Confidential Memo Sent to Special Counsel Robert Mueller on 29 January 2018, Explained, The New York Times, Saturday, 2 June 2018: "The Times obtained copies of a confidential letter sent by President Trump's lawyers to the special counsel, Robert S. Mueller III. Reporters added context in annotations." See also, In secret memo, Trump's lawyers argued he has complete power over Justice Department investigations and could not have committed obstruction of justice, The Washington Post, Rosalind S. Helderman, Saturday, 2 June 2018. See also, A president can't obstruct justice? That's not quite right, legal scholars say. The Washington Post, Matt Zapotosky, published on Sunday, 3 June 2018: "The assertion by President Trump's lawyers that he cannot obstruct justice because he has absolute authority over all federal investigations is legally problematic, analysts say, because it would essentially mean the nation's commander in chief is above the law. But the president's powers are expansive, and many questions remain about how Trump's office could protect him from the special counsel investigation examining whether his campaign coordinated with Russia to interfere with the 2016 presidential election." See also, Can Trump Obstruct Justice? The New York Review of Books, Mark Greenberg, published on Thursday, 4 January 2018: "Can a president commit obstruction of justice by terminating a criminal investigation? This question has become critical to the future of the Trump presidency. In general, a person commits obstruction of justice if that person tries to impede an investigation, and does so with a corrupt purpose, such as to protect him- or herself from criminal liability or to reap financial gain. Special Counsel Robert Mueller is widely believed to be building a case that President Trump committed obstruction of justice by trying to shut down the FBI investigation of former national security adviser Michael Flynn. Such a claim of obstruction of justice would likely be central in any impeachment proceeding. When considering whether it is possible for the president to commit obstruction of justice by terminating an investigation, legal experts feel the pull of two conflicting ideas. On the one hand, it seems clear that a president who orders subordinates to lie to the FBI, destroys evidence, or bribes witnesses has committed obstruction of justice. This idea leads to the straightforward view that if the president acts with the corrupt purpose required for obstruction of justice, he can be guilty of that crime just as anyone else can. This republican view of presidential powers is probably the one held by most experts. On the other hand, one may think that surely the president must be special by virtue of the Constitution's broad grant of executive power. The executive branch would be unduly hampered if there were constant scrutiny of the president's motives in exercising his authority. But an embrace of this idea without qualification leads to a royalist view of presidential powers. The president's personal lawyer, John Dowd, has recently defended the royalist view, maintaining that the president, as chief law enforcement officer of the United States, cannot commit obstruction of justice. This position would have the implausible consequence, among others, that President Nixon's actions did not constitute obstruction of justice. The notion that it is legally impossible for the president to obstruct justice is untenable in a democracy, and most commentators have roundly dismissed Dowd's royalist view. Several others—including two former Justice Department officials, David B. Rivkin Jr. and Lee A. Casey, writing in The Wall Street Journal, but most notably Harvard Law professor emeritus Alan Dershowitz—have advocated a more nuanced position that seems to reconcile the two conflicting ideas, what I call the protected act view…. The protected act view suffers from two fundamental flaws." See also, Trump's lawyers say he's above the law. They clearly don't understand it. The Washington Post, Barry Berke, Noah Bookbinder, and Norman Eisen, published on Monday, 4 June 2018.
A Courtside View of Scott Pruitt's Cozy Relationship With Joseph W. Craft III, a Billionaire Coal Baron, The New York Times, Steve Eder, Hiroko Tabuchi, and Eric Lipton, Saturday, 2 June 2018: "It was one of the biggest games of the University of Kentucky basketball season, and Scott Pruitt had scored two of the best seats in the arena: a few feet from the action, in a section reserved for season-ticket holders who had donated at least $1 million to the university. The special access for Mr. Pruitt, the administrator of the Environmental Protection Agency, also included watching from the players' entrance as the team streamed onto the court, and posing for a photo with a star player in the locker room area. But there was more to the game last December than a superfan experience for Mr. Pruitt and his son, who joined him. They sat in seats belonging to Joseph W. Craft III, a billionaire coal executive who has engaged in an aggressive campaign to reverse the Obama administration's environmental crackdown on the coal industry. Mr. Craft and his wife donated more than $2 million to support President Trump's candidacy and inauguration. Mr. Pruitt's attendance at the game, the details of which have not been previously reported, followed a year of regulatory victories for Mr. Craft, who maintains close ties to Mr. Pruitt even as he has lobbied the E.P.A. on issues important to his company, Alliance Resource Partners. And unlike other executives with whom Mr. Pruitt is known to have close ties — like the oilman Harold Hamm or the coal mogul Robert E. Murray — Mr. Craft has stayed relatively under the radar."
Sunday, 3 June 2018, Day 500:
Giuliani says Trump probably has the constitutional power to pardon himself, but he adds that it is 'unthinkable' that Trump would use that power, The Washington Post, Ashley Parker and Joel Achenbach, Sunday, 3 June 2018: "President Trump's attorney Rudolph W. Giuliani publicly pressed Trump's expansive view of executive power this weekend, arguing on two Sunday TV shows that the president probably has the sweeping constitutional authority to pardon even himself. 'He probably does,' Giuliani said, when asked on ABC's 'This Week' if Trump has the ability to pardon himself. 'He has no intention of pardoning himself, but he probably — not to say he can't.'… But while arguing that the president has the theoretical ability to pardon himself, Giuliani and other Trump allies on Sunday nonetheless rejected the reality of such a brash move — in part because of the political backlash they said could lead to Trump's impeachment." See also, Giuliani says Trump Could Have Shot James Comey and Still Couldn't Be Indicted for It, HuffPost, S.V. Date, Sunday, 3 June 2018. See also, Can Trump Pardon Himself? Explaining Presidential Clemency Powers. The New York Times, Charlie Savage, published on Friday, 21 July 2018.
Fewer Immigrants Are Reporting Domestic Abuse. Police Blame Fear of Deportation. The New York Times, Cora Engelbrecht, Sunday, 3 June 2018: "Though Houston's immigrant population is one of the fastest-growing in the country, the city last year saw a 16 percent drop in domestic violence reports from the Hispanic community — a decline that the police blame on a tough new immigration enforcement law in Texas and the increasingly hostile political climate across the country surrounding the issue of illegal immigration. The Houston police recorded 6,273 domestic violence reports from Hispanics in 2017, compared with 7,460 the year before. Police departments in several cities with large Hispanic populations, including Los Angeles, Denver and San Diego, also experienced a decline in reports of domestic violence and sexual assault in their Hispanic communities. In Houston, Latino domestic violence reports went down even as the city's Hispanic community, now 44 percent of the population, grew significantly."
When Guns Are Sold Illegally, the Bureau of Alcohol, Tobacco, Firearms, and Explosives Is Lenient on Punishment, The New York Times, Ali Watkins, Sunday, 3 June 2018: "As they inspect the nation's gun stores, federal investigators regularly find violations of the law, ranging from minor record-keeping errors to illegal sales of firearms. In the most serious cases, like a sale of a gun to a prohibited buyer, inspectors often recommend that gun dealers lose their licenses. But that rarely happens. Senior officials at the Bureau of Alcohol, Tobacco, Firearms and Explosives regularly overrule their own inspectors, allowing gun dealers who fail inspections to keep their licenses even after they were previously warned to follow the rules, according to interviews with more than half a dozen current and former law enforcement officials and a review of more than 100 inspection reports."
Monday, 4 June 2018, Day 501:
Trump Team Pushed False Story Line About 9 June 2016 Meeting With Kremlin-Tied Lawyer at Trump Tower, The New York Times, Matt Apuzzo, Monday, 4 June 2018: "For nearly a year, the denials from President Trump's lawyers and spokeswoman were unequivocal. No, the president did not dictate a misleading statement released in his son's name. 'He certainly didn't dictate,' said the White House press secretary, Sarah Huckabee Sanders. 'The president was not involved in the drafting of that statement,' his lawyer Jay Sekulow told NBC News. 'That was written by Donald Trump Jr., and I'm sure in consultation with his lawyer,' Mr. Sekulow told CNN. 'The president didn't sign off on anything,' he told ABC. But in a confidential, hand-delivered memo to the special counsel, Mr. Trump's lawyers acknowledged that, yes, Mr. Trump had dictated the statement, which attempted to deflect questions about a meeting with a Kremlin-tied lawyer at Trump Tower. Prosecutors are asking whether the statement was part of an effort by the president to obstruct a federal investigation. Even for a president whose false statements have been constantly cited by fact-checkers, this was a stark private acknowledgment of what was a repeated public falsehood. And it sums up the dilemma that Mr. Trump faces as he weighs whether to sit for an interview with the special counsel, Robert S. Mueller III. The misleading statement is but one aspect of Mr. Mueller's investigation. But it highlights a communication strategy that the White House has used repeatedly: deny facts, attack news outlets and dismiss journalism as 'fake news.'"
Special Counsel Robert Mueller accuses former Trump campaign chairman Paul Manafort of witness tampering, The Washington Post, Spencer S. Hsu, Rosalind S. Helderman, Matt Zapotosky, and Devlin Barrett, Monday, 4 June 2018: "Federal prosecutors accused former Trump presidential campaign chairman Paul Manafort of witness tampering late Monday in his criminal case and asked a federal judge to consider revoking or revising his release. Prosecutors accused Manafort and a longtime associate they linked to Russian intelligence of repeatedly contacting two members of a public relations firm and asking them to falsely testify about secret lobbying they did at Manafort's behest. The firm of former senior European officials, informally called the 'Hapsburg group,' was secretly retained in 2012 by Manafort to advocate for Ukraine, where Manafort had clients, prosecutors charged. In court documents, prosecutors with special counsel Robert S. Mueller III allege that Manafort and his associate — referred to only as Person A — tried to contact the two witnesses by phone and through encrypted messaging apps. The description of Person A matches his longtime business colleague in Ukraine, Konstantin Kilimnik."
Trump Says That He Has the Power to Pardon Himself and That the Appointment of the Special Counsel Is 'Totally Unconstitutional,' The New York Times, Michael D. Shear, Monday, 4 June 2018: "President Trump declared on Monday that the appointment of the special counsel in the Russia investigation was 'totally UNCONSTITUTIONAL!' and asserted that he had the power to pardon himself, raising the prospect that he might take extraordinary action to immunize himself from the continuing inquiry. In a pair of early-morning tweets, Mr. Trump suggested that he would not have to pardon himself because he had 'done nothing wrong.' But he insisted that 'numerous legal scholars' had concluded that he had the absolute right to do so, a claim that vastly overstated the legal thinking on the issue. In fact, many constitutional experts dispute Mr. Trump's position on his pardon power, an issue for which there has been no definitive ruling." See also, Trump and His Lawyers Embrace a Vision of Vast Executive Power, The New York Times, Charlie Savage, Monday, 4 June 2018: "President Trump, ramping up his assertions of extraordinary powers, declared in a tweet on Monday that he had 'the absolute right' to pardon himself for any crime. While no president has ever attempted to pardon himself, and it is not clear whether Mr. Trump could legitimately take such a step, the president's claim was the latest in an aggressive series of moves to assert his control over federal law enforcement. Last month, Mr. Trump crossed a traditional line by ordering an investigation into the Russia investigators. And late last year he boasted he has 'an absolute right to do what I want to with the Justice Department.' The president has had help in shaping his expansive view of his authority: For at least a year, his lawyers in the investigation into whether he tried to obstruct the Russia inquiry have been advising the president that he wields sweeping constitutional powers to impede investigations no matter his motive — and despite obstruction-of-justice laws that everyone else must obey." See also, 'A tremendous abuse': Some Senate Republicans warn Trump not to pardon himself, The Washington Post, Seung Min Kim, Monday, 4 June 2018: "Senate Republicans on Monday warned President Trump, with varying degrees of alarm, against entertaining the prospect of pardoning himself of any federal crime — once again forcing members of his own party into an uncomfortable position as the president openly pondered another controversial move in connection with special counsel Robert S. Mueller III's investigation." Trump Says He Can Pardon Himself. Nixon Was Told He Couldn't. Bloomberg, Chris Strohm and Shannon Pettypiece, Monday, 4 June 2018: "President Donald Trump is asserting a power to pardon himself that not even Richard Nixon tried to claim before resigning the presidency in 1974, and that the Justice Department has said isn't constitutional. In a legal opinion issued just four days before Nixon stepped down, the Justice Department's Office of Legal Counsel concluded that a president can't pardon himself. The opinion was written in response to concerns that he might try to do so. 'Under the fundamental rule that no one may be a judge in his own case, the president cannot pardon himself,' wrote Mary Lawton, who was then acting assistant attorney general. White House spokeswoman Sarah Sanders told reporters on Monday that the White House hasn't asked for an updated or new legal opinion on the matter."
In Narrow Decision, Supreme Court Sides With Baker Who Turned Away Gay Couple, The New York Times, Adam Liptak, Monday, 4 June 2018: "The Supreme Court on Monday ruled in favor of a Colorado baker who had refused to create a wedding cake for a gay couple. The court's decision was narrow, and it left open the larger question of whether a business can discriminate against gay men and lesbians based on rights protected by the First Amendment. The court passed on an opportunity to either bolster the right to same-sex marriage or explain how far the government can go in regulating businesses run on religious principles. Instead, Justice Anthony M. Kennedy's majority opinion turned on the argument that the Colorado Civil Rights Commission, which originally ruled against the baker, had been shown to be hostile to religion because of the remarks of one of its members. 'The outcome of cases like this in other circumstances must await further elaboration in the courts,' he wrote, 'all in the context of recognizing that these disputes must be resolved with tolerance, without undue disrespect to sincere religious beliefs, and without subjecting gay persons to indignities when they seek goods and services in an open market.' Justice Kennedy often casts the deciding vote in closely divided cases on major social issues. When the court agreed to hear the Colorado case last June, it seemed to present him with a stark choice between two of his core commitments. On the one hand, Justice Kennedy has written every major Supreme Court decision protecting gay men and lesbians. On the other, he is the court's most ardent defender of free speech. On Monday, Justice Kennedy chose a third path, one that seemed to apply only to the case before the court." See also, Supreme Court rules in favor of baker who would not make wedding cake for gay couple, The Washington Post, Robert Barnes, Monday, 4 June 2018: "The Supreme Court on Monday ruled for a Colorado baker who refused to create a wedding cake for a same-sex couple, but it left undecided whether a business owner's religious beliefs or free speech rights can justify refusing some services to gay people." See also, I represented the wedding cake couple. We lost a battle, but we won the war. The Washington Post, David Cole, Monday, 4 June 2018: "In law, as in less civil arenas of conflict, you can lose a battle but win the war. That's what happened in Masterpiece Cakeshop v. Colorado Civil Rights Commission, the case pitting a Christian baker against a gay couple who sought to buy a wedding cake on the same terms as any other customers. The ACLU represented the gay couple; I argued their case in the Supreme Court. The court ruled Monday in favor of the baker, but on the exceedingly narrow ground that the state civil rights commission's consideration was biased by hostility toward religion. Importantly, the court declined to adopt the baker's principal argument — and the only argument made by the Trump administration — that 'expressive' businesses that object to gay and lesbian weddings have a First Amendment right to discriminate. On the contrary, the court reaffirmed our main point: that there is no general First Amendment exception to laws protecting LGBT customers from discrimination."
Supreme Court throws out lower-court decision that allowed an undocumented immigrant teenager to obtain an abortion, The Washington Post, Robert Barnes and Ann E. Marimow, Monday, 4 June 2018: "The Supreme Court on Monday dismissed a lower court's decision that allowed an undocumented immigrant teenager to obtain an abortion over the protests of the Trump administration. The action, which came in an unsigned opinion without noted dissents, wipes out the lower court's ruling as precedent. But attorneys for the teen said it does not immediately affect a court order in place that temporarily allows undocumented girls in federal custody to get abortions as a broader challenge to administration policy makes its way through the courts." See also, Supreme Court Rejects Bid to Discipline the A.C.L.U., The New York Times, Adam Liptak, Monday, 4 June 2018: "The Supreme Court on Monday turned away a request from the Justice Department to discipline lawyers with the American Civil Liberties Union for assisting an undocumented teenager to obtain an abortion. In an unsigned opinion with no noted dissents, the court vacated an appeals court ruling that had allowed the teenager to obtain the procedure, saying the dispute was moot. That wiped out the appeals court's ruling as precedent. The case attracted wide attention after the Justice Department, in an unusual Supreme Court filing in November, accused the A.C.L.U. of serious professional misconduct in the case of the teenager, who was known as Jane Doe. She obtained an abortion in October over the government's objection after an appeals court allowed it. The government said the civil liberties group had misled it about the timing of the abortion, frustrating its ability to seek a stay from the Supreme Court. The group denied the accusations and said it had acted properly and diligently."
Trump disinvites Philadelphia Eagles, Super Bowl Champs, from White House, Politico, Andrew Restuccia and Brent D. Griffiths, Monday, 4 June 2018: "Facing a widespread boycott, President Donald Trump on Monday night disinvited the Philadelphia Eagles from an event at the White House, blasting the Super Bowl champions for not agreeing with his policy of standing for the national anthem. It was a classic Trump move. Instead of risking an awkward moment in front of reporters and television cameras, Trump turned the tables, issuing a fiery statement that is certain to play well with his base and diminishes the chances of an embarrassment that would have dominated cable news. 'They disagree with their President because he insists that they proudly stand for the National Anthem, hand on heart, in honor of the great men and women of our military and the people of our country,' Trump said in a statement released by the White House press office…. Trump has repeatedly attacked players who choose to kneel or protest during the national anthem as unpatriotic, and applauded the decision by the NFL to fine teams for the upcoming season if any of their players refuse to stand during the anthem. Players can stay in the locker room, but if they are on the field they must stand. The NFL Players Association said the league did not consult the organization before implementing the policy." See also, When it comes to football, race, and protest, it's either Trump's way or the highway, The Washington Post, Eugene Scott, published on Tuesday, 5 June 2018: "President Trump rescinding the invitation to the entire Super Bowl-winning Philadelphia Eagles suggests that in Trump's America, the president will accept nothing short of full agreement with his worldview. When Trump discovered that most Eagles players would not attend the ceremony, he disinvited the entire team less than 24 hours before they were expected to arrive."
Police are called when Oregon Senator Jeff Merkley tried to see unaccompanied immigrant children at a detention center in Brownsville, Texas, The Washington Post, James Hohmann, Monday, 4 June 2018: "As the sun set Sunday night, Sen. Jeff Merkley (D-Ore.) went to a shuttered Walmart in Brownsville, Texas, that has been converted into a detention center for immigrant children who have been separated from their parents. He asked for a tour. Instead, the government contractor that runs the converted store called the cops. An officer filled out a police report, and the senator was asked to leave. The half-hour incident at a strip mall near the southern border with Mexico underscores the lack of transparency from President Trump's administration about its intensifying efforts to break up undocumented families caught crossing the border, the centerpiece of a 'zero tolerance' policy announced by Attorney General Jeff Sessions last month to deter illegal immigration. 'The administration calls this "zero tolerance." … It is really a "zero humanity" policy,' Merkley said in a telephone interview on Monday. 'It does damage to the children, to the parents and to the soul of America.' The senator said he tried to go through proper channels to arrange a site visit but was rebuffed. Merkley said he's also sought to figure out just how many kids are being held at the old Walmart, where the parking lot is packed with employee cars, but he still cannot get a straight answer. He sees the new policy as a moral stain on America, and he's determined not to let it slip from public consciousness. That's why he staged a public confrontation. A staffer live-streamed the whole thing on Facebook."
A senior aide to Environmental Protection Agency Administrator Scott Pruitt worked unpaid to find him housing, to book his personal travel to the Rose Bowl, and to procure him a used mattress from the Trump International Hotel, The Washington Post, Juliet Eilperin, Josh Dawsey, and Brady Dennis, Monday, 4 June 2018: "In mid-September [2017], the Environmental Protection Agency chief's director of scheduling and advance contacted the Trump International Hotel in Washington with an unusual request. Millan Hupp wanted to know how much the hotel would charge EPA Administrator Scott Pruitt for purchasing one of its used mattresses. Hupp's search for a discount 'Trump Home Luxury Plush Euro Pillow Top' mattress, which she detailed in a recent interview with congressional investigators, was one of several unusual tasks she performed for the administrator. The senior aide also scouted apartments for her boss in some of the District's hippest neighborhoods and helped arrange his family vacation to California over the New Year's holiday so that the Pruitts could watch the Oklahoma Sooners play in the Rose Bowl." See also, Aide Sought a New Apartment and an 'Old Mattress' From Trump Hotel for E.P.A. Administrator Scott Pruitt, The New York Times, Lisa Friedman and Eric Lipton, Monday, 4 June 2018.
Conservative Koch Groups Plan Pro-Trade Blitz, as the Issue Splits Republicans, The New York Times, Jim Tankersley, Monday, 4 June 2018: "The conservative Koch political network said on Monday that it would begin a multimillion-dollar advertising campaign to promote free trade, sharpening a disagreement with President Trump over tariffs and highlighting a growing rift between conservative donors and the Republican base on trade issues. The paid media campaign from three Koch-affiliated groups — Freedom Partners, Americans for Prosperity and the Libre Initiative — will promote the traditional free-market view of open trade as beneficial to all countries involved. The groups said the advertisements would draw on a set of trade principles in line with that philosophy, including calling on Mr. Trump to scrap tariffs that he has threatened and already put in place."
Germans Appalled by Threat From Trump's Ambassador Richard Grenell to Help Far-Right Nationalists Take Power Across Europe, The Intercept, Robert Mackey, Monday, 4 June 2018: "The German government demanded a formal explanation from the United States on Monday of what, exactly, the new U.S. ambassador in Berlin, Richard Grenell, meant when he promised to use his office to help far-right nationalists inspired by Donald Trump take power across Europe. In an interview with Breitbart News, published on Sunday, Grenell said he was 'excited' by the rise of far-right parties on the continent and wanted 'to empower other conservatives throughout Europe, other leaders.'"
Mick Mulvaney, Head of the Consumer Financial Protection Bureau, Is Required by Law to Meet With His Consumer Advisory Board. He's Refusing, Board Members Say. The Intercept, David Dayen, Monday, 4 June 2018: "The Leadership of the Consumer Financial Protection Bureau is required by law to hold in-person meetings with its consumer advisory board, yet according to more than a dozen of its members, they are refusing to do so. 'It appears the bureau does not want to engage with us,' said Ann Baddour of the consumer organization Texas Appleseed and chair of the current Consumer Advisory Board, or CAB, who joined a conference call Monday with other board members who have decided to speak publicly. 'Staying silent would violate our ethical responsibility to the bureau and the American people.' The CFPB, under Acting Director Mick Mulvaney, has canceled two in-person meetings with the CAB, as well as numerous conference calls. Contact has been limited to one phone call in March that was supposed to last one hour but ended after 20 minutes. The most recent cancellation was for a scheduled meeting this week; members only found out about it when they coordinated with CFPB to make travel arrangements."
Pentagon watchdog opens investigation into allegations against Ronny L. Jackson, The Washington Post, Paul Sonne, Monday, 4 June 2018: "The Pentagon's investigative watchdog has initiated a probe into Navy Rear Adm. Ronny L. Jackson, the White House military physician who withdrew from consideration as President Trump's nominee to lead the Department of Veterans Affairs amid allegations of improper conduct. The Defense Department Office of Inspector General, which investigates possible wrongdoing by the Pentagon and its staff, confirmed in a statement Monday that it recently initiated a probe into Jackson. A spokesman declined to go into detail about the scope or character of the probe."
March for Our Lives plans to barnstorm the country with voting drives this summer, The Washington Post, Lori Rozsa and Katie Zezima, Monday, 4 June 2018: "March for Our Lives, a youth movement started by students who survived a school shooting that killed 17 people [in Parkland, Florida], plans to fan out across the country this summer in a bus tour to register young people to vote. The tour is scheduled to start on June 15 in Chicago and has dozens of planned stops over 60 days, and activists plan to register young people to vote in states including California, Connecticut, Iowa, Missouri, South Carolina and Texas. A separate tour is scheduled to make 27 stops in Florida, one in each of the state's congressional districts."
Whose Heritage? Public Symbols of the Confederacy. Southern Poverty Law Center, Monday, 4 June 2018: "The Civil War ended 153 years ago. The Confederacy, as Mitch Landrieu said, was on the wrong side of humanity. Our public entities should no longer play a role in distorting history by honoring a secessionist government that waged war against the United States to preserve white supremacy and the enslavement of millions of people. It's past time for the South – and the rest of the nation – to bury the myth of the Lost Cause once and for all…. There are more than 1,700 symbols of the Confederacy in public spaces…. There are 100 public schools named after prominent Confederates…. There are nearly 800 Confederate monuments and statues on public property throughout the country, the vast majority in the South…. There were two major periods in which the dedication of Confederate monuments and other symbols spiked–the first two decades of the 20th century and during the civil rights movement…. The Confederate flag maintains a publicly supported presence in at least five Southern states…. Ten major U.S. military bases are named in honor of Confederate military leaders…. Eleven states have 23 Confederate holidays or observances in their state codes; nine of those are paid holidays in 2018…. More than 100 monuments and other Confederate symbols have been removed in 22 states and the District of Columbia since June 2015."
Tuesday, 5 June 2018, Day 502:
Trump blames Attorney General Jeff Sessions for Russia probe and suggests he could have shut it down, The Washington Post, Matt Zapotosky and John Wagner, Tuesday, 5 June 2018: "President Trump on Tuesday blamed Attorney General Jeff Sessions for the ongoing investigation into Russian interference in the 2016 U.S. election, suggesting in a morning tweet that the probe could have been shut down by now if Sessions had not recused himself. In the tweet, Trump renewed a familiar line of attack against the top U.S. law enforcement official, whom he has repeatedly castigated for recusing himself from the investigation now led by special counsel Robert S. Mueller III." See also, Why Is Trump Still Mad at Attorney General Jeff Sessions? A Tweet Provides the Answer. The New York Times, Peter Baker, Tuesday, 5 June 2018: "For nearly a year, President Trump has been relentlessly attacking his handpicked attorney general for recusing himself from the Russia investigation that has so nettled him. And so in that sense, his tweet on Tuesday morning was simply the latest in a long string. 'The Russian Witch Hunt Hoax continues, all because Jeff Sessions didn't tell me he was going to recuse himself,' Mr. Trump wrote. 'I would have quickly picked someone else. So much time and money wasted, so many lives ruined … and Sessions knew better than most that there was No Collusion!' But what made this tweet so striking was that it encapsulated the essential contradictions of Mr. Trump's arguments. In fewer than 280 characters, he acknowledged perhaps as explicitly as he ever has that the reason he is mad at Mr. Sessions is that the attorney general did not shut down the investigation into Mr. Trump's campaign. To critics, that is all but an admission of obstruction of justice, or at least the desire to obstruct justice. And yet according to the expansive legal theory advanced by his lawyers, Mr. Trump is singularly empowered to end the investigation himself. As the head of the executive branch, his lawyers say, nothing constrains the president from exercising his authority to determine how the Justice Department uses its investigative resources. By this rendering, Mr. Trump cannot obstruct justice even if he orders himself exonerated in the Russia matter. So then why lay responsibility on Mr. Sessions? Because, it seems, he has become the president's favorite whipping boy for not doing what Mr. Trump himself has so far not dared to do."
Attorney General Jeff Sessions defends separating immigrant parents and children: 'We've got to get this message out,' The Washington Post, Eli Rosenberg, Tuesday, 5 June 2018: "Attorney General Jeff Sessions delivered a vigorous defense of the hard-line Trump administration policy that has resulted in immigrant children being separated from their parents after crossing the border illegally during a lengthy interview on Tuesday. Conservative radio host Hugh Hewitt, who admitted he was 'disturbed,' by the separations, pressed Sessions repeatedly about the morality and necessity of the familial separations. But the attorney general stood his ground. 'If people don't want to be separated from their children, they should not bring them with them,' Sessions said, echoing some of the remarks he made in May when the Justice Department announced that it would begin prosecuting every person who crossed the border unlawfully, including many of those seeking asylum. 'We've got to get this message out. You're not given immunity.'"
Senate majority leader Mitch McConnell cancels most of August recess, keeping vulnerable Democrats off the campaign trail ahead of the hotly contested midterm elections, Politico, Burgess Everett and Elana Schor, Tuesday, 5 June 2018: "Mitch McConnell is canceling all but a week of the Senate's traditional August recess, hoping to keep vulnerable Democrats off the campaign trail and confirm as many of President Donald Trump's judicial and executive branch nominees as possible. The Senate majority leader said Tuesday that the Senate will take a break for only the first week of August because of 'historic obstruction' by Senate Democrats and will stay in session the rest of the month. McConnell was under enormous pressure from his own caucus as well as the president to cancel as much of the recess as possible, but the majority leader also saw an opportunity to unite Republicans and annoy incumbent Democrats." See also, Senate's August Recess Cut by Majority Leader Mitch McConnell, Keeping Democrats Off the Campaign Trail, The New York Times, Thomas Kaplan and Nicholas Fandos, Tuesday, 5 June 2018.
David Koch Steps Down From Business and Conservative Political Group, The New York Times, Jeremy W. Peters, Tuesday, 5 June 2018: "David H. Koch, the billionaire industrialist who combined his vast wealth and libertarian-tinged brand of conservatism to influence candidates and campaigns at all levels of American politics, is stepping away from his political and business interests because of declining health, his company announced Tuesday. Mr. Koch's brother, Charles, said in a letter to employees at Koch Industries, the company the two brothers controlled, that David Koch's health problems had made it impossible for him to continue working. 'Unfortunately these issues have not been resolved and his health has continued to deteriorate,' the letter said. 'We are deeply saddened by this.' The Koch family has been influential in conservative politics for generations, long before their name became synonymous with big money in the Republican Party. David Koch, in fact, was the vice-presidential nominee for the Libertarian Party in 1980. Fred Koch, the family patriarch and father of Charles and David, who founded Koch Industries, was a founding member of the far-right, anti-Communist John Birch Society." See also, 'The movement now transcends the Kochs.' What David Koch's departure means for the political network he helped build. The Washington Post, James Hohmann and Amy Gardner, Tuesday, 5 June 2018. See also, One Koch Brother Forces the Other Out of the Family Business: While Trump keeps all eyes on himself, Koch apparatchiks are all over his administration and giving the billionaire polluters almost everything they want, The New Yorker, Jane Mayer, published on Thursday, 7 June 2018: "The retirement of David Koch from Koch Industries will make it easier to see more clearly what has been true from the start: Charles and David Koch, who came to be known as 'the Koch brothers,' were equals in bloodlines and in wealth, but Charles has always been the brains behind the brothers' vast corporate and political operations. Those who know the brothers well predict that David's retirement will have scant impact, particularly in the political realm, where the Kochs exert enormous influence. For the past four decades they have tapped their vast fortune from a hundred-and-fifteen-billion-dollar-a-year family business, Koch Industries, to finance a private political machine whose reach and size have been described as rivalling that of the Republican Party. By lavishly underwriting candidates, policy organizations, and advocacy groups—often through untraceable donations—they have pulled American politics toward their own arch-conservative, pro-business, anti-tax, and anti-regulatory agenda, particularly in the environmental area. Although David Koch is also stepping down from his role as chairman of the Americans for Prosperity Foundation, the foundation wing of the Kochs' main political-advocacy group, their influence isn't likely to wane anytime soon."
Environmental Protection Agency administrator Scott Pruitt enlisted an EPA aide to help his wife find a job–with Chick-fil-A, The Washington Post, Juliet Eilperin, Brady Dennis, and Josh Dawsey, Tuesday, 5 June 2018: "Three months after Scott Pruitt was sworn in as head of the Environmental Protection Agency, his scheduler emailed Dan Cathy, chief executive of the fast-food company Chick-fil-A, with an unusual request: Would Cathy meet with Pruitt to discuss 'a potential business opportunity'? A call was arranged, then canceled, and Pruitt eventually spoke with someone from the company's legal department. Only then did he reveal that the 'opportunity' on his mind was a job for his wife, Marlyn…. Marlyn Pruitt never opened a restaurant. "Administrator Pruitt's wife started, but did not complete, the Chick-fil-A franchisee application," Kurlander said. But the revelation that Pruitt used his official position and EPA staff to try to line up work for his wife appears to open a new chapter in the ongoing saga of his questionable spending and management decisions, which so far have spawned a dozen federal probes…. Current and former EPA aides, speaking on the condition of anonymity to describe private conversations, said Scott Pruitt told them he was eager for his wife to start receiving a salary. Two said the administrator was frustrated in part by the high cost of maintaining homes in both Washington and Oklahoma…. Federal ethics laws bar public officials from using their position or staff for private gain. A Cabinet-level official using his perch to contact a company CEO about a job for his wife 'raises the specter of misuse of public office,' said Don Fox, who was head of the federal Office of Government Ethics during the Obama administration. 'It's not much different [from] if he [had] asked the aide to facilitate getting a franchise for himself.'"
Beryl Howell, the Chief Judge of the U.S. District Court for the District of Columbia, Orders the Environmental Protection Agency to Produce the Science Behind Scott Pruitt's Claim that Humans Are Not a Primary Contributor to Climate Change, Scientific American, Scott Waldman, Tuesday, 5 June 2018: "EPA must produce the opposing body of science Administrator Scott Pruitt has relied upon to claim that humans are not primary drivers of global warming, a federal judge has ruled. The EPA boss has so far resisted attempts to show the science backing up his claims. His critics say such evidence doesn't exist, even as Pruitt has called for greater science transparency at the agency. Now, a court case may compel him to produce research that attempts to contradict the mountain of peer-reviewed studies collected by the world's top science agencies over decades that show humans are warming the planet at an unprecedented pace through the burning of fossil fuels. Not long after he took over as EPA administrator, Pruitt appeared on CNBC's 'Squawk Box,' where he was asked about carbon dioxide and climate change. He said, 'I would not agree that it's a primary contributor to the global warming that we see.'"
Trump's School Safety Commission Won't Look at Guns, Education Secretary Betsy DeVos Says, The New York Times, Erica L. Green, Tuesday, 5 June 2018: "Education Secretary Betsy DeVos told a Senate committee on Tuesday that the federal commission on school safety set up this year after the Parkland, Fla., school massacre will not focus on the role guns play in school violence. The comments, provided in testimony before the Senate subcommittee that oversees education spending, perplexed senators who questioned how the commission, led by Ms. DeVos and convened by President Trump, could avoid the subject when it was a military-style assault rifle that left 17 students and staff dead at Marjory Stoneman Douglas High School. 'That's not part of the commission's charge, per se,' Ms. DeVos said in response to a question from Senator Patrick J. Leahy, Democrat of Vermont, about whether the commission would look at the role of firearms in the gun violence that has plagued the nation's schools. 'So we'll look at gun violence in schools, but not look at guns? An interesting concept,' Mr. Leahy said in response." See also, Trump's Federal Commission on School Safety, formed in Parkland's wake, won't focus on the role of firearms in relation to gun violence in schools, The Washington Post, Moriah Balingit, Tuesday, 5 June 2018: "Education Secretary Betsy DeVos said the federal school safety commission formed by President Trump following the Florida school massacre that left 14 students and three adults dead will not study the role of guns in school violence."
Can educators call Immigration and Customs Enforcement (ICE) on students? Education Secretary Betsy DeVos finally answers. The Washington Post, Moriah Balingit, Tuesday, 5 June 2018: "Education Secretary Betsy DeVos on Tuesday walked back controversial remarks she made to Congress two weeks ago, clarifying in a Senate hearing that she does not think teachers and principals can report students to immigration authorities. DeVos told the House Committee on Education and the Workforce in late May that schools and local communities can decide whether to alert Immigration and Customs Enforcement about students who might be undocumented. Her remarks were condemned by civil rights groups, the Congressional Hispanic Caucus and more than 100 congressional Democrats, who said educators who call the immigration agency on students would be violating the law. They cautioned that her assertion could confuse educators and ratchet up fear in immigrant communities. The Supreme Court ruled in 1982 in Plyler v. Doe that the right to a free public education extends to all young people, regardless of immigration status. Federal courts later ruled that compelling teachers to report students to immigration authorities violated the ruling, as did forcing students to disclose their immigration status because it could make students fearful of attending school…. On Tuesday, DeVos reversed course after a lengthy exchange with Sen. Chris Murphy (D-Conn.) during a hearing of a Senate Appropriations subcommittee. Murphy pressed DeVos to clarify her remarks five times before she definitively answered that she did not think that federal law allowed principals or teachers to call ICE on students."
Mexico makes good on threats to impose tariffs on $3 billion worth of US cheese, pork, and other products, The Washington Post, Damian Paletta and Steven Mufson, Tuesday, 5 June 2018: "Mexico said it would impose import duties on $3 billion worth of U.S. products, including cheese, bourbon, pork and others, making good on its threats that it would retaliate for U.S. tariffs on steel and aluminum. The announcement comes as a senior Trump administration official said that the president wants to end the three-party talks to renegotiate the North American Free Trade Agreement, aiming instead to deal separately with Canada and Mexico to restructure the trade accord."
White House Unblocks Twitter Users Who Sued Trump, but It Appeals the Ruling, The New York Times, Charlie Savage, Tuesday, 5 June 2018: "The White House has unblocked the accounts of seven Twitter users who sued President Trump for barring them from viewing or responding to his tweets, even as the administration has decided to appeal a federal judge's ruling in May that Mr. Trump violated their constitutional rights. The decision to unblock the plaintiffs from interacting with Mr. Trump's account was a gesture of constitutional modesty by the Trump administration at a time when he and his lawyers have been making increasingly aggressive assertions of executive powers. The judge had not ordered the president to unblock them as part of the ruling, instead leaving it up to the White House to decide how to respond to her ruling. Late on Monday, the Justice Department informed the Knight First Amendment Institute at Columbia University, which is representing the plaintiffs, that it had unblocked their accounts. But around the same time, the department filed notice in court that it was appealing the ruling to the United States Court of Appeals for the Second Circuit, in New York."
Wednesday, 6 June 2018, Day 503:
Democrats Strengthen House Takeover Prospects in Primary Voting, and Republicans Avoid Their Worst-Case Scenario, The New York Times, Carl Hulse and Jonathan Martin, Wednesday, 6 June 2018: "Democrats enhanced their prospects for winning control of the House with Tuesday's coast-to-coast primary results, skirting potential calamity in California and lining up likely gains in New Jersey and possible victories in Iowa and New Mexico. The Democratic Party had feared disaster in California, where a quirky 'jungle primary' gives the November ballot to the top two finishers, regardless of party. But Democratic contenders there leveraged financial and strategic help from the national party to weather the winnowing primary, and ensure that they will field candidates in multiple districts that they will most likely need if they are to win control in November…. Republicans avoided their own worst-case scenario as well, securing a spot in the California governor's race, which should help bring G.O.P. voters to the polls this fall to vote for their party's House candidates. Republicans missed a slot on the ballot to challenge Senator Dianne Feinstein's re-election bid, but a shutout in both California's Senate race and its contest for governor could have severely depressed conservative turnout. Republican voters also chose strong candidates in Southern California for the showdown in November." See also, Progressive Candidates Had a Very Good Night Tuesday, The Intercept, David Dayen and Ryan Grim, Wednesday, 6 June 2018. See also, Winners and losers from the biggest primary night of the year, The Washington Post, Amber Phillips, Wednesday, 6 June 2018. See also, 5 Takeaways From Tuesday's Primary Elections, The New York Times, Alexander Burns, Nick Corasaniti, Jonathan Martin, and Matt Flegenheimer, Wednesday, 6 June 2018.
House Speaker Paul Ryan and Senate Majority Leader Mitch McConnell Don't have Trump's back on his latest Russia conspiracies, The Washington Post, Amber Phillips, Wednesday, 6 June 2018: "In two days, two powerful Republican congressional leaders have broken with the president on two of his major Russia-related arguments. President Trump claiming there was a spy in his campaign and threatening to pardon himself is going too far, it seems, even for a Republican leadership that has been criticized by some of its own members for being too subservient to the president. Making these breaks even more dramatic: The latest disagreements between Trump and House Speaker Paul D. Ryan (R-Wis.) and Senate Majority Leader Mitch McConnell (R-Ky.) on Russia are pretty black and white. Trump claims the FBI inserted a spy into his campaign and for the past few weeks has refused to let this go. Ryan, who was briefed on the evidence by the Justice Department, was clear Wednesday he doesn't think there's any evidence for the president to say as much. 'I have seen no evidence to the contrary of the initial assessment Chairman Gowdy has made,' Ryan, referencing Rep. Trey Gowdy (R-S.C.), told reporters on Wednesday, which is a wonky way of saying: No, Mr. President, an FBI informant was not spying on your campaign. Trump also asserted he has power to pardon himself from anything that comes out of special counsel Robert S. Mueller III's investigation. Ryan and McConnell don't think that's nearly as good an idea as Trump does. 'Obviously, the answer is he shouldn't, and no one is above the law,' Ryan told reporters on Wednesday. McConnell was a touch more subtle on Tuesday, but the message was just as clear: 'I don't think the president needs any advice on pardoning himself,' he said. 'He obviously knows that would not be something that he would or should do.'" See also, House Speaker Paul Ryan Dismisses Trump 'Spy' Charge as Republicans Show Signs of Resistance, The New York Times, Nicholas Fandos, Wednesday, 6 June 2018. See also, Paul Ryan splits with Trump and says there is 'no evidence' the FBI spied on Trump's presidential campaign, The Washington Post, Karoun Demirjian and Mike DeBonis, Wednesday, 6 June 2018.
At the First School Safety Commission Hearing, Witnesses Demand Focus on Guns, The New York Times, Erica L. Green, Wednesday, 6 June 2018: "Students, parents and educators urged the federal officials charged with preventing the next school shooting to pour more mental health resources and school support staff into the nation's elementary and secondary schools — not more guns. The first public forum of the federal commission on school safety, convened by President Trump after the February school shooting in Parkland, Fla., drew dozens of speakers from across the country to the Department of Education on Wednesday. But neither Education Secretary Betsy DeVos, the commission's chairwoman, nor the other three cabinet secretaries appointed to the panel were in attendance. On Tuesday, Ms. DeVos told senators that the commission would not wade into the gun control debate, but panel officials said they would follow Mr. Trump's order to examine age restrictions on some weapons."
Republicans wage trade war against Trump, Politico, Burgess Everett, Wednesday, 6 June 2018: "Republicans are finally reaching their breaking point with President Donald Trump on trade. One faction of GOP senators is pushing Sen. Bob Corker's (R-Tenn.) legislation that would allow Congress to block Trump's tariffs — which Trump is trying to kill before it comes to the Senate floor. Another group is holding private meetings with Trump, hoping it can convince him via back-channel negotiations to back off a brewing trade war with U.S. allies before Congress steps in." See also, Republican Senator Bob Corker of Tennessee unveils a bill to check Trump's tariff authority, rebuffing a personal request from Trump to back off, The Washington Post, Erica Werner, Wednesday, 6 June 2018.
Immigration and Customs Enforcement (ICE) agents arrest 114 workers at Ohio gardening company: 'Everyone was just crying,' New York Daily News, Megan Cerullo, Wednesday, 6 June 2018: "U.S. Immigration and Customs Enforcement officials made more than 100 arrests when they raided an Ohio gardening and landscaping company Tuesday. Roughly 200 federal officers swarmed two different Corso's Flower and Garden Center sites, one in Sandusky, and another in Castalia, according to an ICE spokesperson. The 114 workers, suspected of being in the country illegally, are expected to face charges of identity theft and tax evasion. The workers were loaded onto buses en route to ICE detention facilities, leaving their children stranded at day care centers, activist Veronica I. Dahlberg tweeted. 'Utter chaos. This has to stop!!!'"
Two of Scott Pruitt's closest aides, also facing scrutiny, are leaving the Environmental Protection Agency (EPA), The Washington Post, Brady Dennis, Josh Dawsey, and Juliet Eilperin, Wednesday, 6 June 2018: "Two of Scott Pruitt's most trusted aides have given notice that they are leaving the Environmental Protection Agency as its embattled administrator faces growing scrutiny over his spending and management decisions, according to current and former agency officials who spoke on the condition of anonymity to discuss personnel moves. The departures of Sarah Greenwalt, Pruitt's senior counsel, and Millan Hupp, his director for scheduling and advance — both of whom had worked with Pruitt since his days as Oklahoma attorney general — leave the EPA chief increasingly isolated as he faces a dozen federal spending and ethics probes."
Five things Education Secretary Betsy DeVos seemed to be unaware of –or wouldn't address–during Senate hearing, The Washington Post, Valerie Strauss, Wednesday, 6 June 2018: "It may well be that the question Education Secretary Betsy DeVos heard the most from senators at Tuesday's hearing before a Senate subcommittee was this: Why aren't you directly answering my question?… On some of the key questions, DeVos seemed unaware of the answer, or if she did know, she didn't choose to share it in any definitive way. Those included why the department had eliminated some funding West Virginia uses to combat opioid addiction affecting students. She was asked whether school officials can report undocumented students to federal authorities, and whether her Federal Commission on School Safety will look at the role of guns. She also was asked why the Trump administration should not help local communities and states improve decrepit public schools."
Mick Mulvaney, acting director of the Consumer Financial Protection Bureau, dismisses the advisory board, Politico, Katy O'Donnell, Wednesday, 6 June 2018: "Consumer Financial Protection Bureau acting Director Mick Mulvaney has dismissed the members of the agency's Consumer Advisory Board after drawing complaints that he had canceled two meetings with the panel with little notice. The decision is the latest in a series of moves Mulvaney has made in his six-month tenure to more closely align the bureau with business interests — a stark change from the hard-charging, pro-enforcement stance taken by his predecessor, Richard Cordray. Just last week, the CFPB joined a payday lenders association in a motion to stay litigation the group brought to challenge a 2013 rule reining in small-dollar lenders. Mulvaney said in January the agency would reconsider the rule."
Trump signs veterans health bill as White House works against bipartisan plan to fund it, The Washington Post, Erica Werner and Lisa Rein, Wednesday, 6 June 2018: "President Trump is fighting a bipartisan plan to fund the much-touted expansion of veterans health care he signed into law on Wednesday, as the White House argues against a boost in federal spending to fund the new initiative. The VA Mission Act authorizes an expansion of veterans' access to private health care, but the bill does not reserve federal money to pay for it. A group of powerful Senate committee chairmen from both parties aims to remedy that by advancing a separate measure for the new $50 billion law, saying this is the best way to ensure the new programs give veterans access to medical care. But the White House has been lobbying Republicans to vote the plan down, instead asking Congress to pay for veterans programs by cutting spending elsewhere. The opposition to the funding plan is the latest demonstration of Trump's variable approach to the longtime stated Republican goal of fiscal discipline. On some issues, most prominently last year's $1.5 trillion tax bill or immigration measures such as the border wall, Trump has signed off on legislation projected to massively increase the federal deficit. On others, such as the veterans bill and emergency legislation to support communities impacted by last year's devastating hurricanes and the California wildfires, he has demanded offseting spending cuts. Without passage of the veterans funding bill soon, lawmakers and veterans groups warn that the Veterans Affairs will be forced to make difficult trade-offs about which veterans programs should be funded."
Richard Grenell, Trump's Man in Berlin, The New York Times, Editorial Board, Wednesday, 6 June 2018: "His confirmation as ambassador to Germany took a while, but when Richard Grenell arrived in Berlin in May he wasted no time riling up his new hosts. On his first day on the job, he tweeted that German companies doing business in Iran should 'wind down operations immediately' because President Trump had decided to unilaterally withdraw from the painstakingly negotiated nuclear deal with Iran. Germans were not amused by an ambassador telling them what to do, but that hardly deterred our man in Berlin. What he did next was to give an outrageous and insulting interview over the weekend to Breitbart, summarized thus by the alt-right mouthpiece: 'Trumpian U.S. Ambassador to Germany Richard Grenell has expressed great excitement over the wave of conservatism in Europe, saying he wants to "empower" leaders of the movement.' Mr. Trump was no doubt highly pleased by his envoy…. But ambassadors do not represent a president; they represent a state, and they are not supposed to go around empowering nationalist movements or far-right ideologies in other countries. The Germans were furious. The new ambassador is behaving 'not like a diplomat, but like a far-right colonial officer,' fumed Martin Schulz, the former European Parliament president."
Trump officials took actions on energy policies suggested by coal tycoon Robert E. Murray, documents show, The Washington Post, Steven Mufson and Chris Mooney, Wednesday, 6 June 2018: "Trump officials have taken actions that closely resemble measures contained in drafts of half a dozen executive orders and other proposals submitted by coal tycoon Robert E. Murray in the early days of the administration, according to documents released by the Energy Department. In two instances, the Energy Department and Environmental Protection Agency took steps within a month similar to Murray's ideas to roll back what he called 'anti-coal' policies. The Energy Department recently drew up a plan also advocated by Murray to impose a state of emergency to avoid the closure of ailing coal and nuclear plants."
Trump makes erroneous historical reference about the War of 1812 in testy call with Canadian Prime Minister Justin Trudeau over tariffs, CNN Politics, Jim Acosta and Paula Newton, Wednesday, 6 June 2018: "President Donald Trump and Canadian Prime Minister Justin Trudeau had a testy phone call on May 25 over new tariffs imposed by the Trump administration targeting steel and aluminum imports coming from Canada, including one moment during the conversation in which Trump made an erroneous historical reference, sources familiar with the discussion told CNN. According to the sources, Trudeau pressed Trump on how he could justify the tariffs as a 'national security' issue. In response, Trump quipped to Trudeau, 'Didn't you guys burn down the White House?' referring to the War of 1812. The problem with Trump's comments to Trudeau is that British troops burned down the White House during the War of 1812. Historians note the British attack on Washington was in retaliation for the American attack on York, Ontario, in territory that eventually became Canada, which was then a British colony." See also, No, Mr. Trump, Canada Did Not Burn the White House Down in the War of 1812, The New York Times, Daniel Victor, Wednesday, 6 June 2018.
Southwest Border Arrests Rise for Third Month in a Row, The New York Times, Ron Nixon, Wednesday, 6 June 2018: "Federal agents arrested nearly 52,000 people at the Southwest border in May, according to data released on Wednesday by the Department of Homeland Security, as the number of migrants trying to enter the United States continued to rise. The arrests in May — the third month in a row of increases — follow the Trump administration's tough stance against illegal immigration, including sending thousands of National Guard troops to the border and a 'zero tolerance' policy that seeks to prosecute people who illegally enter the country. The new policy has resulted in hundreds of children being separated from their parents. The new arrest data suggests such measures have not deterred migrants, many of whom undertake the long trek from Central America to escape violent gangs and drug cartels. The Trump administration has used monthly apprehension figures as a barometer for how well its get-tough policies have fared in stopping illegal immigration."
France Warns Trump It Won't Sign a G-7 Statement Without Major Concessions from the U.S., Bloomberg, Helene Fouquet, Wednesday, 6 June 2018: "France has joined Germany in warning President Donald Trump that it won't sign a joint statement of the Group of 7 at the summit in Quebec this week without major concessions from the U.S., a French official in the president's office said. President Emmanuel Macron has signaled that progress on tariffs, Iran nuclear agreement and Paris climate accord must be made before he'll be willing to sign a joint statement, the official told reporters Wednesday in Ottawa. The French president spent the day meeting with Prime Minister Justin Trudeau and other Canadian officials ahead of the June 8-9 summit in La Malbaie, Quebec. Macron has concluded that the other members of the G7 — the U.K., Germany, Japan, France, Italy and Canada — must stand up to the U.S. over Trump's decision to impose tariffs on steel and aluminum from the European Union, Canada and Mexico as well as other issues. Macron's stance emerged as world leaders converged upon Canada for the summit and echo German Chancellor Angela Merkel's vow to challenge Trump on trade and climate change at the summit. She also said the lack of room for compromise meant leaders might not agree on the traditional final statement."
North Korean Leader Kim Jong Un Begged for Summit With Trump 'on His Hands and Knees,' Giuliani Says, The Wall Street Journal, Felicia Schwartz, Wednesday, 6 June 2018: "President Donald Trump's lawyer, Rudy Giuliani, said North Korean leader Kim Jong Un got 'on his hands and knees and begged' for their summit to be held after Mr. Trump canceled it in May. Mr. Giuliani counseled a similar approach to Trump administration negotiations with Palestinian officials in a future Middle East peace process. Speaking at an investment conference in Israel hosted by the Globes newspaper, Mr. Giuliani said Mr. Trump canceled the summit because senior North Korean officials insulted top Trump administration officials."
Melania Trump appears in public for the first time in almost a month. Trump attacks the media for 'vicious, fake' rumours about her. The Guardian, Jamiles Lartey, Wednesday, 6 June 2018: "Donald Trump fired back at what he called 'unfair and vicious' rumours about his wife Melania as the first lady made her first public appearance after nearly a month away – an absence that had become something of a national puzzle. Trump posted on Twitter on Wednesday morning: 'They reported everything from near death, to facelift, to left the WH (and me) for NY or Virginia, to abuse. All Fake, she is doing really well!'"
Thursday, 7 June 2018, Day 504:
The Chemical Industry Scores a Big Win at the Environmental Protection Agency, The New York Times, Eric Lipton, Thursday, 7 June 2018: "The Trump administration, after heavy lobbying by the chemical industry, is scaling back the way the federal government determines health and safety risks associated with the most dangerous chemicals on the market, documents from the Environmental Protection Agency show. Under a law passed by Congress during the final year of the Obama administration, the E.P.A. was required for the first time to evaluate hundreds of potentially toxic chemicals and determine if they should face new restrictions, or even be removed from the market. The chemicals include many in everyday use, such as dry-cleaning solvents, paint strippers and substances used in health and beauty products like shampoos and cosmetics. But as it moves forward reviewing the first batch of 10 chemicals, the E.P.A. has in most cases decided to exclude from its calculations any potential exposure caused by the substances' presence in the air, the ground or water, according to more than 1,500 pages of documents released last week by the agency. Instead, the agency will focus on possible harm caused by direct contact with a chemical in the workplace or elsewhere. The approach means that the improper disposal of chemicals — leading to the contamination of drinking water, for instance — will often not be a factor in deciding whether to restrict or ban them. The approach is a big victory for the chemical industry, which has repeatedly pressed the E.P.A. to narrow the scope of its risk evaluations. Nancy B. Beck, the Trump administration's appointee to help oversee the E.P.A.'s toxic chemical unit, previously worked as an executive at the American Chemistry Council, one of the industry's main lobbying groups."
Former Senate Intelligence Committee Aide James A. Wolfe Is Charged in Leak Case Where Times Reporter's Records Were Seized, The New York Times, Adam Goldman, Nicholas Fandos, and Katie Benner, Thursday, 7 June 2018: "A former Senate Intelligence Committee aide was arrested on Thursday in an investigation of classified information leaks where prosecutors also secretly seized years' worth of a New York Times reporter's phone and email records. The former aide, James A. Wolfe, 57, was charged with lying repeatedly to investigators about his contacts with three reporters. According to the authorities, Mr. Wolfe made false statements to the F.B.I. about providing two of them with sensitive information related to the committee's work. He denied to investigators that he ever gave classified material to journalists, the indictment said. Mr. Wolfe, the Intelligence Committee's director of security, was slated to appear before a federal judge on Friday in Washington. Reached on Thursday evening before his arrest, Mr. Wolfe declined to comment. Mr. Wolfe's case led to the first known instance of the Justice Department going after a reporter's data under President Trump. The seizure was disclosed [on 13 February 2018] in a letter to the Times reporter, Ali Watkins, who had been in a three-year relationship with Mr. Wolfe. The seizure suggested that prosecutors under the Trump administration will continue the aggressive tactics employed under President Barack Obama. In his role with the committee, Mr. Wolfe was responsible for safeguarding classified and other sensitive information shared with lawmakers. He stopped performing committee work in December and retired in May…. News media advocates consider the idea of mining a journalist's records for sources to be an intrusion on First Amendment freedoms, and prosecutors acknowledge it is one of the most delicate steps the Justice Department can take. 'Freedom of the press is a cornerstone of democracy, and communications between journalists and their sources demand protection,' said Eileen Murphy, a Times spokeswoman." See also, Ex-Senate staffer James A. Wolfe faces charges in leak investigation, The Washington Post, Shane Harris and Ellen Nakashima, published on Friday, 8 June 2018. See also, Shocked by Trump aggression against reporters and sources? The blueprint was drawn by Obama. The Washington Post, Margaret Sullivan, published on Friday, 8 June 2018: "It was never a question of 'if.' It was always a matter of 'when.' The seizure of a New York Times reporter's phone and email records has sent a chill down the spine of every reporter concerned about protecting his or her sources…. [T]he Trump administration has been all too clear about its scorn for established press rights — with the president himself boasting about how he'd love to change libel-law protections and speculating about locking up reporters. His attorney general, Jeff Sessions, ducked questions early on about whether he would ever agree to subpoena a reporter in a leak investigation…. But Trump's anti-press bluster aside, there's a clear blueprint to follow — courtesy of Barack Obama, who once claimed that he would be the most transparent president ever but proved to be no friend to press rights."
Anger Flares Against Trump as G-7 Leaders Head to Quebec, The New York Times, Michael D. Shear, Thursday, 7 June 2018: "President Trump will skip most of the second day of a summit meeting with allies this weekend, the White House said late Thursday, as he engaged in a contentious war of words over trade on the eve of a gathering that will underscore his isolation from the leaders of the world's largest economies. Sarah Huckabee Sanders, the White House press secretary, announced that Mr. Trump will leave Canada at 10:30 a.m. Saturday, well before scheduled sessions on climate change, clean energy and oceans. He will attend an early-morning session on 'women's empowerment,' but he will be gone before any joint statement is issued by the other leaders. Earlier Thursday, President Emmanuel Macron of France and Prime Minister Justin Trudeau of Canada lashed out at Mr. Trump for imposing tariffs on their steel and aluminum industries. They called it an illegal economic assault on their countries that is unanimously opposed by the other leaders of the Group of 7 who will gather Friday in a sleepy village in Quebec for their annual summit meeting. 'The American President may not mind being isolated, but neither do we mind signing a 6 country agreement if need be,' Mr. Macron said Thursday in an especially acerbic tweet. 'Because these 6 countries represent values, they represent an economic market which has the weight of history behind it and which is now a true international force.' Mr. Trudeau said at a news conference with Mr. Macron that 'we are going to defend our industries and our workers' and 'show the U.S. president that his unacceptable actions are hurting his own citizens.' Mr. Trump responded with his trademark Twitter bluntness a few hours later, signaling that he has no intention of relenting on his aggressive trade demands and cares little about the diplomatic niceties that usually constrain public disagreements between the leaders of friendly nations." See also, France's Macron threatens rare rebuke of U.S. at G-7, and Trump fires back, The Washington Post, Damian Paletta, David J. Lynch, and Heather Long, published on Thursday, 7 June 2018.
Trump and national security adviser John Bolton  spurn traditional top-level planning for meeting with North Korea, Politico, Eliana Johnson, Thursday, 7 June 2018: "National security adviser John Bolton has yet to convene a Cabinet-level meeting to discuss President Donald Trump's upcoming summit with North Korea next week, a striking break from past practice that suggests the Trump White House is largely improvising its approach to the unprecedented nuclear talks. For decades, top presidential advisers have used a methodical process to hash out national security issues before offering the president a menu of options for key decisions. On an issue like North Korea, that would mean White House Situation Room gatherings of the secretaries of state and defense along with top intelligence officials, the United Nations ambassador, and even the Treasury secretary, who oversees economic sanctions. But since Trump agreed on a whim to meet with North Korean dictator Kim Jong Un on March 8, the White House's summit planning has been unstructured, according to a half-dozen administration officials. Trump himself has driven the preparation almost exclusively on his own, consulting little with his national security team beyond Secretary of State Mike Pompeo, who has made two visits to Pyongyang to meet with Kim personally. Trump has also not presided personally over a meeting of those senior NSC officials, as a president typically does when making the most important decisions."
U.S. is sending 1,600 immigration detainees to federal prisons, Reuters, Sarah N. Lynch and Kristina Cooke, Thursday, 7 June 2018: "U.S. authorities are transferring into federal prisons about 1,600 Immigration and Customs Enforcement (ICE) detainees, officials told Reuters on Thursday, in the first large-scale use of federal prisons to hold detainees amid a Trump administration crackdown on people entering the country illegally. An ICE spokeswoman told Reuters five federal prisons will temporarily take in detainees awaiting civil immigration court hearings, including potential asylum seekers, with one prison in Victorville, California, preparing to house 1,000 people. President Donald Trump has made his hard-line stance on immigration an integral part of his presidency and has promised to build a wall along the U.S.-Mexican border to stem the flow of migrants. He has also promised to keep immigrants targeted for deportation locked up 'pending the outcome of their removal proceedings.' Under former President Barack Obama, many immigrants without serious criminal records were allowed to await their court dates while living in the United States. Others were housed in immigration detention facilities or local jails. ICE has used federal prisons in the past but not on this scale, sources said. The new policy drew criticism from immigration advocates and former officials." See also, So many immigrants are being arrested that Immigration and Customs Enforcement (ICE) is going to transfer 1,600 to federal prisons, The Washington Post, Eli Rosenberg, Thursday, 7 June 2018. See also, Trump's 'deterrent' of separating children from their parents at the border isn't deterring many migrants, The Washington Post, Philip Bump, Thursday, 7 June 2018: "One of the first reports that the government was separating children from their parents at the border with Mexico came from the Los Angeles Times in February. 'Thousands of parents who crossed illegally into the U.S. in recent years have been held with their children at immigration detention centers. But the case of a Brazilian woman and her son illustrates what migrant advocates call a harsher approach to immigration enforcement that aims to separate parents and children,' Molly Hennessy-Fiske reported. 'The unspoken goal, advocates say, is to discourage parents from crossing illegally or attempting to request asylum.' Stories about family separations continued to increase. By April, hundreds of children had been taken from their parents. Early last month, Attorney General Jeff Sessions made the government's policy explicit."
'It's Horrendous': The Heartache of a Migrant Boy Taken From His Father at the United States Border, The New York Times, Miriam Jordan, Thursday, 7 June 2018: "When he landed in Michigan in late May, all the weary little boy carried was a trash bag stuffed with dirty clothes from his dayslong trek across Mexico, and two small pieces of paper — one a stick-figure drawing of his family from Honduras, the other a sketch of his father, who had been arrested and led away after they arrived at the United States border in El Paso. An American government escort handed over the 5-year-old child, identified on his travel documents as José, to the American woman whose family was entrusted with caring for him. He refused to take her hand. He did not cry. He was silent on the ride 'home.' The first few nights, he cried himself to sleep. Then it turned into 'just moaning and moaning,' said Janice, his foster mother. He recently slept through the night for the first time, though he still insists on tucking the family pictures under his pillow. José's separation from his father is part of the Trump administration's latest and most widely debated border enforcement policy. Last month, Attorney General Jeff Sessions announced that the government would criminally prosecute everyone who crosses the border illegally, a directive that is already leading to the breakup of hundreds of migrant families and channeling children into shelters and foster homes across the country. The goal, according to administration officials, is to discourage Central American families from making the perilous journey to the United States' southwest border, where they have been arriving in swelling numbers this year to claim asylum." See also, Judge Calls Trump's Border Separations of Children From Their Parents 'Brutal,' Bloomberg, Erik Larson, published on Wednesday, 6 June 2018: "The Trump administration failed to kill a legal challenge to its practice of separating undocumented parents and children who seek to enter the U.S. to flee persecution at home, with a judge handing an early victory to civil rights activists who say the policy is unconstitutional and cruel. U.S. District Judge Dana Sabraw in San Diego on Wednesday denied a motion to dismiss the suit, in which the American Civil Liberties Union argues that splitting up families at the border violates their due process rights…. 'These allegations sufficiently describe government conduct that arbitrarily tears at the sacred bond between parent and child,' the judge wrote. The conduct, if true, 'is brutal, offensive, and fails to comport with traditional notions of fair play and decency.'" See also, Attorney General Jeff Sessions' Deceitful Spin on Separation of Children From Their Parents at the Border, ACLU, Jenny Samuels, Thursday, 7 June 2018: "In an interview on Tuesday morning with conservative radio host Hugh Hewitt, Attorney General Jeff Sessions doubled down on his defense of the Trump administration's practice of tearing apart families seeking refuge in the United States, including those seeking asylum. The interview revealed not only Sessions' lack of basic empathy and compassion but also his willingness to deceive the public in defending this cruel policy."
Justice Department Says Crucial Provisions of Obamacare Are Unconstitutional, The New York Times, Robert Pear, Thursday, 7 June 2018: "The Trump administration told a federal court on Thursday that it would no longer defend crucial provisions of the Affordable Care Act that protect consumers with pre-existing medical conditions. Under those provisions of the law, insurance companies cannot deny coverage or charge higher rates to people with pre-existing conditions. The Justice Department said the provisions were part of an unconstitutional scheme that required most Americans to carry health insurance. In a court case filed by Texas and 19 other states, the Justice Department said in a brief on Thursday that the requirement for people to have insurance — the individual mandate — was unconstitutional. If that argument is accepted by the federal court, it could eviscerate major parts of the Affordable Care Act that remain in place despite numerous attacks by President Trump and his administration. Insurers could again deny people coverage because of their medical condition or history. A definitive court ruling could be months away and appeals of any decision could take many more months, during which the law is likely to stay in effect." See also, The Trump administration believes Obamacare's preexisting conditions protections are now unconstitutional. Insurers could once again deny people coverage based on their medical history, undoing the law's most popular provisions. Vox, Dylan Scott, Thursday, 7 June 2018. See also, Trump administration won't defend the Affordable Care Act in case brought by 20 Republican states, The Washington Post, Amy Goldstein, Thursday, 7 June 2018: "The Trump administration said Thursday night that it will not defend the Affordable Care Act against the latest legal challenge to its constitutionality — a dramatic break from the executive branch's tradition of arguing to uphold existing statutes and a land mine for health insurance changes the ACA brought about." See also, Trump Wants to End Protections for People With Pre-Existing Conditions, Indivisible Resource, Thursday, 7 June 2018.
Environmental Protection Agency administrator Scott Pruitt enlisted members of his 24/7 security detail in picking up his dry cleaning and moisturizing lotion, The Washington Post, Juliet Eilperin, Josh Dawsey, and Brady Dennis, Thursday, 8 June 2018: "Environmental Protection Agency Administrator Scott Pruitt asked members of his 24/7 security detail to run errands for him on occasion, including picking up his dry cleaning and taking him in search of a favorite moisturizing lotion, according to two individuals familiar with those trips who spoke on the condition of anonymity to talk frankly. Pruitt, who also has enlisted agency staffers in tasks including apartment hunting and securing a mattress for his personal use, faces congressional scrutiny over an expanding number of spending and management decisions. Federal rules bar public officials from receiving gifts from subordinates, including unpaid services, and from using their office for private gain."
Fred Fleitz, national security adviser John Bolton's chief of staff, defended anti-Muslim and far-right activists in a pair of online columns, CNN Politics, Andrew Kaczynski and Chris Massie, Thursday, 7 June 2018: "The new chief of staff to national security adviser John Bolton defended anti-Muslim and far-right activists in a pair of online columns. Fred Fleitz's views of Islam have come under scrutiny since he was tapped for his role under Bolton, in part due to Fleitz's past work as a senior vice president at the think tank Center for Security Policy. Frank Gaffney, who runs the center, is an anti-Muslim activist who warns of 'creeping' Sharia law worldwide, spreads false claims that longtime Hillary Clinton aide Huma Abedin had ties to the Muslim Brotherhood and has questioned whether former President Barack Obama was a natural born citizen or a Muslim."
Dan Wenk, Yellowstone's top official, says Trump officials forced him out over wildlife advocacy, The Guardian, Todd Wilkinson, Thursday, 7 June 2018: "The superintendent of Yellowstone national park says he has been forced out of his job by the Trump administration over his wildlife advocacy. 'It's a hell of a way to be treated at the end of four decades spent trying to do my best for the park service and places like Yellowstone, but that's how these guys are,' said Dan Wenk, referring to the US interior department. 'Throughout my career, I've not encountered anything like this, ever.' On Monday, Wenk, 66, was notified by the interior department that he must take a reassignment to the park service's Capital Region in Washington DC, a collection of monuments including the White House and the Lincoln Memorial, within 60 days or resign. An interior department spokeswoman, Heather Swift, said: 'The department does not discuss personnel matters.' A former park service national director, Jon Jarvis, said the maneuver was intended to send a chilling message and make an example out of Wenk. The purpose, argued Jarvis, was to undermine a deeply ingrained culture of conservation as it pertains to big wildland parks, mostly in the US west and Alaska. Preservation clashed with Zinke's desire to dramatically ramp up industrial development and monetization of natural resources on public land, he added." See also, Yellowstone's top official, facing reassignment under Trump, is denied option to retire on his own terms, The Washington Post, Darryl Fears, Thursday, 7 June 2018.
Congressional Democrats seek ruling against Trump to enforce emoluments clause, The Washington Post, Jonathan O'Connell, Thursday, 7 June 2018: "Attorneys representing 200 Democratic lawmakers urged a federal judge on Thursday to allow their lawsuit against President Trump to proceed, arguing it is Congress's job to ensure the president is not improperly receiving payments from foreign governments through his company. If U.S. District Judge Emmet G. Sullivan agrees, it would be the second legal challenge to advance centering on whether Trump is violating one of the Constitution's emolument clauses, which bar federal officials from accepting certain gifts known as emoluments. The clause at issue in this case covers payments from foreign governments, which it says cannot be accepted 'without the consent of Congress.'"
With Special Counsel Robert Mueller Closing In, Paul Manafort's Allies Abandon Him, The New York Times, Kenneth P. Vogel, Sharon LaFraniere, and Jason Horowitz, Thursday, 7 June 2018: "The special counsel's accusation this week that Paul Manafort, President Trump's former campaign chairman, tried to tamper with potential witnesses originated with two veteran journalists who turned on Mr. Manafort after working closely with him to prop up the former Russia-aligned president of Ukraine, interviews and documents show. The two journalists, who helped lead a project to which prosecutors say Mr. Manafort funneled more than $2 million from overseas accounts, are the latest in a series of onetime Manafort business partners who have provided damaging evidence to Robert S. Mueller III, the special counsel investigating Russian meddling in the 2016 election. Their cooperation with the government has increasingly isolated Mr. Manafort as he awaits trial on charges of violating financial, tax and federal lobbying disclosure laws."
Rudy Giuliani says people in the porn business are not credible. Trump has appeared in three softcore porn videos. CNN Politics, Christopher Massie, Thursday, 7 June 2018: "When Rudy Giuliani said Wednesday that Stormy Daniels has no credibility because she is is a porn star, he neglected to mention that his client, President Donald Trump, has appeared in three Playboy videos that feature nudity and softcore pornographic content. 'So yes, I respect all human beings,' Giuliani said at a conference in Tel Aviv, talking about Daniels, who alleges that she had an affair with Trump, which he denies. 'I even have to respect, you know, criminals. But I'm sorry, I don't respect a porn star the way I respect a career woman or a woman of substance or a woman who has great respect for herself as a woman and as a person and isn't going to sell her body for sexual exploitation.' The former Republican New York mayor went on to say, 'So Stormy, you want to bring a case, let me cross-examine you. Because the business you're in entitles you to no degree of giving your credibility any weight. And secondly, explain to me how she could be damaged. I mean, she has no reputation. If you're going to sell your body for money, you just don't have a reputation. Maybe old-fashioned, I don't know.'"
A U.S. Citizen Suspected of Being an Islamic State Member Fights Plan to Release Him in Syria, The New York Times, Charlie Savage, Thursday, 7 June 2018: "An American citizen detained by the military in Iraq as a suspected Islamic State member will be released back into Syria, the Trump administration has told a judge — a plan that his lawyers called 'a death warrant.' The move would avoid a fight in court over the high-stakes question of whether the government has the legal authority to put Islamic State suspects in indefinite wartime detention as enemy combatants. If a judge were to rule against the government on that question in the detention case, it would jeopardize the underpinnings of the entire war effort against the Islamic State. But lawyers for the man, whose name has not been made public, vowed to fight the planned transfer in court. The plan was the latest twist in a habeas corpus case that has raised novel legal issues about the rights of individual Americans and the government's wartime powers. The American Civil Liberties Union planned to file an emergency request for a temporary restraining order against the military on Thursday, said Jonathan Hafetz, an A.C.L.U. lawyer who is the lead attorney for the man." See also, The Trump Administration Wants to Dump a Detained U.S. Citizen Into Syria, One of the Most Dangerous Places on Earth, ACLU, Jonathan Hafetz, Thursday, 7 June 2018: "For almost nine months, a U.S. citizen illegally detained by the U.S. military in Iraq without charges has been fighting in court for his freedom. Wednesday night, the Trump administration told the judge that it was going to let him go — but with a deadly catch. The government said that it plans to drop off our client in Syria, either in a town or outside a refugee camp. He would have no identification or assurances of protection. This isn't a safe release, it's a death sentence, and we will soon be challenging it in court. As the U.S. government itself says in State Department travel advisories, no place in Syria is safe for U.S. citizens."
Melania Trump's Spokeswoman Pushes Back on Rudy Giuliani's Assertion That Melania 'Believes Her Husband' When He Tells Her He Didn't Have an Affair With Porn Star Stormy Daniels: Giuliani Speaks for Trump. Except When He Doesn't. The New York Times, Peter Baker and Maggie Haberman, Thursday, 7 June 2018: "President Trump hired Rudolph W. Giuliani to speak for him. But no less than Mr. Trump's wife and his chief diplomat spent Thursday explaining that Mr. Giuliani does not always know what he is talking about. Melania Trump, the first lady, let it be known that Mr. Giuliani has no idea how she feels about Stephanie Clifford, the pornographic film actress who goes by the name Stormy Daniels and says she had a sexual encounter with Mr. Trump, while Mike Pompeo, the secretary of state, made clear that Mr. Giuliani has nothing to do with North Korea policy. Their pushback came in response to the latest in a series of seemingly off-script moments by Mr. Giuliani, the former New York mayor who has joined the legal team representing Mr. Trump in the special counsel's investigations into his campaign and associates. Mr. Giuliani has been something of a loose cannon, making public comments that surprised other advisers, were later contradicted or touched on matters beyond his ostensible mandate. At a conference in Israel this week, Mr. Giuliani said Mrs. Trump accepted her husband's denial that he had any sexual liaisons with Ms. Clifford. 'She believes her husband and she knows it's untrue,' Mr. Giuliani said. That drew a sharp retort from the first lady's office. 'I don't believe Mrs. Trump has ever discussed her thoughts on anything with Mr. Giuliani,' the first lady's spokeswoman, Stephanie Grisham, said in an email to The New York Times. The unusually pointed response from a first lady who rarely engages in conflicts the way her husband does may have spoken to a sensitivity that goes beyond Mr. Giuliani. Even as she rejected Mr. Giuliani as a spokesman for her feelings, Mrs. Trump did nothing to affirm that she did accept her husband's explanation of what happened with Ms. Clifford."
Elizabeth Warren Makes a Case for Democrats to Be the Anti-Corruption Party, The New Yorker, Sheelah Kolhatkar, Thursday, 7 June 2018: "On Tuesday, Senator Elizabeth Warren, of Massachusetts, stood behind a podium at a conference in Washington, D.C…. speaking at Georgetown University, at an event called The War on Regulation, and her speech was a robust defense of federal agencies such as the Consumer Product Safety Commission, the Food and Drug Administration, the Environmental Protection Agency, and the Consumer Financial Protection Bureau—the parts of the government that keep lead paint out of toys, insecticide out of medicine, and bad brakes out of cars. The point seems obvious, but it bears repeating: while much of the press, and therefore the country, is preoccupied by the President's daily outbursts on Twitter and by the leaks and twists of Robert Mueller's investigation into Russian interference in the 2016 election, Donald Trump and the Republican-controlled Congress have been aggressively rolling back regulations of all kinds. The effects of some of these changes may not be directly felt by the voting public for years, when a major health crisis, a financial collapse, or some other catastrophe suddenly arrives, but the risks are being created right now."