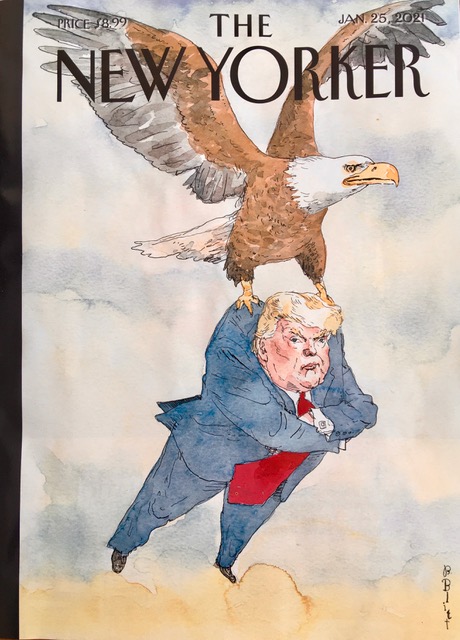 Now that the Biden administration has settled into Washington, D.C., my daily chronicle (20 January 2017 – 20 January 2021) of news about the Trump administration, Republicans, Democrats, corporations, courts, resistance, and persistence is winding down. I will continue to post a few important articles, especially ones that reflect the differences between the Biden administration and the Trump administration.  I hope to devote more of my time to posting muckraking articles on my site and to working with my local activist group in pursuit of progressive change and a stronger democracy. Thanks for reading!
For independent global news, visit Democracy Now!
For a newsletter about the history behind today's politics, subscribe to Heather Cox Richardson's newsletter, Letters from an American.
Tuesday, 1 June 2021:
Biden Visits Site of Tulsa Massacre a Century Later and Promises Massacre Survivors Their Story 'Would be Known in Full View,' The New York Times, Tuesday, 1 June 2021:
Biden promises Tulsa massacre survivors their story 'would be known in full view.'

The White House plans to suspend Arctic drilling leases that were issued during the last days of Trump's term.

Biden says Harris will lead Democrats in pushing for voting rights bill in Congress.

A tabloid publisher will pay a $187,500 F.E.C. penalty for its Trump hush-money payment.

Michael Flynn suggested at a QAnon-affiliated event that a coup should happen in the U.S.

Biden officially recognizes June as Pride Month and vows to fight for L.G.B.T.Q. rights.

Florida's Democratic agricultural commissioner, Nikki Fried, announces her bid for governor.

Texas Democrats killed a bill restricting voting by staging a walkout, escalating their fight with the governor.
A New Mexico House race is testing the Republican's focus on crime.
Biden unveiled a plan to help Black businesses and homeowners during his visit to Tulsa.
Democrats want to pass a major voting rights overhaul, but the filibuster stands in the way.
The Supreme Court issued unanimous rulings on immigration and tribal policing.
Biden commemorates the 100th anniversary of Tulsa race massacre, The Washington Post, Felicia Sonmez and John Wagner, Tuesday, 1 June 2021: "President Biden on Tuesday commemorated the 100th anniversary of the Tulsa race massacre, the ravaging of a once-prosperous Black business district and neighborhood by a White mob. 'As painful as it is, only in remembrance do wounds heal. We just have to choose to remember, memorialize what happened here in Tulsa, so it can't be erased,' the president said of the massacre, which stands as one of the worst episodes of racial violence in U.S. history. While in Oklahoma, Biden promoted initiatives to reduce the Black-White wealth gap and said he had tapped Vice President Harris to lead the push for voting rights in response to states imposing ballot restrictions. In New Mexico, voters will elect a new member of Congress, filling an Albuquerque seat vacated by Interior Secretary Deb Haaland when she joined Biden's Cabinet.
Here are a few of the significant developments included in this article.
The Federal Election Commission (F.E.C.) spares Trump but fines tabloid publisher for hush-money payment to ex-Playboy model Karen McDougal who claimed affair with him.
Biden Promises Tulsa Massacre Survivors Their Story Will Be 'Known in Full View.' The president, who has made racial equity and justice central themes of his administration, was in Tulsa, Okla., to commemorate a painful part of the country's history. The New York Times, Katie Rogers and Michael D. Shear, Tuesday, 1 June 2021: "A century after a white mob destroyed a vibrant African American community in Tulsa, Okla., torching hundreds of homes and indiscriminately shooting people in the streets, President Biden told a crowd of survivors and their families that the story of the massacre 'will be known in full view.' It was the first time a president visited the area to address what had happened in Greenwood, a prosperous African American community, which was one of the worst outbreaks of racist violence in the United States but was largely ignored in history books." See also, Telling the Story of the Tulsa Massacre. An array of TV documentaries mark the centennial of one of America's deadliest outbreaks of racist violence. The New York Times, Mike Hale, published on Sunday, 30 May 2021: "The Tulsa race massacre of June 1, 1921, has gone from virtually unknown to emblematic with impressive speed, propelled by the national reckoning with racism and specifically with sanctioned violence against Black Americans. That awareness is reflected in the spate of new television documentaries on the occasion of the massacre's 100th anniversary. 'Tulsa Burning: The 1921 Race Massacre' (Sunday on History), 'Dreamland: The Burning of Black Wall Street' (Monday on CNN) and 'Tulsa: The Fire and the Forgotten' (Monday on PBS) tell overlapping stories of the horrific day when a white mob stormed through the prosperous Greenwood District of Tulsa, Okla. Triggered by a confrontation between white men planning a lynching and Black men intent on stopping it, the 16-hour spasm of violence left 100 to 300 people dead and most of Greenwood, including more than 1,250 houses, burned to the ground." See also, 3 Documentaries to Watch About the Tulsa Race Massacre, NPR, Eric Deggans, published on Sunday, 30 May 2021: "If all you know about the Tulsa Race Massacre is the re-creations of the attack featured in HBO series like Watchmen and Lovecraft Country, prepare yourself for a serious education over the next few weeks. Monday marks the 100th anniversary for one of the worst acts of racial violence in American history, the Tulsa Race Massacre. Back in 1921, a mob of white people tore down and burned the Greenwood district of Tulsa, Okla. — a segregated part of the city so prosperous and bustling, it was known as Black Wall Street." See also, The Women Who Preserved the Story of the Tulsa Race Massacre. Two pioneering Black writers, Mary E. Jones Parrish and Eddie Faye Gates, have not received the recognition they deserve for chronicling one of the country's gravest crimes. The New Yorker, Victor Luckerson, published on Friday, 28 May 2021: "As the centennial of the [Tulsa] race massacre approaches, a raft of documentaries, along with a new thirty-million-dollar museum, are poised to make the story of Greenwood more widely known—and financially lucrative—than it has ever been. But the Black Tulsans who preserved the community's history risk being forgotten, particularly the women who did the foundational heavy lifting. It's not just [Mary E. Jones] Parrish—Eddie Faye Gates, an Oklahoma native and longtime Tulsa educator, continued Parrish's work by interviewing massacre survivors more than seventy years later, recording their perspectives in books and video testimonials." See also, George Floyd, The Tulsa Massacre, and Memorial Days, The New Yorker, Jelani Cobb, published on Tuesday, 25 May 2021: "This year, Memorial Day, the national holiday on which we commemorate the men and women of the American military who died in the course of war, falls on May 31st, a date that marks the centennial anniversary of the Tulsa massacre, a racial pogrom in which the Black population of the prosperous Greenwood District of that city was attacked, murdered, and terrorized, leaving as many as three hundred dead. Last year, Memorial Day fell on May 25th, the day that George Floyd died, in the custody of a white Minneapolis police officer; the ineffable terribleness of the video depicting his death soon launched a wave of chaos and fury that swept across the nation. The massacre in Greenwood was just one outrage among a cluster of racially motivated eruptions that began in the aftermath of the First World War—the bloodletting in mid-1919 was so commonplace that the period came to be known as the Red Summer. The protracted brutality of Floyd's death sparked protests and uprisings in more than three hundred and fifty cities in the United States. These two Memorial Days point inescapably not only to those who have died on battlefields abroad but to the theatres of conflict at home and the freighted politics of race, grief, and culpability."
Continue reading Aftermath of the Trump Administration, June 2021: