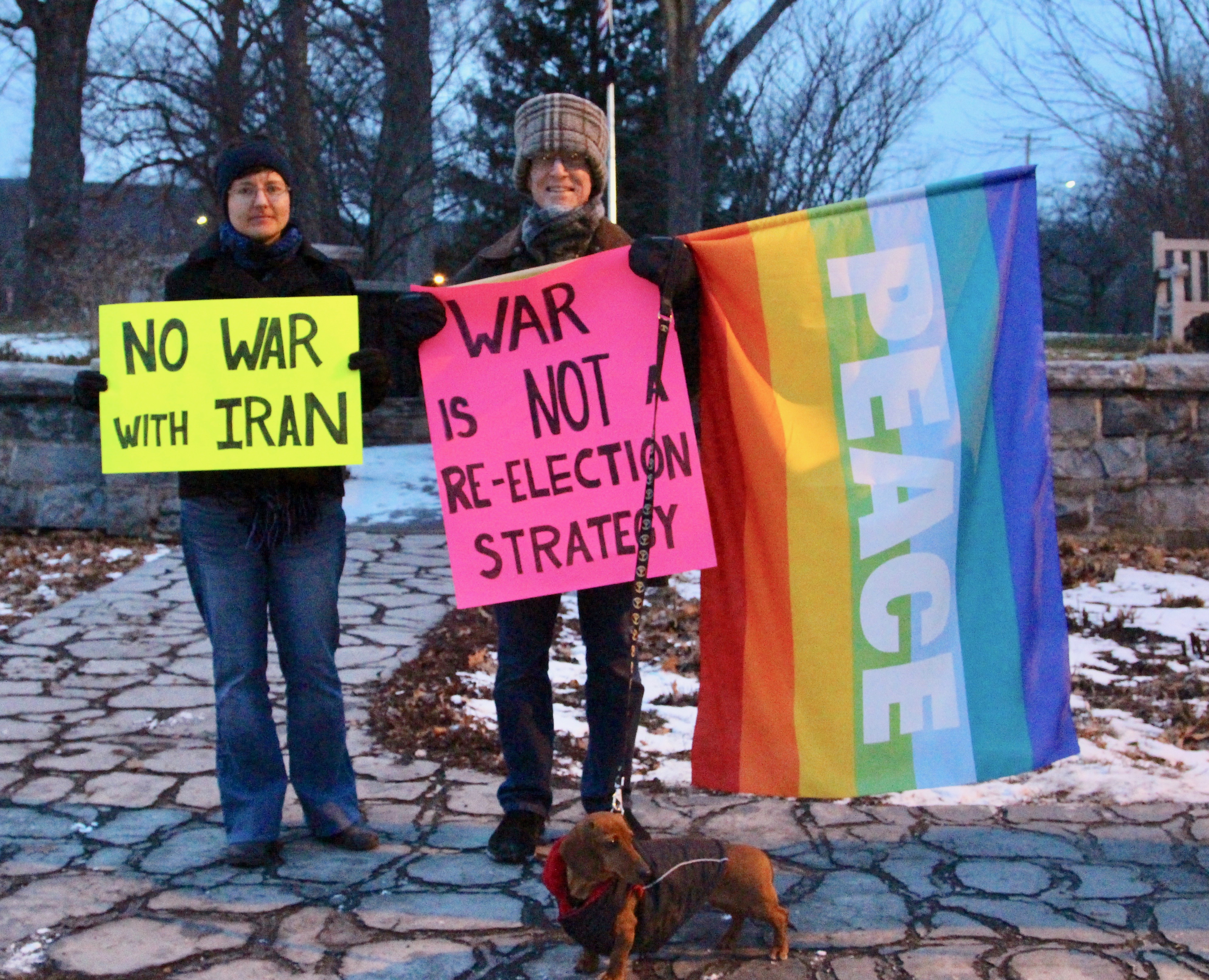 Passages in bold in the body of the texts below are usually my emphasis, though not always. This is an ongoing project, and I update the site frequently during the day. Because I try to stay focused on what has actually happened, I usually let the news 'settle' for a day or so before posting. I hope readers will peruse the articles in full for a better understanding of the issues and their context; our democracy and our future depend on citizens who can distinguish between facts and falsehoods and who are engaged in the political process.
For "a weekly newsletter celebrating people-powered wins against the Trump administration's agenda," visit Small Victories.
For independent global news, visit Democracy Now!
Friday, 10 January 2020, Day 1,086:
Pelosi Alerts House to Be Ready to Send Impeachment Articles Next Week, The New York Times, Nicholas Fandos, Friday, 10 January 2020: "Speaker Nancy Pelosi alerted lawmakers on Friday that she would move next week to send to the Senate articles of impeachment against President Trump, making a long-awaited announcement that paved the way for the third presidential impeachment trial in American history. The speaker's statement effectively ended an impasse over the impeachment process that had left the president's Senate trial in limbo for weeks. She did not announce which Democrats would manage the case, but said the House should be ready to appoint them next week and to formally deliver the Senate charges of abuse of power and obstruction of Congress…. Throughout the delay, the speaker had insisted that she was merely pushing for a fairer Senate proceeding after Senator Mitch McConnell, Republican of Kentucky and the majority leader, promised publicly to collaborate with Mr. Trump's legal team to secure a quick acquittal. Democrats claimed the maneuver successfully spotlighted the need for the Senate to hear from witnesses and see documents that Mr. Trump barred from the House impeachment inquiry. She ultimately failed to win any concessions from Republicans on the terms of the trial…." See also, Pelosi moves to end Trump impeachment standoff and signals she will send articles to Senate, The Washington Post, Mike DeBonis and Rachael Bade, Friday, 10 January 2020: "House Speaker Nancy Pelosi moved Friday to end a three-week standoff with Senate Majority Leader Mitch McConnell, signaling that she will send articles of impeachment to the Republican-controlled Senate next week, paving the way for a likely acquittal of President Trump. Pelosi (D-Calif.), who made the announcement in a letter to colleagues sent moments after lawmakers left Washington for the week, relented without securing the concessions she sought from McConnell (R-Ky.) — in particular, a detailed blueprint for how the coming Senate trial will proceed." See also, Pelosi ends standoff with Senate Republicans over impeachment articles, Politico, Heather Caygle and John Bresnahan, Friday, 10 January 2020. See also, Pelosi prepares to send articles of impeachment to the Senate, CNN Politics, Jeremy Herb, Haley Byrd, and Manu Raju, Friday, 10 January 2020. See also, Read Pelosi's letter saying she is preparing for a vote next week to send articles of impeachment to the Senate, CNN Politics, Friday, 10 January 2020. See also, House to Send Articles of Impeachment to Senate Next Week, The Wall Street Journal, Natalie Andrews, Friday, 10 January 2020. See also, Republican Senator Susan Collins of Maine is working with a 'small group' of Republican senators to allow impeachment witnesses, Bangor Daily News, Michael Shepherd, Friday, 10 January 2020: "U.S. Sen. Susan Collins of Maine told reporters on Friday she is working with a "fairly small group" of fellow Republican senators toward a goal of ensuring witnesses can be called in the chamber's impeachment trial of President Donald Trump. The president is nearly a sure bet to be acquitted in the Republican-led Senate and the trial could start as early as next week. House Speaker Nancy Pelosi, D-California, indicated on Friday that she will send the House's two impeachment articles to the upper chamber."
U.S. Unsuccessfully Tried Killing a Second Iranian Military Official, The New York Times, Eric Schmitt, Edward Wong, and Julian E. Barnes, Friday, 10 January 2020: "The American military unsuccessfully tried to kill a senior Iranian military official in Yemen on the same day a drone strike killed Maj. Gen. Qassim Suleimani, Iran's most powerful commander, according to American officials. The disclosure of a second mission indicated that the Trump administration had plans for a broader campaign than was previously known [and] intended to cripple Iran's ability to carry out proxy wars in other countries. After Iran's retaliatory missile strikes on Iraqi bases that host American troops, both Washington and Tehran appear to have stepped back from escalating the conflict further, at least for now. The unsuccessful airstrike in Yemen was aimed at Abdul Reza Shahlai, an official with Iran's Quds Force, a potent military organization that General Suleimani had led. Mr. Shahlai was known as a main organizer of financing for Shiite militias in the region." See also, On the day U.S. forces killed Soleimani, they targeted a senior Iranian official in Yemen, The Washington Post, John Hudson, Missy Ryan, and Josh Dawsey, Friday, 10 January 2020: "On the day the U.S. military killed a top Iranian commander in Baghdad, U.S. forces carried out another top-secret mission against a senior Iranian military official in Yemen, according to U.S. officials. The strike targeting Abdul Reza Shahlai, a financier and key commander in Iran's elite Quds Force who has been active in Yemen, did not result in his death, according to four U.S. officials familiar with the matter. The unsuccessful operation may indicate that the Trump administration's killing of Maj. Gen. Qasem Soleimani last week was part of a broader operation than previously explained, raising questions about whether the mission was designed to cripple the leadership of the Islamic Revolutionary Guard Corps or solely to prevent an imminent attack on Americans as originally stated. U.S. military operations in Yemen, where a civil war has created the world's worst humanitarian crisis, are shrouded in secrecy. U.S. officials said the operation against Shahlai remains highly classified, and many declined to offer details other than to say it failed." See also, US unsuccessfully targeted another Iranian military official on the same day as Soleimani, CNN Politics, Barbara Starr, Zachary Cohen, and Ryan Browne, Friday, 10 January 2020. See also, Officials Say U.S. Targeted but Missed Senior Iranian Commander in Yemen, The Wall Street Journal, Michael R. Gordon and Warren P. Strobel, Friday, 20 January 2020. See also, Trump administration's shifting stories fuel doubts over justification for Soleimani strike, CNN Politics, Nicole Gaouette, Jennifer Hansler, and Jamie Crawford, Friday, 10 January 2020: "A week after the US killed Iran's second most powerful official, spiking tensions in the region and triggering fears of war, the Trump administration continues to present conflicting justifications for the deadly Reaper drone strike and clashing narratives about what has followed. Again and again, President Donald Trump's national security officials have contradicted each other about how imminent a threat Qasem Soleimani posed, whether they had specific intelligence on the threat and even what that threat was, with Trump saying one thing then another, while officials offered varying explanations." See also, The Real Backstory of Why Trump Ordered the Killing of Suleimani Is Becoming More Clear, The New Yorker, John Cassidy, Friday, 10 January 2020.
Iran Says It Unintentionally Shot Down Ukrainian Airliner, The New York Times, Farnaz Fassihi, Friday, 10 January 2020: "Iran's military announced early Saturday that it had accidentally shot down a Ukrainian passenger jet, blaming human error because of what it called the plane's sharp, unexpected turn toward a sensitive military base. After days of tension since the jet crashed near Tehran on Wednesday, the same day that Iranian missiles struck American bases in Iraq, the admission was a stunning reversal. Iran initially maintained that mechanical issues had brought the Boeing airliner down, killing all 176 people aboard." See also, Furor in Iran and Abroad After Tehran Admits Downing Ukrainian Jetliner, The New York Times, Anton Troianovski, Andrew E. Kramer, and Farnaz Fassihi, published on Saturday, 11 January 2020: "Iran's stunning admission that its forces errantly downed a Ukrainian jetliner — reversing three days of denial — did little to quell growing fury inside the country and beyond on Saturday as the deadly tragedy turned into a volatile political crisis for Tehran's leaders and overshadowed their struggle with the United States."
Secretary of State Mike Pompeo Imposes Additional Sanctions on Iran, The New York Times, Eileen Sullivan, Friday, 10 January 2020: "The Trump administration slapped another round of sanctions on Iran on Friday and, brushing aside demands from Democrats for evidence, elaborated on its assertions that the decision to kill a top Iranian commander was justified by an imminent threat to United States embassies and other American interests." See also, Trump administration hits Iran with fresh sanctions after attack on U.S. forces, The Washington Post, Carol Morello, Friday, 10 January 2020: "The Trump administration hit Iran with more sanctions Friday in the first concrete response to the attacks on U.S. forces in Iraq this week, which were in retaliation for the U.S. airstrike that killed the most powerful Iranian military commander. The sanctions target Iran's metal industries, and eight senior military and national security officials who U.S. officials said were involved in the ballistic missile attacks on two bases in Iraq that house U.S. military personnel." See also, US imposes new sanctions on Iran, CNN Politics, Donna Borak, Betsy Klein, and Jennifer Hansler, Friday, 10 January 2020. See also, Trump now claims four embassies were under threat from Iran, The Washington Post, Shane Harris, Josh Dawsey, and Seung Min Kim, Friday, 10 January 2020: "President Trump said on Friday that a senior Iranian general killed by a U.S. drone strike had been planning attacks on four U.S. embassies, a claim made to justify the decision but that was at odds with intelligence assessments from senior officials in Trump's administration." Trump Says 4 Embassies Had Been Targeted by Iranians. He also asserted that he did not believe American citizens had a right to more details on the intelligence that prompted the killing of Iranian general Qassim Suleimani. The New York Times, Katie Rogers, Friday, 10 January 2020.
Continue reading Week 156, Friday, 10 January – Thursday, 16 January 2020 (Days 1,086-1,092)