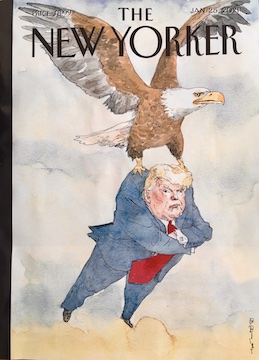 Now that the Biden administration has settled into Washington, D.C., my daily chronicle (20 January 2017 – 20 January 2021) of news about the Trump administration, Republicans, Democrats, corporations, courts, resistance, and persistence is winding down. I will continue to post a few important articles, especially ones that reflect the differences between the Biden administration and the Trump administration.  I hope to devote more of my time to posting muckraking articles on my site and to working with my local activist group in pursuit of progressive change and a stronger democracy. Thanks for reading!
For independent global news, visit Democracy Now!
For a newsletter about the history behind today's politics, subscribe to Heather Cox Richardson's newsletter, Letters from an American.
Monday, 2 August 2021:
Daily Political Briefing: Senators finish writing bipartisan infrastructure bill in rare weekend session, The New York Times, Monday, 2 August 2021:
Biden Administration to Keep Using Public Health Rule to Turn Away Migrants, The New York Times, Eileen Sullivan and Zolan Kanno-Youngs, Monday, 2 August 2021: 'With the number of migrants crossing the southern border surging and the pandemic proving to be far from over, the Biden administration has decided to leave in place for now the public health rule that has allowed it to turn away hundreds of thousands of migrants, officials said. The decision, confirmed by the Centers for Disease Control and Prevention on Monday, amounted to a shift by the administration, which had been working on plans to begin lifting the rule this summer, more than a year after it was imposed by the Trump administration. The C.D.C. said allowing noncitizens to come over the border from either Mexico or Canada 'creates a serious danger' of further spread of the coronavirus. President Biden has come under intense pressure for months from some Democrats and supporters of more liberal immigration policies to lift the rule, which critics say has been employed less to protect public health than as a politically defensible way to limit immigration."
Now that the Trump administration is no longer in power, I plan to post summaries of the daily political news and major stories relating to this tragic and dangerous period in US history. I will try to focus on the differences between the Trump administration and the new Biden administration and on the ongoing toxic residual effects of the Trump administration and Republicans. I usually post throughout the day and let the news settle for a day or so before posting.
I created Muckraker Farm in 2014 as a place to post investigative/muckraking journalism going back to the 19th century, and I hope to return to this activity in the near future. Thanks for reading!