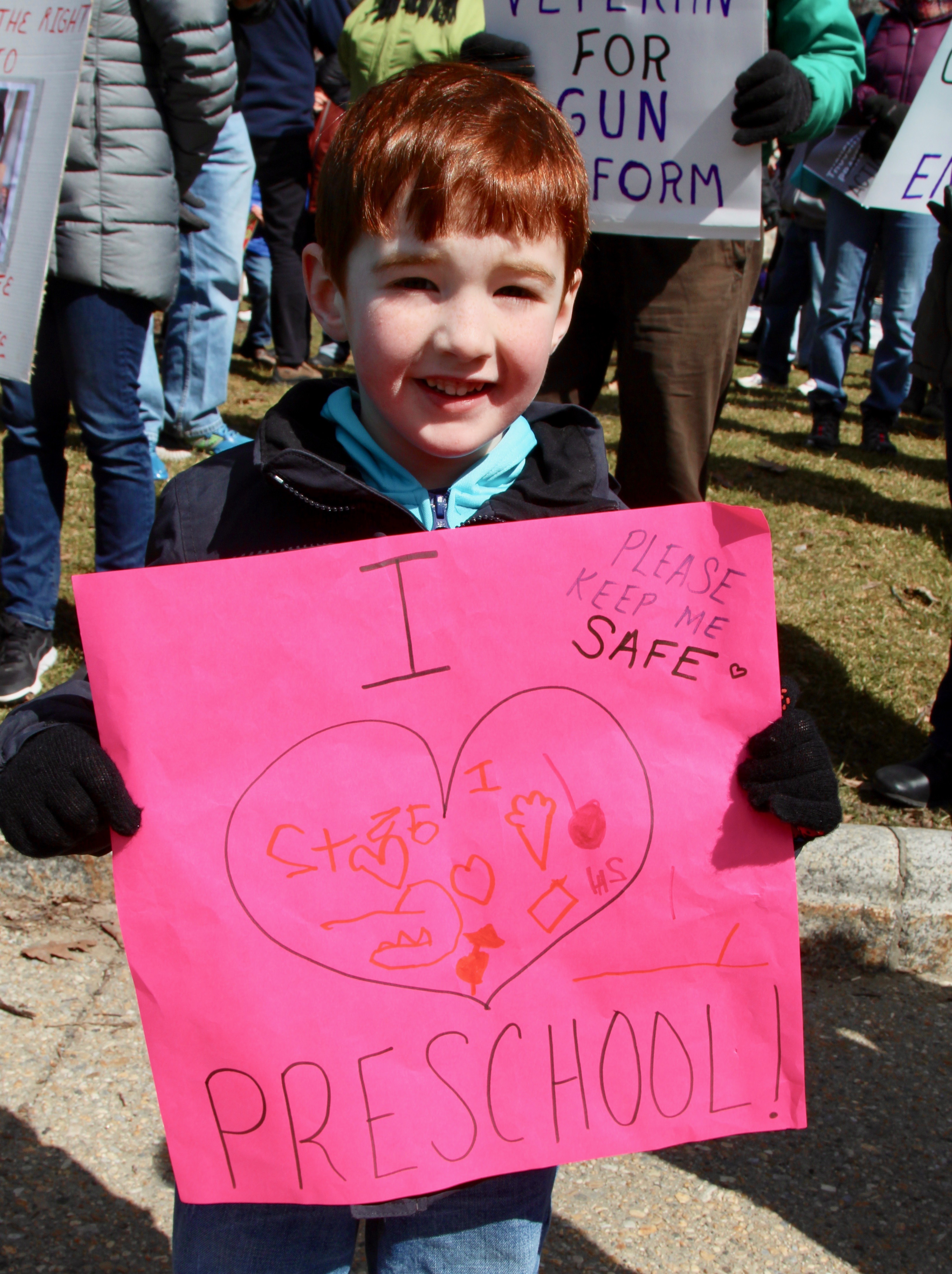 March For Our Lives, Pittsfield, MA, Saturday, 24 March 2018
Keeping Track (of some things), Staying Outraged (it is possible), and Resisting (it's essential)
Passages in bold in the body of the texts below are my emphasis. This is an ongoing project, and I update the site frequently. Because I try to stay focused on what has actually happened, I usually let the news 'settle' a day or so before posting. I hope readers will peruse the articles in full for a better understanding of the issues and their context; our democracy and our future depend on citizens who can distinguish between facts and falsehoods and who are engaged in the political process.
Friday, 20 April 2018, Day 456:
North Korea says it will suspend nuclear and missile tests and shut down test site, The New York Times, Anna Fifield, Friday, 20 April 2018: "North Korean leader Kim Jong Un has declared that he will suspend nuclear and missile tests starting Saturday and that he will shut down the site where the previous six nuclear tests were conducted. The surprising announcement comes just six days before Kim is set to meet South Korean President Moon Jae-in, a precursor to a historic summit between Kim and President Trump. The U.S. president is set to meet Kim at the end of May or beginning of June, although a location has not yet been set. Both Moon and Trump have been saying that North Korea is now willing to 'denuclearize,' a term that means different things to the two sides."
How the C.I.A. Is Waging an Influence Campaign to Get Its Next Director, Gina Haspel, Confirmed, The New York Times, Adam Goldman and Matthew Rosenberg, Friday, 20 April 2018: "Central Intelligence Agency operatives have long run covert influence campaigns overseas. Now, the agency is mounting an unusually active, not very secret campaign in Washington. The C.I.A. is trying to ensure its deputy director, Gina Haspel, a career spy, is confirmed as its next director. Almost every detail of her life and work is classified; what little is known stems from her role overseeing the brutal interrogation of a terrorism suspect at a secret prison in Thailand and conveying orders to destroy videos documenting torture. To promote a more positive view of Ms. Haspel, the agency has declassified secrets about her life as a globe-trotting spy and encouraged former clandestine officers — typically expected to remain quiet even in retirement — to grant interviews. It sought to generate favorable news coverage by providing selective biographical details about Ms. Haspel to reporters, then sent a news release to highlight the resulting stories. The campaign to secure Ms. Haspel's confirmation reflects the view of many officials inside the C.I.A., who see her as the agency's best chance to keep a political partisan from being installed as director. But C.I.A. officials have failed to declassify any meaningful information about Ms. Haspel's career, according to Democrats on the Senate Intelligence Committee, who complained to the agency that they have asked five times for more details but have yet to receive a response." See also, CIA declassifies memo clearing Haspel of responsibility for destroying evidence, The Washington Post, Karoun Demirjian, Friday, 20 April 2018: "The Central Intelligence Agency took the unusual step Friday of declassifying and releasing a memo clearing Gina Haspel of any wrongdoing in drafting an order to destroy videotaped evidence of brutal interrogation techniques, a move that comes as part of a greater campaign to rehabilitate her image and shore up congressional support for her bid to become the agency's director. The memo, which former CIA deputy director Michael Morell wrote in 2011, is the result of a disciplinary review in which he 'found no fault with the performance of Ms. Haspel' — primarily because she drafted the cable 'on the direct orders' of her superior and did not release it herself. 'It was not her decision to destroy the tapes,' Morell wrote in the declassified document, which the CIA released Friday in response to requests from members of the Senate Intelligence Committee. But senators clamoring for the CIA to declassify documents related to Haspel's record on techniques often referred to as torture and the order to destroy evidence were angered by what they saw as a 'selective' response to their demands."
Democratic National Committee Alleges Trump-Russia Conspiracy in New Lawsuit, The New York Times, Alexander Burns and Michael D. Shear, Friday, 20 April 2018: "The Democratic National Committee opened a surprise legal assault on President Trump on Friday, filing a lawsuit in federal court alleging that the organization was the victim of a conspiracy by Russian officials, the Trump campaign and WikiLeaks to damage Hillary Clinton's presidential run. The 66-page complaint, filed in federal court in New York, uses the publicly known facts of the investigation into Russia's election meddling to accuse Mr. Trump's associates of illegally working with Russian intelligence agents to interfere with the outcome of the election. In the document, the committee accuses Republicans and the Russians of 'an act of previously unimaginable treachery.' The sweeping lawsuit startled Republicans in Washington as well as Democratic leaders, who were only briefed at the last minute about the D.N.C.'s plans to pursue civil litigation. Tom Perez, the chairman of the Democratic Party, said the committee had alerted Senate Minority Leader Chuck Schumer and House Minority Leader Nancy Pelosi, the top Democrats in Congress, 'when we were about to file.' Mr. Trump, in a tweet Friday evening, chided 'obstructionist Democrats' for filing the complaint and suggested it could backfire if Republicans got access in court to the D.N.C.'s hacked email servers." See also, Democratic Party sues Russia, the Trump campaign, and WikiLeaks alleging 2016 campaign conspiracy, The Washington Post, Tom Hamburger, Rosalind S. Helderman, and Ellen Nakashima, Friday, 20 April 2018.
Continue reading Week 66, Friday, 20 April – Thursday, 26 April 2018 (Days 456-462)