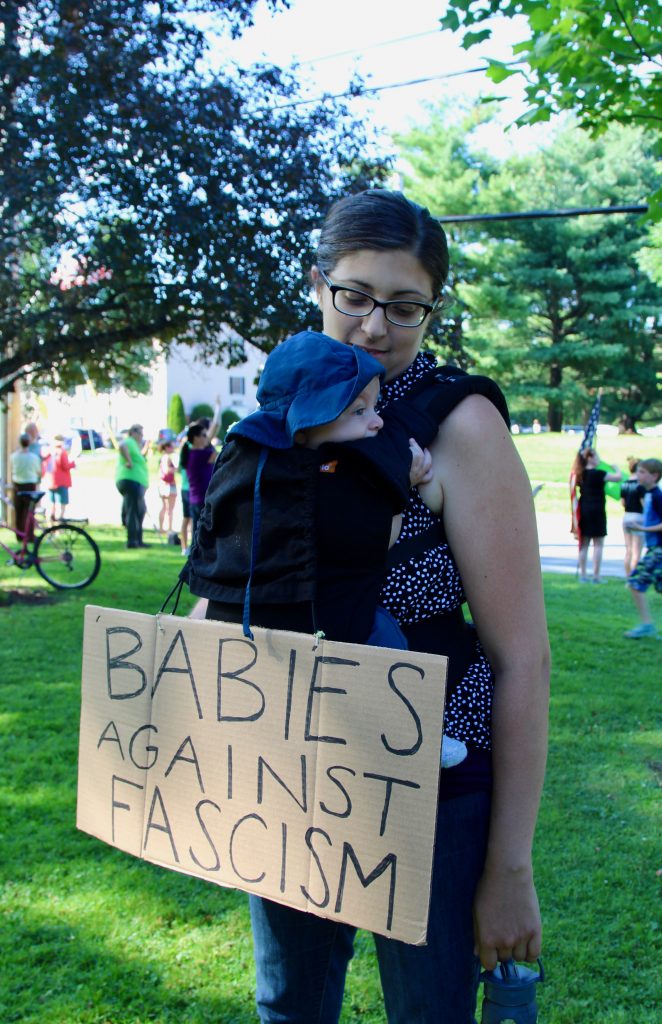 Keeping Track (of some things), Staying Outraged (it is possible), and Resisting (it's essential)
Passages in bold in the body of the texts below are my emphasis. This is an ongoing project, and I update the site frequently. I hope readers will peruse the articles in full for a better understanding of the issues and their context; our democracy and our future depend on citizens who can distinguish between facts and falsehoods and who are engaged in the political process.
Friday, 15 September 2017, Day 239:
Trump's Tweets About London Bombing Anger British Leaders, The New York Times, Mark Landler and Maggie Haberman, Friday, 15 September 2017: "President Trump seized on a terrorist attack in London on Friday to promote his ban on travel to the United States by Muslims and, in the process, ran afoul of Britain by claiming without evidence that the assailants had been 'in the sights' of the British police. In a fusillade of early morning tweets, Mr. Trump cited the chaotic scene in a London Underground station as Exhibit A for his hard-line policies. His ban on visitors from predominantly Muslim countries, he wrote, should be 'far larger, tougher and more specific' — a statement that seemed calculated to mollify his political base after a week in which Mr. Trump suddenly began playing dealmaker with Democrats on immigration. But Mr. Trump's assertion that the assailants had been known to Scotland Yard angered Prime Minister Theresa May, who said it was not helpful for anyone to speculate while an investigation was underway. Mr. Trump was later briefed about the attack and called Mrs. May with condolences, according to a senior official, though he did not apologize. It was the latest episode in which Mr. Trump was at odds with Britain over sensitive security issues. In June, he criticized London's mayor, Sadiq Khan, over his response to another terrorist attack, misconstruing Mr. Khan's words. In March, the White House press secretary at the time, Sean Spicer, repeated allegations that a British intelligence agency had wiretapped Trump Tower, which British authorities dismissed as 'utterly ridiculous.' Trump's assertions were also a sign that for all the talk about a more disciplined White House under the new chief of staff, John F. Kelly — who has urged the president to have tweets vetted by his aides — Mr. Trump was still determined not to censor himself on social media and was fully capable of roiling the diplomatic waters with a single unguarded post."
Trump Declines to Release List of His Visitors at Mar-a-Lago Despite a Federal Court Order, The New York Times, Eric Lipton, Wednesday, 15 September 2017: "The Trump administration on Friday escalated a battle with government ethics groups by declining, even in the face of a federal court order, to release the identities of individuals visiting with President Trump at his family's Mar-a-Lago resort during the days he has spent at the private club in Palm Beach, Fla., this year. The surprising move by the Department of Justice, which had been ordered in July by a federal court to complete its review of Mar-a-Lago visitor records, came after weeks of promotion by Citizens for Responsibility and Ethics in Washington, the liberal nonprofit group known as CREW, that it would soon be getting the Mar-a-Lago visitors logs. Instead, on Friday the Justice Department released a State Department list of just 22 names — all of them members of the delegation of the Japanese prime minister — who visited the club in February for a meeting with President Trump. The dispute centers on what kind of records related to private individuals visiting the president should be open to public inspection. The refusal to disclose the full list of presidential visitors' names also brings renewed scrutiny to the president's private business empire and raises questions about why the administration would want to withhold information that could reveal possible conflicts of interest. CREW and its partners in the effort — the National Security Archive and the Knight First Amendment Institute at Columbia University — sued in April to get access to presidential visitor logs for Mar-a-Lago, the White House and Trump Tower in New York. CREW requested only a list of people explicitly visiting the president, not, for example, all Mar-a-Lago members or other guests who happened to be there on those days." See also, Watchdog groups sought presidential visitor logs for Mar-a-Lago. They finally got a response–22 names –all from the delegation of Japanese officials and assistants who accompanied Prime Minister Shinzo Abe on a February trip, The Washington Post, David A. Fahrenthold, Friday, 15 September 2017.
The Trump administration is working toward renewed drilling in the Arctic National Wildlife Refuge, The Washington Post, Juliet Eilperin, Friday, 15 September 2017: "The Trump administration is quietly moving to allow energy exploration in the Arctic National Wildlife Refuge for the first time in more than 30 years, according to documents obtained by The Washington Post, with a draft rule that would lay the groundwork for drilling. Congress has sole authority to determine whether oil and gas drilling can take place within the refuge's 19.6 million acres. But seismic studies represent a necessary first step, and Interior Department officials are modifying a 1980s regulation to permit them. The effort represents a twist in a political fight that has raged for decades. The remote and vast habitat, which serves as the main calving ground for one of North America's last large caribou herds and a stop for migrating birds from six continents, has served as a rallying cry for environmentalists and some of Alaska's native tribes. But state politicians and many Republicans in Washington have pressed to extract the billions of barrels of oil lying beneath the refuge's coastal plain." See also, Trump Administration Moves to Open Arctic Refuge to Drilling Studies, The New York Times, Lisa Friedman, published on Saturday, 16 September 2017: "An internal Interior Department memo has proposed lifting restrictions on exploratory seismic studies in the Arctic National Wildlife Refuge, a possible first step toward opening the pristine wilderness area to oil and gas drilling. The document proposes ending a restriction that had limited exploratory drilling to the period from Oct. 1, 1984, to May 31, 1986. It also directs the agency to provide an environmental assessment and a proposed rule allowing for new exploration plans. The document, a copy of which was obtained by The New York Times, was first reported by The Washington Post."
Continue reading Week 35, Friday, 15 September – Thursday, 21 September 2017: