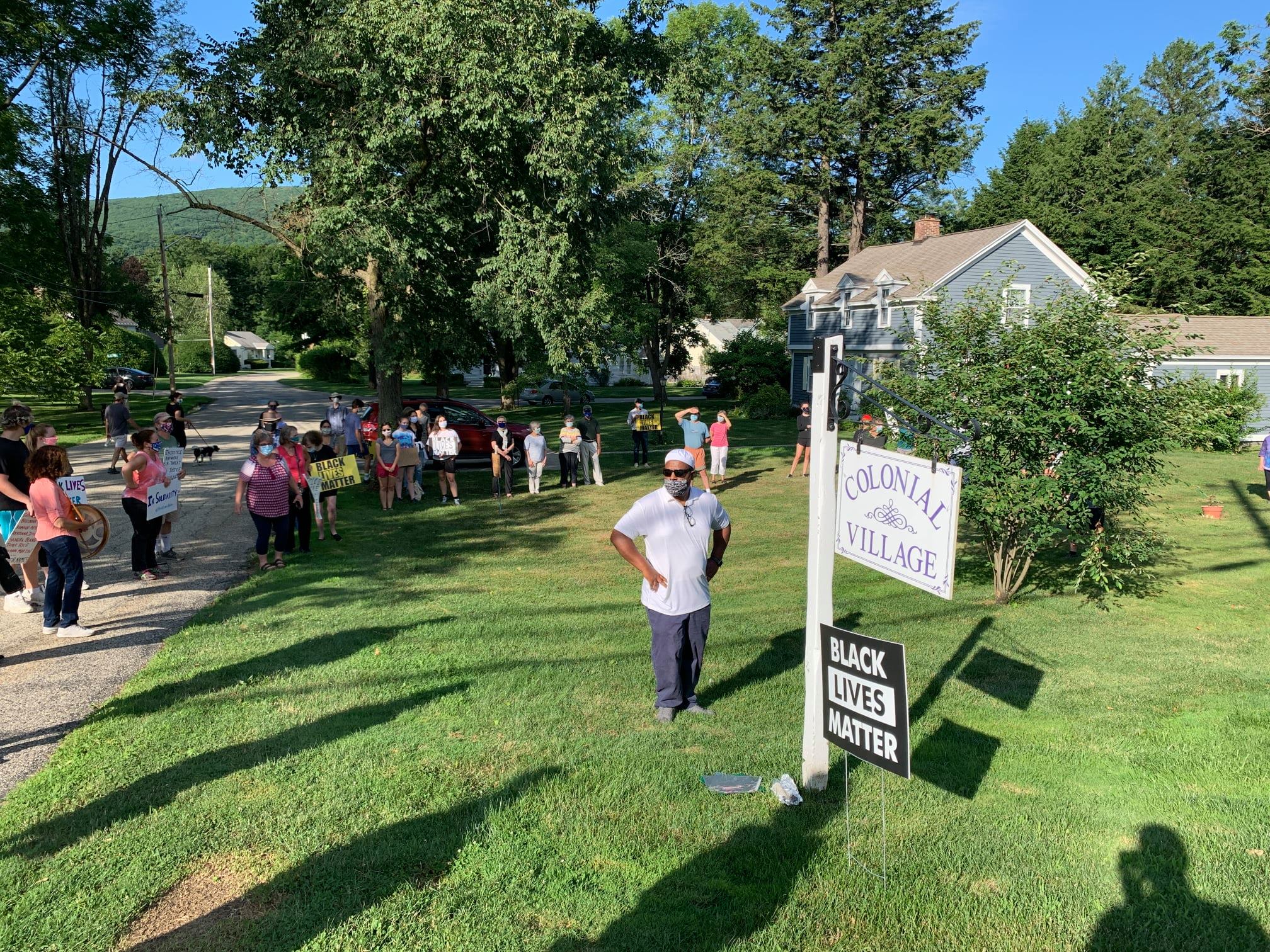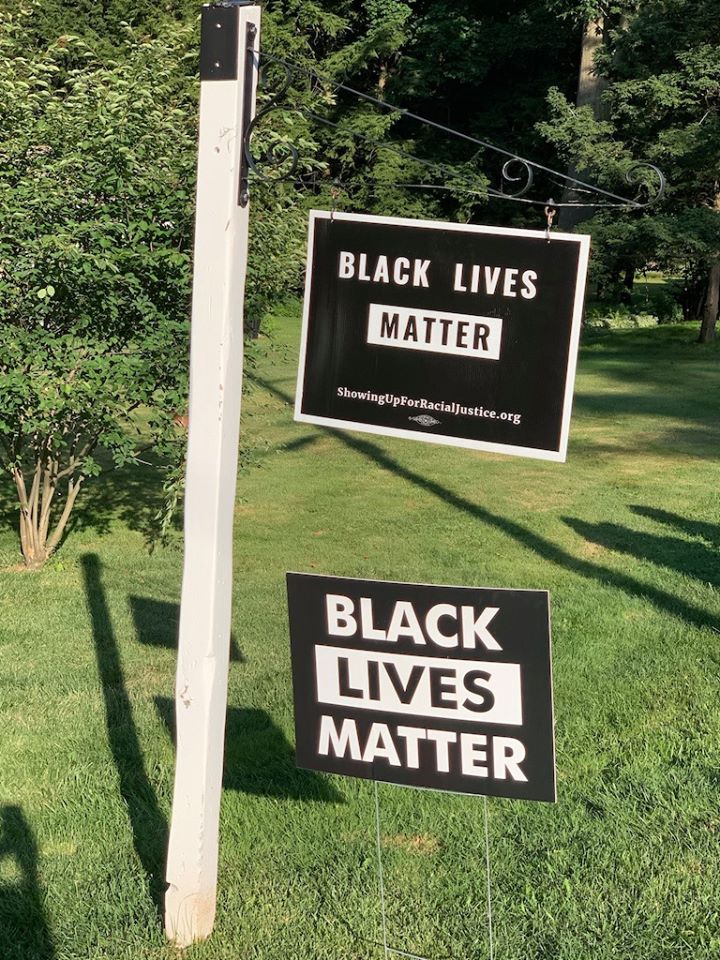 Participants at a gathering in Williamstown, MA, on Friday, 17 July, calling for a name change for Williamstown's Colonial Village and for a law to address a racist covenant. Section 'f' of the 'Protective Covenants and Restrictions' written when the Colonial Village neighborhood off Main Street (Route 2) was developed in 1939 reads: 'No persons of any race other than the white race shall use or occupy any buildings or any lot, except that this covenant shall not prevent occupancy by domestic servants of a different race domiciled with an owner or tenant.' See 'On the Books, Unenforceable; Restrictive Covenant an Echo of Williamstown's Racist Legacy' by Stephen Dravis in iBerkshires. See also, Representative John Barrett Answers Williamstown Residents' Call for Law to Address Racist Covenant by Stephen Dravis in iBerkshires.
Passages in bold in the body of the texts below are usually my emphasis, though not always. This is an ongoing project, and I update the site frequently during the day. Because I try to stay focused on what has actually happened, I usually let the news 'settle' for a day or so before posting. I hope readers will peruse the articles in full for a better understanding of the issues and their context; our democracy and our future depend on citizens who can distinguish between facts and falsehoods and who are engaged in the political process.
For independent global news, visit Democracy Now!
For a newsletter about the history behind today's politics, subscribe to Heather Cox Richardson's newsletter, Letters from an American.
Friday, 17 July 2020, Day 1,274:
John Lewis, Towering Figure of Civil Rights Era, Dies at 80. Images of his beating at Selma shocked the nation and led to swift passage of the 1965 Voting Rights Act. He was later called the conscience of the Congress. The New York Times, Katharine Q. Seelye, Friday, 17 July 2020: "Representative John Lewis, a son of sharecroppers and an apostle of nonviolence who was bloodied at Selma and across the Jim Crow South in the historic struggle for racial equality, and who then carried a mantle of moral authority into Congress, died on Friday. He was 80. His death was confirmed in a statement by Nancy Pelosi, the speaker of the House of Representatives. Mr. Lewis, a Georgia Democrat, announced on Dec. 29 that he had Stage 4 pancreatic cancer and vowed to fight it with the same passion with which he had battled racial injustice. 'I have been in some kind of fight — for freedom, equality, basic human rights — for nearly my entire life,' he said. On the front lines of the bloody campaign to end Jim Crow laws, with blows to his body and a fractured skull to prove it, Mr. Lewis was a valiant stalwart of the civil rights movement and the last surviving speaker from the March on Washington for Jobs and Freedom in 1963. More than a half-century later, after the killing in May of George Floyd, a Black man in police custody in Minneapolis, Mr. Lewis welcomed the resulting global demonstrations against police killings of Black people and, more broadly, against systemic racism in many corners of society. He saw those protests as a continuation of his life's work, though his illness had left him to watch from the sidelines." See also, John Lewis's Legacy and America's Redemption. The civil-rights leader, who died Friday, acknowledged the darkest chapters of the country's history, yet he insisted that change is always possible. The New Yorker, David Remnick, published on Saturday, 18 July 2020: "John Robert Lewis was born in 1940 near the Black Belt town of Troy, Alabama. His parents were sharecroppers, and he grew up spending Sundays with a great-grandfather who was born into slavery, and hearing about the lynchings of Black men and women that were still a commonplace in the region. When Lewis was a few months old, the manager of a chicken farm named Jesse Thornton was lynched about twenty miles down the road, in the town of Luverne. His offense was referring to a police officer by his first name, not as 'Mister.' A mob pursued Thornton, stoned and shot him, then dumped his body in a swamp; it was found, a week later, surrounded by vultures. These stories, and the realities of Jim Crow-era segregation, prompted Lewis to become an American dissident. Steeped in the teachings of his church and the radio sermons of Martin Luther King, Jr., he left home for Nashville, to study theology and the tactics of nonviolent resistance. King teased him as 'the boy from Troy,' the youngest face at the forefront of the movement. In a long career as an activist, Lewis was arrested forty-five times and beaten repeatedly by the police and by white supremacists, most famously in Selma, on March 7, 1965—Bloody Sunday—when he helped lead six hundred people marching for voting rights. After they had peacefully crossed a bridge, Alabama troopers attacked, using tear gas, clubs, and bullwhips. Within moments of their charge, Lewis lay unconscious, his skull fractured. He later said, 'I thought I was going to die.'… Too often in this country, seeming progress is derailed, reversed, or overwhelmed. Bloody Sunday led directly to the passage of the Voting Rights Act––and yet suppressing the Black vote is a pillar of today's Republican Party strategy. The election of the first African-American President was followed by a bigot running for election, and now reëlection, on a platform of racism and resentment." See also, John Lewis, front-line civil rights leader and eminence of Capitol Hill, dies at 80, The Washington Post, Laurence I. Barrett, Friday, 17 July 2020: "John Lewis, a civil rights leader who preached nonviolence while enduring beatings and jailings during seminal front-line confrontations of the 1960s and later spent more than three decades in Congress defending the crucial gains he had helped achieve for people of color, has died. He was 80….  Mr. Lewis, a Georgia Democrat, announced his diagnosis of pancreatic cancer on Dec. 29 and said he planned to continue working amid treatment. 'I have been in some kind of fight — for freedom, equality, basic human rights — for nearly my entire life,' he said in a statement. 'I have never faced a fight quite like the one I have now.'"
Some Global Coronavirus Updates for Friday, 17 July 2020: U.S. Reports More Than 70,000 New Coronavirus Cases for the Second Time, The New York Times, Friday, 17 July 2020:
Some Business Coronavirus Updates for Friday, 17 July 2020: Lowe's and Home Depot to Require Customers to Wear Masks, The New York Times, Friday, 17 July 2020:
Home Depot and Lowe's join other retailers with mask mandates.

Steven Mnuchin says Congress should consider forgiving some small loans.

More stimulus should go to the hardest hit, the Treasury secretary says.

Waiting for the world to go back to the beach.

Two former Federal Reserve chairs push for more economic relief.

Wall Street notches its third weekly gain in a row.

Watch: White House officials testify on small-business aid.

British Airways retires its fleet of Boeing 747s, ending an era.

Airbnb was like a family. Then the layoffs started.
Continue reading Week 183, Friday, 17 July – Thursday, 23 July 2020 (Days 1,274-1,280)
Continue reading...