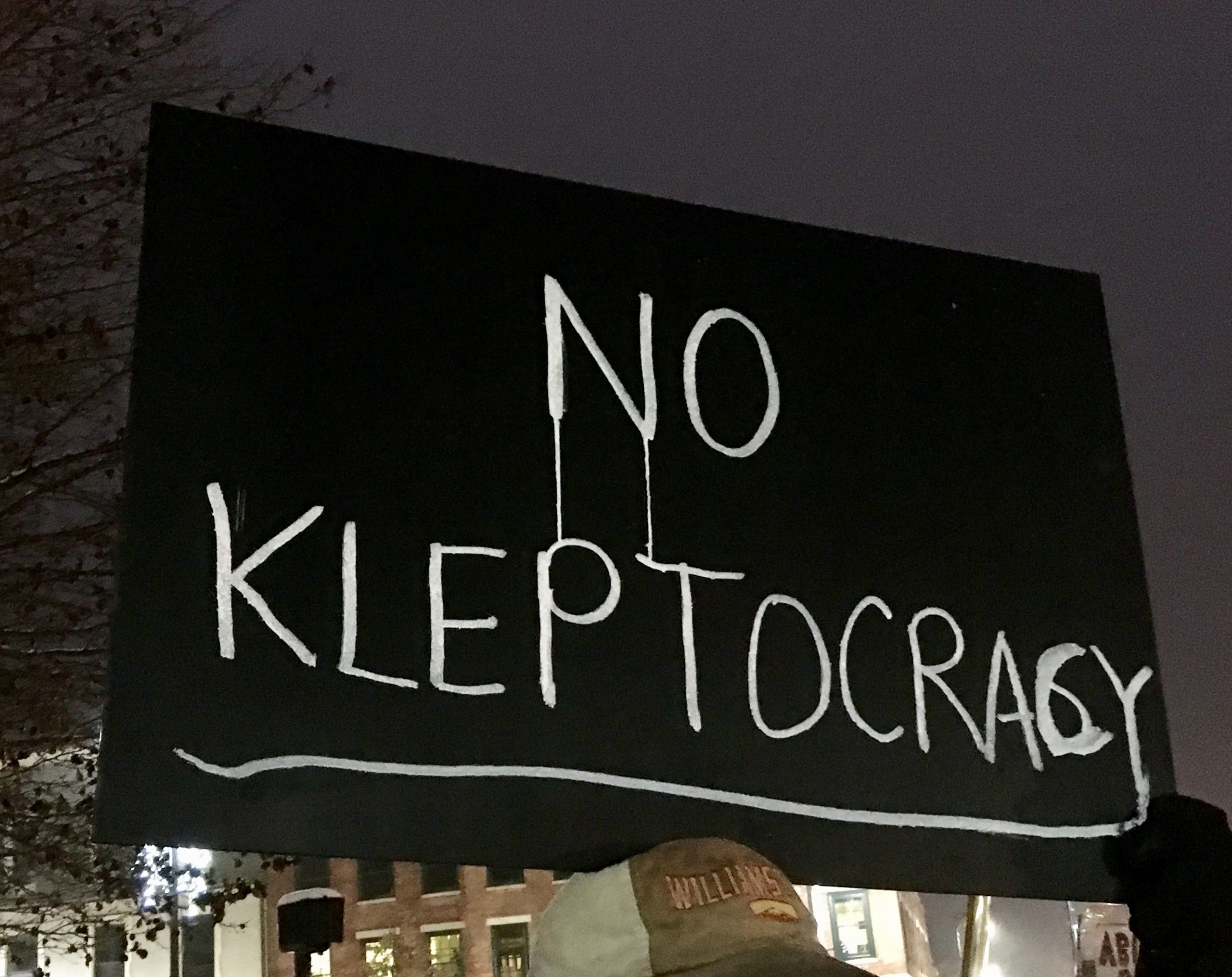 Passages in bold in the body of the texts below are usually my emphasis, though not always. This is an ongoing project, and I update the site frequently during the day. Because I try to stay focused on what has actually happened, I usually let the news 'settle' for a day or so before posting. I hope readers will peruse the articles in full for a better understanding of the issues and their context; our democracy and our future depend on citizens who can distinguish between facts and falsehoods and who are engaged in the political process.
For "a weekly newsletter celebrating people-powered wins against the Trump administration's agenda," visit Small Victories.
For independent global news, visit Democracy Now!
Friday, 24 January 2020, Day 1,100:
Branding Trump a Danger, Democrats Cap the Case for His Removal, The New York Times, Nicholas Fandos, Friday, 24 January 2020: "House Democrats concluded their arguments against President Trump on Friday by portraying his pressure campaign on Ukraine as part of a dangerous pattern of Russian appeasement that demanded his removal from office. Ending their three-day presentation in the Senate, the impeachment managers summoned the ghosts of the Cold War and the realities of geopolitical tensions with Russia to argue that Mr. Trump's abuse of power had slowly shredded delicate foreign alliances to suit his own interests. 'This is Trump first, not America first, not American ideals first,' said Representative Adam B. Schiff of California, the lead House manager. 'And the result has been, and will continue to be, grave harm to our nation if this chamber does not stand up and say this is wrong.'… Mr. Schiff's fiery final oration appeared to alienate the very Republicans he was trying to win over. When he referred to an anonymously sourced news report that Republican senators had been warned that their heads would be 'on a pike' if they voted against Mr. Trump, several of them vigorously shook their heads and broke their sworn silence: 'not true.'" See also, Trump Impeachment: Highlights of Friday's Trial, The New York Times, Eileen Sullivan, Friday, 24 January 2020. See also, Day in Impeachment: Democrats Outline Trump's Efforts to Cover Up Conduct, The New York Times, Friday, 24 January 2020. See also, Emotional Speech by Adam Schiff Goes Viral, Delighting the Left and Enraging the Right, The New York Times, Sheryl Gay Stolberg, Friday, 24 January 2020. See also, House impeachment managers declare 'facts have been proved' as they wrap up their opening arguments against Trump, The Washington Post, John Wagner, Colby Itkowitz, and Michael Brice-Saddler, Friday, 24 January 2020: "House managers completed their opening arguments late Friday in the historic impeachment trial focused on President Trump's conduct toward Ukraine, declaring 'acts have been proved.' Rep. Adam B. Schiff (D-Calif.), the lead House manager, summed up his team's arguments, pleading for a fair trial while telling senators 'Donald J. Trump has abused the power of the presidency.' Over the course of three days, managers presented arguments for a total of 21 hours and 18 minutes — falling short of the 24 hours they were allotted. The crux of their case is the allegation that Trump withheld military aid and a White House meeting to pressure Ukraine to investigate Joe Biden, a political rival, as well as his son Hunter Biden, who served on the board of Burisma, a Ukrainian gas company, while his father was vice president." See also, In first day of defense, Trump's team argues that he did nothing wrong, and that Democrats presented selective case, The Washington Post, John Wagner and Colby Itkowitz, Saturday, 25 January 2020. See also, Adam Schiff delivered a detailed, hour-long summary of the Democrats' impeachment case. Some Republicans dismissed it because of one line. The Washington Post, Mike DeBonis, Friday, 24 January 2020: "Rep. Adam B. Schiff spoke for nearly an hour closing the House's case for the removal of President Trump, advancing and rebutting scores of arguments, but many Republican senators left the chamber talking about only one line: His reference to a news report that GOP senators were warned that if they vote against the president, their "head will be on a pike." See also, Friday's Senate impeachment trial, The Washington Post, Amber Phillips, Friday, 24 January 2020. See also, Democrats focus on Trump's character as they argue for removing him from office in impeachment trial, The Washington Post, Elise Viebeck, Karoun Demirjian, and Mike DeBonis, Friday, 24 January 2020. See also, Democrats say impeachment case 'has been proved' as they make final pitch, The Guardian, Vivain Ho and Joan E. Greve, Friday, 24 January 2020. See also, Trump's Impeachment Trial–Live Analysis, The Wall Street Journal, Friday, 24 January 2020. See also, Impeachment Trial of President Trump, CNN Politics, Meg Wagner, Veronica Rocha, and Mike Hayes, Saturday, 25 January 2020. See also, House impeachment managers wrap up their case with Trump's obstruction of Congress, CNN Politics, Jeremy Herb and Manu Raju, published on Saturday 25 January 2020. See also, Democrats warn at impeachment trial that Trump will abuse his office again if not removed, Reuters, Susan Cornwell and David Morgan, Friday, 24 January 2020: "Democratic lawmakers concluded their opening arguments in Republican President Donald Trump's impeachment trial in the U.S. Senate on Friday with a warning that he was a threat to democracy and would abuse his power again if he is not removed from office." See also, 'Imminent threat': Democrats make final case to remove Trump, Politico, Kyle Cheney, Friday, 24 January 2020: "President Donald Trump remains an 'imminent threat to the integrity of our democracy,' the House's top impeachment manager Adam Schiff argued Friday in an extraordinary Senate-floor appeal in which he accused Trump of embracing Russian propaganda at the expense of U.S. national security. 'The threat that he will continue to abuse his power and cause grave harm to the nation over the course of the next year … is not hypothetical,' Schiff argued. 'Merely exposing the president's scheme has not stopped him from continuing this destructive pattern of behavior that has brought us to this somber moment. He is who he is.'"
Trump complains about his defense team's 'Death Valley' impeachment time slot, Politico, Quint Forgey, Friday, 24 January 2020: "President Donald Trump, flashing the fixation of a former reality television showman, lamented on Friday that his impeachment defense team was being made to present its case this weekend during the "Death Valley" of broadcast time slots."
'Take her out': Recording appears to capture Trump at private dinner saying he wants Ukraine ambassador Marie Yovanovitch fired, ABC News, Katherine Faulders, John Santucci, Allison Pecorin, and Olivia Rubin, Friday, 24 January 2020: "A recording obtained by ABC News appears to capture President Donald Trump telling associates he wanted the then-U.S. ambassador to Ukraine Marie Yovanovitch fired while speaking at a small gathering that included Lev Parnas and Igor Fruman — two former business associates of Trump's personal lawyer Rudy Giuliani who have since been indicted in New York. The recording appears to contradict statements by Trump and support the narrative that has been offered by Parnas during broadcast interviews in recent days. Sources familiar with the recording said the recording was made during an intimate April 30, 2018, dinner at the Trump International Hotel in Washington, D.C." See also, Lev Parnas Says He Has Recording of Trump Calling for Ambassador's Firing, The New York Times, Kenneth P. Vogel and Ben Protess, Friday, 24 January 2020: "A former associate of Rudolph W. Giuliani, President Trump's personal lawyer, said on Friday that he had turned over to congressional Democrats a recording from 2018 of the president ordering the removal of Marie L. Yovanovitch as the United States ambassador to Ukraine. The associate, Lev Parnas, who worked with Mr. Giuliani to oust the ambassador and to pressure the Ukrainian government to pursue investigations to help Mr. Trump, located the recording on Friday after its existence was first reported by ABC News, said Joseph A. Bondy, Mr. Parnas's lawyer. Mr. Bondy said the recording was "of high materiality to the impeachment inquiry" of Mr. Trump and that he had provided it to the House Intelligence Committee, whose chairman, Representative Adam B. Schiff, is leading the impeachment managers in their presentation of the case."
Continue reading Week 158, Friday, 24 January – Thursday, 30 January 2020 (Days 1,100-1,106)
Continue reading...