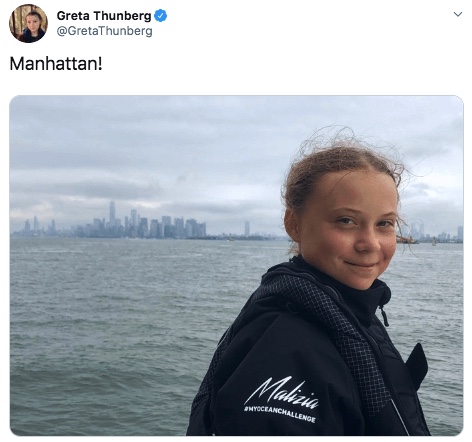 Passages in bold in the body of the texts below are usually my emphasis, though not always. This is an ongoing project, and I update the site frequently during the day. Because I try to stay focused on what has actually happened, I usually let the news 'settle' for a day or so before posting. I hope readers will peruse the articles in full for a better understanding of the issues and their context; our democracy and our future depend on citizens who can distinguish between facts and falsehoods and who are engaged in the political process.
For "a weekly newsletter celebrating people-powered wins against the Trump administration's agenda," visit Small Victories.
For independent global news, visit Democracy Now!
Friday, 30 August 2019, Day 953:
Greta Thunberg joins hundreds of teenagers in climate protest in New York, The Guardian, Friday, 30 August 2019: "Swedish climate activist Greta Thunberg was joined by hundreds of American teenagers protesting outside the UN headquarters in New York on Friday calling for adults to act on the crisis of global heating. Holding her trademark 'skolstrejk för klimatet' (Swedish for 'school strike for climate') sign, Thunberg sat in the middle of the rally where young activists gave speeches calling for action on the climate crisis."
Trump's personal assistant Madeleine Westerhout is fired after comments about Ivanka and Tiffany Trump, Politico, Daniel Lippman, Friday, 30 August 2019: "Madeleine Westerhout, who left her White House job suddenly on Thursday as President Trump's personal assistant, was fired after bragging to reporters that she had a better relationship with Trump than his own daughters, Ivanka and Tiffany Trump, and that the president did not like being in pictures with Tiffany because he perceived her as overweight. Given Westerhout's sensitive role as a confidante to the president, the few details the White House shared about her abrupt firing had Washington's political-media class in a quiet frenzy on Thursday night and Friday." See also, Trump's Personal Assistant, Madeleine Westerhout, Shared Intimate Details of First Family, The New York Times, Katie Rogers, Annie Karni, and Maggie Haberman, Friday, 30 August 2019: "If a White House official wanted to talk to President Trump, it helped to have a good relationship with Madeleine Westerhout, his 28-year-old assistant. She was known for brusquely deflecting officials senior to her both in title and age who wanted a few minutes of face time with the president with one withering question: 'Why are you here?' But it was not what some administration officials saw as Ms. Westerhout's overprotectiveness of the president that led to her abrupt and unceremonious departure from the White House on Thursday. Instead, it was an act of disloyalty. At an off-the-record dinner and several rounds of drinks with reporters two weeks ago during the president's working vacation in Bedminster, N.J., she shared personal details about the president and his family. Ms. Westerhout attended the dinner with Hogan Gidley, a White House spokesman. After he left, she began to tell reporters about Mr. Trump's eating habits; his youngest son, Barron Trump; and his thoughts about the weight and appearance of his daughter Tiffany Trump, according to a group of current and former administration officials who were told what happened." See also, Trump says ousted personal assistant Madeleine Westerhout made 'hurtful' comments about his family to reporters, The Washington Post, Toluse Olorunnipa, Friday, 30 August 2019: "President Trump said he dismissed his personal assistant, Madeleine Westerhout, after she divulged personal information about the Trump family during an off-the-record dinner with reporters." See also, Trump's personal assistant, Madeleine Westerhout, abruptly exits White House after sharing details about Trump's family, CNN, Jim Acosta, Kaitlan Collins, Noah Gray, Pamela Brown, and Paul LeBlanc, Friday, 30 August 2019. See also, Trump's Personal Assistant, Madeleine Westerhout, Steps Down, The New York Times, Annie Karni and Maggie Haberman, published on Thursday, 29 August 2019.
How the Trump administration limited the scope of the US Department of Agriculture's 2020 dietary guidelines, The Washington Post, Laura Reiley, Friday, 30 August 2019: "The Trump administration is limiting scientific input to the 2020 dietary guidelines, raising concerns among nutrition advocates and independent experts about industry influence over healthy eating recommendations for all Americans. For the first time, the Department of Health and Human Services and the Department of Agriculture, which oversee the committee giving recommendations for the guidelines, have predetermined the topics that will be addressed. They have narrowed the research that can be used only to studies vetted by agency officials, potentially leaving key studies out of the mix. The 80 questions the committee has been asked to answer do not cover several pressing issues the panel explored five years ago. This includes the consumption of red and processed meat, as well as the dramatic proliferation of ultraprocessed foods, which account for a growing percentage of calories consumed by Americans. Nor will the committee explore appropriate sodium levels for different populations."
Continue reading Week 137, Friday, 30 August – Thursday, 5 August 2019 (Days 953-959)
Continue reading...