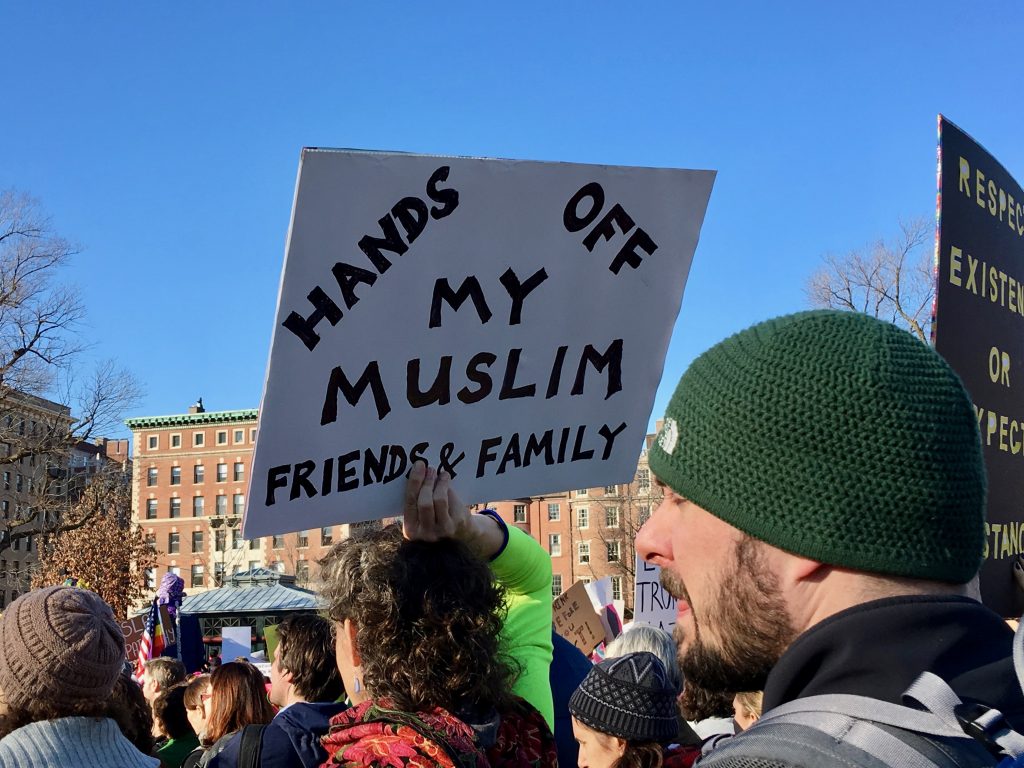 Keeping Track (of some things), Staying Outraged (it is possible), and Resisting (it's essential)
Passages in bold in the body of the texts below are my emphasis. This is an ongoing project, and I update the site frequently. I hope readers will peruse the articles in full for a better understanding of the issues and their context; our democracy and our future depend on citizens who can distinguish between facts and falsehoods and who are engaged in the political process.
Friday, 17 March 2017, Day 57:
Trump Offers No Apology for Claim on British Spying, The New York Times, Peter Baker and Steven Erlanger, Friday, 17 March 2017: "President Trump provoked a rare public dispute with America's closest ally on Friday after his White House aired an explosive and unsubstantiated claim that Britain's spy agency had secretly eavesdropped on him at the behest of President Barack Obama during last year's campaign. Livid British officials adamantly denied the allegation and secured promises from senior White House officials never to repeat it. But a defiant Mr. Trump refused to back down, making clear that the White House had nothing to retract or apologize for because his spokesman had simply repeated an assertion made by a Fox News commentator. Fox itself later disavowed the report. The rupture with London was Mr. Trump's latest quarrel with an ally or foreign power since taking office. Mexico's president angrily canceled a White House visit in January over Mr. Trump's proposed border wall. A telephone call with Australia's prime minister ended abruptly amid a dispute over refugees. Sweden bristled over Mr. Trump's criticism of its refugee policy. And China refused for weeks to engage with Mr. Trump because of his postelection call with Taiwan's president…. The angry response from Britain stemmed from Mr. Trump's persistence in accusing Mr. Obama of tapping his phones last year despite the lack of evidence and across-the-board denials. At a briefing on Thursday, Sean Spicer, the White House press secretary, read from a sheaf of news clippings that he suggested bolstered the president's claim. Among them was an assertion by Andrew Napolitano, a Fox News commentator, that Mr. Obama had used Britain's Government Communications Headquarters, the agency known as the GCHQ, to spy on Mr. Trump. In response to Mr. Spicer, the agency quickly denied it as 'nonsense' and 'utterly ridiculous,' while British officials contacted American counterparts to complain." See also, Fox's Andrew Napolitano Stirred the Pot for Trump's British Tempest, Michael M. Grynbaum, Friday, 17 March 2017: "Andrew Napolitano was a Superior Court judge in New Jersey until, frustrated by the constraints of his salary, he left the bench for more lucrative pastures: talk radio, a syndicated small-claims court TV series ('Power of Attorney') and, eventually, Fox News, where he rose to become the network's senior legal analyst. It was in that basic-cable capacity this week that Mr. Napolitano managed to set off a cascading scandal, which by Friday had sparked a trans-Atlantic tiff between Britain and the United States while plunging President Trump's close relationship with Fox News into new, murkier territory…. The saga began on Tuesday on 'Fox & Friends,' the chummy morning show, where Mr. Napolitano made a bizarre and unsupported accusation: Citing three unnamed sources, he said that Britain's top spy agency had wiretapped Mr. Trump on behalf of President Barack Obama during last year's campaign. Cable news blather, especially at that hour, usually vanishes at the commercial break. But on Thursday, Mr. Trump's press secretary, Sean Spicer, repeated the claim from the White House podium, infuriating British officials. On Friday, Fox News was forced to disavow Mr. Napolitano's remarks. 'Fox News cannot confirm Judge Napolitano's commentary,' the anchor Shepard Smith said on-air. 'Fox News knows of no evidence of any kind that the now-president of the United States was surveilled at any time, any way. Full stop.'… Mr. Trump refused to back down from the claims on Friday, and even praised Mr. Napolitano, telling reporters, 'All we did was quote a very talented legal mind.'"
Secretary of State Rex Tillerson Rejects Talks With North Korea on Nuclear Program, The New York Times, David Sanger, Friday, 17 March 2017: "Secretary of State Rex W. Tillerson ruled out on Friday opening any negotiation with North Korea to freeze its nuclear and missile programs and said for the first time that the Trump administration might be forced to take pre-emptive action 'if they elevate the threat of their weapons program' to an unacceptable level. Mr. Tillerson's comments in Seoul, a day before he travels to Beijing to meet Chinese leaders, explicitly rejected any return to the bargaining table in an effort to buy time by halting North Korea's accelerating testing program. The country's leader, Kim Jong-un, said on New Year's Day that North Korea was in the 'final stage' of preparation for the first launch of an intercontinental ballistic missile that could reach the United States. The secretary of state's comments were the Trump administration's first public hint at the options being considered, and they made clear that none involved a negotiated settlement or waiting for the North Korean government to collapse. 'The policy of strategic patience has ended,' Mr. Tillerson said, a reference to the term used by the Obama administration to describe a policy of waiting out the North Koreans, while gradually ratcheting up sanctions and covert action. Negotiations 'can only be achieved by denuclearizing, giving up their weapons of mass destruction,' he said — a step to which the North committed in 1992, and again in subsequent accords, but has always violated. 'Only then will we be prepared to engage them in talks.'"
German Chancellor Angela Merkel Meets Trump, the Defender Versus the Disrupter, The New York Times, Mark Landler, Friday, 17 March 2017: "Near the end of his meticulously formal, utterly impersonal news conference with Chancellor Angela Merkel, President Trump finally sought a sliver of common ground with his guest: They both, he said, had been wiretapped by former President Barack Obama. Ms. Merkel did a barely perceptible double take, busying herself by shuffling her notes. She smiled thinly and said nothing, as if she had resolved not to get drawn into Mr. Trump's political dramas. It was like that throughout Mr. Trump's first meeting with Ms. Merkel on Friday, an awkward encounter that was the most closely watched of his young presidency and took on an outsize symbolism: the great disrupter confronts the last defender of the liberal world order. Worlds apart in style and policy, Mr. Trump and Ms. Merkel made a show of working together, as they stood side by side in the East Room of the White House. But they could not disguise the gulf that separates them on trade, immigration and a host of other thorny issues." See also, In awkward exchange, Trump seems to ignore Chancellor Angela Merkel's handshake request, Politico, Madeline Conway, Friday, 17 March 2017: "Donald Trump, who made headlines for shaking hands with Japan's prime minister in front of reporters for a full 19 seconds, seemed to ignore German Chancellor Angela Merkel when she suggested that they exchange the same courtesy during her White House visit Friday. In an exchange caught on video, photographers gathered around Trump and Merkel in the Oval Office early Friday afternoon and suggested that the two leaders shake hands for the camera. Merkel, a U.S. ally regarded highly by former President Barack Obama, turned toward Trump and asked, 'Do you want to have a handshake?' Trump, who seemed to be grimacing as he sat alongside Merkel, did not respond. He continued looking forward as the cameras rolled. It is unclear whether or not Trump heard the chancellor, but clips of the exchange immediately made the rounds on Twitter. Reporters dubbed it 'awkward.'"
To continue reading Week 9:
Continue reading...