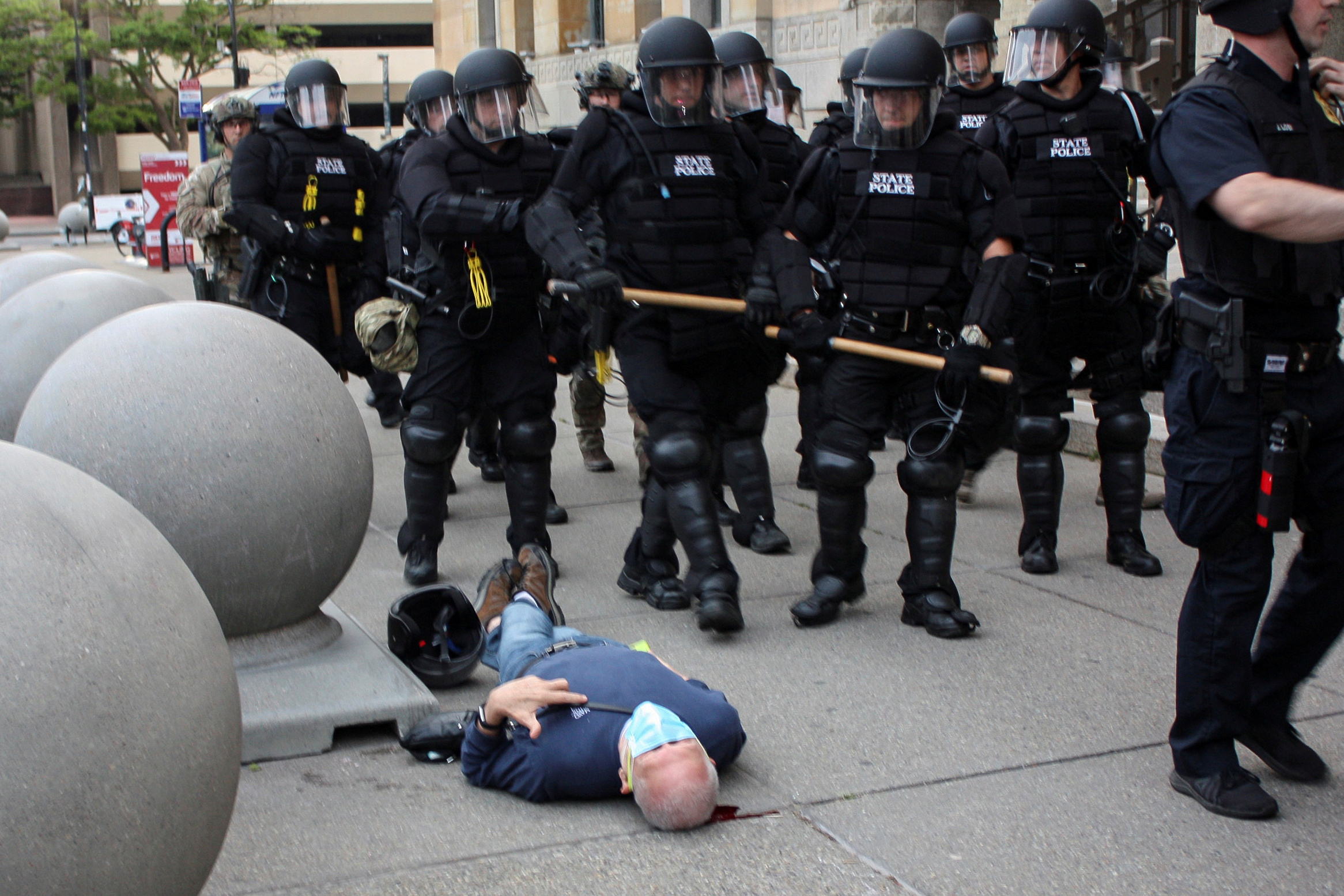 75-year-old Buffalo protester pushed to the ground by Buffalo police officers on Thursday, 4 June 2020.
Passages in bold in the body of the texts below are usually my emphasis, though not always. This is an ongoing project, and I update the site frequently during the day. Because I try to stay focused on what has actually happened, I usually let the news 'settle' for a day or so before posting. I hope readers will peruse the articles in full for a better understanding of the issues and their context; our democracy and our future depend on citizens who can distinguish between facts and falsehoods and who are engaged in the political process.
For independent global news, visit Democracy Now!
Friday, 19 June 2020, Day 1,246:
Race and Policing: Court Allows Trump's Tulsa Rally to Go Ahead, The New York Times, Friday, 19 June 2020:
Other significant developments are included in this article.
Black Tulsans, With a Defiant Juneteenth Celebration, Send a Message to Trump, The New York Times, Astead W. Herndon, Friday, 19 June 2020: "In a city that has become known as a landmark to black pain, Friday was a day for black joy. More than a thousand people gathered along Greenwood Avenue — the site of one of America's worst racist attacks — to celebrate Juneteenth, the holiday that commemorates when enslaved black Americans in Texas formally learned of emancipation. The end of a centuries-long massacre. In any year, Juneteenth in Tulsa means something different than it does in other cities, according to black residents. The exuberance more palpable, the music more soulful, against the backdrop of the 1921 white riot that killed an estimated 300 black Tulsans and destroyed the area once known as 'Black Wall Street.' 'We're celebrating the emancipation of slaves, but we're really celebrating the idea of being black,' said Jacquelyn Simmons, who has lived in Tulsa for 45 years. 'We love it and we love us.' But this was not any year. Organizers planned to cancel their annual Juneteenth celebration amid the national coronavirus pandemic. Then President Trump announced a campaign rally in the city, originally slated to be held on the Friday holiday but later moved to Saturday evening. With that event looming, and national protests raging about racial injustice and police brutality, what was typically a celebration of resilience had transformed into one of defiance. 'Black Lives Matter' was painted in bright yellow letters across Greenwood Avenue. Attendees said they were celebrating not only how black ancestors were freed from enslavement, but also the persistence of black Americans today — from a pandemic that has disproportionately affected black communities, police departments that disproportionately kill black people, and a president who has shown little willingness to acknowledge the reality of both." See also, Black leaders in Tulsa are outraged by Trump's planned rally during a pandemic: 'We are dealing with the virus of racism and the virus of covid-19, The Washington Post, DeNeen L. Brown, Friday, 19 June 2020: "The historic church that once sheltered black Tulsans escaping one of the deadliest massacres in U.S. history has shut its doors for the Juneteenth holiday weekend, said the Rev. Robert Turner. It will provide only 'essential services' such as feeding the hungry and serving people's spiritual needs, said Turner, pastor of Vernon A.M.E. Church. Hosting President Trump, he said, is not essential. The president arrives in Tulsa on Saturday for his first campaign rally since much of the nation locked down in response to the coronavirus pandemic. The event has drawn outrage from black Tulsans, who say it will stoke tensions — in a city still trying to make amends for the 1921 attack on a historic black community — during a weekend that celebrates freedom for enslaved black people and amid nationwide protests over racism in policing. When Turner heard that Gov. Kevin Stitt (R) had offered to give Trump a tour of the historic Greenwood district, where as many as 300 black residents were slaughtered, he was furious. 'We are not doing tours,' he said. 'Juneteenth is our community holiday.'" See also, Vice President Mike Pence Won't Say the Words 'Black Lives Matter' in an Interview, The New York Times, Michael D. Shear, Friday, 19 June 2020: "Vice President Mike Pence twice refused to say that 'black lives matter' during an interview on a Philadelphia television station on Friday, insisting instead that 'all lives matter in a very real sense.' Mr. Pence also claimed during the interview with 6ABC Action News that Americans had cherished the idea that everyone is created equal 'from the founding of this nation,' an assertion that ignores the institution of slavery during the first 100 years of the country's history. The vice president's comments came on Juneteenth, a holiday that commemorates the end of slavery in America. And he refused to specifically say that black lives matter at a time when the country is convulsing in outrage about racial injustice at the hands of the police following George Floyd's death in Minneapolis last month. President Trump has been under fire for weeks for his response to protests in cities across the nation in the wake of Mr. Floyd's death. His tweets calling for aggressive action by the police to quell violence have angered activists. And earlier this month, his administration ordered the police to clear protesters from streets near the White House before Mr. Trump held a photo op at a church."
Some Global Coronavirus Updates for Friday, 19 June 2020: Brazil Passes 1 Million Coronavirus Cases, Adding 54,000 in a Day. The W.H.O. warns of a 'new and dangerous phase' of the pandemic as cases rise in 81 countries. Face masks become a political flash point. The New York Times, Friday, 19 June 2020:
Many other significant developments are included in this article.
Continue reading Week 179, Friday, 19 June – Thursday, 25 June 2020 (Days 1,246-1,252)