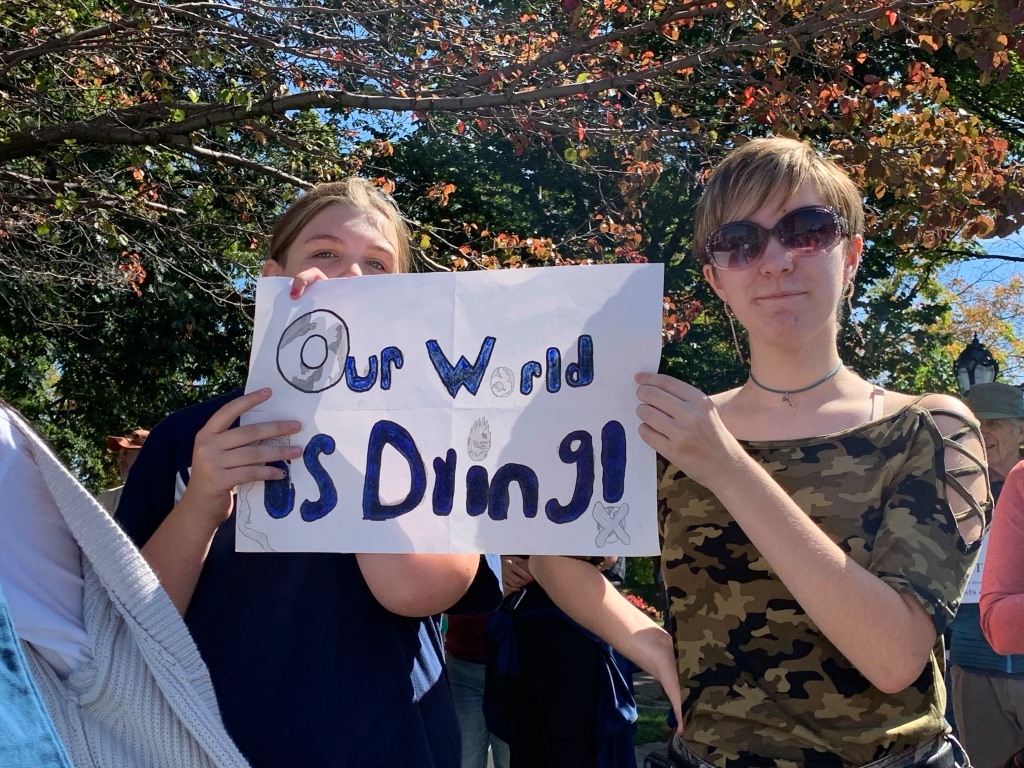 Passages in bold in the body of the texts below are usually my emphasis, though not always. This is an ongoing project, and I update the site frequently during the day. Because I try to stay focused on what has actually happened, I usually let the news 'settle' for a day or so before posting. I hope readers will peruse the articles in full for a better understanding of the issues and their context; our democracy and our future depend on citizens who can distinguish between facts and falsehoods and who are engaged in the political process.
For "a weekly newsletter celebrating people-powered wins against the Trump administration's agenda," visit Small Victories.
For independent global news, visit Democracy Now!
Friday, 11 October 2019, Day 995:
Appeals Court Rules Congress Can Seek Trump's Financial Records, The New York Times, Charlie Savage, Friday, 11 October 2019: "President Trump's accounting firm must comply with a House committee's demands for eight years of his financial records, a federal appeals court panel ruled on Friday in a major victory for House Democrats in their struggle against his vow to stonewall 'all' of their oversight subpoenas. In a 66-page ruling, the panel rejected Mr. Trump's argument that Congress had no legitimate legislative authority to seek his business records from the firm, Mazars USA, because the committee was trying to determine whether he broke existing laws — not weighing whether to enact a new one. 'Having considered the weighty issues at stake in this case, we conclude that the subpoena issued by the committee to Mazars is valid and enforceable,' wrote Judge David S. Tatel of the United States Court of Appeals for the District of Columbia. Mr. Trump is virtually certain to appeal the ruling, either to the full Court of Appeals or to the Supreme Court. But the decision — affirming an earlier ruling by a Federal District Court judge — was the first test at the appeals court level of the Trump legal team's sweeping challenges to the constitutional authority of Congress to conduct oversight of his activities." See also, Appeals court rules against Trump in fight with Congress over president's accounting firm records, The Washington Post, David A. Fahrenthold, Spencer S. Hsu, and Ann E. Marimow, Friday, 11 October 2019: "Congress can seek eight years of President Trump's business records from his accounting firm, a federal appeals court in Washington ruled Friday in one of several legal battles over access to the president's financial data. In a 2-to-1 ruling, the U.S. Court of Appeals for the D.C. Circuit upheld Congress's broad investigative powers and rejected the president's bid to block lawmakers from subpoenaing the documents. That three-judge panel's ruling is a significant victory for the Democratic-led House, but it will not result in the House obtaining Trump's tax returns — at least, not immediately. The House agreed to hold off on enforcing the subpoenas while Trump's appeal is pending. Trump could keep it pending for weeks or months by appealing the case to the full D.C. Circuit." See also, Trump loses appeal to withhold financial records from Democrats, Politico, Darren Samuelsohn and Josh Gerstein, Friday, 11 October 2019.
Judges Strike Several Blows to Trump Immigration Policies. Judges in three states ruled against a policy that would withhold green cards to immigrants who receive public assistance such as Medicaid. Another judge rejected Trump's plan to divert funds to erect a border wall. The New York Times, Miriam Jordan, Friday, 11 October 2019: "President Trump's immigration agenda ran into legal blockades in courts around the country on Friday as judges in four states barred his administration from trying to withhold green cards from people who use public benefits and rejected his plan to divert funds to erect a border wall. In three rulings, federal judges in New York, California and Washington State issued injunctions temporarily blocking the 'public charge' rule, which would impose serious impediments to legal residency for those who use benefits such as Medicaid or those deemed likely to use them in the future. The rule, widely seen as an attempt to keep out immigrants who are poor or in need of help, was one of the Trump administration's signature immigration policies — and it ran into a legal brick wall in three corners of the country on a single day…. Trump faced yet another legal setback in Texas, where a senior federal judge in El Paso ruled on Friday that he had acted unlawfully in announcing he would tap $3.6 billion in Pentagon money intended for military construction to build a barrier along the nation's southwestern border." See also, Federal Judges in 3 States Block Trump's 'Public Charge' Rule for Green Cards, NPR, Laurel Wamsley, Pam Fessler, and Richard Gonzales, Friday, 11 October 2019: "Federal judges in three states — New York, California and Washington — have issued temporary injunctions against the Trump administration's 'public charge' rule, preventing it from taking effect on Oct. 15. The controversial rule would make it more difficult for immigrants to get green cards if it looks as though they might need public assistance. Titled 'Inadmissibility on Public Charge Grounds,' the rule sparked several legal challenges. See also, Judge rules Trump violated the law on wall funding with national emergency. In February 2019 Trump ordered that money for Pentagon construction projects be used instead for the barrier on Mexico's border. NBC News, Pete Williams, Friday, 11 October 2019: "A federal judge ruled Friday that President Donald Trump violated federal law when he used his declaration of a national emergency to get millions for building a wall on the southern border. The ruling is a victory for El Paso County, Texas, and the Border Network for Human Rights, which sued to stop border construction in their community. They argued that Trump had no legal authority to spend more than what Congress appropriated for the wall project. In January the president asked for $5.7 billion to build 'a steel barrier for the Southwest border,' but Congress approved only $1.375 billion. In February, Trump declared a national emergency and ordered that money for Pentagon construction projects would be used instead for the wall."
Ukraine Ambassador Marie Yovanovitch Says She Was Told Trump Wanted Her Our Over Lack of Trust. Her Boss Told Her She Had 'Done Nothing Wrong.' The New York Times, Sharon La Franiere, Nicholas Fandos, and Andrew E. Kramer, Friday, 11 October 2019: "The State Department's request went in early March to Marie L. Yovanovitch, a longtime diplomat who had served six presidents: Would she extend her term as ambassador to Ukraine, scheduled to end in August, into 2020? Less than two months later came another departmental communiqué: Get 'on the next plane' to Washington. Her ambassadorship was over. How and why Ms. Yovanovitch was removed from her job has emerged as a major focus of the impeachment inquiry being conducted by House Democrats. And in nearly nine hours of testimony behind closed doors on Capitol Hill on Friday, Ms. Yovanovitch said she was told after her recall that President Trump had lost trust in her and had been seeking her ouster since summer 2018 — even though, one of her bosses told her, she had 'done nothing wrong.' Her version of events added a new dimension to the tale of the campaign against her. It apparently began with a business proposition being pursued in Ukraine by two Americans who, according to an indictment against them unsealed on Thursday, wanted her gone, and who would later become partners with the president's personal lawyer Rudolph W. Giuliani in digging up political dirt in Ukraine for Mr. Trump…. DOCUMENT: Read Ms. Yovanovitch's opening statement." See also, Marie Yovanovitch, ousted ambassador to Ukraine, tells Congress Trump pressured the State Department to remove her, The Washington Post, John Hudson, Karoun Demirjian, Rachael Bade, and Paul Sonne, Friday, 11 October 2019: "The former U.S. ambassador to Ukraine whose abrupt ouster in May has become a focus of House impeachment investigators said Friday in remarks before Congress that her departure came as a direct result of pressure President Trump placed on the State Department to remove her. The account by Marie Yovanovitch depicts a career Foreign Service officer caught in a storm of unsubstantiated allegations pushed by the president's personal attorney Rudolph W. Giuliani and a cast of former Ukrainian officials who viewed her as a threat to their financial and political interests. She told lawmakers that she was forced to leave Kiev on 'the next plane' this spring and subsequently removed from her post, with the State Department's No. 2 official telling her that, although she had done nothing wrong, the president had lost confidence in her and the agency had been under significant pressure to remove her since the summer of 2018."
Continue reading Week 143, Friday, 11 October – Thursday, 17 October 2019 (Days 995-1,001)