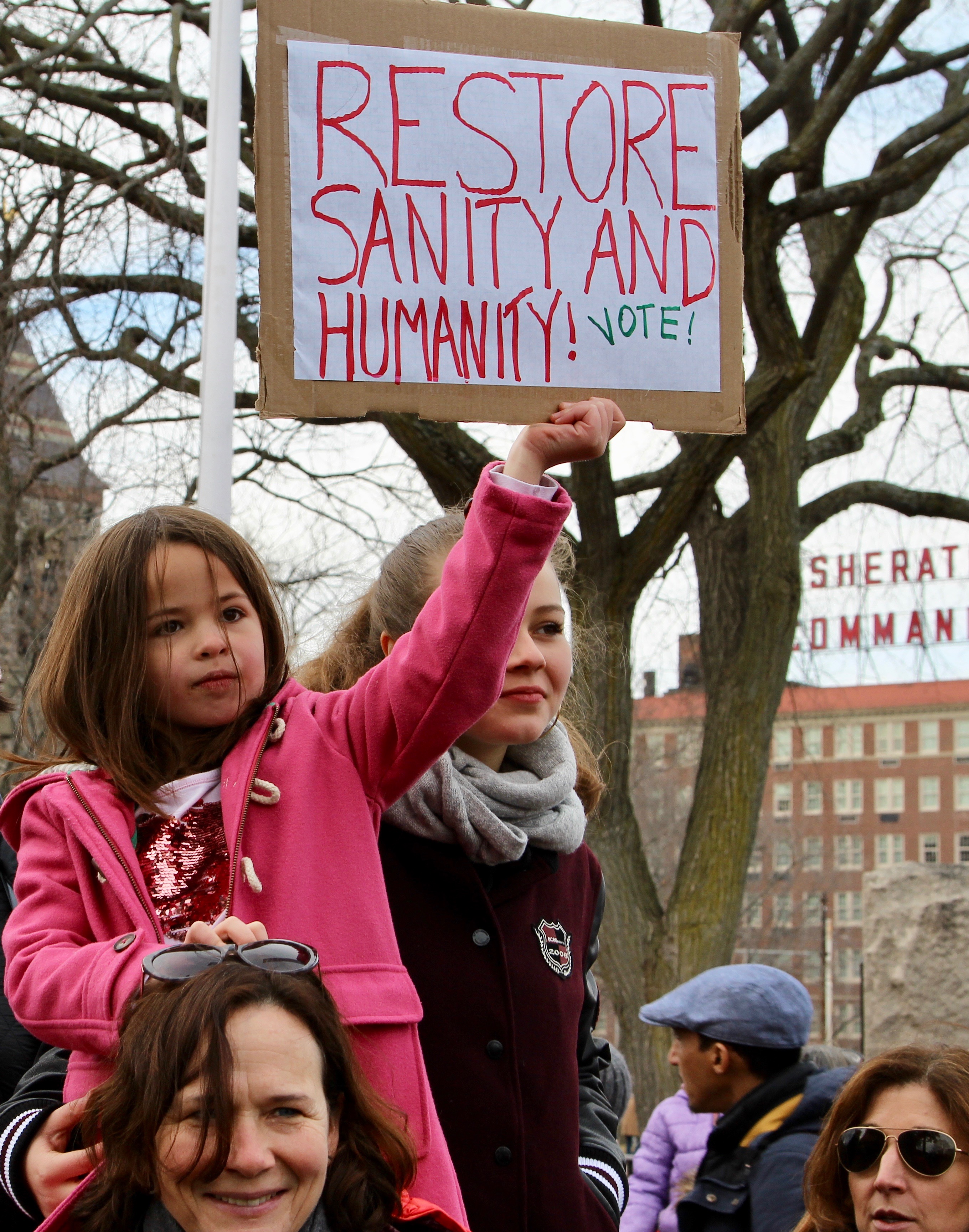 Keeping Track (of some things), Staying Outraged (it is possible), and Resisting (it's essential)
Passages in bold in the body of the texts below are my emphasis. This is an ongoing project, and I update the site frequently. Because I try to stay focused on what has actually happened, I usually let the news 'settle' a day or so before posting. I hope readers will peruse the articles in full for a better understanding of the issues and their context; our democracy and our future depend on citizens who can distinguish between facts and falsehoods and who are engaged in the political process.
Friday, 9 February 2018, Day 386:
Trump Praises Rob Porter, Top White House Adviser Accused of Abusing His Ex-Wives, and White House Chief of Staff John Kelly Says He's Willing to Resign as Abuse Scandal Roils the White House, The New York Times, Maggie Haberman, Julie Hirschfeld, and Michael S. Schmidt, Friday, 9 February 2018: "John F. Kelly, the White House chief of staff, told officials in the West Wing on Friday that he was willing to step down over his handling of allegations of spousal abuse against Rob Porter, the staff secretary who resigned in disgrace this week over the accusations, according to two officials aware of the discussions. The officials emphasized that they did not consider a resignation imminent, and that Mr. Kelly — a retired four-star Marine general who early in his tenure often used a threat of quitting as a way to temper President Trump's behavior — had made no formal offer. In comments to reporters at the White House on Friday, Mr. Kelly said he had not offered to resign…. [M]any, including the president himself, have turned their ire on Mr. Kelly for vouching for Mr. Porter's character and falsely asserting that he had moved aggressively to oust him once his misdeeds were discovered. For all the turmoil, Mr. Trump on Friday warmly praised Mr. Porter, saying it was a 'tough time' for his former aide and noting that Mr. Porter had denied the accusations. 'We wish him well,' Mr. Trump said of his former aide, who was accused of physical and emotional abuse by two ex-wives. The president added, 'He also, as you probably know, says he is innocent, and I think you have to remember that.' 'He worked very hard,' Mr. Trump told reporters in the Oval Office when asked for a comment about Mr. Porter. The president said he had only 'recently' learned of the allegations against his former aide and was surprised. 'He did a very good job when he was in the White House, and we hope he has a wonderful career, and he will have a great career ahead of him,' Mr. Trump said. 'But it was very sad when we heard about it, and certainly he's also very sad now.' The glowing praise of a staff member accused of serial violence against women was in line with the president's own denials of sexual impropriety despite accusations from more than a dozen women and his habit of accepting claims of innocence from men facing similar allegations. Among them was Roy S. Moore, the former Republican Senate candidate in Alabama, who is accused of molesting teenage girls." See also, Trump lavishes praise on Rob Porter, former top aide accused of domestic violence, The Washington Post, Jenna Johnson, Friday, 9 February 2018. See also, Trump's full comments essentially defending Rob Porter, annotated, The Washington Post, Aaron Blake, Friday, 9 February 2018. See also, Who knew what and when about the abuse allegations against Rob Porter, The Washington Post, Philip Bump, Friday, 9 February 2018.
White House Chief of Staff John Kelly offers account of Rob Porter exit that some White House aides consider untrue, The Washington Post, Philip Rucker and Josh Dawsey, Friday, 9 February 2018: "White House Chief of Staff John F. Kelly on Friday morning instructed senior staff to communicate a version of events about the departure of staff secretary Rob Porter that contradicts the Trump administration's previous accounts, according to two senior officials. During a staff meeting, Kelly told those in attendance to say he took action to remove Porter within 40 minutes of learning that abuse allegations from two ex-wives were credible, according to the officials, who spoke on the condition of anonymity because discussions in such meetings are supposed to be confidential. 'He told the staff he took immediate and direct action,' one of the officials said, adding that people after the meeting expressed disbelief with one another and felt his latest account was not true. That version of events contradicts both the public record and accounts from numerous other White House officials in recent days as the Porter drama unfolded. Kelly — who first learned of the domestic violence allegations against Porter months ago — issued a glowing statement of support for Porter's personal character after the allegations first surfaced publicly Tuesday and privately urged him to remain on the job until the next day when his resignation was announced. At Friday's meeting, Kelly also told subordinates to convey to other White House aides that he cares about domestic violence, according to the officials." See also, What Does John Kelly, Trump's Chief of Staff, See When He Looks at the People Around Him? The New Yorker, Amy Davidson Sorkin, Friday, 9 February 2018.
David Sorensen, a White House Speechwriter, Resigned After a News Report Detailed Accusations From a Former Wife Who Said He Had Abused Her During Their Marriage, The New York Times, Katie Rogers, Friday, 9 February 2018: "David Sorensen, a White House speechwriter, resigned on Friday after a news report detailed accusations from a former wife who said he had abused her during their marriage. His resignation came two days after Rob Porter, the White House staff secretary, submitted his own resignation after his two former wives publicly accused him of being abusive to them when they were married. In an interview in The Washington Post, Mr. Sorensen's former wife, Jessica Corbett, detailed a volatile two-and-a-half-year marriage in which Mr. Sorensen ran over her foot while driving a car and put out a lit cigarette on her hand. Their divorce became final last fall. Ms. Corbett said she described those episodes to the F.B.I. last fall as it was conducting a background check of Mr. Sorensen, according to The Post. Mr. Sorensen denied Ms. Corbett's account, and insisted that she was the abuser."
Continue reading Week 56, Friday, 9 February – Thursday, 15 February 2018 (Days 386-392)