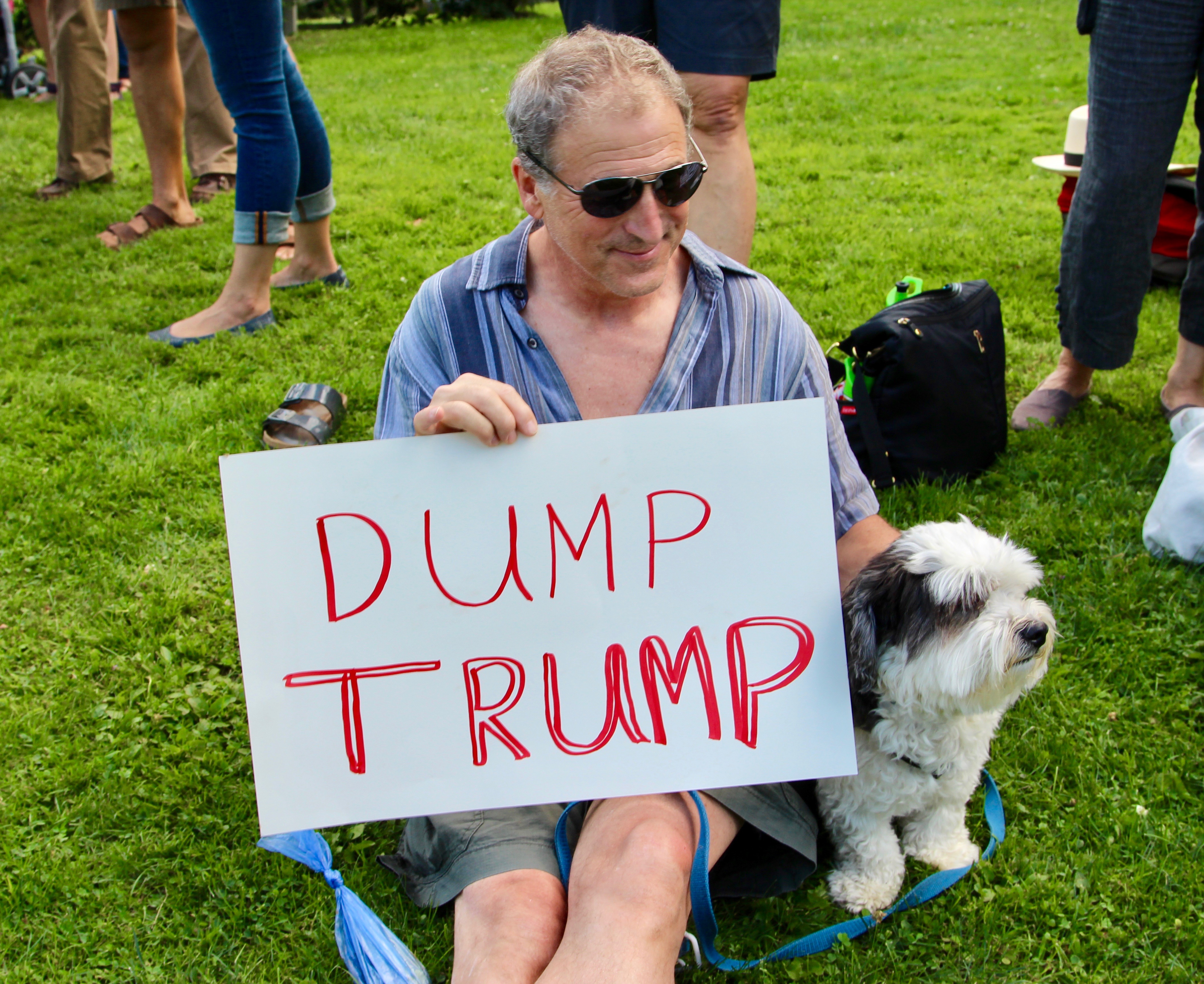 Keeping Track (of some things), Staying Outraged (it is possible), and Resisting (it's essential)
Passages in bold in the body of the texts below are my emphasis. This is an ongoing project, and I update the site frequently. Because I try to stay focused on what has actually happened, I usually let the news 'settle' a day or so before posting. I hope readers will peruse the articles in full for a better understanding of the issues and their context; our democracy and our future depend on citizens who can distinguish between facts and falsehoods and who are engaged in the political process.
Friday, 8 December 2017, Day 323:
Roy Moore, Republican Senate candidate from Alabama, says America was great in the era of slavery but is now the 'focus of evil in the world,' The Washington Post, Philip Bump, Friday, 8 December 2017: "In September, Moore held a rally in Florence, Ala. One of the members of the audience, an African American, asked Moore when he thought America was last great. 'I think it was great at the time when families were united — even though we had slavery — they cared for one another,' Moore replied, according to the Los Angeles Times. 'Our families were strong, our country had a direction.'… In August of this year, Moore was interviewed by the Guardian. CNN excerpted part of the discussion. The interviewer noted that Ronald Reagan once said that the Soviet Union was the focus of evil in the modern world. 'You could say that very well about America, couldn't you?' Moore replied…. In 1997, as a circuit court judge, Moore spoke out against evolution — and linked it to crime. CNN's KFILE team uncovered the video. 'We have kids driving by, shooting each other, that they don't even know each other,' Moore said. 'They're acting like animals because we've taught them they come from animals. They're treating their fellow men with prejudice because we taught them they come from animals.' In 2005, Moore was interviewed by journalist Bill Press. During that interview, he argued that homosexuality should be illegal…. In 2006, writing for the conservative site WorldNetDaily, he argued that Rep. Keith Ellison (D-Minn.) should not be allowed to serve in the House because he is Muslim and would be sworn in on the Koran…. A year ago, after Donald Trump's election, Moore was asked at an event whether he believed that Obama was born in the United States. 'My personal belief is that he wasn't,' Moore replied, 'but that's probably over and done in a few days, unless we get something else to come along.'"
Trump offers second endorsement of Republican Senate candidate Roy Moore days before the Alabama election, Politico, Louis Nelson, Friday, 8 December 2017: "President Donald Trump offered another full-throated pitch on Friday for Republican Senate candidate Roy Moore, imploring Alabama voters to keep the seat under GOP control and away from a 'Pelosi/Schumer puppet,' Democrat Doug Jones. 'LAST thing the Make America Great Again Agenda needs is a Liberal Democrat in Senate where we have so little margin for victory already,' the president wrote on Twitter. 'The Pelosi/Schumer Puppet Jones would vote against us 100% of the time. He's bad on Crime, Life, Border, Vets, Guns & Military. VOTE ROY MOORE!' Moore, a controversial former chief judge of the Alabama Supreme Court, has been accused by multiple woman of sexual misconduct, including one who alleged she was molested by Moore when she was 14 and he was in his 30s. Moore has denied the charges." See also, In Florida, Trump defended U.S. Senate candidate Roy Moore of Alabama by attacking the credibility of a woman who has accused Moore of sexually assaulting her when she was 16, Los Angeles Times, Michael Finnegan, Friday, 8 December 2017: "President Trump defended embattled U.S. Senate candidate Roy Moore of Alabama on Friday by trying to undercut the credibility of a woman who has accused him of sexually assaulting her when she was 16. At a campaign rally just over the Alabama state line in Pensacola, Fla., Trump tried to buttress Moore's argument that Beverly Young Nelson forged his signature on her high school yearbook. Nelson and her attorney, Gloria Allred, cite the yearbook as evidence that Moore pursued Nelson sexually when he was in his 30s. Nelson told ABC News on Friday that she had written notes beneath the inscription that she says Moore wrote in her yearbook, but stood by her statement that he wrote the inscription, signed it and later sexually assaulted her. 'So did you see what happened today, you know, the yearbook?' Trump asked the cheering crowd. 'Did you see that? There was a little mistake made. She started writing things in the yearbook. Gloria Allred, any time you see her, you know something's going wrong,' Trump continued. Allred represents Summer Zervos, a former contestant on Trump's television show, 'The Apprentice,' who is suing the president for allegedly groping and kissing her against her will in 2007, then defaming her by calling her a liar after she spoke out about it last year. Allred said Friday that a handwriting expert had confirmed that Moore signed Nelson's yearbook."
Representative Trent Franks (Republican-Arizona), Accused of Offering $5 Million to an Employee in His Office to Be a Surrogate Mother for His Children, Resigns, The New York Times, Katie Rogers, Friday, 8 December 2017: "Representative Trent Franks announced Friday that he would resign from Congress immediately after accusations emerged that he had offered $5 million to a female employee to be a surrogate mother for his children, and that she and another female employee worried that the lawmaker wanted to have sex as a means of impregnating them. Mr. Franks, Republican of Arizona and one of the House's most ardent social conservatives, had said Thursday that he would leave the House in January, and he admitted that he had discussed surrogate pregnancies with two employees. The House Ethics Committee had opened an investigation into his behavior, and the office of Speaker Paul D. Ryan said in a statement that Mr. Ryan had made it clear that Mr. Franks's actions were intolerable. 'After discussing options with my family,' he said in a statement, 'we came to the conclusion that the best thing for our family now would be for me to tender my previous resignation effective today.' But revelations about Mr. Franks's conduct made it clearer why the speaker had taken quick action. A House leadership aide confirmed that two aides in Mr. Franks's office believed the congressman was suggesting that he impregnate them sexually. Andrea Lafferty, the executive director of the Traditional Values Coalition, said that one of the women approached by Mr. Franks told her about the encounter last year, and said that Mr. Franks entreated her repeatedly to be a surrogate mother, at one point offering $5 million." See also, Representative Trent Franks (Republican-Arizona) offered $5 million to an aide in his office to bear his child. He resigned today amid inquiry. The Washington Post, Mike DeBonis, Friday, 8 December 2017.
Continue reading Week 47, Friday, 8 December – Thursday, 14 December 2017 (Days 316-322)