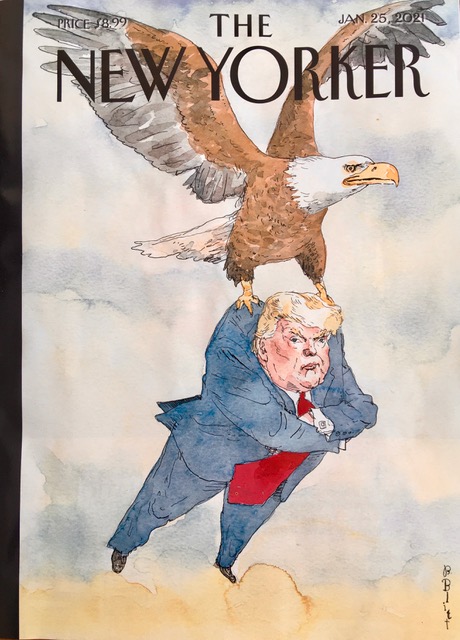 Now that the Biden administration is settling into Washington, D.C. (late January 2021), my daily chronicle (20 January 2017 – 20 January 2021) of news about the Trump administration, Republicans, Democrats, corporations, courts, resistance, and persistence is coming to an end. I will post a few important articles that are published between now and the impeachment trial and cover the trial, of course. Then I hope to return to posting muckraking articles on my site and to working with my local activist group in pursuit of progressive change and a stronger democracy.
Thursday, 21 January 2021:
The New Washington: Biden Signs Executive Orders for Covid Response. President Biden signed a series of executive orders, including ones on mask wearing and international travelers, and is aiming for 100 million vaccine shots in his first 100 days. The New York Times, Thursday, 21 January 2021:
Biden rolls out 'full-scale, wartime' coronavirus strategy, including requiring masks on some planes, trains and buses.

Fauci warns of virus variant risks, but voices confidence in vaccines.

McConnell plans to ask for impeachment trial delay to allow Trump's legal team time to prepare a defense.

The No. 2 official at the F.B.I. is departing.

For the impeachment trial, Trump settles on a South Carolina lawyer arranged through Lindsey Graham.

National Guard troops who protected the Capitol for Biden's Inauguration were told to sleep in a parking garage.

Biden is invoking the Defense Production Act. Here's what that means.

Avril Haines is the only member of Biden's cabinet approved so far.

Congress granted a waiver to allow Austin to serve as defense secretary, clearing the way for confirmation Friday of the first Black American to hold the job.

Kamala Harris's rise is celebrated in India, especially in her ancestral village.

Biden plans to hold a 'Climate Leaders' Summit' on Earth Day.
Here's how the Biden administration began addressing key issues with executive actions.
In his Senate confirmation hearing, Pete Buttigieg urges 'generational' opportunity to transform transportation.
Charlottesville, which inspired Biden's presidential run, has a message for him as he calls for unity.
Federal authorities have charged a man they say beat officers with a hockey stick during the Capitol riot.
Trump extends Secret Service protection for his children, cabinet secretaries, and chief of staff.
First 100 Days: Senate Minority Leader Mitch McConnell seeks to delay Trump impeachment trial until February; Congress approves waiver for Lloyd Austin to lead Pentagon, The Washington Post, John Wagner, Felicia Sonmez, Seung Min Kim, and Karoun Demirjian, Thursday, 21 January 2021: "Senate Minority Leader Mitch McConnell (R-Ky.) is proposing to delay the start of Donald Trump's impeachment trial until February to give the former president's lawyers more time to prepare, saying in a statement that the Senate, the presidency and Trump 'deserve a full and fair process.' House Speaker Nancy Pelosi (D-Calif.) says her chamber is ready to send an article of impeachment to the Senate as soon as it is ready to hold a trial. Separately, Congress approved a waiver for Lloyd Austin to lead the Defense Department, paving the way for the retired Army general's historic confirmation. Austin, who would become the first Black defense secretary, requires an exemption because he has not been retired from active military service for the seven years stipulated by law. President Biden, as he rolled out a new coronavirus plan Thursday, said that the death toll from the pandemic will probably top 500,000 next month and that it will take months 'for us to turn things around.'
Here are a few of the significant developments included in this article.
Joe Biden marks start of presidency with flurry of executive orders. Some orders undo significant actions from the Trump administration, including the Paris climate agreement, while others address Covid. The Guardian, Sam Levine, Thursday, 21 January 2021: "Joe Biden has marked the start of his presidency by signing a flurry of executive orders on a suite of issues, including Covid-19, the environment, immigration and ethics. Some of the executive actions undo significant actions from Donald Trump's administration, including halting the travel ban from Muslim-majority countries, and ending the declaration of a national emergency used to justify funding construction of a wall on the US-Mexico border. He also signed an order allowing the United States to rejoin the Paris climate agreement and end the Trump administration's efforts to exclude undocumented immigrants from the census data used to determine how many seats in Congress each state gets."
Continue reading Aftermath of the Trump Administration, Including the Impeachment Trial (January – February 2021):