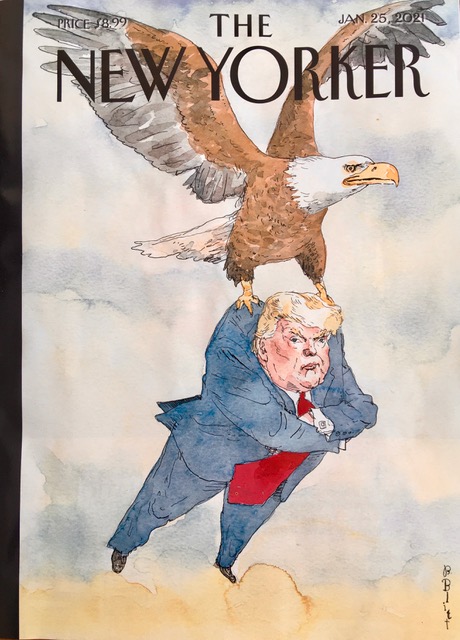 My daily chronicle of news about the Trump administration (20 January 2017 – 20 January 2021), Republicans, Democrats, corporations, courts, resistance, and persistence continues. I am still posting important articles, especially ones that reflect the differences between the Biden administration and the Trump administration and ones that address the toxic legacy of the Trump administration and Republicans. However, I hope to devote more of my time to posting muckraking articles on my site in the coming months. Thanks for reading!
For independent global news, visit Democracy Now!
For a newsletter about the history behind today's politics, subscribe to Heather Cox Richardson's newsletter, Letters from an American.
Thursday, 1 June 2023:
Russian Invasion of Ukraine: Biden hails unity of 'energized' NATO; 3 killed in Russian strike on Kyiv, The Washington Post, Samantha Schmidt, Niha Masih, Annabelle Timsit, and Miriam Berger, Thursday, 1 June 2023:  "A series of attacks rocked a Russian town four miles from the Ukrainian border throughout the day Thursday. The governor of Russia's Belgorod region accused Kyiv of the attacks on Shebinko, where local residents and officials described intense rocket fire and shelling and where a plume of smoke rose above an apartment building. Kyiv has denied involvement in the drone strikes and incursions on Russian soil in recent days. Later in the day, the governor of Russia's Kursk region said in a Telegram message that air defense systems had shot down several drones that he said had come from Ukraine. The developments in Russia unfolded after an early-morning airstrike on Ukraine's capital killed three people, including a child, officials said. Preliminary information suggests that Russia used cruise and ballistic missiles in the attack, authorities said, and there was little time for citizens to seek shelter after an air raid alarm sounded. At least one of the victims died after finding the nearest bomb shelter locked.
The Pentagon disclosed Thursday that it signed a contract to provide SpaceX's Starlink satellite internet service in Ukraine, nearly eight months after Elon Musk, the company's mercurial owner, threatened to terminate access unless the U.S. government paid for it. The Defense Department withheld virtually all details about the agreement, including how much it will cost U.S. taxpayers and when the contract was signed.
President Biden said 'NATO is more energized and more united than it's been in decades.' In commencement remarks at the Air Force Academy, Biden said: 'It's now even stronger with the accession of our newest ally, Finland, and soon Sweden, to the alliance as soon as possible. It will happen. I promise you.' Sweden's request to join has been held up by Turkish President Recep Tayyip Erdogan, who won reelection in a runoff on Sunday.
Kyiv residents were jolted awake shortly before 3 a.m. when air raid alarms went off, and the first explosion was heard within minutes. Although Ukraine's air defense systems destroyed the targets, falling debris caused casualties and damage, Serhii Popko, the head of Kyiv's military administration, said on Telegram. In Desnyansky district, a children's hospital was damaged by falling debris. Authorities said an investigation was launched after a woman was killed when she and other local residents found their nearest shelter inexplicably closed. 'It was chaos. My daughter was screaming. Everyone was screaming,' her husband said in an interview.
The airstrikes came as Ukraine was ushering in Children's Day, normally a joyful celebration in many former Soviet countries. But the death of a 9-year-old girl in the overnight attack, which injured one other child, caused 'pain for all of us,' Ukrainian first lady Olena Zelenska wrote on Twitter. Kyiv Mayor Vitali Klitschko said all Children's Day events planned in the city had been canceled. At least 483 children have been killed and 989 wounded since the war began, Ukraine's general prosecutor said Thursday, citing confirmed casualty figures. The true toll is expected to be much higher, authorities say.
The town of Shebekino in Russia's Belgorod region was shelled multiple times in the early-morning hours, regional governor Vyacheslav Gladkov said on Telegram. Eight people were injured, he later said, and a residential building was hit and caught fire. On Wednesday, Kremlin spokesman Dmitry Peskov described the wider situation in the region as 'quite alarming.' Russia's Defense Ministry said Thursday in a Telegram post that over 50 attackers in Belgorod had been killed, and multiple combatants' vehicles destroyed.
The United States 'fully anticipate[s]' that Sweden's accession to NATO will be complete by next month, Secretary of State Antony Blinken said Thursday in Oslo. Turkey and Hungary have so far held up Sweden's accession, even as they allowed applicant Finland to join the defense alliance. After meeting with NATO foreign ministers, Blinken said Ukraine can expect 'a strong package of support' to be unveiled at the alliance's summit in Vilnius, Lithuania, in July.
Ukrainian President Volodymyr Zelensky called for security guarantees for Ukraine while in Moldova for a summit of 47 heads of state and government. 'I think security guarantees are … also important for Moldova, because Russia is carrying out aggression in Ukraine and there is a potential threat of aggression in other parts of Europe,' Zelensky said, according to a readout from his office. Moldova, a tiny republic bordering Ukraine, has accused Russia of plotting to overthrow its government, and Russia occupies the Moldovan breakaway region of Transnistria.
Foreign ministers representing BRICS countries — including Russian foreign minister Sergei Lavrov — at a meeting Thursday in South Africa called for a peaceful resolution to the conflict in Ukraine. The meeting comes ahead of a summit in August, when Russian President Vladimir Putin could make a rare wartime trip outside Russia. This has prompted questions about whether South Africa would extend immunity to the Russian president, who is the subject of an arrest warrant from the International Criminal Court for his alleged role in war crimes in Ukraine. South Africa's Foreign Ministry said Tuesday that it was 'standard' practice to confer immunity 'for all international conferences and summits' held in the country — though it added that such immunity would not 'override any warrant that may have been issued by any international tribunal' against a conference participant. Putin has not yet said whether he will attend the summit.
The U.S. State Department announced countermeasures to Russia's 'violations' of the New START Treaty. Putin announced that Russia would be suspending its participation in the treaty in February, saying that Western inspections of Russia's nuclear arsenal ran counter to its strategic interests. On Thursday, the State Department outlined its response: the U.S. will withhold data and inspection access from Russia. 'The United States continues to abide by the treaty's central limits, and to fulfill all of its New START obligations that have not been included within these countermeasures,' reads the State Department announcement.
Russian Invasion of Ukraine: Russian Missile Strike Kills 3 Seeking Shelter in Kyiv. Two women and a child were killed by debris as they tried to get into a clinic door that was locked. Air defenses intercepted the missiles just six minutes after alarms sounded, leaving people little time to react. The New York Times, Thursday, 1 June 2023:
The overnight attack left very little time for residents to take shelter.

Even on an especially tense day in Kyiv, a children's hospital pauses to try to create some fun.

The U.S. follows Russia's move on a nuclear treaty and ends the notification of many exercises.

Kyiv opens investigations into bomb shelters amid concerns that many are kept locked.

Macron says the Moldova meeting shows unity in support for Ukraine but that joining NATO has to wait.

At least 20,000 Russian troops died fighting to take Bakhmut, a Western official says.

Kyiv cancels some Children's Day events as Ukraine loses another young life.
Senate Passes Debt Limit Bill, Staving Off a Calamitous Default. The final vote on Thursday night came after leaders put down a revolt by some senators who raised concerns that the debt-limit package would under-fund the Pentagon. The New York Times, Carl Hulse, Thursday, 1 June 2023: "After weeks of political impasse, tense negotiations and mounting economic anxiety, the Senate gave final approval on Thursday night to bipartisan legislation suspending the debt limit and imposing new spending caps, sending it to President Biden and ending the possibility of a calamitous government default. The approval by the Senate on a 63-to-36 vote brought to a close a political showdown that began brewing as soon as Republicans narrowly won the House in November, promising to use their new majority and the threat of a default to try to extract spending and policy concessions from Mr. Biden. The president refused for months to engage with Speaker Kevin McCarthy but finally did so after the California Republican managed in April to pass a G.O.P. fiscal plan, spurring negotiations with the White House that produced the compromise last weekend." See also, Senate passes debt ceiling bill, sending it to Biden to sign into law, The Washington Post, Rachel Siegel, Marianne LeVine, John Wagner, and Leigh Ann Caldwell, Thursday, 1 June 2023: "The Senate passed a bipartisan bill late Thursday to suspend the debt ceiling and curb federal spending, sending the legislation to President Biden to sign into law in time to avert an unprecedented U.S. government default. The deal cleared the House on Wednesday night and is now on track to take effect by Monday, when the government would no longer be able to pay all of its bills without borrowing more money. Senators scrambled to vote before the weekend, even as a handful of frustrated lawmakers pushed for votes on amendments that risked slowing the process. None of the amendments was adopted. But in an effort to alleviate concerns from defense hawks that the debt ceiling bill would restrict Pentagon spending too much, Senate Majority Leader Charles E. Schumer (D-N.Y.) and Senate Minority Leader Mitch McConnell (R-Ky.) issued a joint statement saying the 'debt ceiling deal does nothing to limit the Senate's ability to appropriate emergency supplemental funds to ensure our military capabilities are sufficient to deter China, Russia, and our other adversaries.'"
Continue reading Aftermath of the Trump Administration, June 2023: