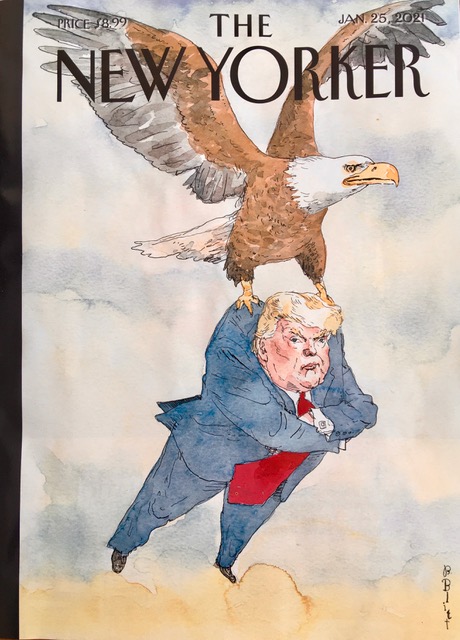 My daily chronicle of news about the Trump administration (20 January 2017 – 20 January 2021), Republicans, Democrats, corporations, courts, resistance, and persistence continues. I am still posting important articles, especially ones that reflect the differences between the Biden administration and the Trump administration and ones that address the toxic legacy of the Trump administration and Republicans. However, I hope to devote more of my time to posting muckraking articles on my site in the coming months. Thanks for reading!
For independent global news, visit Democracy Now!
For a newsletter about the history behind today's politics, subscribe to Heather Cox Richardson's newsletter, Letters from an American.
Wednesday, 1 February 2023:
Russian Invasion of Ukraine: Ukraine widens corruption crackdown; France to give Kyiv air defense radar, The Washington Post, Kelsey Ables, Victoria Bisset, Robyn Dixon, Dan Lamothe, and Claire Parker, Wednesday, 1 February 2023: "Ukrainian authorities widened an anti-corruption drive Wednesday, raiding and searching multiple locations, including construction companies in Kyiv and the home of oligarch Ihor Kolomoisky. Local media, including Ukrainska Pravda, reported that the raid against Kolomoisky — who made his fortune through energy companies, banking, airlines and media — was related to an investigation into embezzlement. The construction companies are also accused by Ukraine's security service of laundering money to benefit former lawmakers allied with Russia. Ukrainian President Volodymyr Zelensky confirmed the searches in a nightly address and said the head of Ukraine's customs service was also dismissed. 'We will not allow anyone to weaken our state,' he said. 'Change as much as necessary to ensure that people do not abuse power.' The moves come as Ukraine prepares to host a summit with the European Union in Kyiv.
The former head of procurement at the Ukrainian Defense Ministry was charged with embezzlement for allegedly buying nearly 3,000 bulletproof vests of inadequate quality for more than $2.7 million, Ukraine's Security Service said in a statement. 'The purity of processes within the Ministry of Defense, and the defense forces in general, is especially important,' Zelensky said. Any internal supply, any procurement — everything must be absolutely as clean and honest as the external supply for our defense.'
The fresh investigations came ahead of the E.U. summit on Friday, a meeting Kyiv hopes will help its bid to become a full member of the bloc. An E.U. official, speaking on the condition of anonymity to brief the press on Wednesday, called the earlier dismissals 'a signal of their determination and of the functioning of what they have now put in place.'
Russia is preparing to hold elections on Sept. 10 in the Ukrainian territories it occupies, Russian Federation Council Chairwoman Valentina Matviyenko told reporters Wednesday. Residents of those regions — Donetsk, Luhansk, Zaporizhzhia and Kherson — are 'full-fledged citizens of Russia, and we can't deprive them of the right to elect and the right to be elected,' Matviyenko said.
Russian Invasion of Ukraine: Ukraine Carries Out Wide Anticorruption Raids Ahead of Visit From E.U. Leaders. President Volodymyr Zelensky is under pressure over his country's bid to join the European Union as some European leaders plan a Friday visit to Kyiv. The New York Times, Wednesday, 1 February 2023:
More searches are conducted in connection with corruption allegations in Ukraine.

Russia's bombardment grows, even as its next steps remain unclear.

A missile strike on Kramatorsk kills at least 3 as Russia steps up its eastern campaign.

The town of Kreminna is in the cross hairs in the fight for northern Luhansk.

Zelensky accuses Georgia of trying to kill its former president, Mikheil Saakashvili.

An ailing Navalny describes a prison move that will extend his isolation.

Funds for Russia, frozen for 15 years, will be redirected to aid Ukraine, U.S. says.

The U.S. Treasury announces measures against a 'sanctions evasion network' aiding Russia's military.
Documents Suggest Bias and Human Error Played Parts in F.B.I.'s January 6 Failure. The F. B.I. appeared to be blinded by a lack of imagination, a narrow focus on 'lone wolf' offenders, and a misguided belief that the threat from the far left was as great as that from the far right, new congressional documents show. The New York Times, Adam Goldman and Alan Feuer, Wednesday, 1 February 2023: "Days before the end of the 2020 presidential race, a team of F.B.I. analysts tried to game out the worst potential outcomes of a disputed election. But of all the scenarios they envisioned, the one they never thought of was the one that came to pass: a violent mob mobilizing in support of former President Donald J. Trump. The team's work, which has never been reported, is just the latest example of how the Federal Bureau of Investigation was unable to predict — or prevent — the chaos that erupted at the Capitol on Jan. 6, 2021. Apparently blinded by a narrow focus on 'lone wolf' offenders and a misguided belief that the threat from the far left was as great as that from the far right, the analysis and other new documents suggest, officials at the bureau did not anticipate or adequately prepare for the attack."
Continue reading Aftermath of the Trump Administration, February 2023: