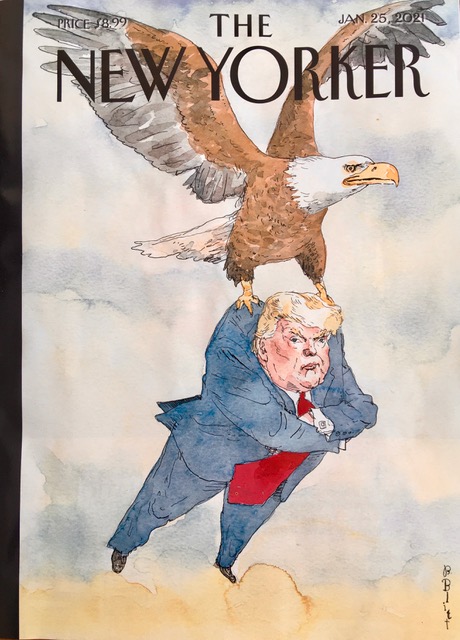 My daily chronicle of news about the Trump administration (20 January 2017 – 20 January 2021), Republicans, Democrats, corporations, courts, resistance, and persistence continues to wind down. I am still posting important articles, especially ones that reflect the differences between the Biden administration and the Trump administration and ones that address the toxic legacy of the Trump administration and Republicans. I hope to devote more of my time to posting muckraking articles on my site and to working with my local activist group in pursuit of progressive change and a stronger democracy. Thanks for reading!
For independent global news, visit Democracy Now!
For a newsletter about the history behind today's politics, subscribe to Heather Cox Richardson's newsletter, Letters from an American.
Sunday, 1 May 2022:
Mariupol evacuation push resumes; House Speaker Nancy Pelosi met with Ukrainian President Volodymyr Zelensky in Kyiv, The Washington Post, Adam Taylor, Bryan Pietsch, Jennifer Hassan, Rachel Pannett, Annabelle Timsit, Paulina Villegas, Lateshia Beachum, and Reis Thebault, Sunday, 1 May 2022: "The long-awaited evacuation of civilians from a besieged steel plant in Mariupol, where Ukrainian fighters have staged a desperate last stand, continued Sunday, the United Nations said. About 100 people were being transferred from the surrounded southeastern port city to Ukrainian-controlled territory, but officials said hundreds more — including dozens of children — are stuck there. On Saturday, House Speaker Nancy Pelosi (D-Calif.) made a surprise trip to Kyiv with a congressional delegation, telling Ukrainian President Volodymyr Zelensky that 'our commitment is to be there for you until the fight is done.' The meeting with Pelosi, the highest-ranking U.S. official to visit Ukraine since Russia's invasion, was disclosed by Zelensky on Sunday. The evacuation of civilians from the steel plant in Mariupol has been a contentious issue as Russia seeks control of the city, a strategic prize for President Vladimir Putin. For weeks, civilians who sought shelter at the sprawling facility have remained underground with dwindling supplies of food and medicine. A small group of women and children was allowed to leave the plant on Saturday.
What Happened on Day 67 of the War in Ukraine, The New York Times, Sunday, 1 May 2022: "Speaker Nancy Pelosi met with President Volodymyr Zelensky of Ukraine in Kyiv, making her the most senior American official to visit Kyiv. Her visit signals a deepening U.S. commitment to Ukraine as Russia has struggled to make much progress in its offensive in the separatist east and sent its highest ranking uniformed officer, Gen. Valery Gerasimov, to the front line there late last week, U.S. and Ukrainian officials said. The rare front-line visit of such a high-ranking military official comes as analysts say the Russian forces remain beset with logistical problems and disarray among its troops, despite concentrating its efforts in the east after its campaign to take the Ukrainian capital, Kyiv, ended in an embarrassing withdrawal. General Gerasimov's visit was an effort to change the eastern offensive's direction, a Ukrainian official said, as Russian forces have been able to make only incremental gains there so far. Ms. Pelosi announced on Sunday that she had met with President Volodymyr Zelensky and had pledged 'to help the Ukrainian people as they defend democracy for their nation and for the world.' The visit on Saturday by Ms. Pelosi and a few fellow Democratic lawmakers was kept secret until they returned to Poland, where they held a news conference on Sunday morning and vowed to back Ukraine 'until victory is won.'
Here are some other developments:
An evacuation of civilians from Mariupol was underway as women and children confined to bunkers beneath a sprawling steel plant started to make their way to safety, according to Ukrainian officials and the United Nations.

Ukrainian officials in the Luhansk and Donetsk regions reported fierce battles as Russian tank columns tried to push into areas that Moscow's forces have pounded with artillery fire. The Russian Defense Ministry said on Sunday that it had struck 800 targets across Ukraine over the past day, including a hangar in the port city of Odesa that it said was storing weapons and ammunition delivered to Ukraine by the United States and Europe.

In territory controlled by Russia, including the southern region of Kherson, the occupying forces were trying to solidify control and taking steps to erase Ukrainian identity.

Russian attacks on fuel depots and other infrastructure in Ukraine have led to shortages of gasoline, with drivers lining up outside gas stations.

Russia's foreign minister claimed that nearly a million people had been moved to Russia from Ukraine in voluntary 'evacuations."
Russia-Ukraine war: What happened today (May 1), NPR, NPR Staff, Sunday, 1 May 2022: "As Sunday draws to a close in Kyiv and in Moscow, here are the key developments of the day: Congressional Democrats met Ukrainian leaders in the capital, they announced on Sunday. The Democrats, led by House Speaker Nancy Pelosi, D-Calif., met with President Volodymyr Zelenskyy and other Ukrainian officials on Saturday for three hours to discuss American support for the war. Pelosi, the most senior American official to visit Ukraine since the war began in February, said the topics of discussion included 'security, humanitarian assistance, economic assistance and eventually rebuilding when victory is won.' About 100 civilians were evacuated from a Mariupol steel plant. Of the thousands of civilians still trapped in the besieged port city, about a thousand are believed to be sheltering in bunkers beneath the plant. Previous attempts to evacuate the civilians have been thwarted by repeated Russian shelling. Officials in Odesa imposed a curfew. Officials in the southern port city say the enforced curfew will extend from Sunday night through Tuesday morning after warning of possible sabotage in the city. In the past, pro-Russian activists have mobilized for protests and unrest in the city on May 2 each year. Russian ground forces are now fighting just a few hours away and Russian naval vessels are blockading Odesa's port. Germany said it was making progress in cutting its use of Russian fossil fuels. European countries are under pressure to stop importing Russian gas, while Russia flexed its economic power by cutting off gas to Poland and Bulgaria."
Continue reading Aftermath of the Trump Administration, May 2022: