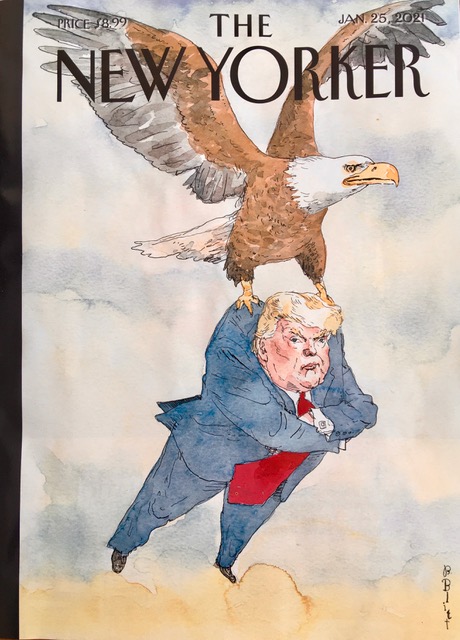 Now that the Biden administration has settled into Washington, D.C., my daily chronicle (20 January 2017 – 20 January 2021) of news about the Trump administration, Republicans, Democrats, corporations, courts, resistance, and persistence is winding down. I will continue to post a few important articles, especially ones that reflect the differences between the Biden administration and the Trump administration.  I hope to devote more of my time to posting muckraking articles on my site and to working with my local activist group in pursuit of progressive change and a stronger democracy. Thanks for reading!
For independent global news, visit Democracy Now!
For a newsletter about the history behind today's politics, subscribe to Heather Cox Richardson's newsletter, Letters from an American.
Saturday, 1 May 2021:
Republicans Seek to Empower Poll Watchers, Raising Intimidation Worries, The New York Times, Nick Corasaniti, Saturday, 1 May 2021: "As Republican lawmakers in major battleground states seek to make voting harder and more confusing through a web of new election laws, they are simultaneously making a concerted legislative push to grant more autonomy and access to partisan poll watchers — citizens trained by a campaign or a party and authorized by local election officials to observe the electoral process. This effort has alarmed election officials and voting rights activists alike: There is a long history of poll watchers being used to intimidate voters and harass election workers, often in ways that target Democratic-leaning communities of color and stoke fears that have the overall effect of voter suppression. During the 2020 election, President Donald J. Trump's campaign repeatedly promoted its 'army' of poll watchers as he publicly implored supporters to venture into heavily Black and Latino cities and hunt for voter fraud."
Trump's Secret Rules for Drone Strikes Outside War Zones Are Disclosed. The release of the 2017 policy — with redactions — stemmed from open-records lawsuits by The Times and the A.C.L.U. The New York Times, Charlie Savage, Saturday, 1 May 2021: "The Biden administration has disclosed a set of rules secretly issued by President Donald J. Trump in 2017 for counterterrorism 'direct action' operations — like drone strikes and commando raids outside conventional war zones — which the White House has suspended as it weighs whether and how to tighten the guidelines. While the Biden administration censored some passages, the visible portions show that in the Trump era, commanders in the field were given latitude to make decisions about attacks so long as they fit within broad sets of 'operating principles,' including that there should be 'near certainty' that civilians 'will not be injured or killed in the course of operations.' At the same time, however, the Trump-era rules were flexible about permitting exceptions to that and other standards, saying that 'variations' could be made 'where necessary' so long as certain bureaucratic procedures were followed in approving them."
Sunday, 2 May 2021:
The Republican politicians who tried to overturn an election–and the local news team that won't let anyone forget it, The Washington Post, Margaret Sullivan, Sunday, 2 May 2021: "The journalists at WITF, an all-news public radio station in Harrisburg, Pa., made a perfectly reasonable decision a few months ago. They decided they wouldn't shrug off the damaging lies of election denialism. They wouldn't do what too many in Big Journalism have done in recent months: shove into the memory hole the undemocratic efforts by some Republican elected officials to delegitimize or overturn the 2020 presidential election. Too many Sunday news shows repeatedly book the likes of Kevin McCarthy, Ted Cruz and Ron Johnson without reminding viewers how these members of Congress tried to undo the results of the election — and encouraged the Trumpian lies about election fraud that led to the violent assault on the U.S. Capitol less than four months ago. A rare exception is CNN's 'State of the Union,' which hasn't booked a single member of the so-called Sedition Caucus since January."