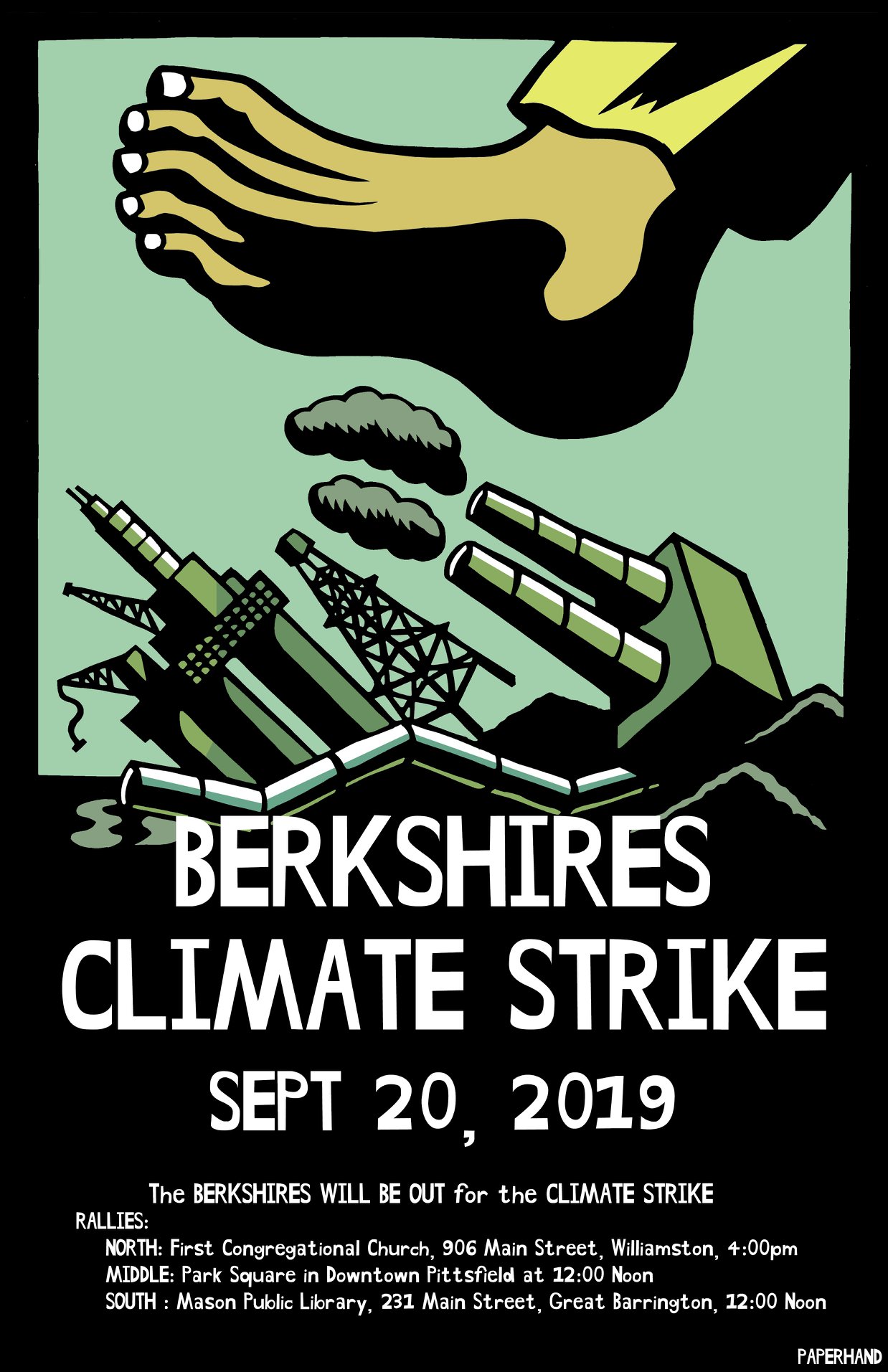 Passages in bold in the body of the texts below are usually my emphasis, though not always. This is an ongoing project, and I update the site frequently during the day. Because I try to stay focused on what has actually happened, I usually let the news 'settle' for a day or so before posting. I hope readers will peruse the articles in full for a better understanding of the issues and their context; our democracy and our future depend on citizens who can distinguish between facts and falsehoods and who are engaged in the political process.
For "a weekly newsletter celebrating people-powered wins against the Trump administration's agenda," visit Small Victories.
For independent global news, visit Democracy Now!
Friday, 20 September 2019, Day 974:
Photos: What the youth climate strike looks like around the world, Vox, Brian Resnick and Danielle Scruggs, Friday, 20 September 2019: "Friday may be remembered as the largest global demonstration ever in the fight against climate change. Inspired by Swedish climate activist Greta Thunberg, young people around the world have organized to skip school and protest in the street over the climate crisis and the adults who aren't doing enough to transition off fossil fuels. Thunberg and her group Fridays for Future aren't alone: They'll be joined by adult climate activists, indigenous groups, workers from companies like Amazon and Google, and really anyone who feels like the world is overdue for dramatic action on climate change. The event is truly global: There are 2,500 events scheduled in over 150 countries." See also, Across the globe, millions join biggest climate protest ever, The Guardian, Sandra Laville and Jonathan Watts, Friday, 20 September 2019: "Millions of people demonstrated across the world yesterday demanding urgent action to tackle global heating, as they united across timezones and cultures to take part in the biggest climate protest in history. In an explosion of the youth movement started by the Swedish school striker Greta Thunberg just over 12 months ago, people protested from the Pacific islands, through Australia, across-south east Asia and Africa into Europe and onwards to the Americas. For the first time since the school strikes for climate began last year, young people called on adults to join them – and they were heard. Trade unions representing hundreds of millions of people around the world mobilised in support, employees left their workplaces, doctors and nurses marched and workers at firms like Amazon, Google and Facebook walked out to join the climate strikes." See also, Global climate strike: Greta Thunberg and school students lead climate crisis protest–as it happened, The Guardian, Maanvi Singh, Mark Oliver, Haroon Siddique, and Naaman Zhou, Friday, 20 September 2019. See also, Protesting Climate Change, Young People Take to the Streets in a Global Strike, The New York Times, Somini Sengupta, Friday, 20 September 2019: "Anxious about their future on a hotter planet and angry at world leaders for failing to arrest the crisis, masses of young people poured into the streets on every continent on Friday for a day of global climate protests. Organizers estimated the turnout to be around four million in thousands of cities and towns worldwide. It was the first time that children and young people had demonstrated to demand climate action in so many places and in such numbers around the world." See also, Climate Strike N.Y.C.: Young Crowds Demand Action and Welcome Greta Thunberg, The New York Times, Anne Barnard and James Barron, Friday, 20 September 2019: "They packed Foley Square and the streets around City Hall, and jammed the stairs leading out of nearby subway stations. They carried handmade signs like one that said, 'There is no plan(et) B,' and chanted, 'Sea levels are rising and so are we!' Later, they paraded out of the square, headed to another rally at Battery Park. Frustrated by what they consider officials' failure to adequately address a crisis, thousands of young people marched through Lower Manhattan on Friday during a day of global climate protests. Those who rallied said that too little was being done to stem the rise of planet-warming greenhouse gas emissions. One test of their message will come on Monday, when world leaders convene at the United Nations to discuss what they are ready to do about climate change." See also, Greta Thunberg is leading students and adults from 150 countries in a massive Friday climate strike, Vox, Umair Irfan, Friday, 20 September 2019. See also, Thousands of Tech Workers Join Global Climate Change Strike, Wired, Louise Matsakis, Friday, 20 September 2019: "Thousands of workers from Amazon, Twitter, Google, Microsoft, Facebook, Square, and other tech companies are expected to walk out today as part of a worldwide climate change strike led by 16-year-old activist Greta Thunberg. After Amazon workers announced they were joining the demonstration last week, employees from other Silicon Valley firms began joining in. The same group of Amazon employees have been pushing the company to reduce its carbon footprint for nearly a year. Now, over 1,700 of them and counting have said they will join Friday's walkout, which is expected to draw millions of participants in cities around the world." See also, Millions of Young People Around the World Are Leading Strikes to Call Attention to the Climate Crisis, BuzzFeed News, Zahra Hirji, Matthew Champion, Azeen Ghorayshi, and J. Lester Feder, Friday, 20 September 2019: "People — mainly young people — across the world walked out of school and work in a massive youth-led movement to draw attention to the climate crisis. There were more than 3,600 events planned, according to the main organizing group #FridaysForFuture. The third global youth-run climate strike of the year, Friday's event was poised to be the biggest yet and it seemed to deliver: streets in major cities around the world were shuttered with throngs of determined people holding clever signs and chanting." See also, 'We will make them hear us': Millions of youths around the world strike for action, The Washington Post, Sarah Kaplan, Lauren Lumpkin, and Brady Dennis, Friday, 20 September 2019: "In one of the largest youth-led demonstrations in history, millions of people from Manhattan to Mumbai took to the streets around the globe on Friday, their chants, speeches and homemade signs delivering the same stern message to world leaders: do more to combat climate change — and do it faster." See also, Summits, Strikes, and Climate Change, The New Yorker, Elizabeth Kolbert, Friday, 20 September 2019: "Are the politics of climate change in America changing? There are positive signs. Earlier this month, the top ten candidates for the Democratic Presidential nomination participated in a CNN town hall on the issue; according to the Times, this was 'the first such prime-time event' in history. A recent Washington Post poll found that more than three-quarters of Americans now consider climate change a 'crisis' or a 'major problem.' A survey conducted this summer of voters in Texas showed that, even in the oil patch, a majority are concerned about climate change. Thunberg's actions have inspired hundreds of thousands of young people around the globe to stage school strikes for climate action. Ahead of the strike called for the eve of the climate summit, the New York City school system said it would excuse students who skipped classes; Thunberg was set to speak to the strikers in Foley Square. Still, you'd have to ignore most of the past forty years to conclude that action is imminent." See also, Scientists Warn That Immediate Climate Action Is Needed to Avoid 'Grim' Future, Scientific American, Thomas Frank, Friday, 20 September 2019: "A leading group of international climate scientists is warning that 'large-scale strategies' are needed immediately to reduce greenhouse gas emissions and avert 'catastrophic circumstances' that threaten every part of the world. In a paper published yesterday in the journal Science, 21 researchers from 14 countries said climate change is already damaging the planet more than scientists had projected, endangering everything from food supply to the existence of island nations. Heat waves are intensifying in North America and Europe. Underwater heat waves are killing deepwater habitats and coral reefs. Insect populations are dwindling, threatening the food chain. And larger, more frequent wildfires, such as the blazes that have killed more than 100 people in California since 2017, are destroying forests and communities around the world."
House Speaker Nancy Pelosi Says Congress Should Pass New Laws so Sitting Presidents Can Be Indicted, NPR, Friday, 20 September 2019: "In an exclusive interview with NPR, House Speaker Nancy Pelosi says she has not changed her mind on pursuing impeachment but is ready to change the law to restrain presidential power and make it clear that a sitting president can, in fact, be indicted. 'I do think that we will have to pass some laws that will have clarity for future presidents. [A] president should be indicted, if he's committed a wrongdoing — any president. There is nothing anyplace that says the president should not be indicted,' Pelosi told All Things Considered host Ari Shapiro and NPR congressional correspondent Susan Davis on Friday. 'That's something cooked up by the president's lawyers.'" See also, House Speaker Nancy Pelosi backs changing the law to allow a sitting president to be indicted, Politico, Caitlin Oprysko, Friday, 20 September 2019: "Speaker Nancy Pelosi endorsed changing federal law to specify that a sitting president can be indicted, even as she indicated she was no closer to moving to impeach President Donald Trump. In an interview with NPR published Friday, Pelosi argued that despite a Justice Department legal opinion asserting the contrary, 'there is nothing any place that says the president should not be indicted.'"
U.S. Agreement With El Salvador Seeks to Divert Asylum Seekers, The New York Times, Zolan Kanno-Youngs and Elisabeth Malkin, Friday, 20 September 2019: "The Trump administration signed an agreement with the government of El Salvador on Friday that could force Central American migrants traveling through El Salvador to seek refuge in that violent and dangerous country instead of in the United States. The agreement is a win for President Trump and his hard-line immigration policies, and it gives him another ally in Central America as he tries to block migrants from seeking asylum at the southwestern border. Washington has signed a similar agreement with Guatemala." See also, Trump administration reaches deal to send asylum seekers to El Salvador in an effort to deter migrants from entering the United States, The Washington Post, Nick Miroff, Friday, 20 September 2019: "The Trump administration announced an accord Friday that will allow the United States to divert asylum seekers from the U.S. border to El Salvador, pushing migrants into one of the most dangerous countries in the world. The deal between the two governments is the latest measure aimed at creating new layers of deterrents to the influx of migrants applying for protection on U.S. soil."
Continue reading Week 140, Friday, 20 September – Thursday, 26 September 2019 (Days 974-980)