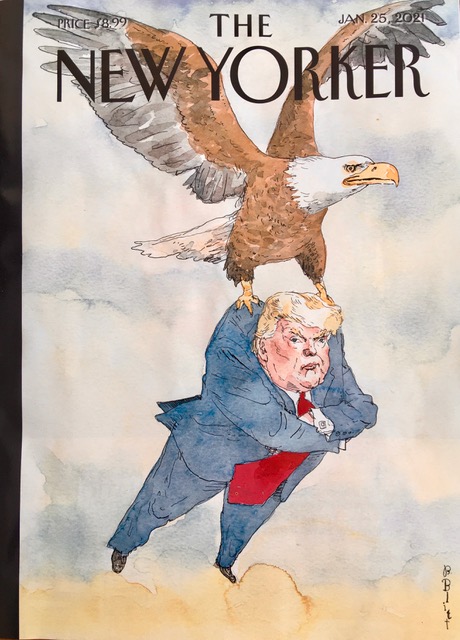 Now that the Biden administration has settled into Washington, D.C., my daily chronicle (20 January 2017 – 20 January 2021) of news about the Trump administration, Republicans, Democrats, corporations, courts, resistance, and persistence is winding down. I will continue to post a few important articles, especially ones that reflect the differences between the Biden administration and the Trump administration.  I hope to devote more of my time to posting muckraking articles on my site and to working with my local activist group in pursuit of progressive change and a stronger democracy. Thanks for reading!
For independent global news, visit Democracy Now!
For a newsletter about the history behind today's politics, subscribe to Heather Cox Richardson's newsletter, Letters from an American.
Thursday, 1 April 2021:
Biden Convenes Cabinet for First Meeting, Tapping 5 Secretaries With Selling His Infrastructure Plan. The secretaries would "engage the public in selling the plan and help work out the details as we refine it and move forward," President Biden said. A watchdog report found problems with a global aid program championed by Ivanka Trump. The New York Times, Thursday, 1 April 2021:
Biden holds his first cabinet meeting — but not in the usual spot.

Texas lawmakers advance a bill that would make voting more difficult, drawing comparisons to Georgia.

A global aid program championed by Ivanka Trump has serious problems, a report finds.

The Interior Department's chief of staff shifts jobs after ignoring coronavirus guidance and planning an indoor party.

Biden is seeking to use his infrastructure plan to address racial inequities.

Biden joins calls for M.L.B. to move the All-Star Game from Atlanta.

Billions in new Obamacare benefits are now available on Healthcare.gov.

Delta and Coca-Cola face backlash from Republicans after opposing Georgia voting law.
At first Cabinet meeting, Biden gives five secretaries a 'special responsibility' on jobs plan, The Washington Post, John Wagner and Reis Thebault, Thursday, 1 April 2021: "President Biden convened his first full Cabinet meeting Thursday, bringing together 25 top administration officials for a socially distanced gathering in the East Room of the White House that lasted about two hours. He announced he was giving five secretaries a 'special responsibility' in promoting his $2 trillion jobs and infrastructure plan to the public. Earlier, Vice President Harris addressed a virtual gathering of the Covid-19 Community Corps, a coalition launched by the Biden administration to encourage coronavirus vaccinations.
Here are a few of the significant developments included in this article.
The Trial of Derek Chauvin: 'I Thought He Was Dead,' Says a Paramedic Who Treated George Floyd. The paramedics who tried to revive Mr. Floyd described their futile attempts to jurors, and a police supervisor provided insight about Mr. Chauvin's actions and response after the confrontation. The New York Times, Thursday, 1 April 2021:
'He seemed like a regular guy, like us. Longtime residents reflect on George Floyd's death.
Officers should have stopped restraining George Floyd sooner, a former supervisor of Derek Chauvin testified.
Takeaways from Day 4 of the Derek Chauvin trial.
Scenes from Minneapolis on Day 4 of the Chauvin trial.
Here's how the local news media is covering the Derek Chauvin trial.
George Floyd was dead by the time medical help arrived, a paramedic testified.
Lawyers for George Floyd's family say jurors should look past his drug use after hearing testimony about his addiction.
With several lawyers rotating before the court, here's a guide to who is prosecuting the case against Derek Chauvin.
George Floyd's girlfriend described their relationship: A shared struggle with addiction, their first kiss, a 'dad selfie.'
What we know about Courteney Ross, George Floyd's former girlfriend.
Hennepin County's courthouse is experiencing a high-profile case like few other courthouses do.
Jurors are gaining new understanding of the day George Floyd died.
Continue reading Aftermath of the Trump Administration, April 2021: