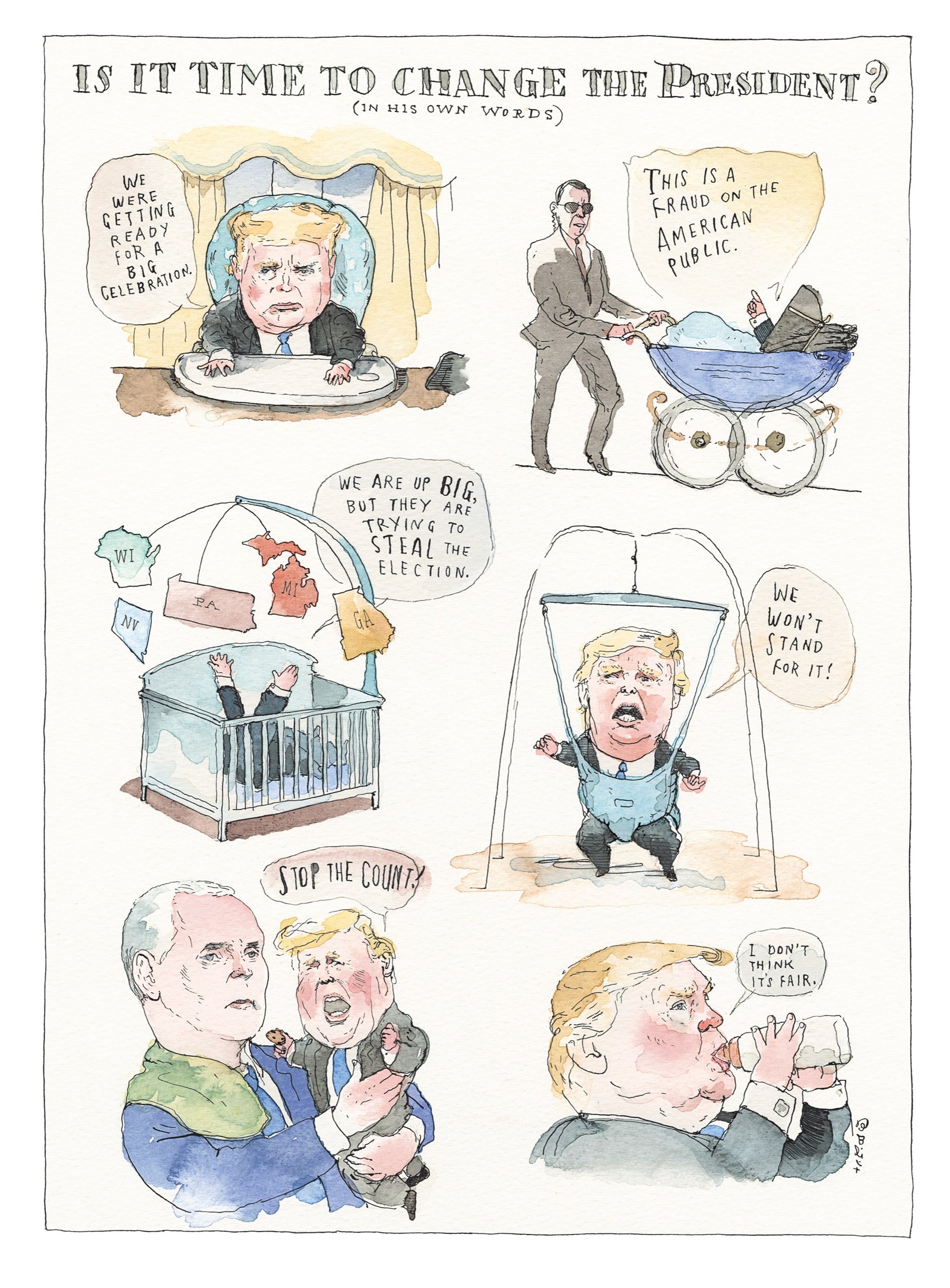 This is an ongoing project, and I update the site frequently during the day. Because I try to stay focused on what has actually happened, I usually let the news 'settle' for a day or so before posting. I hope readers will peruse the articles in full for a better understanding of the issues and their context; our democracy and our future depend on citizens who can distinguish between facts and falsehoods and who are engaged in the political process. Passages in bold in the body of the texts below are usually my emphasis, though not always.
For independent global news, visit Democracy Now!
For a newsletter about the history behind today's politics, subscribe to Heather Cox Richardson's newsletter, Letters from an American.
Friday, 20 November 2020, Day 1,400:
Some Global Coronavirus Updates for Friday, 20 November 2020: U.S. Passes 12 Million Covid-19 Cases. The country has also set a hospitalization record. Pfizer asked the F.D.A. for emergency approval of its vaccine, which might start being deployed by mid-December. The New York Times, Friday, 20 November 2020:
U.S. records 12 millionth case as virus surge gathers speed.

As curfews multiply, the U.S. breaks more records for new cases and hospitalizations.

Pfizer applies for emergency authorization of its vaccine.

Two Chinese port cities mobilize after finding a handful of cases.

Donald Trump Jr. tests positive for coronavirus. He has been isolating since Monday.

Andrew Giuliani, a White House official, tests positive after attending a news conference with his father and other Trump lawyers.

Senator Rick Scott of Florida is the latest member of Congress to test positive.

As the U.S. outbreak grows with alarming speed, political conflict hampers the response.

Health care systems struggle as newly detected cases approach 200,000 a day in the U.S.

Iran shuts businesses in 160 cities and adds restrictions to 200 more as cases rise.
Many other significant developments are included in this article.
Some significant developments in the coronavirus pandemic on Friday, 20 November 2020: Pfizer applies for emergency vaccine approval as U.S. cases reach new high, The Washington Post, Hannah Knowles, Carolyn Y. Johnson, Darren Sands, Derek Hawkins, Antonia Noori Farzan, Hamza Shaban, Ruby Mellen, Marisa Iati, and Jacqueline Dupree, Friday, 20 November 2020: "Pfizer and its German partner BioNTech on Friday became the first companies to seek emergency authorization for a coronavirus vaccine in the United States, a landmark moment and a signal that a powerful tool to help control the pandemic could begin to be available by late December. Conditions around the country remain dire: The United States reported a record high of more than 196,000 new coronavirus cases on Friday and is likely to cross 12 million cases nationwide on Saturday, six days after surpassing 11 million.
Here are a few of the significant developments included in this article.
Pfizer Applies for Emergency Food and Drug Administration (F.D.A.) Approval for Covid-19 Vaccine, The New York Times, Noah Weiland and Katie Thomas, Friday, 20 November 2020: "The drug maker Pfizer said on Friday that it had submitted an application to the Food and Drug Administration to authorize its coronavirus vaccine for emergency use, setting in motion an accelerated regulatory process that could allow the first Americans to get a vaccine by the middle of December. Pfizer and its German partner, BioNTech, announced Wednesday that the vaccine was safe and 95 percent effective, and that it also worked well in older people and in preventing severe Covid-19. Another front-runner, Moderna, said on Monday that its vaccine, which uses similar technology, was 94.5 percent effective and that the company also expected to apply soon for emergency authorization. The two vaccines use a synthetic version of coronavirus genetic material, called mRNA, to program a person's cells to churn out many copies of a fragment of the virus. An emergency authorization would allow limited groups of Americans to get the vaccines before the F.D.A. has completed the typical monthslong approval process, but agency officials have made clear through new guidelines that their bar for emergency authorization will be high."
Continue reading Week 201, Friday, 20 November  – Thursday, 26 November 2020 (Days 1,400-1,406)