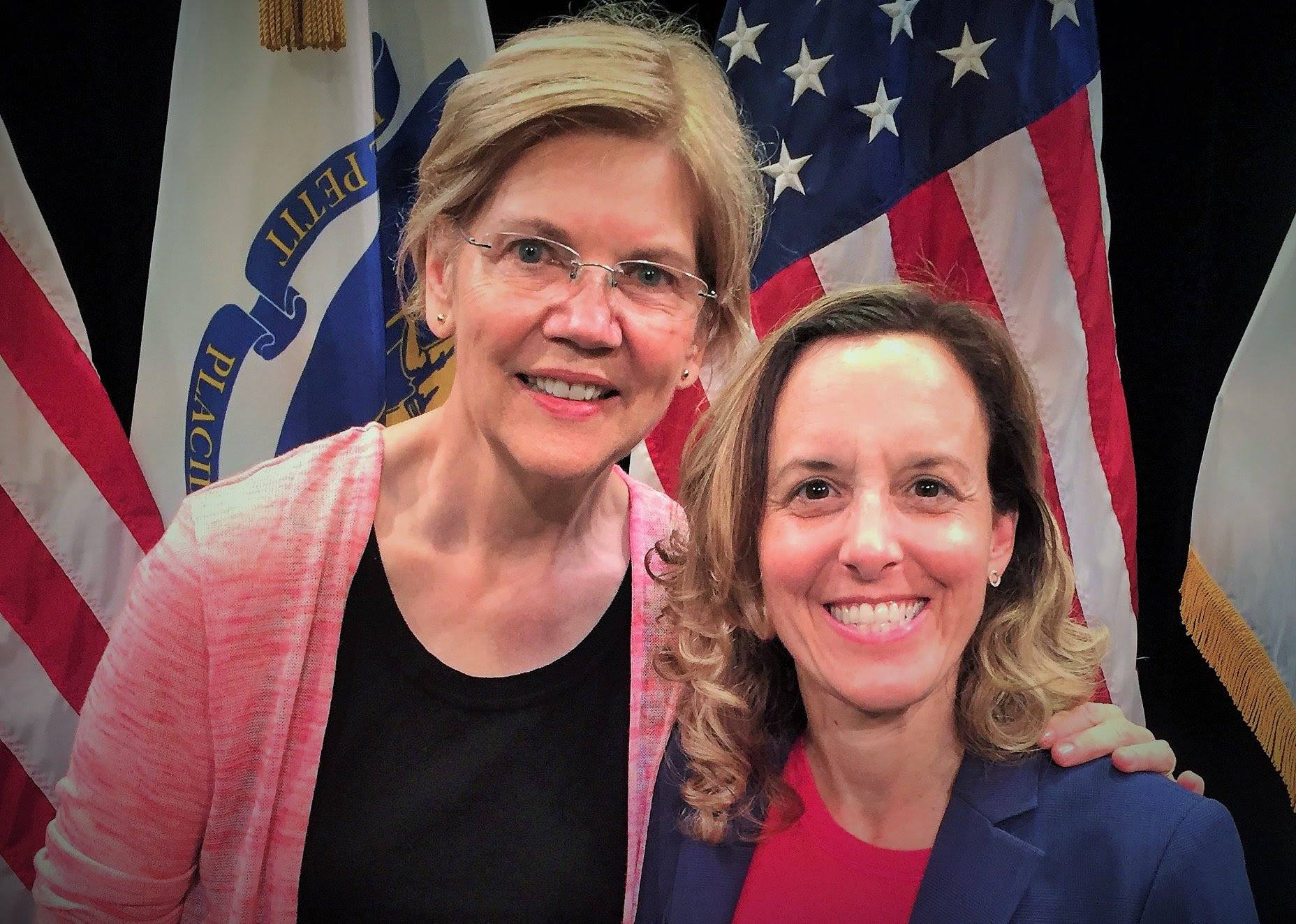 Elizabeth Warren and Andrea Harrington, 2018
Passages in bold in the body of the texts below are usually my emphasis, though not always. This is an ongoing project, and I update the site frequently during the day. Because I try to stay focused on what has actually happened, I usually let the news 'settle' for a day or so before posting. I hope readers will peruse the articles in full for a better understanding of the issues and their context; our democracy and our future depend on citizens who can distinguish between facts and falsehoods and who are engaged in the political process.
For "a weekly newsletter celebrating people-powered wins against the Trump administration's agenda," visit Small Victories. 
For independent global news, visit Democracy Now!
Friday, 21 June 2019, Day 883:
Urged to Launch an Attack on Iran, Trump Listened to Skeptics Like Tucker Carlson Who Said It Would Be a Costly Mistake, The New York Times, Peter Baker, Maggie Haberman, and Thomas Gobbons-Neff, Friday, 21 June 2019: "He heard from his generals and his diplomats. Lawmakers weighed in and so did his advisers. But among the voices that rang powerfully for President Trump was that of one of his favorite Fox News hosts: Tucker Carlson. While national security advisers were urging a military strike against Iran, Mr. Carlson in recent days had told Mr. Trump that responding to Tehran's provocations with force was crazy. The hawks did not have the president's best interests at heart, he said. And if Mr. Trump got into a war with Iran, he could kiss his chances of re-election goodbye." See also, Trump Says He Was 'Cocked and Loaded' to Strike Iran, but Pulled Back, The New York Times, Michael D. Shear, Helene Cooper, and Eric Schmitt, Friday, 21 June 2019: "President Trump said Friday morning that the United States military had been "cocked and loaded" for a strike against Iran on Thursday night, but that he called it off with 10 minutes to spare when a general told him that 150 people would probably die in the attack…. Senator Elizabeth Warren of Massachusetts, who is running for the Democratic presidential nomination, blasted Mr. Trump, tweeting: 'There is no justification for further escalating this crisis — we need to step back from the brink of war.' Top Democrats, including Speaker Nancy Pelosi and Senator Chuck Schumer, the Democratic leader, said they were not informed of the planned strikes, a departure from normal practice." See also, 'We were cocked & loaded': Trump's account of Iran attack plan is facing scrutiny, The Washington Post, John Hudson, Missy Ryan, and Erin Cunningham, Friday, 21 June 2019: "President Trump stepped away from the precipice of an immediate military conflict with Iran on Friday, calling off a strike in response to Iran's downing of a U.S. surveillance drone. But with the United States and Iran still locked in an adversarial pose, with none of their underlying grievances resolved, the prospect for fresh brinkmanship loomed as U.S. officials contemplated an alternative response…. The precariousness of the moment was compounded by widespread uncertainty about the president's decision-making process, which he detailed Friday in tweets and statements that drew scrutiny from even his own aides. Early in the day, the president said he called off the attack at the last minute because it would have killed 150 people in retaliation for the downing of the drone. 'We were cocked & loaded to retaliate last night on 3 different sights when I asked, how many will die,' he tweeted. But administration officials said Trump was told earlier Thursday how many casualties could occur if a strike on Iran were carried out and that he had given the green light that morning to prepare the operation." See also, Trump's bizarre tweets and comments about his Iran decision, annotated, The Washington Post, Aaron Blake, Friday, 21 June 2019. See also, War-weary Republicans and Democrats express relief after Trump calls off strike on Iran, The Washington Post, Mike DeBonis and Karoun Demirjian, Friday, 21 June 2019.
Attorneys say Texas border facility near El Paso is neglecting migrant children, Associated Press, Cedar Attanasio, Garance Burke, and Martha Mendoza, Friday, 21 June 2019: "A 2-year-old boy locked in detention wants to be held all the time. A few girls, ages 10 to 15, say they've been doing their best to feed and soothe the clingy toddler who was handed to them by a guard days ago. Lawyers warn that kids are taking care of kids, and there's inadequate food, water and sanitation for the 250 infants, children and teens at the Border Patrol station. The bleak portrait emerged Thursday after a legal team interviewed 60 children at the facility near El Paso that has become the latest place where attorneys say young migrants are describing neglect and mistreatment at the hands of the U.S. government. Data obtained by The Associated Press showed that on Wednesday there were three infants in the station, all with their teen mothers, along with a 1-year-old, two 2-year-olds and a 3-year-old. There are dozens more under 12. Fifteen have the flu, and 10 more are quarantined. Three girls told attorneys they were trying to take care of the 2-year-old boy, who had wet his pants and had no diaper and was wearing a mucus-smeared shirt when the legal team encountered him." See also, 'There Is a Stench': No Soap and Overcrowding in Detention Centers for Migrant Children, The New York Times, Caitlin Dickerson, Friday, 21 June 2019: "A chaotic scene of sickness and filth is unfolding in an overcrowded border station in Clint, Tex. [near El Paso], where hundreds of young people who have recently crossed the border are being held, according to lawyers who visited the facility this week. Some of the children have been there for nearly a month. Children as young as 7 and 8, many of them wearing clothes caked with snot and tears, are caring for infants they've just met, the lawyers said. Toddlers without diapers are relieving themselves in their pants. Teenage mothers are wearing clothes stained with breast milk." See also, Justice Department Lawyer Sarah Fabian Argues Against Providing Soap, Toothbrushes, and Beds to Detained Children, HuffPost, Mary Papenfuss, published on Thursday, 20 June 2019: "A Justice Department attorney this week argued in court that the federal government should not be required to provide soap, toothbrushes or even beds to detained children apprehended at the U.S.-Mexico border. Government lawyer Sarah Fabian argued Tuesday before the U.S. Court of Appeals for the 9th Circuit that forcing children to sleep on cold concrete floors in cells is both 'safe and sanitary.'" See also, Detained migrant children got no toothbrush, no soap, no sleep. It's no problem, Justice Department lawyer Sarah Fabian argues. The Washington Post, Meagan Flynn, Friday, 21 June 2019: "The government went to federal court this week to argue that it shouldn't be required to give detained migrant children toothbrushes, soap, towels, showers or even half a night's sleep inside Border Patrol detention facilities. The position bewildered a panel of three judges in the U.S. Court of Appeals for the 9th Circuit on Tuesday, who questioned whether government lawyers sincerely believed they could describe the temporary detention facilities as 'safe and sanitary' if children weren't provided adequate toiletries and sleeping conditions. One circuit judge said it struck him as 'inconceivable. To me it's more like it's within everybody's common understanding: If you don't have a toothbrush, if you don't have soap, if you don't have a blanket, it's not safe and sanitary,' Senior U.S. Circuit Judge A. Wallace Tashima told Justice Department lawyer Sarah Fabian. 'Wouldn't everybody agree to that? Would you agree to that?' Fabian said she thought it was fair to say 'those things may be' part of the definition of safe and sanitary. 'What are you saying, may be?' Tashima shot back. 'You mean, there [are] circumstances when a person doesn't need to have a toothbrush, toothpaste and soap? For days?'" See also, 'Some Suburb of Hell': New Concentration Camp System in the United States, The New York Review of Books, Andrea Pitzer, Friday, 21 June 2019: "On Monday, New York Congresswoman Alexandria Ocasio-Cortez referred to US border detention facilities as 'concentration camps,' spurring a backlash in which critics accused her of demeaning the memory of those who died in the Holocaust. Debates raged over a label for what is happening along the southern border and grew louder as the week rolled on. But even this back-and-forth over naming the camps has been a recurrent feature in the mass detention of civilians ever since its inception, a history that long predates the Holocaust. At the heart of such policy is a question: What does a country owe desperate people whom it does not consider to be its citizens? The twentieth century posed this question to the world just as the shadow of global conflict threatened for the second time in less than three decades. The dominant response was silence, and the doctrine of absolute national sovereignty meant that what a state did to people under its control, within its borders, was nobody else's business. After the harrowing toll of the Holocaust with the murder of millions, the world revisited its answer, deciding that perhaps something was owed to those in mortal danger. From the Fourth Geneva Convention protecting civilians in 1949 to the 1989 Convention on the Rights of the Child, the international community established humanitarian obligations toward the most vulnerable that apply, at least in theory, to all nations. The twenty-first century is unraveling that response…. The Philippines, Japanese-American internment, Guantánamo… we can consider the fine points of how the current border camps evoke past US systems, and we can see how the arc of camp history reveals the likelihood that the suffering we're currently inflicting will be multiplied exponentially. But we can also simply look at what we're doing right now, shoving bodies into 'dog pound'-style detention pens, 'iceboxes,' and standing room-only spaces. We can look at young children in custody who have become suicidal. How much more historical awareness do we really need?"
Hideous Men. Donald Trump assaulted me in a Bergdorf Goodman dressing room 23 years ago. But he's not alone on the list of awful men in my life. New York Magazine, The Cut, E. Jean Carroll, Friday, 21 June 2019: "Before I discuss [Trump], I must mention that there are two great handicaps to telling you what happened to me in Bergdorf's: (a) The man I will be talking about denies it, as he has denied accusations of sexual misconduct made by at least 15 credible women, namely, Jessica Leeds, Kristin Anderson, Jill Harth, Cathy Heller, Temple Taggart McDowell, Karena Virginia, Melinda McGillivray, Rachel Crooks, Natasha Stoynoff, Jessica Drake, Ninni Laaksonen, Summer Zervos, Juliet Huddy, Alva Johnson, and Cassandra Searles. (Here's what the White House said:  "This is a completely false and unrealistic story surfacing 25 years after allegedly taking place and was created simply to make the President look bad.") And (b) I run the risk of making him more popular by revealing what he did…. The moment the dressing-room door is closed, he lunges at me, pushes me against the wall, hitting my head quite badly, and puts his mouth against my lips. I am so shocked I shove him back and start laughing again. He seizes both my arms and pushes me up against the wall a second time, and, as I become aware of how large he is, he holds me against the wall with his shoulder and jams his hand under my coat dress and pulls down my tights. I am astonished by what I'm about to write: I keep laughing. The next moment, still wearing correct business attire, shirt, tie, suit jacket, overcoat, he opens the overcoat, unzips his pants, and, forcing his fingers around my private area, thrusts his penis halfway — or completely, I'm not certain — inside me. It turns into a colossal struggle. I am wearing a pair of sturdy black patent-leather four-inch Barneys high heels, which puts my height around six-one, and I try to stomp his foot. I try to push him off with my one free hand — for some reason, I keep holding my purse with the other — and I finally get a knee up high enough to push him out and off and I turn, open the door, and run out of the dressing room." See also, E. Jean Carroll: 'Trump attacked me in the dressing room of Bergdorf Goodman,' New York Magazine, Sarah Jones, Friday, 21 June 2019. See also, Magazine columnist E. Jean Carroll accuses Trump of sexual assault, an allegation he denies, The Washington Post, Beth Reinhard and Colby Itkowitz, Friday, 21 June 2019: "E. Jean Carroll, a New York-based writer and longtime women's advice columnist, accused President Trump of sexually assaulting her more than two decades ago in a dressing room of an upscale Manhattan department store, an episode detailed in a book excerpt published Friday in New York magazine. In an interview with The Washington Post on Friday afternoon, Carroll reiterated the allegations, saying that during a chance encounter with the then-real estate developer at Bergdorf Goodman in late 1995 or early 1996, Trump attacked her in a dressing room. She said he knocked her head against a wall, pulled down her tights and briefly penetrated her before she pushed him off and ran out." See also, Trump compares himself to Supreme Court Justice Brett Kavanaugh in latest sexual assault allegation, The Washington Post, Colby Itkowitz, Beth Reinhard, and David Weigel, published on Saturday, 22 June 2019. See also, Trump Emphatically Denies Sexual Assault Allegation by E. Jean Carroll, The New York Times, Mihir Zaveri, published on Saturday, 22 June 2019: "President Trump again denied that he had sexually assaulted the advice columnist E. Jean Carroll in the mid-1990s, saying multiple times in extended comments to reporters on Saturday that he had 'no idea' who Ms. Carroll was. In a forthcoming book, Ms. Carroll alleges that Mr. Trump raped her in 1995 or 1996 in a Bergdorf Goodman dressing room. An excerpt from the book including the accusation was published on New York magazine's website on Friday. Mr. Trump issued a statement on Friday denying the accusation and saying he had never met Ms. Carroll. A photograph accompanying the excerpt showed Mr. Trump and Ms. Carroll together at a 1987 party, along with Ivana Trump, who was then his wife, and John Johnson, a television news anchor who was then Ms. Carroll's husband." See also, E. Jean Carroll Accuses Trump of Sexual Assault in Her Memoir, The New York Times, Alexandra Alter, Friday, 21 June 2019. See also, Major newspapers largely leave new report of sexual assault by Trump off their front pages, Media Matters, Katie Sullivan, published on Saturday, 22 June 2019: "A new report of sexual assault committed by President Donald Trump has come to light, but several major newspapers didn't find the story important enough to place on their front pages. On June 21, journalist and advice columnist E. Jean Carroll wrote in The Cut that 23 years ago, Trump assaulted her in a department store dressing room. According to Carroll, Trump 'lunge[d] at me, pushe[d] me against the wall, hitting my head quite badly, and [put] his mouth against my lips.' She wrote that he then pulled down her tights and assaulted her. Carroll told two close friends at the time, both of whom 'still remember the incident clearly and confirmed their accounts to New York.' The next day, several major newspapers failed to report the story on their front pages, even though it is horrific, detailed, and extremely similar to the accounts of numerous other women. It also echoes comments Trump has made in the past, saying in 2005, 'I'm automatically attracted to beautiful — I just start kissing them. It's like a magnet. Just kiss. I don't even wait. When you're a star, they let you do it. You can do anything. Grab 'em by the pussy. You can do anything.'"
Continue reading Week 127, Friday, 21 June – Thursday, 27 June 2019 (Days 883-889)