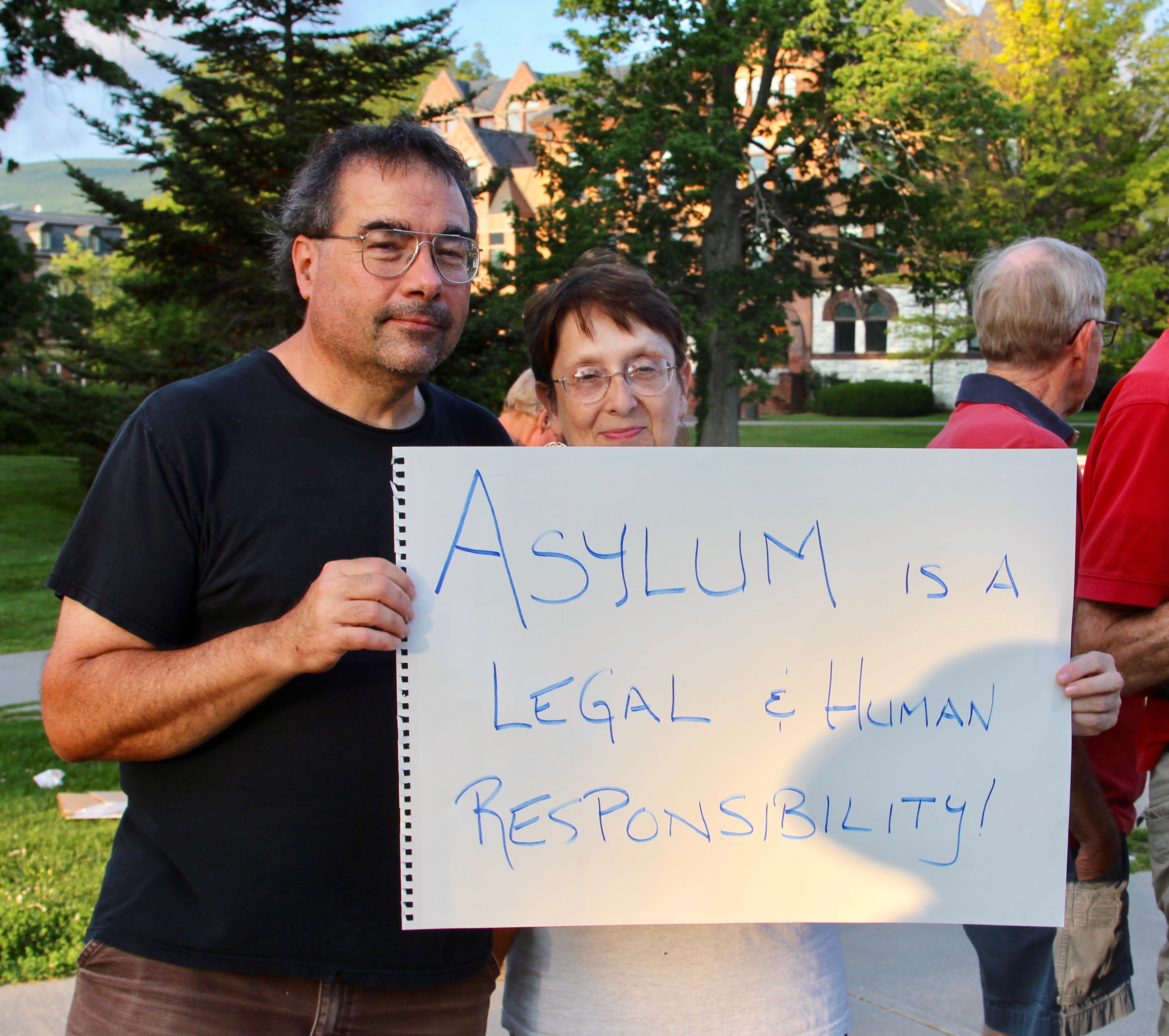 Passages in bold in the body of the texts below are usually my emphasis, though not always. This is an ongoing project, and I update the site frequently during the day. Because I try to stay focused on what has actually happened, I usually let the news 'settle' for a day or so before posting. I hope readers will peruse the articles in full for a better understanding of the issues and their context; our democracy and our future depend on citizens who can distinguish between facts and falsehoods and who are engaged in the political process.
For "a weekly newsletter celebrating people-powered wins against the Trump administration's agenda," visit Small Victories.
For independent global news, visit Democracy Now!
Friday, 16 August 2019, Day 939:
Federal Appeals Court Rules U.S. Can Block Migrants Seeking Asylum, but Only in Some States, The New York Times, Michael D. Shear, Friday, 16 August 2019: "A federal appeals court said Friday that President Trump can begin blocking some Central American migrants from applying for asylum in the United States, but only along parts of the border with Mexico. Migrants who seek asylum in New Mexico and Texas can be subjected to the administration's new rules, which effectively prohibit them from requesting protection if they traveled through another country on their way to the United States unless they already tried and failed to receive asylum in that other country or countries, the court said. But the ruling by the three-judge panel for the United States Court of Appeals for the Ninth Circuit, in San Francisco, is only a partial victory for Mr. Trump, whose immigration agenda has repeatedly been delayed by judges. In July, a lower court had blocked the president's new asylum rules after finding that the administration had probably violated the procedures required to put those regulations in place. The judge suspended the asylum rules nationwide while the court challenge continued. The appeals court agreed with the lower court, but said that the judge had not provided enough evidence that the rules should be blocked across the country. The appeals panel narrowed the judge's ruling, deciding that the tough asylum rules could not go into effect in the Ninth Circuit, which covers California and Arizona. The ruling means that the administration can begin blocking the Central American migrants in two border states: New Mexico, which is covered by the 10th Circuit, and Texas, which is covered by the Fifth Circuit. Immigrants from Honduras, for example, who enter the United States through those states will be eligible for asylum protections only if they had first been denied asylum in Guatemala or Mexico. Lee Gelernt, the lead lawyer for the American Civil Liberties Union in the legal challenge to the asylum rules, said his organization plans to provide the judge in the case with more information about why the president's rules should be blocked nationwide." See also, The Ninth Circuit Court of Appeals issues a split decision, allowing Trump's latest asylum restrictions to continue in Texas and New Mexico, The Washington Post, Maria Sacchetti, Friday, 16 August 2019: The Ninth Circuit Court of Appeals allowed the Trump administration's latest asylum restrictions to take effect Friday in the border states of Texas and New Mexico — but not in California and Arizona — in a ruling that centered on whether a judge has authority to impose an injunction nationwide."
Elizabeth Warren Offers a Policy Agenda for Native Americans, The New York Times, Thomas Kaplan, Friday, 16 August 2019: "Senator Elizabeth Warren of Massachusetts on Friday laid out a collection of policy proposals intended to help Native Americans, pledging to protect tribal lands and to bolster funding for programs that serve Native people. In releasing the proposals, Ms. Warren is drawing attention to Native American issues after months of largely refraining from doing so in the wake of a controversy over her ancestry. Ms. Warren put out the plans ahead of a scheduled appearance on Monday at a presidential forum in Sioux City, Iowa, that is dedicated to Native American issues. Among the proposals, Ms. Warren said that if elected president, she would revoke the permits for the Keystone XL and Dakota Access pipelines, two projects that have been opposed by many Native Americans. No energy project significantly affecting tribal lands should go ahead, she said, 'without the free, prior and informed consent of the Tribal Nation concerned.' She also called for expanding the ability of tribes to prosecute non-Indians for crimes committed on tribal land, and she proposed creating a nationwide alert system for missing indigenous women." See also, Senator Elizabeth Warren proposes plan to aid Native American communities, The Washington Post, Annie Linskey, Friday, 16 August 2019: "Sen. Elizabeth Warren (D-Mass.) released a lengthy plan Friday aimed at helping to close income and health disparities faced by Native Americans, expand Native criminal jurisdiction and honor long-standing promises and treaties."
Debate Flares Over Afghanistan as Trump Considers Troop Withdrawal, The New York Times, Michael Crowley, Friday, 16 August 2019: "President Trump met with top national security officials on Friday to review near-final plans for withdrawing American troops from Afghanistan, a prospect that has already prompted fierce political debate but could offer Mr. Trump a compelling talking point for his 2020 re-election campaign." See also, Trump and senior aides discuss withdrawal from Afghanistan as talks with Taliban advance, The Washington Post, Karen DeYoung, Missy Ryan, Anne Gearan, and Philip Rucker, Friday, 16 August 2019: "U.S. negotiators have made significant advances in recent talks with the Taliban, and the two sides are close to announcing an agreement on an initial U.S. troop withdrawal, along with plans to start direct discussions between the militants and the Afghan government, according to American and foreign officials." See also, Trump Meets With Advisers to Consider Deal With Taliban, The Wall Street Journal, Nancy A. Youssef and Craig Nelson, Friday, 16 August 2019: "President Trump met with his top national security advisers Friday to consider a deal with the Taliban that could lead to the withdrawal of most U.S. forces from Afghanistan and the end of America's longest military engagement abroad, U.S. officials said…. Joining the president at his New Jersey golf resort were Vice President Mike Pence, Secretary of State Mike Pompeo, Central Intelligence Agency Director Gina Haspel, Defense Secretary Mark Esper, Marine Gen. Joe Dunford, the chairman of the Joint Chiefs of Staff, national security adviser John Bolton and Zalmay Khalilzad, the U.S. special envoy leading the peace talks." See also, Peace Road Map for Afghanistan Will Let Taliban Negotiate Women's Rights, The New York Times, Lara Jakes, Friday, 16 August 2019.
Continue reading Week 135, Friday, 16 August – Thursday, 22 August 2019 (Days 939-945)