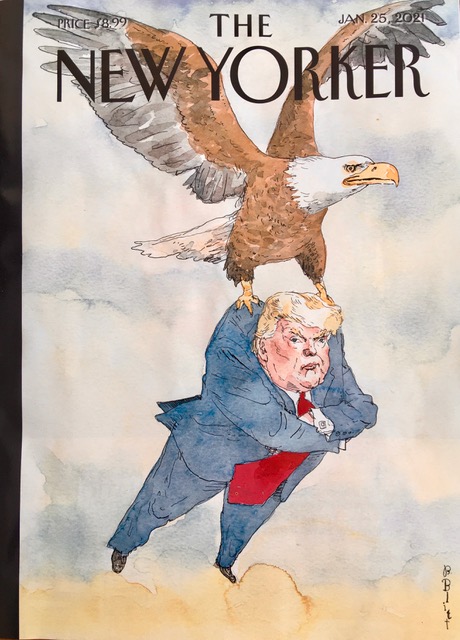 My daily chronicle of news about the Trump administration (20 January 2017 – 20 January 2021), Republicans, Democrats, corporations, courts, resistance, and persistence continues. I am still posting important articles, especially ones that reflect the differences between the Biden administration and the Trump administration and ones that address the toxic legacy of the Trump administration and Republicans. However, I hope to devote more of my time to posting muckraking articles on my site and to working with my local activist group in pursuit of progressive change and a stronger democracy. Thanks for reading!
For independent global news, visit Democracy Now!
For a newsletter about the history behind today's politics, subscribe to Heather Cox Richardson's newsletter, Letters from an American.
Thursday, 1 December 2022:
Russian Invasion of Ukraine: Shelling leaves Kherson dark; Biden and Macron condemn Russia, The Washington Post, Rachel Pannett, Erin Cunningham, Adela Suliman, Beatriz Rios, Claire Parker, and Ben Brasch, Thursday, 1 December 2022: "Russian shelling on Thursday left Ukrainians in recently liberated Kherson cold and in the dark, just days after the power was restored following Russian occupation, according to the Associated Press. The attacks came as Foreign Minister Sergey Lavrov said the barrages are intended to 'knock out energy facilities that allow you to keep pumping deadly weapons into Ukraine in order to kill the Russians,' referring to the United States and NATO. President Biden and French Presidential Emmanuel Macron reaffirmed their support for Ukraine and condemnation of the Russian invasion in a joint news conference in Washington on Thursday. Biden also said he would be willing to meet with Russian President Vladimir Putin if the Russian leader expresses interest in ending the conflict. 'I'm prepared to speak with Mr. Putin if in fact … he's looking for a way to end the war,' Biden told reporters at the White House. 'He hasn't done that yet.'
Spanish officials stepped up security Thursday after confirming that at least six letter bombs had been sent to high-profile targets in recent days, including the Ukrainian Embassy in Madrid, the U.S. Embassy, the Spanish prime minister's office, the Defense Ministry, a military air base and an arms manufacturer. The one sent to the Ukrainian Embassy caused a minor injury, but the others were 'neutralized by the security services,' the Interior Ministry said. Ukraine's foreign minister, Dmytro Kuleba, has ordered security at all of Ukraine's embassies to be strengthened in response. It remains unclear why the sites in Spain were targeted.
The United States and France 'deplore Russia's deliberate escalatory steps,' Biden and Macron said in a joint statement following their meeting on Thursday, pointing in particular to 'its irresponsible nuclear rhetoric and its disinformation regarding alleged chemical attacks, and biological and nuclear weapons programs.' The leaders expressed their commitment to provide 'significant resources' to support Ukraine's citizens through the winter, and said their countries would work with allies at an international conference in Paris on Dec. 13 to coordinate assistance to Ukraine. They also pledged to hold Russia accountable for atrocities and war crimes.
The United Nations called for a record $51.5 billion in funding for 2023, citing 'shockingly high' emergency needs, including the Ukraine war. Emergency relief official Martin Griffiths pointed to the war, the coronavirus pandemic and climate change as factors that have contributed to a year of 'suffering,' and he warned of 'an acceleration' of those crises in 2023.
NATO Secretary General Jens Stoltenberg said the Ukraine war has 'shattered peace in Europe.' At the Berlin Security Conference on Thursday, he also called for more arms support to Kyiv and for its allies to 'stay the course.' He warned of Europe's 'dangerous dependency' on Russian natural gas and economic reliance on other 'authoritarian states,' including China.
Ukraine's defense intelligence branch accused representatives of Rosatom, Russia's state nuclear energy company, of 'laundering' money allocated to manage the occupied Zaporizhzhia nuclear power plant. In a statement Thursday, the agency alleged that Rosatom employees and Russian occupation authorities were redirecting funds earmarked to pay the station staff. A 'significant part' of the occupation authorities have left the plant since Russia seized it in early March. About 500 Russians remain, 'to intimidate the staff and encourage them to cooperate with the occupiers,' the statement said.
Russia's Foreign Ministry blasted the decision by Germany on Wednesday to recognize the Holodomor as genocide carried out by the Soviet leadership. The famine in the early 1930s under the rule of Soviet dictator Joseph Stalin is believed to have killed about 4 million Ukrainians. The vote in the German parliament came several days after commemorations of the 90th anniversary of the famine. Moscow decried the move on Thursday as being part of a 'Western-sponsored campaign aimed at demonizing Russia.'
Switzerland has frozen about $8 billion in Russian assets as of Nov. 25, the Swiss state secretariat for economic affairs said in a news release Thursday. Fifteen properties belonging to sanctioned individuals or entities are also blocked. Nearly $50 billion in Russian deposits have been referred to the Swiss authorities for investigation.
Four lion cubs rescued from Ukraine have been flown to an animal sanctuary in Minnesota, according to the International Fund for Animal Welfare, one of a number of groups working to rescue animals from the war. The cubs, who were orphaned at a few weeks old and survived sporadic bombing and drone attacks, 'have endured more in their short lives than any animal should,' said Meredith Whitney, a wildlife program manager with the nonprofit group. They spent the past three weeks at Poznan Zoo in Poland.
Russian Invasion of Ukraine: Russia Shelling Cuts Power to Kherson as Lavrov Defends Strikes. Sergei Lavrov, Russia's foreign minister, claimed Ukraine's civilian energy infrastructure is a legitimate military target. The United Nations has said the strikes could amount to war crimes. The New York Times, Thursday, 1 December 2022:
Recently recaptured Kherson is hit by Russian shelling, as misery mounts.

Lavrov defends strikes on civilian infrastructure as six million in Ukraine remain without power.

Biden signals his willingness to talk to Putin, but only in consultation with NATO.

Orphaned Ukrainian lion cubs find a new home in Minnesota.

Talks among E.U. diplomats on a Russian oil price cap drag on.

The severity of Ukraine's winter could affect the course of the war.
Appeals Court Scraps Special master Review in Trump Documents Case. The panel's decision removed a major obstacle to the Justice Department's investigation into Mr. Trump's handling of sensitive government documents. The New York Times, Alan Feuer and Charlie Savage, Thursday, 1 December 2022: "A federal appeals court on Thursday removed a major obstacle to the criminal investigation into former President Donald J. Trump's hoarding of government documents, ending an outside review of thousands of records the F.B.I. seized from his home and freeing the Justice Department to use them in its inquiry. In a unanimous but unsigned 21-page ruling, a three-member panel of the U.S. Court of Appeals for the 11th Circuit in Atlanta shut down a lawsuit brought by Mr. Trump that has, for nearly three months, slowed the inquiry into whether he illegally kept national security records at his Mar-a-Lago residence and obstructed the government's efforts to retrieve them. The appeals court was sharply critical of the decision in September by Judge Aileen M. Cannon, a Trump appointee who sits in the Southern District of Florida, to intervene in the case. The court said Judge Cannon never had legitimate jurisdiction to order the review or bar investigators from using the files, and that there was no justification for treating Mr. Trump differently from any other target of a search warrant. 'It is indeed extraordinary for a warrant to be executed at the home of a former president — but not in a way that affects our legal analysis or otherwise gives the judiciary license to interfere in an ongoing investigation,' the court wrote. Limits on when courts can interfere with a criminal investigation 'apply no matter who the government is investigating,' it added. 'To create a special exception here would defy our nation's foundational principle that our law applies to all, without regard to numbers, wealth or rank.'" See also, Trump Mar-a-Lago special master struck down by appeals court. The three-judge panel said Judge Aileen Cannon erred in appointing a special master to review documents seized by the FBI. The Washington Post, Perry Stein and Devlin Barrett, Thursday, 1 December 2022: "A federal appeals court panel on Thursday halted an outside review of thousands of documents seized from former president Donald Trump's Florida residence, ruling that a lower court judge was wrong to appoint an expert to decide whether any of the material should be shielded from criminal investigators. Trump sought the outside arbiter, known as a special master, after the FBI executed a court-approved search of Mar-a-Lago, his home and private club, on Aug. 8, retrieving more than 13,000 documents related to Trump's time in the White House. About 100 of the documents were classified, and some contained extremely sensitive government secrets, according to court records. The appeals court decision was an emphatic win for the Justice Department, and the latest legal loss for Trump, who has gone to court multiple times to try to stop the government from getting access to records or personal information. Just last week, the Supreme Court denied the former president's request to block a congressional committee from receiving copies of six years of his tax returns, clearing the way for them to be handed over to lawmakers." See also, Appeals court halts special master review of documents seized at Mar-a-Lago in major defeat for Trump, CNN Politics, Tierney Sneed, Thursday, 1 December 2022: "In a major defeat for former President Donald Trump, a federal appeals court on Thursday halted a third-party review of documents seized from his Mar-a-Lago estate. The ruling removes a major obstacle to the Justice Department's investigation into the mishandling of government records from Trump's time in the White House. The three-judge panel of the 11th US Circuit Court of Appeals reversed US District Judge Aileen Cannon's order appointing a so-called special master to sort through thousands of documents found at Trump's home to determine what should be off limits to investigators. The court said the judge should not have intervened in the first place. 'The law is clear,' the appeals court wrote. 'We cannot write a rule that allows any subject of a search warrant to block government investigations after the execution of the warrant. Nor can we write a rule that allows only former presidents to do so.' The 11th Circuit said that either approach would be a 'radical reordering of our caselaw limiting the federal courts' involvement in criminal investigations' and that 'both would violate bedrock separation-of-powers limitations.'"
Continue reading Aftermath of the Trump Administration, December 2022: