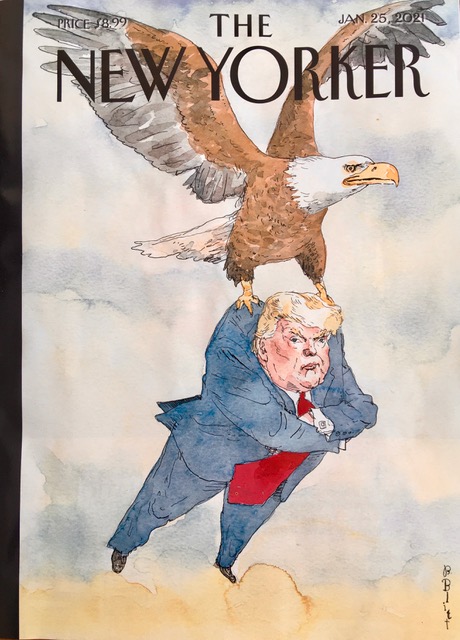 For independent global news, visit Democracy Now!
For a newsletter about the history behind today's politics, subscribe to Heather Cox Richardson's newsletter, Letters from an American.
Friday, 1 December 2023:
Federal Judge Tanya Chutkan Rejects Trump's Claims That He Enjoys Absolute Immunity From Criminal Charges Accusing Him of Seeking to Reverse the 2020 Election. The ruling is likely to spark a series of appeals that the former president's lawyers hope will push the trial on election interference charges past the 2024 election. The New York Times, Alan Feuer, Friday, 1 December 2023: "A federal judge on Friday rejected claims by former President Donald J. Trump that he enjoyed absolute immunity from criminal charges accusing him of seeking to reverse the 2020 election, slapping down his argument that the indictment should be tossed out because it was based on actions he took while he was in office. The ruling by the judge, Tanya S. Chutkan, was her first denying one of Mr. Trump's many motions to dismiss the election interference case, which is set to go to trial in Federal District Court in Washington in about three months. It offered a sweeping condemnation of what Judge Chutkan called Mr. Trump's attempts to 'usurp the reins of government' and cited foundational American texts like the Federalist Papers and George Washington's farewell address. Mr. Trump's lawyers had expected the immunity motion to fail. They have, in fact, been planning for weeks to use the defeat to begin a long-shot strategy to put off the impending trial. They intend to appeal Judge Chutkan's ruling all the way to the Supreme Court if they can, hoping that even if they lose, their challenges will eat up time and keep the case from going in front of a jury until after the 2024 election…. The former president's lawyers essentially claimed that all the steps he took to subvert the election he lost to President Biden were not crimes, but rather examples of performing his presidential duties to ensure the integrity of a race that he believed had been stolen from him. Judge Chutkan had little patience for such arguments, saying on Friday evening that neither the Constitution nor American history supported the contention that a former president enjoyed total immunity from prosecution. 'Whatever immunities a sitting president may enjoy, the United States has only one chief executive at a time, and that position does not confer a lifelong get-out-of-jail-free pass,' Judge Chutkan wrote. 'Former presidents enjoy no special conditions on their federal criminal liability. Defendant may be subject to federal investigation, indictment, prosecution, conviction and punishment for any criminal acts undertaken while in office.' She added, 'Defendant's four-year service as commander in chief did not bestow on him the divine right of kings to evade the criminal accountability that governs his fellow citizens.'" See also, Federal judge Tanya Chutkan rejects Trump immunity claim in January 6 criminal prosecution. Chutkan's ruling sets the clock ticking on whether the Supreme Court will agree and allow Trump to face federal trial in Washington before the 2024 election. The Washington Post, Spencer S. Hus and Rachel Weiner, Friday, 1 December 2023: "A federal judge on Friday rejected Donald Trump's claim of 'absolute immunity' from criminal prosecution for actions taken while he was president, setting the stage for a legal battle over presidential power probably headed to the U.S. Supreme Court and starting the clock ticking on whether the justices will agree to allow him to face trial in Washington before the 2024 election. U.S. District Judge Tanya S. Chutkan denied Trump's request to toss out his four-count August indictment on charges of conspiring to defraud the federal government's election process, to obstruct Congress's certification of the vote on Jan. 6, 2021, and to disenfranchise American voters." See also, Federal judge Tanya Chutkan rules that Trump is not immune from election-subversion prosecution. 'A former President's exposure to federal criminal liability is essential to fulfilling our constitutional promise of equal justice under the law,' Chutkan ruled. Politico, Kyle Cheney, Friday, 1 December 2023: "Donald Trump is not immune from prosecution for his attempt to subvert the 2020 election, U.S. District Judge Tanya Chutkan ruled Friday, concluding that his term as president does not serve as a shield against charges that he sought to defraud and disenfranchise millions of Americans. 'Defendant's four-year service as Commander in Chief did not bestow on him the divine right of kings to evade the criminal accountability that governs his fellow citizens,' Chutkan ruled in a 48-page opinion, sweeping aside Trump's most intricate attempt to derail the case against him."
Federal Appeals Court Rules That Civil Lawsuits Seeking to Hold Former President Donald Trump accountable For the Violence That Erupted at the Capitol on January 6, 2021, Can Move Forward For Now. The court left open the possibility that the former president could still prevail in his effort to claim immunity from civil cases seeking to hold him accountable for the violence. The New York Times, Alan Feuer and Charlie Savage, Friday, 1 December 2023: "A federal appeals court ruled on Friday that civil lawsuits seeking to hold former President Donald J. Trump accountable for the violence that erupted at the Capitol on Jan. 6, 2021, can move forward for now, rejecting a broad assertion of immunity that Mr. Trump's legal team had invoked to try to get the cases dismissed. But the decision, by a three-judge panel of the U.S. Court of Appeals for the District of Columbia, left open the possibility that Mr. Trump could still prevail in his immunity claims after he makes further arguments as to why his fiery speech to supporters near the White House on Jan. 6 should be considered an official presidential act, rather than part of his re-election campaign. The Supreme Court has held that the Constitution gives presidents immunity from being sued over actions taken as part of their official duties, but not from suits based on private, unofficial acts. The civil cases brought against Mr. Trump have raised the question of which role he was playing at the rally he staged on Jan. 6, when he told supporters to "fight like hell" and urged them to march to the Capitol. Essentially, the appeals court ruled that at this stage of the case, that question has yet to be definitively answered. It said Mr. Trump must be given an opportunity to present factual evidence to rebut the plaintiffs' claims that the rally was a campaign event — scrutinizing issues like whether campaign officials had organized it and campaign funds were used to pay for it." See also, Federal Appeals Court rules Trump doesn't have presidential immunity from civil lawsuits related to the January 6, 2021, US Capitol riot, CNN Politics, Katelyn Polantz and Holmes Lybrand, Friday, 1 December 2023: "Former President Donald Trump can be sued in civil lawsuits related to the January 6, 2021, US Capitol riot in a long-awaited, consequential decision from the federal appeals court in Washington, DC. The decision will have significant implications for several cases against Trump in the Washington, DC, federal court related to the 2020 election. The decision arises out of lawsuits brought by Capitol Police officers and Democrats in Congress. The opinion, written by Chief Judge Sri Srinivasan, states that not everything a president does or says while in office is protected from liability."
House Speaker Mike Johnson wrote foreword for book filled with conspiracy theories and homophobic insults, CNN Politics, Andrew Kaczynski and Em Steck, Friday, 1 December 2023: "Speaker of the House Mike Johnson wrote the foreword and publicly promoted a 2022 book that spread baseless and discredited conspiracy theories and used derogatory homophobic insults. Written by Scott McKay, a local Louisiana politics blogger, the book, 'The Revivalist Manifesto,' gives credence to unfounded conspiracy theories often embraced by the far-right – including the 'Pizzagate' hoax, which falsely claimed top Democratic officials were involved in a pedophile ring, among other conspiracies. The book also propagates baseless and inaccurate claims, implying that Supreme Court Chief Justice John Roberts was subjected to blackmail and connected to the disgraced underage sex trafficker Jeffrey Epstein." See also, House Speaker Mike Johnson Wrote the Foreward for a Racist, Homophobic, Anti-Poor Book That Endorsed Pizzagate and Denigrated a Prisoner of War, Vanity Fair, Bess Levin, Friday, 1 December 2023: "With George Santos's expulsion drama taking up all the attention in Congress this week, you might have forgotten that the new leader of the House, Mike Johnson, has a history of deeply homophobic remarks that have come out on a near-daily basis since he was elected, as well as equally shitty takes on things like abortion, mass shootings, and democracy. But he does! And on a whole bunch of other stuff as well. CNN's KFile reports that Johnson wrote the foreward for and then promoted a 2022 book written by Scott McKay called The Revivalist Manifesto, which: 1. Says poor voters are 'unsophisticated and susceptible to government dependency' and easy to manipulate with 'Black Lives Matter defund the police pandering'; 2. Describes Transportation Secretary Pete Buttigieg as the 'queer choice' for the Cabinet job, calls him 'openly, and obnoxiously, gay,' and refers to him as 'Gay Mayor Pete Buttigieg'; 3. Claims the Biden administration purposely let undocumented immigrants into the US for voting purposes; 4. Says Barack Obama's 'chief selling point was that he was black'; 5. Writes of the debunked conspiracy theory that Democratic officials ran a pedophile ring out of a pizza shop: 'The Pizzagate scandal was born, and though some of the most outlandish allegations made in it were clearly disproven, other elements were not; the whole thing just seemed to be dismissed as debunked, and no explanation was ever given"; 6. Suggests Supreme Court Chief justice John Roberts had ties to sex trafficker Jeffrey Epstein; 7. Declares John McCain used five and a half years as a prison of war during Vietnam 'as a political get-out-of-jail-free card.'"
Even though the Trump administration is no longer in office, I am continuing to post summaries of the daily political news and major stories relating to this tragic and dangerous period in US history. I try to focus on the differences between the Trump administration and the Biden administration and on the ongoing toxic residual effects of the Trump administration and Republicans. I usually post throughout the day and let the news settle for a day or so before posting.
I created Muckraker Farm in 2014 as a place to post muckraking (investigative) journalism going back to the 19th century. I hope to return to this original project soon. You can find these muckraking pieces under the Home Page link at the top of this site. Thanks for reading!