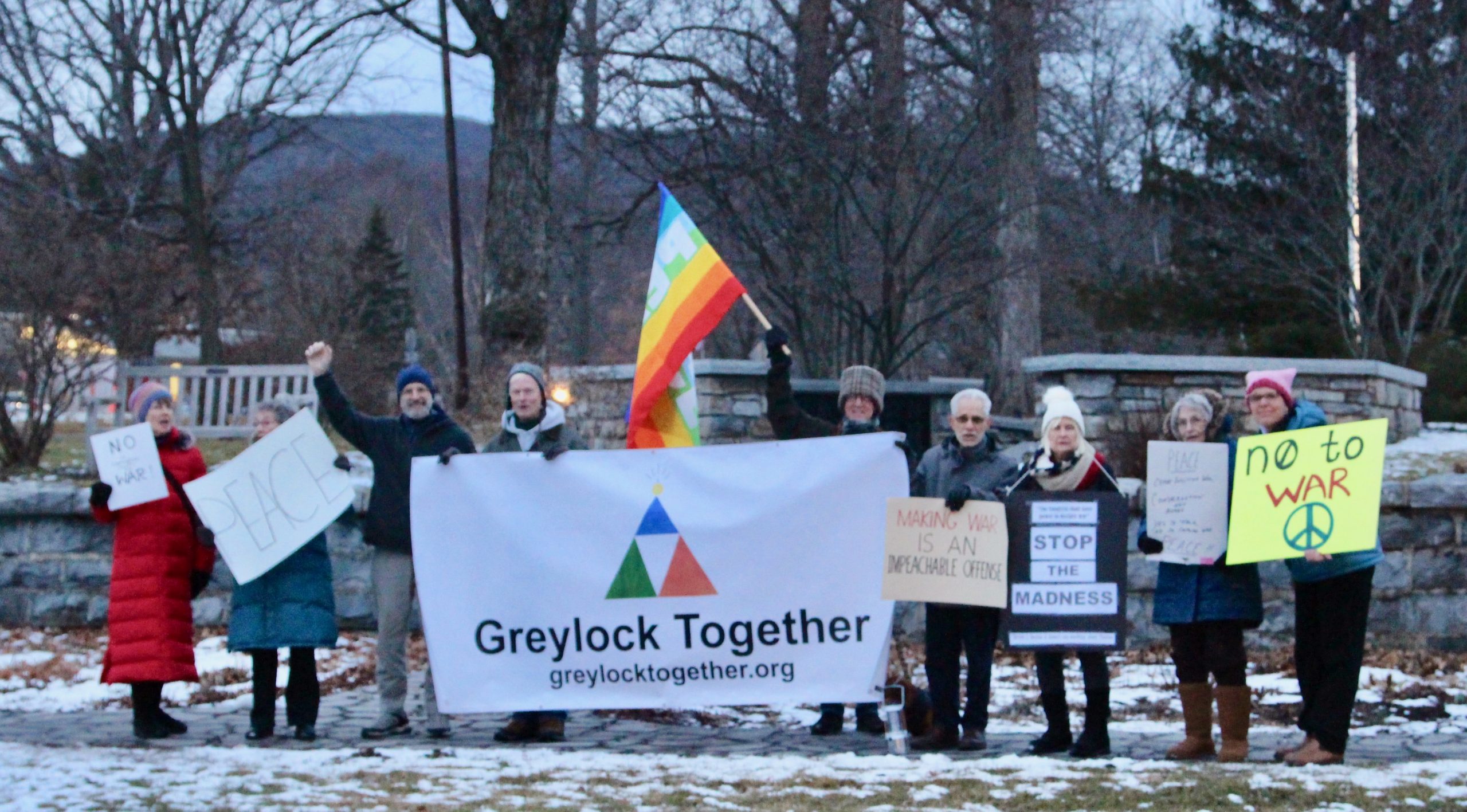 Passages in bold in the body of the texts below are usually my emphasis, though not always. This is an ongoing project, and I update the site frequently during the day. Because I try to stay focused on what has actually happened, I usually let the news 'settle' for a day or so before posting. I hope readers will peruse the articles in full for a better understanding of the issues and their context; our democracy and our future depend on citizens who can distinguish between facts and falsehoods and who are engaged in the political process.
For "a weekly newsletter celebrating people-powered wins against the Trump administration's agenda," visit Small Victories.
For independent global news, visit Democracy Now!
Friday, 14 February 2020, Day 1,121:
Trump Claims He Has the 'Legal Right' to Interfere in Justice Department Cases, The New York Times, Michael D. Shear, Friday, 14 February 2020: "President Trump asserted Friday that he had the legal right to intervene in federal criminal cases, a day after Attorney General William P. Barr publicly rebuked him for attacks on Justice Department prosecutors and others involved in the case of Roger J. Stone Jr., the president's longtime friend. In a morning tweet, Mr. Trump quoted Mr. Barr saying that the president 'has never asked me to do anything in a criminal case.' The president said he had 'so far chosen' not to interfere in a criminal case even though he insisted that he was not legally bound to do so. 'This doesn't mean that I do not have, as President, the legal right to do so, I do, but I have so far chosen not to!' he said. Though he and Mr. Barr both said the president had not directly asked for any specific inquiries, Mr. Trump has long pressured law enforcement officials both publicly and privately to open investigations into political rivals and to drop inquiries. Mr. Trump also pressed former Attorney General Jeff Sessions to retake control of the Russia investigation after he recused himself. The assertion by the president, which implicitly rejected a request by Mr. Barr to stop tweeting about the department's cases, adds to the mounting controversy over the decision by senior Justice Department officials to overrule prosecutors who had recommended a seven- to nine-year sentence for Mr. Stone, who was convicted of seven felonies in a bid to obstruct a congressional investigation that threatened the president…. Past presidents in both parties have respected long standing traditions that are aimed at preventing political influence from the White House on Justice Department investigations, especially criminal inquiries that involved administration officials or friends of the president. The rules have been in place since the Watergate investigation, in which President Richard M. Nixon sought to pressure the F.B.I." See also, Trump bucks Attorney General William Barr's request to stop tweeting about the Justice Department, declaring he has a 'legal right' to seek intervention in criminal cases, The Washington Post, Matt Zapotosky, John Wagner, Devlin Barrett, and Spencer S. Hsu, Friday, 14 February 2020: "President Trump on Friday bucked his attorney general's public request to stop tweeting about criminal cases just as the department prepared to reveal it would not charge a former FBI official Trump considers a political foe — significantly escalating the tension between the commander in chief and his top law enforcement officer. A day after Attorney General William P. Barr publicly warned Trump not to tweet about the Justice Department, Trump did just that, declaring that he has the 'legal right' to ask his top law enforcement official to get involved in a criminal case. Just hours later, the department made a move that might be seen as exerting its independence, revealing that it would not charge former acting FBI director Andrew McCabe with lying to investigators about a media disclosure. McCabe had authorized the bureau to investigate Trump in 2017 and has been a persistent target of presidential attacks." See also, Trump claims he has the 'legal right' to intervene in criminal cases, The Guardian, Edward Helmore, Friday, 14 February 2020.
Attorney General William Barr Installs Outside Prosecutor to Review Case Against Michael Flynn, Ex-Trump Adviser, The New York Times, Charlie Savage, Adam Goldman, and Matt Apuzzo, Friday, 14 February 2020: "Attorney General William P. Barr has assigned an outside prosecutor to scrutinize the criminal case against President Trump's former national security adviser Michael T. Flynn, according to people familiar with the matter. The review is highly unusual and could trigger more accusations of political interference by top Justice Department officials into the work of career prosecutors. Mr. Barr has also installed a handful of outside prosecutors to broadly review the handling of other politically sensitive national-security cases in the U.S. attorney's office in Washington, the people said. The team includes at least one prosecutor from the office of the United States attorney in St. Louis, Jeff Jensen, who is handling the Flynn matter, as well as prosecutors from the office of the deputy attorney general, Jeffrey A. Rosen." See also, US officials say Attorney General William Barr privately ordered re-examination of Michael Flynn's case, CNN Politics, Evan Perez, David Shortell, and Katelyn Polantz, Friday, 14 February 2020: "Attorney General William Barr is ordering a re-examination of several high-profile cases, including that of former national security adviser Michael Flynn, US officials briefed on the matter say, in a move that could bring fresh scrutiny of the political motives behind actions at the Justice Department." See also, Justice Department opens inquiry into FBI interview at heart of Flynn's guilty plea, NBC News, Carol E. Lee, Friday, 14 February 2020: "The Department of Justice recently opened an inquiry into the circumstances surrounding the FBI's interview of Michael Flynn while he was serving as President Donald Trump's national security adviser, according to two people familiar with the inquiry. Flynn pleaded guilty to giving false statements to the FBI during that interview, but recently asked to withdraw that plea, further delaying his sentencing." See also, 9 Democratic senators, including Warren and Sanders, formally call for Attorney General William Barr's resignation, The Week, Friday, 14 February 2020: "Sen. Elizabeth Warren (D-Mass.) has formalized her call for the resignation of Attorney General William Barr. Following up on her Wednesday insistence that Barr resign over his apparent interference in the criminal case   against Roger Stone, Warren led eight other Democratic senators in a formal letter calling for Barr's departure on Friday. 'We are writing to express our alarm about and opposition to the unethical political intervention' by Barr and the Justice Department in the case of President Trump's longtime adviser Roger Stone, the senators, including fellow 2020 candidate Sen. Bernie Sanders (I-Vt.) claim in their letter to Barr. 'The interference … is a clear violation of your duty to defend fair, impartial, and equal justice for all Americans,' and 'we call on you to resign immediately,' the senators wrote to Barr."
Andrew McCabe, Ex-F.B.I. Official, Will Not Be Charged in Lying Case, The New York Times, Adam Goldman, Friday, 14 February 2020: "Andrew G. McCabe, the former deputy F.B.I. director and a frequent target of President Trump's, will not face charges in an investigation into whether he lied to investigators about a media leak, his defense team said on Friday. The decision by prosecutors in Washington ends a case that had left Mr.  McCabe in legal limbo for nearly two years. It also appears to be a sign that Attorney General William P. Barr wants to show that the Justice Department is independent from the president: The notification came a day after Mr. Barr publicly challenged Mr. Trump to stop attacking law enforcement officials on Twitter and said the criticisms were making his job more difficult." See also, The Justice Department won't charge Andrew McCabe, the former FBI official who authorized the investigation of President Trump, The Washington Post, Matt Zapotosky, Devlin Barrett, Karoun Demirjian, and Josh Dawsey, Friday, 14 February 2020: "The Justice Department will not charge former acting FBI director Andrew McCabe with lying to investigators about a media disclosure, according to people familiar with the matter and McCabe's legal team, ending a long-running inquiry into a top law enforcement official who authorized the bureau to investigate President Trump and soon became [Trump's] political punching bag." See also, Department of Justice drops probe into former FBI Deputy Director Andrew McCabe, Politico, Josh Gerstein, Friday, 14 February 2020: "The Justice Department has decided to abandon its efforts to seek criminal charges against former FBI Deputy Director Andrew McCabe, according to a letter sent to his attorneys. McCabe's lawyers were told last September that he should expect to be indicted on charges stemming from inaccurate statements he made to FBI investigators about his actions around the time of the 2016 election. However, no indictment was ever returned, leading to speculation that the Washington-based grand jury probing the matter took the rare step of rejecting charges. Prosecutors had been cagey since that time about the status of the investigation into McCabe, who has been a frequent subject of public attacks from President Donald Trump. In theory, they could have presented the case to another grand jury, but on Friday, the U.S. Attorney's Office in Washington informed McCabe's attorneys that it was giving up its quest to charge the FBI veteran." See also, Justice Department Closes Investigation Into Ex-FBI No. 2 Andrew McCabe, The Wall Street Journal, Aruna Viswanatha, Friday, 14 February 2020: "The Justice Department has closed its investigation into former No. 2 FBI official Andrew McCabe without bringing charges, lawyers for Mr. McCabe said Friday, bringing to an end a controversial investigation into someone President Trump has repeatedly criticized…. The office had been examining whether Mr. McCabe, the former deputy director of the Federal Bureau of Investigation, misled investigators about his role in providing information related to an investigation into the Clinton Foundation in October 2016 to a reporter for The Wall Street Journal. Mr. McCabe has long disputed the allegations."
Continue reading Week 161, Friday, 14 February – Thursday, 20 February 2020 (Days 1,121-1,127)