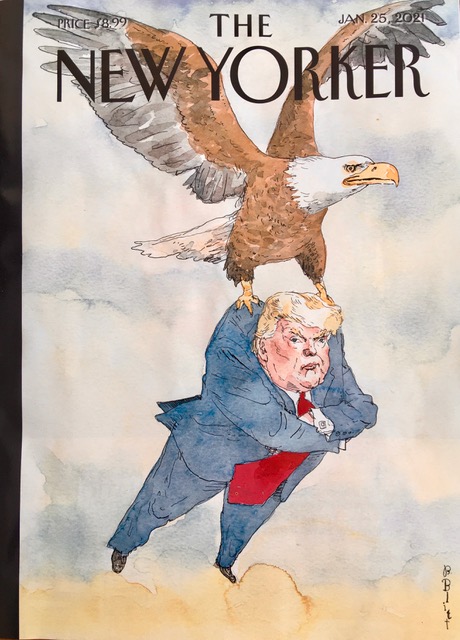 My daily chronicle of news about the Trump administration (20 January 2017 – 20 January 2021), Republicans, Democrats, corporations, courts, resistance, and persistence continues. I am still posting important articles, especially ones that reflect the differences between the Biden administration and the Trump administration and ones that address the toxic legacy of the Trump administration and Republicans. However, I hope to devote more of my time to posting muckraking articles on my site in the coming months. Thanks for reading!
For independent global news, visit Democracy Now!
For a newsletter about the history behind today's politics, subscribe to Heather Cox Richardson's newsletter, Letters from an American.
Wednesday, 1 March 2023:
Russian Invasion of Ukraine: 'Winter is over' Zelensky says, praising effort to maintain energy and heat, The Washington Post, Rachel Pannett, Bryan Pietsch, John Hudson, and Adam Taylor, Wednesday, 1 March 2023: "Winter 'was very difficult, and every Ukrainian without exaggeration felt this difficulty,' Ukrainian President Volodymyr Zelensky said in a speech marking the first day of spring after a winter at war. 'But we still managed to provide Ukraine with energy and heat.' Ukrainians celebrated the day. 'They wanted to freeze us and throw us into darkness. We survived!' said Ukrainian Defense Minister Oleksii Reznikov. The besieged city of Bakhmut in eastern Ukraine is facing the 'most difficult situation' in the country as the battle for control of the front-line city intensifies, Ukrainian President Volodymyr Zelensky said in remarks Wednesday. 'The intensity of fighting is only increasing,' and Russia is exerting 'insane pressure' on Ukrainian forces by sending troops 'to constantly storm our positions' without regard for their lives, he said.
Finland's Parliament voted to speed up the country's accession to NATO, bringing the Nordic nation closer to joining the transatlantic military alliance. The bill passed on Wednesday by a vote of 184-7. The move to accelerate the accession could lead Finland to join the alliance before Sweden; the tightknit pair often coordinate on security and had planned to join NATO together, but Turkey has dragged its feet on approving Sweden's bid over concerns around Stockholm's approach to groups that Ankara considers to be terrorists.
Hungary's president urged lawmakers to move urgently to allow Finland and Sweden to join NATO. All 30 NATO members must agree to admit new states to the alliance, but legislation to approve the accessions of Finland and Sweden has stalled in Hungary's legislative body, with some lawmakers accusing the Nordic nations of insulting Hungary in recent years, the Associated Press reported. Hungarian President Katalin Novak said Wednesday that 'the accession of Sweden and Finland is justified,' urging the National Assembly to 'make a wise decision as soon as possible.'
Russia is not interested in 'meaningful diplomacy,' Secretary of State Antony Blinken said. He urged neutral countries preparing to attend this week's Group of 20 meeting in India to reject the terms Moscow has outlined for negotiating an end to the war in Ukraine. Blinken said the Kremlin's position that Ukraine must accept Russia's annexation of Ukrainian territory as a precondition for negotiations should not be accepted by any nation. 'That's obviously a nonstarter and should be a nonstarter, not just for Ukraine and for us, but for countries around the world,' Blinken said.
Russian President Vladimir Putin said he would host Chinese President Xi Jinping in Moscow, state media outlets reported. It was not clear when such a visit would occur. China's top diplomat, Wang Yi, visited Moscow last week. Blinken has warned that China will face sanctions if it supplies lethal support to Russia. China has denied any such plans and in recent days has been positioning itself as a potential peacemaker in the conflict.
Ukrainians have been celebrating the arrival of spring on social media, posting photos of flowers and hailing their survival as a victory over Russia. Ukraine's foreign minister, Dmytro Kuleba, said Wednesday: 'Putin suffered another major defeat. Despite the cold, darkness, and missile strikes, Ukraine persevered and defeated his winter terror.'
Finland is building a fence along its border with Russia to address the 'changed security environment.' The border fence is set to span nearly 125 miles of its more than 800-mile-long border with Russia, according to Finland's Border Guard, which announced the move Tuesday. It noted that while Russia controls outbound traffic into Finland, 'Finland cannot rely on the effectiveness of Russian border control.' Large numbers of Russians have fled since the start of the war. Those with visas have fled to Finland or elsewhere in Europe, while others have escaped to nearby countries such as Armenia and Kazakhstan.
The war in Ukraine is due to dominate conversations at the Group of 20 summit in India, where foreign ministers from the world's most powerful economies, including Russian Foreign Minister Sergei Lavrov, are gathering on Wednesday. Blinken is also due to attend the summit this week.
Blinken has 'no plans' to meet his Russian and Chinese counterparts at the G-20 gathering, the top U.S. diplomat said Wednesday. Washington, Beijing and Moscow are at odds over the war in Ukraine, but Blinken said he does not intend to hold bilateral meetings with Lavrov or China's Qing Gang, who will both be in New Delhi at the same time. Blinken said he suspects he will be in 'group sessions' with his two counterparts, however, 'at one time or another.'
Denmark is scrapping a national holiday in a bid to create greater tax revenue for military spending, despite public opposition. Lawmakers voted on Tuesday to end the celebration of Great Prayer Day, a religious holiday that had been commemorated since the 17th century, next year. The government has estimated that ending the holiday will add about $430 million to the government budget. The government says this money could be added to the Danish military spending in the hope of meeting NATO targets set at 2 percent of a member state's total economic output.
Russian Invasion of Ukraine: Kyiv Sends Reinforcements to Besieged Bakhmut. The battle for the eastern city has become a crucible in the war. The New York Times, Wednesday, 1 March 2023:
Ukraine is sending reinforcements after the Russians surrounded Bakhmut on three sides.

There's 'zero evidence' that Putin is ready for peace talks, Blinken says.

China's leader meets with the president of Belarus, a Putin ally.

Russia says a Ukrainian drone outside Moscow was carrying explosives.

Artillery fire near the Zaporizhzhia complex deepens security concerns, the U.N. nuclear watchdog says.

Finland approves laws needed for NATO membership, though Hungary and Turkey may delay approval.

Zelensky treads a careful line with China, even as efforts to reach out come up empty.

Europe is struggling to provide Leopard 2 tanks to Ukraine.
Prosecution's Witness at Proud Boys Trial Shows Complexities of the Case. Jeremy Bertino, a former Proud Boy, provided some of the government's best evidence so far, but he also offered an unusual description of a criminal conspiracy. The New York Times, Alan Feuer and Zach Montague, Wednesday, 1 March 2023: "As the testimony of Jeremy Bertino, the government's star witness in the Proud Boys sedition trial, came to an end this week, there was a moment that crystallized the challenges the prosecution has faced throughout the marathon proceeding. For five days, Mr. Bertino — a former Proud Boy from North Carolina — told the jury how the far-right group fell into a kind of collective panic after the 2020 election and ultimately sought to keep Joseph R. Biden Jr. from taking power by serving as the 'tip of the spear' in the attack on the Capitol on Jan. 6, 2021. On Tuesday evening, prosecutors sought to punctuate his testimony by asking his final thoughts on the chief allegation in the case: that the five Proud Boys on trial had reached an agreement to use physical force to stop the transfer of presidential power. Over the course of several questions, Mr. Bertino — who was at home in North Carolina on the day of the attack — acknowledged that he was never privy to the Proud Boys' plans for Jan. 6. And yet he said he knew the group's objective: to stop Mr. Biden from becoming president. He arrived at this conclusion, he went on, not through any specific dealings with his compatriots, but rather through 'cumulative conversations' leading up to the attack."
Continue reading Aftermath of the Trump Administration, March 2023:  [Read more…]