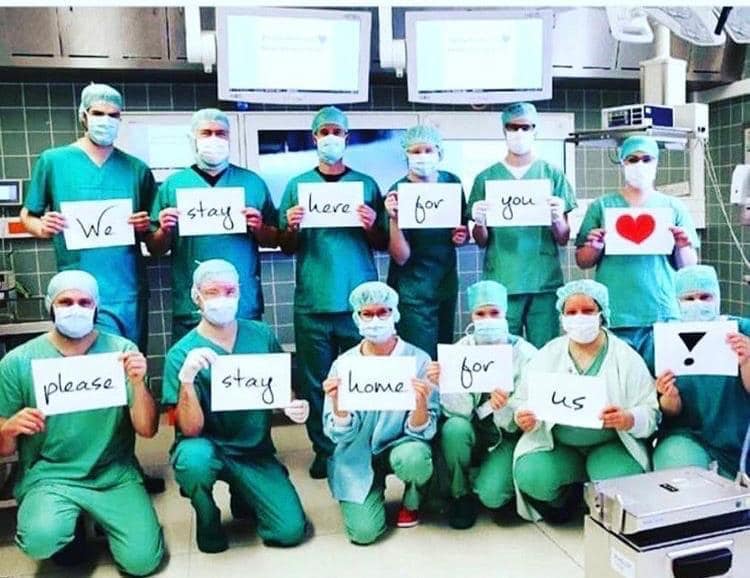 Passages in bold in the body of the texts below are usually my emphasis, though not always. This is an ongoing project, and I update the site frequently during the day. Because I try to stay focused on what has actually happened, I usually let the news 'settle' for a day or so before posting. I hope readers will peruse the articles in full for a better understanding of the issues and their context; our democracy and our future depend on citizens who can distinguish between facts and falsehoods and who are engaged in the political process.
For independent global news, visit Democracy Now!
Friday, 20 March 2020, Day 1,155:
U.S. intelligence reports from January and February warned about a likely pandemic, The Washington Post, Shane Harris, Greg Miller, Josh Dawsey, and Ellen Nakashima, Friday, 20 March 2020: "U.S. intelligence agencies were issuing ominous, classified warnings in January and February about the global danger posed by the coronavirus while President Trump and lawmakers played down the threat and failed to take action that might have slowed the spread of the pathogen, according to U.S. officials familiar with spy agency reporting. The intelligence reports didn't predict when the virus might land on U.S. shores or recommend particular steps that public health officials should take, issues outside the purview of the intelligence agencies. But they did track the spread of the virus in China, and later in other countries, and warned that Chinese officials appeared to be minimizing the severity of the outbreak. Taken together, the reports and warnings painted an early picture of a virus that showed the characteristics of a globe-encircling pandemic that could require governments to take swift actions to contain it. But despite that constant flow of reporting, Trump continued publicly and privately to play down the threat the virus posed to Americans. Lawmakers, too, did not grapple with the virus in earnest until this month, as officials scrambled to keep citizens in their homes and hospitals braced for a surge in patients suffering from covid-19, the disease caused by the coronavirus." See also, Simulations before coronavirus outbreak foreshadowed infighting between agencies in pandemic response, The Washington Post, James Hohmann with Mariana Alfaro, Friday, 20 March 2020: "Experts have not just warned for years about the inevitability of an outbreak like the novel coronavirus on American soil. They have also sounded the alarm about the risk of the kind of poor coordination between federal and local agencies that has characterized the initial U.S. response to covid-19."
Coronavirus Briefing: What Happened Today, The New York Times, Lara Takenaga, Jonathan Wolfe, and Tom Wright-Piersanti, Friday, 20 March 2020: "New York will essentially be on lockdown this weekend, after its caseload soared to nearly 8,000. Residents of California, New York, Illinois and Connecticut — 1 in 5 Americans — will be under orders to stay home by this weekend. The U.S. borders with Canada and Mexico will be closed as of midnight Saturday…. New York is the epicenter of the U.S. outbreak…. Hospitals prepare to ration care…." See also, Latest Updates on Coronavirus Pandemic: Senate Debates $1 Trillion Rescue Plan, and States Tell People to Stay Indoors, The New York Times, Friday, 20 March 2020: "New Jersey, Connecticut and Illinois were preparing to issue restrictions like California and New York, and the U.S. was set to close its borders with Mexico and Canada. Included in this daily update: Soon more than 1 in 5 Americans will be under orders to stay mostly indoors; Senators came close to reaching a deal on a $1 trillion rescue plan; One of Vice President Mike Pence's staff members has tested positive for coronavirus; Businesses and investors struggled with another day of market turmoil; The White House announces border closures and warns against immigration; American passengers from cruise near France describe chaotic evacuation; and Haiti announces a state of emergency after confirmed cases."
Live updates on some significant developments in the coronavirus pandemic on Friday, 20 March 2020: Air Force evacuates 89 Americans from Honduras after coronavirus travel advisory; states increase restrictions, The Washington Post, Siobhán O'Grady, Rick Noack, Marisa Iati, Alex Horton, Miriam Berger, Katie Mettler, Michael Brice-Saddler, and Hannah Knowles, Friday, 20 March 2020: "Restrictions are dramatically ramping up amid the growing coronavirus pandemic, with Illinois and its 13 million residents — 10 million in the Chicago area — the latest to join California by moving closer to an effective lockdown. Meanwhile, New York told nonessential workers to stay home, Florida closed restaurants, bars and gyms amid spring-break revelry, and the U.S.-Mexico border is closing to nonessential travel." Other significant developments are also covered in this article. See also, U.S. and Mexico Have Agreed to Temporarily close U.S.-Mexico border, Politico, Sabrina Rodriguez, Friday, 20 March 2020: "President Donald Trump announced Friday that the U.S. and Mexico have agreed to temporarily close the border to nonessential travel to curb the spread of the coronavirus. U.S. and Mexican officials have been in talks this week over how to work together in responding to the global pandemic while ensuring that bilateral trade and essential travel are not disrupted at the border. It's a similar move to the U.S. and Canada's decision on Wednesday to impose travel restrictions at the northern U.S. border." See also, Trump administration limits nonessential travel between US and Mexico, CNN Politics, Priscilla Alvarez, Geneva Sands, Betsy Klein, and Jennifer Hansler, Friday, 20 March 2020: "The Trump administration is limiting nonessential travel on the US-Mexico border and barring migrants illegally crossing the border from entering the US. Citing the 'unscreened' and 'unvetted' people who come into the US from the southern border, President Donald Trump said the border would be sealed off 'mostly, and even beyond, but mostly during this global pandemic.' While similar actions are being taken at the US border with Canada, the latest move also seems designed to curb migration to the United States, a pillar of Trump's immigration agenda." See also, Trump Cites Coronavirus as He Announces Border Crackdown with Mexico, The New York Times, Zolan Kanno-Youngs and Kirk Semple, Friday, 20 March 2020: "The Trump administration says it will no longer detain most undocumented immigrants at the border, citing the coronavirus as a threat to detention facilities and personnel." See also, Trump allows borrowers to suspend student loan payments for two months, CNN Politics, Katie Lobosco, Friday, 20 March 2020: "Student loan borrowers will be able to suspend their federal student loan payments without penalty and without accruing interest for at least 60 days, the Department of Education said Friday. President Donald Trump announced a week ago that he would waive student loan interest amid the coronavirus crisis — but borrowers were awaiting details on how it would work and how long it would last. The Department of Education's announcement Friday clarifies the policy change." See also, Education Department Makes Changes to Standardized Tests and Student Loans Due to the Coronavirus Pandemic, NPR, Elissa Nadworny, Friday, 20 March 2020: "On Friday, the U.S. Department of Education announced new K-12 and higher education policies in response to disruptions caused by the coronavirus. In K-12, Education Secretary Betsy DeVos announced the department will waive standardized test requirements for states affected by the virus. States must apply for the exemption, and many have already begun to do so." See also, Relief Offered From Standardized Testing and Student Loans as Virus Roils Education, The New York Times, Erica L. Green, Friday, 20 March 2020: "Elementary and secondary schools will not be required to do standardized testing, and student borrowers with federal loans can request a reprieve from loan payments while the nation confronts the spreading coronavirus, Education Secretary Betsy DeVos announced on Friday." See also, White House Enlists Military to Import Swabs for Coronavirus Tests, The New York Times, Alan Rappeport, Friday, 20 March 2020: "Faced with steep shortages of medical supplies to combat the coronavirus pandemic, the White House is scrambling to coordinate with the private sector to import and manufacture testing swabs, face masks and hand sanitizer. A lack of nasal swabs has been a pressing obstacle as the United States tries to accelerate testing for the coronavirus and gain a clearer view about the extent of the spread of the virus. Supply chains fractured by travel restrictions have hampered efforts to get crucial supplies, creating the need for the military to intervene even before President Trump invoked the Defense Production Act, which gives the federal government the power to force companies to make products for national security reasons."
New York Governor Andrew Cuomo Orders New Coronavirus Restrictions, The New York Times, Kwame Opam, Friday, 20 March 2020: "In a wide-ranging executive order aimed at slowing the spread of the coronavirus, Gov. Andrew M. Cuomo told New Yorkers on Friday to stay home as much as possible and he enacted strict new rules for businesses, gatherings and people over 70 and those with underlying illnesses. 'These provisions will be enforced,' the governor said at a briefing in Albany. 'These are not helpful hints.' Other governors soon followed suit: Gov. Ned Lamont of Connecticut and Gov. J.B. Pritzker of Illinois issued similar orders and Gov. Philip D. Murphy of New Jersey said he would do the same on Saturday. The restrictions come a day after Governor Gavin Newsom of California announced a sweeping stay-at-home order for the entire state, where a similar order was issued for several Bay Area counties earlier in the week." See also, New York Governor Andrew Cuomo Orders All Nonessential Businesses in State to Close and Says Residents Should Stay at Home, Adding 'This Is the Most Drastic Action We Can Take,' The Wall Street Journal, Joseph De Avila, Friday, 20 March 2020: "New York Gov. Andrew Cuomo ordered all nonessential businesses to close and said residents should stay home as the state further clamps down on human activity to stem the spread of the new coronavirus. The new restrictions go into effect on Sunday evening, Mr. Cuomo said at a news conference Friday. 'This is the most drastic action we can take,' Mr. Cuomo said. 'This is not life as usual. Accept it, realize it and deal with it.'" See also, New York Is the Epicenter of the U.S. Outbreak, The New York Times, Lara Takenaga, Jonathan Wolfe, and Tom Wright-Piersanti, Friday, 20 March 2020: "Gov. Andrew Cuomo of New York has issued a sweeping executive order that will essentially put the state on lockdown, after its caseload soared to nearly 8,000, from fewer than 700 at the beginning of the week. New York is now the epicenter of the U.S. outbreak, with nearly half of the country's confirmed infections — and only six percent of its population. The startling uptick is partly the result of ramped-up testing efforts. New York performed some 10,000 tests Thursday night alone, bringing its total to more than 32,000 and, Mr. Cuomo said, putting its per capita rate ahead of those of China and South Korea." See also, New York Governor Andrew Cuomo orders all nonessential New York workers to stay home, CNN Politics, Veronica Stracqualursi, Friday, 20 March 2020: "All workers in nonessential businesses across New York state are required to stay home in an effort to combat the spread of the coronavirus pandemic, New York Gov. Andrew Cuomo announced at a press conference Friday morning. The executive order takes effect Sunday evening, Cuomo said, and comes a day after California Gov. Gavin Newsom ordered the state's nearly 40 million residents to stay home. The two states have a combined population of nearly 59 million people, meaning the two orders affect nearly 1 in 5 Americans." See also, Illinois Governor J.B. Pritzker issues order requiring residents to 'stay at home' starting Saturday, Chicago Tribune, Dan Petrella, Stacy St. Clair, Steve Johnson, and Gregory Pratt, Friday, 20 March 2020: "Gov. J.B. Pritzker has issued a 'stay-at-home' order for the entire state starting at 5 p.m. Saturday through at least April 7, marking Illinois' most aggressive step yet to try to slow the coronavirus's spread. A dramatic-sounding move, to be sure, but one that largely codifies the previous recommendations and rules issued by state officials. Pritzker said his latest decision was based on conversations with 'some of the best medical experts, epidemiologists, mathematicians and modelers.'"
Continue reading Week 166, Friday, 20 March – Thursday, 26 March 2020 (Days 1,155-1,161)
'I'm a Doctor. The U.S. Response to Coronavirus Has Been Nothing Short of Criminal, HuffPost, Dipti S. Barot, Friday, 20 March 2020: "I am a doctor. And I am immunocompromised. I am safe at home screening patients over the phone for COVID-19, the disease caused by the coronavirus, while my colleagues are marching into war with plastic water guns and papier-mâché bombs, lambs to the COVID-19 slaughter. They are entreating people to stay at home, begging for personal protective equipment via Twitter hashtags (#GetMePPE), fashioning masks out of surgical sheets, rigging ventilators to increase their capacity as the number of confirmed cases keeps increasing. Some are living in the garage or in a separate room in their home, for fear of infecting their loved ones. All of this happening while New York City Mayor Bill De Blasio worked out at the Y, Florida beaches stayed open for the congregating spring breakers, and superintendents delayed canceling classes. And asymptomatic elite NBA players and the Kardashian matriarch can get tested along with Mar-a-Lago moonlighters, while my colleagues at the county hospital are told that due to the scarcity of COVID-19 tests, if they do become exposed to a patient, they should call their own doctors to get tested; the hospital will not use its supply on them. 'Unconscionable' is a feather-light word to use for the response to this pandemic by those in charge. After weeks of inaction, of downplaying the pandemic, of calling it a hoax, President Donald Trump had no choice but to shift tone once this crisis was undeniable. He then stood shoulder to shoulder at press conferences, shaking hands while declaring a national emergency that his own experts said only social distancing would quell. He has failed our nation."
Estimates Indicate the Novel Coronavirus Could Overwhelm the U.S. Without Urgent Action, The New York Times, Janes Glanz, Lauren Leatherby, Matthew Bloch, Mitch Smith, Larry Buchanan, Jin Wu, and Nicholas Bogel-Burroughs, Friday, 20 March 2020: "The coronavirus has infected far more people in the United States than testing has shown so far, and stringent measures to limit social contact in parts of the country not yet seeing many cases are needed to significantly stem the tide of illness and death in the coming months. Those are the conclusions of Columbia University researchers who used a New York Times database of known cases and Census Bureau transportation data to model how the outbreak could evolve based on what is known about the virus. The estimates are inherently uncertain, and they could change as America adopts unprecedented measures to control the outbreak. But they offer a stark warning: Even if the country cut its rate of transmission in half — a tall order — some 650,000 people might become infected in the next two months."
Front-line health workers push back against Centers for Disease Control mask guidelines for coronavirus, The Washington Post, Ariana Eunjung Cha and Michael E. Miller, Friday, 20 March 2020: "Medical associations and unions pushed back Friday against new federal guidelines for conserving and reusing masks, saying they will leave them unprotected against a dangerous infection carried by waves of patients already at their doors. 'Needless to say this is frightening for our staff,' Katie Oppenheim, chair of the union for University of Michigan nurses, said on a conference call with reporters. Randi Weingarten, president of the American Federation of Teachers, which represents 112,000 health professionals, described the delays in procuring additional equipment — when officials knew from the experience of other countries this would be a problem — as unethical."
Under the Coronavirus's Cloak, Trump Pursues Long-Sought Policies, The New York Times, Zolan Kanno-Youngs and Annie Karni, Friday, 20 March 2020: "The White House, under the guise of its coronavirus response, is quietly advancing policies that President Trump has long advocated, from tougher border controls to an assault on organized labor to the stonewalling of congressional oversight. And across the government, departments have been citing the 'whole of government' response to the pandemic as they push through the same policies they sought before the crisis. Just this week during a coronavirus briefing, Mr. Trump said his administration would use authority granted to the surgeon general to immediately turn away those who crossed the border illegally. At the Agriculture Department, officials said they were teaming up with companies like PepsiCo to quickly deliver food boxes to students in rural areas, although Congress has repeatedly rejected the Trump administration's push for such meals, arguing that they contained low-quality food without healthy alternatives."
The three phases of Trump's insistence on pointing out that the coronavirus originated in China, The Washington Post, Philip Bump, Friday, 20 March 2020: "President Trump has in recent days been pointed in linking the outbreak of the novel coronavirus across the United States to its point of origin, China. He has repeatedly used the phrase 'Chinese virus,' including in edits of his prepared remarks Thursday before the daily briefing on the pandemic, in which he replaced the word 'corona' with the descriptor. At the briefing Friday, he did the same. 'I'd like to begin,' Trump said, 'by providing an update on what we are doing to minimize the impact of the Chinese virus on our nation.' Over the past month, as the number of confirmed coronavirus infections has grown in the United States, Trump has gone through several phases in which he has focused on identifying China as the source of the virus."
Senators Edge Closer to Bipartisan Agreement on Economic Rescue Plan, The New York Times, Emily Cochrane and Jim Tankersley, Friday, 20 March 2020: "Senators plan to work through the weekend hashing out a bipartisan deal on a sweeping $1 trillion economic stabilization package that could be enacted within days to respond to the coronavirus pandemic." See also, Senate struggles to finalize trillion-dollar stimulus bill as economic calamity grows, The Washington Post, Erica Werner, Jeff Stein, Paul Kane, and Mike DeBonis, Friday, 20 March 2020: "Senators worked late into the night Friday in search of a deal on a trillion-dollar stimulus bill to save the economy from collapsing under the ravages of the coronavirus. They finally left the Capitol around 10:30 p.m. reporting progress but with a number of issues still unresolved. They planned to resume talks Saturday morning." See also, The Republican Stimulus Bill Is Full of Holes, The New Yorker, John Cassidy, Friday, 20 March 2020: "On Thursday afternoon, Mitch McConnell, the Senate Majority Leader, released a two-hundred-and-forty-seven-page spending bill designed to stabilize the economy during the great covid-19 shutdown. It would provide financial assistance to individuals and businesses, including direct payments of up to twelve hundred dollars for Americans who earn less than a hundred thousand dollars a year. Although the bill didn't come with an official price tag, analysts estimated the total cost of its proposals was roughly eight hundred billion dollars.Despite the bill's length, its publication is merely the opening bid in a set of negotiations that will begin on Friday. With McConnell seven short of the sixty votes necessary to pass the measure, he will have to engage in some horse-trading with Democrats…. The McConnell bill is slanted toward helping small businesses and large corporations. Democrats want more money for people who are losing their jobs and for states that are fighting the virus. On Thursday night, I spoke with Gene Sperling, who served as the head of the National Economic Council at the White House under Bill Clinton and Barack Obama. He was closely involved in discussions about the 2009 stimulus package, the bailout of Chrysler, and the payroll-tax cut of 2010. When I reached him, he had just finished reading McConnell's bill. 'As far as I can see,' Sperling said, 'it has four big holes.' The first is that the bill fails to expand paid sick leave, which was included in legislation that the Senate passed on Wednesday…. [U]nder McConnell's proposal, low-income people and the disabled would receive smaller cash payments than everybody else—as little as six hundred dollars. Sperling rightly described this feature as inexcusable…. The third hole that Sperling identified is the bill's failure to provide sufficient financial aid to states and municipalities that are in desperate need of medical supplies, protective equipment, and additional hospital capacity…. Given Republican recalcitrance, it may not be easy to fill these three holes. At least in theory, though, doing so would be straightforward. But the fourth issue that Sperling identified raises fundamental questions about how to deal with what is rapidly emerging as one of the biggest problems of all: mass joblessness. In California on Tuesday, eighty thousand people applied for unemployment benefits, the Los Angeles Times reported. That's about forty times the normal rate of applications, and it won't be long before we see similar trends in other states."
Emergency coronavirus funds for American Indian health are stalled. Tribes say they've been forgotten in Trump's coronavirus response, and they are running dangerously low on medical supplies. Politico, Adam Cancryn, Friday, 20 March 2020: "The Trump administration has held up $40 million in emergency aid Congress approved earlier this month to help American Indians combat the coronavirus — a delay that's left tribal leaders across the nation frustrated and ill-equipped to respond to the fast-growing outbreak. The funding has languished in bureaucratic limbo for weeks, despite increasingly urgent pleas from tribal organizations desperate to stockpile essential supplies and keep health clinics operational. Federally run American Indian health facilities are short on hospital beds and ventilators, some frontline clinics received fewer than a dozen coronavirus tests, and federal officials have already signaled there will be little in the way of reinforcements — telling tribal leaders that all they can send right now are expired respirators."
When Stocking Grocery Shelves Turns Dangerous, The New York Times, Michael Corkery, David Yaffe-Bellany, and Rachel Wharton, Friday, 20 March 2020: "They are a new class of emergency medical workers: the more than two million Americans reporting to work each day to sell food and other household staples to a country in the midst of a coronavirus pandemic. As shoppers swarm stores, snapping up everything from milk to toilet paper, cashiers are there to ring them out. Stockroom employees replenish shelves as soon as shipments arrive. Their presence is a source of calm, signifying that, even as demand has surged, supply chains remain intact and the essentials that people need remain available. 'Workers in food stores are the ones keeping this nation from going into civil unrest,' said John T. Niccollai, president of Local 464A of the United Food & Commercial Workers, which represents 16,000 food workers in New York and New Jersey, including those at ShopRite and Key Food…. But these same employees are tired and, because they constantly interact with customers, fearful of getting sick themselves. Workers at a number of retailers say they are being denied medical supplies like protective masks and gloves, because their employers insist the gear is unnecessary and could stoke fears among customers."
Trump viciously attacks NBC News reporter Peter Alexander in extended rant after being asked for message to Americans worried about coronavirus, CNN Business, Oliver Darcy, Friday, 20 March 2020: "In an extraordinary exchange on Friday, President Donald Trump viciously attacked an NBC News reporter who asked what his message would be to Americans who are frightened by the coronavirus pandemic that is spreading across the country. The exchange, which occurred at the White House's daily coronavirus task force briefing, began when NBC News reporter Peter Alexander asked Trump whether he was giving Americans 'false hope' by touting unproven coronavirus drugs. Toward the end of the exchange, Alexander cited the latest pandemic statistics showing thousands of Americans are now infected and millions are scared. Alexander asked, 'What do you say to Americans who are scared?' Trump, shaking his head, ripped into Alexander in response. 'I say that you are a terrible reporter,' Trump replied. 'That's what I say.' The President proceeded to launch into an extended rant against Alexander, saying he asked a 'nasty question' and assailing NBC and its parent company, Comcast. Moments later, Kaitlan Collins, a White House correspondent for CNN, asked Trump if it was appropriate to embark on tirades against members of the news media during a public health crisis. 'You see yourself as a wartime President right now, leading the country through a pandemic that we are experiencing,' Collins noted. 'Do you think going off on Peter, going off on a network is appropriate when the country is going through something like this?' Trump defended his verbal assault on Alexander, saying he's 'not a good journalist' and launching into another rant against him." See also, Trump, promoting unproven drug treatments, insults NBC reporter at coronavirus briefing. NBC News' Peter Alexander asked Trump to respond to Americans who are scared by the pandemic, which triggered the president to reply with an insult. NBC News, Adam Edelman, Friday, 20 March 2020: "President Donald Trump excoriated an NBC News correspondent as a 'terrible reporter' on Friday after he asked the president to calm Americans who were scared because of the coronavirus pandemic. Trump's latest personal broadside on the media came at a news briefing in which he appeared to minimize the fears of the American public by saying there was cause for optimism about drug therapies for coronavirus — treatments that one of his top government scientists had said were not at all proven. At the Trump administration's coronavirus task force's daily briefing, Trump's director of the National Institute of Allergy and Infectious Diseases, Dr. Anthony Fauci, made clear that any evidence about drug therapies being tested at the moment was strictly 'anecdotal' and not the product of a 'clinical trial.'… Moments earlier, Fauci was asked whether there was any evidence that one such drug— hydroxychloroquine — might be used as an effective prophylactic measure against coronavirus. 'The answer is no,' Fauci replied." See also, Trump throws tantrum over coronavirus question: 'You're a terrible reporter,' The Guardian, David Smith, published on Saturday, 21 March 2020: "Donald Trump has thrown an extraordinary temper tantrum on live television, lambasting a reporter who challenged him for raising hopes about a coronavirus treatment."
Trump Disagrees With Top Immunologist Dr. Anthony Fauci About Untested Drug Treatment for Covid-19, The Intercept, Robert Mackey, Friday, 20 March 2020: "At another unnerving White House briefing on Friday, Donald Trump publicly disagreed with the government's most senior immunologist, Dr. Anthony Fauci, on the likelihood that the anti-malarial drug chloroquine could be an effective treatment for Covid-19, the pandemic coronavirus respiratory illness. Fauci was asked about the drug because the president had called it a potential 'game-changer' on Thursday and claimed, incorrectly, that the FDA had already approved its use and the government would 'make that drug available almost immediately.' Moments after the doctor had made it clear that there were anecdotal reports but no clinical evidence that chloroquine might be effective or safe for patients with Covid-19, or could be used as a prophylaxis, as Trump had suggested, the president said, 'I think, without seeing too much, I'm probably more of a fan of that, maybe than anybody.' When Peter Alexander of NBC News then noted that Fauci had made it clear that 'there is no magic drug for coronavirus,' Trump said: 'I disagree. Maybe and maybe not. I will say that I am a man that comes from a very positive school when it comes to in particular one of these drugs, and we'll see how it works out,' Trump added. 'I'm not saying it will, but I think people may be surprised. By the way, that would be a game-changer.' Trump, of course, has made a career out of marketing products of little value with unmerited hype, and seems unable to turn off that instinct, even in a time when accurate scientific information is at a premium." See also, Trump's Embrace of Unproven Drugs to Treat Coronavirus Defies Science, The New York Times, Katie Thomas and Denise Grady, Friday, 20 March 2020: "At a long-winded White House briefing on Friday, President Trump enthusiastically and repeatedly promoted the promise of two long-used malaria drugs that are still unproven against the coronavirus, but being tested in clinical trials. 'I'm a smart guy,' he said, while acknowledging he couldn't predict the drugs would work. 'I feel good about it. And we're going to see. You're going to see soon enough.'… Doctors and patients worry that the president's rosy outlook for the treatments will exacerbate shortages of old malaria drugs relied on by patients with lupus and other debilitating conditions."
'A Storm Is Coming': Fears of an Inmate Epidemic as the Virus Spreads in the Jails, The New York Times, Jan Ransom and Alan Feuer, Friday, 20 March 2020: "It started with a jails investigator in an office three miles from Rikers Island. Then, a correction officer at a security checkpoint near the entrance to the jail complex got it. Hours later, it was an inmate in a crowded housing unit. Within days, the investigator had died and three more correction officers and two other staff members had tested positive for the coronavirus, confirming fears that the highly contagious disease had arrived in the nation's second-largest jail system, endangering 5,300 inmates and twice as many guards.On Thursday, the jail system's chief physician, Ross MacDonald, took to Twitter with a warning: 'A storm is coming.' He was part of a growing chorus of public defenders and officials in New York City, led by Mayor Bill de Blasio, who have been pushing for the state courts and the city's district attorneys to release from city jails people who are especially vulnerable to the virus. The alternative, they have said, may be a public health catastrophe."
Biden attacks Trump's coronavirus response as inadequate, hits him for lack of transparency, The Washington Post, Matt Viser, Friday, 20 March 2020: "Joe Biden on Friday criticized President Trump over his administration's response to the novel coronavirus, blaming him for the country's testing shortage and accusing him of a lack of transparency."
Trump Resists Pressure to use the Defense Production Act to Mobilize Industry in Response to the Novel Coronavirus Pandemic, The New York Times, Katie Rogers, Maggie Haberman, and Ana Swanson, Friday, 20 March 2020: "President Trump and his advisers have resisted calls from congressional Democrats and a growing number of governors to use a federal law that would mobilize industry and provide badly needed resources against the coronavirus spread, days after the president said he would consider using that authority. Mr. Trump has given conflicting signals about the Defense Production Act since he first said on Wednesday that he was prepared to invoke the law, which was passed by Congress at the outset of the Korean War and grants presidents extraordinary powers to force American industries to ensure the availability of critical equipment. The next day, he suggested that obtaining medical equipment should be up to individual governors because 'we're not a shipping clerk.' But on Friday, he reversed himself, asserting that he had used the law to spur the production of 'millions of masks,' without offering evidence or specifics about who was manufacturing them or when they would reach health workers." See also, Trump says Defense Production Act is in 'high gear' after saying he'd only use it in the worst case scenario, CNN Politics, Kevin Liptak, Friday, 20 March 2020: "Two days after signing a Korean War-era law allowing for a government-mandated increase in supply production in response to the coronavirus pandemic — and a day after saying he had yet to invoke it — President Donald Trump announced Friday his powers under the measure had kicked into 'high gear. We invoked it I think the day before, we signed it the evening of the day before and invoked it yesterday. We have a lot of people working very hard to do ventilators and various other things,' Trump said. The convoluted timeline and uncertain parameters of Trump's use of the Defense Production Act comes as hospital workers continue to raise concerns about shortages of essential medical equipment like surgical masks and ventilators."
The federal government outbid states on critical coronavirus supplies after Trump told governors to get their own medical equipment, Business Insider, Eliza Relman, Friday, 20 March 2020: "The federal government is outbidding states on orders of critical medical equipment necessary to aid patients and protect medical professionals from coronavirus. States are losing out on crucial equipment orders even though President Donald Trump directed them to get their own supplies, rather than relying on help from the federal government. Massachusetts Gov. Charlie Baker told Trump during a conference call on Thursday that the federal government had outbid his state on three major orders of medical equipment. This comes as the US is facing a widespread shortage of equipment, including basic disinfecting products, surgical masks, and life-saving machines like ventilators."
Stocks Wrap Up Tough Week With Another Fall, The Wall Street Journal, Alexander Osipovich, Joe Wallace, and Chong Koh Ping, Friday, 20 March 2020: "U.S. stocks fell Friday as fresh measures to contain the coronavirus pandemic spooked investors, capping off the worst week for the Dow Jones Industrial Average and S&P 500 since October 2008. Major indexes opened higher but pulled back after New York Gov. Andrew Cuomo ordered the state's workforce to stay home. California and Illinois have issued similar edicts. Stocks sank further after the Trump administration said U.S. borders with Mexico and Canada would be closed to nonessential travel." See also, U.S. markets wrap up worst week since the 2008 financial crisis, The Washington Post, Thomas Heath and Taylor Telford, Friday, 20 March 2020: "U.S. markets wrapped up one of their messiest-ever weeks Friday, recording their worst finish since the 2008 financial crisis. The Standard & Poor's 500 tumbled 15 percent from where it began Monday, with stocks wrenched all week in hourly spasms as investors tried to fathom where the coronavirus will eventually leave the U.S. economy. The craziness ran right up to the closing bell, with the S&P and the Dow Jones industrial average plunging more than 3 percent minutes after the World Health Organization warned that global health systems were 'collapsing' under the strain of the pandemic. Wall Street's meltdown over the past month has erased all of the stock market gains since President Trump entered the White House. On Feb. 12, the Dow peaked at 29,551.42 — a 49 percent jump from its close on Trump's Inauguration Day in January 2017. But within a span of weeks it has lost a third of its value as the coronavirus crisis has played out. On Friday, it lost an additional 913.21 points, roughly 4.6 percent, to close at 19,173.98."
If We're Bailing Out Corporations, They Should Bail Out the Planet, The New Yorker, Bill McKibben, Friday, 20 March 2020: "One of the best chances to make some positive use of the coronavirus pandemic may be passing swiftly. As the economy craters, big corporations are in need of government assistance, and, on Capitol Hill, the sound of half a trillion dollars in relief money is bringing out the lobbyists. On Thursday afternoon, Senator Sheldon Whitehouse, Democrat of Rhode Island, described the scene as a 'trough' and mentioned a quote from a lobbyist in The Hill: 'Everybody's asking for something and those that aren't asking for something only aren't because they don't know how.' Whitehouse added, 'I fear that enviros don't know how to ask, because, so far in this scrum, we haven't heard much from them.' The corporations will get assistance, but the Democrats have enough legislative power to insure that it comes with at least a few strings attached. If they attach those strings with even a modicum of care, they will have used this emergency to help solve the looming climate crisis in ways that were unimaginable just a few days ago. For busy legislators looking for a principle to enforce in handing out relief to corporations, here's a shorthand: any bailout depends on your industry promising to meet the targets set in the Paris climate accords, and demonstrating in the next few months what that plan looks like."
Jared Kushner's Shadow Task Force Appears to Violate Multiple Laws, Citizens for Responsibility and Ethics in Washington, Jordan Libowitz, Friday, 20 March 2020: "Jared Kushner's shadow coronavirus task force appears to be violating both the Presidential Records Act (PRA) and Federal Advisory Committee Act (FACA) by using private email accounts with no assurance their communications are being preserved and by meeting in secret, according to a letter sent today by Citizens for Responsibility and Ethics in Washington (CREW). The failure of the White House to comply with any of the PRA and FACA requirements leaves the public in the dark about the work the shadow task force has done and the influence of private industries on the administration's response to the coronavirus pandemic. Kushner's task force, composed of a team of allies from within the government and representatives from private industries, has operated adjacent to the official government task force spearheaded by Vice President Pence. With confusion over the shadow task force's role and who its members are, and reports that the members of the shadow task force communicate using private email accounts, CREW has reason to believe the White House is not creating and maintaining accurate and complete records of the shadow task force's activities as required by the PRA."
Trump's clubs and hotels, including Mar-a-Lago, suffer from coronavirus fallout, The Washington Post, David A. Fahrenthold, Joshua Partlow, and Jonathan O'Connell, Friday, 20 March 2020: "President Trump's company — significantly reliant on tourism, conventions and restaurant income — has been sharply impacted by the coronavirus pandemic, with at least four properties closing and three hotels laying off staff, according to people familiar with the company. In Florida, Gov. Ron DeSantis (R) ordered all restaurants and bars in the state to close Friday and imposed special restrictions in a few places including Palm Beach County — home of Trump's Mar-a-Lago Club." See also, The War on Coronavirus Comes to Trump Properties, The New York Times, Ben Protess, Steve Eder, and Eric Lipton, Friday, 20 March 2020: "Reeling from the global fallout of the coronavirus pandemic, President Trump's family business has cut back hotel operations, closed some golf courses and restaurants and shed dozens of workers — all while pushing to keep other properties open and promote them on social media."
Stock Sales by Republican North Carolina Senator Richard Burr Ignite Political Uproar, The New York Times, Eric Lipton, Nicholas Fandos, Sharon LaFraniere, and Julian E. Barnes, Friday, 20 March 2020: "The nation remained fixated on the final acts of the impeachment drama in early February, but as the Senate prepared to acquit President Trump, Senator Richard M. Burr, Republican of North Carolina and the chairman of the Intelligence Committee, already had his eye on a troubling new threat: the coronavirus. On the morning of Feb. 4, Mr. Burr assembled members of the committee in a secure room on Capitol Hill to hear for the first time from intelligence officials about how foreign powers were responding to what the World Health Organization had days earlier declared a global health emergency. Their warnings were not highly classified or all that specific, drawn largely from diplomatic wires and publicly reported information, according to three people familiar with them. But at a time when the White House was playing down threats from the virus, intelligence officials from the C.I.A. painted an early picture of the outbreak's geopolitical implications. Around the same time, Mr. Burr, a longtime proponent of increased federal efforts to prepare for a global health pandemic, was receiving similar briefings from top government health officials through another Senate committee he sits on. Those sessions, including an update on Feb. 12, were focused on the readiness of the United States for a potential epidemic, but also touched on the possible economic fallout. The next day, Feb. 13, Mr. Burr sold off 33 different stock holdings, worth a collective $628,000 to $1.7 million, liquidating a large share of his portfolio. Mr. Burr's sale of the shares in the weeks before the market plunged over concerns about the economic impact of the virus at a time when Mr. Trump and other Republican officials were playing down the threat is now coming under intense scrutiny. It has also raised questions about whether he avoided losses by trading on inside information as Americans are looking to Washington for help in a severe crisis." See also, North Carolina Republican Senator Richard Burr asks Senate Ethics Committee for review of his stock sales amid uproar over possible influence of coronavirus briefings, The Washington Post, John Wagner, Michelle Ye Hee Lee, Jon Swaine, and Karoun Demirjian, Friday, 20 March 2020: "Sen. Richard Burr (R-N.C.) sought an ethics review Friday of his recent sale of more than $1.7 million in stocks as he and other lawmakers faced a bipartisan uproar over whether they had used information gleaned from private congressional briefings to guide transactions before the market plummeted because of the coronavirus outbreak. The Senate Intelligence Committee chairman, who had publicly expressed confidence in the country's preparedness for the pandemic, sold a significant portion of his stocks last month, according to public disclosures. Burr said he relied solely on public news reports for the sales but asked the Senate Ethics Committee for a review." See also, How damning are Richard Burr's and Kelly Loeffler's coronavirus stock trades? Let's break it down. The Washington Post, Aaron Blake, Friday, 20 March 2020: "The Stock Act was passed in 2012 to make sure that members of Congress don't trade stocks and enrich themselves based on something amounting to insider information. And now that we have our first major market drop since its passage, senators' stock trades are being scoured for possible personal enrichment. Facing particularly stark questions Friday morning are two GOP senators, Richard Burr of North Carolina and Kelly Loeffler of Georgia. New disclosures show both of them dumped between hundreds of thousands and millions of dollars worth of stock early in the coronavirus outbreak." See also, Senators Kelly Loeffler and Richard Burr Were Briefed on Coronavirus. Then They Sold Stocks. What Now? The New York Times, Shane Goldmacher, Friday, 20 March 2020: "Senator Richard M. Burr, Republican of North Carolina, and Senator Kelly Loeffler, Republican of Georgia, have come under fire for selling off stocks collectively worth millions of dollars ahead of the economic downturn that has coincided with the coronavirus pandemic. Senators are allowed to buy and sell stocks. But they are, as of a 2012 law known as the STOCK Act, prohibited from using nonpublic information to turn a private profit."
U.S. District Judge Trevor McFadden of Washington freezes House lawsuit seeking Trump's IRS tax records, The Washington Post, Spencer S. Hsu, Friday, 20 March 2020: "A federal judge froze a House lawsuit on Friday that seeks to enforce a subpoena for six years of President Trump's federal tax records. The judge said he will wait at least until an appeals court rules on whether Congress, in a separate case related to former Trump White House counsel Donald McGahn, can sue to compel executive branch officials to testify. U.S. District Judge Trevor N. McFadden of Washington indicated that the hold in the tax records case could go on longer if the McGahn case goes to the U.S. Supreme Court. The House sued the administration in July after Treasury Secretary Steven Mnuchin refused to comply with a subpoena for Trump's business and tax records issued in May. The Justice Department has sought to toss out the case for Trump's tax records, based on White House claims of immunity from congressional oversight. McFadden wrote that both cases raise similar, weighty legal questions about whether courts can weigh in on political fights between Congress and the White House or if the Constitution requires that judges stay out of such disputes."
Michael Bloomberg Spent More Than $900 Million on His Failed Presidential Run, The New York Times, Shane Goldmacher, Friday, 20 March 2020: "It was a billion-dollar flop. Michael R. Bloomberg spent more than $900 million on his failed bid for the White House by the end of February, a spectacular sum and the most ever for a self-funded politician in American history. But it was not enough to help the billionaire candidate win a single state before he dropped out of the 2020 Democratic presidential primary in early March. Mr. Bloomberg, the former mayor of New York City, poured more than $500 million into television advertising and $100 million on digital ads during the course of his roughly 100-day campaign, according to a new filing made Friday with the Federal Election Commission. He spent tens of millions of dollars more on a raft of media consultants, pollsters and digital strategists, the filing showed." See also, 'I'm So Sorry I Worked for This Guy': Ex-Staffers React to Bloomberg Reversal on Field Organizers, The New York Times, Rebecca R. Ruiz, Alexander Burns, and Reid J. Epstein, Friday, 20 March 2020: "Michael R. Bloomberg on Friday abandoned plans to form a new super PAC for the presidential race and employ his campaign organizers through November, instead opting to give $18 million to the Democratic National Committee for the party's battleground states program and disband the army of field workers he had assembled across the country. The reversal — which came on the same day that election authorities reported he had spent more than $900 million on his campaign — prompted an outcry from former staff members, who said it was particularly startling for Mr. Bloomberg's campaign to shatter their expectations of employment and health benefits in the middle of a major public-health crisis. 'I'm so sorry I worked for this guy. I thought he was totally different,' said Jane Conrad, a former field organizer for Mr. Bloomberg in Minnesota whom the campaign recruited away from her work as a union field representative in February. 'He took me out of my job for his own gain.' Mr. Bloomberg's presidential campaign had promised at its outset that it would finance a field program through the November election, attracting staff members like Ms. Conrad with generous pay and benefits. Then, upon his withdrawal from the race earlier this month, Bloomberg officials said the former New York mayor would continue to employ some of his campaign's field staff through an independent campaign organization. In the end, Mr. Bloomberg, a multibillionaire, chose to do none of those things. He transferred $18 million from his campaign account to the D.N.C., which intends to use the funds to hire its own organizing staff in battleground states."
Saturday, 21 March 2020, Day 1,156:
Coronavirus Updates for Saturday, 21 March 2020, The New York Times, Saturday, 21 March 2020: "The vice president tested negative for the coronavirus. As urgency for medical supplies builds, the White House says companies are stepping up to help. Hawaii's governor ordered a 14-day quarantine for anyone arriving in the state. A Washington State hospital warned that it could run out of ventilators by early April. Without bold action, the U.S. could be overwhelmed, researchers say. Congress is negotiating a rescue plan that could cost more than $1 trillion. Executives of airlines, UPS and FedEx pledge to postpone layoffs in return for a big bailout.
Live updates on significant developments in the coronavirus pandemic on Saturday, 21 March 2020: Confirmed coronavirus cases top 300,000 worldwide; Vice President Mike Pence and his wife test negative, The Washington Post, Kim Bellware, Brittany Shammas, Steven Goff, Jesse Dougherty, and Hannah Knowles, Saturday, 21 March 2020: "Confirmed cases of the novel coronavirus exceeded 300,000 worldwide, according to the Johns Hopkins tracker on Saturday, and 20,000 in the United States, according to a Washington Post count, as states ramp up restrictions on their citizens' movements. Also, the United States has surpassed 300 total deaths from the virus, according to The Post count." Other significant developments are also covered in this article.
The media must stop live-broadcasting Trump's dangerous, destructive coronavirus briefings, The Washington Post, Margaret Sullivan, Saturday, 21 March 2020: "More and more each day, President Trump is using his daily briefings as a substitute for the campaign rallies that have been forced into extinction by the spread of the novel coronavirus. These White House sessions — ostensibly meant to give the public critical and truthful information about this frightening crisis — are in fact working against that end. Rather, they have become a daily stage for Trump to play his greatest hits to captive audience members. They come in search of life-or-death information, but here's what they get from him instead: Self-aggrandizement…. Media-bashing…. Exaggeration and outright lies…. Trump is doing harm and spreading misinformation while working for his own partisan political benefit — a naked attempt to portray himself as a wartime president bravely leading the nation through a tumultuous time, the FDR of the 21st century. The press — if it defines its purpose as getting truthful, useful, non-harmful information to the public, as opposed to merely juicing its own ratings and profits — must recognize what is happening and adjust accordingly. (And that, granted, is a very big 'if.') Business as usual simply doesn't cut it. Minor accommodations, like fact-checking the president's statements afterward, don't go nearly far enough to counter the serious damage this man is doing to the public's well-being."
The Food and Drug Administration (FDA) authorizes new test that could detect coronavirus in about 45 minutes, CNN Politics, Wesley Bruer and Kelly Mena, Saturday, 21 March 2020: "The US Food and Drug Administration announced it has authorized the use of the first rapid diagnostic test that could detect the novel coronavirus in approximately 45 minutes. The authorization was made Friday and tests will begin shipping next week, according to a statement from California-based Cepheid, the company manufacturing the tests. 'During this time of increased demand for hospital services, Clinicians urgently need an on-demand diagnostic test for real-time management of patients being evaluated for admission to health-care facilities,' said Dr. David Persing, MD, Ph.D., chief medical and technology officer at Cepheid."
Department of Justice seeks new emergency powers amid coronavirus pandemic. One of the requests to Congress would allow the department to petition a judge to indefinitely detain someone during an emergency. Politico, Betsy Woodruff Swan, Saturday, 21 March 2020: "The Justice Department has quietly asked Congress for the ability to ask chief judges to detain people indefinitely without trial during emergencies — part of a push for new powers that comes as the coronavirus spreads through the United States. Documents reviewed by POLITICO detail the department's requests to lawmakers on a host of topics, including the statute of limitations, asylum and the way court hearings are conducted. POLITICO also reviewed and previously reported on documents seeking the authority to extend deadlines on merger reviews and prosecutions." See also, Department of Justice Wants to Suspend Certain Constitutional Rights During Coronavirus Emergency, Rolling Stone, Peter Wade, Saturday, 21 March 2020: "The Trump Department of Justice has asked Congress to craft legislation allowing chief judges to indefinitely hold people without trial and suspend other constitutionally-protected rights during coronavirus and other emergencies, according to a report by Politico's Betsy Woodruff Swan. While the asks from the Department of Justice will likely not come to fruition with a Democratically-controlled House of Representatives, they demonstrate how much this White House has a frightening disregard for rights enumerated in the Constitution."
Italy, the Pandemic's New Epicenter, Has Lessons for the World, The New York Times, Jason Horowitz, Emma Bubola, and Elisabetta Povoledo, Saturday, 21 March 2020: "Italy now has more than 53,000 recorded infections and more than 4,800 dead, and the rate of increase keeps growing, with more than half the cases and fatalities coming in the past week. On Saturday, officials reported 793 additional deaths, by far the largest single-day increase so far. Italy has surpassed China as the country with the highest death toll, becoming the epicenter of a shifting pandemic. The government has sent in the army to enforce the lockdown in Lombardy, the northern region at the center of the outbreak, where bodies have piled up in churches. On Friday night, the authorities tightened the nationwide lockdown, closing parks, banning outdoor activities including walking or jogging far from home…. The country's experience shows that steps to isolate the coronavirus and limit people's movement need to be put in place early, with absolute clarity, then strictly enforced." See also, Keeping the Coronavirus From Infecting Health-Care Workers. What Singapore's and Hong Kong's success is teaching us about the pandemic.The New Yorker, Atul Gawande, Saturday, 21 March 2020.
Used to Meeting Challenges With Bluster and Force, Trump Confronts a Crisis Unlike Any Before, The New York Times, Peter Baker and Maggie Haberman, Saturday, 21 March 2020: "Mr. Trump is no stranger to crisis. He has spent a lifetime grappling with bankruptcy, fending off creditors, evading tax collectors, defending lawsuits, deflecting regulators, spinning reporters and dueling with estranged wives, usually coming out ahead, at least as he defines it. But these were crises of his own creation involving human adversaries he knew how to confront. Nothing in his background in business, entertainment or multiple marriages prepared him for the coronavirus pandemic now threatening America's health and wealth. Mr. Trump's performance on the national stage in recent weeks has put on display the traits that Democrats and some Republicans consider so jarring — the profound need for personal praise, the propensity to blame others, the lack of human empathy, the penchant for rewriting history, the disregard for expertise, the distortion of facts, the impatience with scrutiny or criticism. For years, skeptics expressed concern about how he would handle a genuine crisis threatening the nation, and now they know."
North Korea Says Trump Wrote to Kim Jong-un Offering Help in Virus Fight, The New York Times, Choe Sang-Hun, Saturday, 21 March 2020: "President Trump has sent a letter to North Korea's leader, Kim Jong-un, expressing his willingness to help the North battle the coronavirus, North Korea said on Sunday…. In the letter, Mr. Trump 'wished the family of the Chairman and our people well-being,' Ms. Kim said, referring to her brother by one of his official titles. According to Ms. Kim, Mr. Trump also explained his plan to move relations between the two countries forward and 'expressed his intent to render cooperation in the anti-epidemic work, saying that he was impressed by the efforts made by the Chairman to defend his people from the serious threat of the epidemic.' The White House confirmed that Mr. Trump had sent Mr. Kim a letter but did not comment on its specifics."
Sunday, 22 March 2020, Day 1,157:
Coronavirus Updates for Sunday, 22 March 2020: As State Pleas Mount, Trump Outlines Some Federal Action; Senate Democrats Block Stimulus Package, The New York Times, Sunday, 22 March 2020: "Senate Democrats block action on a trillion-dollar stimulus plan. Governors plead for masks and ventilators, and Trump outlines response. New York State now has roughly 5 percent of the world's cases. Senator Rand Paul of Kentucky tests positive for the virus. The F.D.A. is relaxing restrictions on ventilators. Canada says it won't participate in the 2020 Olympics and Paralympics. Merkel goes into isolation as Germany limits gatherings outside to no more than 2 people.
Live updates on significant developments in the coronavirus pandemic on Sunday, 22 March 2020: Trump activates National Guard in three states in response to coronavirus pandemic; Canadian Olympic Committee says it will not send team to Tokyo Games in 2020, The Washington Post, Hannah Knowles, Felicia Sonmez, Samantha Pell, Candace Buckner, and Teo Armus, Sunday, 22 March into Monday, 23 March 2020: "The Canadian Olympic and Paralympic Committees will not send athletes to the Tokyo Summer Games if the event is not postponed, they said late Sunday, another sign of mounting pressure to push back the Olympics amid the novel coronavirus. President Trump announced Sunday that the federal government has activated the National Guard to assist New York, California and Washington, three of the states hit hardest by the novel coronavirus. During the task force briefing, Trump also appeared to make light of the news that Sen. Mitt Romney is self-quarantining because of his contact with Sen. Rand Paul. Earlier Sunday, it was announced that Paul (R-Ky.) has tested positive for the novel coronavirus, becoming the third member of Congress and the first senator to confirm infection. Sen. Mike Lee and Romney, both Utah Republicans, announced that they would self-quarantine because of their recent contact with Paul." Other significant developments are also covered in this article.
Trump made 33 false claims about the coronavirus crisis in the first two weeks of March, CNN Politics, Daniel Dale and Tara Subramaniam, Sunday, 22 March 2020: "President Donald Trump began March with a barrage of false claims about the coronavirus pandemic — understating the extent of the crisis, overstating the availability of tests, inaccurately blaming his predecessor and wrongly insisting that the crisis was unforeseen. Trump made 50 false claims from March 2 through March 8, then 21 false claims from March 9 through March 15. Of those 71 false claims, 33 were related to the coronavirus. That is on top of some additional misleading claims from Trump about the coronavirus (we only count the false claims here), plus some false and misleading claims from members of his administration. Trump is now averaging about 57 false claims per week since we started counting at CNN on July 8, 2019. From that date through March 15, he has made 2,062 false claims in all."
Trump administration scrambles to offer guidance on what to do if hospitals run out of basic supplies for coronavirus, The Washington Post, Lenny Bernstein, Yasmeen Abutaleb, Ariana Eunjung Cha, Lena H. Sun, and Josh Dawsey, Sunday, 22 March 2020: "The federal government is preparing guidance on how hospitals should function if they run out of supplies and equipment, a precaution and an acknowledgment that some medical facilities could be overwhelmed by the rapidly escalating covid-19 pandemic. Brett P. Giroir, assistant secretary for health for the Department of Health and Human Services, said Saturday that officials are updating formal guidance issued in November on how hospitals should respond if supplies like masks, face shields and other protective equipment run out. As the country taps the strategic national stockpile and ramps up efforts to produce more protective equipment for health-care workers, Giroir said, he hopes that day never arrives. But he acknowledged it could and said the government needs to be ready."
Exclusive: Trump administration eliminated a Centers for Disease Control (CDC) expert job in China several months before the coronavirus outbreak, Reuters, Marisa Taylor, Sunday, 22 March 2020: "Several months before the coronavirus pandemic began, the Trump administration eliminated a key American public health position in Beijing intended to help detect disease outbreaks in China, Reuters has learned. The American disease expert, a medical epidemiologist embedded in China's disease control agency, left her post in July, according to four sources with knowledge of the issue. The first cases of the new coronavirus may have emerged as early as November, and as cases exploded, the Trump administration in February chastised China for censoring information about the outbreak and keeping U.S. experts from entering the country to help. 'It was heartbreaking to watch,' said Bao-Ping Zhu, a Chinese American who served in that role, which was funded by the U.S. Centers for Disease Control and Prevention, between 2007 and 2011. 'If someone had been there, public health officials and governments across the world could have moved much faster.'"
Why It's So Difficult to Stop the Spread of the Coronavirus, The Wall Street Journal, Daniela Hernandez and Ben Cohen, Sunday, 22 March 2020: "People with no symptoms are carrying the sometimes-deadly virus without knowing it—and might be inadvertently helping it spread. Current U.S. testing guidelines focus largely on people who are already sick. But without more widespread testing to include people who have no symptoms, it isn't possible to know how many infected people there really are in the U.S., experts said."
Coronavirus is killing us in Florida, Governor DeSantis. Act like you give a damn. Miami Herald, Editorial Board, Sunday, 22 March 2020: "With Florida's economy crashing under the weight of the coronavirus pandemic, Gov. Ron DeSantis is working overtime to preserve our status as the world's leading exporter of political comedy…. Unfortunately, DeSantis, who despite trying to appear large and in charge in front the microphone and TV cameras delivering coronavirus updates, has been a timid leader in the face of the growing scourge — and growing number of deaths — from the disease in his state…. DeSantis must step up, whether he ticks off his benefactor Trump or not. He must add his voice to the bipartisan group of U.S. lawmakers and insist Florida get those 'vital medical supplies, equipment, and personnel required to protect healthcare professionals, treat patients and combat the spread of COVID-19.' Otherwise, he's as derelict as the president."
Deniers and Disbelievers: 'If I Get Corona, I Get Corona.' The New York Times, John Branch, Sunday, 22 March 2020: "Across the United States, from Florida beaches to California mountains, casinos to national parks, legions dismissed the growing demands this past week to isolate themselves and stop congregating as the coronavirus spread through the country and shut down nearly all facets of American life. They were the defiers and the disbelievers. They were those eager to flout authority or those afflicted with cabin fever, if not Covid-19. They were the officials crowded on the podium of the White House briefing room, doing not as they say. They were all people who dismissed the calls for isolation, seeing more reward than risk in gathering. They conflated confidence with immunity. As in other times of national crisis, they exposed the relationship between individuals and society and our responsibility to others."
How the Coronavirus Shattered Trump's Serene Confidence, The New Yorker, David Remnick, Sunday, 22 March 2020: " Early last week, the Trump era—which defined itself by a lurid celebration of 'alternative facts,' a contempt for science, and an assault on global institutions and the 'administrative state'—came to an end. Regrettably, Donald Trump remains in office, but, at least for the moment, he appears to have ceded the argument: he cannot bend the harshest realities of the world to his fantasies. The aggressive and deadly coronavirus is unimpressed and unimpeded by the bluster of a con. Yet the prolonged process of Trump's humbling, the time it took him to recognize the power of the global pandemic that has emptied our streets, has put untold numbers of Americans at risk…. Misinformation and cant, along with a kindred scorn for science and professional expertise: these things are pathogens, too. Counterfeit facts can polarize, alienate, disaffect, rouse misdirected rage, and foment social division. They have long come at a cost to our civility; at a time of pandemic, especially, they also come at a cost in human lives." See also, 'I'm going to keep pushing.' Anthony Fauci tries to make the White House listen to facts of the pandemic. Science, Jon Cohen, Sunday, 22 March 2020. See also, Dr. Anthony Fauci gets frank about Trump: 'I can't jump in front of the microphone and push him down,' The Washington Post, Allyson Chiu, published on Monday, 23 March 2020: "Amid the ongoing global coronavirus pandemic, Anthony S. Fauci, head of the National Institute of Allergy and Infectious Diseases, has been charged with a herculean task: trying to keep President Trump's public statements about the novel virus rooted in fact. Now it appears that Fauci's frustration is showing. When asked Sunday by Science magazine's Jon Cohen about having to stand in front of the nation as 'the representative of truth and facts' when 'things are being said that aren't true and aren't factual,' the 79-year-old said there is only so much he can do. 'I can't jump in front of the microphone and push him down,' Fauci said, referencing Trump. 'Okay, he said it. Let's try and get it corrected for the next time.' The frank comment was just one part of a remarkable Q&A published Sunday night in which Fauci shed light on his relationship with Trump, how the pair handles their differences and what happens before each coronavirus task force news conference."
Emergency Economic Rescue Plan in Limbo as Democrats Seek Stronger Protections for Workers and Stricter Rules for Bailed-Out Businesses, The New York Times, Emily Cochrane, Jim Tankersley, and Jeanna Smialek, Sunday, 22 March 2020: "[A]s its outlines emerged on Sunday, Democrats denounced the package as a corporate giveaway that favored big business over workers and failed to ensure that bailed-out companies would not enrich themselves after receiving government aid. They were particularly incensed at the inclusion of a provision that would give the Federal Reserve access to $425 billion that could be leveraged for loans to broad groups of flailing companies, leaving Congress with little or no say in which businesses could receive assistance or how it could be used. 'In the midst of an unprecedented national crisis, Republicans can't seriously expect us to tell people in our communities who are suffering that we shortchanged hospitals, students, workers and small businesses, but gave big corporations hundreds of billions of dollars in a secretive slush fund,' said Senator Patty Murray, Democrat of Washington, who has largely negotiated over the phone in part as a precaution. Democrats also said the measure provided insufficient unemployment aid — offering only three months while they have insisted on at least four — and lacked adequate funding for state and local governments, emergency food assistance and relief from student loans…. Democrats said they were deeply concerned about how the government would go about bailing out distressed companies, complaining that the measure would give far too much discretion to Mr. Mnuchin and his lieutenants to decide who received funds, and would allow too much time before he would have to disclose the recipients. The measure gives the Treasury secretary six months to reveal them."
Trump Bets Business Will Answer Call to Fight Virus, but His Strategy Bewilders Business Firms, The New York Times, David E. Sanger, Ana Swanson, and Maggie Haberman, Sunday, 22 March 2020: "President Trump's refusal to invoke the Defense Production Act to commandeer resources for the federal government is based on a bet that he can cajole the nation's biggest manufacturers and tech firms to come together in a market-driven, if chaotic, consortium that will deliver critical equipment — from masks to ventilators — in time to abate a national crisis. Over the past five days, after weeks of minimizing the virus and dismissing calls to organize a national response, administration officials have been pulling executives into the White House Situation Room, and connecting them by phone, in a desperate effort to unlock existing supplies and ramp up new production…. [I]t is far from clear that the effort to enlist companies like General Motors, Apple and Hanes, just a few of the firms that have promised to free up existing supplies of masks or repurpose 3-D printers to produce ventilator parts, constitutes an effective strategy…. On Sunday, Gov. Andrew M. Cuomo of New York made a public appeal for the federal government to take over the distribution of critical goods, arguing that Mr. Trump's insistence last week that states should find the medical equipment for themselves was turning into a senseless free-for-all. 'Don't get into this mad bidding war,' Mr. Cuomo said, noting that the federal reticence was resulting in huge price surges, hoarding and shortages in some of the hardest-hit locales, including New York City. Only the federal government can require private firms to shift their production, Mr. Cuomo said. 'If I had the power, I would do it in New York,' he said."
Liberals seize on pandemic response to revive campaign proposals, The Washington Post, Annie Linskey and Sean Sullivan, Sunday, 22 March 2020: "Sen. Elizabeth Warren has buttonholed Senate Minority Leader Charles E. Schumer in the Capitol to press him on the shape of a coronavirus relief package. She headlined a recent call with liberal groups to push her ideas on the subject. Her top aides have been talking to Joe Biden's campaign about an economic response. Sen. Bernie Sanders held an online 'roundtable' to rally voters around his own ideas on tackling the pandemic. He urged Senate colleagues on a conference call last week to focus more on revamping the current health-care system. And his team, too, has been in touch with the Biden camp. The Democratic Party's two liberal leaders, whose presidential ambitions have respectively collapsed and faded in recent weeks, are opening new lines of communication with the party's likely nominee, and they are seizing on Washington's push for coronavirus relief in hopes of putting their stamp on the national agenda. There is some evidence it's working. Schumer has embraced key parts of Warren's ideas, including cancellation of student debt and a $200-a-month increase in Social Security payments, as well as restrictions on companies that receive bailout money." See also, As they race to boost the economy, lawmakers encounter push for a greener stimulus, The Washington Post, Brady Dennis and Steven Mufson, Sunday, 22 March 2020: "As Congress and the White House struggle to adopt legislation to limit the economic carnage from the coronavirus pandemic, lawmakers have been urged to reshape the economy toward lower carbon emissions that scientists say are critical if the world is going to effectively combat climate change. Environmental groups, climate scientists, solar and wind and battery industries, and others are saying that this moment, catastrophic as it appears to be for the economy, could offer a chance to incentivize fundamental shifts through a combination of direct spending, new tax credits for renewable energy, electric vehicles or appliances, and tough conditions for reviving fossil fuel firms or fuel-gobbling airlines."
The Novel Coronavirus Can Be Stopped, but Only With Harsh Steps, Experts Say, The New York Times, Donald G. McNeil Jr., Sunday, 22 March 2020: "Terrifying though the coronavirus may be, it can be turned back. China, South Korea, Singapore and Taiwan have demonstrated that, with furious efforts, the contagion can be brought to heel. Whether they can keep it suppressed remains to be seen. But for the United States to repeat their successes will take extraordinary levels of coordination and money from the country's leaders, and extraordinary levels of trust and cooperation from citizens. It will also require international partnerships in an interconnected world." See also, How the Virus Got Out, The New York Times, Jin Wu, Weiyi Cai, Derek Watkins, and James Glanz, Sunday, 22 March 2020: "The most extensive travel restrictions to stop an outbreak in human history haven't been enough. We analyzed the movements of hundreds of millions of people to show why."
Scientists Identify 69 Drugs to Test Against the Novel Coronavirus, The New York Times, Carl Zimmer, Sunday, 22 March 2020: "Nearly 70 drugs and experimental compounds may be effective in treating the coronavirus, a team of researchers reported on Sunday night. Some of the medications are already used to treat other diseases, and repurposing them to treat Covid-19, the illness caused by the coronavirus, may be faster than trying to invent a new antiviral from scratch, the scientists said."
Republican Senator Rand Paul becomes first senator to test positive for coronavirus, The Washington Post, Felicia Sonmez, Seung Min Kim, and Paul Kane, Sunday, 22 March 2020: "Rand Paul (R-Ky.) has become the first senator to test positive for the novel coronavirus, his office said Sunday, a development that raises questions about the threat the virus poses to senators' health as they defy warnings about public gatherings. 'Senator Rand Paul has tested positive for COVID-19,' Paul's office said in a statement Sunday, referring to the disease the virus causes. 'He is feeling fine and is in quarantine. He is asymptomatic and was tested out of an abundance of caution due to his extensive travel and events. He was not aware of any direct contact with any infected person.' Paul's office added that the senator 'expects to be back in the Senate after his quarantine period ends' and that 'virtually no staff' have had contact with him since Paul's Washington office began operating remotely 10 days ago. But word of Paul's diagnosis prompted two of his fellow senators, Republicans Mike Lee and Mitt Romney, both of Utah, to announce that they were self-quarantining because of their recent contact with him." See also, Rand Paul Tests Positive for Covid-19, Fueling Anxiety in the Capitol, The New York Times, Nicholas Fandos and Catie Edmondson, Sunday, 22 March 2020: "Senate Republicans were struggling to salvage a more than $1 trillion economic rescue package to respond to the coronavirus crisis when they got the message on Sunday afternoon: One of their own had been walking around the Capitol with Covid-19 for days as they debated how best to confront the rapidly spreading pandemic. Senator Rand Paul had tested positive for the coronavirus, Senator Mitch McConnell, the majority leader, told fellow Republicans over lunch. It was the news that lawmakers had been dreading for weeks as they went about their travel- and handshake-heavy routines while the disease circulated around the country. The news set off a frantic race to retrace the steps of Mr. Paul, who had continued to show up in the Senate — even using the private senators' gym, where he swam laps in the pool on Sunday morning — until he received the results of his coronavirus test sometime after his workout."
Germany Bans Groups of More Than 2 to Stop the Novel Coronavirus, and Chancellor Angela Merkel Goes Into Isolation After Learning That Her Doctor Has Tested Positive. The New York Times, Katrin Bennhold and Melissa Eddy, Sunday, 22 March 2020: "Germany on Sunday barred groups of more than two people from gathering, except for families, and Chancellor Angela Merkel later said she herself was going into isolation because her doctor had tested positive for the coronavirus. Ms. Merkel said she would isolate herself at home effective immediately after learning that a doctor who vaccinated her against pneumonia on Friday was infected, her office said in a statement. The chancellor will be tested regularly in coming days while carrying out her duties from home." See also, Germany's Chancellor Angela Merkel bans meetings of more than 2 people to slow coronavirus, Politico, Joshua Posaner, Sunday, 22 March 2020.
Trump Rewrites History in an Election Year, The New York Times, Annie Karni, Maggie Haberman, and Reid J. Epstein, Sunday, 22 March 2020: "After three years of Republicans' championing signs of financial prosperity that were to be Mr. Trump's chief re-election argument, the president has never needed a new message to voters as he does now, not to mention luck. At this point, the president has one clear option for how to proceed politically, and is hoping that an array of factors will break his way. The option, which he has brazenly pushed in recent days, is to cast himself as a 'wartime president' who looks in charge of a nation under siege while his likely Democratic opponent, former Vice President Joseph R. Biden Jr., is largely out of sight hunkered down in Delaware. This gambit, however, requires a rewriting of history — Mr. Trump's muted approach to the virus early on — and it's far from clear if many voters will accept the idea of him as a wartime leader."
Monday, 23 March 2020, Day 1,158:
Some Coronavirus Updates for Monday, 23 March 2020: 158 Million Americans Told to Stay Home, but Trump Pledges to Keep It Short, The New York Times, Monday, 23 March 2020: "President Trump hints at a short shutdown: "I'm not looking at months." The White House team warns of an alarming "attack rate" in New York. The president pushes malaria medications, despite caution from doctors. States and cities order over 158 million Americans to stay home. A bed shortage looms in California as testing continues to lag. Florida's governor to New Yorkers fleeing to the state: Stay out. U.S. Olympic Committee joins the call to postpone the Summer Games in Tokyo."
More Coronavirus Updates for Monday, 23 March 2020: Grim News Blunts Federal Reserve's Crisis Response, The New York Times, Monday, 23 March 2020: "The Fed's rescue plan is undermined by a drum beat of bad news. As Fox News played down the coronavirus, its chief protected himself. As virus surveillance escalates, personal privacy plummets. Boeing will temporarily shut its Washington State factories. The Fed says it will buy corporate debt to cushion the blow for businesses.
Live updates on significant developments in the coronavirus pandemic on Monday, 23 March 2020: Trump endorses ending coronavirus social distancing soon, against the advice of health experts, The Washington Post, Adam Taylor, Derek Hawkins, Meryl Kornfield, Felicia Sonmez, Jesse Dougherty, and Teo Armus, Monday, 23 March 2020: "President Trump played down the dangers of the coronavirus pandemic Monday, emphasizing the need for the country's economy to get back to normal. 'America will again — and soon — be open for business,' Trump said in a news conference. Experts warn that ending social distancing too soon would lead to a spike in cases, potentially overwhelming hospitals and leading to more deaths. U.S. states on Monday reported more than 100 deaths from the novel coronavirus, pushing the country's total death toll past 500 and marking the first time single-day fatalities have risen into the triple-digits nationwide." Other significant developments are also covered in this article.
Trump weighs restarting the economy despite warnings from U.S. public health officials, The Washington Post, Josh Dawsey, Yasmeen Abutaleb, Jeff Stein, and John Wagner, Monday, 23 March 2020: "President Trump on Monday said he is considering scaling back steps to constrain the spread of the coronavirus in the next week or two because of concerns that the impact on the economy has become too severe. But loosening restrictions on social distancing and similar measures soon would probably require him to override the internal warnings of senior U.S. health officials, including Anthony S. Fauci, who have said that the United States has not yet felt the worst of the pandemic, according to several people with knowledge of the internal deliberations." See also, Trump Considers Reopening the Economy, Over Health Experts' Objections, The New York Times, Jim Tankersley, Maggie Haberman, and Roni Caryn Rabin, Monday, 23 March 2020: "As the United States entered Week 2 of trying to contain the spread of the coronavirus by shuttering large swaths of the economy, President Trump, Wall Street executives and many conservative economists began questioning whether the government had gone too far and should instead lift restrictions that are already inflicting deep pain on workers and businesses. Consensus continues to grow among government leaders and health officials that the best way to defeat the virus is to order nonessential businesses to close and residents to confine themselves at home. Britain, after initially resisting such measures, essentially locked down its economy on Monday, as did the governors of Virginia, Michigan and Oregon. More than 100 million Americans will soon be subject to stay-at-home orders. Relaxing those restrictions could significantly increase the death toll from the virus, public health officials warn. Many economists say there is no positive trade-off — resuming normal activity prematurely would only strain hospitals and result in even more deaths, while exacerbating a recession that has most likely already arrived. See also, Trump Says Coronavirus Cure Cannot 'Be Worse Than the Problem Itself,' The New York Times, Maggie Haberman and David E. Sanger, Monday, 23 March 2020: "President Trump on Sunday night said that the government would reassess the recommended period for keeping businesses shut and millions of workers at home after this week, amid millions of job losses caused by the efforts to contain the spread of the novel coronavirus. 'WE CANNOT LET THE CURE BE WORSE THAN THE PROBLEM ITSELF,' Mr. Trump tweeted in all capital letters shortly before midnight. 'AT THE END OF THE 15 DAY PERIOD, WE WILL MAKE A DECISION AS TO WHICH WAY WE WANT TO GO!' Officials have said that the initial 15-day period for social distancing — limiting close contact between people by banning gatherings, closing schools and offices, encouraging remote work and urging people to maintain a six-foot distance from one another — is vital to slowing the spread of the virus, for which more than 30,000 people in the United States have tested positive. The 15-day period would end Monday. Dr. Anthony Fauci, an infectious diseases expert and a member of the White House coronavirus task force, has said in interviews that he believed that it would take several more weeks until people can start going about their lives in a more normal fashion. Other infectious disease experts suggest even harsher measures than social distancing are required to truly beat back the outbreaks in the United States. But at the White House, in recent days, there has been a growing sentiment that medical experts were allowed to set policy that has hurt the economy, and there has been a push to find ways to let people start returning to work. Some Republican lawmakers have also pleaded with the White House to find ways to restart the economy, as financial markets continue to slide and job losses for April could be in the millions." See also, 'Our country wasn't built to be shut down': Trump pushes back against health experts, Politico, Caitlin Oprysko and Quint Forgey, Monday, 23 March 2020: "President Donald Trump on Monday said he planned to pull the U.S. economy out of its coronavirus-induced slumber in a matter of weeks, and refused to commit to following the advice of his handpicked health experts — many of whom have warned that it will be a matter of months before it will be safe to reopen the country again — when reassessing guidelines for social isolation. 'Our country wasn't built to be shut down. This is not a country that was built for this,' Trump insisted to reporters during a White House press briefing with his coronavirus task force on Monday evening, predicting that 'America will again and soon be open for business. Very soon. A lot sooner than three or four months that somebody was suggesting.'" See also, Trump says things will be 'bad' but is itching to scale back social distancing, CNN Politics, Kevin Liptak, Jim Acosta, Vivian Salama, and Jeremy Diamond, Monday, 23 March 2020: "President Donald Trump signaled Monday he is aware things may get worse before they get better as the country battles the coronavirus pandemic. But nonetheless he is itching to ease federal guidelines that have shuttered businesses and kept workers at home, insisting the economy must be reopened even if some of the health professionals on his team appear to disagree." See also, Trump says he may soon push businesses to reopen, defying the advice of coronavirus experts, The Washington Post, Philip Rucker, Jeff Stein, Josh Dawsey, and Ashley Parker, Monday, 23 March 2020: "President Trump, under growing pressure to rescue an economy in free fall, said Monday that he may soon loosen federal guidelines for social distancing and encourage shuttered businesses to reopen — defying public health experts, who have warned that doing so risks accelerating the spread of the novel coronavirus or even allowing it to rebound." See also, Before Trump called for reevaluating lockdowns, they shuttered six of his top-earning clubs and resorts, The Washington Post, David A. Fahrenthold, Joshua Partlow, and Jonathan O'Connell, Monday, 23 March 2020: "President Trump's private business has shut down six of its top seven revenue-producing clubs and hotels because of restrictions meant to slow the spread of the novel coronavirus, potentially depriving Trump's company of millions of dollars in revenue. Those closures come as Trump is considering easing restrictions on movement sooner than federal public health experts recommend, in the name of reducing the virus's economic damage." See also, Health officials want Trump to 'double down, not lighten up' restrictions, Politico, Adam Cancryn and Nancy Cook, Monday, 23 March 2020: "Rattled health officials are trying to fight off ascendant voices around Donald Trump pressing the president to restart the economy as soon as Monday to stem severe business and job losses. The prospect of resuming typical business so soon has horrified these public health leaders, who see the debate as premature amid a crisis that the administration is just beginning to wrangle, according to eight people with knowledge of the administration's discussions about its coronavirus guidelines." See also, Can We Put a Price Tag on a Life? The Shutdown Forces a New Look. The New York Times, Eduardo Porter and Jim Tankersley, published on Tuesday, 24 March 2020: "President Trump and others have asked if halting normal life and commerce to fight the coronavirus is worth the cost. Here's how economists figure it."
The Coronavirus Pandemic Holds Key Lessons on How to Fight Climate Change, Yale Environment 360, Beth Gardiner, Monday, 23 March 2020: "A frightening new threat cascades around the world, upending familiar routines, disrupting the global economy, and endangering lives. Scientists long warned this might happen, but political leaders mostly ignored them, so now must scramble to respond to a crisis they could have prevented, or at least eased, had they acted sooner. The coronavirus pandemic and the slower-moving dangers of climate change parallel one another in important ways, and experts say the aggressive, if belated, response to the outbreak could hold lessons for those urging climate action. And while the dip in greenhouse gas emissions caused by the sharp drop in travel and other economic activity is likely to rebound once the pandemic passes, some carbon footprint-shrinking changes that the spread of COVID-19 is prompting could prove more lasting. Both the pandemic and the climate crisis are problems of exponential growth against a limited capacity to cope, said Elizabeth Sawin, co-director of Climate Interactive, a think tank. In the case of the virus, the danger is the number of infected people overwhelming health care systems; with climate change, it is that emissions growth will overwhelm our ability to manage consequences such as droughts, floods, wildfires, and other extreme events, she said."
Senate Minority Leader Chuck Schumer and Treasury Secretary Steven Mnuchin Say They Are Near a Stimulus Deal, The New York Times, Emily Cochrane and Nicholas Fandos, Monday, 23 March 2020: "The Treasury secretary and the top Senate Democrat said late Monday that they were on the brink of a deal on a nearly $2 trillion emergency economic aid measure to respond to the coronavirus pandemic, after a marathon day of talks as Democrats demanded stronger protections for workers and restrictions for bailed-out businesses." See also, Senate negotiators cite progress on coronavirus bill after day of drama and rancor, The Washington Post, Erica Werner, Paul Kane, Rachael Bade, and Mike DeBonis, published on Tuesday, 24 March 2020: "Senate leaders and the Trump administration neared bipartisan agreement Monday night on a massive stimulus bill that could inject $2 trillion into the economy to blunt the impacts of the coronavirus. Democratic concerns have focused on a $500 billion funding program Republicans want to create for loans and loan guarantees, with some Democrats calling it a 'slush fund' that lacks any oversight because the Treasury Department would have broad discretion over who receives the money. Asked about this Monday evening, Trump responded, 'I'll be the oversight.'" See also, Democrats block coronavirus response in fear of 2008 redux, CNN Politics, Alex Rogers and Phil Mattingly, Monday, 23 March 2020: "For the second time in two days, Democrats voted against advancing the colossal bill to mitigate the global health and economic crises caused by the coronavirus pandemic, claiming that Congress needed to avoid the errors made during the Great Recession of 2008. Republicans lambasted Democrats for expanding the negotiations, growing angry and frustrated with them as the stock market continued its plunge and the projections of this week's initial jobless claims soared to the largest on record. But Democrats feared the bill was too friendly to businesses and not friendly enough for workers. 'The fact is, we need to learn from 10 years ago,' said Sen. Sherrod Brown, Democrat of Ohio, on the Senate floor. 'The American people don't want another corporate bailout,' added Brown. 'They don't want a bailout for Wall Street. They don't want a bailout for the airlines. They want money. If we're going to do a relief package, the money needs to go in the pockets of workers.'" See also, Trump, whose hotel business is losing millions, says 'I'll be the oversight' of $500 billion coronavirus 'slush fund,' The Week, Peter Weber, Tuesday, 24 March 2020: "One of the big sticking points in a $1.8 trillion coronavirus bailout package Senate Republicans are trying to pass is a $500 billion fund for hard-hit businesses and state and local governments. Treasury Secretary Steven Mnuchin would decide the recipients of $425 billion of that money, and the legislation contains no new oversight provisions for how it's doled out, leading Democrats to warn that Mnuchin could use this 'slush fund' to bail out politically connected corporations, GOP donors, and even President Trump's private business. When asked about those concerns during a press conference Monday evening, Trump said: 'I'll be the oversight, I'll be the oversight. We're gonna make good deals.'" See also, Trump on Senate Republican's $500 Billion slush Fund: 'I'll Be the Oversight,' New York Magazine, Matt Stieb, Monday, 23 March 2020: "Monday's White House coronavirus press conference brought a slew of questions as reporters hoped to parse out why and when President Trump intends to lift the national social distancing measures and how the Republican stimulus bill would responsibly distribute a $500 billion corporate slush fund that currently allows for the Treasury Secretary to withhold the names of the businesses that receive bailout cash."
Britain Placed Under a Virtual Lockdown by Boris Johnson, The New York Times, Mark Landler and Stephen Castle, Monday, 23 March 2020: "Facing a growing storm of criticism about his laissez-faire response to the fast-spreading coronavirus, Prime Minister Boris Johnson announced on Monday that he would place Britain under a virtual lockdown, closing all nonessential shops, banning meetings of more than two people, and requiring people to stay in their homes, except for trips for food or medicine. People who flout the new restrictions, the prime minister said, will be fined by the police."
Coronavirus pandemic is accelerating as cases surpass 350,000, World Health Organization (WHO) says, CNBC, Berkeley Lovelace Jr., Noah Higgins-Dunn, William Feure, Monday, 23 March 2020: "The coronavirus pandemic that's spread to nearly every country in the world is picking up pace, the World Health Organization says. 'It took 67 days from the first reported case to reach 100,000 cases, 11 days for second 100,000 cases, and just four days for the third 100,000 cases,' WHO's top official says."
As Trump touts an unproven coronavirus treatment, supplies evaporate for patients who need those drugs, The Washington Post, Christopher Rowland, Monday, 23 March 2020: "The U.S. has all but exhausted its supplies of two anti-malarial drugs that are being used by some doctors in the U.S. and China to treat the coronavirus, but which lack definitive evidence as effective treatment or approval from the Food and Drug Administration. Hopes that the decades-old drugs could be effective against the coronavirus were also boosted by President Trump, who told a White House press briefing last week that the compounds were 'a game-changer' and have shown 'very, very encouraging results.' He made similar remarks Friday and tweeted the recommendation again on Saturday morning, saying he hoped the medicines will 'be put in use IMMEDIATELY.' The sudden shortages of the two drugs could come at a serious cost for lupus and rheumatoid arthritis patients who depend on them to alleviate symptoms of inflammation, including preventing organ damage in lupus patients. Several new studies have shown the possible benefits of hydroxychloroquine and chloroquine, but medical experts are cautioning there is no solid evidence they have any effect on coronavirus. At Trump's behest, the FDA is considering launching a broad clinical study to document whether they really work."
Coronavirus Treatment Developed by Gilead Sciences Is Granted 'Rare Disease' Status, Potentially Limiting Affordability, The Intercept, Lee Fang and Sharon Lerner, Monday, 23 March 2020: "On Monday afternoon, the Food and Drug Administration granted Gilead Sciences 'orphan' drug status for its antiviral drug, remdesivir. The designation allows the pharmaceutical company to profit exclusively for seven years from the product, which is one of dozens being tested as a possible treatment for Covid-19, the disease caused by the new coronavirus. Experts warn that the designation, reserved for treating 'rare diseases,' could block supplies of the antiviral medication from generic drug manufacturers and provide a lucrative windfall for Gilead Sciences, which maintains close ties with President Donald Trump's task force for controlling the coronavirus crisis. Joe Grogan, who serves on the White House coronavirus task force, lobbied for Gilead from 2011 to 2017 on issues including the pricing of pharmaceuticals."
In Daily Coronavirus Briefing, Trump Tries to Redefine Himself, The New York Times, Annie Karni, Monday, 23 March 2020: "President Trump's campaign rallies have been canceled for the foreseeable future. His noisy back-and-forths with reporters on the South Lawn, half drowned out by the whir of Marine One behind him, have also disappeared…. The regular briefings by the administration's coronavirus task force were originally run by Vice President Mike Pence with the purpose of transmitting to a scared public important health information that could help flatten the curve…. But without any of Mr. Trump's usual outlets available, and competitive as he watched Mr. Pence get good marks for how he handled the White House response, the president has taken over the briefing himself, using it as a venue not just to talk about the virus but to vent his grievances against the news media and tout what he claims is his own stellar job performance. And he has repeatedly made inaccurate claims about everything from the availability of testing kits and face masks to the timeline for a coronavirus vaccine that task force members standing behind him have sometimes felt compelled to later correct. As Mr. Trump has attacked critics and conveyed false information, cable networks have been criticized for carrying his briefings live and in their entirety; they often last for up to 90 minutes, about the same length as a Trump rally. On Sunday, for instance, Mr. Trump couldn't resist a scornful aside when a reporter noted that Senator Mitt Romney of Utah, the sole Republican who voted to impeach him on one count, was quarantined. 'Romney's in isolation? Gee, that's too bad,' Mr. Trump said sarcastically."
Whatever It Takes: How the Federal Reserve Aims to Rescue the Economy, The New York Times, Ben Casselman, Monday, 23 March 2020: "The Federal Reserve on Monday pledged to do, in essence, whatever it takes to keep the economy from collapsing under the weight of the coronavirus pandemic. The Fed's announcement had lots of bureaucratic jargon and an alphabet soup of acronyms. But at its core, the central bank was making a simple promise, summed up in the first sentence of its news release: The Fed is 'committed to using its full range of tools to support households, businesses and the U.S. economy overall.'… Most of what the central bank announced on Monday falls under the broad category of 'buying debt.' The Fed was already buying vast quantities of Treasury bonds — debt issued by the federal government — and mortgage debt backed by government agencies like Fannie Mae and Freddie Mac. On Monday, it went further, promising to keep buying 'in the amounts needed to support smooth market functioning.' It also expanded programs that will support debt issued by companies, state and local governments, and other entities (though it won't buy municipal debt directly)." See also, Federal Reserve announces unlimited bond purchases in unprecedented move aimed at preventing an economic depression, The Washington Post, Heather Long, Monday, 23 March 2020: "In an effort to prevent the U.S. economy from spiraling into a depression, the Federal Reserve launched an unprecedented effort Monday to keep money flowing to companies, households and cities as this crisis threatens to surpass the Great Recession. With restaurants, airlines, hotels, auto manufacturers and so many other parts of the economy at a standstill, there's a massive need for short-term loans to help businesses survive until people can go out again. But just as demand for loans is growing, investors are showing little appetite to buy up all this debt, preferring instead to hold on to cash. The Fed is attempting to resolve this by buying unlimited amounts of U.S. Treasurys and mortgage-backed securities, an extraordinary backstop for lending markets that goes much further than what the central bank did in the 2008-2009 crisis. Back then, the Fed injected nearly $4 trillion into the financial system over several years. Analysts say the Fed's effort now could dwarf that in a matter of weeks, a testament to how much pain the coronavirus is causing the economy." See also, The Federal Reserve Goes All In With Unlimited Bond-Buying Plan, The New York Times, Jeanna Smialek, Monday, 23 March 2020.
Texas Lt. Governor Dan Patrick says a failing economy is worse than death by coronavirus, Texas Tribune, Abby Livingston, Monday, 23 March 2020: "Texas Lt. Gov. Dan Patrick, chiming in to support President Donald Trump's new focus on the economy over fierce warnings from public health officials, suggested on Fox News on Monday night that he would rather die from the rapid spread of the novel coronavirus than see instability in the American economic system." See also, Texas Lt. Governor Dan Patrick comes under fire for saying seniors should 'take a chance' on their own lives for the sake of their grandchildren during the coronavirus crisis, The Washington Post, Felicia Sonmez, published on Tuesday, 24 March 2020: "Texas Lt. Gov. Dan Patrick (R) faced a sharp backlash Tuesday for suggesting that older Americans should sacrifice their lives for the sake of the economy during the coronavirus pandemic, with Democrats arguing that public health should remain the country's top priority. In an appearance on Fox News Channel's 'Tucker Carlson Tonight' Monday, Patrick had defended President Trump's call for the country's businesses to reopen their doors in a matter of weeks, despite the guidance of public health officials to the contrary…. While older people and those with preexisting health conditions face potentially life-threatening risk if infected with the coronavirus, the pandemic has affected people of all ages. And experts have warned that loosening federal guidelines for social distancing would likely accelerate the spread of the virus and put many more Americans at risk. Among the Democrats taking aim at Patrick's remarks was New York Gov. Andrew Cuomo (D), whose state is among those hardest hit by the pandemic. 'My mother is not expendable,' Cuomo tweeted Tuesday morning, without naming Patrick. 'Your mother is not expendable. We will not put a dollar figure on human life. We can have a public health strategy that is consistent with an economic one. No one should be talking about social darwinism for the sake of the stock market.'" See also, Texas Tries to Balance Local Control With the Threat of a Pandemic, The New York Times, Manny Fernandez and David Montgomery, published on Tuesday, 24 July 2020: "In Texas, where distrust for the state and federal governments runs deep, the State Legislature meets by law as infrequently as possible, once every two years. With 254 counties, the most of any state in the country, the Texas version of government has meant that local authorities, as opposed to the elected leaders in Austin and Washington, are often the ones really in charge. But the bedrock Texas commitment to local control is now being put to a very public, life-or-death test amid the spread of the coronavirus. Gov. Greg Abbott on Tuesday continued to resist calls to issue a statewide order to keep millions of Texans in their homes as protection against the fast-moving virus. A day earlier, Dan Patrick, the lieutenant governor and the Texas chairman of the president's campaign, drew nationwide attention to the state when he endorsed President Trump's desire to get the country back to work and said that he and other older Americans might be willing to sacrifice themselves to the virus to make that happen. 'My message is that let's get back to work,' Mr. Patrick, 69, said on 'Tucker Carlson Tonight' on Monday. 'Let's get back to living. Let's be smart about it, and those of us who are 70-plus, we'll take care of ourselves, but don't sacrifice the country.'"
How South Korea Flattened the Curve, The New York Times, Max Fisher and Choe Sang-Hun, Monday, 23 March 2020: "As global deaths from the virus surge past 15,000, officials and experts worldwide are scrutinizing South Korea for lessons. And those lessons, while hardly easy, appear relatively straightforward and affordable: swift action, widespread testing and contact tracing, and critical support from citizens…. The head of the World Health Organization, Tedros Adhanom Ghebreyesus, has hailed South Korea as demonstrating that containing the virus, while difficult, 'can be done.' He urged countries to 'apply the lessons learned in Korea and elsewhere.'"
Spit On, Yelled At, Attacked: Chinese-Americans Fear for Their Safety, The New York Times, Sabrina Tavernise and Richard A. Oppel Jr., Monday, 23 March 2020: "As bigots blame them for the coronavirus and President Trump labels it the 'Chinese virus,' many Chinese-Americans say they are terrified of what could come next…. As the coronavirus upends American life, Chinese-Americans face a double threat. Not only are they grappling like everyone else with how to avoid the virus itself, they are also contending with growing racism in the form of verbal and physical attacks. Other Asian-Americans — with families from Korea, Vietnam, the Philippines, Myanmar and other places — are facing threats, too, lumped together with Chinese-Americans by a bigotry that does not know the difference."
Coronavirus Cases in Congress Bring New Urgency to Remote Voting. In the latest case, Minnesota Senator Amy Klobuchar's husband tests positive for coronavirus and is hospitalized. The Wall Street Journal, Natalie Andrews, Lindsay Wise, and Byron Tau, Monday, 23 March 2020: "Sen. Amy Klobuchar's husband is in the hospital with Covid-19, adding the Minnesota Democrat to the growing list of lawmakers touched by the coronavirus pandemic, as calls mounted for Congress to consider unprecedented legislation that would enable remote voting during a national emergency. John Bessler, a professor of law at the University of Baltimore School of Law, became sick while the senator was in Minnesota, Ms. Klobuchar's office said in a statement. He quarantined himself, and as his symptoms progressed, he was admitted to a hospital in Virginia."
Texas and Ohio Include Abortion as Medical Procedures That Must Be Delayed, The New York Times, Sabrina Tavernise, Monday, 23 March 2020: "Texas and Ohio have included abortions among the nonessential surgeries and medical procedures that they are requiring to be delayed, setting off a new front in the fight over abortion rights in the middle of the coronavirus pandemic in the United States…. [A]bortion rights activists said that abortions should be counted as essential and that people could not wait for the procedure until the pandemic was over."
Great Barrier Reef is hit by third major bleaching event in five years, NBC News, Denise Chow, Monday, 23 March 2020: "The Great Barrier Reef is experiencing its most widespread coral bleaching event, according to scientists who say record warm temperatures and warming oceans are threatening its fragile corals. The entire Great Barrier Reef and some of its surrounding areas are facing an unprecedented period of heat stress in what is the third major bleaching event in only the past five years. Heat-induced bleaching can occur periodically, but scientists say climate change is causing the destructive events to happen more frequently, which is particularly troubling because corals don't have enough time to recover and grow back." See also, Australia's Record Heat Means Another Blow to Great Barrier Reef, The New York Times, Richard Pérez-Peña, published on Thursday, 26 March 2020: "Record-breaking warm waters have bleached large parts of Australia's Great Barrier Reef this year, as they did in 2016 and 2017, scientists reported on Thursday — the latest sign that global warming threatens the health of one of the world's most important marine ecosystems."
Scientists Discover Massive Instability Under East Antarctica Glacier, Bloomberg Green, Eric Roston, Monday, 23 March 2020: "An Antarctic glacier that contains enough water to eventually raise global sea levels by 5 feet has been melting dramatically in the last two decades, according to NASA-led research published today in the journal Geophysical Research Letters. The finding brings new attention to the eastern coast of the coldest continent. Scientists previously thought ice melt there was slower than on the disintegrating western peninsula."
Trump's Environmental Protection Agency Fast-Tracks a Controversial Rule That Would Restrict the Use of Health Science, InsideClimate News, Marianne Lavelle, Monday, 23 March 2020: "With the nation in a state of emergency over the coronavirus and Americans confronting a pandemic, the Trump administration has moved to expand and fast-track a proposal to limit the use of human health science in environmental decision-making. The move by the Environmental Protection Agency on Wednesday has prompted an outcry from public health officials and environmental activists. California's top environmental official, the chair of the House Science Committee, the Union of Concerned Scientists and others have called for the EPA either to abandon the potentially far-reaching proposal or to extend the public comment period on the plan. The Trump EPA's proposal, called the 'Strengthening Transparency in Regulatory Science' rule, would restrict the agency's use of studies that rely on confidential human health data, including some of the seminal studies linking air pollution to premature death. The effort has been in the works for two years, but the Trump EPA published a 'supplemental' notice last week that substantially extends the rule's scope—and then gave the public only until April 18 to comment."
Tuesday, 24 March 2020, Day 1,159:
Coranavirus in New York: 'Astronomical' Surge Leads to Quarantine Warning, The New York Times, Alan Feuer and Brian M. Rosenthal, Tuesday, 24 March 2020: "White House officials expressed growing alarm on Tuesday about the coronavirus outbreak in New York City, advising people who have passed through or left the city to place themselves in a 14-day quarantine. Officials warned that the outbreak could reach its peak in New York City much sooner than expected and said they had begun treating the region as a coronavirus hot zone, akin to areas of China and Europe overwhelmed by the virus. About 60 percent of the new cases in the country were in the New York City metropolitan area, and the infection rate was eight to 10 times greater than other parts of the country, officials said at a briefing with the White House Coronavirus Task Force." See also, How New York Governor Andrew Cuomo, Once on the Sidelines, Became the Politician of the Moment. With his coronavirus briefings, Governor Andrew Cuomo has emerged as an authoritative voice in the crisis. The New York Times, Jesse McKinley and Shane Goldmacher, Tuesday, 24 March 2020: "Gov. Andrew M. Cuomo awoke before dawn on Tuesday, emerging after a few hours' sleep to board a helicopter to New York City for the coronavirus briefing that has become a daily ritual for him and for the millions of people now watching. But this event would be different. The outbreak was moving faster than he had expected, with the number of confirmed cases doubling every three days, and he decided he needed to show people — including the White House — how desperate the situation had become. 'You want a pat on the back for sending 400 ventilators?' the governor said, referring to a recent federal government shipment to New York. 'What am I going to do with 400 ventilators when I need 30,000?' he said later. 'You pick the 26,000 people who are going to die because you only sent 400 ventilators.' The governor repeatedly assailed the federal response as slow, inefficient and inadequate, far more aggressively than he had before." See also, New York governor Andrew Cuomo issues dire warning as coronavirus rates rise faster than expected. He said hospitals are unequipped for the deluge and called on Trump for federal help. The Guardian, Alexandra Villarreal, Tuesday, 24 March 2020: "New York's governor, Andrew Cuomo, has issued his most dire statement yet about the coronavirus pandemic, warning that coronavirus infection rates are rising much faster than expected and the state's hospitals are woefully unequipped for the deluge. 'The inescapable conclusion is that the rate of infection is going up,' Cuomo said at a press conference on Tuesday morning. 'It is spiking. The apex is higher than we thought, and the apex is sooner than we thought. That is a bad combination of facts.'" See also, The Trump Administration's Slow Response to the Coronavirus Pandemic Measured in Lost Opportunity, The New York Times, David E. Sanger, Zolan Kanno-Youngs, and Ana Swanson, Tuesday, 24 March 2020: "When Ford's chief executive, Jim Hackett, announced on Tuesday that the carmaker would team up with General Electric to build ventilators, he tempered the good news with a note of caution: 'We're talking about early June.' That was just one of several examples that underscored the price of the Trump administration's slow response to evidence as early as January that the coronavirus was headed to the United States. For the first time, it is now possible to quantify the cost of the lost weeks, as President Trump was claiming as recently as February that in a 'couple of days' the number of cases in the United States 'is going to be down to close to zero.' Ford's timeline suggested that if the administration had reacted to the acute shortage of ventilators in February, the joint effort between Ford and General Electric might have produced lifesaving equipment sometime in mid-to-late April."
Some Coronavirus Updates for Tuesday, 24 March 2020: As Fleeing New Yorkers Are Told to Quarantine, Trump Says U.S. Should Reopen 'by Easter,' The New York Times, Tuesday, 24 March 2020: "White House: Anyone who has left New York should self-quarantine. Trump expressed outrage at having to 'close the country' to slow the virus. New York's case count is doubling every three days, says the governor. The country's second-biggest state is not on lockdown. Stocks surge on promise of a bailout as companies and workers navigate the crisis. Slow U.S. response to the virus created missed opportunities to make ventilators. A teenager who died in California may be one of the youngest American victims.
Live updates on some significant developments in the coronavirus pandemic on Tuesday, 24 March 2020: White House asks everyone who left NYC area to self-quarantine for coronavirus; Trump pushes to ease restrictions by mid-April against expert advice, The Washington Post, Kim Bellware, Colby Itkowitz, Felicia Sonmez, Meryl Kornfield, Steven Goff, Michael Brice-Saddler, and Teo Armus, Tuesday, 24 March 2020: "The White House coronavirus task force, citing concern about the high infection rate in the New York City area, is asking everyone who has left that area recently to self-isolate for 14 days, wherever they are. Deborah Birx, the response coordinator for the task force, said at a Tuesday news conference that 60 percent of all the new cases in the United States are coming out of the New York City metro area…. President Trump said Tuesday that he wants the country 'opened up' by Easter — April 12 — and continued to play down the dangers of the coronavirus pandemic even as experts warned of a worsening crisis." Other significant developments are also covered in this article. See also, Coronavirus updates for Tuesday, 24 March 2020: White House calls on New Yorkers who have left city to self-quarantine, The Guardian, Maanvi Singh, Daniel Strauss, and Bryan Armen Graham, Tuesday, 24 March 2020. See also, Trump wants 'the country opened,' but easing coronavirus restrictions now would be disastrous, experts say. A growing debate pits the health of the U.S. economy against the health and lives of its people. The Washington Post, William Wan, Reed Albergotti, and Joel Achenbach, Tuesday, 24 March 2020: "With President Trump saying he wants 'the country opened' by Easter to salvage the U.S. economy, a fierce debate is now raging among policymakers over the necessity of shutting down vast swaths of American society to combat the novel coronavirus. Health experts point to overwhelming evidence from around the world that closing businesses and schools and minimizing social contact are crucial to avoid exponentially mounting infections. Ending the shutdown now in America would be disastrous, many say, because the country has barely given those restrictions time to work, and because U.S. leaders have not pursued alternative strategies used in other countries to avert the potential deaths of hundreds of thousands. But in recent days an increasing number of political conservatives have argued that the economic cost is too high. At a town hall broadcast Tuesday, Trump suggested dire consequences if at least some economic sectors aren't restored." See also, Trump Wants U.S. 'Opened Up' by Easter, Despite Health Officials' Warnings, The New York Times, Annie Karni and Donald G. McNeil Jr., Tuesday, 24 March 2020: "President Trump said on Tuesday that he wanted to reopen the country for business by Easter, on April 12, despite widespread warnings from public health experts that the worst effects of the coronavirus were still weeks away and that lifting the restrictions now in place would result in unnecessary deaths…. Public health officials were horrified by Mr. Trump's statement, which threatened to send many Americans back into the public square just as the peak of the virus was expected." See also, Despite Health Experts' Warnings, Trump Hopes to Have the U.S. Reopened by Easter, The Wall Street Journal, Rebecca Ballhaus, Stephanie Armour, and Alex Leary, Tuesday, 24 March 2020: "President Trump said he hopes to have the country reopened in just over two weeks, a timeline that is dramatically sooner than what many public-health experts have recommended to help contain the coronavirus pandemic.… He said that once the 15-day period in which the government has urged Americans to practice social distancing ends next week, 'we'll stay a little bit longer than that,' but that he wants the effective shutdown of the U.S. and its economy to end 'very soon.' He said Americans could continue to practice some form of social distancing while also going back to work. Mr. Trump's comments marked the extension of a complicated debate, both inside and outside the White House, over how to balance the public-health benefits of coronavirus restrictions against the broad economic pain those measures are causing." See also, 'I'd love to have it open by Easter': Trump says he wants to restart the economy by mid-April, Politico, Quint Forgey, Gabby Orr, Nancy Cook, and Caitlin Oprysko, Tuesday, 24 March 2020. See also, Trump versus the scientists: The president's tug-of-war with experts over coronavirus policy, The Washington Post, Ashley Parker, Josh Dawsey, and Yasmeen Abutaleb, Tuesday, 24 March 2020. See also, A restless Trump wants to end the country's isolation, and his own, CNN Politics, Kevin Liptak, Kaitlan Collins, and Kate Bennett, Tuesday, 24 March 2020. See also, Chris Hayes: Trump's Rhetoric Is Making Him a 'Genuine Threat to Public Health,' Mediaite, Josh Feldman, Tuesday, 24 March 2020: "MSNBC's Chris Hayes bluntly opened his show Tuesday night by saying President Donald Trump's rhetoric is making him a 'genuine threat to public health' on the coronavirus pandemic. Hayes opened by reviewing the increase in cases in New York state alone and Andrew Cuomo's plea to the federal government to send more vital equipment. He took note of how nations around the world, particularly India, are issuing lockdowns. 'For the most part, with some notable exceptions, most leaders are not saying things like Well, the flu is really bad too and a lot of people die from car crashes and, you know, what about the stock market.'" See also, Trump's Reckless Rush to Reopen, The New Yorker, Amy Davidson Sorkin, Tuesday, 24 March 2020: "Covid-19 presents a test of leadership but also—because it preys most fiercely on the vulnerable—a test of values, and President Donald Trump, in his press briefing on Monday, showed that he has failed on both counts. Closures had barely been put in place in much of the country; the curtains were still being drawn. But he is tired of it. 'Our country wasn't built to be shut down,' he said, noting the disruption." See also, 7 Medical Leaders to Politicians: Save Lives, Not Wall Street, The New York Times, J. Larry Jameson, Tuesday, 24 March 2020: "I'm writing on behalf of six other leaders of large academic health systems in some of America's Covid-19 'hot spots' to urge our national leadership to resist pressure to lift tough social restrictions intended to subdue this outbreak and save thousands of lives. While some say the economic damage of these measures will cause more harm than the disease itself, these steps will actually ensure our economic health, since commerce cannot thrive until we have substantially contained the virus. If we waver in our commitment to the public health, the consequences will devastate our families, friends, co-workers and neighbors, medically and financially. The statistical modeling of the viral spread is highly predictable, locally and globally, as the Johns Hopkins University coronavirus map shows. Each of us has run best- and worst-case scenarios based upon the number of infected patients we have, the doubling time of viral spread, and the predicted number of patients who will be admitted to hospitals and require an intensive care unit and a ventilator. For example, if today we have 25 Covid-19 patients in the hospital, with two in intensive care and one on a ventilator, the model predicts that with a three-day doubling rate, there will be a surge of about 800 I.C.U. patients in 30 days."
Trump Wants to 'Reopen America.' Here's What Happens if We Do. The New York Times, Nicholas Kristof and Stuart A. Thompson, Wednesday, 25 March 2020: "President Trump says he wants the United States 'raring to go' in two and a half weeks, on Easter, with 'packed churches all over our country.' He and many other political conservatives suggest that we are responding to something like the flu with remedies that may be more devastating than the disease. We created this interactive model with epidemiologists to show why quickly returning to normal could be a historic mistake that would lead to an explosion of infections, hospitalizations and deaths. Instead, health experts advise giving current business closures and social distancing a month to slow the pandemic, buying time to roll out mass testing and equip doctors with protective equipment. Then, depending on where we are, we can think about easing up — while prepared for a new burst of infections that will then require a new clampdown."
Dow Soars More Than 11% In Biggest One-Day Jump Since 1933, The Wall Street Journal, Alexander Osipovich, Caitlin Ostroff, and Joanne Chiu, Tuesday, 24 March 2020: "The Dow Jones Industrial Average surged more than 11% Tuesday, its biggest one-day gain since 1933, on signs that lawmakers were nearing a deal on a giant stimulus package to ease the economic fallout from the coronavirus pandemic." See also, Wall Street stages massive rally as coronavirus stimulus hopes grow, The Washington Post, Thomas Heath and Rachel Siegel, Tuesday, 24 March 2020: "Stocks posted one of their best days ever on Tuesday, a sign of investor belief that Congress has no alternative but to pass a $2 trillion economic rescue package." See also, Stocks Surge on Hopes for Economic Rescue Deal, The New York Times, Tuesday, 24 March 2020: "Shares of companies likely to get help from the government rallied. High traffic strains Facebook as its employees work from home. WeWork is trying to lure workers back. Gig economy workers struggle to receive unemployment benefits. With fewer passengers, airlines test cargo flights.
Election officials in both parties call for emergency funding to expand voting by mail before November, The Washington Post, Amy Gardner, Elise Viebeck, and Joseph Marks, Tuesday, 24 March 2020: "A bipartisan push to expand mail-in voting is underway across the country as election officials brace for a spike in demand from voters spooked by the coronavirus pandemic — despite Republican reluctance in Washington to help pay for it. House Democrats have asked for as much as $2 billion in emergency funding to distribute to election officials who are scrambling to expand absentee balloting and take other steps to avoid pandemic-related chaos on Election Day in November. Dozens of state and local election officials, both Republican and Democratic, have signaled their desire for the funding — a sign of how the crisis is altering the usually sharply divided politics around voting measures."
The Fox News whipsaw on coronavirus: In another swerve, hosts push Trump to abandon shutdown, The Washington Post, Paul Farhi and Sarah Ellison, Tuesday, 24 March 2020: "Viewers following Fox News's stars for the latest in the coronavirus story may have felt a bit of whiplash over the past several days — again. For weeks, hosts scoffed at the looming coronavirus crisis, only to make an abrupt about-face last week when President Trump acknowledged the severity of the pandemic and declared a national emergency to fight it. But now, Fox's pundits have changed their minds once more — and Trump is listening. Early this week, the cable network's most prominent figures began urging the president to ditch the restrictions and get people back to work, even if doing so risks the public's health."
Technology Giant Oracle Is Providing the White House With Software to Study Unproven Coronavirus Drugs, The New York Times, Noah Weiland and Maggie Haberman, Tuesday, 24 March 2020: "The White House is preparing to use software provided by the technology giant Oracle to promote unproven coronavirus treatments, including a pair of malaria drugs publicized by President Trump, potentially before the government approves their use for the outbreak, according to five senior administration officials and others familiar with the plans. An online platform designed by Oracle, in collaboration with the White House, is still taking shape, but it is likely to be used to collect information about off-label use of the drugs, chloroquine and hydroxychloroquine, which are not yet approved by the Food and Drug Administration to treat Covid-19, the disease caused by the coronavirus. Mr. Trump has tried to reassure Americans that what he has called a 'game changer' treatment is imminent, but his language has alarmed senior health officials and public health experts, who say that the Oracle program would amount to a sprawling, crowdsourced clinical trial without the usual controls of the F.D.A." See also, Oracle to partner with the Trump administration to collect data on unproven drugs to treat covid-19, The Washington Post, Yasmeen Abutaleb, Laurie McGinley, and Josh Dawsey, Tuesday, 24 March 2020: "A series of conversations President Trump has had with tech billionaire Larry Ellison have helped convince him that two old anti-malarial drugs may be game-changing treatments for covid-19, the disease caused by coronavirus, according to four people familiar with the conversations. Trump has said he has 'a good feeling' about the drugs based on anecdotal reports, even though there is scant data showing they benefit people with covid-19. Now, Ellison — who recently held a high-profile fundraiser for Trump — has helped arrange a partnership between Oracle, the software company he co-founded, and the federal government to crowdsource that idea by collecting data in real time from doctors trying out those and other unproven drugs on covid-19 patients."
Why Germany's coronavirus death rate is so much lower than other countries' rates, The Washington Post, Loveday Morris, Tuesday, 24 March 2020: "For weeks, virologists here have been asked a persistent question: Why, compared to other countries, are so few of the Germans who are diagnosed with the coronavirus dying? In Italy, 9.5 percent of the people who have tested positive for the virus have succumbed to covid-19, according to data compiled at Johns Hopkins University. In France, the rate is 4.3 percent. But in Germany, it's 0.4 percent. The biggest reason for the difference, infectious disease experts say, is Germany's work in the early days of its outbreak to track, test and contain infection clusters. That means Germany has a truer picture of the size of its outbreak than places that test only the obviously symptomatic, most seriously ill or highest-risk patients."
International Olympic Committee (I.O.C.) and Japan Agree to Postpone Tokyo Olympics, The New York Times, Motoko Rich, Matthew Futterman, and Tariq Panja, Tuesday, 24 March 2020: "A week ago, Prime Minister Shinzo Abe of Japan and Thomas Bach, president of the International Olympic Committee, were promoting the Summer Olympics in Tokyo as the balm the world needed to show victory over the coronavirus pandemic. On Tuesday, the virus won out. Bach and Abe bowed to a groundswell of resistance — from athletes, from sports federations, from national Olympic committees, from health experts — and formally postponed the Games, which had been scheduled to begin in late July, until 2021."
India Prime Minister Narendra Modi Orders 3-Week Total Lockdown for All 1.3 Billion Indians, The New York Times, Jeffrey Gettleman and Kai Schultz, Tuesday, 24 March 2020: "With four hours' notice, India's prime minister announced that no one could leave home for 21 days — the most severe step taken anywhere in the war against the coronavirus."
Here's what a coronavirus-like response to the climate crisis would look like, Los Angeles Times, Sammy Roth, Tuesday, 24 March 2020: "Both the COVID-19 pandemic and climate change are global crises with the power to derail economies and kill millions of people. Society has moved far more aggressively to address the coronavirus than it has the climate crisis. But some experts wonder if the unprecedented global mobilization to slow the pandemic might help pave the way for more dramatic climate action. Leah Stokes, a political scientist at UC Santa Barbara, pointed out that aggressive steps to reduce planet-warming emissions — such as investing in solar and wind power, switching to electric cars and requiring more efficient buildings — wouldn't be nearly as disruptive to everyday life as the stay-at-home orders that have defined the novel coronavirus response."
Some of Trump's Lies About the Coronavirus Pandemic, The Atlantic, Christian Paz, Tuesday, 24 March 2020: "An unfinished compendium of Trump's overwhelming dishonesty during a national emergency."
Trump's Handling of the Coronavirus Pandemic Is Approved by 60% in Gallup Poll, Bloomberg, Justin Sink, Tuesday, 24 March 2020: "Some six in 10 Americans approve of the job Donald Trump is doing to combat the coronavirus crisis, pushing the president's approval rating – 49% – to the highest of his presidency, according to a poll released Tuesday by Gallup. Trump's gains come as his standing has improved among Democrats and independents amid the viral outbreak, which has killed more than 660 people even as the nation has adopted strict rules limiting public gatherings. Trump's job approval numbers are up 6 points among Democrats and 8 points among independents, according to the survey. And voters are largely giving Trump positive marks for his handling of the pandemic, with 94% of Republicans, 60% of independents, and 27% of Democrats approving of his efforts. That's higher than his general approval rating among each group. Presidential approval has often rallied after significant national events, like the Sept. 11 terrorist attacks, the killing of Osama bin Laden, or the Sandy Hook Elementary School shooting, according to Jeffrey Jones, Gallup's senior editor."
Donald Trump Must Face First Amendment Suit for Revoking Press Badges, The Hollywood Reporter, Eriq Gardner, Tuesday, 24 March 2020: "A New York federal judge on Tuesday ruled that PEN America may proceed on some of its claims against Donald Trump. Specifically, the U.S. president must continue to face allegations of violating the First Amendment by revoking press badges and security clearances. Pen America is a literary organization that fights to protect free speech. The group sued Trump in October 2018 for using his power to punish and intimidate The Washington Post, CNN, NBC, the White House press corps and others who cover his administration."
Wednesday, 25 March 2020, Day 1,160:
Senate Approves $2 Trillion Stimulus After Bipartisan Deal. The plan would provide direct payments to taxpayers, jobless benefits and a $500 billion fund to assist distressed businesses, with oversight requirements demanded by Democrats. The New York Times, Emily Cochrane and Nicholas Fandos, Wednesday, 25 March 2020: "The $2 trillion economic stabilization package agreed to by Congress and the Trump administration early Wednesday morning is the largest of its kind in modern American history, intended to respond to the coronavirus pandemic and provide direct payments and jobless benefits for individuals, money for states and a huge bailout fund for businesses. The measure, which the Senate approved unanimously just before midnight on Wednesday, amounts to a government aid plan unprecedented in its sheer scope and size, touching on every facet of American life with the goal of salvaging and ultimately reviving a battered economy. Its cost is hundreds of billions of dollars more than Congress provides for the entire United States federal budget for a single year, outside of social safety net programs. Administration officials said they hoped that its effect on a battered economy would be exponentially greater, as much as $4 trillion. The legislation would send direct payments of $1,200 to millions of Americans, including those earning up to $75,000, and an additional $500 per child. It would substantially expand jobless aid, providing an additional 13 weeks and a four-month enhancement of benefits, and would extend the payments for the first time to freelancers and gig workers. The measure would also offer $377 billion in federally guaranteed loans to small businesses and establish a $500 billion government lending program for distressed companies reeling from the impact of the crisis, including allowing the administration the ability to take equity stakes in airlines that received aid to help compensate taxpayers. It would also send $100 billion to hospitals on the front lines of the pandemic." See also, Fine Print of Stimulus Bill Contains Special Deals for Industries, The New York Times, Eric Lipton and Kenneth P. Vogel, Wednesday, 25 March 2020: "Restaurants and retailers will get a tweak to federal tax law they have been seeking for more than a year that could save them $15 billion. Community banks are being granted their long-held wish of being freed to reduce the amount of capital they have to hold in reserve. And for-profit colleges will be able to keep federal loan money from students who drop out because of the coronavirus. Tucked into the largest bailout in United States history — a $2 trillion federal stimulus package agreed to by congressional leaders and the White House early Wednesday in an effort to reduce the economic devastation of the coronavirus outbreak — are a range of provisions that stand to benefit specific industries and interest groups. Even the fine print in a near-final 880-page version of the bill has fine print. Democrats proudly announced that they had won agreement on language to block President Trump, other government officials and their families from receiving assistance from a $500 billion fund to be administered by the Treasury Department. But it turns out that the provision might not preclude funds from going to companies owned by the family of Mr. Trump's son-in-law and White House adviser, Jared Kushner, while Mr. Trump's companies would not be barred from benefiting from other elements of the bill intended to help broad swaths of American business. For example, certain hotel owners, even those employing thousands of people, will be eligible for small-business loans, a provision that could potentially benefit Mr. Trump's company to help to continue to pay wages for his employees. The Trump Organization could also benefit from the $15 billion change to the tax code won by restaurants and retailers." See also, 5 Key Things in the $2 Trillion Coronavirus Stimulus Package, The New York Times, Catie Edmondson, Wednesday, 25 March 2020. See also, F.A.Q. on Stimulus Checks, Unemployment, and the Coronavirus Bill, The New York Times, Tara Siegel Bernard and Ron Lieber, published on Thursday, 26 March 2020. See also, Colleges Get Billions in Coronavirus Relief, but They Say the Deal Falls Short of Needs, The New York Times, Erica L. Green, Wednesday, 25 March 2020: "The $2 trillion stimulus package barreling toward passage by the Senate on Wednesday will send about $14 billion to colleges and universities that are hemorrhaging money as they close their campuses and try to stay afloat with distance learning. But higher education leaders say that is far short of what they need in the face of an education crisis that is greater than any they have faced in a generation. The deal — likely to pass the Senate Wednesday night and the House on Thursday — would create a $30.75 billion education stabilization fund, 46 percent of which would go to higher education. That is a fraction of the $50 billion that higher education leaders said they needed. Of that $30.75 billion, around $13 billion would go to primary and secondary schools, which had requested at least $75 billion to help keep their systems intact with more than 55 million children out of school. Governors would receive about 10 percent of the fund, or about $3 billion, to put toward emergency education costs." See also, A $2 Trillion Lifeline Will Help, but More May Be Needed, The New York Times, Jim Tankersley, Wednesday, 25 March 2020: "If you want to shut down an economy to fight a pandemic without driving millions of people and businesses into bankruptcy, you need the government to cut some checks. The coronavirus response deal that the Senate passed late Wednesday will get a lot of checks into the mail, but it will soothe only a few months of financial pain. If the outbreak and the disruptions continue through summer, lawmakers will need to spend even more." See also, Senate passes $2 trillion bill to blunt coronavirus pandemic's economic impact, as households and businesses gasp for relief, The Washington Post, Erica Werner, Mike DeBonis, and Paul Kane, published on Thursday, 26 March 2020: "Facing one of the worst economic downturns in American history, one that is unsparing in its trauma, the Senate late Wednesday unanimously approved a $2 trillion emergency relief bill that attempts to arrest the financial havoc caused by the coronavirus pandemic. Lawmakers acted with unusual speed and cooperation to produce the largest economic rescue package in U.S. history, just hours before the release of a Labor Department report showing a record 3.3 million Americans applied for unemployment benefits last week. The sprawling legislation, which passed 96 to 0, would send checks to more than 150 million American households, set up enormous loan programs for businesses large and small, pump billions of dollars into unemployment insurance programs, greatly boost spending on hospitals, and much more. The Senate's most liberal and conservative members joined together to support the mammoth spending bill, illustrating how concerned policymakers have become about the health care strains and financial pain the country now faces." See also, What's in the $2.2 trillion coronavirus Senate stimulus package, The Washington Post, Jeff Stein, published on Thursday, 26 March 2020. See also, Congress to bail out firms that avoided taxes and safety regulations and spent billions boosting their own stock, The Washington Post, Jonathan O'Connell, Wednesday, 25 March 2020: "[A]irlines, hotels, cruise lines, coal-mining companies and others strangled by coronavirus shutdowns are lining up to receive slices of a $2 trillion aid package funded by taxpayers. Yet many of these companies behaved in ways before the current economic crisis that are making a bailout tough to swallow, labor advocates and some economists say. The hotel giant Hilton, for instance, announced a $2 billion stock buyback on March 3, weeks after coronavirus cases began affecting the industry. Cruise lines for years have avoided taxes and U.S. safety regulations by registering their vessels abroad. Coal companies put some of their workers in harms way and are now asking to get out of a tax that generates money to compensate former miners who have black lung disease." See also, Senate approves massive $2 trillion coronavirus emergency stimulus package, Politico, Sarah Ferris, Melanie Zanona, and Heather Caygle, Wednesday, 25 March 2020.  See also, US Senate passes historic $2 trillion relief package as coronavirus devastates the economy, The Guardian, Lauren Gambino and Maanvi Singh, Wednesday, 25 March 2020. See also, Senate approves historic $2 trillion stimulus deal amid growing coronavirus fears, CNN Politics, Manu Raju, Clare Foran, Ted Barrett, and Kristin Wilson, published on Thursday, 26 March 2020. See also, What's in the $2 trillion coronavirus stimulus bill, CNN Politics, CNN staff, published on Thursday, 26 March 2020.
Some Coronavirus Updates for Wednesday, 25 March 2020: Senate Passes a $2 Trillion Stimulus Plan, The New York Times, Wednesday, 25 March 2020: "The Senate passes a $2 trillion stimulus plan. Fauci sees signs of the virus becoming cyclical, like the flu. Some schools signal that students may not return until next year. What is 'essential'? Chain stores push the limits. Coronavirus concerns postpone wildfire season preparations. New York sees early signs that social distancing could be working. At one New York City hospital, an 'apocalyptic' surge.
Live updates on some significant developments in the coronavirus pandemic on Wednesday, 25 March 2020: Senate unanimously passes $2.2 trillion emergency relief package; U.S. reports more than 200 deaths in a single day, The Washington Post, Rick Noack, Nateshia Beachum, Alex Horton, Siobhán O'Grady, Adam Taylor, Marisa Iati, John Wagner, Michael Brice-Saddler, Meryl Kornfield, Candace Buckner, and Teo Armus, Wednesday, 25 March 2020: "The U.S. Senate on Wednesday night unanimously passed a $2.2 trillion emergency relief package designed to flood the U.S. economy with money, as households and businesses continue to reel from the novel coronavirus outbreak. The vote was 96-0. The measure now heads to the House, which is expected to vote on Friday. House Majority Leader Steny H. Hoyer (D-Md.) said there would be a voice vote 'to protect the safety of Members and staff and prevent further spread of COVID-19 through Members' travel.' Covid-19 is the disease caused by the coronavirus…. Lawmakers and the White House were bombarded with lobbyists and special interest groups seeking assistance during the negotiations, and the price tag rose from $850 billion to $2.2 trillion in just a matter of days. Meanwhile, for the first time since the outbreak reached the United States, state health departments around the country reported more than 200 coronavirus-related deaths in a single day on Wednesday. As of Wednesday evening, more than 900 people in the country had died from complications of the virus, according to tracking by The Washington Post. Upward of 13,000 new cases were reported since Tuesday, bringing the nationwide total to more than 67,000 cases." Other significant developments are also covered in this article.
How the Novel Coronavirus Pandemic Might End, The Atlantic, Ed Yong, Wednesday, 25 March 2020: "Three months ago, no one knew that SARS-CoV-2 existed. Now the virus has spread to almost every country, infecting at least 446,000 people whom we know about, and many more whom we do not. It has crashed economies and broken health-care systems, filled hospitals and emptied public spaces. It has separated people from their workplaces and their friends. It has disrupted modern society on a scale that most living people have never witnessed. Soon, most everyone in the United States will know someone who has been infected. Like World War II or the 9/11 attacks, this pandemic has already imprinted itself upon the nation's psyche. A global pandemic of this scale was inevitable. In recent years, hundreds of health experts have written books, white papers, and op-eds warning of the possibility. Bill Gates has been telling anyone who would listen, including the 18 million viewers of his TED Talk. In 2018, I wrote a story for The Atlantic arguing that America was not ready for the pandemic that would eventually come. In October, the Johns Hopkins Center for Health Security war-gamed what might happen if a new coronavirus swept the globe. And then one did. Hypotheticals became reality. 'What if?' became 'Now what?'… As my colleagues Alexis Madrigal and Robinson Meyer have reported, the Centers for Disease Control and Prevention developed and distributed a faulty test in February. Independent labs created alternatives, but were mired in bureaucracy from the FDA. In a crucial month when the American caseload shot into the tens of thousands, only hundreds of people were tested. That a biomedical powerhouse like the U.S. should so thoroughly fail to create a very simple diagnostic test was, quite literally, unimaginable…. The testing fiasco was the original sin of America's pandemic failure, the single flaw that undermined every other countermeasure. If the country could have accurately tracked the spread of the virus, hospitals could have executed their pandemic plans, girding themselves by allocating treatment rooms, ordering extra supplies, tagging in personnel, or assigning specific facilities to deal with COVID-19 cases. None of that happened…. [T]he White House is a ghost town of scientific expertise. A pandemic-preparedness office that was part of the National Security Council was dissolved in 2018. On January 28, Luciana Borio, who was part of that team, urged the government to "act now to prevent an American epidemic," and specifically to work with the private sector to develop fast, easy diagnostic tests. But with the office shuttered, those warnings were published in The Wall Street Journal, rather than spoken into the president's ear. Instead of springing into action, America sat idle. Rudderless, blindsided, lethargic, and uncoordinated, America has mishandled the COVID-19 crisis to a substantially worse degree than what every health expert I've spoken with had feared."
Amid Desperate Need for Ventilators, Calls Grow for Federal Intervention, The New York Times, Andrew Jacobs, Neal E. Boudette, Matt Richtel, and Nicholas Kulish, Wednesday, 25 March 2020: "As hospitals prepare for a flood of desperately ill patients unable to breathe on their own, mechanical ventilators have become the single most important piece of equipment that can mean the difference between life and death. Now, with American hospitals facing a grave shortage of the vital devices, the Big Three automakers, small engineering firms, software designers and medical equipment manufacturers are rushing to figure out ways to produce more of them. But President Trump has so far declined to use powers that public health experts say could make a real difference in getting more ventilators to places that need them the most — right now. What is really needed, a number of public health experts and former government officials say, is for Washington to take control of the nation's existing ventilator supply. Because peak coronavirus infections will hit cities and regions at different times in the coming months, a centralized federal effort could send unused machines to hospitals that need them most."
'It's a two-way street': Trump suggests federal coronavirus aid will be given to governors who 'treat us well,' Business Insider, Rosie Perper, Wednesday, 25 March 2020: "President Donald Trump suggested Tuesday that the federal government would give aid to governors battling the coronavirus outbreak if they 'treat us well also. It's a two-way street, Trump said of his discussions with governors about providing their states with federal aid. State and local officials have called out Trump and the federal government for delays in providing them with critical supplies, like masks and ventilators, as hospitals struggle to treat patients with the virus. Ventilators are key in treating a respiratory illness like COVID-19, but experts have warned that America faces a shortage of critical supplies in the months ahead."
Trump administration failed to follow the National Security Council's pandemic playbook. The 69-page document, finished in 2016, provided a step by step list of priorities – which were then ignored by the administration. Politico, Dan Diamond and Nahal Toosi, Wednesday, 25 March 2020: "The Trump administration, state officials and even individual hospital workers are now racing against each other to get the necessary masks, gloves and other safety equipment to fight coronavirus — a scramble that hospitals and doctors say has come too late and left them at risk. But according to a previously unrevealed White House playbook, the government should've begun a federal-wide effort to procure that personal protective equipment at least two months ago. 'Is there sufficient personal protective equipment for healthcare workers who are providing medical care?' the playbook instructs its readers, as one early decision that officials should address when facing a potential pandemic. 'If YES: What are the triggers to signal exhaustion of supplies? Are additional supplies available? If NO: Should the Strategic National Stockpile release PPE to states?' The strategies are among hundreds of tactics and key policy decisions laid out in a 69-page National Security Council playbook on fighting pandemics, which POLITICO is detailing for the first time. Other recommendations include that the government move swiftly to fully detect potential outbreaks, secure supplemental funding and consider invoking the Defense Production Act — all steps in which the Trump administration lagged behind the timeline laid out in the playbook."
Exclusive: U.S. slashed staff at the Centers for Disease Control and Prevention (CDC) inside China prior to the novel coronavirus outbreak, Reuters, Marisa Taylor, Wednesday, 25 March 2020: "The Trump administration cut staff by more than two-thirds at a key U.S. public health agency operating inside China, as part of a larger rollback of U.S.-funded health and science experts on the ground there leading up to the coronavirus outbreak, Reuters has learned. Most of the reductions were made at the Beijing office of the U.S. Centers for Disease Control and Prevention (CDC) and occurred over the past two years, according to public CDC documents viewed by Reuters and interviews with four people familiar with the drawdown. The Atlanta-based CDC, America's preeminent disease fighting agency, provides public health assistance to nations around the world and works with them to help stop outbreaks of contagious diseases from spreading globally. It has worked in China for 30 years."
Coronavirus Doesn't Slow Trump's Major Rollbacks of Environmental Regulations, The New York Times, Lisa Friedman, Wednesday, 25 March 2020: "As much of his government battles the coronavirus outbreak, President Trump is pushing ahead with major reversals of environmental regulations, including a restriction on scientific research that some doctors worry would complicate future pandemic controls. Federal employees across multiple agencies said the administration was racing to complete a half-dozen significant rollbacks over the coming month. They include a measure to weaken automobile fuel efficiency standards, which one person familiar with the plans said would be issued as early as next week. Other efforts include loosening controls on toxic ash from coal plants, relaxing restrictions on mercury emissions and weakening the consideration of climate change in environmental reviews for most infrastructure projects. The aggressive timeline is aimed at shielding the policies from easy reversal if Democrats win the White House or control of the Senate in the 2020 election. While it is hardly unusual to see a push to finalize policies toward the end of an administration, several agency officials said they were surprised that political leaders had shown no sign of letting up amid the pandemic."
Trump administration is actively discussing putting troops near the Canadian border amid coronavirus fears, Global News, Mercedes Stephenson, James Armstrong, and Amanda Connolly, Thursday, 26 March 2020: "American government officials inside Donald Trump's White House are actively discussing putting troops near the Canadian borders in light of U.S. border security concerns around the new coronavirus pandemic, sources tell Global News. Few people cross from Canada into the United States at an unofficial point each year but the goal of the policy would be to help border guards detect irregular crossers, the sources said. While the White House is pushing for this, no decision has been made. Prime Minister Justin Trudeau confirmed the news while giving his daily briefing to reporters from Rideau Cottage, acknowledging that conversations are taking place. 'Canada and the United States have the longest unmilitarized border in the world and it is very much in both of our interests for it to remain that way,' he said."
Reverend Ralph Drollinger, Trump Cabinet's Bible teacher, says gays cause 'God's wrath' in Covid-19 blog post, NBC News, Brooke Sopelsa, Wednesday, 25 March 2020: "In a blog post titled 'Is God Judging America Today?' a pastor who leads a weekly bible study group for members of President Donald Trump's Cabinet appeared to blame the coronavirus pandemic on several groups, including those who have 'a proclivity toward lesbianism and homosexuality.' America 'is experiencing the consequential wrath of God,' the Rev. Ralph Drollinger wrote in a lengthy March 21 'Bible study' on his Capitol Ministries blog, which caused outrage among several national LGBTQ advocacy groups. In addition to gays and lesbians, Drollinger — who The New York Times recently referred to as the Trump Cabinet's 'shadow diplomat' — also laid blame on people with 'depraved minds,' environmentalists and those who deny the existence of God for igniting 'God's wrath.'" See also, White House faith adviser Ralph Drollinger is under fire for appearing to suggest coronavirus is due to God's wrath over homosexuality and environmentalism, The Washington Post, Eugene Scott, published on Friday, 27 March 2020.
'I would rather die than kill the country': The conservative chorus pushing Trump to end social distancing/physical distancing, The Washington Post, Katie Shepherd, Wednesday, 25 March 2020: "At the start of his Tuesday show, conservative radio host Glenn Beck spoke in an upbeat cadence over a jaunty music track, even as he discussed possibly sacrificing lives during the coronavirus outbreak to save the United States and its economy. 'I would rather have my children stay home and have all of us who are over 50 go in and keep this economy going and working,' Beck said. 'Even if we all get sick, I'd rather die than kill the country. Because it's not the economy that's dying, it's the country.' Beck's offer to sacrifice his health and other older Americans' lives for the good of the U.S. economy comes amid President Trump's evolving rhetoric against the social distancing guidelines that have urged people to avoid public gatherings and work from home as much as possible to control the spread of the novel coronavirus. Trump has spoken in recent days of lifting social distancing policies that have shut down nonessential businesses around the United States after a 15-day period ends to 'have the country opened up and just raring to go by Easter.'" See also, As Trump signals readiness to break with experts, his online base assails Anthony Fauci, the top infectious diseases expert in the U.S., The Washington Post, Isaac Stanley-Becker, Thursday, 26 March 2020: "A cadre of right-wing news sites pulled from the fringes in recent years through repeated mention by President Trump is now taking aim at Anthony S. Fauci, the ­nation's top infectious diseases ­expert, who has given interviews in which he has tempered praise for the president with doubts about his pronouncements."
Secretary of State Mike Pompeo's push to include 'Wuhan virus' language in G7 joint statement fractures the alliance, CNN Politics, Alex Marquardt and Jennifer Hansler, Wednesday, 25 March 2020: "A push by the US State Department to include the phrase "Wuhan virus" in a joint statement with other Group of Seven members following a meeting of foreign ministers on coronavirus on Wednesday was rejected, resulting in separate statements and division in the group. 'What the State Department has suggested is a red line,' a European diplomat said." See also, G-7 failed to agree on statement after the U.S. insisted on calling the coronavirus outbreak the 'Wuhan virus,' The Washington Post, John Hudson and Souad Medhennet, Wednesday, 25 March 2020: "Foreign ministers representing seven major industrialized nations failed to agree on a joint statement Wednesday after the Trump administration insisted on referring to the coronavirus outbreak as the 'Wuhan virus,' three officials from G-7 countries told The Washington Post. Other nations in the group of world powers rejected the term because they viewed it as needlessly divisive at a time when international cooperation is required to slow the global pandemic and deal with the scarcity of medical supplies, officials said."
Trump administration is urged to release people from immigration detention facilities as the coronavirus surges, Associated Press, Ben Fox, Philip Marcelo, and Nomaan Merchant, Wednesday, 25 March 2020: "Pressure was mounting on the Trump administration Wednesday to release people from immigration detention facilities where at least one detainee has tested positive for COVID-19 and advocates fear tight quarters and overall conditions could cause rapid spread of the virus. The U.S. holds around 37,000 people in immigration detention. Detainees and advocates say many are vulnerable because of age and pre-existing medical conditions, and because they are often held in open rooms, beds 3-feet apart, and without adequate supplies of masks or other protections."
NPR Station in Seattle Says It Will No Longer Carry Donald Trump's Coronavirus Briefings Live Because They Feature Misleading or False Information, Deadline, Ted Johnson, Wednesday, 25 March 2020: "An NPR station in Seattle said that it no longer will carry live coverage of President Donald Trump's coronavirus briefings because of concerns that they feature unchecked misleading or false information. 'KUOW is monitoring White House briefings for the latest news on the coronavirus — and we will continue to share all news relevant to Washington State with our listeners,' the station tweeted. 'However, we will not be airing the briefings live due to a pattern of false or misleading information provided that cannot be fact checked in real time.'"
'None of Us Saw It Ending This Way': Peace Corps Volunteers Evacuate Abruptly, The New York Times, Mariel Padilla, Wednesday, 25 March 2020: "For the first time in its nearly 60-year history, the Peace Corps has temporarily suspended its operations, evacuating more than 7,000 volunteers from posts in more than 60 countries because of the coronavirus pandemic. An independent agency of the U.S. government created by President Kennedy in 1961, the corps sends volunteers abroad to help with social and economic development projects. They dig wells, teach in schools and train people in everything from sewing to healthy breastfeeding."
Standing Rock Sioux Tribe Wins a Victory in Dakota Access Pipeline Case, The New York Times, Lisa Friedman, Wednesday, 25 March 2020: "In a significant victory for the Standing Rock Sioux Tribe, a federal judge on Wednesday ordered a sweeping new environmental review of the Dakota Access Pipeline. The pipeline, which runs from North Dakota to Illinois, has been carrying oil for nearly three years and has been contested by environmental groups and Native American tribes who live near it. President Trump sought to keep the project alive. The ruling by United States District Judge James E. Boasberg found that the pipeline's 'effects on the quality of the human environment are likely to be highly controversial' and that the federal government had not done an adequate job of studying the risks of a major spill or whether the pipeline's leak detection system was adequate. He ordered the United States Army Corps of Engineers, which granted the permits for the pipeline, to conduct a more extensive environmental impact study."
Thursday, 26 March 2020, Day 1,161:
The U.S. Now Leads the World in Confirmed Coronavirus Cases, The New York Times, Donald G. McNeil Jr., Thursday, 26 March 2020: "Scientists warned that the United States someday would become the country hardest hit by the coronavirus pandemic. That moment arrived on Thursday. In the United States, at least 81,321 people are known to have been infected with the coronavirus, including more than 1,000 deaths — more cases than China, Italy or any other country has seen, according to data gathered by The New York Times. The Times is engaged in a comprehensive effort to track the details of every confirmed case in the United States, collecting information from federal, state and local officials. With 330 million residents, the United States is the world's third most populous nation, meaning it provides a vast pool of people who can potentially get Covid-19, the disease caused by the virus. And it is a sprawling, cacophonous democracy, where states set their own policies and President Trump has sent mixed messages about the scale of the danger and how to fight it, ensuring there was no coherent, unified response to a grave public health threat. A series of missteps and lost opportunities dogged the nation's response. Among them: a failure to take the pandemic seriously even as it engulfed China, a deeply flawed effort to provide broad testing for the virus that left the country blind to the extent of the crisis, and a dire shortage of masks and protective gear to protect doctors and nurses on the front lines, as well as ventilators to keep the critically ill alive. 'This could have been stopped by implementing testing and surveillance much earlier — for example, when the first imported cases were identified,' said Angela Rasmussen, a virologist at Columbia University in New York. 'If these are the cases we've confirmed, how many cases are we still missing?' she added." See also, Some Coronavirus Updates for Wednesday, 25 March 2020, The New York Times, Wednesday, 25 March 2020: "Unemployment data set a bleak record and hospitals struggled with an influx of sick patients and lack of equipment. But the White House coronavirus response coordinator dismissed talk of shortages. The U.S. now leads the world in confirmed coronavirus cases. Early graduation could send medical students to the front lines. A deal for thousands of ventilators seemed imminent, until the announcement was canceled. A Navy hospital ship is headed to New York this weekend. Hot spots are developing in the Midwest, and vaccine trials are underway. Pelosi predicts bipartisan passage of $2 trillion stimulus in House. Ohio will conduct its presidential primary mostly by mail.
Live updates on some significant developments in the coronavirus pandemic on Thursday, 26 March 2020: Coronavirus death toll in U.S. reaches 1,000 as the number of confirmed cases passes China, The Washington Post, Rick Noack, Katie Mettler, Hannah Knowles, Teo Armus, and Miriam Berger, Thursday, 26 March 2020: "The U.S. death toll from the coronavirus has hit 1,000, according to tracking by The Washington Post, a toll that is increasing at an alarming rate. The United States also surpassed China in confirmed, reported cases Thursday as the pandemic continues to slow in the place where it began. Worldwide, the number of confirmed coronavirus cases surpassed 500,000." Other significant developments are also covered in this article.
'It's a Wreck': 3.3 Million File Unemployment Claims as the Economy Comes Apart, The New York Times, Ben Casselman, Patricia Cohen, and Tiffany Hsu, Thursday, 26 March 2020: "More than three million people filed for unemployment benefits last week, sending a collective shudder throughout the economy that is unlike anything Americans have experienced. The alarming numbers, in a report released by the Labor Department on Thursday, provide some of the first hard data on the economic toll of the coronavirus pandemic, which has shut down whole swaths of American life faster than government statistics can keep track. Just three weeks ago, barely 200,000 people applied for jobless benefits, a historically low number. In the half-century that the government has tracked applications, the worst week ever, with 695,000 so-called initial claims, had been in 1982." See also, A record 3.3 million Americans filed for unemployment benefits as the coronavirus slams the economy, The Washington Post, Heather Long and Alyssa Fowers, Thursday, 26 March 2020: "A record 3.3 million Americans applied for unemployment benefits last week, the Labor Department said Thursday, as restaurants, hotels, barber shops, gyms and more shut down in a nationwide effort to slow the spread of the deadly coronavirus. Last week saw the biggest jump in new jobless claims in history, surpassing the record of 695,000 set in 1982. Many economists say this is the beginning of a massive spike in unemployment that could result in over 40 million Americans losing their jobs by April." See also, Coronavirus' economic toll: Jobless claims soar to record high amid shutdowns, Politico, Rebecca Rainey and Nolan D. McCaskill, Thursday, 26 March 2020: "Unemployment claims skyrocketed more than 1,000 percent last week to 3.3 million, the Labor Department reported Thursday, as the coronavirus pandemic and government measures to limit its devastation brought huge swaths of the U.S. economy to a halt. It was by far the largest number of unemployment claims ever recorded for a single week since the government began collecting such data in 1967, but a wide disparity in claims across various states suggests the figure could be significantly undercounted."
Trump Says He Will Label Regions by Risk of Coronavirus Threat, The New York Times, Annie Karni, Thursday, 26 March 2020: "President Trump said Thursday that he planned to label different areas of the country as at a 'high risk, medium risk or low risk' to the spread of the coronavirus, as part of new federal guidelines to help states decide whether to relax or enhance their quarantine and social distancing measures. 'Our expanded testing capabilities will quickly enable us to publish criteria, developed in close coordination with the nation's public health officials and scientists, to help classify counties with respect to continued risks posed by the virus,' Mr. Trump said in a letter to the nation's governors. In it, the president thanked Republican and Democratic governors alike for 'stepping up to help America confront this unprecedented global pandemic.' But in a video teleconference with governors to discuss the response to the virus, and in a television appearance late Thursday night, Mr. Trump struck a less conciliatory tone, criticizing some of them instead for 'taking' from the federal government. In the call, he rebuffed a plea from Gov. Jay Inslee of Washington for a more forceful response to the outbreak, according to two officials familiar with the conversation. Later, during an interview with the Fox News host Sean Hannity, the president singled out Mr. Inslee as well as Gov. Gretchen Whitmer of Michigan for requesting federal aid at all." See also, Read the Letter From Trump to America's Governors, The New York Times, Thursday, 26 March 2020.
Trump downplays need for ventilators as New York begs to differ, Politico, Suint Forgey and Matthew Choi, Thursday, 26 March 2020: "Gov. Andrew Cuomo of New York says his state needs tens of thousands of ventilators to respond to the escalating coronavirus pandemic. President Donald Trump doesn't believe him. Speaking with Fox News' Sean Hannity on Thursday night, Trump again minimized the impact of the infectious outbreak in the United States, casting doubt on the need for so many of the respiratory devices in hospitals on the front lines of the disease. 'I have a feeling that a lot of the numbers that are being said in some areas are just bigger than they're going to be,' he said. 'I don't believe you need 40,000 or 30,000 ventilators. You go into major hospitals sometimes, and they'll have two ventilators. And now, all of a sudden, they're saying, Can we order 30,000 ventilators?'" See also, After Considering $1 Billion Price Tag for Ventilators, the White House Has Second Thoughts, The New York Times, David E. Sanger, Maggie Haberman, and Zolan Kanno-Youngs, Thursday, 26 March 2020: "The White House had been preparing to reveal on Wednesday a joint venture between General Motors and Ventec Life Systems that would allow for the production of as many as 80,000 desperately needed ventilators to respond to an escalating pandemic when word suddenly came down that the announcement was off. The decision to cancel the announcement, government officials say, came after the Federal Emergency Management Agency said it needed more time to assess whether the estimated cost was prohibitive. That price tag was more than $1 billion, with several hundred million dollars to be paid upfront to General Motors to retool a car parts plant in Kokomo, Ind., where the ventilators would be made with Ventec's technology. Government officials said that the deal might still happen but that they are examining at least a dozen other proposals."
A New York Hospital System Starts Treating Two Patients Instead of One on Some Ventilators: 'The Other Option Is Death,' The New York Times, Brian M. Rosenthal, Jennifer Pinkowski, and Joseph Goldstein, Thursday, 26 March 2020: "A New York hospital system has begun treating two patients instead of one on some ventilators, a desperate measure that could help alleviate a shortage of the critical breathing machines and help hospitals around the country respond to the surge of coronavirus patients expected in the coming weeks. NewYork-Presbyterian Hospital, began 'ventilator sharing' this week, said Dr. Laureen Hill, chief operating officer at the Presbyterian/Columbia University Irving Medical Center system. Doctors have developed protocols for the maneuver and now are rapidly scaling it up while also sharing their methods with the federal and state governments and other hospitals. Ventilator sharing has been explored in a few scientific studies and has been used twice in crisis situations — the immediate aftermath of the 2017 Las Vegas shooting and, as of several days ago, by an emergency physician, Dr. Marco Garrone, for coronavirus patients in Italy. This is believed to be the first time that it has been put forth as a longer-term strategy in the United States."
Trump keeps touting an unproven coronavirus treatment. It's now being tested on thousands in New York. The Washington Post, Christopher Rowland, Jon Swaine, and Josh Dawsey, Thursday, 26 March 2020: "New York is moving at unprecedented speed and scale in a human experiment to distribute tens of thousands of doses of anti-malarial drugs to seriously ill patients, spurred by political leaders including President Trump to try a treatment that is not proved to be effective against the coronavirus. With no proven treatment for the coronavirus, and infections in New York topping 30,000, health experts say the Food and Drug Administration has moved with uncommon speed to authorize New York's sweeping plan to distribute the drugs through hospital networks. Planning for such a complex initiative would ordinarily take up to nine months, those experts say. In New York, the U.S. epicenter of the covid-19 pandemic, that timeline has been compressed into three days. The effort has raised concerns among health experts about safety risks — including the danger of fatal heart arrhythmia and vision loss associated with the drugs — and of raising false hopes in the American public. But Trump's direct intervention into complex medical issues, as well as New York Gov. Andrew M. Cuomo's embrace of the strategy, has generated popular excitement about the drugs."
Job Vacancies and Inexperience in the Trump Administration Mar Federal Response to the Novel Coronavirus, The New York Times, Jennifer Steinhauer and Zolan Kanno-Youngs, Thursday, 26 March 2020: "Of the 75 senior positions at the Department of Homeland Security, 20 are either vacant or filled by acting officials, including Chad F. Wolf, the acting secretary who recently was unable to tell a Senate committee how many respirators and protective face masks were available in the United States. The National Park Service, which like many federal agencies is full of vacancies in key posts, tried this week to fill the job of a director for the national capital region after hordes of visitors flocked to see the cherry blossoms near the National Mall, creating a potential public health hazard as the coronavirus continues to spread. At the Department of Veterans Affairs, workers are scrambling to order medical supplies on Amazon after its leaders, lacking experience in disaster responses, failed to prepare for the onslaught of patients at its medical centers. Ever since President Trump came into office, a record high turnover and unfilled jobs have emptied offices across wide sections of the federal bureaucracy. Now, current and former administration officials and disaster experts say the coronavirus has exposed those failings as never before and left parts of the federal government unprepared and ill equipped for what may be the largest public health crisis in a century. Some 80 percent of the senior positions in the White House below the cabinet level have turned over during Mr. Trump's administration, with about 500 people having departed since the inauguration. Mr. Trump is on his fourth chief of staff, his fourth national security adviser and his fifth secretary of the Department of Homeland Security. Between Mr. Trump's history of firing people and the choice by many career officials and political appointees to leave, he now finds himself with a government riddled with vacancies, acting department chiefs and, in some cases, leaders whose professional backgrounds do not easily match up to the task of managing a pandemic."
Internal Emails Show How Chaos at the Centers for Disease Control and Prevention (CDC) Slowed the Early Response to the Novel Coronavirus, ProPublica, Caroline Chen, Marshall Allen, and Lexi Churchill, Thursday, 26 March 2020: "On Feb. 13, the U.S. Centers for Disease Control and Prevention sent out an email with what the author described as an 'URGENT' call for help. The agency was struggling with one of its most important duties: keeping track of Americans suspected of having the novel coronavirus. It had 'an ongoing issue' with organizing — and sometimes flat-out losing — forms sent by local agencies about people thought to be infected. The email listed job postings for people who could track or retrieve this paperwork. 'Help needed urgently,' the CDC wrote. This email is among hundreds of pages of correspondence between federal and state public health officials obtained by ProPublica through a records request in Nevada…. The documents — mostly emails — provide a behind-the-scenes peek into the messy early stages of the U.S. response to the coronavirus, revealing an antiquated public health system trying to adapt on the fly. What comes through clearly is confusion, as the CDC underestimated the threat from the virus and stumbled in communicating to local public health officials what should be done."
Federal Reserve Chair Jerome Powell Says U.S. Must Get Coronavirus Under Control Before the Economy Restarts, The New York Times, Jeanna Smialek, Thursday, 26 March 2020: "Jerome H. Powell, the Federal Reserve chair, said during a rare television interview on Thursday that the United States 'may well' be in a recession already, but that it should get the coronavirus under control before getting back to work. 'The first order of business will be to get the spread of the virus under control, and then to resume economic activity,' Mr. Powell said on NBC's 'Today.' 'The virus is going to dictate the timetable here.' Mr. Powell's comments contrasted with those of President Trump, who has suggested that he wants many Americans to get back to work as soon as Easter, less than three weeks away, and that efforts to slow the spread of the virus by shutting down large parts of the economy should not be worse than the disease itself." See also, Federal Reserve Chair Jerome Powell says 'We may well be in a recession,' NBC News, David Gura, Thursday, 26 March 2020. See also, Trump's Baseless Claim That a Recession Would Be Deadlier Than the Coronavirus, The New York Times, Linda Qiu, Thursday, 26 March 2020.
Trump Campaign Threatens TV Stations That Air Ad Critical of Trump, HuffPost, David Moye, Thursday, 26 March 2020: "Donald Trump's reelection campaign has sent a cease-and-desist letter to TV stations that air an ad critical of the way the president has handled the coronavirus crisis. The ad, 'Exponential Threat,' features audio clips of Trump downplaying the virus at different moments while the onscreen graphic shows the rising number of cases. 'This is their new hoax,' Trump can be heard saying in the ad, which was funded by Priorities USA, a pro-Joe Biden PAC. That quote came from a Trump rally in North Charleston, South Carolina where the president also said 'Now the Democrats are politicizing the coronavirus' before describing various Democratic 'hoaxes' and assuring the crowd that 'our country is doing so great.' Other Trump quotes that appear in the ad: 'We have it totally under control,' 'It's one person coming in from China,' 'One day, it's like a miracle, it will disappear,' 'When you have 15 people, and within a couple of days it's gonna be down to close to zero.' At first, attorneys for America First Action, Trump's official super PAC, were the ones who demanded that TV stations in key battleground states stop airing the anti-Trump commercial, claiming it was deceptive. However, TV stations refused to pull the ad and Priorities USA pointed out that America First Action didn't even have standing to make the demand, RawStory reported. So attorneys for the Donald J. Trump for President campaign sent their own cease-and-desist letter, one that suggested that not removing the ad 'could put your station's license in jeopardy' with the Federal Communications Commission."
The Environmental Protection Agency (E.P.A.), Citing Coronavirus, Drastically Relaxes Rules for Polluters, The New York Times, Lisa Friedman, Thursday, 26 March 2020: "The Environmental Protection Agency on Thursday announced a sweeping relaxation of environmental rules in response to the coronavirus pandemic, allowing power plants, factories and other facilities to determine for themselves if they are able to meet legal requirements on reporting air and water pollution. The move comes amid an influx of requests from businesses for a relaxation of regulations as they face layoffs, personnel restrictions and other problems related to the coronavirus outbreak. Issued by the E.P.A.'s top compliance official, Susan P. Bodine, the policy sets new guidelines for companies to monitor themselves for an undetermined period of time during the outbreak and says that the agency will not issue fines for violations of certain air, water and hazardous-waste-reporting requirements. Companies are normally required to report when their factories discharge certain levels of pollution into the air or water."
In Coronavirus, the Plastics Industry Sees a Chance to Undo Plastic Bag Bans, The New York Times, Hiroko Tabuchi, Thursday, 26 March 2020: "The plastic bag industry, battered by a wave of bans nationwide, is using the coronavirus crisis to try to block laws prohibiting single-use plastic. 'We simply don't want millions of Americans bringing germ-filled reusable bags into retail establishments putting the public and workers at risk,' an industry campaign that goes by the name Bag the Ban warned on Tuesday, quoting a Boston Herald column outlining some of the group's talking points. The Plastics Industry Association is also lobbying to quash plastic bag bans. Last week, it sent a letter to the United States Department of Health and Human Services requesting that the department publicly declare that banning single-use plastics during a pandemic is a health threat."
Dow Rallies 6.4% After Stimulus, The Wall Street Journal, Caitlin McCabe, Anna Hirtenstein, and Chong Koh Ping, Thursday, 26 March 2020: "U.S. stocks soared Thursday as the government came closer to approving a $2 trillion stimulus package to combat the coronavirus pandemic, capping a three-day rally that has pushed the Dow Jones Industrial Average into a bull market…. The Dow industrials are still down 21% for the year, despite climbing 21% in the past three days—the largest three-day percentage gain for the index since 1931. A bull market is typically defined as a 20% gain from a recent low. The stock market isn't a proxy for the economy, which remains battered by the pandemic." See also, US stocks surge despite the worst jobless claims data in history, CNN Business, Thursday, 26 March 2020.
Great Barrier Reef hit by third mass bleaching event in five years, The Sydney Morning Herald, Peter Hannam and Miki Perkins, Thursday, 26 March 2020: "The third mass coral bleaching of the Great Barrier Reef in five years is under way, with central and southern regions more badly affected than in the 2016 and 2017 events. Key tourist sites have been spared. Researchers surveyed more than 845 reefs from the Torres Strait southwards by air as of Wednesday with about 200 more to come in the southern end of the reef region by Friday. Terry Hughes, the director of the ARC Centre of Excellence for Coral Reef Studies who has helped lead the survey, said the scientists had seen enough to declare the bleaching was a major one."
Is 'social distancing' the wrong term? Expert prefers 'physical distancing,' and the World Health Organization agrees. The Washington Post, Rebecca Gale, Thursday, 26 March 2020: "The government, media organizations and meme creators have all embraced the term 'social distancing' when discussing how to stem the coronavirus pandemic. But Daniel Aldrich, a professor of political science and public policy at Northeastern University, is concerned that the term is misleading and that its widespread usage could be counterproductive. The World Health Organization has come to the same conclusion. Last week, it started using the term Aldrich prefers: 'physical distancing.' Aldrich says efforts taken to slow the spread of the coronavirus should encourage strengthening social ties while maintaining that physical distancing. In a tweet, he lauded young people running errands for elderly neighbors for practicing 'social connectedness with physical distance. These social ties are the critical element to getting through disasters,' said Aldrich. As director of the Security and Resilience Program, he researches how communities show resilience under major shocks, such as war, natural disasters and pandemics, focusing on the role of networks and cohesion."
Venezuelan Leader Nicolás Maduro Is Charged in the U.S. With Drug Trafficking, The New York Times, William K. Rashbaum, Benjamin Weiser, and Katie Benner, Thursday, 26 March 2020: "President Nicolás Maduro of Venezuela was indicted in the United States on Thursday in a decades-long narco-terrorism and international cocaine trafficking conspiracy in which, prosecutors said, he led a violent drug cartel even as he ascended to the top of government. The indictment of a putative head of state was highly unusual and a major escalation of the Trump administration's campaign to pressure Mr. Maduro to leave office after his widely disputed re-election in 2018. The State Department also announced a $15 million reward for information leading to the arrest of Mr. Maduro, who has led Venezuela's economy into shambles and prompted an exodus of millions of people.