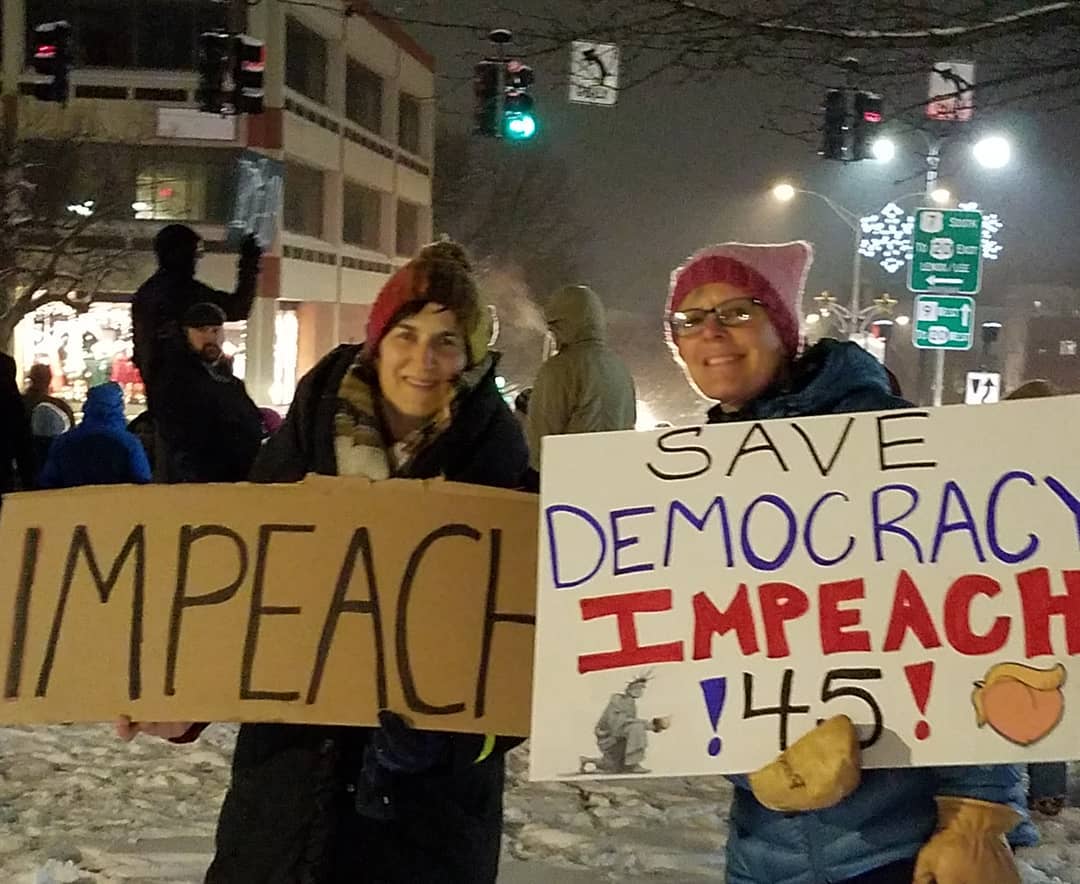 Passages in bold in the body of the texts below are usually my emphasis, though not always. This is an ongoing project, and I update the site frequently during the day. Because I try to stay focused on what has actually happened, I usually let the news 'settle' for a day or so before posting. I hope readers will peruse the articles in full for a better understanding of the issues and their context; our democracy and our future depend on citizens who can distinguish between facts and falsehoods and who are engaged in the political process.
For "a weekly newsletter celebrating people-powered wins against the Trump administration's agenda," visit Small Victories.
For independent global news, visit Democracy Now!
Friday, 27 December 2019, Day 1,072:
Anguish and Anger From the Navy SEALs Who Turned In Edward Gallagher. Video interviews and group texts obtained by The Times show men describing their platoon leader in grim terms. The New York Times, Dave Philipps, Friday, 27 December 2019: "Video recordings of the interviews obtained by The New York Times, which have not been shown publicly before, were part of a trove of Navy investigative materials about the prosecution of Special Operations Chief Edward Gallagher on war crimes charges including murder. They offer the first opportunity outside the courtroom to hear directly from the men of Alpha platoon, SEAL Team 7, whose blistering testimony about their platoon chief was dismissed by President Trump when he upended the military code of justice to protect Chief Gallagher from the punishment. 'The guy is freaking evil,' Special Operator Miller told investigators. 'The guy was toxic,' Special Operator First Class Joshua Vriens, a sniper, said in a separate interview. 'You could tell he was perfectly O.K. with killing anybody that was moving,' Special Operator First Class Corey Scott, a medic in the platoon, told the investigators. Such dire descriptions of Chief Gallagher, who had eight combat deployments and sometimes went by the nickname Blade, are in marked contrast to Mr. Trump's portrayal of him at a recent political rally in Florida as one of 'our great fighters.'… Platoon members said they saw Chief Gallagher shoot civilians and fatally stab a wounded captive with a hunting knife. Chief Gallagher was acquitted by a military jury in July of all but a single relatively minor charge, and was cleared of all punishment in November by Mr. Trump." See also, Four-Star Retired U.S. Army General Barry McCaffrey Slams Trump's Behavior in Navy Seal Controversy: If He Were a General, 'We'd Fire Him,' Newsweek, Jennifer Doherty, published on Saturday, 28 December 2019.
Federal judge to halt latest North Carolina voter ID law, CBS News, Associated Press, Friday, 27 December 2019: "Republican attempts to require photo identification to vote in North Carolina are being thwarted again by judges hearing arguments that the mandate is tainted by bias that would deter black and Latino residents. A federal court announced that next week U.S. District Judge Loretta Biggs will formally block a photo ID requirement scheduled to begin in 2020. Unless the upcoming preliminary injunction is successfully appealed, the requirement will be halted until a lawsuit filed by the state NAACP and others is resolved. Thursday's short written notice from the federal court in Winston-Salem previewed Biggs' order because state election officials were planning to expand efforts to educate voters about the ID law within days. Although the mandate would be carried out beginning with the March 3 primary, the requirement would actually start in just a few weeks with mail-in absentee ballot filers, who also would have to provide an ID copy." See also, Federal Judge Backs Georgia's Purge of Nearly 100,000 Voters, The New York Times, Elisha Brown, Wednesday, 27 December 2019: "A federal judge on Friday backed Georgia's removal of nearly 100,000 names from the state's voter rolls. The decision comes as state officials face accusations of voter suppression, particularly against black and low-income voters. Scrutiny of voting rights in Georgia has been heightened since the governor's race in 2018 brought long lines at polling sites and criticism of outdated voting machines. In the ruling, the judge, Steve C. Jones, said the lead plaintiff, Fair Fight Action, a voting rights advocacy organization, did not prove that the Georgia secretary of state's decision to cancel the voter registration status of inactive voters violated the United States Constitution." See also, Federal judge will not reverse Georgia's decision to purge 100,000 voters, The Washington Post, Hannah Knowles, Saturday, 28 December 2019: "Georgia does not have to reinstate almost 100,000 voters removed from its rolls this month, a federal judge ruled Friday, backing the state over activists who said the purge violates people's rights. The decision is a victory for officials who called the removals routine and a blow to voting rights advocates who worry that such purges will disenfranchise Democratic-leaning low-income voters, young people and people of color. Georgia's recent removal of more than 300,000 voters has launched a fight over registrations in a state where last year's tight race for governor led to allegations of voter suppression and an investigation in Congress. A group founded by Democrat Stacey Abrams, who lost the gubernatorial race, has sought to undo much of the latest purge, which came days after a judge backed cutting as many as 234,000 voters in Wisconsin, another state that will be closely watched in 2020. Abrams's group, Fair Fight Action, argues that 98,000 voters who were cut should have stayed on the rolls for longer under a change this year to state law that extends the process leading up to a voter's removal. It also contends that Georgia has violated the Constitution by removing voters over-zealously for inactivity, echoing others around the country concerned by 'use it or lose it' policies."
Congress Wants to Force Trump's Hand on Human Rights in China and Beyond, The New York Times, Edward Wong and Catie Edmondson, Friday, 27 December 2019: "In a rare show of bipartisan unity, Republicans and Democrats are planning to try to force President Trump to take a more active stand on human rights in China, preparing veto-proof legislation that would punish top Chinese officials for detaining more than one million Muslims in internment camps. The effort comes amid growing congressional frustration with Mr. Trump's unwillingness to challenge China over human rights abuses, despite vivid news reports this year outlining atrocities, or to confront such issues globally."
Continue reading Week 154, Friday, 27 December – Thursday, 2 January 2020 (Days 1,072-1,078)
Joe Biden Says He'd Defy Subpoena to Testify in Trump's Senate Trial, The New York Times, Thomas Kaplan, Friday, 27 December 2019: "Returning to the campaign trail after Christmas, former Vice President Joseph R. Biden Jr. on Friday stood by his comments that he would not comply with a subpoena to testify at President Trump's impeachment trial in the Senate. In a meeting with the editorial board of The Des Moines Register, whose endorsement in the Iowa caucuses is coveted by presidential hopefuls, Mr. Biden argued that complying with a subpoena and testifying would essentially allow Mr. Trump to succeed in shifting attention onto Mr. Biden and away from the president's own actions." Update: Biden, Reversing Position, Says He Would Comply With Impeachment Subpoena, The New York Times, Thomas Kaplan, published on Saturday, 28 December 2019: "Joseph R. Biden Jr. backtracked on Saturday from his stated position that he would not comply with a subpoena to testify in President Trump's impeachment trial in the Senate. Instead, he declared that he would abide by 'any subpoena that was sent to me' even as he insisted there was no justification for calling him as a witness. A day after reaffirming that he would not comply with a subpoena, Mr. Biden tried twice on Saturday to clarify his remarks, asserting that there would be no 'legal basis' for such a subpoena but left it unclear, for much of the day, if he would ultimately comply with one. Then, questioned by a voter about the issue of compliance with subpoenas, Mr. Biden answered unequivocally. 'I would obey any subpoena that was sent to me,' he said at a town hall-style event in Fairfield. Mr. Biden's 180-degree turn on whether he would comply with a subpoena was one of the starkest and swiftest reversals by a candidate in the Democratic primary campaign, and came after he faced questions and criticism about whether his initial stand would run counter to the rule of law."
The Star Power of Jane Fonda's Climate-Change Arrests, The New Yorker, Barbara Demick, Friday, 27 December 2019: "On December 21st, Jane Fonda turned eighty-two, and it might have been her best birthday yet. Since October, Fonda has been getting herself and her celebrity pals arrested as part of an ongoing campaign to raise awareness of climate change, through acts of civil disobedience. Last Friday, on the eve of her birthday, she vowed to mark her advancing age by bringing eighty-two people along to get arrested with her. In fact, she exceeded expectations, and a hundred and thirty-eight people were arrested in total."
Interior Department Cut 'Sexual Orientation' From Anti-Discrimination Guideline, HuffPost, Chris D'Angelo, Friday, 27 December 2019: "President Donald Trump's Interior Department removed 'sexual orientation' from a statement in the agency's ethics guide regarding workplace discrimination. 'You shall adhere to all laws and regulations that provide equal opportunities for all Americans regardless of race, color, religion, sex, age, or handicap,' reads one of 14 principles of ethical behavior in the agency's 2017 guidelines. The 2009 version President Barack Obama's Interior Department issued included the categories 'race, color, religion, gender, sexual orientation, age, or disability.'" See also, Trump trend: Mentions of 'sexual orientation' and 'gender identity' are quietly but systematically removed from executive branch guidelines on discrimination, NBC News, Tim Fitzsimons, published on Tuesday, 31 December 2019: "With just over a year left in President Donald Trump's first term, another late-breaking news item barely made waves: The Interior Department — which manages the majority of the federal government's public lands — deleted 'sexual orientation' from its anti-discrimination guidelines, as HuffPost first reported last week. The removal was just the latest in a nearly three-year-long effort to strip mention of LGBTQ people from the executive branch bureaucracy. Reports of such changes began the day Trump assumed office, when LGBTQ content was deleted from the White House, State Department and Labor Department websites within 'minutes' of his having been sworn into office, according to GLAAD, a national LGBTQ advocacy group. Since then, drip by drip, other parts of the federal government have had their online content trimmed to omit mention of lesbian, gay, bisexual, transgender and queer people."
Saturday, 28 December 2019, Day 1,073:
Science Under Attack: How Trump Is Sidelining Researchers and Their Work, The New York Times, Brad Plumer and Coral Davenport, Saturday, 28 December 2019: "In just three years, the Trump administration has diminished the role of science in federal policymaking while halting or disrupting research projects nationwide, marking a transformation of the federal government whose effects, experts say, could reverberate for years. Political appointees have shut down government studies, reduced the influence of scientists over regulatory decisions and in some cases pressured researchers not to speak publicly. The administration has particularly challenged scientific findings related to the environment and public health opposed by industries such as oil drilling and coal mining. It has also impeded research around human-caused climate change, which President Trump has dismissed despite a global scientific consensus. But the erosion of science reaches well beyond the environment and climate: In San Francisco, a study of the effects of chemicals on pregnant women has stalled after federal funding abruptly ended. In Washington, D.C., a scientific committee that provided expertise in defending against invasive insects has been disbanded. In Kansas City, Mo., the hasty relocation of two agricultural agencies that fund crop science and study the economics of farming has led to an exodus of employees and delayed hundreds of millions of dollars in research. 'The disregard for expertise in the federal government is worse than it's ever been,' said Michael Gerrard, director of the Sabin Center for Climate Change Law at Columbia University, which has tracked more than 200 reports of Trump administration efforts to restrict or misuse science since 2017. 'It's pervasive.'"
Trump attacks whistleblower in tweetstorm full of rants and conspiracies, CNN Politics, Brian Stelter, Saturday, 28 December 2019: "President Donald Trump retweeted an attack that included an unsubstantiated name of the intelligence community whistleblower at the heart of the Ukraine scandal as part of a series of rants and conspiratorial posts Friday night. On Saturday morning, the retweeted message was no longer visible to some Twitter users. It appeared, for most of the day, that Trump or someone with access to his account had removed the controversial retweet. Most of Friday night's other reposts, including pro-Trump and anti-Democrat memes from suspicious-looking Twitter accounts, also appeared to be missing…. It turned out that a Twitter glitch was hiding those retweets and lots of others…. Of all the posts in Trump's Friday night tweetstorm, his whistleblower-related post was the most noteworthy because nearly every public official involved in the impeachment inquiry agreed that the identity of the original complainant should be protected. Trump has shared more than 100 posts about the whistleblower since September, almost entirely critical, but until this week he had refrained from sharing any content directly pointing to a person's name." See also, Trump retweets a post naming the alleged whistleblower, The Washington Post, Colby Itkowitz, Saturday, 28 December 2019: "President Trump retweeted a post naming the alleged whistleblower who filed the complaint that became the catalyst for the congressional inquiry that resulted in his impeachment by the House of Representatives. On Friday night, Trump shared a Twitter post from @surfermom77, who describes herself as '100% Trump supporter,' with his 68 million followers. That tweet prominently named the alleged whistleblower and suggested that he had committed perjury."
Federal Reserve study released this week finds Trump tariffs backfired and led to job losses and higher prices for the U.S. manufacturing sector, MarketWatch, Saturday, 28 December 2019: "Donald Trump's strategy to use import tariffs to protect and boost U.S. manufacturers backfired and led to job losses and higher prices, according to a Federal Reserve study released this week. 'We find that the 2018 tariffs are associated with relative reductions in manufacturing employment and relative increases in producer prices,' concluded Fed economists Aaron Flaaen and Justin Pierce, in an academic paper. While the tariffs did reduce competition for some industries in the domestic U.S. market, this was more than offset by the effects of rising input costs and retaliatory tariffs, the study found."
Sunday, 29 December 2019, Day 1,074:
Behind the Ukraine Military Aid Freeze: 84 Days of Conflict and Confusion. The inside story of Trump's demand to halt military assistance to an ally shows the price he was willing to pay to carry out his agenda. The New York Times, Eric Lipton, Maggie Haberman, and Mark Mazzetti, Sunday, 29 December 2019: "Deep into a long flight to Japan aboard Air Force One with President Trump, Mick Mulvaney, the acting White House chief of staff, dashed off an email to an aide back in Washington. 'I'm just trying to tie up some loose ends,' Mr. Mulvaney wrote. 'Did we ever find out about the money for Ukraine and whether we can hold it back?' It was June 27, more than a week after Mr. Trump had first asked about putting a hold on security aid to Ukraine, an embattled American ally, and Mr. Mulvaney needed an answer. The aide, Robert B. Blair, replied that it would be possible, but not pretty. 'Expect Congress to become unhinged' if the White House tried to countermand spending passed by the House and Senate, he wrote in a previously undisclosed email. And, he wrote, it might further fuel the narrative that Mr. Trump was pro-Russia…. One campaign, spearheaded by Rudolph W. Giuliani, the president's personal lawyer, aimed to force Ukraine to conduct investigations that could help Mr. Trump politically, including one focused on a potential Democratic 2020 rival, former Vice President Joseph R. Biden Jr. The other, which unfolded nearly simultaneously but has gotten less attention, was the president's demand to withhold the security assistance. By late summer, the two efforts merged as American diplomats used the withheld aid as leverage in the effort to win a public commitment from the new Ukrainian president, Volodymyr Zelensky, to carry out the investigations Mr. Trump sought into Mr. Biden and unfounded or overblown theories about Ukraine interfering in the 2016 election. Interviews with dozens of current and former administration officials, congressional aides and others, previously undisclosed emails and documents, and a close reading of thousands of pages of impeachment testimony provide the most complete account yet of the 84 days from when Mr. Trump first inquired about the money to his decision in September to relent. What emerges is the story of how Mr. Trump's demands sent shock waves through the White House and the Pentagon, created deep rifts within the senior ranks of his administration, left key aides like Mr. Mulvaney under intensifying scrutiny — and ended only after Mr. Trump learned of a damning whistle-blower report and came under pressure from influential Republican lawmakers." See also, New York Times: White House predicted congressional pushback for withholding military aid to Ukraine, CNN Politics, Maegan Vazquez, published on Monday, 30 December 2019.
John Lewis, Georgia Congressman and Civil Rights Icon, Has Pancreatic Cancer, The New York Times, Emily Cochrane, Sunday, 29 December 2019: "Representative John Lewis, Democrat of Georgia and an icon of the civil rights movement, announced on Sunday that he had advanced pancreatic cancer, but planned to return to Washington to continue work and begin treatment. 'I have been in some kind of fight — for freedom, equality, basic human rights — for nearly my entire life,' Mr. Lewis, 79, said in a statement. 'I have never faced a fight quite like the one I have now.' Survival rates for pancreatic cancer are grim, and Mr. Lewis said his cancer was Stage 4, the most advanced. Mr. Lewis said that while he was 'cleareyed about the prognosis,' doctors had told him that advances in medical treatment would help give him 'a fighting chance.'" See also, Civil rights icon Representative John Lewis says he is receiving treatment for Stage 4 pancreatic cancer, The Washington Post, Marisa Iati, Sunday, 29 December 2019: "Rep. John Lewis, a civil rights icon known for promoting voting rights, announced Sunday that he has Stage 4 pancreatic cancer and vowed to fight it as he has fought for racial equality and other human rights throughout his life. Lewis (D-Ga.), who has served in Congress since 1987, said doctors detected the disease this month during a routine medical visit and subsequent tests. He said he later received confirmation of the diagnosis."
U.S. Launches Airstrikes on Iranian-Backed Forces in Iraq and Syria, The New York Times, Julian E. Barnes, Sunday, 29 December 2019: "The United States military on Sunday struck five targets in Iraq and Syria controlled by an Iranian-backed paramilitary group, the Pentagon said, a reprisal for a rocket attack on Friday that killed an American contractor. The airstrikes, carried out by Air Force F-15E fighter planes, hit three locations in Iraq and two in Syria controlled by the group, Kataib Hezbollah. Jonathan Hoffman, the chief Pentagon spokesman, said the targets included weapons storage facilities and command posts that were used to attack American and partner forces. A United States response to an attack that kills or wounds Americans is not unusual. But Sunday's retaliation involved direct strikes on Iranian proxies, making it particularly dangerous ground. Since the United States military returned to Iraq in 2014, Iranian-backed forces and American forces have refrained from attacking each other because of a common enemy: the Islamic State. But ISIS has lost its territory, and tensions have risen between Tehran and Washington over the Trump administration's 'maximum pressure' campaign." See also, Trump Aides Call U.S Strikes on Iraq and Syria 'Successful,' and Warn of Potential Further Action, The New York Times/Reuters, Sunday, 29 December 2019: "U.S. officials said on Sunday that air strikes in Iraq and Syria against an Iran-backed militia group were successful, but warned that "additional actions" may still be taken in the region to defend U.S. interests."
Monday, 30 December 2019, Day 1,075:
How Big Companies Won New Tax Breaks From the Trump Administration, The New York Times, Jesse Drucker and Jim Tankersley, Monday, 30 December 2019: "The overhaul of the federal tax law in 2017 was the signature legislative achievement of Donald J. Trump's presidency. The biggest change to the tax code in three decades, the law slashed taxes for big companies, part of an effort to coax them to invest more in the United States and to discourage them from stashing profits in overseas tax havens. Corporate executives, major investors and the wealthiest Americans hailed the tax cuts as a once-in-a-generation boon not only to their own fortunes but also to the United States economy. But big companies wanted more — and, not long after the bill became law in December 2017, the Trump administration began transforming the tax package into a greater windfall for the world's largest corporations and their shareholders. The tax bills of many big companies have ended up even smaller than what was anticipated when the president signed the bill. One consequence is that the federal government may collect hundreds of billions of dollars less over the coming decade than previously projected. The budget deficit has jumped more than 50 percent since Mr. Trump took office and is expected to top $1 trillion in 2020, partly as a result of the tax law." See also, Why the Impact of the Trump Taxes Remains Partly Hidden, The New York Times, Peter Eavis, Monday, 30 December 2019: "Armed with legions of lobbyists, companies have been pushing hard — and successfully — to weaken new federal taxes that take aim at overseas tax havens. Many of them have managed to avoid publicly disclosing how much they owe under the new taxes. Without such figures, it becomes virtually impossible for outsiders to work out how much companies are saving from the watered down tax rules. In theory, this opacity should not exist. United States securities regulations have long required public companies to disclose even relatively minor tax expenses. Over the past year, this requirement has led to a small number of companies revealing the effect of the new taxes on overseas income. Yet many others — including some longtime users of tax havens — appear to have found ways around disclosing how the overseas taxes will affect them."
Protesters Attack U.S. Embassy in Iraq, Chanting 'Death to America,' The New York Times, Falih Hassan, Ben Hubbard, and Alissa J. Rubin, Tuesday, 31 December 2019: "Protesters broke into the heavily guarded compound of the United States Embassy in Baghdad on Tuesday and set fires inside in anger over American airstrikes that killed 24 members of an Iranian-backed militia over the weekend. The men did not enter the main embassy buildings and later withdrew from the compound, joining thousands of protesters and militia fighters outside chanting 'Death to America,' throwing rocks, covering the walls with graffiti and demanding that the United States withdraw its forces from Iraq."
Trump's lawyer and the Venezuelan president: How Giuliani got involved in back-channel talks with Maduro, The Washington Post, Rosalind S. Helderman, Tom Hamburger, Anthony Faiola, and Josh Dawsey, Monday, 30 December 2019: "The international call came in September 2018, after months of rising tension between the United States and Venezuela, a key strategic player in South America. On one end of the line was Venezuela's socialist president, the pariah leader of a disintegrating economy whom President Trump's administration was seeking to isolate. On the other end: the U.S. president's personal attorney Rudolph W. Giuliani and then-Rep. Pete Sessions (R-Tex.). Both were part of a shadow diplomatic effort, backed in part by private interests, aimed at engineering a negotiated exit to ease President Nicolás Maduro from power and reopen resource-rich Venezuela to business, according to people familiar with the endeavor."
Senate Minority Leader Chuck Schumer Demands Witnesses Be Called at Senate Impeachment Trial, The New York Times, Eric Lipton and Maggie Haberman, Monday, 30 December 2019: "The Senate trial of President Trump must include witnesses and documents that answer new questions that have emerged about the roles top White House aides played in blocking the release of $391 million in military aid for Ukraine, Senator Chuck Schumer said Monday. The comments by Mr. Schumer of New York, the Democratic leader, came in response to an article published Sunday by The New York Times. It detailed how a number of White House advisers — including the acting chief of staff, Mick Mulvaney — dealt with Mr. Trump's order to freeze military aid that was approved by Congress for Ukraine as it fights a war against Russia-backed separatists. 'Simply put: In our fight to have key documents and witnesses in a Senate impeachment trial, these new revelations are a game changer,' Mr. Schumer said Monday at a news conference in New York. Mr. Schumer said Senator Mitch McConnell, Republican of Kentucky and the majority leader, must allow the Senate to get more information about the roles played by Mr. Mulvaney and a second White House aide, Robert B. Blair, in blocking the aid, as well as insight into the effort by members of Mr. Trump's national security team in trying to get the hold lifted."
U.S. Airstrikes Rally Iraqis Against the U.S. Iraqi leaders say the United States violated Iraqi sovereignty with attacks that killed 24 people in retaliation for the death of a U.S. contractor. The New York Times, Alissa J. Rubin and Ben Hubbard, Monday, 30 December 2019: "Iraq has been caught for years in a tug of war between its two most powerful patrons, the United States and Iran. In recent months, public opinion began to tilt against Iran, with street protests demanding an end to Tehran's pervasive influence. But American airstrikes that killed two dozen members of an Iranian-backed militia over the weekend have now made Washington the focus of public hostility, reducing the heat on Tehran and its proxies. Iraqi leaders accused the United States on Monday of violating Iraq's sovereignty and expressed fear that increasing tensions between the United States and Iran could escalate into a proxy war on Iraqi soil."
Ken Cuccinelli, the Acting Director of United States Citizenship and Immigration Services, Tweets and Then Deletes Accusation Against the Suspect in the Monsey, N.Y., Stabbings, The New York Times, Zolan Kanno-Youngs, Monday, 30 December 2019: "Kenneth T. Cuccinelli II, a top immigration official for the Trump administration, faced blowback on Monday after saying the man accused of stabbing five Orthodox Jews in New York was the son of an 'illegal alien' and came from a family lacking 'American values.'… David Lapan, a former [Department of Homeland Security] spokesman in the Trump administration, accused Mr. Cuccinelli of 'fear-mongering' and sending a political message to Stephen Miller, the architect of hard-line immigration policies at the White House. 'I see no relevance at all, especially today at this early stage, and that's what's really distasteful,' Mr. Lapan said. 'Inside 48 hours of this horrific incident happening he's already trying to leverage it for his own and Stephen Miller's own agenda on immigration.'… Mr. Cuccinelli has been one of Mr. Trump's most outspoken defenders on immigration and has been at the forefront of some of the president's aggressive efforts to restrict migration to the United States." See also, Department of Homeland Security's Ken Cuccinelli Faces Backlash Over Deleted Tweet About the Suspect in Hanukkah Stabbing, NPR, Bobby Allyn, published on Tuesday, 31 December 2019.
Joe Biden says he would consider a Republican for his running mate, CNN Politics, Arlette Saenz and Sarah Mucha, Monday, 30 December 2019: "Joe Biden told voters in New Hampshire on Monday that he would consider choosing a Republican as a running mate, but added, 'I can't think of one right now.' Biden discussed the possibility after a woman told the former vice president that if he is the nominee, he will 'have to pull out all the stops. Our 21-year-old son said the other night, "I wonder if Joe Biden would consider choosing a Republican as a running mate," the woman added. 'The answer is I would, but I can't think of one now,' Biden replied. 'Let me explain that. You know there's some really decent Republicans that are out there still, but here's the problem right now … they've got to step up.'" See also, A Biden-Republican Ticket? He's Open to It, but He Doesn't See Options, The New York Times, Thomas Kaplan, Monday, 30 December 2019.
Tuesday, 31 December 2019, Day 1,076:
Thousands Flee to Shore as Australia Fires Turn Skies Blood Red, The New York Times, Isabella Kwai, Tuesday, 31 December 2019: "As the fire stalked the east coast of Australia on Tuesday, the daytime sky turned inky black, then blood red. Emergency sirens wailed, followed by the thunder of gas explosions. Thousands of residents fled their homes and huddled near the shore. There was nowhere else to go. Apocalyptic scenes like these in Mallacoota, a vacation destination between Sydney and Melbourne, came on the last day of the warmest decade on record in Australia…. The devastation is immense. In the state of New South Wales, which includes Sydney, more than 900 homes have been destroyed and nine million acres have burned since November. Almost 100 fires were still raging in the state on Tuesday, with about three dozen more across the border in Victoria. At least 15 people have died, with eight deaths confirmed on Monday and Tuesday…. Polls show a large majority of Australians view climate change as an urgent threat and want stronger government action to combat it. The catastrophic fire conditions have put an intense focus on the Australian government's failure to reduce emissions of carbon dioxide, which traps heat when released into the atmosphere and contributes to global warming. Prime Minister Scott Morrison, a conservative, has made it clear that Australia's economic prosperity comes first. Even as his country burned, he has said repeatedly that it is not the time to discuss climate policy."
Impeachment Trial Looming, Chief Justice John Roberts Reflects on Judicial Independence, The New York Times, Adam Liptak, Tuesday, 31 December 2019: "As Chief Justice John G. Roberts Jr. prepares to preside over the impeachment trial of President Trump, he issued pointed remarks on Tuesday in his year-end report on the state of the federal judiciary that seemed to be addressed, at least in part, to the president himself. The two men have a history of friction, and Chief Justice Roberts used the normally mild report to denounce false information spread on social media and to warn against mob rule. Some passages could be read as a mission statement for the chief justice's plans for the impeachment trial itself. 'We should reflect on our duty to judge without fear or favor, deciding each matter with humility, integrity and dispatch,' he wrote in the report. 'As the new year begins, and we turn to the tasks before us, we should each resolve to do our best to maintain the public's trust that we are faithfully discharging our solemn obligation to equal justice under law.'" See also, Chief Justice John Roberts says judges should lead the way on civics, but he doesn't mention the possibility of televising the Supreme Court's oral arguments or streaming audio from the sessions, The Washington Post, Robert Barnes, Tuesday, 31 December 2019: "Chief Justice John G. Roberts Jr. said Tuesday that federal judges have an important role in promoting civic education and explaining government in an age 'when social media can instantly spread rumor and false information on a grand scale. We have come to take democracy for granted, and civic education has fallen by the wayside,' Roberts wrote in his annual Year-End Report on the Federal Judiciary, adding that federal judges have 'an important role to play.' But in listing ways the judiciary has reached out to the public, Roberts did not mention one possibility urged by many members of Congress and overwhelmingly supported by Americans: televising the Supreme Court's oral arguments or streaming audio from the sessions." See also, Chief Justice John Roberts says Americans have come to 'take democracy for granted,' CNN Politics, Ariane de Vogue, Tuesday, 31 December 2019.
Republican Susan Collins says she is 'open to witnesses' in Senate impeachment trial, CNN Politics, Clare Foran, Tuesday, 31 December 2019: "Republican Sen. Susan Collins said Monday that she is 'open to witnesses' in an upcoming Senate impeachment trial, but said it is 'premature to decide who' might be called. 'I am open to witnesses. I think it's premature to decide who should be called until we see the evidence that is presented and get the answers to the questions that we senators can submit through the Chief Justice to both sides,' Collins, a moderate Republican from Maine who will be closely watched as a potential swing vote during the trial, said during an interview with Maine Public Radio." See also, Republican Senator Susan Collins Says She's Open to Witnesses in Impeachment Trial, But 'It's Premature to Decide Who,' Maine Public Radio, Mal Leary, Tuesday, 31 December 2019. See also, Susan Collins Becomes Second Republican Senator to Question Senate Majority Leader Mitch McConnell Over Impeachment Trial, The Wall Street Journal, Siobhan Hughes, Tuesday, 31 December 2019: "Maine Sen. Susan Collins has become the second Republican to question the Senate Majority Leader Mitch McConnell's approach to the impeachment trial of President Trump, underscoring how a few GOP defections could upset Mr. McConnell's control of the highly charged proceedings. In an interview with Maine Public Radio, Ms. Collins said she was 'open to witnesses' while the Republican leader from Kentucky wants a quick trial without witnesses. Ms. Collins also criticized Mr. McConnell for saying that he was coordinating with the White House as it defends Mr. Trump against House-approved charges that he should be removed from office for abusing his power and obstructing Congress. 'I've heard the Senate majority leader saying that he's taking his cues from the White House,' Ms. Collins said in the Monday interview. 'There are senators on both sides of the aisle, who, to me, are not giving the appearance of and the reality of judging this in an impartial way.' The comments came days after Sen. Lisa Murkowski (R., Alaska) said she was disturbed by Mr. McConnell's promise of total coordination with the White House." See also, Republican Senator Susan Collins of Maine Is the Second Senate Republican to Question the Impartiality of Impeachment Trial, The New York Times, Emily Cochrane, Tuesday, 31 December 2019: "Senator Susan Collins, Republican of Maine, criticized some of her Senate colleagues, including the majority leader, for appearing to 'prejudge the evidence' in impeachment proceedings against President Trump, becoming the second Republican senator to question Senator Mitch McConnell's pledge to coordinate with the White House. Impeachment rules require a simple majority vote, meaning Mr. McConnell, Republican of Kentucky, can afford to lose only four members of his conference if he is to set the parameters of a trial. Senator Lisa Murkowski, Republican of Alaska and another moderate with an independent streak, said last week that she was 'disturbed' by Mr. McConnell's promise to work with the White House counsel to set the terms of the trial."
Trump Organization fires more undocumented workers–a year after its use of illegal labor was revealed, The Washington Post, Joshua Partlow and David A. Fahrenthold, Tuesday, 31 December 2019: "Nearly a year after the Trump Organization pledged to root out undocumented workers at its properties, supervisors at the Trump Winery on Monday summoned at least seven employees and fired them because of their lack of legal immigration status, according to two of the dismissed workers. The timing of the firings at the rural Virginia winery, 11 months after the company began purging the ranks of undocumented greenskeepers and cooks at Trump golf courses, came during the vineyard's winter downtime. Workers had finished the arduous annual grape harvest, which involved working 60-hour weeks and overnight shifts under floodlights."
Science Panel Staffed With Trump Appointees Says Environmental Protection Agency Rollbacks Lack Scientific Rigor, The New York Times, Coral Davenport and Lisa Friedman, Tuesday, 31 December 2019: "A top panel of government-appointed scientists, many of them hand-selected by the Trump administration, said on Tuesday that three of President Trump's most far-reaching and scrutinized proposals to weaken major environmental regulations are at odds with established science. Draft letters posted online Tuesday by the Environmental Protection Agency's Scientific Advisory Board, which is responsible for evaluating the scientific integrity of the agency's regulations, took aim at the Trump administration's rewrite of an Obama-era regulation of waterways, an Obama-era effort to curb planet-warming vehicle tailpipe emissions and a plan to limit scientific data that can be used to draft health regulations. In each case, the 41 scientists on a board — many of whom were appointed by Trump administration officials to replace scientists named by the Obama administration — found the regulatory changes flew in the face of science."
West Virginia governor says all the correctional cadets pictured giving a Nazi salute will be fired, CNN, Scottie Andrew and Carma Hassan, Tuesday, 31 December 2019: "All of the West Virginia correctional cadets seen apparently giving a Nazi salute will be fired, West Virginia Gov. Jim Justice announced. The image, discovered in early December, shows the members of the West Virginia Division of Corrections and Rehabilitation Basic Training Class 18 with one arm raised. The text above reads 'HAIL BYRD!' in a reference to a training instructor for the class, according to the state Department of Military Affairs and Public Safety. The governor condemned the training group's behavior in a statement on Monday. 'We have a lot of good people in the Department of Military Affairs and Public Safety,' Justice said. 'But this incident was completely unacceptable. Now, we must continue to move forward and work diligently to make sure nothing like this happens ever again.'" See also, West Virginia Will Fire Corrections Cadets for Doing Nazi Salute, The New York Times, Jacey Fortin, Tuesday, 31 December 2019: "About 30 correctional officer trainees in West Virginia will be terminated after a photograph captured them raising their hands in what appeared to be a Nazi salute, according to Gov. Jim Justice, who said in a statement that he had approved a recommendation to fire the trainees. The statement on Monday followed an investigation into the episode, which found that the trainees had made the gesture multiple times in the classroom and that an instructor had told students to make the gesture in the photograph."
Elizabeth Warren Urges Democrats to 'Imagine' a Better America. She Restates Her Case Against Corruption While Projecting Optimism Heading Into 2020. The New York Times, Shane Goldmacher, Tuesday, 31 December 2019: "Marking a year since she began her campaign for president and seeking to frame the final five-week sprint to Iowa where much of her candidacy hinges, Senator Elizabeth Warren urged her supporters to 'imagine that something better lies on the other side of the chaos and ugliness of the last three years' in a major speech on Tuesday. Ms. Warren, who surged to the front of the Democratic field in early fall but has since receded, warned her party against 'thinking small' in 2020 as she pitched her sweeping agenda. 'Americans do big things,' she said. 'That's who we are.'"
Nils Melzer, the United Nations special rapporteur on torture, accuses the US of torturing Chelsea Manning, The Guardian, Edward Helmore, Tuesday, 31 December 2019: "A top United Nations official has accused the US government of using torture against Chelsea Manning, the former army intelligence analyst currently jailed in the US over her refusal to testify against WikiLeaks. Nils Melzer, the UN special rapporteur on torture, made the charge in a letter sent in November but only released on Tuesday. In the missive, Melzer says Manning is being subjected to 'an open-ended, progressively severe measure of coercion fulfilling all the constitutive elements of torture or other cruel, inhuman or degrading treatment or punishment.'"
Judge Orders Alex Jones and Infowars to Pay $100,000 in Sandy Hook Legal Fees, The New York Times, Neil Vigdor, Tuesday, 31 December 2019: "A Texas judge has ordered the Infowars founder Alex Jones to pay $100,000 in legal fees in a defamation case brought against him by the father of a Sandy Hook school shooting victim, the latest court setback for the conspiracy theorist."
Wednesday, 1 January 2020, Day 1,077:
Pro-Iranian Protesters End Siege of U.S. Embassy in Baghdad. Iran's ability to deploy militias to attack the U.S. Embassy, with Iraqi support, made clear how much power it wields in Iraq. The New York Times, Falih Hassan and Alissa J. Rubin, Wednesday, 1 January 2020: "After a second day of tense protests at the American Embassy in Baghdad, thousands of pro-Iranian demonstrators dispersed on Wednesday, ending a siege that had trapped American diplomats in the embassy compound overnight and winding down a potentially explosive crisis for the Trump administration. The demonstrators had swarmed outside the embassy, chanting "Death to America!" Some tried to scale the compound's walls, and others clambered onto the roof of the reception building they had burned the day before."
Thursday, 2 January 2020, Day 1,078:
U.S. Strike in Iraq Kills Qassim Suleimani, Commander of Iranian Forces, The New York Times, Michael Crowley, Falih Hassan, and Eric Schmitt, Thursday, 2 January 2020: "Iran's top security and intelligence commander was killed early Friday in a drone strike at Baghdad International Airport that was authorized by President Trump, American officials said. The commander, Maj. Gen. Qassim Suleimani, who led the powerful Quds Force of the Islamic Revolutionary Guards Corps, was killed along with several officials from Iraqi militias backed by Tehran when an American MQ-9 Reaper drone fired missiles into a convoy that was leaving the airport. General Suleimani was the architect of nearly every significant operation by Iranian intelligence and military forces over the past two decades, and his death was a staggering blow for Iran at a time of sweeping geopolitical conflict…. In Iran, the leadership convened an emergency security meeting. And the country's supreme leader, Ayatollah Ali Khamenei, issued a statement calling for three days of public mourning and then retaliation." See also, U.S. Strike on Iranian General Divides Congress, The New York Times, Catie Edmondson, Thursday, 2 January 2020. See also, US kills Iran's most powerful general in Baghdad airstrike, Associated Press, Qassim Abdul-Zahra and Zeina Karam, Thursday, 2 January 2020: "The United States killed Iran's top general and the architect of Tehran's proxy wars in the Middle East in an airstrike at Baghdad's international airport early on Friday, an attack that threatens to dramatically ratchet up tensions in the region. The targeted killing of Gen. Qassem Soleimani, the head of Iran's elite Quds Force, could draw forceful Iranian retaliation against American interests in the region and spiral into a far larger conflict between the U.S. and Iran, endangering U.S. troops in Iraq, Syria and beyond." See also, In major escalation, U.S. strike kills top Iranian Commander Qasem Soleimani in Baghdad, The Washington Post, Mustafa Salim, Missy Ryan, Liz Sly, and John Hudson, published on Friday, 3 January 2020. See also, US drone strike ordered by Trump kills top Iranian commander in Baghdad, CNN World, Zachary Cohen, Hamdi Alkhshali, Arwa Damon, and Kareem Khadder, published on Friday, 3 January 2020: "A US drone strike ordered by President Donald Trump on Baghdad airport has killed a top Iranian commander, in a major escalation in regional tensions that have pitted Tehran against Washington and its allies in the Middle East. The Pentagon on Thursday confirmed a strike killed Qasem Soleimani, who as head of the Islamic Revolutionary Guards Corps (IRGC) Quds Force became the architect of Tehran's proxy conflicts in the Middle East. A US defense official told CNN the strike was carried out with a drone." See also for background, The Shadow Commander, Qassem Suleimani, The New Yorker, Dexter Filkins, published on Monday, 23 September 2013.
Exclusive: Unredacted Ukraine Documents Reveal Extent of Pentagon's Legal Concerns, Just Security, Kate Brannen, Thursday, 2 January 2020: "'Clear direction from POTUS to continue to hold.' This is what Michael Duffey, associate director of national security programs at the Office of Management and Budget (OMB), told Elaine McCusker, the acting Pentagon comptroller, in an Aug. 30 email, which has only been made available in redacted form until now. It is one of many documents the Trump administration is trying to keep from the public, despite congressional oversight efforts and court orders in Freedom of Information Act (FOIA) litigation. Earlier in the day on Aug. 30, President Donald Trump met with Defense Secretary Mark Esper and Secretary of State Mike Pompeo to discuss the president's hold on $391 million in military assistance for Ukraine. Inside the Trump administration, panic was reaching fever pitch about the president's funding hold, which had stretched on for two months. Days earlier, POLITICO had broken the story and questions were starting to pile up. U.S. defense contractors were worried about delayed contracts and officials in Kyiv and lawmakers on Capitol Hill wanted to know what on earth was going on. While Trump's national security team thought withholding the money went against U.S. national security interests, Trump still wouldn't budge. Thanks to the testimony of several Trump administration officials, we now know what Trump was waiting on: a commitment from Ukraine to investigate Joe Biden. " See also, Democrats seize on report by Kate Brannen, published by Just Security, to press for key witnesses in Senate impeachment trial, The Washington Post, John Wagner and Felicia Sonmez, Thursday, 2 January 2020: "Democrats on Thursday seized on a new report citing unredacted emails that bolster the case that President Trump was directly involved in withholding military aid to Ukraine as he was seeking investigations that could benefit his reelection bid. House Speaker Nancy Pelosi (D-Calif.) joined Senate Minority Leader Charles E. Schumer (D-N.Y.) in pressing for key witnesses and documents to be included in a Senate impeachment trial of Trump following the report. The report by Kate Brannen, published by Just Security, referenced an email from Michael Duffey, associate director of national security programs at the Office of Management and Budget, to Elaine McCusker, the acting Pentagon comptroller, on Aug. 30, a little more than a month after Trump pressed Ukrainian President Volodymyr Zelensky for investigations during a phone call. In the email, which followed a meeting with Trump that included senior administration officials, Duffey told McCusker, 'Clear direction from POTUS to hold.'" See also, National security site Just Security reports that White House budget official Michael Duffey told the Pentagon that the order to hold Ukraine military aid came from Trump, CNN Politics, Zachary Cohen, Sara Murray, and Ryan Browne, Thursday, 2 January 2020: "In the face of warnings from the Pentagon that the hold on military aid to Ukraine could be illegal, an official from the Office of Management and Budget made it clear that the order to keep the freeze in place came directly from President Donald Trump, according to unredacted documents reviewed by Just Security. The documents, including emails from officials at the Department of Defense and the Office of Management and Budget that were released under court order last month but were either partially or completely blacked out, offer new details about tensions between the two agencies tasked with carrying out Trump's unexplained hold on aid to Ukraine. They also raise serious questions about why the newly revealed contents were redacted by the Trump administration in the first place amid congressional oversight efforts and court orders in Freedom of Information Act litigation…. Among the documents viewed by Just Security, a website focusing on reporting and analysis of national security law and policy, was an August 30 email from Michael Duffey, associate director of national security programs at OMB to Elaine McCusker, the acting Pentagon comptroller, stating the freeze on aid to Ukraine would continue at the explicit direction of the President despite growing legal concerns within the Pentagon and mounting external questions prompted by news of the hold becoming public just days prior."
Robert Mueller's Secret Memos, Part 3: The Documents the Justice Department Didn't Want Congress to See, BuzzFeed News, Jason Leopold, Anthony Cormier, Emma Loop, and Ellie Hall, Thursday, 2 January 2020: "BuzzFeed News has obtained some of the most important and highly sought-after documents from special counsel Robert Mueller's investigation: summaries of FBI interviews with key White House officials. The 356 pages of documents, obtained through a Freedom of Information Act lawsuit, were the subject of a protracted legal dispute between the Justice Department and the House Judiciary Committee, which sought them over the summer as part of its impeachment inquiry. The committee had requested access to an unredacted copy of the Mueller report, grand jury testimony from the investigation, and the FBI's summaries of 33 interviews. Justice Department officials resisted, claiming the impeachment inquiry does not entitle the panel to see those records. A federal judge disagreed, ruling in October that 'DOJ is wrong' and that the White House and the Justice Department were 'openly stonewalling' the committee. In the documents released Thursday, the FBI and Justice Department withheld vast swaths of information under a number of FOIA exemptions — including one that says the disclosure of information would interfere with ongoing investigations. They also withheld information from these records claiming disclosure would threaten national security. [This article covers some of the key takeaways.]" See also, Highlights from the new Mueller FBI investigation documents, CNN Politics, Katelyn Polantz, Kara Scannell, Kevin Liptak, Allison Main, Caroline Kelly, David Shortell, and Evan Perez, Thursday, 2 January 2020: "The Justice Department on Thursday released more than 350 pages of FBI memos from key witness interviews in the special counsel investigation into Russian interference in the 2016 US presidential election, following a Freedom of Information Act lawsuit by CNN and BuzzFeed News. The batch includes memos about what top advisers to President Donald Trump — including Stephen Miller, Sarah Sanders, Rob Porter, Michael Cohen, Paul Manafort and others — told then-special counsel Robert Mueller regarding Russian interference and the President's attempts to obstruct the investigation. The release reflects notable interviews the Justice Department showed the US House of Representatives confidentially at the conclusion of the Mueller investigation." See also, READ: Newly released Mueller investigation FBI memos, CNN Politics, Thursday, 2 January 2020. See also, Paul Manafort Said He Used Fox News Host Sean Hannity to Receive Backchannel Messages from President Trump, Daily Beast, Maxwell Tani, Thursday, 2 January 2020: "Paul Manafort said he used Fox News host Sean Hannity to receive backchannel messages from President Donald Trump while prosecutors investigated him for financial crimes, according to newly released memos from former special counsel Robert Mueller's Russia investigation. Among the several hundred pages of memos published by BuzzFeed News on Thursday, which contain summaries of FBI interviews with key Trump administration and campaign officials, the Fox News anchor's alleged role as an unofficial messenger between the president and his former campaign chairman comes into sharp focus."
More Than 200 Republicans Urge Supreme Court to Weigh Overturning Roe v. Wade, The New York Times, Sheryl Gay Stolberg, Thursday, 2 January 2020: "More than 200 Republican members of Congress on Thursday asked the Supreme Court to consider overturning Roe v. Wade, the landmark 1973 ruling that established a woman's right to an abortion, in a brief urging the justices to uphold a Louisiana law that severely restricts access to the procedure. Roughly 80 percent of the Republicans in Congress — 39 senators and 166 House members — and two centrist House Democrats signed the amicus, or 'friend of the court,' brief in the case of June Medical Services L.L.C. v. Gee. They also asked the justices to consider overturning another landmark abortion ruling in the 1992 case Planned Parenthood v. Casey…. The court is expected to hear the June Medical case this spring, and a ruling is likely in June. At issue is a 2014 Louisiana law, passed but never enacted, that requires doctors performing abortions to have admitting privileges at nearby hospitals. Only one doctor in Louisiana has been able to meet the requirement, challengers of the law say, and they argue that its sole purpose is to make access to abortion more difficult. Proponents contend the law is needed to ensure the health and the safety of women seeking abortions." See also, More than 200 Republican members of Congress urge Supreme Court to reconsider Roe v. Wade abortion rights decision, The Washington Post, Felicia Sonmez, Thursday, 2 January 2020.
Everyday weather is linked to human-caused climate change in new study, The Washington Post, Andrew Freedman, Thursday, 2 January 2020: "For the first time, scientists have detected the 'fingerprint' of human-induced climate change on daily weather patterns at the global scale. If verified by subsequent work, the findings, published Thursday in Nature Climate Change, would upend the long-established narrative that daily weather is distinct from long-term climate change. The study's results also imply that research aimed at assessing the human role in contributing to extreme weather events such as heat waves and floods may be underestimating the contribution. The new study, which was motivated in part by President Trump's tweets about how a cold day in one particular location disproves global warming, uses statistical techniques and climate model simulations to evaluate how daily temperatures and humidity vary around the world. Scientists compared the spatial patterns of these variables with what physical science shows is expected because of climate change. The study concludes that the spatial patterns of global temperature and humidity are, in fact, distinguishable from natural variability, and have a human component to them. Going further, the study concludes that the long-term climate trend in global average temperature can be predicted if you know a single day's weather information worldwide."
Interior Secretary David Bernhardt extends the tenure of William Perry Pendley as effective head of the Bureau of Land Management, without a presidential nomination, The Washington Post, Steven Mufson, Thursday, 2 January 2020: "Interior Secretary David Bernhardt on Tuesday extended the tenure of William Perry Pendley as effective head of the Bureau of Land Management — without a presidential nomination to the post. The administration has left the position of BLM director empty for President Trump's entire presidency. Bernhardt delegated 'all functions, duties, and responsibilities' to Pendley, who has been a stalwart supporter of selling or opening up federal lands to drilling, mining and other commercial use. The move will last until April 3, unless Bernhardt extends it or Trump nominates Pendley or someone else on a permanent basis. Pendley's nomination as the actual head of the BLM would face tough Senate confirmation hearings because of his ultraconservative views."
Julián Castro Ends Presidential Run: "It Simply Isn't Our Time,' The New York Times, Jennifer Median and Matt Stevens, Thursday, 2 January 2020: "Julián Castro, the former housing secretary who was the only Latino candidate in the Democratic primary, said Thursday he would end his bid for the presidency, capping a yearlong campaign where he struggled in polls but remained a policy pacesetter on immigration and fighting poverty. Throughout his campaign, Mr. Castro, 45, a native of San Antonio who spent five years as its mayor, portrayed himself as an unapologetic liberal who was shaped by his humble beginnings and had been overlooked by the press. Though he created some memorable moments as he championed progressive policy and challenged his rivals on the campaign trail, Mr. Castro did not catch on with voters and was unable to break into the upper tier of a crowded primary field. His exit is the latest departure of a candidate of color from a field that began as the most racially diverse ever in a Democratic primary."
With Partial Flavor Ban, Trump Splits the Difference on Vaping, The New York Times, Abby Goodnough, Maggie Haberman, and Sheila Kaplan, Thursday, 2 January 2020: "In September, President Trump, the first lady and two of his top health officials gathered in the Oval Office to announce they would take what Mr. Trump called 'very, very strong' action against the fast-growing epidemic of teenage vaping: a ban on the sale of most flavored e-cigarettes. Groups representing thousands of vape shops around the country quickly mobilized. They created a 'We Vape, We Vote' social media campaign aimed at Mr. Trump, hired a pollster who had worked for the president's election and even ran a television ad in Palm Beach, Fla., where Mr. Trump spent the holidays at his Mar-a-Lago club, featuring voters who urged him not to follow through with the ban. On Thursday, the administration announced a policy that reflected a partial victory for the industry groups, but also seemed aimed at appeasing parents (including the crucial voting bloc of suburban mothers) and public health officials worried about nicotine addiction among teenagers. Federal officials said they would forbid the sale of most flavored e-cigarette cartridges, but would exempt menthol and tobacco flavors, as well as flavored liquid nicotine sold in open tank systems at vape shops."
Ex-Fox News reporter Courtney Friel claims Donald Trump invited her to Trump Tower to 'kiss,' Daily News, Nancy Dillon, Thursday, 2 January 2020: "Former Fox News reporter Courtney Friel says Donald Trump called her with a creepy come-on before he became president — while they were both married. Friel, who sometimes worked as a fill-in host on Trump's beloved 'Fox & Friends,' details the alleged proposition in her upcoming memoir, 'Tonight At 10: Kicking Booze and Breaking News,' due out Tuesday. She says Trump told her she was 'the hottest one at Fox News' and called her office line a few weeks after she mentioned an interest in working as a judge on his Miss USA beauty pageant."