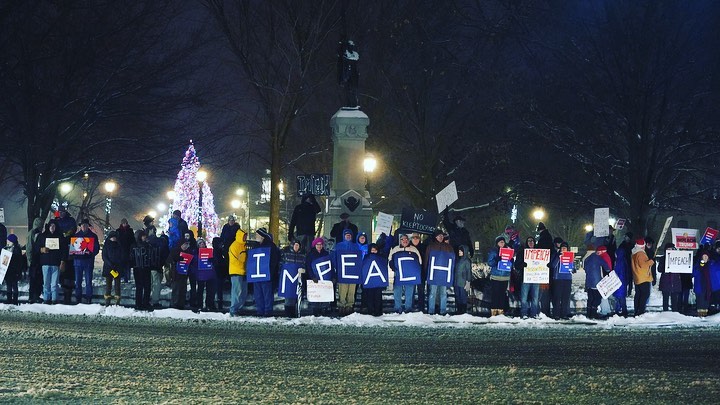 Passages in bold in the body of the texts below are usually my emphasis, though not always. This is an ongoing project, and I update the site frequently during the day. Because I try to stay focused on what has actually happened, I usually let the news 'settle' for a day or so before posting. I hope readers will peruse the articles in full for a better understanding of the issues and their context; our democracy and our future depend on citizens who can distinguish between facts and falsehoods and who are engaged in the political process.
For "a weekly newsletter celebrating people-powered wins against the Trump administration's agenda," visit Small Victories.
For independent global news, visit Democracy Now!
Friday, 20 December 2019, Day 1,056:
Evangelical Leaders Close Ranks With Trump After Scathing Editorial in Christianity Today, The New York Times, Elizabeth Dias and Jeremy W. Peters, Friday, 20 December 2019: "The publication is small, reaching just a fraction of the evangelical movement. But when Christianity Today called for President Trump's removal in a blistering editorial on Thursday, it met the full force and fury of the president and his most prominent allies in the Christian conservative world. If the response seemed disproportionate, it vividly reflected the fact that white evangelicals are the cornerstone of Mr. Trump's political base and their leaders are among his most visible and influential supporters…. Mr. Trump, after being impeached this week, is extremely sensitive to any signs of a fracture in his political coalition and has repeatedly insisted that the Republican Party and its voters are unanimously behind him. And on Friday he lashed out on two separate occasions at Christianity Today, seeking to brand it as a 'far left magazine' that was doing the Democratic Party's bidding." See also, Trump rages at Christian magazine that called him 'grossly immoral,' but he still finds evangelical support, The Washington Post, Josh Dawsey and Sarah Pulliam Bailey, Friday, 20 December 2019: "President Trump, whose reelection campaign is counting on unstinting support from white evangelicals, mounted a fierce attack Friday against a prominent Christian magazine that harshly criticized his behavior, repudiated his actions toward Ukraine and said he should be removed from office. Trump's evangelical supporters rushed to defend him, attempting to portray Christianity Today, which was founded by late famed evangelist the Rev. Billy Graham, as an outlier and not representative of the voters that comprise their movement. But the magazine's unsparing Thursday editorial, which said Trump has a 'grossly immoral character' and should be removed out of 'loyalty to the creator of the Ten Commandments,' clearly rattled the White House and the evangelical leaders who have tied themselves closely to the president…. Beneath the president's angry outbursts lies a fear that, ahead of the 2020 election, Trump could lose some evangelical supporters, who as a group have remained durably bonded to him despite his payments to an adult-film star after allegations of an affair; attacks on war heroes, congressional widows and a teenage climate activist; boasts of sexual assault caught on tape; and the regular use of profanity at rallies from behind the presidential lectern."
Trump administration demanded Democrats strip Ukraine aid language from spending package, The Washington Post, Erica Werneer, Friday, 20 December 2019: "Senior Trump administration officials in recent days threatened a presidential veto that could have led to a government shutdown if House Democrats refused to drop language requiring prompt release of future military aid for Ukraine, according to five administration and congressional officials. The language was ultimately left out of mammoth year-end spending legislation that passed the House and Senate this week ahead of a Saturday shutdown deadline. The White House said President Trump signed the $1.4 trillion package Friday night. The Ukraine provision was one of several items the White House drew a hard line on during negotiations to finalize the spending legislation, according to the officials, who spoke on the condition of anonymity to discuss the developments. It would have required the White House to swiftly release $250 million in defense money for Ukraine that was part of the spending package." See also, Administration Threatened Veto Over Ukraine Aid in Spending Package, The New York Times, Emily Cochrane and Annie Karni, Friday, 20 December 2019.
Top scientists warn of an Amazon 'tipping point,' The Washington Post, Chris Mooney and Brady Dennis, Friday, 20 December 2019: "Deforestation and other fast-moving changes in the Amazon threaten to turn parts of the rainforest into savanna, devastate wildlife and release billions of tons carbon into the atmosphere, two renowned experts warned Friday. 'The precious Amazon is teetering on the edge of functional destruction and, with it, so are we,' Thomas Lovejoy of George Mason University and Carlos Nobre of the University of Sao Paulo in Brazil, both of whom have studied the world's largest rainforest for decades, wrote in an editorial in the journal Science Advances. 'Today, we stand exactly in a moment of destiny: The tipping point is here, it is now.' Combined with recent news that the thawing Arctic permafrost may be beginning to fill the atmosphere with greenhouse gases, and that Greenland's ice sheet is melting at an accelerating pace, it's the latest hint that important parts of the climate system may be moving toward irreversible changes at a pace that defies earlier predictions."
Continue reading Week 153, Friday, 20 December – Thursday, 26 December 2019 (Days 1,065-1,071)
The Trump administration just overturned a ban on old-fashioned lightbulbs, The Washington Post, Juliet Eilperin and Steven Mufson, Friday, 20 December 2019: "The Trump administration gave old-fashioned, incandescent lightbulbs a holiday gift Friday: a new lease on life. The Energy Department made a final determination Friday that it would not impose stricter energy efficiency standards for 'general service' lightbulbs set to take effect Jan. 1, on the grounds that they 'are not economically justified.' The move affects roughly 3 billion — nearly half — of the bulbs in sockets in U.S. homes. Consumer groups estimate that the reversal of tighter standards, which stem from a bipartisan 2007 energy law, would boost energy costs by $14 billion a year and will generate 38 million tons of carbon dioxide annually. The Natural Resources Defense Council said the regulatory rollback could boost consumption by an amount equal to the output of 30 large power plants." See also, Trump Administration Blocks Energy Efficiency Rule for Light Bulbs, The New York Times, John Schwartz, Friday, 20 December 2019: "The Trump administration announced Friday that it would block a rule designed to phase out older incandescent bulbs and require Americans to use energy-efficient light bulbs. In announcing the move, the secretary of energy, Dan Brouillette, who is a former auto lobbyist, said the administration had chosen "to protect consumer choice by ensuring that the American people do not pay the price for unnecessary overregulation from the federal government…. The rule, which would have gone into effect on Jan. 1, was required under a law passed in 2007 during the administration of President George W. Bush. Noah Horowitz, director of the Natural Resources Defense Council's center for energy efficiency standards, assailed the move, saying the administration had 'just thumbed its nose at Congress, America's families and businesses, and the environment.' The group has estimated that the administration's action could cost American consumers an extra $14 billion on annual energy bills."
Trump to Give State of the Union Address on February 4th, The New York Times, Eileen Sullivan, Friday, 20 December 2019: "Speaker Nancy Pelosi invited President Trump to give the State of the Union address on Feb. 4, a sign that business is operating as usual in the nation's capital, even after the House impeached the president two days ago. In a letter to Mr. Trump on Friday, Ms. Pelosi wrote, 'In the spirit of respecting our Constitution, I invite you to deliver your State of the Union address before a joint session of Congress.' The president accepted the invitation, said a White House spokesman, Hogan Gidley. While the invitation is customary, it was notable this year because the president has lobbed insults at Ms. Pelosi in recent days for leading the House to approve two articles of impeachment against Mr. Trump related to his pressure campaign on Ukraine." See also, Pelosi invites Trump to deliver State of the Union, potentially during his Senate trial; Trump lashes out at evangelical magazine Christianity Today, The Washington Post, John Wagner and Colby Itkowitz, Friday, 20 December 2019.
Foreign Intelligence Surveillance Court Orders Review of Actions by Ex-F.B.I. Lawyer Kevin Clinesmith, The New York Times, Charlie Savage, Friday, 20 December 2019: " A secretive court that oversees national security surveillance has taken a step toward addressing dysfunction in the system detailed in a recent inspector general report, ordering the Justice Department to identify all cases that an F.B.I. lawyer [Kevin Clinesmith] heavily criticized in the report has worked on, according to an order made public on Friday. Separately, the court announced that its presiding judge, Rosemary M. Collyer, is stepping down nine weeks earlier than planned for health reasons. Chief Justice John G. Roberts Jr. of the Supreme Court has selected Judge James E. Boasberg to succeed her in that role in the new year. He will be the first judge appointed by a Democrat to lead the Foreign Intelligence Surveillance Court since 1995."
Under secret Stephen Miller plan, ICE to use data on migrant children to expand deportation efforts, The Washington Post, Nick Miroff, Friday, 20 December 2019: "The White House sought this month to embed immigration enforcement agents within the U.S. refugee agency that cares for unaccompanied migrant children, part of a long-standing effort to use information from their parents and relatives to target them for deportation, according to six current and former administration officials. Though senior officials at the Department of Health and Human Services rejected the attempt, they agreed to allow Immigration and Customs Enforcement agents to collect fingerprints and other biometric information from adults seeking to claim migrant children at government shelters. If those adults are deemed ineligible to take custody of children, ICE could then use their information to target them for arrest and deportation. The arrangement appears to circumvent laws that restrict the use of the refu­gee program for deportation enforcement; Congress has made clear that it does not want those who come forward as potential sponsors of minors in U.S. custody to be frightened away by possible deportation. But, in the reasoning of senior Trump administration officials, adults denied custody of children lose their status as 'potential sponsors' and are fair game for arrest."
Facebook says pro-Trump media outlet The Epoch Times used artificial intelligence to create fake people and to push conspiracies, NBC News, Ben Collins, Friday, 20 December 2019: "Facebook took down more than 600 accounts tied to the pro-Trump conspiracy website The Epoch Times for using identities created by artificial intelligence to push stories about a variety of topics including impeachment and elections. The network was called 'The BL' and was run by Vietnamese users posing as Americans, using fake photos generated by algorithms to simulate real identities. The Epoch Media group, which pushes a variety of pro-Trump conspiracy theories, spent $9.5 million on ads to spread content through the now-suspended pages and groups. 'What's new here is that this is purportedly a U.S.-based media company leveraging foreign actors posing as Americans to push political content. We've seen it a lot with state actors in the past,' Facebook's head of security policy, Nathaniel Gleiche, said in an interview. The network had over 55 million followers on Facebook, almost double the following of Kim Kardashian West."
Trump Has a Habit of Quoting His Allies on Twitter Saying Things They Never Said. They Rarely Publicly Correct Him. The New York Times, Annie Karni and Maggie Haberman, Friday, 20 December 2019: "Watching Fox News ahead of Wednesday's impeachment vote, President Trump gave a Twitter call out to one of his most combative allies in the House. In his tweet, Mr. Trump quoted approvingly from what Representative Doug Collins, Republican of Georgia, had said on 'Fox & Friends' about the two impeachment articles passed by the House — that they were the product of Democrats who 'couldn't find any crimes so they did a vague abuse of power and abuse of Congress, which every administration from the beginning has done.' But in fact, Mr. Collins never made the claim that 'abuse of power and abuse of Congress' were common practices of past administrations…. The Wednesday morning post was just the latest example of Mr. Trump, who rails against the 'Fake News,' doing his own kind of editing of comments made by top administration officials and other prominent allies. Mr. Trump has made a habit of injecting his own words into the comments of people he sees on television and then publishing them as direct quotes on Twitter, where he has more than 67 million followers. In some instances, he simply omits a part of the quote he doesn't like."
Sarah Huckabee Sanders Apologizes for Mocking Biden's Remarks on Stuttering, The New York Times, Maria Cramer, Friday, 20 December 2019: "Sarah Huckabee Sanders apologized late Thursday after she mocked comments by former Vice President Joseph R. Biden Jr. during the Democratic presidential debate in which he recounted mentoring a boy who had a speech impediment. Ms. Sanders, the former White House press secretary, made the remarks on Twitter after Mr. Biden, who has been open about his stutter and his struggle with it since he was a child, described his interaction with the boy. 'The little kid who said: I can't talk. What do I do?' Mr. Biden said, speaking haltingly over the 'I' and 'what' for emphasis. Shortly after, Ms. Sanders tweeted, 'I I I I I I I I I I I I I I I hhhave absolutely no idea what Biden is talking about.' The post has since been deleted."
Former Republican Kentucky Governor Matt Bevin pardoned a child rapist because the 9-year-old victim's hymen was intact, The Washington Post, Antonia Noori Farzan, Friday, 20 December 2019: "When the Louisville Courier-Journal revealed earlier this month that former Kentucky governor Matt Bevin (R) had pardoned a slew of violent criminals during his final weeks in office, he cited his belief in second chances. But on Thursday, Bevin offered a different explanation for one particularly controversial pardon: He said he didn't believe that a 9-year-old girl was raped, because her hymen was intact…. Already under fire for handing out pardons to relatives of his supporters, Bevin is now facing an onslaught of criticism from medical and forensic experts. Scientists have debunked the notion that inspecting an alleged victim's hymen can prove whether they were sexually assaulted, and found that most survivors of child sexual abuse do not have any physical damage. George Nichols, an expert in evaluating child abuse who also served as Kentucky's chief medical examiner for 20 years, told the Courier-Journal on Thursday that Bevin 'clearly doesn't know medicine and anatomy.'"
Saturday, 21 December 2019, Day 1,066:
Live Blog: Digging Into the #Ukrainedocs, The Center for Public Integrity, Zachary Fryer-Biggs, Saturday, 21 December 2019: "Late on Dec. 20, the Department of Justice sent a batch of documents to the Center for Public Integrity showing communications between the White House and the Pentagon regarding U.S. military aid to Ukraine. The documents were delivered under court order after Public Integrity won a Freedom of Information Act lawsuit against the Defense Department, seeking details on President Donald Trump's delay of the aid after he pressed Ukraine's prime minister to open investigations on the 2016 presidential election and former Vice President Joe Biden's son, Hunter. As was the case with a similar document dump Dec. 12, large swaths of the 146 pages Public Integrity received were blacked out. Nonetheless, the documents contained nuggets that shed light on the episode that led to Trump's impeachment Dec. 18. Two emails jumped out at us. A June 19 message from a White House Office of Management and Budget official queried the Pentagon's chief financial officer about the aid. 'The President has asked about this,' he wrote, including an article that had appeared that day in the Washington Examiner discussing the funds. That's the first indication of the White House taking a focused interest in military aid to Ukraine. And a July 25 email to the Pentagon from the same official shows how sensitive the issue was and how eager the Trump administration was to hide it from others. The email includes a written instruction that the Pentagon  'please hold off on' distribution of the funds and says that 'given the sensitive nature of the request' the information should be 'closely held.' It went out 91 minutes after the end of the now-infamous call between Trump and Ukraine's prime minister, Vlodymyr Zelensky, timing that may have been coincidental given that the aid was held up by Trump earlier that month." See also, Officials Discussed Hold on Ukraine Aid After Trump Spoke With President Volodymyr Zelensky on July 25th, The New York Times, Edward Wong, Saturday, 21 December 2019: "About 90 minutes after President Trump held a controversial telephone call with President Volodymyr Zelensky of Ukraine in July, the White House budget office ordered the Pentagon to suspend all military aid that Congress had allocated to Ukraine, according to emails released by the Pentagon late Friday. A budget official, Michael Duffey, also told the Pentagon to keep quiet about the aid freeze because of the 'sensitive nature of the request,' according to a message dated July 25. An earlier email that Mr. Duffey sent to the Pentagon comptroller suggested that Mr. Trump began asking aides about $250 million in military aid set aside for Ukraine after noticing a June 19 article about it in the Washington Examiner. The emails add to publicly available information about the events that prompted the Democratic-led House to call for Mr. Trump to be removed from office…. The emails were in a batch of 146 pages of documents released by the Trump administration late Friday to the Center for Public Integrity, a nonprofit news organization and watchdog group, in response to a Freedom of Information Act request. Despite the timing of Mr. Duffey's email, officials testified before Congress that the hold on the aid was announced at a meeting on July 18 involving a range of administration officials, including some from the Office of Management and Budget. Mick Mulvaney, the acting White House chief of staff and director of the budget office, was said to have told people that the president had directed the aid to be frozen. Other officials have testified they knew by early July of the hold." See also, Trump Administration Officials Worried Ukraine Aid Halt Violated Spending Law, The Center for Public Integrity, R. Jeffrey Smith, Saturday, 21 December 2019: "When President Donald Trump ordered a halt to aid to Ukraine last summer, defense officials and diplomats worried first that it would undermine U.S. national security. Ukraine is, as some of them later testified before Congress, on the front lines of Russian aggression, and only robust American support would fend off aggressive Moscow meddling in the West. This worry eventually helped galvanize congressional support for one of the two impeachment articles approved by the House of Representatives on Dec. 18. But there was also a separate, less-noticed facet of the internal administration uproar set off by Trump's July 12 order stopping the flow of $391 million in weapons and security assistance to Ukraine. Some senior administration officials worried that by defying a law ordering that the funds be spent within a defined period, Trump was asking the officials involved to take an action that was not merely unwise but flatly illegal." See also, Documents Show Ukraine Aid Freeze Ordered 91 Minutes After Trump-Zelensky Call, Slate, Daniel Politi, Saturday, 21 December 2019. See also, Newly released emails provide details in White House pause of Ukraine aid, NBC News, Winston Wilde and Phil McCausland, Saturday, 21 December 2019. See also, White House official directed hold on Ukraine aid shortly after Trump's July 25 call with Zelensky, The Washington Post, Toluse Olorunnipa, published on Sunday, 22 October 2019.
1 in every 4 circuit court judges is now a Trump appointee, The Washington Post, Colby Itkowitz, Saturday, 21 December 2019: "After three years in office, President Trump has remade the federal judiciary, ensuring a conservative tilt for decades and cementing his legacy no matter the outcome of November's election. Trump nominees make up 1 in 4 U.S. circuit court judges. Two of his picks sit on the Supreme Court. And this past week, as the House voted to impeach the president, the Republican-led Senate confirmed an additional 13 district court judges. In total, Trump has installed 187 judges to the federal bench…. The 13 circuit courts are the second most powerful in the nation, serving as a last stop for appeals on lower court rulings, unless the case is taken up by the Supreme Court. So far, Trump has appointed 50 judges to circuit court benches. Comparatively, by this point in President Obama's first term, he had confirmed 25. At the end of his eight years, he had appointed 55 circuit judges."
95 Environment Rules Being Rolled Back Under Trump, The New York Times, Nadja Popovich, Livia Albeck-Ripka, and Kendra Pierre-Louis, Saturday, updated on 21 December 2019: "President Trump has made eliminating federal regulations a priority. His administration, with help from Republicans in Congress, has often targeted environmental rules it sees as burdensome to the fossil fuel industry and other big businesses. A New York Times analysis, based on research from Harvard Law School, Columbia Law School and other sources, counts more than 90 environmental rules and regulations rolled back under Mr. Trump. Our list represents two types of policy changes: rules that were officially reversed and rollbacks still in progress."
25 Jewish members of Congress call on Trump to fire Stephen Miller over leaked emails, CNN Politics, Sara Sidner, Saturday, 21 December 2019: "Twenty-five Jewish Democratic members of Congress are calling on President Donald Trump to remove senior White House adviser Stephen Miller from the administration based on leaked emails that showed he promoted stories from white nationalist and fringe media organizations. The lawmakers are the latest to call for Miller to be fired after hundreds of the Trump adviser's emails during the lead-up to the 2016 election were leaked by a former white nationalist who was working for Breitbart News at the time. The emails revealed Miller's anti-immigration stances and his penchant for sharing virulently white nationalist websites to shape Breitbart's coverage of issues involving immigration and people of color. In a letter to the President, the 25 lawmakers made clear they are deeply disturbed not only by Miller's influence but also by the way the White House has defended him."
The two big flaws of the media's impeachment coverage (equating the unequal and the 'pizzazz' and 'polarization' problems)–and what went right, The Washington Post, Margaret Sullivan, Saturday, 21 December 2019: "Six weeks ago … I urged the news media to rise to the most difficult challenge of the Trump era so far. Their test was to cover the impeachment proceedings without getting mired in the usual traps: false equivalence; distraction by presidential stunt; rampant speculation; the use of squishy language; and what I called Barr-Letter Syndrome, a reference to the way the mainstream press allowed Attorney General William Barr last spring to mischaracterize the findings of the Mueller report. Now that Trump has been impeached, it's not possible to say that the mainstream media has earned anything close to an A. Nor did they flunk out. Here's a look. Equating the unequal. In an unceasing effort to be seen as neutral, journalists time after time fell into the trap of presenting facts and lies as roughly equivalent and then blaming political tribalism for not seeming to know the difference…. The 'pizzazz' and 'polarization' problems: The first hearings, featuring State Department officials Bill Taylor and George Kent, failed to provide adequate thrills for some, despite their helpfulness in establishing that Trump had strong-armed Ukraine for political favors…. Author Jennifer Weiner warned in a Times opinion piece: 'If we keep insisting that impeachment has to entertain us, we're going to channel-surf our way right out of our democracy.'"
From an imaginary restraining order to a phantom drop in NATO spending: Trump makes 99 false claims in two weeks, CNN Politics, Daniel Dale and Tara Subramaniam, Saturday, 21 December 2019: "President Donald Trump made 99 false claims over the two weeks that ended last Sunday. Trump made 22 of the false claims at a campaign rally in Hershey, Pennsylvania. He made 16 of them in a lengthy exchange with reporters during a meeting with NATO Secretary General Jens Stoltenberg. The economy was Trump's top subject of dishonesty, with 25 false claims. He made 22 false claims about military affairs, largely on account of his presence at a NATO summit. He made 15 false claims about NATO itself, 11 about impeachment. Trump is now averaging 63 false claims per week since we started counting at CNN on July 8, 2019. He made 38 false claims last week, 61 the week before."
Sunday, 22 December 2019, Day 1,067:
Democrats, Citing White House Emails, Renew Calls for Impeachment Witnesses, The New York Times, Sheryl Gay Stolberg, Sunday, 22 December 2019: "Top Democrats on Sunday renewed their demands for witnesses to testify at President Trump's impeachment trial, citing newly released emails showing that the White House asked officials to keep quiet over the suspension of military aid to Ukraine just 90 minutes after Mr. Trump leaned on that country's president to investigate former Vice President Joseph R. Biden Jr. The emails, released late Friday by the Trump administration to the Center for Public Integrity, shed new light on Mr. Trump's effort to solicit Ukraine to help him win re-election in 2020, the matter at the heart of the House's vote on Wednesday to impeach him for 'high crimes and misdemeanors.'"
How Trump is filling the liberal 9th U. S. Circuit Court of Appeals with conservatives, Politico, Susannah Luthi, Sunday, 22 December 2019: "A bastion of liberalism in the federal judiciary is slowly turning rightward, threatening Democratic court challenges on everything from abortion to who gets a green card. The Senate confirmation of Lawrence VanDyke and Patrick Bumatay to the 9th U.S. Circuit Court of Appeals this month brought to nine the number of appointments President Donald Trump has made to the 29-member bench that serves as the last stop for nearly all legal complaints lodged in nine Western states. Democratic-appointed judges now hold a three-seat majority, compared with 11 at the start of Trump's presidency."
Monday, 23 December 2019, Day 1,068:
Saudi Death Sentences in Khashoggi Killing Fail to Dispel Questions, The New York Times, Ben Hubbard, Monday, 23 December 2019: "Saudi Arabia sentenced five men to death and three to prison terms over the killing of the Saudi dissident writer Jamal Khashoggi in Istanbul, a ruling widely dismissed as punishing low-level agents while protecting their leaders. The sentences, announced by a government spokesman on Monday, reflected the Saudi argument that the killing was not ordered by the royal court, but was instead a last-minute decision by agents on the ground — a narrative that contradicts ample indications that the agents arrived in Istanbul last year with an intent to kill and the tools to do so." See also, Saudi Arabia says five sentenced to death in killing of Jamal Khashoggi, The Washington Post, Kareem Fahim and Sarah Dadouch, Monday, 23 December 2019: "Five people have been sentenced to death in connection with the killing of journalist Jamal Khashoggi inside the Saudi Consulate in Istanbul last year, Saudi Arabia's public prosecutor announced Monday, but the two most senior officials implicated in the case, including an adviser to Crown Prince Mohammed bin Salman, were cleared of wrongdoing. The slaying of Khashoggi in October 2018 sparked a global outcry against the kingdom and led to greater scrutiny of a crackdown on dissidents pursued by the crown prince. Khashoggi, 59, a Saudi national who contributed columns to The Washington Post from self-imposed exile in the United States, had emerged as one of Mohammed's most prominent critics. The verdicts came after a trial in Riyadh's criminal court that lasted nearly a year and was shrouded in secrecy. Court sessions were closed to the public, and foreign officials who attended were told not to reveal details of the proceedings. Human rights groups warned that the lack of transparency threatened to obscure the possible involvement of senior Saudi officials — including the crown prince — in the killing. The CIA concluded last year that Mohammed had ordered Khashoggi's assassination, contradicting Saudi Arabia's insistence that the crown prince had no advance knowledge of the plot." See also, Saudi Arabia's Khashoggi verdict is a mockery of justice, The Washington Post, Editorial Board, Monday, 23 December 2019: "Saudi Arabia has delivered a shameful travesty of justice in the murder of journalist Jamal Khashoggi. Following a closed trial, authorities announced Monday that five people implicated in the Oct. 2, 2018, killing had been sentenced to death, and three more were given prison sentences. None were named. But two men who are known to have directed the operation, former deputy chief of intelligence Ahmed al-Assiri and Saud al-Qahtani, a top aide to Crown Prince Mohammed bin Salman, were exonerated. Most likely they were excused at the direction of the crown prince, who, according to the CIA, is the real author of the crime. The result is an insult to Khashoggi's family and to all those, including a bipartisan congressional majority, who have demanded genuine accountability in the case. International acceptance of the result would not only be morally wrong but dangerous, too: It would send the reckless Saudi ruler the message that his murderous adventurism will be tolerated."
Fresh Evidence in Hand, Senator Schumer Demands More Emails and Documents, The New York Times, Sheryl Gay Stolberg and Catie Edmondson, Monday, 23 December 2019: "Senator Chuck Schumer said on Monday that newly released emails showing that military aid to Ukraine was suspended 90 minutes after President Trump demanded 'a favor' from Ukraine's president were 'explosive.' They strengthened, he said, Democratic demands for far more internal administration documents ahead of Mr. Trump's impeachment trial. The emails, made public over the weekend, included one from a White House budget office aide, Michael Duffey, telling Pentagon officials to keep quiet 'given the sensitive nature of the request.' The timing of the email — just an hour and a half after Mr. Trump raised investigations of his Democratic rivals with President Volodymyr Zelensky of Ukraine — added an element to Democrats' contentions that they say become clearer with every new release of evidence: Mr. Trump abused the power of his office to solicit Ukraine to help him win re-election in 2020." See also, Impasse over Senate impeachment trial likely to last weeks as both sides dig in, The Washington Post, John Wagner and Paul Kane, Monday, 23 December 2019: "Congress headed toward a long standoff over the parameters of the Senate trial of President Trump as all sides dug in Monday, with Democrats demanding documents and witnesses while Republicans mocked the House's delay in transmitting the impeachment articles across the Capitol. Through media appearances, letters and tweets, Trump and Senate Majority Leader Mitch McConnell (R-Ky.) chided House Speaker Nancy Pelosi (D-Calif.), calling her decision to hold on to the impeachment articles 'unfair' and 'absurd,' respectively. Senate Minority Leader Charles E. Schumer (D-N.Y.), meanwhile, accused White House officials of withholding 'highly relevant' documents." See also, Senate Minority Leader Chuck Schumer pushes for Ukraine documents in Senate trial, CNN Politics, Manu Raju and Jeremy Herb, Monday, 23 December 2019.
House counsel Douglas Letter suggests Trump could be impeached again, Politico, Josh Gerstein and Kyle Cheney, Monday, 23 December 2019: "The House is open to the prospect of impeaching President Donald Trump a second time, lawyers for the Judiciary Committee said Monday. House Counsel Douglas Letter said in a filing in federal court that a second impeachment could be necessary if the House uncovers new evidence that Trump attempted to obstruct investigations of his conduct. Letter made the argument as part of an inquiry by the D.C. Circuit Court of Appeals into whether Democrats still need testimony from former White House counsel Don McGahn after the votes last week to charge Trump with abuse of power and obstruction of Congress." See also, House says it needs Don McGahn's testimony for Senate trial and because Trump could face more articles of impeachment, CNN Politics, Katelyn Polantz, Monday, 23 December 2019: "The House still seeks former White House counsel Don McGahn's testimony and secrets from former special counsel Robert Mueller's investigation, saying that Mueller's work is relevant in a Senate trial of President Donald Trump and that the President could face more articles of impeachment in the future because he is still under investigation. The arguments made to an appeals court on Monday amount to a broad catalogue of Democrats' thinking about the two historic investigations of the President — the Mueller investigation and the Ukraine investigation that led to the President's impeachment — and how they fit together." See also, Impeachment 2? House lawyers say more charges are possible. NBC News, Dareh Gregorian, Monday, 23 December 2019.
House Democrats Demand Answers as Migrant Deaths Continue to Rise, The New York Times, Zolan Kanno-Youngs, Monday, 23 December 2019: "House Democrats demanded documents from the Department of Homeland Security on Monday to investigate a "troubling pattern of abuse and poor treatment" of migrants, after the death of a 16-year-old Guatemalan detainee and other new revelations. In letters sent to immigration and homeland security officials, the House Oversight and Reform Committee demanded to know how a teenage detainee, who had the flu and a 103-degree fever, could have been sent to a holding cell where he lay still next to a toilet for four hours, only to be discovered dead by his teenage cellmate. Representative Carolyn B. Maloney of New York, the chairwoman of the House Oversight and Reform Committee, also questioned the shifting explanations from Customs and Border Protection, a division of the Department of Homeland Security. Officials initially said agents discovered the body of the teenager, Carlos Gregorio Hernandez Vasquez, during a welfare check. But surveillance video and additional documents, first obtained by ProPublica, revealed that to be untrue."
Washington State Republican Representative Matt Shea Had Visions of a Christian Alternative Government, The New York Times, Mike Baker, Monday, 23 December 2019: "Last week, a report commissioned by the State Legislature asserted that Mr. Shea had engaged in domestic terrorism in his support of the armed takeover of Oregon's Malheur National Wildlife Refuge by militant ranchers and their supporters in 2016 — part of a protest over federal ownership of public lands in the West. The scrubby pines and sparsely settled hills of the inland Northwest have long been seen as a potential homeland by fringe white supremacists and armed loners who are militantly suspicious of government power. But for the sheriff here in Spokane County, Ozzie Knezovich, Mr. Shea's activities are part of a troubling trend: Far-right organizers have begun plying their message of civil conflict in mainstream political circles, building new networks that include elected politicians and voters who would never consider themselves part of an extremist group."
Trump attacks on wind turbines, low-flow toilets, and LED lightbulbs set up key campaign clash with Democrats, The Washington Post, Toluse Olorunnipa and Juliet Eilperin, Monday, 23 December 2019: "While Democratic presidential candidates have called for sweeping measures to eliminate the U.S. carbon footprint, President Trump is promising voters a world free of the everyday inconveniences associated with combating climate change — rolling back lightbulb regulations, ordering a study on low-flow toilets and turning bans on plastic straws into a campaign rallying cry. The contrast is shaping up to be a key theme of the 2020 presidential race as Trump bets that his pitch to a bygone era will sway voters turned off by calls from some Democrats on the left for a transformative Green New Deal." See also, 'I never understood wind': Trump goes on bizarre tirade against wind turbines, The Guardian, Richard Luscombe, Monday, 23 December 2019: "He says he knows more about Isis than his generals, and claims to understand politicians 'better than anybody.' Now there is another subject in which Donald Trump's expert knowledge surpasses that of everybody else: wind turbines, though he calls them windmills. 'I've studied it better than anybody I know,' the president asserted in a bizarre segment from a weekend speech to young conservatives in West Palm Beach, Florida, close to his winter retreat at Mar-a-Lago where he is spending the holidays. 'I never understood wind. You know, I know windmills very much.'"
Tuesday, 24 December 2019, Day 1,069:
A Trump Policy 'Clarification' All but Ends Punishment for Bird Deaths, The New York Times, Lisa Friedman, Tuesday, 24 December 2019: "A new interpretation of the Migratory Bird Treaty Act in 2017 means that as of now, companies are no longer subject to prosecution or fines even after a disaster like the Deepwater Horizon oil spill in 2010 that destroyed or injured about one million birds and for which BP paid $100 million in fines. As the state of Virginia prepared for a major bridge and tunnel expansion in the tidewaters of the Chesapeake Bay last year, engineers understood that the nesting grounds of 25,000 gulls, black skimmers, royal terns and other seabirds were about to be plowed under. To compensate, they considered developing an artificial island as a safe haven. Then in June 2018, the Trump administration stepped in. While the federal government 'appreciates' the state's efforts, new rules in Washington had eliminated criminal penalties for 'incidental' migratory bird deaths, administration officials advised. Such conservation measures were now 'purely voluntary.' The state ended its island planning. The island is one of dozens of bird-preservation efforts that have fallen away in the wake of a policy change in 2017 that was billed merely as a technical clarification to a century-old law protecting migratory birds. Across the country birds have been killed and nests destroyed by oil spills, construction crews and chemical contamination, all with no response from the federal government, according to emails, memos and other documents viewed by The New York Times. Not only has the administration stopped investigating most bird deaths, the documents show, it has discouraged local governments and businesses from taking precautionary measures to protect birds."
Trump is rolling back over 80 environmental regulations. Here are five big changes you might have missed in 2019, CNBC, Emma Newburger, Tuesday, 24 December 2019: "President Donald Trump has taken historically unprecedented action to roll back a slew of environmental regulations that protect air, water, land and public health from climate change and fossil fuel pollution. The administration has targeted about 85 environmental rules, according to Harvard Law School's rollback tracker. Existing environment regulations are meant to curb greenhouse gas emissions, protect land and animals from oil and gas drilling and development, as well as limit pollution and toxic waste runoff into the country's water. The administration views many of them as onerous to fossil fuel companies and other major industries."
Pentagon Eyes West Africa Drawdown as First Step in Global Troop Shift, The New York Times, Helene Cooper, Thomas Gibbons-Neff, Charlie Savage, and Eric Schmitt, Tuesday, 24 December 2019: "Defense Secretary Mark T. Esper is weighing proposals for a major reduction — or even a complete pullout — of American forces from West Africa as the first phase of reviewing global deployments that could reshuffle thousands of troops around the world, according to officials familiar with internal deliberations. The discussions of a large-scale pullback from West Africa include abandoning a recently built $110 million drone base in Niger and ending assistance to French forces battling militants in Mali, Niger and Burkina Faso. The deliberations stem from a push to reduce post-9/11 missions battling terrorist groups, and instead to refocus Pentagon priorities on confronting so-called Great Powers like Russia and China."
Colorado Governor Jared Polis pardons immigrant facing deportation, Associated Press, Tuesday, 24 December 2019: "The governor of Colorado issued a pardon Monday for a Peruvian immigrant who has lived on and off in Colorado churches since 2016 to avoid deportation. Gov. Jared Polis pardoned Ingrid Encalada Latorre for a 2010 conviction for possessing falsified or stolen identification papers that placed her in deportation proceedings by federal authorities. With the pardon, deportation proceedings against her can be reconsidered, the Colorado Sun reported."
Mike Bloomberg Exploited Prison Labor to Make 2020 Presidential Campaign Phone Calls, The Intercept, John Washington, Tuesday, 24 December 2019: "Former New York City mayor and multibillionaire Democratic presidential candidate Mike Bloomberg used prison labor to make campaign calls. Through a third-party vendor, the Mike Bloomberg 2020 campaign contracted New Jersey-based call center company ProCom, which runs calls centers in New Jersey and Oklahoma. Two of the call centers in Oklahoma are operated out of state prisons. In at least one of the two prisons, incarcerated people were contracted to make calls on behalf of the Bloomberg campaign. According to a source, who asked for anonymity for fear of retribution, people incarcerated at the Dr. Eddie Warrior Correctional Center, a minimum-security women's prison with a capacity of more than 900, were making calls to California on behalf of Bloomberg. The people were required to end their calls by disclosing that the calls were paid for by the Bloomberg campaign. They did not disclose, however, that they were calling from behind bars. The Bloomberg campaign confirmed the arrangement in an emailed statement to The Intercept. 'We didn't know about this and we never would have allowed it if we had,' said Bloomberg spokesperson Julie Wood. 'We don't believe in this practice and we've now ended our relationship with the subcontractor in question.'" See also, Bloomberg Drops Vendor Connected to Prison Labor, The New York Times, Matt Stevens, Tuesday, 24 December 2019.
Rudy Giuliani Says He's 'More of a Jew' Than George Soros, a Liberal Billionaire and Holocaust  Survivor from Hungary, The New York Times, Daniel Victor, Tuesday, 24 December 2019: "Rudolph W. Giuliani, who was raised as a Roman Catholic, said in an interview with New York Magazine published on Monday that he is "more of a Jew" than George Soros, a liberal billionaire and Holocaust survivor. Mr. Soros was born into a Jewish family in Hungary during the Nazi occupation, surviving as a child by posing as a Christian godson of a government official. As a wealthy donor to Democratic causes and politicians, he is a frequent target of right-wing attacks, many of which have been characterized as anti-Semitic."
Wednesday, 25 December 2019, 1,070:
Republican Senator Lisa Murkowski of Alaska Is Disturbed by Senate Majority Leader Mitch McConnell's 'Total Coordination' with the White House, The New York Times, Zach Montague, Wednesday, 25 December 2019: "Senator Lisa Murkowski of Alaska expressed unease in an interview broadcast on Tuesday with the Senate majority leader's vow of "total coordination" with the White House on impeachment proceedings against President Trump, a potentially significant crack in Republican unity. Ms. Murkowski, a moderate with an independent streak, told Anchorage's NBC affiliate KTUU she opposed 'being hand in glove with the defense' and voiced other concerns as the Senate prepares to hold a trial over the two articles of impeachment that the House approved earlier this month." See also, Senator Lisa Murkowski is 'disturbed' by Mitch McConnell's vow of 'total coordination' with the White House over impeachment, The Washington Post, Katie Mettler and Deanna Paul, Wednesday, 25 December 2019. See also, Republican Senator Lisa Murkowski of Alaska Is 'Disturbed' by Mitch McConnell's Senate Impeachment Strategy, The Wall Street Journal, Sadie Gurman, Wednesday, 25 December 2019: "Republican Sen. Lisa Murkowski of Alaska said she is disturbed by the Senate majority leader's promise of 'total coordination' with the White House on impeachment proceedings against President Trump, marking a note of GOP dissension as party leaders prepare for the president's impeachment trial. Ms. Murkowski, a moderate, told Anchorage's NBC affiliate KTUU on Tuesday that she opposed 'being hand-in-glove with the defense' and expressed other concerns about the process. Her remarks came as the Senate attempts to set rules for the trial over two articles of impeachment passed by the House related to Mr. Trump's efforts to pressure Ukraine to investigate former Vice President Joe Biden, a leading 2020 Democratic presidential candidate."
Thursday, 26 December 2019, Day 1,071:
A Barrier to Trump's Border Wall: Landowners in Texas, The New York Times, Zolan Kanno-Youngs, Thursday, 26 December 2019: "Throughout Mr. Trump's term, the White House has pushed the Department of Homeland Security to speed wall construction, an effort that has been led most recently by Jared Kushner, the president's son-in-law. As the sense of urgency has grown, Mr. Trump — no stranger to the powers of eminent domain — has suggested during meetings to 'take the land' of private landowners. The law is on the administration's side. Eminent domain lawyers and scholars said in interviews that landowners along the border have limited options once they receive a request from the government. They can voluntarily allow the authorities to access and survey their land and, if officials decide they want it, accept the government's offer. Or they can be taken to court where they can argue for higher compensation. But under the law, even before the landowners are paid in full, the government can begin construction."