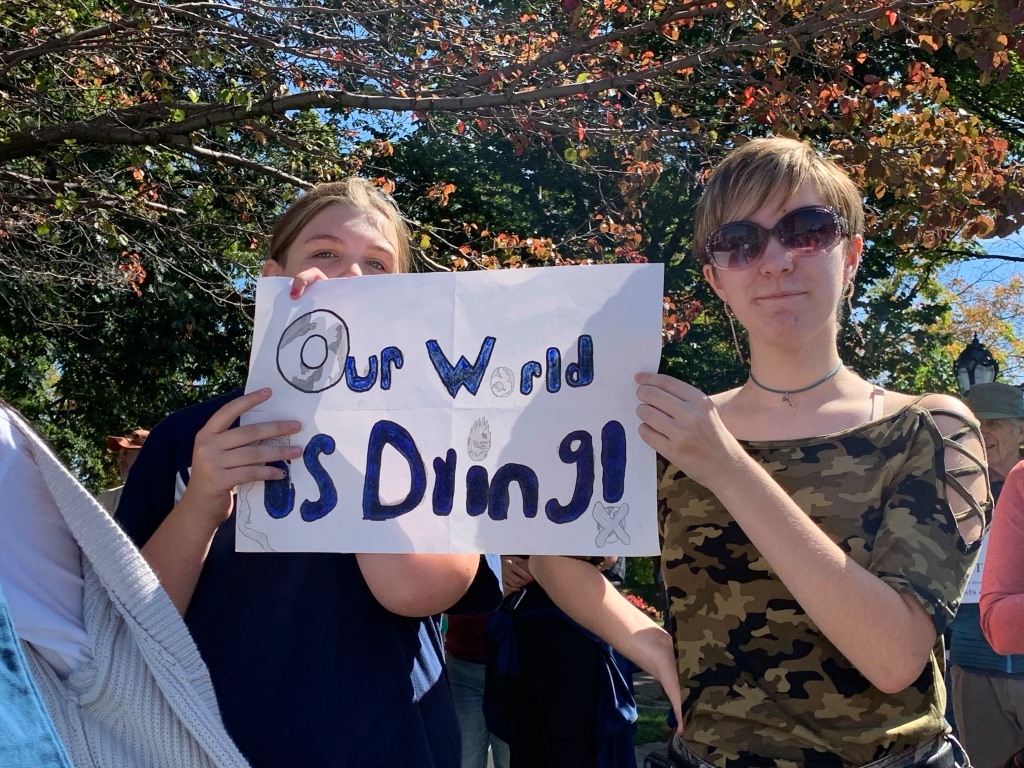 Passages in bold in the body of the texts below are usually my emphasis, though not always. This is an ongoing project, and I update the site frequently during the day. Because I try to stay focused on what has actually happened, I usually let the news 'settle' for a day or so before posting. I hope readers will peruse the articles in full for a better understanding of the issues and their context; our democracy and our future depend on citizens who can distinguish between facts and falsehoods and who are engaged in the political process.
For "a weekly newsletter celebrating people-powered wins against the Trump administration's agenda," visit Small Victories.
For independent global news, visit Democracy Now!
Friday, 11 October 2019, Day 995:
Appeals Court Rules Congress Can Seek Trump's Financial Records, The New York Times, Charlie Savage, Friday, 11 October 2019: "President Trump's accounting firm must comply with a House committee's demands for eight years of his financial records, a federal appeals court panel ruled on Friday in a major victory for House Democrats in their struggle against his vow to stonewall 'all' of their oversight subpoenas. In a 66-page ruling, the panel rejected Mr. Trump's argument that Congress had no legitimate legislative authority to seek his business records from the firm, Mazars USA, because the committee was trying to determine whether he broke existing laws — not weighing whether to enact a new one. 'Having considered the weighty issues at stake in this case, we conclude that the subpoena issued by the committee to Mazars is valid and enforceable,' wrote Judge David S. Tatel of the United States Court of Appeals for the District of Columbia. Mr. Trump is virtually certain to appeal the ruling, either to the full Court of Appeals or to the Supreme Court. But the decision — affirming an earlier ruling by a Federal District Court judge — was the first test at the appeals court level of the Trump legal team's sweeping challenges to the constitutional authority of Congress to conduct oversight of his activities." See also, Appeals court rules against Trump in fight with Congress over president's accounting firm records, The Washington Post, David A. Fahrenthold, Spencer S. Hsu, and Ann E. Marimow, Friday, 11 October 2019: "Congress can seek eight years of President Trump's business records from his accounting firm, a federal appeals court in Washington ruled Friday in one of several legal battles over access to the president's financial data. In a 2-to-1 ruling, the U.S. Court of Appeals for the D.C. Circuit upheld Congress's broad investigative powers and rejected the president's bid to block lawmakers from subpoenaing the documents. That three-judge panel's ruling is a significant victory for the Democratic-led House, but it will not result in the House obtaining Trump's tax returns — at least, not immediately. The House agreed to hold off on enforcing the subpoenas while Trump's appeal is pending. Trump could keep it pending for weeks or months by appealing the case to the full D.C. Circuit." See also, Trump loses appeal to withhold financial records from Democrats, Politico, Darren Samuelsohn and Josh Gerstein, Friday, 11 October 2019.
Judges Strike Several Blows to Trump Immigration Policies. Judges in three states ruled against a policy that would withhold green cards to immigrants who receive public assistance such as Medicaid. Another judge rejected Trump's plan to divert funds to erect a border wall. The New York Times, Miriam Jordan, Friday, 11 October 2019: "President Trump's immigration agenda ran into legal blockades in courts around the country on Friday as judges in four states barred his administration from trying to withhold green cards from people who use public benefits and rejected his plan to divert funds to erect a border wall. In three rulings, federal judges in New York, California and Washington State issued injunctions temporarily blocking the 'public charge' rule, which would impose serious impediments to legal residency for those who use benefits such as Medicaid or those deemed likely to use them in the future. The rule, widely seen as an attempt to keep out immigrants who are poor or in need of help, was one of the Trump administration's signature immigration policies — and it ran into a legal brick wall in three corners of the country on a single day…. Trump faced yet another legal setback in Texas, where a senior federal judge in El Paso ruled on Friday that he had acted unlawfully in announcing he would tap $3.6 billion in Pentagon money intended for military construction to build a barrier along the nation's southwestern border." See also, Federal Judges in 3 States Block Trump's 'Public Charge' Rule for Green Cards, NPR, Laurel Wamsley, Pam Fessler, and Richard Gonzales, Friday, 11 October 2019: "Federal judges in three states — New York, California and Washington — have issued temporary injunctions against the Trump administration's 'public charge' rule, preventing it from taking effect on Oct. 15. The controversial rule would make it more difficult for immigrants to get green cards if it looks as though they might need public assistance. Titled 'Inadmissibility on Public Charge Grounds,' the rule sparked several legal challenges. See also, Judge rules Trump violated the law on wall funding with national emergency. In February 2019 Trump ordered that money for Pentagon construction projects be used instead for the barrier on Mexico's border. NBC News, Pete Williams, Friday, 11 October 2019: "A federal judge ruled Friday that President Donald Trump violated federal law when he used his declaration of a national emergency to get millions for building a wall on the southern border. The ruling is a victory for El Paso County, Texas, and the Border Network for Human Rights, which sued to stop border construction in their community. They argued that Trump had no legal authority to spend more than what Congress appropriated for the wall project. In January the president asked for $5.7 billion to build 'a steel barrier for the Southwest border,' but Congress approved only $1.375 billion. In February, Trump declared a national emergency and ordered that money for Pentagon construction projects would be used instead for the wall."
Ukraine Ambassador Marie Yovanovitch Says She Was Told Trump Wanted Her Our Over Lack of Trust. Her Boss Told Her She Had 'Done Nothing Wrong.' The New York Times, Sharon La Franiere, Nicholas Fandos, and Andrew E. Kramer, Friday, 11 October 2019: "The State Department's request went in early March to Marie L. Yovanovitch, a longtime diplomat who had served six presidents: Would she extend her term as ambassador to Ukraine, scheduled to end in August, into 2020? Less than two months later came another departmental communiqué: Get 'on the next plane' to Washington. Her ambassadorship was over. How and why Ms. Yovanovitch was removed from her job has emerged as a major focus of the impeachment inquiry being conducted by House Democrats. And in nearly nine hours of testimony behind closed doors on Capitol Hill on Friday, Ms. Yovanovitch said she was told after her recall that President Trump had lost trust in her and had been seeking her ouster since summer 2018 — even though, one of her bosses told her, she had 'done nothing wrong.' Her version of events added a new dimension to the tale of the campaign against her. It apparently began with a business proposition being pursued in Ukraine by two Americans who, according to an indictment against them unsealed on Thursday, wanted her gone, and who would later become partners with the president's personal lawyer Rudolph W. Giuliani in digging up political dirt in Ukraine for Mr. Trump…. DOCUMENT: Read Ms. Yovanovitch's opening statement." See also, Marie Yovanovitch, ousted ambassador to Ukraine, tells Congress Trump pressured the State Department to remove her, The Washington Post, John Hudson, Karoun Demirjian, Rachael Bade, and Paul Sonne, Friday, 11 October 2019: "The former U.S. ambassador to Ukraine whose abrupt ouster in May has become a focus of House impeachment investigators said Friday in remarks before Congress that her departure came as a direct result of pressure President Trump placed on the State Department to remove her. The account by Marie Yovanovitch depicts a career Foreign Service officer caught in a storm of unsubstantiated allegations pushed by the president's personal attorney Rudolph W. Giuliani and a cast of former Ukrainian officials who viewed her as a threat to their financial and political interests. She told lawmakers that she was forced to leave Kiev on 'the next plane' this spring and subsequently removed from her post, with the State Department's No. 2 official telling her that, although she had done nothing wrong, the president had lost confidence in her and the agency had been under significant pressure to remove her since the summer of 2018."
Continue reading Week 143, Friday, 11 October – Thursday, 17 October 2019 (Days 995-1,001)
What Happened Today in the Trump Impeachment Inquiry, The New York Times, Noah Weiland, Friday, 11 October 2019: "The former U.S. ambassador to Ukraine gave an extraordinary interview to impeachment investigators."
Trump renews claim that he is immune from criminal investigation in effort to block Manhattan District Attorney from obtaining his tax returns, The Washington Post, David A. Fahrenthold and Ann E. Marimow, Friday, 11 October 2019: "President Trump on Friday repeated his assertion of sweeping executive immunity — arguing in court that, because he is president, he cannot be investigated by any prosecutor, anywhere. Trump's personal attorneys made the argument in a filing with the U.S. Court of Appeals for the 2nd Circuit in New York. They are seeking to overturn a lower court's dismissal of a suit the president filed seeking to block Manhattan District Attorney Cyrus Vance Jr. (D) from obtaining Trump's tax returns." See also, Trump Taxes: Justice Department Asks Judges to Block Subpoena, But the Department Did Not Agree With Trump's lawyers That a Sitting President Is Immune From Criminal Investigation, The New York Times, Benjamin Weiser and William K. Rashbaum, Friday, 11 October 2019: "The Justice Department asked a federal appeals court on Friday to stop the release of President Trump's tax returns to the Manhattan district attorney's office, arguing that local prosecutors should have to meet a very high legal bar before investigating a sitting president. The filing meant Mr. Trump's own Justice Department was lending support to his attempt to block a subpoena demanding eight years of his personal and corporate tax returns. The district attorney's office issued the subpoena to Mr. Trump's accounting firm in late August as part of an investigation into hush-money payments made before the 2016 presidential election. But in its filing, the Justice Department, which is led by Attorney General William P. Barr, stopped short of endorsing Mr. Trump's most sweeping argument: that sitting presidents are totally immune from all criminal investigations."
ISIS Rears Its Head, Adding to Chaos as Turkey Battles Kurds, The New York Times, Carlotta Gall and Patrick Kingsley, Friday, 11 October 2019: "The Turkish invasion of Kurdish-held territory in northern Syria raised new fears of a resurgence of the Islamic State on Friday, as five militants escaped from a Kurdish-run prison and the extremist group claimed responsibility for a bomb that exploded in the regional capital. As Turkish troops launched a third night of airstrikes and ground incursions, Kurdish fighters said they had thwarted a second attempt to break out of a detention camp for families of Islamic State members. The moves compounded a mounting sense of turmoil in northeast Syria, where tens of thousands of residents were reported fleeing south. The Turkish government said its troops had advanced five miles inside part of the country. Several major roads had been blocked and a major hospital abandoned. Since Wednesday, Turkish forces have pummeled Kurdish-held territory with airstrikes and sent in ground troops, trying to seize land controlled by a Kurdish-led militia, the Syrian Democratic Forces. That militia fought alongside United States troops in the recent war against the Islamic State."
Trump says the U.S. is deploying more forces to Saudi Arabia to counter Iran threat, Reuters, Phil Stewart and Idrees Ali, Friday, 11 October 2019: "The United States announced the deployment of additional American military forces to Saudi Arabia on Friday to bolster the kingdom's defenses after the Sept. 14 attack on its oil facilities, which Washington and Riyadh have blamed on Iran. The large deployment, which was first reported by Reuters, includes fighter squadrons, an air expeditionary wing and air defense personnel, the Pentagon said. Together with the 200 forces to Saudi Arabia announced last month, the deployment totaled about 3,000 troops, it said." See also, Trump Orders Troops and Weapons to Saudi Arabia in Message of Deterrence to Iran, The New York Times, Eric Schmitt and David E. Sanger, Friday, 11 October 2019: "The United States is sending about 3,000 additional troops to Saudi Arabia in the latest military response by the Trump administration after it accused Iran of attacks last month on Saudi oil facilities, the Pentagon said on Friday. The move came only five days after President Trump said that his desire to terminate America's 'endless wars' led to his decision to pull back from the border area between Syria and Turkey about 50 troops who were working to create a 'safe zone' between Turkish and Kurdish troops. State Department officials struggled on Friday to answer questions about how the roles of the incoming American forces in the Persian Gulf kingdom and those being pulled back from the Syrian border differed, and whether the deployments to Saudi Arabia contradicted the president's strategy of withdrawing from the Middle East."
Trump Reaches 'Phase 1' Deal With China and Delays Planned Tariffs, The New York Times, Ana Swanson, Friday, 11 October 2019: "President Trump said Friday that the United States had reached an interim deal with China that would forestall a tariff increase slated for next week, providing a temporary détente in a prolonged and economically painful trade war."
Elizabeth Warren trolls Facebook with 'false' Zuckerberg ad, The Guardian, Julia Carrie Wong, Friday, 11 October 2019: "Facebook has been taking heat all week for its decision to allow politicians to make false statements in paid advertisements. Now the Democratic senator and presidential candidate Elizabeth Warren is taking the fight to the social media company's own turf by taking out a series of Facebook ads that make false statements about Facebook and its chief executive, Mark Zuckerberg. 'Breaking news: Mark Zuckerberg and Facebook just endorsed Donald Trump for re-election,' the ads read, above a photograph of a recent Oval Office meeting between the billionaire tech executive and the president. The statement isn't true, but as the Facebook executive Nick Clegg revealed late last month, the company's policies banning false statements from paid advertisements do not apply to politicians. The exemption has drawn particular attention due to Facebook's decision to allow Trump to run an ad that was rejected by CNN for promoting a 'demonstrably false' narrative about Joe Biden. Warren's ad does correct the record – neither Facebook nor Zuckerberg has endorsed Trump – but goes on to argue her point: that 'Facebook already helped elect Donald Trump once' and that 'It's time to hold Mark Zuckerberg accountable.'" See also, Elizabeth Warren Dares Facebook With Intentionally False Political Ad, The New York Times, Cecilia Kang and Thomas Kaplan, published on Saturday, 12 October 2019:"Elizabeth Warren is playing a game of dare with Facebook. The Democratic presidential candidate bought a political ad on the social network this past week that purposefully includes false claims about Facebook's chief executive, Mark Zuckerberg, and President Trump to goad the social network to remove misinformation in political ads ahead of the 2020 presidential election. The ad, placed widely on Facebook beginning on Thursday, starts with Ms. Warren announcing 'Breaking news.' The ad then goes on to say that Facebook and Mr. Zuckerberg are backing the re-election of Trump. Neither Mr. Zuckerberg nor the Silicon Valley company has announced their support of a candidate. 'You're probably shocked, and you might be thinking, "how could this possibly be true?" Well, it's not,' Ms. Warren said in the ad. In a series of tweets on Saturday, Ms. Warren, a senator from Massachusetts, said she had deliberately made an ad with lies because Facebook had previously allowed politicians to place ads with false claims. 'We decided to see just how far it goes,' Ms. Warren wrote, calling Facebook a 'disinformation-for-profit machine' and adding that Mr. Zuckerberg should be held accountable."
Shepard Smith, Fox News Anchor, Abruptly Departs From Network, The New York Times, Michael M. Grynbaum, Friday, 11 October 2019: "To critics who accuse Fox News of being uniformly pro-Trump, the network often points to the blunt-truth reporting of Shepard Smith, its veteran chief news anchor, whose coverage of the Trump White House stood out on a channel known best for conservative opinion. Starting now, Fox News will need to point to somebody else. In an announcement that stunned colleagues, Mr. Smith concluded his Friday newscast by signing off from Fox News — for good. 'Recently, I asked the company to allow me to leave,' Mr. Smith said calmly. 'After requesting that I stay, they obliged.'"
Ken Fisher, founder of the wealth management firm Fisher Investments who made offensive sexual comments at the Tiburon CEO Summit in San Francisco this week, loses a $600 million contract in backlash, The Washington Post, Katie Mettler, Friday, 11 October 2019: "The state of Michigan has pulled $600 million of its pension fund from wealth management firm Fisher Investments after the company's founder and chairman made crude and sexually explicit comments during a fireside chat at the Tiburon CEO Summit in San Francisco this week…. During a moderated keynote discussion Tuesday with Chip Roame, managing partner at Tiburon Strategic Advisors, Fisher compared his wealth management strategy to picking up women for sex, according to summit attendees who recounted what they heard in interviews with The Washington Post. Fisher spoke of doing acid and his belief that charities are immoral. He also made crude comments about genitalia, attendees said, and mentioned financier Jeffrey Epstein, who was indicted on federal sex-trafficking charges earlier this year before dying by suicide in prison. Despite a Tiburon policy that requires summit attendees to keep private what they hear and discuss there, three CEOs publicly shared their accounts of what Fisher said in the interest of exposing his behavior and holding the self-proclaimed 'self-made multibillionaire' accountable."
Rudy Giuliani Is Said to Be Under Investigation for Ukraine Work, The New York Times, Michael S. Schmidt, Ben Protess, Kenneth P. Vogel, and William K. Rashbaum, Friday, 11 October 2019: "Federal prosecutors in Manhattan are investigating whether President Trump's personal lawyer Rudolph W. Giuliani broke lobbying laws in his dealings in Ukraine, according to two people familiar with the inquiry. The investigators are examining Mr. Giuliani's efforts to undermine the American ambassador to Ukraine, Marie L. Yovanovitch, one of the people said. She was recalled in the spring as part of Mr. Trump's broader campaign to pressure Ukraine into helping his political prospects."
The Real Backstory to the Arrest of Two Ukrainian-American Trump Donors, Campaign Legal Center, Brendan Fischer and Maggie Christ, Friday, 11 October 2019: "The stunning arrest of Igor Fruman and Lev Parnas on criminal campaign finance charges arose directly from Campaign Legal Center's (CLC's) complaint to the Federal Election Commission (FEC) on this matter last year—and underscores the key roles these mysterious Rudy Giuliani associates with ties to Ukraine and big money have played in setting into motion a year-long influence effort. In July 2018, CLC uncovered how the Soviet-born Parnas and Fruman laundered six-figure contributions to President Trump's super PAC through a shell corporation. CLC's complaint with the FEC helped trigger a series of revelations showing how the pair leveraged the access their contribution had afforded to deepen their connections with figures close to the President."
Indicted Giuliani associate Lev Parnas worked on behalf of Ukrainian oligarch Dmytro Firtash who faces bribery charges in the United States, Reuters, Aram Roston, Karen Freifeld, and Polina Ivanova, Friday, 11 October 2019: "One of the two Florida businessmen who helped U.S. President Donald Trump's personal attorney investigate his political rival, Democrat Joe Biden, also has been working for the legal team of a Ukrainian oligarch who faces bribery charges in the United States, according to attorneys for the businessmen and the oligarch. Lev Parnas, one of the two associates of Trump lawyer Rudy Giuliani, served as a translator for lawyers representing oligarch Dmytro Firtash. Parnas was arrested on Thursday along with the other Florida businessman, Igor Fruman, on unrelated charges that included illegally funneling $325,000 to a political action committee supporting pro-Trump candidates."
At Louisiana Rally, Trump Lashes Out at Impeachment Inquiry and at House Speaker Nancy Pelosi, The New York Times, Katie Rogers, Friday, 11 October 2019: "President Trump left a dizzying trail of developments behind him in Washington on Friday evening, swapping the confines of the capital for a fiery rally where he used foul language, fierce political attacks and personal grievances to light up his supporters for the second day in a row."
Saturday, 12 October 2019, Day 996:
Gordon Sondland, the U.S. ambassador to the European Union, intends to tell Congress this coming week that the content of a text message he wrote denying a quid pro quo with Ukraine came directly from Trump in a phone call, The Washington Post, Aaron C. Davis and John Hudson, Saturday, 12 October 2019: "The U.S. ambassador to the European Union, Gordon Sondland, intends to tell Congress this week that the content of a text message he wrote denying a quid pro quo with Ukraine was relayed to him directly by President Trump in a phone call, according to a person familiar with his testimony. Sondland plans to tell lawmakers he has no knowledge of whether the president was telling him the truth at that moment. 'It's only true that the president said it, not that it was the truth,' said the person familiar with Sondland's planned testimony, who spoke on the condition of anonymity to discuss sensitive diplomatic matters."
Military leader of Syrian Kurds tells US 'You are leaving us to be slaughtered,' CNN Politics, Barbara Starr and Ryan Browne, Saturday, 12 October 2019: "The commander of the Kurdish-led Syrian Democratic Forces told a senior US diplomat, 'You are leaving us to be slaughtered,' demanding to know whether the US is going to do anything to protect Syrian Kurds as Turkey continues its military operation targeting America's Kurdish allies in Syria…. He insisted the US either help stop the Turkish attack or allow the Syrian Democratic Forces to strike a deal with the Assad regime in Damascus and their Russian backers, allowing Russian warplanes to enforce a no-fly zone over northeast Syria, thereby denying Turkey the ability to carry out airstrikes. The US does not want the Kurds turning to the Russians, administration officials say."
In Show of Support, Trump Meets With Rudy Giuliani Over Lunch, The New York Times, Kenneth P. Vogel and Maggie Haberman, Saturday, 12 October 2019: "President Trump had lunch on Saturday with Rudolph W. Giuliani amid revelations that prosecutors were investigating Mr. Giuliani for possible lobbying violations, and speculation that his position as the president's personal lawyer was in jeopardy. The lunch, at Mr. Trump's golf course in Sterling, Va., was among several shows of the president's support for Mr. Giuliani on Saturday. They seemed meant to tamp down questions about Mr. Giuliani's status with a client famous for distancing himself from advisers when they encounter legal problems of their own."
Trump threatens to sue top Democrats Adam Schiff and Nancy Pelosi amid impeachment inquiry, CNN Politics, Kate Sullivan, Nikki Carvajal, and Jeremy Diamond, Saturday, 12 October 2019: "President Donald Trump threatened on Saturday night to sue top congressional Democrats Rep. Adam Schiff and House Speaker Nancy Pelosi amid the House impeachment inquiry into the President. Trump, who has a long track record of calling for lawsuits against his critics and not following through, said, 'We're going to take a look at it. We're going after these people. These are bad, bad people.' The President was speaking at the Values Voter Summit in Washington, DC."
Fact-Checking 5 Claims About the Impeachment Inquiry, The New York Times, Linda Qiu, Saturday, 12 October 2019: "President Trump and his defenders have inaccurately attacked the impeachment inquiry for what they say are procedural and constitutional violations, a faulty premise and a lack of support."
Sunday, 13 October 2019, Day 997:
Trump Orders Withdrawal of U.S. Troops From Northern Syria, The New York Times, Julian E. Barnes and Eric Schmitt, Sunday, 13 October 2019: "Defense Secretary Mark T. Esper said Sunday that President Trump ordered a withdrawal of American forces from northern Syria, a decision that will effectively cede control of the area to the Syrian government and Russia, and could allow a resurgence of the Islamic State. Mr. Esper, appearing on both Fox News and CBS News, said that American troops, mostly Special Operations forces, would leave the northeastern part of the country in the face of Turkey's incursion into the section of Syria controlled by Kurdish forces, a group of fighters trained and backed by the United States government. The Pentagon has slow-walked previous orders by Mr. Trump to evacuate from Syria, to protect its Kurdish partners and hold the ground it took back from the Islamic State. But Mr. Esper's comments Sunday indicated that this time Mr. Trump's drawdown order was being acted on with haste." See also, Abandoned by U.S. in Syria, Kurds Find New Ally in American Foe. Under fire by Turkish forces, the militia that battled ISIS threw in its lot with Syria's Russian-backed government. The New York Times, Ben Hubbard, Charlie Savage, Eric Schmitt, and Patrick Kingsley, Sunday, 13 October 2019: "Kurdish forces long allied with the United States in Syria announced a new deal on Sunday with the government in Damascus, a sworn enemy of Washington that is backed by Russia, as Turkish troops moved deeper into their territory and President Trump ordered the withdrawal of the American military from northern Syria. The sudden shift marked a major turning point in Syria's long war. For five years, United States policy relied on collaborating with the Kurdish-led forces both to fight the Islamic State and to limit the influence of Iran and Russia, which support the Syrian government, with a goal of maintaining some leverage over any future settlement of the conflict. On Sunday, after Mr. Trump abruptly abandoned that approach, American leverage appeared all but gone. That threatened to give President Bashar al-Assad and his Iranian and Russian backers a free hand. It also jeopardized hard-won gains against the Islamic State — and potentially opened the door for its return." See also, Trump's Pullback in Syria Leaves Green Berets Feeling 'Ashamed,' and Kurdish Allies Describing 'Betrayal,' The New York Times, Eric Schmitt, Thomas Gibbons-Neff, Ben Hubbard, and Helene Cooper, Sunday, 13 October 2019: "American commandos were working alongside Kurdish forces at an outpost in eastern Syria last year when they were attacked by columns of Syrian government tanks and hundreds of troops, including Russian mercenaries. In the next hours, the Americans threw the Pentagon's arsenal at them, including B-52 strategic bombers. The attack was stopped. That operation, in the middle of the American-led campaign against the Islamic State in Syria, showed the extent to which the United States military was willing to protect the Syrian Kurds, its main ally on the ground. But now, with the White House revoking protection for these Kurdish fighters, some of the Special Forces officers who battled alongside the Kurds say they feel deep remorse at orders to abandon their allies. 'They trusted us and we broke that trust,' one Army officer who has worked alongside the Kurds in northern Syria said last week in a telephone interview. 'It's a stain on the American conscience.'" See also, U.S.-allied Kurds strike deal to bring Assad's Syrian troops back into Kurdish areas,The Washington Post, Liz Sly, Louisa Loveluck, Asser Khattab, and Sarah Dadouch, Sunday, 13 October 2019: "Syrian government troops began moving toward towns near the Turkish border Sunday night under a deal struck with Syrian Kurds, following a chaotic day that saw the unraveling of the U.S. mission in northeastern Syria. Hundreds of Islamic State family members escaped a detention camp after Turkish shellfire hit the area, U.S. troops pulled out from another base and Turkish-backed forces consolidated their hold over a vital highway, cutting the main U.S. supply route into Syria." See also, As Trump withdraws U.S. forces from northern Syria, his administration scrambles to respond, The Washington Post, Karen DeYoung, Dan Lamothe, Missy Ryan, and Kareem Fahim, Sunday, 13 October 2019: "President Trump's decision to withdraw U.S. troops from northern Syria, where they had long kept an uneasy peace among competing forces, left the region in upheaval Sunday and the administration scrambling to respond to fast-moving events." See also, Trump faces bipartisan criticism for Syria withdrawal, The Washington Post, Felicia Sonmez, Sunday, 13 October 2019: "President Trump faced bipartisan criticism Sunday for his decision to order a withdrawal of U.S. forces from northern Syria, with one congressional Republican denouncing the move as 'weak' and a former Senate Foreign Relations Committee chairman warning that it will 'diminish the character of our great nation.' Senate Minority Leader Charles E. Schumer (D-N.Y.), meanwhile, announced that both chambers are readying a joint resolution urging Trump to reverse his decision."
Macabre Video of Fake Trump Shooting, Stabbing, and Brutally Assaulting Members of the News Media and His Political Critics Was Shown at His Miami Resort Last Week, The New York Times, Michael S. Schmidt and Maggie Haberman, Sunday, 13 October 2019: "A video depicting a macabre scene of a fake President Trump shooting, stabbing and brutally assaulting members of the news media and his political opponents was shown at a conference for his supporters at his Miami resort last week, according to footage obtained by The New York Times. Several of Mr. Trump's top surrogates — including his son Donald Trump Jr., his former spokeswoman Sarah Huckabee Sanders and the governor of Florida, Ron DeSantis — were scheduled to speak at the three-day conference, which was held by a pro-Trump group, American Priority, at Trump National Doral Miami. Ms. Sanders and a person close to Mr. Trump's son said on Sunday that they did not see the video at the conference…. The video, which includes the logo for Mr. Trump's 2020 re-election campaign, comprises a series of internet memes. The most violent clip shows Mr. Trump's head superimposed on the body of a man opening fire inside the 'Church of Fake News' on parishioners who have the faces of his critics or the logos of media organizations superimposed on their bodies. It appears to be an edited scene of a church massacre from the 2014 dark comedy film 'Kingsman: The Secret Service.' The disclosure that the video was played shows how Mr. Trump's anti-media language has influenced his supporters and bled into their own propaganda. Mr. Trump has made attacks on the news media a mainstay of his presidency, and he tweeted a similar — but far less violent video — in 2017. In recent weeks as he has confronted impeachment proceedings, he has ramped up his attacks on the news media, repeatedly calling it the 'enemy of the people.'"
Protecting whistleblower's identity is 'our primary interest,' House Intelligence Committee Chair Adam Schiff says, The Washington Post, Felicia Sonmez, Sunday, 13 October 2019: "House Intelligence Committee Chairman Adam B. Schiff (D-Calif.) said Sunday that protecting the identity of the whistleblower who raised the alarm about President Trump's communications with Ukraine is 'our primary interest,' in a sign that House Democrats may not press the individual to testify before Congress. Schiff made the statement in an interview on CBS News's 'Face the Nation.' He had said late last month that he expected his panel to hear from the whistleblower 'very soon' pending a security clearance from acting director of national intelligence Joseph Maguire."
During the day on Monday, I'll post stories that were published on Sunday. Because I try to stay focused on what has actually happened rather than on speculation and prognostication, I usually let the news 'settle' for a day or so before posting. I do include opinion pieces when I think they are appropriate.