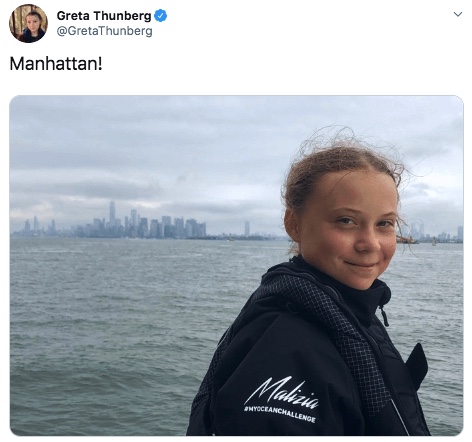 Passages in bold in the body of the texts below are usually my emphasis, though not always. This is an ongoing project, and I update the site frequently during the day. Because I try to stay focused on what has actually happened, I usually let the news 'settle' for a day or so before posting. I hope readers will peruse the articles in full for a better understanding of the issues and their context; our democracy and our future depend on citizens who can distinguish between facts and falsehoods and who are engaged in the political process.
For "a weekly newsletter celebrating people-powered wins against the Trump administration's agenda," visit Small Victories.
For independent global news, visit Democracy Now!
Friday, 30 August 2019, Day 953:
Greta Thunberg joins hundreds of teenagers in climate protest in New York, The Guardian, Friday, 30 August 2019: "Swedish climate activist Greta Thunberg was joined by hundreds of American teenagers protesting outside the UN headquarters in New York on Friday calling for adults to act on the crisis of global heating. Holding her trademark 'skolstrejk för klimatet' (Swedish for 'school strike for climate') sign, Thunberg sat in the middle of the rally where young activists gave speeches calling for action on the climate crisis."
Trump's personal assistant Madeleine Westerhout is fired after comments about Ivanka and Tiffany Trump, Politico, Daniel Lippman, Friday, 30 August 2019: "Madeleine Westerhout, who left her White House job suddenly on Thursday as President Trump's personal assistant, was fired after bragging to reporters that she had a better relationship with Trump than his own daughters, Ivanka and Tiffany Trump, and that the president did not like being in pictures with Tiffany because he perceived her as overweight. Given Westerhout's sensitive role as a confidante to the president, the few details the White House shared about her abrupt firing had Washington's political-media class in a quiet frenzy on Thursday night and Friday." See also, Trump's Personal Assistant, Madeleine Westerhout, Shared Intimate Details of First Family, The New York Times, Katie Rogers, Annie Karni, and Maggie Haberman, Friday, 30 August 2019: "If a White House official wanted to talk to President Trump, it helped to have a good relationship with Madeleine Westerhout, his 28-year-old assistant. She was known for brusquely deflecting officials senior to her both in title and age who wanted a few minutes of face time with the president with one withering question: 'Why are you here?' But it was not what some administration officials saw as Ms. Westerhout's overprotectiveness of the president that led to her abrupt and unceremonious departure from the White House on Thursday. Instead, it was an act of disloyalty. At an off-the-record dinner and several rounds of drinks with reporters two weeks ago during the president's working vacation in Bedminster, N.J., she shared personal details about the president and his family. Ms. Westerhout attended the dinner with Hogan Gidley, a White House spokesman. After he left, she began to tell reporters about Mr. Trump's eating habits; his youngest son, Barron Trump; and his thoughts about the weight and appearance of his daughter Tiffany Trump, according to a group of current and former administration officials who were told what happened." See also, Trump says ousted personal assistant Madeleine Westerhout made 'hurtful' comments about his family to reporters, The Washington Post, Toluse Olorunnipa, Friday, 30 August 2019: "President Trump said he dismissed his personal assistant, Madeleine Westerhout, after she divulged personal information about the Trump family during an off-the-record dinner with reporters." See also, Trump's personal assistant, Madeleine Westerhout, abruptly exits White House after sharing details about Trump's family, CNN, Jim Acosta, Kaitlan Collins, Noah Gray, Pamela Brown, and Paul LeBlanc, Friday, 30 August 2019. See also, Trump's Personal Assistant, Madeleine Westerhout, Steps Down, The New York Times, Annie Karni and Maggie Haberman, published on Thursday, 29 August 2019.
How the Trump administration limited the scope of the US Department of Agriculture's 2020 dietary guidelines, The Washington Post, Laura Reiley, Friday, 30 August 2019: "The Trump administration is limiting scientific input to the 2020 dietary guidelines, raising concerns among nutrition advocates and independent experts about industry influence over healthy eating recommendations for all Americans. For the first time, the Department of Health and Human Services and the Department of Agriculture, which oversee the committee giving recommendations for the guidelines, have predetermined the topics that will be addressed. They have narrowed the research that can be used only to studies vetted by agency officials, potentially leaving key studies out of the mix. The 80 questions the committee has been asked to answer do not cover several pressing issues the panel explored five years ago. This includes the consumption of red and processed meat, as well as the dramatic proliferation of ultraprocessed foods, which account for a growing percentage of calories consumed by Americans. Nor will the committee explore appropriate sodium levels for different populations."
Continue reading Week 137, Friday, 30 August – Thursday, 5 August 2019 (Days 953-959)
Trump shares potentially revealing image of Iranian launch site on Twitter, The Washington Post, Shane Harris and Anne Gearan, Friday, 30 August 2019: "In a tweet Friday, President Trump revealed a detailed aerial image of an Iranian launchpad, an unusual disclosure that may have confirmed the United States is violating Iran's airspace to spy on its missile program. Some imagery experts, examining the angle and very-high resolution of the image, said it may have been taken by an aircraft, possibly a drone. 'It looks like it was taken from an airborne platform, not a satellite,' said Jeffrey Lewis, an arms control expert at the Middlebury Institute of International Studies at Monterey, an assessment echoed by several other experts. It would come as no surprise to Iran that the United States is gathering images of such sites and other facilities. But disputes over U.S. violations of Iranian airspace have exacerbated tensions in the Persian Gulf." See also, Trump Tweets Sensitive Surveillance Image of Iran, NPR, Geoff Brumfiel, Friday, 30 August 2019. See also, In a Tweet Taunting Iran, Trump Releases an Image Thought to Be Classified, The New York Times, David E. Sanger and William J. Broad, Friday, 30 August 2019: "A mysterious explosion on Thursday at an Iranian space center prompted speculation that it was American sabotage, rather than an accident, that was responsible for the third successive failure of Tehran's efforts to show it could loft satellites into orbit. As pictures from commercial satellites of a rocket's smoking remains began to circulate, President Trump denied Friday on Twitter that the United States was involved. It was an unusual message because the Iranian government had neither acknowledged the accident nor blamed the United States. His tweet ended with an apparent taunt: 'I wish Iran best wishes and good luck in determining what happened' in the fiery accident. But Mr. Trump also included in his tweet a high-resolution image of the disaster, immediately raising questions about whether he had plucked a classified image from his morning intelligence briefing to troll the Iranians. The president seemed to resolve the question on Friday night on his way to Camp David when he told reporters, 'We had a photo and I released it, which I have the absolute right to do.'"
Education Secretary Betsy DeVos tightens rules for forgiving student loans, Politico, Michael Stratford, Friday, 30 August 2019: "Education Secretary Betsy DeVos on Friday finalized rules that make it more difficult for federal student loan borrowers to cancel their debt on the grounds that their college defrauded them, scaling back an Obama-era policy aimed at abuses by for-profit colleges. The rules, which the Trump administration weighed for more than a year, set a more stringent standard for when the Education Department will wipe out the debt of borrowers who claim they were misled or deceived by their respective colleges."
Saturday, 31 August 2019, Day 954:
Texas Shooting Leaves 5 Dead and At Least 21 Injured Near Odessa, Texas, The New York Times, Manny Fernandez, Neil Vigdor, and Christopher Mele, Saturday, 31 August 2019: "Five people were killed and at least 21 others were injured in a brazen daylight drive-by mass shooting in the West Texas cities of Midland and Odessa on Saturday, as a gunman drove on the highways and streets opening fire on residents, motorists and shoppers, the authorities said." See also, 5 killed, 21 injured in a mass shooting in Odessa, Texas, The Washington Post, Wesley Lowery and Emily Davies, Saturday, 31 August 2019: "Five people were killed and 21 were injured in the West Texas cities of Odessa and Midland after a gunman fled a traffic stop, hijacked a mail truck and opened fire indiscriminately on officers and civilians as he sped down Interstate 20 and Highway 191, police said."
51 People Died in Mass Shootings in August Alone in the U.S., The New York Times, Neil Vigdor, Saturday, 31 August 2019: "The month of August ended as it began: with a shooting rampage and a significant death toll. Five people were killed near Odessa, Tex., on Saturday as a gunman started shooting indiscriminately at cars, bringing the number of victims of mass killings by firearms to 51 for the month. The term mass killings is defined by the Justice Department as three or more killings in a single episode, excluding the death of a gunman. There is no legal definition for the term mass shooting, despite its frequent use by gun control groups and the news media. This month's loss of life was most acute in Texas, where four of the eight deadliest shootings occurred, including an Aug. 3 massacre at a Walmart in El Paso that killed 22 people. The spate of gun violence has left the country on edge and catalyzed a more intense debate over gun control."
How a Trump Tax Break to Help Poor Communities Became a Windfall for the Rich, The New York Times, Jesse Drucker and Eric Lipton, Saturday, 31 August 2019: "President Trump has portrayed America's cities as wastelands, ravaged by crime and homelessness, infested by rats. But the Trump administration's signature plan to lift them — a multibillion-dollar tax break that is supposed to help low-income areas — has fueled a wave of developments financed by and built for the wealthiest Americans."
Trump pledged not to use his office to help his business. Then he pitched his Florida club for the next G-7. The Washington Post, Jonathan O'Connell, Joshua Partlow, and David A. Fahrenthold, Saturday, 31 August 2019: "There are lines that we would never cross, and that's mixing business with anything government,' said Eric Trump, one of two Trump sons who would be taking over day-to-day control of the Trump Organization. Over time, Trump has repeatedly crossed that line, routinely visiting his properties and talking them up on television and Twitter. The most overt example came last week, when Trump said he was likely to award next year's Group of Seven summit to his company's Doral golf resort in Florida — a plan that would direct millions of dollars to benefit his own business."
Federal Election Commission Chair Ellen Weintraub Says Lack of Quorum Is 'Completely Unacceptable,' NPR, Saturday, 31 August 2019: "NPR's Michel Martin speaks with Federal Election Commission chair Ellen Weintraub about the FEC's lack of a quorum and how that might affect the upcoming election cycle."
How Brazil's nationalist leader built a bond with Trump and won his support in the Amazon fires dispute, The Washington Post, David Nakamura, Saturday, 31 August 2019: "President Trump was preparing for the Group of Seven summit in France when he learned that one of his most ardent suitors was trying to reach him. Brazilian President Jair Bolsonaro needed a favor, and Trump told aides to patch the call through. Bolsonaro got right to the point: The powerful G-7 countries, including France and Canada, were unfairly ganging up on Brazil over their criticism of his government's response to massive fires ravaging the Amazon rainforest. Since Brazil is not a G-7 member, he told Trump, it was in danger of being 'left without a voice,' according to a senior Trump administration official familiar with their call. Trump did not hesitate. 'Absolutely, we will be a voice for Brazil,' the president responded, said the official, speaking on condition of anonymity to discuss a private conversation…. A far-right nationalist initially viewed as a long shot, Bolsonaro unabashedly modeled himself after Trump, weaponizing social media, bullying rivals and courting the Trump administration by promising strong support for Israel, pressure on socialist regimes in Venezuela and Cuba and newfound potential for bilateral trade. For that, he earned a special moniker: 'Trump of the tropics.'… [T]o congressional Democrats, the personal chemistry between the leaders represents another example of the president cozying up to a world leader with anti-democratic, strongman tendencies, sometimes at the expense of U.S. allies. A former national legislator, Bolsonaro earned infamy with a series of bigoted, sexist and homophobic comments, as well as attacks on immigrants. He responded to a female lawmaker who accused him of encouraging rape by saying: 'I wouldn't rape you because you don't deserve it.'"
Sunday, 1 September 2019, Day 955:
Texas Shooting Brings New Urgency to Gun Debate in Congress, The New York Times, Sheryl Gay Stolberg, Sunday, 1 September 2019: "The deadly shooting spree in West Texas this weekend — the latest in an especially gruesome summer of massacres — has intensified pressure on congressional Republicans to take up gun safety legislation, giving fresh urgency to a debate that was already expected to be at the top of lawmakers' agenda when they return to the Capitol next week." See also, Democrats press Trump and Republicans to tighten gun controls after mass shooting in Odessa, Texas, The Washington Post, Felicia Sonmez and Paige Winfield Cunningham, Sunday, 1 September 2019: "Democrats on Sunday pleaded with President Trump and congressional Republicans to tighten gun restrictions in the wake of a mass shooting in West Texas that pushed the number of people killed in such incidents to more than 50 in August alone. Trump dismissed tougher background checks — 'they would not have stopped any of it' — and suggested that Saturday's shooting, which left seven dead and 19 wounded, had done little to change his calculus on gun control as talks continue between administration officials and some in Congress."
Trump's lost summer: Aides claim victory, but others see incompetence and intolerance, The Washington Post, Philip Rucker and Ashley Parker, Sunday, 1 September 2019: "When President Trump presided over the battle tanks and fighter jets, the fireworks and adoring fans on July 4, he couldn't have known that the militaristic 'Salute to America' — as well as to himself — would end up as the apparent pinnacle of the season. What followed was what some Trump advisers and allies characterize as a lost summer defined by self-inflicted controversies and squandered opportunities. Trump leveled racist attacks against four congresswomen of color dubbed 'the Squad.' He derided the majority-black city of Baltimore as 'rat and rodent infested.' His anti-immigrant rhetoric was echoed in a missive that authorities believe a mass shooting suspect posted. His visits to Dayton, Ohio, and El Paso after the gun massacres in those cities served to divide rather than heal."
Monday, 2 September 2019, Day 956:
Congressional Democrats plan to launch inquiry into Trump's alleged role in scheme to silence affair accusations, The Washington Post, Rachael Bade and Tom Hamburger, Monday, 2 September 2019: "House Democrats plan to make President Trump's alleged involvement in a 2016 scheme to silence two women who claimed they had affairs with him a major investigative focus this fall, picking up where federal prosecutors left off in a case legal experts say could have led to additional indictments. The House Judiciary Committee is preparing to hold hearings and call witnesses involved in hush-money payments to ex-Playboy model Karen McDougal and adult-film star Stormy Daniels as soon as October, according to people familiar with the plans who spoke on the condition of anonymity to describe internal discussions. Democrats say they believe there is already enough evidence to name Trump as a co-conspirator in the episode that resulted in his former attorney, Michael Cohen, pleading guilty to two campaign finance charges."
Faced With Criticism, the Trump Administration Announces It Will Reconsider Its Decision to Force Immigrants Facing Life-Threatening Health Conditions to Return to Their Home Countries, The New York Times, Miriam Jordan, Monday, 2 September 2019: "The Trump administration on Monday announced that it would reconsider its decision to force immigrants facing life-threatening health crises to return to their home countries, an abrupt move last month that generated public outrage and was roundly condemned by the medical establishment. On Aug. 7, the United States Citizenship and Immigration Services, without public notice, eliminated a 'deferred action' program that had allowed immigrants to avoid deportation while they or their relatives were undergoing lifesaving medical treatment."
Trump doesn't think he has 'ever even heard of a Category 5' hurricane. Four such storms have threatened the US since he took office. CNN, Devan Cole, Monday, 2 September 2019: "President Donald Trump said Sunday that he's 'not sure that (he's) ever even heard of a Category 5' hurricane, despite four such storms — including Hurricane Dorian — having threatened the US since he took office. 'We don't even know what's coming at us. All we know is it's possibly the biggest. I have — I'm not sure that I've ever even heard of a Category 5. I knew it existed. And I've seen some Category 4's — you don't even see them that much,' Trump said at a briefing with officials at FEMA's headquarters in Washington, DC. 'But a Category 5 is something that — I don't know that I've ever even heard the term other than I know it's there. That's the ultimate, and that's what we have unfortunately,' he added, in reference to Hurricane Dorian."
Tuesday, 3 September 2019, Day 957:
State Court Panel Rules That North Carolina's Current Legislative Maps Are an Unconstitutional Partisan Gerrymander, The New York Times, Michael Wines and Richard Fausset, Tuesday, 3 September 2019: "In a major blow to Republicans who control the Legislature in one of the nation's most bitterly divided states, a state court panel threw out North Carolina's state legislative maps as an unconstitutional partisan gerrymander and ordered lawmakers to draw up new ones in two weeks. The ruling on Tuesday by a three-judge panel in Raleigh had the potential to bring to a decisive end a yearslong battle over gerrymandering in a critical swing state and indicated that state courts could act to rein in patently partisan electoral maps after the United States Supreme Court ruled in June, by a 5-to-4 margin, that federal courts could not. The Republican leader of the State Senate, Phil Berger, cast the decision as part of a national Democratic strategy to overturn Republican rule via the courts, but said the Legislature would not appeal the ruling. The North Carolina Supreme Court, which would hear any appeal, has six Democratic justices and one Republican." See also, North Carolina court rules partisan state legislative districts are unconstitutional, The Washington Post, Felicia Sonmez and Robert Barnes, Tuesday, 3 September 2019: "A North Carolina court ruled Tuesday that the state's legislative districts are unconstitutional, in a unanimous decision that won praise from voting-rights advocates and opens a new front in the national battle over partisan gerrymanders. The three superior court judges in Wake County set a deadline of Sept. 17 by which North Carolina's Republican-led General Assembly must submit redrawn state House and Senate district maps to be reviewed by a court-appointed referee. In their ruling, the judges stated that the plaintiffs had proved the effect of the 'partisan' maps drawn by the state legislature was that, 'in all but the most unusual election scenarios, the Republican party will control a majority of both chambers of the General Assembly. In other words, the Court finds that in many election environments, it is the carefully crafted maps, and not the will of the voters, that dictate the election outcomes in a significant number of legislative districts and, ultimately, the majority control of the General Assembly,' the judges said in their ruling."
Walmart will stop selling some ammunition and exit the handgun market, The Washington Post, Abha Bhattarai, Tuesday, 3 September 2019: "Walmart will stop selling ammunition for military-style weapons and no longer allow customers to openly carry firearms in stores, becoming the latest big-box chain to bow to public pressure that has been building after a recent series of mass shootings around the country. The world's largest retailer had been under mounting calls to respond to two deadly shootings inside its stores this summer in El Paso, and Southaven, Miss. The decision was a blow to gun-rights advocates, some of whom had been showing up at Walmart locations carrying guns on their hips in the hope that the retailer would not shift its policies. Walmart in 2015 had stopped selling the military-style rifles that have become common in mass shootings. But it continued to own a large slice of the ammunition market: about 20 percent overall. That share now could fall to as little as 6 percent, the company said." See also, Walmart to Limit Ammunition Sales and Discourage 'Open Carry' of Guns in Stores, The New York Times, Michael Corkery, Tuesday, 3 September 2019: "Walmart stepped forcefully into the national gun debate on Tuesday, saying it would stop selling ammunition that can be used in military-style assault rifles, would discourage its customers from openly carrying guns in its stores and would call on Congress to increase background checks and consider a new assault rifle ban." See also, Walmart's C.E.O. Steps Into the Gun Debate. Other C.E.O.s Should Follow. The New York Times, Andrew Ross Sorkin, Tuesday, 3 September 2019: "Midday Tuesday, Doug McMillon, Walmart's chief executive, sent me a surprise email. He shared a series of policies the company was about to make public about combating gun violence since the mass shooting that killed 22 people at one of his El Paso stores last month. Mr. McMillon's email was a reply of sorts to an open letter I had written to him, along with the outcry he heard from scores of Americans, calling on him to use his leverage as the leader of the country's largest retailer to create a model for more responsible gun-selling practices. Under Mr. McMillon, Walmart already had stopped selling assault-style guns and raised the age requirement for all gun buyers to 21. But five years into his tenure as chief executive of a company based in Arkansas that reaches into virtually every corner of the country, he had been reluctant to speak publicly against gun violence, fearing a political and customer backlash. Yet he forcefully entered the debate on Tuesday."
Elizabeth Warren Unveils Climate Change Plan, Embracing Jay Inslee's Goals, The New York Times, Coral Davenport and Lisa Friedman, Tuesday, 3 September 2019: "Senator Elizabeth Warren of Massachusetts released an ambitious new climate change plan on Tuesday, embracing goals laid out by a former presidential rival and calling for $3 trillion in spending over a decade to combat human-driven global warming. Ms. Warren made her announcement on the eve of a CNN town-hall-style event on global warming, which 10 top Democrats in the 2020 field are scheduled to attend on Wednesday — the first time in a presidential campaign that the question of what to do about the heating planet has merited its own major forum on prime-time television."
Pentagon to Divert Money From 127 Projects to Pay for Trump's Border Wall, The New York Times, Helene Cooper and Emily Cochrane, Tuesday, 3 September 2019: "The Pentagon will delay or suspend 127 military construction projects so that $3.6 billion can be diverted to shore up President Trump's border wall, Defense Department officials said Tuesday. Pentagon officials on Tuesday began notifying congressional representatives from areas that house the affected projects, and the decision to divert the funding prompted outcry from Democrats over what they viewed as a violation of Congress's authority to set spending." See also, Trump administration raids military construction projects to pay for border wall, Politico, Jennifer Scholtes, Sarah Ferris, and Jacqueline Feldscher, Tuesday, 3 September 2019: "The Trump administration is carrying out plans to raid $3.6 billion in military construction projects to build the border wall, further inflaming lawmakers who have accused President Donald Trump of illegally overriding Congress' spending decisions. Defense Secretary Mark Esper informed congressional leaders on Tuesday of the cash grab from a total of 127 military projects. Roughly half the money will come from funds previously dedicated to upgrading military bases abroad and the other half in the United States." See also, Pentagon will begin notifying lawmakers of delayed military projects to pay for border barrier, The Washington Post, Seung Min Kim, Tuesday, 3 September 2019. See also, Pentagon pulls funds for military schools and daycare to pay for Trump's border wall, Reuters, Bryan Pietsch, published on Wednesday, 4 September 2019: "The Pentagon said on Wednesday it would pull funding from 127 Defense Department projects, including schools and daycare centers for military families, as it diverts $3.6 billion to fund President Donald Trump's wall along the U.S. border with Mexico." See also, Full list: The 127 defense projects postponed for the border barrier, PBS, published on Wednesday, 4 September 2019. See also, Pentagon Lists Projects That Will Be Delayed to Fund Border Wall, The New York Times, Emily Cochrane and Helene Cooper, published on Wednesday, 4 September 2019. See also, Pentagon takes money from Puerto Rico and European projects to fund Trump's wall, The Washington Post, Paul Sonne and Seung Min Kim, published on Wednesday, 4 September 2019.
U.N. report says the U.S., France, and Britain may be complicit in Yemen war crimes, Reuters, Stephanie Nebehay, Tuesday, 3 September 2019: "The United States, Britain and France may be complicit in war crimes in Yemen by arming and providing intelligence and logistics support to a Saudi-led coalition that starves civilians as a war tactic, the United Nations said on Tuesday. U.N. investigators compiled a secret list of possible international war crimes suspects, drawn from their latest report into violations during the four-year conflict between a coalition of Arab states and the Houthi movement that controls Yemen's capital. Investigators found potential crimes on both sides, while also highlighting the role Western countries play as key backers of the Arab states and Iran plays in support of the Houthis."
McKrae Game, founder of conversion therapy group, comes out as gay and apologizes for his role in the practice, The Hill, Jessica Campisi, Tuesday, 3 September 2019: "The founder of one of the nation's largest conversion therapy programs, who spent decades leading the organization, now says he is gay and apologizes for his role in the practice. McKrae Game, who founded and led Hope for Wholeness in South Carolina, publicly announced he was gay in early June, more than two years after the organization's board of directors abruptly fired him."
Trump claimed Dorian could hit Alabama even after the National Weather Service refuted it, CNN, Brian Stelter, Tuesday, 3 September 2019: "This is a story about President Donald Trump spreading false information during an emergency situation. Not once or twice — three times. When a news outlet pointed out the President was wrong, he called the report 'phony' and insisted that he was right. But his own National Weather Service had said he was wrong."
Trump encouraged Vice President Mike Pence to stay at his golf resort in Ireland, The Washington Post, Robert Costa, David A. Fahrenthold, and John Wagner, Tuesday, 3 September 2019: "Vice President Pence arrived Monday in Ireland with an unusual itinerary: He would attend meetings with Irish leaders in Dublin during the day Tuesday — but spend two nights on the opposite side of the country, at a golf club owned by President Trump. Pence spent both Monday and Tuesday nights at Trump International Golf Links & Hotel in Doonbeg, in a small town on Ireland's southwest coast, returning to the village after meetings with Ireland's top elected officials. Pence defended that decision — which required him to fly to Dublin and back on Air Force Two — by saying that he wanted to visit Doonbeg so that he could have dinner with his family at Morrissey's, a pub here owned by a distant cousin." See also, 'Business as Normal': Pence's Stay at Trump Hotel in Ireland Follows a Trend, The New York Times, Maggie Haberman and Eric Lipton, Tuesday, 3 September 2019: "Vice President Mike Pence departed his hotel overlooking stunning vistas of the Atlantic Ocean just before 8:30 a.m. Tuesday for his official visit with Michael D. Higgins, the president of Ireland. It would be quite some time before he got there. There was the hourlong motorcade to the airport in Shannon, where he arrived at 9:30 a.m. Then the flight to Dublin, where Air Force Two landed at 10:29 a.m., and finally a short drive to Aras an Uachtarain, the presidential residence, and his meet-and-greet with Mr. Higgins, which started at 11:11 a.m. The lengthy commute was necessary because of Mr. Pence's choice of hotel: Rather than spending Monday night in Dublin, the vice president stayed 181 miles away by car on the other side of Ireland — at the Trump International Golf Links & Hotel in Doonbeg. The person who suggested he stay there was the hotel's owner himself, President Trump." See also, Not just Pence: Trump, PACs, or government agencies visited Trump properties on 7-in-10 days since 2017, The Washington Post, Philip Bump, published on Wednesday, 4 September 2019.
Wednesday, 4 September 2019, Day 958:
Judge Rules Terrorism Watchlist Violates Constitutional Rights, The New York Times, Charlie Savage, Wednesday, 4 September 2019: "A federal judge ruled on Wednesday that a federal government database that compiles people deemed to be 'known or suspected terrorists' violates the rights of American citizens who are on the watchlist, calling into question the constitutionality of a major tool the F.B.I. and the Department of Homeland Security use for screening potential terrorism suspects. Being on the watchlist can restrict people from traveling or entering the country, subject them to greater scrutiny at airports and by the police, and deny them government benefits and contracts. In a 32-page opinion, Judge Anthony J. Trenga of United States District Court for the Eastern District of Virginia said the standard for inclusion in the database was too vague. 'The court concludes that the risk of erroneous deprivation of plaintiffs' travel-related and reputational liberty interests is high, and the currently existing procedural safeguards are not sufficient to address that risk,' Judge Trenga wrote." See also, Federal judge rules the FBI's terrorism watch list violates the Constitution, The Washington Post, Timothy Bella, published on Thursday, 5 September 2019: "A federal judge ruled Wednesday that an FBI watch list of more than 1 million 'known or suspected terrorists' violates the constitutional rights of U.S. citizens in the database. The decision from U.S. District Judge Anthony J. Trenga of the Eastern District of Virginia in favor of 23 Muslim Americans who sued over their inclusion in the Terrorist Screening Database found that the watch list infringes on their constitutional right to due process. Trenga noted that the list restricts their ability to fly and engage in everyday activities and backed the plaintiffs' concerns that they were flagged secretly and without a clear methodology."
Trump Insists He Was Right About Hurricane Dorian Heading for Alabama Despite the National Weather Service Saying Alabama Would Not See Any Impact from Dorian, The New York Times, Michael D. Shear and Zolan Kanno-Youngs, Wednesday, 4 September 2019: "When President Trump displayed a large map of Hurricane Dorian's path in the Oval Office on Wednesday, it was hard to miss a black line that appeared to have been drawn to extend the storm's possible path into the state of Alabama. That might have been intended to bolster Mr. Trump's claim on Sunday when he tweeted that 'in addition to Florida — South Carolina, North Carolina, Georgia, and Alabama, will most likely be hit (much) harder than anticipated.' Never mind that the Alabama office of the National Weather Service quickly responded to Mr. Trump's original claim by insisting that 'Alabama will NOT see any impacts from #Dorian. We repeat, no impacts from Hurricane #Dorian will be felt across Alabama,' the office tweeted. 'The system will remain too far east.' So did Mr. Trump — who frequently uses black Sharpie pens to sign legislation — add the mark to justify his unfounded claim about the dangers faced by residents of the Cotton State? Or did someone else in his administration clumsily modify the map so that it would appear to back up the president?" See also, Trump showed a doctored hurricane chart. Was it to cover up for 'Alabama' Twitter flub? The Washington Post, Matthew Cappucci and Andrew Freedman, Wednesday, 4 September 2019. See also, Trump continues to push erroneous claim about Alabama as Dorian lashes the Carolinas, The Washington Post, John Wagner, published on Thursday, 5 September 2019. See also, Trump Displays Altered Map of Hurricane Dorian's Path to Include Alabama, NPR, Brian Naylor, Wednesday, 4 September 2019: "On Wednesday, during an Oval Office briefing on Hurricane Dorian, President Trump displayed what appeared to be an official National Weather Service map from last Thursday, in which the storm's projected path was extended to Alabama by someone using a black marker…. Some on Twitter … noted that, under law, knowingly issuing a false weather report is a violation of the law subject to imprisonment and or fine." See also, Trump Shows Doctored Hurricane Map as Dorian Hits U.S. Coast After Ravaging Bahamas, Democracy Now!, broadcast on Thursday, 5 September 2019: "Trump doubled down on his false claim that Alabama would be hit by Hurricane Dorian. Over the weekend, Trump tweeted that Alabama would be hit, which was swiftly corrected by the National Weather Service. While speaking to reporters from the Oval Office Wednesday, Trump held up a map which appeared to show an altered projection of Dorian's path to include Alabama. The hurricane's path was extended with a black marker. Altering official government weather forecasts is illegal. The president and the White House refused to say who altered the map he showed." See also, Trump shows fake hurricane map in apparent bid to validate his incorrect tweet, The Guardian, David Smith, Wednesday, 4 September 2019.
Joe Biden will return to Wall Street for fundraisers after CNN climate town hall, CNBC, Brian Schwartz, Wednesday, 4 September 2o19: "Former Vice President Joe Biden is heading back to Wall Street for two fundraisers Thursday, the day after he participates in a climate change town hall. Biden has shown a willingness to court big money and corporate-linked donors, even as his campaign tries to distance him from lobbyists. His main rivals for the 2020 Democratic nomination, Sens. Bernie Sanders and Elizabeth Warren, have rejected hosting these kinds of top-dollar fundraisers." See also, After CNN Climate Forum, Joe Biden Heads to a Fundraiser Co-hosted by a Fossil Fuel Executive, The Intercept, Akela Lacy, Wednesday, 4 September 2019: "The day after Joe Biden participates in CNN's climate forum in New York, the former vice president will head to a high-dollar fundraiser co-hosted by a founder of a fossil fuel company. Andrew Goldman, a co-founder of Western LNG, a natural gas production company based in Houston, Texas, is co-hosting one of two high-dollar fundraisers Biden will attend in New York on Thursday. Western's major project is a floating production facility off the northern coast of British Columbia designed to provide Canadian gas to markets in northeast Asia. Goldman and Biden have deep ties: Goldman served as an adviser to Biden while he was in the Senate and was the northeast director of finance for Biden's 2008 campaign. He's also an executive at the investment banking firm Hildred Capital Partners. He and his partner at the firm, David Solomon, along with their wives Renee and Sarah, will host a private fundraiser for Biden at the Solomon house, CNBC reported. Goldman also co-founded De Cordova Goldman Capital Management, which invested in 'natural resources and energy.'" See also, Joe Biden Caught Off Guard at Town Hall by Question on Fund-Raiser's Fossil Fuel Ties, The New York Times, Trip Gabriel and Katie Glueck, Wednesday, 4 September 2019.
Joe Balash, Trump Interior Official Who Pushed Arctic Drilling, Joins Oil Company in Alaska, NPR, Nat Herz, Wednesday, 4 September 2019: "A top U.S. Department of the Interior appointee who pushed to open the Arctic National Wildlife Refuge to oil leasing is taking a job with an oil company seeking to develop a major project in Alaska. Joe Balash, an assistant secretary at the department who oversaw the Bureau of Land Management, left his job last week. On Wednesday he announced his new position as senior vice president for external affairs with Oil Search, a Papua New Guinea-based company that first expanded into Alaska in 2017." See also, Joe Balash, a top Interior official who pushed to expand drilling in Alaska, to join oil company there, The Washington Post, Juliet Eilperin and Steven Mufson, Wednesday, 4 September 2019: "Last summer, Scott Pruitt left his job heading the Environmental Protection Agency and within a few months had started consulting for coal magnate Joseph W. Craft III. Three weeks after leaving the Interior Department, energy counselor Vincent DeVito joined Cox Oil Offshore, which operates in the Gulf of Mexico, as its executive vice president and general counsel. Now, Joe Balash — who oversaw oil and gas drilling on federal lands before resigning from Interior on Friday — is joining a foreign oil company that is expanding operations on Alaska's North Slope."
Energy Department to prolong the lives of incandescent lightbulbs, The Washington Post, Steven Mufson, Wednesday, 4 September 2019: "The Trump administration Wednesday rolled back yet another Obama-era regulation. This time the Energy Department issued a final and a proposed rule that will prolong the life of certain old-fashioned — and energy-intensive — incandescent lightbulbs invented by Thomas Edison 140 years ago. The bulbs would otherwise have been effectively phased out by Jan. 1. The rollback will mean $14 billion a year in higher energy costs and add to the nation's greenhouse gas emissions, according to a study by the Appliance Standards Awareness Project and the American Council for an Energy-Efficient Economy." See also, Trump Administration to Relax Energy Efficiency Rules for Light Bulbs, The New York Times, John Schwartz, Wednesday, 4 September 2019.
Democrats Examining Impeachment Target Trump's Pardon Offers to Immigration Officials, The New York Times, Nicholas Fandos, Wednesday, 4 September 2019: "The House Judiciary Committee ordered homeland security officials on Wednesday to hand over records related to reported offers by President Trump to pardon aides willing to break the law to carry out his immigration policies. With a subpoena addressed to the department's acting secretary, Kevin K. McAleenan, House Democrats indicated that they were continuing to expand the scope of their investigation into whether to impeach the president beyond the special counsel's core findings on Russian election interference and possible presidential obstruction of justice. A president who knowingly directed government officials to break the law and dangled pardons to appease them would constitute an abuse of power, the Judiciary Committee's chairman, Representative Jerrold Nadler, Democrat of New York, said on Wednesday. He promised hearings on the matter in the coming weeks, linking it to other potential abuses under investigation by Democrats." See also, The House Judiciary Committee issues subpoena on Trump's alleged offer to pardon Department of Homeland Security officials, Politico, Kyle Cheney, Wednesday, 4 September 2019: "The House Judiciary Committee on Wednesday subpoenaed the Department of Homeland Security for documents connected to President Donald Trump's alleged offer to pardon officials who break the law while carrying out his immigration agenda. Trump has denied making such an offer, and his allies have reportedly claimed his closed-door comments — revealed in media reports — were jokes. But Democrats say they want to see the records from inside the department, particularly as the Judiciary Committee weighs the prospect of impeachment."
San Francisco Declares the National Rifle Association a 'Domestic Terrorist Organization,' The New York Times, Mariel Padilla, Wednesday, 4 September 2019: "Unsettled by recent mass shootings across the nation, the San Francisco Board of Supervisors unanimously approved a resolution this week declaring the National Rifle Association a domestic terrorist organization. The resolution was introduced by Supervisor Catherine Stefani on July 30, two days after a shooting at a garlic festival in Gilroy, Calif., in which three people were killed and more than a dozen others injured." See also, San Francisco just passed a resolution calling the National Rifle Association a 'domestic terrorist organization,' The Washington Post, Eli Rosenberg, Wednesday, 4 September 2019.
US offers cash to tanker captains in bid to seize Iranian ships, Financial Times, Demetri Sevastopulo, Wednesday, 4 September 2019: "Four days before the US imposed sanctions on an Iranian tanker suspected of shipping oil to Syria, the vessel's Indian captain received an unusual email from the top Iran official at the Department of State. 'This is Brian Hook . . . I work for secretary of state Mike Pompeo and serve as the US Representative for Iran,' Mr Hook wrote to Akhilesh Kumar on August 26, according to several emails seen by the Financial Times. 'I am writing with good news.'  The 'good news' was that the Trump administration was offering Mr Kumar several million dollars to pilot the ship — until recently known as the Grace 1 — to a country that would impound the vessel on behalf of the US. To make sure Mr Kumar did not mistake the email for a scam, it included an official state department phone number. The remarkable outreach by such a high-ranking official was not an isolated case. Mr Hook, who heads the state department's Iran Action Group, has emailed or texted roughly a dozen captains in recent months in an effort to scare mariners into understanding that helping Iran evade sanctions comes at a heavy price."
U.S. Imposes Sanctions on Iranian Shipping Network, The New York Times, Alan Rappeport, Lara Jakes, and David E. Sanger, Wednesday, 4 September 2019: "The Trump administration on Wednesday imposed sanctions on an elaborate shipping network that Iran uses to sell oil, and unveiled a $15 million reward to anyone with information that disrupts the scheme, stepping up its effort to exert pressure on the Iranian economy."
Thursday, 5 September 2019, Day 959:
After the Democratic National Committee Rejected Climate Debate, Democratic Candidates Discuss the Green New Deal and Environmental Justice at CNN Forum, Democracy Now!, Thursday, 5 September 2019: "Ten Democratic presidential hopefuls took to the stage in New York City Wednesday night for a climate town hall hosted by CNN. The event was held less than two weeks after the Democratic National Committee rejected a resolution that would have allowed candidates to participate in a debate focused on the climate crisis. For months, the Sunrise Movement and other environmental groups pushed the DNC to hold a climate debate, but the party refused." See also, CNN's climate crisis town hall, CNN, Meg Wagner, Dan Merica, Gregory Krieg, and Eric Bradner, Thursday, 5 September 2019. See also, What happened during CNN's climate town hall and what it means for 2020, CNN, Stephen Collinson, Thursday, 5 September 2019. See also, 'Fighting for the survival of planet Earth': Democrats tackle climate crisis in CNN town hall, The Guardian, Maanvi Singh and Joan E. Greve, Thursday, 5 September 2019. See also, 5 Takeaways From the Democrats' Climate Town Hall, The New York Times, Lisa Friedman and Maggie Astor, Thursday, 5 September 2019: "Over a marathon seven hours on Wednesday, 10 of the Democratic presidential candidates participated in back-to-back CNN town hall events on climate change, fielding questions from audience members and several of the network's top anchors. It was something of a consolation prize for what many candidates and activists really wanted: an official Democratic debate devoted to climate change, which the Democratic National Committee refused to hold. But it was also more in-depth than any official debate would have been — because did we mention it lasted seven hours? — and left no doubt that climate change has become one of the most important issues in the 2020 primary." See also, At the CNN Climate Town Hall, Elizabeth Warren Says Talk of Light Bulbs and Straws Is a Distraction Supported by the Fossil Fuel Industry, The New York Times, Lisa Friedman, published on Wednesday, 4 September 2019: "Elizabeth Warren doesn't want you to get distracted by light bulbs. Or, for that matter, paper versus plastic straws. Or whether the Green New Deal will take your cheeseburgers away. 'Oh come on, give me a break,' the Massachusetts senator said at the CNN climate forum when Chris Cuomo asked her to weigh in on whether the government should mandate the kind of light bulbs Americans use in the wake of the Trump administration rolling back energy efficiency regulations. 'This is exactly what the fossil fuel industry hopes we're all talking about,' Ms. Warren said. 'They want to be able to stir up a lot of controversy around your light bulbs, around your straws and around your cheeseburgers. When 70 percent of the pollution, of the carbon that we're throwing into the air, comes from three industries.' The three industries contributing to the most carbon dioxide emissions in the United States right now, Ms. Warren noted, are the building industry, the electric power industry and the oil industry." See also, At the CNN Climate Town Hall, Bernie Sanders Says Inaction Is the Unrealistic Option, The New York Times, Maggie Astor, published on Wednesday, 4 September 2019: "Bernie Sanders, the Vermont senator, defended the feasibility of his $16 trillion climate change proposal, during the CNN climate forum saying the question was not whether his plan was realistic, but whether the alternative was. 'If I start from the moral position that we have no choice but to do everything that we can, with countries all over the world, to save this planet for our children and future generations, that will mean change,' he said. 'I think that what a president of the United States has got to do is make it clear to the people of our country and the world what the dangers are if we do not act.'" See also, Joe Biden on the Defensive at Climate Town Hall, The New York Times, Lisa Friedman, published on Wednesday, 4 September 2019: "Former Vice President Joseph R. Biden was hit with what was probably the toughest question of the night: How can he be trusted to stand up to fossil fuel companies when he has plans to attend a fund-raiser tomorrow hosted by Andrew Goldman, a co-founder of Western LNG, a liquefied natural gas production company." See also, Biden Fund-Raiser Co-Hosted by Andrew Goldman, a Founder of a Fossil Fuel Company, Draws Climate Change Protesters, The New York Times, Anne Barnard and Katie Glueck, Thursday, 5 September 2019: "Defying criticism from climate activists, Joseph R. Biden Jr. on Thursday attended a fund-raiser co-hosted by a founder of a liquefied natural gas-related company and defended his decision to do so, despite concerns from some environmentalists that he violated the intent of a pledge to forgo money from oil and gas executives. It is the latest example of tension between Mr. Biden, the poll leader in the Democratic presidential primary, and energized activists who often reflect the mood of the party's more liberal wing." See also, Environmental Justice Was a Climate Forum Theme at the CNN Climate Town Hall, The New York Times, Maggie Astor, Thursday, 5 September 2019: "The presidential candidates at the CNN climate forum on Wednesday repeatedly emphasized how climate change is hurting low-income communities and people of color, reflecting a growing awareness among Democrats that many of the problems they seek to address are inextricably tied to racism, poverty and other forms of discrimination and inequality. Nine of the 10 participating candidates — all except former Vice President Joseph R. Biden Jr. — named or clearly alluded to environmental justice, a framework that calls for environmental policies to explicitly address racial and economic disparities exacerbated by a warming planet. It was an acknowledgment, as several candidates put it, that decades of racist and classist policies have concentrated people of color and poor people in the most polluted communities, and that those most immediately and severely affected by climate change are often those with the fewest resources to respond."
As Disasters Multiply, Billions in Recovery Funds Go Unspent, The New York Times, Christopher Flavelle, Thursday, 5 September 2019: "The Trump administration is sitting on tens of billions of dollars in unspent recovery money meant to help Americans recover from disasters, leaving people less able to rebound from the effects of Hurricane Dorian and other storms. As of June 30, the government had spent less than one-third of the $107 billion provided by Congress following the hurricanes and wildfires of 2017 and 2018, federal data show. The Department of Housing and Urban Development, which received $37 billion — more than any other agency — had spent less than $75 million."
Government watchdog details how Trump's family separations traumatized migrant children, The Washington Post, Paige Winfield Cunningham, Thursday, 5 September 2019: "Migrants kids taken from their parents under the Trump administration's "zero tolerance policy" experienced intense trauma as they were crowded into centers insufficiently equipped to care for them psychologically. Those findings – detailed in a government watchdog report released yesterday – shed more light into how the administration's controversial move last year affected thousands of children who were separated from their families at the Mexico border and placed in the custody of the Office of Refugee Resettlement at the Department of Health and Human Services. The report from HHS's inspector general says the massive influx of children and longer stays at federal facilities posed a particular challenge in addressing children's mental health needs. The report is based on visits to 45 facilities in August and September 2018, a couple months after the administration ended the policy."
Trump tries to force Ukraine to meddle in the 2020 election, The Washington Post, Editorial Board, Thursday, 5 September 2019: "Ukraine's neophyte president, Volodymyr Zelensky, took a big step this week toward proving that he will be, as he promised, the most pro-reform president in Ukraine's history. On Monday, he laid out a breathtakingly ambitious five-year plan including virtually every measure the International Monetary Fund and Western governments have urged on Ukraine in recent years, from land reform to the privatization of state companies to a cleansing of the judiciary. That ought to be cause for celebration in Washington, where successive Democratic and Republican administrations have tried to draw Ukraine away from Vladi­mir Putin's Russia and into the ranks of Western democracies, only to be frustrated by the fecklessness and corruption of the country's political leaders. Yet Mr. Zelensky has so far failed to win the backing of President Trump. Not only has Mr. Trump refused to grant the Ukrainian leader a White House visit, but also he has suspended the delivery of $250 million in U.S. military aid to a country still fighting Russian aggression in its eastern provinces. Some suspect Mr. Trump is once again catering to Mr. Putin, who is dedicated to undermining Ukrainian democracy and independence. But we're reliably told that the president has a second and more venal agenda: He is attempting to force Mr. Zelensky to intervene in the 2020 U.S. presidential election by launching an investigation of the leading Democratic candidate, Joe Biden. Mr. Trump is not just soliciting Ukraine's help with his presidential campaign; he is using U.S. military aid the country desperately needs in an attempt to extort it."
Trump Moves to Send Mortgage Giants Fannie Mae and Freddie Mac Back to the Private Sector, The New York Times, Jim Tankersley, Alan Rappeport, and Lola Fadulu, Thursday, 5 September 2019: "The Trump administration on Thursday unveiled a long-awaited plan to end federal control of two mortgage giants that had been bailed out by taxpayers during the 2008 financial crisis and return them to the private sector. The administration's 49 recommendations to overhaul America's housing finance system are unlikely to find an eager audience in Congress, which has been deeply divided on the issue and is now consumed with other fights in the run-up to the 2020 elections. But the proposal could accelerate the administration's attempts to privatize the mortgage giants, Fannie Mae and Freddie Mac, which continue to play an outsize role in the housing market. Together, the two entities collectively backstop a little less than half of the nation's $11 trillion mortgage market. Fannie and Freddie do not make home loans. They buy mortgages from banks that originate them, then securitize them and sell those mortgage-backed securities to investors. That process is meant to reduce mortgage rates by spreading the risk of default and help underserved Americans buy homes."
'What I said was accurate!': Trump stays fixated on his Alabama error as hurricane Dorian pounds the Carolinas, The Washington Post, Toluse Olorunnipa and Josh Dawsey, Thursday, 5 September 2019: "He posted nine tweets and five maps about Alabama and the big storm. He defended a doctored hurricane map that had been altered with a black Sharpie to include the state. And he had his White House release a 225-word statement defending his erroneous warnings that Alabama was 'going to get a piece' of the storm. As Hurricane Dorian battered the Carolinas with torrential rain and wind Thursday, President Trump remained fixated on sunny Alabama — a state he falsely claimed was in the storm's crosshairs long after it was in the clear."