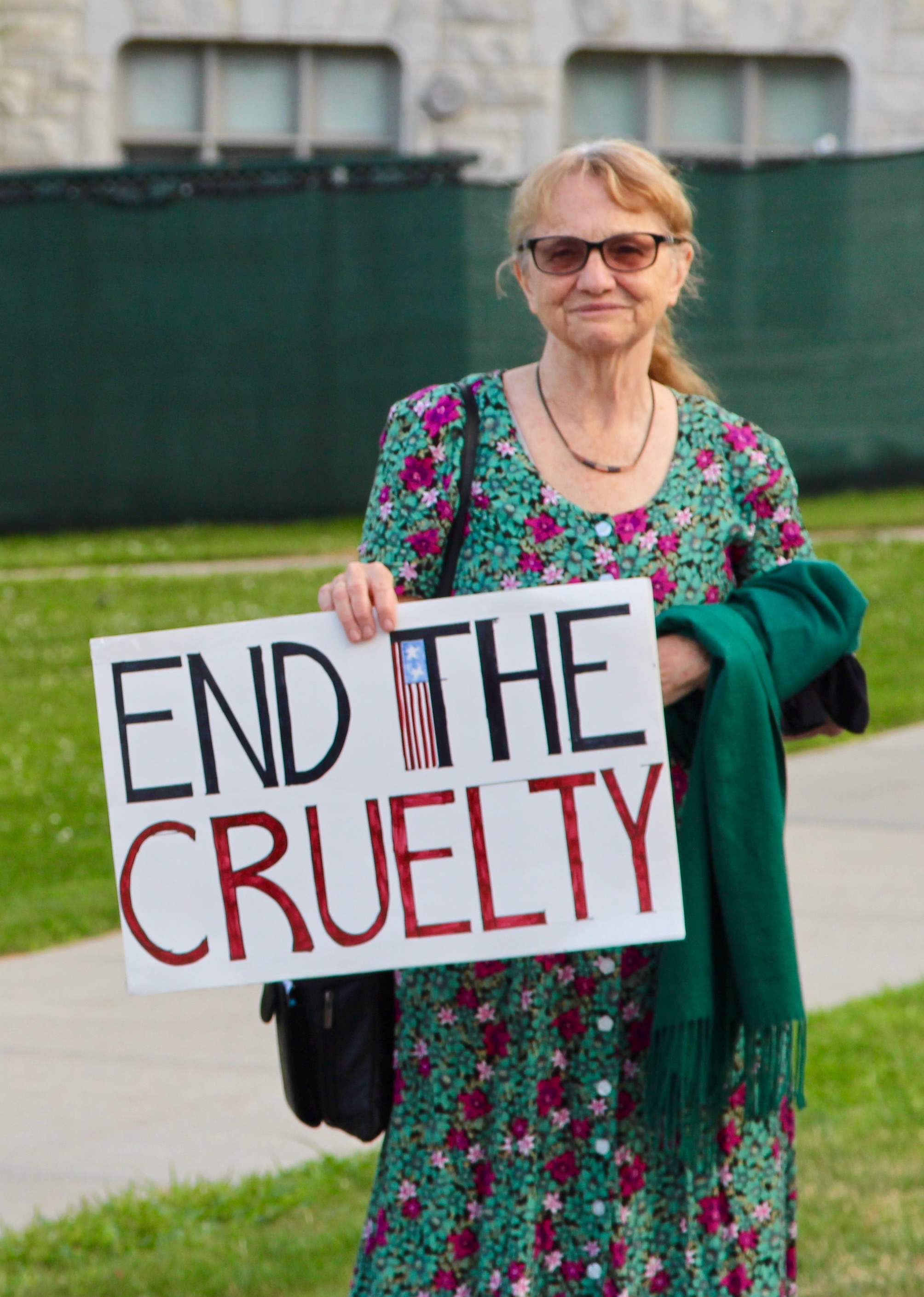 Passages in bold in the body of the texts below are usually my emphasis, though not always. This is an ongoing project, and I update the site frequently during the day. Because I try to stay focused on what has actually happened, I usually let the news 'settle' for a day or so before posting. I hope readers will peruse the articles in full for a better understanding of the issues and their context; our democracy and our future depend on citizens who can distinguish between facts and falsehoods and who are engaged in the political process.
For "a weekly newsletter celebrating people-powered wins against the Trump administration's agenda," visit Small Victories.
For independent global news, visit Democracy Now!
Friday, 23 August 2019, Day 946:
Federal Reserve Chair Jerome Powell Highlights the Limits of the Central Bank. Trump Labels Him an 'Enemy.' The New York Times, Jeanna Smialek, Friday, 23 August 2019: "Jerome H. Powell, the Federal Reserve chair, kept future interest rate cuts squarely on the table on Friday but suggested that the central bank was limited in its ability to counteract President Trump's trade policies, which are stoking uncertainty and posing risks to the economic outlook. Mr. Powell's remarks drew a swift and angry reaction from Mr. Trump, who equated the Fed leader with the president's adversary in the trade war, President Xi Jinping of China." See also, Trump calls the Federal Reserve chair an 'enemy' after Jerome Powell says Trump's trade war is a 'complex, turbulent' situation, The Washington Post, Heather Long, Friday, 23 August 2019: "President Trump escalated his unprecedented attacks against America's central bank Friday, calling Federal Reserve Chair Jerome H. Powell an 'enemy' of the United States that is as bad as China, a tweet that triggered a stock market slide and came minutes after Powell vowed to keep the economy growing. Powell said Friday that the trade war is a 'complex, turbulent' situation and that the central bank will 'act as appropriate to sustain the expansion,' suggesting another interest rate cut may be coming but not the large decline that Trump has demanded." See also, Federal Reserve Chair Jerome Powell Issues a Warning Over Trade War and Signals More Rate Cuts Are Possible, The Wall Street Journal, Nick Timiraos, Friday, 23 August 2019: "Federal Reserve Chairman Jerome Powell gave his most forceful warning yet about the risks to the U.S. economy from escalating trade tensions and the limits to the central bank's ability to cushion any fallout. Mr. Powell, in a widely anticipated speech here Friday, signaled the central bank would follow its rate cut last month, its first in more than a decade, with an additional reduction soon. But he stopped short of saying how much stimulus the Fed might provide beyond that. Instead, he cautioned that the Fed's tools weren't well suited to counter rising business and investor anxieties over the intensifying trade war between President Trump and Chinese President Xi Jinping. There are 'no recent precedents to guide any policy response to the current situation. Moreover, while monetary policy is a powerful tool that works to support consumer spending, business investment and public confidence, it cannot provide a settled rulebook for international trade,' Mr. Powell said at the Kansas City Fed's annual symposium."
David Koch, Billionaire Who Fueled Right-Wing Movement, Dies at 79, The New York Times, Robert D. McFadden, Friday, 23 August 2019: "David H. Koch, an industrialist who amassed a multibillion-dollar fortune with his brother Charles and then joined him in pouring their riches into a powerful right-wing libertarian movement that helped reshape American politics, died on Friday at his home in Southampton, N.Y. He was 79…. Jane Mayer, the New Yorker writer and a critic of the Koch brothers, said in her book 'Dark Money: The Hidden History of the Billionaires Behind the Rise of the Radical Right' (2016), that the libertarian policies they embraced benefited Koch chemical and fossil fuel businesses, which were among the nation's worst polluters, and paid millions in fines and court judgments for hazardous-waste violations. 'Lowering taxes and rolling back regulations, slashing the welfare state and obliterating the limits on campaign spending might or might not have helped others,' Ms. Mayer wrote, 'but they most certainly strengthened the hand of extreme donors with extreme wealth.' The Koch brothers rejected the allegations. Koch money also funded initiatives to undercut climate science and to counter efforts to address climate change. As Ms. Mayer put it in her book, 'The Kochs vehemently opposed the government taking any action on climate change that would hurt their fossil fuel profits.' In interviews after the book was published, Ms. Mayer said that investigators who she believed were hired by the Koch brothers had tried to intimidate her by digging up false information, including accusations of plagiarism, to smear her reputation." See also, Looking Back at David Koch's Impact on U.S. Politics, NPR, NPR's Ailsa Chang talks with Jane Mayer of The New Yorker, Friday, 23 August 2019. See also, David Koch Was the Ultimate Climate Change Denier, The New York Times, Christopher Leonard, Friday, 23 August 2019: "David Koch, who died Friday at the age of 79, is best known as a major funder of right-wing political causes, from tax cuts to deregulation, an enthusiastic patron of the arts and a man-about-town. But to his critics, his most lasting political legacy might very well be the rapidly warming world that he has left behind. Koch Industries realized early on that it would be a financial disaster for the firm if the American government regulated carbon emissions or made companies pay a price for releasing carbon into the atmosphere. The effects of such a policy would be measured over decades for Koch. The company has billions of dollars sunk into the complex and expensive infrastructure of crude-oil processing. If a limit on greenhouse gas emissions were imposed, it could dampen demand for oil and diminish the value of those assets and their future sales. The total dollar losses would likely be measured in trillions over a period of 30 years or more. In the face of this political problem, David Koch and his brother Charles built a political influence machine that is arguably unrivaled by any in corporate America." See also, 'Kochland' by Christopher Leonard Examines the Koch Brothers' Early, Crucial Role in Climate-Change Denial, The New Yorker, Jane Mayer, published on Tuesday, 13 August 2019: "If there is any lingering uncertainty that the Koch brothers are the primary sponsors of climate-change doubt in the United States, it ought to be put to rest by the publication of 'Kochland: The Secret History of Koch Industries and Corporate Power in America,' by the business reporter Christopher Leonard. This seven-hundred-and-four-page tome doesn't break much new political ground, but it shows the extraordinary behind-the-scenes influence that Charles and David Koch have exerted to cripple government action on climate change."
Keystone XL Pipeline Plan Is Approved by Nebraska Supreme Court, The New York Times, Mitch Smith, Friday, 23 August 2019: "Nebraska's highest court approved the Keystone XL oil pipeline's planned path through that state on Friday, resolving a permitting battle that has stretched on for more than a decade as the project has become a proxy for a national debate between environmentalists and the energy industry. Keystone XL, which would carry crude oil from Canada to southern Nebraska, has been the subject of political maneuvering and litigation since it was proposed in 2008. The project, which was rejected by the Obama administration, was revived under President Trump…. The Nebraska Supreme Court's ruling on Friday was not the final word on the pipeline. A federal lawsuit in Montana still seeks to block construction, and several landowners along the route have refused to sign easements. Protesters, including from Native American tribes in Nebraska and South Dakota, have promised to mobilize if construction begins." See also, Keystone Pipeline's Alternate Route Gets the Go-Ahead From Nebraska Supreme Court, NPR, Colin Dwyer, Friday, 23 August 2019: "The company behind the controversial Keystone XL pipeline has won a major victory in Nebraska, where environmental activists, two Native American tribes and some local landowners had sought to derail its construction. The state's Supreme Court on Friday ruled unanimously in favor of an alternate route proposed by TC Energy, formerly known as TransCanada."
Continue reading Week 136, Friday, 23 August – Thursday, 29 August 2019 (Days 946-952)
The Trump Administration Asked the Supreme Court to Legalize Firing Workers Simply for Being Gay, BuzzFeed News, Dominic Holden, Friday, 23 August 2019: "The Trump administration took its hardest line yet to legalize anti-gay discrimination on Friday when it asked the Supreme Court to declare that federal law allows private companies to fire workers based only on their sexual orientation. An amicus brief filed by the Justice Department weighed in on two cases involving gay workers and what is meant by Title VII of the Civil Rights Act of 1964, which bans discrimination 'because of sex.' The administration argued courts nationwide should stop reading the civil rights law to protect gay, lesbian, and bisexual workers from bias because it was not originally intended to do so. That view conflicts with some lower court rulings that found targeting someone for their sexual orientation is an illegal form of both sex discrimination and sex stereotyping under Title VII. Those courts have found, to illustrate the point, that a gay man wouldn't be targeted if he were instead a woman dating a man; thus he faced discrimination because of his sex. But the administration said in its brief Friday that Title VII's ban on sex discrimination only prohibits unequal treatment between "biological sexes," as it argued last week in a related brief against transgender rights, in which the Justice Department said companies should be able to fire people because they are transgender as well."
Trump Says He Will Raise Existing Tariffs on Chinese Goods to 30%, The New York Times, Alan Rappeport and Keigh Bradsher, Friday, 23 August 2019: "President Trump said he would increase taxes on all Chinese goods and demanded that American companies stop doing business with China as his anger toward Beijing and his Federal Reserve chair boiled over on Friday. Twelve hours after China said it would retaliate against Mr. Trump's next round of tariffs by raising taxes on American goods, Mr. Trump said he would bolster existing tariffs on $250 billion worth of Chinese goods to 30 percent from 25 percent on Oct. 1. And he said the United States would tax an additional $300 billion worth of Chinese imports at a 15 percent rate, rather than the 10 percent he had initially planned. Those levies go into effect on Sept. 1." See also, Trump retaliates in trade war by escalating tariffs on Chinese imports and demanding companies cut ties with China, The Washington Post, Jeff Stein, Taylor Telford, Gerry Shih, and Rachel Siegel, Friday, 23 August 2019: "President Trump demanded U.S. companies stop doing business with China and announced he would raise the rate of tariffs on Beijing Friday, capping one of the most extraordinary days in the long-running U.S.-China trade war. By the end of the trading day, the Dow Jones industrial average had fallen 600 points, or nearly 2.4 percent; the business community had ratcheted up criticisms of the president; and world leaders descending on the Group of Seven summit in France were confronted with the prospect of a global slowdown, triggered by a trade war with no end in sight." See also, U.S. and China Raise Tariffs on One Another, With China's New Levies Extending to More U.S. Imports, The Wall Street Journal, Josh Zumbrun and Chao Deng, Friday, 23 August 2019: "The U.S. and China raised tariffs on one another Friday, exchanging salvos in the growing trade war between the world's two largest economies. After the close of U.S. markets, President Trump said he would raise the rate of existing and planned tariffs on Chinese imports by 5 percentage points. The rate on tariffs set to hit on Sept. 1 and Dec. 15 will be raised to 15% from 10%, while existing punitive tariffs on about $250 billion in Chinese goods will be raised to 30% from 25% on Oct. 1." See also, Trump hits China with new tariffs in trade war escalation, Politico, Caitlin Oprysko, Nancy Cook, and Adam Behsudi, Friday, 23 August 2019.
As Amazon Fires Become a Global Crisis, Brazil's President Jair Bolsonaro Reverses Course, The New York Times, Ernesto Londono, Manuela Andreoni, and Letícia Casado, Friday, 23 August 2019: "As an ecological disaster in the Amazon escalated into a global political crisis, Brazil's president, Jair Bolsonaro, took the rare step on Friday of mobilizing the armed forces to help contain blazes of a scale not seen in nearly a decade. The sudden reversal, after days of dismissing growing concern over hundreds of fires raging across the Amazon, came as international outrage grew over the rising deforestation in the world's largest tropical rain forest. European leaders threatened to cancel a major trade deal, protesters staged demonstrations outside Brazilian embassies and calls for a boycott of Brazilian products snowballed on social media." See also, Amazon rainforest fires: global leaders urged to divert Brazil from 'suicide' path, The Guardian, Jonathan Watts, Friday, 23 August 2019: "International pressure may be the only way to stop the Brazilian government from taking a 'suicide' path in the Amazon, one of the country's most respected scientists has said, as the world's biggest rainforest continues to be ravaged by thousands of deliberate fires. The large number of conflagrations – set illegally to clear and prepare land for crops, cattle and property speculation – has prompted the state of Amazonas to declare an emergency, created giant smoke clouds that have drifted hundreds of miles, and sparked international concerns about the destruction of an essential carbon sink. 'Our house is burning,' tweeted the French president, Emmanuel Macron, who called for emergency talks on the subject at this week's G7 summit. But the response to the crisis has been mixed: while Norway and Germany have halted donations to the Brazilian government's Amazon fund, the EU has recently signed a trade deal with South America, and the UK spent this week focusing on post-Brexit business with Brazil."
Justice Ruth Bader Ginsburg Treated Again for Cancer, NPR, Nina Totenberg, Friday, 23 August 2019: "Justice Ruth Bader Ginsburg has just completed three weeks of radiation treatment at Memorial Sloan Kettering Cancer Center in New York, the U.S. Supreme Court disclosed Friday. The radiation therapy, conducted on an outpatient basis, began Aug. 5, shortly after a localized cancerous tumor was discovered on Ginsburg's pancreas. The treatment included the insertion of a stent in Ginsburg's bile duct, according to a statement issued by the court. Doctors at Sloan Kettering said further tests showed no evidence of disease elsewhere in the body. The treatment comes just months after Ginsburg was operated on for lung cancer last December. The 86-year-old justice has been treated for cancer in various forms over the past 20 years."
Trump Clarification Syndrome, The New Yorker, David Remnick, Friday, 23 August 2019: "[I]t is hard to know what … defenders [of Trump make of him after] these recent August days, in which Trump has, in no particular order, uttered, then repeated, an anti-Semitic slur about the 'loyalty' of Jewish Democrats; expressed admiration for the 'legendary' industrialist Henry Ford, who was also the publisher of 'The International Jew: The World's Foremost Problem'; retweeted praise from a conspiracy-mongering radio host who said that Trump is practically 'the King of Israel' and 'the second coming of God'; reneged on a promise to establish background checks for gun buyers, after checking in for moral guidance with Wayne LaPierre, of the National Rifle Association; doubled down on a trade war with China that threatens to help spark a self-imposed recession; and cancelled a trip to Denmark because the Danish leadership had rebuffed his desire to buy Greenland in a manner that Trump, a stickler for etiquette, thought was 'very not nice.' In the midst of an extended, hallucinatory press session out on the White House lawn, with Marine One providing an ominous 'Apocalypse Now' chopper roar to the scene, Trump gazed briefly at the sky and remarked, 'I am the Chosen One.'… [A]s perilous and unnerving as things are, any form of political despair at such a moment remains unforgivable. Despair is a form of self-indulgence, a dodge. Trump's derangements in policy and character should instead instill a kind of Trump Clarification Syndrome, a reckoning with what confronts us. A reckoning, as the Amazon rain forest burns, with climate change. A reckoning, as Trump threatens to revoke the barest protections for immigrant children and the guarantee of birthright citizenship, with the history and persistence of bigotry in all forms. With the structural persistence of inequality of income and opportunity. With matters of truth and falsehood."
Saturday, 24 August 2019, Day 947:
Trump Asserts He Can Force U.S. Companies to Leave China, The New York Times, Peter Baker and Keith Bradsher, Saturday, 24 August 2019: "President Trump asserted on Saturday that he has the authority to make good on his threat to force all American businesses to leave China, citing a national security law that has been used mainly to target terrorists, drug traffickers and pariah states like Iran, Syria and North Korea. As he arrived in France for the annual meeting of the Group of 7 powers, Mr. Trump posted a message on Twitter citing the International Emergency Economic Powers Act of 1977, a law originally meant to enable a president to isolate criminal regimes, not sever economic ties with a major trading partner over a tariff dispute."
Trump officials voice anger at G7 focus on 'niche' issues such as climate change, The Guardian, Graham Russell, Saturday, 24 August 2019: "Senior aides in Donald Trump's entourage have accused the G7 host and French president, Emmanuel Macron, of seeking to embarrass his US counterpart by making the summit focus on 'niche issues' such as climate change, according to multiple US media reports."
Trump's company could save millions if interest rates fall as he demands, The Washington Post, Jonathan O'Connell, David A. Fahrenthold, and Heather Long, Saturday, 24 August 2019: "President Trump stands to save millions of dollars annually in interest on outstanding loans on his hotels and resorts if the Federal Reserve lowers rates as he has been demanding, according to public filings and financial experts. In the five years before he became president, Trump borrowed more than $360 million via four loans from Deutsche Bank for his hotels in Washington, D.C., and Chicago, as well his 643-room Doral golf resort in South Florida. The payments on all four properties vary with interest rate changes, according to Trump's official financial disclosures. That means he has already benefited from falling interest rates that were spurred in part by a cut the Federal Reserve announced in July, the first in more than a decade — and his payments could drop by millions of dollars more annually if the central bank grants Trump's wish and further lowers short-term rates, experts said."
Sunday, 25 August 2019, Day 948:
Trump Allies Target Journalists Over Coverage Deemed Hostile to White House, The New York Times, Kenneth P. Vogel and Jeremy W. Peters, Sunday, 25 August 2019: "A loose network of conservative operatives allied with the White House is pursuing what they say will be an aggressive operation to discredit news organizations deemed hostile to President Trump by publicizing damaging information about journalists. It is the latest step in a long-running effort by Mr. Trump and his allies to undercut the influence of legitimate news reporting. Four people familiar with the operation described how it works, asserting that it has compiled dossiers of potentially embarrassing social media posts and other public statements by hundreds of people who work at some of the country's most prominent news organizations. The group has already released information about journalists at CNN, The Washington Post and The New York Times — three outlets that have aggressively investigated Mr. Trump — in response to reporting or commentary that the White House's allies consider unfair to Mr. Trump and his team or harmful to his re-election prospects."
Iran's Foreign Minister Mohammad Javad Zarif Makes a Surprise Appearance on Sidelines of G7 Summit in Biarritz, France, The New York Times, Peter Baker and Aurelien Breeden, Sunday, 25 August 2019: "He was not on the original invitation list, but when a plane landed in Biarritz on Sunday bringing Iran's foreign minister to the city hosting President Trump and other world leaders, it got everyone's attention. The surprise guest, Mohammad Javad Zarif, flew to the resort town in southern France on a last-minute invitation from President Emmanuel Macron of France, the host of the annual Group of 7 summit meeting, who has been trying to reconcile the United States and Iran." See also, G7 summit: Iran's foreign minister Mohammad Javad Zarif makes surprise Biarritz appearance, The Guardian, Julian Borger, Sunday, 25 August 2019. See also, Iran's foreign minister Mohammad Javad Zarif makes a surprise trip to Biarritz, catching Trump off-guard, The Washington Post, Michael Birnbaum and Toluse Olorunnipa, Sunday, 25 August 2019.
Rule 1 at the G7 Meeting? Don't Get You-Know-Who Mad. The New York Times, Peter Baker, Sunday, 25 August 2019: "For a day, at least, everyone was on their best behavior when the cameras were on, eager to present a show of bonhomie after so many previous meetings ended in discord. But behind the scenes at the annual gathering of some of the world's leading powers, President Trump still found himself at odds with his counterparts on Sunday over issues like trade, climate change, North Korea, Russia and Iran. Ever so gingerly, as if determined not to rouse the American's well-known temper, the other Group of 7 leaders sought to nudge him toward their views on the pressing issues of the day, or at least register their differences — while making sure to wrap them in a French crepe of flattery, as they know he prefers."
Trump suggested nuking hurricanes to stop them from hitting the U.S., Axios, Jonathan Swan and Margaret Talev, Sunday, 25 August 2019: "President Trump has suggested multiple times to senior Homeland Security and national security officials that they explore using nuclear bombs to stop hurricanes from hitting the United States, according to sources who have heard the president's private remarks and been briefed on a National Security Council memorandum that recorded those comments…. Trump didn't invent this idea. The notion that detonating a nuclear bomb over the eye of a hurricane could be used to counteract convection currents dates to the Eisenhower era, when it was floated by a government scientist. The idea keeps resurfacing in the public even though scientists agree it won't work. The myth has been so persistent that the National Oceanic and Atmospheric Administration, the U.S. government agency that predicts changes in weather and the oceans, published an online fact sheet for the public under the heading 'Tropical Cyclone Myths Page.' The page states: 'Apart from the fact that this might not even alter the storm, this approach neglects the problem that the released radioactive fallout would fairly quickly move with the tradewinds to affect land areas and cause devastating environmental problems. Needless to say, this is not a good idea.'"
Monday, 26 August 2019, Day 949:
The National Rifle Association (N.R.A.) Has Trump. But It Has Lost Democratic Allies in Congress. The New York Times, Maggie Astor and Weiyi Cai, Monday, 26 August 2019: "The National Rifle Association has significantly fewer allies in Congress than it did a decade ago, a decline driven by the near-total fraying of the group's ties to Democrats in the House and the Senate, according to a New York Times analysis of the group's letter grades and endorsements. The N.R.A. still has considerable clout with Republicans, including President Trump and Senate leaders, and it is now flexing its muscles in the debate over background checks. Yet for many years, the group's influence was broader and deeper because of its large numbers of friends in both parties. These political allies received 'A' ratings from the N.R.A. and often feared grade reductions if they crossed it. Now, the number of Democrats in the House with 'A' ratings has fallen from 63 after the 2008 elections to three after the 2018 midterms. This makes the N.R.A.'s political position more precarious. The group was once largely insulated from shifts in partisan control: It could block gun restrictions no matter which party controlled Congress and the White House. In the long term, the loss of the N.R.A.'s Democratic buffer poses a threat to the group's influence no matter what happens in the current gun control debate."
Ex-White House Aide Rob Porter Is Subpoenaed by the House Judiciary Committee in Impeachment Inquiry, The New York Times, Julie Hirschfeld Davis and Maggie Haberman, Monday, 26 August 2019: "The House Judiciary Committee on Monday subpoenaed the former top White House aide Rob Porter to testify about President Trump's efforts to impede the Russia investigation and asked a court to expedite a ruling on whether Donald F. McGahn II, the former White House counsel, must testify, pushing forward in its expansive inquiry into whether to impeach Mr. Trump. The moves are the latest intensification of a multipronged effort by the Democrat-led House to explore Mr. Trump's conduct in office with an eye toward determining if he obstructed justice and committed impeachable offenses. They unfolded as a growing chorus of Democratic lawmakers have come out over the past several weeks in favor of impeachment, and as the party's progressive base clamors for more aggressive action in the face of insistence by Speaker Nancy Pelosi that the move is premature. Mr. Porter was a key witness to Mr. Trump's repeated attempts to thwart the special counsel's investigation, including the president's efforts to get Mr. McGahn to falsely deny a New York Times article that revealed his order to fire the special counsel, Robert S. Mueller III." See also, The House Judiciary Committee subpoenas former White House aide Rob Porter, The Washington Post, Rachael Bade, Monday, 26 August 2019: "The House Judiciary Committee subpoenaed former White House aide Rob Porter on Monday, the panel's latest attempt to try to move public opinion in favor of impeaching President Trump." See also, House Judiciary Committee subpoenas ex-White House aide Rob Porter, Politico, Andrew Desiderio and Eliana Johnson, Monday, 26 August 2019: "The House Judiciary Committee on Monday issued a subpoena to former White House staff secretary Rob Porter, a key witness in former special counsel Robert Mueller's obstruction of justice investigation into President Donald Trump, as the panel weighs whether to recommend articles of impeachment. Porter, who resigned his post last year amid allegations that he abused his two ex-wives, was at the president's side during several episodes of potential obstruction chronicled in Mueller's 448-page report on Russian interference in the 2016 election and Trump's attempts to thwart the probe."
19 States and D.C. Sue the Trump Administration to Stop Indefinite Detention of Migrant Children, NPR, Richard Gonzales, Monday, 26 August 2019: "Nineteen states and the District of Columbia are suing the Trump administration over its plan to pull out of a decades-old court settlement that governs the care of migrant children in federal detention. The federal government has abided by a court agreement known as the Flores settlement since 1997. It says migrant children should be detained in the least-restrictive setting possible and only for about 20 days. Last week, the Trump administration announced it will soon allow children detained with their families to be detained indefinitely." See also, 19 States and DC Sue Trump Over 'Cruel, Immoral, and Illegal' Plan to Detain Migrant Children Indefinitely, Common Dreams, Jake Johnson, published on Tuesday, 27 August 2019: "A coalition of state attorneys general on Monday filed suit against the Trump administration over a new rule that would allow the federal government to detain migrant families indefinitely. 'This new Trump rule callously puts at risk the safety and well-being of children. It undermines a decades-old agreement reached in court by the federal government to prevent the unlawful detention of immigrant children,' said California AG Xavier Becerra, referring to the 1997 Flores settlement, which the White House is attempting to scrap. 'We're taking the Trump administration to court to protect children from the irreparable harm caused by unlawful and unnecessary detention,' Becerra said. 'With our partners across the country, we will fight for the most vulnerable among us.'"
At the End of a Chaotic G7 Meeting, Trump Changes His Tone on China and Iran. Again. The New York Times, Michael D. Shear and Peter Baker, Monday, 26 August 2019: "President Trump shifted his tone on the trade war with China yet again on Monday, expressing confidence that the two sides can reach a deal and calling President Xi Jinping a 'great leader' three days after branding him an 'enemy.' As he completed an international summit meeting, Mr. Trump told reporters that Chinese officials had reached out by telephone and that negotiators would restart trade talks after the latest escalation in tariffs and his 'order' to American companies to look for ways to pull out of China. In another surprise, Mr. Trump said he was open to meeting with President Hassan Rouhani of Iran within the next few weeks in response to an initiative by President Emmanuel Macron of France. Such a meeting would be the first between American and Iranian leaders since the Tehran hostage crisis of 1979-81." See also, G7 Highlights on Final Day of Meetings: Iran, Climate Change, and China Trade, The New York Times, Monday, 26 August 2019. See also, Trump Softens Tone on China and Iran at G-7 Summit, The Wall Street Journal, Rebecca Ballhaus, Stacy Meichtry, and Noemie Bisserbe, Monday, 26 August 2019. See also, G-7 summit ends with little consensus amid Trump's mixed messaging on the trade war, The Washington Post, Toluse Olorunnipa, Michael Birnbaum, Damian Paletta, and Josh Dawsey, Monday, 26 August 2019: "President Trump's divergence on key international flash points, particularly trade, the climate and Russian provocation, upended a consortium of world leaders that was created four decades ago to address major crises." See also, Trump skips talks on climate crisis and Amazon fires at the G7 summit, The Guardian, Angelique Chrisafis, Monday, 26 August 2019: "Donald Trump did not attend Monday's crucial discussion on climate and biodiversity at the G7 meeting of international leaders in Biarritz, missing talks on how to deal with the Amazon rainforest fires as well as new ways to cut carbon emissions. Reporters noticed at the start of the session that the US president's chair was empty. Trump was later asked by reporters covering a meeting with the German chancellor, Angela Merkel, whether he had attended the climate session. He replied: 'We're having it in a little while.'" See also, Donald Trump Skips G7 Session on Climate Change and Amazon Fires, The Daily Beast, Barbie Latza Nadeau, Monday, 26 August 2019: "President Trump was a no show at a crucial session on climate change, biodiversity, and the devastating fires ravaging the Amazon rainforest at the G7 summit in Biarritz, France, on Monday. Trump's chair was empty as leaders discussed developing a $20 million emergency fund to help countries affected by the Amazon fires. Trump aides had suggested earlier in the summit that the agenda set by French president Emmanuel Macron was meant to embarrass Trump by focusing on what they called 'niche issues' like climate change and gender equality. When asked if he had attended, Trump told reporters, 'We're having it in a little while,' according to the Guardian. He then did not answer a reporter who informed him that the climate meeting had already ended. A White House spokesperson said a senior member of the Trump administration had attended instead." See also, As Trump Swerves on Trade War, It's Whiplash for the Rest of the World, The New York Times, Peter Baker, Monday, 26 August 2019. See also, Fact-checking Trump's G-7 news conference, The Washington Post, Glenn Kessler, published on Tuesday, 27 August 2019. See also, Fact-Checking Trump's G7 Remarks, The New York Times, Linda Qiu, Monday, 26 August 2019. See also, Sixty-eight minutes in Biarritz: A glimpse into Trump's unorthodox mind,The Washington Post, Josh Dawsey, Monday, 26 August 2019.
Trump Has Just the Place for the Next G7 Meeting: His Own Golf Resort in Doral, Florida, The New York Times, Patricia Mazzei, Michael D Shear, and Eric Lipton, Monday, 26 August 2019: "Presidents usually use international summits to advance their policy agenda on the world stage. But President Trump turned a public appearance in southern France on Monday into what sounded like an infomercial for his sagging golf and resort business in southern Florida. In suggesting that the next Group of 7 summit of world leaders should be at his own luxury golf resort in Doral, Fla., west of Miami, Mr. Trump put the most glaring spotlight to date on his willingness to flout the ethical boundaries that have historically constrained activities that mix for-profit business and the presidency." See also, Near the airport, ample parking: Why Trump says his Florida golf club should host the next G-7, The Washington Post, Josh Dawsey and David A. Fahrenthold, Monday, 26 August 2019: "President Trump said Monday that he was likely to hold next year's Group of Seven summit — the ultraexclusive annual gathering of world leaders — at his golf resort in Doral, Fla. That decision would be an unprecedented use of American power to create private revenue for the American president. If Trump does choose Doral, he would be directing six world leaders, hundreds of hangers-on and massive amounts of money to a resort he owns personally — and which, according to his company's representatives, has been 'severely underperforming.'"
The Federal Election Commission Needs 4 of 6 Members to Enforce the Law. It Now Has 3. The New York Times, Shane Goldmacher, Monday, 26 August 2019: "The Federal Election Commission, the beleaguered independent agency that is supposed to serve as the watchdog over how money is raised and spent in American elections, has long been criticized as dysfunctional, if not toothless. Now the state of affairs at the agency is poised to get even worse: It will no longer even have enough commissioners to legally meet."
New 2020 Poll Shows Three Way Tie Among Sanders, Warren, and Biden, The New York Times, Stephanie Saul, Monday, 26 August 2019: "A new national poll suggests that the race for the 2020 Democratic presidential nomination may be tightening, with a virtual three-way tie among former Vice President Joseph R. Biden Jr. and two more progressive rivals, Senators Bernie Sanders and Elizabeth Warren. Despite the dead heat — Mr. Sanders and Ms. Warren each with 20 percent support among Democratic voters, and Mr. Biden with 19 percent — the Monmouth University Poll released Monday may hint at a concerning trend for the candidacy of Mr. Biden, the poll's previous front-runner, whose support declined from 32 percent when the Monmouth Poll was taken in June."
David Koch's Most Significant Legacy Is the Election of Donald Trump, The Intercept, Lee Fang, Monday, 26 August 2019: "David Koch, the fossil fuel industry billionaire who passed away on August 23 at the age of 79, spent the second half of his life building a political power structure alongside his brother Charles that radically reshaped society and set the conditions for the rise of President Donald Trump. Many obituaries published in recent days examine Koch's history of polluting the environment and political system, how the donor network he helped lead mobilized opposition to addressing climate change, transformed our election laws to allow unlimited secret spending by the very rich, and systematically fought any regulation, labor reform, or tax viewed as a threat to the corporate power elite. Yet Koch's most visible accomplishment is the current occupant of the White House — a legacy largely unrecognized, and one that goes well beyond any other single triumph in his life."
Tuesday, 27 August 2019, Day 950:
Trump administration is pulling millions from the Federal Emergency Management Agency's Disaster Relief Fund to send to the southern border, NBC News, Julia Ainsley and Frank Thorp V, Tuesday, 27 August 2019: "The Trump administration is pulling $271 million in funding from the Department of Homeland Security, including the Federal Emergency Management Agency's Disaster Relief Fund, to pay for immigration detention space and temporary hearing locations for asylum-seekers who have been forced to wait in Mexico, according to department officials and a letter sent to the agency by a California congresswoman. To fund temporary locations for court hearings for asylum-seekers along the southern border, ICE would gain $155 million, all from FEMA's Disaster Relief Fund, according to the letter from Rep. Lucille Roybal-Allard, D-Calif., which was seen by NBC News. The allocations were sent to Congress as a notification rather than a request, because the administration believes it has the authority to repurpose these funds after Congress did not pass more funding for ICE detention beds as part of an emergency funding bill for the southwest border in June." See also, The Trump Administration Is Taking Millions From FEMA to Fund Immigration Courts and ICE Jails, BuzzFeed News, Hamed Aleaziz, Tuesday, 27 August 2019. See also, Trump administration taps disaster and cyber funds to cover immigration, Reuters, Andy Sullivan, Tuesday, 27 August 2019: "The Trump administration is shifting $271 million earmarked for disaster aid and cyber security to pay for immigration-related facilities, the U.S. Department of Homeland Security and a leading congressional Democrat said on Tuesday…. The Trump administration is seeking to circumvent Congress to move money originally designated for other programs. This will allow the administration to continue to house immigrants arriving at the border, part of President Donald Trump's promise not to allow them to await hearings outside of custody." See also, Trump administration will divert disaster relief funds to U.S.-Mexico border enforcement, prompting outcry from Democrats, The Washington Post, Felicia Sonmez and Maria Sacchetti, Tuesday, 27 August 2019: "The Trump administration is transferring hundreds of millions of dollars in disaster relief funding to boost U.S.-Mexico border enforcement, prompting an outcry from congressional Democrats who panned the action as an executive overreach."
'Take the land': Trump wants a border wall. He wants it to be black. And he wants it by Election Day. The Washington Post, Nick Miroff and Josh Dawsey, Tuesday, 27 August 2019: "President Trump is so eager to complete hundreds of miles of border fence ahead of the 2020 presidential election that he has directed aides to fast-track billions of dollars' worth of construction contracts, aggressively seize private land and disregard environmental rules, according to current and former officials involved with the project. He also has told worried subordinates that he will pardon them of any potential wrongdoing should they have to break laws to get the barriers built quickly, those officials said. Trump has repeatedly promised to complete 500 miles of fencing by the time voters go to the polls in November 2020, stirring chants of 'Finish the Wall!' at his political rallies as he pushes for tighter border controls. But the U.S. Army Corps of Engineers has completed just about 60 miles of 'replacement' barrier during the first 2½ years of Trump's presidency, all of it in areas that previously had border infrastructure."
Trump pushes to allow new logging in Alaska's Tongass National Forest, The Washington Post, Juliet Eilperin and Josh Dawsey, Tuesday, 27 August 2019: "President Trump has instructed Agriculture Secretary Sonny Perdue to exempt Alaska's 16.7-million-acre Tongass National Forest from logging restrictions imposed nearly 20 years ago, according to three people briefed on the issue, after privately discussing the matter with the state's governor aboard Air Force One. The move would affect more than half of the world's largest intact temperate rainforest, opening it to potential logging, energy and mining projects. It would undercut a sweeping Clinton administration policy known as the 'roadless rule,' which has survived a decades-long legal assault."
Brazil's Government Angrily Rejects Millions in Amazon Aid Pledged at G7, Then Accepts British Aid, The New York Times, Manuela Andreoni, Tuesday, 27 August 2019: "Hours after leaders of some of the world's wealthiest countries pledged more than $22 million to help combat fires in the Amazon rainforest, Brazil's government angrily rejected the offer, in effect telling the other nations to mind their own business — only to later lay out potential terms for the aid's acceptance and then, on Tuesday evening, accepting some aid from Britain. President Jair Bolsonaro of Brazil expressed his ire in a series of Twitter posts on Monday, extending his verbal feud with President Emmanuel Macron of France, who had announced the aid package at the Group of 7 summit meeting. But early the next day, Mr. Bolsonaro offered possible terms for its acceptance. If Mr. Macron withdrew what he called personal insults and insinuations that Brazil does not have sovereignty over the Amazon, he said, he would reconsider."
Missouri's Eight-Week Abortion Ban Is Blocked by Federal Judge, The New York Times, Mitch Smith, Tuesday, 27 August 2019: "A federal judge in Missouri blocked the state on Tuesday from enforcing a ban on abortions after the eighth week of pregnancy, enacted by Republican legislators this year as part of a national campaign to restrict abortion and perhaps prompt the United States Supreme Court to revisit Roe v. Wade. Senior Judge Howard F. Sachs of the Federal District Court in Kansas City, Mo., issued his ruling a day before the law was scheduled to take effect. The judge criticized lawmakers' 'hostility' to Supreme Court precedent on abortion, and said the eight-week ban stood little chance of prevailing. He also blocked other portions of the law that variously sought to ban abortions after 14, 18 or 20 weeks of pregnancy, all before a fetus becomes viable outside the womb."
Deutsche Bank all but confirms it possesses some of Trump's tax returns, Politico, Andrew Desiderio and Brian Faler, Tuesday, 27 August 2019: "Lawyers for Deutsche Bank all but confirmed on Tuesday that the German lender possesses some of President Donald Trump's tax returns and those of his family members. The financial giant was responding to an order from the 2nd Circuit Court of Appeals in New York, demanding information about whether Deutsche Bank and Capital One possess any of Trump's tax returns subpoenaed by the House Financial Services and Intelligence committees earlier this year. If the 2nd Circuit upholds those subpoenas to the two banks, the president's tax returns and other financial documents could be used as part of the House Judiciary Committee's impeachment investigation. Last week, Judiciary Committee Chairman Jerry Nadler (D-N.Y.) asked four other House committees — including Financial Services and Intelligence — to share documents with his panel that could aid its impeachment probe." See also, Deutsche Bank Tells Court It Has Some Tax Returns Related to Trump Inquiry, The New York Times, David Enrich and Emily Flitter, Tuesday, 27 August 2019: "Deutsche Bank told a federal appeals court on Tuesday that it was in possession of some tax returns sought by congressional subpoenas issued earlier this year to President Trump, his family and his businesses. In a letter to the United States Court of Appeals for the Second Circuit, the German lender wrote that it 'has in its possession tax returns (in either draft or as-filed form).' Although the identities of the people or organizations were redacted in the publicly available document, current and former bank officials have said Deutsche Bank has portions of Mr. Trump's personal and corporate tax returns for multiple years as part of the reams of financial data it has collected over its two-decade relationship with him."
Jeffrey Epstein victims stood up and spoke out in court. 'I have found my voice now … I will not be silenced.' CNN, Eric Levenson, Kara Scannell, and Shimon Prokupecz, Tuesday, 27 August 2019: "One by one, the women stood up to finally, after all these years, be heard in a court of law. 'He won in death,' said Chauntae Davies, who said Tuesday that the late millionaire Jeffrey Epstein raped her on his island while she told him to stop. 'I have found my voice now, and I will not stop fighting. I will not be silenced anymore.' The women were teenagers trying to find their way in life, they said, when Epstein sexually assaulted, raped and otherwise took advantage of them. Their attacker is dead now, and the criminal case against him will soon be gone, too. But the pain he caused has not vanished, they said, speaking out during an unusual hearing called as part of the closing chapter of the federal criminal case against Epstein."
Attorney General William Barr books Trump's D.C. hotel for $30,000 holiday party, The Washington Post, Jonathan O'Connell and David A. Fahrenthold, Tuesday, 27 August 2019: "Attorney General William P. Barr is planning a holiday treat for his boss. Last month, Barr booked President Trump's D.C. hotel for a 200-person holiday party in December that is likely to deliver Trump's business more than $30,000 in revenue. Barr signed a contract, a copy of which was obtained by The Washington Post, for a 'Family Holiday Party' in the hotel's Presidential Ballroom Dec. 8. The party will feature a buffet and a four-hour open bar for about 200 people." See also, Attorney General William Barr Plans to Throw $30,000 Holiday Party at the Trump Hotel in Washington, The New York Times, Katie Benner, Wednesday, 28 August 2019.
Joe Walsh Is Challenging President Trump for the Republican Nomination. He Says Trump Is 'Unfit' to Be President. Some Say the Same About Him. The New York Times, Matt Stevens and Annie Karni, Tuesday, 27 August 2019: "Joe Walsh, a conservative radio show host and former congressman from Illinois, is challenging President Trump for the Republican nomination on the basis that he represents an alternative to a president who is morally unfit to hold his office. But in the days since Mr. Walsh officially announced his bid on Sunday, the former Tea Party congressman has been forced to confront his own highly questionable behavior. In quick succession, Mr. Walsh has acknowledged his history of making racist comments and using slurs, defended his disparaging description of Haiti and learned that his radio show would soon be pulled from the national airwaves…. In a two-minute video posted on his website, Mr. Walsh spoke of being 'tired of a president waking up every morning and tweeting ugly insults at ordinary Americans.'… But like Mr. Trump, Mr. Walsh has promoted conspiracy theories about President Barack Obama's birthplace and has repeatedly referred to Mr. Obama as a Muslim. He elevated a white nationalist on his radio show after the riot in Charlottesville, Va., that left one counterprotester dead, and has taken to Twitter to defend his right to say 'blacks are lazy.' He has repeatedly made Islamophobic statements, once tweeting: 'No more Muslims in the US. They want us dead.' In 2014, Mr. Walsh was briefly removed from his own radio show for using racist slurs on air."
Obama Announces New Push in Fight Against Gerrymandering, Huff Post, Sam Levine, Tuesday, 27 August 2019: "A group backed by President Barack Obama will send experts to train people across the country on the ins-and-outs of redistricting as part an effort to fight excessive partisan gerrymandering. The new effort, called Redistricting U, comes as states are gearing up for the next round of redistricting, which will take place in 2021. The program will launch with trainings in dozens of cities across 10 states this fall aimed at teaching people the basics of the redistricting process."
Harvard Student Says He Was Barred From the U.S. Over His Friends' Social Media Posts, The New York Times, Karen Zraick and Mihir Zaveri, Tuesday, 27 August 2019: "A Palestinian student from Lebanon who was set to begin his freshman year at Harvard was denied entry to the United States after immigration officials objected to his friends' social media posts, he said this week, prompting furor among free-speech advocates. The student, Ismail B. Ajjawi, 17, landed at Logan International Airport in Boston on Friday, and was turned back by a Customs and Border Protection agent, according to an account he gave The Harvard Crimson, a student newspaper. Mr. Ajjawi, a resident of Tyre, Lebanon, said in the account that his phone and laptop were searched and that he was questioned at the airport about his friends' social media activity. He wrote that an agent had yelled at him and 'said she found people posting political points of view that oppose the U.S. on my friend list.' He told the agent that he should not be held responsible for others' posts, the statement said." See also, International Students Face Hurdles Under Trump Administration Policy, The New York Times, Anemona Hartocollis, published on Wednesday, 28 August 2019: "Unexpected denials and long delays have become increasingly common for international students and scholars seeking visas, raising concerns among college officials who see a threat to the diversity and enrichment of their campuses, and causing anxiety for students who may have spent years preparing to study in the United States — only to have their hopes dashed."
Wednesday, 28 August 2019, Day 951:
Greta Thunberg, Climate Activist, Arrives in N.Y. With a Message for Trump, The New York Times, Anne Barnard, Wednesday, 28 August 2019: "Her protests on Fridays demanding action on climate change have inspired children to demonstrate in some 100 cities. Her admonitions to grown-ups to 'tell it like it is' have won her an invitation to speak at the United Nations — and detractors who have called her naïve. Now, after sailing across the Atlantic on an emissions-free yacht, Greta Thunberg, the 16-year-old Swedish climate activist, has disembarked in Lower Manhattan ahead of her speech next month at the United Nations Climate Action Summit…. Amid a flurry of questions, Greta was asked to comment on President Trump in his hometown. 'My message to him is just to listen to the science, and he obviously doesn't do that,' she said." See also, Greta Thunberg reaches New York After 15-day yacht journey, CNN, Rob Picheta, Wednesday, 28 August 2019. See also, Greta Thunberg reaches New York by crossing the Atlantic by boat, The Washington Post, Wednesday, 28 August 2019.
Federal Workers' Children Born Abroad May Not Receive Automatic Citizenship, The New York Times, Zolan Kanno-Youngs, Wednesday, 28 August 2019: "Children born abroad to certain United States service members and other federal employees will no longer be granted automatic citizenship under a Trump administration policy set to take effect in October. Parents of those children, including those born on military bases, will have to apply for citizenship on the children's behalf before they turn 18, according to a United States Citizenship and Immigration Services policy released on Wednesday." See also, Citizenship Change Will Affect a Handful, but the Backlash is Fierce, The New York Times, Zolan Kanno-Youngs, published on Thursday, 29 August 2019: "A new homeland security policy that will restrict the conferral of automatic citizenship for some children born abroad to active service members will affect only a handful of families each year, but the botched rollout of the policy this week incited a fierce backlash against President Trump, who has hailed himself as an advocate of veterans. The United States Citizenship and Immigration Services agency released policy guidance on Wednesday that would make some parents serving abroad who adopted children or who had spent limited time in the United States apply for citizenship for children not born on American soil. Immigration lawyers and military groups predicted that for those families, citizenship would have to come through an onerous, expensive application process — if it comes at all."
Trump holds up Ukraine military aid meant to confront Russia, Politico, Caitlin Emma and Connor O'Brien, Wednesday, 28 August 2019: "The Trump administration is slow-walking $250 million in military assistance to Ukraine, annoying lawmakers and advocates who argue the funding is critical to keeping Russia at bay…. [T]he delays come amid questions over Trump's approach to Russia, after a weekend in which the president repeatedly seemed to downplay Moscow's military intervention in Ukraine and pushed for Russia to be reinstated into the Group of Seven, an annual gathering of the world's largest advanced economies. The review is also occurring amid a broader internal debate over whether to halt or cut billions of dollars in foreign aid. United States military aid to Ukraine has long been seen as a litmus test for how strongly the American government is pushing back against Moscow."
Democrats are alarmed by Trump's promise of pardons for any potential illegality when building the border wall, The Washington Post, Seung Min Kim and Mike DeBonis, Wednesday, 28 August 2019: "Through his pardons of political allies, conservative defenders and others convicted of federal crimes, President Trump throughout his term has sent indirect signals of his willingness to help those close to him escape punishment. And now, the president has entwined that message with his chief campaign promise — by privately assuring aides that he would pardon them of any potential illegality as the administration rushes to build his border wall before he returns to the ballot next November. The notion has alarmed congressional Democrats, who had been investigating potential obstruction of justice on Trump's part as the House continues to weigh whether to launch impeachment proceedings once lawmakers return to Washington next month."
Former Defense Secretary Jim Mattis Says the U.S. Is Dividing Into 'Hostile Tribes' and Defends the Importance of Allies, The New York Times, Thomas Gibbons-Neff, Wednesday, 28 August 2019: "Jim Mattis, who resigned last year as defense secretary, implicitly criticized the Trump administration in an op-ed published Wednesday by The Wall Street Journal, writing that the current political climate was dividing the country into "hostile tribes" and driving away longtime allies. The essay is an excerpt from Mr. Mattis's book, 'Call Sign Chaos: Learning to Lead,' which will be published Tuesday by Random House. While most of it is a reflection on leadership and public service, the essay delivers a harsher rebuke to the president's leadership style than what Mr. Mattis initially penned in his resignation letter in December 2018." See also, Former Defense Secretary Jim Mattis: Duty, Democracy, and the Threat of Tribalism, The Wall Street Journal, Jim Mattis, Wednesday, 28 August 2019. See also, Mattis says he served 'as long as I could,' and he warns of a leader not committed to working with allies, The Washington Post, John Wagner and Karen DeYoung, Wednesday, 28 August 2019: "Former defense secretary Jim Mattis, who resigned last year after clashing with President Trump, says in a book excerpt that 'I did as well as I could for as long as I could' and warns of the dangers of a leader who is not committed to working with allies."
House Judiciary Committee to investigate Trump's desire to hold G-7 at his resort in Doral, Florida, The Washington Post, Colby Itkowitz, Wednesday, 28 August 2019: "The House Judiciary Committee announced Wednesday that it will add President Trump's desire to hold a meeting with world leaders at a Trump-owned property in Florida to its investigations as it considers whether to bring up impeachment charges against him. While in France for the Group of Seven meeting last week, Trump brought up the possibility of holding the event at the Trump National Doral Miami when the United States hosts next year. Critics of the president decried the proposal as a blatant conflict of interest because his business would profit off his presidency."
The Trump Secrets Hiding Inside Deutsche Bank, The New York Times, David Enrich, Wednesday, 28 August 2019: "Deutsche Bank's disclosure on Tuesday that it has tax returns related to President Trump's family or business set off a frenzy of speculation about what those materials might reveal. But a trove of other data and documents that his longtime lender is sitting on might prove more revelatory to investigators digging into Mr. Trump's finances. That includes records of how Mr. Trump made his money, whom he has partnered with, the terms of his extensive borrowings and what transactions he has engaged in with Russians or other foreign nationals. For nearly two decades, Deutsche Bank was the only mainstream financial institution consistently willing to do business with Mr. Trump, who had a long record of defaulting on loans. The bank over the years collected reams of his personal and corporate information. Two congressional committees have subpoenaed Deutsche Bank for a vast array of records related to Mr. Trump — including any tax returns since 2010. The investigators are hoping the materials will shed light not only on the president's finances but also on any links he has had to foreign governments and whether he or his companies were involved in any illegal activity, such as money laundering for people overseas. "
Thursday, 29 August 2019, Day 952:
Trump Administration Announces a Far-Reaching Plan to Cut Back on the Regulation of Methane Emissions, a Major Contributor to Climate Change, The New York Times, Lisa Friedman and Coral Davenport, Thursday, 29 August 2019: "The Trump administration laid out on Thursday a far-reaching plan to cut back on the regulation of methane emissions, a major contributor to climate change. The Environmental Protection Agency's proposed rule aims to eliminate federal requirements that oil and gas companies install technology to detect and fix methane leaks from wells, pipelines and storage facilities. It would also reopen the question of whether the E.P.A. had the legal authority to regulate methane as a pollutant. The rollback plan is particularly notable because major energy companies have, in fact, spoken out against it — joining automakers, electric utilities and other industrial giants that have opposed other administration initiatives to dismantle climate-change and environmental rules. The weakening of the methane standard is the latest in the march of environmental-policy rollbacks by the Trump administration designed to loosen regulations on industry." See also, Trump's Methane Rule Rollback Divides the Oil and Gas Industry, The New York Times, Clifford Krauss, Thursday, 29 August 2019: "Oil and gas producers might have been expected to welcome a decision to loosen regulations affecting their business. But their reaction to the Trump administration's move to roll back methane-emissions rules revealed at least tactical divisions on climate policy. Contradictory voices quickly emerged Thursday between those who supported the move as a boon to domestic energy production and others who viewed it as a counterproductive measure that would sully the reputation of natural gas as a clean fuel…. Natural gas often escapes unburned during production and distribution, and its essential component — methane — is more than 80 times as potent as carbon dioxide in trapping heat in the earth's atmosphere in the 20 years it takes to dissipate. The administration's move would loosen regulations affecting methane emissions from pipelines, storage tanks and wells. Without constraints on harmful emissions, some in the industry feel they will be less effective in arguing that gas should replace coal in generating power. And that would strengthen the case for favoring sources like wind and solar energy rather than gas to control global warming." See also, 84 Environmental Rules Being Rolled Back Under Trump, The New York Times, Nadja Popovich, Livia Albeck-Ripka, and Kendra Pierre-Louis, Thursday, updated on 29 August 2019: "President Trump has made eliminating federal regulations a priority. His administration, with help from Republicans in Congress, has often targeted environmental rules it sees as burdensome to the fossil fuel industry and other big businesses. A New York Times analysis, based on research from Harvard Law School, Columbia Law School and other sources, counts more than 80 environmental rules and regulations on the way out under Mr. Trump. Our list represents two types of policy changes: rules that were officially reversed and rollbacks still in progress. The Trump administration has released an aggressive schedule to try to finalize many of these rollbacks this year." See also, Major Climate Change Rules the Trump Administration Is Reversing, The New York Times, John Schwartz, Thursday, 29 August 2019. See also, Trump administration to relax restrictions on methane, a powerful greenhouse gas, The Washington Post, Juliet Eilperin and Brady Dennis, Thursday, 29 August 2019: "The Environmental Protection Agency announced Thursday that it plans to loosen federal rules on methane by allowing oil and gas operators to largely police themselves when it comes to preventing the powerful greenhouse gas from leaking out of new wells, pipelines and other infrastructure. It also challenges the notion, championed under the Obama administration, that the federal government has the authority to regulate methane without first making a detailed determination that it qualifies as a pollutant under the Clean Air Act. If successful, that change could hamper future administrations from enacting tougher restrictions on methane. Already, the Trump administration has taken several steps to limit the government's ability to regulate other greenhouse gases in the future, including in a recently finalized rule on carbon dioxide emissions from power plants." See also, Trump Administration to roll back Obama-era pollution regulations to curb leaks of methane, a potent pollutant contributing to the climate crisis, The Guardian, Emily Holden, Thursday, 29 August 2019: "The Trump administration is rolling back requirements that oil and gas drillers correct leaks of methane – a potent heat-trapping pollutant contributing to the climate crisis. The Environmental Protection Agency announced the proposal on Thursday, against the wishes of some major oil companies. Trump will reverse standards issued by Barack Obama that forced companies to install controls to curb methane releases from drilling operations, pipelines and storage facilities. The EPA is claiming the changes would save the oil and gas industry $17m to $19m a year, or up to $123m by 2025."
Sick Migrants Undergoing Lifesaving Care Can Now Be Deported, The New York Times, Miriam Jordan and Caitlin Dickerson, Thursday, 29 August 2019: "Maria Isabel Bueso was 7 years old when she came to the United States from Guatemala at the invitation of doctors who were conducting a clinical trial for the treatment of her rare, disfiguring genetic disease. The trial was short on participants, and thanks to her enrollment, it eventually led the Food and Drug Administration to approve a medication for the condition that has increased survival by more than a decade. Now 24, Ms. Bueso, who had been told she likely would not live past adolescence, has participated in several medical studies. She has won awards for her advocacy on behalf of people with rare diseases, appearing before lawmakers in Washington and in Sacramento. Over the years, her parents have paid for the treatment that keeps her alive with private medical insurance. But last week, Ms. Bueso received a letter from the United States government that told her she would face deportation if she did not leave the country within 33 days, an order described by her doctor, lawyer and mother as tantamount to a 'death sentence.' Without any public announcement, the United States Citizenship and Immigration Services eliminated a 'deferred action' program this month that had allowed immigrants like Ms. Bueso to avoid deportation while they or their relatives were undergoing lifesaving medical treatment. The agency said that it received 1,000 deferred-action applications related to medical issues each year. The policy change is the latest in a series of moves by the Trump administration to revoke or modify procedures that have allowed certain immigrants to remain in the United States on humanitarian grounds. In addition to those with serious medical conditions, they included crime victims who have helped law enforcement with investigations and caretakers of sick children or relatives."
Poor Conditions Persist for Migrant Children Detained at the Border, Democrats Say, The New York Times, Zolan Kanno-Youngs, Thursday, 29 August 2019: "Migrant children detained at the border continue to sleep in cold cells without proper clothing or adequate food, a top Democratic lawmaker said on Thursday, accusing the Department of Homeland Security of blocking members of Congress from visiting the facilities. Parents were not provided enough diapers for their children, toddlers were fed 'burritos rather than age-appropriate foods' and one child was told by an immigration agent to eat food off the floor, according to interviews that House Democrats conducted with detainees during earlier visits.
The Justice Department Can't Keep Its Own Law Secret Forever, Politico, Christian Farias, Thursday, 29 August 2019: "When the Supreme Court and lower courts interpret the Constitution and laws, their decrees are public, accessible and subject to debate. In some instances, if an interpretation of the law doesn't sit well with the public, Congress can respond by amending the law, effectively nullifying a court's decision. Or if a ruling on a constitutional question is especially egregious, a constitutional amendment, though unlikely, remains an option. But it turns out there's a whole category of American law that is above such checks and balances. The public knows nothing about it and there's no way to challenge it in court, let alone debate it in the halls of Congress. For decades, the Justice Department's Office of Legal Counsel has flexed its interpretive power as the ultimate arbiter of what the law is for the executive branch, building a whole body of secret law that remains shielded from public view. Very little is known about these opinions—which carry the force of law, resolve disputes between agencies, direct the conduct of federal officials and can even affect civil rights and liberties. In the view of one scholar, these opinions date 'to the beginning of the Republic' and can even 'rival the opinions of the Supreme Court.'"
Inspector general finds that former FBI director James Comey violated FBI policy in the handling of memos detailing interactions with Trump, The Washington Post, Matt Zapotosky, Thursday, 29 August 2019: "Former FBI director James B. Comey violated FBI policies in how he handled memos that detailed his controversial interactions with President Trump, setting a 'dangerous example' for bureau employees about substituting personal righteousness for established rules, the Justice Department's internal watchdog found in a report released Thursday." See also, Inspector General's report rebukes former FBI director James Comey and debunks Trump, The Washington Post, Aaron Blake, Thursday, 29 August 2019. See also, Former F.B.I. Director James Comey Is Criticized by Justice Department Watchdog for Violating F.B.I. Rules, The New York Times, Adam Goldman, Thursday, 29 August 2019: "The former F.B.I. director James B. Comey violated policy by disclosing memos about his interactions with President Trump to people outside the bureau, said a blistering Justice Department inspector general report released on Thursday. The report admonished him for setting 'a dangerous example' for officials with access to government secrets. The inspector general, Michael E. Horowitz, faulted Mr. Comey for handing the memos over to his lawyers, one of whom provided the contents of one document to a New York Times reporter at Mr. Comey's request. Though officials retroactively determined that they contained classified information, prosecutors declined to charge Mr. Comey with illegally disclosing the material. Mr. Comey has said he helped make the information public in part to bring about the appointment of a special counsel…. [T]he inspector general report found no evidence that Mr. Comey had lied during his interviews or that politics had influenced his efforts to prompt the appointment of a special counsel…. Mr. Comey responded on Thursday by noting that the new report found he had broken no laws and criticizing those who had accused him of lying or leaking information."
Judge rejects Democrats' bid to speed lawsuit for Trump's tax returns, Politico, Brian Faler, Thursday, 29 August 2019: "A federal judge on Thursday rejected House Democrats' bid for quick consideration of their lawsuit seeking President Donald Trump's tax returns. D.C. District Court Judge Trevor McFadden denied their request to both expedite consideration of the case and to decide on its merits without holding a trial. 'This is no ordinary case, but the weighty constitutional issues and political ramifications it presents militate in favor of caution and deliberation, not haste,' McFadden said. 'This case presents novel and complex questions about the privileges and authority of all three branches of the federal government.'"
Alabama's Governor, Kay Ivey, Apologizes for Blackface Skit in College, The New York Times, Richard Fausset, Thursday, 29 August 2019: "Gov. Kay Ivey of Alabama apologized on Thursday — 'with genuine remorse,' she said — for wearing blackface during a skit in 1967 while she was a student at Auburn University, the latest in a string of revelations of public figures who engaged in racist pantomime. The fallout from the revelation was unclear on Thursday afternoon. Ms. Ivey, 74, is a Republican, and her party holds all statewide offices and controls the State Legislature. Some black leaders in Alabama said they were still processing the details, first published at al.com, a statewide news service. But others were calling on her to step down." See also, Alabama's Republican Governor Kay Ivey apologizes for wearing blackface in college. She refuses to resign. The Washington Post, Reis Thebault, Thursday, 29 August 2019.
Trump officially launches U.S. Space Command in counter to Russia and China threats, The Washington Post, Christian Davenport and Paul Sonne, Thursday, 29 August 2019: "President Trump on Thursday took a key step toward reorganizing the nation's armed forces to focus more on the threats posed in space, formally establishing the United States Space Command…. The White House is still working toward persuading Congress to create a Space Force, which would become the sixth branch of the military and the first new one since the Air Force was created in 1947. Both the House and Senate have provisions for a Space Force in their Pentagon spending bills, but they differ on some key details, such as how the force would be organized." See also, Trump Authorizes a Space Command. Next, He Wants a Space Force. The New York Times, Katie Rogers and Helene Cooper, Thursday, 29 August 2019: "President Trump on Thursday authorized the creation of the United States Space Command, citing the need for a centralized unit to protect American interests in what he called "the next war-fighting domain." He described the command as a precursor to the Space Force, a sixth branch of the military that he has promised to supporters at his rallies and that he wants Congress to create."