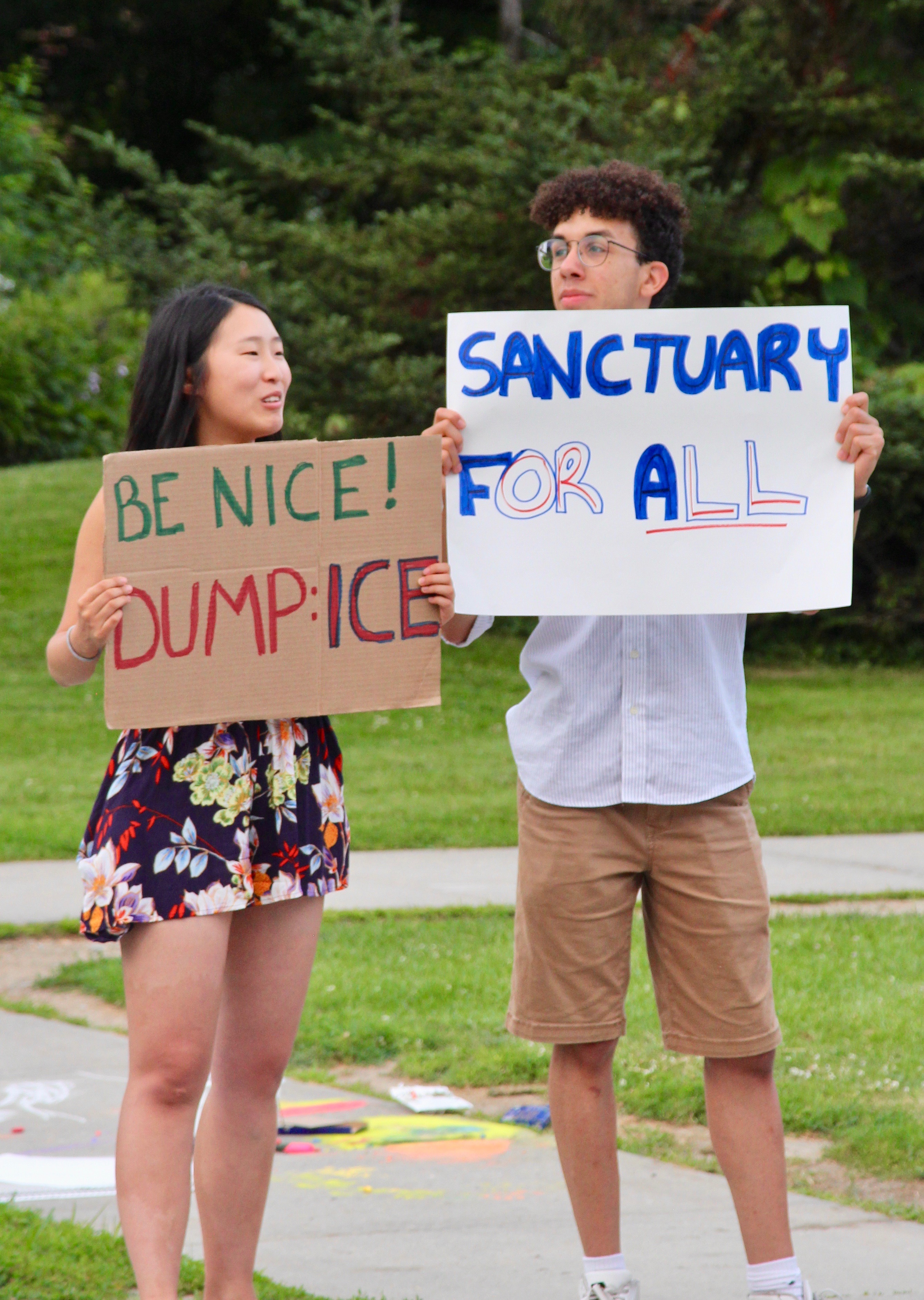 Passages in bold in the body of the texts below are usually my emphasis, though not always. This is an ongoing project, and I update the site frequently during the day. Because I try to stay focused on what has actually happened, I usually let the news 'settle' for a day or so before posting. I hope readers will peruse the articles in full for a better understanding of the issues and their context; our democracy and our future depend on citizens who can distinguish between facts and falsehoods and who are engaged in the political process.
For "a weekly newsletter celebrating people-powered wins against the Trump administration's agenda," visit Small Victories.
For independent global news, visit Democracy Now!
Friday, 9 August 2019, Day 932:
'I'm the Shooter': Police Say the El Paso Suspect Confessed to Targeting Mexicans, The New York Times, Nicholas Bogel-Burroughs, Friday, 9 August 2019: "The suspect in the El Paso shooting stepped out of a vehicle with his hands up and declared 'I'm the shooter' when he was arrested minutes after the massacre at a Walmart that killed 22 people, the police said in an affidavit filed Friday. The suspect, Patrick W. Crusius, 21, who is white, also divulged to the police that he had targeted Mexicans, according to the document, written by Detective Adrian Garcia of the El Paso Police Department." See also, Police say the El Paso suspect said he was targeting 'Mexicans,' and that he was the shooter, The Washington Post, Robert Moore and Mark Berman, Friday, 9 August 2019: "The suspect accused of killing 22 people at an El Paso Walmart told authorities that he was targeting 'Mexicans' and confessed to carrying out the shooting rampage when he surrendered to authorities, according to police." See also, Four Democratic Candidates Call on Walmart to Stop Selling Guns, The New York Times, Thomas Kaplan, Friday, 9 August 2019.
A backlash is building over a picture posted by Melania Trump on Twitter that showed her and Donald Trump smiling broadly while holding a baby who was orphaned in the mass shooting in El Paso, The Guardian, Edward Helmore, Friday, 9 August 2019: "On a visit to El Paso this week, the president flashed a thumbs-up when posing with the two-month-old, whose parents Andre and Jordan Anchondo were shot dead last Saturday. When the picture was posted on the first lady's Twitter account on Thursday, it prompted outrage. On a hospital visit in El Paso, Trump then reignited a dispute with 2020 Democratic contender and former local congressman Beto O'Rourke over crowd sizes, before getting into a Twitter row with the Dayton mayor, Nan Whaley."
How a Trump construction crew has relied on immigrants without legal status: 'If you're a good worker, papers don't matter,' The Washington Post, Joshua Partlow and David A. Fahrenthold, Friday, 9 August 2019: "For nearly two decades, the Trump Organization has relied on a roving crew of Latin American employees to build fountains and waterfalls, sidewalks and rock walls at the company's winery and its golf courses from New York to Florida. Other employees at Trump clubs were so impressed by the laborers — who did strenuous work with heavy stone — that they nicknamed them 'Los Picapiedras,' Spanish for 'the Flintstones.' For years, their ranks have included workers who entered the United States illegally, according to two former members of the crew. Another employee, still with the company, said that remains true today. President Trump 'doesn't want undocumented people in the country,' said one worker, Jorge Castro, a 55-year-old immigrant from Ecuador without legal status who left the company in April after nine years. 'But at his properties, he still has them.'"
Continue reading Week 134, Friday, 9 August – Thursday, 15 August 2019 (Days 932-938)
Past Flip-Flops Cloud Trump's Position on Background Checks, The New York Times, Michael D. Shear, Maggie Haberman, and Sheryl Gay Stolberg, Friday, 9 August 2019: "In 2013, Donald J. Trump said he supported background checks for gun purchases to 'weed out the sickos.' Two years later, as he prepared to run for president, he flip-flopped, telling Ammoland magazine that he opposed expanded checks because they don't work. It is a recurring pattern. As president, Mr. Trump changed his mind again in 2018 after the high school shooting in Parkland, Fla., insisting that stronger checks would be 'fully backed' by the White House. But that position only lasted a few days, until a late-night meeting with the National Rifle Association in the Oval Office, after which he backed off his support and later threatened to veto a background check bill. On Friday, in the wake of massacres in El Paso and Dayton, Ohio, Mr. Trump presented himself now as a deal-maker eager to bring Democrats and Republicans together behind tougher background checks. But the president's long history on the gun issue raises questions about his real commitment to legislation that would improve the background check system and close loopholes that have allowed firearms to be bought and sold at gun shows without any knowledge of a buyer's history."
Trump laments lack of media coverage as his aides concede Trump's visits to mourning cities didn't go as planned, CNN, Kaitlan Collins, Friday, 9 August 2019: "Some of President Donald Trump's own aides conceded Thursday that his visits to two cities in mourning did not go as planned, as a new video revealed he bragged about crowd sizes while visiting patients at an El Paso hospital. 'That was some, that was some crowd,' Trump said, according to cell phone video from one attendee. 'And we had twice the number outside. And then you had this crazy Beto. Beto had like 400 people in a parking lot, they said his crowd was wonderful.' White House officials blocked reporters and their cameras from entering the two hospitals during his visits to Ohio and Texas this week, a move they said was out of respect for the patients' privacy. But according to one person familiar with the President's reaction, the President lashed out at his staff for keeping the cameras away from him, complaining that he wasn't receiving enough credit. Aides had feared a moment like the one that is now going viral — where the President appears to focus on himself in front of those still recovering from a tragedy." See also, Trump's Trip to Dayton and El Paso: The Back Story, The New York Times, Katie Rogers, Maggie Haberman, and Rick Rojas, Friday, 9 August 2019: "By the time President Trump arrived in El Paso on Wednesday, on the second leg of a trip to meet with people affected by mass shootings in two cities, he was frustrated that his attacks on his political adversaries had resulted in more coverage than the cheery reception he received at a hospital in Dayton, Ohio, the first stop on his trip. So he screamed at his aides to begin producing proof that in El Paso people were happy to see him."
Huge cache of records details how Jeffrey Epstein and his madam, Ghislaine Maxwell, lured girls into his depraved world, Miami Herald, Julie K. Brown and Sarah Blaskey, Friday, 9 August 2019: "A chilling picture emerged Friday of how hundreds of girls and young women were allegedly trafficked for sex to a number of wealthy business, political and world leaders by Jeffrey Epstein and his madam, Ghislaine Maxwell, as nearly 2,000 court documents were unsealed in a federal civil case in New York. The documents, the largest cache to be released in the 13 years since Epstein's case began, offer brutal details about Epstein's trafficking of teenage girls in Palm Beach, New York and overseas — as well as Maxwell's obsessive and often abusive quest to provide him with new girls over a span of years in the early to mid 2000s. The documents raise new questions about whether powerful people pressured federal prosecutors in Florida to give Epstein a secret non-prosecution agreement in 2008 that not only granted him immunity, but allowed an untold number of other people who have never been identified to escape sex trafficking charges." See also, 'Massage' Was Code for 'Sex': New Epstein Abuse Revelations, The New York Times, Benjamin Weiser, Friday, 9 August 2019: "Manhattan federal prosecutors last month charged Mr. Epstein, 66, with sex trafficking of girls as young as 14, and details of his behavior have been emerging for years. But a cache of previously sealed legal documents, released on Friday by a federal appeals court, provides new, disturbing details about what was going on inside Mr. Epstein's homes and how his associates recruited young women and girls, including from a Florida high school. The documents — among the most expansive sets of materials publicly disclosed in the 13 years since Mr. Epstein was first charged with sex crimes — include depositions, police incident reports, photographs, receipts, flight logs and even a memoir written by a woman who says she was a sex-trafficking victim of Mr. Epstein and his acquaintances." See also, 'She was shaking': Court filings describe system Jeffrey Epstein allegedly used to procure girls, The Washington Post, Beth Reinhard, Marc Fisher, Tom Hamburger, and Carol D. Leonnig, Friday, 9 August 2019: "He demanded sex three times a day. A parade of powerful figures visited his private estates, which were adorned with pictures of naked girls and stocked with sex toys. And the schedules of teenagers on call to give him massages at his Palm Beach, Fla., mansion were documented in phone messages from his assistants. Those and other claims about financier Jeffrey Epstein unsealed in court filings Friday lay out disturbing details both about his alleged activities and the number of people in his orbit who could have observed them, raising new questions about how the sex abuse charges against the multimillionaire were previously handled."
As workplace raids multiply, the Trump administration charges few companies, The Washington Post, Renae Merle, Friday, 9 August 2019: "The Trump administration has eagerly pursued arrests of undocumented immigrants over the last two years, culminating in a record-setting raid of Mississippi poultry plants this week. But the administration appears to have been far less aggressive in going after corporations involved in those cases."
How Many Hogs Can Be Slaughtered Per Hour? The Pork Industry Wants More. The New York Times, Julie Creswell, Friday, 9 August 2019: "The federal government is poised this month to adopt a rule that would essentially turn the largest pork processing lines in the United States into the autobahn: no speed limit. Currently, plants are allowed to slaughter a maximum of 1,106 hogs per hour. As hogs move down the slaughter lines, federal inspectors stationed at each plant examine them and remove any parts potentially harmful to consumers…. Watchdog groups … are meeting with the Office of Management and Budget this week and next to raise concerns, particularly about the effects that increased speeds could have on workers and public health. These critics see the proposed changes as part of the Trump administration's goal of rolling back regulations to the benefit of big businesses."
Justice Department moves to potentially decertify immigration judges' union, The Washington Post, Matt Zapotosky, Friday, 9 August 2019: "The Justice Department moved Friday to potentially decertify the union that represents federal immigration judges, a spokesman said, a maneuver that could silence an organization that has been critical of some aspects of the Trump administration's overhaul of immigration enforcement." See also, Trump Administration Moves to Decertify Outspoken Immigration Judges' Union, The New York Times, Christina Goldbaum, published on Saturday, 10 August 2019: "The Justice Department has moved to decertify the union of immigration judges, a maneuver that could muffle an organization whose members have sometimes been openly critical of the Trump administration's immigration enforcement agenda."
FBI releases records of Justice Department official Bruce Ohr interviews about the Russia investigation, The Washington Post, Devlin Barrett, Friday, 9 August 2019: "Heavily redacted FBI memos released Thursday show that while the FBI formally cut ties with a former British intelligence officer who supplied some early information in the investigation of Russian election interference, agents quietly sought to reestablish contact as the case heated up."
Joe Biden Says 'Poor Kids' Are Just as Bright as 'White Kids,' The New York Times, Matt Stevens, Friday, 9 August 2019: "Former Vice President Joseph R. Biden Jr. raised eyebrows on Thursday during a speech in Iowa when he said that 'poor kids are just as bright and just as talented as white kids,' an apparent gaffe for a Democratic presidential candidate whose record on race has come under intense scrutiny during the primary."
Saturday, 10 August 2019, Day 933:
Officials Say Jeffrey Epstein Killed Himself in His Manhattan Jail Cell, Spurring Inquiries, The New York Times, William K. Rashbaum, Benjamin Weiser, and Michael Gold, Saturday, 10 August 2019: "Jeffrey Epstein, the financier who was long dogged by accusations of sexual abuse of girls and who was able to cultivate an array of high-profile friends despite his lurid lifestyle, killed himself in his Manhattan jail cell, officials said on Saturday. Mr. Epstein's death quickly reverberated from New York to Washington to Florida, spurring federal inquiries into why he was not being more closely monitored and angering his accusers, who said they had hoped to have his crimes aired in open court. Mr. Epstein hanged himself, and was found at around 6:30 a.m. Saturday at the Metropolitan Correctional Center, officials said. Last month, after being denied bail on federal sex trafficking charges, Mr. Epstein was found unconscious in his jail cell with marks on his neck. Prison officials had been investigating the incident as a possible suicide attempt." See also, Jeffrey Epstein dead after 'apparent suicide' in New York, The Washington Post, Matt Zapotosky, Devlin Barrett, Renae Merle, and Carol D. Leonnig, published on Sunday, 11 August 2019: "Jeffrey Epstein, the politically connected financier charged recently with sexually abusing dozens of young girls in the early 2000s, died Saturday after apparently hanging himself in a Manhattan cell, officials said, sparking outrage among victims who hoped to one day confront him in court and triggering multiple investigations into what happened. The FBI, the Justice Department's inspector general and the New York City medical examiner all launched inquiries into how the high-profile inmate could have died in federal custody." See also, Trump Shares Unfounded Fringe Theory About Jeffrey Epstein and the Clintons, The New York Times, Michael Crowley, Saturday, 10 August 2019: "President Trump used Twitter on Saturday to promote unfounded conspiracy theories about how Jeffrey Epstein, the financier accused of sex trafficking, died in a federal prison, even as the administration faced questions about why Mr. Epstein had not been more closely monitored. For years Mr. Trump has brashly — and baselessly — promoted suspicion as fact and peddled secret plots by powerful interests as a way to broadcast his own version of reality. Those include the lie that former President Barack Obama was not born in the United States and that millions of votes were illegally cast for Hillary Clinton in the 2016 election." See also, Trump retweets conspiracy theory tying the Clintons to Jeffrey Epstein's death, The Washington Post, Seung Min Kim and Hannah Knowles, published on Sunday, 11 August 2019.
Democratic Presidential Candidates in Iowa Offer Plans to Combat Gun Violence, The New York Times, Thomas Kaplan, Saturday, 10 August 2019: "One by one, Democratic presidential candidates on Saturday emphasized the urgent need to confront gun violence in America, speaking largely in harmony on an issue that has been thrust to the forefront after last weekend's mass shootings in El Paso and in Dayton, Ohio. At a forum in Des Moines, the candidates voiced support for a common set of gun control proposals, like requiring universal background checks and banning military-style semiautomatic rifles. And they repeatedly cited the same obstacles in their path: President Trump, Senator Mitch McConnell and the National Rifle Association…. [B]efore she spoke at the forum, Senator Elizabeth Warren of Massachusetts unveiled a series of proposals to address gun violence, with an ambitious goal for her presidency: reducing gun deaths by 80 percent."
Sunday, 11 August 2019, Day 934:
How the El Paso Killer Echoed the Incendiary Words of Conservative Media Stars, The New York Times, Jeremy W. Peters, Michael M. Grynbaum, Keith Collins, Rich Harris, and Rumsey Taylor, Sunday, 11 August 2019: "Tucker Carlson went on his prime-time Fox News show in April last year and told his viewers not to be fooled. The thousands of Central Americans on their way to the United States were 'border jumpers,' not refugees, he said. 'Will anyone in power do anything to protect America this time,' he asked, 'or will leaders sit passively back as the invasion continues?' When another group approached the border six months later, Ann Coulter, appearing as a guest on Jeanine Pirro's Fox News show, offered a dispassionately violent suggestion about what could be done to stem the flow of migrants: 'You can shoot invaders.' A few days after, Rush Limbaugh issued a grim prognosis to his millions of radio listeners: If the immigrants from Central America weren't stopped, the United States would lose its identity. 'The objective is to dilute and eventually eliminate or erase what is known as the distinct or unique American culture,' Mr. Limbaugh said, adding: 'This is why people call this an invasion.' There is a striking degree of overlap between the words of right-wing media personalities and the language used by the Texas man who confessed to killing 22 people at a Walmart in El Paso this month. In a 2,300-word screed posted on the website 8chan, the killer wrote that he was 'simply defending my country from cultural and ethnic replacement brought on by an invasion.'"
Inside the Government, Addressing Domestic Terrorism Has Been Fraught, The New York Times, Katie Benner, Sunday, 11 August 2018: "Not long after Barack Obama took office in 2009, a Homeland Security Department analyst produced a report presciently predicting that the deep economic downturn, the rise of social media and the election of the first black president would combine to make race-driven extremism a growing and serious threat to national security. But when the report was made public, it ignited a storm of protest, mostly from the right. Mike Pompeo, then a Republican congressman from Kansas and now secretary of state, said focusing on domestic terrorism was a 'dangerous' undertaking born of political correctness that denied 'the threat that radical Islamic terrorism poses.' Inside the Obama administration there was concern that highlighting the issue would only fuel white supremacist conspiracy theories or give unwarranted publicity to fringe figures, according to six former administration officials. Within weeks, Janet Napolitano, then the homeland security secretary, rescinded the threat assessment. The report's primary author left the government, and the department's unit dedicated to tracking domestic terrorism was essentially disbanded. A decade later, there is clear evidence that violence by white extremists is an undeniable and intensifying problem, especially after the racially motivated mass shooting in El Paso. But the question of how the government should attack domestic extremism, especially white supremacists, remains as politically fraught as ever, if for far different reasons, under President Trump."
Why the Jeffrey Epstein Investigation Is Not Over, The New York Times, Benjamin Weiser and William K. Rashbaum, Sunday, 11 August 2019: "Jeffrey Epstein is dead. But the criminal investigation that led to the sex-trafficking charges against him is not. Federal prosecutors and F.B.I. agents who built the case against Mr. Epstein will turn their attention to people whom his accusers have said participated in a scheme that dates back more than a decade and involved the sexual exploitation of dozens of underage girls. That could include a circle of close associates whom accusers said helped recruit, train and coerce them into catering to Mr. Epstein, a wealthy financier." See also, Corrections officers did not check on Jeffery Epstein for 'several' hours before his death, violating protocol, person familiar with the case says, The Washington Post, Matt Zapotosky and Devlin Barrett, Sunday, 11 August 2019: "Corrections officers had not checked in on financier and registered sex offender Jeffrey Epstein for 'several' hours before he was found hanging in his cell Saturday, a person familiar with the matter said, just one in a series of missteps in the hours leading up to his death. Officers should have been checking on Epstein, who was being held in a special housing unit of the Metropolitan Correctional Center in New York City, every 30 minutes, and, under normal circumstances, he also should have had a cellmate, according to the person familiar with the matter and union officials representing facility employees." See also, Jeffrey Epstein's accusers call Ghislaine Maxwell his protector and procurer. Is she now the target of prosecutors? The Washington Post, Marc Fisher, Sunday, 11 August 2019: "Ghislaine Maxwell was, according to her accusers, Jeffrey Epstein's protector and procurer, his girlfriend and his madam. She was, by all accounts, a soul mate and a mirror image. He grew up in Brooklyn with no money to speak of and never finished college. She is Paris-born, Oxford-educated, a jet-setter who partied with princes and billionaires. Together, Epstein and Maxwell allegedly built what prosecutors, police and a growing number of women described as a sex-trafficking operation that crisscrossed the nation to provide Epstein with three young girls a day."
Attorney general William Barr 'appalled' over Jeffrey Epstein's death, announces investigation, CNN, Veronica Stracqualursi, Sunday, 11 August 2019: "The Justice Department's inspector general is opening an investigation into the circumstances surrounding the death of multimillionaire financier and accused sex trafficker Jeffrey Epstein, Attorney General William Barr announced on Saturday."
Monday, 12 August 2019, Day 935:
Trump Policy Favors Wealthier Immigrants for Green Cards, The New York Times, Michael D. Shear and Eileen Sullivan, Monday, 12 August 2019: "President Trump on Monday broadened his assault on the nation's immigration system, issuing a new rule targeting legal immigrants who want to remain in the United States but whose lack of financial resources are judged likely to make them a burden on taxpayers. The new regulation is aimed at hundreds of thousands of immigrants who enter the country legally every year and then apply to become permanent residents. Starting in October, the government's decision will be based on an aggressive wealth test to determine whether those immigrants have the means to support themselves. Poor immigrants will be denied permanent legal status, also known as a green card, if they are deemed likely to use government benefit programs such as food stamps and subsidized housing. Wealthier immigrants, who are designated as less likely to require public assistance, will be able to obtain a green card. Officials said the program would not apply to people who already have green cards, to certain members of the military, to refugees and asylum-seekers, or to pregnant women and children. But immigration advocates warned that vast numbers of immigrants, including those not actually subject to the regulation, may drop out of programs they need because they fear retribution by immigration authorities." See also, Trump officials move to deny green cards and path to citizenship for poor immigrants who are in the US legally, The Washington Post, Abigail Hauslohner, Nick Miroff, Maria Sacchetti, and Tracy Jan, Monday, 12 August 2019: "Immigrants here legally who use public benefits — such as Medicaid, food stamps or housing assistance — could have a tougher time obtaining a green card under a policy change announced Monday that is at the center of the Trump administration's effort to reduce immigration levels. The new criteria for 'Inadmissibility on Public Charge Grounds,' due to take effect Oct. 15, will set stricter standards for applicants seeking legal permanent residency in the United States, criteria that will skew the process in favor of the highly skilled, high-income immigrants President Trump covets. Since its first days, the Trump administration has been seeking ways to weed out immigrants the president sees as undesirable, including those who might draw on taxpayer-funded benefits. Wealth, education, age and English-language skills will take on greater importance in the process of obtaining a green card, which is the main hurdle in the path to full U.S. citizenship. U.S. immigration law has long-standing provisions to screen out foreigners who might be a burden on society, but the rule change amounts to an expansion of the government's definition of 'public charge' — and who is deemed likely to become one." See also, Trump to deny green cards to immigrants receiving public benefits, Politico, Ted Hesson, Monday, 12 August 2019. See also, Trump administration announces regulation that could limit legal immigration over use of public benefits, CNN, Priscilla Alvarez, Geneva Sands, and Tami Luhby, Monday, 12 August 2019. See also, Trump just did what he couldn't get Republicans in Congress to agree to, The Washington Post, Amber Phillips, Tuesday, 13 August 2019. See also, Groups to sue the Trump administration over rule making it harder for legal immigrants to become citizens, CNBC, Sunny Kim, Monday, 12 August 2019.
Trump Administration Significantly Weakens Endangered Species Act, The New York Times, Lisa Friedman, Monday, 12 August 2019: "The Trump administration on Monday announced that it would change the way the Endangered Species Act is applied, significantly weakening the nation's bedrock conservation law and making it harder to protect wildlife from the multiple threats posed by climate change. The new rules would make it easier to remove a species from the endangered list and weaken protections for threatened species, the classification one step below endangered. And, for the first time, regulators would be allowed to conduct economic assessments — for instance, estimating lost revenue from a prohibition on logging in a critical habitat — when deciding whether a species warrants protection. Critically, the changes would also make it more difficult for regulators to factor in the effects of climate change on wildlife when making those decisions because those threats tend to be decades away, not immediate. Over all, the revised rules appear very likely to clear the way for new mining, oil and gas drilling, and development in areas where protected species live." See also, New Trump rules weaken wildlife protections, The Washington Post, Darryl Fears, Monday, 12 August 2019: "The Trump administration took its final step Monday to weaken the Endangered Species Act, a bedrock law that brought the bald eagle, the American alligator, the California condor, the humpback whale and the grizzly bear back from the brink of extinction. New rules will allow the administration to reduce the amount of habitat set aside for wildlife and remove tools that officials use to predict future harm to species as a result of climate change. It would also reveal for the first time in the law's 45-year history the financial costs of protecting them. The long-anticipated changes, jointly announced by the Interior and Commerce departments, were undertaken as part of President Trump's mandate to scale back government regulations on corporations, including the oil and gas industry, that want to drill on protected land." See also, Trump administration weakens application of Endangered Species Act, Associated Press, Ellen Knickmeyer, Monday, 12 August 2019. See also, The Trump Administration Finds a New Target: Endangered Species, The New Yorker, Carolyn Kormann, published on Friday, 16 August 2019. See also, Obama's Deputy Interior Secretary on the Gutting of the Endangered Species Act, New York Magazine, Matt Stieb, published on Saturday, 17 August 2019: "This week, the Trump administration announced new changes to the implementation of the Endangered Species Act, kneecapping its ability to protect threatened and endangered species and the land, air, and water access they rely on. The rules, first announced in draft form last summer, make it easier for regulators to cut species from the endangered list, limit protections for threatened species, and allow for economic factors to be considered when listing species and shrinking the boundaries of "critical habitat" necessary for a species' survival. In total, the changes appear to prioritize new development and economic growth over the well-being of critical flora and fauna, just as the United Nations released two reports in the last three months declaring that 1 million species are at risk of extinction and that humans must overhaul our land use to maintain biodiversity."
Border Patrol Agent Who Hit Migrant With Truck Pleads Guilty, The New York Times, Mihir Zaveri and Mariel Padilla, Monday, 12 August 2019: "A Border Patrol agent who intentionally hit a Guatemalan migrant with his truck in Arizona in 2017 — and who had referred to immigrants in a text message as 'subhuman' and 'mindless murdering savages' — has pleaded guilty to a misdemeanor charge, according to a document filed in federal court on Monday. The agent, Matthew Bowen, who was stationed in Nogales, will face up to one year in prison and could be fined $100,000 when he is sentenced on Oct. 15 for deprivation of rights under color of law, according to the plea agreement. Mr. Bowen also said in the plea agreement that he would resign from the Border Patrol. He was suspended in June 2018, according to The Arizona Daily Star."
Democrats Want to Revive a Ban on Assault Weapons, The New York Times, Sheryl Gay Stolberg, Monday, 12 August 2019: "Twenty-five years ago, Democratic support for an assault weapons ban was a major reason the party lost control of the House. Now top Democrats want to revive the fight. On both the presidential campaign trail and Capitol Hill, leading Democrats are either calling to reinstate the ban or are pressing for a new one. The 1994 ban barred Americans from buying certain military-style firearms and high-capacity magazines for a decade, until Republicans let it expire in 2004." See also, On Gun Control, 2020 Democrats Agree: No Reason to Hold Back, The New York Times, Reid J. Epstein and Thomas Kaplan, Monday, 12 August 2019: "Democrats running for president have engaged in bitter disputes this year over topics like health care, immigration and criminal justice. But after mass shootings in El Paso and Dayton, Ohio, jolted the nation earlier this month, the field of 2020 contenders seemed to move in lock step toward more aggressive gun control positions without resistance from the party's moderate voices. The result is that an issue currently at the top of voters' minds is producing little disagreement between the centrist and liberal Democrats seeking the White House. Instead, a contest has emerged over who can deliver the most effective pitch for new gun control measures, with the proper emotional punch."
Trump has made 12,019 false or misleading claims over 928 days, The Washington Post, Glenn Kessler, Salvador Rizzo, and Meg Kelly, Monday, 12 August 2019: "President Trump's proclivity for spouting exaggerated numbers, unwarranted boasts and outright falsehoods has continued at a remarkable pace. As of Aug. 5, his 928th day in office, he had made 12,019 false or misleading claims, according to the Fact Checker's database that analyzes, categorizes and tracks every suspect statement the president has uttered."
The Head of the Pentagon's Special Operations Command Has Ordered a Wide-Ranging Review Into the Culture and Ethics of the Elite Military Forces, The New York Times, Eric Schmitt, Monday, 12 August 2019: "The head of the Pentagon's Special Operations Command has ordered a wide-ranging review into the culture and ethics of the elite military forces, after several reports of drug use, violence and other misconduct. The unusual review ordered by the four-star officer, Gen. Richard D. Clarke, and announced Monday by his command, comes amid growing concerns among senior Pentagon officials and top-ranking commanders about misbehavior and criminal offenses by Special Operations forces."
Attorney General William Barr Says There Were 'Serious Irregularities' at the Federal Jail Where Jeffrey Epstein Died, The Wall Street Journal, Sadie Gurman and Nicole Hong, Monday, 12 August 2019: "Investigators have found 'serious irregularities' at the federal jail in New York where Jeffrey Epstein was being held on sex-trafficking charges, Attorney General William Barr said Monday, deepening the mystery surrounding the disgraced financier's death."
In Tweets About Jeffrey Epstein, Trump Revisits One of His Favored Conspiracy Genres: Murder, The New York Times, Maggie Haberman and Annie Karni, Monday, 12 August 2019: "President Trump has long used his fame and platform to amplify conspiracy theories and undermine his political enemies by muddying the waters when it comes to facts. For years, he has helped to erode voter faith in institutions by invoking the idea of a sinister force — such as the 'deep state' or a rigged electoral system — that is thwarting the will of the people in an attempt to undermine him. But a macabre subgenre of Mr. Trump's fondness for conspiracy theories has been to accuse, directly or indirectly, his political enemies of murder." See also, 23 bizarre conspiracy theories Trump has elevated, The Washington Post, Aaron Blake, Monday, 12 August 2019.
In Short-Staffed Jail, Jeffrey Epstein Was Left Alone for Hours; Guard Was Substitute, The New York Times, Ali Watkins, Katie Benner, and Danielle Ivory, Monday, 12 August 2019: "One of the two people guarding Jeffrey Epstein when he apparently hanged himself in a federal jail cell was not a full-fledged correctional officer, and neither guard had checked on Mr. Epstein for several hours before he was discovered, prison and law-enforcement officials said. Those details emerged on Monday as Attorney General William P. Barr sharply criticized the management of the federal jail in Manhattan where Mr. Epstein, who was accused of sexually abusing dozens of teenage girls, was found dead on Saturday morning."
Tuesday, 13 August 2019, Day 936:
Ken Cuccinelli, the Acting Director of U.S. Citizenship and Immigration Services: 'Give Me Your Tired and Your Poor Who Can Stand on Their Own Two Feet,' NPR, Sasha Ingber and Rachel Martin, Tuesday, 13 August 2019: "'Give me your tired and your poor who can stand on their own two feet and who will not become a public charge,' Ken Cuccinelli, the acting director of U.S. Citizenship and Immigration Services, said Tuesday, twisting Emma Lazarus' famous words on a bronze plaque at the Statue of Liberty. Cuccinelli was speaking to NPR's Morning Edition about a new regulation he announced Monday that targets legal immigration. The rule denies green cards and visas to immigrants if they use — or are deemed likely to need — federal, state and local government benefits including food stamps, housing vouchers and Medicaid. The change stands to impact hundreds of thousands of immigrants who come to the United States legally every year." See also, Ken Cuccinelli rewrites poem on the Statue of Liberty to make case for limiting immigration, CNN, Devan Cole and Caroline Kelly, Tuesday, 13 August 2019: "The acting director of US Citizenship and Immigration Services in a new interview revised the iconic poem on the Statue of Liberty's pedestal to suggest that only immigrants who can 'stand on their own two feet' are welcome in the United States. Ken Cuccinelli tweaked the famous poem from Emma Lazarus — whose words, 'Give me your tired, your poor, your huddled masses yearning to breathe free' are long associated with immigration to the US and the nation's history as a haven — as part of a case for strict new measures pushed Monday by the Trump administration that could dramatically change the legal immigration system. 'Would you also agree that Emma Lazarus's words etched on the Statue of Liberty, "Give me your tired, give me your poor," are also a part of the American ethos?' NPR's Rachel Martin asked Cuccinelli on 'Morning Edition' in an interview published Tuesday. 'They certainly are: Give me your tired and your poor who can stand on their own two feet and who will not become a public charge,' he replied. 'That plaque was put on the Statue of Liberty at almost the same time as the first public charge was passed — very interesting timing.' Cuccinelli grew combative when CNN's Erin Burnett pressed him Tuesday night on his tweaks to the famous poem…. 'Of course that poem was referring back to people coming from Europe where they had class-based societies, where people were considered wretched if they weren't in the right class, and it was written one year after the first federal public charge rule was written,' he added later." See also, Ken Cuccinelli, Trump's top immigration official, offers rewrite for Statue of Liberty poem, Politico, Quint Forgey, Tuesday, 13 August 2019. See also, 'Who can stand on their own two feet': Ken Cuccinelli edits famous Statue of Liberty poem written by Emma Lazarus in 1883, The Washington Post, Colby Itkowitz and Felicia Sonmez, Tuesday, 13 August 2019. See also, 'Huddled Masses' in Statue of Liberty Poem Are European, Trump Official Says, The New York Times, Jacey Fortin, published on Wednesday, 14 August 2019: "Kenneth T. Cuccinelli II, one of the Trump administration's top immigration officials, set off a controversy this week with comments about 'The New Colossus,' the 136-year-old sonnet at the base of the Statue of Liberty. 'Give me your tired, your poor, your huddled masses yearning to breathe free,' reads the poem, by Emma Lazarus. But on Tuesday morning, Mr. Cuccinelli, the acting director of United States Citizenship and Immigration Services, added a caveat. 'Give me your tired and your poor who can stand on their own two feet, and who will not become a public charge,' he said. That evening, he said the poem referred to 'people coming from Europe.'"
Jeffrey Epstein Death: 2 Guards Slept Through Checks and Falsified Records, The New York Times, Katie Benner and Danielle Ivory, Tuesday, 13 August 2019: "The two staff members who were guarding the jail unit where Jeffrey Epstein apparently killed himself fell asleep, failed to check on him for about three hours and falsified records to cover up their mistake, according to several law enforcement and prison officials with knowledge of the matter. Those disclosures came on Tuesday as the two employees were placed on administrative leave and the warden of the jail, the Metropolitan Correctional Center in Manhattan, was temporarily reassigned, pending the outcome of the investigation into Mr. Epstein's death, the Justice Department announced." See also, Jeffrey Epstein's Death Was on 4Chan Before Officials Announced It–And Authorities Had to Look Into It, BuzzFeed News, Jane Lytvynenko, Tuesday, 13 August 2019: "The New York City Fire Department looked into whether an employee posted about Jeffrey Epstein's death on a notorious internet message board prior to officials announcing it to the public, BuzzFeed News has learned. After telling BuzzFeed News the post was 'under review,' an FDNY spokesperson said authorities 'determined this alleged information did not come from the Fire Department.'" See also, 4Chan user posted about Jeffrey Epstein's death before it was public, NBC, Tom Winter, Ben Collins, and Daniel Arkin, Tuesday, 13 August 2019: "Less than an hour before the first news reports surfaced that Jeffrey Epstein had been found unresponsive in his jail cell, a post about his death mysteriously appeared on a far-right message board. Authorities now want to know who was behind the post, which contained medically accurate details about the financier and accused sex trafficker. The New York City Fire Department, for its part, has determined that the information in the post did not come from its records, a department spokesperson told NBC News. Fire officials reviewed the post on 4chan, a forum popular with internet trolls and people in the so-called alt-right movement."
Stacey Abrams Will Not Run for President in 2020, Focusing Instead on Fighting Voter Suppression, The New York Times, Astead W. Herndon, Tuesday, 13 August 2019: "Stacey Abrams, the Georgia politician who captured national attention during her unsuccessful run for governor in 2018, has decided not to run for president after publicly contemplating a bid for months. Ms. Abrams, a Democrat, will instead focus her efforts on preventing voter suppression with a new initiative called Fair Fight 2020, which takes its name from a group Ms. Abrams began last year after her election loss. It will work with state parties in battleground states to more closely monitor voter protection ahead of next year's general election." See also, Stacey Abrams chooses building a national voter protection program over running for president in 2020, The Washington Post, Vanessa Williams, Tuesday, 13 August 2019: "Stacey Abrams said Tuesday she decided that rather than joining the crowded field for the Democratic presidential nomination, she could better help her party in next year's election by 'making sure every eligible American who should cast a vote will be able to.'" See also, Stacey Abrams's Fight for a Fair Vote, The New Yorker, Jelani Cobb, published on Monday, 12 August 2019.
U.S. Delays Some China Tariffs Until Stores Stock Up for Holidays, The New York Times, Ana Swanson, Tuesday, 13 August 2019: "President Trump on Tuesday unexpectedly put off new tariffs on many Chinese goods, including cellphones, laptop computers and toys, until after the start of the Christmas shopping season, acknowledging the effect that his protracted trade war with Beijing could have on Americans. Mr. Trump pushed a 10 percent tariff on some imports to Dec. 15, and excluded others from it entirely, while facing mounting pressure from businesses and consumer groups over the harm they say the trade conflict is doing." See also, Trump delays some China tariffs to limit impact on holiday shopping, The Washington Post, Damian Paletta and Heather Long, Tuesday, 13 August 2019: "The White House on Tuesday said it would delay imposing tariffs on Chinese imports of cellphones, laptop computers, video game consoles, and certain types of footwear and clothing until Dec. 15, significantly later than the Sept. 1 deadline President Trump had repeatedly threatened. The announcement, which came from the Office of the U.S. Trade Representative, ensures that Apple products and other major consumer goods would be shielded from the import tax until at least December, potentially keeping costs on these products down during the holiday shopping season. It was the latest in a series of unexpected announcements and reversals by Trump as the White House attempts to pressure China to change long-standing economic practices. The confusion and uncertainty has weighed on the economy, leading companies to tighten up investment as they wait for a resolution." See also, Trump delays China duties to avoid holiday bite, Politico, Doug Palmer, Tuesday, 13 August 2019. See also, In Delaying Tariffs, Trump Faces Up to Economic Reality, The New York Times, Jim Tankersley, Wednesday, 14 August 2019: "President Trump insists China is paying the full cost of his tariffs. But his decision to push some of them off until December is an admission of their impact on American consumers. President Trump's tariffs on Chinese imports are forcing Americans to pay more for everyday products. Many economists have shown this. If you look at the appropriate inflation data, like the rising price of imported home furnishings, you can see the effect for yourself. Mr. Trump still does not see it — he continues to claim, incorrectly, that China alone is bearing the costs of his trade war with Beijing. But he admitted at least the possibility that he could be wrong about that on Tuesday, conceding that Americans could start paying more for many products if his latest round of tariffs went through as planned. He acknowledged that when the administration said it would delay imposing a 10 percent tax on some Chinese goods, including electronic devices and toys, to avoid putting a chill into this year's holiday spending."
States Sue the Trump Administration Over Rollback of Obama-Era Restrictions on Coal-Burning Power Plants, The New York Times, Lisa Friedman, Tuesday, 13 August 2019: "A coalition of 29 states and cities on Tuesday sued to block the Trump administration from easing restrictions on coal-burning power plants, setting up a case that could determine how much leverage the federal government has to fight climate change in the future. The lawsuit is the latest salvo in a long-running battle over the future of coal and how to regulate the nation's heavily polluting power plants, which are major producers of greenhouse gases that warm the planet. It also is the most significant test to date of the Trump administration's efforts to eliminate or weaken former President Obama's regulations to reduce the United States' contribution to global warming." See also, States and cities sue the Environmental Protection Agency over rollback of climate regulations aimed at coal plants, The Washington Post, Dino Grandoni and Brady Dennis, Tuesday, 13 August 2019: "A coalition of more than two dozen states and cities sued the Trump administration Tuesday over its rollback of one of President Barack Obama's signature regulations to reduce the nation's carbon emissions, saying the White House is seeking to prop up the coal industry and hamper future administrations from tackling climate change. Attorneys general from 22 Democratic-led states, six cities and the District of Columbia filed the lawsuit Tuesday in the U.S. Court of Appeals for the District of Columbia Circuit. The suit argues that the Environmental Protection Agency's replacement for an Obama-era rule intended to push the nation toward cleaner forms of energy is illegal and should be struck down."
2 degrees Celsius: Beyond the Limit. Extreme climate change has arrived in the US. The Washington Post, Steven Mufson, Chris Mooney, Juliet Eilperin, and John Muyskens, Tuesday, 13 August 2019: "Over the past two decades, the 2 degrees Celsius number has emerged as a critical threshold for global warming. In the 2015 Paris accord, international leaders agreed that the world should act urgently to keep the Earth's average temperature increases 'well below' 2 degrees Celsius by the year 2100 to avoid a host of catastrophic changes. The potential consequences are daunting. The United Nations Intergovernmental Panel on Climate Change warns that if Earth heats up by an average of 2 degrees Celsius, virtually all the world's coral reefs will die; retreating ice sheets in Greenland and Antarctica could unleash massive sea level rise; and summertime Arctic sea ice, a shield against further warming, would begin to disappear. But global warming does not heat the world evenly. A Washington Post analysis of more than a century of National Oceanic and Atmospheric Administration temperature data across the Lower 48 states and 3,107 counties has found that major areas are nearing or have already crossed the 2-degree Celsius mark." See also, Five takeaways from The Post's analysis of warming climates in the United States, The Washington Post, Chris Mooney, Tuesday, 13 August 2019.
Keeping Focus on Gun Bills, Democrats Urge Mitch McConnell and the Senate to Act, The New York Times, Sheryl Gay Stolberg and Catie Edmondson, Tuesday, 13 August 2019: "House Democrats, seeking to pressure the Senate Republican leadership to take up gun safety legislation, broke away from their August recess on Tuesday to appear in the Capitol with victims of gun violence, who pleaded with Congress to act swiftly to prevent further bloodshed. Six top Democrats called on Senator Mitch McConnell, the Republican leader, to bring senators back to Washington to pass two House bills: one mandating background checks on all gun purchases, including at gun shows and on the internet, and another extending the time the F.B.I. has to complete background checks."
They Got Their Voting Rights Back, But Will They Go to the Polls? The Marshall Project, Nicole Lewis, Tuesday, 13 August 2019: "[Clint] Williams, 58, has never voted. He's been on parole for the past 30 years, which, until March, made him ineligible to choose who will represent him in public office. If not for the law change, Williams would have lost the right to vote until he was nearly 80 years old. His parole ends in 2040. Williams and nearly 37,000 Louisianians who have recently had their voting rights restored by the state legislature are joining a potential wave of new voters from across the country. Last year, Florida elected to restore voting rights to nearly 1.5 million people with felony convictions. And, as of July 1, nearly 77,000 formerly incarcerated people in Nevada will be able to vote in the next election."
How Trump Ally Elliott Broidy Tested the Boundaries of Washington's Influence Game, The New York Times, Kenneth P. Vogel, Tuesday, 13 August 2019: "Elliott Broidy had the kind of past that might have given a more traditional White House reason to keep him at a distance: A wealthy businessman, he had pleaded guilty in 2009 to giving nearly $1 million in illegal gifts to New York State officials to help land a $250 million investment from the state's pension fund. But on a fall day in 2017, Mr. Broidy was ushered into the West Wing. For about two hours, he met with a handful of the most powerful people on earth, including President Trump, his chief of staff, his national security adviser and Jared Kushner, his son-in-law, discussing everything from personnel recommendations to the Republican Party's finances. Mostly, though, according to a detailed account he later sent to an associate, Mr. Broidy talked about the Middle East, a subject that had long been important to him personally and was becoming increasingly important to him financially." See also, 4 Takeaways From a Close Look at Elliott Broidy, The New York Times, Eileen Sullivan, Tuesday, 13 August 2019.
The House of Representatives v. Trump: Stymied Lawmakers Increasingly Battle in the Courts, The New York Times, Charlie Savage and Nicholas Fandos, Tuesday, 13 August 2019: "Democrats took control of the House this year promising to use legislation and investigations to check President Trump. But facing substantial roadblocks to each, they are increasingly opposing him in a different way: Eight months into their majority, the House is going to court at a tempo never seen before."
Wednesday, 14 August 2019, Day 937:
Trump's Latest Proposal Would Let Businesses Discriminate Based on LGBTQ Status, Race, Religion, and More, BuzzFeed News, Dominic Holden, Wednesday, 14 August 2019: "The Trump administration on Wednesday formally proposed a new rule to let businesses with federal contracts cite religious objections as a valid reason to discriminate against their workers on the basis of LGBTQ status, sex, race, ethnicity, national origin, and other characteristics — thereby skirting worker protections created by past presidents. The move marks President Donald Trump's latest effort to weaken the civil rights of minorities with ambiguous rules that grant agencies wide discretion to let companies off the hook when accused of discrimination. The 46-page draft rule from the Labor Department would apply to a range of so-called religious organizations — including corporations, schools, and societies — provided that they claim a 'religious purpose.'" See also, Southern Poverty Law Center Statement on Trump Proposal Allowing Discrimination by Federal Contractors, Southern Poverty Law Center, Wednesday, 14 August 2019: "Southern Poverty Law Center Deputy Legal Director David Dinielli issued the following statement regarding the Trump administration's decision to propose a rule that would allow federal contractors to discriminate based on immutable characteristics, including race, national origin, sex and LGBTQ status by citing a religious objection: 'Donald Trump's Department of Labor has proposed regulations to "clarify" the scope of an executive order that otherwise prohibits various forms of discrimination by federal contractors. The purpose of this proposal is clear: to pander to the extremists within the administration's base, including groups that the Southern Poverty Law Center has designated as anti-LGBTQ hate groups, all of whom have claimed for years that prohibitions on discrimination somehow trample religious liberty. The federal government should not be in the business of doling out contracts and payments to corporations that refuse to treat all Americans fairly and equitably.'"
Markets Are Shaken by New Signs of Global Economic Trouble, The New York Times, Nelson D. Schwartz, Jack Ewing, Matt Phillips, and Stephen Grocer, Wednesday, 14 August 2019: "The global economy is under increasing stress as growth cools and trade tensions take a mounting toll. On Wednesday, the tremors were felt worldwide. Shares on Wall Street were off sharply, only a day after they had rallied as President Trump narrowed the scope of his next round of tariffs. The S&P 500 was down 2.9 percent. And bond markets offered an ominous warning on American growth prospects, with yields falling to levels not seen in years. The financial jitters came after new data showed the German economy hurtling toward a recession and factory output in China growing at its slowest pace in 17 years." See also, Stock losses deepen as a key recession warning surfaces, The Washington Post, Damian Paletta, Thomas Heath, and Taylor Telford, Wednesday, 14 August 2019: "Recession signals intensified Wednesday in the United States and in some of the world's leading economies, as the damage from acrimonious trade wars is becoming increasingly apparent on multiple continents." See also, Recession watch: What is an 'inverted yield curve' and why does it matter? The Washington Post, Jonnelle Marte, Wednesday, 14 August 2019: "Stock markets tanked Wednesday after the bond market sounded a loud warning that the U.S. economy might be headed toward a recession. Investors are spooked by a scenario known as the 'inverted yield curve,' which occurs when the interest rates on short-term bonds are higher than the interest rates paid by long-term bonds. What it means is that people are so worried about the near-term future that they are piling into safer long-term investments." See also, Dow Sheds 800 in Biggest Drop of the Year, The Wall Street Journal, Corrie Driebusch, Britton O'Daly, and Paul J. Davies, Wednesday, 14 August 2019: "The Dow Jones Industrial Average posted its largest decline this year and government-bond markets sent a fresh warning about the risk of a coming recession, highlighting anxiety on Wall Street about the prospects for the decadelong economic expansion…. Weak data out of Germany and China exacerbated fears that the biggest economies around the world, which less than two years ago were growing in sync, are now struggling as the effects of the trade war become more pronounced. Traders now fear those woes could spill over to the U.S."
Stacey Abrams Says She's Open to Being Vice President for Any Democratic Nominee, The New York Times, Astead W. Herndon, Wednesday, 14 August 2019: "Stacey Abrams made it official this week that she would not seek the presidency after months of speculation among Democrats, becoming one of the most prominent party leaders to pass on the 2020 race. But in an interview Tuesday night, she said she was open to being considered for the No. 2 spot by 'any nominee.'"
2020 Democrats release joint statement ahead of Trump's New Hampshire rally, The Hill, Rebecca Klar, Wednesday, 14 August 2019: "More than 20 Democratic presidential campaigns on Wednesday united against President Trump ahead of his visit to New Hampshire, issuing a joint statement attacking the president's 'hateful rhetoric' while saying he has a record of siding with the wealthiest class. 'That's why all of us are fighting to defeat Donald Trump and move this country forward. No matter who the Democratic nominee is, we are in this together,' the statement, which includes all of the top-tier White House hopefuls, said."
Planned Parenthood to Withdraw From Title X, Unless Court Intervenes, NPR, Sarah McCammon, Wednesday, 14 August 2019: "Planned Parenthood says it will formally withdraw from the nation's family planning program for low-income people within days, unless a federal court intervenes. In a letter to the U.S. Court of Appeals for the 9th Circuit, Planned Parenthood officials ask for a stay against new Trump administration rules that forbid organizations receiving Title X funds to provide or refer patients for abortion. If the court does not intervene, Planned Parenthood says it will be forced to pull out on Aug. 19 after decades with the program."
Representative Steve King (Republican-Iowa), Opposing All Abortions, Asks if  There Would Be 'Any Population' Without Rape and Incest, The New York Times, Matt Stevens, Wednesday, 14 August 2019: "Representative Steve King of Iowa, a Republican whose history of making racist and divisive remarks led him to be stripped of his committee assignments earlier this year, questioned Wednesday if there would 'be any population of the world left' if it were not for rape and incest. Mr. King, who represents a deeply conservative district in northwest Iowa, made the remarks to the Westside Conservative Club in Urbandale, Iowa, as he explained his opposition to exceptions for rape and incest in anti-abortion legislation. 'It's not the baby's fault,' Mr. King said in video of the comments published by The Des Moines Register, which first reported the story. 'What if we went back through all the family trees and just pulled those people out that were products of rape or incest? Would there be any population of the world left if we did that? Considering all the wars and all the rapes and pillages that's taken place, and whatever happened to culture after society, I know that I can't certify that I'm not a product of that. And I'd like to think every one of the lives of us are as precious as any other life.'" See also, Representative Steve King (Republican-Iowa) says humanity might not exist if not for rape and incest, The Washington Post, Felicia Sonmez, Wednesday, 14 August 2019: "Rep. Steve King said Wednesday that humanity might not exist if not for rape and incest, prompting the latest round of outrage at the Iowa Republican, who has a long history of making inflammatory remarks." See also, 2020 Democrats Say Steve King Should Resign, Bloomberg, Tyler Pager, Wednesday, 14 August 2019: "Representative Steve King has given Democratic presidential candidates more fodder to bash him and direct support to his Democratic challenger. On Wednesday, King, an Iowa Republican who has been stripped of his committee assignments for his history of offensive comments, expressed his opposition to exceptions for rape and incest in anti-abortion legislation by saying that humanity might not exist if rape and incest did not occur, according to the Des Moines Register. Many of the Democrats running for president, including Bernie Sanders, Pete Buttigieg, Amy Klobuchar, Kirsten Gillibrand and Cory Booker, immediately said that King should resign, and some posted a link to donate to J.D. Scholten, the Democrat who is challenging King again after narrowly losing to him in 2018."
ABC News finds 36 cases invoking 'Trump' in connection with violence, threats, and alleged assaults, ABC News, Mike Levine, Wednesday, 14 August 2019: "President Donald Trump has repeatedly refused to accept any responsibility for inciting violence in American communities, dismissing critics who have pointed to his rhetoric as a potential source of inspiration for some citizens acting on even long-held beliefs of bigotry and hate…. But a nationwide review conducted by ABC News has identified at least 36 criminal cases where Trump was invoked in direct connection with violent acts, threats of violence or allegations of assault. In nine cases, perpetrators hailed Trump in the midst or immediate aftermath of physically attacking innocent victims. In another 10 cases, perpetrators cheered or defended Trump while taunting or threatening others. And in another 10 cases, Trump and his rhetoric were cited in court to explain a defendant's violent or threatening behavior."
The 1619 Project, The New York Times Magazine, Wednesday, 14 August 2019: "The 1619 Project is a major initiative from The New York Times observing the 400th anniversary of the beginning of American slavery. It aims to reframe the country's history, understanding 1619 as our true founding, and placing the consequences of slavery and the contributions of black Americans at the very center of the story we tell ourselves about who we are."
In Private Meeting, Trump Calls El Paso Mayor a 'RINO,' PBS/Frontline, Karen Pinchin, Wednesday, 14 August 2019: "The mayor of the grieving city of El Paso told President Donald Trump in a private meeting that he's presenting 'misinformation' about crime in his city, and pushed back when the president used a derogatory term to suggest he wasn't a real Republican."
Trump administration shields Ivanka Trump's and Mike Pence's projects in review of foreign aid, The Washington Post, John Hudson, Wednesday, 14 August 2019: "The Trump administration has decided to shield the signature projects of White House adviser Ivanka Trump and Vice President Pence as it looks to cancel billions of dollars in foreign aid for other projects around the world, U.S. officials said. In coming days, the White House is expected to send a proposal to Congress for returning billions of dollars of unspent foreign aid funds to the Treasury in a process known as rescission. Officials say they will safeguard funding for global health programs. Because U.S. aid agencies often do not designate funds until the end of a fiscal year, the White House could claw back between $2 billion and $4 billion in foreign aid projects approved by Congress for fiscal years 2018 and 2019."
Thursday, 15 August 2019, Day 938:
Israeli Decision to Bar Representative Rashida Tlaib of Michigan and Representative Ilhan Omar of Minnesota Inflames Politics in Two Countries, The New York Times, Isabel Kershner, Sheryl Gay Stolberg, and Peter Baker, Thursday, 15 August 2019: "Under intense pressure from President Trump, Prime Minister Benjamin Netanyahu's government on Thursday barred two members of the United States Congress from entering Israel for an official visit, reversing a previous decision to admit two of the president's most outspoken critics. But on Friday, Israel said that one of the congresswomen, Representative Rashida Tlaib, could enter on humanitarian grounds so that she could see her 90-year-old grandmother, after she promised to "not promote boycotts" during her stay. By enlisting a foreign power to take action against two American citizens, let alone elected members of Congress, Mr. Trump crossed a line that other presidents have not, in effect exporting his partisan battles beyond the country's borders. And he demonstrated the lengths that he will go to to target his domestic opponents, in this case two of the congresswomen of color he has sought to make the face of the Democratic Party heading into his re-election campaign." See also, Israel denies entry to Representatives Omar and Tlaib hours after Trump's push for a ban, The Washington Post, John Hudson, Ruth Eglash, Josh Dawsey, and Rachael Bade, Thursday, 15 August 2019: "Caught between the opposing views of President Trump and Democratic leaders, Israeli Prime Minister Benjamin Netanyahu reversed himself on Thursday and decided to prohibit two Democratic congresswomen from visiting Israel. The move to bar Reps. Ilhan Omar (D-Minn.) and Rashida Tlaib (D-Mich.) followed an unusual intervention by Trump, who advisers say is trying to sow divisions within the Democratic Party by shining a spotlight on its most liberal members. Hours before the decision to block the lawmakers, Trump tweeted that approving the visit would 'show great weakness.'" See also, The Anti-Boycott Law Israel Used to Bar Both Omar and Tlaib, The New York Times, Niraj Chokshi, Thursday, 15 August 2019: "Israel's decision on Thursday to bar two American Democratic congresswomen, Representatives Rashida Tlaib of Michigan and Ilhan Omar of Minnesota, from visiting the country rests on a law passed just two years ago. Aimed at Israel's critics, the law has been used to deny entry to outspoken foreign supporters of a global movement to boycott the country, which has significant support in Europe as well as the United States." See also, Israel bars Omar and Tlaib from entering the country, as Trump lashes out, Politico, Sarah Ferris, John Bresnahan, and Heather Caygle, Thursday, 15 August 2019.
Federal Court Rules That Migrant Children Are Entitled to Toothbrushes and Soap, The New York Times, Caitlin Dickerson, Thursday, 15 August 2019: "A federal appeals court panel ruled on Thursday that the government must provide detained migrant children with basic hygiene supplies such as toothbrushes and sleeping mats, ending a debate that incited national outrage after a Justice Department lawyer argued against the need to do so. The exchange in June between the lawyer and a panel of openly aghast federal judges spread rapidly in the national media. The case grew in significance days later, when a group of lawyers told reporters they had observed distressed migrant children held in cramped, dirty conditions and without sufficient food or clean water at a Border Patrol station in Clint, Tex. The lawyers said they saw infants being cared for by other detainees, some as young as 7 years old. Lawmakers sprang into action, decrying the conditions. Hundreds of children were transferred out of the station, which was cleaned up, and the top Border Patrol agent who oversaw the facility was reassigned before resigning from his job."
Don't Burn Trees to Fight Climate Change–Let Them Grow. Countries and public utilities are trying to reduce carbon emissions by burning wood pellets instead of coal, but recent studies have shown that the practice will have disastrous effects. The New Yorker, Bill McKibben, Thursday, 15 August 2019: Burning wood to generate electricity expels a big puff of carbon into the atmosphere now. Eventually, if the forest regrows, that carbon will be sucked back up. But eventually will be too long—as the Intergovernmental Panel on Climate Change made clear last fall, we're going to break the back of the climate system in the next few decades. For all intents and purposes, in the short term, wood is just another fossil fuel, and in climate terms the short term is mostly what matters. As an M.I.T. study put it last year, while the regrowth of forests, if it happens, can eventually repay the carbon debt created by the burning of wood pellets, that payback time ranges from forty-four years to a hundred and four in forests in the eastern U.S., and, in the meantime, the carbon you've emitted can produce 'potentially irreversible impacts that may arise before the long-run benefits are realized.'"
Autopsy finds broken bones in Jeffrey Epstein's neck, deepening questions around his death, The Washington Post, Carol D. Leonnig and Aaron C. Davis, Thursday, 15 August 2019: "An autopsy found that financier Jeffrey Epstein suffered multiple breaks in his neck bones, according to two people familiar with the findings, deepening the mystery about the circumstances around his death. Among the bones broken in Epstein's neck was the hyoid bone, which in men is near the Adam's apple. Such breaks can occur in those who hang themselves, particularly if they are older, according to forensics experts and studies on the subject. But they are more common in victims of homicide by strangulation, the experts said." See also, Autopsy Shows Bones in Jeffrey Epstein's Neck Were Broken, The New York Times, Azi Paybarah and William K. Rashbaum, Thursday, 15 August 2019: "Preliminary findings from an autopsy of Jeffrey Epstein, the financier who apparently committed suicide in a Manhattan jail last week while facing sex trafficking charges, show that bones in his neck were broken, a person familiar with the autopsy report said on Thursday…. A medical examiner who performed the autopsy determined that Mr. Epstein had a broken hyoid bone, which is near the Adam's apple, the person familiar with the report said. Such an injury can occur in a suicide by hanging, especially in older people like Mr. Epstein, who was 66. But it can also be found in cases of strangulation, experts said. The Washington Post first reported on Thursday that the Mr. Epstein's hyoid had been broken."
A truck drove into people protesting Immigration and Customs Enforcement (ICE) outside a private prison in Rhode Island. A guard was at the wheel. The Washington Post, Tim Elfrink, Thursday, 15 August 2019: "The protesters were sitting on the pavement to block staff from parking at a Rhode Island prison that works with Immigration and Customs Enforcement when a black pickup truck swerved toward them. The protesters shouted as the driver laid on the horn, and the truck briefly stopped. And then, the driver hit the gas. In a viral video captured by bystanders, the protesters screamed and jumped out of the way. Several were struck, according to organizers of the Wednesday night demonstration at the Wyatt Detention Facility in Central Falls, R.I. Some were treated at a hospital, though none were severely injured."
House Panel Subpoenas Corey Lewandowski and Trump Aide Rick Dearborn in Obstruction Case, The New York Times, Nicholas Fandos, Thursday, 15 August 2019: "The House Judiciary Committee issued subpoenas on Thursday compelling President Trump's first campaign manager, Corey Lewandowski, and a former White House aide to testify publicly about actions taken by the president that could constitute obstruction of justice. The summons set up another potentially high-stakes, made-for-TV hearing around the findings of the former special counsel, Robert S. Mueller III, when Congress returns next month from its summer recess. Democratic investigators have portrayed this fall as a make-or-break stretch that will determine whether their work ultimately leads to impeachment. Mr. Lewandowski, who has remained a close informal adviser to the president, is viewed by lawmakers as a particularly valuable witness because of his role in an unsuccessful attempt by Mr. Trump in the summer of 2017 to dramatically curtail the special counsel's investigation of Russian election interference and his campaign. Rick A. Dearborn, the White House aide who also received a subpoena on Thursday, was drafted into that effort by Mr. Lewandowski." See also, House Democrats subpoena former Trump campaign manager Corey Lewandowski and ex-White House official Rick Dearborn, The Washington Post, Rachael Bade, Thursday, 15 August 2019: "House Democrats on Thursday subpoenaed former Trump campaign aide Corey Lewandowski and ex-White House official Rick Dearborn, compulsory summons that pro-impeachment lawmakers hope will build public support for ousting President Trump. The House Judiciary Committee is attempting to force Lewandowski and Dearborn to testify on Sept. 17, according to a statement released by the panel. The subpoenas — aimed at creating a made-for-TV moment that unpacks part of former special counsel Robert S. Mueller III's findings — comes as Lewandowski is mulling a bid for Senate in New Hampshire." See also, House Democrats subpoena Corey Lewandowski and Rick Dearborn in ongoing Trump obstruction of justice investigation, Politico, Andrew Desiderio and Kyle Cheney, Thursday, 15 August 2019. See also, Trump Thinks Corey Lewandowski Would Be a 'Fantastic' Senator From New Hampshire, The New York Times, Maggie Haberman, Thursday, 15 August 2019.
Trump Administration Asks Congress to Reauthorize the National Security Agency's (N.S.A's) Deactivated Call Records Program, The New York Times, Charles Savage, Thursday, 15 August 2019: "Breaking a long silence about a high-profile National Security Agency program that sifts records of Americans' telephone calls and text messages in search of terrorists, the Trump administration on Thursday acknowledged for the first time that the system has been indefinitely shut down — but asked Congress to extend its legal basis anyway. In a letter to Congress delivered on Thursday and obtained by The New York Times, the administration urged lawmakers to make permanent the legal authority for the National Security Agency to gain access to logs of Americans' domestic communications, the USA Freedom Act. The law, enacted after the intelligence contractor Edward J. Snowden revealed the existence of the program in 2013, is set to expire in December, but the Trump administration wants it made permanent."
Inspector general finds politically motivated harassment at the State Department, The Washington Post, Karen DeYoung, Thursday, 15 August 2019: "A report by the State Department's inspector general concludes that leadership of a leading department bureau mistreated and harassed staffers, accused them of political disloyalty to the Trump administration, and retaliated against them. In response to repeated counseling by more senior State officials that he address staff concerns, the report concluded, Kevin Moley, assistant secretary for international affairs, 'did not take significant action.' The report, released Thursday, is a sweeping condemnation of Moley and more specifically of his former senior adviser, Mari Stull. A former lobbyist and consultant for international food and agriculture interests, Stull left the department in January following press reports that, among other things, she had compiled a list of staffers deemed insufficiently loyal to the Trump administration…. Both Stull and Moley, it said, 'frequently berated employees, raised their voices, and generally engaged in unprofessional behavior toward staff,' and reportedly moved to retaliate against those who had held their jobs under the previous administration. Stull, it said, referred to some employees as 'Obama holdovers,' 'traitors,' or 'disloyal,' and accused some of being part of the 'Deep State' and the 'swamp' — terms that President Trump has used to refer to federal employees. All of those so accused, the report said, were career staffers and not political appointees." See also, State Department's internal watchdog cites possible retribution by political appointees against career employees at the State Department, NBC News, Associated Press, published on Friday, 16 August 2019: "The State Department's internal watchdog has found significant evidence of leadership and management problems, including possible political retribution against career employees, in the bureau that deals with international organizations. In a report released on Thursday, the department's inspector general said a review of thousands of emails and dozens of interviews with current and former employees of the Bureau of International Organizations revealed a 'negative and vindictive' work environment. The review found employees complained about being frequently berated in public or otherwise mistreated by two senior Trump administration political appointees at the top of the bureau."
U.S. Arranges Secret Talks Between Israel and the United Arab Emirates (U.A.E.) Over Iran, The Wall Street Journal, Warren P. Strobel and Dion Nissenbaum, Thursday, 15 August 2019: "Israel and the United Arab Emirates held secret meetings arranged by the U.S. in recent months to share information and coordinate efforts to counter what they see as the increasing threat posed by Iran, according to U.S. officials familiar with the clandestine diplomacy. The meetings were convened by Brian Hook, the State Department's top official for Iran, and are the latest sign of a steady thaw between Israel and Gulf Arab nations, largely brought about by their shared antipathy toward Tehran and its attempts to spread its regional influence." See also, The U.S. Has Joined Secret Talks With Israel and the U.A.E. The Topic? Iran. The New York Times, Lara Jakes and Edward Wong, Thursday, 15 August 2019.
Trump's Cautious Distance From Hong Kong's Pro-Democracy Movement Isolates Him From Congress, Allies, and Advisers, The New York Times, Michael Crowley and Edward Wong, Thursday, 15 August 2019: "President Trump's cautious distance from Hong Kong's pro-democracy movement has left him politically isolated from both parties in Congress, the State Department, European allies and his most hawkish advisers at the White House. Despite ringing declarations of support for the protesters from leading Democrats and Republicans as well as European officials, Mr. Trump has shown little sympathy for the mass demonstrations against China's encroaching political influence on the former British colony. And in his almost-singular focus on his showdown with Beijing over trade and tariffs, Mr. Trump is ignoring the view of his conservative advisers, who believe that China's authoritarian model threatens American interests worldwide."
Trump Eyes a New Real-Estate Purchase: Greenland, The Wall Street Journal, Vivian Salama, Rebecca Ballhaus, Andrew Restuccia, and Michael C. Bender, Thursday, 15 August 2019: "President Trump made his name on the world's most famous island. Now he wants to buy the world's biggest. The idea of the U.S. purchasing Greenland has captured the former real-estate developer's imagination, according to people familiar with the discussion, who said Mr. Trump has, with varying degrees of seriousness, repeatedly expressed interest in buying the ice-covered autonomous Danish territory between the North Atlantic and Arctic oceans. In meetings, at dinners and in passing conversations, Mr. Trump has asked advisers whether the U.S. can acquire Greenland, listened with interest when they discuss its abundant resources and geopolitical importance and, according to two of the people, has asked his White House counsel to look into the idea." See also, Trump Is Said to Ask: Can We Buy Greenland? The New York Times, Maggie Haberman and Michael D. Shear, Thursday, 15 August 2019.