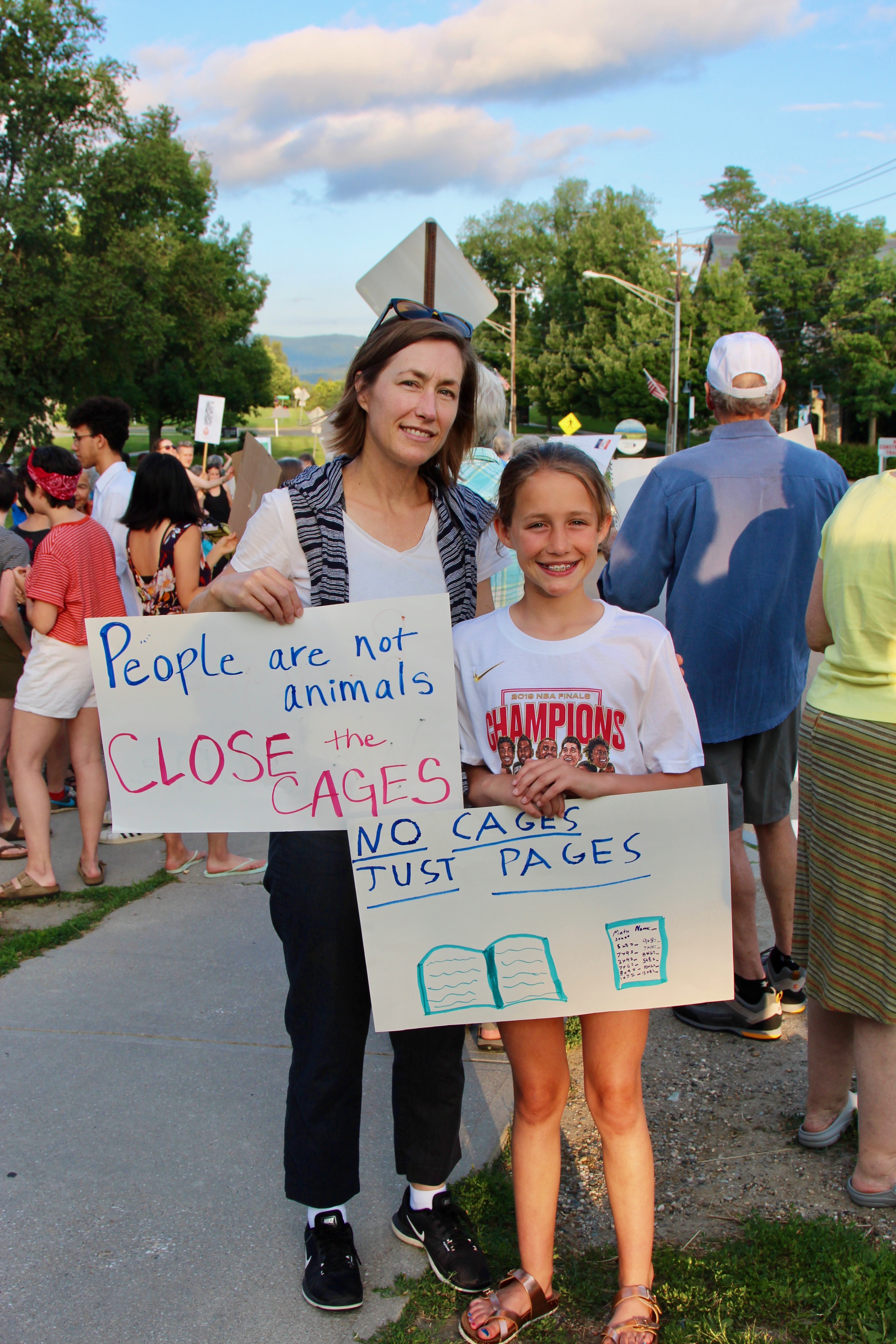 Passages in bold in the body of the texts below are usually my emphasis, though not always. This is an ongoing project, and I update the site frequently during the day. Because I try to stay focused on what has actually happened, I usually let the news 'settle' for a day or so before posting. I hope readers will peruse the articles in full for a better understanding of the issues and their context; our democracy and our future depend on citizens who can distinguish between facts and falsehoods and who are engaged in the political process.
For "a weekly newsletter celebrating people-powered wins against the Trump administration's agenda," visit Small Victories. 
For independent global news, visit Democracy Now!
Friday, 26 July 2019, Day 918:
Raising Prospect of Impeaching Trump, House Seeks Mueller's Grand Jury Secrets, The New York Times, Nicholas Fandos and Charlie Savage, Friday, 26 July 2019: "The House Judiciary Committee on Friday asked a federal judge to unseal grand jury secrets related to Robert S. Mueller III's investigation, using the court filing to declare that lawmakers have already in effect launched an impeachment investigation of President Trump. In a legal maneuver that carries significant political overtones, the committee told a judge that it needs access to the grand jury evidence collected by Mr. Mueller as special counsel — such as witness testimony — because it is 'investigating whether to recommend articles of impeachment' against the president. 'Because Department of Justice policies will not allow prosecution of a sitting president, the United States House of Representatives is the only institution of the federal government that can now hold President Trump accountable for these actions,' the filing told the judge, Beryl A. Howell, who supervised Mr. Mueller's grand jury. Referring to the part of the Constitution that gives Congress the power to impeach and remove a president, the filing continued: 'To do so, the House must have access to all the relevant facts and consider whether to exercise all its full Article I powers, including a constitutional power of the utmost gravity — approval of articles of impeachment.' [Read the Judiciary Committee's application.] With the filing, the committee's chairman, Representative Jerrold Nadler of New York, was attempting to sidestep the debate raging inside the Democratic Party over whether the full House should hold a vote to formally declare that it is opening an impeachment inquiry. By declaring that his committee was in effect conducting such an inquiry, he was heading off a politically difficult vote in the committee or the full house to pursue impeachment." See also, House Judiciary Committee asks a federal judge to enforce congressional subpoenas seeking grand jury information related to Mueller's investigation, a step toward possible impeachment, The Washington Post, John Wagner, Kayla Epstein, and Rachael Bade, Friday, 26 July 2019: "The House Judiciary Committee on Friday asked a federal judge to enforce congressional subpoenas seeking grand jury information related to the special counsel's investigation, taking steps in the direction of possible impeachment of President Trump. Judiciary Chairman Jerrold Nadler (D-N.Y.) told reporters the legal request signaled that the panel is pursuing an impeachment investigation, although neither the committee nor the full House has formally voted for launching proceedings." See also, Judiciary Committee asks a federal judge to share Mueller's secret grand jury evidence, Politico, Kyle Cheney and Josh Gerstein, Friday, 26 July 2019: "The House Judiciary Committee has formally asked a federal judge to release former special counsel Robert Mueller's most closely guarded evidence: the material he gathered using a secretive grand jury. The petition, submitted Friday to Beryl Howell, the chief judge of Washington, D.C.'s federal district court, asks that the material be provided to Congress, though it does not directly seek the public release of the grand jury evidence." See also, List: The 101 House Democrats calling for an impeachment inquiry into Trump, CNN, Friday, 26 July 2019. See also, House Speaker Nancy Peolosi: I'm not slow-walking impeachment inquiry. House Judiciary Committee Chairman Jerry Nadler: It's 'in effect' anyway. NBC News, Rebecca Shabad, Alex Moe, and Leigh Ann Caldwell, Friday, 26 July 2019: "House Speaker Nancy Pelosi, D-Calif., said Friday that a decision on whether the House pursues the impeachment of President Donald Trump will be made in a 'timely fashion' and denied the idea that she is trying to 'run out the clock' on the issue. Her comments came shortly before House Judiciary Committee Chairman Jerry Nadler, D-N.Y., said at a separate press conference that his panel has already 'in effect' been conducting an impeachment inquiry of the president — and said in a court filing that 'articles of impeachment are under consideration as part of the Committee's investigation, although no final determination has been made.'"
Supreme Court Lets Trump Proceed on Wall Along the Mexican Border, The New York Times, Adam Liptak, Friday, 26 July 2019: "The Supreme Court on Friday gave President Trump a victory in his fight for a wall along the Mexican border by allowing the administration to begin using $2.5 billion in Pentagon money for the construction. In a 5-to-4 ruling, the court overturned an appellate decision and said that the administration could tap the money while litigation over the matter proceeds. But that will most likely take many months or longer, allowing Mr. Trump to move ahead before the case returns to the Supreme Court after further proceedings in the appeals court. While the order was only one paragraph long and unsigned, the Supreme Court said the groups challenging the administration did not appear to have a legal right to do so. That was an indication that the court's conservative majority was likely to side with the administration in the end. The court's four more liberal justices dissented. One of them, Stephen G. Breyer, wrote that he would have allowed the administration to pursue preparatory work but not construction, which he said would be hard to undo if the administration ultimately lost the case." See also, Supreme Court says Trump can proceed with plan to spend military funds for border wall construction, The Washington Post, Robert Barnes, Friday, 26 July 2019: "A split Supreme Court said Friday night that the Trump administration could proceed with its plan to use $2.5 billion in Pentagon funds to build part of the president's wall project along the southern border. The court's conservatives set aside a lower-court ruling for the Sierra Club and a coalition of border communities that said reallocating Defense Department money would violate federal law. Friday's unsigned ruling came in response to an emergency filing from the administration during the court's summer recess. The majority said the government 'made a sufficient showing at this stage' that private groups may not be the proper plaintiffs to challenge the transfer of money. The court's action is a stay of the injunction issued by the U.S. Court of Appeals for the 9th Circuit on a 2-to-1 vote, and the litigation continues. The administration wants to finalize contracts for the work before the fiscal year ends Sept. 30."
After Tariff Threat, Trump Says Guatemala Has Agreed to New Asylum Rules, The New York Times, Michael D. Shear, Zolan Kanno-Youngs, and Elisabeth Malkin, Friday, 26 July 2019: "President Trump on Friday again sought to block migrants from Central America from seeking asylum, announcing an agreement with Guatemala to require people who travel through that country to seek refuge from persecution there instead of in the United States. American officials said the deal could go into effect within weeks, though critics vowed to challenge it in court, saying that Guatemala is itself one of the most dangerous countries in the world — hardly a refuge for those fleeing gangs and government violence." See also, Trump says he has agreement with Guatemala to help stem flow of migrants at the border, The Washington Post, Seung Min Kim, Kevin Sieff, and Abigail Hauslohner, Friday, 26 July 2019: "President Trump on Friday said he has struck a deal that would designate Guatemala as a safe third country for people seeking asylum in the United States — a plan that is facing significant legal hurdles in the Central American country as the Trump administration continues to struggle with the high number of migrants arriving at the southern U.S. border. The White House did not immediately release details of the agreement, and it is unclear how it would be implemented considering Guatemala's constitutional court has ruled any safe third country agreement would require legislative approval and the proposal has been widely criticized there." See also, Trump Says the US and Guatemala Have Signed a 'Safe Third Country' Agreement to Restrict Asylum-Seekers, BuzzFeed News, Adolfo Flores and Hamed Aleaziz, Friday, 26 July 2019.
Continue reading Week 132, Friday, 26 July – Thursday, 1 August 2019 (Days 918-924)
18-year-old U.S. citizen detained by border officials said conditions were so bad he lost 26 pounds and almost self-deported, CBS News, Caitlin O'Kane, Friday, 26 July 2019: "Francisco Erwin Galicia, the 18-year-old Dallas-born U.S. citizen detained by border officials, is speaking out about the conditions inside the facility where he was wrongfully held for more than three weeks. Galicia said conditions were so bad, he considered self-deporting just to get out — even though he has a birth certificate proving he's American-born. During the 23 days he was in the custody of U.S. Customs and Border Patrol, Galicia was not allowed to shower, he told The Dallas Morning News, which first reported his story. The teen said he lost 26 pounds during his time in the immigrant detention center, and said officers didn't provide him with enough food. He was crammed into an overcrowded holding area with 60 other men. They slept on the floor with aluminum-foil blankets — some even had to sleep in the bathroom area, he said." See also, US-born teen detained for weeks by Customs and Border Protection (CBP) says he was told 'you have no rights,' CNN, Nick Valencia, Alberto Moya, and Chelsea J. Carter, Friday, 26 July 2019.
We are African Americans, we are patriots, and we refuse to sit idly by, The Washington Post, Clarence J. Fluker, C. Kinder, Jesse Moore, and Khalilah M. Harris, Friday, 26 July 2019: "We've heard this before. Go back where you came from. Go back to Africa. And now, 'send her back.' Black and brown people in America don't hear these chants in a vacuum; for many of us, we've felt their full force being shouted in our faces, whispered behind our backs, scrawled across lockers, or hurled at us online. They are part of a pattern in our country designed to denigrate us as well as keep us separate and afraid. As 149 African Americans who served in the last administration, we witnessed firsthand the relentless attacks on the legitimacy of President Barack Obama and his family from our front-row seats to America's first black presidency. Witnessing racism surge in our country, both during and after Obama's service and ours, has been a shattering reality, to say the least. But it has also provided jet-fuel for our activism, especially in moments such as these. We stand with congresswomen Ilhan Omar, Alexandria Ocasio-Cortez, Ayanna Pressley and Rashida Tlaib, as well as all those currently under attack by President Trump, along with his supporters and his enablers, who feel deputized to decide who belongs here — and who does not. There is truly nothing more un-American than calling on fellow citizens to leave our country — by citing their immigrant roots, or ancestry, or their unwillingness to sit in quiet obedience while democracy is being undermined." See also, Barack Obama shares op-ed criticizing Trump's 'poisoning of our democracy.' The Washington Post, Colby Itkowitz, published on Saturday, 27 July 2019: "Former president Barack Obama, who doesn't often comment on current politics, on Saturday seemed to endorse an op-ed written by 149 African Americans who served in his administration that called out President Trump for recent comments degrading four congresswomen of color. 'I've always been proud of what this team accomplished during my administration. But more than what we did, I'm proud of how they're continuing to fight for an America that's better,' Obama tweeted with a link to the op-ed, which was published Friday evening in The Washington Post."
Elizabeth Warren's Campaign Receives 1 Million Donations, Hitting Milestone, The New York Times, Matt Stevens and Thomas Kaplan, Friday, 26 July 2019: "Senator Elizabeth Warren of Massachusetts has received one million donations to her campaign for president, her team said on Friday, making her the only Democratic candidate aside from Senator Bernie Sanders of Vermont to announce reaching that threshold in the 2020 cycle. The milestone further solidifies Ms. Warren's standing as a top fund-raiser after a slow first three months in the presidential race, during which she raised just $6 million. Despite having sworn off private fund-raisers, Ms. Warren raised $19.2 million in the second quarter, placing her behind only Mayor Pete Buttigieg of South Bend, Ind., and former Vice President Joseph R. Biden Jr. during that period."
Trump officials say a new plan will protect Bears Ears. Others call it 'salt in an open wound.' The Washington Post, Darryl Fears and Juliet Eilperin, Friday, 26 July 2019: "Nearly two years after dramatically shrinking the Bears Ears National Monument in Utah, the Trump administration finalized a management plan Friday that would allow trees to be plowed down using heavy chains, as well as utility lines and more ranching, in the smaller area that is still preserved. The new plan for the nearly 202,000-acre expanse of public land, which removes five Native American tribes from the management board of a monument they fought to designate, drew immediate protest from conservation and tribal groups…. The plan to manage what's left of the reduced monument 'is like seeing your grandmother's house has been robbed,' said one Native American tribal representative."
'I Have a Moral Responsibility to Come Forward': Colonel Accuses Top Military Nominee of Sexual Assault, The New York Times, Helene Cooper, Friday, 26 July 2019: "Col. Kathryn A. Spletstoser of the Army says she had returned to her hotel room and was putting on face cream on the night of Dec. 2, 2017, after a full day at the annual Reagan National Defense Forum in California, when her boss, Air Force Gen. John E. Hyten, the commander of United States Strategic Command, knocked on her door and said he wanted to talk to her. The military's itinerary of General Hyten's movements that day in Simi Valley, which was viewed by The New York Times, said he was having 'executive time.' Colonel Spletstoser said in an interview this week that her boss 'sat on the bed in front of the TV and asked me to sit down next to him.' According to her account, General Hyten reached for her hand. She became alarmed, and stood back up. He stood up too, she said, and pulled her to him and kissed her on the lips while pressing himself against her, then ejaculated, getting semen on his sweatpants and on her yoga pants. In April, President Trump nominated General Hyten to be the next vice chairman of the Joint Chiefs of Staff. If confirmed, he would become the country's No. 2 military officer, helping to oversee the 1.2 million active-duty American troops at home and deployed around the world." See also, A colonel accused a four-star general of sexual assault. A Senate panel will decide what happens next. The Washington Post, Karoun Demirjian, published on Sunday, 28 July 2019.
A new commitment to covering the climate story, Columbia Journalism Review, Mark Hertsgaard and Kyle Pope, Friday, 26 July 2019: "'Can we tell the story so people get it?' That's the mission TV newsman Bill Moyers urged at the launch of Covering Climate Now, a project aimed at breaking the climate silence that has long prevailed within too much of the news media. Co-founded by The Nation and the Columbia Journalism Review, in partnership with The Guardian, Covering Climate Now aims  to convene and inform a conversation among journalists about how all news outlets—big and small, digital and print, TV and radio, US-based and abroad—can do justice to the defining story of our time. Today, Covering Climate Now is proud to announce the first batch of news outlets participating in this effort. More than 60 outlets have signed on so far, with more on the way. There are TV networks (CBS News) and local TV stations; major newspapers in the US (The Philadelphia Inquirer, Minneapolis Star Tribune, San Francisco Chronicle, Seattle Times) and abroad (Asahi Shimbun and la Repubblica, the biggest newspapers in Japan and Italy, respectively); eminent specialist publications (Nature, Scientific American, InsideClimate News, Harvard Business Review); distinguished digital publications (HuffPost, Vox, The Intercept, Slate); regional outlets (The Texas Observer, Colorado Springs Gazette); public radio stations (in New York City; Washington, DC; Chicago; Philadelphia; Boston; New Orleans; Louisville; and San Francisco) and public-radio programs (Marketplace, Science Friday, The World); popular magazines (Maclean's of Canada, Newsweek Japan); leading individual and institutional voices (author Bill McKibben; the radio and TV program Democracy Now!; Channel 4 UK correspondent Alex Thomson; veteran TV meteorologists Dan Satterfield, Mike Nelson, and Paul Gross); and many more."
Saturday, 27 July 2019, Day 919:
Trump Assails Elijah Cummings, Calling His Congressional District a Rat-Infested 'Mess,' The New York Times, Peter Baker, Saturday, 27 July 2019: "President Trump lashed out at a leading African-American congressman on Saturday, calling him 'a brutal bully' who represents a Baltimore-based district that has become a 'disgusting, rat and rodent infested mess' where 'no human being would want to live.' Mr. Trump's attack on Representative Elijah E. Cummings, a Democrat from Maryland and leading critic of the president, parroted a segment that aired earlier in the morning on 'Fox & Friends.' The president suggested that the congressman was a hypocrite for criticizing conditions in migrant detention centers at the southwestern border when his own district is blighted. Mr. Trump also made a vague and unsubstantiated insinuation of corruption. 'Rep, Elijah Cummings has been a brutal bully, shouting and screaming at the great men & women of Border Patrol about conditions at the Southern Border, when actually his Baltimore district is FAR WORSE and more dangerous,' Mr. Trump wrote. 'His district is considered the Worst in the USA.' He went on: 'Cumming District is a disgusting, rat and rodent infested mess. If he spent more time in Baltimore, maybe he could help clean up this very dangerous & filthy place.' Mr. Cummings responded on Twitter shortly afterward, saying that he was a vigorous advocate for his district. 'Mr. President, I go home to my district daily,' he wrote. 'Each morning, I wake up, and I go and fight for my neighbors. It is my constitutional duty to conduct oversight of the Executive Branch. But, it is my moral duty to fight for my constituents.'" See also, Trump attacks Representative Cummings's district, calling it a 'disgusting, rat and rodent infested mess,' The Washington Post, Colby Itkowitz, Saturday, 27 July 2019: "President Trump ranted Saturday morning on Twitter about an African American lawmaker by disparaging the Baltimore district that Rep. Elijah E. Cummings (Md.) represents as a 'disgusting, rat and rodent infested mess.' As chairman of the House Oversight and Reform Committee, Cummings has initiated most of the investigations into the Trump administration's operations and policies, including recently the reports of inhumane treatment at migrant detention centers. Trump, seemingly borrowing from a Fox & Friends segment on the same topic, tweeted that Cummings's district is "FAR WORSE and more dangerous" than conditions at the border. He suggested Cummings focus his attention instead on cleaning up 'this very dangerous & filthy place.'" See also, Trump calls Baltimore 'disgusting … rodent infested mess' and rips Representative Elijah Cummings over border criticism, Baltimore Sun, Saturday, 27 May 2019: "After President Donald Trump attacked U.S. Rep. Elijah Cummings of Maryland on Saturday as a 'brutal bully' and called his 7th District 'disgusting, rat and rodent infested,' officials, residents and political commentators jumped to the defense of the congressman and his Baltimore home. Some went so far as to call Trump's tweets racist as the president again took to Twitter to vilify his political enemies, using inflammatory language that some believe stokes the nation's racial divisions as he prepares to run for reelection in 2020. 'Elijah Cummings grew up facing racist bullies like Trump and learned to confront them with qualities unknown to Trump: courage and integrity. The great people of Baltimore have something Trump craves but will never have as he degrades the Office of the President: dignity,' U.S. Sen. Chris Van Hollen of Maryland tweeted."
Better to have a few rats than to be one, Baltimore Sun, Editorial Board, Saturday, 27 July 2019: "In case anyone missed it, the president of the United States had some choice words to describe Maryland's 7th congressional district on Saturday morning. Here are the key phrases: 'no human being would want to live there,' it is a 'very dangerous & filthy place,' 'Worst in the USA' and, our personal favorite: It is a 'rat and rodent infested mess.' He wasn't really speaking of the 7th as a whole. He failed to mention Ellicott City, for example, or Baldwin or Monkton or Prettyboy, all of which are contained in the sprawling yet oddly-shaped district that runs from western Howard County to southern Harford County. No, Donald Trump's wrath was directed at Baltimore and specifically at Rep. Elijah Cummings, the 68-year-old son of a former South Carolina sharecropper who has represented the district in the U.S. House of Representatives since 1996. It's not hard to see what's going on here. The congressman has been a thorn in this president's side, and Mr. Trump sees attacking African American members of Congress as good politics, as it both warms the cockles of the white supremacists who love him and causes so many of the thoughtful people who don't to scream. President Trump bad-mouthed Baltimore in order to make a point that the border camps are 'clean, efficient & well run,' which, of course, they are not — unless you are fine with all the overcrowding, squalor, cages and deprivation to be found in what the Department of Homeland Security's own inspector-general recently called 'a ticking time bomb.'"
Trump campaign sees political advantage in a divisive appeal to working-class white voters, The Washington Post, Toluse Olorunnipa and Ashley Parker, Saturday, 27 July 2019: "President Trump launched another broadside Saturday on a Democratic political opponent, calling a prominent black congressman's Baltimore district a 'disgusting, rat and rodent infested mess' and saying 'no human being would want to live there.' That Twitter attack on Rep. Elijah E. Cummings (D-Md.) plunged the nation into yet another anguished debate over the president's divisive rhetoric. And it came just two weeks after Trump called out four minority congresswomen with a racist go-back-to-your-country taunt. The assault on Cummings, chairman of the House Oversight and Reform Committee, prompted immediate condemnations from House Speaker Nancy Pelosi (D-Calif.), Baltimore Mayor Bernard C. Young and several other top Democrats. The outburst also undercut efforts by many Republicans over the past two weeks to defend Trump and insist that his earlier attacks were based in ideology rather than race. But Trump's advisers had concluded after the previous tweets that the overall message sent by such attacks is good for the president among his political base — resonating strongly with the white working-class voters he needs to win reelection in 2020."
Senator Ron Wyden, Democrat of Oregon, intervenes at border to help Mexican family apply for asylum, The Washington Post, Robert Moore, Saturday, 27 July 2019: "A pregnant Mexican woman suffering complications was told by immigration officers that they couldn't process her family's asylum claim at the U.S. border on Saturday before a U.S. senator intervened to persuade the officers to take the woman to a Texas hospital. While visiting a migrant shelter Saturday, Sen. Ron Wyden (D-Ore.) grew concerned about a woman who was 38 weeks pregnant and suffering from preeclampsia and other complications. The senator and his staff decided to take the woman, her husband and 3-year-old son to a port of entry to make their asylum claim. At the Paso del Norte Bridge linking Juárez and El Paso, the family approached two Customs and Border Protection officers, presented their identification and said they wanted to request asylum. They then heard the words that tens of thousands of asylum seekers have been told for more than a year at the U.S.-Mexico border: 'We're full,' a CBP officer told them. Wyden, who had followed behind the family along with an entourage of staff members and friends from Oregon, then stepped forward and identified himself. He told the officers that Mexicans are exempt from the 'metering' program CBP has used to strictly control the number of people allowed to request asylum at ports of entry. He also told the officers the woman was late term in her pregnancy and suffering complications. The officers called a supervisor, who arrived minutes later, and allowed the family to go to the port of entry to make their asylum claim. Wyden was clearly shaken by his two-day visit to the border, which included a tour of CBP holding cells and an Immigration and Customs Enforcement detention facility."
Sunday, 28 July 2019, Day 920:
Dan Coats to Step Down as Director of National Intelligence After Strife With Trump, The New York Times, Maggie Haberman, Julian E. Barnes, and Peter Baker, Sunday, 28 July 2019: "President Trump announced on Sunday that Dan Coats would step down as director of national intelligence after a fraught tenure marked by tension with the Oval Office, and he tapped one of his staunch defenders, Representative John Ratcliffe, to take over the country's expansive network of spy agencies. Mr. Coats, a former senator and longtime pillar of the Republican establishment who angered the president by providing unwelcome assessments of Russia, North Korea and other matters, told Mr. Trump last week that it was time to move on, officials said. His departure removes from the national security team one of the most prominent figures willing to contradict the president. If Mr. Ratcliffe is confirmed by the Senate, he will offer a starkly different perspective in the Situation Room, one more in line with Mr. Trump's thinking. Mr. Ratcliffe, a third-term Republican from Texas and former prosecutor, has embraced Mr. Trump's theories about the origins of the Russia investigation and was among the sharpest questioners of Robert S. Mueller III, the former special counsel, at last week's hearings." See also, Dan Coats, Director of National Intelligence, to resign next month, Trump says, The Washington Post, Shane Harris, Sunday, 28 July 2019: "Director of National Intelligence Daniel Coats will leave his position next month, President Trump announced Sunday, capping a tumultuous relationship in which the two were often at odds over the wisdom of negotiating with Russia, the status of Iran's nuclear weapons program and the severity of foreign threats to U.S. elections. Trump said in a tweet that he would nominate Rep. John Ratcliffe (R-Tex.), a third-term congressman and prominent supporter, to replace Coats. The announcement comes just days after former special counsel Robert S. Mueller III warned on Capitol Hill that Russia will seek to interfere in U.S. elections in 2020." See also, John Ratcliffe, Nominee for Intelligence Chief, Is Seen as a Staunch Trump Ally, The New York Times, Jacey Fortin, Sunday, 28 July 2019.
Trump Accuses Black Congressman Elijah Cummings and His Allies of Being Racist Without Explaining Why, Deepening Feud, The New York Times, Peter Baker, Sunday, 28 July 2019: "President Trump escalated his attack on an African-American congressman on Sunday by accusing the lawmaker and his allies of being the racist ones as an acrimonious debate with Democrats in Congress hit a new and increasingly divisive stage. Mr. Trump, who on Saturday disparaged the congressman, Elijah E. Cummings, a Maryland Democrat, for not doing more to fix his 'disgusting, rat and rodent infested' district, said Democrats who called him racist as a result were themselves playing 'the Race Card,' as he put it on Twitter. The president later specifically referred to Mr. Cummings as a racist without explaining why. 'If racist Elijah Cummings would focus more of his energy on helping the good people of his district, and Baltimore itself, perhaps progress could be made in fixing the mess that he has helped to create over many years of incompetent leadership,' Mr. Trump wrote. 'His radical "oversight" is a joke!' The president's counterattack is a common strategy he has used since entering politics, throwing accusations against him back on his accusers. He often alleges that critics are stupid, mentally unbalanced or losing a step through age, all things he himself has been repeatedly accused of. As he has provoked a racially inflammatory fight in recent weeks, he has asserted that anyone calling him racist must themselves be racist. Most modern presidents have shied away from overt racial debates, but Mr. Trump seems to be going out of his way lately to engage in one as he seeks to mobilize his base heading into an election year." See also, 'Louder and more hateful': Big-city leaders say Trump's attacks on Baltimore are escalation of his strategy to denigrate diverse, liberal areas, The Washington Post, David Nakamura, Sunday, 28 July 2019: "President Trump's denunciations of Baltimore as an uninhabitable city are the latest in a string of disparaging attacks on diverse, liberal enclaves as violent, dirty and outside the mainstream — rhetoric that paints those areas of the country as fundamentally less American than whiter, more conservative strongholds. Trump denigrated Maryland's largest city over the weekend as 'a disgusting, rat and rodent infested mess' and blamed it on Rep. Elijah E. Cummings (D-Md.), who is black, and claimed on Sunday that the lawmaker himself is 'racist.' Long before, Trump had taken aim at other major cities, some of which are predominantly African American, and their elected leaders. He called San Francisco streets 'disgusting,' labeled Oakland and Ferguson, Mo., among the most dangerous places in the world, and lambasted the 'crime spree' and 'terrible blight' in Chicago. He also tagged Atlanta as 'crime infested' and said the city represented by civil rights icon Rep. John Lewis (D-Ga.) was 'falling apart.' Last month, Trump used an interview with Fox News during a trip to Japan to condemn the 'filth' caused by homelessness in Los Angeles, San Francisco and New York, blaming it on their Democratic leaders. 'It's disgraceful,' Trump said, adding that his administration was looking at steps to 'get that whole thing cleaned up.' To the leaders of those jurisdictions, Trump's indictment of Baltimore fits a long-standing pattern of a president who accentuates the nation's divisions along racial, ethnic and geographic lines." See also, Jared Kushner owns lots of Baltimore-area apartments. Some are infested with mice. The Washington Post, Rebecca Tan, Sunday, 28 July 2019.
House Judiciary Committee Chair Jerrold Nadler Says Trump 'Richly Deserves' Impeachment, The New York Times, Catie Edmondson, Sunday, 28 July 2019: "The chairman of the House Judiciary Committee, Representative Jerrold Nadler, said on Sunday that he believed President Trump 'richly deserves' to be impeached, the most forceful public comments yet from the leader of the panel that would open the proceedings to remove the president from office. 'He has done many impeachable offenses,' Mr. Nadler, Democrat of New York, said in an interview on CNN's 'State of the Union.' 'He's violated the law six ways from Sunday.' But deflecting from his opinion, Mr. Nadler continued: 'That's not the question. The question is, can we develop enough evidence to put before the American people? We have broken the logjam. The president and the attorney general were lying to the American people consistently, saying that the Mueller report found no obstruction, no collusion and exonerated the president.' Privately, Mr. Nadler had signaled to lawmakers and aides that he had gradually become convinced that his panel should proceed with impeachment hearings as expeditiously as possible. But he had not said so publicly, and his comments on Sunday, after the congressional testimony last week of the former special counsel, Robert S. Mueller III, only sharpened the divide among senior lawmakers over whether House Democrats should proceed with impeachment."
With Sunday surge, nearly half of House Democrats back impeachment inquiry, Politico, Kyle Cheney, Sunday, 28 July 2019: "Four more rank-and-file Democrats called for opening an impeachment inquiry against President Donald Trump on Sunday, inching lawmakers closer to a significant symbolic milestone: a majority of all House Democrats."
Trump Friend's Ties to Mideast at the Heart of Lobbying Inquiry, The New York Times, Sharon LaFranaiere, Maggie Haberman, William K. Rashbaum, Ben Protess, and David D. Kirkpatrick, Sunday, 28 July 2019: "As Donald J. Trump was preparing to deliver an address on energy policy in May 2016, Paul Manafort, his campaign chairman, had a question about the speech's contents for Thomas J. Barrack Jr., a top campaign fund-raiser and close friend of Mr. Trump. 'Are you running this by our friends?' Mr. Manafort asked in a previously undisclosed email to Mr. Barrack, whose real estate and investment firm does extensive business in the Middle East. Mr. Barrack was, in fact, coordinating the language in a draft of the speech with Persian Gulf contacts including Rashid al-Malik, an Emirati businessman who is close to the rulers of the United Arab Emirates. The exchanges about Mr. Trump's energy speech are among a series of interactions that have come under scrutiny by federal prosecutors looking at foreign influence over his campaign, his transition and the early stages of his administration, according to documents and interviews with people familiar with the case."
Monday, 29 July 2019, Day 921:
According to House Democrats the Trump administration determined that more than 500,000 children would no longer be automatically eligible for free school meals under a proposed overhaul to the food stamp program, but it left that figure out of its formal proposal, NBC News, Suzy Khimm, Monday, 29 July 2019: "The Department of Agriculture wants to crack down on eligibility for food stamps, estimating that 3.1 million Americans would lose benefits under the proposed rule that the agency unveiled on Tuesday. The proposal, however, did not include the USDA's own estimate that more than 500,000 children would lose automatic eligibility for free school meals under the proposed change, according to Rep. Bobby Scott, D-Va., chair of the House Committee on Education and Labor."
Trump Widens War on Race Critics While Embracing Black Pastors, The New York Times, Peter Baker and Maggie Haberman, Monday, 29 July 2019: "President Trump widened his war on critics of color on Monday with new attacks on the Rev. Al Sharpton and other political opponents even as he gathered his own African-American allies at the White House to defend him against charges of racism. In a third straight day of broadsides against black figures, Mr. Trump denounced Mr. Sharpton on Twitter as 'a con man' who 'Hates Whites & Cops' and again assailed Representative Elijah E. Cummings and his Baltimore-based district, drawing rebukes from Maryland Republicans as well as Democrats. Mr. Trump's determination to intensify the furor rather than move on guaranteed that it would continue to dominate the political debate in Washington and force many of the president's fellow Republicans to choose whether to stand by him, break with him or, in the case of most, find a way to keep out of the discussion." See also, Trump attacks Al Sharpton hours before a news conference in Baltimore, The Washington Post, John Wagner, Monday, 29 July 2019.
Kamala Harris's Medicare-for-all plan, explained, Vox, Li Zhou, Monday, 29 July 2019: "Addressing this question — since private insurance would effectively be done away with under Bernie Sanders's Medicare-for-all proposal — has been central to the current Democratic debate over health care, though Harris's responses have been somewhat muddled until this point. Her health care plan, importantly, helps clear a few things up. In laying out her proposal, Harris notes that she supports the same end goal as Sanders, but draws some distinctions in how she would go about getting there. Unlike Sanders's, Harris's plan would include a substantive role for private insurers, which would still be able to offer plans under a tightly regulated system, similar to the way that private insurers currently do through Medicare Advantage. Additionally, it would transition Americans from the existing system to Medicare-for-all in ten years, instead of four. And finally, it would use a slightly different payment mechanism: Harris backs several of the methods Sanders has suggested, including higher capital gains taxes, but would only impose taxes on households making $100,000 or more. Sanders's plan, meanwhile, would impose taxes on households making $29,000 or more." See also, Kamala Harris Sets Up Debate Showdown on Health Care With New Plan, The New York Times, Abby Goodnough and Astead W. Herndon, Monday, 29 July 2019: "Senator Kamala Harris of California, who is increasingly seeking to carve out an ideological lane separate from the most progressive Democrats running for president, laid out a new plan Monday for providing Medicare for all Americans, with a twist that stops short of the complete overhaul of the health insurance system that Senator Bernie Sanders of Vermont has proposed. Ms. Harris's announcement comes as the Democratic candidates are preparing for a fresh round of debates this week, and as she faces mounting pressure to clarify her stance on the issue after repeated missteps. It also comes as fellow candidates, such as Mr. Sanders and former Vice President Joseph R. Biden Jr., have sparred over health care in recent weeks."
Attorney General William Barr Moves to Block Asylum Claims Based on Family Ties, The New York Times, Zolan Kanno-Youngs, Monday, 29 July 2019: "Attorney General William P. Barr moved on Monday to end asylum protections for migrants solely because their relatives have been persecuted, the latest attempt by the Trump administration to limit sanctuary for people seeking refuge in the United States. Mr. Barr's decision overturned a 2018 judgment by the Justice Department's Board of Immigration Appeals, which found that a Mexican migrant whose father was targeted by a drug cartel could be eligible for asylum. Migrants are eligible for asylum in the United States if they can prove they were persecuted because of their race, religion, nationality or what immigration laws describe as 'membership in a particular social group or political opinion.' Mr. Barr's ruling concluded that the immigration appeals court 'erred' in finding that a migrant's family qualified as a persecuted social group."
Greta Thunberg to Attend New York Climate Talks.  She'll Take a Sailboat. The New York Times, Lisa Friedman, Monday, 29 July 2019: "Greta Thunberg, the 16-year-old Swedish climate activist, will cross the Atlantic Ocean in mid-August on an open-cockpit racing yacht to attend a United Nations summit meeting on global warming. 'Good news! I'll be joining the U.N. Climate Action Summit in New York,' Ms. Thunberg said Monday on Twitter. 'I've been offered a ride on the 60ft racing boat Malizia II.' The trip to New York is expected to take two weeks. Ms. Thunberg, who is taking the year off from school to campaign against climate change, also plans to attend the annual United Nations Framework Convention on Climate Change talks, to be held in December in Santiago, Chile. She has called the two conferences 'pretty much where our future will be decided' because nations will be pushed to further reduce emissions of the planet-warming gasses that come from burning fossil fuels. 'We still have a window of time when things are in our own hands. But that window is closing fast. That is why I have decided to make this trip now,' Ms. Thunberg said in a statement Monday."
Kamala Harris and Alexandria Ocasio-Cortez Release Climate 'Equity' Plan, The New York Times, Lisa Friedman, Monday, 29 July 2019: "Senator Kamala Harris of California and Representative Alexandria Ocasio-Cortez of New York on Monday unveiled legislation aimed at ensuring that climate change plans benefit low-income communities. They described the measure as a key element of the Democrats' Green New Deal. The effort comes as Ms. Harris, who is running for president, and other Democratic candidates prepare for a set of debates in Detroit this week. Racial and economic disparities on issues ranging from housing to education are expected to take center stage."
L.G.B.T.Q. Rights Cases Stall Under DeVos, Report Finds, The New York Times, Erica L. Green, Monday, 29 July 2019: "Students who said they were discriminated against because of their sexual orientation or gender identity were significantly less likely to get any relief from the Education Department's Office for Civil Rights under the Trump administration than they were under the Obama administration, according to a report released Monday. The report, released by the liberal Center for American Progress and based on the Education Department's own data, provided the first analysis of how students who identify as lesbian, gay, bisexual, transgender or queer have fared in the first half of the Trump administration. The administration has reshaped policy to exclude civil rights protections for transgender people in most areas of government and has scaled back legal protections for gay people. The report found that the Trump administration was less likely to investigate claims of discrimination filed by the students — and more likely to dismiss them. The percentage of complaints that resulted in a school being required to take action to remedy the discrimination under the current administration was nine times lower than under the Obama administration, it concluded."
Republican Senators Are Cool to John Ratcliffe, Trump's Choice for Top Intelligence Post, The New York Times, Julian E. Barnes, Nicholas Fandos, and Adam Goldman, Monday, 29 July 2019: "Republicans hesitated on Monday to embrace President Trump's choice for the director of national intelligence, and some privately expressed doubts about his potential confirmation, echoing concerns of experts and Democrats that he was too inexperienced and too partisan. Mr. Trump's pick, Representative John Ratcliffe of Texas, could face an uphill battle, Senate Republicans said in private conversations. Several said they wanted to keep the intelligence post apolitical, and Mr. Ratcliffe will need to show he can move beyond the die-hard conservative persona that has made him a star in the House and on Fox News but less well known among senators who will decide whether to confirm him."
Eric Blankenstein, Trump's former anti-discrimination official, 'may have abused his authority,' inspector general's report finds, The Washington Post, Renae Merle, Monday, 29 July 2019: "A former top Trump administration appointee at the Consumer Financial Protection Bureau 'may have abused his authority' and 'misused his position for private gain' in an attempt to defuse an article from The Washington Post about online posts in which he questioned whether the n-word was racist, according to an inspector general's report. Before the article was published, Eric Blankenstein, a policy director at the CFPB responsible for enforcing the country's fair lending laws, asked a subordinate to write a statement in support of him that also 'created the appearance of a violation' of ethics rules, according to the report, which was obtained by The Post through the offices of Democratic Sens. Elizabeth Warren (Mass.) and Sherrod Brown (Ohio). The subordinate, Patrice Ficklin, told investigators she didn't feel she had a choice and was given little time to write the statement in which she described Blankenstein as 'collegial, thoughtful and meticulous.'"
Trump's friend Tom Barrack tried to profit from Middle East nuclear deal, lawmakers say, The Guardian/Reuters, Monday, 29 July 2019: "A billionaire friend of Donald Trump pursued a plan to buy Westinghouse Electric Corp – even as he lobbied Trump to become a special envoy and promote the company's work on nuclear power in Saudi Arabia, a congressional report released on Monday. While Tom Barrack failed in both efforts, the report provides fresh evidence of the ease with which some corporate and foreign interests have gained access to the US president and other senior members of his administration." See also, Trump Adviser Tom Barrack Said to Have Pursued Saudi Nuclear Deal as He Sought Administration Role, The New York Times, Sharon LaFraniere, Monday, 29 July 2019: "Twelve days after President Trump was sworn in and five days after he roiled the Arab world with his first effort to restrict the entry of people from many predominantly Muslim countries to the United States, Thomas J. Barrack Jr., a close friend of the president's and a top fund-raiser for his campaign, had an idea for the White House. In an email to Stephen K. Bannon, Mr. Trump's strategist, Mr. Barrack promoted what he called 'an elegant thought' about how American companies, possibly including Mr. Barrack's own private equity firm, could help Saudi Arabia build nuclear power plants. The plan, Mr. Barrack said, would be 'backed immediately' by the Saudis and would 'balance the current noise' caused by the furor over the travel restrictions…. Mr. Barrack never got the special envoy post, and the push for a nuclear power plant deal with the Saudis stalled, in part because of Saudi reluctance to agree to American nonproliferation policies intended to ban the enrichment of nuclear materials for weapons, the report said. But questions about Mr. Barrack's ties to the governments of Saudi Arabia and the United Arab Emirates, which are closely aligned, have attracted not only congressional scrutiny, but the attention of federal prosecutors who have been looking at foreign influence over several of Mr. Trump's aides or supporters."
McConnell defends blocking election security bill and rejects criticism he is aiding Russia, The Washington Post, Paul Kane, Monday, 29 July 2019: "Senate Majority Leader Mitch McConnell on Monday defended his decision to block an election security bill and lashed out at critics who suggested he was helping Russia, accusing them of engaging in 'modern-day McCarthyism' to 'smear' his record. 'The outrage industrial complex doesn't let a little thing like reality get in their way,' said McConnell (R-Ky.) in a nearly 30-minute speech on the Senate floor. 'They saw the perfect opportunity to distort and tell lies and fuel the flames of partisan hatred, and so they did.'  McConnell was responding primarily to an opinion column by The Washington Post's Dana Milbank, published Friday under the headline 'Mitch McConnell is a Russian asset.' Milbank described how Republicans, including McConnell, had blocked bills designed to counter cyberattacks, by Russians or other foreign agents, against U.S. elections."
Tuesday, 30 July 2019, Day 922:
More Than 900 Migrant Children Have Been Separated From Their Families Over the Past Year, The New York Times, Miriam Jordan, Tuesday, 30 July 2019: "In the year since President Trump officially ended family separations at the southern border, immigration authorities have removed more than 900 migrant children from their families, sometimes for reasons as minor as a parent not changing a baby's diaper or having a traffic citation for driving without a license, according to new documents filed Tuesday in federal court. Family breakups have been imposed with even greater frequency in recent months under the Trump administration's most widely debated immigration policy, ostensibly to protect the welfare of the children, but in many cases because of relatively minor criminal offenses in a parent's past, such as shoplifting or public intoxication, according to tallies the Justice Department provided to the American Civil Liberties Union, which is challenging the separations." See also, ACLU: U.S. has taken nearly 1,000 child migrants from their parents since judge ordered stop to border separations, The Washington Post, Maria Sacchetti, Tuesday, 30 July 2019: "Lawyers for the American Civil Liberties Union told a federal judge Tuesday that the Trump administration has taken nearly 1,000 migrant children from their parents at the U.S.-Mexico border since the judge ordered the United States government to curtail the practice more than a year ago."
6 Highlights From Night 1 of the July Democratic Debates, The New York Times, Lisa Lerer, Reid J. Epstein, Shane Goldmacher, and Katie Glueck, Tuesday, 30 July 2019: "It was one of the most substantive presidential primary debates in recent memory, and the two Democratic candidates with the most ambitious plans [Elizabeth Warren and Bernie Sanders] dominated the stage." See also, Sanders and Warren Battle Accusations of 'Fairy Tale' Promises as Intraparty Rift Flares, The New York Times, Alexander Burns and Jonathan Martin, Tuesday, 30 July 2019: "The leading liberals in the Democratic presidential primary, Senators Bernie Sanders and Elizabeth Warren, strenuously fought back on Tuesday against accusations of making fanciful promises and imperiling the party's prospects against President Trump, as a group of moderate underdogs sought to slow their momentum in the second round of debates. On an evening that could have produced explosions in their own political rivalry, Mr. Sanders and Ms. Warren instead formed something of an ideological tag team to defend their shared agenda, above all on health care. Though each is seen as the other's chief obstacle in the Democratic race, Mr. Sanders and Ms. Warren did not at any point clash directly." See also, How each candidate stood out and who spoke the most during the first night of the second Democratic debate, The Washington Post, Hailey Fuchs, Laura Hughes, Chelsea Janes, Brittany Renee Mayes, Ted Mellnik, and Kevin Schaul, Tuesday, 30 July 2019: "Sens. Elizabeth Warren and Bernie Sanders grabbed more airtime than the other candidates on Tuesday night, speaking for nearly 18 minutes apiece. From center stage, the pair fielded questions and defended their stances on liberal policies such as Medicare-for-all and the wealth tax. CNN moderators often pitted them against centrists like former Maryland congressman John Delaney and Montana Gov. Steve Bullock, giving those outside candidates more talking time than would have been expected, given their position in the polls." See also, Democratic Debate Fact Check: What Did They Talk About, and What Was True? The New York Times, Tuesday, 30 July 2019: "The second round of 2020 Democratic presidential primary debates kicked off on Tuesday in Detroit, with 10 candidates onstage for the first of two back-to-back nights. The other 10 candidates who qualified for the debates will appear Wednesday on the same stage. Our reporters followed all of the exchanges, fact-checking the candidates and providing context and explanation for the policy debates." See also, Fact-checking the second Democratic debate (night 1), The Washington Post, Glenn Kessler, Salvador Rizzo, and Meg Kelly, Tuesday, 30 July 2019: "In the second debate of the Democratic primary season (part one), 10 presidential hopefuls came prepared with facts and figures, some of which were overstated or incorrect. Here is a round-up of 13 statements that caught our attention. As is our practice, we do not award Pinocchios during live events." See also, In contentious Democratic debate, deep divisions on health care separate liberals and moderates, The Washington Post, Toluse Olorunnipa, Matt Viser, and Amy B Wang, published on Wednesday, 31 July 2019: "Ambitious proposals for health care, climate change and other policies backed by liberal Democratic presidential contenders came in for sharp critiques from a cadre of moderate candidates jousting for prominence in the second round of debates here Tuesday night." See also, Transcript: The first night of the second Democratic debate, The Washington Post, Tuesday, 30 July 2019.
Ronald Reagan's Long-Hidden Racist Conversation With Richard Nixon, The Atlantic, Tim Naftali, Tuesday, 30 July 2019: "The day after the United Nations voted to recognize the People's Republic of China, then–California Governor Ronald Reagan phoned President Richard Nixon at the White House and vented his frustration at the delegates who had sided against the United States. 'Last night, I tell you, to watch that thing on television as I did,' Reagan said. 'Yeah,' Nixon interjected. Reagan forged ahead with his complaint: 'To see those, those monkeys from those African countries—damn them, they're still uncomfortable wearing shoes!' Nixon gave a huge laugh. The past month has brought presidential racism back into the headlines. This October 1971 exchange between current and future presidents is a reminder that other presidents have subscribed to the racist belief that Africans or African Americans are somehow inferior. The most novel aspect of President Donald Trump's racist gibes isn't that he said them, but that he said them in public."
California Requires Trump Tax Returns Under New Election Law, The New York Times, Jennifer Medina and Annie Karni, Tuesday, 30 July 2019: "President Trump will not be eligible for California's primary ballot unless he releases his tax returns, under a new law signed by Gov. Gavin Newsom on Tuesday. The law requires that all presidential candidates release their tax returns in order to be placed on the ballot for the state's primary next year, in a move that will almost certainly lead to legal challenges. Mr. Newsom's decision to sign the legislation seemed designed to escalate a running feud between the White House and California." See also, New law would bar Trump from appearing on California ballot if he doesn't disclose tax returns, The Washington Post, John Wagner, Tuesday, 30 July 2019: "President Trump would be barred from appearing on California's primary ballot next year if he declines to disclose his tax returns under a measure signed into law Tuesday by Gov. Gavin Newsom (D) that could prompt other Democratic-led states to follow suit. The new law is expected to draw a high-profile court challenge, but its implications for Trump remain unclear. Absent the emergence of a credible Republican primary challenger, he could opt not to appear on California's ballot and still win the GOP nomination." See also, Trump's tax returns required under new California election law, The Los Angeles Times, John Myers, Tuesday, 30 July 2019.
500,000 Children Could Lose Free School Meals Under Trump Administration Proposal, The New York Times, Lola Fadulu, Tuesday, 30 July 2019: "More than 500,000 children would lose automatic eligibility for free school meals under a rule proposed last week by the Agriculture Department intended to tighten access to food stamps. The impact on school meals, revealed by Representative Robert C. Scott, Democrat of Virginia and the chairman of the House Committee on Education and Labor, was not disclosed when the proposed food stamp rule was published last week. Agriculture officials said the new rule would close a loophole that they said allowed people with high incomes and accumulated assets to receive food stamps. The Agriculture Department said the proposal would cut off an estimated 3 million people from food stamps, a figure that critics said would include tens of thousands of working poor families. But the department said nothing about children from those same households who would automatically lose eligibility for free meals at school."
'Moscow Mitch' Tag Enrages McConnell and Squeezes Republicans on Election Security, The New York Times, Carl Hulse, Tuesday, 30 July 2019: "Senator Mitch McConnell is usually impervious to criticism, even celebrating the nasty nicknames critics bestow on him. But Mr. McConnell, the Senate majority leader, is incensed by the name 'Moscow Mitch,' and even more miffed that he has been called a 'Russian asset' by critics who accuse him of single-handedly blocking stronger election security measures after Russia's interference in 2016. Democrats had been making the case for months, but it was supercharged last week by the testimony of Robert S. Mueller III, the former special counsel, who told the House Intelligence Committee that the Russians were back at it 'as we sit here.'"
Trump Praises American Democracy, Then Plies Its Divisions, The New York Times, Peter Baker and Katie Rogers, Tuesday, 30 July 2019: "A rather extraordinary experiment began on that searing-hot summer day in 1619 when 22 elected colonists gathered in a wooden church near the James River as the first representative body in the New World. Four hundred years later to the day, President Trump flew here on Tuesday to celebrate the inauguration of what would become American democracy in lofty terms at a time when the state of American democracy feels to many to be perilous and even poisonous. From a stage in a cathedral tent next to a replica of the Jamestown Settlement, Mr. Trump remained on his best behavior, sticking to the elevated if dutiful words in the script his staff gave him and praising the contributions of African-Americans. But both before and after the ceremony, with no text or teleprompter to guide him, he once again opted for fiery denunciations of political opponents of color." See also, Jamestown ceremony marks birth of democracy in America; black Virginia legislators skip because of Trump, The Washington Post, Gregory S. Schneider, Michael E. Ruane, and Laura Vozzella, Tuesday, 30 July 2019.
How the 2020 Democrats Have Responded to Trump's Attacks on People of Color, The New York Times, Matt Stevens, Tuesday, 30 July 2019: "Earlier this month, President Trump hurled ugly insults at a group of four Democratic congresswomen of color, saying they hated America and that they should 'go back' to the countries they came from, despite the fact that all are United States citizens and all but one was born in the country. In the days since, Mr. Trump has continued his war on people of color who have criticized him. He has assailed Representative Elijah E. Cummings, a prominent black congressman from Baltimore, and denounced the Rev. Al Sharpton, a civil rights leader. About half of registered voters believe Mr. Trump is racist, according to a new national poll. And nearly all of the 2020 candidates have roundly condemned his comments as racist and divisive."
Wednesday, 31 July 2019, Day 923:
Biden Under Fire From All Sides as Rivals Attack His Record, The New York Times, Alexander Burns and Jonathan Martin, Wednesday, 31 July 2019: "Former Vice President Joseph R. Biden Jr. delivered a steadfast defense of his moderate policies in the Democratic primary debate on Wednesday, striking back at a familiar adversary, Senator Kamala Harris, but facing intensifying attacks on his record from liberal rivals including Senator Cory Booker and Julián Castro, the former housing secretary. Mr. Biden, the leading candidate in the Democratic presidential race, entered the debate under pressure to articulate a more forceful rationale for his campaign and turn back attacks from his fellow Democrats, after failing to do so in his clash with Ms. Harris in the first debate in June. In a handful of moments, Mr. Biden did just that, delivering pointed critiques of Ms. Harris and other challengers. But it was unclear by the end of the forum whether he was any closer to allaying liberals' reservations about his candidacy, or inspiring a Democratic Party that is eager to defeat President Trump but has shifted to the left in the years since Mr. Biden served as vice president under Barack Obama. Though he may have won sympathy from Democratic voters for absorbing so many blows, he did not deliver a commanding performance to reclaim firm control of the race." See also, 5 Highlights From Night 2 of Democratic Debates, The New York Times, Lisa Lerer, Reid J. Epstein, and Shane Goldmacher, Wednesday, 31 July 2019. See also, Protest Over Eric Garner's Death Disrupts Democratic Debate, The New York Times, Nick Corasaniti, Wednesday, 31 July 2019: "Protesters twice disrupted the Democratic presidential debate on Wednesday night, shouting from the packed crowd in the Fox Theater in Detroit with enough power to bring the candidates and the broadcast to a halt. During the opening statements, a group of protesters interrupted Senator Cory Booker of New Jersey by chanting 'Fire Pantaleo!' — a reference to Officer Daniel Pantaleo, who put Eric Garner in a fatal chokehold on Staten Island in 2014. The death of Mr. Garner, which was caught on video and showed New York City police officers continuing to hold him down while he yelled 'I can't breathe,' prompted nationwide protests. This month, the Justice Department, led by Attorney General William P. Barr, ordered that the case against Officer Pantaleo be dropped." See also, Democrats pull no punches on second night of primary debate, The Washington Post, Matt Viser, Toluse Olorunnipa, and Amy B Wang, published on Thursday, 1 August 2019: "Former vice president Joe Biden, attempting to regain his footing by adopting a more aggressive and combative posture during a Democratic presidential debate here Wednesday night, faced relentless attacks on his decades-long Senate record on race and criminal justice, immigration and health care, and his commitment to women's rights. The exchange showcased many of the deep divides within the party that are taking on greater urgency as the candidates strive to make gains before the field narrows." See also, Democratic debate: 8 key moments from night 2 as rivals went after Biden, The Washington Post, published on Thursday, 1 August 2019. See also, Five years after Eric Garner's death, he was a major topic at the Democratic debate, The Washington Post, Eugene Scott, published on Thursday, 1 August 2019: "Early during Wednesday's Democratic presidential debate on CNN, protesters interrupted with chants of 'Fire Pantaleo!' That's Daniel Pantaleo, the New York police officer who, five years ago, was shown on video wrapping his arm around the neck of Eric Garner, a 43-year-old black man. Garner died, and his death fueled a massive outcry and protests over law enforcement's mistreatment of people of color." See also, Debate Fact Check: What Were They Talking About, and What Was True? The New York Times, Wednesday, 31 July 2019. See also, Fact-checking the second Democratic debate (night 2), The Washington Post, Glenn Kessler, Salvador Rizzo, and Meg Kelly, Wednesday, 31 July 2019. See also, Transcript: Night 2 of the second Democratic debate, The Washington Post, Wednesday, 31 July 2019.
Reagan Called Africans 'Monkeys' in Call With Nixon, Tape Reveals, The New York Times, Sarah Mervosh and Niraj Chokshi, Wednesday, 31 July 2019: "Ronald Reagan was the governor of California in 1971 when he phoned the White House to vent his political frustration to President Richard M. Nixon and, according to a newly released audio recording, called African people 'monkeys' in a slur that sparked laughter from the president of the United States. The previously undisclosed exchange took place after the United Nations voted to expel Taiwan in order to seat representatives from Beijing, a move that the United States opposed. Delegates from Tanzania celebrated with a victory dance in the General Assembly hall. 'To see those monkeys from those African countries, damn them,' Reagan said, to laughter from Nixon. 'They are still uncomfortable wearing shoes.' In other recordings, Nixon went on to recount his conversation with Reagan to others, describing the African delegates as 'cannibals' as he sought to blame them for the United Nations vote. The exchange between two former presidents of the United States on Oct. 26, 1971, was revealed in new audio released by the National Archives and published on Tuesday by The Atlantic. The audio was the latest reminder of the long history of racism by American presidents and came as the current president faces fierce criticism for his attacks on prominent people of color."
Trump Administration Imposes Sanctions on Iran's Top Diplomat, The New York Times, David E. Sanger and Michael Crowley, Wednesday, 31 July 2019: "The Trump administration took the unusual step on Wednesday of placing sanctions on Iran's foreign minister, essentially cutting off the clearest avenue for talks with Iran by punishing the man who negotiated the 2015 nuclear agreement. Senior administration officials described the foreign minister, Mohammad Javad Zarif — an American-educated diplomat who is well connected throughout the United States — as the 'propaganda arm' of Iran's supreme leader, Ayatollah Ali Khamenei. In withdrawing last year from the nuclear accord, the administration argued that the move was intended to open negotiations. But with Mr. Zarif sidelined, it was unclear who else might serve as an experienced intermediary for Tehran in any potential talks. The administration has already imposed sanctions on the country's remaining power centers, Ayatollah Khamenei and the elite military organization, the Islamic Revolutionary Guards Corps." See also, U.S. Sanctions Iran's Foreign Minister, The Wall Street Journal, Ian Talley and Vivian Salama, Wednesday, 31 July 2019: "The Trump administration imposed sanctions on Iranian Foreign Minister Javad Zarif in a marked escalation of tensions between the two countries, citing what top officials called unacceptable provocations by Tehran…. The sanctions freeze any assets Mr. Zarif might have in the U.S. and prohibit his travel across U.S. borders. Because companies and people who engage with Mr. Zarif are at risk of being subsequently sanctioned by the U.S., the actions could also complicate his travel, financing and business. More important are the potential consequences on Mr. Zarif's ability to conduct diplomacy and the message it sends to Washington's European allies now negotiating with Iran. Those allies have looked to Mr. Zarif to keep Iran's clerical government in compliance with a 2015 nuclear agreement, though senior U.S. officials have criticized Mr. Zarif as a frontman for the theocratic leaders." See also, U.S. sanctions Iran's foreign minister amid escalating tensions, The Washington Post, Carol Morello and Karen DeYoung, Wednesday, 31 July 2019.
Federal Reserve Cuts Interest Rates for the First Time Since 2008 Crisis, The New York Times, Jeanna Smialek, Wednesday, 31 July 2019: "The Federal Reserve cut interest rates on Wednesday for the first time in more than a decade, as it tried to keep America's record-long economic expansion going by insulating the economy from mounting global risks. The widely expected quarter-point decrease was the Fed's first since it slashed rates to near zero in 2008. But unlike those cuts, which were intended to rescue a failing economy, Wednesday's move was seen as a precautionary effort to protect the United States from slowing growth in China and Europe and uncertainty over President Trump's trade war…. It was a turning point, but one that disappointed both markets and Mr. Trump, who were hoping for a bigger rate cut." See also, Federal Reserve Cuts Rates by a Quarter Point in Precautionary Move, The Wall Street Journal, Nick Timiraos, Wednesday, 31 July 2019: "The Federal Reserve moved to cut interest rates by a quarter-percentage point—the first reduction since 2008—in a pre-emptive strike to cushion the economy from a global slowdown and continuing trade tensions. Stock markets sold off and the dollar strengthened Wednesday afternoon after Fed Chairman Jerome Powell disappointed investors in his post-decision news conference when he didn't more explicitly ratify expectations of additional stimulus in the months ahead." See also, Federal Reserve cuts interest rates for the first time since 2008 but sends confusing signals about what's next, The Washington Post, Heather Long, Wednesday, 31 July 2019. See also, Federal Reserve approves its first rate cut since 2008, and the Dow plunges as Chairman Powell speaks, NBC News, Wednesday, 31 July 2019.
Trump officials tighten asylum rules and enlist foreign nations to deter migration, The Washington Post, Nick Miroff, Wednesday, 31 July 2019: "In court, at the border and through arm-bending negotiations with regional neighbors Mexico and Guatemala, the Trump administration has been devising elaborate new immigration measures to buttress against potential judicial setbacks and the possibility of a new migration surge this fall. The effort proceeds along two main fronts: a long-range push to narrow access to the U.S. asylum system for migrants seeking protection, and a more immediate attempt to create new deterrents by enlisting foreign governments instead of congressional Democrats."
Trump's pick for managing federal lands doesn't believe the government should have any federal lands, The Washington Post, Steven Mufson, Wednesday, 31 July 2019: "President Trump's pick for managing federal lands doesn't think the federal government should have any. This week, Trump's Interior Secretary David Bernhardt signed an order making the Wyoming native William Perry Pendley the acting director of the Bureau of Land Management. Pendley, former president of the Mountain States Legal Foundation, was a senior official in Ronald Reagan's administration. The appointment comes at a critical time for the BLM, which manages more than a tenth of the nation's land and oversees the federal government's oil, gas and coal leasing program. Two weeks ago, Interior officials announced the department would reassign 84 percent of the bureau's D.C. staff out West by the end of next year. Only a few dozen employees, including Pendley, would remain in Washington. After more than two and-a-half years in office, Trump has yet to nominate a permanent director for BLM. By placing Pendley in charge of the agency, Bernhardt has installed a longtime crusader for curtailing the federal government's control of public lands."
Senators introduce bipartisan measure to punish Saudis for murder of Jamal Khashoggi, The Washington Post, Colby Itkowitz and Karoun Demirjian, Wednesday, 31 July 2019: "Sens. Christopher A. Coons (D-Del.) and Lindsey O. Graham (R-S.C.) introduced bipartisan legislation Wednesday seeking to punish the Saudi government for the October murder of Washington Post columnist Jamal Khashoggi. Their bill, similar to one passed overwhelmingly in the House earlier this month, would require the director of national intelligence to identify which Saudi officials were involved in killing Khashoggi and require the Trump administration to impose visa sanctions on those individuals and deny them entry into the United States."
Kelly Craft Is Confirmed as U.S. Ambassador to United Nations, The New York Times, Jacey Fortin, Wednesday, 31 July 2019: "Kelly Knight Craft, the United States ambassador to Canada, was confirmed on Wednesday to serve as the next ambassador to the United Nations. More than five months after President Trump announced Ms. Craft as his nominee for the post, the Senate approved the appointment in a 56-to-34 vote largely along party lines, with only five Democrats deciding in her favor. The post is widely considered the second-most important foreign policy position in a presidential administration, after the secretary of state. But Ms. Craft is stepping into the job at a time of widespread doubts about the Trump White House's commitment to global institutions like the United Nations. During Ms. Craft's confirmation hearing last month, Senator Mitch McConnell, the majority leader, said she was a 'phenomenal selection by the president.' But Democrats took issue with Ms. Craft's relative lack of diplomatic experience as well as her family's investments in fossil fuels."
Jeffrey Epstein Hoped to Seed Human Race With His DNA, The New York Times, James B. Stewart, Matthew Goldstein, and Jessica Silver-Greenberg, Wednesday, 31 July 2019: "Jeffrey E. Epstein, the wealthy financier who is accused of sex trafficking, had an unusual dream: He hoped to seed the human race with his DNA by impregnating women at his vast New Mexico ranch. Mr. Epstein over the years confided to scientists and others about his scheme, according to four people familiar with his thinking, although there is no evidence that it ever came to fruition. Mr. Epstein's vision reflected his longstanding fascination with what has become known as transhumanism: the science of improving the human population through technologies like genetic engineering and artificial intelligence. Critics have likened transhumanism to a modern-day version of eugenics, the discredited field of improving the human race through controlled breeding. Mr. Epstein, who was charged in July with the sexual trafficking of girls as young as 14, was a serial illusionist: He lied about the identities of his clients, his wealth, his financial prowess, his personal achievements. But he managed to use connections and charisma to cultivate valuable relationships with business and political leaders. Interviews with more than a dozen of his acquaintances, as well as public documents, show that he used the same tactics to insinuate himself into an elite scientific community, thus allowing him to pursue his interests in eugenics and other fringe fields like cryonics."
Donald Trump and Jeffrey Epstein partied together. Then an oceanfront Palm Beach mansion came between them. The Washington Post, Beth Reinhard, Rosalind S. Helderman, and Marc Fisher, Wednesday, 31 July 2019: "For the better part of two decades starting in the late 1980s, Jeffrey Epstein and Donald Trump swam in the same social pool. They were neighbors in Florida. They jetted from LaGuardia to Palm Beach together. They partied at Trump's Mar-a-Lago Club and dined at Epstein's Manhattan mansion. And then, in 2004, they were suddenly rivals, each angling to snag a choice Palm Beach property, an oceanfront manse called Maison de l'Amitie — the House of Friendship — that was being sold out of bankruptcy."
Thursday, 1 August 2019, Day 924:
Support for Impeachment Inquiry Grows in the House, The New York Times, Nicholas Fandos, Thursday, 1 August 2019: "On Monday, it was a soft-spoken senior member of the Congressional Black Caucus, Emanuel Cleaver II of Missouri. On Tuesday, the careful chairman of the House Foreign Affairs Committee, Eliot L. Engel of New York, threw in his support. So did Jennifer Wexton and Jason Crow, two freshmen who flipped Republican seats in Virginia and Colorado. On Wednesday, the influential chairwoman of the House Appropriations Committee, Nita M. Lowey of New York, added her voice. The trickle of Democrats coming out in favor of opening a full impeachment inquiry is threatening to turn into a flood, raising pressure on Speaker Nancy Pelosi to take the full House vote she has tried to avoid all year. This week alone, a dozen Democrats have announced their support for an inquiry, and with at least 116 declared supporters, the backers of an impeachment inquiry are more than halfway to the 218 votes they need in the House. They are two shy of a majority of the Democratic Caucus." See also, Majority of House Democrats now support impeachment inquiry, Politico, Kyle Cheney, Thursday, 1 August 2019: "The impeachment dam has broken. More than half of House Democrats say they would vote to launch impeachment proceedings against President Donald Trump, a crucial threshold that backers said will require Speaker Nancy Pelosi to reconsider her steadfast opposition. Though Pelosi has given no indication that even a significant majority of House Democrats embracing impeachment proceedings would shift her view, supporters of an inquiry argue that crossing the halfway mark among the caucus is a symbolic boost that could shift the political dynamic."
Justice Department Declined to Prosecute Former F.B.I. Director James Comey Over Memos About Trump, The New York Times, Adam Goldman and Katie Benner, Thursday, 1 August 2019: "The Justice Department declined to prosecute the former F.B.I. director James B. Comey after determining that two memos he wrote about his interactions with President Trump contained classified information and examining whether he mishandled the documents, according to people familiar with the matter. The F.B.I. upgraded the memos to confidential — the lowest level in the government's system of classifying information — shortly after the president fired Mr. Comey in May 2017, the people said. Mr. Comey had kept several memos at his home and shared one with a friend when he thought they contained only routine information, but the determination that some memos included classified material prompted the investigation into whether he mishandled them. Prosecutors quickly determined the case did not warrant charges, the people said. It is not clear which memos spurred the inquiry, but the upgrade to confidential dealt with foreign relations, a person familiar with the classification review said. The Justice Department's inspector general, Michael E. Horowitz, has been investigating Mr. Comey's handling of the memos but has said little about the inquiry. A report on his findings is expected to be delivered by the fall." See also, Justice Department says former FBI director James Comey's handling of Trump meeting memos does not merit charges, The Washington Post, Devlin Barrett, Thursday, 1 August 2019: "Senior Justice Department officials have concluded that former FBI director James B. Comey should not be charged in connection with his handling of memos documenting conversations with President Trump, according to people familiar with the matter. The determination comes amid ongoing internal reviews focused on federal authorities' investigation of Russian interference in the 2016 presidential election and the Trump campaign. Justice Department Inspector General Michael Horowitz, who is conducting one of the reviews, is unlikely to produce a final report on that subject for at least a month, but one aspect of his work is largely complete, these people say: Comey's handling of the memos."
As Democrats debated without mentioning federal judges, the Senate confirmed 13 more Trump nominees, The Washington Post, Hailey Fuchs, Thursday, 1 August 2019: "The president's ability to nominate judges to lifetime appointments on the federal courts never came up during the two nights of debate this week involving the Democratic candidates. Over those same two days, the Senate confirmed 13 of President Trump's judicial nominees, giving Republicans a remarkable 144 judicial appointments since his inauguration and allowing him to reshape the courts and their decisions for decades, filling them with conservative jurists. Trump owes much of his success to Senate Majority Leader Mitch McConnell's singular focus on confirming judicial nominees."
Lindsey Graham Breaks Senate Rules to Advance Sweeping Anti-Asylum Bill, Common Dreams, Jake Johnson, Thursday, 1 August 2019: "Senate Democrats and progressive advocacy groups accused Sen. Lindsey Graham of breaking Judiciary Committee rules Thursday after the South Carolina Republican forced a vote to advance his 'dangerous and immoral' anti-asylum legislation. The bill, titled the Secure and Protect Act of 2019 (S.1494), is condemned by human rights organizations as a sweeping attack on asylum seekers and an effort to expand President Donald Trump's xenophobic deportation force. Graham, the chairman of the Senate Judiciary Committee, waived the panel's rules to force a vote on S.1494 before Democrats were permitted to speak on the legislation."
Voter Purge Rates Remain High, Analysis Finds, Brennan Center, Kevin Morris, Thursday, 1 August 2019: "Using data released by the federal Election Assistance Commission (EAC) in June, a new Brennan Center analysis has found that between 2016 and 2018, counties with a history of voter discrimination have continued purging people from the rolls at much higher rates than other counties."
U.S. judge orders New York not to release Trump's state tax returns to House while lawsuit proceeds, The Washington Post, Spencer S. Hsu, Thursday, 1 August 2019: "President Trump's effort to shield his New York state tax returns from the House Ways and Means Committee got an early win Thursday as a federal judge accepted a state proposal not to hand over Trump's returns while the court decides whether a lawsuit by the president should be heard by a judge in Washington or New York. The action in Washington came after Trump sued as a private citizen to stop lawmakers from using a recently enacted New York law to obtain his state tax records. While Trump's attorneys said the committee has not yet requested the records, they had argued that without an emergency block 'the President is in an intolerable situation: If he seeks relief after the Committee's Chairman requests his state tax returns, the returns might be disclosed before he can be heard in court.'"
Manhattan District Attorney Cyrus Vance Subpoenas the Trump Organization Over Stormy Daniels Hush Money, The New York Times, Ben Protess and William K. Rashbaum, Thursday, 1 August 2019: "State prosecutors in Manhattan subpoenaed President Trump's family business on Thursday, reviving an investigation into the company's role in hush-money payments made during the 2016 presidential campaign, according to people briefed on the matter. The subpoena, issued by the Manhattan district attorney's office, demanded the Trump Organization provide documents related to money that had been used to buy the silence of Stormy Daniels, a pornographic film actress who said she had an affair with Mr. Trump. The inquiry from the district attorney's office, which is in early stages, is examining whether any senior executives at the company filed false business records about the hush money, which would be a state crime, the people said."
Trump Says U.S. Will Hit China With More Tariffs, The New York Times, Alan Rappeport, Thursday, 1 August 2019: "President Trump, frustrated by increasingly fruitless negotiations with China, said Thursday that the United States would impose a 10 percent tariff on an additional $300 billion worth of Chinese imports next month, a significant escalation in a trade war that has dragged on for more than a year. The new tariff would come on top of the 25 percent levy that Mr. Trump has already imposed on $250 billion worth of Chinese imports, resulting in the United States taxing nearly everything China sends to the United States, from iPhones to New Balance sneakers to children's books." See also, Trump says he will impose new tariffs on $300 billion of imports from China starting next month, ending brief cease-fire in trade war, The Washington Post, David J. Lynch, Heather Long, and Damian Paletta, Thursday, 1 August 2019: President Trump moved Thursday to impose import tariffs on $300 billion worth of Chinese goods starting Sept. 1, effectively taxing every product that Americans buy from China and prompting American businesses to warn of a rising economic toll at home. The president said the tariffs — on products such as cellphones, televisions, toilet seats and pillows — would initially be set at 10 percent but could rise to 25 percent or higher."
Despite Deficit Worries, Senate Gives Final Approval to Spending Increases, The New York Times, Emily Cochrane, Thursday, 1 August 2019: "The Senate gave final approval on Thursday to a two-year budget deal that would raise federal spending by hundreds of billions of dollars and allow the government to continue borrowing money, sending the measure to President Trump for his expected signature. Barely half of the Republican majority joined almost all of the Democrats in voting for the measure, 67 to 28, after a deal largely negotiated by Speaker Nancy Pelosi and Treasury Secretary Steven Mnuchin stoked conservative dissatisfaction over Washington's failure to cut government spending. Democrats pointed to large Republican tax cuts as the latest driver pushing the surging expansion of the federal debt and claimed victory for the increases in domestic spending." See also, Senate Passes Two-Year Spending Deal That Suspends Debt Ceiling, The Wall Street Journal, Andrew Duehren, Thursday, 1 August 2019: "A two-year agreement to raise federal spending and at the same time lift the government's borrowing limit will go to the president's desk after it passed the Senate with more Democrats voting for it than Republicans." See also, Senate passes massive 2-year budget deal, Politico, Burgess Everett and John Bresnahan, Thursday, 1 August 2019. See also, Senate passes two-year budget and debt ceiling bill and will send it to Trump, The Washington Post, Erica Werner, Thursday, 1 August 2019.
Trump to sanction Russia over chemical weapons use, Politico, Eliana Johnson, Thursday, 1 August 2019: "President Donald Trump has signed an executive order imposing sanctions on Russia for its use of chemical weapons in the 2018 attack on the Russian double agent Sergei Skripal and his daughter, according to two U.S. officials." See also, Trump Adds to Sanctions on Russia Over Skripals, The New York Times, Michael Crowley and Julian E. Barnes, Thursday, 1 August 2019: "President Trump on Thursday signed an executive order imposing new sanctions on Russia, responding to growing pressure from Congress to further punish Moscow after a nerve agent attack last year against a former Russian spy in Britain."
After Trump cites Amazon concerns, Pentagon reexamines $10 billion JEDI cloud contract process, The Washington Post, Aaron Gregg and Josh Dawsey, Thursday, 1 August 2019: "The White House has instructed newly installed Defense Secretary Mark T. Esper to reexamine the awarding of the military's massive cloud-computing contract because of concerns that the deal would go to Amazon, officials close to the decision-making process said." See also, Pentagon puts $10B contract on hold after Trump swipe at Amazon, Politico, Jacqueline Feldscher, Thursday, 1 August 2019: "The Pentagon is slamming the brakes on its mega-competition to award a $10 billion cloud computing contract after President Donald Trump suggested the Defense Department might have rigged the contest in favor of Amazon, a frequent target of his criticism." See also, Pentagon Delays Award of $10 Billion Cloud Computing Contract, The New York Times, Scott Shane, Karen Weiss, and David E. Sanger, Thursday, 1 August 2019: "The Pentagon said on Thursday that it was delaying the award of a hotly contested $10 billion contract for a new generation of computing services for the military until the secretary of defense, Mark T. Esper, could review the matter. The announcement came just a week after Mr. Esper's confirmation and two weeks after President Trump said he would be looking 'very seriously' at the contract process to move the military to a cloud-computing system. Mr. Trump said his concern was based on what he called 'tremendous complaints' from competitors of Amazon Web Services, the division of the merchandising giant seen as the all-but-certain winner of the contract."