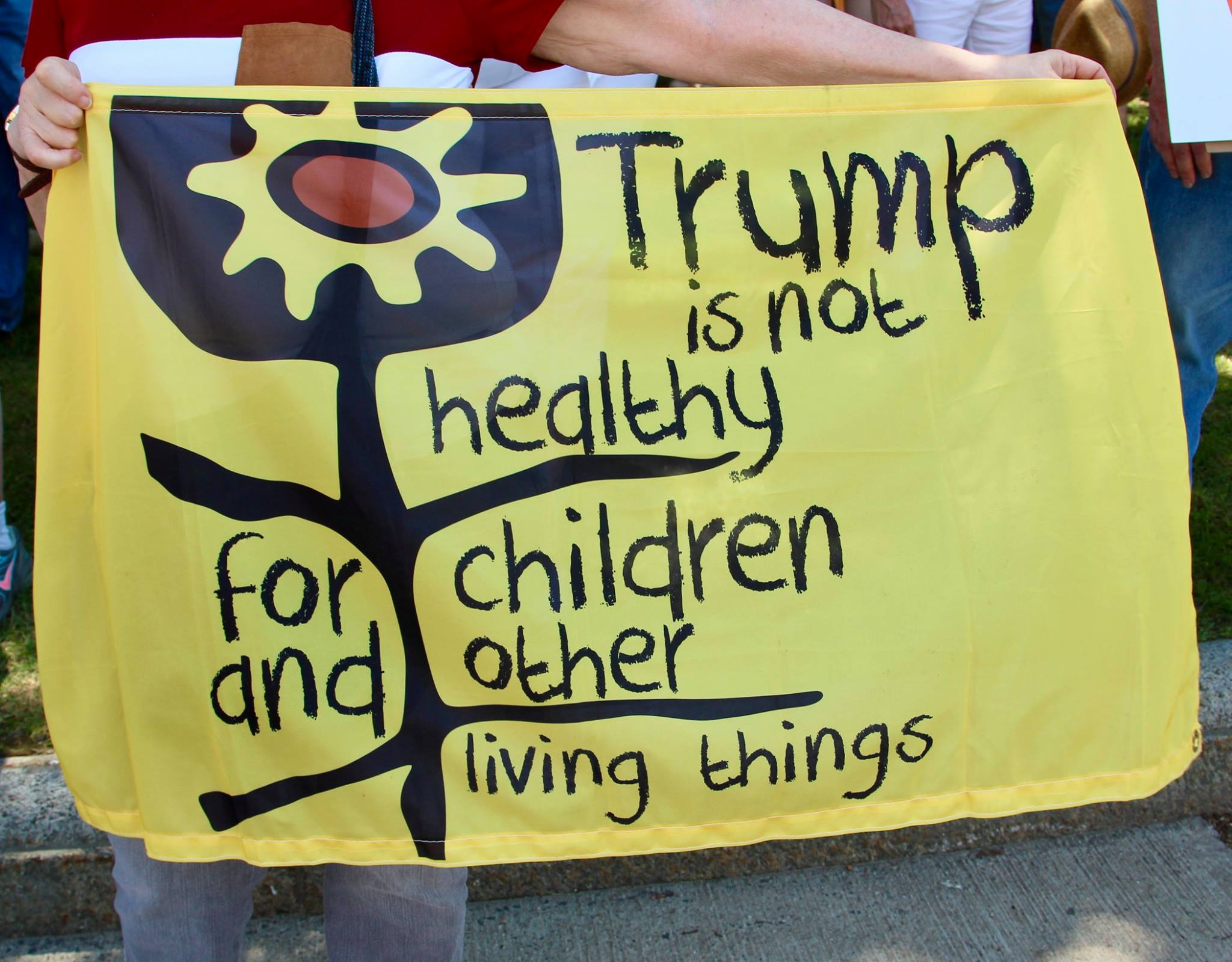 Passages in bold in the body of the texts below are usually my emphasis, though not always. This is an ongoing project, and I update the site frequently during the day. Because I try to stay focused on what has actually happened, I usually let the news 'settle' for a day or so before posting. I hope readers will peruse the articles in full for a better understanding of the issues and their context; our democracy and our future depend on citizens who can distinguish between facts and falsehoods and who are engaged in the political process.
For "a weekly newsletter celebrating people-powered wins against the Trump administration's agenda," visit Small Victories. 
For independent global news, visit Democracy Now!
Friday, 5 July 2019, Day 897:
Trump Is Considering an Executive Order to Allow Citizenship Question on Census, The New York Times, Michael Wines and Adam Liptak, Friday, 5 July 2019: "Justice Department lawyers told a federal judge on Friday that they would press ahead in their efforts to add a citizenship question to the 2020 census, but indicated they did not know yet what kind of rationale they would put forward. Just hours before, President Trump told reporters on the South Lawn of the White House that he was considering four or five options, including an executive order, to restore the question."
The Redcoats Are in a Holding Pattern Over La Guardia, The New York Times, Niraj Chokshi, Friday, 5 July 2019: "Toward the end of his Independence Day speech on Thursday, President Trump appeared to rewrite history. 'The Continental Army suffered a bitter winter of Valley Forge, found glory across the waters of the Delaware and seized victory from Cornwallis of Yorktown,' he said. 'Our army manned the air, it rammed the ramparts, it took over the airports, it did everything it had to do, and at Fort McHenry, under the rocket's red glare, it had nothing but victory.' Notice anything? No, not the sudden jump from the Revolutionary War to a battle decades later. The part about the … airports: The era Mr. Trump was referring to predated human flight by nearly a century, so there were no airports to seize."
U.S. Customs and Border Protection (CBP) officials knew about derogatory Facebook group years ago and have investigated posts from it before, The Washington Post, Reis Thebault and Nick Miroff, Friday, 5 July 2019: "U.S. Customs and Border Protection was aware of the inflammatory Facebook page where alleged Border Patrol agents posted racist, sexist and violent images — and the agency has investigated posts from the group on at least one occasion, an official said. CBP's Office of Professional Responsibility, akin to an internal affairs division, received content from the group once called 'I'm 10-15' in 2016, said the official, who spoke on the condition of anonymity to discuss a personnel investigation. The office carried out an inquiry and took disciplinary action, but the official did not say how many employees were involved or what sort of discipline was dispensed. Even though some in the agency have known about the Facebook group for as many as three years, CBP officials do not conduct regular monitoring of private pages, the official said, adding that it would potentially interfere with members' First Amendment and privacy rights. Instead, CBP responds when it's presented with reports of wrongdoing."
Continue reading Week 129, Friday, 5 July – Thursday, 11 July 2019 (Days 897-903)
Ken Cuccinelli, Trump's acting U.S. Citizenship and Immigration Services (USCIS) director, suggests census citizenship question could help with 'burden' of illegal immigration, The Washington Post, Colby Itkowitz and Maria Sacchetti, Friday, 5 July 2019: "President Trump's acting U.S. Citizenship and Immigration Services director, Ken Cuccinelli, on Friday seemed to add confusion to the White House's position on including a citizenship question on the 2020 Census, saying it would help 'with the burden of those who are not here legally.' It's unclear exactly what Cuccinelli meant. The Trump administration's stated reason for wanting to ask about a person's citizenship on the 2020 questionnaire has been to get a better sense of the voting population, not to gauge legal status. But Cuccinelli, appearing on Fox News Business, suggested otherwise. 'Frankly, as part of the ongoing debate over how we deal financially and legally with the burden of those who are not here legally,' Cuccinelli said, listing the justifications for the census question. 'That is a relevant issue.' The census does not ask about an immigrant's legal status, and on its website the agency has emphasized that by law it does not share information with immigration agents for enforcement purposes. 'The Census Bureau does not collect data on the legal status of the foreign born,' says the website, last updated on May 9."
Saturday, 6 July 2019, Day 898:
Hungry, Scared, and Sick: Inside the Migrant Detention Center in Clint, Texas, The New York Times, Simon Romero, Zolan Kanno-Youngs, Manny Fernandez, Daniel Borunda, Aaron Montes, and Caitlin Dickerson, Saturday, 6 July 2019: "Since the Border Patrol opened its station in Clint, Tex., in 2013, it was a fixture in this West Texas farm town. Separated from the surrounding cotton fields and cattle pastures by a razor-wire fence, the station stood on the town's main road, near a feed store, the Good News Apostolic Church and La Indita Tortillería. Most people around Clint had little idea of what went on inside. Agents came and went in pickup trucks; buses pulled into the gates with the occasional load of children apprehended at the border, four miles south. But inside the secretive site that is now on the front lines of the southwest border crisis, the men and women who work there were grappling with the stuff of nightmares. Outbreaks of scabies, shingles and chickenpox were spreading among the hundreds of children who were being held in cramped cells, agents said. The stench of the children's dirty clothing was so strong it spread to the agents' own clothing — people in town would scrunch their noses when they left work. The children cried constantly. One girl seemed likely enough to try to kill herself that the agents made her sleep on a cot in front of them, so they could watch her as they were processing new arrivals. The little-known Border Patrol facility at Clint has suddenly become the public face of the chaos on America's southern border, after immigration lawyers began reporting  on the children they saw — some of them as young as 5 months old — and the filthy, overcrowded conditions in which they were being held…. [A] review of the operations of the Clint station, near El Paso's eastern edge, shows that the agency's leadership knew for months that some children had no beds to sleep on, no way to clean themselves and sometimes went hungry. Its own agents had raised the alarm, and found themselves having to accommodate even more new arrivals. The accounts of what happened at Clint and at nearby border facilities are based on dozens of interviews by The New York Times and The El Paso Times of current and former Border Patrol agents and supervisors; lawyers, lawmakers and aides who visited the facility; and an immigrant father whose children were held there. The review also included sworn statements from those who spent time at El Paso border facilities, inspection reports and accounts from neighbors in Clint."
Joe Biden, Under Fire on Race, Apologizes for Remarks on Segregationists, The New York Times, Katie Glueck, Saturday, 6 July 2019: "After spending weeks under fire for his decades-long history on race and civil rights, Joseph R. Biden Jr. on Saturday gave the most forceful defense yet of his record, emphasizing his time as vice president to Barack Obama, and did something he had resisted in the past — apologize for warmly reminiscing about his working relationships with Southern segregationists."
Jeffrey Epstein, Billionaire Long Accused of Molesting Minors, Is Charged With Sex Trafficking by Federal Prosecutors, The New York Times, Patricia Mazzei and William K. Rashbaum, Saturday, 6 July 2019: "Jeffrey E. Epstein, a billionaire New York financier long accused of molesting dozens of girls, was arrested on Saturday and charged with sex trafficking by federal prosecutors, an extraordinary turn of events in a long and sordid criminal case. Two people with knowledge of the charges said on Saturday night that Mr. Epstein had been arrested in the New York area and was in federal custody. He is expected to appear before a federal magistrate on Monday, more than a decade after he first gained notoriety with lurid accusations that he had paid dozens of girls for sexual massages in Florida. Mr. Epstein, 66, had avoided federal criminal charges in 2007 and 2008 in a widely criticized plea deal whose lenient terms continue to roil the Justice Department and are facing new scrutiny in the #MeToo era. Before the plea deal, Mr. Epstein, a former hedge-fund manager, had been friendly with Donald J. Trump, former President Bill Clinton, and Prince Andrew, the Duke of York."
Artist Who Created 'Blatantly Anti-Semitic Cartoon' Is Invited by Trump to the White House, Huff Post, Mary Papenfuss, Saturday, 6 July 2019: "An artist blasted by the Anti-Defamation League for creating a 'blatantly anti-Semitic cartoon' has been invited to the White House by President Donald Trump. Cartoonist Ben Garrison proudly tweeted his invitation to join a 'Social Media Summit' this coming Thursday at the White House. The invitation was called out on Saturday by CNN's Jake Tapper."
Sunday, 7 July 2019, Day 899:
Why the Trump White House Is Caught Up in the Jeffrey Epstein Scandal, The New York Times, Vivian Wang, Sunday, 7 July 2019: "By the time Jeffrey Epstein, the billionaire financier and felon, was arrested on Saturday and charged with sex trafficking, he had been repeatedly accused of pedophilia and sexual abuse for more than a decade. But Mr. Epstein — whose acquaintances include two presidents and multiple celebrities — had until then avoided federal prosecution. Now, Mr. Epstein is expected to appear in Federal District Court in Manhattan on Monday to face charges that include sex trafficking of minors, involving multiple underage girls, between 2002 and 2005, according to two law enforcement sources. The charges include a claim that he routinely brought underage girls to his home on the Upper East Side of Manhattan, where he paid them hundreds of dollars in cash for massages and sexual acts, one of the sources said. The case could shed new light not only on the allegations, which span years and countries, but also on the extent to which officials who have been linked to Mr. Epstein — including, most notably, President Trump and his labor secretary, Alexander Acosta — knew about or downplayed them."
Justice Department to Replace Lawyers in Census Citizenship Question Case, The New York Times, Michael Wines, Katie Benner, and Adam Liptak, Sunday, 7 July 2019: "The Justice Department announced on Sunday that it was replacing the legal team defending the Trump administration's effort to place a citizenship question on the next census, a change that is all but unprecedented in legal battles as consequential as the one over the 2020 head count. The department said in a statement that it was 'shifting these matters to a new team of Civil Division lawyers going forward.' It offered no explanation for the en masse change, which came on the heels of an extraordinary week in a yearlong clash over the issue that has raised concerns about whether the department's arguments for adding the question could be believed. And it strongly suggested that the department's career lawyers had decided to quit a case that at the least seemed to lack a legal basis, and at most left them defending statements that could well turn out to be untrue."
FBI and Immigration and Customs Enforcement (ICE) find state driver's license photos are a gold mine for facial-recognition searches, The Washington Post, Drew Harwell, Sunday, 7 July 2019: "Agents with the Federal Bureau of Investigation and Immigration and Customs Enforcement have turned state driver's license databases into a facial-recognition gold mine, scanning through millions of Americans' photos without their knowledge or consent, newly released documents show. Thousands of facial-recognition requests, internal documents and emails over the past five years, obtained through public-records requests by researchers with Georgetown Law's Center on Privacy and Technology and provided to The Washington Post, reveal that federal investigators have turned state departments of motor vehicles databases into the bedrock of an unprecedented surveillance infrastructure. Police have long had access to fingerprints, DNA and other 'biometric data' taken from criminal suspects. But the DMV records contain the photos of a vast majority of a state's residents, most of whom have never been charged with a crime. Neither Congress nor state legislatures have authorized the development of such a system, and growing numbers of Democratic and Republican lawmakers are criticizing the technology as a dangerous, pervasive and error-prone surveillance tool." See also, Immigration and Customs Enforcement (ICE) Officials Used Facial Recognition to Mine State Driver's License Databases, The New York Times, Catie Edmondson, Sunday, 7 July 2019: "Immigration and Customs Enforcement officials have mined state driver's license databases using facial recognition technology, analyzing millions of motorists' photos without their knowledge. In at least three states that offer driver's licenses to undocumented immigrants, ICE officials have requested to comb through state repositories of license photos, according to newly released documents. At least two of those states, Utah and Vermont, complied, searching their photos for matches, those records show. In the third state, Washington, agents authorized administrative subpoenas of the Department of Licensing to conduct a facial recognition scan of all photos of license applicants, though it was unclear whether the state carried out the searches. In Vermont, agents only had to file a paper request that was later approved by Department of Motor Vehicles employees."
In Leak, U.K. Ambassador to U.S. Calls Trump Administration 'Inept' and 'Clumsy,' The New York Times, Ellen Barry, Sunday, 7 July 2019: "In a series of leaked diplomatic cables, Britain's ambassador to the United States, Kim Darroch, described President Trump as 'radiating insecurity' and his administration as diplomatically 'clumsy and inept,' a withering assessment that threatened to damage bilateral relations at a delicate moment for Britain. The cables were published late on Saturday by The Mail on Sunday, span a period from 2017 to the present and include candid assessments of American domestic politics and Washington's treatment of Iran over its nuclear weapons program. The most closely held of the cables was intended as an update on the new Trump administration for a narrow audience of top British officials. It described the chaos inside the new administration, the concerns about the future of the Atlantic relationship and the struggle to figure out who had the president's ear."
Tensions flare over House Speaker Nancy Pelosi's comments about four House Democratic women and border bill, The Washington Post, Robert Costa, Sunday, 7 July 2019: "House Speaker Nancy Pelosi (D-Calif.) faced sharp criticism Sunday from some liberal lawmakers and activists over her latest comments about a group of Democratic women who opposed last month's House emergency border aid bill that was supported by the leadership and most Democrats. The continued and increasingly charged debate over the House's approach to what became a $4.6 billion package — and complaints that it failed to set standards for the humane treatment of migrants held in federal custody — underlined the tensions among Democrats over strategy and policy as they counter President Trump. Although Pelosi maintains that she is aggressively confronting Trump on immigration and other fronts, there is widespread anger among liberals about the president and growing calls for Pelosi to resist working with the administration and begin impeachment proceedings."
Monday, 8 July 2019, Day 900:
New York Governor Andrew Cuomo Signs a Bill to Allow Release of Trump's State Tax Returns, New York Times, Monday, 8 July 2019: "As the battle over President Trump's federal taxes intensifies in Washington, Gov. Andrew M. Cuomo of New York signed a bill on Monday to allow congressional committees to access the president's state tax returns. The new law requires state tax officials to release the president's state returns for any 'specified and legitimate legislative purpose' on the request of the chair of one of three congressional committees: the House Ways and Means Committee, the Senate Finance Committee and the Joint Committee on Taxation. It is effective immediately, though it is unclear whether it will face a legal challenge from the Trump administration; on Monday, Mr. Trump's personal lawyer, Jay Sekulow, called the new law 'more presidential harassment.' It was also uncertain if the committee leaders would test the new law; some Democrats on Capitol Hill have viewed New York's effort warily, fearing it could complicate or even damage their quest to secure Mr. Trump's federal returns."
Attorney General William Barr Says Legal Path to Census Citizenship Question Exists, but He Gives No Details, The New York Times, Katie Benner, Monday, 8 July 2019: "President Trump and Attorney General William P. Barr began working to find a way to place a citizenship question on the 2020 census just after the Supreme Court blocked its inclusion last month, Mr. Barr said on Monday, adding that he believes that the administration can find a legal path to incorporating the question."
Plaintiffs seek to block the Justice Department from changing lawyers in census citizenship case, The Washington Post, Felicia Sonmez and Matt Zapotosky, Monday, 8 July 2019: "The legal battle over the Trump administration's efforts to put a citizenship question on the 2020 Census further escalated on Monday as the plaintiffs argued that Justice Department attorneys should not be allowed to withdraw from the case because they have not given 'satisfactory reasons' for seeking to do so. The Trump administration has not demonstrated that the withdrawals 'will not cause further disruption, particularly in light of the history of this case and the well-documented need for expeditious resolution,' attorneys for those challenging the citizenship question said in a court filing in New York. The filing comes in response to a request from the Justice Department attorneys on the case to withdraw. The department had telegraphed the move a day earlier — saying it was replacing the team of career and political employees who had been handling the matter. A person familiar with the matter previously told The Washington Post that at least some of the career attorneys were frustrated with the handling of the case after President Trump ordered the department to explore more options for adding the citizenship question to the 2020 Census after the lawyers, seeing no other possibilities, had conceded defeat."
Justice Department Seeks to Halt Democrats' Suit Over Trump's Profits From His Family Business While in Office, The New York Times, Sharon LaFraniere, Monday, 8 July 2019: "The Justice Department on Monday asked a federal appeals court to issue an emergency order halting a lawsuit by congressional Democrats that alleges that President Trump has illegally profited from his family business while in office." See also, Congressional Democrats subpoena Trump's financial business records, The Washington Post, Ann E. Marimow and Jonathan O'Connell, Monday, 8 July 2019: "Congressional Democrats began issuing dozens of subpoenas Monday for financial records and other documents from President Trump's private entities as part of an ongoing lawsuit alleging that his businesses violate the Constitution's ban on gifts or payments from foreign governments. The demands for detailed information about the president's closely held finances came on the same day the Trump administration asked an appeals court in Washington to halt the lawsuit and block the subpoenas, saying the case is based on 'novel and flawed constitutional premises.' Brought by more than 200 Democrats in Congress, the 'emoluments' lawsuit is one of several legal battles over access to the inner workings of Trump's businesses and, more broadly, the balance of power between lawmakers and the president."
White House blocks key Mueller witness Annie Donaldson from answering more than 200 questions from House investigators, The Washington Post, Rachael Bade, Rosalind S. Helderman, and Carol D. Leonnig, Monday, 8 July 2019: "House Democrats' hopes of making Annie Donaldson, the former chief of staff to ex-White House counsel Donald McGahn, a star witness in their investigations of President Trump were dashed as White House lawyers blocked her from answering more than 200 questions about potential obstruction of justice by the president. Donaldson affirmed the accuracy of colorful and striking notes she made while working in the White House — notes that former special counsel Robert S. Mueller III cited 65 times in his report that described 10 episodes that raised concerns about possible obstruction. But Trump administration lawyers barred her from elaborating on her thinking at the time she captured several exchanges between Trump and her boss — including one note in which she scribbled concern that Trump's firing of James B. Comey as FBI director would trigger the end of his presidency. In total, the White House blocked Donaldson from answering 212 questions, according to her written answers. The committee received them this past weekend and released them on Monday."
Indictment of Jeffrey Epstein renews questions about earlier case handled by Alexander Acosta, Trump's labor secretary, The Washington Post, Lisa Rein, Michael Kranish, and Josh Dawsey, Monday, 8 July 2019: "The indictment Monday of Jeffrey Epstein on sex trafficking charges has reignited questions about the way Alexander Acosta — now President Trump's labor secretary — handled an earlier case against Epstein that resulted in a minimal sentence. As U.S. attorney in Florida in 2007, Acosta negotiated a plea deal that led to two felony solicitation charges and 13 months in county jail for Epstein, with the billionaire financier allowed to work from his office six days a week. Epstein had been facing the possibility of life in prison. His alleged victims were not told about the deal. On Monday, in the indictment issued in federal court in New York, Epstein faced charges resulting from allegations like those in the Florida case. The indictment says that 'in both New York and Florida,' Epstein 'perpetuated this abuse in similar ways.'" See also, What we know about Jeffrey Epstein, the well-connected financier with ties to Trump and Clinton, The Washington Post, Deanna Paul, Monday, 8 July 2019. See also, Trump called Epstein a 'terrific guy' who enjoyed 'younger' women before denying relationship with him, The Washington Post, David A. Fahrenthold, Beth Reinhard, and Kinberly Kindy, Monday, 8 July 2019: "Back in 2002, when Jeffrey Epstein was known only as a mysterious financial whiz with a private island and a roster of A-list friends, being friendly with him was something to boast about. And Donald Trump did. 'I've known Jeff for fifteen years. Terrific guy,' Trump told New York Magazine that year for a story headlined 'Jeffrey Epstein: International Moneyman of Mystery.' 'He's a lot of fun to be with. It is even said that he likes beautiful women as much as I do, and many of them are on the younger side. No doubt about it — Jeffrey enjoys his social life.'"
New Human Rights Advisory Panel in the State Department Raises Fears of a Narrowing U.S. Advocacy, Particularly for Rights Related to Women's Health and Reproduction and Gay and Transgender Issues, The New York Times, Edward Wong and Eileen Sullivan, Monday, 8 July 2019: "Secretary of State Mike Pompeo announced Monday that he was installing a human rights advisory panel in the State Department, and named a conservative law professor as its chairwoman, to review and tighten the agency's definition of human rights and ensure it is grounded in the 'nation's founding principles' and a 1948 United Nations declaration. The State Department already houses an internal bureau that oversees human rights issues. But the new panel, which Mr. Pompeo said would examine 'the role of human rights in American foreign policy,' will not be managed by the bureau and was created without substantial input from its experts and officials. The announcement, along with a blunt commentary by Mr. Pompeo that was published in The Wall Street Journal on Sunday, raised worries among human rights advocates and Democratic lawmakers that Mr. Pompeo is moving to curtail State Department advocacy for some rights, particularly ones related to women's health and reproduction and gay and transgender issues. Some House Democrats are pushing a measure that would block State Department funding from being used for the commission, which falls under the agency's policy planning office." See also, Secretary of State Mike Pompeo unveils panel to examine 'unalienable rights,' Politico, Caitlin Oprysko, Monday, 8 July 2019: "Secretary of State Mike Pompeo on Monday unveiled a new Commission on Unalienable Rights, a panel he said is aimed at providing him with 'an informed review of the role of human rights in American foreign policy.' The panel will be headed up by Mary Ann Glendon, a Harvard law professor and former ambassador to the Vatican under George W. Bush. Glendon is also a social conservative who has been a prominent anti-abortion voice, which could lend credence to the concerns among human rights activists that the commission is a ploy to undercut LGBTQ and women's rights under the guise of religious liberty." See also, The Unbelievable Hypocrisy of Trump's New 'Unalienable Rights' Panel, The New Yorker, Robin Wright, published on Tuesday, 9 July 2019: "[O]n Monday, to choruses of disbelief in Washington and around the world, the Secretary of State, Mike Pompeo, announced that the Administration was creating a new commission to explore 'unalienable rights' in U.S. foreign policy. 'The time is right for an informed review of the role of human rights,' Pompeo told reporters. The United States must, he said, 'be vigilant that human-rights discourse not be corrupted or hijacked or used for dubious or malignant purposes.' He vowed that the ten-member panel would provide the most comprehensive review since the Universal Declaration of Human Rights (an effort chaired by Eleanor Roosevelt) was adopted by the United Nations, in 1948. In fact, however, the commission's charter, first posted briefly on the Federal Register in May, made no mention of the Universal Declaration of Human Rights. It instead cited the need for new discourse on deviations from 'natural law.' Its language invoked rights only as 'God-given'; it implicitly challenged man-made laws as well as decisions by the Supreme Court on abortion, homosexuality, and same-sex marriage. The original language so alarmed five senior Democrats on the Senate Foreign Relations Committee that they wrote Pompeo an open letter, last month, warning that the term 'natural law' has previously justified discrimination against marginalized populations. After Pompeo's announcement on Monday, human-rights groups charged that the Administration was trying to redefine what a right is—potentially in ways that deny a woman's right to choose and that target rather than protect minorities, especially the L.G.B.T.Q. community."
Leaked British Cables Critical of Trump Lead to Diplomatic Uproar, The New York Times, Mark Landler, Monday, 8 July 2019: "President Trump celebrates his bond with Queen Elizabeth II. He is less charitable about those who serve her. On Monday, Mr. Trump said the White House would no longer deal with the British ambassador to the United States after the envoy described the Trump administration as 'clumsy and inept' in confidential cables that were leaked. The president also accused Prime Minister Theresa May of botching Britain's negotiations to leave the European Union, reviving a critique he first leveled against her a year ago."
An Oil Services Company Says It Has No Plans for an Aerial Survey of Part of the Arctic National Wildlife Refuge, The New York Times, Henry Fountain, Monday, 8 July 2019: "An oil services company said Monday it had no plans to conduct an aerial survey of part of the Arctic National Wildlife Refuge in Alaska this summer. As a result, there will most likely be no new information about any potential oil and gas riches in the refuge as the Trump administration moves to sell drilling leases there this year. Environmental groups last month had objected to a reported proposal by the French-based company, CGG, to conduct the survey in July. The groups said that the work, involving low-altitude plane flights to measure gravitational changes that could point to potential oil and gas reserves underground, should require a permit from the Interior Department because of the potential impact on wildlife. The department had said no permit was necessary."
Trump Saw Opportunity in Speech on Environment. Critics Saw a 1984 Moment, The New York Times, Katie Rogers and Coral Davenport, Monday, 8 July 2019: "Reviewing new polling data, consultants working for President Trump's 2020 campaign discovered an unsurprising obstacle to winning support from two key demographic groups, millennials and suburban women. And that was his record on the environment. But they also saw an opportunity. While the numbers showed that Mr. Trump was 'never going to get' the type of voter who feels passionately about tackling climate change, a senior administration official who reviewed the polling said, there were moderate voters who liked the president's economic policies and 'just want to know that he's being responsible' on environmental issues. So for nearly an hour in the East Room on Monday afternoon, Mr. Trump sought to recast his administration's record by describing what he called 'America's environmental leadership' under his command…. Experts watching the speech said many of the president's claims were not based in fact. Those achievements that were real, they said, were the result of actions taken by his predecessors. And they noted the one conspicuous omission from the whole discussion: any mention of climate change, the overarching environmental threat that Mr. Trump has mocked in the past. David G. Victor, the director of the Laboratory on International Law and Regulation at the University of California, San Diego, said the speech was the starkest example to date of the disconnect between Mr. Trump's rhetoric and reality. 'This speech is a true '1984' moment,' he said." See also, Trump defends environmental record that critics call disastrous, The Washington Post, Juliet Eilperin and Seung Min Kim, Monday, 8 July 2019: "President Trump delivered a full-throated defense of his administration's environmental record Monday, despite relaxing nationwide limits on air and water pollution and reversing course on U.S. climate policy."
Tuesday, 9 July 2019, Day 901:
Trump Can't Block Critics From His Twitter Account, Appeals Court Rules, The New York Times, Charlie Savage, Tuesday, 9 July 2019: "President Trump has been violating the Constitution by blocking people from following his Twitter account because they criticized or mocked him, a federal appeals court ruled on Tuesday. The ruling could have broader implications for how the First Amendment applies to the social-media era. Because Mr. Trump uses Twitter to conduct government business, he cannot exclude some Americans from reading his posts — and engaging in conversations in the replies to them — because he does not like their views, a three-judge panel on the United States Court of Appeals for the Second Circuit, in New York, ruled unanimously. The ruling was one of the highest-profile court decisions yet in a growing constellation of cases addressing what the First Amendment means in a time when political expression increasingly takes place online. It is also a time, Judge Barrington D. Parker wrote, when government conduct is subject to a 'wide-open, robust debate' that 'generates a level of passion and intensity the likes of which have rarely been seen.' The First Amendment prohibits an official who uses a social media account for government purposes from excluding people from an 'otherwise open online dialogue' because they say things that the official finds objectionable, Judge Parker wrote." See also, Federal appeals court rules President Trump cannot block his critics on Twitter, The Washington Post, Ann E. Marimow, Tuesday, 9 July 2019: "President Trump cannot block his critics from the Twitter feed he regularly uses to communicate with the public, a federal appeals court said Tuesday, in a case with implications for how elected officials nationwide interact with constituents on social media. The decision from the New York-based appeals court upholds an earlier ruling that Trump violated the First Amendment when he blocked individual users who were critical of the president or his policies." See also, Federal appeals court rules Trump violates the First Amendment when he blocks Twitter critics, Politico, Caitlin Oprysko, Tuesday, 9 July 2019.
24 Governors Call on Trump to Halt Rollback on Rules for Clean Cars, The New York Times, Hiroko Tabuchi, Tuesday, 9 July 2019: "The opposition to one of President Trump's most consequential regulatory rollbacks — a plan to weaken pollution standards for automobiles nationwide — widened on Tuesday when 24 governors, including three Republicans, urged the president to abandon his plan. The governors' plea adds to a chorus of criticism from an unlikely mix of voices, including not only environmentalists and labor unions but also some of the biggest automakers in the world. The two dozen governors include the leaders of four states — North Carolina, Pennsylvania, Wisconsin and Montana — that voted for Trump in 2016, helping propel him into the White House." See also, Nearly two dozen governors join California's push for more efficient cars and trucks, The Washington Post, Brady Dennis, Tuesday, 9 July 2019: "Nearly two dozen governors, including several Republicans, are imploring the Trump administration to embrace more aggressive gas mileage requirements for the nation's cars and pickup trucks, saying the White House's effort to weaken existing requirements could hurt consumers, automakers and the environment. In a joint statement Tuesday, governors from 22 states and Puerto Rico joined California in calling for a 'common sense' national approach that would provide regulatory certainty to the auto industry while also helping to combat climate change. 'Strong vehicle standards protect our communities from unnecessary air pollution and fuel costs, and they address the largest source of carbon pollution in the United States,' they wrote."
Labor Secretary Alexander Acosta Faces Calls to Resign over Jeffrey Epstein Sex Crimes Case, The New York Times, Glenn Thrush and Patricia Mazzei, Tuesday, 9 July 2019: "Labor Secretary R. Alexander Acosta on Tuesday faced fresh calls to resign, and rising pressure from inside the Trump administration, over his role in brokering a lenient plea deal over sex crimes for the New York financier Jeffrey E. Epstein as a federal prosecutor in Miami more than a decade ago. Mr. Acosta, 50, said this week that the plea agreement, in which Mr. Epstein served 13 months in jail after being accused of sexually abusing dozens of young women and girls, was the toughest deal available in a complex and difficult case. The prosecution, he said, would have stood a far better chance of succeeding in the state courts — the same argument he has been making for years…. That is not likely to satisfy critics, who have long contended that Mr. Epstein should have faced a far harsher charge than a single count in state court of soliciting prostitution from a minor. The unusual arrangement reached with the Palm Beach County Sheriff's Office allowed Mr. Epstein to leave the county stockade six days a week to go to work. His jail sentence was for 18 months, but he was released five months early. And in a twist that was later ruled illegal, the agreement between Mr. Acosta and one of Mr. Epstein's lawyers, Jay P. Lefkowitz, was initially kept secret from Mr. Epstein's victims." See also, Trump praises Acosta, who faces growing calls to resign over earlier Epstein case, The Washington Post, John Wagner and Lisa Rein, Tuesday, 9 July 2019: "President Trump on Tuesday stood by his embattled labor secretary, saying he felt 'very badly' for Alex Acosta, as new calls mounted for Acosta's resignation over a plea deal he struck as a federal prosecutor with financier Jeffrey Epstein. 'I feel very badly, actually, for Secretary Acosta because I've known him as being somebody who works so hard and has done such a good job,' Trump told reporters in the Oval Office. Trump said the White House would look closely at the circumstances surrounding the sex-charges plea deal negotiated by Acosta and his staff a decade ago that a growing number of Democrats have criticized as excessively lenient." See also, Labor Secretary Alexander Acosta defends Jeffrey Epstein plea deal as Democrats call for his resignation, Politico, Burgess Everett, Tuesday, 9 July 2019: "Alex Acosta defended his handling of a controversial plea deal with billionaire pedophile Jeffrey Epstein Tuesday as the top three Senate Democratic leaders called on the labor secretary to resign. Acosta took to a Twitter offensive on Tuesday, saying he supports the 'horrific' new charges against the billionaire financier while defending his own past actions. The financier is now charged with running a sex ring of underage girls…. Acosta's comments came amid a swirl of resignation calls from the opposition party, essentially assuring the Labor secretary will stay in the headlines this week. Chuck Schumer said Tuesday that Acosta should go because of the 'sweetheart' deal he cut with Epstein as U.S. attorney in 2008, an escalation from his comments on Monday that Acosta needed to "explain himself" for allowing Epstein to serve 13 months in prison and avoid a federal trial." See also, What Labor Secretary Alexander Acosta has said about his plea deal with Jeffrey Epstein, The Washington Post, Aaron Blake, Tuesday, 9 July 2019.
Jeffrey Epstein Was a 'Terrific Guy,' Donald Trump Once Said. Now He's 'Not a Fan.' The New York Times, Annie Karni and Maggie Haberman, Tuesday, 9 July 2019: "It was supposed to be an exclusive party at Mar-a-Lago, Donald J. Trump's members-only club in Palm Beach, Fla. But other than the two dozen or so women flown in to provide the entertainment, the only guests were Mr. Trump and Jeffrey Epstein. The year was 1992 and the event was a 'calendar girl' competition, something that George Houraney, a Florida-based businessman who ran American Dream Enterprise, had organized at Mr. Trump's request. 'I arranged to have some contestants fly in,' Mr. Houraney recalled in an interview on Monday. 'At the very first party, I said, "Who's coming tonight? I have 28 girls coming." It was him and Epstein.' Mr. Houraney, who had just partnered with Mr. Trump to host events at his casinos, said he was surprised. [Mr. Houraney said] 'Donald, this is supposed to be a party with V.I.P.s. You're telling me it's you and Epstein?' In fact, that was the case, an indication of a yearslong friendship between the president and Mr. Epstein that some say ended only after a failed business arrangement between them. The full nature of their eventual falling out is not clear." See also, Jeffrey Epstein, accused of sexually abusing teenage girls, surrounded himself with an influential network of defenders, The Washington Post, Marc Fisher, Tuesday, 9 July 2019: "For decades, Jeffrey Epstein, the finance whiz who has been charged with sex trafficking, moved with open ease between the planet's highest echelons of power and what prosecutors portray as a sordid world of recruiting and sexually abusing teenage girls. He met with leaders of the nation's top universities and research labs, traveled with presidents and princes, and managed money for leading business figures. He said the minimum investment he would handle was $1 billion. Even as dozens of women were looking to police, prosecutors and courts to hold Epstein to account for his alleged sexual abuses, he was amassing a stunning list of contacts and, in some cases, defenders across the worlds of Hollywood moviemaking, medical research, diplomacy, finance, politics and law."
Migrant children in overcrowded Arizona, border station allege sex assault and retaliation from U.S. agents, NBC News, Jacob Soboroff and Julia Ainsley, Tuesday, 9 July 2019: "The poor treatment of migrant children at the hands of U.S. border agents in recent months extends beyond Texas to include allegations of sexual assault and retaliation for protests, according to dozens of accounts by children held in Arizona collected by government case managers and obtained by NBC News. A 16-year-old Guatemalan boy held in Yuma, Arizona, said he and others in his cell complained about the taste of the water and the food they were given. The Customs and Border Protection agents took the mats out of their cell in retaliation, forcing them to sleep on hard concrete. A 15-year-old girl from Honduras described a large, bearded officer putting his hands inside her bra, pulling down her underwear and groping her as part of what was meant to be a routine pat-down in front of other immigrants and officers. The girl said 'she felt embarrassed as the officer was speaking in English to other officers and laughing' during the entire process, according to a report of her account."
Judge Rejects Justice Department Request to Change Lawyers on Census Case, The New York Times, Michael Wines and Katie Benner, Tuesday, 9 July 2019: "A federal judge in New York on Tuesday rejected the Justice Department's request to switch its legal team midway through a case challenging the Trump administration's effort to add a citizenship question to the 2020 census. The sharply worded order, by United States District Judge Jesse M. Furman, may further hobble an already struggling battle by the administration to save the citizenship question. Efforts to block it have become a crucial political issue as the next census — and the redrawing of political boundaries in 2021 that will use fresh census data — draws near. On Sunday, the Justice Department said it was replacing the legal team defending the citizenship question. It offered no explanation for the change, which came in the middle of a prolonged clash over whether the administration's arguments for adding the question could be believed. But on Tuesday, as a new team of lawyers began to notify the court of its appearance in the case, Judge Furman barred the old lawyers from leaving until they met a legal requirement to satisfactorily explain their departure and show that it would not impede the case. He excepted only two lawyers on the team who had already left the department's civil division, which was overseeing the lawsuit." See also, Federal judge rejects Trump administration's bid to swap out lawyers for census case on citizenship question, The Washington Post, Matt Zapotosky, Seug Min Kim, and Tara Bahrampour, Tuesday, 9 July 2019: "A federal judge in New York on Tuesday denied a bid from the Justice Department to replace the team of lawyers on the case about the census citizenship question, writing that its request to do so was 'patently deficient.' The department had earlier this week announced its intention to swap out the legal team on the case, without saying exactly why. A person familiar with the matter said the decision was driven in part by frustration among some of the career lawyers who had been assigned to the case about how it was being handled, though the department wanted to replace those in both career and political positions."
Justice Department Tells Mueller Deputies Not to Testify, Scrambling an Agreement, The New York Times, Nicholas Fandos and Katie Benner, Tuesday, 9 July 2019: "The Justice Department is seeking to discourage Robert S. Mueller III's deputies from testifying before Congress, potentially jeopardizing an agreement for two of the former prosecutors to answer lawmakers' questions in private next week, according to two government officials familiar with the matter. The department told the House Intelligence and Judiciary Committees last week that it was opposed to the testimony and had communicated its view to the two former members of Mr. Mueller's team, Aaron Zebley and James L. Quarles III, according to a senior congressional official familiar with the discussions. A Justice Department official confirmed that account and said that the department had instructed both men not to appear."
Justice Department Watchdog Is Preparing to Deliver Verdict on the Russia Investigation, The New York Times, Adam Goldman, Charlie Savage, and Matthew Rosenberg, Tuesday, 9 July 2019: "Inside a London office building in early June, three investigators for the Justice Department's inspector general took a crucial step toward clearing the political fallout from the Russia investigation: They spent two days interviewing Christopher Steele, the former British spy whose now-infamous dossier of purported links between Trump associates and Russia ended up in the hands of the F.B.I. ahead of the 2016 election. The investigators pored over Mr. Steele's old memos and his contemporaneous notes from meetings with F.B.I. agents in the fall of 2016, according to a person familiar with the investigation. They asked Mr. Steele to explain in detail how he had validated his sources inside Russia, how he communicated with them, and how he decided which of their claims to include in his reports. They spoke at length about Mr. Steele's work with the F.B.I. on other Russia-related investigations and his contacts with a senior Justice Department official. The interview was a key step in the investigation by the inspector general, Michael E. Horowitz, into the facts underlying a bitter partisan feud: Did F.B.I. officials do anything wrong in 2016 when they sought to understand the Trump campaign's links to Russia — including how they used information from Mr. Steele?" See also, Trump dossier author Christopher Steele gets a 16-hour grilling by the Department of Justice, Politico, Natasha Bertrand, Tuesday, 9 July 2019: "Christopher Steele, the former British spy behind the infamous 'dossier' on President Donald Trump's ties to Russia, was interviewed for 16 hours in June by the Justice Department's internal watchdog, according to two people familiar with the matter. The interview is part of an ongoing investigation that the Justice Department's inspector general, Michael Horowitz, has been conducting for the past year. Specifically, Horowitz has been examining the FBI's efforts to surveil a one-time Trump campaign adviser based in part on information from Steele, an ex-British MI6 agent who had worked with the bureau as a confidential source since 2010."
Young Activists Are Planning National Protests to Push Democrats on the Climate Crisis, BuzzFeed News, Zahra Hirji, Tuesday, 9 July 2019: "Young climate activists are preparing to launch a sprawling, nationwide campaign to push the Democratic National Committee to allow a presidential primary debate devoted to the climate crisis. 'We started this fight centrally at the DNC headquarters. Now we're taking the fight out of DC and into communities across America,' Varshini Prakash, cofounder of the Sunrise Movement, told BuzzFeed News. At least 1,200 people, including more than 100 high schoolers, have already signed up to rally for a climate debate at local DNC offices in states including Arizona, California, Florida, Ohio, and Pennsylvania. The clock is ticking. There's a chance DNC members could vote on whether to allow a climate debate at their Aug. 22–24 meeting in San Francisco. In early June, DNC Chair Tom Perez said the Democratic Party would not host a climate debate and barred candidates from participating in outside ones. So the fact that a DNC committee is now mulling over a resolution to allow one is viewed as a win by debate supporters, notably those with the Sunrise Movement who protested the climate debate ban by camping out for days in front of DNC headquarters in Washington, DC. Now those activists are turning up the pressure to make sure there's actually a memberwide vote on the resolution and it goes their way."
Saudi Arabia is making the world complicit in a miscarriage of justice, The Washington Post, Agnes Callamard, Tuesday, 9 July 2019: "Agnes Callamard is the U.N. special rapporteur on extrajudicial, summary or arbitrary executions and director of Global Freedom of Expression at Columbia University. The trial of 11 defendants in the murder of Jamal Khashoggi is underway in Saudi Arabia behind closed doors. But it is unlikely to deliver real justice. While five unnamed defendants face the death penalty, top Saudi officials have not been investigated or charged in Khashoggi's brutal, premeditated killing. As detailed in my report to the United Nations last month, the Kingdom of Saudi Arabia is responsible for Khashoggi's extrajudicial execution, enforced disappearance and torture. The evidence suggests that 15 Saudi agents acted under their official status and used state resources to commit murder. High-level officials in Riyadh, the Saudi capital, oversaw the elaborate planning, which involved private jets, diplomatic clearances, a forensic doctor and Saudi consular staff in Istanbul. Saudi Arabia has since failed to investigate the crime in good faith. Khashoggi's murder is not a Saudi domestic matter. He was a journalist and U.S. resident who was extrajudicially killed in Turkish territory. Saudi Arabia committed an unlawful extraterritorial act aimed at violating freedom of expression, threatened the sanctity of consular relations and interfered with the interests of the international community as a whole. It is extremely troubling that, thus far, there has been little effective international response — legal, political or diplomatic." See also, In the aftermath of the killing of  journalist Jamal Khashoggi, Saudi influence machine whirs on in Washington, The Washington Post, Beth Reinhard, Jonathan O'Connell, and Tom Hamburger, Wednesday, 10 July 2019: "After the killing in October of journalist Jamal Khashoggi in the Saudi Consulate in Istanbul, a handful of lobbying firms and think tanks made a move rare in Washington: They publicly severed ties with Saudi Arabia, swearing off the kingdom's money. But nine months later, Saudi Arabia's efforts to influence U.S. policy continue unabated — bolstered by President Trump's embrace of Crown Prince Mohammed bin Salman, despite a recent United Nations report that the prince was complicit in the grisly killing and dismemberment of the Washington Post contributing columnist and political dissident. Since fall 2018, high-powered lobbyists and lawyers have reaped millions of dollars for assisting the kingdom as it works to develop nuclear power, buy American-made weapons and prolong U.S. assistance to the Saudi-led coalition waging war in Yemen, foreign lobbying records show."
Tom Steyer Will Run for President and Plans to Spend $100 Million on His Bid, The New York Times, Alexander Burns, Tuesday, 9 July 2019: "Tom Steyer, the former hedge fund investor turned impeachment activist, announced on Tuesday that he would challenge President Trump in 2020, reversing a previous decision not to enter the race. In a video announcing his campaign, Mr. Steyer positioned himself as a populist outsider, railing against corporate interests that he described as holding too much sway over the political system…. Mr. Steyer may be a questionable vessel for a populist message, as a billionaire financier in a party increasingly defined by concern for economic inequality, and as a 62-year-old white man in a Democratic Party preoccupied with racial diversity and gender equality."
Wednesday, 10 July 2019, Day 902:
Federal Appeals Court Rules for Trump in Emoluments Case, The New York Times, Sharon LaFraniere, Wednesday, 10 July 2019: "In a legal victory for President Trump, a federal appeals court panel on Wednesday ordered the dismissal of a lawsuit claiming that he had violated the Constitution by collecting profits from government guests at his hotel in the nation's capital. A three-judge panel of the United States Court of Appeals for the Fourth Circuit in Richmond, Va., found that the state of Maryland and the District of Columbia had no legal standing to sue Mr. Trump. The judges roundly rejected the premise of the case, which claimed that the Trump International Hotel, blocks from the White House, is unfairly siphoning off business from hotels in which the local jurisdictions have a financial interest. The lawsuit, which alleges violations of the Constitution's anti-corruption, or 'emoluments,' clauses, was about to enter the evidence-gathering phase." See also, Appeals court dismisses emoluments lawsuit involving Trump's D.C. hotel, The Washington Post, Ann E. Marimow and Jonathan O'Connell, Wednesday, 10 July 2019: "A federal appeals court Wednesday sided with President Trump, dismissing a lawsuit claiming the president is illegally profiting from foreign and state government visitors at his luxury hotel in downtown Washington. The unanimous ruling from the U.S. Court of Appeals for the 4th Circuit is a victory for the president in a novel case brought by the attorneys general of Maryland and the District of Columbia involving anti-corruption provisions in the emoluments clauses of the U.S. Constitution." See also, Appeals Court Orders Dismissal of Emoluments Lawsuit Against Trump, NPR, Laurel Wamsley, Wednesday, 10 July 2019.
Labor Secretary Alexander Acosta defends wealthy sex offender Jeffrey Epstein's plea deal, The Washington Post, Kimberly Kindy, Felicia Sonmez, Ashley Parker, and Seung Min Kim, Wednesday, 10 July 2019: "Embattled Labor Secretary Alex Acosta on Wednesday defended his role as a federal prosecutor in brokering a decade-old plea deal for sex offender Jeffrey Epstein, but lawyers for alleged victims criticized his explanation and Democrats called for him to appear at a congressional hearing in two weeks." See also, Labor Secretary Alexander Acosta Defends His Role in Brokering Jeffrey Epstein Plea Deal, The New York Times, Katie Rogers, Maggie Haberman, and Peter Baker, Wednesday, 10 July 2019: "Labor Secretary R. Alexander Acosta on Wednesday defended his handling of the sex crimes prosecution of the financier Jeffrey Epstein in Florida more than a decade ago, bucking a growing chorus of Democratic resignation calls while effectively making the case to President Trump to keep his job…. His comments did little to quell the furor over the deal, which has come under renewed scrutiny since Mr. Epstein was charged on Monday in New York with running a sex-trafficking operation that lured dozens of girls, some as young as 14, to his Upper East Side home and to a mansion in Palm Beach, Fla. Lawyers for some of the victims and the former Palm Beach prosecutor accused Mr. Acosta of rewriting history." See also, Examining Acosta's Claims on the Epstein Prosecution, The New York Times, Frances Robles, Glenn Thrush, and Linda Qiu, Wednesday, 10 July 2019.
Jeffrey Epstein's case was covered in the media. But Julie Brown, an investigative reporter for the Miami Herald, made it big news again. The Washington Post, Sarah Ellison and Paul Farhi, Wednesday, 10 July 2019: "As Julie Brown watched the Senate hearings on Alexander Acosta's nomination to become secretary of labor in 2017, she couldn't help but talk to the television. 'Why aren't they asking him this?' she asked. 'Why aren't they asking him that?' Brown was frustrated by the limited questioning from senators about Acosta's role in an unusual secret plea deal that, as a U.S. attorney in Florida, he had struck with Jeffrey Epstein, the billionaire financier who had pleaded guilty in 2008 to charges of soliciting prostitution from a minor, serving a mere 13-month sentence that allowed him to leave jail for 12 hours a day. 'It seemed like the lawmakers didn't know the whole story,' Brown said in an interview. So, after the Senate confirmed Acosta, Brown, an investigative reporter for the Miami Herald, went to her editor with a simple query: 'I wonder what the women think about this.' Brown then set out to tell the full story — not from Acosta's or Epstein's point of view but from the perspective of the scores of women who were girls when they were allegedly raped and trafficked by Epstein. They were identified in court filings as Jane Doe 1 or Jane Doe 2 or, as Brown darkly joked, 'Jane Doe 102.' Her search resulted in a blockbuster three-part investigation, published in November, in which she and video journalist Emily Michot were able to identify about 80 of Epstein's accusers. The stories were a slow-burning fuse that led to an explosion: On Saturday, Epstein was arrested on new sex-crimes charges, leading to calls from leading Democrats for Acosta's resignation over his handling of the case 11 years ago." See also, The Jeffrey Epstein Case Was Cold Until Julie Brown, a Miami Herald Reporter, Got Accusers to Talk, The New York Times, Tiffany Hsu, published on Tuesday, 9 July 2019: "Julie K. Brown, an investigative journalist for The Miami Herald, expected to spend the week on the same emotionally brutal endeavor she has pursued for more than two years: interviewing women who say that, as girls, they were part of a sex ring run by the wealthy financier Jeffrey Epstein. Months ago, she published a meticulously researched series of articles about a secret plea deal, engineered by a current member of President Trump's cabinet, that helped Mr. Epstein evade federal charges related to the women's accusations. Her work identified some 80 alleged victims and earned a slew of journalism prizes, including a George Polk Award in the category of Justice Reporting. She worked on the award-winning series with Emily Michot, a visual journalist at The Herald. While Mr. Epstein moved about freely, reportedly building a new compound in the Virgin Islands, Ms. Brown continued to dig, accumulating enough documentation to fill a spare bedroom in her Florida home."
The Judicial System Finally Catches Up to Jeffrey Epstein, The New Yorker, Margaret Talbot, Wednesday, 10 July 2019: "Sometimes, sexual abusers get lenient treatment because the police are unwilling to fully investigate their alleged crimes. Maybe they blame the victim, tacitly or not, or the evidence is murky, or victims are reluctant to come forward; maybe the acts occurred in a time and place where people tended not to see them as legally actionable. But sometimes, apparently, abusers escape real punishment because they are the very rich, very well-connected beneficiaries of a concerted exercise in raw power. That was the case, at least until this week, for Jeffrey Epstein, the sixty-six-year-old multimillionaire hedge-fund manager arrested on Saturday, at Teterboro Airport, in New Jersey, on charges of sex trafficking. Prosecutors said in the indictment that he had lured underage girls to his estate in Palm Beach, Florida, and to his town house on Manhattan's Upper East Side, where he sexually molested them. He then paid some of them to recruit other young girls."
'It Could Have Been Any of Us': Disdain for Trump Runs Among Ambassadors, The New York Times, David E. Sanger, Wednesday, 10 July 2019: "Ask members of the Washington diplomatic corps about the cables that Sir Kim Darroch, the British ambassador who resigned Wednesday, wrote to London describing the dysfunction and chaos of the Trump administration, and their response is uniform: We wrote the same stuff. 'Yes, yes, everyone does,' Gérard Araud, who retired this spring as the French ambassador, said on Wednesday morning of his own missives from Washington. 'But fortunately I knew that nothing would remain secret, so I sent them in a most confidential manner.'… Mr. Darroch submitted his resignation the morning after Boris Johnson, who this month is likely to become Britain's next prime minister, notably declined during a televised debate to defend the diplomat and also refused to criticize President Trump."
State Department Intelligence Analyst Rod Schoonover Quits to Protest the White House Blocking His House Testimony, The New York Times, Coral Davenport, Wednesday, 10 July 2019: "A State Department intelligence analyst has resigned in protest after the White House blocked his discussion of climate science in Congressional testimony, according to a person familiar with the matter. Rod Schoonover, an analyst with the State Department's Bureau of Intelligence and Research, testified last month before the House Permanent Select Committee on Intelligence on the effects of climate change on national security. But, in a highly unusual move, the White House refused to approve Dr. Schoonover's written testimony for entry into the permanent Congressional record. The reasoning, according to a June 4 email reviewed by The New York Times, was that the science cited in Dr. Schoonover's testimony did not correspond with White House views. Ultimately, Dr. Schoonover did deliver the oral testimony before the committee, but his accompanying written statement was not included in the official record of the hearing." See also, Intelligence aide Rod Schoonover, blocked from submitting his written testimony to Congress on climate change, resigns from the State Department, The Washington Post, Juliet Eilperin, Wednesday, 10 July 2019: "A State Department intelligence official who was blocked by the White House from submitting written congressional testimony on climate change last month is resigning from his post. Rod Schoonover — who worked in the Bureau of Intelligence and Research's Office of the Geographer and Global Issues — spoke before the House Intelligence Committee on June 5 about the security risks the United States faces because of climate change. But White House officials would not let him submit the bureau's written statement that climate impacts could be 'possibly catastrophic,' after the State Department refused to cut references to federal scientific findings on climate change. Individuals familiar with the matter, who asked for anonymity to speak frankly, said Schoonover is leaving voluntarily. But the incident that led to his departure underscores the extent to which climate science has become contested terrain under the current administration." See also, State Department Analyst Resigns After White House Blocked His Climate Change Testimony, The Wall Street Journal, Timothy Puko and Warren P. Strobel, Wednesday, 10 July 2019.
Expansion of Secrecy Law for Intelligence Operatives Alarms Free Press Advocates, The New York Times, Charlie Savage, Wednesday, 10 July 2019: "The C.I.A. is quietly pushing Congress to significantly expand the scope of a law that makes it a crime to disclose the identities of undercover intelligence agents, raising alarms among advocates of press freedoms. The agency has proposed extending a 1982 law, the Intelligence Identities Protection Act, which makes it a crime to identify covert officers who have served abroad in the past five years. Under the C.I.A.'s plan, the law would instead apply perpetually to people whose relationships with the intelligence community are classified — even if they live and operate exclusively on domestic soil."
Trump's company cancels strip-club-sponsored golf tournament at his Florida resort, The Washington Post, David A. Fahrenthold, Wednesday, 10 July 2019: "President Trump's company has canceled a golf tournament that a Miami-area strip club planned to hold at his Doral, Fla., resort this weekend. In a statement, the president's company said it canceled Shadow Cabaret's tournament after the nonprofit named as the beneficiary of the event — Miami Allstars Foundation — dropped out earlier Wednesday. 'The event was originally booked with the understanding that it would be raising money to support a local charity benefiting underprivileged children,' a Trump Organization spokeswoman said in the statement. 'Now that the charity has removed its affiliation, the event will no longer be taking place at our property and all amounts paid will be refunded.'"
Megan Rapinoe Steals the Show at the Women's World Cup Parade, The New York Times, Victor Mather and Danielle Allentuck, Wednesday, 10 July 2019: "There were words of gratitude, the usual forgettable verbiage from public officialdom and a presentation of the keys to the city. Then the people gathered at the City Hall rally for the United States women's soccer team on Wednesday finally got to hear from the woman most of them were waiting for: Megan Rapinoe. Rapinoe did not disappoint. In a memorable speech, she lauded her teammates, spoke of the politics of division and equal pay and let forth a profane tribute to New York City. 'This is my charge to everyone: We have to be better, we have to love more and hate less. Listen more and talk less. It is our responsibility to make this world a better place,' Rapinoe told the crowd."
Amy McGrath Raises $2.5 Million in First Day of Kentucky Senate Bid, The New York Times, Matt Stevens, Wednesday, 10 July 2019: "Amy McGrath, a retired Marine lieutenant colonel and combat pilot who is seeking to unseat Senator Mitch McConnell in 2020, raised $2.5 million in the first 24 hours of her campaign, her campaign manager said Wednesday. The fund-raising haul eclipsed the first-day totals raised by some heavyweight contenders in the presidential race, including Senators Kamala Harris and Elizabeth Warren. It suggests that Ms. McGrath retains some of the star power she harnessed during her failed bid last year to capture a House seat in Kentucky. It is also an indication of just how badly Democrats want to oust Mr. McConnell, the Senate majority leader."
Thursday, 11 July 2019, Day 903:
Trump Says He Will Seek Citizenship Information From Existing Federal Records, Not the Census, The New York Times, Katie Rogers, Adam Liptak, Michael Crowley, and Michael Wines, Thursday, 11 July 2019: "President Trump on Thursday abandoned his quest to place a question about citizenship on the 2020 census, and instructed the government to compile citizenship data from existing federal records instead, ending a bitterly fought legal battle that turned the nonpartisan census into an object of political warfare. Mr. Trump announced in the Rose Garden that he was giving up on modifying the census two weeks after the Supreme Court rebuked his administration over its effort to do so. Just last week, Mr. Trump had insisted that his administration 'must' pursue that goal. 'We are not backing down on our effort to determine the citizenship status of the United States population,' Mr. Trump said. But rather than carry on the fight over the census, he said he was issuing an executive order instructing federal departments and agencies to provide the Census Bureau with citizenship data from their 'vast' databases immediately. Even that order appears to merely reiterate plans the Commerce Department announced last year, making it less a new policy than a means of covering Mr. Trump's retreat from the composition of the 2020 census form." See also, Fact-checking Trump's retreat on the census citizenship question, The Washington Post, Salvador Rizzo, published on Friday, 12 July 2019. See also, Trump retreats on adding citizenship question to 2020 Census, The Washington Post, Seung Min Kim, Tara Bahrampour, and John Wagner, Thursday, 11 July 2019: "President Trump on Thursday backed down from his controversial push to add a citizenship question to the 2020 Census, effectively conceding defeat in a battle he had revived just last week and promised to continue despite a recent string of legal defeats. Trump announced that he instead plans to order every federal agency to give records to the Commerce Department that detail the numbers of citizens and noncitizens in the United States…. The announcement marked the end of a 19-month push by the administration to ask about citizenship status on the decennial survey, which opponents decried as an effort to systematically undercount Latinos and scare immigrant communities from participating in a survey that helps determine congressional districts and the disbursement of some federal funds." See also, Trump backs away from census citizenship question and orders agencies to hand over citizenship information to the Commerce Department, CNN, Kevin Liptak, Pamela Brown, Jim Acosta, and Kaitlan Collins, Thursday, 11 July 2019. See also, Trump abandons effort to add citizenship question to census, Politico, Anita Kumar and Caitlin Oprysko, Thursday, 11 July 2019. See also, Trump Drops Effort to Put Citizenship Question on Census, The Wall Street Journal, Rebecca Ballhaus and Brent Kendall, Thursday, 11 July 2019: "President Trump said he was ending efforts to put a citizenship question on the 2020 U.S. census, marking a major retreat from his declarations in recent days that he wouldn't give up the fight in the wake of a Supreme Court ruling that effectively blocked the move." See also, Trump Backs Off Census Citizenship Question Fight, NPR, Hansi Lo Wang and Franco Ordonez, Thursday, 11 July 2019. See also, The Long History of the U.S. Government Asking Americans Whether They Are Citizens, The New York Times, Michael Wines, Friday, published on 12 July 2019. See also, Claims That Obama 'Yanked' Citizenship Question From Census Are False, The New York Times, Linda Qiu, published on Friday, 12 July 2019.
Thousands Are Targeted as Immigration and Customs Enforcement (ICE) Prepares to Raid Undocumented Migrant Families, The New York Times, Caitlin Dickerson and Zolan Kanno-Youngs, Thursday, 11 July 2019: "Nationwide raids to arrest thousands of members of undocumented families have been scheduled to begin Sunday, according to two current and one former homeland security officials, moving forward with a rapidly changing operation, the final details of which remain in flux. The operation, backed by President Trump, had been postponed, partly because of resistance among officials at his own immigration agency. The raids, which will be conducted by Immigration and Customs Enforcement over multiple days, will include "collateral" deportations, according to the officials, who spoke on the condition of anonymity because of the preliminary stage of the operation. In those deportations, the authorities might detain immigrants who happened to be on the scene, even though they were not targets of the raids. When possible, family members who are arrested together will be held in family detention centers in Texas and Pennsylvania. But because of space limitations, some might end up staying in hotel rooms until their travel documents can be prepared. ICE's goal is to deport the families as quickly as possible…. The threat of deportation has rattled immigrant communities across the country, prompted backlash from local politicians and police officials and stoked division inside the Department of Homeland Security — the agency that is charged with carrying out the deportations. The Trump administration's goal is to use the operation as a show of force to deter families from approaching the southwestern border, the officials said." See also, Immigration and Customs Enforcement (ICE) to Launch Roundup of Undocumented Immigrants on Sunday, The Wall Street Journal, Vivian Salama and Alicia Caldwell, Thursday, 11 July 2019. See also, ICE deportation raids will reportedly start this weekend, Vox, Emily Stewart, Thursday, 11 July 2019.
Elizabeth Warren's Immigration Plan Takes Aim at Trump-Era Abuses, The New York Times, Matt Stevens, Thursday, 11 July 2019: "Senator Elizabeth Warren of Massachusetts offered an immigration proposal on Thursday that would create new protections for migrants, investigate allegations of abuse under the Trump administration and allow far higher numbers of refugees into the country. Ms. Warren's plan includes an assertive push for liberal immigration priorities, like decriminalizing unauthorized border crossings. She also pledged to establish judicial review for immigration cases and create an 'Office of New Americans' that would provide services to immigrants transitioning into American society, including English classes." See also, Elizabeth Warren proposes reshaping immigration agencies and decriminalizing border crossings, The Washington Post, Annie Linskey, Thursday, 11 July 2019: "Sen. Elizabeth Warren on Thursday called for remaking two major immigration enforcement agencies 'from top to bottom' and establishing independent immigration courts, and she reiterated her support for decriminalizing border crossings in a wide-ranging plan to overhaul the country's immigration process. The plan puts Warren, a Massachusetts Democrat running for president, firmly on the liberal side of the immigration debate. Her announcement comes as many Democratic voters are angered by reports of squalid conditions in U.S. border facilities, the separation of children from parents and President Trump's threats to deport 'millions.'"
Kamala Harris Has a New Plan to Close the Rape Kit Backlog, BuzzFeed News, Molly Hensley-Clancy, Thursday, 11 July 2019: "Kamala Harris announced a plan Thursday to end the nationwide backlog of untested rape kits during her first term as president, part of a campaign that has focused on the California senator's background as a former prosecutor. Harris said she would spend $1 billion to encourage states to clear rape kit backlogs and invest in reforms, including requiring rape kits to be tested within narrow time frames, counting and reporting untested rape kits, and giving victims information about the status of their rape kits. Advocates say there are hundreds of thousands of untested rape kits in the country, largely because of a lack of funding and sparse resources in rural and isolated areas — a backlog that results in sexual assault crimes going unpunished. A 3-year-old program by the Manhattan District Attorney's Office that provides funding to other jurisdictions to test backlogged rape kits has tested more than 55,000 kits, leading to nearly 200 arrests and 65 convictions, at a cost of $38 million."
House Judiciary Committee votes to subpoena 12 people, including Jared Kushner and former attorney general Jeff Sessions, in investigation of whether Trump obstructed justice, The Washington Post, John Wagner, Thursday, 11 July 2019: :A House panel voted Thursday to subpoena 12 people with connections to President Trump, including his son-in-law and adviser Jared Kushner and former attorney general Jeff Sessions, as part of an ongoing investigation into whether Trump obstructed justice or otherwise abused his office. The vote along party lines by the House Judiciary Committee was the latest escalation in a battle between the Democratic-led chamber and the White House over multiple probes of Trump and his administration, including looking at whether the president sought to obstruct the investigation of special counsel Robert S. Mueller III." See also, House Democrats Approve Subpoenas for Who's Who of Robert Mueller Witnesses, The New York Times, Nicholas Fandos, Thursday, 11 July 2019: "The House Judiciary Committee on Thursday approved a dozen new subpoenas targeting a who's who of witnesses cited in Robert S. Mueller III's report as Democrats sought to elevate their showdown with President Trump over episodes of possible obstruction of justice documented by the special counsel. The panel also approved a separate group of subpoenas seeking information about the Trump administration's practice of separating children from their families at the border. And House Democratic leaders set Tuesday for a full House vote to hold Attorney General William P. Barr and Commerce Secretary Wilbur Ross in contempt of Congress over their refusal to relinquish under subpoena documents related to the administration's efforts to add a citizenship question to the 2020 census." See also, House panel authorizes subpoenas for Jared Kushner and Trump officials, CNN Politics, Jeremy Herb, Thursday, 11 July 2019. See also, House Judiciary Committee approves subpoenas for 12 key witnesses, including Jared Kushner, Politico, Andrew Desiderio and Kyle Cheney, Thursday, 11 July 2019: "The House Judiciary Committee voted on Thursday to authorize subpoenas for 12 crucial witnesses as part of House Democrats' ongoing investigations targeting President Donald Trump. On a party-line vote, the committee empowered Chairman Jerry Nadler (D-N.Y.) to issue subpoenas to current and former Trump administration officials who were central figures in former special counsel Robert Mueller's 22-month investigation of Russian contacts with the Trump campaign. The subpoena list also includes Trump's son-in-law and senior adviser Jared Kushner, in addition to some of Mueller's key witnesses: former Attorney General Jeff Sessions, former Deputy Attorney General Rod Rosenstein, former national security adviser Michael Flynn, former White House Chief of Staff John Kelly and former White House Staff Secretary Rob Porter."
House Moves Again to Cut Off Support to Saudi War in Yemen, The New York Times, Catie Edmondson, Thursday, 11 July 2019: "The House voted on Thursday to cut off American support for Saudi Arabia's war in Yemen and to prevent the Trump administration from using its emergency authority to transfer munitions to the kingdom, delivering twin rebukes as Democrats sought to leave their stamp on military policy. The votes were the opening salvo as Democrats begin an amendment blitz that could reshape Congress's annual defense policy bill to broadly restrict the president's war powers and serve as an indictment of the president's foreign policy."
Trump Administration Drops Plan to Curb Drug Rebates, The Wall Street Journal, Stephanie Armour, Thursday, 11 July 2019: "The Trump administration dropped a major piece of its plan to curb drug prices, the latest sign that central planks of President Trump's proposal are faltering amid legal challenges, high costs for taxpayers and feuds between the White House and government agencies. The White House said Thursday that the administration won't proceed with a proposal to curb industry rebates that drugmakers give to middlemen in Medicare. It comes after a federal judge blocked on Monday a separate rule that required drugmakers to put list prices in television ads. Both proposals aimed to tamp down sharply rising drug costs for consumers and the federal government."
Democrats Demand Briefing and Documents on the 2008 Plea Agreement With Jeffrey Epstein That Was Overseen by Alexander Acosta, The New York Times, Nicholas Fandos, Thursday, 11 July 2019: "House Democrats waded further on Thursday into a dispute over Labor Secretary R. Alexander Acosta's handling of a sex crimes prosecution of the financier Jeffrey Epstein when he was a federal prosecutor more than a decade ago, demanding a briefing from Justice Department officials and access to documents related to the plea agreement he oversaw. In a letter to Deputy Attorney General Jeffrey A. Rosen, Democrats on a House judiciary subcommittee on crime said that they wanted access within two weeks to all information on the 2008 nonprosecution agreement, as well as to any accusations of professional misconduct by Mr. Acosta, who was then the United States attorney for the Southern District of Florida." See also, How Alex Acosta Got Away With It for So Long, Slate, Dahlia Lithwick, Thursday, 11 July 2019: "Back in 2008, when Alex Acosta was U.S. attorney for the Southern District of Florida, his office secretly cut a sweetheart deal for child rapist and sex trafficker Jeffrey Epstein. Now Acosta has been watching as increasingly damning evidence piles up, revealing that he was responsible for letting Epstein off the hook the first time around, and filters into the public consciousness. So he took a page from Donald Trump's sexual assault impunity playbook at a press conference on Wednesday and denied any responsibility for any of his actions, refused to apologize to hundreds of victims who were children at the time, and instead blamed everyone from state prosecutors to the victims themselves. On Friday morning, he resigned as secretary of labor, but it hardly seems like enough. Thanks to dogged reporting from Julie K. Brown at the Miami Herald, we know that a 53-page indictment drafted by Acosta's own office was based on the statements of dozens of victims, and yet Acosta still brokered a plea deal allowing Epstein to register as a sex offender and spend just 13 months in the Palm Beach County jail. Epstein was allowed to be picked up by a car on 12 hours of daily work release from the prison, six days a week. A Florida judge ruled earlier this year that the non-prosecution agreement violated the Crime Victims' Rights Act because the witnesses were never consulted or informed that it had happened."
New victims come forward as Jeffrey Epstein asks to be released from jail to his Manhattan mansion, Miami Herald, Julie K. Brown and David Smiley, Thursday, 11 July 2019: "At least a dozen new victims have come forward to claim they were sexually abused by Jeffrey Epstein even as the multimillionaire money manager tries to convince a federal judge to allow him to await a sex trafficking trial from the comfort of the same $77 million Manhattan mansion where he's accused of luring teenage girls into unwanted sex acts. Following Epstein's arrest Saturday in New Jersey, four women have reached out to New York lawyer David Boies, and at least 10 other women have approached other lawyers who have represented dozens of Epstein's alleged victims in the past. Jack Scarola, a Palm Beach attorney, said at least five women, all of whom were minors at the time of their alleged encounters with Epstein, have reached out to either him or Fort Lauderdale lawyer Brad Edwards."
White House Hosts Conservative Internet Activists at a 'Social Media Summit,' The New York Times, Katie Rogers, Thursday, 11 July 2019: "As he opened an event that had brought 200 conservative social media firebrands to the White House, President Trump wanted his guests to know just how much he appreciated their work helping shape the online narrative about his presidency and a re-election fight. 'The crap you think of,' Mr. Trump said as he surveyed his Twitter kingdom, 'is unbelievable.'… [T]he White House Social Media Summit was dominated by activists willing to share unverified smears against Democratic presidential candidates, disseminate QAnon conspiracy theories and create memes the president might share." See also, Trump Uses Twitter to Govern. I Used It to Cover His Social Media Summit. Notably Absent Were Twitter, Facebook, and Google. The New York Times, Katie Rogers, Thursday, 11 July 2019. See also, Trump invites right-wing extremists to White House 'social media summit,' CNN Business, Oliver Darcy, Thursday, 11 July 2019. See also, Trump accuses social media companies of 'terrible bias' at White House media summit decried by critics, The Washington Post, Tony Romm, Thursday, 11 July 2019: "President Trump assailed Facebook, Google and Twitter on Thursday — accusing them of exhibiting 'terrible bias' and silencing his supporters — at a White House 'Social Media Summit' that critics chastised for giving a prominent stage to some of the Internet's most controversial, incendiary voices. For Trump, the conference represented his highest-profile broadside against Silicon Valley after months of accusations that tech giants censor conservative users and websites. With it, the president also rallied his widely followed online allies — whom he described as 'journalists and influencers' and who together can reach roughly half a billion people — entering the 2020 presidential election."