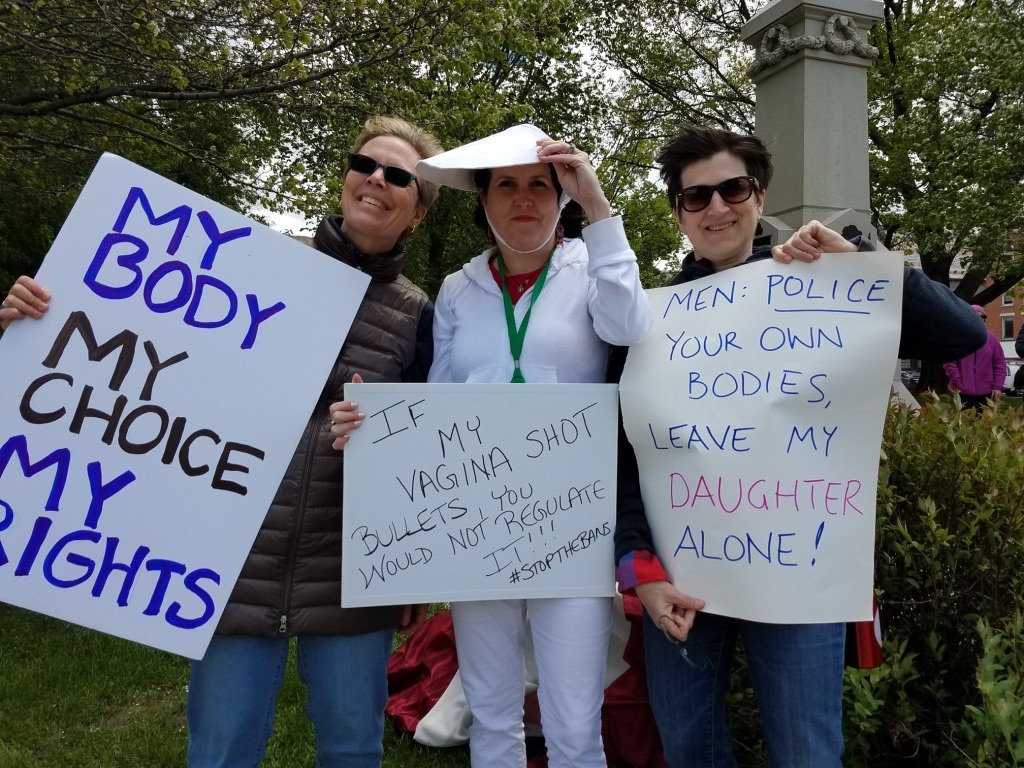 Passages in bold in the body of the texts below are usually my emphasis, though not always. This is an ongoing project, and I update the site frequently during the day. Because I try to stay focused on what has actually happened, I usually let the news 'settle' for a day or so before posting. I hope readers will peruse the articles in full for a better understanding of the issues and their context; our democracy and our future depend on citizens who can distinguish between facts and falsehoods and who are engaged in the political process.
For "a weekly newsletter celebrating people-powered wins against the Trump administration's agenda," visit Small Victories. 
For independent global news, visit Democracy Now!
Friday, 31 May 2019, Day 862:
Elizabeth Warren Wants Congress to Ensure Presidents Can Be Indicted, The New York Times, Matt Stevens, Friday, 31 May 2019: "For many Democrats, the aftermath of the Mueller report raised one central question: Would Robert S. Mueller III have charged President Trump with a crime if Justice Department policy had not prevented him from doing so? On Friday, Senator Elizabeth Warren said the answer was yes. Ms. Warren, who is seeking the Democratic nomination for president, proposed legislation she said was aimed at ensuring that 'no President is above the law.' She called on Congress to pass a law clarifying that the Justice Department can in fact indict the president of the United States, while also renewing her call to begin impeachment proceedings against Mr. Trump. 'Mueller's statement made clear what those of us who have read his report already knew: He's referring Donald Trump for impeachment, and it's up to Congress to act,' she wrote in a post on Medium. 'But impeachment isn't supposed to be the only way that a President can be held accountable for committing a crime,' she wrote. 'Congress should make it clear that Presidents can be indicted for criminal activity, including obstruction of justice. And when I'm President, I'll appoint Justice Department officials who will reverse flawed policies so no President is shielded from criminal accountability.'" See also, Elizabeth Warren pledges to reverse Justice Department policy that prevents indicting sitting presidents, The Washington Post, John Wagner, Friday, 31 May 2019: "Sen. Elizabeth Warren said Friday that she would seek to reverse a long-standing Department of Justice policy that prevents the indictment of a sitting president and push Congress to amend the law to make it clear that presidents can be charged with crimes. Warren's proposals were the latest of the policy initiatives that have come to define her bid for the Democratic presidential nomination, and they put her squarely back in the debate over whether President Trump should be removed from office."
House Judiciary Committee Chair Jerry Nadler says there certainly is justification for impeaching Trump, Politico, Kyle Cheney and Andrew Desiderio, Friday, 31 May 2019: "House Judiciary Committee Chairman Jerry Nadler said on Friday that there 'certainly is' justification for launching impeachment proceedings against President Donald Trump, but cautioned that the public first must agree that it's warranted. 'Impeachment is a political act, and you cannot impeach a president if the American people will not support it,' Nadler (D-N.Y.) said during an appearance on WNYC. 'The American people right now do not support it because they do not know the story. They don't know the facts. We have to get the facts out. We have to hold a series of hearings, we have to hold the investigations.' Nadler emphasized that he intends to use the next few weeks to bring special counsel Robert Mueller's report 'to life,' providing for a television audience the dramatic evidence that Mueller compiled about Trump's efforts to thwart the investigation of Russian interference in the 2016 election. Part of that will include testimony from Mueller himself, Nadler said, even if Mueller sticks to his promise to limit his comments to the findings of his report. Nadler said revealing Mueller's words and findings to a television audience would educate Americans about the president's conduct in a way they haven't been to this point." See also, Full List: Who Supports an Impeachment Inquiry Against Trump? The New York Times, Alicia Parlapiano, Jason Kao, Emily Cochrane, and Catie Edmondson, Friday, 31 May 2019: "More than 50 House Democrats now support an impeachment inquiry against President Donald J. Trump, according to a New York Times survey. The Times is asking every representative for his or her position, starting with the Democrats, and will update this page with each response. Many House Democrats who do not currently support impeachment proceedings say investigations of Mr. Trump should continue. The White House has stonewalled these inquiries."
The Department of Homeland Security's Inspector General finds detainees 'standing on toilets' for breathing room at border facility in Texas (El Paso) holding 900 people in space meant for 125, CNN, Priscilla Alvarez, Friday, 31 May 2019: "The Department of Homeland Security's Inspector General has found 'dangerous overcrowding' and unsanitary conditions at an El Paso, Texas, Border Patrol processing facility following an unannounced inspection, according to a new report. The IG found 'standing room only conditions' at the El Paso Del Norte Processing Center, which has a maximum capacity of 125 migrants. On May 7 and 8, logs indicated that there were 'approximately 750 and 900 detainees, respectively. We also observed detainees standing on toilets in the cells to make room and gain breathing space, thus limiting access to the toilets,' the report states. The report was first obtained by CNN."
Continue reading Week 124, Friday, 31 May – Thursday, 6 June 2019 (Days 862-868)
Trump Administration Lifts Ethanol-Fuel Ban That Is Meant to Cut Smog, The New York Times, Coral Davenport, Friday, 31 May 2019: "The Trump administration said Friday that it has lifted a summertime ban on the use of E15, a gasoline blend made of 15 percent ethanol. The move is designed to help corn and soybean farmers harmed by President Trump's decision to impose tariffs. Ethanol, made from corn and other crops, has been mixed into some types of gasoline for years as a way to reduce reliance on oil, among other things. However, burning ethanol-blended fuel in the summertime heat has a side effect of increasing smog — and for that reason the lifting of the ban raised objections from environmentalists. Oil companies also criticized the ending of the summertime ban because a wider use of ethanol will cut into their sales of gasoline."
Missouri's Last Abortion Clinic Can Keep Providing the Procedure, for Now, The New York Times, Sabrina Tavernise, Friday, 31 May 2019: "A judge in Missouri gave the state's last abortion clinic more time to resolve a dispute with the state health department, defusing a standoff that had threatened to shut down all abortion services in the state at midnight on Friday. Gov. Mike Parson has said that the clinic, Reproductive Health Services of Planned Parenthood of the St. Louis Region, needs to clear up what he described as 'a number of serious health concerns' as part of a state audit. The audit must be completed, the state has said, before the clinic's license can be renewed. Leaders of the clinic say the state is making unreasonable requests and is bent on closing the clinic for political reasons. They filed suit this week arguing that the state was abusing its regulatory authority."
House Intelligence Committee Chair Adam Schiff tells the intelligence community to share with Congress any information that Attorney General William Barr requests and any effort by Barr to declassify national security secrets over its objections, Politico, Kyle Cheney, Friday, 31 May 2019: "House Intelligence Committee Chairman Adam Schiff demanded on Friday that the nation's intelligence community report to Congress any effort by Attorney General William Barr to declassify national security secrets over its objections. Schiff made his demand in a letter to Director of National Intelligence Dan Coats, calling on Coats to brief his committee in person and to share any information that Barr has requested as part of a review of the origins of the FBI's investigation of links between Russia and the Trump campaign. Last month, Barr announced his intention to review the decisions that led to the Russia probe, which later was taken over by special counsel Robert Mueller. But Democrats have argued the effort is a politically driven attempt to appease Trump and feed his unsupported claims that the FBI was attempting to mount a 'coup' against him. See also, Top Democrats tell intelligence chiefs they must help monitor Attorney General William Barr's review of Russia investigation, The Washington Post, Karoun Demirjian, Friday, 31 May 2019: "The top Democrats on the House and Senate Intelligence committees notified the nation's spy chiefs Friday that they intend to closely monitor efforts by Attorney General William P. Barr to review the government probe of President Trump's 2016 campaign — and expect them to inform lawmakers about the extent to which their agencies are cooperating."
Justice Department does not comply with court order to release transcripts of Michael Flynn's conversations in December 2016 with then Russian ambassador Sergey Kislyak, The Washington Post, Carol D. Leonnig and Rosalind S. Helderman, Friday, 31 May 2019: "Federal prosecutors on Friday declined to make public transcripts of recorded conversations between Michael Flynn and Russia's ambassador to the United States in December 2016, despite a judge's order. In a court filing Friday, the Justice Department wrote that it did not rely on such recordings to establish Flynn's guilt or determine a recommendation for his sentencing. Prosecutors also failed to release an unredacted version of portions of the Mueller report related to Flynn that the judge had ordered be made public. Flynn, who served briefly as President Trump's first national security adviser, pleaded guilty to lying to the FBI about his conversation with Russian Ambassador Sergey Kislyak, and he cooperated with special counsel Robert S. Mueller III's investigation. He is awaiting sentencing." See also, Justice Department Keeps Wiretaps Secret in Michael Flynn Case, Rejecting Judge's Order, The New York Times, Adam Goldman, Friday, 31 May 2019: "Federal prosecutors rebuffed a judge's order to release by Friday highly classified transcripts of discussions that Michael T. Flynn, the president's former national security adviser, had with the Russian ambassador during the presidential transition. The transcripts between Mr. Flynn and Sergey I. Kislyak, formerly Russia's top diplomat in the United States, were expected to show that they talked in December 2016 about sanctions that the Obama administration had just imposed on Russia. Mr. Flynn initially denied those exchanges about sanctions both to Trump administration officials and the F.B.I. in the weeks after the discussions. The conversations prompted concerns among senior Obama administration officials about whether the Trump transition team was flouting norms about holding off on making policy until after taking office. The phone calls were also at the center of the scandal that eventually prompted Mr. Flynn's ouster just weeks into President Trump's term."
Special Counsel Robert Mueller Played by the Rules. Trump Made New Ones. The New York Times, Mark Mazzetti and Katie Benner, Friday, 31 May 2019: "The president of the United States appears to believe that you don't matter unless you are on television. By that measure, Robert S. Mueller III's 10-minute soliloquy seemed to have seized his attention. But even though Mr. Mueller, the special counsel, cut through the legalese of his 448-page report on Wednesday to make clear that his investigation in no way exonerated President Trump, he stopped short of delivering a punchy sound bite to summarize his inquiry. Mr. Trump has had one for two years — 'No collusion! No obstruction!' — and recently had White House aides print the slogan and hang it on his lectern. Mr. Mueller's refusal to pass judgment on whether the president broke the law is one example of how the special counsel operated by rules ill fitted for the Trump era. He said nothing and the president said everything. He worked in secret, allowing the president to fill the void with reckless accusations of a witch hunt. His damning conclusions were encased in dense legal jargon that the president distorted into a vindication."
Saturday, 1 June 2019, Day 863:
Colorado Bans 'Conversion Therapy' for Minors, The New York Times, Derrick Bryson Taylor, Saturday, 1 June 2019: "Colorado on Friday became the 18th state to ban 'conversion therapy' for minors, a discredited practice that aims to change a person's sexual orientation or gender expression. Gov. Jared Polis of Colorado, who is gay, signed the bill into law a day before the start of Pride Month for the L.G.B.T. community. He also signed a bill making it easier for transgender people to change the gender listed on state-issued documents. On Wednesday, Maine outlawed conversion therapy, and New York and Massachusetts have also enacted laws banning the practice this year. Conversion therapy has been around for more than a century. Its most common technique is talk therapy, although it is not uncommon for practitioners to use aversion treatment such as inducing nausea, vomiting or paralysis when a person is aroused by same-sex images, according to a 2018 study by the Williams Institute of the School of Law at the University of California, Los Angeles. In some cases, electric shock has been used, the study said."
It's un-British to roll out the red carpet for Donald Trump, The Guardian, Sadiq Khan, Saturday, 1 June 2019: "Praising the 'very fine people on both sides' when torch-wielding white supremacists and antisemites marched through the streets clashing with anti-racist campaigners. Threatening to veto a ban on the use of rape as a weapon of war. Setting an immigration policy that forcefully separates young children from their parents at the border. The deliberate use of xenophobia, racism and 'otherness' as an electoral tactic. Introducing a travel ban to a number of predominately Muslim countries. Lying deliberately and repeatedly to the public. No, these are not the actions of European dictators of the 1930s and 40s. Nor the military juntas of the 1970s and 80s. I'm not talking about Vladimir Putin or Kim Jong-un. These are the actions of the leader of our closest ally, the president of the United States of America." See also, Donald Trump is like a 20th-century fascist says London mayor Sadiq Khan, The Guardian, Toby Helm and Mark Townsend, Saturday, 1 June 2019.
Sunday, 2 June 2019, Day 864:
Trump says in recorded interview that Duchess Meghan was 'nasty' about him, then tweets: I never called Meghan Markle 'nasty,' The Washington Post, Rick Noack, Sunday, 2 June 2019: "President Trump sparked a new debate in Britain this past week, after calling past comments by Meghan, Duchess of Sussex, 'nasty' in an interview with the Sun tabloid. During the 2016 election campaign, the duchess — then Meghan Markle — called Trump 'misogynistic' and 'divisive.' The American actress also said she might move to Canada if Trump was elected president. Instead, two years on, she married Prince Harry and became part of Britain's royal family. Suggesting that he had been unaware of the duchess's 2016 remarks ahead of preparations for his upcoming state visit to Britain and his royal reception on Monday, Trump said in an audio recording released by the Sun: 'I didn't know that she was nasty,' in response to a question that cited Markle's earlier remarks."
U.S. Requiring Social Media Information From Visa Applicants, The New York Times, Sandra E. Garcia, Sunday, 2 June 2019: "Visa applicants to the United States are required to submit any information about social media accounts they have used in the past five years under a State Department policy that started on Friday. Such account information would give the government access to photos, locations, dates of birth, dates of milestones and other personal data commonly shared on social media…. The move represents a step up from a September 2017 measure in which the Homeland Security Department proposed and enacted a regulation calling for the surveillance of social media use of all immigrants, including naturalized citizens. During the Obama administration, the State Department began to ask visa applicants to voluntarily submit their social media information." See also, US demands social media details from visa applicants, BBC, published on Saturday, 1 June 2019.
Pentagon tells White House to keep politics away from the military, The Washington Post, Alex Horton, Sunday, 2 June 2019: "Acting Defense Secretary Patrick Shanahan had a message for the White House: Politics and the military don't mix. Shanahan and Navy officials have faced intense scrutiny over a White House request to hide the USS John S. McCain warship during President Trump's visit to Japan last month — a moment, among others, some defense officials and analysts have said is a sign of decay in the civilian-military relationship, which has been traditionally immune to partisan rancor. Amid the backlash, Shanahan directed his chief of staff to tell the White House not to put the military in political situations, Shanahan's spokesman, Lt. Col. Joseph Buccino, told The Washington Post."
Transgender migrant woman who had been in the custody of Immigration and Customs Enforcement (ICE) dies after falling ill, The Washington Post, Robert Moore, Sunday, 2 June 2019: "A transgender woman from El Salvador died after falling ill at a private Immigration and Customs Enforcement detention center in New Mexico, officials said Sunday, drawing new scrutiny to a facility that has faced allegations of mistreatment of gay and transgender detainees. Johana Medina Leon, 25, died on Saturday at Del Sol Medical Center in El Paso, ICE officials said. She had been taken to the hospital complaining of chest pains on Tuesday at the Otero County Processing Center. Earlier that day, she had requested an HIV test, which came back positive, officials said."
Monday, 3 June 2019, Day 865:
Trump Wins Ruling in House's Border Wall Suit, The New York Times, Adam Liptak, Monday, 3 June 2019: "President Trump ended a losing streak in court clashes with the House on Monday, as a federal judge rejected the Democrat-controlled chamber's lawsuit seeking to stop him from using emergency powers to build a wall along the southwestern border. Judge Trevor N. McFadden of the United States District Court for the District of Columbia, who was appointed by Mr. Trump, ruled that the House could not show that it had suffered the sort of injury that gave it standing to sue. The ruling will not have any immediate practical consequences because other groups have already secured an order blocking Mr. Trump from proceeding. But if other courts accept Judge McFadden's reasoning, the House's litigation options will narrow as it battles the president on several fronts." See also, Federal judge Trevor N. McFadden, a Trump appointee, rejects House suit to block transfer of billions of dollars for Trump Border wall, The Washington Post, Spencer S. Hsu, Monday, 3 June 2019.
84 Environmental Rules on the Way Out Under Trump, The New York Times, Nadja Popovich, Livia Albeck-Ripka, and Kendra Pierre-Louis, Monday, 3 June 2019: "President Trump has made eliminating federal regulations a priority. His administration, with help from Republicans in Congress, has often targeted environmental rules it sees as burdensome to the fossil fuel industry and other big businesses. A New York Times analysis, based on research from Harvard Law School, Columbia Law School and other sources, counts more than 80 environmental rules and regulations on the way out under Mr. Trump. Our list represents two types of policy changes: rules that were officially reversed and rollbacks still in progress. The Trump administration has released an aggressive schedule to try to finalize many of these rollbacks this year."
We asked every 2020 Democrat about climate change. Here are the most interesting answers. The Washington Post, Dino Grandoni, Monday, 3 June 2019: "Here's a change: Climate change is finally a major issue in the race for the White House. With eight months still to go until Democrats begin picking their next presidential nominee, 96 percent of the party's voters say it is very important the next president takes aggressive action to slow the effects of climate change, according to a CNN poll from April. And that means that Democratic candidates are talking a lot more about what they will do to curb global warming. To find out exactly where the candidates stand on climate-related issues, The Post's John Muyskens and Kevin Uhrmacher waded through 23 candidates' public statements and voting records, as well as sending climate-change questionnaires to every campaign. The result is this comprehensive overview. They found each candidate agrees the issue of rising temperatures is something the next president needs to address. But differences abound between the candidates on how to rein in heat-trapping pollution being released by humans."
Botched family reunifications left migrant children waiting in vans overnight, NBC News, Jacob Soboroff and Julia Ainsley, Monday, 3 June 2019: "Under the blistering Texas sun last July, 37 migrant children boarded vans for what was supposed to be a 30-minute ride. At the end of the road from Harlingen to Los Fresnos lay the promise of hugs, kisses and long overdue reunification with their parents, from whom they were taken when the Trump administration began systematically separating migrant families who crossed the border illegally. But when the children, all between 5 and 12 years old, arrived at Immigration and Customs Enforcement's adults-only Port Isabel Detention Center, rather than seeing their parents, they saw a parking lot full of vans just like theirs, with children from other facilities who, just like them, were waiting to be processed and reunified with their parents. It was 2:30 p.m. on Sunday, July 15, 2018. Not until 39 hours later — after two nights in a van — did the last child step out of a van to be reunited. Most spent at least 23 hours in the vehicles."
Congress Gives Final Approval to Long-Delayed Disaster Aid, The New York Times, Emily Cochrane, Monday, 3 June 2019: "Congress gave final approval on Monday to a long-delayed disaster aid package, ending the congressional impasse that has stymied efforts to send billions of dollars in relief to ongoing recovery efforts from a series of natural disasters. The 354-to-58 House vote capped a lengthy and complex odyssey for the $19.1 billion package, which the Senate overwhelmingly approved late last month before departing for recess. Every House Democrat in attendance, along with 132 Republicans, supported the measure, allowing it to overcome the two-thirds procedural threshold under a suspension of House rules." See also, House passes $19 billion disaster aid bill; Trump is expected to sign it, The Washington Post, Erica Werner, Monday, 3 June 2019.
House Democrats, Aiming to Reinvigorate Inquiries, Set Hearings and Contempt Votes (for Attorney General William Barr and Former White House Counsel Donald McGahn), The New York Times, Nicholas Fandos, Monday, 3 June 2019: "House Democrats said on Monday they would vote next week to hold Attorney General William P. Barr and the former White House counsel Donald F. McGahn II in contempt of Congress for defying subpoenas related to Robert S. Mueller III's report, even as they announced a new series of hearings meant to refocus attention onto its findings. The twin announcements were the party's latest attempts to kick-start stalled investigations into accusations of malfeasance by President Trump and his administration and to try to force key witnesses resisting their oversight demands into compliance. But they also underscored that in the face of Trump administration opposition, House lawmakers have been left with few good options to investigate accusations that could eventually lead to impeachment." See also, House Judiciary Committee to hold hearing on Mueller report, without Mueller, The Washington Post, Felicia Sonmez and Rachael Bade, Monday, 3 June 2019: "The House Judiciary Committee will hold a hearing next week on the Mueller report — but the report's author will not attend. The panel announced Monday that it will convene on June 10 for a hearing titled 'Lessons from the Mueller Report: Presidential Obstruction and Other Crimes.' Former U.S. attorneys and legal experts are expected to attend, as is John W. Dean III, the former White House counsel under President Richard M. Nixon who accused Nixon of being directly involved in the Watergate coverup and later served four months in prison for obstruction of justice." See also, Democrats to call Watergate star John Dean to testify on Mueller report, Politico, Kyle Cheney, Monday, 3 June 2019: "The House Judiciary Committee is preparing to call Watergate star witness and former Nixon White House counsel John Dean to testify on the Mueller report, an effort to draw public attention to special counsel Robert Mueller's findings amid heated debate over the prospect of impeaching President Donald Trump. Dean will be featured on a June 10 panel that also includes former U.S. attorneys and legal experts to discuss Mueller's evidence that Trump repeatedly attempted to obstruct or constrain his investigation of Russian interference in the 2016 election, according to the committee."
House Democrats to hold Attorney General William Barr and Commerce Secretary Wilbur Ross in contempt over census question about citizenship, Politico, Andrew Desiderio, Monday, 3 June 2019: "House Democrats are moving to hold Attorney General William Barr and Commerce Secretary Wilbur Ross in contempt of Congress for defying a subpoena seeking information about efforts to add a citizenship question to the 2020 census. 'Unfortunately, your actions are part of a pattern,' Rep. Elijah Cummings (D-Md.), chairman of the House Oversight and Reform, wrote to Barr and Ross in separate letters Monday. 'The Trump administration has been engaged in one of the most unprecedented cover-ups since Watergate, extending from the White House to multiple federal agencies and departments of the government and across numerous investigations.' Cummings said he would consider postponing the contempt votes, which have not yet been scheduled, if Barr and Ross turned over the requested documents by Thursday."
Trump Insults London Mayor Sadiq Khan as a 'Stone Cold Loser' as He Pays Tribute to the Queen, The New York Times, Mark Landler and Maggie Haberman, Monday, 3 June 2019: "Queen Elizabeth II welcomed President Trump to Buckingham Palace on Monday with an honor guard and royal artillery salute, while Mr. Trump carried on an ugly dispute with the mayor of London, whom he called a 'stone cold loser' and said was doing a terrible job of running Britain's capital city. The juxtaposition of high pageantry and low name-calling, on the first day of Mr. Trump's state visit to Britain, captured yet again the odd swath that this president cuts on the world stage: impulsive and erratic, delighted by a lavish welcome but preoccupied by petty feuds or events back home." See also, Trump bashes London mayor Sadiq Khan as 'stone cold loser,' Politico, Caitlin Oprysko, Monday, 3 June 2019.
Republican lawmakers discuss vote to block Trump's new tariffs on Mexico, in what would be a dramatic act of defiance, The Washington Post, Erica Werner, Seung Min Kim, and Damian Paletta, Monday, 3 June 2019: "Congressional Republicans have begun discussing whether they may have to vote to block President Trump's planned new tariffs on Mexico, potentially igniting a second standoff this year over Trump's use of executive powers to circumvent Congress, people familiar with the talks said. The vote, which would be the GOP's most dramatic act of defiance since Trump took office, could also have the effect of blocking billions of dollars in border wall funding that the president had announced in February when he declared a national emergency at the southern border, said the people, who spoke on the condition of anonymity because the talks are private. Trump's plans to impose tariffs on Mexico — with which the United States has a free-trade agreement — rely on the president's declaration of a national emergency at the border. But the law gives Congress the right to override the national emergency determination by passing a resolution of disapproval."
Owners of former Trump hotel in Panama say president's company evaded taxes, The Washington Post, David A. Fahrenthold, Monday, 3 June 2019: "The majority owners of the former Trump Panama hotel — who last year removed President Trump's name and cut ties with his company — say they've discovered old financial records showing that the Trump Organization was evading Panamanian taxes, according to a new legal filing. That filing was made Monday in federal court in New York by Orestes Fintiklis, a Cypriot investor whose company is the majority owner of the building that once housed the Trump Ocean Club in Panama City." See also, A Former Business Partner Alleges the Trumps Evaded Taxes in Panama, The New York Times, Ben Protess and Steve Eder, Monday, 3 June 2019: "The owners of a luxury hotel in Panama City that ousted the Trump Organization as property managers last year accused it on Monday of evading taxes in Panama and creating a 'false light' around the hotel's finances. The accusations, made in a legal filing in Manhattan federal court, are fraught with potential diplomatic and legal complexities for President Trump. They essentially assert that his family business cheated a foreign government, a claim the Trump Organization characterized in a statement as 'completely false.'" See also, Lawsuit Alleges Trump Evaded Taxes on Panama Hotel Project, The Wall Street Journal, Jeff Horwitz, Monday, 3 June 2019: "President Trump's property-management company allegedly failed to pay taxes in Panama on millions of dollars in fees it collected for managing a high-rise hotel there, according to new legal filings related to a business dispute over the development. The filings, made Monday by the hotel's majority owner, allege that over seven years Trump employees sent money to Mr. Trump's personal bank accounts in the U.S. without paying Panamanian taxes, exposing the property's owners to millions of dollars in potential liability."
Jared Kushner is unsure whether he would alert the FBI if Russians request another meeting, Axios, Jonathan Swan, Monday, 3 June 2019: "On 'Axios on HBO,' Jared Kushner said he doesn't know whether he'd call the FBI if he were to receive an email today like the one before the campaign's Trump Tower meeting, which had the subject line: 'Re: Russia – Clinton – private and confidential.' Kushner is now in the West Wing as senior adviser to the president. Shouldn't an email with an offer of help from Russians trigger a mental alarm? This bolsters the perception that President Trump's inner circle still doesn't fully recognize the ongoing threat of Russian interference in American elections."
George Nader, Linked to Trump Transition and Witness in Mueller Inquiry, Is Arrested on Child Pornography Charges, The New York Times, Mark Mazzetti, Monday, 3 June 2019: "A cooperating witness in the special counsel investigation into Russian election interference has been charged with possession of child pornography, according to court documents unsealed on Monday. George Nader, a Lebanese-American businessman who acted as an informal adviser to the United Arab Emirates' powerful crown prince, was arrested on Monday after he landed at Kennedy International Airport in New York, according to a Justice Department news release. The child pornography charges were unsealed after his arrest. According to the court documents, Mr. Nader was caught early last year with iPhones containing sexually explicit videos of young boys. The phones were discovered after he was stopped by federal agents at an airport and questioned about his efforts to arrange meetings between intermediaries from several foreign governments and Trump transition officials in the weeks after the November 2016 election. Mr. Nader had traveled to the United States to attend a party at Mar-a-Lago celebrating President Trump's first year in office." See also, George Nader, figure linked to Trump transition, is charged with transporting child pornography, The Washington Post, Devlin Barrett and Rachel Weiner, Monday, 3 June 2019: "A key witness in former special counsel Robert S. Mueller III's investigation of Russian election interference has been charged with transporting child pornography last year, according to court documents. George Nader, who has a previous conviction on such charges, was charged in federal court in Virginia and is expected to make an initial court appearance in New York. Nader played an unusual role as a kind of liaison between Trump supporters, Middle East leaders and Russians interested in making contact with the incoming administration in early 2017."
Trump suggests people boycott AT&T to force changes in CNN coverage, Politico, Caitlin Oprysko, Monday, 3 June 2019: "President Donald Trump kicked off his state visit to the United Kingdom on Monday with a complaint about CNN, the cable network he loves to hate, urging a boycott of the network's new corporate owner, AT&T. As the president traveled to Buckingham Palace in London for lunch with the royal family, Trump fired off a pair of tweets complaining that CNN, whose coverage the president often says is unfair to his administration, 'is the primary source of news available from the U.S.' in the UK. Trump, known to be a voracious consumer of cable news, wrote that he felt compelled to turn the channel off." See also, Trump Suggests a Boycott of AT&T to Punish CNN, The New York Times, Michael M. Grynbaum and Edmund Lee, Monday, 3 June 2019: "President Trump on Monday floated the notion of a consumer boycott of AT&T, the telecommunications firm turned media colossus, an apparent attempt to punish the company for the news coverage produced by one of its subsidiaries, CNN…. Mr. Trump's message on Monday was a notable public lashing of AT&T in the wake of its $85 billion acquisition of CNN's parent company, Time Warner, which catapulted the Texas-based telecom giant into the sharp-elbowed sphere of national media…. Advocates of press freedom have raised alarms about Mr. Trump's treatment of news organizations, particularly the signal it sends when he is abroad. Autocrats around the world have echoed Mr. Trump's recitations of 'fake news' in suppressing independent journalism." See also, Trump urges customers to drop AT&T to punish CNN over its coverage of him, The Washington Post, Craig Timberg, Taylor Telford, and Josh Dawsey, Monday, 3 June 2019: "President Trump took his long-running attacks against CNN to a new level on Monday by suggesting in tweets that a consumer boycott of its parent company, AT&T, could force 'big changes' at the news organization. 'I believe that if people stoped [sic] using or subscribing to AT&T, they would be forced to make big changes at CNN, which is dying in the ratings anyway,' Trump tweeted. 'It is so unfair with such bad, Fake News!' The comment, which Trump tweeted in response to seeing CNN coverage while traveling in London during a European tour, fueled criticisms that the president was using his power inappropriately to intimidate critics. Historians struggled to cite an equivalent threat even from presidents such as Richard Nixon renowned for their hostility toward the press. Less democratic nations with more tenuous press freedoms often use government regulatory power, criminal investigations or tax audits to punish news organizations seen as providing unflattering coverage, but past U.S. presidents rarely have taken such public shots at the businesses of the owners of major American news organizations, historians said."
Tuesday, 4 June 2019, Day 866:
Senate Republicans Warn White House Against Mexico Tariffs, The New York Times, Catie Edmondson and Maggie Haberman, Tuesday, 4 June 2019: "Republican senators sent the White House a sharp message on Tuesday, warning that they were almost uniformly opposed to President Trump's plans to impose tariffs on Mexican imports, just hours after the president said lawmakers would be 'foolish' to try to stop him. Mr. Trump's latest threat to impose 5 percent tariffs on all goods imported from Mexico, rising to as high as 25 percent until the Mexican government stems the flow of migrants, has prompted some of the most serious defiance in the Republican ranks since the president took office." See also, Republican lawmakers warn White House they'll try to block Trump's Mexico tariffs, The Washington Post, Erica Werner, Seung Min Kim, Damian Paletta, and Mary Beth Sheriday, Tuesday, 4 June 2019: "Defiant Republican senators warned Trump administration officials Tuesday they were prepared to block the president's effort to impose tariffs on Mexican imports, threatening to assemble a veto-proof majority to mount their most direct confrontation with the president since he took office." See also, Republicans threaten revolt and may block Trump's Mexico tariffs, Politico, Burgess Everett and James Arkin, Tuesday, 4 June 2019. See also, Mexico Will Face Tariffs Next Week, Trump Vows, The New York Times, Maggie Haberman and Nicholas Fandos, Tuesday, 4 June 2019.
House Votes to Give 'Dreamers' a Path to Citizenship, The New York Times, Julie Hirschfeld Davis, Tuesday, 4 June 2019: "The Democrat-led House passed legislation on Tuesday to grant a path to citizenship to about 2.5 million immigrants whose legal protections President Trump has moved to end, advancing a measure that highlights the bitter partisan differences over immigration. The bill, which passed 237 to 187, with seven Republicans voting yes, would create a new legal pathway for young undocumented immigrants brought to the United States illegally as children, known as Dreamers, and for those with Temporary Protected Status, granted to immigrants whose countries are ravaged by natural disaster or violence. It is almost certain to die in the Republican-led Senate, where there is no appetite to challenge Mr. Trump on his signature issue and the majority regards it as amnesty for people who have broken the law." See also, House passes an immigration bill to protect 'dreamers' and to offer a path to citizenship, The Washington Post, Felicia Sonmez, Tuesday, 4 June 2019: "The House on Tuesday passed a bill that would offer a path to citizenship to more than 2 million undocumented immigrants, including 'dreamers' who were brought to the United States as children. The vote was 237 to 187 for the American Dream and Promise Act of 2019, which would grant dreamers 10 years of legal residence status if they meet certain requirements. They would then receive permanent green cards after completing at least two years of higher education or military service, or after working for three years."
In Scott Warren's No More Deaths Trial, Prosecutors Attempt to Paint a Web of Conspiracy, The Intercept, Ryan Devereaux, Tuesday, 4 June 2019: "For nearly a year and a half, U.S. government prosecutors in Arizona have sought to make an example out of Scott Warren. The 36-year-old geographer and border-based humanitarian aid volunteer was arrested with two undocumented migrants on January 17, 2018, and accused of providing the men with food, water, and a place to sleep over three days. A month later, a grand jury indicted him on two counts of harboring and one count of conspiracy, bringing the total amount of time he could spend in prison — if convicted on all counts and sentenced to consecutive terms — to 20 years."
'Trump Baby' and the Trump robot headline London protests over U.S. president's visit, The New York Times, Karla Adam, Tuesday, 4 June 2019: "A giant blimp of a diaper-clad 'Trump Baby' and a talking Trump robot sitting on a toilet were among the most vivid props Tuesday as tens of thousands of protesters descended on central London to register their disapproval of President Trump, who was in the British capital for a three-day state visit. After a day of pomp and pageantry involving the British royals, Tuesday was a day for politics and protests. Trump had meetings at Downing Street, and protesters were hoping that they were close enough — and loud enough — to be heard." See also, As Trump Dangles Post-Brexit Trade Deal, Some Britons See Opportunism, The New York Times, Mark Landler and Maggie Haberman, Tuesday, 4 June 2019: "President Trump on Tuesday urged Britain to forge ahead with plans to quit the European Union, dangling the prospect of a 'phenomenal' trade deal with the United States as the British grapple with a polarizing political crisis. Mr. Trump said that 'everything will be on the table' in negotiations for such a deal, including opening Britain's public health system to American competitors — an assertion that caused an uproar and which he later walked back. Still, by raising the prospect of a Britain overly dependent on the United States, Mr. Trump's remarks further divided politicians and inflamed thousands of anti-Trump protesters on the streets." See also, Fact-Checking Trump's London Visit: Trade, Protests, Brexit, The New York Times, Linda Qiu, Tuesday, 4 June 2019. See also, Donald Trump welcomed to the U.K. With Video of Boris Johnson Calling Him 'Unfit' for Office, The Intercept, Robert Mackey, published on Monday, 3 June 2019.
U.S. shared nuclear power information with Saudi Arabia shortly after the killing of journalist Jamal Khashoggi, Reuters, Timothy Gardner, Tuesday, 4 June 2019: "The Trump administration granted two authorizations to U.S. companies to share sensitive nuclear power information with Saudi Arabia shortly after the killing of journalist Jamal Khashoggi in October, a U.S. senator who saw the approvals said on Tuesday. The timing of the approvals is likely to heap pressure on the administration of President Donald Trump from lawmakers who have become increasingly critical of U.S. support for Saudi Arabia since Khashoggi was killed in the Saudi consulate in Istanbul in October. Khashoggi, a native of Saudi Arabia, left in 2017 to became a resident of the United States where he published columns in the Washington Post critical of the kingdom's leadership. Senator Tim Kaine, a Democrat from Virginia, where Khashoggi lived, called the timing of the approvals 'shocking' and said it adds to a 'disturbing pattern of behavior' of the administration's policy on Saudi Arabia. The Department of Energy granted the first part 810 authorization on Oct. 18, 16 days after Khashoggi was killed. The second occurred on Feb. 18." See also, Senator Kaine says Trump approved nuclear tech transfer to Saudis after the murder of Jamal Khashoggi, Politico, Andres Desiderio, Tuesday, 4 June 2019.
Latest data shows steep rises in CO2 for seventh year, The Guardian, Fiona Harvey, Tuesday, 4 June 2019: "The concentration of carbon dioxide in the atmosphere has increased by the second highest annual rise in the past six decades, according to new data. Atmospheric concentrations of the greenhouse gas were 414.8 parts per million in May, which was 3.5ppm higher than the same time last year, according to readings from the Mauna Loa observatory in Hawaii, where carbon dioxide has been monitored continuously since 1958. Scientists have warned for more than a decade that concentrations of more than 450ppm risk triggering extreme weather events and temperature rises as high as 2C, beyond which the effects of global heating are likely to become catastrophic and irreversible." See also, Earth's carbon dioxide has jumped to the highest level in human history, Axios, Andrew Freedman, Tuesday, 4 June 2019.
Climate Change Takes Center Stage as Joe Biden and Elizabeth Warren Release Plans, The New York Times, Coral Davenport and Katie Blueck, Tuesday, 4 June 2019: "When Joseph R. Biden Jr. was Barack Obama's vice president, their administration brokered the landmark Paris climate accord and imposed the nation's first federal regulations for cutting carbon dioxide emissions. Now, as Mr. Biden runs for president, he has laid out an ambitious climate plan of his own that goes well beyond what Mr. Obama achieved, proposing $1.7 trillion in spending and a tax or fee on planet-warming pollution with the aim of eliminating the nation's net carbon emissions by 2050. The sweeping proposal from the typically moderate Mr. Biden demonstrates just how far the Democratic field has moved on climate change. His environmental targets are similar to the goals of the Green New Deal put forward by Representative Alexandria Ocasio-Cortez of New York, which even the House Democratic speaker has been unwilling to embrace. Mr. Biden's proposals came just hours before a rival candidate, Senator Elizabeth Warren of Massachusetts, released her own climate proposal as part of a $2 trillion green manufacturing plan. Her plan would create a National Institutes of Clean Energy and push federal spending toward American-made renewable energy technology."
Joe Biden embraces Green New Deal as he releases climate plan, The Washington Post, Dino Grandoni and Jeff Stein, Tuesday, 4 June 2019: "Joe Biden is embracing the framework of the Green New Deal in his bid for the White House, calling on the United States to eliminate climate-warming emissions by no later than the middle of the century while creating millions of new jobs and rallying the rest of the world to forestall dangerous rising temperatures. Biden released a 22-page climate plan Tuesday that appears at least in part aimed at blunting the criticisms of environmentalists and others on the left who have argued Biden's 2020 presidential campaign is out of step with the current Democratic Party."
Elizabeth Warren Proposes 'Aggressive Intervention' to Create Jobs in Climate-Friendly Industries, The New York Times, Astead W. Herndon and Patricia Cohen, Tuesday, 4 June 2019: "Senator Elizabeth Warren of Massachusetts on Tuesday proposed an economic program of 'aggressive intervention on behalf of American workers,' suggesting that as president she would invest $2 trillion in climate-friendly industries over a decade, create a new cabinet-level Department of Economic Development and even manipulate the dollar to promote exports. Unveiling a campaign theme of 'economic patriotism,' Ms. Warren promised to announce further plans under that banner over the next several months, on issues like trade and Wall Street regulation." See also, Elizabeth Warren proposes $2 trillion clean energy plan as Green New Deal momentum builds, The Washington Post, Jeff Stein and Dino Grandoni, Tuesday, 4 June 2019: "Sen. Elizabeth Warren (D-Mass.) on Tuesday unveiled a proposal to invest $2 trillion in federal funding in clean energy programs as part of a Green New Deal aimed at confronting global climate change, according to her campaign. Under the umbrella of a Green New Deal, Warren is pitching a 'Green Apollo Program' to invest in clean energy technology and a 'Green Marshall Plan' devoted to encouraging countries to buy U.S.-made clean energy technologies. Warren also said she would aim to replace the Commerce Department with a 'Department of Economic Development' to oversee a new national jobs strategy as part of a new 'economic patriotism,' also as part of the Green New Deal."
White House instructs Hope Hicks, a former aide to Trump, and Annie Donaldson, a former aide to Don McGahn, not to comply with congressional subpoenas, The Washington Post, Rachael Bade and Carol D. Leonnig, Tuesday, 4 June 2019: "The White House instructed Hope Hicks, a former aide to President Trump, and the ex-counsel's chief of staff not to cooperate with a congressional subpoena for documents related to their White House service. The House Judiciary Committee issued the summonses last month to Hicks, one of Trump's closest staffers and longtime aides, and to Donald McGahn's staffer, Annie Donaldson, as part of its expansive probe into potential abuse of power, public corruption and obstruction." See also, White House instructs Hope Hicks and Annie Donaldson to defy Democratic subpoenas, Politico, Andrew Desiderio and Kyle Cheney, Tuesday, 4 June 2019.
In Shift, U.S. Vows to More Aggressively Deport Migrant Families, The New York Times, Zolan Kanno-Youngs, Tuesday, 4 June 2019: "The Trump administration will step up efforts to deport families of undocumented migrants in the United States, the new leader of the Immigration and Customs Enforcement agency said on Tuesday, in an aggressive step to discourage illegal immigration at the southwestern border. Mark Morgan, who took over last week as the acting director of ICE, stopped short of setting a timeline for deploying agents to arrest thousands of migrant families. But he said deporting them was necessary to deter a record-high number of Central American migrants from approaching the border." See also, Mark Morgan, the acting director of U.S. Immigration and Customs Enforcement (ICE) says agency plans to target more families for deportation, The Washington Post, Nick Miroff, Tuesday, 4 June 2019: "The Trump administration's new immigration enforcement chief said Tuesday that he is preparing to increase arrests and deportations of migrant families living illegally in the U.S. interior, promising the kind of more aggressive approach the White House has been seeking. Mark Morgan, the acting director of U.S. Immigration and Customs Enforcement, told reporters that his agency is preparing to move forward with a plan — stalled under his predecessor — that will target thousands of families that have disobeyed court orders to leave the country."
Civil rights groups ask federal judge to reconsider conspiracy ruling on census citizenship question, The Washington Post, Tara Bahrampour and Robert Barnes, Tuesday, 4 June 2019: "Civil rights groups who had sued the government over its addition of a citizenship question to the 2020 Census have asked a federal judge in Maryland to reconsider his ruling on the matter after new evidence in the case emerged last week. The request, filed Monday night by the Mexican American Legal Defense and Educational Fund (MALDEF) and Asian Americans Advancing Justice (AAJC), said the new findings show the Trump administration sought to intentionally discriminate against Latinos and immigrants of color when it added the question."
New Rules on American Travel to Cuba Include Cruise Ban, The New York Times, Tariro Mzezewa, Tuesday, 4 June 2019: "The Trump administration on Tuesday imposed new restrictions on Americans going to Cuba, banning the most common way Americans travel to the island. Beginning on Wednesday, the United States will not permit group educational and cultural trips known as 'people to people' trips to the island unless they were booked before June 5, the Treasury Department said in a statement. Nor will it allow cruises, private yachts or fishing vessels to stop in Cuba. Group people-to-people trips have been used by thousands of American visitors." See also, Trump administration halts cruises to Cuba under new rules, Associated Press, Matthew Lee and Michael Weissenstein, Tuesday, 4 June 2019.
More than two dozen liberal groups voice frustration with House Speaker Nancy Pelosi and urge impeachment proceedings against Trump, The Washington Post, John Wagner, Tuesday, 4 June 2019: "A coalition of more than two dozen liberal groups on Tuesday urged House Speaker Nancy Pelosi to begin impeachment proceedings against President Trump, writing in a letter that her reticence is 'resulting in dangerous inaction that enables this racist and xenophobic president.' The strongly worded letter voicing frustration with Pelosi (D-Calif.) came a day after the Democratic-led House returned from a week-long recess and continued to grapple with how to respond to the report of special counsel Robert S. Mueller III…. The letter sent Tuesday calls for Pelosi to exercise 'bold, moral leadership' and says that 'instead of using your power, you are giving us political excuses for why you shouldn't. Instead of leading, you and your colleagues have asked us to wait — wait for the Mueller report, wait for the unredacted Mueller report, wait for Mueller's testimony about the Mueller report, wait for more investigations, wait for bipartisan consensus, wait for impeachment to poll better, or wait for the 2020 election, it says. The groups signing the letter include CREDO Action, Free Speech for People, MPower, Movimiento Cosecha, Democracy for America, Indivisible, Working Families Party and Women's March."
Justice Department tells Congress it is willing to negotiate release of Mueller materials–if lawmakers back off holding Attorney General William Barr in contempt, The Washington Post, Matt Zapotosky, Tuesday, 4 June 2019: "The Justice Department told the House Judiciary Committee on Tuesday that it is willing to negotiate the release of materials from former special counsel Robert S. Mueller III's investigation — if the committee chairman will back off from holding the attorney general in contempt." See also, Talks Between Democrats and Justice Department Are in Doubt Over William Barr Contempt Vote, The New York Times, Nicholas Fandos, Tuesday, 4 June 2019: "House Democrats said on Tuesday that they were willing to renew negotiations with the Justice Department over access to the special counsel's full report and investigative files, but rejected a call to pre-emptively cancel a House vote to hold Attorney General William P. Barr in contempt."
Federal Prosecutors Don't Have to Disclose Secret Michael Flynn Transcripts, Judge Says, The New York Times, Adam Goldman, Tuesday, 4 June 2019: "A federal judge on Tuesday told prosecutors they did not have to make public highly classified transcripts of Michael T. Flynn talking about sanctions with the Russian ambassador in December 2016. The judge's decision means that the exact words that Mr. Flynn, President Trump's first national security adviser, and Sergey I. Kislyak, formerly Russia's top diplomat in the United States, exchanged during the presidential transition will remain secret."
Wednesday, 5 June 2019, Day 868:
Joe Biden Still Backs Hyde Amendment, Which Bans Federal Funds for Abortions, The New York Times, Katie Glueck, Wednesday, 5 June 2019: "Former Vice President Joseph R. Biden Jr., who has shunned today's Democratic Party orthodoxy on issues from crime to compromising with Republicans, again broke with his party's base and many of his campaign rivals on Wednesday when his campaign confirmed that he still backs the Hyde Amendment, a measure that prohibits the use of federal funds for abortion with exceptions for cases involving rape, incest and when the life of the mother is in danger. The backlash to Mr. Biden, who despite leading early presidential polls faces skepticism from his party's progressive wing, came swiftly from lawmakers and activists who support abortion rights, with many noting that the Hyde Amendment disproportionately affects economically disadvantaged women and women of color." See also, Feud over abortion rights adds to questions about Joe Biden's vulnerabilities, The Washington Post, Matt Viser, Michelle Ye Hee Lee, and Jenna Johnson, Wednesday, 5 June 2019: "Most of the Democratic presidential field blistered Joe Biden with criticism Wednesday for his position on abortion rights, isolating the candidate at the top of the polls on a topic that has animated the Democratic base. Biden's stance that he supports a law sharply limiting the use of federal funds for abortions created one of the clearest indications yet of a growing division among Democrats and a feistiness in the field, which on Wednesday displayed newfound willingness to criticize the front-runner." See also, Elizabeth Warren, in MSNBC Town Hall, Criticizes Joe Biden's Stance on the Hyde Amendment, The New York Times, Maggie Astor, Wednesday, 5 June 2019: "Senator Elizabeth Warren of Massachusetts, who has built her presidential campaign on a slew of detailed policy proposals, took questions Wednesday in a town-hall event on MSNBC. In the first segment, she fielded a question about the news on Wednesday that former Vice President Joseph R. Biden Jr. still supports the Hyde Amendment, which bans federal funding for abortions. Other Democratic candidates spoke out en masse against the amendment throughout the day, and when asked on air if Mr. Biden was wrong, Ms. Warren said yes. Ms. Warren noted, as she has before, that she came of age before Roe v. Wade made abortion legal nationwide, and that women still got abortions — some safely and some unsafely. If abortion were again outlawed, she said, 'women of means will still have access to abortions,' but the Hyde Amendment would prevent access for poor and working-class women. 'We do not pass laws that take away that freedom from the women who are most vulnerable,' she said."
Trump administration cancels English classes, soccer, and legal aid for unaccompanied child migrants in U.S. shelters, The Washington Post, Maria Sacchetti, Wednesday, 5 June 2019: "The Trump administration is canceling English classes, recreational programs and legal aid for unaccompanied minors staying in federal migrant shelters nationwide, saying the immigration influx at the southern border has created critical budget pressures…. The move to curtail services for unaccompanied minors — revealed in an email that an HHS official sent to licensed shelters last week, a message that has been obtained by The Washington Post — could run afoul of a federal court settlement and state-licensing requirements that mandate education and recreation for minors in federal custody. Carlos Holguin, a lawyer who represents minors in a long-running lawsuit that spurred a 1997 federal court settlement that sets basic standards of care for children in custody, immediately slammed the cuts as illegal." See also, Migrant Children May Lose School, Sports, and Legal Aid as Shelters Swell, The New York Times, Miriam Jordan, Wednesday, 5 June 2019: "The Trump administration said Wednesday that it would begin restricting or canceling education, legal aid and playground recreation for migrant children housed in government shelters as a result of financial constraints created by the 'crisis at the border.' The government's plans were swiftly rebuked by civil rights lawyers representing unaccompanied children, who have been crossing the border in ever-larger numbers this year to flee poverty and violence in their home countries, mainly in Central America. And the chief of at least one large shelter operator said he would continue to offer education and sports at his network's facilities. Some 13,200 migrant children, including adolescents who crossed the border alone and young children who were separated from their parents, are currently housed in more than 100 shelters across the country. They receive English instruction, as well as math, civics and other classes. Most facilities have a sports field and allow children to go outside, often to play soccer, at least once a day."
New York offers up Trump's state tax returns–but House Ways and Means Chairman Richard Neal stands in the way, Accounting Today, Laura Davison, Wednesday, 5 June 2019: "House Democrats clamoring for Donald Trump's tax information have eagerly awaited a newly passed New York law allowing limited access to the president's state returns. They're about to be sorely disappointed. House Ways and Means Chairman Richard Neal would be the only Democrat allowed by the new law to ask for the documents, but so far he has said he won't do it. Neal has said he fears that getting the state returns would bolster Trump administration arguments that Congress is on a political fishing expedition — and not, as Neal has claimed, overseeing the Internal Revenue Service's annual audits of the president. Yet some of Neal's colleagues have little interest in legal nuance and say the state tax returns are better than none at all. They're pointing to the measure passed recently by the New York State Legislature, which Governor Andrew Cuomo is widely expected to sign. 'Whatever it takes to get it — I'm for it,' said House Financial Services Committee Chairwoman Maxine Waters, a California Democrat. 'I believe that the president of the United States should follow the tradition of other presidents and reveal his tax returns.'"
Trump Administration Sharply Curtails Fetal Tissue Medical Research, The New York Times, Abby Goodnough, Wednesday, 5 June 2019: "The Trump administration announced Wednesday that the federal government would sharply curtail federal spending on medical research that uses tissue from aborted fetuses. The move fulfills a top goal of anti-abortion groups that have lobbied hard for it, but scientists say the tissue is crucial for studies that benefit millions of patients…. Lawrence O. Gostin, a professor specializing in public health law at Georgetown University, said the new restrictions would 'devastate' crucial medical research. 'It will affect everything from cures for cancer and H.I.V. through to Parkinson's and dementia,' Mr. Gostin said. 'The ban on fetal tissue research is akin to a ban on hope for millions of Americans suffering from life threatening and debilitating diseases. It will also severely impact the National Institutes of Health, universities, and other researchers, who will lose key funding for their laboratories and their vital work.'" See also, New restriction on fetal tissue research 'was the president's decision,' The Washington Post, Amy Goldstein, Wednesday, 5 June 2019: "The Trump administration on Wednesday ended funding of medical research by government scientists using fetal tissue and canceled a multimillion-dollar contract for a university laboratory that relies on the material to test new HIV therapies. The determination to tighten federal support for an ideologically polarizing aspect of medical research was made by President Trump himself, a White House spokesman confirmed."
Donald Trump tells Prince Charles the US has 'clean climate,' The Guardian, Matthew Weaver and Kate Lyons, Wednesday, 5 June 2019: "Prince Charles spent 75 minutes longer than scheduled trying to convince Donald Trump of the dangers of global heating, but the president still insisted the US was 'clean' and blamed other nations for the crisis. Trump told ITV's Good Morning Britain on Wednesday he had been due to meet the Prince of Wales for 15 minutes during his state visit, but the discussion went on for 90 minutes – during which the prince did 'most of the talking.'… Trump said he pushed back at the suggestion the US should do more. He said: … 'Well, the United States right now has among the cleanest climates there are based on all statistics. And it's even getting better because I agree with that we want the best water, the cleanest water. It's crystal clean, has to be crystal clean clear.' Trump added: 'China, India, Russia, many other nations, they have not very good air, not very good water, and the sense of pollution. If you go to certain cities … you can't even breathe, and now that air is going up … They don't do the responsibility.' Asked by Piers Morgan if he accepted the science on climate change, Trump said: 'I believe there's a change in weather, and I think it changes both ways.'" See also, Trump, pressed on the environment in U.K. visit, says climate change goes 'both ways,' The Washington Post, Isaac Stanley-Becker, Wednesday, 5 June 2019. See also, Trump's parade of false claims overseas, The Washington Post, Glenn Kessler, published on Thursday, 6 June 2019.
Russia's manipulation of Twitter was far vaster than believed, Politico, Tim Starks, Laurens Cerulus, and Mark Scott, Wednesday, 5 June 2019: "Russia's infamous troll farm conducted a campaign on Twitter before the 2016 elections that was larger, more coordinated and more effective than previously known, research from cybersecurity firm Symantec [published on] Wednesday concluded. The Internet Research Agency campaign may not only have had more sway — reaching large numbers of real users — than previously thought, it also demonstrated ample patience and might have generated income for some of the phony accounts, Symantec found."
Trump says transgender troops can't serve because troops can't 'take any drugs.' He's wrong in many ways. The Washington Post, Aaron Blake, Wednesday, 5 June 2019: "Two years after President Trump announced his transgender military ban and two months after a version of it went into effect, he offered a new and rather novel justification for it, one he seems to have invented whole cloth. Appearing on 'Good Morning Britain' in an interview with his friend Piers Morgan, Trump said that transgender troops can't serve because they need certain drugs, and that the U.S. military bans service members from taking drugs. 'Because they take massive amounts of drugs, they have to — and also, and you're not allowed to take drugs,' he said. 'You're in the military, you're not allowed to take any drugs.' Referring to people who have gender reassignment surgery, he added: 'They have no choice; they have to. And you would actually have to break rules and regulations to have that.' Although Trump has in the past cited the cost of gender reassignment surgery to justify his transgender troop ban — a case he again made in this interview — this appears to be the first time he has cited a prohibition on members of the military taking drugs. Experts say it's not true that service members are 'not allowed to take any drugs' or that they can't take the specific drugs used for gender reassignment. 'This statement is incorrect,' said Jane Schacter, an expert on gender and sexuality law at Stanford University. 'Many members of the military use prescription medication, and it is made available to them worldwide. Hormone therapy, in particular, is prescribed, including to manage the gynecological needs of non-transgender service members.'"
Trump Sets Off Fireworks of a Different Sort With Fourth of July Speech Plan, The New York Times, Peter Baker, Wednesday, 5 June 2019: "Since early in his tenure, President Trump has sought to stage a military parade through the heart of Washington, only to be thwarted. So now he has settled on the next best thing: He will take over an existing patriotic display in the capital. The Trump administration has ordered major changes in the traditional Fourth of July celebration that draws hundreds of thousands of people to the National Mall each year — with Mr. Trump personally taking a starring role as no other president has in modern times."
Pelosi tells Democrats she wants to see Trump 'in prison,' Politico, Heather Caygle, Wednesday, 5 June 2019: "Speaker Nancy Pelosi told senior Democrats that she'd like to see President Donald Trump 'in prison' as she clashed with House Judiciary Chairman Jerry Nadler in a meeting on Tuesday night over whether to launch impeachment proceedings. Pelosi met with Nadler (D-N.Y.) and several other top Democrats who are aggressively pursuing investigations against the president, according to multiple sources. Nadler and other committee leaders have been embroiled in a behind-the-scenes turf battle for weeks over ownership of the Democrats' sprawling investigation into Trump. Nadler pressed Pelosi to allow his committee to launch an impeachment inquiry against Trump — the second such request he's made in recent weeks only to be rebuffed by the California Democrat and other senior leaders. Pelosi stood firm, reiterating that she isn't open to the idea of impeaching Trump at this time. 'I don't want to see him impeached, I want to see him in prison,' Pelosi said, according to multiple Democratic sources familiar with the meeting. Instead of impeachment, Pelosi still prefers to see Trump defeated at the ballot box and then prosecuted for his alleged crimes, according to the sources." See also, House Speaker Nancy Pelosi tells colleagues she wants to see Trump 'in prison,' not impeached, The Washington Post, Rachael Bade and John Wagner, published on Thursday, 6 June 2019: "House Speaker Nancy Pelosi is moving quickly to quell impeachment talk in her Democratic caucus, telling colleagues she wants to see President Trump 'in prison' but not impeached and greenlighting a contempt resolution for the attorney general aimed at placating frustrated Democrats. Pelosi (D-Calif.) told five of her committee chairmen Tuesday night during their weekly check-in about the status of investigations that she would rather see Trump defeated in 2020 and facing charges of a crime after leaving office — than impeached and acquitted by the Republican-led Senate."
Stanford group calls for major overhaul on election security. Here are their recommendations. The Washington Post, Joseph Marks, Thursday, 6 June 2019: "A plan released this week by a Stanford University group that includes former top government and tech industry officials aims to be the equivalent of the 9/11 Commission report for election security. Like the 9/11 report, which fundamentally reorganized the nation's homeland security and intelligence structure after the Sept. 11, 2001, terrorist attacks, 'Securing American Elections' aims big. It argues Russia's 2016 election interference operation was an attack on fundamental American values, and should provoke the government and private sector to step up 'defenses against efforts to erode confidence in democracy.' The report's 108 pages include 45 recommendations ranging from securing voting systems and combating online disinformation campaigns to negotiating major election security norms with allies and punishing adversaries who violate them."
Judge declines to rule immediately on new evidence in census citizenship case, The Washington Post, Tara Bahrampour, Wednesday, 5 June 2019: "A federal judge said he needs to see a more formal motion before he decides on whether to sanction Trump administration officials for misconduct in lawsuits over their addition of a citizenship question to the 2020 Census, dashing the hopes of opponents of the question who had hoped he would rule before a Supreme Court decision on the case. Judge Jesse Furman addressed an overflowing Manhattan courtroom in the U.S. District Court for the Southern District of New York six days after plaintiffs' lawyers in the case had asked him to consider sanctions based on new evidence suggesting defendants may have misled the court about the origins of the question."
An Orwellian Tale? Trump Denies, Then Confirms, 'Nasty' Comments About Meghan Markle, The New York Times, Katie Rogers, Wednesday, 5 June 2019: "By the time he left London on Wednesday, President Trump somehow ended his state visit there a full 360 degrees from where he started. Which was referring to the Duchess of Sussex, the American-born Meghan Markle, as 'nasty.' Assessing the perceived degree of nastiness of the duchess in an interview before he left the United States kick-started an Orwellian saga — one that the president single-handedly created, forcefully denied and then revived again just before jetting off for the next leg of his European tour."
What the Horror of 'Chernobyl' Reveals About the Deceit of the Trump Era, The Intercept, Peter Maass, Wednesday, 5 June 2019: "The theme of lies — the destruction of truth by a regime devoted to self-preservation — pervades 'Chernobyl' in a way that is wildly relevant to America in the age of birtherism, Sarah Sanders, and 'very fine people' who are neo-Nazis. The corollary is unmistakable. At one point, an engineer who is partly culpable for the nuclear accident tells an investigator that her search for honesty, and his desire to avoid a firing squad, are futile. 'You think the right question will get you the truth?' he says. 'There is no truth. Ask the bosses whatever you want. You will get the lie, and I will get the bullet.' 'Chernobyl' can be considered the best political film of our times because it illuminates a core problem of the Trump era: the nonstop jackhammer of falsehoods that are drowning out what's true. The risk is that Americans who are inundated with moral rubbish from the White House and Fox News may lose the will to care about the difference between right and wrong, echoing what happened in the Soviet Union. When everything becomes gray and sluggish, there is no battle worth fighting."
Securities and Exchange Commission adopts rules requiring brokers to put customers' interests above their own. Advocates say it won't protect consumers. The Washington Post, Renae Merle, Wednesday, 5 June 2019: "Wall Street scored another major victory Wednesday over Obama-era regulations. The Securities and Exchange Commission approved a rule requiring brokers to not put their own interests before those of their clients. But the rule falls short of what many consumer advocates say is necessary to address conflicts of interest that permeate Wall Street and is far weaker than a rule adopted during the Obama administration."
North Carolina Legislature Fails to Overturn Governor's Veto of Anti-Abortion Bill, The New York Times, Richard Fausset, Wednesday, 5 June 2019: "In a rare defeat for anti-abortion activists in the South, North Carolina Republicans failed on Wednesday to overturn a veto of a bill that would have made it a crime to not treat 'any infant born alive after an abortion.' Gov. Roy Cooper, a Democrat, rejected the Senate bill days after it passed both Republican-held chambers in April, noting then that the measure was an 'unnecessary interference between doctors and their patients' and would have criminalized a 'practice that simply does not exist.' Doctors are already held to a 2002 federal law that protects fetuses that survive abortions. In a statement on Wednesday, Mr. Cooper reiterated his position that the bill, the so-called Born-Alive Survivors Protection Act, was redundant."
Michigan agrees to make it easier for college students to vote, The Washington Post, Amy Gardner, Wednesday, 5 June 2019: "The state of Michigan has agreed to help college students vote while away at school — a key victory ahead of the 2020 presidential election for Democrats who sued last year to overturn a law that made it harder for students to vote. Michigan's Democratic secretary of state, Jocelyn Benson, announced Wednesday that her office will launch a major educational effort to help students register to vote at their campus addresses. The announcement was part of a settlement with several groups of College Democrats that had sued to overturn a requirement that voters may vote only at the address listed on their driver's licenses."
Thursday, 6 June 2019, Day 869:
Joe Biden Denounces Hyde Amendment, Reversing His Position, The New York Times, Katie Glueck, Thursday, 6 June 2019:  "After two days of intense criticism, Joseph R. Biden Jr. reversed himself Thursday night on one of the issues most important to Democratic voters, saying he no longer supports a measure that bans federal funding for most abortions. As recently as Wednesday, Mr. Biden's campaign had said he supported the measure, known as the Hyde Amendment. His decision to change positions illustrates the intense pressure he faces as the presumed front-runner for the Democratic nomination for president." See also, Joe Biden reverses position on federal funding of abortion after Democratic outcry, The Washington Post, Colby Itkowitz, Thursday, 6 June 2019: "In a dramatic reversal, Democratic presidential candidate Joe Biden said Thursday he no longer supports a ban on federal funding for abortions, known as the Hyde Amendment, a move he announced after a day of sharp criticism from campaign rivals and key Democratic interest groups. The former vice president announced the change during a speech at the Democratic National Committee's African American Leadership Council summit in Atlanta, telling the crowd that, in an environment where the Roe v. Wade decision on abortion is under attack in Republican-held states, he could no longer support a policy that limits funding. 'We've seen state after state including Georgia passing extreme laws,' Biden said. 'It's clear that these folks are going to stop at nothing to get rid of Roe.'" See also, What Is the Hyde Amendment? A Look at Its Impact and History. The New York Times, Maggie Astor, published on Friday, 7 June 2019.
Mexico aims to avoid tariffs with potential deal limiting migrants going north, allowing U.S. to deport Central American asylum seekers, The Washington Post, Nick Miroff, David J. Lynch, and Kevin Sieff, Thursday, 6 June 2019: "U.S. and Mexican officials are discussing the outlines of a deal that would dramatically increase Mexico's immigration enforcement efforts and give the United States far more latitude to deport Central Americans seeking asylum, according to a U.S. official and a Mexican official who cautioned that the accord is not final and that President Trump might not accept it. Faced with Trump's threat to impose steadily rising tariffs on goods imported from Mexico beginning Monday, Mexican officials have pledged to deploy up to 6,000 national guard troops to the area of the country's border with Guatemala, a show of force they say will immediately reduce the number of Central Americans heading north toward the U.S. border. The plan, a sweeping overhaul of asylum rules across the region, would require Central American migrants to seek refuge in the first country they enter after leaving their homeland, the two officials said. For Guatemalans, that would be Mexico. For migrants from Honduras and El Salvador, that would be Guatemala, whose government held talks last week with acting Homeland Security secretary Kevin McAleenan. Any migrants who made it to the U.S. border generally would be deported to the appropriate third country. And any migrants who express a fear of death or torture in their home country would be subjected to a tougher screening standard by U.S. asylum officers more likely to result in rejection." See also, Mexico and the U.S. Have Made Progress Toward Averting Tariffs, The New York Times, Michael D. Shear and Azam Ahmed, Thursday, 6 June 2019: "Mexico and the United States are discussing significant changes in asylum rules and border enforcement that could forestall President Trump from imposing tariffs on all Mexican imports, senior officials from both countries said Thursday. The changes under consideration would give the United States a greater ability to reject requests for entry from migrant families fleeing violence in Central America, according to those officials. Under the new arrangement, migrants would be required to seek asylum in the first foreign country they enter after leaving their homes." See also, The President's 'Emergency' Tariffs on Mexican Goods, Explained, The New York Times, Charlie Savage, Thursday, 6 June 2019: "Congressional Republicans have suggested that they might join Democrats in pushing back against President Trump's vow to use emergency powers to impose a sharp tax increase on Americans when they buy Mexican goods, unless and until the Mexican government does more to stop migrants from reaching and illegally crossing the American border. Mr. Trump's threat to impose tariffs on Mexican goods would be his latest unorthodox use of standby authorities that Congress has delegated to the presidency for exigent circumstances, a set of unilateral powers he has been invoking with increasing aggression to bypass the legislative branch. It would be a change if significant numbers of congressional Republicans follow through on their vows to stand up to the president — and for the role of Congress as an equal branch of government — by voting to block his move, instead of acquiescing to it as they have before."
House Democratic leaders to give chairmen broad power to enforce subpoenas, Politico, Kyle Cheney and Andrew Desiderio, Thursday, 6 June 2019: "House Democratic leaders are preparing to grant sweeping authority to committee chairs to sue the Trump administration over its refusal to comply with congressional demands for information — from President Donald Trump's tax returns to former special counsel Robert Mueller's underlying files. The draft resolution, which the House will consider on Tuesday, formally holds Attorney General William Barr and former White House counsel Don McGahn in contempt of Congress for defying House Judiciary Committee subpoenas seeking Mueller's unredacted report, its underlying evidence, and additional witness testimony. But the most dramatic proposal will empower the chairs of all House committees to initiate legal action each time a witness or administration official defies a committee subpoena, a move to streamline and speed up the House's ability to respond to a mounting list of confrontations with the White House. Under the proposal, committee chairs seeking to enforce its subpoenas in federal court would still be required to obtain the approval of a bipartisan — but Democrat-controlled — panel of House leaders that includes Speaker Nancy Pelosi, Majority Leader Steny Hoyer, Majority Whip Jim Clyburn, Minority Leader Kevin McCarthy and Minority Whip Steve Scalise."
Departments of Justice and Commerce reject Democratic subpoenas for census documents, Politico, Andrew Desiderio, Thursday, 6 June 2019: "The Justice and Commerce departments on Thursday rejected House Democratic demands for more documents about the addition of a citizenship question to the 2020 census, likely leading to contempt citations for Attorney General William Barr and Commerce Secretary Wilbur Ross. In a letter to Oversight and Reform Committee Chairman Elijah Cummings (D-Md.), Assistant Attorney General Stephen Boyd said the documents the panel subpoenaed are protected by attorney-client privilege and therefore cannot be disclosed."
Democrats Urge Secretary of State Mike Pompeo to End Policy Used to Deny Citizenship to Children of Gay Couples, The New York Times, Sarah Mervosh, Thursday, 6 June 2019: "Nearly 20 Democratic senators and 80 members of the House of Representatives signed sharply worded letters that were sent to Secretary of State Mike Pompeo on Thursday, calling on his department to reverse a policy that has been used to deny citizenship to children of Americans born abroad through assisted reproductive technology."
More Americans were shot to death by March 6 this year than died on D Day, The Washington Post, Philip Bump, Thursday, 6 June 2019: "A 19-year-old in Delaware, a 25-year-old in Columbus, Ohio, a 33-year-old in California, and a 64-year-old in Indiana. They are among the 29 people fatally shot in the United States on March 6. Meaning that any one of them might have been the shooting death that pushed the year's total past the number of deaths suffered by American forces during the invasion of Normandy on June 6, 1944. On Thursday, Americans remembered those killed on D-Day, 75 years back. It was a day of enormous heroism that was critical in turning back Nazi Germany's attempt to conquer Europe. Thousands of Americans, Canadians, Australians and soldiers from other countries were part of the largest amphibious invasion force in history. Some 2,501 Americans gave their lives that day, according to historic estimates. Another 1,913 soldiers from other Allied countries also died, bringing the total death toll from the immediate invasion to 4,414. It took until late April before the number of people killed by guns in the United States in 2019 topped that number, according to data collected by the Gun Violence Archive. (This data excludes suicides.)"
Files of Deceased Strategist Thomas Hofeller Detail Republican Gerrymandering in North Carolina, Advocates Say, The New York Times, Michael Wines, Thursday, 6 June 2019: "When the hard drives of a deceased Republican strategist revealed new evidence last week about the Trump administration's decision to add a citizenship question to the 2020 census, many people wondered whether the files hid other revelations. On Thursday, in a county court in Raleigh, N.C., they got an answer: there is potentially much more. The late strategist, Thomas Hofeller, was the mastermind behind the G.O.P.'s gerrymandering strategy, and left behind four hard drives and 18 thumb drives containing more than 75,000 files that were found by his estranged daughter after his death in August. The advocacy group Common Cause said in court documents submitted in Raleigh on Thursday that the Hofeller files include new evidence showing how North Carolina Republicans misled a federal court to prolong the life of their map of state legislative districts, which had been ruled unconstitutional."
How a watchdog whitewashed its oversight of FEMA's disaster response with 'feel good' reports, The Washington Post, Lisa Rein and Kimberly Kindy, Thursday, 6 June 2019: "After catastrophic floodwaters submerged wide stretches of southern Louisiana in 2016, displaced homeowners and officials criticized the federal recovery effort as dangerously slow, leaving thousands of people homeless for months. Auditors in the Department of Homeland Security inspector general's office confirmed problems with the Federal Emergency Management Agency's performance in Louisiana — and in 11 other states hit over five years by hurricanes, mudslides and other disasters. But the auditors' boss, John V. Kelly, instead directed them to produce what they called "feel-good reports" that airbrushed most problems and portrayed emergency responders as heroes overcoming vast challenges, according to interviews and a new internal review…. Now the oversight agency, which evaluates the performance of FEMA and the rest of Homeland Security, has turned the spotlight on itself. Last month it released a 14-month internal review of how Kelly, a career government auditor who rose to acting inspector general in late 2017, chose to flatter FEMA's staff in some reports, instead of holding them accountable."
Michael Bloomberg Promises $500 Million to Help End Coal, The New York Times, Lisa Friedman, Thursday, 6 June 2019: "Michael R. Bloomberg, the former mayor of New York City, will donate $500 million to a new campaign to close every coal-fired power plant in the United States and halt the growth of natural gas, his foundation said Thursday. The new campaign, called Beyond Carbon, is designed to help eliminate coal by focusing on state and local governments. The effort will bypass Washington, where Mr. Bloomberg has said national action appears unlikely because of a divided Congress and a president who denies the established science of climate change."
Automakers Tell Trump His Pollution Rules Could Mean 'Untenable' Instability and Lower Profits, The New York Times, Coral Davenport, Thursday, 6 June 2019: "The world's largest automakers warned President Trump on Thursday that one of his most sweeping deregulatory efforts — his plan to weaken tailpipe pollution standards — threatens to cut their profits and produce "untenable" instability in a crucial manufacturing sector. In a letter signed by 17 companies including Ford, General Motors, Toyota and Volvo, the automakers asked Mr. Trump to go back to the negotiating table on the planned rollback of one of President Barack Obama's signature policies to fight climate change."
Senators Ask Federal Reserve to Review Trump's Deutsche Bank Transactions, The New York Times, David Enrich, Thursday, 6 June 2019: "A group of Democratic senators wants top officials at the Federal Reserve to examine whether Deutsche Bank complied with anti-money-laundering and other laws after bank employees flagged transactions tied to President Trump as potentially suspicious. The request, in a letter sent Thursday, was in response to a New York Times article that said specialists at Deutsche Bank had recommended that transactions by legal entities controlled by Mr. Trump and his son-in-law, Jared Kushner, be reported to a federal financial-crime regulator. Managers at the bank rejected their employees' advice and did not alert the government. The letter to the Fed chairman, Jerome H. Powell, and John C. Williams, the president of the Federal Reserve Bank of New York, called on the Fed to look into the transactions and whether the bank's handling of the matter adhered to anti-money-laundering laws. The Fed is one of the main regulators of Deutsche Bank's American operations."
A wealthy Iraqi sheikh who urges a hard-line U.S. approach to Iran spent 26 nights at Trump's D.C. hotel, The Washington Post, Joshua Partlow, David A. Fahrenthold, and Taylor Luck, Thursday, 6 June 2019: "In July, a wealthy Iraqi sheikh named Nahro al-Kasnazan wrote letters to national security adviser John Bolton and Secretary of State Mike Pompeo urging them to forge closer ties with those seeking to overthrow the government of Iran. Kasnazan wrote of his desire 'to achieve our mutual interest to weaken the Iranian Mullahs regime and end its hegemony.' Four months later, he checked into Trump International Hotel in Washington and spent 26 nights in a suite on the eighth floor — a visit estimated to have cost tens of thousands of dollars. It was an unusually long stay at the expensive hotel. The Washington Post obtained the establishment's 'VIP Arrivals' lists for dozens of days last year, including more than 1,200 individual guests. Kasnazan's visit was the longest listed."
Trump Honors War Dead–but First a Word About Mueller and Pelosi, The New York Times, Maggie Haberman, Thursday, 6 June 2019: "With marble crosses and Stars of David marking the graves of those who died fighting the Nazis on D-Day visible in the background, President Trump used the occasion of the 75th anniversary of the invasion of Normandy to bash the special counsel, Robert S. Mueller III, in an interview with Fox News. 'He made such a fool out of himself,' Mr. Trump told the interviewer, Laura Ingraham, in a discussion taped minutes before the president stepped onto the dais with a few dozen surviving D-Day veterans on Thursday…. Mr. Mueller was not the only adversary to fall into Mr. Trump's cross hairs as he carried politics with him beyond the water's edge. He also used the Fox interview to criticize the House speaker, Nancy Pelosi, who also attended the D-Day commemoration. A day earlier, Politico reported that Ms. Pelosi had told her Democratic colleagues who want to see Mr. Trump face impeachment proceedings that she would rather see him lose — and then be indicted and put 'in prison.' 'Nancy Pelosi is a disaster,' Mr. Trump said, dismissing her as 'Nervous Nancy' and declaring, 'Let her do what she wants.'" See also, At site of D-Day ceremony, Trump calls Mueller 'a fool,' says Pelosi is 'a disaster,' The Washington Post, John Wagner, Thursday, 6 June 2019:" President Trump on Thursday called former special counsel Robert S. Mueller III 'a fool' and derided House Speaker Nancy Pelosi as 'a disaster' during a television interview conducted at the site of a solemn ceremony in France commemorating the 75th anniversary of the D-Day invasion."