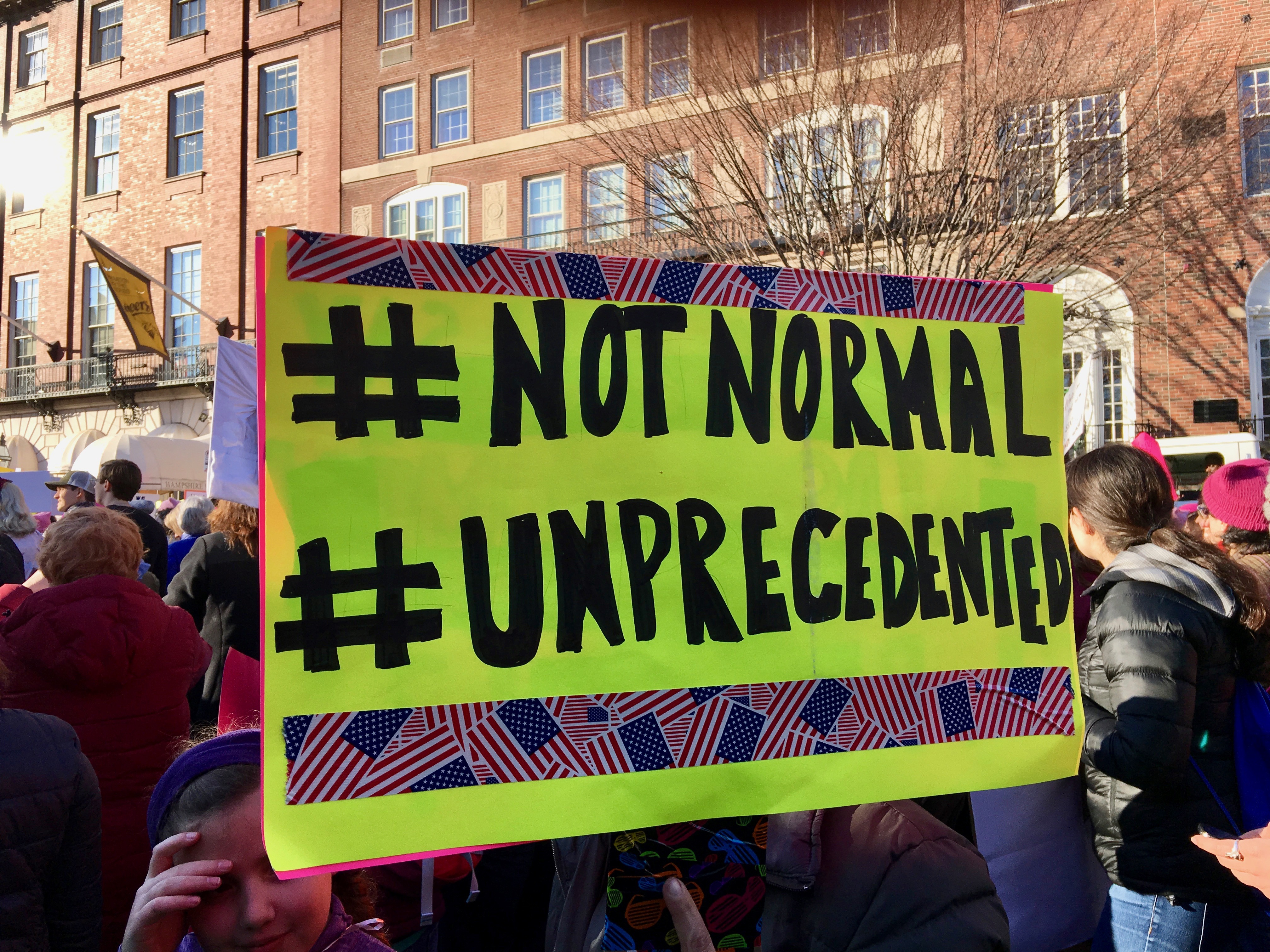 Passages in bold in the body of the texts below are my emphasis. This is an ongoing project, and I update the site frequently. Because I try to stay focused on what has actually happened, I usually let the news 'settle' for a day or so before posting. I hope readers will peruse the articles in full for a better understanding of the issues and their context; our democracy and our future depend on citizens who can distinguish between facts and falsehoods and who are engaged in the political process.
Friday, 15 February 2019, Day 757:
Trump Declares a National Emergency on the Border With Mexico and Provokes a Constitutional Clash, The New York Times, Peter Baker, Friday, 15 February 2019: "President Trump declared a national emergency on the border with Mexico on Friday in order to access billions of dollars that Congress refused to give him to build a wall there, transforming a highly charged policy dispute into a confrontation over the separation of powers outlined in the Constitution. Trying to regain momentum after losing a grinding two-month battle with lawmakers over funding the wall, Mr. Trump asserted that the flow of drugs, criminals and illegal immigrants from Mexico constituted a profound threat to national security that justified unilateral action. 'We're going to confront the national security crisis on our southern border, and we're going to do it one way or the other,' he said in a televised statement in the Rose Garden barely 13 hours after Congress passed a spending measure without the money he had sought. 'It's an invasion,' he added. 'We have an invasion of drugs and criminals coming into our country.' But with illegal border crossings already down and critics accusing him of manufacturing a crisis, he may have undercut his own argument that the border situation was so urgent that it required emergency action. 'I didn't need to do this, but I'd rather do it much faster,' he said. 'I just want to get it done faster, that's all.' The president's decision incited instant condemnation from Democrats, who called it an unconstitutional abuse of his authority and vowed to try to overturn it with the support of Republicans who also objected to the move. 'This is plainly a power grab by a disappointed president, who has gone outside the bounds of the law to try to get what he failed to achieve in the constitutional legislative process,' Speaker Nancy Pelosi of California and Senator Chuck Schumer of New York, the Democratic leader, said in a joint statement." See also, Trump's Rationale for a National Emergency Is Based on False or Misleading Claims, The New York Times, Linda Qiu, Friday, 15 February 2019: "As President Trump declared a national emergency on Friday to bypass Congress and build his long-promised wall, he again painted a portrait of a lawless, chaotic border and cited arguments about the effectiveness of the kind of barrier he has in mind that were not rooted in facts. Illegal border crossings have been declining for decades. While families are overwhelming an immigration system devised to handle single men, a border wall would not prevent them from seeking asylum, which is legal. Research does not show that immigrants commit more crimes than native-born Americans. And a wall would do little to prevent drugs and human trafficking at the border, as official ports of entry are the main route into the United States for both. Cumulatively, Mr. Trump's unsupported or misleading statements undercut his rationale for declaring an emergency, a step that is widely viewed as testing both constitutional and political norms and is sure to draw legal challenges." See also, Presidents Have Declared Dozens of National Emergencies, but None Like Trump's, The New York Times, Charlie Savage, Friday, 15 February 2019: "President Trump on Friday pointed to nearly five dozen previous instances in which presidents of both parties have declared emergencies as justification for his invocation of extraordinary powers to build his border wall. But there is no precedent for what he has just done. None of the times emergency powers have been invoked since 1976, the year Congress enacted the National Emergencies Act, involved a president making an end run around lawmakers to spend money on a project they had decided against funding. Mr. Trump, by contrast, is challenging the bedrock principle that the legislative branch controls the government's purse." See also, Trump Sings the Praises of Sean Hannity, Rush Limbaugh, Tucker Carlson, and Laura Ingraham in a Rose Garden News Conference, The New York Times, Edmund Lee, Friday, 15 February 2019: "President Trump reeled off a list of his favorite media personalities on Friday when asked who might have influenced his decision to declare a national emergency after Congress refused to give him money for a border wall. Sean Hannity, Rush Limbaugh, Tucker Carlson and Laura Ingraham — a powerful bloc of conservative voices who have railed against any budget compromise on wall funding — all received shout-outs in a Rose Garden news conference." See also, At a News Conference in the Rose Garden, Trump Follows Familiar Playbook When Confronted by a Loss: Distract and Digress, The New York Times, Annie Karni, Friday, 15 February 2019. See also, In a Divided Washington, Congress Averted a Government Shutdown–but at a Price, The New York Times, Glenn Thrush, Friday, 15 February 2019. See also, Key Takeaways From Trump's Decision to Use a National Emergency to Build a Border Wall, The New York Times, Michael Tackett, Friday, 15 February 2019. See also, Trump declares a national emergency on southern border in bid to build wall, The Washington Post, Damian Paletta, Mike DeBonis, and John Wagner, Friday, 15 February 2019: "President Trump on Friday declared the situation on the southern border of the United States to be a national emergency, catapulting the country into uncertain legal and political battles as he seeks to fulfill a campaign promise that eluded him for two years. He made the designation in an attempt to redirect taxpayer money from other accounts and use it to erect more than 230 miles of barriers along the U.S.-Mexico border. But Trump anticipates a flurry of legal challenges that will eventually be decided by the Supreme Court. Democrats are trying to paint the action as evidence of a rogue president who has finally gone too far, and they vowed to stop him." See also, Trump's bewildering national emergency press conference, annotated, The Washington Post, Aaron Blake and Transcript courtesy of Bloomberg Government, Friday, 15 February 2019: "President Trump declared a national emergency at the southern border on Friday — but not without making a scene full of false claims, offbeat comments and tense exchanges." See also, Fact-checking Trump's announcement of a national emergency, The Washington Post, Glenn Kessler and Meg Kelly, Friday, 15 February 2019: "Where to begin with President Trump's rambling news conference to announce he was invoking a national emergency to build a border wall? It was chock-full of false and misleading claims, many of which we've previously highlighted, either in our database of Trump claims or our list of Bottomless Pinocchios. Here's a summary of 14 of the most noteworthy claims, starting with immigration ones first." See also, 'I didn't need to do this': Trump just kneecapped his own case for a 'national emergency,' The Washington Post, Aaron Blake, Friday, 15 February 2019: "The idea that the situation at the border is truly a "national emergency" already strained credulity. And at Friday's news conference, President Trump might have just erased any doubt about his true motivation. In the Rose Garden, Trump issued the national emergency declaration he has been threatening for more than a month. In the process, he basically admitted he doesn't even really see the situation at the border as an emergency. The key quote came when the Q&A portion started. Trump was challenged by NBC's Peter Alexander on why he couldn't bend Congress to his will — as he previously said a president should be able to do — rather than take unilateral action. 'I didn't need to do this,' Trump said. 'But I'd rather do it much faster.'… If it's truly an emergency, how can you say you didn't need to declare an emergency? Trump basically admitted that this was a choice for him — a matter of expediency, quite literally — and not something required by events on the ground." See also, 'A tremendous job': Trump uses national emergency announcement to defend his presidency in a Rose Garden news conference, The Washington Post, Jenna Jonson and Toluse Olorunnipa, Friday, 15 February 2019. See also, What exactly is a national emergency? Here's what that means and what happens next. The Washington Post, Deanna Paul and Colby Itkowitz, Friday, 15 February 2019. See also, Trump declares national emergency to build US-Mexico border wall, The Guardian, David Smith, Friday, 15 February 2019. See also, Frustrated Trump lashes out after border wall defeat, Politico, Anita Kumar and Caitlin Oprysko, Friday, 15 February 2019: "President Donald Trump met his day of defeat with a list of grievances. He lashed out at Congress for denying him the money to build a border wall. He called his Democratic rivals liars. He blasted former Republican House Speaker Paul Ryan for inaction when the GOP controlled Congress. And, of course, he criticized the media for alleged bias and indifference to a 'crisis' on the U.S.-Mexico border. In short, Trump blamed almost everyone but himself as he formally announced he was going around Congress to direct more than $6 billion to construct or repair as many as 234 miles of a border barrier." See also, Trump's Bizarre, Rambling Announcement of a National Emergency, The Atlantic, David A. Graham, Friday, 15 February 2019: "After failing for two years to persuade Congress to fund a wall on the southern border, President Donald Trump on Friday said he will declare a national emergency and reallocate some $8 billion to build the wall through executive fiat. Trump announced the move in a rambling, free-associative appearance in the White House Rose Garden that was more MAGA rally than presidential announcement. Even by the standards of this president, his remarks were confusing, untruthful, and often off topic, with strange ad-hominem attacks on other politicians and sharp exchanges with reporters. Despite claiming that the nation faces an acute crisis that requires immediate attention, the president meandered through a long preamble about trade deals and North Korea. When he finally got to the point, he struggled to stay focused." See also, Read Trump's Speech Declaring a National Emergency, The Atlantic, Olivia Paschal, Friday, 15 February 2019. See also, National Emergency Powers and Trump's Border Wall, Explained, The New York Times, Charlie Savage, published on Monday, 7 January 2019 and updated on Thursday, 14 February 2019. See also, Trump Declares National Emergency Over Wall, Inviting Likely court Fight, The Wall Street Journal, Rebecca Ballhaus, Friday, 15 February 2019: "Senate Majority Leader Mitch McConnell (R., Ky.) said he would support the declaration, but the move was met with opposition from other lawmakers in both parties, who called it unconstitutional or unnecessary…. Previous presidents have signed dozens of emergency declarations, including those related to the Sept. 11, 2001, terrorist attacks and sanctions, but not for initiatives that Congress declined to fund. In early signs of a broad legal fight ahead, California and New York state officials said they were planning legal challenges. The American Civil Liberties Union and advocacy group Public Citizen also announced that they had filed lawsuits against the emergency declaration."
Supreme Court takes up the Trump administration's plan to ask about citizenship in census, The Washington Post, Robert Barnes, Friday, 15 February 2019: "The Supreme Court added a politically explosive case to its docket Friday, agreeing to decide by the end of June whether the Trump administration can add a question about citizenship to the 2020 Census form sent to every American household. The census hasn't asked the question of each household since 1950, and a federal judge last month stopped the Commerce Department from adding it to the upcoming count. He questioned the motives of Commerce Secretary Wilbur Ross and said the secretary broke a 'veritable smorgasbord' of federal rules by overriding the advice of career officials. Ross has maintained that the information is important for several reasons, including enforcement of the Voting Rights Act, and that he carefully considered the advantages and disadvantages of adding the question before making his decision. Those opposed to the question argue the census response rate will likely fall if households are asked whether undocumented immigrants are present and make less accurate the once-a-decade 'actual Enumeration' of the population required by the Constitution. That could mean fewer members of Congress for states with large immigrant populations and less money from federal programs." See also, Supreme Court to Hear Case on Census Citizenship Question, The New York Times, Adam Liptak, Friday, 15 February 2019: "The Supreme Court agreed on Friday to decide whether the Trump administration may add a question about citizenship to the 2020 census questionnaire that will be sent to every household in the nation. The court's move added a highly charged and consequential blockbuster to what had been a fairly sleepy term. The justices have mostly avoided controversy while they adjusted to the new conservative majority created by the arrival in the fall of Justice Brett M. Kavanaugh. The federal government has long gathered information about citizenship, but since 1950, it has not included a question on it in the forms sent once a decade to each household. Last month, a federal trial judge blocked the Commerce Department from adding the question, saying that the process that led to the decision was deeply flawed. The Supreme Court stepped in before any appeals court had ruled on the matter, and it put the case on an unusually fast track. The Supreme Court's speed was almost certainly a result of a looming deadline — the census forms are set to be printed in June." See also, The Supreme Court Will Decide if Census Citizenship Question Is Legal. Democrats Should Also Work to Block It. The Intercept, Sam Adler-Bell, Friday, 15 February 2019: "In a closed-door meeting Friday morning, the Supreme Court voted to fast-track review a lower court ruling that would have prevented the Trump administration from asking about citizenship on the 2020 census. Arguments in the case, the outcome of which could affect the balance of political and economic power in this country for years to come, are scheduled for the week of April 22. The last time the high court granted such a petition for expedited review, which bypasses the appeals court, was in 2004."
In the face of climate change, young people across Europe are protesting for their future, The Washington Post, Luisa Beck, Friday, 15 February 2019: "Tens of thousands of teenagers across Europe skipped school again Friday. They've been congregating weekly in streets, plazas and parks, but not for a concert or weekend adventure. They've gathered to show the grown-ups that they will no longer play by their rules, and to demand that adults protect their future from climate-change disasters. These teens are part of a movement that has spread across the European Union and is expanding globally." See also, 'The beginning of great change': Greta Thunberg hails school climate strikes, The Guardian, Jonathan Watts, Friday, 15 February 2019: "Greta Thunberg is hopeful the student climate strike on Friday can bring about positive change, as young people in more and more countries join the protest movement she started last summer as a lone campaigner outside the Swedish parliament. The 16-year-old welcomed the huge mobilisation planned in the UK, which follows demonstrations by tens of thousands of school and university students in Australia, Belgium, Germany, the United States, Japan and more than a dozen other countries…. Thunberg has risen rapidly in prominence and influence. In December, she spoke at the United Nations climate conference, berating world leaders for behaving like irresponsible children. Last month, she had similarly harsh words for the global business elite at Davos. She said: 'Some people, some companies, some decision-makers in particular, have known exactly what priceless values they have been sacrificing to continue making unimaginable amounts of money. And I think many of you here today belong to that group of people.' The movement she started has morphed and grown around the world, and, at times, linked up with older groups, including Extinction Rebellion, 350.org and Greenpeace. Next week she will take the train – having decided not to fly due to the high carbon emissions of aviation – to speak at an event alongside Jean-Claude Juncker, the president of the European commission, in Brussels, and then on to Paris to join the school strikes now expanding in France."
Continue reading Week 109, Friday, 15 February – Thursday, 21 February 2019 (Days 757-763)
New Jersey Attorney General Seeks Records From Trump Inaugural, The New York Times, Maggie Haberman and Sharon LaFraniere, Friday, 15 February 2019: "New Jersey's attorney general has stepped into the investigation of President Trump's $107 million presidential inaugural fund, issuing an administrative subpoena for the fund's financial records, including any that document fund-raising in the state. The action, taken last week by the state's consumer protection office, came on the heels of a subpoena issued this month by federal prosecutors in Manhattan. Federal investigators are examining whether all donations to the fund were reported, as required, and whether any foreigners illegally contributed money using Americans as straw donors. The New Jersey subpoena also demands records of any contributions made on behalf of foreigners, who are barred from contributing to inaugural funds, campaigns or political action committees in the United States. It also covers audits, contracts with vendors, documents related to the nonprofit organization's tax status, and any records of advertisements, direct mailings or fund-raising events in New Jersey. Unlike the earlier subpoena from the United States attorney's office in the Southern District of New York, the New Jersey request does not name any individuals or companies."
House Oversight Committee Chairman Elijah E. Cummings (Democrat-Maryland) says Trump's lawyers gave shifting explanations to federal ethics officials about Trump's reimbursement of hush-money payment to Michael Cohen, The Washington Post, David A. Fahrenthold and Tom Hamburger, Friday, 15 February 2019: "House Oversight Committee Chairman Elijah E. Cummings (D-Md.) on Friday said President Trump's lawyers gave shifting explanations to federal ethics officials about Trump's reimbursement of a payment Michael Cohen made to an adult-film actress before the 2016 election, calling on the White House to turn over documents related to the transaction. In a letter to White House counsel Pat Cipollone, Cummings said documents his committee obtained from the federal Office of Government Ethics show that lawyers for Trump offered 'evolving stories' about the president's payments to Cohen, his longtime personal attorney. OGE officials appeared skeptical of their explanations, Cummings wrote."
Former Massachusetts Governor William Weld Launches Long-Shot Primary Challenge to Trump, The Wall Street Journal, Ken Thomas, Friday, 15 February 2019: "Former Massachusetts Gov. William Weld said Friday he is forming a presidential exploratory committee to challenge President Trump in the Republican primaries, offering a blistering critique of the president in a long-shot bid to deny him a second term. Mr. Weld said at a breakfast in Bedford, N.H., that he could no longer sit on the sidelines and that the nation needed a 'mid-course correction' led by leaders who 'know that character counts. We cannot sit passively as our precious democracy slips quietly into darkness. Congress must do its duty and as citizens, we must do ours,' Mr. Weld said." See also, Bill Weld Will Challenge Trump for 2020 Republican Nomination, The New York Times, Alexander Burns, Friday, 15 February 2019: "William F. Weld, the maverick former governor of Massachusetts, announced on Friday that he would form an exploratory committee to challenge President Trump for the Republican Party's 2020 nomination, presenting himself as a dissident voice in a political party that has abandoned its mainstream roots."
Entire families of asylum seekers are being returned to Mexico, leaving them in limbo, The Washington Post, Sarah Kinosian and Kevin Sieff, Friday, 15 February 2019: "When the United States sent a handful of families seeking asylum back to Mexico on Wednesday, it marked a new chapter in America's changing asylum policy. For the first time, parents with children will have to wait in border cities like this while their claims are processed. For the Trump administration, it was a major step in an effort to roll back the so-called 'catch-and-release' policy that allows migrant families to wait with relatives in the United States until their court dates. But for the families, who are now waiting in Tijuana shelters, it presents an enormous challenge. Many have no plan for where to live, let alone access to lawyers. 'During the interview, when the [asylum] officer said I had to wait in Mexico, I started crying. My youngest son said, "Mama, don't cry," but I couldn't stop,' said a woman who identified herself only by her middle name, Esmerelda. She was one of the mothers who was turned back Wednesday as a part of the new policy. She said she and her three children fled El Salvador after the country's powerful 18th Street gang tried to recruit her 11-year-old son."
Impeach Donald Trump: Starting the process will rein in a president who is undermining US ideals–and bring the debate about his fitness for office into Congress, where it belongs, The Atlantic, Yoni Appelbaum, March 2019 issue, but published online in January/February 2019: "[Trump] has mounted a concerted challenge to the separation of powers, to the rule of law, and to the civil liberties enshrined in our founding documents. He has purposefully inflamed America's divisions. He has set himself against the American idea, the principle that all of us—of every race, gender, and creed—are created equal. This is not a partisan judgment. Many of the president's fiercest critics have emerged from within his own party. Even officials and observers who support his policies are appalled by his pronouncements, and those who have the most firsthand experience of governance are also the most alarmed by how Trump is governing…. Impeachment … is a vital protection against the dangers a president like Trump poses. And, crucially, many of its benefits—to the political health of the country, to the stability of the constitutional system—accrue irrespective of its ultimate result. Impeachment is a process, not an outcome, a rule-bound procedure for investigating a president, considering evidence, formulating charges, and deciding whether to continue on to trial."
Saturday, 16 February 2019, Day 758:
German Chancellor Angela Merkel Rejects U.S. Demands That Europe Pull Out of Iran Nuclear Deal, The New York Times, Katrin Bennhold and Steven Erlanger, Saturday, 16 February 2019: "Chancellor Angela Merkel of Germany delivered a strong rejoinder on Saturday to American demands that European allies pull out of the Iran nuclear deal and gave a spirited defense of multilateral institutions in a world increasingly marked by great-power rivalry. In an uncharacteristically passionate speech, Ms. Merkel said the nuclear deal was the best way of influencing Iranian behavior on a range of non-nuclear issues, from missile development to terrorism. Without mentioning President Trump or the United States by name in what may be her last speech to this major security conference, Ms. Merkel criticized other unilateral moves, such as Mr. Trump's decision to pull American troops out of Syria, a suggestion that he would withdraw quickly from Afghanistan and his decision to suspend the Intermediate Range Missile Treaty with Russia, which directly affects European security…. Ms. Merkel spoke immediately before the United States vice president, Mike Pence, and addressed a packed auditorium with an audience that included Mr. Trump's daughter Ivanka, as well as the Russian foreign minister and a high-ranking Chinese official, who all pointedly remained seated when the chancellor received a standing ovation. Her reception was in sharp contrast to the polite near-silence that greeted Mr. Pence's address. Aware of a growing anxiety among European allies that the United States administration's erratic leadership stance was a threat to their security, the vice president came to Munich laser-focused on the Trump administration's message." See also, Trump's foreign policy is under attack from all sides at European security conference, The Washington Post, Griff Witte and Michael Birnbaum, Saturday, 16 February 2019: "An annual security conference where Western allies have long forged united fronts erupted Saturday into a full-scale assault on the Trump administration's foreign policy. European leaders, would-be Democratic challengers and even the president's Republican backers took the floor to rebuke the president's go-it-alone approach. German Chancellor Angela Merkel — habitually cautious about provoking Trump — led the charge, unleashing a stinging, point-by-point takedown of the administration's tendency to treat its allies as adversaries. The speech appeared to provide much-needed catharsis. Trump's antagonistic behavior has bred two years of accumulated grievance in much of Europe but has been met with few substantive answers on how to effectively challenge it. Merkel accused the United States of strengthening Iran and Russia with its plans for a speedy military pullout from Syria. She expressed shock that the Trump administration would deem BMWs made in South Carolina a threat to national security."
Time to Panic. The planet is getting warmer in catastrophic ways. And fear may be the only thing that saves us. The New York Times, David Wallace-Wells, Saturday, 16 February 2019: "The age of climate panic is here. Last summer, a heat wave baked the entire Northern Hemisphere, killing dozens from Quebec to Japan. Some of the most destructive wildfires in California history turned more than a million acres to ash, along the way melting the tires and the sneakers of those trying to escape the flames. Pacific hurricanes forced three million people in China to flee and wiped away almost all of Hawaii's East Island. We are living today in a world that has warmed by just one degree Celsius (1.8 degrees Fahrenheit) since the late 1800s, when records began on a global scale. We are adding planet-warming carbon dioxide to the atmosphere at a rate faster than at any point in human history since the beginning of industrialization. In October, the United Nations Intergovernmental Panel on Climate Change released what has become known as its 'Doomsday' report — 'a deafening, piercing smoke alarm going off in the kitchen,' as one United Nations official described it — detailing climate effects at 1.5 and two degrees Celsius of warming (2.7 and 3.6 degrees Fahrenheit). At the opening of a major United Nations conference two months later, David Attenborough, the mellifluous voice of the BBC's 'Planet Earth' and now an environmental conscience for the English-speaking world, put it even more bleakly: 'If we don't take action,' he said, 'the collapse of our civilizations and the extinction of much of the natural world is on the horizon.'"
How a New York 7th-grader's strike demanding action on climate change exploded into a movement, The Washington Post, Sarah Kaplan, Saturday, 16 February 2019: "On the ninth Friday of her strike, 13-year-old Alexandria Villasenor wakes to a dozen emails, scores of Twitter notifications, and good news from the other side of the planet: Students in China want to join her movement. Every week since December, the seventh-grader has made a pilgrimage to the United Nations Headquarters demanding action on climate change. She is one of a cadre of young, fierce and mostly female activists behind the 'school strikes for climate' movement. On March 15, with the support of some of the world's biggest environmental groups, tens of thousands of kids in at least two dozen countries and nearly 30 U.S. states plan to skip school to protest. Their demands are uncompromising: Nations must commit to cutting fossil-fuel emissions in half in the next 10 years to avoid catastrophic global warming. And their message is firm: Kids are done waiting for adults to save their world."
U.S. Masses Aid Along the Venezuelan Border as Some Humanitarian Groups Warn of Risks, NPR, John Otis, Saturday, 16 February 2019: "The U.S. effort to distribute tons of food and medicine to needy Venezuelans is more than just a humanitarian mission. The operation is also designed to foment regime change in Venezuela — which is why much of the international aid community wants nothing to do with it. Humanitarian operations are supposed to be neutral. That's why the International Committee of the Red Cross, United Nations agencies and other relief organizations have refused to collaborate with the U.S. and its allies in the Venezuelan opposition who are trying to force President Nicolás Maduro from power."
Sunday, 17 February 2019, Day 759:
Rift Between Trump and Europe Is Now Open and Angry, The New York Times, Steven Erlanger and Katrin Bennhold, Sunday, 17 February 2019: "European leaders have long been alarmed that President Trump's words and Twitter messages could undo a trans-Atlantic alliance that had grown stronger over seven decades. They had clung to the hope that those ties would bear up under the strain. But in the last few days of a prestigious annual security conference in Munich, the rift between Europe and the Trump administration became open, angry and concrete, diplomats and analysts say."
Senate Judiciary Committee Chair Lindsey Graham (Republican-South Carolina) says the committee will investigate former acting FBI director Andrew McCabe's claim that deputy attorney general Rod Rosenstein raised the possibility of ousting Trump through the 25th Amendment, The Washington Post, Felicia Sonmez, Sunday, 17 February 2019: "Senate Judiciary Committee Chairman Lindsey O. Graham (R-S.C.) said Sunday that his panel will investigate former acting FBI director Andrew McCabe's claim that Deputy Attorney General Rod J. Rosenstein raised the possibility of ousting President Trump through the 25th Amendment, calling the statement 'beyond stunning.' Graham was responding to comments made by McCabe in an interview with CBS News's '60 Minutes' set to air Sunday night." See also, Senator Lindsey Graham Vows to Investigate Whether 'Bureaucratic Coup' Tried to Oust Trump, The New York Times, Sheryl Gay Stolberg, Sunday, 17 February 2019: "Senator Lindsey Graham, the chairman of the Senate Judiciary Committee, vowed on Sunday to investigate whether the top officials at the Justice Department and the F.B.I. plotted an 'attempted bureaucratic coup' to remove President Trump from office, and said he would subpoena the former F.B.I. director and the deputy attorney general if necessary. Mr. Graham, Republican of South Carolina, was reacting to an interview in which the former F.B.I. deputy director, Andrew G. McCabe, confirmed an earlier New York Times report that the deputy attorney general, Rod J. Rosenstein, had suggested wearing a wire in meetings with Mr. Trump and that Justice Department officials had discussed recruiting cabinet members to invoke the 25th Amendment to remove Mr. Trump from office. Mr. Rosenstein has disputed the account." See also, Andrew McCabe: The full '60 Minutes' interview, CBS News, Sunday, 17 February 2019.
Monday, 18 February 2019, Day 760:
16 States Sue to Stop Trump's Use of Emergency Powers to Build Border Wall, The New York Times, Charlie Savage and Robert Pear, Monday, 18 February 2019: "A coalition of 16 states, including California and New York, on Monday challenged President Trump in court over his plan to use emergency powers to spend billions of dollars on his border wall. The lawsuit is part of a constitutional confrontation that Mr. Trump set off on Friday when he declared that he would spend billions of dollars more on border barriers than Congress had granted him. The clash raises questions over congressional control of spending, the scope of emergency powers granted to the president, and how far the courts are willing to go to settle such a dispute. The suit, filed in Federal District Court in San Francisco, argues that the president does not have the power to divert funds for constructing a wall along the Mexican border because it is Congress that controls spending. Xavier Becerra, the attorney general of California, said in an interview that the president himself had undercut his argument that there was an emergency on the border. 'Probably the best evidence is the president's own words,' he said, referring to Mr. Trump's speech on Feb. 15 announcing his plan: 'I didn't need to do this, but I'd rather do it much faster.'" See also, A coalition of 16 states sues Trump over national emergency to build border wall, The Washington Post, Amy Goldstein, Monday, 18 February 2019: "A coalition of 16 states filed a federal lawsuit Monday to block President Trump's plan to build a border wall without permission from Congress, arguing that the president's decision to declare a national emergency is unconstitutional. The lawsuit, brought by states with Democratic governors — except one, Maryland — seeks a preliminary injunction that would prevent the president from acting on his emergency declaration while the case plays out in the courts."
Deputy Attorney General Rod Rosenstein plans to leave the Justice Department next month, The Washington Post, Matt Zapotosky, Monday, 18 February 2019: "Deputy Attorney General Rod J. Rosenstein plans to leave the Justice Department in mid-March, an official familiar with the matter said Monday night, and an announcement on his successor is expected imminently. Rosenstein, the No. 2 Justice Department official who has spent nearly two years in the hot seat since appointing Robert S. Mueller III to lead an investigation into whether President Trump's campaign conspired with Russia to interfere in the 2016 election, had made it known in recent weeks that he planned to leave if and when a new attorney general was confirmed by the Senate."
In North Carolina, Investigators Find That a Political Operative Working on Behalf of Mark Harris, a Republican Candidate for the House of Representatives, Oversaw an Illegal Absentee Ballot 'Scheme' and Went to Elaborate Lengths to Conceal It, The New York Times, Alan Blinder, Monday, 18 February 2019: "A political operative working on behalf of a Republican candidate for Congress oversaw an illegal absentee ballot 'scheme' and went to elaborate lengths to conceal it, a North Carolina election official said Monday at a hearing that could settle the final undecided House race of last year's midterms. The spare and harsh allegation of a 'coordinated, unlawful and substantially resourced' strategy opened the North Carolina State Board of Elections hearing with the first public pronouncement of state investigators' conclusions about a get-out-the-vote effort they came to believe was endemic with fraud and misconduct to benefit Mark Harris, the Republican candidate in the Ninth Congressional District. The state board, comprising three Democrats and two Republicans, has the power to determine whether the election results should be certified or whether a new election should be held in the Ninth District, which includes part of Charlotte and a vast stretch of southeastern North Carolina."
Tuesday, 19 February 2019, Day 761:
Senator Bernie Sanders will seek the Democratic presidential nomination in 2020, The Washington Post, David Weigel, Tuesday, 19 February 2019: "Sen. Bernie Sanders of Vermont, whose 2016 presidential campaign grew from a left-wing insurgency to a force that reshaped the Democratic Party, announced Tuesday that he will seek its nomination for president again in 2020. Sanders wrote in an email sent to supporters Tuesday that he was building 'an unprecedented and historic grassroots campaign' that would draw on people across the country. 'Our campaign is not only about defeating Donald Trump, the most dangerous president in modern American history. It is not only about winning the Democratic nomination and the general election,' he wrote. 'Our campaign is about transforming our country and creating a government based on the principles of economic, social, racial and environmental justice.' The senator, an independent, cited health care, climate change, student debt, the 'demonization' of undocumented immigrants, income inequality, gun violence and the myriad problems of America's needy as propelling him into his second presidential contest." See also, Bernie Sanders's 2020 policy agenda: Medicare for All; action on climate change; $15-an-hour minimum wage, The Washington Post, Jeff Stein, Tuesday, 19 February 2019: "Sen. Bernie Sanders (I-Vt.) will run for president proposing to enact a 'Medicare-for-all' health-care system, stave off catastrophic climate change through a 'Green New Deal' and other climate measures, and implement a $15-an-hour minimum wage for all American workers, according to aides to the senator. Sanders will also tout proposals to mandate breaking up the biggest Wall Street banks; free tuition at public colleges; lower drug prices through aggressive government intervention; new labor laws to encourage union formation; curbed corporate spending on elections; paid family and medical leave; gender pay equity; and expanded Social Security benefits, aides said. His criminal justice platform will include legalizing marijuana, ending cash bail throughout the United States, and abolishing private prisons, while he will also run on the standard Democratic policy goals of protecting young immigrants brought to the United States as children, and limiting the sale and distribution of guns." See also, Bernie Sanders, Once the Progressive Outlier, Joins a Crowded Presidential Field, The New York Times, Sydney Ember, Tuesday, 19 February 2019: "Senator Bernie Sanders, the Vermont independent and 2016 Democratic primary runner-up whose populist agenda has helped push the party to the left, embarked on Tuesday on a second run for president, in a bid that will test whether he retains his anti-establishment appeal or loses ground to newer faces who have adopted many of his ideas. A professed democratic socialist whose calls for 'Medicare for all,' a $15 minimum wage and tuition-free public colleges have become pillars of the party's left wing, Mr. Sanders joins the race at a time when Republicans are trying to define the Democratic field and its ideas as out of the political mainstream. In Mr. Sanders, who has not joined the Democratic Party and has described himself as a socialist, Republicans have an easy target to try to make the face of the opposition. But Mr. Sanders, 77, starts with stronger support from small-dollar donors and liberal voters than most other candidates. And he is among the best-known Democrats in a crowded field, as well as one of the most outspoken against President Trump, whom he has repeatedly called a 'pathological liar' and a 'racist.'" See also, Bernie Sanders on the Issues: Where He Stands and What Could Derail Him, The New York Times, Matt Stevens, Tuesday, 19 February 2019: "Senator Bernie Sanders may have been the runner-up in the last Democratic primary, but by the time he gave Hillary Clinton his endorsement in July 2016, he had garnered the fervent support of millions. With messages about income inequality and proposals like universal health care, free public college and a higher minimum wage, Mr. Sanders sought what he framed as a transformation of the Democratic Party — a platform that many voters enthusiastically rallied around. Three years later, many of Mr. Sanders's progressive ideas have increasingly become part of the Democratic mainstream, with other candidates echoing them during the race for the party's 2020 presidential nomination. Now that Mr. Sanders has announced that he will run for it again, here is a refresher on where he stands on key issues and what challenges he faces this time around." See also, Bernie Enters the 2020 Race With Defiant Anti-Trump Rhetoric, Rolling Stone, Matt Taibbi, Tuesday, 19 February 2019.
A 24-page report from the House Oversight and Reform Committee says top Trump appointees promoted selling nuclear power plants to Saudi Arabia over objections from national security officials, The Washington Post, Tom Hamburger, Steven Mufson, and Ellen Nakashima, Tuesday, 19 February 2019: "Key members of the Trump administration pushed a plan to sell nuclear power plants to Saudi Arabia in the months after the inauguration despite objections from members of the National Security Council and other senior White House officials, according to a new report from congressional Democrats. The 24-page report from the House Oversight and Reform Committee is based on internal White House documents and the accounts of unnamed whistleblowers. It said the objectors — including White House lawyers and National Security Council officials — opposed the plan out of concern that it violated laws designed to prevent the transfer of nuclear technology that could be used to support a weapons program. Of greater concern to some were potential conflicts of interest on the part of Michael Flynn, the retired Army lieutenant general who was President Trump's first national security adviser and who had advised a firm pitching the nuclear plan. Yet the effort persisted even after Flynn resigned and left the White House, the report alleges. The possible sale of nuclear power plants to Saudi Arabia was discussed in the Oval Office just last week. The meeting included Energy Secretary Rick Perry, representatives from the NSC and State Department, and a dozen nuclear industry chief executives, one of the people present told The Washington Post." See also, House Opens Inquiry Into Proposed U.S. Nuclear Venture in Saudi Arabia, The New York Times, Nicholas Fandos and Mark Mazzetti, Tuesday, 19 February 2019: "Top Trump administration officials have pushed to build nuclear power plants throughout Saudi Arabia over the vigorous objections of White House lawyers who question the legality of the plan and the ethics of a venture that could enrich Trump allies, according to a new report by House Democrats released on Tuesday. The report is the most detailed portrait to date of how senior White House figures — including Michael T. Flynn, President Trump's first national security adviser — worked with retired military officers to circumvent the normal policymaking process to promote an export plan that experts worried could spread nuclear weapons technology in the volatile Middle East. Administration lawyers warned that the nuclear exports plan — called the Middle East Marshall Plan — could violate laws meant to stop nuclear proliferation and raised concerns about Mr. Flynn's conflicts of interest. Mr. Flynn had worked on the issue for the company promoting the nuclear export plan and kept pushing it once inside the White House. But even after Mr. Flynn was fired, the proposal appears to have lingered. The initial discussions took place during the chaotic early months of the Trump administration, according to the 24-page report from the House Oversight and Reform Committee, but House Democrats on Tuesday cited evidence that as recently as last week the White House was still considering some version of the proposal. Democrats said they had begun a full-scale inquiry. 'Further investigation is needed to determine whether the actions being pursued by the Trump administration are in the national security interest of the United States or, rather, serve those who stand to gain financially as a result of this potential change in U.S. foreign policy,' committee staff wrote in the report." See also, Former Trump Adviser Michael Flynn Pushed a Plan to Build Dozens of Nuclear-Power Reactors in Saudi Arabia, According to a Report by the House Committee on Oversight and Government Reform, The Wall Street Journal, Warren P. Strobel, Tuesday, 19 February 2019: "Former national security adviser Mike Flynn and others within the White House ignored repeated legal and ethical warnings as they pushed early in President Trump's tenure a plan to build dozens of nuclear-power reactors in Saudi Arabia, according to a report by a House panel released on Tuesday. After the House Committee on Oversight and Government Reform released the report, the Democratic-led panel said it was launching a formal investigation into the possible transfer of sensitive U.S. nuclear technology to Saudi Arabia, discussions of which it said 'appear to be ongoing.'" See also, White House Might Share Nuclear Power Technology With Saudi Arabia, ProPublica, Isaac Arnsdorf, published on 29 November 2017. The reporting of Isaac Arnsdorf was cited in the report of the House Oversight and Government Reform Committee.
Intimidation, Pressure, and Humiliation: Inside Trump's Two-Year War on the Investigations Encircling Him, The New York Times, Mark Mazzetti, Maggie Haberman, Nicholas Fandos, and Michael S. Schmidt, Tuesday, 19 February 2019: "As federal prosecutors in Manhattan gathered evidence late last year about President Trump's role in silencing women with hush payments during the 2016 campaign, Mr. Trump called Matthew G. Whitaker, his newly installed attorney general, with a question. He asked whether Geoffrey S. Berman, the United States attorney for the Southern District of New York and a Trump ally, could be put in charge of the widening investigation, according to several American officials with direct knowledge of the call. Mr. Whitaker, who had privately told associates that part of his role at the Justice Department was to 'jump on a grenade' for the president, knew he could not put Mr. Berman in charge because Mr. Berman had already recused himself from the investigation. The president soon soured on Mr. Whitaker, as he often does with his aides, and complained about his inability to pull levers at the Justice Department that could make the president's many legal problems go away. Trying to install a perceived loyalist atop a widening inquiry is a familiar tactic for Mr. Trump, who has been struggling to beat back the investigations that have consumed his presidency. His efforts have exposed him to accusations of obstruction of justice as Robert S. Mueller III, the special counsel, finishes his work investigating Russian interference in the 2016 election. Mr. Trump's public war on the inquiry has gone on long enough that it is no longer shocking. Mr. Trump rages almost daily to his 58 million Twitter followers that Mr. Mueller is on a 'witch hunt' and has adopted the language of Mafia bosses by calling those who cooperate with the special counsel 'rats.' His lawyer talks openly about a strategy to smear and discredit the special counsel investigation. The president's allies in Congress and the conservative news media warn of an insidious plot inside the Justice Department and the F.B.I. to subvert a democratically elected president. An examination by The New York Times reveals the extent of an even more sustained, more secretive assault by Mr. Trump on the machinery of federal law enforcement. Interviews with dozens of current and former government officials and others close to Mr. Trump, as well as a review of confidential White House documents, reveal numerous unreported episodes in a two-year drama." See also, Trump Has Publicly Attacked the Russia Investigation More Than 1,100 Times, The New York Times, Larry Buchanan and Karen Yourish, Tuesday, 19 February 2019: "President Trump has publicly criticized dozens of people and groups related to federal inquiries into contacts between his campaign and Russia, according to a New York Times analysis of nearly every public statement or Twitter post that he has made while in office." See also, Takeaways From The Times's Investigation Into Trump's War on the Inquiries Around Him, The New York Times, Eileen Sullivan, Tuesday, 19 February 2019.
Andrew McCabe, former acting FBI Director, says he told Congressional leaders about the FBI investigation into Trump in May 2017. He says they had no objection. NBC News, Allan Smith, Alex Moe, and Frank Thorp V, Tuesday, 19 February 2019: "Former acting FBI Director Andrew McCabe told NBC's 'Today' show on Tuesday that he briefed congressional leaders about the counterintelligence investigation he had opened into President Donald Trump and that 'no one objected.' 'That's the important part here,' McCabe told Savannah Guthrie, who had asked if he had informed the 'Gang of Eight' bipartisan group of leaders on the Hill. 'No one objected. Not on legal grounds, not on constitutional grounds and not based on the facts.' The purpose of the briefing in 2017 was to let the congressional leadership, including Majority Leader Mitch McConnell, then-House Speaker Paul Ryan and their Democratic counterparts, know what the FBI was doing in the probe into Russian election interference and possible collusion by the Trump campaign, McCabe said. 'Opening a case of this nature (is) not something that an FBI director, not something that an acting FBI director would do by yourself, right?' he said. 'This was a recommendation that came to me from my team. I reviewed it with our lawyers. I discussed it at length with the deputy attorney general, and I told Congress what we had done.'" See also, Former acting FBI director Andrew McCabe says he told lawmakers about opening an investigation into Trump, and 'no one objected,' The Washington Post, Matt Zapotosky, Tuesday, 19 February 2019. See also, Former acting FBI director Andrew McCabe says Congressional leaders didn't object to counterintelligence investigation of Trump, Politico, Caitlin Oprysko, Tuesday, 19 February 2019.
Roger Stone Posted a Photo of Judge Amy Berman Jackson of the United States District Court in Washington With What Appeared to Be the Cross Hairs of a Gun Near Her Head. She Ordered Him To Court. The New York Times, Julia Jacobs, Tuesday, 19 February 2019: "The federal judge overseeing Roger J. Stone Jr.'s criminal case on Tuesday ordered a hearing to consider revoking his bail after he posted a photo on Instagram of the judge with what appeared to be the cross hairs of a gun near her head. The judge, Amy Berman Jackson of the United States District Court in Washington, asked Mr. Stone, a longtime adviser for President Trump, to explain to her at the hearing, set for Thursday, why she should not modify his gag order or otherwise change the conditions of his release in light of the Instagram post. Mr. Stone had suggested in the post that Judge Jackson, who was appointed by President Barack Obama, would be biased in presiding over his case. Screenshots of the post, which was later deleted, circulated rapidly on social media on Monday." See also, Roger Stone ordered to appear in court over Instagram post targeting Federal judge Amy Berman, The Guardian, Erin Durkin, Tuesday, 19 February 2019.
'Time for the Ku Klux Klan to night ride again': Goodloe Sutton, an Alabama newspaper editor and publisher, wants to bring back lynching, The Washington Post, Antonia Noori Farzan and Michael Brice-Saddler, Tuesday, 19 February 2019: "Two decades ago, the editor of the tiny Democrat-Reporter newspaper in Linden, Ala., was being talked about as a potential contender for the Pulitzer Prize. A congressional citation read on the floor of the House of Representatives in 1998 lauded 'his truly American heroism and dedication to the truth' and called him 'one of Alabama's finest and most ethical journalists.' Glowing profiles in the New York Times, People magazine and the American Journalism Review highlighted his tenacious reporting and down-home Southern charm. Now, Goodloe Sutton is back in the news again — this time because he recently called for mass lynchings and suggested that the Ku Klux Klan should return to 'clean out' Washington, drawing strong rebukes from lawmakers and calls for an FBI investigation from the head of the Alabama NAACP. 'Time for the Ku Klux Klan to night ride again,' began a Feb. 14 editorial in the Democrat-Reporter. It went on to claim that Democrats, along with some Republicans, were planning to raise taxes in Alabama. It concluded, 'Seems like the Klan would be welcome to raid the gated communities up there.' Sutton, who is also the paper's publisher, could not immediately be reached for comment. He told the Montgomery Advertiser on Monday that he had written the editorial, which ran without a byline, and stood by it. 'If we could get the Klan to go up there and clean out D.C., we'd all been better off,' he told the paper, explaining, 'We'll get the hemp ropes out, loop them over a tall limb and hang all of them.'" Update: Alabama newspaper editor Goodloe Sutton urged the Klan to 'ride again.' A black woman is taking his place. The Washington Post, Michael Brice-Saddler, published on Saturday, 23 February 2019.
Senator Elizabeth Warren of Massachusetts Proposes Universal Child Care, The New York Times, Maggie Astor, Tuesday, 17 February 2019: "Senator Elizabeth Warren of Massachusetts introduced a universal child care proposal on Tuesday, the latest in a series of ambitious policy ideas from Democratic presidential candidates. Ms. Warren's plan, the Universal Child Care and Early Learning Act, would create a network of government-funded care centers based partly on the existing Head Start network, with employees paid comparably to public-school teachers. Families earning less than 200 percent of the federal poverty level would be able to send their children to these centers for free. Families earning more than that would be charged on a sliding scale, up to a maximum of 7 percent of their income. The plan would be funded by Ms. Warren's proposed wealth tax on households with more than $50 million in assets, her campaign said. 'The guarantee is about what each of our children is entitled to,' Ms. Warren said at a campaign rally in Los Angeles on Monday, announcing her plans to introduce the bill. 'Not just the children of the wealthy, not just the children of the well-connected, but every one of our children is entitled to good child care.'" See also, My plan for Universal Child Care, Medium, Elizabeth Warren, Tuesday, 19 February 2019.
White House Picks Jeffrey Rosen for Deputy Attorney General, The Wall Street Journal, Sadie Gurman, Tuesday, 19 February 2019: "The White House on Tuesday selected Jeffrey Rosen, the No. 2 official at the Transportation Department, to be deputy attorney general, putting a seasoned bureaucrat in charge of the day-to-day operations of a Justice Department battered by political storms and suffering strained morale. If confirmed by the Senate, Mr. Rosen will replace Rod Rosenstein, who tried for two years to steady the department and its tumultuous relationship with the White House. His nomination comes just days after William Barr was confirmed as attorney general. Mr. Rosenstein, who has agreed to stay on during the transition, will depart in mid-March, officials said."
Trump Signs Order to Begin Creation of Space Force, The New York Times, Helene Cooper, Tuesday, 19 February 2019: "President Trump moved forward with his planned United States Space Force on Tuesday, signing an order to begin the process for establishing a new branch of the military that would be dedicated to handling threats in space. Mr. Trump's directive orders the Defense Department to 'marshal its space resources to deter and counter threats in space' — which the Pentagon already does. The newly created Space Force would be overseen by the Air Force, a concession to congressional critics who say the Pentagon does not need to add to its sprawling bureaucracy. The president needs congressional approval to create a Space Force; his initial proposal for it to be a separate branch of the military — equal to the Army, the Navy and the Air Force — was met with resistance. Congress and the Pentagon recommended that the force be placed under the Air Force's purview. Proponents of a Space Force argue that the Air Force does not pay enough attention to outer space, even as Russia and China are developing antisatellite weapons that could pose a threat to American satellites…. Critics said the move to create a Space Force could end up militarizing space. 'If concentrating authority in a Space Force creates an incentive for nations to build space weapons that increase the likelihood of conflict, it would be a profoundly bad idea,' Laura Grego, a senior scientist with the Union of Concerned Scientists, a watchdog group, said in a statement."
The Supreme Court is taking up another far-reaching debate over the scope of the Clean Water Act, E&E News, Ellen M. Gilmer, Tuesday, 19 February 2019: "The Supreme Court is taking up another far-reaching debate over the scope of the Clean Water Act. The justices this morning agreed to hear County of Maui, Hawaii v. Hawai'i Wildlife Fund, a case involving whether the law covers pollution that moves through groundwater before reaching a federal waterway. Environmental groups, states, industry and conservatives are watching the case closely, as its outcome could clarify or narrow EPA's historical interpretation of the types of pollution discharges covered by the Clean Water Act. 'This is the most significant environmental law case in the last few years,' said Beveridge & Diamond PC attorney John Cruden, former head of the Justice Department's environment division. The Maui litigation involves a municipal wastewater treatment facility on the Hawaiian island. Environmentalists sued the county after alleging a link between the wastewater injection wells and pollution that seeped through groundwater and ended up in the Pacific Ocean. The 9th U.S. Circuit Court of Appeals sided with them, endorsing the so-called conduit theory, and found that the county should have had a Clean Water Act permit. The landmark environmental statute governs the discharge of a pollutant to 'waters of the United States,' or WOTUS. While the Supreme Court and EPA have spent years wrestling with the definition of WOTUS, the new case focuses on a different element of the law's reach: What counts as an addition of a pollutant to those waters? Does the discharge have to be directly into a federally regulated waterway, or does it just have to end up there?"
Environmentalists join in suing Trump over emergency wall declaration, The Washington Post, Dino Grandoni, Tuesday, 19 February 2019: "President Trump's declaration of a national emergency to circumvent Congress and begin building an extended barrier along the U.S.-Mexico border has energized Democrats around the country. House Democrats have promised to bring Trump administration officials before Congress to explain what they see as a rogue decision. Already a coalition of 16 states led by mostly Democratic governors have challenged Trump in court. Count animal lovers among the opponents, too. Three environmental groups were among the organizations to sue the Trump administration almost immediately after the border wall declaration on Friday. Like other legal challenges in response to Trump's announcement, the lawsuit from the Center for Biological Diversity, Defenders of Wildlife and Animal Legal Defense Fund challenges his maneuver around Congress on constitutional grounds. The suit argues the president is overstepping his authority by trying to spend money not appropriated by legislators for border wall construction. But the green groups are also seeking to highlight an underplayed consequence of constructing a wall meant to restrict the migration of Central Americans to the United States. Trump's wall would prevent animals from crossing the border, too."
Trump to Tap Other Military Money for Border Wall Before Using Emergency Funds, The New York Times, Charlie Savage, Tuesday, 19 February 2019: "President Trump's plan to spend billions of dollars more on his border wall than Congress approved involves more than his invocation of emergency powers to redirect military construction funds. Before spending any of that money, Mr. Trump first intends to tap $2.5 billion in other Defense Department funds under a different claim of executive authority."
Democrats Want to Tax the Wealthy. Many Voters Agree. The New York Times, Ben Casselman and Jim Tankersley, Tuesday, 19 February 2019: "As leading Democrats roll out proposals to increase taxes on the rich, the American people are largely behind them. A majority of people support Democratic proposals to raise taxes on the wealthiest Americans, according to a poll conducted this month for The New York Times by the online research platform SurveyMonkey, though their opinions vary between specific plans. Voters overwhelmingly see income inequality as a problem the government should be trying to address. Support for taxing the rich cuts across party lines: A majority of Republicans support a proposal from Senator Elizabeth Warren of Massachusetts, a Democratic presidential candidate, to tax a group of the wealthiest Americans on their net worth. Views on raising the top income-tax rate are more sharply split. The tax-the-rich sentiment is strongest by far among Democrats, who see it as a moral issue. Subscribing to a view expressed recently by Representative Alexandria Ocasio-Cortez, the first-term New York Democrat, nearly two-thirds of Democrats say it is immoral to have an economic system where some people have billions of dollars while others have very little."
The Walton family earns more in a minute just from dividends than Walmart workers earn in a year, The Washington Post, Glenn Kessler, Tuesday, 19 February 2019: "[T]he average Walmart worker earns less in a year than the Walton family earns in a minute just from dividends paid on the family's stock holdings. It's an astonishing statistic, and it happens to be correct."
Wednesday, 20 February 2019, Day 762:
Supreme Court Rules That the Constitution Limits the Ability of States and Local Governments to Seize Private Property, The New York Times, Adam Liptak and Shaila Dewan, Wednesday, 20 February 2019: "The Supreme Court ruled on Wednesday that the Constitution places limits on the ability of states and localities to take and keep cash, cars, houses and other private property used to commit crimes. The practice, known as civil forfeiture, is a popular way to raise revenue and is easily abused, and it has been the subject of widespread criticism across the political spectrum. The court's decision will open the door to new legal arguments when the value of the property seized was out of proportion to the crimes involved." See also, Supreme Court limits the power of states and local governments to impose fines and seize private property, The Washington Post, Robert Barnes, Wednesday, 20 February 2019: "The Supreme Court ruled unanimously Wednesday that the Constitution's prohibition on excessive fines applies to state and local governments, limiting their abilities to impose financial penalties and seize property. The decision delighted critics of civil asset forfeiture, who welcomed the ruling as a new weapon in their war against what has been labeled 'policing for profit' — the practice of seizing cash, cars and other property from those convicted, or even suspected, of committing a crime. Justice Ruth Bader Ginsburg, on her second day back on the bench after undergoing cancer surgery in December, announced the court's decision, saying the Eighth Amendment's excessive-fines clause protects against government retribution at all levels."
Trump Attacks The New York Times in a Week of Unease for the U.S. Press, The New York Times, Michael M. Grynbaum and Eileen Sullivan, Wednesday, 20 February 2019: "Even by his standards, President Trump's biting attacks on the press this week stand out. He has praised a libel lawsuit against The Washington Post, called for 'retribution' against NBC for satirizing him on 'Saturday Night Live' and, on Wednesday, issued his sharpest words yet against The New York Times, calling the newspaper 'a true ENEMY OF THE PEOPLE!' Earlier, First Amendment scholars were taken aback by remarks from Justice Clarence Thomas, who on Tuesday urged the Supreme Court to peel back longstanding libel protections for American news outlets. And a global crackdown against journalists continues apace, as the Egyptian authorities on Monday detained and deported a Times journalist trying to enter their country. They have added up to a rough few days for freedom of the press, a once-sacrosanct American notion that has been under sustained assault since Mr. Trump made fiery denunciations of journalists — and the rallying cry 'Fake news!' — into hallmarks of his campaign and presidency." See also, Trump seeks to discredit a report in The New York Times that he asked his then-acting attorney general, Matthew Whitaker, whether he could put an ally in charge of an investigation into hush money paid to women during the 2016 presidential campaign, The Washington Post, John Wagner, Wednesday, 20 February 2019.
The Year in Hate: Rage Against Change, Southern Poverty Law Center, Heidi Beirich, 2019 Spring Issue, Wednesday, 20 February 2019: "White supremacy flourishes amid fears of immigration and nation's shifting demographics. Surging numbers of hate groups. Rising right-wing populism and antisemitism. Mounting acts of deadly domestic terrorism. Increasing hate crimes. Exploding street violence. That was the landscape of the radical right in 2018. In the U.S., white supremacist anger reached a fever pitch last year as hysteria over losing a white-majority nation to demographic change — and a presumed lack of political will to stop it — engulfed the movement. White supremacists getting pushed off mainstream web platforms, President Donald Trump's willingness to pass a tax cut for the rich but failure to build a wall and a turn to the left in the midterm elections drove deep-seated fears of an accelerating, state- and Silicon Valley-orchestrated 'white genocide.'" See also, Over 1,000 Hate Groups Are Now Active in the United States Says the Southern Poverty Law Center, a Civil Rights Group, The New York Times, Liam Stack, Wednesday, 20 February 2019: "The number of hate groups in the United States rose for the fourth year in a row in 2018, pushed to a record high by a toxic combination of political polarization, anti-immigrant sentiment and technologies that help spread propaganda online, the Southern Poverty Law Center said Wednesday. The law center said the number of hate groups rose by 7 percent last year to 1,020, a 30 percent jump from 2014. That broadly echoes other worrying developments, including a 30 percent increase in the number of hate crimes reported to the F.B.I. from 2015 through 2017 and a surge of right-wing violence that the Anti-Defamation League said had killed at least 50 people in 2018."
Lt. Christopher Paul Hasson, Coast Guard Officer and Self-Described White Nationalist, Plotted to Kill Democrats and Journalists, Prosecutors Say, The New York Times, Dave Philipps, Wednesday, 20 February 2019: "A Coast Guard lieutenant and self-described white nationalist who was arrested in Maryland last week was plotting to kill a long list of prominent journalists and Democratic politicians, as well as professors, judges and what he called 'leftists in general,' federal prosecutors said in a court filing on Tuesday. Lt. Christopher Paul Hasson, 49, was arrested Friday on gun and drug charges, but prosecutors said in the filing that those charges were just the 'proverbial tip of the iceberg.' The filing argued that Lieutenant Hasson should be held until he is tried, describing him as a 'domestic terrorist' who intended 'to murder innocent civilians on a scale rarely seen in this country.'"
Bernie Sanders Raises $6 Million After Announcing Presidential Bid, The New York Times, Thomas Kaplan, Wednesday, 20 February 2019: "Just over 24 hours after announcing his presidential bid, Senator Bernie Sanders of Vermont has already raised $6 million from more than 225,000 donors, his campaign said Wednesday morning. That amount far surpasses what any of his rivals have disclosed raising after their own announcements this year…. Later Wednesday, President Trump's campaign cited Mr. Sanders's windfall in its own fund-raising pitch, sending a text message to supporters telling them about the $6 million that 'Socialist Bernie' had raised. 'Now I'm calling on you to CRUSH that number,' the message said."
Mark Harris's Son Said He Warned the North Carolina Republican Congressional Candidate Against Hiring a Contractor Who Has Been Accused of Unlawfully Collecting Absentee Ballots, The Wall Street Journal, Valerie Bauerlein, Wednesday, 20 February 2019: "The son of Republican Mark Harris, who is vying for the nation's last undecided congressional seat, said Wednesday he repeatedly warned his father against hiring a contractor who has been accused of unlawfully collecting absentee ballots. John Harris, an assistant U.S. attorney in the Raleigh-based Eastern District of North Carolina, told state election officials that he told his parents he had analyzed previous election results involving contractor L. McCrae Dowless and was convinced he had broken the law. He said he suspected the contractor wasn't just helping voters fill out absentee-ballot requests, which is legal, but also collecting them and mailing them in batches, which is a felony in North Carolina. The testimony is significant because candidate Mark Harris previously has said no one warned him that Mr. Dowless's methods were potentially illegal. Election officials showed April 2017 emails Wednesday in which father and son discussed Mr. Dowless, and John Harris sent his father a highlighted citation of the state law Mr. Dowless might be violating." See also, Republican Congressional candidate Mark Harris's son warned his father of North Carolina political operative's alleged tactics, The Washington Post, Amy Gardner, Wednesday, 20 February 2019. See also, Inside a Fly-by-Night Operation to Harvest Ballots in North Carolina. John Harris, one of Mark Harris's sons, testified on Wednesday that he had warned his father in April 2017 about his misgivings over L.McCrae Dowless Jr., a campaign operative. The New York Times, Alan Blinder, Wednesday, 20 February 2019.
The Justice Department is preparing for Special Counsel Robert Mueller's report as early as next week, CNN, Evan Perez, Laura Jarrett, and Katelyn Polantz, Wednesday, 20 February 2019: "Attorney General Bill Barr is preparing to announce as early as next week the completion of special counsel Robert Mueller's Russia investigation, with plans for Barr to submit to Congress soon after a summary of Mueller's confidential report, according to people familiar with the plans. The preparations are the clearest indication yet that Mueller is nearly done with his almost two-year investigation. The precise timing of the announcement is subject to change. The scope and contours of what Barr will send to Congress remain unclear. Also unclear is how long it will take Justice officials to prepare what will be submitted to lawmakers." See also, The Justice Department is preparing for Special Counsel Robert Mueller's report in coming days, The Washington Post, Devlin Barrett, Josh Dawsey, and Matt Zapotosky, Wednesday, 20 February 2019: "Justice Department officials are preparing for the end of special counsel Robert S. Mueller III's nearly two-year investigation into Russian interference in the 2016 election and believe a confidential report could be issued in coming days, according to people familiar with the discussions. The special counsel's investigation has consumed Washington since it began in May 2017, and it increasingly appears to be nearing its end, which would send fresh shock waves through the political system. Mueller could deliver his report to Attorney General William P. Barr next week, according to a person familiar with the matter who, like others, spoke on the condition of anonymity to discuss sensitive deliberations. Regulations call for Mueller to submit to the attorney general a confidential explanation as to why he decided to charge certain individuals, as well as who else he investigated and why he decided not to charge those people. The regulations then call for the attorney general to report to Congress about the investigation." See also, Special Counsel Robert Mueller's Report Is Expected to Go to the Justice Department Within Weeks, The New York Times, Katie Benner, published on Thursday, 21 February 2019: "The new attorney general, William P. Barr, is preparing for the special counsel to deliver a report in coming weeks on the results of the investigation into Russian interference in the 2016 election, two officials briefed on the Justice Department's preparations said. President Trump's legal team and other allies of the administration have incorrectly predicted an imminent end to the investigation by the special counsel, Robert S. Mueller III, for well over a year. It remains unclear whether Mr. Mueller might take further public action, such as additional indictments, before submitting his report to Mr. Barr. Once the report is submitted, it is not certain how much of it will become public or when. The submission of a report by Mr. Mueller would effectively mean his office is closing down. The special counsel would no longer be conducting investigations in conjunction with the F.B.I., and Mr. Mueller would not be opening any new lines of inquiry. But active cases that have not yet been brought to a conclusion would likely continue. New prosecutors from outside the special counsel's operation could pick up cases that remain in progress. And some cases that spun off from Mr. Mueller's investigation — including those being conducted by the United States attorney's office in Manhattan involving Michael D. Cohen and Mr. Trump's business — would continue unaffected…. Mr. Mueller has not filed explicit public allegations that Mr. Trump, his campaign officials or other members of his inner circle worked with Russian operatives to influence the outcome of the 2016 election. And the special counsel's office has not divulged any information regarding one of the main strands of its investigation — whether Mr. Trump or his aides could be criminally charged with obstruction of justice."
House Speaker Nancy Pelosi Says the House Will Move Swiftly to Block Trump's National Emergency on the Border Wall, The Wall Street Journal, 
Joshua Jamerson, Wednesday, 20 February 2019: "Speaker Nancy Pelosi on Wednesday said the House would "swiftly" pass a measure that would block President Trump's national emergency order to build a wall along the U.S.-Mexico border, setting the stage for a vote in that chamber followed by a fierce debate in the GOP-controlled Senate. In a letter to House Democrats, Mrs. Pelosi said the president's emergency declaration 
undermines the constitutional separation of powers
 and Congress's power of the purse. She urged all 235 House Democrats to co-sponsor the resolution, introduced by Rep. Joaquin Castro (D., Texas), to nullify Mr. Trump's national emergency declaration." 
See also, House Speaker Nancy Pelosi says the House will vote on resolution opposing Trump's emergency declaration, The Washington Post, 
Rachael Bade and Mike DeBonis, Wednesday, 20 February 2019.
Thursday, 21 February 2019, Day 763:
New Election Ordered in North Carolina Congressional Race at the Center of Fraud Inquiry, The New York Times, Alan Blinder, Thursday, 21 February 2019: "North Carolina officials on Thursday ordered a new contest in the Ninth Congressional District after the Republican candidate, confronted by evidence that his campaign had financed an illegal voter-turnout effort, called for a new election. The unanimous ruling by the five-member Board of Elections was a startling — and, for Republicans, embarrassing — conclusion to a case that has convulsed North Carolina since November. And it followed testimony that outlined how a political operative had orchestrated an absentee ballot scheme to try to sway the race in favor of Mark Harris, the Republican candidate. It is now the single undecided House contest in last year's midterms." See also, North Carolina State Board of Elections declares a new election in contested House of Representatives race after Mark Harris, the Republican candidate, admitted misspeaking under oath, The Washington Post, Amy Gardner, Thursday, 21 February 2019: "The North Carolina State Board of Elections on Thursday ordered a new election in the 9th Congressional District, ending a dramatic, months-long investigation into allegations of widespread ballot tampering. 'It appears to me the irregularities and improprieties occurred to such an extent that they tainted the results of the entire election and cast doubt on its fairness,' said the board chairman, Bob Cordle, shortly before the five-member panel voted unanimously to throw out the November results between Republican Mark Harris and Democrat Dan McCready. 'I believe the people of North Carolina deserve a fair election and deserve to have their votes counted properly.'" See also, North Carolina elections board orders new race in disputed 9th Congressional District, Politico, Laura Barrón-López, Thursday, 21 February 2019.
Federal Judge Kenneth Marra of Palm Beach County Rules That Jeffrey Epstein Sex Trafficked Underage Girls, and Alexander Acosta, Trump's Secretary of Labor, Illegally Kept Details of the Plea Deal From Victims, Newsweek, Andrew Whalen, Thursday, 21 February 2019: "Jeffrey Epstein sex trafficked underage girls and President Donald Trump's Secretary of Labor illegally kept details of that plea bargain from victims, a federal judge ruled on Thursday. In a 33-page opinion, U.S. District Judge Kenneth Marra of Palm Beach County describes how evidence shows Epstein—a multimillionaire hedge fund manager known for his friendships with influential political figures, including former president Bill Clinton, Donald Trump and Prince Andrew—paid employees to 'obtain minors not only for his own sexual gratification, but also for the sexual gratification of others.' In a series of explosive stories, the Miami Herald documented how, in 2017, federal prosecutors worked with Epstein's lawyers to put together a plea deal, requiring the financier to plead guilty to two prostitution charges and serve 13 months in jail, despite overwhelming evidence of a widespread pattern of sex trafficking and sexual assault, including 103 'Jane Doe' victims. The deal ensured Epstein—and his unidentified co-conspirators—immunity from federal prosecution." See also, Prosecutors Led by Alexander Acosta, Now Trump's Secretary of Labor, Broke Federal Law When They Failed to Tell Victims About a Plea Agreement Not to Prosecute Jeffrey Epstein for Sex Trafficking, New York Times, Patricia Mazzei, Thursday, 21 February 2019: "Prosecutors led by Alexander R. Acosta, who is now the secretary of labor, violated federal law when they failed to tell victims about an agreement not to prosecute Jeffrey E. Epstein, a wealthy New York financier accused of molesting dozens of underage girls, a federal judge ruled on Thursday. The agreement not to pursue federal sex trafficking charges, negotiated in secret while prosecutors told victims that a case against Mr. Epstein was still possible, violated the federal Crime Victims' Rights Act, ruled Judge Kenneth A. Marra of Federal District Court in West Palm Beach, Fla. He gave the government and the two victims who sued 15 days to discuss what remedy should apply in the case." See also, Jeffrey Epstein, the convicted sex offender who is friends with Donald Trump and Bill Clinton, explained, Vox, Jane Coaston and Anna North, updated on Friday, 22 February 2019: "Jeffrey Epstein could have gone to prison for life. The money manager was accused of sexually abusing dozens of underage girls at his Palm Beach mansion between 2001 and 2006. But as Julie K. Brown reports at the Miami Herald, he ultimately got just 13 months in a county jail, thanks to a deal signed by Alexander Acosta, then the US Attorney for Miami and now President Trump's secretary of labor. On Thursday, a federal judge ruled that Acosta's team broke the law by concealing the agreement from more than 30 girls who said Epstein abused them, Brown reports. Epstein has said that any encounters he had with his accusers were consensual, and that he believed they were 18 at the time. The story of how Epstein got such a light sentence — and who was involved — is a master class in the power dynamics that have been exposed by the #MeToo movement but have yet to truly change. When authorities began investigating Epstein, he assembled a team of private investigators to dig up dirt on the girls who accused him and the police and prosecutors working the case. Then he and his team of powerful lawyers — including Alan Dershowitz and Kenneth Starr — were able to convince prosecutors to go easy on him despite disturbing allegations by a growing number of women and girls. (According to Axios, Dershowitz is still advising Epstein, saying, 'He has called me a couple of times about legal issues, because I'm still technically his lawyer.') Epstein was proud of his 'collection' of famous friends, which included Bill Clinton and Donald Trump, and there's long been speculation that some of these friends may have participated in his abuses. But because he has been able to avoid harsh punishment and minimize publicity around the details of his case, he's also been able to keep details about anyone else who may have been involved out of the public eye. The fact that Epstein is free today is a reminder that the American justice system has long been all too willing to ignore the words of girls and women, especially when they accuse a wealthy and influential man. It's a reminder that those with enough money and connections, from Epstein to Harvey Weinstein, can often manipulate the legal system to serve their own ends. And it shows how one powerful person can protect not just himself but anyone who might be connected to him, all while exploiting those who are powerless." See also, How Alexander Acosta, a future Trump Cabinet member, gave serial sex abuser Jeffrey Epstein the deal of a lifetime, Miami Herald, Julie K. Brown, published on 28 November 2018. This is the full Perversion of Justice investigative series about Jeffrey Epstein.
Trump Administration, Getting Set for a Major Climate-Policy Rollback, Ends Clean Air Talks With California, The New York Times, Lisa Friedman and Hiroko Tabuchi, Thursday, 21 February 2019: "The Trump administration, setting the stage to move forward with one of its most consequential climate-policy rollbacks, announced Thursday that it had decided to scrap negotiations with California over the president's plan to undo Obama-era fuel efficiency standards for cars and light trucks. The move makes a protracted legal battle almost certain. At the heart of the talks was California's longstanding right to opt out of national auto emissions rules and set its own tailpipe standards. State officials have vowed to sue to protect that authority if the administration tries to impose weaker federal standards on California and the dozen states that follow its lead. Xavier Becerra, the California attorney general, said Thursday the state was 'prepared to defend our national Clean Car standards even if the Trump administration intends to go AWOL.'"
The 88 Senators Not Backing the Green New Deal Received on Average 7 Times as Much Fossil Fuel Cash as the 12 Senators Who Are Backing It, HuffPost, Alexander C. Kaufman, Thursday, 21 February 2019: "The 12 senators co-sponsoring the Green New Deal resolution that Sen. Ed Markey (D-Mass.) unveiled earlier this month have accepted nearly $1.1 million from oil, gas and coal companies since entering Congress. But the 88 senators who have declined to support the measure have collected far more from those industries ― close to $59 million, according to nonprofit Oil Change USA, which analyzed 30 years of data. That comes out to about $670,000 per nonbacker, or more than 7 times what the average sponsor took in. The disparity illustrates what advocates say is a glaring conflict of interest for lawmakers deciding how to move forward on the only proposal yet to emerge that matches the scale of the climate crisis. The donations come from the powerful, deep-pocketed industry with the most to lose from any policy that restricts the sources of planet-warming emissions."
Tax Law Helped Boost 2018 Bank Profits to Record Level, The Wall Street Journal, Andrew Ackerman and Lalita Clozel, Thursday, 21 February 2019: "The new tax law drove double-digit profit growth at U.S. banks last year, a federal regulator said Thursday, boosting the industry's earnings, which would have hit a record even without the tax changes. Banks collectively notched record annual profits of $236.7 billion, the Federal Deposit Insurance Corp. said, an increase of $72.4 billion, or 44%, from 2017. No bank failed in 2018, marking the first time that has happened since 2006, a year before the start of the financial crisis. Officials said the lack of failures reflected a sharp reduction in problematic banks, though they acknowledged it was unlikely to last. 'Things can only go worse from here,' FDIC Chairman Jelena McWilliams said. 'It's not lost on us that it's been a while since we had the last bank failure. And while I would like to believe this is the new normal, it's not.'"
Roger Stone, a Former Trump Campaign Aide, Is Placed Under Gag Order Over Instagram Post, The New York Times, Sharon LaFraniere, Thursday, 21 February 2019: "First, Roger J. Stone Jr. said he did not look at the photo of a federal judge, with an image of cross hairs in the corner by her head, before he posted it on Instagram on Monday. Then, testifying under oath on Thursday in front of the same judge, he acknowledged that he had looked at the photo before he posted it, but said a volunteer had chosen it. Finally, Mr. Stone, who is under indictment on charges brought by the special counsel, Robert S. Mueller III, said he had picked out the photo from a group of several that were provided to him by a volunteer he could not name. During a 90-minute hearing in Federal District Court in Washington, Amy Berman Jackson, the judge in the photograph, was having none of it. Openly incredulous at Mr. Stone's inconsistent explanations of the Instagram post, she issued a gag order intended to force him into public silence about the criminal case against him. She warned him that if he violated her order, she would revoke his bail and put him behind bars for the duration of his trial. 'This is not baseball,' she said sternly. 'There will be no third chance. If you cannot abide by this, I will be forced to change your surroundings so you have no temptations.'" See also, Federal judge Amy Berman Jackson bars Roger Stone from speaking about the criminal case against him, The Washington Post, Rachel Weiner and Manuel Roig-Franzia, Thursday, 21 February 2019.