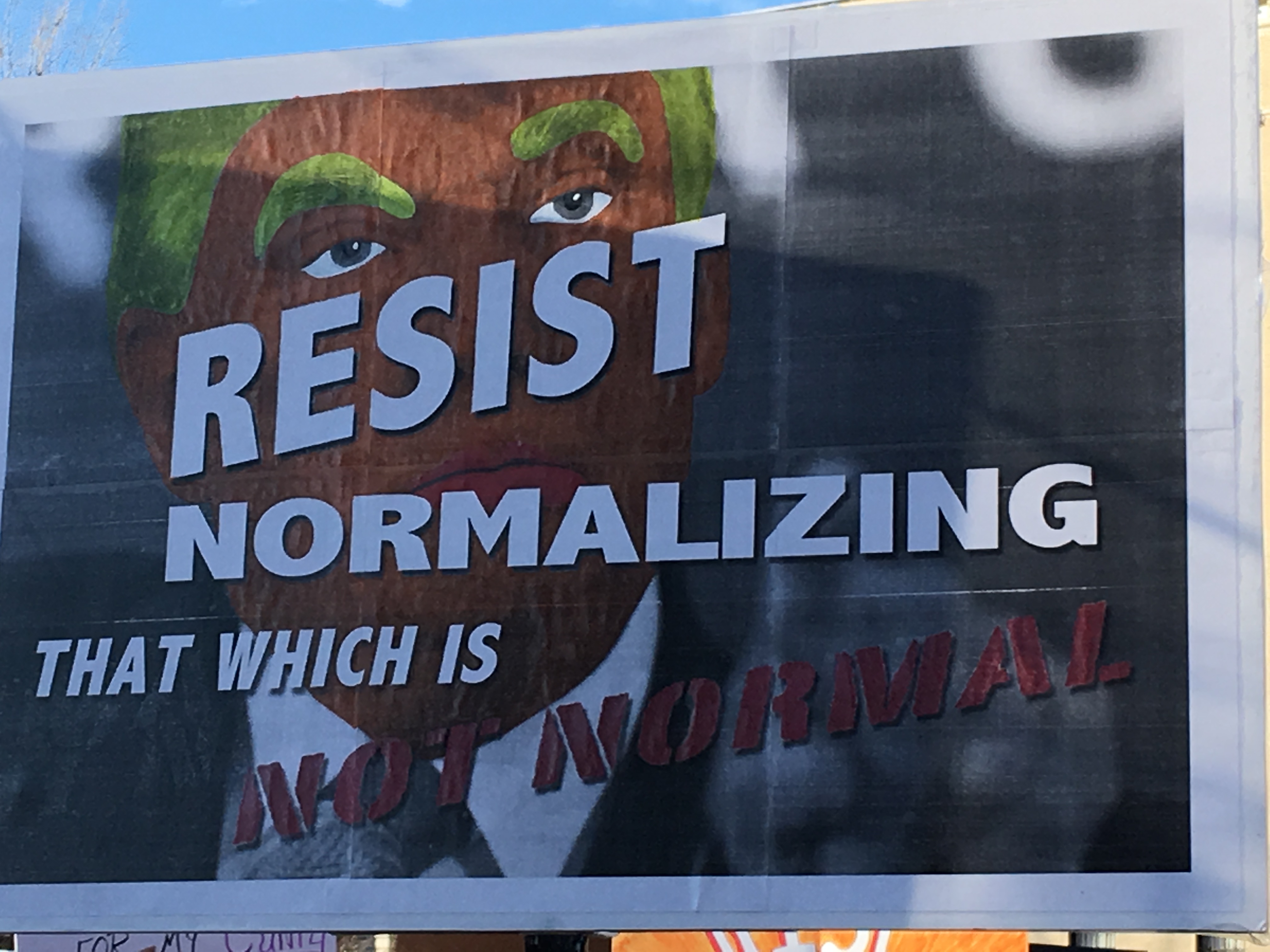 Passages in bold in the body of the texts below are my emphasis. This is an ongoing project, and I update the site daily. Because I try to stay focused on what has actually happened, I usually let the news 'settle' a day or so before posting. I hope readers will peruse the articles in full for a better understanding of the issues and their context; our democracy and our future depend on citizens who can distinguish between facts and falsehoods and who are engaged in the political process.
Friday, 8 February 2019, Day 750:
Acting Attorney General Matthew Whitaker Says He Has Not Interfered in the Mueller Investigation, The New York Times, Charlie Savage, Nicholas Fandos, and Katie Benner, Friday, 8 February 2019: "Matthew G. Whitaker, the acting attorney general, told Congress on Friday that he had 'not interfered in any way with the special counsel's investigation' into Russia's 2016 election-manipulation operation since President Trump installed him atop the Justice Department. During an often contentious oversight hearing before the House Judiciary Committee, Mr. Whitaker also testified that he had provided no inside information about that inquiry, or related ones in the Southern District of New York, to Mr. Trump or his lawyers and White House aides…. While Mr. Whitaker provided those bottom-line claims up front, he refused to discuss many other things — like his conversations with Mr. Trump, or why he recently said the special counsel inquiry would soon wrap up — as questions about the Russia investigation dominated the hearing. The committee chairman, Representative Jerrold Nadler, Democrat of New York, told Mr. Whitaker that he would seek to force him to submit to further questioning in a later deposition…. [T]he hearing focused mainly on the Russia investigation. It quickly became contentious, as Mr. Nadler used his opening statement to blast Mr. Whitaker for refusing to recuse himself from overseeing the Russia investigation despite the recommendation of Justice Department ethics officials that he step aside because of his past public comments criticizing it…. And when Mr. Nadler began questioning Mr. Whitaker, the acting attorney general refused to provide details about when and how many times he had been briefed about the Russia investigation, which is led by the special counsel, Robert S. Mueller III. Then, when Mr. Nadler asked Mr. Whitaker if he had ever been asked to approve any request for action to be taken by Mr. Mueller, Mr. Whitaker audaciously replied: 'Mr. Chairman, I see that your five minutes is up.' The room broke into laughter as Mr. Nadler looked up in apparent disbelief at the breach of decorum, but then grinned himself and let it slide, noting that he did not enforce the five-minute rule during Mr. Whitaker's opening statement. Mr. Nadler then directed Mr. Whitaker to 'answer the question, please.'" See also, In combative hearing, acting attorney general Matthew Whitaker says he did not discuss Mueller investigation with Trump, but he dodges other inquiries, The Washington Post, Devlin Barrett and Matt Zapotosky, Friday, 8 February 2019: "In a series of chippy exchanges with Democrats who questioned his credentials, judgment and integrity, Whitaker adopted a confrontational tone that often left lawmakers exasperated. Over and over, he refused to detail his conversations with the president — prompting the committee's chairman to end the hearing by threatening a subpoena if follow-up questions weren't answered. Whitaker carefully watched the clock, at one point noting the chairman's five-minute window to ask questions had expired. More substantively, Whitaker refused to disagree with the president's characterization of Mueller's probe as a 'witch hunt' — something other top law enforcement officials and Trump nominees have not hesitated to do." See also, 'Mr. Chairman, I see that your five minutes is up': Acting attorney general Matthew Whitaker's very shaky performance before the House Judiciary Committee, The Washington Post, Aaron Blake, Friday, 8 February 2019. See also, Acting Attorney General Matthew Whitaker Says He Hasn't Interfered in Special Counsel Robert Mueller's Investigation, The Wall Street Journal, Sadie Gurman and Byron Tau, Friday, 8 February 2019: "Acting Attorney General Matthew Whitaker testified that he hasn't interfered in the special counsel's Russia investigation and hasn't shared information about it with the president or top White House officials, in a heated congressional hearing on Friday. Mr. Whitaker traded barbs with lawmakers and avoided answering questions as he squared off with House Judiciary Committee Democrats, who have voiced concerns that President Trump tapped the former federal prosecutor for the role three months ago in order to undercut special counsel Robert Mueller's probe. Mr. Whitaker had been a public critic of the Mueller probe, which has ensnared several close Trump allies, before getting the job." See also, Acting Attorney General Matthew Whitaker Tries to Stop House Judiciary Committee Chair Jerry Nadler From Asking About the Mueller Investigation: 'Your Five Minutes Is Up,' Daily Beast, Betsy Woodruff, Friday, 8 February 2019. See also, Acting attorney general says he never interfered in Mueller investigation, Politico, Andrew Desiderio and Darren Samuelsohn, Friday, 8 February 2019.
Trump Defies Congressional Deadline for Report Determining Who Killed Journalist Jamal Khashoggi, The New York Times, Peter Baker and Eric Schmitt, Friday, 8 February 2019: "President Trump refused to provide Congress a report on Friday determining who killed the journalist Jamal Khashoggi, defying a demand by lawmakers intent on establishing whether the crown prince of Saudi Arabia was behind the grisly assassination. Mr. Trump effectively bypassed a deadline set by law as his administration argued that Congress could not impose its will on the president. Critics charged that he was seeking to cover up Saudi complicity in the death of Mr. Khashoggi, an American resident and a columnist for The Washington Post. 'Consistent with the previous administration's position and the constitutional separation of powers, the president maintains his discretion to decline to act on congressional committee requests when appropriate,' the Trump administration said in a statement. The statement said the administration had taken action against the killers and would consult with Congress. But Democrats said Mr. Trump was violating a law known as the Magnitsky Act. It required him to respond 120 days after a request submitted in the fall by committee leaders — including Senator Bob Corker, Republican of Tennessee and then the chairman of the Senate Foreign Relations Committee — a period that expired Friday." See also, White House declines to submit report to Congress determining whether Saudi Arabia's crown prince Mohammed bin Salman is personally responsible for the killing of journalist Jamal Khashoggi, The Washington Post, Anne Gearan, Karen DeYoung, and Karoun Demirjian, Friday, 8 February 2019: "The Trump administration declined Friday to submit a report to Congress determining whether Saudi Arabia's crown prince is personally responsible for the killing of journalist Jamal Khashoggi. Senators had asked for the finding by Friday, with an eye to imposing new human rights sanctions on Saudi Arabia over the journalist's Oct. 2 killing inside the Saudi Consulate in Istanbul. Under the Magnitsky Act, the president has 120 days to respond to a direct request from Congress about possible violations. The request, made Oct. 10 in a letter signed by 11 Democratic and 11 Republican senators, required the administration to make a determination of responsibility for the killing, particularly including involvement by the Saudi royal family, and to act on it by imposing sanctions on responsible individuals." See also, White House refuses to meet Congress' deadline on killing of journalist Jamal Khashoggi, CNN Politics, Nicole Gaouette and Kevin Liptak, Friday, 8 February 2019. See also, White House refuses to meet Senate deadline on killing of journalist Jamal Khashoggi, Politico, Rebecca Morin, Friday, 8 February 2019.
'My whole town practically lived there': From Costa Rica to New Jersey, a pipeline of undocumented workers for Trump goes back years, The Washington Post, Joshua Partlow, Nick Miroff, and David A. Fahrenthold, Friday, 8 February 2019: "At his home on the misty slope of Costa Rica's tallest mountain, Dario Angulo keeps a set of photographs from the years he tended the rolling fairways and clipped greens of a faraway American golf resort. Angulo learned to drive backhoes and bulldozers, carving water hazards and tee boxes out of former horse pastures in Bedminster, N.J., where a famous New Yorker was building a world-class course. Angulo earned $8 an hour, a fraction of what a state-licensed heavy equipment operator would make, with no benefits or overtime pay. But he stayed seven years on the grounds crew, saving enough for a small piece of land and some cattle back home. Now the 34-year-old lives with his wife and daughters in a sturdy house built by 'Trump money,' as he put it, with a porch to watch the sun go down. It's a common story in this small town. Other former employees of President Trump's company live nearby: men who once raked the sand traps and pushed mowers through thick heat on Trump's prized golf property — the 'Summer White House,' as aides have called it — where his daughter Ivanka got married and where he wants to build a family cemetery. 'Many of us helped him get what he has today,' Angulo said. 'This golf course was built by illegals.' The Washington Post spoke with 16 men and women from Costa Rica and other Latin American countries, including six in Santa Teresa de Cajon, who said they were employed at the Trump National Golf Club Bedminster. All of them said that they worked for Trump without legal status — and that their managers knew."
Continue reading Week 108, Friday, 8 February – Thursday, 14 February 2019 (Days 750-756)
Virginia Is in Turmoil. Here's a Breakdown of Eight Days of Scandal. The New York Times, Jacey Fortin, Friday, 8 February 2019: "For Virginia's top state officials, it has been a week of chaos. There was an apology, a reversal and an admission about blackface. A sexual assault allegation was made, and an emphatic denial was made in response. Then came another admission about blackface. And another sexual assault accusation…. The blackface revelations revived painful memories of Virginia's disturbing history on race: centuries of slavery, decades of segregation and racial inequalities that still persist. The state was roiled in 2017 when a white nationalist rally in Charlottesville erupted into deadly violence. And the sexual assault allegations came on the heels of the #MeToo movement led by survivors of assault and harassment. Here is a look at the last week's events in Richmond, Virginia's capital." See also, Virginia Governor Ralph Northam Plans to Survive by Changing His Agenda to Focus on Race, BuzzFeed News, Darren Sands, Friday, 8 February 2019: "Virginia Gov. Ralph Northam, still facing calls to resign as governor a week after the revelation that his page in a medical school yearbook features a racist photograph, is now tightly focused on coming up with plans to survive. His office has begun to explore how it might recalibrate Northam's legislative agenda to focus closely on race and equality, sources close to the governor tell BuzzFeed News. The move would mark a brazen attempt to hang onto his office by shifting the conversation away from Northam's admission of having once worn blackface and his denials that he is featured in the racist yearbook photo, either as the person in blackface or the person in a Klan outfit. Northam's policy team is looking at crafting a set of proposals based on the premise that the governor's mistakes have rendered him keenly aware of inequity and the lack of justice faced by black Virginians 400 years after the first African people arrived in the Commonwealth, at Point Comfort, in 1619." See also, Virginia Lieutenant Governor Justin Fairfax Faces Eroding Support From Democrats After New Accuser Speaks, The New York Times, Stephanie Saul and Sheryl Gay Stolberg, Friday, 8 February 2019: "A second woman came forward Friday with claims that she had been sexually assaulted by Lt. Gov. Justin E. Fairfax of Virginia, intensifying the weeklong political crisis in the state and leading top fellow Democrats to call for Mr. Fairfax to resign. The woman, Meredith Watson, accused Mr. Fairfax of raping her in 2000 while they were students at Duke University, saying in a statement that his actions were 'premeditated and aggressive' and demanding that he step down immediately. Ms. Watson spoke out two days after Vanessa C. Tyson, a political science professor from California, said she was assaulted by Mr. Fairfax during the 2004 Democratic National Convention in Boston."
Senator Elizabeth Warren (Democrat-Massachusetts) Was Right: New Bank Deregulation Law Is Already Making Banks Bigger, The Intercept, David Dayen, Friday, 8 February 2019: "The proposed $28 billion merger announced Thursday between large regional banks SunTrust and BB&T is the biggest banking tie-up since the financial crisis, creating what would become the nation's sixth-largest bank. And it's a direct result of actions taken by the Trump administration and the bipartisan group of lawmakers who passed a bank deregulation bill in 2018. While Democrats insisted that the bank bill, S.2155, was merely about community bank regulatory relief, critics and industry experts expected that it would lead to consolidation of the sector, which began to occur almost immediately after passage. 'I'm concerned about the negative impact of increased consolidation caused by S.2155 on community banks and on customers who benefit from more competition for their business,' wrote Massachusetts Sen. Elizabeth Warren in April 2018, just a month after the bill's passage. Warren singled out by name her own Democratic colleagues who were supporting the bill, catching internal blowback from the caucus. But Warren's warnings have proven prescient, as the SunTrust-BB&T merger represents the latest in a wave of deals in the financial sector."
House Democrats, Newly Empowered, Turn Their Investigations on Veterans Affairs, The New York Times, Jennifer Steinhauer, Friday, 8 February 2019: "The new Democratic leadership of the House Veterans' Affairs Committee said Friday that it would investigate the influence exerted by three members of President Trump's Florida beach club on the Department of Veterans Affairs. The move was viewed as an early, and powerful, indication that the committee, which has always been known as among the most bipartisan on Capitol Hill, could adopt a harder edge under the new Congress as empowered Democrats move to scrutinize the administration. The investigation was announced in a letter to Robert Wilkie, the secretary of the Department of Veterans Affairs, from Representative Mark Takano, Democrat of California, the new chairman of the committee. Mr. Takano requested documents and 'information about alleged improper influence' of the members, Isaac Perlmutter, Bruce Moskowitz and Marc Sherman, 'over policy and personnel decisions of the Department of Veterans Affairs.' Mr. Takano said the three men exerted inappropriate influence over procurement at the sprawling department."
New Evidence Emerges of Possible Wrongdoing by Trump Inaugural Committee, ProPublica, Justin Elliott, and Ilya Marritz of WNYC, Friday, 8 February 2019: "Federal prosecutors in New York are circling Donald Trump's inaugural committee as part of a wide-ranging investigation into possible money laundering, illegal contributions and cash-for-access schemes. Now, WNYC and ProPublica have identified evidence of potential tax law violations by the committee. A spokesman confirmed that the nonprofit 58th Presidential Inaugural Committee paid the Trump International Hotel a rate of $175,000 per day for event space — in spite of internal objections at the time that the rate was far too high. If the committee is deemed by auditors or prosecutors to have paid an above-market rate, that could violate tax laws prohibiting self-dealing, according to experts. Tax law prohibits nonprofits from paying inflated prices to entities that are owned by people who also control or influence the nonprofit's activities."
Deputy attorney general Rod Rosenstein did not want to write memo justifying the firing of FBI director James Comey, according to Comey's former deputy Andrew McCabe, The Guardian, Jon Swaine, Friday, 8 February 2019: "The deputy attorney general, Rod Rosenstein, privately complained that he was ordered by president Donald Trump to write the notorious memo justifying the firing of the FBI director James Comey, according to Comey's former deputy. Andrew McCabe writes in a new book that Rosenstein, who has publicly defended the memo, lamented that the president had directed him to rationalise Comey's dismissal, which is now the subject of inquiries into whether Trump obstructed justice. Rosenstein made his remarks in a private meeting at the justice department on 12 May 2017, according to McCabe's memoir, which also accuses Trump of operating like a criminal mob boss and of unleashing a 'strain of insanity' in American public life."
Longtime Trump confidant Roger Stone opposes gag order in Mueller case and asks for a new judge, The Washington Post, Spencer S. Hsu, Friday, 8 February 2019: "Attorneys for longtime Trump confidant Roger Stone urged a federal judge overseeing his criminal trial not to impose a gag order, citing his constitutional rights to free speech as a writer and political commentator, and asked to have his case reassigned to a different judge. U.S. District Judge Amy Berman Jackson of Washington last week warned she might cut off public comments by parties and attorneys in Stone's case after he went on a week-long media blitz following his indictment and arrest in special counsel Robert S. Mueller III's investigation of Russian interference in the 2016 U.S. election. 'This is a criminal proceeding, not a public-relations campaign,' Jackson said, suggesting both sides argue the case in court, 'not on the talk show circuit,' or on 'a book tour.' She asked each side to inform her of its position on a proposal to set a gag order by Friday. In their reply, prosecutors with Mueller's team and the U.S. attorney's office for the District of Columbia did not oppose an order, citing a 'substantial likelihood' that out-of-court comments will undermine a fair trial."
Democrats slam Senator Susan Collins (Republican-Maine) for her vote in favor of Brett Kavanaugh's nomination in wake of Supreme Court ruling on Louisiana abortion law, The Washington Post, Felicia Sonmez and Michael Scherer, Friday, 8 February 2019: "Democrats and liberal groups on Friday pointed to a Supreme Court ruling in an abortion case to argue that Justice Brett M. Kavanaugh would vote to overturn Roe v. Wade, focusing their ire on Sen. Susan Collins, a Maine Republican who supported Kavanaugh's nomination last year and faces a tough 2020 reelection. The outcry from the left follows the court's 5-to-4 vote to block a restrictive Louisiana abortion law. The 2014 law, which has never been enforced, would effectively shutter most of the state's abortion clinics by requiring physicians at those facilities to have admitting privileges at nearby hospitals. While Democrats hailed the decision, they pointed to Kavanaugh's dissent as a sign that he is poised to side with conservatives in future rulings on abortion rights."
Prosecutors Weigh Whether National Enquirer Violated Earlier Agreement, The Wall Street Journal, Nicole Hong and Jacob Gershman, Friday, 8 February 2019: "Federal prosecutors are examining whether the National Enquirer's publisher violated an earlier deal to avoid facing campaign-finance charges, according to people familiar with the matter, after Jeff Bezos, founder of Amazon.com Inc. and owner of the Washington Post, accused the tabloid of trying to blackmail him. The Enquirer's actions came under government scrutiny after Mr. Bezos wrote a lengthy post Thursday on the web platform Medium detailing recent communications with the tabloid's representatives. Mr. Bezos said the Enquirer threatened to release sexually explicit selfies of him unless he called off investigators he had hired to determine the sources and motivations behind an initial Enquirer article exposing an alleged affair he had. The agreement reached last year between federal prosecutors and the Enquirer's publisher, American Media LLC, allowed the company to avoid criminal charges for coordinating with the Trump campaign to make an illegal payment in 2016 to silence a woman alleging an affair with the then-presidential candidate." See also, Jeff Bezos's Claim of Extortion Spurs U.S. Prosecutors' Scrutiny of AMI (American Media Inc.), Sources Say, Bloomberg, Christian Berthelsen and Jennifer Jacobs, Friday, 8 February 2019: "Federal prosecutors are reviewing the National Enquirer's handling of its story about Jeff Bezos's extramarital affair to determine if the company violated an earlier cooperation deal with prosecutors, according to two people familiar with the matter. Prosecutors in the Manhattan U.S. attorney's office have been provided with information about key exchanges of concern to Bezos, the founder of Amazon.com Inc. In a jaw-dropping public blog post Thursday night, Bezos published letters from lawyers representing National Enquirer's publisher, American Media Inc., who demanded he drop a private investigation into the media company, or else it would publish more embarrassing photographs about the wealthy businessman. Bezos accused the National Enquirer publisher of extortion." See also, Jeff Bezos' Extortion Claim Said to Be Under Review by Prosecutors, The New York Times, Jim Rutenberg, Karen Weise, and William K. Rashbaum, Friday, 8 February 2019: "Jeff Bezos, the founder of Amazon and the owner of The Washington Post, did not become the world's richest man by refusing to do what it takes to win. And now that he finds himself in a mud fight with the supermarket tabloid that exposed his extramarital affair, he is showing off the same drive that helped him turn a simple idea — selling books on the internet — into an all-purpose, $780 billion powerhouse. Mr. Bezos has risked significant personal embarrassment in taking on American Media Inc., the company that owns The National Enquirer, which last month devoted 11 pages to the tale of his extramarital affair. But with a personal fortune of more than $130 billion, he has the means to torment his tormentors. And as he showed Thursday with his surprise blog post, which accused the tabloid publisher of 'extortion and blackmail,' Mr. Bezos is willing to get dirty in the pursuit of victory. He has attacked American Media right where it hurts — its shaky legal position — and the strategy is showing early signs of paying off. Federal prosecutors are reviewing Mr. Bezos' claim that he has been extorted, according to two people briefed on the matter who were not authorized to discuss it publicly. And those prosecutors have planned a meeting with Mr. Bezos' representatives, one of those people said. If American Media is found to have broken a law — any law — it would be in violation of a deal with federal prosecutors from the Southern District of New York. The agreement was struck in September after American Media admitted paying hush money during the 2016 presidential campaign to protect Donald J. Trump from allegations of an affair. Under the deal, the company would not be prosecuted for its Trump-related efforts as long as it stayed out of legal trouble for the next three years." See also, Amazon's Jeff Bezos Accuses the National Enquirer of Attempted Blackmail, The Wall Street Journal, Lukas I. Alpert and Laura Stevens, Friday, 8 February 2019. See also, Jeff Bezos Protests the Invasion of His Privacy, as Amazon Builds a Sprawling Surveillance State for Everyone Else, The Intercept, Glenn Greenwald, Friday, 8 February 2019: "The National Enquirer has engaged in behavior so lowly and unscrupulous that it created a seemingly impossible storyline: the world's richest billionaire and a notorious labor abuser, Amazon CEO Jeff Bezos, as a sympathetic victim. On Thursday, Bezos published emails in which the Enquirer's parent company explicitly threatened to publish intimate photographs of Bezos and his mistress, which were apparently exchanged between the two through their iPhones, unless Bezos agreed to a series of demands involving silence about the company's conduct. In a perfect world, none of the sexually salacious material the Enquirer was threatening to release would be incriminating or embarrassing to Bezos: it involves consensual sex between adults that is the business of nobody other than those involved and their spouses. But that's not the world in which we live: few news events generate moralizing interest like sex scandals, especially among the media…. Beyond the prurient interest in sex scandals, this case entails genuinely newsworthy questions because of its political context. The National Enquirer was so actively devoted to Donald Trump's election that the chairman of its parent company admitted to helping make hush payments to kill stories of Trump's affairs, and received immunity for his cooperation in the criminal case of Trump lawyer Michael Cohen, while Bezos, as the owner of the steadfastly anti-Trump Washington Post, is viewed by Trump as a political enemy. All of this raises serious questions, which thus far are limited to pure speculation, about how the National Enquirer obtained the intimate photos exchanged between Bezos and his mistress…. If Bezos were the political victim of surveillance state abuses, it would be scandalous and dangerous. It would also be deeply ironic. That's because Amazon, the company that has made Bezos the planet's richest human being, is a critical partner for the U.S. Government in building an ever-more invasive, militarized and sprawling surveillance state. Indeed, one of the largest components of Amazon's business, and thus one of the most important sources of Bezos' vast wealth and power, is working with the Pentagon and the NSA to empower the U.S. Government with more potent and more sophisticated weapons, including surveillance weapons." See also, Federal prosecutors are reviewing Bezos's extortion claim against the National Enquirer, sources say, The Washington Post, Devlin Barrett, Matt Zapotosky, and Cleve R. Wootson Jr., Friday, 8 February 2019: "Federal prosecutors are reviewing accusations made by Amazon chief executive Jeffrey P. Bezos to determine if the National Enquirer's parent company may have violated the terms of a non-prosecution agreement struck over a hush money payment meant to help Donald Trump's chances in the 2016 election, according to people familiar with the matter."
White House hunts for leaker of Trump's 'executive time' schedule, Politico, Daniel Lippman and Eliana Johnson, Friday, 8 February 2019: "The White House is aggressively investigating several leaks of President Donald Trump's private schedules, a source of repeated embarrassment to the White House and the president himself. West Wing officials managing the hunt have enlisted the help of the White House IT office, and believe they are making progress in narrowing the search for potential suspects. One Trump official said the culprit is likely a career government employee who works in the White House, not a person appointed by Trump himself, but did not offer specific evidence. The search has been approved by the office of acting chief of staff Mick Mulvaney, and Trump himself — who has been infuriated by leaks from within his White House — is aware of the mole hunt and supports the effort, according to one of the officials."
Saturday, 9 February 2019, Day 751:
Senator Elizabeth Warren Formally Announces 2020 Presidential Bid, in Lawrence, Mass., The New York Times, Kate Taylor, Saturday, 9 February 2019: "Senator Elizabeth Warren of Massachusetts formally announced her 2020 presidential bid Saturday, calling for 'fundamental change' on behalf of working people and arguing that President Trump is 'just the latest and most extreme symptom of what's gone wrong in America.' Speaking on a clear, chilly day against the backdrop of old red brick mill buildings at the site of one of the nation's most famous labor strikes, she said workers now, like workers then, had had enough. She said that replacing Mr. Trump, whose administration she called 'the most corrupt in living memory,' was only the first step in fighting back against a system tilted in favor of the wealthy. 'It won't be enough to just undo the terrible acts of this administration,' Ms. Warren said. 'We can't afford to just tinker around the edges — a tax credit here, a regulation there. Our fight is for big, structural change.' The selection of Lawrence was symbolic: In 1912, a historic labor strike was started by a group of women at Everett Mill, where Ms. Warren made her announcement. The senator drew on the strike as a story of women, many of them immigrants, taking on a stacked system and triumphing by gaining raises, overtime and other benefits." See also, Senator Elizabeth Warren kicks off presidential bid by seeking to turn focus back to her economic message, The Washington Post, Annie Linskey and Doug Struck, Saturday, 9 February 2019: "Sen. Elizabeth Warren formally launched her presidential bid Saturday by reemphasizing her signature issues of fighting economic inequality and corporate wrongdoing, an effort to move beyond new questions that arose in recent days about her previous claims that she was a Native American. The outdoor rally — on the steps of a former cotton mill and the site of a historic labor strike led by women and immigrants — was intended to position Warren as the leader of a renewed crusade against what she called the 'corrupt' influence of large companies and powerful politicians."
Virginia Governor Ralph Northam says he wants to focus the rest of his term on racial equity, The Washington Post, Gregory S. Schneider, Saturday, 9 February 2019: "Gov. Ralph Northam, in his first interview since a racist photo from his medical school yearbook came to light a week ago, promised to pursue racial reconciliation as he defended his vow to stay in office despite widespread calls for his resignation. Northam (D), 59, said he wants to spend the remaining three years of his term trying to ensure that black Virginians have the same opportunities as whites. Northam seemed chastened and subdued as he described a week of grappling with what 'white privilege' means, with the reality of African American history, and with the personal failing of growing up after desegregation and the civil rights era while somehow not realizing that blackface is offensive. 'It's been a horrific week for Virginia. A lot of individuals across Virginia have been hurt,' Northam said Saturday morning, seated in the formal front parlor of the 1813 Executive Mansion. Northam's office restricted the interview to 30 minutes and stipulated that neither the audio nor a full transcript of the interview be released. Otherwise, there were no limitations on what could be asked or published."
Sandusky, Ohio, is ditching Columbus Day to make Election Day a paid holiday, The Washington Post, Kristine Phillips, Saturday, 9 February 2019: "Sandusky, Ohio, is ditching Columbus Day in favor of Election Day as a paid holiday in a decision that officials hope sends a message that the city values voting rights and diversity over a contentious holiday that many Americans already don't celebrate. 'Ultimately, we knew that Columbus Day was a day that all of our citizens couldn't necessarily be proud of celebrating. One of the things we're doing is to begin to celebrate and build on the strength that is our diversity,' Eric Wobser, Sandusky's city manager, told The Washington Post, adding that the city has passed anti-discrimination legislation. 'Columbus Day was not a way for us to show that we value our diversity.'" See also, Sandusky, Ohio, Drops Columbus Day Holiday and Makes Election Day a Paid Holiday, The New York Times, Niraj Chokshi, published on Monday, 11 February 2019: "It may be best known as the home of Cedar Point, the famous amusement park, but Sandusky, Ohio, on the shores of Lake Erie, has lately been getting attention for its politics. City officials voted two weeks ago to swap the Columbus Day holiday with one on Election Day in a move that was intended to affirm the city's values, but also inserted it into two contentious national debates. The vote garnered little immediate attention when it was covered by the local newspaper, The Sandusky Register, but news soon spread. 'We've been very surprised by the national attention,' said Sandusky's city manager, Eric Wobser, who has since been interviewed by national news organizations like NPR, CNN and The Washington Post. 'We have a huge history with the Underground Railroad and were very active in the civil rights movement, and so if we can continue to play a role in spurring some type of a national dialogue as it relates to voting rights, I think we'd be really proud of that,' he said. Holidays reflect a nation's values, so both Columbus Day and Election Day have been subjects of sometimes intense debate."
Sunday, 10 February 2019, Day 752:
Senator Amy Klobuchar (Democrat-Minnesota) Enters 2020 Presidential Race, The New York Times, Mitch Smith and Lisa Lerer, Sunday, 10 February 2019: "Amy Klobuchar, the third-term Minnesota senator, entered the race for the Democratic presidential nomination on Sunday, hopeful that her moderate politics, Midwestern roots and carefully cultivated history of bipartisanship can appeal to a broad swath of voters in contentious times. On a snow-covered stage in Minneapolis along the banks of the Mississippi River, with the temperature barely above single digits, Ms. Klobuchar said that as president she would 'focus on getting things done' and reverse some of President Trump's signature policies. On her first day in office, she said, the United States would rejoin the Paris climate agreement. See also, Senator Amy Klobuchar (Democrat-Minnesota), touting herself as a bridge-builder, announces her presidential bid, The Washington Post, Matt Viser, Sunday, 10 February 2019: "Sen. Amy Klobuchar of Minnesota announced Sunday that she will run for president in 2020, putting a pragmatic Midwesterner into the burgeoning field of Democratic candidates. Klobuchar entered the race during a rally at Boom Island Park in Minneapolis, where supporters endured falling snow and temperatures barely into the teens on a gray winter day…. Klobuchar took pains to portray herself as someone who, with experience at the local and federal levels, would bring competence to the White House, contrasting that with the current environment of chaos and shutdowns in Washington."
House Intelligence Committee Chairman Adam B. Schiff voices concern that special counsel Robert Mueller's scrutiny of Trump's finances isn't adequate, The Washington Post, Greg Miller, Sunday, 10 February 2019: "The chairman of the House Intelligence Committee expressed concern Sunday that special counsel Robert S. Mueller III has not adequately scrutinized President Trump's finances and said House investigators plan to probe Trump's relationship with a bank implicated in Russian money laundering. 'We are not interested in our committee in whether he's a tax cheat or not worth what he says he is,' Rep. Adam B. Schiff (D-Calif.) said in an appearance on the NBC's 'Meet the Press.' 'What we are interested in is, does the president have business dealings with Russia such that it compromises the United States?' In particular, Schiff said the House panel plans to investigate Trump's two-decade relationship with Deutsche Bank, a German institution that has paid hundreds of millions of dollars in penalties in recent years after admitting its role in a $10 billion money laundering scheme that allowed clients in Russia to move vast sums overseas. Schiff voiced concern that Mueller has shied away from investigating Trump's ties to the German lender, saying that 'if the special counsel hasn't subpoenaed Deutsche Bank, he can't be doing much of a money laundering investigation.' Schiff was referring to reports last year that Mueller's office had told Trump's lawyers it was not seeking Deutsche Bank records related to Trump's accounts or loans. Deutsche Bank became a critical lender to Trump in the late 1990s when major U.S. banks refused to do business with the New York real estate developer after repeated bankruptcies. Trump has described his finances as a 'red line' Mueller should not cross, and he threatened to fire Mueller in late 2017 amid reports that the special counsel was seeking records from Deutsche Bank. Trump reportedly backed down after his lawyers obtained assurances from Mueller."
In Closed Hearing, a Clue About 'the Heart' of Special Counsel Robert Mueller's Russia Inquiry, The New York Times, Sharon LaFraniere, Kenneth P. Vogel, and Scott Shane, Sunday, 10 February 2019: "Of the few hints to emerge from the special counsel, Robert S. Mueller III, about evidence of possible collusion between President Trump's campaign and Russia, one of the most tantalizing surfaced almost in passing in a Washington courtroom last week. Comments by one of Mr. Mueller's lead prosecutors, disclosed in a transcript of a closed-door hearing, suggest that the special counsel continues to pursue at least one theory: that starting while Russia was taking steps to bolster Mr. Trump's candidacy, people in his orbit were discussing deals to end a dispute over Russia's incursions into Ukraine and possibly give Moscow relief from economic sanctions imposed by the United States and its allies. The theory was offered almost as an aside by the prosecutor, Andrew Weissmann, during a discussion of contacts between Mr. Trump's former campaign chairman, Paul Manafort, and a longtime Russian associate, Konstantin V. Kilimnik, whom investigators have linked to Russian intelligence."
Virginia Governor Ralph Northam Insists He Is 'Not Going Anywhere,' The New York Times, Campbell Robertson, Sunday, 10 February 2019: "After a week of revelations that have separately disgraced Virginia's top three political leaders, the governor, Ralph Northam, remained firm on Sunday in his intention to stay in office and stopped short of calling for the resignations of his fellow scandal-plagued Democratic leaders. In an interview with 'CBS This Morning,' Mr. Northam said he was 'not going anywhere' and instead would work as governor to 'take action with policy to address' inequities in Virginia…. In the interview, he also said he was dedicated to continuing the work of racial progress, pointing out that the state is 400 years from the moment 'the first indentured servants from Africa' landed in Virginia. At which the interviewer, Gayle King, chimed in: 'Also known as slavery.'" See also, In his first TV interview since blackface scandal, Virginia Governor Ralph Northam vows: 'I'm not going anywhere,' The Washington Post, Fenit Nirappil, Sunday, 10 February 2019: "Virginia Gov. Ralph Northam (D) defended his ability to lead and heal the state's racial wounds in his first on-camera interview since the revelation of racist photos that threaten to derail his governorship. 'Right now, Virginia needs someone that can heal. There's no better person to do that than a doctor,' Northam said in an interview with journalist Gayle King, excerpts of which were aired at the start of CBS's 'Face the Nation' on Sunday. 'Virginia also needs someone who is strong, who has empathy, who has courage and who has a moral compass. And that's why I'm not going anywhere,' Northam said in the interview, which was scheduled to air in full Monday on 'CBS This Morning.'" See also, Historians say Virginia Governor Ralph Northam should read these books to better understand racism, The Washington Post, James Hohmann, Monday, 11 February 2019.
Trump Mocks Elizabeth Warren With Apparent Reference to Trail of Tears, the Infamously Cruel Forced Relocation of Native Americans in the 19th Century That Caused Thousands of Deaths, The New York Times, Sarah Mervosh, Sunday, 10 February 2019: "When Senator Elizabeth Warren formally announced her 2020 presidential bid this weekend, President Trump responded with a familiar line of attack. He mocked Ms. Warren, Democrat of Massachusetts, for her claims to Native American ancestry, again calling her by the slur 'Pocahontas.' Mr. Trump then appeared to refer to the Trail of Tears, the infamously cruel forced relocation of Native Americans in the 19th century that caused thousands of deaths. 'Will she run as our first Native American presidential candidate, or has she decided that after 32 years, this is not playing so well anymore?' Mr. Trump tweeted. 'See you on the campaign TRAIL, Liz!'… The comments drew immediate blowback on social media, with accusations that the president was making light of one of the worst tragedies Native Americans have experienced. Mr. Trump previously invoked the Wounded Knee massacre, one of the deadliest attacks on Native American people by the United States military, in another jab at Ms. Warren. 'He actually is condoning a narrative that supports a genocide and a forced removal,' said Betsy Theobald Richards, who works on changing cultural narratives for The Opportunity Agenda, a social justice organization."
Talks Over Border Security Break Down, Imperiling Effort to Prevent Shutdown, The New York Times, Emily Cochrane, Maggie Haberman, and Eric Schmitt, Sunday, 10 February 2019: "Congressional efforts to reach a border security deal ahead of another government shutdown broke down on Sunday over Democratic demands to limit the detention of undocumented immigrants, as President Trump moved more troops to the border and prepared to rally supporters in Texas on Monday. The 17 House and Senate negotiators had hoped to finalize a border security agreement on Monday, but hours before that deadline, communications had stopped, lawmakers and aides said. Meantime, the Trump administration was moving on its own to fortify the southwestern border with thousands of active-duty military troops. The number of deployed troops on the Mexican border was set to exceed the high of 5,900 reached around the November elections, as about 3,700 active-duty troops were being sent to assist with the Department of Homeland Security's border patrol efforts." See also, Government shutdown talks fell apart over the weekend, Politico, Marianne Levine, Heather Caygle, and Burgess Everett, Sunday, 10 February 2019: "Negotiations to avert another government shutdown abruptly fell apart over the weekend, raising the risk of another shuttering of services, a stopgap funding bill or a declaration by President Donald Trump of a national emergency at the southern border. The collapse of the talks over hammering out a border security package and paying for a barrier leave lawmakers in the same place they've been for months. Among the issues Democratic negotiators are focused on is Immigration and Customs Enforcement arrests of undocumented immigrants already in the U.S., not just crossing the border. They also insist they want a cap on detention beds to force ICE to prioritize which undocumented immigrants it targets within the U.S., and they say that without it, the agency will increase deportation raids in local communities without valid reason." See also, Shutdown looms as border talks break down over immigration enforcement, The Washington Post, Erica Werner, Damian Paletta, and Seung Min Kim, Sunday, 10 February 2019.
Monday, 11 February 2019, Day 753:
With Government Shutdown Looming, Border Deal Is Reached 'in Principle,' The New York Times, Emily Cochrane and Glenn Thrush, Monday, 11 February 2019: "House and Senate negotiators on Monday night agreed in principle to provide $1.375 billion for fencing and other physical barriers at the Mexican border, part of a broader agreement that would stave off another partial government shutdown without funding President Trump's wall. The agreement would allow for 55 miles of new bollard fencing, with some restrictions on location based on community and environmental concerns, according to two congressional aides, who requested anonymity to disclose details of the private negotiations. That is a fraction of the more than 200 miles of steel-and-concrete wall that Mr. Trump demanded — and 10 miles less than negotiators agreed on last summer, before Democrats took control of the House. The deal, which must still pass the House and the Senate, and secure Mr. Trump's signature, came together just before Mr. Trump, framed by banners emblazoned with "Finish the Wall" at an event in El Paso, doubled down on his demands. 'We're building the wall anyway,' he told the crowd, saying that aides had told him that the negotiators had made progress." See also, Lawmakers say they have reached an 'agreement in principle' to avoid government shutdown, The Washington Post, Erica Werner, Damian Paletta, and Sean Sullivan, published on Tuesday, 12 February 2019: "Key lawmakers announced a tentative deal late Monday that would avert another government shutdown at the end of the week while denying President Trump much of the money he's sought to build new walls along the U.S.-Mexico border. The agreement came together during intense hours of closed-door negotiations at the Capitol, as lawmakers resurrected talks that had fallen apart over the weekend in a dispute over new Democratic demands to limit immigrant detention. Democrats ultimately dropped some of those demands, which had come under fire from Republicans, clearing the way for a deal…. The deal includes $1.375 billion for 55 miles of fences along the border, compared with $5.7 billion Trump had sought for more than 200 miles of walls. The deal omits a strict new cap Democrats had sought on immigrants detained within the United States — as opposed to at the border. At the same time, it limits overall levels of detention beds maintained by the U.S. Immigration and Customs Enforcement agency, although GOP aides said ICE would have enough money and flexibility to maintain its current detention levels and add more when needed."
Trump Takes Border Wall Fight to El Paso; Beto O'Rourke Fires Back, The New York Times, Mark Landler and Simon Romero, Monday, 11 February 2019: "President Trump came to this bustling border city on Monday to rally support for his wall with Mexico. But he was met by El Paso's favorite son, Beto O'Rourke, who denounced Mr. Trump's claim that walls reduce violent crime and led the city's residents in his own boisterous show of opposition. The dueling rallies, just across the Rio Grande from Mexico, offered a vivid snapshot of the national debate over immigration, as well as a tantalizing early glimpse of the rivalry between Mr. Trump and Mr. O'Rourke, the former Texas congressman who is now considering a challenge to the president in 2020." See also, Trump and Beto O'Rourke face off at the border as 2020 campaign gears up, The Washington Post, Philip Rucker, Toluse Olorunnipa, and Jenna Johnson, Monday, 11 February 2019: "President Trump's push to get Congress to fund his proposed border wall officially converged with his 2020 reelection campaign here on Monday night, as the president and potential Democratic challenger Beto O'Rourke staged dueling rallies in this vibrant border city. The two events along the U.S.-Mexico border encapsulated the fierce debate over illegal immigration and border security that has been roiling Washington and is emerging as a flash point in the presidential campaign." See also, Trump Repeats False Claim About El Paso Crime, This Time in El Paso, The New York Times, Linda Qiu, published on Tuesday, 12 February 2019: "At a rally in Texas, President Trump insisted that crime had fallen in El Paso because of a border wall. The data and the city's Republican mayor disagree with him." See also, 'No crisis exists': El Paso officials tell Trump to stop the falsehoods about their border city, The Washington Post, Eli Rosenberg, Monday, 11 February 2019: "Officials in El Paso rebuked President Trump in advance of his visit to the border city on Monday night, assailing the president for falsely crediting the Texas city's safety to the border fence that was built there 10 years ago…. But Trump's claims were false. The city's violent crime peaked in 1993 before declining sharply throughout the 1990s, in line with national trends, and long before the city's fence was approved by Congress in 2006. From 2006 to 2011 — the period through the two years after it was built, violent crime actually increased 17 percent, according to the El Paso Times. It was a point that officials underscored on Monday. 'Even if you give president the benefit of the doubt, the fence that was built in 2008 has made really no difference one way or the other,' said Esparza, who has served as district attorney since 1993." See also, Donald Trump Responds to Beto O'Rourke's March for Truth in El Paso With Flagrant Lies, The Intercept, Robert Mackey, published on Tuesday, 12 February 2019: "In El Paso,Texas on Monday night, Donald Trump responded to the March for Truth — a protest against his false claims about the city led by its most famous resident, Beto O'Rourke — by lying about it. In remarks transmitted live and uncorrected by the news networks, Trump claimed that a crowd of about 13,000 supporters at his rally in the city numbered, 'let's say 35,000 people,' while the march addressed by O'Rourke had drawn, at most, '300 people.' El Paso's police department estimated that the number of protesters was in fact between 10,000 and 15,000…. Far from being a city saved from violent crime only by the construction of a border wall in 2008, as Trump had falsely claimed during his State of the Union speech, O'Rourke stressed that El Paso's crime rate had already plummeted before the partial barrier was constructed…. As Bob Moore and Carlos Sanchez reported for The Texas Tribune, Trump opened his speech, beneath banners reading 'Finish the Wall,' with the blatant lie that construction of a border wall along the Texas-Mexico border was underway…. The president's attempt to clear a path for his lies by attacking the media once again incited his supporters to such hostility that one even attacked a cameraman for the BBC."
Representative Ilhan Omar (Democrat-Minnesota) apologizes after House Democratic leadership condemns her comments as anti-Semitic tropes, The Washington Post, Mike DeBonis and Rachael Bade, Monday, 11 February 2019: "The Minnesota congresswoman's Sunday evening tweet — 'It's all about the Benjamins baby,' a reference to $100 bills — drew immediate denunciations from Republicans and fellow Democrats, especially Jewish members of Congress. Within hours, Pelosi (D-Calif.) and the leadership issued a joint statement calling Omar's 'use of anti-Semitic tropes and prejudicial accusations about Israel's supporters' deeply offensive and insisted on an apology. In response, Omar said her intention was never to offend 'my constituents or Jewish Americans as a whole. . . . This is why I unequivocally apologize.'… While some left-wing policies have gotten a sympathetic hearing from Democrats, including many of the party's 2020 presidential candidates, skepticism toward Israel has proved a much thornier issue. Many Democrats have struggled to reconcile their frustration with the conservative government led by Prime Minister Benjamin Netanyahu, one closely allied with Trump and Republicans, with their support for the Jewish homeland…. But for most Democrats on Monday, Omar's tweets crossed the line by playing into ancient stereotypes about wealthy Jews — forcing action from party leaders who had brushed off earlier accusations of anti-Semitism against Omar and Rep. Rashida Tlaib (D-Mich.), the only two Muslim women in Congress. 'Legitimate criticism of Israel's policies is protected by the values of free speech and democratic debate that the United States and Israel share,' Pelosi said in a joint statement with five other House Democratic leaders, adding that Omar's use of anti-Semitic tropes was deeply offensive. Omar wrote that she thinks the American Israel Public Affairs Committee, or AIPAC, the influential lobbying group, is paying American politicians to take pro-Israel stances. AIPAC, which is not a political action committee, does not make campaign contributions to politicians, but its individual members can make donations, and the organization spends millions on lobbying efforts for pro-Israel legislation every year." See also, Representative Ilhan Omar (Democrat-Minnesota) Apologizes for Statements Condemned as Anti-Semitic, The New York Times, Sheryl Gay Stolberg, Tuesday, 11 February 2019: "Representative Ilhan Omar, who has been battling charges of anti-Semitism for weeks, apologized on Monday for insinuating that American support for Israel is fueled by money from a pro-Israel lobbying group — a comment that drew swift and unqualified condemnation from fellow Democrats, including Speaker Nancy Pelosi. The mea culpa by Ms. Omar, a freshman lawmaker from Minnesota and one of the first two Muslim women elected to Congress, came after a day of bipartisan outrage over her tweet Sunday night asserting that support for Israel was 'all about the Benjamins baby,' a reference to hundred-dollar bills. 'Anti-Semitism is real and I am grateful for Jewish allies and colleagues who are educating me on the painful history of anti-Semitic tropes,' Ms. Omar said in a statement released on Twitter, about an hour after Ms. Pelosi and the entire Democratic leadership publicly chastised her for engaging in 'deeply offensive' anti-Semitic tropes…. In her Twitter statement on Monday, Ms. Omar did not back away from her contention that Aipac has too much power in Washington. 'At the same time, I reaffirm the problematic role of lobbyists in our politics, whether it be Aipac, the N.R.A. or the fossil fuel industry,' Ms. Omar wrote. Critics of Israel say Ms. Omar has a point. In separate interviews on Monday, both Emily Mayer, the national coordinator of IfNotNow, a liberal Jewish group, and Yousef Munayyer, the director of the U.S. Campaign for Palestinian Rights, said Ms. Omar was forcing an important discussion in Washington. 'Twitter is probably not the best medium for nuanced conversation,' Mr. Munayyer said. 'But I don't think the correct answer is we can't talk about it. I think it is very important in this moment to have a conversation about U.S. relations with Israel.' Ms. Mayer said she 'wholeheartedly' accepts Ms. Omar's 'apology for her word choice while also appreciating the moral stance that she takes on this issue, which is pretty unprecedented in today's Congress.'" See also, Pro-Israel Lobby Caught on Tape Boasting That its Money Influences the Political Process in Washington, The Intercept, Ryan Grim, Monday, 11 February 2019: "A debate about the power in Washington of the pro-Israel lobby is underway, after Rep. Ilhan Omar, D-Minn., responded sharply to reports that Republican leader Kevin McCarthy was targeting both Omar and fellow Muslim Rep. Rashida Tlaib, a Democrat from Michigan. Omar quoted rap lyrics — 'It's all about the Benjamins baby' — to suggest McCarthy's move was driven by the lobby's prolific spending. Asked specifically who she was referring to, Omar responded, 'AIPAC!' The debate over the influence of pro-Israel groups could be informed by an investigation by Al Jazeera, in which an undercover reporter infiltrated the Israel Project, a Washington-based group, and secretly recorded conversations about political strategy and influence over a six-month period in 2016. That investigation, however, was never aired by the network — suppressed by pressure from the pro-Israel lobby. In November, Electronic Intifada obtained and published the four-part series, but it did so during the week of the midterm elections, and the documentary did not get a lot of attention then. In it, leaders of the pro-Israel lobby speak openly about how they use money to influence the political process, in ways so blunt that if the comments were made by critics, they'd be charged with anti-Semitism."
Publisher of  National Enquirer Asked the Justice Department for Advice on Whether It Should Register as a Foreign Agent After Publishing a Glossy Magazine Promoting Saudi Arabia and Its New Crown Prince, The Wall Street Journal, Julie Bykowicz and Lukas I. Alpert, Monday, 11 February 2019: "The dust-up between [Amazon] founder Jeff Bezos and National Enquirer parent American Media LLC has raised questions about the media company's connections to Saudi Arabia. American Media has had plenty of contacts with Saudi Arabia in recent years, including seeking financial backing from Saudi investors to fund acquisitions and producing a magazine celebrating the country's new crown prince. It also sought advice last year from the U.S. Justice Department over whether the publisher should register as a foreign agent, a person familiar with the matter told The Wall Street Journal. The issue of the ties came up last week when Mr. Bezos took to the internet to push back against what he said was an extortion attempt by the National Enquirer against him over an extramarital affair that the tabloid reported on last month featuring photos and texts. He said he launched his own probe into how the publication obtained his texts as well as its motives and wrote that the 'Saudi angle seems to hit a particularly sensitive nerve.'"
California Governor Gavin Newsom Announces Withdrawal of National Guard Troops From Border Duty, The New York Times, Jose A. Del Real, Monday, 11 February 2019: "Gov. Gavin Newsom of California announced Monday that he would withdraw nearly 400 of his state's National Guard troops from deployment along the border with Mexico and assign them to other duties. The step to rescind state authorization for the border deployment is a sharp rebuke of President Trump's continued warnings that undocumented migrants present a national security risk to the United States. It follows a similar move last week by Gov. Michelle Lujan Grisham of New Mexico." See also, Slamming Trump's 'political theater,' California Governor Gavin Newsom pulls National Guard from the border, Los Angeles Times, Jazmine Ulloa and Taryn Luna, Monday, 11 February 2019: "As a second partial government shutdown looms in Washington over border discussions, Gov. Gavin Newsom on Monday signed an order to withdraw and redeploy roughly 360 National Guard members from California's southern boundary with Mexico, repudiating President Trump's characterization of a recent influx of Central American refugees and migrants as a national security crisis. Speaking to reporters Monday, Newsom said he was giving the National Guard a new mission so that troops would not take part in the White House's 'political theater' in perpetuation of what he once more called 'a manufactured border crisis.'" See also, 'A manufactured crisis': California governor Gavin Newsom plans troop withdrawal from southern border, The Washington Post, Lindsey Bever, Monday, 11 February 2019.
Trump Signs Executive Order Promoting Artificial Intelligence, The New York Times, Cade Metz, Monday, 11 February 2019: "President Trump signed an executive order Monday meant to spur the development and regulation of artificial intelligence, technology that many experts believe will define the future of everything from consumer products to health care to warfare. A.I. experts across industry, academia and government have long called on the Trump administration to make the development of artificial intelligence a major priority. Last spring, worried that the United States was not keeping pace with China and other countries, Jim Mattis, then the defense secretary, sent a memo to the White House imploring the president to create a national strategy on A.I. Now, Mr. Trump has taken that step, though this 'American A.I. Initiative' might not be as bold as some had hoped. The executive order aimed to better educate workers in the field, improve access to the cloud computing services and data needed to build A.I. systems, and promote cooperation with foreign powers. But the order did not set aside funds for A.I. research and development, and the administration provided few details on how it planned put its new policies into effect."
AccuWeather, the family company of Trump nominee Barry Myers, paid a $290,000 fine for sexual harassment and discrimination, The Washington Post, Michael Brice-Saddler, Monday, 11 February 2019: "AccuWeather, a private weather company whose former chief executive is President Trump's nominee to head the National Oceanic and Atmospheric Administration, agreed to pay $290,000 as part of a settlement after a federal oversight agency found the company subjected female employees to sexual harassment and a hostile work environment. The conciliation agreement was published in June after an investigation by the Office of Federal Contract Compliance Programs. The agreement was first reported Monday by the Centre Daily Times. The agreement states AccuWeather subjected women to 'sexual harassment and a hostile work environment' and would pay out thousands to dozens of women as part of a settlement."
Iraq Rebuffs U.S. Demands to Stop Buying Energy From Iran, The New York Times, Edward Wong, Monday, 11 February 2019: "The Trump administration is pressuring Iraq to stop buying energy from its neighbor and sole foreign supplier, Iran, in what has become a major point of conflict between Washington and Baghdad. Iraqi leaders, fearing that a further shortfall in power would lead to mass protests and political instability in their electricity-starved country, are pushing back on the demand, which is rooted in President Trump's sanctions against Iran."
Honduran and Nepali immigrants sue to block the Trump administration from ending temporary protected status for people who have come to the U.S. to escape danger in Honduras and Nepal, The Washington Post, Antonio Olivo, Monday, 11 February 2019: "Immigrant advocates filed a federal lawsuit Monday seeking to block the Trump administration from ending temporary protected status for people who have come to the United States to escape danger in Nepal and Honduras, using the same arguments that led a federal judge to delay the end of similar protections for immigrants from El Salvador, Nicaragua, Haiti and Sudan. In a class-action lawsuit filed in U.S. District Court in Northern California, lawyers for roughly 100,000 Nepali and Honduran immigrants with temporary protected status argued that plans to end the protections were motivated by racial animus, citing a comment President Trump made last year that referred to Haiti and African nations as 'shithole countries.' Those who have the protection are allowed to live and work in the United States but must seek to renew their status every 18 months."
Utah lawmakers scale back voter-approved Medicaid expansion, The Washington Post, Amy Goldstein, Monday, 11 February 2019: "When voters of deep-red Utah approved a ballot initiative to expand Medicaid in November, David Heslington, bishop of an inner-city congregation of the Church of Jesus Christ of Latter-day Saints, was elated. He has seen first hand that expanding health coverage to poor and working-class Utahns would save lives, having conducted funerals in the spring for two Salt Lake City men who had overdosed on opioids, unable to afford addiction treatment. Two weeks ago, as the Utah legislature rushed to shred that initiative, Heslington implored lawmakers to reconsider: 'Do you feel any obligation to implement the will of the people you supposedly represent?' On Monday, the legislature gave its answer: It enacted a Medicaid plan that would cover tens of thousands fewer people than what voters called for, despite demonstrations by people carrying signs saying, 'Respect democracy, our vote matters.'"
'Progressive Prosecutor': Can Kamala Harris Square the Circle? The New York Times, Kate Zernike, Monday, 11 February 2019: "Ms. Harris seemed to try to be all things to all people as a district attorney and state attorney general. Now, as she runs for president, her record faces a chorus of critics, especially on the left."
Tuesday, 12 February 2019, Day 754:
The Senate just passed the decade's biggest public lands package. The bipartisan measure would create more than 1.3 million acres of wilderness out West, add three national park units, and expand eight others. The Washington Post, Juliet Eilperin and Dino Grandoni, Tuesday, 12 February 2019: "The Senate on Tuesday passed the most sweeping conservation legislation in a decade, protecting millions of acres of land and hundreds of miles of wild rivers across the country and establishing four new national monuments honoring heroes including Civil War soldiers and a civil rights icon. The 662-page measure, which passed 92 to 8, represented an old-fashioned approach to dealmaking that has largely disappeared on Capitol Hill. Senators from across the ideological spectrum celebrated home-state gains and congratulated each other for bridging the partisan divide…. The measure protects 1.3 million acres as wilderness, the nation's most stringent protection, which prohibits even roads and motorized vehicles. It permanently withdraws more than 370,000 acres of land from mining around two national parks, including Yellowstone, and permanently authorizes a program to spend offshore-drilling revenue on conservation efforts…. Perhaps the most significant change the legislation would make is permanently authorizing a federal program that funnels offshore drilling revenue to conserve a spread of sites that includes major national parks and wildlife preserves, as well as local baseball diamonds and basketball courts…. Congress is now set to reauthorize the fund in perpetuity, though it will not make its [funding] mandatory. Congressional funding for the program has 'fluctuated widely' since its inception in 1965, according to a 2018 Congressional Research Service report…. The bill would also be a boon for another constituency — hunters and anglers. Bow hunters would be allowed to bring their weapons through national parks when trying to reach areas where it is legal to hunt. More important, it makes all federal lands open to hunting, fishing, and recreational shooting unless otherwise specified.… The public lands package would also protect nearly 620 miles of rivers across seven states from damming and other development, often delegating management of the waterways to local authorities." See also, Senate Passes a Sweeping Land Conservation Bill, The New York Times, Coral Davenport, Tuesday, 12 February 2019.
Trump Rebuked Representative Ilhan Omar for Posting Tweets Deemed Anti-Semitic, But Her Tweets Echoed Some of the Same Insinuations About Jews and Money That He Has Trafficked in for Years, as a Candidate and as President, The New York Times, Mark Landler, Tuesday, 12 February 2019: "President Trump demanded on Tuesday that a freshman lawmaker from Minnesota resign after she posted tweets deemed anti-Semitic even by fellow Democrats, but those tweets echoed some of the same insinuations about Jews and money that he has trafficked in for years, as a candidate and president. Mr. Trump rejected the apology of Representative Ilhan Omar, one of the first two Muslim women elected to Congress, saying, 'it was lame, and she didn't mean a word of it.' Ms. Omar, he said, should leave the House or, at a minimum, give up her seat on a coveted committee…. Mr. Trump was the latest in a parade of Republicans and Democrats to condemn Ms. Omar. But the president himself has perpetuated stereotypes of Jews using money to buy political influence or of acting as 'globalists,' pulling the levers of power for their own enrichment. In 2015, Mr. Trump told members of the Republican Jewish Coalition: 'You're not going to support me because I don't want your money. You want to control your politicians, that's fine.' He added with admiration that it was a roomful of 'negotiators,' leading some to object afterward that he was engaging in Jewish stereotypes. During the 2016 campaign, Mr. Trump's final television commercial featured grainy images of George Soros, the Hungarian-born financier who has become a potent symbol for anti-Semites; Janet L. Yellen, then the chairwoman of the Federal Reserve; and Lloyd C. Blankfein, then the chairman of Goldman Sachs — all of them Jewish — as Mr. Trump warned darkly about the 'global special interests.' Shadowy figures, he said, 'partner with these people who don't have your good in mind.'… In July 2016, Mr. Trump drew fierce criticism when his campaign released an ad about Hillary Clinton, the Democratic candidate, which depicted her superimposed on piles of cash, with a six-point Star of David and the phrase 'Most Corrupt Candidate Ever!'" See also, Trump and Republicans are accused of anti-Semitism double standard after piling on Representative Ilhan Omar, The Washington Post, Isaac Stanley-Becker, Tuesday, 12 February 2019.
Democrats on the House Judiciary Committee Hire Legal Critics of Trump for Investigations, The New York Times, Nicholas Fandos, Tuesday, 12 February 2019: "Democrats on the House Judiciary Committee said on Tuesday that they had retained two elite white-collar litigators and prominent legal critics of President Trump to help begin inquiries into some of the most sensitive allegations involving the president, including ethics violations, corruption and possible obstruction of justice. The committee's chairman, Representative Jerrold Nadler of New York, has not committed to opening a formal impeachment inquiry. But the addition of the two lawyers, Norman L. Eisen and Barry H. Berke, indicates that the Democrats do not intend to wait for the special counsel, Robert S. Mueller III, to finish his work to begin weighing issues that could ultimately be wrapped up in such a proceeding. 'The president of the United States faces numerous allegations of corruption and obstruction,' Mr. Nadler said in a statement announcing the decision. 'His conduct and crude statements threaten the basic legal, ethical and constitutional norms that maintain our democratic institutions. Congress has a constitutional duty to be a check and balance against abuses of power when necessary.'" See also, Senate Intelligence Committee Chairman Richard Burr (Republican-North Carolina) slams Trump fixer Michael Cohen, and House Judiciary Committee Democrats announce the hiring of two high-profile lawyers to serve as consultants, The Washington Post, Karoun Demirjian and Rhonda Colvin, Tuesday, 12 February 2019. See also, House Judiciary Committee hires two new outside legal counsels, NBC News, Mike Memoli and Alex Moe, Tuesday, 12 February 2019: "The House Judiciary Committee is building out its legal team with an eye toward an aggressive oversight agenda, tasking new outside attorneys with a review of issues that could be at the heart of an impeachment case against President Trump. The Democratic-led panel on Tuesday received approval to hire two 'special oversight counsels' — Norm Eisen, a former ethics official in the Obama administration, and Barry Berke, a New York-based criminal defense attorney. Chairman Jerry Nadler, D-N.Y., said the two will 'consult on oversight matters related to the Department of Justice, including the Department's review of Special Counsel Mueller's investigation, and other oversight and policy issues within the Committee's jurisdiction. 'The House Judiciary Committee is determined to ask critical questions, gather all the information, judiciously assess the evidence, and make sure that the facts are not hidden from the American people,' Nadler said in a statement. 'I am glad to have such valuable resources available to help us ensure that this Administration is held accountable to our laws and to the American public.'"
Trump supporter attacks BBC cameraman at El Paso rally, BBC News, Tuesday, 12 February 2019: "A supporter of US President Donald Trump has attacked a BBC cameraman at a campaign rally in El Paso, Texas. Sporting a Make America Great Again cap, the man shoved and swore at the BBC's Ron Skeans and other news crews before being pulled away. Mr Skeans said the 'very hard shove' came from his blindside. 'I didn't know what was going on.' Mr Trump saw the attack and confirmed Mr Skeans was well with a thumbs up after it happened. The BBC has written to White House Press Secretary Sarah Sanders asking for a review of security arrangements for the media attending the president's rallies following the attack. The president has had a fractious relationship with the media from the start of his time in office. He has claimed journalists are 'the enemy of the people' and slammed the 'fake news' for reports he deems unfavourable. Mr Skeans said the man almost knocked him and his camera over twice before he was wrestled away by a blogger." See also, BBC cameraman was 'violently pushed and shoved' by man in MAGA hat at Trump rally, The Washington Post, Lindsey Bever and Eli Rosenberg, Tuesday, 12 February 2019: "A belligerent man at President Trump's campaign rally on the Texas border attacked news crews in attendance, shoving and swearing at a photojournalist from the BBC, according to reports and a spokeswoman for the network. The BBC said cameraman Ron Skeans was 'violently pushed and shoved by a member of the crowd' while covering the rally Monday night in El Paso, about a mile from the U.S.-Mexico border…. The incident drew wide outcry on Tuesday, as concerns have swelled about the potential for violence against the media after Trump began calling them, 'the enemy of the people.' The White House Correspondents' Association condemned the attack and asked that the president 'make absolutely clear to his supporters that violence against reporters is unacceptable. We are relieved that, this time, no one was seriously hurt,' Olivier Knox, the association's president, said." See also, BBC Cameraman Is Attacked by a Trump Supporter at Trump Rally in El Paso, Texas, The New York Times, Iliana Magra, Tuesday, 12 February 2019: "Since the beginning of his presidency, Mr. Trump has had a strained relationship with the news media. He has repeatedly called journalists 'the enemy of the people,' and he used the term 'Fake News' on Twitter at least 174 times last year alone. In August, experts from the United Nations and a human rights body condemned the president's attacks on the news media and warned that they could incite violence against journalists."
Four more Democratic governors join alliance to uphold the Paris climate goals, The Washington Post, Paulina Firozi, Tuesday, 12 February 2019: "Some states aren't waiting around for Congress to pass a Green New Deal to tackle climate change. Wisconsin Gov. Tony Evers (D) plans to announce today that he's joining the U.S. Climate Alliance, his staff confirmed to The Energy 202. Evers is the latest of four newly elected Democratic governors to join the group of states that have pledged to meet the goals outlined in the Paris climate accord, even though Trump vowed to withdraw the United States from the global pact meant to reduce greenhouse gas emissions. Michigan Gov. Gretchen Whitmer, New Mexico Gov. Michelle Lujan Grisham and Illinois Gov. J.B. Pritzker announced their participation in recent weeks. These latest commitments expand the bipartisan coalition from a group of mostly coastal states to a group of 21 that is more representative of the broader country."
Since Parkland. 12 months, nearly 1.200 deaths: the year in youth gun violence since Parkland. Miami Herald, Kevin G. Hall, Tuesday, 12 February 2019: "This story is part of the Since Parkland series in partnership with The Trace. After the slaughter of 14 students and three adults in Parkland, Florida, on Valentine's Day, parents demanded new laws and students lit up social media. They registered young voters and organized a massive rally called the March For Our Lives. They called their movement Never Again. Then it happened again — 94 days later. Eight students and two teachers were mowed down by a gunman at a high school in Santa Fe, Texas. And it happened again and again, in dribs and drabs, on street corners, in backyards and in homes: young people obliterated by gunfire. The 12-month period starting Feb. 14, 2018, saw nearly 1,200 lives snuffed out. That's a Parkland every five days, enough victims to fill three ultra-wide Boeing 777s. The true number is certainly higher because no government agency keeps a real-time tally and funding for research is restricted by law. The Trace, an online nonprofit news organization that covers firearms issues, wanted to commemorate those lost lives. It assembled a team of more than 200 journalists — kids themselves — to research and write short portraits of every victim, 18 and under. On the anniversary of the Parkland massacre, The Trace is publishing those portraits. In conjunction, the Miami Herald and McClatchy are presenting a series of stories on the year in gun violence against children." See also, 14 Children Died in the Parkland Shooting. Nearly 1,200 Have Died From Guns Since. The New York Times, Adeel Hassan, published on Wednesday, 13 February 2019: "Fourteen students died on Feb. 14, 2018, in Parkland, Fla., inspiring marches, new laws and widespread calls to stop the onslaught of gun deaths. But in the year since one of the worst school shootings in the United States, nearly 1,200 more children have lost their lives to guns in this country. The number alone might stop most people in their tracks. But editors at The Trace, a nonprofit news organization that reports on gun violence, wanted to remember the dead not as statistics, but as human beings with rich histories. This week they launched 'Since Parkland,' a website compiling profiles of every one of the victims. To tell their stories, The Trace turned to those who could relate most closely to the victims: other young people."
Deputy Secretary of the Interior David Bernhardt Pushes a Policy Favoring His Former Client, The New York Times, Coral Davenport, Tuesday, 12 February 2019: "As a lobbyist and lawyer, David Bernhardt fought for years on behalf of a group of California farmers to weaken Endangered Species Act protections for a finger-size fish, the delta smelt, to gain access to irrigation water. As a top official since 2017 at the Interior Department, Mr. Bernhardt has been finishing the job: He is working to strip away the rules the farmers had hired him to oppose. Last week President Trump said he would nominate Mr. Bernhardt to lead the Interior Department, making him the latest in a line of officials now regulating industries that once paid them to work as lobbyists. Others include Andrew Wheeler, a former coal lobbyist who now heads the Environmental Protection Agency after the resignation of Scott Pruitt amid ethics scandals. William Wehrum, the nation's top clean-air regulator, is a lawyer whose former clients included coal-burning power plants and oil giants."
Hundreds protest in Washington to support immigrants with temporary protected status, The Washington Post, Marissa J. Lang, Tuesday, 12 February 2019: "Hundreds of immigrants and their families representing more than a dozen countries and several states gathered Tuesday in Washington to demand that permanent residency be made available to thousands of immigrants who came to the United States fleeing war and disaster. They danced to the beat of drums and the thrum of vuvuzelas, the airy notes of a conch shell and the shake of maracas, hoisting flags and signs into the air as they chanted in English, Spanish, French, Haitian Creole and Nepali. Through the cold and rain, they sang and marched down Pennsylvania Avenue. 'What do we want?' they called. 'Residency!' 'When do we want it?' 'Now!'"
Trump Pledged to End H.I.V. But His Policies Veer the Other Way. The New York Times, Robert Pear, Tuesday, 12 February 2019: "In his State of the Union address, President Trump announced a bold plan to end the scourge of H.I.V. by 2030, a promise that seemed to fly in the face of two years of policies and proposals that go in the opposite direction and could undermine progress against the virus that causes AIDS. In November, the Trump administration proposed a rule change that would make it more difficult for Medicare beneficiaries to get the medicines that treat H.I.V. infection and prevent the virus from spreading. Mr. Trump has repeatedly urged Congress to repeal the expansion of Medicaid under the Affordable Care Act, even though Medicaid is the largest source of coverage for people with H.I.V. And he has promoted the sale of short-term health plans that skirt the Affordable Care Act, even though such plans usually exclude people with H.I.V."
How Paul Manafort's 2016 meeting with a Russian employee at a New York cigar club goes to 'the heart' of special counsel Robert Mueller's investigation, The Washington Post, Rosalind S. Helderman and Tom Hamburger, Tuesday, 12 February 2019: "The 2016 nominating conventions had recently concluded and the presidential race was hitting a new level of intensity when Paul Manafort, Donald Trump's campaign chairman, ducked into an unusual dinner meeting at a private cigar room a few blocks away from the campaign's Trump Tower headquarters in Manhattan. Court records show that Manafort was joined at some point by his campaign deputy, Rick Gates, at the session at the Grand Havana Room, a mahogany-paneled space with floor-to-ceiling windows offering panoramic views of the city. The two Americans met with an overseas guest, a longtime employee of their international consulting business who had flown to the United States for the gathering: a Russian political operative named Konstantin Kilimnik. The Aug. 2, 2016, encounter between the senior Trump campaign officials and Kilimnik, who prosecutors allege has ties to Russian intelligence, has emerged in recent days as a potential fulcrum in special counsel Robert S. Mueller III's investigation. It was at that meeting that prosecutors believe Manafort and Kilimnik may have exchanged key information relevant to Russia and Trump's presidential bid. The encounter goes 'very much to the heart of what the special counsel's office is investigating,' prosecutor Andrew Weissmann told a federal judge in a sealed hearing last week." See also, Russian billionaire Oleg Deripaska denies he ever interacted with Konstantin Kilimnik, Paul Manafort's associate in Ukraine, The Washington Post, Aaron Blake, Tuesday, 12 February 2019: "The Washington Post's Rosalind S. Helderman and Tom Hamburger are out with a must-read reconstruction of the Aug. 2, 2016, meeting between Paul Manafort and his associate in Ukraine, Konstantin Kilimnik. This is the increasingly intriguing meeting that special counsel Robert S. Mueller III has zeroed in on in his Russia collusion probe, according to court documents."
Wednesday, 13 February 2019, Day 755:
House Votes to Halt Aid for Saudi Arabia's War in Yemen, The New York Times, Catie Edmondson and Charlie Savage, Wednesday, 13 February 2019: "The House voted on Wednesday to end American military assistance for Saudi Arabia's war in Yemen, a defiant and rare move to curtail presidential war powers that underscored anger with President Trump's unflagging support for Saudi Arabia even after the killing of a Washington Post columnist, Jamal Khashoggi. The 248-to-177 vote, condemning a nearly four-year conflict in Yemen that has killed thousands of civilians and inflicted a devastating famine, will pressure the Republican-controlled Senate to respond. Eighteen Republicans — almost all of them hard-line conservatives with the Freedom Caucus — voted with the Democratic majority. Congress's upper chamber in December passed a parallel resolution, 56 to 41, in a striking rebuke to the president and his administration's defense of the kingdom. But that measure died with the last Congress after the House Republican leadership blocked a vote. Dozens of Democrats, however, softened the blow when they defected to a Republican amendment to allow intelligence sharing with Saudi Arabia to continue when 'appropriate in the national security interest of the United States.' Senate passage of the Yemen resolution could prompt Mr. Trump to issue the first veto of his presidency, and it would come after Republicans have registered their unhappiness over other foreign policy issues, such as the president's plan to withdraw troops from Syria and Afghanistan and his threats to pull the United States from the North Atlantic Treaty Organization." See also, House passes measure to end U.S. military involvement in Yemen, repudiating Trump's backing of Saudi-led coalition, The Washington Post, Karoun Demirjian, Wednesday, 13 February 2019: "The House on Wednesday passed a resolution to end U.S. military support for the Saudi-led coalition operating in Yemen, a repudiation of President Trump's continued cooperation with and defense of the kingdom and its crown prince, Mohammed bin Salman…. Before the House passed the resolution, lawmakers attached an amendment to it stating that the measure would not restrict the collection and sharing of intelligence as the president deems appropriate. Intelligence-sharing is a major piece of U.S.-Saudi cooperation, particularly since the administration ended the practice of refueling planes last year." See also, House of Representatives Orders Donald Trump to Stop Backing Saudi-Led War in Yemen, Paving the Way for Decisive Senate Vote, The Intercept, Alex Emmons, Wednesday, 13 February 2019: "In a stinging rebuke to the Trump administration's cozy relationship with Saudi Arabia, the House of Representatives passed a resolution directing the administration to remove U.S. forces from supporting the Saudi-led intervention in Yemen. The measure, which passed by a vote of 248-177, is one of the first major pieces of legislation approved by the Democratic House. It is a significant achievement for the progressive wing of the party, whose members have long argued in favor of cutting off military support for Saudi Arabia…. Rep. Ro Khanna, a California Democrat who sponsored the resolution, told The Intercept that the vote was a 'historic' assertion of Congress checking war powers. 'This has never happened before — since 1973. It's Congress reasserting our role in matters of war and peace,' Khanna said. 'It's a major signal to the Saudis to end the war.' When the House first considered the measure in 2017, it was championed by progressives like Khanna but opposed by Democratic leadership. When supporters reintroduced the measure in September, it had the backing of a number of top Democrats, including Democratic Whip Steny Hoyer, D-Md. The explosion of anger surrounding the murder of Washington Post columnist Jamal Khashoggi in October drew members from both sides of the aisle, many of whom saw it as a way to hold Saudi leadership accountable."
House Judiciary Committee moves to act on gun control amid partisan debate about background checks, The Washington Post, Katie Zezima, Wednesday, 13 February 2019: "The House Judiciary Committee passed a measure Wednesday that would require background checks for all gun sales and most gun transfers within the United States, the most significant gun-control legislation to advance this far in Congress in years. The committee spent more than nine hours debating the bill before voting 21 to 14 to advance it Wednesday night. Next, it will face a vote on the House floor. The measure was among the first actions taken by the newly elected Democratic majority, which pledged to make gun control a top issue. The bill also has the support of at least five Republicans, a rare feat given the issue often has cleaved along party lines. The committee also voted 23 to 15 to advance a bill that would close a loophole in the current background-check law that allows a gun purchase if a check is not completed in three days." See also, House Judiciary Committee Backs Bill Expanding Gun-Sale Background Checks, The New York Times, The Associated Press, Wednesday, 13 February 2019.
Paul Manafort, Trump's Former Campaign Chairman, Lied Multiple Times to Prosecutors After Plea Agreement, Judge Amy Berman Jackson Rules, The New York Times, Sharon LaFraniere, Wednesday, 13 February 2019: "A federal judge ruled on Wednesday that Paul Manafort, President Trump's former campaign chairman, had breached his plea agreement by lying multiple times to prosecutors after pledging to cooperate with the special counsel's investigation into Russia's interference in the 2016 election. The decision by Judge Amy Berman Jackson of the United States District Court in Washington may affect the severity of punishment that awaits Mr. Manafort. Judge Jackson is scheduled to sentence him next month on two conspiracy counts, and he is also awaiting sentencing for eight other counts in a related fraud case." See also, Federal judge Amy Berman Jackson finds that Paul Manafort, Trump's former campaign chairman, lied to special counsel Robert Mueller's team about contacts with Russian aide Konstantin Kilimnik, The Washington Post, Spencer S. Hsu, Wednesday, 13 February 2019: "Former Trump campaign chairman Paul Manafort lied to prosecutors with special counsel Robert S. Mueller III about matters close to the heart of their investigation into Russian interference in the 2016 election, a federal judge ruled Wednesday. The judge's finding that Manafort, 69, breached his cooperation deal with prosecutors by lying after his guilty plea could add years to his prison sentence and came after a set of sealed court hearings. Manafort's lies, the judge found, included 'his interactions and communications with [Konstantin] Kilimnik,' a longtime aide whom the FBI assessed to have ties to Russian intelligence. U.S. District Judge Amy Berman Jackson of the District said Manafort also lied to the special counsel, the FBI and the grand jury about a payment from a company to a law firm — which he previously characterized as a loan repayment — and made false statements that were material to another Justice Department investigation whose focus has not been described in public filings in Manafort's case. Manafort's actions mean Mueller's office "is no longer bound" by the plea agreement including prosecutors' promise to support a possible sentencing reduction for Manafort accepting responsibility for his crimes." See also, Judge Rules Former Trump Campaign Chair Paul Manafort Lied in Violation of Plea Agreement, The Wall Street Journal, Byron Tau and Aruna Viswanatha, Wednesday, 13 February 2019: "A federal judge ruled Wednesday that former Trump campaign chairman Paul Manafort lied to investigators about his contact with an associate the FBI has linked to Russian intelligence despite agreeing to a plea deal requiring him to tell the truth. U.S. District Judge Amy Berman Jackson said in a four-page order that the government met its burden of proof in showing that Mr. Manafort intentionally misled investigators on at least three matters. Her ruling voids the government's obligations under the agreement to offer him leniency in exchange for his cooperation in special counsel Robert Mueller's investigation of Russian interference in the 2016 election."
U.S. Revives Secret Program to Sabotage Iranian Missiles and Rockets, The New York Times, David E. Sanger and William J. Broad, Wednesday, 13 February 2019: "The Trump White House has accelerated a secret American program to sabotage Iran's missiles and rockets, according to current and former administration officials, who described it as part of an expanding campaign by the United States to undercut Tehran's military and isolate its economy. Officials said it was impossible to measure precisely the success of the classified program, which has never been publicly acknowledged. But in the past month alone, two Iranian attempts to launch satellites have failed within minutes. Those two rocket failures — one that Iran announced on Jan. 15 and the other, an unacknowledged attempt, on Feb. 5 — were part of a pattern over the past 11 years. In that time, 67 percent of Iranian orbital launches have failed, an astonishingly high number compared to a 5 percent failure rate worldwide for similar space launches."
Anti-Iran Message Seeps Into Trump Forum in Warsaw Billed as Focusing on Mideast Security, The New York Times, David E. Sanger and Marc Santora, Wednesday, 13 February 2019: "The Trump administration had delicately said the meeting of five dozen nations in Warsaw would focus on 'Middle East security.' But the unmistakable voice of Rudolph Giuliani, an avowed proponent of regime change in Iran, set a different tone. Hours before the meeting began, Mr. Giuliani, the former mayor of New York and President Trump's lawyer, told an anti-Iran rally outside Warsaw's main stadium that Iranian leaders are 'assassins, they are murderers and they should be out of power.'… Prime Minister Benjamin Netanyahu of Israel arrived seeking an opportunity to edge closer to the Sunni Arab states that share his desire to confront Iran's military…. But Mr. Netanyahu clearly did not get the memo that Iran was supposed to be discussed obliquely. No sooner had he landed than the prime minister's Twitter account announced 'an open meeting with representatives of leading Arab countries, that are sitting down together with Israel in order to advance the common interest of war with Iran.' An hour later, the Twitter posting was changed to 'advance the common interest of combating Iran.'" See also, As Rudy Giuliani Calls for Regime Change in Iran, Israeli Prime Minister Benjamin Netanyahu Raises the Specter of 'War,' The Intercept, Robert Mackey, Wednesday, 13 February 2019: "Rudy Giuliani, the former mayor of New York City who now serves as President Donald Trump's personal lawyer, called for the overthrow of Iran's government on Wednesday during a rally in Poland staged by a cult-like group of Iranian exiles who pay him to represent them. Speaking outside the Warsaw venue for an international conference on the Middle East attended by U.S. Secretary of State Mike Pompeo and Israeli Prime Minister Benjamin Netanyahu, Giuliani said that his message for the 65 governments discussing ways to confront Iran was simple. 'The theocratic dictatorship in Tehran,' Giuliani said, 'must end and end quickly.'… Even before the conference began, the Israeli prime minister appeared to shrug off efforts by the State Department and the Polish government to portray the gathering as broadly focused on Middle East peace, describing it as primarily a meeting of Iran's enemies…. According to the English translation of Netanyahu's remarks in Hebrew prepared by his office, the prime minister then added: 'What is important about this meeting — and it is not in secret because there are many of those — is that this is an open meeting with representatives of leading Arab countries that are sitting down together with Israel in order to advance the common interest of war with Iran.'"
European Union Flags U.S. Territories and Saudi Arabia in 'Dirty Money' List, Deepening Rift With U.S., The New York Times, Jack Ewing and Alan Rappeport, Wednesday, 13 February 2019: "The United States assailed the European Union on Wednesday for adding American territories to its 'dirty money' list, opening a new rift in a relationship that has grown increasingly fractious amid disputes over trade and Iran sanctions. Four United States territories, including Puerto Rico, were added to a money laundering blacklist that will require European banks to apply greater scrutiny to transactions in those regions. That prompted an angry rebuke from the Trump administration, which criticized the methodology used by the bloc to add those regions and said American officials were not consulted ahead of their inclusion. The blacklist lumped Puerto Rico, American Samoa, Guam and the United States Virgin Islands with the likes of North Korea, Libya and Yemen as havens where drug dealers, terrorists and corrupt dictators can launder ill-gotten gains. Saudi Arabia, which leads the Riyadh-based Terrorist Financing Targeting Center with the United States, was also added to the list despite its efforts to demonstrate that it is cracking down on illicit financial activity. That decision could further complicate Europe's relations with the kingdom, which already faces scrutiny for its role in the murder of a dissident Saudi journalist, Jamal Khashoggi."
During a House Foreign Affairs Committee hearing Representative Ilhan Omar (Democrat-Minnesota) attacked Elliott Abrams, Trump's special envoy to Venezuela, for crimes that U.S.-backed forces committed in Central America in the 1980s, The Washington Post, Aaron Blake, Wednesday, 13 February 2019: "Freshman Rep. Ilhan Omar (D-Minn.) used her perch on the House Foreign Affairs Committee on Wednesday to press Elliott Abrams, the Trump administration's new special envoy to Venezuela. Omar asked questions [about] his controversial past. Abrams eventually refused to answer. For background, Abrams is a well-known neoconservative who served in the Reagan and George W. Bush administrations. In 1991, he pleaded guilty to two misdemeanor counts of withholding information from Congress related to U.S. efforts to arm rebels in Nicaragua. A lame-duck George H.W. Bush pardoned him in 1992, before leaving office. Abrams-led efforts in Latin America have long been decried by human rights activists, so he was a natural target for Democrats on Wednesday…. [Omar] began by saying that in light of Abrams's guilty pleas, 'I fail to understand why members of this committee or the American people should find any testimony that you give today to be truthful.' Abrams asked to respond, but Omar told him it wasn't a question…. Omar then brought up the 1981 El Mozote massacre in El Salvador, in which 800 unarmed peasants were killed by troops that had been trained and armed by the United States to put down an uprising. Omar noted that Abrams at one point called the policy in El Salvador a 'fabulous achievement.' 'Yes or no: Do you still think so?' she asked. 'From the day that President Duarte was elected in a free election,' Abrams said, referring to Jose Napoleon Duarte's election as president in 1984, 'to this day, El Salvador has been a democracy. That's a fabulous achievement.' Omar responded: 'Yes or no: Do you think that massacre was a fabulous achievement that happened under our watch?' Abrams: 'That is a ridiculous question, and I will not respond to it.'… Omar proceeded to ask whether Abrams would support an armed insurrection in Venezuela that engaged in war crimes or genocide if it served U.S. interests, 'as you did in Guatemala, El Salvador and Nicaragua.' Abrams again declined to respond to the questions, at which point Omar argued that it was fair given how important it was to uphold human rights in situations such as Venezuela." See also, Why Ilhan Omar and Elliott Abrams Tangled Over U.S. Foreign Policy, The New York Times, Niraj Chokshi and Matthew Haag, published on 14 February 2019: "In a tense exchange at a hearing on Wednesday, one of the newest members of Congress, Representative Ilhan Omar, confronted Elliott Abrams, a Trump administration official, over his role in foreign policy scandals decades ago, including the Iran-contra affair and the United States' support of brutal leaders abroad." See also, Democratic Lawmakers Say U.S. Military Action in Venezuela Is 'Not an Option,' The New York Times, Reuters, Wednesday, 13 February 2019: "Democratic lawmakers on Wednesday said Congress would oppose U.S. military intervention in Venezuela and challenged the credibility of President Donald Trump's special envoy, Elliott Abrams, over his past embrace of American covert action…. Under U.S. law, Congress – not the president – must approve foreign military action. At the hearing [of the House Foreign Affairs Committee], Democrats on the committee pressed Abrams on his views on military intervention, but questions about his credibility provoked the most heated exchanges. Abrams, an assistant secretary of state under President Ronald Reagan, was convicted in 1991 of withholding information from Congress during the Iran-Contra scandal, in which U.S. officials secretly facilitated the sale of arms to Iran and funneled the money to rebels fighting Nicaragua's leftist government. He was pardoned by President George H.W. Bush. Representative Joaquin Castro asked Abrams if he was aware of any transfers of weapons or defense equipment by the U.S. government to groups in Venezuela opposed to Maduro. Abrams responded that he was not. 'I ask this question because you have a record of such actions,' Castro said. 'Can we trust your testimony today?' Representative Ilhan Omar discussed U.S. support for anti-communists in Central America during the Cold War and cited Abrams' initial dismissal of reports of the 1981 El Mozote massacre in El Salvador as left-wing propaganda. 'Would you support an armed faction within Venezuela that engages in war crimes, crimes against humanity or genocide if you believe they serve the U.S. interests as you did in Guatemala, El Salvador or Nicaragua?' Omar asked. 'I am not going to respond to that question,' Abrams replied." See also, 'Someone is not being honest': Elliott Abrams, Trump's Venezuela envoy, trailed by mistrust, The Washington Post, Isaac Stanley-Becker, Thursday, 14 February 2019. See also, The massacre in the Salvadoran village of El Mozote in December 1981 that Elliott Abrams, Trump's envoy to Venezuela, wants us to forget, The Washington Post, Ishaan Tharoor, published on Friday, 15 February 2019.
Representative Ilhan Omar (Democrat-Minnesota) fires back at Trump, saying he has 'trafficked in hate' his entire life, The Washington Post, Rachael Bade, John Wagner, and Mike DeBonis, Wednesday, 13 February 2019: "Rep. Ilhan Omar rejected President Trump's call for her resignation by accusing him of having 'trafficked in hate your whole life' while she privately has tried to make amends with her Jewish colleagues for her anti-Semitic comments. The Minnesota Democrat, who fired back at Trump on Wednesday via Twitter, has faced a widespread backlash for suggesting that Israel's allies in U.S. politics were motivated by money rather than principle…. 'You have trafficked in hate your whole life — against Jews, Muslims, Indigenous, immigrants, black people and more,' Omar, a freshman, said in her tweet Wednesday morning. 'I learned from people impacted by my words. When will you?'… House Speaker Nancy Pelosi (D-Calif.) also complained that Trump has never condemned the language of his 2016 campaign events. 'As I heard the president speaking this morning, all that was going through my mind was "Jew-S-A, Jew-S-A" at his rallies that he never distanced himself from. They shouldn't go down this path, they do not have clean hands,' Pelosi told CNN."
A confederate book was open to a racist passage in the office of Representative Drew Ferguson (Republican-Georgia). He blamed his staff. The Washington Post, Reis Thebault, Wednesday, 13 February 2019: "Rep. Drew Ferguson (R-Ga.) has removed from his office a biography of Robert E. Lee that was previously displayed there under a glass case and opened to a page highlighting the Confederate general's racist ideology. In a statement to The Washington Post, Ferguson, who occupies one of his party's top posts in the House, blamed the book's presence on his staff, who he said decorated his office. Ferguson said he didn't know the book was there until members of the American Federation of Government Employees, who were visiting congressional offices on Monday, asked about it. The book, titled 'Gen. Robert Edward Lee: Soldier, Citizen, and Christian Patriot,' was opened to a page that trumpeted proslavery beliefs, reading in part, 'The blacks are immeasurably better off here than in Africa, morally, socially, and physically. The painful discipline they are undergoing is necessary for their instruction as a race, and, I hope, will prepare and lead them to better things.'"
House Judiciary chair Jerrold Nadler (Democrat-New York) summons acting attorney general Matthew Whitaker back to the Hill to clarify 'inconsistent' testimony, The Washington Post, Ellen Nakashima, Wednesday, 13 February 2019: "The chairman of the House Judiciary Committee has summoned acting attorney general Matthew G. Whitaker back to the Hill to explain what the chairman said were inconsistent statements made during an open hearing last week. Rep. Jerrold Nadler (D-N.Y.) on Wednesday said he wants Whitaker to clarify 'unsatisfactory, incomplete' answers in two areas involving special counsel Robert S. Mueller III's investigation into Russian interference in the 2016 election and related matters. One is whether Whitaker discussed his views on Mueller's investigation with the White House before he went to work for the Justice Department in 2017. The other is whether President Trump or any White House official expressed displeasure with him in the wake of the November guilty plea by Trump's personal lawyer Michael Cohen to charges of lying to Congress about a proposed Trump Tower project in Moscow."
Trump Puts Best Face on Border Deal, as Aides Try to Assuage an Angry Right, The New York Times, Peter Baker and Maggie Haberman, Wednesday, 13 February 2019: "In pursuit of a wall, President Trump ran into one. A single-minded drive to force Congress to finance his signature campaign promise has left Mr. Trump right back where he started, this time seeking a way to climb over the political barrier in his way after trying to charge through it did not work. As he inched closer to reluctantly accepting a bipartisan spending compromise without the money he demanded for his border wall, Mr. Trump offered no acknowledgment on Wednesday that his pressure tactics had failed even as aides sought to minimize the damage by tamping down criticism on the right."
Representative Alexandria Ocasio-Cortez (Democrat-New York) learned lobbyists pay people to wait in line for them in order to get prime seats at Capitol Hill hearings. She is horrified. The Washington Post, Eli Rosenberg, Wednesday, 13 February 2019: "It is one of Washington's more peculiar practices, but most locals have long accepted it as a way of life: paying people to wait in line to get prime seats at Capitol Hill hearings. Line-standing or line-waiting is a small but visible example of how money affects politics in D.C. — how people with resources buy access to lawmakers as they deliberate legislation. The practice, which is expensive but not illegal, has long been a popular one for lobbyists. Enter Rep. Alexandria Ocasio-Cortez (D-N.Y.), who is experiencing life as a legislator in Washington for the first time — and sharing her often-critical reactions to the experience on social media."
Brock Long, the Federal Emergency Management Agency Administrator, Resigns After Two Turbulent Years, The New York Times, Michael Tackett, Wednesday, 13 February 2019: "Brock Long, the administrator of the Federal Emergency Management Agency who was praised for his agency's response to Hurricane Harvey but sharply criticized for its handling of Hurricane Maria's devastation of Puerto Rico, announced on Wednesday that he would resign. Mr. Long's tenure was also punctuated by a controversy that had nothing to do with storms. The inspector general at the Department of Homeland Security, which oversees FEMA, found in September that he had improperly used government vehicles to travel between work and his home in North Carolina, where his wife and two sons live…. Mr. Long earned plaudits for FEMA's response to Hurricane Harvey, which hit Texas and Louisiana in 2017. Assessing the damage in Texas, President Trump praised Mr. Long as 'a man who really has become very famous on television in the last couple of days.' But he came under withering criticism for FEMA's handling of relief efforts after Hurricane Maria struck Puerto Rico later that year, including a call last month from Senator Elizabeth Warren, Democrat of Massachusetts and a candidate for president, for Mr. Long to resign. Hurricane Maria eventually caused almost 3,000 deaths and left thousands without electricity for months, and Hurricane Harvey killed nearly 70 people. Those storms combined with others in 2017 caused an estimated $300 billion in damage."
Trump confidant Thomas Barrack apologizes for saying the U.S. has committed 'equal or worse' atrocities to killing of Saudi journalist Jamal Khashoggi, The Washington Post, Felicia Sonmez and Josh Dawsey, Wednesday, 13 February 2019: "Thomas J. Barrack Jr., a billionaire real estate investor who is one of President Trump's closest confidants, apologized Wednesday after defending Saudi Arabia in the wake of journalist Jamal Khashoggi's killing and saying the United States has committed 'equal or worse' atrocities. Barrack's remarks on Khashoggi, made Tuesday at a summit in Abu Dhabi organized by the Santa Monica, Calif.-based Milken Institute think tank, were first reported by Dubai's Gulf News. 'Whatever happened in Saudi Arabia, the atrocities in America are equal or worse to the atrocities in Saudi Arabia,' Barrack told the crowd at the Milken Institute's MENA Summit, according to audio provided by Gulf News reporter Ed Clowes." See also, Thomas Barrack, Trump Confidant, Apologizes for Remarks Defending Saudis Over the Killing of Journalist Jamal Khashoggi, The New York Times, Maggie Haberman, Wednesday, 13 February 2019: "Thomas J. Barrack, a confidant of President Trump who served as chairman of his inaugural committee, apologized on Wednesday for statements he made defending Saudi Arabia after the killing of the journalist and dissident Jamal Khashoggi."
Thursday, 14 February 2019, Day 756:
As Congress Passes Spending Bill, Trump Plans to Declare a National Emergency to Get Money to Build a Border Wall, The New York Times, Peter Baker, Emily Cochrane, and Maggie Haberman, Thursday, 14 February 2019: "President Trump will declare a national emergency as early as Friday to bypass Congress and build his long-promised wall along the nation's southwestern border even as he agreed to sign a spending package that does not finance it, White House officials said Thursday. The announcement came just minutes before voting began on the spending measure, which then cleared both houses, ending a two-month war of attrition that closed much of the federal government for 35 days and threatened a second shutdown on Friday. The Senate passed it 83 to 16, and the House followed later in the evening, 300 to 128. But if he declares a national emergency to access billions of dollars for his wall, Mr. Trump could instigate a constitutional clash over who controls the federal purse and test the bounds of presidential authority in a time of divided government. Democrats and some Republicans instantly condemned the move, with some vowing to challenge it through legislation and lawsuits…. A parade of liberal advocacy organizations sent out pre-written statements promising to challenge any such declaration in court as 'an outrageous abuse of power' by an 'unstable and increasingly autocratic' president, as one of the groups, Public Citizen, put it. 'The president is doing an end run around Congress,' Ms. Pelosi told reporters. She suggested that Mr. Trump was setting a precedent for future Democratic presidents to act on issues like gun control — precisely the scenario that scares Republicans." See also, Trump's Face-Saving Way Out of Crisis Raises Fears About the Rule of Law, The New York Times, Charlie Savage, Thursday, 14 February 2019: "The White House's announcement Thursday that President Trump would claim emergency powers to build his border wall without congressional approval was a way out of the political crisis he created over shutting down the government. But while the move means the country will avoid another protracted shutdown, legal specialists warned that the long-term costs to American democracy could be steep. As a matter of political reality, such a declaration permits Mr. Trump to keep the government open without losing face with his core supporters by surrendering to congressional Democrats on his signature issue. As a matter of legal reality, the proposal is likely to be bogged down in a court challenge, leaving any actual construction work based on emergency powers spending an uncertain and, at best, distant prospect. But no matter what else happens, Mr. Trump's willingness to invoke emergency powers to circumvent Congress is likely to go down as an extraordinary violation of constitutional norms — setting a precedent that future presidents of both parties may emulate to unilaterally achieve their own policy goals." See also, Congress approves border deal to avert government shutdown; Trump to sign it and to declare a national emergency so he can get money for the wall elsewhere, The Washington Post, Erica Werner, Damian Paletta, Seung Min Kim, and Rachael Bade, Thursday, 14 February 2019: "Congress on Thursday approved a massive budget deal to avert an impending government shutdown, and President Trump promised to sign it, but only after announcing he would also declare a national emergency so he can get more money for a border wall. Moments after Trump disclosed his intentions in a phone call with Senate Majority Leader Mitch McConnell (R-Ky.), McConnell announced the news on the Senate floor, ending days of uncertainty over whether the president would support the $333 billion spending deal, which includes less than a quarter of the money he's sought for a steel wall along the U.S.-Mexico border. The Senate swiftly passed the legislation on an 83-to-16 vote, and the House followed suit hours later, approving the bill 300 to 128 — veto-proof margins in both chambers. If Trump keeps his promise to sign the measure, it would avert a government shutdown that would have started Saturday and keep the government open through at least Sept. 30…. Many of Trump's GOP congressional allies called the move [declaring a national emergency] ­ill-advised, and Democrats promised immediate action aimed at blocking it. And the declaration will probably face legal challenges from states, border residents, civil liberties groups and possibly congressional Democrats." See also, 'Off the rails': Inside Trump's attempt to claim victory in his border wall defeat, The Washington Post, Robert Costa, Rachael Bade, Josh Dawsey, and Seung Min Kim, Thursday, 14 February 2019: "After three weeks of pained negotiations to keep the federal government open, President Trump almost blew the whole thing up again on Thursday. Headed for another defeat on his signature promise to make Mexico pay for a southern border wall, the president was frustrated after a briefing by Homeland Security Secretary Kirstjen Nielsen and others on details of the final deal to avoid a shutdown, according to officials involved in the discussions. Trump threatened not to sign the legislation, the officials said, putting the government on the brink of another damaging shutdown. Senate Majority Leader Mitch McConnell (R-Ky.) was on the phone with Trump at least three times during the course of the nerve-racking day, pressing him to stay the course and asserting that Democrats had actually lost the spending fight, two people familiar with the conversations said." See also, An emergency declaration by Trump will lead to lawsuits. Lots of them. The Washington Post, Fred Barbash, Ellen Nakashima, and Josh Dawsey, Thursday, 14 February 2019: "If President Trump declares a national emergency to construct a wall on the southern border, only one thing is certain: There will be lawsuits. Lots of them. From California to Congress, the litigants will multiply…. The Justice Department has told the White House that the president's action is likely to be blocked in the courts, and the White House counsel's office warned Trump against declaring a national emergency, calling it a 'high litigation risk,' according to a person with knowledge of the discussions. 'Any crisis on our border is of President Trump's own making,' declared Xavier Becerra, the attorney general of California and a likely litigant. 'Family separations, child detention, turning our backs on asylum seekers, and more. There is no national emergency. If Trump oversteps his authority and abandons negotiations with Congress by declaring a fabricated national emergency, we won't only call his bluff, we will do what we must to hold him accountable. No one is above the law.'"
The Southern Poverty Law Center sues the Trump administration for policy forcing asylum seekers to wait in Mexico, SPLC, Thursday, 14 February 2019: "The SPLC sued the Trump administration today over a new policy that forces asylum seekers to return to Mexico and wait there while their cases are being considered. The lawsuit cites violations of the Immigration and Nationality Act, the Administrative Procedures Act, and the United States' duty under international human rights law not to return people to dangerous conditions. 'This is no longer just a war on asylum seekers, it's a war on our system of laws,' said Melissa Crow, SPLC senior supervising attorney. 'This misguided policy deprives vulnerable individuals of humanitarian protections that have been on the books for decades and puts their lives in jeopardy.'"
Senate Confirms William Barr as Attorney General, The Wall Street Journal, Sadie Gurman, Thursday, 14 February 2019: "The Senate confirmed William Barr as attorney general Thursday, putting the veteran of corporate and Washington legal circles in charge of a Justice Department that has been rocked by departures, political storms and the special counsel's Russia investigation. Mr. Barr, who served as President George H.W. Bush's attorney general in the 1990s, was sworn in during a White House ceremony later Thursday and was expected to get to work with meetings early Friday…. Democrats had expressed concerns over how Mr. Barr would manage Robert Mueller's investigation into Russian interference in the 2016 presidential election and whether Mr. Barr would make its conclusions public…. Mr. Barr's confirmation unites a forceful advocate of executive power with a president who has shown a willingness to wield that power in unconventional ways. As a top Justice Department official under Mr. Bush, Mr. Barr argued the president had authority to use the military without congressional approval, a position that helped justify the invasion of Panama and later the deployment of troops to Somalia. He urged Mr. Bush to pardon former Reagan administration officials involved in the Iran-Contra scandal, raising questions about how he would react to potential pardons of Trump aides who have been convicted in Mr. Mueller's investigation." See also, Senate Confirms William Barr as Attorney General, The New York Times, Katie Benner and Nicholas Fandos, Thursday, 14 February 2019: "The Senate confirmed William P. Barr on Thursday for a second stint as attorney general, handing oversight of the Justice Department — and its investigation into links between Russia's interference in the 2016 election and the Trump campaign — to a seasoned Republican legal hand known for his expansive view of presidential power. Mr. Barr was sworn in hours later, beginning a new chapter for a department that has been battered by criticism from President Trump. The president lost confidence in and publicly scorned his first attorney general, Jeff Sessions, after he recused himself from overseeing the Russia investigation. The department was further rattled when Mr. Trump installed a relatively inexperienced loyalist, Matthew G. Whitaker, Mr. Sessions's chief of staff, as a temporary replacement in November…. Mr. Barr's ability to treat the special counsel's investigation fairly has been questioned ever since it emerged that he wrote a 19-page memo last summer arguing that Mr. Mueller should not treat Mr. Trump's decision to fire James B. Comey, the F.B.I. director, as obstruction of justice…. Mr. Barr assured senators during the confirmation process that he would not allow political interference to sway the department's work, but under pressure from Democrats, he would make no specific assurances to make Mr. Mueller's findings public." See also, Senate confirms William Barr as attorney general in 54-to-45 vote, The Washington Post, Matt Zapotosky and Karoun Demirjian, Thursday, 14 February 2019: "William P. Barr was confirmed Thursday as the U.S. attorney general, putting him in command of the Justice Department at one of the most politically charged moments in its history. Senators voted 54 to 45, mostly along party lines, to confirm Barr, who will now supervise special counsel Robert S. Mueller III's inquiry into whether Donald Trump's campaign conspired with Russia to influence the 2016 election…. While Republicans hailed Barr's confirmation, Democrats and left-leaning advocacy groups said they remained wary of President Trump's appointee, who at his confirmation hearing notably declined to promise that he would release Mueller's report. Sen. Dianne Feinstein (Calif.), the Senate Judiciary Committee's top Democrat, said in a statement Thursday that she considered Barr's lack of commitment to releasing Mueller's report 'disqualifying' and that she worried he would be unable to stand up to Trump."
Andrew McCabe, Former Deputy F.B.I. Director, Says Justice Department Officials Had Discussions About Pushing Trump Out, The New York Times, Adam Goldman and Matthew Haag, Thursday, 14 February 2019: "Andrew G. McCabe, the former deputy F.B.I. director, said in an interview aired on Thursday that top Justice Department officials became so alarmed by President Trump's decision in May 2017 to fire James B. Comey, the bureau's director, that they discussed whether to recruit cabinet members to invoke the 25th Amendment to remove Mr. Trump from office. The dire concerns about the president's actions also prompted Mr. McCabe to order the bureau's team investigating Russia's election interference to look into whether Mr. Trump had obstructed justice by firing Mr. Comey. The F.B.I. also began examining whether Mr. Trump had been working on behalf of Russia against American interests. Mr. McCabe's explosive remarks were made in an interview with "60 Minutes" scheduled to air in full on Sunday. He was promoting his memoir, 'The Threat: How the F.B.I. Protects America in the Age of Terror and Trump,' which will be released next week." See also, Former deputy FBI director Andrew McCabe says he quickly opened FBI investigation of Trump for fear of being fired, The Washington Post, Matt Zapotosky and John Wagner, Thursday, 14 February 2019: "Former acting FBI director Andrew McCabe said in an interview that aired Thursday that he authorized an investigation into President Trump's ties to Russia a day after meeting with him in May 2017 out of fear that he could soon be fired. 'I was very concerned that I was able to put the Russia case on absolutely solid ground in an indelible fashion that, were I removed quickly or reassigned or fired, that the case could not be closed or vanish in the night without a trace,' McCabe told CBS. The comments marked the first time that McCabe has publicly addressed why he opened an investigation into Trump following the firing of FBI Director James B. Comey, whose post McCabe took over. They came as CBS broadcast a portion of an interview scheduled to air in full Sunday on '60 Minutes.'" See also, Former Deputy FBI Director Andrew McCabe Says He Approved Trump Probe After James Comey Firing in May 2017, The Wall Street Journal, Byron Tau, Sadie Gurman, and Aruna Viswanatha, Thursday, 14 February 2019: "Former Deputy FBI Director Andrew McCabe approved investigations into President Trump's potential ties to Russia almost immediately after the president fired his former boss in May 2017, Mr. McCabe said in his first public interview since that tumultuous month. In a clip from CBS's '60 Minutes' posted Thursday, Mr. McCabe said he authorized both counterintelligence and criminal inquiries into Mr. Trump to give the cases solid footing—in case he was fired or reassigned—two days after Mr. Trump fired Federal Bureau of Investigation Director James Comey…. CBS's Scott Pelley also said in the clip that Mr. McCabe described an intense two weeks between Mr. Comey's firing and the appointment of special counsel Robert Mueller to oversee that investigation, including alleging that Deputy Attorney General Rod Rosenstein considered invoking the 25th Amendment to remove Mr. Trump from office and secretly recording the president for that purpose. Those allegations have been reported previously, but Mr. McCabe is the first person to publicly describe them." See also, Every Day Is a New Low in Trump's White House, The Atlantic, Andrew G. McCabe, Thursday, 14 February 2019: "Editor's note: Andrew McCabe, the former deputy director of the FBI, was named acting director of the bureau after President Donald Trump fired his boss, Director James Comey, on May 9, 2017. McCabe would himself be fired less than a year later. In an exclusive adaptation from his book, The Threat, to be published next week by St. Martin's Press, McCabe describes his encounters with President Trump and the steps taken to protect the FBI's investigation into Russian efforts to influence the 2016 elections—and into the Trump campaign's possible collusion with Russian actors." See also, McCabe describes more Russia-related intimidation by Trump, The Washington Post, Aaron Blake, Thursday, 14 February 2019. See also, Andrew McCabe's disturbing account of working for attorney general Jeff Sessions and for Trump, The Washington Post, Greg Miller, Thursday, 14 February 2019: "He didn't read intelligence reports and mixed up classified material with what he had seen in newspaper clips. He seemed confused about the structure and purpose of organizations and became overwhelmed when meetings covered multiple subjects. He blamed immigrants for nearly every societal problem and uttered racist sentiments with shocking callousness. This isn't how President Trump is depicted in a new book by former deputy FBI director Andrew McCabe. Instead, it's McCabe's account of what it was like to work for then-Attorney General Jeff Sessions. The FBI was better off when 'you all only hired Irishmen,' Sessions said in one diatribe about the bureau's workforce. 'They were drunks but they could be trusted. Not like all those new people with nose rings and tattoos — who knows what they're doing?' It's a startling portrait that suggests that the Trump administration's reputation for baseness and dysfunction has, if anything, been understated and too narrowly attributed to the president."
Mike Pence Lashes Out at European allies for Their Stance on Iran, The New York Times, David E. Sanger and Katie Rogers, Thursday, 14 February 2019: "Vice President Mike Pence used an American-convened conference on Middle East security to lash out at Washington's three closest European allies on Thursday, accusing them of trying 'to break American sanctions against Iran's murderous revolutionary regime.' Mr. Pence delivered his critique of the allies, Britain, France and Germany, in an address at a Warsaw conference organized by the Trump administration. It was a remarkable, open breach with the European nations that, along with the United States, had negotiated the 2015 nuclear accord. All three nations argued that President Trump made a grave error in abandoning the treaty last year, saying that the Iranians were in compliance even as they continued to conduct missile and space rocket tests that were not covered by the accord. To the Europeans, it is Mr. Trump — not the Iranians — who was the first to break the agreement's terms. Since then, they have been trying to persuade the Iranians to continue to comply with the deal, under which Tehran gave up 97 percent of its nuclear material and agreed not to produce any significant quantities of nuclear fuel until 2030. American intelligence agencies told Congress late last month that the Iranians were still in compliance."
The Environmental Protection Agency (E.P.A.) Will Study Limits on Cancer-Linked Chemicals. Critics Say the Plan Delays Action. The New York Times, Coral Davenport, Thursday, 14 February 2019: "The Environmental Protection Agency on Thursday said it will start work by the end of the year on a long-awaited plan to set national drinking-water limits for two harmful chemicals linked to cancer, low infant birth weight and other health issues. But environmentalists and Democratic lawmakers criticized the plan, saying it in effect delayed desperately needed regulation on a clear public health threat from chemicals that are commonly used in cookware, pizza boxes, stain repellents and fire retardants…. 'While E.P.A. acts with the utmost urgency to repeal regulations, the agency ambles with complacency when it comes to taking real steps to protect the water we drink and the air we breathe,' said Senator Tom Carper of Delaware, the ranking Democrat on the Senate Environment Committee." See also, Critics say EPA action plan on toxic 'forever chemicals' falls short, The Washington Post, Brady Dennis, Thursday, 14 February 2019: "The Environmental Protection Agency on Thursday announced what officials called a historic effort to rein in a class of long-lasting chemicals that pose serious health risks to millions of Americans. But environmental groups and residents of contaminated communities said that the agency's 'action plan' is short on action, saying ample evidence exists to regulate the chemicals in the nation's drinking water. The EPA promised in the spring to devise a plan to address the widespread contamination caused by perfluoroalkyl and polyfluoroalkyl compounds, or PFAS, which have been detected in numerous communities and military bases. The agency's leader at the time, Scott Pruitt, called the problem 'a national emergency.' The manmade chemicals have long been used in consumer products, including water-repellent fabrics, nonstick cookware and grease-resistant paper products, as well as in firefighting foams. Long-term exposures have been associated with health problems that include thyroid disease, weakened immunity, infertility risks and certain cancers. Because PFAS do not break down in the environment, they have become known as 'forever chemicals.'"
Tennessee Valley Authority (TVA) Approves the Closure of Two Coal-Fired Plants, The Wall Street Journal, Cameron McWhirter, Thursday, 14 February 2019: "The Tennessee Valley Authority—a federally owned utility that oversees power generation for a large part of the mid-South—will move ahead with closing two older coal plants despite opposition from local groups and several elected officials, including President Trump. The utility's board voted Thursday to close its Paradise 3 coal plant in western Kentucky by the end of 2020 and to close its Bull Run plant in eastern Tennessee by 2023. The two plants combined employ about 270 people, according to the TVA…. While local business groups opposed the closures, environmental groups, such as the Southern Alliance for Clean Energy, backed the moves. For much of its history, the TVA, founded in 1933, produced the majority of its energy from coal plants. A 2011 settlement under the Clean Air Act with the Environmental Protection Agency, state environmental agencies and environmental groups required the authority to reduce coal emissions. Since then, the authority closed dozens of its coal operations." See also, Tennessee Valley Authority (TVA) defies Trump and votes to shut down two aging coal-fired power plants, The Washington Post, Steven Mufson, Thursday, 14 February 2019: "The Tennessee Valley Authority board of directors voted to shut down two aging coal-fired power plants, defying a tweet from President Trump on Monday urging the agency to keep one of them open. The TVA directors voted overwhelmingly to close the Paradise 3 plant in Kentucky and the Bull Run plant in Tennessee. Three of the four people appointed by Trump to the TVA board joined the 6-1 majority voting to close down the Paradise coal unit, and all four joined the unanimous vote to retire Bull Run. 'It is not about coal. This decision is about economics,' TVA chief executive William D. Johnson said. 'It's about keeping rates as low as feasible.'"
The American Israel Public Affairs Committee (AIPAC), a Pro-Israel Group, Lobbies for U.S. Aid and Funds Congressional Trips, The Wall Street Journal, Julie Bykowicz and Natalie Andrews, Thursday, 14 February 2019: "The American Israel Public Affairs Committee has drawn criticism from several progressive new lawmakers, including Rep. Ilhan Omar, who said in tweets this week that the lobbying group holds financial sway over Congress. The Minnesota Democrat, who was heavily criticized for her remarks, has apologized for messages many viewed as anti-Semitic because they played into stereotypes about Jews and money. But Ms. Omar said she has no regrets about calling out the influence of the group, known as Aipac. Aipac raises more than $100 million a year from donors, according to its tax returns, a budget that doesn't include campaign contributions that Aipac members give directly to candidates. The group calls itself 'America's pro-Israel lobby' and prides itself on bipartisanship." See also, Pro-Israel donors spent over $22m on lobbying and contributions in 2018, The Guardian, Tom Perkins, published on Friday, 15 February 2019: "Pro-Israel lobbyists and donors spent more than $22m on lobbying and campaign contributions during the 2018 election cycle. The same or similar Israel-aligned groups and donors have spent hundreds of millions of dollars in recent decades, and that money poured into American politics through a variety of channels, according to the non-profit, non-partisan Center for Responsive Politics. The CRP uses federal election records to track campaign finance spending and makes its data available on the Open Secrets site. The Guardian examined campaign finance data after Muslim Minnesota congresswoman Ilhan Omar ignited a controversy with two tweets claiming pro-Israel lobby money influenced American political policy and discourse. The claim led to broad accusations of antisemitism from Democrats and Republicans. Omar later apologized but also stood her ground when it came to highlighting the influence of lobbyists, comparing influential pro-Israel lobby group, the American Israeli Public Affairs Committee (Aipac) to the the National Rifle Association and the fossil fuel industry. The data examined by the Guardian suggests that the pro-Israel lobby is highly active and spends heavily to influence US policy, though at levels far below those of many big business sectors."
Senate backs bill to make lynching a federal hate crime as 2020 rivals Kamala Harris and Cory Booker join forces, The Washington Post, Elise Viebeck and Donna Cassata, Thursday, 14 February 2019: "The Senate on Thursday unanimously backed a bill to make lynching a federal crime, a step cast as righting a historic wrong after nearly 100 years of failed attempts. The legislation, approved on a voice vote, would ensure that lynching triggers an enhanced sentence under federal law, like other hate crimes. The measure was sponsored by the Senate's three African American members: Kamala D. Harris (D-Calif.), Cory Booker (D-N.J.) and Tim Scott (R-S.C.). Harris and Booker, who are rivals for the 2020 Democratic presidential nomination, spoke graciously about their joint effort Thursday morning on the Senate floor. Booker had introduced the bill with Harris and Scott after what Harris described as 200 previous attempts by Congress to pass similar legislation. Proponents of the measure expect the Democratic-led House to pass the legislation and send it to President Trump for his signature. A similar bill passed the Senate in December, but the House never acted on the measure."
President Nicolas Maduro of Venezuela reveals that his foreign minister recently held secret talks in New York with Elliott Abrams, the U.S. special envoy to Venezuela, Associated Press, Ian Phillips and Joshua Goodman, Thursday, 14 February 2019: "President Nicolas Maduro said in an AP interview Thursday that his foreign minister recently held secret talks in New York with the U.S. special envoy to Venezuela, even as the Trump administration was publicly backing an effort to unseat the Venezuelan president. While harshly criticizing Donald Trump's confrontational stance toward his socialist government, Maduro said he holds out hope of meeting the U.S. president soon to resolve a crisis over America's recognition of opponent Juan Guaido as Venezuela's rightful leader. Maduro said that while in New York, his foreign minister invited the Washington, D.C.-based envoy, Elliott Abrams, to come to Venezuela 'privately, publicly or secretly.'"