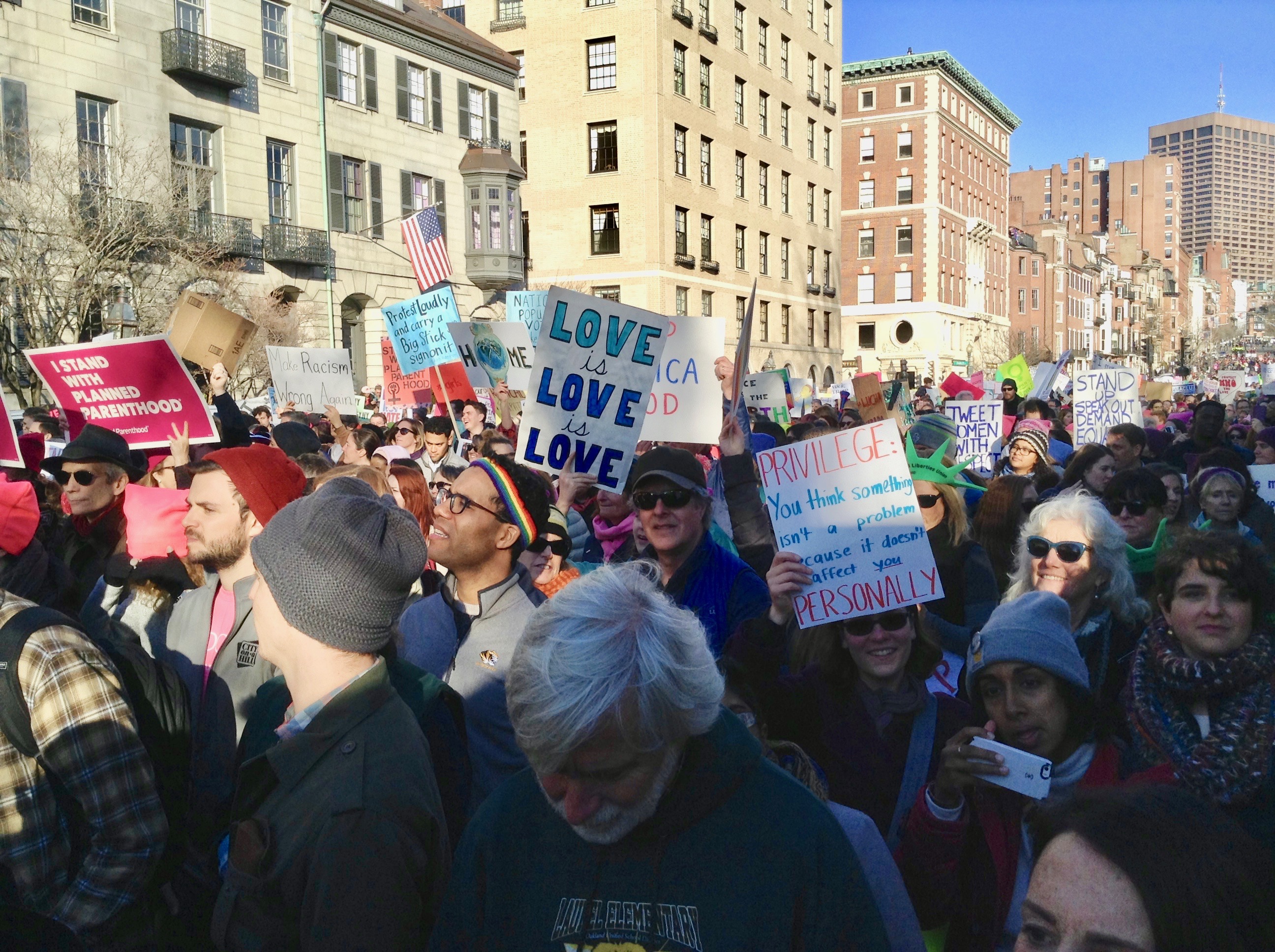 Passages in bold in the body of the texts below are my emphasis. This is an ongoing project, and I update the site frequently. Because I try to stay focused on what has actually happened, I usually let the news 'settle' a day or so before posting. I hope readers will peruse the articles in full for a better understanding of the issues and their context; our democracy and our future depend on citizens who can distinguish between facts and falsehoods and who are engaged in the political process.
Friday, 25 January 2019, Day 736:
Indicting Roger Stone, Special Counsel Robert Mueller Shows Link Between the Trump Campaign and WikiLeaks, The New York Times, Mark Mazzetti, Eileen Sullivan, and Maggie Haberman, Friday, 25 January 2019: "The special counsel, Robert S. Mueller III, revealed on Friday the most direct link yet between parallel efforts by the Trump campaign and WikiLeaks to damage Hillary Clinton during the 2016 election using Democratic Party material stolen by Russians. A top Trump campaign official dispatched Roger J. Stone Jr., a longtime adviser to President Trump, to get information from WikiLeaks about the thousands of hacked Democratic emails, according to an indictment. The effort began weeks after Democratic officials publicly accused Russian intelligence operatives of the theft, which was part of Moscow's broad campaign to sabotage the 2016 presidential race. The indictment made no mention of whether Mr. Trump played a role in the coordination, though Mr. Mueller did leave a curious clue about how high in the campaign the effort reached: A senior campaign official 'was directed' by an unnamed person to contact Mr. Stone about additional WikiLeaks releases that might damage the Clinton campaign, according to the court document. In an indictment filled with colorful details about clandestine meetings, angry texts — even a reference to "The Godfather: Part II" — Mr. Stone was charged with seven counts, including obstruction, making false statements and witness tampering. Mr. Mueller did not say that Mr. Stone's interactions with WikiLeaks were illegal, nor that the Trump campaign engaged in a criminal conspiracy with the organization." See also, Here's What We Learned From Roger Stone's Indictment, The New York Times, Eileen Sullivan and Sharon LaFraniere, Friday, 25 January 2019: "In Friday's indictment of Roger J. Stone Jr., a longtime informal adviser to President Trump, the special counsel for the first time revealed evidence of efforts by senior Trump campaign officials to learn how emails and other information that had been hacked by Russia and given to WikiLeaks could damage Hillary Clinton's presidential campaign. The evidence appeared to contradict Mr. Stone's assertions that he was acting on his own in his attempts to communicate with WikiLeaks. Senior campaign officials asked Mr. Stone to look into WikiLeaks' plans, and he kept the campaign abreast of what he found out, the indictment said. The special counsel, Robert S. Mueller III, disclosed new details about his investigation into Russia's 2016 election interference and possible ties to the Trump campaign: The campaign sought to learn how WikiLeaks' releases might damage Mrs. Clinton;… Someone 'directed' a senior Trump campaign aide to contact Mr. Stone;… Mr. Stone is not charged with conspiracy;… Mr. Stone is the latest Trump associate charged with lying." See also, Roger Stone's Statement Responding to His Arrest: Full Transcript, The New York Times, Friday, 25 January 2019.  See also, Everyone Who Has Been Charged in Investigations Related to the 2016 Presidential Election, The New York Times, updated on Friday, 25 January 2019. See also, Roger Stone Lied. What Was He Hiding? The New York Times, The Editorial Board, Friday, 25 January 2018: "In his indictment of the Trump torpedo Roger Stone, the special counsel Robert Mueller noted that on June 14, 2016, the Democratic National Committee announced 'that it had been hacked by Russian government actors.' According to the indictment, unsealed Friday, Mr. Stone participated in and helped conceal an effort by the Trump campaign to cooperate with WikiLeaks in publicizing thousands of emails stolen from the Clinton campaign, which was done to devastating political effect. Mr. Stone stands accused of obstructing an official proceeding, making multiple false statements to Congress and tampering with a witness." See also, Longtime Trump adviser Roger Stone indicted by special counsel Robert Mueller in Russia investigation, The Washington Post, Devlin Barrett, Rosalind S. Helderman, Lori Rozsa, and Manuel Roig-Franzia, Friday, 25 January 2019: "Special counsel Robert S. Mueller III unveiled criminal charges Friday against Roger Stone, a longtime friend of President Trump's, accusing him of lying, obstruction and witness tampering in one of the longest legal sagas of the investigation into Russian interference in the 2016 election. In charging Stone, Mueller has struck deep inside Trump's inner circle. The indictment charges that Stone, a seasoned Republican political operative, sought to gather information about hacked Democratic Party emails at the direction of an unidentified senior Trump campaign official and engaged in extensive efforts to keep secret the details of those actions. The 24-page document goes further than Mueller ever has toward answering the core question of his probe: Did Trump or those close to him try to conspire with the Kremlin? The indictment notes that before Stone's alleged actions in the summer of 2016, the Democratic National Committee announced it had been hacked by Russian government operatives, implying that Stone must have known that. It does not allege Stone conspired with anyone but suggests his mission was to find out how the stolen material would be made public — something that, on its own, would not necessarily constitute a crime." See also, Timeline: The Roger Stone indictment fills in new details about WikiLeaks and the Trump campaign, The Washington Post, Philip Bump, Friday, 25 January 2019. See also, 4 takeaways from the Roger Stone indictment, The Washington Post, Aaron Blake, Friday, 25 January 2019. See also, With a Godfather reference and a Nixon quotation, special counsel Robert Mueller accuses Roger Stone of witness tampering, The Washington Post, James Hohmann, Friday, 25 January 2019.  See also, A list of the alleged and admitted crimes undertaken by people associated with the Trump campaign, The Washington Post, Philip Bump, Friday, 25 January 2019. See also, After being indicted by special counsel Robert Mueller, Roger Stone, longtime adviser to Donald Trump, says he won't testify against Trump, The Guardian, Jon Swaine, Sabrina Siddiqui, and Paul Owen, Friday, 25 January 2019: "Roger Stone, a longtime adviser to Donald Trump, has said he will not testify against the president after he was arrested by the FBI on Friday morning and indicted on seven criminal charges. Stone, a veteran Republican operative, appeared in federal court in Fort Lauderdale charged by special counsel Robert Mueller with obstruction, lying to Congress and witness tampering. He was released on $250,000 bail and denies wrongdoing." See also, A Conspiracy or Not? Here's What We Know About the Mueller Investigation. The New York Times, Sharon LaFraniere and Michael S. Schmidt, Saturday, 26 January 2019. See also, Special Counsel Robert Mueller Got Roger Stone, The New Yorker, Adam Davidson, Friday, 25 January 2019: "Perhaps the most surprising detail of the indictment is that Stone, a famous braggart, often downplayed the significance of his role as a conduit between the Trump campaign and Assange. He was not, as he has previously said, simply guessing and making vague predictions about the actions WikiLeaks was likely to take; he was an active participant in its attempts to cause chaos in the 2016 Presidential election…. The most significant person in the Stone indictment appears in a single line, in the passive voice, and seems to have had more authority than almost anyone on the Trump campaign. According to the indictment, 'a senior Trump Campaign official was directed to contact Stone about any additional releases and what other damaging information Organization 1 [WikiLeaks] had regarding the Clinton Campaign.' Who did this directing? Why did Mueller avoid naming the person? Could it possibly have been Trump? Or—as one must still allow—was Trump, somehow, an innocent dupe surrounded by scheming scoundrels?" See also, 'Get Me Roger Stone': What to Make of the 'Dirty Trickster's' Indictment by Special Counsel Robert Mueller, Lawfare, Susan Hennessey, Quinta Jurecic, Matthew Kahn, Lev Sugarman, Benjamin Wittes, Friday, 25 January 2019: "Today, the special counsel … [alleged] that Roger Stone, longtime gadfly political operative, had acted as a kind of back channel between the [Trump] campaign and WikiLeaks—funneling information between Julian Assange and senior officials of the Trump campaign about forthcoming releases of purloined emails. No, this is not the smoking gun many have been waiting for. A lot of the information contained in the indictment has been in the press for a while—and in any event, the relationship it alleges between the campaign and the Russian government is a complicated, and somewhat attenuated, one. But if the Roger Stone indictment doesn't quite allege 'collusion' between the Trump campaign and the Russians, it unambiguously alleges—in the language of Robert Mueller's appointment letter—'links and/or coordination between the Russian government and individuals associated with the campaign of President Donald Trump.' Specifically, the indictment alleges that Stone and WikiLeaks were together coordinating between the Russian government and the Trump campaign over the release of information that, by then, had been publicly reported by Crowdstrike and many press outlets to have been stolen by the Russian government."
Trump signs bill to open the government, ending the longest shutdown in history, The Washington Post, Erica Werner, Mike DeBonis, and John Wagner, Friday, 25 January 2019: "President Trump on Friday agreed to temporarily reopen the federal government without getting any new money for his U.S.-Mexico border wall, retreating from the central promise of his presidency, for now, in the face of intense public anger. The president's humbling concession to the new realities of divided government brought the nation's longest government shutdown to an end on its 35th day. It was a major victory for Speaker Nancy Pelosi (D-Calif.), who took charge of a new House Democratic majority just three weeks ago and kept her large caucus unified throughout the standoff. 'Our diversity is our strength,' Pelosi told reporters after the agreement was reached. 'But our unity is our power. And that is what maybe the president underestimated.' Trump announced the deal in an early afternoon speech in the Rose Garden. By evening the Senate, and then the House, had passed the plan by voice vote, and both chambers adjourned. Trump signed the plan into law later Friday night, bringing an end to weeks of anxiety for 800,000 federal workers who will soon receive back pay after missing two consecutive paychecks. The shutdown had also threatened important government functions, impeding Food and Drug Administration safety inspections and the ability of the Internal Revenue Service to process tax refunds, and — in a final sign that it could continue no longer — causing delays Friday at major East Coast airports as unpaid air traffic controllers failed to report to work. The deal reopens the government through Feb. 15, while also creating a bipartisan, bicameral committee charged with negotiating an agreement on border security as part of a new spending bill for the Homeland Security Department." See also, Trump Signs Bill Reopening Government for 3 Weeks in Surprise Retreat From Wall, The New York Times, Nicholas Fandos, Sheryl Gay Stolberg, and Peter Baker, Friday, 25 January 2019: "President Trump agreed on Friday to reopen the federal government for three weeks while negotiations continued over how to secure the nation's southwestern border, backing down after a monthlong standoff failed to force Democrats to give him billions of dollars for his long-promised wall. The president's concession paved the way for the House and the Senate to both pass a stopgap spending bill by voice vote. Mr. Trump signed it on Friday night, restoring normal operations at a series of federal agencies until Feb. 15 and opening the way to paying the 800,000 federal workers who have been furloughed or forced to work without pay for 35 days. The plan includes none of the money for the wall that Mr. Trump had demanded and was essentially the same approach that he rejected at the end of December and that Democrats have advocated since, meaning he won nothing concrete during the impasse. Mr. Trump presented the agreement with congressional leaders as a victory anyway, and indicated in a speech in the Rose Garden that his cease-fire may only be temporary: If Republicans and Democrats cannot reach agreement on wall money by the February deadline, he said that he was ready to renew the confrontation or declare a national emergency to bypass Congress altogether. 'We really have no choice but to build a powerful wall or steel barrier,' Mr. Trump said. 'If we don't get a fair deal from Congress, the government will either shut down on Feb. 15, or I will use the powers afforded to me under the laws and Constitution of the United States to address this emergency.'" Trump's Government Shutdown Was a Cruel Joke, The New York Times, The Editorial Board, Friday, 25 January 2019: "What a debacle President Trump's shutdown proved to be — what a toddler's pageant of foot-stomping and incompetence, of vainglory and self-defeat. Mr. Trump tormented public servants and citizens and wounded the country, and, in conceding on Friday after holding the government hostage for 35 days, could claim to have achieved nothing. He succeeded only in exposing the emptiness of his bully's bravado, of his 'I alone can fix it' posturing. Once upon a time, Mr. Trump promised that Mexico would pay for a wall. He instead made all Americans pay for a partisan fantasy." See also, Longest government shutdown in history ends after Trump relents on border wall, Politico, Andrew Restuccia, Burgess Everett, and Heather Caygle, Friday, 25 January 2019: "The longest government shutdown in U.S. history came to an end Friday after President Donald Trump and Congress agreed to temporarily reopen shuttered federal agencies without providing any money for the president's border wall…. The move marks a major reversal for the president, who had insisted for weeks that he wouldn't reopen the government until lawmakers agreed to fork over more than $5 billion for the border wall." See also, Trump Repeats Unfounded Arguments in New Appeal for a Border Wall, The New York Times, Linda Qiu and Michael Tackett, Friday, 25 January 2019: "President Trump has addressed the nation in prime time from the Oval Office, delivered remarks from the Rose Garden, met with Democrats in the Situation Room and traveled to the border with Mexico to make his case that the government would not reopen unless he got funding for a border wall. Thirty-five days into the shutdown, the president announced on Friday from the Rose Garden that the government would reopen until at least Feb. 15, giving Congress time to work out a deal on border security. He did not get any funding for a wall. And on Friday, he did not advance any new arguments for building one. In fact, many of the claims he made were recycled heavily from previous comments and contained many of the same misstatements and exaggerations. Also notable was something Mr. Trump did not say, namely that Mexico would pay for the wall, one of the most often repeated, and unsupported, claims he has made on the border funding dispute." See also, Trump Said a Border Wall Is Needed to Block Illegal Guns, Drugs, and Cash Coming From Mexico. But Much of the Contraband He Pointed to Came Through Legal Ports of Entry. The New York Times, Mitchell Ferman, Friday, 25 January 2019: "President Trump traveled to the Rio Grande Valley earlier this month and made his case for building a wall on the Southern border — needed, he said, to keep America safe from a variety of dangers that are continuing to make their way across the frontier from Mexico. To help make his point, the evidence was laid out on tables: a big bag of cash, bundles of drugs, high-powered firearms, all confiscated by law enforcement agents working the borderlands in South Texas…. But the display at the president's Jan. 10 round table, it turns out, had little to do with what happens along unfortified reaches of the border. An examination of the seized items suggests that a border wall would not have stopped most of the items from entering the United States, or, in the case of several weapons displayed in front of the president, from leaving the United States for Mexico. Many of the items on display were seized on international bridges on the Texas border, detected by canines and Customs and Border Protection officers. Some of them were found during traffic stops or, in one case, inside a South Texas home, and it's hard to know how they entered the country."
As youth anger over climate change mounts, protests spread around the globe, The Washington Post, Rick Noack, Friday, 25 January 2019: "As urban temperature records were broken in Australia on Thursday amid a years-long drought that has turned farms into wastelands across parts of the country, high school students on the opposite side of the world rallied against the driving force behind rising temperatures: climate change. Now in their third week, the Belgian protests against inaction on climate change drew more than 30,000 high school and university students to Brussels, roughly triple the number of protesters last week. 'The planet can do without us, but we cannot do without the planet,' one of the signs at the march read, according to the Associated Press. Many of the protests are inspired by 16-year-old climate change activist Greta Thunberg, who skipped school last year to protest in front of the Swedish parliament, demanding more decisive action on climate change. Thunberg and others have pointed out in interviews and at rallies that their generation is protesting government inaction on climate change because they are the ones who will live with the effects…. Since Thunberg's first public appearances, tens of thousands of students in Belgium, Germany, Switzerland, Australia and other countries have followed her example. Rallies earlier this month drew thousands of students in more than 50 German cities, with organizers estimating that 30,000 joined the rallies." See also, 'I want you to panic': Greta Thunberg, 16-year-old Swedish climate activist issues climate warning at Davos World Economic Forum–Video, The Guardian, Friday, 25 January 2019: "Greta Thunberg, a Swedish climate activist, has told world leaders: 'I don't want you to be hopeful, I want you to panic. I want you to feel the fear I feel every day and then I want you to act.' In an impassioned warning to act now on climate change, Thunberg told her audience at Davos: 'Either we choose to go on as a civilisation or we don't.'"
Continue reading Week 106, Friday, 25 January – Thursday, 31 January 2019 (Days 736-742)
Democrats blast the Trump administration for oil and gas leasing activities during the government shutdown, The Washington Post, Dino Grandoni, Friday, 25 January 2019: "In the West, President Trump's administration is 'working nearly unimpeded' on oil and gas leasing. In Alaska, it has 'barely slowed' efforts to open Arctic wilderness to fossil fuel development. And off the nation's coasts, it is 'moving full speed ahead' to craft a plan to auction off ocean drilling rights. House Democrats levied accusation after accusation against the Trump administration yesterday on Capitol Hill for seeming to give preferential treatment to the oil and gas industry during the partial government shutdown. More than a dozen Cabinet-level departments in the federal government have ceased all but the most essential activities after running out of congressionally appropriated funds late last year. They include the Interior Department, which oversees oil and gas leasing on thousands of acres of public lands. But what gets classified as essential government work largely depends on who is in charge of the executive branch. For the Trump administration, much of the work done to lease and permit oil and gas activities is a go."
At least 14,000 unpaid IRS workers did not show up for work as broad shutdown disruption hits tax agency, according to House aides, The Washington Post, Jeff Stein and Danielle Paquette, Friday, 25 January 2019: "At least 14,000 unpaid workers in the Internal Revenue Service division that includes tax processing and call centers did not show up for work this week despite orders to do so, according to two House aides, posing a challenge to the Trump administration's ability to minimize the damage from the government shutdown. The Trump administration ordered more than 30,000 employees back to work unpaid to prepare for tax filing season, which is set to begin next week. But of the 26,000 workers called back to the IRS division that includes the tax processing centers and call centers, about 9,000 workers could not be reached and about 5,000 more claimed a hardship exemption, IRS officials have told members of Congress, according to aides, who spoke on the condition of anonymity because they were not authorized to speak publicly about the numbers."
Government Shutdown Sets Off Airport Delays as F.A.A. Announces Staffing Shortages, The New York Times, Patrick McGeehan, Friday, 25 January 2019: "[The plans of] thousands of travelers across the Northeastern United States … were upended Friday morning after a shortage of air traffic controllers triggered significant flight delays. A few hours later, President Trump announced a deal to temporarily reopen the government, easing the increasing strain on federal agencies, for a few weeks at least. The threat of disruption to the nation's air-travel system had ratcheted up the pressure on political leaders, who feared a chaotic situation that would anger many more people than the 800,000 unpaid government workers."
U.S. Vice President Mike Pence Pledged U.S. Backing Before Venezuela Opposition Leader's Move. The Trump administration's secret plan offering support for opposition leader Juan Guaidó was preconceived and tightly coordinated. The Wall Street Journal, Jessica Donati and Vivian Salama, Friday, 25 January 2019: "The night before Juan Guaidó declared himself interim president of Venezuela, the opposition leader received a phone call from Vice President Mike Pence. Mr. Pence pledged that the U.S. would back Mr. Guaidó if he seized the reins of government from Nicolás Maduro by invoking a clause in the South American country's constitution, a senior administration official said. That late-night call set in motion a plan that had been developed in secret over the preceding several weeks, accompanied by talks between U.S. officials, allies, lawmakers and key Venezuelan opposition figures, including Mr. Guaidó himself. It culminated in the 35-year-old Mr. Guaidó's declaration Wednesday that Mr. Maduro's government was illegitimate and that Mr. Guaidó, president of the country's National Assembly, was assuming power in accordance with the country's constitution."
Agnès Callamard, U.N. Execution Expert, Will Investigate the Killing of Saudi Dissident and Washington Post Columnist Jamal Khashoggi by Saudi Agents, The New York Times, David D. Kirkpatrick, Friday, 25 January 2019: "An expert from the United Nations human rights office will look into the death of Jamal Khashoggi, a Saudi dissident and Washington Post columnist killed in October by Saudi agents, the agency said on Friday. Agnès Callamard, the special rapporteur for extrajudicial, summary or arbitrary executions, will lead the inquiry into the killing of Mr. Khashoggi at Saudi Arabia's consulate in Istanbul and will report her findings in June, the Office of the United Nations High Commissioner for Human Rights announced. She 'will review and evaluate, from a human rights perspective, the circumstances surrounding the killing of Khashoggi,' the office said in a statement, and 'will assess the steps taken by governments to address and respond to the killing, and the nature and extent of states' and individuals' responsibilities for the killing.' As special rapporteur, Ms. Callamard's role is to examine any allegations of extrajudicial executions on her own authority, without specific further authorization from the human rights commissioner's office or any other United Nations body."
Marzieh Hashemi, a producer and on-air presenter for Iran's Press TV, contends her arrest without charge in the U.S. was tied to her work for state-funded Iran media, The Washington Post, Spencer S. Hsu, Friday, 25 January 2019: "An American-born journalist based in Tehran asserted Friday that her arrest without charge by U.S. authorities was related to her work for Iran's state-funded English-language satellite television channel but declined to comment on the focus of the criminal investigation and what she was asked by a grand jury. Marzieh Hashemi, 59, a producer and on-air presenter for Iran's Press TV, told reporters her nine-day detention this month under a 'material witness' warrant and subsequent testimony before a U.S. grand jury in a sealed case was 'related to where I live, and to what I do.'… Hashemi, appearing with demonstrators outside the federal courthouse in Washington protesting her arrest, said journalists for foreign state-run media should take heed of what she called an attempt by the American government to intimidate an outlet presenting opposing views. 'Make no mistake. They can call it whatever they want to call it, but I was kidnapped,' Hashemi said in describing her arrest to about 80 protesters, including members of CodePink, Louis Farrakhan's Nation of Islam and local African American Muslim advocates. Hashemi linked her arrest to her broadcasts about racial and anti-Islamic bias in American society, saying: 'We will not be intimidated. We will not back off the truth, no matter the price.'"
Saturday, 26 January 2019, Day 737:
Trump National Golf Club in Westchester County, N.Y., employed undocumented workers–and then fired them amid government shutdown over border wall, The Washington Post, Joshua Partlow and David A. Fahrenthold, Saturday, 26 January 2019: "They had spent years on the staff of Donald Trump's golf club, winning employee-of-the-month awards and receiving glowing letters of recommendation. Some were trusted enough to hold the keys to Eric Trump's weekend home. They were experienced enough to know that, when Donald Trump ordered chicken wings, they were to serve him two orders on one plate. But on Jan. 18, about a dozen employees at Trump National Golf Club in Westchester County, N.Y., were summoned, one by one, to talk with a human resources executive from Trump headquarters. During the meetings, they were fired because they are undocumented immigrants, according to interviews with the workers and their attorney. The fired workers are from Latin America. The sudden firings — which were previously unreported — follow last year's revelations of undocumented labor at a Trump club in New Jersey, where employees were subsequently dismissed. The firings show Trump's business was relying on undocumented workers even as the president demanded a border wall to keep out such immigrants." See also, 7 questions about Trump's use of undocumented workers at his golf courses, The Washington Post, David A. Fahrenthold and Joshua Partlow, published on Monday, 28 January 2019.
Germany to close all 84 of its coal-fired power plants and will rely primarily on renewable energy, Los Angeles Times, Erik Kirschbaum, Saturday, 26 January 2019: "Germany, one of the world's biggest consumers of coal, will shut down all 84 of its coal-fired power plants over the next 19 years to meet its international commitments in the fight against climate change, a government commission said Saturday. The announcement marked a significant shift for Europe's largest country — a nation that had long been a leader on cutting CO2 emissions before turning into a laggard in recent years and badly missing its reduction targets. Coal plants account for 40% of Germany's electricity, itself a reduction from recent years when coal dominated power production. 'This is an historic accomplishment,' said Ronald Pofalla, chairman of the 28-member government commission, at a news conference in Berlin following a marathon 21-hour negotiating session that concluded at 6 a.m. Saturday. The breakthrough ended seven months of wrangling. 'It was anything but a sure thing. But we did it,' Pofalla said. 'There won't be any more coal-burning plants in Germany by 2038.' The plan includes some $45 billion in spending to mitigate the pain in coal regions. The commission's recommendations are expected to be adopted by Chancellor Angela Merkel's government."
Trump and His Associates Had More Than 100 Contacts With Russians Before the Inauguration, The New York Times, Karen Yourish and Larry Buchanan, Saturday, 26 January 2019: "During the 2016 presidential campaign and transition, Donald J. Trump and at least 17 campaign officials and advisers had contacts with Russian nationals and WikiLeaks, or their intermediaries, a New York Times analysis has found. At least 10 other associates were told about interactions but did not have any themselves. Knowledge of these interactions is based on New York Times reporting, documents submitted to Congress, and court records and accusations related to the special counsel investigating foreign interference in the election."
Government shutdown cost $6 billion. That's more than Trump wanted for the border wall. USA Today, George Petras, updated on Saturday, 26 January 2019: "President Donald Trump has signed legislation to end the partial government shutdown. But its impact was severe and costly. The economic cost was measured at $6 billion, according to Friday estimates by S&P Global Ratings. That's $300 million more than Trump's demand for $5.7 billion to build the southern border wall."
Trump's Consumer Financial Protection Bureau (CFPB) Fines Mark Corbett $1 for Swindling Veterans and Orders Him Not to Do It Again, The Intercept, David Dayen, Saturday, 26 January 2019: "The Consumer Financial Protection Bureau penalized a man $1 this week, for illegally exchanging veterans' pensions for high-interest 'cash advances.' Mark Corbett claimed in sworn statements to the bureau that he had an inability to pay any fine of greater value, and the bureau accepted $1 as payment for making illegal, high-cost loans to former members of the armed forces…. 'It looks like the Trump-appointed political leadership at the CFPB is letting a person who preyed on veterans get away with a slap on the wrist,' said Will Corbett [no relation], a litigation counsel with the Center for Responsible Lending, a consumer advocacy group, in a statement. A slap on the wrist for eight years of scamming veterans might be something like $10,000. This is more like a handshake."
Elliott Abrams, US diplomat who tried to whitewash a massacre of a thousand men, women, and children by US-funded death squads in El Salvador and who was convicted over Iran-Contra, is appointed special envoy for Venezuela, The Guardian, Julian Borger, Saturday, 26 January 2019: "Elliott Abrams was appointed US special envoy for Venezuela on Friday, as Donald Trump's administration and European leaders on Saturday further increase the pressure on the socialist president, Nicolás Maduro, to step aside from leading the country he has taken into a deepening crisis. Abrams will accompany the US secretary of state, Mike Pompeo, to a meeting of the UN security council in New York on Saturday, during which Pompeo will urge members to join the US in declaring Venezuela's opposition leader Juan Guaidó as the legitimate head of state. Abrams, a neoconservative, has returned to the centre of the political action over the region like the ghost of administrations past. Even if he was not chosen expressly to haunt Latin America and Congress, the Trump White House clearly does not care if they are spooked. Abrams is widely remembered in Central America, but particularly from his time in the Reagan administration, when he tried to whitewash a massacre of a thousand men, women and children by US-funded death squads in El Salvador, when he was assistant secretary of state for human rights. He shrugged off the reports as communist propaganda, and insisted: 'The administration's record in El Salvador is one of fabulous achievement.' Abrams also helped organise the covert financing of Contra rebels in Nicaragua behind the back of Congress, which had cut off funding. He then lied to Congress about his role, twice. He pleaded guilty to both counts in 1991 but was pardoned by George HW Bush. More than a decade later, working as special Middle East adviser to former president George W Bush, Abrams was an enthusiastic advocate of the Iraq invasion. He was in the White House at the time of the abortive coup in 2002 against Hugo Chávez. The Observer reported that Abrams gave the green light to the putsch…."
Venezuelan President Nicolás Maduro Does an About-Face That Allows U.S. Diplomats to Stay, The New York Times, Ana Vanessa Herrero and Megan Specia, Saturday, 26 January 2019: "President Nicolás Maduro of Venezuela on Saturday backed down from demanding that all American diplomats leave the country this weekend, even as the United States and allied nations continued to press for regime change in the South American nation. Foreign Minister Jorge Arreaza said that Mr. Maduro's government and the United States had agreed to keep diplomatic teams at their embassies in Washington and Caracas for 30 days while the two governments negotiate a downgraded level of diplomatic relations. Under that scenario, the United States and Venezuela would continue to conduct diplomacy through missions known as interest sections, which serve as de facto embassies for nations that have formally severed diplomatic ties."
Trump Meets With Hard-Right Activists Led by Ginni Thomas, the Wife of Supreme Court Justice Clarence Thomas, The New York Times, Maggie Haberman and Annie Karni, Saturday, 26 January 2019: "President Trump met last week with a delegation of hard-right activists led by Ginni Thomas, the wife of Justice Clarence Thomas, listening quietly as members of the group denounced transgender people and women serving in the military, according to three people with direct knowledge of the events…. It is unusual for the spouse of a sitting Supreme Court justice to have such a meeting with a president, and some close to Mr. Trump said it was inappropriate for Ms. Thomas to have asked to meet with the head of a different branch of government. A vocal conservative, Ms. Thomas has long been close to what had been the Republican Party's fringes, and extremely outspoken against Democrats. Her activism has raised concerns of conflicts of interest for her husband, who is perhaps the most conservative member of the Supreme Court…. During the meeting last Thursday in the Roosevelt Room, which was attended by about a half-dozen White House aides, one woman argued that women should not serve in the military because they had less muscle mass and lung capacity than men did, according to those familiar with the events. At another point, someone said that gay marriage, which the Supreme Court determined in 2015 was the law of the land, was harming the fabric of the United States. And another attendee was dismissive that sexual assault is pervasive in the military."
Sunday, 27 January 2019, Day 738:
Treasury Department Lifts Sanctions on the Companies of Russian Billionaire Oleg Deripaska, The New York Times, Kenneth P. Vogel, Sunday, 27 January 2019: "The Trump administration on Sunday lifted sanctions against the business empire of Oleg V. Deripaska, one of Russia's most influential oligarchs. Congressional Democrats had tried to block the move this month, assailing it as a capitulation to the Kremlin and a key ally of President Vladimir V. Putin. But they failed to win enough Republican support to enforce the sanctions. The Treasury Department had announced the sanctions against Mr. Deripaska, six other oligarchs and their companies in April as retaliation for Russia's 'malign activity' around the world." See also, Treasury Department lifts sanctions on companies tied to Putin ally Oleg Deripaska, The Washington Post, Jeanne Whalen, published on Monday, 28 January 2019: "The Treasury Department said Sunday that it has lifted sanctions on three Russian companies tied to an ally of Russian President Vladimir Putin, despite sharp objection from both parties in Congress."
Convicted for leaving water for migrants in the desert: This is Trump's justice, The Washington Post, Editorial Board, Sunday, 27 January 2019: "A few weeks ago, federal prosecutors in Arizona secured a conviction against four humanitarian aid workers who left water in the desert for migrants who might otherwise die of heat exposure and thirst. Separately, they dropped manslaughter charges against a U.S. Border Patrol agent who fired 16 times across the border, killing a teenage Mexican boy. The aid workers face a fine and up to six months in jail. The Border Patrol officer faces no further legal consequences. That is a snapshot of twisted frontier justice in the age of Trump. Save a migrant's life, and you risk becoming a political prisoner. Kill a Mexican teenager, and you walk free."
Senator Kamala Harris Kicks off Her 2020 Democratic Campaign With Rally in Oakland, California, The New York Times, Stacey Solie, Sunday, 27 January 2019: "Senator Kamala Harris of California officially kicked off her campaign for the Democratic presidential nomination on Sunday at an outdoor rally where she warned that the nation and the world were at 'an inflection point' in history and called on all Americans to 'speak truth about what's happening' in the Trump era. Before a crowd that her advisers estimated at more than 20,000 people, Ms. Harris threaded together a biography from her years in the Bay Area with her work as a prosecutor and a senator, and set those details against a broader populist vision about 'running to be president of the people, by the people and for all people.'"
Special Counsel Robert Mueller says Trump advisers lied over and over again. The question is, why? The Washington Post, Rosalind S. Helderman, Josh Dawsey, and Matt Zapotosky, Sunday, 27 January 2019: "They lied to the public for months before Donald Trump was elected — and then repeatedly after he took office. They lied to Congress as lawmakers sought to investigate Russia's attack on American democracy in 2016. And they lied to the FBI, even when they knew lying was a crime. In indictments and plea agreements unveiled over the last 20 months, special counsel Robert S. Mueller III has shown over and over again that some of President Trump's closest friends and advisers have lied about Russia and related issues…. While Mueller has not accused any American of criminally coordinating with Russia, the lies meticulously unspooled by his prosecutors over 20 months have not been mere quibbles. They have documented various falsehoods by Trump advisers that masked efforts by people in his orbit to develop inroads with Russia and leverage that country's hacking of Democratic emails. The remaining question — for both Mueller's team, as it works on a final investigative report, and for the American people — is why."
Trump Is Skeptical He Would Accept Any Congressional Border Deal, The Wall Street Journal, Peter Nicholas and Kristina Peterson, Sunday, 27 January 2019: "President Trump said Sunday he doesn't believe congressional negotiators will strike a deal over border-wall funding that he could accept and vowed that he would build a wall anyway, using emergency powers if need be. Mr. Trump, in an interview, assessed the chances of whether a newly formed group of 17 lawmakers could craft a deal before the next government-funding lapse, in less than three weeks: 'I personally think it's less than 50-50, but you have a lot of very good people on that board.' He made his comments as hundreds of thousands of federal employees prepared to head back to work Monday following the president's move Friday to reopen the government after the 35-day partial shutdown, even without funding for his long-promised wall along the border with Mexico. The group of 17 lawmakers is now tasked with hashing out a longer-term deal on border security and, potentially, broader immigration issues."
Monday, 28 January 2019, Day 739:
U.S. Targets Venezuela With Tough Oil Sanctions During Crisis of Power, The New York Times, Edward Wong and Nicholas Casey, Monday, 28 January 2019: "The Trump administration imposed sanctions against Venezuela's state-owned oil company on Monday, seeking to cripple the government of embattled President Nicolás Maduro by cutting off its main source of cash. The move marked the first punitive step by the United States to force Mr. Maduro to give up power since the opposition leader, Juan Guaidó, declared himself interim president last week after years of accusations of corruption in Venezuela at the expense of its people. The sanctions prohibit most American businesses from engaging in transactions with the oil company, Petróleos de Venezuela, S.A., or Pdvsa. Administration officials said the financial penalties are expected to block $7 billion in assets and result in $11 billion in export losses over the next year for Venezuela's government, starving it from its most important source of revenue and foreign currency." See also, Trump administration announces sanctions targeting Venezuela's oil industry, The Washington Post, Karen DeYoung, Steven Mufson, and Anthony Faiola, published on Tuesday, 29 January 2019: "The Trump administration on Monday escalated its efforts to force Venezuelan President Nicolás Maduro from power, blocking all U.S. revenue to Venezuela's national oil company and calling on members of its armed forces to switch their allegiance to the man the United States now recognizes as Venezuela's head of state. Any attempt to harm remaining U.S. diplomats in Venezuela, or violence against the newly recognized president, Juan Guaidó, 'will be met with a significant response,' White House national security adviser John Bolton said." See also, U.S. Imposes Sanctions on Venezuela's Oil Industry, The Wall Street Journal, Ian Talley and Michael C. Bender in Washington and Kejal Vyas in Caracas, Monday, 28 January 2019: "The U.S. imposed sanctions on Venezuela's state-owned oil giant in a dramatic move designed to empower the opposition and cripple the government of President Nicolás Maduro by preventing the proceeds of U.S. crude sales returning to Caracas. The sanctions on Petróleos de Venezuela SA, the South American country's main exporter, are the culmination of a two-year pressure campaign, and are an attempt to funnel income from the country's biggest revenue generator into the hands of opposition leader Juan Guaidó."
The Congressional Budget Office (C.B.O.) Says the Government Shutdown Cost the U.S. Economy $11 Billion, With About $3 Billion Permanently Lost, The New York Times, Alan Rappeport and Binyamin Appelbaum, Monday, 28 January 2019: "The five-week federal government shutdown took a significant economic toll, costing the United States economy $11 billion, with nearly a quarter of that total permanently lost, the Congressional Budget Office said on Monday. The figures are the first official projection of the economic effects of the longest federal shutdown in history, and they show that its cost was nearly double the $5.7 billion request by President Trump for a border wall that fueled the impasse. That is enough to reduce first-quarter growth by about 0.4 percentage points. Much of that spending was simply delayed, and will flow back into the economy as workers get back pay. But the report makes clear that not all the economic damage will be undone and that the effects of the shutdown will linger. With the federal government funded for just three weeks and Mr. Trump threatening to shutter the government again if his demands for a wall are not met, many workers say they are planning to spend less of their income and increase rainy-day savings." See also, Government shutdown is projected to cost the American economy $11 billion, although about $8 billion of that will be made up as back pay goes out to federal workers, The Washington Post, Jeff Stein, Monday, 28 January 2019: "The longest-ever government shutdown cost the American economy $11 billion, although about $8 billion in that will be made up in additional economic activity as back pay goes out to federal workers, the Congressional Budget Office said in a report on Monday. The shutdown is projected to lower America's gross domestic product by $3 billion in the fourth quarter of 2018, as well as by $8 billion for the first quarter in 2019, the CBO said. But the economy will grow about $8 billion faster in the next two quarters than it would have without the shutdown, muting much of the long-run impact of the shutdown."
Exclusive: Trump EPA (Environmental Protection Agency) won't limit 2 toxic chemicals (PFOA and PFOS) in drinking water, Politico, Annie Snider, Monday, 28 January 2019: "The Trump administration will not set a drinking water limit for two toxic chemicals that are contaminating millions of Americans' tap water, two sources familiar with the forthcoming decision told POLITICO. The expected move is yet another sign of the administration's reluctance to aggressively deal with the chemicals, which have been used for decades in products such as Teflon-coated cookware and military firefighting foam and are present in the bloodstreams of an estimated 98 percent of Americans. And it comes less than a year after the White House and the Environmental Protection Agency faced criticism for delaying publication of a health study on the chemicals, which a White House aide had warned could trigger a 'public relations nightmare.' EPA's decision means the chemicals will remain unregulated under the Safe Drinking Water Act, according to sources familiar with a still-unreleased draft plan that acting administrator Andrew Wheeler signed off on in late December. That means utilities will face no federal requirements for testing for and removing the chemicals from drinking water supplies, although several states have pursued or are pursuing their own limits…. The chemicals, known as PFOA and PFOS, have been linked to kidney and testicular cancer, hypertension and other ailments. Major chemical companies like 3M as well as the Defense Department would face billions of dollars in liability from aggressive efforts to regulate and clean up the chemical, which has contaminated groundwater near hundreds of military bases and chemical plants."
U.S. and Taliban Agree in Principle to Peace Framework, Chief U.S. Negotiator Zalmay Khalilzad Says, The New York Times, Mujib Mashal, Monday, 28 January 2019: "American and Taliban officials have agreed in principle to the framework of a deal in which the insurgents would guarantee Afghan territory is never used by terrorists, which could lead to a full pullout of American troops in return for larger concessions from the Taliban, the chief United States negotiator said on Monday. The negotiator, Zalmay Khalilzad, said those concessions must include the Taliban's agreement to a cease-fire and to talk directly with the Afghan government, which the insurgents have persistently opposed in the past."
Senate Advances Pro-Israel Bill as Republicans Search for Democratic Divisions, The New York Times, Catie Edmondson, Monday, 28 January 2019: "The Senate voted Monday to advance legislation affirming the right of local and state governments to break ties with companies that boycott or divest from Israel, as Republicans try to drive a wedge between the Democratic Party and its traditional allies in the American Jewish community. The bipartisan legislation reauthorizes assistance to Israel and Jordan and imposes additional sanctions on individuals providing support for the Syrian government. But Republican leaders added a provision by Senator Marco Rubio, Republican of Florida, that aims to curtail support for the boycott, divest and sanctions — or B.D.S. — movement, which seeks to pressure Israel into ending the occupation of the West Bank. The late inclusion was an opportunity for Republicans to draw out the new generation of insurgent liberal representatives who have been critical of Israel. Republicans are trying to paint them as extremist, and even anti-Semitic, as they try to push moderate voters away from a Democratic Party moving left. The Senate voted 74 to 19 on Monday to cut off debate on the measure, with final passage expected on Wednesday. Representatives Ilhan Omar of Minnesota, a Somali refugee; Rashida Tlaib of Michigan, the first Palestinian-American woman to serve in the House; and Representative Alexandria Ocasio-Cortez of New York have emerged as the most vocal supporters of Palestinian rights, and as high-profile targets of Republicans. The three represent heavily Democratic districts, with supportive constituents, but Republicans hope to tar the whole party with their views."
Prominent Democrats Form Pro-Israel Group to Counter Skepticism on the Left, The New York Times, Jonathan Martin, Monday, 28 January 2018: "Several prominent veteran Democrats, alarmed by the party's drift from its longstanding alignment with Israel, are starting a new political group that will try to counter the rising skepticism on the left toward the Jewish state by supporting lawmakers and candidates in 2020 who stand unwaveringly with the country. With polls showing that liberals and younger voters are increasingly less sympathetic to Israel, and a handful of vocal supporters of Palestinian rights arriving in Congress, the new group — the Democratic Majority for Israel — is planning to wage a campaign to remind elected officials about what they call the party's shared values and interests with one of America's strongest allies."
Top Republican senators propose repealing the estate tax, which is expected to be paid by fewer than 2,000 U.S. taxpayers a year, The Washington Post, Jeff Stein, Monday, 28 January 2019: "Three Republican Senators introduced a plan Monday to repeal the federal estate tax, moving to eliminate a tax on a small number of the wealthiest households just as leading Democrats ramp up calls to tax the richest Americans. Senate Majority Leader Mitch McConnell (R-Ky.) joined Sens. Charles E. Grassley (R-Iowa) and John Thune (R-SD), members of the Senate Finance Committee, in releasing legislation to permanently repeal the federal estate tax, which conservatives refer to as 'the death tax.' The Republican tax law passed in 2017 already dramatically weakened the estate tax, allowing couples with $22 million to pass on their estates without facing the tax. In 2018, following the GOP tax law, only 5,000 taxpayers were expected to file estate tax returns, according to projections by the American College of Trust and Estate Counsel, an organization of estate attorneys, based on Internal Revenue Service data. About 1,700 families are expected to actually pay the tax annually, said Howard Gleckman, a tax expert with the Tax Policy Center, a nonpartisan think tank."
Special Counsel Robert Mueller's Investigation Is Nearing Its End Says Acting Attorney General Matthew Whitaker, The New York Times, Sharon LaFraniere and Katie Benner, Monday, 28 January 2019: "Matthew G. Whitaker, the acting attorney general, announced on Monday that the special counsel, Robert S. Mueller III, is wrapping up his investigation of Russian interference in the 2016 presidential campaign and whether the Trump campaign cooperated with Moscow's operation…. His impromptu remark, at the end of a news conference about an unrelated case, was a highly unusual confirmation of the state of the special counsel's investigation. Justice Department policy ordinarily prohibits public comment on open criminal inquiries, and Mr. Mueller has refused to publicly discuss the investigation since he was appointed in May 2017 to oversee it. Mr. Whitaker, who is considered intensely loyal to President Trump, said that he had been 'fully briefed on the investigation' and that he looked forward to Mr. Mueller delivering a report. Mr. Whitaker's comments appeared to take even Justice Department officials by surprise. "
Attorney general nominee William Barr still refuses to pledge to publicly release special counsel Robert Mueller's report, The Washington Post, Karoun Demirjian, Monday, 28 January 2019: "Attorney general nominee William P. Barr doubled down on his refusal to give senators a guarantee to publicly release special counsel Robert S. Mueller III's report when it is completed, in written answers he delivered to the Senate Judiciary Committee ahead of a planned panel vote on his confirmation. Barr stressed that his 'goal will be to provide as much transparency as I can consistent with the law' in several of the answers he provided to panel senators, who challenged him to offer better assurances that he would release the report than he did during a confirmation hearing earlier this month. Democrats on the panel also failed to secure a firmer promise from Barr to alert them if Justice Department ethics officials advise him to recuse himself from overseeing the Mueller probe, reserving the final decision for himself."
Accounts of Immigration and Customs Enforcement Agents Arresting Undocumented immigrants in and Around New York Courts Have Increased by 1,700 percent, The Intercept, Ryan Devereaux, Monday, 28 January 2019: "More than two years after Donald Trump's inauguration ushered in sweeping changes to the nation's immigration enforcement system, accounts of Immigration and Customs Enforcement agents arresting undocumented immigrants in and around New York courts have increased by 1,700 percent, according to a new report. The expanded courthouse operations have been coupled with increased reports of New York-based immigration agents using physical force to take undocumented immigrants into custody, the Immigrant Defense Project said Monday. 'ICE operations increased not only in absolute number but grew in brutality and geographic scope' from 2017 to 2018, the IDP report found, with plainclothes agents in New York relying on 'intrusive surveillance and violent force to execute arrests.'"
Trump accepts invitation from House Speaker Nancy Pelosi to deliver the State of the Union address on Tuesday, 5 February 2019, The Washington Post, Felicia Sonmez, Monday, 28 January 2019: "House Speaker Nancy Pelosi on Monday invited President Trump to give his State of the Union address on Feb. 5, putting the president on track to deliver his prime-time speech to a nation still reeling from the longest federal shutdown in history and facing the prospect of a second one next month…. Pelosi, who stood firm and got Trump to concede to reopen the government last week without funding for his long-promised U.S.-Mexico border wall, will be seated behind the president as he delivers his speech."
Trump offers encouragement for state efforts to teach Bible literacy in public schools, The Washington Post, John Wagner, Monday, 28 January 2019: "President Trump gave his blessing Monday to lawmakers in several states who are pushing legislation to allow Bible literacy classes in public schools. 'Numerous states introducing Bible Literacy classes, giving students the option of studying the Bible,' Trump wrote in a morning tweet. 'Starting to make a turn back? Great!' As president, Trump has no formal say in state legislative processes. His tweet came shortly after a segment on Fox News Channel's 'Fox & Friends' reporting that bills have been introduced in at least six states that would allow public school children to study the historical significance of the Bible. The legislation has drawn objections from groups seeking to protect the separation of church and state. The groups argue that the bills are backdoor attempts to promote Christianity in public schools."
Tuesday, 29 January 2019, Day 740:
State Department Gives the Venezuelan Opposition Leader Juan Guaidó Control of Venezuela's Assets and Property in U.S. Bank Accounts, The New York Times, Edward Wong, Tuesday, 29 January 2019: "The State Department said Tuesday that it had given the Venezuelan opposition leader Juan Guaidó the right to control assets and property in the United States bank accounts of the government of Venezuela. Secretary of State Mike Pompeo gave the certification to Mr. Guaidó last Friday, two days after Mr. Guaidó declared himself interim president, but the United States government had kept it secret until now. The move is part of a campaign by President Trump and his top foreign policy officials to oust President Nicolás Maduro, an authoritarian leader who is serving a second six-year term after elections last year that many have denounced as illegitimate."
On North Korea and Iran, Intelligence Chiefs Contradict Trump, The New York Times, David E. Sanger and Julian E. Barnes, Tuesday, 29 January 2019: "A new American intelligence assessment of global threats has concluded that North Korea is 'unlikely to give up' all of its nuclear stockpiles, and that Iran is not 'currently undertaking the key nuclear weapons-development activity' needed to make a bomb, directly contradicting two top tenets of President Trump's foreign policy. Dan Coats, the director of national intelligence, also challenged Mr. Trump's insistence that the Islamic State had been defeated, a key rationale for his decision to exit Syria. The terrorist group 'still commands thousands of fighters in Iraq and Syria,' and maintains eight branches and a dozen networks around the world, the annual report to Congress said." See also, In testimony before the Senate Intelligence Committee, intelligence chiefs highlight differences with Trump, The Washington Post, Shane Harris, Tuesday, 29 January 2019: "China and Russia are working together to challenge U.S. leadership in the world, undermine democratic governments and gain military and technological superiority over the United States, the nation's top intelligence official told a Senate panel Tuesday during a hearing that also underscored the distance between the U.S. intelligence community and President Trump on several critical fronts. The two U.S. adversaries 'are more aligned than at any point since the mid-1950s,' Director of National Intelligence Daniel Coats said in his prepared remarks before the Senate Intelligence Committee, seemingly invoking the Cold War of the 20th century to warn lawmakers about the strategic risk posed by China and Russia."
Asylum seeker from Honduras is sent back to Mexico as the Trump administration rolls out new policy, The Washington Post, Maya Averbuch and Kevin Sieff, Tuesday, 29 January 2019: "The United States on Tuesday returned a Honduran asylum seeker to Mexico, marking the beginning of a sweeping new policy that forces asylum seekers to wait in Mexico as their claims are processed in American courts. Homeland Security Secretary Kirstjen Nielsen planned to visit the San Ysidro port of entry later in the day to 'assess implementation' of the new approach, according to a DHS statement. The policy is one of the most dramatic changes to the American asylum system in decades — an attempt by the Trump administration to deter immigration by reducing the number of migrants who live and work in the United States while awaiting court dates. Already the plan has raised numerous human rights concerns, not to mention a flurry of logistical questions that neither the United States nor Mexico has been able to answer. Where will the asylum seekers stay in Mexico for months or years as their cases are processed? How will Mexico ensure their safety? How will they obtain legal assistance? Even the program's launch has been chaotic. The Mexican Foreign Ministry initially said on Friday that it expected the first group of asylum seekers to arrive within hours at the San Ysidro port of entry near San Diego, even though the Mexican immigration agency said it had received no formal communication from the United States. There were no official U.S. guidelines until this week." See also, New Trump Administration Policy Forcing Certain Asylum Seekers to Wait in Mexico While Their Cases Are Processed in the U.S. Takes Effect Today, The New York Times, Paulina Villegas and Kirk Semple, Tuesday, 29 January 2019: "A new Trump administration policy forcing certain asylum seekers to wait in Mexico while their cases are processed in the United States took effect on Tuesday, when American officials ushered the first such migrant through a Southern California border gate into northern Mexico. The migrant, a 55-year-old man from Honduras, had applied for asylum in the United States after crossing the border from Mexico. Under the new policy, he will live in Mexico temporarily, returning to the United States only for court dates pertaining to his case…. The new policy, first announced in December by Trump administration officials, is a dramatic step in what they cast as an effort to rein in asylum fraud and illegal immigration. It represents a major shift from a longstanding practice that permitted most migrants who requested asylum to go free in the United States while they awaited the outcome of their cases…. Mexican officials said that while they disagreed with the Trump administration's new policy, they have agreed to take in certain asylum seekers and vowed to protect the migrants' human rights and allow them to work in Mexico while their cases unfold in the United States…. Migrants' advocates and human rights groups have vociferously criticized the American policy shift, saying Mexico, which is suffering historic levels of violence, is not a safe place to send people who already fear for their lives. In addition, Tijuana and other border towns are already overwhelmed with migrants deported from the United States as well as migrants from Central America and elsewhere seeking to enter the country…. American advocacy groups are expected to file legal challenges to the new policy in the coming days, after gathering evidence from its rollout."
Pentagon to send thousands more troops to southern border, mostly for surveillance, The Washington Post, Don Lamothe, Tuesday, 29 January 2019: "The Pentagon is preparing to dispatch several thousand more U.S. troops to the southern border as the military shifts its operations there from improving security at ports of entry to the vast areas between them that are less controlled, defense officials said Tuesday. Acting defense secretary Patrick M. Shanahan told reporters at the Pentagon that the evolving mission will focus heavily on watching the border for potential threats. It will mark the latest shift in how active-duty troops are used on the border, and nudge the number from about 2,300 active-duty service members closer to a high-water mark of about 5,900 that were involved in November. An additional 2,300 national guardsmen also are deployed to the border mission." See also, At Least Two Thousand More Troops Are Heading to the Southern Border as Defense Department Officials Defend Deployments, The New York Times, Helene Cooper and Catie Edmondson, Tuesday, 29 January 2019: "The Pentagon is poised to send at least 2,000 more active-duty troops to the southwestern border, Defense Department officials said Tuesday, deployments that have already cost the military hundreds of millions of dollars and thrust the department into the center of the debate over border security and President Trump's proposed wall."
Activists making 'water drops' for migrants near the border say government intimidation is rising, The Washington Post, Teresa Tomassoni, Tuesday, 29 January 2019: "Emotions were high as nearly 75 people congregated outside a local community center wearing hiking boots and backpacks and carrying dozens of water jugs. This was the rallying point for volunteers joining immigrant rights group Border Angels on its latest trek into the arid Southern California desert to leave food, water and warm clothes for migrants crossing the southern border. The group has been organizing these 'water drops' for 20 years. But these days — with political tensions over illegal immigration at a boiling point and with similar activists in Arizona facing criminal charges — the work has become increasingly controversial…. This is a humanitarian issue, Border Angels activist Jacqueline Arellano had explained to the volunteers a few minutes earlier. People are dying in this desert, and children are at risk — and yet, Arellano said, people who are providing basic humanitarian aid along the border are now being criminalized. This month, four volunteers from a similar organization in Arizona, called No More Deaths, were convicted of misdemeanor charges of abandonment of property and entering a wildlife refuge without a permit after leaving food and water in a remote national wildlife refuge infamous for migrant fatalities. The Pima County medical examiner has documented 137 migrant deaths in this area since 2001, although No More Deaths advocates say they believe the number is much higher."
Representative Yvette Clarke (Democrat-New York) Went to Immigration Activist Ravi Ragbir's ICE (Immigration and Customs Enforcement) Check-in. ICE Tried to Block Her. The Intercept, Nick Pinto, Tuesday, 29 January 2019: "Representative Yvette Clarke, D-N.Y., said that what she saw Monday morning while accompanying a New York immigration activist to his mandated check-in at the New York field office of U.S. Immigration and Customs Enforcement left her with serious concerns about the agency's secrecy and the way it treats the people it summons to its offices. 'It is very clear to me that there has been some skirting of the law, that the free flow of the public has been obstructed arbitrarily and unilaterally to create a pressurized environment in which human rights could be violated,' Clarke told the immigration activist's friends and supporters at Foley Square, outside the federal building where the ICE check-in had taken place. Clarke was accompanying Ravi Ragbir, the executive director of the New Sanctuary Coalition of New York City, whose attempted deportation by ICE a year ago during a check-in generated a massive street protest and a strident condemnation from the federal bench."
Waiting with Immigrants, The New York Review of Books, Molly Crabapple, Tuesday, 29 January 2019: "To be an immigrant in America is to wait. This goes double for the millions of immigrants who have found themselves at the sour end of the Immigrations and Customs Enforcement (ICE) bureaucracy—and triple in the age of Trump. If you are an immigrant in the process of deportation proceedings, you must wait for your Master Calendar, on which a bureaucrat will assign you to a check-in date several months into the future. At this check-in, you may win several more months of anxious waiting—or disappear into a detention center, where you will wait for a one-way plane ride to a country you may no longer know. And if, for instance, your paperwork is straight but, twenty years ago, you jumped a turnstile or got into a barfight, then ICE has a mandate to hunt you down. Once snatched, you, too, will wait in a detention center, losing your job, your apartment, and possibly your health, while the months pass until a judge grants you a bond hearing. Then, you will appear in court—in chains or via video link—and learn how many thousands of dollars your family must pay for you to have the privilege of waiting outside a cage. While you wait, though, New Sanctuary has made the commitment to wait with you. Founded in 2007, the New Sanctuary Coalition of New York City is 'an interfaith network of congregations, organizations, and individuals' that 'stands publicly in solidarity with families and communities resisting detention and deportation.'" 
Roger Stone Pleads Not Guilty to Charges in Mueller Investigation, The New York Times, Mark Mazzetti and Adam Goldman, Tuesday, 29 January 2019: "President Trump's longtime adviser Roger J. Stone Jr. pleaded not guilty on Tuesday to felony charges in the special counsel investigation during a brief federal court appearance in which the often flamboyant Mr. Stone appeared solemn and said little. During the 15-minute proceeding, a lawyer for Mr. Stone, Robert C. Buschel, entered the plea on his client's behalf to charges of obstruction, witness tampering and making false statements. After the hearing, Mr. Stone declined to comment to a throng of reporters following him through the courthouse and outside." See also, Trump confidant Roger Stone pleads not guilty to charges in Mueller investigation, The Washington Post, Spencer S. Hsu, Ann E. Marimow, and Devlin Barrett, Tuesday, 29 January 2019: "President Trump's longtime friend Roger Stone pleaded not guilty Tuesday to charges stemming from special counsel Robert S. Mueller III's investigation of Russian interference in the 2016 U.S. election. Stone was indicted last week and accused of lying about his efforts to gather information concerning hacked Democratic Party emails. The indictment alleges Stone sought that information before the election at the direction of an unidentified senior Trump campaign official. He faces charges of lying, obstruction and witness tampering. Asked Tuesday whether he would consider pardoning Stone, President Trump told The Washington Post, 'I have not given it any thought.'"
The lowest-paid shutdown workers aren't legally guaranteed back pay, The Washington Post, Danielle Paquette, Tuesday, 29 January 2019: "Unlike the 800,000 career public servants who are slated to receive full back pay over the next week or so, the contractors who clean, guard, cook and shoulder other jobs at federal workplaces aren't legally guaranteed a single penny. They're also among the lowest-paid laborers in the government economy, generally earning between $450 and $650 weekly, union leaders say…. After the 16-day shutdown in 2013, approximately 850,000 federal workers collected compensation. About 1,200 cleaners, security guards and food-service workers in the Washington area, however, received no makeup pay. A group of Democratic senators introduced a bill last month aimed at changing that. Mark R. Warner (D-Va.), Tim Kaine (D-Va.) and Sherrod Brown (D-Ohio) have proposed legislation that would repay contractors up to $965 per week with public money and restore sick days used during the shutdown. (It's unclear whether the bill will advance.)"
Treasury Secretary Steven Mnuchin Draws Ethical Concerns of Conflict of Interest In Decision to Lift Sanctions on the Companies of Russian Billionaire Oleg Deripaska, The New York Times, Kenneth P. Vogel, Tuesday, 29 January 2019: "Democrats in Congress raised ethical concerns on Tuesday about connections between Treasury Secretary Steven Mnuchin and a billionaire Republican donor who stands to benefit financially from the Trump administration's decision to lift sanctions on the Russian oligarch Oleg V. Deripaska's companies. In a letter to Mr. Mnuchin, two senior Democratic lawmakers said the Treasury secretary's connection to an entertainment business owned in part by the donor, Len Blavatnik, a major investor in Mr. Deripaska's giant aluminum company, Rusal, was a potential conflict of interest."
Democrats tap Georgia's Stacey Abrams to deliver the response to Trump's State of the Union address, The Washington Post, Felicia Sonmez and Vanessa Williams, Tuesday, 29 January 2019: "Democrats have tapped Georgia's Stacey Abrams to deliver the response to President Trump's State of the Union address, Senate Minority Leader Charles E. Schumer announced Tuesday. Abrams narrowly lost the state's race for governor in November after a lengthy dispute over blocked votes. She will address the nation in a prime-time speech shortly after Trump finishes his address to a joint session of Congress next Tuesday night. In a statement announcing the decision, Schumer (D-N.Y.) praised the Georgia Democrat as 'a present and future leader in this country.'"
Many Texas Voters Whose Citizenship Was Questioned are in Fact Citizens, The New York Times, Liam Stack, Tuesday, 29 January 2019: "A claim made last week by the Texas secretary of state — that 95,000 registered voters had a citizenship status that could not be determined — appeared to fall apart on Tuesday when local election officials said many of the people were known to be United States citizens. Some registered to vote when they applied for a driver's license at the Texas Department of Public Safety, which requires them to prove citizenship status to state officials. Others registered at naturalization ceremonies, a data point to which state officials said they did not have access."
Wednesday, 30 January 2019, Day 741:
Venezuelan officials seek to block U.S.-supported opposition leader Juan Guaidó from leaving the country and to freeze his assets, The Washington Post, Andreina Aponte, Rachelle Krygier, and Anthony Faiola, Wednesday, 30 January 2019: "Venezuelan authorities moved to prohibit opposition leader and self-declared interim president Juan Guaidó from leaving the country and to freeze his bank accounts, prompting the United States, which a day earlier slapped sweeping sanctions on Venezuela's state-run oil company, to say there would be 'serious consequences' if Guaidó is harmed. Embattled President Nicolás Maduro then followed up by saying he was ready for a dialogue with the Guaidó-led opposition in an interview with Russia's RIA news agency released Wednesday. 'I am ready to sit down at the negotiating table with the opposition so that we could talk about what benefits Venezuela,' said Maduro, adding that letters had been sent to the governments of Mexico, Uruguay, Bolivia, Russia, the Vatican and other European countries to involve them in the process. Russia praised Maduro's willingness to negotiate with the U.S.-backed opposition, the Kremlin said on Wednesday. 'The fact that President Maduro is open to dialogue with the opposition deserves high praise and is commendable,' spokesman Dmitry Peskov told reporters in a phone call. Despite the offer, authorities ratcheted up pressure on the opposition with a request by the chief prosecutor to freeze Guaidó's assets, which was later ratified by the loyalist Supreme Court as a preventive measure pending a full investigation. The move stopped short of a detention order — something the Trump administration has strongly warned against." See also, President Nicolás Maduro of Venezuela Sounds Conciliatory but Warns: U.S. Intervention Would Be Worse Than Vietnam, The New York Times, Ana Vanessa Herrero and Austin Ramzy, Wednesday, 30 January 2019: "President Nicolás Maduro of Venezuela warned Americans in a video posted on Wednesday that intervening in his country 'would lead to a Vietnam worse than they can imagine.' The video, posted on his social media accounts, came out on the same day Mr. Maduro gave an interview to Russia's RIA news agency in which he seemed more conciliatory, saying he was open to talks with the country's opposition but rejecting calls for a new election…. The United States last week recognized Venezuela's opposition leader, Juan Guaidó, as the country's acting president, as have 26 other countries…. Mr. Guaidó said on Twitter that Mr. Trump had telephoned him to reiterate American support and pledge humanitarian help. He said the opposition was focused on large-scale demonstrations scheduled for Saturday." See also, Donald Trump and the Yankee Plot to Overthrow the Venezuelan Government, The Intercept/Intercepted, Jeremy Scahill, Wednesday, 30 January 2019: "The White House is openly plotting to bring down the government of Nicolas Maduro in Caracas. It is being openly promoted as a campaign to steal Venezuelan oil for the benefit of U.S. corporations, and some powerful Democrats are cheering Trump on and joining the conspiracy. Elliott Abrams, one of the premiere butchers of the U.S. dirty wars in Central America in the 1980s, has been named the point man in the effort to bring regime change to Venezuela. This week on Intercepted: Investigative journalist Allan Nairn talks about the history of U.S. crimes in Central America, the time he told Abrams, on national television, he should stand trial for war crimes, and the threat of U.S. military action in Venezuela. Corporate media coverage of Venezuela has been atrocious and largely uniform with the role of successive U.S. administrations in destabilizing the country almost never highlighted. Former Hugo Chávez adviser Eva Golinger and journalist and educator Roberto Lovato discuss how Venezuela was thrust into economic crisis, who is responsible, and what Washington really wants."
U.S. Push to Oust Venezuela's Nicolás Maduro Marks First Shot in the Trump Administration's Plan to Reshape Latin America, The Wall Street Journal, Jessica Donati, Vivian Salama, and Ian Talley, Wednesday, 30 January 2019: "The Trump administration's attempt to force out the president of Venezuela marked the opening of a new strategy to exert greater U.S. influence over Latin America, according to administration officials. In sight isn't just Venezuela's Nicolás Maduro, but also Cuba, an antagonist that has dominated American attention in the region for more than 50 years, as well as recent inroads made by Russia, China and Iran. While Mr. Maduro and his predecessor, Hugo Chávez, have long drawn Washington's condemnation, the Trump administration is stocked with officials who have long believed Cuba to be the more serious national-security threat. They cite Cuba's intelligence operations in the U.S., and its efforts to spread anti-American views in other Latin American countries. The goal, the administration's thinking goes, is to sever ties that bind Venezuela to Cuba and sink regimes in both countries. The emerging U.S. assertiveness stems from the desire of the White House to reverse a partial rapprochement with Havana by the Obama administration through the easing of sanctions and the island's opening to U.S. investment."
Trump Calls U.S. Intelligence Officials 'Naive' After They Contradict Him, The New York Times, Eileen Sullivan, Wednesday, 30 January 2019: "President Trump pushed back on Wednesday against his intelligence chiefs' national security assessments, saying that 'the Intelligence people seem to be extremely passive and naive when it comes to the dangers of Iran,' and defended his own, more positive appraisals of the threats North Korea and the Islamic State pose to the United States. 'Perhaps Intelligence should go back to school,' Mr. Trump said on Twitter. See also, In latest attack on intelligence agencies, Trump ignores where they actually agree, The Washington Post, Shane Harris and John Wagner, Wednesday, 30 January 2019: "President Trump lashed out at the government's most senior intelligence leaders Wednesday, his latest assault on the spies and analysts who work for him but sometimes deliver facts that he doesn't want to hear. Triggering the president's rage was an annual congressional hearing on global security threats, a routine event at which intelligence agency heads testified that Iran, while still a global menace, is complying with an international agreement to suspend its development of nuclear weapons. Trump ridiculed that assessment and the intelligence leaders themselves. 'The Intelligence people seem to be extremely passive and naive when it comes to the dangers of Iran. They are wrong!' Trump wrote on Twitter. '. . . They are testing Rockets (last week) and more, and are coming very close to the edge. There [sic] economy is now crashing, which is the only thing holding them back. Be careful of Iran.' Trump added: 'Perhaps Intelligence should go back to school!'" See also, U.S. intelligence chiefs' de facto message to allies around the world: You're right; Trump is wrong. The Washington Post, Rick Noack, Wednesday, 30 January 2019: "When President Trump announced his intention to withdraw all U.S. troops from Syria in December, shocked U.S. allies warned that the fight against the Islamic State was far from over. Separate European warnings against a U.S. withdrawal from the Iran nuclear deal were similarly ignored by Trump last year. Earlier, Japan felt obliged to remind the United States that North Korea still posed a serious security risk, even as Trump said that he and North Korean dictator Kim Jong Un had fallen 'in love.' In all those cases, the startled reactions by U.S. allies around the world had little impact on the commander in chief in Washington. But on Tuesday, his own intelligence chiefs directly contradicted Trump on a number of issues and, incidentally, sided with the assessments of their closest partners abroad." See also, Trump tells intelligence chiefs to 'go back to school' after they break with him, Politico, Caitlin Oprysko, Wednesday, 30 January 2019: "President Donald Trump lit into the U.S. intelligence community on Wednesday, telling his intel chiefs to 'go back to school' just one day after they publicly contradicted him on several of his foreign policy priorities. Trump's tweets were a direct rebuttal of the public testimony his top intelligence chiefs gave Tuesday morning while discussing the gravest threats to the U.S. worldwide. The attack also marked the latest example of Trump's public feud with the intelligence community. The president has often cast doubt on the official assessment that Russia interfered in the 2016 election to aid his candidacy, and even publicly sided with Russian President Vladimir Putin on the matter." See also, An Angry Trump Pushes Back Against His Own 'Naive' Intelligence Officials, The New York Times, Mark Landler, Wednesday, 30 January 2019: "President Trump lashed out at the nation's intelligence agencies on Wednesday, accusing them of being 'passive and naïve' about the dangers posed by Iran, and defending his handling of Afghanistan, North Korea and the Islamic State…. Normally, the 'Worldwide Threat Assessment' is an annual bureaucratic exercise, a dispassionate survey of the threats facing the United States — some longstanding, some new — that the White House accepts without much comment. Mr. Trump, however, treated the report, presented at a Senate Intelligence Committee hearing on Tuesday by Dan Coats, the director of National Intelligence; Gina Haspel, the C.I.A. director; and other officials appointed by the president, as a scorecard on his foreign policy, and something close to an affront. His outburst laid bare the rift between the bureaucracy and a president who came into office determined to challenge decades of foreign policy orthodoxy. It also revealed Mr. Trump's deep frustration at what he believes is the lack of credit he has received for his efforts, be it his diplomacy with North Korea's leader, Kim Jong-un, or his more confrontational policy toward Iran. It thrust the spy agencies into an extremely awkward position, putting them at odds with the [president] and sowing doubts among Mr. Trump's supporters about whether the agencies can be trusted — the kind of public battering that has tarnished the credibility of the F.B.I. Above all, it revealed the president's tendency to view everything through the prism of his own achievements."
From fake news to enemy of the people: An anatomy of Trump's tweets, Committee to Protect Journalists, Stephanie Sugars, Wednesday, 30 January 2019: "Since announcing his candidacy in the 2016 presidential elections to the end of his second year in office, U.S. President Donald Trump has sent 1,339 tweets about the media that were critical, insinuating, condemning, or threatening. In lieu of formal appearances as president, Trump has tweeted over 5,400 times to his more than 55.8 million followers; over 11 percent of these insulted or criticized journalists and outlets, or condemned and denigrated the news media as a whole."
Senate Majority Leader Mitch McConnell says the bill that would make Election Day a federal holiday is a 'power grab' by Democrats, The Washington Post, Felicia Sonmez, Wednesday, 30 January 2019: "Senate Majority Leader Mitch McConnell said Wednesday that a Democratic bill that would make Election Day a federal holiday is a 'power grab,' sparking a fierce backlash online. McConnell was speaking about H.R. 1, legislation that Democrats have made a centerpiece of their agenda since retaking the House earlier this month. In remarks on the Senate floor, McConnell (R-Ky.) said Democrats 'want taxpayers on the hook for generous new benefits for federal bureaucrats and government employees,' including making Election Day a 'new paid holiday for government workers.'… The far-reaching legislation would also prohibit the purging of voter rolls, require presidential and vice-presidential candidates to release their tax returns, compel states to adopt independent redistricting commissions and create a matching system for small-dollar donations to congressional campaigns, among other changes." See also, Senate Majority Leader Mitch McConnell Admits That Republicans Lose When More People Vote, Mother Jones, Ari Berman, Wednesday, 30 January 2019: "Democrats have long accused Republicans of restricting access to the ballot because Republicans are likelier to win when fewer people vote. On Wednesday, the GOP leader in the Senate appeared to admit that they're right. On the Senate floor, Majority Leader Mitch McConnell announced his opposition to a relatively uncontroversial measure that would make Election Day a federal holiday in order to make it easier for people to get to the polls. He called it a 'power grab' that would help Democrats win elections." See also, Senate Majority Leader Mitch McConnell Sees Democratic 'Power Grab' in Proposal to Make Election Day a Holiday, The New York Times, Matthew Haag, published on Thursday, 31 January 2019: "In a speech on the Senate floor, Mitch McConnell on Wednesday denounced Democratic legislation intended to increase voter turnout as a "power grab," singling out one proposal as particularly nefarious: making Election Day a federal holiday…. His remarks set off a backlash from Democrats in Congress, who questioned why anyone would oppose efforts to clear obstacles for voting. The criticism extended to social media, where people noted that Mr. McConnell had spoken with unusual openness about the fact, well known but rarely advertised by politicians on the right, that increased voter turnout hurts the Republican Party. In internet parlance, he was 'saying the quiet part out loud,' some critics said."
Two top Democrats, Senator Elizabeth Warren and Representative Adam Smith, introduce bill to prevent U.S. from striking first with nuclear weapons, The Washington Post, Paul Sonne, Wednesday, 30 January 2019: "Legislation introduced by Democratic lawmakers in the House and Senate on Wednesday would bar the United States from using a nuclear weapon unless attacked with one first, demonstrating growing momentum for anti-nuclear sentiments on the left in the lead-up to the 2020 presidential election.  Sen. Elizabeth Warren (D-Mass.), a 2020 presidential contender, and Rep. Adam Smith (D-Wash.), the chairman of the House Armed Services Committee, introduced the No First Use Act in their respective chambers to codify in law what they said 'most Americans already believe — that the United States should never initiate a nuclear war.'  The text of the bill is simple, saying only that 'it is the policy of the United States not to use nuclear weapons first.' But while the measure has support among many Democrats and could pass through the House, it probably would not get enough Republican backing to win approval in the Senate."
There's No Federal Ban on Animal Cruelty. Lawmakers Want to Change That. The New York Times, Niraj Chokshi, Wednesday, 30 January 2019: "Very few issues can bring together lawmakers of both parties. Animal cruelty is one of them. That's why a bipartisan pair of congressional lawmakers from Florida is trying to close a gaping loophole in federal law: If you record yourself abusing an animal, you can face federal charges for documenting it, but not for the act of cruelty itself. The lawmakers, Representative Vern Buchanan, a Republican, and Representative Ted Deutch, a Democrat, introduced a bill this month that would impose a federal ban on animal abuse."
The National Rifle Association (NRA) says 2015 Moscow trip wasn't 'official.' Emails and photos reveal the gun group was significantly involved in planning the trip. ABC News, Pete Madden and Matthew Mosk, Wednesday, 30 January 2019: "The National Rifle Association made its first public attempt this week to distance itself from any formal involvement in a now infamous trip to Moscow undertaken by a group of its high-ranking members, but internal NRA emails and photos posted on social media reviewed by ABC News appear to show the organization was significantly involved in planning it. Sen. Ron Wyden, an Oregon Democrat who has launched an investigation of the NRA and written a series of letters seeking 'information and documentation' about the trip, disputed the NRA's public attempt to distance itself from the trip. 'It's not credible for the NRA to claim that they played no official role in the 2015 Moscow trip,' Sen. Wyden told ABC News on Tuesday."
A flood of public comments has arrived in response to Education Secretary Betsy DeVos's proposal to rewrite rules governing how schools that receive federal funds investigate allegations of sexual harassment and assault, The Washington Post, Laura Meckler and Susan Svrluga, Wednesday, 30 January 2019: "Tens of thousands of public comments have poured into the Education Department in response to proposed rules guiding how schools handle sexual assault allegations, with universities, attorneys for the accused, women's groups, angry students and parents weighing in on the emotional subject. Education Secretary Betsy DeVos said the rewrite was needed to balance the rights of assault survivors with those who are accused, and to inject more due process into a high-stakes process. She holds final say over the regulation. Even so, her rules could be overturned by Congress, with newly empowered Democrats pushing for action and eyeing a possible higher-education bill as one way in. The deadline for submitting comments to the Education Department was Wednesday, and as of midnight Tuesday, nearly 97,000 had been received, with more expected on the final day. It was not possible to assess the overall response but many voiced anger at DeVos's approach. 'This is the most controversial regulatory undertaking in the history of the Department of Education,' said Terry Hartle of the American Council on Education, which represents university presidents. He estimated the volume of submissions would total 20 times what is typically received for a major regulatory proposal…. The proposed rule, published in November, replaced nonbinding guidance issued under the Obama administration. It narrows the cases that schools are required to investigate, creates a more limited definition of sexual harassment and allows — some say pressures — schools to create a higher legal standard in considering evidence. It also codifies a number of rights for the accused, including the right to a live hearing with an adviser or attorney present, and the ability to cross-examine accusers."
Report: Trump's 'wrecking ball' on science is posing a threat to public health and the environment, The Washington Post, Valerie Strauss, Wednesday, 30 January 2019: "A report by the Union of Concerned Scientists says President Trump and his administration have taken scores of actions that have ignored scientific findings on climate change, LGBTQ rights, taxes and other issues and that those actions are harming public health and the environment. The report, 'The State of Science in the Trump Era: Damages Done, Lessons Learned, and a Path to Progress,' says the organization has documented 80 attacks on science by administration officials with limited scientific credentials and significant conflicts of interest, including direct ties to industries that agencies are supposed to regulate…. The report said 'the administration has compromised our nation's ability to meet current and future public health and environmental challenges, and it continues to erode science across the federal landscape' by taking actions that include: censoring scientific language, ignoring science in proposing or rolling back federal regulations, suppressing, canceling, or altering at least 14 scientific studies, leaving key science positions in the federal government vacant, excluding scientists from decision-making processes and pushing others out of the government, politicizing the scientific grant-review process, reducing data collection, and refusing to enforce protections already on the books."
Prosecutors working with special counsel Robert Mueller say discovery materials in case against a Russian firm were used in a cyber-disinformation campaign, The Washington Post, Spencer S. Hsu, Wednesday, 30 January 2019: "Prosecutors working with special counsel Robert S. Mueller III claimed Wednesday that more than 1,000 nonsensitive files turned over to the defense team for an indicted Russian company were leaked by hackers in a cyber-disinformation campaign that appeared to be aimed at discrediting the government's investigations of 'Russian interference in the U.S. political system.' The prosecutors made the allegation in a federal court filing Wednesday as they asked a U.S. judge to reject a request by lawyers from Concord Management and Consulting to share sensitive evidence outside the United States in trial preparation with Concord's owner and indicted co-defendant, Russian businessman Yevgeniy Prigozhin. The filing is another in several pointed exchanges between prosecutors and the defense team from Reed Smith representing Concord." See also, Robert Mueller's office says shared evidence was used 'to discredit the investigation' of the special counsel, Politico, Darren Samuelsohn, Wednesday, 30 January 2019: "Robert Mueller's office on Wednesday accused a Twitter account with apparent ties to Russia of disclosing more than 1,000 files that the special counsel shared in an active criminal case, all in a bid to discredit his investigation. It's the latest twist in an inquiry pitting a close associate of Russian President Vladimir Putin against U.S. prosecutors accusing him of meddling in the 2016 presidential election. Mueller lodged the complaint in an 18-page court filing that objects to a discovery request from the Russian company Concord Management and Consulting, which has been charged with helping orchestrate the massive online campaign to interfere with the election."
House backs 2.6 percent pay raise for civilian federal employees, The Washington Post, Mike DeBonis, Wednesday, 30 January 2019: "House Democrats made fresh moves Wednesday to use their majority to cause Republicans political discomfort, holding votes on a pay raise for civilian federal employees and a resolution decrying government shutdowns to highlight what they cast as GOP mismanagement. Wednesday's votes followed a 35-day partial government shutdown, and Democrats described the pay raise in particular as both a necessity and a gesture of appreciation for a battered federal workforce. It passed on a 259-161 vote."
Veterans Will Have More Access to Private Health Care Under New V.A. Rules, The New York Times, Jennifer Steinhauer, Wednesday, 30 January 2019: "Veterans who live as little as a 30-minute drive from a Veterans Affairs health care facility will instead be able to choose private care, the most significant change in rules released Wednesday as part of the Trump administration's effort to fix years-old problems with the health system. Veterans who can prove they must drive for at least 30 minutes to a Department of Veterans Affairs facility will be allowed to seek primary care and mental health services outside the department's system. Current law lets veterans use a private health care provider if they must travel 40 miles or more to a V.A. clinic. Measuring commuting time rather than distance will greatly open the private sector to veterans in rural and high-traffic urban areas. Supporters say the new policy, which is likely to go into effect in June, will help veterans get faster and better care. But critics fear it will prompt the erosion of the largest integrated health care system in the country as billions of dollars are redirected to private care."
Thursday, 31 January 2019, Day 742:
Trump, In an Interview With The New York Times, Calls Wall Talks a 'Waste of Time' and Dismisses Investigations, The New York Times, Peter Baker and Maggie Haberman, Thursday, 31 January 2019: "A defiant President Trump declared on Thursday that he has all but given up on negotiating with Congress over his border wall and will build it on his own even as he dismissed any suggestions of wrongdoing in the investigations that have ensnared his associates. In an interview in the Oval Office, Mr. Trump called the talks 'a waste of time' and indicated he will most likely take action on his own when they officially end in two weeks. At the same time, he expressed optimism about reaching a trade deal with China and denied being at odds with his intelligence chiefs." See also, 5 Takeaways From The New York Times's Interview With Trump, The New York Times, Annie Karni, Katie Rogers, and Michael Tackett, Thursday, 31 January 2019: "President Trump wanted to talk. He initially invited A. G. Sulzberger, the publisher of The New York Times, to an off-the-record dinner. Mr. Sulzberger countered with a request for an on-the-record interview that included Times reporters. The White House accepted." See also, Excerpts From Trump's Interview With The New York Times, The New York Times, published of Friday, 1 February 2019. See also, Trump Discusses 'Fake News,' and Its Repercussions, With New York Times Publisher A. G. Sulzberger, The New York Times, Michael M. Grynbaum, published on Friday, 1 February 2019: "President Trump takes credit for popularizing the term 'fake news.' But the consequences? Not his concern. In lengthy and at times contradictory remarks on Thursday about the news media — which he deemed 'important' and 'beautiful,' but also 'so bad' and 'unfair' — Mr. Trump called himself 'a victim' of unfair coverage and declined to accept responsibility for a rise in threats against journalists since he took office…. In an unusual arrangement, the publisher of The Times, A. G. Sulzberger, joined two of the paper's White House correspondents in conducting Thursday's interview, and he took the lead in questioning the president about his attacks on the press…. Mr. Trump's attacks on American news organizations have been cited by press advocates for emboldening foreign autocrats who censor, threaten, jail and assault journalists in their countries. Mr. Sulzberger, who sat opposite the Resolute Desk, along with the Times journalists Peter Baker and Maggie Haberman, repeatedly asked Mr. Trump whether he understood the global effects of his words." See also, Fact-Checking Trump's Interview With The New York Times, The New York Times, Linda Qiu, published on Friday, 1 February 2019. See also, In remarkable exchange, Trump offers startling view of the role of the free press, The Washington Post, Greg Sargent, published on Friday, 1 February 2019: "Ever since Donald Trump set the tone for his presidency by berating the press for accurately reporting on his paltry inaugural crowd size and attacking the media as the 'enemy of the American people,' journalists and commentators have tried to persuade President Trump to take two things seriously in his role as president. First, that the role of the free press is to hold the powerful to account. And second, that Trump's attacks on the news media have dangerous consequences, both at home and around the world. In a remarkable new exchange, the publisher of the New York Times pressed Trump at length on both these points. The results were startling. Trump displayed only the dimmest awareness that his attacks on the press might be having severely negative effects, while repeatedly reverting into a tone that alternated between megalomaniacal self-congratulation and self-imagined victimization, and largely refusing to accept responsibility for those consequences. The discussion, which aired Friday morning on 'The Daily' podcast, is worth a close look."
Senator Bernie Sanders of Vermont Unveils Estate Tax Plan, Joining Democrats Who Want to Tax the Rich, The New York Times, Sydney Ember, Thursday, 31 January 2019: "Senator Bernie Sanders of Vermont, a potential Democratic presidential candidate known for far-left stances on issues of economic inequality, introduced legislation on Thursday that would increase the number of wealthy Americans subject to the estate tax. With the bill, Mr. Sanders joins a growing chorus of left-wing politicians calling for new ways to tax the rich. Last week, Elizabeth Warren, the Massachusetts senator who has announced her 2020 candidacy, introduced a plan for a so-called ultramillionaire tax on households with a net worth of $50 million or more. And Representative Alexandria Ocasio-Cortez of New York recently proposed a 70 percent top rate on income over $10 million a year, intensifying the conversation within the Democratic Party about tax policies aimed at addressing income inequality. In his plan, Mr. Sanders proposed applying an estate tax when someone leaves assets worth more than $3.5 million to his or her heirs, the same level as in 2009. The plan significantly lowers the threshold under the current tax law, passed in late 2017, which raised the amount an individual is allowed to transfer before facing any estate tax to roughly $11 million; couples can pass on twice that much. The tax-the-rich proposals, including the one introduced by Mr. Sanders, are designed to increase revenue to pay for expanded social programs like 'Medicare for all.''"
Elizabeth Warren Will Make Her Presidential Bid Official in February, and She Has Been in Touch With Cherokee Nation Leadership and Apologized for Furthering Confusion Over Issues of Tribal Sovereignty and Citizenship, The Intercept, Ryan Grim, Thursday, 31 January 2019: "Sen. Elizabeth Warren will make her presidential campaign official with a major speech and announcement on February 9, according to two sources with knowledge of her plan. The announcement will convert her current exploratory phase into a full-blown bid for the presidency…. The Massachusetts Democrat was the first major candidate to formally declare her intention to run, announcing the formation of her exploratory committee on New Year's Eve. She was able to capture large crowds and attention before being joined in the field by Sen. Kamala Harris, who made her announcement on January 21, Martin Luther King Jr. Day. On Sunday, Harris officially kicked off her campaign with a massive gathering in Oakland…. Warren's broadly successful January comes after a bruising several weeks at the end of 2018, after she released the results of a DNA test confirming distant Native American heritage. A number of high-profile Native Americans, as well as representatives of major tribes, welcomed Warren's announcement, but others panned it. Most famously, Cherokee Nation Secretary of State Chuck Hoskin Jr. issued a scathing rebuke…. Warren has been in touch with Cherokee Nation leadership, apologizing for furthering confusion over issues of tribal sovereignty and citizenship and for any harm her announcement caused, two sources with knowledge of her overture said. The Warren campaign declined to comment. 'Senator Warren has reached out to us and has apologized to the tribe,' Cherokee Nation's executive director of communications Julie Hubbard told The Intercept. 'We are encouraged by this dialogue and understanding that being a Cherokee Nation tribal citizen is rooted in centuries of culture and laws not through DNA tests. We are encouraged by her action and hope that the slurs and mockery of tribal citizens and Indian history and heritage will now come to an end.'" See also, Elizabeth Warren Apologizes to Cherokee Nation for DNA Test, The New York Times, Astead W. Herndon, published on Friday, 1 February 2019: "Senator Elizabeth Warren has tried to put a nagging controversy behind her by apologizing privately to a leader of the Cherokee Nation for her decision to take a DNA test to prove her Native American ancestry last year, a move that had angered some tribal leaders and ignited a significant political backlash. But mixed reactions among prominent Native American critics Friday suggested that Ms. Warren might still have further to go. Some Native American leaders gave her credit for the apology and political figures, for the most part, played down the issue. But others remain unsatisfied…. The apology, which was first reported by The Intercept, is a break from Ms. Warren's previous public stance. For months, Ms. Warren has refused to acknowledge or respond to her critics on the left, focusing instead on responding to Mr. Trump's flurry of more openly divisive attacks, which have included language associated with racist stereotypes." See also, Senator Elizabeth Warren called Cherokee Nation chief to apologize for DNA test, tribe says, The Washington Post, Michael Brice-Saddler, published on Friday, 1 February 2019: "Sen. Elizabeth Warren has apologized to the Cherokee Nation after releasing DNA test results in October indicating she had Native American ancestry, a tribe spokeswoman said Friday. The Massachusetts Democrat's apology — first reported by the Intercept — was made Thursday in a phone call to tribe chief Bill John Baker, Cherokee Nation spokeswoman Julie Hubbard confirmed to The Washington Post on Friday afternoon."
Senate rebukes Trump's plan to withdraw U.S. forces from Syria and Afghanistan, The Washington Post, Karoun Demirjian, Thursday, 31 January 2019: "The vast majority of Senate Republicans backed Majority Leader Mitch McConnell on Thursday in a rebuke of President Trump's rationale for withdrawing U.S. troops from Syria and Afghanistan, voting to declare that the Islamic State's presence and activity in both countries continue to pose a serious threat to the United States. The measure, presented as an amendment to a greater Middle East policy bill, is a striking reprimand of the president from a GOP that has become increasingly comfortable expressing its opposition to Trump's foreign policy through votes on the Senate floor." See also, Senate Rebukes Trump Over Troop Withdrawals From Syria and Afghanistan, The New York Times, Catie Edmondson, Thursday, 31 January 2019: "The Senate, in a bipartisan rebuke to President Trump's foreign policy, voted overwhelmingly to advance legislation drafted by the Senate majority leader to express strong opposition to the president's withdrawal of U.S. military forces from Syria and Afghanistan. The 68-to-23 vote to cut off debate ensures that the amendment, written by Senator Mitch McConnell of Kentucky and backed by virtually every Senate Republican, will be added to a broader bipartisan Middle East policy bill expected to easily pass the Senate next week. The vote was the second time in two months that a Republican-led Senate had rebuked Mr. Trump on foreign policy. In December, 56 senators voted to end American military assistance for Saudi Arabia's war in Yemen in what was the strongest show of bipartisan defiance against Mr. Trump's defense of the kingdom over the killing of a dissident journalist, Jamal Khashoggi."
Exclusive: Venezuela plans to sell 15 tonnes of central bank gold reserves to the United Arab Emirates, Reuters, Corina Pons and Mayela Armas, Thursday, 31 January 2019: "Venezuela will sell 15 tonnes of gold from central bank vaults to the United Arab Emirates in coming days in return for euros in cash, a senior official with knowledge of the plan said, as the crisis-stricken country seeks to stay solvent. The sale this year of gold reserves that back the bolivar currency began with a shipment on Jan. 26 of 3 tonnes, the official said, and follows the export last year of $900 million of mostly unrefined gold to Turkey. In total, the plan is to sell 29 tonnes of gold held in Caracas to the United Arab Emirates by February in order to provide liquidity for imports of basic goods, the source said, requesting anonymity in order to speak freely."
On Mueller Report, Trump Says He'll Let the Justice Department Decide Whether to Release It, The New York Times, Maggie Haberman, Thursday, 31 January 2019: "President Trump said on Wednesday that he would not intervene with the Justice Department's decision-making process about whether to release the report by the special counsel investigating possible collusion with Russian officials in the 2016 campaign. 'They'll have to make their decision within the Justice Department,' Mr. Trump said in an Oval Office interview with the website The Daily Caller. 'They will make the decision as to what they do.' He insisted that he had not spoken with Matthew G. Whitaker, the acting attorney general, about the closing days of the inquiry by the special counsel, Robert S. Mueller III. 'I could've taken a much different stance. I could've gotten involved in this. I could've terminated everything. I could've ended everything,' the president said. 'I've chosen to stay out of it. But I had the right to, as you know, I had the right if I wanted to to end everything,' he added. 'I could've just said, "That's enough." Many people thought that's what I should do.'"
Exclusive: Trump Jr.'s mysterious calls before the Trump Tower meeting in June 2016 weren't with his father, CNN, Pamela Brown, Manu Raju, and Jeremy Herb, Thursday, 31 January 2019: "Senate investigators have obtained new information showing Donald Trump Jr.'s mysterious phone calls ahead of the 2016 Trump Tower meeting were not with his father, three sources with knowledge of the matter told CNN. Records provided to the Senate Intelligence Committee show the calls were between Trump Jr. and two of his business associates, the sources said, and appear to contradict Democrats' long-held suspicions that the blocked number was from then-candidate Donald Trump. Later Thursday, ABC News and The New York Times reported the two associates were Nascar CEO Brian France and businessman Howard Lorber, who are both known associates of Trump. CNN has reached out to both for comment and they have not responded. The information came to light recently and could answer one of the key questions over the meeting Trump's eldest son set up to get Russian dirt on the Clinton campaign. Trump Jr.'s phone calls involving blocked numbers — meaning the numbers are private and do not appear in the phone records — have been a lingering issue as investigators have probed the meeting and whether Trump himself had advance knowledge through any means that his son, son-in-law Jared Kushner and then-campaign chair Paul Manafort met with a Russian lawyer promising dirt on Hillary Clinton." See also, Blocked calls with Donald Trump Jr., long a mystery, went to family friends, ABC News, John Santucci and Matthew Mosk, Thursday, 31 January 2019: "Investigators on the Senate Intelligence Committee have learned the identities of three blocked phone calls with Donald Trump Jr. just before and after the now-infamous Trump Tower meeting on June 9, 2016, three sources familiar with the calls told ABC News. The calls to blocked numbers, which came on June 6, and after the meeting on June 9, were between Trump Jr.'s cell phone and two family friends — NASCAR CEO Brian France and real estate developer Howard Lorber, according to the sources. Both men have close ties to President Donald Trump and actively supported his campaign during the 2016 election." See also, Senate Evidence Clarifies Mystery Calls Around Trump Tower Meeting in June 2016, The New York Times, Nicholas Fandos, Maggie Haberman, and Michael S. Schmidt, Thursday, 31 January 2019: "Democrats have long stoked suspicions about whether President Trump knew his son met with Russians offering dirt on Hillary Clinton during the 2016 campaign, pointing to phone calls that Donald Trump Jr. received from a blocked number around the time of the meeting. New evidence obtained by Senate investigators appears to have refuted that claim, according to two people briefed on the matter. The investigators have phone records showing that Donald Trump Jr. spoke with two family friends who used blocked numbers — Brian France, the chief executive of Nascar, and the investor Howard Lorber — as the meeting was being set up, according to the people. Mr. Lorber had significant investments in Russia and traveled to Moscow in 1996 with President Trump as they considered building a Trump Tower there."
Disclosure of presidential tax returns will be the subject of a hearing of the House Ways and Means subcommittee on oversight on the afternoon of 7 February, The Washington Post, Mike DeBonis, Thursday, 31 January 2019: "A House panel is set to examine proposals that would force the public disclosure of presidential and vice-presidential tax returns, a direct challenge from Democrats to President Trump's norm-breaking decision not to reveal his own. The hearing of the House Ways and Means subcommittee on oversight is scheduled for the afternoon of Feb. 7, two days after Trump visits Capitol Hill for his State of the Union address. The panel's chairman, Rep. John Lewis (D-Ga.), did not provide details about the hearing Thursday beyond its title, 'Legislative Proposals and Tax Law Related to Presidential and Vice-Presidential Tax Returns,' and a list of witnesses."
Tricia Newbold, 'Whistleblower' in the White House security clearance office, was suspended less than a week after NBC reported Jared Kushner's top-secret security clearance was approved over staff objections, NBC News, Laura Strickler and Peter Alexander, Thursday, 31 January 2019: "A White House security specialist has been suspended without pay for defying her supervisor Carl Kline, less than a week after NBC News reported Kline approved Jared Kushner for top secret clearance over the objections of career staff. The specialist, Tricia Newbold, had filed a discrimination complaint against Kline three months ago. Newbold's two-week suspension from the White House security office was for failure to supervise, failure to follow instructions and defiance of authority, according to the suspension decision notice obtained by NBC News. Security office chief Crede Bailey first proposed the suspension on Dec. 3, 2018…. In the notice, the chief security officer denies that the suspension has anything to do with Newbold's Equal Employment Opportunity Commission complaint. Newbold's lawyer, Ed Passman, considers her a whistleblower and said he believes the administrative charges were brought as payback for her decision to file the complaint against Kline. 'It's clearly reprisal for her whistleblowing,' Passman said. '[It] has no basis in merit whatsoever.'"
Unreported Sexual Assaults Surge at Military Academies, Pentagon Finds, The New York Times, Helene Cooper, Thursday, 31 January 2019: "Sexual assaults at three American military academies rose sharply over the last two years, according to a Pentagon study released on Thursday, an increase that defied efforts to address a problem that has long plagued the military. An anonymous Defense Department survey found that the number of unreported sexual assaults surged by nearly 50 percent — to 747 during the 2017-18 academic year, compared with 507 in 2015-16. The Pentagon is required by Congress to conduct the survey every two years at the United States Military Academy at West Point, the United States Naval Academy and the United States Air Force Academy."
APNewsBreak: US oil and gas leases on land near Chaco Culture National Historical Park in New Mexico pushes forward. This land is sacred to Native American tribes. Associated Press, Susan Montoya Bryan, Thursday, 31 January 2019: "U.S. land managers will move forward in March with the sale of oil and gas leases that include land near Chaco Culture National Historical Park in New Mexico and other areas sacred to Native American tribes. The sale comes as Democratic members of Congress, tribal leaders and environmentalists have criticized the federal Bureau of Land Management for pushing ahead with drilling permit reviews and preparations for energy leases despite the recent government shutdown. With limited staff over the last month, the critics complained that they were locked out of the process because the agency didn't release any information about the sale. They also questioned whether the agency would be able to adequately review the land that's up for bid and whether it would consider protests to the move. U.S. Sen. Tom Udall told The Associated Press in an email that he's concerned about the latest attempt to lease potentially culturally significant land in New Mexico without a more comprehensive plan in place."
Trump Administration Eases Regulations on Gun Exports, Raising Concerns, The New York Times, Nicholas Fandos, Thursday, 31 January 2019: "American gun manufacturers and their allies have pressed the federal government for years to change the way it regulates small-arms exports in an effort to ease restrictions, boost gun sales abroad and lower costs at home. The Trump administration appears to be on the brink of delivering. Officials from the State and Commerce Departments — the two entities tasked with regulating arms sales internationally — privately told Congress this week that they intend to finalize rules next week that would shuffle which agency oversees most consumer gun exports, relaxing export regulations and oversight, according to congressional aides familiar with the plans. Once Congress receives formal notification of the rule change, lawmakers will have 30 days to decide whether to intervene or let the new rules take effect. Under the changes, many American gun and ammunition manufacturers that sell primarily to consumers would no longer be required to register with the State Department, which currently licenses international arms sales, or to pay the department an annual fee. Instead, those sales would be licensed by the Commerce Department, which has a simpler process and does not charge a fee. The changes are almost certain to provoke resistance from some Democratic lawmakers, who fear that lighter regulation will lead to a proliferation of American guns, including AR-15s and similar semiautomatic rifles frequently used in mass shootings, around the world and exacerbate illegal arms trafficking. Senator Robert Menendez of New Jersey, the top Democrat on the Senate Foreign Relations Committee, has such strong concerns that he plans to place a hold on the new rule — a step that his staff believes could effectively bar it being carried out for a period of time to allow for negotiations over his objections."
APNewsBreak: Immigration and Customs Enforcement (ICE) is force-feeding detainees on hunger strike, Associated Press, Garance Burke and Martha Mendoza, Thursday, 31 January 2019: "Immigrants have gone on hunger strikes over the past month to protest conditions inside detention facilities, prompting officials to force-feed six of them through plastic nasal tubes at a Texas location, The Associated Press has learned. More detainees are refusing food at the El Paso Processing Center than at any other ICE facility, and lawyers say some detainees are losing weight rapidly after not eating or drinking for more than 30 days. Detainees, a relative and an attorney told the AP that nearly 30 men in the El Paso, Texas ICE detention center, mostly from India and Cuba, have been striking there to protest what they say is rampant verbal abuse and threats of deportation from guards. They are also upset about lengthy lock ups while awaiting legal proceedings. ICE confirmed Thursday there are 11 detainees in El Paso who are on hunger strikes — which means they have refused nine consecutive meals — and an additional four in the agency's Miami, Phoenix, San Diego and San Francisco areas of responsibility, according to agency spokeswoman Leticia Zamarripa." See also, ICE force-feeds immigrants inside Texas detention center, The Guardian, Amanda Holpuch, Thursday, 31 January 2019: "Federal immigration officials are force-feeding six immigrants through plastic nasal tubes during a hunger strike that has gone on for a month inside a Texas detention facility, it emerged on Thursday. US Immigration and Customs Enforcement (Ice) says 11 detainees at the El Paso processing center have been refusing food, some for more than 30 days. Detainees who spoke out, along with a relative and an attorney representing hunger strikers, said nearly 30 detainees from India and Cuba have been refusing to eat, according to an investigation by the Associated Press. Some are now so weak they cannot stand up or talk."