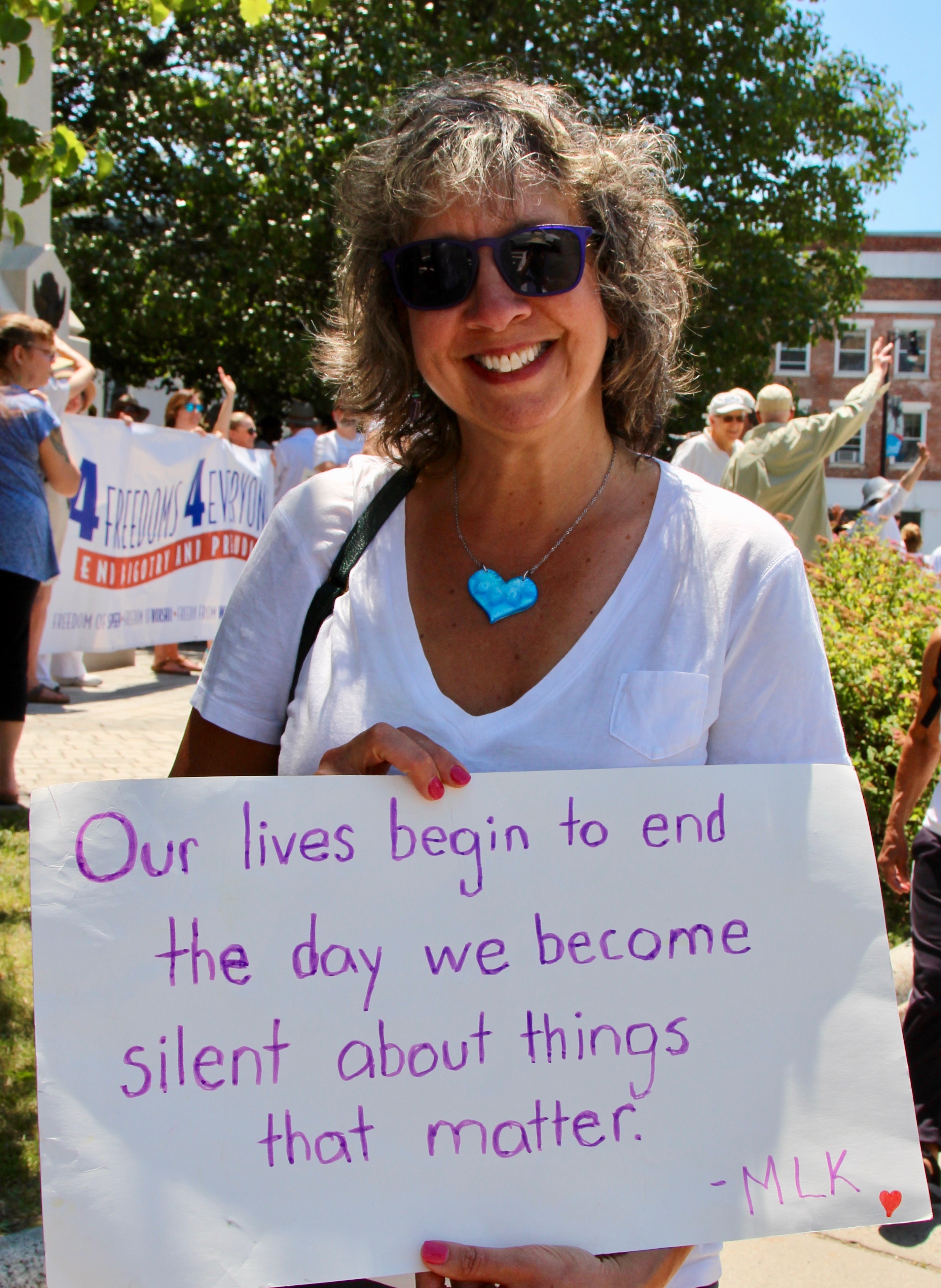 Pittsfield, MA, 30 June 2018
Passages in bold in the body of the texts below are my emphasis. This is an ongoing project, and I update the site frequently. Because I try to stay focused on what has actually happened, I usually let the news 'settle' a day or so before posting. I hope readers will peruse the articles in full for a better understanding of the issues and their context; our democracy and our future depend on citizens who can distinguish between facts and falsehoods and who are engaged in the political process.
Friday, 7 December 2018, Day 687:
Federal Prosecutors Say Trump Directed Illegal Payments to Ward Off a Potential Sex Scandal During the 2016 Presidential Campaign, The New York Times, Sharon LaFraniere, Benjamin Weiser, and Maggie Haberman, Friday, 7 December 2018: "Federal prosecutors said on Friday that President Trump directed illegal payments to ward off a potential sex scandal that threatened his chances of winning the White House in 2016, putting the weight of the Justice Department behind accusations previously made by his former lawyer. The lawyer, Michael D. Cohen, had said that as the election neared, Mr. Trump directed payments to two women who claimed they had affairs with Mr. Trump. But in a new memo arguing for a prison term for Mr. Cohen, prosecutors in Manhattan said he 'acted in coordination and at the direction of' an unnamed individual, clearly referring to Mr. Trump. In another filing, prosecutors for the special counsel investigating Russia's 2016 election interference said an unnamed Russian offered Mr. Cohen 'government level' synergy between Russia and Mr. Trump's campaign in November 2015. That was months earlier than other approaches detailed in indictments secured by prosecutors." See also, Court filings directly implicate Trump in efforts to buy women's silence and reveal new contact between his inner circle and Russian, The Washington Post, Devlin Barrett and Matt Zapotosky, Friday, 7 December 2018: "Federal prosecutors filed new court papers Friday directly implicating President Trump in plans to buy women's silence as far back as 2014 and offering new evidence of Russian efforts to forge a political alliance with Trump before he became president — disclosures that show the deepening political and legal morass enveloping the administration. The separate filings came from special counsel Robert S. Mueller III and federal prosecutors in New York ahead of Wednesday's sentencing of Trump's former personal lawyer, Michael Cohen. Taken together, the documents suggest that the president's legal woes are far from over and reveal a previously unreported contact from a Russian to Trump's inner circle during the campaign. But the documents do not answer the central question at the heart of Mueller's work — whether the president or those around him conspired with the Kremlin. The documents offer a scathing portrait of his former lawyer as a criminal who deserves little sympathy or mercy because he held back from telling the FBI everything he knew. For that reason, prosecutors said, he should be sentenced to "substantial" prison time, suggesting possibly 3½ years." See also, New Mueller filing says Trump's ex-lawyer Michael Cohen was in touch with a Russian seeking 'political synergy' with Trump's presidential campaign, The Washington Post, Rosalind S. Helderman and Tom Hamburger, Friday, 7 December 2018: "A Russian national who claimed ties to the Kremlin told President Trump's personal attorney, Michael Cohen, as early as November 2015 that he could use his Russian government connections to help Trump's business and political prospects. The new Russia contact was revealed Friday by special counsel Robert S. Mueller III, as he outlined cooperation that Cohen has provided the investigation into Russian interference in the 2016 election. The interaction between a top Trump lieutenant and a Russian citizen who claimed government ties is the latest of dozens of similar interactions that have emerged since the November 2016 election. Days after Trump's victory, his spokeswoman Hope Hicks asserted that there had been no contacts of any kind between Trump associates and Russia. The new information about Cohen is particularly significant because the contact came in the campaign's early months and because prosecutors said the Russian national claimed to have interest in helping Trump's campaign as well as his business." See also, The government implicates Trump and the Trump campaign in federal campaign finance violations, The Washington Post, Philip Bump, Friday, 7 December 2018: "Late Friday, the U.S. attorney for the Southern District of New York filed a document arguing that Michael Cohen, until last year President Trump's personal attorney, should receive a substantial prison sentence for violations of federal law to which Cohen admitted guilt in August. The document went further than simply articulating the punishment the government believes Cohen should receive. It also fleshed out two of those charges in particular, related to violations of campaign finance laws in 2016. For the first time, government prosecutors themselves directly implicated Trump in those violations — and added new alleged evidence to bolster Cohen's culpability." See also, The Michael Cohen Sentencing Memos Are Damning for Trump, The New Yorker, Adam Davidson, Friday, 7 December 2018: "On Friday, federal prosecutors released two memorandums on Michael Cohen, one from Department of Justice prosecutors with the Southern District of New York, the other from the office of the special counsel Robert Mueller. While they are ostensibly designed to guide Cohen's sentencing, they carry far greater weight. These documents make clearer than ever before the case against President Trump. The special counsel's seven-page memorandum, along with court documents from Cohen's guilty plea last week, lay out a straightforward time line." See also, 5 big takeaways from the new Michael Cohen and Paul Manafort filings, The Washington Post,  Aaron Blake, Friday, 7 December 2018: "Federal prosecutors drew some more important lines between Russia and those connected to President Trump on Friday, in a trio of filings in the Michael Cohen and Paul Manafort cases. Beginning late Friday afternoon, we saw Cohen sentencing recommendations filed by both the Southern District of New York and special counsel Robert S. Mueller III's Russia investigation, and a document from Mueller's team laying out Paul Manafort's alleged lies to it. In all three, the plot thickened for Trump just a little bit. [Some of] the big takeaways [are covered in this article]." See also, Is There Anything Trump, Michael Cohen, and Paul Manafort Didn't Lie About? The Intercept, James Risen, Friday, 9 December 2018.
Special Counsel Robert Mueller Says Paul Manafort, Trump's Former Campaign Chairman, Lied About Contacts With Trump Officials and His Interactions With a Russian Linked to Moscow's Intelligence Services, The New York Times, Adam Goldman and Sharon LaFraniere, Friday, 7 December 2018: "Paul Manafort, President Trump's former campaign chairman, lied to federal investigators about his contacts with Trump administration officials and his interactions with a Russian linked to Moscow's intelligence services, the special counsel's office said on Friday. He also lied about a $125,000 payment made through a political action committee to cover a debt he owed, prosecutors working for the special counsel, Robert S. Mueller III, said in a partly redacted court filing explaining why they withdrew last week from a plea agreement they had reached with Mr. Manafort in September. They also claimed he misled investigators pursuing a case unrelated to Mr. Mueller's investigation of Russia's interference in the 2016 presidential race and whether the Trump campaign conspired with the Kremlin's operations. 'Manafort told multiple discernible lies — these were not instances of mere memory lapses,' the prosecutors wrote in a memo to Judge Amy Berman Jackson of United States District Court for the District of Columbia." See also, Special Counsel Robert Mueller says Paul Manafort, Trump's former campaign chairman, told 'discernible lies,' including about contacts with an employee alleged to have Russian intelligence ties, The Washington Post, Rosalind S. Helderman, Rachel Weiner, and Spencer S. Hsu, Friday, 7 December 2018: "Special counsel Robert S. Mueller III said Friday that Paul Manafort, President Trump's former campaign chairman, told 'multiple dis­cern­ible lies' during interviews with prosecutors, including about his contacts with an employee who is alleged to have ties to Russian intelligence. In a document filed in federal court Friday, Mueller also said Manafort lied about his contacts with Trump administration officials after Trump took office. Manafort had told investigators that he had had no direct or indirect contact with White House officials since Trump's inauguration, but Manafort had been in touch with officials as recently as the spring, according to the filing."
Trump Says He Will Nominate William Barr as Attorney General and Heather Nauert as Ambassador to the United Nations, The New York Times, Charlie Savage and Maggie Haberman, Friday, 7 December 2018: "President Trump on Friday said he intended to nominate William P. Barr, who served as attorney general during the first Bush administration from 1991 to 1993, to return as head of the Justice Department…. Mr. Trump's focus on Mr. Barr, who supports a strong vision of executive powers, had emerged over the past week following the ouster last month of Jeff Sessions as attorney general and the turbulent reception that greeted his installation of Matthew G. Whitaker as the acting attorney general. Mr. Trump also announced that Heather Nauert, the chief State Department spokeswoman, is his pick to be the next ambassador to the United Nations, replacing Nikki R. Haley, as the president began announcing some of the personnel changes he was expected to make after the midterm elections. Ms. Nauert was a Fox TV anchor before being picked in 2017 to be the State Department's spokeswoman, and she will probably face skepticism from Senate Democrats for her lack of extensive political or diplomatic experience, which could delay her confirmation until 2019." See also, Heather Nauert cited D-Day as the height of U.S.-German relations. Now she's headed to the U.N. The Washington Post, Isaac Stanley-Becker, Friday, 7 December 2018: "The United Nations came into existence to vanquish Germany, as 26 nations jointly pledged in 1942 not to surrender to 'savage and brutal forces seeking to subjugate the world.' Three-quarters of a century later, the woman who would soon become President Trump's pick to represent the United States at the United Nations cited the D-Day landings — a cornerstone of this unwavering Allied pledge and the basis of the Nazi defeat on the Western Front — to showcase the strength of German-American relations." See also, Trump Will Nominate William Barr, a Skeptic of the Russia Investigation, as Attorney General, The New York Times, Charlie Savage, Friday, 7 December 2018: "President Trump said on Friday that he would nominate William P. Barr, a skeptic of the Russia investigation who served as attorney general in the first Bush administration a quarter century ago, to return as head of the Justice Department. Mr. Barr, 68, would become the nation's top law enforcement official as Mr. Trump and his associates are under investigation by the special counsel, Robert S. Mueller III, for whether they conspired with the Russian government to interfere in the 2016 election and help elect Mr. Trump. Mr. Barr would oversee the inquiry as key aspects of it are coming to a close. Known for his expansive vision of executive power, Mr. Barr has criticized Mr. Mueller for hiring too many prosecutors who donated to Democrats and has cast doubt on whether Trump campaign associates conspired with Russians. Mr. Barr has also defended Mr. Trump's calls for a new criminal investigation into his defeated 2016 opponent, Hillary Clinton, including over a uranium mining deal the Obama administration approved when she was secretary of state."
Continue reading Week 99, Friday, 7 December – Thursday, 13 December 2018 (Days 687-693)
White Supremacist James Alex Fields Jr. Has Been Found Guilty of Murder for Plowing His Car Through a Crowd of Anti-Racist Protesters in Charlottesville, Virginia, in August 2017, BuzzFeed News, Blake Montgomery, Friday, 7 December 2018: "A white supremacist was found guilty of murder Friday for plowing his car through a crowd of anti-racist protesters during 2017's Unite the Right rally in Charlottesville, Virginia, and killing 32-year-old Heather Heyer. James Alex Fields Jr. was also found guilty of five counts of aggravated malicious wounding, three counts of malicious wounding, and one count of failing to stop at the scene of an accident involving a death in the attack that injured dozens of others."
Trump Says Rex Tillerson Is 'Dumb as a Rock' After the Former Secretary of State Says Trump Repeatedly Pressed Him to Take Illegal Actions, The New York Times, Peter Baker, Friday, 7 December 2018: "President Trump denounced his first secretary of state, Rex W. Tillerson, as 'dumb as a rock' and 'lazy as hell' on Friday after Mr. Tillerson said that the president had regularly pushed him to take actions that were illegal. Mr. Trump, who fired Mr. Tillerson with a Twitter post in March, lashed back at [Tillerson] after the former secretary gave a talk in Houston and said Mr. Trump was undisciplined, did not like to read and did not respect the limits of his office."
Saturday, 8 December 2018, Day 688:
Prosecutors Effectively Accuse Trump of Defrauding Voters. What Does It Mean? The New York Times, Peter Baker and Nicholas Fandos, Saturday, 8 December 2018: "The latest revelations by prosecutors investigating President Trump and his team draw a portrait of a candidate who personally directed an illegal scheme to manipulate the 2016 election and whose advisers had more contact with Russia than Mr. Trump has ever acknowledged. In the narrative that the special counsel, Robert S. Mueller III, and New York prosecutors are building, Mr. Trump continued to secretly seek to do business in Russia deep into his presidential campaign even as Russian agents made more efforts to influence him. At the same time, in this account he ordered hush payments to two women to suppress stories of impropriety in violation of campaign finance law. The prosecutors made clear in a sentencing memo filed on Friday that they viewed efforts by Mr. Trump's former personal lawyer, Michael D. Cohen, to squelch the stories as nothing less than a perversion of a democratic election — and by extension they effectively accused the president of defrauding voters, questioning the legitimacy of his victory. On Saturday, Mr. Trump dismissed the filings, and his lawyer, Rudolph W. Giuliani, minimized the importance of any potential campaign finance violations. Democrats, however, said they could lead to impeachment."
The Wooing of Jared Kushner: How the Saudis Got a Friend in the White House, The New York Times, David D. Kirkpatrick, Ben Hubbard, Mark Landler, and Mark Mazzetti, Saturday, 8 December 2018: "Senior American officials were worried. Since the early months of the Trump administration, Jared Kushner, the president's son-in-law and Middle East adviser, had been having private, informal conversations with Prince Mohammed bin Salman, the favorite son of Saudi Arabia's king. Given Mr. Kushner's political inexperience, the private exchanges could make him susceptible to Saudi manipulation, said three former senior American officials. In an effort to tighten practices at the White House, a new chief of staff tried to reimpose longstanding procedures stipulating that National Security Council staff members should participate in all calls with foreign leaders. But even with the restrictions in place, Mr. Kushner, 37, and Prince Mohammed, 33, kept chatting, according to three former White House officials and two others briefed by the Saudi royal court. In fact, they said, the two men were on a first-name basis, calling each other Jared and Mohammed in text messages and phone calls. The exchanges continued even after the Oct. 2 killing of Jamal Khashoggi, the Saudi journalist who was ambushed and dismembered by Saudi agents, according to two former senior American officials and the two people briefed by the Saudis…. Since the uproar over Mr. Khashoggi's killing, the Trump administration has acknowledged only one conversation between Mr. Kushner and Prince Mohammed: an Oct. 10 telephone call joined by John R. Bolton, the national security adviser. The Americans 'asked for more details and for the Saudi government to be transparent in the investigation process,' the White House said in a statement. But American officials and a Saudi briefed on their conversations said that Mr. Kushner and Prince Mohammed have continued to chat informally. According to the Saudi, Mr. Kushner has offered the crown prince advice about how to weather the storm, urging him to resolve his conflicts around the region and avoid further embarrassments."
Former FBI director James Comey defends FBI and himself in interview with House panels, The Washington Post, Karoun Demirjian and Mat Zapotosky, Saturday, 8 December 2018:"Former FBI director James B. Comey's closed-door interview with House lawmakers on Friday was largely a repetition of themes and facts that have emerged in previous public sessions, according to a transcript of the six-hour session that panel leaders released on Saturday. Republicans from the House Judiciary and Oversight and Government Reform committees peppered Comey with questions about the FBI's investigation into former secretary of state Hillary Clinton's use of a private email server, including whether Comey would have dismissed former officials Peter Strzok and Lisa Page from the probe had he known they were exchanging texts disparaging then-presidential candidate Donald Trump. Comey said he probably would have. However, the former director repeatedly declined to answer questions seeking detailed answers about elements of the FBI's Russia investigation, which Comey either could not recall — such as who prepared the document launching the bureau's counterintelligence investigation of individuals affiliated with Trump — or thought came too close to special counsel Robert S. Mueller III's ongoing investigation of Russian interference." See also, Highlights of James Comey's Testimony: He Likes Robert Mueller, but They're Not Best Friends, The New York Times, Mihir Zaveri, published on Sunday, 9 December 2018.
John Kelly, Trump's Chief of Staff, to Step Down as Trump Shakes Up Staff, The New York Times, Annie Karni and Maggie Haberman, Saturday, 8 December 2018: "President Trump said on Saturday that his chief of staff, John F. Kelly, would step down by the end of the year, the latest move in a long-planned staff shake-up as the president heads into the 2020 campaign facing growing peril from the special counsel and newly empowered Democrats." See also, Trump says John Kelly, his Chief of Staff, will leave the White House by the end of the month, The Washington Post, Josh Dawsey, Seung Min Kim, and Philip Rucker, published on Sunday, 9 December 2018.
Trump Administration Rolls Back Obama-era Rules for School Lunches, The New York Times, Julia Jacobs, Saturday, 8 December 2018: "This week, the United States Department of Agriculture announced its final plans to lower nutrition standards for grains, flavored milks and sodium in school cafeterias that were part of the Healthy, Hunger-Free Kids Act of 2010 and that Michelle Obama, the former first lady, had advocated. The changes, all of which will go into effect by July, apply to school meals that qualify for at least some federal reimbursement. They may seem relatively minor on paper, but like many Trump administration moves to reverse Obama-era policies, they come with some controversy. First, the grains: The Obama-era rules required that schools must serve entirely 'whole grain-rich' foods, meaning that the product — whether it is pizza, pasta or hamburger buns — must contain at least 50 percent whole grains. Under the new rules, only half of the grain products on the cafeteria's weekly menu must be whole grain-rich. Theoretically, that means schools could serve all whole grain-rich food three days a week and food made with refined grains the other two days."
Sunday, 9 December 2018, Day 689:
Done With Michael Cohen, Trump's Longtime Lawyer, Federal Prosecutors Shift Their Focus to the Trump Family Business, The New York Times, Ben Protess, William K. Rashbaum, and Maggie Haberman, Sunday, 9 December 2018: "When federal prosecutors recommended a substantial prison term for President Trump's former lawyer, Michael D. Cohen, they linked Mr. Trump to the crimes Mr. Cohen had committed in connection with the 2016 presidential campaign. What the prosecutors did not say in Mr. Cohen's sentencing memorandum filed on Friday, however, is that they have continued to scrutinize what other executives in the president's family business may have known about those crimes, which involved hush-money payments to two women who had said they had affairs with Mr. Trump. After Mr. Cohen pleaded guilty in August to breaking campaign finance laws and other crimes — he will be sentenced on Wednesday — the federal prosecutors in Manhattan shifted their attention to what role, if any, Trump Organization executives played in the campaign finance violations, according to people briefed on the matter. Mr. Cohen, Mr. Trump's self-described fixer, has provided assistance in that inquiry, which is separate from the investigation by the special counsel, Robert S. Mueller III."
Russians interacted with at least 14 Trump associates during the 2016 presidential campaign and transition, The Washington Post, Rosalind S. Helderman, Tom Hamburger, and Carol D. Leonnig, Sunday, 9 December 2018: "The Russian ambassador. A deputy prime minister. A pop star, a weightlifter, a lawyer, a Soviet army veteran with alleged intelligence ties. Again and again and again, over the course of Donald Trump's 18-month campaign for the presidency, Russian citizens made contact with his closest family members and friends, as well as figures on the periphery of his orbit. Some offered to help his campaign and his real estate business. Some offered dirt on his Democratic opponent. Repeatedly, Russian nationals suggested Trump should hold a peacemaking sit-down with Vladi­mir Putin — and offered to broker such a summit. In all, Russians interacted with at least 14 Trump associates during the campaign and presidential transition, public records and interviews show. 'It is extremely unusual,' said Michael McFaul, who served as ambassador to Russia under President Barack Obama. 'Both the number of contacts and the nature of the contacts are extraordinary.'"
Incoming House judiciary chair Jerrold Nadler (Democrat-New York) says Trump is 'at the center of massive fraud' against the American people, The Guardian, Erin Durkin, Sunday, 9 December 2018: "New court filings show Donald Trump was 'at the center of a massive fraud' against the American people, the incoming chair of the House judiciary committee said on Sunday. Jerrold Nadler, a New York Democrat set to take over the panel in January, said Trump would have committed impeachable offenses if it is proven that he ordered his lawyer to make illegal payments to women to keep quiet about alleged sexual encounters. 'What these indictments and filings show is that the president was at the center of a massive fraud – several massive frauds against the American people,' Nadler said on CNN's State of the Union. Another top Democrat, the California representative Adam Schiff, said Trump 'could face the very real prospect of jail time.'"
Trump administration resists global climate efforts at home and overseas, The Washington Post, David Nakamura and Darryl Fears, Sunday, 9 December 2018: "The United States joined a controversial proposal by Saudi Arabia and Russia this weekend to weaken a reference to a key report on the severity of global warming, sharpening battle lines at the global climate summit in Poland aimed at gaining consensus over how to combat rising temperatures. Arguments erupted Saturday night before a United Nations working group focused on science and technology, where the United States teamed with Russia, Saudi Arabia and Kuwait to challenge language that would have welcomed the findings of the landmark report, which said that the world has barely 10 years to cut carbon emissions by nearly half to avoid catastrophic warming. 'There was going to be an agreement to welcome the . . . report,' said Jake Schmidt, the managing director of the Natural Resources Defense Council's international program, who is in Poland. 'The U.S. wanted to "note" it, which is saying in essence that we know it's out there but we have no comment.' The U.S. position lines up with the views of the Trump administration, which is plowing ahead with a raft of aggressive policies on coal power and oil exploration that are likely to worsen the effects of climate change — steamrolling over dire environmental warnings issued by the administration's own team of experts in a major report just two weeks ago." See also, US and Russia ally with Saudi Arabia and Kuwait to water down approval of a landmark climate report on the need to keep global warming below 1.5C, The Guardian, Jonathan Watts and Ben Doherty, Sunday, 9 December 2018.
Coal for Christmas at the U.N. Climate Conference: As negotiators from around the world gathered in Poland to discuss how to lower carbon emissions, the Trump Administration unveiled two schemes promoting fossil fuels, The New Yorker, Elizabeth Kolbert, published online on Sunday, 9 December 2018 and in the print edition on Monday, 17 December 2018: "Last week, representatives from around the world gathered to begin another round of climate negotiations in Katowice, a city in the heart of Poland's coal-mining country. Delegates arriving at the meeting, known in United Nations-speak as a Conference of the Parties, or COP, were treated to an outdoor performance by a Polish coal miners' band. Inside the convention pavilions, they found mounds of coal displayed behind glass, like objets d'art, as well as arrangements of coal-based cosmetics and coal-encrusted jewelry. Poland gets about eighty per cent of its electricity from coal, the most carbon-intensive of carbon-based fuels, and the Polish President, Andrzej Duda, noted in his opening remarks that the country had enough as yet unmined supplies to last another two centuries. 'It would be hard not to use them,' he said. Depending on how you look at things, a coal-stuffed climate summit is either completely absurd—'beyond parody,' as one commentator put it—or merely appropriate. With each passing month, the threat posed by global warming grows clearer. And so, too, does the world's failure to take that threat seriously. 'We are in trouble,' the United Nations' Secretary-General, António Guterres, said at the COP opening session. 'It is hard to comprehend why we are collectively still moving too slowly—and even in the wrong direction.'"
Nick Ayers, Trump's once-likely replacement for chief of staff John Kelly, won't take the job, The Washington Post, Felicia Sonmez, Josh Dawsey, and Damian Paletta, Sunday, 9 December 2018: "President Trump's top pick to be his next chief of staff, Nick Ayers, will not take the job and instead leave the White House at the end of the year, reopening negotiations over who will succeed the departing John F. Kelly. At least four other candidates are now believed to be in the running to direct Trump's White House, administration officials said Sunday. Ayers, a longtime operative who is Vice President Pence's chief of staff, said in a tweet that after departing he 'will work with the #MAGA team to advance the cause.'"
Monday, 10 December 2018, Day 690:
Trump 'opened the door' for climate skeptics to attend U.N. talks, environmentalists lament, The Washington Post, Darryl Fears, Monday, 10 December 2018: "Trump, who has been dismissive of climate science, has changed the game. Environmentalists liken him to a pied piper for a number of climate skeptics who are attending [the United Nations climate summit] for the first time. The Heartland Institute and Competitive Enterprise Institute sent delegates who deny the determination by an overwhelming consensus of climate scientists who say human emissions are causing the planet to warm, arctic ice to melt, oceans and temperatures to rise, and more wildfires to burn. 'He's opened the door to people who were on the fringe to be in the room and spread their fact-free message,' Keith Gaby, a spokesman for the Environmental Defense Fund, said of Trump. 'The president doesn't believe his own government when it comes to climate change and he's emboldened others to come forward.'… Thursday, Politico released a poll showing that a majority of Americans, 58 percent, believe climate change is real and being caused by humans. But opinions broke sharply along partisan lines, with 78 Democrats who responded pointing the fingers at human causes against only 34 percent of Republicans and 58 percent of independents. Trump isn't following the advice of the climate report: he's doing the opposite. A few days after the blockbuster climate report alarmed Americans about the potential impacts of fossil fuel use, the Trump administration took steps to aggressively drill and mine for fossil fuels, as I reported along with The Post's David Nakamura. On Nov. 30, NOAA Fisheries issued 'incidental take' permits giving five companies permission to harass, harm or kill marine mammals when blasting sounds underwater to map the Atlantic Ocean floor. The mapping could usher oil and natural gas drilling off the Eastern Seaboard for the first time in half a century. On Thursday, the Environmental Protection Agency moved to erase the Obama administration's attempt to reduce carbon dioxide emissions from coal-fired power plants. The EPA wants to remove regulations that require such plants to install technologies that capture and reduce smokestack emissions. That same day, the Interior Department greatly relaxed rules protecting an iconic bird called the sage grouse on 9 million acres of land in the West to allow oil exploration, natural gas drilling and mineral mining. In addition to threatening the small remaining population of sage grouse, natural gas drilling — or fracking — produces significant quantities of methane, one of the most potent greenhouse gases."
Trump Team Pushes Fossil Fuels at United Nations Climate Talks in Katowice, Poland. Protests Erupt, but Allies Emerge, Too. The New York Times, Brad Plumer and Lisa Friedman: "Trump administration officials at high-stakes climate talks [in Poland] offered an unapologetic defense of fossil fuels on Monday, arguing that a rapid retreat from coal, oil and gas was unrealistic. While that stance brought scorn from environmentalists and countries that favor stronger action to fight global warming, there are signs that the administration is finding a receptive audience among other major fossil-fuel producers, including Russia, Saudi Arabia and Australia. President Trump's international energy and climate adviser, Wells Griffith, hosted a panel discussion on fossil fuels at the United Nations conference, arguing that the developing world would be heavily reliant on coal, oil and gas for some time and that it was in the world's interest to find more efficient ways of developing and burning those fuels. Midway through, the panel was interrupted by scores of noisy protesters, who chanted, 'Shame on you!' and 'Keep it in the ground!'"
House Speaker-elect Nancy Pelosi offers meeting to Green New Deal activists as 61 protesters are arrested at her office, Vice News, Rex Santus, Monday, 10 December 2018: "House Speaker-elect Nancy Pelosi offered a meeting to a group of young climate change activists the same day 61 people were arrested for demonstrating outside her office Monday, according to the Sunrise Movement, which organizes direct action protests against Democrats. The organization told VICE News Monday that Pelosi's office had extended the invitation for a meeting as they staged their second sit-in outside her office this month. 'We look forward to meeting with Leader Pelosi and hope she joins her colleagues in supporting the Select Committee on a Green New Deal,' Stephen O'Hanlon, a spokesman with Sunrise, said in a statement to VICE News. In what Sunrise says was its biggest demonstration ever, more than 1,000 youth protesters from across the U.S. stormed the offices of major Democratic Party officials Monday to stage sit-ins in support of Congresswoman-elect Alexandria Ocasio-Cortez's select committee for a Green New Deal, a climate change policy proposal that would decarbonize the U.S. economy by investing in green infrastructure and jobs."
Establishment looks to crush liberals on Medicare for All, Politico, Adam Cancryn, Monday, 10 December 2018: "The united front that helped Democrats save Obamacare just a year ago is falling apart over single-payer health care. Deep-pocketed hospital, insurance and other lobbies are plotting to crush progressives' hopes of expanding the government's role in health care once they take control of the House. The private-sector interests, backed in some cases by key Obama administration and Hillary Clinton campaign alumni, are now focused on beating back another prospective health care overhaul, including plans that would allow people under 65 to buy into Medicare. This sets up a potentially brutal battle between establishment Democrats who want to preserve Obamacare and a new wave of progressive House Democrats who ran on single-payer health care."
Supreme Court declines to review rulings that blocked efforts to end public funding of Planned Parenthood, The Washington Post, Robert Barnes, Monday, 10 December 2018: "The U.S. Supreme Court on Monday declined to review lower court decisions that blocked efforts in two states to end public funding to Planned Parenthood, refusing for now to get involved in state battles over abortion rights. The cases did not touch on abortion itself, but three justices who said the court should have accepted the cases said that was the reason the court declined to get involved." See also, Supreme Court Won't Hear Planned Parenthood Cases, and 3 Court Conservatives Aren't Happy, The New York Times, Adam Liptak, Monday, 10 December 2018: "The Supreme Court on Monday refused to hear two cases arising from efforts by states to bar Planned Parenthood clinics from the Medicaid program, drawing a rebuke from the court's three most conservative justices and opening a window onto the court's internal dynamics. It takes four votes to add a case to the court's docket, but the cases attracted only three — Justices Clarence Thomas, Samuel A. Alito Jr. and Neil M. Gorsuch. Neither of the court's other conservatives — Chief Justice John G. Roberts Jr. and Justice Brett M. Kavanaugh — proved willing to supply a fourth vote. That split on the right side of the court is evidence that Chief Justice Roberts is trying to keep the court out of major controversies and that Justice Kavanaugh, who joined the court in October after a fierce confirmation battle, is, for now at least, following his lead."
Trump administration hid report revealing Wells Fargo charged high fees to students, Politico, Michael Stratford, Monday, 10 December 2018: "The Trump administration for months concealed a report that showed Wells Fargo charged college students fees that were on average several times higher than some of its competitors. The 'unpublished' report was obtained by POLITICO through a Freedom of Information Act request. It was produced by the Consumer Financial Protection Bureau office previously led by Seth Frotman, who quit as the bureau's top student loan official in protest of Trump administration policies. Frotman said in his resignation letter that CFPB leaders had 'suppressed the publication' of the report."
Meet the Bottomless Pinocchio, a new rating for a false claim repeated over and over again, The Washington Post, Glenn Kessler, Monday, 10 December 2018: "It was President Trump's signature campaign promise: He would build a wall along the nation's southern border, and Mexico would pay for it. Shortly after becoming president, Trump dropped the Mexico part, turning to Congress for the funds instead. When that, too, failed — Congress earlier this year appropriated money for border security that could not be spent on an actual wall — Trump nevertheless declared victory: 'We've started building our wall,' he said in a speech on March 29. 'I'm so proud of it.' Despite the facts, which have been cited numerous times by fact-checkers, Trump repeated his false assertion on an imaginary wall 86 times in the seven months before the midterm elections, according to a database of false and misleading claims maintained by The Post. Trump's willingness to constantly repeat false claims has posed a unique challenge to fact-checkers. Most politicians quickly drop a Four-Pinocchio claim, either out of a duty to be accurate or concern that spreading false information could be politically damaging. Not Trump. The president keeps going long after the facts are clear, in what appears to be a deliberate effort to replace the truth with his own, far more favorable, version of it. He is not merely making gaffes or misstating things, he is purposely injecting false information into the national conversation. To accurately reflect this phenomenon, The Washington Post Fact Checker is introducing a new category — the Bottomless Pinocchio. That dubious distinction will be awarded to politicians who repeat a false claim so many times that they are, in effect, engaging in campaigns of disinformation. The bar for the Bottomless Pinocchio is high: The claims must have received three or four Pinocchios from The Fact Checker, and they must have been repeated at least 20 times. Twenty is a sufficiently robust number that there can be no question the politician is aware that his or her facts are wrong. The list of Bottomless Pinocchios will be maintained on its own landing page. The Fact Checker has not identified statements from any other current elected official who meets the standard other than Trump. In fact, 14 statements made by the president immediately qualify for the list." See also, Trump's lies and disinformation require a new kind of media response, The Washington Post, Greg Sargent, Monday, 10 December 2018.
Tuesday, 11 December 2018, Day 691:
The Arctic Ocean has lost 95 percent of its oldest ice–a startling sign of what's to come, The Washington Post, Chris Mooney, Tuesday, 11 December 2018: "Over the past three decades of global warming, the oldest and thickest ice in the Arctic has declined by a stunning 95 percent, according the National Oceanic and Atmospheric Administration's annual Arctic Report Card. The finding suggests that the sea at the top of the world has already morphed into a new and very different state, with major implications not only for creatures such as walruses and polar bears but, in the long term, perhaps for the pace of global warming itself. The oldest ice can be thought of as a kind of glue that holds the Arctic together and, through its relative permanence, helps keep the Arctic cold even in long summers."
'Our Leaders Are Behaving Like Children': Greta Thunberg, Fifteen-Year Old Climate Activist from Sweden, Confronts World Leaders at the U.N. Climate Summit in Katowice, Poland, Democracy Now!, Tuesday, 11 December 2018: "Democracy Now! is broadcasting from the U.N. climate summit in Katowice, Poland, this week, where world leaders gathered to negotiate climate solutions were confronted last week by a teenage climate activist who says they are not doing enough to turn back the clock and prevent catastrophic climate change. Fifteen-year-old Greta Thunberg stunned the world last week when she denounced world leaders for inaction and told them: 'change is coming whether they like it or not. The people will rise to the challenge. And since our leaders are behaving like children, we will have to take the responsibility they should have taken long ago.' She has made international headlines since launching a school strike against climate change in her home country of Sweden earlier this year. Every Friday, she protests outside the parliament building in Stockholm instead of attending school, and her actions have inspired thousands of students across the globe to do the same…. 'I like school, and I like learning,' said Greta, who plans to end her strike when Sweden starts cutting carbon emissions by 15 percent a year. 'But why should we be studying for a future that soon may be no more? This is more important than school, I think.'"
Time Magazine Names Person of the Year for 2018: Jamal Khashoggi and Other Journalists, The New York Times, Matthew Haag, Tuesday, 11 December 2018: "Time magazine named a group of journalists, including the murdered reporter Jamal Khashoggi, as its person of the year for 2018 on Tuesday, honoring their dedicated pursuit of the truth despite a war on facts and tremendous obstacles, including violence and imprisonment. Besides Mr. Khashoggi, the honorees include the staff of the Capital Gazette newspapers in Maryland, where five people were shot dead in June; Maria Ressa, the founder of Rappler, a news start-up under attack by the authoritarian president of the Philippines; and U Wa Lone and U Kyaw Soe Oo, two Reuters journalists imprisoned in Myanmar after reporting the massacre of Muslim men. Time magazine published covers honoring each of the recipients, who were collectively called 'the guardians of truth.' 'We chose to highlight four individuals and one group who have taken great risks in pursuit of greater truths,' Edward Felsenthal, Time's editor in chief and chief executive, said during the announcement on NBC's 'Today' show on Tuesday morning. 'It became clear that the manipulation and abuse of truth is the common thread of so many of this year's major stories, from Russia to Riyadh to Silicon Valley.'" See also, The Guardians and the War on Truth, Time, Karl Vick, Tuesday, 11 December 2018.
Amid uproar from progressives, Senator Joe Manchin to take top Democratic slot on the Senate Energy and Natural Resources Committee, The Washington Post, Felicia Sonmez, Tuesday, 11 December 2018: "Sen. Joe Manchin III (W.Va.) has won the top Democratic spot on the Senate Energy and Natural Resources Committee amid fierce opposition from activists and some potential 2020 presidential contenders who have voiced criticism of his record on environmental issues. The move was ratified Tuesday by members of the Senate Democratic caucus, Senate Minority Leader Charles E. Schumer (D-N.Y.) announced…. Intraparty battles over congressional committee assignments are usually closed-door affairs that attract little attention beyond Washington. But as the 2020 presidential field begins to take shape, Manchin's prospective appointment had prompted opposition from figures including Washington Gov. Jay Inslee and billionaire activist Tom Steyer, two Democrats who are openly considering White House bids. 'Democrats must offer a bold, positive path forward — but Senator Manchin does not offer that vision,' Steyer, a longtime proponent of efforts to combat climate change, said in a statement last week."
In Combative Appearance With Representative Nancy Pelosi and Senator Chuck Schumer, Trump Threatens to Shut Down the Government if the Border Wall Is Not Funded, The New York Times, Julie Hirschfeld Davis, Tuesday, 11 December 2018: "President Trump on Tuesday transformed what was to be a private negotiating session with Democratic congressional leaders into a bitter televised altercation over his long-promised border wall, vowing to force a year-end government shutdown if they refused to fund his signature campaign promise. During an extraordinary public airing of hostilities that underscored a new, more confrontational dynamic in Washington, Mr. Trump vowed to block full funding for the government if Democrats refused to allocate money for the wall on the southwestern border, saying he was 'proud to shut down the government for border security.' Senator Chuck Schumer of New York and Representative Nancy Pelosi of California, the Democratic leaders, seated on couches flanking Mr. Trump in the Oval Office, took issue with the president's position and his false assertions about the wall in front of a phalanx of news cameras, imploring him repeatedly to continue the tense conversation without reporters present. But Mr. Trump insisted on a conspicuous clash that undercut Republican congressional leaders and his own staff working to avoid a shutdown at all costs, or at least to ensure that Democrats would shoulder the blame for such a result." See also, 'This has spiraled downward': Democrats Nancy Pelosi and Chuck Schumer introduce Trump to divided government, The Washington Post, Philip Rucker, Josh Dawsey, and Robert Costa, Tuesday, 11 December 2018: "In his first two years in office, President Trump operated without a clear check on his power. With his party controlling both houses of Congress, he issued demands from his bedroom in the form of early-morning tweets, and legislative leaders got in line. He rarely was personally confronted about his untruths and misstatements. And he mostly ignored congressional Democrats, choosing to spar instead with journalists. That all came to a crashing halt Tuesday. In an extraordinarily heated public fight with the nation's top two Democratic leaders, the combustible president confronted for the first time the enormity of the challenge he will face over the next two years: divided government." See also, Playing by His Own Rules, Trump Flips the Government Shutdown Script and Embraces Ownership of a Shutdown, The New York Times, Carl Hulse, published on Wednesday, 12 December 2018: "The trick in Washington has always been to make sure a government shutdown is pinned on the other guy. President Trump is the first to ever pin one on himself. In a new twist on the old game of shutdown politics dating to the 1990s, Mr. Trump was essentially goaded on Tuesday by Representative Nancy Pelosi of California and Senator Chuck Schumer of New York into embracing ownership of a shutdown yet to come if Democrats do not accede to his request for $5 billion to build a wall on the southern border with Mexico. "I will take the mantle,' Mr. Trump told the two Democratic leaders in the Oval Office, saying he would proudly close parts of the executive branch if he did not get his way. 'I'm not going to blame you for it,' he continued. 'The last time you shut it down, it didn't work. I will take the mantle of shutting down, and I'm going to shut it down for border security.'" See also, Trump's extraordinary Oval Office squabble with Chuck Schumer and Nancy Pelosi, annotated, The Washington Post, Aaron Blake and Transcript courtesy of Bloomberg Government, Tuesday, 11 December 2018. See also, Fact-checking Trump's rowdy powwow with Pelosi and Schumer, The Washington Post, Salvador Rizzo and Meg Kelly, published on Wednesday, 12 December 2018.
Trump's Judicial Nominees Take Heat but Largely Keep Marching Through the Senate, The New York Times, Catie Edmondson, Tuesday, 11 December 2018: "The Senate narrowly confirmed Jonathan Kobes as a federal appeals court judge on Tuesday, brushing aside the conclusion of the American Bar Association that he was unqualified for the position. The association had cited his inability to provide sufficient writing samples that were 'reflective of complex legal analysis' or sophisticated 'knowledge of the law.' Mr. Kobes, a 44-year-old aide to Senator Mike Rounds, Republican of South Dakota, became the second judicial nominee appointed by President Trump and confirmed by the Senate whom the association has deemed unqualified, with Vice President Mike Pence casting a vote to break a 50-to-50 tie. Mr. Kobes is only the latest in a cadre of White House nominees to the federal bench who have drawn concern, including five other nominees who received the same unqualified rating. Others were rated as qualified but carried with them politically or racially insensitive remarks from their past that resurfaced during their confirmations, including one who wrote in an online forum that the nation's commitment to diversity was tantamount to accepting 'lower standards.'"
James A. Fields Jr., an avowed neo-Nazi, sentenced to life in prison for Charlottesville car attack at a white-supremacist rally, The Washington Post, Paul Duggan, Tuesday, 11 December 2018: "James A. Fields Jr., an avowed neo-Nazi who rammed his car into a group of counterprotesters at a white-supremacist rally, was sentenced to life in prison by a jury Tuesday after a trial that offered an unsparing view of the physical and emotional ruin he caused in this city with a burst of vehicular rage 16 months ago…. Chanting racist and anti-Semitic slogans as they marched in the streets, the white supremacists violently clashed with counterprotesters for hours. Photos and video of the mayhem — including images of broken bodies propelled in the air by Fields's speeding Dodge — were viewed worldwide, galvanizing public attention on ethno-fascists who became emboldened in the early months of the Trump administration."
Gap continues to widen between Trump and intelligence community on key issues, The Washington Post, Greg Miller, Tuesday, 11 December 2018: "President Trump continues to reject the judgments of U.S. spy agencies on major foreign policy fronts, creating a dynamic in which intelligence analysts frequently see troubling gaps between the president's public statements and the facts laid out for him in daily briefings on world events, current and former U.S. officials said. The pattern has become a source of mounting concern to senior U.S. intelligence officials who had hoped that Trump, as he settled into office, would become less hostile to their work and more receptive to the information that spy agencies spend billions of dollars and sometimes put lives at risk gathering. Instead, presidential distrust that once seemed confined mainly to the intelligence community's assessments about Russia's interference in the 2016 election has spread across a range of global issues. Among them are North Korea's willingness to abandon its nuclear weapons program, Iran's nuclear and regional ambitions, the existence and implications of global climate change, and the role of the Saudi crown prince in the killing of a dissident journalist."
Senate, Rejecting New Work Requirements for Able-Bodied Adults Seeking Food Stamps, Passes Compromise Farm Bill, The New York Times, Catie Edmondson, Tuesday, 11 December 2018: "The Senate easily passed a sprawling farm bill, 87 to 13, on Tuesday, advancing an ambitious $867 billion measure that rejected stricter work requirements for food-stamp recipients that were pushed by House Republicans and cheered by President Trump. The twice-a-decade legislation provides a safety net for farmers hit with unexpected weather or by tariffs, as well as to low-income Americans struggling to feed themselves and their families. It is one of the most politically sensitive pieces of legislation Congress passes, balancing the demands of urban legislators hoping to maintain or increase funding for nutrition programs and rural lawmakers seeking to protect farmers, a divide brought into sharp relief this year as negotiations continued months after the previous bill's Sept. 30 expiration date…. The chief point of contention was the House's inclusion of new work requirements for able-bodied adults seeking food stamps. Conservatives had also hoped to close a loophole in the limited work requirements in existing law that allows states to waive the requirements in areas with high unemployment rates. Both measures received backing from Mr. Trump, who had called the new requirements 'imperative.' But the bipartisan group of negotiators from the House and Senate hashing out the final deal declined to take up either of those changes. They punted the issue of waivers to the agriculture secretary, Sonny Perdue, who has signaled he would look to use his regulatory power to limit states' abilities to request those exemptions."
Wednesday, 12 December 2018, Day 692:
Michael Cohen, Trump's Former Lawyer, Is Sentenced to 3 Years in Prison After Implicating Trump in Hush-Money Scandal, The New York Times, Benjamin Weiser and William K. Rashbaum, Wednesday, 12 December 2018: "Michael D. Cohen, a former lawyer for President Trump, was sentenced to three years in prison on Wednesday after denouncing Mr. Trump and explaining that 'I felt it was my duty to cover up his dirty deeds.' Mr. Cohen gave an emotional apology to the court for his involvement in a hush-money scandal that could threaten the Trump presidency — a scheme to buy the silence of two women who said they had affairs with Mr. Trump to protect his chances before the 2016 election. Mr. Cohen said his blind loyalty to Mr. Trump led him to ignore 'my own inner voice and my moral compass.'" See also, Michael Cohen, Trump's former lawyer, is sentenced to three years in prison for crimes committed while working for Trump, The Washington Post, Matt Zapotosky and Devlin Barrett, Wednesday, 12 December 2018. See also, Everyone Who Has Been Charged as a Result of the Mueller Investigation, The New York Times, updated on Wednesday, 12 December 2018.
American Media Inc., a Tabloid Publisher Run by Trump's Ally David J. Pecker, Admitted to Paying Off Playboy Model Karen McDougal in 2016 to Help Protect Trump's Election Prospects, The New York Times, Mike McIntire, Charlie Savage, and Jim Rutenberg, Wednesday, 12 December 2018: "With the revelation by prosecutors on Wednesday that a tabloid publisher admitted to paying off a Playboy model, key participants in two hush-money schemes say the transactions were intended to protect Donald J. Trump's campaign for president. That leaves Mr. Trump in an increasingly isolated and legally precarious position, according to election law experts. Hundreds of thousands of dollars in payments made in 2016 to keep two women silent about alleged affairs are now firmly framed as illegal campaign contributions. The news about the publisher, the parent company of The National Enquirer, came on the same day that Mr. Trump's former lawyer Michael D. Cohen was sentenced to three years in prison in part for his involvement in the payments." See also, American Media Inc. (AMI), publisher of the National Enquirer, admits to paying Karen McDougal $150,000 before the 2016 presidential election to silence her allegations of an affair with Trump, The Washington Post, Sarah Ellison and Paul Farhi, Wednesday, 12 December 2018: "The National Enquirer's parent company acknowledged paying hush money to a woman who alleged an affair with Donald Trump to 'suppress the woman's story' and 'prevent it from influencing the election.' The admission came as federal prosecutors announced Wednesday that they would not prosecute the company, American Media Inc. (AMI), for its role in a scheme to tilt the presidential race in favor of Trump. In the agreement, AMI said it would cooperate with prosecutors and admitted it paid $150,000 to Karen McDougal before the 2016 election to silence her allegations of an affair with Trump. The deal signaled the unraveling of the deep relationship Trump and AMI chief executive David Pecker had forged over decades. The deal also made clear that Pecker, whose tabloid strongly supported Trump's candidacy, has turned on the president." See also, A 'loud gong': National Enquirer's surprise deal could imperil Trump, Politico, Darren Samuelsohn, Wednesday, 12 December 2018: "The National Enquirer's parent company has agreed to tell prosecutors everything it knows about Donald Trump — and it might know a lot. In a court document released Wednesday, the tabloid publisher, American Media Inc., admitted to coordinating a hush-money payment with Trump's 2016 campaign, reversing two years of denials. The confession came as part of an immunity agreement with the U.S. attorney's office in New York, made public shortly after Trump's former lawyer, Michael Cohen, was sentenced to three years in prison over charges of tax fraud, campaign finance violations and lying to Congress."
Trump administration proposes withdrawing federal protections for countless waterways and wetlands, The Washington Post, Ellen Knickmeyer and John Flesher | AP, Wednesday, 12 December 2018: "The Trump administration proposed withdrawing federal protections for countless waterways and wetlands across the country Tuesday, making good on President Donald Trump's campaign pledge to weaken landmark Obama-era water rules long opposed by some developers, farmers and oil, gas, and mining executives…. Environmental groups said the Trump administration proposal would have a sweeping impact on how the country safeguards the nation's waterways, scaling back not just a 2015 Obama administration interpretation of federal jurisdiction, but how federal agencies enforce the 1972 Clean Water Act. 'The Trump administration has just given a big Christmas gift to polluters,' said Bob Irvin, president of the American Rivers environmental nonprofit. 'Americans all over the country are concerned about the safety of their drinking water — this is not the time to be rolling back protections.' The changes would affect what waterways and wetlands fall under jurisdiction of the EPA and the U.S. Army Corps of Engineers. The Trump administration would remove federal protections for wetlands nationally unless they are connected to another federally protected waterway, and for streams, creeks, washes and ditches that run only during rains or snow melt." See also, Trump Administration Prepares to Unveil a Vast Reworking of Clean Water Protections, The New York Times, Coral Davenport, published on Monday, 10 December 2018.
Trump Moves to Deport Vietnam War Refugees, The Atlantic, Charles Dunst and Krishnadev Calamur, Wednesday, 12 December 2018: "The Trump administration is resuming its efforts to deport certain protected Vietnamese immigrants who have lived in the United States for decades—many of them having fled the country during the Vietnam War. This is the latest move in the president's long record of prioritizing harsh immigration and asylum restrictions, and one that's sure to raise eyebrows—the White House had hesitantly backed off the plan in August before reversing course. In essence, the administration has now decided that Vietnamese immigrants who arrived in the country before the establishment of diplomatic ties between the United States and Vietnam are subject to standard immigration law—meaning they are all eligible for deportation."
Representative Nancy Pelosi and Dissident Democrats Reach Deal to Limit Her House Speakership to 4 Years, The New York Times, Julie Hirschfeld Davis, Wednesday, 12 December 2018: "Representative Nancy Pelosi announced Wednesday that she had reached a deal with dissident Democrats to limit herself to four years as speaker, her most consequential move to date to put down a rebellion in her ranks and clinch the votes she needs to be elected. The agreement would also apply to the party's other two top leaders, and almost certainly clears the way for Ms. Pelosi to reclaim the mantle as the first woman to serve as speaker…. The deal would also affect Ms. Pelosi's two top deputies: Representatives Steny H. Hoyer of Maryland and James E. Clyburn of South Carolina. The three — Ms. Pelosi, 78; Mr. Hoyer, 79; and Mr. Clyburn, 78 — have governed the Democratic Party for more than a decade. They are facing calls to cede power to a younger generation as the party moves to take control of the House next month." See also, To win a second stint as House speaker, Representative Nancy Pelosi strikes deal with rebels and will step aside by 2022, The Washington Post, Mike DeBonis, Wednesday, 12 December 2018.
The House and the Senate agree on a bill to establish new sexual harassment policy for Congress, The Washington Post, Elise Viebeck, Wednesday, 12 December 2018: "More than a year after the ­#MeToo era began, the House and the Senate reached a deal Wednesday to change their policies on sexual harassment and make lawmakers liable for their own misconduct in the workplace. The agreement was brokered after nearly seven months of negotiations between the two chambers and with just days left in the 2018 legislative calendar. Members involved in the talks predicted that the bill would be adopted quickly in both chambers and that the new rules would take effect before January, when the new Congress convenes. While exact legislative language was not released, the Senate Rules Committee confirmed that lawmakers will be required to reimburse the Treasury Department for settlements and awards resulting from harassment or retaliation they commit. Under the current system, settlements are paid for by taxpayers." See also, Negotiators Strike Deal to Tighten Sexual Harassment Rules on Capitol Hill, The New York Times, Emily Cochrane, Wednesday, 12 December 2018.
Fetal Tissue Research Is Curtailed by Trump Administration, The New York Times, Denise Grady, Wednesday, 12 December 2018: "Should the government pay for medical research that uses tissue from aborted fetuses? This debate, ever smoldering, has erupted again, pitting anti-abortion forces in the Trump administration against scientists who say the tissue is essential for studies that benefit millions of patients. In a letter last week that read like a shot across the bow, the National Institutes of Health warned the University of California, San Francisco, that its $2 million contract for research involving the tissue, previously renewed for a year at a time, would be extended for only 90 days and might then be canceled." See also, Fetal tissue research is targeted by abortion foes inside the Trump administration, The Washington Post, Lenny Bernstein, Amy Goldstein, and Lena H. Sun, Wednesday, 12 December 2018: "Two years into an administration that describes itself as 'pro-life and pro-science,' the use of fetal tissue in scientific research has become the next skirmish in the nation's half-century-old abortion wars. This time, however, scientists who depend on cells from aborted human fetuses face not just a cadre of determined antiabortion activists but sympathetic officials within the government itself, from Vice President Pence to key officials in the Department of Health and Human Services. At stake is critical federal funding for research into diseases that range from HIV to cancer to Zika, vaccine production and treatment for maladies such as Parkinson's disease."
Trump to Steer More Money to 'Opportunity Zones,' The New York Times, Jim Tankersley, Wednesday, 12 December 2018: "President Trump directed federal agencies on Wednesday to steer spending toward certain distressed communities across the country — part of his administration's push to turn a tax break included in last year's $1.5 trillion tax package into a broader effort to combat poverty and geographic inequality. Mr. Trump signed an executive order at the White House to push federal resources to so-called opportunity zones — a small but lucrative provision tucked into his signature tax cut that in recent months has vaulted to prominence among real estate developers and other investors…. The zones have come under criticism from consumer advocates, who warn that they may not drive investment to truly distressed areas. The official communities designated as zones include some census tracts that are rapidly gentrifying — which could end up delivering large benefits to wealthy developers who would have invested in those areas without the Trump administration's tax advantage."
State Courts Become Battleground Over Trump's Sanctuary Cities Policy, The New York Times, Christina Goldbaum, Wednesday, 12 December 2018: "The battles between so-called sanctuary cities and the Trump administration are increasingly moving to state courts, where lawyers for immigrants have started to convince judges that state laws prohibit local law enforcement from cooperating with federal immigration agents. The lawyers said they were turning to more liberal state courts to challenge the Trump administration's policies in part because they believed that they would be less likely to succeed in a federal judiciary that is growing more conservative — and might ultimately lose in a Supreme Court with two appointees of President Trump."
House of Representatives passes the farm bill, stripped of conservative priorities, Los Angeles Times, Sarah D. Wire, Wednesday, 12 December 2018: "Congress on Wednesday overwhelmingly approved a five-year farm bill after removing conservative priorities that had stalled negotiations, including stricter work requirements for people receiving food benefits and a provision allowing more tree-cutting in federal forests as President Trump proposed in the wake of California's wildfires. The sweeping $867-billion bill, a compromise between the House and Senate after a months-long impasse, addresses agriculture, nutrition, forest and conservation policy. The Senate passed it 87 to 13 Tuesday night. With House passage on Wednesday, 369 to 47, the measure goes to the president for his signature. Though Trump had called the work requirements for food aid an "imperative," he signaled this week he would sign the bill. He and lawmakers were anxious to reauthorize the twice-a-decade farm law, which had expired Sept. 30, before Congress adjourned at the end of the year."
Thursday, 13 December 2018, Day 693:
You Are Stealing Our Future: Greta Thunberg, 15, Condemns the World's Inaction on Climate Change, Democracy Now, Thursday, 13 December 2018: "Fifteen-year-old Swedish climate activist Greta Thunberg addressed the U.N. plenary last night in Katowice, Poland, condemning global inaction in the face of catastrophic climate change."
The Oil Industry's Covert Campaign to Rewrite U.S. Car Emissions Rules, The New York Times, Hiroko Tabuchi, Thursday, 13 December 2018: "When the Trump administration laid out a plan this year that would eventually allow cars to emit more pollution, automakers, the obvious winners from the proposal, balked. The changes, they said, went too far even for them. But it turns out that there was a hidden beneficiary of the plan that was pushing for the changes all along: the nation's oil industry. In Congress, on Facebook and in statehouses nationwide, Marathon Petroleum, the country's largest refiner, worked with powerful oil-industry groups and a conservative policy network financed by the billionaire industrialist Charles G. Koch to run a stealth campaign to roll back car emissions standards, a New York Times investigation has found…. The oil industry's campaign, the details of which have not been previously reported, illuminates why the rollbacks have gone further than the more modest changes automakers originally lobbied for. The standards that the Trump administration seeks to weaken required automakers to roughly double the fuel economy of new cars, SUVs and pickup trucks by 2025. Instead, the Trump plan would freeze the standards at 2020 levels. Carmakers, for their part, had sought more flexibility in meeting the original 2025 standards, not a categorical rollback. The Trump plan, if finalized, would increase greenhouse gas emissions in the United States by more than the amount many midsize countries put out in a year and reverse a major effort by the Obama administration to fight climate change."
Senate Votes to End U.S. Military Assistance for Saudi Arabia's War in Yemen Over the Killing of Saudi Journalist Jamal Khashoggi and Saudis' War Aims, The New York Times, Julie Hirschfeld Davis and Eric Schmitt, Thursday, 13 December 2018: "The Senate voted on Thursday to end American military assistance for Saudi Arabia's war in Yemen in the strongest show of bipartisan defiance against President Trump's defense of the kingdom over the killing of a dissident journalist. The 56-to-41 vote was a rare move by the Senate to limit presidential war powers and sent a potent message of disapproval for a nearly four-year conflict that has killed thousands of civilians and brought famine to Yemen. Moments later, senators unanimously approved a separate resolution to hold Crown Prince Mohammed bin Salman of Saudi Arabia personally responsible for the death of the journalist, Jamal Khashoggi. Together, the votes were an extraordinary break with Mr. Trump, who has refused to condemn the prince and dismissed United States intelligence agencies' conclusions that the heir to the Saudi throne directed the grisly killing. While the House will not take up the measure by the end of the year, the day's votes signal that Congress will take on Mr. Trump's support of Saudi Arabia when Democrats take control of the House next month. The action indicated a growing sense of urgency among lawmakers in both parties to punish Saudi Arabia for Mr. Khashoggi's death, and to question a tradition of Washington averting its gaze from the kingdom's human rights abuses in the interest of preserving a strategically important relationship." See also, Senate votes to end support for U.S. participation in the Saudi-led war in Yemen and to condemn Saudi crown prince Mohammed bin Salman for the killing of Saudi journalist Jamal Khashoggi, The Washington Post, Karoun Demirjian, Thursday, 13 December 2018: "The Senate on Thursday delivered back-to-back rebukes of President Trump's embrace of Saudi Arabia, first voting to end U.S. participation in the Saudi-led war in Yemen and then unanimously approving a measure blaming the kingdom's crown prince for the ghastly killing of journalist Jamal Khashoggi. Together, the dual actions represent an unambiguous rejection of Trump's continued defense of Saudi leaders in the face of a CIA assessment that concluded Crown Prince Mohammed bin Salman likely ordered and monitored Khashoggi's killing Oct. 2 inside the Saudi consulate in Istanbul. It suggests a bipartisan majority of senators will pursue broader punitive measures when Congress regroups next year — including sanctions and a halt to weapons transfers — despite the administration's objections."
In potential breakthrough, Yemen's warring sides agree to halt fighting in the port city of Hodeida, The Washington Post, Kareem Fahim and Missy Ryan, Thursday, 13 December 2018: "The opposing sides in Yemen's civil war have agreed to a cease-fire in a port city that serves as a critical lifeline for humanitarian aid to the country, along with other measures that signaled rare diplomatic progress after more than four years of conflict, the United Nations secretary general said Thursday. 'We are living the beginning of the end of one of the biggest tragedies of the 21st century,' António Guterres told reporters. Guterres spoke after a week of U.N.-brokered talks in Sweden between Yemen's Saudi-backed government and a Yemeni rebel group known as the Houthis that the secretary general said yielded agreement to halt the fighting in Hodeida, the port city, and its surrounding province, along with a prisoner swap that could free thousands. The agreement comes amid growing international pressure to end the war, a conflict that has sparked what the United Nations deems the world's worst humanitarian crisis and has become a proxy battle between U.S.-backed Arab nations and Iran, which supports the Houthis."
Washington Post to run a full-page ad on the killing of Saudi journalist Jamal Khashoggi by Saudi Arabia, Politico, Jason Schwartz, Thursday, 13 December 2018: "The Washington Post plans to run a full-page ad Friday drawing attention to the death of columnist Jamal Khashoggi, part of a broader push that publisher Fred Ryan told POLITICO would continue 'until meaningful action is taken' over Saudi Arabia's role in the killing. The ad, which a Post spokesperson said is a precursor to a larger advertising campaign planned for early 2019, features an image of the Saudi journalist with his face illuminated by a candle and reads, 'A life is gone. The principles of free expression endure.' In a year-end memo to staff Wednesday, Ryan blistered the U.S. administration over its efforts to brush past Khashoggi's killing, which U.S. intelligence believes was ordered by Saudi Crown Prince Mohammed bin Salman. 'Many people are frustrated and feel betrayed by the Trump administration's apparent effort to sweep Jamal's killing under the rug and its failure to stand up for America's values,' Ryan wrote in the memo. 'They can be assured that The Washington Post will not rest until justice is served on those who ordered Jamal's killing, those who carried it out, and those who continue to try to cover it up.'"
7-year-old migrant girl taken into Border Patrol custody dies of dehydration and shock, The Washington Post, Nick Miroff and Robert Moore, Thursday, 13 December 2018: "A 7-year-old girl from Guatemala died of dehydration and shock after she was taken into Border Patrol custody last week for crossing from Mexico into the United States illegally with her father and a large group of migrants along a remote span of New Mexico desert, U.S. Customs and Border Protection said Thursday. The child's death is likely to intensify scrutiny of detention conditions at Border Patrol stations and CBP facilities that are increasingly overwhelmed by large numbers of families seeking asylum in the United States. According to CBP records, the girl and her father were taken into custody about 10 p.m. Dec. 6 south of Lordsburg, N.M., as part of a group of 163 people who approached U.S. agents to turn themselves in. More than eight hours later, the child began having seizures at 6:25 a.m., CBP records show. Emergency responders, who arrived soon after, measured her body temperature at 105.7 degrees…." See also, White House Says Migrant Girl's 'Horrific, Tragic' Death Is Not Its Responsibility, The New York Times, Ron Nixon, published on Friday, 14 December 2018: "A White House official said on Friday that the Trump administration was not responsible for the death of a 7-year-old Guatemalan girl who died from dehydration last week while in the custody of the Border Patrol. Officials said the girl, Jakelin Caal Maquin, and her father were among 163 migrants who turned themselves in to the Border Patrol in a remote area of desert in New Mexico, shortly after the group crossed into the United States. Her death, which is under investigation, has been widely condemned as a consequence of the Trump administration's hard-line immigration enforcement efforts on the southwest border against caravans of migrants traveling from Central America."
Trump's falsehoods on hush-money payments are 'coming home to roost,' The Washington Post, Philip Rucker and John Wagner, Thursday, 13 December 2018: "For months, President Trump's spokesmen, his lawyer and his lawyer's lawyer denied that Trump knew about payments during his 2016 campaign to buy the silence of women who alleged sexual encounters with him. The president himself claimed the same. But after mounting evidence and fresh courthouse revelations of wrongdoing this week exposed those denials as falsehoods, Trump is shifting his tune. The president no longer disputes that he instructed his then-personal attorney, Michael Cohen, to make the payments to former Playboy playmate Karen McDougal and adult-film star Stephanie Clifford, who goes by the stage name Stormy Daniels. Instead, Trump sought to evade that question Thursday by saying he never told Cohen to break the law — making a narrow assertion that was itself an admission that his and his team's earlier denials were false." See also, Trump Improvises New Defense in Hush Money Payments, The New York Times, Maggie Haberman and Michael S. Schmidt, Thursday, 13 December 2018: "President Trump said on Thursday that if there was anything illegal about the hush payments made to two women claiming to have had affairs with him, it was the fault of his former lawyer, Michael D. Cohen, part of a newly improvised attempt to combat the legal exposure the president may now have because of the payments. 'I never directed Michael Cohen to break the law,' Mr. Trump said. 'He was a lawyer and he is supposed to know the law.' In a series of Twitter messages sent from the White House residence, Mr. Trump tried again to distance himself from Mr. Cohen, who federal prosecutors say was directed by his boss to make the hush payments to Karen McDougal and Stormy Daniels at a time in the 2016 campaign when their claims could have been highly damaging."
Trump Inauguration Spending Is Under Criminal Investigation by Federal Prosecutors, The Wall Street Journal, Rebecca Davis O'Brien, Rebecca Ballhaus, and Aruna Viswanatha, Thursday, 13 December 2018: "Federal prosecutors in Manhattan are investigating whether President Trump's 2017 inaugural committee misspent some of the record $107 million it raised from donations, people familiar with the matter said. The criminal probe by the Manhattan U.S. attorney's office, which is in its early stages, also is examining whether some of the committee's top donors gave money in exchange for access to the incoming Trump administration, policy concessions or to influence official administration positions, some of the people said. Giving money in exchange for political favors could run afoul of federal corruption laws. Diverting funds from the organization, which was registered as a nonprofit, could also violate federal law. The investigation represents another potential legal threat to people who are or were in Mr. Trump's orbit. Their business dealings and activities during and since the campaign have led to a number of indictments and guilty pleas. Many of the president's biggest campaign backers were involved in the inaugural fund. The investigation partly arises out of materials seized in the federal probe of former Trump lawyer Michael Cohen's business dealings, according to people familiar with the matter." See also, Trump Inaugural Fund and Super PAC Said to Be Scrutinized for Illegal Foreign Donations, The New York Times, Sharon LaFraniere, Maggie Haberman, and Adam Goldman, Thursday, 13 December 2018: "Federal prosecutors are examining whether foreigners illegally funneled donations to President Trump's inaugural committee and a pro-Trump super PAC in hopes of buying influence over American policy, according to people familiar with the inquiry. The inquiry focuses on whether people from Middle Eastern nations — including Qatar, Saudi Arabia and the United Arab Emirates — used straw donors to disguise their donations to the two funds. Federal law prohibits foreign contributions to federal campaigns, political action committees and inaugural funds. The line of questioning underscores the growing scope of criminal inquiries that pose a threat to Mr. Trump's presidency. The special counsel, Robert S. Mueller III, is focusing on whether anyone in the Trump campaign conspired with Russia to tip the 2016 presidential election in Mr. Trump's favor, while prosecutors in New York are pursuing evidence he secretly authorized illegal payments of hush money to silence accusations of extramarital affairs that threatened his campaign." See also, How money flowed into–and out of–Trump's inaugural committee, The Washington Post, Philip Bump, published on Friday, 14 December 2018. See also, Trump's Inaugural Committee Paid Trump's Company–With Ivanka Trump in the Middle, ProPublica, published on Friday, 14 December 2018.
Maria Butina Pleads Guilty to Role in an Effort Backed by Russian Officials to Influence Conservatives in the N.R.A and in the Republican Party, The New York Times, Matthew Rosenberg, Thursday, 13 December 2018: "To the conservative Americans she courted, Maria Butina was the right kind of Russian. She loved guns and the church and networking with top officials in the National Rifle Association. She schmoozed with Republican presidential candidates, and became a supporter of Donald J. Trump. She spent Thanksgiving at a congressman's country house, took a Trump campaign aide to see the rock band Styx and helped a Rockefeller heir organize 'friendship dinners' with influential Washingtonians. On Thursday, Ms. Butina, 30, pleaded guilty to a single charge of conspiring to act as a foreign agent in a deal with federal prosecutors. In doing so, she acknowledged that her activities were motivated by more than mere personal conviction. As part of the deal, Ms. Butina admitted to being involved in an organized effort, backed by Russian officials, to open up unofficial lines of communication with influential Americans in the N.R.A. and in the Republican Party, and to win them over to the idea of Russia as a friend, not a foe. Ms. Butina's guilty plea now casts a spotlight on the Americans she worked with, including prominent members of the N.R.A. and her boyfriend, Paul Erickson, 56, a longtime Republican operative who ran Patrick J. Buchanan's 1992 presidential campaign and who now faces accusations of fraud in three states. Officials have said federal investigators are examining what Mr. Erickson and others who helped Ms. Butina knew about her links to the Russian government." See also, Russian agent Maria Butina pleads guilty to conspiring with a senior Russian official to infiltrate the conservative movement in the U.S., The Washington Post, Spencer S. Hsu and Tom Jackman, Thursday, 13 December 2018: "A Russian gun rights activist pleaded guilty Thursday to conspiring with a senior Russian official to infiltrate the conservative movement in the United States as an agent for the Kremlin from 2015 until her arrest in July. Maria Butina, 30, is the first Russian national convicted of seeking to influence U.S. policy in the run-up to the 2016 election by acting as a foreign agent. She agreed to cooperate in a plea deal with U.S. investigators in exchange for less prison time. Butina admitted to working with an American political operative under the direction of a former Russian senator — now the deputy governor of Russia's central bank — to forge connections with officials at the National Rifle Association, conservative leaders and candidates in the 2016 U.S. presidential race, including Donald Trump, whose rise to the White House she presciently predicted to her Russian contact." See also, Russian agent Maria Butina's guilty plea intensifies spotlight on relationship with the National Rifle Association (NRA), The Washington Post, Rosalind S. Helderman, Tom Hamburger, and Michelle Ye Hee Lee, Thursday, 13 December 2018.
Trump's Baseless Claim That Mexico Will Pay for the Wall Through the New Nafta, The New York Times, Linda Qiu, Thursday, 13 December 2018: "The United States-Mexico-Canada Agreement does not compel Mexico to pay for the wall, and little in it would divert funds from Mexico to the United States."
It Took Quite a Push, but Senate Majority Leader Mitch McConnell Finally Allows A Vote on Criminal Justice Bill, The New York Times, Carl Hulse, Thursday, 13 December 2018: "I was wrong about Mitch McConnell. I doubted he would ever put a criminal justice measure that divided Republicans and ran counter to his conservative political instincts on the floor for a vote. But Mr. McConnell, Republican of Kentucky and the Senate majority leader, has, after years of delay, finally agreed to do so. On Thursday, he set in motion a Senate debate on the popular legislation seen as an overdue corrective to overly harsh sentences enacted in the tough-on-crime 1980s and '90s. Here is what it took: vocal support from President Trump, who is more popular than Mr. McConnell with Republicans and is hungry for a bipartisan victory. Demands for action from Senator Charles E. Grassley, the Judiciary Committee chairman who has been relentless on Mr. McConnell's behalf when it comes to judicial confirmations and who wants to see the bill become law before surrendering the chairmanship next month. Verifiable support from well over a majority of Mr. McConnell's Republican colleagues. And pressure from Paul D. Ryan, the departing House speaker who has been a cooperative partner of Mr. McConnell's and also wants the bill passed on his watch. That's not to mention that Mr. McConnell sought guarantees that Democrats would embrace the measure. He faced strong calls for passage from Jared Kushner, the president's son-in-law and senior adviser who has taken on criminal justice overhaul as a personal crusade and a way to demonstrate domestic policy expertise. Strong backing also came from the billionaire Koch brothers, the conservative powers who have helped bankroll Mr. McConnell's majority. Other conservative groups that have been distrustful of Mr. McConnell in the past also supported the proposal and urged him to put it to a vote. Finally, endorsements from Senate Republicans who had previously opposed the bill seemed to be the clincher."
John Bolton, Trump's National Security Adviser, Outlines a Strategy for Africa That's Really About Countering China, The New York Times, Mark Landler and Edward Wong, Thursday, 13 December 2018: "The Trump administration rolled out a new strategy for Africa on Thursday, but it was really all about China. John R. Bolton, President Trump's national security adviser, said the United States would lavish money and greater attention on the African continent, casting it as a crucial battleground in the global economic contest between the United States and China. But Mr. Bolton conceded that the United States had limited resources to compete with the tens of billions of dollars China is pouring into Africa. He also threatened to withdraw American aid for some United Nations peacekeeping missions, which he labeled ineffective, as well as for certain African countries like South Sudan that he said were corrupt or ungrateful."
Education Secretary Betsy DeVos cancels $150M in student loan debt after losing court battle, Politico, Michael Stratford, Thursday, 13 December 2018: "The Trump administration said Thursday it will cancel thousands of borrowers' federal student loans, carrying out an Obama-era policy that Education Secretary Betsy DeVos had fought to kill. The move comes as DeVos is being forced to implement a package of regulations that created more protections for student loan borrowers who were affected by a school closure or defrauded by their college. A federal judge in September ruled that DeVos' efforts to stop the 2016 'borrower defense' regulations from taking effect was illegal. And in October, the same judge rejected a bid by for-profit colleges to immediately stop the regulations, clearing the way for them to take effect." See also, Court order forces Education Secretary Betsy DeVos to forgive loans for thousands of students whose colleges closed, The Washington Post, Danielle Douglas-Gabriel, published on Friday, 14 December 2018.