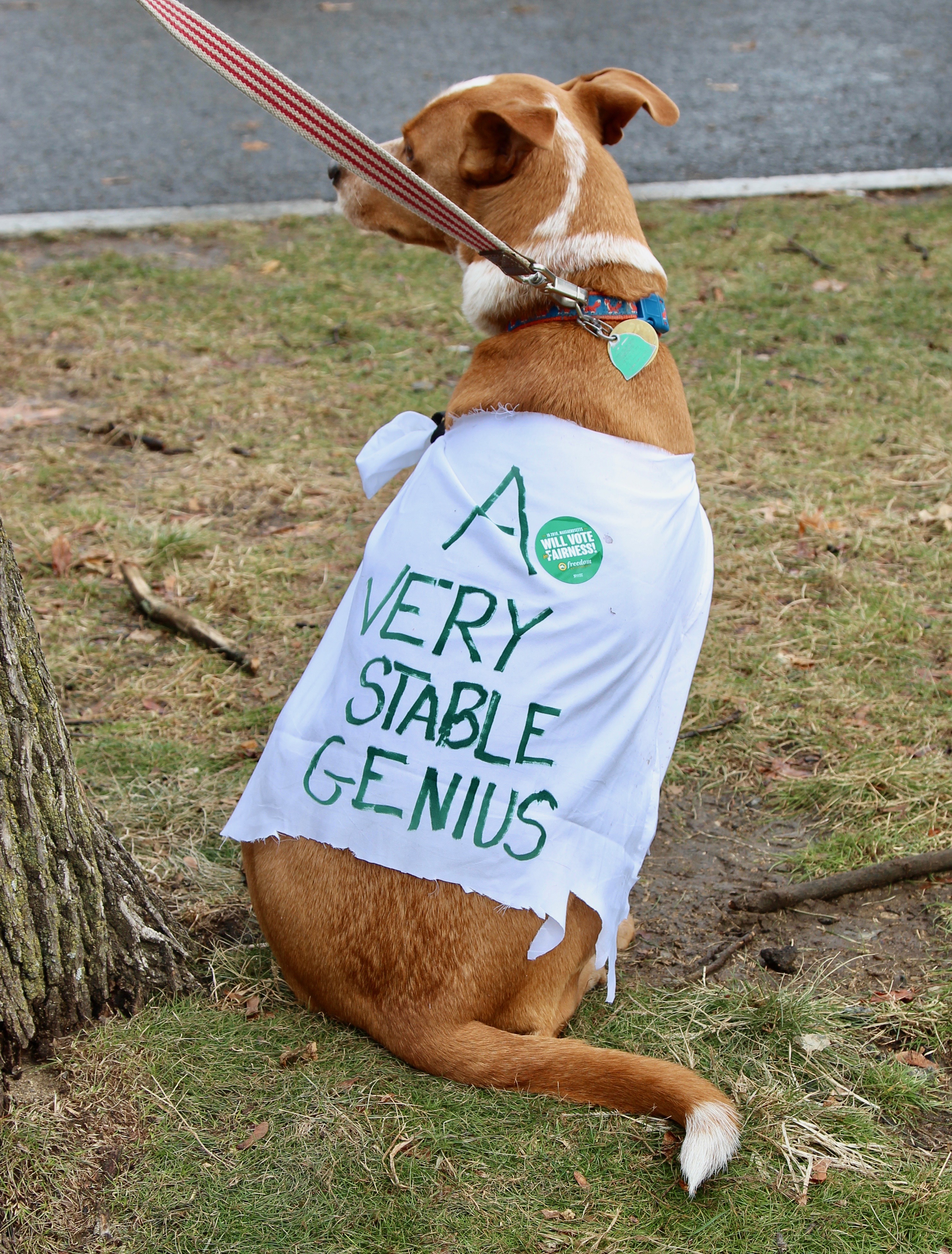 Cambridge, MA, January 2018
Passages in bold in the body of the texts below are my emphasis. This is an ongoing project, and I update the site frequently. Because I try to stay focused on what has actually happened, I usually let the news 'settle' a day or so before posting. I hope readers will peruse the articles in full for a better understanding of the issues and their context; our democracy and our future depend on citizens who can distinguish between facts and falsehoods and who are engaged in the political process.
Friday, 28 January 2018, Day 708:
A Week Into Government Shutdown, Ire Turns to Fear for Federal Workers, The New York Times, Glenn Thrush, Mitch Smith, and Kate Taylor, Friday, 28 December 2018: "When the government shutdown began a week ago, many federal workers were more irked than anxious. They're really anxious now. What at first seemed like ho-hum political brinkmanship is looking more like a prolonged, punishing shutdown, more akin to the 27-day funding lapse in 1995 and 1996 than the blink-and-miss-it shutdowns earlier this year…. On Thursday, the federal Office of Personnel Management took the extraordinary, odd and ominous step of posting a link to a document that offered tips to federal workers on weathering a lengthy interruption, including suggestions on how to defer rent payments, or even barter with landlords by offering to perform minor repair work like painting or cleaning up…. Anxieties are highest for the 800,000 federal workers furloughed or forced to work without pay. But the fear is spreading far beyond the federal work force, hitting government contractors, local governments forced to cover for furloughed sanitation and maintenance workers and organizations that feed the poor, who are dealing with a possible interruption to sources of funding and provisions." See also, Trump threatens to shut down southern border as government funding stalemate drags on, The Washington Post, Filicia Sonmez, Friday, 28 December 2018.
New Environmental Protection Agency Proposal Could Free Coal Plants to Release More Mercury Into the Air, The New York Times, Lisa Friedman, Friday, 28 December 2018: "The Trump administration proposed on Friday major changes to the way the federal government calculates the benefits, in human health and safety, of restricting mercury emissions from coal-burning power plants. In the proposal, the Environmental Protection Agency issued a finding declaring that federal rules imposed on mercury by the Obama administration are too costly to justify. It drastically changed the formula the government uses in its required cost-benefit analysis of the regulation by taking into account only certain effects that can be measured in dollars, while ignoring or playing down other health benefits. The result could set a precedent reaching far beyond mercury rules. 'It will make it much more difficult for the government to justify environmental regulations in many cases,' said Robert N. Stavins, a professor of environmental economics at Harvard University. While the proposal technically leaves the mercury restrictions in place, by revising the underlying justifications for them the administration has opened the door for coal mining companies, which have long opposed the rules, to challenge them in court. The rules, issued in 2011, were the first to restrict some of the most hazardous pollutants emitted by coal plants and are considered one of former President Barack Obama's signature environmental achievements." See also, Environmental Protection Agency to make it harder to tighten mercury rules in the future, The Washington Post, Brady Dennis and Juliet Eilperin, Friday, 28 December 2018.
Incoming House Majority Leader Steny Hoyer says House will not seat North Carolina Republican Mark Harris amid questions about the integrity of the election, The Washington Post, Felicia Sonmez and Eli Rosenberg, Friday, 28 December 2018: "Incoming House Majority Leader Steny H. Hoyer said Friday that Democrats next week will not seat a North Carolina Republican amid allegations of election fraud in the state's 9th Congressional District. 'Given the now well-documented election fraud that took place in NC-09, Democrats would object to any attempt by [Mark] Harris to be seated on January 3,' Hoyer said in a statement. 'In this instance, the integrity of our democratic process outweighs concerns about the seat being vacant at the start of the new Congress.' The statement came after North Carolina dissolved its elections board Friday without certifying the Nov. 6 results, leaving the fate of the seat in doubt days ahead of the start of the new Congress." See also, North Carolina Elections Board Dissolves, Adding New Chaos in House Race, The New York Times, Alan Blinder, Friday, 28 December 2018: "The North Carolina state elections board dissolved on Friday under a court order, two weeks before its much-anticipated hearing to consider evidence of possible absentee ballot fraud in the disputed November election for the Ninth District's seat in Congress. The unwinding of the State Board of Elections and Ethics Enforcement was a consequence of a long-running battle over partisan power in North Carolina and separate from the election fraud investigation. Yet the dissolution heightened the possibility that the Ninth District seat would remain empty for weeks or even months, and it plunged the chaotic fight for the House seat into deeper turmoil."
Continue reading Week 102, Friday, 28 December 2018 – Thursday, 3 January 2019 (Days 708-714)
'Green New Deal' divides Democrats intent on addressing climate change, The Washington Post, Elise Viebeck and David Weigel, Friday, 28 December 2018: "One week after House Democrats triumphed in the election, Rep. Nancy Pelosi extended her hand to the party's energized left wing by reiterating a campaign pledge: She would revive the select committee on climate change. The move thrilled activists who, joined by incoming Rep. Alexandria Ocasio-Cortez, had protested in Pelosi's office that day. And word of reconstituting the panel, which was revered among Democrats for helping produce the 2009 cap-and-trade bill, was greeted as a sign of the party's commitment to aggressive climate action in the next Congress. But the committee will not have authority to approve legislation and is not expected to have subpoena power — unlike its 2007 version. The committee's influence will be limited by Republican control of the Senate and President Trump's rejection of climate science. While Ocasio-Cortez (D-N.Y.) has called on the committee to draft a 'Green New Deal' to get the country off fossil fuels by 2030, its work may not carry weight with the powerful standing committees in the House. The coming battle will test liberals' clout, as tensions between the activist left and the Democratic establishment underscore the ideological and strategic rifts that will affect the party ahead of the 2020 presidential primary…. Congressional Democrats are united on the need to combat man-made climate change, but there is debate over what solutions to pursue and how aggressively in an era of divided government." See also, House Democrats Say the Climate Crisis Is an 'Existential Threat,' But Protecting the Parochial Concerns of Senior Democrats Comes First, The Intercept, Kate Aronoff, published on Sunday, 30 December 2018: "The new House committee being created to confront the climate crisis is being stripped of authority in order to accommodate the parochial concerns of senior Democrats in the caucus, protecting their pieces of turf. On Friday, incoming House Speaker Nancy Pelosi confirmed rumors that she would be appointing Rep. Kathy Castor, D- Fla., to chair a revived select House committee on climate change…. Pelosi named the panel the 'Select Committee on the Climate Crisis.' Paradoxically, though, the committee created to confront what Pelosi in her statement deemed an 'existential threat' will likely not have the power to even issue subpoenas for records or to compel testimony. Those powers will remain solely among the powerful committees that have been dominant on the Hill for generations. 'The problem is institutional—it's a turf war. There's only one reason the select committee didn't get [more powers] and that is the jurisdictional concerns of Frank Pallone. Mr. Pallone has made it clear that he thinks this infringes on his committee's jurisdiction. That's a very unfortunate way of looking at Congress,' said Rep. Ro Khanna, D-Calif., an early signatory and booster of Rep.-elect Alexandria Ocasio-Cortez's resolution to create a Select Committee on a Green New Deal."
Fears of Republican Power Grab in Michigan Fade as Governor Rick Snyder Vetoes Bill That Was Seen as an Effort to Limit the Power of Incoming Democrats, The New York Times, Mitch Smith, Friday, 28 December 2018: "Just a few weeks ago, protesters marched through the Michigan Capitol claiming that Republicans were trying to subvert the will of voters and seize power from the Democrats who had just been elected governor, attorney general and secretary of state. The protesters' worst fears did not come to fruition. On Friday, Gov. Rick Snyder, a Republican whose eight-year tenure ends next week, vetoed a bill that would have allowed lawmakers to intervene in court cases, a measure seen as an effort to dilute the authority of the new Democrats. Other legislation that would have stripped power from incoming officials never made it to a floor vote. The results gave Michigan Democrats some measure of relief, though they were not at all thrilled with what had happened in recent weeks."
Saturday, 29 December 2018, Day 709:
Trump politicizes deaths of two immigrant children from Guatemala to score points in border wall fight, The Washington Post, David Nakamura, Saturday, 29 December 2018: "President Trump on Saturday attempted to politicize the deaths of two immigrant children who died while in custody of the Department of Homeland Security in his latest bid to score points against Democrats in his fight for border wall funding. In a pair of midday tweets, Trump asserted that the children, both from Guatemala, were already ill before being apprehended by federal authorities. He called the deaths of all children at the border the 'fault' of Democrats because of their 'pathetic immigration policies' — even though his administration created new policies to slow the ability of immigrants to seek legal paths into the country. 'Border Patrol needs the Wall and it will all end,' Trump wrote. The tweets marked Trump's first public comments about the deaths of the children, and he offered no empathy to the families and took no responsibility for the government's handling of their cases." See also, Trump Blames Democrats For Deaths of Migrant Children in U.S. Custody, The New York Times, Maggie Haberman, Saturday, 29 December 2018.
Trump orders pay freeze for federal workers, The Washington Post, Eric Yoder, Saturday, 29 December 2018: "President Trump issued an order Friday to freeze in 2019 federal employee salary rates, although a chance remains that workers will receive a raise. Trump's order was expected because he has advocated for a freeze all year. Due to Congress not making a decision regarding a raise, the move was made to prevent a pay increase from taking effect by default. The order comes as some 800,000 federal employees, out of a workforce of 2.1 million, are in unpaid status due to the partial government shutdown that has lasted a week and is almost guaranteed to last a number of days more. Of those, about 380,000 have been furloughed, while the rest are still on the job without pay."
The U.S. Office of Personnel Management says letter suggesting furloughed workers do chores to cover rent was posted by accident, The Washington Post, Michael Brice-Saddler, Saturday, 29 December 2018: "The agency that oversees the government's civilian workforce is facing scrutiny after suggesting federal employees affected by the partial government shutdown barter with their landlords if they can't make rent payments, advice that it later said was posted 'inadvertently.' On Thursday, the U.S. Office of Personnel Management tweeted sample letters to help the roughly 800,000 affected workers negotiate with creditors and mortgage companies. One letter, meant for employees to send to their landlords, discussed a temporary reduction in rent payments and suggests 'the possibility of trading my services to perform maintenance (e.g. painting, carpentry work) in exchange for partial rent payments.'"
New Jersey Attorney General and the F.B.I. are looking into possible immigration fraud at Trump National Golf Club in Bedminster, New Jersey, New York Daily News, Chris Sommerfeldt, Saturday, 29 December 2018: "New Jersey prosecutors have collected evidence that supervisors at President Trump's Garden State golf club may have committed federal immigration crimes — and the FBI as well as special counsel Robert Mueller have played part in the inquiry, the Daily News has learned. Anibal Romero, a Newark attorney who represents several undocumented immigrants who used to work at the Trump National Golf Club in Bedminster, said Friday he recently met with investigators from the state attorney general's office and handed over fraudulent green cards and Social Security numbers that management at the club allegedly procured and gave his clients, Victorina Morales and Sandra Diaz. Before he met with the state prosecutors, Romero said he reached out to Mueller's office because, while he wanted to contact federal authorities, he was concerned about looping in the Justice Department, which was headed by Jeff Sessions at the time." See also, Lawyer says the FBI and New Jersey investigators gathered evidence of undocumented immigrants who say they worked at Trump golf course, The Washington Post, Emily Wax-Thibodeaux, Saturday, 29 December 2018.
'Medicare for All' Gains Favor With Democrats Looking Ahead to 2020, The New York Times, Robert Pear, Saturday, 29 December 2018: "More and more Democrats, fed up with private health insurance companies, are endorsing the goal of a government-run, single-payer system like Medicare for all Americans. But they have discovered a problem. More than one-third of Medicare beneficiaries are in Medicare Advantage plans, run not by the government but by private insurers. Whether to allow younger Americans to enroll in such private Medicare plans has become a hotly debated political question as Democrats look to 2020…. 'Medicare for all' has become a rallying cry for progressive Democrats, though it means different things to different people. Supporters generally agree that it is a way to achieve universal coverage with a system of national health insurance in which a single public program would pay most of the bills, but care would still be delivered by private doctors and hospitals."
Sunday, 30 December 2018, Day 710:
John Kelly, the Outgoing White House Chief of Staff, Says the Trump Administration Long Ago Abandoned the Idea of a Concrete Border Wall with Mexico, The New York Times, Maggie Haberman, Sunday, 30 December 2018: "The concrete border wall that President Trump has repeatedly called for as a signature campaign promise is not actually a wall and has not been since 'early on in the administration,' the outgoing White House chief of staff, John F. Kelly, said in an interview published on Sunday. The comments further muddy the administration's position as Mr. Trump demands that Democrats provide $5 billion in funding for a wall on the southwestern border with Mexico, an impasse that has led to a partial government shutdown after the president abruptly pulled out of a compromise deal to keep the government funded through February. They were also notable given Mr. Trump's insistence for most of his term that the border would have a wall, not the 'steel slat barrier' he has pivoted toward in the past few weeks. 'To be honest, it's not a wall,' Mr. Kelly told The Los Angeles Times. Mr. Kelly, whose last day in his role is Monday, said he had sought advice from Customs and Border Protection officials early in 2017, when he was the homeland security secretary. Mr. Kelly said he was told that 'we need a physical barrier in certain places, we need technology across the board, and we need more people.'" See also, John F. Kelly says his tenure as Trump's chief of staff is best measured by what Trump did not do, Los Angeles Times, Molly O'Toole, Sunday, 3o December 2018. See also, John Kelly paints yet another dim portrait of Trump, The Washington Post, Aaron Blake, Sunday, 30 December 2018. See also, Trump says he 'NEVER ABANDONED' the idea of a concrete wall, disputing John Kelly, The Washington Post, John Wagner, published on Monday, 31 December 2018.
Retired Army General Stanley McChrystal says President Donald Trump is immoral and doesn't tell the truth, ABC News, Roey Hadar, Sunday, 30 December 2018: "The former top commander of U.S. and international forces in Afghanistan, retired four-star Army Gen. Stanley McChrystal, criticized President Donald Trump's behavior and handling of the presidency, saying the commander-in-chief is dishonest and immoral. 'I don't think he tells the truth,' McChrystal said in an exclusive interview on 'This Week' when asked by Co-Anchor Martha Raddatz if he believes the president is a liar. 'Is Trump immoral, in your view?' Raddatz asked. 'I think he is,' he said." See also, Retired Army General Stanley McChrystal calls Trump dishonest and immoral, The Washington Post, Felicia Sonmez, Sunday, 30 December 2018.
A year of unprecedented deception: Trump averaged 15 false claims a day in 2018, The Washington Post, Glenn Kessler, Sunday, 30 December 2018: "President Trump's year of lies, false statements and misleading claims started with some morning tweets. Over a couple of hours on Jan. 2, Trump made false claims about three of his favorite targets — Iran, the New York Times and Hillary Clinton. He also took credit for the 'best and safest year on record' for commercial aviation, even though there had been no commercial plane crashes in the United States since 2009 and, in any case, the president has little to do with ensuring the safety of commercial aviation. The fusillade of tweets was the start of a year of unprecedented deception during which Trump became increasingly unmoored from the truth. When 2018 began, the president had made 1,989 false and misleading claims, according to The Fact Checker's database, which tracks every suspect statement uttered by the president. By the end of the year, Trump had accumulated more than 7,600 untruths during his presidency — averaging more than 15 erroneous claims a day during 2018, almost triple the rate from the year before."
Obamacare, Ruled Invalid by Judge Reed O'Connor of the Federal District Court in Fort Worth, Will Remain in Effect During Appeal, The New York Times, Sarah Mervosh, Sunday, 30 December 2018: "The federal judge in Texas, who ruled this month that the entire Affordable Care Act was invalid, issued a stay in the case on Sunday, meaning that the law will remain in effect while the ruling is appealed. The judge, Reed O'Connor of the Federal District Court in Fort Worth, said that the ruling should not go into immediate effect 'because many everyday Americans would otherwise face great uncertainty' during an appeal. The ruling opened the door for an appeal by California and 15 other states that support the health care law. Judge O'Connor's original ruling had caused some confusion because it came as many states were finishing up open enrollment for 2019. Though he ruled that the law's individual mandate was unconstitutional and that the rest of the law was therefore invalid, he did not issue an injunction stopping the law from being enforced."
Monday, 31 December 2018, Day 711:
Elizabeth Warren Announces She Is Running for President in 2020, The New York Times, Astead W. Herndon and Alexander Burns, Monday, 31 December 2018: "Senator Elizabeth Warren, the Massachusetts Democrat and a sharp critic of big banks and unregulated capitalism, entered the 2020 race for president on Monday, becoming the first major candidate in what is likely to be a long and crowded primary marked by ideological and generational divisions in a Democratic Party determined to beat President Trump. The competition for the Democratic nomination is poised to be the most wide open since perhaps 1992: The party has no single leader, no obvious front-runner for 2020, and no broadly unifying ideology as it moves away from a quarter-century of dominance by the Clintons and Barack Obama." See also, Senator Elizabeth Warren says she will seek the presidency in 2020, The Washington Post, Annie Linskey and Matt Viser, Monday, 31 December 2018: "Sen. Elizabeth Warren jumped into the 2020 presidential campaign Monday, offering a message of economic populism as she became the best-known Democratic candidate yet to enter what is expected to be a crowded race. Warren's announcement that she was establishing an exploratory committee — the legal precursor to a run — came as other candidates, including several of her fellow senators, made final preparations for their own announcements, some of which are expected in days. 'America's middle class is under attack,' the Massachusetts Democrat said in a four-minute, 30-second video emailed to supporters Monday. 'How did we get here? Billionaires and big corporations decided they wanted more of the pie. And they enlisted politicians to cut them a bigger slice.'"
Democrats Try to Box In Trump and Senate Majority Leader Mitch McConnell With Plan to End Government Shutdown Without Wall Funding, The New York Times, Sheryl Gay Stolberg and Emily Cochrane, Monday, 31 December 2018: "House Democrats are putting forward a proposal to reopen the federal government by severing funding for the Department of Homeland Security and border security from other spending bills that enjoy bipartisan support — a gambit aimed at forcing President Trump to negotiate or to shoulder the blame for a protracted shutdown. The Democrats' plan, which will come up for a vote on Thursday when they take control of the House, consists of two bills. The first includes six bipartisan spending measures that would fully fund agencies like the Interior Department and the Internal Revenue Service through the end of the fiscal year in September. The second would extend homeland security funding at current levels through Feb. 8, including $1.3 billion for fencing but no funding for Mr. Trump's border wall — a provision that renders it dead on arrival in the Republican-controlled Senate. By splitting off the homeland security bill, Democrats are opening the door to a month of negotiations. But they are also essentially daring Mr. Trump and Senator Mitch McConnell, Republican of Kentucky and the majority leader, to keep a big chunk of the government shuttered over the president's demand for the wall. Senator Chuck Schumer of New York, the Democratic leader, and Representative Nancy Pelosi of California, who is expected to be sworn in as speaker on Thursday, challenged Republicans in a joint statement on Monday. 'If Leader McConnell and Senate Republicans refuse to support the first bill, then they are complicit with President Trump in continuing the Trump shutdown and in holding the health and safety of the American people and workers' paychecks hostage over the wall,' the statement said, adding that rejecting the bill would be 'the height of irresponsibility and political cynicism.' Mr. Trump continued to dig in on New Year's Eve, venting his frustrations in tweets and in a Fox News interview as the shutdown stretched into its 10th day and as furloughed federal workers were about to miss their paychecks on Wednesday." See also, House Democrats ready strategy to reopen government and deny Trump money for the wall along the U.S.-Mexico border, The Washington Post, Erica Werner and Seung Min Kim, Monday, 31 December 2018. See also, Presumptive House speaker Nancy Pelosi challenges Senate majority leader Mitch McConnell with plan to fund the government without funding for Trump's wall, Politico, Burgess Everett, Sarah Ferris, and Heather Caygle, Monday, 31 December 2018.
Chief Justice John Roberts Pushes for Tougher Measures to Shield Workers in the Federal Judicial System From Harassment, The New York Times, Adam Liptak, Monday, 31 December 2018: "A year after the retirement of a prominent appeals court judge accused of sexual harassment, Chief Justice John G. Roberts Jr. wrote on Monday that the federal judicial system must do more to protect law clerks and other employees from abusive conduct. 'Recent events have highlighted that the very qualities that make the position of law clerk attractive — particularly, the opportunity to work with a senior member of the legal profession in a position of mentorship and trust — can create special risks of abuse,' Chief Justice Roberts wrote in his year-end report on the state of the federal judiciary. Judge Alex Kozinski, who had served on the United States Court of Appeals for the Ninth Circuit for more than three decades, announced his retirement in 2017 after The Washington Post reported that some 15 women had accused him of sexual harassment." See also, Chief Justice John Roberts notes progress in protecting judicial employees from misconduct but adds that too often misconduct is still unreported, The Washington Post, Robert Barnes, Monday, 31 December 2018: "Chief Justice John G. Roberts Jr. said Monday that the federal judiciary has made strides in protecting law clerks and other employees from sexual harassment and other workplace misconduct, but he added that too often, such behavior is still unreported. Roberts said he will keep in place a working group of judges and others to monitor the implementation of recommendations and initiatives started in the past year, after he announced an investigation of misconduct in the judiciary. 'The job is not finished until we have done all that we can to ensure that all of our employees are treated with fairness, dignity, and respect,' Roberts wrote in his annual Year-End Report on the Federal Judiciary. But Roberts did not address two issues that have drawn criticism: that investigations of federal judges end if a judge retires or resigns, and that the rules do not apply to Supreme Court justices."
Officials Say Trump Will Allow Months for Troop Withdrawal in Syria, The New York Times, Eric Schmitt and Maggie Haberman, Monday, 31 December 2018: "President Trump has agreed to give the military about four months to withdraw the 2,000 United States troops in Syria, administration officials said on Monday, backtracking from his abrupt order two weeks ago that the military pull out within 30 days. Mr. Trump confirmed on Twitter that troops would 'slowly' be withdrawn, but complained that he got little credit for the move after a fresh round of criticism from retired Gen. Stanley A. McChrystal and reports from the departing White House chief of staff, John F. Kelly, himself a retired Marine general, about the president's impulsive decision-making." See also, Trump says U.S. troops are 'slowly' being sent home from Syria, The Washington Post, John Wagner, Monday, 31 December 2018.
Military Deletes New Year's Eve Tweet Saying It's 'Ready to Drop Something,' The New York Times, Matt Stevens and Thomas Gibbons-Neff, Monday, 31 December 2018: "The unified command responsible for the United States' nuclear strike capabilities drew attention on Monday when it tweeted a message and video that threatened the possibility of dropping a bomb. In the tweet, which was posted as Americans prepared to celebrate New Year's Eve and was deleted about three hours later, the United States Strategic Command said the nation was 'ready to drop something.' A video that was part of the tweet showed a B-2 stealth bomber soaring across the sky before releasing two GPS-guided bombs that exploded into a giant ball of fire after hitting the ground below…. '#TimesSquare tradition rings in the #NewYear by dropping the big ball…if ever needed, we are #ready to drop something much, much bigger,' the tweet said, adding the hashtags: '#Deterrence #Assurance#CombatReadyForce#PeaceIsOurProfession.' It was quickly derided on social media. Walter M. Shaub Jr., who resigned in 2017 from his position as the head of the Office of Government Ethics, tweeted a screenshot of the deleted Stratcom message, asking: 'What kinds of maniacs are running this country?' Other critics called it 'a sick, bragging joke' and inappropriate and unamusing."
Beyond 'no comment': The White House has no response–at all–to many media questions, The Washington Post, Paul Farhi, Monday, 31 December 2018: "The New York Times published a powerful story last week about President Trump's growing isolation in the White House, with colorful details such as Trump's tendency to interrupt advisers during meetings to call them 'freaking idiots' (except he doesn't use the word 'freaking'). Asked to comment by the Times' reporters about this, the White House said nothing. It did not respond. Similarly, it offered no response when The Washington Post asked the White House about Trump's false claim during a post-Christmas Day visit to U.S. troops in Iraq that he boosted military pay by 10 percent. Reporters are used to officials who respond to their inquiries with a terse 'no comment.' This was typically the practice in prior presidential administrations when officials saw no strategic value in rebutting an unflattering story. But as in so many things, the Trump administration is different. Instead of 'no comment,' Trump's press representatives often don't bother saying anything at all. 'This is the least responsive White House press operation I've ever dealt with by far,' said Peter Baker, a veteran White House reporter for the New York Times and one of the co-authors of the story about Trump's isolation."
Trump claims there is a 10-foot wall around the Obamas' D.C. home. He is wrong. The Washington Post, Michael Brice-Saddler, Monday, 31 December 2018: "In one of his most recent arguments for a southern border wall, President Trump on Sunday falsely claimed that the Washington home of former president Barack Obama and Michelle Obama is surrounded by a 10-foot wall. Trump's tweet comes in the midst of a partial government shutdown, which was spurred Dec. 22 by Trump's demand for $5 billion in funding for a U.S.-Mexico border wall. He alleged that the 'wall' around the Obamas' mansion was necessary for the former first couple's 'safety and security,' adding that the United States needs a 'slightly larger version!' Trump's assertion came as a surprise to two of the Obamas' neighbors Monday, who told The Washington Post that there is no such wall. The 8,200-square-foot structure, despite several security features, is completely visible from the street."
Tuesday, 1 January 2019, Day 712:
'Nothing short of inhumane': The American Federation of Government Employees, the largest federal employee union, sues Trump administration over shutdown, The Washington Post, Deanna Paul, Tuesday, 1 January 2019: "A federal employees union filed a lawsuit Monday against the Trump administration, alleging that the partial government shutdown is illegally forcing more than 400,000 federal employees to work without pay. The partial shutdown began Dec. 22. Since then, many federal agencies have temporarily closed and delayed worker compensation indefinitely. Even so, employees deemed 'essential' or 'excepted' have been expected to come to work. The suit asked that the named plaintiffs and others with the same classification be paid owed wages. According to court documents, 'essential' government employees are those 'performing emergency work involving the safety of human life or the protection of property.' Often, lead attorney Heidi Burakiewicz said, the roles are dangerous, yet necessary to a well-functioning democracy."
Government Shutdown Leaves Food, Medicine, and Pay in Doubt for Native American tribes, The New York Times, Mitch Smith and Julie Turkewitz, Tuesday, 1 January 2019: "For one tribe of Chippewa Indians in Michigan's Upper Peninsula, the government shutdown comes with a price tag: about $100,000, every day, of federal money that does not arrive to keep health clinics staffed, food pantry shelves full and employees paid. The tribe is using its own funds to cover the shortfalls for now. But if the standoff in Washington continues much longer, that stopgap money will be depleted. Later this month, workers could be furloughed and health services could be pared back. 'Everything,' said Aaron Payment, the chairman of the Sault Ste. Marie Tribe, 'is on the table.' For many Americans who are not federal workers or contractors, a shutdown is a minor inconvenience. A trip to a national park may be canceled. A call to a government office may go unanswered. But for Native American tribes, which rely heavily on federal money to operate, a shutdown can cripple their most basic functions. All across Indian Country, the federal shutdown slices deep. Generations ago, tribes negotiated treaties with the United States government guaranteeing funds for services like health care and education in exchange for huge swaths of territory. 'The federal government owes us this: We prepaid with millions of acres of land,' said Mr. Payment, who also criticized the shutdown on Monday from the stage at his tribe's New Year's powwow. 'We don't have the right to take back that land, so we expect the federal government to fulfill its treaty and trust responsibility.'"
US fires tear gas across Mexico border to stop migrants from entering the US, Associated Press, Tuesday, 1 January 2019: "U.S. authorities fired tear gas into Mexico during the first hours of the new year to repel about 150 migrants who tried to breach the border fence in Tijuana. U.S. Customs and Border Protection said in a statement later Tuesday that the gas was used to target rock throwers apart from the migrants who were trying to cross. 'No agents witnessed any of the migrants at the fence line, including children, experiencing effects of the chemical agents, which were targeted at the rock throwers further away,' the statement said. An Associated Press photographer saw at least three volleys of gas launched onto the Mexican side of the border near Tijuana's beach that affected the migrants, including women and children, as well as journalists. The AP saw rocks thrown only after U.S. agents fired the tear gas…. Customs and Border Protection said that under its use of force policy the incident would be reviewed by its Office of Professional Responsibility. Migrants who spoke with AP said they arrived in Tijuana last month with the caravan from Honduras." See also, U.S. Agents Fire Tear Gas Across Mexican Border, The New York Times, Alan Yuhas, Tuesday, 1 January 2019.
Wednesday, 2 January 2019, Day 713:
Trump and Democrats Dig In After Talks to Reopen Government Go Nowhere, The New York Times, Julie Hirschfeld Davis and Michael Tackett, Wednesday, 2 January 2019: "President Trump and Democratic congressional leaders dug in Wednesday for a lengthy partial shutdown in a newly divided government after a White House meeting — the first in 22 days — could not break an impasse over Mr. Trump's demands for billions of dollars for a border wall. During the contentious meeting in the Situation Room, Mr. Trump made his case for a wall on the southwestern border and rejected Democrats' proposals for reopening the government while the two sides ironed out their differences. 'I would look foolish if I did that,' Mr. Trump responded after Senator Chuck Schumer of New York, the Democratic leader, posed the question to him directly, according to three officials familiar with the meeting who described it on the condition of anonymity. He said that the wall was why he was elected, one of the officials said. Democrats were equally adamant, according to another official who was present for the discussion. Pressed by Vice President Mike Pence and Representative Kevin McCarthy of California, the incoming minority leader, they refused to budge from their offer to devote $1.3 billion to border security. The official also insisted on anonymity to describe the private conversation." See also, Trump and top lawmakers meet, but they fail to resolve government shutdown, The Guardian, Lauren Gambino, Wednesday, 2 January 2019. See also, Trump falsely claims Mexico is paying for wall and demands taxpayer money for wall in meeting with Democrats, The Washington Post, Damian Paletta and Erica Werner, Wednesday, 2 January 2019.
A defensive Trump calls a Cabinet meeting and uses it to boast, deflect, and distract, The Washington Post, Anne Gearan, Wednesday, 2 January 2019: "President Trump, 12 days into a government shutdown and facing new scrutiny from emboldened Democrats, inaugurated the new year Wednesday with a Cabinet meeting. It quickly became a 95-minute stream-of-consciousness defense of his presidency and worldview, filled with falsehoods, revisionist history and self-aggrandizement." See also, Trump's Freewheeling and Fact-Free Cabinet Meeting, The New York Times, Michael Tackett and Linda Qiu, Wednesday, 2 January 2019. See also, Fact-checking Trump's freewheeling Cabinet session, The Washington Post, Glenn Kessler and Salvador Rizzo, published on Thursday, 3 January 2019. See also, Trump's error-filled holiday tweets on the border wall, The Washington Post, Glenn Kessler, Wednesday, 2 January 2019.
Presumptive House Speaker Nancy Pelosi Rams Austerity Provision Into House Rules Package Over the Objections of Progressives, The Intercept, David Dayen, Wednesday, 2 January 2019: "Despite pressure from progressive Democrats, the House rules package for the 116th Congress will include a pay-as-you-go provision, requiring all new spending to be offset with either budget cuts or tax increases, a conservative policy aimed at tying the hands of government. Alexandria Ocasio-Cortez, who will be sworn in this week to represent a district in New York, will vote against the package, her spokesperson told The Intercept. Rep. Ro Khanna, D-Calif., announced Wednesday he would oppose it. Presumptive House Speaker Nancy Pelosi, who will be sworn in on Thursday, has promised for months to restore the pay-go rule, which she instituted when first taking over the speaker's gavel in 2007. She ran into resistance from progressives, who believe that the rule would make it more difficult for Democrats to pass a host of liberal agenda items, from 'Medicare for All' to a Green New Deal to tuition-free public college. Critics also argue that pay-go creates an unlevel playing field, where Republicans get to blow giant holes in the tax code, as they did with the 2017 tax cuts, while Democrats must pay fealty to the deficit."
Trump's Judicial Appointments Were Confirmed at Historic Pace in 2018, NPR, Carrie Johnson, Wednesday, 2 January 2019: "The Trump administration more than doubled the number of judges it confirmed to federal appeals courts in 2018, exceeding the pace of the last five presidents and stocking the courts with lifetime appointees who could have profound consequences for civil rights, the environment and government regulations. A new analysis by Lambda Legal, which advocates for the LGBT community, reports that five of the country's 12 circuit courts are now composed of more than 25 percent of Trump-appointed judges. The report concludes that the 8th Circuit, which covers Arkansas, Iowa, Minnesota, Missouri, Nebraska, North Dakota and South Dakota, has experienced the "most significant transformation," followed by the 7th Circuit across the U.S. Midwest and the 5th Circuit, which spans Texas, Mississippi and Louisiana. Those courts play a major role in shaping the law, since they are often the destination of last resort. The Supreme Court agrees to hear only a small percentage of the petitions it reviews."
In Harris County, Texas, 17 new judges bring 'Black Girl Magic' to courthouses, The Washington Post, Deanna Paul, Wednesday, 2 January 2019: "Democratic candidates unseated more than 50 incumbent Republican judges in the largest jurisdiction in Texas during last November's elections. On Tuesday, the newly elected judiciary for Harris County was sworn in, including the 17 African American women who were part of the 'Black Girl Magic' campaign. 'It's a brand new day in Harris County!' the local Democratic Party posted Tuesday on social media. Harris County, which includes Houston, is one of the most diverse counties in the nation, according to Harris County Democratic Party Chair Lillie Schechter. With a population exceeding 4 million, it is also the third most populous county in the United States. Schechter called Tuesday's swearing-in ceremony 'fitting.' The county 'finally has a judiciary that truly reflects the different faces of the people that come before it,' she said in a statement to The Washington Post."
A Trump County in Indiana Confronts the Administration Amid a Rash of Child Cancers, The New York Times, Wednesday, 2 January 2019: "The children fell ill, one by one, with cancers that few families in this suburban community had ever heard of. An avid swimmer struck down by glioblastoma, which grew a tumor in her brain. Four children with Ewing's sarcoma, a rare bone cancer. Fifteen children with acute lymphocytic leukemia, including three cases diagnosed in the past year. At first, families put the illnesses down to misfortune. But as cases mounted, parents started to ask: Could it be something in the air or water? Their questions led them to an old industrial site in Franklin, the Johnson county seat, that the federal government had ordered cleaned up more than two decades ago. Recent tests have identified a carcinogenic plume spreading underground, releasing vapors into homes. Now, families here in a county that voted overwhelmingly for President Trump are making demands of his administration that collide directly with one of his main agendas: the rolling back of health and environmental regulations."
Mitt Romney Faces Counterattacks From Trump Allies, The New York Times, Jonathan Martin, Maggie Haverman, and Alexander Burns, Wednesday, 2 January 2019: "After more than six years of less-than-heartfelt endorsements, a bitter parting of ways and a momentary rapprochement, the relationship between Mitt Romney and President Trump returned Wednesday to where it began: awkward, transactional and lingering uneasily between friend and foe. One day after publishing a biting critique in The Washington Post that Mr. Trump 'has not risen to the mantle of the office,' Mr. Romney declined to endorse the president's re-election, saying he wanted to consider 'alternatives' in 2020. But Mr. Romney also made clear that, while he is willing to confront the president like few other Republican lawmakers, he had little appetite to spend his first months as Utah's junior senator acting the part of Mr. Trump's critic in chief. 'I don't intend to be a daily commentator,' he said in an interview on CNN, repeatedly declining to escalate his attacks on the president and explaining that he would only speak out against Mr. Trump on issues of 'great significance.' Mr. Romney's restraint in the interview was notably different from the tone he struck in his essay in The Post, in which he wrote that Mr. Trump's presidency 'made a deep descent in December' after his abrupt announcement that he would withdraw American troops from Syria, and the departure of Defense Secretary Jim Mattis. Mr. Romney got a taste of how lonely it can be in Mr. Trump's Republican Party to speak out against the president, as few lawmakers sided with their new colleague Wednesday and one senator even set up a conference call with reporters to criticize him. It was a revealing illustration of the loyalty Mr. Trump still commands even as he enters a perilous stretch of his presidency." See also, Romney asserts his independence from Trump–and Trump's defenders return his searing criticism, The Washington Post, Robert Costa, Wednesday, 2 January 2019: "Mitt Romney's scathing critique of President Trump has reignited a simmering feud between the two men, casting the incoming junior senator from Utah as the president's highest-profile Republican foil and stoking talk of Trump's vulnerability to a challenger for the party's 2020 nomination. Trump's allies, including Romney's niece, Republican National Committee chair Ronna McDaniel, were quick on Wednesday to criticize Romney and seek to minimize him. Sen. Rand Paul (R-Ky.) and others fanned out in media appearances and on Twitter in a show of force, knocking Romney as an awkward relic of the GOP past and reiterating their support for Trump."
Thursday, 3 January 2019, Day 714:
Nancy Pelosi Elected Speaker as Democrats Take Control of the House of Representatives, The New York Times, Julie Hirschfeld Davis, Thursday, 3 January 2019: "Ebullient Democrats assumed control of the House on Thursday and elected Representative Nancy Pelosi of California speaker, returning her to a historic distinction as the first woman to hold the post. They then moved to defy President Trump and passed bills that would open government agencies shuttered by an impasse over his insistence on funding for a border wall. Both measures are almost certain to die in the Senate. On the first day of divided government in a reordered Washington, Ms. Pelosi, now second in line to the presidency, and Mr. Trump clashed from their respective ends of Pennsylvania Avenue almost from dawn until dusk. The California Democrat began her day by suggesting that a sitting president could be indicted. Late in the day, Mr. Trump made an attention-getting appearance in the White House briefing room with a belligerent demand for a wall on the border with Mexico, drawing a rebuke from the newly installed House speaker, who said she would give no more than a dollar to fund what she branded 'an immorality.'" See also, Nancy Pelosi reclaims speakership of the House of Representatives and secures place as most powerful woman in US politics, The Washington Post, Mike DeBonis and Sean Sullivan, Thursday, 3 January 2019: "Rep. Nancy Pelosi reclaimed the House speakership on Thursday in a historic comeback for the first female speaker, securing her place as the most powerful woman in American politics and the face of the Democratic opposition to the polarizing presidency of Donald Trump. Pelosi immediately presented herself as a leader whose powers are on a par with Trump's after two years in which he has largely had his way with Republican leaders, pointedly describing Congress as 'coequal to the president and judiciary,' as she promised to deliver on a Democratic vision on health care, immigration and climate change. Within hours, Pelosi made good on that pledge, as Democrats voted for legislation to reopen the government, shuttered for two weeks in a standoff with Trump over his demands for funds for a U.S.-Mexico border wall." See also, Nancy Pelosi doesn't rule out impeaching Trump, NBC News, Allan Smith, Wednesday, 3 January 2019: "Speaker-designate Nancy Pelosi told NBC's 'Today' that Democrats will wait and see what comes out of special counsel Robert Mueller's report before deciding whether to impeach President Donald Trump. Pelosi said in the exclusive interview, which aired Thursday, that impeachment 'would be' very divisive, adding: 'We shouldn't be impeaching for a political reason, and we shouldn't avoid impeachment for a political reason.' Soon to regain control of the House, Democrats will be able to pass articles of impeachment against the president, where they would then advance to the Senate for a trial. But with the Senate having a slight GOP majority, it's unlikely that Trump would face a conviction and removal from office…. Asked by 'Today's' Savannah Guthrie about the Department of Justice's guidance that a sitting president cannot be indicted, Pelosi said that was not settled law. She added that 'everything indicates' a 'president can be indicted after he is no longer president of the United States.'"
Lawmakers hail a new 'sisterhood' as more than 100 women take their seats in the House of Representatives, The Washington Post, Elise Viebeck, Thursday, 3 January 2019: "Women lawmakers had to wait until 2011 to get a restroom off the floor of the House. On Thursday for the first time, there was a line to get in. The opening day of the 116th Congress was heavy with symbolism underscoring women's historic gains in power as Rep. Nancy Pelosi (D-Calif.) retook the speaker's gavel and more than 100 women were sworn in on the floor of the House. Beneath the portraits of male speakers past, history seemed to be changing. Dozens of newly elected women queued to receive their member pins. Husbands affixed those pins to their wives' lapels. They held tote bags, corralled relatives and quieted children. The day served as a powerful reminder of the shifting gender dynamics of the House as Democrats ascend to power. When Pelosi arrived on Capitol Hill in 1987, there were 23 female members. As of Thursday, there are 102, nearly 90 percent of whom are Democrats." See also, Meet the New Members in Congress, the Most Racially Diverse and Most Female Group Of Representatives Ever Elected to the House of Representatives, The New York Times, Catie Edmondson and Jasmine C. Lee, Thursday, 3 January 2019: "The congressional freshman class of 2019 is perhaps best described in superlatives. It is the most racially diverse and most female group of representatives ever elected to the House, whose history spans more than 200 years. And it boasts an avalanche of firsts, from the first Native American congresswomen to the first Muslim congresswomen." See also, No other Congress has ever looked like this, CNN, Clare Foran and Phil Mattingly, Thursday, 3 January 2019.
House Democrats vote to reopen government and deny Trump wall money, defying Trump's veto threat, The Washington Post, Erica Werner, Damian Paletta, and Seung Min Kim, Thursday, 3 January 2019: "The newly Democratic-controlled House passed a package of bills late Thursday that would reopen the federal government without paying for President Trump's border wall, drawing a swift veto threat from the White House and leaving the partial shutdown no closer to getting resolved. But two Senate Republicans who are up for reelection in 2020 broke with Trump and party leaders on their shutdown strategy, saying it was time to end the impasse even if Democrats won't give Trump the more than $5 billion in border wall funding he is demanding. The comments from Sens. Cory Gardner (Colo.) and Susan Collins (Maine) — the only Senate Republicans running for reelection in states Trump lost — pointed to cracks within the GOP that could grow as the shutdown nears the two-week mark. Senate Majority Leader Mitch McConnell (R-Ky.) reiterated Thursday that the Senate will take up only spending legislation that Trump supports." See also, 116th Congress Updates: House Approves Plan to Reopen Government, but It's Not Likely to Pass the Senate, The New York Times, Thursday, 3 January 2019. See also, Senate Majority Leader Mitch McConnell Faces Pressure From Republicans to Stop Avoiding Government Shutdown Fight, The New York Times, Sheryl Gay Stolberg and Nicholas Fandos, Thursday, 3 January 2019: "For weeks, Senator Mitch McConnell, the Republican leader, has remained conspicuously on the sidelines, insisting that it was up to President Trump and Democrats to negotiate an end to the partial shutdown of the federal government. But with the shutdown soon to enter its third week, and Mr. Trump dug in on his demand for $5 billion to build a border wall, Mr. McConnell for the first time is facing pressure from members of his own party to step in to resolve the stalemate that has left 800,000 federal workers either furloughed or working without pay."
As Trump Holds Firm on Government Shutdown, He Never Publicly Mentions One Group: the 800,000 Federal Workers Who Are Not Being Paid Because of It, The New York Times, Annie Karni, Thursday, 3 January 2019: "He has talked about the need for 'protection' along the country's southern border. He has said he is willing to keep the government shut down indefinitely to ensure the funding of the wall he says will provide that protection. And he has complained about spending the holidays alone in the White House, with no one around with whom he could negotiate. The one thing President Trump has not talked about publicly during 13 days of the partial government shutdown is the 800,000 federal workers who are not being paid because of it. Mr. Trump's apparent indifference to the Transportation Security Administration agents, correctional officers, scientists and other federal employees caught in the cross hairs of a political standoff presents a remarkable contrast with how other presidents have made a point of trying to demonstrate their empathy during other shutdowns. In 2013, for instance, President Barack Obama wrote an open letter to the workers affected when the government was closed. 'None of this is fair to you,' he wrote, adding, 'You and your families remain at the front of my mind.'"
Workers Just Notched a Rare Win in Federal Court, The Intercept, Rachel M. Cohen, Thursday, 3 January 2019: "In a major win for labor advocates, a federal court issued a long-awaited ruling last week finding that corporations could be held responsible for issues like wage discrimination or illegal job termination, even if the employees were subcontractors or working at a franchised company. The U.S. Court of Appeals for the D.C Circuit determined that a business could be considered a so-called joint-employer if it exercised a certain level of 'indirect control' over an employees' working conditions, or if it reserved the authority to do so down the line. The question of who counts as a joint-employer has been integral to movements like Fight for 15, which aims to organize fast-food workers who toil away in franchised businesses."
House Democrats begin scrutiny of Trump with a bill to protect special counsel Robert Mueller, The Washington Post, Karoun Demirjian, Thursday, 3 January 2019: "House Democrats on Thursday kicked off plans to scrutinize President Trump, his finances and his administration's policies with a bill to protect special counsel Robert S. Mueller III's probe into the Trump campaign's alleged Russia ties, by giving him recourse if Trump tries to fire him. The measure to give Mueller — or any special counsel — the right to swiftly appeal his termination to a panel of federal judges originated as a bipartisan measure in the Senate, after the president started making threats against his erstwhile attorney general, Jeff Sessions, and later Mueller himself. But in the House, it is being reintroduced by leading Judiciary Committee Democrats alone — a sign of how partisan lawmakers' approach to oversight of Trump and the federal law enforcement agencies may continue to be as Democrats take over the House majority."
House Democrats plan to hold hearings on Medicare for All, The Washington Post, David Weigel, Thursday, 3 January 2019: "The new Democratic majority in the House will hold the first hearings on Medicare-for-All legislation, a longtime goal of the party's left, after Speaker Nancy Pelosi lent her support for the process. 'It's a huge step forward to have the speaker's support,' said Rep. Pramila Jayapal (D-Wash.), who will be the House sponsor of the legislation, usually denoted as HR 676. 'We have to push on the inside while continuing to build support for this on the outside.' Some version of universal health care has been a Democratic goal for decades. The Expanded and Improved Medicare for All Act, first introduced in 2003 by then-Rep. John Conyers Jr. of Michigan, has become the vehicle for Democrats who want to bring single-payer, Canada-style health care to the United States. That legislation was typically sidelined, even when Democrats had power."
Trump administration considers rollback of federal anti-discrimination rules, The Washington Post, Laura Meckler and Devlin Barrett, Thursday, 3 January 2019: "The Trump administration is considering a far-reaching rollback of civil rights law that would dilute federal rules against discrimination in education, housing and other aspects of American life, people familiar with the discussions said. A recent internal Justice Department memo directed senior civil rights officials to examine how decades-old 'disparate impact' regulations might be changed or removed in their areas of expertise, and what the impact might be, according to people familiar with the matter. Similar action is being considered at the Education Department and is underway at the Department of Housing and Urban Development. Under the concept of disparate impact, actions can amount to discrimination if they have an uneven effect even if that was not the intent, and rolling back this approach has been a longtime goal of conservative legal thinkers. Past Republican administrations have done little to erode the concept's application, partly out of concerns that the Supreme Court might disagree, or that such changes would be unpopular and viewed as racist. Civil rights advocates said diminishing this tool could have sweeping consequences. 'Disparate impact is a bedrock principle,' said Kristen Clarke, president and executive director of the Lawyers' Committee for Civil Rights Under Law. 'Through the courts, we've been able to marshal data and use the disparate-impact doctrine as a robust tool for ferreting out discrimination.'"
U.S. Troops Expected to Be Deployed to Border With Mexico to Build and Upgrade 160 Miles of Fencing, NPR, Tom Bowman and Richard Gonzales, Thursday, 3 January 2019: "More troops are expected to be deployed to the Southern border to construct or upgrade 160 miles of fencing and provide medical care to a steady stream of migrant families arriving from Central America, according to military sources. The deployment and fence construction along the California and Arizona borders would be paid for by the Pentagon, from the Department of Defense's discretionary funding. The move comes as President Trump continues to demand more than $5 billion from Congress for border security and a wall along the U.S.-Mexico border. Congressional Democrats oppose the move, and parts of the federal government have been shut down because of the impasse. The Department of Defense has not been affected by the shutdown." See also, Trump administration wants to send more troops to the border with Mexico to string concertina wire, NBC News, Courtney Kube and Julia Ainsley, Thursday, 3 January 2019: "The Department of Homeland Security has requested more U.S. troops to be deployed at the border to add 160 miles of concertina wire on top of existing border fencing, according to three U.S. officials. If approved by Acting Secretary of Defense Patrick Shanahan, the addition of troops to enhance the fencing could extend the military's current deployment at the border until the end of September, based on the rate of construction, according to two officials. The military mission, which began two months ago, was set to end on Jan. 31. The fencing that is to be reinforced with concertina wire is not new. The troops currently deployed at the border have already added concertina wire at ports of entry in Arizona, Texas and California. The request for troops to add an extra 160 miles of wire was first reported by NPR."
Justice Department is investigating whether former Interior Secretary Ryan Zinke lied to inspector general, a potential criminal violation, The Washington Post, Matt Zapotosky, Josh Dawsey, Juliet Eilperin, and Lisa Rein, Thursday, 3 January 2019: "The Justice Department's public integrity section is examining whether newly departed Interior Secretary Ryan Zinke lied to his agency's inspector general investigators, according to three people familiar with the matter, a potential criminal violation that would exacerbate Zinke's legal woes. Zinke, who left the Trump administration Wednesday, was facing two inspector general inquiries tied to his real estate dealings in his home state of Montana and his involvement in reviewing a proposed casino project by Native American tribes in Connecticut. In the course of that work, inspector general investigators came to believe Zinke had lied to them, and they referred the matter to the Justice Department to consider whether any laws were violated, the people familiar with the matter said."
Mexico Calls on U.S. to Investigate Use of Tear Gas at the Border, The New York Times, Paulina Villegas and Alan Yuhas, Thursday, 3 January 2019: "Mexico has asked the United States for an investigation into American border officers' actions along the nations' shared border, two days after agents near San Diego used tear gas, smoke and pepper spray to repel a group of migrants trying to cross into the United States. On Thursday, Mexico's Foreign Ministry said it sent a diplomatic note to the United States Embassy about two episodes, on Jan. 1 and Nov. 25, in which American agents sent tear gas into Mexico near San Diego and Tijuana, Mexico."
Undocumented Worker Says Trump Resort in New Jersey Shielded Her From the Secret Service, The New York Times, Miriam Jordan, Thursday, 3 January 2019: "A former employee of the Trump National Golf Club in New Jersey said that her name was removed from a list of workers to be vetted by the Secret Service after she reminded management that she was unlawfully in the United States, the latest worker to assert that supervisors at the elite resort were aware that some members of their work force were undocumented." See also, Former Trump club employee in New Jersey says management kept her off Secret Service screening list because she is undocumented, The Washington Post, Joshua Partlow, Tom Hamburger, and Carol D. Leonnig, Thursday, 3 January 2019: "A former kitchen employee at one of President Trump's golf clubs in New Jersey said her superiors kept her name and those of other undocumented workers off a list of people to be vetted by the Secret Service before a Trump visit to the club in 2016. Emma Torres, 43, an immigrant from Ecuador, said that she informed a human resources official at the club that she did not have papers to live legally in the United States when she was asked to submit her information for a clearance check. She said the names of undocumented workers were then excised from a list turned over to the Secret Service. Torres could not recall the name of the person who modified the list or the exact date of the incident. But she said she continued in her job at the club and was later working in the kitchen when Trump visited the club under Secret Service protection. Torres's account, first reported by the New York Times, suggests that the presence of undocumented workers at Trump National Golf Club in Bedminster, N.J., was known by at least some managers. Last month, several women went public to say that they worked at the club without legal immigration status."
Afghan Leaders Dispute Trump's Claim That the Soviets Invaded Afghanistan in 1979 to Fight Terrorists, The New York Times, Alan Yuhas, Thursday, 3 January 2019: "In a meeting with cabinet officials on Wednesday, President Trump spoke about walls, wheels and foreign affairs, including a recollection of world history that startled an ally in the United States' longest war. The Soviet Union, Mr. Trump said, invaded Afghanistan in 1979 'because terrorists were going to Russia. They were right to be there,' he added. 'The problem is it was a tough fight.' On Thursday, Afghan officials contested Mr. Trump's account — which was also at odds with the State Department's Office of the Historian and historians, generally. The Soviet Union invaded Afghanistan in 1979, after it fell into civil war, and occupied it until 1989, propping up 'a friendly and socialist government on its border,' according to the Office of the Historian. The United States and its allies condemned the brutal, long-running war, and Presidents Jimmy Carter and Ronald Reagan supplied aid to Afghan insurgents fighting the Soviet Army."
Veteran NBC/MSNBC Journalist William Arkin Blasts the Network for Being Captive to the National Security State and Reflexively Pro-War to Stop Trump, The Intercept, Glenn Greenwald, Thursday, 3 January 2019: "A veteran national security journalist with N C  News and MSNBC blasted the networks in a Monday email for becoming captive and subservient to the national security state, reflexively pro-war in the name of stopping President Donald Trump, and now the prime propaganda instrument of the War Machine's promotion of militarism and imperialism. As a result of NBC/MSNBC's all-consuming militarism, he said, 'the national security establishment not only hasn't missed a beat but indeed has gained dangerous strength' and 'is ever more autonomous and practically impervious to criticism.' The NBC/MSNBC reporter, William Arkin, is a longtime prominent war and military reporter, perhaps best known for his groundbreaking, three-part Washington Post series in 2010, co-reported with two-time Pulitzer winner Dana Priest, on how sprawling, unaccountable, and omnipotent the national security state has become in the post-9/11 era…. Arkin has worked with NBC and MSNBC over the years and continuously since 2016. But yesterday, he announced that he was leaving the network in a long, emphatic email denouncing the networks for their superficial and reactionary coverage of national security, for becoming fixated on trivial Trump outbursts of the day to chase profit and ratings, and — most incriminating of all — for becoming the central propaganda arm of the CIA, the Pentagon, and the FBI in the name of #Resistance, thus inculcating an entire new generation of liberals, paying attention to politics for the first time in the Trump era, to 'lionize' those agencies and their policies of imperialism and militarism."