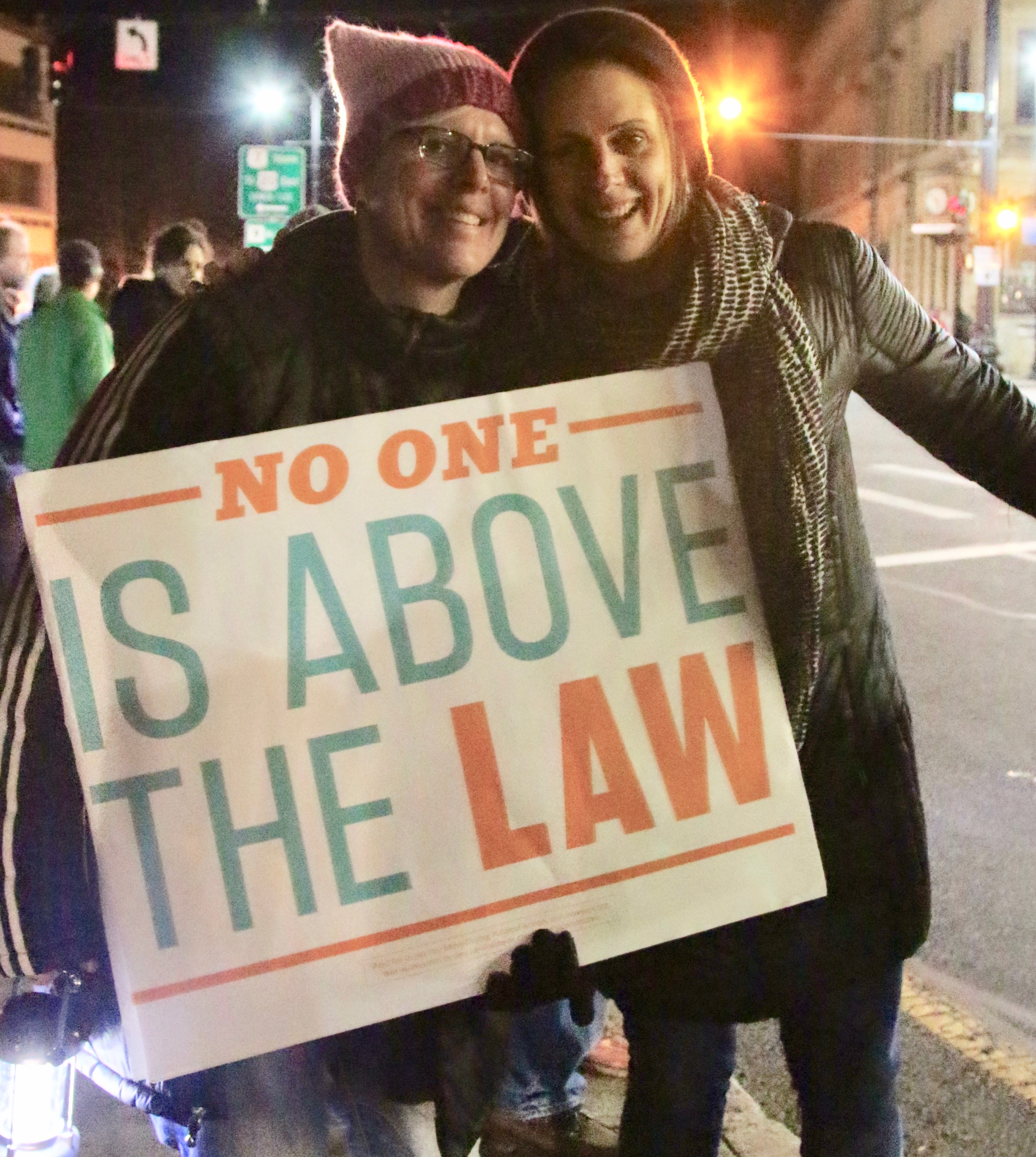 'Nobody Is Above the Law-Protect Mueller' demonstration in Pittsfield, MA, Thursday, 8 November 2018
Passages in bold in the body of the texts below are my emphasis. This is an ongoing project, and I update the site frequently. Because I try to stay focused on what has actually happened, I usually let the news 'settle' a day or so before posting. I hope readers will peruse the articles in full for a better understanding of the issues and their context; our democracy and our future depend on citizens who can distinguish between facts and falsehoods and who are engaged in the political process.
Friday, 9 November 2018, Day 659:
Judge Blocks the Disputed Keystone XL Pipeline in a Setback for Trump's Energy Agenda, The New York Times, Lisa Friedman, Friday, 9 November 2018: "A federal judge late Thursday blocked construction of the disputed Keystone XL oil pipeline, saying the Trump administration 'simply discarded' the effect the project would have on climate change. The ruling by Judge Brian Morris of the United States District Court for Montana repudiates one of Donald J. Trump's first acts as president. Two days after taking office, Mr. Trump signed an executive order approving the Keystone pipeline that had been blocked by former President Barack Obama because of environmental concerns. In saying that no work can go forward until the government more fully reviews the pipeline's environmental impact, the ruling tees up another potentially contentious legal battle over climate change with a president who dismisses mainstream science and whose administration is also seeking to block a landmark lawsuit on behalf of children asking the government to stop the rise of planet-warming gases…. Environmental groups hailed the decision as a major victory in the long-running battle over Keystone, which has spanned more than a decade and become a symbol of the political battle over climate change. The nearly 1,200-mile pipeline from TransCanada Corp. would carry about 800,000 barrels of petroleum a day from the Canadian oil sands to Gulf Coast refineries." See also, Federal judge blocks Keystone XL pipeline, saying Trump administration review ignored 'inconvenient' climate change facts, The Washington Post, Fred Barbash and Allyson Chiu, Friday, 9 November 2018: "A federal judge temporarily blocked construction of the controversial Keystone XL pipeline, ruling late Thursday that the Trump administration had failed to justify its decision granting a permit for the 1,200-mile long project designed to connect Canada's tar sands crude oil with refineries on the Texas Gulf Coast. The judge, Brian Morris of the U.S. District Court in Montana, said President Trump's State Department ignored crucial issues of climate change in order to further the president's goal of letting the pipeline be built. In doing so, the administration ran afoul of the Administrative Procedure Act, which requires 'reasoned' explanations for government decisions, particularly when they represent reversals of well-studied actions. It was a major defeat for Trump, who attacked the Obama administration for stopping the project in the face of protests and an environmental impact study."
Trump Suspends Some Asylum Rights, Calling Illegal Immigration 'a Crisis,' The New York Times, Michael D. Shear and Eileen Sullivan, Friday, 9 November 2018: "President Trump proclaimed on Friday that the illegal entry of immigrants across the southern border of the United States was detrimental to the national interest, spurring tough changes that will deny asylum to all migrants who do not enter through official border crossings. The proclamation, issued just moments before Mr. Trump left the White House for a weekend trip to Paris, suspends asylum rights for all immigrants who try to cross into the United States illegally, though officials said it was aimed primarily at several thousand migrants traveling north through Mexico in caravans…. The American Civil Liberties Union filed a lawsuit on Friday within hours of the president's proclamation, urging a federal judge to prohibit Mr. Trump from moving ahead with his plans to deny asylum to thousands of migrants who may cross the border. In a legal filing in United States District Court in San Francisco, the A.C.L.U. said that the president's move was 'in direct violation of Congress's clear command that manner of entry cannot constitute a categorical asylum bar.' The lawsuit also alleges that the administration enacted the rule 'without the required procedural steps and without good cause for immediately putting the rule into effect.'" See also, Trump issues decree limiting asylum protection for migrants crossing illegally into the U.S., The Washington Post, Nick Miroff, Friday, 9 November 2018: "President Trump issued a decree Friday to set in motion his administration's new restrictions on access to asylum protections for those who enter the United States illegally, asserting broad executive authorities that will take effect after midnight but could be challenged in federal court before then. Under the new measures, announced by administration officials Thursday, Trump will rely on the same emergency authority invoked during his 'travel ban' of early 2017 to bar anyone crossing the Mexico border illegally from qualifying for asylum. Those protections will remain available to those who apply at official border crossings, or U.S. ports of entry, and the restrictions would not apply to underage asylum seekers who arrive without a parent or guardian." See also, Lawsuit seeks to block Trump from restricting asylum for migrants who enter the U.S. illegally, The Washington Post, Nick Miroff, Friday, 9 November 2018: "Attorneys for the American Civil Liberties Union and other immigrant advocacy groups filed suit Friday in the Northern District of California to block the Trump administration's plan to deny asylum protections to migrants who cross the Mexico border illegally. The suit accuses the administration of attempting to violate the Immigration and Nationality Act and the Administrative Procedure Act, alleging that Trump administration officials have improperly rushed to implement the new restrictions while also asserting executive powers that lie beyond the scope of what the Supreme Court upheld in its 'travel ban' decision this year." See also, Read Trump's Proclamation Targeting the Caravan and Asylum Seekers, The New York Times, Friday, 9 November 2018.
Donald Trump Played a Central Role in Hush Payoffs to Stormy Daniels and Karen McDougal, The Wall Street Journal, Joe Palazzolo, Nicole Hong, Michael Rothfeld, Rebecca Davis O'Brien, and Rebecca Ballhaus, Friday, 9 November 2018: "As a presidential candidate in August 2015, Donald Trump huddled with a longtime friend, media executive David Pecker, in his cluttered 26th floor Trump Tower office and made a request. What can you do to help my campaign? he asked, according to people familiar with the meeting. Mr. Pecker, chief executive of American Media Inc., offered to use his National Enquirer tabloid to buy the silence of women if they tried to publicize alleged sexual encounters with Mr. Trump. Less than a year later, Mr. Trump asked Mr. Pecker to quash the story of a former Playboy model who said they'd had an affair. Mr. Pecker's company soon paid $150,000 to the model, Karen McDougal, to keep her from speaking publicly about it. Mr. Trump later thanked Mr. Pecker for the assistance. The Trump Tower meeting and its aftermath are among several previously unreported instances in which Mr. Trump intervened directly to suppress stories about his alleged sexual encounters with women, according to interviews with three dozen people who have direct knowledge of the events or who have been briefed on them, as well as court papers, corporate records and other documents. Taken together, the accounts refute a two-year pattern of denials by Mr. Trump, his legal team and his advisers that he was involved in payoffs to Ms. McDougal and a former adult-film star. They also raise the possibility that the president of the United States violated federal campaign-finance laws. The Wall Street Journal found that Mr. Trump was involved in or briefed on nearly every step of the agreements. He directed deals in phone calls and meetings with his self-described fixer, Michael Cohen, and others. The U.S. attorney's office in Manhattan has gathered evidence of Mr. Trump's participation in the transactions." See also, The increasing evidence suggesting Trump violated campaign-finance law, The Washington Post, Philip Bump, Friday, 9 November 2018: "President Trump has long argued that he did not engage in extramarital affairs with adult-film actress Stormy Daniels and former Playboy model Karen McDougal and, further, that he knew nothing about payments intended to keep the two women quiet before the 2016 campaign. His insistence on those fronts, already crumbling in the wake of admissions under oath from his former personal attorney Michael Cohen, eroded almost entirely Friday following the release of a lengthy new report by the Wall Street Journal."
Continue reading Week 95, Friday, 9 November – Thursday, 15 November 2018 (Days 659-665)
Trump administration to end refueling of Saudi-coalition aircraft in Yemen war, The Washington Post, John Hudson and Missy Ryan, Friday, 9 November 2018: "The Trump administration is ending the practice of refueling Saudi-coalition aircraft, halting the most tangible and controversial aspect of U.S. support for the kingdom's three-year war in Yemen, people familiar with the situation said. The move comes amid escalating criticism of Saudi Arabia's conduct in the war. Lawmakers from both parties have demanded that the United States suspend weapons sales to Riyadh and cut off aerial refueling of aircraft flown by the Saudi-led coalition, which monitoring groups have accused of killing thousands of unarmed civilians." See also, U.S. Military to End Air Refueling Flights for the Saudi Military Campaign in Yemen, and Trump Administration to Punish Saudis in Moves That Could Stop Tougher Acts by Congress, The New York Times,  Julian E. Barnes and Edward Wong, Friday, 9 November 2018: "The Trump administration is preparing to end air refueling flights for the Saudi Arabian military campaign in Yemen and impose sanctions against Saudis linked to the killing of Jamal Khashoggi, current and former American officials said on Friday. The moves would impose a limited punishment on the kingdom. The steps appear calibrated to respond to international outrage over the death of Mr. Khashoggi and to thousands of civilian deaths in the Yemen war, but avoid directly punishing the Saudi crown prince, Mohammed bin Salman, and could head off tougher congressional action." See also, The U.S. Will Stop Refueling Saudi-Led Coalition Jets in Yemen, but Progressives in Congress Want More, The Intercept, Alex Emmons, Friday, 9 November 2018: "On Friday, the Washington Post reported that the Trump administration would end mid-air refueling support to the Saudi- and UAE-led coalition that has been bombing Yemen, cutting off what is widely seen as the most significant pillar of American support for the brutal campaign. But progressives in Congress are pushing for more, aiming to cut off weapons sales and pass a measure in both chambers that would force the withdrawal of U.S. forces from Yemen. The measure, which was introduced by Rep. Ro Khanna (D.-Calif) in the House and by Senators Chris Murphy (D-Conn.), Bernie Sanders (I-Vt.), and Mike Lee (R.-Utah) in the Senate, relies on the legal theory that intelligence and logistical support amount to 'hostilities' under the 1973 War Powers Act, and therefore must be authorized by Congress, which has not approved U.S. involvement in the war between the coalition and a rebel group known as the Houthis in Yemen."
A Mysterious 'Undervote' Could End Up Settling the Florida Senate Race and Cost the Democrats a Senate Seat, The New York Times, Friday, 9 November 2018: "The vote count in Florida's Senate race keeps getting tighter. Gov. Rick Scott's lead over the Democratic incumbent, Bill Nelson, is down to 15,000 votes, and it's likely to narrow further as provisional and late overseas ballots are counted. As the initial count concludes, one issue will loom over the result: a substantial undervote in Broward County, the state's most Democratic county, and the possibility that the ballot design, which might have made it harder to find the Senate choice, will ultimately cost the Democrats a Senate seat."
One state, Pennsylvania, fixed its gerrymandered districts, and the other, North Carolina, didn't. Here's how the election played out in both. The Washington Post, Christopher Ingraham, Friday, 9 November 2018: "With a number of races yet to be called, Democrats are on track to pick up as many as 37 House seats as a result of this year's midterm elections. As many observers have pointed out, that total could have been even higher had it not been for Republican gerrymandering in some states. A comparison of the 2018 House results in two states in particular — North Carolina and Pennsylvania — provides a vivid illustration of the power of gerrymandering to skew election results. Gerrymandering happens when partisan lawmakers draw legislative districts in a way to disadvantage political opponents, either by packing them all up in a small number of districts to contain their influence, or splitting them across multiple districts to dilute their political clout. To see how it works in practice, look no farther than North Carolina and Pennsylvania, where after the 2010 Census Republicans drew maps to give themselves huge political advantages in U.S. House races. Just how lopsided? In 2016, Democrats in North Carolina won 47 percent of the statewide popular House vote but took home 23 percent of the seats. Pennsylvania Democrats, meanwhile, won 48 percent of the statewide vote in contested House elections but 27 percent of the seats. Big differences between popular votes and seat totals are one of the telltale signs of a heavily gerrymandered state. But the two states' paths diverged after 2016. North Carolina held on to its gerrymandered districts for the 2018 election, just barely, despite multiple court rulings decreeing that the maps are unconstitutional. In Pennsylvania, on the other hand, the state Supreme Court redrew the maps earlier this year, in time for the election, creating a much more competitive electoral landscape. The difference in the outcome at the ballot box is striking."
17 Black Women Sweep to Judgeships in Harris County,Texas, the Third Largest County in the U.S., which includes Houston, The New York Times, Adeel Hassan, Friday, 9 November 2018: "The photo was unforgettable: 19 black women, all dressed in black, gathered in a mock courtroom in Thurgood Marshall School of Law. All of them were running for judgeships in November. On Tuesday, 17 of them won their races by double-digits in Harris County, Tex., the nation's third largest county, which includes Houston. Each of the lawyers, all Democrats ranging in age from 31 to early 60s, will join the bench in January for four-year terms in the civil, criminal, family and probate courts…. Each of the women decided individually to run. Some in the group had to win primary races in March. But once they realized they were all running against Republican incumbents in the fall, they rallied around a slogan called "Black Girl Magic" to celebrate the accomplishments of black women."
As a Senate candidate in Iowa in 2014, Matthew Whitaker said he could not support 'secular' judicial nominees and that courts should be the 'inferior branch' of government, The Washington Post, Michael Kranish and Robert Barnes, Friday, 9 November 2018: "Acting Attorney General Matthew G. Whitaker has said that judges should have a 'biblical view,' that he could not support nominees who are 'secular' and declared that federal courts should be the 'inferior branch' of government. Whitaker's comments, made during an unsuccessful bid for the U.S. Senate in 2014, have drawn new scrutiny since President Trump named him Wednesday to replace ousted Attorney General Jeff Sessions."
Republican Senator Susan Collins calls for vote on bill to protect special counsel Robert Mueller from being fired, The Washington Post, Elise Viebeck, Friday, 9 November 2018: "Sen. Susan Collins said Friday that special counsel Robert S. Mueller III must be allowed to finish his investigation into Russian interference in the 2016 election and called for the Senate to vote on legislation that would protect him from being fired. The Maine Republican said she was 'concerned' about comments made by Acting Attorney General Matthew G. Whitaker, who has criticized Mueller's investigation and now oversees it."
Trump claims he doesn't know Matthew Whitaker, his new acting attorney general. A month ago he said he did. The Washington Post, John Wagner, Friday, 9 November 2018: "President Trump on Friday sought to play down speculation that he had appointed Matthew G. Whitaker acting attorney general to curtail the special counsel investigation, telling reporters that he hasn't spoken to him about the probe. Trump took it a step further, saying, 'I don't know Matt Whitaker.' That claim was at odds with an interview a month ago on Fox News's 'Fox & Friends,' in which Trump said: 'I can tell you Matt Whitaker's a great guy. I mean, I know Matt Whitaker.'" See also, Trump distances himself from Matthew Whitaker amid scrutiny over Whitaker's past comments and business ties, The Washington Post, Matt Zapotosky, Josh Dawsey, and Philip Rucker, Friday, 9 November 2018: "President Trump distanced himself Friday from acting attorney general Matthew G. Whitaker amid intensifying scrutiny of the controversial legal views and business entanglements of the president's pick to run the Justice Department and assume control of the Russia investigation. With the White House scrambling to manage public examination of Whitaker's background and resistance to his leadership within the Justice Department, Trump sought to douse speculation that he had installed the partisan loyalist to curtail the probe of Russian interference in the 2016 presidential campaign. Trump insisted that he had not spoken with Whitaker about the investigation being led by special counsel Robert S. Mueller III — and the president upbraided a reporter when she asked whether he wanted Whitaker to rein in Mueller. 'What a stupid question,' he said. Defiant and testy as he departed the White House on Friday morning for a weekend visit to Paris, Trump claimed four separate times that he did not personally know Whitaker, who had been serving as chief of staff at the Justice Department…. That claim is false, according to the president's past statements as well as the accounts of White House officials — one of whom laughed Friday at Trump's suggestion that he did not know Whitaker."
There is no way that Matthew Whitaker should be running the Justice Department, The Washington Post, Editorial Board, Friday, 9 November 2018: "Is Matthew G. Whitaker the legitimate acting attorney general? From approximately the second President Trump ousted Attorney General Jeff Sessions and tapped Mr. Whitaker to temporarily exercise the office's vast authority, legal experts have sparred over whether Mr. Trump can unilaterally elevate someone from a role that does not require Senate confirmation to one that does. But regardless of whether the promotion is legal, it is very clear that it is unwise. Mr. Whitaker is unfit for the job."
'What a stupid question': Trump demeans three black female reporters in three days, The Washington Post, Paul Farhi, Friday, 9 November 2018: "President Trump has made no secret of his contempt for reporters, whom he calls … 'enemy of the American people.' He's also had unkind things to say about women and people who are African American. This week, he hit a trifecta, singling out three African American women who are journalists. The women — Abby Phillip, April Ryan and Yamiche Alcindor — earned his contempt apparently just for asking him questions. Trump called one of Phillip's questions 'stupid,' described Ryan as 'a loser' and brushed off Alcindor, saying her question was 'racist.'" See also, April Ryan: I'm a black woman. Trump loves insulting people like me. The Washington Post, April Ryan, published on Saturday, 10 November 2018. See also, Trump Threatens to Retaliate Against Reporters Who Don't Show 'Respect,' The New York Times, Michael M. Grynbaum, Friday, 9 November 2018. See also, Trump's insults toward black reporters and candidates echo 'historic playbooks' used against African Americans, critics say, The Washington Post, David Nakamura, Friday, 9 November 2018: "President Trump's verbal assaults against black reporters, candidates and lawmakers has renewed criticism that the president employs insults rooted in racist tropes aimed at making his African American targets appear unintelligent, untrustworthy and unqualified. Over the past several days, including before he left Washington for an Armistice Day ceremony here this weekend, Trump has launched personal attacks against a trio of black female journalists. He accused one of asking 'a lot of stupid questions.' He demanded another 'sit down' at a news conference and followed up later by calling her a 'loser.' He lambasted a third for asking, in his view, a 'racist question.' Trump recently called Tallahassee Mayor Andrew Gillum (D), a gubernatorial candidate in Florida, a 'thief,' and declared that Stacey Abrams, the former minority leader of the state House in Georgia and the Democratic candidate for governor there, was 'not qualified' for the job. A feature of his campaign rallies ahead of Tuesday's elections was mocking Rep. Maxine Waters (D-Calif.), a black lawmaker who has been highly critical of him, and calling her a 'low-IQ person.'"
Trump takes aim at Obama, Clinton, judges, election officials, reporters, and a host of others before leaving the country, The Washington Post, John Wagner, Friday, 9 November 2018: "As the blades of the Marine One helicopter whirred behind him Friday, President Trump aired grievances and spewed insults at a wide array of targets as he stood on the South Lawn of the White House preparing for an overseas trip to Paris. Trump took aim at former president Barack Obama, former Democratic presidential candidate Hillary Clinton, the husband of one of his top aides, Democrats in Congress, two prominent White House reporters, elections officials in Florida, elections officials in Arizona, the FBI and a federal judge in Montana, among others."
Saturday, 10 November 2018, Day 660:
Turkish President Tayyip Erdogan says tape of Saudi journalist Jamal Khashoggi's killing has been given to the U.S., Saudi Arabia, Britain, France, and Germany, The Washington Post, Loveday Morris, Saturday, 10 November 2018: "An audio recording that Turkish officials say captures the dying moments of journalist Jamal Khashoggi as he is killed in the Saudi Consulate in Istanbul has been shared with Saudi Arabia, Britain, France and Germany in addition to the United States, the Turkish president said Saturday. Turkish President Recep Tayyip Erdogan spoke at Ankara airport before departing for Paris for commemorations to mark the 100th anniversary of the end of World War I."
Recount to begin in Florida Senate and governor's races, in echo of 2000 presidential election, The Washington Post, Beth Reinhard, Lori Rozsa, and Sean Sullivan, Saturday, 10 November 2018: "Three statewide contests in Florida — including the closely watched Senate race — headed for history-making recounts, election officials confirmed Saturday, with the lead by Gov. Rick Scott (R) over Sen. Bill Nelson (D) in the marquee contest shrinking to 12,562 votes out of nearly 8.2 million cast. The 0.15 percent margin is narrow enough to not only trigger a machine recount, which by law must be completed by Thursday, but is likely to result in a recount by hand across the state — a complicated logistical task in the nation's biggest battleground state. The new tally in the governor's race was not quite as close, but it also met the threshold for a voting machine recount. Numbers posted on the state election website showed Republican Ron DeSantis leading Democrat Andrew Gillum by 33,684 votes. President Trump immediately weighed in on Twitter, reiterating his unsubstantiated allegations of voter fraud. 'Trying to STEAL two big elections in Florida! We are watching closely!' Scott's campaign declared a 'close but decisive victory.' The governor, who has also raised allegations of fraud, used his bully pulpit Saturday to encourage Florida sheriffs to keep an eye out for any violations of election laws. Nelson has accused Scott of using the power of his office to try to secure his Senate victory. But the claims of fraud by the president and the governor were undercut Saturday by the Florida Department of State, which said in a statement it found 'no evidence of criminal activity at this time.'"
Republican Representative Dana Rohrabacher Loses, Eroding Republican Foothold in California, The New York Times, Adam Nagourney, Saturday, 10 November 2018: "Representative Dana Rohrabacher, a Republican fixture in California who represented Orange County for 15 terms, has lost his bid for re-election. His defeat underlines the party's setbacks in a part of the state that was long a symbol of its political dominance. The Associated Press called the race on Saturday, with Harley Rouda receiving 52 percent of the vote to Mr. Rohrabacher's 48 percent. Mr. Rouda, 56, is a former Republican turned Democrat who became a symbol of the Democratic efforts to win back Congress this year. Mr. Rohrabacher, 71, was viewed as particularly vulnerable because he defended Russia in the midst of allegations about its efforts to intervene in elections in the United States. In July, Mr. Rohrabacher admitted to meeting with Maria Butina, who was charged by federal prosecutors this summer with conspiracy and acting as a foreign agent, during his trip to Russia in 2015. Mr. Rohrabacher was considered so valuable to the Kremlin that the F.B.I. warned him in 2012 that Russia regarded him as an intelligence source worthy of a code name. His support for President Vladimir Putin of Russia raised questions even among fellow Republicans." See also, Dana Rohrabacher, a pro-Russia Republican in the House of Representatives, narrowly loses House seat in Orange County, California, The Washington Post, Elise Viebeck, Saturday, 10 November 2018.
Liberals were concerned about Jeff Sessions's impact on civil rights. He lived up to their fears. The Washington Post, Eugene Scott, Saturday, 10 November 2018: "When President Trump said he wanted former senator Jeff Sessions (R-Ala.) to head his Justice Department, liberal lawmakers and activists warned that his appointment would be detrimental for civil rights, specifically when it comes to issues impacting black people. A lot of what they were worried about came to pass in the less than two years he was in the position. Sessions made significant efforts to roll back decisions made by the Obama administration in the area of policing law enforcement and protecting civil rights."
Sunday, 11 November 2018, Day 661:
Saudis Close to Crown Prince Mohammed bin Salman Discussed Assassinating Enemies a Year Before the Killing of Saudi Journalist Jamal Khashoggi, The New York Times, Mark Mazzetti, Ronen Bergman, and David D. Kirkpatrick, Sunday, 11 November 2018: "Top Saudi intelligence officials close to Crown Prince Mohammed bin Salman asked a small group of businessmen last year about using private companies to assassinate Iranian enemies of the kingdom, according to three people familiar with the discussions. The Saudis inquired at a time when Prince Mohammed, then the deputy crown prince and defense minister, was consolidating power and directing his advisers to escalate military and intelligence operations outside the kingdom. Their discussions, more than a year before the killing of the journalist Jamal Khashoggi, indicate that top Saudi officials have considered assassinations since the beginning of Prince Mohammed's ascent. Saudi officials have portrayed Mr. Khashoggi's death as a rogue killing ordered by an official who has since been fired. But that official, Maj. Gen. Ahmed al-Assiri, was present for a meeting in March 2017 in Riyadh, the Saudi capital, where the businessmen pitched a $2 billion plan to use private intelligence operatives to try to sabotage the Iranian economy."
Democrats signal aggressive investigations of Trump while resisting impeachment calls, The Washington Post, Felicia Sonmez and Colby Itkowitz, Sunday, 11 November 2018: "Fresh off a resounding midterm elections victory, House Democrats on Sunday began detailing plans to wield their newfound oversight power in the next Congress, setting their sights on acting attorney general Matthew G. Whitaker while rebuffing calls from some liberals to pursue impeachment proceedings against President Trump. Rep. Jerrold Nadler (D-N.Y.), who is poised to take control of the House Judiciary Committee, said he will call Whitaker as a first witness to testify about his 'expressed hostility' to special counsel Robert S. Mueller III's Russia investigation. Nadler said he is prepared to subpoena Whitaker if necessary. Another incoming chairman, Rep. Adam B. Schiff (D-Calif.) of the House Intelligence Committee, raised the possibility of investigating whether Trump used 'instruments of state power' in an effort to punish companies associated with news outlets that have reported critically on him, including CNN and The Washington Post. And Democrats on the House Oversight Committee plan to expand their efforts to investigate Trump's involvement in payments to women who alleged affairs with him before the 2016 election, a committee aide said Sunday night, potentially opening up the president's finances to further scrutiny. The moves signal that House Democrats, while wary of the risks of alienating voters who backed the president, are fully embracing their midterm victory last week as a mandate to dig deep into the actions of the executive branch." Top Democrats Vow to Block Acting Attorney General Matthew Whitaker From Interfering in the Russia Inquiry, The New York Times, Sheryl Gay Stolberg, Sunday, 11 November 2018: "Top congressional Democrats demanded on Sunday that President Trump's acting attorney general, Matthew Whitaker, recuse himself from overseeing the special counsel investigation, and vowed to use their newfound powers as the incoming House majority to block him from interfering with it. The incoming chairman of the House Judiciary Committee, Representative Jerrold Nadler of New York, vowed to make Mr. Whitaker the panel's first witness when the new Congress convenes in January — and subpoena him if necessary. The incoming chairman of the House Intelligence Committee, Representative Adam B. Schiff of California, said Democrats would investigate Mr. Whitaker, a Trump loyalist who has repeatedly and explicitly criticized the investigation into Russian interference in the 2016 presidential race."
Top Obama-era officials urge immediate end to U.S. involvement in Yemen war, The Washington Post, Missy Ryan, Sunday, 11 November 2018: "Top Obama administration officials have drafted a letter acknowledging their responsibility for initiating U.S. involvement in Yemen's destructive civil war and calling for the Trump administration to halt America's role in the conflict. Thirty former senior officials, including former national security adviser Susan E. Rice and former CIA director John Brennan, said the Obama administration decided in 2015 to provide limited support to a Saudi-led military coalition in an attempt to ensure a prudent operation against Houthi rebels in Yemen and to steer the conflict toward a diplomatic resolution. 'We did not intend U.S. support to the coalition to become a blank check. But today, as civilian casualties have continued to rise and there is no end to the conflict in sight, it is clear that is precisely what happened,' the former officials wrote. 'However, rather than learning from that failure, the Trump administration has doubled down on support for the Saudi leadership's prosecution of the war, while removing restrictions we had put in place,' they said. 'It is past time for America's role in this disastrous war in Yemen to end.'"
French President Emmanuel Macron denounces nationalism as a 'betrayal of patriotism' in rebuke to Trump at WWI remembrance, The Washington Post, Sunday, 11 November 2018: "In the shadow of a grand war memorial here, French President Emmanuel Macron marked the 100th anniversary of the end of World War I by delivering a forceful rebuke against rising nationalism, calling it a 'betrayal of patriotism' and warning against 'old demons coming back to wreak chaos and death.' His words during a solemn Armistice Day ceremony under overcast skies at the foot of the Arc de Triomphe in the heart of the French capital were intended for a global audience. But they also represented a pointed rebuke to President Trump, Russian President Vladi­mir Putin and others among the more than 60 world leaders in attendance." See also, Parisians brave the rain to protest Trump, The Washington Post, James McAuley, Sunday, 11 November 2018: "President Trump's visit to Paris for the Armistice Day centennial commemorations wasn't without its share of protests. The first occurred Sunday morning, as the presidential motorcade glided up the iconic Champs-Elysees, arguably the grandest thoroughfare in the French capital, for the ceremony at the Arc de Triomphe. As Trump approached the monument, a topless woman ran toward the motorcade. On her chest were the words 'Fake Peacemaker.' Police apprehended her as she came within several feet of the vehicles. Femen, a French radical feminist group, later asserted responsibility for the stunt…. The Femen statement … attacked … world leaders present for the occasion, notably [Trump], Russian President Vladimir Putin, Turkish President Recep Tayyip Erdogan and Israeli Prime Minister Benjamin Netanyahu. 'Does Trump work for peace when he flouts international treaties? No! Is Putin working for peace in Syria when he defends dictator Bashar al-Assad? No!' the statement read. 'Does Erdogan work for peace when he's perpetuating Armenian Genocide denial? Or when he keeps attacking Kurdish people? No! . . . Does Netanyahu work for peace when bombing Gaza? No!'" See also, Meet Femen, the 'naked shock troops of feminism' who greeted Trump with a topless protest in Paris, The Washington Post, Antonia Noori Farzan, publisned on Monday, 12 November 2018: "See also, Trump's Nationalism, Rebuked at World War I Ceremony, Is Reshaping Much of Europe, The New York Times, Peter Baker and Alissa J. Rubin, Sunday, 11 November 2018.
'Being silenced is not acceptable': Doctors express outrage after National Rifle Association (NRA) tells them 'to stay in their lane,' The Washington Post, Frances Stead Sellers, Sunday, 11 November 2018: "At first, Judy Melinek didn't know how to respond when she learned about a National Rifle Association tweet last week telling doctors who dared enter the gun debate 'to stay in their lane.' But two days later, when the West Coast forensic pathologist was on her way to the morgue to examine the body of one of the country's many forgotten gunshot victims, the words came to her. 'Do you have any idea how many bullets I pull out of corpses weekly? This isn't just my lane,' she tweeted Friday. 'It's my [expletive] highway.' Joseph Sakran, a trauma surgeon at Johns Hopkins Hospital in Baltimore who suffers from a paralyzed vocal cord after taking a stray bullet in the neck almost 25 years ago, refused to stay silent as the country's latest mass shooting hit the news. 'I have Two Words for you Hell No! #Hell No for #ThousandOaks #Hell No for all black men that die & no one hears about it. #Hell No for all those that we still may be able to save,' Sakran wrote. Melinek and Sakran are among countless medical professionals who have taken to Twitter in the past few days to fire back at the NRA — creating a viral response that has ricocheted around the Internet under the hashtags #thisisourlane and #thisismylane." See also, Doctors Revolt After the National Rifle Association (N.R.A.) Tells Them to 'Stay in Their Lane' on Gun Policy, The New York Times, Matthew Haag, published on Tuesday, 13 November 2018.
White House counselor Kellyanne Conway said on Sunday that Trump does know acting attorney general Matthew Whitaker, The Washington Post, Felicia Sonmez, Sunday, 11 November 2018: "President Trump knows Matthew G. Whitaker, White House counselor Kellyanne Conway said Sunday, two days after the president sought to distance himself from his handpicked acting attorney general. 'The president does know Matt Whitaker, has gotten to know him over the course of the last year, since he has been the chief of staff to the attorney general,' Conway said on 'Fox News Sunday.'… Trump on Friday repeatedly claimed that he did not personally know Whitaker, telling reporters, 'I don't know Whitaker.' That contradicted Trump's statement last month in a Fox News interview, during which the president said, 'I know Matt Whitaker.'"
Monday, 12 November 2018, Day 662:
Krysten Sinema wins in Arizona as Democrats capture a longtime Republican Senate seat, The Washington Post, Elise Viebeck, Monday, 12 November 2018: "Democratic Senate candidate Kyrsten Sinema captured a long-held Republican seat in Arizona, defeating Republican Martha McSally and narrowing the GOP's majority in the upper chamber. Sinema, a three-term congresswoman, overcame attacks on her more liberal record as an Arizona state legislator and committed to a bipartisan approach in a race that hinged on issues such as health care and illegal immigration. Her defeat of McSally will make her the first female senator in Arizona's history." See also, Democrat Kyrsten Sinema Declared Winner in Arizona Senate Race, The New York Times, Simon Romero, Monday, 12 November 2018.
Lawsuits mount over Florida recount battle as political acrimony deepens, The Washington Post, Amy Gardner, Felicia Sonmez, and Sean Sullivan, Monday, 12 November 2018: "Acrimony in the Florida recount battle deepened Monday as Sen. Bill Nelson (D) called on his Republican opponent, Gov. Rick Scott, to recuse himself from overseeing the process, and as President Trump alleged without evidence that ballots were missing and forged. As local officials scrambled to meet Thursday's machine-
recount deadline, lawsuits mounted from all sides — including a complaint by the League of Women Voters and Common Cause Florida seeking to bar Scott from using his position to influence the ballot-counting process. Earlier Monday, a state judge rejected a request from Scott to seize voting machines and ballots in closely watched Broward County, ruling there was no evidence of voter fraud. Meanwhile, Scott pressed forward with plans to travel to Washington this week for orientation activities designed for newly elected senators. 'I'm headed to Washington tomorrow to start the process of becoming the next U.S. senator,' Scott said Monday night in an appearance on Fox News." See also, Trump Makes a Baseless Claim About 'Massively Infected' Ballots in Florida, The New York Times, Linda Qiu, Monday, 12 November 2018: "Without evidence, President Trump asserted that some ballots in Florida 'showed up out of nowhere' and that others were missing or forged."
Federal Judge Delays Certification of Georgia Election Results, The New York Times, Alan Blinder, Monday, 12 November 2018: "A federal judge on Monday ordered a delay in the certification of Georgia's election results, citing concerns about the state's voter registration system and the handling of provisional ballots. The decision effectively deepened the turmoil in Georgia's campaign for governor, a still unsettled contest that has been among the most acrimonious campaigns in the nation this year. Although the ruling by Judge Amy Totenberg of Federal District Court in Atlanta formally affected every election in Georgia for state and federal office, it reverberated most immediately and powerfully through the governor's race, in which the Democratic candidate, Stacey Abrams, was within 21,000 votes of forcing a runoff election against Brian Kemp, the Republican nominee. Georgia's secretary of state, Robyn A. Crittenden, had been preparing to certify the outcome of the election as soon as Wednesday, one day after Georgia's 159 counties were to complete their tabulations and six days before state law mandated certification. But in a 56-page ruling on Monday night, Judge Totenberg forbade Ms. Crittenden, who assumed office only last week, from certifying the results until at least Friday evening."
Democrats Say Their First Bill Will Focus on Strengthening Democracy at Home, NPR, Peter Overby, Monday, 12 November 2018: "Democrats will take control of the U.S. House in January with big items topping their legislative to-do list: Remove obstacles to voting, close loopholes in government ethics law and reduce the influence of political money. Party leaders say the first legislative vote in the House will come on H.R. 1, a magnum opus of provisions that Democrats believe will strengthen U.S. democratic institutions and traditions…. The bill would establish automatic voter registration and reinvigorate the Voting Rights Act, crippled by a Supreme Court decision in 2013. It would take away redistricting power from state legislatures and give it to independent commissions. Other provisions would overturn the Supreme Court's Citizens United ruling, which declared political spending is First Amendment free speech; they would mandate more disclosure of outside money and establish a public financing match for small contributions. Ethics language in the bill would strike closer to current controversies. When President Trump took office, he said — accurately — that the ban on conflicts of interest doesn't cover presidents. The bill would close that loophole, while expanding the anti-bribery law and requiring presidential candidates to make their tax returns public."
The Big Winers in District Attorney Races: Women and Black Candidates, Brennan Center for Justice, Lauren-Brooke Eisen, Monday, 12 November 2018: "For decades, the prosecutorial profession has sorely lacked diversity. After analyzing data from 2014, The Reflective Democracy Campaign found that 95 percent of the nation's elected prosecutors were white.  According to their research, just one percent of prosecutors at the time were women of color. But in recent elections — including the November 6 midterms — voters have opted for a slew of diverse prosecutors who better reflect the communities they serve, and who promised to do their part to move away from policies that perpetuate mass incarceration."
Trump's Misleading Claims About California's Fire 'Mismanagement,' The New York Times, Kendra Pierre-Louis, Monday, 12 November 2018: "As Californians were fleeing the huge wildfires that have left both ends of the state ablaze, President Trump took to Twitter over the weekend, blaming the infernos on forest management and threatening to withhold federal payments from the state. His statements, which drew outrage from local leaders and firefighters, oversimplified the causes of California's wildfires."
Top Democrats demand to know whether Justice Department ethics chief told acting attorney general Matthew Whitaker to step aside on Special Counsel Robert Mueller's Russia investigation, The Washington Post, Karoun Demirjian, Monday, 12 November 2018: "Top Democrats from the House and Senate are demanding to know whether the Justice Department's ethics chief advised acting attorney general Matthew G. Whitaker to recuse himself from special counsel Robert S. Mueller III's probe of the Trump campaign's Russia ties, citing 'serious ethical considerations' that they say should keep him from overseeing the investigation. In their letter, seven leading Democrats ask ethics chief Lee Lofthus to tell them 'immediately' whether he or others advised Whitaker to recuse himself from overseeing the Mueller probe or provided other ethical guidance related to his new job leading the Justice Department. The letter argues that Whitaker's stated views about Mueller and past connections to the Trump campaign 'indicate a clear bias against the investigation that would cause a reasonable person to question his impartiality.'" See also, The rules are clear: acting attorney general Matthew Whitaker can't supervise Mueller's investigation, The Washington Post, Neal Katyal, Monday, 12 November 2018: "The installation of Matthew G. Whitaker as acting attorney general isn't just unconstitutional — although it is unconstitutional. Even if Whitaker's appointment ever survived a court challenge on constitutional grounds for most of his day-to-day duties at the Justice Department, the fact that he'll now be performing the sensitive work of supervising Robert S. Mueller III's investigation raises other deep problems. Putting Whitaker in charge of the inquiry is sharply at odds with the special counsel regulations governing Mueller's work and with the Justice Department's rules about who may oversee an investigation."
Senator Cindy Hyde-Smith, Republican of Mississippi, Praised a Supporter by Saying, 'If He Invited Me to a Public Hanging, I'd Be on the Front Row,' The New York Times, Matthew Haag, Monday, 12 November 2018: "With her arm around a cattle rancher, Senator Cindy Hyde-Smith, Republican of Mississippi, drew laughter and applause at a recent campaign event when she gushed about how highly she thought of him: 'If he invited me to a public hanging, I'd be on the front row.' But beyond the small crowd at the event, in Tupelo, Miss., the reaction has been markedly different. The N.A.A.C.P. called the comments 'sick' after a video of the exchange was posted on Twitter over the weekend, while Mike Espy, Ms. Hyde-Smith's Democratic opponent, said, 'It's awful.' Mr. Espy, who is black, and Ms. Hyde-Smith, who is white, are locked in a runoff after no candidate in a four-person race received more than 50 percent of the vote on Election Day. Ms. Hyde-Smith has made her ardent support of President Trump, who endorsed her, central to her campaign in a state that the president carried by nearly 18 points in 2016."
Iowa Republican Representative Steve King dared the Weekly Standard, a conservative magazine, to release audio of him calling immigrants 'dirt.' It did. The Washington Post, Kristine Phillips, Monday, 12 November 2018: "Rep. Steve King, the newly reelected Iowa Republican with a history of incendiary comments about race and immigration, dared a conservative magazine to show evidence that he had called immigrants 'dirt.' 'Just release the full tape,' King, who eked out a victory last week despite affiliations with white nationalists, told the Weekly Standard's online managing editor Saturday on Twitter. Days earlier, the magazine reported that King had made an inflammatory joke about immigrants. The Weekly Standard released the recording — a two-minute audio in which King can be heard bantering with a handful of supporters at the back of an Iowa restaurant during a campaign stop on Nov. 5, the magazine reported."
'Tell Your Boss': Recording Is Seen to Link Saudi Crown Prince Mohammed bin Salman More Strongly to the Killing of Saudi Journalist Jamal Khashoggi, The New York Times, Julian E. Barnes, Eric Schmitt, and David D. Kirkpatrick, Monday, 12 November 2018: "Shortly after the journalist Jamal Khashoggi was assassinated last month, a member of the kill team instructed a superior over the phone to 'tell your boss,' believed to be Crown Prince Mohammed bin Salman of Saudi Arabia, that the operatives had carried out their mission, according to three people familiar with a recording of Mr. Khashoggi's killing collected by Turkish intelligence. The recording, shared last month with the C.I.A. director, Gina Haspel, is seen by intelligence officials as some of the strongest evidence linking Prince Mohammed to the killing of Mr. Khashoggi, a Virginia resident and Washington Post columnist whose death prompted an international outcry. While the prince was not mentioned by name, American intelligence officials believe 'your boss' was a reference to Prince Mohammed. Maher Abdulaziz Mutreb, one of 15 Saudis dispatched to Istanbul to confront Mr. Khashoggi at the Saudi Consulate there, made the phone call and spoke in Arabic, the people said." See also, Prime Minister Justin Trudeau says Canadian officials have heard audio of the killing of Saudi journalist Jamal Khashoggi, The Globe and Mail, The Canadian Press, Monday, 12 November 2018: "Canada's spy chief travelled to Turkey at the request of the prime minister and heard a recording of the killing of journalist Jamal Khashoggi, the Canadian Security Intelligence Service says. CSIS director David Vigneault 'has listened to the audio tapes in question' and provided a briefing to Justin Trudeau and other Canadian officials upon his return, said John Townsend, a spokesman for the intelligence service. Trudeau said Monday in Paris he has not personally heard the recording that Turkish officials have also provided to allies such as the U.S. and Britain in recent days, though he said he had been told about its contents. By making that statement, Trudeau became the first Western leader to acknowledge his country has heard the audio."
In North Korea, Missile Bases Suggest a Great Deception, The New York Times, David E. Sanger and William J. Broad, Monday, 12 November 2018: "North Korea is moving ahead with its ballistic missile program at 16 hidden bases that have been identified in new commercial satellite images, a network long known to American intelligence agencies but left undiscussed as President Trump claims to have neutralized the North's nuclear threat. The satellite images suggest that the North has been engaged in a great deception: It has offered to dismantle a major launching site — a step it began, then halted — while continuing to make improvements at more than a dozen others that would bolster launches of conventional and nuclear warheads. The existence of the ballistic missile bases, which North Korea has never acknowledged, contradicts Mr. Trump's assertion that his landmark diplomacy is leading to the elimination of a nuclear and missile program that the North had warned could devastate the United States…. American intelligence officials say that the North's production of nuclear material, of new nuclear weapons and of missiles that can be placed on mobile launchers and hidden in mountains at the secret bases has continued." See also, Newly revealed North Korean missile bases cast doubt on value of Trump's summit with Kim Jong Un, The Washington Post, Adam Taylor, Monday, 12 November 2018: "On Monday, a new report from a Washington think tank identified more than a dozen hidden bases in North Korea that could be used to disperse mobile launchers for ballistic missiles in the event of a conflict. Are these bases evidence that North Korea is cheating on the agreement it reached in June, when President Trump met North Korean leader Kim Jong Un in Singapore? Analysts say the answer is no — although there are plenty of caveats. 'Kim hasn't broken any promises,' said Jeffrey Lewis, a nonproliferation expert at the Middlebury Institute of International Studies at Monterrey. 'Instead, he's making good on one of them — to mass produce nuclear weapons.'"
U.S. Declines to Sign Declaration Discouraging Use of Cyberattacks, The New York Times, David E. Sanger, Monday, 12 November 2018: "Reflecting reluctance by the Trump administration to limit its options for using offensive and defensive cyberweapons, the United States declined on Monday to sign a vaguely worded international call to protect civilians against cyberattacks and discourage digital meddling in elections. The United States was one of only a few Western nations that chose not to sign on to the nonbinding declaration, which was released by France's president, Emmanuel Macron, during the Paris Peace Forum, timed to the 100th anniversary of the end of World War I. The declaration, the 'Paris Call for Trust and Security in Cyberspace,' was signed by 51 countries, more than 130 companies and 90 universities and nongovernmental groups, and was the latest in a series of efforts to move toward what some call a 'digital Geneva Convention.' Just as the original Geneva Convention prohibits aiming attacks at civilians, the Paris statement would prohibit 'indiscriminate or systemic harm to individuals and critical infrastructure,' such as shutting down an electric grid. It also included a call to 'prevent malign interference by foreign actors aimed at undermining electoral processes though malicious cyberactivities.' All members of the European Union signed the agreement. Australia and Turkey joined the United States in declining."
Trump's Tax Cut Was Supposed to Change Corporate Behavior. Here's What Happened. The New York Times, Jim Tankersley and Matt Phillips, Monday, 12 November 2018: "Nearly a year after the tax cut, economic growth has accelerated. Wage growth has not. Companies are buying back stock and business investment is a mixed bag."
Jerome Corsi, a Cooperating Witness in Special Counsel Robert Mueller's Inquiry, Predicts His Own Indictment for Lying, The New York Times, Sharon LaFraniere, Monday, 12 November 2018: "Jerome Corsi, a conspiracy theorist and friend of the longtime Trump adviser Roger J. Stone Jr., said on Monday that his two-month-long cooperation with the special counsel's office has broken down and he expects to be charged with lying to investigators or a federal grand jury. Mr. Corsi, who said he has been cooperating since August with prosecutors working for the special counsel, Robert S. Mueller III, predicted his own indictment in a YouTube live stream that included a plea to listeners for money to cover his legal fees." See also, Conservative author and Roger Stone associate Jerome Corsi said he expects to be indicted by special counsel Robert Mueller for allegedly lying, The Washington Post, Rosalind S. Helderman, Manuel Roig-Franzia, and Carol D. Leonnig, Monday, 12 November 2018.
Tuesday, 13 November 2018, Day 663:
CNN sues Trump and top White House aides for barring White House correspondent Jim Acosta, CNN, Brian Stelter, Tuesday, 13 November 2018: "CNN has filed a lawsuit against President Trump and several of his aides, seeking the immediate restoration of chief White House correspondent Jim Acosta's access to the White House. The lawsuit is a response to the White House's suspension of Acosta's press pass, known as a Secret Service 'hard pass,' last week. The suit alleges that Acosta and CNN's First and Fifth Amendment rights are being violated by the ban. The suit was filed in U.S. District Court in Washington, D.C. on Tuesday morning. It was docketed and assigned to Judge Timothy J. Kelly, a Trump appointee. The judge has given the defendants an 11 a.m. Wednesday deadline to file responses to the suit. He has scheduled a hearing for Wednesday at 3:30 p.m. Both CNN and Acosta are plaintiffs in the lawsuit. There are six defendants: Trump, chief of staff John Kelly, press secretary Sarah Sanders, deputy chief of staff for communications Bill Shine, Secret Service director Randolph Alles, and the Secret Service officer who took Acosta's hard pass away last Wednesday." See also, CNN Sues the Trump Administration for Barring Jim Acosta From the White House, The New York Times, Michael M. Grynbaum, Tuesday, 13 November 2018: "CNN sued the Trump administration on Tuesday in an effort to reinstate the press credentials of its chief White House correspondent, Jim Acosta, escalating a dispute that has highlighted the increasingly tense dynamic between President Trump and the news media. In a lawsuit filed in Federal District Court, the network argued that the removal of Mr. Acosta's White House press pass constituted a violation of his First Amendment rights to freely report on the government. CNN also asserted that the administration had violated Mr. Acosta's due process rights guaranteed by the Fifth Amendment when it revoked his credentials without warning." See also, CNN is suing the White House over Jim Acosta's press pass. Does the network have a case? The Washington Post, Deanna Paul, Tuesday, 13 November 2018. See also, The White House is changing its tune on why it yanked Jim Acosta's press pass, The Washington Post, Aaron Blake, Tuesday, 13 November 2018: "CNN announced Tuesday that it will sue the White House over reporter Jim Acosta's press pass being revoked. And importantly, the White House now seems to be changing its tune about exactly why it sanctioned Acosta. In a statement Tuesday morning, White House press secretary Sarah Sanders suggested that the decision was about Acosta refusing to yield the microphone while questioning the president…. But that's different from the initial justifications offered by the White House for revoking Acosta's press pass. Less than a week ago, it was primarily about him supposedly placing his hands on and getting too rough with an intern."
Matthew Whitaker's Appointment as Acting Attorney General Faces Court Challenge, The New York Times, Charlie Savage, Tuesday, 13 November 2018: "In the days since President Trump ousted Attorney General Jeff Sessions and declared that he was installing Matthew G. Whitaker as the acting attorney general, many critics have challenged Mr. Whitaker's fitness for the job. Some have gone further, calling his very appointment illegal. Now, Mr. Whitaker's appointment is facing a court challenge. The State of Maryland asked a federal judge on Tuesday for an injunction declaring that Mr. Whitaker is not the legitimate acting attorney general as a matter of law, and that the position — and all its powers — instead rightfully belongs to the deputy attorney general, Rod J. Rosenstein. Mr. Trump may not 'bypass the constitutional and statutory requirements for appointing someone to that office,' the state said in a court filing." See also, Maryland challenges legality of Matthew Whitaker's appointment as acting U.S. attorney general, The Washington Post, Ann E. Marimow, Tuesday, 13 November 2018.
Federal judge delays certification of Georgia election results, citing concerns over provisional ballots, The Washington Post, Vanessa Williams, Tuesday, 13 November 2018: "A federal judge has barred the Georgia secretary of state's office from immediately certifying election results to allow more time to address problems with thousands of provisional ballots that voters were forced to cast to cast last week. Tuesday is the deadline for Georgia's 159 counties to certify their elections results, and the secretary of state had planned to certify those results on Wednesday. But U.S. District Judge Amy Totenberg said late Monday that the secretary of state could not certify results before Friday and that it had to 'immediately establish and publicize on its website a secure and free-access hotline or website for provisional ballot voters to access to determine whether their provisional ballots were counted and if not, the reason why.'"
U.S. Supreme Court to take up Virginia redistricting case on racial gerrymandering, The Washington Post, Gregory S. Schneider, Tuesday, 13 November 2018: "The U.S. Supreme Court will take up the issue of redistricting in Virginia, agreeing to hear an appeal filed by Republican legislators after a lower court's ruling that 11 House of Delegates districts must be redrawn to correct racial gerrymandering. The action does not appear to halt the redistricting process, though, which is underway at the hands of a 'special master' appointed by a three-judge panel of the U.S. District Court for the Eastern District of Virginia…. The federal judges found that the districts were drawn to concentrate black voters and deprive them of representation."
Environmental Protection Agency (EPA) to toughen pollution standards for heavy-duty trucks, The Washington Post, Brady Dennis, Tuesday, 13 November 2018: "The Environmental Protection Agency on Tuesday announced plans to place more stringent restrictions on pollution from heavy-duty trucks, in a move that won the Trump administration rare praise from environmental groups. Nearly two decades have passed since the EPA last updated its standards for emissions of nitrogen oxide, or NOx, that govern the nation's heavy-duty trucking fleet. Two years ago, 20 state and local air regulators, backed by public health groups, petitioned the agency to revamp its regulations of NOx, citing adverse health impacts and harmful effects on air quality. At the time, the agency agreed changes were necessary, 'particularly in areas of the country with elevated levels of air pollution.' Obama administration officials said they planned to work with states like California, the industry and others toward creating an updated national set of standards. On Tuesday, the EPA appeared to be carrying on that work to scale back emissions of the poisonous gases, which form when fuel is burned at high temperatures."
Trump Nominates Retired General John Abizaid as Ambassador to Saudi Arabia, The New York Times, Peter Baker and Eric Schmitt, Tuesday, 13 November 2018: "President Trump announced on Tuesday that he will nominate Gen. John P. Abizaid, a retired commander of forces in the Middle East, as his new ambassador to Saudi Arabia, a position that has taken on new sensitivity with the assassination of a Saudi journalist. The selection, if confirmed by the Senate, will finally give the president a representative of his own in Riyadh at a time when the relationship with Washington has grown strained over the brutal killing of Jamal Khashoggi, the journalist who lived in the United States and wrote for The Washington Post. General Abizaid, a Lebanese-American who speaks fluent Arabic and spent years in the Middle East, served as head of the United States Central Command with responsibility for the region and oversaw the early years of the Iraq war under President George W. Bush. Since 2016, he has served as special envoy to the Ukrainian military helping bolster its capacity against Russian aggression."
Trump again blames California for a natural disaster, adding to his public denunciations of the strongly Democratic state, The Washington Post, Matt Viser and Seung Min Kim, Tuesday, 13 November 2018: "Days after Hurricane Florence rammed into the North Carolina coast, President Trump was on his way to comfort those who lost homes or loved ones. He met with the state's Democratic governor; he sat for a briefing; he paused to ask residents in New Bern: 'Hi, everybody, how's your house?'  When Hurricane Harvey pummeled Texas last year, he traveled to Houston, and when Hurricane Michael hit Florida and Georgia last month, he and the first lady quickly went to the Gulf Coast. But as California has convulsed in tragedy — a mass shooting and an outbreak of wildfires that included the deadliest in the state's history — the president has not only offered little comfort; he has also heaped on criticism. He's blamed the forest fires on 'gross mismanagement,' threatened to withhold federal payments and instructed officials there: 'Get Smart!'"
A Week After the Midterm Elections, Trump Seems to Forget the Caravan, The New York Times, Maggie Haberman and Mark Landler, Tuesday, 13 November 2018: "For weeks before the midterm elections, President Trump warned ominously about the threat from a caravan of migrants streaming from Central America toward Mexico's border with the United States. It was a fearsome mix of criminals and 'unknown Middle Easterners,' Mr. Trump claimed darkly, one that constituted a genuine national emergency. But since the election last week, Mr. Trump has tweeted about the caravan exactly once — to issue a proclamation preventing those who cross the border illegally from applying for asylum in the United States. Fox News, which faithfully amplified Mr. Trump's warnings about the migrants, has gone similarly quiet on the subject. There was little dispute, even before Election Day, that Mr. Trump was exploiting the caravan for political purposes. But analysts, historians and veterans of previous administrations said there were few comparable instances of a commander in chief warning about what he called a looming threat, only to drop it as soon as people voted. While the caravan has faded from television screens, the costs of Mr. Trump's response to it have not. Nearly 6,000 active-duty troops remain deployed from the Gulf Coast to Southern California, where they are putting up tents and stringing concertina wire to face a ragtag band that is still not near the border."
Trump's itchy Twitter finger: His latest false claims, The Washington Post, Glenn Kessler and Salvador Rizzo, Friday, 13 November 2018: "Forest fires in California. An automatic recount in tight Florida races for senator and governor. A stock market plunge. President Trump's Twitter finger has been itchy the past few days, fanning the flames of conspiracy theories and offering speculation without evidence. We asked the White House for evidence for his statements but heard nothing back."
Five days of fury: Inside Trump's Paris temper, election woes, and staff upheaval, The Washington Post, Josh Dawsey and Philip Rucker, Tuesday, 13 November 2018: "During his 43-hour stay in Paris, Trump brooded over the Florida recounts and sulked over key races being called for Democrats in the midterm elections that he had claimed as a 'big victory.' He erupted at his staff over media coverage of his decision to skip a ceremony honoring the military sacrifice of World War I. The president also was angry and resentful over French President Emmanuel Macron's public rebuke of rising nationalism, which Trump considered a personal attack. And that was after his difficult meeting with Macron, where officials said little progress was made as Trump again brought up his frustrations over trade and Iran."
While France was preoccupied with the third anniversary of devastating terror attacks, Trump slammed their president on Twitter, The Washington Post, James McAuley, Tuesday, 13 November 2018: "When President Trump unleashed a slew of Twitter attacks on French President Emmanuel Macron on Tuesday, Macron — like much of France — was preoccupied with something else. Tuesday happens to be the third anniversary of terrorist attacks in Paris, when a network of Islamic State-affiliated gunmen killed 130 people in a coordinated assault on the Bataclan concert hall, a number of cafe terraces and a sports arena. The assault was the bloodiest on French soil since World War II, and it shook the nation to its core." See also, Trump Assails French President Emmanuel Macron and Defends Decision to Skip Cemetery Visit, The New York Times, Peter Baker, Tuesday, 13 November 2018. See also, Trump Points to Polls in France, Apparently Unaware That in These Polls 80 Percent Say He's a Dangerous, Incompetent Racist, The Intercept, Robert Mackey, Tuesday, 13 November 2018. See also, France accuses Trump of lacking 'common decency' over his angry tweets on the third anniversary of terrorist attacks on Paris, The Guardian, Kim Willsher, published on Wednesday, 14 November 2018: "A French government spokesman has criticised Donald Trump for displaying a lack of 'common decency' when he attacked Emmanuel Macron on the anniversary of the 2015 Paris terror attacks. As France marked the anniversary of the Bataclan attacks in which 130 people were killed, Trump launched a string of angry tweets on Tuesday, condemning the key US ally over its near defeat to Germany in two world wars, its wine industry and Emmanuel Macron's approval ratings. When asked on Wednesday about the US leader's Twitter posts, the French government spokesman, Benjamin Griveaux, said: 'Yesterday was November 13. We were marking the murder of 130 of our people, so I'll reply in English: "common decency" would have been appropriate.'"
Education Secretary Betsy DeVos should be forced to cancel loans for students at closed campuses, lawsuit says, The Washington Post, Laura Meckler, Tuesday, 13 November 2018: "A lawsuit filed Tuesday against Education Secretary Betsy DeVos asserts that the Education Department — as required by an Obama-era regulation — is failing to cancel student loans for borrowers whose schools closed before students could earn their degrees. DeVos had sought to cancel the regulation, which governs the circumstances under which borrowers can have their debt erased. But in a ruling last month, a federal court said the regulation must take effect. During the Obama administration, officials argued that students should not be responsible for often crushing debt when they did not get the education they were promised, sometimes bilked by for-profit schools and deceptive marketing. DeVos argued that the rule made it too easy for students to cancel their debt and said she intended to replace it with her own version to take effect next year. That process fell behind schedule, and the earliest the new rules will begin is July 2020."
Alexandria Ocasio-Cortez Joins Environmental Activists in Protest at Democratic Leader Nancy Pelosi's Office, The Intercept, Ryan Grim and Briahna Gray, Tuesday, 13 November 2018: "Protesters with the environmental group Sunrise marched on Democratic leader Nancy Pelosi's office on Tuesday. The group, made up of young people pushing for urgent action on climate change, planned to send a clear message to party leadership just one week after Democrats regained control of the House. But this was no ordinary protest for the Sunrise activists, who typically stand on the opposite side of politicians. This time, they were joined by Rep.-elect Alexandria Ocasio-Cortez, who is just weeks away from being sworn into office. Rep.-elect Rashida Tlaib of Michigan joined the protesters in a rally at the Spirit of Justice Park near the Capitol on Tuesday morning, but she did not continue on to Pelosi's office. 'This is the most American thing you can do,' Tlaib said of the protest. Ocasio-Cortez and Tlaib also attended an event with the Sunrise activists on Monday night."
Wednesday, 14 November 2018, Day 664:
Federal Judge Timothy Kelly Says Ruling on CNN Lawsuit Against Trump the Top White House Aides Will Come on Thursday, The New York Times, Michael M. Grynbaum and Emily Baumgaertner, Wednesday, 14 November 2018: "A dispute over the press credentials of CNN's chief White House correspondent has escalated into a potentially significant legal showdown over journalists' rights. The cable network and the Trump administration faced aggressive questions from a federal judge in Washington on Wednesday, as lawyers argued over a lawsuit brought by CNN to reinstate the press pass of the correspondent, Jim Acosta. His credentials were revoked last week after a testy exchange with President Trump. Much of the debate revolved around whether the White House had retaliated against Mr. Acosta for his critical coverage, which CNN said amounted to a violation of his First Amendment and due process rights. Lawyers for the Justice Department argued that Mr. Trump had discretion to choose the reporters who cover his events at the White House. The judge, Timothy J. Kelly, who was appointed by Mr. Trump last year, said he would announce a decision on whether to reinstate Mr. Acosta's credential on Thursday afternoon. Before Wednesday's hearing, major news organizations issued a joint statement of support for CNN's legal action, calling it 'imperative that independent journalists have access to the president and his activities, and that journalists are not barred for arbitrary reasons.' Among the signatories were The Associated Press, Bloomberg, NBC, The New York Times, Politico and The Washington Post. ABC, CBS and The Wall Street Journal sent supportive statements as well. Fox News, Mr. Trump's preferred news network, also released its own remarks in favor of CNN's lawsuit and said it would file an amicus brief in the case." See also, Trump lawyers and CNN lawyers square off in federal court in Jim Acosta case, The Washington Post, Paul Farhi, Wednesday, 14 November 2018. See also, Trump seeks to land blow against media in court fight with CNN, Politico, Jason Schwartz and Michael Calderone, Wednesday, 14 November 2018: "Donald Trump sought Wednesday to land a massive blow in his long-fought battle against the news media, with administration lawyers asserting in court that the president could bar 'all reporters' from the White House complex for any reason he sees fit. The sweeping claim, which came in the first public hearing over CNN's lawsuit to restore correspondent Jim Acosta's White House credentials, could have a dramatic impact on news organizations' access to government officials if it is upheld in court. CNN argued in its lawsuit filed Tuesday that the White House infringed on Acosta's First Amendment rights by revoking his access in response to a dispute over a press conference last week." See also, Judge's decision in CNN lawsuit is postponed until Friday, Politico, Rebecca Morin, published on Thursday, 15 November 2018: "A federal judge said Thursday he would take another day to decide whether to at least temporarily restore CNN correspondent Jim Acosta's White House credentials, extending the drama over the network's lawsuit against President Donald Trump until Friday. U.S. District Court Judge Timothy Kelly postponed a decision, which had been scheduled for Thursday after a hearing Wednesday." See also, CNN suit is an important and necessary defense of press freedom, Columbia Journalism Review, Katie Fallow and Jameel Jaffer, Wednesday, 14 November 2018.
Trump Embraces a Path to Revise U.S. Sentencing and Prison Laws, The New York Times, Nicholas Fandos and Maggie Haberman, Wednesday, 14 November 2018: "President Trump threw his support behind a substantial revision of the nation's prison and sentencing laws on Wednesday, opening a potential path to enacting the most significant changes to the criminal justice system in a generation. The tentative legislative package, developed by a bipartisan group of senators and called the First Step Act, builds on a prison overhaul bill already passed overwhelmingly by the House by adding changes that would begin to unwind some of the tough-on-crime federal policies of the 1980s and 1990s that incarcerated African-American offenders at much higher rates than white offenders. Combining new funding for anti-recidivism programs, the expansion of early-release credits for prisoners and the reduction of certain mandatory minimum sentences, the compromise bill would help shape the experiences of tens of thousands of current inmates and future offenders." See also, Shorter Sentences, More Judicial Leeway: What the Criminal Justice Bill Would Do, The New York Times, Eileen Sullivan, Wednesday, 14 November 2018. See also, Trump endorses bipartisan criminal-justice reform bill, The Washington Post, Seung Min Kim, Wednesday, 14 November 2018.
Strategic Goal for Border Troops 'to Be Determined,' Defense Secretary Jim Mattis Says, The New York Times, Mitchell Ferman, Wednesday, 14 November 2018: "Defense Secretary Jim Mattis continued to stand by President Trump's order to send up to 15,000 American troops to the southwest border, telling soldiers on Wednesday that their mission is to put obstacles in the way of an approaching migrant caravan from Central America. But Mr. Mattis seemed unable to fully explain to the troops the purpose or the long-term value of their deployment. At one point during a 90-minute tour of the forward operating base in South Texas, a soldier asked Mr. Mattis the goals of the mission. 'Short term, get the obstacles in,' Mr. Mattis replied, apparently referring to concertina wire that troops are stringing up along the border. 'Long term, it is somewhat to be determined,' he said."
Donald Trump, the Migrant Caravan, and a Manufactured Crisis at the U.S. Border, The New Yorker, Jonathan Blitzer, Wednesday, 14 November 2018: "Since last week's midterm elections, Donald Trump has spoken less frequently about the migrant caravan, but the subject is still plainly on his mind. On Friday, he signed a Presidential proclamation ('Addressing Mass Migration Through the Southern Border of the United States'), which suspended the possibility of asylum for anyone entering the country between officially designated ports of entry. By U.S. and international law, migrants are allowed to seek asylum 'whether or not' they do so at an official checkpoint along the border; Trump's measure, which was immediately challenged by advocacy groups, including the American Civil Liberties Union, aims to override explicit provisions of an existing federal statute in order to thwart the entry of tens of thousands of Central American migrants. As Lee Gelernt, the A.C.L.U.'s lead litigator in the case, told me, 'It would mean the President could literally sit down with a copy of the immigration act that Congress wrote and cross out any provision he didn't like.' The night before the President issued his proclamation, members of the caravan gathered in Mexico City, where they'd paused for a week of rest, to vote on a final destination for the group. Of the big border cities in northern Mexico, Tijuana was considered the safest—the route skirts territory controlled by violent cartels—but it was also the farthest away. The caravan now consists of nearly five thousand people, about a third of whom are under the age of eighteen. An estimated three hundred of them are younger than five. Because of the punishing physical toll of the trip, the group has tried, with mixed success, to arrange van and truck transportation the rest of the way. Hundreds of them have either turned back or have been deported by Mexican authorities, while some twenty-six hundred others, according to the Mexican government, have received temporary legal status to remain in Mexico. The relative success of the group, coupled with the continued desperation of residents in El Salvador, Honduras, and Guatemala, has prompted a string of smaller caravans, consisting of several hundred people each, to travel in its wake."
Justice Department Defends the Legality of Trump's Appointment of Acting Attorney General Matthew Whitaker, The New York Times, Charlie Savage, Wednesday, 14 November 2018: "The Justice Department pushed back on Wednesday against accusations that President Trump's appointment of Matthew G. Whitaker as acting attorney general was illegal, arguing that it complied with both federal statutes and the Constitution — and that it fit within a history of similar designations dating back to the earliest days of the country. The Trump administration made its case in a 20-page memorandum by Steven E. Engel, the head of the department's Office of Legal Counsel. It came a day after the State of Maryland asked a Federal District Court judge to issue an injunction declaring that when Mr. Trump ousted former Attorney General Jeff Sessions, the role of acting head of the department passed instead to the deputy attorney general, Rod J. Rosenstein, as a matter of law. But even as the Trump administration offered its most complete argument to date that Mr. Whitaker's designation as acting head of the Justice Department was lawful, it continued to sidestep questions about whether ethics rules required Mr. Whitaker to recuse himself from overseeing the special counsel investigation by Robert S. Mueller III into whether Mr. Trump's associates conspired with Russia in its election interference."
Acting attorney general Matthew Whitaker received early warnings that customers were complaining that an invention-marketing company he advised might be a fraud, The Washington Post, Tom Hamburger, Carol D. Leonnig, and Rosalind S. Helderman, Wednesday, 14 November 2018: "Acting attorney general Matthew G. Whitaker received early warnings that customers were complaining that an invention-marketing company he advised might be a fraud, according to several people familiar with his role, but Whitaker vigorously defended the company and remained on its board until joining the Justice Department in 2017. Since his appointment by President Trump last week, Whitaker has said through a Justice Department spokeswoman that he was unaware of allegedly fraudulent activities at Miami-based World Patent Marketing. The company shut down in May and agreed to pay a settlement of nearly $26 million to resolve a wide-ranging Federal Trade Commission complaint that it bilked customers. As a member of the company's advisory board, Whitaker had been told of complaints about the company's practices, according to two people familiar with the FTC investigation. He did not appear to take any action in response, they said. In addition, shortly after joining the board in late 2014, Whitaker, a former U.S. attorney in Iowa, personally intervened when a for-profit consumer complaint website posted comments critical of the company." See also, Acting attorney general Matthew Whitaker's denial about his company's alleged fraud just suffered a major blow, The Washington Post, Aaron Blake, published on Thursday, 15 November 2018.
Special Counsel Robert Mueller Probes Possible Witness Intimidation by Longtime Trump Adviser Roger Stone, Wall Street Journal, Aruna Viswanatha, Wednesday, 14 November 2018: "Special Counsel Robert Mueller's office is exploring whether longtime Trump adviser Roger Stone tried to intimidate and discredit a witness who is contradicting Mr. Stone's version of events about his contacts with WikiLeaks, according to people who have spoken to Mr. Mueller's investigators. In grand jury sessions and interviews, prosecutors have repeatedly asked about emails, text messages and online posts involving Mr. Stone and his former friend, New York radio personality Randy Credico, the people said. Mr. Stone has asserted that Mr. Credico was his backchannel to WikiLeaks, a controversial transparency group, an assertion Mr. Credico denies. Mr. Mueller's investigators are probing whether Mr. Stone had direct contact with WikiLeaks and knew ahead of time about its release of stolen Democratic emails, as he claimed during the campaign and now denies. Mr. Stone says he is angry at Mr. Credico because his ex-friend has 'refused to tell the truth' about being his conduit to WikiLeaks." See also, Text messages show Roger Stone and his friend Randy Credico discussing WikiLeaks plans, NBC News, Anna Schecter, Wednesday, 14 November 2018: "Six days before WikiLeaks began releasing Hillary Clinton campaign chairman John Podesta's emails, Roger Stone had a text message conversation with a friend about WikiLeaks, according to copies of phone records obtained exclusively by NBC News. 'Big news Wednesday,' the Stone pal, radio host Randy Credico, wrote on Oct. 1, 2016, according to the text messages provided by Stone. 'Now pretend u don't know me.' 'U died 5 years ago,' Stone replied. 'Great,' Credico wrote back. 'Hillary's campaign will die this week.' Credico turned out to be wrong on one count — nothing incriminating about Clinton came out that Wednesday. But two days later, on Oct. 7, WikiLeaks released its first dump of emails stolen from Podesta, altering the trajectory of the 2016 presidential election. Stone, a confidante of then-candidate Donald Trump and notorious political trickster, has denied any collusion with WikiLeaks. But the text messages provided by Stone to NBC News show that Credico appeared to be providing regular updates to Stone on WikiLeaks founder Julian Assange's plans in the days before the hacked emails were released. In the texts, Credico told Stone he had insights into Assange's plans through a longtime friend, who was also Assange's lawyer, according to the text messages."
Republican Senator Jeff Flake vows to oppose Trump's judicial nominees until Republican leaders allow a vote on legislation protecting special counsel Robert Mueller's job, Politico, Elana Schor and Marianne Levine, Wednesday, 14 November 2018: "Sen. Jeff Flake (R-Ariz.) vowed Wednesday to oppose President Donald Trump's judicial nominees until GOP leaders allow a vote on legislation protecting special counsel Robert Mueller's job. Flake announced his move during a failed attempt to get unanimous consent for a vote on the bill designed to shield Mueller from being fired by Trump. His gambit promises to make trouble — but not an insurmountable amount — for fellow Republicans as they churn ahead with a blistering pace of confirming Trump's judges. The party has only a one-vote majority in the Judiciary Committee and a 51-49 advantage on the Senate floor."
Conservative Lawyers Say Trump Has Undermined the Rule of Law, The New York Times, Adam Liptak, Wednesday, 14 November 2018: "The annual convention of the Federalist Society, the conservative legal group, has long been a glittering and bustling affair. In the Trump era, though, the group has become more powerful than ever, supplying intellectual energy and judicial candidates to an assertive administration eager to reshape the legal landscape. But as the group prepares to gather on Thursday for the start of this year's convention, more than a dozen prominent conservative lawyers have joined together to sound a note of caution. They are urging their fellow conservatives to speak up about what they say are the Trump administration's betrayals of bedrock legal norms. 'Conservative lawyers are not doing enough to protect constitutional principles that are being undermined by the statements and actions of this president,' said John B. Bellinger III, a top State Department and White House lawyer under President George W. Bush."
Trump claims an ID is needed to buy cereal and that fraudulent voters simply switch hats, The Washington Post, Philip Bump, Wednesday, 14 November 2018: "There's no good argument underlying President Trump's insistence that U.S. elections are undermined by rampant voter fraud. There's no evidence at all that they are, despite years of looking and years of rhetoric like Trump's. There's no evidence of rampant voter fraud in Florida in the wake of last week's midterm elections, either, despite Trump's tweets and commentary. But there are particularly bad arguments for the existence of voter fraud, two of which Trump offered in an interview with the Daily Caller on Wednesday afternoon. The outlet's Benny Johnson and Saagar Enjeti interviewed Trump in the Oval Office, and the conversation turned to the recount in that state. Here's the first claim Trump made, hoping to bolster his assertion that fraud is rampant: 'When people get in line that have absolutely no right to vote and they go around in circles. Sometimes they go to their car, put on a different hat, put on a different shirt, come in and vote again. Nobody takes anything. It's really a disgrace what's going on.' Here's the second claim he made, hoping to bolster the idea that photo ID should be required at polling places: 'If you buy a box of cereal — you have a voter ID. They try to shame everybody by calling them racist, or calling them something, anything they can think of, when you say you want voter ID. But voter ID is a very important thing.'"
As Trump Threatens Tariffs on European Cars, Europe Prepares to Strike Back, The New York Times, Alan Rappeport and Jack Ewing, Wednesday, 14 November 2018: "Europe's top trade diplomat is bracing for a trade war with the United States and said on Wednesday that the European Union was preparing to strike back if President Trump followed through with his threat to impose tariffs on Europe's cars. The European Union and the United States are meeting this week to try to lay the foundation for trade talks that would reduce tariffs on a range of industrial goods. But as Mr. Trump and members of his administration vent about the pace of negotiations and continue dangling potential auto tariffs, the Europeans have begun drawing up a list of American products they would tax if the trade dispute escalates."
French President Emmanuel Macron's Response to Trump: 'I Do Not Do Policy or Diplomacy by Tweets,' The New York Times, Alissa J. Rubin, Wednesday, 14 November 2018: "The French president responded Wednesday evening to President Trump's scathing personal attack on him, declining to lash out and instead taking the long view. In a television interview on the aircraft carrier Charles de Gaulle, which President Emmanuel Macron was visiting, he made clear that he was not going to respond in kind, but hew to both countries' longstanding common interests."
Thursday, 15 November 2018, Day 665:
In court filing, prosecutors inadvertently reveal that WikiLeaks founder Julian Assange has been charged, The Washington Post, Matt Zapotosky and Devlin Barrett, Thursday, 15 November 2018: "WikiLeaks founder Julian Assange has been charged under seal, prosecutors inadvertently revealed in a recently unsealed court filing — a development that could significantly advance the probe into Russian interference in the 2016 election and have major implications for those who publish government secrets. The disclosure came in a filing in a case unrelated to Assange. Assistant U.S. Attorney Kellen S. Dwyer, urging a judge to keep the matter sealed, wrote that 'due to the sophistication of the defendant and the publicity surrounding the case, no other procedure is likely to keep confidential the fact that Assange has been charged.' Later, Dwyer wrote the charges would 'need to remain sealed until Assange is arrested.' Dwyer is also assigned to the WikiLeaks case. People familiar with the matter said what Dwyer was disclosing was true, but unintentional." See also, Prosecutors Mistakenly Reveal That WikiLeaks Founder Julian Assange Is Secretly Charged in the U.S., The New York Times, Charlie Savage, Adam Goldman, and Michael S. Schmidt, published on Friday, 16 November 2018: "The Justice Department has secretly filed criminal charges against the WikiLeaks founder, Julian Assange, a person familiar with the case said, a drastic escalation of the government's yearslong battle with him and his anti-secrecy group. Top Justice Department officials told prosecutors over the summer that they could start drafting a complaint against Mr. Assange, current and former law enforcement officials said. The charges came to light late Thursday through an unrelated court filing in which prosecutors inadvertently mentioned them…. Though the legal move against Mr. Assange remained a mystery on Thursday, charges centering on the publication of information of public interest — even if it was obtained from Russian government hackers — would create a precedent with profound implications for press freedoms."
Mueller Team Has 'Gone Absolutely Nuts,' Trump Says, Resuming Attacks on Russia Inquiry, The New York Times, Maggie Haberman, Michael S. Schmidt, and Eileen Sullivan, Thursday, 15 November 2018: "Fresh off three days of private meetings with his personal lawyers, President Trump renewed his attacks on Thursday on the special counsel investigation, calling it 'A TOTAL WITCH HUNT LIKE NO OTHER IN AMERICAN HISTORY!' The barrage, launched on Twitter, ended a period of relative quiet by the president about the investigation, which has ensnared some of his former aides." See also, Trump blasts Special Counsel Robert Mueller's investigation a week after installing new acting attorney general Matthew Whitaker, The Washington Post, John Wagner, Thursday, 15 November 2018: "President Trump on Thursday lashed out anew at the investigation of special counsel Robert S. Mueller III, calling his team of lawyers 'a disgrace to our Nation' and accusing them, without evidence, of threatening witnesses to get answers they want. Trump's rant, in a pair of morning tweets, came a week after the installation of Matthew G. Whitaker as acting attorney general, a move many Democrats have said appears designed to curtail Mueller's investigation into possible coordination between Russia and Trump's campaign during the 2016 election…. Many of Trump's complaints in Thursday's tweets were familiar, but they took on heightened significance with Whitaker now overseeing Mueller's probe, which is also examining whether Trump has obstructed justice."
Florida recount: Hand recount ordered in U.S. Senate race in Florida, The Washington Post, Sean Sullivan. Lori Rozsa, Beth Reinhard, and Amy Gardner, Thursday, 15 November 2018: "The five-day sprint to run ballots in Florida through counting machines for a second time ended Thursday, with the state ordering a manual recount of results in the U.S. Senate race, where about 12,600 votes separated Democratic incumbent Bill Nelson from Republican Rick Scott, the state's governor. No such measure was ordered in the governor's race, where former congressman Ron DeSantis (R) held an edge over Tallahassee Mayor Andrew Gillum (D). At least three counties did not submit new totals for the machine recount and are relying on counts from last week. Palm Beach County's election supervisor said less than an hour before the 3 p.m. deadline that they would not finish the machine recount in any of three statewide races still in question and would move on to the manual recount at 4 p.m. In Broward County, results from the machine recount were received at 3:02 p.m. — two minutes past the deadline. And in Hillsborough County, officials said the number of votes after the recount was lower, but the margins in the races were the same, so they were sticking with the first unofficial returns. In the governor's race, former congressman Ron DeSantis (R) held a 0.41 percent lead over Tallahassee Mayor Andrew Gillum at the start of the recount, outside the 0.25 percent threshold for a hand recount. Gillum said in a statement that he would not concede."
Federal judge gives Florida voters until Saturday to correct signature problems roiling close races, The Washington Post, Sean Sullivan and Isaac Stanley-Becker, Thursday, 15 November 2018: "Florida's historic recount was thrown once more into uncertainty Thursday when a federal judge ruled that voters whose mail-in and provisional ballots were rejected because of issues with their signatures will have two more days to resolve the problems and possibly have their votes counted. The decision by Judge Mark Walker of the U.S. District Court in Tallahassee came just hours ahead of the Thursday afternoon deadline for elections officials to complete a machine recount. It is particularly notable in the too-close-to-call Senate race, in which Gov. Rick Scott (R) leads Sen. Bill Nelson (D) by fewer than 13,000 votes. Walker's decision affects Floridians who cast their ballots by mail, or voted provisionally, but whose signatures did not match records maintained by state officials. More than 4,000 ballots across 45 counties in Florida were set aside because of inconsistent signatures, he wrote in his opinion. In the other 22 counties, the number is unknown."
Banner Year for Female Candidates Doesn't Extend to Republican Women, The New York Times, Susan Chira, Thursday, 15 November 2018: "It is the year of the woman, all right. But only for Democrats. The number of Republican women in Congress next year will actually drop, even as the ranks of Democratic women swell to record heights. With a few races still undecided, the new Congress will have at least 105 Democratic women and 19 Republican women."
Dozens From Caravan Line Up at the Border, Seeking Asylum Interviews, The New York Times, Kirk Semple, Thursday, 15 November 2018: "The vanguard of what President Trump has labeled an invasion force formed an orderly line at about 6:45 a.m. on Thursday near a major border crossing between Tijuana and the United States and waited patiently. About 80 lesbian, gay, bisexual and transgender people who have been traveling with a large migrant caravan had come to the crossing, with stories of victimization and persecution, to make an appointment for asylum interviews in the United States. But other than the line of migrants, it was mostly business as usual along this westernmost stretch of the Mexico-United States southwest border."
Saudis Shift Account of Killing of Saudi Journalist Jamal Khashoggi Again, as 5 Agents Face Death Penalty, The New York Times, Ben Hubbard and David D. Kirkpatrick, Thursday, 15 November 2018: "Saudi Arabia threatened five of its agents with the death penalty on Thursday for killing the dissident Jamal Khashoggi, as the kingdom changed its story, again, about how the crime was committed and continued to try to distance its de facto ruler, Crown Prince Mohammed bin Salman, from any responsibility. Announcing an update on the kingdom's own investigation, the public prosecutor portrayed the killing of Mr. Khashoggi at the Saudi Consulate in Istanbul as an improvised decision taken at the last minute by a team that had been dispatched there with orders to retrieve him. While the prosecutor's report did not name any of the suspects, the leader of the team that confronted Mr. Khashoggi at the consulate was Maher Abdulaziz Mutreb, a frequent companion of Prince Mohammed, who often traveled with him abroad, according to a Saudi official familiar with the investigation…. But the Saudis acknowledged for the first time on Thursday that the team sent to meet Mr. Khashoggi in Istanbul had not only ambushed and killed him in their consulate but had also dismembered his body — as Turkish officials have maintained for weeks. Speaking to reporters in the Saudi capital, Riyadh, a spokesman for the public prosecutor said the order to kill Mr. Khashoggi had been taken by only a single intelligence agent on the scene in Istanbul, without authorization from superiors in Riyadh, and that it was accomplished with a deadly dose of a tranquilizer — not by strangulation, as the kingdom had previously said. The mutilation of the body, the prosecutor said, was a spur-of-the-moment decision to get the body out of the consulate." See also, Saudi Arabia distances crown prince Mohammed bin Salman from killing of journalist Jamal Khashoggi, The Washington Post, Kareem Fahim and Zakaria Zakaria, Thursday, 15 November 2018: "Saudi Arabia's public prosecutor released the findings of a long-awaited investigation of the death of journalist Jamal Khashoggi on Thursday, saying that a team of Saudi agents dispatched to Istanbul with orders to bring him home alive had instead killed the journalist and dismembered his body. Saudi Arabia's crown prince had no knowledge of the operation, Shaalan al-Shaalan, a spokesman for the prosecutor, said at a news conference in Riyadh, the Saudi capital." See also, Saudi Arabia's latest account of Khashoggi's death is shocking in its audacity, The Washington Post, Editorial Board, Thursday, 15 November 2018: "The new account of Jamal Khashoggi's death offered by Saudi Arabia on Thursday was shocking in its audacity. Having previously acknowledged that the journalist was the victim of premeditated murder, authorities in Riyadh reverted to an earlier, discredited tale: that Mr. Khashoggi was killed spontaneously inside the Saudi Consulate in Istanbul by a team sent to return him to Saudi Arabia. While reporting that 11 suspects had been indicted and that the death penalty would be sought for five of them, a Riyadh public prosecutor excused not just Crown Prince Mohammed bin Salman — the chief suspect in the murder — but also two of his top aides, who the prosecutor said ordered or advised the capture operation but did not approve Mr. Khashoggi's killing. By offering up this incredible account, the Saudi regime is baldly defying all those, including leading members of Congress, who called for full disclosure and accountability. Yet the Trump administration appears ready to accept its stonewalling. On Thursday, it announced sanctions against 17 people implicated by the Saudis — leaving untouched both the crown prince and top intelligence officials in Riyadh. Accepting the Saudi story means ignoring a number of well-established facts."
U.S. Levels Sanctions on 17 Saudis for Alleged Involvement in Killing of Saudi Journalist Jamal Khashoggi, The New York Times, Mark Landler and Gardiner Harris, Thursday, 15 November 2018: "President Trump said last week that he would form a 'very strong opinion' about how the United States should respond to the brutal killing of Jamal Khashoggi, the Saudi journalist, after Saudi Arabia presented the results of its own investigation of the crime. But when the Saudis delivered that report on Thursday, Mr. Trump reacted with silence. Instead, the Trump administration, as expected, imposed sanctions on 17 Saudis accused of involvement in the killing. That came hours after Saudi Arabia's public prosecutor announced that he would seek the death penalty for five people he said took part in Mr. Khashoggi's killing in the Saudi Consulate in Istanbul on Oct. 2. A senior administration official said the United States was unlikely to take further steps against Saudi leaders, suggesting that both sides hope to put the episode behind them. Earlier this week, the national security adviser, John R. Bolton, said a recording of Mr. Khashoggi's killing did not implicate Saudi Arabia's de facto leader, Crown Prince Mohammed bin Salman. And Mr. Trump has steadfastly refused to finger Prince Mohammed, who is a close ally of his son-in-law and senior adviser, Jared Kushner, and a linchpin of the administration's Middle East policy, though he has condemned Saudi Arabia's handling of the killing as 'the worst cover-up ever.'" See also, U.S. lawmakers say steps taken in the Khashoggi case by the U.S. and Saudi Arabia don't go far enough, The Washington Post, Karen DeYoung and Kareem Fahim, Thursday, 15 November 2018: "The Trump administration and Saudi Arabia each took steps Thursday to punish those they said were involved in the killing of Saudi journalist Jamal Khashoggi, but U.S. lawmakers and other critics said the moves did not go far enough. Many in Congress have accused the administration of placing its desire to maintain close relations with Saudi Arabia — particularly with its senior leadership — above a serious response to the Khashoggi case and the war in Yemen, where U.S.-aided Saudi airstrikes have killed thousands of civilians and caused widespread starvation. A sweeping proposal to increase congressional oversight and suspend U.S. weapons sales to the Saudis was introduced Thursday by a bipartisan group of senior senators."
Bipartisan Senate group tries to end Yemen war with proposed sanctions and arms sales ban on Saudi Arabia, The Washington Post, Karoun Demirjian, Thursday, 15 November 2018: "A bipartisan group of senators is releasing legislation imposing sanctions, prohibitions and restrictions against Saudi Arabia and other entities considered responsible for the humanitarian suffering in war-torn Yemen, the most punitive proposals to emerge from Congress since Saudi journalist Jamal Khashoggi was murdered last month. The group, which is led by Sens. Robert Menendez (D-N.J.) and Todd C. Young (R-Ind.) and includes Trump confidant Lindsey O. Graham (R-S.C.), is calling for a total prohibition on arms sales to Saudi Arabia that could be used for offensive purposes. The blanket embargo includes a ban on selling Riyadh munitions, bombs, missiles, aircraft, tanks or armored vehicles, according to a person familiar with the text, but does not prevent the sale of purely defensive systems, such as missile interceptors. The measure would also codify the Trump administration's recent decision to stop refueling Saudi planes engaged in operations in Yemen against the Houthi rebels and impose sanctions on anyone supporting the Houthi rebellion — namely, Iran — within 30 days of the bill's passage. Those who prevent the delivery of humanitarian aid to Yemeni civilians would also be subject to new proposed sanctions in the bill that would go into effect immediately."
To ease Turkish pressure on Saudis over killing of Saudi journalist Jamal Khashoggi, White House weighs expelling Fethullah Gulen, an enemy of Turkish President Recep Erdogan, NBC News, Carol E. Lee, Julia Ainsley, and Courtney Kube, Thursday, 15 November 2018: "The White House is looking for ways to remove an enemy of Turkish President Recep Erdogan from the U.S. in order to placate Turkey over the murder of journalist Jamal Khashoggi, according to two senior U.S. officials and two other people briefed on the requests. Trump administration officials last month asked federal law enforcement agencies to examine legal ways of removing exiled Turkish cleric Fethullah Gulen in an attempt to persuade Erdogan to ease pressure on the Saudi government, the four sources said. The effort includes directives to the Justice Department and FBI that officials reopen Turkey's case for his extradition, as well as a request to the Homeland Security Department for information about his legal status, the four people said. They said the White House specifically wanted details about Gulen's residency status in the U.S. Gulen has a Green Card, according to two people familiar with the matter. He has been living in Pennsylvania since the late 1990s. Career officials at the agencies pushed back on the White House requests, the U.S. officials and people briefed on the requests said. 'At first there were eye rolls, but once they realized it was a serious request, the career guys were furious,' said a senior U.S. official involved in the process."
Democrats Grill Immigration and Customs Enforcement (ICE) Nominee About Child Detentions and a Derogatory Tweet He Made About the Democratic Party, The New York Times, Ron Nixon, Thursday, 15 November 2018: "Senate Democrats on Thursday grilled Ronald D. Vitiello, President Trump's pick to lead Immigration and Customs Enforcement, bombarding him with pointed questions about the administration's detention of migrant children and a three-year-old Twitter post in which he made derogatory remarks about the Democratic Party. Mr. Vitiello, a former Border Patrol agent who was appointed acting director of ICE in June, is seeking to become the first permanent director of the agency in the Trump administration."
U.S. Commission on Civil Rights urges the Trump administration to increase scrutiny of the local police, The Washington Post, Wesley Lowery, Thursday, 15 November 2018: "The U.S. Commission on Civil Rights urged the Trump administration Thursday to resume federal oversight of troubled police departments and reinstate the Justice Department's community policing office — steps that would reverse an effort by Jeff Sessions, the recently departed attorney general, to limit federal oversight of local police departments. The commission's 200-page report, endorsed by a majority of the eight members, concludes that black Americans, among others, have valid concerns about police violence and lack of officer accountability. In response, the report concludes, federal officials should resume the practice — abandoned since Donald Trump became president — of investigating local police departments accused of systemic civil rights violations and resurrect the DOJ's Office of Community Oriented Policing Services."
A man shouted 'Heil Hitler' and 'Heil Trump' during a performance of 'Fiddler on the Roof' in Baltimore–and people fled the theater, The Washington Post, Lindsey Bever, Thursday, 15 November 2018: "Several minutes into intermission during a musical about Jewish traditions, a man stood up, raised his arm in a Nazi salute and started to shout. Members of the audience said the man called out 'Heil Hitler!' and 'Heil Trump!' at the Wednesday-night performance of 'Fiddler on the Roof' at Hippodrome Theatre in Baltimore. 'People started running,' Rich Scherr, who was in the audience, told The Washington Post. 'The next thing I expected to hear was gunshots, frankly.' The incident occurred just weeks after 11 people were gunned down at Tree of Life synagogue in Pittsburgh in the deadliest attack on Jews in U.S. history. The alleged gunman, Robert Bowers, is accused of saying that he wanted to 'kill Jews' while he was in the synagogue."
The Watergate Blueprint for Impeaching Donald Trump, The Intercept, Elizabeth Holtzman, Thursday, 15 November 2018: "Trump has damaged American democracy far more than I would have guessed. He has relentlessly attacked the administration of jus­tice, in particular the investigation into a possible conspiracy with Russia regarding the 2016 presidential election, putting himself above the rule of law; he has failed to separate his personal business from the country's, flout­ing the Constitution's requirements; he has violated the constitutional rights of the people in separating children from parents at the Southwest border without due process of law; and he has refused to acknowledge Russia's central role in interfering in our 2016 elections and to publicly lead a full-scale effort to protect against further interference. To cover up these misdeeds, moreover, he has flagrantly lied and assailed the press as an enemy of the people. These are 'great and dangerous offenses' that the framers of our Constitution wanted to counteract and thwart. They provided a powerful remedy. Impeachment. Many tremble at the word, fearing how Trump's supporters will react to an impeachment inquiry, worrying that it will only further polarize an already deeply divided nation or that there will not be enough votes in the Republican-controlled Senate to convict him even if the newly empowered Democratic majority in the House of Representatives votes to impeach. Just calling for an inquiry will be viewed as a Democratic Party attack on the head of another party, a kind of coup d'état. It's easy to find reasons to be anxious. I'm not afraid. As a junior congresswoman, the youngest ever elected at that time, I served on the House Judiciary Committee that voted to impeach President Richard Nixon for the high crimes and misdemeanors he commit­ted in connection with the Watergate cover-up and other matters. Thorough, fair, and above all bipartisan, the committee acted on solid evidence pre­sented in televised hearings that riveted the nation, handing us the blueprint for how impeachment can be successfully pursued today."