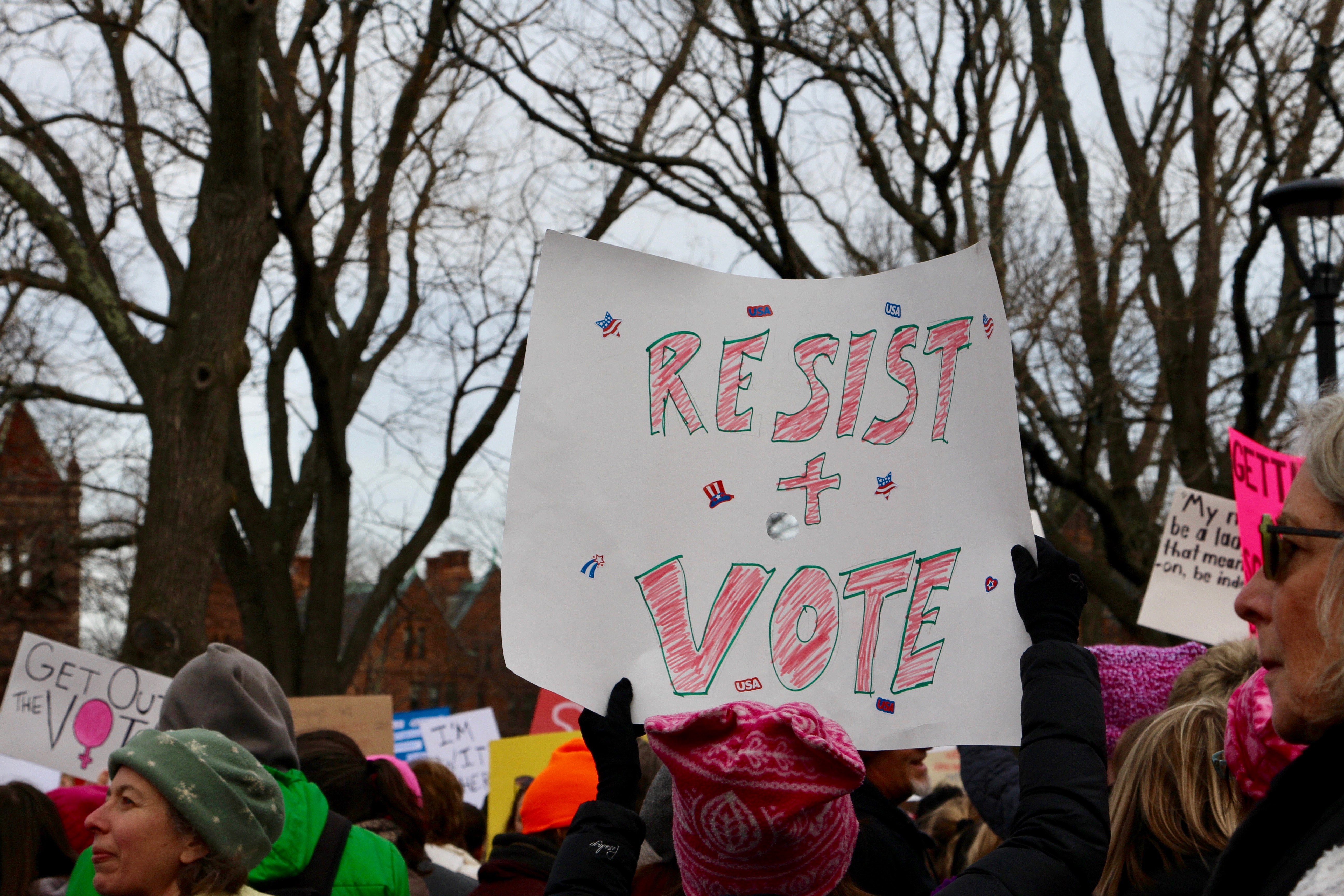 Cambridge, MA, 20 January 2018
Passages in bold in the body of the texts below are my emphasis. This is an ongoing project, and I update the site frequently. Because I try to stay focused on what has actually happened, I usually let the news 'settle' a day or so before posting. I hope readers will peruse the articles in full for a better understanding of the issues and their context; our democracy and our future depend on citizens who can distinguish between facts and falsehoods and who are engaged in the political process.
Friday, 5 October 2018, Day 624:
Divided Senate clears way for Brett Kavanaugh's confirmation to the Supreme Court, The Washington Post, Seung Min Kim and John Wagner, Friday, 5 October 2018 and updated on Saturday, 6 October 2018: "A bitterly divided Senate cleared the way for Brett M. Kavanaugh to become the next Supreme Court justice as President Trump's nominee secured the support of a handful of wavering senators in a tumultuous confirmation fight. During a frenzied day Friday on Capitol Hill, two Republicans — Susan Collins of Maine and Jeff Flake of Arizona — and one Democrat — Joe Manchin III of West Virginia — said they would vote for Kavanaugh, whose confirmation seemed in peril three weeks ago over allegations of sexual misconduct. Another lawmaker, Sen. Lisa Murkowski (R-Alaska), broke with her party, saying Kavanaugh was a good man but 'not the right man for the court at this time.' Their pronouncements turned Saturday's confirmation vote into a fait accompli, and one that will reverberate for the judiciary, the Senate and the nationwide #MeToo movement. In a show of defiance, Democrats spent the night making impassioned floor speeches against Kavanaugh's nomination to an almost-empty chamber. Their speeches were part of their strategy of using the full 30 hours of debate time automatically granted to senators, allowing them to delay the final vote on Kavanaugh until late afternoon. Sen. Jeff Merkley (D-Ore.) delivered a blistering, two-hour floor speech, starting at 4 a.m., in which he read testimonies from more than 30 rape and sexual assault survivors who had written to him after Kavanaugh's nomination." See also, Senator Susan Collins, Republican of Maine, and Joe Manchin III, Democrat of West Virginia, Will Vote for Kavanaugh, Ensuring His Confirmation, The New York times, Sheryl Gay Stolberg and Nicholas Fandos, Friday, 5 October 2018: "Judge Brett M. Kavanaugh, whose Supreme Court hearings ripped apart the Senate and roiled the nation, headed for final confirmation to the court after two key undecided senators announced on Friday that they would back him, despite allegations of sexual assault and deep-seated Democratic opposition. The last-minute announcements by Senator Susan Collins, Republican of Maine, and Joe Manchin III, Democrat of West Virginia, capped an emotional and deeply divisive confirmation process that, in the end, turned as much on questions about Judge Kavanaugh's honesty, temperament and treatment of women as it did on his jurisprudence. A final vote is expected late Saturday afternoon." See also, Read Susan Collins's Speech Declaring Support for Brett Kavanaugh, The New York Times, Friday, 5 October 2018.
F.B.I. Review of Supreme Court Nominee Brett Kavanaugh Was Limited From the Start, The New York Times, Michael D. Shear, Michael S. Schmidt, and Adam Goldman, Friday, 5 October 2018: "An exasperated President Trump picked up the phone to call the White House counsel, Donald F. McGahn II, last Sunday. Tell the F.B.I. they can investigate anything, he told Mr. McGahn, because we need the critics to stop. Not so fast, Mr. McGahn said. Mr. McGahn, according to people familiar with the conversation, told the president that even though the White House was facing a storm of condemnation for limiting the F.B.I. background check into sexual misconduct allegations against Judge Brett M. Kavanaugh, a wide-ranging inquiry like some Democrats were demanding — and Mr. Trump was suggesting — would be potentially disastrous for Judge Kavanaugh's chances of confirmation to the Supreme Court."
American Bar Association to reevaluate Kavanaugh's high rating, citing his 'temperament,' The Washington Post, Alex Horton, Friday, 5 October 2018: "The American Bar Association said Friday that it will reevaluate its high rating of Supreme Court nominee Brett M. Kavanaugh after his combative, tear-streaked Senate testimony last week, signaling doubts about the judge's temperament. 'New information of a material nature regarding temperament' during the hearing prompted the reopening, the ABA said Friday. The ABA committee that reviews federal judges awards ratings based on three criteria: integrity, professional competence and judicial temperament. The national lawyers organization told the Senate Judiciary Committee that its team of internal reviewers 'does not expect to complete a process and revote' before the anticipated final confirmation vote Saturday. The process became rancorous after Christine Blasey Ford's allegations that Kavanaugh sexually assaulted her when both were teens. The ABA and its committee declined to comment further about what portions of Kavanaugh's testimony raised concerns. Regarding temperament, the ABA says judges should have 'compassion, decisiveness, open-mindedness, courtesy, patience, freedom from bias and commitment to equal justice under the law.' Kavanaugh was combative with Senate Democrats throughout his testimony, claiming that Ford's accusation was a vehicle of 'revenge on behalf of the Clintons' and responding angrily to questions about his drinking habits."
Continue reading Week 90, Friday, 5 October – Thursday, 11 October 2018 (Days 624-630) 
Dear Senators: The Opposition to Brett Kavanaugh Includes Churches, Law Professors, and Conservatives–Even His Own Friends, The Intercept, Peter Maass, Friday, 5 October 2018: "The opposition to Brett Kavanaugh that has gotten the most attention is, naturally, the Senate Democrats who are voting against his Supreme Court nomination, and members of the #MeToo movement who believe Christine Blasey Ford and Deborah Ramirez when they say Kavanaugh drunkenly assaulted them in high school and college, respectively. But that's just the tip of the iceberg. Across the country, a diverse array of prominent individuals and organizations has come out against Kavanaugh, quite publicly and quite surprisingly. That even includes friends of his. Unlike the political divide on Capitol Hill, which is predictably stark with the exception of a few wavering senators, the national opposition to Kavanaugh's elevation to the Supreme Court includes a startling number of church groups, including Mormons and Christians. Conservative scholars and legal figures — such as former Supreme Court Justice John Paul Stevens, a lifelong Republican appointed to the court by a Republican president, Gerald Ford — have also spoken out against the nominee…. What follows is a list of people and organizations that have opposed Brett Kavanaugh's elevation to the Supreme Court of the United States:
'Grow up': Senator Orrin Hatch, Republican of Utah, waves off female protesters demanding to speak with him, The Washington Post, Eli Rosenberg, Friday, 5 October 2018: "Sen. Orrin G. Hatch (R-Utah) raised the ire of protesters Thursday after telling a group of mostly women who confronted him in one of the Senate buildings that he would talk to them when they 'grow up.' Video of the incident ricocheted around social media Thursday night, the latest in a string of confrontations reflecting the heated emotions coursing through the Capitol amid the fight over Brett M. Kavanaugh's Supreme Court nomination. In the video, a group of protesters confronts Hatch, a member of the Senate Judiciary Committee who has been front and center in the confirmation process, as he gets into an elevator in the Hart building. The video starts mid-confrontation, with the voice of a woman asking Hatch over a wall of staffers why he isn't 'brave enough' to talk to her and her group. Hatch waves his hand in midair. 'Don't you wave your hand at me,' the woman says. Hatch looks at her and says, 'When you grow up, I'll be glad to' talk to you. The comment incenses some of the protesters. 'How dare you talk to women that way?' one says. Hatch waves at the group from the elevator as they continue yelling at him."
Representative Jerrold Nadler, Democrat of New York, Promises an Investigation of Kavanaugh if Democrats Win Control of the House, The New York Times, Nicholas Fandos and Sheryl Gay Stolberg, Friday, 5 October 2018: "House Democrats will open an investigation into accusations of sexual misconduct and perjury against Judge Brett M. Kavanaugh if they win control of the House in November, Representative Jerrold Nadler, the New York Democrat in line to be the chairman of the Judiciary Committee, said on Friday. Speaking on the eve of Judge Kavanaugh's confirmation vote this weekend, Mr. Nadler said that there was evidence that Senate Republicans and the F.B.I. had overseen a 'whitewash' investigation of the allegations and that the legitimacy of the Supreme Court was at stake. He sidestepped the issue of impeachment. 'It is not something we are eager to do,' Mr. Nadler said in an interview. 'But the Senate having failed to do its proper constitutionally mandated job of advise and consent, we are going to have to do something to provide a check and balance, to protect the rule of law and to protect the legitimacy of one of our most important institutions.'"
Saturday, 6 October 2018, Day 625:
Brett Kavanaugh is sworn in as Supreme Court justice after divided Senate votes for confirmation, The Washington Post, Seung Min Kim and John Wagner, Saturday, 6 October 2018: "The Senate confirmed Brett M. Kavanaugh as the 114th Supreme Court justice on Saturday by one of the narrowest margins in history amid mass protests, ending a vitriolic battle over his nomination and solidifying a conservative majority on the court. As a throng of angry demonstrators stood on the steps of the Capitol, the Senate finalized on a near party-line vote of 50 to 48 what will certainly be one of President Trump's most enduring legacies: two Supreme Court justices in two years in an increasingly polarized nation." See also, Brett Kavanaugh Is Sworn In After Close Confirmation Vote in the Senate, The New York Times, Sheryl Gay Stolberg, Saturday, 6 October 2018: "Judge Brett M. Kavanaugh was confirmed to the Supreme Court on Saturday by one of the slimmest margins in American history, locking in a solid conservative majority on the court and capping a rancorous battle that began as a debate over judicial ideology and concluded with a national reckoning over sexual misconduct. As a chorus of women in the Senate's public galleries repeatedly interrupted the proceedings with cries of 'Shame!,' somber-looking senators voted 50 to 48 — almost entirely along party lines — to elevate Judge Kavanaugh. He was promptly sworn in by both Chief Justice John G. Roberts Jr. and the retired Justice Anthony M. Kennedy — the court's longtime swing vote, whom he will replace — in a private ceremony. For Mr. Trump and Senate Republican leaders, who have made stocking the federal judiciary with conservative judges a signature issue, the Senate vote was a validation of a hard-edge strategy to stick with Judge Kavanaugh, even after his nomination was gravely imperiled by allegations by Christine Blasey Ford that he had tried to rape her when they were teenagers."
Senators representing less that half the U.S. vote to confirm a nominee opposed by most Americans to the Supreme Court, The Washington Post, Philip Bump, Saturday, 6 October 2018: "There have been five presidents who assumed the office after having lost the popular vote. Between them, they nominated 12 justices who ended up serving on the Supreme Court. On Saturday, with President Trump's nomination of Brett M. Kavanaugh poised to pass the Senate, the number will climb to 13. Kavanaugh, though, has a distinct honor: He will be the first justice nominated by someone who lost the popular vote to earn his seat on the bench with support from senators representing less than half of the country while having his nomination opposed by a majority of the country."
D.C. Circuit sent complaints about Kavanaugh's testimony to Chief Justice John Roberts, The Washington Post, Carol D. Leonnig, Ann E. Marimow, and Tom Hamburger, Saturday, 6 October 2018: "Chief Justice John G. Roberts Jr. has received more than a dozen judicial misconduct complaints in recent weeks against Brett M. Kavanaugh, who was confirmed as a Supreme Court justice Saturday, but has chosen for the time being not to refer them to a judicial panel for investigation. A judge on the U.S. Court of Appeals for the D.C. Circuit — the court on which Kavanaugh serves — passed on to Roberts a string of complaints the court received starting three weeks ago, said four people familiar with the matter. That judge, Karen LeCraft Henderson, had dismissed other complaints against Kavanaugh as frivolous, but she concluded that some were substantive enough that they should not be handled by Kavanaugh's fellow judges in the D.C. Circuit. In a statement Saturday, Henderson said the complaints centered on statements Kavanaugh made during his Senate confirmation hearings. Under the law, 'any person may file a misconduct complaint in the circuit in which the federal judge sits,' she said in the statement. 'The complaints do not pertain to any conduct in which Judge Kavanaugh engaged as a judge. The complaints seek investigations only of the public statements he has made as a nominee to the Supreme Court of the United States.'"
Sunday, 7 October 2018, Day 626:
Major Climate Report Describes a Strong Risk of Crisis as Early as 2040, The New York Times, Coral Davenport, Sunday, 7 October 2018: "A landmark report from the United Nations' scientific panel on climate change paints a far more dire picture of the immediate consequences of climate change than previously thought and says that avoiding the damage requires transforming the world economy at a speed and scale that has 'no documented historic precedent.' The report, issued on Monday by the Intergovernmental Panel on Climate Change, a group of scientists convened by the United Nations to guide world leaders, describes a world of worsening food shortages and wildfires, and a mass die-off of coral reefs as soon as 2040 — a period well within the lifetime of much of the global population. The report 'is quite a shock, and quite concerning,' said Bill Hare, an author of previous I.P.C.C. reports and a physicist with Climate Analytics, a nonprofit organization. 'We were not aware of this just a few years ago.' The report was the first to be commissioned by world leaders under the Paris agreement, the 2015 pact by nations to fight global warming. The authors found that if greenhouse gas emissions continue at the current rate, the atmosphere will warm up by as much as 2.7 degrees Fahrenheit (1.5 degrees Celsius) above preindustrial levels by 2040, inundating coastlines and intensifying droughts and poverty. Previous work had focused on estimating the damage if average temperatures were to rise by a larger number, 3.6 degrees Fahrenheit (2 degrees Celsius), because that was the threshold scientists previously considered for the most severe effects of climate change. The new report, however, shows that many of those effects will come much sooner, at the 2.7-degree mark."
Monday, 8 October 2018, Day 627:
Rick Gates, a Top Trump Campaign Aide, Requested Online Manipulation Plans From Israeli Intelligence Firm, The New York Times, Mark Mazzetti, Ronen Bergman, David D. Kirkpatrick, and Maggie Haberman, Monday, 8 October 2018: "A top Trump campaign official requested proposals in 2016 from an Israeli company to create fake online identities, to use social media manipulation and to gather intelligence to help defeat Republican primary race opponents and Hillary Clinton, according to interviews and copies of the proposals. The Trump campaign's interest in the work began as Russians were escalating their effort to aid Donald J. Trump. Though the Israeli company's pitches were narrower than Moscow's interference campaign and appear unconnected, the documents show that a senior Trump aide saw the promise of a disruption effort to swing voters in Mr. Trump's favor. The campaign official, Rick Gates, sought one proposal to use bogus personas to target and sway 5,000 delegates to the 2016 Republican National Convention by attacking Senator Ted Cruz of Texas, Mr. Trump's main opponent at the time. Another proposal describes opposition research and 'complementary intelligence activities' about Mrs. Clinton and people close to her, according to copies of the proposals obtained by The New York Times and interviews with four people involved in creating the documents."
Trump says Chicago police should use 'stop and frisk' tactics to curb shootings, The Washington Post, Philip Rucker, Monday, 8 October 2018: "President Trump urged Monday that police in Chicago implement the policy of 'stop and frisk' to curb the gun violence that is plaguing the nation's third-largest city. In a hard-edged and at times overtly political address to thousands of law enforcement officers here, Trump also crowed about the confirmation of Supreme Court Justice Brett M. Kavanaugh and said the sexual assault allegations against him had been orchestrated by 'evil' people. Trump said he had directed Attorney General Jeff Sessions's office to immediately visit Chicago to help the city address its wave of deadly shootings. 'We're going to straighten it out, and we're going to straighten it out fast,' Trump said. He added later: 'Let's see whether or not Chicago accepts help. They need it.'" See also, Dire Climate Warning Lands With a Thud on Trump's Desk, The New York Times, Mark Landler and Coral Davenport, Monday, 8 October 2018: "A day after the United Nations issued its most urgent call to arms yet for the world to confront the threat of climate change, President Trump boarded Air Force One for Florida — a state that lies directly in the path of this coming calamity — and said nothing about it. It was the latest, most vivid example of Mr. Trump's dissent from an effort that has galvanized much of the world. While the United Nations warned of mass wildfires, food shortages and dying coral reefs as soon as 2040, Mr. Trump discussed his successful Supreme Court battle rather than how rising seawaters are already flooding Miami on sunny days. The president's isolation is not just from the world: In California, New York, Massachusetts and other states, governments and companies are pushing ahead with regulations and technological innovations to reduce greenhouse gas emissions. That bottom-up activism is a source of hope for those who have watched in despair since last year when Mr. Trump declared he would pull the United States out of the Paris climate accord. But experts say it is no substitute for the world's largest economy, and second-largest emitter of carbon dioxide, turning its back on the fight."
To Tackle Climate Change, a New U.N. Climate Report Says Put a High Price on Carbon, The New York Times, Brad Plumer, Monday, 8 October 2018: "In its landmark report on the fast-approaching dangers of climate change, a United Nations scientific panel said on Sunday that putting a price on carbon dioxide emissions would be central for getting global warming under control. More than 40 governments around the world, including the European Union and California, have now put a price on carbon, either through direct taxes on fossil fuels or through cap-and-trade programs. But many of them have found it politically difficult to set a price high enough to spur truly deep reductions in carbon emissions. The concept of carbon pricing received another implicit endorsement on Monday from the Nobel Prize committee, which awarded Yale's William D. Nordhaus a share of the 2018 Nobel Memorial Prize in Economic Science for, among other things, making a case that 'the most efficient remedy for the problems caused by greenhouse gas emissions would be a global scheme of carbon taxes that are uniformly imposed on all countries. 'Scientists who worked on the United Nations report hailed Professor Nordhaus's work as influential for thinking about how to tackle climate change."
Tuesday, 9 October 2018, Day 628:
Nikki Haley to Resign as Trump's Ambassador to the U.N., The New York Times, Maggie Haberman, Tuesday, 9 October 2018: "President Trump's ambassador to the United Nations, Nikki R. Haley, said on Tuesday she would resign at the end of the year, marking a high-profile departure of one of the few women in the president's cabinet. Ms. Haley, a former governor of South Carolina, had been an early and frequent critic of Mr. Trump; when he named her to the United Nations job weeks after his election in November 2016, the appointment was seen as an olive branch. As ambassador, Ms. Haley has been an outspoken and often forceful envoy — someone whom foreign diplomats looked to for guidance from an administration known for haphazard and inconsistent policy positions."
Bernie Sanders plans nine-day blitz for Democratic candidates on midterm ballot, The Washington Post, John Wagner, Tuesday, 9 October 2018: "Sen. Bernie Sanders (I-Vt.) plans to launch a nine-day blitz on the campaign trail next week for Democrats on the ballot in November, including stops in several states that would be crucial to a 2020 bid for the party's presidential nomination. An itinerary shared by a Sanders aide includes several stops in Iowa, where Sanders finished a close second to Hillary Clinton in the 2016 Democratic caucuses, as well as South Carolina and Nevada, two other states that appear early on the nominating calendar. Sanders, who is actively weighing a 2020 presidential bid, is also set to make appearances in Indiana, Michigan, Wisconsin, Arizona, Colorado and California. Since falling short in 2016, Sanders has traveled extensively around the country, but mostly to promote issues he is championing. His upcoming tour, starting on Oct. 19, will be his most aggressive effort to support Democratic candidates on the ballot in November."
Turkish Officials Say Saudi Dissident Jamal Khashoggi Was Killed on Order of Saudi Leadership, The New York Times, David D. Kirkpatrick and Carlotta Gall, Tuesday, 9 October 2018: "Top Turkish security officials have concluded that the Saudi dissident Jamal Khashoggi was assassinated in the Saudi Consulate in Istanbul on orders from the highest levels of the royal court, a senior official said Tuesday. The official described a quick and complex operation in which Mr. Khashoggi was killed within two hours of his arrival at the consulate by a team of Saudi agents, who dismembered his body with a bone saw they brought for the purpose. 'It is like Pulp Fiction,' the official said…. The Trump administration had been largely silent on the matter until Monday, when President Trump said he was 'concerned' about it in response to a question from a reporter. The administration may have been hesitant to enter the feud in part because Saudi Arabia is a close American ally. Mr. Trump has repeatedly expressed his enthusiasm for the kingdom's dominant leader, the 33-year-old crown prince, Mohammed bin Salman."
Wednesday, 10 October 2018, Day 629:
FBI director Christopher Wray defends 'limited' Kavanaugh background probe, The Washington Post, Devlin Barrett and Karoun Demirjian, Wednesday, 10 October 2018: "FBI Director Christopher A. Wray on Wednesday defended his agents' handling of a background investigation into then-Supreme Court nominee Brett M. Kavanaugh, saying that it was 'limited in scope' and followed standard procedures. Wray was pressed at a Senate hearing by Sen. Kamala D. Harris (D-Calif.) about how much direction FBI agents received from the White House when they conducted a supplemental background investigation into claims by a California professor that Kavanaugh attempted to sexually assault her when the two were teenagers. Harris pressed the director to explain why FBI agents never interviewed the woman, Christine Blasey Ford, or Kavanaugh about her accusations. Wray replied, 'As is standard, the investigation was very specific in scope, limited in scope, and that is the usual process,' adding that 'my folks have assured me that the usual process was followed.' Harris then asked whether the FBI examined whether Kavanaugh may have misled Congress in his public testimony. 'That's not something I could discuss here,' Wray said."
Fact-checking Trump's USA Today op-ed on 'Medicare-for-All,' The Washington Post, Glenn Kessler, Wednesday, 10 October 2018: "President Trump wrote an opinion article for USA Today on Oct. 10 regarding proposals to expand Medicare to all Americans — known as Medicare-for-All — in which almost every sentence contained a misleading statement or a falsehood."
Disappearance of Saudi Dissident Jamal Khashoggi Puts Jared Kushner's Bet on Saudi Crown Prince Mohammed bin Salman at Risk, The New York Times, Mark Landler, Edward Wong, and Eric Schmitt, Wednesday, 10 October 2018: "For President Trump, who has made Saudi Arabia the fulcrum of his Middle East policy, the possible murder of a Saudi journalist in Turkey is a looming diplomatic crisis. For Mr. Trump's son-in-law, Jared Kushner, it is a personal reckoning. More than anyone in the Trump administration, Mr. Kushner has cultivated Saudi Arabia's crown prince, Mohammed bin Salman — whose family may have played a role in the disappearance of the journalist, Jamal Khashoggi — elevating the prince into a key ally in the Arab world and the White House's primary interlocutor to the kingdom."
Saudi crown prince Mohammed bin Salman sought to lure Saudi dissident Jamal Khashoggi back to Saudi Arabia to detain him, U.S. intercepts show, The Washington Post, Shane Harris, Wednesday, 10 October 2018: "The crown prince of Saudi Arabia, Mohammed bin Salman, ordered an operation to lure Washington Post columnist Jamal Khashoggi back to Saudi Arabia from his home in Virginia and then detain him, according to U.S. intelligence intercepts of Saudi officials discussing the plan. The intelligence, described by U.S. officials familiar with it, is another piece of evidence implicating the Saudi regime in Khashoggi's disappearance last week after he entered the Saudi Consulate in Istanbul. Turkish officials say that a Saudi security team lay in wait for the journalist and killed him. Khashoggi was a prominent critic of the Saudi government and Mohammed in particular. Several of Khashoggi's friends said that over the past four months, senior Saudi officials close to the crown prince had called Khashoggi to offer him protection, and even a high-level job working for the government, if he returned to his home country."
Trump talked with Jeff Sessions's own chief of staff about replacing him as attorney general, The Washington Post, Matt Zapotosky and Josh Dawsey, Wednesday, 10 October 2018: "President Trump talked recently with Jeff Sessions's own chief of staff about replacing Sessions as attorney general, according to people briefed on the conversation, signaling that the president remains keenly interested in ousting his top law enforcement official. The conversation between Trump and Matthew G. Whitaker was somewhat nebulous, the people said. It was not clear, for example, whether Whitaker would take over on an interim basis or be nominated in a more permanent capacity, or how definitive the president's intentions were. On a long list of indignities that Sessions has endured from his boss, Trump's discussing replacing him with his own top aide stands out. Trump has wanted to fire Sessions ever since he recused himself from what is now the special counsel's investigation into whether Russia coordinated with the Trump campaign to influence the 2016 election. He has berated his attorney general publicly and privately, and recently told Hill.TV, 'I don't have an attorney general.'"
Thursday, 11 October 2018, Day 630:
Trump Calls Relations With Saudi Arabia 'Excellent,' While Congress Is Incensed, The New York Times, Edward Wong, Eric Scmitt, and Eileen Sullivan, Thursday, 11 October 2018: "The suspected murder of a prominent Saudi journalist exposed a growing rift on Thursday between the White House and Congress over American policy on Saudi Arabia, as Republican lawmakers demanded an investigation of Jamal Khashoggi's whereabouts even as President Trump declared his relations with Riyadh 'excellent.' The Saudi-led, United States-backed bombing campaign of Houthi rebels in Yemen — which has killed thousands of civilians — was already a source of tension between Congress and the Trump administration. But last week's disappearance of Mr. Khashoggi, a well-connected Saudi columnist for The Washington Post living in Virginia, has incensed Republicans and Democrats in Congress, who accused the White House of moving too slowly in pressing the kingdom for answers."
Turks tell U.S. officials they have audio and video recordings that support the conclusion that Washington Post columnist Jamal Khashoggi was killed inside the Saudi Consulate in Istanbul, The Washington Post, Shane Harris, Souad Mekhennet, John Hudson, and Anne Gearan, Thursday, 11 October 2018: "The Turkish government has told U.S. officials that it has audio and video recordings that prove Washington Post columnist Jamal Khashoggi was killed inside the Saudi Consulate in Istanbul this month, according to U.S. and Turkish officials. The recordings show that a Saudi security team detained Khashoggi in the consulate after he walked in Oct. 2 to obtain an official document before his upcoming wedding, then killed him and dismembered his body, the officials said. The audio recording in particular provides some of the most persuasive and gruesome evidence that the Saudi team is responsible for Khashoggi's death, the officials said. 'The voice recording from inside the embassy lays out what happened to Jamal after he entered,' said one person with knowledge of the recording who, like others, spoke on the condition of anonymity to discuss highly sensitive intelligence."
Trump Falsely Claims That 'Medicare for All' Would Turn the U.S. Into Venezuela, The New York Times, Linda Qiu, Thursday, 11 October 2018: "President Trump has repeatedly claimed that Democrats' 'Medicare for all' proposal would send the United States into an economic tailspin similar to Venezuela's. This warning is wrong about the root causes of Venezuela's crisis and ignores that Mr. Trump himself previously championed single-payer health care."
Environmental Protection Agency to Disband a Key Scientific Review Panel on Air Pollution, The New York Times, Lisa Friedman, Thursday, 11 October 2018: "An Environmental Protection Agency panel that advises the agency's leadership on the latest scientific information about soot in the atmosphere is not listed as continuing its work next year, an E.P.A. official said. The 20-person Particulate Matter Review Panel, made up of experts in microscopic airborne pollutants known to cause respiratory disease, is responsible for helping the agency decide what levels of pollutants are safe to breathe. Agency officials declined to say why the E.P.A. intends to stop convening the panel next year, particularly as the agency considers whether to revise air quality standards. Environmental activists criticized the move as a way for the Trump administration to avoid what they described as the panel's lengthy but critical assessment of how much exposure to particulate matter is acceptable in the atmosphere."
Senators Add a Batch of Judges and Head Home to Campaign, The New York Times, Nicholas Fandos, Thursday, 11 October 2018: "Senators, looking toward November's elections after a bruising Supreme Court fight, reached an agreement on Thursday to leave the Capitol for the campaign trail. Republicans exacted a steep price from Democrats for an arrangement that will free up senators through Election Day: In a flurry of votes late Thursday, they pushed through 15 more judicial nominees, including three appeals court judges, on an expedited basis. In doing so, they added an exclamation mark to their victory in muscling through a second Trump Supreme Court justice, and deepened a historic imprint on the federal judiciary in President Trump's first two years in office that could push some of the nation's most important courts rightward for a generation."
The Trump Administration Carried Out Thousands More Family Separations Than Previously Acknowledged, The Intercept, Ryan Devereaux, Alice Speri, and Cora Currier, Thursday, 11 October 2018: "More than a year after the Trump administration quietly began a program of separating migrant children from their families along the U.S.-Mexico border, the full number of people impacted remains unclear. According to a new report, however, the government's own data indicates that the campaign was far more expansive — and far more destructive — than previously acknowledged. Figures provided by U.S. Customs and Border Protection detail the separation of 6,022 'family units' from April 19, 2018 to August 15, 2018, according to a report published by Amnesty International on Thursday. Noting that the term 'family unit' has varying applications in the U.S. immigration enforcement world — sometimes referring to individuals in a family, and other times referring to family groups containing multiple people — Amnesty observes that even on the low end, the figure reflects the largest total ever disclosed by the border enforcement agency in the context of the family separation crisis. Using available statistics from the last two years, Amnesty further reports that in 2017 and 2018, the Trump administration appears to have separated approximately 8,000 'family units' along the border. Even if half of the people referred to in that figure were parents, the remaining 4,000 children would dwarf the total number of kids commonly reported to have been impacted by the 'zero tolerance' campaign — that total tends to hover between 2,500 to 3,000."
Melania Trump doesn't trust some in the White House and considers herself one of the world's most bullied people, The Washington Post, John Wagner, Thursday, 11 October 2018: "First lady Melania Trump said in an interview broadcast Thursday that there have been people in her husband's White House whom she doesn't trust, including some who still work there, and that she considers herself one of the most bullied people in the world."