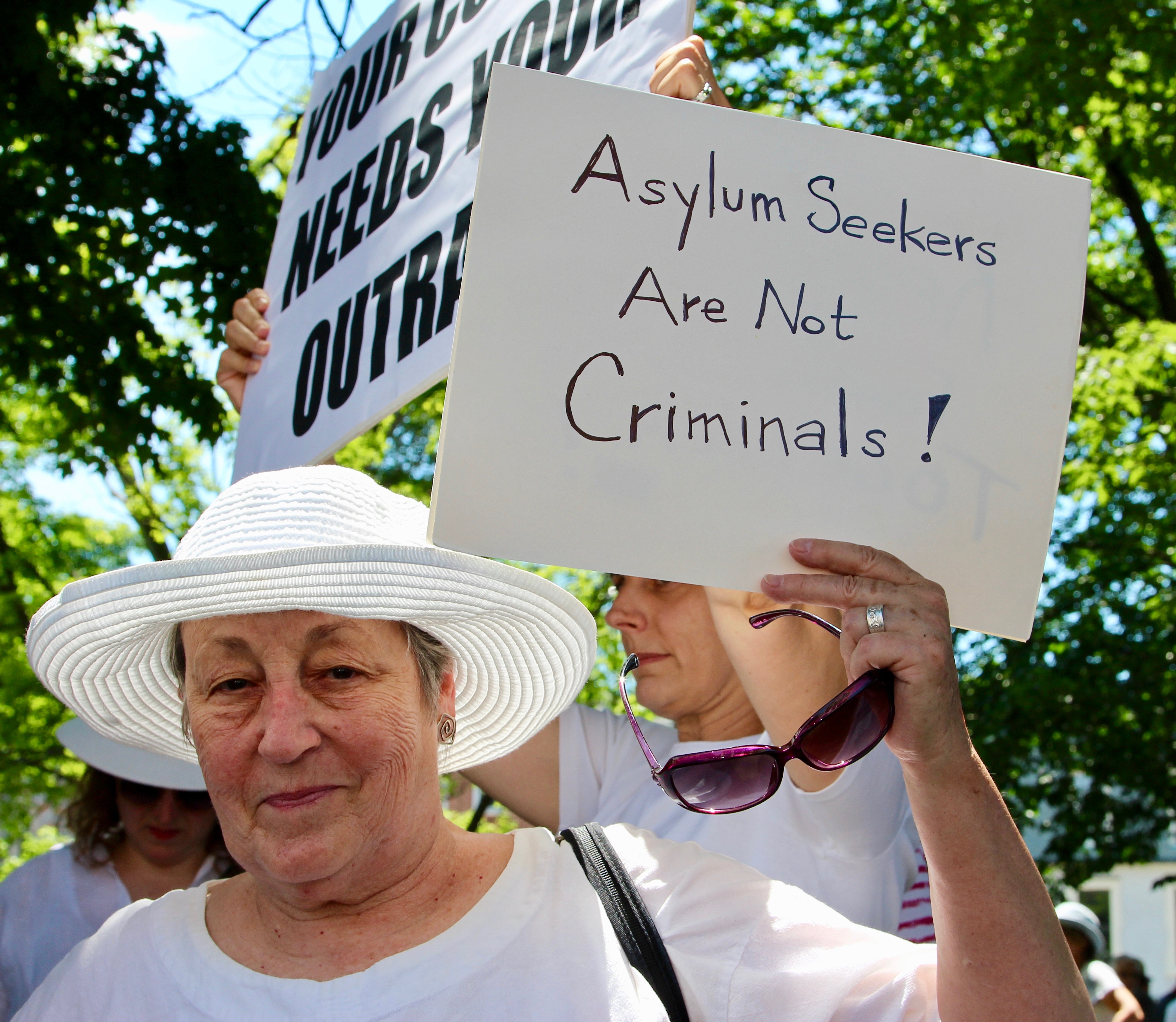 Families Belong Together and Free: rally in Pittsfield, MA, Saturday, 30 June 2018
Passages in bold in the body of the texts below are my emphasis. This is an ongoing project, and I update the site frequently. Because I try to stay focused on what has actually happened, I usually let the news 'settle' a day or so before posting. I hope readers will peruse the articles in full for a better understanding of the issues and their context; our democracy and our future depend on citizens who can distinguish between facts and falsehoods and who are engaged in the political process.
Friday, 10 August 2018, Day 568:
Cables Detail C.I.A. Waterboarding at Secret Prison in Thailand Run by Gina Haspel, The New York Times, Julian E. Barnes and Scott Shane, Friday, 10 August 2018: "In late November 2002, C.I.A. interrogators at a secret prison in Thailand warned a Qaeda suspect that he had to 'suffer the consequences of his deception.' As interrogators splashed water on the chest of the man, Abd al-Rahim al-Nashiri, he pleaded that he was trying to recall more information, according to a newly released C.I.A. cable. As he cried, the cable reports, the 'water treatment was applied.' The 'water treatment' was bureaucratic jargon for waterboarding, and 11 newly released top-secret cables from the time that Gina Haspel, now the C.I.A. director, oversaw the base provide at times graphic detail on the techniques the agency used to brutally interrogate [i.e., torture] Qaeda captives. Agency leaders and officers were racing to uncover what they feared were large-scale plots against the United States in the chaotic months and years after the Sept. 11 attacks. As the chief of the base, Ms. Haspel would have written or authorized the cables, according to Tom Blanton, the director of the National Security Archive, a research organization at George Washington University. The cables, obtained by the archive in a Freedom of Information Act lawsuit, were redacted to eliminate the names of interrogators and C.I.A. officers involved. ProPublica previously reported on cables from the Thailand black site, which also offered details of the C.I.A.'s methods. Like those documents, the new cables describe the waterboarding of Mr. Nashiri as well as the use of other torture techniques." See also, Torture of al-Qaeda suspect described in 2002 cables sent by CIA Director Gina Haspel, The Washington Post, Karen DeYoung, Friday, 10 April 2018: "The torture of a suspected al-Qaeda terrorist, including waterboarding, is described in meticulous detail in newly-declassified cables that CIA Director Gina Haspel sent to agency headquarters in late 2002, when she headed a secret U.S. detention facility in Thailand. The suspect, Abd al-Rahim al-Nashiri, was believed to have been involved in planning the USS Cole bombing in Yemen in 2000, and the CIA was convinced that he knew about other attacks being planned. Nashiri's treatment during interrogation — forced nudity, shackling, being slammed against walls, being confined in a small box and mock executions, as well as waterboarding — has been previously mentioned in broad terms in official reports, hearings, court cases and news reports. But many specifics about what happened to Nashiri during his several-week stay at the Thailand facility, while Haspel was briefly in charge, have not been made public. They are contained in 11 cables obtained under the Freedom of Information Act by the National Security Archive, a private research institute, which plans to release them early Friday."
Trump blasts National Football League (NFL) players for kneeling at preseason games, Politico, Stephanie Murray, Friday, 10 August 2018: "President Donald Trump blasted NFL players on Friday morning for protesting during the national anthem at preseason games, accusing them of being 'unable to define' what they are protesting and suggesting the athletes should instead 'be happy' and 'be cool.' 'The NFL players are at it again – taking a knee when they should be standing proudly for the national anthem. Numerous players, from different teams, wanted to show their "outrage" at something that most of them are unable to define. They make a fortune doing what they love,' Trump said in a tweet…. Contrary to the president's claim, the NFL players who kneel for the national anthem have been vocal and specific about their protests, which began two seasons ago in opposition to racial injustice and police brutality. Philadelphia Eagles safety Malcolm Jenkins and some of his teammates wore t-shirts Thursday that said 'more than 60% of prison populations are people of color' on the front and 'nearly 5,000 kids are in adults prisons and jails' on the back, according to NBC Sports." See also, Trump Blasts N.F.L. Players as Protests Resume During Anthem, The New York Times, Ken Belson and Benjamin Hoffman, published on Thursday, 9 August 2018: "The morning after a handful of N.F.L. players renewed their protests against social inequality and police brutality by raising fists or kneeling during the playing of the national anthem, President Trump renewed his criticism of their actions."
Trump's New War on Immigrants, The New Yorker, Masha Gessen, Friday, 10 August 2018: "The Trump Administration is about to change the rules of naturalization in a way intended to drastically cut the number of immigrants who become U.S. citizens. According to NBC News, the White House's plan is to make immigrants who have received any public assistance ineligible to become citizens. (The Department of Homeland Security did not deny the plan's existence to NBC.) It is impossible to predict exactly how many people will be affected, but immigration experts think the impact will be enormous. The new rules appear to use the broadest possible definition of public assistance—one that includes Obamacare and children's health insurance—meaning that most potential new citizens will be ineligible for naturalization. In 2016, the last year for which statistics are available, more than seven hundred and fifty thousand immigrants became American citizens. In order to apply for naturalization, an immigrant has to have lived in the United States as a legal permanent resident for thirty months out of a consecutive five years, depending on the reason she gained permanent-resident status. Because a green card often takes a number of years to obtain, most new citizens have been living in the United States for well more than five years. During that time, the chances are good that the immigrants have benefited from the provisions of the Affordable Care Act (either through the Medicaid expansion or by enrolling in an Obamacare marketplace plan) or used a program such as CHIP, which provides low-cost health insurance for children; in New York State, children in families of four earning up to $97,200 are eligible for CHIP. With an approach this broad, it seems likely that hundreds of thousands of people a year will be affected by the rules change."
Continue reading Week 82, Friday, 10 August – Thursday, 16 August 2018 (Days 568-574)
Brett Kavanaugh, Trump's Supreme Court nominee, Urged Ken Starr Not to Indict President Bill Clinton While in Office, The New York Times, Michael D. Shear, Friday, 10 August 2018: "On Christmas Eve 1998, five days after the House impeached President Bill Clinton, Brett Kavanaugh urged his boss — Kenneth W. Starr, the independent counsel — not to pursue a criminal indictment of Mr. Clinton until after he left office. Judge Kavanaugh, now President Trump's nominee to fill the Supreme Court seat left vacant by the retirement of Justice Anthony M. Kennedy, delivered the advice in a private memorandum made public on Friday by the National Archives in response to a Freedom of Information Act request….. Judge Kavanaugh's position is consistent with the doubts about the Starr inquiry that he offered publicly and privately even as he helped investigate Mr. Clinton. Earlier that year, he had told a legal symposium that he did not believe a sitting president could be indicted. That view is likely to be welcomed by Mr. Trump, who could find himself the subject of a similar debate as Robert S. Mueller III, the special counsel, is investigating whether Mr. Trump or his associates conspired with Russians to meddle in the 2016 elections or obstructed justice by lying to investigators about the case. But it may also prompt questions from Democratic senators at his confirmation hearing this year. Democrats say they want to quiz Judge Kavanaugh on his views of executive power and whether he can fairly deal with issues involving the Mueller investigation that might come before the Supreme Court."
Education Secretary Betsy DeVos moves to eliminate Obama-era regulations that were meant to cut off federal funding to low-performing programs at for-profit schools and other career colleges, Politico, Michael Stratford, Friday, 10 August 2018: "Education Secretary Betsy DeVos moved Friday to completely eliminate Obama-era regulations that were meant to cut off federal funding to low-performing programs at for-profit schools and other career colleges. The Education Department unveiled a proposal to rescind the 'gainful employment' regulation, which was a centerpiece of the Obama administration's crackdown on for-profit education companies. The goal of the rule, which took effect in 2015, was to make sure that students who graduate from for-profit schools or other career-oriented programs make enough money to repay their student loans. " See also, Education Secretary Betsy De Vos Ends Obama-Era Safeguards Aimed at Abuses by For-Profit Colleges, The New York Times, Erica L. Green, Friday, 10 August 2018: "Education Secretary Betsy DeVos formally moved Friday to scrap a regulation that would have forced for-profit colleges to prove that the students they enroll are able to attain decent-paying jobs, the most drastic in a series of policy shifts that will free the scandal-scarred, for-profit sector from safeguards put in effect during the Obama era. In a written announcement posted on its website, the Education Department laid out its plans to eliminate the so-called gainful employment rule, which sought to hold for-profit and career college programs accountable for graduating students with poor job prospects and overwhelming debt. The Obama-era rule would have revoked federal funding and access to financial aid for poor-performing schools."
Mick Mulvaney, the Interim Director of the Consumer Financial Protection Bureau, Looks to Weaken Oversight of Lending to Military Service Members and Their Families, The New York Times, Glenn Thrush, Friday, 10 August 2018: "The Trump administration is planning to suspend routine examinations of lenders for violations of the Military Lending Act, which was devised to protect military service members and their families from financial fraud, predatory loans and credit card gouging, according to internal agency documents. Mick Mulvaney, the interim director of the Consumer Financial Protection Bureau, intends to scrap the use of so-called supervisory examinations of lenders, arguing that such proactive oversight is not explicitly laid out in the legislation, the main consumer measure protecting active-duty service members, according to a two-page draft of the change. The agency's move comes as a Senate committee prepares to vote on the nomination of Kathleen Kraninger to succeed Mr. Mulvaney as chief of the consumer watchdog, which is responsible for protecting consumers from financial abuse. The proposal surprised advocates for military families, who have urged the government to use its powers to crack down harder on unscrupulous lenders. The consumer bureau conducted dozens of investigations into payday and other lenders during the Obama administration without any significant legal opposition, and no lenders are currently challenging its oversight based on the law, according to administration officials. The bureau will still bring individual cases against lenders who are found to charge in excess of the annual interest rate cap of 36 percent mandated under the law, and continue to supervise lenders under other statutes. But it will scrap supervisory examinations, which are the most powerful tool for proactively uncovering abuses and patterns of illegal practices by companies suspected of wrongdoing, former consumer bureau enforcement officials said."
Paul Manafort trial Day 9: Manafort got $16 million in loans from bank whose CEO wanted Trump administration post, The Washington Post, Rachel Weiner, Matt Zapotosky, Lynh Bui, and Tom Jackman, Friday, 10 August 2018. See also, Paul Manafort Leaned on Ties to Trump to Win Loans, a Bank Official Testifies, The New York Times, Sharon LaFraniere and Emily Baumgaertner, Friday, 10 August 2018: "In late 2016, with mounting debts and his political consulting firm on the financial ropes, Paul Manafort sought millions of dollars of loans from Federal Savings Bank, a small Chicago bank whose chairman had political ambitions. The chairman, Stephen M. Calk, pushed the bank to loan Mr. Manafort $16 million, even though Mr. Calk's top deputies had qualms about whether Mr. Manafort could pay them back, a former top bank official testified Friday as the prosecution wound up nine days of presenting evidence in Mr. Manafort's trial on bank and fraud charges. The deputy, Dennis Raico, a former senior vice president at the bank and one of the prosecution's final witnesses, said Mr. Calk wanted something from Mr. Manafort, too. He was interested in landing a job in the Trump administration, Mr. Raico said."
Spike Lee says President Donald Trump is a 'bullhorn' for racism, CNN, Sofia Barrett and Leinz Vales, Friday, 10 August 2018: "Spike Lee believes racists in America have been given the 'green light' from the White House. 'Since [President Trump] has gotten into the White House, it is not even a dog whistle, it's a bullhorn,' Lee said. 'We've seen a rise to the right. It's not just America, it's worldwide.'… 'The President of the United States had a chance to denounce hate,' the director said. 'The whole world saw what happened and he didn't do it.'"
Saturday, 11 August 2018, Day 569:
Omarosa Manigault Newman says Trump is a racist who uses N-word–and claims there is tape to prove it, The Guardian, David Smith, Saturday, 11 August 2018: "Donald Trump is a 'racist' who has used the 'N-word' repeatedly, Omarosa Manigault Newman, once the most prominent African American in the White House, claims in a searing memoir. The future US president was caught on mic uttering the taboo racial slur 'multiple times' during the making of his reality TV show The Apprentice and there is a tape to prove it, according to Manigault Newman, citing three unnamed sources." See also, Trump Used Racial Slur During 'Celebrity Apprentice.' Former White House Aide Omarosa Manigault Newman Says, The New York Times, Maggie Haberman, published on Friday, 10 August 2018: "President Trump frequently used the word 'nigger' while he was the host of the reality television show 'Celebrity Apprentice,' and there are tapes that can confirm it, according to a new memoir by one of Mr. Trump's former White House advisers, Omarosa Manigault Newman. The claims, based on hearsay, are among the more explosive and unverified ones that Ms. Manigault Newman makes in the book, 'Unhinged.' It was first reported by the British newspaper The Guardian, which had an early copy. Ms. Manigault Newman also claims that Mr. Trump's daughter-in-law tried to buy her silence by offering a $15,000-a-month contract; that the president secreted a tanning bed into the White House residence; that Mr. Trump described his education secretary, Betsy DeVos, as 'ditsy'; that he once chewed up a piece of paper to avoid having it collected by presidential record-keepers; and that he routinely comments on women's looks." See also, The Lesson of Omarosa's New Trump Book, The New Yorker, Jelani Cobb, Friday, published on 10 August 2018: "A year ago this weekend, the city of Charlottesville became the backdrop to a violent American reckoning. Donald Trump's declaration that there were 'very fine people' on both sides of the conflict marked the first moment in his Presidency in which Republicans were forced to disagree, however tepidly, with him in public. Cued almost perfectly to the anniversary come the first rumblings regarding Omarosa Manigault's forthcoming memoir and her allegations that Trump is a racist who habitually tosses around anti-black epithets…. Manigault frames her tenure in the White House as a period of gradual awakening to Trump's bigoted outlook…. Manigault, who was a serial contestant on 'The Apprentice,' had known Trump for years before he became President. Her realization about Trump's outlook appears to have emerged at some point during her book deal. That's not a gradual awakening, it's a glacial, self-interested one…. Despite abundant evidence, serial outrages, and Trump's own words, the news media have tended to frame Trump's racism as more of a question than a statement—a tendency that survived Charlottesville. There's potential profit, or at the least publicity, in offering first-person confirmation that Trump is, indeed, what reasonable observers and the half of the American public already consider him to be: a racist…. Trump's personal history was a bramble of backward racial ideas long before the tiki torches were lit in Charlottesville last summer. His personal history yields an impressive greatest-hits collection that would include him beginning his Presidential campaign by conflating Mexicans with rapists and later stating that Judge Gonzalo Curiel should not preside over the Trump University fraud suit because of his Hispanic heritage. Trump asked a friend of Karen McDougal, the former Playmate with whom Trump had an extramarital affair, if she liked 'big black dick.' There is also, of course, the matter of the Justice Department accusing the Trump family firm of discriminating against African-American renters in the seventies (Trump settled the suit without admitting guilt), his racist public assault on the Central Park Five, and his use of birtherism to propel himself into national politics. In a more recent spree, he questioned the intelligence of Representative Maxine Waters, LeBron James, and the CNN host Don Lemon—each of whom is black—and (again) assailed African-American football players."
Representative Chris Collins (Republican-New York) Suspends Bid for Re-election After Insider Trading Charges, The New York Times, Shane Goldmacher, Saturday, 11 August 2018: "Days after federal prosecutors charged him with insider trading, Representative Chris Collins announced on Saturday that he was abandoning his re-election bid amid worries that his legal troubles could make vulnerable his otherwise solidly Republican district in western New York. How exactly the suspension of Mr. Collins's campaign would play out was not immediately clear, as the process to get off the ballot can be onerous in New York, and Mr. Collins did not say how he would remove himself. Mr. Collins, who was the first member of Congress to endorse Donald J. Trump for president in 2016, had initially vowed to stay on the ballot this fall but said on Saturday that he had decided it was 'in the best interests' of his district, 'the Republican Party and President Trump's agenda' to suspend his bid. Federal prosecutors have charged Mr. Collins with using his seat on the board of a small Australia-based drug company, Innate Immunotherapeutics, to tip off his son and others that the company had failed a critical scientific trial before that information was made public."
Sunday, 12 August 2018, Day 570:
Rally by White Nationalists Was Over Almost Before It Began, The New York Times, Richard Fausset, Sunday, 12 August 2018: "After weeks of hype, white supremacists managed to muster just a couple of dozen supporters on Sunday in the nation's capital for the first anniversary of their deadly rally in Charlottesville, Va., finding themselves greatly outnumbered by counterprotesters, police officers and representatives of the news media. But even with the low turnout, almost no one walked away with the sense that the nation's divisions were any closer to healing. Indeed, the streets of downtown Washington were charged on Sunday with tension, emotion and noise, particularly in the afternoon, as the right-wing agitator Jason Kessler and perhaps 20 fellow members of the far right — some wearing bright red 'Make America Great Again' hats, some draped in American flags — marched under heavy police escort from the Metro station in the Foggy Bottom neighborhood to their barricaded and heavily protected rally area near the White House. They were surrounded by a vast, rolling plume of counterprotesters, who hurled insults, waved middle fingers and chanted 'Shame!'" See also, White-supremacist rally near White House dwarfed by thousands of anti-hate protesters, The Washington Post, Joe Heim, Peter Hermann, Perry Stein, and Marissa J. Lang, Sunday, 12 August 2018.
Omarosa Manigault Newman Taped Her Firing by John Kelly, The New York Times, Maggie Haberman, Sunday, 12 August 2018: "Omarosa Manigault Newman secretly taped John F. Kelly, the White House chief of staff, as he fired her in December in the Situation Room, a breach of security protocols, but one that revealed him suggesting that she could face damage to her reputation if she did not leave quietly. The recording was played on Sunday on NBC's 'Meet the Press,' where Ms. Manigault Newman, a former adviser to President Trump, promoted her new book, 'Unhinged.' In the memoir, which focuses on her relationship with Mr. Trump going back to her time on 'The Apprentice,' she describes the world around the president as a cult in which he creates his own reality. On the recording, Mr. Kelly says Ms. Manigault Newman could be facing 'pretty significant legal issues' over what he alleged was misuse of a government car. She denied misusing it. 'I'd like to see this be a friendly departure,' Mr. Kelly says on the tape. 'There are pretty significant legal issues that we hope don't develop into something that, that'll make it ugly for you. But I think it's important to understand,' he adds, 'that if we make this a friendly departure, we can all be, you know, you can look at, look at your time here in, in the White House as a year of service to the nation. And then you can go on without any type of difficulty in the future relative to your reputation.' Ms. Manigault Newman explained to Chuck Todd, the host of 'Meet the Press,' that she recorded that conversation, as well as others that she has played for reporters and book publishers featuring her conversations with Mr. Trump, because 'this is a White House where everybody lies.'"
Monday, 13 August 2018, Day 571:
F.B.I. Agent Peter Strzok, Who Criticized Trump in Texts, Is Fired, The New York Times, Adam Goldman and Michael S. Schmidt, Monday, 13 August 2018: "Peter Strzok, the F.B.I. senior counterintelligence agent who disparaged President Trump in inflammatory text messages and helped oversee the Hillary Clinton email and Russia investigations, has been fired for violating bureau policies, Mr. Strzok's lawyer said Monday. Mr. Trump and his allies seized on the texts — exchanged during the 2016 campaign with a former F.B.I. lawyer, Lisa Page — in assailing the Russia investigation as an illegitimate 'witch hunt.' Mr. Strzok, who rose over 20 years at the F.B.I. to become one of its most experienced counterintelligence agents, was a key figure in the early months of the inquiry." See also, FBI agent Peter Strzok fired over anti-Trump texts, The Washington Post, Matt Zapotosky, Monday, 13 August 2018. See also, The F.B.I. Needs to Explain Its Reasons for Firing Peter Strzok, The New Yorker, John Cassidy, Monday, 13 August 2018: "[The F.B.I.] needs to explain the basis of the decision to dismiss [Peter] Strzok, pointing out which internal rules he violated, and why these violations amounted to a firing offense. As things stand, it looks like the Bureau's leaders buckled to Trump and his political and media outriders, dispensing with departmental norms and setting a highly disturbing precedent."
Trump-appointed judge Dabney Friedrich upholds the legitimacy of Special Counsel Robert Mueller's investigation, Politico, Kyle Cheney, Monday, 13 August 2018: "A federal judge appointed by President Donald Trump ruled Monday that special counsel Robert Mueller's probe is constitutional and legitimate, rejecting an effort by a Russian company — accused of financing a massive political influence operation in the United States — to stamp out the ongoing investigation. Judge Dabney Friedrich, who Trump appointed to the U.S. District Court of Washington D.C. last year, is the fourth judge to quash efforts to upend Mueller's legitimacy and cancel his investigation."
New Report Uncovers (Even More) Ethical Issues for U.S. Commerce Secretary Wilbur Ross, Forbes, Dan Alexander, Monday, 13 August 2018: "On May 18, 2017, Secretary of Commerce Wilbur Ross met with Bill Furman, the CEO of railcar manufacturer Greenbrier Companies, according to Ross' calendar. At the time, Ross had a financial stake in Greenbrier and, therefore, a potential conflict of interest. When asked about the meeting, a spokesperson for Ross brushed aside any concerns. 'There was a purely social lunch with Mr. Furman at which Secretary Ross paid the bill,' he said in a statement to Forbes last month. 'No items specific to Greenbrier have been before the secretary during his tenure at [the Department of] Commerce.' When pressed, the spokesman added: 'Secretary Ross and [his chief of staff] Wendy Teramoto have not taken any action with a direct and predictable effect on their financial holdings.' But that is not true, according to a 115-page report from the Campaign Legal Center, a government watchdog organization. Instead, the report alleges, Ross took several actions with direct and predictable effects on his holdings, and he may have broken the law by doing so."
'Everyone signed one': Trump is aggressive in his use of nondisclosure agreements, even in government, The Washington Post, Josh Dawsey and Ashley Parker, Monday, 13 August 2018: "President Trump's bitter fight with a former top White House aide has highlighted his aggressive and unconventional use of nondisclosure agreements to prevent current and former government employees from revealing secrets or disparaging him or his family. The latest uproar centers on claims in a book by former senior adviser Omarosa Manigault Newman that the Trump campaign offered her a $15,000-a-month job in exchange for signing a broadly worded NDA that would have barred her from disclosing details of her time at the White House. Trump shot back in a tweet on Monday that 'Wacky Omarosa already has a fully signed Non-Disclosure Agreement' — the first apparent acknowledgment by Trump that he has used such documents as president." See also, Trump Appears to Admit White House Aides Signed Nondisclosure Agreements, The New York Times, Maggie  Haberman, Monday, 13 August 2018: "President Trump appeared to acknowledge on Monday something his aides have declined to confirm for months: that his White House had aides sign nondisclosure agreements. The president made the statement in a post on Twitter about Omarosa Manigault Newman, a former contestant on 'The Apprentice' who became an assistant to the president, and whose new book makes unflattering claims about Mr. Trump and his family. 'Wacky Omarosa already has a fully signed Non-Disclosure Agreement!' Mr. Trump tweeted, using the type of moniker he often deploys against people who say disparaging things about him. For months, officials in the West Wing have refused to confirm reports by The New York Times and other news outlets that aides were ordered to sign nondisclosure agreements, which legal experts say are essentially unenforceable for government employees. Mr. Trump, who strives for control over his environment, has for decades demanded that people sign such agreements. Former West Wing officials have said that while they were enacted, members of the White House counsel's office signaled that they could not be enforced, and that they were being executed to reassure Mr. Trump."
Omarosa Manigault Newman claims 'false imprisonment' during her firing and accuses Trump of lying, The Washington Post, Felicia Sonmez, Monday, 13 August 2018: "Omarosa Manigault Newman, the once-loyal aide to President Trump who has written a new tell-all book containing explosive allegations about her former boss, said Monday that she believes Trump was lying when he claimed in a phone call in December that he knew nothing about her dismissal by White House Chief of Staff John F. Kelly. In a combative appearance on NBC's 'Today' show, Manigault Newman shared an audio recording of the phone conversation that she says she had with Trump the day after she was fired from his administration. She also denounced the White House's handling of her firing, claiming that the two-hour Situation Room meeting in which she was let go amounts to 'false imprisonment.'"
Trump's remarkable admission on the central qualification for White House staffers, The Washington Post, Philip Bump, Monday, 13 August 2018: "[Former White House aide] Manigault Newman is on a publicity tour for her new book, a collection of eyebrow-raising and often questionable assertions about her time in the White House. Much of what she claims would probably be dismissed out of hand were it not for her deploying a tactic she may very well have learned from Trump himself: taping conversations in which she participated. On Monday morning, she shared one of those purported recordings with NBC News. In it, Trump expresses regret at her departure from the White House…. Perhaps [it is] not unusual for a boss to feign ignorance of a decision to fire a subordinate. So the admission Trump made on Twitter shortly after NBC's report, though, is one for the record books. 'Wacky Omarosa, who got fired 3 times on the Apprentice, now got fired for the last time,' he wrote on Twitter. 'She never made it, never will. She begged me for a job, tears in her eyes, I said Ok. People in the White House hated her. She was vicious, but not smart. I would rarely see her but heard really bad things. Nasty to people & would constantly miss meetings & work. When Gen. Kelly came on board he told me she was a loser & nothing but problems…. I told him to try working it out, if possible, because she only said GREAT things about me — until she got fired!'… But she kept her job, even after Kelly complained — Kelly, whose job was to guide Trump's White House staff. Why? What is the one quality Manigault Newman possessed that was sufficient for Trump to argue she keep her job? She praised Trump."
The Raging Dumpster Fire of Trump vs. Omarosa, The New York Times, The Editorial Board, Monday, 13 August 2018: "We are yet again reminded of how this president has hired people who reflect and reinforce his nastiness, neediness, and narcissism. President Trump's spat with Omarosa Manigault Newman, the White House adviser who was fired in December for 'serious integrity issues,' is another of those particularly Trumpian innovations in public life — the raging dumpster fire that continues to yield new trash. In her juicy new tell-all, aptly titled 'Unhinged,' Ms. Manigault Newman paints an unflattering portrait of the president, whom she has known since appearing as a contestant on his reality TV show 'The Apprentice' in 2004. She characterizes Mr. Trump as a racist, misogynistic narcissist with poor impulse control, severe attention-deficit issues and signs of creeping mental decline, who 'loves the hate,' 'thrives on criticism and insults' and 'delights in chaos and confusion.' Her anecdotes range from the prosaically awful (she claims he has used the N-word) to the freakish (she says she once walked into the Oval Office and found him eating paper). She says the Trump campaign offered her a $15,000-a-month sinecure to keep quiet about her on-the-job experiences. (A copy of the agreement has become public.) And, oh yes, she has secret audio recordings to corroborate some of her claims, including a recording of her firing by the White House chief of staff, John Kelly, in the Situation Room….  On both sides, the spat is vintage Trump: tawdry, cruel, vindictive and highly personal. That said, this is about more than a petty feud with a former aide who famously shares Mr. Trump's love of chaos, confusion and high drama. It is also a glaring reminder of one of this president's central failings as a leader: his disastrous judgment when choosing people with whom to surround himself."
Stephen Miller Is an Immigration Hypocrite. I Know Because I'm His Uncle. Politico, David S. Glosser, Monday, 13 August 2018: "If my nephew's ideas on immigration had been in force a century ago, our family would have been wiped out…. I have watched with dismay and increasing horror as my nephew, an educated man who is well aware of his heritage, has become the architect of immigration policies that repudiate the very foundation of our family's life in this country." See also, Stephen Miller's uncle exposes an ugly truth about this administration, The Washington Post, Greg Sargent, Monday, 13 August 2018. See also, Stephen Miller's Uncle Calls Him a Hypocrite in an Online Essay, The New York Times, Michael D. Shear, Monday, 13 August 2018: "Stephen Miller, one of the key architects of President Trump's hard-line immigration agenda, is the descendant of Jewish immigrants who arrived to a welcoming United States at the turn of the 20th century. But in an essay posted online Monday, Dr. David S. Glosser, Mr. Miller's uncle, argues that the family would have been turned away if the immigration policies currently backed by Mr. Trump and Mr. Miller were in place at the time."
How Trump's Plan for Immigrants on Welfare Could Hurt a Million New Yorkers, The New York Times, Liz Robbins, Monday, 13 August 2018: "Buying fresh vegetables for children, heating an apartment, using Medicaid to manage diabetes. Those are all legal means of support provided by the government for low-income residents of the United States. But a new rule in the works from the Trump administration would make it difficult, if not impossible, for immigrants who use those benefits to obtain green cards. New York City officials estimated that at least a million people here could be hurt by this plan, warning that the children of immigrants seeking green cards would be most vulnerable. That's because if applicants use any welfare benefits, even for children who are United States citizens, that could indicate they would be a burden on government resources. 'What feels deeply concerning,' said Bitta Mostofi, New York City's commissioner of immigrant affairs, 'is the impact on the welfare of children, period.' Since only leaked drafts of the rule have been available and the final version is still weeks away from being published, the full effects are not calculable."
Interior Secretary Ryan Zinke blames California's wildfires on environmentalists and claims, contrary to scientific research, that climate change had 'nothing to do' with them, The Guardian, Gabrielle Canon, Monday, 13 August 2018: "The US interior secretary, Ryan Zinke, has blamed environmentalists for California's ferocious wildfires and claimed, contrary to scientific research, that climate change had 'nothing to do' with them. Instead, he said the fires were worsened because of limits on logging."
White House Counsel Don McGahn Says It's in the 'Public Interest' for White House Staff to Skirt Ethics Rules to Meet With Fox News, The Daily Beast, Lachlan Markay, Monday, 13 August 2018: "It is 'in the public interest' for the White House's top communicator to be excused from federal ethics laws so he can meet with Fox News, according to [White House counsel Don McGahn]. Bill Shine, Trump's newly minted communications director, and Larry Kudlow, the White House's top economist, who worked at CNBC before his White House post, have both been excused from provisions of the law, which seeks to prevent administration officials from advancing the financial interests of relatives or former employers."
Tuesday, 14 August 2018, Day 572:
Elizabeth Warren Demands in Letter That U.S. Military Explain Its Role in Yemen Bombings, The Intercept, Alex Emmons, Tuesday, 14 August 2018: "In the wake of a U.S.-backed bombing last week that killed dozens of children on a school bus in north Yemen, Sen. Elizabeth Warren is demanding answers about how U.S. military advisers support and oversee the Saudi and UAE bombing campaign in Yemen. Warren sent a letter on Tuesday to Gen. Joseph Votel, head of U.S. Central Command and top commander for U.S. forces in the Middle East, requesting that he clarify past congressional testimony about the U.S. role in the Yemen war. Warren's letter referenced an article by The Intercept about an airstrike in May, based on a U.S. intelligence report that recounts in detail, minute by minute, how the strike unfolded and American munitions were used." See also, After dozens of children die, the Trump administration faces mounting pressure over the Yemen war, The Washington Post, Missy Ryan, published on Wednesday, 15 August 2018: "Lawmakers increased pressure on the Trump administration over the war in Yemen this week after an airstrike killed dozens of children, urging officials to explain and possibly adjust U.S. support for nations waging war against rebels there. Democratic members of the House and Senate have sent three separate letters in the past three days to officials at the Defense and State departments and in the intelligence community, asking for an accounting of American involvement in a conflict that critics say has exposed the U.S. government to claims of responsibility for thousands of civilian deaths."
With little fanfare, Trump and Senate Majority Leader Mitch McConnell reshape the nation's circuit courts, The Washington Post, Sean Sullivan and Mike DeBonis, Tuesday, 14 August 2018: "As the Senate moves toward confirming Supreme Court nominee Brett M. Kavanaugh, President Trump and Senate Majority Leader Mitch McConnell are leading a lower-key yet deeply consequential charge to remake the entire federal judiciary. The Senate will return Wednesday from an abbreviated summer recess to confirm two more federal appeals court judges by the end of the week. That would come on top of a record-breaking string of confirmations: The Senate already has installed 24 appellate judges since Trump was sworn in, the highest number for a president's first two years in office. While much of the focus has been on Kavanaugh and Justice Neil M. Gorsuch, the Senate's rapid approval of appellate judges is likely to have its own broad impact on the nation, as the 13 circuit courts will shape decisions on immigration, voting rights, abortion and the environment for generations. For McConnell, this is the culmination of a years-long gambit that started with stymieing President Barack Obama's judicial nominees, most notably Supreme Court choice Merrick Garland, and creating a backlog of vacancies on the nation's highest courts."
Newspapers From New York to North Dakota Have Agreed to Publish Editorials on Thursday in Response to Trump's Anti-Press Rhetoric, The New York Times, Jaclyn Peiser, Tuesday, 14 August 2018: "The call to arms came in the form of a memo. Marjorie Pritchard, the deputy managing editor of The Boston Globe, reached out to editorial boards at other newspapers last week. 'We propose to publish an editorial on August 16 on the dangers of the administration's assault on the press and ask others to commit to publishing their own editorials on the same date,' the memo said. As of Tuesday, more than 200 newspapers, including The New York Times, had signed on. The Globe's effort to rally editorial writers across the country came in reaction to the president's stepped-up attacks on the media. At a recent rally in Pennsylvania, Mr. Trump pointed to the group of journalists covering the event, saying they 'only make up stories' and called them 'fake, fake disgusting news.' On Twitter, he has revived an old phrase — 'the enemy of the people' — to describe 'much of the media' and 'the Fake News Media.'"
White House press secretary Sarah Huckabee Sanders can't guarantee public won't hear Trump use n-word on audio recording, and Trump calls Omarosa Manigault Newman 'that dog,' The Washington Post, John Wagner and Felicia Sonmez, Tuesday, 14 August 2018: "White House press secretary Sarah Huckabee Sanders said Tuesday that she couldn't guarantee that the American people will never hear President Trump uttering the n-word on an audio recording, as a former senior White House adviser continued a publicity tour to promote her new book depicting the president as a racist. The briefing by Sanders came after Trump referred to the former adviser, Omarosa Manigault Newman, as 'that dog' in a morning tweet. 'I can't guarantee anything, but I can tell you that the president addressed this question directly,' Sanders said. 'I can tell you that I've never heard it.' In his tweet earlier Tuesday, Trump praised his chief of staff, John F. Kelly, for firing Manigault Newman last year. The former reality television star was the highest-ranking black employee in the White House. 'When you give a crazed, crying lowlife a break, and give her a job at the White House, I guess it just didn't work out,' Trump said. 'Good work by General Kelly for quickly firing that dog!'" See also, Trump's 'That Dog' Attack on Omarosa Manigault Newman Is Latest Insult Aimed at a Black Person, The New York Times, Eileen Sullivan and Michael D. Shear, Tuesday, 14 August 2018: "President Trump on Tuesday added his former White House aide, Omarosa Manigault Newman, to the growing list of African-Americans he has publicly denigrated on Twitter, calling her 'that dog' and a 'crazed, crying lowlife' in the wake of her allegations against him of mental deterioration and racism. Even for a president who consistently takes to Twitter to assail his adversaries, the morning tweet about Ms. Manigault Newman was a remarkably crude use of the presidential bully pulpit to disparage a minority woman who once served at the highest levels in his White House. In recent weeks, Mr. Trump has called Don Lemon, the black CNN anchor, 'the dumbest man on television.' He questioned the intelligence of LeBron James, the star basketball player for the Los Angeles Lakers. He has repeatedly said Maxine Waters, an African-American member of Congress, has a 'low I.Q.' He called LaVar Ball, the African-American father of another famous Lakers player, a 'poor man's version of Don King.' On Tuesday, Mr. Trump made clear that he has no intention of moderating his language when he feels under attack, regardless of the criticism that he gets for breaching the comity that normally accompanies the office of the president."
Omarosa reveals audio of Trump campaign aides allegedly discussing potential fallout of Trump using the N-word, CBS News, Tuesday, 14 August 2018: "President Trump says former White House staffer Omarosa Manigault-Newman lied when she called him a racist who has said the N-word on tape. The president tweeted Monday night, 'I don't have that word in my vocabulary and never have. She made it up.' But a new recording, obtained by CBS News overnight, seems to back up Omarosa's story that several Trump advisers discussed an alleged tape during the 2016 campaign. Trump campaign advisers denied on Monday that any conversations took place. CBS News has not been able to verify the authenticity of the recording – though it appears to confirm Omarosa's claims that Trump campaign officials were aware of a tape in which then-candidate Trump uses a racial slur, and they talked about how to handle it. During her whirlwind book tour, former White House aide Omarosa claimed to have heard tape of President Trump using the N-word during his time on 'The Apprentice.'" See also, The alleged Trump n-word tape is suddenly less hypothetical, The Washington Post, Aaron Blake, Tuesday, 14 August 2018: "The allegation that a tape exists of President Trump saying the n-word began as a baseless claim put forward by a former White House aide with credibility problems and a pretty unquenchable taste for notoriety. It's no longer quite so baseless. A recording released by Omarosa Manigault Newman to CBS News on Tuesday morning purportedly features her and two other black Trump campaign staffers talking about the alleged existence of the tape. At one point, a person she identifies as spokeswoman Katrina Pierson says clearly, 'He said it. He said it. He's embarrassed.' And on top of that, two top White House spokeswomen on Tuesday declined to rule out the tape's existence, instead saying they hadn't personally witnessed Trump saying that word and referring to his own denials. The purported recording of Trump aides appears to confirm that they believed the tape might exist and, notably, that his black staffers believed Trump would actually use the word. Although the recording has not been authenticated, the staffers seemed to confirm it with their responses to it Tuesday. And it utterly contradicts the denials they offered in Trump's defense in recent days."
Trump Campaign Says It Has Filed Arbitration Case Against Omarosa Manigault Newman, The New York Times, Maggie Haberman, Tuesday, 14 August 2018: "President Trump's campaign said on Tuesday that it had filed an arbitration case against Omarosa Manigault Newman, the former campaign aide and West Wing official whose tell-all book has roiled the White House. A campaign official, speaking on the condition of anonymity, said the claim was filed in New York City for breach of a confidentiality agreement Ms. Manigault Newman had signed with the Trump campaign in 2016. The official did not immediately respond to questions about which court the claim was filed in. But the filing was a major escalation by Mr. Trump against Ms. Manigault Newman, whose book, 'Unhinged,' is the first account by a former White House aide to make embarrassing allegations about the president and his team. Ms. Manigault Newman describes him as a racist and misogynist whose mental health is in decline. She also takes aim at his daughter, Ivanka, and son-in-law, Jared Kushner, who was a key intermediary in bringing her into the White House. Legal experts have said the nondisclosure agreements for the campaign and the White House are most likely not legally enforceable. But people close to the president said he hoped to send a warning shot that anyone else who attempts a tell-all could face legal fees, among other headaches." See also, Trump campaign files arbitration action against Omarosa Manigault Newman, The Washington Post, John Wagner, Tuesday, 14 August 2018.
Manafort Lawyers Rest Without Calling Witnesses in Fraud Trial, The New York Times, Sharon LaFraniere, Tuesday, 14 August 2018: "Paul Manafort's lawyers declined Tuesday to call any witnesses to defend him against charges of bank and tax fraud. Mr. Manafort, President Trump's former campaign chairman, also told the judge that he did not want to testify, clearing the way for closing arguments from both sides and the start of jury deliberations on Wednesday. The decision by the defense to rest without presenting its own evidence was not unusual. 'The defense believes it has made its point through cross-examination,' said Nancy Gertner, a Harvard Law School professor and a former federal judge. Mr. Manafort is letting the case go to the jury because he and his lawyers 'do not believe that the government has met its burden of proof,' said Kevin Downing, the lead defense lawyer in the case."
Wednesday, 15 August 2018, Day 573:
Christine Hallquist wins Vermont Democratic primary, becoming the first openly transgender major party nominee for governor, The Washington Post, Samantha Schmidt and Kayla Epstein, Wednesday, 15 August 2018: "In the fall of 2015, the thought of running for office was not even in the 'realm of possibility' for Christine Hallquist, she said in an interview with The Washington Post. Hallquist, then CEO of Vermont Electric Cooperative, was in the midst of coming out professionally as a woman to her employees and worried they might not accept her. The company's website still indicated that the firm was led by a man, Vermont alternative weekly Seven Days reported at the time. Her emails were still signed by her former name…. Just three years later, Hallquist could become the country's first transgender governor. On Tuesday night, Hallquist won her Democratic primary race in Vermont, becoming the first openly transgender candidate nominated for governor by a major party in the United States." See also, 4 Takeaways From Tuesday's Primaries, The New York Times, Astead W. Herndon and Jonathan Martin, Wednesday, 15 August 2018: "On another night of primaries leading up to November's midterm elections, Democrats embraced diversity (with some notable exceptions), and Republicans rewarded loyalty to President Trump." See also, Winners and losers from Tuesday's primaries, The Washington Post, Amber Phillips, Wednesday, 15 August 2018. See also, How Ilhan Omar Won Over Hearts in Minnesota's Fifth, The New Yorker, Emily Witt, Wednesday, 15 August 2018: "Most coverage of Ilhan Omar, the thirty-five-year-old state legislator who won the Democratic primary in Minnesota's Fifth Congressional District last night, has focussed on her identity. She was born in Somalia, and she came to the United States when she was twelve, knowing only two phrases of English: 'hello' and 'shut up.' Now her primary victory makes her likely to become the first Somali-American and one of the first two Muslim women (along with Michigan's Rashida Tlaib) in Congress. But stories about these 'firsts' tend to miss Omar's certainty about who she is, and the rightness of her desire to 'expand what is politically possible,' including cancelling student debt, banning private prisons, increasing the number of refugees admitted to the U.S., and cutting funding for 'perpetual war and military aggression.' She supports passing a national bill of rights for renters, the End Racial and Religious Profiling Act, and automatically registering every eighteen-year-old to vote. These are the stances Omar is referring to when she speaks, as she does often, about 'a politics of moral clarity and courage.' On Tuesday night, the city of Minneapolis broke a record for turnout in a midterm primary. Omar beat her closest Democratic rival by more than twenty thousand votes, out of 135,318 votes cast for Democrats in the Fifth District, which includes Minneapolis and its inner-ring suburbs."
'Let Us Have a Childhood'" On the Road With the Parkland Activists, The New York Times, Maggie Astor, Wednesday, 15 August 2018: "Six months and a day after a gunman massacred 17 of their classmates and staff, the students of Marjory Stoneman Douglas High School woke up Wednesday and began a new year. For the past two months, a busload of them have traveled the country in pursuit of stricter gun laws, connecting with local activists, holding rallies, debating counterprotesters and, above all, registering voters. They knew perfectly well how many before them — after Columbine, after Sandy Hook, after Orlando — had been unable to turn outrage into lasting change. But this time was different. Since the shooting, state legislatures have passed at least 50 gun regulations, largely because of public pressure created by the Parkland movement. So The New York Times spent three days on the road with the March for Our Lives activists to find out what changed."
Trump Revokes Ex-C.I.A. Director John Brennan's Security Clearance, The New York Times, Michael D. Shear, Wednesday, 15 August 2018: "In a remarkable attack on a political opponent, President Trump on Wednesday revoked the security clearance of John O. Brennan, the C.I.A. director under President Barack Obama, citing what he called Mr. Brennan's 'erratic' behavior. The White House had threatened last month to strip Mr. Brennan and other Obama administration officials — including Susan E. Rice, the former national security adviser; and James R. Clapper Jr., the former director of national intelligence — of their security clearances. At the time, Ms. Sanders said that Mr. Trump was considering doing it because 'they politicized, and in some cases monetized, their public service and security clearances.' Mr. Trump has questioned the loyalties of national security and law enforcement officials and dismissed some of their findings — particularly the conclusion that Moscow intervened in the 2016 election — as attacks against him." See also, Trump revokes security clearance of former CIA director John Brennan–a leading critic of Trump, The Washington Post, David Nakamura and Felicia Sonmez, Wednesday, 15 August 2018: "President Trump on Wednesday followed through on threats to strip the security clearance of former CIA director John Brennan, igniting a firestorm of criticism that the president was recklessly attempting to distract from his own political problems and silence high-profile critics." See also, American Civil Liberties Union (ACLU) Comment on the Revocation of John Brennan's Security Clearance, ACLU, Wednesday, 15 August 2018: "President Trump today revoked the security clearance of former CIA Director John Brennan. Ben Wizner, director of the American Civil Liberties Union's Speech, Privacy, and Technology Project, issued the following statement in response: 'The First Amendment does not permit the president to revoke security clearances to punish his critics. John Brennan's record is full of grave missteps, and we have been unsparing in our criticism of his defense of the CIA torture program and his role in unlawful lethal strikes abroad. But Trump's revocation of Brennan's clearance, and his threats to revoke the clearances of other former officials for the sole reason that they have criticized his conduct and policies, amount to unconstitutional retaliation. They are also part of a broader pattern of seeking to silence or marginalize critics, which includes forcing staff to sign unconstitutional non-disclosure agreements.'"
Trump, Seeking to Relax Rules on U.S. Cyberattacks Against Adversaries, Reverses Obama Directive, The Wall Street Journal, Dustin Volz, Wednesday, 15 August 2018: "President Trump has reversed an Obama-era memorandum dictating how and when the U.S. government can deploy cyberweapons against its adversaries, in an effort to loosen restrictions on such operations, according to people familiar with the action. Mr. Trump signed an order on Wednesday reversing the classified rules, known as Presidential Policy Directive 20, that had mapped out an elaborate interagency process that must be followed before U.S. use of cyberattacks, particularly those geared at foreign adversaries." See also, Trump gives the military more latitude to use offensive cyber tools against adversaries, The Washington Post, Ellen Nakashima, published on Thursday, 16 August 2018: "The Trump administration has moved to give the military more latitude to conduct offensive cyber operations against American adversaries, continuing an effort begun last year to grant commanders more leeway to make battlefield decisions. President Trump on Wednesday signed an order delegating authority to the defense secretary to use cyber tools and techniques to disrupt or degrade an adversary's network or choke off attacks underway, loosening rules established under the Obama administration."
Report by the American Civil Liberties Union (ACLU) on Judge Brett Kavanaugh's Civil Liberties and Civil Rights Record, ACLU, Wednesday, 15 August 2018: "The American Civil Liberties Union has sent its analysis of the civil liberties and civil rights rulings and writings of Judge Brett Kavanaugh, nominee to the United States Supreme Court, to the Senate. The ACLU prepares reports on nominees' civil liberties records to help educate the American people and the Senate, but as a matter of organizational policy, the ACLU does not support or oppose nominees to political or judicial office. 'Judge Kavanaugh's judicial writings show him to be a consistently conservative jurist: favoring executive power, allowing sweeping surveillance of Americans' phone records, and allowing random drug testing of federal employees,' said David Cole, ACLU national legal director. 'Our hope is that this analysis contributes to the understanding of the Senate — and the American people — of where Judge Kavanaugh stands on these issues and how he might serve on the Supreme Court.'"
Senate investigation: Government fails to keep tabs on unaccompanied migrant kids after they leave its care, The Washington Post, Colby Itkowitz, Wednesday, 15 August 2018: "A bipartisan Senate investigation released Wednesday concluded the Department of Health and Human Service fails to adequately account for the well being of unaccompanied migrant children once they leave government custody. The lawmakers who conducted the investigation, Sens. Rob Portman (R-Ohio) and Thomas R. Carper (D-Del.), are urging the government to take responsibility for ensuring the safety and health of the minors even after they are turned over to an adult sponsor."
Donald Trump Isn't Just Slashing the Refugee Quota. He's Dismantling the Entire Resettlement System. The Intercept, Sarah Aziza, Wednesday, 15 August 2018: "As the world's already-unprecedented refugee population continues to climb, the Trump administration is considering slashing the annual refugee cap to 25,000 for the 2019 fiscal year, down from this year's historic low of 45,000, the New York Times reported earlier this month…. The drastic decrease in refugee admissions has led to the weakening of decades-old systems that help refugees transition to life in their new home, making it likely that the program will have to be rebuilt if a future U.S. administration moves toward welcoming more refugees. Many refugee centers have shut down, while many others have been forced to cut staff, said [Adam] Clark [director of World Relief Durham which has a State Department contract to resettle refugees]…. The institutional slow-down is just one element of Trump's multipronged overhaul of the system. A closer look at refugee arrival data suggests the administration is also driving the program toward specific ethnic and demographic trends…. Last month, the Refugee Council USA, an umbrella organization of resettlement programs contracted to work with the State Department, issued a damning report card on the administration's performance in the first 10 months of the fiscal year. The report highlighted the disparity in nations of origin: As of July, the U.S. had settled fewer than a third of the number of Middle Eastern refugees expected, and barely half of those expected from Africa. In contrast, the country has welcomed roughly 75 percent of expected East Asian refugees, and all but fulfilled its projected number for Europeans…. Sirine Shebaya, senior staff attorney at the national civil rights and legal organization Muslim Advocates, said the religious makeup of the incoming refugee pool is striking as well. 'Despite the fact that over half of the world's refugees come from three Muslim-majority countries — Syria, Somalia, and Afghanistan — admissions of Muslim-identifying refugees fell by 94 percent between January and November 2017,' she said. As of May, only about 2,000 Muslim refugees had been admitted this fiscal year, down from 38,900 in fiscal year 2016. Syria, Iraq, and Somalia are no longer among the top five countries of origin for refugees, reversing a trend that had taken shape in recent years. Shebaya blames a combination of burdensome vetting measures, Trump's myriad bans, and an overall anti-Muslim sentiment for the reversal. 'It seems that the government is intent on making it as difficult as possible for Muslims to come to the United States, whether as refugees or immigrants.'"
Trump and the Enemies of the People, The New Yorker, David Remnick, Wednesday, 15 August 2018: "This week, dozens of American publications are publishing editorials in ardent opposition to President Trump's assault on the press and his use of that poisonous phrase 'enemies of the people.' The refusal to bend to that assault, and the protection of practices and institutions that are more fragile than we usually care to acknowledge, is essential to the future of American democracy. Nearly every day, Trump makes his hostility clear. He refers to reporters as 'scum,' 'slime,' and 'sick people.' They are cast as unpatriotic––'I really think they don't like our country,' he says. They are 'trying to take away our history and our heritage.' Trump has smeared critical news organizations as 'fake news,' a term gleefully adopted by Putin, Bashar al-Assad, and other autocrats who are delighted to have their own repressive reflexes endorsed by an American President. Trump has threatened to sue publishers, cancel broadcast licenses, change libel laws. He betrays no sense of understanding, much less of endorsing, the rudiments of American liberty. During a visit from the Canadian Prime Minister, Justin Trudeau, Trump told reporters that he thought it was 'frankly disgusting the way the press is able to write whatever they want to write.' By casting the press as an 'enemy,' Trump is not merely joining a long list of Presidents who have bristled at criticism. He goes much further than his predecessors, including paranoiacs like Richard Nixon, who assembled a secret 'enemies list' and raged in the Oval Office to his chief of staff about barring the Washington Post from the White House grounds. Trump's rages are public. They are daily. And they are part of a concerted effort to undermine precepts of American constitutionalism and to cast his lot with the illiberal and authoritarian movements now on the rise around the world."
Trump's lawyers prepare to fight a potential subpoena from Special Counsel Robert Mueller all the way to the Supreme Court, The Washington Post, Robert Costa, Wednesday, 15 August 2018: "Rudolph W. Giuliani, President Trump's lead lawyer for the ongoing Russia probe, said Wednesday that he is still awaiting a response from special counsel Robert S. Mueller III to the Trump team's latest terms for a presidential interview, which were made last week in a letter that argued against Trump's having to answer questions about his possible obstruction of justice. In the meantime, Trump's lawyers are preparing to oppose a potential subpoena from Mueller for a Trump sit-down by drafting a rebuttal that could set off a dramatic fight in federal courts. 'We would move to quash the subpoena,' Giuliani said in an interview. 'And we're pretty much finished with our memorandum opposing a subpoena.' Giuliani added that Trump's attorneys are ready to 'argue it before the Supreme Court, if it ever got there.'"
Trump administration plans to reorganize agriculture research offices, alarming some scientists, The Washington Post, Caitlin Dewey, Wednesday, 15 August 2018: "Scientists are raising alarms over a Trump administration plan to overhaul two federal offices tasked with food and agriculture research, calling the move a ploy to slash funding to projects on climate change, nutrition and other top concerns."
Steve Bannon's New Group Issues a Midterm Plea: Save Trump, The New York Times, Maggie Haberman and Jeremy W. Peters, Wednesday, 15 August 2018: "Stephen K. Bannon, the former White House chief strategist, is forming a group to try to sell voters on a midterm message that they should support Republicans to defend the Trump agenda and save the president from impeachment. The group, Citizens of the American Republic, is Mr. Bannon's new vehicle after he was pushed out of the White House last summer and then parted ways with the conservative website Breitbart. Mr. Bannon declined to describe his donors or how much money the group has raised. One person close to the group said that Rebekah Mercer, the hedge fund billionaire who supported Mr. Bannon's previous political efforts but broke ties with him months ago, has no role."
Thursday, 16 August 2018, Day 574:
Trump Attacked the News Media on Thursday After the Publication of Editorials Across the Country Espousing the Value of the Free Press, The New York Times, Eileen Sullivan, Thursday, 16 August 2018: "President Trump on Thursday assailed the media for editorials in newspapers across the country that championed the freedom of the press, a unified response in the face of the president's relentless attacks. In a series of morning Twitter posts, Mr. Trump said The Boston Globe was 'in collusion' with other newspapers for leading the editorial effort, choosing a word that has become synonymous with the special counsel's investigation into Russian election interference — an investigation that he has repeatedly called a 'witch hunt' and a 'hoax.'… In a subsequent tweet, he wrote that he was in favor of 'true FREEDOM OF THE PRESS,' but repeated accusations that most of the news it produced was fake or pushing a particular political agenda. Earlier in the morning, Mr. Trump also called the 'fake news media' the 'opposition party.' The president has called the press the enemy of the people and rallied his supporters to speak out against the news media, a directive critics have said could lead to violence against journalists. Earlier this month, a senior editor at The Globe proposed that newspapers publish editorials about 'the dangers of the administration's assault on the press.'" See also, Trump responds after hundreds of newspaper editorials criticize his attacks on the press, The Washington Post, Lindsey Bever and Cleve R. Wootson Jr., Thursday, 16 August 2018: "Hundreds of newspaper editorial boards across the country answered a nationwide call Thursday to express disdain for President Trump's attacks on the news media, while some explained their decision not to do so. The same morning, the president tweeted that the 'fake news media' are the 'opposition party.'… Trump has labeled the news media "the enemy of the American people' and called much of the coverage 'fake news.' The Globe's op-ed board wrote in an editorial published online Wednesday that, 'Today in the United States we have a president who has created a mantra that members of the media who do not blatantly support the policies of the current US administration are the "enemy of the people." 'This is one of the many lies that have been thrown out by this president, much like an old-time charlatan threw out "magic" dust or water on a hopeful crowd.'" See also, Senate adopts resolution declaring 'the press is not the enemy of the people,' CBS News, Kathryn Watson, Thursday, 16 August 2018: "The Senate unanimously passed a resolution Thursday affirming that 'the press is not the enemy of the people.' President Trump has repeatedly declared that the 'fake news' media is the 'enemy of the people.' The resolution, introduced by Democratic Sen. Brian Schatz of Hawaii, passed by unanimous consent…. 'Resolved, that the Senate affirms that the press is not the enemy of the people; reaffirms the vital and indispensable role that the free press serves to inform the electorate, uncover the truth, act as a check on the inherent power of the government, further national discourse and debate, and otherwise advance the most basic and cherished democratic norms and freedoms of the United States; and condemns the attacks on the institution of the free press and views efforts to systematically undermine the credibility of the press as an attack on the democratic institutions of the United States….' the resolution reads."
Donald Trump Is a Dangerous Demagogue. It's Time for a Crusading Press to Fight Back. The Intercept, James Risen, Thursday, 16 August 2018: "Many news organizations continue to engage in aggressive investigative reporting about Trump, and much of what we now know about Trump's corruption and possible collusion with Moscow has come from the press. But while that investigative digging is underway, Trump's daily efforts to denigrate and discredit the press continue unabated, and his subversive efforts to undermine the media have had an impact. A recent poll showed that nearly nine out of 10 Republicans disapprove of the way the media has covered Trump. The press often seems uncertain on how to respond. The White House press corps in particular seems determined to try to cover Trump as it has previous presidents, employing the same American journalistic standards and practices used in the past. Some press critics now believe that approach is too passive in the face of Trump's malevolent approach….. Some counter that Trump is only following in the press-bashing pattern set by Presidents George W. Bush and Barack Obama, who both also used leak investigations to target reporters. (Believe me, I know about that. Both Bush and Obama came after me in a leak investigation that lasted seven years.) But it is a mistake to see Trump as just another White House occupant following in a long tradition of presidential press-bashing. While the present-day U.S. is not Weimar Germany, Trump is not Hitler, and his incompetent administration has not come close to consolidating power in the way the Nazis did, Trump is nonetheless a dangerous demagogue who deploys some of the same tactics that Hitler did, and he has already gone further to attack the democratic institution of a free press than his predecessors did. He is seeking nothing less than the destruction of the legitimacy of the American press…. Many in the American media believe that they are fighting back aggressively already. And indeed, in response to Trump's attacks, hundreds of news organizations are publishing editorials about press freedom today. But that's not enough. The response to Trump by the American press is still too tepid. Most American editors and reporters today disavow old-fashioned, crusading journalism, in which a news organization or even a group of news outlets throw all of their energy into an all-out assault on one story. They fear that crusades look partisan. But crusading journalism is what is needed now."
Ex-C.I.A. Director John Brennan Strikes Back After Trump Revokes His Security Clearance, The New York Times, Julie Hirschfeld Davis and Michael D. Shear, Thursday, 16 August 2018: "John O. Brennan, the C.I.A. director under President Barack Obama, struck back at President Trump on Thursday for revoking his security clearance, calling the president's claims of 'no collusion' with Russia to influence the 2016 election 'hogwash' and arguing that the commander in chief was trying to silence anyone who would dare challenge him. 'Mr. Trump clearly has become more desperate to protect himself and those close to him, which is why he made the politically motivated decision to revoke my security clearance in an attempt to scare into silence others who might dare to challenge him,' Mr. Brennan wrote in an opinion article in The New York Times. He said the move made it more important than ever for Robert S. Mueller III, the special counsel, to complete his investigation of Russia's election misdeeds without interference from Mr. Trump. Mr. Trump's decision to revoke the security clearance drew rebukes Thursday from national security officials and members of both political parties, who called it an extraordinary act of retaliation that reflected authoritarian tactics…. In an interview [on Wednesday] with The Wall Street Journal, Mr. Trump drew a direct connection between the [Russia] investigation and the targeting of Mr. Brennan and others whose security clearances he had said were under review. 'I call it the rigged witch hunt,' Mr. Trump said. 'And these people led it! So I think it's something that had to be done,' he added." See also, In an interview with the Wall Street Journal on Wednesday, Trump confessed that he revoked former CIA director John Brennan's security because of Brennan's involvement in the Russia investigation, The Washington Post, Aaron Blake, Thursday, 16 August 2018: "It really was the Russia investigation all along. In an interview with the Wall Street Journal posted late Wednesday, President Trump once again gave away the ballgame when it comes to his efforts to affect the probe and tear down its leaders (both current and former). He confessed that his true motivation for revoking former CIA director John Brennan's security clearance was the 'rigged witch hunt' that Brennan once 'led.' 'I call it the rigged witch hunt; [it] is a sham,' Trump told the Journal's Peter Nicholas and Michael C. Bender. 'And these people led it!' He added: 'So I think it's something that had to be done.' You could be forgiven for having flashbacks to Trump's interview with NBC Nightly News anchor Lester Holt in the aftermath of his firing last year of James B. Comey as FBI director. Then, as now, the White House offered a series of motivations for the crackdown on a person who was a liability in the Russia probe. Then, as now, it seemed clear what the actual motivation was. And then, as now, Trump appeared to go out and just admit the actual motivation." See also, Revoking Clearance, Trump Aims Presidential Power at the Russia Inquiry, The New York Times, Michael D. Shear and Julian E. Barnes, Thursday, 16 August 2018: "For more than a year, law enforcement officials have repeatedly rebuffed President Trump's efforts to use the power of his office to derail the Russia investigation. Stymied, Mr. Trump is lashing out in other ways against an investigation that he clearly hates or fears. The president said Thursday that he revoked the security clearance of John O. Brennan, a former C.I.A. director, because Mr. Brennan had been part of what Mr. Trump has called the 'sham' Russia investigation. That move, and the threats of more revocations, were the latest signs that the president seems determined to punish anyone connected to the Russia inquiry."
Brian Hook Was Named the New Special Envoy to Coordinate the Trump Administration's Economic Pressure Campaign Against Iran by Secretary of State Mike Pompeo, The New York Times, David E. Sanger, Thursday, 16 August 2018: "The Trump administration is creating a special envoy post to coordinate the United States' economic pressure campaign against Iran, the latest in a series of moves to cut off Tehran's revenue and force it into a new nuclear agreement. The job will be filled by Brian Hook, currently the State Department's director of policy planning, who was heading the negotiations before President Trump decided to abandon the 2015 nuclear agreement with Tehran. Mr. Hook faces an enormous challenge: Mr. Trump's moves have been denounced by American allies in Britain, France and Germany who say they are still abiding by the terms of the deal — and are urging Iran to do the same."
Veterans Group Sues to Block Shadow Rulers of the Department of Veterans Affairs, ProPublica, Isaac Arnsdorf, Thursday, 16 August 2018: "A liberal veterans group is suing to block the influence of three outside advisers who have been secretly influencing the Department of Veterans Affairs from Mar-a-Lago, President Donald Trump's private club in Palm Beach, Florida. ProPublica reported last week that the advisers — Marvel Entertainment chairman Ike Perlmutter, West Palm Beach doctor Bruce Moskowitz and Washington lawyer Marc Sherman — have been shaping VA personnel and policy decisions despite having no official role or relevant expertise. The trio, sometimes referred to as the 'Mar-a-Lago Crowd,' is failing to disclose its activities as required by federal law, according to a lawsuit filed today in federal court in Washington, D.C., by VoteVets, a liberal activist group that says it represents 500,000 supporters."
Democrats Question Brett Kavanaugh's Appeals Court Confirmation Testimony About his Work on a Controversial George W. Bush Judicial Nominee, Charles Pickering, The New York Times, Charlie Savage, Thursday, 16 August 2018: "As a White House lawyer working for President George W. Bush, Brett M. Kavanaugh helped the administration's effort to win Senate confirmation for one of Mr. Bush's most disputed judicial nominees, a Mississippi district court judge who was seeking an appeals court seat, internal White House emails show. Among other things, the emails show that Judge Kavanaugh helped work on a binder of documents about the judge, Charles W. Pickering Sr., to give to Senate staff members; drafted a letter to a senator about him; and handled a draft opinion article supporting his confirmation intended for publication under the name of Alberto Gonzales, the White House counsel whose staff called him 'Judge.' 'Any luck on submitting Judge's op-ed?' Judge Kavanaugh wrote to a White House spokeswoman a few days after passing her the draft of the article. Attaching a Boston Globe editorial that criticized Judge Pickering, he added: 'We just continue to take it — without any meaningful administration response.' Such emails appear likely to become a focus of Judge Kavanaugh's Supreme Court confirmation hearing next month. As an appeals court nominee, Judge Kavanaugh distanced himself from the Pickering nomination, including by turning aside a question about something Judge Pickering had done by saying that he had focused on other nominees. 'This was not one of the judicial nominees that I was primarily handling,' he testified in 2006."
Senate Democrats Threaten Lawsuit Over Documents of Supreme Court Nominee Brett Kavanaugh, NPR, Kelsey Snell, Thursday, 16 August 2018: "Senate Democrats threatened to sue the National Archives to obtain documents from Supreme Court nominee Brett Kavanaugh's career as a White House official during President George W. Bush's administration. Senate Minority Leader Chuck Schumer, D-N.Y., told reporters Thursday that Democrats will file a lawsuit if the National Archives does not respond to their Freedom of Information Act request. The suit is a last-ditch effort to obtain the documents ahead of confirmation hearings set begin Sept. 4."
Omarosa Manigault Newman releases secret recording of $15,000-a-month job offer from Lara Trump, The Washington Post, John Wagner, Thursday, 16 August 2018: "Former White House aide Omarosa Manigault Newman released a secret recording Thursday in a bid to bolster her contention that she was offered a $15,000-a-month contract from President Trump's campaign to stay silent after being fired from her job. On the recording, campaign aide Lara Trump, the president's daughter-in-law, can be heard discussing salary considerations and other aspects of a campaign job with Manigault Newman and makes clear that she expects her to be positive about the president."