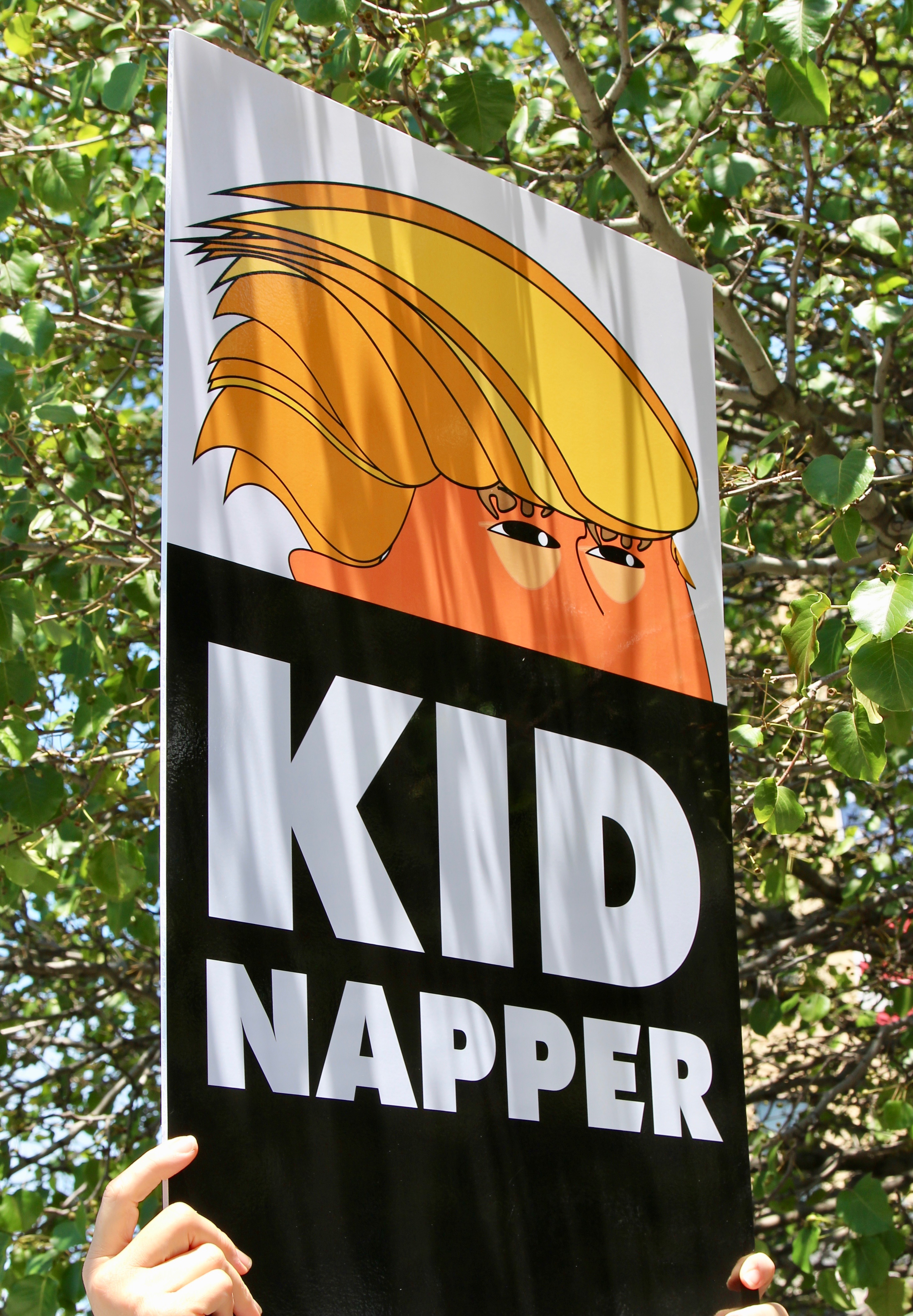 Passages in bold in the body of the texts below are my emphasis. This is an ongoing project, and I update the site frequently. Because I try to stay focused on what has actually happened, I usually let the news 'settle' a day or so before posting. I hope readers will peruse the articles in full for a better understanding of the issues and their context; our democracy and our future depend on citizens who can distinguish between facts and falsehoods and who are engaged in the political process.
Friday, 3 August 2018, Day 561:
Judge John D. Bates of the Federal District Court for the District of Columbia Upholds Order for the Trump Administration to Restore the Deferred Action for Childhood Arrivals (DACA) Program, The New York Times, Miriam Jordan, Friday, 3 August 2018: "A federal judge on Friday upheld his previous order to revive an Obama-era program that shields some 700,000 young immigrants from deportation, saying that the Trump administration had failed to justify eliminating it. Judge John D. Bates of the Federal District Court for the District of Columbia gave the government 20 days to appeal his decision. But his ruling could conflict with another decision on the program that a federal judge in Texas is expected to issue as early as next week. The Trump administration announced late last year that it would phase out the program known as Deferred Action for Childhood Arrivals, or DACA, which protects undocumented young adults from deportation and grants them two-year renewable work permits. The administration argued that President Barack Obama had overstepped his authority and circumvented Congress when he created the program in 2012. The decision to end the program has faced numerous legal challenges. Currently, the government must continue accepting applications to renew DACA status, if not new applications from those who meet the criteria to qualify. DACA recipients — often called 'Dreamers' — typically were brought to the United States illegally as children through no choice of their own. Judge Bates ruled in late April that the administration must restore the DACA program and accept new applications. He had stayed his decision for 90 days to give the Department of Homeland Security, which runs the program, the opportunity to lay out its reasons for ending it." See also, Judge rules the Trump administration is still not justified in ending the Deferred Action for Childhood Arrivals (DACA) program, The Washington Post, Erik Larson, Friday, 3 August 2018: "The Trump administration was unable again to convince a federal judge that there's a legitimate reason to rescind legal protections for hundreds of thousands of young undocumented immigrants who were brought to the United States as children and seek to avoid deportation."
Opponents of Judge Brett M. Kavanaugh's Nomination to the Supreme Court Say a Former Aide's Role in the Screening of Documents Presents a Conflict of Interest, The New York Times, Sheryl Gay Stolberg, Friday, 3 August 2018: "The lawyer advising former President George W. Bush on the release of thousands of records relating to Judge Brett M. Kavanaugh's time as an aide in the Bush White House once worked for him — a relationship that opponents of the judge's nomination to the Supreme Court say is a conflict of interest. The lawyer, William A. Burck, served as a deputy to Judge Kavanaugh in 2005 when he was staff secretary — a job at the center of a bitter documents dispute between Democrats and Republicans. A team of roughly 50 lawyers is reviewing tens of thousands of pages of documents held by the Bush Library in Texas as part of an effort to determine which, if any, should be withheld from the Senate based on Mr. Bush's assertion of 'executive privilege' — his right to object to their release. The documents relate to Judge Kavanaugh's time in the Bush White House Counsel's Office, not his time as staff secretary. Mr. Burck is not screening the documents himself, but he is supervising the review, and, according to a person familiar with the process, does advise the former president as he makes those decisions."
It's True: Trump Is Lying More, and He's Doing It on Purpose, The New Yorker, Susan B. Glasser, Friday, 3 August 2018: "On Thursday, the Washington Post published a remarkable story on its front page revealing a recent spike in the number of 'false and misleading claims' made by President Trump. In his first year as President, Trump made 2,140 false claims, according to the Post. In just the last six months, he has nearly doubled that total to 4,229. In June and July, he averaged sixteen false claims a day. On July 5th, the Post found what appears to be Trump's most untruthful day yet: seventy-six per cent of the ninety-eight factual assertions he made in a campaign-style rally in Great Falls, Montana, were 'false, misleading or unsupported by evidence.' Trump's rallies have become the signature events of his Presidency, and it is there that the President most often plays fast and loose with the facts, in service to his political priorities and to telling his fervent supporters what they want and expect to hear from him. At another rally this week, in Tampa, Trump made thirty-five false and misleading claims, on subjects ranging from trade with China to the size of his tax cut. These astonishing statistics were compiled by a small team overseen by Glenn Kessler, the editor and chief writer of the Post's Fact Checker column, who for much of the last decade has been truth-squadding politicians and doling out Pinocchios for their exaggerations, misrepresentations, distortions, and otherwise false claims…. The White House assault on the truth is not an accident—it is intentional."
Continue reading Week 81, Friday, 3 August – Thursday, 9 August 2018 (Days 561-567)
Trump whips up crowd anger at a rally in Pennsylvania as he vilifies the media, The Guardian, Adam Gabbatt, Friday, 3 August 2018: "Donald Trump ramped up his attack on the media on Thursday night, criticizing the press as 'fake, fake, disgusting news' and describing journalists in attendance as 'horrible, horrendous people,' despite UN experts warning earlier in the day that his actions were putting journalists at risk. Nominally appearing in Wilkes-Barre, in Pennsylvania, to support a Republican candidate for the US Senate, Trump instead spent more than 15 minutes listing a series of grievances with the press, inducing angry chanting from the crowd towards the assembled media." See also, Experts at the United Nations warn that Trump's attacks on media raise the threat of violence against reporters, The Guardian, Dabrina Siddiqui and David Smith, published on Thursday, 2 August 2018: "Donald Trump's attacks on the media have been condemned by experts at the United Nations, who warned that the US president's vitriolic rhetoric could result in violence against journalists. In a joint statement, two experts on freedom of expression – David Kaye, who was appointed by the UN human rights council, and Edison Lanza, who holds the corresponding position at the Inter-American Commission on Human Rights, said: 'These attacks run counter to the country's obligations to respect press freedom and international human rights law.' Trump's attacks 'are strategic, designed to undermine confidence in reporting and raise doubts about verifiable facts,' they added, while noting the president 'has failed to show even once that specific reporting has been driven by any untoward motivations. We are especially concerned that these attacks increase the risk of journalists being targeted with violence.'"
Officials in the Trump Administration Were Warned That Family Separations Would Traumatize Children, The Intercept, Ryan Devereaux, Friday, 3 August 2018: "The [Trump administration's] program of forcibly removing thousands of children from their parents, including toddlers and babies, was the result of conscious decisions made by specific Trump administration officials. [The Senate Judiciary Committee's hearing on family separations on Tuesday] added new data points to that story, with a career civil servant testifying that his office, tasked with providing care for minors in the immigration system, raised concerns with administration officials in the year leading up to 'zero tolerance' becoming an official policy, warning that the separation of children from their parents would put the children at risk of serious psychological harm and that the system was not built to handle such an initiative. Additionally, officials testified that there was little warning within their respective agencies that 'zero tolerance' was actually being implemented until it was imminent, or already happening. The Trump administration's decision to break from past practices and seek the criminal prosecution of every adult accused of crossing the border illegally, including asylum-seeking parents arriving with their children, was part of a sweeping series of actions spearheaded by Sessions, his former aide turned White House adviser Stephen Miller, and former DHS chief turned White House chief of staff John Kelly, and have been underway since Trump's first week in office. It began with a pilot program in Texas last summer before going border-wide in the spring. Thousands of families were pulled apart in the process. Kids taken from their parents were sent to approximately 100 centers around the country; hundreds of parents were deported without them."
Maine Secretary of State Matthew Dunlap, one of the 11 members of the disbanded Presidential Advisory Commission on Election Integrity that was formed to study alleged voter fraud, said that the panel was 'the most bizarre thing [he'd] ever been a part of.' The commission found no voter fraud. The Washington Post, Eli Rosenberg, Friday, 3 August 2018: "Maine Secretary of State Matthew Dunlap, one of the 11 members of the commission formed by President Trump to investigate supposed voter fraud, issued a scathing rebuke of the disbanded panel on Friday, accusing Vice Chair Kris Kobach and the White House of making false statements and saying that he had concluded that the panel had been set up to try to validate the president's baseless claims about fraudulent votes in the 2016 election."
Accountants testify Manafort inflated loans to misrepresent income and failed to disclose foreign accounts, The Washington Post, Rachel Weiner, Matt Zapotosky, Moriah Balingit, and Steve Thompson, Friday, 3 August 2018: "One of Paul Manafort's accountants testified Friday that she went along with falsifying his tax records because she was afraid to confront a longtime client. Cindy Laporta said that in 2015, Manafort's right-hand man, Rick Gates, told her his boss couldn't afford to pay his taxes. To ease that burden, she said, Gates instructed her to misrepresent $900,000 in income as a business loan. 'I had a couple of choices at that point,' Laporta said. 'I could have refused to file the tax return,' which she said could lead to litigation with Manafort's firm. 'I could have called Mr. Manafort and Mr. Gates liars,' she said. 'But Mr. Manafort was a longtime client of the firm and I did not want to do that, either.' Laporta, who testified after she was granted immunity, said 'I very much regret' the decision to go along with a plan that she estimated saved Manafort at least $400,000 in taxes."
The Newseum is selling MAGA hats and 'fake news' T-shirts, Poynter, Daniel Funke, Friday, 3 August 2018: "If you're looking to stock up on the famous red hats that bear Donald Trump's favorite slogan, look no further than the Newseum's gift shop. On its website, the interactive news museum in Washington, D.C., sells $14.99 'Make America Great Again' hats alongside American flag accessories and ties that bear the preamble to the Constitution. A T-shirt that says 'You are very fake news' sells for $24.99, but it's on sale for $19.97…. The seven-level interactive museum is located in the heart of the nation's capital. According to its website, the non-profit museum's mission is 'to increase public understanding of the importance of a free press and the First Amendment.'… Update: The Newseum announced today, Saturday, Aug. 4, in a release that it will no longer sell 'Fake News' items on its website or in its gift shop. Journalists decried the practice and slogan after Poynter.org published … [a] story on Friday. See the full release here." See also, Newseum pulls 'fake news' T-shirts after outcry from journalists, The Washington Post, Keith McMillan and Cleve R. Wootson Jr., published on Saturday, 4 August 2018: "At the end of a week in which getting the White House to clarify whether it considers the news media 'the enemy of the people' was a major story, Poynter made a revelation after visiting the Newseum's website. The Washington attraction 'dedicated to the importance of a free press and the first amendment' was selling 'You are very fake news' T-shirts. Before abruptly reversing course on Saturday, the museum sold the T-shirts alongside Make America Great Again hats and other items that could appeal to supporters of President Trump, who popularized the term 'fake news' and frequently battles with news outlets and reporters he says are unfair to him. During a rally in Pennsylvania on Thursday, he used the term, and it prompted chants of 'CNN sucks' from the crowd. And recently Trump's rhetoric has raised concerns that the hostility he has cultivated among his supporters could lead to violence."
Saturday, 4 August 2018, Day 562:
Federal judge's ruling invalidates a Federal Election Commission (FEC) regulation allowing anonymous donations to 'dark money' groups, Politico, Brent D. Griffiths, Saturday, 4 August 2018: "A U.S. District Court judge on Friday issued a ruling invalidating a Federal Election Commission regulation that has allowed donors to so-called dark-money groups to remain anonymous, the latest development in a years-long legal battle that could have major implications for campaign finance. Judge Beryl A. Howell ruled the FEC's current regulation of such groups, including 501(c) 4 non-profits, fails to uphold the standard Congress intended when it required the disclosure of politically related spending. 'The challenged regulation facilitates such financial "routing," blatantly undercuts the congressional goal of fully disclosing the sources of money flowing into federal political campaigns, and thereby suppresses the benefits intended to accrue from disclosure … ,' wrote Howell, an Obama appointee to the D.C district court. The decision is likely to be appealed…. Citizens for Responsibility and Ethics in Washington, a watchdog group that brought the suit against the FEC, hailed the decision as a 'major game changer' for political spending."
Trump Mocks LeBron James's Intelligence and Calls Don Lemon 'Dumbest Man' on TV, The New York Times, Christina Caron, Saturday, 4 August 2018: "President Trump lashed out at the basketball star LeBron James in a scathing attack on Twitter on Friday night after Mr. James criticized the president in an interview on CNN. In a wide-ranging interview with Don Lemon, an anchor on CNN, Mr. James spoke about a school for at-risk children that he recently helped open in his hometown, Akron, Ohio, in a partnership between his philanthropic foundation and the city's public schools. During the interview on Monday, he also said Mr. Trump was using sports to divide the country. The interview was aired again on Friday night, and Mr. Trump responded on Twitter shortly after, insulting Mr. James's intelligence and that of Mr. Lemon. 'Lebron James was just interviewed by the dumbest man on television, Don Lemon,' Mr. Trump wrote. 'He made Lebron look smart, which isn't easy to do. I like Mike!'" See also, Melania Trump and Hillary Clinton praise LeBron James after Donald Trump's slam, The Washington Post, Emily Heil, Saturday, 4 August 2018: "President Trump slammed LeBron James this weekend, questioning the NBA great's intellectual prowess — but first lady Melania Trump had nicer things to say about the newly minted L.A. Laker, and so did Hillary Clinton. Here's how the King James-Trump drama went down: On Friday night, Trump tweeted his thoughts on an interview that James did with CNN's Don Lemon (another of President Trump's favorite targets). 'LeBron James was just interviewed by the dumbest man on television, Don Lemon,' Trump wrote. 'He made LeBron look smart, which isn't easy to do. I like Mike!' The last line was a vintage 1990s reference to NBA icon Michael Jordan, and another burn by the president of James, who had told Lemon that Trump was 'using sports to kind of divide us.' Melania Trump, though, was apparently focused on a different part of the Lemon-James conversation. The two men talked during the interview about James's new 'I Promise School' for at-risk youths in Akron, Ohio, which piqued the first lady's interest. Her spokeswoman, Stephanie Grisham, released a statement Saturday saying Melania Trump would consider visiting the facility as part of her 'Be Best' initiative aimed at improving the lives of children. 'It looks like LeBron James is working to do good things on behalf of our next generation and just as she always has, the First Lady encourages everyone to have an open dialogue about issues facing children today,' Grisham said. Also singing James's praises? Former presidential candidate Hillary Clinton, who said in a tweet that James is 'a great family man, incredible ballplayer, gives back to his community, and isn't afraid to speak his mind. He's a world class athlete and a class act. We need more like him in this world.'"
Why the Trump Administration Wants to Know Your Citizenship Status. The Civil Rights Lawyer Vanita Gupta Answers Vital Questions About the Citizenship Question on the Census. The New York Times, The Editorial Board, Saturday, 4 August 2018: "Are you an American citizen? The Trump administration really wants to know. In March, it added to the 2020 census a question asking people, for the first time in more than half a century, about their citizenship status. Administration officials have claimed, in public and before Congress, that the Justice Department needs the question answered in order to properly enforce the Voting Rights Act. But late last month, the government turned over a batch of emails as part of a federal lawsuit that casts significant doubt on those claims. The push to include the question has also set off concerns about the way such data might be used in the next decennial redistricting cycle, which begins in 2021…. This isn't the first time that nativists have sought to have a citizenship question included in the census. It's just that it's always been a fringe agenda, and now that fringe is in political power. And this question is just the beachhead. It goes hand in hand with efforts to purge voters and restrict voting rights; with moves to strip citizenship from American citizens; and with schemes to revoke birthright citizenship, which is guaranteed by the 14th Amendment."
Sunday, 5 August 2018, Day 563:
Trump Admits the Trump Tower Meeting in June 2016 Between His Top Campaign Aides and a Kremlin-Connected Lawyer Was to Get Dirt on Hillary Clinton, The New York Times, Michael D. Shear and Michael S. Schmidt, Sunday, 5 August 2018: "President Trump said on Sunday that a Trump Tower meeting between top campaign aides and a Kremlin-connected lawyer was designed to 'get information on an opponent' — the starkest acknowledgment yet that a statement he dictated last year about the encounter was misleading. Mr. Trump made the comment in a tweet on Sunday morning that was intended to be a defense of the June 2016 meeting and the role his son Donald Trump Jr. played in hosting it. The president claimed that it was 'totally legal' and of the sort 'done all the time in politics.' But the tweet also served as an admission that the Trump team had not been forthright when Donald Trump Jr. issued a statement in July 2017 saying that the meeting had been primarily about the adoption of Russian children. That statement is being scrutinized by the special counsel, Robert S. Mueller III, who is examining a broad array of Mr. Trump's tweets and public statements to determine whether he made them as part of an effort to deceive investigators…. While the president tried again on Sunday to portray the Trump Tower meeting as routine, it is being examined as part of Mr. Mueller's investigation into whether Mr. Trump's campaign conspired with the Russians to undermine Hillary Clinton's campaign. It is illegal for a campaign to accept help from a foreign individual or government. The president and his son have maintained that the campaign did not ultimately receive any damaging materials about Mrs. Clinton as a result of the meeting. But some legal experts contend that by simply sitting for the meeting, Donald Trump Jr. broke the law." See also, Trump acknowledges and defends June 2016 meeting at Trump Tower between his son, Donald Trump Jr., and a Kremlin-aligned lawyer, The Washington Post, Ashley Parker and Rosalind S. Helderman, Sunday, 5 August 2018: "President Trump on Sunday offered his most definitive and clear public acknowledgment that his oldest son met with a Kremlin-aligned lawyer at Trump Tower during the 2016 campaign to 'get information on an opponent,' defending the meeting as 'totally legal and done all the time in politics.' It is, however, against the law for U.S. campaigns to receive ­donations or items of value from foreigners, and that June 2016 meeting between Donald Trump Jr. and Natalia Veselnitskaya is now a subject of special counsel Robert S. Mueller III's Russia investigation. While 'collusion' is not mentioned in U.S. criminal statutes, Mueller is investigating whether anyone associated with Trump coordinated with the Russians, which could result in criminal charges if they entered into a conspiracy to break the law, including through cyberhacking or interfering with the election." See also, The Day Trump Told Us There Was Attempted Collusion With Russia, The New Yorker, Adam Davidson, Sunday, 5 August 2018: "On August 5, 2018, precisely forty-four years after the collapse of the Nixon Presidency, another President, Donald Trump, made his own public admission. In one of a series of early-morning tweets, Trump addressed a meeting that his son Donald, Jr., held with a Russian lawyer affiliated with the Russian government. 'This was a meeting to get information on an opponent, totally legal and done all the time in politics – and it went nowhere,' he wrote. 'I did not know about it!' The tweet contains several crucial pieces of information. First, it is a clear admission that Donald Trump, Jr.'s original statement about the case was inaccurate enough to be considered a lie. He had said the meeting was with an unknown person who 'might have information helpful to the campaign,' and that this person 'primarily discussed a program about the adoption of Russian children.' This false statement was, according to his legal team, dictated by the President himself. There was good reason to mislead the American people about that meeting. Based on reporting—at the time and now—of the President's admission, it was a conscious effort by the President's son and two of his closest advisers to work with affiliates of the Russian government to obtain information that might sway the U.S. election in Trump's favor. In short, it was, at minimum, a case of attempted collusion. The tweet indicates that Trump's defense will continue to be that this attempt at collusion failed—'it went nowhere'—and that, even if it had succeeded, it would have been 'totally legal and done all the time.' It is unclear why, if the meeting was entirely proper, it was important for the President to declare 'I did not know about it!' or to tell the Attorney General, Jeff Sessions, to 'stop this Rigged Witch Hunt right now.'… What do we do when a President has openly admitted to attempted collusion, lying, and a coverup?"
Donald Trump and the Black Athlete, The New York Times, Michael Powell, Sunday, 5 August 2018: "So we have more evidence that a master of the dog whistle occupies the White House and that black athletes are a favorite target. The president, Donald J. Trump, took out after LeBron James on Friday in a way that felt instinctive, as the hound dog pursues the hare. The N.B.A. star had criticized Trump, in measured tones, in an interview with CNN last week. When the anchor Don Lemon asked James what he would say if he were sitting across from Trump, James offered a thin smile. 'I would never sit across from him,' he said. At 11:37 Friday night, after the interview had been rebroadcast, Trump replied with one of those tweets that offer an X-ray of his ego, psyche and soul. 'LeBron James was just interviewed by the dumbest man on television, Don Lemon. He made LeBron look smart, which isn't easy to do. I like Mike!' There was a breathtaking quality to this attack, and not just because white men demeaning the intelligence of black people is one of the oldest and ugliest tropes in American history. James had appeared on CNN not to criticize this thin-skinned and choleric president but to talk of growing up poor with a single mom and of trying to pay back those who helped him by underwriting a public, noncharter school for at-risk youth in his hometown, Akron, Ohio. His foundation also committed tens of millions of dollars to help provide college scholarships for Akron public school graduates. James will give every child in this school a bike and a helmet."
Monday, 6 August 2018, Day 564:
For Parents Deported Without Their Children, Lack of Information From the U.S. Government Is Excruciating, The Intercept, Debbie Nathan, Monday, 6 August 2018: "… 400 children … have yet to be reunited with parents who are now outside the U.S. They constitute the majority of the 572 boys and girls who as of Thursday still had not been returned to their mothers and fathers, according to filings in U.S. District Court in San Diego. There, the American Civil Liberties Union has filed suit challenging the Trump administration's family separations. President Donald Trump issued an order on June 20 stopping the separations, and six days later, Judge Dana Sabraw ruled that the government must reunite separated parents and their children, about 2,500 of them, within a month. Sabraw said that the government was fully responsible for locating parents who have been deported, but so far, there is no evidence that a concerted effort is being made to find out who and where they are. The Trump administration implied that the ACLU and other nongovernmental organizations should do this work — a contention rejected by Sabraw — but those groups have not indicated that they know the parents' whereabouts either. The ACLU said it had located only 13 parents."
U.S. to Restore Sanctions on Iran, Deepening Divide With Europe, The New York Times, Gardiner Harris and Jack Ewing, Monday, 6 August 2018: "The United States said Monday it was reimposing economic sanctions against Iran that were lifted under a 2015 nuclear accord, ratcheting up pressure on Tehran but also worsening relations with European allies. The sanctions are a consequence of President Trump's decision in May to withdraw from an international deal that sought to limit Iran's nuclear program in exchange for easing pressure on the country's shaky economy. International inspectors have concluded that Tehran is complying with the accord, and European officials have said that the Iran nuclear agreement is crucial to their national security. 'We are determined to protect European economic operators engaged in legitimate business with Iran,' the foreign ministers of Britain, France, Germany and the European Union said in a joint statement on Monday. Russia and China also signed on to the 2015 deal." See also, Trump issued an executive order to reinstate the sanctions on Iran that were dropped following the 2015 nuclear deal, The Washington Post, Carol Morello, Monday, 6 August 2018: "The Trump administration on Monday moved to reimpose the first round of Iranian trade sanctions that had been suspended under a 2015 nuclear agreement, distancing itself from every other country that signed the deal and marking another decisive moment in the accord's unraveling. The renewed sanctions starkly highlighted the divisions between the United States and its allies. The Europeans that were parties to the agreement said they would protect their own companies from legal reprisals and work to maintain Iran's access to the financial system and its continued export of oil and gas that forms a large share of its income."
Trump's Short-Term Health Insurance Policies Quickly Run Into Headwinds, The New York Times, Robert Pear, Monday, 6 August 2018: "The Trump administration's efforts to allow health insurers to market short-term medical plans as a cheap alternative to the Affordable Care Act are already running into headwinds, with state insurance regulators resisting the sales and state governments moving to restrict them. State insurance regulators, gathered over the past three days for a meeting of the National Association of Insurance Commissioners, expressed deep concern that short-term plans were being aggressively marketed in ways likely to mislead consumers. Many said the plans, which need not comply with the Affordable Care Act's coverage mandates, were a poor substitute for comprehensive insurance."
Rudy Giuliani is preparing a letter to Special Counsel Robert Mueller expressing 'real reluctance' over questions about obstruction of justice, The Washington Post, Robert Costa, Monday, 6 August 2018: "Rudolph W. Giuliani, President Trump's lead attorney for the ongoing special counsel investigation, said Monday that Trump's legal team is planning to send a letter to special counsel Robert S. Mueller III this week that will largely rebuff Mueller's latest offer of a presidential interview that would include questions about possible obstruction of justice. 'We have a real reluctance about allowing any questions about obstruction,' Giuliani said in an interview with The Washington Post when asked about the overarching theme of the letter."
Donald Trump Jr.'s Potential Legal Troubles, Explained, The New York Times, Charlie Savage, Monday, 6 August 2018: "President Trump's fresh acknowledgment that his top campaign advisers met at Trump Tower in June 2016 with Kremlin-connected Russians to 'get information on an opponent' has renewed questions about whether his son Donald Trump Jr., who arranged the encounter, is facing legal trouble…. [This article looks] at some ways Donald Trump Jr. may be in legal jeopardy."
'Facts develop': The Trump team's new 'alternative facts'-esque ways to explain its falsehoods, The Washington Post, Aaron Blake, Monday, 6 August 2018: "As president, Donald Trump has uttered more than 4,000 falsehoods or misleading statements. And the spokespeople and advisers tasked with squaring Trump's version of reality with actual reality must often contort themselves accordingly. Early in the administration, this meant Kellyanne Conway talking about how the administration had 'alternative facts.' Later, it was Sean Spicer explaining that he didn't 'knowingly' lie to the American people. On Sunday, they tried a couple of new tacks: asserting that 'facts develop' and saying that the president 'misspoke' — while saying something he has said dozens of times."
Rick Gates says he lied for years at Paul Manafort's request and stole from him in the process, The Washington Post, Rachel Weiner, Matt Zapotosky, Ann E. Marimow, and Devlin Barrett, Monday, 6 August 2018: "Rick Gates — the star witness against President Trump's former campaign chairman — admitted in federal court Monday that he committed a host of crimes with his former boss, and confessed to stealing from him and others. In his first hour on the witness stand, Gates catalogued years of illegal activity, saying most of his wrongdoing was committed on behalf of his former boss, Paul Manafort, while other crimes were for his own benefit, including the theft of hundreds of thousands of dollars. Gates also made clear that he was testifying against Manafort with the hope of receiving a lesser prison sentence, having pleaded guilty in February as part of a deal with special counsel Robert S. Mueller III."
Tuesday, 7 August 2018, Day 565:
Now the Trump administration wants to limit citizenship for legal immigrants, NBC News, Julia Ainsley, Tuesday, 7 August 2018: "The Trump administration is expected to issue a proposal in coming weeks that would make it harder for legal immigrants to become citizens or get green cards if they have ever used a range of popular public welfare programs, including Obamacare, four sources with knowledge of the plan told NBC News. The move, which would not need congressional approval, is part of White House senior adviser Stephen Miller's plan to limit the number of migrants who obtain legal status in the U.S. each year. Details of the rulemaking proposal are still being finalized, but based on a recent draft seen last week and described to NBC News, immigrants living legally in the U.S. who have ever used or whose household members have ever used Obamacare, children's health insurance, food stamps and other benefits could be hindered from obtaining legal status in the U.S. Immigration lawyers and advocates and public health researchers say it would be the biggest change to the legal immigration system in decades and estimate that more than 20 million immigrants could be affected. They say it would fall particularly hard on immigrants working jobs that don't pay enough to support their families." See also, Trump Administration Plan to Punish Legal Immigrants for Accepting Food Stamps, Public Housing, and Other Government Benefits They are Entitled to Could Boost Republican Candidates, The New York Times, Michael D. Shear and Ron Nixon, Tuesday, 7 August 2018: "The Trump administration is advancing a plan to punish legal immigrants for accepting food stamps, public housing and other government benefits they are entitled to — a strategy that appeals to conservatives and could help to galvanize Republican voters before the midterm elections. The proposed rule first surfaced last year. Last month, the White House Office of Management and Budget published a notice that it was under consideration. A Trump administration official said Tuesday that details of the proposal were still weeks away from being finalized and made public. But already, the rule could serve as a talking point for Republican candidates seeking to counter an expected wave of Democratic enthusiasm, seizing on President Trump's claims that immigrants are an outsize drain on American taxpayers. As drafted, the rule would authorize federal officials to revoke legal resident status from legal immigrants who accept government assistance currently available to them…. Many of Mr. Trump's supporters — voters who will be key to victories by Republicans in close contests this fall — believe that legal immigration has cost them jobs, depressed wages and forced higher taxes. Recent studies, however, have found that increased legal immigration has led to higher, not lower, wages. Other studies by social scientists suggest that immigration leads to greater, not lower, productivity in the United States and somewhat lower prices for some goods and services." See also, Trump and Stephen Miller are now targeting legal immigrants. This will get uglier. The Washington Post, Paul Waldman and Greg Sargent, Tuesday, 7 August 2018.
European Union foreign policy chief Federica Mogherini urges Europeans to increase business with Iran despite Trump's threats, The Guardian, Daniel Boffey and Saeed Kamali Dehghan, Tuesday, 7 August 2018: "The EU is set on a collision course with Donald Trump after its foreign policy chief called for Europeans to increase their business dealings with Iran in defiance of bellicose statements from the US president. As Trump vowed to block those trading with Iran from the US market, the EU stepped up efforts to save the Iran nuclear deal by encouraging its companies to ignore the White House. Federica Mogherini, the EU's high representative for foreign affairs, said Brussels would not let the 2015 agreement with Tehran die, and she urged Europeans to make their own investment decisions."
AP Investigation: U.S. allies (a military coalition led by Saudi Arabia) and al-Qaida battle rebels in Yemen, Associated Press, Maggie Michael, Trish Wilson, and Lee Keath, Tuesday, 7 August 2018: "Again and again over the past two years, a military coalition led by Saudi Arabia and backed by the United States has claimed it won decisive victories that drove al-Qaida militants from their strongholds across Yemen and shattered their ability to attack the West. Here's what the victors did not disclose: many of their conquests came without firing a shot. That's because the coalition cut secret deals with al-Qaida fighters, paying some to leave key cities and towns and letting others retreat with weapons, equipment and wads of looted cash, an investigation by The Associated Press has found. Hundreds more were recruited to join the coalition itself. These compromises and alliances have allowed al-Qaida militants to survive to fight another day — and risk strengthening the most dangerous branch of the terror network that carried out the 9/11 attacks. Key participants in the pacts said the U.S. was aware of the arrangements and held off on any drone strikes."
California Strikes Back Against the Trump Administration's Auto Pollution Rollback, The New York Times, Hiroko Tabuchi, Tuesday, 7 August 2018: "California went on the offensive Tuesday against the Trump administration's plan to weaken fuel-efficiency rules for cars, laying out a scathing rebuttal that the state's clean-air regulator said would shape the battle with Washington in the coming months and years. The state's target is one of President Trump's most consequential environmental rollbacks to date, a proposal unveiled last week to let cars pollute more while stripping California of its right to set its own air-quality rules. The administration's proposal 'is contrary to the facts and the law,' the California document says, before refuting point by point the Trump administration's arguments for weakening the nation's long-term goals for making vehicles more fuel efficient and less polluting. The clash between California and Washington threatens to throw the United States auto market into disarray. Because California has the authority under the Clean Air Act to set its own air pollution rules, and because a dozen other states follow its lead, the dispute could effectively split the nation's market into two, one side adhering to stringent emissions rules set in Sacramento and the other to weaker federal standards. As a first step, California plans to change its rules to declare that the federal government's current, stricter auto-emission targets are the only ones that comply with state law — and not any future targets that are less strict. That move collides with the administration's plan to freeze Obama-era rules, which would have required automakers by 2025 to roughly double the fuel economy of their new cars, pickup trucks and S.U.V.s to about 36 miles per gallon. Those rules, which are aimed at cutting tailpipe emissions of carbon dioxide, a major contributor to global warming, represented one of President Barack Obama's most significant efforts to fight climate change."
Missouri Voters Reject Anti-Union Law in a Victory for Labor, The New York Times, Noam Scheiber, Tuesday, 7 August 2018: "After a succession of political setbacks in onetime strongholds and a landmark defeat in the Supreme Court, organized labor has notched a hard-won victory as Missouri voters overrode a legislative move to curb union power. A measure on the ballot on Tuesday asked voters to pass judgment on a prospective law barring private-sector unions from collecting mandatory fees from workers who choose not to become members. The law was rejected by a 2-to-1 margin. The Supreme Court in June struck down such fees for public-sector employees, achieving a longstanding goal of conservative groups and overruling a four-decade precedent. Labor leaders argued that the rare opportunity for voters to weigh in directly on a so-called right-to-work measure — which several states have passed in recent years — revealed how little public support the policy has, at least once voters get beyond the anodyne branding." See also, Missouri voters defeat Republican-backed 'right to work' law, in victory for unions, Associated Press projects, The Washington Post, Jeff Stein, Tuesday, 7 August 2018.
The Shadow Rulers of the Department of Veterans Affairs, ProPublica, Isaac Arnsdorf, Tuesday, 7 August 2018: "Last February, shortly after Peter O'Rourke became chief of staff for the Department of Veterans Affairs, he received an email from Bruce Moskowitz with his input on a new mental health initiative for the VA. 'Received,' O'Rourke replied. 'I will begin a project plan and develop a timeline for action.' O'Rourke treated the email as an order, but Moskowitz is not his boss. In fact, he is not even a government official. Moskowitz is a Palm Beach doctor who helps wealthy people obtain high-service 'concierge' medical care. More to the point, he is one-third of an informal council that is exerting sweeping influence on the VA from Mar-a-Lago, President Donald Trump's private club in Palm Beach, Florida. The troika is led by Ike Perlmutter, the reclusive chairman of Marvel Entertainment, who is a longtime acquaintance of President Trump's. The third member is a lawyer named Marc Sherman. None of them has ever served in the U.S. military or government. Yet from a thousand miles away, they have leaned on VA officials and steered policies affecting millions of Americans. They have remained hidden except to a few VA insiders, who have come to call them 'the Mar-a-Lago Crowd.'" See also, Democrats Vow Investigation of VA's Shadow Rulers After ProPublica Story, ProPublica, Isaac Arnsdorf, published on Wednesday, 8 August 2018: "Democratic lawmakers said they will investigate how three outsiders have been shaping policy and personnel at the Department of Veterans Affairs. A ProPublica investigation Tuesday revealed the vast influence of the trio, who often meet at President Donald Trump's Mar-a-Lago club. Update, Aug. 10, 2018: Sens. Elizabeth Warren, D-Mass., and Brian Schatz, D-Hawaii, formally requested investigations by the VA Inspector General and the Government Accountability Office. Sen. Tammy Duckworth, D-Ill., called on the VA secretary to cut ties with the Mar-a-Lago Crowd and remove their allies in the agency."
Rick Gates Claims That He and Paul Manafort Are Tax-Evading, Money-Laundering Criminals, The New Yorker, John Cassidy, Tuesday, 7 August 2018: "This was the fifth day of the trial…. The reports from inside the courtroom all say that Gates avoided looking at Manafort, who was staring at him from the defense table with his arms folded. Instead, Gates kept his gaze fixed on the government's lead prosecutor, Greg Andres, who made his bones prosecuting mobsters in the U.S. Attorney's Office for the Eastern District of New York. After briefly guiding Gates through how he came to meet Manafort and work for him, Andres asked, 'Were you involved in any criminal activity with Mr. Manafort?' Gates replied, 'Yes.' Andres then asked, 'Did you commit any crimes with Mr. Manafort?' Gates said, 'Yes.' Andres pressed for details. Gates said that he conspired to falsify Manafort's tax returns by lying to his accountants about his finances. He said that he had done that 'at Mr. Manafort's request.' He also said that he and Manafort had set up fifteen foreign bank accounts without disclosing them to the U.S. government, and that they failed to register Manafort as a foreign agent. 'When asked why he had lied, Gates said he had done so at Manafort's request,' the Washington Post's excellent live blog reported. 'Separately, Gates explained that Manafort had directed him to report money wired from his foreign bank accounts as loans, rather than as income, to reduce Manafort's taxable income. By reporting it as a loan, Gates explained, Manafort could defer the amount of taxes he owed.'" See also, Paul Manafort trial Day 5: Rick Gates testifies he committed bank and tax fraud at Manafort's direction, The Washington Post, Rachel Weiner, Matt Zapotosky, Ann E. Marimow, and Justin Jouvenal, published on Monday, 6 August 2018.
Rick Gates Delivers a Public Lesson on Money Laundering and Political Corruption, The New Yorker, John Cassidy, Tuesday, 7 August 2018: "Tuesday was Rick Gates's second day testifying as a witness for the prosecution in the trial of Paul Manafort, his former boss, and he spent a lot of time explaining how money flowed from Ukraine, where he and Manafort had a run of lucrative years doing consulting work for pro-Russian interests, to shell companies in Cyprus, to other shell companies in the Caribbean, and eventually to the United States. In the afternoon, Gates was subjected to a withering cross-examination by Manafort's lawyer, Kevin Downing, during which he admitted that he'd had an extramarital affair and that he'd repeatedly stolen money from Manafort. The importance of these phenomena goes well beyond this trial, and also beyond the special counsel Robert Mueller's broader inquiry into Russia's activities during the 2016 election." See also, Paul Manafort trial Day 6: Gates admits affair and says he used Manafort's money for trysts, The Washington Post, Justin Jouvenal, Rachel Weiner, Matt Zapotosky, and Rosalind S. Helderman, Tuesday, 7 August 2018. See also, Top Trump Campaign Aides Rick Gates and Paul Manafort Are Portrayed as Corrupt at Manafort Trial, The New York Times, Sharon LaFraniere and Kenneth P. Vogel, Tuesday, 7 August 2018: "The trial of Paul Manafort turned into a referendum on the character of two of President Trump's top campaign aides on Tuesday, as prosecutors cast Mr. Manafort as the architect of a sprawling swindle and defense lawyers portrayed the prosecution's star witness as a thief, adulterer and liar. The testimony managed to further sully the reputations of both Mr. Manafort, Mr. Trump's campaign chairman for three months in mid-2016, and the witness, Rick Gates, who was the deputy campaign chairman and later the executive director of Mr. Trump's inaugural committee."
Former Trump Lawyer Michael Cohen Is Under Investigation for Tax Fraud, The Wall Street Journal, Rebecca Davis O'Brien and Nicole Hong, Tuesday, 7 August 2018: "The legal pressures facing Michael Cohen are growing in a wide-ranging investigation of his personal business affairs and his work on behalf of his former client, President Trump. In previously unreported developments, federal prosecutors in New York are examining whether Mr. Cohen committed tax fraud, people familiar with the investigation said."
Don Lemon to Trump: LeBron James is not dumb, and you're a straight-up racist, The Washington Post, Avi Selk, Tuesday, 7 August 2018: "Three days after President Trump called LeBron James and CNN's Don Lemon stupid, the anchor accused the president of racism. Monday night was not the first time Lemon called Trump a racist. Nor was the previous Friday the first time Trump belittled the intelligence of a black critic of his administration, or Lemon specifically. But Lemon's polemic on 'CNN Tonight' felt especially personal. It combined the anchor's reaction to the latest insult with a sort of bibliography of Trump's previous attacks on black public figures, culminating in a declaration that the leader of the United States is a morally repulsive blight on American society."
Wednesday, 8 August 2018, Day 566:
Rashida Tlaib, With Primary Win in Michigan, Is Poised to Become the First Muslim Woman in Congress, The New York Times, Astead W. Herndon, Wednesday, 8 August 2018: "Ms. Tlaib is poised to become the first Muslim woman ever elected to Congress, after she narrowly defeated Brenda Jones, Detroit's City Council president, in a Democratic primary race to succeed longtime Representative John Conyers Jr. in Michigan's 13th Congressional District. She will run unopposed in November. In a separate Democratic primary contest for a special election to serve the remaining months of Mr. Conyers's term, Ms. Jones prevailed over Ms. Tlaib on Wednesday afternoon, according to The Associated Press." See also, Bob McCulloch, Notorious Ferguson Prosecutor, Ousted by Criminal Justice Reformer Wesley Bell in a Night of Victories and Disappointments for Insurgent Candidates, The Intercept, Ryan Grim, David Dayen, and Zaid Jilani, Wednesday, 8 August 2018: "Progressive Democrats heading into Tuesday's primary were hoping for a repeat of Bernie Sanders's 2016 shock victory in Michigan — only this time, the vehicle for those hopes was Abdul El-Sayed. It didn't happen, as he was beaten by Gretchen Whitmer, a former Democratic leader in the Michigan state Senate. But progressive activists still came away from Tuesday with a slew of wins, including one deeply satisfying victory: Criminal justice reformer Wesley Bell ousted St. Louis prosecutor Bob McCulloch, notorious for his callous indifference to the prosecution of Darren Wilson, the Ferguson, Missouri, police officer who shot and killed Mike Brown. In the first wave of major primaries since an upset by Alexandria Ocasio-Cortez energized the grassroots wing of the party, Democrats turned out on Tuesday night in surging numbers. In Michigan, well over 100,000 more people voted in the Democratic gubernatorial primary than in the Republican contest, and in Missouri, Democratic turnout was up 85 percent since 2010." See also, Winners and losers from Tuesday's elections, The Washington Post, Amber Phillips, Wednesday, 8 August 2018: "Tuesday was a night of extremes. In primaries and special elections in five states — Ohio, Kansas, Michigan, Missouri and Washington — socialist-leaning Democrats challenged their party's establishment with mixed results, while President Trump boosted GOP challengers far on the right with mixed results. And, of course, the big story is in Ohio. Republican Troy Balderson held a narrow lead in a special congressional election that, on paper, Republicans should have won by miles."
How many migrant children are still separated from their families? The Washington Post, Leslie Shapiro and Manas Sharma, Wednesday, 8 August 2018: "The Trump administration's decision to criminally prosecute all adults crossing the southern border led to the separation of more than 2,500 children from their parents or other adults this spring. After President Trump halted the separations on June 20, a federal judge ordered the government to reunite all children under age 5 with their families by July 12 and all older children by July 26. The government, which did not have a reunification plan in place at the time of the judge's order, says it has returned all children whose parents have been located and cleared through background checks. But as of Aug. 1, 572 children remain stripped from their parents or guardians and in government custody. 'The reality is, for every parent who is not located, there will be a permanently orphaned child, and that is 100 percent the responsibility of the administration,' U.S. District Judge Dana M. Sabraw told the federal government at an Aug. 3 hearing about reunifying separated families."
Trump's Lawyers Counter Special Counsel Robert Mueller's Interview Offer, Seeking a Narrower Scope, The New York Times, Michael S. Schmidt and Maggie Haberman, Wednesday, 8 August 2018: "President Trump's lawyers rejected the special counsel's latest terms for an interview in the Russia investigation, countering on Wednesday with an offer that suggested a narrow path for answering questions, people familiar with the matter said. Jay Sekulow, one of Mr. Trump's personal lawyers, confirmed that a response was sent but declined to comment on its content. Noting the documents that the White House has already provided, the president's lead lawyer in the case, Rudolph W. Giuliani, said, 'We're restating what we have been saying for months: It is time for the Office of Special Counsel to conclude its inquiry without further delay.'… Mr. Trump's lawyers did not reject an interview outright but included the narrower counteroffer, one person familiar with the response said. However, Mr. Trump's lawyers do not want him answering questions about whether he obstructed justice, according to the person, who did not want to be named describing the private negotiations and spoke on the condition of anonymity." See also, Trump lawyers reject interview terms sought by special counsel Robert Mueller in Russia probe, The Washington Post, Carol D. Leonnig, Wednesday, 8 August 2018: "President Trump's legal team has rejected special counsel Robert S. Mueller III's conditions for an interview with their client, saying they consider questioning the president about possible obstruction of justice to be legally inappropriate. A letter from Trump's lawyers sent to Mueller around noon on Wednesday significantly lessens the possibility of a voluntary presidential interview, according to two people familiar with the discussions. The multipage response represents what Trump's lawyers expect to be their last word on Mueller's request for a sit-down interview with the president in his Russia investigation, according to the people, who spoke on the condition of anonymity because of the sensitive nature of the negotiations."
U.S. to Issue New Sanctions Against Russia Over Spy Poisoning in March in England, The New York Times, Gardiner Harris, Wednesday, 8 August 2018: "The Trump administration announced Wednesday that it would soon impose new sanctions on Moscow over the attempted assassinations of a former Russian spy living in England, violating American and international laws. The sanctions arise from a March 4 episode in which Sergei V. Skripal, a former Russian spy, and his daughter were nearly poisoned to death with a rare and toxic nerve agent. British authorities accused Russia of being behind the attempt, a charge Moscow has fiercely denied. The sanctions are part of a raft of anti-Russian efforts by the United States despite President Trump's own efforts to forge warmer ties through direct talks with President Vladimir V. Putin of Russia. The sanctions could potentially halt nearly half of the $7 billion in exports the United States sends to Russia every year, according to a senior Trump administration official who briefed reporters on the condition of anonymity." See also, Trump administration to impose new sanctions on Russia for nerve agent attack in March in England, The Washington Post, Karen DeYoung and Carol Morello, Wednesday, 8 August 2018.
White House is drafting sanctions order to punish foreign interference in U.S. elections, The Washington Post, Shane Harris, Josh Dawsey, and Ellen Nakashima, Wednesday, 8 August 2018: "The White House is drafting an executive order that would authorize President Trump to sanction foreigners who interfere in U.S. elections, the administration's latest effort to demonstrate it is serious about combating Russian disinformation and hacking. The eight-page draft order, a copy of which was reviewed by The Washington Post, appears to be an effort to stave off aggressive legislation, including a bill introduced in Congress this month — and to quell criticism that Trump seems to give more credence to Russian President Vladi­mir Putin's denials of interference than to U.S. intelligence agencies' conclusion that the Kremlin sought to undermine the 2016 election.Trump has been under increasing pressure from his advisers to condemn Russia's aggression, said current and former administration officials who spoke on the condition of anonymity to be candid. His reluctance to do so is viewed internally as a liability, they said."
New York Congressman Chris Collins Is Charged With Insider Trading, The New York Times, Alan Feuer and Shane Goldmacher, Wednesday, 8 August 2018: "Representative Chris Collins was at the Congressional Picnic on the South Lawn of the White House last summer when he received an unexpected email from the head of a drug company in which he was heavily invested. The company's only product — an experimental treatment for multiple sclerosis — had just failed a do-or-die scientific trial. What Mr. Collins did next, apparently in a state of panic, forms the core of a federal indictment unsealed on Wednesday in New York that accuses him of insider trading and lying to federal agents. Federal prosecutors charged Mr. Collins with brazenly using his private information about the company to help his son and others avoid financial disaster. The charges against Mr. Collins, a New York Republican who was one of President Trump's earliest and most ardent supporters, stem from his involvement with Innate Immunotherapeutics Limited, a small drug maker based in Australia, which had no approved drugs but several well-placed allies in the capital. Within minutes of learning about the company's unsuccessful test, Mr. Collins frantically called his son, Cameron Collins, who, in the days that followed, sold off his stock, avoiding losses of more than $570,000, prosecutors said."
Representative Devin Nunes on secret tape: Kavanaugh vote first, then impeachment of Deputy Attorney General Rod Rosenstein, MSNBC, Rachel Maddow, Wednesday, 8 August 2018: "In a secret audio recording obtained exclusively by The Rachel Maddow Show, Rep. Devin Nunes is heard at a private fundraiser for Rep. Cathy McMorris Rodgers remarking on Donald Trump's cringe-worthy tweets, and explaining to donors that the impeachment of Deputy Attorney General Rod Rosenstein has to wait so it doesn't interfere with Senate confirmation of Brett Kavanaugh to the Supreme Court."
Paul Manafort trial Day 7: Manafort took in $60 million over five years, including $31 million from Ukraine in 2012, The Washington Post, Rachel Weiner, Matt Zapotosky, Lynh Bui, and Tom Jackman, Wednesday, 8 August 2018.
Thursday, 9 August 2018, Day 567:
Vice President Mike Pence Advances Plan to Create a Space Force, The New York Times, Helene Cooper, Thursday, 9 August 2018: "Vice President Mike Pence promoted a proposed Space Command on Thursday as 'an idea whose time has come' in comments at the Pentagon to unveil a few more details about President Trump's plan to create another military force, this one for outer space, and for it to be in operation by 2020. Mr. Trump's space dreams still have to go through a divided Congress to come true, but initially reluctant Pentagon officials have lined up behind the proposal and now say that they will do what they can to bring it to fruition." See also, Pence details plan for creation of Space Force in what would be the sixth branch of the military, The Washington Post, Christian Davenport and Dan Lamothe, Thursday, 9 August 2018: "Vice President Pence laid out an ambitious plan Thursday that would begin creating a military command dedicated to space and establish a 'Space Force' as the sixth branch of the U.S. military as soon as 2020, the first since the Air Force was formed shortly after World War II."
Judge Brett Kavanaugh, Trump's Supreme Court Nominee, Denied in 2006 at His Senate Confirmation Hearing That He Had Been Involved in Terrorism Detainee Policies. Email Shows That While at the Bush White House, Kavanaugh Offered Help on Terrorism Prisoners. The New York Times, Charlie Savage and Michael D. Shear, Thursday, 9 August 2018: "Brett M. Kavanaugh volunteered to prepare a senior Bush administration official to testify about the government's monitoring of conversations between certain terrorism suspects and their lawyers after the Sept. 11, 2001, attacks, a newly disclosed White House email shows. The email appeared likely to become a focus at Judge Kavanaugh's Supreme Court confirmation hearing this year. Democrats have suggested that he misled the Senate at his 2006 appeals court confirmation hearing, when he turned aside questions about the George W. Bush administration's handling of terrorism suspects by saying that he was 'not involved in the questions about the rules governing detention of combatants' and by portraying his portfolio as focusing on 'civil justice issues' like terrorism insurance."
U.S-Backed Saudi-Led Coalition Bombs School Bus in Yemen, Killing Dozens of Children, New York Magazine, Adam K. Raymond, Thursday, 9 August 2018: "Dozens of Yemeni schoolchildren are dead Thursday after an air strike by the U.S.-backed, Saudi-led coalition hit a school bus that was carrying them through a crowded market. As many as 50 people were reported dead after the attack, with another 77 injured. The bus, which was traveling through a city in northern Yemen, was carrying the kids to summer camp for Quran classes, according to local TV. On Twitter, the Red Cross in Yemen said a hospital it supports had received 29 dead children, all under 15 years old, and another 48 injured people."
Representative Devin Nunes, in secretly recorded tape, tells donors the Republican majority in Congress is necessary to protect Trump: 'We're the only ones,' The Washington Post, Isaac Stanley-Becker, Thursday, 9 August 2018: "Republican Rep. Devin Nunes of California, the chairman of the House Intelligence Committee, appears to have moved from criticizing the investigation into Russian interference in the 2016 election to strategizing about how to blunt its impact should it imperil President Trump. The most promising instrument in this effort, he suggested in unfiltered remarks last month, is retaining a GOP-controlled Congress…. [I]t was in private, at a closed-door fundraiser for a Republican colleague, that Nunes took the new step of tying the investigation to the midterm elections this fall. In comments captured in an audio recording aired Wednesday by 'The Rachel Maddow Show,' Nunes laid out in stark terms the rationale for preserving the GOP majority in Congress. 'If Sessions won't unrecuse and Mueller won't clear the president, we're the only ones, which is really the danger,' Nunes said at an event for Republican Rep. Cathy McMorris Rodgers of Washington, referring to Jeff Sessions, the attorney general, and Robert S. Mueller III, the special counsel. Sessions said last year that he would keep his distance from inquiries related to the 2016 election, owing to his role in Trump's campaign — a move that has frustrated the president, leading him to blame his own attorney general  for the 'Russian Witch Hunt Hoax.' 'I mean, we have to keep all these seats,' Nunes added. 'We have to keep the majority. If we do not keep the majority, all of this goes away.'" See also, In one sentence, Devin Nunes proved his critics right, The Washington Post, Philip Bump, Thursday, 9 August 2018: "There's one sentence in the audio recording obtained by MSNBC's Rachel Maddow of Rep. Devin Nunes (R-Calif.) that, by itself, significantly undercuts any claims that he's approaching investigations into President Trump with objectivity. Nunes was speaking at a fundraiser in Washington and addressed his role as the head of the House Intelligence Committee, a position that in recent months has put him at the forefront of investigations into Russian interference in the 2016 election. 'If Sessions won't unrecuse and Mueller won't clear the president,' Nunes told the audience, 'we're the only ones, which is really the danger.'" See also, The worst–and most intriguing–parts of the secret Devin Nunes tape, The Washington Post, Aaron Blake, Thursday, 9 August 2018.
U. S. District Court Judge Emmet G. Sullivan halts mother-daughter deportation and threatens to hold Attorney General Jeff Sessions in contempt, The Washington Post, Arelis R. Hernández, Thursday, 9 August 2018: "A federal judge in Washington halted a deportation in progress Thursday and threatened to hold Attorney General Jeff Sessions in contempt after learning that the Trump administration started to remove a woman and her daughter while a court hearing appealing their deportations was underway. 'This is pretty outrageous,' U.S. District Court Judge Emmet G. Sullivan said after being told about the removal. 'That someone seeking justice in U.S. court is spirited away while her attorneys are arguing for justice for her?' 'I'm not happy about this at all,' the judge continued. 'This is not acceptable.'" See also, U.S. district judge Emmet Sullivan of the District of Columbia orders plane carrying deported mother and child turned around and blocks more removals, NBC News, Suzanne Gamboa and Jacob Soboroff, Thursday, 9 August 2018: "In a federal courtroom in Washington on Thursday, a judge heard about something the Trump administration had just done that clearly angered him. The government, he learned, had deported an immigrant mother and daughter who are plaintiffs in the lawsuit the judge was hearing over asylum restrictions. So the judge did something highly unusual: He demanded the administration turn around the plane carrying the plaintiffs to Central America and bring them back to the United States. And he ordered the government to stop removing plaintiffs in the case from the country who are seeking protection from gang and domestic violence. The U.S. district judge, Emmet Sullivan, of the District of Columbia, was presiding over a lawsuit filed by the American Civil Liberties Union and Center for Gender and Refugee Studies on Tuesday. He had earlier been assured by the government in open court that no plaintiffs in the suit would be deported before midnight Friday."
Court Orders the Environmental Protection Agency to Ban Chlorpyrifos, a Pesticide Tied to Children's Health Problems, The New York Times, Eric Lipton, Thursday, 9 August 2018: "A federal appeals court ordered the Environmental Protection Agency on Thursday to bar within 60 days a widely used pesticide associated with developmental disabilities and other health problems in children, dealing the industry a major blow after it had successfully lobbied the Trump administration to reject a ban. The order by the United States Court of Appeals for the Ninth Circuit came after a decade-long effort by environmental and public health groups to get the pesticide, chlorpyrifos, removed from the market. The product is used in more than 50 fruit, nut, cereal and vegetable crops including apples, almonds, oranges and broccoli, with more than 640,000 acres treated in California alone in 2016, the most recent year data is available. In March 2017, just a month after he was confirmed as the agency's administrator, Scott Pruitt rejected a petition by the health and environmental groups to ban the pesticide. He did so even though the agency's own staff scientists had recommended that chlorpyrifos be removed from the market, based on health studies that had suggested it was harming children, particularly among farmworker families. A three-judge panel, on a 2-to-1 vote, gave the agency two months to finalize the ban on the product, whose leading manufacturer is DowDuPont. The company, along with others in the pesticide and agriculture industry, had intensely lobbied the E.P.A. and Mr. Pruitt, who resigned under a cloud of ethics scandals last month."
The Army Has Suspended Its Purge of Soldiers Who Were Recruited Through a Program That Offers Citizenship to Skilled Immigrants in Exchange for Military Service, The New York Times, Dave Philipps, Thursday, 9 August 2018: "The Army has halted forcible discharges of soldiers who were recruited through a program that offers citizenship to skilled immigrants in exchange for military service. But it is not clear whether the step puts an end to the expulsion policy or is just a pause in the Army's effort to curtail a program that its leaders say poses a security risk. In recent months, dozens of recruits in the program, known as Military Accessions Vital to National Interests, or Mavni, have been abruptly discharged from the service, often with little or no explanation. A handful of the discharged recruits sued in federal court, prompting widespread media coverage of the purge last month. The Army then ordered a halt to the discharges in a memorandum dated July 20." See also, Army suspends discharges of foreign-born recruits from citizenship program, The Washington Post, Paul Sonne, Thursday, 9 August 2018.
U.S. Officials Pushed to Finalize a NATO Deal Before Last Month's Summit Even Began, to Prevent Trump From Rejecting It, The New York Times, Helene Cooper and Julian E. Barnes, Thursday, 9 August 2018: "Senior American national security officials, seeking to prevent President Trump from upending a formal policy agreement at last month's NATO meeting, pushed the military alliance's ambassadors to complete it before the forum even began. The work to preserve the North Atlantic Treaty Organization agreement, which is usually subject to intense 11th-hour negotiations, came just weeks after Mr. Trump refused to sign off on a communiqué from the June meeting of the Group of 7 in Canada. The rushed machinations to get the policy done, as demanded by John R. Bolton, the national security adviser, have not been previously reported. Described by European diplomats and American officials, the efforts are a sign of the lengths to which the president's top advisers will go to protect a key and longstanding international alliance from Mr. Trump's unpredictable antipathy."
Media boost security as Trump ramps up 'enemy of the people' rhetoric, Politico, Jason Schwartz, Thursday, 9 August 2018: "Notebooks, mics, cameras, hairspray — those are all things TV reporters are used to having with them at political rallies. Now, in the age of President Donald Trump, they've added another: security guards. The networks are employing them, according to reporters, at Trump's high-octane political rallies, where the media often serves as the No. 1 rhetorical punching bag…. Networks deployed security at Trump events as far back as the 2016 campaign. But in the wake of the shooting in the Capital Gazette newsroom in Annapolis, Maryland, and with the president ramping up both his rally schedule and his rhetoric against the media — he has tweeted that reporters are the 'enemy of the people' five times in the past month, while he'd used the line just twice on Twitter before that — news outlets now find themselves increasingly facing the question of whether they're doing enough to keep journalists safe."
Trump's Tariffs on Canadian Newsprint Hasten Local Newspapers' Demise, The New York Times, Catie Edmondson and Jaclyn Peiser, Thursday, 9 August 2018: "The Trump administration's decision to impose tariffs on Canadian newsprint is hastening the demise of local newspapers across the country, forcing already-struggling publications to cut staff, reduce the number of days they print and, in at least one case, shutter entirely."
New data makes it clear: Nonvoters handed Trump the presidency, The Washington Post, Philip Bump, Thursday, 9 August 2018: "Most of our assessments of the electorate in 2016 are dependent on estimates. Polling before the election that suggested where people were leaning; exit polling after the fact that gives us some sense of who actually turned out. When more than 137 million people vote, understanding exactly who they were and why they voted the way they did necessarily involves some guesswork. On Thursday, though, Pew Research Center released an unusually robust survey of the 2016 electorate. In addition to having asked people how they voted, Pew's team verified that they did, giving us a picture not only of the electorate but also of those who didn't vote. There are a number of interesting details that emerge from that research, including a breakdown of President Trump's support that confirms much of his base has backed him enthusiastically since the Republican primaries. The data also makes another point very clear: Those who didn't vote are as responsible for the outcome of the election as those who did. As we noted shortly after the election, about 30 percent of Americans were eligible to vote but decided not to, a higher percentage than the portion of the country who voted for either Trump or his Democratic opponent, Hillary Clinton. Pew's data shows that almost half of the nonvoters were nonwhite and two-thirds were under age 50. More than half of those who didn't vote earned less than $30,000 a year; more than half of those who did vote were over age 50."
Melania Trump's Parents Become U.S. Citizens, Using 'Chain Migration' Trump Hates, The New York Times, Annie Correal and Emily Cochrane, Thursday, 9 August 2018: "President Trump has repeatedly and vehemently denounced what he calls 'chain migration,' in which adult American citizens can obtain residency for their relatives. On Thursday, his Slovenian in-laws, Viktor and Amalija Knavs, became United States citizens in a private ceremony in Manhattan by taking advantage of that same family-based immigration program. Asked if the Knavses had obtained citizenship through 'chain migration,' their lawyer, Michael Wildes, said, 'I suppose.' He said chain migration is a 'dirtier' way of characterizing what he called 'a bedrock of our immigration process when it comes to family reunification.'"
Paul Manafort trial Day 8: Second bank says it wouldn't have loaned Manafort money if not for phony income figures, The Washington Post, Rachel Weiner, Matt Zapotosky, Lynh Bui, and Tom Jackman, Thursday, 9 August 2018.