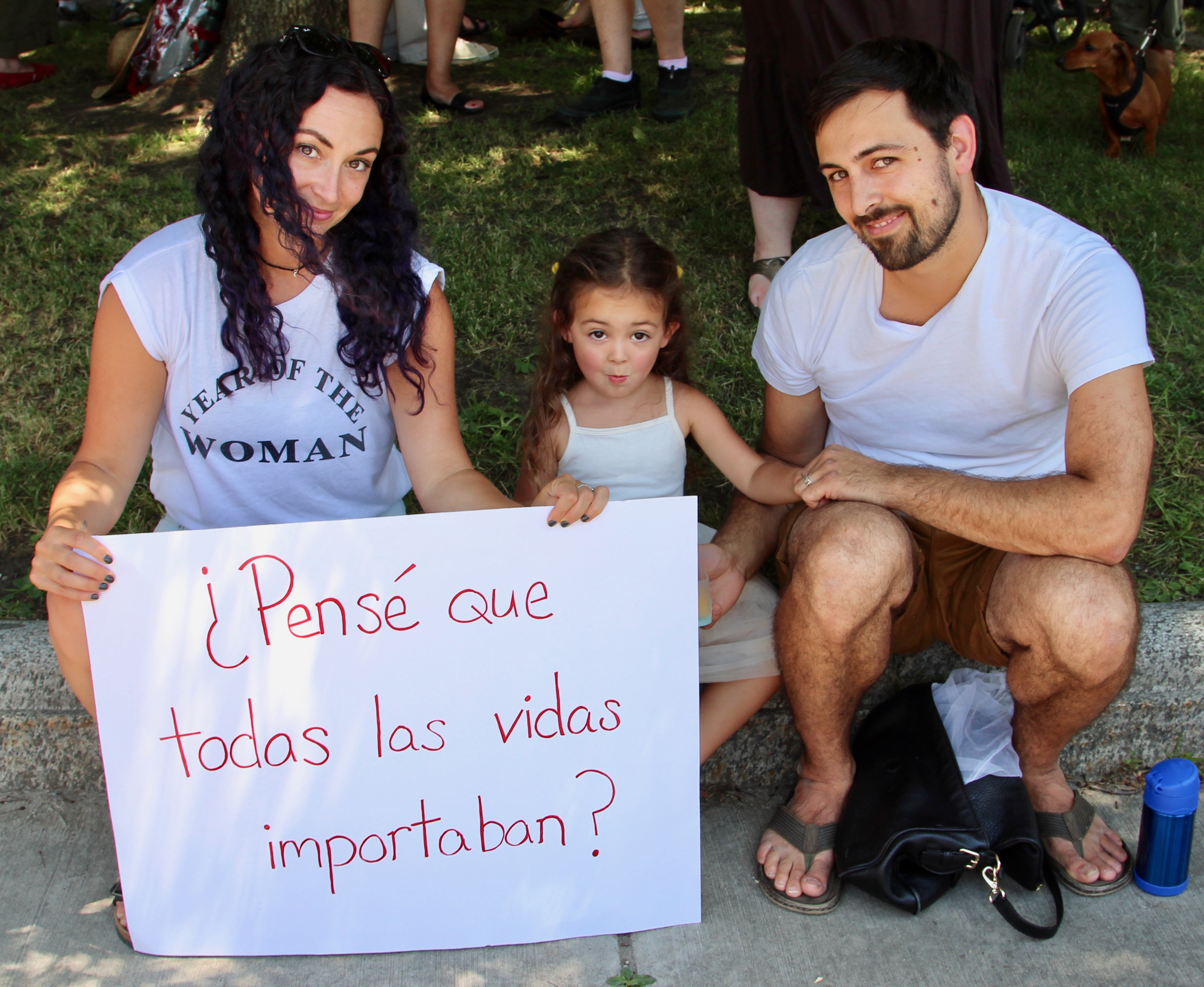 Families Belong Together and Free: rally in Pittsfield, MA, Saturday, 30 June 2018
Passages in bold in the body of the texts below are my emphasis. This is an ongoing project, and I update the site frequently. Because I try to stay focused on what has actually happened, I usually let the news 'settle' a day or so before posting. I hope readers will peruse the articles in full for a better understanding of the issues and their context; our democracy and our future depend on citizens who can distinguish between facts and falsehoods and who are engaged in the political process.
Friday, 27 July 2018, Day 554:
Michael Cohen, Trump's former personal attorney, claims Trump knew in advance about the 2016 Trump Tower meeting, CNN Politics, Jim Sciutto, Carl Bernstein, and Marshall Cohen, Friday, 27 July 2018: "Michael Cohen, President Donald Trump's former personal attorney, claims that then-candidate Trump knew in advance about the June 2016 meeting in Trump Tower in which Russians were expected to offer his campaign dirt on Hillary Clinton, sources with knowledge tell CNN. Cohen is willing to make that assertion to special counsel Robert Mueller, the sources said. Cohen's claim would contradict repeated denials by Trump, Donald Trump Jr., their lawyers and other administration officials who have said that the President knew nothing about the Trump Tower meeting until he was approached about it by The New York Times in July 2017. Cohen alleges that he was present, along with several others, when Trump was informed of the Russians' offer by Trump Jr. By Cohen's account, Trump approved going ahead with the meeting with the Russians, according to sources. To be clear, these sources said Cohen does not have evidence, such as audio recordings, to corroborate his claim, but he is willing to attest to his account." See also, Michael Cohen is now alleging what would be the Trump team's worst cover-up yet, The Washington Post, Aaron Blake, Friday, 27 July 2018. See also, Trump maintains not knowing in advance about meeting with Russians at Trump Tower in June 2016, disputing Michael Cohen's claim, The Washington Post, Robert Costa, Tom Hamburger, and Felicia Sonmez, Friday, 27 July 2018: "President Trump on Friday issued a fresh rebuttal against his former personal attorney Michael Cohen, maintaining that he did not know in advance about a June 2016 Trump Tower meeting between a Russian lawyer and his eldest son, Donald Trump Jr."
Venting about press, Trump has repeatedly sought to ban reporters over the way they ask him questions, The Washington Post, Philip Rucker, Josh Dawsey, and Ashley Parker, Friday, 27 July 2018: "President Trump has sought repeatedly to punish journalists for the way they ask him questions, directing White House staff to ban those reporters from covering official events or to revoke their press credentials, according to several current and former administration officials. At various moments throughout his presidency, Trump has vented angrily to aides about what he considers disrespectful behavior and impertinent questions from reporters in the Oval Office and in other venues. He has also asked that retaliatory action be taken against them. 'These people shouting questions are the worst,' Trump has said, according to a current official. 'Why do we have them in here?' Until this week, the officials said, Trump's senior aides have resisted carrying out his directives. They convinced him that moves to restrict media access could backfire and further strain the White House's fraught relationship with the press corps, whose members the president routinely derides as 'fake news' and 'dishonest people.' On Wednesday, however, newly installed Deputy Chief of Staff Bill Shine and press secretary Sarah Huckabee Sanders took action against CNN correspondent Kaitlan Collins, telling her she could not attend Trump's open-media event in the Rose Garden because they objected to her questioning of the president earlier in the day. The move revealed a fresh willingness inside the West Wing to execute the president's wishes to punish reporters. It immediately drew a chorus of protest throughout the media, including from Fox News Channel, Trump's favorite network and Shine's former employer."
Andrew Wheeler, Scott Pruitt's Successor at the Environmental Protection Agency, Wants Rollbacks, Too. And He Wants Them to Stick. The New York Times, Coral Davenport, Friday, 27 July 2018: "In his first three weeks on the job, Andrew Wheeler, the acting head of the Environmental Protection Agency, has sought to halt two major efforts by his predecessor, Scott Pruitt, to roll back environmental regulations, arguing that the policies are legally vulnerable, according to people who have heard his reasoning. Mr. Wheeler's actions signal a strategic shift at the E.P.A., an agency at the heart of President Trump's push to strip away regulations on industry. Under Mr. Pruitt, who resigned July 5 under a cloud of ethics investigations, the agency pushed for ambitious but fast-paced rollbacks of environmental rules. At least a half-dozen of those have been struck down by federal courts. Mr. Wheeler, a former coal lobbyist who served as Mr. Pruitt's deputy, has brought a more disciplined approach to dismantling environmental rules. It is an approach that may take longer, but it may be more effective in standing up to the inevitable legal challenges." See also, Andrew Wheeler, the Acting Administrator of the Environmental Protection Agency, Closes Dirty-Truck Loophole Left by Scott Pruitt, The New York Times, Lisa Friedman, Friday, 27 July 2018: "Andrew R. Wheeler, the acting administrator of the Environmental Protection Agency, has reversed the final policy act of his predecessor, Scott Pruitt: granting a loophole that would have allowed more highly polluting trucks on the nation's roads."
Continue reading Week 80, Friday, 27 July – Thursday, 2 August 2018 (Days 554-560)
'Why Did You Leave Me?' The Migrant Children Left Behind as Parents Are Deported, The New York Times, Miriam Jordan, Friday, 27 July 2018: "Adayanci Perez Chavez, who was separated from her father when they crossed the border from Guatemala more than two months ago, has watched as one playmate after another has checked out of the migrant children's center in Michigan where they have spent their days studying, playing and meeting with their case managers. One by one over the past few weeks, 90 percent of the children at the center, managed by Bethany Christian Services in Kalamazoo, have been put on planes and reunited with parents who had been held at immigration detention centers across the country. 'Yanci' was not among them, because there was no longer a parent with whom to reunite her. Desperate to get his daughter back, her father, Hugo Lionel Perez, said he had agreed to accept quick deportation as the price — except that when it came time to leave the country, he was put on a plane without her. 'The official told me, "Sign here, and you will be deported together." They tricked me,' Mr. Perez, 30, said in a phone interview from his indigenous village in Guatemala. Now, he said, 'Whenever we talk, Yanci asks me, Why did you leave me, Papito?' As the Trump administration has rushed to reunite thousands of children separated from their parents under a 'zero-tolerance' policy on border enforcement, it is now left with 700 or more cases that have been more difficult to solve, including those of 431 parents who were apparently sent home without their children. These are the cases that will continue to occupy federal immigration lawyers and immigrant advocates in the coming days, as federal authorities continue to unwind the effects of the policy that saw 2,800 or more children removed from their families in an attempt to deter the recent flood of migrant families from Central America."
Judge allows census lawsuit against the Trump administration to go forward, citing evidence of Trump's 'animus toward immigrants of color,' The Washington Post, Samantha Schmidt, Friday, 27 July 2018: "A federal judge on Thursday allowed a lawsuit to move forward against the Trump administration over its controversial decision to add a question about citizenship in the 2020 Census. Judge Jesse Furman of Manhattan's Southern District said the plaintiffs gave plausible evidence that U.S. officials intended to discriminate against immigrant communities, driven by President Trump's incendiary statements about immigrants of color. The plaintiffs, which include 18 states, the District of Columbia, several cities and advocacy groups, argued that including a question about citizenship would cause many immigrants to refuse to fill out the census, a risk they say is 'heightened in the current political climate because of President Trump's anti-immigrant rhetoric.' This refusal to cooperate, critics say, could trigger an undercount that would deprive communities of their share of federal funding for crucial government services such as schools, roads and bridges."
Trump Says He'll Stump for Vulnerable Republicans 'Six or Seven Days a Week,' The New York Times, Julie Hirschfeld Davis, Friday, 27 July 2018: "President Trump said Friday that he plans to spend almost all of his time this fall campaigning for the most vulnerable Republican congressional candidates in the midterm elections, a strategy that would have him in many districts where endangered lawmakers in his own party regard him as a liability."
Russian President Vladimir Putin Invites Trump to Moscow for a Second Meeting After the White House Postponed Plans to Have Putin Visit Washington in the Fall, The New York Times, Andrew Higgins, Friday, 27 July 2018: "Just two days after the White House postponed plans to have President Vladimir V. Putin of Russia visit Washington in the fall, the Russian leader said on Friday that he had invited President Trump to visit him in Moscow. Praising Mr. Trump as a leader 'who seeks to keep his promises,' Mr. Putin continued to push for a second summit meeting, though their first, this month, generated intense criticism of his American counterpart. Mr. Putin said he was ready to meet either in Washington or Moscow, adding that he had already told Mr. Trump that he had an invitation to visit the Russian capital. The White House quickly responded favorably to the idea. 'President Trump looks forward to having President Putin to Washington after the first of the year, and he is open to visiting Moscow upon receiving a formal invitation,' the White House press secretary, Sarah Huckabee Sanders, told reporters."
Saturday, 28 July 2018, Day 555:
Peter C. Wright Goes From Dow's 'Dioxin Lawyer' to Trump's Choice to Run the Environmental Protection Agency's Superfund Toxic Cleanup Program, The New York Times, Hiroko Tabuchi and Tryggvi Adalbjornsson, Saturday, 28 July 2018: "The lawyer nominated to run the Superfund toxic cleanup program is steeped in the complexities of restoring polluted rivers and chemical dumps. He spent more than a decade on one of the nation's most extensive cleanups, one involving Dow Chemical's sprawling headquarters in Midland, Mich. But while he led Dow's legal strategy there, the chemical giant was accused by regulators, and in one case a Dow engineer, of submitting disputed data, misrepresenting scientific evidence and delaying cleanup, according to internal documents and court records as well as interviews with more than a dozen people involved in the project. The lawyer, Peter C. Wright, was nominated in March by President Trump to be assistant administrator at the Environmental Protection Agency overseeing the Superfund program, which was created decades ago to clean up the nation's most hazardous toxic waste sites. He is already working at the agency in an advisory role as he awaits congressional approval. If confirmed, Mr. Wright would also oversee the emergency response to chemical spills and other hazardous releases nationwide."
Donald Trump trusted Michael Cohen, his longtime lawyer, for years. Now Rudy Giuliani, Trump's present lawyer, doubts Cohen's credibility. The Washington Post, JM Rieger, Saturday, 28 July 2018: "On July 8, ABC News's George Stephanopoulos asked President Trump's lawyer Rudolph W. Giuliani whether he was concerned that Trump's longtime lawyer, Michael Cohen, might flip on the president. 'I have no concerns that Michael Cohen is going to do anything but tell the truth, and if he does, as I said, there's no suggestion that anything happened,' Giuliani said at the time. Now with Cohen reportedly prepared to flip on Trump less than two weeks later, Giuliani is singing a much different tune about a man he once called an 'honest, honorable lawyer.' 'This guy is a proven liar,' Giuliani told CNN on Thursday. 'A year ago, when I wasn't his lawyer, people in your profession told me this guy will flip because he is an inherent, pathological liar.' The sudden focus on discrediting Trump's longtime lawyer — which you can see in the video above — suggests the investigations into Cohen and Russian election interference could come down, in part, to Cohen's credibility. Or at least Trump's legal team seems to think so."
Sunday, 29 July 2018, Day 556:
New York Times Publisher A.G. Sulzberger and Trump Clash Over Trump's Threats Against Journalism, The New York Times, Mark Landler, Sunday, 29 July 2018: "President Trump and the publisher of The New York Times, A. G. Sulzberger, engaged in a fierce public clash on Sunday over Mr. Trump's threats against journalism, after Mr. Sulzberger said the president misrepresented a private meeting and Mr. Trump accused The Times and other papers of putting lives at risk with irresponsible reporting. Mr. Trump said on Twitter that he and Mr. Sulzberger had discussed 'the vast amounts of Fake News being put out by the media & how that Fake News has morphed into phrase, "Enemy of the People." Sad!' In a five-paragraph statement issued two hours after the tweet, Mr. Sulzberger said he had accepted Mr. Trump's invitation for the July 20 meeting mainly to raise his concerns about the president's 'deeply troubling anti-press rhetoric.' 'I told the president directly that I thought that his language was not just divisive but increasingly dangerous,' said Mr. Sulzberger, who became publisher of The Times on Jan. 1. 'I told him that although the phrase "fake news" is untrue and harmful, I am far more concerned about his labeling journalists "the enemy of the people." I warned that this inflammatory language is contributing to a rise in threats against journalists and will lead to violence.' This is particularly true overseas, Mr. Sulzberger said, where governments are using Mr. Trump's words as a pretext to crack down on journalists. He said he warned the president that his attacks were 'putting lives at risk' and 'undermining the democratic ideals of our nation.'" See also, Statement of A.G. Sulzberger, Publisher, The New York Times, in Response to President Trump's Tweet About Their Meeting, The New York Times, Sunday, 29 July 2018. See also, Trump accuses 'very unpatriotic' journalists of putting the 'lives of many' in peril, The Washington Post, Philip Rucker, Sunday, 29 July 2018: "President Trump escalated his feud with the news media on Sunday, accusing journalists of being unpatriotic and endangering lives after the publisher of the New York Times disclosed that he had warned Trump recently that his inflammatory rhetoric about the media could lead to violence." See also, Trump Vs. The Times: Inside an Off-the-Record Meeting, The New Yorker, David Remnick, published on Monday, 30 July 2018: "On July 20th, the new publisher of the Times, A. G. Sulzberger, visited the Oval Office at the invitation of President Trump. The meeting was meant to be off the record. As a matter of policy, Dean Baquet, the executive editor of the Times, will not attend such meetings without being able to report on them. Instead, Sulzberger went to the session accompanied by James Bennet, the editorial-page editor. The meeting, which Trump clearly intended as a way both to introduce himself to Sulzberger and to complain about coverage, became, in the course of more than an hour, something a great deal more revealing…. The once-secret session provides a fascinating look at Trump's capacity to feign charm and receptiveness to criticism in private and then return to a war footing not long after."
Trump threatens again to shut down federal government over border-wall funding, The Washington Post, Philip Rucker, Robert Costa, and Damian Paletta, Sunday, 29 July 2018: "President Trump threatened Sunday to shut down the federal government this fall if Congress does not pass sweeping changes to immigration laws, including appropriating more public money to build his long-promised border wall. 'I would be willing to "shut down" government if the Democrats do not give us the votes for Border Security, which includes the Wall!' Trump tweeted. 'Must get rid of Lottery, Catch & Release etc. and finally go to system of Immigration based on MERIT! We need great people coming into our Country!' Trump's shutdown warning — which he has made before — escalates the stakes ahead of a Sept. 30 government funding deadline, raising the possibility of a political showdown before the Nov. 6 midterm elections that Republican congressional leaders had hoped to avoid." See also, Republicans Face Another Midterm Threat as Trump Plays the Government Shutdown Card, The New York Times, Sheryl Gay Stolberg, Sunday, 29 July 2018.
Paul Manafort's Trial Starts Tuesday. Here Are the Charges and the Stakes. The New York Times, Sharon LaFraniere and Emily Baumgaertner, Sunday, 29 July 2018: "Paul Manafort, the veteran Republican political operative and lobbyist who helped run President Trump's 2016 campaign, is scheduled to go to trial on financial fraud charges starting on Tuesday in United States District Court in Alexandria, Va…. It is the first trial stemming from charges brought by Robert S. Mueller III, the special counsel investigating Russia's interference in the campaign. Prosecutors have said they do not intend to delve into questions about collusion between Russia and the Trump campaign in this case, which focuses on how Mr. Manafort handled the money he earned working as a consultant in Ukraine. The trial is expected to last at least three weeks, and a second trial is scheduled to follow starting in September. In that case, Mr. Manafort will face related charges in United States District Court in the District of Columbia." [Emphasis in original.]
Monday, 30 July 2018, Day 557:
How Trump Allies Shifted Their Defense as Evidence of Contacts Between Russians and Members of the Trump Campaign Grew, The New York Times, Mark Mazzetti, Monday, 30 July 2018: "In the days after the 2016 presidential election, Donald J. Trump's advisers had an unequivocal message about contacts between Russians and members of the campaign team: There were none. In the ensuing months, as numerous such communications were revealed, the message changed: There was no collusion with Russia's effort to disrupt the election. On Monday, President Trump's lawyer Rudolph W. Giuliani consistently presented a third line of defense: Even if Mr. Trump did collude with the Russians, he committed no crime. Mr. Giuliani insisted during numerous television interviews that no evidence of collusion existed, but the evolving narrative is a sign of how much Mr. Trump and his aides have had to recalibrate their public message in the face of considerable evidence of contacts between Russia and the Trump campaign, and with the special counsel investigating what — if anything — Mr. Trump knew about them." See also, Rudy Giuliani just obliterated the goal posts on Trump-Russia collusion, The Washington Post, Aaron Blake, Monday, 30 July 2018: "President Trump's defense in the Russia investigation has been a study in goal-post moving — constantly watering down previous denials and raising the standard for what would constitute actual wrongdoing. But rarely has it been so concentrated in one morning. Trump's lawyer/spokesman Rudolph W. Giuliani appeared on Fox News's and CNN's morning shows on Monday to downplay the idea that colluding with the Russians would have even been illegal and to argue against strawmen. The most notable portion of the interviews was when Giuliani rekindled the idea that collusion isn't even a crime. Trump's defenders have occasionally noted that the word doesn't appear in the criminal code — which is true but misleading— but Giuliani took it a step further: He basically suggested Trump would have had to pay for Russia to interfere on his behalf." See also, What Is Rudy Giuliani Talking About? The New Yorker, John Cassidy, Monday, 30 July 2018.
Donald Trump didn't tell the whole truth about the Russia investigation 7 times in 1 tweet, CNN Politics, Chris Cillizza, Monday, 30 July 2018: "On Sunday afternoon, Donald Trump tweeted. 'There is No Collusion,' wrote the President of the United States. 'The Robert Mueller Rigged Witch Hunt, headed now by 17 (increased from 13, including an Obama White House lawyer) Angry Democrats, was started by a fraudulent Dossier, paid for by Crooked Hillary and the DNC. Therefore, the Witch Hunt is an illegal Scam!' That tweet totals 47 words (and 277 characters — sliding just under Twitter's 280-character limit). And despite its relative brevity, there are at least seven examples of exaggerations, mischaracterizations and outright falsehoods contained in it. That's one for every seven words!"
How Alan Friedman, Italy's Professional American, Put Paul Manafort in Jail, The New York Times, Jason Horowitz, Monday, 30 July 2018: "Alan Friedman is Italy's professional American. A former journalist with a baritone voice and perfect, if heavily accented, Italian, he has for decades provided the American perspective to Italians. He hosted and produced Italian television shows, ran in elite circles, wrote the authorized biography of former Prime Minister Silvio Berlusconi and still contributes columns to the country's most prestigious newspapers. But for all his fame and influence in Italy, few had heard of Mr. Friedman in the United States until he helped land President Trump's former campaign chairman, Paul Manafort, in jail. Documents filed last month by the special counsel, Robert S. Mueller III, as part of the investigation into Russia's influence campaign in the 2016 American presidential election, showed that Mr. Friedman worked closely with Mr. Manafort in creating the so-called Hapsburg Group. That was the informal name of a group of European politicians surreptitiously paid through overseas accounts controlled by Mr. Manafort, starting in 2011, to lobby American politicians to support Viktor F. Yanukovych, then the leader of Ukraine and a favorite of the Russian president, Vladimir V. Putin. Neither Mr. Manafort nor Mr. Friedman registered as lobbyists, a potential violation of an American law intended as a bulwark against foreign agents' peddling influence in American politics."
Trump administration considers tax cut for the wealthy, The Washington Post, Damian Paletta, Monday, 30 July 2018: "The Treasury Department is considering a tax cut for the wealthiest Americans through a change that would not need approval from Congress, officials said, a move that would follow a package of tax cuts last year that also benefited the super-rich. The agency is studying whether to allow investment income, known as capital gains, to be adjusted for inflation in a way that shields more of it from taxation. Most capital gains are paid by wealthier Americans, who disproportionately hold large portfolios of investments. But the use of executive power on such a significant change to the tax law would be highly unusual and could be vulnerable to a legal challenge. Senior administration officials have discussed whether to proceed but have not concluded they have legal authority to do so. The move was rejected during the George H.W. Bush administration because it was seen as outside the scope of Treasury's authority and only attainable via an act of Congress." See also, Trump Administration Mulls Bypassing Congress to Grant a $100 Billion Tax Cut for the Wealthy, The New York Times, Alan Rappeport and Jim Tankersley, Monday, 30 July 2018.
Attorney General Jeff Sessions announces new 'Religious Liberty Task Force' at the Department of Justice, Independent, Emily Shugerman, Monday, 30 July 2018: "The US Department of Justice has created a 'religious liberty task force' to help implement the Trump administration's new religious guidance. Attorney General Jeff Sessions warned that the country had become 'less hospitable to people of faith' as he announced its formation at a Justice Department Religious Liberty Summit. 'A dangerous movement, undetected by many, is now challenging and eroding our great tradition of religious freedom,' he said. 'There can be no doubt. This is no little matter. It must be confronted and defeated.'… Responding to the task force's formation, the Human Rights Campaign criticised Mr Sessions and the White House for 'sanctioning discrimination against LGBTQ people.' It also accused Mr Sessions of standing 'shoulder-to-shoulder with anti-LGBTQ extremists,' in what was likely a reference to the Alliance Defending Freedom – an anti-LGBTQ organisation that backed the summit…. Women's rights groups like Planned Parenthood and NARAL Pro-choice America also criticised the guidelines and task force. 'Make no mistake – this "Religious Liberty Task Force" is another extremist attempt to deny people the care and services that they need,' NARAL tweeted. 'The Trump admin is out to refuse abortion care, birth control access, and LGBTQ-inclusive care to the American people.'"
Koch-Backed Think Tank Finds That Senator Bernie Sanders's 'Medicare for All' Bill Would Cut Health Care Spending and Raise Wages, The Intercept, Ryan Grim and Zaid Jilani, Monday, 30 July 2018: "A new study from the Mercatus Center at George Mason University is making headlines for projecting that Independent Vermont Sen. Bernie Sanders's 'Medicare for All' bill is estimated to cost $32.6 trillion — a number that's entirely in line with 2016 projections, and is literally old news. But what the Associated Press headline fails to announce is a much more sanguine update: The report, by Senior Research Strategist Charles Blahous, found that under Sanders's plan, overall health costs would go down, and wages would go up. The study, which came out of the Koch-funded research center, was initially provided to the AP with a cost estimate that exceeded previous ones by an incredible $3 trillion — a massive error that was found and corrected by Sanders's staff when approached by AP for comment…. Blahous's paper, titled 'The Costs of a National Single-Payer Healthcare System,' estimates total national health expenditures. Even though his cost-saving estimates are more conservative than others, he acknowledges that Sanders's 'Medicare for All' plan would yield a $482 billion reduction in health care spending, and over $1.5 trillion in administrative savings, for a total of $2 trillion less in overall health care expenditures between 2022 and 2031, compared to current spending."
Tuesday, 31 July 2018, Day 558:
Trump administration must stop giving psychotropic drugs to migrant children without consent of their parents or guardians, U.S. District Judge Dolly Gee rules, The Washington Post, Samantha Schmidt, Tuesday, 31 July 2018: "A federal judge on Monday found that U.S. government officials have been giving psychotropic medication to migrant children at a Texas facility without first seeking the consent of their parents or guardians, in violation of state child welfare laws. U.S. District Judge Dolly Gee in Los Angeles ordered the Trump administration to obtain consent or a court order before administering any psychotropic medications to migrant children, except in cases of dire emergencies. She also ordered that the government move all children out of a Texas facility, Shiloh Residential Treatment Center in Manvel, except for children deemed by a licensed professional to pose a 'risk of harm' to themselves or others." See also, Judge orders government to release immigrant children from troubled Shiloh Treatment Center in Texas, Reveal from The Center for Investigative Reporting, Lance Williams and Matt Smith, Tuesday, 31 July 2018. See also, Lawsuit says families separated by Trump should get more time to seek asylum, The Washington Post, Maria Sacchetti, Tuesday, 31 July 2018: "The Trump administration is facing a new challenge to its controversial separation of thousands of migrant children from their parents, with lawyers arguing that those families have not had adequate opportunity to seek asylum in the United States. A federal judge in California has ordered the government to reunite the families — a process that is ongoing — and is weighing whether to extend a limited ban on deportations so parents can consult with attorneys and consider their children's options. But a new proposed class-action lawsuit, the subject of an emergency hearing Tuesday in U.S. District Court for the District of Columbia, goes further, saying many of the 2,600 children taken from their parents never had a chance to go before a judge or immigration officer. Parents who appeared for such hearings, the lawsuit says, were often 'too distraught' by the separations to properly make their case." See also, A Migrant Boy Rejoins His Mother, but He's Not the Same, The New York Times, Miriam Jordan, Tuesday, 31 July 2018: "[M]any of the children released to their parents are exhibiting signs of anxiety, introversion, regression and other mental health issues, according to reports from lawyers, immigrant advocates and volunteers working with reunited families. 'Our volunteers are seeing the significant and real toll that these traumatic separations have had on these children's and these families' lives, which persist even after reunification,' said Joanna Franchini, who is coordinating a national network of volunteers working with migrant children and their parents called Together & Free."
Senate Judiciary Committee members skewer Trump officials over migrant family separations, The Washington Post, Nick Miroff and Karoun Demirjian, Tuesday, 31 July 2018: "Trump administration officials defended the rationale for their now-defunct family separation strategy during tense Senate testimony Tuesday, but they did not challenge lawmakers' assertions that the initiative was a failure. Facing scathing criticism from Democrats on the Senate Judiciary Committee, one senior Immigration and Customs Enforcement (ICE) official pushed back at claims that authorities mistreated migrants in their custody, instead likening his agency's family detention centers to 'summer camp.' 'These individuals have access to 24/7 food and water,' said Matthew Albence, a top ICE official. 'They have educational opportunities. They have recreational opportunities, both structured as well as unstructured; there's basketball courts, there's exercise classes, there's soccer fields we put in there.' But that and other defensive statements drew the ire of lawmakers such as Sen. Richard Blumenthal (D-Conn.), who dared the five Trump officials to tell the panel that the administration's 'zero tolerance' border crackdown was a success. Not one raised a hand."
Paul Manafort's Defense Team Opens Trial by Blaming Associates, The New York Times, Sharon LaFraniere and Emily Baumgaertner, Tuesday, 31 July 2018: "Paul Manafort's trial on financial fraud charges opened on Tuesday with an effort by his defense team to deflect blame to the government's star witness in the case, Rick Gates, Mr. Manafort's longtime political consulting partner. The defense strategy pits the credibility of Mr. Manafort, a former campaign chairman for President Trump, against that of Mr. Gates, who has pleaded guilty to charges in the same case and is cooperating in the inquiry led by the special counsel, Robert S. Mueller III. And it sets up a dramatic courtroom showdown between Mr. Gates, who is scheduled to take the stand for the prosecution, and Mr. Manafort, who worked closely with him in aiding pro-Russia politicians in Ukraine for a decade and also in 2016 on Mr. Trump's campaign. The trial, over charges that Mr. Manafort hid tens of millions of dollars he received for his work in Ukraine and then engaged in bank fraud when those funds dried up, got underway at a rapid clip."
Federal Judge in Seattle Blocks Attempt to Post Blueprints for 3-D Guns, The New York Times, Michael D. Shear, Tiffany Hsu, and Kirk Johnson, Tuesday, 31 July 2018: "For years, Cody Wilson, a champion of gun-rights and anarchism from Texas, has waged a battle to post on the internet the blueprints for making plastic guns on 3-D printers, claiming the First Amendment gives him the right to do it. Plastic guns are difficult to detect, and concerned about making it easier to produce them, the Obama administration had used export laws banning the foreign distribution of firearms to prevent publication of the blueprints. But an abrupt reversal by the State Department last month appeared to finally clear the path for Mr. Wilson to usher in what his website calls 'the age of the downloadable gun.' That age, he said, would start Wednesday when he would begin uploading the instructions. But faced with dire warnings about an imminent risk to public safety from alarmed public officials across the country, a federal judge in Seattle on Tuesday evening abruptly granted a temporary nationwide injunction blocking Mr. Wilson from moving forward with his plans. Attorneys general in eight states and the District of Columbia had filed a joint lawsuit attempting to force the Trump administration to prevent Mr. Wilson's nonprofit organization, Defense Distributed, from making the technical plans for the plastic guns available online."
'Unprecedented partisan interference:' Senate escalates bitter fight over Supreme Court nominee Brett Kavanaugh's record, The Washington Post, Seung Min Kim, Tuesday, 31 July 2018: "Senators escalated a bitter dispute over Brett M. Kavanaugh's documents — signaling a contentious confirmation fight ahead for the Supreme Court nominee even as senators on Tuesday successfully installed another appellate judge under President Trump. Infuriated with Republicans for requesting only a portion of Kavanaugh's records from his tenure in the George W. Bush White House, Democratic senators sent a wide-ranging request to the National Archives demanding that his entire paper trail be provided to Congress. The letter, sent Tuesday, asks for all of Kavanaugh's records from his time as an associate White House counsel under Bush, as well as his years as staff secretary. Kavanaugh, who was nominated to replace retiring Justice Anthony M. Kennedy, served for two years in the counsel's office and three years as staff secretary — a high-ranking position that controls the flow of documents in and out of the Oval Office. 'The Republican majority has cast aside Democratic wishes for openness and transparency and has made a partisan request for only a small subset of Judge Kavanaugh's records,' Senate Minority Leader Charles E. Schumer (D-N.Y.) said Tuesday morning. 'It is such a break from precedent that you have to wonder: What are the Republicans hiding about Judge Kavanaugh's record?'"
Trump Is Putting an Indelible Conservative Stamp on the Judiciary, The New York Times, Thomas Kaplan, Tuesday, 31 July 2018: "With another judge confirmed Tuesday by the Senate, President Trump and Senate Republicans are leaving an ever-expanding imprint on the judiciary, nudging powerful appeals courts rightward through a determined effort to nominate and confirm a steady procession of young conservative jurists. The confirmation of Judge Brett M. Kavanaugh to the Supreme Court would tilt the balance of the nation's highest court, but, already, the president and the Senate have proved strikingly efficient at installing judges to lifetime appointments on appeals courts that handle far more cases. The narrow, 52-to-46 appeals court confirmation on Tuesday of Britt C. Grant, 40, a Georgia Supreme Court justice who was once a clerk for Judge Kavanaugh, was Mr. Trump's 24th circuit court appointment — more than any other president had secured at this point in his presidency since the creation of the regional circuit court system in 1891, according to an analysis of judicial records by The New York Times. The Senate did not confirm President Barack Obama's 24th nominee to the regional circuit courts until the fourth year of his presidency. Of the 167 spots on those courts nationwide, Trump nominees will now occupy one of every seven, though the majority of those nominees replaced judges who were also appointed by Republican presidents."
Facebook suspends 'inauthentic' accounts and sees likely ties to Russia's 2016 election meddling, Politico, Kyle Cheney and Ashley Gold, Tuesday, 31 July 2018: "Facebook shut down more than two dozen "inauthentic" accounts and pages on Tuesday that sought to inflame social and political tensions in the United States, and said their activity was similar — and in some cases connected — to that of Russian accounts during the 2016 election. The action marked the social media giant's first significant acknowledgment of an ongoing, coordinated propaganda campaign on its site since it implemented new safeguards after the 2016 vote…. Facebook's disclosure is also the latest indication that Russia threatens to meddle again in the 2018 U.S. elections. The Daily Beast reported last week that Sen. Claire McCaskill, a vulnerable Missouri Democrat, was the target of a Russia-linked phishing scam." See also, Facebook Identifies an Active Political Influence Campaign Using Fake Accounts, The New York Times, Nicholas Fandos and Kevin Roose, Tuesday, 31 July 2018: "Facebook said on Tuesday that it had identified a political influence campaign that was potentially built to disrupt the midterm elections, with the company detecting and removing 32 pages and fake accounts that had engaged in activity around divisive social issues. The company did not definitively link the campaign to Russia. But Facebook officials said some of the tools and techniques used by the accounts were similar to those used by the Internet Research Agency, the Kremlin-linked group that was at the center of an indictment this year alleging interference in the 2016 presidential election."
'A total joke': Trump lashes out at Koch brothers after political network slams White House, The Washington Post, Michelle Ye Hee Lee and John Wagner, Tuesday, 31 July 2018: "President Trump lashed out at the Koch brothers Tuesday, saying their conservative political funding and policy network has 'become a total joke in real Republican circles' and is 'highly overrated.' The president's assessment, made in a flurry of morning tweets, followed a weekend gathering at which top officials affiliated with billionaire industrialist Charles Koch sought to distance the network from Trump and his base in the Republican Party, citing tariff and immigration policies and 'divisive' rhetoric out of Washington."
Michael Flynn, James Comey, and Robert Mueller: What Trump Knew and When He Knew It, The New York Review of Books, Murray Waas, Tuesday, 31 July 2018: "Previously undisclosed evidence in the possession of Special Counsel Robert Mueller—including highly confidential White House records and testimony by some of President Trump's own top aides—provides some of the strongest evidence to date implicating the president of the United States in an obstruction of justice.… The central incident in the case that the president obstructed justice was provided by former FBI Director James B. Comey, who testified that Trump pressed Comey, in a private Oval Office meeting on February 14, 2017, to shut down an FBI criminal investigation of Trump's former national security adviser, Lt. Gen. Michael Flynn. 'I hope you can see your way clear to letting this go, to letting Flynn go,' Comey has testified the president told him…. I have learned that a confidential White House memorandum, which is in the special counsel's possession, explicitly states that when Trump pressured Comey he had just been told by two of his top aides—his then chief of staff Reince Priebus and his White House counsel Don McGahn—that Flynn was under criminal investigation."
What Donald Trump Thinks He Has Learned From Italy, The New Yorker, Amy Davidson Sorkin, Tuesday, 31 July 2018: "When Donald Trump tilted his head and narrowed his eyes in order to get a better look at Prime Minister Giuseppe Conte, of Italy, at a joint press conference at the White House on Monday, he seemed to regard him as a certain species of living evidence. Conte, who has been in office about two months, was presented as a witness to, and a harbinger of, the perpetual triumph of Trump. Specifically, Trump used Conte as an example of how fears over immigration propel people to power and win elections."
A Census Question That Could Change How Power Is Apportioned in the U.S., The New York Times, Emily Badger, Tuesday, 31 July 2018: "'Is this person a citizen?' The answer could mean less representation for populous states and big cities. A citizenship question on the 2020 census has already drawn challenges from states that fear an undercount of immigrants and a loss of federal funds. But demographers say there could be even deeper consequences: The question could generate the data necessary to redefine how political power is apportioned in America."
John Kelly Agrees to Remain Chief of Staff Through 2020 at Trump's Request, The Wall Street Journal, Rebecca Balhaus, Byron Tau, and Peter Nicholas, Tuesday, 31 July 2018: "White House Chief of Staff John Kelly said he had accepted President Trump's request to stay in his job through the 2020 election, according to officials, as tensions between the two men have eased in recent months. Mr Kelly had been widely expected to leave the White House this summer. He told staff his decision to stay put on Monday, which marked his first anniversary in the role." See also, John Kelly Tells Aides He Will Remain White House Chief of Staff Through 2020, The New York Times, Mark Landler and Katie Rogers, Tuesday, 31 July 2018.
Wednesday, 1 August 2018, Day 559:
Trump Tells Attorney General Jeff Sessions to End Special Counsel Robert Mueller's Inquiry Into Russia's Interference in the 2016 Election: 'Stop This Rigged Witch Hunt Right Now,' The New York Times, Julie Hirschfeld Davis, Eileen Sullivan, and Katie Benner, Wednesday, 1 August 2018: "President Trump called on Attorney General Jeff Sessions on Wednesday to end the special counsel's inquiry into Russia's interference in the 2016 election, issuing an unambiguous directive on Twitter to shut down an investigation that even now is scrutinizing his tweets for evidence of obstruction. The White House and Mr. Trump's lawyers moved quickly to minimize the president's statement, dismissing it as merely a case of venting by a president who has grown increasingly angry with an investigation that he considers illegitimate — and not a direct order to a cabinet secretary to interfere with a continuing federal law enforcement matter. But in saying that Mr. Sessions, the United States' top law enforcement official, should take specific action to terminate the investigation, the tweet crossed a line that Mr. Trump has never explicitly crossed — until now. It immediately raised more questions about whether Mr. Trump was attempting to obstruct justice, already an issue being examined extensively by Robert S. Mueller III, the special counsel leading the investigation." See also, Trump calls Paul Manafort prosecution 'a hoax' and says Attorney General Jeff Sessions should stop Special Counsel Robert Mueller's investigation 'right now,' The Washington Post, Carol D. Leonnig, John Wagner, and Devlin Barrett, Wednesday, 1 August 2018. See also, Special Counsel Robert Mueller is looking at Trump's tweets for obstruction of justice. And Trump just handed him more potential evidence. The Washington Post, Aaron Blake, Wednesday, 1 August 2018.
Robert Mueller offers to limit investigators' questions for Trump in special counsel's latest effort to secure interview, The Washington Post, Carol D. Leonnig, Wednesday, 1 August 2018: "Special counsel Robert S. Mueller III indicated this week that he is willing to reduce the number of questions his investigators would pose to President Trump in an interview, renewing negotiations with Trump's lawyers about a presidential sit-down after an extended standoff, according to two people briefed on the negotiations. The latest proposal by the special counsel comes as Trump has stepped up his attacks on his investigation and Mueller personally. For months, Mueller has been seeking to question the president as part of his investigation into Russia interference in the 2016 campaign, which is also examining whether Trump has sought to block that probe. In a letter sent Monday, Mueller's team suggested that investigators would reduce the number of questions about potential obstruction of justice they would ask in person and instead seek some answers in written form, according to one person." See also, Trump Pushes for Interview With Special Counsel Robert Mueller Against Lawyers' Advice, The New York Times, Michael S. Schmidt and Maggie Haberman, Wednesday, 1 August 2018: "President Trump pushed his lawyers in recent days to try once again to reach an agreement with the special counsel's office about his sitting for an interview, flouting their advice that he should not answer investigators' questions, three people briefed on the matter said on Wednesday. Mr. Trump has told advisers he is eager to meet with investigators to clear himself of wrongdoing, the people said. In effect, he believes he can convince the investigators for the special counsel, Robert S. Mueller III, of his belief that their own inquiry is a 'witch hunt.'"
Special Counsel Robert Mueller Refers 3 Cases Focused on Illicit Foreign Lobbying to Federal Prosecutors in New York, The New York Times, Mathew Rosenberg, Kenneth P. Vogel, and Katie Benner, Wednesday, 1 August 2018: "Robert S. Mueller III, the special counsel, has referred three investigations into possible illicit foreign lobbying by Washington insiders to federal prosecutors in New York who are already handling the case against President Trump's former lawyer, according to multiple people familiar with the cases. The cases cut across party lines, focusing on both powerful Democratic and Republican players in Washington, including one whom Mr. Trump has repeatedly targeted — the Democratic superlobbyist Tony Podesta. The cases are unlikely to provoke an outburst from Mr. Trump similar to the one he unleashed in April after prosecutors raided the home and office of Michael D. Cohen, then the president's lawyer. But these cases do represent a challenge to Washington's elite, many of whom have earned rich paydays lobbying for foreign interests." See also, Special Counsel Robert Mueller's Digging Exposes Culture of Foreign Lobbying and Its Big Paydays, The New York Times, Mark Mazzetti and Katie Benner, Wednesday, 1 August 2018: "The mandate given to Robert S. Mueller III and his team was broad: to investigate not just Russian election interference but also any related crimes they might unearth. So when this group of seasoned prosecutors began rooting around Washington, they pounced on a ripe target — lobbyists taking millions of dollars from foreign governments. At the trial of Paul Manafort, an unflattering picture has emerged of lawyers, lobbyists and consultants from both political parties winning big paydays for work on behalf of a Kremlin-aligned former Ukrainian strongman. Some spent the money on cars and homes, prosecutors said, and a jacket made of ostrich for Mr. Manafort." See also, Manafort jury hears of lavish spending on luxury clothes, The Washington Post, Rachel Weiner, Justin Jouvenal, Rosalind S. Helderman, and Devlin Barrett, Wednesday, 1 August 2018.
Trump's order threatening to withhold funding from 'sanctuary cities' is unconstitutional, U.S. Court of Appeals for the 9th Circuit rules, The Washington Post, Deanna Paul, Wednesday, 1 August 2018: "A federal appeals court in California ruled Wednesday that President Trump acted beyond his authority when issuing an executive order attempting to penalize "sanctuary cities" for refusing to cooperate with the administration's immigration crackdown. The decision, issued by the U.S. Court of Appeals for the 9th Circuit, barred the Trump administration from defunding San Francisco and Santa Clara County, the case's two plaintiffs, but it did not uphold a nationwide injunction issued late last year by U.S. District Court Judge William H. Orrick of the Northern District of California. Instead, by a vote of 2 to 1, the three-judge panel sent the case back to the district court for additional fact-finding on the order's nationwide impact." See also, 9th Circuit rules White House can't withhold money from 'sanctuary cities,' Politico,Rebecca Morin, Wednesday, 1 August 2018.

Senate Republicans shoot down extra funds for election security, The Washington Post, Karoun Demirjian, Wednesday, 1 August 2018: "Senate Republicans voted down a bid Wednesday to direct an extra $250 million toward election security in advance of the 2018 midterms, despite heightened warnings from intelligence officials that foreign governments will try to interfere in the contests and evidence that some lawmakers have already been targeted. The 50 to 47 vote fell far short of the needed 60 votes to include the $250 million amendment, proposed by Sen. Patrick J. Leahy (D-Vt.), in an appropriations package that the Senate was set to approve Wednesday. Only one Republican senator — Sen. Bob Corker (Tenn.), who frequently prioritizes deficit concerns — voted for the additional funds."
White House Weighs Another Reduction in Refugees Admitted to U.S., The New York Times, Julie Hirschfeld Davis, Wednesday, 1 August 2018: "The White House is considering a second sharp reduction in the number of refugees who can be resettled in the United States, picking up where President Trump left off in 2017 in scaling back a program intended to offer protection to the world's most vulnerable people, according to two former government officials and another person familiar with the talks. This time, the effort is meeting with less resistance from inside the Trump administration because of the success that Stephen Miller, the president's senior policy adviser and an architect of his anti-immigration agenda, has had in installing allies in key positions who are ready to sign off on deep cuts. Last year, after a fierce internal battle that pitted Mr. Miller, who advocated a limit as low as 15,000, against officials at the Department of Homeland Security, the State Department and the Pentagon, Mr. Trump set the cap at 45,000, a historic low. Under one plan currently being discussed, no more than 25,000 refugees could be resettled in the United States next year, a cut of more than 40 percent from this year's limit. It would be the lowest number of refugees admitted to the country since the creation of the program in 1980."
'Short Term' Health Insurance? Up to 3 Years Under New Trump Administration Policy, The New York Times, Robert Pear, Wednesday, 1 August 2018: "The Trump administration issued a final rule on Wednesday that clears the way for the sale of many more health insurance policies that do not comply with the Affordable Care Act and do not have to cover prescription drugs, maternity care or people with pre-existing medical conditions. President Trump has said that he believes that the new 'short-term, limited-duration insurance' could help millions of people who do not want or need comprehensive health insurance providing the full range of benefits required by the health law. Democrats derided the new policies as 'junk insurance' that will lure healthy people away from the broader insurance market, raising premiums for sicker people and putting purchasers at risk. 'After an illness or an injury, many Americans who enroll in these G.O.P. junk health coverage plans will end up being hit by crushing medical bills, finding that they have been paying for coverage that doesn't cover much at all,' said Representative Nancy Pelosi of California, the House Democratic leader. Under the current rule, issued in late 2016 by the Obama administration, short-term insurance cannot last for more than three months, as it was meant to be a stopgap. Under the new rule, the limit would be 364 days, and insurers would be allowed, but not required, to extend policies. The maximum duration, including any extensions, would be 36 months." See also, Trump administration widens availability of skimpy, short-term health insurance plans, The Washington Post, Amy Goldstein, Wednesday, 1 August 2018.
Senate overwhelmingly backs a $716 billion defense authorization bill, sending it to Trump to sign, The Washington Post, Karoun Demirjian, Wednesday, 1 August 2018: "The Senate voted overwhelmingly on Wednesday to pass a $716 billion defense authorization bill, sending the record-setting measure to President Trump while avoiding confrontational policy changes that would have angered him. The 87-to-10 vote comes barely a week after the House passed the same measure, which negotiators agreed on after just a few weeks. In recent years, it has taken several months to iron out differences between the House and Senate's versions of the giant defense bill." See also, U.S. military budget inches closer to $1 trillion mark, as concerns over federal deficit grow, The Washington Post, Jeff Stein, published on Tuesday, 19 June 2018: "The U.S. Senate on Monday voted to give the military $716 billion for 2019, approving one of the biggest defense budgets in modern American history despite concerns from some economists and lawmakers about the rapidly rising federal deficit. The 2019 military budget, approved by an 85-to-10 vote, gives America's armed forces an $82 billion increase from 2017. The military has called the additional funding necessary to improve its ability to respond to international crises, while critics say Congress should not be giving a significant boost to spending at the Defense Department at a moment of relatively diminished U.S. military involvement around the globe. About 17 percent of America's $4 trillion federal budget goes to the military, according to the Congressional Budget Office…. The military's 'base' budget, not including a contingency fund for overseas operations, will be the biggest in recent American history since at least the 1970s, adjusting for inflation, according to multiple military budget experts."
The mystery of 'Q': How an anonymous conspiracy-monger launched a movement (if the person exists), The Washington Post, Marc Fisher and Isaac Stanley-Becker, Wednesday, 1 August 2018: "From somewhere in the vast and mysterious 'deep state,' a dissident agent rises up to give the people cryptic clues about how their heroic president will push back the forces of evil and make America great again. The renegade informant is known only as 'Q,' and if such a person actually exists, it's not in a movie, but somewhere in the Washington bureaucracy. Energized by Q's complex web of conspiracy notions about the forces aligned against President Trump, Q's followers have spread virally both online and now out in real life, too, forming a movement known as QAnon that is making itself visible at Trump's rallies and other public gatherings. QAnon is something old — the latest in a string of conspiracy ideas that take hold of the public's imagination in times of social stress and technological change. And QAnon is something new — a leaderless popular movement made up of people who believe in no one and therefore are willing to believe almost anything. To believers, Q is a pseudonym for a well-placed U.S. government agent who is posting online distress messages and bits of intel, known as 'bread crumbs,' in an effort to save the country — and Trump — from hostile forces within the government. Q's missives started appearing last October on 4chan, the mostly anonymous website where fringe ideas incubate and blossom." See also, As the bizarre QAnon group emerges, Trump rallies go from nasty to dangerous, The Washington Post, Margaret Sullivan, Wednesday, 1 August 2018.
Memphis police accused of using fake accounts to surveil black activists, The Guardian, Jamiles Lartey, Wednesday, 1 August 2018: "A trove of documents released by the city of Memphis late last week appears to show that its police department has been systematically using fake social media profiles to surveil local Black Lives Matter activists, and that it kept dossiers and detailed power point presentations on dozens of Memphis-area activists along with lists of their known associates."
Trump claims you need an ID to buy groceries. You do not. CNN Politics, Veronica Stracqualursi, Wednesday, 1 August 2018: "President Donald Trump used an odd example Tuesday night to call for stronger voter ID laws, saying that identification is required for buying groceries. There is no such requirement. 'We believe that only American citizens should vote in American elections, which is why the time has come for voter ID, like everything else. Voter ID,' Trump told the crowd of supporters gathered at the Florida State Fairgrounds. 'You know, if you go out and you want to buy groceries, you need a picture on a card, you need ID,' Trump continued. 'You go out and you want to buy anything, you need ID and you need your picture.'"
Trump has made 4,229 false or misleading claims in 558 days, The Washington Post, Glenn Kessler, Salvador Rizzo, and Meg Kelly, Wednesday, 1 August 2018: "Because of summer vacation schedules, we had fallen a month behind in updating The Fact Checker's database that analyzes, categorizes and tracks every suspect statement uttered by the president. It turns out that's when the president decided to turn on the spigots of false and misleading claims. As of day 558, he's made 4,229 Trumpian claims — an increase of 978 in just two months. That's an overall average of nearly 7.6 claims a day."
Trump Vs. Koch Is a Custody Battle Over Congress, The New Yorker, Jane Mayer, Wednesday, 1 August 2018: "Most of the media coverage of the 'ugly public feud,' as the New York Times called it, between President Trump and the Koch brothers has taken the Kochs at their word that they may have to give up on the Republican Party of Trump and start backing Democrats, so disgusted are they with the President's protectionist trade policies. But history suggests that the Kochs' threat is about as believable as that of a parent threatening to 'just plain leave' if a balky toddler doesn't behave. Despite the brothers' record as among the country's largest and most consistently partisan financial sponsors, the Kochs' pique at their own party is nothing new. For decades they have complained bitterly about Republican politicians whose fealty to their libertarian agenda has rarely, in their view, been absolute enough…. Yet Trump has done more to further the Kochs' agenda than any previous Administration…. [B]oth [Trump and Charles Koch] appear to think that the Republican Party in particular, and American politics in general, should be theirs to dominate. Yet, if you parse last weekend's complaint from Charles Koch carefully, what you see is that his ire wasn't so much directed at Trump, whom he didn't name, as at the Republicans in Congress for having fallen in line with the President instead of with him…. Charles Koch's political-fundraising network has grown into a private political machine that arguably rivals, and by some estimates overpowers, the Republican Party itself…. Charles Koch's real beef may not be so much with the President, from whom he never expected all that much, and, who, like other Republican Presidents, has disappointed him. Instead, it is the Republicans in Congress whose campaigns he lavishly funded. Unforgivably, they have violated the age-old definition of an honest politician, one who, once bought, stays bought."
Thursday, 2 August 2018, Day 560:
Vowing to defend California's authority to set its own greenhouse gas emissions rules, Governor Jerry Brown said the state would fight the new Environmental Protection Agency plan to freeze fuel economy rules 'in every conceivable way possible,' Los Angeles Times, Evan Halper, Tony Barboza, and David Lauter, Thursday, 2 August 2018: "The Trump administration Thursday pushed ahead with plans to unravel the federal government's most effective action to fight climate change — aggressive fuel economy standards aimed at getting the nation's cars and trucks to average more than 50 miles per gallon by 2025. After months of discussion and drafts, the Environmental Protection Agency and the National Highway Traffic Safety Administration formally unveiled their plan to rewrite those rules and replace them with ones so lax that even automakers are wary. The administration's plan would freeze mileage targets in 2020 for six years. It would also move to end California's power to set its own, tougher greenhouse gas emissions standards and nullify the state mandate that automakers sell a specified number of electric vehicles. EPA officials sought to portray the proposal as the administration's opening bid in a negotiation with California. State officials, however, loudly denounced the plan as too extreme and threatened to fight it in court. California and the 13 other states that follow its more stringent rules argue the Clean Air Act empowers them to keep the Obama-era standards in place in their markets. Together, California and the other 13 states account for more than a third of the vehicles sold nationwide." See also, Trump Administration Unveils Its Plan to Relax Car Pollution Rules, The New York Times, Coral Davenport, Thursday, 2 August 2018: "The Trump administration on Thursday put forth its long-awaited proposal to freeze antipollution and fuel-efficiency standards for cars, significantly weakening one of President Barack Obama's signature policies to combat global warming." See also, Trump administration to freeze fuel-efficiency requirements in move likely to spur legal battle with states, The Washington Post, Brady Dennis, Michael Laris, and Juliet Eilperin, Thursday, 2 August 2018: "The Trump administration announced plans Thursday to freeze fuel-efficiency requirements for the nation's cars and trucks through 2026 — a massive regulatory rollback likely to spur a legal battle with California and other states, as well as create potential upheaval in the nation's automotive market." See also, How Big a Deal Is Trump's Fuel Economy Rollback? For the Climate, Maybe the Biggest Yet. The New York Times, Brad Plumer, published on Friday, 3 August 2018: "President Trump's proposal this week to weaken fuel-efficiency standards for cars and light trucks could be his most consequential climate-policy rollback yet, increasing greenhouse gas emissions in the United States by an amount greater than many midsize countries put out in a year."
White House Press Secretary Sarah Huckabee Sanders Refuses to Say the Press Isn't 'The Enemy of the People,' HuffPost, Hayley Miller, Thursday, 2 August 2018: "White House press secretary Sarah Huckabee Sanders on Thursday refused to say the press isn't 'the enemy of the people,' a phrase President Donald Trump has repeatedly used to attack the media. CNN's Jim Acosta told Sanders during a press briefing that it would be a 'good thing if you were to state' that the press is not 'the enemy of the people.' But Sanders didn't acknowledge his request…. Acosta again pressed Sanders for a statement against the anti-media phrase, but she refused…. Acosta tweeted about his tense exchange with Sanders minutes later, noting that he walked out of the briefing before it ended because he was 'totally saddened' by her 'shameful' response." See also, CNN's Jim Acosta Challenges White House Press Secretary Sarah Huckabee Sanders to Disavow Trump's Description of Journalists as 'The Enemy of the People.' Ms. Sanders Declined to Do So. The New York Times, Michael M. Grynbaum, Thursday, 2 August 2018: "During a tense White House briefing on Thursday, [Jim Acosta of CNN] challenged the press secretary, Sarah Huckabee Sanders, to disavow President Trump's description of journalists as 'the enemy of the people.' Ms. Sanders declined to do so, saying she had been personally attacked in the media and had faced threats since starting her job…. Mr. Acosta, breaking from the usual sober style of White House reporters, framed his question to Ms. Sanders as a moral choice. 'It would be a good thing if you were to state right here, at this briefing, that the press — the people who are gathered in this room right now, doing their jobs every day, asking questions of officials like the ones you brought forward earlier — are not the enemy of the people…. I think we deserve that.'" See also, Sarah Huckabee Sanders presents the official White House policy: The media is the enemy of the people, The Washington Post, Amber Phillips, Thursday, 2 August 2018. See also, Ivanka Trump Says Journalists are Not the Enemy of the People, The New York Times, Katie Rogers, Thursday, 2 August 2018: "Ivanka Trump appeared on Thursday to break step with two of the most contentious issues surrounding her father's administration: She disagreed with President Trump's position that the press is the enemy of the people, and she said the administration's hard-line stance on immigration that resulted in separating children from their parents was a 'low point' during her time in the White House."
Trump Administration Moves Ahead With Tariffs on Canadian Newsprint, The New York Times, Catie Edmondson, Thursday, 2 August 2018: "The Commerce Department said on Thursday that it would proceed with tariffs on Canadian newsprint, a blow to an already-struggling American newspaper industry. The tariffs are somewhat lower than what the department initially imposed, offering publishers a small reprieve. The agency said it would cap the tariffs at 16.88 percent, down from 22 percent, and apply them to just one Canadian manufacturer, Catalyst Paper Company. But the Commerce Department said it would also impose tariffs of up to 9.81 percent on several Canadian paper companies to counter subsidies that those manufacturers receive from the government. While the tariffs are not as severe as many in the industry had feared, much of the damage has already been done. The higher tariffs went into effect in January, after the Commerce Department issued a preliminary decision siding with a paper company in Washington State, which accused Canadian manufacturers of unfairly benefiting from government subsidies that allowed them to sell newsprint at artificially low prices. In response, newspapers across the country, already struggling to maintain their bottom lines, have cut staff members and reduced their print offerings. The Tampa Bay Times and The Salt Lake Tribune have both blamed tariffs for layoffs. The Tampa Bay Times, which won two Pulitzer Prizes in 2016 for local and investigative reporting, laid off 50 employees directly as a result of the tariffs in April, its chairman and chief executive officer said in a statement. The Robesonian newspaper in Lumberton, N.C., said recently that it would no longer be able to print the Sunday comics."
Trump's wildlife protection council is mostly trophy hunters and donors, lawsuit says, The Washington Post, Erin B. Logan, Thursday, 2 August 2018: "Advocacy groups sued the Trump administration Wednesday over what they call the biased makeup of a wildlife advisory council. The lawsuit filed in a U.S. District Court in New York alleges that the International Wildlife Conservation Council is made up of 'hunting enthusiasts' and 'politically-connected donors' who are likely to craft favorable policy for groups that profit from hunting 'imperiled animals,' the complaint said. 'It's very obvious [the 17-member council has] an intent to undermine some of the protections put in place' based on the affiliations of its members, Zak Smith, senior attorney for the Natural Resources Defense Council, told The Washington Post. Smith said the law requires advisory councils to be balanced so that all sides are represented."