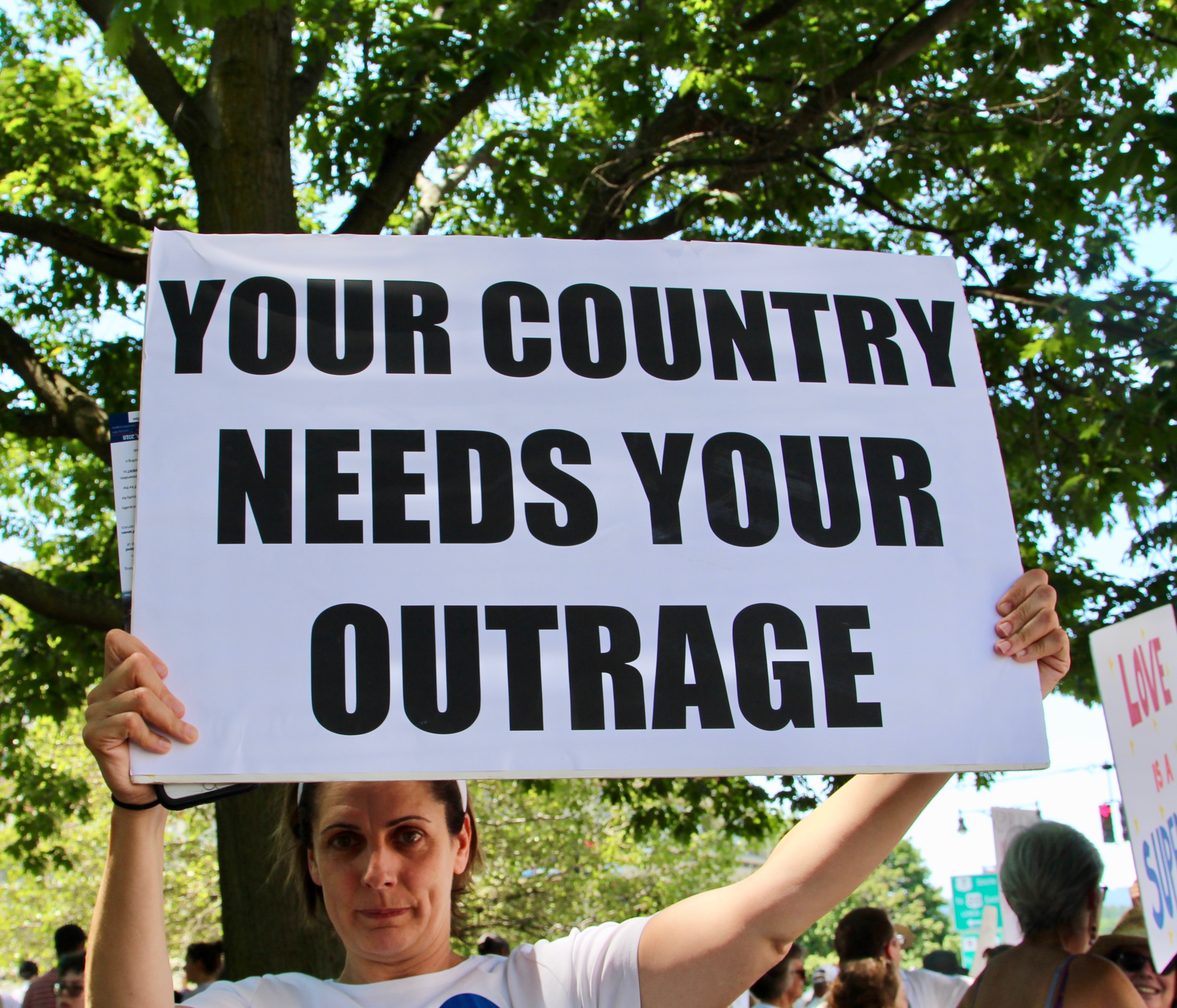 Families Belong Together and Free: rally in Pittsfield, MA, Saturday, 30 June 2018
Keeping Track (of some things), Staying Outraged (it is possible), and Resisting (it's essential)
Passages in bold in the body of the texts below are my emphasis. This is an ongoing project, and I update the site frequently. Because I try to stay focused on what has actually happened, I usually let the news 'settle' a day or so before posting. I hope readers will peruse the articles in full for a better understanding of the issues and their context; our democracy and our future depend on citizens who can distinguish between facts and falsehoods and who are engaged in the political process.
Friday, 6 July 2018, Day 533:
76 Environmental Rules on the Way Out Under the Trump Administration, The New York Times, Nadja Popovich, Livia Albeck-Ripka, and Kendra Pierre-Louis, updated on Friday, 6 July 2018: "Since taking office last year, President Trump has made eliminating federal regulations a priority. His administration, with help from Republicans in Congress, has often targeted environmental rules it sees as overly burdensome to the fossil fuel industry, including major Obama-era policies aimed at fighting climate change. To date, the Trump administration has sought to reverse more than 70 environmental rules, according to a New York Times analysis, based on research from Harvard Law School's Environmental Regulation Rollback Tracker, Columbia Law School's Climate Tracker and other sources."
Scott Pruitt Is Gone, but the Trump Administration's Climate Negligence Remains, The New Yorker, Margaret Talbot, Friday, 6 July 2018: "Scott Pruitt's resignation as the head of the Environmental Protection Agency, on Thursday, offered reassurance—of the kind we could use right now—that certain forces of accountability are still in effect in Donald Trump's Washington. True, it took months of revelations about Pruitt's ethical blunders to push him out—the first-class travel at the taxpayers' expense, the forty-three-thousand-dollar secured phone booth and the unprecedented twenty-four-hour security detail he demanded, the schedule dominated by meeting after meeting with fossil-fuel interests, the weird tasks given to his staff, such as driving him to secure his favored Ritz-Carlton moisturizer. And it's not that Trump himself held Pruitt accountable, or that Pruitt admitted any wrongdoing as he gave up his job…. The accountability instead came from the journalists and environmentalists who have diligently reported on and monitored the E.P.A. in the face of increasing hostility (an E.P.A. spokesperson recently called a reporter looking into the resignation of a top Pruitt aide 'a piece of trash'), and from the bureaucrats in the Government Accountability Office who have been investigating Pruitt. Without these watchdogs, we'd know very little about Pruitt's misdeeds, and he would still be enjoying the blessing of working for Trump." See also, Scott Pruitt is gone. But that doesn't mean the environment is safer. The Washington Post, Editorial Board, Friday, 6 July 2018.
Trump administration says it needs more time to reunite families separated at the border, Los Angeles Times, Kristina Davis, Thursday, 6 July 2018: "The federal government, under orders from a San Diego federal judge to reunite families who have been separated at the border, is asking for more time. In a motion filed late Thursday night, the Department of Justice says it has dedicated "immense" resources to reunifying families since the June 26 order. But the process that the U.S. Department of Health and Human Services has put into place to match up family members will take some time if it is to comply with existing law meant to protect children from human trafficking, the DOJ argues. The order, filed last week, gives the government until July 10 to reunite children younger than 5 with their parents and until July 26 for older children. The motion will be discussed with U.S. District Judge Dana Sabraw and attorneys for the American Civil Liberties Union during a telephonic status conference at noon Friday." See also, Trump administration seeks more time to reunite some migrant families split at the border, The Washington Post, Maria Sacchetti, Friday, 6 July 2018.
Continue reading Week 77, Friday, 6 July – Thursday, 12 July 2018 (Days 533-539)
Federal prosecutors abruptly dismiss all 39 remaining Inauguration Day rioting cases, The Washington Post, Keith L. Alexander, Friday, 6 July 2018: "Federal prosecutors on Friday dismissed rioting charges against all remaining defendants arrested after destructive Inauguration Day protests in the nation's capital, bringing to a close a controversial case that led to allegations of government overreach. Prosecutors began filing paperwork Friday afternoon to formally drop the cases against 39 people who had been awaiting trial…. In all, 234 people were arrested and charged with rioting. Of them, 21 defendants pleaded guilty before trial. But prosecutors had been unable to secure convictions at trial against others in the group. Defense attorneys have long contended that prosecutors went too far in pursuing cases against more than 200 people. They argued that their clients were not rioting, but were swept up in the arrests while peacefully protesting."
Representative Jim Jordan, Republican of Ohio, Is Defiant as Allegations Mount That He Was Aware of Sexual Misconduct at Ohio State University but Did Nothing to Stop It, The New York Times, Catie Edmondson, Friday, 6 July 2018: "Representative Jim Jordan is facing the kind of slowly percolating scandal that would bring down other politicians in other times, as new accusers step forward by the day to say the wrestling coach turned politician was aware of sexual misconduct at Ohio State University but did nothing to stop it. But like the man Mr. Jordan doggedly supports, President Trump, the Ohio Republican has the kind of stalwart supporters who do not lose faith easily, and they are already defending the conservative powerhouse, saying he is the victim of the same 'deep state' conspirators — liberal bureaucrats embedded in the government — who are trying to bring down the president…. Mr. Jordan continued to fan conspiracy theories connecting the emergence of the charges to his aggressive questioning last month of Deputy Attorney General Rod J. Rosenstein, the man many Trump supporters hold responsible for the Russia investigation…. [Trump] weighed in with his unqualified support. 'Jim Jordan is one of the most outstanding people I've met since I've been in Washington,' Mr. Trump told reporters on Thursday. 'I believe him 100 percent. No question in my mind.'"
Shifting Strategy, Trump's Lawyers Set New Conditions for Mueller Interview, The New York Times, Michael S. Schmidt and Maggie Haberman, Friday, 6 July 2018: "President Trump's lawyers set new conditions on Friday on an interview with the special counsel and said that the chances that the president would be voluntarily questioned were growing increasingly unlikely. The special counsel, Robert S. Mueller III, needs to prove before Mr. Trump would agree to an interview that he has evidence that Mr. Trump committed a crime and that his testimony is essential to completing the investigation, said Rudolph W. Giuliani, the president's lead lawyer in the case. His declaration was the latest sign that the president's lawyers, who long cooperated quietly with the inquiry even as their client attacked it, have shifted to an openly combative stance. Mr. Giuliani acknowledged that Mr. Mueller was unlikely to agree to the interview demands. Mr. Mueller could subpoena Mr. Trump to answer questions if he does not agree to voluntarily sit for an interview. Mr. Giuliani left open the possibility that the president, who has said in the past that he would be eager to sit down with the special counsel, would still agree to be interviewed. Mr. Giuliani appeared to be in part trying to shift responsibility onto the special counsel for the lengthy negotiations over an interview — and was most likely prolonging them himself."
Trump's Mar-a-Lago Club in Florida seeks to hire 61 foreign workers, The Washington Post, David A. Fahrenthold, Friday, 6 July 2018: "President Trump's Mar-a-Lago Club has applied for permission to hire 61 foreign workers to serve as waiters and cooks during the winter social season in Palm Beach, Fla., according to data posted this week by the Labor Department. The latest data was posted late Thursday on the department's website: Trump's club has asked to hire 21 cooks from overseas and employ them from October to May. At the end of that term, the workers would be expected to return home. Earlier on Thursday, another posting showed Trump's club also wants to hire 40 foreigners to serve as waiters and waitresses at the club. Mar-a-Lago is a for-profit social club, catering to the wealthy wintertime residents of Palm Beach. It also houses private living quarters for Trump — who has visited repeatedly, and dubbed the club the 'Winter White House.' The postings show that — despite Trump's insistence that immigration is holding down wages and crowding out native-born American workers — his club believes it cannot find any Americans in South Florida who are qualified to hold two very common restaurant-industry jobs. The application to hire waiters was first reported Thursday by BuzzFeed. The Mar-a-Lago Club has repeatedly used foreign workers in the past. Last year, his company applied for permission to hire waiters, housekeepers and cooks."
'We Will Never Abolish ICE,' Vice President Mike Pence Says as He Slams Democrats, The New York Times, Alexandra Yoon-Hendricks, Friday, 6 July 2018: "Calling Immigration and Customs Enforcement officials 'American heroes,' Vice President Mike Pence doubled down on the Trump administration's defense of the maligned agency on Friday and demanded that Democrats end their 'irresponsible' push to disband it. Mr. Pence, visiting the agency's headquarters, said that to cede to activists and politicians' calls to abolish it would jeopardize the country's national security…. ICE has been a source of mounting criticism among protesters, several Democratic politicians and even some of the agency's investigators as the Trump administration's 'zero tolerance' immigration policy led to the separation of migrant families at the southwestern border. Though ICE officials were not responsible for the separations — which the president has ordered an end to and were conducted by Customs and Border Protection — some have come to see the agency as a representation of Mr. Trump's aggressive approach to immigration enforcement…. He specifically called out Senators Elizabeth Warren, Democrat of Massachusetts, and Kirsten Gillibrand, Democrat of New York, as well as Cynthia Nixon, who is seeking New York's Democratic nomination for governor and recently called the agency a 'terrorist organization.'"
Bill Shine's Wife Darla Complained She Couldn't Use N-Word and Spread Conspiracy Theories About 'Blacks,' Mediaite, Caleb Ecarma, Friday, 6 July 2018: "The wife of Bill Shine — former Fox News co-president who just joined the Trump administration as White House communications chief — has a lengthy history of defending racists, promoting unfounded anti-vaccination conspiracies, writing about 'Islamic Insanity,' and making racially-charged remarks on her social media pages. Darla Shine made these remarks primarily on her Twitter account, @darlashine, which was deleted as soon as the White House announced that her husband was officially joining the Trump administration. But not before Mediaite took screenshots."
Patagonia is giving its workers Election Day off–and says you should, too, The Washington Post, Rachel Siegel, Friday, 6 July 2018: "The outdoor retailer Patagonia will close up shop this Election Day, and it's urging other companies to do the same. Four years ago, voter participation hit its lowest since World War II, with only 36 percent of the voting-age population making it to the polls. A 2014 Pew Research Center study found that voters were likely to miss the midterms because they were indifferent about voting, had trouble with the voting process or because of structural forces, like job or school schedules that couldn't budge. In the past, Patagonia — known for its advocacy of environmental causes — has encouraged people to vote with the planet in mind. 'This is just another step of that,' said Corley Kenna, a company spokeswoman. 'What's the most impactful thing we can do in an election? That's to get people to vote.' Patagonia closed stores nationwide on Election Day 2016, as well as its headquarters and distribution and customer-service center, and gave employees paid time off. Patagonia chief executive Rose Marcario wrote that 'this year, we're doing it again,' and that other companies should join in 'because no American should have to choose between a paycheck and fulfilling his or her duty as a citizen.'"
The 11 most dangerous things Donald Trump said in his Montana speech, CNN Politics, Chris Cillizza, Friday, 6 July 2018. See also, 18 Inaccurate Claims From Trump's Montana Rally, The New York Times, Linda Qiu, Friday, 6 July 2018.
Saturday, 7 July 2018, Day 534:
Deputy Attorney General Rod Rosenstein, facing mounting criticism from Congress, is starting to fight back, The Washington Post, Matt Zapotosky and Karoun Demirjian, Saturday, 7 July 2018: "As lawmakers took breaks during a tense congressional hearing last week to vote on a resolution meant to shame him, Deputy Attorney General Rod J. Rosenstein casually worked the room, chatting up reporters and photographers who had come to hear his testimony and shaking the hands of GOP congressmen who had just voted to censure him. Rosenstein has been in the hot seat ever since he appointed Robert S. Mueller III to investigate whether the Trump campaign coordinated with Russia to interfere in the 2016 election. The president dislikes him, and conservative Republicans in Congress have toyed with impeaching him over Russia-related documents they say he will not hand over. Those who work for Rosenstein know any day could be their boss's last. But in more than 14 months on the job, the former Maryland U.S. attorney seems to be getting used to the constant controversy and criticism that comes from overseeing Mueller. Rather than walking on eggshells, he's starting to fight back."
Trump's Cuts in Climate-Change Research Spark a Global Scramble for Funds, The New Yorker, Natalie Meade, Saturday, 7 July 2018: "In its 2019 budget plan, the Trump White House cut U.S.A.I.D. spending on initiatives related to the environment to roughly two hundred million dollars, a reduction of about seventy per cent from typical Obama-era spending. Last year, Congress rejected some of the climate-change-related cuts in the Trump Administration's 2018 budget. Environmental groups hope that will occur again this year, but, over all, funding is expected to continue to decrease under Trump."
Trump administration takes another major swipe at the Affordable Care Act, The Washington Post, Amy Goldstein, Saturday, 7 July 2018: "The Trump administration took another major swipe at the Affordable Care Act, halting billions of dollars in annual payments required under the law to even out the cost to insurers whose customers need expensive medical services. In a rare Saturday afternoon announcement, the Centers for Medicare and Medicaid Services said it will stop collecting and paying out money under the ACA's 'risk adjustment' program, drawing swift protest from the health insurance industry. Risk adjustment is one of three methods built into the 2010 health-care law to help insulate insurance companies from the ACA requirement that they accept all customers for the first time — healthy and sick — without charging more to those who need substantial care. The other two methods were temporary, but risk adjustment is permanent. Federal health officials are required each year to calculate which insurers with relatively low-cost consumers must chip in to a fund, and which ones with more expensive customers are owed money. This idea of pooling risk has had significant practical effects: encouraging insurers to participate in the insurance marketplaces the ACA created for Americans who cannot get affordable health benefits through a job. In its announcement, CMS said that it is not going to make $10.4 billion in payments that are due to insurers in the fall for expenses incurred by insurers last year." See also, Health Insurers Warn of Market Turmoil as Trump Suspends Billions in Payments, The New York Times, Robert Pear, Saturday, 7 July 2018.
North Korea Criticizes 'Gangster-Like' U.S. Attitude After Talks With Secretary of State Mike Pompeo, The New York Times, Gardiner Harris and Choe Sang-Hun, Saturday, 7 July 2018: "North Korea accused the Trump administration on Saturday of pushing a 'unilateral and gangster-like demand for denuclearization' and called it 'deeply regrettable,' hours after Secretary of State Mike Pompeo said his two days of talks in the North Korean capital were 'productive.' Despite the criticism, North Korea's Foreign Ministry said the country's leader, Kim Jong-un, still wanted to build on the 'friendly relationship and trust' forged with President Trump during their summit meeting in Singapore on June 12. The ministry said Mr. Kim had written a personal letter to Mr. Trump, reiterating that trust. The harsh North Korean reaction may have been a time-tested negotiating tactic. Two months ago, a brief blowup between the two countries led President Trump to briefly cancel, then reschedule, his summit meeting with Mr. Kim. But North Korea's remarks also played to a larger fear: that the summit meeting's vaguely worded commitment to 'the denuclearization of the Korean Peninsula' meant something very different in Pyongyang and Washington. Distrust on both sides has led the Americans to insist on rapid, deep dismantlement and highly intrusive verification; the North Koreans want an early lifting of sanctions and a formal end to the Korean War, among other steps."
Senator Mitch McConnell Tries to Nudge Trump Toward Two Supreme Court Options, The New York Times, Maggie Haberman and Jonathan Martin, Saturday, 7 July 2018: "Senator Mitch McConnell, the Republican leader, told President Trump this past week that Judges Raymond M. Kethledge and Thomas M. Hardiman presented the fewest obvious obstacles to being confirmed to replace Justice Anthony M. Kennedy on the Supreme Court, according to Republican officials briefed on the conversation. While careful not to directly make the case for any would-be justice, Mr. McConnell made clear in multiple phone calls with Mr. Trump and the White House counsel, Donald F. McGahn II, that the lengthy paper trail of another top contender, Judge Brett M. Kavanaugh, would pose difficulties for his confirmation."
Sunday, 8 July 2018, Day 535:
Opposition to Breast-Feeding Resolution by U.S. Stuns World Health Officials, The New York Times, Andrew Jacobs, Sunday, 8 July 2018: "A resolution to encourage breast-feeding was expected to be approved quickly and easily by the hundreds of government delegates who gathered this spring in Geneva for the United Nations-affiliated World Health Assembly. Based on decades of research, the resolution says that mother's milk is healthiest for children and countries should strive to limit the inaccurate or misleading marketing of breast milk substitutes. Then the United States delegation, embracing the interests of infant formula manufacturers, upended the deliberations. American officials sought to water down the resolution by removing language that called on governments to 'protect, promote and support breast-feeding' and another passage that called on policymakers to restrict the promotion of food products that many experts say can have deleterious effects on young children. When that failed, they turned to threats, according to diplomats and government officials who took part in the discussions. Ecuador, which had planned to introduce the measure, was the first to find itself in the cross hairs. The Americans were blunt: If Ecuador refused to drop the resolution, Washington would unleash punishing trade measures and withdraw crucial military aid. The Ecuadorean government quickly acquiesced."
Trump's fight with federal employee unions gets real on Monday, The Washington Post, Lisa Rein, Sunday, 8 July 2018: "Federal agencies on Monday begin implementing executive orders from President Trump on how to confront employee unions, following strict guidelines likely to escalate tensions that have been building since the president took office. The administration describes Trump's new rules, issued in May, as an effort to streamline a bloated bureaucracy and improve accountability within the federal workforce of 2.1 million. The unions counter that the orders are only the latest in Trump's aggressive actions intended to weaken their bargaining power and make it easier to fire government workers."
Monday, 9 July 2018, Day 536:
Brett Kavanaugh Is Trump's Pick for Supreme Court, The New York Times, Mark Landler and Maggie Haberman, Monday, 9 July 2018: "President Trump on Monday nominated Judge Brett M. Kavanaugh, a politically connected member of Washington's conservative legal establishment, to fill Justice Anthony M. Kennedy's seat on the Supreme Court, setting up an epic confirmation battle and potentially cementing the court's rightward tilt for a generation. The nomination of Judge Kavanaugh, 53, a federal appeals court judge, former aide to President George W. Bush and onetime investigator of President Bill Clinton, was not a huge surprise, given his conservative record, elite credentials and deep ties among the Republican legal groups that have advanced conservatives for the federal bench. But his selection will galvanize Democrats and Republicans in the months before the midterm elections. Moments after the announcement, the Senate Democratic leader, Chuck Schumer of New York, declared, 'I will oppose Judge Kavanaugh's nomination with everything I have.' Senator Mitch McConnell of Kentucky, who leads the barest of Republican majorities, had expressed misgivings about his path to confirmation, but said he was a 'superb choice.'" See also, Brett Kavanaugh is nominated by Trump to succeed Supreme Court Justice Anthony M. Kennedy, The Washington Post, Robert Costa, Robert Barnes, and Felcia Sonmez, Monday, 9 July 2018. See also, Brett Kavanaugh Is a Conservative Stalwart in Political Fights and on the Bench, The New York Times, Adam Liptak, Monday, 9 July 2018: "As a judge [Brent Kavanaugh] has been a conservative powerhouse, issuing around 300 opinions. His dissents have often led to Supreme Court appeals, and the justices have repeatedly embraced the positions set out in Judge Kavanaugh's opinions. He has written countless decisions applauded by conservatives on topics including the Second Amendment, religious freedom and campaign finance. But they have particularly welcomed his vigorous opinions hostile to administrative agencies, a central concern of the modern conservative legal movement. In a dissent in January from a decision upholding the structure of the Consumer Financial Protection Bureau, he issued a ringing endorsement of executive power." See also, Who Is Brett Kavanaugh? A Supreme Court Reading Guide, ProPublica, Ian MacDougall, Monday, 9 July 2018.
U.S. District Court Judge Dolly Gee rejects the Trump administration's request to alter agreement on release of immigrant children, Politico, Josh Gerstein, Monday, 9 July 2018: "A federal judge has turned down President Donald Trump's request to alter a decades-old legal settlement to allow long-term detention of children who entered the U.S. illegally with their parents. Los Angeles-based U.S. District Court Judge Dolly Gee dismissed as 'tortured' the Trump administration's legal argument to get out from under the so-called Flores consent decree agreed to in 1997, dictating that children in immigration detention not be held more than 20 days." See also, Judge Dolly Gee Rejects Long Detentions of Migrant Families, Dealing Trump Another Setback, The New York Times, Miriam Jordan and Manny Fernandez, Monday, 9 July 2018: "The Trump administration on Monday lost a bid to persuade a federal court to allow long-term detention of migrant families, a significant legal setback to the president's immigration agenda. In a ruling that countered nearly every argument posed by the Justice Department, Judge Dolly M. Gee of the Federal District Court in Los Angeles held that there was no basis to amend a longstanding consent decree that requires children to be released to licensed care programs within 20 days. The government said that long-term confinement was the only way to avoid separating families when parents were detained on criminal charges. Judge Gee said the administration's request to modify the decree, the 1997 Flores agreement, was 'a cynical attempt' to shift immigration policymaking to the courts in the wake of 'over 20 years of congressional inaction and ill-considered executive action that have led to the current stalemate.'"
Trump administration to miss deadline to reunite all children under five with their families, The Guardian, Jamiles Lartey, Monday, 9 July 2018: "The US government has only managed to reunite two of 102 migrant children under the age of five with their families after they were separated at the southern border, and has admitted it will not be able to meet a federal district judge's deadline for them all to be reunited by Tuesday. In a hearing on Monday, the Department of Justice told Judge Dana Sabraw that it expects to reunite another 54 children by tomorrow's 10pm deadline, which would leave approximately 46 children separated. The American Civil Liberties Union (ACLU), which sued the government over family separations forcing Sabraw's ruling, slammed the government for using a long, drawn-out administrative process that it said 'makes no sense.'"
Trump's longtime personal driver sues for overtime wages, The Washington Post, David A. Fahrenthold, Monday, 9 July 2018: "President Trump's longtime personal driver filed a lawsuit against Trump's company on Monday alleging that Trump owes him more than $200,000 in unpaid overtime wages. Noel Cintron, 59, who said he served as Trump's driver for more than 20 years, alleges that Trump did not pay him the time-and-a-half overtime wages required under New York state law. Instead, he was paid a flat yearly salary, which was set at $62,700 in about 2003 and rose to $75,000 in 2010, according to his suit. Cintron — who still worked for the Trump Organization in security as of Monday, according to his lawyer — served as Trump's driver until mid-2016, when the real estate developer became the Republican presidential nominee and the Secret Service took over."
Rudy Giuliani undercuts two of Trump's biggest scandal-related denials, The Washington Post, Aaron Blake, Monday, 9 July 2018: "The steady erosion of President Trump's various scandal-related denials continued apace this weekend, with the return of Rudolph W. Giuliani to again wage war on the Trump team's rhetorical consistency. Most notably, Giuliani again moved the goal posts on Trump's previous Stormy Daniels-related assurances. While Trump's team has assured us — repeatedly — Trump had no knowledge of Michael Cohen's payment beforehand, Giuliani would only say that is the case 'as far as I know.' He then added a curious justification for if Trump did know beforehand. 'Even if he had, that would not necessarily be anything,' Giuliani said on ABC News. 'That's something you settle because you don't want your family to be embarrassed.' In another portion of the interview, Giuliani appeared to confirm Trump had asked then-FBI Director James B. Comey to back off Michael Flynn — which Comey has alleged but Trump has denied in no uncertain terms."
Tuesday, 10 July 2018, Day 537:
Republicans express confidence about Brett Kavanaugh, Trump's Supreme Court nominee; Democrats plot plan to sink him, The Washington Post, Mike DeBonis and Paul Kane, Monday, 10 July 2018: "Senate Democrats launched a fierce campaign Tuesday to derail President Trump's Supreme Court nominee by warning of the potential damage he might do to health-care access, abortion rights and the pending federal investigation into Trump's associates. But Republicans largely rallied around the nominee, U.S. Appeals Court Judge Brett M. Kavanaugh, leading party leaders to predict his confirmation is inevitable. Senate Majority Leader Mitch McConnell (R-Ky.) told reporters he expected to 'handle this nomination fully by the fall' after most Republican senators enthusiastically backed Kavanaugh, a fixture in GOP legal circles for two decades, while the others expressed few explicit reservations about him. Meanwhile, Democrats — who remain furious over McConnell's 2016 move to block President Barack Obama from placing his own nominee on the court — believe their best chance to defeat Kavanaugh lies in highlighting the stakes for average Americans, not in re-litigating past political battles…. Most Democrats have adopted a … combative stance on Kavanaugh — including Schumer, who declared in a CBS News interview Tuesday morning that he would 'oppose him with everything I've got.'" See also, Senate Democrats Come Out Swinging in Long-Shot Fight to Block Kavanaugh, The New York Times, Sheryl Gay Stolberg, Mark Landler, and Thomas Kaplan, Tuesday, 10 July 2018: "Senate Democrats, facing an uphill struggle to defeat the nomination of Judge Brett M. Kavanaugh to the Supreme Court, opened a broad attack on Tuesday, painting him as an archconservative who would roll back abortion rights, undo health care protections, ease gun restrictions and protect President Trump against the threat of indictment." See also, Senate Minority Leader Chuck Schumer Warns Senate Democrats: Fight Brett Kavanaugh or Pay the Price From the Base, The Intercept, Ryan Grim, published on Monday, 9 July 2018: "Senate Minority Leader Chuck Schumer is warning Democrats in the chamber that if they don't put up a brutal fight over the next Supreme Court justice, there will be hell to pay from the Democratic base, according to senior Senate aides briefed on Schumer's message."
Senator Lisa Murkowski and Senator Susan Collins signal comfort with Supreme Court nominee Brett Kavanaugh, Politico, Burgess Everett and Heather Caygle, Tuesday, 10 July 2018: "President Donald Trump could have done a lot worse than Brett Kavanaugh, according to Lisa Murkowski and Susan Collins. The centrist GOP senators offered few hints on Tuesday about how they will vote on Kavanaugh's nomination to the Supreme Court. But it's clear that Trump could have made confirmation in the narrowly divided Senate much more difficult if he had picked someone like 7th Circuit Court of Appeals Judge Amy Coney Barrett or another equally conservative nominee. 'Let's put it this way: There were some who have been on the list that I would have had a very, very difficult time supporting, just based on what was already publicly known about them,' Murkowski (R-Alaska) said in an interview on Monday. 'We're not dealing with that.' Collins (R-Maine) told reporters that while she wouldn't directly compare Kavanaugh with Barrett, she touted Kavanaugh's experience and sounded warm notes about him while insisting she has yet to decide. 'It will be very difficult for anyone to argue that he's not qualified for the job. He clearly is qualified for the job,' Collins said. 'But there are other issues involving judicial temperament and his political, or rather, his judicial philosophy that also will play into my decision.' Both senators also voted for Kavanaugh's nomination to the D.C. Circuit Court in 2006."
Brett Kavanaugh on the Issues: Abortion, Guns, Climate, and More, The New York Times, Charlie Savage, Tuesday, 10 July 2018: "Judge Brett M. Kavanaugh, President Trump's nominee for the Supreme Court, has spent the past dozen years embracing the philosophy of the conservative legal movement as he assembled a record on the powerful federal Court of Appeals for the District of Columbia Circuit. On issues as diverse as abortion and gun rights to disputes over national-security policies and business regulations, Judge Kavanaugh emphasized textual limitations while frequently favoring corporations over regulators, and the government over individuals claiming rights violations. With a few exceptions, his pattern is typically conservative."
Trump Administration Returns to 'Catch and Release' of Migrant Families, The New York Times, Miriam Jordan, Katie Benner, Ron Nixon, and Caitlin Dickerson, Tuesday, 10 July 2018: "Tearful reunions [of children and their parents separated at the border]— ordered by a court in California — came as the government said that it would release hundreds of migrant families wearing ankle bracelet monitors into the United States, effectively returning to the 'catch and release' policy that President Trump promised to eliminate. Faced with a pair of court orders restricting immigration detentions, federal officials said that they could not hold all of the migrant families who had been apprehended. They said that their hands were tied by dueling requirements to release children from detention after 20 days and also to keep them with their parents or other adult relatives."
Trump Officials Slash Grants That Help Consumers Get Obamacare, The New York Times, Robert Pear, Tuesday, 10 July 2018: "The Trump administration announced on Tuesday that it was slashing grants to nonprofit organizations that help people obtain health insurance under the Affordable Care Act, the latest step in an escalating attack on the law that threatens to destabilize its insurance markets. The cuts are the second round in two years. The government will provide $10 million this fall, down from $36 million last autumn and $63 million in late 2016 — a total reduction of more than 80 percent." See also, Administration slashes grants to help Americans get Affordable Care Act coverage, The Washington Post, Amy Goldstein, Tuesday, 10 July 2018: "The Trump administration is eliminating most of the funding for grass-roots groups that help Americans get Affordable Care Act insurance and will for the first time urge the groups to promote health plans that bypass the law's consumer protections and required benefits."
Why Was a Citizenship Question Put on the Census? 'Bad Faith,' a Judge Suggests, The New York Times, Michael Wines, Tuesday, 10 July 2018: "From the moment it was announced in March, the decision to add a question about citizenship to the 2020 census was described by critics as a ploy to discourage immigrants from filling out the form and improve Republican political fortunes. The Commerce Department, which made the decision, insisted that sound policy, not politics, was its sole motivation. Now a federal lawsuit seeking to block the question has cast doubt on the department's explanation and the veracity of the man who offered it, Commerce Secretary Wilbur L. Ross Jr. And it has given the plaintiffs in the suit — attorneys general for 17 states, the District of Columbia and a host of cities and counties — broad leeway to search for evidence that the critics are correct."
Trump wins goodwill in the ranching world with the pardon of two Oregon ranchers, Dwight Hammond and his son Steven Hammond, Los Angeles Times, Matt Pearce, Tuesday, 10 July 2018: "President Trump has intervened in one of the most sensitive political battles in the American West, pardoning two Oregon ranchers whose imprisonment inflamed a protest movement against the government's management of federal land. Dwight Hammond, 76, and his son Steven Hammond, 49, who ran a ranch in remote eastern Oregon, were serving five-year prison sentences for arson for setting federal land on fire. The length of their sentences inspired a 2016 armed occupation at the nearby Malheur National Wildlife Refuge, where ranchers and right-wing anti-government activists faced down federal agents in defense of a fringe theory that federal ownership of wild lands is unconstitutional. But the Hammonds also received solidarity from more mainstream ranching groups outraged by their punishment — and more generally by how the government manages federal lands, which are located primarily in the West and make up more than quarter of the U.S. The Trump administration has already rolled back certain protections on federal lands, and on Tuesday the White House intervened in the Hammonds' criminal case with a pardon likely to please the administration's supporters in the ranching world."
Wednesday, 11 July 2018, Day 538:
Trump Assails NATO on Military Spending but Signs a Summit Declaration That Criticizes Russia for its Annexation of Crimea, The New York Times, Julie Hirschfeld Davis, Wednesday, 11 July 2018: "President Trump assailed Germany on Wednesday and demanded that allies double their military spending targets, unleashing a broadside against NATO member countries just days ahead of his meeting with President Vladimir V. Putin of Russia. But even as Mr. Trump raised questions about his commitment to NATO by lecturing European partners about leaning too heavily on the United States to protect them, he signed on to a summit declaration that emphasized strength and burden-sharing within the alliance and harshly criticized Russia for its annexation of Crimea. The contrast reflected a growing disconnect between Mr. Trump and the more traditionally minded foreign-policy advisers in his government when it comes to the role of the United States on the world stage. While his aides and advisers toil privately to maintain American global leadership, post-World War II institutions and strong alliances, the president appears bent on challenging if not upending those conventions to get what he considers a better deal for the United States — even if he does not follow through on all of his threats."
In Unusual Request, Deputy Attorney General Rod Rosenstein Asks Prosecutors to Help With Brett Kavanaugh Papers, The New York Times, Katie Benner, Wednesday, 11 July 2018: "Rod J. Rosenstein, the deputy attorney general, has asked federal prosecutors to help review the government documents of Judge Brett M. Kavanaugh, President Trump's Supreme Court nominee, according to a letter obtained by The New York Times on Wednesday. Mr. Rosenstein's request was an unusual insertion of politics into federal law enforcement. While the Justice Department has helped work on previous Supreme Court nominations, department lawyers in Washington typically carry out that task, not prosecutors who pursue criminal investigations nationwide. But in an email sent this week to the nation's 93 United States attorneys, Mr. Rosenstein asked each office to provide up to three federal prosecutors 'who can make this important project a priority for the next several weeks.' Names were to be submitted to Mr. Rosenstein's office by the end of Wednesday."
Why It's Right to Be Mad About Brett Kavanaugh and the Supreme Court, The New Yorker, John Cassidy, Wednesday, 11 July 2018: "If all forty-nine Democrats and independents in the Senate vote against Kavanaugh as a bloc, he could still be confirmed. But even if it's a hopeless gesture, it is vitally important that Democrats, their supporters, and anybody else who harbors a sense of fairness and history register a strong protest in the coming weeks and months. This battle isn't merely about Kavanaugh's judicial record, although, as [Senate Minority Leader Chuck] Schumer and others pointed out, that contains plenty to protest about…. But there is even more at stake than preventing another rightward lurch on the high court. As Kavanaugh prepares to make his way to the Capitol, and, most probably, to a lifetime appointment in the old courthouse behind it, we are witnessing the dénouement of an outrageous power grab by a radicalized political party, its wealthy backers, and a rogue President. It is essential to remember this wider context. By now, the broad outlines of how the John M. Olin Foundation and other right-wing groups spent decades nurturing a conservative legal movement to wrest control of the nation's courts is well known, or should be…. Ultimately, however, the conservative takeover hinged on ruthless power politics: the G.O.P. exploiting its unearned advantage in the Electoral College, the U.S. Senate, and the Supreme Court itself. At the risk of giving yourself a headache, consider some counterfactuals. Absent the Supreme Court's 5–4 ruling, in 2000, under Chief Justice William Rehnquist, to halt the Florida recount and allow the election of a Republican President who lost the popular vote, John Roberts and Samuel Alito might not be sitting on the Court today. If, in 2016, Mitch McConnell, the Senate Majority Leader, had adhered to precedent and allowed filibusters on the nomination of Merrick Garland, Gorsuch might well not be a Justice, either. And but for the quirks of the Electoral College nullifying Hillary Clinton's almost three-million-ballot margin of victory in the popular vote, Kavanaugh would still be a relative unknown…. Democrats, Independents, and anybody else who cares about the functioning of American democracy have good reason to be sore. There is no majority of voters out there clamoring for a ban on abortion, restrictions on collective bargaining, roadblocks to legal claims against big companies, or the purging from the electoral rolls of voters who skip a couple of elections. These are the concerns of smaller groups, with strong ties to the Republican Party, whose interests will be disproportionately represented."
As Trump claims power to pick federal agency judges, skeptics fear court-packing, Reuters, Alison Frankel, Wednesday, 11 July 2018: "In an executive order issued Tuesday, the Trump administration abruptly ended the longtime bureaucratic process by which federal agencies select administrative law judges – the judicial officers who preside over millions of administrative proceedings a year, from the smallest of Social Security claims to multimillion-dollar enforcement cases. ALJ candidates have long been screened by the Office of Personnel Management, a neutral civil service agency that evaluated applicants based on fixed criteria, including performance on a civil service exam. Under the Trump executive order, federal agencies can bypass the OPM and make their own hiring decisions. The executive order said the change will give agency heads more freedom, flexibility and responsibility to hire ALJs without compromising the judges' independence. Skeptics aren't so sure. Two administrative law experts told me Wednesday that the order will allow the Trump administration to reshape administrative courts to reflect its policies – and could presage even more aggressive attempts to get rid of ALJs who don't toe the line."
Brian Benczkowski, Justice Department Nominee Who Drew Scrutiny for Russian Bank Work, Is Confirmed, The New York Times, Katie Benner, Wednesday, 11 July 2018: "The Senate narrowly confirmed a former Justice Department official on Wednesday to lead the department's Criminal Division and oversee the government's career prosecutors, including those investigating President Trump. Democrats fought the nomination of the former staff member, Brian A. Benczkowski, raising questions about his qualifications. Mr. Benczkowski has never tried a case in court and was also scrutinized over private-sector work for one of Russia's largest banks. The 51-to-48 vote was along party lines, with only Senator Joe Manchin III, Democrat of West Virginia, joining Republicans to confirm Mr. Benczkowski."
Thursday, 12 July 2018, Day 539:
Trump Administration Officials Say Half of the Migrant Children Under 5 Have Been Reunited With Their Parents. They Say the Others are 'Ineligible' for Return. The New York Times, Ron Nixon and Miriam Jordan, Thursday, 12 July 2018: "Nearly half of the 103 migrant children younger than 5 who had been separated from their parents at the border remain stuck in shelters across the country, Trump administration officials acknowledged Thursday. The officials said on a morning call with reporters that the administration had reunited 57 of the children, appearing to comply with a judicial order to reunify eligible migrants under 5 with their parents. The other 46 were deemed 'ineligible' for return, they said. Of those, 22 could not be released because their parents have criminal backgrounds or because the officials had determined the child was not related to the person with whom they had crossed the U.S.-Mexico border. One of them has a communicable disease that prevented reunification…. Nearly 3,000 older children also remain in government-licensed facilities or in foster homes as the government scrambles to meet court-imposed deadlines to release them to their parents. Two dozen of the 103 young migrants could not be returned for reasons other than safety concerns. Twelve had parents who have been deported; others are in the custody of the United States Marshals Service, likely for entering the country illegally, and in jail for other offenses, which the government did not reveal. The government did not specifically address how it would reunite the families in which the parents have already been deported. But the officials said they would not allow the parents to re-enter the country to recover their children." See also, Trump administration officials say nearly half of young children separated from their parents at the border are ineligible to be reunited with their parents, The Washington Post, Maria Sacchetti, Thursday, 12 July 2018.
Trump Claims a Big NATO Victory Over Allies of the U.S., The New York Times, Julie Hirschfeld Davis and Katie Rogers, Thursday, 12 July 2018: "President Trump reaffirmed support for NATO on Thursday, but only after stirring more discord with a vague threat that the United States could go its own way if the allies resisted his demands for additional military spending, making a dramatic exit after a summit punctuated by his escalating complaints. Even as he declared that the American commitment to the trans-Atlantic alliance 'remains very strong' ahead of his summit meeting next week with President Vladimir V. Putin of Russia, he continued to assail close partners and further strain diplomatic relations. In the closing hours of the two-day gathering in Brussels with leaders of the other NATO nations, he forced a last-minute emergency meeting to address his grievances over spending. Then he called a news conference to claim credit for having pressured NATO members to boost their defense budgets 'like they never have before.' That claim was quickly dismissed by the leaders of Italy and France, who disputed that they had made any new pledges for increasing spending, adding to the sense of disarray. Through it all, possible threats from Russia — and NATO's plans to keep it in check — hung over the summit meeting, as fears in Europe have risen over Mr. Putin's increasing assertiveness. On Thursday, Mr. Trump dismissed concerns that his relationship with Russia was too cozy, or that his hardball tactics at NATO had played into the hands of Mr. Putin, whom he is to meet in Helsinki, Finland, next week. But after 48 hours of overt conflict with allies — and the second international summit in two months where he has sparred openly with European leaders — he said he looked forward to a positive encounter with the Russian president." See also, Trump's whiplash NATO summit: Trump says US can go it alone if allies don't meet spending target, Politico, David M. Herszenhorn and Lili Bayer, Thursday, 12 July 2018. See also, Trump Belittles NATO in the Run-up to the Putin Summit. He turned what was expected to be a final routine group meeting into a quarrelsome emergency session over NATO spending. The New Yorker, Robin Wright, Thursday, 12 July 2018: "Behind closed doors at the NATO summit on Thursday, Trump stunned allies by demanding that they double defense-spending commitments. A day before, he called Germany a 'captive of Russia.'"
Trump blasts Prime Minister Theresa May in interview published during his first official visit to Britain, The Washington Post, William Booth, Karla Adam, and Josh Dawsey, Thursday, 12 July 2018: "After Prime Minister Theresa May rolled out the red carpet at Blenheim Palace on Thursday night for President Trump's first official visit to Britain, a London tabloid published an explosive interview in which Trump blasted May's compromise, pro-business plan to leave the European Union and warned that her approach could imperil any future trade deal between the United States and Britain. The remarks cast an immediate pall over a visit that included a lavish dinner with business leaders Thursday night and plans to meet Queen Elizabeth II for afternoon tea on Friday. It was the latest international incident to erupt during Trump's brief sojourn abroad, which kicked off with incendiary comments that upended a NATO summit in Brussels and further strained relationships with longtime U.S. allies. In addition to attacking May on Brexit, Trump also praised her archrival, Boris Johnson, as a potential future prime minister while attacking London's mayor as soft on crime and terrorism. The blunt language and harsh dismissal in Trump's interview stunned 10 Downing Street." See also, Trump Inserts Himself Into Brexit Debate, Criticizing Theresa May During His First Official Visit to Britain, The New York Times, Stephen Castle, Thursday, 12 July 2018.
F.B.I. Agent Peter Strzok Defends His Actions in Russia Probe in Contentious Testimony Before the House Judiciary and Oversight Committees, The New York Times, Nicholas Fandos, Thursday, 12 July 2018: "The embattled F.B.I. agent who oversaw the opening of the Russia investigation mounted an aggressive personal defense on Thursday, rejecting accusations that he let his private political views bias his official actions and labeling Republicans' preoccupation with him 'another victory notch in Putin's belt.' 'Let me be clear, unequivocally and under oath: not once in my 26 years of defending my nation did my personal opinions impact any official action I took,' the agent, Peter Strzok, told House lawmakers investigating what Republicans say is evidence of rampant bias at the top levels of the F.B.I. But in defending himself and his agency, Mr. Strzok had to weather hours of blistering attacks by Republicans, whose accusations drifted from personal animus toward President Trump to blatant lying and moral misconduct with a senior F.B.I. lawyer, Lisa Page. Democrats, on the other side of a now-gaping divide over the F.B.I., repeatedly accused their Republican colleagues of launching their own politically motivated investigation of the investigators to sully the reputation of federal law enforcement, boost Mr. Trump and ignore a hostile foreign power's attack on American democracy." See also, FBI agent Peter Strzok feuds with Republican critics at House hearing, The Washington Post, Devlin Barrett and Karoun Demirjian, Thursday, 12 July 2018. See also, FBI agent Peter Strzok just gave a hard-to-rebut defense of the objectivity of the Russia investigation's origins, The Washington Post, Philip Bump, Thursday, 12 July 2018. See also, 7 key moments from Peter Strzok's wild hearing, The Washington Post, Aaron Blake, Thursday, 12 July 2018. See also, Read: FBI agent Peter Strzok's opening statement before Congress. Republicans have seized upon Strzok's text messages as evidence of anti Trump bias in the Mueller investigation. Vox, Alexia Underwood, Thursday, 12 July 2018.
White House Orders Broader Access to Files About an Informant the F.B.I. Used in 2016 to Investigate Possible Ties Between the Trump Campaign and Russia, The New York Times, Mark Mazzetti, Thursday, 12 July 2018: "The White House has rebuffed concerns among American intelligence and law enforcement officials and ordered that more lawmakers be given access to classified information about an informant the F.B.I. used in 2016 to investigate possible ties between the Trump campaign and Russia, according to two American officials with knowledge of the decision. Both the director of national intelligence and the director of the F.B.I. tried to keep the classified documents tightly restricted, fearing that a broader dissemination of operational reports and other sensitive material could lead to more leaks of detailed information about the role of the confidential F.B.I. informant. Some American officials believe, in fact, the reason the White House made the decision was to provide political ammunition to President Trump's Republican allies who have argued — without any evidence — that the F.B.I. investigation was opened in July 2016 as an effort to keep Mr. Trump from becoming president. The F.B.I. files about the informant will now be available to all members of the Senate and House Intelligence Committees, instead of to just a group of congressional leaders known as the Gang of Eight. It is unclear whether Mr. Trump or a lower-level White House official authorized the move."
Brett Kavanaugh, Who Has Ruled Against Campaign Finance Regulations, Could Bring an Avalanche of Big Money to Elections, The Intercept, Lee Fang, Thursday, 12 July 2018: "The elevation of D.C. Circuit Court Judge Brett Kavanaugh to the Supreme Court could have a profound impact on the rules governing the American democratic system…. Kavanaugh has wielded the First Amendment as a cudgel to unravel decades of laws designed to ensure that ordinary Americans are not squeezed out of the electoral process…. In recent years, the Supreme Court has swiftly remade the landscape of American politics, gutting 1960s-era civil rights laws restricting voter suppression, sharply weakening labor unions, and deregulating the campaign finance system to allow for wealthy individuals and corporations to exercise greater influence over elected representatives. With President Donald Trump's pick for the Supreme Court, that influence is poised to grow."
Trump's Council of Economic Advisers Declares That America's Long-Running War on Poverty 'Is Largely Over and a Success' as It Pushes for Imposing New Work Requirements in Return for Aid, The New York Times, Jim Tankersley and Margot Sanger-Katz, Thursday, 12 July 2018: "President Trump's Council of Economic Advisers declared on Thursday that America's long-running war on poverty 'is largely over and a success,' as it made the case for imposing new work requirements on Americans who benefit from federal safety net programs. The report contends that millions of Americans have become overly reliant on government help — and less self-sufficient — and provided data intended to support the administration's goal of tying public benefit programs more closely to work…. Critics say the administration's effort seeks to demonize the poor, particularly low-income minorities, and said the report is another weapon in the White House's attempt to hurt the most vulnerable. 'It's all part of a carefully calculated strategy to reinforce myths about the people these programs help,' said Rebecca Vallas, the vice president of the poverty to prosperity program at the liberal Center for American Progress think tank, and 'to smear these programs with a dog-whistle of welfare, in order to make them easier to cut.'"
As Eight Guantánamo Detainees Ask for Freedom, the Trump Administration Says It Could Hold Them for 100 Years, The Intercept, Shilpa Jindia, Thursday, 12 July 2018: "On Wednesday a federal court in Washington, D.C., heard the first major challenge to the Trump administration's policy on Guantánamo Bay — a case arguing against the ongoing detention of eight of the 40 Muslim men still left at the island prison. The judge's decision in the case could impact any future attempt to bring detainees to the detention center and torture site, and become a judgment on the United States's endless war on terror. Twenty-six prisoners at Guantánamo remain detained without charge or trial, including the eight men represented in court Wednesday, who have been at Guantánamo between 10 and 16 years. Two of them have been cleared for release by a government review panel. Lawyers from the Center for Constitutional Rights, along with other attorneys, are challenging the prisoners' detention both as a violation of due process and also under the laws of war as dictated by the authorization for the use of military force, or AUMF."
The Office of Government Ethics scolds Commerce Secretary Wilbur Ross over stock sales, The Washington Post, Steven Mufson, Thursday, 12 July 2018: "The Office of Government Ethics strongly reprimanded Commerce Secretary Wilbur Ross for his failure to completely divest himself of his far-flung stock holdings in a timely fashion and for taking short positions in an effort to offset certain stocks until they could be sold. Ross replied by saying that even though his ethics agreement allows him to retain private equity holdings, he will now sell all his holdings and put them in Treasury securities in order 'to maintain the public trust.' David J. Apol, acting director and general counsel of the ethics office, told Ross that 'your failure to divest created the potential for a serious criminal violation on your part and undermined public confidence.' In a letter posted on the Web, Apol added that 'your actions, including your continued ownership of assets required to be divested in your Ethics Agreement and your opening of short sale positions, could have placed you in a position to run afoul of the primary criminal conflict of interest law.' The Office of Government Ethics did not recommend any punishment, however, saying 'we have no information to contradict' Ross's assertions that his failure to sell all his massive stock holdings was 'inadvertent.' And it said that an examination of Ross's calendar, briefing books and correspondence did not turn up any evidence of a criminal violation. But the ethics office said that 'even inadvertent errors regarding compliance . . . can undermine public trust in you and the overall ethics program.'"
How Forrest Lucas, a Tycoon and Friend of Vice President Mike Pence, Helped 2 Oregon Ranchers Get Presidential Pardons, The New York Times, Julie Turkewitz, Thursday, 12 July 2018: "When President Trump pardoned two cattlemen from the high desert of Oregon this week, both convicted of setting fires on federal land, even their lawyer was mystified as to how the case got the attention of the White House. 'I don't know the machinations of how it happened,' said Lawrence Matasar, a Portland lawyer who has represented the ranchers — Dwight L. Hammond, and his son, Steven D. Hammond. 'This was not the standard process.' Mr. Matasar, it seems, was unaware of the exact reach of Forrest Lucas, an Indiana oil products tycoon and friend of Vice President Mike Pence."
FEMA admits failures in Puerto Rico hurricane disaster response, in after-action report, The Washington Post, Arelis R. Hernández, Thursday, 12 July 2018: "The Federal Emergency Management Agency experienced personnel shortages, was caught with a critical lack of aid supplies, had trouble coordinating logistics and found itself struggling to do the work of the territorial government while responding to Hurricane Maria's devastation in Puerto Rico last September, according to an official after-action report released late Thursday. Despite repeated Trump administration efforts to play down federal failures in responding to a humanitarian crisis on the island territory, the new report is a public acknowledgment of systemic failures during what was one of the most destructive hurricane seasons — and costliest disaster responses — in the nation's history…. The sobering report runs counter to the White House narrative that President Trump presented at the time, when he praised FEMA's performance and characterized the devastation on the island as not being 'a real catastrophe like Katrina.'"