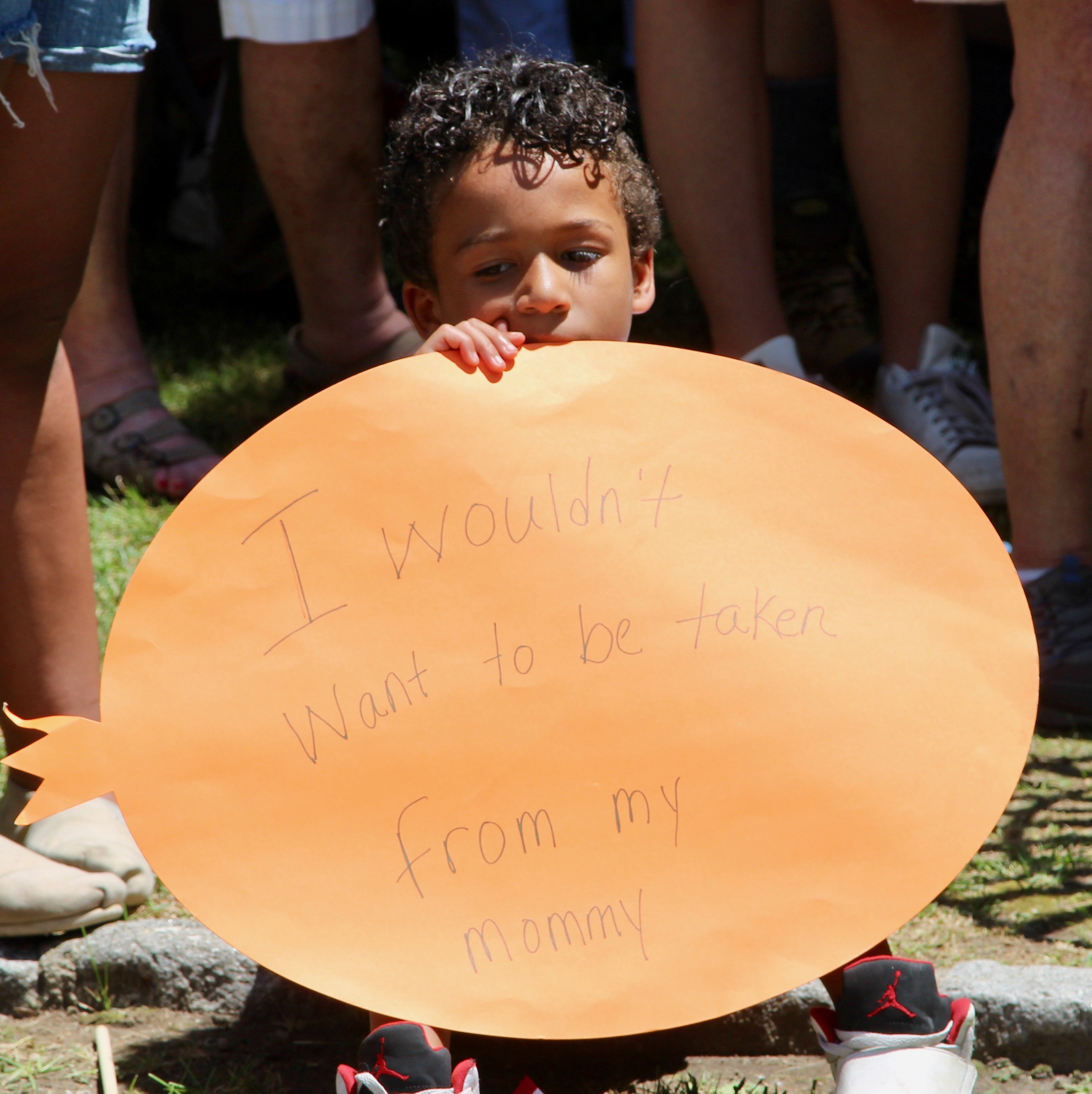 Families Belong Together and Free: rally in Pittsfield, MA, Saturday, 30 June 2018
Keeping Track (of some things), Staying Outraged (it is possible), and Resisting (it's essential)
Passages in bold in the body of the texts below are my emphasis. This is an ongoing project, and I update the site frequently. Because I try to stay focused on what has actually happened, I usually let the news 'settle' a day or so before posting. I hope readers will peruse the articles in full for a better understanding of the issues and their context; our democracy and our future depend on citizens who can distinguish between facts and falsehoods and who are engaged in the political process.
Friday, 29 June 2018, Day 526:
Trump administration may seek to detain migrant families longer than previously allowed, The Washington Post, Devlin Barrett, Friday, 29 June 2018: "The Trump administration plans to detain migrant families together in custody rather than release them, according to a new court filing that suggests such detentions could last longer than the 20 days envisioned by a court settlement. 'The government will not separate families but detain families together during the pendency of immigration proceedings when they are apprehended at or between ports of entry,' Justice Department lawyers wrote in a legal notice to a federal judge in California who has been overseeing long-running litigation about the detention of undocumented immigrants. The filing comes as the Justice Department seeks to navigate two different court edicts — an injunction issued this week by a federal judge in San Diego that required the government to begin reuniting the roughly 2,000 migrant children still separated from their families, and an older court settlement in federal court in Los Angeles that requires the immigration agencies to release minors in their custody if they are held for more than 20 days."
Hundreds Arrested During Women's Immigration Protest in Washington, The New York Times, Niraj Chokshi, Friday, 29 June 2018: "More than 500 people, including at least one member of Congress, were arrested and escorted from the Philip A. Hart Senate Office Building on Thursday after staging a sit-in during a women-led march against the Trump administration's 'zero-tolerance' approach to illegal immigration. The United States Capitol Police charged approximately 575 people with unlawfully demonstrating, a misdemeanor punishable by a $50 fine, according to a police spokeswoman. Those arrested included Representative Pramila Jayapal, Democrat of Washington, and the actress Susan Sarandon. Organizers said more than 2,500 women from 47 states participated in the protest. Senator Tammy Duckworth, Democrat of Illinois, spoke to the protesters with her 11-week-old daughter, Maile Pearl Bowlsbey, strapped to her chest. Other Democratic lawmakers also appeared with or spoke to the demonstrators, including Senator Kirsten Gillibrand of New York, and the Representatives Nydia M. Velázquez of New York and Sheila Jackson Lee of Texas."
Trump Says He Has Narrowed List of Possible Supreme Court Picks to Five, The Wall Street Journal, Louise Radnofsky and Peter Nicholas, Friday, 29 June 2018: "President Donald Trump said on Friday that he planned to interview one or two candidates this weekend at his Bedminster, N.J., resort to fill Supreme Court Justice Anthony Kennedy's seat, and plans to announce his final pick on July 9. 'I've got it narrowed to about five,' he said, including two women. The president also said he wouldn't specifically ask candidates about Roe v. Wade, the landmark ruling making abortion legal. However, a potential nominee's approach to the issue has been a factor in creating Mr. Trump's list of 25 conservative candidates. The president didn't say if all of his five finalists were from that list, but he had earlier pledged to pick exclusively from it. Late Thursday, the president met with a bipartisan group of six senators who will play a pivotal role in selecting Mr. Kennedy's successor because they have deviated from their party on key votes in the past. The lawmakers signaled they want an ideological centrist, complicating Mr. Trump's decision. Among them were Republican Sens. Susan Collins of Maine and Lisa Murkowski of Alaska, both of whom back abortion rights. Judiciary Committee Chairman Chuck Grassley (R., Iowa), and Democratic Sens. Joe Donnelly of Indiana, Heidi Heitkamp of North Dakota and Joe Manchin of West Virginia also met with the president, the White House said. 'At the end of the day, this is where confirmation is made or broken,' a White House official said, referring to the senators who visited Thursday night."
Continue reading Week 76, Friday, 29 June – Thursday, 5 July 2018 (Days 526-532)
How 'Abolish ICE' Went From Social Media to Progressive Candidates' Rallying Cry, The New York Times, Sydney Ember and Astead W. Herndon, Friday, 29 June 2018: "Abolish ICE! That was the seemingly radical message that Chardo Richardson, a House candidate in Florida, published in an online statement four months ago, endorsing a call to eliminate the Immigration and Customs Enforcement agency. 'Immigrants are some of the most courageous and industrious people humanity has to offer,' he wrote in an introduction to the immigration platform of Brand New Congress, a grass-roots progressive organization. 'We can only benefit from their presence.' To that point, the idea had largely been passed around on social media; among political candidates, Mr. Richardson was something of a lonely voice. But in the months since — as startling images emerged from the border of migrant children separated from their parents — the call to abolish or defund the agency has gained momentum in the midterm campaigns. Case in point: the shocking victory on Tuesday by an insurgent primary candidate in New York, Alexandria Ocasio-Cortez, who had made abolishing ICE a part of her platform."
The International Organization for Migration of the United Nations Picks a New Leader and Sends Trump a Pointed Message, The New York Times, Nick Cumming-Bruce, Friday, 29 June 2018: "Delivering a stiff rebuke to the Trump administration over its handling of migration issues, the International Organization for Migration rejected on Friday the American president's choice to become the agency's next executive director, choosing instead a former deputy prime minister of Portugal. The election of the new leader, António Vitorino, was seen as a barometer of United States influence in multilateral agencies after President Trump's decision to withdraw the country from international commitments on climate and trade, as well as from the United Nations Human Rights Council."
Alexandria Ocasio-Cortez explains democratic socialism on the 'Late Show' with Stephen Colbert, CBS News, Andrea Park, Friday, 29 June 2018: "Alexandria Ocasio-Cortez, the 28-year-old woman who defeated powerful Democratic Congressman Joe Crowley in one of the most shocking upsets so far of the 2018 primaries, appeared on the 'Late Show' on Thursday with Stephen Colbert. She talked to Colbert about her reaction after winning as a first-time candidate in New York's 14th congressional district and about what her support for democratic socialism means…. 'I believe that in a modern, moral, and wealthy society, no person in America should be too poor to live,' she explained. 'What that means to me is health care as a human right, it means that every child no matter where you are born should have access to a college or trade-school education if they so choose it. I think that no person should be homeless if we have public structures or public policy to allow for people to have homes and food and lead a dignified life in the United States.'"
Kentucky's requirement that Medicaid recipients must work is blocked by a federal judge, The Washington Post, Lena H. Sun and Amy Goldstein, Friday, 29 June 2018: "A federal judge ruled Friday afternoon that the Trump administration acted in an 'arbitrary and capricious' manner when it allowed Kentucky to become the first state in the nation to require that low-income people work or otherwise engage in their communities to qualify for Medicaid. The decision by U.S. District Judge James E. Boasberg vacates that approval and sends the state's program, Kentucky HEALTH, back to the federal Department of Health and Human Services for further review.  Boasberg said that top HHS officials 'never adequately considered whether [the program] would in fact help the state furnish medical assistance to its citizens, a central objective of Medicaid.' That 'signal omission' renders the decision 'arbitrary and capricious,' he concluded. The administration granted Kentucky's proposal in early January. It marked a profound change in direction to the safety-net health insurance program, which the federal government had never before allowed to impose such conditions on recipients."
'Shaken' Deputy Attorney General Rod Rosenstein Felt Used by the White House in the Firing of F.B.I. Director James Comey, The New York Times, Michael S. Schmidt and Adam Goldman, Friday, 29 June 2018: "In the days after the F.B.I. director James B. Comey was fired last year, the deputy attorney general, Rod J. Rosenstein, repeatedly expressed anger about how the White House used him to rationalize the firing, saying the experience damaged his reputation, according to four people familiar with his outbursts. In public, Mr. Rosenstein has shown no hint that he had second thoughts about his role — writing a memo about Mr. Comey's performance that the White House used to justify firing him. 'I wrote it. I believe it. I stand by it,' Mr. Rosenstein said to Congress last year. But in meetings with law enforcement officials in the chaotic days immediately after Mr. Comey's dismissal, and in subsequent conversations with colleagues and friends, Mr. Rosenstein appeared conflicted, according to the four people."
Saturday, 30 June 2018, Day 527:
Thousands march in 750 'Families Belong Together' rallies to protest Trump's immigration policy, The Washington Post, Marissa J. Lang, Julie Zauzmer, and Hannah Natanson, Saturday, 30 June 2018: "Starting around 9 a.m., thousands had made their way to Lafayette Square [in Washington, D.C.], with many more filling in along 16th Street and into Farragut Square, areas that had been blocked off in anticipation of 50,000 protesters' arrival in the District…. About 750 similar 'Families Belong Together' rallies were planned throughout the country in every state — from big cities such as Boston, Chicago and New York to tiny ones such as Antler, N.D., which has a population of 27. The message: End President Trump's 'zero tolerance' immigration policy, which has split children from their parents and detained families crossing the southern U.S. border." See also, Marchers around the country protest family separations, Politico, Brent D. Griffiths and Emily Goldberg, Saturday, 30 June 2018.
Separated Parents Are Failing Asylum Screenings Because They're So Heartbroken, HuffPost, Angelina Chapin, Saturday, 30 July 2018: "Immigration lawyers say separated parents are too grief-stricken to focus on their cases. Jodi Goodwin has spent the past month helping grief-stricken parents with their asylum cases. On most days, the Harlingen, Texas-based immigration lawyer drives to the Port Isabel Detention Center just outside of Brownsville to meet with clients who were separated from their children. But, she says, those mothers and fathers are too devastated to prepare for their court hearings. Instead, they replay the moment their kids were taken away by Border Patrol, worry about their children's well-being, and ask repeatedly where their sons and daughters are. In some cases, they simply weep. 'They are losing it,' Goodwin said. 'They are red-faced and have bloodshot eyes and all they do is cry. We are trying to ask them basic information but they are whimpering and they can't talk.'"
'Are you alone now?' After an immigration raid in Norwalk, Ohio, immigrant families are separated. The Washington Post, Eli Saslow, Saturday, 30 June 2018: "In the past few months, ICE has carried out the three biggest workplace immigration raids of the past decade, including one on June 5 at a nursery … in rural Ohio, where 114 gardeners, florists and other workers were detained and put into court proceedings for deportation. Many of them had lived for several years in a Norwalk trailer park of 74 homes known as Little Mexico, where now aid workers estimate that more than 90 children are missing one parent and at least 20 are left with no parent at all."
Kevin Minoli, the Environmental Protection Agency's Ethics Officer, Once Defended EPA Administrator Scott Pruitt. Then He Urged Investigations. The New York Times, Eric Lipton, Saturday, 30 June 2018: "The chief ethics officer of the Environmental Protection Agency — the official whose main job is to help agency staffers obey government ethics laws — has been working behind the scenes to push for a series of independent investigations into possible improprieties by Scott Pruitt, the agency's administrator, a letter sent this week says. The letter is the first public acknowledgment that Kevin S. Minoli, who has frequently defended Mr. Pruitt's actions since he took over the agency in February 2017, is now openly questioning whether Mr. Pruitt violated federal ethics rules."
Sunday, 1 July 2018, Day 528:
Immigrant parents struggle to find separated children amid chaos on the border, Houston Chronicle, Lomi Kriel, Sunday, 1 July 2018: "Lawyers, politicians and human rights advocates have descended en masse on this mostly rural border community [Brownsville, Texas]. They described a Byzantine process to find parents and children among three federal agencies in charge of their care while frantically trying to prepare those with potential asylum claims before they are deported. They are racing against the clock. It remains uncertain how the government will comply with the judicial ruling, though in court filings late Friday it requested permission to detain families together, likely until their cases are decided in a process that can drag on for months. It has sought to overturn a decades-old legal settlement that generally prevents the detention of children for longer than 20 days and has requested the Defense Department help in holding up to 12,000 immigrants, including in Texas." See also, A Father and Child Disunion: One migrant's encounter with 'zero tolerance.' The Marshall Project, Julia Preston, Sunday, 1 July 2018.
Supreme Court Labor Decision Isn't Just a Loss for Unions. The Ruling Is a Blow to Progressive Groups That Benefit From Labor Funding. The New York Times, Noam Scheiber, Sunday, 1 July 2018: "The Supreme Court decision striking down mandatory union fees for government workers was not only a blow to unions. It will also hit hard at a vast network of groups dedicated to advancing liberal policies and candidates. Some of these groups work for immigrants and civil rights; others produce economic research; still others turn out voters or run ads in Democratic campaigns. Together, they have benefited from tens of millions of dollars a year from public-sector unions — funding now in jeopardy because of the prospective decline in union revenue."
Emails reveal close rapport between top Environmental Protection Agency officials and those they regulate, The Washington Post, Juliet Eilperin, Sunday, 1 July 2018: "The communication between … lobbyists and one of Pruitt's top policy aides — detailed in emails the agency provided to Democratic Sens. Bill Nelson (Fla.) and Thomas R. Carper (Del.) — open a window on the often close relationship between the EPA's political appointees and those they regulate. Littered among tens of thousands of emails that have surfaced in recent weeks, largely through a public records lawsuit filed by the Sierra Club, are dozens of requests for regulatory relief by industry players. Many have been granted."
Data Suggest That Gentrifying Neighborhoods Powered Alexandria Ocasio-Cortez's Victory in Queens and the Bronx, The Intercept, Zaid Jilani and Ryan Grim, Sunday, 1 July 2018: "When canvassers for the campaign of Alexandria Ocasio-Cortez reconvened in the Bronx last Tuesday evening, they swapped stories about what they'd seen. With no exit polling, anecdotes were all they had — but they were adding up to something that warranted optimism. The volunteers had fanned out across the district, focusing particularly on areas in Queens and the Bronx where an influx of young people was changing the character, complexion, and politics of the neighborhoods. Whether the volunteer had been in Astoria, Sunnyside, or Woodside, all gentrifying neighborhoods in Queens that the campaign targeted heavily, they shared the same story: Turnout seemed higher than usual, and the people turning out were young, they were diverse, and they were pumped for Ocasio-Cortez. Many of the voters looked, to the canvassers, like stereotypical Bernie Sanders supporters — young people who might have supported Sanders during the 2016 presidential campaign. These types of voters, galvanized by a popular presidential candidate or a certain ideology, might not be expected to turn out for a typical midterm primary. They're what's known in political circles as 'drop-off voters.' But the Ocasio-Cortez campaign's pivotal insight was that enough of them lived in the district to help carry her to victory if they were found and motivated to vote."
States act on their own to fill holes Washington is Knocking in the Affordable Care Act, The Washington Post, Amy Goldstein, Sunday, 1 July 2018: "The first Sunday after his inauguration, New Jersey Gov. Phil Murphy signed an executive order directing state agencies to report everything they could do to ramp up the visibility of the Affordable Care Act and persuade more people to buy health coverage under the law. Four months later, the Democratic governor signed into law a requirement that makes New Jersey the first state in a dozen years to compel most residents to carry insurance…. Several states are erecting barriers against rules the Trump administration is writing to promote short-term health plans that are comparatively inexpensive because they lack benefits and consumer protections guaranteed by the ACA. And some states, led by Democrats and Republicans alike, are trying to slow insurance rate increases through methods that Congress considered but did not pass…. Taken together, the moves mean the nation is starting to revert to the insurance landscape of a decade ago — a hodgepodge that created the political pressures that culminated in the sweeping 2010 law. At the time, Americans' ability to find and afford decent health plans, especially if they could not get one through a job, depended on where they lived and whether they were healthy or sick."
Senator Susan Collins, Republican of Maine and a Pivotal Moderate, Says 'Hostility' to Roe v. Wade Would Sway Her Vote, The New York Times, Nicholas Fandos and Emily Cochrane, Sunday, 1 July 2018: "Senator Susan Collins, a moderate Maine Republican whose vote could prove decisive in filling the Supreme Court's vacant seat, said on Sunday that she would not vote for a nominee who showed 'hostility' toward Roe v. Wade, the landmark 1973 decision establishing a constitutional right to abortion. 'A candidate for this important position who would overturn Roe v. Wade would not be acceptable to me, because that would indicate an activist agenda that I don't want to see a judge have,' Ms. Collins said on ABC's 'This Week.' In another interview on Sunday, on CNN's 'State of the Union,' the senator said such a decision 'would mean to me their judicial philosophy did not include a respect for established decisions, established law.'"
Monday, 2 July 2018, Day 529:
Judge James Boasberg of the Federal District Court for the District of Columbia blocks Trump crackdown on asylum seekers and bars blanket detentions of those with persecution claims, The Washington Post, Spencer S. Hsu, Monday, 2 July 2018: "A federal judge in Washington on Monday ordered the U.S. government to immediately release or grant hearings to more than 1,000 asylum seekers who have been jailed for months or years without individualized case reviews, dealing a blow to the Trump administration's crackdown on migrants. U.S. District Judge James E. Boasberg of Washington said U.S. Immigration and Customs Enforcement ignored its own policy stating that asylum applicants who establish a 'credible fear' of persecution in their native country must be granted a court hearing within seven days or released. He granted a preliminary injunction preventing the government from carrying out blanket detentions of asylum seekers at five large U.S. field offices, including those currently held, pending resolution of the lawsuit. The American Civil Liberties Union and other groups sued in March after finding detention rates at the offices surged to 96 percent in the first eight months after President Trump took office in 2017, up from less than 10 percent in 2013." See also, Federal Court Blocks Trump Administration From Blanket Detention of Asylum Seekers, The New York Times, Miriam Jordan, Monday, 2 July 2018. See also, Inside the A.C.L.U.'s War on Trump. Can the A.C.L.U. Become the N.R.A. for the Left? The New York Times, Joel Lovell, Monday, 2 July 2018: "On Nov. 9, 2016, millions of voters woke desperate for something that might quell their anxiety that this was the beginning of the end of democracy in America. Overwhelmingly, the place they turned to was the A.C.L.U…. In the 15 months that followed the election, the A.C.L.U.'s membership went from 400,000 to 1.84 million. Online donations in the years before averaged between $3 and $5 million annually. Since then, it has raised just shy of $120 million…. A big chunk of the money that the A.C.L.U. has raised has gone toward hiring more lawyers, both in the national office and throughout its network of 54 affiliates. (There's an affiliate in each state, with three in California, plus Washington, D.C., and Puerto Rico.) 'I'd like to have 500 lawyers nationwide by 2019,' [Anthony] Romero [the A.C.L.U.'s executive director] told me back in the spring of 2017, when the organization was still in the early stages of figuring out exactly how to use the resources pouring in. 'That's bigger than we've ever been. But let's not lose sight of reality: There are 11,000 lawyers in the Department of Justice. Eleven. Thousand.' When you add in the lawyers at the Departments of Homeland Security and Labor, who handle immigration law, and Health and Human Services, who field L.G.B.T. issues, there are at least 18,000 lawyers on the government's payroll. 'We're the biggest of the advocacy groups, but even if we go from 300 to 500 lawyers, we are still tiny,' Romero said. 'The power of the federal government can't be overestimated.'"
'I Just Want to Tell My Son I Love Him,' ProPublica, Kavitha Surana, Monday, 2 July 2018: "Parents held in immigration detention without their kids say the phones barely work, and they still don't know when they will see their children again, almost two weeks after the Trump administration declared it ended family separation at the border."
How Trump is changing the face of legal immigration, The Washington Post, Abigail Hauslohner and Andrew Ba Tran, Monday, 2 July 2018: "As the national immigration debate swirls around the effort to discourage illegal immigration by separating families at the border, the Trump administration is making inroads into another longtime priority: reducing legal immigration. The number of people receiving visas to move permanently to the United States is on pace to drop 12 percent in President Trump's first two years in office, according to a Washington Post analysis of State Department data. Among the most affected are the Muslim-majority countries on the president's travel ban list — Yemen, Syria, Iran, Libya and Somalia — where the number of new arrivals to the United States is heading toward an 81 percent drop by Sept. 30, the end of the second fiscal year under Trump. Last week, the Supreme Court upheld that ban, paving the way for an even more dramatic decline in arrivals from those countries. Legal immigration from all Muslim-majority countries is on track to fall by nearly a third."
Trump interviews Supreme Court candidates as political fight over Kennedy replacement intensifies, The Washington Post, Robert Costa, Josh Dawsey, and Felicia Sonmez, Monday, 2 July 2018: "President Trump's search for a Supreme Court nominee reached the interview stage Monday as he announced that he has spoken to at least four contenders, while remaining coy about his shortlist for a successor to retiring Justice Anthony M. Kennedy…. Trump met Monday with four federal appeals court judges: Brett M. Kavanaugh, Amy Coney Barrett, Amul R. Thapar and Raymond Kethledge, according to three people briefed on the meetings who spoke on the condition of anonymity because they were not authorized to speak publicly."
Trump Warns NATO Allies to Spend More on Defense, or Else, The New York Times, Julie Hirschfeld Davis, Monday, 2 July 2018: "President Trump has written sharply worded letters to the leaders of several NATO allies — including Germany, Belgium, Norway and Canada — taking them to task for spending too little on their own defense and warning that the United States is losing patience with what he said was their failure to meet security obligations shared by the alliance. The letters, sent in June, are the latest sign of acrimony between Mr. Trump and American allies as he heads to a NATO summit meeting next week in Brussels that will be a closely watched test of the president's commitment to the alliance. Mr. Trump has repeatedly questioned its value and has claimed that its members are taking advantage of the United States."
Trump declines request to lower flags in memory of Capital Gazette shooting victims, Capital Gazette, Danielle Ohl, Monday, 2 July 2018: "Update: The White House has reversed its decision and will allow American flags to be flown at half-staff in honor of five victims of the shooting at The Capital newspaper last week. The original story appears below.
President Donald Trump has declined a request from Annapolis Mayor Gavin Buckley to lower American flags in honor of the fatal shooting of five employees of The Capital newspaper last week. 'Obviously, I'm disappointed, you know? … Is there a cutoff for tragedy?' Buckley said Monday afternoon. 'This was an attack on the press. It was an attack on freedom of speech. It's just as important as any other tragedy.'"
Brett Talley, Trump Judicial Pick Who Blogged Favorably About the KKK, Had to Withdraw From Consideration for the Judgeship in December. Now He's Working at the Justice Department. Mother Jones, Stephanie Mencimer, Monday, 2 July 2018: "Brett Talley had already been voted out of the Senate Judiciary Committee and was on his way to a lifetime appointment to the federal bench when reporters discovered what he'd written about the Klan…. Writing as BamainBoston, he commented on everything from race to abortion. He disparaged Muslims, joked about statutory rape, and, most notably, wrote approvingly about Nathan Bedford Forrest, the first Grand Wizard of the Ku Klux Klan. He defended the 'first KKK' as something entirely different than the racist, violent organization it's known as today. After outcry about the comments and his general lack of qualifications for the job—Talley had never tried a case—he withdrew from consideration for the judgeship in December. But the controversy didn't send him packing to Alabama. Instead, he simply continued working as deputy associate attorney general at the Justice Department's Office of Legal Policy, where he oversaw the judicial nominations unit that advises the president and attorney general on the selection and confirmation of federal judges and conducts the vetting, interviewing, and evaluating of nominees. This spring, he moved to a more junior position at the Justice Department, as an assistant US attorney."
Environmental Protection Agency administrator Scott Pruitt's aides reveal new details of his spending and management at the EPA, The Washington Post, Juliet Eilperin, Josh Dawsey, and Brady Dennis, Monday, 2 July 2018: "Two of Scott Pruitt's top aides provided fresh details to congressional investigators in recent days about some of the EPA administrator's most controversial spending and management decisions, including his push to find a six-figure job for his wife at a politically connected group, enlist staffers in performing personal tasks and seek high-end travel despite aides' objections." See also, Samantha Dravis, Former E.P.A. Aide, Says Scott Pruitt Asked Her to Help Find Work for His Wife, The New York Times, Lisa Friedman, Monday, 2 July 2018: "Samantha Dravis, the former policy chief at the Environmental Protection Agency, told a congressional committee that Scott Pruitt, the administrator, asked her to help find his wife a job as a fund-raiser at the Republican Attorneys General Association, according to two people familiar with the interview. The fresh allegation that Mr. Pruitt enlisted a subordinate to perform personal duties comes on top of reports that he asked an aide to seek a business opportunity for his wife from the fast-food franchise Chick-fil-A, and that she received $2,000 from Concordia, a Manhattan-based nonprofit that had asked Mr. Pruitt to speak at an event last year."
Yemen's spiraling hunger crisis is a man-made disaster, PBS News Hour, Jane Ferguson, Monday, 2 July 2018: "One of the poorest countries in the Middle East, Yemen's war has pushed it to the brink of famine. A Saudi blockade has slowed the flow of food and helped push prices up. Markets and businesses are ruined from airstrikes. Millions are destitute. Special correspondent Jane Ferguson smuggled herself across front lines to report on what's happening inside the world's worst humanitarian disaster…. Jane Ferguson: 'The hunger here and this human catastrophe is entirely manmade. Yemen was already one of the poorest countries in the Middle East, and the war has pushed an already needy people to the brink of famine. In the midst of political chaos in Yemen after the Arab Spring, Houthi rebels from the north captured the capital, Sanaa, in 2014, before sweeping south and causing the country's then president to flee. Neighboring Sunni, Saudi Arabia, views the Houthis, from a Yemeni sect close to Shia Islam and backed by rival Iran, as an unacceptable threat along their border. So it formed a military coalition of countries in 2015, determined to defeat the Houthis and reinstate the old president. Crucial military support for the campaign is provided by the United States, a longtime ally of Saudi Arabia.'… Lise Grande heads up the U.N.'s humanitarian effort in Yemen: 'Most of the 8.5 million people that we describe as being pre-famine, the reality of their life is that when they wake up in the morning, they have no idea if they will eat that day, no idea — 8.5 million people are in that category. The U.N. estimates that, by the end of this year, if there is not an end to this war, another 10 million Yemenis will be in that situation. That's 18 million innocent civilians who are the victims of this war. And that's why all humanitarians are saying, enough is enough. There has to be a political solution."
The Official White House Twitter Account, in a Rare Broadside, Attacks 2 Democratic Senators Over ICE (Immigration and Customs Enforcement), The New York Times, Julie Hirschfeld Davis, Monday, 2 July 2018: "The White House used its official Twitter account on Monday to attack two Democratic senators who oppose President Trump's immigration agenda, falsely equating their criticisms of Immigration and Customs Enforcement with support for criminals and murderous gangs. '@SenWarren, why are you supporting criminals moving weapons, drugs, and victims across our nation's borders?' said a tweet addressed to Senator Elizabeth Warren, Democrat of Massachusetts, from the @WhiteHouse account. '@SenKamalaHarris, why are you supporting the animals of MS-13?' read a tweet posted by the same account about an hour later to Senator Kamala Harris, Democrat of California, which referred to the transnational gang with roots in El Salvador. Both posts ended with the message, 'You must not know what ICE really does,' and linked to news releases detailing the agency's work confronting threats at the border and apprehending criminals. Although Mr. Trump often attacks political rivals from his personal Twitter account, it is rare for a government entity to directly criticize a sitting member of Congress. 'The White House is using government taxpayer resources to target a senator with complete and utter falsehoods,' Lily Adams, the communications director for Ms. Harris, said on Twitter. Neither senator has ever expressed public support for criminals or for the brutal MS-13 gang, but both are considered potential contenders for the Democratic Party's nomination to challenge Mr. Trump in 2020, and they have been sharply critical of ICE, the agency that handles the detention and deportation of undocumented immigrants, among other responsibilities. Ms. Warren has called for the department's abolition, while Ms. Harris has said it needs wholesale changes to rethink its mission and tactics."
Tuesday, 3 July 2018, Day 530:
Trump Officials Reverse Obama's Policy on Affirmative Action in Schools, The New York Times, Erica L. Green, Matt Apuzzo, and Katie Benner, Tuesday, 3 July 2018: "The Trump administration said Tuesday that it was abandoning an Obama administration policy that called on universities to consider race as a factor in diversifying their campuses, signaling that the administration will champion race-blind admissions standards on campuses. In a joint letter, the Education and Justice Departments announced that they had rescinded seven Obama-era policy directives on affirmative action, which, the departments said, 'advocate policy preferences and positions beyond the requirements of the Constitution.'… Democrats and civil rights organizations denounced the administration's decisions. Representative Nancy Pelosi of California, the House Democratic leader, said the 'rollback of vital affirmative action guidance offends our nation's values' and called it 'yet another clear Trump administration attack on communities of color.' Guidance documents like those rescinded on Tuesday do not have the force of law, but they amount to the official view of the federal government. School officials who keep their race-conscious admissions policies intact would do so knowing that they could face a Justice Department investigation or lawsuit, or lose funding from the Education Department. The Obama administration believed that students benefited from being surrounded by diverse classmates, so in 2011, the administration offered schools a potential road map to establishing affirmative action policies and race-based considerations that could withstand legal scrutiny from an increasingly skeptical Supreme Court." See also, Trump administration moves to rescind Obama-era guidance on race in school admissions, The Washington Post, Nick Anderson and Moriah Balingit, Tuesday, 3 July 2018: "The Trump administration Tuesday discouraged the use of race in college admissions and public school enrollment by revoking federal guidance on affirmative action from the Obama era. The announcement is the latest step in a decades-long debate over the use of race in admissions, a tactic for many schools seeking to diversify and overcome the legacy of segregation." See also, SPLC Statement: Diversity in Education Benefits All, Southern Poverty Law Center, Zoe Savitsky, Tuesday, 3 July 2018: "We are deeply disappointed in the Trump administration's decision today to move forward in rescinding a set of Obama-era policies that permit the consideration of race in college admissions decisions. This is a serious blow to diversity in education. It's just the latest in the Trump administration's ongoing efforts to make our nation's colleges and universities less safe and less tolerant for all students, an approach that will harm all of us in the long run. Instead of valuing diversity, this administration has filed briefs in several important cases, arguing, among other things, that campus policies intended to protect students from hate and harassment are unconstitutional. The Trump administration is waging an ongoing battle against the values of diversity and respect in institutions of higher learning."
Immigrant Mothers Were Moved Outdoors During Kirstjen Nielsen's Secretive Visit to Detention Centers in South Texas on Friday, The Intercept, Ryan Devereaux and Debbie Nathan, Tuesday, 3 July 2018: "Homeland Security Secretary Kirstjen Nielsen made a series of secretive visits to South Texas immigrant detention centers on Friday. One of the facilities the secretary visited, in Los Fresnos, houses parents whose children were taken from them under President Donald Trump's "zero tolerance" family separation policy. Many of the detainees there are women, and many desperately wanted to speak with Nielsen. Instead, they were moved to a distant soccer field, where they shouted to Nielsen for help but were too far away for her to hear them. Reporters could not talk to Nielsen either, even though, as confirmed to The Intercept by a DHS press secretary on Monday, she toured two Immigration and Customs Enforcement detention centers for adults in South Texas and a shelter in Brownsville that houses young children separated from their parents. Additionally, ICE confirmed to The Intercept on Tuesday that more than 60 women were moved during the secretary's visit, though the agency claimed the move was for the purpose of 'recreation.'"
What is Immigration and Customs Enforcement (ICE) and Why Do Critics Want to Abolish It? The New York Times, Ron Nixon and Linda Qiu, Tuesday, 4 July 2018: "Over the past several weeks, protesters, Democratic lawmakers and candidates, and even some federal agents have demanded an end to the government agency known as ICE, railing against President Trump's immigration policies, which have produced heart-wrenching images of migrants being stopped at the southwestern border. But the campaign against ICE may be conflating an alphabet soup of government agencies and their various roles in immigration enforcement. ICE, for example, was not separating migrant families illegally entering the United States from Mexico. Here's an explanation of what it is doing." See also, 'Abolish ICE' demands from Democrats draw sharp White House rebuke, The Washington Post, Felicia Sonmez, John Wagner, and Elise Viebeck, Tuesday, 3 July 2018: "The White House on Tuesday escalated its attacks on Democrats for their calls to abolish the federal immigration enforcement agency as Republicans tried to shift the debate from President Trump's widely criticized family-separation policy to border security. In a rare use of an official Twitter account, the White House targeted two House Democrats, Reps. Earl Blumenauer (Ore.) and Mark Pocan (Wis.), who announced last week that they would introduce legislation to abolish Immigration and Customs Enforcement. The broadsides came a day after the White House took aim at two potential 2020 Democratic presidential candidates, Sens. Elizabeth Warren (Mass.) and Kamala D. Harris (Calif.). Warren has called for abolishing the federal agency charged with detaining and deporting undocumented immigrants, while Harris has said it should be reexamined."
ACLU slaps Trump administration over parent deportation form, The Washington Post, Maria Sacchetti and Jon Gerberg, Tuesday, 3 July 2018: "The American Civil Liberties Union is calling on the Trump administration to stop distributing a government form that offers to reunite detained migrant parents with their children once the parents are ready to be deported from the United States. The form has sparked the latest flareup over the administration's "zero tolerance" policy, which drew international outrage for separating about 2,500 children from their parents over the span of a few weeks."
In a speech in West Virginia, Trump likens immigration enforcement to 'liberating a town' in combat, The Washington Post,  Anne Gearan, Tuesday, 3 July 2018: "President Trump likened federal immigration enforcement to war on Tuesday, claiming that the work of deporting illegal immigrants is like 'liberating a town or an area' in combat. In a meandering speech meant to honor the active-duty military and veterans, Trump also likened professional golfers to 'tough' U.S. Immigration and Customs Enforcement agents, as he continued an attack on Democrats who have called for the agency's abolition. 'We respect ICE. You know, ICE is the one handling tough people,' Trump said at a dinner staged as part of a PGA tournament and attended by several players. 'But when these people come into our country and come in illegally, and then they are dispersed throughout the country, and then all of a sudden you see nests of MS-13, you know, it's like you're liberating towns,' Trump said, referring to a mostly Hispanic gang. 'We send ICE in. And for ICE, it's just another day, like Phil, and John, and Keegan, all of the guys, and Bubba, like when they play golf,' Trump said…. 'These guys, they walk into those areas, they take 'em out of there so fast. They're not afraid of anything. It is, it's like you're liberating a town, like in a war,' Trump continued. 'You're liberating a town or an area, and ICE goes in there, and they go in there, and sometimes they have to go in swinging. They don't mind. They're tough.'"
Social Media Ads Offer Peek at Looming Supreme Court Fight, The New York Times, Kevin Roose, Tuesday, 3 July 2018: "Even before President Trump's new Supreme Court nominee is announced, a fight over the choice is raging on social media. In the days since Justice Anthony M. Kennedy said he would retire, partisan groups have turned to Facebook, Twitter and other social networks with political ads. Some of the ads urge voters to pressure their senators to block or speed the confirmation process for Mr. Trump's eventual nominee. Others oppose allowing specific jurists to fill the vacant seat."
Senate Intelligence Committee report backs the intelligence community's assessment that Russia interfered in the 2016 presidential election to aid Donald Trump, Politico, Martin Matishak, Tuesday, 3 July 2018: "The Senate Intelligence Committee on Tuesday backed the intelligence community's assessment that Russia interfered in the 2016 presidential election to aid President Donald Trump and is continuing its efforts to undermine U.S. democracy. The finding that reveals Russia meddled in far more extensive ways than previously known is yet another strong rebuke to Trump and many of his allies who continue to cast doubt on the finding from the intelligence community that Moscow carried out an operation to help his candidacy and hurt Hillary Clinton." See also, Senate Intelligence Committee report affirms intelligence community's conclusion that Russia favored Trump over Clinton in the 2016 presidential election, The Washington Post, Karoun Demirjian, Tuesday, 3 July 2018: "A Senate panel investigating Russia's interference in the 2016 presidential election released Tuesday a written summary of its determination that the U.S. intelligence community correctly concluded Moscow sought to help Donald Trump win. The Senate Intelligence Committee's report affirms conclusions that its members first announced in May. It stands in sharp contrast with a parallel investigation by the House Intelligence Committee, whose Republican members questioned the intelligence community's tradecraft in concluding the Kremlin aimed to help Trump. The Senate panel called the overall assessment a 'sound intelligence product,' saying evidence presented by the FBI, CIA and National Security Agency supported their collective conclusion that the Russian government had 'developed a clear preference for Trump' over his opponent in the race, Hillary Clinton. Where the agencies disagreed, the Senate panel found those differences were 'reasonable.' The intelligence community determined that the Kremlin intended to 'denigrate' and 'harm' Clinton, and 'undermine public faith in the U.S. democratic process' while helping Trump. The committee's report backs that conclusion. It also supports the agencies' findings about Russia's tactics, which included cyberattacks and intelligence collection 'against the U.S. primary campaigns, think tanks, and lobbying groups they viewed as likely to shape future U.S. policies.'"
Judge Orders Extension of FEMA Aid for Puerto Ricans Displaced by Hurricane Maria for Another 20 Days, The New York Times, Patricia Mazzei, Tuesday, 3 July 2018: "The Federal Emergency Management Agency must continue to pay for temporary housing for Puerto Ricans displaced by Hurricane Maria for another 20 days, a federal judge ordered on Tuesday, another short reprieve for hundreds of families who have been unable to return to their homes. The decision by Judge Timothy S. Hillman of United States District Court for the District of Massachusetts will allow Puerto Rican evacuees benefiting from FEMA's temporary sheltering assistance program to remain in their government-paid hotel and motel rooms until checkout time on July 24 as the court holds further hearings to determine whether an additional extension is warranted. The aid was supposed to end at midnight on Saturday, but it was extended until midnight on July 4 after a civil-rights advocacy group filed a class-action lawsuit arguing that withdrawing the assistance would put some Puerto Ricans at risk of homelessness. About 950 families on the mainland and the island were still receiving the aid as of Tuesday, according to FEMA."
Judge Jesse Furman of Manhattan's Southern District allows multi-state lawsuit against Trump administration on census citizenship question to move forward, The Washington Post, Tara Bahrampour, Tuesday, 3 July 2018: "A federal judge Tuesday allowed a multistate lawsuit to move forward amid 'strong' evidence that the Trump administration acted in bad faith in its push for a controversial citizenship question to be added to the 2020 Census, plaintiffs in the case said. Judge Jesse Furman of Manhattan's Southern District also granted a request for discovery, according to New York Attorney General Barbara Underwood, whose office filed the case on behalf of 18 states, the District of Columbia, nine cities, four counties and the U.S. Conference of Mayors."
Elizabeth Beacham White, former treasurer of Scott Pruitt's political action committee, now runs the office that reviews all FOIA requests for his office, Politico, Anthony Adragna and Emily Holden, Tuesday, 3 July 2018: "EPA Administrator Scott Pruitt placed a former political fundraising ally in charge of an office that has been slow to release his most sensitive documents — including details about his meetings with industry lobbyists and taxpayer-funded travels across the U.S. and Europe. The role played by Elizabeth Beacham White, the former treasurer of Pruitt's political action committee, adds to questions about the EPA leader's pervasive habit of mixing his political, personal and official interests while leading the $8 billion agency. White, who touts an extensive career in the GOP fundraising world, joined EPA in September as director of its Office of the Executive Secretariat, which handles Freedom of Information Act requests for Pruitt's office."
Environmental Protection Agency Administrator Scott Pruitt directly asked Trump this spring to fire Attorney General Jeff Sessions and to let him run the Department of Justice instead, CNN Politics,  Kaitlan Collins, Tuesday, 3 July 2018: "Embattled Environmental Protection Agency Administrator Scott Pruitt directly appealed to President Donald Trump this spring to fire Attorney General Jeff Sessions and let him run the Department of Justice instead, according to three people familiar with the proposal. In an Oval Office conversation with Trump, Pruitt offered to temporarily replace Sessions for 210 days under the Vacancies Reform Act, telling the President he would return to Oklahoma afterward to run for office. Pruitt's direct appeal to the President has not been reported previously."
Scientists respond with fear and frustration to Supreme Court ruling banning travelers from countries with majority-Muslim populations, The Washington Post, Ben Guarino, Tuesday, 3 July 2018: "The Supreme Court ruled in a 5-to-4 decision last week that President Trump has the authority to ban travelers from countries with majority-Muslim populations. The ban, the latest version of which was issued in late 2017, includes Syria, Libya, Iran, Yemen and Somalia. Chad had been on the list but was removed, and travel restrictions involving North Korea and Venezuela were not challenged. Scientists and science organizations have been opposed to these travel restrictions since the Trump administration's first ban was issued in early 2017. The bans restrict visiting scholars as well as potential students, and researchers say the U.S. scientific community has already lost potential collaborators, trainees and recruits."
Wednesday, 4 July 2018, Day 531:
Great Barrier Reef Imperiled as Heat Worsens Die-Offs, Experts Say, The New York Times, Jacqueline Williams, Wednesday, 4 July 2018: "Scientists have again sounded the alarm about Australia's imperiled Great Barrier Reef, saying that by the 2030s it could see devastating mass bleachings as often as every two years unless greenhouse gas emissions are drastically reduced. 'This would effectively sign the death certificate of one of the world's largest living marine structures,' said Martin Rice, acting chief executive of the Climate Council, a publicly funded Australian research institute. The Great Barrier Reef, the largest coral reef system on earth, was struck in 2016 and 2017 by massive die-offs of coral — caused by extreme ocean temperatures — that erased much of its dazzling color. Scientists said that while the reef would partly recover, it would never look the same again. Nearly a third of the reef's coral were killed, and the damage radically altered its mix of coral species, scientists said. Until late in the 20th century, large-scale coral bleaching events around the world occurred about every 27 years, on average, the Climate Council said in a report published Thursday. Now, it said, the rate is once every six years. If climate change is not curtailed, that timetable will continue to speed up, the report said."
Thursday, 5 July 2018, Day 532:
Scott Pruitt steps down as the head of the Environmental Protection Agency after ethics and management scandals, The Washington Post, Brady Dennis and Juliet Eilperin, Thursday, 5 July 2018: "Scott Pruitt, the former Oklahoma attorney general who relentlessly pursued President Trump's promises of deregulation at the Environmental Protection Agency, resigned Thursday after controversies over his lavish spending, ethical lapses and management decisions eroded the president's confidence in one of his most ardent Cabinet members. Pruitt's reputation as a dogged deregulator and outspoken booster of the president allowed him to weather ethics scandals in recent months, including questions about taxpayer-funded first-class travel, a discounted condominium rental from the wife of a D.C. lobbyist and the installation of a $43,000 soundproof phone booth in his office. But revelations about his behavior continued to mount, including reports that he repeatedly enlisted subordinates to help him search for housing, book personal travel and help search for a six-figure job for his wife. That quest included setting up a call with Chick-fil-A executives in which he discussed his wife's becoming a franchisee, as well as outreach to a conservative judicial group that eventually hired Marlyn Pruitt." See also, E.P.A. Chief Scott Pruitt Resigns Under a Cloud of Ethics Scandals, The New York Times, Coral Davenport, Lisa Friedman, and Maggie Haberman, Thursday, 5 July 2018. See also, Read EPA Administrator Scott Pruitt's resignation letter, The Washington Post, Thursday, 5 July 2018.
Andrew Wheeler, a Former Coal Lobbyist, Will Be the New Acting Head of the Environmental Protection Agency, The New York Times, Coral Davenport, Thursday, 5 July 2018: "The departure of Scott Pruitt, the scandal-plagued former head of the Environmental Protection Agency, means that the agency will be led in the coming months by Mr. Pruitt's deputy, Andrew Wheeler, a former coal lobbyist who shares Mr. Pruitt's zeal to undo environmental regulations. But unlike Mr. Pruitt — who had come to Washington as an outsider and aspiring politician, only to get caught up in a swirl of controversy over his costly first-class travel and security spending — Mr. Wheeler is viewed as a consummate Washington insider who avoids the limelight and has spent years effectively navigating the rules. For that reason, Mr. Wheeler's friends and critics alike say, he could ultimately prove to be more adept than his controversial former boss in the job. 'Many worry Wheeler will be more effective at implementing Trump's anti-environmental agenda than Pruitt was,' said Paul Bledsoe, a former Clinton White House climate adviser, in the wake of the departure…. [Wheeler's] career was built around quietly and incrementally advancing the interests of the fossil-fuel industry, chiefly by weakening or delaying federal regulations." See also, Environmentalists say Andrew Wheeler, Scott Pruitt's replacement as head of the EPA, 'should scare anyone who breathes,' Politico, Eric Wolff, Thursday, 5 July 2018: "The man taking the reins at the Environmental Protection Agency after Scott Pruitt's downfall is a longtime Washington insider and coal lobbyist who is set to pursue the same anti-regulation agenda — only without all of Pruitt's baggage. Andrew Wheeler, sworn in as EPA's deputy administrator in late April after a six-month confirmation battle, has spent decades in what President Donald Trump calls 'the swamp,' first as a top aide to Sen. Jim Inhofe (R-Okla.) at the Environment and Public Works Committee, then as an energy lobbyist for clients such as the politically active coal company Murray Energy."
An Aide to Scott Pruitt Lost Her Job Last Year After Objecting That Retroactive Changes to Official Calendars Could be Illegal, a Former Senior Staffer Said, The New York Times, Coral Davenport, Lisa Friedman, Eric Lipton, and Steve Eder, Thursday, 5 July 2018: "Before he resigned on Thursday, Scott Pruitt, the administrator of the Environmental Protection Agency, was facing new questions about whether aides deleted sensitive information about his meetings from his public schedule and potentially violated the law in doing so. Last summer one of his senior schedulers, Madeline G. Morris, was fired by Mr. Pruitt's former deputy chief of staff, Kevin Chmielewski, who said he let her go because she was questioning the practice of retroactively deleting meetings from the calendar. Mr. Chmielewski has emerged as a harsh critic of Mr. Pruitt after a bitter falling out that led to his departure from the agency as well. Ms. Morris, who started work as Mr. Pruitt's scheduler in June 2017, confirmed Wednesday that she was fired after she raised objections about the deletions, which she believed were illegal, although she said that Mr. Chmielewski did not tell her his reasons for firing her. One case involved the deletion of several of Mr. Pruitt's meetings during a spring 2017 trip to Rome, including one with a controversial cardinal then under investigation for sexual assault." See also, Move to retroactively delete Cardinal George Pell's name from Scott Pruitt's schedule prompted protests from his scheduler, Madeline Morris. Cardinal Pell was later charged with sexual misconduct. The Washington Post, Juliet Eilperin, Brady Dennis, and Josh Dawsey, Thursday, 5 July 2018: "After Environmental Protection Agency Administrator Scott Pruitt returned from a trip to Italy last summer, a newly hired scheduler at the agency was asked to remove a particular name from his calendar: Cardinal George Pell, who had dined with Pruitt in Rome and later was charged with sexual misconduct. Madeline Morris objected to that request and other deletions to the EPA chief's calendar, which she believed could be illegal under federal rules, according to two individuals who spoke on the condition of anonymity to discuss internal agency deliberations. Not long after pushing back against the practice, Morris was dismissed after barely three months on the job."
At a Rally for Montana's Republican Senate Candidate, Trump Taunted Elizabeth Warren, Mocked the #MeToo Movement, and Vouched for President Vladimir Putin of Russia, The New York Times, Emily Cochrane, Thursday, 5 July 2018: "President Trump lobbed personal and derogatory attacks at two Democratic senators, mocked the #MeToo movement and vouched for President Vladimir V. Putin of Russia on Thursday during a freewheeling, raucous rally ostensibly intended to solidify support for Montana's Republican Senate candidate. Taunting Senator Elizabeth Warren, Democrat of Massachusetts, with a refusal to apologize for calling her 'Pocahontas,' Mr. Trump imagined a debate during which he would gently throw an ancestry testing kit at Ms. Warren to make her prove the Native American heritage she has controversially claimed. 'We are going to do it gently because we're the #MeToo generation, so we have to be very careful,' the president said to scattered laughter, adding that he would donate $1 million to charity if Ms. Warren followed through. Mr. Trump, who has faced accusations of sexual assault and harassment, announced earlier in the day that Bill Shine, who was ousted from Fox News over his handling of the network's harassment scandals, would take a position on his administration's communications staff…. [Trump] slammed critics who suggested that he was not prepared for his coming meeting with Mr. Putin in Finland, dismissing Mr. Putin's background as a head of Russia's intelligence service. 'Putin's fine,' Mr. Trump said. 'He's fine. We're all fine. We're people. Will I be prepared? Totally prepared. I've been preparing for this stuff my whole life.'" See also, Trump mocks #MeToo movement at Montana rally, The Washington Post, Felicia Sonmez, Thursday, 5 July 2018.
Bill Shine, Ousted from Fox News Over His Handling of Sexual Harassment Scandals at the Network, Is Named the White House Deputy Chief of Staff for Communications, The New York Times, Maggie Haberman, Thursday, 5 July 2018: "Bill Shine, the former Fox News executive who was pushed out over his handling of sexual harassment scandals at the network, was named the White House deputy chief of staff for communications on Thursday. The move formalizes a job that Mr. Shine has been in since earlier this week, according to White House officials. With no vacant office to work in yet, Mr. Shine has been occupying a desk outside the principal deputy press secretary's office, the officials said. Mr. Shine had been in talks with President Trump about a job since the spring, even playing golf with the president and Sean Hannity, the Fox News host and one of Mr. Shine's close friends. But Mr. Shine had been uncertain that he wanted to make himself a target for fresh scrutiny, people who had talked with him at the time said. Since then, the communications job has evolved into a position that reports directly to the president, overseeing both the press and communications teams. Mr. Trump has made the communications team a target of his ire throughout his time in office, and Mr. Shine is expected to help revamp it." See also, Former Fox News executive Bill Shine joins Trump White House as deputy chief of staff for communications, The Washington Post, Paul Farhi and Felicia Sonmez, Thursday, 5 July 2018: "Shine, who started his two-decade-long career at Fox News as a producer for the show 'Hannity & Colmes,' was ousted from his role as co-president last year after lawsuits suggested he enabled alleged sexual harassment by the network's late chairman and chief executive, Roger Ailes."
Two House Oversight Committee leaders demand details about every migrant child separated from parents, The Washington Post, Colby Itkowitz, Thursday, 5 July 2018: "Two House Oversight Committee leaders are pressing key Trump Cabinet officials for a detailed accounting of the thousands of children separated from their parents since the administration began its 'zero tolerance' policy to prosecute every illegal border crossing. In a bipartisan letter, sent Thursday to Homeland Security Secretary Kirstjen M. Nielsen, Attorney General Jeff Sessions and Health and Human Services Secretary Alex Azar, they make 11 specific requests for information about every single child — including their age, gender, and current location. Since this humanitarian crisis began in April, such details have not been available. 'Like many Americans, we want to ensure that we can reunite children who have been separated from their families as expeditiously as possible,' wrote Rep. Mark Meadows (R-N.C.), chairman of the Government Operations Subcommittee on the Oversight panel and Rep. Elijah E. Cummings (Md.), ranking Democrat on the full Oversight and Government Reform committee." See also, Parents Are Struggling to Reclaim Their Children From the Office of Refugee Resettlement, The New Yorker, Jonathan Blitzer, Thursday, 5 July 2018: "The Trump Administration ended the zero-tolerance policy without a plan for reuniting the children it has taken from their parents (more than twenty-five hundred in the past year) with their families. In late June, the Office of Refugee Resettlement, the division of the Department of Health and Human Services that is in charge of the separated children, had two thousand and fifty-three kids in its custody. The Department is no longer disclosing how many children it is holding, but immigration lawyers at the border say that many parents still don't know where their children are." See also, Trump Administration Is in Chaotic Scramble to Reunify Migrant Families, The New York Times, Caitlin Dickerson, Thursday, 5 July 2018: "Faced with a court-imposed deadline to reunite families separated at the southwest border, federal authorities are calling in volunteers to sort through records and resorting to DNA tests to match children with parents. And they acknowledged for the first time Thursday that of the nearly 3,000 children who are still in federal custody, about 100 are under the age of 5. The family separations, part of an aggressive effort by the Trump administration to deter illegal immigration, have produced a chaotic scramble as officials now face political and judicial pressure to reunite families. Records linking children to their parents have disappeared, and in some cases have been destroyed, according to two officials of the Department of Homeland Security, leaving the authorities struggling to identify connections between family members. The effort is complicated by the fact that two federal agencies are involved in detaining and sheltering migrants, and they did not initially share records with each other. On Friday, the leadership of the Department of Health and Human Services, which shelters the children and must now undertake reunifications, sent out a plea to federal public health workers for help with an exhaustive manual search of records."
Federal Judge John Mendez rejects Trump bid to block California sanctuary laws, Politico, Josh Gerstein and Ted Hesson, Thursday, 5 July 2018: "A federal judge on Thursday rejected the bulk of a Trump administration demand to block three California sanctuary laws, allowing the state to keep in place its most significant legislative measures aimed at countering President Donald Trump's crackdown on illegal immigration. Sacramento-based U.S. District Court Judge John Mendez rejected, for now, the Justice Department's drive to halt a California law that limits the kinds of immigration-related information state and local law enforcement can share with federal officials. The judge also declined DOJ's request to block another law guaranteeing California officials certain information about local and privately run jails that hold immigration detainees in the Golden State. While the ruling is a setback for the Trump administration's attempt to enforce immigration laws in states where leaders favor more liberal policies, Mendez did block parts of one of the disputed California laws, including provisions that banned private employers from voluntarily cooperating with immigration officials and from re-verifying the legal work status of employees. Mendez, an appointee of President George W. Bush, took a narrow view of state and local governments' obligations to allow their employees to assist federal immigration officials. He said California had broad authority to limit use of its resources for immigration enforcement." See also, Federal judge John Mendez largely rebuffs Justice Department bid to block California's 'sanctuary' laws, The Washington Post, Matt Zapotosky, Thursday, 5 July 2018: "A federal judge on Thursday mostly rejected a bid by the Justice Department to block California's 'sanctuary state' laws, which enact policies friendly to undocumented immigrants. In a 60-page ruling, U.S. District Judge John A. Mendez said most of the laws, which limit how state businesses and law enforcement agencies can work with federal immigration authorities, are 'permissible exercises of California's sovereign power.' The judge said California was within its rights to allow state authorities to inspect immigrant detention facilities, and to bar state law enforcement agencies from providing release dates or other personal information to federal immigration authorities. He blocked portions of one law which imposed heavy fines on businesses that gave immigration authorities access to their facilities and records without a court order."
Judge Aleta Trauger stops Tennessee from taking people's drivers licenses away just because they're poor, DailyKos, Laura Clawson, Thursday, 5 July 2018: "It's a little bit less of a crime to be poor in Tennessee following a federal district judge's order to the state to stop taking people's drivers licenses because they owe court fees they can't pay. It's one of those laws that reveals itself to be not about justice but about punishing poor people for being poor—being unable to pay fees leads to losing your legal right to drive, which makes it difficult to impossible to work in a state where more than 94 percent of people drive to work, which means you have even less money to pay the fees you couldn't pay to begin with. But Judge Aleta Trauger ruled that this is unconstitutional."
The Environmental Protection Agency Has Drafted a Far Less Strict Replacement for the Clean Power Plan, President Obama's Signature Climate Change Policy, The New York Times, Lisa Friedman and Brad Plumer, Thursday, 5 July 2018: "The Trump administration has drafted a new proposal to regulate carbon dioxide emissions from coal-fired power plants, one that is far less stringent than the climate plan finalized in 2015 by former President Barack Obama. In writing the new rule to replace Mr. Obama's Clean Power Plan, the Trump administration is essentially accepting, for now, that the federal government is legally obligated to take action to address the greenhouse gases that cause global warming, even as President Trump has dismissed established climate science. But the new proposal is likely to spur only small tweaks to the nation's energy system…. The new proposal, according to industry attorneys familiar with the plan, would recommend regulating the emissions of individual coal plants, which would call for modest upgrades, such as improving efficiency or substituting fuel. That contrasts with the more ambitious goals of the Clean Power Plan, which encouraged utilities to make broader systemic changes to cut emissions, such as switching from coal to natural gas or renewable power."
U.S. Army moves to discharge dozens of immigrant recruits and reservists who enlisted through program that promised them a path to citizenship, Associated Press, Martha Mendoza and Garance Burke, Thursday, 5 July 2018: "Dozens of immigrant recruits and reservists [are] struggling with abrupt, often unexplained military discharges and canceled contracts. They traded being willing to risk their lives for the prospect of U.S. citizenship, a timeworn exchange that's drawn linguists, medical specialists and thousands of other immigrants to the military since the Revolutionary War…. It is unclear how many men and women who enlisted through the special recruitment program have been ousted from the Army, but immigration attorneys told the AP that they know of more than 40 recruits who recently have been discharged or whose status has become questionable." See also, Ban Was Lifted, but Transgender Recruits Still Can't Join the Military. They Hit Endless Red Tape. The New York Times, Dave Philipps, Thursday, 5 July 2018.
Trump's Trade War With China Is Officially Underway, The New York Times, Ana Swanson, Thursday, 5 July 2018: "A trade war between the world's two largest economies officially began on Friday morning as the Trump administration followed through with its threat to impose tariffs on $34 billion worth of Chinese products, a significant escalation of a fight that could hurt companies and consumers in both the United States and China. The penalties, which went into effect at 12:01 a.m., prompted quick retaliation by Beijing, which said it immediately put its own similarly sized tariffs on American goods. Previously, the Chinese government had said it would tax pork, soybeans and automobiles, among other products."