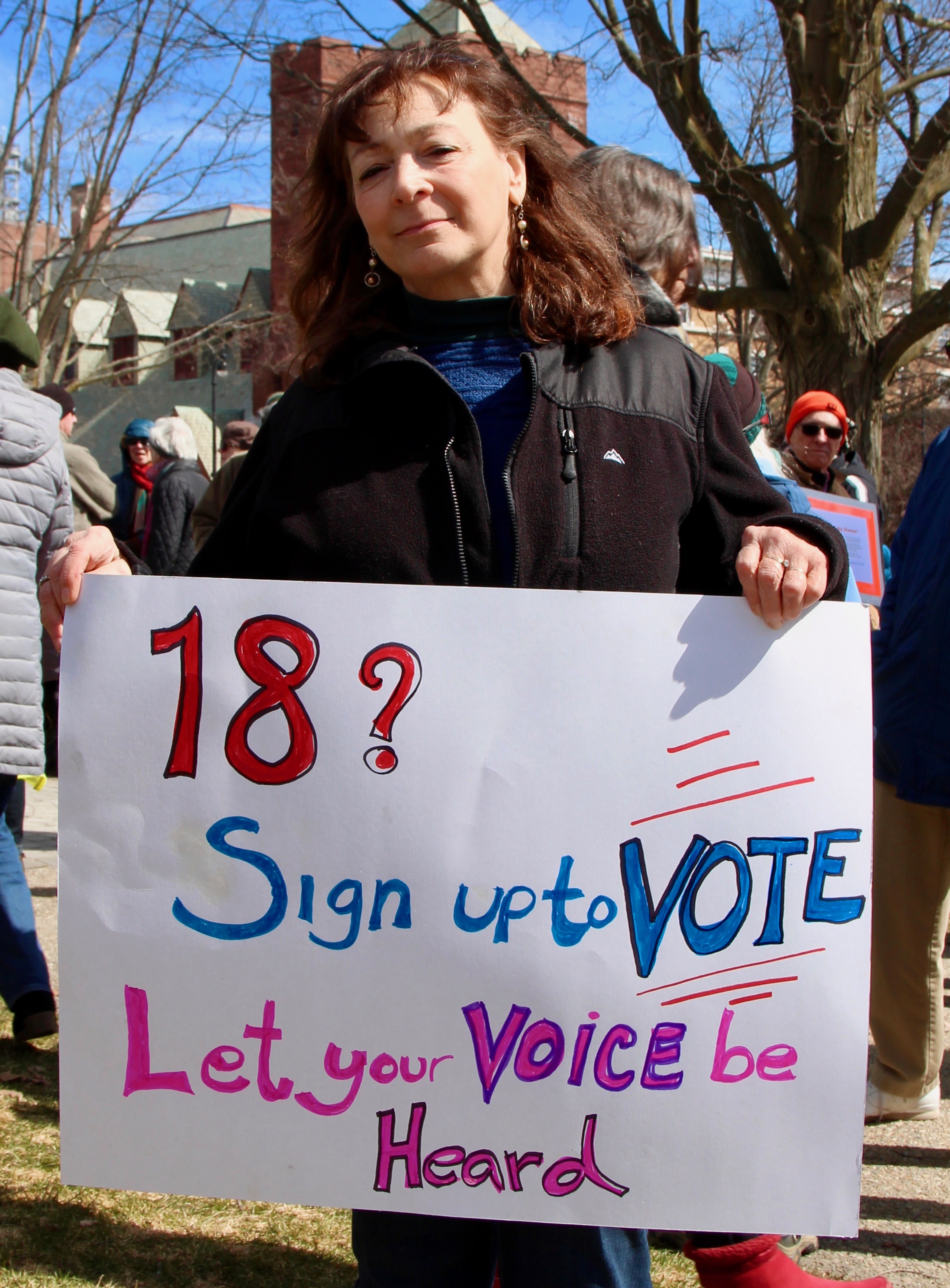 March for Our Lives, Pittsfield, MA, Saturday, 24 March 2018
Keeping Track (of some things), Staying Outraged (it is possible), and Resisting (it's essential)
Passages in bold in the body of the texts below are my emphasis. This is an ongoing project, and I update the site frequently. Because I try to stay focused on what has actually happened, I usually let the news 'settle' a day or so before posting. I hope readers will peruse the articles in full for a better understanding of the issues and their context; our democracy and our future depend on citizens who can distinguish between facts and falsehoods and who are engaged in the political process.
Friday, 22 June 2018, Day 519:
In Ruling on Cellphone Location Data, Supreme Court Makes Statement on Digital Privacy, The New York Times, Adam Liptak, Friday, 22 June 2018: "In a major statement on privacy in the digital age, the Supreme Court ruled on Friday that the government generally needs a warrant to collect troves of location data about the customers of cellphone companies. 'We decline to grant the state unrestricted access to a wireless carrier's database of physical location information,' Chief Justice John G. Roberts Jr. wrote for the majority. The 5-to-4 ruling will protect 'deeply revealing' records associated with 400 million devices, the chief justice wrote. It did not matter, he wrote, that the records were in the hands of a third party. That aspect of the ruling was a significant break from earlier decisions. The Constitution must take account of vast technological changes, Chief Justice Roberts wrote, noting that digital data can provide a comprehensive, detailed — and intrusive — overview of private affairs that would have been impossible to imagine not long ago. The decision made exceptions for emergencies like bomb threats and child abductions. 'Such exigencies,' he wrote, 'include the need to pursue a fleeing suspect, protect individuals who are threatened with imminent harm or prevent the imminent destruction of evidence.' In general, though, the authorities must now seek a warrant for cell tower location information and, the logic of the decision suggests, other kinds of digital data that provide a detailed look at a person's private life. The decision thus has implications for all kinds of personal information held by third parties, including email and text messages, internet searches, and bank and credit card records. But Chief Justice Roberts said the ruling had limits." See also, The Supreme Court Takes On the Police Use of Cellphone Records, The New York Times, Alex Abdo and Kate Klonick, Friday, 22 June 2018: "The Supreme Court has handed down what may be the most important privacy case of the digital era, ruling on Friday that the government cannot force cellphone service providers to hand over their users' locations over significant periods of time without first getting a warrant. The decision, United States v. Carpenter, is the latest in a steady drip of rulings by the Supreme Court over the past two decades that are gradually defining the Fourth Amendment right to privacy in a world of ever-evolving technology…. The question the case presented was deceptively simple: Can the police collect your cellphone location data for days on end without a warrant? A 5-4 majority of the Supreme Court said no. But even in reaching what it characterized as a 'narrow' conclusion, the court took a significant step that will shape the constitutional right to privacy in the modern age. Specifically, the court cut back on the scope and reach of the 'third-party doctrine' — a legal presumption, embraced by the Supreme Court in the 1970s and '80s, that if you share information with a third party, you have forfeited your right to privacy regarding that information. It's the rationale used to justify the police's warrantless access to the garbage you place out on the street, to your call records and to your bank statements." See also, In Carpenter v. United States, the Supreme Court Rules, Narrowly, For Digital Privacy, The New Yorker, Amy Davidson Sorkin, Friday, 22 June 2018: "Everyone—or almost everyone—in America has a cell phone, but, in a 5–4 decision on Friday, the Supreme Court decided that this does not mean that all Americans are subject to close surveillance of their movements, conducted without a warrant, stretching back in time, in some cases, for years. Chief Justice John Roberts wrote the decision in Timothy Ivory Carpenter v. United States; he was joined by Justices Ruth Bader Ginsburg, Stephen Breyer, Sonia Sotomayor, and Elena Kagan. One of the strengths of the decision is that it recognizes its own complexity—placing the imperfection of precedents that deal with things called 'phones,' which are far from smartphones, alongside the enduring power of the Founders' belief in the right to be secure in one's papers and effects—and doesn't back away. Carpenter is not quite a full manifesto for digital privacy, but it insists that there is a new discussion to be had, and it tries to set the terms. It almost certainly marks the beginning of a series of cases on the private data held by cell-phone-service providers, social-media companies, and app makers. And it is a pretty good start." See also, Supreme Court Rules That the U.S. Government Must Get a Warrant Before Accessing Cellphone Location Data, The Intercept, Alex Emmons, Friday, 22 June 2018: "In a landmark privacy decision, the Supreme Court ruled 5-4 on Friday that police must get a warrant in order to obtain your cellphone's location data over an extended period of time. The decision is a major victory for privacy advocates, who have long argued that the law has failed to keep pace with the amount of intrusive data we voluntarily hand over to private companies. Chief Justice John Roberts joined the liberal justices on the court, declaring that even though the data is held by a third party, the government still needs a warrant to obtain it."
Why the United States Needs More Immigrants. The Census Bureau published new data that show why the United States will need more immigrants, not fewer, in the coming decades. The New Yorker, John Cassidy, Friday, 22 June 2018: "As controversy continued to rage on Thursday about the Trump Administration's policy of separating migrant families at the southern border, the Census Bureau published new data that show why the United States will need more immigrants, not fewer, in the coming decades. Demographers and economists have been warning that the aging baby-boomer population presents a serious challenge to the nation's finances, as the ratio of seniors to working-age adults—the age-dependency ratio—rises. The reason is straightforward: Social Security and Medicare are largely financed on a pay-as-you-go basis, which means that some of the taxes paid by current workers are transferred to current retirees. If the dependency ratio rises, the financial burden on the working-age population also increases…. In the long run, welcoming immigrants is a good investment for the United States. The entire history of the country demonstrates this fact. But the current President wants to go in the opposite direction. Along with introducing draconian measures to curb the influx of undocumented migrants, he wants to slash legal immigration. At the moment, the United States grants permanent-resident status to about a million people a year, and many of these folks go on to become U.S. citizens. Trump wants to cut this number in half, roughly speaking. His policy isn't driven by economics, of course. As he more or less admitted earlier this year, with his derisive comments about immigrants from 'shithole countries,' it is driven by racism and a desire to resist the emergence of a nonwhite majority in the United States—a transformation that is inevitable and necessary."
In Tense White House Meetings, Trump Officials Debate How to Process Migrant Families, The New York Times, Michael D. Shear, Ron Nixon, and Katie Benner, Friday, 22 June 2018: "Tense arguments broke out at the White House over the past two days as top government officials clashed over how to carry out President Trump's executive order on keeping together immigrant families at the Mexican border, according to four people familiar with the meetings. The disputes started Thursday night. They continued Friday as Kevin K. McAleenan, the commissioner of Customs and Border Protection, returned to the White House to question how his agency was supposed to detain parents and children together when the law requires that children not be held indefinitely in jail. The bureaucratic battles threatened to undermine Mr. Trump as his administration tries to counter a political crisis driven by heartbreaking images and recordings of crying migrant children separated from their parents and sent off to shelters. On Friday, the president was defiant. 'We cannot allow our Country to be overrun by illegal immigrants as the Democrats tell their phony stories of sadness and grief,' Mr. Trump said on Twitter. But inside the White House, the arguments echoed the chaos at American airports after Mr. Trump's ban on travel from predominantly Muslim countries. The ban, issued days after he took office, surprised Border Patrol agents and State Department consular officials. Officials at the southwestern border are struggling to obey Mr. Trump's demand to prosecute people who illegally enter the United States — ending what the president has reviled as a 'catch and release' policy — while also following an executive order he issued Wednesday to keep migrant families together as they are processed in courts. But as with the case of the travel ban, the reality of a vastly complicated bureaucratic system is colliding head-on with Mr. Trump's shoot-from-the-hip use of executive power."
Continue reading Week 75, Friday, 22 June – Thursday, 28 June 2018 (Days 512-518)
Why Are Parents Making Treacherous Treks With Their Children to the U.S. Border?  The New York Times, Julie Turkewitz and Jose A. Del Real, Friday, 22 June 2018: "Trump hopes to deter the flow of migrants into the United States, but near the busy border crossing in Arizona, some said that the threat of separation from their children would not deter them…. 'Why would you undertake such a dangerous journey?' said Magdalena Escobedo, 32, who works at the migrant shelter here in Tucson, called Casa Alitas. 'When you've got a gun to your head, people threatening to rape your daughter, extort your business, force your son to work for the cartels. What would you do?'"
Trump Highlights Immigrant Crime to Defend His Border Policy. Statistics Don't Back Him Up. The New York Times,  Katie Rogers, Friday, 22 June 2018: "President Trump hit back on Friday at criticism over his administration's hard-line stance on immigration, lamenting the 'death and destruction caused by people that shouldn't be here,' and accusing Democrats and the news media of not caring. While statistics show that native-born Americans commit crimes at higher rates than immigrants, Mr. Trump has long pushed a narrative that suggests otherwise…. 'Americans have long believed that immigrants are more likely than natives to commit crimes and that rising immigration leads to rising crime,' the National Academy of Sciences wrote in a 2015 study. 'This belief is remarkably resilient to the contrary evidence that immigrants are in fact much less likely than natives to commit crimes.'… The Marshall Project, in a 2018 analysis of data from 200 metropolitan areas over the last few decades, found that crime has fallen despite the immigrant population increasing. Other studies have found that the immigration has little effect on crime. Inviting the families to speak to the public was another strategy for the president, who has railed against undocumented immigrants since his days on the campaign trail and whose rhetoric about them has intensified in recent days. He has branded many illegal immigrants as 'murderers and thieves' who want to 'infest our country.'"
50 years later, the new Poor People's Campaign lays out a political strategy beyond its Washington rally, The Washington Post, Marissa J. Lang, Friday, 22 June 2018: "Before the sun rose on the final morning of a 40-day protest blitz for poor people's rights, the Rev. William Barber was wide awake. He was intently watching the television in his Washington hotel room, scanning the crawl of headlines for the latest in the Trump administration's efforts to enforce a 'zero tolerance' immigration policy that separated more than 2,500 immigrant children from their parents. As he watched, Barber shook his head, closed his eyes, gathered his thoughts. 'We need to take the risk of believing that people have not lost their humanity,' he said Thursday. 'Lots of people — poor people, white people, black people, Latinos — they've been bamboozled into thinking we're all on different teams. We need to love them enough to go there and show them the truth.' This idea is at the core of the new Poor People's Campaign, the resurrection of a movement organized by the Rev. Martin Luther King Jr. before his death in 1968: Meet people where they are and trust that given facts and, yes, love, they will see the intricate web of issues that connect poverty, racism and voter suppression. It is a belief that Barber and his co-organizer, the Rev. Liz Theoharis, said will guide them as they build a voting bloc of poor people who can lobby for legislation on a local and national scale."
House passes bipartisan package to fight opioid crisis, The Washington Post, Katie Zezima, Friday, 22 June 2018: "The House on Friday passed a sweeping package to fight the opioid crisis, with members of both parties approving measures that include encouraging nonaddictive pain treatment and fighting the rise of synthetic drugs such as fentanyl. The suite of legislation, comprising nearly 60 bills, passed the House 396 to 14. It would allow for increased research for nonaddictive pain medications, allow physician assistants and nurse practitioners to prescribe medications that treat opioid addiction and create opioid recovery centers."
Democratic Senator Chuck Schumer Is Considering Wall Street Insider Katheryn Rosen for High-Level Seat on the Securities and Exchange Commission (SEC), The Intercept, David Dayen, Friday, 22 June 2018: "Democrats vowed in their 'Better Deal' campaign platform to 'end the revolving-door in Washington and rein in the influence of high-powered Washington insiders.' Progressives have been in an ongoing battle to get Senate Minority Leader Chuck Schumer, D-N.Y., to hold up that bargain, but it's been an ordeal. Federal regulatory commissions must contain members from both parties, giving Schumer, as Democratic Senate leader, wide latitude to suggest candidates that the president then nominates. One of the highest-stakes slots is at the Securities and Exchange Commission, where Kara Stein, a hard-charging bank reformer, must vacate the seat by the end of the year because her term has expired.  Schumer is considering recommending Katheryn Rosen, who went from JPMorgan Chase to stints in Congress and the Treasury Department and then to BlackRock, for the seat, according to three sources close to the confirmation process, including a senior Senate staffer. Two other Capitol Hill sources said Rosen was not necessarily the leading choice. All the sources requested anonymity because of continuing working relationships with the SEC and in Congress, and because they were not authorized to speak on the record. Financial reformers expressed disbelief that Rosen would make the final round, regardless of whether she gets the nod. 'The fact that Katheryn Rosen is on the list at all is a slap in the face to everybody who worked hard for financial reform and are trying to prevent Trump from destroying financial reform,' said one of the three sources. 'She's a poster child for everything that's wrong with the swamp.' Last month, over 30 progressive groups urged Schumer to select bank regulators with a 'demonstrated willingness to stand up to Wall Street,' especially when replacing someone like Stein, who embodied those very principles."
Saturday, 23 June 2018, Day 520:
Who Is Really Crossing the U.S. Border, and Why They Are Coming, Lawfare, Stephanie Leutert, Saturday, 23 June 2018: "[W]hile the current administration has tried to tie Central American migrants to MS-13, government data reveals that gang members crossing irregularly are the rare exceptions. Since the Trump administration took office, the Border Patrol has detected fewer gang members crossing irregularly than during the Obama administration. In FY2017, these detections amounted to 0.075 percent of the total number of migrants (228 MS-13 members out of 303,916 total migrants). When combined with MS-13's rival, the Barrio 18 gang, the number rises only slightly to 0.095 percent. This is far from the 'infestation' of violent gang members described by the president. The current crisis hasn't been caused by a sudden influx of migration, either. The peak in apprehensions of irregular migrants actually took place some 17 years ago, in FY2000. At that point, U.S. Border Patrol agents caught 1,643,679 migrants attempting to enter the United States without the appropriate papers, compared to 303,916 apprehensions in this past fiscal year. But this decreasing number of apprehensions should not be confused with a gentler, kinder approach to border security—in fact, just the opposite. Since 2001, the number of Border Patrol agents along the southwest border has nearly doubled from 9,147 agents to 16,605. Border fencing also increased: to date, there are 705 miles of fencing along the 2,000-mile long U.S.-Mexico border. The face of migration has also changed. Back in 2000, Mexican nationals made up 98 percent of the total migrants and Central Americans (referring to Honduran, Guatemalan, and Salvadoran migrants) only one percent. Today, Central Americans make up closer to 50 percent…. [T]here's no one simple description of a migrant. Across the U.S. political spectrum, politicians and activists present Central American migrants as either dreamers or law-breakers; those fleeing violence or those abusing immigration loopholes; crying toddlers or MS-13 gangsters. These labels force migrants into rigid categories, losing the diversity of their reasons and their wide-ranging demographics and backgrounds. To understand Central American migrants means first abandoning the depiction of the 'Northern Triangle' of Central America as a homogenous region. All three countries have different histories and contemporary political realities, along with varying security and development indicators that help explain today's situation…. despite the administration's claims to the contrary, the numbers of Central Americans arriving at the border are not near the all-time highs, and there is no infestation or invasion of MS-13. What the data shows instead is something far less dramatic: men, women, families, and children who are arriving to seek safety and the basic American dream of a better life."
Trump administration says it has plan to reunite more than 2,000 children separated from their parents still in its custody, The Washington Post, Nick Miroff, Saturday, 23 June 2018: "In a statement issued late Saturday night, the Trump administration said it has 2,053 'separated minors' in its custody, and a formal process has been established to reunite them with their parents prior to deportation. The joint declaration by the Department of Homeland Security and the Department of Health and Human Services came three days after Trump signed a hastily-written executive order to quell public outcry and halt his administration's practice of taking away the children of migrant parents who cross the ­U.S.-Mexico border illegally. The Saturday night communique said 522 migrant children have already been returned to their parents, and the government would allow mothers and fathers facing deportation to request that their children are sent home with them." See also, More Than 500 Migrant Children Are Reunited With Adults, the Department of Homeland Security says, The New York Times, Jennifer Jett and Mihir Zaveri, published on Sunday, 24 June 2018.
Trump business dealings raise 'serious concerns,' ethics office says, The Washington Post, Jonathan O'Connell, Saturday, 23 June 2018: "The government's top ethics official said some of President Trump's business dealings 'raise serious concerns' but that the office lacks the authority to launch an investigation requested last month by congressional Democrats. More than 60 Democrats, led by Rep. David N. Cicilline of Rhode Island, had written to the Office of Government Ethics in May asking that the agency investigate reported Chinese government support of an Indonesian real estate development that will include several Trump-brand properties. David J. Apol, acting director and general counsel at the ethics office, responded last week that he thought concern was warranted. But because the president is not bound by the same conflict-of-interest laws as most federal employees, he said Congress is responsible for holding the president in check. 'Under the Constitution, the primary authority to oversee the President's ethics rests with Congress and ultimately, with the American people,' Apol wrote in his Monday response."
Sunday, 24 June 2018, Day 521:
Trump Calls for Depriving Immigrants Who Illegally Cross the Border of Due Process Rights, The New York Times, Katie Rogers and Sheryl Gay Stolberg, Sunday, 24 June 2018: "President Trump unleashed an aggressive attack Sunday on unauthorized immigrants and the judicial system that handles them, saying that those who cross into the United States illegally should be sent back immediately without due process or an appearance before a judge. 'We cannot allow all of these people to invade our Country,' Mr. Trump tweeted while on the way to his golf course in Virginia. 'When somebody comes in, we must immediately, with no Judges or Court Cases, bring them back from where they came.' It was another twist in a head-spinning series of developments on immigration since the administration announced a 'zero tolerance' policy two months ago, leading to the separation of children from parents who cross the border illegally and an outcry from Democrats and many Republicans…. Mr. Trump's call to ignore due process faced both constitutional questions and dissension from Republicans in Congress, some of whom have insisted that the number of judges be increased so migrant families can have their cases heard more quickly. Federal immigration courts faced a backlog of more than 700,000 cases in May, and cases can take months or years to be heard."
Medicare Allows More Benefits for Chronically Ill, Aiming to Improve Care for Millions, The New York Times, Robert Pear, Sunday, 24 June 2018: "Congress and the Trump administration are revamping Medicare to provide extra benefits to people with multiple chronic illnesses, a significant departure from the program's traditional focus that aims to create a new model of care for millions of older Americans. The changes — reflected in a new law and in official guidance from the Department of Health and Human Services — tackle a vexing and costly problem in American health care: how to deal with long-term illnesses that can build on one another, and the social factors outside the reach of traditional medicine that can contribute to them, like nutrition, transportation and housing. To that end, the additional benefits can include social and medical services, home improvements like wheelchair ramps, transportation to doctor's offices and home delivery of hot meals. The new law is a rare instance of bipartisan cooperation on a major policy initiative, embraced by members of Congress from both parties. The changes are also supported by Medicare officials and insurance companies that operate the fast-growing Medicare Advantage plans serving one-third of the 60 million Medicare beneficiaries. 'This is a way to update and strengthen Medicare,' said Senator Ron Wyden, Democrat of Oregon and an architect of the law, the Chronic Care Act, which was included in budget legislation signed recently by President Trump. 'It begins a transformational change in the way Medicare works for seniors who suffer from chronic conditions. More of them will be able to receive care at home, so they can stay independent and out of the hospital.'"
David Bossie, Trump's Former Deputy Campaign Manager, Says to Black Fox News Guest: 'You're Out of Your Cotton-Picking Mind,' Slate, Daniel Politi, Sunday, 24 June 2018:  "A heated discussion on Fox News took a turn into the surreal Sunday morning when Donald Trump's former deputy campaign manager, David Bossie, used a racial insult to deny that there was racism in the White House. The already heated exchange with Democratic strategist Joel Payne, who is black, reached an apex when he accused the administration and its allies of using coded racism to appeal to a certain segment of the population. 'You don't have to be a golden retriever to hear all the dog whistles coming out of the white House these days and from my friend David here,' Payne said. Bossie then went on to note how former CIA director Michael Hayden compared the child detention centers for migrant children to Auschwitz. 'Yeah, that liberal Michael Hayden,' Payne responded sarcastically. 'You are out of your cotton-picking mind!' Bossie went on to say for some reason. Payne immediately reacted. 'Cotton-picking mind?' Payne said, seemingly shocked at what he just heard. 'Brother, let me tell you something. Let me tell you something, I got some relatives who picked cotton, okay?' The former Trump adviser then proceeded to act offended that Payne would imply his words amounted to a racially charged insult. Host Ed Henry then tried to take control of the back-and-forth and repeatedly seemed to try to imply that Bossie meant to simply say Payne was 'out of your mind.'"
Monday, 25 June 2018, Day 522:
Border Officials Temporarily Suspend Handing Over Migrant Families to Prosecutors, The New York Times, Ron Nixon, Erica L. Green, and Michael D. Shear, Monday, 25 June 2018: "The nation's top border security official said Monday that his agency has temporarily stopped handing over migrant adults who cross the Mexican border with children to prosecutors, undercutting claims by other Trump administration officials that 'zero tolerance' for illegal immigration is still in place. Kevin K. McAleenan, the commissioner of Customs and Border Protection, said his agency and the Justice Department should agree on a policy 'where adults who bring their kids across the border — who violate our laws and risk their lives at the border — can be prosecuted without an extended separation from their children.' Because Immigration and Customs Enforcement does not have enough detention space for the surge of families crossing the border, many families will be quickly released, with a promise to return for a court hearing. Mr. McAleenan's decision, conveyed to reporters at a processing center here, will at least temporarily revive a 'catch and release' approach used during the Obama administration. President Trump has repeatedly railed against that approach, saying it invited waves of crime and violence into the United States. Sarah Huckabee Sanders, the White House press secretary, said that while there has been no official change in the zero-tolerance policy, the reality is that the government does not have the ability to detain all of the families crossing the border illegally." See also, With prosecutions of parents suspended, status quo returns at the border, The Washington Post, Nick Miroff, Monday, 25 June 2018: "Trump administration officials had vowed to put an end to the "catch-and-release" practices that have allowed parents with children to be freed from detention while awaiting court proceedings. But with separations mostly halted and little space to hold families, U.S. border officials are essentially once more back where they started before Trump's 'zero tolerance' crackdown. Until more family detention facilities are built, the reality is that most parents with children … will be let go. Kevin McAleenan, the commissioner of U.S. Customs and Border Protection, confirmed Monday that immediately after Trump's order, he directed field officers to suspend criminal prosecutions for adults who arrive with children." See also, Most immigrants who enter the US do so legally, federal data shows, The Washington Post, Christopher Ingraham, Monday, 25 June 2018: "President Trump this weekend lamented what he characterized as an invasion of undocumented immigrants that is 'very unfair to all of those people who have gone through the system legally and are waiting on line for years.'  But illegal border crossings represent a relatively small share of the number of people who enter the country, legally or otherwise, in any given year, according to the Department of Homeland Security's data. A September 2017 Office of Immigration Statistics data brief estimated that in fiscal year 2016, the latest year for which complete data is available, there were 170,000 successful illegal border crossings occurring outside of authorized ports of entry. That's down roughly 90 percent since 2000, and it's about one-seventh of the roughly 1.2 million immigrants who obtained lawful permanent resident status via a green card, according to the Department of Homeland Security." See also, Trump's misconceptions about immigration courts and law, The Washington Post, Salvador Rizzo, published on Tuesday, 26 June 2018. See also, Migrants Say They Are Still Being Threatened With Separation From Their Children, The New Yorker, Sarah Stillman, published on Tuesday, 26 June 2018. See also, Trump Aims to Dismantle Protections for Immigrant Children and to Radically Expand the Family Detention System, a Leaked Email From Kirstjen Nielsen Reveals, The Intercept, Ryan Devereaux, published on Tuesday, 26 June 2018.
Supreme Court Upholds Texas Voting Maps, Reversing Trial Court Rulings That the Maps Discriminate Against Voters on the Basis of Race, The New York Times, Adam Liptak, Monday, 25 June 2018: "The Supreme Court on Monday largely upheld an array of congressional and state legislative districts in Texas, reversing trial court rulings that said the districts violated the Constitution and the Voting Rights Act by discriminating against voters on the basis of race. The vote was 5 to 4, with the court's more conservative members in the majority. Justice Samuel A. Alito Jr., writing for the majority, said the trial court had 'committed a fundamental legal error' by requiring state officials to justify their use of voting maps that had been largely drawn by the trial court itself. In dissent, Justice Sonia Sotomayor wrote that the majority opinion represented a dark day for voting rights. The Constitution and the Voting Rights Act 'secure for all voters in our country, regardless of race, the right to equal participation in our political processes,' she wrote. 'Those guarantees mean little, however, if courts do not remain vigilant in curbing states' efforts to undermine the ability of minority voters to meaningfully exercise that right. The court today does great damage to that right of equal opportunity,' she wrote. 'Not because it denies the existence of that right, but because it refuses its enforcement.'" See also, Supreme Court upholds Texas redistricting maps that a lower court said discriminated against black and Hispanic voters, The Washington Post, Robert Barnes, Monday, 25 June 2018.
Supreme Court Won't Hear North Carolina Partisan Gerrymandering Case, The New York Times, Adam Liptak, Monday, 25 June 2018: "The Supreme Court passed up an opportunity on Monday to take another look at whether the Constitution bars extreme partisan gerrymandering, returning a case from North Carolina to a trial court there for a further examination of whether the challengers had suffered the sort of direct injury that would give them standing to sue. The move followed two decisions last week that sidestepped the main issues in partisan gerrymandering cases from Wisconsin and Maryland. The new case was an appeal from a decision in January by a three-judge panel of a Federal District Court in North Carolina. The ruling found that Republican legislators there had violated the Constitution by drawing the districts to hurt the electoral chances of Democratic candidates. The decision was the first from a federal court to strike down a congressional map as a partisan gerrymander."
Supreme Court Justices Send Clash Between Florist and Gay Couple Back to the Lower Courts, The New York Times, Adam Liptak, Monday, 25 June 2018: "The Supreme Court on Monday said it would not consider sequels to its decisions this month on a baker who refused to serve a gay couple and on challenges to voting maps warped by politics. In a pair of one-sentence orders, the court instead sent appeals in similar disputes back to lower courts for further proceedings, passing up opportunities to clarify its inconclusive rulings in some of the most closely watched cases this term. One order told a lower court to reconsider the case of a florist in Washington State who had refused to create a floral arrangement for a same-sex wedding. The justices vacated a decision against the florist from the Washington Supreme Court and instructed it to take a fresh look at the dispute in light of this month's ruling in a similar dispute involving the baker, Jack Phillips of Colorado."
I've Been Reporting on MS-13 for a Year. Here Are the 5 Things Trump Gets Most Wrong. ProPublica, Hannah Dreier, Monday, 25 June 2018: "I'm spending the year reporting on MS-13 members and their associates. I've been combing through their text messages. I'm talking with the detectives building cases against killers not yet old enough to buy cigarettes. And I've been spending long evenings with the gang's victims, who often start crying as soon as they start talking about the violence that has marred their lives. Everyone agrees the gang is bloodthirsty. Most of the other assertions I've heard from the Trump administration this year about MS-13 have almost no connection to what I'm seeing on the ground. 1. MS-13 is not organizing to foil immigration law…. 2. MS-13 is not posing as fake families at the border…. 3. MS-13 is sticking around, but it's not growing…. 4. MS-13 is preying on a specific community, not the country at large…. 5. Immigration raids and deportation can only go so far."
A protest movement shut down an ICE (Immigration and Customs Enforcement) facility in Portland, Oregon–and protests are spreading to other cities, The Washington Post, Cleve R. Wootson Jr., Monday, 25 June 2018: "It started as a candlelight vigil for immigrant children who had been separated from their parents while crossing into the United States. A few dozen demonstrators gathered in front of the nondescript Immigration and Customs Enforcement facility in southwest Portland on June 17. After the candles were blown out, some of the demonstrators decided to stay, stumbling onto a more effective form of protest with a simple line of reasoning: ICE cannot deport people if immigration judges, lawyers and litigants cannot physically enter its facilities. A week later, the number of people outside the facility has ballooned, blockading the government building around the clock with their bodies, hastily scrawled poster board signs and a tandem bicycle. By Monday morning, a Federal Protective Services spokesman told The Washington Post, the only people inside the facility were government officials making sure the doors were securely locked. Occupy Ice PDX was born. Buoyed by their success, organizers spread the word to like-minded people in other immigration hubs…. Demonstrators in other cities mobilized to duplicate the protest method."
How Voting Laws Have Changed Since 2016, ProPublica, Ally J. Levine and Blake Paterson, Monday, 25 June 2018: "State legislatures have enacted more than 500 pieces of legislation related to voting since the 2016 election, according to data collected by the National Conference of State Legislatures. Nearly every state has changed something about its voting process. Some changes, like the court-mandated redistricting of Pennsylvania's congressional districts, have the potential to radically alter the political landscape, but most changes are small, like H.B. 149 in Idaho, which adds concealed carry licenses to a list of acceptable voter identification documents. While some laws are designed to make voting easier and others can make it harder, any change has the potential to sow confusion. Uncertainty about the law can slow down voting, or even result in lost votes if the changes come too close to an election or if poll workers or voters are unsure about what laws are in effect."
A New Revolution in Mexico. Sick of corruption and of Trump, voters embrace the maverick leftist Andrés Manuel López Obrador. The New Yorker, Jon Lee Anderson, Monday, 25 June 2018: "The first time that Andrés Manuel López Obrador ran for President of Mexico, in 2006, he inspired such devotion among his partisans that they sometimes stuck notes in his pockets, inscribed with their hopes for their families. In an age defined by globalism, he was an advocate of the working class—and also a critic of the PRI, the party that has ruthlessly dominated national politics for much of the past century. In the election, his voters' fervor was evidently not enough; he lost, by a tiny margin. The second time he ran, in 2012, the enthusiasm was the same, and so was the outcome. Now, though, Mexico is in crisis—beset from inside by corruption and drug violence, and from outside by the antagonism of the Trump Administration. There are new Presidential elections on July 1st, and López Obrador is running on a promise to remake Mexico in the spirit of its founding revolutionaries. If the polls can be believed, he is almost certain to win."
Environmental Protection Agency Administrator Scott Pruitt is facing a new probe into claims he retaliated against EPA staffers who questioned some of his decisions, The Washington Post, Juliet Elperin and Brady Dennis, Monday, 25 June 2018: "The U.S. Office of Special Counsel is investigating whether Environmental Protection Agency Administrator Scott Pruitt retaliated against staffers who questioned his spending and management decisions, according to three individuals familiar with the probe. During Pruitt's tenure, the EPA has reassigned or taken administrative action against several career officials and one political appointee who had objected to the way he was spending taxpayer funds or using the perks of his office, these individuals said. Attorneys from the Office of Special Counsel, which responds to whistleblower complaints from federal employees and can choose to prosecute cases, is in the process of speaking to a half-dozen current and former employees as part of the case, according to Kevin Chmielewski, Pruitt's former deputy chief of staff operations. The office is taking the matter 'extremely seriously,' Chmielewski said in an interview Monday. Politico first reported the probe was underway."
The owner of the Red Hen restaurant (in Lexington, Virginia) explains why she asked Sarah Huckabee Sanders to leave, The Washington Post, Avi Selk and Sarah Murray, Monday, 25 June 2018: "'I'm not a huge fan of confrontation,' Wilkinson said. 'I have a business, and I want the business to thrive. This feels like the moment in our democracy when people have to make uncomfortable actions and decisions to uphold their morals.'… Several Red Hen employees are gay, she said. They knew Sanders had defended Trump's desire to bar transgender people from the military. This month, they had all watched her evade questions and defend a Trump policy that caused migrant children to be separated from their parents. 'Tell me what you want me to do. I can ask her to leave,' Wilkinson told her staff, she said. They said yes.' It was important to Wilkinson, she said, that Sanders had already been served — that her staff had not simply refused her on sight. And it was important to her that Sanders was a public official, not just a customer with whom she disagreed, many of whom were included in her regular clientele. All the same, she was tense as she walked up to the press secretary's chair. 'I said, "I'm the owner…. I'd like you to come out to the patio with me for a word." They stepped outside, into another small enclosure, but at least out of the crowded restaurant. 'I explained that the restaurant has certain standards that I feel it has to uphold, such as honesty, and compassion, and cooperation…. I'd like to ask you to leave.'… Sanders went back to the table, picked up her things and walked out. The others at her table had been welcome to stay, Wilkinson said. But they didn't, so the servers cleared away the cheese plates and glasses. 'They offered to pay,' Wilkinson said. 'I said …  it's on the house.'" See also, Everything Trump got wrong about Red Hen, in one tweet, The Washington Post, Tim Carman, Monday, 25 June 2018. See also, Did the Red Hen violate Sarah Huckabee Sanders's rights when it kicked her out? The Washington Post, Sonia Rao, Monday, 25 June 2018. See also, Would You Serve a Cheeseburger to Sarah Huckabee Sanders? Where's Your Line in the Sand? The Intercept,  Shaun King, Monday, 25 June 2018: "My basic feelings about Sanders mirror those of the restaurant owner in Virginia: I see her as a spokesperson for a truly evil man. She protects his lies. She defends his most vile policies that cause actual harm. She defends his decisions to forcefully separate infants and children from their parents at the American border. She deflects and dodges and lies about the scores of women that have accused Donald Trump of sexual assault and harassment. She defends Trump's complete inaction on gun control. The list goes on and on. She's not simply serving our country or following orders. She opted into this position and thinks on the fly about how to defend Trump's worst actions on a daily basis. I see what Trump has done, ordering the forced separation and detainment of families, with infants and children now sent all over the country, thousands of miles away from their parents, as right up there with the worst human rights abuses of recent years. When Sanders defends it, as a member of the administration, she is absolutely complicit. And let's be clear: I don't see her as evil because she's a Republican or a conservative, but because she enables and protects an evil man." See also, California representative Maxine Waters shows why the Sarah Huckabee Sanders-Red Hen story is extremely important, The Washington Post, Aaron Blake, Monday, 25 June 2018.
Tuesday, 26 June 2018, Day 523:
Trump's Travel Ban Is Upheld by the Supreme Court, Delivering Endorsement of Presidential Power, The New York Times, Adam Liptak and Michael D. Shear, Tuesday, 26 June 2018: "The Supreme Court upheld President Trump's ban on travel from several predominantly Muslim countries, delivering to the president on Tuesday a political victory and an endorsement of his power to control immigration at a time of political upheaval about the treatment of migrants at the Mexican border. In a 5-to-4 vote, the court's conservatives said that the president's power to secure the country's borders, delegated by Congress over decades of immigration lawmaking, was not undermined by Mr. Trump's history of incendiary statements about the dangers he said Muslims pose to the United States. Writing for the majority, Chief Justice John G. Roberts Jr. said that Mr. Trump had ample statutory authority to make national security judgments in the realm of immigration. And the chief justice rejected a constitutional challenge to Mr. Trump's third executive order on the matter, issued in September as a proclamation. The court's liberals denounced the decision. In a passionate and searing dissent from the bench, Justice Sonia Sotomayor said the decision was no better than Korematsu v. United States, the 1944 decision that endorsed the detention of Japanese-Americans during World War II. She praised the court for officially overturning Korematsu in its decision on Tuesday. But by upholding the travel ban, Justice Sotomayor said, the court 'merely replaces one gravely wrong decision with another.' The court's travel ban decision provides new political ammunition for the president and members of his party as they prepare to face the voters in the fall. Mr. Trump has already made clear his plans to use anti-immigrant messaging as he campaigns for Republicans, much the way he successfully deployed the issue to whip up the base of the party during the 2016 presidential campaign…. [Roberts wrote that the Court] 'must consider not only the statements of a particular president, but also the authority of the presidency itself." See also, Supreme Court upholds Trump travel ban, The Washington Post, Robert Barnes and Ann E. Marimow, Tuesday, 26 June 2018. See also, Move over, Dred Scott, The Washington Post, David D. Cole, Tuesday, 28 June 2018: "The Supreme Court's approval of President Trump's travel ban barring entry to some 150 million people from five overwhelmingly Muslim countries is likely to be judged by history as one of the court's greatest failures — in a league with Dred Scott v. Sandford, which helped bring on the Civil War, and Korematsu v. United States, which upheld the wartime detention of more than 110,000 Japanese Americans and noncitizens of Japanese descent. Chief Justice John G. Roberts Jr., perhaps recognizing the disturbing parallels, sought to distance the court from this critique by declaring, nearly 75 years after the fact, that Korematsu 'was gravely wrong the day it was decided' and that it has 'nothing to do with this case.' But it has everything to do with this case: In Trump v. Hawaii, as in Korematsu and Dred Scott, the court was asked to stand up for the rights of the vulnerable against the biases of the powerful — and failed." See also, Korematsu, Notorious Supreme Court Ruling on Japanese Internment, Is Finally Tossed Out, The New York Times, Charlie Savage, Tuesday, 26 June 2018: "In the annals of Supreme Court history, a 1944 decision upholding the forcible internment of Japanese-Americans during World War II has long stood out as a stain that is almost universally recognized as a shameful mistake. Yet that notorious precedent, Korematsu v. United States, remained law because no case gave justices a good opportunity to overrule it. But on Tuesday, when the Supreme Court's conservative majority upheld President Trump's ban on travel into the United States by citizens of several predominantly Muslim countries, Chief Justice John G. Roberts Jr. also seized the moment to finally overrule Korematsu. 'The forcible relocation of U.S. citizens to concentration camps, solely and explicitly on the basis of race, is objectively unlawful and outside the scope of presidential authority,' he wrote." See also, Sonia Sotomayor Delivers Sharp Dissent in Travel Ban Case, The New York Times, Catie Edmondson, Tuesday, 26 June 2018: "Chief Justice John G. Roberts Jr., reading for the majority on Tuesday morning, spoke clinically. Justice Stephen G. Breyer followed, working his way through his dissent mildly and analytically. Then it was Justice Sonia Sotomayor's turn. Steely and unwavering, she began: 'The United States of America is a nation built upon the promise of religious liberty. Our founders honored that core promise by embedding the principle of religious neutrality in the First Amendment.' The crowded courthouse fell silent. In upholding President Trump's ban on travel from several predominantly Muslim countries, Justice Sotomayor continued, the Supreme Court had failed to 'safeguard that fundamental principle.' For the next 20 minutes, she remained resolute as she delivered an extraordinarily scorching dissent, skewering the court's decision and condemning the ban as 'harrowing' and 'motivated by hostility and animus toward the Muslim faith.'" See also, The Score After the Travel Ban Ruling? Trump: 1, Rule of Law: 0, National Law Journal, Bob Loeb, published on Wednesday, 27 June 2018. See also, Trump v. Hawaii, Supreme Court of the United States, Tuesday, 26 June 2018.
Supreme Court Backs Anti-Abortion Pregnancy Centers in Free Speech Case, The New York Times, Adam Liptak, Tuesday, 26 June 2018: "Ruling for opponents of abortion on free speech grounds, the Supreme Court said on Tuesday that the State of California may not require religiously oriented 'crisis pregnancy centers' to supply women with information about how to end their pregnancies. The case was a clash between state efforts to provide women with facts about their medical options and First Amendment rulings that place limits on the government's ability to compel people to say things at odds with their beliefs…. The case was the first touching on abortion since Justice Neil M. Gorsuch, who sided with the majority, joined the court. While the decision's legal analysis turned on the First Amendment, it was lost on no one that the justices most committed to defending abortion rights were all in dissent. The court returned the case to the lower courts for another look, but it seemed unlikely that California would be able to present new evidence or arguments to save the law. In a dissent that he summarized from the bench, Justice Stephen G. Breyer accused the majority of acting inconsistently. In 1992, he noted, the Supreme Court upheld a Pennsylvania law that required doctors who performed abortions to provide some kinds of information to their patients…. 'If a state can lawfully require a doctor to tell a woman seeking an abortion about adoption services, why should it not be able, as here, to require a medical counselor to tell a woman seeking prenatal care or other reproductive health care about childbirth and abortion services?' he asked. 'As the question suggests,' Justice Breyer wrote, 'there is no convincing reason to distinguish between information about adoption and information about abortion in this context. After all, the rule of law embodies evenhandedness.'" See also, Supreme Court says crisis pregnancy centers do not have to provide women abortion information, The Washington Post, Robert Barnes, Tuesday, 26 June 2018: "Centers and clinics established to persuade women to continue their pregnancies cannot be required to tell their patients about the availability of state-offered services, including abortion, a divided Supreme Court said Tuesday. The court's conservatives said a California law at issue probably violates the First Amendment. It required what are called crisis pregnancy centers — which offer prenatal care and help when the baby is born — to post notices or tell clients about the state's services."
17 states and D.C. sue over Trump's family-separation policy, The Washington Post, Matt Zapotosky, Tuesday, 26 June 2018: "Seventeen states and the District of Columbia asked a federal judge on Tuesday to bar the Trump administration from separating children and their parents who enter the United States illegally at the Southwest border, asserting in a lawsuit that the practice was 'an affront to States' sovereign interests in enforcing their laws governing minimum standards of care for children.' The suit, filed in federal district court in Washington state, adds to the growing legal morass surrounding the administration's decision to prosecute every person who illegally crosses into the United States — even if that means separating children from their parents. While President Trump late last week sought to end the separations with an executive order, the states argued that the directive was 'illusory' and offered no guarantee the administration would not try again. That threat was particularly acute, they argued, because the administration 'lacks both the capacity and the legal authority to detain families together for indefinite periods of time, which is what the Order contemplates as the alternative to separating families.' The Justice Department recently asked a judge to modify an old legal settlement so that they could detain migrant families together for longer periods of time — though it is unclear whether the judge will accede to their request. If the government's bid is denied, it is unclear how officials might handle parents and children who enter the United States without allowing them to be released into the country. The lawsuit was joined by Washington, California, Maryland, Oregon, New Mexico, New Jersey, Iowa, Illinois, Minnesota, Rhode Island, New York, Vermont, North Carolina, Delaware, Massachusetts, Pennsylvania, Virginia and the District of Columbia. While it is not the first legal action over family separations, it could be significant."
Judge Dana M. Sabraw of the Federal District Court in San Diego Temporarily Halts Splitting of Migrant Families at the Border, The New York Times, Michael D. Shear, Julie Hirschfeld Davis, Thomas Kaplan, and Robert Pear, Tuesday, 26 June 2018: "A federal judge in California issued a nationwide injunction late Tuesday temporarily stopping the Trump administration from separating children from their parents at the border and ordered that all families already separated be reunited within 30 days. Judge Dana M. Sabraw of the Federal District Court in San Diego said children under 5 must be reunited with their parents within 14 days, and he ordered that all children must be allowed to talk to their parents within 10 days. 'The unfortunate reality is that under the present system, migrant children are not accounted for with the same efficiency and accuracy as property,' the judge wrote."
Trump threatens Harley-Davidson with taxes 'like never before,' Chicago Tribune, Darlene Superville|Associated Press, Tuesday, 26 June 2018: "President Donald Trump sought Tuesday to avoid blame for Harley-Davidson's decision to move some motorcycle production overseas and threatened to tax the manufacturer 'like never before!' as punishment for the planned production shift. The Milwaukee-based company said Monday it came to its decision because of retaliatory tariffs it faces in an escalating trade dispute between the U.S. and the European Union. The company had no immediate response Tuesday to the president's assertions. Trump warned the iconic American brand that any shift in production 'will be the beginning of the end. The Aura will be gone and they will be taxed like never before!' Trump said in one of several tweets Tuesday morning about Harley-Davidson. It was unclear what the president was referring to or how he could impose taxes on a single company." See also, Trump Threatens Harley-Davidson, Saying It 'Surrendered,' The New York Times, Alan Rappeport and Stacy M. Brown, Tuesday, 26 June 2018.
Donald Trump made 103 false claims last week, shattering his dishonesty record, The Toronto Star, Daniel Dale, Tuesday, 26 June 2018: "The frequency of U.S. President Donald Trump's dishonesty had steadily accelerated since late last year. Then, last week, it skyrocketed. Trump made an astonishing 103 false claims over those seven days, an average of 15 per day. That shatters his one-week record of 60, which he had set in early March. Trump is incessantly inaccurate, but that number is still remarkable. To put it in perspective: he uttered fewer than 100 false claims in eight of his first ten months in office. His previous average had been 101 per month."
Wednesday, 27 June 2018, Day 524:
Supreme Court Justice Anthony Kennedy Will Retire, The New York Times, Michael D. Shear, Wednesday, 27 June 2018: "Justice Anthony M. Kennedy announced on Wednesday that he would retire this summer, setting in motion a furious fight over the future of the Supreme Court and giving President Trump the chance to put a conservative stamp on the American legal system for generations. Justice Kennedy, 81, has been a critical swing vote on the sharply polarized court for nearly three decades as he embraced liberal views on gay rights, abortion and the death penalty but helped conservatives trim voting rights, block gun control measures and unleash campaign spending by corporations. His replacement by a conservative justice — something Mr. Trump has vowed to his supporters — could imperil a variety of landmark Supreme Court precedents on social issues where Justice Kennedy frequently sided with his liberal colleagues, particularly on abortion." See also, Justice Anthony Kennedy, the pivotal swing vote on the Supreme Court, announces his retirement, The Washington Post, Robert Barnes, Wednesday, 27 June 2018. See also, In Influence if Not in Title, This Has Been the Kennedy Court, The New York Times, Adam Liptak, Wednesday, 27 June 2018: "Justice Anthony M. Kennedy has served for more than 30 years under two chief justices: William H. Rehnquist and John G. Roberts Jr. Courts are by tradition named for the chief justice. Since 2005, it has been the Roberts court. But if influence were the deciding factor, it would be more accurate to speak of the period since 1988 as the Kennedy court. Justice Kennedy has occupied a place at the court's ideological center for his entire tenure, though he shared the middle ground with Justice Sandra Day O'Connor for most of his first two decades. On her retirement in 2006, his vote became the undisputed crucial one in most of the court's closely divided cases. There have been about 51 decisions in which Justice Kennedy joined a liberal majority in a closely divided case, while Chief Justice Roberts dissented. All of those precedents could be in jeopardy, said Lee Epstein, a law professor and political scientist at Washington University in St. Louis. To be sure, Justice Kennedy often voted with the court's conservatives. He wrote the majority opinion in Citizens United, which allowed unlimited campaign spending by corporations and unions, and he joined the majority in Bush v. Gore, which handed the 2000 presidential election to George W. Bush. Justice Kennedy also voted with the court's conservatives in cases on the Second Amendment and voting rights. Not infrequently, though, he joined the court's liberal wing in important cases on contested social issues, including liberal decisions on gay rights, abortion, affirmative action and the death penalty. A court containing two Trump appointees could chip away at those rulings." See also, The Front-Runners and Full List of Potential Supreme Court Nominees, The New York Times, Wednesday, 27 June 2018. See also, It's not just abortion: 5 issues likely to be affected by Kennedy's exit, Politico, Josh Gerstein and Jennifer Haberkorn, Wednesday, 27 June 2018.
The Supreme Court Takes the Side of Anti-Union Public-Sector Employees, Take Care, Amanda Shanor, published on Thursday, 28 June 2018: "The Constitution protects the fundamental freedoms of speech and association. It protects all speakers equally. Until it doesn't – as the Supreme Court made clear on the last day of the term, in its highly anticipated decision in Janus v. American Federation of State, County, and Municipal Employees. The case pitted the First Amendment claims of anti-union public-sector employees against the interests of pro-union employees and employers. And instead of reaching a careful balance, the court sided entirely with the rights of (the anti-union) some over the rights of (the pro-union) others. For nearly half a century, the court had embraced a compromise that balanced the First Amendment rights of employees who oppose a union, on the one hand, and employees who support that union on the other. In Janus, a 5-4 majority composed of the court's conservative justices chose to protect only the speech of employees who oppose unions. It protected, in short, only the speech it liked. At stake in Janus was whether it violates the First Amendment for a state to authorize a public employee union to collect a 'fair share fee' from non-members for the cost of benefits that the union is legally required to provide all employees, such as representing them in grievance procedures against the employer. Over 40 years ago, in Abood v. Detroit Board of Education, the court crafted a stable compromise to balance the various interests, including First Amendment rights, at stake in public workplaces. It held that public employees who choose not to join a union can be charged fees to cover the costs of benefits the union has to provide them — but cannot be compelled to join the union or pay for its ideological speech. Such fees, the court reasoned, 'distribute fairly the cost' of providing the benefits 'among those who benefit' by permitting the union to seek reimbursement for expenses it must pay. Abood's balance also recognized the interest of governmental employers to choose to deal with a single union to further labor peace. The court in Janus threw out that compromise." See also, Supreme Court Deals Blow to Public-Sector Unions, The Wall Street Journal, Wednesday, 27 June 2018: "The Supreme Court has barred public-employee contracts requiring workers to pay union dues, dealing a severe blow to perhaps the strongest remaining redoubt of the American labor movement. The 5-4 vote, along conservative-liberal lines, on Wednesday overruled a 1977 precedent that had fueled the growth of public-sector unionization even as representation has withered in private industry. More than one-third of public employees are unionized, compared with just 6.5% of those in the private sector, according to a January report from the Bureau of Labor Statistics. The impact of the ruling is likely to stretch far beyond the workplace, sapping resources from unions such as the American Federation of State, County and Municipal Employees and the National Education Association that have provided funds, resources and activists largely in support of Democratic candidates. In the 2016 election cycle, public-sector unions spent $64.6 million on political activities, and 90% of that went to Democrats, according to the Center for Responsive Politics. The largest spenders were the nation's two biggest teachers' unions and Afscme. Still, total spending by all labor unions, $213.3 million in the 2016 cycle, was small relative to the $3.43 billion spent by businesses. That business spending was split evenly between Democrats and Republicans." See also, Supreme Court Ruling Delivers a Sharp Blow to Labor Unions, The New York Times, Adam Liptak, Wednesday, 27 June 2018. See also, In major blow to organized labor, the Supreme Court rules against public unions collecting fees from nonmembers, The Washington Post, Robert Barnes and Ann E. Marimow, Wednesday, 27 June 2018. See also, With Janus Ruling, the Supreme Court guts the modern labor movement, The Washington Post, Joseph Hower, Wednesday, 27 June 2018.
A top House Democrat, Joseph Crowley of New York, loses in upset to Alexandria Ocasio-Cortez, and Trump extends his winning streak in Republican primaries, The Washington Post, Sean Sullivan and David Weigel, Wednesday, 27 June 2018: "Rep. Joseph Crowley of New York, a top-ranking Democrat and a rising star in the party, lost in a stunning upset Tuesday to a little-known primary challenger, sending shock waves through the party out of power less than five months before the midterm elections. With almost all the ballots tallied, Alexandria Ocasio-Cortez, a 28-year-old activist, had more than 57 percent of the vote to 42 percent for Crowley, the fourth-ranking House Democrat. Crowley became just the third sitting member of Congress, and the first Democratic incumbent, to lose in a primary this year. The House Democratic Caucus chairman was widely seen as a potential successor to Minority Leader Nancy Pelosi (D-Calif.). In a party already struggling with generational conflict, his defeat will set off a scramble in leadership as Democrats seek to gain control of the House in November." See also, Progressive media saw Alexandria Ocasio-Cortez's victory over veteran New York Representative Joseph Crowley coming, CNN Media, Brian Stelter, Wednesday, 27 June 2018: "On Tuesday Ocasio-Cortez scored a stunning primary night victory over veteran Representative Joseph Crowley in New York's 14th congressional district. The upset was also a win for The Intercept, a four-year-old website with progressive bonafides. The site covered Ocasio-Cortez's audacious congressional campaign early and often, promoting her as an alternative to the Democratic establishment…. Ocasio-Cortez herself gave some credit to the site, telling The Washington Post (which was also ahead of the curve about her candidacy) that an early Intercept story about her was a 'game-changer.'… At The Intercept, Ryan Grim, the DC bureau chief, keyed in on the race months ago. In May he and reporter Aida Chavez wrote a key profile of Ocasio-Cortez. 'That's how I heard about her,' one of the site's founding editors Jeremy Scahill said. On Tuesday night he tweeted out credit to Chavez and Grim for 'understanding the @Ocasio2018 moment early.' Scahill and another one of the site's biggest names, Glenn Greenwald, followed up with in-depth interviews." See also, An Interview With Alexandria Ocasio-Cortez, the Young Democratic Socialist Who Just Shocked the Establishment, The Intercept, Jeremy Scahill, Wednesday, 27 June 2018. See also, A Primary Against the Machine: A Bronx Activist Looks to Dethrone Joseph Crowley, the King Of Queens, The Intercept, Aida Chávez and Ryan Grim, published on Tuesday, 22 May 2018. See also, Glenn Greenwald Interviews Alexandria Ocasio-Cortez of New York, Democratic Primary Challenger to House Representative Joe Crowley, The Intercept, published on Tuesday, 12 June 2018: "Congressperson Joe Crowley, D-N.Y., now seeking his 10th term, has been in the U.S. House of Representatives since 1999. It has been 14 years since Crowley has faced a primary challenge, which means he's received the Democratic Party nomination automatically every two years since 2004…. Unseating an entrenched congressional incumbent is one of the hardest and rarest feats in U.S. politics — especially an incumbent with the funding and stature of Crowley. But [Alexandria] Ocasio-Cortez's blunt and defiant style — see, for example, her reaction to last night's endorsement of Crowley by New York Sen. Kirsten Gillibrand, as well as her stunningly unflinching denunciation of Israeli violence against unarmed Gazans last month — combined with the obvious seriousness she brings to political organizing, has made many believe that she can pose a genuine threat to Crowley's seat." See also, The New York Times takes heat for missing Joe Crowley's defeat, Politico, Michael Calderone, Wednesday, 27 June 2018: "Failing to closely cover the rise of Alexandria Ocasio-Cortez is 'like not seeing Trump's win coming,' tweets former editor Jill Abramson."
Republican immigration bill goes down in rebuff to Trump, Politico, Rachael Bade and Louis Nelson, Wednesday, 27 June 2018: "The House delivered a massive defeat to a Republican immigration bill Wednesday, despite President Donald Trump's last-minute push for the legislation and weeks of negotiation between GOP lawmakers. The 121-301 vote came amid opposition from all Democrats and dozens of Republicans, who feared backing a bill that could be tagged as 'amnesty' by the right — even though it closely aligned with Trump's immigration proposal and received an all-caps Twitter endorsement from the president earlier in the day. 'HOUSE REPUBLICANS SHOULD PASS THE STRONG BUT FAIR IMMIGRATION BILL, KNOWN AS GOODLATTE II, IN THEIR AFTERNOON VOTE TODAY, EVEN THOUGH THE DEMS WON'T LET IT PASS IN THE SENATE,' Trump tweeted. 'PASSAGE WILL SHOW THAT WE WANT STRONG BORDERS & SECURITY WHILE THE DEMS WANT OPEN BORDERS = CRIME. WIN!' House Republicans said before the vote that it was too little, too late. If Trump really wanted this bill to pass, senior GOP sources said, he should have tweeted his endorsement earlier instead of repeatedly sending mixed signals to the party. Just last week, he said Republicans were 'wasting their time' trying to pass legislation." See also, House rejects immigration bill pushed by Trump in last-minute tweet, The Washington Post, Mike DeBonis and John Wagner, Wednesday, 27 June 2018. See also, House Rejects Immigration Overhaul Despite Trump's Late Plea, The New York Times, Thomas Kaplan, Wednesday, 27 June 2018.
Immigration and Customs Enforcement (ICE) Criminal Investigators Ask to Be Distanced From Detentions and Deportations in a Letter to Homeland Security Secretary Kirstjen Nielson, Texas Observer, Jason Buch, Wednesday, 27 June 2018: "A majority of ICE's top criminal investigation agents are asking Homeland Security Secretary Kirstjen Nielsen to spin their division off from the agency. In a letter sent last week, 19 special agents in charge at ICE's Homeland Security Investigations unit said that ICE's controversial detention and deportation policies have made it hard for them to conduct investigations into threats to national security, organized crime, narcotics smuggling and human trafficking." See also, Seeking a split from ICE, some agents say Trump's immigration crackdown hurts investigations and morale, The Washington Post, Nick Miroff, published on Thursday, 28 June 2018.
Thursday, 28 June 2018, Day 525:
Inside the White House's Quiet Campaign to Create a Supreme Court Opening, The New York Times, Adam Liptak and Maggie Haberman, Thursday, 28 June 2018: "President Trump singled him out for praise even while attacking other members of the Supreme Court. The White House nominated people close to him to important judicial posts. And members of the Trump family forged personal connections. Their goal was to assure Justice Anthony M. Kennedy that his judicial legacy would be in good hands should he step down at the end of the court's term this week, as he was rumored to be considering. Allies of the White House were more blunt, warning the 81-year-old justice that time was of the essence. There was no telling, they said, what would happen if Democrats gained control of the Senate after the November elections and had the power to block the president's choice as his successor. There were no direct efforts to pressure or lobby Justice Kennedy to announce his resignation on Wednesday, and it was hardly the first time a president had done his best to create a court opening…. But in subtle and not so subtle ways, the White House waged a quiet campaign to ensure that Mr. Trump had a second opportunity in his administration's first 18 months to fulfill one of his most important campaign promises to his conservative followers — that he would change the complexion and direction of the Supreme Court." See also, The Supreme Court Moved Right With Conservatives in Charge, The New York Times, Adam Liptak and Alicia Parlapiano, Thursday, 28 June 2018: "The Supreme Court ended a bruising term on Wednesday, one marked by division, disruption and an extraordinary string of 5-to-4 conservative victories ending in blockbuster rulings upholding President Trump's travel ban and dealing a body blow to public unions…. It was a term in which Justice Kennedy's influence waned, Chief Justice John G. Roberts Jr.'s power grew and Justice Neil M. Gorsuch, who completed his first full term, turned in the most consequential freshman performance by a member of the Supreme Court in living memory." See also, Senator Cory Booker Warns of Trump's Conflict of Interest in Selecting Supreme Court Justice While He Is a Subject of a Criminal Investigation That Could Eventually Come Before the Court, YouTube, Thursday, 28 June 2018: "In a Judiciary Committee meeting earlier today, U.S. Senator Cory Booker (D-NJ) warned of the President's conflict of interest as it relates to picking a new Supreme Court justice, while he is a subject of a criminal investigation that could eventually come before the highest court. 'The President of the U.S., right now, is a subject of an ongoing criminal investigation – an investigation that every member of this Committee knows could end up before the Supreme Court,' Booker said. 'And we have a President who in the past has seemed to be asking people for loyalty tests, who has seemed to have litmus tests in regard to this investigation. And so if we're not going to thoroughly discuss what it means to have a President with this ongoing investigation happening who is now going to interview Supreme Court justices, and potentially continue with his tradition of doing litmus tests, loyalty tests, for that person, we could be participating in a process that could undermine that criminal investigation,' Booker added. 'I do not believe this Committee should or can in good conscience consider a nominee put forward by this President until that investigation is concluded.'"
In Human Trafficking Report, the State Department Warns Against Separating Children From Their Parents, The New York Times, Gardiner Harris, Thursday, 28 June 2018: "The State Department warned in a report on Thursday that separating children from their parents can cause lasting psychological damage that leaves them vulnerable to trafficking, a cautionary tale that comes amid an uproar over a Trump administration immigration policy that has temporarily broken up migrant families as they enter the United States. 'Children in institutional care, including government-run facilities, can be easy targets for traffickers,' the department's annual Trafficking in Persons report concluded. It added: 'Even at their best, residential institutions are unable to meet a child's need for emotional support that is typically received from family members or consistent caretakers with whom the child can develop an attachment.' The conclusions in the State Department's trafficking report, one of the world's most comprehensive, did not specifically address the Trump administration's 'zero tolerance' policy on the southwestern border. It also gave no indication that trafficking is peaking, or that an enormous child smuggling ring is responsible for thousands of children attempting to enter the United States from Mexico."
House Republicans Break Into Open Warfare With Deputy Attorney General Rod Rosenstein, Demanding Files, The New York Times, Nicholas Fandos, Thursday, 28 June 2018: "For months, their sparring had been indirect, stern letters exchanged, pointed threats traded through the news media. But on Thursday, the ever-intensifying skirmishes between Deputy Attorney General Rod J. Rosenstein and conservative House Republicans broke into an ugly public fight. On the House floor, Republicans voted in lock step to give the Justice Department seven days to produce sensitive documents related to the Russia inquiry and the F.B.I.'s investigation of Hillary Clinton's private email use. Though nonbinding, the measure was intended to put Mr. Rosenstein on notice that House lawmakers were willing to take punitive action — potentially including impeachment — if their demands were not met. In the House Judiciary Committee, conservative Republicans hauled Mr. Rosenstein and the F.B.I. director, Christopher A. Wray, before television cameras to accuse them of hiding information from Congress to protect their own interests. In Mr. Rosenstein's case, some Republicans charged outright misconduct related to the investigation into Russian election interference…. Democrats accused Republicans of concocting a political distraction to further bloody the reputation of the Justice Department as it investigates President Trump and his campaign's ties to Russia. Representative Jerrold Nadler of New York, the top Judiciary Committee Democrat, called the floor vote 'clearly a pretext for a move against Mr. Rosenstein that the majority already has planned.'" See also, House Republicans rip deputy attorney general Rod Rosenstein to his face, Politico, Kyle Cheney, Thursday, 28 June 2018. See also, Republicans berate Deputy Attorney General Rod Rosenstein and urge him to end Russia probe, The Washington Post, Devlin Barrett, Karoun Demirjian, and Matt Zapotosky, Thursday, 28 June 2018.
Helsinki Summit Meeting Is Set for Trump and Putin, The New York Times, Andrew E. Kramer and Eileen Sullivan, Thursday, 28 June 2018: "President Trump plans to meet President Vladimir V. Putin in Helsinki, Finland, on July 16 for one-on-one talks, the White House said on Thursday, a politically delicate meeting that will take place while the special counsel continues to investigate the Trump campaign's possible ties to Russia. It will be the first formal summit meeting for Mr. Trump and Mr. Putin, who have spoken together twice on the sidelines of annual gatherings of world leaders, and it will come at a particularly critical moment, with midterm elections looming in the United States."
Inspector general will review Zinke's involvement in land deal backed by Halliburton's chairman David J. Lesar, The Washington Post, Juliet Eilperin and Dino Grandoni, Thursday, 29 June 2018: "The Interior Department's inspector general has opened an investigative complaint regarding Secretary Ryan Zinke's involvement in a Montana land development deal backed by the chairman of the oil services firm Halliburton, according to a letter sent to three Democratic lawmakers. In the letter sent to Reps. Raúl M. Grijalva (Ariz.), A. Donald McEachin (Va.) and Jared Huffman (Calif.) on Wednesday, Interior Deputy Inspector General Mary L. Kendall said that her office will examine Zinke's 'reported ongoing involvement in and use of taxpayer resources to advance land developments in Whitefish, Montana.' Last week, Politico reported that Zinke has continued to be involved in discussions over the development of land near his hometown that is backed by David J. Lesar, Halliburton's chairman."
Trump's 'Shithole Countries' Remark Is at the Center of a Lawsuit to Reinstate Protections for Immigrants, The Intercept, Leighton Akio Woodhouse, Thursday, 28 June 2018: "When President Donald Trump referred to Haiti, El Salvador, and an assortment of African nations as 'shithole countries' during a closed-door meeting with congressional leaders and Cabinet members in January, he may have unwittingly planted the seed for the unraveling of a critical part of his deportation agenda. Last Friday, in U.S. District Court in San Francisco, the first hearing was held for a lawsuit challenging the Trump administration's revocation of Temporary Protected Status for over 200,000 foreign nationals from four countries who currently live in the United States. The lawsuit alleges that Trump's rhetoric demonstrates that his administration's cancellation of TPS was motivated by bigotry, rather than policy concerns. 'The Trump administration's decision to end TPS for people from these countries was motivated by its racism against non-white, non-Europeans immigrants,' said Ahilan Arulanantham, legal director at the American Civil Liberties Union of Southern California and co-counsel for the plaintiffs. 'That racist motivation was obvious from a number of statements that this president and others in the administration made, including about TPS holders specifically.'… The plaintiffs allege that DHS ended TPS for the four countries not because they had recuperated sufficiently from the disasters that prompted their designations, as the administration maintains, but because Trump has contempt for non-white immigrants from poor foreign countries and wants them expelled from the United States. In addition to the 'shithole' comment, the complaint cites Trump's campaign announcement speech, in which he referred to Mexican immigrants as 'rapists'; his frequent comparison of immigrants to snakes; his outlandish assertion that Haitian immigrants to the U.S. 'all have AIDS'; his comment that Nigerian immigrants would never 'go back to their huts'; and the lie he has repeatedly told about Arab-Americans in New Jersey cheering after the Twin Towers fell on 9/11."
Federal authorities dismantle portion of Portland ICE protest camp and make arrests, The Washington Post, Leah Sottile, Thursday, 28 June 2018: "Federal authorities early Thursday dismantled and cleared a portion of the tent city where protesters have been blocking the Immigration and Customs Enforcement building [in Portland, Oregon], arresting at least eight people who had taken part in a lengthy effort to prevent federal workers from entering their offices. A makeshift tent city emerged here amid the turmoil surrounding President Trump's border crackdown and family separation policies, and for 11 days the protesters had effectively shut down ICE's offices as they demanded the agency be abolished. The camp had swelled to more than 90 tents earlier in the week."
'This Is Intimidation': Television Interview With James Schwab, ICE Whistle-Blower, Is Interrupted by Federal Investigators With the Department of Homeland Security, The New York Times, Matthew Haag, Thursday, 28 June 2018: "Investigators with the Department of Homeland Security made an unannounced visit on Wednesday to the home of a former Immigration and Customs Enforcement spokesman who abruptly resigned three months ago because he could not bring himself to lie on behalf of the Trump administration. The former spokesman, James Schwab, announced his resignation from the agency on March 12. He said he quit because he did not want 'to perpetuate misleading facts' during a dispute between the Justice Department and the mayor of Oakland, Calif. Mr. Schwab had stayed quiet since then, until he sat down on Wednesday for an interview with a CBS News reporter at his California home."
Youth group (Team Enough) issues report card on where members of Congress stand on gun-control legislation, The Washington Post, Katie Zezima, Thursday, 28 June 2018: "A group that engages young people on gun-violence issues is releasing a report card that assesses whether members of Congress are co-sponsoring gun-control bills. The group, Team Enough, gives pass, fail or incomplete grades to lawmakers based on whether they co-sponsored one of three bills in the House or four in the Senate. Team Enough is the youth group of the Brady Campaign to Prevent Gun Violence."
New House Bill Would Empower the Trump Administration to Punish U.S. Companies That Boycott Israel, The Intercept, Alex Emmons, Thursday, 28 June 2018: "The House Committee on Foreign Affairs unanimously passed a measure on Thursday that would give the Trump administration power to decide how to punish U.S. companies that engage in or promote boycotts of Israel — including through criminal penalties. The committee passed an amendment by voice vote from Rep. Ed Royce, R-Calif., that largely replaced the text of a bill called the Israel Anti-Boycott Act. When the original legislation was first introduced last year, it drew outrage from activists, and the American Civil Liberties Union warned that by threatening to impose steep criminal penalties on boycott activists engaged with international bodies' boycotts, the bill was unconstitutional. After the uproar, the initial bill, which was supported by the influential America Israel Public Affairs Committee, lost momentum. But Royce's effort to move his version out of the Foreign Affairs Committee is part of a push to reinvigorate Capitol Hill's efforts to use statutory means to clamp down on the growing movement to boycott, divest from, and sanction the Jewish state for human rights violations against the Palestinians. Pro-Palestinian activists said Royce's amendment, despite being an apparent attempt to work around civil liberties concerns, could be the most dangerous version of the bill yet, because it delegates the lawmaking power to the Trump administration."
Senate overwhelmingly passes sweeping farm bill, setting up fight with the House, The Washington Post, Caitlin Dewey and Erica Werner, Thursday, 28 June 2018: "The Senate passed its version of the $428 billion farm bill Thursday, setting up a bitter fight against the House over food stamps, farm subsidies and conservation funding. The Senate measure passed in an 86-to-11 vote, overwhelming support that reflected a bipartisan desire to rush relief to farmers confronting low prices for their products and an array of other troubles. But the bill faces challenges when lawmakers meet later this summer to reconcile gaping differences between the House and Senate bills. The House version of the legislation, passed narrowly last week with no Democratic support, imposes strict new work requirements on able-bodied adults seeking food stamps. The Senate version, which needed Democratic votes to pass, does not include major changes to food stamps."
A broad debunking of Trump's claims about Russian interference and the Mueller investigation, The Washington Post, Philip Bump, Thursday, 28 June 2018: "It has been, as of this writing, two years and two weeks since The Post first reported that hackers linked to the Russian government had accessed the Democratic National Committee's network and stolen documents. That first report predated any of the releases of material by WikiLeaks and preceded, by months, public awareness of a broad effort by the Russian government to interfere in that year's presidential election…. Trump continues to offer [an] alternate view of reality and long-debunked conspiracy theories…. So, once and for all, let's walk through Trump's nebulous assertions, what's known, and why Trump, perhaps more than anyone else, should know better. He almost certainly does, of course. It's just politically beneficial for him to cast as much doubt on the available evidence, either because he wants to fend off suggestions that his election was tainted (the Russia part) or that he aided the Russian effort (the part about special counsel Robert S. Mueller III)."