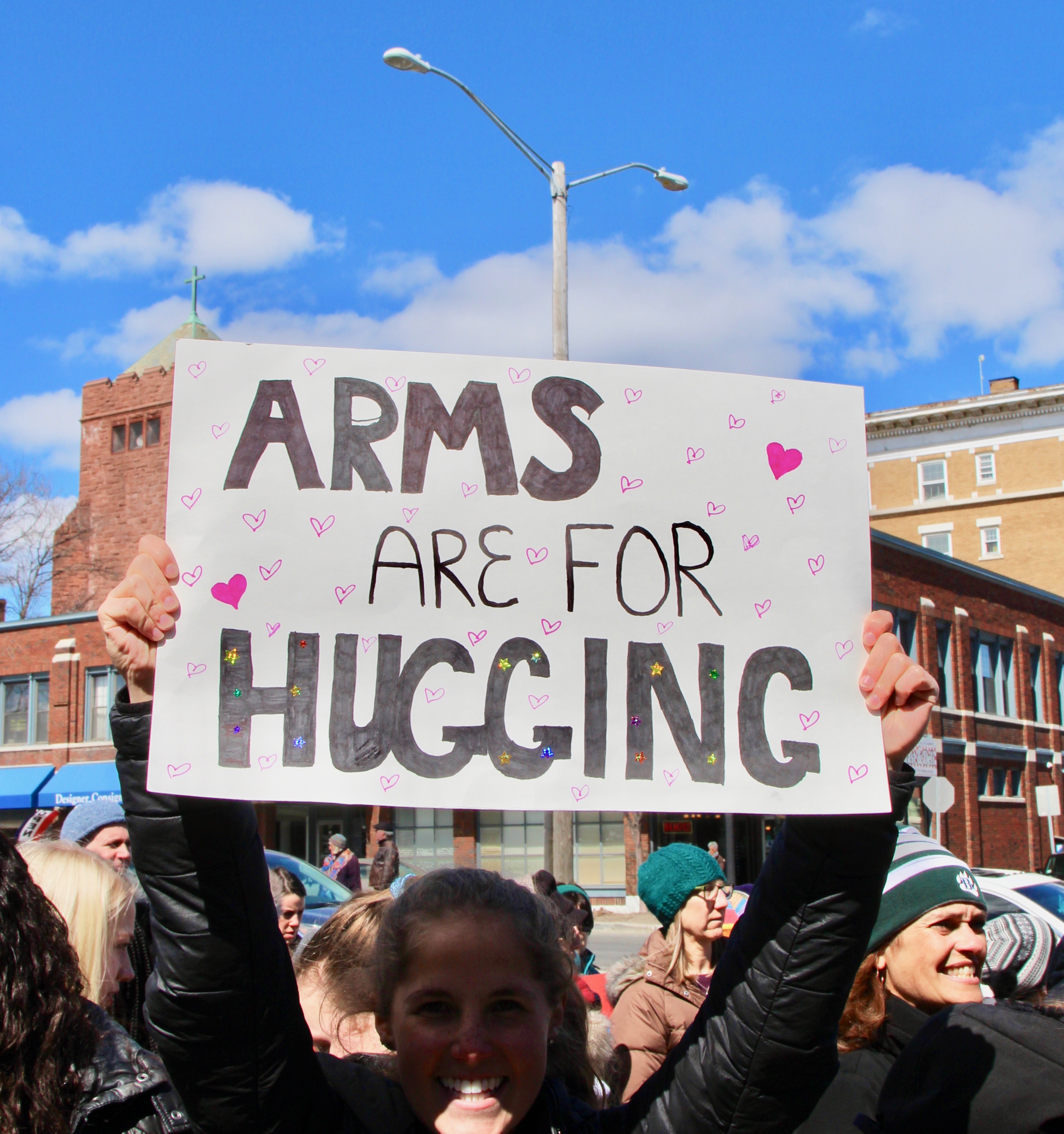 March for Our Lives, Pittsfield, MA, Saturday, 24 March 2018
Keeping Track (of some things), Staying Outraged (it is possible), and Resisting (it's essential)
Passages in bold in the body of the texts below are my emphasis. This is an ongoing project, and I update the site frequently. Because I try to stay focused on what has actually happened, I usually let the news 'settle' a day or so before posting. I hope readers will peruse the articles in full for a better understanding of the issues and their context; our democracy and our future depend on citizens who can distinguish between facts and falsehoods and who are engaged in the political process.
Friday, 25 May 2018, Day 491:
At Trump Tower, Michael Cohen and Russian Billionaire Viktor Vekselberg Discussed Russian Relations With the U.S., The New York Times, William K. Rashbaum, Ben Protess, and Mike McIntire, Friday, 25 May 2018: "Eleven days before the presidential inauguration last year, a billionaire Russian businessman with ties to the Kremlin visited Trump Tower in Manhattan to meet with Donald J. Trump's personal lawyer and fixer, Michael D. Cohen, according to video footage and another person who attended the meeting. In Mr. Cohen's office on the 26th floor, he and the oligarch, Viktor Vekselberg, discussed a mutual desire to strengthen Russia's relations with the United States under President Trump, according to Andrew Intrater, an American businessman who attended the meeting and invests money for Mr. Vekselberg. The men also arranged to see one another during the inauguration festivities, the second of their three meetings, Mr. Intrater said. Days after the inauguration, Mr. Intrater's private equity firm, Columbus Nova, awarded Mr. Cohen a $1 million consulting contract, a deal that has drawn the attention of federal authorities investigating Mr. Cohen, according to people briefed on the inquiry." See also, Russian billionaire Viktor Vekselberg met with Trump lawyer Michael Cohen days before the inauguration, The Washington Post, Rosalind S. Helderman, Friday, 25 May 2018.
Trump Moves to Make It Easier to Fire Federal Workers, The New York Times, Noam Scheiber, Friday, 25 May 2018: "President Trump on Friday signed a series of executive orders making it easier to fire federal government workers and to curb the workplace role of unions that represent them. Andrew Bremberg, the head of the White House Domestic Policy Council, said the president was 'fulfilling his promise to promote more efficient government by reforming our Civil Service rules.' But the push also reflects conservatives' long-running suspicion of the federal bureaucracy, one reflected in pronouncements by the president's advisers. Shortly after Mr. Trump took office, Stephen K. Bannon, then his chief strategist, called for 'the deconstruction of the administrative state.' Unions representing government workers were quick to denounce the actions, calling them an 'assault on democracy,' in the words of the American Federation of Government Employees, the largest federal employee union, which represents 700,000 workers. Experts on the Civil Service said the moves represented the next stage of an effort that Republican politicians and conservative activists had led in states like Wisconsin and Michigan throughout this decade." See also, Trump takes aim at federal bureaucracy with new executive orders altering civil service protections, The Washington Post, Lisa Rein, Friday, 25b May 2018.
The Unbearable Whiteness of National Football League Ownership, The Intercept, Shaun King, Friday, 25 May 2018: "On Wednesday, 31 out of 32 NFL team owners voted to appease President Donald Trump by banning any form of on-field protest or demonstration during the pregame singing of the national anthem. One team owner abstained: Jed York of the San Francisco 49ers, the former home of Colin Kaepernick and Eric Reid, two players who've effectively accused the league of banning them in part because of their involvement in on-field protests. At the root of all this is race and culture. At least 70 percent of NFL players are black, according to the latest information available from The Institute for Diversity and Ethics in Sport, or TIDES, at University of Central Florida. Yet ownership of the league is much less diverse, according to TIDES: Only two teams, the Jacksonville Jaguars and Buffalo Bills, have people of color in majority ownership — a Pakistani-born American and an Asian-American, respectively. What's more, the entire league doesn't have a single African-American team owner — not one. And it is the team owners who are making the executive decisions in this case. The NFL players union announced that they weren't even consulted before the team owners voted and made their announcement about the ban of any on-field demonstrations during the national anthem." See also, 'You can't win this one,' Trump told NFL owners about national anthem protests. They believed him. The Washington Post, Eli Rosenberg, published on Thursday, 31 May 2018.
Continue reading Week 71, Friday, 25 May – Thursday, 31 May 2018 (Days 491-497)
Trump's America: Chris Hayes on 'despicable' new Trump policy of separating children from their parents at the border, MSNBC, Chris Hayes, Friday 25 May 2018: "The United States government is now systematically taking children as young as 53 weeks old away from their parents at the border, thanks to new directives issued by the Trump administration."
Trump Says North Korea Summit May Be Rescheduled, The New York Times, Peter Baker, Friday, 25 May 2018: "President Trump said on Friday that his administration was back in touch with North Korea and the two sides may reschedule his summit meeting with Kim Jong-un, perhaps even on the original June 12 date, a stunning reversal just a day after the president canceled the get-together."
House Bill Would Let Airports Stop Using Toxic Firefighting Foam, The Intercept, Sharon Lerner, Friday, 25 May 2018: "While the controversy over the Environmental Protection Agency's recent 'leadership summit' on PFAS chemicals held in Washington earlier this week brought attention to the cancer-causing contaminants in the drinking water of millions of Americans, Congress has quietly made an important step toward getting rid of one of the products responsible for this widespread water pollution. On April 27, the House of Representatives passed legislation that would free the Federal Aviation Administration from longstanding requirements that commercial airports use firefighting foam that contains the chemicals."
Environmental Protection Agency Chief Scott Pruitt's Spending on Security Is Nearly Double That of His Predecessors, The New York Times, Brad Plumer and Nadja Popovich, Friday, 25 May 2018: "Scott Pruitt, the head of the Environmental Protection Agency, spent roughly $3.5 million in taxpayer funds on his personal security detail during his first year in office, 1.7 times what his predecessors spent each year on average, according to records made public Friday by the agency. Those figures included $2.7 million on salaries and overtime for security staff and more than $760,000 on travel for security agents."
Trump taps hate group fellow Ronald Mortensen for important post dealing with refugees, Southern Poverty Law Center, Friday, 25 May 2018: "On Thursday, President Trump nominated Ronald W. Mortensen, a fellow with the anti-immigrant hate group Center for Immigration Studies (CIS), for Assistant Secretary of State for the Bureau of Population, Refugees and Migration. The Bureau's mission is 'to provide protection, ease suffering, and resolve the plight of persecuted and uprooted people around the world on behalf of the American people…' If approved by the Senate, Mortensen would be the fourth individual from an anti-immigrant hate group to join the Trump administration. Mortensen's former colleague, longtime CIS staffer Jon Feere, left CIS in 2017 to take a position as a senior advisor to ICE director Thomas Homan."
Saturday, 26 May 2018, Day 492:
Why Some Senators Who Want a Criminal Justice Overhaul Oppose a Prisons Bill, The New York Times, Carl Hulse, Saturday, 26 May 2018: "Supporters of a federal criminal justice system overhaul seemed well on their way to victory after legislation breezed through the House last week on an impressive bipartisan vote. It has strong Trump administration backing, including the imprimatur of Jared Kushner, the presidential adviser and son-in-law who is eager for a progressive policy win, as well as important friends in the Senate. There is just one problem: Senior Senate authors of a long-stalled but much more comprehensive criminal justice package are steadfastly opposed to the alternative plan. They consider it an insufficient half-measure for its focus on prison programs without changes in federal sentencing laws. And they have the clout — and perhaps the votes — to stall it, if not block it altogether. In a private huddle on Wednesday on the Senate floor, a group of senators corralled Senator Mitch McConnell, Republican of Kentucky and the majority leader, and asked for time for a last-ditch negotiation to try to find an acceptable compromise. Quite rightly, backers of changes in mandatory minimum laws fear that this may be the only chance for years to push a major criminal justice measure through Congress and that sentencing revisions — a more politically difficult lift — will languish if legislation aimed at reducing prison recidivism becomes law on its own."
House and Senate Democrats Helped Republicans Weaken Dodd-Frank Financial Regulations, The Intercept, Lee Fang, Saturday, 26 May 2018: "Legislators from both parties came together this week to put the finishing touches on a sweeping measure to weaken bank regulations put in place to respond to the 2008 financial crisis. In a shock to some observers, 33 House Democrats and 17 Senate Democrats ultimately joined with nearly every Republican to send the bill to President Donald Trump's desk. Only one GOP legislator, Rep. Walter Jones, R-N.C., voted against it. Sen. Heidi Heitkamp, D-N.D., a co-author of the bill, stood next to Trump at the signing ceremony on Thursday. The repeal bill was a major priority for industry. As The Intercept has reported, the bill loosens an array of regulations, including reporting requirements used to counter racial discrimination in lending practices. The bill also crucially shrank the amount of capital reserve banks must maintain and raised the threshold at which banks are required to comply with heightened risk-management regulations — all of it with the consequence of introducing more risk into the system. Though touted as a bill narrowly tailored to benefit small and community banks, it also includes a provision that could allow banks, such as Citigroup and JP Morgan, to add more debt-fueled risk to their balance sheet, a change advocated by Citigroup's lobbyists. The House Democrats who backed the bill are broadly a coalition of New Democrats and Blue Dogs, who are self-consciously pro-business, and members of the Congressional Black Caucus, who have been the target of focused lobbying campaigns by Wall Street."
Trump Versus Law Enforcement: A Confrontation With No Precedent, The New York Times, Peter Baker and Katie Benner, Saturday, 26 May 2018: "For more than a year, President Trump has been at war with law enforcement agencies that answer to him, interjecting himself into an investigation in which he himself is a subject. And he has escalated the conflict drastically in recent days by accusing the F.B.I. of placing a 'spy' inside his 2016 campaign, pressuring the agencies to reveal secret information and demanding an investigation of his investigators. The confrontation has no precedent in the modern era and holds great stakes not just for the president but for the relative autonomy for law enforcement investigations established after Watergate. Mr. Trump's allies argue that he has every right to manage the executive branch and every reason to be outraged at possible misconduct aimed at his campaign. But many law enforcement veterans say he is wreaking untold damage on institutions that form the bulwark of a democratic society."
Sunday, 27 May 2018, Day 493:
U.S. and North Korean Officials Race to Resurrect Trump-Kim Meeting,  The New York Times, Michael D. Shear and David E. Sanger, Sunday, 27 May 2018: "The United States and North Korea on Sunday kicked off an urgent, behind-the-scenes effort to resurrect a summit meeting between their two leaders by June 12, racing to develop a joint agenda and dispel deep skepticism about the chances for reaching a framework for a lasting nuclear agreement in so little time. Technical and diplomatic experts from the United States made a rare visit to North Korea to meet with their counterparts, American officials said on Sunday. Before any summit meeting, the American team, led by Sung Kim, a veteran diplomat, is seeking detailed commitments from Kim Jong-un, the North Korean leader, about his regime's willingness to abandon its nuclear weapons program. In a tweet Sunday night, President Trump confirmed the meetings in the North Korean part of Panmunjom, a 'truce village' in the Demilitarized Zone that separates the two Koreas. He also expressed his administration's newfound optimism about the meeting, further embracing the conciliatory language both sides have used since he canceled the planned meeting in a bitterly worded letter to Mr. Kim on Thursday."
The U.S. lost track of 1,475 immigrant children last year. Here's why people are outraged now. The Washington Post, Amy B Wang, Sunday, 27 May 2018: "Reports of federal authorities losing track of nearly 1,500 immigrant children in their custody. Scathing criticism over children being taken from their migrant parents at the border. Proposed rallies. In the past week, outrage about treatment of children taken into U.S. custody at the Southwest border has reached a fever pitch, exploding in a barrage of tweets and calls to action with the hashtags #WhereAreTheChildren and #MissingChildren. How accurate are certain claims circulating online? What do those children have to do with the Trump administration's new immigration enforcement policies? How many families are being separated? And why is there so much outrage about it now? We take a look at how the story has snowballed."
What the legal process looks like for an immigrant child taken away from his parents, The Washington Post, Philip Bump, Sunday, 27 May 2018: "There's been an avalanche of grim news centered on young immigrants apprehended at the border with Mexico. On Wednesday, the American Civil Liberties Union published a report documenting abusive encounters between young people and border agents during the administration of President Barack Obama. Last month, the government admitted it had lost track of more than a thousand children who had been placed with sponsors after being caught crossing the border alone. In recent days, though, attention has been focused on a new crisis for immigrant children. Earlier this month, Attorney General Jeff Sessions announced a new policy in which families arriving at the border would be forcibly broken up, with children and parents separated from one another and detained separately. MSNBC's Chris Hayes explored the practical ramifications of the policy: children as young as 1½, too young to form complete sentences, much less care for themselves, torn away from their parents and sent to government detention facilities. It's a policy specifically meant to serve as a deterrent to future immigrants, as White House Chief of Staff John F. Kelly made clear in an interview with NPR a few weeks ago. Sessions tried to argue that it was meant to prevent trafficking and abuse, but Kelly's insistence that it was a deterrent matches reporting that indicates President Trump himself authorized the change to limit a recent increase in the number of families seeking entry to the United States. On Saturday, Trump tweeted that the policy of ripping apart families was a law being supported by Democrats. That's not true. It's a policy he supported and implemented, apparently because of its 'horrible' — his descriptor — deterrent effects."
Rudy Giuliani admits 'Spygate' is Trump PR tactic against Special Counsel Robert Mueller, The Guardian, Tom McCarthy, Sunday, 27 May 2018: "Former New York City mayor Rudy Giuliani said on Sunday that his repeated imputations of a supposed scandal at the heart of the Robert Mueller investigation – which Donald Trump calls 'Spygate' – amounted to a tactic to sway public opinion and limit the risk of the president being impeached. 'Of course we have to do it to defend the president,' Trump's lawyer told CNN State of the Union host Dana Bash, who accused him of being part of a campaign to undermine the Mueller investigation. Trump has repeatedly called the special counsel's work a 'witch hunt,' despite its producing five guilty pleas, including by three former Trump aides, and evidence of Russian tampering in US elections. 'It is for public opinion,' Giuliani said of his public campaign of dissimulation. 'Because eventually the decision here is going to be impeach or not impeach. Members of Congress, Democrats and Republicans, are going to be informed a lot by their constituents. And so our jury – and it should be – is the American people.'"
Monday, 28 May 2018, Day 494:
With 'Spygate,' Trump Shows How He Uses Conspiracy Theories to Erode Trust, The New York Times, Julie Hirschfeld Davis and Maggie Haberman, Monday, 28 May 2018: "As a candidate, Donald J. Trump claimed that the United States government had known in advance about the Sept. 11 attacks. He hinted that Antonin Scalia, a Supreme Court justice who died in his sleep two years ago, had been murdered. And for years, Mr. Trump pushed the notion that President Barack Obama had been born in Kenya rather than Honolulu, making him ineligible for the presidency. None of that was true. Last week, President Trump promoted new, unconfirmed accusations to suit his political narrative: that a "criminal deep state" element within Mr. Obama's government planted a spy deep inside his presidential campaign to help his rival, Hillary Clinton, win — a scheme he branded 'Spygate.' It was the latest indication that a president who has for decades trafficked in conspiracy theories has brought them from the fringes of public discourse to the Oval Office. Now that he is president, Mr. Trump's baseless stories of secret plots by powerful interests appear to be having a distinct effect. Among critics, they have fanned fears that he is eroding public trust in institutions, undermining the idea of objective truth and sowing widespread suspicions about the government and news media that mirror his own."
Ivanka Trump Wins China Trademarks, and Then Her Father Vows to Save ZTE, a Major Chinese Telecommunications Company, The New York Times, Sui-Lee Wee, Monday, 28 May 2018: "China this month awarded Ivanka Trump seven new trademarks across a broad collection of businesses, including books, housewares and cushions. At around the same time, President Trump vowed to find a way to prevent a major Chinese telecommunications company from going bust, even though the company has a history of violating American limits on doing business with countries like Iran and North Korea. Coincidence? Well, probably. Still, the remarkable timing is raising familiar questions about the Trump family's businesses and its patriarch's status as commander in chief. Even as Mr. Trump contends with Beijing on issues like security and trade, his family and the company that bears his name are trying to make money off their brand in China's flush and potentially promising market."
Did Trump Violate Ethics Rules by Vowing to Save ZTE, a Major Chinese Telecommunications Firm, Just Three Days After the Chinese Government Made a $500 Million Loan to an Indonesian Theme Park That Includes Trump-Branded Businesses? Newsweek, Jessica Kwong, Monday, 28 May 2018: "More than 60 House Democrats are calling for an ethics investigation over the 'extremely short time frame' between a $500 million loan the Chinese government made to an Indonesian theme park with Trump Organization properties, and President Donald Trump's move to save the Chinese telecommunications firm ZTE. In a letter addressed to U.S. Office of Government Ethics Acting Director David Apol, tweeted by U.S. Representative David Cicilline of Rhode Island on Sunday, Democrats pointed out that Trump had his administration save ZTE from financial collapse three days after reports of the Chinese government's massive loan to the theme park that will include a Trump-branded hotel and golf course, residences and shops."
Did the Trump Administration Separate Immigrant Children From Parents and Lose Them? The New York Times, Amy Harmon, Monday, 28 May 2018: "President Trump over the weekend falsely blamed Democrats for a 'horrible law' separating immigrant children from their parents. In fact, his own administration had just announced this policy earlier this month. His comments followed days of growing alarm that federal authorities have lost track of more than 1,000 immigrant children, mostly from Central America, giving rise to hashtags like #WhereAreTheChildren and claims that children are being ripped from their parents' arms at the border and then being lost. But the president is not the only one spreading wrong information. Across social media, there have been confusing reports of what happened to these immigrant children. Here are some answers."
Most U.S. gun owners support stronger gun laws, Reuters, Carolyn Crist, Monday, 28 May 2018: "While gun owners and non-gun owners disagree on a handful of proposed policies, they agree on many new measures to strengthen gun laws, according to a new study. A majority in both groups supports universal background checks, greater accountability for licensed gun dealers, higher safety training standards for concealed-carry permit holders, improved reporting of records related to mental illness for background checks, gun prohibitions for those with temporary domestic violence restraining orders, and gun violence restraining orders. 'We dwell so much on the areas where Americans are divided on guns, and we wanted to look for the important areas where Americans can agree,' said lead study author Dr. Colleen Barry of the Johns Hopkins Center for Gun Policy and Research in Baltimore, Maryland."
Tuesday, 29 May 2018, Day 495:
Trump Asked Attorney General Jeff Sessions to Retain Control of Russia Inquiry After His Recusal, The New York Times, Michael S. Schmidt and Julie Hirschfeld Davis, Tuesday, 29 May 2018: "By the time Attorney General Jeff Sessions arrived at President Trump's Mar-a-Lago resort for dinner one Saturday evening in March 2017, he had been receiving the presidential silent treatment for two days. Mr. Sessions had flown to Florida because Mr. Trump was refusing to take his calls about a pressing decision on his travel ban. When they met, Mr. Trump was ready to talk — but not about the travel ban. His grievance was with Mr. Sessions: The president objected to his decision to recuse himself from the Russia investigation. Mr. Trump, who had told aides that he needed a loyalist overseeing the inquiry, berated Mr. Sessions and told him he should reverse his decision, an unusual and potentially inappropriate request. Mr. Sessions refused. The confrontation, which has not been previously reported, is being investigated by the special counsel, Robert S. Mueller III, as are the president's public and private attacks on Mr. Sessions and efforts to get him to resign. Mr. Trump dwelled on the recusal for months, according to confidants and current and former administration officials who described his behavior toward the attorney general. The special counsel's interest demonstrates Mr. Sessions's overlooked role as a key witness in the investigation into whether Mr. Trump tried to obstruct the inquiry itself. It also suggests that the obstruction investigation is broader than it is widely understood to be — encompassing not only the president's interactions with and firing of the former F.B.I. director, James B. Comey, but also his relationship with Mr. Sessions." See also, Special Counsel Robert Mueller's obstruction of justice probe is bigger than we realized, The Washington Post, Aaron Blake, published on Wednesday, 30 May 2018.
Puerto Rico: Thousands more died from Hurricane Maria than the official toll of 64, study finds, The Guardian, Jamiles Lartey, Tuesday, 29 May 2018: "The landfall of Hurricane Maria in Puerto Rico last September led to the death of thousands on the island, according to a new study – in sharp conflict with the official government death toll of 64. The report in the New England Journal of Medicine concludes that as many as 4,600 'excess deaths' occurred in the aftermath of the storm due to failures of medical and other critical infrastructure, and described the official number as 'a substantial underestimate.' Researchers said their fresh evaluation was probably an underestimate, too, owing to problems with communications that persist in the storm's aftermath. In an enormous range of calculations, they said there was a 95% likelihood the death toll was somewhere between approximately 800 and 8,500 people." See also, Harvard study estimates thousands died in Puerto Rico because of Hurricane Maria, The Washington Post, Arelis R. Hernández and Laurie McGinley, Tuesday, 29 May 2018. See also, Puerto Rico's Hurricane Maria Death Toll Could Exceed 4,000, New Study Estimates, The New York Times, Sheri Fink, Tuesday, 29 May 2018. See also, Why Are the Death Tolls in Puerto Rico From Hurricane Maria So Different? The New York Times, Sheri Fink, published on Saturday, 2 June 2018: "Widely different estimates of Hurricane Maria's death toll in Puerto Rico have led to confusion. [This article is] a guide to the tallies, what accounts for their differences and how a new study aims to provide a more definitive account."
Trump Officials, Moving to Break Up Migrant Families, Blame Democrats, The New York Times, Julie Hirschfeld Davis and Ron Nixon, Tuesday, 29 May 2018: "Trying to turn the tables politically on President Trump's own immigration policy, administration officials on Tuesday defended new measures they are taking to separate children from migrant parents who cross the United States' southern border without authorization, blaming the situation on Democrats who have bitterly denounced it. Top officials from the White House, the Justice Department and the Department of Homeland Security argued that a series of court rulings and laws that existed when Mr. Trump took office had essentially given them no choice but to carry out a policy that many human rights groups have condemned as inhumane…. The argument appeared devised to undergird the message from the president himself over the weekend, when he placed the child separation policy at the feet of his political opponents. In a Twitter post on Saturday, Mr. Trump wrote, 'Put pressure on the Democrats to end the horrible law that separates children from there parents once they cross the Border into the U.S.' There is, in fact, no such law. A 1997 court settlement sharply limits the amount of time families can be held in detention by immigration authorities when they are encountered at the border." See also, Trump's 'zero tolerance' at the border is causing child shelters to fill up fast, The Washington Post, Nick Miroff, Tuesday, 29 May 2018.
Supreme Court Allows Arkansas Abortion Restrictions to Stand, The New York Times, Adam Liptak, Tuesday 29 May 2018: "The Supreme Court refused on Tuesday to hear a challenge to an Arkansas law that could force two of the state's three abortion clinics to close. As is their custom, the justices gave no reasons for turning away the appeal. The case will continue to be litigated in the lower courts. The law concerns medication abortions, which use pills to induce abortions in the first nine weeks of pregnancy. The law, enacted in 2015, requires providers of the procedure to have contracts with doctors who have admitting privileges at a hospital in the state. Abortion clinics in Arkansas said they were unable to find any doctors willing to sign such contracts."
Roseanne Barr Incites Fury With Racist Tweet, and Her Show Is Canceled by ABC, The New York Times, John Koblin, Tuesday, 29 May 2018: "Two months ago, Roseanne Barr was a star again. Her sitcom 'Roseanne' returned in March after a two-decade absence to enormous ratings on ABC. Network executives were celebrating their strategy of appealing to wider swaths of the country after Donald J. Trump's surprising election win and the president himself called Ms. Barr to congratulate her on the show's large audience. But on Tuesday, that all came crashing down. ABC abruptly canceled 'Roseanne' hours after Ms. Barr, the show's star and co-creator, posted a racist tweet about Valerie Jarrett, an African-American woman who was a senior adviser to Barack Obama throughout his presidency and considered one of his most influential aides. Ms. Barr wrote if the 'muslim brotherhood & planet of the apes had a baby=vj.' Ms. Barr later apologized, but it was too late. In announcing the show's cancellation, ABC's entertainment president, Channing Dungey, said in a statement that 'Roseanne's Twitter statement is abhorrent, repugnant and inconsistent with our values.'" See also, Canceling 'Roseanne' has everything to do with race and media in Trump-era America, The Washington Post, Margaret Sullivan, published on Wednesday, 30 May 2018. See also, Glenn Greenwald: Why Did ABC Ignore Roseanne Barr's Hateful Tweets Against Arabs and Palestinians? Democracy Now! published on Wednesday, 30 May 2018: "I think we ought to be extremely cautious about awarding any praise whatsoever to anybody at ABC for canceling Roseanne's show. There is no question at all that what she tweeted is completely in line and perfectly consistent with what she has been saying and writing and tweeting for many years. ABC had to have known exactly what she thought and the things that she believed when they gave her the show that they gave her." See also, ABC Fires Roseanne Barr After Her Apology for Her Racist Tweet Confirmed It Was Racist, The Intercept, Robert Mackey, Tuesday, 29 May 2018: "Although she deleted her racist tweet about Jarrett, the rest of Barr's Twitter feed reveals a mind saturated in far-right conspiracy theories. In just the hour leading up to her apology on Tuesday, Barr's tweets and retweets included: references to the viral 'QAnon' conspiracy theory, which holds that a senior government official is using 4chan to post clues about pedophiles in the intelligence services plotting against Trump; a blog post claiming that Obama had directed the CIA to spy on Trump's campaign; lies about the philanthropist George Soros having collaborated with the Nazis and claims that he was scheming to undermine democracy in cahoots with Chelsea Clinton; another attempt to smear Jarret by claiming that her mother was an anti-American communist; and an impassioned defense of Tommy Robinson, a far-right English nationalist who was jailed for contempt of court in Britain after using Facebook to harass and smear British Muslims. As outrage spread across social networks over Barr's clear racism against an African-American woman, several commentators noted that ABC had previously seemed willing to overlook her prior, frequent expressions of anti-Muslim bias."
At Rally in Nashville, Tennessee, Trump Links Democrats to MS-13 and Works the Audience Into a Frenzy Over Immigration, The New York Times, Julie Hirschfeld Davis, Tuesday, 29 May 2018: "President Trump accused Democrats on Tuesday of siding with brutal immigrant gang members over American citizens and implored Republican voters to turn out in November's midterm elections or risk the safety of their country. During a raucous rally in Nashville, Mr. Trump invoked fears of crimes committed by illegal immigrants, particularly by the transnational gang MS-13, to argue for stricter border policies, including his long-promised wall, and charged that Democrats were standing in the way…. He worked an audience of about 5,500 people into a frenzy by recalling the term he used this month during a discussion of how difficult it was to target suspected undocumented immigrants, including criminal gang members, for deportation. 'What was the name?' Mr. Trump asked. 'Animals!' his cheering supporters screamed back."
Eric Greitens, Missouri Governor and Rising Republican Star, Resigns Amid Scandal, The New York Times, Mitch Smith and Julie Bosman, Tuesday, 29 May 2018: "Eric Greitens was a decorated Navy SEAL who served in Afghanistan and Iraq, the founder of a veterans' charity in Missouri and a Rhodes scholar. Chiseled and charismatic, he was elected governor of Missouri and seen by his fellow Republicans as a potential superstar in the party, someone with the brains and political instincts to perhaps rise all the way to the White House. But on Tuesday, Mr. Greitens abruptly resigned, more than four months into a scandal involving a sexual relationship with his former hairdresser and claims that he had taken an explicit photograph of her without her permission. He was also accused by prosecutors of misusing his charity's donor list for political purposes." See also, The Lesson of Missouri Republican Governor, Eric Greitens, and the Navy Seals Who Tried to Warn Us About Him, The New Yorker, Phil Klay, published on Thursday, 17 May 2018: "A former Navy SEAL who was once a rising star in the Republican Party, Greitens is now fighting allegations of sexual coercion, blackmail, invasion of privacy, and misuse of charity resources to fund his campaign. The charges stunned many in Missouri, but, in the tight-knit SEAL community, Greitens has been a divisive figure for years. In 2016, before Greitens was elected, a group of mostly anonymous current and former SEALs tried to sound the alarm about why they thought he was unfit for office." See also, Republican Governor Eric Greitens of Missouri Resigns: 5 Takeaways, The New York Times, Julie Bosman and Mitch Smith, published on Wednesday, 30 May 2018.
Trump says Special Counsel Robert Mueller's investigation of the 2016 election interference by Russia is now interfering with the 2018 midterm elections, The Washington Post, Anne Gearan, John Wagner, and Josh Dawsey, Tuesday, 29 May 2018: "President Trump on Tuesday accused prosecutors working on the investigation into Russian interference in the 2016 election of planning to meddle in this year's midterm elections, escalating his attack on the probe while offering no evidence to back up his assertion. In several morning tweets, Trump attempted to cast himself as the victim of a partisan assault, part of a pattern of political deflection in recent days where the president has made false or exaggerated statements in defending his policies or attacking his perceived enemies. Over the weekend, Trump blamed Democrats for his policy of separating migrant families at the border, falsely said that the New York Times made up a source for a story on negotiations between the United States and North Korea, and continued to claim that the FBI's use of a source to interact with members of his 2016 election team was an attempt to spy on the campaign. Trump's unsupported assertion that prosecutors working for special counsel Robert S. Mueller III will affect the midterm elections to help Democrats was his latest effort to discredit the investigation, which is looking into Russian interference in the 2016 presidential election and possible coordination between Moscow and Trump's campaign."
Wednesday, 30 May 2018, Day 496:
Former Acting F.B.I. Director, Andrew McCabe, Wrote a Confidential Memo in May 2017 in Which He Expressed His Fear that Rod Rosenstein Helped Provide Trump With a Cover Story for the Firing of F.B.I. Director James Comey, The New York Times, Matt Apuzzo, Adam Goldman, and Michael S. Schmidt, Wednesday, 30 May 2018: "The former acting F.B.I. director, Andrew G. McCabe, wrote a confidential memo last spring recounting a conversation that offered significant behind-the-scenes details on the firing of Mr. McCabe's predecessor, James B. Comey, according to several people familiar with the discussion. Mr. Comey's firing is a central focus of the special counsel's investigation into whether President Trump tried to obstruct the investigation into his campaign's ties to Russia. Mr. McCabe has turned over his memo to the special counsel, Robert S. Mueller III. In the document, whose contents have not been previously reported, Mr. McCabe described a conversation at the Justice Department with the deputy attorney general, Rod J. Rosenstein, in the chaotic days last May after Mr. Comey's abrupt firing. Mr. Rosenstein played a key role in the dismissal, writing a memo that rebuked Mr. Comey over his handling of an investigation into Hillary Clinton. But in the meeting at the Justice Department, Mr. Rosenstein added a new detail: He said the president had originally asked him to reference Russia in his memo, the people familiar with the conversation said. Mr. Rosenstein did not elaborate on what Mr. Trump had wanted him to say. To Mr. McCabe, that seemed like possible evidence that Mr. Comey's firing was actually related to the F.B.I.'s investigation into the Trump campaign's ties to Russia, and that Mr. Rosenstein helped provide a cover story by writing about the Clinton investigation." See also, Rod Rosenstein and the very valid recusal question, The Washington Post, Aaron Blake, published on Thursday, 31 May 2018: "The New York Times just filled out the story of James B. Comey's firing a little bit more. It turns out then-acting FBI director Andrew McCabe drafted a memo about an event he thought to be problematic in the days after President Trump fired Comey as FBI director. The memo says Deputy Attorney General Rod J. Rosenstein told McCabe that Trump had asked Rosenstein to mention Russia in his memo laying out the case for firing Comey. It's clear why this is significant for special counsel Robert S. Mueller III's obstruction of justice probe: It would be a written record of a contemporaneous account that contradicted the official, stated reasons for Comey's firing — that they had to do with job performance and the Hillary Clinton investigation. Trump would later say he had the Russia investigation on his mind when he fired Comey, and this would solidify the evidence that the initial reasons were misleading, at best, and that he was trying to impede the investigation. But it also complicates things for Rosenstein. There has been an undercurrent of questions about why he has not recused himself from overseeing Mueller's investigation, given that he is somewhat wrapped up in the obstruction of justice case through his authorship of that Comey memo. And this will only add to those questions."
Big Banks to Get a Break From the Volcker Rule's Limits on Risky Trading, The New York Times, Emily Flitter and Alan Rappeport, Wednesday, 30 May 2018: "Big banks are getting a big reprieve from a postcrisis rule aimed at curbing risky behavior on Wall Street. Federal bank regulators on Wednesday unveiled a sweeping proposal to soften the Volcker Rule, a cornerstone of the 2010 law that was enacted after the financial crisis to rein in risky trading. The change would give Wall Street banks more freedom to make their own complex bets — activities that can be highly profitable but also leave them more vulnerable to losses. The rule, part of the broader Dodd-Frank law, was put in place to prevent banks from making unsafe bets with depositors' money. It took five agencies three years to write it and has been criticized by Wall Street as too onerous and harmful to the proper functioning of financial markets. On Wednesday, the Federal Reserve proposed easing several parts of the rule, and four other regulators are expected to soon follow suit, kicking off a public comment period that is expected to last 60 days. The loosening of the Volcker Rule is part of a coordinated effort underway in Washington to relax rules put into place in the wake of the 2008 financial crisis. Big banks, emboldened by President Trump's deregulatory agenda and a more favorable political climate in Washington, have begun pressing for changes to several postcrisis rules, including the Volcker Rule. Last week, Mr. Trump signed into law a bipartisan bill that will free thousands of small and medium-size banks from the Dodd-Frank law, and on May 21, he signed a law rescinding a consumer rule aimed at preventing discrimination by auto lenders." See also, Federal Reserve votes to ease rule aimed at preventing big banks from making risky financial bets, The Washington Post, Renae Merle, Wednesday, 30 May 2018.
How the Trump Administration Got Comfortable Separating Immigrant Kids From Their Parents: Separating families at the border is now an explicit component of the Trump Administration's zero-tolerance immigration policy, The New Yorker, Jonathan Blitzer, Wednesday, 30 May 2018: "Two months into Donald Trump's Presidency, John Kelly, then the Secretary of Homeland Security, publicly confirmed that his department was considering separating immigrant parents from their children at the border, as a way of discouraging families from crossing illegally. It was a radical idea, one that past Administrations had considered and then dismissed as too extreme and too complicated. After coming under intense criticism from the press, human-rights advocates, and members of Congress, Kelly backed off from it. But the idea persisted."
Fred Fleitz, the new National Security Council (NSC) chief of staff, is from the Center for Security Policy, a group that believes Muslims are plotting to take over the U.S., The Washington Post, Abigail Hauslohner, Wednesday, 30 May 2018: "The White House has named a new National Security Council chief of staff from a group that propagates the conspiracy theory that Islamists have infiltrated the U.S. government in a plot to take over the country. The appointment of Fred Fleitz drew condemnation from civil rights groups this week. The Anti-Defamation League criticized what it described as 'his senior leadership role with the Center for Security Policy, an Islamophobic, conspiracy-promoting organization.' Another organization, Muslim Advocates, wrote in statement responding to Fleitz's appointment Tuesday, 'The White House continues to be the nation's central organizing body for white supremacists.'" See also, John Bolton, Trump's National Security Adviser, Installs an Anti-Muslim Wingnut as National Security Council Chief of Staff, New York Magazine, Eric Levitz, Wednesday, 30 May 2018. See also, SPLC Statement on John Bolton Naming Fred Fleitz as National Security Council Chief of Staff, Southern Poverty Law Center, Heidi Beirich, Wednesday, 30 May 2018: "We're deeply alarmed by this trend of people associated with hate groups joining the Trump administration. On Tuesday, National Security Adviser John Bolton named Fred Fleitz, senior vice president of the Center for Security Policy (CSP), to be his chief of staff at the National Security Council (NSC). Founded by Frank Gaffney, the CSP is known for propagating wild conspiracy theories that have no basis in fact but do stoke a climate of fear and violence against American Muslims. These conspiracy theories are based on the false notion that violent extremists claiming to act in the name of Islam have infiltrated all levels of our government with the aim of destroying our democracy and that 'creeping Shariah,' or Islamic religious law, is an actual threat to our legal system. Fleitz will now be in a position to do serious harm to our national security as he pushes an extreme anti-Muslim agenda."
Virginia General Assembly approves Medicaid expansion to 400,000 low-income residents, The Washington Post, Laura Vozzella and Gregory S. Schneider, Wednesday, 30 May 2018: "The Virginia legislature voted Wednesday to make government health insurance available to 400,000 low-income residents, overcoming five years of GOP resistance. The decision marks a leftward shift in the legislature and an enormous win for Gov. Ralph Northam (D), the pediatrician who ran on expanding access to health care. Virginia will join 32 other states and the District in expanding Medicaid coverage. The measure is expected to take effect Jan. 1." See also, Why Virginia's Medicaid expansion is a big deal, The Washington Post, James Hohmann, published on Thursday, 31 May 2018.
Senior House Republican Trey Gowdy, chair of the House Oversight Committee, rejects Trump's claim that the FBI planted a 'spy' in his 2016 presidential campaign, Associated Press, Anne Flaherty, Wednesday, 30 May 2018: "There is no evidence that the FBI planted a 'spy' in President Donald Trump's 2016 campaign, a senior House Republican said Wednesday, contradicting Trump's repeated insistence that the agency inserted a 'spy for political reasons and to help Crooked Hillary win.' Rep. Trey Gowdy, chairman of the House Oversight Committee and a longtime Trump supporter, was briefed last week by the Justice Department and FBI following reports that investigators relied on a U.S. government informant in their probe of Russian election meddling. 'I am even more convinced that the FBI did exactly what my fellow citizens would want them to do when they got the information they got and that it has nothing to do with Donald Trump,' Gowdy, a South Carolina Republican, told Fox News on Tuesday." See also, Trey Gowdy's total rebuke of Trump's 'spying' narrative–and the pattern it fits, The Washington Post, Aaron Blake, Wednesday, 30 May 2018.
A Federal Judge in Manhattan Suggests the Review of Michael Cohen Documents Is Moving Too Slowly and Sets a 15 June Deadline, The New York Times, Alan Feuer and Benjamin Weiser, Wednesday, 30 May 2018: "A federal judge in Manhattan on Wednesday ordered lawyers for Michael D. Cohen, President Trump's longtime fixer, to complete within just over two weeks their review of a huge trove of documents and data that the F.B.I. seized from Mr. Cohen last month and that prosecutors are eager to use in their continuing investigation of him. The judge, Kimba M. Wood, said that if the lawyers did not meet her June 15 deadline, she would allow the government to take control of the review, which is seeking to determine whether any of the seized paperwork or electronic files should be protected under the lawyer-client privilege. A court-appointed special master has been overseeing scrutiny of the materials with Mr. Cohen's lawyers, but Judge Wood suggested in a hearing in United States District Court that the process was moving too slowly…. On Tuesday, the special master, Barbara S. Jones, reported to the judge that more than one million items from three of Mr. Cohen's cellphones would be turned over to the government on Wednesday after lawyers for Mr. Cohen and Mr. Trump determined that they contained no privileged information. About 300,000 additional files were turned over to prosecutors last week." See also, Judge sets endpoint for review of seized files of Michael Cohen and rebukes Michael Avenatti's 'publicity tour,' The Washington Post, Philip Bump and Mark Berman, Wednesday, 30 May 2018.
Trump Responds to Fury Over 'Roseanne,' but Not to Her Racist Remarks, The New York Times, Katie Rogers and Emily Cochrane, Wednesday, 30 May 2018: "It was not the racist comment that made the president angry. It was the apology from ABC. Wading into a public outcry over remarks by the comedian Roseanne Barr, President Trump did not condemn the Twitter post about a black former aide to President Barack Obama that led to the swift cancellation of Ms. Barr's ABC sitcom. Instead, he expressed his own grievances on Wednesday and Thursday with what the network's on-air personalities have said about him, and insisted he was the one who deserved an apology. Specifically, the president called out Robert A. Iger, the chairman of Disney, the parent company of ABC, who had phoned the former Obama aide, Valerie Jarrett, on Tuesday to apologize for Ms. Barr's language. The president, referring to himself in the third person, complained on Twitter that Mr. Iger had 'never called President Donald J. Trump to apologize for the HORRIBLE statements made and said about me on ABC.' His response was not a total surprise. Mr. Trump has reacted to other divisive events not by issuing statements of unity or moral clarity as other presidents might have done, but by finding equivalence or diverting attention. He declared last summer that there were 'fine people' on both sides of a white supremacist march in Charlottesville, Va., and when African-Americans raised the issue of police brutality last fall, he attacked the N.F.L. players who knelt during the national anthem in protest." See also, Trump was asked to respond to Roseanne's racist tweets. He made the incident about himself. The Washington Post, Eugene Scott, Wednesday, 30 May 2018. See also, George Soros wasn't a Nazi, Roseanne Barr. He was a 14-year-old Jew who hid from them. The Washington Post, Avi Selk, Wednesday, 30 May 2018.
Thursday, 31 May 2018, Day 497:
White House to Impose Metal Tariffs on European Union, Canada, and Mexico, The New York Times, Ana Swanson, Thursday, 31 May 2018: "The Trump administration said on Thursday that it would impose steep tariffs on metals imported from its closest allies, provoking retaliation against American businesses and consumers and further straining diplomatic ties tested by the president's combative approach. The European Union, Canada and Mexico, which will face 25 percent tariffs on steel and 10 percent on aluminum, quickly denounced the action and drew up lists of tit-for-tat measures, many aimed at parts of the United States where President Trump enjoys his strongest political support. The move follows months of uncertainty as the Trump administration dangled potential exemptions for allies in return for concessions on other fronts. In moving forward with tariffs on national security grounds, the administration now faces a crucial test of whether its aggressive strategy will extract promises from trading partners or end up backfiring on the United States economy." See also, Trump imposes steel and aluminum tariffs on the European Union, Canada, and Mexico, The Washington Post, David J. Lynch, Josh Dawsey, and Damian Paletta, Thursday, 31 May 2018.
Lawsuit Says Citizenship Question on Census Targets Minorities for Political Gain, Violating the Constitution, The New York Times, Michael Wines, Thursday, 31 May 2018: "A decision by the Trump administration to add a question on citizenship to the 2020 census discriminates against ethnic minorities for political gain, violating the Constitution, argues a federal lawsuit brought Thursday on behalf of several groups representing minorities. The lawsuit, filed by 21 organizations and two citizen plaintiffs in United States District Court in Maryland, is the fourth major effort to block a citizenship question from the 2020 tally. The first suit, filed in April by a mostly Democratic coalition of state attorneys general and cities, argued that the citizenship question violated the Constitution's requirement that a census count everyone residing in the United States, as well as laws governing data quality and administrative procedure. The latest suit repeats those claims, but also argues that the administration added the question to deter Asian-Americans, Latinos and some immigrants from completing census forms for fear that the information would be used against them or members of their household, and thus undercount them in the final census tally. A serious population undercount, the plaintiffs said, would reduce minority representation in the House of Representatives and state and local governments when political districts are reapportioned early next decade. That violates the Fifth Amendment's equal-protection clause, the lawsuit states — the first time that opponents of the citizenship question have leveled a charge of intentional discrimination against the administration for its census decision."
Though White Americans Benefit Most From Social Safety Net, Study by Researchers at UC Berkeley and Stanford Shows How Racial Resentment Can Fuel Welfare Opposition, Common Dreams, Julia Conley, Thursday, 31 May 2018: "Mistaken beliefs about who benefits most from the social safety net has led white Americans to oppose programs like Medicaid, Supplemental Nutrition Assistance Program (SNAP, also known as food stamps), and other government assistance initiatives in greater numbers—and could trigger the further weakening of such programs, according to a new study. In a study titled 'Privilege on the Precipice,' published in the journal Social Forces, researchers at Stanford University and UC Berkeley reported that across the political spectrum and socioeconomic statuses, white opposition to social welfare programs has risen sharply since 2008."
Prosecutors interview James Comey as they investigate whether Andrew McCabe should be charged with a crime, The Washington Post, Matt Zapotosky, Thursday, 31 May 2018: "Investigators from the D.C. U.S. Attorney's Office recently interviewed former FBI director James B. Comey as part of a probe into whether his deputy, Andrew McCabe, broke the law by lying to federal agents — an indication the office is seriously considering whether McCabe should be charged with a crime, a person familiar with the matter said. Justice Department Inspector General Michael E. Horowitz accused McCabe in April of misleading investigators and Comey four times — three of them under oath — about authorizing a disclosure to the media. Horowitz referred the findings to the D.C. U.S. Attorney's Office to determine whether criminal charges are warranted."
With Legislation Stalled, Education Secretary Betsy DeVos Moves to Wield Deregulatory Power, The New York Times, Erica L. Green, Thursday, 31 May 2018: "The top Republican on the Senate Education Committee effectively killed on Thursday all hope for a highly anticipated overhaul this year of the law governing the nation's 4,000 colleges and universities, paving the way for Education Secretary Betsy DeVos to wield her deregulatory power."
California files back-to-back lawsuits against the Environmental Protection Agency, The Washington Post, Dino Grandoni, Thursday, 31 May 2018: "This week, Xavier Becerra, the state's litigious attorney general and a former House Democratic leader, filed back-to-back lawsuits against the EPA over labor and pollution policies. In the first lawsuit, filed Wednesday, California joined New York and Maryland in suing the administration for indefinitely delaying a rule meant to improve training for farm workers handling pesticides…. In the second suit, which will be filed on Thursday, California will lead other states in suing the EPA for failing to enforce a 2016 rule seeking to limit emissions from landfills of volatile organic compounds, which help form smog, and greenhouse gases like carbon dioxide and methane, which contribute to atmospheric warming. California has enjoyed a string of courtroom successes against Trump administration efforts to deregulate environmental policy. Becerra's office claims it has 10 legal victories on environmental issues across federal agencies. But it is unclear yet whether any of these wins will be lasting. Many of the initial legal challenges from California and other progressive states have been spearheaded on procedural grounds."
Trump Wields Pardon Pen to Confront Justice System He Calls Unfair: He Pardoned Dinesh D'Souza and Is Weighing Leniency for Rod Blagojevich and Martha Stewart, The New York Times, Peter Baker, Thursday, 31 May 2018: "For more than a year, President Trump has struggled to control the United States' law enforcement apparatus, frustrated that it remains at least partly out of his grasp. But he is increasingly turning to a tool that allows him to push back against a justice system he calls unfair. In a burst of action and words, Mr. Trump demonstrated Thursday that, in some instances, he still has the last word. He pardoned Dinesh D'Souza, a conservative commentator convicted of campaign finance violations, and he said he may extend clemency to former Gov. Rod R. Blagojevich of Illinois and Martha Stewart, the lifestyle mogul. As he has for all of his acts of clemency since taking office, Mr. Trump bypassed the traditional system for granting pardons and disregarded more than 10,000 languishing applications to focus instead on prominent public figures whose cases resonated with him given his own grievances with investigators. Some critics said he may even be signaling associates — like one of his personal lawyers, Michael D. Cohen, who is under investigation for possibly violating federal campaign finance laws — to stay strong and not help prosecutors." See also, Here's a reminder of some of Dinesh D'Souza's inflammatory comments, The Washington Post, Eugene Scott, Thursday, 31 May 2018. See also, Robert Grant, head of the FBI's Chicago office at the time of the Rod Blagojevich investigation, says Trump is working to upend the FBI's work as personal revenge for Special Counsel Robert Mueller's probe, Politico, Natasha Korecki, Thursday, 31 May 2018: "A top former FBI official accused President Donald Trump of acting out of spite against federal law enforcement after the president suggested Thursday he might commute former Illinois Gov. Rod Blagojevich's 14-year prison term. Robert Grant, a longtime colleague and friend of special counsel Robert Mueller who headed the FBI's Chicago office at the time of the Blagojevich investigation, told POLITICO in an interview that Trump is working to upend the FBI's work as personal revenge for the special counsel probe he's facing." See also, How Far Can Trump Go in Issuing Pardons? The New York Times, Adam Liptak, Thursday, 31 May 2018.
Daniel Jorjani, Interior Department's top lawyer, has worked with the private sector to advance industry projects and gun rights, emails show, The Washington Post, Juliet Eilperin and Dino Grandoni, Thursday, 31 May 2018: "In April 2017, pesticide industry officials were eager to meet with the Interior Department's principal deputy solicitor about a provision in the Endangered Species Act they viewed as time-consuming and complex. Representatives from the agrochemical trade association CropLife America and an affiliate, Responsible Industry for a Sound Environment (RISE), questioned the requirement that the Environmental Protection Agency consult with the two other agencies managing endangered species — the Interior Department's Fish and Wildlife Service and the Commerce Department's National Marine Fisheries Service — before licensing pesticides. The industry groups appeared pleased with the reception Daniel Jorjani gave them, according to emails just released under the Freedom of Information Act…. Jorjani worked at the [Interior Department] under George W. Bush, leaving to serve as a top adviser to conservative billionaire Charles G. Koch and as a troubleshooter for some of the companies and groups that have sought his help since his return to government, according to the documents."
Trump Prepares Lifeline for Money-Losing Coal and Nuclear Plants, Bloomberg, Jennifer A. Dlouhy, Thursday, 31 May 2018: "Trump administration officials are making plans to order grid operators to buy electricity from struggling coal and nuclear plants in an effort to extend their life, a move that could represent an unprecedented intervention into U.S. energy markets. The Energy Department would exercise emergency authority under a pair of federal laws to direct the operators to purchase electricity or electric generation capacity from at-risk facilities, according to a memo obtained by Bloomberg News. The agency also is making plans to establish a 'Strategic Electric Generation Reserve' with the aim of promoting the national defense and maximizing domestic energy supplies." See also, Trump Orders a Lifeline for Struggling Coal and Nuclear Plants, The New York Times, Brad Plumer, published on Friday, 1 June 2018. See also, Trump orders Energy Secretary Rick Perry to halt shutdown of coal and nuclear plants, The Washington Post, Steven Mufson, published on Friday, 1 June 2018.
Largest federal employees union sues Trump over 'official time' rollback, The Washington Post, Lisa Rein, Thursday, 31 May 2018: "The largest union representing federal workers took the Trump administration to court Thursday to block a new executive order that severely restricts the time employees may spend on union activity, claiming the president's action violates the First Amendment and oversteps his constitutional authority. The lawsuit filed in U.S. District Court for the District by the American Federation of Government Employees ratchets up ­labor-management tensions that have simmered at federal agencies since President Trump took office."
The White House is not cooperating with the government's chief watchdog, the Government Accountability Office, Politico, Mel Leonor, Thursday, 31 May 2018: "The White House is not cooperating with requests from the government's chief watchdog, House Democratic lawmakers said, calling for a hearing to look at the administration's 'dramatic decision' to ignore inquiries from the oversight agency. Government Accountability Office general counsel Thomas Armstrong said in a letter earlier this month to White House counsel Don McGahn that he understood that 'attorneys from your office and the National Security Council will not respond to inquiries or otherwise engage with GAO staff during the course of our reviews.' Armstrong asked for a response from McGahn by May 25 — a request that was not met, according to a separate letter dated Tuesday from Democrats on the House Oversight Committee."
The Case for Obstruction: There's Plenty of Evidence That Trump Sought to Block the Russia Probe, but It Will Take More Than That to Bring Him Down. The Intercept, James Risen, Thursday, 31 May 2018: "I believe that it is obvious – and has been for more than a year – that Trump is doing everything he can to obstruct any investigation into evidence of collusion between his campaign and Russia in the 2016 presidential election. If that means discrediting the FBI, the Justice Department, and other government agencies, Trump will do it. He is quite willing to destroy crucial governmental checks and balances to impede the investigation. This is my third column for The Intercept about the Trump-Russia case…. [It] is very straightforward. It is about whether Trump has attempted to impede the efforts, first by the FBI under then-Director James Comey and now by Mueller, to investigate whether the Trump campaign colluded with the Russians to win the White House. The answer, unequivocally, is yes. There are many open questions about other aspects of the Trump-Russia narrative, but not about this. Trump has been trying to block the investigation from the very start. The only real questions about this aspect of the case are whether Trump's efforts to impede the inquiry will meet the legal definition of obstruction of justice, whether he will be criminally charged with obstruction of justice, and whether he will face impeachment in Congress. And one more: Will Trump fire Mueller if he thinks he is getting too close to making the case for obstruction?… [I]f Mueller gets enough evidence to make an obstruction case against Trump but still can't prove the underlying case of collusion between the Trump campaign and Russia, the obstruction case will ring hollow…. [G]iven all of Trump's various early explanations, including the laughable notion that he fired Comey because of his handling of the Clinton email case (which, incidentally, almost certainly helped Trump win the election), it may be difficult to prove beyond a reasonable doubt what exactly drove him to fire Comey." See also, All the reasons it's fair to assume Trump fired James Comey because of the Russia investigation, The Washington Post, Philip Bump, Thursday, 31 May 2018. See also, Trump's lies about the Russia probe devolve into absurdity, The Washington Post, Greg Sargent, Thursday, 31 May 2018.