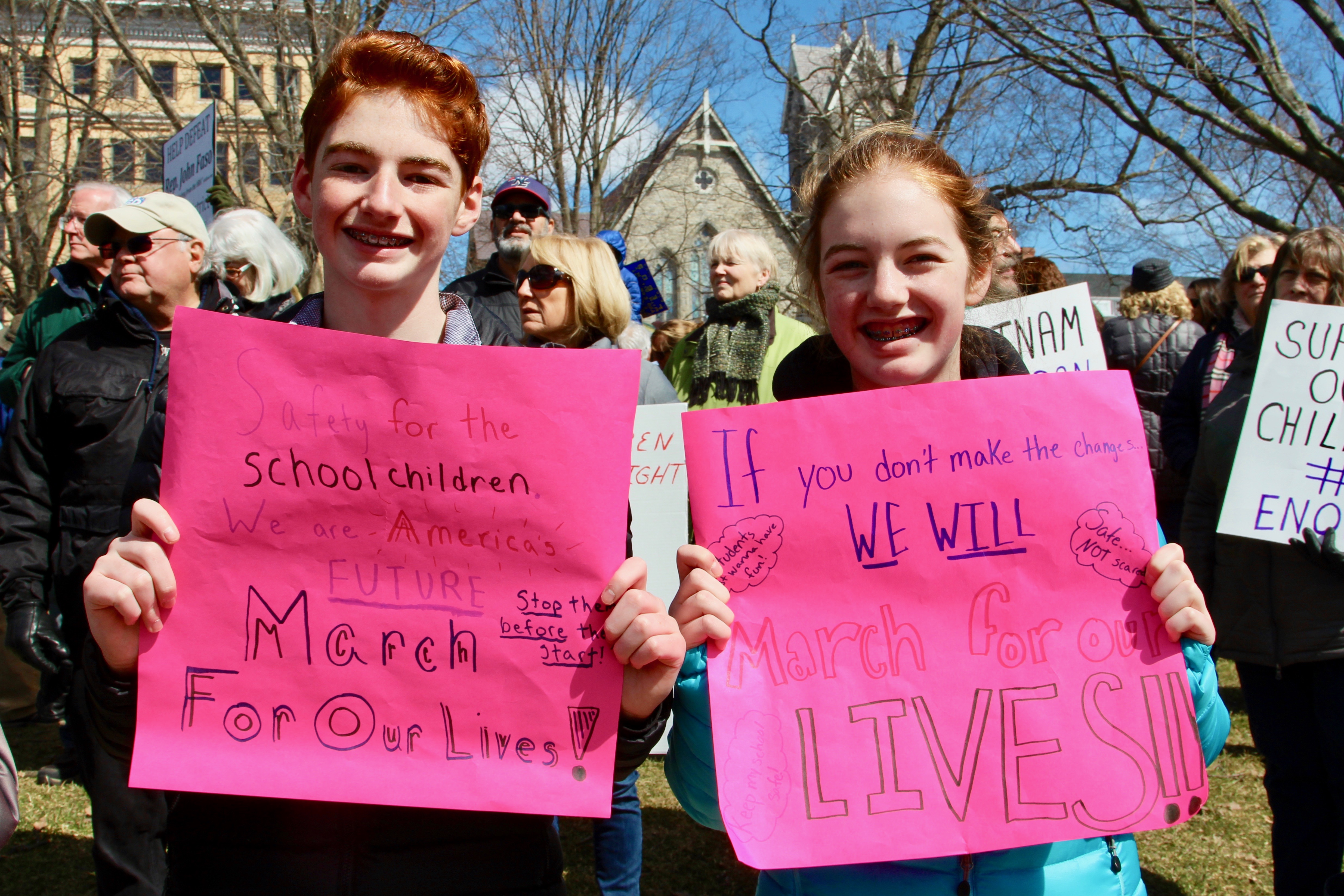 March for Our Lives, Pittsfield, MA, Saturday, 24 March 2018
Keeping Track (of some things), Staying Outraged (it is possible), and Resisting (it's essential)
Passages in bold in the body of the texts below are my emphasis. This is an ongoing project, and I update the site frequently. Because I try to stay focused on what has actually happened, I usually let the news 'settle' a day or so before posting. I hope readers will peruse the articles in full for a better understanding of the issues and their context; our democracy and our future depend on citizens who can distinguish between facts and falsehoods and who are engaged in the political process.
Friday, 11 May 2018, Day 477:
Trump's plan to Lower Drug Prices Diverges From Campaign Promise, The New York Times, Robert Pear, Friday, 11 May 2018: "President Trump vowed on Friday to 'bring soaring drug prices back down to earth' by promoting competition among pharmaceutical companies, and he suggested that the government could require drugmakers to disclose prices in their ubiquitous television advertising. But he dropped the popular and populist proposals of his presidential campaign, opting not to have the federal government directly negotiate lower drug prices for Medicare. And he chose not to allow American consumers to import low-cost medicines from abroad. He would instead give private entities more tools to negotiate better deals on behalf of consumers, insurers and employers." See also, 6 Takeaways From Trump's Plans to Try to Lower Drug Prices, The New York Times, Katie Thomas, Friday, 11 May 2018.
The Trump Administration Just Rolled Back Rules That Protect Transgender Prisoners, BuzzFeed News, Dominic Holden, Friday, 11 May 2018: "The Trump administration on Friday rolled back rules that allowed transgender inmates to use facilities that match their gender identity, including cell blocks and bathrooms, thereby reversing course on an Obama administration effort to protect transgender prisoners from sexual abuse and assault. The Bureau of Prisons now 'will use biological sex' to make initial determinations in the type of housing transgender inmates are assigned, according to a notice posted Friday evening that modifies the previous policy."
Trump, Softening His Tone, Calls for More Talks on Car Emissions, The New York Times, Hiroko Tabuchi, Friday, 11 May 2018: "President Trump on Friday directed his administration to negotiate with California over a proposed rollback of fuel economy and tailpipe emissions standards, a move that could avert a damaging court battle with the potential to sow chaos in the auto industry. California has vowed to disregard any rollbacks and stick to its own stricter emissions standards. Nonetheless, the state must be invited to the negotiating table as the administration moves forward with its plan to relax the fuel economy rules, Mr. Trump said at a White House meeting between top administration officials and major auto executives, according to three people briefed on the closed-door discussions. Mr. Trump's directive at the meeting grants a reprieve to automakers, who lobbied for a relaxation of rules aimed at cutting tailpipe emissions of carbon dioxide — a major contributor to global warming — but in recent weeks became increasingly nervous that the zealousness of the proposed rollbacks would provoke a battle with California. It remains unclear whether administration officials and California can hope to reach a compromise."
Continue reading Week 69, Friday, 11 May – Thursday, 17 May 2018 (Days 477-483)
White House Refuses to Apologize for Kelly Sadler's Joke About John McCain, The New York Times, Peter Baker, Friday, 11 May 2018: "The White House declined on Friday to renounce or apologize for an aide whose joke at a meeting that Senator John McCain was irrelevant because he would soon die went viral, outraging relatives, friends and admirers of the ailing lawmaker. Sarah Huckabee Sanders, the White House press secretary, said she would not comment on a closed-door meeting where the joke was made. And she offered no words of regret over the remark or sympathy for Mr. McCain, a Republican senator and two-time presidential candidate who is battling brain cancer at his Arizona ranch."
AT&T CEO Randall Stephenson says hiring Michael Cohen as a consultant was a 'big mistake,' The Washington Post, Brian Fung and Tony Romm, Friday, 11 May 2018: "AT&T's chief executive said Friday that his company made a "serious misjudgment" to seek advice from President Trump's personal attorney Michael Cohen and announced that its top lobbying executive in Washington would be leaving the firm. 'Our company has been in the headlines for all the wrong reasons these last few days and our reputation has been damaged,' AT&T chief executive Randall Stephenson wrote in a companywide internal email. 'There is no other way to say it — AT&T hiring Michael Cohen as a political consultant was a big mistake.' The email comes at a critical time for AT&T. A judge is deciding whether its controversial $85 billion merger with Time Warner violates antitrust law. Internal AT&T documents obtained by The Washington Post show how AT&T agreed to pay $600,000 to Cohen last year in exchange for guidance on policy matters, including issues it is facing at the Federal Communications Commission and its proposed deal with Time Warner."
Scott Pruitt's Dinner in Rome With Cardinal George Pell Who Was Facing Sexual Abuse Allegations Was Kept Off Pruitt's Public Schedule, The New York Times, Eric Lipton and Lisa Friedman: "Scott Pruitt, the administrator of the Environmental Protection Agency, dined last year in Rome with Cardinal George Pell, a prominent climate-science denialist and Vatican leader who was also facing sexual abuse allegations. The E.P.A. later released official descriptions of the dinner that intentionally did not mention the cardinal's presence, according to three current and former E.P.A. officials. Kevin Chmielewski, Mr. Pruitt's former deputy chief of staff for operations, said in an interview that top political appointees at the agency feared that the meeting would reflect poorly on Mr. Pruitt if it were made public. Twenty days after the dinner, authorities in Australia charged Cardinal Pell with sexual assault; he has denied the charges."
White House Chief of Staff John Kelly says undocumented immigrants 'don't have the skills' to assimilate into US society, CNN Politics, Veronica Stracqualursi, Friday, 11 May 2018: "White House chief of staff John Kelly said he believes the vast majority of undocumented immigrants crossing the southern border into the US do not assimilate well because they are poorly educated. 'Let me step back and tell you that the vast majority of the people that move illegally into United States are not bad people. They're not criminals. They're not MS13,' Kelly told NPR in an interview released late Thursday, referring to the criminal gang. 'But they're also not people that would easily assimilate into the United States into our modern society.' The former secretary of the Department of Homeland Security said the undocumented immigrants don't speak English and are 'overwhelmingly rural people' from countries where 'fourth-, fifth-, sixth-grade educations are kind of the norm.' 'They don't integrate well; they don't have skills. They're not bad people. They're coming here for a reason. And I sympathize with the reason. But the laws are the laws,' he went on to say. According to NPR, Kelly supports DHS' decision in ending temporary protected status (TPS) for Haiti, El Salvador, Nepal, Nicaragua, Sudan, and more recently Honduras."
Industry Lawyer Andrew M. Smith Is Expected to Head the Federal Trade Commission Consumer Protection Bureau, The New York Times, Jack Nicas, Friday, 11 May 2018: "The Federal Trade Commission is expected to appoint an industry lawyer who has represented Facebook, Uber and Equifax to lead the agency's consumer protection bureau tasked with policing those companies. The lawyer, Andrew M. Smith, would recuse himself from any potential investigations or enforcement involving dozens of companies he has worked for over the past two years while at Covington & Burling in Washington, including many banks, lenders, credit-reporting agencies and technology companies, according to two people familiar with his proposed appointment but were not authorized to speak publicly…. Richard Blumenthal, a Democratic senator from Connecticut and the ranking member of the Senate's consumer protection subcommittee, said in an interview that regardless of his recusals, Mr. Smith had the wrong résumé to run the nation's top consumer protection office. 'It isn't the specific clients. It's the culture and mind-set that's important. He's on the wrong side of these issues,' Mr. Blumenthal said. 'I can imagine worse choices, but not many.' Mr. Blumenthal said Mr. Smith's appointment was particularly concerning given that, for a congressional hearing on the Equifax breach last fall, the trade group representing credit reporting agencies chose Mr. Smith to testify on behalf of the industry. In that testimony, Mr. Smith said he did not think credit bureaus should have a fiduciary duty to consumers whose data they collect, and that current regulations on the industry were sufficient."
Saturday, 12 May 2018, Day 478:
Suspicions, Demands, and Threats: Devin Nunes vs. the Justice Department, The New York Times, Nicholas Fandos and Katie Benner, Saturday, 12 May 2018: "Since Republicans on the House Intelligence Committee declared that they had found no evidence of coordination between Russia's election interference and the Trump campaign, its chairman has decisively turned the panel's attention from investigation to investigators. The chairman, Representative Devin Nunes of California, has issued increasingly bold demands for access to some of the Justice Department's most sensitive case files. He has courted a series of escalating confrontations over access to materials that are usually off limits to Congress under department policy. And when those efforts failed, he threatened top law enforcement officials — mostly Republicans appointed by Mr. Trump. In the latest episode, splashed across cable news this past week, Mr. Nunes demanded more documents and related materials for his investigation into allegations of surveillance abuse by federal law enforcement officials. His claim pitted him against not just the Justice Department, but also officials in the F.B.I., the intelligence community and the White House, who warned that disclosure could endanger a longtime source who is aiding the special counsel's investigation."
Sunday, 13 May 2018, Day 479:
Former Joint Chiefs Chairman Michael Mullen says that Gina Haspel 'should be held responsible' for using torture during the George W. Bush administration, Politico, Rebecca Morin, Sunday, 13 May 2018: "Former Joint Chiefs Chairman Michael Mullen on Sunday said Gina Haspel 'should be held responsible' for her role in the George W. Bush administration's use of brutal interrogation tactics against detainees. The retired admiral said in an interview on 'Fox News Sunday' that he has aligned himself with Sen. John McCain's view on 'torture and what the standard is. He is the gold standard there, so I am very supportive of the position he's taken in that regard and I recognize lots of intelligence professionals I talked to think Gina is an extraordinary person with a great background,' Mullen said of the Arizona senator, who has come under criticism from Trump supporters for his view. 'That said, she has a past — and recently while she stated that she was in compliance with the law — where I think Sen. McCain is, is where I am, that morally it was wrong. It was torture and that she should be held responsible for that.'"
'Buckle up': As Special Counsel Robert Mueller's probe enters second year, Trump and allies go on war footing, The Washington Post, Ashley Parker, Philip Rucker, Tom Hamburger, Robert Costa, and Matt Zapotosky, Sunday, 13 May 2018: "The investigation of Russian interference in the 2016 election, which hits its one-year mark Thursday, has formed the cloudy backdrop of Donald Trump's presidency — a rolling fog of controversy, much of it self-inflicted, that is a near-constant distraction for [the Trump administration]. The Mueller operation, like the former Marine Corps platoon commander who leads it, is secretive and methodical. Ten blocks west in the White House, President Trump combats the probe with bluster, disarray and defiance…. 'The biggest challenge for the White House is that the special counsel is conducting an investigation properly, which is not commenting publicly, only making known its activities by virtue of bringing cases or executing legal process in a manner that is publicly observable,' said Jacob S. Frenkel, who worked in the independent counsel's office in the late 1990s."
Donald Trump and Sean Hannity Like to Talk Before Bedtime, New York Magazine, Olivia Nuzzi, Sunday, 13 May 2018: "The call to the White House comes after ten o'clock most weeknights, when Hannity is over. Monday, Tuesday, Wednesday, and Thursday, Sean Hannity broadcasts live at 9 p.m. on Fox News… Trump and Hannity don't usually speak in the morning, which the president spends alone, watching TV and tweeting. During the first months of the administration in particular, the tweets launched at the beginning of the day landed like bitchy little grenades directed at the programming and personalities that angered him on MSNBC and CNN…. Senior staffers worried about this pattern of behavior: By the time his day was formally under way with the daily intelligence briefing in the Oval Office — scheduled as late as 11 a.m. — the whole world was often thrown off course…. With the hope of calming him down, then–chief of staff Reince Priebus and then–press secretary Sean Spicer began a subtle campaign [to get him to watch Fox]…. Priebus and Spicer worked talking points about the network's high ratings and importance to his base of supporters into conversation until, eventually, it stuck, so that the president's television consumption is today what [a] current White House official called 'mainly a complete dosage of Fox.'… But the current official acknowledged that it has created a different set of problems: 'Sometimes on Fox, a lot of stories are embellished, and they don't necessarily cover the big news stories of the day. When they cover the smaller stories, if that gets the president riled up, then that becomes an issue. Whenever he tweets, all of us do a mad dash or mad scramble to find out as much information about that random topic as possible.'… [F]or the most part, policy has taken a back seat on Hannity; regardless of the news of the day, the overarching narrative of the show is the political persecution of Trump, and by extension of Hannity and Hannity's viewers, at the hands of the so-called deep state and the Democratic Party, and the corrupt mainstream media, a wholly owned subsidiary of both. Everything comes back to special counsel Robert Mueller's investigation into Russia's involvement in the 2016 election, a phony, petty diversion from what should be the real focus: prosecuting Hillary Clinton."
Education Department Unwinds the Team Investigating Fraud at For-Profit Colleges, The New York Times, Danielle Ivory, Erica L. Green, and Steve Eder, Sunday, 13 May 2018: "Members of a special team at the Education Department that had been investigating widespread abuses by for-profit colleges have been marginalized, reassigned or instructed to focus on other matters, according to current and former employees. The unwinding of the team has effectively killed investigations into possibly fraudulent activities at several large for-profit colleges where top hires of Betsy DeVos, the education secretary, had previously worked. During the final months of the Obama administration, the team had expanded to include a dozen or so lawyers and investigators who were looking into advertising, recruitment practices and job placement claims at several institutions, including DeVry Education Group."
Trump says he'll help ZTE, a Chinese company that violated U.S. sanctions by selling equipment to Iran and North Korea, Politico, Brent D. Griffiths and Annie Karni, Sunday, 13 May 2018: "President Donald Trump signaled Sunday he would help out a Chinese phone-maker that has been banned from accessing U.S. technology, a top priority of Chinese trade negotiators coming to Washington later this week for talks. The Commerce Department imposed the harsh penalty just last month against ZTE, one of China's biggest tech companies, after it was found to have violated U.S. sanctions by selling equipment to Iran and North Korea. But Trump is softening his stance toward the company as he seeks to strengthen his relationship with Chinese President Xi Jinping, a key player in the upcoming summit with North Korea at which Trump hopes to score a major foreign policy victory, according to two people familiar with his position."
US secretary of state Mike Pompeo says US firms could invest in North Korea and Kim may get 'security assurances,' The Guardian, Guardian staff and agencies, Sunday, 13 May 2018: "The US secretary of state, Mike Pompeo, said on Sunday that if North Korea agrees to fully dismantle its nuclear weapons program, the Trump administration will allow the American private sector to invest in the country. Pompeo also hinted that the US might assure Kim Jong-un he can stay in power after any deal. If a deal is reached at or after the summit meeting between Kim and Trump scheduled for Singapore on 12 June, Pompeo said on Fox News Sunday, 'private sector Americans, not the US taxpayer' could 'help build out the energy grid that needs enormous amounts of electricity in North Korea.' Americans could also help, he said, with investment in infrastructure and agriculture to help feed the North Korean people. Appearing on CBS's Face the Nation, Pompeo floated the possibility of 'sanctions relief,' a remark that jarred a little with a comment by Donald Trump's national security adviser. John Bolton told CNN's State of the Union: 'I wouldn't look for economic aid from us.' Lindsey Graham, the South Carolina senator, said private investment or sanctions relief for the North would 'be the best money we ever spent.'"
Monday, 14 May 2018, Day 480:
Israel Kills Dozens of Unarmed Protesters in Gaza as Jared Kushner Speaks of Peace, in Jerusalem, The New Yorker, John Cassidy, Monday, 14 May 2018: "Along Israel's border fence with Gaza, the Israel Defense Forces shot dead dozens of Palestinian protesters on Monday, during the latest in a series of clashes marking the seventieth anniversary of Israel's founding, which uprooted seven hundred and fifty thousand Palestinians. The Israeli soldiers fired tear gas, live ammunition, and, according to some reports, artillery shells at the protesters…. Footage from sites on the Gaza side of the fence confirmed that some of the protesters were hurling rocks and burning sticks at the fence, which serves as a border barrier separating Israel and the Gaza Strip. But the Palestinians, unlike the Israelis, were mostly unarmed, and none of them have successfully crossed the border. Indeed, some of the shooting victims appear to have been a good distance away from it. 'I was at the biggest protest site, which is just east of Gaza City,' Sharif Abdel Kouddous, an independent journalist and fellow at the Nation Institute, reported on Democracy Now…. 'There are thousands of people converging on the site—men women and children. It is a really surreal scene. There are people gathering, most young men and boys, up near the border where there is barbed wire, three sets of barbed wire. And you can see just a couple of hundred yards away, Israeli soldiers under these canopies, on mounds of sand, sometimes in jeeps. And they are picking people off. Snipers are literally picking people off. I've seen people who weren't even close to the fence being shot. Most of the people are being shot in the lower extremities, in their legs. I saw one person shot in the throat.'" Israel faces outcry over Gaza Killings during protests against the opening of the US embassy in Jerusalem, The Guardian, Oliver Holmes and Hazem Balousha, Monday, 14 May 2018: "Gaza has had its bloodiest day in years on Monday after Israeli forces shot and killed 58 Palestinians and wounded at least 1,200 as tens of thousands protested along the frontier against the opening of the US embassy in Jerusalem. The violent scenes on Monday contrasted sharply with the glossy inauguration of Washington's new mission about 60 miles away in an affluent Jerusalem neighbourhood. The US president's daughter, Ivanka Trump, celebrated the opening to clapping and cheering from American and Israeli VIPs." See also, Ivanka Trump Opens U.S. Embassy in Jerusalem During Israeli Massacre of Palestinians in Gaza, The Intercept, Robert Mackey, Monday, 14 May 2018: "In a graphic demonstration of disregard for the lives and rights of Palestinians, a smiling Ivanka Trump welcomed Israeli dignitaries to the new U.S. Embassy in Jerusalem on Monday, while, just 60 miles away in Gaza, Israel's armed forces shot hundreds of Palestinian protesters, killing at least 60. As American officials, including President Donald Trump's former bankruptcy lawyer, Ambassador David Friedman, offered the new embassy to Israel as a sort of gift to celebrate the 70th anniversary of the founding of the Jewish state, thousands of Palestinians came under fire from Israeli snipers for demanding the right to return to homes that their families were forced to abandon in 1948. More than two-thirds of the Palestinians confined to Gaza are refugees from towns and cities in what is now Israel. The protests along Israel's perimeter fence that began on March 30 — and were immediately met with lethal force — are intended to draw attention to what Palestinians refer to as the 'nakba,' or catastrophe, of Israel's founding, which led to the forcible displacement of some 750,000 Palestinians." See also, Israel Kills Dozens at Gaza Border as U.S. Embassy Opens in Jerusalem, The New York Times, David M. Halbfinger, Isabel Kershner, and Declan Walsh, Monday, 14 May 2018. See also, Trump's Failure in Jerusalem, The New York Times, The Editorial Board, Monday, 14 May 2018: "[O]n Monday President Trump delivered the [Jerusalem] embassy as a gift without concession or condition to the Israeli government of Benjamin Netanyahu, and as a blow to the Palestinians. The world did not witness a new dawn of peace and security for two peoples who have dreamed of both for so long. Instead, it watched as Israeli soldiers shot and killed scores of Palestinian protesters, and wounded thousands more, along Israel's boundary with the Gaza Strip."
Mega-donor Sheldon Adelson, with access to and influence on the Trump administration, scores two pro-Israel victories, McClatchy DC Bureau, Peter Stone, Monday, 14 May 2018: "These are heady days for casino billionaire and megadonor Sheldon Adelson. A passionate and hawkish advocate for Israel with close ties to its prime minister, Benjamin Netanyahu, Adelson was in Jerusalem today for a celebration of the U.S. embassy's relocation to that city, a longstanding priority for the mogul. Similarly, Adelson had pushed hard for President Donald Trump to pull out of the Iran nuclear deal, which happened last week. And the day after that announcement, Adelson quietly slipped into the White House for a private meeting with Trump and three top administration officials: Vice President Mike Pence, Treasury Secretary Steve Mnuchin and an Adelson favorite, National Security Adviser John Bolton, according to two conservative sources familiar with the previously unreported private event."
Trump vs. the 'Deep State,' The New Yorker, Evan Osnos, published online on Monday, 14 May 2018 and in the print edition on Monday, 21 May 2018: "Every new President disturbs the disposition of power in Washington. Stars fade. Political appointees arrive, assuming control of a bureaucracy that encompasses 2.8 million civilian employees, across two hundred and fifty agencies—from Forest Service smoke jumpers in Alaska to C.I.A. code-breakers in Virginia…. Typically, an incoming President seeks to charm, co-opt, and, when necessary, coerce the federal workforce into executing his vision. But Trump got to Washington by promising to unmake the political ecosystem, eradicating the existing species and populating it anew. This project has gone by various names…. In Presidential tweets and on Fox News, the mission is described as a war on the 'deep state,' the permanent power élite.  Nancy McEldowney, who retired last July after thirty years in the Foreign Service, told me, 'In the anatomy of a hostile takeover and occupation, there are textbook elements—you decapitate the leadership, you compartmentalize the power centers, you engender fear and suspicion. They did all those things.' This idea, more than any other, has defined the Administration, which has greeted the federal government not as a machine that could implement its vision but as a vanquished foe."
Trump Shifts From Trade War Threats to Concessions in Rebuff to Hard-Liners, The New York Times, Ana Swanson, Mark Landler, and Keith Bradsher, Monday, 14 May 2018: "President Trump's recent threat to impose tariffs on as much as $150 billion worth of Chinese goods appeared to be the first volley in what looked like a full-scale trade war with the nation's greatest economic adversary. Now, suddenly, Mr. Trump seems ready to make peace. To alleviate trade tensions, Mr. Trump is considering easing up on a major Chinese telecommunications company, ZTE, in exchange for China agreeing to buy more American products and lifting its own crippling restrictions on American agriculture, people familiar with the deliberations said. The shift is an abrupt reversal that reflects another twist in the pitched battle inside the White House between the economic nationalists, who channel Mr. Trump's protectionist instincts, and more mainstream advisers, who worry about the effects of hard-line policies on the stock market and long-term economic growth. While the nationalists had recently seemed ascendant — pushing Mr. Trump toward a showdown with the Chinese over steel exports and their co-opting of American technology — a deal on ZTE, and potentially a range of other trade actions, would represent a victory for the mainstream contingent, led by Treasury Secretary Steven Mnuchin."
Trump Orders Help for Chinese Phone-Maker ZTE After China Approves Money for Trump Project in Indonesia, HuffPost, S.V. Date, Monday, 14 May 2018: "A mere 72 hours after the Chinese government agreed to put a half-billion dollars into an Indonesian project that will personally enrich Donald Trump, the president ordered a bailout for a Chinese-government-owned cellphone maker. 'President Xi of China, and I, are working together to give massive Chinese phone company, ZTE, a way to get back into business, fast,' Trump announced on Twitter Sunday morning. 'Too many jobs in China lost. Commerce Department has been instructed to get it done!' Trump did not mention in that tweet or its follow-ups that on Thursday, the developer of a theme park resort outside of Jakarta had signed a deal to receive as much as $500 million in Chinese government loans, as well as another $500 million from Chinese banks, according to Agence France-Presse. Trump's family business, the Trump Organization, has a deal to license the Trump name to the resort, which includes a golf course and hotels."
Scott Pruitt's Environmental Protection Agency and the White House sought to block a study about toxic chemicals that have contaminated water supplies near military bases and other sites, Politico, Annie Snider, Monday, 14 May 2018: "Scott Pruitt's EPA and the White House sought to block publication of a federal health study on a nationwide water-contamination crisis, after one Trump administration aide warned it would cause a 'public relations nightmare,' newly disclosed emails reveal. The intervention early this year — not previously disclosed — came as HHS' Agency for Toxic Substances and Disease Registry was preparing to publish its assessment of a class of toxic chemicals that has contaminated water supplies near military bases, chemical plants and other sites from New York to Michigan to West Virginia. The study would show that the chemicals endanger human health at a far lower level than EPA has previously called safe, according to the emails…. More than three months later, the draft study remains unpublished, and the HHS unit says it has no scheduled date to release it for public comment. Critics say the delay shows the Trump administration is placing politics ahead of an urgent public health concern — something they had feared would happen after agency leaders like Pruitt started placing industry advocates in charge of issues like chemical safety."
Attorney General Jeff Sessions is exerting unprecedented control over immigration courts–by ruling on cases himself, Vox, Dara Lind, Monday, 14 May 2018: "The fate of tens of thousands of immigrants' court cases could rest in the hands of Attorney General Jeff Sessions. That's not a metaphor. Sessions has stepped into the immigration system in an unprecedented manner: giving himself and his office the ability to review, and rewrite, cases that could set precedents for a large share of the hundreds of thousands of immigrants with pending immigration court cases, not to mention all those who are arrested and put into the deportation process in future. He's doing this by taking cases from the Board of Immigration Appeals — the Justice Department agency that serves as a quasi-appellate body for immigration court cases — and referring them to himself to issue a decision instead."
As the U.S. Demands Nuclear Disarmament, It Moves to Expand Its Own Arsenal, The New York Times, David E. Sanger and William J. Broad, Monday, 14 May 2018: "For the White House, these have been dramatic days for nuclear disarmament: First President Trump exited the Iran deal, demanding that Tehran sign a new agreement that forever cuts off its path to making a bomb, then the administration announced a first-ever meeting with the leader of North Korea about ridding his nation of nuclear weapons. But for the American arsenal, the initiatives are all going in the opposite direction, with a series of little-noticed announcements to spend billions of dollars building the factories needed to rejuvenate and expand America's nuclear capacity. The contrast has been striking. On Thursday evening, hours after Mr. Trump announced that his meeting with Kim Jong-un, the North Korean leader, would take place on June 12 in Singapore, the Pentagon and the Energy Department announced plans to begin building critical components for next-generation nuclear weapons at the Savannah River Site in South Carolina."
David Brody, an Evangelical Journalist, Finds His Calling at the White House, The New York Times, Elizabeth Dias, Monday, 14 May 2018: "While Mr. Trump attacks major news organizations and suggests revoking media credentials for outlets he deems 'Fake News,' Mr. [David] Brody and his network [Christian Broadcasting Network] enjoy a closeness to the White House that is foreign to most reporters. In return, Mr. Trump gets a direct line to his most supportive voters, the conservative evangelicals who make up CBN's core audience. Their allegiance is critical to his success; more than 80 percent of white evangelicals who went to the polls in 2016 voted for Mr. Trump."
Russian Company Concord Management and Consulting LLC Attacks Mueller Indictment as Baseless, Associated Press, Eric Tucker, Monday, 14 May 2018: "A Russian company indicted in the special counsel investigation attacked the case in an acerbic court filing Monday that accused the government of inventing a 'make-believe crime.' The sharp rhetoric from Concord Management and Consulting LLC suggests the makings of a pitched court fight and a fresh challenge to the authority of special counsel Robert Mueller, who was appointed by the Justice Department last May to investigate potential coordination between Russia and the Trump campaign."
Tuesday, 15 May 2018, Day 481:
Gina Haspel Is Likely to Be Confirmed as C.I.A. Chief After Repudiating Torture, The New York Times, Charlie Savage, Tuesday, 15 May 2018: "Gina Haspel, President Trump's nominee to lead the C.I.A., appeared on Tuesday to have secured the votes to be confirmed after she declared that the agency should not have undertaken its interrogation program in which Qaeda detainees were tortured after the Sept. 11 attacks. She had refused to condemn the program at her confirmation hearing last week. 'With the benefit of hindsight and my experience as a senior agency leader, the enhanced interrogation program is not one the C.I.A. should have undertaken,' she wrote in a letter to the top Democrat on the Senate Intelligence Committee, Senator Mark Warner of Virginia. 'The United States must be an example to the rest of the world, and I support that.' After receiving the letter, Mr. Warner announced on Tuesday afternoon that he would support her confirmation. Soon after, two other Democrats, Senators Heidi Heitkamp of North Dakota and Bill Nelson of Florida, said they, too, would vote for Ms. Haspel. The Intelligence Committee is scheduled to vote on her confirmation on Wednesday. The Senate majority leader, Mitch McConnell, Republican of Kentucky, said he expected the full Senate would vote at the end of the week."
North Korea Threatens to Call Off Summit Meeting With Trump, The New York Times, Choe Sang-Hun and Mark Landler, Tuesday, 15 May 2018: "North Korea threw President Trump's planned summit meeting with its leader, Kim Jong-un, into doubt on Wednesday, threatening to call off the landmark encounter if the United States insisted on 'unilateral nuclear abandonment.' The warning, made by the North's disarmament negotiator, caught Trump administration officials off guard and set off an internal debate over whether Mr. Kim was merely posturing in advance of the meeting in Singapore next month or was erecting a serious new hurdle. The abrupt change in tone began early Wednesday, when North Korea indefinitely postponed high-level talks with South Korea over the North's sudden objection to joint military drills by the South and the United States that began last week. The North also raised the possibility of scrapping the meeting with Mr. Trump. Then hours later, the North broadened the source of its anger and sharpened the threat to the summit with Mr. Trump."
Trump administration is preparing to hold immigrant children on military bases, The Washington Post, Nick Miroff and Paul Sonne, Tuesday, 15 May 2018: "The Trump administration is making preparations to hold immigrant children on military bases, according to Defense Department communications, the latest sign the government is moving forward with plans to split up families who cross the border illegally. According to an email notification sent to Pentagon staffers, the Department of Health and Human Services (HHS) will make site visits at four military installations in Texas and Arkansas during the next two weeks to evaluate their suitability to shelter children. The bases would be used for minors under 18 who arrive at the border without an adult relative or after the government has separated them from their parents. HHS is the government agency responsible for providing minors with foster care until another adult relative can assume custody."
As the public fixates on Scott Pruitt's travel habits, he's making it easier for industry to pollute, Center For Public Integrity, Tuesday, 15 May 2018: "Nearly a quarter of the nation's coal-fired power plants in 2017 lacked pollution controls limiting emissions of lung-damaging sulfur dioxide even though some of their counterparts have been using the controls for almost 40 years. Federal data show this disparity. It leaves communities like Labadie, Missouri, exposed to stubbornly high levels of the pollutant even as emissions nationwide have plummeted. Some power-plant operators have exploited a 1977 congressional loophole to avoid installing the controls, environmentalists say. Now, as the public focuses on multiple investigations into U.S. Environmental Protection Agency Administrator Scott Pruitt's spending habits and personnel choices, Pruitt is moving swiftly to grant one of industry's major policy wishes: He's making it easier for plant operators to sidestep equipment upgrades in the future."
Federal judge Amy Berman Jackson rejects Paul Manafort's bid to dismiss Special Counsel Robert Mueller's indictment, Politico, Josh Gerstein, Tuesday, 15 May 2018: "A federal judge on Tuesday rejected an attempt by Paul Manafort, a former Trump campaign chairman, to get an indictment against him dismissed by claiming that special counsel Robert Mueller's appointment was flawed. In a blow to Manafort's defense, U.S. District Court Judge Amy Berman Jackson ruled that Mueller's prosecution of the longtime political consultant on charges of money laundering and failing to register as a foreign agent for Ukraine was 'squarely' within the authority that Deputy Attorney General Rod Rosenstein granted to Mueller last May. 'The indictment falls squarely within that portion of the authority granted to the Special Counsel that Manafort finds unobjectionable: the order to investigate any links and/or coordination between the Russian government and individuals associated with the campaign,' Jackson wrote. 'Manafort was, at one time, not merely "associated with," but the chairman of, the Presidential campaign, and his work on behalf of the Russia-backed Ukrainian political party and connections to other Russian figures are matters of public record,' the judge added in her 37-page ruling. 'It was logical and appropriate for investigators tasked with the investigation of "any links" between the Russian government and individuals associated with the campaign to direct their attention to him.'" See also, U.S. judge refuses to dismiss Paul Manafort charges in D.C., clearing the way for trial, The Washington Post, Spencer S. Hsu, Tuesday, 15 May 2018.
Justice Department and F.B.I. Are Investigating Cambridge Analytica, The New York Times, Matthew Rosenberg and Nicholas Confessore, Tuesday, 15 May 2018: "The Justice Department and the F.B.I. are investigating Cambridge Analytica, the now-defunct political data firm, and have sought to question former employees and banks that handled its business, according to an American official and other people familiar with the inquiry. Prosecutors have questioned potential witnesses in recent weeks, telling them that there is an open investigation into Cambridge Analytica — which worked on President Trump's election and other Republican campaigns in 2016 — and 'associated U.S. persons.' But the prosecutors provided few other details, and the inquiry appears to be in its early stages, with investigators seeking an overview of the company and its business practices."
Michael Cohen, Trump's longtime personal lawyer, falsely claimed in 2017 interview that the Trump Organization had no recent activity in Russia, CNN Politics, Chris Massie and Andrew Kaczynski, Tuesday, 15 May 2018: "President Donald Trump's longtime personal lawyer, Michael Cohen, claimed in a January 2017 interview that the Trump Organization had no recent relationship with Russia, months before admitting he had personally pursued a business deal there on behalf of the company during the 2016 presidential campaign. A day after CNN broke news about the so-called dossier in January 2017, radio host Sean Hannity asked Cohen whether anybody 'within the campaign or around Donald Trump,' had spoken to 'anybody in Russia,' Cohen replied, 'No.' 'There's no relationship,' Cohen told Hannity in the January 11, 2017 appearance. 'The last time that there was any activity between the Trump Organization — actually, wasn't even really the Trump Organization, it was the Miss Universe pageant, it was held in Moscow,' Cohen said, referring to the pageant held in 2013. Cohen's answer ignored his own work dealing with Russia on behalf of the Trump Organization during the 2016 presidential campaign. CNN reported in September 2017 Cohen sent emails during Trump's 2016 presidential campaign seeking the assistance of the Kremlin in an effort to build a Trump Tower in Moscow. Cohen has said he dropped the project in January 2016."
White House Eliminates Cybersecurity Coordinator Role, The New York Times, Nicole Perlroth and David E. Sanger, Tuesday, 15 May 2018: "The White House eliminated the position of cybersecurity coordinator on the National Security Council on Tuesday, doing away with a post central to developing policy to defend against increasingly sophisticated digital attacks and the use of offensive cyber weapons. A memorandum circulated by an aide to the new national security adviser, John R. Bolton, said the post was no longer considered necessary because lower-level officials had already made cybersecurity issues a 'core function' of the president's national security team. Cybersecurity experts and members of Congress said they were mystified by the move, though some suggested Mr. Bolton did not want any competitive power centers emerging inside the national security apparatus. The decision was criticized by Mark R. Warner, a senator from Virginia and the ranking Democrat on the Senate Intelligence Committee. 'I don't see how getting rid of the top cyber official in the White House does anything to make our country safer from cyber threats,' he wrote on Twitter."
"Add 'performing community service while Black' to the list of things that make you suspicious," The Washington Post, Cleve R. Wootson Jr., Tuesday, 15 May 2018: "The absurdity of the situation was so overwhelming that, for a moment, Shawna Harrell had to walk away from the state trooper in front of her. Here she was, garbage bag in hand on a highway shoulder — elbows deep in bottles and needles and diapers discarded by other people — trying to explain to a man with a badge why she was not a suspicious character. The historically black Sigma Gamma Rho sorority's Harrisburg, Pa., chapter had adopted a section of Interstate 83 near the Susquehanna River. And on Saturday, Harrell and other sisters grabbed bags, gloves and blue and gold T-shirts and went out to do some service for their community. After a quick selfie in front of the Adopt-a-Highway sign stenciled with the sorority's name, they had filled several bags."
Pennsylvania Primaries Deliver Strong Wins for Democratic Women, The New York Times, Trip Gabriel, Tuesday, 15 May 2018: "A state representative, an Air Force veteran and two high-powered lawyers — all women — won Democratic House primaries on Tuesday in Pennsylvania, where a record number of women ran for House seats in a year of intense political enthusiasm among female Democrats. It was a night of victories for at least seven Democratic women running for the House in a state that has an all-male congressional delegation of 20 and a Statehouse dominated by male politicians. Female candidates showed strength in nearly every region of Pennsylvania, from the Philadelphia suburbs to the conservative southwest."
Wednesday, 16 May 2018, Day 482:
Thousands of Pages of Documents on Trump Tower Meeting in June 2016 Are Released by the Senate Judiciary Committee, The New York Times, Nicholas Fandos and Sharon LaFraniere, Wednesday, 16 May 2018: "Donald Trump Jr. got straight to the point during the now-famous Trump Tower meeting in June 2016. 'So I believe you have some information for us,' he said, directing his attention across a large conference table to the Russian lawyer who was there, he thought, to deliver incriminating information on Hillary Clinton. But if Mr. Trump expected a campaign-changing bombshell, he was quickly disappointed. The disparaging information about Mrs. Clinton amounted to no more than allegations of fraud in Russia by several obscure Democratic donors. The Trump campaign officials reacted with dissatisfaction, not eagerness. Both sides left disappointed. The chasm between expectation and reality surrounding the meeting was one of the dominant themes running through more than 2,500 pages of testimony and documents released by the Senate Judiciary Committee on Wednesday. The committee has been conducting one of the investigations into the Trump campaign's contacts with Russians, and the documents revealed new details about the run-up and the aftermath of what is thought to be one of the key episodes of the campaign's interactions with Russia." See also, Materials from Inquiry into Circumstances Surrounding Trump Tower Meeting, Senate Committee on the Judiciary, Wednesday, 16 May 2018. See also, Preliminary Findings About Trump Campaign's Effort to Obtain Incriminating Information on Secretary Clinton From Russia at Trump Tower Meeting, Feinstein.Senate.Gov, Wednesday, 16 May 2018. See also, Thousands of pages of Congressional testimony released by the Senate Judiciary Committee shed light on the June 2016 Trump Tower meeting, The Washington Post, Rosalind S. Helderman and Karoun Demirjian, Wednesday, 16 May 2018: "[T]he documents provide the public's best understanding yet about the events that led up to the meeting, as well as the deep anxiety sparked in President Trump's orbit a year later, when the meeting's occurrence became public and contradicted Trump's claims that no one on his campaign had interacted with Russians." See also, 7 big things we learned from the Trump Tower meeting testimony, The Washington Post, Aaron Blake, Wednesday, 16 May 2018. See also, Senate Transcripts Suggest Trump, Jr., Was Willing to Collude with Russians, The New Yorker, John Cassidy, Wednesday, 16 May 2018: "[T]he documents strongly suggest that the Trumps—or at least Trump, Jr.—were almost certainly willing to collude with the Russians if they really had the goods on [Hillary] Clinton."
Senate Intelligence Committee says Russia favored Trump in the 2016 election, contradicting the findings House Republicans reached last month, The Washington Post, Karoun Demirjian, Wednesday, 16 May 2018: "The Senate Intelligence Committee has determined the U.S. intelligence community was correct in assessing Russia interfered in the 2016 presidential election with the aim of helping then-candidate Donald Trump, contradicting findings House Republicans reached last month. 'We see no reason to dispute the [intelligence community's] conclusions,' the committee's chairman, Sen. Richard Burr (R-N.C.), said Wednesday in a joint statement with its vice chair, Sen. Mark R. Warner (D-Va.), who added: 'Our staff concluded that the … conclusions were accurate and on point. The Russian effort was extensive, sophisticated, and ordered by President Putin himself for the purpose of helping Donald Trump and hurting Hillary Clinton.' This marks the second of four interim findings the intelligence committee has said it will disclose before tackling the more consequential question of whether Trump and his associates colluded with Russia to influence the election's outcome, allegations the president has denied and sought to discredit. The committee, which earlier this month released related findings on election security, is expected to publish a comprehensive final report this fall." See also, Richard Burr, Republican Chairman of the Senate Intelligence Committee, Says There Is 'No Reason to Dispute' That Russia Favored Trump in the 2016 Election, The New York Times, Matthew Rosenberg, Wednesday, 16 May 2018: "The Republican at the helm of the Senate's investigation into Russian interference in the 2016 presidential election backed on Wednesday the assessment by American intelligence agencies that Moscow favored Donald J. Trump in the race, contradicting both the president and fellow Republicans in the House. Senator Richard M. Burr of North Carolina, the chairman of the Senate Intelligence Committee, said in a statement that he saw 'no reason to dispute' the intelligence assessment, which was delivered in the final weeks of the Obama administration."
Special Counsel Robert Mueller Won't Indict Trump if He Finds Wrongdoing, Giuliani Says, The New York Times, Michael S. Schmidt, Maggie Haberman, and Charlie Savage, Wednesday, 16 May 2018: "The special counsel, Robert S. Mueller III, will not indict President Trump if he finds wrongdoing in his investigation of Trump campaign links to Russia, according to the president's lawyers. They said Wednesday that Mr. Mueller's investigators told them that he would adhere to the Justice Department's view that the Constitution bars prosecuting sitting presidents. The disclosure provides the greatest clarity to date about how Mr. Mueller, who is also investigating whether Mr. Trump tried to obstruct the inquiry itself, may proceed. If he concludes that he has evidence that the president broke the law, experts say, he now has only two main options while Mr. Trump remains in office: He could write a report about the president's conduct that Congress might use as part of any impeachment proceedings, or he could deem the president as an unindicted co-conspirator in court documents. Mr. Mueller's stance could serve as political relief for Mr. Trump, whose presidency has been under the cloud of the investigation. Mr. Trump has repeatedly called it a 'witch hunt.' A White House spokesman did not immediately respond to a question about how the president reacted to Mr. Mueller's viewpoint on indictment." See also, Special Counsel Robert Mueller's team told Trump's lawyers the special counsel cannot indict a sitting president, Giuliani says, The Washington Post, Robert Costa, Josh Dawsey, and Carol D. Leonnig, Wednesday, 16 May 2018.
In new financial disclosure, Trump reports apparent payment through his personal attorney Michael Cohen to adult-film star Stormy Daniels, The Washington Post, David A. Fahrenthold and Jonathan O'Connell, Wednesday, 16 May 2018: "In new financial-disclosure documents, President Trump reported reimbursing his personal lawyer, Michael Cohen, more than $100,000 last year — an apparent reference to the $130,000 that Cohen paid just before the 2016 election, to ensure the silence of an adult-film actress who claimed she'd had an affair with Trump. The information was included as a footnote in the 92-page form filed with the Office of Government Ethics. The ethics agency said it had concluded Trump should list a debt to Cohen in the 'liabilities' section of his financial statement. It also notified the Justice Department, which enforces a law against willfully omitting information from these forms." See also, Trump Discloses Payment to Michael Cohen, His Longtime Personal Lawyer, in Financial Report, Raising Questions About Previous Omission, The New York Times, Steve Eder, Eric Lipton, and Ben Protess, Wednesday, 16 May 2018: "President Trump's financial disclosure, released on Wednesday, included for the first time repayment of more than $100,000 to his personal lawyer, Michael D. Cohen, in 2017, raising questions about whether Mr. Trump's sworn filing from a year ago improperly omitted the debt. In a highly unusual letter, the Office of Government Ethics alerted the Justice Department on Wednesday to the omission, telling Rod J. Rosenstein, the deputy attorney general, that the ethics office had determined 'the payment made by Mr. Cohen is required to be reported as a liability.'" See also, David Apol, the acting director of the Office of Government Ethics, knocks Trump over Stormy Daniels payment, Politico, Louis Nelson, Matthew Nussbaum, and Lorraine Woellert, Wednesday, 16 May 2018: "The government's top ethics officer told the Justice Department on Wednesday that President Donald Trump should have disclosed last year that he reimbursed his longtime personal attorney for a 'hush money' payment to adult film actress Stormy Daniels. The letter from David Apol, the acting director of the Office of Government Ethics, came as that office also released Trump's most recent financial disclosure form, a 92-page document that included the reimbursement to attorney Michael Cohen as a footnote. While the document provides the firmest proof yet of Trump's involvement in the slow-brewing scandal around the $130,000 'hush money' deal struck shortly before the election over an alleged affair between Trump and Daniels, it's not clear what consequences Trump may face for failing to disclose the transaction. 'OGE has concluded that, based on the information provided as a note to part 8, the payment made by Mr. Cohen is required to be reported as a liability,' Apol wrote to Deputy Attorney General Rod Rosenstein, adding, 'you may find the disclosure relevant to any inquiry you may be pursuing regarding the President's prior report that was signed on June 14, 2017.'"
The Leak of Michael Cohen's Financial Records Was Motivated by Missing Files. A law-enforcement official released the documents after finding that additional suspicious transactions did not appear in a government database. The New Yorker, Ronan Farrow, Wednesday, 16 May 2018: "Last week, several news outlets obtained financial records showing that Michael Cohen, President Trump's personal attorney, had used a shell company to receive payments from various firms with business before the Trump Administration. In the days since, there has been much speculation about who leaked the confidential documents, and the Treasury Department's inspector general has launched a probe to find the source. That source, a law-enforcement official, is speaking publicly for the first time, to The New Yorker, to explain the motivation: the official had grown alarmed after being unable to find two important reports on Cohen's financial activity in a government database. The official, worried that the information was being withheld from law enforcement, released the remaining documents. The payments to Cohen that have emerged in the past week come primarily from a single document, a 'suspicious-activity report' filed by First Republic Bank, where Cohen's shell company, Essential Consultants, L.L.C., maintained an account. The document detailed sums in the hundreds of thousands of dollars paid to Cohen by the pharmaceutical company Novartis, the telecommunications giant A.T. & T., and an investment firm with ties to the Russian oligarch Viktor Vekselberg. The report also refers to two previous suspicious-activity reports, or SARs, that the bank had filed, which documented even larger flows of questionable money into Cohen's account. Those two reports detail more than three million dollars in additional transactions—triple the amount in the report released last week. Which individuals or corporations were involved remains a mystery. But, according to the official who leaked the report, these SARs were absent from the database maintained by the Treasury Department's Financial Crimes Enforcement Network, or FinCEN…. According to FinCEN, disclosing a SAR is a federal offense, carrying penalties including fines of up to two hundred and fifty thousand dollars and imprisonment for up to five years. The official who released the suspicious-activity reports was aware of the risks, but said fears that the missing reports might be suppressed compelled the disclosure. 'We've accepted this as normal, and this is not normal,' the official said. 'Things that stand out as abnormal, like documents being removed from a system, are of grave concern to me.' Of the potential for legal consequences, the official said, 'To say that I am terrified right now would be an understatement.' But, referring to the released report, as well as the potential contents of the missing reports, the official also added, 'This is a terrifying time to be an American, to be in this situation, and to watch all of this unfold.'" See also, Sources Say Michael Cohen's Financial Records Are Not Missing, Just Restricted, BuzzFeed News, Jason Leopold, published on Thursday, 17 May 2018.
Michael Cohen, Trump's personal attorney, solicited $1 million in late 2016 from the government of Qatar in exchange for access to and advice about the incoming Trump administration, The Washington Post, Karen DeYoung, Josh Dawsey, and Rosalind S. Helderman, Wednesday, 16 May 2018: "Michael Cohen, President Trump's personal attorney, solicited a payment of at least $1 million from the government of Qatar in late 2016, in exchange for access to and advice about the then-incoming administration, according to the recipient of the offer and several others with knowledge of the episode…. Details emerged last week on how Cohen leveraged his relationship with Trump to receive millions of dollars from companies eager for insight and entree into the new president's inner circle. They included AT&T, the global pharmaceutical giant Novartis, a Korean defense contractor and Columbus Nova, a New York-based investment firm with ties to a Russian oligarch. All have confirmed payments to Cohen. But news of the Qatar solicitation marks the first time Cohen is believed to have pitched his influence directly to a foreign government." See also, Qatari Investor Ahmed al-Rumaihi Says Michael Cohen, Trump's Personal Lawyer, Asked Him for a Million Dollars, The Intercept, Ryan Grim, Wednesday, 16 May 2018.
Code Name Crossfire Hurricane: The Secret Origins of the F.B.I. Investigation Into Russian Election Meddling and Possible Ties to Trump Associates in the Summer of 2016, The New York Times, Matt Apuzzo, Adam Goldman, and Nicholas Fandos, Wednesday, 16 May 2018: "Within hours of opening an investigation into the Trump campaign's ties to Russia in the summer of 2016, the F.B.I. dispatched a pair of agents to London on a mission so secretive that all but a handful of officials were kept in the dark. Their assignment, which has not been previously reported, was to meet the Australian ambassador, who had evidence that one of Donald J. Trump's advisers knew in advance about Russian election meddling. After tense deliberations between Washington and Canberra, top Australian officials broke with diplomatic protocol and allowed the ambassador, Alexander Downer, to sit for an F.B.I. interview to describe his meeting with the campaign adviser, George Papadopoulos. The agents summarized their highly unusual interview and sent word to Washington on Aug. 2, 2016, two days after the investigation was opened. Their report helped provide the foundation for a case that, a year ago Thursday, became the special counsel investigation. But at the time, a small group of F.B.I. officials knew it by its code name: Crossfire Hurricane." See also, Here's Your Unclassified Briefing on Secret Government Code Names, The New York Times, Matt Apuzzo and Adam Goldman, Wednesday, 16 May 2018.
During an immigration roundtable at the White House, Trump called unauthorized immigrants 'animals,' evoking an ugly history of dehumanization of 'the other,' The Washington Post, Eugene Scott, Wednesday, 16 May 2018: "President Trump: 'We have people coming into the country, or trying to come in — and we're stopping a lot of them — but we're taking people out of the country. You wouldn't believe how bad these people are. These aren't people. These are animals. And we're taking them out of the country at a level and at a rate that's never happened before. And because of the weak laws, they come in fast, we get them, we release them, we get them again, we bring them out. It's crazy.'… Referring to marginalized groups as subhuman has been a way dictators have justified the abuse of those groups. This happened with the Jewish people during the Holocaust. It happen with the Tutsis during the Rwandan genocide. And it is happening with the Rohingya people in Burma."
Immigration and Customs Enforcement claimed Dreamer Daniel Ramirez Medina was 'gang-affiliated' and tried to deport him. A federal judge ruled that ICE was lying. Slate, Mark Joseph Stern, Wednesday, 16 May 2018: "On Tuesday, U.S. District Judge Ricardo S. Martinez shot down the federal government's efforts to strip Daniel Ramirez Medina of his DACA status. Immigrations and Customs Enforcement had arrested and detained Ramirez last year, then falsely claimed that he was affiliated with a gang and attempted to deport him. He filed suit, alleging that ICE had violated his due process rights. Martinez agreed. His order barred the federal government from voiding Ramirez's DACA status, safeguarding his ability to live and work in the United States legally for the foreseeable future. What may be most remarkable about Martinez's decision, though, is its blunt repudiation of ICE's main claim—that Ramirez is 'gang-affiliated.' The judge did not simply rule against ICE. He accused the agency of lying to a court of law."
Samantha Dravis, Scott Pruitt's Policy Director at the Environmental Protection Agency, Met With Hundreds of Industry Representatives, Emails Show, The Intercept, Sharon Lerner, Wednesday, 16 May 2018: "A cache of internal Environmental Protection Agency communications shows that the embattled agency administrator Scott Pruitt isn't the only one who has been in frequent contact with the industries that the environmental agency is supposed to regulate. Samantha Dravis, who was the EPA's senior counsel and director of its Office of Policy until she resigned last month, had more than 90 scheduled meetings with representatives of energy and manufacturing companies, trade associations, agricultural interests, car makers, and other industry groups between March of 2017 and January of this year, according to emails that were made public as a result of a lawsuit filed by the Sierra Club. During that time, those same documents show Dravis having only one scheduled meeting with a representative of an environmental or public health organization. Some of the regulated groups that sought meetings were the beneficiaries of relaxed EPA regulations…. People who have worked in the policy office in previous administrations say that the director usually meets with a mix of people who represent environmental and health concerns as well as industry. 'What's not at all typical is the fact that it's so one-sided,' said George Wyeth, who worked in the EPA policy office from 1998 to 2014 and is currently a visiting scholar at the George Washington University Law School. 'This is simply industry trying to get access to decision makers at as high a level as possible.'" See also, Democrats Sharpen Focus as Scott Pruitt Testifies Again on Capitol Hill, The New York Times, Lisa Friedman and Coral Davenport, Wednesday, 16 May 2018: "Scott Pruitt, the administrator of the Environmental Protection Agency, told a Senate panel on Wednesday that one of his employees had worked without pay on her personal time to find him a place to live, a service that Democrats said amounted to a violation of federal law. He also confirmed that he had established a legal defense fund to defray the costs of defending himself against 12 federal investigations into his spending and management decisions. The acknowledgments came amid increasing allegations of legal and ethical misconduct by Mr. Pruitt that have led some lawmakers, including in his own party, to call for his resignation. They were part of testimony before the Senate Appropriations subcommittee on the environment, the third congressional hearing Mr. Pruitt has faced in less than a month. While President Trump has said he continues to support his embattled E.P.A. chief, senior members of the White House staff have opened a renewed push to persuade their boss to fire Mr. Pruitt. Democrats said Wednesday that Mr. Pruitt's testimony appeared to have opened up new lines of legal scrutiny. They also accused Mr. Pruitt of lying when he asserted that he had never requested that his security detail use lights and sirens to speed through Washington on non-urgent trips, producing a document that they said proved he had."
Senate Approves Overturning the Federal Communications Commission's Net Neutrality Repeal, NPR, Bill Chapell and Susan Davis, Wednesday, 16 May 2018: "The Senate approved a resolution Wednesday to nullify the Federal Communications Commission's net neutrality rollback, dealing a symbolic blow to the FCC's new rule that remains on track to take effect next month. The final vote was 52-47. As expected, Sen. Susan Collins, R-Maine, joined Democrats in voting to overturn the FCC's controversial decision. But two other Republicans — Sen. John Kennedy of Louisiana and Sen. Lisa Murkowski of Alaska — also voted in favor of the resolution of disapproval. The outcome is unlikely to derail the FCC's repeal of Obama-era rules that restrict Internet service providers' ability to slow down or speed up users' access to specific websites and apps. The legislative victory is fleeting because the House does not intend to take similar action, but Democrats are planning to carry the political fight over Internet access into the 2018 midterms."
Trump suggests Justice Department should investigate Libby Schaaf, Oakland's Democratic mayor, for tipping off immigrants to a raid by Immigration and Customs Enforcement (ICE), The Washington Post, David Nakamura and Jenna Johnson, Wednesday, 16 May 2018: "President Trump referred to some undocumented immigrants as 'animals' on Wednesday and suggested the Justice Department investigate the Democratic mayor of Oakland, Calif., for her role in tipping off the community about an impending federal enforcement raid in February."
Donald Tusk, President of the European Council, Takes Donald Trump to Task: 'With Friends Like That' … The New York Times, Megan Specia, Wednesday, 16 May 2018: "'With friends like that, who needs enemies.' That was how Donald Tusk, one of the European Union's top officials, took President Trump to task on Wednesday, offering the latest look at how the Continent's leaders are trying to come to terms with the United States' shifting policy on issues like the Iran nuclear deal. Mr. Tusk, president of the European Council, which represents the European Union's heads of government, used 280 characters on Twitter not only to rebuke Mr. Trump's head-snapping policy decisions but also to reaffirm the bloc's commitment to its own agenda. '[Looking at latest decisions of @realDonaldTrump someone could even think: with friends like that who needs enemies. But frankly, EU should be grateful. Thanks to him we got rid of all illusions.] We realise that if you need a helping hand, you will find one at the end of your arm.' The sentiment behind Mr. Tusk's tweet is not exactly new. It is an echo of remarks by other European leaders, like Chancellor Angela Merkel of Germany, who have long criticized Mr. Trump's moves on the world stage as detrimental to the trans-Atlantic alliance."
White House Brushes Aside North Korea's Threats to Cancel Summit With Trump, The New York Times, Mark Landler, Choe Sang-Hun, and Jane Perlez, Wednesday, 16 May 2018: "The White House brushed aside threats by North Korea on Wednesday to cancel an upcoming summit meeting between President Trump and the North's leader, Kim Jong-un, saying it was still 'hopeful' the meeting will happen — but that Mr. Trump would be fine if it did not…. When Mr. Trump was asked on Wednesday about the prospects for the summit to go off as planned, he was noncommittal, telling reporters in the Oval Office, 'We'll have to see.' Mr. Trump said he would still insist on the denuclearization of the Korean Peninsula in the talks. In its warning on Wednesday, North Korea said Mr. Kim could withdraw from the meeting over Washington's demand that it unilaterally abandon its nuclear arsenal."
Louisiana Senate Approves a Bill Restoring Voting Rights to People on Probation and Parole, HuffPost, Sam Levine, Wednesday, 16 May 2018: "The Louisiana Senate approved a bill Wednesday that would allow people on parole and probation for felonies to vote after a five-year waiting period. The measure's passage is a significant victory for voting rights advocates. Louisiana currently does not allow people serving probation or parole for felony sentences to vote at all. In 2016, The Sentencing Project found that over 69,000 people in Louisiana were disenfranchised while serving on probation or parole, amounting to about 64 percent of the total population disenfranchised because of a felony conviction. The bill will now go back to the Louisiana House of Representatives to be reconciled with an amendment stipulating that people convicted of certain election crimes be excluded from the measure. The House has already approved the bill."
Apartments Are Stocked, Toys Donated. Only the Refugees Are Missing. The New York Times, Liz Robbins and Miriam Jordan, Wednesday, 16 May 2018: "The flow of refugees to the United States has slowed nearly to a halt, demonstrating that what President Trump's administration could not achieve by executive order, it is accomplishing by bureaucracy. The administration has cut the staff that conducts clearance interviews overseas, intensified the screening process for refugees, and for those people it characterizes as high-risk, doubled the number who need to be screened. As a result, if the trickle of refugees admitted continues at its current pace, just 20,000 are projected to enter the United States by the end of this year, the lowest figure since the resettlement program was created with passage of the Refugee Act in 1980."
The Food and Drug Administration (FDA) reverses course on a $4.2 million no-bid grant to former FDA commissioner Mark McClellan, The Washington Post, Carolyn Y. Johnson, Wednesday, 16 May 2018: "The Food and Drug Administration is reversing a decision to award a no-bid $4.2 million grant to a policy center at Duke University headed by former FDA commissioner and current paid board member for Johnson & Johnson Mark McClellan."
Thursday, 17 May 2018, Day 483:
Senate Confirms Gina Haspel to Lead C.I.A. Despite Torture Concerns, The New York Times, Nicholas Fandos, Thursday, 17 May 2018: "The Senate confirmed Gina Haspel on Thursday to lead the Central Intelligence Agency, elevating a woman to the directorship for the first time despite bipartisan misgivings about her role in the agency's brutal detention and interrogation programs in the wake of the Sept. 11, 2001, terrorist attacks…. [I]t was Ms. Haspel's past that transfixed senators — if only for a few weeks — as they grappled anew with the aggressive interrogation policies of the George W. Bush administration in the years after the terrorist attacks. Ms. Haspel supervised a secret prison in Thailand in 2002 when a Qaeda suspect was waterboarded there, and senators raised fresh questions about her role in the agency's destruction of videotapes of interrogation sessions in 2005. Democrats and a handful of Republicans pressed Ms. Haspel to repudiate the program and sought assurances that torture would not be revisited under her watch. Ms. Haspel told senators during her confirmation hearing that her moral compass was strong and that she would not revisit such a program. And on Tuesday, under intense pressure, she went further, writing that the program 'did damage to our officers and our standing in the world.'" See also, U.S. Navy Reserve Doctor Sondra Crosby on Gina Haspel Torture Victim: 'One of the Most Severely Traumatized Individuals I Have Ever Seen,' The Intercept, Jeremy Scahill, Thursday, 17 May 2018: "[Oregon Senator Ron] Wyden blasted the CIA and Haspel for refusing to grant the Senate full access to Haspel's record and choosing instead to provide carefully declassified information intended to burnish Haspel's image. 'I want the American people to know that the agency is covering up her background. They're covering it up because they're trying to prevent what I think is the threshold issue of accountability … because if the American people knew what I know, I believe the Senate would have no choice but to reject her confirmation,' he said, pointing out that as acting director, Haspel is in charge of what the senators see and don't see about her record. 'She started with an enormous institutional advantage — I don't know of a similar instance where the nominee gets to decide what is declassified about her and what isn't.'"
Republicans Escalate Bitter Fight Over Judicial Nominations, The New York Times, Carl Hulse, Thursday, 17 May 2018: "In 2011, Michael B. Brennan, then a lawyer in Milwaukee, vigorously defended the right of Wisconsin's Republican senator to single-handedly block an Obama administration nominee for a federal bench seat in the state. Last week, Mr. Brennan was confirmed as a Trump administration nominee to that very same seat despite vigorous objections by the state's Democratic senator. That incongruity is at the heart of what is fast becoming one of the most significant questions on Capitol Hill: How far will Republican senators go in pushing through President Trump's judicial nominees over the objections of Democrats from states where the potential new judges will preside?"
Attorney General Jeff Sessions Restricts a Common Tactic Used by Immigration Judges, The New York Times, Katie Benner, Thursday, 17 May 2018: "Attorney General Jeff Sessions issued a directive on Thursday that places limits on a tool commonly used by immigration judges and could put hundreds of thousands of deportation cases that are essentially closed back on federal court dockets. The move, issued in an interim decision, is unlikely to reopen all the cases. But Mr. Sessions said that immigration courts could not put such cases on indefinite hold by using a practice known as administrative closure, which temporarily removes a case from a judge's calendar and delays a proceeding that could remove an immigrant from the country…. The move injects fresh uncertainty into the lives of undocumented immigrants living in the United States, and some critics say the decision could lead to their deportation before they could gain legal status. 'Sessions is using his authority as attorney general to turn the immigration courts into a deportation assembly line, with ICE officers waiting at the exits with open handcuffs in hand,' said David W. Leopold, who oversees the immigration law group at Ulmer & Berne, referring to United States Immigration and Customs Enforcement." See also, Southern Poverty Law Center Statement on Attorney General Jeff Sessions' Decision to Curtail 'Administrative Closings' of Immigration Court Cases, Southern Poverty Law Center, Dan Werner, published on Friday, 18 May 2018: "Attorney General Jeff Sessions' ideologically driven decision … to bypass the immigration courts and decide himself to remove another avenue of relief for immigrants undermines due process and the rule of law. It will add thousands more cases back into the huge backlog of the immigration courts, and will result in the imprisonment and deportation of immigrants who now have a clear path toward legal immigration status. This decision is just further evidence of Sessions' anti-immigrant agenda, which separates families, creates fear in communities, and punishes vulnerable people who may be fleeing violence and persecution in their home countries. Though President Trump may call them 'animals' to justify his administration's inhumane policies, these immigrants are friends, neighbors, and members of our families and communities. With every new hate-driven policy emerging from this administration, we must rededicate ourselves to speaking out and taking action to preserve our nation's fundamental values."
Gun owners support a wide range of gun control measures, Johns Hopkins study finds, The Washington Post, Christopher Ingraham, Thursday, 17 May 2018: "Americans are in agreement on a large number of gun policy proposals regardless of whether they own guns, according to a new study in the American Journal of Public Health. Over 80 percent of gun owners and non-owners favor universal background checks, for instance. Similar percentages say they support testing requirements for people wishing to obtain a concealed-carry permit. Gun violence restraining orders, which allow family members to ask authorities to remove guns from people at risk of harming themselves or others, are also highly popular."
Trump Administration to Tie Health Facilities' Funding to Abortion Restrictions, The New York Times, Julie Hirschfeld Davis and Maggie Haberman, Thursday, 17 May 2018: "Clinics that provide abortions or refer patients to places that do would lose federal funding under a new Trump administration rule that takes direct aim at Planned Parenthood, according to three administration officials. The rule, which is to be announced Friday, is a top priority of social conservatives and is the latest move by President Trump to impose curbs on abortion rights, in this case by withholding money from any facility or program that promotes abortion or refers patients to a caregiver that will provide one. The policy would be a return to one instituted in 1988 by President Ronald Reagan that required abortion services to have a 'physical separation' and 'separate personnel' from other family planning activities. That policy is often described as a domestic gag rule because it barred caregivers at facilities that received family planning funds from providing any information to patients about an abortion or where to receive one. But a Trump administration official who detailed the forthcoming proposal said the new version of the policy would not impose a blanket prohibition on abortion counseling."
Gurbir Grewal, the Attorney General of New Jersey, Calls Out Education Secretary Betsy DeVos for Not Cooperating on Issues Involving Fradulent Activities at For-Profit Colleges, The New York Times, Danielle Ivory, Thursday, 17 May 2018: "The attorney general of New Jersey said on Thursday that federal education officials had stopped cooperating on issues involving fraudulent activities at for-profit colleges, and requested that the Education Department renew its investigations into the institutions or hand them over to the state. Gurbir S. Grewal, who became attorney general in January, expressed frustration with the officials in a letter to Betsy DeVos, the education secretary. Mr. Grewal said they had ignored requests from New Jersey to work with the state on behalf of students who were defrauded by Corinthian Colleges, a bankrupt for-profit chain. And he raised concerns about the status of investigations by the Education Department into large for-profit institutions like the DeVry Education Group, which paid $100 million in 2016 to settle a lawsuit alleging that it misled prospective students with ads about employment and salaries after graduation. In an article this week, The New York Times reported that a special investigations team at the Education Department created in the final year of the Obama administration had been unwound under the Trump administration, effectively killing inquiries into DeVry and other schools where top hires of Ms. DeVos previously worked."
White House and House Republican leaders reopen talks on immigration, The Washington Post, Mike DeBonis and Seung Min Kim, Thursday, 17 May 2018: "President Trump and House Republican leaders have reopened negotiations over the fate of young undocumented immigrants and border security, resurrecting the politically explosive issue of immigration that has stymied the GOP. In a days-long uprising, GOP moderates fearful of continued inaction ahead of the midterm elections employed a rarely used legislative maneuver to force Speaker Paul D. Ryan (R-Wis.) and White House officials back to the negotiating table. The overall efforts on Thursday have focused on a path to permanent residency for the hundreds of thousands of 'dreamers' left in limbo after Trump canceled the Deferred Action for Childhood Arrivals program last year. Crucial to the discussions are ways to construct the U.S.-Mexico border wall that Trump promised repeatedly in the 2016 campaign."
'Bigger than Watergate': Trump joins push by allies to expose role of an FBI source, The Washington Post, Philip Rucker, Robert Costa, Carol D. Leonnig, and Josh Dawsey, Thursday, 17 May 2018: "President Trump's allies are waging an increasingly aggressive campaign to undercut the Russia investigation by exposing the role of a top-secret FBI source. The effort reached new heights Thursday as Trump alleged that an informant had improperly spied on his 2016 campaign and predicted that the ensuing scandal would be 'bigger than Watergate!' The extraordinary push begun by a cadre of Trump boosters on Capitol Hill now has champions across the GOP and throughout conservative media — and, as of Thursday, the first anniversary of Robert S. Mueller III's appointment as special counsel, bears the imprimatur of the president." See also, Trump Says Russia Inquiry's Overreach Is a Scandal 'Bigger Than Watergate!' The New York Times, Eileen Sullivan, Thursday, 17 May 2018: "President Trump asserted on Thursday that federal investigators attempted to infiltrate his 2016 campaign with a confidential informant — a scandalous overreach, he said, that would be 'bigger than Watergate!' 'Wow, word seems to be coming out that the Obama FBI 'SPIED ON THE TRUMP CAMPAIGN WITH AN EMBEDDED INFORMANT.' Andrew McCarthy says, 'There's probably no doubt that they had at least one confidential informant in the campaign.' If so, this is bigger than Watergate!' [Trump tweeted]. In some sense, many analysts have said, he is right: Efforts by a hostile foreign power to influence an American presidential election — with or without the assistance or knowledge of the winning candidate — may well be a scandal 'bigger than Watergate!'"
Special Counsel Robert Mueller outlines scope of Russia probe in court filing, Reuters, Sarah N. Lynch Thursday, 17 May 2018: "U.S. Special Counsel Robert Mueller's office on Thursday gave a federal court a classified memo describing the extent of his investigation into Russian interference in the 2016 election and other related crimes. The memo was filed in response to questions raised in the court in Virginia two weeks ago by Judge T.S. Ellis that Mueller should not have 'unfettered powers.' Ellis demanded to see an unredacted copy of the August 2017 memo written by U.S. Deputy Attorney General Rod Rosenstein that defined Mueller's investigative mandate. Ellis will review the memo before deciding whether or not to dismiss charges against President Donald Trump's former election campaign manager, Paul Manafort."
Trump Moscow: The Definitive Story of How Trump's Team Worked the Russian Deal During the Presidential Campaign, BuzzFeed News, Anthony Cormier and Jason Leopold, Thursday, 17 May 2018: "All through the hot summer campaign of 2016, as Donald Trump and his aides dismissed talk of unseemly ties to Moscow, two of his key business partners were working furiously on a secret track: negotiations to build what would have been the tallest building in Europe and an icon of the Trump empire — the Trump World Tower Moscow. Talks to construct the 100-story building continued even as the presidential candidate alternately bragged about his relationship with Vladimir Putin and rejected suggestions of Russian influence, and as Russian agents worked to sway US public opinion on Trump's behalf. While fragments of the Trump Moscow venture have trickled out — most recently in a report last night by Yahoo News — this is the definitive story of the Moscow tower, told from a trove of emails, text messages, congressional testimony, architectural renderings, and other documents obtained exclusively by BuzzFeed News, as well as interviews with key players and investigators. The documents reveal a detailed and plausible plan, well-connected Russian counterparts, and an effort that extended from spearfishing with a Russian developer on a private island to planning for a mid-campaign trip to Moscow for the presidential candidate himself."
Probe of leaked banking records related to Michael Cohen expands after New Yorker report, The Washington Post, Beth Reinhard and Emma Brown, Thursday, 17 May 2018: "The Treasury Department's inspector general is expanding a probe into leaks of confidential reports about suspicious banking activity by Michael Cohen, President Trump's former personal attorney, to include an uncorroborated allegation that some of those reports were mysteriously absent from a government database. The investigation began last week after Michael Avenatti, an attorney for adult-film star Stormy Daniels, detailed transactions in which large firms with business interests before the U.S. government transferred hundreds of thousands of dollars to Essential Consultants, a company controlled by Cohen. Several news outlets reported later that they had reviewed financial records detailing the transactions."
A New York appeals court denies Trump request to stay Summer Zervos defamation case, The Washington Post, Mark Berman and Frances Stead Sellers, Thursday, 17 May 2018: "A New York appeals court on Thursday rejected a request from President Trump to stay proceedings in a defamation suit filed by a former contestant on 'The Apprentice' who has claimed that he sexually harassed her. The ruling on Thursday is a legal setback for Trump, who is facing multiple lawsuits focused on allegations women have made against him as well as his public comments about those women. It could open him up to discovery in the case, although he could also file further appeals to try to delay proceedings."