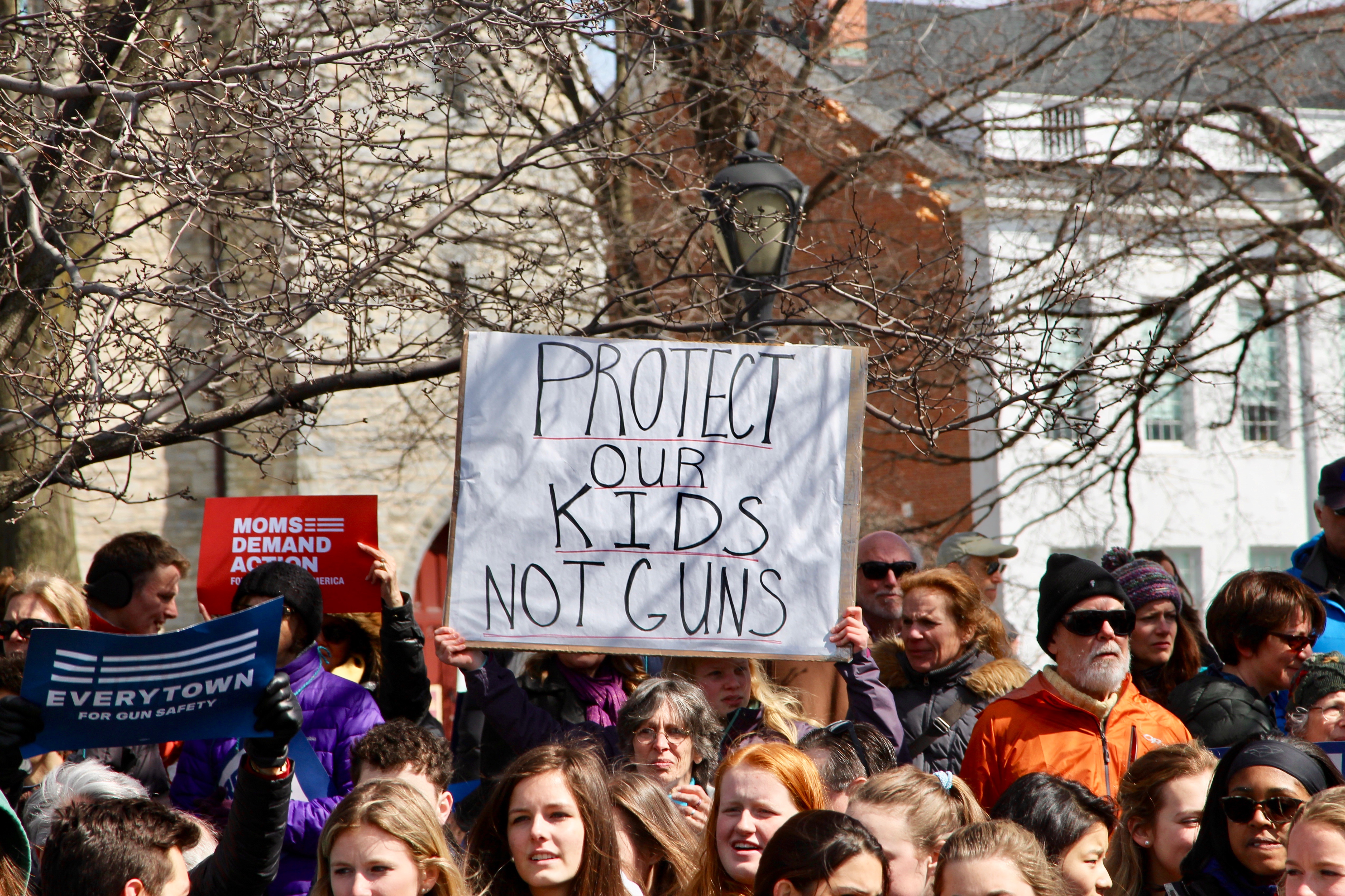 March for Our Lives, Pittsfield, MA, Saturday, 24 March 2018
Keeping Track (of some things), Staying Outraged (it is possible), and Resisting (it's essential)
Passages in bold in the body of the texts below are my emphasis. This is an ongoing project, and I update the site frequently. Because I try to stay focused on what has actually happened, I usually let the news 'settle' a day or so before posting. I hope readers will peruse the articles in full for a better understanding of the issues and their context; our democracy and our future depend on citizens who can distinguish between facts and falsehoods and who are engaged in the political process.
Friday, 4 May 2018, Day 470:
Trump Is Said to Know of Hush Money Payment to Stormy Daniels Months Before He Denied Any Knowledge of It to Reporters in April 2018, The New York Times, Michael D. Shear, Maggie Haberman, Jim Rutenberg, and Matt Apuzzo, Friday, 4 May 2018: "President Trump knew about a six-figure payment that Michael D. Cohen, his personal lawyer, made to a pornographic film actress several months before he denied any knowledge of it to reporters aboard Air Force One in April [2018], according to two people familiar with the arrangement. How much Mr. Trump knew about the payment to Stephanie Clifford, the actress, and who else was aware of it have been at the center of a swirling controversy for the past 48 hours touched off by a television interview with Rudolph W. Giuliani, a new addition to the president's legal team. The interview was the first time a lawyer for the president had acknowledged that Mr. Trump had reimbursed Mr. Cohen for the payments to Ms. Clifford, whose stage name is Stormy Daniels."
Rudy Giuliani, a lawyer on Trump's legal team, tries to clarify his comments on Trump's reimbursement of hush payment to porn star Stormy Daniels, The Washington Post, Devlin Barrett, Josh Dawsey, and John Wagner, Friday, 4 May 2018: "President Trump's lawyer Rudolph W. Giuliani sought Friday to clean up a series of comments he had made about a settlement with an adult-film actress who allegedly had a relationship with Trump, backtracking on his previous assertions about what the president knew and why the payment was made. The cautious wording of the written statement released by Giuliani stood in sharp contrast to his previous two days of wide-ranging television and print interviews in which, according to legal experts, he exposed his client to greater legal risks and might have compromised his own attorney-client privilege with the president." See also, Giuliani's statement tells us a lot about what's worrying Team Trump, The Washington Post, Philip Bump, Friday, 4 May 2018.
At the National Rifle Association's annual meeting in Dallas, Trump embraced the NRA's agenda in a campaign-style speech, The Washington Post, Seung Min Kim, Friday, 4 May 2018: "President Trump on Friday addressed the National Rifle Association's annual meeting here in a speech that served as a rallying cry to his base, an attack on his detractors and a signal of his strong support for the gun rights group after suggesting months earlier he was open to some firearm restrictions. His message in front of the adoring crowd was a stark departure from the defiant tone he took toward the NRA in the immediate aftermath of the Feb. 14 shooting at a high school in Parkland, Fla., when he embraced tougher gun restrictions and proudly boasted that the powerful gun lobby has 'less power over me' than over Republican lawmakers. But any streak of independence from the NRA was gone Friday, as Trump allied himself with some of the gun group's biggest priorities in a rambling 45-minute speech that focused as much on his foreign policy agenda, approval ratings and the latest in the Russia investigation as it did on gun policy." See also, Renewing His Bond With the National Rifle Association, Trump Appeals for Help in the Midterm Elections, The New York Times, Alexander Burns, Friday, 4 May 2018.
Continue reading Week 68, Friday, 4 May – Thursday, 10 May 2018 (Days 470-476)
Transcript of Trump's Remarks on Giuliani and Stormy Daniels and Korea, The New York Times, Friday, 4 May 2018: "Trump spoke to reporters Friday morning at the White House and at Joint Base Andrews on his way to Dallas to speak at the National Rifle Association's annual convention. He was asked about comments his lawyer, Rudolph W. Giuliani, made about payments to the pornographic actress Stephanie Clifford, who goes by the stage name Stormy Daniels. Mr. Trump said Mr. Giuliani did not have his 'facts straight,' and that everything about the payments 'has been said incorrectly.' Mr. Trump also said a date and location had been set for a summit meeting with North Korea's leader, Kim Jong-un, and that his administration was in constant contact about the fate of three Americans held in North Korea."
Federal Judge in Virginia, T.S. Ellis III, Questions Whether Special Counsel Robert Mueller Has Overstepped His Authority on Paul Manafort, The New York Times, Sharon LaFraniere, Friday, 4 May 2018: "A federal judge in Virginia sharply challenged on Friday the special counsel's case against Paul Manafort, suggesting that prosecutors had pursued fraud charges in hopes of gaining evidence that might incriminate President Trump or even topple him from office…. Mr. Trump immediately seized upon the judge's comments as proof that the special counsel, Robert S. Mueller III, is out of control. In a speech on Friday afternoon to the National Rifle Association in Dallas, he cited the judge's critique. 'I've been saying that for a long time,' he said. 'It's a witch hunt.' He described the judge as 'very special' and 'highly respected,' and Mr. Manafort, who served as his campaign chairman for five months, as 'a good person' who worked for him only briefly. The judge's unfriendly, even sometimes hostile, reception was a new turn of events for Mr. Mueller's team, which has faced little confrontation thus far in court."
The Environmental Protection Agency's climate website went down over a year ago for 'updating.' It's still not back. The Washington Post, Chris Mooney, Friday, 4 May 2018: "The news came on a Friday evening in late April last year: The U.S. Environmental Protection Agency had removed an informational website about climate change, taking down a page that had been up, in some form, for nearly two decades and under three presidents. Before its removal, the page had plainly stated a position on climate change: It is caused by humans, and there's no significant doubt about that. But that position contradicted statements by the new EPA chief, Scott Pruitt, who had expressed doubts about human activity being the dominant driver of climate change."
How Scott Pruitt Helped Arkansas Poultry Companies Pollute One of Oklahoma's Prettiest Rivers, The Intercept, Sharon Lerner, Friday, 4 May 2018: "Scott Pruitt, the embattled head of the Environmental Protection Agency, took the side of poultry companies and other businesses in Arkansas in a dispute over the pollution of an ecologically sensitive and economically vital watershed, environmental groups say. While he was representing Oklahoma as its attorney general, Pruitt helped to slow the implementation of a plan, forged years ago by both states, to clean a river in his home state. Even before he was appointed to head the EPA, Pruitt faced questioning about his failure, as Oklahoma attorney general, to implement a standard for phosphorus levels in the Illinois River, which flows from Arkansas into Oklahoma. The river had high levels of phosphorus from animal waste, and poultry producers in Arkansas opposed the standard. In 2013, after receiving contributions from poultry companies that benefited from his inaction, Pruitt agreed to a three-year delay in the implementation of the standard, as was reported when he was first nominated to be EPA administrator. Now, it's become clear that under Pruitt's leadership, the EPA has taken actions that could further undermine Oklahoma's longstanding efforts to clean up water pollution in the Illinois River."
New Interior Department guidance prohibits Fish and Wildlife Service staff from telling developers that Endangered Species Act permits are mandatory, The Hill, Miranda Green, Friday, 4 May 2018: "Fish and Wildlife Service (FWS) staff can no longer advise builders they need to obtain a permit mandated by law to maintain endangered species habitat, according to new Interior Department guidance. An April 26 memorandum sent from FWS Principal Deputy Director Greg Sheehan to regional directors wrote that it was 'not appropriate' for personnel to tell private parties when it's required under the law for them to seek an incidental take permit (ITP). Businesses and individuals must request an ITP if they believe their developments could interfere with the habitat of endangered species, under the 1973 Endangered Species Act (ESA)." See also, The Trump administration moves to weaken protection for western greater sage grouse, The Washington Post, Darryl Fears, Friday, 4 May 2018: "Western greater sage grouse are famous for fierce battles between males in an annual rite to mate with hens. It's a theatrical show of machismo, chest thumping and razor-sharp clawing over a wide landscape that people across the world travel to watch. But an equally nasty fight over this dwindled species is happening behind the scenes between humans, and this week it came to a boil. The Trump administration released a plan that would amend Obama-era protections that set aside federal land to keep oil and gas operations from building infrastructure in the birds' habitat."
The Trump Administration Ends Protected Status for Tens of Thousands of Hondurans, The New York Times, Miriam Jordan, Friday, 4 May 2018: "Tens of thousands of Hondurans who have lived in the United States for up to two decades must prepare to leave, government officials announced Friday, a decision that effectively spells the demise of a humanitarian program that has protected nearly half a million people who had sought refuge from unstable homelands. The Trump administration is ending temporary protected status for Hondurans who have been allowed to live and work in the United States since 1999, after a hurricane that ravaged their country. With an estimated 86,000 people currently registered, Hondurans represent the second-largest group of foreigners who have benefited from the program. Determined to rein in both legal and illegal immigration, the Trump administration since last year has scrapped protections for more than 300,000 citizens from countries, mainly in the Caribbean and in Central America, that have suffered natural disasters. On Friday, the Homeland Security secretary, Kirstjen Nielsen, said she had determined that conditions have improved sufficiently in Honduras to warrant suspension of protected status for its citizens in the United States, according to a department statement. The announcement comes just days after a caravan of 300 Central American migrants arrived at the United States border, including many Hondurans seeking refuge from gang-related violence and political turmoil."
Kim Reynolds, Republican Iowa Governor, signs 'heartbeat' bill banning abortion after six weeks, The Washington Post, Kristine Phillips, Friday, 4 May 2018: "Iowa Gov. Kim Reynolds on Friday signed a bill that would prohibit abortions after a fetal heartbeat is detected. It is one of the most restrictive laws of its kind in the United States and one that Republicans hope will pave the way for a showdown at the U.S. Supreme Court. The 'heartbeat' bill, which would ban abortions as early as six weeks — around the time women generally feel early signs of pregnancy and before many realize they are pregnant — was passed Tuesday by the [Republican-controlled] Iowa House, 51-46. The state Senate passed the bill 29-17 early Wednesday, sending it to Reynolds (R), who has said abortion is 'equivalent to murder.'" See also, Iowa Lawmakers Pass Abortion Bill With Roe v. Wade in Sights, The New York Times, Julie Bosman and Mitch Smith, published on Wednesday, 2 May 2018: "Six weeks into a woman's pregnancy is the point at which doctors typically can detect the flicker of a fetal heartbeat on an ultrasound. It's also the point after which Iowa lawmakers now intend to outlaw abortions…. [T]he Republicans pressing the Iowa legislation are making a decisive turn away from the smaller, more incremental measures of the past that have, in their view, merely chipped away at abortion rights. They have a new, longer-term goal in their sights: reaching a Supreme Court that could shift in composition with a Republican president in the White House, potentially giving the anti-abortion movement a court more sympathetic to its goal of overturning Roe v. Wade than the current court is."
Former Secretary of State John Kerry is quietly seeking to salvage the Iran nuclear deal he helped craft, Boston Globe, Matt Viser, Friday, 4 May 2018: "With the Iran deal facing its gravest threat since it was signed in 2015, Kerry has been on an aggressive yet stealthy mission to preserve it, using his deep lists of contacts gleaned during his time as the top US diplomat to try to apply pressure on the Trump administration from the outside. President Trump, who has consistently criticized the pact and campaigned in 2016 on scuttling it, faces a May 12 deadline to decide whether to continue abiding by its terms."
Saturday, 5 May 2018, Day 471:
How Michael Cohen, Trump's Fixer, Built a Shadowy Business Empire, The New York Times, William K. Rashbaum, Danny Hakim, Brian M. Rosenthal, Emily Flitter, and Jesse Drucker, Saturday, 5 May 2018: "Before [Michael Cohen] joined the Trump Organization and became Mr. Trump's lawyer and do-it-all fixer, [he] was a hard-edge personal-injury attorney and businessman. Now a significant portion of his quarter-century business record is under the microscope of federal prosecutors — posing a potential threat not just to Mr. Cohen but also to the president. Mr. Cohen's businesses are private entities, making it difficult to get a full picture of their finances and operations. But a New York Times review of thousands of pages of public records, and interviews with bankers, lawyers and businessmen who have interacted with Mr. Cohen, reveal the degree to which he has often operated in the backwaters of the financial and legal worlds. While he has not been charged with a crime, many of his associates have faced either criminal charges or stiff regulatory penalties. That includes partners in the taxi business, doctors for whom he helped establish medical clinics and lawyers with whom he worked."
Trump's comments about gun laws in Britain and France prompt anger and rebukes, The Washington Post, Adam Taylor, Saturday, 5 May 2018: "[D]espite the outward appearance of warm ties with Britain and France, traditionally two of the United States' strongest European allies, Trump managed to stoke outrage and anger in both London and Paris this weekend — and he did so with a single speech. Addressing the National Rifle Association convention in Dallas on Friday, the president cited the rising number of knife attacks in Britain while speaking in support of gun rights in the United States."
Aides to President Trump hired an Israeli private intelligence agency in 2017 to find incriminating material on Obama diplomats who negotiated the nuclear deal with Iran, The Observer/Guardian, Mark Townsend and Julian Borger, Saturday, 5 May 2018: "Aides to Donald Trump, the US president, hired an Israeli private intelligence agency to orchestrate a 'dirty ops' campaign against key individuals from the Obama administration who helped negotiate the Iran nuclear deal, the Observer can reveal. People in the Trump camp contacted private investigators in May last year [2017] to 'get dirt' on Ben Rhodes, who had been one of Barack Obama's top national security advisers, and Colin Kahl, deputy assistant to Obama, as part of an elaborate attempt to discredit the deal. The extraordinary revelations come days before Trump's 12 May deadline to either scrap or continue to abide by the international deal limiting Iran's nuclear programme."
Patagonia v. Trump, The New York Times, David Gelles, Saturday, 5 May 2018: "The outdoor retailer has supported grass-roots environmental activists for decades. Now it is suing the president in a bid to protect Bears Ears National Monument."
Sunday, 6 May 2018, Day 472:
Gina Haspel, Trump's nominee to head the CIA, sought to withdraw over questions about her role in the CIA interrogation program that involved torture, The Washington Post, Carol D. Leonnig, Shane Harris, and Josh Dawsey, Sunday, 6 May 2018: "Gina Haspel, President Trump's nominee to become the next CIA director, sought to withdraw her nomination Friday after some White House officials worried that her role in the interrogation of terrorist suspects could prevent her confirmation by the Senate, according to four senior U.S. officials. Haspel told the White House she was interested in stepping aside if it avoided the spectacle of a brutal confirmation hearing on Wednesday and potential damage to the CIA's reputation and her own, the officials said. She was summoned to the White House on Friday for a meeting on her history in the CIA's controversial interrogation program — which employed techniques such as waterboarding that are widely seen as torture — and signaled that she was going to withdraw her nomination. She then returned to CIA headquarters, the officials said." See also, Gina Haspel, Trump's Nominee for C.I.A. Director Offered to Withdraw Amid Concerns Over Past Role in Torture Program, The New York Times, Matthew Rosenberg and Mark Landler, Sunday, 6 May 2018.
Rudy Giuliani Says Trump Would Not Have to Comply with a Subpoena Issued by Special Counsel Robert Mueller, The New York Times, Mark Landler and Noah Weiland, Sunday, 6 May 2018: "Rudolph W. Giuliani, reeling after a chaotic first week as President Trump's lawyer, tried again on Sunday to straighten out his client's story. But Mr. Giuliani raised new questions about whether Mr. Trump had paid hush money to other women and suggested the president might invoke the Fifth Amendment to avoid testifying in the special counsel's Russia investigation. Mr. Giuliani, a former federal prosecutor and New York City mayor hired by Mr. Trump to smooth communication between the White House and the special counsel, Robert S. Mueller III, instead painted Mr. Mueller as an out-of-control prosecutor bent on trapping Mr. Trump into committing perjury. The president, he said, could defy a subpoena to testify." See also, Rudy Giuliani says it is possible Michael Cohen paid off other women for Trump, The Washington Post, Mark Berman, 6 May 2018.
Israeli Operatives Who Aided Harvey Weinstein Collected Information on Former Obama Administration Officials Who Were Leading Proponents of the 2015 Iran Nuclear Deal, The New Yorker, Ronan Farrow, Sunday, 6 May 2018: "[A]n undercover campaign by an Israeli private-intelligence firm to discredit Obama officials who had been leading proponents of the 2015 Iran nuclear deal … was first reported, on Saturday, by the British newspaper the Observer. However, sources familiar with the effort and pages of documents obtained by The New Yorker reveal that there is more to understand. Two of those sources told me on Sunday that the operation was carried out by Black Cube—a firm that was also employed by Harvey Weinstein and that offers its clients access to operatives from 'Israel's élite military and governmental intelligence units,' including the Mossad."
How Storms, Missteps, and an Ailing Grid Left Puerto Rico in the Dark, The New York Times, James Glanz and Frances Robles, Sunday, 6 May 2018: "After Maria and the hurricane that preceded it, called Irma, Puerto Rico all but slipped from the modern era. Even now, while officials say the $2.5 billion reconstruction effort has restored power to 98 percent of the grid's customers, swaths of hilly country across the island are still pitch black after dark, punctuated by lights run on private generators…. Even restored sections of the grid are nightmarishly unreliable, as evidenced by last month's outage, the second major power failure in a week and the fourth since early February. On the mainland, much of the coverage of the recovery has focused on the struggles of the island's beleaguered power authority and its politically disastrous hiring of Whitefish Energy Holdings, a tiny and inexperienced Montana contractor linked to the Trump administration's interior secretary [Ryan Zinke]. Here in Puerto Rico, the perception of a condescending and under-responsive government in Washington has been fed by the enduring image of President Trump seeming to minimize the catastrophe while tossing paper towels into a crowd. But an examination of the power grid's reconstruction — based on a review of hundreds of documents and interviews with dozens of public officials, utility experts and citizens across the island — shows how a series of decisions by federal and Puerto Rican authorities together sent the effort reeling on a course that would take months to correct. The human and economic damage wrought by all that time without power may be irreparable."
N.R.A. Urges Boycott of a Dallas Restaurant Supporting 'Reasonable' Gun Laws, The New York Times, Christina Caron, Sunday, 6 May 2018: "The National Rifle Association asked members attending its annual convention in Dallas on Friday to boycott a nearby restaurant after learning that it would be donating a portion of its proceeds to help end gun violence. The restaurant, Ellen's, began including a message on the bottom of its receipts on Friday morning, ahead of the N.R.A.'s weekend gathering. 'Thanks for visiting Ellen's!' said the receipt, which went on to explain that some of the proceeds earned that week would be donated to organizations 'dedicated to implementing reasonable and effective gun regulations.'"
Monday, 7 May 2018, Day 473:
Four Women Accuse New York's Attorney General Eric Schneiderman of Physical Abuse, The New Yorker, Jane Mayer and Ronan Farrow, Monday, 7 May 2018: "Update: Three hours after the publication of this story, Schneiderman resigned from his position. 'While these allegations are unrelated to my professional conduct or the operations of the office, they will effectively prevent me from leading the office's work at this critical time,' he said in a statement. 'I therefore resign my office, effective at the close of business on May 8, 2018.' Eric Schneiderman, New York's attorney general, has long been a liberal Democratic champion of women's rights, and recently he has become an outspoken figure in the #MeToo movement against sexual harassment. As New York State's highest-ranking law-enforcement officer, Schneiderman, who is sixty-three, has used his authority to take legal action against the disgraced film mogul Harvey Weinstein, and to demand greater compensation for the victims of Weinstein's alleged sexual crimes. Last month, when the Times and this magazine were awarded a joint Pulitzer Prize for coverage of sexual harassment, Schneiderman issued a congratulatory tweet, praising 'the brave women and men who spoke up about the sexual harassment they had endured at the hands of powerful men.' Without these women, he noted, 'there would not be the critical national reckoning under way.' Now Schneiderman is facing a reckoning of his own. As his prominence as a voice against sexual misconduct has risen, so, too, has the distress of four women with whom he has had romantic relationships or encounters. They accuse Schneiderman of having subjected them to nonconsensual physical violence. All have been reluctant to speak out, fearing reprisal. But two of the women, Michelle Manning Barish and Tanya Selvaratnam, have talked to The New Yorker on the record, because they feel that doing so could protect other women. They allege that he repeatedly hit them, often after drinking, frequently in bed and never with their consent. Manning Barish and Selvaratnam categorize the abuse he inflicted on them as 'assault.' They did not report their allegations to the police at the time, but both say that they eventually sought medical attention after having been slapped hard across the ear and face, and also choked. Selvaratnam says that Schneiderman warned her he could have her followed and her phones tapped, and both say that he threatened to kill them if they broke up with him. (Schneiderman's spokesperson said that he 'never made any of these threats.')… In a statement, Schneiderman said, 'In the privacy of intimate relationships, I have engaged in role-playing and other consensual sexual activity. I have not assaulted anyone. I have never engaged in nonconsensual sex, which is a line I would not cross.'" See also, Eric Schneiderman, Accused by 4 Women of Physical Assault, Quits as New York Attorney General, The New York Times, Danny Hakim and Vivian Wang, Monday, 7 May 2018.
Attorney General Jeff Sessions vows to prosecute all illegal border crossers and to separate children from their parents, The Washington Post, Sari Horwitz and Maria Sacchetti, Monday, 7 May 2018: "Attorney General Jeff Sessions announced Monday that the Justice Department will begin prosecuting every person who illegally crosses into the United States along the Southwest border, a hard-line policy shift focusing in particular on migrants traveling with children…. In separate speeches — one in Scottsdale, Ariz., the other in San Diego — Sessions said the Department of Homeland Security will begin referring such cases to the Justice Department for prosecution. Federal prosecutors will 'take on as many of those cases as humanly possible until we get to 100 percent,' he said. 'If you cross the border unlawfully . . . then we will prosecute you,' Sessions said. 'If you smuggle an illegal alien across the border, then we'll prosecute you. . . . If you're smuggling a child, then we're going to prosecute you, and that child will be separated from you, probably, as required by law. If you don't want your child separated, then don't bring them across the border illegally. It's not our fault that somebody does that.'… Advocates for migrants have said most are fleeing violence in Central America and should be treated as asylum seekers, not criminals. The American Civil Liberties Union has already filed a federal lawsuit in California over past separations." See also, Trump Administration Threatens Jail and Separating Children From Their Parents for Those Who Illegally Cross the Southwest Border, The New York Times, Miriam Jordan and Ron Nixon, Monday, 7 May 2018: "The Trump administration announced Monday that it is dramatically stepping up prosecutions of those who illegally cross the Southwest border, ramping up a 'zero tolerance' policy intended to deter new migrants with the threat of jail sentences and separating immigrant children from their parents…. Under current law, anyone crossing illegally into the country can be prosecuted, and the penalties are even stiffer if they attempt to enter the country after they have been deported. In most cases, though, first-time offenders are simply put into civil deportation proceedings. While it is unlikely that Mr. Sessions' goal of 100 percent prosecutions will be achieved, officials at the Department of Homeland Security say they want to significantly increase the number of people referred for criminal prosecution." See also, Taking Children From Their Parents Is a Form of State Terror, The New Yorker, Masha Gessen, published on Wednesday, 9 May 2018: "Hostage-taking is an instrument of terror. Capturing family members, especially children, is a tried-and-true instrument of totalitarian terror…. Attorney General Jeff Sessions addressed a law-enforcement conference in Scottsdale, Arizona [on Monday, 7 May]. He pledged to separate families that are detained crossing the Mexico-U.S. border. 'If you are smuggling a child, then we will prosecute you and that child will be separated from you,' Sessions said…. The Times reported in December [2017] that the federal government was considering a policy of separating families in order to discourage asylum seekers from entering…. The practice, and Sessions's speech, are explicitly intended as messages to parents who may consider seeking asylum in the United States. The American government has unleashed terror on immigrants, and in doing so has naturally reached for the most effective tools."
Environmental Protection Agency Emails Show an Effort to Shield Scott Pruitt From Public Scrutiny, The New York Times, Eric Lipton and Lisa Friedman, Monday, 7 May 2018: "Details about … dozens of official appearances from Mr. Pruitt's scandal-plagued first year at the E.P.A. have until now been hidden from public view as a result of an extraordinary effort by Mr. Pruitt and his staff to maintain strict secrecy about the bulk of his daily schedule. But a new cache of emails offers a detailed look inside the agency's aggressive efforts to conceal his activities as a public servant. The more than 10,000 documents, made public as part of a Freedom of Information lawsuit by the Sierra Club, show that the agency's close control of Mr. Pruitt's events is driven more by a desire to avoid tough questions from the public than by concerns about security, contradicting Mr. Pruitt's longstanding defense of his secretiveness." See also, How Scott Pruitt's Aides Work to Shield the Boss: Seven Quotations, The New York Times, Eric Lipton, Monday, 7 May 2018.
Oliver North Is Named President of the National Rifle Association, The New York Times, Niraj Chokshi, Monday, 7 May 2018: "Oliver L. North, who became a household name in the 1980s for his role in the Iran-contra scandal, will become the next president of the National Rifle Association, the gun rights organization said Monday…. Mr. North emerged in 1986 as a central figure in the Iran-contra affair, in which the Reagan administration used the proceeds from the secret sale of arms to Iran to aid rebel forces in Nicaragua. The nationally televised testimony Mr. North provided to Congress the following year transfixed the nation."
At Senator Mitch McConnell's Urging, Trump Asks West Virginians Not to Vote for Don Blankenship, The New York Times, Jonathan Martin, Monday, 7 May 2018: "President Trump intervened Monday in the West Virginia Republican Senate primary, pleading with voters a day before the election to oppose the former mine operator Don Blankenship, and signaling Republican anxiety over the prospect of forfeiting yet another red-state Senate race. Mr. Trump's decision to speak out came after Senator Mitch McConnell of Kentucky, whom Mr. Blankenship has targeted with deeply personal attacks against his wife's ethnicity, urged the president to weigh in against Mr. Blankenship's candidacy, according to Republican officials familiar with the conversation…. Mr. Blankenship, the former chief executive of Massey Energy, served a year in federal prison after being convicted of conspiring to violate mine safety rules in connection with the Upper Big Branch mining disaster in 2010 that claimed 29 lives."
William Barber Takes on Poverty and Race in the Age of Trump, The New Yorker, Jelani Cobb, Monday, 7 May 2018. This article appears in the print edition of the 14 May 2018 issue. "After the success of the Moral Monday protests, the pastor is attempting to revive Martin Luther King, Jr.,'s final–and most radical–campaign… The new project is called the Poor People's Campaign: A National Call for Moral Revival…. [T]he demands include federal and state living-wage laws, equity in education, an end to mass incarceration, a single-payer health-care system, and the protection of the right to vote. Beginning on Mother's Day and continuing until June 23rd … thousands of people in some forty states are expected to commit acts of civil disobedience and protest against policies enacted at the federal and, especially, the state level, that have disproportionately affected poor people."
Tuesday, 8 May 2018, Day 474:
Trump Abandons Iran Nuclear Deal He Long Scorned, The New York Times, Mark Landler, Tuesday, 8 May 2018: "President Trump declared on Tuesday that he was withdrawing from the Iran nuclear deal, unraveling the signature foreign policy achievement of his predecessor Barack Obama, isolating the United States from its Western allies and sowing uncertainty before a risky nuclear negotiation with North Korea. The decision, while long anticipated and widely telegraphed, leaves the 2015 agreement reached by seven countries after more than two years of grueling negotiations in tatters. The United States will now reimpose the stringent sanctions it imposed on Iran before the deal and is considering new penalties. Iran said it will remain in the deal, which tightly restricted its nuclear ambitions for a decade or more in return for ending the sanctions that had crippled its economy. So did France, Germany and Britain, raising the prospect of a trans-Atlantic clash as European companies face the return of American sanctions for doing business with Iran. China and Russia, also signatories to the deal, are likely to join Iran in accusing the United States of violating the accord." See also, Read the Full Transcript of Trump's Speech on the Iran Nuclear Deal, The New York Times, Tuesday, 8 May 2018. See also, Trump pulls the United States out of Iran nuclear deal, The Washington Post, Anne Gearan and Karen DeYoung, Tuesday, 8 May 2018. See also, Trump Withdrew From the Iran Nuclear Deal. Here's How Republicans, Democrats, and Some World Leaders Reacted. The New York Times, Tuesday, 8 May 2018. See also, Trump Destroys the Iran Deal–and a Lot More, The New Yorker, Robin Wright, Tuesday, 8 May 2018. See also, 5 Claims from Trump's Speech on the Iran Nuclear Deal That Are Misleading or Need Context, The New York Times, Linda Qiu, Tuesday, 8 May 2018. See also, Obama condemns 'misguided' violation of the Iran nuclear deal as Republicans cheer the move, The Guardian, Sabrina Siddiqui, Tuesday, 8 May 2018: "Barack Obama on Tuesday condemned Donald Trump's decision to violate the Iran nuclear deal as 'misguided' joining a throng of other outspoken Democratic critics – even as many Republicans praised the move. The former president, for whom the landmark 2015 accord was a signature foreign policy accomplishment, issued a lengthy written statement shortly after Trump announced the US would break with the Joint Comprehensive Plan of Action (JCPOA) despite the urging of European allies and some of his own advisers. 'In a democracy, there will always be changes in policies and priorities from one Administration to the next. But the consistent flouting of agreements that our country is a party to risks eroding America's credibility, and puts us at odds with the world's major powers,' Obama said." See also, Trump's Iran-Deal Decision Will Hurt American Businesses and American Workers, The New Yorker, John Cassidy, Tuesday, 8 May 2018.
Michael Cohen's Shell Company, Essential Consultants L.L.C., Received Payments From a Firm Linked to Russian Oligarch Viktor Vekselberg, as Well as From Corporations With Business Before the Trump Administration, The New York Times, Mike McIntire, Ben Protess, and Jim Rutenberg, Tuesday, 8 May 2018: "A shell company that Michael D. Cohen used to pay hush money to a pornographic film actress received payments totaling more than $1 million from an American company linked to a Russian oligarch and several corporations with business before the Trump administration, according to documents and interviews. Financial records reviewed by The New York Times show that Mr. Cohen, President Trump's personal lawyer and longtime fixer, used the shell company, Essential Consultants L.L.C., for an array of business activities that went far beyond what was publicly known. Transactions adding up to at least $4.4 million flowed through Essential Consultants starting shortly before Mr. Trump was elected president and continuing to this January, the records show…. References to the transactions first appeared in a document posted to Twitter on Tuesday by Michael Avenatti, the lawyer for Stephanie Clifford, the adult film star who was paid $130,000 by Essential Consultants to keep quiet about an alleged affair with Mr. Trump. The lawyer's seven-page document, titled 'Preliminary Report of Findings,' does not explain the source of his information but describes in detail dates, dollar amounts and parties involved in various dealings by Mr. Cohen and his company. Most of the transactions involved two banks: First Republic Bank and City National Bank. The Times's review of financial records confirmed much of what was in Mr. Avenatti's report. In addition, a review of documents and interviews shed additional light on Mr. Cohen's dealings with the company connected to Mr. Vekselberg, who was stopped and questioned at an airport earlier this year by investigators for Robert S. Mueller III, the special counsel examining Russian interference in the 2016 presidential election. Taken together, The Times's findings and Mr. Avenatti's report offer the most detailed picture yet on Mr. Cohen's business dealings and financial entanglements in the run-up to the election and its aftermath. Federal prosecutors in Manhattan are investigating Mr. Cohen for possible bank fraud and election-law violations, among other matters, according to people briefed on the investigation. Stephen Ryan, a lawyer representing Mr. Cohen, declined to comment." See also, AT&T Says It Hired Essential Consultants, a Firm Linked to Michael Cohen, for Advice on Trump, Reuters/New York Times, Tuesday, 8 May 2018: "AT&T Inc said on Tuesday it had hired Essential Consultants, a company linked to Donald Trump lawyer Michael Cohen, to advise it on working with the new administration in early 2017, around the time of Trump's inauguration. The business arrangement illustrates efforts by the telecommunications company to work with an influential adviser to the new president as his administration took up major industry issues and considered its $85 billion proposal to buy Time Warner Inc. Payments by AT&T were described earlier on Tuesday by Michael Avenatti, a lawyer for porn star Stormy Daniels, who released a report alleging that a company owned by Russian oligarch Viktor Vekselberg, AT&T and other corporations had made payments to Essential Consultants." See also, Michael Cohen, a longtime lawyer for Trump, was reportedly hired last year by Columbus Nova, a U.S.-based affiliate of Russian billionaire Viktor Vekselberg who has close ties to Russian President Vladimir Putin, The Washington Post, Rosalind S. Helderman, Tom Hamburger, and Emma Brown, Tuesday, 8 May 2018. See also, Seven Questions Answered About Those Payments to Michael Cohen, The New Yorker, John Cassidy, published on Wednesday, 9 May 2018. See also, How money flowed through Essential Consultants, Michael Cohen's multi-purpose shell company, The Washington Post, Philip Bump, Tuesday, 8 May 2018.
Ben Carson and the Department of Housing and Urban Development Are Sued Over Delaying a Rule That Is Meant to Prevent Segregation in Areas That Receive Federal Housing Funds, NPR, Bill Chappell, Tuesday, 8 May 2018: "Fair housing advocates are suing the Department of Housing and Urban Development to compel it to follow a rule meant to help prevent segregation and comply with the Fair Housing Act. The suit, which also names HUD Secretary Ben Carson, was filed Tuesday morning. The federal lawsuit stems from HUD's decision in January to postpone an Obama administration rule requiring communities that get HUD funding to submit fair housing assessments — a step that required recipients to study how inclusive their communities are and plan how to overcome historic segregation. Without that rule, the plaintiffs say, billions of dollars in federal housing funds will be dispensed without any civil rights oversight. HUD also made the change 'without prior notice or opportunity to comment,' according to the lawsuit. The plaintiffs include the National Fair Housing Alliance and two state groups, Texas Appleseed and the Texas Low Income Housing Information Service." See also, We're Suing Ben Carson for Trying to Dismantle the Fair Housing Act, ACLU, Rachel Goodman and Sandra Park, Tuesday, 8 May 2018: "It is no accident that much of the United States remains segregated. Decades of slavery, Jim Crow laws, discriminatory lending practices, and intentional policy choices at the federal, state, and local level — most of which were enacted within the last 80 years — helped make it so. The Fair Housing Act, passed in 1968, just a week after Martin Luther King, Jr. was assassinated, was meant to address the decades of discrimination that led to such segregation. The FHA made it illegal to discriminate against anyone buying or renting a house because of their race, color, religion, sex, or national origin (it's since been amended to include family status and disability, too). But it also sought to replace segregation in America with 'truly integrated and balanced living patterns' by requiring agencies to 'affirmatively' further fair housing in all programs related to housing…. In January [2018], [the Department of Housing and Urban Development] suspended the only regulation to ever give the FHA real leverage in ending segregation. The move puts housing integration in serious jeopardy, so we're challenging it in court."
Don Blankenship Loses West Virginia Republican Senate Primary to Patrick Morrisey, and Richard Cordray Defeats Dennis Kucinich for the Democratic Party's Nomination for Governor of Ohio, The New York Times, Jonathan Martin and Alexander Burns, Tuesday, 8 May 2018: "Republicans narrowly averted political disaster in the West Virginia Senate primary on Tuesday with the defeat of former coal executive Don Blankenship while mainstream Democrats fended off a liberal insurgent in the Ohio governor's race, bringing relief to the establishment of both parties on a day of elections in four states…. In the West Virginia Senate primary, Mr. Blankenship came in a distant third after an 11th-hour intervention by President Trump that was coordinated by Senate Republicans. They saw Mr. Blankenship as unelectable and unworthy of the Senate, given that he served a year in prison in connection with a mining disaster in 2010 that killed 29 men, and made racially offensive comments during the campaign…. In a hard-fought battle in Ohio between two liberal Democrats, Richard Cordray, the former head of Consumer Financial Protection Bureau, won the party's nomination in the governor's race over the former congressman and presidential hopeful Dennis Kucinich. The victory by Mr. Cordray, who was endorsed by Senator Elizabeth Warren of Massachusetts and drew strong labor support, came as a relief to many Democrats who saw Mr. Kucinich as likely to lose in the fall, given his sharply left-wing views and ties to a group sympathetic to President Bashar al-Assad of Syria. Mr. Cordray will compete against Mike DeWine, the state attorney general, who claimed the Republican nomination after an aggressive challenge from Lt. Gov. Mary Taylor." See also, 6 Takeaways From Tuesday's Primary Elections, The New York Times, Alexander Burns and Jonathan Martin, published on Wednesday, 9 May 2018. See also, Primary elections: Blankenship loses in West Virginia and Pittenger concedes in North Carolina, The Washington Post, Sean Sullivan and Elise Viebeck, Tuesday, 8 May 2018. See also, Top takeaways from the first big primary of 2018, Politico, Steven Shepard, Elena Schneider, and Scott Bland, published on Wednesday, 9 May 2018.
The Republican Regulatory Rollback Took a Step Forward as the House Voted to Scrap an Obama-Era Rule Intended to Prevent Discrimination by Auto Lenders, The New York Times, Alan Rappeport, Tuesday, 8 May 2018: "The Republican regulatory rollback took a step forward on Tuesday as the House voted to scrap an Obama-era rule intended to prevent discrimination by auto lenders and as lawmakers inched closer to a bipartisan agreement to alter portions of the 2010 Dodd-Frank Act. In a vote of 234 to 175, the House nullified 2013 guidance issued by the Consumer Financial Protection Bureau aimed at preventing auto lenders from charging minorities higher fees when taking out car loans. The move followed a similar vote last month by the Senate to void the antidiscrimination guidance and the resolution to strike down the rule will now go to President Trump, who is expected to sign off on it. Both the Senate and House voided the consumer rule using the Congressional Review Act, a 1996 law that gives Congress the power to expunge rules that were created by government agencies."
Khalid Shaikh Mohammed, the Principal Architect of the 9/11 Attacks Who Was Tortured by the C.I.A., Asks to Tell the Senate Intelligence Committee About Gina Haspel, The New York Times, Charlie Savage, Tuesday, 8 May 2018: "President Trump's nomination of Gina Haspel to lead the C.I.A. has revived debate over the agency's post-Sept. 11 interrogation program and still-murky questions about her involvement. Now, on the eve of her Senate confirmation hearing, a striking voice is trying to join that fray: Khalid Shaikh Mohammed. Mr. Mohammed, the principal architect of the Sept. 11, 2001, attacks, was captured in March 2003 and tortured by the C.I.A. This week, he asked a military judge at Guantánamo Bay for permission to share six paragraphs of information about Ms. Haspel with the Senate Intelligence Committee. Ms. Haspel ran a black-site prison in Thailand where another high-level detainee was tortured in late 2002. But it is not known whether she was involved, directly or indirectly, in Mr. Mohammed's torture. Mr. Mohammed was held in secret C.I.A. prisons in Afghanistan and Poland."
The Senate Intelligence Committee Concludes That Russia Tried to Undermine Confidence in U.S. Voting Systems, The New York Times, Nicholas Fandos and Michael Wines, Tuesday, 8 May 2018: "Russia was preparing to undermine confidence in the United States' voting process when its hackers surveilled around 20 state election systems in the run-up to the 2016 elections, the Senate Intelligence Committee concluded in a brief report released on Tuesday. But the committee said it saw no evidence that the Russians had ultimately changed vote tallies or voter registration information. In a few states, however, Russian hackers were 'in a position to, at a minimum, alter or delete voter registration data,' the committee said. 'These activities began at least as early as 2014, continued through Election Day 2016, and included traditional information-gathering efforts as well as operations likely aimed at preparing to discredit the integrity of the U.S. voting process and election results,' the senators wrote."
Wednesday, 9 May 2018, Day 475:
Gina Haspel Vows She Won't Allow Torture if She's Confirmed to Run the C.I.A., The New York Times, Matthew Rosenberg and Nicholas Fandos, Wednesday, 9 May 2018: "Gina Haspel, President Trump's nominee to the lead the Central Intelligence Agency, defended the agency's torture of terrorism suspects as her confirmation hearing on Wednesday served as another reckoning of the extraordinary measures the government employed in the frantic hunt for the Sept. 11 conspirators. Ms. Haspel, a 33-year C.I.A. veteran who oversaw a secret prison in Thailand in 2002 while a Qaeda suspect was waterboarded there, said that she and other spies were working within the law. Though the C.I.A. should never resume that type of work, she said, its officers should also not be judged for doing it…. But poised to take over the agency, Ms. Haspel vowed that she would not start another interrogation program like the one developed under President George W. Bush after 9/11 while the United States was actively trying to thwart terrorist plots. It involved brutal techniques like waterboarding detainees, dousing them with ice water, forcing them to stay awake for as long as a week and subjecting some to medically unnecessary rectal feeding." See also, Four takeaways from Gina Haspel's confrontational CIA confirmation hearing, The Washington Post, Amber Phillips, Wednesday, 9 May 2018: "Is the United States about to install a CIA director who supported torturing suspected terrorists in the wake of 9/11? And would she do it again if President Trump demanded it? Those are the central questions that Gina Haspel faced Wednesday in a sometimes-confrontational Senate committee hearing, the first step to getting confirmed to lead the CIA." See also, Haspel, Spies, and Videotapes, ProPublica, Tim Golden, Wednesday, 9 May 2018: "Jose Rodriguez, the CIA official who ordered CIA officers to destroy a cache of videotapes that had documented the treatment of two terror suspects, says he told Gina Haspel what he intended to do. President Trump's pick to head the CIA said she had no idea he planned to act without approval from senior officials." See also, Senator Kamala Harris says she'll vote against Gina Haspel as CIA chief, San Francisco Chronicle, Joe Garofoli, Wednesday, 9 May 2018: "Sen. Kamala Harris says she will vote against confirming Gina Haspel as the next director of the CIA. Harris, D-Calif., said Wednesday that she is concerned about what message Haspel's promotion would send to the spy agency and to the international community. Haspel, a 33-year CIA veteran, was involved in the agency's program of torturing post-9/11 terrorism suspects to try to gain information, and oversaw sites in Thailand where detainees were held. Later, she supported destroying video of the torture. During Haspel's confirmation hearing Wednesday before the Senate Intelligence Committee, Harris asked Haspel four times whether she thinks the agency's program was 'immoral.' Haspel did not answer the question. Harris said that helped seal her decision." See also, Senator John McCain urges Senate to reject Trump's CIA nominee, Gina Haspel, The Washington Post, David Weigel and Karoun Demirjian: "Sen. John McCain (R-Ariz.) urged the Senate to reject Gina Haspel…. 'I believe Gina Haspel is a patriot who loves our country and has devoted her professional life to its service and defense,' McCain said in a statement Wednesday night. 'However, Ms. Haspel's role in overseeing the use of torture by Americans is disturbing. Her refusal to acknowledge torture's immorality is disqualifying. I believe the Senate should exercise its duty of advice and consent and reject this nomination.'" See also, 5 Things Gina Haspel Wouldn't Say About CIA Torture–and Why It Matters, ACLU, Brian Tashman, Wednesday, 9 May 2018. See also, Just Following Orders, The Intercept/Intercepted Podcast, Jeremy Scahill, Wednesday, 9 May 2018. See also, CIA director nominee Gina Haspel and the destruction of interrogation tapes: Contradictions and questions, The Washington Post, Glenn Kessler, published on Friday, 11 May 2018: "
Novartis and AT&T Spoke to Special Counsel Robert Mueller's Office About Payments to Michael Cohen, The New York Times, Katie Thomas and Cecilia Kang, Wednesday, 9 May 2018: "As President Trump took office in early 2017, two corporate behemoths — the Swiss drug maker Novartis and the telecommunications company AT&T — were eager to establish ties to an administration that did not operate in the traditional circles of power. They ended up hiring an unorthodox consultant who promised insights into Mr. Trump's thinking: Michael D. Cohen, the president's personal lawyer and longtime fixer. But in the first meeting with Mr. Cohen after he signed as a consultant, Novartis said on Wednesday, the company realized that he would not be able to deliver. Nevertheless, the giant drug company paid him $1.2 million for a one-year contract that ended in February of this year. Similar payments were made by AT&T, which paid a total of about $600,000 to Mr. Cohen's firm for a yearlong contract, according to a person familiar with the agreement. An aircraft manufacturer, Korea Aerospace Industries, also had a contract with Mr. Cohen's company. The companies' payments were revealed on Tuesday after Michael Avenatti, the lawyer for Stephanie Clifford, a pornographic film actress who has said she had an affair with Mr. Trump, released some financial details of a company started by Mr. Cohen. Ms. Clifford was paid $130,000 by the company, Essential Consultants L.L.C., to keep quiet about the alleged affair with Mr. Trump." See also, 'I'm crushing it': How Michael Cohen, touting his access to President Trump, convinced companies to pay him millions, The Washington Post, Michael Kranish, Rosalind S. Helderman, Carolyn Y. Johnson, and Josh Dawsey, Wednesday, 9 May 2018: "President Trump had been sworn into office, and his personal attorney, Michael Cohen, saw a golden opportunity. From his perch in a law office on the 23rd floor of New York's Rockefeller Center, Cohen pitched potential clients on his close association with Trump, noting that he still was the president's lawyer, according to associates. He showed photos of himself with Trump and mentioned how frequently they spoke, even asking people to share news articles describing him as the president's 'fixer.' 'I'm crushing it,' he said, according to an associate who spoke to him in the summer of 2017." See also, Inside Michael Cohen's aggressive pitch promising access to Trump, CNN Politics, MJ Lee, Javier DeDiego, Sarah Westwood, Marshall Cohen, Gloria Borger, Sara Murray, and Dana Bash, Wednesday, 9 May 2018. See also, The Michael Cohen Revelations Are a Crash Course in Shady Corporate Entities, The New Yorker, Adam Davidson, Wednesday, 9 May 2018: "The Trump Administration has inspired a national crash course in a host of legal issues. We are all learning a great deal about the formal and informal rules governing the Presidency, the relationship between the White House and the Department of Justice, the emoluments clause of the Constitution, and the political and legal constraints of impeachment. Many of us have also become far more acquainted with the ins and outs of money laundering and the anti-bribery Foreign Corrupt Practices Act. We might now be entering the section of the course called 'Legal Entities: How to Hide Everything You Do Behind Shell Companies.' We still don't know how Michael Avenatti, the lawyer representing Stephanie Clifford, the adult-film actress and director known as Stormy Daniels, uncovered the information about payments that Cohen received from Columbus Nova—and also from A.T. & T., Novartis, and others. (In response to a request for comment for this article, Avenatti said, 'Like any good journalist I don't disclose my sources. There are numerous pieces of evidence that have yet to be made public.')" See also, Is Michael Cohen's Essential Consultants L.L.C. a Slush Fund for Donald Trump? The New Yorker, Amy Davidson Sorkin, Wednesday, 9 May 2018: "Sometimes the most convoluted question, when it comes to the financial dealings that swirl around President Donald Trump, is the most basic: Who is paying whom? The follow-up, which can be even more troubling, is, And for what?… To put the matter most bluntly, if Cohen was Trump's bagman, was Essential Consultants anything more than the bag?" See also, Lawyers for Michael Cohen accuse Stormy Daniels attorney Michael Avenatti of distributing false information, The Washington Post, Tom Hamburger and Rosalind S. Helderman, Wednesday, 9 May 2018: "Lawyers for Michael Cohen on Wednesday accused an attorney for adult-film star Stormy Daniels of distributing false information about their client and asked a federal judge to deny his request to participate in a litigation in New York about a federal criminal investigation involving President Trump's longtime attorney. Michael Avenatti, an attorney for Daniels, had asked to participate in the New York case as he pursues a lawsuit in California against Cohen and Trump. The request to bar Avenatti, filed in federal court in Manhattan late Wednesday, alleges he may have improperly obtained Cohen's private banking records and breached legal canon by arguing his case publicly rather than through the courts. It comes a day after Avenatti publicly released a dossier that appears to describe bank records detailing payments to Cohen from corporate clients in the wake of Trump's election." See also, Treasury inspector general launches probe into possible leak of Michael Cohen's banking records, The Washington Post, Beth Reinhard and Emma Brown, Wednesday, 9 May 2018: "The Treasury Department's inspector general is investigating whether confidential banking information involving a company controlled by President Trump's personal attorney Michael Cohen was leaked, a spokesman said. Detailed claims about the company's banking history were made public Tuesday by Michael Avenatti, an attorney for Stormy Daniels, the adult-film star who was paid $130,000 by Cohen's company shortly before the 2016 election to keep quiet about her alleged affair with Trump."
Trump muses about yanking news media credentials in response to negative coverage, The Washington Post, John Wagner, Wednesday, 9 May 2018: "President Trump on Wednesday raised the prospect of taking away credentials from news media outlets that he believes are reporting negatively on his administration, claiming that the 'Fake News' is 'working overtime' against him. 'Why do we work so hard in working with the media when it is corrupt?' Trump wrote on Twitter. 'Take away credentials?'"
Releasing 3 Americans, North Koreans Signal Openness to Washington, The New York Times, Peter Baker, Julie Hirschfeld Davis, and Choe Sang-Hun, Wednesday, 9 May 2018: "The release of three American prisoners cleared away a last obstacle on Wednesday to a landmark nuclear summit meeting between President Trump and North Korea's leader, Kim Jong-un. North Korea freed the prisoners, all Americans of Korean descent, even as the two countries finalized details for a meeting between their leaders. The move was North Korea's most tangible gesture aimed at improving relations with the United States since Mr. Trump took office. The resolution of the prisoner standoff hardly guaranteed success at the meeting, which will grapple with the far more complicated issues of North Korea's nuclear arsenal, divisions on the peninsula and security in Asia. But American officials said it sent another signal that North Korea may be serious about ending its long confrontation with the United States and its allies after nearly seven decades of mutual antagonism."
California regulators approve mandate for solar panels on new houses, Los Angeles Times, Andrew Khouri, Wednesday, 9 May 2018: "California regulators on Wednesday mandated that all newly built single family houses have solar panels, part of the state's aggressive push to combat climate change. The California Energy Commission voted 5-0 to approve the measure, which also applies to multifamily buildings of three stories or fewer. The mandate is set to take effect in 2020 and does not need the approval of the Legislature."
A North Carolina Sheriff Cooperated with Immigration and Customs Enforcement (ICE), and Voters Gave Him the Boot, The Intercept, John Thomason, Wednesday, 9 May 2018: "On Tuesday night, voters handed a decisive loss to the incumbent sheriff of North Carolina's largest county, which includes Charlotte, garnering a win for grass-roots efforts to oppose hard-line immigration policies. The central issue that emerged in the Mecklenburg County race was Sheriff Irwin Carmichael's cooperation with the Trump administration's deportation policy….Carmichael's department had participated in a controversial program launched by U.S. Immigration and Customs Enforcement to form partnerships with state and local law enforcement. The 287(g) program, which delegates immigration roles to state and local authorities, has become a lightning rod political issue since Donald Trump's election to the presidency."
House Republicans, Defying Leaders, Move to Force Immigration Votes, The New York Times, Sheryl Gay Stolberg, Wednesday, 9 May 2018: "More than a dozen House Republicans defied Speaker Paul D. Ryan on Wednesday and moved to force a vote on immigration in the House, aiming to settle the uncertain futures of so-called Dreamers, young immigrants who were brought to this country illegally as children. The group is gathering signatures for a so-called discharge petition, a parliamentary maneuver that could be used to circumvent Mr. Ryan by bringing legislation to the House floor with the support of a majority of members. The party out of power often uses such petitions, but they rarely succeed because a signature from a member of the party in power is seen as a betrayal of leadership…. If nine more Republicans sign on, along with all House Democrats, the group will be able to revive an immigration debate that had appeared all but dead. Its goal is to force debate on four immigration-related measures, including one of the speaker's choosing."
Education Secretary Betsy DeVos Moves to Loosen Restrictions on Federal Aid to Religious Colleges, The New York Times, Erica L. Green, Wednesday, 9 May 2018: "Education Secretary Betsy DeVos, a lifelong advocate of Christian education, moved on Wednesday to loosen federal regulations on religious colleges and universities, after a Supreme Court decision that restricted states from denying some kinds of aid to religious institutions. The measure is part of a sweeping deregulatory agenda for the Education Department announced on Wednesday by the White House budget office, which outlined several rules and regulations for the department to scrap or amend. Among those are rules that restrict faith-based entities from receiving federally administered funding."
Richard Grenell, Twitter Troll Sent to Germany as Trump's Ambassador, Instantly Offends the Nation With a Tweet, The Intercept, Robert Mackey, Wednesday, 9 May 2018: "Richard Grenell, the new U.S. ambassador to Germany, formally took up his post in Berlin on Tuesday and immediately got to work as Donald Trump's representative by offending the German people with a tweet. Grenell's inaugural Twitter address to his hosts, a stern command to German companies doing business in Iran to obey the American president's decision to sabotage the nuclear arms control agreement that opened the way for Western investment, or face U.S. sanctions, did not go over well. As Germany's leading financial daily, Handelsblatt, reported, the tweet drew thousands of comments, 'many of them from angry Germans basically telling the ambassador, a longtime critic of the Iran deal, to butt out.'"
Thursday, 10 May 2018, Day 476:
Kirstjen Nielsen, Chief of Homeland Security, Almost Resigned After Trump Tirade, The New York Times, Michael D. Shear and Nicole Perlroth, Thursday, 10 May 2018: "Kirstjen Nielsen, the homeland security secretary, told colleagues she was close to resigning after President Trump berated her on Wednesday in front of the entire cabinet for what he said was her failure to adequately secure the nation's borders, according to several current and former officials familiar with the episode. Ms. Nielsen, who is a protégée of John F. Kelly, the White House chief of staff, has drafted a resignation letter but has not submitted it, according to two of the people. As the head of the Department of Homeland Security, Ms. Nielsen is in charge of the 20,000 employees who work for Immigration and Customs Enforcement. Mr. Trump's anger toward Ms. Nielsen, who was sitting several seats to his left at the meeting, was part of a lengthy tirade in which the president railed at his cabinet about what he said was its lack of progress toward sealing the country's borders against illegal immigrants, according to one person who was present at the meeting."
Gina Haspel's Testimony About C.I.A. Torture Raises New Questions, The New York Times, Charlie Savage, Thursday, 10 May 2018: "A day after Gina Haspel, President Trump's nominee to lead the C.I.A., refused during her confirmation hearing on Wednesday to condemn the agency's torture of Qaeda suspects, several lawmakers and human-rights advocates said aspects of her testimony merited greater scrutiny. While Ms. Haspel, the agency's acting director, vowed never to start another detention and interrogation program, her testimony was laced with ambiguities about the program and her understanding of limits on the C.I.A.'s powers. For example, she promised to follow 'the law' but insisted that the agency's interrogations were legal at the time. Against that backdrop, her critics pointed with suspicion to several of her comments during her testimony before the Senate Intelligence Committee." See also, Gina Haspel and the Enduring Questions About Torture, The New Yorker, Amy Davidson Sorkin, Thursday, 10 May 2018: "About two-thirds of the way through the public part of Gina Haspel's confirmation hearing, before the Senate Intelligence Committee, for her nomination as the head of the Central Intelligence Agency, Senator Kamala Harris, of California, asked her a simple question: 'Do you believe that the previous interrogation techniques were immoral?' Those techniques—acts of torture adopted by the C.I.A. in the years after the 9/11 attacks—included repeated waterboarding, confinement in a coffin-like box, exposure to extreme temperatures, sleep deprivation, and forced rectal infusions. After a pause, Haspel began to answer, in careful tones, 'Senator, I believe that C.I.A. officers, to whom you refer—' 'It's a yes-or-no answer,' Harris said. She clarified, 'I'm not asking, do you believe they were legal? I'm asking, do you believe they were immoral?' There was another pause, and then Haspel, again, dodged the question. 'Senator, I believe that the C.I.A. did extraordinary work to prevent another attack on this country, given the legal tools that we were authorized to use.' 'Please answer yes or no,' Harris again interrupted. 'Do you believe, in hindsight, that those techniques were immoral?' 'Senator, what I believe sitting here today is that I support the higher moral standard we have decided to hold ourselves to,' Haspel replied. This was a formulation that she had already used repeatedly in answering earlier questions. But all it amounted to was that she didn't object to the United States being extra-double-plus moral—as when Congress and the Obama Administration both renounced waterboarding—without ever saying that its actions had been immoral before. So Harris kept trying: 'Could you please answer the question.' 'Senator, I think I've answered the question,' Haspel said. 'No, you've not,' Harris said, and asked it again. 'Do you believe they are immoral? Yes or no?' 'Senator, I believe we should hold ourselves to the moral standard outlined in the Army Field Manual,' Haspel said—another way of saying that the C.I.A. should follow the current law. Harris, after noting that the question was still not answered, moved on." See also, Senator Dianne Feinstein formally opposes Gina Haspel as senators declare votes for Trump's CIA nominee, The Washington Post, Karoun Demirjian, Thursday, 10 May 2018: "The author of the Senate's comprehensive review of CIA interrogation practices formally announced Thursday that she would oppose Gina Haspel as the agency's new director, arguing that confirming someone so closely tied to the program would in effect be telling the world that the United States endorses torture. 'This nomination is bigger than one person,' Sen. Dianne Feinstein (D-Calif.), who released the 2014 torture report as then-chairwoman of the Senate Intelligence Committee, wrote in a statement. 'For the Senate to confirm someone so involved with the program to the highest position at the CIA would in effect tell the world that we approve of what happened, and I absolutely do not.' Feinstein's declaration comes on the heels of a similar message from Sen. John McCain (R-Ariz.), who stated Wednesday night that while Haspel's 33-year record of service at the CIA is impressive, her refusal to denounce her past involvement with the interrogation program as immoral disqualifies her as a potential director." See also, Why We Don't Support Gina Haspel for CIA Director: A Response to Benjamin Wittes, Lawfare, Stephen Rickard and Elisa Massimino, Thursday, 10 May 2018.
Pentagon revised an Obama-era report to remove risks from climate change, The Washington Post, Chris Mooney and Missy Ryan, Thursday, 10 May 2018: "Internal changes to a draft Defense Department report de-emphasized the threats climate change poses to military bases and installations, muting or removing references to climate-driven changes in the Arctic and potential risks from rising seas, an unpublished draft obtained by The Washington Post reveals. The earlier version of the document, dated December 2016, contains numerous references to 'climate change' that were omitted or altered to 'extreme weather' or simply 'climate' in the final report, which was submitted to Congress in January 2018. While the phrase 'climate change' appears 23 separate times in the draft report, the final version used it just once. Those and other edits suggest the Pentagon has adapted its approach to public discussion of climate change under President Trump, who has expressed doubt about the reality of a phenomenon that scientists agree presents an increasing danger to the planet. While military leaders have said they see a changing climate as a driver of instability worldwide, they have also sought to stay out of a politically charged debate about its causes."
Trump Exults in the Release of Three Americans From Prison in North Korea and a Date in June for a Meeting with Kim Jong-un, The New York Times, Mark Landler and Katie Rogers, Thursday, 10 May 2018: "President Trump, exulting in the release of three Americans from prison in North Korea, confirmed Thursday that he would meet Kim Jong-un, the North's leader, in Singapore on June 12, setting the date for a once unimaginable encounter. The choice of Singapore, a tidy, prosperous city-state with ties to both the United States and North Korea, is a small victory for Mr. Trump's advisers, who talked him out of meeting Mr. Kim in the Demilitarized Zone between North and South Korea — a far more symbolic, but politically problematic, location."
Vice President Mike Pence says it's time for special counsel Robert Mueller to 'wrap up' Russia investigation, The Washington Post, John Wagner, Thursday, 10 May 2018: "Vice President Pence on Thursday urged special counsel Robert S. Mueller III to bring his investigation into Russian election interference to a close, saying 'it's time to wrap it up.' Pence's remarks echoed calls by President Trump and his lawyers, who have argued that there is no evidence of collusion between the Trump campaign and Russia and that Mueller is now seeking to trap Trump into committing perjury about his actions related to the investigation."
Timothy Ziemer, top White House official in charge of pandemic response, exits abruptly, The Washington Post, Lena H. Sun, Thursday, 10 May 2018: "The top White House official responsible for leading the U.S. response in the event of a deadly pandemic has left the administration, and the global health security team he oversaw has been disbanded under a reorganization by national security adviser John Bolton. The abrupt departure of Rear Adm. Timothy Ziemer from the National Security Council means no senior administration official is now focused solely on global health security. Ziemer's departure, along with the breakup of his team, comes at a time when many experts say the country is already underprepared for the increasing risks of a pandemic or bioterrorism attack. Ziemer's last day was Tuesday, the same day a new Ebola outbreak was declared in Congo. He is not being replaced."
Giuliani's Law Firm Undercuts His Statements as They Part Ways, The New York Times, Michael S. Schmidt and Maggie Haberman, Thursday, 10 May 2018: "President Trump's personal lawyer, Rudolph W. Giuliani, abruptly resigned from his law firm, which then promptly undercut his recent statements defending the president. Mr. Giuliani had taken a leave of absence last month from the firm, Greenberg Traurig, to represent Mr. Trump. But the firm, one of the nation's largest, said in a statement on Thursday that he no longer worked there. Firm partners had chafed over Mr. Giuliani's public comments about payments that another of Mr. Trump's lawyers, Michael D. Cohen, made to secure the silence of a pornographic film actress who said she had an affair with Mr. Trump. The president has denied her allegations. Mr. Giuliani suggested that such payments were common at his firm, even without the knowledge of the clients. 'That was money that was paid by his lawyer, the way I would do, out of his law firm funds,' he said on Fox News. He added, 'Michael would take care of things like this like I take care of this with my clients.' The New York Times asked Greenberg Traurig about those remarks early this week. Shortly after Mr. Giuliani's resignation was announced, the firm responded. 'We cannot speak for Mr. Giuliani with respect to what was intended by his remarks,' said a spokeswoman, Jill Perry. 'Speaking for ourselves, we would not condone payments of the nature alleged to have been made or otherwise without the knowledge and direction of a client.'"
Cohen's $600,000 deal with AT&T specified he would advise on Time Warner merger, internal company records show, The Washington Post, Rosalind S. Helderman, Brian Fung, and Tom Hamburger, Thursday, 10 May 2018: "Three days after President Trump was sworn into office, the telecom giant AT&T turned to his personal attorney, Michael Cohen, for help on a wide portfolio of issues pending before the federal government — including the company's proposed merger with Time Warner, according to documents obtained by The Washington Post. The documents detail the full scope of Cohen's $600,000 deal with AT&T and how his contract specified that he would provide advice on the $85 billion merger, which required the approval of federal antitrust regulators. Trump had voiced opposition to the merger during the presidential campaign, and his administration ultimately opposed the AT&T effort. The Justice Department filed suit in November to block the deal, and that case is pending."