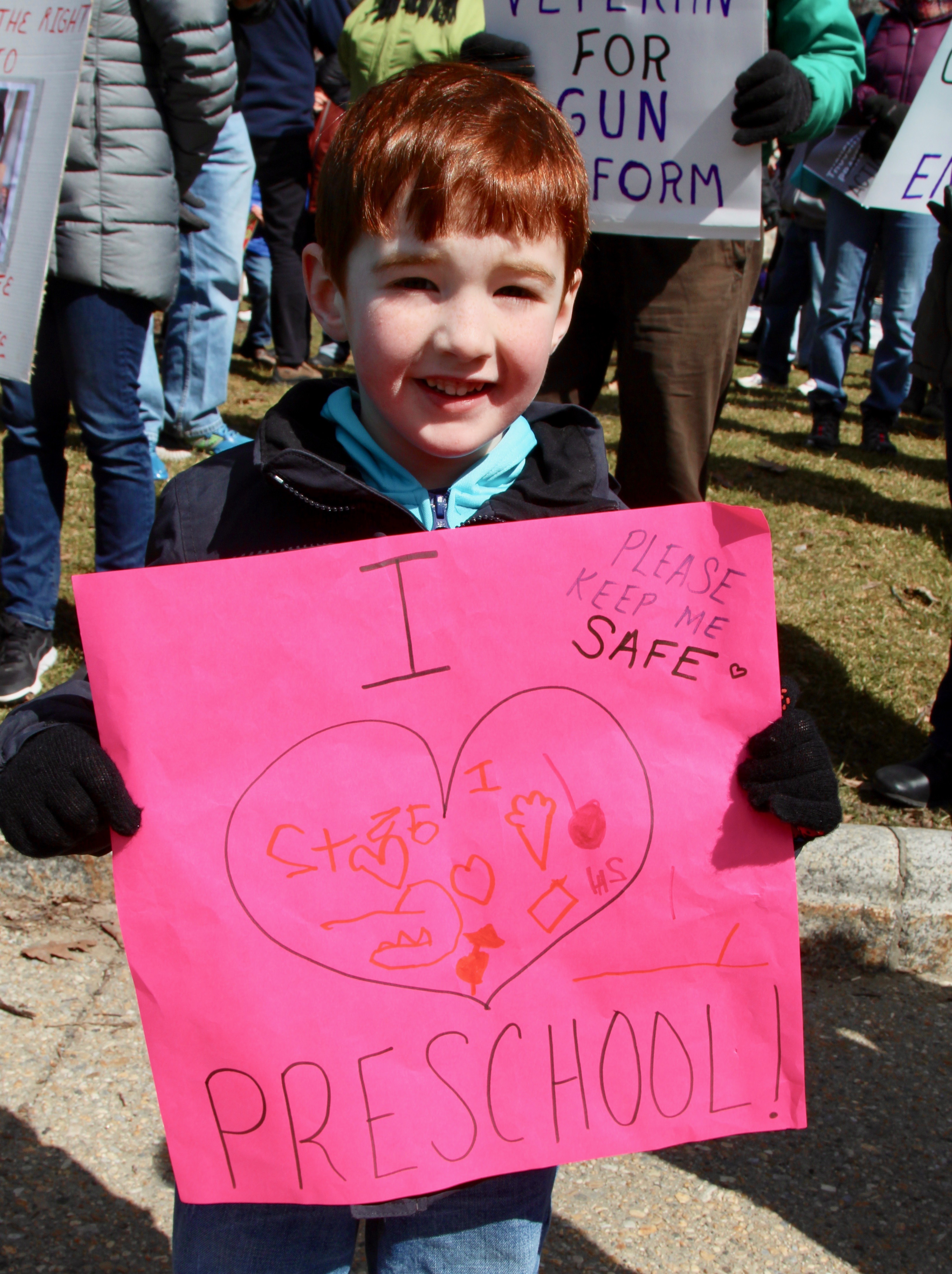 March For Our Lives, Pittsfield, MA, Saturday, 24 March 2018
Keeping Track (of some things), Staying Outraged (it is possible), and Resisting (it's essential)
Passages in bold in the body of the texts below are my emphasis. This is an ongoing project, and I update the site frequently. Because I try to stay focused on what has actually happened, I usually let the news 'settle' a day or so before posting. I hope readers will peruse the articles in full for a better understanding of the issues and their context; our democracy and our future depend on citizens who can distinguish between facts and falsehoods and who are engaged in the political process.
Friday, 20 April 2018, Day 456:
North Korea says it will suspend nuclear and missile tests and shut down test site, The New York Times, Anna Fifield, Friday, 20 April 2018: "North Korean leader Kim Jong Un has declared that he will suspend nuclear and missile tests starting Saturday and that he will shut down the site where the previous six nuclear tests were conducted. The surprising announcement comes just six days before Kim is set to meet South Korean President Moon Jae-in, a precursor to a historic summit between Kim and President Trump. The U.S. president is set to meet Kim at the end of May or beginning of June, although a location has not yet been set. Both Moon and Trump have been saying that North Korea is now willing to 'denuclearize,' a term that means different things to the two sides."
How the C.I.A. Is Waging an Influence Campaign to Get Its Next Director, Gina Haspel, Confirmed, The New York Times, Adam Goldman and Matthew Rosenberg, Friday, 20 April 2018: "Central Intelligence Agency operatives have long run covert influence campaigns overseas. Now, the agency is mounting an unusually active, not very secret campaign in Washington. The C.I.A. is trying to ensure its deputy director, Gina Haspel, a career spy, is confirmed as its next director. Almost every detail of her life and work is classified; what little is known stems from her role overseeing the brutal interrogation of a terrorism suspect at a secret prison in Thailand and conveying orders to destroy videos documenting torture. To promote a more positive view of Ms. Haspel, the agency has declassified secrets about her life as a globe-trotting spy and encouraged former clandestine officers — typically expected to remain quiet even in retirement — to grant interviews. It sought to generate favorable news coverage by providing selective biographical details about Ms. Haspel to reporters, then sent a news release to highlight the resulting stories. The campaign to secure Ms. Haspel's confirmation reflects the view of many officials inside the C.I.A., who see her as the agency's best chance to keep a political partisan from being installed as director. But C.I.A. officials have failed to declassify any meaningful information about Ms. Haspel's career, according to Democrats on the Senate Intelligence Committee, who complained to the agency that they have asked five times for more details but have yet to receive a response." See also, CIA declassifies memo clearing Haspel of responsibility for destroying evidence, The Washington Post, Karoun Demirjian, Friday, 20 April 2018: "The Central Intelligence Agency took the unusual step Friday of declassifying and releasing a memo clearing Gina Haspel of any wrongdoing in drafting an order to destroy videotaped evidence of brutal interrogation techniques, a move that comes as part of a greater campaign to rehabilitate her image and shore up congressional support for her bid to become the agency's director. The memo, which former CIA deputy director Michael Morell wrote in 2011, is the result of a disciplinary review in which he 'found no fault with the performance of Ms. Haspel' — primarily because she drafted the cable 'on the direct orders' of her superior and did not release it herself. 'It was not her decision to destroy the tapes,' Morell wrote in the declassified document, which the CIA released Friday in response to requests from members of the Senate Intelligence Committee. But senators clamoring for the CIA to declassify documents related to Haspel's record on techniques often referred to as torture and the order to destroy evidence were angered by what they saw as a 'selective' response to their demands."
Democratic National Committee Alleges Trump-Russia Conspiracy in New Lawsuit, The New York Times, Alexander Burns and Michael D. Shear, Friday, 20 April 2018: "The Democratic National Committee opened a surprise legal assault on President Trump on Friday, filing a lawsuit in federal court alleging that the organization was the victim of a conspiracy by Russian officials, the Trump campaign and WikiLeaks to damage Hillary Clinton's presidential run. The 66-page complaint, filed in federal court in New York, uses the publicly known facts of the investigation into Russia's election meddling to accuse Mr. Trump's associates of illegally working with Russian intelligence agents to interfere with the outcome of the election. In the document, the committee accuses Republicans and the Russians of 'an act of previously unimaginable treachery.' The sweeping lawsuit startled Republicans in Washington as well as Democratic leaders, who were only briefed at the last minute about the D.N.C.'s plans to pursue civil litigation. Tom Perez, the chairman of the Democratic Party, said the committee had alerted Senate Minority Leader Chuck Schumer and House Minority Leader Nancy Pelosi, the top Democrats in Congress, 'when we were about to file.' Mr. Trump, in a tweet Friday evening, chided 'obstructionist Democrats' for filing the complaint and suggested it could backfire if Republicans got access in court to the D.N.C.'s hacked email servers." See also, Democratic Party sues Russia, the Trump campaign, and WikiLeaks alleging 2016 campaign conspiracy, The Washington Post, Tom Hamburger, Rosalind S. Helderman, and Ellen Nakashima, Friday, 20 April 2018.
Continue reading Week 66, Friday, 20 April – Thursday, 26 April 2018 (Days 456-462)
Hundreds of Immigrant Children Have Been Taken From Parents at the U.S. Border, The New York Times, Caitlin Dickerson, Friday, 20 April 2018: "For months, members of Congress have been demanding answers about how many families are being separated as they are processed at stations along the southwest border, in part because the Trump administration has in the past said it was considering taking children from their parents as a way to deter migrants from coming here. Officials have repeatedly declined to provide data on how many families have been separated, but suggested that the number was relatively low. But new data reviewed by The New York Times shows that more than 700 children have been taken from adults claiming to be their parents since October, including more than 100 children under the age of 4. The data was prepared by the Office of Refugee Resettlement, a division of the Department of Health and Human Services that takes custody of children who have been removed from migrant parents. Senior officials at the Department of Homeland Security, which processes migrants at the border, initially denied that the numbers were so high. But after they were confirmed to The Times by three federal officials who work closely with these cases, a spokesman for the health and human services department on Friday acknowledged in a statement that there were 'approximately 700.' Homeland security officials said the agency does not separate families at the border for deterrence purposes. 'As required by law, D.H.S. must protect the best interests of minor children crossing our borders, and occasionally this results in separating children from an adult they are traveling with if we cannot ascertain the parental relationship, or if we think the child is otherwise in danger,' a spokesman for the agency said in a statement. But Trump administration officials have suggested publicly in the past that they were, indeed, considering a deterrence policy. Last year, John F. Kelly, President Trump's chief of staff, floated the idea while he was serving as homeland security secretary."
Attorney General Jeff Sessions told the White House that Rod Rosenstein's firing could prompt his departure, too, The Washington Post, Sari Horwitz, Rosalind S. Helderman, Josh Dawsey, and Matt Zapotosky, Friday, 20 April 2018: "Attorney General Jeff Sessions recently told the White House he might have to leave his job if President Trump fired his deputy, Rod J. Rosenstein, who oversees the investigation into Russian interference in the 2016 election, according to people familiar with the exchange. Sessions made his position known in a phone call to White House counsel Donald McGahn last weekend, as Trump's fury at Rosenstein peaked after the deputy attorney general approved the FBI's raid April 9 on the president's personal attorney Michael Cohen. Sessions's message to the White House, which has not previously been reported, underscores the political firestorm that Trump would invite should he attempt to remove the deputy attorney general. While Trump also has railed against Sessions at times, the protest resignation of an attorney general — which would be likely to incite other departures within the administration — would create a moment of profound crisis for the White House."
The Education Department Under Betsy DeVos Begins Dismissing Civil Rights Cases in the Name of Efficiency, The New York Times, Erica L. Green, Friday, 20 April 2018: "The Education Department's Office for Civil Rights has begun dismissing hundreds of civil rights complaints under a new protocol that allows investigators to disregard cases that are part of serial filings or that they consider burdensome to the office…. [C]ivil rights advocates worry that the office's rejection of legitimate claims is the most obvious example to date of its diminishing role in enforcing civil rights laws in the nation's schools."
Trump lied to me about his wealth to get onto the Forbes 400. Here are the tapes. The Washington Post, Jonathan Greenberg, Friday, 20 April 2018: "In May 1984, an official from the Trump Organization called to tell me how rich Donald J. Trump was. I was reporting for the Forbes 400, the magazine's annual ranking of America's richest people, for the third year. In the previous edition, we'd valued Trump's holdings at $200 million, only one-fifth of what he claimed to own in our interviews. This time, his aide urged me on the phone, I needed to understand just how loaded Trump really was. The official was John Barron — a name we now know as an alter ego of Trump himself. When I recently rediscovered and listened, for first time since that year, to the tapes I made of this and other phone calls, I was amazed that I didn't see through the ruse: Although Trump altered some cadences and affected a slightly stronger New York accent, it was clearly him. 'Barron' told me that Trump had taken possession of the business he ran with his father, Fred. 'Most of the assets have been consolidated to Mr. Trump,' he said. 'You have down Fred Trump [as half owner] . . . but I think you can really use Donald Trump now.' Trump, through this sockpuppet, was telling me he owned 'in excess of 90 percent' of his family's business. With all the home runs Trump was hitting in real estate, Barron told me, he should be called a billionaire. At the time, I suspected that some of this was untrue. I ran Trump's assertions to the ground, and for many years I was proud of the fact that Forbes had called him on his distortions and based his net worth on what I thought was solid research. But it took decades to unwind the elaborate farce Trump had enacted to project an image as one of the richest people in America. Nearly every assertion supporting that claim was untrue." See also, Trump's History of Lying, From John Barron to @RealDonaldTrump, The New Yorker, John Cassidy, published on Monday, 23 April 2018.
Michael Cohen Has Said He Would Take a Bullet for Trump. Maybe Not Anymore. The New York Times, Maggie Haberman, Sharon LaFraniere, and Danny Hakim, Friday, 20 April 2018: "For years, a joke among Trump Tower employees was that the boss was like Manhattan's First Avenue, where the traffic goes only one way. That one-sidedness has always been at the heart of President Trump's relationship with his longtime lawyer and fixer, Michael D. Cohen, who has said he would 'take a bullet' for Mr. Trump. For years Mr. Trump treated Mr. Cohen poorly, with gratuitous insults, dismissive statements and, at least twice, threats of being fired, according to interviews with a half-dozen people familiar with their relationship. 'Donald goes out of his way to treat him like garbage,' said Roger J. Stone Jr., Mr. Trump's informal and longest-serving political adviser, who, along with Mr. Cohen, was one of five people originally surrounding the president when he was considering a presidential campaign before 2016. Now, for the first time, the traffic may be going Mr. Cohen's way. Mr. Trump's lawyers and advisers have become resigned to the strong possibility that Mr. Cohen, who has a wife and two children and faces the prospect of devastating legal fees, if not criminal charges, could end up cooperating with federal officials who are investigating him for activity that could relate, at least in part, to work he did for Mr. Trump."
6 Takeaways From the James Comey Memos, The New York Times, Michael S. Schmidt, Friday, 20 April 2018: "Memos written by the former F.B.I. director, James B. Comey, that were released on Thursday revealed several new details about his relationship with President Trump and the president's first chief of staff, Reince Priebus. Though much of what the memos describe was already public, the documents themselves provided an intimate portrait of the early months of the Trump White House and how the president and Mr. Priebus confronted leaks, the prospect that the national security adviser was under investigation and allegations about Mr. Trump's ties to Russia. Mr. Comey depicts Mr. Trump as a man engrossed to the point of distraction with political rivalries and fears that bureaucrats and government officials, including in the F.B.I., were trying to undermine his legitimacy." See also, In the James Comey memos, Trump fixates on 'hookers' and frets over Michael Flynn, Associated Press, Mary Clare Jalonick, Eric Tucker, and Chad Day, Friday, 20 April 2018.
Missouri Governor Eric Greitens Faces New Charge: Misusing Charity List for His 2016 Political Campaign, The New York Times, Julie Bosman, Friday, 20 April 2018: "Gov. Eric Greitens of Missouri was accused on Friday of illegally obtaining a donor list from a charity he founded and using it to raise money for his 2016 campaign, a new blow to Mr. Greitens in a deepening political and sex scandal that has threatened his grip on the governor's office. Kimberly Gardner, the St. Louis circuit attorney, charged Mr. Greitens with one felony count of tampering with computer data in connection with the donor list. Mr. Greitens, a Republican who was first elected governor in the 2016 race, already was facing a different felony charge, invasion of privacy. In January, he admitted that he had a sexual relationship with his former hairdresser while he was married. The woman has told a legislative committee that Mr. Greitens took a nude or seminude picture of her without her consent, then threatened to make the image public if she told anyone about their affair."
A Short History of Threats Received by Donald Trump's Opponents, ProPublica, Decca Muldowney, Friday, 20 April 2018: "When Stormy Daniels spoke to '60 Minutes' last month, the porn actress described a threat she received years ago after speaking to a journalist about her alleged affair with Donald Trump. A stranger approached her in a parking lot in Las Vegas. Daniels was there with her baby daughter. 'Leave Trump alone,' Daniels recalled the man warning her. 'That's a beautiful little girl. It'd be a shame if something happened to her mom.' Daniels did not report the threat to the police. On Wednesday, Donald Trump tweeted that Daniels' account of events was 'a total con job' about a 'non-existent man.' As it happens, other people in disputes with Trump have also found themselves the targets of threats — and sometimes they've reported it to authorities."
Is it a coincidence that Trump uses the language of white supremacy? The Washington Post, Dana Milbank, Friday, 20 April 2018: "This is not normal," James B. Comey said this week after President Trump threatened him with jail. If I had a nickel for every time somebody said that, I could repay the national debt. There is so much abnormality from this president that we're numb. I'd like to pause, therefore, to reflect on just one thing the president did this week that, amid Russian hookers and his assaults on truth, law and decency, got little attention: his talk of immigrants 'breeding' in America's sanctuary cities."
Saturday, 21 April 2018, Day 457:
As Deputy Attorney General Rod Rosenstein Battles to protect Special Counsel Robert Mueller, His Tactics Could Cost the Justice Department, The New York Times, Katie Benner, Sharon LaFraniere, and Nicholas Fandos, Saturday, 21 April 2018: "He has a reputation as a principled lawyer. He has worked for both Republican and Democratic attorneys general. He has a jugular instinct in courtroom battles but a distaste for political ones. Now Rod J. Rosenstein, the deputy attorney general, is confronting the political fight of his career. Amid sustained criticism by President Trump and rumors that he will be fired, Mr. Rosenstein is also maneuvering to defuse demands by Republicans in Congress that Democrats say are aimed at ousting him from his job — and from his role as protector of the special counsel, Robert S. Mueller III. So far, he appears to be succeeding. But in trying to deflect those attacks, some say, Mr. Rosenstein has risked eroding the Justice Department's historic independence from political meddling. The consequences could persist long after he and the rest of the Trump administration are out of power. A small but influential group of House Republicans has demanded greater access to sensitive documents related to some of the F.B.I.'s most politically charged investigations into the Trump campaign and Hillary Clinton's handling of classified emails. Should Mr. Rosenstein fail to comply, they have threatened to subpoena him, hold him in contempt of Congress or even impeach him."
Trump lashes out at the New York Times over Michael Cohen coverage and vows his attorney won't 'flip,' The Washington Post, David Nakamura, Saturday, 21 April 2018: "President Trump vowed Saturday that his personal lawyer, Michael Cohen, will not 'flip' and cooperate against him in the special counsel investigation into his campaign's connections to Russia, attacking a New York Times story as part of a 'witch hunt' against him. In several morning tweets, Trump also lashed out against the Times over its coverage of the investigation. He slammed Maggie Haberman, the lead reporter on a new story, and called a former aide quoted in the story as a 'drunk/drugged up loser.' 'The New York Times and a third rate reporter named Maggie Haberman, known as a Crooked H flunkie who I don't speak to and have nothing to do with, are going out of their way to destroy Michael Cohen and his relationship with me in the hope that he will flip. They use…. non-existent sources and a drunk/drugged up loser who hates Michael, a fine person with a wonderful family. Michael is a businessman for his own account/lawyer who I have always liked & respected. Most people will flip if the Government lets them out of trouble, even if…. it means lying or making up stories. Sorry, I don't see Michael doing that despite the horrible Witch Hunt and the dishonest media!'… Trump appeared to be angered by a front-page Times story Saturday that examined his relationship with Cohen, whose office was raided by federal authorities last week. The story cited other former Trump campaign aides, including Sam Nunberg and Roger Stone, as saying Trump has long treated Cohen abusively by insulting him and threatening to fire him."
Environmental Protection Agency Administrator Scott Pruitt Met With Lobbyist Whose Wife Rented Him a $50-a-Night Condo, The New York Times, Eric Lipton, Saturday, 21 April 2018: "Scott Pruitt, the head of the Environmental Protection Agency, met personally last year with J. Steven Hart, the lobbyist whose wife had rented him a $50-a-night Capitol Hill condo, a disclosure that contradicts earlier statements that E.P.A. lobbying by Mr. Hart had not occurred. The meeting was set up on behalf of an executive associated with Smithfield Foods, the world's largest pork processor and hog producer. Previously, Mr. Hart and his lobbying firm, Williams & Jensen, had maintained that Mr. Hart never lobbied Mr. Pruitt in 2017, when Mr. Pruitt was living in a condo co-owned by Mr. Hart's wife, or in the time since then. Late Friday, Williams & Jensen revealed in a filing that Mr. Hart was a registered lobbyist for Smithfield Foods in the first quarter of 2018 and said that he lobbied the E.P.A. on the company's behalf. Details on the filing were first reported by The Hill." See also, Lobbyist connected to Scott Pruitt's condo rental helped broker meeting with him last year, The Washington Post, Juliet Eilperin and Brady Dennis, Saturday, 21 April 2018. See also, Scott Pruitt Before the Environmental Protection Agency: Fancy Homes, a Shell Company, and Friends With Money, Steve Eder and Hiroko Tabuchi, Saturday, 21 April 2018: "At the E.P.A., Mr. Pruitt is under investigation for allegations of unchecked spending, ethics lapses and other issues, including his interactions with lobbyists. An examination of Mr. Pruitt's political career in Oklahoma reveals that many of the pitfalls he has encountered in Washington have echoes in his past."
In Message to Trump, Europe and Mexico Announce Trade Pact, The New York Times, Ana Swanson and Milan Schreuer, Saturday, 21 April 2018: "The European Union and Mexico on Saturday announced a major update to their existing free trade pact signed nearly two decades ago, a development that will allow almost all goods, including agricultural products, to move between Europe and Mexico duty-free. The deal, which has yet to be formally signed, is expected to increase trade in dairy, pork, services, digital goods and medicines between the economies. It will also give Mexico greater access to an advanced consumer market, as negotiations with the Trump administration over the modernization of the North American Free Trade Agreement still appear to be on uncertain ground. And it sends a message to Mr. Trump that some of America's closest trading partners are moving ahead with deals of their own — potentially leaving American exporters on the losing end in foreign markets."
America Before Earth Day: Smog and Disasters Spurred the Laws Trump Wants to Undo, The New York Times, Livia Albeck-Ripka and Kendra Pierre-Louis, Saturday, 21 April 2018: "A huge oil spill. A river catching fire. Lakes so polluted they were too dangerous for fishing or swimming. Air so thick with smog it was impossible to see the horizon. That was the environmental state of the nation 50 years ago. But pollution and disasters prompted action. On April 22, 1970, millions of people throughout the country demonstrated on the inaugural Earth Day, calling for air, water and land in the country to be cleaned up and protected. And that year, in a bipartisan effort, the Environmental Protection Agency was created and key legislation — the Clean Air Act, the Clean Water Act and the Endangered Species Act — came into force. Now, the Trump administration has made eliminating federal regulations a priority, and an increasing number of environmental rules are under threat."
Sunday, 22 April 2018, Day 458:
How Do You Celebrate Earth Day When Scott Pruitt Is Still at the E.P.A.?, The New York Times, Elizabeth Kolbert, Sunday, 22 April 2018: "Today is Earth Day, and, to mark the occasion, thousands of Americans will flock to parks, beaches, and hiking trails. Others will stay home, monitoring their Twitter feeds for the latest Scott Pruitt scandal. Like clockwork, the most recent one broke on the eve of the celebrations. The Hill reported on Friday that the lobbyist whose wife had rented a room to Pruitt, the Environmental Protection Agency's administrator, at a very favorable rate, had tried to set up a meeting earlier this year with the E.P.A. on behalf of the philanthropic arm of one of his clients, despite having insisted he had had no business before the agency in two years. The firm, Williams & Jensen, had not, it appears, filed the needed disclosure forms for such contact, although a spokesman for Williams & Jensen told The Hill that it was in the process of correcting this mistake. (The firm, the spokesman said in an e-mail, 'is filing/has filed the requisite disclosure forms required by law accordingly.') As of last week, at least ten investigations into Pruitt's lordly spending habits and droit-de-seigneur ethical standards were under way. (More may have been initiated since then; it's hard to keep track.) As many commentators have noted, in an Administration founded on the motto 'You're fired,' it's remarkable that Pruitt has lasted as long as he has. And it's unclear whether he can tough it out much longer; on Wednesday, the White House budget director, Mick Mulvaney, told lawmakers that he was looking into Pruitt's widely lampooned 'privacy booth.'… Scott Pruitt, who has been in office for just over a year, has announced his intention to undo just about every major regulation enacted over the past decade."
Trump Rejects Notion He Has Made Too Many Concessions to North Korea, The New York Times, Katie Rogers, Sunday, 22 April 2018: "As negotiations over a summit meeting with the ruler of North Korea accelerate, President Trump on Sunday disputed any suggestion that he had made too many concessions at the outset of an unpredictable and potentially volatile diplomatic exercise. From his Florida estate, Mr. Trump took to Twitter to criticize Chuck Todd, the host of 'Meet the Press,' who questioned on that program and an earlier broadcast whether the president had gotten anything in return for the 'huge gift' he had given the North Korean leader, Kim Jong-un, by agreeing to meet with him. On 'Meet the Press,' Marc Short, the White House legislative affairs director, had an answer teed up — that the North Koreans had given the United States 'an agreement to stop testing' nuclear weapons. But from his Twitter account, the president chose to address Mr. Todd directly. 'Sleepy Eyes Chuck Todd of Fake News NBC just stated that we have given up so much in our negotiations with North Korea, and they have given up nothing,' Mr. Trump wrote. 'Wow, we haven't given up anything & they have agreed to denuclearization (so great for World), site closure, & no more testing!' North Korea has not in fact agreed to denuclearization. It has told the South Koreans that it is willing to discuss the issue, but Mr. Kim has made no such statement to his own people, as he did with his declaration that his country did not need to conduct further nuclear testing."
Michael Bloomberg pledges $4.5 million to cover US Paris climate commitment, The Guardian, Martin Pengelly, Sunday, 22 April 2018: "The former New York City mayor Michael Bloomberg has said he will write a $4.5m cheque to cover this year's US commitment to the Paris climate agreement. Donald Trump last year pulled the US out of the deal, which was signed by Barack Obama, making the US the only country opposed. Even Syria, torn by a seven-year civil war, has signed the pact. Bloomberg, whose net worth Forbes pegs at about $50bn, was speaking on Earth Day, to CBS's Face the Nation. He did not commit to provide funds beyond 2018 and said he hoped that by next year Trump would have changed his mind."
Amnesty International Names Kaepernick Its Ambassador of Conscience, NPR, Doreen McCallister, Sunday, 22 April 2018: "Amnesty International has given Colin Kaepernick its top human rights award for his public opposition to racial injustice. The former San Franciso 49ers quarterback is Amnesty's 2018 Ambassador of Conscience. Teri Schultz reports for our Newscast unit that the 'take a knee' campaign that won Kaepernick honor likely cost him his job."
Monday, 23 April 2018, Day 459:
After Late Vote Switch by Senator Rand Paul, the Senate Foreign Relations Committee Approves Mike Pompeo for Secretary of State, The New York Times, Nicholas Fandos, Monday, 23 April 2018: "The Senate Foreign Relations Committee, in a late pivot on Monday evening, approved the confirmation of Mike Pompeo to be the next secretary of state, after Senator Rand Paul, Republican of Kentucky, bowed to pressure from President Trump and dropped his opposition. For days, the committee appeared ready to deliver a historic rebuke. Since it began considering nominees in the late 19th century, the Senate Foreign Relations Committee has never given a nominee for secretary of state anything but a favorable vote, according to the Senate historian. It has been almost 30 years since any cabinet nominee was reported to the full Senate with an unfavorable recommendation. But minutes before the committee convened, Mr. Paul, an ardent opponent of interventionist foreign policy, declared his support for Mr. Pompeo, the C.I.A. director, to lead the State Department, securing approval from the committee." See also, The Senate Foreign Relations Committee narrowly endorses Mike Pompeo for secretary of state after Trump intervenes with key Republican Senator Rand Paul, The Washington Post, Karoun Demirjian, Monday, 23 April 2018.
More Than 100 Retired Military Leaders Raise Concerns About CIA Nominee Gina Haspel, Time, Maya Rhoday, Monday, 23 April 2018: "Over 100 retired military leaders have joined the list of outside groups voicing concern about President Donald Trump's pick to lead the Central Intelligence Agency. In a letter to members of the U.S. Senate, 109 retired generals and admirals said they were 'deeply troubled' by the prospect of Gina Haspel being named CIA director given her links to the former U.S. torture program."
President Emmanuel Macron of France to Press Trump to Keep Iran Nuclear Deal, The New York Times, Peter Baker and Julie Hirschfeld Davis, Monday, 23 April 2018: "President Trump will come under increasing pressure from visiting French and German leaders this week not to scrap the three-year-old nuclear agreement with Iran next month as American and European negotiators make tentative progress toward a new deal to toughen the limits on Tehran. President Emmanuel Macron of France arrived Monday at the White House for the first state visit of Mr. Trump's presidency, intent on using his unusual bond with the American president to try to persuade him to preserve the Iran deal, at least for now. While not as close personally to Mr. Trump, Chancellor Angela Merkel of Germany will follow on Friday to reinforce the message."
John Bolton presided over Gatestone Institute, an anti-Muslim think tank, NBC News, Heidi Przybyla, Monday 23 April 2018: "John Bolton, President Donald Trump's new national security adviser, chaired a nonprofit that has promoted misleading and false anti-Muslim news, some of which was amplified by a Russian troll factory, an NBC News review found. The group's authors also appeared on Russian media, including Sputnik and RT News, criticizing mainstream European leaders like French President Emmanuel Macron. From 2013 until last month, Bolton was chairman of the Gatestone Institute, a New York-based advocacy group that warns of a looming 'jihadist takeover' of Europe leading to a 'Great White Death.' The group has published numerous stories and headlines on its website with similar themes. 'Germany Confiscating Homes to Use for Migrants,' warned one from May 2017, about a single apartment rental property in Hamburg that had gone into temporary trusteeship. Another from February 2015 claimed the immigrants, for instance Somalis, in Sweden were turning that country into the 'Rape Capital of the West.' Gatestone is 'a key part of the whole Islamaphobic cottage industry on the internet,' said Ibrahim Hooper, spokesman for the Council on American-Islamic Relations, a civil rights and advocacy group."
Court rules against Trump administration's delay on car efficiency fines, The Hill, Timothy Cama, Monday, 23 April 2018: "A federal appeals court ruled Monday that the Trump administration cannot delay a regulation that increased automakers' fines for cars that violate fuel efficiency standards. In a brief order that did not explain its reasoning, the New York City-based 2nd Circuit Court of Appeals overturned a July action by the Department of Transportation (DOT) that indefinitely delayed the increased penalties under the Corporate Average Fuel Economy (CAFE) program. The three-judge panel of the court said it would issue a fully explained opinion 'in due course.'"
The Supreme Court's First Great Trump Test: the Muslim Ban, The New York Review of Books, David Cole, Monday, 23 April 2018: "Ever since a 'so-called judge' in Washington State issued a nationwide injunction against President Donald Trump's ban on entry by foreign nationals from seven predominantly Muslim countries, the courts have played a critical part in checking the president's constitutional excesses. The Supreme Court, however, has yet to assess the travel ban. That will change this week, when the court hears arguments in a challenge to the third and latest version of the ban. (The ACLU, where I serve as National Legal Director, has been counsel in successful challenges to all three versions of the ban, including one now pending before the Supreme Court.) The case most directly implicates the rights of Muslims, here and abroad, singled out for disfavored treatment by a president who promised to do just that as a candidate. But because the administration has argued that the court must blindly defer to the president, the dispute equally concerns the very role of the court in the separation of powers."
ICE (Immigration and Customs Enforcement) Separates 18-Month-Old From His Mother for Months, American Civil Liberties Union, Amrit Chent, Monday, 23 April 2018: "Immigration and Customs Enforcement is depriving an 18-month-old child of his mother, separating the two in immigration detention. Mirian, a 29-year-old mother from Honduras, is currently detained in T. Don Hutto detention center in Taylor, Texas, while her toddler is kept in a facility in San Antonio, some 120 miles away. Their ordeal has already lasted two months. They are just one of hundreds of families who are subjected to ICE's brutal tactic of forcibly separating immigrant parents and children and on whose behalf the ACLU has brought a national class-action lawsuit. On Friday, The New York Times reported new data, estimating that more than 700 children have been taken from their parents since October, including more than 100 children under the age of 4."
Trump Administration Pushes Abstinence in Teen Pregnancy Programs, The New York Times, Pam Belluck, Monday, 23 April 2018: "The Trump administration has issued new rules for funding programs to prevent teenage pregnancy, favoring those that promote abstinence and not requiring as rigorous evidence of effectiveness. While the funding announcement, issued Friday by the Department of Health and Human Services, does not exclude programs that provide information about contraception and protected sex, it explicitly encouraged programs that emphasize abstinence or 'sexual risk avoidance.'"
Environmental Protection Agency Administrator Scott Pruitt wades into a fraught science debate, declaring biomass burning 'carbon neutral,' The Washington Post, Chris Mooney and Dino Grandoni, Monday, 23 April 2018: "Scott Pruitt's Environmental Protection Agency said Monday that the burning of biomass, such as trees, for energy in many cases will be considered 'carbon neutral' by the agency. 'Today's announcement grants America's foresters much-needed certainty and clarity with respect to the carbon neutrality of forest biomass,' Pruitt said at an event with forest industry leaders in Georgia. But the idea that biomass is carbon neutral is contentious among scientists, who fear that forests, once cleared so their wood can be used for energy, may not grow back as planned."
Flight records show Trump spent the night in Russia, contradicting what he told Comey, The Hill, Avery Anapol, Monday, 23 April 2018: "President Trump spent the night in Moscow the night before the Miss Universe contest in November 2013, contradicting what he told former FBI Director James Comey. Flight records of Trump's trip to Russia obtained by Bloomberg confirm Trump's overnight stay at the Ritz-Carlton in Moscow. In the memos from Comey released last week, which the former FBI director kept during his time in office to document his interactions with the president, Comey writes that Trump twice told him that hadn't stayed the night in Russia during the trip."
Tuesday, 24 April 2018, Day 460:
U.S. Must Keep the Deferred Action for Childhood Arrivals Program (DACA) and Accept New Applications, Federal Judge Rules, The New York Times, Miriam Jorday, Tuesday, 24 April 2018: "In the biggest setback yet for the Trump administration in its attempt to end a program that shields some undocumented young adults from deportation, a federal judge ruled Tuesday that the protections must stay in place and that the government must resume accepting new applications. Judge John D. Bates of Federal District Court for the District of Columbia said that the administration's decision to terminate the program, Deferred Action for Childhood Arrivals, or DACA, was based on the 'virtually unexplained' grounds that the program was 'unlawful.' The judge stayed his decision for 90 days and gave the Department of Homeland Security, which administers the program, the opportunity to better explain its reasoning for canceling it. If the department fails to do so, it 'must accept and process new as well as renewal DACA applications,' Judge Bates said in the decision."
Supreme Court Bars Human Rights Suits Against Foreign Corporations, The New York Times, Adam Liptak, Tuesday, 24 April 2018: "Foreign corporations may not be sued in American courts for complicity in human rights abuses abroad, the Supreme Court ruled on Tuesday. The vote was 5 to 4, with the court's more conservative justices in the majority. Justice Anthony M. Kennedy, writing for a plurality of the justices, said such suits should not be allowed without explicit congressional authorization. In dissent, Justice Sonia Sotomayor said the Supreme Court had created a double standard for corporations. 'It allows these entities to take advantage of the significant benefits of the corporate form and enjoy fundamental rights without having to shoulder attendant fundamental responsibilities,' she wrote, citing decisions allowing corporations to spend freely in candidate elections and to deny contraception coverage to female workers for religious reasons."
Environmental Protection Agency Administrator Scott Pruitt unveils controversial 'transparency' rule limiting what research the Environmental Protection Agency can use, The Washington Post, Juliet Eilperin and Brady Dennis, Tuesday, 24 April 2018: "Environmental Protection Agency Administrator Scott Pruitt moved Tuesday to limit what science can be used in writing agency regulations, a change long sought by conservatives. The proposed rule would only allow the EPA to consider studies where the underlying data is made available publicly. Such restrictions could affect how the agency protects Americans from toxic chemicals, air pollution and other health risks. Pruitt and proponents describe the new approach as an advance for transparency, one that will increase Americans' trust and confidence in the research on which EPA decisions are based…. But a chorus of scientists and public health groups warn that the rule would effectively block the EPA from relying on long-standing, landmark studies on the harmful effects of air pollution and pesticide exposure. Such research often involves confidential personal or medical histories or proprietary information. The move reflects a broader effort already underway to shift how the EPA conducts and uses science to guide its work. Pruitt has upended the standards for who can serve on its advisory committees, barring scientists who received agency grants for their research while still allowing those funded by industry." See also, Environmental Protection Agency Announces a New Rule. One Likely Effect: Less Science in Policymaking. The New York Times, Lisa Friedman, Tuesday, 24 April 2018: "The Environmental Protection Agency announced a new regulation Tuesday that would restrict the kinds of scientific studies the agency can use when it develops policies, a move critics say will permanently weaken the agency's ability to protect public health." See also, The Environmental Protection Agency Under Scott Pruitt Is Acting Like Big Tobacco, The New Republic, Emily Atkin, published on Thursday, 26 April 2018: "Administrator Scott Pruitt's new policy will quash research showing that pollution is bad for your health. 'This is really evil,' Professor Stan Glantz said after I sent him an article about the Environmental Protection Agency's new science policy. Unveiled by EPA Administrator Scott Pruitt on Tuesday, the policy is a purported effort to improve transparency, but has the effect of radically restricting what science the agency can use to create public health regulations. The rule prohibits the EPA from using scientific research that includes confidential data about its human subjects, effectively rejecting much of the research showing how pollutants damage public health. The EPA's new policy reminds Glantz of the years he spent fighting the tobacco industry, which waged a decades-long campaign to suppress scientific evidence on the dangers of secondhand smoke. 'This thing that Pruitt did is what tobacco and energy industries have been pushing for a long time,' he said. 'It's not new. Pruitt is just the first one willing to go this far.'"
Senate Republicans call for greater scrutiny of Pruitt's management and spending decisions, The Washington Post, Juliet Eilperin, Josh Dawsey, and Mike DeBonis, Tuesday, 24 April 2018: "Several Senate Republicans said Tuesday that Environmental Protection Agency Administrator Scott Pruitt's management and spending decisions should be subject to greater congressional scrutiny, although nearly all of them stopped short of asking him to resign. The increasingly critical comments from Senate Republicans across the ideological spectrum — from longtime ally James M. Inhofe of Oklahoma to moderate Susan Collins of Maine — come as Pruitt readies for back-to-back appearances before two House committees Thursday in what promises to be a grilling from members of both parties. Pruitt has declined to coordinate with White House officials in preparing for the hearings, according to senior administration officials who spoke on the condition of anonymity to discuss internal deliberations." See also, Senator James Inhofe of Oklahoma, Scott Pruitt's Political Patron, Now Questions the E.P.A. Chief's Ethics, The New York Times, Coral Davenport, Tuesday, 24 April 2018: "Scott Pruitt, the head of the Environmental Protection Agency, may be losing support even from his staunchest allies. His longtime political patron, Senator James Inhofe, said Tuesday that he would like to see an investigation into the ethical allegations against his protégé. If any prove true, he said, they could 'have an effect' on Mr. Pruitt's job."
Trump Hinted That Ronny Jackson, His Nominee to Lead the Veterans Affairs Department, Might Drop Out. Then Later in the Day, Trump Aggressively Supported Jackson. The New York Times, Nicholas Fandos and Michael D. Shear, Tuesday, 24 April 2018: "President Trump acknowledged Tuesday that Dr. Ronny L. Jackson, his nominee to lead the Veterans Affairs Department, is in serious trouble amid accusations that as the White House doctor he oversaw a hostile work environment, improperly dispensed prescription drugs and possibly drank on the job. Speaking at a midday news conference with the president of France, Mr. Trump strongly defended Dr. Jackson, the White House physician, as 'one of the finest people that I have met,' but he hinted that Dr. Jackson might soon withdraw from consideration, blaming Democrats for mounting an unfair attack on his nominee's record…. By Tuesday evening, however, Mr. Trump and Dr. Jackson met face-to-face, and the White House moved aggressively to defend the doctor against what the president had called 'ugly' abuse by politicians…. The concern over Dr. Jackson's nomination is bipartisan and emerged after Senate Veterans' Affairs Committee interviews with more than 20 people, including current and former military personnel who had worked with him. The committee began an investigation last week into Dr. Jackson's White House work record, and its Republican and Democratic leaders jointly announced Tuesday that his confirmation hearing, planned for Wednesday, would be postponed indefinitely 'in light of new information presented to the committee.'" See also, Ronny Jackson, Trump's Nominee to Lead the Veterans Affairs Department, Is Accused of Drinking on Duty and Improperly Prescribing Drugs, NPR, Kelsey Snell, Susan Davis, and Scott Neuman, Tuesday, 24 April 2018.
A Raid by Immigration and Customs Enforcement (ICE) Has Turned the Lives of Hundreds of Tennessee Kids Upside Down, The New Yorker, Jonathan Blitzer, Tuesday, 24 April 2018: "In the spring of 2008, Immigration and Customs Enforcement arrested three hundred and eighty-nine workers, most of them Guatemalan, at a kosher slaughterhouse and meatpacking plant in Postville, Iowa. The headines at the time focussed on the fate of those who'd been arrested, but the consequences of the raid went much further. For months afterward, parents and teachers in and around Postville reported that their children had trouble focussing at school. The kids studied less, and acted out more. Their performance in class generally declined. 'Young kids are developmentally sensitive to stresses involving family separation, and large-scale raids are an extreme form of that stress,' Nicole Novak, an epidemiologist at the University of Iowa, told me. Earlier this month, federal officials conducted the largest work-site raid in the U.S. since Postville, arresting ninety-seven people at a meat-processing plant in in Bean Station, Tennessee. Once again, kids suffered. A hundred and sixty children in the area, all U.S. citizens, had a parent arrested in the Bean Station raid. Schools in nearby Hamblen County—where most of the workers arrested at the plant lived, and where the student body is twenty-five per cent Hispanic—reported five-hundred and thirty absences the day after the raid…. Two weeks later, attendance has picked up, but things still aren't back to normal."
After Parkland school shooting, the National Rifle Association posts biggest fundraising haul in nearly 20 years, The Washington Post, Christopher Ingraham, Tuesday, 24 April 2018: "The National Rifle Association's Political Victory Fund raised $2.4 million in donations in March, setting a 21st-century record for the group in the month after a gunman killed 17 students and educators at a high school in Parkland, Fla. The unprecedented haul came as gun-control advocates, led by student survivors of the shooting, saw legislative victories in a number of states and marched on the U.S. Capitol to demand change at the federal level. The data from the Federal Election Commission show that $1.9 million of the $2.4 million total, about 80 percent of it, came from small donations of $200 or less, which was in line with the small-dollar share of previous months' fundraising totals. A Chicago Tribune investigation found that the NRA aggressively stepped up its digital advertising in the wake of the Parkland shooting after survivors made opposition to the gun-rights group a centerpiece of their advocacy. The NRA has also launched a campaign to add 100,000 new members in 100 days, saying that 'the threat to our Second Amendment has never been greater.' While the organization doesn't make membership data public, it currently claims about 5 million members."
Trump Signals Openness to a 'New Deal' to Constrain Iran, The New York Times, Peter Baker and Julie Hirschfeld Davis, Tuesday, 24 April 2018: "President Trump signaled on Tuesday that he was open to a new arrangement with European allies that would preserve the Iran nuclear agreement by expanding and extending its terms to constrain Tehran's development of missiles and other destabilizing activities in the Middle East. Hosting President Emmanuel Macron of France at the White House, Mr. Trump again assailed the agreement made by the Obama administration as 'insane' and 'ridiculous,' but said he could agree to 'a new deal' negotiated by American and European officials if it was strong enough. He made no commitment, however, leaving it unclear whether he will pull out of the agreement by a May 12 deadline he has set to either 'fix' the Iran agreement or walk away from it." See also, Trump signals willingness to entertain 'a new deal' with Iran, The Washington Post, Anne Gearan, Tuesday, 24 April 2018.
Mick Mulvaney, the Interim Director of the Consumer Financial Protection Bureau, Advises Bankers on Ways to Curtail the Agency, The New York Times, Glenn Thrush, Tuesday, 24 April 2018: "Mick Mulvaney, the interim director of the Consumer Financial Protection Bureau, told banking industry executives on Tuesday that they should press lawmakers hard to pursue their agenda, and revealed that, as a congressman, he would meet with lobbyists only if they had contributed to his campaign. 'We had a hierarchy in my office in Congress,' Mr. Mulvaney, a former Republican lawmaker from South Carolina, told 1,300 bankers and lending industry officials at an American Bankers Association conference in Washington. 'If you're a lobbyist who never gave us money, I didn't talk to you. If you're a lobbyist who gave us money, I might talk to you.'… Mr. Mulvaney, who also runs the White House budget office, is a longtime critic of the Obama-era consumer bureau, including while serving in Congress. He was tapped by President Trump in November to temporarily run the bureau, in part because of his promise to sharply curtail it. Since then, he has frozen all new investigations and slowed down existing inquiries by requiring employees to produce detailed justifications. He also sharply restricted the bureau's access to bank data, arguing that its investigations created online security risks. And he has scaled back efforts to go after payday lenders, auto lenders and other financial services companies accused of preying on the vulnerable. But he wants Congress to go further and has urged it to wrest funding of the independent watchdog from the Federal Reserve, a move that would give lawmakers — and those with access to them — more influence on the bureau's actions. On Tuesday, he implored the financial services industry to help support the legislative changes he has requested." See also, Mick Mulvaney, Trump's rumored next chief of staff, admits he sold access to lobbyists while in Congress, The Washington Post, Aaron Blake, published on Wednesday, 25 April 2018. See also, Mick Mulvaney discloses 'hierarchy' for meeting lobbyists, saying some would be seen only if they paid, The Washington Post, Renae Merle, published on Wednesday, 25 April 2018.
Many Trump Voters Were Driven by Fear of Losing Status, Not by Economic Anxiety, Study Published in the National Academy of Sciences Finds, The New York Times, Niraj Chokshi, Tuesday, 24 April 2018: "Ever since Donald J. Trump began his improbable political rise, many pundits have credited his appeal among white, Christian and male voters to 'economic anxiety.' Hobbled by unemployment and locked out of the recovery, those voters turned out in force to send Mr. Trump, and a message, to Washington. Or so that narrative goes. A study published on Monday in the Proceedings of the National Academy of Sciences questions that explanation, the latest to suggest that Trump voters weren't driven by anger over the past, but rather fear of what may come. White, Christian and male voters, the study suggests, turned to Mr. Trump because they felt their status was at risk."
Attorney General Jeff Sessions Declines to Recuse Himself From Probe Into Trump Lawyer Michael Cohen, Bloomberg Politics, Chris Strohm, Tuesday, 24 April 2018: "Attorney General Jeff Sessions has decided against recusing himself from the investigation into President Donald Trump's personal lawyer, Michael Cohen, but will consider stepping back from specific questions tied to the probe, according to a person familiar with the matter. By contrast, Sessions recused himself from the investigation into Russian interference in the 2016 election that's now led by Special Counsel Robert Mueller, a decision that angered Trump and left Deputy Attorney General Rod Rosenstein in charge of the inquiry…. By staying involved in the Cohen probe, Sessions is entitled to briefings on the status of the investigation, which is being conducted by the U.S. Attorney's Office of the Southern District of New York. That could put Sessions in the position of being asked by Trump, who strongly condemned the FBI's raid on his longtime lawyer, to divulge information about the Cohen investigation. Sessions could also weigh in on specific decisions by prosecutors, including whether to pursue subpoenas and indictments."
Wednesday, 25 April 2018, Day 462:
Key Supreme Court Justices Seem Skeptical of Challenge to Trump's Travel Ban, The New York Times, Adam Liptak and Michael D. Shear, Wednesday, 25 April 2018: "A 15-month legal battle over President Trump's efforts to impose a ban on travel to the United States from several predominantly Muslim countries reached a final stage on Wednesday at the Supreme Court, with its five-member conservative majority signaling it was ready to approve a revised version of the president's plan. The justices appeared ready to discount Mr. Trump's campaign promises to impose what he repeatedly described as a 'Muslim ban,' while giving him the benefit of the doubt traditionally afforded to presidents. Some expressed worry about second-guessing executive branch determinations about who should be allowed to enter the United States. Immigrant rights groups had hoped that Chief Justice John G. Roberts Jr. or Justice Anthony M. Kennedy would join the court's four-member liberal wing to oppose the ban as unconstitutionally discriminatory against Muslims. But their questioning was almost uniformly hostile to the ban's opponents." See also, Supreme Court's conservative justices appear to back Trump's authority for travel ban, The Washington Post, Robert Barnes, Ann E. Marimow, and Matt Zapotosky, Wednesday, 25 April 2018. See also, Supreme Court Arguments on Trump's Travel Ban: Annotated Excerpts, The New York Times, Adam Liptak, Wednesday, 25 April 2018. See also, The Supreme Court Considers Travel Bans and Imaginary Presidents, The New Yorker, Amy Davidson Sorkin, Wednesday, 25 April 2018: "[W]hen Noel Francisco, the current Solicitor General, was speaking on behalf of the [travel] ban, Justice Elena Kagan asked him to imagine 'some future time' when 'a President gets elected, who is a vehement anti-Semite, and says all kinds of denigrating comments about Jews, and provokes a lot of resentment and hatred over the course of a campaign.' This President, Kagan continued, asks his staff and his Cabinet to go to work: 'They dot all the "I"s and cross all the "T"s, and what emerges—and, again, in the context of this virulent anti-Semitism—what emerges is a proclamation that says no one shall enter from Israel.'"
Senate confirms 15th circuit court judge in 15 months of Trump's presidency, far outpacing the rate of his recent predecessors, The Washington Post, Karoun Demirjian, Wednesday, 25 April 2018: "The Senate on Tuesday confirmed the 15th circuit court judge since President Trump took office 15 months ago, far outpacing the rate at which his recent predecessors were able to fill vacancies in the powerful appeals courts in the early months of their administrations. The trend has potentially significant political consequences for the direction of the country's most influential federal benches at a time when several will be weighing questions about key administration policies, ranging from immigration to the environment. The new judges also could swing the courts toward constitutional interpretations more in line with conservative ideology for years to come. Several of the judges securing the lifetime appointments have decades before they hit retirement age."
Housing and Urban Development Secretary Ben Carson proposes raising rent for low-income Americans receiving federal housing subsidies, The Washington Post, Tracy Jan, Caitlin Dewey, and Jeff Stein, Wednesday, 25 April 2018: "Housing and Urban Development Secretary Ben Carson proposed far-reaching changes to federal housing subsidies Wednesday, tripling rent for the poorest households and making it easier for housing authorities to impose work requirements. Carson's proposals, and other initiatives aimed at low-income Americans receiving federal assistance, amount to a comprehensive effort by the Trump administration and Republicans in Congress to restrict access to the safety net and reduce the levels of assistance for those who do qualify. The ambitious effort to shrink federal assistance has been dubbed 'Welfare Reform 2.0', after Bill Clinton's overhaul of the welfare system in 1996. The proposals — affecting housing, food stamps and Medicaid — would require congressional approval."
French President Macron Critiques Trump's Policies in Speech to Congress, The New York Times, Julie Hirschfeld Davis, Wednesday, 25 April 2018: "One day after President Emmanuel Macron of France and President Trump showered each other with praise, the French president spoke more critically of his host's foreign policy, trade and environmental decisions in a speech to Congress that amounted to an implicit rebuke of Mr. Trump's 'America First' approach."
Attorney General Jeff Sessions Won't Say Whether He Recused Himself in Michael Cohen Inquiry, The New York Times, Katie Benner, Wednesday, 25 April 2018: "Attorney General Jeff Sessions evaded lawmakers' questions on Wednesday about whether his longstanding recusal from campaign-related investigations extended to the Justice Department inquiry into President Trump's personal lawyer, saying only that he would not confirm the existence of the investigation itself."
Michael Cohen to invoke Fifth Amendment right in Stormy Daniels case, The Washington Post, Emma Brown and Rosalind S. Helderman, Wednesday, 25 April 2018: "Michael Cohen, the longtime attorney of President Trump, told a federal judge on Wednesday that he will invoke his Fifth Amendment right not to incriminate himself in a lawsuit brought by adult entertainer Stormy Daniels. Cohen's declaration, in support of his request to pause proceedings in the civil case, cited an 'ongoing criminal investigation by the FBI and U.S. Attorney for the Southern District of New York.' Earlier this month, the FBI raided Cohen's home, office and a hotel room where he had been staying. That investigation includes looking into the effort to quash embarrassing stories about Trump during the 2016 campaign, according to a person familiar with the matter."
Senate Democrats Demand Information on Gina Haspel, Trump's CIA Nominee, Reuters|The New York Times, Wednesday, 25 April 2018: "Three Senate Democrats complained on Wednesday that the CIA is refusing to make public important information about Gina Haspel, the senior undercover officer President Donald Trump has nominated to be the intelligence agency's next director. Senators Dianne Feinstein, Ron Wyden and Martin Heinrich, members of the Senate Intelligence Committee, said in a statement that the Central Intelligence Agency's response to congressional requests for information on Haspel's career at the agency has been 'wholly inadequate.'… 'Concealing her background when no sources and methods are at stake shows nothing but contempt for the Senate and public,' the senators said. They said the public needs to know more about Haspel's role as 'a senior manager for a program that has been shown to be deeply flawed, as well as a number of other disturbing facts about her record.' Haspel served as chief of the CIA station in Thailand when the agency was operating a secret prison there. In 2002 suspected Islamic extremists captured before and after the Sept. 11, 2001, attacks on New York and the Pentagon were questioned there using 'enhanced interrogation techniques,' including waterboarding, that later were condemned as torture." See also, CIA will allow senators on the Senate Intelligence Committee to review some classified material on Gina Haspel, The Hill, Katie Bo Williams, Wednesday, 25 April 2018: "The CIA will allow senators weighing the nomination of Gina Haspel to review some classified information related to her controversial undercover background following pressure from Democrats on Capitol Hill, the agency informed lawmakers on Tuesday…. A trio of Democratic senators — Dianne Feinstein (Calif.), Ron Wyden (Ore.) and Martin Heinrich (N.M.) — have been demanding that the agency declassify more information about Haspel to allow the public and lawmakers who aren't on the Senate Intelligence Committee to review her nomination. They quickly blasted the CIA's response as 'wholly inadequate.'"
New Charges Against Ronny Jackson, Trump's Nominee for Veterans Affairs Secretary: As 'Candyman' He Dispensed Drugs Freely, and He Wrecked a Government Vehicle While Driving Drunk, NPR, Scott Horsley, Susan Davis, Brian Naylor, Wednesday, 25 April 2018: "New detailed allegations surfaced Wednesday against President Trump's nominee to lead the Department of Veterans Affairs, including charges that Dr. Ronny Jackson improperly dispensed pain medication and once wrecked a government vehicle while driving drunk." See also, The Real Ronny Jackson Scandal Is That Trump Nominated Him at All, The New Yorker, John Cassidy, Wednesday, 25 April 2018.
News organizations seek access to Mueller materials in Russia investigation, The Washington Post, Paul Farhi and Rosalind S. Helderman, Wednesday, 25 April 2018: "A coalition of news organizations, including The Washington Post, asked a federal court Tuesday to unseal materials used by special counsel Robert S. Mueller III to obtain search warrants in his investigation of President Trump's former campaign chairman Paul Manafort and others indicted in the probe of Russian interference in the 2016 election. The news organizations are seeking to compel disclosure of affidavits, records of seizures and the warrants themselves that Mueller filed in bringing indictments against such figures as Manafort and former national security adviser Michael Flynn. They said the material, which has been shielded under a court order, could contain newsworthy information about the shape and direction of Mueller's investigation. It could indicate, for example, details of criminal activity suspected by Mueller and the basis for FBI searches. The Post filed the joint motion with the New York Times, the Associated Press, CNN and Politico."
So the South's White Terror Will Never Be Forgotten, The New York Times, Brent Staples, Wednesday, 25 April 2018: "The carnivals of death where African-American men, women and children were hanged, burned and dismembered as cheering crowds of whites looked on were the cornerstone of white supremacist rule in the Jim Crow-era South. These bloody spectacles terrified black communities into submission and showed whites that there would be no price to pay for murdering black people who asserted the right to vote, competed with whites in business — or so much as brushed against a white person on the sidewalk. The lynching belt states looked away from this history, even as they developed now-popular tourism programs that attract visitors to churches, schools, courthouses and other landmarks associated with the civil rights movement. The long-neglected chapter of this story becomes breathtakingly visible on Thursday in Montgomery, Ala., where the nonprofit Equal Justice Initiative will inaugurate two institutions focused on racial-terror lynching as the practice manifested itself between the late 19th and mid-20th centuries." See also, A Lynching Memorial Is Opening. The Country Has Never Seen Anything Like It. The New York Times, Campbell Robertson, Wednesday, 25 April 2018.
Thursday, 26 April 2018, Day 462:
Korea Talks Begin as Kim Jong-un Crosses to South Korea's Side of the DMZ, The New York Times, David E. Sanger and Choe Sang-Hun, Thursday, 26 April 2018: "Kim Jong-un on Friday became the first North Korean leader to set foot in South Korean-controlled territory, starting a historic summit meeting with the South's president that will test Mr. Kim's willingness to bargain away his nuclear weapons. Mr. Kim's crossing of the line at the heart of the world's most heavily armed border zone, a prospect that seemed unthinkable just a few months ago, was broadcast live in South Korea, where a riveted nation sought to discern the intentions of the North's 34-year-old leader. For South Korea's president, Moon Jae-in, who has placed himself at the center of diplomacy to end the nuclear standoff with the North, the meeting presents a formidable task: finding a middle ground between a cunning enemy to the North and an impulsive ally in the United States."
Ronny Jackson withdraws as Trump's nominee to lead the Department of Veterans Affairs, The Washington Post, Lisa Rein, John Wagner, and Josh Dawsey, Thursday, 26 April 2018: "Ronny L. Jackson, President Trump's embattled nominee to lead the Department of Veterans Affairs, withdrew from consideration Thursday amid mushrooming allegations of professional misconduct that raised questions about the White House vetting process…. Jackson's nomination had become imperiled even before Capitol Hill Democrats on Wednesday released new allegations of misconduct. The claims include that he had wrecked a government vehicle after getting drunk at a Secret Service going-away party. The allegations were contained in a two-page document described by the Democratic staff of the Senate Veterans' Affairs Committee as a summary of interviews with 23 of Jackson's current and former colleagues. The document also described Jackson's 'pattern' of handing out medication with no patient history, writing himself prescriptions and contributing to a hostile work environment where there was 'a constant fear of reprisal.'" See also, Ronny Jackson, Trump's Doctor, Is Accused of Handing Out Ambien. Drug Enforcement Agency (D.E.A.) Calls the Practice Illegal. The New York Times, Gina Kolata, Thursday, 26 April 2018: "Handing out the sleeping pill Ambien, as Dr. Ronny Jackson, Trump's personal physician, is alleged to have done, is illegal, a spokesmen for the Drug Enforcement Agency said. 'You could be prosecuted.'"
Trump says for the first time that Michael Cohen represented him in the Stormy Daniels case, The Washington Post, Philip Rucker, Thursday, 26 April 2018: "President Trump acknowledged Thursday for the first time that his longtime lawyer and fixer Michael Cohen represented him in efforts to silence Stormy Daniels, the adult film actress who has alleged a sexual encounter with Trump more than a decade ago. Trump earlier this month denied any knowledge of the $130,000 payment to Daniels that was arranged by Cohen and is subject of a federal investigation, telling reporters: 'I don't know' about the payment or where Cohen got the money…. But in an interview with Fox News on Thursday morning, Trump appeared to reveal that he had knowledge of Cohen's payment to Daniels. 'Michael represents me, like with this crazy Stormy Daniels deal, he represented me,' Trump said…. Daniels's attorney, Michael Avenatti, weighed in a few minutes later on MSNBC and said that Trump had made a 'hugely damaging admission.'… Cohen is under criminal investigation by the FBI and the U.S. attorney for the Southern District of New York. Earlier this month, FBI agents raided Cohen's home, office and a hotel room where he had been staying and seized records relating to numerous issues, including Cohen's work on Trump's behalf to negotiate the settlement with Daniels." See also, Federal judge appoints special master to review material seized from Trump lawyer Michael Cohen, The Washington Post, Devlin Barrett and Rosalind S. Helderman, Thursday, 26 April 2018: "A federal judge on Thursday appointed a special master to review material seized from the office and residences of President Trump's personal attorney Michael Cohen, acceding to his request that an independent party review the material before federal prosecutors can access it. The decision, a win for Cohen, came after prosecutors quickly pounced on comments Trump made Thursday morning that the lawyer performed little legal work for him, to undercut Cohen's argument that much of the material was protected by attorney-client privilege. U.S. District Judge Kimba Wood appointed retired federal judge Barbara S. Jones to serve in the special-master role to assess whether the documents include any confidential communications between Cohen and his legal clients, including Trump." See also, Trump's Stormy Morning on 'Fox & Friends,' The New Yorker, Amy Davidson Sorkin, Thursday, 26 April 2018: "'The top people in the F.B.I., headed by Comey, were crooked!' Donald Trump, apparently yelling into a phone at the White House, said in a call-in interview with 'Fox & Friends,' on Thursday morning. 'You look at the corruption at the top of the F.B.I.—it's a disgrace! And our Justice Department—which I try and stay away from, but, at some point, I won't—our Justice Department should be looking into that kind of stuff, not the nonsense of collusion with Russia.' Were it not for the oral exclamation points, it would be much harder to guess, when Trump speaks, where his sentences end—and, in this case, where his threats to obstruct justice might lead."
The Senate Judiciary Committee approves bill to shield special counsel Robert Mueller from firing by Trump, Politico, Elana Schor, Thursday, 26 April 2018: "The Senate Judiciary Committee approved legislation Thursday that would protect Robert Mueller's job, a bipartisan rebuke that came hours after President Donald Trump said he may try to influence the special counsel's Russia probe. The measure still faces stiff opposition from the White House and Senate Majority Leader Mitch McConnell (R-Ky.), who has said he would not bring it to a vote in the full Senate. But the 14-7 committee vote indicates a growing appetite among GOP senators to pushing back against Trump as the president flirts with further involvement in the investigation of his campaign's ties to Russia and potential obstruction of justice."
Senate Confirms C.I.A. Chief Mike Pompeo to Be Secretary of State, The New York Times, Gardiner Harris and Thomas Kaplan, Thursday, 26 April 2018: "The Senate easily confirmed Mike Pompeo on Thursday as the United States' 70th secretary of state, elevating the current C.I.A. director and an outspoken foreign policy hawk to be the nation's top diplomat. In the end, the 57-to-42 tally lacked the drama of other nail-biting confirmation votes in the Trump era. This week, Senator Rand Paul of Kentucky, the nominee's main Republican antagonist, bowed to pressure from President Trump to drop his objections. Ultimately, seven members of the Senate Democratic caucus — five of whom face re-election this year in states that Mr. Trump won in 2016 — joined a united Republican conference to support Mr. Pompeo's confirmation."
5 takeaways from Environmental Protection Agency administrator Scott Pruitt's grilling in Congress, The Washington Post, Amber Phillips, Thursday, 26 April 2018: "If he was fighting to keep his job before Thursday, Environmental Protection Agency Administrator Scott Pruitt should really be worried after Thursday. Pruitt testified before Congress amid a wave of spending and conflict-of-interest scandals. He acknowledged knowing about raises for aides that the White House had nixed, repeatedly tried to put blame for questionable spending and travel on others in his agency, and was attacked by Democrats as unfit for public office. This all comes as the White House appears to be backing off its support for Pruitt."
New York Governor Andrew Cuomo Sends ICE cease-and-desist letter and calls arrests 'illegal,' The Washington Post, Meagan Flynn, Thursday, 26 April 2018: "New York Gov. Andrew M. Cuomo (D) issued a cease-and-desist letter to U.S. Immigration and Customs Enforcement on Wednesday, accusing the agency of making illegal arrests and describing its 'aggressive tactics' in recent immigration raids across the state as unconstitutional and 'un-American.'… At a news conference and in writing to ICE, Cuomo described multiple incidents in which he said ICE agents stormed private property without warning, without identifying themselves and without a warrant to arrest undocumented immigrants. Cuomo warned that if ICE agents continued making arrests in this manner, 'the state will sue them, period.' He also signed an executive order prohibiting ICE agents from making any arrests in state government buildings without presenting valid judicial warrants."
Top Homeland Security officials urge criminal prosecution of parents crossing the border with children, The Washington Post, Maria Sacchetti, Thursday, 26 April 2018: "The nation's top immigration and border officials are urging Homeland Security Secretary Kirstjen Nielsen to detain and prosecute all parents caught crossing the Mexican border illegally with their children, a stark change in policy that would result in the separation of families that until now have mostly been kept together. If approved, the zero-tolerance measure could split up thousands of families, although officials say they would not prosecute those who turn themselves in at legal ports of entry and claim asylum….In a memorandum that outlines the proposal and was obtained by The Washington Post, officials say that threatening adults with criminal charges and prison time would be the 'most effective' way to reverse the steadily rising number of attempted crossings. Most parents now caught crossing the border illegally with their children are quickly released to await civil deportation hearings."
Federal Agencies Lost Track of Nearly 1,500 Migrant Children Placed With Sponsors, The New York Times, Ron Nixon, Thursday, 26 April 2018: "A top official with the Department of Health and Human Services told members of Congress on Thursday that the agency had lost track of nearly 1,500 migrant children it placed with sponsors in the United States, raising concerns they could end up in the hands of human traffickers or be used as laborers by people posing as relatives."
Trump now says he stayed overnight in Moscow during 2013 trip, The Hill, Max Greenwood, Thursday, 26 April 2018: "Trump on Thursday said he did spend the night in Moscow the night before the Miss Universe contest in 2013 and accused former FBI Director James Comey of lying in memos detailing their conversations. 'I went to Russia for a day or so,' Trump said in an interview on 'Fox & Friends.' 'Of course I stayed there.' The president's claim appears to contradict what Comey says he was told by Trump. Comey recalled in memos released last week that Trump twice told him that he hadn't stayed the night in Russia during the trip."