›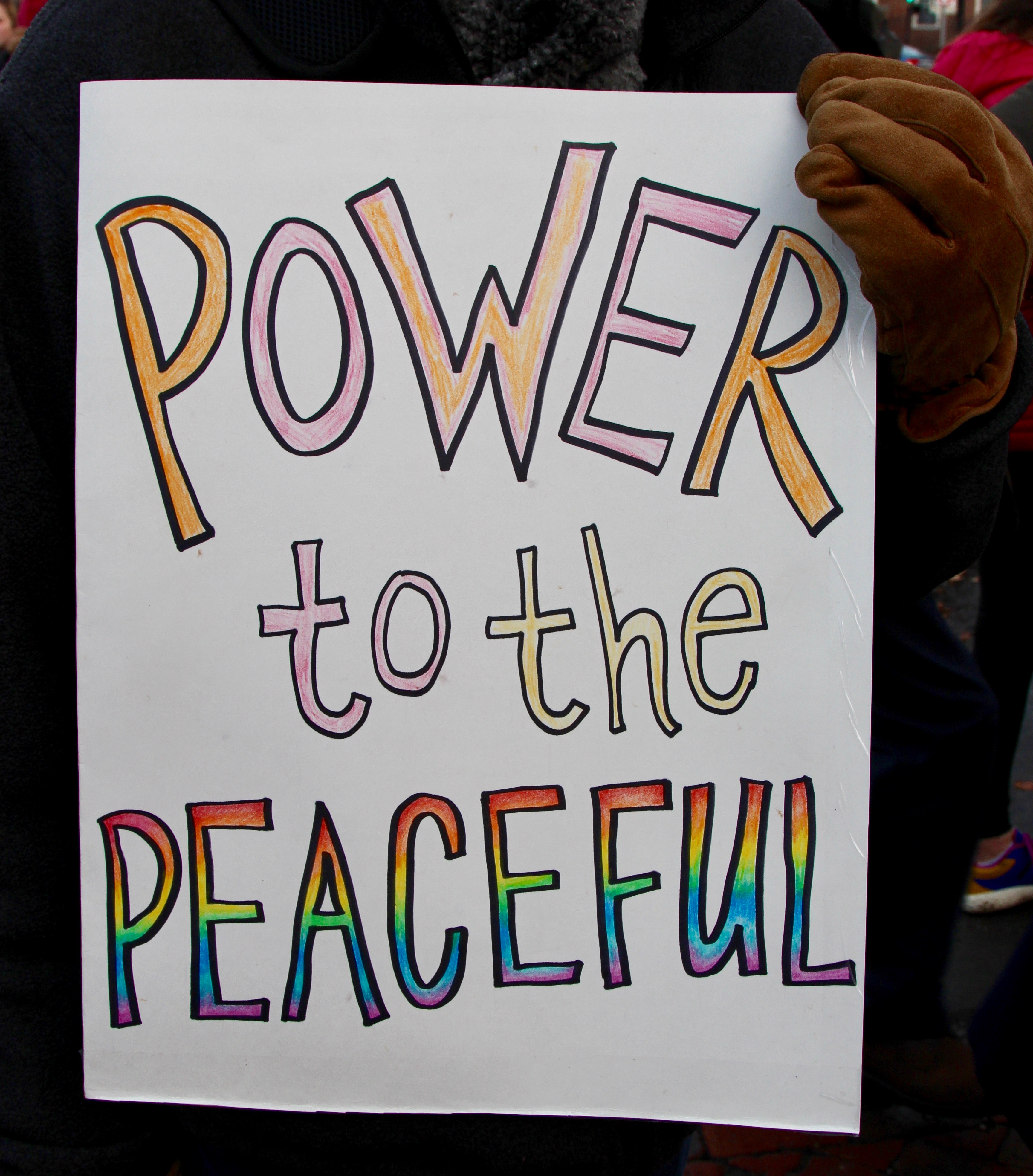 Keeping Track (of some things), Staying Outraged (it is possible), and Resisting (it's essential)
Passages in bold in the body of the texts below are my emphasis. This is an ongoing project, and I update the site frequently. Because I try to stay focused on what has actually happened, I usually let the news 'settle' a day or so before posting. I hope readers will peruse the articles in full for a better understanding of the issues and their context; our democracy and our future depend on citizens who can distinguish between facts and falsehoods and who are engaged in the political process.
Friday, 2 March 2018, Day 407:
Jean-Claude Juncker, President of the European Commission, Threatens to Retaliate With Tariffs on Bourbon and Bluejeans if Trump Places Tariffs on Steel and Aluminum Imports, The New York Times, Melissa Eddy and Chad Bray, Friday, 2 March 2018: "The European Union will hit back at the heart of the United States, slapping tariffs on products like Harley-Davidsons, Kentucky bourbon and bluejeans, if President Trump goes ahead with a plan to place tariffs on steel and aluminum imports, the president of the bloc's executive arm vowed on Friday. Jean-Claude Juncker, president of the European Commission, made the remarks to the German news media in reaction to the proposed tariffs. He said the plans to tax the American goods, produced in the home states of key Republican leaders, had not yet been finalized, but amounted to treating them 'the same way' that European products would be handled if the metals tariffs go through. 'None of this is reasonable, but reason is a sentiment that is very unevenly distributed in this world,' Mr. Juncker declared. He said any measures taken by the bloc would conform with rules set by the World Trade Organization…. Mr. Juncker's was not the only denunciation to flow in after Mr. Trump told industry executives on Thursday that he planned to impose penalties of 25 percent on steel imports and 10 percent on aluminum imports from all countries. Criticism came from governments, lawmakers, metals makers and labor unions around the world."
Trump was angry and 'unglued' when he started a trade war, officials say, NBC News, Stephanie Ruhle and Peter Alexander, Friday, 2 March 2018: "With global markets shaken by President Donald Trump's surprise decision to impose strict tariffs on steel and aluminum imports, the president went into battle mode on Friday: 'Trade wars are good, and easy to win,' he wrote on Twitter. But the public show of confidence belies the fact that Trump's policy maneuver, which may ultimately harm U.S. companies and American consumers, was announced without any internal review by government lawyers or his own staff, according to a review of an internal White House document. According to two officials, Trump's decision to launch a potential trade war was born out of anger at other simmering issues and the result of a broken internal process that has failed to deliver him consensus views that represent the best advice of his team. On Wednesday evening, the president became 'unglued,' in the words of one official familiar with the president's state of mind. A trifecta of events had set him off in a way that two officials said they had not seen before: Hope Hicks' testimony to lawmakers investigating Russia's interference in the 2016 election, conduct by his embattled attorney general and the treatment of his son-in-law by his chief of staff. Trump, the two officials said, was angry and gunning for a fight, and he chose a trade war, spurred on by Commerce Secretary Wilbur Ross and Peter Navarro, the White House director for trade — and against longstanding advice from his economic chair Gary Cohn and Treasury Secretary Steve Mnuchin."
White House softens tone on gun-safety measures after Trump meets with the National Rifle Association, The Washington Post, David Nakamura, Friday, 2 March 2018: "The White House appeared to soften its tone on gun-control measures Friday after President Trump met privately with officials from the National Rifle Association the night before. Press secretary Sarah Huckabee Sanders said the White House is still deliberating on what type of proposals it will support in the wake of the mass shooting at a high school in Parkland, Fla., in which 17 people were killed. She said Trump still supports raising the age limit to buy assault rifles from 18 to 21 but added that he understands there is 'not a lot of broad support' for such a proposal. 'I think he thinks it would probably have more potential in the states than it would at the federal level,' Sanders told reporters at the White House. On background checks, she said Trump does not necessarily support universal background checks 'but certainly improving the background check system. He wants to see what that legislation, the final piece of it looks like. "Universal" means something different to a lot of people.' Trump tweeted Thursday evening about the meeting, which was not listed on his public schedule: 'Good (Great) meeting in the Oval Office tonight with the NRA!'" See also, How to Buy a Gun in 15 Countries, The New York Times, Audrey Carlsen and Sahil Chinoy, Friday, 2 March 2018.
Continue reading Week 59, Friday, 2 March – Thursday, 8 March 2018 (Days 407-413)
A major new report from the Rand Corporation confirms that there is credible evidence that regulations on guns actually do prevent firearm murders, suicides, and accidental deaths, The Washington Post, Greg Sargent, Friday, 2 March 2018: "With thousands and thousands of their fellow Americans suffering violent, premature deaths from guns each year, many of our elected lawmakers — mostly but not exclusively Republicans — like to say that they would gladly support further regulations on guns if only they would work. So those lawmakers will surely be pleased to learn that a major new report from the Rand Corp. confirms that there is indeed credible evidence that some of the policy tools already known to us actually do prevent firearm murders, suicides, and accidental deaths. Even better, the report also illustrates other big steps we could be taking — right now — to directly address those lawmakers' own stated concerns about the efficacy of further actions. President Trump and some Republicans have actually endorsed one of those policy tools — background checks…. But this morning, we learn that Trump may already be caving to the National Rifle Association and backing off of even entertaining these steps. The NRA's chief lobbyist tweeted that Trump privately indicated he doesn't 'want gun control.' Trump tweeted that their meeting was 'great,' and the White House isn't elaborating. GOP Senate leaders now say the upper chamber may not act at all anytime soon. The new report from Rand reveals what a depraved dereliction of responsibility doing nothing yet again will really amount to. The report represents a serious effort to fill huge holes in our empirical knowledge about gun policy — holes that are there by choice, in part because Congress has badly underfunded research and data collection on the topic. The Rand report undertook a comprehensive review of an enormous number of recent studies on more than a dozen gun policies — then whittled that down to around five dozen that passed its methodological standards, and summarized the conclusions."
REI, a nationwide outdoor retailer and consumer co-op, cuts ties with Vista Outdoor over Vista's gun-manufacturing business and support for the NRA, The Washington Post, Meagan Flynn, Friday, 2 March 2018: "CamelBak water bottles, Bell bicycle helmets, Giro ski goggles — these products are all  owned by Vista Outdoor, which includes gun and ammo makers among its brands and has a strong connection to the National Rifle Association. And that's part of the reason REI, a nationwide outdoor retailer and consumer co-op, announced Thursday evening that it would no longer be ordering CamelBak, Bell, Giro or any other of the 50 Vista Outdoor brands to sell in its stores. REI's announcement came just hours after thousands of its co-op members signed an online petition urging REI to cut ties with Vista Outdoor over Vista's gun-manufacturing business and support for the NRA. The company joins others that have taken a stand against military-style weapons and the NRA lobby by discontinuing sales, making it harder to buy weapons or, as in this case, cutting ties in the wake of the Florida school shooting last month that left 17 teenagers and educators dead." See also, A list of companies that have taken action on guns since the mass shooting at Marjory Stoneman Douglas High School in Parkland, Florida, The Washington Post, Rachel Siegel, Friday, 2 March 2018.
Jared Kushner's Real-Estate Firm Sought and Failed to Get Financing for the Kushners' Signature 666 Fifth Avenue Property in New York City Directly From the Qatar Government.  A Month Later Jared Kushner Backed  a Diplomatic Assault That Culminated in a Blockade of Qatar. The Intercept, Clayton Swisher and Ryan Grim, Friday, 2 March 2018: "The real estate firm tied to the family of presidential son-in-law and top White House adviser Jared Kushner made a direct pitch to Qatar's minister of finance in April 2017 in an attempt to secure investment in a critically distressed asset in the company's portfolio, according to two sources. At the previously unreported meeting, Jared Kushner's father Charles, who runs Kushner Companies, and Qatari Finance Minister Ali Sharif Al Emadi discussed financing for the Kushners' signature 666 Fifth Avenue property in New York City…. The failure to broker the deal would be followed only a month later by a Middle Eastern diplomatic row in which Jared Kushner provided critical support to Qatar's neighbors. Led by Saudi Arabia and the United Arab Emirates, a group of Middle Eastern countries, with Kushner's backing, led a diplomatic assault that culminated in a blockade of Qatar. Kushner, according to reports at the time, subsequently undermined efforts by Secretary of State Rex Tillerson to bring an end to the standoff. On Friday afternoon, NBC News reported that in late January and early February, Qatari government officials visiting the U.S. 'considered turning over to Mueller what they believe is evidence of efforts by their country's Persian Gulf neighbors in coordination with Kushner to hurt their country.'" See also, Special Counsel Robert Mueller's team is asking witnesses about whether Jared Kushner's efforts to secure financing for his family's real estate properties influenced the Trump administration's policies in ways designed to either benefit or retaliate against those he spoke with, NBC News, Carol E Lee, Julia Ainsley, and Robert Windrem, Friday, 2 March 2018. See also, Has Jared Kushner Conspired to Defraud America? The New York Times, Marcy Wheeler, published on Wednesday, 28 February 2018. See also, Jared Kushner's Conflicts of Interest Reach a Crisis Point, The New Yorker, John Cassidy, Friday, 2 March 2018: "Not only has Kushner's presence in the White House made a mockery of federal guidelines designed to prevent nepotism and conflicts of interest, it has also raised national-security concerns. Many foreign governments view him not merely as a privileged son-in-law who lucked into the role of senior Presidential adviser but as a privileged son-in-law who lucked into the role of senior Presidential adviser and is desperate to raise large sums of money. In other words, he's an easy target." See also, 'Jared has faded': Inside the 28 days of tumult that left Jared Kushner badly diminished, The Washington Post, Philip Rucker, Ashley Parker, and Josh Dawsey, Friday, 2 March 2018: "Once the prince of Trump's Washington, Kushner is now stripped of his access to the nation's deepest secrets, isolated and badly weakened inside the administration, under scrutiny for his mixing of business and government work and facing the possibility of grave legal peril in the Russia probe. Kushner's tensions with chief of staff John F. Kelly have spilled into public view, while other dormant rivalries have resurfaced. Some colleagues privately mock Kushner as a shadow of his former self; one official likened the work of his Office of American Innovation to headlines in 'The Onion,' the satirical news website. Others said fear of the Russia probe has made some officials wary of interacting with Kushner on sensitive matters. And his reputation as an interlocutor for foreign governments has been undermined by the lowering of his security clearance level, which generated embarrassing headlines worldwide."
Oil and Gas Exploration Were Central in the Trump Administration's Decision to Shrink Bears Ears Monument in Utah, Emails Show, The New York Times, Eric Lipton and Lisa Friedman, Friday, 2 March 2018: "Even before President Trump officially opened his high-profile review last spring of federal lands protected as national monuments, the Department of Interior was focused on the potential for oil and gas exploration at a protected Utah site, internal agency documents show. The debate started as early as March 2017, when an aide to Senator Orrin Hatch, Republican of Utah, asked a senior Interior Department official to consider shrinking Bears Ears National Monument in the southeastern corner of the state. Under a longstanding program in Utah, oil and natural gas deposits within the boundaries of the monument could have been used to raise revenue for public schools had the land not been under federal protection."
Trump pushes Republicans to oppose crucial New York-New Jersey tunnel project, The Washington Post, Mike DeBonis and Josh Dawsey, Friday, 2 March 2018: "President Trump is pushing congressional Republicans not to fund a crucial infrastructure project — a long-delayed plan to build a new rail tunnel between Manhattan and New Jersey — setting up a confrontation that could complicate passage of a massive government spending bill this month. Trump personally appealed to House Speaker Paul D. Ryan (R-Wis.) this week to target federal funding for the $30 billion Gateway project, which would construct a tunnel into New York's Penn Station to supplement two aging tubes that are at risk of failing in the coming years. The project is widely considered to be among the most pressing and most expensive infrastructure needs in the country, and state and local leaders have long sought federal funding to jump-start work on it. But the Trump administration threw the project into doubt late last year by casting aside an agreement reached during the Obama administration that would have the federal government pick up half the project's cost. And now, according to four officials familiar with the discussions, Trump has taken a personal interest in making sure no federal dollars flow to a project that is considered critical to his hometown's long-term economic prosperity. Trump delivered his message to Ryan on Wednesday during a meeting at the Capitol, three people familiar with the conversation said. Trump was on the Hill for a ceremony for the late Rev. Billy Graham, who lay in honor in the Rotunda. Ryan seemed surprised that Trump brought up the project in their conversation, according to a person familiar with the conversation."
The FBI has been investigating one of Ivanka Trump's international business deals, the negotiations and financing surrounding Trump International Hotel and Tower in Vancouver, Canada, CNN, Sara Murray, Shimon Prokupecz, and Kara Scannell, Friday, 2 March 2018: "US counterintelligence officials are scrutinizing one of Ivanka Trump's international business deals, according to two sources familiar with the matter. The FBI has been looking into the negotiations and financing surrounding Trump International Hotel and Tower in Vancouver, according to a US official and a former US official. The scrutiny could be a hurdle for the first daughter as she tries to obtain a full security clearance in her role as adviser to President Donald Trump. It's standard procedure to probe foreign contacts and international business deals as part of a background check investigation. But the complexity of the Trump Organization's business deals, which often rely on international financing and buyers, presents a challenge. The FBI has been looking closely at the international business entanglements of both Ivanka Trump and her husband, Jared Kushner, to determine whether any of those deals could leave them vulnerable to pressure from foreign agents, including China, according to a US official."
Carl Icahn, a longtime Trump adviser and confidant, dumped $31.3 million of stock in a company heavily dependent on steel just days before Trump announced plans to impose steep tariffs on steel imports, ThinkProgress, Judd Legum, Friday, 2 March 2018: "Billionaire investor and longtime Trump confidant Carl Icahn dumped $31.3 million of stock in a company heavily dependent on steel last week, just days before Trump announced plans to impose steep tariffs on steel imports. In a little-noticed SEC filing submitted on February 22, 2018, Icahn disclosed that he systematically sold off nearly 1 million shares of Manitowoc Company Inc. Manitowoc 'is a leading global manufacturer of cranes and lifting solutions' and, therefore, heavily dependent on steel to make its products. The filing came just seven days before a White House event where Trump announced his intention to impose a 25 percent tariff on steel imports. Trump's announcement rattled the markets, with steel-dependent stocks hardest hit. Manitowoc stock plunged, losing about 6 percent of its value. Reuters attributed the drop to the fact that Manitowoc is a 'major consumer of steel.' As of 10:20 a.m. Friday, the stock had lost an additional 6 percent, trading at $26.21." See also, Shortly before Trump announced tariffs on the imports of steel and aluminum, Carl Icahn, a former Trump adviser, dumped millions in steel-related stocks, The Washington Post, Marwa Eltagouri, Friday, 2 March 2018.
Trump picks William Otis, a tough-on-crime crusader with a history of racial remarks, to be on the U.S. Sentencing Commission that sets policy on how to punish criminals. Otis wrote that whites are inherently less violent than blacks and Hispanics. The Washington Post, Kristine Phillips, Friday, 2 March 2018: "Before President Trump picked him to be part of a federal commission that sets policy on how to punish criminals, William Otis spent years staunchly advocating for harsher penalties and a larger prison population. In several public testimonies and years of published commentary, Otis decried a criminal justice system that he says has favored criminals over victims. He hailed the tough-on-crime approach of the Reagan and Bush administrations — one that Trump, through his attorney general, is resurrecting. 'Increased use of incarceration and reining in naive judges,' he once told NPR, 'has worked' to curtail crime. Otis's appointment, which the White House announced Thursday, is another sign that the Trump administration is restoring the 1980s and 1990s war on drugs that incarcerated many minority defendants and overcrowded the country's prisons. Last May, Attorney General Jeff Sessions directed federal prosecutors to pursue the most severe penalties possible, including mandatory minimum sentences — a move that Otis praised."
Trump picks Peter C. Wright, a Dow Chemical lawyer, for key role at the Environmental Protection Agency, The Washington Post/Associated Press, Michael Biesecker, Friday, 2 March 2018: "President Donald Trump on Friday tapped a chemical industry insider to run the Environmental Protection Agency office that oversees emergency response to hazardous spills and cleanups of the nation's most toxic sites. The White House announced that Trump has nominated Peter C. Wright to serve as EPA's assistant administrator for Land and Emergency Management. Wright has worked as a corporate lawyer at Dow Chemical Co. since 1999. Despite Trump's campaign pledges to 'drain the swamp' in Washington, Wright's nomination is the latest example of the president appointing corporate lawyers or lobbyists to supervise federal offices that directly regulate their former employers."
Trump has made 2,436 false or misleading claims so far, The Washington Post, Meg Kelly, Glenn Kessler, and Salvador Rizzo, Friday, 2 March 2018: "In the 406 days since he took the oath of office, President Trump has made 2,436 false or misleading claims, according to The Fact Checker's database that analyzes, categorizes and tracks every suspect statement uttered by the president. That's an average of six claims a day. When we first started this project for the president's first 100 days, he averaged 4.9 claims a day. Slowly, the average number of claims has been creeping up."
Seeking Asylum, a High-End Escort From Belarus Has a Tale of Trump and Russia to Offer, The New York Times, Richard C. Paddock, Friday, 2 March 2018: "A high-end escort from Belarus, who says she was the mistress of a powerful Russian oligarch, flees to Thailand. But at a seaside resort known for its raunchy entertainment scene, she gets arrested for helping to conduct a sex workshop. Hoping to avoid deportation, she offers information about President Trump and Russia. But her appeal is for naught. No one has stepped forward to grant her asylum. Such has been the saga this week of Anastasia Vashukevich, who also goes by the name Nastya Rybka…. Ms. Vashukevich, in a video that she apparently recorded in the back of a Thai police truck after her arrest, said she could provide evidence of Russian interference in the 2016 United States presidential election. She claims to have detailed information about connections between Russian officials, Mr. Manafort and Mr. Trump — if only someone could get her out of Thai detention. Her assertion of inside knowledge might be easily dismissed but for a 25-minute video investigation posted last month on YouTube by the Russian opposition figure Aleksei A. Navalny, which relies heavily on videos and photos from Ms. Vashukevich."
Days before the 2016 presidential election, Stormy Daniels threatened to cancel deal to keep her alleged affair with Trump secret, The Washington Post, Beth Reinhard, Frances Stead Sellers, and Emma Brown, Friday, 2 March 2018: "The 2016 election was less than a month away, and Donald Trump's attorney had blown the deadline for paying Stormy Daniels to keep quiet about her alleged affair with the future president. In an Oct. 17 email, an attorney for Daniels — a porn star whose real name is Stephanie Clifford — threatened to cancel the nondisclosure agreement by the end of the day. That very morning, Trump's attorney, Michael Cohen, had created a limited liability company, public records show, that ultimately would serve as a vehicle for Daniels's payoff. But the money had not arrived. A second email to Cohen, a short time after the first, said Daniels was calling the deal off. 'Please be advised that my client deems her settlement agreement canceled and void,' Daniels's lawyer, Keith Davidson, wrote in the email, which The Washington Post obtained. Ten days later, the $130,000 payment arrived, according to another email reviewed by The Post. Daniels's story about her sexual encounter with Trump a decade earlier would remain under wraps long past Election Day."
Saturday, 3 March 2018, Day 408:
Special Counsel Robert Mueller's Focus on George Nader, an Adviser to the Leader of the United Arab Emirates, Indicates Broader Inquiry, The New York Times, Mark Mazzetti, David D. Kirkpatrick, and Maggie Haberman, Saturday, 3 March 2018: "George Nader, a Lebanese-American businessman, has hovered on the fringes of international diplomacy for three decades. He was a back-channel negotiator with Syria during the Clinton administration, reinvented himself as an adviser to the de facto ruler of the United Arab Emirates, and last year was a frequent visitor to President Trump's White House. Mr. Nader is now a focus of the investigation by Robert S. Mueller III, the special counsel. In recent weeks, Mr. Mueller's investigators have questioned Mr. Nader and have pressed witnesses for information about any possible attempts by the Emiratis to buy political influence by directing money to support Mr. Trump during the presidential campaign, according to people with knowledge of the discussions. The investigators have also asked about Mr. Nader's role in White House policymaking, those people said, suggesting that the special counsel investigation has broadened beyond Russian election meddling to include Emirati influence on the Trump administration. The focus on Mr. Nader could also prompt an examination of how money from multiple countries has flowed through and influenced Washington during the Trump era…. In one example of Mr. Nader's influential connections, which has not been previously reported, last fall he received a detailed report from a top Trump fund-raiser, Elliott Broidy, about a private meeting with the president in the Oval Office. Mr. Broidy owns a private security company with hundreds of millions of dollars in contracts with the United Arab Emirates, and he extolled to Mr. Trump a paramilitary force that his company was developing for the country. He also lobbied the president to meet privately 'in an informal setting' with the Emirates' military commander and de facto ruler, Crown Prince Mohammed bin Zayed al-Nahyan; to back the U.A.E.'s hawkish policies in the region; and to fire Secretary of State Rex W. Tillerson. A copy of Mr. Broidy's memorandum about the meeting was provided to The New York Times by someone critical of the Emirati influence in Washington."
Florida Senate rejects assault weapons ban and holds a moment of silence for victims of the shooting at Marjory Stoneman Douglas High School in Parkland, Florida, The Washington Post, Katie Zezima, Saturday, 3 March 2018: "The Florida Senate on Saturday voted down a bill to ban assault weapons, then immediately pivoted to a moment of silence for victims of the shooting at a Parkland, Fla., high school last month. Many student survivors of the Valentine's Day shooting that left 17 people dead at Marjory Stoneman Douglas High School flocked to the State House in the days after the attack to lobby legislators to ban assault weapons and take other measures on gun control. The bill to ban assault weapons, including the AR-15 used in the school shooting, failed by a 20-to-17 vote. After the vote, Senate President Joe Negron (R) asked senators to take their seats. He said that by the proclamation of Gov. Rick Scott (R) there would be a moment of 'silence and reflection' for the Parkland victims…. State Sen. Linda Stewart, a Democrat who introduced the amendment to ban assault weapons, said on the Senate floor that ammunition from assault weapons can blow up inside the victim's body and that there is no reason for anyone to have them. 'I want us to do today what the kids asked us to do when 10,000 of them came up here on the steps of the capitol and asked us,' she said. 'Never again. Please ban assault weapons.' State Sen. Kelli Stargel (R) argued that banning assault weapons could be a slippery slope. Would fertilizer, used in the 1995 bombing of an Oklahoma City federal building, be banned? Or pressure cookers, used in the 2013 Boston Marathon bombings? 'Thoughts and prayers are really the only thing that's going to stop the evil from within the individual that is taking up their arms to do this type of massacre,' Stargel said. Jaclyn Corin, the junior class president at Stoneman Douglas High, tweeted that the vote 'breaks my heart, but we will NOT let this ruin our movement.' She then wrote on Twitter: 'A MOMENT OF SILENCE WILL NOT SAVE THE LIVES OF INNOCENT AMERICANS.'"
Escalating Trade Fight, Trump Threatens Higher Taxes on European Cars, The New York Times, Emily Cochrane, Saturday, 3 March 2018: "President Trump warned on Saturday that he would apply higher taxes on imported European cars if the European Union carried through on its threat to retaliate against his proposed stiff new tariffs on steel and aluminum. 'If the E.U. wants to further increase their already massive tariffs and barriers on U.S. companies doing business there, we will simply apply a Tax on their Cars which freely pour into the U.S.,' Mr. Trump wrote on Twitter from Florida, where he was spending part of the weekend. 'They make it impossible for our cars (and more) to sell there. Big trade imbalance!' It was the latest indication that Mr. Trump, despite pressure from foreign allies and American business leaders, is standing by his decision to impose a 25 percent tariff on steel imports and a 10 percent tariff on aluminum imports from all countries. The action is likely to be signed this coming week."
Sunday, 4 March 2018, Day 409:
Gratuitous cruelty by Homeland Security: Separating a 7-year-old from her mother, The Washington Post, Editorial Board, Sunday, 4 March 2018: "What, exactly, did a 7-year-old Congolese girl do to the United States to deserve the trauma that has been visited upon her — including forcible separation from her mother — by Homeland Security Secretary Kirstjen Nielsen and her immigration agents? There is no allegation that the little girl, known in court filings only as S.S., is a terrorist, nor is there any suggestion her mother is one. Neither was involved with smuggling, nor contraband, nor lawbreaking of any other variety. Rather, S.S.'s 39-year-old mother presented herself and her daughter to U.S. officials when they crossed the border from Mexico four months ago, explaining they had fled extreme violence in Congo, and requesting asylum. A U.S. asylum officer interviewed Ms. L, as the mother is called in a lawsuit filed on her behalf by the American Civil Liberties Union, determined that she had a credible fear of harm if she were returned to Congo and stood a decent chance of ultimately being granted asylum. Despite that preliminary finding, officials decided that the right thing to do was to wrench S.S. from her mother, whereupon the mother 'could hear her daughter in the next room frantically screaming that she wanted to remain with her mother,' the lawsuit states. The Trump administration has said that it is considering separating parents from their children as a means of deterring other families, most of them Central American, from undertaking the perilous trip necessary to reach the United States and seek asylum. Now, without any formal announcement, that cruel practice, ruled out by previous administrations, has become increasingly common, immigrant advocacy groups say. In the nine months preceding February, government agents separated children from their parents 53 times, according to data compiled by the Lutheran Immigration and Refugee Service. Make no mistake: Ms. L and S.S. could have been placed together in a family detention center."
Immigration and Customs Enforcement (ICE) Shackled 92 Somalis for 40 Hours On a Failed Deportation Flight in December 2017. That Was Just the Start of the Abuse. The Intercept, Maryam Saleh, Sunday, 4 March 2018: "For a brief moment in December 2017, the international spotlight shined on the case of 92 deportees who were on an Immigration and Customs Enforcement-chartered flight to Somalia. Most such flights unload their human cargo once they land, but this flight, for logistical reasons, returned home — and brought witnesses back with it. The Somalis told of abuse on the flight, saying they were shackled with chains on their wrists, waists, and legs for more than 40 hours; forced to urinate in bottles or on themselves; and that ICE officers beat and threatened some passengers. (ICE has denied that it mistreated detainees on the flight.) But even after the spotlight dimmed, the abuse continued. The Somalis are still being held at the Krome Detention Center and the Glades County Detention Center in Florida, as their lawyers try to fight their deportations. At Glades, where half the group is being held, they have complained of a litany of abuses, including violent assaults by guards, denial of medical care, lack of access to their lawyers, and racism."
10 years after financial crisis, Senate prepares to roll back banking rules, The Washington Post, Erica Werner and Damian Paletta, Sunday, 4 March 2018: "The Senate is preparing to scale back the sweeping banking regulations passed after the 2008 financial crisis, with more than a dozen Democrats ready to give Republicans the votes they need to weaken one of President Barack Obama's largest legislative achievements. Congress's appetite for pulling back bank regulations shows the renewed clout of the financial sector in Washington, not just in the GOP but also among Democrats. Eight years after nearly every Senate Democrat backed a sweeping set of new rules for financial firms large and small, the party is now split, with moderates, several of them facing tough midterm election contests, working with the opposing party. The core of the new bill exempts about two dozen financial companies with assets between $50 billion and $250 billion from the highest levels of scrutiny by the Federal Reserve, the nation's central bank. Supporters argue that the legislation would bring much-needed relief to midsize and regional banks that were treated like their much larger counterparts under the 2010 legislation known as Dodd-Frank. Opponents say it would weaken the oversight needed to stave off the type of dangerous lending and investing that brought the U.S. economy to its knees. The Senate is slated to take an initial procedural vote this week to move the measure forward, and if it eventually becomes law, it would be the most substantial weakening of Dodd-Frank since it was passed."
South Korean President Is To Send 2 Special Envoys to North Korea and Then to Washington As He Tries to Broker a Dialogue Between the Two Longtime Adversaries, The New York Times, Choe Sang-Hun, Sunday, 4 March 2018: "South Korea's president, Moon Jae-in, has selected two of his closest aides to go to North Korea this week to meet North Korea's leader, Kim Jong-un, in an attempt to defuse tensions on the peninsula, officials said on Sunday. Mr. Moon's national security adviser, Chung Eui-yong, and the director of the South's National Intelligence Service, Suh Hoon, will begin their two-day trip on Monday on a mission that includes helping to start a dialogue between the North and the United States. Mr. Moon first indicated that he wanted to send envoys to the North last week, during a phone call with President Trump."
Denis McDonough, a former chief of staff to President Barack Obama, said Senate Majority Leader Mitch McConnell is single-handedly responsible for 'watering down' a warning to states to be vigilant on election security before the 2016 presidential election, The Washington Post, Karoun Demirjian, Sunday, 4 March 2018: "A former chief of staff to President Barack Obama said Sunday that the Senate's top Republican insisted that a bipartisan appeal for states to step up election security in the face of Russian aggression be 'dramatically watered down' before it was issued in advance of the 2016 election. Denis McDonough said on NBC's 'Meet the Press' that Senate Majority Leader Mitch McConnell (R-Ky.) was single-handedly responsible for downgrading the language in a letter 'asking the states to work with us' to better secure election systems in light of intelligence indicating Russia was attempting to interfere in the election. McDonough complained that members of Congress have shown a 'stunning lack of urgency about this question,' and he put the blame mostly on Republican leaders in Congress. 'The lack of urgency that we saw from the Republican leadership in 2016, we continue to see to this day today,' he said. 'It's beyond time for Congress to work with the administration, to work with the states, to ensure that our electoral systems are ready to go. This is not a game.'"
The State Department Was Granted $120 Million to Fight Russian Meddling in U.S. Elections. It Has Spent $0. The New York Times, Gardiner Harris, Sunday, 4 March 2018: "As Russia's virtual war against the United States continues unabated with the midterm elections approaching, the State Department has yet to spend any of the $120 million it has been allocated since late 2016 to counter foreign efforts to meddle in elections or sow distrust in democracy. As a result, not one of the 23 analysts working in the department's Global Engagement Center — which has been tasked with countering Moscow's disinformation campaign — speaks Russian, and a department hiring freeze has hindered efforts to recruit the computer experts needed to track the Russian efforts. The delay is just one symptom of the largely passive response to the Russian interference by President Trump, who has made little if any public effort to rally the nation to confront Moscow and defend democratic institutions. More broadly, the funding lag reflects a deep lack of confidence by Secretary of State Rex W. Tillerson in his department's ability to execute its historically wide-ranging mission and spend its money wisely. Mr. Tillerson has voiced skepticism that the United States is even capable of doing anything to counter the Russian threat."
Monday, 5 March 2018, Day 410:
The Florida State Senate narrowly passed a bill that would raise the age to buy a firearm from 18-21, require a three-day waiting period for most gun purchases, and ban the sale or possession of bump fire stocks, CNN, Athena Jones, Darran Simon, and Carolyn Sung, Monday, 5 March 2018: "The Florida State Senate narrowly passed a bill Monday that would raise the age to buy a firearm from 18 to 21, require a three-day waiting period for most gun purchases and ban the sale or possession of bump fire stocks, which can make it easier for a semi-automatic weapon to function like an automatic rifle. The 'Marjory Stoneman Douglas High School Public Safety Act' (SB 7026) would also give law enforcement more power to seize weapons and ammunition from those deemed mentally unfit or otherwise a threat, and provide additional funding for armed school resource officers and for mental health services…. The measure in its entirety still must pass the Florida House." See also, Who Should Be Armed in Florida Schools? Not Teachers, Florida State Senators Say. But Maybe Librarians, Counselors, and Coaches. The New York Times, Patricia Mazzei, Monday, 5 March 2018: "One of the big questions facing Florida lawmakers after the massacre at Marjory Stoneman Douglas High School is whether schoolteachers ought to be allowed to carry weapons. Gov. Rick Scott argues that schools would not be safer with armed teachers. His fellow Republicans in the legislature, however, appear much more open to the idea. After a debate on the State Senate floor on Monday, Republican legislative leaders struck a compromise that would keep guns away from teachers, but keep guns in schools. How? By arming librarians, counselors and coaches. The Senate agreed to exempt only teachers who work full-time in the classroom from having weapons on campus. Everyone else — no matter how closely they also deal with students — could be eligible to carry." See also, With an eye on November, students and well-funded groups are teaming up on gun regulation, The Washington Post, Tal Abbady and Michael Scherer, Monday, 5 March 2018: "Young activists mobilized by the slaying of 17 students and faculty at a high school in Florida have begun to focus their fury on bringing change in November's midterm elections. As gun regulation efforts continue to face obstacles in Washington and state capitols, the students are appearing at candidate events, mounting voter registration drives and threatening to haunt politicians who stand in the way of their demands. And well-funded professional organizations that have long focused on curbing gun violence are rushing to find ways to harness their energy for the fall election." See also, Berkshire Bank is no longer providing financing for Sig Sauer, the assault weapons manufacturer whose CX semi-automatic rifle was used by the Pulse gay night club shooter in 2016, ThinkProgress, Josh Israel, Monday, 5 March 2018: "Berkshire Bank will no longer provide lines of credit to Sig Sauer, the assault weapons manufacturer whose MCX semi-automatic rifle was used by the Pulse gay night club shooting that left 49 people dead in 2016. The bank had previously been one of six identified by New York City's Public Advocate that combined to provide the arms giant with $178 million in loans in December 2015. ThinkProgress identified Berkshire Bank as one of 17 lenders that have provided financing to the assault weapons industry. One of those, Bank of America, announced after the Parkland school shooting that it is reevaluating its own relationship with the gun industry…. Ali Benjamin, one of the co-founders of Greylock Together, told ThinkProgress on Monday that a group of activists from her group — a Berkshires-based part of the Indivisible network — had indeed reached out to the bank last week to urge its leaders to sever any ties with the company. She praised the response, recounting, 'They got back to us almost immediately, said they have in fact cut ties…. We appreciate how swiftly they responded, responded unambiguously, said they're interested in meeting with us about this issue.'" See also, 7 Times Since 1960 When Students Turned to Activism, The New York Times, Maggie Astor, Monday, 5 March 2018.
Instead of Thoughts and Prayers, Oregon Passes New Gun Safety Law, HuffPost, Jennifer Bendery, Monday, 5 March 2018: "Oregon Gov. Kate Brown (D) signed new gun safety legislation into law on Monday, making the state the first to tighten its firearm regulations since last month's mass shooting at a high school in Florida. The bill expands an existing law to prevent intimate partners who have a domestic violence or stalking conviction from buying and keeping guns. Until now, the state's law only applied to married partners, and the new measure closes what was termed the 'boyfriend loophole.' 'I'm proud to sign this bill, making Oregon the first state to take action to prevent senseless gun violence since the tragedy in Parkland, Florida,' Brown said in a statement. 'Today marks an important milestone, but we know we have more to do. It's long past time we hold the White House and Congress accountable. Now's the time to enact real change and federal gun safety legislation.'"
Bipartisan Senate banking bill will increase the odds of government money going to bail out failed banks, according to a new report from the Congressional Budget Office, The Washington Post, Jeff Stein, Monday, 5 March 2018: "A bipartisan bill that's on the Senate floor this week would increase the odds of government funding going to bail out failed banks, according to a new report from the Congressional Budget Office. The bill, which is scheduled for an initial Senate vote Tuesday and is expected to pass the chamber as soon as this week, would roll back some of the regulations Congress put in place after the 2008 financial crisis. A major feature of the bill is exempting about two dozen financial companies with assets between $50 billion and $250 billion from the highest levels of regulatory scrutiny from the Federal Reserve. If passed, it would be the most substantial weakening of the regulations put in place by the 2010 Dodd-Frank law that strengthened financial regulations. The CBO report says those exemptions make it more likely a bank would collapse and lead federal officials to stabilize it with public funds. The CBO notes that this scenario is unlikely in any given year, but it says the bill makes it more probable." See also, Bank Earnings Are Soaring, But Congress Wants to Gut Post-Financial Crisis Safeguards Put In Place After the 2008 Financial Collapse, The Intercept, Gary Rivlin and Susan Antilla, Monday, 5 March 2018: "Dick Bove, a high-profile banking analyst, was feeling contrite. For years, Bove, a regular on CNBC, has been arguing for the rollback of regulations imposed after the 2008 financial collapse. 'But lately I've been trying to figure how regulation has hurt the banking industry,' Bove confessed in an interview last spring. 'And I'm having a lot of trouble coming up with an answer.' This week, the Senate considers the Economic Growth, Regulatory Relief, and Consumer Protection Act, a bill that represents the greatest threat to the Dodd-Frank financial reform law since its passage in 2010. The bill would relieve all but the country's largest dozen banks of increased scrutiny and ease mortgage rules imposed after the financial crisis. It would undermine fair lending rules designed to counteract race discrimination and weaken the Volcker rule, which limits a bank's ability to make speculative trades with federally insured deposits. The arguments that Bove has been making publicly for years are the same specious ones being offered by the bill's co-sponsors, and the trade groups calling for a rollback of banking regulations: Banks are suffering and so, by extension, are consumers, businesses, and the economy at large. 'When you take a close look,' Bove says now, 'it's really hard to argue that regulation harmed the banking industry.' Bank earnings have gone up every year since 2010, according to data from the Federal Deposit Insurance Corporation, and soared more recently. 'In 2014, and again in 2015 and 2016, bank earnings hit all-time records,' Bove said. 'Loan volume, which was obviously lousy at the beginning of this period, picked up substantially in 2014, 2015, and 2016.'" See also, Congressional Budget Office (CBO) Warns Bipartisan Bank Bill Heightens Risk of Financial Crisis, The Intercept, David Dayen, published on Tuesday, 6 March 2018.
Christopher Steele, the Man Behind the Trump Dossier: How the ex-spy tried to warn the world about Trump's ties to Russia, The New Yorker, Jane Mayer, published online on Monday, 5 March 2018, and in the print edition on Monday, 12 March 2018: "In the spring of 2016, Orbis Business Intelligence—a small investigative-research firm that Steele and a partner had founded, in 2009, after leaving M.I.6, Britain's Secret Intelligence Service—had agreed to do opposition research on Trump's murky relationship with Russia. Under the arrangement, Orbis was a subcontractor working for Fusion GPS, a private research firm in Washington. Fusion, in turn, had been contracted by a law firm, Perkins Coie, which represented both Hillary Clinton's Presidential campaign and the Democratic National Committee. Several months after Steele signed the deal, he learned that, through this chain, his research was being jointly subsidized by the Clinton campaign and the D.N.C. In all, Steele was paid a hundred and sixty-eight thousand dollars for his work…. Republican claims to the contrary, Steele's interest in Trump did not spring from his work for the Clinton campaign. He ran across Trump's name almost as soon as he went into private business, many years before the 2016 election. Two of his earliest cases at Orbis involved investigating international crime rings whose leaders, coincidentally, were based in New York's Trump Tower…. One subject that Steele is believed to have discussed with Mueller's investigators is a memo that he wrote in late November, 2016, after his contract with Fusion had ended. This memo, which did not surface publicly with the others, is shorter than the rest, and is based on one source, described as 'a senior Russian official.' The official said that he was merely relaying talk circulating in the Russian Ministry of Foreign Affairs, but what he'd heard was astonishing: people were saying that the Kremlin had intervened to block Trump's initial choice for Secretary of State, Mitt Romney. (During Romney's run for the White House in 2012, he was notably hawkish on Russia, calling it the single greatest threat to the U.S.) The memo said that the Kremlin, through unspecified channels, had asked Trump to appoint someone who would be prepared to lift Ukraine-related sanctions, and who would coöperate on security issues of interest to Russia, such as the conflict in Syria. If what the source heard was true, then a foreign power was exercising pivotal influence over U.S. foreign policy—and an incoming President."
The grand jury investigating alleged collusion between Russia and Donald Trump's presidential campaign has sent a witness, former Trump adviser Sam Nunberg, a subpoena seeking all documents involving the president and a host of his closest advisers, NBC News, Katy Tur and Alex Johnson, Monday, 5 March 2018: "The grand jury investigating alleged collusion between Russia and Donald Trump's presidential campaign has sent a witness a subpoena seeking all documents involving the president and a host of his closest advisers, according to a copy of the subpoena received by former adviser Sam Nunberg and reviewed by NBC News. According to the subpoena, which was sent to Nunberg by special counsel Robert Mueller, investigators want emails, text messages, work papers, telephone logs and other documents going back to Nov. 1, 2015, 4½ months after Trump launched his campaign." See also, Former Trump aide Sam Nunberg may cooperate with special counsel Robert Mueller's probe. Earlier, he said he would defy subpoena. The Washington Post, Josh Dawsey and Philip Rucker, Monday, 5 March 2018: "Former Trump campaign aide Sam Nunberg publicly defied the Justice Department special counsel on Monday, announcing in an extraordinary series of media interviews that he had been subpoenaed to appear in front of a federal grand jury investigating Russia's interference in the 2016 presidential election but that he will refuse to go. 'Let him arrest me,' Nunberg told The Washington Post in his first stop on a media blitz, saying he does not plan to comply with a subpoena from special counsel Robert S. Mueller III to hand over emails and other documents related to President Trump and nine current and former Trump advisers. 'Mr. Mueller should understand I am not going in on Friday' to the grand jury, he added. It is unclear what actions Mueller might take if Nunberg does not appear. In a remarkable act of rebellion, Nunberg seized the national media spotlight for much of Monday afternoon to denounce Mueller's investigation as a 'witch hunt' and to detail what he said he had learned about the probe from his private interview last month with Mueller's team. He at times sounded nervous and self-doubting, openly questioning his legal fate. And by Monday evening, he signaled a possible shift, telling the Associated Press he might cooperate with Mueller after all." See also, Ex-Trump aide Sam Nunberg says Trump 'may very well have done something during the election with the Russians,' The Washington Post, Aaron Blake, Monday, 5 March 2018. See also, Six Takeaways From Sam Nunberg's Big Day Out, The New Yorker, John Cassidy, published on Tuesday, 6 March 2018.
Representative Adam Schiff of California, the ranking Democrat on the House Intelligence Committee, calls for former Trump campaign aide Sam Nunberg to testify in the House Russia investigation, CNN, Manu Raju and Jeremy Herb, Monday, 5 March 2018: "Rep. Adam Schiff of California, the ranking Democrat on the House Intelligence Committee, said Monday that the House panel needs to interview former Trump campaign aide Sam Nunberg as part of its Russia investigation. Schiff said Nunberg's assertion that President Donald Trump may have known about the 2016 Trump Tower meeting before it occurred is an area that the committee needs to explore."
Arkansas wins federal permission to impose Medicaid work requirements, The Washington Post, Amy Goldstein, Monday, 5 March 2018: "Arkansas on Monday became the third state to win the Trump administration's permission to compel tens of thousands of residents on Medicaid to work or prepare for a job. But the announcement in Little Rock demonstrated the polarizing politics that still swirl around the public insurance program for the poor in some conservative states. In a paneled conference room in the state Capitol, Gov. Asa Hutchinson (R) smiled broadly as he stood alongside Seema Verma, administrator of the federal Centers for Medicare and Medicaid Services, and watched her sign the official document allowing the work requirements. The document, however, granted only part of what Arkansas had sought. While seeking new conditions for some Arkansans to qualify for Medicaid, the state made a novel request last year: One of the few Southern states to expand Medicaid under the Affordable Care Act, it told federal officials that it wanted to partly retreat. Instead of including people with incomes up to 138 percent of the federal poverty line, as designed in the ACA, Arkansas wanted to set its expansion limit at 100 percent of poverty — a change that would jettison an estimated 60,000 people from the program. In their joint announcement in Little Rock, the governor and Verma said that part of the request was being denied."
Republican Senator Thad Cochran of Mississippi Announces Retirement, Opening Another Republican Seat, The New York Times, Sheryl Gay Stolberg and Jonathan Martin, Monday, 5 March 2018: "Senator Thad Cochran, an octogenarian Republican from Mississippi who serves as chairman of the powerful Appropriations Committee, announced Monday that he is resigning from the Senate on April 1 because of ill health — a decision that will create two Senate races in his home state in November. 'I regret my health has become an ongoing challenge,' Mr. Cochran, 80, said in a statement. 'I intend to fulfill my responsibilities and commitments to the people of Mississippi and the Senate through the completion of the 2018 appropriations cycle, after which I will formally retire from the U.S. Senate.' Mr. Cochran, who previously served three terms in the House, was first elected to the Senate in 1978, becoming the first Republican in more than 100 years to win a statewide election in Mississippi. He is the tenth-longest serving senator in United States history…. Mr. Cochran's retirement means that Gov. Phil Bryant, a Republican, will have 10 days to appoint an interim senator. A special election would then be held on Election Day in November to fill the rest of Mr. Cochran's term, which expires in 2020."
Interior Secretary Ryan Zinke suddenly pulls land in his home state of Montana from oil and gas lease sale, The Washington Post, Dino Grandoni and Juliet Eilperin, Monday, 5 March 2018: "The Bureau of Land Management on Monday removed about 17,300 acres of land in central Montana from an upcoming oil and natural gas lease auction, just a week before the scheduled sale. The Interior Department, which oversees one in every five acres of land in the United States, was set to auction off leases for 109 parcels stretching across the Big Sky State from the Canadian border to Wyoming. But Interior Secretary Ryan Zinke, who before joining the Trump administration represented Montana in Congress, decided to withdraw 26 parcels from consideration, along with portions of two others. A cadre of local and national environmental groups had filed formal protests against the sale, contending that drilling would adversely impact the Yellowstone River and other areas. Interior will proceed starting next Monday with the auction of the remaining 83 parcels, which encompass nearly 46,200 acres…. 'Secretary Zinke is once again treating America's public lands like contestants on a reality show, handing out roses to the places he chooses to save while casting the rest aside,' said Jesse Prentice-Dunn, advocacy director for the Center for Western Priorities. A formal protest filed in January by three environmental groups — the Wilderness Society, Montana Wilderness Association and Park County Environmental Council — charged that BLM officials had not done an adequate review of the environmental impact that drilling in Montana would have on the city of Livingston, the Yellowstone River and the Upper Missouri River Breaks National Monument, as well as on sage grouse habitat."
Panama Hotel Owner Declares Victory, and Trump's Name Is Removed From the Hotel, The New York Times, Kirk Semple, Steve Eder, and Ben Protess, Monday, 5 March 2018: "A workman wielding a crowbar pried off the silver T-R-U-M-P name from the Trump International Hotel and Tower here in Panama City on Monday as the majority owner of the hotel declared victory in his fight to oust the American president's family business as managers of the property. The president's company, the Trump Organization, fired back with its own statement disputing that it permanently lost control of the property, its only current hotel venture in Latin America. The developments on Monday, the company said, actually 'maintain the status quo.' The dueling interpretations of the day's events reflected the chaotic nature of a dispute that has become an international spectacle and one of the biggest problems facing the president's company."
A Belarusian Escort Says Her Audio Recordings Show Russian Meddling in the U.S. Election, The New York Times, Richard C. Paddock, Monday, 5 March 2018: "A Belarusian escort with close ties to a powerful Russian oligarch said from behind bars in Bangkok on Monday that she had more than 16 hours of audio recordings that could help shed light on Russian meddling in United States elections. The escort, Anastasia Vashukevich, said she would hand over the recordings if the United States granted her asylum. She faces criminal charges and deportation to Belarus after coming under suspicion of working in Thailand without a visa at a sex-training seminar in the city of Pattaya. Ms. Vashukevich, who described herself as close to the Russian aluminum tycoon Oleg V. Deripaska, said that audio recordings she made in August 2016 included discussions he had about the United States presidential election with people she declined to identify. Mr. Deripaska, a billionaire with close ties to Russia's president, Vladimir V. Putin, also has business ties to Paul J. Manafort, President Trump's former campaign chairman. Mr. Manafort is under investigation by Robert S. Mueller III, the special counsel looking into the campaign's connections to Russia."
Tuesday, 6 March 2018, Day 411:
North Korea Signals Willingness to 'Denuclearize,' South Korea Says, The New York Times, Choe Sang-Hun and Mark Landler, Tuesday, 6 March 2018: "North Korea's leader, Kim Jong-un, has told South Korean envoys he is willing to negotiate with the United States on abandoning his country's nuclear weapons, officials from the South said Tuesday. Mr. Kim also said he would suspend all nuclear and missile tests while such talks were underway, they said. President Trump reacted with guarded optimism to the news, which potentially represented a major defusing of one of the world's tensest confrontations. During the envoys' two-day visit to Pyongyang, the North's capital, which ended on Tuesday, the two Koreas also agreed to hold a summit meeting between Mr. Kim and President Moon Jae-in of South Korea on the countries' border in late April, Mr. Moon's office said in a statement. 'The North Korean side clearly stated its willingness to denuclearize,' the statement said. 'It made it clear that it would have no reason to keep nuclear weapons if the military threat to the North was eliminated and its security guaranteed.' If the statement is corroborated by North Korea, it would be the first time Mr. Kim has indicated that his government is willing to discuss relinquishing nuclear weapons in return for security guarantees from the United States. Until now, North Korea has said its nuclear weapons were not for bargaining away."
House will vote next week on school safety bill–but not on gun legislation, The Washington Post, Mike DeBonis, Tuesday, 6 March 2018: "The House will vote next week on a bill aimed at protecting U.S. schools from acts of gun violence, House Majority Leader Kevin McCarthy (R-Calif) said Tuesday, marking the first legislative action in Congress to respond to the Feb. 14 massacre at a Parkland, Fla., high school. The bill in question is the STOP School Violence Act of 2018, introduced last week by Reps. John Rutherford (R-Fla.), Ted Deutch (D-Fla.), Hal Rogers (R-Ky.) and Derek Kilmer (D-Wash.), with more than 30 co-sponsors. The legislation has the backing of Sandy Hook Promise, a group formed by parents of victims of the 2012 elementary school shooting in Newtown, Conn., and a similar measure has been introduced in the Senate by Sen. Orrin G. Hatch (R-Utah). The legislation reauthorizes a bipartisan program created in 2001 through the Justice Department to prevent threats to schools. It also authorizes $50 million annually to beef up school security, fund federal 'threat assessment teams' meant to help schools comb through reported threats, create anonymous reporting systems to collect those reports from students and others, and fund training and technical assistance for schools and law enforcement to help identify warning signs of potentially violent behavior. What the bill does not include is any provision relating to firearms. Surviving students from Parkland's Marjory Stoneman Douglas High School have demanded action on gun control in the weeks since the shooting, calling for a ban on military-style rifles such as the one used in the Florida attack, among other provisions."
Elizabeth Warren Blasts Fellow Democrats for Supporting a Massive Bank Deregulation Bill, Mother Jones, Hannah Levintova, Tuesday, 6 March 2018: "The US Senate on Tuesday cleared a key procedural hurdle needed to move forward with a major bank deregulation bill that could pass the chamber in the coming days. If it becomes law, the bill would significantly loosen Wall Street regulations that were put in place by the landmark 2010 Dodd-Frank legislation following the financial crisis…. Democrats who support the bill—17 voted to advance the legislation on Tuesday—have argued that the dangers of its deregulatory measures are being blown out of proportion. At a Tuesday morning press conference on Capitol Hill, however, [Elizabeth] Warren did not shy away from describing the bill as a precursor to another financial collapse. 'People in this building may forget the devastating impact of the financial crisis 10 years ago—but the American people have not forgotten,' she said. 'The millions of people who lost their homes; the millions of people who lost their jobs; the millions of people who lost their savings—they remember, and they do not want to turn loose the big banks again.'" See also, Senator Elizabeth Warren Discusses Negative Impact of Bank Deregulation Bill on US Consumers, Elizabeth Warren Press Release, Tuesday, 6 March 2018. See also, Senate advances plan to weaken Dodd-Frank banking rules with 17 members of the Senate Democratic caucus voting 'yes' to move the measure forward, The Washington Post, Erica Werner and Renae Merle, Tuesday, 6 March 2018: "A plan to scale back post-financial-crisis banking rules cleared a key Senate hurdle Tuesday, with more than a third of the Senate Democratic caucus joining united Republicans to move the measure toward passage. The vote was 67 to 32, well over the 60 votes needed in the closely divided Senate, setting up debate and final passage in coming days. Days of contentious wrangling on the Senate floor lie ahead, with Sen. Elizabeth Warren (D-Mass.) pledging to deliver speeches in opposition. But the level of bipartisan support Tuesday, with 17 members of the Senate Democratic caucus voting 'yes,' suggested the measure will ultimately get the chamber's approval…. Opponents say the bill would weaken the oversight needed to stave off the type of dangerous lending and investing that brought the U.S. economy to its knees a decade ago. This bill is 'extraordinarily dangerous' for the economy, Warren told reporters Tuesday. 'It's not as if the banks are suffering. They think they can juice their profits if they can get Congress to turn down the regulations.'"
Trump Administration Sues California Over Immigration Laws, The New York Times, Katie Benner and Jennifer Medina, Tuesday, 6 March 2018: "The Trump administration escalated what had been a war of words over California's immigration agenda, filing a lawsuit late Tuesday that amounted to a pre-emptive strike against the liberal state's so-called sanctuary laws. The Justice Department sued California; Gov. Jerry Brown; and the state's attorney general, Xavier Becerra, over three state laws passed in recent months, saying they made it impossible for federal immigration officials to do their jobs and deport criminals who were born outside the United States. The Justice Department called the laws unconstitutional and asked a judge to block them. The lawsuit was the department's boldest attack yet against California, one of the strongest opponents of the Trump administration's efforts to curb immigration. It also served as a warning to Democratic lawmakers and elected officials nationwide who have enacted sanctuary policies that provide protections for undocumented immigrants…. The battle pits President Trump and Mr. Sessions, immigration hard-liners, against Mr. Brown and Mr. Becerra, who have emerged as outspoken adversaries who have helped energize opposition to Mr. Trump and vowed to preserve the progressive values that they believe California embodies." See also, Attorney General Jeff Sessions Targets California Immigrants Using a 2012 Supreme Court Ruling That Protected Immigrants, The New York Times, Adam Liptak, published on Wednesday, 7 March 2018.
Fighting Poverty, Drugs, and Even Violence, All on a West Virginia Teacher's Salary, The New York Times, Dana Goldstein, Tuesday, 6 March 2018: "Raucous cheers echoed off the high marble ceilings of the West Virginia Capitol on Tuesday as state leaders announced they had met striking teachers' demands for a 5 percent pay raise. 'Who made history?' chanted the throng of red-clad teachers, who had defied state officials and, at times, even their own union leaders, by staging a nearly two-week walkout. 'We made history!'… The strike began in protest of a plan to give teachers a 2 percent raise this July and 1 percent in each of the next two years, after years of stagnating pay and rising health insurance costs. Last week, after Gov. James C. Justice, a Republican, announced a plan to increase pay by 5 percent, union leaders said classes would resume. But teachers refused, demanding that the Legislature vote to make the raise official. That finally happened on Tuesday. It was not immediately clear where the money would come from, but the governor promised there would not be cuts to Medicaid, which provides health insurance for the poor…. Teachers in the state last year earned an average of about $46,000, $13,000 less than the national average. In only three states did teachers earn less: Mississippi, South Dakota and Oklahoma. In the last week, 40,000 people have joined a Facebook group calling for a walkout of Oklahoma teachers." See also, West Virginia Teachers Strike Ends With 5% Pay Raise, The Wall Street Journal, Kris Maher, Tuesday, 6 March 2018.
George Nader, an Adviser to the United Arab Emirates With Ties to Current and Former Aides to Trump, Is Cooperating With the Special Counsel Investigation, The New York Times, Mark Mazzetti, David D. Kirkpatrick, and Adam Goldman, Tuesday, 6 March 2018: "An adviser to the United Arab Emirates with ties to current and former aides to President Trump is cooperating with the special counsel, Robert S. Mueller III, and gave testimony last week to a grand jury, according to two people familiar with the matter. Mr. Mueller appears to be examining the influence of foreign money on Mr. Trump's political activities and has asked witnesses about the possibility that the adviser, George Nader, funneled money from the Emirates to the president's political efforts. It is illegal for foreign entities to contribute to campaigns or for Americans to knowingly accept foreign money for political races. Mr. Nader, a Lebanese-American businessman who advises Crown Prince Mohammed bin Zayed Al-Nahyan, the effective ruler of the Emirates, also attended a January 2017 meeting in the Seychelles that Mr. Mueller's investigators have examined. The meeting, convened by the crown prince, brought together a Russian investor close to President Vladimir V. Putin of Russia with Erik Prince, the founder of Blackwater and an informal adviser to Mr. Trump's team during the presidential transition, according to three people familiar with the meeting. Mr. Nader's cooperation in the special counsel's investigation could prompt new legal risks for the Trump administration, and Mr. Nader's presence at the Seychelles meeting appears to connect him to the primary focus of Mr. Mueller's investigation: examining Russian interference during the 2016 presidential campaign."
Special counsel Robert Mueller has examined episodes involving Michael Cohen, Trump's longtime lawyer, The Washington Post, Rosalind S. Helderman, Tom Hamburger, and Josh Dawsey, Tuesday, 6 March 2018: "Special counsel Robert S. Mueller III has requested documents and interviewed witnesses about incidents involving Michael Cohen, the longtime lawyer for President Trump whose wide-ranging portfolio has given him a unique vantage point into Trump's business, campaign and political activities. There is no indication that Cohen is a subject or target of the investigation into Russian interference in the 2016 election. But the scrutiny of his interactions is another sign of the far-reaching nature of the special-counsel probe, which is examining members of the president's inner circle and aspects of Trump's past business outreach to Russia."
Gary Cohn Says He Will Resign as Trump's Top Economic Adviser, The New York Times, Kate Kelly and Maggie Haberman, Tuesday, 6 March 2018: "Gary D. Cohn, President Trump's top economic adviser, said on Tuesday that he would resign, becoming the latest in a series of high-profile departures from the Trump administration. White House officials insisted that there was no single factor behind the departure of Mr. Cohn, who heads the National Economic Council. But his decision to leave came as he seemed poised to lose an internal struggle over Mr. Trump's plan to impose large tariffs on steel and aluminum imports. Mr. Cohn had warned last week that he might resign if Mr. Trump followed through with the tariffs, which Mr. Cohn had lobbied against internally…. [T]he departure of Mr. Cohn, a free-trade-oriented Democrat who fended off a number of nationalist-minded policies during his year in the Trump administration, could have a ripple effect on the president's economic decisions and on the financial industry. It leaves Mr. Trump surrounded primarily by advisers with strong protectionist views who advocate the types of aggressive trade measures, like tariffs, that Mr. Trump campaigned on but that Mr. Cohn fought inside the White House. Mr. Cohn was viewed by Republican lawmakers as the steady hand who could prevent Mr. Trump from engaging in activities that could trigger a trade war."
Trump is systematically backing off consumer protections, to the delight of corporations, The Washington Post, Renae Merle and Tracy Jan, Tuesday, 6 March 2018: "President Trump and the regulators he appointed are taking a far less aggressive approach to consumer protection than their predecessors, delaying key regulations and imposing fewer penalties against financial institutions and other corporations accused of wrongdoing, according to a Washington Post review of available data and interviews with consumer advocates and government officials. At the Consumer Financial Protection Bureau, for example, enforcement actions have dropped from an average of three-to-five each month during the past four years down to zero since a Trump appointee took charge of the agency in late November. The Labor Department has delayed full implementation of a rule requiring financial advisers to act in their clients' best interest. And the Department of Education has withdrawn Obama-era regulations meant to strengthen protections for student borrowers.  The new approach — welcomed by banks and business leaders — has alarmed consumer advocates who fear it gives an advantage to Wall Street and other powerful industries while leaving ordinary Americans more susceptible to fraud, discrimination and predatory lending."
Trump White House quietly issues the annual report of the nonpartisan Office of Management and Budget (OMB) vindicating Obama regulations. It was easy to miss, but the OMB demolishes the Republican's deregulatory claims. Vox, David Roberts, Tuesday, 6 March 2018: "Donald Trump's administration has been on a deregulatory bender, particularly when it comes to environmental regulations. As of January, the New York Times counted 67 environmental rules on the chopping block under Trump. This is not one of Trump's idiosyncrasies, though. His administration is more ham-handed and flagrant about it, but the antipathy it expresses toward federal regulation falls firmly within the GOP mainstream. Republicans have been complaining about 'burdensome' and 'job-killing' regulations for so long that their opposition to any particular health, safety, or environmental regulation is now just taken for granted…. As it happens, though, we know something about the costs and benefits of federal regulations. In fact, Trump's own administration, specifically the (nonpartisan, at least for now) White House Office of Management and Budget (OMB), just released its annual report on that very subject. The report was released late on a Friday, with Congress out of session and multiple Trump scandals dominating the headlines. A cynical observer might conclude that the administration wanted the report to go unnoticed. Why might that be? Well, in a nutshell, it shows that the GOP is wrong about regulations as a general matter and wrong about Obama's regulations specifically. Those regulations had benefits far in excess of their costs, and they had no discernible effect on jobs or economic growth."
An Asylum-Seeking Congolese Mother Detained by Immigration and Customs Enforcement (ICE) Officials Thousands of Miles From Her 7-Year-Old Daughter Was Released on Tuesday Following American Civil Liberties (ACLU) Lawsuit, ACLU, Tuesday, 6 March 2018: "Just days after the American Civil Liberties Union filed a federal lawsuit to reunite an asylum-seeking mom and her 7-year-old daughter, the government has abruptly released the mother. The parent and child are still awaiting reunification, however. Lee Gelernt, deputy director of the ACLU's Immigrants' Rights Project, had this reaction: 'We are thrilled that the mother has been released and look forward to the government immediately reuniting her with her daughter. But there remain many other families who have been separated, and we will continue to attack this horrific family separation practice.' The mother and daughter in this case were fleeing violence in the Democratic Republic of Congo, only to be forcibly torn from each other in the U.S. and detained separately 2,000 miles apart. The mother was held in San Diego, and the daughter was sent to a facility in Chicago, where she has sat alone and traumatized for four months. Reports arose in December that the government was considering a new plan to separate border-crossing parents from their children as a way to scare others from seeking refuge in the U.S. The ACLU challenged the Trump administration's family separation practice and the case has sparked national outrage." See also, ICE releases mother it detained for months far away from 7-year-old daughter, The Washington Post, Samantha Schmidt, published on Wednesday, 7 March 2018.
Spooked by Trump Proposals, Immigrants Abandon Public Nutrition Services, The New York Times, Emily Baumgaertner, Tuesday, 6 March 2018: "Immigrants hoping for permanent residence are dropping out of public nutrition programs even before prominent elements of the Trump administration's proposed policy changes are enacted, fearful that participating could threaten their citizenship eligibility or put them at risk for deportation, according to program administrators. Statistics on participation in state and local efforts show fewer people are using an array of food programs, including the Supplemental Nutrition Program for Women, Infants and Children (called WIC) as well as the Supplemental Nutrition Assistance Program (or SNAP, formerly known as food stamps) and food banks. 'The rumor mill is rampant, and the fear is palpable,' said Lisa David, president and chief executive of Public Health Solutions, a major WIC and SNAP provider for New York City. 'The stakes for what could happen in the future are incredibly high, and people just aren't willing to take that risk.' The Department of Homeland Security has drafted a regulation that would allow officials to factor in the use of benefits — like WIC, SNAP, the Children's Health Insurance Program and even housing and transit subsidies — when deciding whether to approve some visa or green card applications. A leaked draft of the proposal first reported by Reuters and then published by Vox showed that immigrants seeking an adjustment of status, such as those applying for permanent residency, 'must establish that they are not likely at any time to become a public charge' or rely heavily on long-term government assistance, lest they be deemed 'inadmissible.' The proposed regulation could be sent to the Office of Management and Budget for processing this month, according to Charles Wheeler, a legal expert at the Catholic Legal Immigration Network. The Department of Homeland Security did not respond to inquiries regarding the proposal's timeline and prospects."
Housing and Urban Development (HUD) Secretary Ben Carson Removes Anti-Discrimination Language From HUD Mission Statement. It will no longer reference 'inclusive' communities 'free from discrimination.' HuffPost, Amanda Terkel, Tuesday, 6 March 2018: "Housing and Urban Development Secretary Ben Carson is changing the mission statement of his agency, removing promises of inclusive and discrimination-free communities. In a March 5 memo addressed to HUD political staff, Amy Thompson, the department's assistant secretary for public affairs, explained that the statement is being updated 'in an effort to align HUD's mission with the Secretary's priorities and that of the Administration.' The new mission statement reads: 'HUD's mission is to ensure Americans have access to fair, affordable housing and opportunities to achieve self-sufficiency, thereby strengthening our communities and nation.'… The Carson mission statement is quite different from the current one, which is still up on HUD's website. That one promises 'strong, sustainable, inclusive communities and quality affordable homes for all.' It also says these communities will be 'free from discrimination': 'HUD's mission is to create strong, sustainable, inclusive communities and quality affordable homes for all. HUD is working to strengthen the housing market to bolster the economy and protect consumers; meet the need for quality affordable rental homes; utilize housing as a platform for improving quality of life; build inclusive and sustainable communities free from discrimination, and transform the way HUD does business.'"
House Republican leaders Bob Goodlatte and Trey Gowdy asked Attorney General Jeff Sessions and Deputy Attorney General Rod Rosenstein to appoint a second special counsel to examine questions of bias and alleged surveillance abuse at the Justice Department and the FBI, The Washington Post, Karoun Demirjian, Tuesday, 6 March 2018: "The chairmen of two powerful House committees probing the conduct of federal law enforcement agencies asked top Justice Department officials Tuesday to appoint a second special counsel to examine questions of bias and alleged surveillance abuse at the Justice Department and the FBI. In a letter to Attorney General Jeff Sessions and Deputy Attorney General Rod J. Rosenstein, Rep. Bob Goodlatte (R-Va.), who leads the House Judiciary Committee, and Rep. Trey Gowdy (R-S.C.), who heads the House Oversight and Government Reform Committee, wrote that a second special counsel was necessary to probe 'certain decisions made and not made by the Department of Justice and FBI in 2016 and 2017,' in light of 'evidence of bias, trending toward animus, among those charged with investigating serious cases.'"
Trump administration quietly makes it legal to bring elephant parts to the U.S. as trophies, The Washington Post, Eli Rosenberg, Tuesday, 6 March 2018: "The Trump administration will allow Americans to bring tusks and other elephant body parts back to this country as trophies, in a pivot away from the support President Trump voiced last year for an Obama-era trophy ban. The decision, announced quietly in a March 1 memorandum from the U.S. Fish and Wildlife Service, withdrew previous rulings on trophy hunting and said the agency would allow sport hunters to receive permits for the trophy items on a 'case-by-case basis.' The move contrasts sharply with the position taken by Trump in November." See also, Trump Administration Lifts Ban on Some Elephant and Lion Trophies, The New York Times, Rachel Nuwer, published on Wednesday, 7 March 2018.
Stormy Daniels sues Trump and says their 'hush agreement' is invalid because Trump never signed it, NBC News, Sarah Fitzpatrick, Tuesday, 6 March 2018: "Adult film star Stormy Daniels sued President Donald Trump on Tuesday, alleging that he never signed a nondisclosure agreement that his lawyer had arranged with her. The civil suit, filed in Los Angeles Superior Court and obtained by NBC News, alleges that her agreement not to disclose her 'intimate' relationship with Trump is invalid because while both Daniels and Trump's attorney Michael Cohen signed it, Trump never did. Stephanie Clifford, known professionally as Stormy Daniels, signed both the agreement and a side letter agreement using her professional name on Oct. 28, 2016, just days before the 2016 presidential election. Cohen signed the document the same day. Both agreements are appended to the lawsuit as Exhibit 1 and Exhibit 2. The 'hush agreement,' as it's called in the suit, refers to Trump throughout as David Dennison, and Clifford as Peggy Peterson. In the side letter agreement, the true identity of DD is blacked out, but Clifford's attorney, Michael Avenatti, says the individual is Trump."
Report by the U.S. Office of Special Counsel Finds White House Adviser Kellyanne Conway Violated the Law in TV Interviews, The New York Times | Reuters, Tuesday, 6 March 2018: "Kellyanne Conway, one of President Donald Trump's top advisers, violated federal law in two television interviews last year by using her White House position to weigh in on a political race, the U.S. Office of Special Counsel said on Tuesday. In the interviews, Conway 'impermissibly mixed official government business with political views about candidates in the Alabama special election,' the independent federal ethics agency said in a report submitted to Trump for 'appropriate disciplinary action.' The Hatch Act prohibits federal employees from using their official capacity to affect or interfere with elections, although some other political activities are allowed. The office said it gave Conway a chance to respond to its allegations but she did not."
Despite the efforts of national Democrats, Laura Moser makes primary runoff in bid for U.S. House of Representatives seat in Houston, The Texas Tribune, Abby Livingston, Tuesday, 6 March 2018: "Activist and journalist Laura Moser secured a spot in the party's primary runoff to take on Republican U.S. Rep. John Culberson in the fall, despite national Democrats taking the rare step of releasing opposition research on her last month. She came in second, behind attorney Lizzie Pannill Fletcher, who was leading the crowded Democratic field for Congressional District 7 with 30 percent of the vote late Tuesday. Moser trailed with 24 percent of the vote. The runoff is likely to be a brutal fight that will viscerally divide west Houston – but also the national Democratic Party. The House Democratic campaign arm took the rare step of unloading a heap of opposition research against Moser in the middle of early voting in a bid to keep her out of the runoff. Democrats locally and nationally have expressed doubts about Moser's electability in a general election, worrying that she is too liberal to carry the swing district, among other concerns."
Wednesday, 7 March 2018, Day 412:
With Federal Gun Legislation Nearing a Dead End, Republicans Turn to 'School Safety' Legislation, The New York Times, Sheryl Gay Stolberg and Erica L. Green, Wednesday, 7 March 2018: "Republican leaders, turning away from significant gun control legislation, have shifted instead toward measures that would beef up security at the nation's schools, hoping the push will quell public uproar over the recent massacre in Parkland, Fla. But as students and parents from Marjory Stoneman Douglas High School continue their own organizing, the school safety strategy is unlikely to end the debate. Democrats and gun control advocates accused Republicans and the National Rifle Association of using school safety to divert attention from what they see as the real issue: the proliferation of guns that have been used in mass shootings at concerts, in movie theaters, on college campuses, in churches and at workplaces, as well as at public schools. 'This time, the gun rights crowd messed with the wrong community, the wrong kids and the wrong dad,' said Fred Guttenberg, whose 14-year-old daughter, Jaime, was killed at the school. He added, 'I intend to be a part of breaking this gun lobby.'"
Florida legislature backs new gun safety package after the slayings at Marjory Stoneman Douglas High School in Parkland, Florida, The Washington Post, Michael Scherer, Wednesday, 7 March 2018: "Florida lawmakers bucked the National Rifle Association on Wednesday to pass new firearms regulations and create a program for arming some school employees in a rare act of Republican compromise on the divisive issue of gun violence. The response to the slayings at Marjory Stoneman Douglas High School in Parkland, Fla., signaled a major shift for a state known as a legal laboratory for gun rights activists. It could become a blueprint for other states looking at new measures to address mass shootings. A bipartisan vote of 67 to 50 in the state House ended an emotional three-week process, during which the state's legislative leadership toured the bloodstained hallways at the high school and thousands of students marched on the state capitol in Tallahassee to demand change. After weeks of debate, lawmakers approved a bill that would impose a three-day waiting period for most purchases of long guns and raise the minimum age for purchasing those weapons to 21. The legislation also includes millions of dollars to improve school security and train and arm school employees. The action comes as federal efforts to further regulate guns and improve the federal background check system have sputtered in Washington, caught up in the formidable political divide that has undermined previous attempts to tighten rules for firearms."
California leaders rebuke Attorney General Jeff Sessions as 'going to war' over California's immigration policy, Los Angeles Times, Jazmine Ulloa and Liam Dillon, Wednesday, 7 March 2018: "A long-simmering battle between the Trump administration and California over immigration boiled over Wednesday, with Atty. Gen. Jeff Sessions deriding the state's 'irrational, unfair and unconstitutional policies' and Gov. Jerry Brown accusing the federal government of launching 'a reign of terror.' 'This is basically going to war against the state of California,' Brown declared. As the Justice Department formally filed a legal challenge to state immigration laws, Sessions told a gathering of law enforcement officers in Sacramento that California was attempting to keep federal immigration officials from doing their jobs, and he charged Democrats with advancing the political agendas of 'radical extremists.'… California Democratic leaders and the state's top law enforcement officer responded with war talk of their own, describing Sessions' actions as unprecedented. In fiery tweets, speeches and at a news conference at the Capitol, the Democrats said the Justice Department lawsuit is based on lies and challenges California's sovereignty. The governor called Sessions' actions a political stunt, aimed at distracting the public from guilty pleas made by Trump's advisors in special counsel Robert S. Mueller III's ongoing investigation of Russian interference in the 2016 election."
Attorney General Jeff Sessions is eliminating a requirement that asylum seekers get a full hearing before an immigration judge, The Washington Post, Antonio Olivo, Wednesday, 7 March 2018: "Attorney General Jeff Sessions is eliminating a requirement that asylum seekers get a full hearing before an immigration judge, part of his effort to cut through a huge backlog of cases in a court system he says is subject to 'rampant abuse and fraud.' The decision this week vacates a 2014 ruling by the Justice Department's Board of Immigration Appeals. Now, immigration judges can reject asylum petitions without a full hearing if, upon initial review, they appear to be fraudulent or unlikely to succeed. Justice Department spokesman Devin O'Malley said the 2014 ruling cluttered immigration-court dockets with frivolous claims that were filed as a way to stall deportation proceedings, keeping judges from granting asylum to more worthy candidates. But advocates said thousands of people seeking asylum are now at risk of being sent back to life-threatening situations in their homelands without an adequate opportunity to prove they would be in danger if deported."
Special counsel Robert Mueller gathers evidence that a 2017 Seychelles meeting was an effort to establish back channel to the Kremlin, The Washington Post, Sari Horwitz and Devli Barrett, Wednesday, 7 March 2018: "Special counsel Robert S. Mueller III has gathered evidence that a secret meeting in Seychelles just before the inauguration of Donald Trump was an effort to establish a back channel between the incoming administration and the Kremlin — apparently contradicting statements made to lawmakers by one of its participants, according to people familiar with the matter. In January 2017, Erik Prince, the founder of the private security company Blackwater, met with a Russian official close to Russian President Vladi­mir Putin and later described the meeting to congressional investigators as a chance encounter that was not a planned discussion of U.S.-Russia relations. A witness cooperating with Mueller has told investigators the meeting was set up in advance so that a representative of the Trump transition could meet with an emissary from Moscow to discuss future relations between the countries, according to the people familiar with the matter, who spoke on the condition of anonymity to discuss sensitive matters. George Nader, a Lebanese American businessman who helped organize and attended the Seychelles meeting, has testified on the matter before a grand jury gathering evidence about discussions between the Trump transition team and emissaries of the Kremlin, as part of Mueller's investigation into Russian efforts to interfere with the 2016 election. Nader began cooperating with Mueller after he arrived at Dulles International Airport in mid-January and was stopped, served with a subpoena and questioned by the FBI, these people said. He has met numerous times with investigators."
Trump Spoke to Witnesses About Matters They Discussed with Special Counsel Robert Mueller, The New York Times, Michael S. Schmidt and Maggie Haberman, Wednesday, 7 March 2018: "The special counsel in the Russia investigation has learned of two conversations in recent months in which President Trump asked key witnesses about matters they discussed with investigators, according to three people familiar with the encounters. In one episode, the president told an aide that the White House counsel, Donald F. McGahn II, should issue a statement denying a New York Times article in January. The article said Mr. McGahn told investigators that the president once asked him to fire the special counsel, Robert S. Mueller III. Mr. McGahn never released a statement and later had to remind the president that he had indeed asked Mr. McGahn to see that Mr. Mueller was dismissed, the people said. In the other episode, Mr. Trump asked his former chief of staff, Reince Priebus, how his interview had gone with the special counsel's investigators and whether they had been 'nice,' according to two people familiar with the discussion. The episodes demonstrate that even as the special counsel investigation appears to be intensifying, the president has ignored his lawyers' advice to avoid doing anything publicly or privately that could create the appearance of interfering with it. The White House did not respond to several requests for comment. Mr. Priebus and Mr. McGahn declined to comment through their lawyer, William A. Burck. Legal experts said Mr. Trump's contact with the men most likely did not rise to the level of witness tampering. But witnesses and lawyers who learned about the conversations viewed them as potentially a problem and shared them with Mr. Mueller…. Central figures in investigations are almost always advised by their own lawyers to keep from speaking with witnesses and prosecutors to prevent accusations of witness tampering. The president has not been questioned by Mr. Mueller; Mr. Trump's lawyers are negotiating terms of a possible interview. Learning even basic details about what other witnesses told investigators could help the president shape his own answers."
Trump's Lawyer Secretly Obtained a Temporary Restraining Order Last Week to Prevent Pornographic Film Star Stormy Daniels From Speaking Out About Her Alleged Affair With Mr. Trump, The New York Times, Jim Rutenberg and Peter Baker, Wednesday, 7 March 2018: "President Trump's lawyer secretly obtained a temporary restraining order last week to prevent a pornographic film star from speaking out about her alleged affair with Mr. Trump, according to legal documents and interviews. The order, issued by an arbitrator in California and reviewed by The New York Times, pertained to the actress Stephanie Clifford, who had been paid $130,000 shortly before the 2016 election in what she calls a 'hush agreement.' In recent weeks, she had prepared to speak publicly about Mr. Trump, claiming his lawyer, Michael D. Cohen, had broken the agreement. The details of the order emerged on Wednesday after the White House's spokeswoman, Sarah Huckabee Sanders, said that Mr. Trump's lawyer had won an arbitration proceeding against Ms. Clifford, who goes by the name of Stormy Daniels. Ms. Sanders's statement put the White House in the middle of a story that Mr. Trump and his lawyer had been trying to keep quiet for well over a year. The turn of events created the spectacle of a sitting president using legal maneuvers to avoid further scrutiny of salacious accusations of an affair and a payoff involving the porn star." See also, Republicans flee the storm over Stormy Daniels and President Trump, The Washington Post, John Wagner, Ed O'Keefe, and Mike DeBonis, Wednesday, 7 March 2018.

The 6th U.S. Circuit Court of Appeals says civil rights law covers transgender workers, Reuters, Daniel Wiessner and Jonathan Stempel, Wednesday, 7 March 2018: "A federal law banning sex bias in the workplace prohibits discrimination against transgender workers, a U.S. appeals court said on Wednesday, ruling in favor of a funeral director who was fired after telling her boss she planned to transition to female from male. The 6th U.S. Circuit Court of Appeals said RG & GR Harris Funeral Homes Inc in Detroit unlawfully discriminated against Aimee Stephens, formerly known as Anthony Stephens, based on her sex. The court also said the funeral home failed to establish that the federal workplace law, Title VII of the Civil Rights Act of 1964, substantially burdened the ability of funeral home owner Thomas Rost, a devout Christian, to exercise his religious rights in his treatment of Stephens. Several federal appeals courts have said that discriminating against transgender workers is a form of unlawful sex bias. But the 6th Circuit was the first to consider a religious defense in such a case."
European Union Officials Pledge to Fight Back on Trump Tariffs as Trade War Looms, The New York Times, Milan Schreuer, Wednesday, 7 March 2018: "European Union officials unveiled an array of tariffs on Wednesday that they would place on American-made goods if the United States followed through on President Trump's plan to impose penalties on imported steel and aluminum, raising the specter of a trade war. The announcement in Brussels was the latest rebuke to Mr. Trump's proposed tariffs, which have met with consternation domestically and with threats of retaliation abroad. The president's top economic adviser, Gary D. Cohn, said on Tuesday that he was resigning, a move widely believed to be linked to the trade plan, which he had lobbied against. Republican leaders, including Paul D. Ryan, the House speaker, have also railed against the tariffs. Internationally, the plan for the new American tariffs — blanket penalties of 25 percent on imported steel and of 10 percent on aluminum — have drawn concern from allies including Britain and Canada, as well as from rivals like China. The European Union had warned of retaliatory charges last week, and outlined those plans on Wednesday."
Jared Kushner Meets With Mexican President Enrique Peña Nieto, Underscoring Shift in How U.S. Diplomacy Is Conducted, The New York Times, Azam Ahmed and Nicholas Casey, Wednesday, 7 March 2018: "Jared Kushner, President Trump's son-in-law and senior adviser, met with Mexico's president on Wednesday, arriving just weeks after a planned meeting between the nations' leaders fell apart because of a bitter phone dispute over Mr. Trump's proposed border wall. Mr. Kushner's meeting with President Enrique Peña Nieto was meant to soothe tensions. Plans for the two presidents to meet have been abruptly canceled at least twice since Mr. Trump took office, and the relationship between their countries is suffering its roughest patch in decades. But the encounter between Mexico's president and Mr. Kushner, a political newcomer whose top-secret security clearance was stripped last month, underscored the profound shift in approach that the Trump administration has taken with Mexico, and with the region more broadly. Officials announced the visit less than a day before it happened, offering no guidance on what would be discussed. Beyond that, Mr. Kushner, who also met with Mexico's foreign minister, did not invite the American ambassador — Roberta S. Jacobson, a diplomat with more than 30 years of experience in the region — to join him in the meetings, according to a senior American official who was not authorized to speak publicly. 'This is not the way foreign policy normally is, or should be, conducted,' said Christopher Sabatini, a lecturer at Columbia University. 'The sending of the president's son-in-law — someone with no experience in Mexican-U.S. relations — is another example of the de-professionalization and personalization of diplomacy that will hurt U.S. interests and leverage in the region.' Just this year, three of the State Department's most experienced diplomats on Latin America have resigned: Tom Shannon, the No. 3 official in the department; John Feeley, the ambassador to Panama; and Mrs. Jacobson, the ambassador to Mexico, who will leave her post in May."
What We Found in Trump's 'Drained Swamp': Hundreds of Ex-Lobbyists and D.C. Insiders, ProPublica, Derek Kravitz, Al Shaw, and Isaac Arnsdorf, Wednesday, 7 March 2018: "When the Trump administration took office early last year, hundreds of staffers from lobbying firms, conservative think tanks and Trump campaign groups began pouring into the very agencies they once lobbied or whose work they once opposed. Today we're making available, for the first time, an authoritative searchable database of 2,475 political appointees, including Trump's Cabinet, staffers in the White House and senior officials within the government, along with their federal lobbying and financial records. Trump Town is the result of a year spent filing hundreds of Freedom of Information Act requests; collecting and organizing staffing lists; and compiling, sifting through and publishing thousands of financial disclosure reports. Here's what we found: At least 187 Trump political appointees have been federal lobbyists, and despite President Trump's campaign pledge to "drain the swamp," many are now overseeing the industries they once lobbied on behalf of. We've also discovered ethics waivers that allow Trump staffers to work on subjects in which they have financial conflicts of interest. In addition, at least 254 appointees affiliated with Trump's 2016 presidential campaign and at least 125 staffers from prominent conservative think tanks are now working in the federal government, many of whom are on teams to repeal Obama-era regulations." See also, Trump Town: Tracking White House Staffers, Cabinet Members, and Political Appointees Across the Government, ProPublica, Derek Kravitz, Al Shaw, and Claire Perlman, Wednesday, 7 March 2018.  See also, How the Spoils Were Doled Out to Trump Campaign Workers and Allies, The New York Times, Eric Lipton and Danielle Ivory, Wednesday, 7 March 2018.
Thursday, 8 March 2018, Day 413:
North Korea Asks for Direct Nuclear Talks, and Trump Agrees, The New York Times, Mark Landler, Thursday, 8 March 2018: "North Korea's leader, Kim Jong-un, has invited President Trump to meet for negotiations over its nuclear program, an audacious diplomatic overture that would bring together two strong-willed, idiosyncratic leaders who have traded threats of war. The White House said that Mr. Trump had accepted the invitation, and Chung Eui-yong, a South Korean official who conveyed it, told reporters that the president would meet with Mr. Kim within two months. 'He expressed his eagerness to meet President Trump as soon as possible,' Mr. Chung said at the White House on Thursday evening after meeting the president. Mr. Trump, he said, agreed to 'meet Kim Jong-un by May to achieve permanent denuclearization.' The president expressed his optimism about the meeting in a post on Twitter, saying that Mr. Kim had 'talked about denuclearization with the South Korean Representatives, not just a freeze.' 'Also, no missile testing by North Korea during this period of time,' Mr. Trump added. 'Great progress being made but sanctions will remain until an agreement is reached. Meeting being planned!' Mr. Chung, whose talks with Mr. Kim on Monday in Pyongyang resulted in the invitation, noted that the North Korean leader said he understood that joint military exercises with the United States and South Korea would go ahead as scheduled after the end of the Paralympic Games this month. For Mr. Trump, a meeting with Mr. Kim, a leader he has threatened with 'fire and fury' and has derided as 'Little Rocket Man,' is a breathtaking gamble. No sitting American president has ever met a North Korean leader, and Mr. Trump himself has repeatedly vowed that he would not commit the error of his predecessors by being drawn into a protracted negotiation in which North Korea extracted concessions from the United States but held on to key elements of its nuclear program." See also, Secretary of State Rex Tillerson said talking to Kim Jong Un, the leader of North Korea, wouldn't be 'realistic' or prudent yet. Hours later, Trump said he would do it. The Washington Post, Aaron Blake, published on Friday, 9 March 2018: "It came out of nowhere. In a brief and impromptu visit to the White House briefing room late Thursday afternoon, President Trump previewed a major announcement that night from South Korean leaders. Shortly after 7 p.m., those leaders said Trump had agreed to meet with North Korean dictator Kim Jong Un. Then, after an unexplained delay, the White House itself confirmed it. But just how much thought actually went into all this? From the outside, the answer would appear to be not much — or at least not near as much as those around him would like. And it wasn't just the lack of a heads-up or the odd rollout. (For example: Why on earth did the South Koreans announce this?) It was also some comments delivered mere hours before by Secretary of State Rex Tillerson. Kim's openness to the meeting had been reported earlier this week, but on Thursday morning Tillerson suggested such an agreement was a way off. Here's what he said during a news conference with the Ethiopian foreign minister: 'In terms of direct talks with the United States — and you asked negotiations, and we're a long ways from negotiations. I think it's — we just need to be very clear-eyed and realistic about it. I think the first step — and I've said this before — is to have talks, have some kind of talks about talks. Because I don't know yet, until we are able to meet ourselves face to face with representatives of North Korea, whether the conditions are right to even begin thinking about negotiations. And that's kind of the current state of play.' So within a span of less than 12 hours, the Trump administration went from 'we're a long ways from negotiations' to 'we're negotiating at the presidential level.' Tillerson said they needed to decide whether to 'even begin thinking about negotiations,' but now they're planning what would be the first-ever summit between a sitting U.S. president and a North Korean leader." See also, Seeking 'Peaceful Resolution': Transcript of South Korean Adviser's Remarks, The New York Times, Thursday, 8 March 2018.
Trump Authorizes New Tariffs on Imported Steel and Aluminum, Defying Allies at Home and Abroad, The New York Times, Peter Baker and Ana Swanson, Thursday, 8 March 2018: "President Trump defied opposition from his own party and protests from overseas as he signed orders on Thursday imposing stiff and sweeping new tariffs on imported steel and aluminum. But he sought to soften the impact on the United States' closest allies with a more flexible plan than originally envisioned. After a week of furious lobbying and a burst of last-minute internal debates and confusion, Mr. Trump agreed to exempt, for now, Canada and Mexico, and held out the possibility of later excluding allies like Australia. But foreign leaders warned of a trade war that could escalate to other industries and take aim at American goods…. The orders were Mr. Trump's most expansive use of federal power to rewrite the rules of global trade since he took office and upended the prevailing consensus on free markets that has largely governed Washington under administrations of both parties for decades. A longtime critic of globalization, Mr. Trump argued that the United States had been ravaged by unfair trading partners." See also, U.S. allies see Trump's steel tariffs as an insult, The Washington Post, Anna Fifield and Michael Birnbaum, Thursday 8 March 2018. See also, A Storm of Reaction to Trump's Tariffs, The New York Times, Thursday, 8 March 2018.
A Group of 11 Nations, Including Major U.S. Allies Like Japan, Canada, and Australia, Signed a Broad Trade Deal on Thursday in Chile's Capital, Santiago, The New York Times, Ernesto Londoño and Motoko Rich, Thursday, 8 March 2018: "A trade pact originally conceived by the United States to counter China's growing economic might in Asia now has a new target: President Trump's embrace of protectionism. A group of 11 nations — including major United States allies like Japan, Canada and Australia — signed a broad trade deal on Thursday in Chile's capital, Santiago, that challenges Mr. Trump's view of trade as a zero-sum game filled with winners and losers. Covering 500 million people on either side of the Pacific Ocean, the pact represents a new vision for global trade as the United States imposes steel and aluminum tariffs on even some of its closest friends. Mr. Trump withdrew the United States from an earlier version of the agreement, then known as the Trans-Pacific Partnership, a year ago as one of his first acts in office. The resuscitated deal is undeniably weaker without the participation of the world's biggest economy, but it serves as a powerful sign of how countries that have previously counted on American leadership are now forging ahead without it." See also, As Trump imposes tariffs, allies sign on to free-trade pact–without the U.S., The Washington Post, Steven Mufson, Thursday, 8 March 2018.
Florida Gun Bill: What's in It, and What Isn't, The New York Times, Maggie Astor, Thursday, 8 March 2018: "The gun control bill that the Florida Legislature passed on Wednesday was, in many respects, a major victory for the new activists of Marjory Stoneman Douglas High School. It was passed in defiance of the National Rifle Association and, if Gov. Rick Scott signs it, will be the first successful gun control measure in Florida in more than 20 years. But it left out many of the biggest provisions the students and their supporters had sought, including bans on assault weapons and high-capacity magazines."
Stormy Daniels Lawsuit Opens Door to Further Trouble for Trump, The New York Times, Jim Rutenberg and Mike McIntire, Thursday, 8 March 2018: "In the blur of news coming out of Washington, the legal maneuvers involving a pornographic film actress who says she had an affair with President Trump and the president's lawyer who paid her hush money may seem like just another reality-show-ready spectacle at 1600 Pennsylvania Avenue. But the lawsuit she filed this week, seeking to break a 2016 agreement to keep silent in return for a $130,000 payout, opens what could be a precarious new legal front for a White House already beset by the investigation by the special counsel Robert S. Mueller III. As any longtime legal hand in the capital remembers well, it was a sexual harassment lawsuit brought by an Arkansas state employee, Paula Jones, against Bill Clinton that led to his impeachment for lying about his affair with Monica S. Lewinsky. The case of the adult film actress, Stephanie Clifford, who uses the stage-name Stormy Daniels, may not get past even the first considerable obstacles. But if her court case proceeds, Mr. Trump and his longtime personal lawyer, Michael D. Cohen, may have to testify in depositions, several lawyers said in interviews on Thursday. Ms. Clifford's suit could possibly also provide evidence of campaign spending violations, which would bolster a pending Federal Election Commission complaint against Mr. Trump's campaign. The potential outcomes of the lawsuit and legal wrangling took on new urgency this week after reports that Mr. Cohen had won an emergency temporary restraining order from an arbitrator, barring Ms. Clifford from speaking out now, a measure that Ms. Clifford's lawyer, Michael J. Avenatti, declared invalid."
Donald Trump Takes on the Nonexistent Link Between Violent Video Games and Mass Shootings, The New Yorker, Simon Parkin, Thursday, 8 March 2018: "The notion of a causal link between virtual violence and real-world violence was present almost from the moment video games entered the mainstream. On November 9, 1982, C. Everett Koop, the U.S. Surgeon General, gave a speech at the Western Psychiatric Institute and Clinic, in Pittsburgh, in which he challenged the country to confront the roots of domestic violence and child abuse. After the speech, an audience member asked whether Koop thought video games had a negative effect on young people. 'Yes,' he replied. Teen-agers were becoming addicted to video games 'body and soul,' Koop said, and it was a form of entertainment in which he saw 'nothing constructive.' Though he retracted his comment the next day, the idea persisted. In the decades that followed, researchers tried and failed to discern a relationship between video-game use and mass homicide…. [In August 2015], in an official resolution, the American Psychological Association acknowledged a correlation between 'violent video game exposure and aggressive behavior' but stipulated that 'not all aggression is violence' and that 'insufficient research has examined whether violent video game use causes lethal violence.' Last June, the A.P.A.'s News Media, Public Education, and Public Policy Committee issued a new set of recommendations. The first one read, 'Public officials and news media should avoid stating explicitly or implicitly that criminal offenses were caused by violent media.' Donald Trump, it appears, never got the memo."
Trump Administration Rejected Idaho's Plan to Allow the Sale of Stripped-Down, Low-Cost Health Insurance That Violates the Affordable Care Act, The New York Times, Robert Pear, Thursday, 8 March 2018: "The Trump administration rejected on Thursday Idaho's plan to allow the sale of stripped-down, low-cost health insurance that violates the Affordable Care Act. The 2010 statute "remains the law, and we have a duty to enforce and uphold the law," Seema Verma, the administrator of the federal Centers for Medicare and Medicaid Services, said in a letter to the governor of Idaho, C. L. Otter. While rejecting Idaho's plan in its current form, Ms. Verma encouraged the state to keep trying, and she suggested that, 'with certain modifications,' its proposal might be acceptable. President Trump has repeatedly criticized and undermined the Affordable Care Act, President Barack Obama's signature achievement, saying it drove up insurance costs for millions of Americans." See also, Health and Human Services Secretary Alex Azar is making it known he'll uphold the law, at least for now. Even if it is the Affordable Care Act. The Washington Post, Paige Winfield Cunningham, published on Friday, 9 March 2018.
Russian Trolls Tried to Torpedo Mitt Romney's Shot at Secretary of State, The Wall Street Journal, Rob Barry and Shelby Holliday, Thursday, 8 March 2018: "Weeks after Donald Trump was elected president, Russia-backed online 'trolls' flooded social media to try to block Mitt Romney from securing a top job in the incoming administration, a Wall Street Journal analysis shows. The operatives called the 2012 GOP presidential nominee, then a contender for secretary of state, a 'two headed snake' and a 'globalist puppet,' promoted a rally outside Trump Tower and spread a petition to block Mr. Romney's appointment to the top diplomatic job, according to a review of now-deleted social-media posts. The revelation comes alongside a new report, in the New Yorker, that alleges the Kremlin pressured then-President Elect Trump to consider a candidate more favorable to Russian interests. Mr. Trump ultimately appointed former Exxon Mobil Corp. chief Rex Tillerson, who has said he has a 'very close relationship with' Russian President Vladimir Putin, to lead the department. Mr. Romney is a Russia hawk, saying during the 2012 campaign that the country was the U.S.'s 'No. 1 geopolitical foe.'"
Adam Schiff, the top Democrat on the House Intelligence Committee, said he wants the committee to re-interview Trump supporter and Blackwater security firm founder Erik Prince to determine whether Prince lied to the committee, The Washington Post, Karoun Demirjian, Thursday, 8 March 2018: "The top Democrat on the House Intelligence Committee said Thursday he wants the panel to re-interview Trump supporter and Blackwater security firm founder Erik Prince and serve former Trump campaign manager Corey Lewandowski with a subpoena for his complete testimony. Rep. Adam B. Schiff (D-Calif.) said he wants to determine whether Prince lied to the panel about a meeting last year in the Seychelles that evidence suggests was an effort to establish a back channel between the incoming Trump administration and the Kremlin. He wants the panel to also speak with George Nader, a Lebanese American businessman who helped organize the meeting in the Seychelles, because his reported version of events 'is obviously at odds with' what Prince told the panel in November. Schiff also told reporters the panel should issue a subpoena for Lewandowski, who in a closed-door interview with committee members Thursday refused to answer questions about what he knew of President Trump's discussions, including those leading to the firing of FBI Director James B. Comey and the misleading statement issued to explain Donald Trump Jr.'s participation in a June 2016 meeting with a Russian lawyer at Trump Tower. Schiff said Lewandowski refused to answer certain questions on the grounds that they were not 'relevant' — something Schiff dismissed as a 'meritless objection.' Republicans on the committee do not appear to share Schiff's urgency, either to subpoena Lewandowski or to hold additional interviews with Nader and Prince. Rep. K. Michael Conaway (R-Tex.), who is running the panel's Russia probe, declined to comment Thursday about whether he would call Nader or Prince for an interview. On Wednesday, Conaway told reporters, 'I don't have a clue who George Nader is.'"
Paul Manafort, Trump's former campaign manager, again pleaded not guilty to criminal charges in the investigation into alleged Russian meddling in the 2016 election, The Washington Post, Katanga Johnson and Mark Hosenball, Thursday, 8 March 2018: "U.S. President Donald Trump's former campaign manager Paul Manafort again pleaded not guilty on Thursday to criminal charges in the investigation into alleged Russian meddling in the 2016 election and will face the first of two trials in July. Manafort pleaded not guilty in a Virginia courtroom to additional charges ranging from bank fraud to filing false tax returns that were brought by Robert Mueller, the U.S. special counsel for the Russia probe. Manafort also pleaded not guilty last week in Washington to related charges, including conspiracy to launder money, and failing to register as a foreign agent for the pro-Russia Ukrainian government of former President Viktor Yanukovich. U.S. District Judge T.S. Ellis, based in Alexandria, Virginia, on Thursday set a tentative trial date for July 10. Manafort's trial in Washington begins in September."
Judge Naomi Reice Buchwald of the U.S. District Court for the Southern District of New York Floats an Idea to Settle @realDonaldTrump Twitter Blocking Case, The New York Times, John Herrman, Thursday, 8 March 2018: "A federal judge in Manhattan had plenty of questions for lawyers representing a group of Twitter users who sued President Trump in July after he blocked them on the social media service. And she had even more for the government. The seven users, who had been blocked by the @realDonaldTrump account after criticizing the president, were joined in the lawsuit by the Knight First Amendment Institute at Columbia University. Their lawyers claimed that Mr. Trump's Twitter feed is an official government account and that blocking users from following it was a violation of their First Amendment rights. Lawyers from the Department of Justice insisted that the Twitter feed was not, in fact, a public forum. Furthermore, they argued, no one had been meaningfully excluded from it…. The questions that loomed largest over the proceedings did not concern matters of jurisdiction, free speech, or the possibility of the discrimination against certain viewpoints in violation of the First Amendment. Instead, they concerned the nature of Twitter. How does it work? And what exactly is it, these days?… As she worked her way through pages of meticulous questions and requests for clarification, Judge Naomi Reice Buchwald of the United States District Court suggested a possible resolution, which involved yet another feature of the platform: Muting. Unlike blocking, muting allows users to follow and reply to the person who has muted them and to be seen by other Twitter users in the process. Users who have been muted by a certain account have no way of knowing it, because the feature only conceals their posts from the person who has muted them."