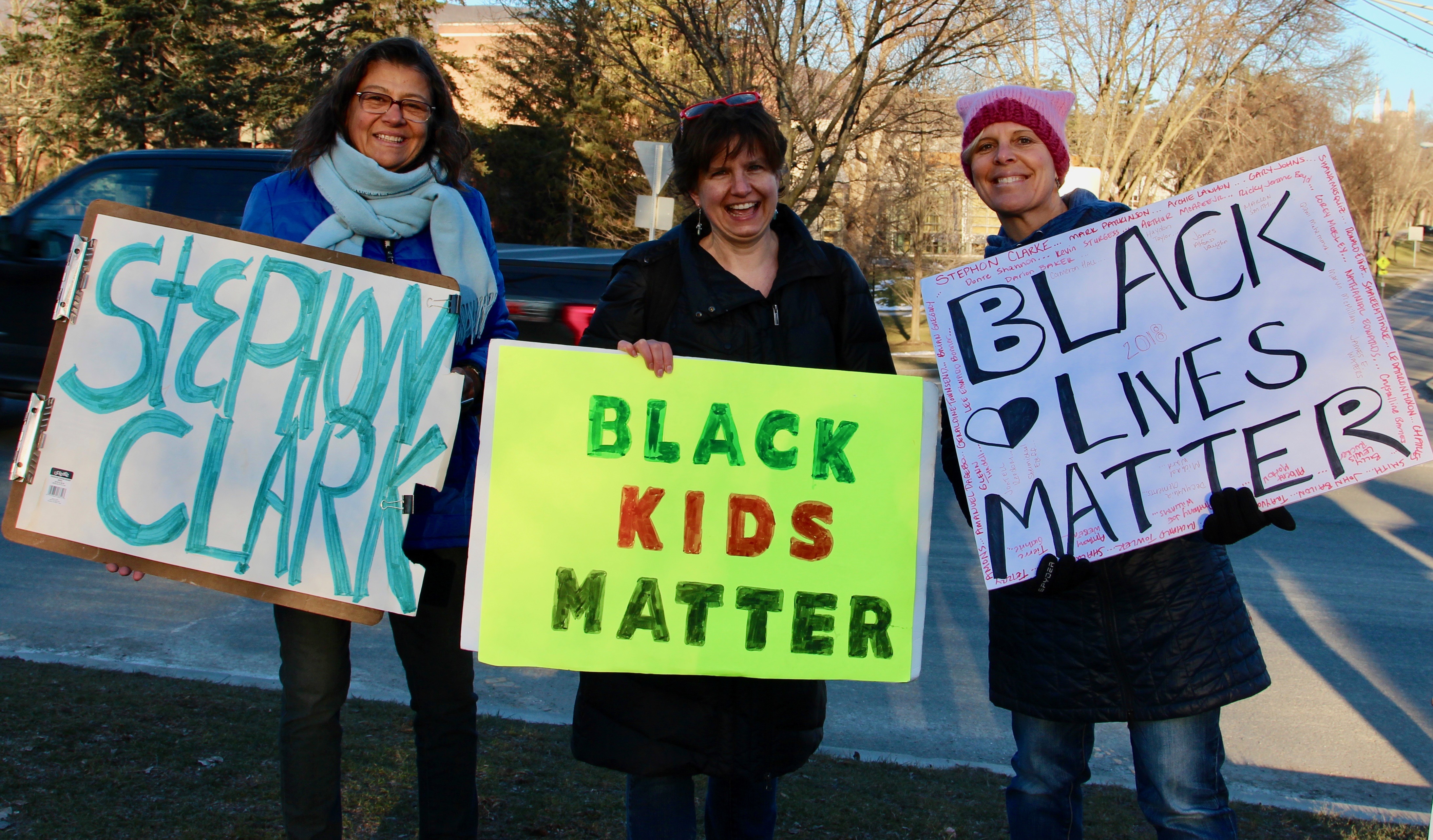 Stand Out for Stephon Clark, Field Park, Williamstown, MA, 26 March 2018
Keeping Track (of some things), Staying Outraged (it is possible), and Resisting (it's essential)
Passages in bold in the body of the texts below are my emphasis. This is an ongoing project, and I update the site frequently. Because I try to stay focused on what has actually happened, I usually let the news 'settle' a day or so before posting. I hope readers will peruse the articles in full for a better understanding of the issues and their context; our democracy and our future depend on citizens who can distinguish between facts and falsehoods and who are engaged in the political process.
Friday, 30 March 2018, Day 435:
Census Bureau's Own Expert Panel Rebukes Decision to Add Citizenship Question, The New York Times, Michael Wines, Friday, 30 March 2018: "The Trump administration's decision to add a question on citizenship to the 2020 census, already the target of lawsuits and broad criticism by statistics authorities, drew a new opponent on Friday: the experts who advise the Census Bureau itself. Those experts — prominent demographers, economists, engineers and others who make up the Census Scientific Advisory Committee — said in a statement that the decision was based on 'flawed logic,' could threaten the accuracy and confidentiality of the head count and likely would make it more expensive to conduct." See also, Are You a U.S. Citizen? How a 2020 Census Question Could Affect States, The New York Times, Alicia Parlapiano, Friday, 30 March 2018.
U.S. District Judge Tanya S. Chutkan of Washington ordered the U.S. government to allow abortion access to detained immigrant teens, The Washington Post, Ann E. Marimow, Spencer S. Hsu, and Mreia Sacchetti, Friday, 30 March 2018: "A federal judge issued a nationwide order temporarily preventing the government from blocking access to abortion services and counseling for teens detained in immigration custody, saying current administration policy and practices probably are unconstitutional. The order came in a case brought last fall on behalf of a Central American girl in a ­government-funded shelter that set off a national debate over the constitutional rights of such undocumented teens to terminate their pregnancies. The late Friday ruling, by U.S. District Judge Tanya S. Chutkan of Washington, allowed the case to proceed as a class action on behalf of any other teens who have crossed the border illegally and while in federal custody may want to seek abortion services. In filings, the U.S. government acknowledged there were at least 420 pregnant unaccompanied minors in custody in 2017, including 18 who requested abortions. The Trump administration has refused to 'facilitate' such procedures for pregnant teenagers traveling alone on the grounds that they had the option to voluntarily return to their home countries or to find private sponsors in the United States to assist them in obtaining procedures. The policy position marked a departure from that of the Obama administration, whose Office of Refugee Resettlement did not block immigrants in U.S. custody from having abortions at their own expense, and paid for services for teens in cases of rape, incest or a threat to the woman's life."
Vermont Legislature Passes Sweeping Gun Restrictions, The New York Times, Jess Bidgood, Friday, 30 March 2018: "Lawmakers in Vermont, a place long steeped in hunting culture, on Friday approved a sweeping package of new gun restrictions, making the state all but certain to join Florida in passing a raft of new gun control measures after a teenage gunman killed 17 people last month at a high school in Parkland, Fla…. The bill, which passed the Senate, 17 to 13, on Friday after clearing the House earlier in the week, would raise the minimum age to purchase a gun to 21 and ban bump stocks, which are devices that allow semiautomatic rifles to fire more rapidly. It also contains restrictions that go beyond those in the measure signed in Florida, like an expansion of background checks and a limit on the capacity of magazines that can be sold or possessed in the state."
Continue reading Week 63, Friday, 30 March – Thursday, 5 April 2018 (Days 435-441)
People Who Worked With John Bolton Say He Skewed Intelligence, ProPublica, Sebastian Rotella, Friday, 30 March 2018: "Last week, President Donald Trump named Bolton to be his new national security adviser, a job that would arguably make him the government's most important arbiter of competing views on foreign policy and a key judge of what intelligence information reaches the president on the most serious threats to national security…. An examination of Bolton's record, based on interviews with some of his former colleagues and the Senate hearings on his nomination in 2005 to be the U.S. ambassador to the United Nations, reveals a tendency to aggressively embrace intelligence that supports his positions, while discounting information that undercuts those views."
14 Million Visitors to the U.S. Face Social Media Screening, The New York Times, Sewell Chan, Friday, 30 March 2018: "Nearly all applicants for a visa to enter the United States — an estimated 14.7 million people a year — will be asked to submit their social media user names for the past five years, under proposed rules that the State Department issued on Friday. Last September, the Trump administration announced that applicants for immigrant visas would be asked for social media data, a plan that would affect 710,000 people or so a year. The new proposal would vastly expand that order to cover some 14 million people each year who apply for nonimmigrant visas."
Border wall expansion planned along 100 miles of U.S.-Mexico frontier, The Washington Post, Carol Morello, Friday, 30 March 2018: "The Trump administration plans to build a mix of new and replacement walls along about 100 miles of the Mexican border using $1.6 billion authorized by Congress, a senior official said Friday…. President Trump repeatedly has said he wants to erect a wall along the entire 2,000-mile border. After Congress rejected his request for $25 billion to pay for it, Trump has suggested that the money could come from the military's budget."
Scott Pruitt, the head of the Environmental Protection Agency, paid $50 a night for a DC condo linked to prominent fossil fuel lobbyist, ABC News, Michael Biesecker and Jonathan Lemire, Associated Press, Friday, 30 March 2018: "The head of the Environmental Protection Agency paid just $50 a night to stay in a Capitol Hill condominium linked to a prominent Washington lobbyist whose firm represents fossil fuel companies, officials acknowledged Friday. EPA Administrator Scott Pruitt paid for a single bedroom in the building about a block from the U.S. Capitol, staying for about six months in 2017. Three units inside the building belong to a corporation co-owned by the wife of J. Steven Hart, the chairman and CEO of the powerhouse lobbying firm Williams and Jensen PLLC, according to records. The firm's clients include Exxon Mobil Corp. and the major liquefied natural gas exporter Cheniere Energy Inc. — companies that have billions at stake in regulatory decisions over which Pruitt presides. In at least one case Pruitt met in his EPA office with a lobbyist from Hart's firm while he was renting the room, records showed. The $50-per-night rate is significantly lower than advertised rates for rentals in the Capitol Hill neighborhood. One-bedroom apartments range between $1,600 and $2,500 a month, depending on amenities. Single rooms listed online for one-night rentals averaged about $120 a night." See also, EPA Chief Scott Pruitt's $50-a-Night Rental Raises White House Angst, Bloomberg, Jennifer A. Dlouhy and Jennifer Jacobs, published on Thursday, 29 March 2018. See also, Scott Pruitt, E.P.A. Chief, Rented Residence in D.C. From Wife of Energy Lobbyist, The New York Times, Brad Plumer and Eric Lipton, Friday, 30 March 2018. See also, As new details emerge, Scott Pruitt's housing arrangements come under scrutiny, The Washington Post, Brady Dennis and Juliet Eilperin, Friday, 30 March 2018. See also, Exclusive: EPA chief Scott Pruitt joined by family in condo tied to lobbyist 'power couple,' ABC News, John Santucci, Matthew Mosk, and Stephanie Ebbs, published on Saturday, 31 March 2018: "Environmental Protection Agency Administrator Scott Pruitt's adult daughter used a second room in the Capitol Hill condo co-owned by the wife of a top lobbyist for energy firms, ABC News has learned, despite statements from the EPA that Pruitt paid for only one bedroom." See also, EPA Administrator Scott Pruitt Had a $50-a-Day Condo Linked to Lobbyists. Their Client's Project Got Approved. The New York Times, Eric Lipton, published on Monday, 2 April 2018.
Albany Strikes Budget Deal That Sidesteps Trump's Tax Plan, The New York Times, Vivian Wang and Jesse McKinley, Friday, 30 March 2018: "After months of promises to defy Washington and blaze a progressive trail, Gov. Andrew M. Cuomo on Friday announced a deal on a new state budget that would grant New Yorkers some protection from the Republican-steered federal tax plan, pour an additional quarter of a billion dollars into public housing projects and enact a raft of new sexual harassment policies."
The Myth of the Criminal Immigrant, The New York Times, Anna Flagg, Friday, 30 March 2018: "Immigrant populations in the United States have been growing fast for decades now. Crime in the same period, however, has moved in the opposite direction, with the national rate of violent crime today well below what it was in 1980. In a large-scale collaboration by four universities, led by Robert Adelman, a sociologist at the State University of New York at Buffalo, researchers compared immigration rates with crime rates for 200 metropolitan areas over the last several decades. The selected areas included huge urban hubs like New York and smaller manufacturing centers less than a hundredth that size, like Muncie, Ind., and were dispersed geographically across the country. According to data from the study, a large majority of the areas have many more immigrants today than they did in 1980 and fewer violent crimes. The Marshall Project extended the study's data up to 2016, showing that crime fell more often than it rose even as immigrant populations grew almost across the board."
Saturday 31 March 2018, Day 436:
Just how big of a hurdle is gerrymandering to Democrats' taking back the House of Representatives in November 2018? The Washington Post, Amber Phillips, Saturday, 31 March 2018: "After the 2010 Census, Republicans controlled enough state legislatures to draw new electoral lines in four times as many districts as Democrats did. And Democrats have been locked out of power in some swing states ever since. A new report finds they might not make it back to power without lines that favor them, and Democrats don't have a reasonable chance to control the line-drawing process until after the 2020 Census. A new report from the Brennan Center for Justice calculates that Democrats are going to have to win the popular vote by a historically large margin — an estimated 11 percent —  to overcome Republican-drawn districts that were designed to keep them out. Winning by such a large margin is something no party has done in decades."
Hate in the White House–March 2018, Southern Poverty Law Center, Saturday, 31 March 2018: "Trump has opened the White House doors to extremism, not only consulting with hate groups on policies that erode our country's civil rights protections but enabling the infiltration of extremist ideas into the administration's rhetoric and agenda. Once relegated to the fringes, the radical right now has a toehold in the White House."
Sunday, 1 April 2018, Day 437:
Venting on Immigration, Trump Vows 'No More DACA (Deferred Action for Childhood Arrivals) Deal' and Threatens Nafta (North American Free Trade Agreement), The New York Times, Katie Rogers, Sunday, 1 April 2018: "President Trump, blaming Democrats and the Mexican government for an increasingly "dangerous" flow of illegal immigrants, unleashed a series of fiery tweets on Sunday in which he vowed 'NO MORE DACA DEAL' and threatened to walk away from the North American Free Trade Agreement. Minutes after wishing the nation a happy Easter Sunday, Mr. Trump denounced 'liberal' laws that he said were preventing Border Patrol agents from doing their jobs. He said that Republicans should use the 'nuclear option' to sidestep Democratic opposition in the Senate and enact 'tough laws NOW.' It was unclear whether the president's tweets represented any change in his immigration policy, or were just the sort of venting he is known to do after reading a newspaper article or seeing a television program. The president, who spent much of his holiday weekend golfing with supporters and watching television, was apparently reacting to a 'Fox and Friends' segment on immigration that had aired minutes before." See also, 'No more DACA deal,' Trump says as he threatens to 'stop' NAFTA if Mexico doesn't better secure the border, The Washington Post, Philip Rucker and David Weigel, Sunday, 1 April 2018.
China Slaps Tariffs on 128 U.S. Products, Including Wine, Pork, and Seamless Steel Pipes, The New York Times, Chris Buckley, Sunday, 1 April 2018: "The Chinese government hit back Monday at President Trump's tariffs on steel and aluminum by acting on a threat to put tariffs as high as 25 percent on imports of 128 American-made products, including pork and seamless steel pipes. The Chinese Ministry of Commerce indicated that the tariffs, which it first publicly suggested almost two weeks ago, were intended to pressure the Trump administration to back down from a simmering trade war. In addition to imposing additional tariffs on steel and aluminum from China and other countries, President Trump has threatened to put protective duties on other Chinese-made products worth $60 billion."
Monday, 2 April 2018, Day 438:
The Environmental Protection Agency, Headed by Scott Pruitt, Launched an Effort to Weaken Obama-Era Fuel Economy Standards for Automobiles and Demanded That California, Which Has Vowed to Enforce Stricter Standards, Fall in Line, The New York Times, Hiroko Tabuchi, Monday, 2 April 2018: "The Environmental Protection Agency on Monday took steps to challenge California's decades-old right to set its own air pollution rules, setting up a showdown between the federal government and a state that has emerged as a bulwark against the Trump administration's policies. The E.P.A. statement was part of the agency's widely expected decision to reconsider, and most likely roll back, Obama-era rules requiring automakers to hit ambitious emissions and mileage standards by 2025. The statement, though, was notable for the forcefulness of its language suggesting that the Trump administration would take on California's authority to set its own rules." See also, Environmental Protection Agency to roll back car emissions standards, handing automakers a big win, The Washington Post, Juliet Eilperin and Brady Dennis, Monday, 2 April 2018.
Trump Tweets That DACA (Deferred Action for Childhood Arrivals) Is 'Dead' and Calls on Mexico to Enforce Border Security. His Immigration Tweets Are Followed by Policy Plans to Match. The New York Times, Julie Hirschfeld Davis, Monday, 2 April 2018: "President Trump has begun a new push for legislation to crack down on illegal immigration and make it more difficult to obtain refuge in the United States, White House officials said Monday, arguing that lax laws have drawn a flood of migrants to the country's borders. The proposals include toughening laws to make it more difficult to apply for or be granted asylum in the United States, stripping protections for children arriving illegally without their parents so they can be turned back at the border or quickly removed, and allowing families to be detained for longer periods while they await decisions from immigration authorities about their fates." See also, Brandon Judd, a Border Patrol Agent and Frequent Fox News Guest, Has Trump's Ear on Immigration, The New York Times, Katie Rogers and Ron Nixon, Monday, 2 April 2018: "When President Trump began railing against the current state of American immigration measures over the weekend, it was hard to tell where his thoughts ended and Brandon Judd's began. Mr. Judd is the president of the National Border Patrol Council, a frequent guest on Fox News and a reliably vocal supporter of the Trump administration's hard-line immigration agenda. On Sunday, he was interviewed on 'Fox & Friends,' one of the president's favorite programs. What followed was a public mind meld with the president, one that has frequently occurred since Mr. Trump took office." See also, Trump Transforms Immigrant Caravans in Mexico Into Cause Célèbre, The New York Times, Kirk Semple, Monday, 2 April 2018: "It has become a regular occurrence, particularly around the Easter holiday: scores or even hundreds of Central American migrants making their way north by foot and vehicle from southern Mexico. They include everyone from infants to the elderly, fleeing violence and poverty in their homelands. They travel in large groups — the current is one of the largest at about 1,200 participants — in part for protection against the kidnappers, muggers and rapists that stalk the migrant trail, but also to draw more attention to their plight. Some have the United States in mind, but many are only thinking as far as a new home in Mexico. Called 'caravans,' most of the journeys, which date back at least five years, have moved forward with little fanfare, virtually unnoticed north of the border with the United States. But tweets by President Trump have suddenly turned the latest caravan into a major international incident and the most recent flash point in the politics of immigration in the United States. 'Getting more dangerous,' the president tweeted on Sunday. 'Caravans coming.'"
Trump administration, seeking to speed deportations, plans to impose quotas on immigration judges, The Washington Post, Nick Miroff, Monday, 2 April 2018: "The Trump administration will pressure U.S. immigration judges to process cases faster by establishing a quota system tied to their annual performance reviews, according to new Justice Department directives. The judges will be expected to clear at least 700 cases a year to receive a 'satisfactory' performance rating, a standard that their union called an 'unprecedented' step that risks undermining judicial independence and opens the courts to potential challenges."
Mick Mulvaney, the Acting Director of the Consumer Financial Protection Bureau, Urges Congress to Reduce the Independence of the Bureau Which He Said 'Is Far too Powerful,' The New York Times, Alan Rappeport, Monday, 2 April 2018: "In his first report to Congress as the acting director of the Consumer Financial Protection Bureau, Mick Mulvaney called on lawmakers on Monday to cripple the agency that he has been temporarily tasked with overseeing. Mr. Mulvaney, a longtime and unapologetic critic of the financial crisis-era bureau, has spent the last several months freezing its enforcement activities, dropping cases on payday lenders and shutting out career staff from major decisions. He has called for the bureau to be more 'humble' and less aggressive in its efforts to protect consumers and to consider the impact on businesses when making decisions."
Underwater melting of Antarctic ice is far greater than thought, according to a new study published in Nature Geoscience, The Guardian, Jonathan Watts, Monday, 2 April 2018: "Hidden underwater melt-off in the Antarctic is doubling every 20 years and could soon overtake Greenland to become the biggest source of sea-level rise, according to the first complete underwater map of the world's largest body of ice. Warming waters have caused the base of ice near the ocean floor around the south pole to shrink by 1,463 square kilometres – an area the size of Greater London – between 2010 and 2016, according to the new study published in Nature Geoscience. The research by the UK Centre for Polar Observation and Modelling at the University of Leeds suggests climate change is affecting the Antarctic more than previously believed and is likely to prompt global projections of sea-level rise to be revised upward."
Supreme Court ruling shields a police officer from being sued for shooting a woman in her front yard, Los Angeles Times, David G. Savage, Monday, 2 April 2018: "The Supreme Court on Monday shielded a police officer from being sued for shooting an Arizona woman in her front yard, once again making it harder to bring legal action against officers who use excessive force, even against an innocent person. With two dissents, the high court tossed out a lawsuit by a Tucson woman who was shot four times outside her home because she was seen carrying a large knife. The ruling — which comes at a time of growing controversy over police shootings nationwide — effectively advises courts to rely more heavily on the officer's view of such incidents, rather than the victim's. Justices Sonia Sotomayor and Ruth Bader Ginsburg said in dissent the victim did not threaten the police or a friend who was standing nearby. This 'decision is not just wrong on the law; it also sends an alarming signal to law enforcement officers and the public. It tells officers that they can shoot first and think later,' Sotomayor wrote."
Sinclair Broadcast Group Made Dozens of Local News Anchors Recite the Same Script, The New York Times, Jacey Fortin and Jonah Engel Bromwich, Monday, 2 April 2018: "On local news stations across the United States last month, dozens of anchors gave the same speech to their combined millions of viewers. It included a warning about fake news, a promise to report fairly and accurately and a request that viewers go to the station's website and comment 'if you believe our coverage is unfair.' It may not have seemed strange to individual viewers. But Timothy Burke, the video director at Deadspin, had read a report last month from CNN, which quoted local station anchors who were uncomfortable with the speech. Mr. Burke tracked down the stations and found when each had aired what he called a 'forced read.' Then he stitched together the various broadcasts to create a supercut of anchors eerily echoing the same lines…. The script came from Sinclair Broadcast Group, the country's largest broadcaster, which owns or operates 193 television stations. The company is seeking a $3.9 billion deal to buy Tribune Media, a move that's being held up by regulators over antitrust concerns." See also, How Sinclair Broadcast Group, America's Largest Local TV Owner, Turned Its News Anchors Into Soldiers in Trump's War on the Media, Deadspin, Timothy Burke, published on Saturday, 31 March 2018.  See also, As Sinclair's sound-alike anchors draw criticism for 'fake news' promos, Trump praises the broadcaster, The Washington Post, Paul Farhi, Monday, 2 April 2018.
Democrats on the House Oversight and Government Reform Committee seek more information about Trump aides' legal-defense fund, The Washington Post, Michelle Ye Hee Lee, Monday, 2 April 2018: "Democrats on the House Oversight and Government Reform Committee raised concerns Monday about the transparency of a legal-defense fund to help defray the costs faced by aides to President Trump who have been drawn into the various Russia investigations. They requested that the Office of Government Ethics produce records that would open up the trust's operations. In a letter sent to OGE Director David Apol on Monday, Democratic lawmakers requested a slew of documents that would show how the fund was established, which concerns were raised during the planning process, and how and whether those issues were resolved. They requested that the office provide the documents by April 12 and that a representative from OGE provide a briefing to the committee by April 13."
Justice Department sues California again, this time over state law on transfer of federal lands, The Washington Post, Matt Zapotosky, Monday, 2 April 2018: "The Justice Department on Monday again took aim at California, suing over a new law that forces the federal government to give the state's land commission the option to buy federal land before it can be transferred to another owner. The lawsuit, filed in federal court in the Eastern District of California, alleges the state's law violates the Constitution and should be blocked. The law was meant to preempt the Trump administration from selling land state leaders felt worthy of conservation, such as national parks or monuments, though some officials warned from the start it might face legal challenges."
To Trump, It's the 'Amazon Washington Post.' To Its Executive Editor, Martin Baron, That's Baloney. The New York Times, Sydney Ember, Monday, 2 April 2018: "Amazon does not own The Washington Post. President Trump, however — impervious to certain facts and armed with a Twitter account — has tried hard to convince the public otherwise. On more than one occasion, the president has called the newspaper the 'Amazon Washington Post.' He has also accused it of being used as a 'scam' to keep Amazon's taxes low. And on Twitter over the weekend, he escalated his attack, declaring the 'Fake Washington Post' a 'lobbyist' for Amazon and demanding that it 'REGISTER.' Jeff Bezos, the founder and chief executive of Amazon, bought The Post for $250 million in 2013. Under his ownership, the paper has flourished. Buoyed by new resources, it has added more than 200 newsroom employees and recently surpassed one million digital subscribers."
Donald Trump 'Cherishes' Lou Dobbs So Much He Puts Him on Speakerphone for Oval Office Meetings, The Daily Beast, Maxwell Tani, Asawin Suebsaeng, Monday, 2 April 2018: "It is difficult to fully understand the Trump presidency without first understanding Lou Dobbs, the Fox Business powerhouse host and one of the main precursors to Trumpism…. During the first year of the Trump era, the president has patched in Dobbs via speakerphone to multiple meetings in the Oval Office so that he could offer his two cents, according to three sources familiar with these conversations. Trump will ask Dobbs for his opinion before and after his senior aides or Cabinet members have spoken. Occasionally, he will cut off an official so the Fox Business host can jump in. Dobbs, these sources all independently recounted, has been patched in to senior-level meetings on issues such as trade and tax policy—meetings that featured officials such as senior policy adviser Stephen Miller, former top economic adviser Gary Cohn, former chief strategist Steve Bannon, trade adviser Peter Navarro, and Treasury Secretary Steve Mnuchin."
Jill McCabe: The president attacked my reputation. It's time to set the record straight. The Washington Post, Jill McCabe, Monday, 2 April 2018: "Jill McCabe, an emergency room pediatrician, is married to former FBI deputy director Andrew McCabe…. 'I have spent countless hours trying to understand how the president and so many others can share such destructive lies about me. Ultimately I believe it somehow never occurred to them that I could be a serious, independent-minded physician who wanted to run for office for legitimate reasons. They rapidly jumped to the conclusion that I must be corrupt, as part of what I believe to be an effort to vilify us to suit their needs.'"
Stormy Daniels Case Should Be Resolved Privately, Trump's Lawyers Say, The New York Times, Maggie Astor and Jim Rutenberg, Monday, 2 April 2018: "President Trump and a company affiliated with him filed court papers on Monday seeking to force the pornographic film actress Stephanie Clifford to raise her disputes through private arbitration, not lawsuits…. In a motion filed on Monday, Essential Consultants — a shell company established by Mr. Trump's lawyer Michael D. Cohen to pay Ms. Clifford — asked the United States District Court for the Central District of California to compel Ms. Clifford 'to arbitrate any and all disputes arising' from the confidentiality agreement she signed. In a separate document filed on the same day, Mr. Trump formally joined the motion."
Trump appeals judge's decision to let Summer Zervos defamation case proceed, The Washington Post, Mark Berman and Frances Stead Sellers, Monday, 2 April 2018: "Attorneys for President Trump said this week that they are appealing a New York judge's decision to allow a former "Apprentice" contestant's defamation lawsuit against him to proceed."
American Media Inc. (AMI), publisher of the National Enquirer, seeks to dismiss lawsuit brought by ex-Playboy model Karen McDougal who claims she had a 10-month affair with Trump, The Washington Post, Beth Reinhard and Emma Brown, Monday, 2 April 2018: "The publisher of the National Enquirer asked a California court Monday to dismiss a lawsuit brought by a former Playboy centerfold who claims she had an affair with Donald Trump, arguing that the deal it struck with Karen McDougal is protected under the First Amendment. The 199-page response by American Media Inc. comes less than two weeks after McDougal sued in Los Angeles Superior Court to get out of the deal in which she sold the rights to her story for $150,000. McDougal argued that the National Enquirer violated campaign finance law when it bought her story not to publish it but to bury it, sparing Trump from an embarrassing revelation in the run-up to the 2016 election."
Roger Stone's Claim of a 2016 Meeting With Julian Assange Draws Scrutiny of Special Counsel Robert Mueller's Team, The Wall Street Journal, Shelby Holliday and Rob Barry, Monday, 2 April 2018: "The special counsel investigating alleged links between Trump campaign associates and Russians is looking into longtime adviser Roger Stone's 2016 claim that he had met with WikiLeaks founder Julian Assange, according to a person familiar with the matter. WikiLeaks, an antisecrecy website, later released a trove of material on Democratic candidate Hillary Clinton that U.S. officials say was hacked by Kremlin operatives. In an email dated Aug. 4, 2016, Mr. Stone wrote: 'I dined with Julian Assange last night,' according to a copy of the message reviewed by The Wall Street Journal. Mr. Stone is a longtime informal adviser to President Donald Trump who at that point had no official campaign role." See also, Roger Stone's growing Russia investigation problem–and what it means for Trump, The Washington Post, Aaron Blake, Monday, 2 April 2018. See also, Roger Stone claimed contact with WikiLeaks founder Julian Assange in 2016, according to two associates, The Washington Post, Tom Hamburger, Josh Dawsey, Carol D. Leonnig, and Shane Harris, published on Tuesday, 13 March 2018.
Special Counsel Robert Mueller's Probe Into Influence of the United Arab Emirates Broadens, The Wall Street Journal, Byron Tau, Rebecca Ballhaus, ad Aruna Viswanatha, Monday, 2 April 2018: "Special counsel Robert Mueller has asked questions about the work of a private consulting firm that has undertaken projects for the United Arab Emirates, according to people familiar with the investigation, suggesting his probe is looking more deeply at foreign influence in Washington. The questions by Mr. Mueller's team concern a private consulting firm, Wikistrat, as well as two of its co-founders, Joel Zamel and Daniel Green."
Tuesday, 3 April 2018, Day 439:
Special Counsel Robert Mueller told Trump's attorneys the president remains under investigation but is not currently a criminal target, The Washington Post, Carol D. Leonnig and Robert Costa, Tuesday, 3 April 2018: "Special counsel Robert S. Mueller III informed President Trump's attorneys last month that he is continuing to investigate the president but does not consider him a criminal target at this point, according to three people familiar with the discussions. In private negotiations in early March about a possible presidential interview, Mueller described Trump as a subject of his investigation into Russia's interference in the 2016 election. Prosecutors view someone as a subject when that person has engaged in conduct that is under investigation but there is not sufficient evidence to bring charges. The special counsel also told Trump's lawyers that he is preparing a report about the president's actions while in office and potential obstruction of justice, according to two people with knowledge of the conversations." See also, Mueller told Trump's lawyers the president is not a criminal target in the Russia probe. That may not mean what you think. The Washington Post, Aaron Blake, published on Wednesday, 4 April 2018. See also, Mueller is planning a report on Trump. Here's what might happen next. The Washington Post, Greg Sargent, published on Wednesday, 4 April 2018.
Special Counsel Robert Mueller Has Broad Authority to Investigate Paul Manafort, Trump's Former Campaign Boss, The New York Times, Reuters, Tuesday, 3 April 2018: "Robert Mueller, the U.S. Justice Department's special counsel, is specifically authorized to investigate allegations that Paul Manafort, President Donald Trump's former campaign chairman, colluded with Russia to interfere with the 2016 presidential election, a court filing showed late on Monday. The court documents also show that Mueller is specifically authorized to investigate Manafort's ties to Ukraine's former pro-Russia government. The documents were filed in response to a motion by Manafort challenging Mueller's authority to prosecute him. Manafort does not currently face charges related to the 2016 presidential election or Russian interference. But he is charged with bank fraud, filing false tax returns, conspiring against the United States by plotting to launder money and failing to register as a foreign agent when he lobbied for the former Ukraine government." See also, In a footnote, Mueller sends a warning shot to Trump, The Washington Post, Philip Bump, Tuesday, 3 April 2018.
Trump Plans to Send the National Guard to the Mexican Border, The New York Times, Julie Hirschfeld Davis, Tuesday, 3 April 2018: "The White House said Tuesday night that President Trump planned to deploy the National Guard to the southern border to confront what it called a growing threat of illegal immigrants, drugs and crime from Central America after the president for the third consecutive day warned about the looming dangers of unchecked immigration. Mr. Trump's advisers said Monday that he was readying new legislation to block migrants and asylum seekers, including young unaccompanied children, from entering the United States, opening a new front in the immigration crackdown that he has pressed since taking office. But in remarks on Tuesday that caught some of his top advisers by surprise, he suggested the more drastic approach of sending in the military to do what immigration authorities could not…. While the president couched his idea as an urgent response to an onslaught at the nation's southern border, the numbers do not point to a crisis. Last year, the number of illegal immigrants caught at the border was the lowest since 1971, said the United States Border Patrol. Still, Mr. Trump seized on what has become an annual seasonal uptick in Central American migrants making their way north to make his case. After the president's remarks, White House aides struggled for hours to decipher his intentions." See also, Mexican president Enrique Peña Nieto rebukes Trump over border threats, The Washington Post, Joshua Partlow, published on Thursday, 5 April 2018: "Mexican President Enrique Peña Nieto delivered his most direct public rebuke of President Trump on Thursday afternoon, in a national address that characterized Mexico as willing to cooperate with the United States but not at the expense of its sovereignty or dignity. Peña Nieto spoke after Trump signed an order to deploy National Guard troops to halt 'a drastic surge of illegal activity on the southern border.' In the past week, Trump has accused Mexico of doing little to stop illegal migration and expressed alarm about a caravan of hundreds of Central Americans who were crossing this country to highlight the plight of migrants — threatening to retaliate against Mexico if it didn't stop the march. Peña Nieto, speaking Thursday from the presidential palace in Mexico City, noted that the Mexican Senate and all four leading candidates in the July 1 presidential race had condemned Trump's comments, adding: 'As president of Mexico, I agree with those remarks.'"
A fact for Trump: The border is more secure than it has been in half a century, The Washington Post, Editorial Board, Tuesday, 3 April 2018: "Trump's failure to secure funding for his new 'beautiful' border wall has prodded him to new flights of rhetorical excess and deviation from fact. In the latest iteration, the president denounces Democrats and Mexicans for what he calls a 'dangerous' immigration flow. The truth is that illegal entry at the southwest border is at its lowest level in nearly half a century. The last year the Border Patrol apprehended fewer unauthorized immigrants, 1971, Richard Nixon was in the White House, a gallon of gas cost 36 cents and Disney World's Magic Kingdom opened in Orlando."
Three Days of Presidential Tweets Contained Many False and Misleading Accusations on Immigration Policy, The New York Times, Linda Qiu, Tuesday, 3 April 2018: "In a dozen Twitter missives over the past three days, President Trump has accused Democrats of failing to protect young undocumented immigrants, criticized Mexico for its role in illegal immigration to the United States and warned of 'caravans' of people headed toward the southern border. At least half of his statements were inaccurate." See also, A guide to Trump's latest round of fact-challenged tweets about immigration, The Washington Post, Glenn Kessler and Salvador Rizzo, Tuesday, 3 April 2018.
Trump said Sinclair Broadcast Group 'is far superior to CNN.' What we know about the conservative media giant. The Washington Post, Eli Rosenberg, Tuesday, 3 April 2018: "Sinclair Broadcast Group is not as well-known a name in television as Fox News's News Corp. or CNN's Turner Broadcasting System, but its reach may rival that of a cable juggernaut. The company is the largest owner of local television stations in the country, with 173 stations in 81 broadcast markets that stretch from coast to coast and just about everywhere in between, at a time when local news outpaces national news outlets both in overall viewership and trust…. But a stunning video that showcased its anchors reading required scripts that seemed to parrot one of President Trump's favorite themes has drawn renewed scrutiny to what critics consider the media conglomerate's years-long effort to inject conservative-tinged coverage into local markets." See also, David Smith, CEO of Sinclair Broadcast Group, Claims Entire Print Media Has 'No Credibility,' New York Magazine, Olivia Nuzzi, Tuesday, 3 April 2018: "David Smith, the executive chairman of Sinclair Broadcast Group, said he dislikes and fundamentally distrusts the print media, which he believes 'serves no real purpose.' In emails to New York, Smith said that print — as in newspapers and magazines — is a reality-distorting tool of leftists. Print media, he said, has 'no credibility' and no relevance."
7 Cities and 17 States Mount Court Challenge to Census Question on Citizenship, The New York Times, Michael Wines, Tuesday, 3 April 2018: "A largely Democratic coalition of 17 state attorneys general and seven cities filed a lawsuit Tuesday to block the Trump administration from asking respondents to the 2020 census whether they are citizens, opening a constitutional battle that some experts believe is destined to be settled by the Supreme Court. In the lawsuit, filed in United States District Court in New York, the officials argued that adding the citizenship question would depress the response to the census by noncitizens and their relatives, thwarting the Constitution's requirement of an 'actual enumeration' of the nation's residents. The suit also claimed that the decision violated federal administrative law and a law setting standards for data quality. At a news conference announcing the suit, officials and House members representing some of the plaintiff states accused the White House of seeking to destroy the census's bipartisan tradition for political gain."
Teachers have had it. Why they're revolting against low pay and inadequate school funding. The Washington Post, Valerie Strauss, Tuesday, 3 April 2018: "Public schoolteachers in the entire state of West Virginia went on a nine-day strike recently, shutting down schools to demand livable wages. They won a 5 percent raise. In Arizona, thousands of teachers took to the streets in Phoenix, Tucson and other cities last week to demand a 20 percent pay hike and increased school funding — and are threatening a strike if their demands are not met. In Kentucky, thousands of teachers and supporters marched Monday to the Capitol to protest school funding cuts and changes to their pensions. That was after the Republican-led legislature attached a pension plan to a sewage bill. The Lexington Herald-Leader quoted art teacher Jeffrey Peeno saying: 'When they pass this with the sewage bill, it tells us exactly what we need to know about what they think of us.' And in Oklahoma, teachers walked out across the state Monday seeking better classroom conditions and higher pay in a protest that, remarkably, has the support not only of the teachers union but also of district officials, including the Tulsa schools superintendent."
How U.S. Fuel Economy Standards Compare With the Rest of the World's, The New York Times, Brad Plumer and Nadja Popovich, Tuesday, 3 April 2018: "On Monday, the Trump administration formally declared that Obama-era fuel economy rules for automobiles were too strict and would likely be weakened in the months ahead. So how strict are the current rules? While the Obama-era standards for cars and light trucks were on pace to become some of the most aggressive in the world by 2025, they were still less stringent than those set by the European Union, according to an analysis by the International Center on Clean Transportation, which compared standards for different countries."
Scott Pruitt Bypassed the White House to Give Big Raises to Favorite Aides, The Atlantic, Elaina Plott and Robinson Meyer, Tuesday, 3 April 2018: "In early March, Environmental Protection Agency Administrator Scott Pruitt approached the White House with a request: He wanted substantial pay raises for two of his closest aides…. According to a source with direct knowledge of the meeting, held in the Eisenhower Executive Office Building, staffers from the Presidential Personnel Office dismissed Pruitt's application. The White House, the source said, declined to approve the raises. So Pruitt found another way." See also, On one hand, Environmental Protection Agency Administrator Scott Pruitt is a huge ethical headache. On the other, he's doing exactly what Trump wants. The Washington Post, Philip Bump, Tuesday, 3 April 2018.
The Federal Reserve Bank of New York Names John Williams as its Next President, Bucking Calls for Diversity, The New York Times, Ben Casselman, Tuesday, 3 April 2018: "The Federal Reserve Bank of New York on Tuesday named John C. Williams as its next president, choosing a longtime insider for what is widely regarded as one of the Fed's most influential positions. Mr. Williams, the 55-year-old president of the San Francisco Fed, is a respected economist who will bring academic expertise that is in short supply among the Fed's senior leaders. But unions, progressive groups and Democratic lawmakers had pushed the Fed to diversify its senior leadership beyond Fed veterans and white men, and the selection drew immediate criticism."
Liberal Judge Rebecca Dallet Wins Wisconsin Supreme Court Seat, Buoying Democrats, The New York Times, Monica Davey, Tuesday, 3 April 2018: "Rebecca Dallet, a Milwaukee County Circuit judge favored by liberals, was elected on Tuesday to the Wisconsin Supreme Court, The Associated Press reported, reducing the hold of conservative justices over the state's highest court."
Deerfield, Illinois Just Banned Assault Weapons. Anyone Who Refuses to Give Theirs Up Will Be Fined $1,000 a Day. BuzzFeed News, Tanya Chen, Tuesday, 3 April 2018: "Village Board of Trustees … in Deerfield, Illinois, a suburb north of Chicago, voted Monday night to ban the possession, sale, and manufacture of assault weapons and high-capacity magazines in their community."
Wednesday, 4 April 2018, Day 440:
George Nader, Who Advises the Ruler of the United Arab Emirates and Is a Witness in Special Counsel Robert Mueller's Inquiry, Also Has Ties to Russia and Is Cooperating in Mueller's Investigation, The New York Times, Mark Mazzetti, David D. Kirkpatrick, Ben Protess, and Sharon LaFraniere, Wednesday, 4 April 2018: "A witness who is cooperating in the special counsel investigation, George Nader, has connections to both the Persian Gulf states and Russia and may have information that links two important strands of the inquiry together, interviews and records show. Mr. Nader's ties to the United Arab Emirates are well documented — he is an adviser to its leader — but the extent of his links to Russia had not been previously disclosed."
Special Counsel Robert Mueller's team is questioning Russian oligarchs, CNN, Kara Scannell and Shimon Prokupecz, Wednesday, 4 April 2018: "Special counsel Robert Mueller's team has taken the unusual step of questioning Russian oligarchs who traveled into the US, stopping at least one and searching his electronic devices when his private jet landed at a New York area airport, according to multiple sources familiar with the inquiry. A second Russian oligarch was stopped during a recent trip to the US, although it is not clear if he was searched, according to a person briefed on the matter. Mueller's team has also made an informal voluntary document and interview request to a third Russian oligarch who has not traveled to the US recently. The situations have one thing in common: Investigators are asking whether wealthy Russians illegally funneled cash donations directly or indirectly into Donald Trump's presidential campaign and inauguration. Investigators' interest in Russian oligarchs has not been previously reported. It reveals that Mueller's team has intensified its focus into the potential flow of money from Russia into the US election as part of its wide-ranging investigation into whether the Trump team colluded with Russia's interference in the 2016 presidential election."
Trump Drops Push for Immediate Withdrawal of Troops From Syria, The New York Times, Julie Hirschfeld Davis, Wednesday, 4 April 2018: "President Trump has instructed his military commanders to quickly wrap up the American military operation in Syria so that he can bring troops home within a few months, senior administration officials said on Wednesday. He dropped his insistence on an immediate withdrawal, they said, after commanders told him they needed time to complete their mission. The president's decision to keep the 2,000 troops on the ground in Syria for the immediate future came in a meeting of the National Security Council in the White House Situation Room on Tuesday, hours after Mr. Trump had told a roomful of reporters that "it's time" to bring American forces home from a conflict that has been a crucial battlefield in the fight against the Islamic State."
China Strikes Back at the U.S. With Plans for Its Own Tariffs, The New York Times, Keith Bradsher and Steven Lee Myers, Wednesday, 4 April 2018: "China hit back at the United States on Wednesday with proposed tariffs on $50 billion worth of American soybeans, cars, chemicals and other goods, in a move likely to stoke fears that the countries' escalating confrontation could become an all-out trade war. Moving with unusual speed, Chinese officials outlined plans to make it more costly to import 106 types of American goods into China. They are intended to hit the United States square in the farm belt — a major section of President Trump's political support but also a major supplier of what China stocks in its supermarkets. Beijing's plan to institute new tariffs was announced just hours after the Trump administration detailed its own protections on a similar value of Chinese-made aircraft parts, cars and car parts, televisions, steel and much more. Following a previous round of tit-for-tat tariffs unveiled over the past few days, the new measures have sparked concerns that the dispute could widen further, hurting jobs and growth in both countries."  See also, White House Tries to Tamp Down Trade War Fears as China Retaliates, The New York Times, Ana Swanson and Keith Bradsher, Wednesday, 4 April 2018: "White House officials moved quickly on Wednesday to calm fears of a potential trade war with China, saying the administration's proposed tariffs were a "threat" that would ultimately help, not hurt, the United States economy, hours after China said it would punish American products with similar levies."
Trump Is Sending National Guard Troops to the U.S.-Mexico Border, The New York Times, Seung Min Kim, Wednesday, 4 April 2018: "The Trump administration announced Wednesday that it plans to send National Guard troops to the U.S.-Mexico border as part of a larger crackdown on illegal immigration that includes pressuring Congress to tighten laws. But the strategy will require cooperation with border-state governors who oversee their respective National Guard operations, giving them considerable power over the scope of the administration's deployment plans. That means President Trump's ambition to dispatch troops to the border could be constrained by the state of California, which has repeatedly clashed with the administration over immigration and the environment."
Susan Combs, a fierce opponent of the Endangered Species Act, is picked to oversee the wildlife policy of the Interior Department, The Washington Post, Darryl Fears, Wednesday, 4 April 2018: "Susan Combs, a former Texas state official who compared proposed endangered species listings to 'incoming Scud missiles' and continued to fight the Endangered Species Act after she left government, now has a role in overseeing federal wildlife policy. Combs was selected by Interior Department Secretary Ryan Zinke as acting secretary for fish, wildlife and parks. Zinke made the move after his bid to make her an assistant secretary for policy, management and budget stalled in the Senate. The nomination has been on hold since July because of opposition from Republicans and Democrats for various reasons."
Republican Governor Mary Fallin of Oklahoma compares striking teachers to 'a teenage kid that wants a better car,' The Washington Post, Moriah Balingit, Wednesday, 4 April 2018: "Oklahoma Gov. Mary Fallin (R) is under siege after she compared striking teachers converging on the state Capitol to rally for education funding to 'a teenage kid that wants a better car.'… The governor also [said] she was skeptical the teacher walkout was a homegrown movement, saying she suspected outside groups, including Antifa — short for anti-fascist — were involved."
Facebook Says Cambridge Analytica Harvested Data of Up to 87 Million Users, The New York Times, Cecilia Kang and Sheera Frenkel, Wednesday, 4 April 2018: "Facebook on Wednesday said that the data of up to 87 million users may have been improperly shared with a political consulting firm connected to President Trump during the 2016 election — a figure far higher than the estimate of 50 million that had been widely cited since the leak was reported last month. Mark Zuckerberg, the company's chief executive, also announced that Facebook would offer all of its users the same tools and controls required under European privacy rules. The European rules, which go into effect next month, give people more control over how companies use their digital data. Facebook had not previously disclosed how many accounts had been harvested by Cambridge Analytica, the firm connected to the Trump campaign. It has also been reluctant to disclose how it was used by Russian-backed actors to influence the 2016 presidential election. Among Facebook's acknowledgments on Wednesday was the disclosure of a vulnerability in its search and account recovery functions that it said could have exposed 'most' of its 2 billion users to having their public profile information harvested. The new effort to appear more transparent about the data leaks — including a rare question-and-answer session with Mr. Zuckerberg and reporters — came just before Mr. Zuckerberg's expected testimony next week on Capitol Hill, where he will most likely face criticism over how the company collects and shares the personal data of its users."
A New Government Accountability Office Report Finds Racial Bias in School Discipline, The New York Times, Erica L. Green, Wednesday, 4 April 2018: "Black students continue to be disciplined at school more often and more harshly than their white peers, often for similar infractions, according to a new report by Congress's nonpartisan watchdog agency, which counters claims fueling the Trump administration's efforts to re-examine discipline policies of the Obama administration. The report, issued by the Government Accountability Office on Wednesday, is the first national governmental analysis of discipline policies since the Obama administration issued guidance in 2014 that urged schools to examine the disproportionate rates at which black students were being punished. Critics of the Obama-era guidance have questioned whether students of color suffer from unfair treatment under school discipline policies. The G.A.O. found that not only have black students across the nation continued to bear the brunt of such policies, but the effects were also felt more widely than previously reported — including by black students in affluent schools. Additionally, the agency found that school suspensions began to fall the year before the Obama administration urged schools to move away from the overuse of such measures, undermining claims that the guidance forced schools to cut suspensions. While the Obama administration's aggressive civil rights investigations did reveal that black students were subjected to harsher treatment than their white peers for similar infractions, the G.A.O. found that it did not impose any new mandates on districts to reduce their suspension rates. The findings are likely to bolster arguments for preserving the 2014 guidance and undercut conservative claims that the guidance has resulted in federal overreach and a decline in school safety."
Thursday, 5 April 2018, Day 441:
Scott Pruitt's job as Environmental Protection Agency Administrator is in jeopardy amid expanding ethics issues, The Washington Post, Juliet Eilperin, Brady Dennis, and Josh Dawsey, Thursday, 5 April 2018: "Environmental Protection Agency Administrator Scott Pruitt fought for his job Thursday, facing a new barrage of allegations about issues ranging from his past housing arrangement and first-class travel to the reassignment of senior staff who criticized how he was spending taxpayer funds. Even as President Trump repeatedly expressed his support for Pruitt in public, top White House aides began to escalate their disapproval, suggesting the administrator has mischaracterized his role in boosting the salaries of two employees. On Thursday evening, two EPA officials confirmed that Pruitt endorsed the idea last month of giving substantial raises to senior counsel Sarah Greenwalt and scheduling and advance director Millan Hupp — although he did not carry out the pay raise himself." See also, Growing Crisis Threatens Environmental Protection Agency Administrator Scott Pruitt as Top Aides Eye the Exits, The New York Times,  Coral Davenport and Lisa Friedman, Thursday, 5 April 2018: "A spreading crisis has threatened to engulf Scott Pruitt, the chief of the Environmental Protection Agency, who until recently ranked among the stars of the Trump administration. Now, he is mired in a series of ethical questions about his housing arrangements, staffing decisions and costly travel at taxpayer expense. Senior White House officials say that Mr. Pruitt's fate has become uncertain. On Thursday, one of the central questions facing the E.P.A. chief — his decision in 2017 to rent a room in Washington from the wife of a top energy lobbyist — was exacerbated when an E.P.A. ethics official walked back his earlier assessment that Mr. Pruitt had done nothing wrong. In a new memo made public Thursday, the official said that he did not have all the facts when he made his initial finding." See also, EPA administrator Scott Pruitt asked to use sirens when he was stuck in D.C. traffic. He was told sirens were only used in emergencies. CBS News, Julianna Goldman, Thursday, 5 April 2018: "Several weeks after taking the helm of the Environmental Protection Agency, Administrator Scott Pruitt was running late and stuck in Washington, D.C., traffic. Sources tell CBS News that he wanted to use his vehicle's lights and sirens to get to his official appointment, but the lead agent in charge of his security detail advised him that sirens were to be used only in emergencies. Less than two weeks later that agent was removed from Pruitt's detail, reassigned to a new job within the EPA." See also, E.P.A. Officials Sidelined After Questioning Scott Pruitt, The New York Times, Eric Lipton, Kenneth P. Vogel, and Lisa Friedman, Thursday, 5 April 2018: "At least five officials at the Environmental Protection Agency, four of them high-ranking, were reassigned or demoted, or requested new jobs in the past year after they raised concerns about the spending and management of the agency's administrator, Scott Pruitt. The concerns included unusually large spending on office furniture and first-class travel, as well as certain demands by Mr. Pruitt for security coverage, such as requests for a bulletproof vehicle and an expanded 20-person protective detail, according to people who worked for or with the E.P.A. and have direct knowledge of the situation." See also, All of the reasons EPA Administrator Scott Pruitt is under fire (as of now), The Washington Post, Philip Bump, Thursday, 5 April 2018: "In the past week, allegations have mounted at [Environmental Protection Agency Administrator Scott] Pruitt's feet faster than precipitation in a climate-change-fueled extreme weather event. And while this last week has been rough, the new stories have been tacked onto an existing list of concerns about Pruitt's behavior in office. Given that volume, we thought it worthwhile to articulate exactly what Pruitt stands accused of — as of Thursday afternoon, when the New York Times added a new entry to the list. If you're reading this at any point after, say, 6 p.m. Thursday, we can't assure you that this list is fully complete, given the recent speed at which these stories have been popping up."
Robert Mercer backed a secretive group, Secure America Now, that worked with Facebook and Google to target Anti-Muslim ads at swing voters, OpenSecrets, Center for Responsive Politics, Robert Maguire, Thursday, 5 April 2018: "As the final weeks of the 2016 elections ticked down, voters in swing states like Nevada and North Carolina began seeing eerie promotional travel ads as they scrolled through their Facebook feeds or clicked through Google sites…. Most Americans have never heard of the far-right neoconservative nonprofit that ran the ads…. The group, a social welfare organization called Secure America Now, worked hand in hand with Facebook and Google to target their message at voters in swing states who were most likely to be receptive to them. And new tax documents obtained by OpenSecrets show that the money fueling the group came mostly from just three donors, including the secretive multimillionaire donor Robert Mercer." See also, The amount Robert Mercer spent on politics in 2016 probably topped $30 million, The Washington Post, Philip Bump, Thursday, 5 April 2018: "We may never know how much money billionaire Robert Mercer put into political activity during the 2016 election cycle. For one thing, the definition of political spending is surprisingly nebulous. Does his co-ownership of Breitbart News during the 2016 campaign count? For another, some portion of Mercer's spending probably went to 'dark money' organizations, nonprofit groups that aren't required to publish their donor lists but can spend money on political activity. On Thursday, the Center for Responsive Politics reported on one example of Mercer contributing to just such an organization. The group Secure America Now produced videos warning ominously about Muslim takeovers of France, Germany and the United States."
Trump's feud with Amazon is really about the Washington Post's success, The Guardian, Jill Abramson, Thursday, 5 April 2018: "Donald Trump's savage attacks on Jeff Bezos and Amazon mark a sharp escalation in the president's attacks on the free press. Trump v Bezos is really a proxy war: the president's ultimate target is the Washington Post, which Bezos purchased from the Graham family in 2013. The Post's return to financial health since 2013 has been good for the media, which thrives on healthy competition. Since Trump became president, the Post and the New York Times have engaged in a thrilling, old-fashioned newspaper war, with each trading off, day after day, with deeply reported stories and scoops that hold the Trump administration to account. The Post has been relentless in investigating the Trump administration's abuse of power and the Trump campaign's possible collusion with Russia during the 2016 election…. Of all of Trump's attacks on Bezos, the most poisonous lie is that he uses the Post to lobby for Amazon. When Bezos bought the paper, he did so with personal funds, to keep the newspaper's interests and mission completely separate from Amazon's. The Grahams would not have found him a fit owner if they thought Bezos wanted to use the Post to wield influence." See also, Several examples of stories in The Washington Post that preceded Trump's tweets about Amazon, The Washington Post, Marc Fisher, Tim Meko, and Kevin Schaul, Thursday, 5 April 2018. See also, The True Damage of Trump's 'Fake News,' The New York Times, The Editorial Board, published on Wednesday, 4 April 2018: "Many people, including many Republican lawmakers, dismiss President Trump's attacks on The Washington Post, CNN and other news organizations as just one of those crazy — but ultimately harmless — things he does to blow off steam. They're wrong. Yes, Mr. Trump hasn't been able to implement many of his worst proposals to undermine the press. Congress hasn't tried to change the First Amendment or pass new libel laws, for example, and journalists — including at the 'failing New York Times' — regularly unearth new scandals in the Trump administration. But the president's rhetoric is clearly having an effect in the United States and especially around the world, where political leaders have seen it as a green light to crack down on the press…. In recent days, Mr. Trump turned his guns on The Post, accusing it of trying to advance the business interests of its owner, Jeff Bezos, and the company he founded and runs, Amazon. Much has been made of the accusations the president has hurled at Amazon's business practices, like its unwillingness for many years to collect state and local sales taxes. Some of these practices are indeed troubling. But don't be distracted. Mr. Trump isn't really distressed about the coffers of state and local governments, small retailers or whether the United States Postal Service suffers losses delivering Amazon packages. He is trying to undermine the credibility of The Post because it is holding his administration to account. Such attacks on the integrity of news organizations confuse the public about what's true."
'Victory' has different meanings for Trump and his generals, The Washington Post, Greg Jaffe, Thursday, 5 April 2018: "Trump's words, both in public and private, describe a view that wars should be brutal and swift, waged with overwhelming firepower and, in some cases, with little regard for civilian casualties. Victory over America's enemies for the president is often a matter of bombing 'the s— out of them,' as he said on the campaign trail…. For America's generals, more than 17 years of combat have served as a lesson in the limits of overwhelming force to end wars fueled by sectarian feuds, unreliable allies and persistent government corruption…. Trump came to office promising to give the Pentagon a free hand to unleash the full force of U.S. firepower. His impatience was evident on his first full day in office when he visited the CIA and was ushered up to the agency's drone operations floor…. Trump urged the CIA to start arming its drones in Syria. 'If you can do it in 10 days, get it done,' he said, according to two former officials familiar with the meeting. Later, when the agency's head of drone operations explained that the CIA had developed special munitions to limit civilian casualties, the president seemed unimpressed. Watching a previously recorded strike in which the agency held off on firing until the target had wandered away from a house with his family inside, Trump asked, 'Why did you wait?' one participant in the meeting recalled. On the campaign trail, Trump often said he would 'take out' the families of terrorists."
Trump defends his claim that Mexicans are rapists during a conspiracy-laden speech in West Virginia, The Guardian, Ben Jacobs, Thursday, 5 April 2018: "Donald Trump veered wildly off-script at an event intended to tout the Republican tax bill on Thursday, making false claims about voter fraud and darkly warning of the menace of predominantly Hispanic gangs. Trump, who spent much of the 2016 campaign alleging massive voter fraud, returned to the topic at the event in White Sulphur Springs, West Virginia. 'In a lot of places, like California, the same person votes many times,' said Trump. 'You probably heard that. They always like to say "that's a conspiracy theory." It's not a conspiracy theory, folks. It's millions and millions of people and it's very hard because the state guards their records.' There is absolutely no evidence for such voter fraud occurring…. He also harped on the danger posed by illegal immigration and by the 'caravan' of refugees travelling to the US from Central America in an effort to seek asylum. 'Women are raped at levels that have never been seen before,' Trump claimed of the caravan as he referenced his infamous 2015 remarks when he launched his presidential campaign that Mexico was deliberately sending murderers and rapists into the US. 'Everybody said, oh, he was so tough. I used the word rape,' said Trump, as he reflected on his comments then." See also, Trump is Accused of 'Peddling Lies' After He Revives Unfounded Voter Fraud Claims, Newsweek, Chantal DaSilva, published on Friday, 6 April 2018: "Politicians and rights groups accused President Donald Trump of 'peddling lies' after the U.S. leader revived his unfounded claim of 'millions' of people committing voter fraud…. The American Civil Liberties Union (ACLU) pointed out that 'once again, Donald Trump is claiming—without proof—that millions of people vote illegally in our elections. The real conspiracy is elected officials peddling lies in order to delegitimize our democracy and justify restrictions on the right to vote.'"
Trump v. California: The Biggest Legal Clashes, The New York Times, Adam Liptak, Thursday, 5 April 2018: "The Trump administration and California are fighting a furious multifront legal war, and every week seems to bring a new courtroom battle…. The state has filed 29 lawsuits against the federal government since President Trump took office, on issues including immigration, the environment and voting rights…. California has been doing well in court, winning more than a dozen rulings against the administration…. The state is also likely to receive receptive hearings when its cases reach the United States Court of Appeals for the Ninth Circuit, in San Francisco, which has been a frequent target of Mr. Trump's criticism. The Supreme Court is a more attractive forum from the administration's perspective, but the justices agree to hear very few cases. The lawsuits all have distinct features, but collectively they pose fascinating questions about the Constitution's allocation of power between the federal government and the states. They also give rise to a teachable moment in legal opportunism. 'Blue states and blue cities are making arguments about limited federal power that are traditionally associated with the political right,' Professor Somin [a law professor at George Mason] said. 'On the other hand, the Trump administration is staking out a very broad position on federal power.'"
Rex Tillerson's $12 million army of consultants, Politico, Nahal Toosi, Thursday, 5 April 2018: "The cost-cutting former Secretary of State had grand ambitions for a department 'redesign,' but its clearest impact is a huge bill for consultants, some of whom charged more than $300 an hour."
Mick Mulvaney, Acting Director of the Consumer Financial Protection Bureau, Gives Big Raises for Top Appointees, Even as He Criticizes Spending and Uses the Bureau's Reserves to Fund Its Budget, The New York Times, Stacy Cowley, Thursday, 5 April 2018: "Mick Mulvaney, the acting director of the Consumer Financial Protection Bureau, has complained that the regulator engages in 'wasteful spending' and needs to be slimmed down. To underscore the point, he submitted a quarterly budget request recently that was a nice round number: $0. That attitude, though, apparently didn't apply to two of his recent hires. Mr. Mulvaney appointed two senior staff members who are paid salaries of more than $230,000, amounts that are far above what they had been earning in their previous government jobs in Washington, according to agency documents obtained by The New York Times through a public records request."
Whistle-blower Simon Edelman Alleges Corruption in Rick Perry's Department of Energy, The New Yorker, Carolyn Kormann, Thursday, 5 April 2018: "Simon Edelman … alleges that he was fired from the U.S. Department of Energy for sharing 'evidence of criminal corruption, obstruction of justice, and ethics violations' with the press."
Under Trump, the Office of Refugee Resettlement, an Office Meant to Help Refugees, Enters the Abortion Wars, The New York Times, Jeremy W. Peters, Thursday, 5 April 2018: "Scott Lloyd's unadorned job title betrays little hint of the power he has over the pregnant teenagers in his custody. As director of the Office of Refugee Resettlement, he oversees the assistance program for the tens of thousands of refugees who still seek shelter in the United States, even with the Trump administration's crackdown. But as the government official who is also responsible for the care of young, undocumented immigrants who enter the United States without their parents, he spends much of his time trying to stop those who want an abortion…. Last fall Mr. Lloyd's refusal to let a 17-year-old in Texas leave the shelter where she was living to get an abortion drew an admonishment from a federal judge who said she was 'astounded' the government had been so insistent on keeping someone from obtaining a constitutionally protected procedure. Last week another judge barred him from trying to prevent any girl in his care from getting an abortion, but government lawyers have asked for a stay and plan to appeal. How Mr. Lloyd, an appointee of President Trump, turned a small office in the Department of Health and Human Services that provides social services to refugees into a battleground over abortion rights is part of the larger story of the Trump administration's push to enact rules that favor socially conservative positions on issues like abortion, contraception and gay, lesbian and transgender rights."
Patagonia vs. Donald Trump, GQ, Rosecrans Baldwin, Thursday, 5 April 2018: "We … knew the legendary outerwear company Patagonia lived and breathed the adventurous life. We knew they cared about the environment. But it wasn't till Trump came along that we realized they were ready to fight…. Patagonia was built in the image of its founder, Yvon Chouinard…. Chouinard is both a beatnik dropout and a renegade capitalist…. In December, Chouinard went on CNN … and said, 'I think the only thing this administration understands is lawsuits. We're losing this planet. We have an evil government.… And I'm not going to stand back and just let evil win.'… I asked Chouinard about the lawsuit and his personal feelings about Trump. He thought for a moment, perhaps to contain himself. 'What pisses me off about this administration is that they're all these "climate deniers"—well, that's bullshit. They know what's happening. What they're doing is purposely not doing anything about climate for the sake of making more money…. That is truly evil. That's why I call this administration evil. They know what they're doing, and they're doing it to make more money.'"
Special Counsel Robert Mueller seized bank accounts in Paul Manafort probe, Politico, Josh Gerstein, Thursday, 5 April 2018: "Special Counsel Robert Mueller's office moved to seize bank accounts at three different financial institutions last year just one day before former Trump campaign chairman Paul Manafort was indicted, prosecutors disclosed in a court filing Thursday. The previously unknown move against the bank accounts was revealed in a list of search and seizure warrants prosecutors submitted to a federal court in Washington after Manafort's defense team complained that the government was withholding too many details about how the warrants were obtained."
Trump Denies Knowing of Any Hush Money Paid to Porn Actress Stormy Daniels, The New York Times, Julie Hirschfeld Davis, Thursday, 5 April 2018: "President Trump denied on Thursday knowing of a $130,000 payment his lawyer made to a pornographic film actress who claims to have had a sexual encounter with him, an assertion that threatened to complicate his legal battle against her. Mr. Trump made his first public remarks about the matter aboard Air Force One as he returned to Washington from White Sulphur Springs, W.Va., where he had held a round table on tax cuts. Asked by a reporter if he knew about the payment to the actress, Stormy Daniels, whose given name is Stephanie Clifford, he said, 'No.' Asked why Michael D. Cohen, his personal lawyer, had made the payment, Mr. Trump said: 'You'll have to ask Michael Cohen. Michael is my attorney, and you'll have to ask Michael Cohen.' The president said he did not know where the money had come from, and ignored a question about whether he ever set up a fund Mr. Cohen could draw from…. The president's comments on Thursday could create a predicament for him and his legal team. Ms. Clifford's case is based on the notion that the confidentiality agreement is invalid because Mr. Trump was not a party to it. By saying he was not aware of the agreement, Mr. Trump appeared to confirm that argument, which would mean neither party is legally bound by it, thus potentially paving the way for Ms. Clifford to break her silence without consequences."