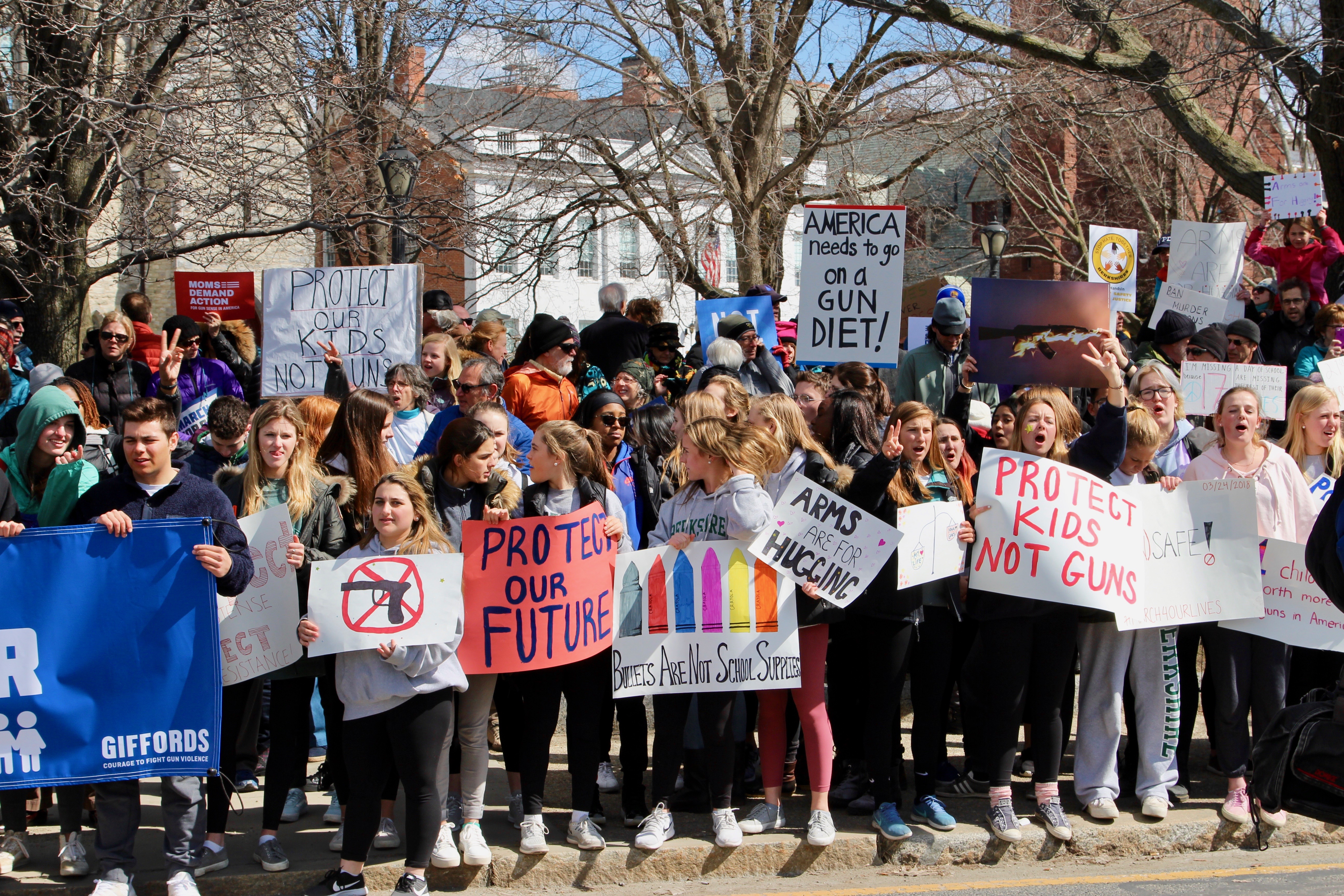 March For Our Lives in Pittsfield, MA on Saturday, 24 March 2018
Keeping Track (of some things), Staying Outraged (it is possible), and Resisting (it's essential)
Passages in bold in the body of the texts below are my emphasis. This is an ongoing project, and I update the site frequently. Because I try to stay focused on what has actually happened, I usually let the news 'settle' a day or so before posting. I hope readers will peruse the articles in full for a better understanding of the issues and their context; our democracy and our future depend on citizens who can distinguish between facts and falsehoods and who are engaged in the political process.
Friday, 23 March 2018, Day 428:
Trump Signs Spending Bill, Reversing Veto Threat and Avoiding Government Shutdown, The New York Times, Julie Hirschfeld Davis and Michael D. Shear, Friday, 23 March 2018: "President Trump, hours after threatening to veto a $1.3 trillion spending bill and throwing the capital into turmoil, signed it into law on Friday, yielding to advisers and Republican leaders who urged him against manufacturing a government shutdown crisis. Even as he signed the bill, the president seethed about being forced to swallow legislation that broadly repudiated an agenda that once foresaw the reshaping of the federal government into his 'America First' image…. His stated reason was its lack of funding for his promised border wall, but that was only one disappointment for the president in a measure that blocked the hiring of thousands of new border patrol agents; stopped deep cuts to foreign aid, the diplomatic corps and environmental programs; thwarted a push to fund vouchers for private and parochial schools; and even rescued the National Endowments for the Arts and the Humanities." See also, Here's Some of What's in the Budget Bill, Politico, Michael Grunwald, Friday, 23 March 2018: "Donald Trump's budget proposals have taken a hatchet to President Barack Obama's top priorities. They've called for deep cuts in renewable energy, medical research and nonmilitary spending in general. They've eliminated TIGER, a grant program for innovative transportation projects created by Obama's stimulus bill; ARPA-E, an energy research agency launched by the stimulus; and CDBG, a community development program many Republicans consider an urban slush fund. Now the Republicans who control Congress have passed a $1.3 trillion omnibus spending bill, and it not only protects Obama's priorities, it expands them. It does far less for Trump's stated priorities, and while his administration endorsed the bill Thursday, he tweeted a veto threat and expressed some apparent buyer's remorse Friday after it passed."
Two very modest gun reform measures Congress just passed, and 4 measures Congress probably won't pass anytime soon, The Washington Post, Amber Phillips, Friday, 23 March 2018: "For the first time in recent history, a Republican-controlled Washington did something to limit people's use of guns. Two things, actually. Or you could look at it another way: The gun-related legislation attached to a spending bill that President Trump signed into law Friday is so modest that it merely reinforces existing law." See also, Before the March For Our Lives, a Bit of Good News on Gun Reform, The New Yorker, John Cassidy, Friday, 23 March 2018: "As schoolkids and adults from all over America descend on Washington for the March for Our Lives, on Saturday, is it utopian to suggest that, finally, something may be changing on gun control? Donald Trump, after pledging to support 'comprehensive' legislation, in the immediate aftermath of the Parkland massacre, backed off after the National Rifle Association paid a visit to the White House. Congress's only meaningful action since Parkland has been to attach a version of the bipartisan 'Fix NICS' bill, which would slightly strengthen the background-check system, to a big spending bill that passed the House and Senate this week. Things may not end there, however. On Thursday, Senators Marco Rubio and Bill Nelson, of Florida—a Republican and a Democrat—joined with Senator Jack Reed, a Democrat, of Rhode Island, to introduce a bill that would make it possible for police and family members to obtain so-called risk-protection orders from a court to confiscate the guns of individuals who are potentially dangerous. 'I think, among the things that we could do after Parkland, one of the most effective is a gun-violence restraining order,' Rubio said in a statement. The senators' proposal largely mimics a so-called red-flag provision that the Florida legislature passed earlier this month, and which Florida law-enforcement authorities are already using against people they regard as potential threats, including Zachary Cruz, the younger brother of the Parkland shooter, Nikolas Cruz." See also, Justice Department Proposes Banning Bump Stocks, Setting Aside Its Own Recommendations, The New York Times, Katie Benner, Friday, 23 March 2018: "Attorney General Jeff Sessions said on Friday that the Justice Department was proposing to ban so-called bump stocks through regulations rather than wait for Congress to act, a move that defies recommendations by federal law enforcement officials and could subject the department to litigation from gun rights groups…. The Justice Department's proposed rule 'would define "machine gun" to include bump-stock-type devices under federal law — effectively banning them,' Mr. Sessions said in a statement. The proposed bump stock ban would defy the conclusion of Justice Department officials who have said that they could not, under existing law, stop the sales of bump stocks, accessories that allow semiautomatic guns to mimic automatic fire, and that congressional action was needed to ban them. But Mr. Sessions said the department had worked around those concerns."
John ('Bomb Iran') Bolton, the New Warmonger in the White House, The New Yorker, Robin Wright, Friday, 23 March 2018: "Hawks are closing in on the White House. John Bolton, arguably the most abrasive American diplomat of the twenty-first century, will soon assume the top foreign-policy job at the National Security Council…. A former U.N. Ambassador currently best known as a Fox News pundit, Bolton has advocated far harder positions than Trump, including bombing campaigns, wars, and regime change. The late-day news flash sent chills across Washington, even among some Republicans. With Mike Pompeo, the C.I.A. director, due to take over from the ousted Rex Tillerson at the State Department, the team deciding American actions across the globe will now be weighted by hard-liners and war advocates. Defense Secretary James Mattis, a retired marine general, is the most pragmatic policymaker left. What an irony." See also, Yes, John Bolton Really Is That Dangerous, The New York Times, The Editorial Board, Friday, 23 March 2018: "There are few people more likely than Mr. Bolton is to lead the country into war. His selection is a decision that is as alarming as any Mr. Trump has made. His selection, along with the nomination of the hard-line C.I.A. director, Mike Pompeo, as secretary of state, shows the degree to which Mr. Trump is indulging his worst nationalistic instincts. Mr. Bolton, in particular, believes the United States can do what it wants without regard to international law, treaties or the political commitments of previous administrations…. The national security adviser is the person who makes sure the president hears the views of all the national security agencies, including the State Department and the Defense Department, and who drives policy toward a decision. It is hard to see Mr. Bolton acting as an honest broker." See also, John Bolton's extremism could lead the country to catastrophe, The Washington Post, Editorial Board, Friday, 23 March 2018: "The President's national security adviser is meant to coordinate policy formation inside the administration, manage disagreements among agencies and tee up important decisions, while separately advising the president of his or her own views. John Bolton, whom President Trump has said will take over the position next month, is unsuited for that role. His record is that of a rigid, bombastic ideologue with a history of bullying colleagues and twisting intelligence. His advocacy of extreme policies, including preventive war against North Korea and Iran, could lead Mr. Trump and the country to catastrophe." See also, John Bolton Was an Early Beneficiary of Cambridge Analytica's Facebook Data, The New York Times, Matthew Rosenberg, Friday, 23 March 2018: "The political action committee founded by John R. Bolton, President Trump's incoming national security adviser, was one of the earliest customers of Cambridge Analytica, which it hired specifically to develop psychological profiles of voters with data harvested from tens of millions of Facebook profiles, according to former Cambridge employees and company documents. Mr. Bolton's political committee, known as The John Bolton Super PAC, first hired Cambridge in August 2014, months after the political data firm was founded and while it was still harvesting the Facebook data."
Continue reading Week 62, Friday, 23 March – Thursday, 29 March 2018 (Days 428-434)
Senator John McCain Presses Gina Haspel, Trump's Nominee to Be CIA Director, For Information About Her Ties to the Agency's Past Use of Torture, The New York Times, Reuters, Friday, 23 March 2018: "U.S. Senator John McCain on Friday pressed President Donald Trump's nominee to be CIA director, Gina Haspel, for information about her ties to the agency's past use of harsh interrogation techniques, underscoring challenges she faces winning confirmation…. The announcement prompted objections over connections Haspel, who oversaw a 'black site' prison in Thailand, may have had to the use of waterboarding and other brutal interrogation techniques widely seen as torture after the Sept. 11, 2001, attacks."
Trump officials have tried to cast George Papadopoulos as a low-level figure in the campaign, but documents show extensive contact with top campaign officials, The Washington Post, Rosalind S. Helderman and Tom Hamburger, Friday, 23 March 2018: "When a Russian news agency reached out to George Papadopoulos to request an interview shortly before the 2016 election, the young adviser to then-candidate Donald Trump made sure to seek approval from campaign headquarters. 'You should do it,' deputy communications director Bryan Lanza urged Papadopoulos in a September 2016 email, emphasizing the benefits of a U.S. 'partnership with Russia.' The exchange was a sign that Papadopoulos — who pushed the Trump operation to meet with Russian officials — had the campaign's blessing for some of his foreign outreach. Since Papadopoulos pleaded guilty last year to lying to the FBI about his Russia contacts during the campaign and agreed to cooperate with special counsel Robert S. Mueller III, Trump officials have sought to paint the 30-year-old energy consultant as a low-level volunteer whose outreach to Russia was not authorized by the campaign — and in some cases was actively discouraged. Emails described to The Washington Post, which are among thousands of documents turned over to investigators examining Russian interference in the 2016 campaign, show Papadopoulos had more extensive contact with key Trump campaign and presidential transition officials than has been publicly acknowledged."
Saturday, 24 March 2018, Day 429:
Photos From the 'March for Our Lives' Protests Around the World, The New York Times, Saturday, 24 March 2018: "Crowds gathered Saturday in cities across the United States and around the world to join student activists in "March for Our Lives" protests against gun violence." See also, Picturing the March for Our Lives, The Washington Post, Saturday, 24 March 2018. See also, 11-Year-Old Activist Naomi Wadler Honors Black Girls Whose Stories Never Make the News, HuffPost, Jenna Amatulli, Saturday, 24 March 2018. See also, Parkland student Emma González demonstrates the power of silence, The Washington Post, Saturday, 24 March 2018. See also, Students Lead Huge Rallies for Gun Safety Measures Across the U.S., The New York Times, Michael D. Shear, Saturday, 24 March 2018: "Standing before vast crowds from Washington to Los Angeles to Parkland, Fla., the speakers — nearly all of them students, some still in elementary school — delivered an anguished and defiant message: They are 'done hiding' from gun violence, and will 'stop at nothing' to get politicians to finally prevent it. The students, as they seized the nation's attention on Saturday with raised fists and tear-streaked faces, vowed that their grief about school shootings and their frustration with adults' inaction would power a new generation of political activism. 'If they continue to ignore us, to only pretend to listen, then we will take action where it counts,' Delaney Tarr, a student at Marjory Stoneman Douglas High School in Parkland, where a gunman killed 17 people last month, told tens of thousands rallying in Washington. 'We will take action every day in every way until they simply cannot ignore us any more.'" See also, The Extraordinary Inclusiveness of the March for Our Lives, The New Yorker, Margaret Talbot, Saturday, 24 March 2018: "Maybe what was most extraordinary about the March for Our Lives, in Washington, D.C., on Saturday, was not its size, though that was impressive—likely hundreds of thousands of people in a long, dense ribbon winding down Pennsylvania Avenue. It wasn't the consistent demand for a ban on assault-style weapons, or the focus on defeating politicians who take money from the National Rifle Association. (Time and again, the crowd broke into spontaneous chants of 'Vote them out!') What was most remarkable was the event's inclusiveness. In the six weeks since the young survivors of Parkland, Florida, jump-started a vibrant new movement for gun control, its leadership has managed to broaden the locus of concern beyond mass shootings at comfortable suburban schools like Marjory Stoneman Douglas, to gun violence in urban neighborhoods as well." See also, The March for Our Lives Presents a Radical New Model for Youth, The New Yorker, Emily Witt, published on Sunday, 24 March 2018: "The March for Our Lives was a massive outcry against extreme violence delivered with a mix of pop sentiment, corporate coöperation, and an awareness of the socioeconomic privilege that allows certain voices to be heard louder than others.… The students marched on Saturday, the day after Congress had departed for its spring recess, and the spending bill that Donald Trump signed on Friday had included three meagre actions to address gun violence: fifty million dollars in grants for school-security measures; attempts to improve the National Instant Criminal Background Check System; and a clarification of the terms of the Dickey Amendment that will now allow for research into the effects of gun violence (although the amendment still bans the use of government funding to promote gun control). As tens of thousands of people descended on the Capitol to demand measures such as universal background checks and a ban on assault rifles that lawmakers would likely continue to ignore, most of those lawmakers left town." See also, Colion Noir, a host on NRATV, taunts Parkland teens: 'No one would know your names' if classmates were still alive, The Washington Post, Cleve R. Wootson Jr., Saturday, 24 March 2018: "As they've stepped out of the hallways of Marjory Stoneman Douglas High School and into the national spotlight, the Parkland, Fla., teenagers have become Twitter influencers, TV news show mainstays and the stoic-faced subjects of a Time magazine cover. But they've also increasingly become targets: Their most prominent critics are people who see them less as survivors of a tragedy and more as pawns in a larger effort to influence gun policy. The latest attack came from Colion Noir, a host on NRATV who took to the airwaves on the eve of the Parkland teens-led March on Washington, telling them: 'No one would know your names' if a student gunman hadn't stormed into their school and killed three staff members and 14 students."
Trump Approves New Limits on Transgender Troops in the Military, The New York Times, Helene Cooper and Thomas Gibbons-Neff, Saturday, 24 March 2018: "Transgender troops who are currently in the United States military may remain in the ranks, the White House said late Friday, but the Pentagon could require them to serve according to their gender at birth. The policy recommendation that President Trump approved flatly states that 'transgender persons who require or have undergone gender transition are disqualified from military service.' But it also largely gives the Pentagon the ability to make exceptions where it sees fit. The policy adopts recommendations that Mr. Trump received last month from Defense Secretary Jim Mattis. It comes after court rulings froze the president's initial ban on transgender troops — issued in July — as potentially unconstitutional…. The policy announcement outraged advocates for transgender troops, and the advocates vowed to fight the limits in court. 'There is no evidence to support a policy that bars from military service patriotic Americans who are medically fit and able to deploy,' said Aaron Belkin, the director of the Palm Center, which focuses on sexuality and the military. 'Our troops and our nation deserve better.'"
Transgender Workers Gain New Protection Under Court Ruling, The New York Times, Robert Pear, Saturday, 24 March 2018: "Employers are moving to adopt or strengthen policies to prevent bias against transgender people after the latest in a series of court rulings that have extended protections for an increasingly diverse work force. A federal appeals court, rejecting the position of the Trump administration, ruled this month [Wednesday, 7 March 2018] that transgender people are protected by a civil rights law that bans workplace discrimination based on sex. Lawyers who specialize in employment cases said that the decision, by the United States Court of Appeals for the Sixth Circuit, in Cincinnati, was highly significant. The court held that job discrimination on the basis of transgender status was inherently sex discrimination, and that the employer in this case could not claim an exemption from the law because of his religious beliefs."
Week of Hell: Dozens of African Detainees Allege Serial Abuse and Hate Crimes at the West Texas Detention Facility, a Notorious Private Immigration Jail, The Intercept, Ryan Devereaux, José Olivares, Maryam Saleh, Saturday, 24 March 2018: "Late last month [February] roughly 80 immigrant men from Somalia, Kenya, and Sudan arrived at a remote, for-profit detention center in West Texas to await deportation. In the week that followed, the men were pepper-sprayed, beaten, threatened, taunted with racial slurs, and subjected to sexual abuse. The treatment they endured amounted to multiple violations of federal law and grave human rights abuses — and it all happened over the course of a single week. These are the findings of a chilling new report by a collection of Texas-based legal advocacy groups. The alleged abuse was so grave that advocates for the men have now filed a series of complaints with the Department of Justice, the Department of Homeland Security, and local authorities calling for investigations into what happened behind the locked doors of the detention facility. According to the advocates, the U.S. attorney's office has forwarded those complaints, which included alleged hate crimes perpetrated by detention center guards, to the FBI."
Sunday, 25 March 2018, Day 430:
Trump Won't Hire 2 Lawyers, Joseph diGenova and Victoria Toensing, Whose Appointments Were Announced Days Ago, The New York Times, Maggie Haberman, Michael S. Schmidt, and Mark Landler, Sunday, 25 March 2018: "President Trump has decided not to hire two lawyers who were announced last week as new additions to his legal team, leaving him with a shrinking stable of lawyers as the investigation by the special counsel, Robert S. Mueller III, enters an intense phase. 'The president is disappointed that conflicts prevent Joe diGenova and Victoria Toensing from joining the president's special counsel legal team,' Mr. Trump's personal lawyer, Jay Sekulow, said in a statement on Sunday morning. 'However, those conflicts do not prevent them from assisting the president in other legal matters. The president looks forward to working with them.' The upheaval on the legal team comes at a critical time for Mr. Trump. The president's former lead lawyer, John Dowd, quit the team on Thursday, just as Mr. Trump is deciding whether to sit with Mr. Mueller for an interview. At the moment, Mr. Sekulow is the president's chief outside lawyer, as Mr. Trump's longtime New York lawyer, Marc E. Kasowitz, remains on the periphery." See also, Trump's legal team remains in disarray as new lawyer Joseph diGenova will no longer represent him in Russia probe, The Washington Post, Josh Dawsey, Carol D. Leonnig, and Rosalind S. Helderman, Sunday, 25 March 2018.
Former Cambridge Analytica workers say firm sent foreigners to advise U.S. campaigns, The Washington Post, Craig Timberg and Tom Hamburger, Sunday, 25 March 2018: "Cambridge Analytica assigned dozens of non-U.S. citizens to provide campaign strategy and messaging advice to ­Republican candidates in 2014, according to three former workers for the data firm, even as an attorney warned executives to abide by U.S. laws limiting foreign involvement in elections."
Fund-Raiser Elliott Broidy Held Out Access to Trump as a Prize for His Prospective Clients, The New York Times, Kenneth P. Vogel and David D. Kirkpatrick, Sunday, 25 March 2018: "For Elliott Broidy, Donald J. Trump's presidential campaign represented an unparalleled political and business opportunity. An investor and defense contractor, Mr. Broidy became a top fund-raiser for Mr. Trump's campaign when most elite Republican donors were keeping their distance, and Mr. Trump in turn overlooked the lingering whiff of scandal from Mr. Broidy's 2009 guilty plea in a pension fund bribery case. After Mr. Trump's election, Mr. Broidy quickly capitalized, marketing his Trump connections to politicians and governments around the world, including some with unsavory records, according to interviews and documents obtained by The New York Times. Mr. Broidy suggested to clients and prospective customers of his Virginia-based defense contracting company, Circinus, that he could broker meetings with Mr. Trump, his administration and congressional allies. Mr. Broidy's ability to leverage his political connections to boost his business illuminates how Mr. Trump's unorthodox approach to governing has spawned a new breed of access peddling in the swamp he vowed to drain."
Stormy Daniels Tells 60 Minutes That Fear of Trump Kept Her Silent, The New York Times, Jim Rutenberg, Sunday, 25 March 2018: "The pornographic film star Stephanie Clifford told 60 Minutes that she struck a $130,000 deal for her silence about an alleged affair with Donald J. Trump in the final days of the 2016 campaign because she was worried about her safety and that of her young daughter. That concern, she told 60 Minutes in an interview broadcast on Sunday night, was based on a threat she received in 2011 from a man who approached her in Las Vegas. She said the threat came after she sold her story about Mr. Trump for $15,000 to Bauer Publishing, which finally published the interview in its magazine InTouch early this year. Bauer had initially decided not to run it after Mr. Trump's personal lawyer, Michael Cohen, threatened to sue. 'I was in a parking lot going to a fitness class with my infant daughter,' she told the 60 Minutes correspondent and CNN host Anderson Cooper. 'And a guy walked up on me and said to me, "Leave Trump alone. Forget the story." And he leaned around and looked at my daughter and said, "That's a beautiful little girl, it would be a shame if something happened to her mom."'" See also, What We Learned From Stormy Daniels on 60 Minutes, The New Yorker, Amy Davidson Sorkin, Sunday, 25 March 2018: "60 Minutes … raised the prospect that … two stories—about the hush agreement and about possible Russian interference—might become one, … via Michael Cohen. He already has the attention of investigators working for Robert Mueller, the special counsel, because of his possible role involving contacts between members of Trump's circle and Russians. If Cohen has made himself legally vulnerable, perhaps via campaign-finance violations—for example, if the payment to Clifford counts as an unreported in-kind contribution—that could, as Cooper put it, give Mueller 'leverage.' On 60 Minutes, a campaign-finance expert referred to this scenario as a 'wild card.' See also, 'Turn around, drop 'em' was memorable, but the Stormy Daniels story is really about financial and emotional intimidation, The Washington Post, Margaret Sullivan, Sunday, 25 March 2018: "The Stormy Daniels story is certainly about sex but it's also — and more importantly — about financial and emotional intimidation. Spanking notwithstanding, that may be what it's remembered for." See also, New evidence the Stormy Daniels payment may have violated election law, The Washington Post, Philip Bump, Sunday, 25 March 2018.
Monday, 26 March 2018, Day 431:
Scores of Russians Expelled by U.S. and Its Allies Over U.K. Poisoning, The New York Times, Katie Rogers and Peter Baker, Monday, 26 March 2018: "President Trump ordered the expulsion of 60 Russian officials on Monday, joining a coordinated campaign by two dozen countries to retaliate for the poisoning of a former Russian spy in Britain in a Cold War-style escalation that again highlighted the disparity between the president's words and actions. The mass expulsion of Russian personnel stationed in the United States was the largest ever, eclipsing even the darkest days of the global showdown with the Soviet Union. But Mr. Trump avoided any public condemnation of Russia's role in the attack just days after phoning President Vladimir V. Putin to congratulate him on a re-election widely considered a sham. In approving the expulsions and ordering the closure of the Russian Consulate in Seattle, Mr. Trump followed the lead of Prime Minister Theresa May of Britain, who rallied a multinational coalition to respond to the poisoning. With London pressing for action, Mr. Trump called foreign counterparts to see if they would join, too. Aides said he encouraged them to take part, but he also knew that failure to go along would have left the United States isolated." See also, Trump administration expels 60 Russian officers and shuts Seattle consulate in response to attack on former spy in Britain, The Washington Post, Philip Rucker, Carol Morello, and John Hudson, Monday, 26 March 2018.
Despite Concerns, Census Will Ask Respondents if They Are U.S. Citizens, The New York Times, Emily Baumgaertner, Monday, 26 March 2018: "The 2020 census will ask respondents whether they are United States citizens, the Commerce Department announced Monday night, agreeing to a Trump administration request with highly charged political and social implications that many officials feared would result in a substantial undercount. In a statement released Monday, the Commerce Department, which oversees the Census Bureau, said Commerce Secretary Wilbur Ross had 'determined that reinstatement of a citizenship question on the 2020 decennial census questionnaire is necessary to provide complete and accurate census block level data,' allowing the department to accurately measure the portion of the population eligible to vote. But his decision immediately invited a legal challenge: Xavier Becerra, California's attorney general, plans to sue the Trump administration over the decision, a spokeswoman for Mr. Becerra said late Monday. Critics of the change and experts in the Census Bureau itself have said that, amid a fiery immigration debate, the inclusion of a citizenship question could prompt immigrants who are in the country illegally not to respond. That would result in a severe undercount of the population — and, in turn, faulty data for government agencies and outside groups that rely on the census. The effects would also bleed into the redistricting of the House and state legislatures in the next decade." See also, California sues Trump administration over addition of citizenship question to census, The Washington Post, Samantha Schmidt, published on Tuesday, 27 March 2018: "The state of California sued the Trump administration Monday night, arguing that the decision to add a question about citizenship in the 2020 Census violates the U.S. Constitution. The state's attorney general acted just after the Commerce Department announced the change in a late-night release. The suit is just the start of what is likely to be a broader battle with enormous political stakes that pits the administration against many Democratic states, which believe that the citizenship question will reduce the response rate for the census and produce undercounts. As a result, opponents say, states with significant immigrant populations stand to lose seats in state legislatures and Congress, along with electoral college votes in presidential elections and federal funding based on census counts." See also, The Trump administration is adding a citizenship question to the census. Here's why that's bad for Democrats. The Washington Post, Aaron Blake, Monday, 26 March 2018. See also, Trump wants to change the census by adding a citizenship question. A letter from former directors of the U.S. Census Bureau undercuts his case. The Washington Post, Greg Sargent, published on 27 March 2018: "As had been widely feared, the Trump administration will try to add a question about citizenship to the 2020 Census…. [S]omething that badly undermines the Trump administration's defense of the move [is] a letter from former directors of the U.S. Census Bureau, under both Republican and Democratic administrations, which argues that adding the question now would be 'highly risky,' could have 'unexpected' consequences, and will 'considerably increase the risks' of an inaccurate count." See also, Why putting a citizenship question on the census is a big deal, CNN, Catherine E. Shoichet, published on Tuesday, 27 March 2018: "The census isn't just an academic exercise. It's the basis for deciding the number of representatives each state gets in Congress and how billions of dollars in federal funds are distributed."
Trump's New Judicial Litmus Test: Shrinking 'the Administrative State,' The New York Times, Jeremy W. Peters, Monday, 26 March 2018: "[T]he White House has laid out a plan to fill the courts with judges devoted to a legal doctrine that challenges the broad power federal agencies have to interpret laws and enforce regulations, often without being subject to judicial oversight. Those not on board with this agenda, the White House has said, are unlikely to be nominated by President Trump."
Scott Pruitt's Dirty Politics: How the Environmental Protection Agency became the fossil-fuel industry's best friend. The New Yorker, Margaret Talbot, Monday, 26 March 2018. This article appears in the print edition of the 2 April 2018 issue. "On March 1st, [Scott] Pruitt [the administrator of the EPA] announced a proposal for a new coal-ash rule that would supplant all Obama-era regulations…. Under Pruitt, even the dirtiest forms of pollution are getting a reprieve."
Blizzard of ethics complaints filed against Trump administration by Public Citizen, NBC News, Adam Edelman, Monday, 26 March 2018: "A prominent government watchdog group has filed 30 ethics complaints with various federal agencies — including the White House — alleging that employees are working in violation of President Donald Trump's executive order intended to 'drain the swamp' and keep government free of former lobbyists. The group, Public Citizen, filed the complaints in recent days, charging possible violations of ethics rules that Trump announced just days into his presidency."
Treasury secretary Steven Mnuchin asserts Congress can override Supreme Court's line-item veto ruling; Fox News host Chris Wallace corrects him. CNN, Clare Foran, Monday, 26 March 2018: "Treasury Secretary Steven Mnuchin asserted Sunday Congress could give President Donald Trump "line-item veto" power — something the Supreme Court has ruled unconstitutional. Fox News host Chris Wallace was forced to explain to him that Congress could not overrule the Supreme Court without amending the Constitution."
Interior Secretary Ryan Zinke creates new outdoor recreation panel made up almost entirely of industry advisers, The Washington Post, Juliet Eilperin, Monday, 26 March 2018: "Interior Secretary Ryan Zinke has appointed 15 representatives of the outdoor recreation industry to advise him on how to operate public lands, according to documents obtained by The Washington Post, including three people whom department officials flagged as potentially having a conflict of interest on the matter. The membership of the 'Made in America' Outdoor Recreation Advisory Committee, which Zinke launched in November, marks the third time the secretary has assembled panels dominated by industry players to help chart policies affecting their businesses."
The Environmental Protection Agency Says It Wants Research Transparency. Scientists See an Attack on Science. The New York Times, Lisa Friedman, Monday, 26 March 2018: "The Environmental Protection Agency is considering a major change to the way it assesses scientific work, a move that would severely restrict the research available to it when writing environmental regulations. Under the proposed policy, the agency would no longer consider scientific research unless the underlying raw data can be made public for other scientists and industry groups to examine. As a result, regulators crafting future rules would quite likely find themselves restricted from using some of the most consequential environmental research of recent decades, such as studies linking air pollution to premature deaths or work that measures human exposure to pesticides and other chemicals. The reason: These fields of research often require personal health information for thousands of individuals, who typically agree to participate only if the details of their lives are kept confidential…. Critics … say that Mr. Pruitt's goal is not academic rigor, but to undermine much of the science that underpins modern environmental regulations governing clean water and clean air. Restricting the application of established science when crafting new E.P.A. rules could make it easier to weaken or repeal existing health regulations, these people say."
The courts say the agenda of the Parkland students is largely compatible with the Second Amendment, The Washington Post, Christopher Ingraham, Monday, 26 March 2018: "The student organizers of the March for Our Lives have released a five-point policy agenda that they say will reduce the toll of gun violence in the United States. While many gun-control opponents have attempted to frame the march as an 'attack' on the Second Amendment, the organizers' policy agenda is striking most of all for the modesty of its scope — just five items, consisting mostly of policies that federal courts have ruled to be wholly compatible with the Second Amendment."
Doctors Slam Rick Santorum for Suggesting Kids Learn CPR Instead of Protesting for 'Phony Gun Laws,' The Daily Beast, Tatyana Bellamy-Walker, Monday, 26 March 2018: "Medical professionals on Monday slammed former Sen. Rick Santorum (R-PA) for his claim that school-shooting survivors should just learn CPR instead of protesting for 'phony gun laws.' Santorum, who currently serves as a CNN commentator, knocked the youth-led March for Our Lives protest on Sunday on CNN's State of the Union, a day after 800,000 students and families rallied in the Washington, D.C. demonstration against gun violence. 'How about kids instead of looking to someone else to solve their problem, do something about maybe taking CPR classes or trying to deal with situations that when there is a violent shooter that you can actually respond to that,' Santorum said." See also, 'Mr. Santorum, CPR doesn't work if all the blood is on the ground.' The Washington Post, Meagan Flynn and Herman Wong, Monday, 26 March 2018: "Doctors and surgeons had an important message for former Republican senator Rick Santorum on Sunday: CPR does not save people who are bleeding to death from AR-15 wounds…. Eugene Gu, MD tweeted: 'As a surgeon, I've operated on gunshot victims who've had bullets tear through their intestines, cut through their spinal cord, and pulverize their kidneys and liver. Rick Santorum telling kids to shut up and take CPR classes is simply unconscionable.'" See also, Parkland Students to Rick Santorum: CPR 'Won't Save You' When You've Been Shot in the Head, The Daily Beast, Matt Wilstein, Monday, 26 March 2018.
Stormy Daniels accuses Trump attorney Michael Cohen of defamation, The Washington Post, Beth Reinhard and Emma Brown, Monday, 26 March 2018: "Stormy Daniels ramped up her legal battle against President Trump on Monday, alleging in court that his personal attorney Michael Cohen defamed her by insinuating that she lied about an affair with Trump more than a decade ago. Daniels amended her existing lawsuit against Trump, adding Cohen as a defendant in the pending case. The expansion of the lawsuit in a California federal court comes one day after the adult-film actress's widely watched interview on 60 Minutes."
Tuesday, 27 March 2018, Day 432:
Secretary of Commerce Wilbur Ross Overruled Career Officials at the Census Bureau to Add Citizenship Question, ProPublica, Justin Elliott, Tuesday, 27 March 2018: "Secretary of Commerce Wilbur Ross' decision Monday to add a controversial question on citizenship to the 2020 census came in the face of opposition from career officials at the Census Bureau who fear it will depress response rates, especially from immigrants. Two people with knowledge of the deliberations said career leaders in the Census Bureau, which is part of the Commerce Department, had scrambled to come up with alternatives to adding the question. Those efforts were unsuccessful…. The driving force behind the request for the new question, according to internal emails, was a Justice Department political appointee who spent years as an attorney in private practice defending GOP redistricting maps around the country. That raised even more concerns among civil rights groups that opposed the addition of a citizenship question…. 'What the Trump Administration is requesting is not just alarming, it is an unconstitutional attempt to discourage an accurate census count,' California Attorney General Xavier Becerra said in a statement."
At Least Twelve States to Sue the Trump Administration Over Census Citizenship Question, The New York Times, Michael Wines and Emily Baumgaertner, Tuesday, 27 March 2018: "At least 12 states signaled Tuesday that they would sue to block the Trump administration from adding a question about citizenship to the 2020 census, arguing that the change would cause fewer Americans to be counted and violate the Constitution. The New York State attorney general, Eric T. Schneiderman, said he was leading a multistate lawsuit to stop the move, and officials in Connecticut, Delaware, Illinois, Massachusetts, New Jersey, New Mexico, Oregon, Pennsylvania, Rhode Island and Washington said they would join the effort. The State of California filed a separate lawsuit late Monday night. 'The census is supposed to count everyone,' said Attorney General Maura Healey of Massachusetts. 'This is a blatant and illegal attempt by the Trump administration to undermine that goal, which will result in an undercount of the population and threaten federal funding for our state and cities.'" See also, Here Are Some Reasons an Accurate Census Count Is So Important, The New York Times, Jim Tankersley and Emily Baumgaertner, Tuesday, 27 March 2018: "The United States census is so much more than just a head count. It is a snapshot of America that determines how congressional seats are apportioned, how state and federal dollars are distributed, where businesses choose to ship products and where they build new stores. To do all that properly, the count needs to be accurate."
California Attorney General Xavier Becerra to Investigate Stephon Clark's Killing, The New York Times, Trip Gabriel, Tuesday, 27 March 2018: "Responding to public outcry over a police shooting in which an unarmed black man was killed in his own backyard in Sacramento, Attorney General Xavier Becerra of California said Tuesday his office would step in to oversee the investigation. The shooting of Stephon Clark, 22, widely viewed in publicly released police videos, has triggered demonstrations and community anguish, the latest example of an African-American man killed by the police under ambiguous circumstances."
How Trump favored Texas over Puerto Rico in the handling of relief efforts for Hurricane Harvey and Hurricane Maria, Politico, Danny Vinik, Tuesday, 27 March 2018: "Today, disaster recovery experts still express shock that FEMA [Federal Emergency Management Agency] kept [Mike] Byrne [a widely acknowledged star in FEMA] in an already-stabilizing Texas and didn't send him to Puerto Rico for three … weeks. But now, the decision strikes many as emblematic of a double standard within the Trump administration. A POLITICO review of public documents, newly obtained FEMA records and interviews with more than 50 people involved with disaster response indicates that the Trump administration — and the president himself — responded far more aggressively to Texas than to Puerto Rico."
Trump suggests US military foot the bill for the border wall with Mexico, CNN, Eli Watkins, Jeremy Diamond, and Elizabeth Landers, Tuesday, 27 March 2018: "President Donald Trump has privately floated the idea of funding construction of a border wall with Mexico through the US military budget in conversations with advisers, two sources confirmed to CNN Tuesday."
Trump Ends Temporary Immigration Status for Thousands of Liberians, The New York Times, Michael D. Shear, Tuesday, 27 March 2018: "President Trump said Tuesday that several thousand Liberians who have been living in the United States under a temporary immigrant status will have one year to return to their country or they will face deportation."
A sheriff in Orange County California is skirting state 'sanctuary' laws to help Immigration and Customs Enforcement (ICE) capture undocumented immigrants, The Washington Post, Alex Horton, Tuesday, 27 March 2018: "The Orange County Sheriff's Department moved to sidestep a California law designed to limit law enforcement coordination with U.S. Immigration and Customs Enforcement, saying it would put the date an inmate will be released on its website."
Bipartisan Senate duo calls on Trump to allow Special Counsel Robert Mueller's investigation to proceed 'without impediment,' Politico, Elana Schor, Tuesday, 27 March 2018: "A Republican senator behind a bill to protect Special Counsel Robert Mueller's job joined his Democratic co-author on Tuesday in a bipartisan call for President Donald Trump to let Mueller's investigation proceed 'without impediment.' Sen. Thom Tillis (R-N.C.) aligned with Sen. Chris Coons (D-Del.) after weeks of downplaying the need for quick passage of their legislation designed to shield Mueller from being fired by Trump, who has repeatedly expressed frustration with the ongoing probe of Russian interference in the 2016 election. Tillis and Coons' move comes one week after Senate Majority Leader Mitch McConnell (R-Ky.) and Speaker Paul Ryan (R-Wis.) delivered their own gestures of support for Mueller — while not endorsing legislation to protect his work." See also, Congress seems a little skittish that Trump will fire Mueller in the next few weeks, The Washington Post, Amber Phillips, published on Wednesday, 28 March 2018: "Does Congress know something we don't about whether President Trump is again considering firing special counsel Robert S. Mueller III? (Or fire the aides who refuse to fire Mueller for him?) That's a fair question to ask after a flurry of movement Tuesday from senators on both sides of the aisle who reaffirmed their commitment to letting Mueller finish his investigation into Russia interference in the 2016 election and whether the Russians coordinated with the Trump campaign. 'We urge President Trump to allow the Special Counsel to complete his work without impediment,' Sens. Thom Tillis (R-N.C.) and Christopher A. Coons (D-Del.), authors of a bill to protect Mueller, said in a joint statement seemingly out of the blue, 'which is in the best interest of the American people, the President, and our nation.'"
Parkland Students Find Themselves Targets of Lies and Personal Attacks, The New York Times, Jonah Engel Bromwich, Tuesday, 27 March 2018: "[Emma González] was Photoshopped tearing up the Constitution — a falsehood — and criticized for wearing a flag that represented her Cuban heritage. A conservative blog said that [David Hogg] wasn't even at the school during the killings — then had to backtrack on Monday when that also proved false. The attacks on the teenage survivors of the shooting in Parkland, Fla., have been fierce from the beginning, and have only continued since the students helped spearhead hundreds of protests this weekend." See also, The sliming of Parkland students shows the spreading stain of media polarization, The Washington Post, Margaret Sullivan, Tuesday, 27 March 2018: "What we're seeing … is a spreading stain, in which conspiracy mongering from the likes of Infowars and, yes, Gateway Pundit is adopted by some elements of the formerly mainstream right and peddled to a receptive audience softened up for decades by Fox News. That kind of thing can happen on the extreme left, too, but not as regularly and not as virulently. (And it's a truism that corrections and 'updates' everywhere fail to get the visibility of the original misinformation.)"
John Paul Stevens, Retired U.S. Supreme Court Justice: Repeal the Second Amendment, The New York Times, John Paul Stevens, Tuesday, 27 March 2018: "Rarely in my lifetime have I seen the type of civic engagement schoolchildren and their supporters demonstrated in Washington and other major cities throughout the country this past Saturday. These demonstrations demand our respect. They reveal the broad public support for legislation to minimize the risk of mass killings of schoolchildren and others in our society. That support is a clear sign to lawmakers to enact legislation prohibiting civilian ownership of semiautomatic weapons, increasing the minimum age to buy a gun from 18 to 21 years old, and establishing more comprehensive background checks on all purchasers of firearms. But the demonstrators should seek more effective and more lasting reform. They should demand a repeal of the Second Amendment."
How Trump Escalated the Stormy Daniels Story: A Thirteen-Step Guide, The New Yorker, Amy Davidson Sorkin, Tuesday, 27 March 2018: "The story of the alleged affair between Donald Trump and Stephanie Clifford, known professionally as Stormy Daniels … won't go away, largely because Donald Trump and his lawyers have propelled it forward. [This article covers] how they have managed it so far."
Wednesday, 28 March 2018, Day 433:
Rick Gates, a Top Trump Campaign Official, Spoke Repeatedly During the Final Weeks of the 2016 Presidential Race to a Business Associate Tied to Russian Intelligence, The New York Times, Mark Mazetti, Wednesday, 28 March 2018: "A top Trump campaign official had repeated communications during the final weeks of the 2016 presidential race with a business associate tied to Russian intelligence, according to a document released on Tuesday by the special counsel investigating Russian interference in the election. The campaign official, Rick Gates, had frequent phone calls in September and October 2016 with a person the F.B.I. believes had active links to Russian spy services at the time, the document said. Mr. Gates also told an associate the person 'was a former Russian Intelligence Officer with the G.R.U.,' the Russian military intelligence agency." See also, Special Counsel Robert Mueller just drew his most direct line to date between the Trump campaign and Russia, The Washington Post, Aaron Blake, Wednesday, 28 March 2018.
Trump's Lawyer, John Dowd, Raised the Prospect of Pardons for Michael Flynn and Paul Manafort, The New York Times, Michael S. Schmidt, Jo Becker, Mark Mazzetti, Maggie Haberman, and Adam Goldman, Wednesday, 28 March 2018: "A lawyer for President Trump broached the idea of Mr. Trump's pardoning two of his former top advisers, Michael T. Flynn and Paul Manafort, with their lawyers last year, according to three people with knowledge of the discussions. The discussions came as the special counsel was building cases against both men, and they raise questions about whether the lawyer, John Dowd, who resigned last week, was offering pardons to influence their decisions about whether to plead guilty and cooperate in the investigation. The talks suggest that Mr. Trump's lawyers were concerned about what Mr. Flynn and Mr. Manafort might reveal were they to cut a deal with the special counsel, Robert S. Mueller III, in exchange for leniency. Mr. Mueller's team could investigate the prospect that Mr. Dowd made pardon offers to thwart the inquiry, although legal experts are divided about whether such offers might constitute obstruction of justice."
Jason Foster, the Chief Investigative Counsel to the Senate Judiciary Committee, Is the Staffer Behind the Attack on the Trump-Russia Investigation, ProPublica, Robert Faturechi, Wednesday, 28 March 2018: "Jason Foster, chief investigative counsel to the Senate Judiciary Committee, fits a classic Washington profile: A powerful, mostly unknown force at the center of some of the most consequential battles on Capitol Hill. For the last year, Foster — empowered by his boss, Sen. Charles Grassley, R-Iowa, the committee's chairman — has been the behind-the-scenes architect of an assault on the FBI, and most centrally its role in special counsel Robert Mueller's investigation of possible collusion between the Trump campaign and Russia, according to interviews with current and former congressional aides, federal law enforcement officials and others. With Foster in charge of his oversight work, Grassley has openly speculated about whether former FBI director James Comey leaked classified information as Comey raised alarms about President Donald Trump's possible interference in the Russia probe. Grassley and the other Republicans on the committee have questioned the impartiality of a former member of Mueller's team, cast doubt on the credibility of the FBI's secret court application for permission to surveil a Trump campaign associate and called for a second special counsel to investigate matters related to Hillary Clinton. A firm that conducted opposition research on Trump has made clear in court it believes Grassley's committee, with Foster as its lead investigator, had leaked sensitive information about its business. Most recently, many of those interviewed by ProPublica said, Foster engineered Grassley's highly unusual public announcement asking federal authorities to consider criminal charges against Christopher Steele, the ex-British spy who compiled the dossier warning of possible collusion between the Trump campaign and the Kremlin."
Justice Department Will Be Investigated Over Surveillance of Trump Campaign Official Carter Page, The New York Times, Nicholas Fandos and Katie Benner, Wednesday, 28 March 2018: "The Justice Department's inspector general, facing increasing political pressure from Republicans in Congress and Attorney General Jeff Sessions, said on Wednesday that his office would investigate the surveillance of a former Trump campaign official. The announcement came amid a stream of attacks in recent months from the White House and Republican lawmakers seeking to undermine the special counsel's investigation into Russian interference in the presidential election. The inspector general, Michael E. Horowitz, said he would examine whether law enforcement officials complied with the law and departmental policies in seeking permission from the Foreign Intelligence Surveillance Court to wiretap the former campaign adviser, Carter Page. Law enforcement officials had long had concerns that Mr. Page, a former investment banker based in Moscow, was acting as a Russian agent. Republicans have seized on details about the court-ordered surveillance of Mr. Page as evidence that the Justice Department abused its authority in the Russia investigation. Mr. Horowitz did not name Mr. Page in his announcement. Mr. Horowitz said he would also review what the Justice Department and the F.B.I. knew at the time about a former British spy and longtime F.B.I. source, Christopher Steele, who provided information about Mr. Page that was included in the surveillance application."
A federal judge ruled that D.C. and Maryland can proceed with lawsuit alleging Trump violated emoluments clauses, The Washington Post, David A. Fahrenthold and Jonathan O'Connell, Wednesday, 28 March 2018: "A federal judge ruled that the District of Columbia and Maryland may proceed with a lawsuit against President Trump alleging that Trump's business dealings have violated the Constitution's ban on receiving improper emoluments, or payments, from individual states and foreign governments. The ruling, by U.S. District Judge Peter J. Messitte in Maryland, marks the first time that a lawsuit of this kind has cleared the initial legal hurdle — a finding that the plaintiffs have legal standing to sue the president." See also, Lawsuit Filed by D.C. and Maryland Over Trump's Ties to His Businesses Is Allowed to Advance, The New York Times, Sharon LaFraniere, Wednesday, 28 March 2018.
Trump attack unleashes opposition research against Special Counsel Robert Mueller, Politico, Darren Samuelsohn, Wednesday, 28 March 2018: "When President Donald Trump lashed out against Robert Mueller by name earlier this month, the president's supporters sprang into action — treating the chief Russia investigator to political campaign-style opposition research…. Within hours, the Drudge Report featured a story blaming Mueller, the special counsel leading the Justice Department's Russia probe, for the FBI's clumsy investigation into the 2001 anthrax attacks when Mueller ran the bureau. The independent pro-Trump journalist Sara Carter posted a story charging that Mueller, as a federal prosecutor in Boston in the mid-1980s, had covered up the FBI's dealings with the Mafia informant Whitey Bulger. Carter was soon discussing her findings in prime time with Fox News host Sean Hannity. Meanwhile, Trump supporters on Twitter circulated video of testimony Mueller gave to Congress ahead of the 2003 Iraq War in which he endorsed the view, later proved false, that Iraq possessed weapons of mass destruction. To some, the barrage looked coordinated among pro-Trump allies and media outlets, a concerted effort to tarnish Mueller's reputation as part of a political strategy to undermine, or even eventually fire, the Russia investigator. 'It looks like the beginnings of a campaign,' a source familiar with Trump's legal strategy said. 'It looks like they are trying to seed the ground. Ultimately, if the president determines he wants to fire Mueller, he's going to want to make sure there's ample public record that he can fall back on.'"
Trump taps his personal doctor, Ronny L. Jackson, to replace David Shulkin as Veterans Affairs Secretary, choosing personal chemistry over traditional qualifications, The Washington Post, Lisa Rein, Philip Ricker, Emily Wax-Thibodeaux, and Josh Dawsey, Wednesday, 28 March 2018: "President Trump fired his embattled Veterans Affairs secretary Wednesday and tapped as his replacement atop the chronically mismanaged agency his personal physician, who gained prominence with his effusive praise of the 71-year-old's physical and mental health. The ouster of Veterans Affairs Secretary David Shulkin, who has been mired in scandal over his charging taxpayers for luxury travel expenses and the infighting among his senior aides, had been widely expected and was made official at 5:31 p.m. by presidential tweet."
Supreme Court, Again Weighing Partisan Gerrymandering Case, Shows No Consensus, The New York Times, Adam Liptak, Wednesday, 28 March 2018: "For the second time this term, the Supreme Court heard arguments on Wednesday about whether voting maps can be so distorted by politics that they violate the Constitution. As they had when an earlier case was argued in October, many of the justices agreed that partisan gerrymandering is a serious problem that disfigures democracy. But there was no indication on Wednesday that they had come to an agreement about whether the courts can address the problem."
Female senators demand rule changes to address sexual harassment in Congress, The Washington Post, Elise Viebeck, Wednesday, 28 March 2018: "The women of the Senate demanded Wednesday that leaders allow votes to improve Capitol Hill's system for reporting and adjudicating complaints of sexual harassment and other workplace misconduct, after such changes were excluded from a recent major spending bill. In a letter to Senate Majority Leader Mitch McConnell (R-Ky.) and Minority Leader Charles E. Schumer (D-N.Y.), all 22 female senators expressed deep disappointment' in the upper chamber's delay in approving changes to the Congressional Accountability Act, the legislation that governs employment complaints in the legislative branch. The law requires accusers to undergo counseling, mediation and a month-long 'cooling off' period before filing suit against their harassers, a system that has been widely criticized as a result of the #MeToo movement…. 'The time has come to rewrite the CAA to provide a more equitable process that supports survivors of harassment and discrimination,' the senators' letter stated. 'Inaction is unacceptable when a survey shows that four out of 10 women congressional staffers believe that sexual harassment is a problem on Capitol Hill and one out of six women in the same survey responded that they have been the survivors of sexual harassment. … No longer can we allow the perpetrators of these crimes to hide behind a 23-year-old law.'"
The Very Male Trump Administration, The Atlantic, Annie Lowrey and Steven Johnson, Wednesday, 28 March 2018: "The White House has named twice as many men as women to administration positions. This gender skew is both broad and deep: In no department do female appointees outnumber male appointees, and in some cases men outnumber women four or five to one. Moreover, men significantly outnumber women in low-level positions as well as in high-level ones, with Trump's Cabinet currently composed of 19 men and five women. Overall, 33 percent of Trump's appointees are women, compared to 47 percent of the national workforce and 43 percent of the 2 million workers across the executive branch."
Environmental Protection Agency Shows Workers How to Downplay Climate Change, HuffPost, Alexander C. Kaufman, Wednesday, 28 March 2018: "The Environmental Protection Agency on Tuesday evening sent employees a list of eight approved talking points on climate change from its Office of Public Affairs ― guidelines that promote a message of uncertainty about climate science and gloss over proposed cuts to key adaptation programs." See also, Environmental Protection Agency staffers get talking points playing down human role in climate change, The Washington Post, Brady Dennis and Juliet Eilperin, Wednesday, 28 March 2018.
'Extreme' fossil fuel investments have surged under Donald Trump, report reveals, The Guardian, Arthur Neslen, Wednesday, 28 March 2018: "Sharp rise globally in the dirtiest fossil fuel investments reverses progress made after the Paris agreement, with tar sands holdings more than doubling in Trump's first year in office. Bank holdings in 'extreme' fossil fuels skyrocketed globally to $115bn during Donald Trump's first year as US president, with holdings in tar sands oil more than doubling, a new report has found. A sharp flight from fossil fuels investments after the Paris agreement was reversed last year with a return to energy sources dubbed "extreme" because of their contribution to global emissions. This included an 11% hike in funding for carbon-heavy tar sands, as well as Arctic and ultra-deepwater oil and coal. US and Canadian banks led a race back into the unconventional energy sector following Trump's promise to withdraw from Paris, with JPMorgan Chase increasing its coal funding by a factor of 21, and quadrupling its tar sands assets."
Under Ben Carson, the Department of Housing and Urban Development Scales Back Fair Housing Enforcement, The New York Times, Glenn Thrush, Wednesday, 28 March 2018: "The Trump administration is attempting to scale back federal efforts to enforce fair housing laws, freezing enforcement actions against local governments and businesses, including Facebook, while sidelining officials who have aggressively pursued civil rights cases. The policy shift, detailed in interviews with 20 current and former Department of Housing and Urban Development officials and in internal agency emails, is meant to roll back the Obama administration's attempts to reverse decades of racial, ethnic and income segregation in federally subsidized housing and development projects. The move coincides with the decision this month by Ben Carson, the secretary of housing and urban development, to strike the words 'inclusive' and 'free from discrimination' from HUD's mission statement."
Trump proposal would penalize immigrants who use tax credits and other benefits, The Washington Post, Nick Miroff, Wednesday, 28 March 2018: "Immigrants who accept almost any form of welfare or public benefit, even popular tax deductions, could be denied legal U.S. residency under a proposal awaiting approval by the Trump administration, which is seeking to reduce the number of foreigners living in the United States. According to a draft of the proposal obtained by The Washington Post, immigration caseworkers would be required to consider a much broader range of factors when determining whether immigrants or their U.S.-citizen children are using public benefits or may be likely to do so. Current rules penalize immigrants who receive cash welfare payments, considering them a 'public charge.' But the proposed changes from the Department of Homeland Security would broaden the government's definition of benefits to include the widely used earned-income tax credit as well as health insurance subsidies and other 'non-cash public benefits.' The changes would apply to those seeking immigration visas or legal permanent residency, such as a foreigner with an expiring work visa. While they would make little difference to those living here illegally, it could affect immigrants protected by the ­Deferred Action for Childhood Arrivals program — whose termination has been blocked by federal courts — if they attempt to file for full legal residency."
Attorney General Jeff Sessions and Jared Kushner Square Off, and Prisoners Hang in the Balance, The New York Times, Matt Apuzzo, Wednesday, 28 March 2018: "In the final months of the Obama administration, the Justice Department announced a new approach to preparing prisoners for life beyond their cells. Officials created a prison school system, pledged money for technology training and promised to help prevent former inmates from returning to prison. Almost immediately after taking office, Trump administration officials began undoing their work. Budgets were slashed, the school system was scrapped and studies were shelved as Attorney General Jeff Sessions brought to bear his tough-on-crime philosophy and deep skepticism of Obama-era crime-fighting policies. Now, nearly a year and a half later, the White House has declared that reducing recidivism and improving prisoner education is a top priority — echoing some of the very policies it helped dismantle. This whiplash approach to federal prison policy reflects the tension between Jared Kushner, the president's reform-minded son-in-law and senior adviser, and Mr. Sessions, a hard-liner whose views on criminal justice were forged at the height of the drug war. It has left both Democratic and Republican lawmakers confused and has contributed to skepticism that the Trump administration is serious about its own proposals. On Capitol Hill, a wholesale reconsideration of American sentencing laws and prison policies has bipartisan support. Dozens of senators have sponsored a bill to change mandatory-minimum sentences and ease drug laws that have been used to seek lengthy sentences for nonviolent offenders. The bill also includes provisions to expand education, worker training and drug rehabilitation programs in prison."
Stormy Daniels asks court to order deposition of Trump and his lawyer Michael Cohen, The Washington Post, Derek Hawkins, Wednesday, 28 March 2018: "Stormy Daniels's attorney is asking a federal judge in California for permission to depose President Trump and his longtime lawyer Michael Cohen about the nondisclosure agreement the porn actress says she signed to keep quiet about her alleged affair with the president. In documents filed early Wednesday morning, Michael Avenatti said he was seeking to depose Trump and Cohen for no more than two hours each to find out whether Trump was aware of the agreement and whether he consented to it."
Thursday, 29 March 2018, Day 434:
Eric Holder Says He'll Sue to Block Citizenship Question on Census, The New York Times, Matthew Haag, Thursday, 29 March 2018: "Eric H. Holder Jr., the United States attorney general for six years under President Barack Obama, stepped away from public service in 2015 but has since emerged as a bulwark against the Trump administration, taking a leading role in challenging the president's policies in court and trying to chip away at the Republicans' grip on state governments. Mr. Holder discussed his efforts to fight Republican gerrymandering, whether Facebook should be regulated and the potential legacy of Mr. Trump's presidency in a wide-ranging TimesTalks conversation with the reporter Alexander Burns on Wednesday night in New York."
Citing Trump's 'Racial Slurs,' Judge Nicholas Garaufis of Federal District Court in Brooklyn Says Suit to Preserve DACA (Deferred Action for Childhood Arrivals) Can Continue, The New York Times, Alan Feuer, Thursday, 29 March 2018: "Citing President Trump's 'racially charged language,' a federal judge in Brooklyn ruled on Thursday that a lawsuit seeking to preserve a program that protects hundreds of thousands of young undocumented immigrants from deportation could continue. The order, by Judge Nicholas G. Garaufis of Federal District Court in Brooklyn, was the strongest sign so far of judicial support for the program known as DACA, or Deferred Action for Childhood Arrivals, which has for months been the subject of a heated debate in Congress."
Ronny L. Jackson, Trump's pick to head the Department of Veterans Affairs, faces skepticism over his experience, The Washington Post, Lisa Rein, Seung Min Kim, Emily Wax-Thibodeaux, and Josh Dawsey, Thursday, 29 March 2018: "The White House was thrown on the defensive Thursday over President Trump's choice to lead the Department of Veterans ­Affairs, forcing officials to fend off mounting skepticism that Ronny L. Jackson has the experience to run the government's second-largest agency. Trump announced by tweet late Wednesday that the White House physician would succeed ousted secretary David Shulkin, surprising veterans groups and lawmakers, who were not notified beforehand and scrambled to learn the policy views of someone whose positions on the chronic challenges facing VA are unknown. Jackson is a career naval officer who was an emergency trauma doctor in Iraq before spending the past 12 years as a White House physician. But his résumé lacks the type of management experience usually expected from the leader of an agency that employs 360,000 people, has a $186 billion annual budget and is dedicated to serving the complex needs of the country's veterans."
Veterans Affairs Shake-Up Stirs New Fears of Privatized Care, The New York Times, Nicholas Fandos, Thursday, 29 March 2018: "President Trump's dismissal of David J. Shulkin, the secretary of veterans affairs — and the nomination of a Navy doctor with no known policy views to take his place — has brought renewed focus to an increasingly contentious debate over whether to give veterans the option of using the benefits they earned through military service to see private doctors rather than going to government hospitals and clinics. The issue, which has pitted almost every major veterans group against Concerned Veterans for America, an advocacy group funded by the billionaire conservative brothers Charles G. and David H. Koch, and its allies, has been at the center of months of intrigue at the sprawling Department of Veterans Affairs, which is charged with caring for the United States' 20 million veterans. But Mr. Shulkin's departure and the abrupt elevation of Dr. Ronny L. Jackson, the White House physician, to the department's top job on Wednesday have raised new fears among Democrats and groups like the Veterans of Foreign Wars and the American Legion. They worry that the Trump administration will push for a major change in veterans' health care that they have bitterly opposed. The groups say the end result would be disastrous, effectively bleeding to death a network of 1,700 hospitals and clinics that has taken decades to build."
Attorney General Jeff Sessions, for now, rebuffs Republican calls for second special counsel to probe FBI actions in Clinton and Russia investigations, The Washington Post, Matt Zapotosky, Thursday, 29 March 2018: "Attorney General Jeff Sessions on Thursday rebuffed — at least for now — a call from Republican leaders to appoint a second special counsel to look into the FBI's handling of its most high-profile probes and announced that he has asked the U.S. attorney in Utah to spearhead a broad review. Sessions made the revelation in a letter to three key GOP leaders in the House and Senate who have called on him to appoint a second special counsel, noting that Justice Department regulations call for such appointments only in 'extraordinary circumstances' and that he would need to conclude 'the public interest would be served by removing a large degree of responsibility for the matter from the Department of Justice.' He asserted that the department previously has tackled high-profile and resource-intensive probes and revealed he had named U.S. Attorney John W. Huber to lead a review of the topics that the legislators had requested he explore. Those topics include aspects of the investigation into Russian interference in the 2016 presidential election and several matters related to Hillary Clinton and her family's foundation."
Terry James Albury, a Former FBI Agent in Minnesota, Is Charged With Leaking Classified Documents, NPR, Scott Neuman, Thursday, 29 March 2018: "A former FBI agent working on counterterrorism has been charged with sharing classified documents with a news organization, including documents that reportedly show that the bureau continues to use race and religion to profile potential targets."
Russia to Expel 60 U.S. Diplomats; Tensions Are Worst in Decades, The New York Times, Andrew Higgins, Thursday, 29 March 2018: "Russia on Thursday escalated a confrontation with Europe and the United States over the poisoning of a former Russian spy in Britain, saying it would expel 60 American diplomats and an unspecified number of envoys from other countries to retaliate for a mass expulsion of Russian diplomats working in the West and beyond that was ordered this week. Furious at what it described as an anti-Russian campaign orchestrated by Washington and London, the Kremlin exceeded an equivalent response to the United States and ordered the closing of the American Consulate in St. Petersburg, Russia's second-largest city. The consulate is bigger and far more important to relations than the Russian Consulate in Seattle, which the Trump administration ordered closed on Monday as part of its expulsion decree."
Environmental Protection Agency Prepares to Roll Back Rules Requiring Cars to Be Cleaner and More Efficient, The New York Times, Coral Davenport and Hiroko Tabuchi, Thursday, 29 March 2018: "The Trump administration is expected to launch an effort in coming days to weaken greenhouse gas emissions and fuel economy standards for automobiles, handing a victory to car manufacturers and giving them ammunition to potentially roll back industry standards worldwide. The move — which undercuts one of President Barack Obama's signature efforts to fight climate change — would also propel the Trump administration toward a courtroom clash with California, which has vowed to stick with the stricter rules even if Washington rolls back federal standards. That fight could end up creating one set of rules for cars sold in California and the 12 states that follow its lead, and weaker rules for the rest of the states, in effect splitting the nation into two markets."
U. S. judges for now decline to lift injunctions against Trump transgender troop ban, The Washington Post, Spencer S. Hsu, Thursday, 29 March 2018: "A federal judge in the District of Columbia on Wednesday left in place her nationwide order blocking last year's Trump administration's ban on transgender troops while she awaits fresh legal briefings on the impact of a policy shift announced Friday. On Friday, the president revoked the full ban he initially backed last summer for a new policy that would still disqualify many transgender troops who have had gender reassignment surgery."
Trump's Labor Department Eviscerates Workplace Safety Panels, ProPublica, Rebecca Moss of The Santa Fe New Mexican, Thursday, 29 March 2018: "Five expert committees advised the federal government on ways to improve workplace safety and enhance whistleblower protections. Under President Donald Trump,their work has stopped and their recommendations are now stalled…. [T]he Federal Advisory Council on Occupational Safety and Health [was] first established by President Richard Nixon. It is one of five panels created by law to advise the labor secretary on how to improve health, safety and whistleblower protections in nearly every facet of the workforce. But under President Donald Trump, the boards have been mothballed or outright killed. None of the boards has met for at least nine months. Some haven't met for more than a year. 'The boards are tremendously important for the functioning of OSHA. Each one is vital,' said David Michaels, a professor at the George Washington University School of Public Health and the assistant labor secretary in charge of the Occupational Safety and Health Administration under President Barack Obama. 'Clearly the Department of Labor doesn't value expert advice. That is the message here.'"
The political favor Interior Secretary Ryan Zinke offered to Florida governor Rick Scott–and no one else, The Washington Post, Editorial Board, Thursday, 29 March 2018: "In January, Florida Gov. Rick Scott (R) claimed a big political win, wrangling a surprise meeting with Interior Secretary Ryan Zinke and immediately obtaining a special exemption for his state from the Trump administration's expansive offshore drilling plan. It was a well-choreographed drama meant to boost Mr. Scott's impending campaign for the U.S. Senate — and it has now been exposed in all its cynicism. Politico reported Tuesday that Mr. Zinke and Mr. Scott's staffs had been planning the secretary's seemingly last-minute trip for days, beginning shortly after the Interior Department announced its new offshore drilling policy. Reporters were not told about the meeting until an hour before the public announcement, in which Mr. Zinke said that new drilling off Florida was 'off the table,' and state officials were taken similarly by surprise. Held in the Tallahassee airport, the event appeared to have been hastily arranged. In fact, the whole episode seems to have been designed to demonstrate Mr. Scott's power and influence, by having him appear to summon the interior secretary to his state and bring him to heel in an afternoon. Mr. Zinke has given no other state such attention. His Florida announcement drew quick complaints from state officials from South Carolina to Massachusetts and California to Washington state."
Trump Attacks Amazon, Saying It Does Not Pay Enough Taxes, The New York Times, Michael D. Shear, Nick Wingfield, and Cecilia Kang, Thursday, 29 March 2018: "President Trump escalated his attack on Amazon on Thursday, saying in an early-morning tweet that the online retail behemoth does not pay enough taxes — and strongly suggesting that he may use the power of his office to rein in the nation's largest e-commerce business. Mr. Trump accused Amazon, one of the country's most recognizable and successful brands, of putting thousands of local retailers out of business and said the company was using the United States Postal Service as its 'Delivery Boy.' The president has lashed out publicly against the giant company and its chief executive, Jeff Bezos, on Twitter more than a dozen times since 2015. And privately, people close to him said, Mr. Trump repeatedly brings up his disdain for the company, often set off by his anger at negative stories in The Washington Post, which is owned by Mr. Bezos." See also, The Facts Behind Trump's Tweet on Amazon, Taxes, and the Postal Service, The New York Times, Michael Gold, Thursday, 29 March 2018.