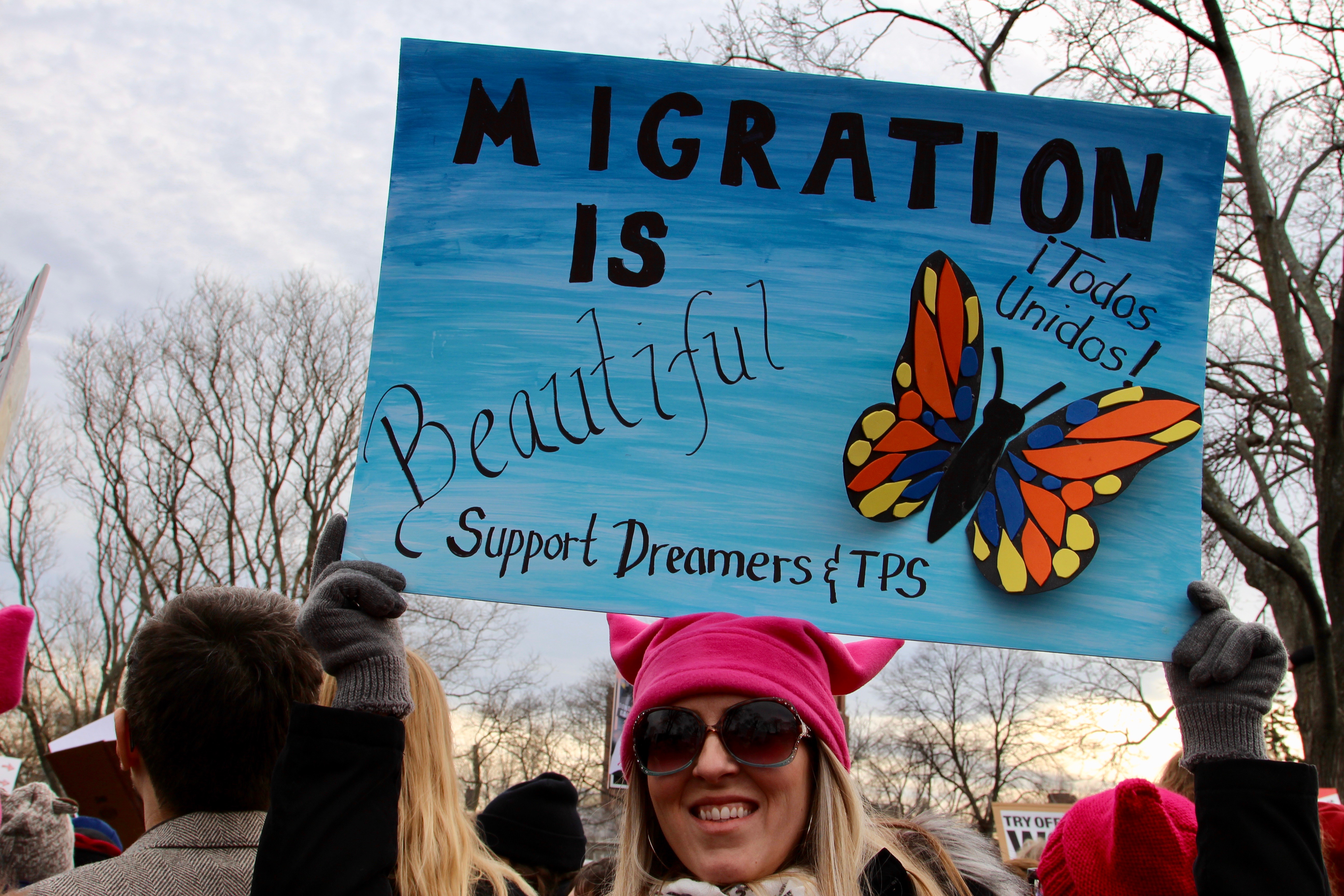 Keeping Track (of some things), Staying Outraged (it is possible), and Resisting (it's essential)
Passages in bold in the body of the texts below are my emphasis. This is an ongoing project, and I update the site frequently. Because I try to stay focused on what has actually happened, I usually let the news 'settle' a day or so before posting. I hope readers will peruse the articles in full for a better understanding of the issues and their context; our democracy and our future depend on citizens who can distinguish between facts and falsehoods and who are engaged in the political process.
Friday, 16 March 2018, Day 421:
C.I.A. Takes Lead Role in Trump's North Korea Talks, The New York Times, Mark Landler, Friday, 16 March 2018: "The Central Intelligence Agency has emerged as the primary player in President Trump's audacious diplomatic opening to North Korea, several officials said on Friday, conducting back-channel communications and taking a major role in planning Mr. Trump's coming meeting with Kim Jong-un, the country's ruler. The White House's decision to use intelligence, rather than diplomatic, channels in communicating with the North Koreans speaks to the influence of Mike Pompeo, the C.I.A. director whom Mr. Trump chose this week to replace Secretary of State Rex W. Tillerson. It also reflects the State Department's diminished role in preparing for the riskiest encounter between an American president and a foreign leader in many years. Mr. Pompeo, these officials said, has already been dealing with North Korean representatives through a channel that runs between the C.I.A. and its North Korean counterpart, the Reconnaissance General Bureau. And he has been in close touch with the director of South Korea's National Intelligence Service, Suh Hoon, who American officials said brokered Mr. Kim's invitation to Mr. Trump. The deep involvement of Mr. Pompeo, officials said, helps explain the timing of Mr. Tillerson's ouster. Mr. Trump, having decided to accept Mr. Kim's invitation to a meeting, wanted to have a secretary of state who was in lock step with his views, these people said."
Facebook suspends the Trump-affiliated data analytics firm Cambridge Analytica after learning it failed to delete data it took inappropriately from users of Facebook, The Washington Post, Elizabeth Dwoskin, Friday, 16 March 2018: "Facebook is suspending the Trump-affiliated data analytics firm Cambridge Analytica, after learning that it failed to delete data that it had taken inappropriately from users of the social network, Facebook said late Friday. Facebook said it was suspending the accounts of Strategic Communication Laboratories, the parent company of Cambridge Analytica, as well as the accounts of University of Cambridge psychologist Aleksandr Kogan and Christopher Wylie of Eunoia Technologies. Cambridge Analytica, a firm that specializes in using online data to create voter personality profiles in order to target users with political messages, ran data operations for Donald Trump's presidential campaign. The company was funded by Trump supporter and hedge fund billionaire Robert Mercer, and the president's former senior adviser Stephen K. Bannon once sat on its board. The company, which began working for the Trump campaign in June 2016, promised that its so-called 'psychographic' profiles could predict the personality and political leanings of every adult in the United States. The analytics firm was asked in December to turn over internal documents to special counsel Robert S. Mueller III as part of the investigation into possible collusion between the Trump campaign and Russia during the 2016 election."
Andrew McCabe, Former F.B.I. Deputy Director and Target of Trump's F.B.I. Scorn, Is Fired by Attorney General Jeff Sessions, The New York Times, Matt Apuzzo and Adam Goldman, Friday, 16 March 2018: "Andrew G. McCabe, the former F.B.I. deputy director and a frequent target of President Trump's scorn, was fired Friday after Attorney General Jeff Sessions rejected an appeal that would have let him retire this weekend. Mr. McCabe promptly declared that his firing, and Mr. Trump's persistent needling, were intended to undermine the special counsel's investigation in which he is a potential witness. Mr. McCabe is accused in a yet-to-be-released internal report of failing to be forthcoming about a conversation he authorized between F.B.I. officials and a journalist. In a statement released late Friday, Mr. Sessions said that Mr. McCabe had shown a lack of candor under oath on multiple occasions…. In an interview, Mr. McCabe was blunt. 'The idea that I was dishonest is just wrong,' he said, adding, 'This is part of an effort to discredit me as a witness.' F.B.I. disciplinary officials recommended his dismissal. Mr. McCabe, who stepped down in January and took a leave of absence, denied the accusation and appealed this week to senior career officials in the Justice Department. Lack of candor is a fireable offense at the F.B.I., but Mr. McCabe's last-minute dismissal was carried out against a highly politicized backdrop." See also, Andrew McCabe's Firing: Here's What We Know, The New York Times, Matt Apuzzo, published on Monday, 19 March 2018.
Continue reading Week 61, Friday, 16 March – Thursday, 22 March 2018 (Days 421-427)
The rewritten mission statements of Trump's federal agencies, annotated, The Washington Post, Christine Emba, Friday, 16 March 2018: "In the first year of the Trump administration, a number of federal agencies have quietly undergone changes to their mission statements or have had significant changes proposed. While many of these edits have gone unnoticed by the public, they may point to meaningful shifts in those agencies' purpose, priorities and value alignment. [This article covers] the current and previous versions of five of the most noticeably changed mission statements, along with annotations. To see an annotation, click on the yellow highlighted text."
Americans for Prosperity, a Conservative Group Funded by Billionaire Brothers Charles and David Koch, Is Promoting Conservative Federal Judges at the Grass-Roots Level, NPR, Carrie Johnson, Friday, 16 March 2018: "A conservative group funded by billionaire brothers Charles and David Koch is turning its attention to a new front: promoting federal judges at the grass-roots level. Americans for Prosperity is willing to spend nearly $1 million to confirm judges this year. Those lifetime appointments could reshape the courts for a generation. 'The fact of the matter is that so much of what affects us in our daily lives plays out in the courtroom,' said Sarah Field, the group's new vice president for judicial strategy. But even more important than the money could be the firepower AFP wants to engage. The idea is to mobilize conservative activists across 36 states for key confirmation fights this year. That includes people who call their home-state senators, write letters and knock on doors."
Michael Cohen, Trump's personal attorney, accuses Stormy Daniels of violating her nondisclosure agreement with Trump 20 times and claims the right to seek $20 million in damages, The Washington Post, Emma Brown and Tom Hamburger, Friday, 16 March 2018: "Michael Cohen, President Trump's personal attorney, claims he has the right to seek at least $20 million in damages from porn star Stormy Daniels for allegedly violating a nondisclosure agreement 20 times. A lawyer for Cohen's limited liability company, Essential Consultants, made the claim in papers filed in federal court Friday. Cohen also intends to force the dispute with Daniels, who alleges she was secretly paid to keep quiet about an affair with the president, out of the public eye and back into private arbitration, according to the court filing. In a separate document also filed Friday, a lawyer representing Trump said he intends to join the push to return the proceedings to arbitration, in which all proceedings are confidential. Michael Avenatti, a lawyer for Daniels, said the threat by Cohen and Trump to pursue millions of dollars in damages, and their efforts to take the matter behind closed doors, amounted to bullying of his client. 'To put it simply — they want to hide the truth from the American people. We will oppose this effort at every turn,' Avenatti wrote in an email. 'The fact that a sitting president is pursuing over $20 million in bogus "damages" against a private citizen, who is only trying to tell the public what really happened, is truly remarkable. Likely unprecedented in our history. We are not going away and we will not be intimidated by these threats.'" See also, Trump's Lawyers Claim Stormy Daniels Violated Confidentiality Agreement at Least 20 Times, The New York Times, Jim Rutenberg and Maggie Haberman, Friday, 16 March 2018.
How Trump Has Split With His Administration on Russian Meddling, The New York Times, Linda Qiu, Friday, 16 March 2018: "President Trump has long avoided blaming — or even naming — Russia for meddling in the 2016 election that put him in office. But his administration has been far tougher on Moscow for cyberattacks that officials this week said not only sought to sway political opinions, but also wormed into power plants, aviation systems and other critical infrastructure in the United States and Europe. On Thursday, Mr. Trump was studiously silent as his administration imposed sanctions on Russia for interfering in the 2016 presidential campaign and what officials called other 'malicious cyberattacks.' (The president did agree with a British assessment that Moscow was responsible for a nerve-gas attack in England against a former Russian spy and his daughter.) The Treasury Department said the sanctions were to punish 'Russia's continuing destabilizing activities.' And for the first time, the Department of Homeland Security and the F.B.I. directly accused Russia of committing cyberattacks against 'energy, nuclear, commercial facilities, water, aviation and critical manufacturing sectors.' Last week, by contrast, Mr. Trump said that 'the Russians had no impact on our votes whatsoever.' 'But, certainly, there was meddling and probably there was meddling from other countries and maybe other individuals,' the president said at a March 6 news conference. This pattern of diversion has steadily increased since Mr. Trump took office. [This article addresses] how the president and his own administration have parted ways on Russia."
Treasury Secretary Steve Mnuchin Spent Nearly $1 Million in Taxpayer Dollars on Eight Flights, Mother Jones, Edwin Rios, Friday, 16 March 2018: "A new set of documents obtained by the Citizens for Responsibility and Ethics in Washington shows that Treasury Secretary Steven Mnuchin spent nearly $1 million in taxpayer dollars on eight trips, opting for military aircraft over commercial flights. Through a Freedom of Information Act request and subsequent lawsuit, the Citizens for Responsibility and Ethics in Washington obtained emails and other documents that detail how Mnuchin 'apparently abused his access to military and non-commercial aircraft for both business travel and occasional personal travel,' according to CREW's press release. Last August, Mnuchin was criticized for taking a military jet with his wife, Louise Linton, to Fort Knox, Kentucky, around the time of the eclipse."
Turnover at a Continual Clip: The Trump Administration's Major Departures, The New York Times, Denise Lu and Karen Yourish, Friday, 16 March 2018: "President Trump's record-breaking staff churn does not appear to be ending anytime soon. On Friday, Andrew G. McCabe, the former F.B.I. deputy director, was fired after the Justice Department rejected an appeal two days before he was set to retire. And reports indicate that Mr. Trump — the former 'Apprentice' star with the 'You're fired' catchphrase — intends to oust Lt. Gen. H. R. McMaster, his second national security adviser. The possible shake-ups come after Mr. Trump's dismissal of Secretary of State Rex W. Tillerson via Twitter and at least two dozen other departures during his tenure — so far."
A (so far) complete timeline of the investigation into Trump and Russia, The New York Times, Philip Bump, Friday, 16 March 2018: "Over the course of 2017, as revelations unfolded about the investigation into President's Trump's 2016 campaign and any connections to Russian actors, we compiled a lengthy timeline of what we had learned. It was built on an understanding of the state of play and was necessarily refined multiple times as we learned more. Originally created in May, it ended with the appointment of Robert S. Mueller III as special counsel investigating Russian meddling. Given those limitations, we've decided to overhaul it, extending what we know about the Mueller investigation and including newly relevant dates and information. Ideally, this structure will allow for better expansion as needed moving forward. Many — or probably most — of the items on this timeline will prove to be unimportant or coincidental. For those hoping to get a broad sense of the investigation that's underway, though, we hope it's informative."
Saturday, 17 March 2018, Day 422:
Andrew McCabe, the former FBI Deputy Director fired by Attorney General Jeff Sessions on Friday, kept personal memos on his interactions with Trump. Special Counsel Robert Mueller's office now has access to them. Associated Press, Eric Tucker, Saturday, 17 March 2018: "Andrew McCabe, the onetime FBI deputy director long scorned by President Donald Trump and just fired by the attorney general, kept personal memos detailing interactions with the president that have been provided to the special counsel's office and are similar to the notes compiled by dismissed FBI chief James Comey, The Associated Press has learned. The memos could factor into special counsel Robert Mueller's investigation as his team examines Trump campaign ties to Russia and possible obstruction of justice. McCabe's memos include details of his own interactions with the president, according to a person with direct knowledge of the situation who wasn't authorized to discuss the notes publicly and spoke on condition of anonymity. They also recount different conversations he had with Comey, who kept notes on meetings with Trump that unnerved him. Though the precise contents are unknown, the memos possibly could help substantiate McCabe's assertion that he was unfairly maligned by a White House he says had declared 'war' on the FBI and Mueller's investigation. They almost certainly contain, as Comey's memos did, previously undisclosed details about encounters between the Trump administration and FBI that could be of interest to Mueller. The disclosure Saturday came hours after Trump called McCabe's firing by Attorney General Jeff Sessions 'a great day for Democracy' and asserted without elaboration that McCabe knew 'all about the lies and corruption going on at the highest levels off the FBI!' In the last year, Trump has repeatedly condemned McCabe as emblematic of an FBI that he insists is biased against his administration. That sent former CIA Director John Brennan, an outspoken Trump critic, into a Twitter tizzy: 'When the full extent of your venality, moral turpitude, and political corruption becomes known, you will take your rightful place as a disgraced demagogue in the dustbin of history. You may scapegoat Andy McCabe, but you will not destroy America…America will triumph over you.'" See also, Andrew McCabe, Fired F.B.I. Deputy Director, Is Said to Have Kept Memos on Trump, The New York Times, Matt Apuzzo, Saturday, 17 March 2018: "Andrew G. McCabe, the former deputy F.B.I. director who was fired late Friday, kept contemporaneous memos about his interactions with President Trump and his conversations with the former director James B. Comey, a person close to Mr. McCabe said on Saturday. The memos could bolster the account of Mr. Comey, whose own memos and testimony describe repeated requests by Mr. Trump to clear his name. Mr. Comey said Mr. Trump also asked him to shut down a criminal investigation into his former national security adviser, Michael T. Flynn. Both matters are under investigation by the special counsel, Robert S. Mueller III, who is considering whether Mr. Trump tried to obstruct justice. Mr. McCabe's memos were left at the F.B.I., which means that Mr. Mueller's investigators have access to them as they work to corroborate Mr. Comey's account." See also, Former FBI Deputy Director Andrew McCabe's statement on his firing, CNN, Andrew McCabe, Saturday, 17 March 2018.
John Dowd, Trump's Personal Lawyer, Says It's Time to End Special Counsel Robert Mueller's Probe, The Daily Beast, Betsy Woodruff, Saturday, 17 March 2018: "President Donald Trump's personal lawyer, John Dowd, told The Daily Beast on Saturday morning that he hopes Deputy Attorney General Rod Rosenstein will shut down special counsel Robert Mueller's probe into Russia's election interference. Reached for comment by email about the firing of former Deputy FBI Director Andrew McCabe, Dowd sent The Daily Beast the text of Trump's most recent tweet on the subject, which applauded the dismissal. 'I pray that Acting Attorney General Rosenstein will follow the brilliant and courageous example of the FBI Office of Professional Responsibility and Attorney General Jeff Sessions and bring an end to alleged Russia Collusion investigation manufactured by McCabe's boss James Comey based upon a fraudulent and corrupt Dossier,' Dowd then wrote. In making the statement, a senior member of Trump's legal team joins the calls from his base to end the probe…. When The Daily Beast initially asked Dowd if he was speaking on behalf of the president, he answered, 'Yes as his counsel.' After publication of this story, however, Dowd emailed to say he was actually speaking in his personal capacity, and not on the president's behalf." See also, Trump Lawyer John Dowd Says Special Counsel Robert Mueller's Inquiry Should Be Ended, The New York Times, Michael S. Schmidt and Maggie Haberman, Saturday, 17 March 2018: "A lawyer for President Trump called on the Justice Department on Saturday to end the special counsel investigation into ties between Russia and the Trump campaign, shifting abruptly to a more adversarial stance as the inquiry appeared to be intensifying…. People close to the president were skeptical that Mr. Dowd was acting on his own. Mr. Trump has a history of using advisers to publicly test a message, giving him some distance from it. And Mr. Dowd's comments came at a time when members of Mr. Trump's legal team are jockeying to stay in his favor…. Mr. Dowd's remarks about Mr. Mueller's investigation represented an extraordinary shift in public strategy for the Trump legal team. Since taking over the case last summer, Mr. Trump's lawyers have urged a strategy of restraint, in which the president avoids discussing Mr. Mueller or criticizing him, and the lawyers had done nothing publicly until now that could agitate the special counsel's team. The comments by both Mr. Trump and Mr. Dowd lent credence to Mr. McCabe's assertion that the president sees his firing as directly tied into Mr. Mueller's case. Mr. McCabe, who is a potential witness in the investigation, declared that his dismissal was an attempt to undermine it."
How Trump Consultants Exploited the Facebook Data of Millions, The New York Times, Matthew Rosenberg, Nicholas Confessore, and Carole Cadwalladr, Saturday, 17 March 2018: "As the upstart voter-profiling company Cambridge Analytica prepared to wade into the 2014 American midterm elections, it had a problem. The firm had secured a $15 million investment from Robert Mercer, the wealthy Republican donor, and wooed his political adviser, Stephen K. Bannon, with the promise of tools that could identify the personalities of American voters and influence their behavior. But it did not have the data to make its new products work. So the firm harvested private information from the Facebook profiles of more than 50 million users without their permission, according to former Cambridge employees, associates and documents, making it one of the largest data leaks in the social network's history. The breach allowed the company to exploit the private social media activity of a huge swath of the American electorate, developing techniques that underpinned its work on President Trump's campaign in 2016. An examination by The New York Times and The Observer of London reveals how Cambridge Analytica's drive to bring to market a potentially powerful new weapon put the firm — and wealthy conservative investors seeking to reshape politics — under scrutiny from investigators and lawmakers on both sides of the Atlantic…. [T]he full scale of the data leak involving Americans has not been previously disclosed — and Facebook, until now, has not acknowledged it. Interviews with a half-dozen former employees and contractors, and a review of the firm's emails and documents, have revealed that Cambridge not only relied on the private Facebook data but still possesses most or all of the trove…. During a week of inquiries from The Times, Facebook downplayed the scope of the leak and questioned whether any of the data still remained out of its control. But on Friday, the company posted a statement expressing alarm and promising to take action. 'This was a scam — and a fraud,' Paul Grewal, a vice president and deputy general counsel at the social network, said in a statement to The Times earlier on Friday. He added that the company was suspending Cambridge Analytica, Mr. Wylie and the researcher, Aleksandr Kogan, a Russian-American academic, from Facebook. 'We will take whatever steps are required to see that the data in question is deleted once and for all — and take action against all offending parties,' Mr. Grewal said." See also, Revealed: 50 million Facebook profiles harvested for Cambridge Analytica in major data breach, The Guardian, Carole Cadwalladr and Emma Graham-Harrison, Saturday, 17 March 2018: "The data analytics firm that worked with Donald Trump's election team and the winning Brexit campaign harvested millions of Facebook profiles of US voters, in one of the tech giant's biggest ever data breaches, and used them to build a powerful software program to predict and influence choices at the ballot box. A whistleblower [Christopher Wylie] has revealed to the Observer how Cambridge Analytica – a company owned by the hedge fund billionaire Robert Mercer, and headed at the time by Trump's key adviser Steve Bannon – used personal information taken without authorisation in early 2014 to build a system that could profile individual US voters, in order to target them with personalised political advertisements." See also, The Cambridge Analytica Files: 'I made Steve Bannon's psychological warfare tool': meet the data war whistleblower Christopher Wylie, The Guardian, Carole Cadwalladr, published on Sunday, 18 March 2018: "For more than a year we've been investigating Cambridge Analytica and its links to the Brexit Leave campaign in the UK and Team Trump in the US presidential election. Now, 28-year-old Christopher Wylie goes on the record to discuss his role in hijacking the profiles of millions of Facebook users in order to target the US electorate." See also, Cambridge Analytica scrambles to stop Channel 4 News, a British public-service television broadcaster, from broadcasting an undercover exposé of the data firm, Financial Times, Matthew Garrahan and Hannah Kuchler, Sunday, 18 March 2018: "Cambridge Analytica, the data firm alleged to have used the personal information of millions of Facebook users without their knowledge in its work for Donald Trump's election campaign, is trying to stop the broadcast of an undercover Channel 4 News report in which its chief executive talks unguardedly about its practices. Channel 4 reporters posed as prospective clients and had a series of meetings with Cambridge Analytica that they secretly filmed — including at least one with Alexander Nix, its chief executive. Channel 4 declined to comment."
Kansas Secretary of State Kris Kobach's Crusade Against Nonexistent Voter Fraud Gets Exposed in Court, The New York Times, The Editorial Board, Saturday, 17 March 2018: "The modern American crusade against voter fraud has always been propelled by faith. That is, an insistent belief in things unseen — things like voters who show up at the polls pretending to be someone else, or noncitizens who try to register and vote illegally. Fraud like this is so rare as to be almost unmeasurable, and yet its specter has led to dozens of strict new laws around the country. Passed in the name of electoral integrity, the laws, which usually require voters to present photo IDs at the polls or provide proof of citizenship to register, make voting harder, if not impossible, for tens of thousands of people — disproportionately minorities and others who tend to vote Democratic. The high priest of this faith-based movement is Kris Kobach, the Kansas secretary of state and gubernatorial candidate who has been preaching his gospel of deception to Republican lawmakers for years. He has won plenty of converts, even though he has failed to identify more than a tiny handful of possible cases of fraud. In his eight years as secretary of state, he has secured a total of nine convictions, only one of which was for illegal voting by a noncitizen; most were for double-voting by older Republican men. For the past two weeks, however, Mr. Kobach has been forced to make his case in a far more rigorous setting — the fact-finding process of a federal trial. In a Kansas City courtroom, Mr. Kobach and his fellow true believers have struggled to defend a 2013 state law that requires prospective voters to prove their citizenship before they can register. It has not gone well for Mr. Kobach. The lawsuit, brought by the American Civil Liberties Union on behalf of Kansas residents who were blocked from voting under the new law, contends that the legislation violates federal law, which requires only that prospective voters attest to their citizenship under penalty of perjury. Meanwhile, it disenfranchised tens of thousands of Kansans, who were disproportionately younger voters or voters with no party affiliation."
Sunday, 18 March 2018, Day 423:
Middle East civilian deaths have soared under Trump, and the media mostly shrug. The Washington Post, Margaret Sullivan, Sunday, 18 March 2018: "The numbers are shocking — or at least they should be. 2017 was the deadliest year for civilian casualties in Iraq and Syria, with as many as 6,000 people killed in strikes conducted by the U.S.-led coalition, according to the watchdog group Airwars. That is an increase of more than 200 percent over the previous year. It is far more if you add in countries like Yemen, Afghanistan, Somalia and many others. But the subject, considered a stain on President Barack Obama's legacy even by many of his supporters, has almost dropped off the map. Obsessed with the seemingly daily updates in the Stormy Daniels story or the impeachment potential of the Russia investigation, the American media is paying even less attention now to a topic it never focused on with much zeal. 'The media has unfortunately been so distracted by the chaos of the Trump administration and allegations of the president's collusion with Russia that it's neglected to look closely at the things he's actually doing already,' said Daphne Eviatar, a director of Amnesty International USA. That includes, she said, 'hugely expanding the use of drone and airstrikes, including outside of war zones, and increasing civilian casualties in the process.'"
U.S. and British Lawmakers Demand That Facebook Explain How Cambridge Analytica, a Firm Tied to the Trump Campaign, Harvested Private Data From More Than 50 Million Users to Target Political Advertising and Manipulate Voters, The New York Times, Matthew Rosenberg and Sheera Frenkel, Sunday, 18 March 2018: "Facebook on Sunday faced a backlash about how it protects user data, as American and British lawmakers demanded that it explain how a political data firm with links to President Trump's 2016 campaign was able to harvest private information from more than 50 million Facebook profiles without the social network's alerting users. Senator Amy Klobuchar of Minnesota, a Democratic member of the Senate Judiciary Committee, went so far as to press for Mark Zuckerberg, Facebook's chief executive, to appear before the panel to explain what the social network knew about the misuse of its data 'to target political advertising and manipulate voters.' The calls for greater scrutiny followed reports on Saturday in The New York Times and The Observer of London that Cambridge Analytica, a political data firm founded by Stephen K. Bannon and Robert Mercer, the wealthy Republican donor, had used the Facebook data to develop methods that it claimed could identify the personalities of individual American voters and influence their behavior. The firm's so-called psychographic modeling underpinned its work for the Trump campaign in 2016, though many have questioned the effectiveness of its techniques. But Facebook did not inform users whose data had been harvested. The lack of disclosure could violate laws in Britain and in many American states." See also, U.S. and European officials on Sunday called for Facebook chief executive Mark Zuckerberg to explain how personal information about tens of millions of users ended up in the hands of Cambridge Analytica, a data analysis firm that worked for Trump's 2016 presidential campaign, The Washington Post, Craig Timberg, Tony Romm, and Elizabeth Dwoskin, Sunday, 18 March 2018.
Trump Assails Special Counsel Robert Mueller, Drawing Rebukes From Some Republicans, The New York Times, Peter Baker, Sunday, 18 March 2018: "President Trump on Sunday abandoned a strategy of showing deference to the special counsel examining Russia's interference in the 2016 presidential election, lashing out at what he characterized as a partisan investigation and alarming Republicans who feared he might seek to shut it down. Mr. Trump has long suggested that allegations that he or his campaign conspired with Russia to influence the election were a 'hoax' and part of a 'witch hunt,' but until this weekend he had largely heeded the advice of lawyers who counseled him not to directly attack Robert S. Mueller III, the special counsel, for fear of antagonizing prosecutors. 'Why does the Mueller team have 13 hardened Democrats, some big Crooked Hillary supporters, and Zero Republicans?' Mr. Trump wrote on Twitter. 'Another Dem recently added…does anyone think this is fair? And yet, there is NO COLLUSION!' The attack on Mr. Mueller, a longtime Republican and former F.B.I. director appointed by a Republican president, George W. Bush, drew immediate rebukes from some members of the party who expressed concern that it might presage an effort to fire the special counsel. Such a move, they warned, would give the appearance of a corrupt attempt to short-circuit the investigation and set off a bipartisan backlash…. Late in the day, the White House tried to douse the furor. 'In response to media speculation and related questions being posed to the administration, the White House yet again confirms that the president is not considering or discussing the firing of the special counsel, Robert Mueller,' Ty Cobb, a White House lawyer, said in a statement…. The New York Times reported last week that Mr. Mueller has subpoenaed records from the Trump Organization. Mr. Trump's lawyers met with Mr. Mueller's team last week and received more details about how the special counsel is approaching the investigation, including the scope of his interest in the Trump Organization." See also, Trump rails against Special Counsel Robert Mueller's investigation and dismisses former FBI deputy director Andrew McCabe's notes as 'Fake Memos,' The Washington Post, Philip Rucker, Sunday, 18 March 2018. See also, Trump said Special Counsel Robert Mueller's team has 13 hardened Democrats. Here are the facts. The Washington Post, Matt Zapotosky, Sunday, 18 March 2018. See also, How Top Republicans Reacted, or Didn't, to Trump's Tweets on Special Counsel Robert Mueller, The New York Times, Sheryl Gay Stolberg, Sunday, 18 March 2018. See also, Fact-checking Trump's error-filled tweetstorm about special counsel Robert Mueller's probe, The Washington Post, Glenn Kessler, Sunday, 18 March 2018.
Trump had senior staff sign nondisclosure agreements. They're supposed to last beyond his presidency. The Washington Post,  Ruth Marcus, Sunday, 18 March 2018: "In the early months of the administration, at the behest of President Trump, who was furious over leaks from within the White House, senior White House staff members were asked to, and did, sign nondisclosure agreements vowing not to reveal confidential information and exposing them to damages for any violation. Some balked at first but, pressed by then-Chief of Staff Reince Priebus and the White House Counsel's Office, ultimately complied, concluding that the agreements would likely not be enforceable in any event…. Every president inveighs against leakers and bemoans the kiss-and-tell books; no president, to my knowledge, has attempted to impose such a pledge. And while White House staffers have various confidentiality obligations — maintaining the secrecy of classified information or attorney-client privilege, for instance — the notion of imposing a side agreement, supposedly enforceable even after the president leaves office, is not only oppressive but constitutionally repugnant." See also, ACLU Statement on White House Nondisclosure Agreements, ACLU, Sunday, 18 March 2018: "President Trump reportedly had senior White House staff members sign nondisclosure agreements at the start of his administration, according The Washington Post. Ben Wizner, director of the American Civil Liberties Union's Speech, Privacy, and Technology Project, had this reaction: 'Public employees can't be gagged by private agreements. These so-called NDAs are unconstitutional and unenforceable.'" See also, White House Job Requirement: Signing a Nondisclosure Agreement, Julie Hirschfeld Davis, Maggie Haberman, Michael D. Shear, and Katie Rogers, published on Wednesday, 21 March 2018: "[F]ormer White House lawyers and government ethics experts said the [nondisclosure] agreement raised serious legal questions and reflected Mr. Trump's refusal to submit to the norms of public disclosure or respect the basic right of free speech…. Mr. Trump's demand that his aides sign a confidentiality agreement was first reported this week by The Washington Post, but White House officials who have signed one disputed part of that report, which said an early draft of the nondisclosure agreement would have subjected staff members to fines of $10 million for each time they violated it. Two officials said in interviews that a document with similar terms had been circulated during the transition between Mr. Trump's election and his inauguration, but it was widely ridiculed by aides as a misguided tactic by the president-elect's personal lawyers, and was never used."
'Skinhead Lesbian' Tweet About a Marjory Stoneman Douglas High School Student Ends the Maine Candidacy of Republican Leslie Gibson, The New York Times, Matt Stevens, Sunday, 18 March 2018: "A Republican candidate for the Maine State House who disparaged two teenage survivors of the school shooting in Parkland, Fla., dropped out of the race after drawing heavy criticism and challengers from both political parties. The candidate, Leslie Gibson, had been running to represent District 57 in central Maine unopposed, according to The Sun Journal, which first reported the comments he made on Twitter. Mr. Gibson called one Florida student, Emma González, a 'skinhead lesbian,' and another, David Hogg, a 'moron' and a 'baldfaced liar.' Some state lawmakers, including at least two Republicans, were quick to condemn Mr. Gibson after his comments surfaced. Mr. Hogg issued a call on Twitter for someone to run against Mr. Gibson. By Thursday, two challengers who had been dismayed by the remarks were scrambling to complete the paperwork needed to run for the seat before the filing deadline that night."
Monday, 19 March 2018, Day 424:
Supreme Court Won't Block New Pennsylvania Voting Maps, Setting the Stage for Possible Gains by Democrats, The New York Times, Adam Liptak, Monday, 19 March 2018: "The Supreme Court rejected on Monday a second emergency application from Republican lawmakers in Pennsylvania seeking to overturn decisions from that state's highest court, which had ruled that Pennsylvania's congressional map had been warped by partisan gerrymandering and then imposed one of its own. The ruling means a new map drawn by the Pennsylvania Supreme Court will very likely be in effect in this year's elections, setting the stage for possible gains by Democrats. Under the current map, Republicans hold 12 seats while Democrats hold five and are expected to pick up another when the result of a special election last week is certified. The latest application was denied by the full Supreme Court without comment or noted dissents."
In New Hampshire, Trump Unveils a Plan to Combat the Opioid Epidemic That Includes a Push for the Death Penalty for Drug Dealers and a Crackdown on Illegal Immigrants, The New York Times, Maggie Haberman, Abby Goodnough, and Katharine Q. Seelye, Monday, 19 March 2018: "President Trump made his first visit to New Hampshire since the 2016 campaign on Monday, unveiling a plan to combat the opioid epidemic that includes a push for the death penalty for drug dealers and a crackdown on illegal immigrants. Mr. Trump spoke in a state with the nation's third-highest rate of deaths from overdoses and where opioids are a potent political issue. In a speech at a community college here, he offered up more tough talk than he did specifics about his plan, or how he would pay for it." See also, In New Hampshire, Trump pledges to 'get tough' on drug crime, including the death penalty for some drug dealers, The Washington Post, John Wagner and Katie Zezima, Monday, 19 March 2018: "The president's focus on punitive measures alarmed some in the public health community. They fear that it will overshadow proposals from the White House and in Congress for prevention and treatment."
After Trump's tweets against special counsel Robert Mueller's Russia investigation on 18 March, Republicans rally around Mueller, but not around bills to protect him, The Washington Post, Karoun Demirjian and Seung Min Kim, Monday, 19 March 2018: "The congressional Republican rebukes of President Trump for attacking special counsel Robert S. Mueller III were sharp but selective: As GOP lawmakers defended Mueller against the president's tweets, there were no signs that the president's weekend Twitter tirade had pushed any GOP lawmakers to the breaking point of calling for legislative steps to protect Mueller's probe. The relative calm of members of the GOP stood in sharp contrast to the alarms being sounded by Democrats, some of whom on Monday began calling for legislation to protect the special counsel to be included in a spending bill Congress must pass by Friday. 'I'm going to advocate that we consider the special counsel measure as part of must-do legislation, including the omnibus,' said Sen. Richard Blumenthal (D-Conn.). But with no Republican buy-in, the chances of forcing such an addition are slim." See also, Why Congress Must Act Now to Protect Special Counsel Robert Mueller, The New Yorker, John Cassidy, Monday, 19 March 2018: "The United States may be on the brink of a constitutional crisis. After three days of Presidential attacks on the investigation being carried out by the special counsel Robert Mueller, it seems clear—despite a public assurance from one of Donald Trump's lawyers that the President isn't currently considering firing Mueller—that the Trump-Russia story has entered a more volatile and dangerous phase. As the tension mounts, it's essential that Congress step in to protect Mueller before it's too late. It has been no secret that Trump would dearly love to fire the special counsel, and that he has little or no regard for the legal and constitutional consequences of such an action. It has been reported that, last summer, behind the scenes, he ordered Don McGahn, the White House counsel, to get rid of Mueller, and only backed down after McGahn threatened to resign…. The issue isn't whether Trump is thinking about firing Mueller: we can take that as a given. The issue is whether he thinks he would get away with it, or whether he takes seriously what the Republican senator Lindsey Graham said on Sunday, that such a move 'would be the beginning of the end of his Presidency.' As the special counsel's investigation approaches its first anniversary and closes in on what may well be Trump's biggest vulnerability—his business dealings with foreign entities—Trump's calculus appears to be changing."
Cambridge Analytica, a Political Data Firm Tied to Trump, Offered to Entrap Politicians Through Seduction and Bribery, The New York Times, Matthew Rosenberg, Monday, 19 March 2018: "Sitting in a hotel bar, Alexander Nix, who runs the political data firm Cambridge Analytica, had a few ideas for a prospective client looking for help in a foreign election. The firm could send an attractive woman to seduce a rival candidate and secretly videotape the encounter, Mr. Nix said, or send someone posing as a wealthy land developer to pass a bribe…. The prospective client, though, was actually a reporter from Channel 4 News in Britain, and the encounter was secretly filmed as part of a monthslong investigation into Cambridge Analytica, the data firm with ties to President Trump's 2016 campaign. The results of Channel 4's work were broadcast in Britain on Monday, days after reports in The New York Times and The Observer of London that the firm had harvested the data from more than 50 million Facebook profiles in its bid to develop techniques for predicting the behavior of individual American voters." See also, Revealed: Trump's election consultants at Cambridge Analytica were filmed saying they use bribes and sex workers to entrap politicians, Channel 4 News, Monday, 19 March 2018: "An undercover investigation by Channel 4 News reveals how Cambridge Analytica secretly campaigns in elections across the world. Bosses were filmed talking about using bribes, ex-spies, fake IDs and sex workers…. [T]he company's chief executive Alexander Nix said the British firm secretly campaigns in elections across the world. This includes operating through a web of shadowy front companies, or by using sub-contractors…. Offering bribes to public officials is an offence under both the UK Bribery Act and the US Foreign Corrupt Practices Act. Cambridge Analytica operates in the UK and is registered in the United States." See also, Alexander Nix, CEO of the Trump 2016 data firm Cambridge Analytica, was recorded by Channel 4 News talking about using bribes and sex workers to entrap politicians, The Washington Post, Philip Bump, Monday, 19 March 2018. See also, Some things to know about the Cambridge Analytica-Facebook debacle, The Washington Post,  Philip Bump, Monday, 19 March 2018.
Alex Stamos, Facebook Data Security Chief, Plans to Leave Facebook by August. He Has Urged More Public Disclosure Over Russian Activity on Facebook. The New York Times, Nicole Perlroth, Sheera Frenkel, and Scott Shane, Monday, 19 March 2018: "As Facebook grapples with a backlash over its role in spreading disinformation, an internal dispute over how to handle the threat and the public outcry is resulting in the departure of a senior executive. The impending exit of that executive — Alex Stamos, Facebook's chief information security officer — reflects heightened leadership tension at the top of the social network. Much of the internal disagreement is rooted in how much Facebook should publicly share about how nation states misused the platform and debate over organizational changes in the run-up to the 2018 midterm elections, according to current and former employees briefed on the matter. Mr. Stamos, who plans to leave Facebook by August, had advocated more disclosure around Russian interference of the platform and some restructuring to better address the issues, but was met with resistance by colleagues, said the current and former employees. In December, Mr. Stamos's day-to-day responsibilities were reassigned to others, they said. Mr. Stamos said he would leave Facebook but was persuaded to stay through August to oversee the transition of his responsibilities and because executives thought his departure would look bad, the people said. He has been overseeing the transfer of his security team to Facebook's product and infrastructure divisions. His group, which once had 120 people, now has three, the current and former employees said."
Trump Hired Joseph E. diGenova, a Lawyer Who Has Pushed the Theory That Trump Was Framed by the F.B.I. and the Justice Department, The New York Times, Maggie Haberman and Michael S. Schmidt, Monday, 19 March 2018: "President Trump hired the longtime Washington lawyer Joseph E. diGenova on Monday, adding an aggressive voice to his legal team who has pushed the theory on television that the F.B.I. and Justice Department framed Mr. Trump. Mr. diGenova, a former United States attorney, is not expected to take a lead role. But he will serve as an outspoken player for the president as Mr. Trump has increased his attacks on the special counsel, Robert S. Mueller III. Mr. Trump broke over the weekend from the longstanding advice of some of his lawyers that he refrain from directly criticizing Mr. Mueller, a sign of his growing unease with the investigation…. Mr. diGenova has endorsed the notion that a secretive group of F.B.I. agents concocted the Russia investigation as a way to keep Mr. Trump from becoming president. 'There was a brazen plot to illegally exonerate Hillary Clinton and, if she didn't win the election, to then frame Donald Trump with a falsely created crime,' he said on Fox News in January. He added, 'Make no mistake about it: A group of F.B.I. and D.O.J. people were trying to frame Donald Trump of a falsely created crime.'" See also, As legal threats mount, Trump shakes up his team of lawyers by hiring Joe diGenova, a combative former prosecutor who has publicly argued that Trump is the target of an elaborate FBI conspiracy, The Washington Post, Ashley Parker, Josh Dawsey, Carol D. Leonnig, and Robert Costa, Monday, 19 March 2018.
Anti-Intelligence: What happens when the president goes to war with his own spies? The New Republic, James Bamford, Monday, 19 March 2018: "Trump's campaign to discredit his own intelligence agencies highlights how drastically the president has shattered many of the spy world's long-held norms. Under Presidents George W. Bush and Barack Obama, the intelligence community and the White House generally formed a united front, supporting each other in public if not always agreeing in private…. Now, however, it is the White House that has declared war on the FBI and the intelligence community over criminal investigations and the Russia probe. And, in an ironic twist, the public, lawmakers, and the press have rushed to the defense of the FBI and the intelligence agencies…. Former intelligence chiefs who, a few years ago, were justly chastised by much of the mainstream media for lying and violating civil liberties are now featured in the press as purveyors of truth and justice. Among them is former Director of National Intelligence James Clapper, who was roundly criticized for what many view as his lying under oath before Congress regarding the NSA's illegal domestic spying; former NSA Director Michael Hayden, who secretly ordered his agency to begin that spying; and former CIA Director John Brennan, who purportedly ran the agency's program of targeted killing of Americans and tried to prevent the Senate from releasing its voluminous investigation into the CIA's torture program…. Members of Congress, too, are stumbling over each other to praise the agencies, when they should be scrutinizing them…. This sudden backflip by lawmakers, the media, and the public is understandable, given the seriousness of the charges leveled against Trump and his overt and systematic attempts to thwart the Russia investigation. But there is a great danger to society in overlooking past issues of accountability and the potential harm to civil liberties and instead viewing the FBI and the spy world in a purely positive light. And as the rift between the president and America's spies grows wider, there is also an ominous possibility that the FBI and the intelligence agencies will no longer feel accountable to Trump, because they no longer see him as a legitimate partner or commander."
Tuesday, 20 March 2018, Day 425:
The Senate Intelligence Committee Warns About Russian Election Meddling and Calls for New Voting Machines That Produce Paper Ballots, The New York Times, Nicholas Fandos and Matthew Rosenberg, Tuesday, 20 March 2018: "The Senate Intelligence Committee offered recommendations on Tuesday for securing American elections from foreign attacks, pressing states to buy voting machines that produce paper ballots and to secure voter databases, and calling for better cooperation between state and federal elections officials ahead of November's midterm elections. The committee's recommendations — the first such disclosure in its year-old investigation into Russia's 2016 election meddling — covered much of what experts and intelligence officials have been urging elections authorities to do for months. Yet the panel also urged the Trump administration to make clear that it would not tolerate any attacks on systems used to run elections…. Top American intelligence officials have warned that Russia sees its digital campaign to fan the country's social and political divisions in 2016 as a success, and is already meddling in the midterm elections. A central focus of the campaign — the use of fake social media accounts to spread propaganda and disinformation — has carried on unabated, the officials said." See also, Senate Intelligence Committee members call for immediate steps to protect US elections, The Washington Post, Karoun Demirjian, Tuesday, 20 March 2018.
Senators Reject a Bipartisan Effort to Halt U.S. Military Support for the Deadly Saudi-Led Bombing Campaign in Yemen, The New York Times, Nicholas Fandos, Tuesday, 20 March 2018: "The Senate rejected a bipartisan effort to halt American military support for the deadly Saudi-led bombing campaign in Yemen, as lawmakers from both parties declined on Tuesday to support a rare attempt to limit the president's war powers. The resolution, which brought together a handful of Republicans and liberal Democrats, provided a venue for a highly unusual debate on the Senate floor, on the 15th anniversary of American forces entering Iraq, over the extent of the use of force abroad and Congress's role in doing so. But by a vote of 55 to 44, the measure was ultimately referred back to the Senate Foreign Relations Committee for further debate without a final vote…. Proponents of the resolution to rein in American involvement argued that the United States' actions in Yemen constitute participation in hostilities and were undertaken without the proper authorization from Congress. 'The Constitution is clear: The U.S. Congress decides whether we go to war,' said Senator Bernie Sanders, independent of Vermont and a sponsor of the resolution. 'There is no question in my mind that by aiding Saudi Arabia the way we are doing that, we are assisting in war. We are in a conflict.'" See also, Saudi Arabia's crown prince, Mohammed bin Salman, met with Trump on Tuesday, and it was all smiles in the Oval Office. The visit, however, was overshadowed by the Saudi-led war in Yemen. The Washington Post, Ishaan Tharoor, published on Wednesday, 21 March 2018.
Steve Bannon oversaw Cambridge Analytica's collection of Facebook data, according to former employee Chris Wylie, The Washington Post, Craig Timberg, Karla Adam, and Michael Kranish, Tuesday, 20 March 2018: "Conservative strategist Stephen K. Bannon oversaw Cambridge Analytica's early efforts to collect troves of Facebook data as part of an ambitious program to build detailed profiles of millions of American voters, a former employee of the data-science firm said Tuesday. The 2014 effort was part of a high-tech form of voter persuasion touted by the company, which under Bannon identified and tested the power of anti-establishment messages that later would emerge as central themes in President Trump's campaign speeches, according to Chris Wylie, who left the company at the end of that year. Among the messages tested were 'drain the swamp' and 'deep state,' he said…. More than three years before he served as Trump's chief political strategist, Bannon helped launch Cambridge Analytica with the financial backing of the wealthy Mercer family as part of a broader effort to create a populist power base. Earlier this year, the Mercers cut ties with Bannon after he was quoted making incendiary comments about Trump and his family."
Cambridge Analytica, data consultant for the Trump campaign and others, has suspended CEO Alexander Nix. The Federal Trade Commission has opened an investigation into Facebook to determine whether the use of the data violated privacy protections. The Washington Post, Michael Kranish and Tony Romm, Tuesday, 20 March 2018: "Cambridge Analytica, a data science company that worked for President Trump's campaign, announced Tuesday that it has suspended chief executive Alexander Nix after a British television station aired secretly recorded video that appeared to show him talking about entrapment as a way to win campaigns. The firm has also been the subject of reports in recent days that the company improperly accessed the data of tens of millions of Facebook users. The Federal Trade Commission has opened an investigation into Facebook to determine whether the use of the data violated privacy protections." See also, Alexander Nix, the CEO of Cambridge Analytica, is suspended after data scandal, The Guardian, Ruth McKee, Tuesday, 20 March 2018: "Alexander Nix, the CEO of Cambridge Analytica, the firm at the heart of the data-mining scandal, has been suspended. The company said in a statement: 'The board of Cambridge Analytica has announced today that it has suspended CEO Alexander Nix with immediate effect pending a full, independent investigation. In the view of the board, Mr Nix's recent comments secretly recorded by Channel 4 and other allegations do not represent the values or operations of the firm and his suspension reflects the seriousness with which we view this violation.'" See also, Cambridge Analytica whistleblower Christopher Wylie is to testify to Democrats on the House Intelligence Committee on Facebook data operation, The Washington Post, Karoun Demirjian and Craig Timberg, Tuesday, 20 March 2018: "The whistleblower who publicly revealed how Trump-affiliated data firm Cambridge Analytica used information mined from Facebook under false pretenses during the 2016 election cycle will give an interview to Democrats on the House Intelligence Committee as part of their investigation of Russian interference in the election, including possible ties to Donald Trump's campaign. A lawyer for Christopher Wylie confirmed Tuesday that Wylie plans to accept the invitation from the committee's ranking Democrat, Rep. Adam B. Schiff (Calif.). Schiff said Monday that panel Democrats want to talk to Wylie to determine where and how the Facebook data was stored and used, and whether others — including Russian operatives — had access to it."
Tons of food went to waste in Puerto Rico as stores' pleas to FEMA (Federal Emergency Management Agency) went unanswered, Politico, Lorraine Woellert, Trusday, 20 March 2018: "Walmart and other supermarkets in Puerto Rico were forced to throw out tons of perishable meat and produce after Hurricane Maria when their pleas for emergency fuel were ignored by the Federal Emergency Management Agency, according to congressional investigators. The retail giant and others reached out to FEMA officials repeatedly after the storm, seeking fuel to keep food refrigerated. They enlisted the help of Gov. Ricard Rosselló and other island officials, as well as members of Congress, to deliver emails, texts and in-person messages to FEMA."
Trump Congratulates President Vladimir V. Putin of Russia on His Re-election, but He Doesn't Mention Russian Meddling in the 2016 U.S. Presidential Election, The New York Times, Mark Landler, Tuesday, 20 March 2018: "President Trump called on Tuesday to congratulate President Vladimir V. Putin of Russia on his re-election, but did not raise with him the lopsided nature of his victory, Russia's meddling in the 2016 presidential election or Moscow's role in a nerve agent attack on a former Russian spy and his daughter living in Britain. Instead, Mr. Trump kept the focus of the call on what the White House said were 'shared interests' — among them, North Korea and Ukraine — overruling his national security advisers, who had urged him to raise Russia's recent behavior. 'We had a very good call,' Mr. Trump told reporters in the Oval Office, where he had just welcomed Crown Prince Mohammed bin Salman of Saudi Arabia. 'We will probably be meeting in the not-too-distant future.' The president's upbeat characterization came five days after his administration imposed sanctions on Russia for its interference in the election and for other 'malicious cyberattacks,' the most significant action it has taken against Moscow since Mr. Trump took office. The United States also joined Britain, France and Germany in denouncing the Russian government for violating international law for the attack on the spy, Sergei V. Skripal, and his daughter Yulia. Both actions highlighted a contradiction at the heart of the Trump presidency: the administration's steadily tougher stance toward Russia and Mr. Trump's own stubborn reluctance to criticize Mr. Putin." See also, Trump's national security advisers warned him not to congratulate Putin. He did it anyway. The Washington Post, Carol D. Leonnig, David Nakamura, and Josh Dawsey, Tuesday, 20 March 2018: "President Trump did not follow specific warnings from his national security advisers Tuesday when he congratulated Russian President Vladi­mir Putin on his reelection — including a section in his briefing materials in all-capital letters stating 'DO NOT CONGRATULATE,' according to officials familiar with the call. Trump also chose not to heed talking points from aides instructing him to condemn the recent poisoning of a former Russian spy in Britain with a powerful nerve agent, a case that both the British and U.S. governments have blamed on Moscow."
Democrats Tell Education Secretary Betsy DeVos Her 'Head Is in the Sand' on Racial Bias, The New York Times, Erica L. Green, Tuesday, 20 March 2018: "Education Secretary Betsy DeVos defended her agency's commitment to minority students in a wide-ranging hearing in which congressional leaders pressed Ms. DeVos on her department's budget. Ms. DeVos testified before the House Appropriations Committee, fielding questions on the Education Department's budget request for the fiscal year that begins in October. The request calls for a 5 percent spending cut, eliminates dozens of programs and pitches a $1 billion school choice proposal…. Democratic lawmakers disagreed that the budget would benefit all students — especially minorities. Representative Barbara Lee, Democrat of California, called the budget a 'slap in the face' for minority students. Ms. Lee seized on a proposed $1 million cut to the department's Office for Civil Rights, and its proposed cuts to after-school programs. The cuts, coupled with the Trump administration's decision to examine and possibly rescind guidance meant to protect minority students from racial discrimination in discipline and special education decisions, inflamed a debate about the department's approach to minority students. 'Your head is in the sand about racial bias and racial discrimination,' Ms. Lee said, adding: 'You just don't care about civil rights of black and brown children. This is horrible.'"
Karen McDougal, a Former Playboy Model Who Says She Had an Affair With Donald Trump, Is Suing To Be Freed From an Agreement With  a Media Company to Remain Quiet, The New York Times, Jim Ruetenberg and Rebecca R. Ruiz, Tuesday, 20 March 2018: "A former Playboy model who claimed she had an affair with Donald J. Trump sued on Tuesday to be released from a 2016 legal agreement restricting her ability to speak, becoming the second woman this month to challenge Trump allies' efforts during the presidential campaign to bury stories about extramarital relationships. The model, Karen McDougal, is suing The National Enquirer's parent company, which paid her $150,000 and whose chief executive is a friend of President Trump's. The other woman, the adult entertainment star Stephanie Clifford, better known as Stormy Daniels, was paid $130,000 to stay quiet by the president's personal lawyer, Michael D. Cohen. She filed a lawsuit earlier this month. Both women, who argue that their contracts are invalid, are trying to get around clauses requiring them to resolve disputes in secretive arbitration proceedings rather than in open court. Mr. Trump has denied the affairs, which both women have described as consensual."
New York Supreme Court Justice Jennifer G. Schecter allows a defamation lawsuit against Trump by Summer Zervos, a former contestant on 'The Apprentice,' to proceed,  The Washington Post, Beth Reinhard, Emma Brown, Frances Stead Sellers, and Mark Berman, Tuesday, 20 March 2018: "A judge ruled Tuesday that a former 'Apprentice' contestant's defamation lawsuit against President Trump may proceed, potentially allowing her lawyers to begin collecting evidence to support her claim that he forcibly kissed and groped her years ago. The decision in the case brought by Summer Zervos came on the same day a former Playboy playmate, Karen McDougal, sued the publisher of the National Enquirer for the right to break her silence about the 10-month affair she says she had with Trump more than a decade ago. The nearly simultaneous developments added to the political and legal challenges for the president, who has faced weeks of reports about his alleged affair with another woman, porn star Stormy Daniels, and his attorney's effort to buy her silence. All three women are now seeking to tell their stories on their own terms."
Wednesday, 21 March 2018, Day 426:
Members of the  Senate Intelligence Committee Tell Kirstjen Nielsen, the Secretary of Homeland Security, That Efforts to Secure Elections Are Moving Too Slowly, The New York Times, Nicholas Fandos and Matthew Rosenberg, Wednesday, 21 March 2018: "Members of the Senate Intelligence Committee pressured Kirstjen Nielsen, the secretary of homeland security, on Wednesday to speed up key election security measures, even as she trumpeted the adoption of important improvements ahead of November's midterm elections. Ms. Nielsen told the senators, who are investigating Russia's interference in the 2016 election, that the department made significant strides in recent months working with state and local election officials to improve communication about threats and share cybersecurity resources. Those efforts include comprehensive risk assessments and cyberscans meant to identify vulnerabilities in election systems…. Republicans and Democrats on the committee made clear that they expected more. 'When I listen to your testimony, I hear no sense of urgency to really get on top of this issue,' said Senator Susan Collins, Republican of Maine. Wednesday's session was the secretive committee's first public hearing designed to scrutinize findings from its year-old investigation into Russia's interference campaign. It followed the committee's release on Tuesday of a set of recommendations for state and federal officials to shore up the ballot box."
Following Trump's lead, Attorney General Jeff Sessions urges federal prosecutors to seek the death penalty against major drug dealers, Los Angeles Times, Joseph Tanfani, Wednesday, 21 March 2018: "Following President Trump's public calls to execute drug pushers, Atty. Gen. Jeff Sessions instructed federal prosecutors Wednesday to seek the death penalty against major drug dealers in response to the nation's opioid crisis. Federal executions are extremely rare — only three inmates have been put to death since the federal death penalty was reinstated in 1988 — and Sessions' brief directive is unlikely to lead to a dramatic increase since he did not propose new laws. He instead cited U.S. laws that have been on the books for decades, including a measure passed by Congress during the Clinton-era war on drugs in the 1990s that permits prosecutors to seek the death penalty for large-scale drug trafficking. No one has been executed under it. But under federal law, the U.S. attorney general has the final say on whether to seek the death penalty and Sessions clearly signaled that he will do so. Since taking office, he has made a priority of cracking down on violent crime and street gangs like MS-13."
John Brennan, a Former C.I.A. Director, Suggests Russia May Have Compromising Information on Trump, The New York Times, Matthew Rosenberg, Wednesday, 21 March 2018: "John O. Brennan, the former director of the Central Intelligence Agency, said Wednesday that he thought Russia may have some kind of compromising information on President Trump, setting off furious speculation about whether the former spy chief was basing that assertion on inside information. In an appearance on Wednesday on MSNBC's 'Morning Joe,' Mr. Brennan, who served as C.I.A. director from 2013 to 2017, speculated that Russians 'may have something on him personally' when he was asked if he thought Mr. Trump was afraid of President Vladimir V. Putin of Russia. 'The Russians, I think, have had long experience with Mr. Trump, and may have things that they could expose,' he added. Mr. Brennan was running the C.I.A. when a salacious dossier surfaced in 2016 that claimed the Russians had compromising information on Mr. Trump. If there were any current or former American officials who might know if there was truth behind the allegations in the dossier, Mr. Brennan would most likely be one of them. And his comments came the day after a phone call Mr. Trump made to Mr. Putin congratulating him for winning an election raised new questions about the president's relationship with Russia."
Andrew McCabe, deputy director of the FBI fired by Attorney General Jeff Sessions last Friday, authorized an FBI criminal investigation of Sessions, sources say, ABC News, Mike Levine, Wednesday, 21 March 2018: "Nearly a year before Attorney General Jeff Sessions fired senior FBI official Andrew McCabe for what Sessions called a "lack of candor," McCabe oversaw a federal criminal investigation into whether Sessions lacked candor when testifying before Congress about contacts with Russian operatives, sources familiar with the matter told ABC News. Democratic lawmakers have repeatedly accused Sessions of misleading them in congressional testimony and called on federal authorities to investigate, but McCabe's previously-unreported decision to actually put the attorney general in the crosshairs of an FBI probe was an exceptional move. One source told ABC News that Sessions was not aware of the investigation when he decided to fire McCabe last Friday less than 48 hours before McCabe, a former FBI deputy director, was due to retire from government and obtain a full pension, but an attorney representing Sessions declined to confirm that." See also, F.B.I. Investigated Attorney General Jeff Sessions for Possible Perjury Over Congressional Testimony in Which He Said He Had No Contacts with Russians, The New York Times, Adam Goldman, Katie Benner, and Matt Apuzzo, Wednesday, 21 March 2018.
How 2 Persian Gulf Monarchies, Saudi Arabia and the United Arab Emirates, Sought to Influence Trump, The New York Times, David D. Kirkpatrick and Mark Mazzetti, Wednesday, 21 March 2018: "A cooperating witness in the special counsel investigation worked for more than a year to turn a top Trump fund-raiser into an instrument of influence at the White House for the rulers of Saudi Arabia and the United Arab Emirates, according to interviews and previously undisclosed documents. Hundreds of pages of correspondence between the two men reveal an active effort to cultivate President Trump on behalf of the two oil-rich Arab monarchies, both close American allies. High on the agenda of the two men — George Nader, a political adviser to the de facto ruler of the U.A.E., and Elliott Broidy, the deputy finance chairman of the Republican National Committee — was pushing the White House to remove Secretary of State Rex W. Tillerson, backing confrontational approaches to Iran and Qatar and repeatedly pressing the president to meet privately outside the White House with the leader of the U.A.E. Mr. Tillerson was fired last week, and the president has adopted tough approaches toward both Iran and Qatar."
The Latest Cambridge Analytica Exposé Raises More Questions About The Firm's Role in the Trump Campaign, The New Yorker, John Cassidy, Wednesday, 21 March 2018: "On Tuesday, Britain's Channel 4 News showed the second part of its undercover exposé of Cambridge Analytica, the controversial political consulting firm that worked for the Trump campaign in 2016. In Part 1, which aired on Monday, the firm's British chief executive, Alexander Nix, was shown boasting of setting up honey traps and bribery stings on behalf of the firm's clients in elections around the world. Part 2 focussed on C.A.'s work for the Trump campaign…. In the latest Channel 4 report, Nix is shown saying that he had met Trump 'many times' and boasting about the firm's role in the 2016 campaign….  In the Channel 4 report, Nix describes the work that C.A. did for the Trump campaign. 'We did all the research, all the data, all the analytics, all the targeting,' he says. 'We ran all the digital campaign, the television campaign, and our data informed all the strategy.' Another C.A. executive, Mark Taylor, the firm's chief data officer, says, 'Donald Trump lost the popular vote by three million votes, but won the Electoral College vote. That's down to the data and the research. If you did your rallies in the right locations, you moved more people out in those key swing states on Election Day, that's how he won the election.' The C.A. executives also appear to suggest that the firm coördinated its activities with political groups who were outside the Trump campaign, such as super PACs , which, if true, may have violated campaign laws…. It should also be noted that Nix and Taylor, in boasting about the centrality of C.A. to the Trump campaign, thought they were making a pitch to a potential client. (A team of Channel 4 reporters posing as a wealthy Sri Lankan and his aides shot the undercover video at various London hotels.) When political consultants are trawling for business, they sometimes exaggerate the roles they played in winning campaigns and play down their presence in losing ones. For this reason alone, it may be unwise to take some of the statements that Nix and Taylor made at face value. Additionally, a number of stories have appeared querying C.A.'s importance during the campaign…. Given the content of the video, there is good reason to be skeptical of anything C.A. says. But the differing accounts of C.A.'s role emphasize the need for more definitive answers."
Thursday, 22 March 2018, Day 427:
H. R. McMaster Resigns as National Security Adviser and Will Be Replaced by John Bolton, The New York Times, Mark Landler and Maggie Haberman, Thursday, 22 March 2018: "President Trump named John R. Bolton, a hard-line former American ambassador to the United Nations, as his third national security adviser on Thursday, continuing a shake-up that creates one of the most hawkish national security teams of any White House in recent history. Mr. Bolton will replace Lt. Gen. H. R. McMaster, the battle-tested Army officer who was tapped last year to stabilize a turbulent foreign policy operation but who never developed a comfortable relationship with the president. The move, which was sudden but not unexpected, signals a more confrontational approach in American foreign policy at a time when Mr. Trump faces mounting challenges, including from Iran and North Korea. The president replaced Secretary of State Rex W. Tillerson last week with the C.I.A. director, Mike Pompeo, a former Army officer and Tea Party congressman who has spoken about regime change in Pyongyang and about ripping up the Iran nuclear deal. Mr. Bolton, an outspoken advocate of military action who served in the George W. Bush administration, has called for action against Iran and North Korea." See also, The return of John Bolton, a hawk on North Korea and Iran, sparks concerns, The Washington Post, Michael Birnbaum, Anna Fifield, and Loveday Morris, published on Friday, 23 March 2018: "President Trump's decision to make John Bolton his new national security adviser ricocheted around the globe on Friday, unsettling allies and raising alarm that a hawk who advocates military action against North Korea and Iran will have the president's ear. From Berlin and Jerusalem to Seoul and Tokyo, U.S. allies who have long felt that Trump's unconventional rhetoric on foreign policy often did not translate to concrete policy are bracing for a shift. Following the nomination last week of the hawkish Mike Pompeo to become secretary of state, Bolton's elevation means that Defense Secretary Jim Mattis is the lone survivor in a ring of advisers who pushed Trump to hew closer to conventional foreign policy positions. Now, as U.S. policy on North Korea and Iran reaches a crucial juncture in coming weeks, Bolton's regime-change rhetoric toward both nations may lead to a hardening of policy, allies believe. Europeans, who widely support a 2015 deal to restrict Iran's nuclear program, fear its imminent demise. Some Israelis — even those who criticized the pact — are also concerned. And in South Korea and Japan, there are fears that Trump is preparing for war if talks with North Korean leader Kim Jong Un fail to yield breakthroughs."
Congress Approves $1.3 Trillion Spending Bill, The New York Times, Thomas Kaplan, Thursday, 22 March 2018: "Congress gave swift approval to a $1.3 trillion spending bill that will keep the federal government open through September but broadly defies the Trump administration's wishes to reshape it. The House voted 256 to 167 to approve the bill early Thursday afternoon, less than 24 hours after the spending plan, which stretched 2,232 pages, had been unveiled. After a scare over whether a fiscally conservative senator might force a brief government shutdown this weekend, along with an unexpected grievance from another senator over the renaming of an Idaho wilderness area, the Senate voted 65 to 32 to approve the bill around 12:30 Friday morning…. The spending bill, which congressional leaders agreed to on Wednesday and President Trump seemed to grudgingly endorse on Twitter, provides big increases to the military and to domestic programs — and clearly rebuffs the Trump administration's efforts to sharply scale back the reach and scope of the federal government." See also, Spending Bill Passed by Congress Is a Rebuke to Trump. Here's Why. The New York Times, Julie Hirschfeld Davis, Thursday, 22 March 2018: "The $1.3 trillion spending plan passed early Friday by Congress delivered a broad rebuke to President Trump's vision for shaking up government, ignoring many of his ideas for cutting domestic programs and, in some cases, expressly barring him from accomplishing his goals."
John Dowd Resigns as Trump's Lead Lawyer in Special Counsel Robert Mueller's Inquiry, The New York Times, Michael S. Schmidt and Maggie Haberman, Thursday, 22 March 2018: "John Dowd resigned on Thursday as President Trump's lead lawyer for the special counsel investigation as Mr. Trump signaled that he was prepared to ignore his advice and wanted a sit-down with investigators. After days of uncertainty among the president's lawyers about their status, Mr. Dowd ultimately broke with Mr. Trump over whether he should agree to be questioned in the inquiry, a person briefed on the matter said. Mr. Dowd viewed an interview as too risky; the president reiterated shortly after Mr. Dowd resigned that he wanted to clear his name. 'I would like to,' the president told reporters at the White House when asked about meeting with investigators for the special counsel, Robert S. Mueller III. 'I would like to.'" See also, Trump has trouble finding attorneys as top Russia lawyer John Dowd leaves Trump's legal team, The Washington Post, Carol D. Leonnig, Josh Dawsey, and Ashley Parker, Thursday, 22 March 2018.
Trump hits China with tariffs, heightening concerns of global trade war, CNN, Jeremy Diamond, Thursday, 22 March 2018: "President Donald Trump launched the next salvo in his widening war on Chinese trade abuses, this time taking aim at China's unfair seizure of US intellectual property. Trump on Thursday directed the US trade representative to level tariffs on about $50 billion worth of Chinese imports following a seven-month investigation into the intellectual property theft, which has been a longstanding point of contention in US-China trade relations…. The move, which comes on the heels of the administration's steel and aluminum tariffs that also took aim at China, is heightening concerns of a global trade war that could destabilize the global economy — fears the Trump administration has repeatedly brushed off."
U.S. Temporarily Exempts Some Allies From Tariffs, but May Opt for Quotas, The New York Times, Jim Tankersley and Natalie Kitroeff, Thursday, 22 March 2018: "The Trump administration began imposing stiff tariffs on imported steel and aluminum early on Friday morning. But it granted a brief exemption to some allies, and in a twist, said it might impose import quotas to prevent too much foreign metal from flooding into the United States. The White House detailed the decision in a pair of presidential proclamations late Thursday night. They gave allies that won exemptions a May 1 deadline to negotiate 'satisfactory alternative means' to address what the administration calls the threat to United States national security resulting from its current levels of steel and aluminum imports. The exempted group includes Canada, Mexico, the European Union, Australia, Argentina, Brazil and South Korea. President Trump also said in the proclamation that he would 'consider' directing Customs and Border Protection to put in place a quota on imports from the exempted countries before the May 1 deadline, 'if necessary and appropriate.' Mr. Trump wrote that he would 'take into account all steel articles imports since Jan. 1, 2018, in setting the amount of such quota.'"
State Department Approves $670 Million Arms Deal With Saudi Arabia, The New York Times, Helene Cooper, Thursday, 22 March 2018: "The State Department said on Thursday that it had approved the sale of an estimated $670 million in anti-tank missiles to Saudi Arabia, just hours after Crown Prince Mohammed bin Salman met with Pentagon leaders to discuss the Saudi-led bombing campaign in Yemen. The proposed package includes up to 6,700 missiles made by Raytheon, as well as spare parts for American-made tanks and helicopters that Saudi Arabia already owns. The proposed sale is bound to be questioned by Congress, where the Senate this week rejected a bipartisan effort to halt American military support for the bombing campaign in Yemen. The Trump administration strenuously protested the effort, and sent Pentagon and State Department officials to Capitol Hill last week to lobby against its passage. In the end, the administration prevailed, and lawmakers from both parties shelved the measure for further debate by the Senate Foreign Relations Committee. That it got that far demonstrates the increased frustration by Republicans and Democrats over Washington's support for the Saudi campaign against Iranian-backed Houthis in Yemen, which has been roundly criticized by human rights organizations because of the large number of civilian casualties. The State Department said in a statement that it had notified Congress on Thursday of the proposed arms sale. Lawmakers have 30 days to try to stop it."
Trump's wall doesn't rank among border agents' top priorities, according to a report published Thursday by the Democratic staff of the Senate Committee on Homeland Security and Governmental Affairs, The Washington Post, Nick Miroff, Thursday, 22 March 2018: "U.S. agents asked to identify security gaps at the border do not view the construction of a wall as a priority, according to a report published Thursday by the Democratic staff of the Senate Committee on Homeland Security and Governmental Affairs. Citing internal survey data collected by U.S. Customs and Border Protection (CBP), which queries border agents annually as to what they view as the agency's priorities, the report found far more requests for additional investments in technology, training and personnel. But of the 902 'capability gaps' border agents identified in last year's survey, only 34 included requests for additional fencing. Just three — fewer than 1 percent — referenced a 'wall,' according to the Democratic staffers' report…. More often, border agents cited a need for better sensors, cameras and other technology, along with low-tech tools such as horse patrols, all-terrain vehicles and 'better vegetation management,' as keys to improved security." See also, What Border Agents Say They Want (It's Not a Wall), The New York Times, Ron Nixon, Thursday, 22 March 2018.
House Intelligence Committee Republicans voted Thursday to end their investigation into Russian interference in the 2016 presidential election, Politico, Kyle Cheney, Thursday, 22 March 2018: "House Intelligence Committee Republicans voted Thursday to end their investigation into Russian interference in the 2016 presidential election, declaring that a string of contacts between Donald Trump's associates and Russian government affiliates fell short of collusion and recommending dramatic new steps to crack down on intelligence leaks…. The report comes amid a bitter split on the House Intelligence panel, as Democrats claim the committee's Republican members sought to protect the president by cutting off the investigation without interviewing key people, forcing recalcitrant witnesses to answer questions or subpoenaing documents. Democrats fear the report could distract from the work of special counsel Robert Mueller, who is separately probing Russian meddling in the 2016 election and any involvement by Trump's team."
Former Playboy model Karen McDougal gives an emotional account of alleged affair with Trump and apologizes to Melania, The Washington Post, Eli Rosenberg and Beth Reinhard, published on Friday, 23 March 2018: "Former Playboy model Karen McDougal spoke on camera for the first time about the 10-month affair she says she had with Donald Trump shortly after the birth of his youngest son, baring the relationship's most intimate details and tracing its arc — from the moment she first met the future president to what she says was her decision to end the romance later — in an intensely personal interview broadcast on national television."