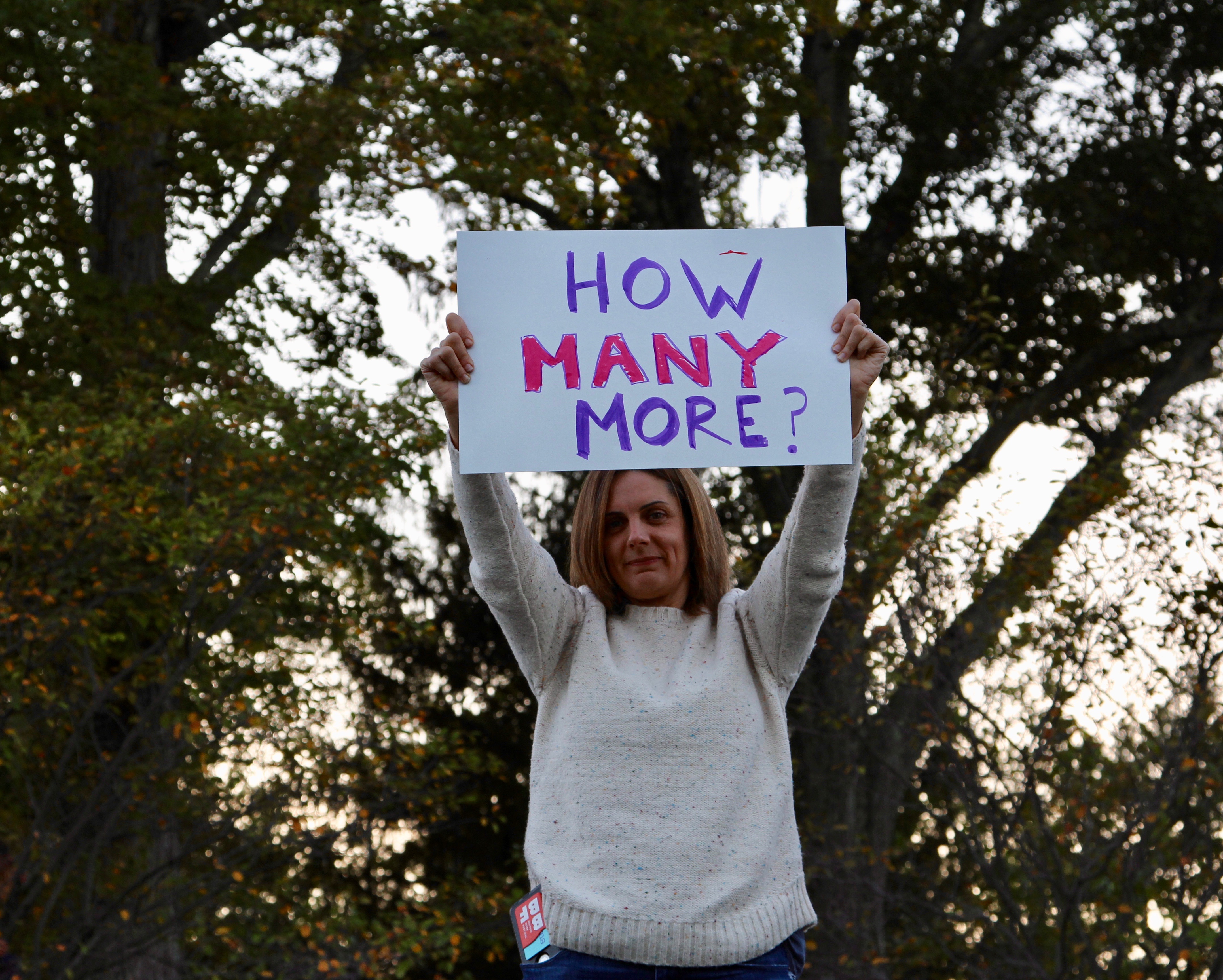 Keeping Track (of some things), Staying Outraged (it is possible), and Resisting (it's essential)
Passages in bold in the body of the texts below are my emphasis. This is an ongoing project, and I update the site frequently. Because I try to stay focused on what has actually happened, I usually let the news 'settle' a day or so before posting. I hope readers will peruse the articles in full for a better understanding of the issues and their context; our democracy and our future depend on citizens who can distinguish between facts and falsehoods and who are engaged in the political process.
Friday, 23 February 2018, Day 400:
Sarah Chadwick, a survivor of the mass shooting at Marjory Stoneman Douglas High School in Parkland, Florida: 'We should call AF-15s 'Marco Rubio' because they're both easy to buy,' The Hill, Brandon Carter, Friday, 23 February 2018: "A survivor of the deadly shooting at Marjory Stoneman Douglas High School criticized Sen. Marco Rubio (R-Fla.) on Twitter early Friday, suggesting he is 'easy to buy' for accepting donations from the National Rifle Association (NRA). 'We should change the names of AR-15s to 'Marco Rubio' because they are so easy to buy,' Stoneman Douglas junior Sarah Chadwick tweeted Friday. Rubio has been criticized by survivors of the shooting for accepting donations from the NRA. On Wednesday at a CNN town hall with survivors of the shooting, junior Cameron Kasky asked Rubio if he would commit to no longer accepting donations from the gun group. 'Senator Rubio, can you tell me right now that you will not accept a single donation from the NRA in the future?' Kasky asked. Rubio didn't directly answer, telling Kasky that 'people buy into my agenda' and saying he supports both the Second Amendment and 'the right of you and everyone here to be able to go to school and be safe.' The Florida senator was repeatedly confronted during the town hall event, with the father of one girl killed during the shooting  calling Rubio's comments 'pathetically weak.'"
An Australian Model on Guns? Trump and Australian Prime Minister Malcolm Turnbull Reject Comparisons, The New York Times, Peter Baker and Damien Cave, Friday, 23 February 2018: "One of the most powerful moments during President Trump's meeting with survivors and relatives of the Florida school shooting this week came when a student pleaded with the president to do what Australia did after a similar tragedy. As it happened, Mr. Trump had an opportunity on Friday to get a firsthand report on Australia's crackdown on guns when he hosted the country's prime minister at the White House. But both men quickly discounted any comparisons, saying their nations are too different…. Australia embarked on one of the world's most expansive efforts to rid a society of gun violence after a mass shooting in the Tasmanian town of Port Arthur on April 28, 1996, left 35 dead and many others injured. At that time, it was Australia's 13th mass shooting in less than two decades and the deadliest such incident to date in the Western world. Even in the United States since then, only two episodes have eclipsed that death toll, the massacres in an Orlando gay nightclub in 2016 and at a Las Vegas concert last year. In response to the 1996 shooting, John Howard, then Australia's conservative prime minister, moved quickly, introducing a federal law to officially make guns a privilege, not a right. Gun owners were forced to provide a valid reason for owning a weapon, such as farming or hunting. Licensing rules were tightened, a 28-day waiting period for gun purchases was imposed and a national gun registry was established. Semiautomatic rifles, like the one used at Port Arthur in 1996 and in Parkland last week, were severely restricted, and Australia engaged in a buyback program that took more than 650,000 firearms off the streets and generated attention around the world. Gun control advocates in the United States regularly point to Australia when the other side says that new laws would not make a difference. President Barack Obama cited Australia as a model after a shooting in Oregon in 2015 and Hillary Clinton, running to succeed him against Mr. Trump, said the Australian approach was 'worth considering.'"
Defying the National Rifle Association, Florida Lawmakers Back Raising Age Limits on Assault Rifles, The New York Times, Patricia Mazzei and Jess Bidgood, Friday, 23 February 2018: "Gov. Rick Scott and top state lawmakers proposed on Friday the most significant move toward gun control in Florida in decades, backing new limits that defy the National Rifle Association but fall short of demands from survivors of last week's school shooting. Faced with massive protests, the Republican governor announced a plan to raise the minimum age to buy any firearm, including semiautomatic rifles, from 18 to 21. Mr. Scott also vowed to strengthen rules to keep weapons away from people who have mental health problems or injunctions against them for stalking or domestic violence…. Student protesters who rallied at the State Capitol on Wednesday had demanded a complete ban on military-style assault rifles. On Friday, students said they were disappointed, if unsurprised, that Mr. Scott had stopped short of a ban, but vowed to keep pushing for one…. The move from Republicans demonstrated how quickly the politics around guns had shifted in Tallahassee, where the N.R.A. has wielded enormous influence for years. After mass shootings at the Pulse nightclub in Orlando in 2016 and in Fort Lauderdale last year, the state's leaders resisted demands to respond with stricter gun laws."
Continue reading Week 58, Friday, 23 February – Thursday, 1 March 2018 (Days 400-406)
The racist history of the 'crisis actor' attacks on Parkland school shooting survivors, The Washington Post, Michael E. Miller, Friday, 23 February 2018: "It was a moment of turmoil, when a school became a lightning rod for debates about American values and the Constitution. At the center of it all was a clutch of students, their teenage faces beamed across the country by television cameras. But no sooner had they emerged as heroes than they were branded as phonies. The year was 1957. Sixty-one years before teens at Marjory Stoneman Douglas High School in Parkland, Fla., would survive a mass shooting only to be labeled 'crisis actors,' the nine African American teens who braved racist crowds to enroll in Little Rock Central High School in Arkansas were also accused of being impostors. False rumors that the Little Rock Nine were paid protesters even forced the NAACP to issue a statement condemning the stories as 'pure propaganda.' The students were not, in fact, 'imported' from the North, said the NAACP's Clarence A. Laws, but rather the children of local residents, including veterans. When Princeton history professor Kevin M. Kruse pointed out the parallel between Parkland and Little Rock earlier this week, his tweet went viral. ['When nine black teenagers integrated Central High School in Little Rock, many segregationists insisted they were paid protesters who had been imported from other states.']… But the practice of dismissing witnesses to major historical events as mere paid actors goes back much further than the Little Rock Nine…. The crisis actor slur dates back to shortly after the Civil War, when former slaves who testified before Congress were slandered by Southern politicians as stooges paid to lie about their experiences, according to Boston College history professor Heather Cox Richardson." See also, Tested by Parkland, cartoonists see a movement developing, Poynter, David Beard, Friday, 23 February 2018.
Trump Blames Video Games for Mass Shootings. Researchers Disagree. The New York Times, Maya Salam and Liam Stack, Friday, 23 February 2018: "President Trump said Thursday that violent video games and movies may play a role in school shootings, a claim that has been made — and rejected — many times since the increase in such attacks in the past two decades…. Media scholars say the claim — a common one in the wake of mass shootings — does not hold up to scrutiny."
Rick Gates, the Former Deputy Chairman of the Trump Campaign, Pleads Guilty in Special Counsel Robert Mueller's Inquiry and Will Cooperate, The New York Times, Mark Mazzetti and Maggie Haberman, Friday, 23 February 2018: "A former top adviser to Donald J. Trump's presidential campaign has agreed to cooperate with the special counsel inquiry into Russia's interference in the 2016 election after pleading guilty on Friday to financial fraud and lying to investigators. The adviser, Rick Gates, is a longtime political consultant who once served as Mr. Trump's deputy campaign chairman. The plea deal could be a significant development in the investigation — a sign that Mr. Gates plans to offer incriminating information against his longtime associate and the former Trump campaign chairman, Paul Manafort, and possibly other members of the campaign in exchange for a lighter punishment. He faces up to nearly six years in prison. The deal came as the special counsel, Robert S. Mueller III, has been raising pressure on Mr. Gates and Mr. Manafort with dozens of new charges of money laundering and bank fraud unsealed on Thursday. Both men were first indicted in October and pleaded not guilty. The plea agreement was part of a flurry of recent activity by the special counsel's team. Last week, 13 Russians were indicted on charges relating to a carefully planned scheme to incite political discord in the United States in the months before the 2016 election. Mr. Gates changed his plea on Friday during an appearance in a Washington courtroom, his eyes cast down as the government outlined the charges against him. A man who had made millions of dollars lobbying in Ukraine accepted the fate that may await him: a prison sentence for carrying out a financial conspiracy to hide the money he earned there. He also admitted that he lied to investigators this month — while under indictment and negotiating with prosecutors — about the details of a 2013 meeting about Ukraine that Mr. Manafort had with a pro-Russian member of Congress." See also, Rick Gates, a former top official in Trump's campaign, pleads guilty to conspiracy and lying to the FBI, striking a deal to cooperate and provide information to special counsel Robert Mueller's ongoing investigation, The Washington Post, Devlin Barrett and Spencer S. Hsu, Friday, 23 February 2018. See also, A Breakdown of the Charges in the Mueller Investigation: More than 100 charges, 19 people, and 3 companies, The New York Times, Emily Cochrane and Alicia Parlapiano, Friday, 23 February 2018.
Trump Announces Harsh New Sanctions Against North Korea, The New York Times, Mark Landler, Friday, 23 February 2018: "President Trump announced harsh new sanctions on Friday against North Korea, signaling a return to his aggressive attempt to put pressure on the government of Kim Jong-un after an Olympic Games that had brought a brief lull in the tensions on the Korean Peninsula. The sanctions, which target 28 ships registered in China and seven other countries, are intended to close a stubborn loophole in the effort to cut off North Korea's imports of oil and exports of coal. Illicit ship-to-ship transfers of refined fuel and coal have allowed North Korea to mitigate the pain from those earlier measures, which were imposed in response to the repeated nuclear and ballistic missile tests it has conducted. The smuggling has also inflamed tensions with China and Russia, since both countries are linked to this trade. By going after the shipments, the United States is edging closer to the imposition of an economic blockade on the North. While Treasury Secretary Steven Mnuchin stopped short of saying the Navy would forcibly board ships on the high seas, he said the United States would petition China and other countries to allow inspections of suspicious vessels. Mr. Trump's move showed that he was determined to tighten the economic vise, even as the North and South embark on a new round of diplomacy. With the Olympics in Pyeongchang, South Korea, drawing to a close, the gauzy images of a unified Korean women's hockey team and synchronized North Korean cheerleaders are giving way to the grinding business of pressuring Mr. Kim."
Trump directs Pentagon to schedule military parade for Veterans Day, Politico, Eliana Johnson, Friday, 23 February 2018: "President Donald Trump's plans for a White House-backed military parade are beginning to take shape. The president has directed the Department of Defense to organize a parade that would take place on Nov. 11 – Veterans Day – according to an unclassified Feb. 20 memo written by National Security Adviser H.R. McMaster. The memo, which was summarized to POLITICO by a senior administration official, was sent from McMaster to Secretary of Defense James Mattis. It says that Trump wants Mattis to brief him on 'concepts of operation for this event.' The memo also said that the parade route should begin at the White House and end at the Capitol."
The Justice Department Informed the White House That Jared Kushner's Security Clearance Will Be Delayed, The New York Times, Michael S. Schmidt, Maggie Haberman, and Michael D. Shear, Friday, 23 February 2018: "The Justice Department informed the White House this month that there were substantial issues related to Jared Kushner that still needed to be investigated and would significantly delay a recommendation on whether he should receive a permanent security clearance, according to two people briefed on the matter. The White House was not told what the issues were involving Mr. Kushner, President Trump's son-in-law and senior adviser. But the notification led White House lawyers and aides to believe that they were more problematic than the complexity of his finances and his initial failure to disclose contacts with foreign leaders — the reasons Mr. Kushner's lawyers have said are holding up the process, the two people said. An interim clearance has given him access to closely guarded information, including the presidential daily brief, the intelligence summary Mr. Trump receives every day. The issue took on added urgency after the chief of staff, John F. Kelly, issued a sweeping review of interim clearances in response to the disclosure that the White House staff secretary, Rob Porter, had his permanent security clearance delayed for a year because of spousal abuse allegations. In a memo to the White House staff, Mr. Kelly said that he would cut off high-level access to many of the aides who had been unable to get a permanent clearance."
After outcry, Donald Trump Jr.'s foreign affairs speech in India was changed to 'Fireside Chat,' The Washington Post, Annie Gowen, Swati Gupta, and Vidhi Doshi, Friday, 23 February 2018: "Trump stepped back from a planned foreign policy speech at a business summit Friday on 'Indo-Pacific relations' that had provoked an outcry in Washington. He instead appeared for an innocuous 'fireside chat,' where he spoke of his father's stressful job, his sister Ivanka and the potential for India's real estate market…. After a closed-door meeting with Indian Prime Minister Narendra Modi, Trump attended a dinner for buyers at a JW Marriott with free-flowing champagne and photo ops with him — though buyers could linger for only a moment before they were whisked away by security. Trump had appeared in full-page glossy advertisements urging people to pay a booking fee of $38,000 to reserve their luxury residential units in a new Trump Towers project by Thursday so they could join him for 'a conversation and dinner' Friday. His activities have sparked ethics concerns from watchdog groups. 'With this trip to India, the Trump Organization is literally selling access to the first family,' said Kathleen Clark, a law professor and ethics expert at Washington University in St. Louis. 'It is providing condo buyers with a chance to curry favor with President Trump through that purchase and also giving them an opportunity for face-to-face communication with one of Trump's sons.'"
Sheldon Adelson, Hard-Line Supporter of Israel, Offers to Help Fund U.S. Embassy in Jerusalem, The New York Times, Gardiner Harris and Isabel Kershner, Friday, 23 February 2018: "Sheldon G. Adelson, one of the most hawkish supporters of Israel among American Jews, has offered to help fund the construction of a new American Embassy in Jerusalem, according to the State Department, which on Friday said it was reviewing whether it could legally accept the donation. The total price tag to build the new embassy to replace the current one in Tel Aviv is estimated at around $500 million, according to one former State Department official. While private donors have previously paid for renovations to American ambassadors' overseas residences, Mr. Adelson's contribution would be likely to far surpass those gifts — and could further strain American diplomacy in the Middle East. Before the embassy is built, the Trump administration plans to open a temporary one in Jerusalem. On Friday, it said that it was accelerating the projected opening in time to mark the 70th anniversary of the creation of the State of Israel on May 14. Even some of Mr. Adelson's allies expressed concern that if the administration accepts his offer for the permanent embassy, it could be seen as a well-heeled financial contributor effectively privatizing — and politicizing — American foreign policy. Mr. Adelson, who has been a vocal supporter of the contentious plan to move the embassy, is not merely a philanthropist; he is one of the most prominent players in Israeli-American relations. He is a conservative force in American politics, a donor to President Trump, a longtime patron of Prime Minister Benjamin Netanyahu and the owner of Israel's largest-circulation daily newspaper."
The rise and possible fall of Missouri Governor Eric Greitens, the Republican star whose career is crumbling amid scandal, The Washington Post, Eli Rosenberg, Friday, 23 February 2018: "The indictment of Missouri Gov. Eric Greitens on Thursday marked a stunning low point in a political career that had previously followed a sharply upward trajectory. The Republican governor was booked in a St. Louis jail on charges that he photographed his former hairstylist nude and attempted to blackmail the woman, with whom he was having an extramarital affair. Though Greitens has so far resisted resigning, the career of the man many considered to be a rising star in the GOP is on life support. His national ambitions are likely vanquished."
Saturday, 24 February 2018, Day 401:
2 Weeks After Trump Blocked It, the House Intelligence Committee Released a Redacted Democratic Memorandum Countering Republican Claims That Top F.B.I. and Justice Department Officials Abused Their Powers in Spying on Carter Page, Former Trump Campaign Aide, The New York Times, Nicholas Fandos, Saturday, 24 February 2018: "The House Intelligence Committee released a redacted Democratic memorandum on Saturday countering Republican claims that top F.B.I. and Justice Department officials had abused their powers in spying on a former Trump campaign aide. The document was intended by Democrats to offer a point-by-point refutation of what it called the 'transparent' attempt by President Trump's allies on the committee to undermine the congressional and special counsel investigations into Russia's meddling in the 2016 presidential election and possible coordination with the Trump campaign. But the dueling accounts reflected an extraordinary struggle on the committee to try to shape public perceptions of the credibility of the nation's top law enforcement agencies. For weeks, instead of focusing its full energy on investigating an attack on the American democratic system, the committee has been pulled into a furious effort by Mr. Trump and his allies to sow doubts about the integrity of the special counsel inquiry and the agencies conducting it. The Democratic memo amounted to a forceful rebuttal to the president's portrayal of the Russia inquiry as a 'witch hunt' being perpetrated by politically biased leaders of the F.B.I. and the Justice Department…. Representative Adam B. Schiff, the top Democrat on the committee, said on Saturday that the Democratic memo should 'put to rest' Republican assertions of wrongdoing against the former Trump aide, Carter Page, in the Foreign Intelligence Surveillance Act process. Republicans, including Mr. Trump, were undeterred. The White House dismissed the Democratic document as an attempt 'to undercut the president politically.' 'The Democrat memo response on government surveillance abuses is a total political and legal BUST,' Mr. Trump wrote on Twitter. 'Just confirms all of the terrible things that were done. SO ILLEGAL!'… [T]he Democratic document shows that the F.B.I. did tell the surveillance court that Mr. Steele's research was commissioned by someone who wanted to discredit Mr. Trump's campaign, and that the information provided by Mr. Steele, a trusted source in the past, was only part of the evidence supporting a wiretap…. The F.B.I. frequently relies on sources who have agendas, whether it is a gang turncoat or a mafia informer. What is typically seen as important by courts is that the agenda is disclosed to a judge. In the case of Mr. Page, the surveillance applications were reviewed by four different judges, all appointed by Republican presidents, the document says. Each approved of the request." See also, 5 Takeaways From the Release of the Democratic Memo, The New York Times, Charlie Savage, Saturday, 24 February 2018. See also, House Intelligence Committee releases Democrats' memo defending FBI surveillance of Carter Page, former Trump campaign aide, The Washington Post, Karoun Demirjian and Roslind S. Helderman, Saturday, 24 February 2018. See also, Read the Democratic rebuttal to the Nunes memo, annotated, The Washington Post, Amber Phillips, Saturday, 24 February 2018.
National Rifle Association lashes out at boycott movement as United Airlines and Delta and other corporations cut ties, The Washington Post, Avi Selk, Saturday, 24 February 2018: "The National Rifle Association lashed out at corporations rushing to abandon it, as companies from United Airlines to Best Western have cut ties with the gun lobby group under pressure from a boycott movement following a Feb. 14 high school shooting. Without context, twin announcements from Delta and United airlines on Saturday morning might look trivial: The end of flight discounts to the NRA's annual convention, which few outside the gun rights organization likely knew existed before they became boycott targets. But in abandoning the NRA, the airlines followed car rental giants Avis, Hertz and Enterprise, the Best Western hotel chain, the global insurance company MetLife, and more than a dozen other corporations that have severed affiliations with the gun group in the last two days. In a statement released Saturday afternoon, the NRA accused companies of 'a shameful display of political and civic cowardice. Let it be absolutely clear,' the NRA's statement said. 'The loss of a discount will neither scare nor distract one single NRA member from our mission to stand and defend the individual freedoms that have always made America the greatest nation in the world.' While it's unclear what effect the corporate snubs will have on the NRA, they have given the nascent  #BoycottNRA a string of rapid, prominent victories and exposed vulnerabilities in a gun rights lobby that had seemed untouchable before 17 people — most of them students — were gunned down last week at Marjory Stoneman Douglas High School in Parkland, Fla." See also, A List of the Companies Cutting Ties With the N.R.A. as of Saturday, 24 February, The New York Times, Jacey Fortin, Saturday, 24 February 2018.
In the wake of the Parkland high school shooting, some colleges tell students that protests won't hurt their chance of admission, The Washington Post, Susan Svrluga, Saturday, 24 February 2018: "As a wave of protests against gun violence spread in high schools across the country, top universities reached out to reassure prospective students that breaking school rules for a principle won't ruin their chance of attending. In the highly fraught, and often opaque, world of college admissions, it was a rare moment of clarity. As Dartmouth College told students Thursday: 'Speak your truth.' And it showed how deeply admissions calculations permeate the daily lives and decision-making of some high school students, as they paused — mid-outrage — to wonder whether joining a protest might hurt their chances of getting in. 'There's anxiety that is inextricably connected to this work and this moment,' said Lee Coffin, vice provost for enrollment and dean of admissions and financial aid at Dartmouth. 'You see in this issue those two things have twinned.' He said he couldn't remember another such time, and certainly not one when students were asking his office and alumni interviewers if walking out of class to protest could imperil their admission prospects. The common application for college admission asks whether students have been disciplined at school, and many colleges stipulate in their letters of admission that the offer could be rescinded if the student is suspended or behaves inappropriately."
15 Claims From Donald Trump's Speech at the Conservative Political Action Conference in Maryland, Fact Checked, The New York Times, Linda Qiu, Saturday, 24 February 2018: "Trump addressed a range of policy issues, from tax cuts to gun policy to immigration, at Friday's annual meeting of the Conservative Political Action Conference. [Linda Qiu looks] at some of the facts and figures he cited that were accurate, false or could use some additional context."
After testy call with Trump over border wall, Mexican president Enrique Peña Nieto shelves plan to visit Trump at the White House, The Washington Post, Philip Rucker, Joshua Partlow, and Nick Miroff, Saturday, 24 February 2018: "Tentative plans for Mexican President Enrique Peña Nieto to make his first visit to the White House to meet with President Trump were scuttled this week after a testy call between the two leaders ended in an impasse over Trump's promised border wall, according to U.S. and Mexican officials. Peña Nieto was eyeing an official trip to Washington this month or in March, but both countries agreed to call off the plan after Trump would not agree to publicly affirm Mexico's position that it would not fund construction of a border wall that the Mexican people widely consider offensive, said the officials, who spoke on the condition of anonymity to discuss a confidential conversation."
Sunday, 25 February 2018, Day 402:
North Korea Is Willing to Talk With the U.S., Says President Moon Jae-in of South Korea, The New York Times, Choe Sang-Hun, Sunday, 25 February 2018: "President Moon Jae-in of South Korea said on Sunday that high-ranking officials from North Korea told him their country was willing to start a dialogue with the United States, a potential diplomatic victory for Mr. Moon, who has been urging the two countries to talk. Kim Yong-chol, a vice chairman of the North's ruling Workers' Party, expressed that willingness when he met with Mr. Moon shortly before the closing ceremony of the Winter Olympics in Pyeongchang, South Korea, Mr. Moon's office said. Mr. Kim led an eight-member North Korean delegation to the ceremony, in the latest sign that the two Koreas were working toward a political détente after years of rising tensions over the North's nuclear weapons program. 'President Moon noted that North Korea-United States dialogue must take place soon in order to improve South-North Korean relations and to find a fundamental solution to the Korean Peninsula issue,' said Mr. Moon's spokesman, Kim Eui-kyeom. 'To this, the North Korean delegates responded that the North was quite willing to start talks with the United States and agreed that relations between North and South Korea and those between the North and the United States should develop simultaneously.' But it was too early to take the North's comments as a major breakthrough. Mr. Moon's office did not reveal, for example, whether North Korea had attached any preconditions for starting talks with the United States like the suspension of joint South Korea-United States military exercises, which it calls a rehearsal for invasion. The North threatened the United States with nuclear attacks just a few weeks ago."
In Blow to Dianne Feinstein, California State Democratic Party Won't Endorse Her Senate Run, The New York Times, Adam Nagourney, Sunday, 25 February 2018: "Senator Dianne Feinstein suffered a setback in her effort to win a sixth term representing California as the state Democratic Party declined this weekend to endorse her re-election bid. Ms. Feinstein is way ahead in most polls, and has a huge fund-raising advantage over her main opponent, Kevin de León, the California State Senate's Democratic leader. Still, the vote here, at a raucous and well-attended party convention, is the latest indication of disenchantment with Ms. Feinstein, 84, among the party's grass-roots advocates. A candidate must garner the support of 60 percent of the delegates to win the party's nomination. None of the candidates running for statewide election met that threshold. Still, Ms. Feinstein's showing was particularly stark given her status as a Democratic institution. Mr. de León drew 54 percent of the vote, or 1,508 votes, compared with 37 percent, or 1,023 votes, for Ms. Feinstein. The vote came after Mr. de León, who has been running an insurgent campaign, delivered a blistering speech that reflects deep divisions among Democrats here — and across the nation — about how to respond to President Trump. Mr. de León questioned, among other things, remarks Ms. Feinstein had made that were interpreted by many Democratic activists here as sympathetic to Mr. Trump, and suggested she was too conventional in taking on the White House. 'The days of Democrats biding our time, biting our tongue, and triangulating at the margins are over,' he said." See also, Senator Dianne Feinstein loses California Democratic Party's endorsement, The Washington Post, David Weigel, Sunday, 25 February 2018.
CPAC (Conservative Political Action Conference) Official Ian B. Walters Said Michael Steele, Chairman of the Republican National Committee From 2009 to 2011, Was Chosen Because He's 'a Black Guy,' The New York Times, Jeffery C. Mays, Sunday, 25 February 2018: "Michael Steele, a former chairman of the Republican National Committee, said on Saturday that the party has a problem with racism after a spokesman for a conservative group said Mr. Steele was chosen as chairman because he is 'a black guy.' The spokesman, Ian B. Walters, made the comment on Friday night at a dinner in Oxon Hill, Md., that was part of the annual Conservative Political Action Conference. 'We elected Mike Steele to be the R.N.C. chair because he's a black guy,' said Mr. Walters, the communications director for the American Conservative Union, which organized the conference. 'That was the wrong thing to do.' There were audible gasps when Mr. Walters made the comment, Jonathan Levine, the media editor at The Wrap, who was at the dinner, said on Twitter…. Speaking with Joy-Ann Reid of MSNBC on Friday night, Mr. Steele, a former lieutenant governor of Maryland and the first black person elected to statewide office there, said he did not accept an apology from Mr. Walters. 'He said at one point, "I apologize," Mr. Steele said, adding that he told Mr. Walters, 'That's not enough.'… In a phone interview on Saturday morning on Ms. Reid's show, Mr. Steele was asked if the Republican Party had a problem with racism. 'Yes, they do. And I think we need to be honest and acknowledge it,' Mr. Steele said. 'The fact that people sit here now and say this has nothing to do with race — yeah, it does, when you stand on a podium and blatantly speak to race the way Ian did.'"
Koch Document Reveals Laundry List of Policy Victories Extracted From the Trump Administration, The Intercept, Lee Fang and Nick Surgey, Sunday, 25 February 2018: "In the backdrop of a chaotic first year of Donald Trump's presidency, the conservative Koch brothers have won victory after victory in their bid to reshape American government to their interests. Documents obtained by The Intercept and Documented show that the network of wealthy donors led by billionaire industrialists Charles and David Koch have taken credit for a laundry list of policy achievements extracted from the Trump administration and their allies in Congress. The donors have pumped campaign contributions not only to GOP lawmakers, but also to an array of third-party organizations that have pressured officials to act swiftly to roll back limits on pollution, approve new pipeline projects, and extend the largest set of upper-income tax breaks in generations."
Monday, 26 February 2018, Day 403:
Supreme Court Declines to Clear the Way for the Trump Administration to end the Obama-Era Program That Protects About 700,000 Dreamers, The New York Times, Adam Liptak and Michael D. Shear, Monday, 26 February 2018: "The Supreme Court on Monday declined to clear the way for the Trump administration to end the Obama-era program that protects about 700,000 young immigrants from deportation, meaning that the so-called 'Dreamers' could remain in legal limbo for months unless Congress acts to make their status permanent. President Trump ended the Deferred Action for Childhood Arrivals, or DACA, program last September, calling it an unconstitutional use of executive power by his predecessor and reviving the threat of deportation for immigrants who had been brought to the United States illegally as young children. But two federal judges have ordered the administration to maintain major pieces of the program while legal challenges move forward, notably by requiring the administration to allow people enrolled in it to renew their protected status. The Supreme Court's decision on Monday not to hear the government's appeal will keep the program alive for months. That will temporarily shield the young immigrants who already had signed up for the DACA program from immediate deportation, and allow them to keep working legally in the United States. Their status lasts for two years and is renewable. The court's decision also could relieve the immediate political pressure on lawmakers to permanently address the status of those immigrants, or to deal with the additional one million Dreamers who had never signed up for the DACA program. They remain at risk of deportation if immigration agents find them." See also, Supreme Court declines to enter controversy over 'dreamers' and rejects the Trump administration's request to review lower court rulings, The Washington Post, Robert Barnes, Monday, 26 February 2018.
The Trump Organization announced that it donated the profits from 'foreign government patronage' at its hotels last year to the U.S. Treasury, The Washington Post, David A. Fahrenthold and Jonathan O'Connell, Monday, 26 February 2018: "The Trump Organization announced Monday that it donated the profits from "foreign government patronage" at its hotels last year to the U.S. Treasury, but declined to identify those foreign customers or the amount of the contribution. President Trump's company made the donation on Thursday, according to George A. Sorial, the Trump Organization's chief compliance counsel. 'Although not a legal requirement, this voluntary donation fulfills our pledge to donate profits from foreign government patronage at our hotels and similar business during President Trump's term in office,' Sorial said. The Washington Post asked for more details: How much was donated? Which Trump properties were included in this accounting? Which foreign entities had paid money to Trump's businesses? 'We have nothing further to share at this time,' Amanda Miller, a Trump Organization spokeswoman, wrote in an email."
Supreme Court Justice Neil Gorsuch Was Silent at Supreme Court Arguments on Monday in a Case That Could Deal a Sharp Blow to Public Unions, The New York Times, Adam Liptak, Monday, 26 February 2018: "A crucial voice was silent at Supreme Court arguments on Monday in a case that could deal a sharp blow to public unions. Justice Neil M. Gorsuch, who almost certainly holds the decisive vote, asked no questions, leaving some doubt, if only a glimmer, about whether he would join the court's conservative majority to rule that forcing workers to support public unions violates the First Amendment. Justice Gorsuch generally votes with the court's conservatives, and he is likely to do so in this case. But his silence during the argument meant that observers knew no more about his thinking by the time it ended than when it had begun…. The court's more conservative members said that requiring workers who choose not to join public unions to pay for collective bargaining and similar activities is an affront to their right to free speech…. The court's more liberal members said that states should have broad leeway in managing public workplaces. They added that a decision against the unions would require overruling a 40-year-old precedent, striking down more than 20 state laws, creating confusion about thousands of union contracts and disrupting the lives of millions of workers…. A decision overruling the precedent would conclude a decades-long political and legal campaign by conservative groups aimed at weakening public-sector unions. Those unions stand to lose fees from workers who object to the positions the unions take and from those who simply choose not to join while benefiting from the unions' efforts on their behalf." See also, Public-Sector Union Fees Don't Violate the First Amendment, The Nation, David Cole and Amanda Shanor, published on 23 February 2018: "Can state employees who decline to join a union in their workplace be required to pay fees to support the union's work? On February 26, the Supreme Court will hear arguments in Janus v. American Federation of State, County, and Municipal Employees, a case pitting the First Amendment claims of dissenting employees against the interests of public-sector unions…. The American Civil Liberties Union is second to none in defending the First Amendment rights of free speech, association, and assembly. We protect the right to associate and the right not to be compelled to associate against one's will. But state laws allowing unions to charge fees for services that they must provide to all workers does not violate anyone's free-speech rights. Here's why. Over 40 years ago, in a case called Abood v. Detroit Board of Education, the Supreme Court ruled that public employees who choose not to join a union can, nonetheless, be charged an "agency fee" to cover the cost of negotiating and implementing a collective-bargaining agreement. Unions are required by law to provide these services to all employees, regardless of whether the employees are union members or not. Because the agency fees merely cover the cost of services rendered, the Court held, they do not violate the First Amendment so long as they are not expended on the union's ideological speech. Workers can't be compelled to join the union, or to support its non-work-related services. But they can be required to pay for the services the union is required to provide them."
Federal Appeals Court Rules That Anti-Gay Workplace Discrimination Is Illegal. The case is a win for gay rights and a loss for the Trump administration. Mother Jones, Pema Levy, Monday, 26 February 2018: "A federal appeals court on Monday ruled that the 1964 Civil Rights Act prohibits anti-gay discrimination in the workplace. The decision is a victory for LGBT rights and a blow to the Trump administration, which had argued that the seminal civil rights law does not protect against sexual orientation discrimination. The Second Circuit Court of Appeals found that Title VII of the law, which prohibits workplace discrimination based on sex, applies to people targeted based on their sexual orientation. The case was filed in 2010 by Donald Zarda, a now-deceased skydiving instructor who sued his employer for firing him because he was gay. Though the federal government is not a party in the case, the Justice Department weighed in anyway last July. The government stated that it was interested in the case because the 'United States is also subject to Title VII [the employment discrimination provision of the Civil Rights Act] in its capacity as the Nation's largest employer.' In other words, the federal government wanted to reserve the right to discriminate against employees based on sexual orientation. The government's position in the case was particularly awkward because it put the Justice Department at odds with another federal agency, the Equal Employment Opportunity Commission, which for years has argued that sexual orientation discrimination is sex discrimination and argued on behalf of Zarda. The Zarda case is not the only time the Trump administration has inserted itself into cases over  LGBT rights. In December, the government argued in favor of a cake shop owner who refused to make a wedding cake for a same-sex couple. The Supreme Court has not yet decided that case. The department also rescinded Obama era policies protecting transgender students and workers." See also, Federal appeals court rules that employers can't discriminate based on sexual orientation, dealing a loss to the Trump administration, The Washington Post, Matt Zapotosky, Monday, 26 February 2018. See also, A Big Victory for LGBT People, and a Big Loss for the Trump Administration, American Civil Liberties Union, Ria Tabacco Mar, Monday, 26 February 2018: "The federal appeals court in New York today issued a victory for lesbian, gay, and bisexual people, ruling that workers can't be fired based on their sexual orientation and rebuffing the Trump administration's insistence that they can. That might sound like common sense, but in two decisions from the 2000s, the Court of Appeals for the Second Circuit wrongly concluded that discriminating against gay people isn't prohibited by Title VII of the Civil Rights Act of 1964, the federal law that bans sex discrimination in the workplace. Last spring, the court agreed to take a fresh look at the question following a landmark decision by the federal appeals court in Chicago recognizing that discrimination based on sexual orientation is illegal sex discrimination."
Widespread panic as Oakland mayor Libby Schaaf warns sanctuary city of an Immigration and Customs Enforcement (ICE) sweep, The Washington Post, Cleve R. Wootson Jr., Monday, 26 February 2018: "On Saturday, Schaaf issued a news release, shared widely by her Twitter followers, warning that U.S. Immigration and Customs Enforcement 'is preparing to conduct an operation in the Bay Area, including Oakland, starting as soon as within the next 24 hours. As Mayor of Oakland, I am sharing this information publicly not to panic our residents but to protect them,' she said in the statement, adding that the information was based on 'multiple credible sources.' The San Francisco Chronicle reported that several people were detained by immigration authorities across the region on Sunday — in Pinole, El Sobrante, Napa and Atwater. It was unclear if those actions, in cities beyond Oakland, were part of a larger sweep, but panic spread anyway."
Trump calls for reviving mental institutions, Politico, Rebecca Morin, Monday, 26 February 2018: "President Donald Trump on Monday advocated for more institutions to deal with mental health, adding that there is 'no halfway' between jail and those who need help on the streets…. Trump said people used to be able to be taken to mental institutions to get help. 'He's off the streets. You can't arrest him, I guess, because he hasn't done anything, but you know he's like a boiler ready to explode, right?' the president said. 'You can't put him in jail, I guess, because he hasn't done anything. But in the old days, you would put him into a mental institution.'"
Trump Says He Would Have Run in Unarmed to Stop the School Shooting at Marjory Stoneman Douglas High School in Parkland, Florida, The New York Times, Michael D. Shear, Monday, 26 February 2018: "President Trump asserted Monday that he would have rushed in to save the students and teachers of Marjory Stoneman Douglas High School from a gunman with an assault weapon, even if he was unarmed at the time of the massacre. Speaking to a meeting of the country's governors at the White House, Mr. Trump conceded that 'you don't know until you test it.' But he said he believed he would have exhibited bravery 'even if I didn't have a weapon, and I think most of the people in this room would have done that, too.'"
These are the banks that are financing the assault weapons industry, ThinkProgress, Josh Israel and Kira Lerner, Monday, 26 February 2018: "Since the Parkland shooting, corporations with financial ties to the NRA have been subjected to intense scrutiny. In less than two weeks, consumers have convinced more than 20 companies to end relationships with a gun lobby that has encouraged the proliferation of assault weapons and aggressively blocked virtually all legislation to curb gun violence.  Less attention has been paid to the banks supporting manufacturers that produce those weapons — especially the semi-automatic assault weapons used at Marjory Stoneman Douglas High School and in so many other mass shootings…. A review of SEC filings and other public records revealed that Bank of America isn't the only financial institution that finances the production of assault weapons. Five of the largest gun manufacturers are supported by over a dozen banks through varying types of credit arrangements."
Georgia Republicans Vow to Kill Airline Tax-Cut Bill After Delta Ends N.R.A. Discount, The New York Times, Matthew Haag and Tiffany Hsu, Monday, 26 February 2018: "The lieutenant governor in Georgia threatened on Monday to kill a proposed lucrative tax cut for Delta Air Lines after the company eliminated a discount fare program for the National Rifle Association over the weekend. The move by Lt. Gov. Casey Cagle, who presides over the State Senate, immediately put the legislation in jeopardy and put him at loggerheads with other top state officials, including the governor, who had championed the tax deal. The showdown between one of Georgia's most powerful politicians and one of the state's largest employers was the latest clash in a national debate around guns after the deadly school shooting in Florida this month. Mr. Cagle, a Republican, fired the salvo at Delta on Twitter on Monday afternoon, saying that the Atlanta-based company must restore its program with the N.R.A. "Corporations cannot attack conservatives and expect us not to fight back," Mr. Cagle, who had expressed his support for the bill earlier this month, said on Twitter."
Bizarre legal brawl intensifies at Trump hotel in Panama, The Washington Post, Joshua Partlow and David A. Fahrenthold, Monday, 26 February 2018: "Last Thursday afternoon [22 February], the majority owner of the Trump International Hotel here in Panama arrived unexpectedly in the building's swank Sky Lobby with an entourage. He wanted to fire the Trump Organization, which has managed the hotel since it opened in 2011. But the Trump Organization has refused to leave. Since that first confrontation, police have been called multiple times to referee disputes between owner Orestes Fintiklis — who blames the company's poor management and damaged brand for the hotel's declining revenue — and the Trump Organization, which says it still has a valid contract to manage the place. Offices have been barricaded. Several yelling matches have broken out. The power was briefly turned off, in a dispute over the building's electronic equipment. At one point, Fintiklis — denied a chance to fire the hotel staff or even check into a room — played a tune on the hotel's lobby piano as an apparent show of defiance. On Monday, Panama's federal prosecutors said they had opened an investigation into the Trump Organization, after Fintiklis complained that he had been unlawfully blocked from his own property. With that, this bizarre standoff turned a theoretical concern about the Trump administration — that, someday, the president's private business might be investigated by a foreign government — into a reality."
Tuesday, 27 February 2018, Day 404:
No Bail Hearings for Detained Immigrants, Supreme Court Rules, The New York Times, Adam Liptak, Tuesday, 27 February 2018: "The Supreme Court ruled on Tuesday that people held in immigration detention, sometimes for years, are not entitled to periodic hearings to decide whether they may be released on bail. The vote was 5 to 3, with the court's more conservative members in the majority. Justice Stephen G. Breyer summarized his dissent from the bench, a rare move signaling intense disagreement. The two sides exchanged unusually caustic barbs, mirroring the sharp divisions on immigration policy among lawmakers and members of the public. Justice Samuel A. Alito Jr., writing for the majority, said the detention of people seeking asylum or fighting deportation was needed to give immigration officials time 'to determine an alien's status without running the risk of the alien's either absconding or engaging in criminal activity.' Justice Breyer responded that the decision was most likely 'the first time ever' that the Supreme Court had interpreted a federal law to allow the long-term confinement of people held in the United States and accused of misconduct without an opportunity to obtain bail. 'An "opportunity," I might add, does not necessarily mean release, for there may be a risk of flight or harm that would justify denying bail,' he said from the bench. The decision came a day after the Supreme Court refused to hear an appeal over whether the Trump administration may shut down a program that shields some 700,000 young undocumented immigrants from deportation, complicating legislative efforts to address the issue." See also, Supreme Court throws out ruling that said detained immigrants deserve bond hearings, The Washington Post, Robert Barnes, Tuesday, 27 February 2018.
A mother and child fled Congo fearing death. Immigration and Customs Enforcement (ICE) has held them separately for months, lawsuit says. The Washington Post, Derek Hawkins, Tuesday, 27 February 2018: "For nearly four months, immigration officials have unlawfully held a Congolese asylum seeker and her 7-year-old daughter in detention centers thousands of miles apart, the American Civil Liberties Union alleged in a lawsuit Monday. The mother arrived with her child in San Diego in November and told border agents she left the Congo in fear for her life, according to the complaint filed in the U.S. District Court for the Southern District of California. Several days after she passed a screening interview with an asylum officer, officials took her daughter from her 'without justification or even a hearing' and sent her to a facility in Chicago, where she has remained since early November, the ACLU said."
Jared Kushner, Trump's senior adviser and son-in-law, loses access to top-secret intelligence, Politico, Eliana Johnson and Andrew Restuccia, Tuesday, 27 February 2018: "Presidential son-in-law and adviser Jared Kushner has had his security clearance downgraded — a move that will prevent him from viewing many of the sensitive documents to which he once had unfettered access. Kushner is not alone. All White House aides working on the highest-level interim clearances — at the Top Secret/SCI-level — were informed in a memo sent Friday that their clearances would be downgraded to the Secret level, according to three people with knowledge of the situation. The SCI acronym stands for sensitive compartmented information, a category of information that comes from sensitive intelligence sources and must be walled off. The memo was not signed by chief of staff John Kelly, but it comes as the retired Marine general and other top White House aides are grappling with the fallout of a scandal involving former White House staff secretary Rob Porter, which revealed that dozens of White House aides had yet to receive permanent clearances but nonetheless had access to some of the country's deepest secrets. The president has the ability to grant Kushner a permanent clearance, but Trump said Friday — the same day the memo was sent — that he was leaving the decision to his chief of staff. 'I will let General Kelly make that decision,' Trump told reporters. 'I have no doubt he'll make the right decision.' The White House did not respond to a request for comment on the memo." See also, Security clearances downgraded for Jared Kushner, Trump's senior adviser and son-in-law, and other White House officials, The Washington Post, Ashley Parker, Josh Dawsey, and Philip Rucker, Tuesday, 27 February 2018.
Officials in at least four countries have privately discussed ways they can manipulate Jared Kushner, Trump's son-in-law and senior adviser, The Washington Post, Shane Harris, Carol D. Leonnig, Greg Jaffe, and Josh Dawsey, Tuesday, 27 February 2018: "Officials in at least four countries have privately discussed ways they can manipulate Jared Kushner, the president's son-in-law and senior adviser, by taking advantage of his complex business arrangements, financial difficulties and lack of foreign policy experience, according to current and former U.S. officials familiar with intelligence reports on the matter. Among those nations discussing ways to influence Kushner to their advantage were the United Arab Emirates, China, Israel and Mexico, the current and former officials said. It is unclear if any of those countries acted on the discussions, but Kushner's contacts with certain foreign government officials have raised concerns inside the White House and are a reason he has been unable to obtain a permanent security clearance, the officials said…. H.R. McMaster, President Trump's national security adviser, learned that Kushner had contacts with foreign officials that he did not coordinate through the National Security Council or officially report. The issue of foreign officials talking about their meetings with Kushner and their perceptions of his vulnerabilities was a subject raised in McMaster's daily intelligence briefings, according to the current and former officials, who spoke on the condition of anonymity to discuss sensitive matters. Within the White House, Kushner's lack of government experience and his business debt were seen from the beginning of his tenure as potential points of leverage that foreign governments could use to influence him, the current and former officials said…. Officials in the White House were concerned that Kushner was 'naive and being tricked' in conversations with foreign officials, some of whom said they wanted to deal only with Kushner directly and not more experienced personnel, said one former White House official." See also, The most ominous line in the new Jared Kushner story, The Washington Post, Aaron Blake, published on Wednesday, 28 February 2018.
White House Has Given No Orders to Counter Russian Meddling in U.S. Election Systems, National Security Agency (N.S.A.) Chief Michael Rogers Says, The New York Times, Matthew Rosenberg, Tuesday, 27 February 2018: "Faced with unrelenting interference in its election systems, the United States has not forced Russia to pay enough of a price to persuade President Vladimir V. Putin to stop meddling, a senior American intelligence official said on Tuesday. Adm. Michael S. Rogers, the departing head of the National Security Agency and the military's Cyber Command, said that he was using the authorities he had to combat the Russian attacks. But under questioning during testimony before the Senate Armed Services Committee, he acknowledged that the White House had not asked his agencies — the main American spy and defense arms charged with conducting cyberoperations — to find ways to counter Moscow, or granted them new authorities to do so. 'President Putin has clearly come to the conclusion that there's little price to pay and that [he] can continue this activity,' said Admiral Rogers, who is set to retire in April. 'Clearly what we have done hasn't been enough.' Admiral Rogers's testimony was the second time this month that a senior American intelligence official had said that Russia's efforts to meddle in American elections did not end in 2016, and that the Trump administration had taken no extraordinary steps to stop them. He and other intelligence leaders warned two weeks ago on Capitol Hill that Russia was using a digital strategy to worsen political and social divisions in the United States, and all the intelligence chiefs said they had not been expressly asked by the White House to find a way to punish Russia for its efforts." See also, Cyber chief Michael Rogers says Trump has given him no new authority to strike at Russian interference in US elections, The Washington Post, Aaron Blake and Ellen Nakashima, Tuesday, 27 February 2018.
Special Counsel Robert Mueller moves to drop tax and bank fraud charges against Rick Gates, a former top official in Trump's presidential campaign, The Washington Post, Rachel Weiner, Tuesday, 27 February 2018: "The special counsel investigating Russia's interference in the 2016 election has moved to drop 22 tax and bank fraud charges against Rick Gates, a former top official in President Trump's campaign. The move was part of Gates's agreement to plead guilty to conspiracy to defraud the United States and lying to the FBI. The day before he admitted to the two charges in D.C. federal court, Gates was indicted in the Eastern District of Virginia along with former business partner Paul J. Manafort. The cases center around what prosecutors allege was a multi-year scheme by the pair to hide money from their work for a Ukrainian political party from American authorities. They avoided paying taxes by disguising their payments as loans, according to the grand jury, hid money in foreign bank accounts and made false claims to banks to get real estate loans. As part of the plea, Gates agreed to cooperate with special counsel Robert S. Mueller III's probe regarding 'any and all matters' deemed relevant to his investigation."
U.S. District Judge Gonzalo Curiel whom Trump said would be biased against him because of the judge's 'Mexican' heritage sided with the Trump administration in border wall case, The Washington Post, Matt Zapotosky, Tuesday, 27 February 2018: "A federal judge whom President Trump suggested would be biased against him because of the judge's 'Mexican' heritage sided with the administration Tuesday in a lawsuit over whether officials could move forward with expedited plans to build a border wall with Mexico. In a 101-page opinion , U.S. District Judge Gonzalo P. Curiel wrote that the government had the authority to waive environmental laws and proceed with its border wall. Curiel wrote that he was 'aware that the subject of these lawsuits, border barriers, is currently the subject of heated political debate in and between the United States and the Republic of Mexico as to the need, efficacy and the source of funding for such barriers,' but that he could 'not consider whether underlying decisions to construct the border barriers are politically wise or prudent.' The decision granting summary judgment is an unequivocal win for the Department of Homeland Security and the Justice Department, although those who had sued to slow down construction said they would look to a higher court to intervene."
Ben Carson's Department of Housing and Urban Development (HUD) Spent $31,000 on Dining Set for His Office Just as the White House Circulated Its Plans to Slash HUD's Programs for the Homeless, Elderly, and Poor, The New York Times, Glenn Thrush, Tuesday, 27 February 2018: "Department of Housing and Urban Development officials spent $31,000 on a new dining room set for Secretary Ben Carson's office in late 2017 — just as the White House circulated its plans to slash HUD's programs for the homeless, elderly and poor, according to federal procurement records. The purchase of the custom hardwood table, chairs and hutch came a month after a top agency staff member filed a whistle-blower complaint charging Mr. Carson's wife, Candy Carson, with pressuring department officials to find money for the expensive redecoration of his offices, even if it meant circumventing the law. Mr. Carson is also facing questions on another front. Under pressure earlier this month, he requested that HUD's inspector general investigate his son's involvement in a department-sponsored listening tour of Baltimore last summer. Department lawyers had warned Mr. Carson that including Ben Carson Jr., an entrepreneur who does business with the federal government, could create a conflict of interest…. Department officials did not request approval from the House or Senate Appropriations Committees for the expenditure of $31,561, even though federal law requires congressional approval 'to furnish or redecorate the office of a department head' if the cost exceeds $5,000. Mr. Williams said department officials did not request congressional approval because the dining set served a 'building-wide need.' The table is inside the secretary's 10th-floor office suite…. About a month before [the dining set] was ordered, Helen G. Foster, a former top HUD official, filed a complaint with the Office of Special Counsel, a federal whistle-blower agency, claiming that she had been demoted and transferred after resisting Mrs. Carson's attempts to get around the $5,000 redecoration law."
Hope Hicks, the White House Communications Director, Acknowledges to the House Intelligence Committee That Trump Occasionally Requires Her to Tell White Lies, The New York Times, Nicholas Fandos, Tuesday, 27 February 2018: "Hope Hicks, the White House communications director, told House investigators on Tuesday that her work for President Trump, who has a reputation for exaggerations and outright falsehoods, had occasionally required her to tell white lies. But after extended consultation with her lawyers, she insisted that she had not lied about matters material to the investigations into Russia's interference in the 2016 presidential election and possible links to Trump associates, according to three people familiar with her testimony. The exchange came during more than eight hours of private testimony before the House Intelligence Committee. Ms. Hicks declined to answer similar questions about other figures from the Trump campaign or the White House. She also pointedly and repeatedly declined to answer questions about the presidential transition or her time in the White House, lawmakers who sat in on the testimony said, telling investigators that she had been asked by the White House to discuss only her time on the campaign. They added that she did not formally invoke executive privilege." See also, Hope Hicks, White House communications director, refuses to answer questions about the Trump administration posed by members of the House Intelligence Committee, The Washington Post, Karoun Demirjian, Tuesday, 27 February 2018.
U.N. Links North Korea to Syria's Chemical Weapons Program, The New York Times, Michael Schwirtz, Tuesday, 27 February 2018: "North Korea has been shipping supplies to the Syrian government that could be used in the production of chemical weapons, United Nations experts contend. The evidence of a North Korean connection comes as the United States and other countries have accused the Syrian government of using chemical weapons on civilians, including recent attacks on civilians in the Damascus suburb of eastern Ghouta using what appears to have been chlorine gas. The supplies from North Korea include acid-resistant tiles, valves and thermometers, according to a report by United Nations investigators. North Korean missile technicians have also been spotted working at known chemical weapons and missile facilities inside Syria, according to the report, which was written by a panel of experts who looked at North Korea's compliance with United Nations sanctions. The report highlights the potential danger posed by any such trade between Syria and North Korea, which could allow Syria to maintain its chemical weapons while also providing North Korea with cash for its nuclear and missile programs. The possible chemical weapons components were part of at least 40 previously unreported shipments by North Korea to Syria between 2012 and 2017 of prohibited ballistic missile parts and materials that could be used for both military and civilian purposes, according to the report, which has not been publicly released but which was reviewed by The New York Times. Neither the report's authors nor members of the United Nations Security Council who have seen it would comment, and neither would the United States' mission to the international agency. It is unclear when, or even whether, the report will be released."
Wednesday, 28 February 2018, Day 405:
Edward Stack, Dick's Sporting Goods CEO, says the company will stop selling assault-style rifles and will not sell any guns to people younger than 21, The Washington Post, Rachel Siegel, Wednesday, 28 February 2018: "Dick's Sporting Goods will no longer sell assault-style firearms, will ban high-capacity magazines and will not sell any guns to people younger than 21, the company announced Wednesday, a significant move for the retail giant in the midst of renewed calls for national gun reform. Chief executive Edward W. Stack made the announcement during an appearance on 'Good Morning America,' as well as through a company statement that said 'thoughts and prayers are not enough' in the wake of America's latest mass shooting. Two weeks ago, a gunman killed 17 people, most of them teenagers, in Parkland, Fla., with an AR-15 that was legally purchased. The alleged shooter, Nikolas Cruz, bought a shotgun from a Dick's store in November, Stack said during the television interview. Although the weapon purchased at the Dick's outlet was not the one used in the massacre, Stack said his company was moved to act…. Stack's announcement carried both symbolic and retail heft as companies — including sporting goods stores and airlines — have been pressured to drop special discounts and other ties to the gun industry and the National Rifle Association. Still, it remains unclear what percentage of Dick's sales came from the weapons in question, how the company will define 'assault-style rifles,' and whether similar retailers will follow suit. On Wednesday evening, Walmart announced that it too would raise the minimum purchase age to 21 and remove items on its website that resemble assault-style weapons. The retailer ended sales of assault-style weapons, including the AR-15, in 2015." See also, Walmart and Dick's Sporting Goods Raise Minimum Age for Gun Buyers to 21, The New York Times, Julie Creswell and Michael Corkery, Wednesday, 28 February 2018.
Trump Stuns Lawmakers With Seeming Embrace of Gun Safety Legislation, The New York Times, Michael D. Shear, Wednesday, 28 February 2018: "President Trump stunned Republicans on live television Wednesday by embracing gun control and urging a group of lawmakers at the White House to resurrect gun safety legislation that has been opposed for years by the powerful National Rifle Association and the vast majority of his party. In a remarkable meeting, the president veered wildly from the N.R.A. playbook in front of giddy Democrats and stone-faced Republicans. He called for comprehensive gun control legislation that would expand background checks to weapons purchased at gun shows and on the internet, keep guns from mentally ill people, secure schools and restrict gun sales for some young adults. He even suggested a conversation on an assault weapons ban. At one point, Mr. Trump suggested that law enforcement authorities should have the power to seize guns from mentally ill people or others who could present a danger without first going to court. 'I like taking the guns early,' he said, adding, 'Take the guns first, go through due process second.' The declarations prompted a frantic series of calls from N.R.A. lobbyists to their allies on Capitol Hill and a statement from the group calling the ideas that Mr. Trump expressed 'bad policy.' Republican lawmakers suggested to reporters that they remained opposed to gun control measures…. Just what the performance means, and whether Mr. Trump will aggressively push for new gun restrictions, remain uncertain given his history of taking erratic positions on policy issues, especially ones that have long polarized Washington and the country. The gun control performance on Wednesday was reminiscent of a similar televised discussion with lawmakers about immigration in January during which the president appeared to back bipartisan legislation to help young immigrants brought to the country illegally as children — only to reverse himself and push a hard-line approach that helped scuttle consensus in the Senate. Mr. Trump's comments during the hourlong meeting were at odds with his history as a candidate and president who has repeatedly declared his love for the Second Amendment and the N.R.A., which gave his campaign $30 million. At the group's annual conference last year, Mr. Trump declared, 'To the N.R.A., I can proudly say I will never, ever let you down.'" See also, Trump's Contradictory, and Sometimes False, Comments About Gun Policy to Lawmakers, The New York Times, Linda Qiu, Wednesday, 28 February 2018. See also, Republican and Democratic Lawmakers Get Facts Wrong on Gun Policy, The New York Times, Linda Qiu, published on Thursday, 1 March 2018.
The Student Activists of Marjory Stoneman Douglas High School  Demonstrate the Power of a Comprehensive Education, Slate, Dahlia Lithwick, Wednesday, 28 February 2018: "Despite the gradual erosion of the arts and physical education in America's public schools, the students of Stoneman Douglas have been the beneficiaries of the kind of 1950s-style public education that has all but vanished in America and that is being dismantled with great deliberation as funding for things like the arts, civics, and enrichment are zeroed out. In no small part because the school is more affluent than its counterparts across the country (fewer than 23 percent of its students received free or reduced-price lunches in 2015–16, compared to about 64 percent across Broward County Public Schools) these kids have managed to score the kind of extracurricular education we've been eviscerating for decades in the United States. These kids aren't prodigiously gifted. They've just had the gift of the kind of education we no longer value. Part of the reason the Stoneman Douglas students have become stars in recent weeks is in no small part due to the fact that they are in a school system that boasts, for example, of a 'system-wide debate program that teaches extemporaneous speaking from an early age.' Every middle and high school in the district has a forensics and public-speaking program. Coincidentally, some of the students at Stoneman Douglas had been preparing for debates on the issue of gun control this year, which explains in part why they could speak to the issues from day one."
Jared Kushner's Family Business Received Loans After Executives From Apollo Global Management and Citigroup Met With Kushner at the White House, The New York Times, Jesse Drucker, Kate Kelly, and Ben Protess, Wednesday, 28 February 2018: "Early last year, a private equity billionaire started paying regular visits to the White House. Joshua Harris, a founder of Apollo Global Management, was advising Trump administration officials on infrastructure policy. During that period, he met on multiple occasions with Jared Kushner, President Trump's son-in-law and senior adviser, said three people familiar with the meetings. Among other things, the two men discussed a possible White House job for Mr. Harris. The job never materialized, but in November, Apollo lent $184 million to Mr. Kushner's family real estate firm, Kushner Companies. The loan was to refinance the mortgage on a Chicago skyscraper. Even by the standards of Apollo, one of the world's largest private equity firms, the previously unreported transaction with the Kushners was a big deal: It was triple the size of the average property loan made by Apollo's real estate lending arm, securities filings show. It was one of the largest loans Kushner Companies received last year. An even larger loan came from Citigroup, which lent the firm and one of its partners $325 million to help finance a group of office buildings in Brooklyn. That loan was made in the spring of 2017, shortly after Mr. Kushner met in the White House with Citigroup's chief executive, Michael L. Corbat, according to people briefed on the meeting…. There is little precedent for a top White House official meeting with executives of companies as they contemplate sizable loans to his business, say government ethics experts. 'This is exactly why senior government officials, for as long back as I have any experience, don't maintain any active outside business interests,' said Don Fox, the former acting director of the Office of Government Ethics during the Obama administration and, before that, a lawyer for the Air Force and Navy during Republican and Democratic administrations. 'The appearance of conflicts of interest is simply too great.'" See also, New York's banking regulator has asked Deutsche Bank AG and a pair of local lenders to provide information about their relationships with Jared Kushner, his family, and the Kushner Cos., Bloomberg, Greg Farrell and David Kocieniewski, Wednesday, 28 February 2018: "New York's banking regulator has asked Deutsche Bank AG and a pair of local lenders to provide information about their relationships with Jared Kushner, his family and the Kushner Cos., according to people familiar with the matter. The state's Department of Financial Services sent letters to the German lender as well as Signature Bank and New York Community Bank last week, said one of the people, who described the letter. The request was broad, covering the banks' relationships with Kushner and his business properties; documents and communications about certain loan applications; and descriptions of the banks' processes for approving Kushner loans."
Special Counsel Robert Mueller's investigation is examining Trump's apparent efforts to oust Attorney Jeff Sessions in July and August 2017, The Washington Post, Devlin Barrett, Josh Dawsey, and Rosalind S. Helderman, Wednesday, 28 February 2018: "Special counsel Robert S. Mueller III has been investigating a period of time last summer when President Trump seemed determined to drive Attorney General Jeff Sessions from his job, according to people familiar with the matter who said that a key area of interest for the inquiry is whether those efforts were part of a months-long pattern of attempted obstruction of justice. In recent months, Mueller's team has questioned witnesses in detail about Trump's private comments and state of mind in late July and early August of last year, around the time he issued a series of tweets belittling his 'beleaguered' attorney general, these people said. The thrust of the questions was to determine whether the president's goal was to oust Sessions in order to pick a replacement who would exercise control over the investigation into possible coordination between Russia and Trump associates during the 2016 election, these people said. The issue of Sessions's tortured relationship with the president reared up again Wednesday morning when the president tweeted: 'Why is A.G. Jeff Sessions asking the Inspector General to investigate potentially massive FISA abuse. … Why not use Justice Department lawyers? DISGRACEFUL!' Sessions usually opts not to respond to such criticism, but in this case he did. Trump's criticism faulted the attorney general for not more aggressively pursuing claims that the FBI and Justice Department may have misled a foreign surveillance court on a politically sensitive case in the waning days of the Obama administration. Sessions insisted in his statement that he had reacted appropriately by referring the matter to the department's inspector general for a possible review of how the surveillance case was handled. 'As long as I am the Attorney General, I will continue to discharge my duties with integrity and honor, and this Department will continue to do its work in a fair and impartial manner according to the law and Constitution,' Sessions said in the statement." See also, Trump Calls Attorney General Jeff Sessions's Handling of Surveillance Abuse Allegations 'Disgraceful,' The New York Times, Peter Baker and Katie Benner, Wednesday, 28 February 2018.
Hope Hicks Is to Leave Post as White House Communications Director, The New York Times, Maggie Haberman, Wednesday, 28 February 2018: "Ms. Hicks, 29, a former model who joined Mr. Trump's 2016 presidential campaign without any experience in politics, became known as one of the few aides who understood Mr. Trump's personality and style and could challenge the president to change his views. Her title belied the extent of her power within the West Wing — after John F. Kelly was appointed White House chief of staff, she had more access to the Oval Office than almost any other staff member. Her own office, which she inherited after the departure of another Trump confidant, Keith Schiller, was just next door. Most significantly, Mr. Trump felt a more personal comfort with Ms. Hicks than he has established with almost any of his other, newer advisers since coming to Washington. And for a politician who relies so heavily on what is familiar to him, her absence could be jarring…. Her resignation came a day after she testified for eight hours before the House Intelligence Committee, telling the panel that in her job, she had occasionally been required to tell white lies but had never lied about anything connected to the investigation into Russia's interference in the 2016 election…. Multiple White House aides said Ms. Hicks's decision to leave was unrelated to her appearance before the House committee. They said she had told a small group of people in the days before the session that she had planned to resign, partly because she never liked Washington and chose not to try to pretend to." See also, White House communications director Hope Hicks to resign amid personal tumult and Russia probe, The Washington Post, Philip Rucker and Ashley Parker, Wednesday, 28 February 2018: "Hope Hicks, the White House communications director and one of President Trump's longest-serving and closest advisers, abruptly announced Wednesday that she plans to resign — sending a jolt through a West Wing besieged by internal tumult and the intensifying Russia investigation…. [H]er special relationship with the president has ensnared Hicks in special counsel Robert S. Mueller III's wide-ranging investigation of Russian interference in the 2016 election and of possible obstruction of justice by the president. She has come under scrutiny for, among other things, her role aboard Air Force One last year helping the president draft a misleading statement about his son Donald Trump Jr.'s 2016 meeting with Russians. Hicks has been interviewed by Mueller's team, and on Tuesday she testified for nine hours before the House Intelligence Committee as part of its separate Russia investigation. She admitted to telling what one person familiar with her testimony characterized as white lies. Hicks told the ­committee that she sometimes stretched the truth on ­minor matters at Trump's direction but that she had never lied about anything relevant to the investigation, ­according to this person, who spoke on the condition of anonymity because the testimony was confidential."
Perhaps to state's delight, Trump vows not to prioritize wall on California border with Mexico, The Washington Post, David Nakamura and Matt Zapotosky, Wednesday, 28 February 2018: "President Trump seems to have done for California what a federal judge would not: halt plans for the border wall he has promised with Mexico. At least temporarily. A day after U.S. District Judge Gonzalo Curiel ruled that the Trump administration had the right to waive environmental laws and other restrictions to move forward on the project, Trump tweeted that he would not do so until the entire wall was approved by Congress. Donald J. Trump: 'I have decided that sections of the Wall that California wants built NOW will not be built until the whole Wall is approved. Big victory yesterday with ruling from the courts that allows us to proceed.' In his tweet, Trump suggested that Democratic-led California wanted to move forward 'NOW' but, in fact, the lawsuit brought by advocacy groups and the state's attorney general had attempted to handcuff the administration. California has opposed many of the Trump administration's immigration policies, including his efforts to force 'sanctuary cities' to comply with federal immigration operations."
Democratic attorneys general have launched 80 actions against Trump environmental agenda, The Washington Post, Dino Grandoni, Wednesday, 28 February 2018: "The power of the Democratic Party is at or near an all-time nadir, despite rumblings of a blue-wave election in November. In Washington, the GOP controls the White House and both chambers of Congress. Across the country, Republicans sit in two-thirds of all governors' mansions. Democrats, however, are exercising what little clout they possess to fight back against the Trump administration on energy and environmental issues. Through the first 13 months of the Trump administration, state attorneys general from a slew of mostly blue states took at least 80 legal actions against the Trump administration's efforts to roll back environmental regulations, according to a report released Tuesday by the State Energy and Environment Impact Center. The sheer volume of lawsuits, letters and legal briefings shows how Democratic attorneys general have led the charge against President Trump's deregulatory agenda at a time when the minority party lack the levers of power in Congress needed to issue subpoenas, call hearings or otherwise hold the administration accountable. Democratic attorneys general have tried to use the court system to stymie the rollback of Obama-era rules meant to curb the emission of climate-warming gases, including carbon dioxide from coal-fired power plants, methane from onshore oil and natural gas extraction, and hydrofluorocarbons from refrigeration and air-conditioning systems."
Hate in the White House – February 2018: A timeline of instances of extremism in the Trump administration in February, Southern Poverty Law Center, Wednesday, 28 February 2018: "Trump has opened the White House doors to extremism, not only consulting with hate groups on policies that erode our country's civil rights protections but enabling the infiltration of extremist ideas into the administration's rhetoric and agenda. Once relegated to the fringes, the radical right now has a toehold in the White House."
Thursday, 1 March 2018, Day 406:
Trump to Impose Sweeping Steel and Aluminum Tariffs, The New York Times, Ana Swanson, Thursday, 1 March 2018: "President Trump said on Thursday that he would impose stiff tariffs on imports of steel and aluminum, making good on a key campaign promise and rattling stock markets as the prospect of a global trade fight appeared imminent. (You can read more about Friday's developments here.) In a hastily arranged meeting with industry executives that stunned many inside the West Wing, Mr. Trump said he would formally sign the trade measures next week and promised they would be in effect 'for a long period of time.' The action, which came against the wishes of Mr. Trump's pro-trade advisers, would impose tariffs of 25 percent on steel and 10 percent on aluminum, effectively placing a tax on every foreign shipment of those metals into the United States…. Friday morning [2 March], Mr. Trump tweeted that a trade war would be a positive development in the context of the United States' current position with its trading partners: 'When a country (USA) is losing many billions of dollars on trade with virtually every country it does business with, trade wars are good, and easy to win. Example, when we are down $100 billion with a certain country and they get cute, don't trade anymore-we win big. It's easy!' Stocks fell in response to the potential tariffs, with declines in the industrial sector outpacing the overall market. The Standard & Poor's 500 industrial sector was down 1.9 percent, compared with a decline of about 1.3 percent in the overall benchmark index. Shares of American automakers, all large consumers of steel and aluminum, declined, as did shares of Boeing, a large exporter that could be hurt if other nations retaliate against United States tariffs. Mr. Trump's announcement came despite months of heavy pushback from American companies that use metals in their products, like automakers and food packagers, and foreign officials, who warned that tariffs would strain relations and could prompt retaliatory trade actions. It also elicited a swift and severe response from Republican lawmakers, who said the action would ultimately hurt American companies, workers, consumers and the economy." See also, Trump upends Washington and Wall Street with shifts on trade and guns, The Washington Post, Damian Paletta and Josh Dawsey, Thursday, 1 March 2018.
Putin claims Russia is developing nuclear arms capable of avoiding missile defenses, The Washington Post, Anton Troianovski, Thursday, 1 March 2018: "Deploying emotional language and an animation of a cruise missile streaking toward North America, Russian President Vladimir Putin used an annual speech to his nation on Thursday to claim Russia was developing new nuclear weapons that he said could overcome any U.S. missile defenses. Putin's speech, less than three weeks before the Russian presidential election, represented an escalated level of martial rhetoric even by his pugnacious standards. For the first time, Putin claimed that Russia had successfully tested nuclear-propulsion engines that would allow nuclear-tipped cruise missiles and underwater drones to travel for virtually unlimited distances and evade traditional defenses. He also warned that Moscow would consider a nuclear attack, of any size, on one of its allies to be an attack on Russia itself, and that it would lead to an immediate response. Putin did not specify which countries he considers allies. Putin made clear that his declaration of Russian prowess was aimed squarely at the United States, which he accused of fomenting a new arms race by resisting arms-control negotiations, developing new missile-defense systems, and adopting a more aggressive posture in its nuclear strategy. In doing so, he said, the United States had failed to take seriously Russia's strength." See also, Vladimir Putin Is Campaigning on the Threat of Nuclear War, The New Yorker, Masha Gessen, published on Friday, 2 March 2018. See also, Putin's 'Invincible' Missile Is Aimed at U.S. Vulnerabilities, The New York Times, Neil MacFarquhar and David E. Sanger, Thursday, 1 March 2018.
South Korea Tells U.S. It Will Send Envoy to North Korea, The New York Times, Choe Sang-Hun, Thursday, 1 March 2018: "President Moon Jae-in of South Korea told President Trump on Thursday that he planned to send a special envoy to North Korea as part of his effort to broker talks between the United States and the North on ending its nuclear weapons program. President Moon's office said he talked with Mr. Trump on the phone on Thursday to discuss joint strategies, based upon the discussions Mr. Moon and his aides have held with senior North Korean officials who visited the South last month to attend the opening and closing ceremonies of the Olympics in Pyeongchang."
Roberta Jacobson, U.S. Ambassador to Mexico, to Quit Amid Tense Relations Under Trump, The New York Times, Azam Ahmed, Thursday, 1 March 2018: "The United States ambassador to Mexico plans to resign from her post in May, according to a memo circulated on Thursday to embassy staff, the latest in a string of senior diplomatic departures from the region — and more broadly from the State Department. The ambassador, Roberta S. Jacobson, 57, served just under two years in the post, after her arrival was delayed by a prolonged confirmation process. Analysts say her departure will be deeply felt by both American and Mexican officials — she was one of the most experienced Latin America experts in the State Department, having spent most of her 31 years there focusing on the region…. Mrs. Jacobson leaves at a tense moment in relations between Mexico and the United States, with President Trump vowing to have Mexico pay to build a wall between the countries, pledging to tear up the North American Free Trade Agreement and promising to deport millions of Mexicans who crossed the border illegally. There was also a testy phone call between Mr. Trump and President Enrique Peña Nieto of Mexico that derailed tentative plans for the two leaders to meet after Mr. Trump refused to drop his demand that Mexico pay for the border wall."
Environmental Protection Agency moves to overhaul Obama-era safeguards on coal ash waste, The Washington Post, Brady Dennis and Juliet Eilperin, Thursday, 1 March 2018: "The Environmental Protection Agency proposed major changes Thursday to an Obama-era initiative regulating coal ash waste, giving states and utilities more latitude in how they dispose of the toxic substance. The proposal marks a major policy shift with ramifications for both the coal industry and communities across the country. It includes more than a dozen suggested changes for how coal ash — which has contaminated waterways in two high-profile spills during the past decade — is stored at more than 400 coal-fired power plants around the country. And in modeling the rule on 1991 standards for disposal of household trash in solid waste landfills, it would extend how long companies can maintain unlined coal ash ponds and let states alter how frequently they would test for groundwater contamination."
The Trump administration hired more than 75 lawyers with ties to agencies they oversee, The Hill, Megan R. Wilson, Thursday, 1 March 2018: "More than 75 Trump administration lawyers either represented clients in the industries they regulate or had clients with business before the government, according to a report released Thursday by the liberal watchdog group Public Citizen. The group looked at the background of 127 senior attorneys in the executive branch and found that 76 had connections to their agencies in the private sector. The analysis excluded lawyers from independent agencies like the Federal Communications Commission and the Securities and Exchange Commission."
Hope Hicks, White House Communications Director, refused to tell the House Intelligence Committee whether she had lied for senior Trump officials, lawmakers say, The Washington Post, Karoun Demirjian and Ellen Nakashima, Thursday, 1 March 2018: "In her nine-hour closed-door meeting with the House Intelligence Committee this week, White House communications director Hope Hicks refused to say whether she had lied for a number of senior White House and Trump campaign officials, even as she acknowledged telling 'white lies' for President Trump. A Democrat and a Republican on the panel said Thursday that Hicks refused to answer questions Tuesday about whether she had been asked to lie by White House aides and Trump's family members, including Jared Kushner, Ivanka Trump and Donald Trump Jr., former White House adviser Stephen K. Bannon, and former campaign officials Corey Lewandowski and Paul Manafort. The testimony came a day before Hicks, 29, announced her plan to resign from the White House. The one exception she made, according to Rep. Eric Swalwell (D-Calif.), was acknowledging that former Trump national security adviser Michael Flynn had asked her during the transition period to dissemble about questions he was getting regarding his conversations with the Russian ambassador, Sergey Kislyak."
As Punishment for Delta's Decision to End a Promotional Discount for Members of the National Rifle Association, Georgia Lawmakers Pass a Bill That Strips Out a Tax Break Proposal Highly Coveted by Delta Air Lines, The New York Times, Richard Fausset, Thursday, 1 March 2018: "Georgia lawmakers approved a bill on Thursday that stripped out a tax break proposal highly coveted by Delta Air Lines — the most stinging punishment that America's pro-gun forces have leveled so far on one of the many corporations recalibrating their positions on firearms after the Florida high school massacre. The $50 million sales tax exemption on jet fuel that was sought by Delta, one of Georgia's biggest employers, had been included in a broader tax-relief bill. But this week, a number of Georgia Republicans, including Lt. Gov. Casey Cagle, sought to remove the perk as retribution for Delta's decision to end a promotional discount for members of the National Rifle Association. Delta, in announcing the policy change, said it was trying to remain 'neutral' in a national gun debate that has been rekindled by a gunman's attack at a school in Parkland, Fla., that left 17 people dead."
Treasury Secretary Steven Mnuchin Blocks U.C.L.A. From Releasing Video of Students Heckling Him, The New York Times, Alan Rappeport, Thursday 1 March 2018: "Treasury Secretary Steven Mnuchin was taunted with hisses, heckles and profanity during a lecture and moderated discussion at U.C.L.A. this week. Protesters were carried out by armed police officers. A sixth grader in the audience questioned him about the fairness of passing permanent tax cuts for companies and expiring cuts for individuals. But the official video footage of the university's Arnold C. Harberger Lecture, hosted by the Burkle Center for International Relations, is nowhere to be found. That is because Mr. Mnuchin took the unusual step of revoking his consent for it to be released given the contentiousness of the event. 'The Burkle Center and Treasury Department officials had an agreement to post the video of Secretary Mnuchin's lecture at U.C.L.A. to the center's website following the event,' said Peggy McInerny, a university spokeswoman. 'Treasury Department officials subsequently withdrew their consent to post the video.' Although Mr. Mnuchin did not want to give additional publicity to those who disrupted him, the shielding of the video has drawn more attention to the series of tense exchanges. Snippets of the scene that were captured on cellphones have ricocheted around social media in the days since the event. American Public Media's 'Marketplace,' whose host, Kai Ryssdal, moderated the discussion, published the complete audio."
Ben Carson, Secretary of Housing and Urban Development, Tries to Cancel $31,000 Dining Furniture Purchase for His HUD Office, The New York Times, Glenn Thrush, Thursday, 1 March 2018: "Ben Carson, the secretary of housing and urban development, is attempting to cancel a $31,000 order for a customized hardwood dining room table, chairs, sideboard and hutch the day after the chairman of the House Oversight Committee announced an investigation into the refurbishment of his HUD office. 'At the request of the secretary, the agency is working to rescind the order for the dining room set,' Armstrong Williams, Mr. Carson's business manager and an informal adviser, said on Thursday. He added, however, that 'it might not be possible.' On Tuesday, Raffi Williams, a department spokesman said Mr. Carson had no problem with the order and no intention of returning the table. But early Thursday, Mr. Williams said the secretary, who was sharply criticized for the purchase at a time when his agency is facing $6.8 billion in budget cuts requested by the White House, seemed to change his mind. 'Nobody was more surprised than me,' about the order, Mr. Carson said in a statement. But several department officials, speaking on condition of anonymity for fear of retaliation, said it would have been highly unusual for Mr. Carson not to have been told that a significant section of his office suite was about to be upgraded."
Senate Intelligence Committee Leaders (Republican Senator Richard Burr and Democratic Senator Mark Warner) Say That Republicans on the House Intelligence Committee Leaked Senator Mark Warner's Texts, The New York Times, Nicholas Fandos, Thursday, 1 March 2018: "The Senate Intelligence Committee has concluded that Republicans on the House Intelligence Committee were behind the leak of private text messages between the Senate panel's top Democrat and a Russian-connected lawyer, according to two congressional officials briefed on the matter. Senator Richard M. Burr of North Carolina, the committee's Republican chairman, and Senator Mark Warner of Virginia, the top Democrat, were so perturbed by the leak that they demanded a rare meeting with Speaker Paul D. Ryan last month to inform him of their findings. They used the meeting with Mr. Ryan to raise broader concerns about the direction of the House Intelligence Committee under its chairman, Representative Devin Nunes of California, the officials said. To the senators, who are overseeing what is effectively the last bipartisan investigation on Capitol Hill into Russia's interference in the 2016 election, the leak was a serious breach of protocol and a partisan attack by one intelligence committee against the other. The messages between Mr. Warner and Adam Waldman, a Washington lawyer, show that the senator tried for weeks to arrange a meeting with Christopher Steele, the former British spy who assembled a dossier of salacious claims about connections between Mr. Trump, his associates and Russia. The Senate committee has had difficulty making contact with Mr. Steele, whom it views as a key witness. And Mr. Waldman, who knew Mr. Steele, presented himself as a willing partner."
Depth of Russian Politician Alexander Torshin's Cultivation of Ties With the National Rifle Association Is Revealed, NPR, Tim Mak, Thursday, 1 March 2018: "Just how deep are the ties between Russia and the National Rifle Association? The story of one Russian official offers some insight. His name is Alexander Torshin. Back in 2015, an NRA delegation traveled to Moscow and met him. Now NPR is reporting that his ties to the National Rifle Association go back years. He talked about the NRA regularly on social media, in Russian tweets that went unnoticed until NPR political reporter Tim Mak noticed them."