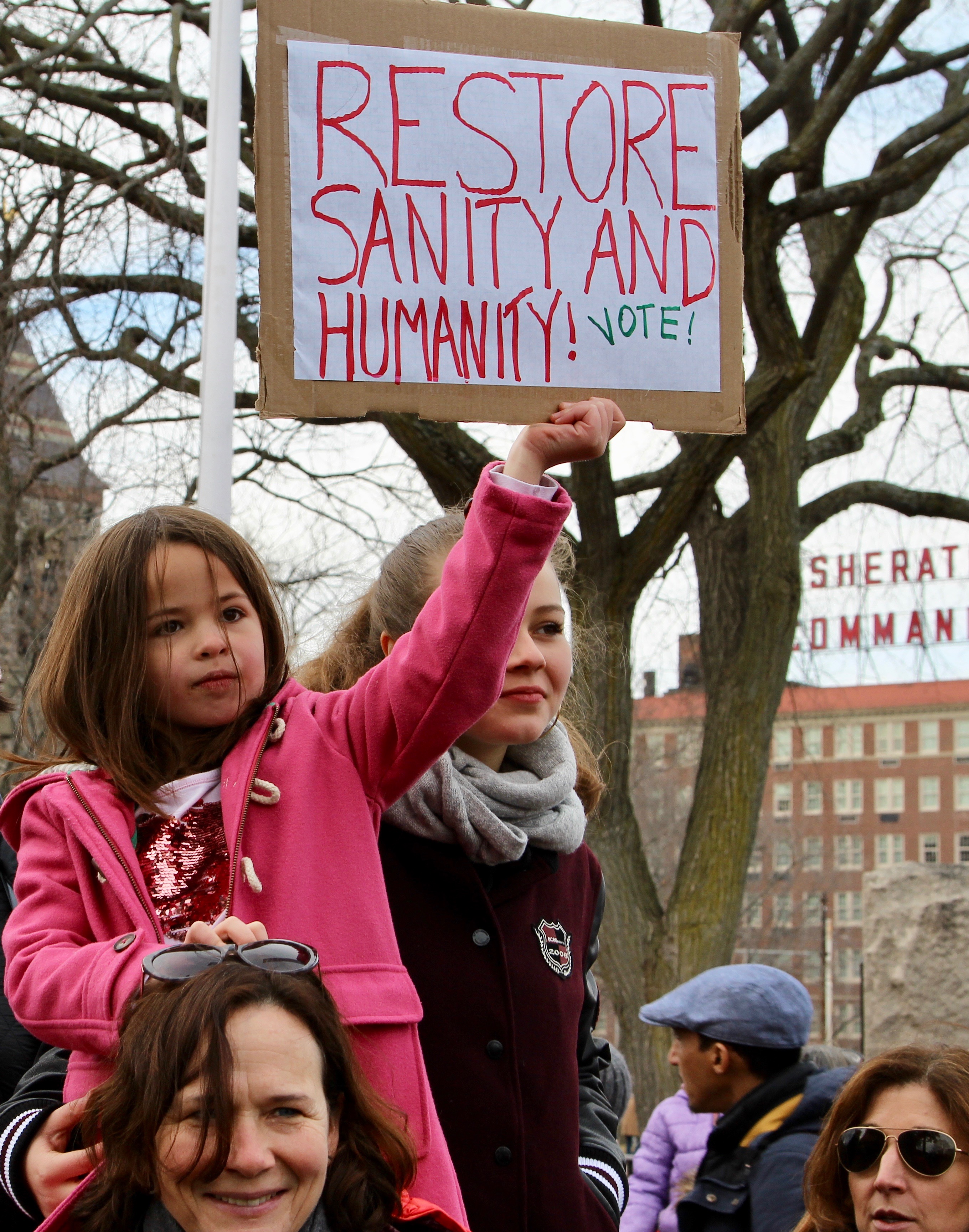 Keeping Track (of some things), Staying Outraged (it is possible), and Resisting (it's essential)
Passages in bold in the body of the texts below are my emphasis. This is an ongoing project, and I update the site frequently. Because I try to stay focused on what has actually happened, I usually let the news 'settle' a day or so before posting. I hope readers will peruse the articles in full for a better understanding of the issues and their context; our democracy and our future depend on citizens who can distinguish between facts and falsehoods and who are engaged in the political process.
Friday, 9 February 2018, Day 386:
Trump Praises Rob Porter, Top White House Adviser Accused of Abusing His Ex-Wives, and White House Chief of Staff John Kelly Says He's Willing to Resign as Abuse Scandal Roils the White House, The New York Times, Maggie Haberman, Julie Hirschfeld, and Michael S. Schmidt, Friday, 9 February 2018: "John F. Kelly, the White House chief of staff, told officials in the West Wing on Friday that he was willing to step down over his handling of allegations of spousal abuse against Rob Porter, the staff secretary who resigned in disgrace this week over the accusations, according to two officials aware of the discussions. The officials emphasized that they did not consider a resignation imminent, and that Mr. Kelly — a retired four-star Marine general who early in his tenure often used a threat of quitting as a way to temper President Trump's behavior — had made no formal offer. In comments to reporters at the White House on Friday, Mr. Kelly said he had not offered to resign…. [M]any, including the president himself, have turned their ire on Mr. Kelly for vouching for Mr. Porter's character and falsely asserting that he had moved aggressively to oust him once his misdeeds were discovered. For all the turmoil, Mr. Trump on Friday warmly praised Mr. Porter, saying it was a 'tough time' for his former aide and noting that Mr. Porter had denied the accusations. 'We wish him well,' Mr. Trump said of his former aide, who was accused of physical and emotional abuse by two ex-wives. The president added, 'He also, as you probably know, says he is innocent, and I think you have to remember that.' 'He worked very hard,' Mr. Trump told reporters in the Oval Office when asked for a comment about Mr. Porter. The president said he had only 'recently' learned of the allegations against his former aide and was surprised. 'He did a very good job when he was in the White House, and we hope he has a wonderful career, and he will have a great career ahead of him,' Mr. Trump said. 'But it was very sad when we heard about it, and certainly he's also very sad now.' The glowing praise of a staff member accused of serial violence against women was in line with the president's own denials of sexual impropriety despite accusations from more than a dozen women and his habit of accepting claims of innocence from men facing similar allegations. Among them was Roy S. Moore, the former Republican Senate candidate in Alabama, who is accused of molesting teenage girls." See also, Trump lavishes praise on Rob Porter, former top aide accused of domestic violence, The Washington Post, Jenna Johnson, Friday, 9 February 2018. See also, Trump's full comments essentially defending Rob Porter, annotated, The Washington Post, Aaron Blake, Friday, 9 February 2018. See also, Who knew what and when about the abuse allegations against Rob Porter, The Washington Post, Philip Bump, Friday, 9 February 2018.
White House Chief of Staff John Kelly offers account of Rob Porter exit that some White House aides consider untrue, The Washington Post, Philip Rucker and Josh Dawsey, Friday, 9 February 2018: "White House Chief of Staff John F. Kelly on Friday morning instructed senior staff to communicate a version of events about the departure of staff secretary Rob Porter that contradicts the Trump administration's previous accounts, according to two senior officials. During a staff meeting, Kelly told those in attendance to say he took action to remove Porter within 40 minutes of learning that abuse allegations from two ex-wives were credible, according to the officials, who spoke on the condition of anonymity because discussions in such meetings are supposed to be confidential. 'He told the staff he took immediate and direct action,' one of the officials said, adding that people after the meeting expressed disbelief with one another and felt his latest account was not true. That version of events contradicts both the public record and accounts from numerous other White House officials in recent days as the Porter drama unfolded. Kelly — who first learned of the domestic violence allegations against Porter months ago — issued a glowing statement of support for Porter's personal character after the allegations first surfaced publicly Tuesday and privately urged him to remain on the job until the next day when his resignation was announced. At Friday's meeting, Kelly also told subordinates to convey to other White House aides that he cares about domestic violence, according to the officials." See also, What Does John Kelly, Trump's Chief of Staff, See When He Looks at the People Around Him? The New Yorker, Amy Davidson Sorkin, Friday, 9 February 2018.
David Sorensen, a White House Speechwriter, Resigned After a News Report Detailed Accusations From a Former Wife Who Said He Had Abused Her During Their Marriage, The New York Times, Katie Rogers, Friday, 9 February 2018: "David Sorensen, a White House speechwriter, resigned on Friday after a news report detailed accusations from a former wife who said he had abused her during their marriage. His resignation came two days after Rob Porter, the White House staff secretary, submitted his own resignation after his two former wives publicly accused him of being abusive to them when they were married. In an interview in The Washington Post, Mr. Sorensen's former wife, Jessica Corbett, detailed a volatile two-and-a-half-year marriage in which Mr. Sorensen ran over her foot while driving a car and put out a lit cigarette on her hand. Their divorce became final last fall. Ms. Corbett said she described those episodes to the F.B.I. last fall as it was conducting a background check of Mr. Sorensen, according to The Post. Mr. Sorensen denied Ms. Corbett's account, and insisted that she was the abuser."
Continue reading Week 56, Friday, 9 February – Thursday, 15 February 2018 (Days 386-392)
Rachel Brand, the Number 3 Official at the Justice Department, Is Stepping Down, The New York Times, Katie Benner, Friday, 9 February 2018: "Rachel L. Brand, the No. 3 official at the Justice Department, plans to step down after nine months on the job as the country's top law enforcement agency has been under attack by President Trump, according to two people briefed on her decision. Ms. Brand's profile had risen in part because she is next in the line of succession behind the deputy attorney general, Rod J. Rosenstein, who is overseeing the special counsel's inquiry into Russian influence in the 2016 election. Mr. Trump, who has called the investigation a witch hunt, has considered firing Mr. Rosenstein. Such a move could have put her in charge of the special counsel and, by extension, left her in the cross hairs of the president. Ms. Brand, who became the associate attorney general in May, will become the global governance director at Walmart, the company's top legal position, according to people briefed on her move. She has held politically appointed positions in the past three presidential administrations."
U. S. Intelligence Community Secretly Negotiated With Russians to Buy Stolen NSA Documents, and the Russians Offered Trump-Related Material, too, The Intercept, James Risen, Friday, 9 February 2018: "The United States intelligence community has been conducting a top-secret operation to recover stolen classified U.S. government documents from Russian operatives, according to sources familiar with the matter. The operation has also inadvertently yielded a cache of documents purporting to relate to Donald Trump and Russian meddling in the 2016 presidential election. Over the past year, American intelligence officials have opened a secret communications channel with the Russian operatives, who have been seeking to sell both Trump-related materials and documents stolen from the National Security Agency and obtained by Russian intelligence, according to people involved with the matter and other documentary evidence. The channel started developing in early 2017, when American and Russian intermediaries began meeting in Germany. Eventually, a Russian intermediary, apparently representing some elements of the Russian intelligence community, agreed to a deal to sell stolen NSA documents back to the U.S. while also seeking to include Trump-related materials in the package."
Did Hillary Clinton collude with the Russians to get 'dirt' on Trump to feed it to the FBI? The Washington Post, Glenn Kessler, Friday, 9 February 2018: "The truth is that they [Democrats] are covering up that Hillary Clinton colluded with the Russians to get dirt on Trump to feed it to the FBI to open up an investigation into the other campaign."
—Rep. Devin Nunes (R-Calif.), chairman of the House Intelligence Committee, in an interview on the Hugh Hewitt Show, Feb. 7, 2018. [Emphasis in original.] During the probe of Russian interference in the 2016 presidential election — and possible collusion by members of the Trump campaign — defenders of the president have often sought to turn the tables on Democrats. A perfect summing-up of this approach can be found in the statement above by Nunes, who described it as 'a massive coverup of a major scandal that reached the highest levels of our government.' It's worth recalling that in June 2016, key players in the Trump campaign — Donald Trump Jr., campaign manager Paul Manafort and Jared Kushner, the husband of Ivanka Trump — agreed to meet with Russians after an intermediary offered 'very high-level and sensitive information' that could 'incriminate Hillary' and is part of 'Russia and its government's support for Mr. Trump.' There are many strands to the Russia probe. Let's focus first on the role of a 'dossier' of information on possible Trump-Russia ties compiled by Christopher Steele, a former British intelligence officer with ties to the FBI and the U.S. intelligence community. Steele had been tapped by Fusion GPS, a research and intelligence firm under contract to investigate Trump by Perkins Coie, a law firm working for the Clinton campaign and the Democratic National Committee…. Was the dossier used to gin up media attention to Russia-Trump ties and bolster an existing FBI investigation? Perhaps. That's certainly a question worth exploring. But the media needed little prodding to investigate when candidate Trump appeared unexpectedly solicitous of Russian President Vladimir Putin as Russian-linked entities leaked emails stolen by Russian hackers in the middle of a campaign. Meanwhile, the initial FBI counterintelligence probe was prompted not by Steele's reporting but by the loose lips of a Trump campaign staffer. Finally, there is no evidence that Clinton was involved in Steele's reports or worked with Russian entities to feed information to Steele. That's where Nunes's claim goes off the rails — and why he earns Four Pinocchios."
U.S. Spies, Seeking to Retrieve Cyberweapons, Paid Russian Peddling Trump Secrets, The New York Times, Matthew Rosenberg, Friday, 9 February 2018: "After months of secret negotiations, a shadowy Russian bilked American spies out of $100,000 last year, promising to deliver stolen National Security Agency cyberweapons in a deal that he insisted would also include compromising material on President Trump, according to American and European intelligence officials. The cash, delivered in a suitcase to a Berlin hotel room in September, was intended as the first installment of a $1 million payout, according to American officials, the Russian and communications reviewed by The New York Times. The theft of the secret hacking tools had been devastating to the N.S.A., and the agency was struggling to get a full inventory of what was missing. Several American intelligence officials said they made clear that they did not want the Trump material from the Russian, who was suspected of having murky ties to Russian intelligence and to Eastern European cybercriminals. He claimed the information would link the president and his associates to Russia. Instead of providing the hacking tools, the Russian produced unverified and possibly fabricated information involving Mr. Trump and others, including bank records, emails and purported Russian intelligence data. The United States intelligence officials said they cut off the deal because they were wary of being entangled in a Russian operation to create discord inside the American government. They were also fearful of political fallout in Washington if they were seen to be buying scurrilous information on the president…. The negotiations in Europe last year were described by American and European intelligence officials, who spoke on the condition of anonymity to discuss a clandestine operation, and the Russian…. There were … questions about the Russian's reliability. He had a history of money laundering and a thin legitimate cover business — a nearly bankrupt company that sold portable grills for streetside sausage salesmen, according to British incorporation papers."
Trump Blocked Release of a Democratic House Intelligence Committee Memo Rebutting Republican Claims That Law Enforcement Abused Its Power to Spy on a Former Trump Aide, The New York Times, Michael D. Shear and Nicholas Fandos, Friday, 9 February 2018: "President Trump on Friday blocked the release of a classified Democratic memo rebutting Republican claims that top federal law enforcement officials had abused their powers in spying on a former Trump campaign aide, a move that Democrats denounced as politically motivated hypocrisy. Last week, the president moved quickly, over the objections of the Justice Department and the F.B.I., to declassify the contents of a rival Republican memo drafted by House Intelligence Committee staff members. He claimed, incorrectly, that the Republican memo had vindicated him in the special counsel investigation into Russian election interference. But Donald F. McGahn II, the president's lawyer, said in a letter to the committee on Friday night that the Democratic memo could not be released because it 'contains numerous properly classified and especially sensitive passages.' He said the president would again consider making the memo public if the committee, which had approved its release on Monday, revised it to 'mitigate the risks.' Under the obscure rule invoked by the Intelligence Committee to initiate the document's release, the committee could choose to make those changes, or could decide to seek a vote of the full House to try to override Mr. Trump's decision. Democrats expressed outrage at the president's decision. 'Republicans and Democrats on the Intelligence Committee voted UNANIMOUSLY to release this memo,' Representative Terri Sewell of Alabama, a Democratic member of the committee, wrote on Twitter. '@realDonaldTrump is not interested in transparency, he is interested in protecting himself and derailing the Russia investigation.' Representative Adam B. Schiff of California, the top Democrat on the committee, had said earlier in the week that he feared that Mr. Trump would play politics with the dueling memos."
Breaking with tradition, Trump skips the president's written intelligence report and relies on oral briefings, The Washington Post, Carol D. Leonnig, Shane Harris, and Greg Jaffe, Friday, 9 February 2018: "For much of the past year, President Trump has declined to participate in a practice followed by the past seven of his predecessors: He rarely if ever reads the President's Daily Brief, a document that lays out the most pressing information collected by U.S. intelligence agencies from hot spots around the world. Trump has opted to rely on an oral briefing of select intelligence issues in the Oval Office rather than getting the full written document delivered to review separately each day, according to three people familiar with his briefings. Reading the traditionally dense intelligence book is not Trump's preferred 'style of learning,' according to a person with knowledge of the situation. The arrangement underscores Trump's impatience with exhaustive classified documents that go to the commander in chief — material that he has said he prefers condensed as much as possible. But by not reading the daily briefing, the president could hamper his ability to respond to crises in the most effective manner, intelligence experts warned. Soon after Trump took office, analysts sought to tailor their intelligence sessions for a president with a famously short attention span, who is known for taking in much of his information from conservative Fox News Channel hosts. The oral briefings were augmented with photos, videos and graphics. After several months, Trump made clear he was not interested in reviewing a personal copy of the written intelligence report known as the PDB, a highly classified summary prepared before dawn to provide the president with the best update on the world's events, according to people with knowledge of the situation."
The Number of Oil and Gas Rigs in the United States Has Increased an Astonishing 38 Percent Over the Past Year, The Revelator, John R. Platt, Friday, 9 February 2018: "The number of oil and gas rigs in the United States has increased an astonishing 38 percent over the past year. That's according to S&P Global Platts Analytics, which reported this week that the country had 1,070 rigs at the end of January, up from just 773 a year earlier. Experts expressed fear that all of this new development does not bode well for the planet. 'This will have a very significant climate impact,' says Romany Webb, climate law fellow with the Sabin Center for Climate Change Law. 'The oil and gas industry is a huge source of methane, which is a really potent greenhouse gas. And then on top of that you also have the carbon dioxide emissions from the combustion of this oil and gas. So this is very concerning from a climate perspective.' Webb links the increase in drilling, in part, to the recent rise in prices for crude oil and natural gas. 'Oil is now above $60 a barrel, which is what the industry always said that they needed to ramp up production,' she says. Experts also connect the boom to the policies of the Trump administration, which has prioritized the extraction of oil, natural gas and coal over the development of renewable energies even as the planet continues to warm. 'That the hottest years in human history coincide with a dramatic increase in U.S. drilling for oil and gas is a reminder of what a rogue nation we now live in,' says noted environmentalist Bill McKibben."
The Trump Administration's Solar Tariffs Are Triggering Lawsuits and Retaliation, and More Could Be on the Way, The New York Times, Ana Swanson, Friday, 9 February 2018: "Tariffs imposed by the United States late last month are prompting a wave of litigation from other nations, including Canada and China, escalating concerns that the Trump administration's more aggressive trade stance could worsen international relations and spur retaliatory actions on American goods sent abroad. On Wednesday, three Canadian solar companies filed a lawsuit in a New York court over tariffs on solar cells and panels that the United States imposed in late January, claiming these penalties violate American law and the terms of the North American Free Trade Agreement. That same day, the European Union became the fourth member of the World Trade Organization to request discussions with the United States for compensation for the solar tariffs, following similar requests by China, Taiwan and South Korea. Chinese officials also confirmed last weekend that they had launched a separate investigation into whether American exports of sorghum were receiving government subsidies or being sold at unfairly low prices abroad — a measure widely interpreted as a response to the Trump administration's ratcheting up of trade barriers."
This crafty tactic may let states get around the Federal Communications Commission (FCC) on net neutrality, The Washington Post, Brian Fung, Friday, 9 February 2018: "State governments are becoming pivotal players in the battle over net neutrality. In recent weeks, legislatures from California to Massachusetts have introduced bills aimed at restoring the Federal Communications Commission's broadband rules, which banned Internet providers from arbitrarily speeding up or slowing down websites. The initiatives have put states on a collision course with the FCC. But now a new tactic gaining momentum among governors threatens to complicate the debate further. Their novel approach, analysts say, is largely untested in court — and it could drive the fight over the Internet's future into hazy legal territory. New Jersey Gov. Phil Murphy (D) this week became one of the latest to adopt the strategy, signing an executive order that effectively forces Internet service providers (ISPs) that do business with the state to abide by strong net neutrality rules. Rather than directly regulating the broadband industry, the executive order imposes procurement obligations on state agencies. Under the order, state officials contracting with ISPs for service may do so only if the providers agree not to block or slow websites, or to offer websites faster delivery to consumers in exchange for an extra fee. As a large consumer of Internet service, said Murphy, the state may be able to pressure ISPs into granting New Jersey residents the same equal-access protections afforded to the government."
Saturday, 10 February 2018, Day 387:
Pressure From Trump May Lead to Revision of the Memo Drafted by Democrats on the House Intelligence Committee, The New York Times, Sharon LaFraniere, Saturday, 10 February 2018: "Under pressure from President Trump, Democrats on the House Intelligence Committee plan to redact a memo defending the F.B.I.'s surveillance of a former Trump campaign aide to resolve Mr. Trump's complaint that the document disclosed highly sensitive information, a Democrat on the committee said Saturday. But the Democrat, Jim Himes of Connecticut, accused Mr. Trump of hypocrisy in demanding changes to the document, echoing a grievance leveled by other Democrats on the committee. Mr. Himes noted that the president had declassified the contents of a rival Republican memo, based on the same underlying documents, that criticized the F.B.I.'s behavior despite vigorous objections from both the bureau and the Justice Department…. Both memos address the F.B.I.'s justification for seeking a secret court warrant in October 2016 to eavesdrop on the former Trump campaign aide, Carter Page, who was suspected of being an agent of Russia…. In a Saturday morning tweet, Mr. Trump accused the Democrats of deliberately drafting a 'very political and long' document so that he would be forced to block its release. He said that it would 'have to be heavily redacted' to protect 'sources and methods (and more)' and that he had instructed the Democrats to 're-do and send back in proper form!' The ranking Democrat on the committee, Representative Adam B. Schiff of California, said that Mr. Trump was unwilling to declassify information that would present a fairer picture of why the law enforcement officials believed they had probable cause to spy on Mr. Page for about a year. 'Mr. President, what you call "political" are actually called facts, and your concern for sources and methods would be more convincing if you hadn't decided to release the GOP memo ("100%") before reading it and over the objections of the FBI,' Mr. Schiff said in a tweet." See also, The White Housse's broken promise on the Democratic memo, The Washington Post, Aaron Blake, Saturday, 10 February 2018: "After the House Intelligence Committee voted this week to release a Democratic rebuttal to the Nunes memo, White House press secretary Sarah Huckabee Sanders assured us that the White House would be evenhanded. 'As stated many times,' Sanders said, 'the administration will follow the same process and procedure with this memorandum from the minority as it did last week, when it received the memorandum from the majority.' That is simply not what happened. The White House announced Friday night (translation: news-dump o'clock) that it would not immediately approve the release of the Democratic memo. It instead instructed Democrats to work with the Justice Department to adjust the memo so that it could be released publicly. It's entirely possible this won't make a huge difference in the memo's content and impact. But let's be clear: This is not how the White House treated the Nunes memo. When it was confronted with a decision about whether to release that memo, it did so over the objections of the FBI. The FBI publicly objected to the Nunes memo's release, suggesting the document left out key facts and was misleading. 'As expressed during our initial review, we have grave concerns about the material omissions of fact that fundamentally impact the memo's accuracy,' the FBI said in an extraordinary public rebuke. And even before all of that — and before he had even reviewed the memo — Trump and the White House made clear they would release the GOP memo. Trump told a Republican lawmaker after his State of the Union address Jan. 30 that he would '100 percent' release the memo. In this case, by contrast, the White House wasn't nearly so eager to commit to a memo's release and is now suggesting it is bowing to concerns from the very same federal law enforcement entities whose objections it disregarded last time. It will argue that it is just handling classified information with care, but it did not demonstrate that level of care last week when it forced through the Nunes memo."
Trump, Saying 'Mere Allegation' Ruins Lives, Appears to Doubt #MeToo Movement, The New York Times, Mark Landler, Saturday, 10 February 2018: "President Trump thrust himself into the national debate over sexual misconduct on Saturday, asserting that 'a mere allegation' could destroy the lives of those accused, as his own White House was engulfed by charges of abusive behavior. Mr. Trump, in an early morning Twitter post, appeared to be defending two of his aides who resigned this past week after facing claims of domestic violence. 'Peoples lives are being shattered and destroyed by a mere allegation,' he wrote. 'Some are true and some are false. Some are old and some are new. There is no recovery for someone falsely accused — life and career are gone. Is there no such thing any longer as Due Process?' The statement echoed Mr. Trump's dismissive response to allegations of sexual misconduct or abuse made over decades against male friends, colleagues and, above all, himself. At a time when charges of sexual harassment and abuse are bringing down famous and powerful men from Hollywood to Washington, Mr. Trump's defiant stance put him at odds with much of the country, and served as a stark reminder of his own troubled history with women. It also drew an inflamed reaction, as people took to social media to note that Mr. Trump used similar arguments to defend Roy S. Moore, the Republican candidate who lost his bid for an Alabama Senate seat after being accused of child predation, and Bill O'Reilly, the disgraced TV personality who, along with his former employer, Fox News, paid tens of millions of dollars to settle sexual harassment claims. Mr. Trump, critics noted, has not let due process prevent him from rushing to judgment in other cases. He has avidly promoted conspiracy theories, like those of the birther movement, whipped up his supporters at campaign rallies with chants of 'lock her up' about Hillary Clinton, and demanded the death penalty for five young black and Latino men wrongly accused of assaulting and raping a white woman in Central Park." See also, Trump decries lack of 'due process' for men accused of sexual harassment and abuse, The Washington Post, Anne Gearan and Katie Zezima, Saturday, 10 February 2018: "President Trump on Saturday appeared to side with men accused of domestic abuse or sexual misconduct, following a week of turmoil surrounding allegations of spousal abuse against two male aides that brought the national #MeToo movement inside the White House. In a tweet, Trump questioned whether 'due process' is being given to those accused of wrongdoing and expressed sympathy for their damaged careers and sullied reputations…. The brief message, which made no mention of the accusers, marks the president's most pointed response to the ongoing national reckoning with sexual harassment and abuse and put him seemingly at odds with a movement that in recent months has led to the downfall of several powerful men accused of abhorrent behavior."
Trump Administration Imposes Sweeping Limits on the Use of 'Guidance Documents,' an Action That could Have Sweeping Implications for the Government's Ability to Sue Companies Accused of Violations, The New York Times, Robert Pear, Saturday, 10 February 2018: "The Trump administration has adopted new limits on the use of 'guidance documents' that federal agencies have issued on almost every conceivable subject, an action that could have sweeping implications for the government's ability to sue companies accused of violations. Guidance documents offer the government's interpretation of laws, and often when individuals or companies face accusations of legal violations, what they have really violated are the guidance documents. Defense lawyers say the change in policy gives them a powerful tool to fend off allegations of wrongdoing against their clients. It also advances a goal declared by President Trump in his first days in office: to reduce the burden and cost of federal rules and requirements. But consumer advocates say the move will crimp enforcement of crucial protections. The new policy, issued by the No. 3 official at the Justice Department, Rachel L. Brand, is significant because federal agencies have issued hundreds of guidance documents on a wide range of laws covering issues like health care, the environment, civil rights, and labor."
Sunday, 11 February 2018, Day 388:
Trump takes 'shackles' off ICE (Immigration and Customs Enforcement), which is slapping them on immigrants who thought they were safe, The Washington Post, Nick Miroff and Maria Sacchetti, Sunday, 11 February 2018: "A week after he won the election, President Trump promised that his administration would round up millions of immigrant gang members and drug dealers. And after he took office, arrests by Immigration and Customs Enforcement officers surged 40 percent. Officials at the agency commonly known as ICE praise Trump for putting teeth back into immigration enforcement, and they say their agency continues to prioritize national security threats and violent criminals, much as the Obama administration did. But as ICE officers get wider latitude to determine whom they detain, the biggest jump in arrests has been of immigrants with no criminal convictions. The agency made 37,734 'noncriminal' arrests in the government's 2017 fiscal year, more than twice the number in the previous year. The category includes suspects facing possible charges as well as those without criminal records. Critics say ICE is increasingly grabbing at the lowest-hanging fruit of deportation-eligible immigrants to meet the president's unrealistic goals, replacing a targeted system with a scattershot approach aimed at boosting the agency's enforcement statistics. ICE has not carried out mass roundups or major workplace raids under Trump, but nearly every week brings a contentious new arrest."
Trump's History of Defending Men Accused of Hurting Women, The New York Times, Jacey Fortin, Sunday, 11 February 2018: "After the White House staff secretary, Rob Porter, resigned in the face of accusations that he had abused his two former wives, President Trump tweeted in defense of people whose 'lives are being shattered and destroyed by a mere allegation. Some are true and some are false. Some are old and some are new,' he wrote on Saturday. 'There is no recovery for someone falsely accused — life and career are gone. Is there no such thing any longer as Due Process?' The Twitter post was in line with a general pattern: Since he became the Republican presidential nominee in 2016, Mr. Trump has defended several men accused of sexual misconduct, including himself. Even before becoming a politician, Mr. Trump weighed in on allegations against well-known men, though he did not always side with the accused. [This article covers some] of the president's responses to sexual misconduct and abuse allegations."
In big reversal, new Trump Budget will give up on longtime Republican goal of eliminating the deficit, The Washington Post, Damian Paletta, Sunday, 11 February 2018: "President Trump on Monday will offer a budget plan that falls far short of eliminating the government's deficit over 10 years, conceding that huge tax cuts and new spending increases make this goal unattainable, three people familiar with the proposal said. Eliminating the budget deficit over 10 years has been a North Star for the Republican Party for several decades, and [Republican] lawmakers took the government to the brink of default in 2011 when they demanded a vote on a amendment to the Constitution that would prohibit the federal government from spending more than it takes in."
Monday, 12 February 2018, Day 389:
White House Proposes $4.4 Trillion Budget That Adds $7 Trillion to Deficits, The New York Times, Julie Hirschfeld Davis, Monday, 12 February 2018: "President Trump sent Congress a $4.4 trillion budget proposal on Monday outlining steep cuts to domestic programs, large increases in military spending and a ballooning federal deficit that illustrates how far Republicans have strayed from their longtime embrace of balanced budgets. The blueprint has little to no chance of being enacted as written and amounts to a vision statement by Mr. Trump, who as a businessman once called himself the 'king of debt' and has overseen a federal spending spree that will earn him that title in an entirely different arena. The White House budget request would add $984 billion to the federal deficit next year, despite proposed cuts to programs like Medicare and food stamps and despite leaner budgets across federal agencies, including the Environmental Protection Agency. Mr. Trump's budget statement calls deficits the harbingers of a 'desolate' future, but the White House plan would add $7 trillion to the deficit over the next 10 years. Last week, Mr. Trump signed a two-year bipartisan budget deal, struck by congressional leaders largely without his involvement, to boost both domestic and military spending by $300 billion. Mr. Trump's budget, which was drawn up before that package was completed, does not entirely embrace the law that he signed just days ago and proposes spending less on domestic programs than what Congress — and Mr. Trump — agreed to last week." See also, What's in the White House budget Request? The New York Times, Monday, 12 February 2018. See also, White House budget proposes increase to defense spending and cuts to safety net, but the federal deficit would remain, The Washington Post, Damian Paletta and Erica Werner, Monday, 12 February 2018. See also, What Trump proposed cutting in his 2019 budget, The Washington Post, Monday, 12 February 2018. See also, The 22 agencies and programs Trump's budget would eliminate, The Hill, Brett Samuels, Monday, 12 February 2018. See also, Trump budget seeks 23 percent cut at the Environmental Protection Agency, eliminating dozens of programs, The Washington Post, Brady Dennis, Monday, 12 February 2018. See also, Trump wants to overhaul the safety net in the United States with giant cuts to housing, food stamps, and health care, The Washington Post, Tracy Jan, Caitlin Dewey, Amy Goldstein, and Jeff Stein, Monday, 12 February 2018.
Trump Administration Wants to Decide What Food SNAP Recipients Will Get, NPR, Erica Hunzinger, Dan Charles, Maria Godoy, Allison Aubrey, Monday, 12 February 2018: "The Trump administration is proposing a major shake-up in one of the country's most important 'safety net' programs, the Supplemental Nutrition Assistance Program, formerly known as food stamps. Under the proposal, most SNAP recipients would lose much of their ability to choose the food they buy with their SNAP benefits. The proposal is included in the Trump administration budget request for fiscal year 2019. It would require approval from Congress. Under the proposal, which was announced Monday, low-income Americans who receive at least $90 a month — just over 80 percent of all SNAP recipients — would get about half of their benefits in the form of a 'USDA Foods package.' The package was described in the budget as consisting of 'shelf-stable milk, ready to eat cereals, pasta, peanut butter, beans and canned fruit and vegetables.' The boxes would not include fresh fruits or vegetables. Currently, SNAP beneficiaries get money loaded onto an EBT card they can use to buy what they want as long as it falls under the guidelines…. Joel Berg, CEO of Hunger Free America, a hunger advocacy group that also helps clients access food-assistance services, said the administration's plan left him baffled. 'They have managed to propose nearly the impossible, taking over $200 billion worth of food from low-income Americans while increasing bureaucracy and reducing choices,' Berg says. He says SNAP is efficient because it is a 'free market model' that lets recipients shop at stores for their benefits. The Trump administration's proposal, he said, 'is a far more intrusive, Big Government answer. They think a bureaucrat in D.C. is better at picking out what your family needs than you are?'"
A White House Budget Fit for the King of Debt, The New Yorker, John Cassidy, Monday, 12 February 2018: "As a guide to policy, the White House's budget for 2019, which was released on Monday, isn't worth much. In the federal government, Congress holds the purse strings, and these days it has largely abandoned the annual budgeting process for irregular spending agreements between the two parties, the latest of which was reached last week. As Mark Meadows, the chairman of the conservative Freedom Caucus in the House of Representatives, told the Washington Post, 'Budgets are aspirational documents and seldom have a real impact on spending.' But this doesn't mean that the new budget document should be completely ignored. For one thing, the proposal confirms that the country's finances will be in a wretched state once the G.O.P.'s recent tax-cut bill is fully enacted. Second, it provides yet another window into the deeply inequitable policy priorities of the Republican Party. And, finally, it illustrates the rank hypocrisy and chronic cognitive dissonance afflicting the Party under Donald Trump."
Trump's Infrastructure Plan Puts Little Emphasis on How Much an Infrastructure Proposal Benefits the Public and More on Finding Private Investors and Other Outside Sources of Money, The New York Times, Patricia Cohen and Alan Rappeport, Monday, 12 February 2018: "President Trump's $200 billion plan to rebuild America upends the criteria that have long been used to pick ambitious federal projects, putting little emphasis on how much an infrastructure proposal benefits the public and more on finding private investors and other outside sources of money. Unveiled on Monday, the infrastructure program that Mr. Trump has championed since the campaign is intended to attract a huge amount of additional money from states, localities and private investors. The goal is to generate a total pot of $1.5 trillion to upgrade the country's highways, airports and railroads. Those financial priorities are crystallized in the new guidelines established by the White House. The ability to find sources of funding outside the federal government will be the most important yardstick, accounting for 70 percent of the formula for choosing infrastructure projects. How 'the project will spur economic and social returns on investment' ranks at the bottom, at just 5 percent. In this new competition for federal funds, a plan to, say, build a better access road for a luxury development — a project with the potential to bring in more dollars from private investors — could have a strong chance of getting the green light. By comparison, a critical tunnel overhaul that has trouble getting new money might not be approved. 'Instead of the public sector deciding on public needs and public priorities, the projects that are most attractive to private investors are the ones that will go to the head of the line,' said Elliott Sclar, professor of urban planning and international affairs at Columbia University. 'Private investors will become the tail that will wag the dog, because they'll want projects that will give returns.'"
The 34% Turnover Rate in Trump's Administration in His First Year Is More Than Three Times as High as Obama's in the Same Period and Twice as High as Reagan's, Which Until Now Was the Modern Record-Holder, The New York Times, Peter Baker, Monday, 12 February 2018: "More than a year into his administration, President Trump is presiding over a staff in turmoil, one with a 34 percent turnover rate, higher than any White House in decades. He has struggled to fill openings, unwilling to hire Republicans he considers disloyal and unable to entice Republicans who consider him unstable. Those who do come to work for him often do not last long, burning out from a volatile, sometimes cutthroat environment exacerbated by tweets and subpoenas…. 'We have vacancies on top of vacancies,' said Kathryn Dunn Tenpas, a senior fellow at the Brookings Institution who has studied White House turnover over the last six administrations. 'You have initial vacancies, you have people who left in the first year and now you have people who are leaving in the second year.' According to a report by Ms. Tenpas, Mr. Trump's 34 percent turnover rate in his first year is more than three times as high as President Barack Obama's in the same period and twice as high as President Ronald Reagan's, which until now was the modern record-holder. Of 12 positions deemed most central to the president, only five are still filled by the same person as when Mr. Trump took office."
Accusations Against White House Aide Rob Porter Renew Attention on White House Security Clearances, The New York Times, Michael D. Shear and Matthew Rosenberg, Monday, 12 February 2018: "One week after the 2016 election, President-elect Donald J. Trump tweeted that he was 'not trying to get "top level security clearance" for my children,' calling such claims 'a typically false news story.' But he said nothing at the time about his son-in-law, Jared Kushner. Nearly 15 months later, Mr. Kushner, now a senior White House adviser with a broad foreign policy portfolio that requires access to some of the intelligence community's most closely guarded secrets, still has not succeeded in securing a permanent security clearance. The delay has left him operating on an interim status that allows him access to classified material while the F.B.I. continues working on his full background investigation. Mr. Kushner's status was similar to the status of others in the White House, including Rob Porter, the staff secretary who resigned last week after his two former wives alleged that he physically and emotionally abused them during their marriages. People familiar with the security clearance process in Mr. Trump's White House said it was widely acknowledged among senior aides that raising questions about unresolved vetting issues in a staff member's background would implicitly reflect on Mr. Kushner's status, as well — a situation made more awkward because Mr. Kushner is married to the president's daughter Ivanka."
Trump Administration Targets Obama-Era Effort to Limit Methane, The New York Times, Lisa Friedman, Monday, 12 February 2018: "The Trump administration on Monday moved to repeal one of the last unchallenged climate-change regulations rushed into place in the waning days of the Obama presidency — a rule restricting the release of planet-warming methane into the atmosphere. The rule, which applied to companies drilling for energy on federal land, has been the subject of intense court battles and delay efforts, as well as one surprise vote last year in which Senate Republicans temporarily saved it from being torpedoed. Methane, which is about 25 times more potent at trapping heat than carbon dioxide, accounts for 9 percent of all domestic greenhouse gas emissions; about a third of that is estimated to come from oil and gas operations. Under the rule, oil and gas companies would have been required to capture leaked methane, update their equipment and write new plans for minimizing waste when drilling on government property…. Environmental activists denounced the plan and noted that the repeal would return the Bureau of Land Management to a set of policies dealing with methane waste that are almost 40 years old. 'Gutting the rule would allow unchecked waste of natural gas, unnecessary pollution and the loss of revenue to communities and tribes to address critical needs such as schools and roads,' said Fred Krupp, president of the Environmental Defense Fund. The agency is expected to publish the proposal in the Federal Register, which will kick off a 60-day public comment period. A final repeal of the rule would come after that."
Education Department is no longer investigating civil rights complaints from transgender students barred from school bathrooms that match their gender identity, The Washington Post, Moriah Balingit, Monday, 12 February 2018: "The Education Department confirmed Monday it is no longer investigating civil rights complaints from transgender students barred from school bathrooms that match their gender identity, a development those students say leaves them vulnerable to bullying and violence. The Obama administration in 2016 directed public schools to allow students to use bathrooms that align with their gender identity, even if that conflicted with the gender on their birth certificates. The administration concluded that barring transgender students from public school bathrooms was a form of sex discrimination prohibited under Title IX. But shortly after President Trump took office last year, Education Secretary Betsy DeVos and Attorney General Jeff Sessions rescinded the guidance, a move that was widely decried by civil rights groups who said it could endanger the welfare of transgender students."
Trump Administration Plans to Defang the Consumer Financial Protection Bureau, NPR, Chris Arnold, Monday, 12 February 2018: "The Consumer Financial Protection Bureau was created after the financial crisis to protect Americans from being ripped off by financial firms. Now, President Trump's interim appointee to run the bureau, Mick Mulvaney, is making radical changes to deter the agency from aggressively pursuing its mission. The CFPB on Monday unveiled a new strategic plan to that end. In a message accompanying the plan for the years 2018 through 2022, Mulvaney wrote, 'we have committed to fulfill the Bureau's statutory responsibilities, but go no further.' The plan says the bureau should be 'acting with humility and moderation.' This new direction is consistent with Mulvaney's other memos and statements and formalizes his plans for defanging the watchdog bureau and reshaping its mission, according to insiders and experts that NPR has talked to. The CFPB is considered a powerful and independent watchdog. But many Republicans have wanted to shut it down since Day 1 because they think it's too powerful. Mulvaney is one of them. As a congressman, Mulvaney called the agency a 'sick sad joke.' He drafted legislation to abolish it. So people at the bureau were shocked when the president appointed him to run this consumer protection agency."
Senate Begins 'Wild' Week of Debate on Immigration, Outcome Unknown, The New York Times, Sheryl Gay Stolberg, Monday, 12 February 2018: "With the fate of hundreds of thousands of young, undocumented immigrants in the balance, the Senate on Monday began an open-ended debate on immigration — an exceedingly rare step that, in effect, will allow senators to attempt to build a bill from scratch on the Senate floor. The highly unusual debate, expected to unfold throughout the week, will test whether a series of legislative concepts and proposals championed by President Trump and a variety of Republicans and Democrats can garner 60 votes, the threshold for a measure to pass the Senate. No one has any idea how it will turn out."
'An Extraordinary Moment': Explaining the Russia Inquiry, The New York Times, Monday, 12 February 2018: "How likely would impeachment proceedings be if the Russia investigation uncovers obstruction of justice? Could the inquiry unveil President Trump's tax returns? Why are anonymous sources necessary to our investigative work?… Last month … we asked readers to send us their questions for Mark [Mazzetti] about the Russia investigation. More than 300 readers wrote in. [This article covers some of Mark's] responses to a selection of the questions, which were lightly edited for clarity."
Tuesday, 13 February 2018, Day 391:
White House Let Rob Porter Keep His Job Even After Receiving Final F.B.I. Report. F.B.I. Director Christopher Wray Contradicted the White House Timeline of What It Knew About Rob Porter, an Aide Ousted Over Spousal Abuse Allegations. The New York Times, Julie Hirschfeld Davis and Michael D. Shear, Tuesday, 13 February 2018: "The White House changed its story on Tuesday about how it handled allegations of spousal abuse against Rob Porter, the staff secretary who resigned in disgrace last week, conceding that the F.B.I. told White House career officials last summer about problems in Mr. Porter's background check. But members of President Trump's team said top advisers in the West Wing were kept in the dark. The White House revised its version of events after testimony on Capitol Hill from the F.B.I. director, Christopher A. Wray, contradicted earlier and shifting claims from the West Wing. At a previously scheduled Senate hearing on Tuesday about threats against the United States, Mr. Wray, in response to a question about Mr. Porter, said the F.B.I. had given the White House final results in January of its background investigation into the former staff secretary. Mr. Wray's account was directly at odds with previous assertions by Sarah Huckabee Sanders, the White House press secretary, and other White House officials who said Mr. Porter's background check was still underway when the domestic violence abuse allegations from his two former wives came to light last week in news reports. Mr. Wray's words strongly suggested that Mr. Porter, who had been given an interim security clearance, was allowed to continue serving in his influential post in the West Wing long after officials had received word of the troublesome accusations. Three officials confirmed late Tuesday that the practice of giving interim security clearances to new hires in the White House was halted last fall by Mr. Trump's chief of staff. Politico first reported the change. Mr. Wray's testimony also raised questions about the credibility of Mr. Trump's most senior advisers and the degree of tolerance they may have shown to a colleague apparently eager to cover up a past. According to Mr. Wray, the F.B.I. updated the White House three times in 2017 — in March, July and November — about Mr. Porter's background check as it progressed. Mr. Wray did not disclose the information that was given to the White House at those times, but according to two people briefed on the matter, the F.B.I. first provided the White House in July with a rundown of the spousal abuse allegations the bureau had uncovered against Mr. Porter. In November, the F.B.I. provided the White House with additional information about the allegations." See also, White House reels as FBI director Christopher Wray contradicts official claims by the Trump administration about alleged spousal abuser and White House aide, Rob Porter, The Washington Post, Ashley Parker, Philip Rucker, and Josh Dawsey, Tuesday, 13 February 2018. See also, FBI Director Christopher Wray's Timeline of the Rob Porter Probe Contradicts the Trump Administration's Claims, The Wall Street Journal, Michael C. Bender, Rebecca Ballhaus, and Peter Nicholas. See also, The F.B.I., Domestic Abuse, and the White House: A Timeline of the Rob Porter Scandal, The New York Times, Michael D. Shear and Emily Cochrane, Tuesday, 13 February 2018. See also, The White House defense of its handling of Rob Porter just fell apart, The Washington Post, Philip Bump, Tuesday, 13 February 2018.
Nicholas G. Garaufis, a Federal Judge in Brooklyn, Has Issued an Injunction Requiring the Trump Administration to Keep the Deferred Action for Childhood Arrivals (DACA) Program in Place, The New York Times, Alan Feuer, Tuesday, 13 February 2018: "For the second time in two months, a federal judge has stepped into an intense political fight over immigration policy, issuing an injunction that orders the Trump administration to keep in place the embattled program known as DACA, which protects young undocumented immigrants from deportation. The nationwide injunction, issued on Tuesday by Judge Nicholas G. Garaufis of Federal District Court in Brooklyn, came one month after a court in California also ruled that the administration needed to spare DACA, or Deferred Action for Childhood Arrivals. Judge Garaufis's ruling in many ways echoed the one issued by Judge William Alsup of Federal District Court in San Francisco. But it also offered additional reasons for why DACA should remain in place as the case continues through the courts, and it detailed the harms that its repeal would cause to young immigrants and others. On Sept. 5, the attorney general, Jeff Sessions, announced that the Trump administration planned to end DACA gradually, saying that the program had been unconstitutionally established by President Barack Obama in 2012. Under the rollback, the Department of Homeland Security is still considering pending DACA applications and renewal requests from recipients who filed by Oct. 5. But the department plans to reject all applications after that. After Mr. Sessions's announcement, a coalition of immigration lawyers and a group of 16 Democratic state attorneys general, led by Eric Schneiderman of New York, filed separate but linked lawsuits in Brooklyn, claiming that the repeal of DACA was an 'arbitrary and capricious' decision largely motivated by a 'racial animus' against Latinos. In his ruling, Judge Garaufis agreed with the lawyers that the rollback was arbitrary and capricious; but while he has vociferously criticized Mr. Trump from the bench for his anti-immigrant tweets and public statements, the judge made no mention of racial animus in his findings." See also, Federal Judge Nicholas Garaufis Ruled That the Trump Administration Doesn't Have 'Legally Adequate Reasons' for Ending the Deferred Action for Childhood Arrivals (DACA) Program, BuzzFeed News, Zoe Tillman, Tuesday, 13 February 2018: "A second federal judge has ordered the Trump administration to continue accepting renewal applications for the Deferred Action for Childhood Arrivals program, finding that the administration failed to provide "legally adequate reasons" for ending it. The nationwide injunction from US District Judge Nicholas Garaufis — which comes amid debate in Congress over immigration and the future of DACA — covers the same ground as a Jan. 9 injunction issued by a federal judge in California. The latest ruling again orders the administration to process renewal applications from existing DACA recipients, but stops short of ordering the administration to accept new applications from individuals who hadn't been part of the program before. Although the latest order doesn't go beyond the nationwide injunction issued by the judge in California last month, it gives the challengers more fuel as the Justice Department — which has already asked the US Supreme Court to take up the California decision — digs in for a fight."
Intelligence Chiefs Warn That Russia Sees the U.S. Midterm Elections as a Chance to Sow Fresh Discord, The New York Times, Matthew Rosenberg, Charlie Savage, and Michael Wines, Tuesday, 13 February 2018: "Russia is already meddling in the midterm elections this year, the top American intelligence officials said on Tuesday, warning that Moscow is using a digital strategy to worsen the country's political and social divisions. Russia is using fake accounts on social media — many of them bots — to spread disinformation, the officials said. European elections are being targeted, too, and the attacks were not likely to end this year, they warned. 'We expect Russia to continue using propaganda, social media, false-flag personas, sympathetic spokespeople and other means of influence to try to exacerbate social and political fissures in the United States,' Dan Coats, the director of national intelligence, told the Senate Intelligence Committee at its annual hearing on worldwide threats. Mr. Coats and the other intelligence chiefs laid out a pair of central challenges for the United States: contending with the flow of Russian misinformation and shoring up the defenses of electoral systems, which are run by individual states and were seen as highly vulnerable in 2016. 'There should be no doubt that Russia perceives its past efforts as successful and views the 2018 U.S. midterm elections as a potential target for Russian influence operations,' said Mr. Coats, testifying alongside Mike Pompeo, the C.I.A. director; Christopher A. Wray, the F.B.I. director; and other leading intelligence officials. 'Throughout the entire community, we have not seen any evidence of any significant change from last year,' Mr. Coats said. The warnings were striking in their contrast to President Trump's public comments. He has mocked the very notion of Russian meddling in the last election and lashed out at those who suggested otherwise." See also, The top spies in the U.S. said Russia is continuing to target the U.S. political system, The Washington Post, Ellen Nakashima and Shane Harris, Tuesday, 13 February 2018.
Daniel Coats, Director of National Intelligence, suggests Jared Kushner, Trump's son-in-law, shouldn't have full access to classified information, The Washington Post, Aaron Blake, Tuesday, 13 February 2018: "Director of National Intelligence Daniel Coats suggested Tuesday that the White House should not be giving President Trump's son-in-law, Jared Kushner, full access to classified information. At a hearing, Sen. Martin Heinrich (D-N.M.) asked Coats about a Washington Post report that dozens of White House staff still have only interim security clearances. Heinrich mentioned Kushner and now-departed White House staff secretary Rob Porter by name and asked whether staff whose background investigations turned up red flags should be allowed unfettered access to classified information. Coats basically said no."
Michael D. Cohen, Trump's Longtime Lawyer, Says He Used His Own Personal Funds to Facilitate a Payment of $130,000 to Stormy Daniels, The New York Times, Maggie Haberman, Tuesday, 13 February 2018: "Michael D. Cohen, President Trump's longtime personal lawyer, said on Tuesday that he had paid $130,000 out of his own pocket to a pornographic-film actress who had once claimed to have had an affair with Mr. Trump. In the most detailed explanation of the 2016 payment made to the actress, Stephanie Clifford, Mr. Cohen, who worked as a counsel to the Trump Organization for more than a decade, said he was not reimbursed for the payment. 'Neither the Trump Organization nor the Trump campaign was a party to the transaction with Ms. Clifford, and neither reimbursed me for the payment, either directly or indirectly,' Mr. Cohen said in a statement to The New York Times. 'The payment to Ms. Clifford was lawful, and was not a campaign contribution or a campaign expenditure by anyone.' He declined to answer several follow-up questions, including whether Mr. Trump had been aware that Mr. Cohen made the payment, why he made the payment or whether he had made similar payments to other people over the years. Mr. Cohen has previously said that Mr. Trump has denied an affair with Ms. Clifford, whose stage name is Stormy Daniels. She has said the affair took place soon after Mr. Trump's wife, Melania, gave birth to the couple's son, Barron. Mr. Cohen's statement about what he called 'a private transaction' was the first time that he had acknowledged a role in the payment, which was first reported in January by The Wall Street Journal."
Maureen O'Connor, Ohio's Chief Justice, Stands Up to Attorney General Jeff Sessions in Support of Low-Income People, ACLU, Mick Brickner, Tuesday, 13 February 2018: "In late December, Attorney General Jeff Sessions rescinded crucial guidance that advised courts not to unfairly punish people simply for being poor. While Sessions furthers the criminalization of poverty, Ohio's chief justice is reminding her judges that the people who pass through their courtrooms are not ATMs. On January 29, Maureen O'Connor sent a letter to all Ohio trial judges to ensure they were aware that the law has not changed and 'court cases are not business transactions.' Her thoughtful letter is a stark contrast to Jeff Sessions' abrupt decision to rescind a guidance that had helped judges and court administrators around the country reform court practices to guard against abuses like debtors' prisons — the jailing of poor people who cannot afford to pay court fines and fees. O'Connor made clear that despite the department's decision, the Constitution remains the supreme law of the land and that the rights enshrined in that document are unchanged. She also reminded judges of their obligation to serve the public and promote fairness and equal treatment of rich and poor: 'We have a special responsibility to act in a manner that bolsters public trust and confidence in the fair administration of justice for everyone. Practices that penalize the poor simply because of their economic state; that impose unreasonable fines, fees, or bail …  on our citizens to raise money or cave to local funding pressure; or that create barriers to access to justice are simply wrong. No rescission of guidance by the [DOJ] changes that.'"
Sea-level rise is accelerating, and its rate could double in the next century according to a new study published in the Proceedings of the National Academy of Sciences, The Washington Post, Jason Samenow, Tuesday, 13 February 2018: "Global warming has caused the world's oceans to rise over the past 150 years. Warming seas expand, and water from melting glaciers and ice sheets have had nowhere to go but into the oceans. The rising seas have slowly and steadily eaten away at coastlines. But a new study finds that in recent decades, the pace of sea-level rise has picked up and coastal real estate could be under water faster and faster in the coming decades. This has important implications for the coasts: It is much harder to plan for and adapt to accelerating sea-level rise than it is for seas rising at a constant rate. Before this study was published Monday in the Proceedings of the National Academy of Sciences, scientists had suspected that sea-level rise was accelerating but did not have the data yet to prove it."
Landlord-in-Chief, Forbes, Dan Alexander and Matt Drange, Tuesday, 13 February 2018: "Forget the international partnerships and the D.C. hotel. The surest way to put money into Donald Trump's pocket is through his core real estate assets. More than 150 tenants—from foreign governments to big banks—throw him some $175 million a year without an accounting of who they are or how much they pay. Until now. After months of digging, Forbes assembled a first-of-its-kind look at who is paying rent to the president of the United States—and how many millions are involved. We found ongoing deals with law firms that lobby the federal government, banks controlled by foreign states and big media companies that cover Trump. Building such a list required contacting hundreds of entities, including the Trump Organization and the White House, which would not disclose the president's tenants. Our list excludes dozens of companies that have offices in Trump buildings but sublease the space rather than rent it from the Trump Organization. But it's possible we missed a few subleases and tenants, given the lack of transparency. The figures are estimates, based on public documents, debt disclosures and interviews with experts. Taken together, they represent the greatest opportunity for conflicts of interest in a presidency full of them."
The Virginia House of Delegates passes a sweeping overhaul of the way Virginia regulates its electricity utilities, with a last-minute change that prohibits utility companies from charging ratepayers twice for expensive projects to upgrade the grid and for investments in renewable energy, The Washington Post, Gregory S. Schneider, Tuesday, 13 February 2018: "The House of Delegates on Tuesday passed a sweeping overhaul of the way Virginia regulates its electricity utilities, with one last-minute change aimed at fixing what some say is a significant flaw of the legislation. An amendment offered by Del. David Toscano (D-Charlottesville) would prohibit utility companies from charging ratepayers twice for expensive projects to upgrade the grid and for investments in renewable energy. The change is intended to prevent what some called a "double-dip" component of the original legislation, which lets utilities invest excess profit in new projects instead of returning money to ratepayers. According to critics, the original bill would let utilities keep the excess profit and build the cost of new projects into base rates…. Dominion Energy, the state's biggest utility, helped write the original legislation and denied that it would have permitted double-dipping. The Toscano amendment passed despite opposition from Dominion — a measure of changing attitudes in the General Assembly toward the state's most generous corporate campaign donor. A slate of new Democrats erased a wide Republican majority in the House of Delegates in November, partly on promises to shake up the legislature's cozy relationship with Dominion."
U.S. Opens Door to North Korea Talks, a Victory for South Korea's President, Moon Jae-in, The New York Times, Mark Landler and Choe Sang-Hun, Tuesday, 13 February 2018: "The Trump administration, scrambling to avoid a rift with an ally, has told South Korea it is open to holding preliminary talks with North Korea, according to two senior administration officials and a spokesman for the South Korean president, Moon Jae-in. The decision, which came after Vice President Mike Pence attended the Winter Olympics in Pyeongchang, South Korea, and met with Mr. Moon, reflects how thoroughly the diplomatic channel between the North and South has upended the administration's calculations. For months, the White House has rejected the idea of meeting with North Korea unless it took measurable steps toward giving up its nuclear stockpile and curbing its provocative behavior. Now, though, with Mr. Moon determined to engage with the North, these officials said the administration has decided on a course correction. The decision was a victory for South Korea. 'The United States, too, looks positively at South-North Korean dialogue and has expressed its willingness to start dialogue with the North,' Mr. Moon said on Tuesday, according to his spokesman, Kim Eui-kyeom. American officials were more guarded, saying they were open to talks but not a full-fledged negotiation."
Wednesday, 14 February 2018, Day 391:
A Week After Trump's Staff Secretary, Rob Porter, Resigned Amid Spousal Abuse Allegations, Trump Says He's 'Totally Opposed' to Domestic Violence, His First Condemnation of the Alleged Conduct, The New York Times, Julie Hirschfeld Davis, Maggie Haberman, and Michael D. Shear, Wednesday, 14 February 2018: "One week after Rob Porter, his staff secretary, resigned amid spousal abuse allegations, President Trump said on Wednesday that he was 'totally opposed to domestic violence,' his first condemnation of the alleged conduct behind a scandal that has engulfed the White House. His statement, which members of both parties had said was long overdue, came as John F. Kelly, Mr. Trump's chief of staff, faced new questions about his handling of Mr. Porter's case, including how he could have held a temporary high-level security clearance for more than a year in light of the allegations, and as committees in both the House and the Senate announced they would investigate the circumstances surrounding the granting of Mr. Porter's clearance."
Trey Gowdy, Republican chairman of the House Oversight and Government Reform Committee, is investigating the White House's employment of former senior aide Rob Porter, The Washington Post, Herman Wong and Mike DeBonis, Wednesday, 14 February 2018: "The Republican chairman of the House Oversight and Government Reform Committee is investigating the White House's employment of former senior aide Rob Porter after allegations emerged that he abused his two ex-wives — a rare GOP foray into alleged misbehavior in the top echelon of the Trump administration. Rep. Trey Gowdy (R-S.C.), the panel's chairman, sent letters Wednesday to FBI Director Christopher A. Wray and White House Chief of Staff John F. Kelly asking for information on what they knew about the allegations against Porter and when they knew it — an inquiry prompted by an apparent contradiction between the timeline offered by the White House and offered by Wray in congressional testimony on Tuesday."
Leaked United Nations climate science report sees 'very high risk' the planet will warm beyond key limit, The Washington Post, Chris Mooney, Wednesday, 14 February 2018: "A draft United Nations climate science report contains dire news about the warming of the planet, suggesting it will likely cross the key marker of 1.5 degrees Celsius, or 2.7 degrees Fahrenheit, of temperature rise in the 2040s, and that this will be exceedingly difficult to avoid. Temperatures could subsequently cool down if carbon dioxide is somehow removed from the air later in the century, the document notes. But that prospect is questionable at the massive scales that would be required, it observes."
A Citizenship Question on the Census May Be Bad for Your Health, The New York Times, Emily Baumgaertner, Wednesday, 14 February 2018: "As the Census Bureau finalizes the questions for the 2020 census, key voices in the Trump administration are pressing for surveyors to ask one critical question: Are you a United States citizen? Advocates of the so-called citizenship question say it is merely clerical, an effort to ascertain how many noncitizens reside in the United States. But the question would have broad ramifications, not only for the politics of redistricting that will emerge from the census but for an issue that goes beyond partisanship: public health. The fear is that immigrants — even those in the country legally — will not participate in any government-sponsored questionnaire that could expose them, their family members or friends to deportation. But low response rates from any demographic group would undermine the validity of the next decade of health statistics and programs, health experts warn. Scientists use census data to understand the distribution of health conditions across the United States population. In turn, officials use the data to target interventions and distribute federal funding."
Dozens of refugee resettlement offices to close as Trump downsizes program, Reuters, Mica Rosenberg, Wednesday, 14 February 2018: "Refugee resettlement agencies are preparing to shutter more than 20 offices across the United States and cut back operations in more than 40 others after the State Department told them to pare their operations, according to plans seen by Reuters. The slated closures, which are being reviewed by the State Department for final approval, follow President Donald Trump's decision to dramatically reduce the number of refugees that will be allowed into the United States in 2018. The State Department has said the drop in refugee numbers, from the 110,000 ceiling set by the Obama administration to 45,000 for 2018, means the country no longer needs all of the 324 resettlement offices that were operating at the end of 2017. This year's cap on refugees is the lowest since 1980. The offices, run by private non-profit agencies that contract with the U.S. government, provide a range of services to refugees, from assisting them in finding housing and jobs, to helping them navigate banking, medical care, school enrollment and other complexities of life in America."
A Scathing Report Faults David Shulkin, Secretary of Veterans Affairs, Over Travel to Europe, The New York Times, Dave Philipps, Wednesday, 14 February 2018: "A scathing report released Wednesday found "serious derelictions" in a 10-day, $122,000 business trip the secretary of veterans affairs took to Europe, which included airfare for his wife and extensive sightseeing. According to the report, Secretary David J. Shulkin traveled to Denmark and London for meetings about health care for veterans, accompanied by his wife, a small staff and a six-person security detail, but nearly half of his time was spent visiting castles and other tourist sites. 'This was time that should have been spent conducting official V.A. business and not providing personal travel concierge services to Secretary Shulkin and his wife,' Inspector General Michael J. Missal concluded in the report. To justify paying for the secretary's wife's $4,000 airfare, the report said, the department's chief of staff altered an email to indicate that Dr. Shulkin and his wife had been specifically invited to an honorary dinner in Denmark, when in fact they had not. While the couple were in London, the report found, they improperly accepted tickets to a tennis match at Wimbledon. Dr. Shulkin is one of several cabinet secretaries to be accused of lavish spending on travel. Tom Price was dismissed as secretary of health and human services over his use of private jets."
Trump Lawyer's Payment of $130,000 to Porn Star Stormy Daniels Raises New Questions, The New York Times, Maggie Haberman and Charlie Savage, Wednesday, 14 February 2018: "The admission by President Trump's longtime personal lawyer that he sent $130,000 to a pornographic film actress, who once claimed to have had an affair with Mr. Trump, has raised potential legal questions ranging from breach of contract to ethics violations. The lawyer, Michael D. Cohen, told The New York Times on Tuesday that he had used his own funds to facilitate the payment to the actress, Stormy Daniels, whose real name is Stephanie Clifford, adding that neither the Trump Organization nor the Trump campaign had reimbursed him for the payment. He insisted that the payment was legal. The Wall Street Journal first reported last month that Mr. Cohen had arranged the payment soon before the 2016 election, as Ms. Clifford was considering speaking publicly about the purported affair. But Mr. Cohen's assertions left many questions unanswered, including whether the payment was truly a personal gift by him or whether he was reimbursed by some other party, like Mr. Trump or an associate of Mr. Trump. In a brief interview on Wednesday, Mr. Cohen declined to answer questions about whether Mr. Trump had reimbursed him, whether the two men had made any arrangement at the time of the payment, or whether he had made any payments to other women or accusers of the president."
Thursday, 15 February 2018, Day 392:
After Florida Shooting, Trump Focuses on Mental Health Over Guns, The New York Times, Katie Rogers, Thursday, 15 February 2018: "President Trump announced on Thursday that he would visit Parkland, Fla., where a gunman killed 17 people this week in the deadliest school shooting in years, and would work with state and local leaders 'to help secure our schools, and tackle the difficult issue of mental health.' The president tweeted his condolences to the families of the victims in the hours after the shooting on Wednesday, and as images of terrified students sprinting frantically away from Marjory Stoneman Douglas High School dominated the news, Mr. Trump's aides urged him to make a public statement. But he opted not to say anything more until Thursday, when he delivered a subdued seven-minute speech at the White House…. He made no mention of guns. Wednesday's incident was the deadliest school shooting since a gunman killed 20 first graders and six adults at Sandy Hook Elementary School in Connecticut in 2012. It was the latest mass shooting to elicit a national mourning period and an outcry from Democratic lawmakers, who accused Mr. Trump and Republicans of not doing enough to curb gun violence. Early in his presidency, Mr. Trump approved the removal of an Obama-era regulation intended to prevent people with mental disabilities from buying guns. But as he has done in the recent past, on Thursday Mr. Trump answered cries for tighter restrictions on guns by emphasizing the need for Americans to report the behavior of 'mentally disturbed' people to the authorities." See also, Four Truths About the Florida School Shooting, The New Yorker, Adam Gopnik, Thursday, 15 February 2018: "1. The gun lobby, and the Republican Party it controls, have accepted as a matter of necessity the ongoing deaths of hundreds of children as the price that they are prepared to pay for the fetishization of weapons…. 2. The claim that gun massacres are mysterious or difficult or bewildering or resistant to legislation is a lie…. 3. The Second Amendment is not a barrier to gun sanity…. 4. The attempt to turn the question of gun violence into a question of mental health is obscene." See also, Have your representatives in Congress received donations from the National Rifle Association? The Washington Post, Aaron Williams, Thursday, 15 February 2018. See also, A loud, new voice after the latest school shooting: Kids wanting to know why adults hadn't done more to prevent it, The Washington Post, Elise Viebeck, Thursday, 15 February 2018: "In the familiar aftermath of America's latest mass shooting, something new stood out: This time, the kids who survived the rampage on Wednesday were demanding to know why the adults who run the country had not done more to prevent it." See also, Mass shootings: How U.S. gun culture compares with the rest of the world, The Washington Post, Darla Cameron and Samuel Granados, updated on Thursday, 15 February 2018: "After mass shooting events, much debate centers around Americans' relatively easy access to guns. The U.S. is one of only three countries in the world where the right to own guns for self-defense is protected in the constitution. As of 2015, there are more guns than people in the U.S. This rate is far higher than other developed nations, according to the Australian research site gunpolicy.org."
Senate Rejects Immigration Plans, Leaving Fate of Dreamers Uncertain, The New York Times, Sheryl Gay Stolberg and Michael D. Shear, Thursday, 15 February 2018: "The Senate summarily blocked three measures on Thursday — including one backed by President Trump — to resolve the fate of the so-called Dreamers, leaving hundreds of thousands of them facing an uncertain future. As senators struck down measure after measure, a week that began with the promise of a rare open, free-ranging debate on the issue crashed headlong into the same divisions that have prevented Congress from fixing the nation's immigration system for decades, leaving in doubt whether any solution on the Dreamers can be reached. In a rebuke to the president, senators voted overwhelmingly, 39 to 60, against the White House-backed bill, which would have committed $25 billion for a wall along the border with Mexico, placed strict limits on legal immigration, ended the diversity visa lottery and offered 1.8 million Dreamers an eventual path to citizenship. Senators were 21 votes short of the 60 required to open debate, and the rejection of the president's plan was bipartisan: Democrats refused its get-tough approach to legal immigration, while many conservative Republicans derided it as amnesty. Before the vote on Mr. Trump's plan, senators rejected two bipartisan measures, including one written by Senators John McCain, Republican of Arizona, and Chris Coons, Democrat of Delaware, and another drafted by a broad bipartisan group of centrists calling themselves the Common Sense Coalition."
Trump's Latest Travel Ban Suffers Blow From a Second Federal Court, the United States Court of Appeals for the Fourth Circuit, The New York Times, Adam Liptak, Thursday, 15 February 2018: "A second federal appeals court ruled on Thursday against President Trump's latest effort to limit travel from countries said to pose a threat to the nation's security. The decision, from the United States Court of Appeals for the Fourth Circuit, in Richmond, Va., will have no immediate practical impact. The Supreme Court agreed last month to hear an appeal from a broadly similar decision from the Ninth Circuit, in San Francisco. In December, in a sign that the Supreme Court may be receptive to upholding Mr. Trump's latest order, the court allowed it to go into effect as the two cases moved forward. The cases concern Mr. Trump's third and most considered effort to make good on a campaign promise to secure the nation's borders. But challengers to the latest ban, issued as a presidential proclamation in September, said it was tainted by religious animus and not adequately justified by national security concerns."
Steve Bannon, former chief strategist for Trump, was interviewed in Robert Mueller's Russia investigation this week, The Washington Post, Mary Clare Jalonick and Jonathan Lemire | AP, Thursday, 15 February 2018: "Steve Bannon, the combative former chief strategist for President Donald Trump, was interrogated for 20 hours over two days this week as part of special counsel Robert Mueller's Russia investigation, according to a person familiar with the process. The person, who declined to be named because not authorized to publicly discuss the investigation, said Bannon answered every question that was put to him by Mueller's team. That's in contrast to a Thursday interview with the House intelligence committee, where Bannon declined to answer some of the lawmakers' questions, despite a subpoena. While the exact questions for Bannon are unknown, Mueller is investigating whether there was any coordination between Trump's campaign and Russians who meddled in the 2016 election, and also whether there have been any efforts to obstruct the ongoing FBI probe into those contacts. The House panel is investigating the meddling and whether Trump's campaign was involved."
How $225,000 Can Help Secure a Pollution Loophole at Trump's Environmental Protection Agency, The New York Times, Eric Lipton, Thursday, 15 February 2018: "The gravel parking lot at the Fitzgerald family's truck dealership here in central Tennessee was packed last week with shiny new Peterbilt and Freightliner trucks, as well as a steady stream of buyers from across the country. But there is something unusual about the big rigs sold by the Fitzgeralds: They are equipped with rebuilt diesel engines that do not need to comply with rules on modern emissions controls. That makes them cheaper to operate, but means that they spew 40 to 55 times the air pollution of other new trucks, according to federal estimates, including toxins blamed for asthma, lung cancer and a range of other ailments. The special treatment for the Fitzgerald trucks is made possible by a loophole in federal law that the Obama administration tried to close, and the Trump administration is now championing. The trucks, originally intended as a way to reuse a relatively new engine and other parts after an accident, became attractive for their ability to evade modern emissions standards and other regulations. The survival of this loophole is a story of money, politics and suspected academic misconduct, according to interviews and government and private documents, and has been facilitated by Scott Pruitt, the administrator of the Environmental Protection Agency, who has staked out positions in environmental fights that benefit the Trump administration's corporate backers.… The E.P.A. estimates that over the life of every 10,000 trucks without modern emissions systems, up to 1,600 Americans would die prematurely, and thousands more would suffer a variety of ailments including bronchitis and heart attacks, particularly in cities with air pollution associated with diesel-powered trains, ships and power plants."
Federal Communications Commission Watchdog Looks Into Changes That Benefited Sinclair Broadcasting, The New York Times, Cecilia Kang, Thursday, 15 February 2018: "Last April, the chairman of the Federal Communications Commission, Ajit Pai, led the charge for his agency to approve rules allowing television broadcasters to greatly increase the number of stations they own. A few weeks later, Sinclair Broadcasting announced a blockbuster $3.9 billion deal to buy Tribune Media — a deal those new rules made possible. By the end of the year, in a previously undisclosed move, the top internal watchdog for the F.C.C. opened an investigation into whether Mr. Pai and his aides had improperly pushed for the rule changes and whether they had timed them to benefit Sinclair, according to Representative Frank Pallone of New Jersey and two congressional aides. 'For months I have been trying to get to the bottom of the allegations about Chairman Pai's relationship with Sinclair Broadcasting,' Mr. Pallone, the top Democrat on the committee that oversees the F.C.C., said in the statement to The New York Times. 'I am grateful to the F.C.C.'s inspector general that he has decided to take up this important investigation.' It was unclear the extent of the inspector general's investigation or when it might conclude, but the inquiry puts a spotlight on Mr. Pai's decisions and whether there had been coordination with the company. It may also force him to answer questions that he has so far avoided addressing in public."
Trump's Inaugural Committee Paid $26 Million to Firm of First Lady's Adviser, The New York Times, Maggie Haberman and Kenneth P. Vogel, Thursday, 15 February 2018: "President Trump's inaugural committee paid nearly $26 million to an event planning firm started by an adviser to the first lady, Melania Trump, while donating $5 million — less than expected — to charity, according to tax filings released on Thursday. The nonprofit group that oversaw Mr. Trump's inauguration and surrounding events in January 2017, the 58th Presidential Inaugural Committee, had been under pressure from liberal government watchdog groups to reveal how it spent the record $107 million it had raised largely from wealthy donors and corporations…. The 116-page filing indicates that the majority of the funds — more than $57 million — went to four event-planning companies."