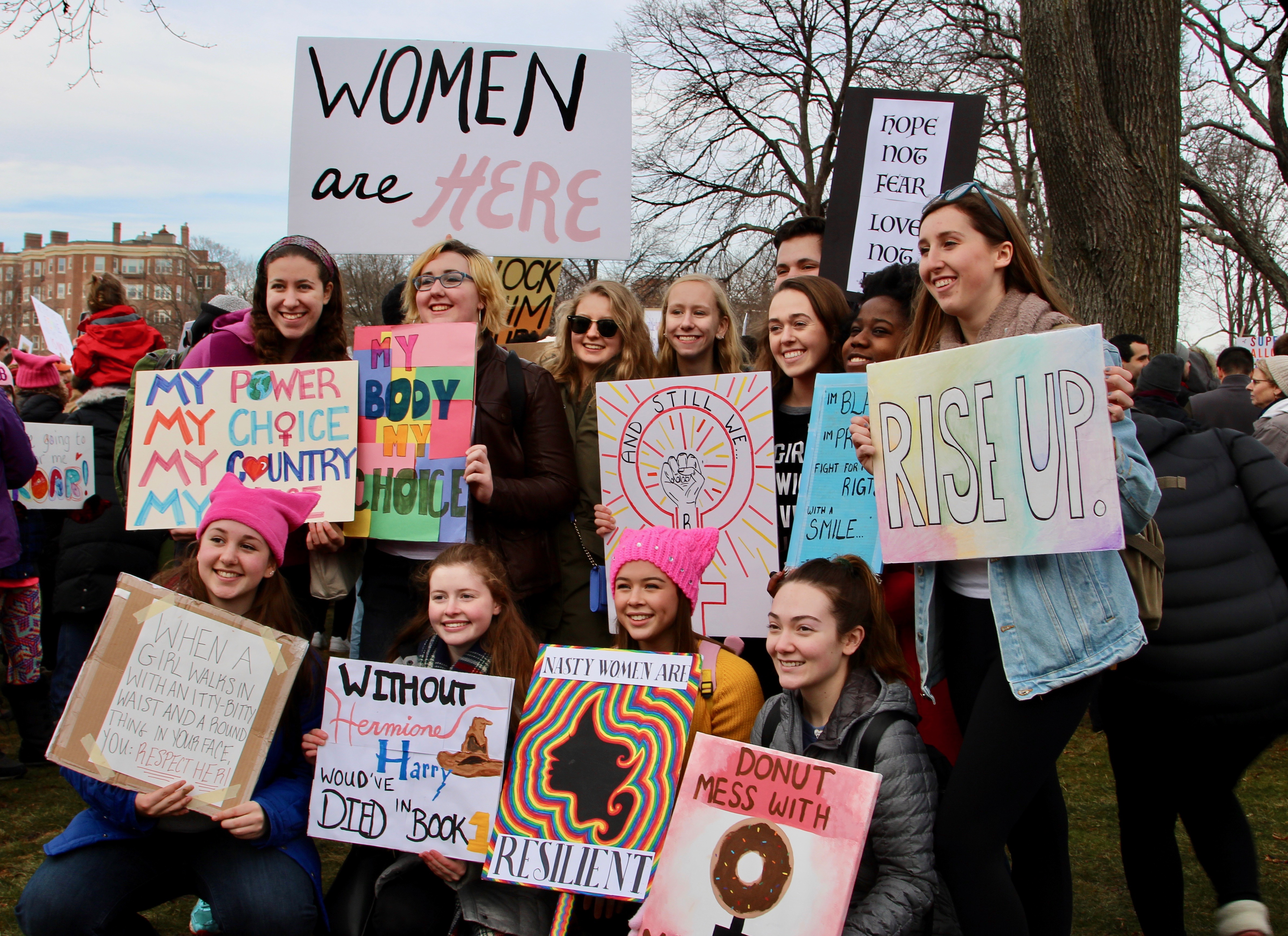 Keeping Track (of some things), Staying Outraged (it is possible), and Resisting (it's essential)
Passages in bold in the body of the texts below are my emphasis. This is an ongoing project, and I update the site frequently. Because I try to stay focused on what has actually happened, I usually let the news 'settle' a day or so before posting. I hope readers will peruse the articles in full for a better understanding of the issues and their context; our democracy and our future depend on citizens who can distinguish between facts and falsehoods and who are engaged in the political process.
Friday, 2 February 2018, Day 379:
House Republicans Release Secret Memo Accusing Russia Investigators of Bias, The New York Times, Nicholas Fandos, Adam Goldman, and Charlie Savage, Friday, 2 February 2018: "House Republicans released a politically charged memo on Friday that accused F.B.I. and Justice Department leaders of abusing their surveillance powers to spy on a former Trump campaign adviser suspected of being an agent of Russia. The memo alarmed national security officials and outraged Democrats, who accused the Republicans of misrepresenting sensitive government information through omissions and inaccuracies. President Trump declassified it over the objections of the F.B.I., which had expressed 'grave concerns' over its accuracy in a rare public break from the White House. The three-and-a-half-page memo, written by Republican congressional aides, criticized information used by law enforcement officials in their application for a warrant to wiretap the former campaign adviser, Carter Page, and named the senior F.B.I. and Justice Department officials who approved the highly classified application. But it fell well short of making the case promised by some Republicans: that the evidence it contained would cast doubt on the origins of the Russia investigation and possibly undermine the inquiry, which has been taken over by a special counsel, Robert S. Mueller III. The Page warrant is just one aspect of the broader investigation. Instead, the document confirmed that contacts between a former Trump foreign policy adviser, George Papadopoulos, and Russian intermediaries were a primary factor in the opening of the investigation in July 2016…. [A] 10-page Democratic memo written to rebut the Republican document says that the F.B.I. was more forthcoming with the surveillance court than the Republicans say. The F.B.I. told the court that the information it received from Mr. Steele was politically motivated, though the agency did not say it was financed by Democrats, according to two people familiar with the Democratic memo. Notably, the Republican memo does not assert that Mr. Steele's information was the fountainhead of the broader Russia investigation as many Republicans and conservative media commentators have insinuated." See also, Read the Nunes Memo, Annotated, The New York Times, Annotations by Charlie Savage, Friday, 2 February 2018. See also, Release of disputed Republican memo on FBI surveillance unleashes waves of recrimination, The Washington Post, Devlin Barrett, Karoun Demirjian, and Philip Rucker, Friday, 2 February 2018. See also, Justice Department told court of source's political motivation in request to wiretap ex-Trump campaign aide, officials say, The Washington Post, Ellen Nakashima, Friday, 2 February 2018: "The court that approved surveillance of a former campaign adviser to President Trump was aware that some of the information underpinning the warrant request was paid for by a political entity, although the application did not specifically name the Democratic National Committee or the Hillary Clinton presidential campaign, according to two U.S. officials familiar with the matter. A now-declassified Republican memo alleged that the Foreign Intelligence Surveillance Court was duped into approving the wiretap request by a politicized FBI and Justice Department. The memo was written by House Intelligence Committee Republicans and alleged a 'troubling breakdown of legal processes' flowing from the government's wiretapping of former Trump aide Carter Page. But its central allegation — that the government failed to disclose a source's political bias — is baseless, the officials said. The Justice Department made 'ample disclosure of relevant, material facts' to the court that revealed 'the research was being paid for by a political entity,' said one official, who spoke on the condition of anonymity because of the matter's sensitivity." See also, Republican Memo Escalates Clash Over Russia Probe. Release comes after the FBI expressed 'grave concerns' over the accuracy of the document. The Wall Street Journal, Byron Tau and Rebecca Ballhaus, Friday, 2 February 2018: "[T]he document's claims are difficult to evaluate without access to the underlying, highly classified law-enforcement material that it was based on. It also doesn't address or dispute the research collected by Mr. Steele that was included in the warrant application, and it recommends no changes to U.S. intelligence programs…. Rep. Adam Schiff, the top Democrat on the intelligence committee, disputed the memo's contention that the FBI didn't disclose the political motive behind Mr. Steele's research, saying that the memo is a political document full of omissions and cherry-picked facts designed to muddy the waters of the Russia investigation, which has already ensnared several top Trump advisers…. Democrats on the committee have compiled their own memo on the matter, which addresses the information that prosecutors used beyond Mr. Steele's research, but the GOP-controlled committee has so far blocked its release." See also, A complete timeline of the events behind the memo that threatens to rip D.C. in two, The Washington Post, Philip Bump, Friday, 2 February 2018. See also, The Nunes Memo Undermines the Right's Trump-Russia Conspiracy Theory, The New Yorker, John Cassidy, Friday, 2 February 2018.
'Never any hesitation': Trump was quickly persuaded to support the release of the classified Republican memo, The Washington Post, Philip Rucker, Ashley Parker, and Josh Dawsey, Friday, 2 February 2018: "President Trump was only vaguely aware of a controversial, classified memo about the FBI's Russia investigation when two House conservatives brought it to his attention in a Jan. 18 phone call. The conversation piqued Trump's interest. Over the next two weeks, according to interviews with eight senior administration officials and other advisers to the president, he tuned in to cable television segments about the memo. He talked to friends and advisers about it. And, before he had even read it, Trump became absolutely convinced of one thing: The memo needed to come out…. The president did not actually see the memo — written by House Intelligence Committee Chairman Devin Nunes (R-Calif.) and Nunes's staff — until Wednesday afternoon, following the committee's Monday vote to initiate its release, officials said…. Trump told aides and confidants he believed the memo would vindicate his claim early last year that the expansive Russia investigation overseen by special counsel Robert S. Mueller III was a 'witch hunt.' He had long expressed frustration, both publicly and privately, with his Department of Justice and, specifically, Deputy Attorney General Rod J. Rosenstein, who is supervising Mueller's work. The president said he thought the release of the memo would help build a public argument against Rosenstein's handling of the case, according to people familiar with the discussions. Trump suggested to aides and confidants that the memo might give him the justification to fire Rosenstein — something about which Trump has privately mused — or make other changes at the Justice Department, which he had complained was not sufficiently loyal to him. Inside the narrow corridors and cramped offices of the West Wing, aides knew that trying to persuade their boss to keep the memo private would likely be a fruitless endeavor." See also, Did Trump just reveal the real reason the Republican memo was written? The Washington Post, Amber Phillips, Friday, 2 February 2018.
Trump Calls Justice Department and F.B.I. Conduct 'a Disgrace,' The New York Times, Julie Hirschfeld Davis, Friday, 2 February 2018: "President Trump on Friday intensified his attacks on his own Justice Department and F.B.I. for their handling of the investigation into Russia's interference in the 2016 elections, hinting that senior leaders there should face consequences for conduct he called 'a disgrace.' Mr. Trump, who has become increasingly outspoken in his suggestions of wrongdoing by law enforcement officials as the inquiry has reached deeper inside the White House, made his comments as he announced that he had declassified a secret memo prepared by House Republicans that insinuates that the Russia investigation has been tainted by Democratic bias…. The release of the memo raised fresh questions about whether Mr. Trump — who last year fired James B. Comey, the F.B.I. director overseeing the Russia inquiry, and then sought to remove Robert S. Mueller III, the special counsel named to take it over — might seek next to oust Rod J. Rosenstein, the deputy attorney general, who named Mr. Mueller. The president, who first considered getting rid of Mr. Rosenstein last summer, pointedly refused to say on Friday whether he was more likely to do so now, cocking his head and telling reporters who pressed him on the matter: 'You figure that out.' But the release of the memo underscored how Mr. Trump has transformed his own suspicions and unsubstantiated theories about an inquiry he has repeatedly called a 'hoax' and a 'witch hunt' into a set of official accusations of corruption against the very people investigating him. The president has called for months for the compilation of such evidence, often taking to Twitter to demand that the Justice Department and the F.B.I. release information that could show political bias on the part of those investigating whether his campaign colluded with Russia." See also, Trump escalates his attacks on FBI leadership. This time he claims the agency favored Democrats over Republicans. The Washington Post, John Wagner, Friday, 2 February 2018.
Continue reading Week 55, Friday, 2 February – Thursday, 8 February 2018 (Days 379-385)
Inside the FBI Life of Peter Strzok and Lisa Page, as Told in Their Text Messages, The Wall Street Journal, Del Quentin Wilber, Friday, 2 February 2018: "[Thousands of text messages between FBI agent Peter Strzok and FBI lawyer Lisa Page were] turned over by the Justice Department to Congress on Jan. 19 [2018] as part of an internal inquiry into how the Federal Bureau of Investigation handled its investigation into Mrs. Clinton. Mr. Strzok and Ms. Page, who were in an extramarital affair at the time, have been accused of bias against President Donald Trump after some previously released emails showed their disdain for the president…. Republicans have said the FBI's handling of the Clinton probe and the Russia investigation, as well as the criticism of Mr. Trump in the couple's exchanges, indicate bias against the president and have suggested a conspiracy to undermine him…. Texts critical of Mr. Trump represent a fraction of the roughly 7,000 messages, which stretch across 384 pages and show no evidence of a conspiracy against Mr. Trump. Rather, a broader look shows an unvarnished and complex picture of the lives of an FBI agent and lawyer who found themselves at the center of highly charged probes."
Federal judge rules that Florida's ban on ex-felons voting is unconstitutional and biased, The Washington Post, Derek Hawkins, Friday, 2 February 2018: "In a blistering decision that could affect the 2018 midterm elections, a federal judge on Thursday ruled that Florida's system for barring former felons from voting is unconstitutional and potentially tainted by racial, political or religious bias. U.S. District Judge Mark Walker criticized the state panel led by Florida's governor that decides whether to restore voting rights to people who have completed their sentences, saying their process is arbitrary and exceedingly slow. 'In Florida, elected, partisan officials have extraordinary authority to grant or withhold the right to vote from hundreds of thousands of people without any constraints, guidelines, or standards,' Walker wrote. 'The question now is whether such a system passes constitutional muster. It does not. A person convicted of a crime may have long ago exited the prison cell and completed probation,' the judge continued in the 43-page order. 'Her voting rights, however, remain locked in a dark crypt. Only the state has the key — but the state has swallowed it.' The judge did not rule on how the issue should be remedied — he will hold hearings on that in mid-February — but he said the voter restoration system must be changed as soon as possible."
With an eye on Russia, U.S. to increase nuclear capabilities, Reuters, Idrees Ali, Friday, 2 February 2018: "Concerned about Russia's growing tactical nuclear weapons, the United States will expand its nuclear capabilities, a policy document released on Friday said, a move some critics say could increase the risk of miscalculation between the two countries. It represents the latest sign of hardening resolve by President Donald Trump's administration to address challenges from Russia, at the same time he is pushing for improved ties with Moscow to rein in a nuclear North Korea. The focus on Russia is in line with the Pentagon shifting priorities from the fight against Islamist militants to 'great power competition' with Moscow and Beijing."
State attorneys general are spoiling for a fight over Trump's offshore drilling plan, The Washington Post, Darryl Fears, Friday, 2 February 2018: "As Interior Secretary Ryan Zinke prepared to travel to the Carolinas to discuss offshore drilling, state attorneys general condemned the Trump administration's plan to expand development of oil and gas in the Atlantic and Pacific oceans as 'outrageous' and 'reckless.' Maryland Attorney General Brian Frosh (D), one of a dozen state attorneys general on the two coasts to co-sign a letter Thursday that called on Zinke to cancel the proposal, said, 'We intend to sue if they go forward with this, unquestionably. We're going to do everything we possibly can to stop it.' Three state attorneys general interviewed by The Washington Post said they were irked by the deal Zinke struck with Florida Gov. Rick Scott (R), which exempted the state from the drilling plan. They said the agreement pointed to how arbitrary the drilling plan is, because the decision was made without the benefit of an analysis or clear process. In their letter and personal interviews, the attorneys general of North Carolina, California, Connecticut, Delaware, Maine, Massachusetts, Maryland, New Jersey, New York, Oregon, Rhode Island and Virginia told a similar story. Drilling and potential spills could harm beach tourism and fishing industries that are comparable in value to Florida's, they say."
Environmental Protection Agency Administrator Scott Pruitt wants the National Oceanic and Atmospheric Administration's Marine Fisheries Service to reconsider findings that could lead to restrictions on the use of certain pesticides, The Washington Post, Juliet Eilperin, Friday, 2 February 2018: "For months, chemical companies have waged a campaign to reverse findings by federal fisheries scientists that could curb the use of pesticides based on the threat they pose to endangered species. They scored a major victory this week, when Environmental Protection Agency Administrator Scott Pruitt announced he would press another federal agency to revisit a recent opinion triggering such restrictions. The struggle over an arcane provision of the Endangered Species Act, in which the EPA must affirm that the pesticides it oversees do not put species' survival in jeopardy, has become the latest front in the battle over a broad-spectrum insecticide known as chlorpyrifos. Pruitt denied a petition to ban its agricultural use after questioning EPA scientists' conclusions that exposure impedes brain development in infants and fetuses."
K.T. McFarland, Trump's Former Deputy National Security Adviser, Withdraws Her Nomination to Be Ambassador to Singapore, The New York Times, Gardiner Harris, Friday, 2 February 2018: "K. T. McFarland, who was a deputy national security adviser in the Trump administration and then was picked to serve as ambassador to Singapore, withdrew her ambassadorial nomination on Friday after it had stalled in the Senate. Ms. McFarland's nomination had become embroiled in the controversy over the Trump campaign's contacts with Russian officials, with some senators left wondering if she had answered questions deceptively when asked if she knew of discussions between Michael T. Flynn, the former national security adviser, and a Russian ambassador…. Senate Republicans could have approved her nomination unilaterally, but the fact that it was never brought to a vote suggested that she had made even some of them uneasy. Ms. McFarland was a member of the Trump transition team and then became Mr. Flynn's deputy on the National Security Council, where she ruffled feathers with her intense partisanship."
Saturday, 3 February 2018, Day 380:
Paul Ryan Deletes Tweet Lauding a Secretary's $1.50 Weekly Increase in Take-Home Pay as a Sign of the Republican Tax Plan's Success, The New York Times, Emily Cochrane, Saturday, 3 February 2018: "Speaker Paul D. Ryan faced a backlash on Saturday after he pointed to a secretary's $1.50 weekly increase in take-home pay as a sign of the Republican tax plan's success. 'A secretary at a public high school in Lancaster, Pennsylvania, said she was pleasantly surprised her pay went up $1.50 a week … she said [that] will more than cover her Costco membership for the year,' Mr. Ryan posted on Twitter, sharing an Associated Press report about paycheck increases under the $1.5 trillion tax overhaul. The article describes a high school secretary, Julia Ketchum, as "pleasantly surprised" that her pay went up $1.50 a week, or $78 a year, more than enough to cover an annual Costco membership. Mr. Ryan deleted the Twitter post in hours, however, after lawmakers and social media users criticized him for appearing out of touch. 'That tweet about the $1.50 a week is not a PR mistake,' Senator Brian Schatz, Democrat of Hawaii, wrote on Twitter. 'It is really what they think.'" See also, Paul Ryan celebrated the tax cut with a tweet about a secretary taking home $1.50 a week more as a result of the Republican tax law, The Washington Post, Avi Selk, published on Sunday, 4 February 2018.

Former Trump Campaign Adviser Carter Page Touted Kremlin Contacts in 2013 Letter, Time, Massimo Calabresi and Alana Abramson, Saturday, 3 February 2018: "Former Trump campaign adviser Carter Page bragged that he was an adviser to the Kremlin in a letter obtained by TIME that raises new questions about the extent of Page's contacts with the Russian government over the years. The letter, dated Aug. 25, 2013, was sent by Page to an academic press during a dispute over edits to an unpublished manuscript he had submitted for publication, according to an editor who worked with Page. 'Over the past half year, I have had the privilege to serve as an informal advisor to the staff of the Kremlin in preparation for their Presidency of the G-20 Summit next month, where energy issues will be a prominent point on the agenda,' the letter reads."
Trump's Unparalleled War on a Pillar of Society: Law Enforcement, The New York Times, Sharon LaFraniere, Katie Benner, and Peter Baker, Saturday, 3 February 2018: "In the days before the 2016 election, Donald J. Trump expressed 'great respect' for the 'courage' of the F.B.I. and Justice Department for reopening the investigation into Hillary Clinton's private email server. Sixteen months later, he has changed his mind. The agencies have been 'disgraceful' and 'should be ashamed,' President Trump declared Friday. Under attack by the president, the deputy F.B.I. director, Andrew G. McCabe, was pushed out in recent days. Mr. Trump has hinted that he may fire the deputy attorney general, Rod J. Rosenstein. And his aides fear that Christopher A. Wray, his F.B.I. director, may resign over the dispute with the bureau, although associates doubt it. The war between the president and the nation's law enforcement apparatus is unlike anything America has seen in modern times. With a special counsel investigating whether his campaign collaborated with Russia in 2016 and whether Mr. Trump obstructed justice in 2017, the president has engaged in a scorched-earth assault on the pillars of the criminal justice system in a way that no other occupant of the White House has done. The president's focus on a memo drafted by Republicans on the House Intelligence Committee and released on Friday reflected years of conspiracy-minded thinking by Mr. Trump. 'Something is going on, folks,' he would warn at his campaign rallies. He has long sought to find the hidden hand at work behind the scenes in government, and he has encouraged supporters' suspicions of a 'deep state' organized to resist the policies of an elected president. At the start of his administration, Mr. Trump targeted the intelligence community for his criticism. But in recent months, he has broadened the attacks to include the sprawling federal law enforcement bureaucracy that he oversees, to the point that in December he pronounced the F.B.I.'s reputation 'in tatters' and the 'worst in history.' In his telling, that bureaucracy, now run by his own appointees, is a nest of political saboteurs out to undermine him — an accusation that raised fears that he was tearing at the credibility of some of the most important institutions in American life to save himself."
Ken Isaacs, the Trump administration's nominee to lead the UN International Organization for Migration, has suggested that Islam is an inherently violent religion and has said that Christians in some cases should receive preferential treatment when resettling from hostile areas, The Washington Post, Aaron C. Davis and Jack Gillum, Saturday, 3 February 2018: "The Trump administration's nominee to coordinate billions of dollars in assistance to migrants around the world has suggested in social-media posts that Islam is an inherently violent religion and has said Christians in some cases should receive preferential treatment when resettling from hostile areas. In tweets, social media posts and radio appearances reviewed by The Washington Post, Ken Isaacs, a vice president of the Christian relief organization Samaritan's Purse, made disparaging remarks about Muslims and denied climate change — a driving force behind migration, according to the agency the State Department has nominated him to lead."
Sunday, 4 February 2018, Day 381:
To Counter Russia, U.S. Signals Nuclear Arms Are Back in a Big Way, The New York Times, David E. Sanger and William J. Broad, Sunday, 4 February 2018: "A treaty committing the United States and Russia to keep their long-range nuclear arsenals at the lowest levels since early in the Cold War goes into full effect on Monday. When it was signed eight years ago, President Barack Obama expressed hope that it would be a small first step toward deeper reductions, and ultimately a world without nuclear weapons. Now, that optimism has been reversed. A new nuclear policy issued by the Trump administration on Friday, which vows to counter a rush by the Russians to modernize their forces even while staying within the treaty limits, is touching off a new kind of nuclear arms race. This one is based less on numbers of weapons and more on novel tactics and technologies, meant to outwit and outmaneuver the other side. The Pentagon envisions a new age in which nuclear weapons are back in a big way — its strategy bristles with plans for new low-yield nuclear weapons that advocates say are needed to match Russian advances and critics warn will be too tempting for a president to use."
Attorney General Jeff Sessions Is Silent as Trump Attacks the Justice Department, Risking Independence and Morale, The New York Times, Katie Benner, Sunday, 4 February 2018: "As President Trump hammers away at the Justice Department's credibility, one voice has been notably absent in the department's defense: the one at the top. The attorney general, Jeff Sessions, has been largely quiet and even yielding as the president leads the most public and prolonged political attack on the department in history, a silence that breaks with a long tradition of attorneys general protecting the institution from such interference. Current and former prosecutors say Mr. Sessions's tepid response reflects efforts to appease Mr. Trump, even at the expense of morale among the department's employees, and has raised fears that prosecutors cannot depend on protection from political interference."
Trump to Withdraw Nomination of Climate Skeptic Kathleen Hartnett White as Top Environmental Adviser, The New York Times, Lisa Friedman, Sunday, 4 February 2018: "The Trump administration plans to withdraw its nomination of Kathleen Hartnett White, a climate change skeptic, to lead the Council on Environmental Quality, a White House official said. President Trump in October appointed Ms. White, a former Texas environmental regulator who has said that carbon dioxide should be considered the 'gas of life' rather than a pollutant, to be the White House senior environmental adviser. Carbon dioxide emissions contribute to global warming. The Senate Environment and Public Works Committee approved Ms. White on a party-line vote, but her nomination languished at the end of 2017. That was in part, lawmakers acknowledged, because of Ms. White's performance at her hearing in which she not only espoused controversial views on climate change but also stumbled over science questions."
On Wednesday, 24 January, a chemistry professor, Syed Ahmed Jamal, got his children ready for school in Lawrence, Kansas. Then Immigration and Customs Enforcement (ICE) arrested him on his front lawn. The Washington Post, Amy B. Wang, Sunday, 4 February 2018: "On a recent Wednesday morning, Syed Ahmed Jamal was getting ready to take his daughter to school when he was stopped outside his home in Lawrence, Kan. Officials from Immigration and Customs Enforcement were on his front lawn. Before Jamal, 55, could say goodbye to his wife and three children, the ICE agents detained him and led him away in handcuffs. The arrest of a 'beloved Lawrence family man, scientist and community leader' came as a shock to Jamal's friends and neighbors in the Kansas City area, where he has lived since arriving in the United States on a student visa from Bangladesh more than 30 years ago. He would go on to also attain graduate degrees in molecular biosciences and pharmaceutical engineering, then settle in Lawrence to raise a family…. Jamal's arrest is … [an] example of ICE agents abruptly targeting noncitizens with no criminal record who have, in the past, been allowed to stay in the country because they were seen as contributing positively to society, according to Jeffrey Y. Bennett, an immigration lawyer who filed a request to stay Jamal's deportation on Friday." Update: Chemistry professor arrested by Immigration and Customs Enforcement (ICE) on his front lawn won't be deported–for now, The Washington Post, Amy B. Wang and Maria Sacchetti, published on Thursday, 8 February 2018: "A Kansas chemistry professor from Bangladesh who has lived in the United States for more than 30 years — and who was arrested by immigration officials on his front lawn on  Jan. 24 — has been granted a temporary stay of deportation, his attorney said Thursday morning. The ruling means Syed Ahmed Jamal will be allowed to remain in the country while an immigration court hears his case. The temporary stay came as a surprise to Jamal's friends and family members, who said there had been indications that Jamal could have been deported as soon as Friday."
Monday, 5 February 2018, Day 382:
Supreme Court Justices Won't Block Pennsylvania Supreme Court Gerrymandering Decision That Struck Down the State's Congressional Map, Saying It 'Clearly, Plainly, and Palpably' Violated Pennsylvania's Constitution, The New York Times, Adam Liptak, Monday, 5 February 2018: "The United States Supreme Court on Monday refused to stop Pennsylvania's highest court from requiring lawmakers there to redraw the state's congressional map, which the state court had found to be marred by partisan gerrymandering. The Supreme Court's order was expected, as the Pennsylvania court had based its decision solely on the state constitution. On matters of state law, the judgments of state supreme courts are typically final. The order, which gave no reasons, came from Justice Samuel A. Alito Jr., who acted without referring the case to the full court. The Supreme Court has been busy lately addressing cases on partisan gerrymandering, in which the party in power draws voting districts to give its candidates lopsided advantages. It is considering two such cases, from Wisconsin and Maryland, and has intervened in a third one, from North Carolina. But all of those cases were decided by federal courts. The latest decision, from the Pennsylvania Supreme Court, struck down the state's congressional map, saying it 'clearly, plainly and palpably' violated the state's Constitution. The court told state lawmakers to redraw the state's 18 House districts, which currently favor Republicans, and it left open the possibility that it would impose its own map." See also, Supreme Court refuses to block Pennsylvania ruling invalidating congressional map, The Washington Post, Robert Barnes, Monday, 5 February 2018.
In Russia Inquiry, Trump's Lawyers Advise Him to Refuse to Sit Down for an Interview with Special Counsel Robert Mueller, The New York Times, Michael S. Schmidt and Maggie Haberman, Monday, 5 February 2018: "Lawyers for President Trump have advised him against sitting down for a wide-ranging interview with the special counsel, Robert S. Mueller III, according to four people briefed on the matter, raising the specter of a monthslong court battle over whether the president must answer questions under oath. His lawyers are concerned that the president, who has a history of making false statements and contradicting himself, could be charged with lying to investigators. Their stance puts them at odds with Mr. Trump, who has said publicly and privately that he is eager to speak with Mr. Mueller as part of the investigation into possible ties between his associates and Russia's election interference, and whether he obstructed justice. Mr. Trump's decision about whether to speak to prosecutors, expected in the coming weeks, will shape one of the most consequential moments of the investigation. Refusing to sit for an interview opens the possibility that Mr. Mueller will subpoena the president to testify before a grand jury, setting up a court fight that would drastically escalate the investigation and could be decided by the Supreme Court. Rejecting an interview with Mr. Mueller also carries political consequences. It would be certain to prompt accusations that the president is hiding something, and a court fight could prolong the special counsel inquiry, casting a shadow over Republicans as November's midterm elections approach or beyond into the president's re-election campaign. But John Dowd, the longtime Washington defense lawyer hired last summer to represent Mr. Trump in the investigation, wants to rebuff an interview request, as do Mr. Dowd's deputy, Jay Sekulow, and many West Wing advisers, according to the four people. The lawyers and aides believe the special counsel might be unwilling to subpoena the president and set off a showdown with the White House that Mr. Mueller could lose in court."
During a Speech in Ohio, Trump Accused Democrats of 'Treason' Because They Did Not Clap During His State of the Union Address. As He Spoke, the Stock Market Plummeted by More Than 1,000 Points, the Worst Single-Day Decline in the Dow Jones Average in History. The New York Times, Mark Landler, Monday, 5 February 2018: "President Trump on Monday accused Democrats who did not clap during his State of the Union address of being un-American and even treasonous. His remarks came in a rambling, discursive speech at a factory in Ohio, during which he celebrated his revival of the American economy as the stock market plummeted by more than 1,000 points. 'Can we call that treason?' Mr. Trump said of the stone-faced reaction of Democrats to his speech. 'Why not? I mean, they certainly didn't seem to love our country very much.'" See also, Donald Trump's Very Soviet Fixation on Applause. In Stalin's Soviet Union, failure to applaud the leader could be considered treason. The New Yorker, Masha Gessen, published on Tuesday, 6 February 2018.
House Intelligence Committee voted unanimously to release the Democrats' memo on the FBI, Politico, Kyle Cheney, Monday, 5 February 2018: "The House Intelligence Committee voted unanimously Monday in favor of publicly releasing a classified memo that Democrats say undermines allegations by President Donald Trump and his allies that the FBI abused its spying powers while investigating his campaign. Trump has five days to review the request to release the memo, which was written by committee Democrats. Democrats have clamored to release their memo since last week, when Republicans decided to make public their own classified document over the objections of the FBI." See also, House Intelligence Committee Votes to Release Democratic Rebuttal to Republican Russia Memo, The New York Times, Nicholas Fandos, Monday, 5 February 2018.
House Intelligence Committee Chairman Devin Nunes said today that the FBI had disclosed political backing for a Trump-Russia dossier in October 2016, but the controversial Republican memo released last week did not mention it, Politico, Kyle Cheney, Monday, 5 February 2018: "Republican leaders are acknowledging that the FBI disclosed the political origins of a private dossier the bureau cited in an application to surveil former Trump campaign adviser Carter Page, undermining a controversial GOP memo released Friday and fueling Democratic demands to declassify more information about the bureau's actions. At issue is whether the federal probe into the Trump campaign's Russia ties is infected with political bias, as Republicans say — or whether the GOP is using deceitful tactics to quash the probe, as Democrats insist. Democrats pounced on public comments over the past day by House Intelligence Committee Chairman Devin Nunes (R-Calif.) and intelligence committee member Trey Gowdy (R-S.C.), arguing that the GOP memo's failure to mention a key footnote in the FBI application shows how the party has cherry-picked classified facts to protect President Donald Trump." See also, Representative Trey Gowdy, Republican of South Carolina, Emerges as Key Challenger to Trump on Republican Russia Memo, The New York Times, Sheryl Gay Stolberg, Monday, 5 February 2018.
The New York Times Asks the Foreign Intelligence Surveillance Court to Unseal Secret Documents on the Surveillance of Former Trump Campaign Adviser Carter Page, The New York Times, Charlie Savage and Adam Goldman, Monday, 5 February 2018: "The New York Times is asking the Foreign Intelligence Surveillance Court to unseal secret documents related to the wiretapping of Carter Page, the onetime Trump campaign adviser at the center of a disputed memo written by Republican staffers on the House Intelligence Committee. The motion is unusual. No such wiretapping application materials apparently have become public since Congress first enacted the Foreign Intelligence Surveillance Act in 1978. That law regulates electronic spying on domestic soil — the interception of phone calls and emails — undertaken in the name of monitoring suspected spies and terrorists, as opposed to wiretapping for investigating ordinary criminal suspects. Normally, even the existence of such material is a closely guarded secret. While applications for criminal wiretaps often eventually become public, the government has refused to disclose the contents of applications for intelligence wiretaps — even to defendants who are later prosecuted on the basis of information derived from them. But President Trump lowered the shield of secrecy surrounding such materials on Friday by declassifying the Republican memo about Mr. Page, after finding that the public interest in disclosing its contents outweighed any need to protect the information. Because Mr. Trump did so, The Times argues, there is no longer a justification 'for the Page warrant orders and application materials to be withheld in their entirety,' and 'disclosure would serve the public interest.'"
A Timeline of Donald Trump's War on Public Lands. Shrinking the national monuments was just the tip of the iceberg. Outside, The Editors, Monday, 5 February 2018: "Immediately after he took office, on January 20, 2017, President Donald Trump and his officials began opening up public lands to the energy industry. Ever since, it's been hard to keep track of all the regulation rollbacks and revoked protections. First, there was the announcement on January 30, 2017, to reorganize government agencies, including the National Park Service and the Department of the Interior. Two weeks later, Trump repealed a rule that stopped mining companies from dumping waste into rivers. Then Ryan Zinke was confirmed as secretary of the interior, and from there the deregulation pace quickened. Zinke oversaw reviewing national monuments, streamlining oil and gas industry permits, opening Arctic waters to drilling, and, finally, shrinking two monuments in Utah. There have been other, quieter rollbacks as well. That's why this timeline, developed recently by the Wilderness Society, is so handy. It aggregates all the Trump administration's public-land policy changes into a tidy interactive timeline. Public lands are obviously important to us at Outside—we even created a forum to discuss them. And not since the Reagan administration has a president so openly favored corporate interests over conservation."
Trump Wants a Border Wall With Mexico. See What's in Place Already. The New York Times, Sarah Almukhtar and Josh Williams, Monday, 5 February 2018: "The government has built nearly 700 miles of wall and fencing since 2006, mostly on federal land and where the terrain does not provide a natural barrier…. [Blimps,] drones, cameras, and other surveillance tools [reinforce] the physical fencing. Such tools are often repurposed military gear that was used in Afghanistan or Iraq. And more than 16,000 Border Patrol agents work across nine sectors. People usually pass through one of 25 official crossings that dot the border…. In part because of increased border security, the number of people caught crossing the border illegally has dropped 82 percent from its peak in 2000. Still, President Trump seeks to build a wall that would cost $18 billion."
Mick Mulvaney, head of the Consumer Financial Protection Bureau, has pulled back from a full-scale probe of how Equifax Inc failed to protect the personal data of millions of consumers, Reuters, Patrick Rucker, Monday, 5 February 2018: "Mick Mulvaney, head of the Consumer Financial Protection Bureau, has pulled back from a full-scale probe of how Equifax Inc failed to protect the personal data of millions of consumers, according to people familiar with the matter. Equifax (EFX.N) said in September that hackers stole personal data it had collected on some 143 million Americans. Richard Cordray, then the CFPB director, authorized an investigation that month, said former officials familiar with the probe. But Cordray resigned in November and was replaced by Mulvaney, President Donald Trump's budget chief. The CFPB effort against Equifax has sputtered since then, said several government and industry sources, raising questions about how Mulvaney will police a data-warehousing industry that has enormous sway over how much consumers pay to borrow money."
Arthur Jones, Holocaust denier and white supremacist, is likely to be the Republican nominee for the 3rd Congressional District in Illinois, Chicago Sun Times, Lynn Sweet and Frank Main, Monday, 5 February 2018: "An outspoken Holocaust denier is likely to appear on the November ballot as the Republican nominee for a Chicago-area congressional district. The Chicago Sun-Times reports that 70-year-old Arthur Jones of Lyons is the only Republican candidate in the March 20 primary for the 3rd Congressional District. The heavily Democratic district stretches from Chicago's southwest side to suburban Western Springs and LaGrange. Jones calls the Holocaust 'the biggest, blackest lie in history.' He says he's a former leader of the American Nazi Party and now leads a group open to 'any white American citizen of European, non-Jewish descent.'"
Tuesday, 6 February 2018, Day 383:
Federal Emergency Management Agency (FEMA) Contract Called for 30 Million Meals for Puerto Ricans. 50,000 Were Delivered. The New York Times, Patricia Mazzei and Agustin Armendariz, Tuesday, 6 February 2018: "The mission for the Federal Emergency Management Agency was clear: Hurricane Maria had torn through Puerto Rico, and hungry people needed food. Thirty million meals needed to be delivered as soon as possible. For this huge task, FEMA tapped Tiffany Brown, an Atlanta entrepreneur with no experience in large-scale disaster relief and at least five canceled government contracts in her past. FEMA awarded her $156 million for the job, and Ms. Brown, who is the sole owner and employee of her company, Tribute Contracting LLC, set out to find some help. Ms. Brown, who is adept at navigating the federal contracting system, hired a wedding caterer in Atlanta with a staff of 11 to freeze-dry wild mushrooms and rice, chicken and rice, and vegetable soup. She found a nonprofit in Texas that had shipped food aid overseas and domestically, including to a Houston food bank after Hurricane Harvey. By the time 18.5 million meals were due, Tribute had delivered only 50,000. And FEMA inspectors discovered a problem: The food had been packaged separately from the pouches used to heat them. FEMA's solicitation required 'self-heating meals.' 'Do not ship another meal. Your contract is terminated,' Carolyn Ward, the FEMA contracting officer who handled Tribute's agreement, wrote to Ms. Brown in an email dated Oct. 19 that Ms. Brown provided to The New York Times. 'This is a logistical nightmare.' Four months after Hurricane Maria hit Puerto Rico, a picture is emerging of the contracts awarded in the earliest days of the crisis. And examples like the Tribute contract are causing lawmakers to raise questions about FEMA's handling of the disaster and whether the agency was adequately prepared to respond."
John F. Kelly, Trump's Chief of Staff, told reporters that hundreds of thousands of 'dreamers' who were eligible for Deferred Action for Childhood Arrivals (DACA) didn't sign up because they were 'too afraid' or 'too lazy,' The Washington Post Audio, Tuesday, 6 February 2018. See also, John Kelly, Trump's Chief of Staff, suggests undocumented immigrants who didn't sign up for Deferred Action for Childhood Arrivals (DACA) were 'too afraid' or 'too lazy,' CNN, Veronica Stracqualursi, Tuesday, 6 February 2018: "White House chief of staff John Kelly suggested Tuesday that some undocumented immigrants were 'too afraid' or 'too lazy' to sign up for the Deferred Action for Childhood Arrivals program. 'There are 690,000 official DACA registrants and the President sent over what amounts to be two and a half times that number, to 1.8 million,' he said on Capitol Hill after meeting with Senate Majority Leader Mitch McConnell, according to audio posted by The Washington Post. 'The difference between 690 and 1.8 million were the people that some would say were too afraid to sign up, others would say were too lazy to get off their asses, but they didn't sign up,' Kelly added. Later Tuesday, after another meeting on Capitol Hill, Kelly said some people who were DACA eligible but didn't sign up had reasons but most probably 'needed to get off the couch.'"
Immigrant Children Do Not Have the Right to an Attorney Unless They Can Pay, U.S. Court of Appeals for the Ninth Circuit Rules, American Civil Liberties Union, Anilan Arulanantham, Tuesday, 6 February 2018: "Last week, a three-judge panel of the Ninth Circuit issued a truly brutal decision, concluding that the Constitution did not require the government to provide a lawyer to a 15-year-old Honduran boy facing deportation. It appears to be the first case ever to hold that children can represent themselves in court when important legal rights are at stake. That the ruling came in a deportation case involving asylum — where the stakes are incredibly high, the law notoriously complex, and the government pays a trained prosecutor to advocate the child's deportation — makes the court's decision even more extreme. The ruling is the latest, and most disappointing, chapter in our long-running effort to obtain fairness for children in immigration court. The notion that children are somehow capable of defending their rights in court defies basic common sense. It is entirely foreign to our law and contrary to the Constitution's due process guarantee. Under longstanding Supreme Court precedent, if authorities wanted to send the boy, known as C.J., to a juvenile disciplinary center for smoking cigarettes or cutting class, he would be entitled to a lawyer to ensure that he received a fair trial. However, when it comes to children facing deportation, the federal government believes that children have no right to an appointed lawyer if they are unable to afford one. The government recognizes no exceptions to this rule, even in cases where an erroneous decision could be tantamount to a death sentence."
Trump's 'marching orders' to the Pentagon: Plan a grand military parade. The Washington Post, Greg Jaffe and Philip Rucker, Tuesday, 6 February 2018: "President Trump's vision of soldiers marching and tanks rolling down the boulevards of Washington is moving closer to reality in the Pentagon and White House, where officials say they have begun to plan a grand military parade later this year showcasing the might of America's armed forces. Trump has long mused publicly and privately about wanting such a parade, but a Jan. 18 meeting between Trump and top generals in the Pentagon's tank — a room reserved for top-secret discussions — marked a tipping point, according to two officials briefed on the planning. Surrounded by the military's highest-ranking officials, including Defense Secretary Jim Mattis and Joint Chiefs of Staff Chairman Gen. Joseph F. Dunford Jr., Trump's seemingly abstract desire for a parade was suddenly heard as a presidential directive, the officials said. 'The marching orders were: I want a parade like the one in France,' said a military official who spoke on the condition of anonymity because the planning discussions are supposed to remain confidential. 'This is being worked at the highest levels of the military.' Shows of military strength are not typical in the United States — and they don't come cheap. The cost of shipping Abrams tanks and high-tech hardware to Washington could run in the millions, and military officials said it was unclear how they would pay for it…. [B]ig military parades — even those launched with the best of intentions — carry risks and troublesome historical echoes. With a few exceptions — such as President George H.W. Bush's 1991 parade down Constitution Avenue celebrating victory in the Persian Gulf War — presidents have avoided displays of military hardware that are more associated in the American mind with the Soviet Union's Red Square celebrations or, more recently, North Korean leader Kim Jong Un's efforts to show off his Taepodong missiles. 'I don't think there's a lack of love and respect for our armed forces in the United States,' said Douglas Brinkley, a presidential historian at Rice University. 'What are they going to do, stand there while Donald Trump waves at them? It smacks of something you see in a totalitarian country — unless there's a genuine, earnest reason to be doing it.'"
Trump said he'd shrink the trade deficit with China. It just hit a record high. The Washington Post, David J. Lynch, Tuesday, 6 February 2018: "The trade deficit with China hit a record high in 2017, defying President Trump's repeated promises to shrink a number that he regards as a test of whether other nations are treating the United States fairly. U.S. purchases of Chinese goods and services last year were $375 billion greater than Chinese orders from the United States, the Commerce Department said Tuesday. Release of the new trade figures came one week after the president boasted in his State of the Union address that the United States had 'finally turned the page on decades of unfair trade deals that sacrificed our prosperity and shipped away our companies, our jobs and our nation's wealth.'" See also, U.S.-China Trade Deficit Hits Record High, Fueling Trade Fight, The New York Times, Ana Swanson, Tuesday, 6 February 2018.
Kellyanne Conway's 'opioid cabinet' sidelines drug czar's experts. In Trump's White House, political appointees take control as the opioid epidemic rages. Politico, Brianna Ehley and Sarah Karlin-Smith, Tuesday, 6 February 2018: "President Donald Trump's war on opioids is beginning to look more like a war on his drug policy office. White House counselor Kellyanne Conway has taken control of the opioids agenda, quietly freezing out drug policy professionals and relying instead on political staff to address a lethal crisis claiming about 175 lives a day. The main response so far has been to call for a border wall and to promise a 'just say no' campaign." See also, Trump Plan to Move Drug Prevention Program to the Justice Department Prompts Protests, The New York Times, Ali Watkins, Tuesday, 6 February 2018: "State and local law enforcement officials are fighting a Trump administration proposal to move oversight of a $275 million drug prevention program to the Justice Department, fearing that such a move would steer the country's drug-fighting strategy toward federal legal crackdowns and away from years of holistic, community-based approaches. A draft budget plan by the Office of Management and Budget would place federal law enforcement officers in charge of the drug trafficking grants rather than the Office of National Drug Control Policy, which has served as the White House's clearinghouse for drug strategy across the government and as a neutral arbiter in the historically territorial relationship between federal, state and local authorities. The move would also effectively gut the drug office, whose influence has waned since President Trump took office. The office manages the grants, known as the High Intensity Drug Trafficking Area Program, sending millions of federal dollars to 28 task forces across the country, composed of state, local and federal law enforcement officers, who use the money to combat drug trafficking in their communities. Directors of the grant program have descended on Capitol Hill this week to try to bolster support from Congress, which would need to approve any White House changes to the drug office or the program. Lawmakers have shown little appetite to alter a federal initiative that benefits state and local authorities and constituents."
Republican lawmakers are threatening to cut off U.S. funding for the World Health Organization's cancer research program over its finding that the active ingredient in the herbicide Roundup is probably carcinogenic to humans, The Washington Post, Michael Biesecker | AP, Tuesday, 6 February 2018: "Republican lawmakers are threatening to cut off U.S. funding for the World Health Organization's cancer research program over its finding that the active ingredient in the herbicide Roundup is probably carcinogenic to humans. House Science Committee Chairman Lamar Smith said Tuesday that the 2015 conclusion by the International Agency for Research on Cancer was fundamentally flawed and relied on cherry-picked science. The Texas lawmaker said he has serious concerns about anti-industry bias and a lack of transparency within the program, which is based in Lyon, France. A separate review by the Environmental Protection Agency concluded in December that glyphosate, the active ingredient in Roundup and other products, is not likely to cause cancer at typical levels of exposure."
Timeline: How the Steele dossier was compiled, The Washington Post, Rosalind S. Helderman, Tom Hamburger, Kevin Uhrmacher, and John Muyskens, Tuesday, 6 February 2018.
The Supreme Court Partly Granted a Request From North Carolina Republicans to Block a Voting Map Drawn by a Federal Court There While the Justices Consider Whether to Hear an Appeal in the Case, The New York Times, Adam Liptak, Tuesday, 6 February 2018: "The Supreme Court partly granted on Tuesday a request from North Carolina Republicans to block a voting map drawn by a federal court there. That court had interceded after finding that a map drawn by state lawmakers for the General Assembly had relied too heavily on race and had violated state laws. The Supreme Court's order, which was brief and gave no reasons, partly blocked that decision while the justices consider whether to hear an appeal in the case. The justices seemed to split into three camps: Justices Clarence Thomas and Samuel A. Alito Jr. said they would have granted the entire request; Justices Ruth Bader Ginsburg and Sonia Sotomayor said they would have granted none of it; and Chief Justice John G. Roberts Jr. and Justices Anthony M. Kennedy, Stephen G. Breyer, Elena Kagan and Neil M. Gorsuch appeared to take the middle position. Last month, the Supreme Court blocked a decision from a different federal court in North Carolina that had ordered state lawmakers to redraw the state's congressional maps. That ruling concerned partisan gerrymandering, while the new one was based on a finding of racial gerrymandering and violations of state law. The Supreme Court has occasionally struck down voting districts as racial gerrymanders. But it has never ruled that a partisan gerrymander crossed a constitutional line. The court is considering two cases, from Wisconsin and Maryland, that will give it a new chance to determine whether extreme partisan gerrymandering is constitutional."
Eric Holder's Group, the National Democratic Redistricting Committee, Targets All-Republican States to Attack Gerrymandering, The New York Times, Alexander Burns, Tuesday, 6 February 2018: "A Democratic group backed by former President Barack Obama intends to pour millions of dollars into an eclectic array of elections in a dozen states, in an effort to block Republicans from single-handedly drawing congressional maps after 2020, officials leading the group said. The National Democratic Redistricting Committee, formed last year under the leadership of Eric H. Holder Jr., the former attorney general, has settled on a strategy to contest a combination of governorships, legislative seats and more obscure state offices to chip away at Republicans' sweeping control of the redistricting process. Mr. Holder said in an interview that the group was chiefly determined to deny Republicans so-called trifectas in state governments — places where a single party controls the governorship and an entire legislature, as Republicans do in Ohio and Florida, among other critical battlegrounds. The group's list of high-priority states includes most of the critical states in presidential elections. Mr. Obama, who has made redistricting a focus of his attention since leaving office, plans to visit some of those states in 2018, and Mr. Holder reviewed his strategy with the former president in Washington on Monday, aides said. States at the top of the just-finalized target list include traditional purple states like Michigan and Wisconsin, where Republicans can currently design maps without Democratic input, and others — including Colorado, Minnesota and Nevada — where Democrats have significant influence in government but must defend it in the 2018 elections."
U.S. House of Representatives cracks down on sexual harassment, Reuters, Lisa Lambert, Tuesday, 6 February 2018: "U.S. lawmakers must pay their own awards and settlements in sexual harassment cases instead of tapping public funds, under a measure approved by the U.S. House of Representatives on Tuesday which also took other steps to strengthen worker protections for congressional employees. Under the bipartisan measures updating employee protections enacted in 1995, the personnel office must also regularly report and publish settlements, a departure from past practices in which settlements were secret." See also, Congress just actually did something to change its culture of sexual harassment, The Washington Post, Amber Phillips, Tuesday, 6 February 2018.
Court upholds $25 million settlement against Trump University. Thousands lured to attend Trump's expensive but overblown real-estate seminars will finally get most of their money back. The Guardian, Joanna Walters, Tuesday, 6 February 2018: "A federal appeals court on Tuesday upheld the $25m settlement against Donald Trump over his now-defunct Trump University program, meaning thousands who were lured to attend his expensive but overblown real-estate seminars will finally get most of their money back. Payment of the settlement had been held up for more than a year after one victim tried to reject the original deal reached via a series of class actions, and pursue her own lawsuit. Trump had pledged not to settle and fight all the way to a court showdown, but after he won the election in November 2016, his lawyers settled three fraud cases on his behalf, for a total of $25m, including restitution and fines."
Wednesday, 7 February 2018, Day 384:
Senate Leaders Reach Budget Deal to Raise Spending Over Two Years, The New York Times, Thomas Kaplan, Wednesday, 7 February 2018: "Senate leaders struck a far-reaching bipartisan agreement on Wednesday that would add hundreds of billions of dollars to military and domestic programs over the next two years while raising the federal debt limit, moving to end the cycle of fiscal showdowns that have roiled the Capitol. The accord between Senators Mitch McConnell of Kentucky, the majority leader, and Chuck Schumer of New York, his Democratic counterpart, would raise strict caps on military and domestic spending that were imposed in 2011 as part of a deal with President Barack Obama that was once seen as a key triumph for Republicans in Congress. The deal would raise the spending caps by about $300 billion over two years. The limit on military spending would be increased by $80 billion in the current fiscal year and $85 billion in the next year, which begins Oct. 1. The limit on nondefense spending would increase by $63 billion this year and $68 billion next year. But the accord was not without dramatics, and its passage in the House is not a foregone conclusion. As proof of that, Representative Nancy Pelosi of California, the House Democratic leader, took the House floor on Wednesday morning in opposition, protesting that the deal did nothing to bring lawmakers closer to protecting young immigrants brought to the country illegally as children. She then delivered a record-breaking speech that tied up the House for the entire day and into the night. The budget agreement, coming a day after President Trump threatened to shut down the government, would effectively negate Mr. Trump's demands to broadly reorder government with deep cuts to nondefense programs like environmental protection, foreign aid and health research that were to offset large increases in military spending. Mr. Trump is to release his second budget request on Monday, but the deal — championed by the top congressional leaders from his own party — amounts to an unequivocal rebuke of many of the budgetary demands he has put forth. The deal would give Mr. Trump military bragging rights." See also, Sweeping budget deal would add more than $500 billion in federal spending and end months of partisan wrangling, The Washington Post, Mike DeBonis and Erica Werner, Wednesday, 7 February 2018: "The Republican-led Congress is set to vote Thursday on a two-year budget deal that would include massive increases in military and domestic spending programs, reflecting an ideological shift for a party whose leaders long preached fiscal conservatism but have now embraced big spending."
House Democratic Leader Nancy Pelosi Took the House Floor For More Than Eight Hours on Wednesday to Protest the Lack of Protection for Young Undocumented Immigrants Known as Dreamers, The New York Times, Sheryl Gay Stolberg, Wednesday, 7 February 2018: "Representative Nancy Pelosi, the House Democratic leader, took the House floor at 10:04 a.m. Eastern on Wednesday, intent on speaking about the young undocumented immigrants known as Dreamers. Eight hours and seven minutes later, she quit talking. Her marathon monologue — highly unusual for the House, which has no equivalent to the Senate filibuster — appears to have set the record for the longest continuous speech in the chamber, dating to at least 1909, according to the House historian. It tied up the House into the evening, delaying debate on a bill intended to spur competition in the mortgage market…. Ms. Pelosi's speech came as Republicans were scrambling to pass legislation to keep the government open. A short-term funding bill expires at midnight Thursday. Ms. Pelosi has said she will not vote for the measure. She was protesting its lack of protection for the Dreamers, young immigrants who were brought to the United States illegally as children and have been shielded from deportation by the Deferred Action for Childhood Arrivals program, or DACA, an Obama-era initiative that President Trump has suspended…. Senator Mitch McConnell, the majority leader, has promised an open debate in the Senate on immigration legislation, with senators of both parties allowed to offer amendments, if a deal is not reached by Thursday. Ms. Pelosi is calling on Speaker Paul D. Ryan to make a similar commitment in the House. 'Our basic request is to honor the House of Representatives, give us a chance to have a vote on the floor,' she said as she wound down her talk on Wednesday night." See also, House Democratic Leader Nancy Pelosi took the House floor on Wednesday for a day-into-night marathon plea to Republicans for action on immigration, The Washington Post, Ed O'Keefe, David Weigel, and Paul Kane, Wednesday, 7 February 2018.
Rob Porter, White House staff secretary, to resign after allegations of physical and emotional abuse by his two ex-wives, The Washington Post, Josh Dawsey, Beth Reinhard, and Elise Viebeck, Wednesday, 7 February 2018: "A senior White House official said Wednesday that he would resign after his two ex-wives accused him of physical and emotional abuse, with one presenting pictures of her blackened eye. The official, Rob Porter, served as the staff secretary, a title that belies the role's importance in any White House — but especially in President Trump's. Porter functioned as Chief of Staff John F. Kelly's top enforcer in their shared mission to instill discipline and order in what had become an extraordinarily chaotic West Wing. He was the gatekeeper to the Oval Office, determining which articles and policy proposals reached the president's hands and screening the briefing materials that his visitors shared with him. Aides had been aware generally of accusations against Porter since late last year, White House advisers said, but learned of the specifics late Tuesday when approached by a reporter from DailyMail.com, which first detailed many of the allegations. Porter's ex-wives said they informed the FBI in January 2017 of their allegations against him while they were being interviewed by agents as part of Porter's security clearance review. It was unclear when or whether the FBI informed the White House. The FBI did not respond to a request for comment. Porter said on Tuesday that he would resign, after the allegations were first published, people close to him say, even as he told White House officials he had never physically abused women. But he was talked out of it by Kelly and others, according to these people, with Kelly saying he believed Porter's denials and saw him as a valuable ally in the White House. Kelly continued to press him to stay in his job Wednesday, saying he could weather the storm, but Porter decided the controversy had become too much after the photos of his ex-wife's blackened eye appeared Wednesday morning." See also, White House knew of abuse allegations against White House staff secretary Rob Porter, CBS News, Major Garrett, Wednesday, 7 February 2018: "A top aide to President Trump announced Wednesday he's resigning. Staff secretary Rob Porter, who handled paperwork going to and from the president's desk, has been accused of abuse by two of his ex-wives. Porter says the accusations are false. At first, the White House aggressively defended Porter, with chief of staff John Kelly calling him 'a man of true integrity and honor.' Press secretary Sarah Sanders said Porter 'has been effective' and retained 'the full confidence' of the president. Kelly released a statement late Wednesday backing up his previous comment about Porter. 'I was shocked by the new allegations released today against Rob Porter,' he told reporters. 'There is no place for domestic violence in our society. I stand by my previous comments of the Rob Porter that I have come to know since becoming Chief of Staff, and believe every individual deserves the right to defend their reputation. I accepted his resignation earlier today, and will ensure a swift and orderly transition.' Despite the defense, everything collapsed as detailed allegations and documents emerged that depicted physical and verbal abuse allegedly suffered by two of Porter's ex-wives, Jennifer Willoughby and Colbie Holderness…. Two sources with knowledge of the situation tell CBS News the FBI informed the White House in November about the domestic abuse allegations against Porter. It's unclear how the White House responded to this information. White House communications director Hope Hicks, who CBS News has confirmed is dating Porter, played a significant role in drafting the statements by Kelly and Sanders in response to the allegations." See also, Former Wives of Top White House Aide Rob Porter Both Told FBI He Abused Them, The Intercept, Ryan Grim and Alleen Brown, Wednesday, 7 February 2018. See also, Rob Porter, White House Staff Secretary, Resigns After His Two Former Wives Accused Him in Interviews of Physical and Emotional Abuse When They Were Married to Him, The New York Times, Maggie Haberman and Katie Rogers, Wednesday, 7 February 2018. See also, EXCLUSIVE: 'He pulled me, naked and dripping from the shower to yell at me.' Ex-wife of Trump aide Rob Porter (who is dating Hope Hicks) tells how Porter called her a 'f***ing b***h' on their honeymoon, and she filed a protective order against him, Daily Mail, Louise Boyle, published on Tuesday, 6 February 2018. See also, White House Chief of Staff John Kelly's credibility is at risk after defending Rob Porter who is accused of domestic violence by his two ex-wives, The Washington Post, Philip Rucker, published on Thursday, 8 February 2018: "White House Chief of Staff John F. Kelly first found his credibility being challenged in October when he leveraged his standing as a retired four-star Marine Corps general who had lost a son on the battlefield to try to contain a political crisis over President Trump's calls to the families of fallen soldiers. His reputation took another hit when he later refused to apologize for falsely attacking a Democratic congresswoman. And another when he called Confederate general Robert E. Lee 'honorable' and blamed the Civil War on a lack of compromise. And yet another when early this week he said some immigrants known as 'dreamers' were 'too lazy to get off their asses.' Then came the Rob Porter saga. After the White House staff secretary was accused of domestic violence by both of his ex-wives, Kelly publicly defended Porter as 'a man of true integrity and honor and I can't say enough good things about him.' Privately, Kelly reportedly urged him to stay in his job. Kelly's actions left his critics — as well as some West Wing subordinates — questioning how much credibility he has left."
Scott Pruitt, the head of the Environmental Protection Agency, suggested that global warming may be beneficial to humans in his latest departure from mainstream climate science, The Guardian, Oliver Milman, Wednesday, 7 February 2018: "Scott Pruitt, the head of the Environmental Protection Agency, has suggested that global warming may be beneficial to humans, in his latest departure from mainstream climate science. Pruitt, who has previously erred by denying that carbon dioxide is a key driver of climate change, has again caused consternation among scientists by suggesting that warming temperatures could benefit civilization. The EPA administrator said that humans are contributing to climate 'to a certain degree,' but added: 'We know humans have most flourished during times of warming trends. There are assumptions made that because the climate is warming that necessarily is a bad thing. Do we know what the ideal surface temperature should be in the year 2100 or year 2018?' he asked a TV station in Nevada. 'It's fairly arrogant for us to think we know exactly what it should be in 2100.'"
Trump Laments the Stock Market Plunge as a 'Big Mistake,' The New York Times, Michael D. Shear and Alan Rappeport, Wednesday, 7 February 2018: "President Trump, who has taken credit for a rising stock market as a measure of his own success, complained on Twitter Wednesday that 'good (great) news' in the economy led to an abrupt decline in stock prices, his first comments about the stock market since its sharp drop earlier this week. In the early-morning tweet, Mr. Trump lamented that in the 'old days,' stocks would rise on good economic news, saying 'Today, when good news is reported, the Stock Market goes down. Big mistake.' The tweet did not elaborate on what he meant by the 'old days' or explain further his analysis of why stocks plummeted on Friday and Monday. Until Wednesday's tweet, the president had been unusually silent about the stock market, which has been rocked by volatility, including a decline in the Dow Jones industrial average of almost 7 percent over two days. At one point on Monday, the Dow was down almost 1,600 points, or about 6 percent of its total value, the markets plunging at the same moment as Mr. Trump was giving a speech in Blue Ash, Ohio. It closed that day down 1,175 points."
Jeanette Manfra, the head of cybersecurity at the Department of Homeland Security, says the Russians successfully penetrated the voter registration rolls of several U.S. states prior to the 2016 presidential election, NBC News, Cynthia McFadden, William M. Arkin, and Devin Monahan, Wednesday, 7 February 2018: "The U.S. official in charge of protecting American elections from hacking says the Russians successfully penetrated the voter registration rolls of several U.S. states prior to the 2016 presidential election. In an exclusive interview with NBC News, Jeanette Manfra, the head of cybersecurity at the Department of Homeland Security, said she couldn't talk about classified information publicly, but in 2016, 'We saw a targeting of 21 states and an exceptionally small number of them were actually successfully penetrated.' Jeh Johnson, who was DHS secretary during the Russian intrusions, said, '2016 was a wake-up call and now it's incumbent upon states and the Feds to do something about it before our democracy is attacked again.' 'We were able to determine that the scanning and probing of voter registration databases was coming from the Russian government.' NBC News reported in Sept. 2016 that more than 20 states had been targeted by the Russians. There is no evidence that any of the registration rolls were altered in any fashion, according to U.S. officials."
Democrats Gain Missouri House Seat in Area That Backed Trump, The New York Times, The Associated Press, Wednesday, 7 February 2018: "Democrats have picked up a Missouri House seat previously held by Republicans in a suburban St. Louis district that voted overwhelmingly for President Donald Trump in 2016. The victory by Democrat Mike Revis over Republican David Linton in a close special election Tuesday continued a national trend of Democratic gains since Trump's election, though Republicans held on to three other seats on the Missouri ballot. In all four races to replace Republicans who had resigned, the Democratic legislative candidates garnered a significantly larger share of the vote than Democratic presidential nominee Hillary Clinton did against Trump. Democrats hadn't even fielded state House candidates in any of the districts in 2016."
The Steady, Alarming Destruction of the Consumer Financial Protection Bureau, The New Yorker, Sheelah Kolhatkar, Wednesday, 7 February 2018: "The Consumer Financial Protection Bureau was established in the aftermath of the financial crisis, as part of the 2010 Dodd-Frank legislation, with the intended goal of protecting consumers from abusive practices by banks, mortgage lenders, and other financial institutions. In part because of its strong association with Elizabeth Warren, the liberal Massachusetts senator who originally proposed creating such an agency, the C.F.P.B. met immediate resistance from the financial industry, which argued that the agency was too powerful and its rules too onerous, and that its actions could end up stifling the economy. The industry found ready allies among Republicans in Congress—notably Representative Jeb Hensarling, the chairman of the House Financial Services Committee—who echoed the financial industry's complaints and pledged to dismantle the agency, or at least dramatically reduce its reach. Part of what gave the C.F.P.B. its power was its independence; it had been designed to operate outside the bounds of influence of Congress and the White House, and it was difficult for a President to replace the person running it, which prompted its critics to argue that it had no accountability. Last week, a federal appeals court upheld the agency's structure as legal and necessary. 'Congress's decision to provide the C.F.P.B. director a degree of insulation reflects its permissible judgment that civil regulation of consumer financial protection should be kept one step removed from political winds and presidential will,' Judge Cornelia Pillard wrote in the ruling. Supporters of the C.F.P.B. greeted the ruling as a major victory. Still, with Donald Trump as President, the C.F.P.B. continues to be under existential threat. The departure of the founding director, Richard Cordray, in November, gave Trump the ability to choose the person who would oversee the agency until a permanent director was selected. Briefly, there were rumors that Trump was going to appoint his Wall Street-friendly Treasury Secretary, Steven Mnuchin, to the position of interim director. Instead, he chose Mick Mulvaney, the White House budget director, who is on record as saying that he wanted to 'get rid of' the C.F.P.B. altogether. Now Mulvaney is doing just that, using the levers he has available to him to essentially starve the C.F.P.B. of resources and let it wither. If there was ever any doubt that the Trump Administration would simply do the financial industry's bidding, Mulvaney's recent actions at the C.F.P.B. have cleared it up. And anyone with a bank account or a stake in the American economy should be concerned."
California says it will block the transport of petroleum from new offshore oil rigs through its state, Reuters, Wednesday, 7 February 2018: "California will block the transportation through its state of petroleum from new offshore oil rigs, officials told Reuters on Wednesday, a move meant to hobble the Trump administration's effort to vastly expand drilling in U.S. federal waters.  California's plan to deny pipeline permits for transporting oil from new leases off the Pacific Coast is the most forceful step yet by coastal states trying to halt the biggest proposed expansion in decades of federal oil and gas leasing. Officials in Florida, North and South Carolina, Delaware and Washington, have also warned drilling could despoil beaches, harm wildlife and hurt lucrative tourism industries."
Thursday, 8 February 2018, Day 385:
Trump Signs Budget Deal to Raise Spending and Reopen Government, The New York Times, Thomas Kaplan, Thursday, 8 February 2018: "President Trump on Friday morning signed into law a far-reaching budget deal that will boost spending by hundreds of billions of dollars and allow the federal government to reopen after a brief shutdown. In an early morning tweet, Mr. Trump said he had signed the bill, adding: 'Our Military will now be stronger than ever before. We love and need our Military and gave them everything — and more.' Mr. Trump's signature came quickly after the House gave final approval early Friday to the deal, hours after a one-man blockade by Senator Rand Paul of Kentucky delayed the votes and forced the government to briefly close. House Democrats, after threatening to bring the bill down because it did nothing to protect young undocumented immigrants, gave Speaker Paul D. Ryan of Wisconsin the votes he did not have in his own party and ensured passage. In the end, 73 House Democrats voted yes to more than offset the 67 Republicans who voted no. Just before the vote, Mr. Ryan voiced support for bringing a debate on immigration to the House floor — though he did not make a concrete promise, as Democratic leaders had wanted…. With the monthslong budget impasse appearing to be on the cusp of a resolution, lawmakers were girding for a fight over the fate of young immigrants who were brought to the country illegally as children, known as Dreamers, as well as Mr. Trump's plan to build a wall along the southern border with Mexico and other possible immigration policy changes. The uncertain outlook for immigration legislation, and the disagreements on the best strategy to move forward, was starkly apparent as Ms. Pelosi commanded the House floor for more than eight hours on Wednesday in an effort to help the young immigrants. She said she would oppose the budget deal unless Mr. Ryan offered a commitment to hold a vote on legislation in the House that would address the fate of the Dreamers." See also, What's Hidden in the Senate Spending Bill? The New York Times, Margot Sanger-Katz, Brad Plumer, Erica L. Green, and Jim Tankersley, Thursday, 8 February 2018. See also, 12 of the most important things in Congress's massive spending deal, The Washington Post, Heather Long and Jeff Stein, Thursday, 8 February 2018.
Unwelcome Attention for John Kelly, the Man Enlisted to Bring Calm, The New York Times, Peter Baker and Maggie Haberman, Thursday, 8 February 2018: "Among the many people agitated this week over John F. Kelly, the White House chief of staff, was President Trump. And among the people the president called to express dissatisfaction, according to those close to him, was none other than Reince Priebus, the previous chief of staff, who also irritated Mr. Trump. The idea that the president would confide grievances over Mr. Kelly with the person he pushed out to hire Mr. Kelly is yet another indication of how upside-down Mr. Trump's world can be. In the West Wing, various characters fall in and out of favor with such rapidity that it is never entirely clear who has the president's ear. For now, it is Mr. Kelly who is in trouble. The president has little tolerance for aides who attract negative media attention that spills onto him, and in recent days Mr. Kelly has drawn a string of unwelcome headlines. He roiled negotiations over immigration legislation by declaring that some immigrants were 'too lazy' to apply for legal status. And he initially defended a deputy accused by two ex-wives of physically abusing them…. Mr. Kelly has previously played down accusations against someone he believed served a greater goal. He appeared as a character witness in a 2016 court-martial of a Marine colonel accused of sexually harassing two female subordinates. Mr. Kelly praised the colonel as a 'superb Marine officer.' [Tweet by Maggie Haberman: In the case of this particular Marine, the man was later arrested for 'indecent liberties with a child.']"
Top White House officials, including White House Counsel Donald McGahn and Chief of Staff John F. Kelly, knew of abuse allegations against top aide Rob Porter for months, The Washington Post, Josh Dawsey and Beth Reinhard, Thursday, 8 February 2018: "White House Counsel Donald McGahn knew one year ago that staff secretary Rob Porter's ex-wives were prepared to make damaging accusations about him that could threaten his security clearance but allowed him to serve as an influential gatekeeper and aide to President Trump without investigating the accusations, according to people familiar with the matter. Chief of Staff John F. Kelly learned this fall about the allegations of spousal abuse and that they were delaying Porter's security clearance amid an ongoing FBI investigation. But Kelly handed Porter more responsibilities to control the flow of information to the president. Porter, who denied the 'vile' allegations, resigned Wednesday after the ex-wives' accounts of years of verbal and physical abuse were published, along with graphic pictures of Colbie Holderness, his first wife, bruised from what she said was a punch to the face…. McGahn and other West Wing officials are under increasing pressure to explain why Porter was kept in a key role in which he had access to classified information and helped determine which articles and policy proposals made it to the president's desk while top Trump officials were aware for months of at least some of the serious allegations against him." See also, Rob Porter's History of Domestic Abuse Wasn't a Secret. It's Just That No One Cared. Slate, Dahlia Lithwick, Thursday, 8 February 2018: "As it turns out, the first #MeToo story to actually trip up the White House needed to be as graphic and violent as the accusations against Rob Porter. It needed to involve a Rhodes Scholar golden boy who had been married—married—to old-fashioned girls to even count. This, and indeed the entire situation, provides the perfect mirror to reflect all the ways in which systems, all systems, fail women. Until Wednesday, Rob Porter was the White House staff secretary. Long before Wednesday, many of the people to whom he reported knew he had physically abused and assaulted both of his wives. Colbie Holderness, Porter's first wife, and Jennifer Willoughby, Porter's second wife, both told the FBI their marriages had ended because of a pattern of physical and emotional abuse. According to their accounts, supported by photos, contemporaneous reporting to others, and a blog post written by Willoughby last April, Porter kicked these women, he punched and choked one of these women, he blackened one of these women's eyes. He berated and insulted these women. Police were called. But Rob Porter is also white, and the son of a prominent academic and thinker. He went to Harvard and Oxford, and he had a high-ranking job in the Oval Office, and was reportedly pressing for a higher one. He was dating Hope Hicks, one of the president's closest confidantes. So nobody did a thing about the allegations…. Please stop asking why women don't come forward. These women did. They believed that once the police, the FBI, the White House, and John Kelly knew what they knew, Porter would stop ascending in their ranks. They were wrong."
Defense Secretary Jim Mattis says he owes Trump some options on a military parade, but he won't share his feelings about one, The Washington Post, John Wagner, Thursday, 8 February 2018: "Defense Secretary Jim Mattis said Thursday that he will provide President Trump with multiple options about staging a grand military parade in Washington but declined to share his feelings about the idea. 'I owe him some options,' Mattis told reporters. 'We'll put together options, and we will work everything from size to participation to cost, and when I get clear options, we'll send those over to the White House, and I'll go over and talk with them.'… Trump's idea has drawn fire from an array of critics, including some fellow Republicans who question whether it would be worth the cost. The expense of shipping tanks and high-tech hardware to Washington could run in the millions, and military officials said it was unclear how they would pay for it. Democrats on the D.C. City Council have also balked, voicing concerns about the costs of security, cleanup and road repair. Mattis was asked Thursday by a reporter if he has any 'misgivings,' given military parades are more a staple of nations such as Russia and China. 'I'm not paid for my feelings. I save those for my girlfriend,' said Mattis, who has been outspoken on a number of other subjects, including military funding."
Union Leaders Protesting Education Secretary Betsy DeVos Were Left Out in the Cold as They Tried to Deliver 80,000 Failing 'Report Cards' to Ms. DeVos From Educators and Parents Across the Country, The New York Times, Erica L. Green, Thursday, 8 February 2018: "It's been a year, but the air is still frigid between the education secretary, Betsy DeVos, and the leaders of the nation's teacher unions. Randi Weingarten, the longtime president of the American Federation of Teachers, and Lily Eskelsen García, the president of the National Education Association, were left out in the cold on Thursday as they tried to deliver 80,000 failing 'report cards' to Ms. DeVos from educators across the country. The union leaders found locked doors as they tried to enter the Department of Education building to offer their assessment of Ms. DeVos's first year on the job. Ms. Weingarten said the department had been asked for an appointment and knew that the group of about 100 protesters was coming. The department said guards had barred the group because it did not have an appointment. Among the educators' chief concerns, Ms. Eskelsen García said, is Ms. DeVos's education budget, which calls for $9 billion in cuts, and the department's rollback of protections for disabled students."
Thirty-seven administration officials have resigned or been fired under Trump in just over a year, The Washington Post, Philip Bump, Thursday, 8 February 2018: "President Trump's administration has seen more turnover than 'The Apprentice.' Quite literally, in fact. Trump's television show would lose 15 people a season; Trump's administration has lost at least 37 in just over a year. Two-and-a-half seasons of drama, packed into just over 12 months. We compiled a list of those who had left prominent positions with the administration after being fired (like [Anthony] Scaramucci), being forced to resign under pressure (like Rob Porter) or who resigned on their own terms."
Trump administration is considering making it harder for immigrants living in the United States to get permanent residency if they or their U.S.-born children receive public benefits such as food assistance, Reuters, Yeganeh Torbati, Thursday, 8 February 2018: "The Trump administration is considering making it harder for foreigners living in the United States to get permanent residency if they or their American-born children use public benefits such as food assistance, in a move that could sharply restrict legal immigration. The Department of Homeland Security has drafted rules seen by Reuters that would allow immigration officers to scrutinize a potential immigrant's use of certain taxpayer-funded public benefits to determine if they could become a public burden. For example, U.S. officials could look at whether the applicant has enrolled a child in government pre-school programs or received subsidies for utility bills or health insurance premiums. The draft rules are a sharp departure from current guidelines, which have been in place since 1999 and specifically bar authorities from considering such non-cash benefits in deciding a person's eligibility to immigrate to the United States or stay in the country."