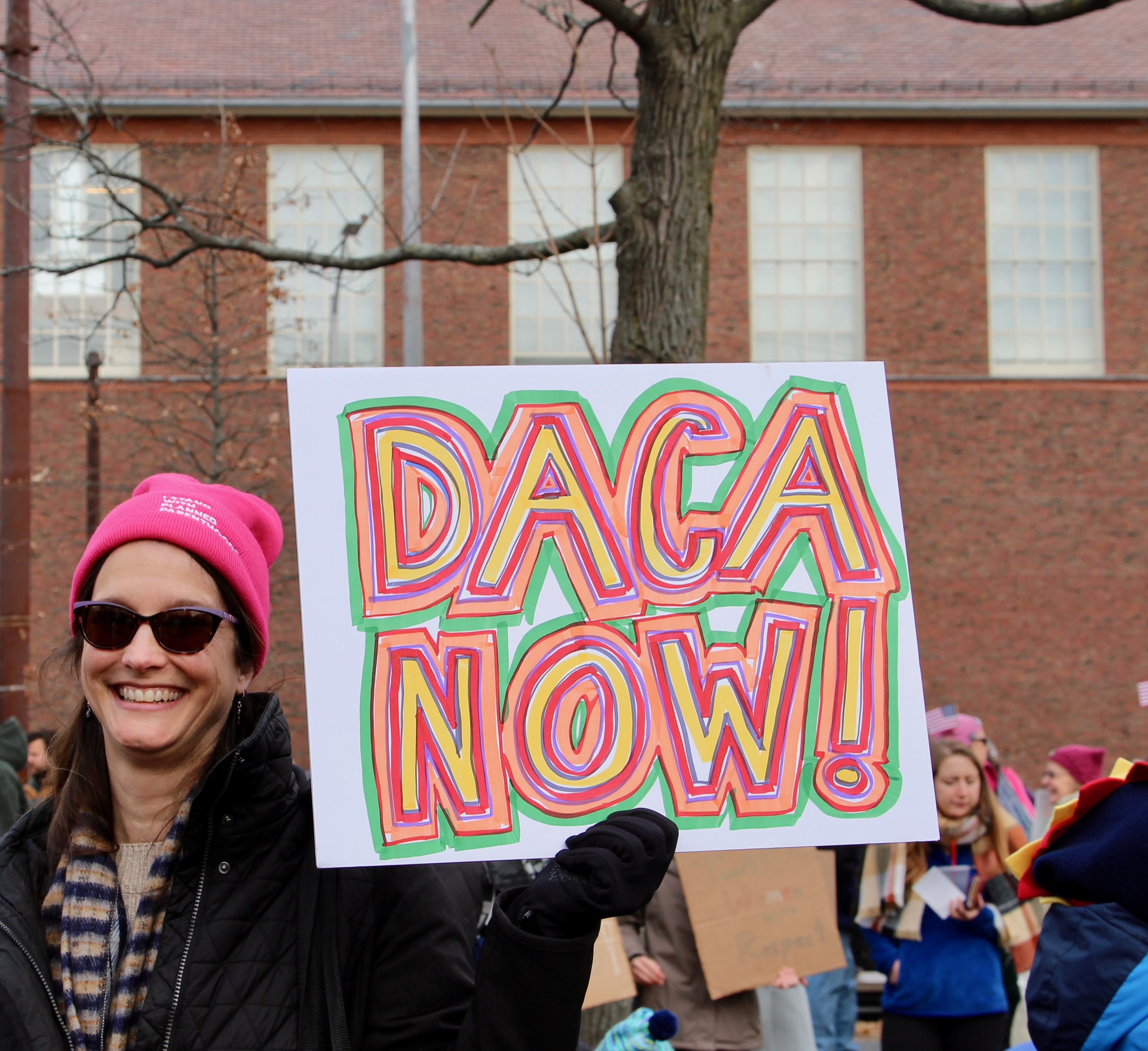 Keeping Track (of some things), Staying Outraged (it is possible), and Resisting (it's essential)
Passages in bold in the body of the texts below are my emphasis. This is an ongoing project, and I update the site frequently. Because I try to stay focused on what has actually happened, I usually let the news 'settle' a day or so before posting. I hope readers will peruse the articles in full for a better understanding of the issues and their context; our democracy and our future depend on citizens who can distinguish between facts and falsehoods and who are engaged in the political process.
Friday, 19 January 2018, Day 365:
Government Shutdown Begins as Budget Talks Falter in the Senate, The New York Times, Sheryl Gay Stolberg and Thomas Kaplan, Friday, 19 January 2018: "Much of the federal government officially shut down early Saturday morning after Senate Democrats, showing remarkable solidarity in the face of a clear political danger, blocked consideration of a stopgap spending measure to keep the government operating. The shutdown, coming one year to the day after President Trump took office, set off a new round of partisan recriminations and posed risks for both parties. It came after a fruitless last-minute negotiating session at the White House between Mr. Trump and Senator Chuck Schumer of New York, the Democratic leader. With just 50 senators voting in favor, Senate Republican leaders fell well short of the 60 votes necessary to proceed on the spending measure, which had passed the House on Thursday. Five conservative state Democrats voted for the spending measure. Five Republicans voted against it, although one of those, Senator Mitch McConnell of Kentucky, the majority leader, did so for procedural reasons." See also, How Washington Reached the Brink of a Shutdown, The New York Times, Michael D. Shear, Friday, 19 January 2018: "Here's a look back, over the course of one year, at the events that led to the brink of a government shutdown, with immigration and spending as the main drivers." See also, How Every Senator Voted on the Government Shutdown, The New York Times, Jasmine C. Lee and Sara Simon, Friday, 19 January 2018.
Supreme Court to Consider Challenge to Trump's Latest Travel Ban, The New York Times, Adam Liptak, Friday, 19 January 2018: "The Supreme Court announced on Friday that it would consider a challenge to President Trump's latest effort to limit travel from countries said to pose a threat to the nation's security, adding a major test of presidential power to a docket already crowded with blockbusters. The case concerns Mr. Trump's third and most considered bid to make good on a campaign promise to secure the nation's borders. But challengers to the latest ban, issued as a presidential proclamation in September, said it was tainted by religious animus and not adequately justified by national security concerns. The decision to hear the case, Trump v. Hawaii, No. 17-965, came almost a year after the first travel ban, issued a week after Mr. Trump took office, caused chaos at the nation's airports and was promptly blocked by courts around the nation. A second version of the ban, issued in March, fared little better, though the Supreme Court allowed part of it go into effect in June when it agreed to hear the Trump administration's appeals in two cases. But the Supreme Court dismissed those appeals in October after the second ban expired. There is no reason to think the latest appeal will fizzle out, as the September order, unlike the earlier ones, is meant to last indefinitely. The justices are likely to hear arguments in the latest case in the spring and to issue a decision in late June. The ban restricts travel from eight nations, six of them predominantly Muslim. For now, most citizens of Iran, Libya, Syria, Yemen, Somalia, Chad and North Korea will be barred from entering the United States, along with some groups of people from Venezuela. The restrictions vary in their details, but for the most part, citizens of the countries are forbidden from emigrating to the United States and many of them are barred from working, studying or vacationing here. In December, in a sign that the Supreme Court may be more receptive to upholding the September order, the court allowed it to go into effect as the case moved forward. The move effectively overturned a compromise in place since June, when the court said travelers with connections to the United States could continue to travel here notwithstanding restrictions in an earlier version of the ban. Justices Ruth Bader Ginsburg and Sonia Sotomayor dissented from the December ruling."
After Scoring Huge Tax Cuts, Billionaire Charles Koch Floods House Speaker Paul Ryan With Cash, International Business Times, Alex Kotch, Friday, 19 January 2018: "In the months leading up to the passage of the Republican Party's long-awaited tax bill last year, the powerful political operation run by the billionaire Koch brothers was one of the strongest forces pressuring lawmakers to pass massive tax cuts for wealthy individuals and corporations. 'Republicans never hid the fact that this tax bill was about pleasing their big donors,' Adam Smith, communications director at campaign finance reform nonprofit Every Voice, told International Business Times. 'And it looks like House Speaker [Paul] Ryan is quickly being rewarded for passing this legislation that overwhelmingly benefits the Kochs and billionaires like them.' Thirteen days after the U.S. House passed its version of the tax legislation, Charles Koch and his wife, Elizabeth, combined to donate nearly $500,000 to House Speaker Paul Ryan's joint fundraising committee, according to a new campaign finance report released Thursday. These two donations were by far the largest sums added to Ryan's coffers in the fourth quarter of 2017, but they were by no means the only major contributions: Marlene Ricketts, the wife of billionaire TD Ameritrade founder Joe Ricketts, donated $100,000, as did five other individuals."
Continue reading Week 53, Friday, 19 January – Thursday, 25 January 2018 (Days 365-371)
Republicans Claim Surveillance Power Abuses in Russia Inquiry, The New York Times, Charlie Savage and Sharon LaFraniere, Friday, 19 January 2018: "A fall 2016 application for a secret Foreign Intelligence Surveillance Court warrant targeting a former Trump campaign adviser has become the latest front in the partisan struggle over the investigation into Russia's interference in the presidential election. Republican aides on the House Intelligence Committee have prepared a memorandum that is said to accuse law enforcement officials of improperly obtaining the warrant. House Republicans are calling for the declassification and release of the report, while Democrats say that it is full of misinformation and is a political stunt. People familiar with the report said that its main allegation was that law enforcement officials failed to adequately explain to the intelligence court judge that they were relying in part on research by an investigator, Christopher Steele, that had been financed by the Democratic National Committee and Hillary Clinton's presidential campaign. That, the report is said to claim, suggests that the judge was misled." See also, Republican memo on surveillance 'abuse' seeks to discredit the Trump-Russia dossier, The Washington Post, Ellen Nakashima, Devlin Barrett, and Karoun Demirjian, Friday, 19 January 2018.
Military Shifts Focus to Threats by Russia and China, Not Terrorism, The New York Times, Helene Cooper, Friday, 19 January 2018: "The United States is switching its priority to countering Chinese and Russian military might after almost two decades of focusing on the fight against terrorism, Defense Secretary Jim Mattis said Friday, unveiling a national defense strategy that Pentagon officials say will provide a blueprint for years to come. The new strategy echoes — on paper, if not in tone — a national security blueprint offered last month in which President Trump described rising threats to the United States from an emboldened Russia and China, as well as from what was described as rogue governments like North Korea and Iran."
No Sanctuary. As Immigration and Customs Enforcement (ICE) Targets Immigrant Rights Activists for Deportation, Suspicious Vehicles Outside Churches Stoke Surveillance Fears. The Intercept, Nick Pinto, Friday, 19 January 2018: "When word came down from the upper floors of Federal Plaza in Lower Manhattan that Immigration and Customs Enforcement was taking custody of Ravidath Ragbir and intended to deport him, hundreds of his supporters, standing outside on the cold sidewalk, raised up their hands to the monolithic building and screamed. Ragbir had entered the building willingly, on his own steam, accompanied by his wife and family, his legal team, and a handful of elected officials. Now, his friends outside learned, Ravi — as everyone knows him — wouldn't be coming back to them. They had planned for this possibility even as they hoped it wouldn't come, but the plans soon gave way to a spontaneous gesture of resistance. As the ambulance carrying a handcuffed Ragbir — he had briefly fainted when he was taken into custody — pulled out of the Federal Plaza garage, supporters attempted to stop its progress. Friends, colleagues, clergy, and city council members put their bodies in front of the vehicle, blocking it with their lives. The resulting chaos was exacerbated by law enforcement officers who pushed, yanked, and choked the nonviolent protesters. By the time the melee had died down outside the gates of New York City Hall, 18 people had been arrested and the ambulance had gotten away…. Ragbir's detention was the second such arrest of a New Sanctuary Coalition leader by ICE in the space of a week. It was only the most recent and public in a series of developments that advocates believe is part of a concerted effort to intimidate and dismantle the immigration rights movement in New York City. Coalition members say unmarked cars with heavily tinted windows have begun surveilling churches and movement leaders' homes. Clergy who work with New York's immigrant communities say that ICE agents have repeatedly entered church property and interrogated people as they come and go from houses of worship."
America the Trumped: 10 ways the administration attacked civil rights in year one, Southern Poverty Law Center, Friday, 19 January 2018: "As a candidate, Trump may have made vague, intermittent pledges to protect those who faced discrimination – like when he promised to be 'a real friend' to the LGBT community – but he was mostly speaking the language of a distinctly racist and misogynistic white nationalist movement known as the alt-right. And that's the language that foretold the nature of his presidency. Trump has, in fact, spent its first year promoting the alt-right's policy agenda by systematically dismantling hard-won civil rights protections and reversing numerous initiatives of President Barack Obama – all while continuing to use his megaphone to sow racial and ethnic divisions. This assault on civil rights – and the American values that underpin them – is far-reaching and dangerous. [This article focuses on] 10 ways that [Trump], Attorney General Jeff Sessions, and other administration officials have undermined protections for the most vulnerable people in America."
Porn star Stormy Daniels detailed alleged affair with Trump in 2011 interview, The Washington Post, Mark Berman, Frances Stead Sellers, and Paul Farhi, Friday, 19 January 2018: "Donald Trump was attending a celebrity golf tournament at a Lake Tahoe resort in July 2006 when he met the adult-film star Stormy Daniels, she later said. Daniels said she took the future president up on his offer to ride around the lakefront course in his golf cart. 'That was actually my first time on a golf course,' Daniels, whose real name is Stephanie Clifford, told Adult Video News, a trade publication, 'and when you're riding around with Donald Trump in an Escalade golf cart during your first time out on a course, I'd say I was doing all right.' What happened after has become a matter of intense dispute, stretching across the worlds of politics, media and adult entertainment. Daniels told journalists in interviews conducted over several years — but not made public until this month — that she and Trump had an affair that began at the tournament. The story received scant attention until the Wall Street Journal reported last week that Trump's longtime personal attorney, Michael Cohen, negotiated a secret $130,000 payment to secure her silence days before the 2016 presidential election. The salacious allegations echo the tabloid coverage that was a part of Trump's rise as a New York developer. At the same time, they also have brought a renewed spotlight on President Trump's history with women…. On Friday, the celebrity magazine In Touch published a transcript of an interview it said Daniels gave in 2011. Jordi Lippe-McGraw, the reporter In Touch said spoke with Daniels, confirmed to The Washington Post that the transcript accurately reflected the interview she conducted with Daniels by phone in May 2011. The magazine had published some details from the interview earlier in the week, but the full transcript — totaling more than 5,000 words — gave a new, expansive view of how Daniels recounted their interactions. She said the relationship began with a sexual encounter at the tournament and continued with phone conversations and in-person meetings for about a year, some of them involving Trump's desire to put her on his television show, 'The Apprentice,' according to the transcript."
Saturday, 20 January 2018, Day 366:
Women's March 2018: Protesters Take to the Streets for the Second Straight Year, The New York Times, Saturday, 20 January 2018: "A year after millions of people turned out for the Women's March and took to the streets en masse to protest President Trump's inauguration, demonstrators gathered on Saturday in cities across the United States, galvanized by their disdain for Mr. Trump and his administration's policies. A deluge of revelations about powerful men abusing women, leading to the #MeToo moment, has pushed activists to demand deeper social and political change. Progressive women are eager to build on the movement and translate their enthusiasm into electoral victories in this year's midterm elections." See also, Protesters gather for a second Women's March in Washington, DC, The Washington Post, Michael Alison Chandler and Joe Heim, Saturday, 20 January 2018. See also, Women March Again. Around the world, demonstrators returned to the streets in screaming pink. The New Yorker, Anna Russell and Elizabeth Bick, Saturday, 20 January 2018.
Trump made 2,140 false or misleading claims in his first year, The Washington Post, Glenn Kessler and Meg Kelly, Saturday, 20 January 2018: "One year after taking the oath of office, President Trump has made 2,140 false or misleading claims, according to The Fact Checker's database that analyzes, categorizes and tracks every suspect statement uttered by the president. That's an average of nearly 5.9 claims a day. We started this project as part of our coverage of the president's first 100 days, largely because we could not possibly keep up with the pace and volume of the president's misstatements. Readers demanded we keep it going for another year. The database has proved so useful — and even sparked the interest of academicians — that we now plan to keep it going for the rest of Trump's presidency."
Open, Closed, or Something in Between: What a Shutdown Looks Like, The New York Times, Mark Landler, Saturday, 20 January 2018: "The vast machinery of the federal government began grinding to a halt on Saturday morning, hours after the Senate failed to reach a funding deal. But like an aircraft carrier after its propellers stop turning, much of the bureaucracy will stay in motion for a while, and some essential services, like the armed forces, the post office and entitlement programs, will not stop working at all. Tens of thousands of federal workers woke up to notices from their cabinet secretaries informing them that, barring action from Congress, they will be furloughed this coming week. The shutdown is falling unevenly: The Education Department will send home more than 90 percent of its 3,934 employees, while the Pentagon said the entire uniformed military, and half of its civilian work force, would continue to serve. But for now, even the troops will not be paid."
Representative Patrick Meehan, Republican of Pennsylvania, Used Thousands of Dollars in Taxpayer Money to Settle a Sexual Misconduct Complaint After a Former Aide Accused Him Last Year of Making Unwanted Romantic Overtures to Her, The New York Times, Katie Rogers and Kenneth P. Vogel, Saturday, 20 January 2018: "Representative Patrick Meehan, a Pennsylvania Republican who has taken a leading role in fighting sexual harassment in Congress, used thousands of dollars in taxpayer money to settle his own misconduct complaint after a former aide accused him last year of making unwanted romantic overtures to her, according to several people familiar with the settlement. A married father of three, Mr. Meehan, 62, had long expressed interest in the personal life of the aide, who was decades younger and had regarded the congressman as a father figure, according to three people who worked with the office and four others with whom she discussed her tenure there. But after the woman became involved in a serious relationship with someone outside the office last year, Mr. Meehan professed his romantic desires for her — first in person, and then in a handwritten letter — and he grew hostile when she did not reciprocate, the people familiar with her time in the office said. Life in the office became untenable, so she initiated the complaint process, started working from home and ultimately left the job. She later reached a confidential agreement with Mr. Meehan's office that included a settlement for an undisclosed amount to be paid from Mr. Meehan's congressional office fund."
Sunday, 21 January 2018, Day 367:
Voices From the Women's Marches, The New York Times, Beth Flynn, Nakyung Han, and Sandra Stevenson, Sunday, 21 January 2018: "Marking the anniversary of the Women's March in January 2017, hundreds of thousands of people gathered in major cities and small towns around the globe over the weekend, marching for women's rights from Cheyenne, Wyo., to Pikeville, Ky., to Washington to Rome on Saturday and from Paris to London to Las Vegas, Nev. on Sunday. Photographers went to rallies for The New York Times and asked marchers what their hopes were for 2018." See also, Women's Marches Across the World, in Photos and Voices of Protest, The New York Times, Aurelien Breeden and Kimiko de Freytas-Tamura, Sunday, 21 January 2018: "Women took the streets in cities across the world over the weekend, celebrating gains but also demanding an end to sexual harassment and an equal seat at the political and economic table. In the United States, with the marches coming on the one-year anniversary of President Trump's taking office, much of the focus fell on him. But the demonstrations also came after a year of grueling accounts of women being harassed in the workplace, in the dating arena and even while training for the Olympics."
Monday, 22 January 2018, Day 368:
House votes to end government shutdown, sending legislation to Trump, The Washington Post, Robert Costa, Erica Werner, Ed O'Keefe, and Elise Viebeck, Monday, 22 January 2018: "Congress voted late Monday to reopen the government after a three-day shutdown, sending President Trump a short-term spending bill that passed after Senate Republican leaders pledged to act on immigration policy next month. The House joined the Senate in passing the bill to fund the government through Feb. 8, reauthorize the Children's Health Insurance Program and roll back several health-care taxes. It passed 81-18 in the Senate and 266-150 in the House. The breakthrough came Monday after Senate Democrats bowed to pressure to reopen the government, joining Republicans in backing an immigration and spending compromise that was quickly denounced by liberals and immigration activists…. [T]he resolution of the three-day stalemate exposed a growing rift between two groups of Democratic senators: those facing tough reelection campaigns in states Trump won, and those courting liberal voters ahead of possible 2020 presidential bids." See also, Stopgap Bill to End Government Shutdown Passes Congress, The New York Times, Monday, 22 January 2018. See also, How Every Senator Voted on Ending the Government Shutdown, The New York Times, Rachel Shorey and Sara Simon, Monday, 22 January 2018. See also, There's a Surprise in the Government Funding Bill: More Tax Cuts, The New York Times, Margot Sanger-Katz and Jim Tankersley, Monday, 22 January 2018: "The deal struck by Democrats and Republicans on Monday to end a brief government shutdown contains $31 billion in tax cuts, including a temporary delay in implementing three health care-related taxes. Those delays, which enjoy varying degrees of bipartisan support, are not offset by any spending cuts or tax increases, and thus will add to a federal budget deficit that is already projected to increase rapidly as last year's mammoth new tax law takes effect."
Trump's Tariffs on Solar Imports Mark Biggest Blow to Renewables yet, Bloomberg, Brian Eckhouse, Ari Natter, and Chris Martin, Monday, 22 January 2018: "President Donald Trump dealt his biggest blow to the renewable energy industry yet. On Monday, Trump approved duties of as much as 30 percent on solar equipment made outside the U.S., a move that threatens to handicap a $28 billion industry that relies on parts made abroad for 80 percent of its supply. The tariffs are the latest action by Trump to undermine the economics of renewables. The administration already decided to pull the U.S. out of the Paris Agreement on climate change, sought to roll back Obama-era regulations on power plant-emissions and signed sweeping tax reforms that constrained financing for solar and wind. The import taxes are the most targeted strike on the industry yet and may have larger consequences for the energy world." See also, Trump imposes tariffs on solar panels and washing machines in first major trade action of 2018, The Washington Post, David J. Lynch, Monday, 22 January 2018. See also, Trump Slaps Steep Tariffs on Foreign Washing Machines and Solar Products, The New York Times, Ana Swanson and Brad Plumer, Monday, 22 January 2018: "The imposition of tariffs will most likely exacerbate trade tensions with other nations, including China, and could result in an escalation of retaliatory trade measures against imports from the United States. Both China and South Korea harshly criticized the move, with both suggesting they could take their complaints to the World Trade Organization, which settles trade disputes between countries…. While the tariffs were welcomed by the companies that sought them, economists warned the levies could drive up prices for consumers and hurt some American businesses. The solar industry has been split over the tariffs; companies that develop large-scale solar farms, as well as purchasers of solar power such as retailers and tech companies, opposed the tariffs over concerns that they would cost them more money and make solar power less competitive with other energy sources, at least in the short term. Abigail Ross Hopper, the president of the Solar Energy Industries Association, which opposed the measures, said the decision 'will create a crisis in a part of our economy that has been thriving, which will ultimately cost tens of thousands of hard-working, blue-collar Americans their jobs.'"
The Pennsylvania Supreme Court Ruled That Pennsylvania's Congressional District Map Is a Partisan Gerrymander That 'Clearly, Plainly, and Palpably' Violates the State's Constitution, The New York Times, Michael Wines and Trip Gabriel, Monday, 22 January 2018: "Pennsylvania's congressional district map is a partisan gerrymander that "clearly, plainly and palpably" violates the state's Constitution, the State Supreme Court said on Monday, adding to a string of court decisions striking down political maps that unduly favor one political party. The court banned the current map of the state's 18 House districts from being used in this year's primary and general elections, and ordered that a new map be submitted to the court by Feb. 15. But the state's Republican-dominated Legislature, which approved the current map in 2011, has already said it would try to overturn such a decision in federal court. That would set up another legal battle over gerrymanders in a year already filled with them. But an appeal to the federal courts would very likely fail, election experts said, because decisions based solely on interpretations of state law — as this one appears to be — are generally beyond the reach of federal judges. For the same reason, the state court's decision has no direct bearing on a string of challenges to partisan gerrymanders that are already moving through the federal court system. Earlier this month, in fact, a divided panel of three federal judges left intact the same Pennsylvania House map that the state court threw out on Monday. If the state court ruling stands and the map is redrawn, the consequences could be serious for Republicans, who are already battling national political headwinds in their effort to maintain control of the House in the midterm elections this fall. Pennsylvania is a swing state that has backed governors, senators and presidential candidates from both political parties in the last two election cycles. But as the state's map is now drawn, Republicans control 13 of the state's 18 House seats. Outside experts say that a nonpartisan district map could move as many as three of those seats over to the Democratic column. The Pennsylvania ruling could also add some momentum to a clear movement in lower federal courts toward reining in the most severe partisan gerrymanders. Three-judge federal panels have already invalidated the district maps for the Wisconsin State Assembly and North Carolina's congressional map, saying they are unconstitutionally tilted toward one party — in both cases, the Republicans. Each panel's ruling broke new ground. The United States Supreme Court has stayed those decisions while it considers the Wisconsin case, and one from Maryland challenging a congressional map drawn by Democrats that eliminated a longtime Republican district. So unless the Supreme Court intervenes in the Pennsylvania case as well, the state may be the only one where a new court-ordered map will take effect in time for the midterm elections. Primaries for the state's congressional representatives are scheduled for May 15." See also, Pennsylvania's Supreme Court just gave Democrats a big win on redistricting, The Washington Post, Amber Phillips, Monday, 22 January 2018. See also, How Big a Deal Is a New Congressional Map for Pennsylvania? The New York Times, Nate Cohn, Monday, 22 January 2018.
Trump voting commission bought Texas election records that identify all voters with Hispanic surnames, The Washington Post, Spencer S. Hsu and John Wagner, Monday, 22 January 2018: "President Trump's voting commission asked every state and the District for detailed voter registration data, but in Texas's case it took an additional step: It asked to see Texas records that identify all voters with Hispanic surnames, newly released documents show. In buying nearly 50 million records from the state with the nation's second-largest Hispanic population, a researcher for the Presidential Advisory Commission on Election Integrity checked a box on two Texas public voter data request forms explicitly asking for the 'Hispanic surname flag notation,' to be included in information sent to the voting commission, according to copies of the signed and notarized state forms. White House and Texas officials said the state's voter data was never delivered because a lawsuit brought by Texas voting rights advocates after the request last year temporarily stopped any data handoff. The voting commission was disbanded Jan. 3 after Trump cited a host of ongoing state and federal lawsuits and resistance from state officials over the sweeping pursuit, in the name of investigating alleged voter fraud, of information about more than 150 million voters across the country. The voting panel said it would destroy all voter data it had gathered, without detailing any data purchases. Civil and voting rights groups in particular have said the nationwide initiative could establish a pretext to target African American and Latino voters. State officials criticized the project for its potential effect on Americans' privacy, state oversight on elections and voter participation."
Tensions swell between Attorney General Jeff Sessions and the FBI over senior personnel from the James Comey era, The Washington Post, Devlin Barrett and Philip Ricker, Friday, 22 January 2018: "FBI Director Christopher A. Wray has been resisting pressure from Attorney General Jeff Sessions to replace the bureau's deputy director, Andrew McCabe, a frequent target of criticism from President Trump, according to people familiar with the matter. The tension over McCabe and other high-level FBI officials who served during James B. Comey's tenure has reached the White House, where counsel Donald McGahn has sought to mediate the issue, these people said. As Sessions tried to push Wray to make personnel changes, Wray conveyed his frustration to the attorney general, these people said. Sessions then discussed the matter with McGahn, who advised him to ease off, which he did, these people said."
ICE (Immigration and Customs Enforcement) detains a Polish doctor and green-card holder who has lived in the U.S. for nearly 40 years, The Washington Post, Samantha Schmidt, Monday, 22 January 2018: "Lukasz Niec was 5 years old when his parents brought him and his sister to the United States from Poland. With two suitcases in tow, his parents — both doctors — left behind a country on the verge of social turmoil. It was 1979, about two years before the country's authoritarian communist government declared martial law. Niec received a temporary green card and, in 1989, became a lawful permanent resident. He grew up in Michigan, went to medical school, became a doctor, and raised a daughter and stepdaughter. Niec, now 43, never fathomed that his legal status in the United States would become an issue. With a renewed green card, and nearly 40 years in the country, his Polish nationality was an afterthought for Niec, his sister told The Washington Post. He doesn't even speak Polish. But on Tuesday morning, immigration authorities arrested Niec at his home, just after he had sent his 12-year-old stepdaughter off to school. Niec, a physician specializing in internal medicine at Bronson Healthcare Group in Kalamazoo, Mich., has been detained in a county jail ever since, awaiting a bond hearing and possible deportation…. According to his "notice to appear" from the Department of Homeland Security, Niec's detention stems from two misdemeanor convictions from 26 years ago."
Trump waives dozens of environmental rules to speed up construction of border wall with Mexico, The Hill, Jacqueline Thomsen, Monday, 22 January 2018: "The Trump administration is waiving dozens of environmental regulations to speed up construction of President Trump's proposed wall on the U.S.-Mexico border. Homeland Security Secretary Kirstjen Nielsen said in a notice published in the Federal Register Monday that she was waiving the rules to accelerate construction on part of the wall in New Mexico. The waiver excludes rules from major laws including the National Environment Policy Act, the Endangered Species Act, the Clean Water Act, the National Historic Preservation Act and the Antiquities Act, among others. The notice claims that the 'El Paso Sector is an area of high illegal entry,' citing its proximity to the city of Ciudad of Juarez, and will allow for vehicle barriers to be replaced with bollard wall for 20 miles on the border. 'The Secretary of Homeland Security has determined, pursuant to law, that it is necessary to waive certain laws, regulations and other legal requirements in order to ensure the expeditious construction of barriers and roads in the vicinity of the international land border of the United States near the Santa Teresa Land Port of Entry in the state of New Mexico,' the waiver reads."
Montana Governor Steve Bullock Signs an Executive Order to Force Net Neutrality. The Order Will Bar Any Internet Service Provider That Does Business With the State From Blocking or Charging More for Faster Delivery of Websites. The New York Times, Cecilia Kang, Monday, 22 January 2018: "Most efforts underway to restore so-called net neutrality face big obstacles and would take many months, if not years, to succeed. But in Montana, the governor has used the stroke of a pen to bring the rules to broad parts of his state. Through an executive order, Gov. Steve Bullock declared on Monday that any internet service provider with a state government contract cannot block or charge more for faster delivery of websites, two core aspects of net neutrality, to any customer in the state. Many major landline and mobile broadband providers, including Charter, CenturyLink, AT&T and Verizon, hold government contracts in the state. The new requirements apply to new and renewed contracts signed after July 1, 2018. The action, the first of its kind by a governor, could face legal challenges. In December, the Federal Communications Commission rolled back rules meant to protect a free and open internet. The new rules say states cannot create net neutrality laws. The agency did not respond to a request for comment about the Montana action."
Vice President Mike Pence Says a New U.S. Embassy to Israel Will Open in Jerusalem in 2019, The New York Times, Ben Hubbard, Monday, 22 January 2018: "Vice President Mike Pence said on Monday that a new United States Embassy to Israel would open in Jerusalem before the end of 2019. Mr. Pence's statement, made to the Israeli Parliament during a trip to the Holy Land, follows President Trump's recognition of Jerusalem as Israel's capital last month, a move that overturned decades of American policy and international consensus on the status of the holy city. Palestinians claim Jerusalem as their capital or believe it should be divided, with East Jerusalem becoming the capital of a Palestinian state. The international consensus, previously supported by the United States, has been that the city's status can be determined only through negotiations between the Israelis and the Palestinians. Arab lawmakers rose to their feet at the start of Mr. Pence's speech in the Israeli Parliament and held up signs reading "Jerusalem is the capital of Palestine." Ushers pulled down the signs and escorted them out of the room, to the applause of others in the hall."
Jared Kushner, Trump's Son-In-Law, Is China's Trump Card, The New Yorker, Adam Entous and Evan Osnos, Monday, 22 January 2018. This article appears in the print edition of the 29 January 2018 issue with the headline 'Soft Target.' "In early 2017, shortly after Jared Kushner moved into his new office in the West Wing of the White House, he began receiving guests. One visitor who came more than once was Cui Tiankai, the Chinese Ambassador to the United States, a veteran diplomat with a postgraduate degree from Johns Hopkins University. When, during previous Administrations, Cui had visited the White House, his hosts received him with a retinue of China specialists and note-takers. Kushner, President Trump's thirty-seven-year-old son-in-law and one of his senior advisers, preferred smaller gatherings…. Cui's frequent encounters with Kushner made some people in the U.S. government uncomfortable. On at least one occasion, they met alone, which counterintelligence officials considered risky. 'There's nobody else there in the room to verify what was said and what wasn't, so the Chinese can go back and claim anything,' a former senior U.S. official who was briefed on the meetings said…. By now, Americans are accustomed to reports of Russia's efforts to influence American politics, but, in the intelligence community, China's influence operations are a source of equal concern. In recent years, the F.B.I. and the C.I.A. have dedicated increased resources to tracking efforts by the Chinese government to spy on or to enlist Western officials in pursuit of their policy goals. (The F.B.I. and the C.I.A. declined to comment on this.) 'The Chinese influence operations are more long-term, broader in scope, and are generally designed to achieve a more diffuse goal than the Russians' are,' Christopher Johnson, a former C.I.A. analyst who specializes in China, said. 'To be unkind to the Russians, you'd say they are more crass.' Kushner often excluded the government's top China specialists from his meetings with Cui, a slight that rankled and unnerved the bureaucracy. 'He went in utterly unflanked by anyone who could find Beijing on a map,' a former member of the National Security Council said. Some officials who were not invited to Kushner's sessions or briefed on the outcomes resorted to scouring American intelligence reports to see how Chinese diplomats described their dealings with Kushner. Other U.S. officials spoke to Cui directly about the meetings. Kushner was 'their lucky charm,' the former N.S.C. member said. 'It was a dream come true. They couldn't believe he was so compliant.'"
Tuesday, 23 January 2018, Day 369:
Attorney General Jeff Sessions Was Interviewed in Robert Mueller's Special Counsel Investigation Into Russian Meddling in the 2016 Election and Into Whether Trump Obstructed Justice, The New York Times, Michael S. Schmidt and Maggie Haberman, Tuesday, 23 January 2018: "Attorney General Jeff Sessions was questioned for several hours last week as part of the special counsel investigation, the Justice Department confirmed Tuesday, making him the first member of President Trump's cabinet to be interviewed in the inquiry. The interview occurred as the special counsel, Robert S. Mueller III, is increasingly focused on Mr. Trump's conduct in office and on whether he obstructed the investigation itself, according to two people briefed on the matter. In recent weeks, Mr. Mueller has told the president's lawyers that he will most likely want to interview Mr. Trump about the firing of the F.B.I. director, James B. Comey, and about the former national security adviser, Michael T. Flynn, one of the people said. Mr. Mueller's investigators have asked current and former Trump administration officials about what Mr. Trump cited as reasons for Mr. Comey's firing, and why Mr. Trump was so concerned about having someone loyal to him oversee the Russia investigation, people familiar with the interviews said…. News of the interview set off a day of revelations that highlighted Mr. Trump's charged relationship with his top law enforcement officials. According to a person briefed on the matter, Mr. Comey met last year with Mr. Mueller's investigators to answer questions about memos he wrote detailing interactions with the president that had unnerved him."
Brandon Griesemer, the Bigot Who Threatened CNN, Got Out of Jail in Time for Dinner, The Intercept, Shaun King, Tuesday, 23 January 2018: "Early Tuesday morning, we learned that Brandon Griesemer, a 19-year-old grocery store clerk from Novi, Michigan, made at least 22 calls to CNN's Atlanta headquarters where he not only threatened to shoot and kill employees, but used racial and ethnic slurs for both African-Americans and Jews. The calls were made two weeks ago, and Griesemer was charged last Friday. This was not Griesemer's first rodeo. On September 19, he was reported to have made similarly ugly calls to an Islamic center in Ann Arbor, Michigan. Brandon Griesemer is a bigot. His is the kind of bigotry that is hard to keep to oneself. He has to get it out. He wants Muslims and African-Americans and Jews to experience his cruelty. He wants them to know that they are hated and despised and threatened. He acts out on his bigotry — acts out with his threats, yes, but who knows how far he would have taken it. That's why this latest story is so frightening to me. But Griesemer did not seem to frighten the U.S. District Court. Griesemer, you see, is a dangerous bigot, but he is also white. And because of his whiteness, he is already free on just $10,000 bond. He was charged, arrested, and released all in a single day, last Friday…. [Tweet: Imagine if this man who made homicidal threats was a Muslim immigrant. And let's imagine the threats were made against Fox News instead of CNN.]" See also, 'Fake news. I'm coming to gun you all down': Michigan man is accused of making threatening calls to CNN, The Washington Post, Kyle Swenson, Tuesday, 23 January 2018. See also, CNN's Don Lemon says Trump rhetoric is partially responsible for recent death threats against CNN employees, The Washington Post, Travis M. Andrews, published on Wednesday, 24 January 201: "On Tuesday night, CNN host Don Lemon personally addressed President Trump in an emotional monologue in which he told the president he is partially responsible for recent death threats against the cable news network's staff. Lemon was reporting on the arrest of Brandon Griesemer of Novi, Mich., who 'made approximately 22 total calls to CNN' on Jan. 9 and 10, threatening its employees, according to an arrest affidavit released on Monday. 'Fake news. I'm coming to gun you all down,' Griesemer allegedly said during one call to the network's Atlanta headquarters, according to the affidavit. In another call, he said, 'I am on my way right now to gun the f‑‑‑in' CNN cast down. F‑‑‑ you.' 'There's nothing random about this. Nothing,' Lemon said Tuesday. 'This is what happens when the president of the United States, Donald Trump, repeatedly attacks members of the press simply for reporting facts he does not like.'"
During a meeting in the Oval Office in May 2017, Trump asked the acting FBI director, Andrew McCabe, how he voted in the 2016 presidential election, The Washington Post, Ellen Nakashima, Josh Dawsey, and Devlin Barrett, Tuesday, 23 January 2017: "Shortly after President Trump fired his FBI director in May, he summoned to the Oval Office the bureau's acting director for a get-to-know-you meeting. The two men exchanged pleasantries, but before long, Trump, according to several current and former U.S. officials, asked Andrew McCabe a pointed question: Whom did he vote for in the 2016 election? McCabe said he didn't vote, according to the officials, who, like others interviewed for this article, spoke on the condition of anonymity to talk candidly about a sensitive matter." See also, In Looking for Loyalty, in May 2017 Trump Asked F.B.I. Official Andrew McCabe How He Voted in the 2016 Presidential Election, The New York Times, Maggie Haberman and Adam Goldman, Tuesday, 23 January 2018.
Senate Confirms Jerome H. Powell as the 16th Chairman of the Federal Reserve, The New York Times, Binyamin Appelbaum, Tuesday, 23 January 2018: "Jerome H. Powell sailed to Senate confirmation on Tuesday to become the 16th chairman of the Federal Reserve with a final vote of 84 to 13. He will replace the outgoing Fed chairwoman, Janet L. Yellen, on Feb. 3. Mr. Powell is a moderate Republican who has served on the Fed's board since 2012 and voted in favor of every policy decision during that period. He emphasized during his confirmation hearing that he was not planning to push for sharp changes in monetary or regulatory policy. He will take the helm of the central bank during a period of relative economic tranquillity, in the ninth year of one of the longest uninterrupted expansions in American history. He has said he plans to continue the Fed's gradual retreat from its postcrisis stimulus campaign and is expected to continue its slow but steady pace in raising interest rates. Mr. Powell will also take the helm as the Trump administration considers rolling back many of the rules imposed on the financial industry in the wake of the 2008 crisis. Mr. Powell has said he supports keeping many of those regulations in place but thinks some could be loosened or improved. Mr. Powell, 64, will become the first Fed chairman since the late 1970s who does not hold a degree in economics, but he is deeply versed in finance and public policy. He spent years as an investment banker and private equity investor and also worked in the Treasury Department under President George H.W. Bush. He won confirmation by a much wider margin than Ms. Yellen did four years ago, as most Democrats embraced Mr. Trump's selection. Senator Sherrod Brown, Democrat of Ohio and the ranking member of the Senate Banking Committee, endorsed Mr. Powell on the Senate floor Tuesday."
In November, Florida Voters Will Get to Decide Whether They Want to Amend the State Constitution to Automatically Restore Voting Rights to Felons Once They Complete Their  Sentences, HuffPost, Sam Levine, Tuesday, 23 January 2018: "Floridians will get to decide in November whether they want to amend the state constitution to automatically restore voting rights to felons once they complete their sentences, a move that could significantly expand the franchise to over 1.5 million people. Florida election officials verified Tuesday that organizers had gathered enough petitions to put the referendum on the ballot this year. Just gathering those signatures was a herculean task for the grassroots effort ― Florida law required the organizers to gather 766,200 signatures, equal to 8 percent of the votes cast in the last presidential election. Within that amount, organizers also had to collect 8 percent of the presidential vote totals from 14 of the state's 27 congressional districts."
2018 Election Calendar and Results, The New York Times, Keith Collins, Tuesday, 23 January 2018: "The 2018 midterm elections, featuring hundreds of congressional, state and local primaries, will culminate with the Nov. 6 general election to decide whether Democrats can gain control of Congress or if Republicans will keep their hold on the legislative branch. Dozens of congressional races are considered competitive in the general election by organizations that publish race ratings. An average of these ratings is listed for each competitive House race."
Mick Mulvaney, the White House Budget Director and Acting Head of the Consumer Financial Protection Bureau, Calls for 'Humility' from the Bureau's Staff, The New York Times, Alan Rappeport, Tuesday, 23 January 2018: "Mick Mulvaney, the White House budget director, spent the weekend managing the shutdown of the federal government. On Tuesday, he turned his attention back to his secondary job running the Consumer Financial Protection Bureau, a government agency he would probably shut down if he could. In a 1,118 word mission statement that was sent to the bureau's staff on Tuesday, Mr. Mulvaney, the acting director, outlined a vision for an agency that enforces financial regulations and consumer protections with 'humility and prudence' and that will no longer 'push the envelope' when it comes to jurisdiction and scope. Mr. Mulvaney insisted that he would not shutter the bureau, if only because doing so would be against the law…. Mr. Mulvaney made clear that under his direction, the consumer bureau would be more reluctant to target companies without overwhelming evidence of wrongdoing and suggested that the effect on a business should be weighed more heavily when considering cracking down on potential consumer abuses." See also, 'The fish rots from the head down': Richard Cordray, former head of the Consumer Financial Protection Bureau, fires back at Trump appointee Mick Mulvaney, The Washington Post, Renae Merle, published on Wednesday, 24 January 2018: "Richard Cordray, the former head of the Consumer Financial Protection Bureau, lashed out at his successor on Wednesday, calling Mick Mulvaney a 'squatter.' Cordray unleashed a battle for leadership of the agency in November when he stepped down and said his chief of staff Leandra English would serve as acting director in his place. Hours later, President Trump appointed Mulvaney, the White House budget director, to the job. English has sued, arguing that she is the true acting director, but as the case makes it way through the courts, Mulvaney has taken several steps to remake the watchdog agency. In a memo to bureau staffers, Mulvaney pledged this week to tone down the CFPB's regulatory and enforcement efforts…. The memo has drawn howls of protests from consumer advocates who say Mulvaney is attempting to gut the bureau, which was established to avert a repeat of the 2008 global financial crisis. On Wednesday, Cordray, who is running for Ohio governor, added his criticism. 'Leaked memo from the CFPB's putative acting director says the agency will no longer "push the envelope" on behalf of consumers as we did on my watch,' Cordray said on Twitter. 'Did we push hard to see that people are treated fairly by big banks, debt collectors, and payday lenders? You bet we did.'" See also, Newly Defanged Under Mick Mulvaney, the Consumer Financial Protection Bureau Drops Investigation of World Finance, a High-Cost Lender, ProPublica, Paul Kiel, Tuesday, 23 January 2018: "In 2013, ProPublica published an investigation of the subprime lender World Finance. World was charging annual interest rates that could exceed 200 percent, often trapping customers in cycles of debt by enticing them to renew the loans over and over. In states where laws barred such high rates, the installment lender loaded many loans with nearly useless insurance products that bloated the cost. The company boasted over 800,000 customers, part of an installment loan industry that claimed to loan to millions. The following year, World disclosed that it was under investigation by the Consumer Financial Protection Bureau. The CFPB, the brainchild of Sen. Elizabeth Warren, D-Mass., was created by the 2010 Dodd-Frank financial reform bill, and under the leadership of Richard Cordray, the agency took action against credit card lenders, mortgage servicers, payday lenders and others for unfair practices against consumers. But after Cordray left last November, President Donald Trump installed Office of Management and Budget head Mick Mulvaney as acting director. To say that Mulvaney has been a critic of the CFPB is a vast understatement. In a 2014 interview given when he was still a Republican congressman, Mulvaney said of the CFPB, 'some of us would like to get rid of it' and called it 'a joke … in a sick, sad kind of way.'"
Wednesday, 24 January 2018, Day 370:
Trump Says He Is Willing to Speak Under Oath to Special Counsel Robert Mueller, The New York Times, Maggie Haberman and Julie Hirschfeld Davis, Wednesday, 24 January 2018: "President Trump said on Wednesday that he was willing and eager to be interviewed by Robert S. Mueller III, the special counsel investigating Russia's interference in the 2016 presidential campaign, insisting that he has done nothing wrong. 'I'm looking forward to it, actually,' Mr. Trump said of talking to Mr. Mueller, answering months of speculation over whether he was willing to submit to questions from the special counsel, who is also believed to be looking into whether the Trump campaign aided Moscow's effort and whether the president sought to thwart the inquiry itself. 'Here's the story, just so you understand,' Mr. Trump said during an impromptu question-and-answer session with reporters in the West Wing. 'There's been no collusion whatsoever. There's no obstruction whatsoever, and I'm looking forward to it.'… While there are risks for the president submitting to such an interview, some senior White House officials have argued that Mr. Trump should do so in the interest of bringing a swift end to an investigation that has cast a shadow over his presidency. People familiar with Mr. Trump's thinking have long described private conversations with the president in which he has said he is eager to meet with Mr. Mueller, a product of his belief that he can sell or coax almost anyone into seeing things his way." See also, Trump says he would speak to Mueller under oath in Russia investigation, The Washington Post, Josh Dawsey, David Nakamura, and Devlin Barrett, Wednesday, 24 January 2018.
Trump Says He Is Open to a Path to Citizenship for 'Dreamers,' The New York Times, Maggie Haberman, Katie Rogers, and Michael D. Shear, Wednesday, 24 January 2018: "President Trump said on Wednesday that he is open to a path to citizenship after 10 to 12 years for hundreds of thousands of undocumented immigrants brought to the United States as children, days after rejecting a bipartisan plan with that as its centerpiece. Mr. Trump once again seemed to undercut his administration's message, telling reporters at the White House that he would allow the young immigrants, known as Dreamers, to 'morph into' citizens over a period of time. The reporters had gathered for a briefing from a senior official detailing the administration's plans to stick to a restrictive immigration agenda when the president dropped in unprompted, shortly before departing for Davos, Switzerland, pre-empting the official. 'Over a period of 10 to 12 years,' Mr. Trump said, 'somebody does a great job, they work hard — that gives incentive to do a great job. Whatever they're doing, if they do a great job, I think it's a nice thing to have the incentive of, after a period of years, being able to become a citizen.'… In addition to suggesting a pathway to citizenship for the Dreamers, Mr. Trump said that he would request $25 billion to build a wall along the United States border with Mexico, though he said he would build it "way under budget." He also said that his plan would include a request for $5 billion for additional security measures along the border." See also, Trump puts path to citizenship for some 'dreamers' on the table in immigration deal, The Washington Post, David Nakamura, Wednesday, 24 January 2018.
NAACP Legal Defense Fund sues over Trump's decision to rescind protected status for Haitians, PBS, Yamiche Alcindor, Wednesday, 24 January 2018: "The NAACP Legal Defense and Educational Fund filed a racial discrimination lawsuit Wednesday against the Department of Homeland Security, the current head of the agency, DHS Secretary Kirstjen Nielsen, and the former acting head of the agency, Elaine C. Duke, over the Trump administration's decision to rescind Temporary Protected Status for Haitian immigrants. The lawsuit, which the group filed in the U.S. District Court in Maryland, argues that the agency and its leaders' move 'discriminates against immigrants of color' and asks the court to void the decision and reinstate the status for thousands of Haitians. The NAACP Legal Defense Fund, which is a separate organization from the NAACP, is representing the NAACP and its Haitian members and says the the Department of Homeland Security took 'irrational and discriminatory government action, denying Haitian immigrants their right to due process and equal protection under the Fifth Amendment.'"
Justice Department threatens to crack down on so-called 'sanctuary' jurisdictions, threatening to subpoena 23 states, cities, and other localities, The Washington Post, Matt Zapotosky, Wednesday, 24 January 2018: "The Justice Department on Wednesday escalated its attempt to crack down on so-called 'sanctuary' jurisdictions, threatening to subpoena 23 states, cities and other localities that have policies the department suspects might be unlawfully interfering with immigration enforcement. President Trump and Attorney General Jeff Sessions have long promised to target places with policies friendly to those in the country illegally — warning they might withhold federal money from some and trying to tie grant eligibility to cooperation with federal authorities on immigration matters. The Justice Department had previously contacted the 23 jurisdictions threatened Wednesday, raising worries they might be in violation of a federal law barring places from enacting policies that block communication with Immigration and Customs Enforcement.  In a new letter, Bureau of Justice Assistance Director Jon Adler said officials remained 'concerned' that the places had policies that violate the law, even after their previous responses. He asked for a new bevy of documents — including 'any orders, directives, instructions, or guidance to your law enforcement employees' — and said the department would subpoena the materials if necessary. That threat escalates the department's effort, as it could have the courts compelling jurisdictions to turn over documents that they didn't provide voluntarily…. Local leaders criticized the move. New Orleans Mayor Mitch Landrieu (D), president of the U.S. Conference of Mayors, said he would skip a planned White House meeting on infrastructure because of it. 'An attack on one of our cities mayors who are following the constitution is an attack on all of us,' he said. His city was not among those targeted Wednesday. New York City Mayor Bill de Blasio similarly wrote on Twitter he would skip the gathering after Trump's Justice Department 'decided to renew their racist assault on our immigrant communities. It doesn't make us safer and it violates America's core values.'" See also, Some Mayors Cancel Meeting With Trump as the Justice Department Squeezes Sanctuary Cities, The New York Times, Katie Benner, Katie Rogers, and Maggie Haberman, Wednesday, 24 January 2018: "The immigration battle between the Trump administration and local governments escalated on Wednesday, as the Justice Department increased its pressure on so-called sanctuary cities and Democratic mayors from several of the country's largest cities responded by canceling a meeting with the president. The Justice Department asked 23 jurisdictions across the country to furnish documents proving that they had not kept information from federal immigration authorities. Mr. Sessions said he would subpoena local governments that failed to respond in a thorough and timely manner…. In objection to the Justice Department's request, mayors of New York, Chicago and other cities declined to attend a scheduled meeting to discuss infrastructure with President Trump at the White House."
The Justice Department Warned Devin Nunes, the House Intelligence Committee Chairman, That It Was 'Extraordinarily Reckless' for Republicans to Release a Committee Memo That Draws on Classified Information Before Giving the Justice Department and the F.B.I. the Opportunity to Review the Memo, The New York Times, Charlie Savage, Nicholas Fandos, and Adam Goldman, Wednesday, 24 January 2018: "The Justice Department warned the House Intelligence Committee chairman on Wednesday that it was 'extraordinarily reckless' for Republicans to push to release a committee memo that draws on classified information to portray the origins of the Russian investigation as scandalous. In a letter to Representative Devin Nunes of California, the Republican chairman of the committee, Stephen E. Boyd, an assistant attorney general, stressed that the committee had refused to show the memo to the F.B.I. 'We do not understand why the committee would possibly seek to disclose classified and law enforcement sensitive information without first consulting with the relevant members of the intelligence community,' Mr. Boyd wrote. The rebuke came as Democrats announced that they had drafted their own classified memo based on the same underlying materials to rebut Mr. Nunes. Representative Adam B. Schiff of California, the top Democrat on the Intelligence Committee, called the Republicans' document extraordinarily misleading. The moves to curb Mr. Nunes by the Democrats as well as by Mr. Boyd, a Trump administration appointee, came during sharply escalating partisan conflict over the Russia investigation. Republicans and conservative commentators have increasingly argued that the investigation derives from a conspiracy by biased law enforcement officials seeking to sabotage President Trump. Democrats, in turn, have accused Republicans of constructing a false narrative in an attempt to undermine the inquiry on behalf of Mr. Trump." See also, Guide to the anti-FBI conspiracy theories rippling through conservative media, The Washington Post, Philip Bump, Wednesday, 24 January 2018. See also, The Republicans' thoroughly silly 'secret society' FBI conspiracy theory, The Washington Post, Aaron Blake, published on Thursday, 25 January 2018.
Potential citizenship question in 2020 Census could shift power to rural America, The Washington Post, Michael Scherer, Wednesday, 24 January 2018: "A request by the Justice Department to add a citizenship question to the 2020 Census could shift the nation's balance of political power from cities to more rural communities over the next decade and give Republicans a new advantage drawing electoral boundaries. Population numbers produced by the census are used in many ways, notably to draw political districts and distribute government funds across the country. Adding questions to the decennial survey is usually a controversial and difficult process because of the potential to affect both of those functions — either by suppressing census participation or by creating new ways to define populations. All of it has prompted advocates for Hispanic communities to accuse the Justice Department of wanting to produce a less accurate count in 2020. 'I think the main motivation is to secure an undercount,' said Tom Saenz, the president of the Mexican American Legal Defense and Education Fund. 'Texas is a very red state. They know that is not going to be the case for very much longer.' The citizenship question is a particularly fraught one because noncitizens, who may not vote, nonetheless are counted for the purposes of distributing federal funding, apportioning congressional seats and drawing district maps for state and local elections. A majority of the nation's undocumented immigrants live in just 20 metropolitan areas, according to a 2014 Pew Research Center study of Census Bureau data, numbering about 1 million in the New York and Los Angeles areas, 575,000 in Houston and 475,000 in Dallas."
Defying the Federal Communications Commission (FCC), New York governor Andrew Cuomo has signed an executive order on net neutrality, The Washington Post, Brian Fung, Wednesday, 24 January 2018: "The state of New York became the second state to put itself on a collision course with federal officials as its governor, Andrew M. Cuomo, signed an executive order Wednesday designed to flout the Federal Communications Commission's recent decision to repeal its net neutrality rules. The order escalates a deeply polarized battle over the future of the Web and highlights the role states play as they seek to respond to major deregulatory decisions coming out of Washington. Cuomo's order comes two days after Montana's governor, Steve Bullock, signed his own executive order in a bid to circumvent the FCC. Neither measure directly reinstates the FCC's net neutrality rules, which were passed in 2015 and banned Internet providers such as AT&T and Verizon from blocking or slowing down websites and apps. Instead, the orders require state officials to purchase Internet service only from broadband companies that abide by the principles of net neutrality. Net neutrality is the concept that all websites, small and large, should be treated equally by Internet providers and should not be arbitrarily sped up or slowed down — particularly in exchange for money."
Puerto Rico Governor Seizes Opportunity Created by Hurricane Maria to Privatize Electric Power, The Intercept, Kate Aronoff, Wednesday, 24 January 2018: "Puerto Rico's electric utility, in the wake of Hurricane Maria, was eligible to enter into various mutual aid agreements with other utilities that are commonplace after major disasters. The Puerto Rico Electric Power Authority, known as PREPA, is a member of the American Public Power Association, and through that membership, it could have requested that workers from other utilities come help with grid recovery efforts. It did not. Instead, PREPA's leadership entered into several dubious agreements with private contractors. The most famous of these was the since-scuttled $300 million contract with the controversial Montana-based firm Whitefish Energy. Fredyson Martinez, vice president of UTIER, the union representing PREPA line workers, recognized a pattern. 'From where we sit,' Martinez said, 'the government created the crisis with austerity politics. When Maria hit, it essentially exposed the weaknesses of a utility that had suffered from years of neglect.' Puerto Rico Gov. Ricardo Rosselló announced on Monday that he intends to privatize PREPA, calling it 'a heavy burden on our people, who are now hostage to its poor service and high cost.' When Martinez started working for PREPA 20 years ago, he remembers higher-ups in the union speculating about the prospect of privatization. 'I didn't think much of it,' he told me. 'It was only later that I started to see that they have been working to spread the idea that privatization is the only option to solve Puerto Rico's problems. This isn't a casual thing. It has been prepared and thought-out. … They took advantage of the crisis.'"
Thursday, 25 January 2018, Day 371:
Trump Immigration Proposal Provides a Path to Citizenship for as Many as 1.8 Million Young Undocumented Immigrants in Exchange for an End to Decades of Family-Based Immigration Policies, a Costly Border Wall With Mexico, and a Vast Crackdown on Other Immigrants Living in the U.S. Illegally, The New York Times, Michael D. Shear and Sheryl Gay Stolberg, Thursday, 25 January 2018: "President Trump proposed legislation on Thursday that would provide a path to citizenship for as many as 1.8 million young undocumented immigrants in exchange for an end to decades of family-based migration policies, a costly border wall and a vast crackdown on other immigrants living in the country illegally. Describing the plan as 'extremely generous' but a take-it-or-leave-it proposal, White House officials said they hoped it would be embraced by conservatives and centrists in Congress as the first step in an even broader effort to fix the nation's immigration system. Officials said the legislation would pave the way to citizenship not only for the 690,000 people who had signed up for protection under an Obama-era program, known as Deferred Action for Childhood Arrivals, or DACA, but also for another 1.1 million undocumented immigrants who would have qualified for the program but never applied. Mr. Trump ended the DACA program, whose protections did not include a path to citizenship, last September. But the new plan — drafted by Stephen Miller, the president's hard-line domestic policy adviser, and John F. Kelly, the White House chief of staff — was immediately rejected by Democrats, immigration advocates and some Republicans, with some describing it as nothing but an attempt to rid the country of immigrants and shut the nation's borders." See also, Trump Proposes Citizenship for Dreamers in Exchange for Border Wall With Mexico, Restricting Family-Based Immigration, Hiring More Border Agents, Immigration Judges, and Prosecutors, and Other Concessions, The Wall Street Journal, Michael C. Bender, 25 January 2018: "President Donald Trump proposed a path to citizenship for 1.8 million undocumented immigrants brought to the U.S. as children, if lawmakers agree to create a $25 billion fund to expand barriers along the Mexican border and implement other deep changes to the immigration system. The White House suggested the proposal moved Mr. Trump a step closer to the Democrats, who have championed the cause of the young immigrants known as Dreamers, but the plan includes demands they have fiercely opposed. The Trump plan also risks the ire of hard-liners who oppose any such pathway to citizenship. The White House proposal, presented to Senate leaders and congressional aides on Thursday, would restrict family-based immigration, the channel by which most immigrants have come to the U.S. for the past half-century. It also calls for an end to a lottery program that randomly awards 50,000 green cards annually to foreigners from countries underrepresented in U.S. immigration."
Trump Ordered Special Counsel Robert Mueller Fired in June, but He Backed Off When White House Counsel Donald F. McGahn II Threatened to Quit, The New York Times, Michael S. Schmidt and Maggie Haberman, Thursday, 25 January 2018: "President Trump ordered the firing last June of Robert S. Mueller III, the special counsel overseeing the Russia investigation, according to four people told of the matter, but ultimately backed down after the White House counsel threatened to resign rather than carry out the directive. The West Wing confrontation marks the first time Mr. Trump is known to have tried to fire the special counsel. Mr. Mueller learned about the episode in recent months as his investigators interviewed current and former senior White House officials in his inquiry into whether the president obstructed justice. Amid the first wave of news media reports that Mr. Mueller was examining a possible obstruction case, the president began to argue that Mr. Mueller had three conflicts of interest that disqualified him from overseeing the investigation, two of the people said. First, he claimed that a dispute years ago over fees at Trump National Golf Club in Sterling, Va., had prompted Mr. Mueller, the F.B.I. director at the time, to resign his membership. The president also said Mr. Mueller could not be impartial because he had most recently worked for the law firm that previously represented the president's son-in-law, Jared Kushner. Finally, the president said, Mr. Mueller had been interviewed to return as the F.B.I. director the day before he was appointed special counsel in May. After receiving the president's order to fire Mr. Mueller, the White House counsel, Donald F. McGahn II, refused to ask the Justice Department to dismiss the special counsel, saying he would quit instead, the people said. They spoke on the condition of anonymity because they did not want to be identified discussing a continuing investigation. Mr. McGahn disagreed with the president's case and told senior White House officials that firing Mr. Mueller would have a catastrophic effect on Mr. Trump's presidency. Mr. McGahn also told White House officials that Mr. Trump would not follow through on the dismissal on his own. The president then backed off." See also, White House Counsel Donald F. McGahn II Is Quietly Trying to Corral Trump While Pushing Republican Agenda, The New York Times, Charlie Savage, published on Friday, 26 January 2018: "When Donald F. McGahn II, the White House counsel, moved into his corner office on the West Wing's second floor last January, he chose not to decorate its walls or fill its glass-paneled shelving with personal items. He told colleagues that he travels light because he never knows when he might be asked to leave. But even as a series of firings and resignations roiled the first year of the Trump administration, Mr. McGahn maintained a low profile. Toiling away on judicial appointments and efforts to dismantle regulations, he has rarely accompanied Mr. Trump on trips, and beyond delivering a speech at the annual conference of the conservative Federalist Society in November, has seldom appeared in public…. As the chief architect of the administration's judicial selection process, Mr. McGahn was the driving force behind Mr. Trump's success in appointing not only Neil M. Gorsuch to the Supreme Court, but 12 appeals court judges in his first year — more than any president in modern history. That pace has not let up: Three more of Mr. Trump's appellate nominees are pending on the Senate floor."
Senate Judiciary Committee to release interviews with Donald Trump Jr and others involved in a June 2016 meeting with Russian lawyer who allegedly promised damaging information about Hillary Clinton, The Washington Post, Karoun Demirjian, Thursday, 25 January 2018: "The Senate Judiciary Committee intends to release transcripts of its interviews with President Trump's son Donald Trump Jr., and others who participated in a June 2016 meeting at Trump Tower with a Russian lawyer allegedly promising damaging information about Hillary Clinton. Chairman Charles E. Grassley (R-Iowa) said Thursday that the committee would disclose 'all witness interviews that we have done related to that meeting,' making them available to the public 'for everyone to see.' The committee's interviews, which were conducted behind closed doors, are complete, he added. Grassley said the transcripts must be redacted first. It was not immediately clear when that process will be complete. Two of the five transcripts still require legal vetting as well, he said. When asked whether public testimony from these witnesses has been ruled out now, the senator said, 'I wouldn't say anything's off table, but (it's) not likely.' Ranking Democrat Dianne Feinstein (Calif.) said Thursday she was 'delighted' by Grassley's intentions."
Department of Justice Inspector General Michael Horowitz says he has recovered FBI officials' missing texts during key period leading up to Mueller's appointment, The Washington Post, Matt Zapotosky and Devlin Barrett, Thursday, 25 January 2018: "The Justice Department inspector general says he has recovered missing text messages from two senior FBI officials who investigated Hillary Clinton and Donald Trump and exchanged notes critical of the president. In a letter to congressional leaders, Inspector General Michael Horowitz said his office 'succeeded in using forensic tools' to recover messages between senior FBI agent Peter Strzok and FBI lawyer Lisa Page during a key five-month period ending the day special counsel Robert S. Mueller III was appointed to investigate possible coordination between the Kremlin and Trump's campaign. The missing messages have sparked a political firestorm in recent days, with GOP leaders and the president questioning how the FBI failed to retain them."
Trump threatens to cut aid to Palestinians for 'disrespecting' Vice President Mike Pence, The Guardian, Alan Yuhas, Thursday, 25 January 2018: "Donald Trump threatened to cut aid to the Palestinian Authority on Thursday, saying that Palestinians had 'disrespected' Vice-President Mike Pence on his visit to the region. Speaking at the World Economic Forum at Davos, Switzerland, Trump told reporters: 'Respect has to be shown to the US or we're just not going any further.' After Trump recognised Jerusalem as Israel's capital, close allies in Europe and the Middle East denounced the decision as a provocation to unrest and a major setback to peace talks. Not long afterward, the president of the Palestinian Authority, Mahmoud Abbas, declined to meet with Pence on a recent visit to Israel. Earlier this month, Abbas called recognition of Jerusalem 'the slap of the century,' and said that Palestinians could no longer trust the US as an honest broker in the talks. 'We will not accept for the US to be a mediator, … after what they have done to us,' he said."
Rebekah Mercer, a Science Denier, Is on the Board of New York City's Most Prominent Science Museum, the American Museum of Natural History. Scientists Rebel. The New York Times, Robin Pogrebin and Somini Sengupta, Thursday, 25 January 2018: "Rebekah Mercer, a supporter of President Trump and an influential donor to conservative causes — including groups that deny climate science — is under renewed pressure to step down from the board of New York City's most prominent science museum, the American Museum of Natural History. This week, more than 200 scientists and other academics who have advocated policy action on climate change endorsed an open letter that calls on the museum to remove Ms. Mercer from its board and 'end ties to anti-science propagandists and funders of climate science misinformation.'… Whether cultural institutions should consider the personal and political allegiances of their contributors remains thorny territory, particularly since nonprofit organizations can rarely afford to turn away generous donors like the Mercer family. Such questions were raised recently in connection with reports linking the Sackler family, prominent cultural donors, to the company that produces OxyContin, the powerful painkiller that has been involved in opioid overdoses. And some objected to the renaming of the Metropolitan Museum of Art's fountain plaza after the conservative philanthropist David H. Koch in 2014 (he gave $65 million)."
Lawsuit on Trump Emoluments Violations Gains Traction in Court, The New York Times, Sharon LaFraniere, Thursday, 25 January 2018: "A closely watched lawsuit claiming that President Trump is violating the Constitution by failing to divorce himself from his businesses appeared to inch forward on Thursday during a lengthy hearing before a federal judge in Maryland. Judge Peter J. Messitte voiced skepticism about the Justice Department's arguments that he should dismiss the lawsuit, filed last year by the District of Columbia and the State of Maryland, on the grounds that Mr. Trump's continued ownership of his businesses was a political issue, not a legal one. Although the president's lawyers persuaded Judge George B. Daniels of the United States District Court in Manhattan to throw out a similar lawsuit last month, Judge Messitte made clear that he was not bound by that ruling. 'Don't cite Judge Daniels to me,' he admonished the Justice Department lawyer at one point. Judge Messitte also suggested that the Justice Department was demanding too much proof too early of claims by the District of Columbia and Maryland governments that they had sustained monetary losses because Mr. Trump had failed to give up his ownership of hotels and other businesses. 'You are asking for very specific losses,' he said. The case is one of several filed last year by the president's critics accusing Mr. Trump of violating the Constitution's emoluments clauses, which prevent a president from accepting government-bestowed benefits either at home or abroad. No court has interpreted what the clauses mean, and no previous president has ever been sued for violating them."
Education Secretary Betsy DeVos Is Sued Over Sexual Assault Guidance, The New York Times, Erica L. Green, Thursday, 25 January 2018: "Victims' rights and women's rights groups sued Education Secretary Betsy DeVos on Thursday, saying that rules that she issued last year to guide campuses on how to manage sexual assault complaints violated federal law and discriminated against accusers. Three organizations, represented by prominent civil rights litigators, filed a complaint in the Northern District of California outlining ways that the guidance issued by Ms. DeVos in the fall had had a 'chilling effect' on campus sexual assault investigations. Since the guidance was issued, the groups charged, accusers have been less inclined to pursue sexual assault cases, and colleges have demonstrated a lack of urgency and clarity in pursuing them."
Civil Servants at the National Labor Relations Board Say That Trump Appointee Peter B. Robb Is Trying to Squelch Them, The New York Times, Noam Scheiber, Thursday, 25 January 2018: "The Trump administration's efforts to reverse the direction of federal labor policy appear to have accelerated with a proposal to demote the senior civil servants who resolve most labor cases. Under the proposal, those civil servants — considered by many conservatives and employers to be biased toward labor — would answer to a small cadre of officials installed above them in the National Labor Relations Board's hierarchy. The proposal could pave the way for a pronounced shift in the day-to-day workings of the agency, making it friendlier to employers named in complaints of unfair labor practices or facing unionization drives. Peter B. Robb, the agency's general counsel and a Trump appointee, outlined the proposal this month in a conference call with the civil servants, known as regional directors, according to a letter sent by the directors to Mr. Robb. The regional directors and their staffs typically resolve more than 85 percent of the roughly 20,000 cases filed with the agency each year over disputed labor practices without involving the general counsel, the top enforcement official. The proposal follows a series of aggressive changes in posture at the agency since last fall, when Republicans gained a majority on the five-member board."
The White House asked to borrow a van Gogh from the Guggenheim Museum. The museum offered a gold toilet instead. The Washington Post, Paul Schwartzman, Thursday, 25 January 2018: "The emailed response from the Guggenheim's chief curator to the White House was polite but firm: The museum could not accommodate a request to borrow a painting by Vincent van Gogh for President and Melania Trump's private living quarters. Instead, wrote the curator, Nancy Spector, another piece was available, one that was nothing like 'Landscape With Snow,' the 1888 van Gogh rendering of a man in a black hat walking along a path in Arles, France, with his dog. The curator's alternative: an 18-karat, fully functioning, solid gold toilet — an interactive work titled 'America' that critics have described as pointed satire aimed at the excess of wealth in this country. For a year, the Guggenheim had exhibited 'America' — the creation of contemporary artist Maurizio Cattelan — in a public restroom on the museum's fifth floor for visitors to use. But the exhibit was over and the toilet was available 'should the President and First Lady have any interest in installing it in the White House,' Spector wrote in an email obtained by The Washington Post." See also, What the Guggenheim was really saying when it offered Trump a golden toilet, The Washington Post, Philip Kennicott, published on Friday, 26 January 2018: "The Guggenheim has said no to the president of the United States, which is a powerful gesture in itself. But it has also presumed to offer him something 'more' valuable according to the value system it imputes to him: a tawdry love of gleaming gold fixtures, common to vulgar despots all the way back to Midas himself. The subtext here is: We assume you only want the van Gogh painting as a status symbol, which we refuse to endorse; but we will give you what you really crave, which is crass gold. If he accepts the golden toilet, he confirms their view of him. If Trump declines the golden toilet, by implication he would seem to believe that there are things (such as van Gogh paintings) that transcend money and commerce. And thus, he may undermine his own worldview, in which all things have their price and anything can be exchanged for something else if the money is right."
The Doomsday Clock is now two minutes to midnight, Bulletin of the Atomic Scientists, Statement from the President and CEO Rachel Bronson, Thursday, 25 January 2018: "The year just past proved perilous and chaotic, a year in which many of the risks foreshadowed in our last Clock statement came into full relief. In 2017, we saw reckless language in the nuclear realm heat up already dangerous situations and re-learned that minimizing evidence-based assessments regarding climate and other global challenges does not lead to better public policies. Although the Bulletin of the Atomic Scientists focuses on nuclear risk, climate change, and emerging technologies, the nuclear landscape takes center stage in this year's Clock statement. Major nuclear actors are on the cusp of a new arms race, one that will be very expensive and will increase the likelihood of accidents and misperceptions. Across the globe, nuclear weapons are poised to become more rather than less usable because of nations' investments in their nuclear arsenals. This is a concern that the Bulletin has been highlighting for some time, but momentum toward this new reality is increasing. As you will see in the discussion that follows, the Bulletin's Science and Security Board has once again assessed progress—actually, lack thereof—in managing the technologies that can bring humanity both relief and harm. It is my hope that the statement focuses world attention on today's dangerous trajectory and urges leaders and citizens alike to redouble their efforts in committing to a path that advances the health and safety of the planet. The Board has provided recommendations for how we might go about achieving this end, and it is urgent that we take heed." See also, The Doomsday Clock is now just 2 minutes to 'midnight,' the symbolic hour of the apocalypse, The Washington Post, Lindsey Bever, Sarah Kaplan, and Abby Ohlheiser, Thursday, 25 January 2018: "The Bulletin of the Atomic Scientists advanced the symbolic Doomsday Clock a notch closer to the end of humanity Thursday, moving it ahead by 30 seconds after what the organization called a 'grim assessment' of the state of geopolitical affairs. 'As of today,' Bulletin president Rachel Bronson told reporters, 'it is two minutes to midnight' — as close as the world has ever been to the hour of apocalypse. In moving the clock forward, the group cited 'the failure of President Trump and other world leaders to deal with looming threats of nuclear war and climate change.' The organization — which has 15 Nobel laureates on its board — now believes 'the world is not only more dangerous now than it was a year ago; it is as threatening as it has been since World War II,' Bulletin officials Lawrence M. Krauss and Robert Rosner wrote in an op-ed published Thursday by The Washington Post. 'In fact, the Doomsday Clock is as close to midnight today as it was in 1953, when Cold War fears perhaps reached their highest levels.'" See also, We're as close to Doomsday today as we were during the Cold War, The Washington Post, Lawrence Krauss and Robert Rosner, Thursday, 25 January 2018.