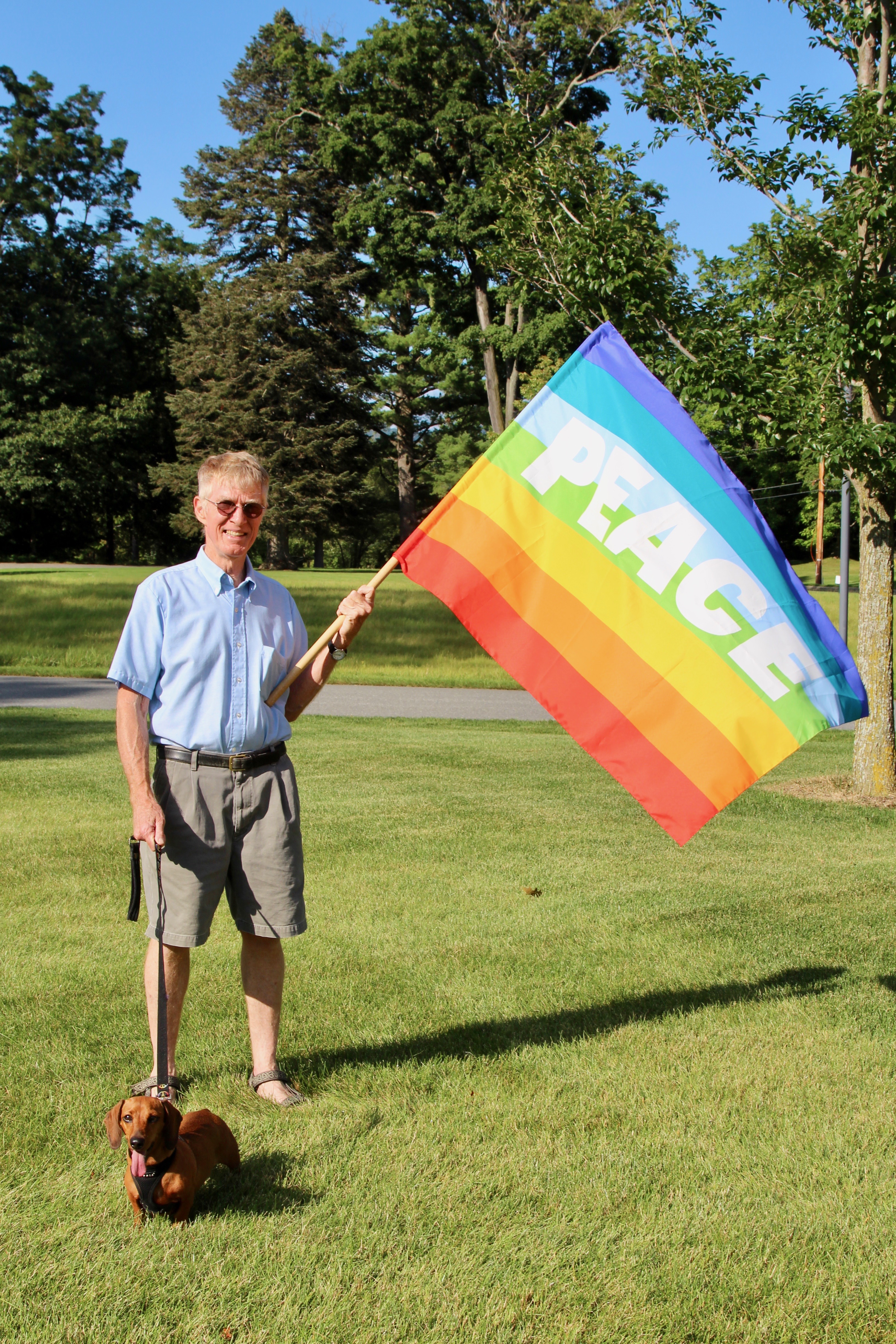 Keeping Track (of some things), Staying Outraged (it is possible), and Resisting (it's essential)
Passages in bold in the body of the texts below are my emphasis. This is an ongoing project, and I update the site frequently. Because I try to stay focused on what has actually happened, I usually let the news 'settle' a day or so before posting. I hope readers will peruse the articles in full for a better understanding of the issues and their context; our democracy and our future depend on citizens who can distinguish between facts and falsehoods and who are engaged in the political process.
Friday, 29 December 2017, Day 344:
Three Months After Hurricane Maria, Roughly Half of Puerto Ricans Are Still Without Power, The New York Times, Frnaces Robles and Jess Bidgood, Friday, 29 December 2017: "For the first time in the 100 days since Hurricane Maria slammed Puerto Rico, the government finally knows how many people still don't have power: about half. The figure released Friday by the island's governor and power utility company indicates that more than 1.5 million people on the island are still in the dark. Experts say some parts of the island are not expected to get power back until next spring…. Hurricane Maria slammed into Puerto Rico as a Category 4 storm on Sept. 20, flooding neighborhoods and villages and cutting the power to 3.4 million people. The darkness has left enormous swaths of the island living without hot meals, electric fans or nighttime lights. It has hobbled business in an already-weak economy and left people's lives at risk in hospitals or senior complexes without power. A New York Times analysis found the death rate rose considerably on the island after the hurricane passed and the outages became part of life. The power utility has been heavily criticized for its response to the outage. In mid-November, the chief executive of Prepa stepped down after a public outcry over its decision to award a $300 million restoration contract to a tiny Montana firm. The government has since canceled that contract."
Judge P. Kevin Brobson Says Pennsylvania Election Districts Were Drawn to Give Republicans an Advantage, but They Are Not Illegal Under the Pennsylvania State Constitution, The New York Times, Trip Gabriel and Alexander Burns, Friday, 29 December 2017: "A Pennsylvania judge said Friday the state's Congressional districts were drawn to give Republicans an advantage, but they did not violate the state Constitution, ruling in a high-profile gerrymandering case with the potential to have major consequences on the 2018 midterm elections. Judge P. Kevin Brobson of Commonwealth Court in Harrisburg noted that Republicans hold 13 out of 18 Congressional seats in Pennsylvania, a perennial swing state that has one of the most extensively gerrymandered maps in the country. Nonetheless, the judge said that Democrats who brought suit had failed to articulate a legal 'standard' for creating nonpartisan maps. The case now goes to the Pennsylvania Supreme Court, which has agreed to fast-track it. If the court rejects Judge Brobson's conclusion, it could order new maps drawn in time for the 2018 midterm elections. Pennsylvania is expected to be fiercely fought terrain next year in elections turning on President Trump's popularity. Mr. Trump's 2016 victory in the state was the first for a Republican presidential candidate since 1988, but Republicans are already worried about losing Congressional seats even without new maps. In practical terms, Judge Brobson's determination — in the form of a finding ordered by the State Supreme Court — is a recommendation, which the high court may affirm or reject. Five of the court's seven justices are Democrats.  Should the State Supreme Court overturn the map, drawn by the Republican-led Legislature in 2011, and mandate new districts be redrawn on a nonpartisan or bipartisan basis, it could put perhaps half a dozen additional House seats up for grabs in November and even tip one or two seats squarely into Democratic hands. The district lines outside Philadelphia were especially drawn to favor Republicans, including the 7th District, nicknamed 'Goofy Kicking Donald Duck' for its tortured shape."
Trump administration fires all members of the Presidential Advisory Council on HIV/AIDS, The Washington Post, Ben Guarino, Friday, 29 December 2017: "The remaining members of the Presidential Advisory Council on HIV/AIDS were fired en masse this week. Months after a half-dozen members resigned in protest of the Trump administration's position on health policies, the White House dismissed the rest through a form letter. The notice 'thanked me for my past service and said that my appointment was terminated, effective immediately,' said Patrick Sullivan, an epidemiologist at Emory University who works on HIV testing programs. He was appointed to a four-year term in May 2016. The council, known by the acronym PACHA, has advised the White House on HIV/AIDS policies since its founding in 1995. Members, who are not paid, offer recommendations on the National HIV/AIDS Strategy, a five-year plan responding to the epidemic."
Continue reading Week 50, Friday, 29 December 2017 – Thursday, 4 January 2018 (Days 344-350)
Attorney General Jeff Sessions Takes a Stand In Favor of Debtors' Prisons, Common Dreams, Nusrat Choudhury, Friday, 29 December 2017: "During the holiday season, many of us think about what we can do to help people struggling with poverty. Attorney General Jeff Sessions, on the other hand, decided just before Christmas to rescind a guidance meant to protect low-income Americans. The 2016 guidance, issued by former President Obama's Justice Department, urged state and local courts nationwide to abide by constitutional principles prohibiting the jailing of poor people who cannot afford to pay court fines and fees. Jeff Sessions' action makes clear that he and his Justice Department are unconcerned by courts trampling on the rights of poor people. The Obama Justice Department issued the 2016 letter after reports and lawsuits by the ACLU and other groups revealed how modern-day debtors' prisons function in more than a dozen states, despite the fact that the U.S. two centuries ago formally outlawed jailing people simply because they have unpaid debts."
To round out a year of rollbacks, the Trump administration just repealed key regulations on fracking, The Washington Post, Chris Mooney, Friday, 29 December 2017: "On the last business day of the year, the Interior Department rescinded a 2015 Obama administration rule that would have set new environmental limitations on hydraulic fracturing, or fracking, on public lands. The regulation from the Bureau of Land Management, which had been opposed by the oil and gas industry and tied up in court, would have tightened standards for well construction and wastewater management, required the disclosure of the chemicals contained in fracking fluids, and probably driven up the cost for many fracking activities. It had been held up in litigation and had not taken effect; a Wyoming district court said it exceeded the agency's authority. Reversing the regulation, the Interior Department says, clears up that legal question and also lifts a costly regulation for the industry, in line with President Trump's agenda to slash regulations and advance the United States' 'energy dominance.'"
Trump Justice Department Pushes for Citizenship Question on Census, Alarming Experts, ProPublica, Justin Elliott, Friday, 29 December 2017: "The Justice Department is pushing for a question on citizenship to be added to the 2020 census, a move that observers say could depress participation by immigrants who fear that the government could use the information against them. That, in turn, could have potentially large ripple effects for everything the once-a-decade census determines — from how congressional seats are distributed around the country to where hundreds of billions of federal dollars are spent. The DOJ made the request in a previously unreported letter, dated Dec. 12 and obtained by ProPublica, from DOJ official Arthur Gary to the top official at the Census Bureau, which is part of the Commerce Department. The letter argues that the DOJ needs better citizenship data to better enforce the Voting Rights Act 'and its important protections against racial discrimination in voting.' A Census Bureau spokesperson confirmed the agency received the letter and said the 'request will go through the well-established process that any potential question would go through.' The DOJ declined to comment and the White House did not respond to a request for comment. Observers said they feared adding a citizenship question would not only lower response rates, but also make the census more expensive and throw a wrench into the system with just two years to go before the 2020 count. Questions are usually carefully field-tested, a process that can take years. 'This is a recipe for sabotaging the census,' said Arturo Vargas, a member of the National Advisory Committee of the Census and the executive director of NALEO Educational Fund, a Latino advocacy group. 'When you start adding last-minute questions that are not tested — how will the public understand the question? How much will it suppress response rates?' The 2010 census included a handful of questions covering age, sex, race, Hispanic origin, household relationship and owner/renter status — but not citizenship."
Trump administration kills Gateway tunnel connecting New Jersey to Penn Station, Crain's New York Business, Will Bredderman, Friday, 29 December 2017: "Donald Trump dropped his own New Year's ball—in the form of a wrecking ball—with a late Friday afternoon announcement that effectively wipes out plans for perhaps the nation's most crucial infrastructure project. The president officially scrapped his predecessor's proposal to have the federal government underwrite half the cost of a multi-billion-dollar Amtrak tunnel connecting New Jersey to Penn Station, the busiest transit hub in the U.S. The lone existing tunnel is rapidly deteriorating, threatening to sever Amtrak's popular Northeast Corridor and to divert tens of thousands of New Jerseyans from their daily Manhattan commutes via New Jersey Transit. The administration released the news on the cusp of a holiday weekend in a letter from a top Federal Transit Administration official to Gov. Andrew Cuomo and his New Jersey counterpart Chris Christie, who had agreed with the Obama administration to split the project's costs 50-50. President Barack Obama's Department of Transportation, which encompasses the FTA, had consented to that framework with Christie, Cuomo, now-Senate Minority Leader Charles Schumer and New Jersey Sen. Corey Booker in 2015. Friday's letter, in response to an updated proposal by the two states to fund their half of the plan with federal loans, declared the deal null and void."
Saturday, 30 December 2017, Day 345:
How the Trump era is changing the federal bureaucracy, The Washington Post, Lisa Rein and Andrew BaTran, Saturday, 30 December 2017: "Nearly a year into his takeover of Washington, President Trump has made a significant down payment on his campaign pledge to shrink the federal bureaucracy, a shift long sought by conservatives that could eventually bring the workforce down to levels not seen in decades. By the end of September, all Cabinet departments except Homeland Security, Veterans Affairs and Interior had fewer permanent staff than when Trump took office in January — with most shedding many hundreds of employees, according to an analysis of federal personnel data by The Washington Post. The diminishing federal footprint comes after Trump promised in last year's campaign to 'cut so much your head will spin,' and it reverses a boost in hiring under President Barack Obama. The falloff has been driven by an exodus of civil servants, a diminished corps of political appointees and an effective hiring freeze."
How the Russia Inquiry Began: A Campaign Aide, Drinks, and Talk of Political Dirt, The New York Times, Sharon LaFraniere, Mark Mazzetti, and Matt Apuzzo, Saturday, 30 December 2017: "During a night of heavy drinking at an upscale London bar in May 2016, George Papadopoulos, a young foreign policy adviser to the Trump campaign, made a startling revelation to Australia's top diplomat in Britain: Russia had political dirt on Hillary Clinton. About three weeks earlier, Mr. Papadopoulos had been told that Moscow had thousands of emails that would embarrass Mrs. Clinton, apparently stolen in an effort to try to damage her campaign. Exactly how much Mr. Papadopoulos said that night at the Kensington Wine Rooms with the Australian, Alexander Downer, is unclear. But two months later, when leaked Democratic emails began appearing online, Australian officials passed the information about Mr. Papadopoulos to their American counterparts, according to four current and former American and foreign officials with direct knowledge of the Australians' role. The hacking and the revelation that a member of the Trump campaign may have had inside information about it were driving factors that led the F.B.I. to open an investigation in July 2016 into Russia's attempts to disrupt the election and whether any of President Trump's associates conspired. If Mr. Papadopoulos, who pleaded guilty to lying to the F.B.I. and is now a cooperating witness, was the improbable match that set off a blaze that has consumed the first year of the Trump administration, his saga is also a tale of the Trump campaign in miniature. He was brash, boastful and underqualified, yet he exceeded expectations. And, like the campaign itself, he proved to be a tantalizing target for a Russian influence operation. While some of Mr. Trump's advisers have derided him as an insignificant campaign volunteer or a 'coffee boy,' interviews and new documents show that he stayed influential throughout the campaign. Two months before the election, for instance, he helped arrange a New York meeting between Mr. Trump and President Abdel Fattah el-Sisi of Egypt. The information that Mr. Papadopoulos gave to the Australians answers one of the lingering mysteries of the past year: What so alarmed American officials to provoke the F.B.I. to open a counterintelligence investigation into the Trump campaign months before the presidential election? It was not, as Mr. Trump and other politicians have alleged, a dossier compiled by a former British spy hired by a rival campaign. Instead, it was firsthand information from one of America's closest intelligence allies. Interviews and previously undisclosed documents show that Mr. Papadopoulos played a critical role in this drama and reveal a Russian operation that was more aggressive and widespread than previously known. They add to an emerging portrait, gradually filled in over the past year in revelations by federal investigators, journalists and lawmakers, of Russians with government contacts trying to establish secret channels at various levels of the Trump campaign."
Trump's vendetta against federal law enforcement, The Washington Post, Editorial Board, Saturday, 30 December 2017: "Once again, President Trump has launched a round of attacks on federal law-enforcement agencies. Mr. Trump's fury at the FBI and the Justice Department is now familiar, as is its purpose: to discredit special counsel Robert S. Mueller III's investigation into Russian election interference and degrade the independence of law enforcement. The only novelty lies in the question of what or who he will vilify next. The most recent subjects of the president's frustration include two top career FBI officials, Deputy Director Andrew McCabe and former general counsel James Baker. Without evidence, Mr. Trump hinted darkly on Twitter at some wrongdoing by Mr. Baker in noting his reassignment from the general counsel position. Mr. Trump reiterated his attacks from this summer on Mr. McCabe, accusing the deputy director of political bias because of donations by Virginia Gov. Terry McAuliffe (D) to a failed state senate campaign run by Mr. McCabe's wife. Yet there is no law prohibiting the spouses of civil servants from running for political office. And Mr. McCabe did no work for the campaign, which had ended by the time he was assigned to the Hillary Clinton email investigation. This has not stopped congressional Republicans from calling for the head of the deputy director, who plans to retire in March. Senate Judiciary Committee Chairman Charles E. Grassley (R-Iowa) declared that Mr. McCabe should depart the bureau to ensure that 'there's not undue political influence within the FBI.' Likewise, Republican members of the House Intelligence Committee have baselessly suggested that Mr. Baker was somehow involved in providing to the media information about a private investigator's dossier on Mr. Trump's alleged Russian connections."
Sunday, 31 December 2017, Day 346:
For Trump, 2017 Was a Year of Discarding the Conventions and Norms Established by His Predecessors, The New York Times, Peter Baker, Sunday, 31 December 2017: "Mr. Trump is the 45th president of the United States, but he has spent much of his first year in office defying the conventions and norms established by the previous 44, and transforming the presidency in ways that were once unimaginable. Under Mr. Trump, it has become a blunt instrument to advance personal, policy and political goals. He has revolutionized the way presidents deal with the world beyond 1600 Pennsylvania Avenue, dispensing with the carefully modulated messaging of past chief executives in favor of no-holds-barred, crystal-breaking, us-against-them, damn-the-consequences blasts borne out of gut and grievance. He has kept a business on the side; attacked the F.B.I., C.I.A. and other institutions he oversees; threatened to use his power against rivals; and waged war against members of his own party and even his own cabinet. He fired the man investigating his campaign and has not ruled out firing the one who took over. He has appealed to base instincts on race, religion and gender as no president has in generations. And he has rattled the nuclear saber more bombastically than it has been since the days of Hiroshima and Nagasaki. The presidency has served as a vehicle for Mr. Trump to construct and promote his own narrative, one with crackling verve but riddled with inaccuracies, distortions and outright lies, according to fact checkers. Rather than a force for unity or a calming voice in turbulent times, the presidency now is another weapon in a permanent campaign of divisiveness. Democrats and many establishment Republicans worry that Mr. Trump has squandered the moral authority of the office."
Representative Devin Nunes (Republican-California), targeting special counsel Robert Mueller and the FBI, alarms Democrats and some Republicans with his tactics, The Washington Post, Karoun Demirjian, Sunday, 31 December 2017: "Rep. Devin Nunes, once sidelined by an ethics inquiry from leading the House Intelligence Committee's Russia probe, is reasserting the full authority of his position as chairman just as the GOP appears poised to challenge special counsel Robert S. Mueller III's investigation of possible coordination between the Trump campaign and Russian officials. The California Republican was cleared in December of allegations he improperly disclosed classified information while accusing the Obama administration of exposing the identities of Trump affiliates on surveillance reports. Since clearing his name, Nunes has stepped up his attacks on Mueller's team and the law enforcement agencies around it, including convening a group of Intelligence Committee Republicans to draft a likely report on 'corruption' among the investigators working for the special counsel."
Courts Must Better Police Themselves on Sexual Harassment, Chief Justice John Roberts Says, The New York Times, Adam Liptak, Sunday, 31 December 2017: "Responding to the retirement of a prominent appeals court judge accused of sexual harassment, Chief Justice John G. Roberts Jr. said the federal court system must do more to protect law clerks and other employees from abusive conduct. 'Events in recent months have illuminated the depth of the problem of sexual harassment in the workplace,' the chief justice wrote in his year-end report on the state of the federal judiciary, released Sunday, 'and events in the past few weeks have made clear that the judicial branch is not immune.' That was an unmistakable reference to the sudden retirement of Judge Alex Kozinski two weeks ago after The Washington Post reported that some 15 women had accused him of sexual harassment. Judge Kozinski had served on the United States Court of Appeals for the Ninth Circuit for more than three decades, establishing a reputation as a powerful and unpredictable intellect and a vivid writer. The women, many of whom had served as his law clerks, said Judge Kozinski had touched them inappropriately, made unwanted sexual comments and forced them to view sexual materials on his computer. In announcing his retirement, Judge Kozinski suggested that he had been misunderstood and apologized."
How Scott Pruitt, Environmental Protection Agency Administrator, turned the EPA into one of Trump's most powerful tools, The Washington Post, Brady Dennis and Juliet Eilperin, Sunday, 31 December 2017: "Since 2010, the Environmental Protection Agency has been embroiled in an enforcement battle with a Michigan-based company accused of modifying the state's largest coal-fired power plant without getting federal permits for a projected rise in pollution. On Dec. 7, as the Supreme Court was considering whether to hear the case, EPA Administrator Scott Pruitt issued a memo that single-handedly reversed the agency's position. No longer would the EPA be 'second-guessing' DTE Energy's emission projections. Rather, it would accept the firm's 'intent' to manage its pollution without requiring an enforceable agreement — part of President Trump's broader push to reduce the 'burden' on companies, he wrote. The little-noticed episode offers a glimpse into how Pruitt has spent his first year running the EPA. In legal maneuvers and executive actions, in public speeches and closed-door meetings with industry groups, he has moved to shrink the agency's reach, alter its focus, and pause or reverse numerous environmental rules. The effect has been to steer the EPA in the direction sought by those being regulated. Along the way, Pruitt has begun to dismantle former president Barack Obama's environmental legacy, halting the agency's efforts to combat climate change and to shift the nation away from its reliance on fossil fuels. Such aggressiveness on issues from coal waste to vehicle emissions has made Pruitt one of Trump's most high-profile and consequential Cabinet members. It also has made him one of the most controversial. Critics describe his short tenure as an assault on the agency's mission, its science and its employees."
One Year of Immigration Policy Under the Trump Administration, The Intercept, Maryam Saleh, Sunday, 31 December 2017: "Trump is wrapping up his first calendar year as president…. [W]hen it comes to immigration, [he] has proven to be much more than just a big talker. In his first year, he's significantly uprooted immigration policy, tearing apart the families of longtime residents and erecting significant barriers in the face of would-be immigrants to the United States. 'I think it's clear that this administration wants to bring any sort of immigration to the U.S. to a halt, whether it's legal or what's touted as illegal immigration,' said Annaluisa Padilla, a California-based immigration attorney and president of the American Immigration Lawyers Association. 'The administration simply does not want any immigrants.' The Migration Policy Institute, a Washington-based think tank, released a policy brief this month on shifts in immigration policy since Trump's election that reached the same conclusion. 'For a long time, there's been bipartisan consensus that immigration overall is good for the country, it's good for the economy, it's good for society, and it's integral to our history as a country,' report co-author Sarah Pierce told The Intercept. 'But this president has completely broken from that history and is seriously advocating for a reduction in legal immigration.' Indeed, the White House recently called for an end to 'chain migration,' which it defines as 'the process by which foreign nationals resettle within the U.S. and subsequently bring over their foreign relatives, who then have the opportunity to bring over their foreign relatives, and so on.' The term is popular among anti-immigrant hard-liners, including former Ku Klux Klan Grand Wizard David Duke. The president has also endorsed the RAISE Act, a Senate Republican bill that proposes major cuts to family immigration and the creation of a points system to select immigrants for employment sponsorship. By pivoting his focus to legal forms of immigration, Trump is demonstrating that his immigration agenda is driven by xenophobia, not just an insistence on punishing those with an unauthorized presence in the United States."
Hate in the White House–December 2017, Southern Poverty Law Center, Sunday, 31 December 2017: In this article "is a timeline of instances of extremism in the Trump administration in December. President Trump has opened the White House doors to extremism, not only consulting with hate groups on policies that erode our country's civil rights protections but enabling the infiltration of extremist ideas into the administration's rhetoric and agenda. Once relegated to the fringes, the radical right now has a toehold in the White House. Groups and individuals referenced in the list below are not associated with hate groups and extremist ideology unless indicated by a hate group profile."
Monday, 1 January 2018, Day 347:
Kim Jong-un's Overture to Initiate Direct Talks Between North Korea and South Korea Could Drive a Wedge Between South Korea and the U.S., The New York Times, Choe Sang-Hun and David E. Sanger, Monday, 1 January 2018: "Beyond a New Year's declaration by North Korea's leader, Kim Jong-un, that he would move to the mass production of nuclear weapons and intercontinental missiles in 2018 lies a canny new strategy to initiate direct talks with South Korea in the hope of driving a wedge into its seven-decade alliance with the United States. Mr. Kim, perhaps sensing the simmering tension between President Trump and President Moon Jae-in of South Korea, called for an urgent dialogue between the two Koreas before the opening of the Winter Olympics in the South next month. The strained relationship between the allies has been playing out for months, as Mr. Moon, a liberal, argued for economic and diplomatic openings with the North, even as Mr. Trump has worked hard to squeeze the North with increasingly punishing sanctions. Mr. Moon also angered Mr. Trump and his aides in recent months by suggesting he holds what he called a veto over any American pre-emptive military action against the North's nuclear program. Until now Mr. Kim has largely ignored Mr. Moon, whom the North Korean media has portrayed as a spineless lackey of the United States. But the dramatic shift in tone and policy, toward bilateral talks between the two Koreas, suggests that Mr. Kim sees an opportunity to develop and accentuate the split between Mr. Moon and Mr. Trump, betting that the United States will be unable to mount greater pressure on the North if it does not have South Korean acquiescence. The gambit may work. Hours after Mr. Kim's speech, Mr. Moon's office welcomed the North's proposal, in a way that could further aggravate tensions with the United States."
'No more!' Trump tweets to Pakistan, accusing it of 'lies & deceit,' The Washington Post, Shaiq Hussain and Annie Gowen, Monday, 1 January 2018: "Pakistan's defense minister responded angrily Monday to an early-morning tweet by President Trump that accused America's once-close ally of 'lies & deceit,' countering that the United States had given Pakistan 'invective & mistrust' in return. In his first tweet of the new year, Trump had said the United States had 'foolishly' given Pakistan $33 billion in aid over the last 15 years, 'and they have given us nothing but lies & ­deceit, thinking of our leaders as fools.' Trump wrote further: 'They give safe haven to the terrorists we hunt in Afghanistan, with little help. No more!' Defense Minister Khurram Dastgir-Khan hit back on ­Twitter, writing that Pakistan, as an 'anti-terror ally' of the United States, had given Washington land and air communication, military bases and intelligence cooperation that 'decimated Al-Qaeda over last 16yrs' while America 'has given us nothing but invective& mistrust.' Officials in the country's capital scrambled to arrange a cabinet meeting to be held Tuesday to adopt a response to the Twitter attack, while Foreign Minister Khawaja Muhammad Asif said in an interview on Geo Television that the country is ready to publicly provide an accounting of 'every detail' of U.S. aid it has received."
Donald Trump's Year of Living Dangerously. It's worse than you think. Politico Magazine, Susan B. Glasser, January/February 2018: "When President Donald Trump sat down for dinner on September 18 [2017] in New York with leaders of four Latin American countries on the sidelines of the annual United Nations General Assembly, anxieties were already running high. There was the matter of Mexico and his promise to build that 'big, beautiful wall,' presumably to keep not just Mexicans but all of their citizens out of the United States too. And the threat to blow up the North American Free Trade Agreement. And then, a month earlier, seemingly out of nowhere, Trump had volunteered that he was considering a 'military option' in Venezuela as that country's last vestiges of democracy disappeared. Amid the international furor over his vow to rain down 'fire and fury' on North Korea in the same golf-course press conference, the news that the president of the United States was apparently considering going to war with its third-largest oil supplier had gotten relatively little attention. But the leaders from Argentina, Brazil, Colombia and Panama invited to the dinner remembered it well. So, it turned out, did Trump. After the photo op was over and the cameras had left the room, Trump dominated the long table. His vice president, Mike Pence, was to his right; Pence had just spent nearly a week on a conciliatory, well-received tour of the region, the first by a high-ranking administration official since Trump's inauguration. To Trump's left was his secretary of state, Rex Tillerson. 'Rex tells me you don't want me to use the military option in Venezuela,' the president told the gathered Latin American leaders, according to an account offered by an attendee soon after the dinner. 'Is that right? Are you sure?' Everyone said they were sure. But they were rattled. War with Venezuela, as absurd as that seemed, was clearly still on Trump's mind. By the time the dinner was over, the leaders were in shock, and not just over the idle talk of armed conflict. No matter how prepared they were, eight months into an American presidency like no other, this was somehow not what they expected. A former senior U.S. official with whom I spoke was briefed by ministers from three of the four countries that attended the dinner. 'Without fail, they just had wide eyes about the entire engagement,' the former official told me. Even if few took his martial bluster about Venezuela seriously, Trump struck them as uninformed about their issues and dangerously unpredictable, asking them to expend political capital on behalf of a U.S. that no longer seemed a reliable partner. The [phrase] they all used was: 'This guy is insane.'"
Tuesday, 2 January 2018, Day 348:
Trump Says His 'Nuclear Button' Is 'Much Bigger' Than North Korea's 'Nuclear Button,' The New York Times, Peter Baker and Michael Tackett, Tuesday, 2 January 2018: "President Trump again raised the prospect of nuclear war with North Korea, boasting in strikingly playground terms on Tuesday night that he commands a 'much bigger' and 'more powerful' arsenal of devastating weapons than the outlier government in Asia. [Trump wrote on Twitter that the North Korean Leader Kim Jong Un said that the 'Nuclear Button is on his desk at all times.'] 'Will someone from his depleted and food starved regime please inform him that I too have a Nuclear Button, but it is a much bigger & more powerful one than his, and my Button works!' Mr. Trump's combative response to a statement made the day before by Mr. Kim raised the temperature in the brewing confrontation between the United States and North Korea even as American allies in South Korea were moving to open talks with Pyongyang. The contrast between Mr. Trump's language and the peace overture by South Korea highlighted the growing rift between two longtime allies. The president's tone also generated a mix of scorn and alarm among lawmakers, diplomats and national security experts who called it juvenile and frightening for a president handling a foreign policy challenge with world-wrecking consequences. The language was reminiscent of Mr. Trump's boast during the 2016 presidential campaign that his hands, and by extension his genitals, were in fact big enough. It came on a day when Mr. Trump, back in Washington from his Florida holiday break, effectively opened his new year with a barrage of provocative tweets on a host of issues. He called for an aide to Hillary Clinton to be thrown in jail, threatened to cut off aid to Pakistan and the Palestinians, assailed Democrats over immigration, claimed credit for the fact that no one died in a jet plane crash last year and announced that he would announce his own award next Monday for the most dishonest and corrupt news media." See also, Trump to North Korean leader Kim: My 'Nuclear Button' is 'much bigger & more powerful' than yours, The Washington Post, Philip Rucker, Tuesday, 2 January 2018.
South Korea Proposes Border Talks With North Korea After Overture From North Korea's Leader, Kim Jong-un, The New York Times, Choe Sang-Hun, Tuesday, 2 January 2018: "South Korea on Tuesday responded to an overture from the North and proposed holding high-level talks between the countries on their border next week. North Korea's leader, Kim Jong-un, had suggested on Monday that the countries open dialogue on easing military tensions and on the possibility of the North's participating in the Winter Olympics in the South, even as he noted that he now had a 'nuclear button' on his desk." See also, South Korea welcomes North Korea's offer of talks and proposes to meet next week, The Washington Post, Simon Denyer, Tuesday, 2 January 2018.
Pakistan strikes back at Trump's tweet: 'Unwarranted' and 'completely incomprehensible,' The Washington Post, Shaiq Hussain and Annie Gowen, Tuesday, 2 January 2018: "Pakistani officials struck back Tuesday at President Trump and his controversial tweet attacking their country, saying it was 'completely incomprehensible' and 'contradicted the facts.' In a tweet early Monday, his first of the year, Trump accused Pakistan of 'lies & deceit' and lamented that more than $33 billion in security and economic aid had been 'foolishly given' by the United States to Pakistan since 2002. 'They give safe haven to the terrorists we hunt in Afghanistan, with little help,' the president wrote. 'No more!' Pakistani leaders, including Prime Minister Shahid Khaqan Abbasi, issued a statement Tuesday that expressed 'deep disappointment' in the turn of events, coming at a time when they felt the relationship with the new administration had been on a positive trajectory. They said that 'recent statements and articulation by the American leadership were completely incomprehensible as they contradicted facts manifestly, struck with great insensitivity at the trust between two nations built over generations, and negated the decades of sacrifices made by the Pakistani nation.' Pakistan, the leaders said, would not respond impulsively. 'Despite the unwarranted allegations, Pakistan cannot act in haste,' their statement read." See also, Pakistan Dismisses Trump's Tweet on Aid as 'Incomprehensible,' The New York Times, Salman Masood, Tuesday, 2 January 2018.
Trump threatens to cut off U.S. aid to Palestinians amid a backlash over his decision to recognize Jerusalem as the capital of Israel, The Washington Post, David Nakamura, Tuesday, 2 January 2018: "President Trump threatened Tuesday to cut off U.S. aid money to the Palestinian Authority amid a backlash over his decision to recognize Jerusalem as the capital of Israel, a move that has threatened to undermine potential peace talks in the Middle East. In a pair of tweets, Trump said the Palestinians show 'no appreciation or respect' to the United States for aid money given to Palestinian territories. President Mahmoud Abbas has vehemently objected to Trump's decision on Jerusalem and said his government would not accept any U.S. peace plan with Israel. [Trump tweeted] 'It's not only Pakistan that we pay billions of dollars to for nothing, but also many other countries, and others. As an example, we pay the Palestinians HUNDRED OF MILLIONS OF DOLLARS a year and get no appreciation or respect. They don't even want to negotiate a long overdue… peace treaty with Israel. We have taken Jerusalem, the toughest part of the negotiation, off the table, but Israel, for that, would have had to pay more. But with the Palestinians no longer willing to talk peace, why should we make any of these massive future payments to them?'"
Utah Senator Orrin Hatch, the Longest-Serving Republican Senator, Plans to Retire. His Exit Leaves an Opening in Utah for Mitt Romney, a top Trump Critic. The New York Times, Jonathan Martin, Tuesday, 2 January 2018: "Senator Orrin G. Hatch of Utah, the longest-serving Senate Republican, announced Tuesday that he would retire at the end of the year, rebuffing personal pleas from President Trump to seek an eighth term and paving the way for Mitt Romney, a critic of Mr. Trump's, to run for the seat. Mr. Hatch's decision marks another political setback for Mr. Trump, who lost a Senate seat in Alabama after his preferred candidates were rejected. He also faces an exodus of Republicans from both chambers of Congress…. Mr. Hatch was under heavy pressure from Mr. Trump to seek re-election and block Mr. Romney. Last month, Mr. Trump flew with Mr. Hatch, who has emerged as one of the president's most avid loyalists in the Senate, on Air Force One to Utah for a day of events that was aimed entirely at lobbying the senator to run again. At the request of the senator, the president announced that he was vastly shrinking two of Utah's sprawling national monuments, reversing decisions made by Presidents Barack Obama and Bill Clinton." See also, Republican Senator Orrin Hatch of Utah will retire, opening the door for a Romney candidacy, The Washington Post, Sean Sullivan and Michael Scherer, Tuesday, 2 January 2018.
In a tweet, Trump urges the Justice Department to 'act' on former FBI director James Comey and suggests Huma Abedin (former top aide to Hillary Clinton) should face jail time, The Washington Post, David Nakamura and Matt Zapotosky, Tuesday, 2 January 2018: "President Trump on Tuesday appeared to suggest that Huma Abedin, a former top aide to Hillary Clinton, should face jail time, days after the State Department posted emails found on her estranged husband's computer that included confidential government information. In a tweet, Trump also urged the Justice Department to act in prosecuting Abedin and former FBI director James B. Comey, whom the president fired in May amid the mounting investigation into Russia's meddling in the 2016 presidential election and contacts between Moscow and Trump's campaign. See also, Trump Accuses Former Clinton Aide Huma Abedin of Failing to Follow Security Protocols, The New York Times, Eileen Sullivan, Tuesday, 2 January 2018: "President Trump made his first 'Crooked Hillary' Twitter post less than 48 hours into the new year on Tuesday, accusing a former Clinton aide of 'disregarding basic security protocols,' and calling his own Justice Department a 'deep state.' Attacking Hillary Clinton, his former Democratic opponent from the 2016 presidential election, and taking aim at his own Justice Department struck familiar tones for the new year. Almost 14 months after the election, Mr. Trump has kept up a regular drumbeat of attacks on Mrs. Clinton. Last year, Mr. Trump also criticized the Justice Department and Attorney General Jeff Sessions for not pursuing investigations of his political opponents. The Twitter post on Tuesday morning followed an article in The Daily Caller, a conservative publication that Mr. Trump closely monitors. The article said the aide, Huma Abedin, forwarded some government passwords to her private Yahoo email account in 2009, when Mrs. Clinton was secretary of state. Yahoo was hacked in 2013, which affected all three billion of its accounts. After the breach, the data was offered for sale by a hacking collective based in Eastern Europe. Mr. Trump also implored his administration to investigate Ms. Abedin. The term 'deep state' typically refers to a shadow government of agency officials who secretly plot to influence policy; they are usually associated with countries that have authoritarian elements that undercut democratically elected leaders."
Critics Say Questions About Citizenship Could Wreck Chances for an Accurate Census, The New York Times, Michael Wines, Tuesday, 2 January 2018: "A request by the Justice Department to ask people about their citizenship status in the 2020 census is stirring a broad backlash from census experts and others who say the move could wreck chances for an accurate count of the population — and, by extension, a fair redistricting of the House and state legislatures next decade. Their fear, echoed by experts in the Census Bureau itself, is that the Trump administration's hard-line stance on immigration, and especially on undocumented migrants, will lead Latinos and other minorities, fearing prosecution, to ignore a census that tracks citizenship status. Their failure to participate would affect population counts needed not only to apportion legislative seats, but to distribute hundreds of billions of dollars in federal money to areas that most need it. 'I can think of no action the administration could take that would be more damaging to the accuracy of the 2020 census than to add a question on citizenship,' Terri Ann Lowenthal, a consultant and leading private expert on census issues, said in an interview. 'It would completely pull the rug out from under efforts to have everyone participate in the census as the Constitution envisions.' The government has sought to count everyone living in the United States, legally and otherwise, since the first census in 1790. The decennial census has not asked all respondents whether they were citizens since 1960, although much smaller Census Bureau surveys of the population have continued to include citizenship questions." See also, The Trump administration pushes for a change that could derail the census, The Washington Post, Editorial Board, Tuesday, 2 January 2018.
Thomas Brunell, Trump's Pick to Run the 2020 Census, Has Defended Racial Gerrymandering and Voter Suppression Laws, Mother Jones, Ari Berman, Tuesday, 2 January 2018: "In June 2011, the North Carolina Legislature hired Thomas Brunell, a professor of political science at the University of Texas at Dallas, to produce a report that would help defend the state's new redistricting maps. The maps, approved by the Republican-controlled Legislature, concentrated black voters, who tended to vote Democratic, into as few districts as possible in order to maximize the number of safe Republican districts. Under the Voting Rights Act, North Carolina had to get Justice Department approval for any voting changes, and so it asked Brunell to provide a justification for the maps. Brunell argued that clustering black voters into a few districts was necessary to maintain their political influence. Though North Carolina was a racially integrated swing state, where black officials represented majority-white districts and vice versa, Brunell's report found 'there is clear evidence for the presence of statistically significant racially polarized voting' in North Carolina, necessitating majority-black districts. When the maps were challenged in court, state Republicans paid Brunell $300 an hour for research and $500 an hour for testimony as an expert witness. The strategy worked—for a time. With the new maps in effect, Republicans controlled 10 of the state's 13 congressional districts after the 2014 election and had a supermajority in the Legislature. But in 2017, federal courts struck down two of North Carolina's congressional districts and 28 state legislative districts, calling the state maps 'among the largest racial gerrymanders ever encountered by a federal court.' A unanimous three-judge court in North Carolina said Brunell's 'generalized conclusions regarding racially polarized voting' demonstrated a 'misunderstanding' of the Voting Rights Act and 'fail to demonstrate a strong basis in evidence justifying the challenged districts as drawn.'"
Thomas Homan, Trump's pick to run Immigration and Customs Enforcement (ICE), calls for a crackdown on sanctuary cities and says politicians who run them should be charged with crimes, The Hill, Brandon Conradis, Tuesday, 2 January 2018: "President Trump's pick to run Immigration and Customs Enforcement (ICE) on Tuesday called for a crackdown on so-called sanctuary cities, saying politicians who help run them should be charged with crimes. In an interview with Fox News's Neil Cavuto, ICE acting Director Thomas Homan said the Department of Justice needs 'to file charges against the sanctuary cities' and 'hold back their funding.' Homan, who was announced in December as President Trump's pick to permanently run the agency, went on to say that politicians enforcing sanctuary city policies need to be held 'personally accountable.' 'We gotta take [sanctuary cities] to court, and we gotta start charging some of these politicians with crimes,' he said." See also, In Calling for Politicians' Arrest, Thomas Homan, the Acting Director of Immigration and Customs Enforcement (ICE), Embraces His New Extremist Image, The New Yorker, Jonathan Blitzer, published on Thursday, 4 January 2018: "Last summer, Thomas Homan, the acting director of Immigration and Customs Enforcement, the federal agency responsible for arresting and deporting undocumented immigrants, received high praise from the President. 'Somebody said the other day, they saw him on television . . . He looks very nasty, he looks very mean,' Donald Trump said while delivering a speech on immigration in Suffolk County, New York. 'That's what I'm looking for!' This week, Homan made headlines by summoning that nastiness on national television, going further than any other Administration official to date in escalating the dispute between the federal government and so-called sanctuary jurisdictions. Appearing on Fox News on Tuesday, Homan attacked Jerry Brown, the governor of California, who recently signed legislation declaring his state a sanctuary for undocumented immigrants. 'For these sanctuary cities that knowingly shield and harbor an illegal alien, that is, in my opinion, a violation of 8 U.S.C. 1324, an alien-smuggling statute,' Homan said. 'We've got to take [sanctuary cities] to court, and we've got to start charging some of these politicians with crimes.'"
Trump's plan to shrink three major marine monuments to allow greater commercial fishing threatens vital ecosystems, experts warn, The Guardian, Oliver Milman, Tuesday, 2 January 2018: "The Trump administration's plan to shrink four land-based national monuments has provoked howls of anguish from environmental groups, Native American tribes and some businesses, such as the outdoors company Patagonia. Accompanying changes to protected monuments in the oceans – vastly larger areas than their land-based counterparts – have received less attention, but could have major consequences for the livelihoods and ecosystems dependent upon the marine environment. Ryan Zinke, the secretary of the interior, has recommended to Donald Trump that three sprawling marine monuments, one in the Atlantic and two in the Pacific, be either opened up to the commercial fishing industry or reduced in size, or both. 'These "blue parks" harbor unique species, a wealth of biodiversity and special habitats,' said Jane Lubchenco, the administrator of the National Oceanic and Atmospheric Administration between 2009 and 2013. 'They are undersea treasures. I fervently hope that these incredible marine monuments will not be degraded by opening them up to extractive activities. There are plenty of other places in the ocean to fish.'"
Trump has made 1,950 false or misleading claims over 347 days, The Washington Post, Glenn Kessler, Meg Kelly, and Nicole Lewis, Tuesday, 2 January 2018: "With just 18 days before President Trump completes his first year as president, he is now on track to exceed 2,000 false or misleading claims, according to our database that analyzes, categorizes and tracks every suspect statement uttered by the president. As of Monday, the total stood at 1,950 claims in 347 days, or an average of 5.6 claims a day. (Our full interactive graphic can be found here.) As regular readers know, the president has a tendency to repeat himself — often. There are now more than 60 claims that he has repeated three or more times. The president's impromptu 30-minute interview with the New York Times over the holidays, in which he made at least 24 false or misleading claims, included many statements that we have previously fact-checked."
How Trump is rolling back Obama's legacy: As of 2 January 2018, Obama-era rules and regulations are affected by 17 executive actions, 92 cabinet-level agency decisions, 14 congressional review acts, and 3 pieces of new legislation passed by Congress. The Washington Post, Juliet Eilperin and Darla Cameron, updated on Tuesday, 2 January 2018: "Builder-turned-president Donald Trump has in many ways made good on his promise to be a political wrecking ball. But, he has found more success using the executive branch to undo his predecessor's legacy than in writing new legislation or working with Congress." This article covers rules and laws that Trump has tried to overturn in eight key policy areas: Environment, Labor and finance, Civil rights, Health care, Worker and consumer safety, Government reform, Immigration, and Education. See also, Trump's true priorities revealed in holiday news dumps, The Washington Post, James Hohmann, Tuesday, 2 January 2018: "
Wednesday, 3 January 2018, Day 349:
As North and South Korea Begin to Talk, Trump Watches From the Sidelines, The New York Times, Mark Landler, Wednesday, 2018: "While the two Koreas were gingerly reopening a border hotline, President Trump was gleefully taunting Kim Jong-un about the relative size of their nuclear launch buttons. That, in a nutshell, captured the challenge facing the Trump administration as South Korea embarked on fragile new talks with North Korea on Wednesday. The United States, the South's key ally, views the overture with deep suspicion. For months, it has said that talks with North Korea would make no sense until its leader, Mr. Kim, at least curbs his provocative behavior, or at best agrees to relinquish his nuclear arsenal. Mr. Trump recently has talked about the potential for war, not a diplomatic breakthrough. Yet the president, so accustomed to being the center of attention, must now watch from the sidelines as these longstanding enemies open a dialogue. The talks at first are likely to focus on North Korea's potential participation in the Winter Olympics, which are being held next month in the South Korean city of Pyeongchang. Trump administration officials said on Wednesday that they were not opposed to the idea of talks, provided that they be limited to the Olympics and that the South Koreans not make any concessions to the North that they, and the United States, would later regret. The White House plans to stay in close touch with South Korean officials to coordinate the messages going out and to review any offers coming in." See also, North and South Korea reopen cross-border hotline, paving the way for formal talks, The Washington Post, Simon Denyer, Wednesday, 3 January 2018. See also, Donald Trump and North Korea: Big Button, Small President, The New Yorker, Evan Osnos, Wednesday, 3 January 2018: "For seventy years, North Korea has baited America with threats of mayhem, and, for seventy years, American Presidents, with rare exceptions, understood that squabbling with a pariah state whose economy is smaller than that of Rhode Island would diminish their own stature and America's standing. Trump, by contrast, summoned the world's attention and then sawed himself off at the knees. After a year of the President's casual threats of mayhem, of his belittling of American alliances, of claims so bizarre that a man shouting them on a public bus would get a wide berth, the response from Americans generally ranges from disbelief to despair to numbness. They are moments that defy the usual analysis, other than psychoanalysis."
Trump Breaks With His Former Chief Strategist Steve Bannon, Saying Bannon Has 'Lost His Mind,' The New York Times, Peter Baker and Maggie Haberman, Wednesday, 3 January 2018: "President Trump excommunicated his onetime chief strategist, Stephen K. Bannon, from his circle on Wednesday, ending for now a partnership of convenience that transformed American politics while raising questions about the future of the nationalist-populist movement they cultivated together. The rupture came after Mr. Bannon was quoted in a new book disparaging the president's children, asserting that Donald Trump Jr. had been 'treasonous' in meeting with Russians and calling Ivanka Trump 'dumb as a brick.' Mr. Trump, described by his spokeswoman as 'furious, disgusted,' fired back by saying that Mr. Bannon had 'lost his mind.' In a written statement, the president excoriated Mr. Bannon as a self-promoting exaggerator who had 'very little to do with our historic victory' in the 2016 presidential election and was 'only in it for himself.' Rather than representing Mr. Trump's hard-core political base or supporting his agenda to 'make America great again,' Mr. Bannon was 'simply seeking to burn it all down,' the president said. While Mr. Trump had remained in touch with Mr. Bannon after pushing him out of the White House over the summer, the two now appear to have reached a breaking point. 'Steve Bannon has nothing to do with me or my presidency,' Mr. Trump said. 'When he was fired, he not only lost his job, he lost his mind.' Assuming it lasts — and with Mr. Trump, nothing is ever certain — the schism could test whether he or Mr. Bannon has more resonance with the conservative base that has sustained the president through a tumultuous tenure marked by low poll numbers. Mr. Bannon's Breitbart News has been a key weapon in Mr. Trump's hostile takeover of the Republican Party. Cheering the breakup on Wednesday were establishment Republicans who resent Mr. Bannon's bomb-throwing style and his vows to wage war on incumbent lawmakers in the party primaries this year. Senate Republicans could barely contain their glee as they redistributed Mr. Trump's statement blasting Mr. Bannon with the note 'in case you missed it' and a smiling face symbol. By afternoon, candidates whom Mr. Bannon has endorsed in a handful of races faced pressure to disavow his remarks about the president's son." See also, Read Trump's Reaction to Steve Bannon's Comments, The New York Times, Wednesday, 3 January 2018: "The Trump administration on Wednesday released a statement in response to comments that Stephen K. Bannon, the former White House chief strategist, made to Michael Wolff for his book, Fire and Fury: Inside the Trump White House. In the book, Mr. Bannon said that a meeting between members of the Trump team and a lawyer with Russian connections had been 'treasonous.'… 'Steve Bannon has nothing to do with me or my Presidency. When he was fired, he not only lost his job, he lost his mind. Steve was a staffer who worked for me after I had already won the nomination by defeating seventeen candidates, often described as the most talented field ever assembled in the Republican party. Now that he is on his own, Steve is learning that winning isn't as easy as I make it look. Steve had very little to do with our historic victory, which was delivered by the forgotten men and women of this country. Yet Steve had everything to do with the loss of a Senate seat in Alabama held for more than thirty years by Republicans. Steve doesn't represent my base—he's only in it for himself….'" See also, Trump Tower meeting with Russians was 'treasonous,' Steve Bannon says in explosive book by Michael Wolff, The Guardian, David Smith, Wednesday, 3 January 2018: "Donald Trump's former chief strategist Steve Bannon has described the Trump Tower meeting between the president's son and a group of Russians during the 2016 election campaign as 'treasonous' and 'unpatriotic,' according to an explosive new book seen by the Guardian. Bannon, speaking to author Michael Wolff, warned that the investigation into alleged collusion with the Kremlin will focus on money laundering and predicted: 'They're going to crack Don Junior like an egg on national TV.' Fire and Fury: Inside the Trump White House, reportedly based on more than 200 interviews with the president, his inner circle and players in and around the administration, is one of the most eagerly awaited political books of the year. In it, Wolff lifts the lid on a White House lurching from crisis to crisis amid internecine warfare, with even some of Trump's closest allies expressing contempt for him." See also, Donald Trump Didn't Want to Be President, New York Magazine, Michael Wolff, Wednesday, 3 January 2018: "This story is adapted from Michael Wolff's book Fire and Fury: Inside the Trump White House, to be published by Henry Holt & Co. on January 9. Wolff, who chronicles the administration from Election Day to this past October, conducted conversations and interviews over a period of 18 months with the president, most members of his senior staff, and many people to whom they in turn spoke. Shortly after Trump's inauguration, Wolff says, he was able to take up 'something like a semi-permanent seat on a couch in the West Wing' — an idea encouraged by the president himself. Because no one was in a position to either officially approve or formally deny such access, Wolff became 'more a constant interloper than an invited guest.' There were no ground rules placed on his access, and he was required to make no promises about how he would report on what he witnessed. Since then, he conducted more than 200 interviews. In true Trumpian fashion, the administration's lack of experience and disdain for political norms made for a hodgepodge of journalistic challenges. Information would be provided off-the-record or on deep background, then casually put on the record. Sources would fail to set any parameters on the use of a conversation, or would provide accounts in confidence, only to subsequently share their views widely. And the president's own views, private as well as public, were constantly shared by others. The adaptation presented here offers a front-row view of Trump's presidency, from his improvised transition to his first months in the Oval Office."
Trump attorney Charles J. Harder sends Stephen Bannon, Trump's former chief strategist, a cease and desist letter over 'disparaging' comments about Trump and his family, ABC News, John Santucci, Wednesday, 3 January 2018: "Lawyers on behalf of President Donald Trump sent a letter Wednesday night to former White House Chief Strategist Stephen Bannon demanding he refrain from making disparaging comments against the president and his family. The letter comes after excerpts from a forthcoming book by journalist Michael Wolff were made public Wednesday, causing a stir. Trump attorney Charles J. Harder of the firm Harder Mirell & Abrams LLP, said in a statement, 'This law firm represents President Donald J. Trump and Donald J. Trump for President, Inc. On behalf of our clients, legal notice was issued today to Stephen K. Bannon, that his actions of communicating with author Michael Wolff regarding an upcoming book give rise to numerous legal claims including defamation by libel and slander, and breach of his written confidentiality and non-disparagement agreement with our clients. Legal action is imminent.'"
Washington's growing obsession: The 25th Amendment. Lawmakers concerned about Trump's mental health invited Yale psychiatry professor Bandy X. Lee to brief them in December. Politico, Annie Karni, Wednesday, 3 January 2018: "Lawmakers concerned about President Donald Trump's mental state summoned Yale University psychiatry professor Dr. Bandy X. Lee to Capitol Hill last month for two days of briefings about his recent behavior. In private meetings with more than a dozen members of Congress held on Dec. 5 and 6, Lee briefed lawmakers — all Democrats except for one Republican senator, whom Lee declined to identify. Her professional warning to Capitol Hill: 'He's going to unravel, and we are seeing the signs.' In an interview, she pointed to Trump 'going back to conspiracy theories, denying things he has admitted before, his being drawn to violent videos.' Lee also warned, 'We feel that the rush of tweeting is an indication of his falling apart under stress. Trump is going to get worse and will become uncontainable with the pressures of the presidency.' Lee, editor of 'The Dangerous Case of Donald Trump,' which includes testimonials from 27 psychiatrists and mental health experts assessing the president's level of 'dangerousness,' said that she was surprised by the interest in her findings during her two days in Washington. 'One senator said that it was the meeting he most looked forward to in 11 years,' Lee recalled. 'Their level of concern about the president's dangerousness was surprisingly high.' The conversation about Trump's fitness to serve is ongoing — and gaining steam after Trump's tweet this week taunting the leader of North Korea with my-nuclear-button-is-bigger-than-yours bravado. 'Will someone from his depleted and food starved regime please inform him that I too have a Nuclear Button, but it is a much bigger & more powerful one than his, and my Button works!' the president wrote online Tuesday night. The tweet resuscitated the conversation about the president's mental state and the 25th Amendment, which allows for the removal of the president from office if the vice president and a majority of the Cabinet deem him physically or mentally 'unable to discharge the powers and duties of his office.' The amendment is purposefully set up to require a high burden of proof, and there is no evidence that Vice President Mike Pence or the majority of Trump's Cabinet have turned on him. But Trump's Tuesday night nuclear taunt managed to cause alarm even within his own party."
Trump disbands voter fraud commission. Kansas Secretary of State Kris Kobach, vice chairman of the commission, says he expects officials from Immigration and Customs Enforcement and political appointees overseeing that agency to take over the commission's work. Politico, Josh Gerstein and Matthew Nussbaum, Wednesday, 3 January 2018: "President Donald Trump is dumping a controversial commission that was charged with investigating his unsubstantiated claims of voter fraud during the 2016 election, the White House said Wednesday. Trump asked the Department of Homeland Security to look into the issue instead…. The commission was the focus of heated contention even before it was formally announced in May with Vice President Mike Pence as the chairman and Kansas Secretary of State Kris Kobach as vice chairman. Democrats urged Trump to abandon the idea altogether, but the president chose to press forward…. Democrats and liberal groups rejoiced over the commission's demise Wednesday, but in an interview with POLITICO Wednesday night, Kobach said that exuberance is misplaced. 'Anyone on the left needs to realize that by throwing the food in the air, they just lost a seat at the table,' Kobach said. The Kansas official said he expects officials from Immigration and Customs Enforcement and political appointees overseeing that agency to take over the commission's work and begin efforts to match state voter rolls to federal databases of noncitizens. He insisted he was not disappointed with the president's decision." See also, Trump Disbands Commission on Voter Fraud, The New York Times, Michael Tackett and Michael Wines, Wednesday, 3 January 2018: "President Trump on Wednesday abruptly shut down a White House commission he had charged with investigating voter fraud, ending a brief quest for evidence of election theft that generated lawsuits, outrage and some scholarly testimony, but no real evidence that American elections are corrupt. On Thursday, Mr. Trump called for requiring voter identification in a pair of Twitter posts because the voting system 'is rigged.' 'Push hard for Voter Identification!' Mr. Trump wrote. Mr. Trump did not acknowledge the commission's inability to find evidence of fraud, but cast the closing as a result of continuing legal challenges. 'Despite substantial evidence of voter fraud, many states have refused to provide the Presidential Advisory Commission on Election Integrity with basic information relevant to its inquiry,' Mr. Trump said in a White House statement on Wednesday. 'Rather than engage in endless legal battles at taxpayer expense, today I signed an executive order to dissolve the commission, and have asked the Department of Homeland Security to review these issues and determine next courses of action,' he said. In fact, no state has uncovered significant evidence to support the president's claim, and election officials, including many Republicans, have strongly rejected it. Mr. Trump established the commission after his repeated insistence, without credible evidence, that widespread voter fraud explained how Hillary Clinton received about 2.9 million more votes while he won the presidency in the Electoral College. It is an issue that continues to resonate with his base voters, and Mr. Trump has mentioned it in recent rallies, but there have been few Republicans in Congress who have followed him."
Ex-Homeland Security Officials Jeh Johnson, Janet Napolitano, and Michael Chertoff Urge Faster Action on Deferred Action for Childhood Arrivals (DACA), The New York Times, Maggie Haberman, Wednesday, 3 January 2018: "Three former homeland security secretaries warned congressional leaders and officials of both parties on Wednesday that the window for legislative action to protect undocumented immigrants brought to the country as children will close by the middle of January, months before a period outlined by the White House. The letter — signed by Jeh Johnson and Janet Napolitano, homeland security secretaries under President Barack Obama, and Michael Chertoff, a homeland security secretary under President George W. Bush — was sent as congressional leaders and aides to President Trump prepare for a meeting on Wednesday on Capitol Hill, where the Obama-era program known as Deferred Action on Childhood Arrivals, or DACA, is expected to be discussed. In September, Mr. Trump ordered an end to the program, which shields young undocumented immigrants from deportation, and gave Congress six months to extend those protections, granted by Mr. Obama under an executive action in 2012. The policy permits beneficiaries of the program, known as Dreamers, to remain in the country without fear of immediate removal and gives them the right to work legally. 'We write not only in strong support of this legislation, but to stress that it should be enacted speedily, in order to meet the significant administrative requirements of implementation, as well as the need to provide certainty for employers and these young people,' the letter said. 'For these reasons, the realistic deadline for successfully establishing a Dreamers program in time to prevent large-scale loss of work authorization and deportation protection is only weeks away, in the middle of January.'"
Paul Manafort, Trump's Former Campaign Chairman, Sues Special Counsel Robert Mueller and Asks a Judge to Narrow the Russia Investigation, The New York Times, Matt Apuzzo, Wednesday, 3 January 2018: "President Trump's former campaign chairman, Paul Manafort, sued the special counsel on Wednesday and asked a federal court to narrow his authority, escalating Republican efforts to discredit an investigation that has stretched longer than the White House expected. The unusual move comes as Mr. Trump tries to portray the investigation as a politically motivated witch hunt that has cast a dark cloud over his administration and, in his view, the country. The president said last week that he hoped the special counsel, Robert S. Mueller III, would treat him fairly. Mr. Trump's lawyers have advised against directly criticizing Mr. Mueller, a Republican former F.B.I. director who is regarded as one of the premier law enforcement officials of his time. But with four former Trump campaign aides facing charges and no end to the investigation in sight, some of Mr. Trump's allies have stepped up their attacks."
Fact-checking Trump's post-New Year's tweets, The Washington Post, Glenn Kessler, Wednesday, 3 January 2018.
Two Democrats, Doug Jones of Alabama and Tina Smith of Minnesota, Are Sworn in To the Senate, Giving Republicans a One-Vote Majority of 51-49, The New York Times, Sheryl Gay Stolberg, Wednesday, 3 January 2018: "Democrats counted their New Year's blessings on Wednesday as two new senators — Doug Jones of Alabama and Tina Smith of Minnesota — joined their caucus, reshaping the balance of power in the Senate after a history-laden swearing-in ceremony attended by three current and former vice presidents. The arrival of Mr. Jones, who replaced a Republican (Ms. Smith replaced a Democrat) alters the makeup of the Senate, giving Republicans a one-vote majority of 51 to 49."
Deputy Attorney General Rod J. Rosenstein and FBI Director Christopher A. Wray huddle with House Speaker Paul Ryan to discuss dossier alleging connections between Trump and Russia, The Washington Post, Karoun Demirjian and Matt Zapotosky, published on Thursday, 4 January 2018: "Top federal law enforcement officials huddled with House Speaker Paul D. Ryan on Wednesday afternoon to discuss a request from congressional investigators for documents related to a dossier alleging connections between President Trump and Russia, according to people familiar with the meeting, and hours later, a deal was apparently reached. Deputy Attorney General Rod J. Rosenstein and FBI Director Christopher A. Wray requested the meeting, according to Ryan spokeswoman AshLee Strong. A spokeswoman for the Justice Department declined to comment. The meeting in Ryan's offices took place just hours before a deadline Wednesday that House Intelligence Committee Chairman Devin Nunes (R-Calif.) set for the FBI and DOJ to turn over documents related to how the agencies used information in a now-famous dossier as part of an investigation into alleged ties between Trump's campaign and Russian officials. Nunes said in a statement Wednesday night, 'After speaking to Deputy Attorney General Rosenstein this evening, I believe the House Intelligence Committee has reached an agreement with the Department of Justice that will provide the committee with access to all the documents and witnesses we have requested.'"
Trump appoints Marie Royce, wife of House Foreign Affairs Committee chairman, to senior State Department post, The Washington Post, Karoun Demirjian, Wednesday, 3 January 2018: "President Trump has nominated business executive Marie Royce, whose husband is the top Republican on the House Foreign Affairs Committee, to a senior position at the State Department, the White House announced Wednesday…. [I]f confirmed, Royce would hold a senior position at the department over which her husband, Rep. Edward R. Royce (R-Calif.), is chiefly responsible for directing the House's oversight duties as chairman of the House Foreign Affairs Committee."
How to Survive Trump's Second Year: Engage Politically, The New Yorker, John Cassidy, Wednesday, 3 January 2018: "By 10:30 in the morning on the first workday of 2018, the Troll-in-Chief had already used his Twitter account to lash out at Iran, Hillary Clinton, Huma Abedin, Kim Jong Un, the New York Times, Democrats, and his own Justice Department. He had also claimed credit for the fact that there had been no fatalities anywhere in the world on commercial jets in 2017. ('Since taking office I have been very strict on Commercial Aviation.') On Tuesday night, he posted what may have been his nuttiest tweet yet, boasting that his 'Nuclear Button' was bigger and more effective than the one Kim claimed to have on his desk. Is Trump ever going to zip it in 2018? Of course not. He lives in his own febrile and self-centered world, where the traditional rules of political discourse don't apply. Since any thought of him changing is fanciful, we are in for another year of enervating acrimony at home and unnerving jitters on the international front. As the Russia investigation continues, Trump's allies on Capitol Hill and in the conservative media will step up their efforts to discredit Robert Mueller, the special counsel, and his team. As the controversy about professional football players kneeling during the national anthem fades, Trump will also be on the lookout for new racial issues that he can use to rile up his base. And, as long as he follows the G.O.P. line on policy issues, the Party's leaders on Capitol Hill will continue to support him and make excuses for his behavior. That isn't a complete tour of the 2018 horizon, however. In addition to lamenting Trump, the more important (and more rewarding) thing will be to respond to him politically. Last year, large numbers of Americans did just that—marching in protests, lobbying their elected representatives, making whatever financial contributions they could, and campaigning in local political elections. Come January 20th, many of these Trump antagonists will be back on the streets, taking part in this year's Women's March. (More than two hundred and fifty marches and events are planned.)"
The 424 People, Places, and Things Donald Trump Has Insulted on Twitter, The New York Times, Jasmine C. Lee and Kevin Quealy, updated on Wednesday, 3 January 2018.
The frontline of resistance: the American Civil Liberties Union is ready for further fights with Trump, The Guardian, Ed Pilkington, Wednesday, 3 January 2018: "Lawyers for the American Civil Liberties Union are gearing up for what is expected to be a crucial showdown in the US supreme court in 2018 over Donald Trump's Muslim travel ban, as they enter the second year in an epic battle against the president's populist – and frequently arguably unconstitutional – agenda. The nation's oldest and largest civil liberties group has found itself on the frontline of legal resistance to an executive branch that is proving to be historically hostile toward constitutional rights. Since Trump took power on 20 January, the organization has launched 113 legal actions attempting to block his extreme rightwing ambitions. Those actions included an unprecedented 57 lawsuits brought against the most egregious aspects of the Trump project. Having warned Trump before he entered the White House that he would have to 'contend with the full firepower of the ACLU at your every step,' the organization has lived up to its word. It has successfully challenged the administration in its efforts to deport 11 million undocumented immigrants, cut off access to abortion, ban transgender people serving in the military and overturn Obamacare."
Thursday, 4 January 2018, Day 350:
After Trump Seeks to Block the Release of Michael Wolff's Book "Fire and Fury: Inside the Trump White House," the Publisher (Henry Holt and Co.) Hastens Its Release, The New York Times, Peter Baker, Thursday, 4 January 2018: "President Trump threatened legal fire and fury on Thursday in an effort to block a new book portraying him as a volatile and ill-equipped chief executive, but the publisher defied his demand to halt its release and instead moved up its publication to Friday because of soaring interest. Angry at the publisher's refusal to back down, Mr. Trump took aim late Thursday night at the book's author, Michael Wolff, and one of his primary sources, Stephen K. Bannon, the former White House chief strategist, whose derisive comments about the president and his family stirred deep resentment in the Oval Office. 'I authorized Zero access to White House (actually turned him down many times) for author of phony book!' Mr. Trump wrote on Twitter shortly before 11 p.m. 'I never spoke to him for book. Full of lies, misrepresentations and sources that don't exist. Look at this guy's past and watch what happens to him and Sloppy Steve!' The president's blast at Mr. Wolff came at the end of a day in which Mr. Trump's effort to stop publication failed. In an 11-page letter sent in the morning, a lawyer for the president said the book, 'Fire and Fury: Inside the Trump White House,' as excerpted in a magazine article, includes false statements about Mr. Trump that 'give rise to claims for libel' that could result in 'substantial monetary damages and punitive damages.' 'Mr. Trump hereby demands that you immediately cease and desist from any further publication, release or dissemination of the book, the article, or any excerpts or summaries of either of them, to any person or entity, and that you issue a full and complete retraction and apology to my client as to all statements made about him in the book and article that lack competent evidentiary support,' the letter said. Undeterred, Henry Holt and Co., the publisher, announced that instead it would make the book available for sale starting at 9 a.m. Friday rather than wait for its original release date on Tuesday. 'We see "Fire and Fury" as an extraordinary contribution to our national discourse, and are proceeding with the publication of the book,' the company said in a statement." See also, Trump lawyer seeks to block insider book on White House, The Washington Post, Josh Dawsey and Ashley Parker, Thursday, 4 January 2018: "For months, Trump confidants — including aides such as Hicks and Kushner, lawyer Ty Cobb, and friends like Newsmax chairman Chris Ruddy and New Jersey Gov. Chris Christie (R) — have tried to persuade the president to cut ties with Bannon, who in recent months has backed insurgent Republicans such as failed Senate candidate Roy Moore in Alabama. Bannon has in recent weeks also alienated his main financial backer, Rebekah Mercer, after he told several other major conservative donors that he would be able to count on the Mercers' financial support should he run for president, a person familiar with the conversations said. The person said Mercer now does not plan to financially support Bannon's future projects — and that she was frustrated by his moves in Alabama and some of his comments in the news media that seemed to stoke unnecessary fights." See also, Trump's effort to stop publication of Michael Wolff's scathing book is a break in precedent, The Washington Post, Ashley Parker and Josh Dawsey, Thursday, 4 January 2018: "[L]egal experts and historians said the decision by a sitting president to threaten "imminent" legal action against a publishing house, a journalist and a former aide represented a remarkable break with recent precedent and could have a chilling effect on free-speech rights. Douglas Brinkley, a presidential historian at Rice University, likened Trump's actions this week to those of Richard M. Nixon, whose White House unsuccessfully attempted to stop both the New York Times and The Washington Post from publishing the Pentagon Papers, a secret history of the government's entanglements in Vietnam. Though several presidents — including Jimmy Carter and Theodore Roosevelt — have sued for libel after leaving office, it is uncommon and potentially damaging for a current occupant of the Oval Office to try to use the powers of the presidency to take on personal and political rivals, Brinkley said. 'Trump is stealing a page out of Richard Nixon's playbook once again,' Brinkley said. 'When you get criticized by the press or a book that attacks you, you attack back with ferocity. . . . It's a misuse of presidential powers.' But Trump's decision was a deliberate one, according to people who have spoken with him following the publication of excerpts from Wolff's book and who spoke on the condition of anonymity to share candid assessments." See also, Michael Wolff's Withering Portrait of President Donald Trump, The New Yorker, John Cassidy, Thursday, 4 January 2018. See also, It Has Been an Open Secret All Along. The scandal off Michael Wolff's new book isn't its salacious details–it's that most people in Washington have known its key themes and refused to act. The Atlantic, James Fallows, Thursday, 4 January 2018. See also, Trump Is Mentally Unwell–and Most People Around Him Know It, New York Magazine, Eric Levitz, Thursday, 4 January 2018.
Led by the Mercers, Steve Bannon's Allies Abandon Him, The New York Times, Kenneth P. Vogel, Jonathan Martin, and Jeremy W. Peters, Thursday, 4 January 2018: "Enthusiasm for Stephen K. Bannon's plans for a fiery Republican revolution had already been fading among some of the donors and candidates he was relying on to upend the party's establishment. But Mr. Bannon's provocative remarks about President Trump and his family, reported in a new book now scheduled to be released this week, and Mr. Trump's angry response, further alienated some of Mr. Bannon's most important backers — including the family of the hedge fund magnate Robert Mercer — leaving Mr. Bannon confronting the possibility of a dire fate for a publicity-hungry provocateur: political irrelevance. The Mercers were blunt on Thursday in cutting the cord, reiterating support for Mr. Trump while disavowing Mr. Bannon's remarks and disowning his political endeavors. 'My family and I have not communicated with Steve Bannon in many months and have provided no financial support to his political agenda, nor do we support his recent actions and statements,' Rebekah Mercer, Mr. Mercer's daughter, said in a statement. 'I have a minority interest in Breitbart News and I remain committed in my support for them.' The reference to Breitbart seemed an implicit threat. Mr. Bannon is chairman of Breitbart, and many staff members there believe there is a strong chance he might lose the job, though he was dismissive of that possibility on the site's daily editorial conference call on Thursday night, according to one person with knowledge of the call. Mr. Bannon's predicament highlights a stark reality in American politics, unchanged even after Mr. Trump's convention-defying victory: The influence of even the most influential political strategists is inextricably linked to the donors behind them and the politicians in front of them.… Mr. Bannon has never been bashful about his ambitions — or his belief in his ability to bounce back. When he was fired from his position as Mr. Trump's chief strategist in the White House in August amid an uproar over Mr. Trump's less-than-full condemnation of a white supremacist rally in Charlottesville, Va., Mr. Bannon predicted that he would become even more influential on the outside." See also, Rebekah Mercer issues rare public rebuke of her former ally Steve Bannon, The Washington Post, Rosalind S. Helderman, Thursday, 4 January 2018.
Obstruction of Justice Inquiry Shows Trump's Struggle to Keep a Grip on the Russia Investigation, The New York Times, Michael S. Schmidt, Thursday, 4 January 2018: "President Trump gave firm instructions in March to the White House's top lawyer: stop the attorney general, Jeff Sessions, from recusing himself in the Justice Department's investigation into whether Mr. Trump's associates had helped a Russian campaign to disrupt the 2016 election. Public pressure was building for Mr. Sessions, who had been a senior member of the Trump campaign, to step aside. But the White House counsel, Donald F. McGahn II, carried out the president's orders and lobbied Mr. Sessions to remain in charge of the inquiry, according to two people with knowledge of the episode. Mr. McGahn was unsuccessful, and the president erupted in anger in front of numerous White House officials, saying he needed his attorney general to protect him. Mr. Trump said he had expected his top law enforcement official to safeguard him the way he believed Robert F. Kennedy, as attorney general, had done for his brother John F. Kennedy and Eric H. Holder Jr. had for Barack Obama. Mr. Trump then asked, 'Where's my Roy Cohn?' He was referring to his former personal lawyer and fixer, who had been Senator Joseph R. McCarthy's top aide during the investigations into communist activity in the 1950s and died in 1986. The lobbying of Mr. Sessions is one of several previously unreported episodes that the special counsel, Robert S. Mueller III, has learned about as he investigates whether Mr. Trump obstructed the F.B.I.'s Russia inquiry. The events occurred during a two-month period — from when Mr. Sessions recused himself in March until the appointment of Mr. Mueller in May — when Mr. Trump believed he was losing control over the investigation. Among the other episodes, Mr. Trump described the Russia investigation as 'fabricated and politically motivated' in a letter that he intended to send to the F.B.I. director at the time, James B. Comey, but that White House aides stopped him from sending. Mr. Mueller has also substantiated claims that Mr. Comey made in a series of memos describing troubling interactions with the president before he was fired in May. The special counsel has received handwritten notes from Mr. Trump's former chief of staff, Reince Priebus, showing that Mr. Trump talked to Mr. Priebus about how he had called Mr. Comey to urge him to say publicly that he was not under investigation. The president's determination to fire Mr. Comey even led one White House lawyer to take the extraordinary step of misleading Mr. Trump about whether he had the authority to remove him. The New York Times has also learned that four days before Mr. Comey was fired, one of Mr. Sessions's aides asked a congressional staff member whether he had damaging information about Mr. Comey, part of an apparent effort to undermine the F.B.I. director. It was not clear whether Mr. Mueller's investigators knew about this episode. Mr. Mueller has also been examining a false statement that the president reportedly dictated on Air Force One in July in response to an article in The Times about a meeting that Trump campaign officials had with Russians in 2016. A new book, 'Fire and Fury: Inside the Trump White House,' by Michael Wolff, says that the president's lawyers believed that the statement was 'an explicit attempt to throw sand into the investigation's gears,' and that it led one of Mr. Trump's spokesmen to quit because he believed it was obstruction of justice…. Legal experts said that of the two primary issues Mr. Mueller appears to be investigating — whether Mr. Trump obstructed justice while in office and whether there was collusion between the Trump campaign and Russia — there is currently a larger body of public evidence tying the president to a possible crime of obstruction. But the experts are divided about whether the accumulated evidence is enough for Mr. Mueller to bring an obstruction case. They said it could be difficult to prove that the president, who has broad authority over the executive branch, including the hiring and firing of officials, had corrupt intentions when he took actions like ousting the F.B.I. director. Some experts said the case would be stronger if there was evidence that the president had told witnesses to lie under oath." See also, At Trump's behest, top White House lawyer Don McGahn urged Jeff Sessions not to step aside from Russia probe, The Washington Post, Matt Zapotosky and Josh Dawsey, Thursday, 4 January 2018. See also, Timeline: What we know about Trump's decision to fire James Comey as FBI director, The Washington Post, Philip Bump, published on Friday, 5 January 2018: "On Thursday evening, the New York Times published a news story [by Michael Schmidt, Obstruction Inquiry Shows Trump's Struggle to Keep Grip on Russia Investigation] detailing the tension within the White House as President Trump considered firing James B. Comey as FBI director. When Trump did so in May, it triggered precisely what the president had hoped to avoid: a more focused investigation of the Trump campaign's interactions with Russian actors during the 2016 presidential election. In light of that new report, we've built out a timeline of Trump's interactions with Comey and other significant individuals related to the relationship between the two. Extending back four years, it helps contextualize how Donald Trump as a candidate and then as president viewed Comey and the FBI's investigations into Hillary Clinton and the Trump campaign."
Can Trump Obstruct Justice? The New York Review of Books, Mark Greenberg, Thursday, 4 January 2018: "Can a president commit obstruction of justice by terminating a criminal investigation? This question has become critical to the future of the Trump presidency. In general, a person commits obstruction of justice if that person tries to impede an investigation, and does so with a corrupt purpose, such as to protect him- or herself from criminal liability or to reap financial gain. Special Counsel Robert Mueller is widely believed to be building a case that President Trump committed obstruction of justice by trying to shut down the FBI investigation of former national security adviser Michael Flynn. Such a claim of obstruction of justice would likely be central in any impeachment proceeding. When considering whether it is possible for the president to commit obstruction of justice by terminating an investigation, legal experts feel the pull of two conflicting ideas. On the one hand, it seems clear that a president who orders subordinates to lie to the FBI, destroys evidence, or bribes witnesses has committed obstruction of justice. This idea leads to the straightforward view that if the president acts with the corrupt purpose required for obstruction of justice, he can be guilty of that crime just as anyone else can. This republican view of presidential powers is probably the one held by most experts. On the other hand, one may think that surely the president must be special by virtue of the Constitution's broad grant of executive power. The executive branch would be unduly hampered if there were constant scrutiny of the president's motives in exercising his authority. But an embrace of this idea without qualification leads to a royalist view of presidential powers. The president's personal lawyer, John Dowd, has recently defended the royalist view, maintaining that the president, as chief law enforcement officer of the United States, cannot commit obstruction of justice. This position would have the implausible consequence, among others, that President Nixon's actions did not constitute obstruction of justice. The notion that it is legally impossible for the president to obstruct justice is untenable in a democracy, and most commentators have roundly dismissed Dowd's royalist view. Several others—including two former Justice Department officials, David B. Rivkin Jr. and Lee A. Casey, writing in The Wall Street Journal, but most notably Harvard Law professor emeritus Alan Dershowitz—have advocated a more nuanced position that seems to reconcile the two conflicting ideas, what I call the protected act view…. The protected act view suffers from two fundamental flaws."
U.S. District Judge Richard Leon of Washington sides with the House Intelligence Committee on its request for bank records from Fusion GPS, the firm behind the Trump dossier, The Washington Post, Spencer S. Hsu, Thursday, 4 January 2018: "A federal judge Thursday denied a request by Fusion GPS to block the House Intelligence Committee from demanding bank records of 70 of the private investigative firm's transactions with law firms, journalists and contractors, ruling that the request did not violate the company's First Amendment rights to political speech and association. In a 26-page opinion, U.S. District Judge Richard Leon of Washington said the data sought by the House GOP-led panel in its investigation into Russian influence in the 2016 election concerned only the firm's business activities, not the substance of its clients' political activities. 'The financial records the Committee seeks show only the name of the payer or the payee, the amount of the payment, and certain identifying information. They do not indicate what the payment was for,' Leon wrote. Fusion GPS said it would appeal the ruling, arguing that the House panel was ranging into private dealings unrelated to the Russia probe or to President Trump and cutting into the heart of the firm's rights to associate anonymously with individuals and organizations conducting political opposition research, including in the U.S. presidential election."
Trump, Citing Pakistan as a 'Safe Haven' for Terrorists, Freezes Nearly All Security Aid, The New York Times, Mark Landler and Gardiner Harris, Thursday, 4 January 2018: "The Trump administration announced on Thursday that it would suspend nearly all security aid to Pakistan, an across-the-board freeze that is the most tangible sign yet of Washington's frustration with the country's refusal to crack down on terrorist networks operating there. The decision, which could affect as much as $1.3 billion in annual aid, came three days after President Trump complained on Twitter that Pakistan had 'given us nothing but lies & deceit' and accused it of providing 'safe haven to the terrorists we hunt in Afghanistan.' The move underlines how swiftly relations with Pakistan have deteriorated since Mr. Trump took office. But it echoes several previous rifts between the countries over Pakistan's role as a sanctuary for extremist groups — a role that has poisoned Islamabad's relations with Washington since the terrorist attacks of September 2001. Administration officials emphasized that the freeze was temporary and could be lifted if Pakistan changed its behavior. The United States is urging the Pakistani government to cut off contact with militants and reassign intelligence agents with links to extremists, among other measures." See also, Trump administration suspends most security aid to Pakistan, The Washington Post, Missy Ryan and Carol Morello, Thursday, 4 January 2018.
Trump Moves to Open Nearly All Offshore Waters to Oil and Gas Drilling, The New York Times, Lisa Friedman, Thursday, 4 January 2018: "The Trump administration said Thursday it would allow new offshore oil and gas drilling in nearly all United States coastal waters, giving energy companies access to leases off California for the first time in decades and opening more than a billion acres in the Arctic and along the Eastern Seaboard. The proposal lifts a ban on such drilling imposed by President Barack Obama near the end of his term and would deal a serious blow to his environmental legacy. It would also signal that the Trump administration is not done unraveling environmental restrictions in an effort to promote energy production. While the plan puts the administration squarely on the side of the energy industry and against environmental groups, it also puts the White House at odds with a number of coastal states that oppose offshore drilling. Some of those states are led by Republicans, like Gov. Rick Scott of Florida, where the tourism industry was hit hard by the Deepwater Horizon rig disaster in 2010 that killed 11 people and spilled millions of gallons of oil into the Gulf of Mexico. Governor Scott vowed on Thursday to protect his state's coast from drilling, saying he would raise the issue with Interior Secretary Ryan Zinke."
Trump Administration Takes a Step That Could Threaten the Marijuana Legalization Movement, The New York Times, Charlie Savage and Jack Healy, Thursday, 4 January 2018: "The viability of the multibillion-dollar marijuana legalization movement was thrown into new doubt on Thursday when the Trump administration freed prosecutors to more aggressively enforce federal laws against the drug in states that have decriminalized its production and sale, most recently California. Attorney General Jeff Sessions, long a vocal opponent of the legalization of marijuana, rescinded an Obama-era policy that discouraged federal prosecutors in most cases from bringing charges wherever the drug is legal under state laws…. Democrats and some Republicans condemned the move. Senator Cory Gardner, Republican of Colorado, threatened to retaliate by holding up Justice Department appointments that required Senate approval. Gavin Newsom, the Democratic lieutenant governor of California, vowed to encourage cooperation among states that have legalized marijuana." See also, Use of legalized marijuana is threatened as Attorney General Jeff Sessions rescinds Obama-era directive that eased enforcement of federal laws against marijuana, The Washington Post, Matt Zapotosky, Sari Horwitz, and Joel Achenbach, Thursday, 4 January 2018. See also, California Is Defiant in the Face of Federal Move to Get Tough on Marijuana, The New York Times, Thomas Fuller, Thursday, 4 January 2018: "The sale of recreational cannabis became legal in California on New Year's Day. Just four days later, the Trump administration acted in effect to undermine that state law by allowing federal prosecutors to be more aggressive in prosecuting marijuana cases. A memo by Attorney General Jeff Sessions on Thursday was widely interpreted in the nation's most populous state as the latest example of Trump vs. California, a multifront battle of issues ranging from immigration to taxes to the environment. And on marijuana, once again California reacted with defiance…. Although medical marijuana is legal in some form in 29 states and recreational marijuana is sold in six states, it remains banned by the federal government and is classified in the same category as heroin."
A briefing by the CDC (Centers for Disease Control) is to focus on preparing for nuclear war, Politico, Brianna Ehley, Thursday, 4 January 2018: "The CDC wants the public to be prepared for nuclear war. The agency has posted a notice touting a Jan. 16 briefing about the work that federal, state and local governments are doing in case of a possible nuclear strike. 'While a nuclear detonation is unlikely, it would have devastating results and there would be limited time to take critical protection steps,' the notice states. 'Despite the fear surrounding such an event, planning and preparation can lessen deaths and illness.' Presenters include Dan Sosin, CDC's deputy director and chief medical officer in the Office of Public Health Preparedness and Response, and experts on radiation safety and environmental hazards. The briefing comes amid rising tensions between the United States and North Korea. President Donald Trump earlier this week fired off a taunting tweet in which he bragged that his nuclear arsenal is more powerful than North Korea's. The CDC notice preceded that message." See also, Nuclear War Would Be 'Devastating,' So the C.D.C. Wants to Get People Prepared, The New York Times, Sheila Kaplan, published on Friday, 5 January 2018.
Federal Judge M. Margaret McKeown Rules That the Idaho Agriculture Gag Law Is Unconstitutional, Boise State Public Radio, Associated Press, Thursday, 4 January 2018: "Idaho's ban on spying at farms, dairies and slaughterhouses violated free speech rights, a federal appeals court ruled Thursday. 'The panel held that the subsection criminalized innocent behavior, was staggeringly overbroad, and that the purpose of the statute was, in large part, targeted at speech and investigative journalists,' wrote U.S. Circuit Judge M. Margaret McKeown in a 56-page ruling. Idaho lawmakers in 2014 passed the law making it a crime to surreptitiously videotape agriculture operations after the state's $2.5 billion dairy industry complained that videos of cows being abused at a dairy two years earlier unfairly hurt their businesses. The measure passed easily in Idaho, where agriculture is not only one of the leading businesses but also the occupation of many state lawmakers. Animal rights activists, civil rights groups and media organizations quickly sued once the bill received the governor's signature, arguing the law criminalized a long tradition of undercover journalism and would require people who expose wrongdoing to pay restitution to the businesses they target. In Thursday's decision, the appeals panel upheld a prior federal judge's ruling that the ban was an unconstitutional infringement of the First Amendment of the U.S. Constitution safeguarding free speech."
Trump Proposes New Health Plan Options for Small Businesses That Would Be Exempt from Many of the Consumer Protections Mandated by the Affordable Care Act, The New York Times, Robert Pear, Thursday, 4 January 2018: "The Trump administration on Thursday proposed sweeping new rules that could make it easier for small businesses to band together and create health insurance plans that would be exempt from many of the consumer protections mandated by the Affordable Care Act. As many as 11 million Americans 'could find coverage under this proposal,' the Labor Department said in issuing the proposed rules, which carry out an executive order signed by President Trump on Oct. 12. The public will have 60 days to comment on the proposal before the Trump administration adopts final rules with the force of law. The proposal would allow small business owners, their employees, sole proprietors and other self-employed people to join together as a single group to buy insurance in the large-group market. The new health plans could be exempt from some requirements of the Affordable Care Act. They would, for example, not have to provide certain "essential health benefits" like mental health care, emergency services, maternity and newborn care and prescription drugs…. But consumer groups, state officials and Blue Cross and Blue Shield plans have strenuously opposed similar ideas for years. Association health plans, they say, will tend to attract employers with younger, healthier workers, leaving behind sicker people in more comprehensive, more expensive plans that fully comply with the Affordable Care Act. That could drive up premiums, which already have risen steadily as Republicans have taken aim at President Barack Obama's signature domestic achievement. 'Those with serious health conditions like cancer would be left paying ever-increasing premiums for comprehensive coverage,' said Chris Hansen, the president of the American Cancer Society Cancer Action Network. 'The rule proposed today will almost certainly result in more people facing financial distress when an unexpected health crisis happens.'"
Coral reefs are bleaching four times as frequently as they did in the 1980s, scientists say, The Washington Post, Chris Mooney, Thursday, 4 January 2018: "Coral reefs are bleaching four to five times as frequently as they did around 1980, scientists said Thursday in a study that suggests climate change may be happening too rapidly for some reefs to withstand. 'With a fourfold increase over the last 35 years, if you take that forward, it's unfortunately in complete agreement with what the climate models have been saying,' said Mark Eakin, one of the study's authors and head of the National Oceanic and Atmospheric Administration's Coral Reef Watch. '[We're] looking at 90 percent of reefs seeing the heat stress that causes severe bleaching on an annual basis by mid-century.'" See also, Global Warming's Toll on Coral Reefs: As if They're 'Ravaged by War,' The New York Times, Kendra Pierre-Louis and Brad Plumer, Thursday, 4 January 2018: "
Climate Change Is Suffocating Large Parts of the Ocean, National Geographic, Craig Welch, Thursday, 4 January 2018: "One day more than a decade ago, Eric Prince was studying the tracks of tagged fish when he noticed something odd. Blue marlin off the southeastern United States would dive a half-mile deep chasing prey. The same species off Costa Rica and Guatemala stayed near the surface, rarely dropping more than a few hundred feet. Prince, a billfish expert who has since retired from the National Oceanic and Atmospheric Administration, was stumped. He'd studied blue marlin off the Ivory Coast and Ghana, Jamaica and Brazil, and he'd never seen anything like it. Why wouldn't these expert divers dive? The billfish, it turns out, were trying to avoid suffocation. The marlin near Guatemala and Costa Rica wouldn't plunge into the murky depths because they were avoiding a deep, gigantic and expanding swath of water that contained too little oxygen. The discovery was among the first examples of the many ways sea life is already shifting in response to a new reality that hasn't gotten much attention: Marine waters, even far out in the high seas, are losing oxygen thanks to climate change, upending where and how sea creatures live."
Trump Administration Plans to Delay Enforcement of a Fair Housing Rule That Requires Communities to Address Patterns of Racial Residential Segregation, The New York Times, Emily Badger and John Eligon, Thursday, 4 January 2018: "Undermining another Obama-era initiative, the Trump administration plans to delay enforcement of a federal housing rule that requires communities to address patterns of racial residential segregation. The Department of Housing and Urban Development, in a notice to be published Friday in the Federal Register, says it will suspend until 2020 the requirement that communities analyze their housing segregation and submit plans to reverse it, as a condition of receiving billions of federal dollars in block grants and housing aid. The notice tells cities already at work on the detailed plans required by the rule that they no longer need to submit them, and the department says it will stop reviewing plans that have already been filed."