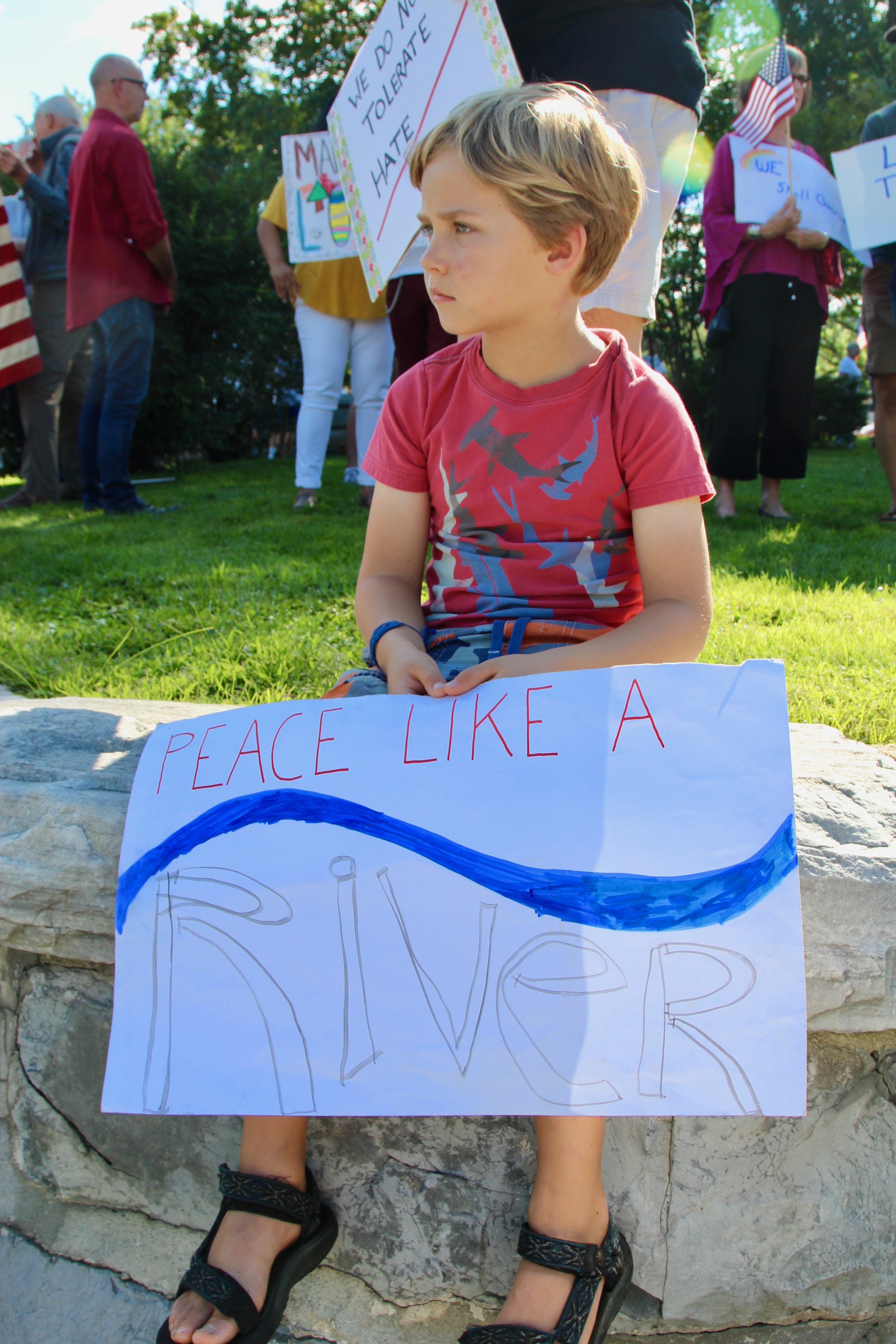 Keeping Track (of some things), Staying Outraged (it is possible), and Resisting (it's essential)
Passages in bold in the body of the texts below are my emphasis. This is an ongoing project, and I update the site frequently. Because I try to stay focused on what has actually happened, I usually let the news 'settle' a day or so before posting. I hope readers will peruse the articles in full for a better understanding of the issues and their context; our democracy and our future depend on citizens who can distinguish between facts and falsehoods and who are engaged in the political process.
Friday, 22 December 2017, Day 337:
Trump signs sweeping tax bill into law, The Washington Post, John Wagner, Friday, 22 December 2017: "President Trump on Friday signed the most significant overhaul of the U.S. tax code in 30 years, delivering on a pledge to finish work on the long-standing Republican priority by Christmas. Trump signed the $1.5 trillion measure in the Oval Office shortly before he was scheduled to head to his Mar-a-Lago resort in Florida for the holidays." See also, In Signing Sweeping Tax Bill, Trump Questions Whether He Is Getting Enough Credit, The New York Times, Eileen Sullivan and Michael Tackett, Friday, 22 December 2017: "President Trump signed the most consequential tax legislation in three decades on Friday, even as he complained that he has not been given credit for his administration's accomplishments during a turbulent first year. Mr. Trump decided against doing a formal signing ceremony early next year because television news networks questioned whether he would keep his promise to sign the legislation before Christmas. Mr. Trump said he saw the coverage Friday morning and hastily called his staff to say that the legislation needed to be signed 'now,' prompting a last-minute Oval Office ceremony for the president's greatest achievement in his first year in office. 'We did a rush job today,' Mr. Trump said at the bill signing. 'It's not fancy, but it's the Oval Office. It's the great Oval Office.' It marked another improvisational moment in a presidency already known for abandoning the norms of the office." See also, Trump Could Save More Than $11 Million Under the New Republican Tax Plan, The New York Times, Jesse Drucker and Audrey Carlsen, Friday, 22 December 2017: "President Trump would save about $11 million on his taxes, if the new Republican tax overhaul were applied to his 2005 tax return, a New York Times analysis has found. The savings would be a roughly 30 percent cut. He would also save another $4.4 million on his eventual estate tax bill. On Friday, President Trump signed the sweeping tax overhaul approved earlier this week by Congress, a package of cuts that would overwhelmingly benefit the wealthy. The analysis is based in part on information from his 2005 federal tax return, the most recent available, publicly released in March by David Cay Johnston on the website DCReport.org. Breaking with decades of tradition by previous presidents, Mr. Trump has refused to make any of his tax returns public. The analysis compares what his tax burden would be under current law with what it would be under the new legislation. On Tuesday, White House spokeswoman Sarah Huckabee Sanders said: 'In some ways, particularly on the personal side, the president will likely take a big hit.' Last month, Mr. Trump said he would be a 'big loser' under the tax bill. In fact, high-income earners like Mr. Trump are likely to benefit disproportionately from the new law. Nearly 43 percent of the tax overhaul's total benefits will flow to the top 5 percent of taxpayers, according to the nonpartisan Tax Policy Center."
Environmental Protection Agency Officials, Disheartened by the Agency's Direction, Are Leaving in Droves, The New York Times, Lisa Friedman, Marina Affo, and Derek Kravitz, Friday, 22 December 2017:  This article was written through collaboration between The New York Times and ProPublica, the independent, nonprofit investigative journalism organization. "More than 700 people have left the Environmental Protection Agency since President Trump took office, a wave of departures that puts the administration nearly a quarter of the way toward its goal of shrinking the agency to levels last seen during the Reagan administration. Of the employees who have quit, retired or taken a buyout package since the beginning of the year, more than 200 are scientists. An additional 96 are environmental protection specialists, a broad category that includes scientists as well as others experienced in investigating and analyzing pollution levels. Nine department directors have departed the agency as well as dozens of attorneys and program managers. Most of the employees who have left are not being replaced….Within the agency, science in particular is taking a hard hit. More than 27 percent of those who left this year were scientists, including 34 biologists and microbiologists; 19 chemists; 81 environmental engineers and environmental scientists; and more than a dozen toxicologists, life scientists and geologists. Employees say the exodus has left the agency depleted of decades of knowledge about protecting the nation's air and water. Many also said they saw the departures as part of a more worrisome trend of muting government scientists, cutting research budgets and making it more difficult for academic scientists to serve on advisory boards."
Appeals court rules that Trump's latest entry ban violates the law, The Washington Post, Matt Zapotosky, Friday, 22 December 2017: "A federal appeals court panel on Friday ruled that President Trump's third entry ban violates the law — although the judges put their own decision on hold until the Supreme Court can weigh in. In a 77-page decision, the three-judge panel with the U.S. Court of Appeals for the 9th Circuit ruled that Trump had again exceeded his lawful authority in issuing the latest ban and that he had not made a legally sufficient finding that entry of those blocked would be 'detrimental to the interests of the United States.' The ruling, however, is of little immediate consequence, as the judges said they would put it on hold pending consideration by the Supreme Court, which has allowed the ban to take effect."
Continue reading Week 49, Friday, 22 December – Thursday, 28 December 2017 (Days 337-343)
Federal prosecutors in Brooklyn Have Sought Kushner Records From Deutsche Bank, The New York Times, Ben Protess, Jessica Silver-Greenberg and David Enrich, Friday, 22 December 2017: "Federal prosecutors in Brooklyn have sought bank records about entities associated with the family company of Jared Kushner, President Trump's son-in-law and senior adviser, according to four people briefed on the matter. In recent weeks, prosecutors from the United States attorney's office in the Eastern District of New York subpoenaed records from Deutsche Bank, the giant German financial institution that has lent hundreds of millions of dollars to the Kushner family real estate business. Mr. Kushner, who was the Kushner Companies' chief executive until January, still owns part of the business after selling some of his stake. The family businesses include many legal entities. It is not clear which records were sought by prosecutors, what they are seeking to learn from them or to what degree, if any, they directly involve Mr. Kushner. There is no indication that the subpoena is related to the investigation being conducted by Robert S. Mueller III, the special counsel, into Russian meddling in the 2016 United States presidential election. Three prosecutors on Mr. Mueller's team previously worked at the United States attorney's office in Brooklyn, one as recently as this year. Federal prosecutors around the country typically check with Justice Department headquarters when their investigations may overlap."
U.S. District Court Judge Colleen Kollar-Kotelly rules that Trump voter fraud commission must give Democrat member more access, Politico, Josh Gerstein, Friday, 22 December 2017: "President Donald Trump's commission investigating voter fraud must give one of its Democratic members access to more of the panel's records, a federal judge ruled Friday night. U.S. District Court Colleen Kollar-Kotelly said Maine Secretary of State Matt Dunlap appeared to have been denied documents needed to be an active player in the deliberations of what is formally known as the President's Advisory Commission on Election Integrity. 'Plaintiff has a right, as a commissioner, to "fully participate" in the proceedings of the Commission. In the Court's view, his assertion that he will be unable to fully participate without the information contained in relevant documents that the Commission has not shared with the public has merit,' wrote Kollar-Kotelly, an appointee of President Bill Clinton. The judge said she was issuing an injunction to prevent 'dysfunction' at the commission, but her effort to keep the panel on track may be too little, too late. The group held its last meeting in September and officials have said it will not meet again this year."
F.B.I. Director Christopher Wray Wants to Move Forward, but Trump Is Making Wray's Job Harder, The New York Times, Adam Goldman and Maggie Haberman, Friday, 22 December 2017: "When President Trump tapped Christopher A. Wray to be his next F.B.I. director, it signaled a clear break from the tenure of James B. Comey, whom Mr. Trump had grown to distrust and eventually fired. It seemed Mr. Trump would let his handpicked F.B.I. director do his work unimpeded, giving Mr. Wray some breathing room. 'I know that he will again serve his country as a fierce guardian of the law and model of integrity,' the president said in June. But nearly five months since Mr. Wray started the job, Mr. Trump has not made Mr. Wray's life easier as he seeks to restore the public's confidence in the country's premier law enforcement agency — one that the president says is in 'Tatters.' Mr. Trump's verbal assaults have put Mr. Wray and his leadership team in a difficult position. Mr. Wray is trying to move past his predecessor's era and make sure there is not a whiff of politics at the F.B.I. He has promised the F.B.I.'s work would be based on the 'facts, the law and the impartial pursuit of justice — period.' Yet Mr. Trump and his allies in Congress are making that task much harder. Current and former F.B.I. officials say Mr. Trump's criticisms, and those of normally supportive Republican members of Congress, have damaged morale in some quarters of the bureau. Senior agents have expressed fear that if their names appear in the news media, they will be singled out for attack by politicians."
Will Congress Save the Dreamers Before Trump's DACA (Deferred Action for Childhood Arrivals) Deadline of 5 March 2018? The New Yorker, Jonathan Blitzer, Friday, 22 December 2017: "Members of Congress will leave Washington for their holiday break on Friday without coming to any agreement on the future of Deferred Action for Childhood Arrivals, the Obama-era program that shielded from deportation some seven hundred thousand undocumented immigrants who came to the U.S. as children. President Trump, in a concession to his anti-immigrant base, cancelled the program in September. But he also knew that DACA and its beneficiaries, known as Dreamers, are broadly popular among Americans. To minimize the political fallout from the cancellation, Trump called on lawmakers to pass legislation to restore the protections he had just ended. He set a deadline of March 5th for Congress to act. 'Trump created this crisis, set a date to push recipients off of a cliff, and then left it to Congress to prevent it,' Cecilia Muñoz, a former Obama official who helped develop the DACA policy, told me. Members of both parties have vowed to fix DACA, but a concrete plan still hasn't materialized. While the delays continue, more than a hundred Dreamers are losing their status every day, meaning, among other things, that they can no longer work legally in the U.S. The Democrats had promised to pass legislation before the end of the year to resolve the situation. And, despite a Republican-controlled Congress, they had leverage: Republicans need their votes in order to pass measures to continue to fund the government. Earlier this year, some high-profile Democratic senators—including Kamala Harris, Elizabeth Warren, and Cory Booker—expressed willingness to withhold those votes and force a government shutdown over DACA. This week, however, it became clear that Democratic leaders weren't yet willing to go that far. On Thursday, Congress passed a resolution to continue funding the government into January. In theory, this will give the Democrats another chance to tie DACA to a future spending bill. But it nevertheless seemed like the Democrats had blinked. One immigrants-rights advocate told me, 'At the end of the day, the Democrats always take the immigrant community for granted, and it's the Dreamers who are shortchanged.'"
Pete Hoekstra, Trump's ambassador to the Netherlands, just got caught lying about the Dutch, The Washington Post, Amanda Erickson, Friday, 22 December 2017: "A Dutch journalist just asked new U.S. Ambassador Pete Hoekstra why he said there are 'no go' areas in the Netherlands, where radical Muslims are setting cars and politicians on fire. Hoekstra denied it, and called the claim 'fake news.' The report cut to a video clip of Hoekstra at a 2015 conference hosted by the David Horowitz Freedom Center saying: 'The Islamic movement has now gotten to a point where they have put Europe into chaos. Chaos in the Netherlands, there are cars being burned, there are politicians that are being burned.' 'And yes, there are no-go zones in the Netherlands,' he added in the clip. Then things got extremely weird. When the reporter pressed, Hoekstra denied using the term 'fake news,' which he'd uttered moments before. 'I didn't call that fake news,' he said. 'I didn't use the words today. I don't think I did.' Hoekstra was being interviewed by reporter Wouter Zwart for current affairs program Nieuwsuur. The interview is not playing well in the Netherlands. (One sample headline: 'The new Trump Ambassador to the Netherlands, Pete Hoekstra, lies about his own lies.')"
North Carolina is no longer classified as a democracy, The News & Observer, Andrew Reynolds, Friday, 22 December 2017: "In 2005, in the midst of a career of traveling around the world to help set up elections in some of the most challenging places on earth – Afghanistan, Burma, Egypt, Lebanon, South Africa, Sudan and Yemen, among others – my Danish colleague, Jorgen Elklit, and I designed the first comprehensive method for evaluating the quality of elections around the world. Our system measured 50 moving parts of an election process and covered everything from the legal framework to the polling day and counting of ballots. In 2012 Elklit and I worked with Pippa Norris of Harvard University, who used the system as the cornerstone of the Electoral Integrity Project. Since then the EIP has measured 213 elections in 153 countries and is widely agreed to be the most accurate method for evaluating how free and fair and democratic elections are across time and place. When we evolved the project I could never imagine that as we enter 2017, my state, North Carolina, would perform so badly on this, and other, measures that we are no longer considered to be a fully functioning democracy. In the just released EIP report, North Carolina's overall electoral integrity score of 58/100 for the 2016 election places us alongside authoritarian states and pseudo-democracies like Cuba, Indonesia and Sierra Leone. If it were a nation state, North Carolina would rank right in the middle of the global league table – a deeply flawed, partly free democracy that is only slightly ahead of the failed democracies that constitute much of the developing world."
Saturday, 23 December 2017, Day 338:
Officials Say US Agrees to Provide Lethal Weapons to Ukraine, The New York Times, The Associated Press, Friday, 22 December 2017: "The Trump administration has approved a plan to provide lethal weapons to Ukraine, U.S. officials said Friday, in a long-awaited move that deepens America's involvement in the military conflict and may further strain relations with Russia. The new arms include American-made Javelin anti-tank missiles that Ukraine has long sought to boost its defenses against Russian-backed separatists armed with tanks that have rolled through eastern Ukraine during violence that has killed more than 10,000 since 2014. Previously, the U.S. has provided Ukraine with support equipment and training, and has let private companies sell some small arms like rifles. The officials describing the plan weren't authorized to discuss it publicly and demanded anonymity."
At a dinner at Mar-a-Lago on Friday night, Trump told his friends, 'You all just got a lot richer,' referencing the sweeping tax overhaul he signed into law hours earlier, CBS News, Kathryn Watson, Saturday, 23 December 2017: "President Trump kicked off his holiday weekend at Mar-a-Lago Friday night at a dinner where he told friends, 'You all just got a lot richer,' referencing the sweeping tax overhaul he signed into law hours earlier. Mr. Trump directed those comments to friends dining nearby at the exclusive club — including to two friends at a table near the president's who described the remark to CBS News — as he began his final days of his first year in office in what has become known as the 'Winter White House.' The president has spent many weekends of his presidency so far at the "Winter White House," where initiation fees cost $200,000, annual dues cost $14,000, and some of the most affluent members of society have the opportunity to interact with the president in a setting while many Americans cannot. This weekend, the president arrived after signing the most consequential legislation, and arguably, the greatest achievement, of his presidency thus far."
Stoking Fears, Trump Defied Bureaucracy to Advance Immigration Agenda, The New York Times, Michael D. Shear and Julie Hirschfeld Davis, Saturday, 23 December 2017: "Late to his own meeting and waving a sheet of numbers, President Trump stormed into the Oval Office one day in June, plainly enraged. Five months before, Mr. Trump had dispatched federal officers to the nation's airports to stop travelers from several Muslim countries from entering the United States in a dramatic demonstration of how he would deliver on his campaign promise to fortify the nation's borders. But so many foreigners had flooded into the country since January, he vented to his national security team, that it was making a mockery of his pledge. Friends were calling to say he looked like a fool, Mr. Trump said. According to six officials who attended or were briefed about the meeting, Mr. Trump then began reading aloud from the document, which his domestic policy adviser, Stephen Miller, had given him just before the meeting. The document listed how many immigrants had received visas to enter the United States in 2017. More than 2,500 were from Afghanistan, a terrorist haven, the president complained. Haiti had sent 15,000 people. They 'all have AIDS,' he grumbled, according to one person who attended the meeting and another person who was briefed about it by a different person who was there. Forty thousand had come from Nigeria, Mr. Trump added. Once they had seen the United States, they would never 'go back to their huts' in Africa, recalled the two officials, who asked for anonymity to discuss a sensitive conversation in the Oval Office. As the meeting continued, John F. Kelly, then the secretary of homeland security, and Rex W. Tillerson, the secretary of state, tried to interject, explaining that many were short-term travelers making one-time visits. But as the president continued, Mr. Kelly and Mr. Miller turned their ire on Mr. Tillerson, blaming him for the influx of foreigners and prompting the secretary of state to throw up his arms in frustration. If he was so bad at his job, maybe he should stop issuing visas altogether, Mr. Tillerson fired back. Tempers flared and Mr. Kelly asked that the room be cleared of staff members. But even after the door to the Oval Office was closed, aides could still hear the president berating his most senior advisers."
Andrew McCabe, F.B.I.'s Embattled Deputy Director, Is Expected to Retire, The New York Times, Adam Goldman, Saturday, 23 December 2017: "The F.B.I.'s embattled deputy director, Andrew G. McCabe, an unlikely lightning rod who has been attacked repeatedly by President Trump and congressional Republicans, is expected to retire after he becomes eligible for his pension early next year, according to people familiar with his decision. While Mr. McCabe's plans to leave aren't unexpected, his decision should take some of the pressure off Christopher A. Wray, who was confirmed as F.B.I. director in August. Mr. Trump has complained to confidantes that Mr. Wray has not moved fast enough to replace the senior leadership that he inherited from his predecessor, James B. Comey, whom Mr. Trump summarily dismissed in May. A White House official said in a statement this week that many senior leaders of the bureau were 'politically motivated' and said Mr. Wray was the 'right choice to clean up the misconduct at the highest levels of the F.B.I.' On Saturday, Mr. Trump went after Mr. McCabe and Mr. Comey again in a fusillade on Twitter. @realDonaldTrump: 'How can FBI Deputy Director Andrew McCabe, the man in charge, along with leakin' James Comey, of the Phony Hillary Clinton investigation (including her 33,000 illegally deleted emails) be given $700,000 for wife's campaign by Clinton Puppets during investigation?… FBI Deputy Director Andrew McCabe is racing the clock to retire with full benefits. 90 days to go?!!!' In fact, as a career civil servant, Mr. McCabe, 49, has protections and cannot be pushed out by the president."
Federal Court Grants Injunction in Suit to Stop Trump Administration from Separating Refugees from Their Families, ACLU News Release, Saturday, 23 December 2017: "The U.S. District Court in Seattle has granted a nationwide injunction in response to the ACLU of Washington's motion for a Preliminary Injunction on behalf of a refugee living in Washington state who wants to be reunited with his wife and children. The judge's order in the case Doe v. Trump enjoins the Trump Administration from enforcing a policy which would indefinitely prevent children and spouses from any country from being allowed to join refugees already admitted to the U.S. 'I am very happy that the judge recognized my right to have my family join me here in the United States, and I hope that they can come here as soon as possible,' said plaintiff Joseph Doe. 'We are hopeful that Joseph Doe — who has not yet had the opportunity to celebrate a single birthday with his younger son in person — will soon have the opportunity to hold his children, hug his wife in the very near future, and be together again as a family for the first time in four years,' said Lisa Nowlin, Staff Attorney for the ACLU of Washington. While the administration had cited grounds of national security for its policy, the Court found that the government did not point to any specific national security threat that justified the suspension of admitting refugees with family members in the U.S. 'Arbitrary policies requiring special memos on preschool children like Joseph Doe's four- and five-year-old sons do not make our nation safer. They are a waste of resources. Joseph's children have already been under screening by the government for almost half of their young lives, and Joseph has a right to be reunited with them,' said Tana Lin, ACLU of Washington cooperating attorney with the firm Keller Rohrback L.L.P."
Trump administration renews copper and nickel mining leases on the border of Minnesota's Boundary Waters Canoe Area Wilderness, reversing Obama decision, The Washington Post, Juliet Eilperin, Saturday, 23 December 2017: "The Trump administration moved Friday to renew leases for a copper and nickel mining operation on the border of Minnesota's Boundary Waters Canoe Area Wilderness, reversing a decision made in the final weeks of Barack Obama's tenure in office. The action, made public in an Interior Department legal decision, marks a win for the Chilean mining firm belonging to the family of billionaire Andrónico Luksic, who rents a home to Ivanka Trump and her husband, Jared Kushner, in Washington. The department and U.S. Forest Service had decided a year ago not to renew the leases while federal officials launched a formal review of the operation's environmental impact. Reversing that outcome has been the subject of intense lobbying since President Trump took office. Interior Secretary Ryan Zinke met with proponents of Twin Metals Minnesota, a subsidiary of the Chilean mining giant Antofagasta PLC, shortly after taking office."
Sunday, 24 December 2017, Day 339:
After a Chaotic Start, Congress Has Made a Conservative Mark, The New York Times, Sheryl Gay Stolberg, Sunday, 24 December 2017: "After a halting start, the Republican-controlled 115th Congress — sometimes in collaboration with President Trump, often despite him — has enacted surprisingly far-reaching conservative achievements in its first year, among them a long-promised rewrite of the tax code, oil drilling in the Arctic and a series of lifetime appointments to the judiciary. For the new year, Republican leaders in the House have their sights on decades-old programs for the poor that they say are too easily exploited by those who do not need them. Mr. Trump is expected to move forward with a long-promised program to rebuild roads, bridges and other infrastructure…. @realDonaldTrump tweeted: 'The Tax Cut/Reform Bill, including Massive Alaska Drilling and the Repeal of the highly unpopular Individual Mandate, brought it all together as to what an incredible year we had. Don't let the Fake News convince you otherwise…and our insider Polls are strong!' Those achievements came after the quiet confirmation of 12 federal appeals court judges — the most in a single year since the appeals courts were established in 1891. The confirmations will remake the federal judiciary, stocking it with young and very conservative judges who will serve for decades to come. And those came along with the confirmation of Neil M. Gorsuch to the Supreme Court."
American ISIS Suspect Held in Iraq Has the Right to a Lawyer, Judge Tanya S. Chutkan of the Federal District Court of the District of Columbia Rules, The New York Times, Charlie Savage, Sunday, 24 December 2017: "Calling the Trump administration's position 'disingenuous' and 'troubling,' a federal judge on Saturday ordered the Pentagon to permit a lawyer for the American Civil Liberties Union to meet with a United States citizen who has been imprisoned in military custody for three months after being deemed an enemy combatant. In a novel case pitting the individual rights of citizens against government wartime powers, Judge Tanya S. Chutkan of the Federal District Court of the District of Columbia also ordered the Pentagon not to monitor that conversation — and told it not to transfer the man, who is being held in Iraq, until the A.C.L.U. conveys his wishes to her. A Syrian militia captured the American citizen in mid-September and turned him over to American forces as someone suspected of fighting for the Islamic State. The government has refused to identify the man, but officials familiar with the matter have said he is a dual citizen of the United States and Saudi Arabia who was born on American soil to visiting Saudi parents and raised in Saudi Arabia. The A.C.L.U. has filed a habeas corpus lawsuit on the man's behalf challenging his indefinite detention without charges or a lawyer. The Trump administration has asked Judge Chutkan to dismiss the case, arguing that the rights organization lacks standing to file suit on the detainee's behalf since it has not met with the man, has no relationship with him and does not know his wishes. In a 12-page ruling, Judge Chutkan sharply criticized the government's position as 'disingenuous at best' since the Defense Department is preventing lawyers for the group from conferring with the man. She also noted that the government has acknowledged that the man asked for a lawyer after being read the Miranda warning when interrogators shifted from questioning him for intelligence purposes to questioning him in hopes of gathering evidence that is admissible in a courtroom."
Trump Administration Eases Nursing Home Fines In Victory for the Nursing Home Industry, The New York Times, Jordan Rau, Sunday, 24 December 2017: "The Trump administration is scaling back the use of fines against nursing homes that harm residents or place them in grave risk of injury, part of a broader relaxation of regulations under the president. The shift in the Medicare program's penalty protocols was requested by the nursing home industry. The American Health Care Association, the industry's main trade group, has complained that under President Barack Obama, federal inspectors focused excessively on catching wrongdoing rather than helping nursing homes improve. 'It is critical that we have relief,' Mark Parkinson, the group's president, wrote in a letter to Mr. Trump in December 2016. Since 2013, nearly 6,500 nursing homes — four of every 10 — have been cited at least once for a serious violation, federal records show. Medicare has fined two-thirds of those homes. Common citations include failing to protect residents from avoidable accidents, neglect, mistreatment and bedsores. The new guidelines discourage regulators from levying fines in some situations, even when they have resulted in a resident's death. The guidelines will also probably result in lower fines for many facilities. The change in policy aligns with Mr. Trump's promise to reduce bureaucracy, regulation and government intervention in business."
Monday, 25 December 2017, Day 340:
Taking Credit for U.N. Budget Cut, Trump's Ambassador Nikki Haley Hints at More Cuts to Come, The New York Times, Rick Gladstone, Monday, 25 December 2017: "At least four times in the past week, the Trump administration has linked financial support for the United Nations to compliance with American demands. First President Trump and his ambassador, Nikki R. Haley, fumed that all countries with seats on the Security Council except the United States had opposed American recognition of Jerusalem as Israel's capital and his decision to put the United States Embassy there. Then Mr. Trump dared the General Assembly to follow the Security Council's example. 'Let them vote against us,' he said. 'We will save a lot.' When the General Assembly voted 128 to 9 against the Americans, Ms. Haley said she would take names and remember them the next time the United States was asked for financial help from members who disagreed with its stance on Jerusalem. The vote against the United States, she said, would make a difference 'on how we look at countries who disrespect us at the U.N.' Then on Sunday, when United Nations members reached agreement on a 2018-2019 budget of $5.4 billion, Ms. Haley issued a statement emphasizing the American role in achieving more than $285 million in cuts, along with hints of more reductions to come."
Tuesday, 26 December 2017, Day 341:
Trump slams FBI and Obamacare in post-Christmas tweets, The Washington Post, Michelle Ye Hee Lee, Tuesday, 26 December 2017: "After a quiet Christmas Day, President Trump on Tuesday returned to two of his favorite vacation activities: tweeting and golfing. Trump began his day criticizing the FBI and claiming that the now-famous dossier containing allegations about his connections to Russia and possible coordination between his campaign and the Kremlin during the 2016 election is a 'pile of garbage.' Trump, who is vacationing at his Mar-a-Lago estate here, appeared to be watching and quoting from the morning cable-news show 'Fox & Friends' while tweeting. 'WOW, @foxandfrlends "Dossier is bogus. Clinton Campaign, DNC funded Dossier. FBI CANNOT (after all of this time) VERIFY CLAIMS IN DOSSIER OF RUSSIA/TRUMP COLLUSION. FBI TAINTED." And they used this Crooked Hillary pile of garbage as the basis for going after the Trump Campaign!' he tweeted, referring his followers to a misspelled Twitter account that is unrelated to the TV show. The Hillary Clinton campaign and the Democratic National Committee helped fund the research that resulted in the dossier, which was first published by BuzzFeed in January. Officials have said some of the information it contains has been corroborated, but other parts — including the most salacious claims about Trump's behavior — remain unverified. Trump and some congressional Republicans are ramping up their criticism of the FBI, in an apparent effort to discredit special counsel Robert S. Mueller III and his investigation into possible coordination between the Trump campaign and Russia. On Christmas Eve, Trump attacked FBI Deputy Director Andrew McCabe, who plans to retire amid increasing criticism from Republicans, for his role in the investigation into Hillary Clinton's use of a private email server while she was secretary of State. Trump and his supporters have claimed McCabe and other FBI officials are biased against him."
The Interior Department has quietly rolled back an Obama-era policy aimed at protecting migratory birds, The Washington Post, Juliet Eilperin, Tuesday, 26 December 2017: "The Interior Department has quietly rolled back an Obama-era policy aimed at protecting migratory birds, stating in a solicitor's opinion that it will no longer prosecute oil and gas, wind, and solar operators that accidentally kill birds. The new interpretation of the Migratory Bird Treaty Act (MBTA), which was issued Friday, marks a win for energy interests that described the federal government's previous position as overreaching. On Jan. 10, before President Trump's inauguration, Interior had issued an opinion declaring that operators could face legal liability for the incidental deaths of birds ensnared by uncovered oil-waste pits or unmarked transmission lines. The law in question, enacted in 1918, makes it illegal to 'pursue, hunt, take, [or] capture' migratory birds without a permit, and the dispute centers largely on how to interpret 'take.'"
Thomas Alvin Farr, Trump's Terrible Choice for Judge to Serve on the United States District Court for the Eastern District of North Carolina, The New York Times, William Barber II, Tuesday, 26 December 2017: "Among President Trump's worrisome nominees to the judiciary, perhaps none is as alarming as Thomas Alvin Farr, a protégé of Jesse Helms, the former North Carolina senator, and a product of the modern white supremacist machine that Mr. Helms pioneered. Mr. Farr, nominated to serve on the United States District Court for the Eastern District of North Carolina, began his career as counsel for Mr. Helms's Senate campaigns, where he participated in racist tactics to intimidate African-American voters. This alone is reason to reject his nomination, as is his apparent lying on the topic to the Senate Judiciary Committee. But Mr. Farr's connections to Mr. Helms's white supremacist causes and political network go much deeper."
New York's Attorney General Eric Schneiderman in Battle With Trump and Congressional Republicans, The New York Times, Danny Hakim and William K. Rashbaum, Tuesday, 26 December 2017: "Eric Schneiderman, New York's attorney general, reached a milestone of sorts recently. By moving to sue the Federal Communications Commission over net neutrality this month, his office took its 100th legal or administrative action against the Trump administration and congressional Republicans. His lawyers have challenged Mr. Trump's first, second and third travel bans and sued over such diverse matters as a rollback in birth control coverage and a weakening of pollution standards. They have also unleashed a flurry of amicus briefs and formal letters, often with other Democratic attorneys general, assailing legislation they see as gutting consumer finance protections or civil rights. 'We try to protect New Yorkers from those who would do them harm,' Mr. Schneiderman said during a recent interview in his Manhattan office. 'The biggest threat to New Yorkers right now is the federal government, so we're responding to it.'"
Trump's new suspension of refugees leaves some at risk of dying, doctors say. Some refugees with severe medical conditions have already died while waiting for the admissions to resume, advocates say. The Washington Post, Kevin Sieff, Tuesday, 26 December 2017: "The doctors told Timiro Hassan that her daughter could survive. The kidney cancer could be treated. Even though the United Nations couldn't pay for it, even though the chemotherapy wasn't available here, there was one option that for decades had saved the lives of Somali refugees in need of medical care. Five-year-old Nimo Salan could be resettled in America. 'Level: Emergency,' U.N. officials wrote on her file. 'If she doesn't get resettled, she'll die,' said one of her doctors, Aden Hassan Abdi, the clinical service coordinator with the Islamic Relief aid group. But Timiro Hassan ran into the same hurdle as hundreds of refugees with urgent medical conditions: the Trump administration's new security restrictions. There are now 11 countries facing a broad suspension from the U.S. refugee program. Even people with potentially deadly — yet treatable — illnesses are being blocked. Some refugees with severe medical conditions have already died while waiting for the admissions to resume, advocates say. The United States has been a global leader in resettling refugees since the aftermath of World War II, when it accepted more than a half-million displaced Europeans. But the number admitted in 2018 could be the lowest in decades, advocacy groups say."
Wednesday, 27 December 2017, Day 342:
The Environmental Protection Agency Wanted Years to Study Lead Paint Rule. It Got 90 Days. The New York Times, Lisa Friedman, Wednesday, 27 December 2017: "A federal appeals court on Wednesday ordered the Environmental Protection Agency to revise its nearly 17-year-old standard for dangerous levels of lead in paint and dust within one year, a rare legal move that amounts to a sharp rebuff of President Trump and Scott Pruitt, the E.P.A. administrator. The decision also called attention to the persistent threat of lead paint to children in millions of American homes, four decades after the federal government banned it from households. 'This is going to protect the brains of thousands of children across the country,' said Eve C. Gartner, a staff attorney for Earthjustice who helped argue the case on behalf of groups pushing for tougher standards. 'It's going to mean that children that otherwise would have developed very elevated blood lead levels will be protected from the damage associated with that, assuming E.P.A. follows the court order,' she said. The 2-to-1 decision, by the United States Court of Appeals for the Ninth Circuit, in San Francisco, means the E.P.A. must propose a new rule within 90 days, instead of the six years the Trump administration had requested to reconsider what levels of lead exposure are acceptable for children."
Here Are the Biggest Legal Challenges Facing Trump's Agenda in 2018 and the Status of Each, Mother Jones, Olivia Exstrum, Wednesday, 27 December 2017: ""'The Trump administration has shown a willingness to disregard basic constitutional principles in order to placate his base,' David Cole, the national legal director of the American Civil Liberties Union, told Mother Jones. 'The courts have stepped up to the plate.' With a seemingly endless stream of litigation against the Trump administration, it can be hard to keep up. [This article covers] lawsuits facing four of Trump's signature policies, and what to expect in 2018."
Federal judge Wallace Tashima blocks Arizona from banning Mexican American studies classes, Los Angeles Times, Jaweed Kaleem, Wednesday, 27 December 2017: "A federal judge on Wednesday blocked the state of Arizona from enforcing a controversial law banning ethnic studies courses, bringing near a close a seven-year battle over teaching about Mexican Americans in Tucson public schools. Wallace Tashima, a federal appeals court judge sitting in the district court in Arizona, said in his injunction that state legislators who passed the ban in 2010 violated the Constitution. The decision came in a lawsuit brought by students in 2010 against the state's board of education. Supporters of ethnic studies said the law, which banned courses designed primarily for students of a particular ethnic group, was racist and targeted Mexican Americans. Tashima said the ban was 'not for a legitimate educational purpose, but for an invidious discriminatory racial purpose and a politically partisan purpose.' Tashima also said the state could not keep funding from schools for not obeying the ban. The state's threat to withhold more than $14 million led Tuscon to drop its Mexican American studies program in 2012. The judge added that the state cannot lead 'any inspections or audits of any program, curriculum or course' to check whether a school district is following the 2010 law."
Thursday, 28 December 2017, Day 343:
Alabama Certifies Doug Jones as the Winner of the Alabama Senate Election, Brushing Aside Challenge from Roy Moore, The New York Times, Alan Blinder, Thursday, 28 December 2017: "Alabama officials on Thursday unhesitatingly pushed aside a legal challenge from Roy S. Moore and certified Doug Jones as the winner of this month's Senate election. The action, during a brief meeting at the State Capitol, was essentially the state's final step before the seating of the first Democrat elected to the Senate from Alabama in a quarter century. It was also a swift rejection, by some of the state's most powerful Republicans, of Mr. Moore's complaint that he was the victim of 'systematic voter fraud.' Mr. Jones's margin of victory was 21,924 votes, with more than 1.3 million ballots cast."
Trump, the Insurgent, Breaks With 70 Years of American Foreign Policy, The New York Times, Mark Landler, Thursday, 28 December 2017: "Nearly a year into his presidency, Mr. Trump remains an erratic, idiosyncratic leader on the global stage, an insurgent who attacks allies the United States has nurtured since World War II and who can seem more at home with America's adversaries. His Twitter posts, delivered without warning or consultation, often make a mockery of his administration's policies and subvert the messages his emissaries are trying to deliver abroad. Mr. Trump has pulled out of trade and climate change agreements and denounced the 2015 nuclear deal with Iran. He has broken with decades of American policy in the Middle East by recognizing Jerusalem as the capital of Israel. And he has taunted Kim Jong-un of North Korea as 'short and fat,' fanning fears of war on the peninsula. He has assiduously cultivated President Xi Jinping of China and avoided criticizing President Vladimir V. Putin of Russia — leaders of the two countries that his own national security strategy calls the greatest geopolitical threats to America. Above all, Mr. Trump has transformed the world's view of the United States from a reliable anchor of the liberal, rules-based international order into something more inward-looking and unpredictable. That is a seminal change from the role the country has played for 70 years, under presidents from both parties, and it has lasting implications for how other countries chart their futures."
During an Impromptu 30-Minute Interview with The New York Times, Trump Says the Russia Inquiry Makes the U.S. 'Look Very Bad,' The New York Times, Michael S. Schmidt and Michael D. Shear, Thursday, 28 December 2017: "President Trump said Thursday that he believes Robert S. Mueller III, the special counsel in the Russia investigation, will treat him fairly, contradicting some members of his party who have waged a weekslong campaign to try to discredit Mr. Mueller and the continuing inquiry. During an impromptu 30-minute interview with The New York Times at his golf club in West Palm Beach, the president did not demand an end to the Russia investigations swirling around his administration, but insisted 16 times that there has been 'no collusion' discovered by the inquiry. 'It makes the country look very bad, and it puts the country in a very bad position,' Mr. Trump said of the investigation. 'So the sooner it's worked out, the better it is for the country.' Asked whether he would order the Justice Department to reopen the investigation into Hillary Clinton's emails, Mr. Trump appeared to remain focused on the Russia investigation. 'I have absolute right to do what I want to do with the Justice Department,' he said, echoing claims by his supporters that as president he has the power to open or end an investigation. 'But for purposes of hopefully thinking I'm going to be treated fairly, I've stayed uninvolved with this particular matter.'" See also, Excerpts From Trump's Interview With The New York Times, The New York Times, Thursday, 28 December 2017. See also, Our Reporter Mike Schmidt on His Golf Club Interview With Trump, The New York Times, Michael S. Schmidt, published on Friday, 29 December 2017. See also, Donald Trump made 25 false Claims in his latest New York Times interview, The Toronto Star, Daniel Dale, published on Friday, 29 December 2017: "U.S. President Donald Trump sat down Thursday for a rare interview with a media outlet other than Fox News, holding an impromptu 30-minute session with New York Times reported Michael Schmidt at his golf club in West Palm Beach, Fla. He made nearly one false claim per minute — 25 false claims in all. The Star is keeping track of every false claim Trump makes as president. As of Dec. 22, Trump had already made 978 false claims; adding the Times interview, the tally will pass the 1,000 mark in the next update." See also, In a 30-minute interview with The New York Times, Trump made 24 false or misleading claims, The Washington Post, Glenn Kessler, published on Friday, 29 December 2017: "President Trump gave an impromptu half-hour interview with the New York Times on Dec. 28. We combed through the transcript and here's a quick roundup of the false, misleading or dubious claims that he made, at a rate of one every 75 seconds. (Some of the interview was off the record, so it's possible the rate of false claims per minute is higher.)" See also, 10 Falsehoods From Trump's Interview With The New York Times, The New York Times, Linda Qiu, Friday, published on 29 December 2017.
Trump Administration to Roll Back Offshore Drilling Safety Rules Created in 2010 After the Deepwater Horizon Spill in the Gulf of Mexico, The New York Times, Lisa Friedman and Hiroko Tabuchi, Thursday, 28 December 2017: "The Trump administration is poised to roll back offshore drilling safety regulations that were put in place after the 2010 Deepwater Horizon oil rig disaster in the Gulf of Mexico that killed 11 people and caused the worst oil spill in American history. A proposal by the Interior Department's Bureau of Safety and Environmental Enforcement, which was established after the spill and regulates offshore oil and gas drilling, calls for reversing the Obama-era regulations as part of President Trump's efforts to ease restrictions on fossil fuel companies and generate more domestic energy production…. The agency will officially publish its proposed rule in the Federal Register on Friday and give the public 30 days to comment on the plan."
Banned From the Banking Industry for Life, Albert Kelly, Friend of Environmental Protection Agency Administrator Scott Pruitt, Finds a New Home at the EPA, The Intercept, Sharon Lerner, Thursday, 28 December 2017: "The Environmental Protection Agency has tasked a banker who was banned from the banking industry for life with oversight of the nation's Superfund program. In May, the Federal Deposit Insurance Corporation fined Oklahoma banker Albert Kelly $125,000. According to a consent order, which The Intercept obtained through the Freedom of Information Act, the FDIC had 'reason to believe that [Kelly] violated a law or regulation, by entering into an agreement pertaining to a loan by the Bank without FDIC approval.' Two weeks later, EPA Administrator Scott Pruitt appointed Kelly to lead an effort to streamline the Superfund program. In July, the FDIC went further, banning Kelly from banking for life. The 'order of prohibition from further participation' explained that the FDIC had determined Kelly's 'unfitness to serve as a director, officer, person participating in the conduct of the affairs or as an institution-affiliated party of the Bank, any other insured depository institution.' But Pruitt, who had received loans from Kelly's bank, apparently didn't find Kelly's unfitness to serve in the financial industry as disqualifying his longtime friend from serving as a top official at the EPA. Since May, Kelly, or Kell as he was known in Oklahoma, has led the effort to streamline the Superfund program — which oversees remediation of some of the country's most toxic sites." Update: Massachusetts Senator Elizabeth Warren Wants to Know Why Banned Banker Albert Kelly Is a Senior Adviser at the Environmental Protection Agency, The Intercept, Sharon Lerner, published on Thursday, 18 January 2018.
After a chilly weather forecast, Trump tweets that the U.S. 'could use a little bit of that good old Global Warming,' The Washington Post, Dino Grandoni, Thursday, 28 December 2017: "In the years before moving to the White House, Donald Trump used Twitter to call climate change 'nonsense' peddled by 'con artists' and 'created by and for the Chinese.' Whenever temperatures reached teeth-chattering lows during New York winters, he would tweet, tongue in cheek, that what we needed was a 'heavy dose of global warming.'… Even though he is vacationing in Palm Beach, Fla., where temperatures are in the 70s, Trump tweeted on Thursday seemingly mocking those who accept climate science, suggesting that the East Coast will be so cold on New Year's Eve that global warming may be a good thing instead of an environmental calamity. @realDonaldTrump: 'In the East, it could be the COLDEST New Year's Eve on record. Perhaps we could use a little bit of that good old Global Warming that our Country, but not other countries, was going to pay TRILLIONS OF DOLLARS to protect against. Bundle up!'" See also, It's Cold Outside. Cue the Trump Global Warming Tweet. The New York Times, Kendra Pierre-Louis, Thursday, 28 December 2017: "With unusually frigid weather gripping much of the Eastern United States this week, President Trump took to Twitter on Thursday to cast doubt on the reality of climate change, but he appeared unaware of the distinction between weather and climate. Indeed, parts of the East Coast are bracing for record-breaking New Year's Eve temperatures. New York City is forecast to experience its coldest New Year's temperatures since the 1960s. But Mr. Trump's tweet made the common mistake of looking at local weather and making broader assumptions about the climate at large. Climate refers to how the atmosphere acts over a long period of time, while weather describes what's happening on a much shorter time scale. The climate can be thought of, in a way, as the sum of long periods of weather."
Why the 2018 Midterms Are So Vulnerable to Hackers, The New Yorker, Evan Osnos, Thursday, 28 December 2017: "Russian interference, obsolete voting machines, and tight races–lots of them–could be a chaotic combination in 2018."
Ruling by Chief Judge Beryl Howell of the U.S. District Court for the District of Columbia means that hundreds of thousands of poor Americans will soon be able to move to better areas, The Washington Post, Tracy Jan, Thursday, 28 December 2017: "A federal judge has ordered the U.S. Department of Housing and Urban Development to implement an Obama-era rule on Jan. 1 that would give low-income families greater access to housing in more affluent neighborhoods. The 2016 rule was designed to break up areas of concentrated poverty in two dozen metro regions, from Atlanta and Charlotte to San Diego and Honolulu. It would operate by taking into account the rental prices in specific neighborhoods — instead of averaging across an entire metropolitan area — making it easier for poor people to afford apartments in middle-class neighborhoods with better schools, lower crime rates and more job opportunities. Under the current system, families receiving public rental assistance have been concentrated in deeply segregated, high-poverty communities. A coalition of civil rights organizations sued the Trump administration in October after HUD Secretary Ben Carson announced that the agency would delay implementing the rule by nearly two years to allow the new administration time to fully understand its effects. Housing industry groups, including the National Association of Home Builders, lobbied against the rule, arguing that it would lead to disinvestment in inner city neighborhoods."
By the numbers: a 2017 money-in-politics index, The Center for Public Integrity, Ashley Balcerzak, Dave Levinthal, Carrie Levine, and Sarah Kleiner, Thursday, 28 December 2017: "We crunched a lot of numbers this year. Here are a few that stand out. $36,469,896: Amount President Donald Trump has already raised for his 2020 presidential reelection campaign. $4,228,162: Total payments to Trump-owned properties by candidates and political committees during the 2016 election cycle. 96: Percentage that came from Trump-related political committees. $237,472: Amount candidates and committees spent at Trump properties during the 2008, 2010, 2012 and 2014 election cycles combined."