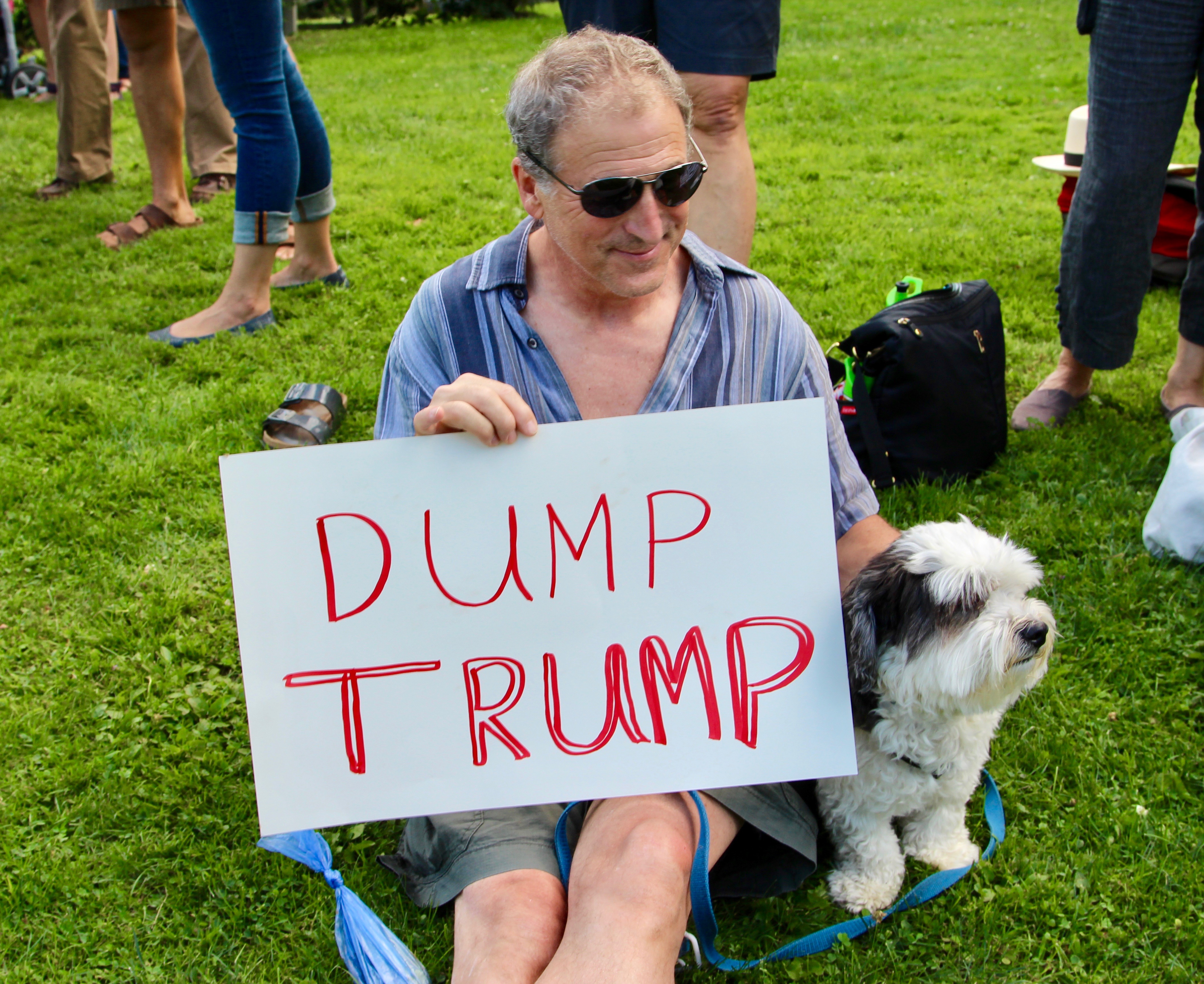 Keeping Track (of some things), Staying Outraged (it is possible), and Resisting (it's essential)
Passages in bold in the body of the texts below are my emphasis. This is an ongoing project, and I update the site frequently. Because I try to stay focused on what has actually happened, I usually let the news 'settle' a day or so before posting. I hope readers will peruse the articles in full for a better understanding of the issues and their context; our democracy and our future depend on citizens who can distinguish between facts and falsehoods and who are engaged in the political process.
Friday, 8 December 2017, Day 323:
Roy Moore, Republican Senate candidate from Alabama, says America was great in the era of slavery but is now the 'focus of evil in the world,' The Washington Post, Philip Bump, Friday, 8 December 2017: "In September, Moore held a rally in Florence, Ala. One of the members of the audience, an African American, asked Moore when he thought America was last great. 'I think it was great at the time when families were united — even though we had slavery — they cared for one another,' Moore replied, according to the Los Angeles Times. 'Our families were strong, our country had a direction.'… In August of this year, Moore was interviewed by the Guardian. CNN excerpted part of the discussion. The interviewer noted that Ronald Reagan once said that the Soviet Union was the focus of evil in the modern world. 'You could say that very well about America, couldn't you?' Moore replied…. In 1997, as a circuit court judge, Moore spoke out against evolution — and linked it to crime. CNN's KFILE team uncovered the video. 'We have kids driving by, shooting each other, that they don't even know each other,' Moore said. 'They're acting like animals because we've taught them they come from animals. They're treating their fellow men with prejudice because we taught them they come from animals.' In 2005, Moore was interviewed by journalist Bill Press. During that interview, he argued that homosexuality should be illegal…. In 2006, writing for the conservative site WorldNetDaily, he argued that Rep. Keith Ellison (D-Minn.) should not be allowed to serve in the House because he is Muslim and would be sworn in on the Koran…. A year ago, after Donald Trump's election, Moore was asked at an event whether he believed that Obama was born in the United States. 'My personal belief is that he wasn't,' Moore replied, 'but that's probably over and done in a few days, unless we get something else to come along.'"
Trump offers second endorsement of Republican Senate candidate Roy Moore days before the Alabama election, Politico, Louis Nelson, Friday, 8 December 2017: "President Donald Trump offered another full-throated pitch on Friday for Republican Senate candidate Roy Moore, imploring Alabama voters to keep the seat under GOP control and away from a 'Pelosi/Schumer puppet,' Democrat Doug Jones. 'LAST thing the Make America Great Again Agenda needs is a Liberal Democrat in Senate where we have so little margin for victory already,' the president wrote on Twitter. 'The Pelosi/Schumer Puppet Jones would vote against us 100% of the time. He's bad on Crime, Life, Border, Vets, Guns & Military. VOTE ROY MOORE!' Moore, a controversial former chief judge of the Alabama Supreme Court, has been accused by multiple woman of sexual misconduct, including one who alleged she was molested by Moore when she was 14 and he was in his 30s. Moore has denied the charges." See also, In Florida, Trump defended U.S. Senate candidate Roy Moore of Alabama by attacking the credibility of a woman who has accused Moore of sexually assaulting her when she was 16, Los Angeles Times, Michael Finnegan, Friday, 8 December 2017: "President Trump defended embattled U.S. Senate candidate Roy Moore of Alabama on Friday by trying to undercut the credibility of a woman who has accused him of sexually assaulting her when she was 16. At a campaign rally just over the Alabama state line in Pensacola, Fla., Trump tried to buttress Moore's argument that Beverly Young Nelson forged his signature on her high school yearbook. Nelson and her attorney, Gloria Allred, cite the yearbook as evidence that Moore pursued Nelson sexually when he was in his 30s. Nelson told ABC News on Friday that she had written notes beneath the inscription that she says Moore wrote in her yearbook, but stood by her statement that he wrote the inscription, signed it and later sexually assaulted her. 'So did you see what happened today, you know, the yearbook?' Trump asked the cheering crowd. 'Did you see that? There was a little mistake made. She started writing things in the yearbook. Gloria Allred, any time you see her, you know something's going wrong,' Trump continued. Allred represents Summer Zervos, a former contestant on Trump's television show, 'The Apprentice,' who is suing the president for allegedly groping and kissing her against her will in 2007, then defaming her by calling her a liar after she spoke out about it last year. Allred said Friday that a handwriting expert had confirmed that Moore signed Nelson's yearbook."
Representative Trent Franks (Republican-Arizona), Accused of Offering $5 Million to an Employee in His Office to Be a Surrogate Mother for His Children, Resigns, The New York Times, Katie Rogers, Friday, 8 December 2017: "Representative Trent Franks announced Friday that he would resign from Congress immediately after accusations emerged that he had offered $5 million to a female employee to be a surrogate mother for his children, and that she and another female employee worried that the lawmaker wanted to have sex as a means of impregnating them. Mr. Franks, Republican of Arizona and one of the House's most ardent social conservatives, had said Thursday that he would leave the House in January, and he admitted that he had discussed surrogate pregnancies with two employees. The House Ethics Committee had opened an investigation into his behavior, and the office of Speaker Paul D. Ryan said in a statement that Mr. Ryan had made it clear that Mr. Franks's actions were intolerable. 'After discussing options with my family,' he said in a statement, 'we came to the conclusion that the best thing for our family now would be for me to tender my previous resignation effective today.' But revelations about Mr. Franks's conduct made it clearer why the speaker had taken quick action. A House leadership aide confirmed that two aides in Mr. Franks's office believed the congressman was suggesting that he impregnate them sexually. Andrea Lafferty, the executive director of the Traditional Values Coalition, said that one of the women approached by Mr. Franks told her about the encounter last year, and said that Mr. Franks entreated her repeatedly to be a surrogate mother, at one point offering $5 million." See also, Representative Trent Franks (Republican-Arizona) offered $5 million to an aide in his office to bear his child. He resigned today amid inquiry. The Washington Post, Mike DeBonis, Friday, 8 December 2017.
Continue reading Week 47, Friday, 8 December – Thursday, 14 December 2017 (Days 316-322)
Official Death Toll in Puerto Rico is 64. Actual Deaths May Be 1,052. The New York Times, Frances Robles, Kenan Davis, Sheri Fink, and Sarah Almukhtar, Friday, 8 December 2017: "Homes were flattened. Power was knocked out. And all across Puerto Rico, bodies began showing up at morgues. Hurricane Maria pummeled Puerto Rico with great fury but the government there has reported an official death toll far lower than the devastation suggests. A review by The New York Times of daily mortality data from Puerto Rico's vital statistics bureau indicates a significantly higher death toll after the hurricane than the government there has acknowledged. The Times's analysis found that in the 42 days after Hurricane Maria made landfall on Sept. 20 as a Category 4 storm, 1,052 more people than usual died across the island. The analysis compared the number of deaths for each day in 2017 with the average of the number of deaths for the same days in 2015 and 2016."
CNN Corrects a Trump Story, Fueling Claims of 'Fake News,' The New York Times, Michael M. Grynbaum and Sydney Ember, Friday, 8 December 2017: "CNN on Friday corrected an erroneous report that Donald Trump Jr. had received advance notice from the anti-secrecy group WikiLeaks about a trove of hacked documents that it planned to release during last year's presidential campaign. In fact, the email to Mr. Trump was sent a day after the documents, stolen from the Democratic National Committee, were made available to the general public. The correction undercut the main thrust of CNN's story, which had been seized on by critics of President Trump as evidence of coordination between WikiLeaks and the Trump campaign. It was also yet another prominent reporting error at a time when news organizations are confronting a skeptical public, and a president who delights in attacking the media as 'fake news.' Last Saturday, ABC News suspended a star reporter, Brian Ross, after an inaccurate report that Donald Trump had instructed Michael T. Flynn, the former national security adviser, to contact Russian officials during the presidential race. The report fueled theories about coordination between the Trump campaign and a foreign power, and stocks dropped after the news. In fact, Mr. Trump's instruction to Mr. Flynn came after he was president-elect." See also Email pointed Trump campaign to WikiLeaks documents, CNN, Manu Raju and Jeremy Herb, Friday, 8 December 2017. See also, Email pointed Trump campaign to WikiLeaks documents that were already public, The Washington Post, Rosalind S. Helderman and Tom Hamburger, Friday, 8 December 2017.
The Next Step in the Radical Trump-Republican Agenda: Gut the Welfare State, The New Yorker, John Cassidy, Friday, 8 December 2017: "Much of journalism is dedicated to the proposition that the truth is often hidden. Sometimes, though, it is right there before our noses. Despite the chaos, the insinuations, and the scandals surrounding Donald Trump, he and his Republican allies on Capitol Hill are making progress toward enacting the radical conservative agenda that the G.O.P. has been developing over the past two decades. In a radio interview on Wednesday, Paul Ryan, the Speaker of the House, talked about the budget-busting, reward-the-rich G.O.P. tax bill—he didn't describe it that way, of course—and what will happen after Trump signs it into law, assuming the House-Senate conference can agree on a final text. 'We're going to have to get back next year at entitlement reform, which is how you tackle the debt and the deficit,' Ryan said. Programs like Medicare and Medicaid 'are the big drivers of debt,' he went on, 'so we spend more time on the health-care entitlements, because that's really where the problem lies, fiscally speaking.' Even by the standards of today's Republican Party, Ryan's comments were pretty brazen. No such worry about deficits came up when the G.O.P. proposed slashing taxes for the wealthy. This about-face wasn't anything new, however. For the G.O.P., tax reform was always part of a larger agenda: dismantling the welfare state, rolling back the regulatory state, and crippling the Democratic Party."
A uranium firm, Energy Fuels Resources (USA) Inc, lobbied Trump officials to shrink Bears Ears National Monument, The Washington Post, Juliet Eilperin, Friday, 8 December 2017: "A uranium company launched a concerted lobbying campaign to scale back Bears Ears National Monument, saying such action would give it easier access to the area's uranium deposits and help it operate a nearby processing mill, according to documents obtained by The Washington Post. Interior Secretary Ryan Zinke and top Utah Republicans have said repeatedly that questions of mining or drilling played no role in President Trump's announcement Monday that he was cutting the site by more than 1.1 million acres, or 85 percent. Trump also signed a proclamation nearly halving the Grand Staircase-Escalante National Monument, which is also in southern Utah and has significant coal deposits. 'This is not about energy,' Zinke told reporters Tuesday. 'There is no mine within Bears Ears.' But the nation's sole uranium processing mill sits directly next to the boundaries that President Barack Obama designated a year ago when he established Bears Ears. The documents show that Energy Fuels Resources (USA) Inc., a subsidiary of a Canadian firm, urged the Trump administration to limit the monument to the smallest size needed to protect key objects and areas, such as archeological sites, to make it easier to access the radioactive ore."
Trump will not speak publicly at the opening of the new Mississippi Civil Rights Museum. The decision was made after civil rights leaders and speakers decided to boycott the event and local groups decided to protest. NBC News, Phil McCausland, Friday, 8 December 2017: "President Donald Trump will participate in a separate private event at the new Civil Rights Museum in Jackson, Mississippi, on Saturday morning, rather than in the public ceremony. The decision came after the president's plan to attend the opening erupted into controversy. The Mississippi Department of Archives and History and the White House agreed to have a separate event after a series of noteworthy civil rights leaders and speakers decided to boycott the event and local groups planned to protest. Trump will tour the museum and speak at a private program in the morning, and the public ceremony will begin afterward."
Supreme Court Justices Are to Hear a Second Partisan Gerrymandering Case, The New York Times, Adam Liptak, Friday, 8 December 2017: "The Supreme Court added a second partisan gerrymandering case to its docket on Friday, suggesting that the justices are seriously considering whether voting maps warped by politics may sometimes cross a constitutional line. The court has never struck down a voting district as an unconstitutional partisan gerrymander. A ruling allowing such challenges could reshape American politics. The earlier case, from Wisconsin, was argued in October. The new case, a challenge to a Maryland congressional district, differs from the first case in several ways. It was brought by Republican voters rather than Democratic ones; it is focused on a single district rather than a statewide map; and it relies solely on the First Amendment rather than a legal theory that includes equal protection principles."
Supreme Court Justices, Divided 5-4, Let the Trump Administration Temporarily Shield Documents Concerning Its Decision to End a Program (DACA-Deferred Action for Childhood Arrivals) That Protected Some 800,000 Young, Undocumented Immigrants From Deportation, The New York Times, Adam Liptak, Friday, 8 December 2017: "The Trump administration may temporarily shield documents concerning its decision to end a program that protected some 800,000 young, undocumented immigrants from deportation, the Supreme Court ruled Friday in a brief, unsigned order. The court said it would consider the matter further, and it set an expedited briefing schedule. The vote was 5 to 4. Justice Stephen G. Breyer, writing for the court's four-member liberal wing, issued a 10-page dissent. The dispute over the documents arose in five consolidated lawsuits in California that accused administration officials of acting unlawfully when they abruptly rescinded the program, known as Deferred Action for Childhood Arrivals, or DACA. The plaintiffs include four states — California, Maine, Maryland and Minnesota — and Janet Napolitano, the president of the University of California. As secretary of homeland security in the Obama administration, Ms. Napolitano signed the document that established the program in 2012. Judge William H. Alsup, of the Federal District Court in San Francisco, ordered the administration to turn over internal documents concerning its reasons for canceling the program. A divided three-judge panel of the United States Court of Appeals for the Ninth Circuit rejected the administration's request to block Judge Alsup's order, with the majority saying that the few documents provided by the administration had been inadequate in light of the magnitude of the decision to end the program."
Earlier This Year F.B.I. Officials Warned Hope Hicks, One of Trump's Top Advisers, About Repeated Attempts by Russian Operatives to Make Contact With Her During the Presidential Transition, The New York Times, Adam Goldman and Matt Apuzzo, Friday, 8 December 2017: "F.B.I. officials warned one of President Trump's top advisers, Hope Hicks, earlier this year about repeated attempts by Russian operatives to make contact with her during the presidential transition, according to people familiar with the events. The Russian outreach efforts show that, even after American intelligence agencies publicly accused Moscow of trying to influence the outcome of last year's presidential election, Russian operatives were undaunted in their efforts to establish contacts with Mr. Trump's advisers. There is no evidence that Ms. Hicks did anything improper. According to former officials, American intelligence and law enforcement agencies became alarmed by introductory emails that Ms. Hicks received from Russian government addresses in the weeks after Mr. Trump's election. After [Trump] took office, senior F.B.I. counterintelligence agents met with Ms. Hicks in the White House Situation Room at least twice, gave her the names of the Russians who had contacted her, and said that they were not who they claimed to be. The F.B.I. was concerned that the emails to Ms. Hicks may have been part of a Russian intelligence operation, and they urged Ms. Hicks to be cautious."
Dina Powell, Influential Foreign Policy Adviser, Is Set to Exit the White House, The New York Times, Mark Landler and Peter Baker, Friday, 8 December 2017: "Dina H. Powell, a deputy national security adviser to President Trump and one of the most influential women in the Trump administration, will step down early next year, the White House said on Friday. Ms. Powell has been involved in an array of foreign policy issues during the last year, including Mr. Trump's effort to broker a peace accord between Israel and the Palestinians. On the president's foreign trips, including his most recent to Asia, she regularly had a seat at the table during his meetings with other leaders. In a White House fractured by tribal divisions, Ms. Powell has been a prominent member of the New York camp affiliated with Mr. Trump's daughter Ivanka and his son-in-law, Jared Kushner. Her departure will remove one of the figures who has resisted the more hard-line policies advocated by the nationalist wing associated with Stephen K. Bannon, who stepped down over the summer as the president's chief strategist. Ms. Powell's influence extended beyond the national security issues that would normally be under her purview; her name was once floated as a potential White House chief of staff. But her family remained in New York while she worked in Washington, and friends have said the weekly commute, and the time away from her children, had worn on her."
The Justice Department Is Investigating Fetal Tissue Transfers by Planned Parenthood and Others, The New York Times, Nicholas Fandos, Friday, 8 December 2017: "The Justice Department appears to be laying the groundwork for an investigation into the transfer of fetal tissue by abortion providers, including Planned Parenthood, picking up where several Republican-led inquiries in Congress had dropped off last year. In a letter to the Senate Judiciary Committee on Thursday, Stephen E. Boyd, the assistant attorney general for legislative affairs, requested unredacted documents underlying a 2016 investigation by the committee into the exchange of human fetal tissue that had been donated for research by women who get abortions. 'At this point, the records are intended for investigative use only,' Mr. Boyd wrote, adding that it might take a vote by the Senate to allow the documents to be used in formal legal proceedings. His letter, a copy of which was obtained by The New York Times, did not name Planned Parenthood or other groups implicated in the Judiciary Committee report. Nor did it give much indication of how expansive or developed the department's work was. A Justice Department spokeswoman, Sarah Isgur Flores, declined to comment on Friday, citing department policy against commenting on or confirming the existence of an ongoing investigation. But the decision by Attorney General Jeff Sessions's Justice Department is sure to breathe new life into a bruising fight over abortion and particularly the handling of fetal body parts after an abortion is complete. And it appeared to offer social conservatives a long-sought victory, moving the Planned Parenthood probes out off Capitol Hill to the Department of Justice."
Timeline: What we know about Trump's presidential campaign, Russia, and the investigation of the two, The Washington Post, Philip Bump, Friday, 8 December 2017: "Part of the reason that the ongoing investigations into possible links between Donald Trump's 2016 campaign and Russian actors appear endlessly complex is that new details are reported gradually, over the course of months. That trickle of revelations has the natural effect of clouding the timeline, making it difficult to figure out who knew what and when. In an effort to simplify, we've created the following timeline, which places information about interactions between the Trump team and Russia in the proper chronological order. We've included the dates on which each piece of information was reported to give a sense of when the revelations were made. (Those dates are indicated in parentheses after each piece of information.) Significant figures in the investigations are indicated in bold."
Saturday, 9 December 2017, Day 324:
Amid backlash and boycotts, Trump visits the new Mississippi Civil Rights Museum, and praises civil rights leaders, The Washington Post, DeNeen L. Brown and Cleve R. Wootson Jr., Saturday, 9 December 2017: "Amid backlash and boycotts, President Trump addressed an invitation-only gathering Saturday at the Mississippi Civil Rights Museum in Jackson — instead of attending the public opening ceremony. The change in plans came after Trump's plans to attend the opening of the museum, which honors civil rights martyrs, drew criticism from some who marched in the movement. Rep. John Lewis (D-Ga.), who marched with the Rev. Martin Luther King Jr. and was scheduled to deliver the keynote address at the opening, announced Thursday that he would boycott the stage at the public event if Trump were on it. Others called on Trump to change his plans and not attend the opening. Lewis and other black leaders said the president's actions and statements since he took office contradicted the values of the civil rights leaders whom the museum was intended to honor. 'President Trump's attendance and his hurtful policies are an insult to the people portrayed in this civil rights museum,' Lewis and Rep. Bennie Thompson (D-Miss.) said in a joint statement Thursday. On Friday, museum officials scrambled to accommodate both sides. They organized a private tour for the president — who was invited to the ceremony by Gov. Phil Bryant (R) — and arranged for him to address veterans of the cause in a private event in the auditorium of the Two Mississippi Museums complex — the civil rights museum and a museum of Mississippi history. Trump spoke briefly Saturday, peering down frequently at prepared notes. He mentioned several civil rights leaders, including King and Medgar Evers."
Trump's Hour-By-Hour Battle for Self-Preservation, The New York Times, Maggie Haberman, Glenn Thrush, and Peter Baker, Saturday, 9 December 2017: "Around 5:30 each morning, President Trump wakes and tunes into the television in the White House's master bedroom. He flips to CNN for news, moves to 'Fox & Friends' for comfort and messaging ideas, and sometimes watches MSNBC's 'Morning Joe' because, friends suspect, it fires him up for the day. Energized, infuriated — often a gumbo of both — Mr. Trump grabs his iPhone. Sometimes he tweets while propped on his pillow, according to aides. Other times he tweets from the den next door, watching another television. Less frequently, he makes his way up the hall to the ornate Treaty Room, sometimes dressed for the day, sometimes still in night clothes, where he begins his official and unofficial calls. As he ends his first year in office, Mr. Trump is redefining what it means to be president. He sees the highest office in the land much as he did the night of his stunning victory over Hillary Clinton — as a prize he must fight to protect every waking moment, and Twitter is his Excalibur. Despite all his bluster, he views himself less as a titan dominating the world stage than a maligned outsider engaged in a struggle to be taken seriously, according to interviews with 60 advisers, associates, friends and members of Congress. For other presidents, every day is a test of how to lead a country, not just a faction, balancing competing interests. For Mr. Trump, every day is an hour-by-hour battle for self-preservation. He still relitigates last year's election, convinced that the investigation by Robert S. Mueller III, the special counsel, into Russia's interference is a plot to delegitimize him. Color-coded maps highlighting the counties he won were hung on the White House walls. Before taking office, Mr. Trump told top aides to think of each presidential day as an episode in a television show in which he vanquishes rivals. People close to him estimate that Mr. Trump spends at least four hours a day, and sometimes as much as twice that, in front of a television, sometimes with the volume muted, marinating in the no-holds-barred wars of cable news and eager to fire back."
Trump unleashes fresh attacks, saying 'CNN made a vicious and purposeful mistake,' The Washington Post, Kristine Phillips, Saturday, 9 December 2017: "President Trump, armed with fresh ammunition against the mainstream media, fired off "fake news" attacks on Twitter after CNN incorrectly reported that his campaign received access to hacked emails well before the group WikiLeaks made the files public. Trump called the mistake 'vicious and purposeful' and said CNN's slogan should be 'THE LEAST TRUSTED NAME IN NEWS!' in a series of tweets Saturday morning. 'Watch to see if @CNN fires those responsible, or was it just gross incompetence?' Trump said."
Trump calls for Washington Post reporter who apologized for inaccurate tweet to be fired, The Washington Post, Emily Yahr, Saturday, 9 December 2017: "President Trump on Saturday evening issued a call for a reporter with The Washington Post to be fired because of a quickly deleted tweet that presented a misleading impression of Trump's rally crowd in Florida. The Post reporter, David Weigel, had earlier tweeted a photo of the crowd gathered at Pensacola Bay Center for Trump's speech there Friday evening, showing numerous empty seats. He removed the tweet after being told by others that the photo was taken before the venue filled up and apologized in a later Twitter exchange with the president. Trump's public response: '.@daveweigel of the Washington Post just admitted that his picture was a FAKE (fraud?) showing an almost empty arena last night for my speech in Pensacola when, in fact, he knew the arena was packed (as shown also on T.V.). FAKE NEWS, he should be fired.' On Saturday night, The Washington Post released a statement. 'Dave Weigel relied on an inaccurate image in tweeting about President Trump's rally in Pensacola,' the paper's vice president of communications, Kristine Coratti Kelly, said. 'When others pointed out the mistake to Weigel, he quickly deleted the tweet. And when he was later addressed by the president on Twitter, he promptly apologized for it.'"
The Democratic National Committee's Unity Reform Commission Takes a Whack at Superdelegates, The Intercept, Aida Chávez, Saturday, 9 December 2017: "The Democratic party's Unity Reform Commission on Saturday voted nearly unanimously on a series of proposals aimed at reforming the presidential nominating process, including one that would eliminate 60 percent of superdelegates and require the remainder to follow the wishes of their respective state. The commission, made up of 21 members selected by Hillary Clinton, Sen. Bernie Sanders, and Democratic National Committee Chair Tom Perez, held its final meetings on Friday and Saturday in a conference room at the Marriott Wardman Park hotel in Washington, D.C. The commission also debated reforms to voting registration, caucuses, and general transparency within the party. Cutting the number of superdelegates by about 400 and having the remaining ones vote according to the results in their state, the commission decided, would be a step toward healing wounds from the 2016 primary. The commission was born at the 2016 Democratic National Convention in response to voter angst with the election process, specifically the DNC's bias against Sanders. Outrage was reignited last month by Donna Brazile's memoir 'Hacks,' which portrayed the primary as rigged. Brazile was named acting DNC chair during the convention, serving through the general election. Sanders supporters have been critical of the system and were particularly angered that hundreds of superdelegates pledged to vote for Clinton, giving her a nearly insurmountable lead, even before the primaries had gotten into full swing."
Sunday, 10 December 2017, Day 325:
Under Trump, the Environmental Protection Agency Has Slowed Actions Against Polluters and Put Limits on Enforcement, The New York Times, Eric Lipton and Danielle Ivory, Sunday, 10 December 2017: "Scott Pruitt, the E.P.A. administrator, has said the Trump administration's high-profile regulatory rollback does not mean a free pass for violators of environmental laws. But as the Trump administration moves from one attention-grabbing headline to the next, it has taken a significant but less-noticed turn in the enforcement of federal pollution laws. An analysis of enforcement data by The New York Times shows that the administration has adopted a more lenient approach than the previous two administrations — Democratic and Republican — toward polluters…. The Times built a database of civil cases filed at the E.P.A. during the Trump, Obama and Bush administrations. During the first nine months under Mr. Pruitt's leadership, the E.P.A. started about 1,900 cases, about one-third fewer than the number under President Barack Obama's first E.P.A. director and about one-quarter fewer than under President George W. Bush's over the same time period. In addition, the agency sought civil penalties of about $50.4 million from polluters for cases initiated under Mr. Trump. Adjusted for inflation, that is about 39 percent of what the Obama administration sought and about 70 percent of what the Bush administration sought over the same time period. The E.P.A., turning to one of its most powerful enforcement tools, also can force companies to retrofit their factories to cut pollution. Under Mr. Trump, those demands have dropped sharply. The agency has demanded about $1.2 billion worth of such fixes, known as injunctive relief, in cases initiated during the nine-month period, which, adjusted for inflation, is about 12 percent of what was sought under Mr. Obama and 48 percent under Mr. Bush."
Senator Richard Shelby (Republican-Alabama) says 'I couldn't vote for Roy Moore,' CNN, Maegan Vazquez, Sunday, 10 December 2017: "Sen. Richard Shelby says he wants a Republican elected to the Senate on Tuesday to represent Alabama, but that he didn't vote for GOP candidate Roy Moore in the special election. The Alabama Republican said he's already cast his ballot, and that he chose a write-in candidate. 'I'd rather see the Republican win, but I'd rather see a Republican write-in. I couldn't vote for Roy Moore. I didn't vote for Roy Moore,' Shelby told CNN's Jake Tapper on 'State of the Union.' Moore has been accused of pursuing sexual relationships with teenagers when he was in his 30s. In some cases, the women who have come forward about the relationships have alleged sexual abuse or assault. Moore has denied all the allegations…. The Alabama senator said he has no reason not to believe the women who have come forward, adding that where there's 'a lot of smoke, there's got to be some fire somewhere.' '(W)e call it a tipping point,' Shelby said. 'I think, so many accusations, so many cuts, so many drip, drip, drip — when it got to the 14-year-old's story, that was enough for me. I said I can't vote for Roy Moore.' Shelby said on 'State of the Union' that he's not sure who will win the close election race in Alabama, but he added that 'the state of Alabama deserves better' than Moore. President Donald Trump hesitated to directly support Moore following the initial allegations, choosing instead to rail against his Democratic opponent, Doug Jones. But last week, Trump endorsed Moore. Since then, he's urged rally-goers to get out the vote for the former Alabama Supreme Court chief justice and recorded a robocall for him. Asked about Trump's support, Shelby said, 'I do believe the Republicans can do better.'"
A battle for public opinion: In recent days, the rightwing media and Trump loyalists have been scrambling to discredit special counsel Robert Mueller and to smear his Russia inquiry as a liberal plot, The Guardian, David Smith and Ben Jacobs, Sunday, 10 December 2017: "Ilegitimate and corrupt. Using the FBI as a political weapon and America's secret police. 'Secret surveillance, wiretapping, intimidation, harassment and threats. It's like the old KGB that comes for you in the dark of the night, banging through your door.' This is special counsel Robert Mueller's investigation of Russian interference in the 2016 presidential election, as seen through the eyes of news anchor and analyst Gregg Jarrett this week. Anyone expecting him to be challenged live on air was destined for disappointment. Fox News host Sean Hannity replied: 'This is not hyperbole you are using here.' It was one telling glimpse of the parallel universe that Donald Trump hopes will save him from Mueller's sprawling investigation and potential impeachment. Far from an outlier, it was typical of how in recent days rightwing media, congressional Republicans and Trump's base have gone to war, seeking to discredit and delegitimise the special counsel. Even if they do not win in the court of public opinion, they hope to sow enough doubt that should Mueller produce damning evidence of collusion between the Trump campaign and Russia, the reaction will be as divided as everything else in split-screen America, offering the president an escape route."
What Is the 'Russia Story'? Confused by All the News About Russia? We Are Here to Help, The New York Times, Karen Yourish, Sunday, 10 December 2017: "Most of the stories under the 'Russia' umbrella generally fall into one of three categories. 1. Russia's use of cyberattacks to interfere in the 2016 presidential election…. 2. Links between Trump associates and Russian officials and intermediaries…. 3. Whether Mr. Trump interfered with investigations, including accusations of attempting to impede investigations and to engage in a cover up."
In Al Franken's wake, three senators, Bernie Sanders (Independent-Vermont), Jeff Merkley (Democrat-Oregon), and Cory Booker (Democrat-New Jersey) call on President Trump to resign, The Washington Post, David Weigel, Sunday, 10 December 2017: "Sen. Bernie Sanders (I-Vt.) and two of his Democratic colleagues have suggested that President Trump should consider resigning, after a run of sexual-harassment scandals has driven out some members of Congress. Sen. Al Franken 'felt it proper for him to resign,' Sanders said in an interview with NBC's 'Meet the Press' Sunday morning, referring to the Democrat from Minnesota. 'Here you have a president who has been accused by many women of assault, who says on a tape that he assaulted women. He might want to think about doing the same.' Sanders's comment, which built on a tweet he sent last week, came after Democratic Sens. Jeff Merkley (Ore.) and Cory Booker (N.J.) suggested that the "#MeToo moment" should prompt another look at the women who accused Trump of sexual harassment during the 2016 presidential campaign. 'The president should resign because he certainly has a track record with more than 17 women of horrific conduct,' Merkley said last week in an interview for the weekday version of 'Meet the Press.' On Saturday, during his campaign swing as part of Alabama's U.S. Senate race, Booker told Vice News that the standard that brought down Franken should be applied to the president. 'I just watched Sen. Al Franken do the honorable thing and resign from his office,' Booker said. 'My question is, why isn't Donald Trump doing the same thing — who has more serious allegations against him, with more women who have come forward. The fact pattern on him is far more damning than the fact pattern on Al Franken.'"
Nikki Haley, the U.S. ambassador to the United Nations, says the women who have accused Trump of sexual misconduct 'should be heard,' The Washington Post, Rosalind S. Helderman and David Weigel, Sunday, 10 December 2017: "Nikki Haley, the U.S. ambassador to the United Nations, said Sunday that the women who have accused President Trump of touching or groping them without their consent 'should be heard.' Haley's comments, made on CBS's 'Face the Nation,' diverged from the White House position on the more than a dozen women who have accused Trump of misconduct. Spokeswoman Sarah Huckabee Sanders has said that the White House's position is that the women are lying and that the American people settled the issue by electing Trump despite the accusations. Asked by CBS's John Dickerson whether she considered the allegations a 'settled issue,' given last year's election results, Haley responded, 'You know, that's for the people to decide. I know that he was elected. But, you know, women should always feel comfortable coming forward. And we should all be willing to listen to them.' Haley's comments highlighted a challenge facing Republicans as a cultural revolution on the topic of sexual harassment sweeps the country. Republicans have seized on allegations of wrongdoing by Democrats, including Rep. John Conyers Jr. (D-Mich.) and Sen. Al Franken (D-Minn.), who announced they would resign last week. Republicans also have castigated liberals over high-profile allegations against figures in Hollywood and the media, including movie producer Harvey Weinstein, a Hillary Clinton donor and ally. But most have not shown similar outrage when allegations have been made against prominent Republicans, notably Trump and Senate candidate Roy Moore of Alabama."
Monday, 11 December 2017, Day 326:
Trump Sexual Misconduct Accusations Repeated by Several Women, The New York Times, Michael D. Shear, Monday, 11 December 2017: "Several women who came forward during the 2016 campaign to accuse Donald J. Trump of sexual misconduct renewed their allegations publicly on Monday, betting that recently aggressive attitudes against harassment will give their stories new life and demanding that Congress investigate the president's actions. The women said that they were frustrated that their stories about what they described as Mr. Trump's actions did not have a greater effect on his campaign. But they also expressed hope that they would be taken more seriously after a torrent of similar accusations had toppled the careers of powerful men in the news media, business and politics…. Ms. Holvey was joined by Jessica Leeds, who has said Mr. Trump groped and kissed her during a flight in the 1970s, and Rachel Crooks, who has accused Mr. Trump of repeatedly kissing her outside her office in Trump Tower. Lisa Boyne, a fourth accuser, joined the women at a news conference hosted by Brave New Films, a documentary film company…. The effort by the women to attract new attention to the allegations comes amid rapidly shifting attitudes in American society about the need to hold men accountable for their treatment of women, even for acts perpetrated long ago. Several high-profile television anchors have been fired from their jobs after being accused of inappropriate touching, exposing themselves or assaulting women in the workplace." See also, Donald Trump's accusers demand Congress investigate sexual misconduct claims, The Guardian, Molly Redden and Sabrina Siddiqui, published on Tuesday, 12 December 2017. See also, Female accusers of Donald Trump call for Congressional investigation into his alleged sexual misconduct, CBS NEWS, Emily Tillett, Monday, 11 December 2017.
Treasury Department Defends the Cost of the Republican Tax Plan With a One-Page Analysis of the Nearly 500-Page Senate Tax Bill, The New York Times, Alan Rappeport and Jim Tankersley, Monday, 11 December 2017: "The Treasury Department released a one-page analysis of the nearly 500-page Senate tax bill on Monday that suggested the $1.5 trillion plan would more than pay for itself, assuming the economy grows much faster than any independent analysis of the bill has projected. The Treasury acknowledged that its analysis was based on optimistic economic forecasts that assumed a host of policy changes yet to be enacted, including increased infrastructure spending, further loosening of business regulations and changes to welfare programs. The analysis left many tax experts scratching their heads and prompted criticism that the Treasury was offering misleading data. 'The report does not appear to be a projection of the economic effects of a tax bill,' said Scott Greenberg, a tax analyst at the conservative Tax Foundation. 'It appears, on the other hand, to be a thought experiment on how federal revenues would vary under different economic effects of overall government policies. Which is, needless to say, an odd way to analyze a tax bill.' Treasury has come under criticism for failing to produce a full assessment of the $1.5 trillion tax plan moving swiftly through Congress. Treasury Secretary Steven Mnuchin has repeatedly insisted that his department would provide details to back up the claims that he and other Republicans have made that the tax cuts will generate enough economic growth to avoid adding to the national debt. Yet Treasury's analysis does not show the type of revenue-neutral tax cuts Mr. Mnuchin and Republican leaders have suggested. Instead, it looks far beyond the tax legislation and assumes more robust economic growth than many economists consider likely, largely from economic policies that have yet to be proposed or enacted." See also, The Treasury Department said the Republican tax plan currently before Congress would need an assist from other Trump administration priorities to pay for itself, Politico, Bernie Becker, Aaron Lorenzo, and Seung Min Kim, Monday, 11 December 2017: "[T]he Treasury Department released a one-page analysis on Monday that said that the GOP tax plan would need an assist from other Trump administration priorities to pay for itself. That gave ammunition to critics who have pilloried administration claims that the tax cuts would generate enough economic growth on their own to cover the cost. Welfare reform, infrastructure spending and regulatory relief would also help grow the economy and produce an extra $1.8 trillion of revenue over the next decade, Treasury said — more than enough to offset the up to $1.5 trillion worth of tax cuts that Republicans are working to get into law. However, welfare changes and an infrastructure plan are still just in the talking stages. Treasury Secretary Steven Mnuchin has been saying for months that his department would produce an analysis that proved the tax cuts would be fully paid for, and other top Republicans like Senate Majority Leader Mitch McConnell have insisted they have no doubt that would be the case…. But Monday's release drew quick criticism, from both Democrats who labeled the analysis 'fake math' and independent budget analysts who have long been skeptical that the tax plan would be able to pay for itself. The Joint Committee on Taxation, in a report released Monday, found that the House tax plan would cost around $1 trillion over a decade even when accounting for economic growth, much the same as it found when examining the tax bill passed by the Senate Finance Committee. A range of nonpartisan outside analysts — the Urban-Brookings Tax Policy Center, the Tax Foundation and the Penn Wharton Budget Model — have all reached similar conclusions…. Sen. Elizabeth Warren (D-Mass.), who asked the Treasury inspector general to investigate Mnuchin's previous refusal to release the department's economic analysis of the GOP tax plan, called Monday's one-page analysis 'pathetic.' The Treasury Department 'promised an economic analysis — but this isn't it,' Warren said on Twitter. 'I look forward to the IG's investigation providing real answers for American families.'"
Transgender People Will Be Allowed to Enlist in the Military Beginning 1 January as a Court Case Advances, The New York Times, Helene Cooper, Monday, 11 December 2017: "Transgender people will be allowed to enlist in the military beginning Jan. 1, Defense Department officials said on Monday, a move that pauses President Trump's effort to bar transgender troops. A federal judge allowed an October order pausing the ban to remain in effect, pending further legal review. The judge, Colleen Kollar-Kotelly of the Federal District Court in Washington, said in a ruling on Monday that the ban most likely violates constitutional rights to due process and equal protection. She rejected the Trump administration's argument that it needs more time to prepare to process new transgender recruits for military service. 'The court is not persuaded that defendants will be irreparably injured by allowing the accession of transgender individuals into the military beginning on Jan. 1, 2018,' she wrote." See also, U.S. District Judge Colleen Kollar-Kotelly rules that transgender people can enlist in the military, denying Trump bid to delay deadline, The Washington Post, Spencer S. Hus and Ann E. Marimow, Monday, 11 December 2017.
Obama tells Alabama voters to go to the polls on Tuesday to reject the candidacy of Republican Senate candidate Roy Moore, CNN, Jeff Zeleny, Monday, 11 December 2017: "Former President Barack Obama is adding his voice to the Alabama Senate race, imploring voters to go to the polls Tuesday to reject the candidacy of Roy Moore as part of an aggressive effort by Democrats to try and counter President Donald Trump's full-throated endorsement of the controversial Republican candidate. 'This one's serious,' Obama says in the call. 'You can't sit it out.' Two Democratic officials familiar with the Alabama race tell CNN that Obama recorded the phone message in recent days, at the very time Trump stepped up his own involvement in the campaign with a recorded message. Obama does not mention Moore by name. 'Doug Jones is a fighter for equality, for progress,' Obama says. 'Doug will be our champion for justice. So get out and vote, Alabama.' Obama's message to voters — intended to specifically reach black voters whose turnout is critical for Democratic candidate Jones — comes on the eve of a special election that has drawn extraordinary national attention and divided the Republican Party over whether sexual allegations against Moore make him unfit for office. Multiple women have accused Moore of pursuing relationships with them when they were teenagers and he was in his 30s, and one woman has accused him of sexual assault."
Congressman Blake Farenthold (Republican-Texas) Runs What Aides Call a Hostile Workplace, a Frat House on Capitol Hill, The New York Times, Sheryl Gay Stolberg, Monday, 11 December 2017: "When Lauren Greene, a former communications director for Representative Blake Farenthold, sued him claiming sexual harassment, among her complaints was that he 'disclosed that a female lobbyist had propositioned him for a threesome.' Mr. Farenthold, in legal documents, said that Ms. Greene had it wrong. The woman wasn't a lobbyist, he said. As allegations of sexual misconduct rock Capitol Hill — three lawmakers announced their resignations last week alone — Mr. Farenthold, Republican of Texas, stands out as the survivor. He was sued over accusations of sexual harassment three years ago, paid out an $84,000 settlement, financed by taxpayers, and has an open Ethics Committee investigation into his behavior. Yet only a few Republicans have called for his resignation. A peek into the inner workings of his office reveals the kind of hostile work environment, rife with sexual innuendo, that prompted Representative Jackie Speier, Democrat of California, to call Congress 'the worst' place for women to work. Throughout the Capitol, House aides have described office cultures where sexually explicit conversations are routine, pickup lines are part of daily life, hiring can be based on looks, tolerance is expected and intolerance of such behavior is career-ending. In Mr. Farenthold's case, legal documents and interviews with former aides suggest an atmosphere in which the congressman set the tone for off-color jokes and inappropriate banter, which flourished among his underlings. Former employees also said that Mr. Farenthold had an explosive temper and often bullied his aides, prompting a high turnover."
Tuesday, 12 December 2017, Day 327:
Once a Long Shot, Democrat Doug Jones Wins Alabama Senate Race, The New York Times, Alexander Burns and Jonathan Martin, Tuesday, 12 December 2017: "Doug Jones, a Democratic former prosecutor who mounted a seemingly quixotic Senate campaign in the face of Republican dominance here, defeated his scandal-scarred opponent, Roy S. Moore, after a brutal campaign marked by accusations of sexual abuse and child molestation against the Republican. The upset delivered an unimagined victory for Democrats and shaved Republicans' unstable Senate majority to a single seat. Mr. Jones's victory could have significant consequences on the national level, snarling Republicans' legislative agenda in Washington and opening, for the first time, a realistic but still difficult path for Democrats to capture the Senate next year. It amounted to a stinging snub of President Trump, who broke with much of his party and fully embraced Mr. Moore's candidacy, seeking to rally support for him in the closing days of the campaign…. Propelled by a backlash against Mr. Moore, an intensely polarizing former judge who was accused of sexually assaulting young girls, Mr. Jones overcame the state's daunting demographics and deep cultural conservatism. His campaign targeted African-American voters with a sprawling, muscular turnout operation, and appealed to educated white voters to turn their backs on the Republican Party. Those pleas paid off on Tuesday, as precincts in Birmingham and its suburbs handed Mr. Jones overwhelming margins while he also won convincingly in Huntsville and other urban centers. The abandonment of Mr. Moore by affluent white voters, along with strong support from black voters, proved decisive, allowing Mr. Jones to transcend Alabama's rigid racial polarization and assemble a winning coalition. And solidifying Mr. Jones's victory were the Republican-leaning residents who chose to write in the name of a third candidate rather than back one of the two major party nominees. More than 20,000 voters here cast write-in ballots, which amounted to 1.7 percent of the electorate – about the same as Mr. Jones's overall margin." See also, Video and Full Transcript: Roy Moore, Refusing to Concede, Addresses Supporters on Election Night, The New York Times, published on Wednesday, 13 December 2017. See also, Doug Jones declared victor in Alabama race for Senate; Roy Moore May seek recount, The Washington Post, Sean Sullivan, David Weigel, and Michael Scherer, published on Wednesday, 13 December 2017. See also, Watching the Alabama Senate Race Between Roy Moore and Doug Jones, The New Yorker, Tuesday, 12 December 2017: New Yorker writers offer live updates on Election Day.
Roy Moore Emerges From Hiding for an Election Eve Rally, and Good Lord, Was It Weird, NYMag, Olivia Nuzzi, Tuesday, 12 December 2017: "Have you ever traveled down a dirt path in rural southeast Alabama in December and arrived at a barn in the woods to find Steve Bannon, Representative Louie Gohmert, Sheriff David Clarke, Roy and Kayla Moore, a woman performing an interpretive dance in front of a tree, and several inflatable alligators? Me neither. At least, I hadn't until Monday evening, the night before the special election to fill the United States Senate seat vacated by Attorney General Jeff Sessions, when Moore and his wife came out of hiding in Midland City to talk about how much he hates the media and also how he has many black friends and one Jewish lawyer."
Kayla Moore's proof that Roy Moore is no anti-Semite: 'One of our attorneys is a Jew,' The Washington Post, Fred Barbash, Tuesday, 12 December 2017: "It was the final night of campaigning for Alabama's U.S. Senate seat and all eyes were on Republican candidate Roy Moore. But Twitter, at least, focused more on his wife, Kayla, and her remarks before he spoke.… 'Fake news,' she declared, 'would tell you that we don't care for Jews. I tell you all this because I've seen it all and I just want to set the record straight while they're all here.' Then, after a brief pause, for effect, she said, 'One of our attorneys is a Jew. We have very close friends that are Jewish and rabbis and we also fellowship with them.' The comment fueled scores of stories with headlines like 'Moore's wife denies claims of anti-Semitism' and 'Roy Moore battles bigotry claims on eve of Alabama vote,' all of which included the words 'One of our attorneys is a Jew.'"
Doug Jones: A Lawyer in the Thick of Alabama's Big Moments, The New York Times, Alexander Burns and Campbell Robertson, Tuesday, 12 December 2017: "The fact that Alabama's voters have sent a Democrat to the Senate for the first time since Howell Heflin retired in 1997 is a stunner, exceeded in incredibility only by the events that led to it — not least, that the Republican candidate, Roy S. Moore, saw his already prodigious history of controversy grow during the campaign to include allegations that he had molested teenagers. The least surprising thing about it all may be that the victorious Democrat is Doug Jones…. Before the special election on Tuesday, the largest of Mr. Jones's historical moments, and perhaps still the most consequential, were the successful prosecutions of two of the Klansmen involved in the bombing [in 1963] of the 16th Street Baptist Church in Birmingham, nearly 40 years after the crime. Mr. Jones served as lead prosecutor. Though he continued to be involved in some of Alabama's highest-profile legal cases in private practice, the church bombing prosecutions were his last work for the federal government until he starts his new job in Washington." See also, Doug Jones triumphs in an Alabama Senate race that conjured the deadly 1963 bombing of the 16th Street Baptist Church in Birmingham, The Washington Post, DeNeen L. Brown, Tuesday, 12 December 2017.
Trump attacks Senator Kirsten Gillibrand (Democrat-New York) in tweet critics say is sexually suggestive and demeaning, The Washington Post, Ashley Parker, John Wagner, and Ed O'Keefe, Tuesday, 12 December 2017: "President Trump attacked Sen. Kirsten Gillibrand (D-N.Y.) in a sexually suggestive tweet Tuesday morning that implied Gillibrand would do just about anything for money, prompting a swift and immediate backlash. 'Lightweight Senator Kirsten Gillibrand, a total flunky for Charles E. Schumer and someone who would come to my office "begging" for campaign contributions not so long ago (and would do anything for them), is now in the ring fighting against Trump,' the president wrote. 'Very disloyal to Bill & Crooked-USED!' The tweet came as Trump is already facing negative publicity from renewed allegations from three women who had previously accused him of sexual harassment, which are coming amid the #MeToo movement that is roiling the nation and forcing powerful men accused of sexual misbehavior from their posts." See also, Trump's Combative Denials Again Draw Him Into the Sexual Harassment Debate, The New York Times, Michael Tackett, Tuesday, 12 December 2017. See also, Will Trump's lows ever hit rock bottom? A president who would all but call Senator Kirsten Gillibrand a whore is unfit to clean toilets in Obama's presidential library or to shine George W. Bush's shoes. USA TODAY, Editorial Board, Tuesday, 12 December 2017: "With his latest tweet, clearly implying that a United States senator would trade sexual favors for campaign cash, President Trump has shown he is not fit for office. Rock bottom is no impediment for a president who can always find room for a new low…. And as is the case with all of Trump's digital provocations, the president's words were deliberate. He pours the gasoline of sexist language and lights the match gleefully knowing how it will burst into flame in a country reeling from the #MeToo moment…. It should surprise no one how low he went with Gillibrand. When accused during the campaign of sexually harassing or molesting women in the past, Trump's response was to belittle the looks of his accusers. Last October, Trump suggested that he never would have groped Jessica Leeds on an airplane decades ago: 'Believe me, she would not be my first choice, that I can tell you.' Trump mocked another accuser, former People reporter Natasha Stoynoff, 'Check out her Facebook, you'll understand.'  Other celebrities and politicians have denied accusations, but none has stooped as low as suggesting that their accusers weren't attractive enough to be honored with their gropes."
Fifty-six female Democratic lawmakers ask the House of Representatives to investigate allegations of sexual misconduct against Donald Trump, NBC News, Tim Stelloh, Tuesday, 12 December 2017: "More than 50 female Democratic lawmakers on Monday asked the House oversight committee to investigate allegations of sexual misconduct against President Donald Trump. In a letter to committee chairman Rep. Trey Gowdy, R-S.C., and ranking member Rep. Elijah Cummings, D-Md., the Democratic Women's Working Group wrote that the country deserves 'a full inquiry into the truth of these allegations.' 'At least 17 women have publicly accused the President of sexual misconduct,' the letter, which was signed by 56 lawmakers, said. 'We cannot ignore the multitude of women who have come forward with accusations.'"
Senator Mazie Hirono (Democrat-Hawaii) is the sixth senator to say Trump should resign, Politico, Nolan D. McCaskill, Tuesday, 12 December 2017: "A sixth senator on Tuesday called on President Donald Trump to resign amid renewed attention to past allegations of sexual harassment and assault. Sen. Mazie Hirono (D-Hawaii) told NBC News that Trump is a 'misogynist,' 'admitted sexual predator' and 'liar' with a 'narcissistic need for attention.'… Hirono joins Sens. Kirsten Gillibrand (D-N.Y.), Ron Wyden (D-Ore.), Jeff Merkley (D-Ore.), Cory Booker (D-N.J.) and Bernie Sanders (I-Vt.) in calling for the president's resignation."
Jay Sekulow, one of Trump's personal lawyers, calls for a special counsel investigation of alleged corruption at the FBI and the Justice Department, The Washington Post, Philip Rucker, Tuesday, 12 December 2017: "One of President Trump's personal lawyers called Tuesday for a special counsel to investigate alleged corruption at the FBI and Justice Department. Jay Sekulow, a member of the legal team counseling Trump on special counsel Robert S. Mueller III's wide-ranging Russia probe, said Tuesday that a second special counsel should be appointed to focus on FBI and Justice Department investigators. Sekulow's call for a second special counsel was first reported Tuesday morning by Axios. Sekulow did not allege wrongdoing on the part of Mueller or his team, telling The Washington Post that his call for a second special counsel has 'nothing to do with Bob Mueller.' But Sekulow argued that alleged conflicts of interest among FBI and Justice Department officials demand a full investigation by a special counsel."
In Texts, F.B.I. Officials in Russia Inquiry Said Clinton 'Just Has to Win,' The New York Times, Michael S. Schmidt, Matt Apuzzo, and Adam Goldman, Tuesday, 12 December 2017: "Senior F.B.I. officials who helped investigate Donald J. Trump's presidential campaign last year wrote in text messages that Hillary Clinton 'just has to win' and described a potential Trump victory as 'terrifying,' according to texts released Tuesday night. A top counterintelligence agent, Peter Strzok, exchanged the messages with Lisa Page, a senior F.B.I. lawyer. Some messages criticized Mrs. Clinton's team, the Obama administration, Congress and other Democrats. But the two appeared appalled at some of Mr. Trump's comments during the campaign and feared that he would politicize the F.B.I. For example, after Mr. Trump made an apparent sexual allusion related to the size of his hands, Ms. Page wrote: 'This man cannot be president.' In another exchange, Mr. Strzok wrote of a potential Trump presidency, 'I'm scared for our organization.' He also referred to Mr. Trump as a 'douche.' The messages were turned over to Congress and obtained by The New York Times. Mr. Strzok went on to become one of the top investigators for the special counsel, Robert S. Mueller III. But over the summer, Mr. Mueller removed Mr. Strzok from his team as soon as he became aware of the texts. Their release is certain to fuel suspicion among Republicans that the investigation into connections between the Trump campaign and Russia was politically motivated from the beginning. The Justice Department's inspector general, Michael E. Horowitz, is investigating the texts as part of a wide-ranging inquiry into how the F.B.I. handled its investigations into Mrs. Clinton's personal email server and of the Trump campaign's ties to Russia. It is highly unusual for the government to release these types of documents until such an investigation is complete. The move caught internal investigators by surprise. F.B.I. regulations allow agents to express opinions 'as an individual privately and publicly on political subjects and candidates.'"
New Higher Education Bill Rolls Back Obama-Era Safeguards, The New York Times, Erica L. Green, Tuesday, 12 December 2017: "Congressional Republicans began work Tuesday on an extensive rewrite of the law that governs the nation's system of higher education, seeking to dismantle landmark Obama administration regulations designed to protect students from predatory for-profit colleges and to repay the loans of those who earned worthless degrees from scam universities. But in its systematic effort to erase President Barack Obama's fingerprints from higher education, the measure before the House Committee on Education and the Workforce could undermine bedrock elements that have guided university education for decades. One provision could do away with the system of 'credit hours' that college students earn to complete their degrees, which could help for-profit colleges inflate the value of their degrees…. Many elements of the bill pursue bipartisan goals: simplifying the federal financial aid process, cutting down on student debt and expanding programs like federal work-study programs. But the bill's efforts to roll back the Obama legacy will divide Congress and the education community along partisan lines — and bolster efforts already underway by Education Secretary Betsy DeVos to boost the fortunes of for-profit colleges and universities. Two of the Obama-era regulations of for-profit colleges and universities — called 'gainful employment' and 'borrower defense' — are being rewritten by Ms. DeVos's Education Department. Under the House bill, they would be repealed and blocked from readoption. A lesser-known, more complex 'credit hour' rule also completed by the Obama administration would suffer the same fate. Policy experts say the undermining of university credits would be among the most consequential provisions in the 542-page bill, illustrating how in their haste to erase Obama's regulatory legacy, Republicans could disrupt a higher education system that is considered the best in the world." See also, House Republican higher education bill moves ahead, despite cries to slow down, The Washington Post, Danielle Douglas-Gabriel, Tuesday, 12 December 2017.
The U.S. Department of Education's inspector general calls on the Office of Federal Student Aid to process backlog of student debt relief claims, The Washington Post, Danielle Douglas-Gabriel, Tuesday, 12 December 2017: "The U.S. Department of Education's inspector general issued a report this week urging the Office of Federal Student Aid to take action on tens of thousands of debt forgiveness applications languishing at the agency. The report puts a fine point on the criticism student advocates and liberal lawmakers have directed toward Education Secretary Betsy DeVos for refusing to process debt relief claims submitted by federal student loan borrowers who were defrauded by their colleges. The inspector general said that while the procedure for processing claims could be improved, the system works well enough that there's no excuse for the Education Department failing to clear the backlog of pending claims. The department has the authority to discharge federal student loans when a college uses illegal tactics to persuade a student to borrow money, under a federal statute known as borrower defense to repayment."
The U.S. Court of Appeals for the 9th Circuit upholds uranium mining ban around the Grand Canyon but allows a uranium company to open a mine nearby, The Washington Post, Juliet Eilperin, Tuesday, 12 December 2017: "The U.S. Court of Appeals for the 9th Circuit on Tuesday upheld a 20-year ban on uranium mining around Grand Canyon National Park but ruled in a separate case that a uranium company could open a mine nearby. The two unanimous rulings by the three-judge panel came as the Trump administration considers lifting the ban, in place since 2012, as part of a broader effort to boost domestic energy production and promote the mining of critical minerals in the United States. A House Natural Resources subcommittee held a hearing Tuesday in which Republicans warned against putting federal lands off-limits to mining. The 2012 ban blocked new mining claims and placed restrictions on mine development on existing claims in a million-acre area around the Grand Canyon park, though the Interior Department indicated that up to 11 claims could proceed. The appellate court ruled that imposing a freeze on new claims 'for a limited period will permit more careful, longer-term study of the uncertain effects of uranium mining in the area and better-informed decision making in the future.'"
Donald Trump Jr. Requests Inquiry Into House Intelligence Committee Leaks, New York Magazine, Yashar Ali, Tuesday, 12 December 2017: "Donald Trump Jr.'s attorney has sent a letter to the House Permanent Select Committee on Intelligence requesting an inquiry into leaks he says took place during and after Trump Jr.'s interview with the committee on December 6. The letter was sent to Representative Mike Conaway of Texas, who took over the investigation into Russian interference in the 2016 election from Devin Nunes, after Nunes recused himself earlier this year. The letter says that Trump Jr. and his attorneys were promised that the interview would be 'kept strictly confidential and not discussed publicly unless and until the full committee voted to release the transcript.' Trump Jr. and his attorney say that while he was still being interviewed, 'members of the committee and/or their staff began selectively leaking information provided during the interview to various press outlets, most notably CNN.'" See also, Donald Trump Jr. Demands Leak Inquiry of House Intelligence Committee, The New York Times, Maggie Haberman and Nicholas Fandos, Tuesday, 12 December 2017.
Wednesday, 13 December 2017, Day 328:
White House Corrects Secretary of State Rex Tillerson on Whether the U.S. Will Talk to North Korea, The New York Times, Mark Landler, Wednesday, 13 December 2017: "President Trump and Secretary of State Rex W. Tillerson are once again at odds over how to deal with nuclear-armed North Korea after Mr. Tillerson declared on Tuesday that the United States was ready to open talks with the North 'without precondition.' The secretary's comments were remarkably conciliatory for an administration that has repeatedly threatened North Korea with military action, and ruled out any negotiations, if it did not curb its missile and nuclear programs. But a few hours later, the White House distanced itself from his overture. In an unusual statement released to reporters on Tuesday evening, the press secretary, Sarah Huckabee Sanders, said Mr. Trump's position on North Korea had not changed — namely, that talks were pointless if the North's leader, Kim Jong-un, continued to menace his neighbors. 'North Korea is acting in an unsafe way not only toward Japan, China, and South Korea, but the entire world,' she said. 'North Korea's actions are not good for anyone and certainly not good for North Korea.' It was only the latest example of a public rift between the president and his chief diplomat over North Korea."
The Senate Judiciary Committee's top Republican, Senator Charles E. Grassley (Republican-Iowa), says two controversial federal judge nominees, Jeff Mateer and Brett Talley, will not be confirmed, The Washington Post, Karoun Demirjian, Wednesday, 13 December 2017: "The Senate Judiciary Committee's top Republican said Wednesday that two of President Trump's nominees for open seats on the federal bench will not be confirmed, just a day after urging the White House to 'reconsider' them. Sen. Charles E. Grassley (R-Iowa) said that based on his discussions with the White House, the nominations of Jeff Mateer and Brett Talley would not move forward through the confirmation process. The decision comes after reports that both nominees made public comments celebrating groups or policies that were discriminatory…. Democrats objected to Talley's nomination early on, citing his lack of experience, the fact that he has never worked as a judge and the American Bar Association's finding that he was 'not qualified' for the federal bench. Talley — who writes horror books and has participated in ghost-hunting activities — has practiced law for only three years and has never tried a case. Republicans have defended Talley, with some accusing the ABA of a liberal bias. But in the time since the committee voted on his nomination, reports have identified him as the author of an online comment in 2011 defending 'the first KKK.' Past comments by Mateer have also been brought into the spotlight. According to other reports, in 2015 he said he believed transgender children were 'Satan's plan' and defended a judge's right to support certain kinds of discrimination, including on the basis of sexual orientation."
Michael L. Dourson, Trump's Nominee to Oversee the Environmental Protection Agency's Chemical Safety Division, Withdraws, The New York Times, Sheila Kaplan and Eric Lipton, Wednesday, 13 December 2017: "President Trump's nominee to oversee the Environmental Protection Agency's chemical safety division on Wednesday withdrew his name from consideration for the post in the face of mounting opposition. The nominee, Michael L. Dourson, a longtime researcher whose studies often bolstered safety claims by manufacturers of pesticides, flame retardants and other products under federal scrutiny as possible public health hazards, had been working as an adviser to the agency while awaiting confirmation…. The decision was welcomed by environmental and public health advocates. 'It's very good news that Michael Dourson won't be deciding which chemicals are and aren't safe for our kids,' said Richard Denison, lead senior scientist for the Environmental Defense Fund, an advocacy group. 'He was a particularly toxic choice for the job, with his long record of mercenary science. His presence would also have undermined implementation of the historic chemical safety reforms passed by Congress last year.'"
Deputy Attorney General Rod J. Rosenstein Defended the Character and Impartiality of Special Counsel Robert Mueller as Republicans Tried to Discredit Him, The New York Times, Nicholas Fandos and Charlie Savage, Wednesday, 13 December 2017: "Deputy Attorney General Rod J. Rosenstein adamantly defended the character and impartiality of Robert S. Mueller III, the special counsel, as he came head-to-head on Wednesday with an increasingly aggressive campaign by Republicans to discredit the inquiry. The Republicans' effort received a fresh jolt from the release one night earlier of text messages exchanged last year between an F.B.I. agent, Peter Strzok, and an F.B.I. lawyer, Lisa Page, describing the possibility of an election victory by President Trump as 'terrifying' and saying that Hillary Clinton 'just has to win.' Mr. Mueller removed Mr. Strzok from the Russia investigation as soon as he learned of the texts, a step that Mr. Rosenstein praised. Nonetheless, Republicans used the messages as fodder to attack the impartiality of Mr. Mueller during an appearance by Mr. Rosenstein before the House Judiciary Committee…. But the swelling campaign to undermine Mr. Mueller's investigation, which has dominated conservative media for days, appeared to have little effect on Mr. Rosenstein, who oversees Mr. Mueller. Mr. Rosenstein said he would only fire Mr. Mueller if he had cause under Justice Department regulations — and he said nothing that has happened so far met that standard. Instead, Mr. Rosenstein mounted a step-by-step defense of Mr. Mueller's conduct. He noted that department rules prevented Mr. Mueller from taking political affiliation into consideration when hiring for career positions, and he distinguished between officials holding political views and making investigative decisions out of bias. He said Mr. Mueller would be careful not to allow the latter." See also, Deputy Attorney General Rod Rosenstein defends Special Counsel Robert Mueller as Republican lawmakers raise questions of bias in the Russia probe, The Washington Post, Matt Zapotosky and Devlin Barrett, Wednesday, 13 December 2017.
Donald Trump Jr testifies before the Senate Intelligence Committee as part of investigation into whether the Trump campaign colluded with Russia during the 2016 presidential election, Reuters, Wednesday, 13 December 2017: "U.S. President Donald Trump's eldest son met with the U.S. Senate Intelligence Committee on Wednesday as part of the panel's investigation into Russia, the 2016 U.S. election and whether his father's election campaign colluded with Moscow. Donald Trump Jr. arrived at a Senate office building shortly after 10 a.m. Capitol police officers tried to keep journalists from witnessing his arrival, but he was spotted by reporters as he rushed to a room the committee uses for classified briefings. He testified for nine hours, a person familiar with the matter said. U.S. intelligence agencies said after Trump's victory in the November 2016 presidential election that they had concluded Russia sought to influence the campaign to boost Trump's chances of defeating former Secretary of State Hillary Clinton, his Democratic challenger."
Omarosa Manigault Newman, Director of Communications for the White House Office of Public Liaison, to Leave White House Job Next Month, The New York Times, Maggie Haberman and Yamiche Alcindor, Wednesday, 13 December 2017: "Omarosa Manigault Newman, who achieved a measure of fame playing a villain on 'The Apprentice' and cemented a relationship with President Trump that led to a White House appointment, will be leaving her position in January, the administration said on Wednesday. Ms. Newman 'resigned yesterday to pursue other opportunities,' Sarah Huckabee Sanders, the White House press secretary, said in a statement. 'Her departure will not be effective until Jan. 20, 2018. We wish her the best in future endeavors and are grateful for her service.' One of the president's prominent African-American supporters, Ms. Newman served as the director of communications for the White House Office of Public Liaison. But the division, which was absent a clear leader for most of the year, atrophied with her in a key position…. Reached by phone on Wednesday, Ms. Newman referred a reporter to Ms. Sanders's statement about her departure. Three administration officials described reports of Ms. Newman being hauled off the White House grounds as overstated. Still, all three said that there was a precipitating event that finally got Mr. Trump on board with an effort by John F. Kelly, the current chief of staff, to remove her. Donald F. McGahn II, the White House counsel, was apprised throughout, one of the officials said. The event was kept at a close hold, and most advisers were uncertain about what happened, the officials said. Ms. Newman was escorted off the premises on Tuesday night, one of the officials said. The Secret Service, in an unusual Twitter message, denied being a part of that. But the tweet added, 'Our only involvement in this matter was to deactivate the individual's pass which grants access to the complex.'" See also, Omarosa Manigault Newman dismisses reports of dramatic firing, The Washington Post, Vanessa Williams, published on Thursday, 14 December 2017: "Omarosa Manigault said Thursday that she was not fired and escorted off the White House grounds, blaming 'one individual who has a personal vendetta against me' for the dramatic narrative of her departure as one of Trump's top aides. In her first comments since the White House confirmed that she was leaving, Manigault said during an interview on ABC's 'Good Morning America' that her decision to leave came after she sat down for a candid conversation with Chief of Staff John F. Kelly and shared her concerns about the job and the administration. Her resignation from her job as director of communications for the office of the public liaison is effective Jan. 20. Manigault told host Michael Strahan that as 'the only African American woman in this White House senior staff, I have seen things that have made me uncomfortable, that have upset me and affected me deeply and emotionally and affected my people and my community.' She said that when she is able to share her thoughts and experiences of working in the Trump administration, it will be 'a profound story that everyone will want to hear.'"
The Fight to Control the Consumer Financial Protection Bureau Isn't Over Yet, The Intercept, David Dayen, Wednesday, 13 December 2017: "Weeks into a legal and political dispute at the Consumer Financial Protection Bureau, the case of the two popes is far from being settled. There are multiple ongoing litigation efforts — with the potential to be appealed all the way up to the Supreme Court — that have already made an impact on the way the bureau is being run. President Donald Trump's appointee to lead the CFPB, Mick Mulvaney, has rolled back, to some degree, his efforts to cripple the agency amid the legal uncertainty and heightened scrutiny of his role. A federal court ruling last month, which denied CFPB Deputy Director Leandra English's request to block Mulvaney from assuming the directorship, was widely seen in the media as legitimizing Trump's appointment of Mulvaney and ending English's challenge. But that decision pertained to a temporary restraining order, and the court has not yet ruled on the merits of the case. English's lawyers filed a request for a preliminary injunction last week, and U.S. District Court Judge Timothy Kelly, a Trump appointee, set a December 22 hearing date for oral arguments. The ruling could come any time after that. English was named to the role by departing Director Richard Cordray, who resigned on November 24. She continues to assert that she, the deputy director, 'shall … serve as the acting Director in the absence or unavailability' of a director, under the Dodd-Frank statute that created the CFPB. The administration believes that the Federal Vacancies Reform Act, or FVRA, provides an option for the president to appoint a Senate-confirmed official to a position, like CFPB acting director, regardless of the specific statute. The Justice Department's Office of Legal Counsel, in an opinion written by a former counsel for a payday lender fighting the CFPB, agreed."
You Don't Need to Take an Oath on a Bible, or Any Religious Text, The New York Times, Jonah Engel Bromwich, Wednesday, 13 December 2017: "It was an odd footnote to the Alabama Senate race Tuesday night. In an interview on CNN, hours before the Republican candidate Roy S. Moore would go on to lose the election, his spokesman asserted that elected officials in the United States were required to take the oath of office on a Christian Bible. The spokesman, Ted Crockett, used the argument to justify Mr. Moore's position that Muslim politicians should not be allowed in Congress. The comments capped off a 10-minute interview in which Mr. Crockett discussed the allegations of sexual abuse against Mr. Moore and reiterated the candidate's contention that homosexual acts should 'probably' be illegal. 'You have to swear on a Bible to be an elected official in the United States of America,' Mr. Crockett said. The CNN anchor Jake Tapper responded: 'You don't actually have to swear on a Christian Bible. You can swear on anything, really. I don't know if you knew that.' After some back and forth, Mr. Tapper reiterated: 'The law is not that you have to swear on a Christian Bible. That is not the law. You didn't know that?' Mr. Crockett remained silent, his mouth gaping, for several seconds."
Thursday, 14 December 2017, Day 330:
Federal Communications Commission Repeals Net Neutrality Rules, The New York Times, Cecilia Kang, Thursday, 14 December 2017: "The Federal Communications Commission voted on Thursday to dismantle rules regulating the businesses that connect consumers to the internet, granting broadband companies the power to potentially reshape Americans' online experiences. The agency scrapped the so-called net neutrality regulations that prohibited broadband providers from blocking websites or charging for higher-quality service or certain content. The federal government will also no longer regulate high-speed internet delivery as if it were a utility, like phone service. The action reversed the agency's 2015 decision, during the Obama administration, to have stronger oversight over broadband providers as Americans have migrated to the internet for most communications. It reflected the view of the Trump administration and the new F.C.C. chairman that unregulated business will eventually yield innovation and help the economy. It will take weeks for the repeal to go into effect, so consumers will not see any of the potential changes right away. But the political and legal fight started immediately. Numerous Democrats on Capitol Hill called for a bill that would reestablish the rules, and several Democratic state attorneys general, including Eric T. Schneiderman of New York, said they would file a suit to stop the change. Several public interest groups including Public Knowledge and the National Hispanic Media Coalition also promised to file a suit. The Internet Association, the trade group that represents big tech firms such as Google and Facebook, said it also was considering legal action." See also, The Federal Communications Commission just voted to repeal its net neutrality rules, in a sweeping act of deregulation, The Washington Post, Brian Fung, Thursday, 14 December 2017.
Doubting the conclusion of U.S. intelligence agencies that Russia interfered in the 2016 presidential election, Trump pursues Putin and leaves a Russian threat unchecked, The Washington Post, Greg Miller, Greg Jaffe, and Philip Rucker, Thursday, 14 December 2017: "Nearly a year into his presidency, Trump continues to reject the evidence that Russia waged an assault on a pillar of American democracy and supported his run for the White House. The result is without obvious parallel in U.S. history, a situation in which the personal insecurities of the president — and his refusal to accept what even many in his administration regard as objective reality — have impaired the government's response to a national security threat. The repercussions radiate across the government. Rather than search for ways to deter Kremlin attacks or safeguard U.S. elections, Trump has waged his own campaign to discredit the case that Russia poses any threat and he has resisted or attempted to roll back efforts to hold Moscow to account…. This account of the Trump administration's reaction to Russia's interference and policies toward Moscow is based on interviews with more than 50 current and former U.S. officials, many of whom had senior roles in the Trump campaign and transition team or have been in high-level positions at the White House or at national security agencies. Most agreed to speak only on the condition of anonymity, citing the sensitivity of the subject…. Michael V. Hayden, who served as CIA director under President George W. Bush, has described the Russian interference as the political equivalent of the Sept. 11, 2001, attacks, an event that exposed a previously unimagined vulnerability and required a unified American response. [Hayden said in an interview that Trump has to say] 'We know the Russians did it, they know they did it, I know they did it, and we will not rest until we learn everything there is to know about how and do everything possible to prevent it from happening again. [Trump] has never said anything close to that and will never say anything close to that.'… U.S. officials said the Kremlin believes it got a staggering return on an operation that by some estimates cost less than $500,000 to execute and was organized around two main objectives — destabilizing U.S. democracy and preventing Hillary Clinton, who is despised by Putin, from reaching the White House…. U.S. officials declined to discuss whether the stream of recent intelligence on Russia has been shared with Trump. Current and former officials said that his daily intelligence update — known as the president's daily brief, or PDB — is often structured to avoid upsetting him. Russia-related intelligence that might draw Trump's ire is in some cases included only in the written assessment and not raised orally, said a former senior intelligence official familiar with the matter. In other cases, Trump's main briefer — a veteran CIA analyst — adjusts the order of his presentation and text, aiming to soften the impact. 'If you talk about Russia, meddling, interference — that takes the PDB off the rails,' said a second former senior U.S. intelligence official."
Peter Strzok, FBI Agent Removed From Russia Probe, Held Dim Views of Obama Administration Attorney General Eric Holder and Presidential Candidate Senator Bernie Sanders, The Wall Street Journal, Del Quentin Wilber, Thursday, 14 December 2017: "Two FBI employees who used to work for Special Counsel Robert Mueller have already been criticized by Republicans for texts they shared insulting President Donald Trump. A review of their correspondence shows Mr. Trump wasn't their only target: They held dim views of other prominent figures, from Chelsea Clinton to Obama administration Attorney General Eric Holder to their new boss, Attorney General Jeff Sessions. The 300-plus texts, contained in 90 pages of Justice Department documents handed over to Congress late Tuesday, reveal a more complete portrait of Peter Strzok, a senior counterintelligence agent, and lawyer Lisa Page, dealing with the stresses of their jobs, handling politically sensitive investigations, and their extramarital relationship."
Representative Blake Farenthold, Republican of Texas Accused of Sexual Harassment, Will Not Run Again, The New York Times, Sheryl Gay Stolberg, Thursday, 14 December 2017: " Representative Blake Farenthold, a Texas Republican who settled a lurid sexual harassment claim with his former communications director for $84,000 and faced accusations from other aides that he ran a hostile workplace, announced Thursday that he will not run for re-election, saying the allegations have become 'a political distraction.' He is the fourth lawmaker in two weeks to announce his eventual departure from Congress amid the swirl of sexual allegations and the sixth this year. In a five-minute-long video posted on his campaign's Facebook page, Mr. Farenthold denied the sexual harassment allegations from his former communications director, Lauren Greene. But he admitted, with unusual candor, that he had run an 'unprofessional' workplace and that his own temper sometimes got out of hand, describing himself as 'profoundly sorry' for his conduct. 'I'd never served in public office before. I had no idea how to run a congressional office, and as a result I allowed a workplace culture to take root in my office that was too permissive and decidedly unprofessional,' Mr. Farenthold said. 'It accommodated destructive gossip, offhand comments, off-color jokes,' he went on, adding, 'and I allowed the personal stress of the job to manifest itself in angry outbursts and too often a failure to treat people with the respect that they deserved. That was wrong.'" See also, Farenthold won't seek reelection, amid allegations of sexual harassment, The Washington Post, Elise Viebeck and Mike DeBonis, Thursday, 14 December 2017.
Roy Moore turns his refusal to concede the Alabama election into a religious crusade: 'Immorality sweeps over the land,' The Washington Post, Kyle Swenson, Thursday, 14 December 2017: "A day after losing the Senate race in Alabama to Democrat Doug Jones, Republican candidate Roy Moore has issued a new statement refusing to concede the election until completion of the final count. But it wasn't your typical post-election statement. It was a four-minute fire-and-brimstone video about abortion, same-sex marriage, school prayer, sodomy and 'the right of a man to claim to be a woman and vice versa.' 'We are indeed in a struggle to preserve our republic, our civilization and our religion and to set free a suffering humanity,' Moore said. 'Today, we no longer recognize the universal truth that God is the author of our life and liberty. Abortion, sodomy and materialism have taken the place of life, liberty and the pursuit of happiness.'"
Senator Kamala Harris (Democrat-California) says Trump should resign, Politico, David Siders and Carla Marinucci, Thursday, 14 December 2017: "Kamala Harris on Thursday called for President Donald Trump to resign over accusations of sexual harassment and assault, becoming the seventh senator to publicly call for Trump's resignation. 'I think he should resign in the best interest of the country,' the California Democrat told POLITICO in an interview. Harris' remarks come as Trump faces renewed scrutiny over past accusations of sexual misconduct. At least 16 women have accused Trump of inappropriate behavior, and he inflamed critics again this week when he said in a tweet that Sen. Kirsten Gillibrand (D-N.Y.) used to come to [his] office 'begging' for campaign contributions' and that she 'would do anything for them.' Harris, like Gillibrand a potential presidential contender in 2020, said Trump's tweet 'was completely inappropriate on every level.' 'First of all, we know he's not going to resign,' Harris said. 'So let's just be clear about that. But if he were going to make a decision that was in the best interest of the country, I think he should. He should seriously consider it.'"
Life Without Power in Puerto Rico, The Washington Post, Arelis R. Hernández, Whitney Leaming, and Zoeann Murphy, Thursday, 14 December 2017: "Puerto Rico's apagón, or 'super blackout,' is the longest and largest major power outage in modern U.S. history. Without electricity, there is no reliable source of clean water. School is out, indefinitely. Health care is fraught. Small businesses are faltering. The tasks of daily life are both exhausting and dangerous. There is nothing to do but wait, and no one can say when the lights will come back on. Two powerful hurricanes devastated Puerto Rico in September. They created a humanitarian crisis for the island's 3.4 million U.S. citizens that has persisted for three months. Power restoration is at a crawl because the grid collapsed, the utility is bankrupt and the logistics are daunting: Crews and supplies have to come from the mainland, then make their way into rugged interior areas like Utuado. Many roads remain impassable, and hundreds are still isolated."
Millions of Children Could Lose Health Coverage Starting Next Month, The New York Times, Haeyoun Park, Thursday, 14 December 2017: "Lawmakers have yet to renew federal funding for the Children's Health Insurance Program, also known as CHIP, which insures nearly nine million children in low-income families. Most states will run out of money in the next few months if Congress does not act…. Federal funding expired on Sept. 30, and Congress has not been able to agree on how to pay for the program, which has historically had strong bipartisan support. Congressional leaders have repeatedly promised to provide funds for the popular program, but disagree over how to cover the cost. So Congress may provide short-term relief for states with the most urgent needs while negotiations continue."
Nikki R. Haley, U.S. Ambassador to the United Nations, Accuses Iran of U.N. Violation, But She Failed to Show How an Array of Weaponry Presented as Evidence Proved the Charges, The New York Times, John Ismay and Helene Cooper, Thursday, 14 December 2017: "The Trump administration tried to mount a case on Thursday that Iran violated an international agreement to limit its arms dealing, but American officials failed to show how an array of weaponry presented as evidence proved the charges. Nikki R. Haley, the American ambassador to the United Nations, accused Iran of providing weapons to Houthi rebels in Yemen who toppled the government in Sana, throwing the country into chaos and setting off a proxy war between Iran and Saudi Arabia. At a military base in Washington, Ms. Haley stood in front of pieces of what defense officials said were Iranian-made Qiam missiles, including one that was fired by Houthi militants at an airport in Riyadh, Saudi Arabia. Saudi officials have called that attack an 'act of war' by Iran. 'When you look at this missile, this is terrifying, this is absolutely terrifying. Just imagine if this missile had been launched at Dulles Airport or JFK,' Ms. Haley said, naming Washington-area and New York airports, 'or the airports in Paris, London or Berlin.' Ms. Haley said that the weapons on display were declassified by the Pentagon so that the Trump administration could rally other countries to crack down on Iran. Without saying exactly what the administration is seeking, she vowed that 'you will see us build a coalition to really push back against Iran and what they're doing.'"
Attorneys General of California, Massachusetts, New York, and Illinois Sued Education Secretary Betsy DeVos for Failing to Process Student Debt Relief Claims, The Washington Post, Danielle Douglas-Gabriel, Thursday, 14 December 2017: "Pressure is mounting on Education Secretary Betsy DeVos to take action on thousands of federal student loan forgiveness applications languishing at the U.S. Department of Education. On Thursday, California Attorney General Xavier Becerra sued DeVos and the department for failing to process more than 50,000 debt relief claims submitted by former Corinthian Colleges students. The case is similar to a separate lawsuit filed the same day by the attorneys general of Massachusetts, New York and Illinois alleging that the Trump administration is violating federal law by refusing to hand down decisions on pending claims. The Education Department can discharge federal student loans when a college uses illegal tactics to persuade students to borrow money. The agency acts under a federal statute known as borrower defense to repayment. The agency has been inundated with applications from former students of defunct for-profit chains Corinthian Colleges and ITT Technical Institutes. Both spent their final days enveloped in state and federal investigations and lawsuits over alleged fraud, deceptive marketing and steering students into predatory loans."
National Labor Relations Board Reverses an Obama-Era Precedent That Helped Unions Fight Fast-Food and Hotel Chains Over Labor Practices, The New York Times, Noam Scheiber, Thursday, 14 December 2017: "The National Labor Relations Board on Thursday overturned a key Obama-era precedent that had given workers significant leverage in challenging companies like fast-food and hotel chains over labor practices. The ruling changes the standard for holding a company responsible for labor law violations that occur at another company, like a contractor or franchisee, with which it has a relationship. The doctrine also governs whether such a corporation would have to bargain with workers at a franchise if they unionized, or whether only the owners of the franchise would have to do so. While most labor law experts expected the labor board, which gained a Republican majority only in late September, to overturn the board's so-called joint-employer decision from 2015, the speed of the change came as a surprise to many."