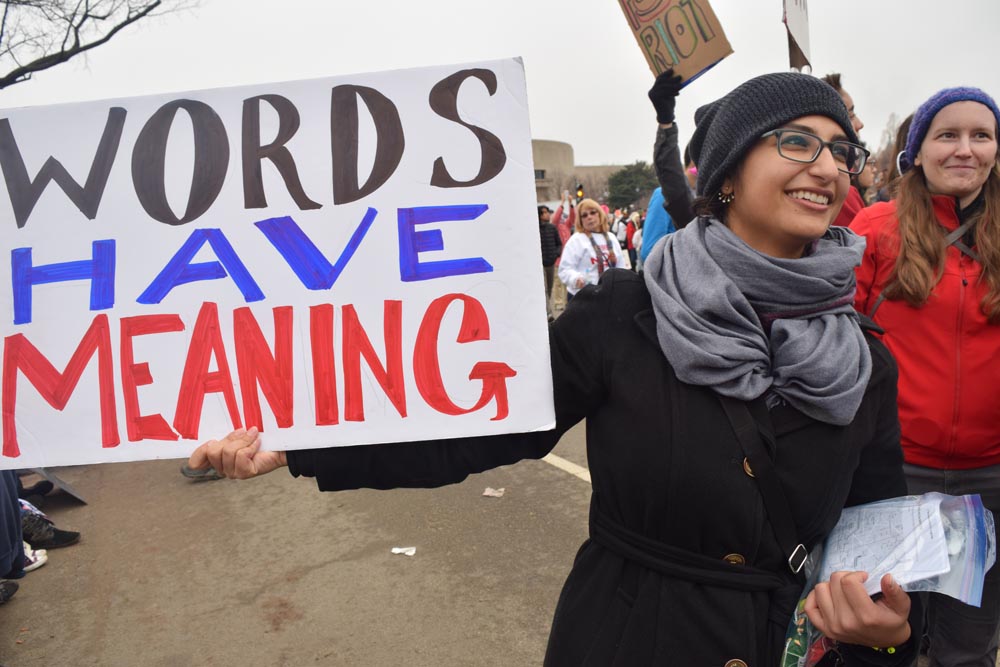 Photo by Robert DelTredici
Keeping Track (of some things), Staying Outraged (it is possible), and Resisting (it's essential)
Passages in bold in the body of the texts below are my emphasis. This is an ongoing project, and I update the site frequently. Because I try to stay focused on what has actually happened, I usually let the news 'settle' a day or so before posting. I hope readers will peruse the articles in full for a better understanding of the issues and their context; our democracy and our future depend on citizens who can distinguish between facts and falsehoods and who are engaged in the political process.
Friday, 24 November 2017, Day 309:
Dueling Appointments Lead to Clash at the Consumer Financial Protection Bureau, The New York Times, Tara Aiegel Bernard, Friday, 24 November 2017: "President Trump on Friday named his budget director as the acting director of the Consumer Financial Protection Bureau, moving to take control of the agency hours after its departing leader had taken steps to install his own choice for acting chief. By the end of the night, an agency born of the financial meltdown — and one Republicans have tried to kill from the start — had dueling directors, and there was little sense of who actually would be in charge Monday morning. The bureaucratic standoff began Friday afternoon when Richard Cordray, the Obama-appointed leader of the bureau, abruptly announced he would leave the job at the close of business, a week earlier than anticipated. He followed up with a letter naming his chief of staff, Leandra English, as the agency's deputy director. The announcement came with a twist. Under the law, he said, that appointment would make the new deputy director the agency's acting director. The move was seen as an effort to delay Mr. Trump from appointing his own director, whose confirmation could take months. The White House retaliated, saying that the budget director, Mick Mulvaney, who once characterized the consumer protection bureau as a 'sad, sick joke,' would be running the agency. He would also keep his current job as head of the Office of Management and Budget. Mr. Mulvaney said he would assume the additional role until a permanent successor was found…. In a letter to the consumer protection agency's staff, Mr. Cordray named Ms. English as deputy director. Under the 2010 Dodd-Frank Act, which established the regulatory agency, the deputy director is to serve as acting director in the absence of a permanent leader, Mr. Cordray said. The conflicting appointments were a fitting development for an agency under constant attack from Republican leaders, and it leaves supporters wondering about the agency's future with Mr. Trump in the White House and Republicans in control of both houses of Congress."
While eyes are on Russia, Attorney General Jeff Sessions dramatically reshapes the Justice Department, The Washington Post, Matt Zapotosky and Sari Horwitz, Friday, 24 November 2017: "For more than five hours, Attorney General Jeff Sessions sat in a hearing room on Capitol Hill this month, fending off inquiries on Washington's two favorite topics: President Trump and Russia. But legislators spent little time asking Sessions about the dramatic and controversial changes in policy he has made since taking over the top law enforcement job in the United States nine months ago. From his crackdown on illegal immigration to his reversal of Obama administration policies on criminal justice and policing, Sessions is methodically reshaping the Justice Department to reflect his nationalist ideology and hard-line views — moves drawing comparatively less public scrutiny than the ongoing investigations into whether the Trump campaign coordinated with the Kremlin. Sessions has implemented a new charging and sentencing policy that calls for prosecutors to pursue the most serious charges possible, even if that might mean minority defendants face stiff, mandatory minimum penalties. He has defended the president's travel ban and tried to strip funding from cities with policies he considers too friendly toward undocumented immigrants. Sessions has even adjusted the department's legal stances in cases involving voting rights and lesbian, gay, bisexual and transgender issues in a way that advocates warn might disenfranchise poor minorities and give certain religious people a license to discriminate."
State Department Diplomats Sound the Alarm as They Are Pushed Out in Droves, The New York Times, Gardiner Harris, Friday, 24 November 2017: "Of all the State Department employees who might have been vulnerable in the staff reductions that Secretary of State Rex W. Tillerson has initiated as he reshapes the department, the one person who seemed least likely to be a target was the chief of security, Bill A. Miller. Republicans pilloried Hillary Clinton for what they claimed was her inadequate attention to security as secretary of state in the months before the deadly 2012 attacks in Benghazi, Libya. Congress even passed legislation mandating that the department's top security official have unrestricted access to the secretary of state. But in his first nine months in office, Mr. Tillerson turned down repeated and sometimes urgent requests from the department's security staff to brief him, according to several former top officials in the Bureau of Diplomatic Security. Finally, Mr. Miller, the acting assistant secretary for diplomatic security, was forced to cite the law's requirement that he be allowed to speak to Mr. Tillerson. Mr. Miller got just five minutes with the secretary of state, the former officials said. Afterward, Mr. Miller, a career Foreign Service officer, was pushed out, joining a parade of dismissals and early retirements that has decimated the State Department's senior ranks. Mr. Miller declined to comment. The departures mark a new stage in the broken and increasingly contentious relationship between Mr. Tillerson and much of his department's work force. By last spring, interviews at the time suggested, the guarded optimism that greeted his arrival had given way to concern among diplomats about his aloofness and lack of communication. By the summer, the secretary's focus on efficiency and reorganization over policy provoked off-the-record anger. Now the estrangement is in the open, as diplomats going out the door make their feelings known and members of Congress raise questions about the impact of their leaving. In a letter to Mr. Tillerson last week, Democratic members of the House Foreign Relations Committee, citing what they said was 'the exodus of more than 100 senior Foreign Service officers from the State Department since January,' expressed concern about 'what appears to be the intentional hollowing-out of our senior diplomatic ranks.'"
Continue reading Week 45, Friday, 24 November – Thursday, 30 November 2017 (Days 309-315)
Trump claims he took himself out of the running for Time's 'Person of the Year,' The Washington Post, Jenna Johnson, Friday, 24 November 2017: "President Trump says that Time magazine was contemplating naming him the 'Person of the Year' for a second year in a row but that he pulled himself out of the running because he didn't want to participate in an interview and photo shoot.'Time Magazine called to say that I was PROBABLY going to be named "Man (Person) of the Year," like last year, but I would have to agree to an interview and a major photo shoot,' Trump tweeted on Friday evening. 'I said probably is no good and took a pass. Thanks anyway! 'The magazine responded on Twitter later in the evening, writing: 'The President is incorrect about how we choose Person of the Year. TIME does not comment on our choice until publication, which is December 6.'"
Saturday, 25 November 2017, Day 310:
Culling Voter Rolls: Battling Over Who Even Gets to Go to the Polls, The New York Times, Michael Wines, Saturday, 25 November 2017: "On its face, the notice sent to 248 county election officials asked only that they do what Congress has ordered: Prune their rolls of voters who have died, moved or lost their eligibility — or face a federal lawsuit. The notice, delivered in September by a conservative advocacy group, is at the heart of an increasingly bitter argument over the seemingly mundane task of keeping accurate lists of voters — an issue that will be a marquee argument before the Supreme Court in January. At a time when gaming the rules of elections has become standard political strategy, the task raises a high-stakes question: Is scrubbing ineligible voters from the rolls worth the effort if it means mistakenly bumping legitimate voters as well? The political ramifications are as close as a history book. Florida's Legislature ordered the voter rolls scrubbed of dead registrants and ineligible felons before the 2000 presidential election. The resulting purge, based on a broad name-matching exercise, misidentified thousands of legitimate voters as criminals, and prevented at least 1,100 of them — some say thousands more — from casting ballots. That was the election in which George W. Bush's 537-vote margin in Florida secured his place in the White House. Controlling the rules of elections — including who is on or off the rolls — has been both a crucial part of political strategy and a legal battleground ever since. Conservative groups and Republican election officials in some states say the poorly maintained rolls invite fraud and meddling by hackers, sap public confidence in elections and make election workers' jobs harder. Voting rights advocates and most Democratic election officials, in turn, say that the benefits are mostly imaginary, and that the purges are intended to reduce the number of minority, poor and young voters, who are disproportionately Democrats. 'The goal here is not election integrity,' Stuart Naifeh, the senior counsel at the voting rights group Demos, said. 'It's intimidation and suppression of voters.'"
'Please, God, Don't Let Me Get Stopped': Around Atlanta, No Sanctuary for Immigrants, The New York Times, Vivian Yee, Saturday, 25 November 2017: "Few places in the United States have simultaneously beckoned undocumented immigrants and penalized them for coming like metropolitan Atlanta, a boomtown of construction and service jobs where conservative politics and new national policies have turned every waking day into a gamble. President Trump has declared anyone living in the country illegally a target for arrest and deportation, driving up the number of immigration arrests by more than 40 percent this year. While the Obama administration deported record numbers of undocumented immigrants, it directed federal agents to focus on arresting serious criminals and recent arrivals. The current administration has erased those guidelines, allowing Immigration and Customs Enforcement agents to arrest and deport anyone here illegally. Freed of constraints, the regional ICE office in Atlanta made nearly 80 percent more arrests in the first half of this year than it did in the same period last year, the largest increase of any field office in the country. It has had help. Local sheriffs and the police have been working with federal agents to identify and detain immigrants, a model of cooperation that the Trump administration is rapidly trying to expand throughout the country. Every few hours, an unauthorized immigrant is booked into a county jail on charges as serious as assault and as minor as failing to signal a right turn. Then the jail alerts ICE — contrary to what happens in the so-called sanctuary cities repeatedly denounced by Mr. Trump, where local authorities refuse to turn immigrants over to the federal agency except in cases involving the gravest crimes. Atlanta's immigrants can do little but hide."
Why Trump Stands by Roy Moore, Even as It Fractures His Party, The New York Times, Jonathan Martin, Maggie Haberman, and Alexander Burns, Saturday, 25 November 2017: "By the time Senator Mitch McConnell, the majority leader, made the last of his repeated pleas to President Trump to keep his distance from the Senate candidacy of Roy S. Moore, it was too late. To Mr. McConnell, only the president could extinguish a fire that he sees as endangering Republicans' Senate majority. But Mr. Trump, speaking by phone last Tuesday with Mr. McConnell, responded with the same argument he had been making for days inside the White House. The women who have called Mr. Moore a sexual predator, the president believes, may not be telling the truth. 'Forty years is a long time. He's run eight races, and this has never come up,' Mr. Trump said to the television cameras on the South Lawn hours after his conversation with Mr. McConnell, effectively endorsing Mr. Moore before boarding Marine One. 'He says it didn't happen,' the president added. 'You have to listen to him, also.'… [Trump] sees the calls for Mr. Moore to step aside as a version of the response to the now-famous 'Access Hollywood' tape, in which he boasted about grabbing women's genitalia, and the flood of groping accusations against him that followed soon after. He suggested to a senator earlier this year that it was not authentic, and repeated that claim to an adviser more recently. (In the hours after it was revealed in October 2016, Mr. Trump acknowledged that the voice was his, and he apologized.). So Mr. Trump has been particularly open to the idea, pushed by Mr. Moore's defenders, that the candidate is being wrongly accused, even as Mr. McConnell and a parade of other Republicans have said they believe the accusers…. Privately, Mr. Trump has acknowledged that he is making a cold political calculus in the hope that the Republicans will hold on to the seat."
Sunday, 26 November 2017, Day 311:
Trump reaffirms support for 'accused child molester' Roy Moore, The Guardian, Martin Pengelly, Sunday, 26 November 2017: "Donald Trump on Sunday restated his support for Roy Moore, the Republican Alabama Senate candidate who is accused of sexual misconduct with four women, one of whom was 14 when the incident is alleged to have occurred. In response, Republican senators said Trump was wrong to make a 'political' decision to back Moore, rather than take into account the 'character of our country.' Referring to the Democrat Doug Jones, who is marginally ahead in the deep red state, Trump tweeted: 'The last thing we need in Alabama and the US Senate is a Schumer/Pelosi puppet who is WEAK on Crime, WEAK on the Border, Bad for our Military and our great Vets, Bad for our 2nd Amendment, AND WANTS TO RAISES TAXES TO THE SKY. Jones would be a disaster!' Referring to the appointed incumbent, Trump added: 'I endorsed Luther Strange in the Alabama Primary. He shot way up in the polls but it wasn't enough. Can't let Schumer/Pelosi win this race. Liberal Jones would be BAD!' Trump did not use Moore's name but the New York Times reported on Saturday that the president has compared the accusations against the Alabama judge to those against him that arose from the release last October of a 2005 Access Hollywood tape, in which the then businessman was heard to boast about sexually assaulting women. The Times said the president had told a senator and an adviser he now thinks the tape is 'not authentic.' At the time of its release, Trump acknowledged that the voice on the tape was his, and apologised." See also, Trump Urges Voters to Pick Roy Moore Instead of 'Liberal Jones,' The New York Times, Christina Caron, Sunday, 26 November 2017: "During the Alabama Republican primary, Mr. Trump endorsed Senator Luther Strange on Twitter, then deleted some of those tweets after Mr. Strange lost the runoff in September. On Sunday, the president claimed that after he had supported Mr. Strange, the candidate 'shot way up in the polls' — a claim he also made in September — but 'it wasn't enough.' It has been widely reported that Mr. Strange did not advance in the polls after Mr. Trump's endorsement."
Leandra English, the woman at the center of a White House battle for control of the Consumer Financial Protection Bureau (CFPB), files lawsuit against Trump pick Mick Mulvaney to lead the watchdog agency, The Washington Post, Renae Merle, Sunday, 26 November 2017: "The tug-of-war over leadership of the Consumer Financial Protection Bureau intensified Sunday as a high-ranking agency official sued to block President Trump from installing his pick to temporarily lead the watchdog agency. In a lawsuit filed in the U.S. District Court of D.C., Leandra English called herself the 'rightful acting director' of the CFPB and asked for a temporary restraining order to prevent Trump from appointing White House budget director Mick Mulvaney to the job. 'The President's purported or intended appointment of defendant Mulvaney as Acting Director of the CFPB is unlawful,' the lawsuit says." See also, Battle for Control of the Consumer Financial Protection Bureau Heads to Court, The New York Times, Stacy Cowley, Sunday, 26 November 2017: "The battle over who will lead the federal government's top consumer financial watchdog agency is now headed to court. The extraordinary fight, which intensified on Sunday night, adds to the uncertainty over the fate of the Consumer Financial Protection Bureau, a regulator created in the aftermath of the global financial crisis of nearly a decade ago. It encapsulates dueling visions of how the American financial system could be regulated, as President Trump moves to loosen regulation created under the Obama administration to rein in the financial industry. Leandra English, the deputy director of the bureau who was set to become its temporary chief, filed a lawsuit late Sunday night to block Mr. Trump's choice of someone else from taking control of the agency on Monday morning. Mr. Trump has been seeking to install his budget director, Mick Mulvaney, as the agency's acting director. The bureau had been a 'total disaster' and needed new leadership to 'bring it back to life,' Mr. Trump has said on Twitter. Mr. Mulvaney has been openly hostile to the consumer bureau, calling it a 'sad, sick' joke and supporting legislation to eliminate it. At stake is the immediate future of the consumer bureau — one of the last holdouts, within the federal government, against Mr. Trump's efforts to strip away business regulations. While Mr. Trump can appoint his own director, confirmation could take months and slow down Republican efforts to defang the agency."
Senate Republican tax bill hurts the poor more than originally thought, the Congressional Budget Office finds, The Washington Post, Heather Long, Sunday, 26 November 2017: "The Senate Republican tax plan gives substantial tax cuts and benefits to Americans earning more than $100,000 a year, while the nation's poorest would be worse off, according to a report released Sunday by the nonpartisan Congressional Budget Office. Republicans are aiming to have the full Senate vote on the tax plan as early as this week, but the new CBO analysis showing large, harmful effects on the poor may complicate those plans. The CBO also said the bill would add $1.4 trillion to the deficit over the next decade, a potential problem for Republican lawmakers worried about America's growing debt. Democrats have repeatedly slammed the bill as a giveaway to the rich at the expense of the poor. In addition to lowering taxes for businesses and many individuals, the Senate bill also makes a major change to health insurance that the CBO projects would have a harsh impact on lower-income families. By 2019, Americans earning less than $30,000 a year would be worse off under the Senate bill, CBO found. By 2021, Americans earning $40,000 or less would be net losers, and by 2027, most people earning less than $75,000 a year would be worse off. On the flip side, millionaires and those earning $100,000 to $500,000 would be big beneficiaries, according to the CBO's calculations."
If the police can get phone data without a warrant, it could be a nightmare for journalists–and sources, The Washington Post, Margaret Sullivan, Sunday, 26 November 2017: "Nathan Freed Wessler sees it as a dangerous time machine as well as a communication device. After all, says the ACLU attorney, the location data your phone gathers all day, every day, makes it possible for an interested party — the police, let's say — to look back at a period of time and reconstruct precisely where you were. And from that to deduce who you were talking to and why. In other words, imagine if the Department of Justice could have traced a Washington Post reporter to that Virginia garage where he met Deep Throat. Such data may offer invaluable help in prosecuting a criminal. But if it's available on demand, without a warrant, it could be a nightmare for journalists who are trying to protect their sources. And for their news organizations. 'It can really imperil the ability of journalists to do confidential reporting,' said Wessler, who will be in the Supreme Court on Wednesday to argue against the government in one of the most important privacy cases in many years: Carpenter v. United States…. A long list of news organizations and journalism advocacy groups have signed friend-of-the-court briefs supporting the ACLU position: That law enforcement officials need a warrant before they are able to demand location data from cellphones. 'We're not arguing that this information should be off-limits, rather making the modest claim that police should show probable cause and get a warrant first,' Wessler told me.'It's a reasonable protection.'… In addition to the 19 journalism organizations supporting the ACLU's position, the giants of the tech world are also on board: Apple, Verizon, Twitter, Facebook, Microsoft, Google and others. Their brief rightly makes the case that 'rigid analog-era rules should yield to consideration of reasonable expectations of privacy in the digital age.'"
Congress Returns to Intense Pressure to End Secrecy Over Sex Harassment, The New York Times, Sheryl Gay Stolberg and Yamiche Alcindor, Sunday, 26 November 2017: "Lawmakers are facing mounting pressure to end Capitol Hill's culture of secrecy over sexual harassment as they return from a holiday break, with members of both parties calling for Congress to overhaul its handling of misconduct claims and to unmask lawmakers who have paid settlements using taxpayer money. On Sunday, the roiling debate over sexual harassment cost one lawmaker who has paid such a settlement — Representative John Conyers Jr. of Michigan — his post as the top Democrat on the House Judiciary Committee, at least temporarily. Mr. Conyers, the longest-serving member of the House, announced that he was stepping aside as the House Ethics Committee investigates allegations that he sexually harassed aides…. Under a 1995 law, complaints are handled confidentially. Lawyers for the House and the Senate have required that settlements be kept confidential as well."
Monday, 27 November 2017, Day 312:
Trump Mocks Senator Elizabeth Warren (D-Mass) as 'Pocahontas' at Navajo Veterans' Event, The New York Times, Julie Hirschfeld Davis, Monday, 27 November 2017: "President Trump on Monday transformed a White House ceremony to honor Navajo veterans of World War II into a racially charged controversy, using the event as a platform to deride Senator Elizabeth Warren as 'Pocahontas.' Standing in the Oval Office alongside three Navajo code talkers, whom he called 'very, very special people,' Mr. Trump dispensed with his prepared remarks and took aim at Ms. Warren without naming her, resurrecting a favorite nickname as the veterans stood stonefaced. 'You were here long before any of us were here,' Mr. Trump said to the veterans, ages 90 and older, who wore their military uniforms for the occasion, juxtaposed with turquoise and silver, hallmarks of Navajo culture. 'Although we have a representative in Congress who, they say, was here a long time ago. They call her Pocahontas.' He made the remarks while standing in front of a portrait of President Andrew Jackson — a favorite of Mr. Trump's — who served as the nation's seventh president and signed the Indian Removal Act of 1830, which resulted in the mass displacement and deaths of Native Americans often referred to as the Trail of Tears.… The comment drew swift rebukes from Native American leaders, including one who was present for the ceremony. Russell Begaye, the president of the Navajo Nation, called the president's mention of Pocahontas 'derogatory' and 'disrespectful to Indian nations.'… Ms. Warren said the episode reflected the president's penchant for racial slurs. 'This was a ceremony to honor war heroes: Native Americans who had put it all on the line to protect our country and to save lives of Americans and our allies,' Ms. Warren said in an interview. 'It should have been a celebration of their incredible service, but Donald Trump couldn't make it through without tossing in a racial slur.'" See also, Trump just called Elizabeth Warren 'Pocahontas' at an event honouring Native American war heroes, Toronto Star, Daniel Dale, Monday, 27 November 2017: "Many Native Americans and many others see Trump's disparaging use of 'Pocahontas' as a racist slur. Faith Spotted Eagle, a prominent Native American activist in South Dakota, described it Monday as an 'emotional assault' that 'carries as much weight as a physical assault.'… Trump press secretary Sarah Sanders, speaking to reporters soon after the ceremony, said it would be 'ridiculous' to say Trump had uttered a slur. The National Congress of American Indians, however, has described it as such, calling on Trump in May to 'refrain from using this name as a pejorative term.' On Monday, Navajo Nation President Russell Begaye said in a statement: 'In this day and age, all tribal nations still battle insensitive references to our people. The prejudice that Native American people face is an unfortunate historical legacy.'" See also, Trump makes 'Pocahontas' racial slur about Democratic senator Elizabeth Warren at ceremony honoring Navajo veterans, The Guardian, Lauren Gambino, published on Tuesday, 28 November 2017.
2 Bosses, Leandra English and Mick Mulvaney, Show Up to Lead the Consumer Financial Protection Bureau, The New York Times, Katie Rogers, Monday, 27 November 2017: "On Monday, Mick Mulvaney, the acting director of the Consumer Financial Protection Bureau, brought in doughnuts for employees. Around the same time, Leandra English, the agency's other acting director, sent an all-staff email thanking the work force for its service. Awkward. And so unfolded another frenetic workday in this corner of a capital city defined by hyperpartisan dysfunction: Two public servants — one a holdover from the Obama administration, the other a rushed temporary appointee by President Trump — messily and publicly vied to lead an agency that has fought for consumers while under political assault by Republicans. Its future as an independent agency rests on who leads it next. By the end of the day, a federal judge was assigned to hear Ms. English's request, filed late Sunday, to provide an emergency restraining order to block the president from appointing Mr. Mulvaney. Judge Timothy J. Kelly of the Federal District Court in Washington, who was nominated by Mr. Trump and confirmed in September, was perhaps the only person in the capital who refrained from rushing to issue an opinion." See also, Why It Matters Who Runs the Consumer Financial Protection Bureau, The New Yorker, John Cassidy, Monday, 27 November 2017.

A woman, Jaime T. Phillips, approached The Post with a dramatic–and false–tale about Alabama Republican U.S. Senate candidate Roy Moore. She appears to be part of an undercover sting operation. The Washington Post, Shawn Boburg, Aaron C. Davis, and Alice Crites, Monday, 27 November 2017: "A woman who falsely claimed to The Washington Post that Roy Moore, the Republican U.S. Senate candidate in Alabama, impregnated her as a teenager appears to work with an organization that uses deceptive tactics to secretly record conversations in an effort to embarrass its targets. In a series of interviews over two weeks, the woman shared a dramatic story about an alleged sexual relationship with Moore in 1992 that led to an abortion when she was 15. During the interviews, she repeatedly pressed Post reporters to give their opinions on the effects that her claims could have on Moore's candidacy if she went public. The Post did not publish an article based on her unsubstantiated account. When Post reporters confronted her with inconsistencies in her story and an Internet posting that raised doubts about her motivations, she insisted that she was not working with any organization that targets journalists. But on Monday morning, Post reporters saw her walking into the New York offices of Project Veritas, an organization that targets the mainstream news media and left-leaning groups. The organization sets up undercover 'stings' that involve using false cover stories and covert video recordings meant to expose what the group says is media bias…. After Phillips was observed entering the Project Veritas office, The Post made the unusual decision to report her previous off-the-record comments. 'We always honor "off-the-record" agreements when they're entered into in good faith,' said Martin Baron, The Post's executive editor. 'But this so-called off-the-record conversation was the essence of a scheme to deceive and embarrass us. The intent by Project Veritas clearly was to publicize the conversation if we fell for the trap. Because of our customary journalistic rigor, we weren't fooled, and we can't honor an "off-the-record" agreement that was solicited in maliciously bad faith.'" See also, Listen to the full exchange between Post reporter Stephanie McCrummen and Jaime T. Phillips, the woman who made false accusations against Alabama Republican Senate Candidate Roy Moore, The Washington Post, Monday, 27 November 2017. See also, Reality scores a win over the perverse drive to discredit honest reporting, The Washington Post, Margaret Sullivan, published on Tuesday, 28 November 2017: "[A] new low came Monday as Project Veritas — could its name be any more Orwellian? — was exposed for its clumsy effort to lure The Post into publishing a false story about a woman whose girlhood affair with Moore led to an abortion. This would-be scam won the race to the bottom — so far — because, at its black heart, it mocked the bravery of women telling their own true, painful experiences. It tried to make a brazen lie the reason the women's stories would be dismissed…. Are we as a nation so deep into our social-media bubbles and echo chambers that many have lost track of what's real and what's fake? It's a deeply troubling problem but hardly a new one. 'If everybody always lies to you, the consequence is not that you believe the lies, but rather that nobody believes anything any longer,' wrote the German-born political theorist Hannah Arendt many decades ago. 'And with such a people you can then do what you please.' That frightening change is happening in America, and at a shocking pace. But there are encouraging signs, too. One is that the reality-based press (the phrase I prefer to mainstream media) has been forced to be ever more transparent in how it operates." See also, Jaime Phillips's effort to infiltrate The Washington Post dated back months, The Washington Post, Beth Reinhard, Aaron C. Davis, and Andrew Ba Tran, published on Wednesday, 29 November 2017: "The failed effort by conservative activists to plant a false story about Senate candidate Roy Moore in The Washington Post was part of a months-long campaign to infiltrate The Post and other media outlets in Washington and New York, according to interviews, text messages and social media posts that have since been deleted. Starting in July, Jaime Phillips, an operative with the organization Project Veritas, which purports to expose media bias, joined two dozen networking groups related to either journalism or left-leaning politics. She signed up to attend 15 related events, often accompanied by a male companion, and appeared at least twice at gatherings for departing Post staffers. Phillips, 41, presented herself to journalists variously as the owner of a start-up looking to recruit writers, a graduate student studying national security or a contractor new to the area. This summer, she tweeted posts in support of gun control and critical of Trump's crackdown on illegal immigrants — a departure from the spring when, on accounts that have since been deleted, she used the #MAGA hashtag and mocked the Women's March on Washington that followed Trump's inauguration as the 'Midol March.'"
Supreme court cellphone case Carpenter v United States puts free speech–not just privacy–at risk, The Guardian, Jameel Jaffer and Alexander Abdo, Monday, 27 November 2017: "On Wednesday, the supreme court will consider whether the government must obtain a warrant before accessing the rich trove of data that cellphone providers collect about cellphone users' movements. Among scholars and campaigners, there is broad agreement that the case could yield the most consequential privacy ruling in a generation. Less appreciated is the significance of the case for rights protected by the first amendment. The parties' briefs make little mention of the first amendment, instead framing the dispute – for understandable reasons – as one about the right to privacy. Yet the court's resolution of the case is likely to have far-reaching implications for the freedoms of speech, press and association."
Trump Employed a Crew of 200 Undocumented Polish Workers and Paid Over $1 Million in Labor Settlement, Documents Reveal, The New York Times, Charles V. Bagli, Monday, 27 November 2017: "In 1980, under pressure to begin construction on what would become his signature project, Donald J. Trump employed a crew of 200 undocumented Polish workers who worked in 12-hour shifts, without gloves, hard hats or masks, to demolish the Bonwit Teller building on Fifth Avenue, where the 58-story, golden-hued Trump Tower now stands. The workers were paid as little as $4 an hour for their dangerous labor, less than half the union wage, if they got paid at all. Their treatment led to years of litigation over Mr. Trump's labor practices, and in 1998, despite frequent claims that he never settles lawsuits, Mr. Trump quietly reached an agreement to end a class-action suit over the Bonwit Teller demolition in which he was a defendant. For almost 20 years, the terms of that settlement have remained a secret. But last week, the settlement documents were unsealed by Loretta A. Preska, a United States District Court judge for the Southern District, in response to a 2016 motion filed by Time Inc. and the Reporters Committee for Freedom of the Press. Judge Preska found that the public's right to know of court proceedings in a class-action case was strengthened by the involvement of the 'now-president of the United States.' In a 21-page finding, Judge Preska wrote that 'the Trump Parties have failed to identify any interests that can overcome the common law and First Amendment presumptions of access to the four documents at issue.' On the campaign trail and as president, Mr. Trump has made curbing immigration one of his top priorities, seeking to close the borders to people from certain Muslim-majority countries and to deport immigrants who are here illegally. The settlement serves as a reminder that as an employer he relied on illegal immigrants to get a dangerous and dirty job done. Katie Townsend, litigation director of the Reporters Committee, called the decision a major victory that goes beyond this one case. 'It makes clear that both the First Amendment and common law rights of public access apply to settlement-related documents in class actions,' she said."
Trump Hits a Favorite Punching Bag, CNN, The New York Times, Eileen Sullivan, Monday, 27 November 2017: "President Trump returned from his Thanksgiving break with new attacks on his least favorite news network, CNN, and suggested a contest for the 'most dishonest' media outlet. In a series of Twitter posts over the weekend and early Monday, Mr. Trump criticized CNN's international arm for representing 'our nation to the WORLD very poorly.' The president praised Fox News and has been complimentary of its coverage of him and his administration…. It is unusual for a president to so openly endorse one news source over others. Mr. Trump has campaigned against CNN for months, and his administration is involved in an antitrust case that could potentially put CNN into the hands of more Trump-friendly media moguls…. On Monday, Mr. Trump suggested that a contest 'as to which of the Networks, plus CNN and not including Fox, is the most dishonest, corrupt and/or distorted in its political coverage of your favorite President (me).' He said the winner would receive a 'FAKE NEWS TROPHY!'… Michael V. Hayden, a former director of both the C.I.A. and the National Security Agency, said, 'Until now it was not possible for me to conceive of an American President capable of such an outrageous assault on truth, a free press or the first amendment.'"
Casting Wall Street as Victim, Trump Leads Deregulatory Charge, The New York Times, Matthew Goldstein and Stacy Cowley, Monday, 27 November 2017: "A decade after the financial crisis, the federal government is easing up its policing of Wall Street and the banking industry, even without actually repealing broad swaths of regulation. The public battle over who will serve as the acting director of the Consumer Financial Protection Bureau — with the White House trying to install Mick Mulvaney, a staunch opponent of the agency — is the most recent example of the banker-friendly approach that has gripped Washington. Less visible are the subtle but steady efforts at the White House, in federal agencies and on Capitol Hill to lessen the regulatory burden on banks and financial firms since President Trump took office. At the Treasury Department, officials are trying to make it easier for financial firms to avoid being tagged as "too big to fail," a designation that subjects them to greater oversight. A major banking regulator, the Office of the Comptroller of the Currency, has become more forgiving of big banks when it comes to enforcing laws. And the Securities and Exchange Commission is reining in the power of regional directors to issue subpoenas."
Kellyanne Conway violated the Hatch Act. Will she be charged? The Washington Post, Walter Shaub, Monday, 27 November 2017: "The special counsel is facing the biggest test of his career. I'm referring not to Robert S. Mueller III but to Henry Kerner of the Office of Special Counsel (OSC), the small agency that investigates Hatch Act violations. That law prohibits executive branch employees from using their government positions to influence elections, which is precisely what presidential counselor Kellyanne Conway did last week. Whether Kerner will enforce the law is another matter. When Conway appeared on'Fox and Friends' last Monday, it was clear she was doing so in an official capacity: One of the show's hosts introduced her by her title and she articulated the administration's views as she stood in front of the White House. In discussing whether the president has enough votes to get a tax bill through the Senate, Conway (without prompting) attacked Doug Jones, the Democratic candidate for Senate in Alabama. 'And Doug Jones in Alabama?' she said, 'Folks, don't be fooled. He'll be a vote against tax cuts. He's weak on crime, weak on borders. He's strong on raising your taxes. He's terrible for property owners.' Conway's intent was clear enough already, but she decided to make it clearer. 'I'm telling you that we want the votes in the Senate to get this tax bill through,' she admitted."
Tuesday, 28 November 2017, Day 313:
Republicans Clear Major Hurdle as Tax Bill Advances, The New York Times, Alan Rappeport and Thomas Kaplan, Tuesday, 28 November 2017: "Senate Republicans took a significant step toward passing a sweeping tax overhaul on Tuesday, with a key panel giving its approval and several wavering senators indicating they would support the tax package, helping clear the way for full Senate consideration later this week. Passage of the tax overhaul, which seemed uncertain on Monday, strengthened considerably on Tuesday after the Senate Budget Committee voted along party lines to advance the plan. A flurry of last-minute deal making helped garner the support of a few Republican lawmakers who had expressed concerns about the $1.5 trillion package, including its treatment of small businesses and its effect on the deficit. The rapid turnaround underlines the pressure Republicans face to pass a tax cut and notch a significant legislative victory in their first year controlling both Congress and the White House. To help push the effort forward, President Trump went to Capitol Hill on Tuesday for a lunch meeting with Republican senators, where he made promises to some and admonished another…. Republicans emerged from the lunch increasingly optimistic about the bill's fate and playing down the concerns that had threatened to bedevil its passage. Three key Republican holdouts, Senators Susan Collins of Maine, Bob Corker of Tennessee and Ron Johnson of Wisconsin, sounded positive about the bill on Tuesday after gaining assurances from Mr. Trump and the Republican leadership that their worries would be addressed."
Senate Minority Leader Chuck Schumer and House Minority Leader Nancy Pelosi clash with Trump over shutdown talks, Politico, Seung Min Kim and Elana Schor, Tuesday, 28 November 2017: "President Donald Trump and Democratic leaders sparred throughout the day Tuesday, complicating already-difficult efforts to avert a government shutdown next week…. The fight began early with Trump launching a broadside against House Minority Leader Nancy Pelosi (D-Calif.) and Senate Minority Leader Chuck Schumer (D-N.Y.) on Twitter. By day's end, Trump and Schumer were each predicting the other would be blamed if the government shut down. Trump tweeted Tuesday morning that Pelosi and Schumer 'want illegal immigrants flooding into our Country unchecked, are weak on Crime and want to substantially RAISE Taxes,' adding, 'I don't see a deal!' The Democratic leaders responded by canceling their plans to meet with Trump and GOP leaders at the White House to discuss a deal to keep the government open."
North Korea Fires a Ballistic Missile, in a Further Challenge to Trump, The New York Times, Mark Landler, Choe Sang-Hun, and Helene Cooper, Tuesday, 28 November 2017: "North Korea fired an intercontinental ballistic missile on Tuesday that flew both higher and longer than previous such launches, a bold act of defiance against President Trump after he put the country back on a list of state sponsors of terrorism. The president reacted cautiously to news of the launch, stating, 'It is a situation that we will handle.' But Defense Secretary Jim Mattis expressed greater concern, emphasizing what he said were technical advances on display in the 53-minute flight, which began when the missile was launched northeast of the capital, Pyongyang, and ended nearly 600 miles to the east, when it landed in the Sea of Japan. 'It went higher, frankly, than any previous shot they've taken,' Mr. Mattis said in the White House, where he was taking part in a budget meeting with the president and Republican congressional leaders. 'The bottom line is, it's a continued effort to build a threat — a ballistic missile threat that endangers world peace, regional peace, and certainly, the United States,' the defense secretary said."
Trump Once Said the 'Access Hollywood' Tape Was Real. Now He's Not Sure. The New York Times, Maggie Haberman and Jonathan Martin, Tuesday, 28 November 2017: "Shortly after his victory last year, Donald J. Trump began revisiting one of his deepest public humiliations: the infamous 'Access Hollywood' tape of him making vulgar comments about women. Despite his public acknowledgment of the recording's authenticity in the final days of the presidential campaign — and his hasty videotaped apology under pressure from his advisers — Mr. Trump as president-elect began raising the prospect with allies that it may not have been him on the tape after all…. As the issue of sexual harassment has swept through the news media, politics and entertainment industries, Mr. Trump has persisted in denying allegations that he, too, made unwanted advances on multiple women in past years. In recent days, he has continued to seed doubt about his appearance on the 'Access Hollywood' tape, stunning his advisers. More generally, Mr. Trump's views on the issue have changed depending upon the political party involved. He has praised women for coming forward after accusations were made against a Democrat, Senator Al Franken of Minnesota. But in the case of Roy S. Moore, a Republican candidate for Senate from Alabama, Mr. Trump has said he believes Mr. Moore's denials that he behaved inappropriately with teenage girls, and he has effectively endorsed Mr. Moore's candidacy. Mr. Trump's falsehoods about the 'Access Hollywood' tape are part of his lifelong habit of attempting to create and sell his own version of reality. Advisers say he continues to privately harbor a handful of conspiracy theories that have no grounding in fact. In recent months, they say, Mr. Trump has used closed-door conversations to question the authenticity of President Barack Obama's birth certificate. He has also repeatedly claimed that he lost the popular vote last year because of widespread voter fraud, according to advisers and lawmakers…. To the president's critics, his conspiracy-mongering goes to the heart of why he poses a threat to the country…. Mr. Trump's friends did not bother denying that the president was creating an alternative version of events." See also, From 'Access Hollywood' to Russia, Trump seeks to paint the rosiest picture, The Washington Post, Josh Dawsey, Ashley Parker, and Philip Rucker, Tuesday, 28 November 2017. See also, 'Access Hollywood' Reminds Trump: 'The Tape Is Very Real,' The New York Times, Daniel Victor, Tuesday, 28 November 2017: "The tape, without question, is real. The famed recording of Donald J. Trump making vulgar comments about women while filming a segment for 'Access Hollywood,' which was first reported by The Washington Post roughly a month before last year's presidential election, figured prominently in the final stretch of the race. Its authenticity wasn't challenged at the time. But Mr. Trump suggested to a senator earlier this year that the tape was not authentic, The Times reported on Saturday, and he recently repeated that contention to an adviser. The claim does not hold up to scrutiny. 'Let us make this perfectly clear: The tape is very real,' Natalie Morales, an 'Access Hollywood' host, said during Monday's broadcast. 'Remember his excuse at the time was 'locker room talk.' He said every one of those words." See also, Two new reports suggest Trump has come unhinged. The truth is worse. The Washington Post, Greg Sargent, published on 29 November 2017: "This morning, after the news broke that NBC News has fired veteran anchor Matt Lauer for inappropriate sexual behavior, President Trump mused that NBC executives should be fired for putting out 'Fake News,' and unleashed this broadside: 'Check out Andy Lack's past!' This call for a look into vague allegations against NBC News' chairman prompted some to marvel at how 'brazen' Trump is being, given the sexual charges leveled at him, too. Similar surprise greeted Trump's willingness to endorse Roy Moore while shrugging that Moore 'totally denies' the believable charges against him, as that reminded everyone just how lacking in credibility were his own dismissals of so many equally believable accounts about himself. But such incredulity misses the deeper significance of this stuff. The brazenness of it is the whole point — his utter shamelessness itself is meant to achieve his goal. In any given case, Trump is not trying to persuade anyone of anything as much as he is trying to render reality irrelevant, and reduce the pursuit of agreement on it to just another part of the circus. He's asserting a species of power — the power to evade constraints normally imposed by empirically verifiable facts, by expectations of consistency, and even by what reasoned inquiry deems merely credible. The more brazen or shameless, the more potent is the assertion of power…. In both the volume and outsize defiance of his lies, Trump is asserting the power to declare the irrelevance of verifiable, contradictory facts, and with them, the legitimate institutional role of the free press, which at its best brings us within striking distance of the truth.… Terms like 'lying' or 'delusional' don't do justice to what we're seeing here, and we have not yet seriously reckoned with its true nature and what it really means."
Trump Wins Round in the Battle for the Consumer Financial Protection Bureau, The New York Times, Katie Rogers and Tara Siegel Bernard, Tuesday, 28 November 2017: "President Trump's deregulation push got a boost after a federal judge denied an emergency request on behalf of an Obama-era holdover who disputed Mr. Trump's decision to appoint a new acting director of the Consumer Financial Protection Bureau, delivering a legal victory to the White House, which argued that the president had the authority to install a new leader. The ruling addressed a partisan legal spat at an agency thrown into chaos as two acting directors publicly laid claim to the title of rightful, if temporary, leadership. Both used every tool at their disposal, including baked goods and multiple all-staff emails. But the ruling effectively installed Mick Mulvaney, Mr. Trump's pick and the current director of the White House Office of Management and Budget, as the acting leader of the bureau." See also, Claims That the Consumer Financial Protection Bureau Is 'Completely Unaccountable' and Adds Little to Consumer Protection Are Inaccurate, The New York Times, Linda Qiu, Tuesday, 28 November 2017: "Like the majority of financial regulators, the [Consumer Financial Protection Bureau] does not rely on Congress for funding. Rather, that backing comes directly from the Federal Reserve. Still, the agency's financial independence from Congress is not the same as 'no oversight' at all. Congress holds the consumer bureau accountable in several ways, as outlined by the Consumer Federation of America. Its director must be confirmed by the Senate and is required to testify to House and Senate committees twice a year. Each year, the consumer bureau is asked to submit reports to Congress and undergo an audit from the Governmental Accountability Office, an investigative agency in the legislative branch. The consumer bureau is also required to coordinate with other financial regulators in the rule-making process, and their objections must be included in the record…. There are also ways to override the agency…. The claim that the consumer bureau 'doesn't add much at all to consumer protection' is inaccurate. The Dodd-Frank Act did not confer new financial regulatory powers so much as it consolidated the powers previously held by other agencies into the consumer bureau….  In its six years of existence, the agency has gone after debt collectors and payday lenders, set rules to protect mortgage borrowers and extracted nearly $12 billion for 29 million consumers in compensation."
Senators Bernie Sanders and Elizabeth Warren Propose $146 Billion 'Marshall Plan' for Puerto Rico, The Intercept, Aida Chávez, Tuesday 28 November 2017: "Sens. Bernie Sanders and Elizabeth Warren on Tuesday unveiled a massive $146 billion 'Marshall Plan' for Puerto Rico with several other senators. The plan includes immediate relief for the island's cash-strapped government, billions more for economic development, renewable energy, and Medicaid and Medicare parity, a key priority for the island. 'More than two months after Hurricanes Irma and Maria struck Puerto Rico and the Virgin Islands, half of the people there — American citizens all — still have no electricity,' Sanders said at a press conference Tuesday morning. 'Many are struggling to get clean drinking water, and more than 100,000 people have left Puerto Rico alone. This is not acceptable, and we are here today to tell the people of Puerto Rico and tell the people of the Virgin Islands that they are not forgotten, they are not alone, and that we intend to do everything possible to rebuild those beautiful islands.'"
From inside the White House as Trump's National Security Adviser, Michael Flynn pushed a proposal from IP3, a company he said he had advised, The Washington Post, Greg Jaffe, Carol D. Leonnig, Michael Kranish, and Tom Hamburger, Tuesday, 28 November 2017: "The week after President Trump's inauguration, national security adviser Michael Flynn forwarded a memo written by a former business associate and told his staff to fashion it into a policy for President Trump's approval, according to two people familiar with the exchange. The proposal — to develop a 'Marshall Plan' of investment in the Middle East — was being pushed by a company that Flynn said he had advised during the 2016 campaign and transition. The firm was seeking to build nuclear power plants in the region. His advocacy for the project in the White House surprised some administration officials and raised concerns that Flynn had a conflict of interest. From August to December 2016, he said he served as an adviser to the company, IP3, reporting later on his disclosure forms that he ended his association with the firm just weeks before joining the administration. To push the idea 'in the first week of the administration without any policy process made no sense,' said a person familiar with episode who, like others with knowledge of the incident, spoke on the condition of anonymity to describe internal discussions. 'It was a business proposal in the form of a policy paper.'"
A message to Republican Senate candidate Roy Moore from Leigh Corfman, one of his accusers: 'Now you are attacking my honesty and integrity. Where does your immorality end?' The Washington Post, Marwa Eltagouri, Tuesday, 28 November 2017: "Leigh Corfman, who says Republican Senate candidate Roy Moore touched her sexually when she was 14 and he was 32, has written him an emotional letter insisting he stop calling her a liar. Corfman wrote and hand-delivered the letter to AL.com Tuesday after hearing that Moore, now the Republican Senate candidate in Alabama, had called her and several other women's accusations 'completely false' and 'malicious' at a campaign rally in Henagar, Ala., on Monday night. It was his first public appearance in almost two weeks. 'When you personally denounced me last night and called me slanderous names, I decided that I am done being silent,' Corfman wrote. 'What you did to me when I was 14-years old should be revolting to every person of good morals. But now you are attacking my honesty and integrity. Where does your immorality end?'"
The Trump Foundation's funding of James O'Keefe's tax-exempt Project Veritas group was twice as much as previously reported, Think Progress, Josh Israel, Tuesday, 28 November 2017: "Conservative activist (and convicted criminal) James O'Keefe and his tax-exempt Project Veritas group are under fire again, following a botched 'sting' operation in which an employee falsely told the Washington Post that she was raped by Alabama Senate candidate Roy Moore (R) as a teenager. The Post did not fall for her trick and instead exposed her for the blatant attempt to discredit the many women who have come forward with their stories of sexual assault. Last October, ThinkProgress reported that Project Veritas had received a $10,000 donation in 2015 from Donald Trump's controversial Donald J. Trump Foundation, a theoretically charitable 501(c)(3) organization. This reporting was based on a list of charitable payments provided by the foundation to the Washington Post. But a ThinkProgress review of the Trump Foundation's 2015 tax filing finds that it reported making not one but two $10,000 donations to Project Veritas in tax-year 2015."
Wednesday, 29 November 2017, Day 314:
Trump Shares Inflammatory Anti-Muslim Videos, and Britain's Prime Minister Theresa May Condemns Them, The New York Times, Peter Baker and Eileen Sullivan, Wednesday, 29 November 2017: "President Trump touched off another racially charged furor on Wednesday by sharing videos from a fringe British ultranationalist group purportedly showing Muslims committing acts of violence, a move that was swiftly condemned by Britain's prime minister as well as politicians across the spectrum. The videos Mr. Trump retweeted were titled: 'Muslim migrant beats up Dutch boy on crutches!' 'Muslim Destroys a Statue of Virgin Mary!' and 'Islamist mob pushes teenage boy off roof and beats him to death!' But the assailant in one of them was not a 'Muslim migrant' and the other two showed four-year-old events with no explanation. No modern American president has promoted inflammatory content of this sort from an extremist organization. Mr. Trump's two most recent predecessors, George W. Bush and Barack Obama, both made a point of avoiding public messages that were likely to be seen as anti-Muslim and could exacerbate racial and religious animosities, arguing that the war against terrorism was not a war against Islam. But Mr. Trump has shown little such restraint, targeting Muslims with a broad brush, including when he claimed on the campaign trail last year that 'Islam hates us' and when he called for a 'total and complete shutdown' of Muslims coming to the United States. Since taking office, he has sought to block visitors from select Muslim-majority nations and engaged in a long-distance feud with the Muslim mayor of London, whom he branded weak on terrorism. The messages came at a time when Mr. Trump has been lashing out at an array of perceived adversaries, including the National Football League, CNN, NBC and Democratic leaders. He referred to a senator as 'Pocahontas' this week in front of Navajo veterans he was honoring. In a meandering speech in St. Charles, Mo., on Wednesday, Mr. Trump labeled North Korea's leader a 'sick puppy,' asserted that welfare recipients lived better than some people with jobs, noted that his wealthy friends 'love their children' and insisted that he did not like some bankers even though he was making their job 'easy for them.'… The reaction was sharp in London, where Prime Minister Theresa May, the leader of the Conservative Party, denounced the president for sharing material posted by Jayda Fransen, the deputy leader of Britain First, the ultranationalist group. 'It is wrong for the president to have done this,' Mrs. May's office said in a statement. 'Britain First seeks to divide communities by their use of hateful narratives that peddle lies and stoke tensions. They cause anxiety to law-abiding people.'" See also, The truth behind Trump's retweets: The U.S. president is an unapologetic anti-Muslim bigot, Toronto Star, Daniel Dale, Wednesday, 29 November 2017: "The British government was forced to condemn him. The Dutch government was forced to fact-check him. And the president of the United States exposed himself, yet again, as an unapologetic anti-Muslim bigot. Donald Trump triggered an international incident on Wednesday morning without saying a word. Scrolling through Twitter, he retweeted, or shared, three anti-Muslim posts from Jayda Fransen, the anti-Muslim deputy leader of the anti-Muslim Britain First party. Fransen titled one video: 'Islamist mob pushes teenage boy off roof and beats him to death!' Another: 'Muslim Destroys a Statue of Virgin Mary!' The third: 'Muslim migrant beats up Dutch boy on crutches!' As it turned out, the so-called 'migrant' was not a migrant at all. The teenager was 'born and raised in the Netherlands,' the Dutch Embassy told Trump on Twitter. 'Facts do matter,' the embassy said in its own tweet…. This was at least the eighth time since Trump began his campaign — the campaign in which he initially pledged a 'total' ban on foreign Muslims entering the country — that he has uttered or promoted a false claim about Muslims for the purpose of smearing them." See also, Trump Made the Most Flagrant Bigots Proud. They See Him as Their Leader. Why Wouldn't They? The Intercept, Shaun King, Wednesday, 29 November 2017: "I know it's hard to keep up, but this morning President Donald Trump did something so dangerous, offensive, and problematic that it must be confronted head-on. In my circles, we are wary of playing what we call the 'Oppression Olympics,' where one horrible moment of bigotry gets ranked against the next, but I am forced to say that what Trump did this morning is a low moment for a very low presidency. As he does most mornings, Trump woke up and began his daily tweet-fest. Each tweet could be legitimately critiqued and dissected. This morning, however, there were three very disturbing retweets that we must confront like our lives depend on it — because for some of us, it does. I truly believe that Trump — who, I remind you, is the president of the United States and has over 44 million followers on Twitter alone — has just endangered millions of people. As my colleague Rob Mackey wrote, Britain First has a long history of distorting videos and releasing misleading information to promote its hateful cause; the group is a purveyor of bigoted hoaxes. The more you learn about Britain First, the worse it gets. Jayda Fransen, the group's deputy leader, is a widely known bigot in the U.K. This is not just my opinion: She has been convicted of a hate crime for brutally harassing a young Muslim mother in front of her children. Ten days ago, she was arrested in Belfast in a separate incident and charged with 'threatening, abusive or insulting words or behavior.' On Wednesday, Fransen was thrilled with Trump's retweets, posting an all-caps message about it: 'DONALD TRUMP HIMSELF HAS RETWEETED THESE VIDEOS AND HAS AROUND 44 MILLION FOLLOWERS! GOD BLESS YOU TRUMP! GOD BLESS AMERICA!' she wrote. After thanking Trump, Fransen then went on a tweeting spree, in which she appears to openly accept that the videos were hateful, Islamophobic, and anti-Muslim. The British reaction gives us an idea of how bad things are. David Lammy, a Labour member of parliament, was outraged. 'Trump sharing Britain First,' he tweeted. 'Let that sink in. The President of the United States is promoting a fascist, racist, extremist hate group whose leaders have been arrested and convicted. He is no ally or friend of ours.'" See also, Britain First, a Far-Right Group Whose Inflammatory and Unverified Videos Trump Retweeted, Had Been on Its Way Out. Now It Exults Over Attention From Trump, The New York Times, Dan Bilefsky and Stephen Castle, Wednesday, 29 November 2017: "She organized 'Christian patrols,' marched with crosses through heavily Muslim neighborhoods and accosted veiled women to rail against Islam. She was barred from entering any mosque in England. She has been arrested several times, most recently this month, on charges of making threats and abusive remarks. Still, Jayda Fransen, the 31-year-old deputy leader of Britain First, a fringe group that insists that white Christian civilization is under threat from Muslims, had received relatively little attention.That changed on Wednesday, when Britain First got unexpected publicity from President Trump, who recirculated three sometimes misleading videos Ms. Fransen had posted on Twitter that purported to show Muslims engaged in violence…. Matthew J. Goodwin, a scholar at Chatham House who studies far-right politics in Britain, said that Britain First was 'not really a populist right movement but basically a neo-Nazi one.' It emerged in 2011 as an offshoot of the far-right British National Party, and while it has shown some interest in electoral politics, it is best known for confrontational tactics that have left the authorities aghast and unsettled. 'On the scale of far-right groups this is one on the very far right,' Mr. Goodwin said, citing tactics like what the group calls 'invasions' of mosques. 'Britain First is seen as a pseudo-paramilitary group.'" See also, Donald Trump Could Run Afoul of U.K. Law for Retweeting British Fascists, The Intercept, Robert Mackey, Wednesday, 29 November 2017. See also, Trump retweets videos from far-right British politician convicted of hate crime, Southern Poverty Law Center, Brett Barrouquere, Wednesday, 29 November 2017.
Senate Votes to Begin Debate on Republican Tax Overhaul, The New York Times, Thomas Kaplan and Alan Rappeport, Wednesday, 29 November 2017: "The Senate moved closer to approving a sweeping overhaul of the tax code on Wednesday, voting to begin debate on the tax bill as Republican leaders continue trying to secure the votes for final passage. The procedural vote, which passed 52 to 48 along party lines, put the Senate on track for a final vote later this week." See also, A Republican Tax Scam Advances, The New Yorker, John Cassidy, Wednesday, 29 November 2017: "In a party-line vote on Tuesday afternoon, the Senate Budget Committee sent the Republican tax bill to the floor of the Senate, where it will be put to a vote sometime later this week or early next week…. The vote in the Budget Committee was taken before some of the legislation's key details had been finalized, and before the Joint Committee on Taxation, the official keeper of the numbers on budget issues, had time to issue a proper analysis of the bill…. The chairman of the Budget Committee, Senator Mike Enzi, of Wyoming, summoned no experts, commissioned no studies, and held no public hearings to consider the bill. 'I thought, Mr. Chairman and colleagues, I had seen just about everything,' a Democratic member of the committee, Senator Ron Wyden, of Oregon, said shortly after the vote was taken. 'But this committee has just completed a key discussion on the budget foundations for ten trillion dollars of tax-policy changes in less time than it takes to wash a car.'… [T]he Senate Republicans do have a justification for acting in haste, even if it's a cynical one. They know that their bill, like the bill that House Republicans have already passed, is a political stinker that will only get more unpopular as time goes by and more attention is focussed on it. Hence the continuing, and almost comical, effort to portray a huge giveaway to business as a boon to the toiling masses…. What can be stated for sure is that the Senate bill hurts the poor, does little for the middle class, and rewards the Republican Party's wealthy donors. (An updated Congressional Budget Office report confirms all of these points.) It is stuffed full of gimmicks to disguise its true cost, and it makes a mockery of the G.O.P.'s claim to being the party of fiscal discipline." See also, Trump Sells Republican Tax Plan With False Claims, The New York Times, Linda Qiu, Wednesday, 29 November 2017.
Democrats worry Arctic National Wildlife Refuge is being lost amid tax debate, Politico, Ben Lefebvre, Wednesday, 29 November 2017: "Democrats' fight to keep oil and gas rigs out of the Arctic National Wildlife Refuge is losing ground as the Republican tax plan advances — and it's almost as if no one has noticed. The prospect of drilling in the untouched Alaskan tundra is as close to reality as it's been in more than a decade, with none of the political drama that in past decades turned the refuge's fate into a top-tier rallying cry for liberals. Legislation to allow drilling in ANWR is quietly hitching a ride on the tax code overhaul that Senate Republicans hope to complete by the end of the week, overshadowed by larger debates on whether the bill is a giveaway to rich people and corporations at the expense of the poor and working class."
House Judiciary Committee votes to expand right to carry concealed guns in a victory for the National Rifle Association (NRA), The Washington Post, Mike De Bonis, Wednesday, 29 November 2017: "A House panel advanced a GOP measure Wednesday that would greatly expand the ability of Americans to carry concealed weapons across state lines, while also moving on a bipartisan basis to close loopholes in the federal background check system for gun buyers. The two bills are the first firearms-related legislation to advance on Capitol Hill since mass shooters in Las Vegas and Texas killed a combined 84 people. The House Judiciary Committee approved the Concealed Carry Reciprocity Act on a 19-11 party-line vote, then passed the Fix NICS Act on a 17-6 bipartisan vote. The National Rifle Association this week called the concealed-carry bill, which requires states to honor permits issued elsewhere, its 'highest legislative priority in Congress.' The group says mandatory reciprocity would prevent 'abuses' in states with strict firearms laws and allow gun owners 'to exercise their rights nationwide with peace of mind.' 'Your fundamental right to keep and bear arms should not end at the state line,' the group said in urging its members to contact their representatives and call for its passage. But groups that support increased gun controls decry the bill, arguing that it will undermine the ability of individual jurisdictions to set their own standards for who can carry a gun. Many states have existing reciprocity agreements, typically with states that have similar licensing standards." See also, Bill Expanding Concealed-Carry Gun Rights Advances in the House, The New York Times, Nicholas Fandos, Wednesday, 29 November 2017.
Twenty-Three Trump Firms Receive Subpoenas from the Attorneys General in Maryland and the District of Columbia. The Businesses Must Retain Records for Emoluments Lawsuit. Bloomberg Politics, Andrew M. Harris, Wednesday, 29 November 2017: "Twenty-three Trump businesses including his Mar-a-Lago Club must retain records after they receive subpoenas from the attorneys general in Maryland and the District of Columbia as part of a lawsuit accusing the president of profiting from his office. U.S. District Judge Peter Messitte on Tuesday issued a two-paragraph order granting the Democratic officials' request to serve so-called preservation subpoenas, which require the businesses to retain documents but not to immediately produce them."
Has Trump Made It Easier to Spy on Journalists? Lawsuit Demands Answers. The Intercept, Cora Currier, Wednesday, 29 November 2017: "Press freedom groups filed suit today to force the government to disclose more about how and when it obtains journalists' communications, amid reports that the Department of Justice under Attorney General Jeff Sessions is pursuing a record number of leak investigations. The question the groups hope to answer is whether the Trump administration — openly hostile toward news media — has jettisoned or modified rules that limit the government's ability to spy on journalists while they do their jobs. Those rules were made more stringent by former President Barack Obama's attorney general Eric Holder in 2014, after outcry when it was revealed that the administration had secretly obtained call records from the Associated Press and surveilled a Fox News reporter, naming him a co-conspirator in a national security leak case. Holder pledged that his department would go after journalists' records in criminal cases only as a 'last resort.' Carrie DeCell, a staff attorney with Knight First Amendment Institute, which is bringing the suit along with the Freedom of the Press Foundation, said that 'we have seen the DOJ media guidelines that Obama released, but we understand that Sessions is reconsidering those guidelines, and the way the government uses subpoenas against journalists.' In August, Sessions announced that his department was reviewing the guidelines as part of a crackdown on leaks but did not specify what changes might be made. Sessions also told Congress this month that he has 27 investigations open into leaks of classified information to reporters – compared to just three last year. (Not all leaks are illegal, and many of the disclosures that Trump has publicly complained about would likely not be considered criminal.) With the lawsuit, filed in federal court in New York, the groups are hoping to obtain updates to the media guidelines and documents about targeting journalists from the DOJ, CIA, National Security Agency, and the Office of the Director of National Intelligence. Freedom of the Press and Knight had requested those materials under the Freedom of Information Act, but the government responded with only two documents, both of which were already publicly available. (The Intercept's parent company, First Look Media, provides support for Freedom of the Press Foundation, and multiple Intercept staffers serve on the foundation's board.)"
CNN Exclusive: Jared Kushner met with Special Counsel Robert Mueller's team about former national security advisor Michael Flynn, CNN, Gloria Borger, Pamela Brown, Evan Perez, and Kara Scannell, Wednesday, 29 November 2017: "Jared Kushner met earlier this month with Special Counsel Robert Mueller's team as part of the investigation into Russia's meddling in the election, according to two people familiar with the meeting. Mueller's team specifically asked Kushner about former national security advisor Michael Flynn, who is under investigation by the special counsel, two sources said. Flynn was the dominant topic of the conversation, one of the sources said. 'Mr. Kushner has voluntarily cooperated with all relevant inquiries and will continue to do so,' Abbe Lowell, Kushner's lawyer, told CNN. The conversation lasted less than 90 minutes, one person familiar with the meeting said, adding that Mueller's team asked Kushner to clear up some questions he was asked by lawmakers and details that emerged through media reports. One source said the nature of this conversation was principally to make sure Kushner doesn't have information that exonerates Flynn. The meeting took place around the same time the special counsel asked witnesses about Kushner's role in the firing of former FBI Director James Comey and his relationship with Flynn, these people said."
The Internet Is Dying. Repealing Net Neutrality Hastens That Death. The New York Times, Farhad Manjoo, Wednesday, 29 November 2017: "Though it has been through a barrage of legal challenges and resurrections, some form of net neutrality has been the governing regime on the internet since 2005. The new F.C.C. order would undo the idea completely; companies would be allowed to block or demand payment for certain traffic as they liked, as long as they disclosed the arrangements."
Thursday, 30 November 2017, Day 315:
Ahead of Tax Bill Vote in the Senate, Promised Analysis from Treasury Secretary Steven Mnuchin Has Not Been Released, The New York Times, Alan Rappeport, Thursday, 20 November 2017: "In pitching the $1.5 trillion tax overhaul, Steven Mnuchin, the Treasury secretary, has said repeatedly that the plan will pay for itself through a surge of economic growth and that over 100 people in Treasury are 'working around the clock on running scenarios for us.' Mr. Mnuchin has promised that Treasury will release its analysis in full. Yet, as the full Senate prepares to vote on a sweeping tax rewrite, the administration has yet to produce the type of economic analysis that it is citing as a reason to pass the tax cut. Those inside Treasury's Office of Tax Policy, which Mr. Mnuchin has credited with running the models, say they have been largely shut out of the process and are not working on the type of detailed analysis that he has mentioned. An economist at the Office of Tax Analysis, who spoke on the condition of anonymity so as not to jeopardize his job, said Treasury had not released a 'dynamic' analysis showing that the tax plan would be paid for with economic growth because one did not exist…. On Thursday, the Treasury's inspector general said it was opening an inquiry into the department's analysis of the tax plan. The inquiry was in response to a request from Senator Elizabeth Warren, Democrat of Massachusetts, who called for the inspector general to investigate political meddling in the tax policy office after The New York Times reported on the lack of a Treasury analysis. 'Either the Treasury Department has used extensive taxpayer funds to conduct economic analyses that it refuses to release because those analyses would contradict the Treasury secretary's claims, or Secretary Mnuchin has grossly misled the public about the extent of the Treasury Department's analysis,' Ms. Warren wrote in a letter to the agency's watchdog. 'I am deeply concerned about either possibility.'" See also, The Treasury Department's Inspector general has launched an inquiry into whether the Treasury Department hid an analysis of the Republican tax bill, Los Angeles Times, Jim Puzzanghera, Thursday, 30 November 2017. See also, Senate Republican tax bill would add $1 trillion to the deficit, according to the Joint Committee on Taxation, Congress's nonpartisan scorekeeper, The Washington Post, Erica Werner, Mike DeBonis, and Damian Paletta, Thursday, 30 November 2017: "Republicans are scrambling for a path forward as the result of two successive setbacks suffered Thursday as they moved toward a vote. First, the Joint Committee on Taxation, Congress's nonpartisan scorekeeper, reported that the tax bill would not generate nearly as much economic growth over the next 10 years as Republicans had expected. As a result, the nation's deficit would be $1 trillion higher. Then, the Senate parliamentarian ruled that a Corker-backed proposal to automatically raise taxes in the future if Republican expectations of higher growth did not materialize was not consistent with Senate rules." See also, Trump Says Republican Tax Bill Won't Benefit Him. That's Not True. The New York Times, James B. Stewart, Thursday, 30 November 2017.
During the Summer of 2017, Trump Repeatedly Pressed Top Republicans to End the Senate Russia Inquiry, The New York Times, Jonathan Martin, Maggie Haberman, and Alexander Burns, Thursday, 30 November 2017: "President Trump over the summer repeatedly urged senior Senate Republicans, including the chairman of the Senate Intelligence Committee, to end the panel's investigation into Russia's interference in the 2016 election, according to a half dozen lawmakers and aides. Mr. Trump's requests were a highly unusual intervention from a president into a legislative inquiry involving his family and close aides. Senator Richard Burr of North Carolina, the intelligence committee chairman, said in an interview this week that Mr. Trump told him that he was eager to see an investigation that has overshadowed much of the first year of his presidency come to an end. 'It was something along the lines of, "I hope you can conclude this as quickly as possible,"' Mr. Burr said. He said he replied to Mr. Trump that 'when we have exhausted everybody we need to talk to, we will finish.' In addition, according to lawmakers and aides, Mr. Trump told Senator Mitch McConnell of Kentucky, the Republican leader, and Senator Roy Blunt, Republican of Missouri and a member of the intelligence committee, to end the investigation swiftly. Senator Dianne Feinstein, a California Democrat who is a former chairwoman of the intelligence committee, said in an interview this week that Mr. Trump's requests were 'inappropriate' and represented a breach of the separation of powers."
White House Plans Rex Tillerson Ouster From the State Department, to Be Replaced by Mike Pompeo, the C.I.A. Director, The New York Times, Peter Baker, Maggie Haberman, and Gardiner Harris, Thursday, 30 November 2017: "The White House has developed a plan to force out Secretary of State Rex W. Tillerson, whose relationship with President Trump has been strained, and replace him with Mike Pompeo, the C.I.A. director, perhaps within the next several weeks, senior administration officials said on Thursday. Mr. Pompeo would probably be succeeded at the C.I.A. by Senator Tom Cotton, a Republican from Arkansas and key ally of the president on national security matters, according to the White House plan. Mr. Cotton has signaled that he would accept the job if offered, said the officials, who insisted on anonymity to discuss sensitive deliberations before decisions are announced. Mr. Trump has not signed off on the plan developed by John F. Kelly, the White House chief of staff, officials said, but the president is said to have soured on Mr. Tillerson and is ready to make a change at the State Department. Mr. Trump spoke harshly about Mr. Tillerson in front of White House aides as recently as Thursday but did not seem ready yet to replace him, according to one person close to the president. For all his public combativeness and his 'you're fired' reputation from reality television, Mr. Trump is often reluctant to dismiss advisers. The disclosure of Mr. Kelly's transition plan may have been a way to nudge him into making a decision, according to that person. It may also have been meant as a not-too-subtle message to Mr. Tillerson that it is time to go." See also, White House readies plan to replace Rex Tillerson at the State Department with Mike Pompeo and install Senator Tom Cotton (R-Arkansas) at the CIA, The Washington Post, Philip Rucker, Ashley Parker, and Anne Gearan, Thursday, 30 November 2017. See also, Intelligence veterans blast Senator Tom Cotton as pro-torture, 'partisan,' and 'wholly unfit' to lead the CIA, Business Insider, Natasha Bertrand, Thursday, 30 November 2017.
Republicans in the House and Senate craft spending bill provisions aimed at speeding repeal of water protection rule (Waters of the United States–WOTUS), The Washington Post, Juliet Eilperin, Thursday, 30 November 2017: "House and Senate Republicans have inserted language into spending bills aimed at blocking legal challenges to the Trump administration's effort to repeal a 2015 water protection rule that gave two federal agencies broad leeway in regulating activities that could affect streams and tributaries. Environmental Protection Agency Administrator Scott Pruitt, who challenged the rule in federal court when he was Oklahoma's attorney general, has made repeal of Waters of the United States (WOTUS) a top priority. He traveled to Kentucky on Thursday to meet with Gov. Matt Bevin (R) and members of the Kentucky Farm Bureau Federation, in part to discuss how to rewrite the rule. Both the EPA and U.S. Army Corps of Engineers would carry out the regulation…. President Trump signed an executive order in February instructing the agencies to abolish the rule, which formally extended federal jurisdiction over roughly 60 percent of the nation's water bodies, and to instead fashion a new rule based on a narrower definition of the government's authority under the 1972 Clean Water Act. The law gave the two agencies control over navigable rivers and interstate waterways, but a series of court rulings left the extent of that power murky. The Obama administration sought to clarify federal jurisdiction by finalizing WOTUS, but agriculture groups, real estate developers and some industry associations said the regulation put costly and unnecessary constraints on their operations. Conservationists and some sporting groups have questioned the Trump administration's approach to unraveling the rule, arguing that officials have deliberately ignored hundreds of millions of dollars in benefits that would accrue to the public each year if it remained in place."
I'm on Trump's voter fraud commission. I'm suing it to find out what it's doing. The Washington Post, Matthew Dunlap, Thursday, 30 November 2017: "On Nov. 9, I filed a complaint in U.S. District Court in Washington, seeking to obtain the working documents, correspondence and schedule of the Presidential Advisory Commission on Election Integrity. What's remarkable about my lawsuit is that I'm a member of the commission, and apparently this is the only way I can find out what we're doing. The commission was formed in May to answer monster-under-the-bed questions about 'voter fraud,' but the implicit rationale for its creation appears to be to substantiate President Trump's unfounded claims that up to 5 million people voted illegally in 2016. Chaired by Vice President Pence, the commission has the chance to answer questions about potential fraud and to highlight best practices to enhance voter confidence in our election systems. Yet it isn't doing that. Instead, the commission is cloaking itself in secrecy, completely contrary to federal law. Recommendations for changes in public policy — whether you agree with them or not — ought to come through an open, public discussion where any American can weigh in."
Alabama U.S. Senate candidate Roy Moore accuses Liberals and LGBT people and socialists of spreading sexual misconduct allegations about him, ABC News, Mark Osborne and John Verhovek, Thursday, 30 November 2017: "Alabama U.S. Senate candidate Roy Moore made fiery claims on Wednesday night about who is to blame for the sexual misconduct allegations bogging down his campaign. Moore, the Republican nominee, spoke at the Magnolia Springs Baptist Church in Theodore, in southwestern Alabama near Mobile, and delivered more of a sermon than a campaign speech. He has been plagued by sexual misconduct allegations since The Washington Post reported that he allegedly sexually assaulted a 14-year-old girl while he was 32 in the 1970s. On Wednesday he echoed a familiar refrain of blaming 'liberals' for the allegations. But he also blamed gay people and socialists in an aggressive address. 'They're liberals. They don't want conservative values,' Moore said of the people he says are trying to ruin his campaign. 'They are the lesbian, gay, bisexual, transgender who want to change our culture. They are socialists who want to change our way of life and put man above God and the government is our God.'"
House Leaders Paul Ryan and Nancy Pelosi Call on John Conyers (D-Michigan) to Resign After an Accuser Details Her Charges, The New York Times, Yamiche Alcindor, Thursday, 30 November 2017: "The top two leaders of the House on Thursday called on Representative John Conyers Jr., the chamber's longest-serving lawmaker, to resign from Congress as widening accusations of sexually inappropriate behavior continued to roil Capitol Hill. Speaker Paul D. Ryan and Representative Nancy Pelosi, the Democratic leader, each told reporters that Mr. Conyers, Democrat of Michigan, should resign after a woman who settled a sexual harassment claim against him said on television that the lawmaker had 'violated' her body, repeatedly propositioned her for sex and asked her to touch his genitals."
Trump's Retweeting of Anti-Muslim Videos Manages a Rare Feat: Uniting Britain in Outrage, The New York Times, Stephen Castle, Thursday, 30 November 2017: "One member of Parliament called him a 'fascist.' Another described him as 'stupid.' A third wondered aloud whether President Trump was 'racist, incompetent or unthinking — or all three.' The stream of criticism that began after Mr. Trump shared anti-Muslim videos from a far-right British group on Wednesday morning turned into a gusher on Thursday, after he rebuked Prime Minister Theresa May in a nighttime tweet, telling her: 'Don't focus on me, focus on the destructive Radical Islamic Terrorism that is taking place within the United Kingdom.' Mr. Trump's one-two punch managed to generate rare unanimity in a Britain that is deeply divided over the contentious process of leaving the European Union." See also, Trump is promoting hatred says Brendan Cox, husband of murdered Member of Parliament Jo Cox, The Guardian, Matthew Weaver, Thursday, 30 November 2017: "Brendan Cox, the widower of the murdered MP Jo Cox, has continued to rebuke Donald Trump after the president stood by his promotion of unverified Islamophobic hate videos in the face of international condemnation. In a defiant tweet, Trump publicly rebuked Theresa May over her criticism of his decision to retweet anti-Muslim propaganda videos from the far-right group Britain First, by urging her to focus on Islamic terrorism. Cox hit back at the president in a tweet urging Trump to focus on daily mass shootings in the US and the poor state of American healthcare. [Brendan Cox tweeted] 'You have a mass shooting every single day in your country, your murder rate is many times that of the UK, your healthcare system is a disgrace, you can't pass anything through a congress that you control. I would focus on that.'"
Trump Tweets 'Build the Wall' After Immigrant Is Acquitted in Kathryn Steinle Case, The New York Times, Matt Stevens, Thomas Fuller, and Caitlin Dickerson, Thursday, 30 November 2017: "An undocumented Mexican immigrant was acquitted of murder and manslaughter charges on Thursday in the killing of Kathryn Steinle, whose death while out walking on a San Francisco pier became a touchstone in the national debate over immigration fueled by Donald J. Trump. The man, Jose Ines Garcia Zarate, 45, who was also found not guilty of assault with a firearm, was convicted only of being a felon in possession of a firearm after a trial that lasted more than five weeks. His sentence could range from 16 months to three years. Mr. Zarate has already spent more than two years in county jail awaiting trial. A sentencing date had not yet been set. Ms. Steinle's death in July 2015 fed into a fierce debate over whether immigrants without legal status — Mr. Garcia Zarate had been deported five times — should be dealt with more aggressively, and over the role local law enforcement should play. Mr. Trump invoked her killing as he campaigned for president and tried to rally national support for his hard-line immigration agenda, which ultimately helped to catapult him into office. On Thursday night, Mr. Trump called the verdict 'disgraceful.' On Friday morning, he returned to the subject and renewed his call to build a wall on the border with Mexico. 'The Kate Steinle killer came back and back over the weakly protected Obama border, always committing crimes and being violent, and yet this info was not used in court. His exoneration is a complete travesty of justice. BUILD THE WALL!,' he wrote in the first of a pair of tweets. 'For anyone that would question the outcome in this case, this jury was deliberating for six days,' Jeff Adachi, the San Francisco public defender, said after the verdict. 'There was a tremendous amount of misinformation that was spread about this case from Day 1. You had then-candidate Trump espousing that this was an intentional shooting.'"
In Snub to the U.S., Russia and Egypt Move Toward a Deal on Air Bases, The New York Times, David D. Kirkpatrick, Thursday, 30 November 2017: "Egypt, in what appeared to be a snub to the Trump administration, has reached a preliminary agreement to allow Russian military jets to use its airspace and bases, both sides said Thursday. If finalized, the agreement would give Russia its deepest presence in Egypt since 1973, when Cairo expelled the military of the Soviet Union and instead became Washington's closest Arab ally. The United States has provided Egypt more than $70 billion in aid in the four decades since, at a rate of more than $1.3 billion a year in recent years. The cost is often justified in part by the argument that it secures the use of Egypt's airspace and bases for the American military. Egyptian and American analysts called the preliminary deal the latest sign of the waning influence of the United States as President Trump has diminished its military and diplomatic footprint in the region and the world…. It was unclear to what extent Washington was informed about the agreement. The Trump administration has not yet replaced the ambassador to Cairo, whose three-year term ended in July…. News of the preliminary agreement came as the United States diplomatic corps has been severely reduced and American foreign policy is facing challenges from all corners…. The prime minister and Parliament of Britain, Washington's closest ally, have publicly rebuked Mr. Trump for promoting online videos from a British far-right group demonizing Muslims. In the Middle East, the administration has no assistant secretary of state for Near Eastern affairs or ambassadors to Saudi Arabia, Turkey, Jordan, Egypt or Qatar."