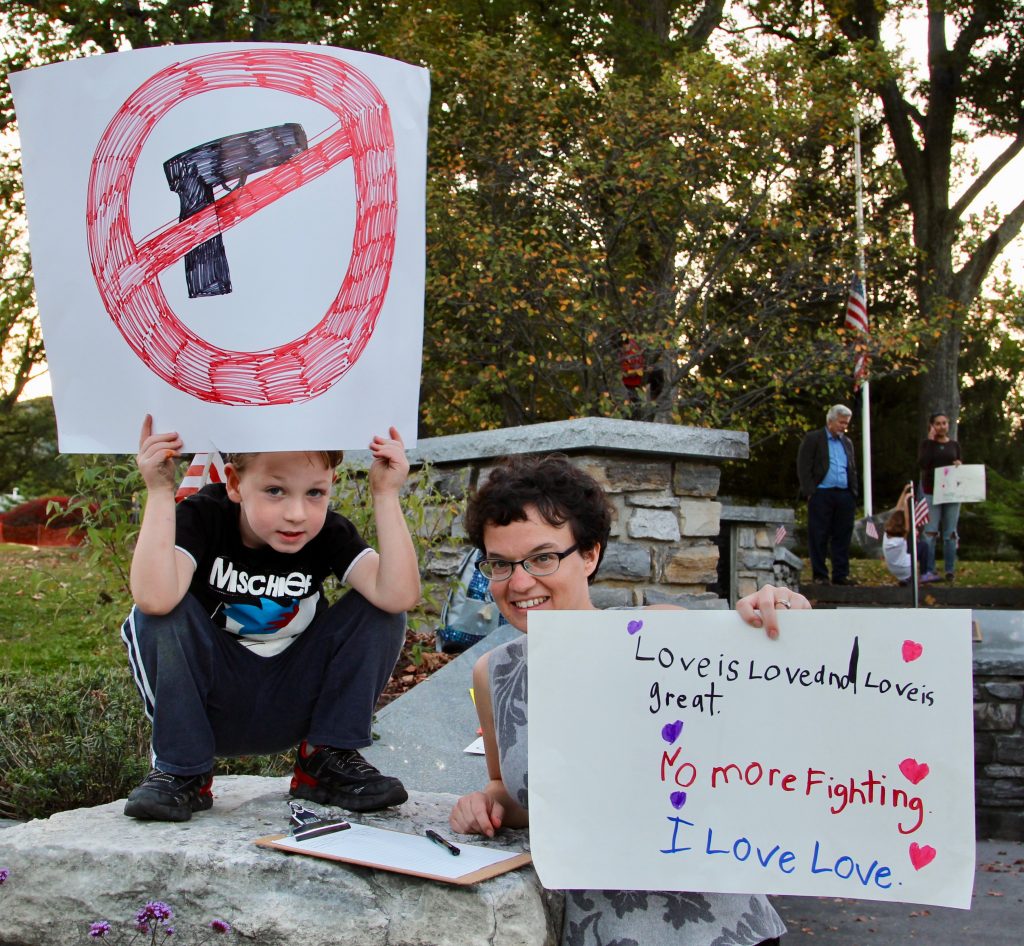 Keeping Track (of some things), Staying Outraged (it is possible), and Resisting (it's essential)
Passages in bold in the body of the texts below are my emphasis. This is an ongoing project, and I update the site frequently. Because I try to stay focused on what has actually happened, I usually let the news 'settle' a day or so before posting. I hope readers will peruse the articles in full for a better understanding of the issues and their context; our democracy and our future depend on citizens who can distinguish between facts and falsehoods and who are engaged in the political process.
Friday, 20 October 2017, Day 274:
After Video Refutes John Kelly's Charges Against Congresswoman Frederica Wilson, She Raises the Issue of Race, The New York Times, Yamiche Alcindor and Michael D. Shear, Friday, 20 October 2017: "Video of a 2015 speech delivered by Representative Frederica S. Wilson revealed Friday that John F. Kelly, the White House chief of staff, misrepresented her remarks when he accused her of bragging about securing $20 million for a South Florida F.B.I. building and twisting President Barack Obama's arm. Mr. Kelly, escalating a feud between Mr. Trump and Ms. Wilson, had cast the congresswoman on Thursday as a publicity-seeking opportunist. However, the video, released by The Sun Sentinel, a newspaper in South Florida, showed that during her nine-minute speech, Ms. Wilson never took credit for getting the money for the building, only for helping pass legislation naming the building after two fallen federal agents. She never mentioned pleading with Mr. Obama, and she acknowledged the help of several Republicans, including John A. Boehner, then the House speaker; Representatives Mario Diaz-Balart and Carlos Curbelo; and Senator Marco Rubio. Ms. Wilson, in an interview on Friday, called Mr. Kelly a liar and hinted strongly that the altercation, prompted by a call from President Trump to the widow of a fallen black soldier, was racially charged. 'The White House itself is full of white supremacists,' she said. 'I feel very sorry for him because he feels such a need to lie on me and I'm not even his enemy,' Ms. Wilson said of Mr. Kelly. 'I just can't even imagine why he would fabricate something like that. That is absolutely insane. I'm just flabbergasted because it's very easy to trace.' While she stopped short of accusing Mr. Kelly, a retired Marine general, of racial animus, she did say that others in the White House are racially biased. 'They are making themselves look like fools. They have no credibility,' she said. 'They are trying to assassinate my character, and they are assassinating their own because everything they say is coming out and shown to be a lie.'… [White House Press Secritary Sarah Huckabee] Sanders … told a reporter who questioned Mr. Kelly's veracity that 'if you want to get into a debate with a four-star Marine general, I think that that's something highly inappropriate.'" See also, Video shows John Kelly, Trump's chief of staff, made false claims about congresswoman Frederica Wilson in feud over Trump's condolence call, The Washington Post, David Nakamura, Friday, 20 October 2017. See also, John Kelly, Trump's chief of staff, owes congresswoman Frederica Wilson an apology, The Washington Post, Editorial Board, Friday, 20 October 2017: "White House Chief of Staff John F. Kelly owes Rep. Frederica S. Wilson (D-Fla.) an apology. That is the only conclusion that can be drawn after watching a video of the representative's remarks at the dedication of an FBI building in Miramar, Fla., in 2015. Mr. Kelly took to the lectern in the White House briefing room Thursday to defend President Trump's handling of a condolence call to a widow of one of the soldiers killed in Niger and to attack Ms. Wilson as selfish and politically motivated for her criticism. To bolster that characterization, he offered up his remembrance of the dedication of the FBI building in memory of two FBI agents who had been killed in the line of duty. He claimed Ms. Wilson used the occasion to take unseemly credit for securing federal funding for the building. 'We were stunned,' he said, 'stunned that she had done it. Even for someone that is that empty a barrel, we were stunned.' But, as a video by the Florida Sun Sentinel of Ms. Wilson's remarks that day shows, Mr. Kelly got it all wrong. She did not say she got money for the building. She was generous and graceful in sharing credit for how legislation naming the building was fast-tracked. And she spent most of her nine-minute speech praising the FBI agents killed in a gunfight with drug dealers: 'Today it is our patriotic duty to lift up Special Agent Benjamin Grogan and Special Agent Jerry Dove from the streets of South Florida and place their names and pictures high, where the world will know that we are proud of their sacrifice, sacrifice for our nation.'" See also, Let's Compare John Kelly's Lie About Congresswoman Frederica Wilson With Reality, The Intercept, Robert Mackey, Friday, 20 October 2017: "White House Chief of Staff John Kelly lied on Thursday when he falsely claimed that Rep. Frederica Wilson, D-Fla., had loudly boasted about obtaining money for an FBI building in Miami during a dedication ceremony he attended in 2015. We know this for a fact because, on Friday, the South Florida Sun Sentinel published video of Wilson's complete remarks at the event…. It is jarring to listen to Kelly's description of Wilson's behavior and then hear the entirely respectful and generous remarks she actually delivered. But the contrast gives us a chance to trace the exact contours of how much a seething resentment at modern American society has distorted the White House chief of staff's perception of reality, like that of his boss. As my colleague Shaun King writes, that Kelly said he was enraged by Wilson's remarks as she made them is perhaps even more disturbing, because it means that this is not just about his faulty memory. (And his memory is faulty: in his remarks on Thursday, Kelly misremembered not just what Wilson said that day, but the name of one of the agents the building was dedicated to, and said, incorrectly, that the agents had been killed by 'drug traffickers,' instead of bank robbers.) So the distorted lens through which the man now running the Oval Office views the world does not only warp his recollection of events, but his understanding of them as they unfold in front of his eyes." See also, Here are the four-star generals Donald Trump has publicly bashed, The Washington Post, Herman Wong, Friday, 20 October 2017. White House press secretary Sarah Huckabee Sanders said it is "highly inappropriate" to question a four-star general. This article identifies three four-star generals Trump has bashed.
John Kelly and the Language of the Military Coup, The New Yorker, Masha Gessen, Friday, 20 October 2017: "Consider this nightmare scenario: a military coup. You don't have to strain your imagination—all you have to do is watch Thursday's White House press briefing, in which the chief of staff, John Kelly, defended President Trump's phone call to a military widow, Myeshia Johnson. The press briefing could serve as a preview of what a military coup in this country would look like, for it was in the logic of such a coup that Kelly advanced his four arguments. Argument 1. Those who criticize the President don't know what they're talking about because they haven't served in the military…. 2. The President did the right thing because he did exactly what his general told him to do…. 3. Communication between the President and a military widow is no one's business but theirs…. 4. Citizens are ranked based on their proximity to dying for their country. Kelly's last argument was his most striking. At the end of the briefing, he said that he would take questions only from those members of the press who had a personal connection to a fallen soldier, followed by those who knew a Gold Star family. Considering that, a few minutes earlier, Kelly had said most Americans didn't even know anyone who knew anyone who belonged to the "one per cent," he was now explicitly denying a majority of Americans—or the journalists representing them—the right to ask questions. This was a new twist on the Trump Administration's technique of shunning and shaming unfriendly members of the news media, except this time, it was framed explicitly in terms of national loyalty."
Senate to take up the AUMF (authorization for use of military force) debate as Trump defends his reaction to Niger attack, The Washington Post, Karoun Demirjian, Friday, 20 October 2017: "The Senate Foreign Relations Committee is taking up a long-awaited debate about authorizing military force against the Islamic State as President Trump comes under unprecedented public scrutiny for his treatment of dead soldiers' families, following an ambush on troops helping to fight Islamic terrorists [in Niger]. Senators will grill Secretary of State Rex Tillerson and Defense Secretary Jim Mattis in an open hearing on Oct. 30 about whether the administration thinks it is necessary for Congress to pass a new authorization for use of military force, or AUMF, to replace existing AUMFs that date back to the early years of the George W. Bush administration. The hearing is seen as a precursor to a more congressionally driven legislative effort to write an AUMF that can draw enough Republican and Democratic support to pass. Lawmakers have wrangled for years over whether or how to replace the existing 2001 AUMF, which authorized operations against al-Qaeda, the Taliban, and affiliated groups in the wake of the Sept. 11 attacks, and the 2002 AUMF, which allowed for operations in Iraq, with a new AUMF more focused on present-day and future threats — particularly the Islamic State. Many members of Congress have charged that the existing AUMFs do not provide a firm legal basis for current operations, a view that both the Obama and Trump administrations have argued against. But the timing of this hearing has put an increased urgency behind the AUMF debate, as Congress and the nation demand answers about what led to the deaths of four U.S. Special Forces in Niger on a support mission to fight Islamic terrorists like the Islamic State."
Continue reading Week 40, Friday, 20 October – Thursday, 26 October 2017:
CIA Director Mike Pompeo Brags That Under Trump the CIA Will Be a 'Much More Vicious Agency,' Common Dreams, Andrea Germanos, Friday, 20 October 2017: "According to Mike Pompeo, the agency he leads—which has supported coups across the globe, engaged in targeted killings, and led a detention and torture program—has not been nasty enough. Speaking Thursday at a Foundation for Defense of Democracies forum, the CIA director, who has signaled suport for torture, said 'we've now laid out a strategy for how we're going to execute our strategy with incredible vigor. We're going to become a much more vicious agency in ensuring that we are delivering this work. We are going to go to the hardest places with some of the hardest people in our organization to crush it.' President Donald Trump, he said, 'has promised that he will have our backs and that he will resource us.'"
The Iran Business Ties Trump Didn't Disclose, The New Yorker, Adam Davidson, Friday, 20 October 2017: "Last week, in what the White House billed as a major foreign-policy speech, Donald Trump threatened to pull out of the Iran nuclear deal. He unveiled a new strategy that he said would curb Iran's growing influence in the Middle East. One part of his plan is to impose sanctions on the Iranian Revolutionary Guard Corps. The Treasury Department is also designating several ostensibly private Iranian companies (and one Chinese firm) as aides in Tehran's efforts to fund terrorism and build weapons of mass destruction. But something important has been left unsaid: the Trump Administration has not sanctioned an Iranian firm with ties to both the Revolutionary Guard and to one of the Trump Organization's business partners. In response to decades of U.S. and global sanctions, the Revolutionary Guard has created hundreds of private companies that work as a loose network, allowing the Revolutionary Guard to conceal the movement of sanctions-evading money into and out of Iran, purchase crucial components for weapons of mass destruction, and evade sanctions in other ways. These companies follow a similar pattern: they are, typically, construction or engineering firms run by veterans of the Revolutionary Guard that appear, to the outside world, as independent companies but act under the direction of Guard leadership. After Trump's speech, the Treasury [Department] named Shahid Alamolhoda Industries, Rastafann Ertebat Engineering Company, and Fanamoj as, essentially, tools of the Revolutionary Guard. Strikingly, the Treasury did not name Azarpassillo, an Iranian firm with a leadership made up of lifelong Revolutionary Guard officers. Azarpassillo's leaders have been named by U.S. officials as likely money launderers for the Revolutionary Guard and, through their international construction operations, the company is ideally suited to provide W.M.D. components. Azarpassillo has another interesting connection; one of its apparent partners in money laundering, the Mammadov family of Azerbaijan, was also, until quite recently, in business with the Trump Organization. In fact, for the entire Presidential campaign, the Trump Organization knew that it was actively involved with a company that was likely laundering money for the Iranian Revolutionary Guard Corps. This is not a wild conspiracy theory; it is an acknowledged fact, confirmed by Alan Garten, the Trump Organization's general counsel, and not disputed by the White House or any of the people involved. Ivanka Trump directly oversaw the relationship with the Mammadov family, led by Ziya Mammadov, a man whom American diplomats have called 'notoriously corrupt even for Azerbaijan.'"
Trump Falsely Ties British Crime Rise to 'Radical Islamic Terror' in the United Kingdom, The New York Times, Linda Qiu, Friday, 20 October 2017: "President Trump inaccurately linked a report of increasing crime in parts of Britain to 'radical Islamic terror' in a tweet early Friday. [Trump tweeted] 'Just out report: "United Kingdom crime rises 13% annually amid spread of Radical Islamic terror." Not good, we must keep America safe!'. Mr. Trump's use of quotation marks suggests he is directly citing a passage from a recently released report. The White House did not respond when asked what exactly Mr. Trump was quoting, but the British Office for National Statistics, in a bulletin released on Thursday, estimated a 13 percent increase in 'police recorded crime' in England and Wales from June 2016 to June 2017. First, the United Kingdom also includes Scotland and Northern Ireland. But more to Mr. Trump's point, nowhere does the bulletin contain the words 'amid spread of Radical Islamic terror.' If Mr. Trump is suggesting that the rise in crime is caused by Islamic terrorism, the report does not support that." See also, Trump has erroneously linked a rise in crime in England and Wales to the 'spread of radical Islamic terror,' The Guardian, Jamie Grierson, Friday, 20 October 2017: "Donald Trump has erroneously linked a rise in recorded crime in England and Wales to the 'spread of radical Islamic terror' in his latest outburst on Twitter…. The UK Office for National Statistics (ONS), in its quarterly update on crime on Thursday, reported a 13% increase in all police-recorded offences across England and Wales. The ONS said police had recorded 5.2m offences in the year to June, including gun crime, knife crime, robberies, sexual offences, stalking and harassment, burglary and car crime. The report barely mentions terrorism other than to refer on one occasion to the impact recent terrorist attacks in Britain had on the headline murder rate. Thirty-five people were killed in the incidents in London and Manchester." See also, The U.K. agency that compiled the data in Trump's terrorism tweet disagrees with his assessment, The Washington Post, Philip Bump, Friday, 20 October 2017.
The Environmental Protection Agency Scrubs a Climate Website of 'Climate Change,' The New York Times, Lisa Friedman, Friday, 20 October 2017: "The Environmental Protection Agency has removed dozens of online resources dedicated to helping local governments address climate change, part of an apparent effort by the agency to play down the threat of global warming. A new analysis made public on Friday found that an E.P.A. website has been scrubbed of scores of links to materials to help local officials prepare for a world of rising temperatures and more severe storms. The site, previously the E.P.A.'s 'Climate and Energy Resources for State, Local and Tribal Governments' has been renamed 'Energy Resources for State, Local and Tribal Governments.' About 15 mentions of the words 'climate change' have been removed from the main page alone, the study found. Among the now-missing pages are those detailing the risks of climate change and the different approaches states are taking to curb emissions. Also edited out were examples of statewide plans to adapt to weather extremes. An E.P.A. spokesman said the original pages have been archived and remain available by searching through the agency's web archive, a link to which is at the top of its energy resources page. The analysis, from the Environmental Data and Governance Initiative, which monitors changes to federal environmental agency websites, described the amount of removed data as "substantial." The energy resources website is the first site to which the E.P.A. has returned a large portion of material since pages dealing with climate science were removed from public view on April 28 [2017]."
Georgia state Republican representative Betty Price, wife of Trump's former Health and Human Services secretary, suggests people with HIV could be quarantined, STAT, Max Blau, Friday, 20 October 2017: "A Georgia state lawmaker — the wife of former Trump health secretary Tom Price — is drawing condemnation for suggesting that people with HIV might be quarantined to curb the spread of the infectious disease. Republican state Rep. Betty Price, a former anesthesiologist who represents people living in the northern Atlanta area, asked in a hearing this week 'what are we legally able to do' to limit the spread of HIV throughout the state. 'I don't want to say the quarantine word — but I guess I just said it,' Price said to Dr. Pascale Wortley, director of the Georgia Department of Public Health's HIV epidemiology section. 'Is there an ability, since I would guess that public dollars are expended heavily in prophylaxis and treatment of this condition, so we have a public interest in curtailing the spread. … Are there any methods legally that we could do that would curtail the spread?' Her remarks came Tuesday morning during a Georgia House of Representative study committee meeting about barriers to access to health care in the state, and are captured in video of the hearing. The remarks were first reported by Project Q Atlanta, a local website serving the city's gay community."See also, Georgia state Republican representative Betty Price says her remarks about quarantining HIV patients were taken out of context, The Washington Post, Mary Hui and Amy B. Wang, published on 22 October 2017: "A state lawmaker who has drawn criticism after asking about the legality of quarantining people with HIV has said her comments were misunderstood and intended to be 'provocative' and 'rhetorical' in a broader conversation about curtailing the virus. Georgia State Rep. Betty Price (R) made the statement Tuesday, at a study committee meeting on barriers to adequate health care. Committee members had been discussing, she later said, why Georgia ranks second in the nation when it came to new HIV cases…. On Saturday [21 October], Price clarified in a written statement to the Atlanta Journal-Constitution that she did not support a quarantine of HIV patients. 'I made a provocative and rhetorical comment as part of a free-flowing conversation which has been taken completely out of context,' Price wrote. 'I do, however, wish to light a fire under all of us with responsibility in the public health arena — a fire that will result in resolve and commitment to ensure that all of our fellow citizens with HIV will receive, and adhere to, a treatment regimen that will enhance their quality of life and protect the health of the public.'"
Saturday, 21 October 2017, Day 275:
Why Has the Environmental Protection Agency Shifted on Toxic Chemicals? Because an Industry Insider, Nancy B. Beck, Helps Call the Shots, The New York Times, Eric Lipton, Saturday, 21 October 2017: "A scientist who worked for the chemical industry now shapes policy on hazardous chemicals. Within the E.P.A., there is fear that public health is at risk. For years, the Environmental Protection Agency has struggled to prevent an ingredient once used in stain-resistant carpets and nonstick pans from contaminating drinking water. The chemical, perfluorooctanoic acid, or PFOA, has been linked to kidney cancer, birth defects, immune system disorders and other serious health problems. So scientists and administrators in the E.P.A.'s Office of Water were alarmed in late May when a top Trump administration appointee insisted upon the rewriting of a rule to make it harder to track the health consequences of the chemical, and therefore regulate it. The revision was among more than a dozen demanded by the appointee, Nancy B. Beck, after she joined the E.P.A.'s toxic chemical unit in May as a top deputy. For the previous five years, she had been an executive at the American Chemistry Council, the chemical industry's main trade association. The changes directed by Dr. Beck may result in an "underestimation of the potential risks to human health and the environment" caused by PFOA and other so-called legacy chemicals no longer sold on the market, the Office of Water's top official warned in a confidential internal memo obtained by The New York Times. The E.P.A.'s abrupt new direction on legacy chemicals is part of a broad initiative by the Trump administration to change the way the federal government evaluates health and environmental risks associated with hazardous chemicals, making it more aligned with the industry's wishes. It is a cause with far-reaching consequences for consumers and chemical companies, as the E.P.A. regulates some 80,000 different chemicals, many of them highly toxic and used in workplaces, homes and everyday products. If chemicals are deemed less risky, they are less likely to be subjected to heavy oversight and restrictions."
Cheaper Health Insurance Plans Promoted by Trump Have a History of Fraud and Abuse, The New York Times, Robert Pear, Saturday, 21 October 2017: "In signing a recent executive order, President Trump promised that millions of Americans could soon obtain 'great, great health care' through inexpensive plans that offer consumers options they had been denied under the Affordable Care Act. But these health plans, created for small businesses, have a darker side: They have a long history of fraud and abuse that have left employers and employees with hundreds of millions of dollars in unpaid medical bills. The problems are described in dozens of court cases and enforcement actions taken over more than a decade by federal and state officials who regulate the type of plans Mr. Trump is encouraging, known as association health plans. In many cases, the Labor Department said, it has targeted 'unscrupulous promoters who sell the promise of inexpensive health benefit insurance, but default on their obligations.' In several cases, it has found that people managing these health plans diverted premiums to their personal use."
Q&A: Congresswoman Frederica Wilson details the problems with Trump's condolence call and the John Kelly clean up, The Washington Post, Janelle Ross, Saturday, 21 October 2017: "As is often the case in the age of Trump, the list of problems born of what the president has said and what it may mean is long this week. First, Rep. Frederica S. Wilson (D-Fla.) said that President Trump, while offering his condolences to the young, pregnant widow of Sgt. La David T. Johnson, said that the soldier 'knew what he signed up for.' Then came the president's counterclaims that he never said any such thing and 'had proof.' Besides, the president insisted, most presidents — including Barack Obama — did not call dead soldiers' survivors at all. Since then, Johnson's mother has also said Trump used the 'knew what he signed up for' language during that call. And Trump's claim that previous presidents didn't make calls has been disputed.… The Washington Post interviewed Wilson about the phone call at the center of a Trump-made storm and the problems created by what happened afterward. [This article] is a Q&A with Wilson, edited for clarity and length." See also, The Cascade of missteps that turned one White House error into a messy week, The Washington Post, Philip Bump, Saturday, 21 October 2017. See also, White House Chief of Staff John Kelly's Lies About Congresswoman Frederica Wilson Are Part of a Pattern of Not Believing Black Women, The Intercept, Shaun King, Saturday, 21 October 2017.
'My pain is everyday': After Harvey Weinstein's fall, Trump accusers wonder: Why hasn't Trump fallen, too? The Washington Post, Karen Tumulty, Mark Berman, and Jenna Johnson, Saturday, 21 October 2017: "Almost a year after New Yorker Jessica Leeds and other women stepped forward with harrowing accounts of being sexually assaulted by a powerful man, another scandal with similar elements exploded. Only this time, the punishment was swift and devastating. 'It is hard to reconcile that Harvey Weinstein could be brought down with this, and [President] Trump just continues to be the Teflon Don,' said Leeds, who claims she was groped 30 years ago on a plane by the man whose presence she cannot escape now that he sits in the Oval Office. In Florida, Melinda McGillivray was having much the same reaction. 'What pisses me off is that the guy is president,' McGillivray, who a year ago went public with allegations that Trump grabbed her at Mar-a-Lago in 2003 when she was 23. 'It's that simple.' Leeds and McGillivray were among the 11 women who came forward in the 2016 campaign to accuse the then-Republican presidential candidate of unwanted touching or kissing. Trump called the charges 'pure fiction' and referred to the women as 'horrible, horrible liars.' Their claims did not stop the celebrity real estate titan on his climb to the most powerful office in the world. Since then, numerous men in high places have been felled by charges of sexual misconduct. Most notable among them were Bill O'Reilly, the star Fox News anchor who was ousted less than a year after Roger Ailes, the network's co-founder; and Weinstein, once regarded as one of the most influential figures in the entertainment business. The Weinstein scandal, which has featured graphic accounts of assault from a string of celebrity accusers, has sparked a national debate about sexual harassment. Many women, inspired by a #MeToo campaign, have taken to social media to tell their own stories, and calls to the National Sexual Assault Hotline have risen sharply. But for Trump's accusers, the renewed debate offers a reminder that their allegations did not have the same effect."
Sunday, 22 October 2017, Day 276:
Environmental Protection Agency Cancels Talk on Climate Change by Three Agency Scientists, The New York Times, Lisa Friedman, Sunday, 22 October 2017: "The Environmental Protection Agency has canceled the speaking appearance of three agency scientists who were scheduled to discuss climate change at a conference on Monday in Rhode Island, according to the agency and several people involved. John Konkus, an E.P.A. spokesman and a former Trump campaign operative in Florida, confirmed that agency scientists would not speak at the State of the Narragansett Bay and Watershed program in Providence. He provided no further explanation. Scientists involved in the program said that much of the discussion at the event centers on climate change. Many said they were surprised by the E.P.A.'s last-minute cancellation, particularly since the agency helps to fund the Narragansett Bay Estuary Program, which is hosting the conference. The scientists who have been barred from speaking contributed substantial material to a 400-page report to be issued on Monday. The move highlights widespread concern that the E.P.A. will silence government scientists from speaking publicly or conducting work on climate change. Scott Pruitt, the agency administrator, has said that he does not believe human-caused greenhouse gas emissions are primarily responsible for the warming of the planet. 'It's definitely a blatant example of the scientific censorship we all suspected was going to start being enforced at E.P.A.,' said John King, a professor of oceanography at the University of Rhode Island who chairs the science advisory committee of the Narragansett Bay Estuary Program. 'They don't believe in climate change, so I think what they're trying to do is stifle discussions of the impacts of climate change.'"
Representative Frederica Wilson (D-Fla) accuses White House chief of staff John Kelly of 'character assassination' and calls for an apology, The Washington Post, John Wagner and Philip Rucker, Sunday, 22 October 2017: "Rep. Frederica S. Wilson (D-Fla.) on Sunday called White House Chief of Staff John F. Kelly 'a puppet of the president' and said he should apologize for having made false claims about her while defending President Trump's military condolence calls. 'Not only does he owe me an apology, but he owes an apology to the American people,' Wilson said during an appearance on MSNBC's 'AM Joy,' during which she also accused Kelly of 'character assassination.' The pointed words came on another day of sparring between Wilson and the White House after her criticism last week of Trump's call to the widow of one of four service members killed in an ambush in Niger. The president took to Twitter on Sunday morning, again attacking Wilson as 'wacky' and calling her 'the gift that keeps on giving for the Republican Party' and 'a disaster for Dems.' 'You watch her in action & vote R!' Trump wrote." See also, Gold Star father Khizr Khan knocks White House chief of staff John Kelly on military condolence controversy, The Washington Post, John Wagner, Sunday, 22 October 2017: "Khizr Khan, the Gold Star father who lambasted Donald Trump at last year's Democratic National Convention, on Sunday criticized the now-president's chief of staff for his handling of the controversy over Trump's military condolence calls. Khan said John F. Kelly, a retired four-star Marine general, had 'made the situation even worse' by defending Trump and joining him in attacking Rep. Frederica S. Wilson (D-Fla.) after she criticized Trump's call to the widow of one of four service members killed in an ambush in Niger. 'Instead of advising the president that restraint and dignity is the call of the moment, former general Kelly indulged in defending [the] behavior of the president and made the situation even worse,' Khan said during an appearance on CBS's 'Face the Nation.' 'Our political leaders, elected by the people, are deserving of equal dignity and equal respect instead of being maligned on misstated facts. And that was beyond the call of the moment.' During an appearance before reporters Thursday, Kelly called Wilson an 'empty barrel' and falsely claimed that she had taken credit for securing funding of a federal building in a 2015 speech."
Exclusive: US Is Preparing to Put Nuclear Bombers Back on 24-Hour Alert, a Status Not Seen Since the Cold War Ended in 1991, Defense One, Marcus Weisgerber, Sunday, 22 October 2017: "The U.S. Air Force is preparing to put nuclear-armed bombers back on 24-hour ready alert, a status not seen since the Cold War ended in 1991…. 'This is yet one more step in ensuring that we're prepared,' Gen. David Goldfein, Air Force chief of staff, said in an interview during his six-day tour of Barksdale [Air Force Base in Louisiana] and other U.S. Air Force bases that support the nuclear mission. 'I look at it more as not planning for any specific event, but more for the reality of the global situation we find ourselves in and how we ensure we're prepared going forward.' Goldfein and other senior defense officials stressed that the alert order had not been given, but that preparations were under way in anticipation that it might come. That decision would be made by Gen. John Hyten, the commander of U.S. Strategic Command, or Gen. Lori Robinson, the head of U.S. Northern Command. STRATCOM is in charge of the military's nuclear forces and NORTHCOM is in charge of defending North America." See also, Air Force denies report that it is preparing to put B-52 bombers on high alert, CNBC, David Reid and Tucker Higgins, published on Monday, 23 October 2017: "An Air Force representative on Monday denied a report that B-52 bombers rigged with nuclear weapons are being prepared for 24-hour alert. The report quoted a senior Air Force official as saying the preparations were already underway. If the bombers were to be put on 24-hour alert, it would be the first time since the Cold War. In the report by security news website Defense One, Gen. David Goldfein, the Air Force's chief of staff, said U.S. military leaders are reacting to new threat levels. 'The world is a dangerous place and we've got folks that are talking openly about use of nuclear weapons,' he said, according to the report. Goldfein said that while no official order had been given to put nuclear bombers on alert, preparations were underway. 'This is yet one more step in ensuring that we're prepared,' he said during a tour of Air Force bases home to nuclear bombers, according to Defense One. 'I look at it more as not planning for any specific event, but more for the reality of the global situation we find ourselves in and how we ensure we're prepared going forward.' Laura M. McAndrews, a spokeswoman for the Air Force, denied the report and told CNBC that there were no plans or preparations to put the bombers back on 24-hour alert. Refurbishments are reportedly being made to Barksdale Air Force base in Louisiana, home to the 2d Bomb Wing and Air Force Global Strike Command, which oversees U.S. nuclear forces." See also, The Air Force hasn't used nuclear 'alert pads' since the Cold War. Now they're being upgraded. The Washington Post, Dan Lamothe, published on Monday, 23 October 2017: "The U.S. military is building new flightline facilities that will enable the Air Force to position pilots and aircrews directly alongside its nuclear-capable B-52 bombers, but officials deny the move is part of any plan to put the warplanes on indefinite alert in response to tensions with North Korea. The construction at Louisiana's Barksdale Air Force Base includes building renovations near long-vacant 'alert pads,' where during the Cold War aircraft capable of carrying nuclear weapons once sat ready on a continual basis. So-called strip alerts were discontinued in 1991 after the Soviet Union's collapse."
A Newly Assertive C.I.A. Under Director Mike Pompeo Expands Its Taliban Hunt in Afghanistan, The New York Times, Thomas Gibbons-Neff, Eric Schmitt, and Adam Goldman, Sunday, 22 October 2017: "The C.I.A. is expanding its covert operations in Afghanistan, sending small teams of highly experienced officers and contractors alongside Afghan forces to hunt and kill Taliban militants across the country, according to two senior American officials, the latest sign of the agency's increasingly integral role in President Trump's counterterrorism strategy. The assignment marks a shift for the C.I.A. in the country, where it had primarily been focused on defeating Al Qaeda and helping the Afghan intelligence service. The C.I.A. has traditionally been resistant to an open-ended campaign against the Taliban, the primary militant group in Afghanistan, believing it was a waste of the agency's time and money and would put officers at greater risk as they embark more frequently on missions. Former agency officials assert that the military, with its vast resources and manpower, is better suited to conducting large-scale counterinsurgencies. The C.I.A.'s paramilitary division, which is taking on the assignment, numbers only in the hundreds and is deployed all over the world. In Afghanistan, the fight against the Islamic State has also diverted C.I.A. assets. The expansion reflects the C.I.A.'s assertive role under its new director, Mike Pompeo, to combat insurgents around the world. The agency is already poised to broaden its program of covert drone strikes into Afghanistan; it had largely been centered on the tribal regions of Pakistan, with occasional strikes in Syria and Yemen. 'We can't perform our mission if we're not aggressive,' Mr. Pompeo said at a security conference this month at the University of Texas. 'This is unforgiving, relentless. You pick the word. Every minute, we have to be focused on crushing our enemies.'"
New York Officials Fear the Trump Administration's Closing of the National Urban Security Technology Laboratory That Develops Systems to Detect Nuclear and Biological Threats, The New York Times, Ron Nixon, Sunday, 22 October 2017: "The Department of Homeland Security plans to close a New York-based laboratory that has helped the city's Police and Fire Departments develop systems to detect nuclear and biological threats, a move that some local officials fear could hamper efforts to prevent and respond to terrorist attacks. The radiological program that the laboratory, the National Urban Security Technology Laboratory, developed with the New York Fire Department is widely considered the national standard, and technologies it has tested are in widespread use across the country. It has also worked on systems to combat drug trafficking and money laundering: Portable card readers it tested have helped officials recover millions of dollars in drug proceeds smuggled across borders using gift and other prepaid cards. 'The lab has provided an invaluable amount of information to us over the years, including helping us understand biological and nuclear threats when nobody understood that stuff,' said Gerard McCarty, the director of emergency management at the Port Authority of New York and New Jersey. 'And they continue to provide critical support to us in researching and testing technologies.' The Trump administration has proposed closing the lab as part of larger cuts it envisions for the Department of Homeland Security's scientific research and development programs. The administration's budget would cut funding for these programs by more than 18 percent, to $627 million this year from $771 million in the last fiscal year, according to budget documents."
Senate Majority Leader Mitch McConnell Signals His Willingness to Hold a Vote on a Bipartisan Proposal to Stabilize Health Insurance Markets if Trump Approves, The New York Times, Nicholas Fandos, Sunday, 22 October 2017: "Senator Mitch McConnell of Kentucky, the majority leader, said on Sunday that he would be willing to bring a bipartisan proposal to stabilize health insurance markets up for debate if President Trump signaled his support. 'If there's a need for some kind of interim step here to stabilize the market, we need a bill the president will actually sign,' Mr. McConnell said on CNN's 'State of the Union.' 'And I'm not certain yet what the president is looking for here, but I'll be happy to bring a bill to the floor if I know President Trump would sign it.' Mr. McConnell's comments shift attention to Mr. Trump, who has sent mixed signals about a proposal unveiled last week by Senators Lamar Alexander, Republican of Tennessee, and Patty Murray, Democrat of Washington. The president has left enough of an opening for the plan to proceed tentatively. The proposal would extend federal payments to insurance companies through 2019 to reimburse discounts that the companies are required to provide to millions of low-income people who have coverage under the Affordable Care Act. Mr. Trump, who says that repealing President Barack Obama's signature health law remains a top priority, announced this month that he was cutting off those subsidies. Lawmakers from both parties have spoken out in support of the proposal, and Mr. Trump had initially encouraged the talks between Mr. Alexander and Ms. Murray, the top two senators on the health committee. But on Wednesday, he wrote on Twitter that while he was supportive of the effort, 'I can never support bailing out' insurance companies, which he said had made a fortune under the health law."
Monday, 23 October 2017, Day 277:
Soldier's Widow Myeshia Johnson Says Trump Struggled to Remember Sgt La David Johnson's Name, The New York Times, Yamiche Alcindor and Julie Hirschfeld Davis, Monday, 23 October 2017: "The widow of one of four soldiers killed in Niger went on television on Monday to criticize President Trump for how he spoke to her during a condolence call last week, drawing a swift denial from Mr. Trump, who breathed new life into a bitter controversy that has transformed a tragedy into a political feud. Myeshia Johnson, whose husband, Sgt. La David T. Johnson, was killed early this month in an attack that is under investigation by the United States military, said the president had blundered through the condolence call he made to her last week, only deepening her grief because he did not seem to know her husband's name. 'The president said, "He knew what he signed up for, but it hurts anyway,"' Ms. Johnson said during an interview with ABC News's George Stephanopoulos. 'It made me cry because I was very angry at the tone in his voice and how he said it.' She said Mr. Trump's memory seemed to falter during their exchange. 'He couldn't remember my husband's name,' Ms. Johnson said. 'The only way he remembered my husband's name is because he told me he had my husband's report in front of him and that's when he actually said "La David." I heard him stumbling on trying to remember my husband's name. And that's what hurt me the most because if my husband is out here fighting for our country, and he risked his life for our country, why can't you remember his name?' Last week, Mr. Trump denied saying that Sergeant Johnson had known what he signed up for, but John F. Kelly, the president's chief of staff — and who is himself the father of a Marine killed in action — told reporters that Mr. Trump had said those words. Mr. Kelly said that this message had provided solace to him when he received the news of his son's death. On Monday, even as White House officials conceded privately that they had to find a way to move beyond the episode, Mr. Trump refused to back down, posting a message on Twitter that contradicted Ms. Johnson's account after her interview was broadcast. 'I had a very respectful conversation with the widow of Sgt. La David Johnson, and spoke his name from beginning, without hesitation!' Mr. Trump said in his message." See also, Myeshia Johnson Stands Up to Donald Trump, The New Yorker, Amy Davidson Sorkin, Monday, 23 October 2017. See also, Trump is now effectively calling Myeshia Johnson, a Gold Star widow, a liar, despite the White House not backing him up, The Washington Post, Aaron Blake, Monday, 23 October 2017.
What Myeshia Johnson Revealed About Donald Trump, The New Yorker, John Cassidy, published on Tuesday, 24 October 2017: "Over the weekend, I re-read John R. O'Donnell's book 'Trumped! The Inside Story of the Real Donald Trump—His Cunning Rise and Spectacular Fall,' from 1991. O'Donnell was a longtime casino executive who ran the Trump Plaza, a Trump casino in Atlantic City. And although the book is dated in some ways, O'Donnell's recollections are valuable in that they show how little Trump has changed: the Trump in O'Donnell's book is vain, myopic, and consumed with the fear of being one-upped…. For almost a week now, Trump has been caught up in a bitter dispute about a condolence call he made to the family of La David Johnson, a sergeant in the U.S. Special Forces who was killed in Niger on October 4th. On Monday morning, Myeshia Johnson, the soldier's pregnant wife, appeared on 'Good Morning America' and said that Trump's call 'made me cry,' saying, by way of explanation, 'I heard him stumbling on trying to remember my husband's name and that's what hurt me the most, because if my husband is out here fighting for our country and he risked his life for our country, why can't you remember his name?' As soon as this story emerged last week, any decent and sensible President would have gotten on the phone again with Johnson and apologized for offending her, however inadvertently. But such a step would have required that Trump be capable of considering the possible consequences of arguing with another Gold Star family, admitting a mistake, and resisting his instinct to lash out at anybody who criticizes him. That was too much to ask. All week, he vigorously denied that he had failed to recall La David Johnson's name… Perhaps this was just another example of Trump letting his impulses get the better of him. But it is impossible to consider this episode without also discussing race. Last summer, after Khizr Khan, the father of a Muslim-American U.S. Army captain who was killed in Iraq, in 2004, criticized Trump in a speech at the Democratic National Convention, Trump lashed out at Khan and his wife, implying they were stooges for the Clinton campaign. The Khan family is Pakistani-American. The Johnson family and Congresswoman Wilson are African-Americans. O'Donnell, in his book, recalled a conversation with Trump about an employee in the Trump Plaza's finance department who also happened to be African-American. Here is [part of the passage]: [Trump said] 'Yeah, I never liked the guy. I don't think he knows what the fuck he's doing. My accountants in New York are always complaining about him. He's not responsive. And it isn't funny. I've got black accountants at Trump Castle and at Trump Plaza. Black guys counting my money! I hate it. The only kind of people I want counting my money are short guys that wear yarmulkes every day. Those are the kind of people I want counting my money. Nobody else…. Besides that, I've got to tell you something else. I think that the guy is lazy. And it's probably not his fault because laziness is a trait in blacks. It really is. I believe that. It's not anything they can control…Don't you agree?' He looked at me straight in the eye and waited for my reply. 'Donald, you really shouldn't say things like that to me or anybody else,' I said. 'That is not the kind of image you want to project. We shouldn't even be having this conversation, even if it's the way you feel.' 'Yeah, you're right,' he said. 'If anybody ever heard me say that…holy shit…I'd be in a lot of trouble. But I have to tell you, that's the way I feel.' To be sure, this story happened a long time ago. Trump employed some high-profile African-Americans in his campaign, and he appointed one African-American, Ben Carson, to his Cabinet. It may be the case that even if Wilson and Johnson were both white, Trump would have responded to them in the same unyielding and dismissive manner. As O'Donnell said, he lives in the moment and he's by nature adversarial. Since January, he has shown he is capable of attacking practically anybody: foe or ally, Democrat or Republican, black or white. But for all these qualifiers, it is hard not to speculate about why Trump is yet again engaged in a lengthy public dispute with members of a minority group, and one he could easily have resolved."
Whitefish Energy, a two-year-old company from Montana that had just two full-time employees on the day Hurricane Maria made landfall, lands Puerto Rico's biggest contract to get the power back on, The Washington Post, Steven Mufson, Jack Gillum, Aaron C. Davis, and Arelis R. Hernández, Monday, 23 October 2017: "For the sprawling effort to restore Puerto Rico's crippled electrical grid, the territory's state-owned utility has turned to a two-year-old company from Montana that had just two full-time employees on the day Hurricane Maria made landfall. The company, Whitefish Energy, said last week that it had signed a $300 million contract with the Puerto Rico Electric Power Authority to repair and reconstruct large portions of the island's electrical infrastructure. The contract is the biggest yet issued in the troubled relief effort…. The power authority, also known as PREPA, opted to hire Whitefish rather than activate the "mutual aid" arrangements it has with other utilities. For many years, such agreements have helped U.S. utilities — including those in Florida and Texas recently — to recover quickly after natural disasters…. Whitefish Energy is based in Whitefish, Mont., the home town of Interior Secretary Ryan Zinke. Its chief executive, Andy Techmanski, and Zinke acknowledge knowing one another — but only, Zinke's office said in an email, because Whitefish is a small town where 'everybody knows everybody.' One of Zinke's sons 'joined a friend who worked a summer job' at one of Techmanski's construction sites, the email said. Whitefish said he worked as a 'flagger.' Zinke's office said he had no role in Whitefish securing the contract for work in Puerto Rico. Techmanski also said Zinke was not involved."
Civil Rights Groups Sue the U.S. Department of Housing and Urban Development and its Secretary, Ben Carson, for Delaying Anti-Segregation Housing Reform, The Intercept, Rachel M. Cohen, Monday, 23 October 2017: "A coalition of civil rights organizations filed a lawsuit Monday against the U.S. Department of Housing and Urban Development and its secretary, Ben Carson. The suit is aimed at stopping a move by Carson the civil rights groups say will only further racial and economic segregation. A policy known as the Small Area Fair Market Rent rule was set to go into effect on January 1, 2018, after years of advocacy, research, and public debate. In August, however, HUD abruptly announced it would be delaying the rule's implementation for two years, claiming that further study was needed…. More than 5 million people in 2.2 million households use federal housing choice vouchers — colloquially referred to as Section 8, referencing the statute that created the subsidies — to help afford rent on the private market. The subsidies, however, are based on metropolitan-wide rent formulas, meaning that many low-income families are often relegated into communities with few job opportunities, poor-quality schools, and high crime rates. The rule change would have required — or will require — public housing authorities to calculate so-called fair market rents based on ZIP codes instead. While tweaking a rent subsidy formula sounds minor and technical, the policy could impact millions of low-income people, especially African-Americans, who represent a disproportionate number of voucher holders. 'The delay of this rule will have a segregative effect, denying these primarily African-American families who would want to move out of their neighborhoods the chance to do so,' said Ajmel Quereshi, a senior counsel with the NAACP Legal Defense and Educational Fund, one of the groups that filed the lawsuit. 'This case is about more than just housing. Of course, they hope to live in a higher-quality residences, but it's really about people who want to move to better and safer neighborhoods, but they can't because of the value of their voucher. It's about schools and transportation and doctor visits and grocery stores that people want to be able to access to support their families.'"
'Let us do our job': Anger erupts over the Environmental Protection Agency's apparent muzzling of scientists, The Washington Post, Brady Dennis and Juliet Eilperin, Monday, 23 October 2017: "The Trump administration's decision to prevent government scientists from presenting climate change-related research at a conference in Rhode Island on Monday gave the event a suddenly high profile, with protesters outside, media inside and angry lawmakers and academics criticizing the move. 'This type of political interference, or scientific censorship — whatever you want to call it — is ill-advised and does a real disservice to the American public and public health,' Sen. Jack Reed (D), Rhode Island's senior senator, said at an opening news conference for the State of Narragansett Bay and Its Watershed event in Providence. 'We can debate the issues. We can have different viewpoints. But we should all be able to objectively examine the data and look at the evidence.' Reed was joined Monday by the rest of the state's congressional delegation, all of them Democrats, who took turns chastising the Environmental Protection Agency for instructing two of its scientists and one contractor not to speak at the conference Monday."
The Treasury Department Under Steven Mnuchin Attacks an Arbitration Rule That Is Aimed at Protecting Consumers, The New York Times, Jessica Silver-Greenberg, Monday, 23 October 2017: "The Treasury Department took aim on Monday at a rule that would allow millions of Americans to band together in class action lawsuits against Wall Street firms, saying it could trigger frivolous lawsuits and drive up the cost of credit. In an 18-page report, the department said the Consumer Financial Protection Bureau, which adopted the rule this summer, did not adequately evaluate the harm it could cause to consumers. The report arrived amid a broader push by the Trump administration to relax or repeal regulations, including those that affect financial institutions. Treasury has published two reports recommending a series of changes to financial rules put in place after the 2008 financial crisis. The arbitration rule, which is set to take effect in 2019, will prevent credit card companies and other financial institutions from using the fine print of contracts to ban class action lawsuits or force consumers into arbitration, a private system where an individual has to go up alone against a deep-pocketed corporation…. 'The report by the Treasury Department rehashes industry arguments that were analyzed in depth and solidly refuted in the final rule,' said Samuel Gilford, a spokesman for Consumer Financial Protection Bureau. He added that the bureau's analysis 'found that mandatory arbitration clauses allow companies to avoid accountability for breaking the law and cost consumers billions of dollars by blocking group lawsuits.' Across the country, judges, prosecutors and some regulators have forcefully echoed those complaints, faulting arbitration clauses for enabling corporations to opt out of the court system and depriving Americans of one of the few ways to fight abusive business practices. Some Democrats revived those arguments on Monday. 'With this report, the Trump administration has twisted itself into a pretzel to try to undermine a rule that protects consumers from unscrupulous actors like Equifax and Wells Fargo,' said Senator Chuck Schumer of New York, the Democratic leader."
Senator John McCain (R-Arizona) Insists His 'Bone Spur' Remark Condemning One of the Ways in Which Wealthier Americans Avoided Serving in Vietnam Wasn't About Trump, The New York Times, Jonah Engel Bromwich, Monday, 23 October 2017: "Senator John McCain on Sunday condemned the ways in which wealthier Americans avoided serving in the Vietnam War, but insisted on Monday that he was not talking about President Trump when he did so. Speaking on C-Span on Sunday, Mr. McCain, Republican of Arizona, used bone spurs as an example of the kind of condition that allowed some to avoid being drafted during the conflict. Mr. Trump was exempted from military service after receiving a diagnosis of bone spurs in his heels. 'One aspect of the conflict, by the way, that I will never, ever countenance is that we drafted the lowest-income level of America and the highest-income level found a doctor that would say that they had a bone spur,' Mr. McCain said. 'That is wrong.' Mr. McCain did not mention Mr. Trump directly in the interview. But his choice to use bone spurs as an example, when Americans received exemptions for manifold other conditions, was widely perceived as a jab at the president. On Monday, Mr. McCain appeared on 'The View,' where his daughter, Meghan, is a host, and repeated his comments. He said that while he did not consider Mr. Trump a draft dodger, the system had been so broken that 'certain Americans could evade their responsibilities.' He did not deny that he had been talking about Mr. Trump, and was critical of the president for his past comments about prisoners of war. But later, Mr. McCain insisted to reporters that he had not been talking about Mr. Trump, The Daily Beast reported…. In an interview with The Times in 2016, Mr. Trump recalled the spurs as 'temporary' and 'minor,' saying that they had not meaningfully affected him. 'I had a doctor that gave me a letter — a very strong letter on the heels,' he said then."
Tuesday, 24 October 2017, Day 278:
The Hillary Clinton Campaign and the Democratic National Committee helped fund research that resulted in a now-famous dossier containing allegations about Trump's connections to Russia and possible coordination between his campaign and the Kremlin, The Washington Post, Adam Entous, Devlin Barrett, and Rosalind S. Helderman, Tuesday, 24 October 2017: "The Hillary Clinton campaign and the Democratic National Committee helped fund research that resulted in a now-famous dossier containing allegations about President Trump's connections to Russia and possible coordination between his campaign and the Kremlin, people familiar with the matter said. Marc E. Elias, a lawyer representing the Clinton campaign and the DNC, retained Fusion GPS, a Washington firm, to conduct the research. After that, Fusion GPS hired dossier author Christopher Steele, a former British intelligence officer with ties to the FBI and the U.S. intelligence community, according to those people, who spoke on the condition of anonymity. Elias and his law firm, Perkins Coie, retained the company in April 2016 on behalf of the Clinton campaign and the DNC. Before that agreement, Fusion GPS's research into Trump was funded by an unknown Republican client during the GOP primary. The Clinton campaign and the DNC, through the law firm, continued to fund Fusion GPS's research through the end of October 2016, days before Election Day." See also, Clinton Campaign and Democratic Party Helped Pay for Russia Trump Dossier, The New York Times, Kenneth P. Vogel, Tuesday, 24 October 2017.
Senator Jeff Flake (Republican-Arizona), a Fierce Trump Critic, Will Not Seek Re-election for the Senate, The New York Times, Sheryl Gay Stolberg, Tuesday, 23 October 2017: "Senator Jeff Flake, the Arizona Republican who has tangled with President Trump for months, announced on Tuesday that he would not seek re-election in 2018, declaring on the Senate floor that he 'will no longer be complicit or silent' in the face of the president's 'reckless, outrageous and undignified' behavior. Mr. Flake made his announcement in an extraordinary 17-minute speech in which he challenged not only the president but also his party's leadership. He deplored the 'casual undermining of our democratic ideals' and 'the personal attacks, the threats against principles, freedoms and institutions, the flagrant disregard for truth and decency' that he said had become prevalent in American politics in the era of Mr. Trump…. Mr. Flake, choosing the Senate floor for his fierce denunciation of the president, appeared to issue a direct challenge to his colleagues and his party. 'It is often said that children are watching,' he said. 'Well, they are. And what are we going to do about that? When the next generation asks us, "Why didn't you do something? Why didn't you speak up?" What are we going to say?'" See also, Republican Senator Jeff Flake of Arizona will retire, citing the direction of the Republican party under Trump, The Washington Post, Ed O'Keefe and David Weigel, Tuesday, 24 October 2017. See also, Full Transcript: Jeff Flake's Speech on the Senate Floor, The New York Times, Tuesday, 24 October 2017. See also, Enough: It is time to stand up to Trump, The Washington Post, Jeff Flake, Tuesday, 24 October 2017.
Senator Bob Corker 'Couldn't Get Elected Dog Catcher,' Trump Says in Renewed attack.Trump and Corker Escalate Battle Over Taxes, in Personal Terms. The New York Times, Eileen Sullivan, Tuesday, 24 October 2017: "President Trump renewed his attacks on Senator Bob Corker on Tuesday, chastising him for his skepticism over a $1.5 trillion tax cut. Mr. Corker responded by going on national television to say that Mr. Trump was 'debasing' the United States and that the president struggled with the truth. Mr. Corker 'couldn't get elected dogcatcher in Tennessee,' Mr. Trump wrote in a Twitter post on Tuesday. Mr. Corker, a Republican from Tennessee, is not running for re-election after serving in the Senate since 2007…. Mr. Corker returned fire with a theme he has hit before, when he referred to the White House as 'an adult day care center.' [Corker tweeted: 'Same untruths from an utterly untruthful president. #AlertTheDaycareStaff.']" See also, Corker says Trump will be remembered for 'the debasement of our nation,' The Washington Post, Video, Tuesday, 24 October 2017. See also, Bob Corker's Powerful Words About Donald Trump, The New Yorker, John Cassidy, Tuesday, 24 October 2017. See also, 'Dangerous,' 'utterly untruthful': Two retiring Republican senators, Jeff Flake of Arizona and Bob Corker of Tennessee, sound the alarm on Trump, The Washington Post, Robert Costa, Philip Rucker, and Sean Sullivan, published on 25 October 2017.
Wall Street wins big as Senate votes to roll back regulation allowing consumers to sue their banks, The Washington Post, Renae Merle, Tuesday, 24 October 2017: "Vice President Pence cast a tie-breaking vote late Tuesday to block new regulations allowing U.S. consumers to sue their banks, handing Wall Street and other big financial institutions their biggest victory since President Trump's election. The rules would have cost the industry billions of dollars, according to some estimates. With the Senate's vote, Wall Street is beginning to reap the benefits of the Trump administration focus on rolling back regulations it says are strangling the economy. The vote is also a major rebuke of the Consumer Financial Protection Bureau, which wrote the rules, and has often found itself at odds with Republicans in Congress and the business community. At issue is the fine print in many of the agreements that consumers sign when they apply for credit cards or bank accounts. These agreements typically require them to settle any disputes they have with the company through arbitration, in which a third party rules on the matter, rather than going to court or joining a class-action lawsuit. The CFPB rule would block mandatory arbitration clauses in some cases, potentially allowing millions of Americans to file or join a lawsuit to press their complaints…. 'Tonight's vote is a giant setback for every consumer in this country. Wall Street won and ordinary people lost,' CFPB Director Richard Cordray said in a statement minutes after the vote. The legislation 'preserves a two-tiered justice system where banks can have their day in court but deny their customers the same right.'" See also, Vice President Mike Pence Breaks Senate Impasse in a Major Blow to Consumers, Mother Jones, Noah Lanard, Tuesday, 24 October 2017. See also, Senate Republicans Vote to Strike Down a New Rule That Would Have Allowed Millions of Americans to Band Together in Class-action Lawsuits Against Financial Institutions, The New York Times, Jessica Silver-Greenberg, Tuesday, 24 October 2017.
U.S. Resumes Taking in Refugees, but 11 Countries Face More Review, The New York Times, Peter Baker and Adam Liptak, Tuesday, 24 October 2017: "President Trump signed an executive order on Tuesday resuming the admission of refugees to the United States under tighter security screening. But administration officials said they will subject 11 unidentified countries to another 90-day review for potential threats. The order lifted a suspension on new refugee admissions that Mr. Trump first imposed shortly after taking office in January. At the time, it was part of a broader effort to limit the flow of foreigners admitted to the United States on the grounds of security, an initiative that has generated one of the sharpest legal and political debates of his nine-month-old presidency. The president's decision to lift the suspension, however, will not end the debate. Administration officials were vague about the additional 90-day review of the 11 countries, refusing even to name them, citing law enforcement sensitivities. They said refugees from those countries could still be admitted on a case-by-case basis during the 90 days if their entry is deemed in the national interest, and they do not pose a threat to the security or welfare of the United States. It was not clear whether the new screening procedures would significantly diminish the chances for many applicants. While refugees who were vetted and approved before Mr. Trump took office have been allowed into the country this year, no new applications have been processed or approved since June. Mr. Trump has already moved aggressively to scale back the nation's refugee program, imposing a limit of 45,000 — the lowest in more than three decades — on the number of people fleeing persecution that can be resettled in the United States over the fiscal year that started on Oct. 1. The action announced on Tuesday, while restarting the admissions process halted earlier this year, could result in new roadblocks or even outright bans for refugees from the 11 countries, potentially narrowing the pool even further."
Trump administration to auction off a vast swath of the Gulf of Mexico to oil companies, The Washington Post, Darryl Fears, Tuesday, 24 October 2017: "The Trump administration made history Tuesday in proposing that nearly 77 million acres in the Gulf of Mexico be made available for companies wanting to purchase federal oil and gas leases — the largest offering ever in the United States. In announcing the sale, the Interior Department compared the targeted waters to 'about the size of New Mexico' and said the first lease sales off Texas, Louisiana, Mississippi, Alabama and Florida are scheduled for March next year. The event will include 'all available un-leased areas on the Gulf's Outer Continental Shelf,' a statement said. Interior Secretary Ryan Zinke first broached such a sale shortly after he took office in March, proposing to offer 73 million acres for leases. This part of the Gulf was the scene of arguably the worst environmental disaster in U.S. history, the 2010 Deepwater Horizon explosion and subsequent spill of 215 million gallons of crude that fouled beaches from Louisiana to Florida. Years later, the spill's effects are still being felt, according to a report by the nonprofit group Oceana."
The U.S. and Syria are now the only two countries in the world refusing to be part of the Paris climate accord, The Washington Post, Rick Noack, Tuesday, 24 October 2017: "The very exclusive club of nations rejecting the 2015 Paris climate accord is about to get even more rarefied as Nicaragua has signaled its intention to sign the deal. That means that the only two countries in the world refusing to be part of the agreement are the United States and a country whose government it has been trying to overthrow: Syria. Nicaragua's vice president, Rosario Murillo, announced Monday that the country has submitted relevant documents to the United Nations and is now set to join the agreement. 'It is the only instrument we have in the world that allows the unity of intentions and efforts to face up to climate change and natural disasters,' Murillo told a local Nicaraguan radio station. President Daniel Ortega first announced the plans to reverse an earlier decision not to sign the accord in September. Nicaragua's initial reasons not to be part of the deal were vastly different from those of Syria or the United States. Officials in Managua believed that the agreement did not go far enough in protecting the world from climate change. They argued that the deal was merely based on voluntary pledges and that there was no mechanism to punish countries that failed to meet those commitments."
Michael Cohen, Trump's personal lawyer and a former lawyer for his business, met with the House Intelligence Committee for almost six hours on Tuesday, The Washington Post, Karoun Demirjian, Tuesday, 24 October 2017: "Michael Cohen, President Trump's personal lawyer and a former lawyer for his business, met with the House Intelligence Committee for almost six hours Tuesday in what one committee Democrat called a 'contentious' exchange. The committee also met for several hours with Trump's former campaign digital director, Brad Parscale, who said in a CBS interview earlier this month that Trump won the election through use of Facebook advertising. That meeting comes just one week before House and Senate investigators are expected to speak with Facebook, Twitter and Google executives, in back-to-back public hearings on Nov. 1 to investigate how Russia used social media to try to influence the election."
Appeals court in Washington allows detained immigrant teen to seek abortion, The Washington Post, Anne E. Marimow and Maria Sacchetti, Tuesday, 24 October 2017: "An undocumented immigrant teen asking to end her pregnancy is entitled to seek an abortion without delay, according to a ruling Tuesday from a federal appeals court in Washington. The order from the full U.S. Court of Appeals for the D.C. Circuit — without oral argument — reverses a decision last week from a three-judge panel of the same court that would have postponed the abortion for the 17-year-old who is being held in federal custody in Texas. The Trump administration had denied the teen's request, citing the government's new policy of refusing to 'facilitate' abortions for unaccompanied minors. The timeline was at issue because the teenager is more than 15 weeks pregnant and Texas law bans most abortions after 20 weeks. The 6-3 ruling sent the case back to a lower court judge who within hours of the decision had ordered the government to 'promptly and without delay' transport the teen to a Texas abortion provider."
Secretary of Education Betsy DeVos calls for another delay of an Obama-era rule that would erase the federal student debt of borrowers defrauded by colleges, The Washington Post, Danielle Douglas-Gabriel, Tuesday, 24 October 2017: "Education Secretary Betsy DeVos is proposing another delay of an Obama-era overhaul of rules to erase the federal student debt of borrowers defrauded by colleges. In a Federal Register notice published Tuesday, the U.S. Department of Education invited public comment on a plan that would give the agency until July 1, 2019, to implement updates to a regulation known as borrower defense to repayment. The rule, which dates to the 1990s, wipes away federal loans for students whose colleges used illegal or deceptive tactics to get them to borrow money to attend. The Obama administration revised the regulation last year to simplify the claims process and shift more of the cost of discharging loans onto schools. Those changes were slated to take effect in July, but DeVos suspended them for a year and said she would convene a new rulemaking committee to rewrite the regulation entirely. To give that committee more time, the secretary now wants to further postpone the revisions. 'This is another illegal delay by Secretary DeVos to allow predatory for-profit colleges to cheat students and taxpayers,' said Massachusetts Attorney General Maura Healey (D), who is leading 19 state attorneys general in suing DeVos over the delays to the new borrower defense rule. 'Our office will fight these unlawful attempts by the Department of Education to abuse vulnerable students and families who are drowning in unaffordable debt.'"
Courting Democratic Ire, Republicans Open New Obama-Era Inquiries, The New York Times, Nicholas Fandos, Tuesday, 24 October 2017: "House Republicans on Tuesday announced investigations into two of President Trump's most frequent grievances, unveiling new inquiries into actions of the Obama administration connected to Hillary Clinton. In the first of two back-to-back announcements, the top Republicans on the House Judiciary and Oversight Committees said they would formally examine the Obama Justice Department's investigation of Mrs. Clinton's emails. Less than an hour later, Republicans from the Intelligence and Oversight Committees said they were opening a separate inquiry into the administration's approval of a 2010 agreement that left a Russian-backed company in control of much of the United States' uranium. Representative Devin Nunes, Republican of California and the chairman of the Intelligence Committee, said he had not discussed his investigation with the White House. But the uranium deal and the Justice Department's handling of the Clinton case have been regular targets of Mr. Trump's, first on the 2016 presidential campaign trail and now in Washington. Last week, the president wrote on Twitter that the uranium deal was done 'with Clinton help and Obama administration knowledge' and was 'the biggest story that Fake Media doesn't want to follow!' Mr. Trump has also raised questions about the conduct of James B. Comey, the F.B.I. director he fired in May, particularly the fact that Mr. Comey began drafting a statement exonerating Mrs. Clinton several months before the investigation closed. Democrats immediately dismissed the inquiries as nakedly partisan attempts to distract attention from four continuing investigations — by the Senate and House intelligence committees, the Senate Judiciary Committee and Robert S. Mueller III, a special counsel — into Russia's interference in last year's presidential election and whether the Trump campaign conspired with Russian officials in any way."
Wednesday, 25 October 2017, Day 279:
Trump again disputes Myeshia Johnson's claim that he did not seem to remember her husband's name, says he remembered name 'right from the beginning,' and claims he has 'one of the great memories of all time,' The Washington Post, Ashley Parker, Wednesday, 25 October 2017: "President Trump on Wednesday revived the controversy over his handling of a condolence call with an Army soldier's widow, disputing Myeshia's Johnson's claim that he did not seem to remember her husband's name and calling into question the memories of others who heard the conversation. Speaking to reporters on the South Lawn of the White House before departing for a fundraiser in Dallas, Trump said he called Army Sgt. La David Johnson — who was killed after an Oct. 4 ambush in Niger that is still being investigated — by his correct name 'right from the beginning.' 'One of the great memories of all time,' the president said, pointing at his head with his left hand. 'There's no hesitation.' Trump also said he had not specifically authorized the mission in Niger, which left four U.S. soldiers including Johnson dead and has prompted a slew of unanswered questions about how the mission went awry. 'No I didn't, not specifically, but I have generals that are great generals — these are great fighters, these are warriors,' he said. 'I gave them authority to do what's right so that we win. That's the authority they have. I want to win and we're going to win.'" See also, 'Insulting African American Gold Star widows has a history,' The Washington Post, Derek Hawkins, Wednesday, 25 October 2017: "For 11 years, Bessie Strawther longed for a chance to visit her son's grave. Pvt. Henry Strawther, a black American soldier in a segregated infantry unit, had died fighting the German army on Oct. 6, 1918, nearly five weeks before World War I ended in armistice. Veterans in his home town of Urbana, Ohio, had named an American Legion post after him, but his body remained interred somewhere in France — an ocean away from his mother. Then came an extraordinary proposal from the U.S. government. The War Department in 1929 created a program to send bereaved mothers and widows like Strawther on two-week, all-expense-paid trips to Europe to visit the final resting places of their sons and husbands. The journeys became known as the Gold Star mother and widow pilgrimages, named after the newly minted organization for women who had lost family members in the war. In summer 1930, Strawther took a train from Urbana to New York City, where the War Department had arranged for her to board a commercial steamer bound for France. But shortly after she arrived in the city, she started having second thoughts. Government officials were requiring Strawther and the other black women to travel on a different ship and stay in different quarters from white women making the same journey. The idea of being segregated sickened Strawther. Her son had given his life, but her government still treated her as a second-class citizen. Days before the ship set sail, she backed out. 'I am not going to France,' she wrote to a prominent NAACP member at the time. She had accepted the invitation 'not knowing what I do now,' she wrote. 'I do not want to be a disgrace to my son and the race.' Strawther was one of a few hundred black women who signed up to make the government-funded pilgrimage to Europe in the early 1930s, only to be told by the War Department that they couldn't travel or share hotels with their white counterparts. Her story was highlighted in a Journal of American History article from September 2015 that detailed the little-known story of the federal government's well-intended but discriminatory program that brought Gold Star mothers and widows to the battlefields and cemeteries of the First World War. The article received renewed attention this week after President Trump was accused of insulting a black Gold Star widow whose husband, U.S. Army Sgt. La David Johnson, was recently killed in an ambush in Niger. On Monday, as Trump clashed openly with the widow over allegations that he was insensitive during his condolence call to her, the Journal of American History announced it was posting the article free online for the next month. 'Insulting African American gold star widows has a history,' the journal wrote in a tweet."
Private-prison giant GEO Group, resurgent in the Trump era, gathers at Trump's luxurious 800-acre Trump National Doral in Florida, The Washington Post, Amy Brittain and Drew Harwell, Wednesday, 25 October 2017: "In recent years, the private prison company GEO Group has held its annual leadership conference at venues near its Boca Raton headquarters. But this year, the company moved its gathering to a Miami-area golf resort owned by President Trump. The event last week, during which executives and wardens gathered for four days of meetings, dinner receptions and golf outings at the luxurious 800-acre Trump National Doral, followed an intense effort by GEO Group to align itself with the president and his administration. During last year's election, a company subsidiary gave $225,000 to a pro-Trump super PAC. GEO gave an additional $250,000 to the president's inaugural committee. It also hired as outside lobbyists a major Trump fundraiser and two former aides to Attorney General Jeff Sessions, one of the president's most prominent campaign backers. GEO Group, meanwhile, has had newfound success in Trump's Washington. The company secured the administration's first contract for an immigration detention center, a deal worth tens of millions a year. And its stock price has tripled since hitting a low last year when the Obama administration sought to phase out the use of private prisons — a decision that Sessions reversed…. The company suffered a setback when, in the summer of 2016, then-Deputy Attorney General Sally Yates ordered the Justice Department to phase out its use of private prisons. Yates's move came after a Justice Department inspector general's report called the facilities less secure than those run by the government."
10-Year-Old Immigrant Is Detained After Agents Stop Her on Way to Surgery, The New York Times, Vivian Yee and Caitlin Dickerson, Wednesday, 25 October 2017: "A 10-year-old girl with cerebral palsy has been detained by federal immigration authorities in Texas after she passed through a Border Patrol checkpoint on her way to a hospital to undergo emergency gall bladder surgery. The girl, Rosamaria Hernandez, who was brought over the border illegally to live in Laredo, Tex., when she was three months old, was being transferred from a medical center in Laredo to a hospital in Corpus Christi around 2 a.m. on Tuesday when Border Patrol agents stopped the ambulance she was riding in, her family said. The agents allowed her to continue to Driscoll Children's Hospital, the family said, but followed the ambulance the rest of the way there, then waited outside her room until she was released from the hospital. By Wednesday evening, according to family members and advocates involved in her case, immigration agents had taken her to a facility in San Antonio where migrant children who arrive alone in the United States from Central America are usually held, even though her parents, who both lack legal status, live 150 miles away in Laredo. Her placement there highlighted the unusual circumstances of her case: The federal government maintains detention centers for adult immigrants it plans to deport, facilities for families who arrive at the border together and shelters for children who come by themselves, known as unaccompanied minors. But it is rare, if not unheard-of, for a child already living in the United States to be arrested — particularly one with a serious medical condition."
Republicans on the Senate Committee on Environment and Public Works Approve Toxic EPA Nominee Michael Dourson in a Party-line Vote, The Intercept, Sharon Lerner, Wednesday, 25 October 2017: "Powerless Democrats watched in anger as their Republican colleagues in the Senate voted along party lines to advance Michael Dourson's nomination to become an assistant administrator of the Environmental Protection Agency today. 'We've done the wrong thing,' said Sen. Thomas Carper, the ranking Democrat on the Senate's Committee on Environment and Public Works, after his colleagues voted to pass Dourson's nomination to the full Senate. 'I have never been this troubled on this committee, or any committee, in 17 years.' Dourson — a massively conflicted scientist known within industry for his ability to come up with standards companies liked, create science to justify them, and then 'sell' the package to the EPA — is one step closer to assuming his role overseeing chemical safety in the United States. His actual tenure at the EPA seems to have already begun, since he was quietly appointed as an adviser to EPA Administrator Scott Pruitt despite not having approval — a move that may have violated the law. If approved by the full Senate, Dourson will oversee the implementation of the updated law, the Toxic Substances Control Act, though he has been paid by manufacturers and other interested parties to work on 20 of the chemicals that may come before him as part of its implementation. When asked during his confirmation hearing whether he would recuse himself from making decisions about these chemicals earlier this month, Dourson refused."
The Federal Communications Commission (FCC) to Loosen Rules on Local Media Ownership, The New York Times, Cecilia Kang, Wednesday, 25 October 2017: "The Federal Communications Commission on Wednesday announced plans to eliminate decades-old media ownership rules meant to protect local coverage and diversity in media voices. The commission's chairman, Ajit Pai, said in a congressional hearing that the agency would vote in November to roll back rules that prevent ownership of a newspaper and broadcast station in the same market. The rules were created to prevent an individual or organization from having outsize influence over public opinion. But in the hearing, where he faced fierce criticism by Democratic lawmakers, Mr. Pai defended the plan and other deregulatory actions in recent months, saying media ownership rules were outdated. They were created 42 years ago, when newspapers and television stations dominated the media landscape, well before Facebook and Google."
Media Conglomerates Convince the Federal Communications Commission to Repeal a Regulation That Required Local Television and Radio Broadcasters to Maintain Physical Studios in the Communities They Serve, The Intercept, Lee Fang, Wednesday, 25 October 2017: "In a ruling seen as a major win for the largest media conglomerates in the country, the Federal Communications Commission voted to repeal the Main Studio Rule, a 77-year-old regulation that required local television and radio broadcasters to maintain physical studios in the communities they serve. The Tuesday vote, along party lines, with Republican commissioners supporting repeal, clears the way for major media companies to continue buying up local stations and eliminating positions for journalists, while centralizing programming decisions. One of the primary arguments made by media companies petitioning the FCC for the repeal was that social media renders local stations an anachronistic requirement of the past."
Under Trump, Made in America Is Losing Out to Russian Steel, Bloomberg Businessweek, Margaret Newkirk and Joe Deaux, Wednesday, 25 October 2017: "Four days after his inauguration, Donald Trump signed a handful of executive memos to advance the Keystone XL pipeline and revive the U.S. steel industry. He invited builder TransCanada Corp. to reapply for a permit denied by Barack Obama and ordered up fast-track rules forcing not only Keystone but also all new U.S. pipelines to be made from American steel. 'From now on, we're going to be making pipeline in the United States,' he said. Made-in-America Keystone was a stunt. Most of its pipes had already been manufactured, a fact the White House grudgingly admitted when it exempted the project from any new Buy American rules a few months later. While some of Keystone's pipes were made in the U.S., at least a quarter of them came from a Russian steel company whose biggest shareholder is an oligarch and Trump family friend. The company, Evraz North America, supplied Keystone from its steel plants in Canada and for years has lobbied in Washington against Trump-style protectionism. Ten months after his Keystone event, Trump has yet to deliver on his pledge to boost the fortunes of American steel. Two self-imposed deadlines for trade action, one in June and one in July, have come and gone. Meanwhile, the prospect of tariffs has led to a surge of cheap foreign steel into the U.S., with imports rising 24 percent in 2017, the fastest increase in years."
How Democratic Socialists Convinced Virginia Congressman Don Beyer to Sign Onto John Conyers' Single-Payer Health Care Bill, HR 676, The Intercept, Zaid Jilani, Wednesday, 25 October 2017: "Michigan Democratic Representative John Conyers has been introducing his single-payer health care bill for decades. But in the explosion of activism following the Bernie Sanders campaign and the pushback against GOP efforts to repeal parts of the Affordable Care Act, his bill HR 676 has suddenly become much more popular. It now has the support of the majority of the House Democratic caucus. Last month, a group of activists with the Metro DC Democratic Socialists of America [DSA] turned its sights to Virginia Rep. Don Beyer, one of the Democrats who had yet to sign onto HR 676…. Numerous DSA members attended a September 17 town hall Beyer held, sharing their health care horror stories and asking the representative to sponsor the Conyers bill that would establish a universal health care system. At first, Beyer was hesitant, telling the activists that there are 'many problems with the legislation.' But after five activists took turns at the microphone asking Beyer to sponsor the legislation, he relented and announced his intention to sign on. On September 26, he was officially added as a co-sponsor to HR 676."
Alexander Nix, the Head of Cambridge Analytica and Trump's Data Guru, Said He Asked WikiLeaks Founder Julian Assange for Help Finding Hillary Clinton's 33,000 Deleted Emails, Daily Beast, Betsy Woodruff, Wednesday, 25 October 2017: "Alexander Nix, who heads a controversial data-analytics firm that worked for President Donald Trump's campaign, wrote in an email last year that he reached out to WikiLeaks founder Julian Assange about Hillary Clinton's missing 33,000 emails. On Wednesday, Assange confirmed that such an exchange took place. Nix, who heads Cambridge Analytica, told a third party that he reached out to Assange about his firm somehow helping the WikiLeaks editor release Clinton's missing emails, according to two sources familiar with a congressional investigation into interactions between Trump associates and the Kremlin. (CNN later reported Cambridge backer Rebekah Mercer was one of the email's recipients.) Those sources also relayed that, according to Nix's email, Assange told the Cambridge Analytica CEO that he didn't want his help, and preferred to do the work on his own. The interchange between Nix—whose company made millions from the Trump campaign—and Assange represents the closest known connection between Trump's campaign and Wikileaks." See also, Julian Assange Says WikiLeaks Rejected Request by Data Firm Cambridge Analytica That Was Tied to Trump, The New York Times, Nicholas Confessore, Wednesday, 25 October 2017: "The WikiLeaks founder Julian Assange said on Wednesday that he had rebuffed a request for help last year from the head of a data firm that worked for Donald J. Trump and is now facing congressional scrutiny. On Twitter, Mr. Assange said he had been approached before the 2016 election by Alexander Nix, the chief executive of Cambridge Analytica, which worked for Mr. Trump during the final months of the campaign. Mr. Assange did not disclose what kind of help Mr. Nix sought, only that he had declined the request. 'I can confirm an approach by Cambridge Analytica'" Mr. Assange wrote, 'and can confirm that it was rejected by WikiLeaks.' The Daily Beast reported on Wednesday that Mr. Nix had emailed Mr. Assange looking for copies of more than 30,000 emails that were deleted from Hillary Clinton's private server and never publicly released. Mrs. Clinton has said that the emails were personal in nature."
Federal judge Vince Chhabria of the U.S. District Court for the Northern District of California refuses to order the Trump administration to resume Affordable Care Act cost-sharing subsidies, The Washington Post, Amy Goldstein and Juliet Eilperin, Wednesday, 25 October 2017: "A federal judge in California on Wednesday denied a request from 19 attorneys general across the country to force the Trump administration to resume funding of cost-sharing payments under the Affordable Care Act. The ruling leaves intact President Trump's decision earlier this month to immediately end the payments that reimburse insurers for discounts the law requires them to give lower-income customers with health plans through ACA marketplaces. The attorneys general, from 18 states and the District, were seeking a temporary order that would have maintained the funding while the rest of the case is decided. In his decision, Judge Vince Chhabria of the U.S. District Court for the Northern District of California wrote that resuming the payments to insurers 'would be counterproductive.' Chhabria pointed out that most states' insurance regulators had already prepared for a possible end to the money, by allowing companies to charge higher rates for the coming year. 'Although you wouldn't know it from reading the states' papers in this lawsuit,' he wrote, 'the truth is that most state regulators have devised responses.' The judge did not decide the suit's core question: whether the federal government must continue funding the cost-sharing reduction (CSR) payments without a specific congressional appropriation." See also, Siding With Trump, Federal Judge Vince Chhabria of Federal District Court in San Francisco Refuses to Compel the Federal Government to Pay Subsidies to Health Insurance Companies, Clearing the Way for Trial Over Affordable Care Act Subsidies, The New York Times, Robert Pear, Wednesday, 25 October 2017.
Lawmakers on the House Energy and Commerce Committee urged the Drug Enforcement Administration to seek more legal authority if it is needed to battle the nation's opioid epidemic, The Washington Post, Lenny Bernstein and Scott Higham, Wednesday, 25 October 2017: "Lawmakers urged the Drug Enforcement Administration to seek more legal authority if it is needed to battle the nation's opioid epidemic, telling an official they are awaiting suggestions on how they can help stem the worst drug crisis in U.S. history. 'Give us suggestions. Talk to us. We want to do the right thing,' Rep. Gus M. Bilirakis (R-Fla.) implored at a hearing held Wednesday by the House Energy and Commerce Committee. 'We need to know the tools that you need to handle this. We're on the same team with regard to this.'The offers to Neil Doherty, deputy assistant administrator of the DEA's Office of Diversion Control, which battles abuse of prescription opioids, came in the wake of a joint report by The Washington Post and '60 Minutes' that Congress had stripped the DEA of its most potent enforcement weapon against giant companies whose drugs are sometimes illegally diverted onto the street. The 2016 law, approved by unanimous consent in both houses of Congress and signed by President Barack Obama, was pushed through by a handful of lawmakers allied with the drug distribution companies. In the House, where a drug industry attorney helped craft an early version of the bill, the leader of that effort was Rep. Tom Marino (R-Pa.), who fought the DEA for nearly two years to win passage of the measure. Marino was President Trump's nominee to head the White House Office of National Drug Control Policy but withdrew two days after the reports. In the Senate, the law's primary sponsor was Sen. Orrin G. Hatch (R-Utah), who negotiated a final version with DEA and Justice Department officials."
Trump boasts of his Ivy League education to defend his image, saying 'I was a nice student. I did very well. I'm a very intelligent person.' Politico, Nolan D. McCaskill, Wednesday, 25 October 2017: "President Donald Trump touted his Ivy League education on Wednesday, highlighting his experiences as a college student nearly 50 years ago as proof that the media is reporting a false image of the 71-year-old president. 'I think the press makes me more uncivil than I am,' Trump told reporters Wednesday afternoon before departing the White House. 'You know, people don't understand. I went to an Ivy League college,' said Trump, who graduated from the Wharton School of the University of Pennsylvania in 1968. 'I was a nice student. I did very well. I'm a very intelligent person. You know, the fact is, I think, I really believe, I think the press creates a different image of Donald Trump than the real person.' Trump did not elaborate on the apparent correlation between education and civility. But the president did accuse the media of reporting 'fake stories' and 'a lot of bad things' he said are untrue. He did not specify what stories he considered fake or untrue."
Thursday, 26 October 2017, Day 280:
Trump Declares Opioid Crisis a 'Health Emergency' But Falls Short of Fulfilling His Promise in August to Declare 'A National Emergency' on Opioids, Which Would Have Prompted the Rapid Allocation of Federal Funding to Address the Issue, The New York Times, Julie Hirschfeld Davis, Thursday, 26 October 2017: "President Trump on Thursday directed the Department of Health and Human Services to declare the opioid crisis a public health emergency, taking long-anticipated action to address a rapidly escalating epidemic of drug use. But even as he vowed to alleviate the scourge of drug addiction and abuse that has swept the country — a priority that resonated strongly with the working-class voters who supported his presidential campaign — Mr. Trump fell short of fulfilling his promise in August to declare 'a national emergency' on opioids, which would have prompted the rapid allocation of federal funding to address the issue. His directive does not on its own release any additional funds to deal with a drug crisis that claimed more than 59,000 lives in 2016, and the president did not request any, although his aides said he would soon do so. And he made little mention of the need for the rapid and costly expansion of medical treatment that public health specialists, including some in his own administration, argue is crucial to addressing the epidemic…. To combat the epidemic, the president said the government would produce 'really tough, really big, really great advertising' aimed at persuading Americans not to start using opioids in the first place, seeming to hark back to the 'Just Say No' antidrug campaign led by Nancy Reagan in the 1980s…. Democrats criticized Mr. Trump for what they characterized as a tepid response to an urgent calamity, arguing that his failure to request funding for the effort revealed a lack of seriousness about addressing the issue. 'America is hemorrhaging lives by the day because of the opioid epidemic, but President Trump offered the country a Band-Aid when we need a tourniquet,' said Senator Edward J. Markey, Democrat of Massachusetts. 'Instead of a commitment to emergency funding for our states and communities, President Trump offered empty words and half-measures.'"
House Passes Budget Blueprint, Clearing the Path for Tax Overhaul, The New York Times, Jim Tankersley and Thomas Kaplan, Thursday, 26 October 2017: "The Republican race to overhaul the tax code broke into a sprint on Thursday, with House members narrowly clearing a budget blueprint that would allow a tax bill to pass Congress without any Democratic votes, and Senate leaders signaling that the bill could be introduced, debated and approved in both chambers by the end of November. Those ambitions are already complicated by difficult math, both in terms of tax revenues and vote counts. The budget vote put those competing factors on display, with 20 Republicans defecting and the resolution narrowly passing, 216 to 212, in part over concerns about the possible elimination of a tax break that disproportionately benefits residents of high-tax states. A potential reduction in contribution limits for 401(k) retirement accounts also appears to be stoking an intraparty fight. Neither the retirement issue nor the squabble over the deduction for state and local taxes was resolved on Thursday, but party leaders vowed to push ahead at an even faster pace than they had previously outlined."
Why Harvey Weinstein is Disgraced but Donald Trump is president. The allegations against Weinstein and Trump are strikingly similar. Why have the outcomes been so different? Vox, Anna North and Ezra Klein, Thursday, 26 October 2017: "Since the allegations against Weinstein became public earlier this month, many have noted the similarities with Trump: two powerful men, both repeatedly accused of using their power and fame and wealth to prey on women sexually. One big difference, though, as some of Trump's accusers have pointed out, is that while Weinstein has been ousted from his company and denounced by former friends, Trump is president of the United States, and enjoys the continued backing of his party and political allies. This difference says a lot, not just about the mores of Washington and Hollywood but about partisanship, power, and accountability. To date, Weinstein has been accused of sexual harassment or assault by more than 50 women. At least 17 women have accused Trump of harassing, assaulting, or otherwise violating them. Both men have been accused of touching women against their will, of making unsolicited and sexualized comments about women's bodies, of using their power to coerce women into sex and to protect themselves in the aftermath. Both men have been caught on tape…. Weinstein allegedly bragged to women about actresses with whom he'd had sex. Trump made similar claims, according to Barbara Res, who worked with Trump for about 18 years…. Both men also used deep relationships with the gossip press and a powerful armada of lawyers and legal threats to try to bully both alleged victims and reporters into silence…. In the days after Ashley Judd, Asia Argento, and several other women publicly accused Harvey Weinstein of harassment and assault in the New York Times and the New Yorker, Weinstein was fired from the Weinstein Company and kicked out of the Academy of Motion Picture Arts and Sciences. His brother Bob (who has now been accused of sexual harassment as well) called him a predator and said, 'I want him to get the justice that he deserves.' In the wake of the Access Hollywood tape's release, a few Republican members of Congress pulled their endorsements of Trump. But the party leadership remained behind him, even when women came forward with specific allegations. The reason was simple: They needed him…. [B]ecause [Trump] won — and with his win gained power over everything from the tax code to Supreme Court nominations to the nuclear armada — the incentive for the political system is to move on, and the tendency for the media is to suggest that the American people acted as Trump's judge, and their verdict, such as it is, must be respected…. Trump himself likely wields too much authority now to pay for his abuses — too many other interests and politicians and factions would find themselves damaged if he were to fall. This is, perhaps, the depressing lesson of the Weinstein and Trump stories. The allegations are similar. The evidence is similar. But power still protects, and while Weinstein had lost enough power to imperil his protection, Trump has only amassed more."
Secretary of State Rex Tillerson Eliminated the Sanctions Policy Office That Coordinated U.S. Sanctions Across the State Department and Other Government Agencies, Foreign Policy, Robbie Gramer and Dan De Luce, Thursday, 26 October 2017: "The State Department shuttered an office that oversees sanctions policy, even as the Donald Trump administration faced criticism from lawmakers over its handling of new economic penalties against Russia. Secretary of State Rex Tillerson eliminated the Coordinator for Sanctions Policy office, which had been led by a veteran ambassador-rank diplomat with at least five staff, as part of an overhaul of the department, former diplomats and congressional sources told Foreign Policy. Instead, the role of coordinating U.S. sanctions across the State Department and other government agencies now falls to just one mid-level official — David Tessler, the deputy director of the Policy Planning Office. The Policy Planning Office, which previously operated as a small team providing strategic advice to the secretary but did not manage programs or initiatives, has grown in power under Tillerson's 'redesign' of the department. While the sanctions office was dissolved, the administration missed a key Oct. 1 deadline to implement new penalties against Russia adopted by Congress in August. The move reinforced concerns among both Democratic and Republican lawmakers that the Trump White House is mismanaging the State Department and undercutting the role of U.S. diplomacy."
Financial Lobby Group (American Financial Services Association) Pressed Vice President Mike Pence to Repeal a Federal Rule Protecting Consumers' Right to File Class Action Lawsuits Against Financial Firms, International Business Times, David Sirota, Thursday, 26 October 2017: "Vice President Mike Pence this week cast the deciding vote to kill a federal rule protecting consumers' right to file class action lawsuits — delivering a big win for a financial industry trade association that has been directly lobbying him on the issue, according to documents reviewed by International Business Times. In the lead up to the Republican's tie-breaking vote, the American Financial Services Association said Pence's office requested ideas about how to defang the Consumer Financial Protection Bureau (CFPB), which had originally created the rule. Earlier this year, the CFPB finalized its rule — first proposed under the Obama administration — to prohibit financial firms from requiring customers to relinquish their rights to file consumer class action lawsuits. At the time, the agency said its research showed that these 'pre-dispute arbitration agreements are being widely used to prevent consumers from seeking relief from legal violations.' Throughout 2017, financial giants mounted a campaign to rescind the rule. As part of that pushback, AFSA — which describes itself as 'the primary trade association for the consumer credit industry' — delivered a nine-point regulatory reform plan to Pence's top economist Mark Calabria, who was appointed to his position in the vice president's office from a job at the libertarian Cato Foundation. In its letter, AFSA noted that in a meeting with Pence's office weeks after he assumed office, the vice president's advisers had specifically asked the group to provide 'reforms that the Consumer Financial Protection Bureau could implement quickly to reduce unnecessary burdens on financial institutions.' AFSA's blueprint pressed Pence to push for a moratorium on the CFPB's consumer complaint database; rescind orders that 'direct banks and nonbanks to ensure that their service providers are in compliance with applicable laws'; and terminate the rule that outlaws financial institutions from requiring customers to agree to forced arbitration clauses that block them from joining class action lawsuits. 'The CFPB should not finalize the proposed arbitration rule that would prohibit the use of class action waivers,' the group wrote to Calabria, echoing its separate 2016 letter to federal regulators demanding they back off the rule. 'The CFPB's own study shows that arbitration is inexpensive, fast, and beneficial to consumers.' Less than seven months after AFSA met with Pence's office, the Republican vice president followed through on the group's recommendations, casting the decisive Senate vote killing the CFPB arbitration rule."
J.F.K. Files, Though Incomplete, Are a Treasure Trove for Answer Seekers, The New York Times, Peter Baker and Scott Shane, Thursday, 26 October 2017: "President Trump ordered the long-awaited release on Thursday of more than 2,800 documents related to the assassination of President John F. Kennedy, but bowed to pressure from the C.I.A. and F.B.I. by withholding thousands of additional papers pending six more months of review. While incomplete, the documents were a treasure trove for investigators, historians and conspiracy theorists who have spent half a century searching for clues to what really happened in Dallas on that fateful day in 1963. They included tantalizing talk of mobsters and Cubans and spies, Kremlin suspicions that Lyndon B. Johnson was behind the killing, and fear among the authorities that the public would not accept the official version of events." See also, Trump delays release of some John F. Kennedy assassination documents, bowing to national security concerns, The Washington Post, Ian Shapira, Steve Hendrix, and Carol D. Leonnig, published on Friday, 27 October 2017.
The U.S. Is Now Moving Toward Armed Drones and Lethal Force in Niger, NBC News, Ken Dilanian, Courtney Kube, William M. Arkin, Hans Nichols, and Cynthia McFadden, Thursday, 26 October 2017: "The Trump administration is paving the way for lethal strikes against terrorists in Niger as the U.S. military pushes forward with a plan to arm the Reaper drones that fly over that country, multiple U.S. officials told NBC News. France has already decided to arm its drones in the region, U.S. documents show, and the move to arm U.S. Reapers has been under consideration for some time — long before this month's ambush of a Green Beret unit that resulted in the deaths of four American soldiers. But that incident, details of which are still coming to light, is fueling an urgency within the Trump administration to take more aggressive steps against the terrorist groups that are operating in North and West Africa, according to intelligence and military officials. In the wake of the attack, the U.S. has been pressing the government of Niger to allow armed drones at the U.S. bases in that country, three U.S. officials said."
Democrats push bill to stop a Trump pre-emptive strike on North Korea, The Guardian, Julian Borger, Thursday, 26 October 2017: "Congressional Democrats have introduced legislation aimed at preventing Donald Trump from launching a pre-emptive attack on North Korea, as concerns grow about the administration's failure to explore talks with Pyongyang. The 'No Unconstitutional Strike against North Korea' bill is the second legislative attempt to curtail's Trump power to start a war unilaterally. Earlier this year, a bill was introduced to prohibit the president from ordering a nuclear first strike against a foreign adversary without a declaration of war by Congress, amid concerns over Trump's belligerent language, erratic behaviour and frequent tweeted threats against other countries. The new legislation prohibiting an attack on North Korea without congressional authority was launched by Democrats John Conyers in the House and Ed Markey in the Senate. It has two Republicans among the 61 backers in the House, but at present no formal Republican backing in the Senate."
Federal judge orders the Department of Defense not to block fast-tracked citizenship application that it promised to about 2,000 foreign-born U.S. Army Reserve soldiers under their enlistment contracts, The Washington Post, Spencer S. Hsu, Thursday, 26 October 2017: "A federal judge has ordered the Defense Department not to block fast-tracked citizenship applications that it promised to about 2,000 foreign-born U.S. Army Reserve soldiers under their enlistment contracts. The order Wednesday came in an ongoing lawsuit over the department's year-old effort to kill a program designed to attract foreign-born military recruits who possess medical or language skills urgently needed in U.S. military operations. In exchange for serving, those recruits were promised a quicker route to citizenship. U.S. District Judge Ellen S. Huvelle of Washington issued a rare preliminary injunction saying that while the lawsuit can move ahead, the government cannot in the meantime withhold a form that three named Army plaintiffs and other military members in similar situations need to start the vetting for citizenship. Huvelle in her order also said that the members of the military in the lawsuit probably would succeed in proving the Pentagon's latest moves in the crackdown on immigrant recruits were 'arbitrary and capricious.' Her decision granted provisional class-action status to at least some affected U.S. service members and marked the first court ruling on the new policy that has been challenged in lawsuits across the country. The court action came less than two weeks after Defense Secretary Jim Mattis said the military was taking steps 'to save the program, if it can be saved.'"