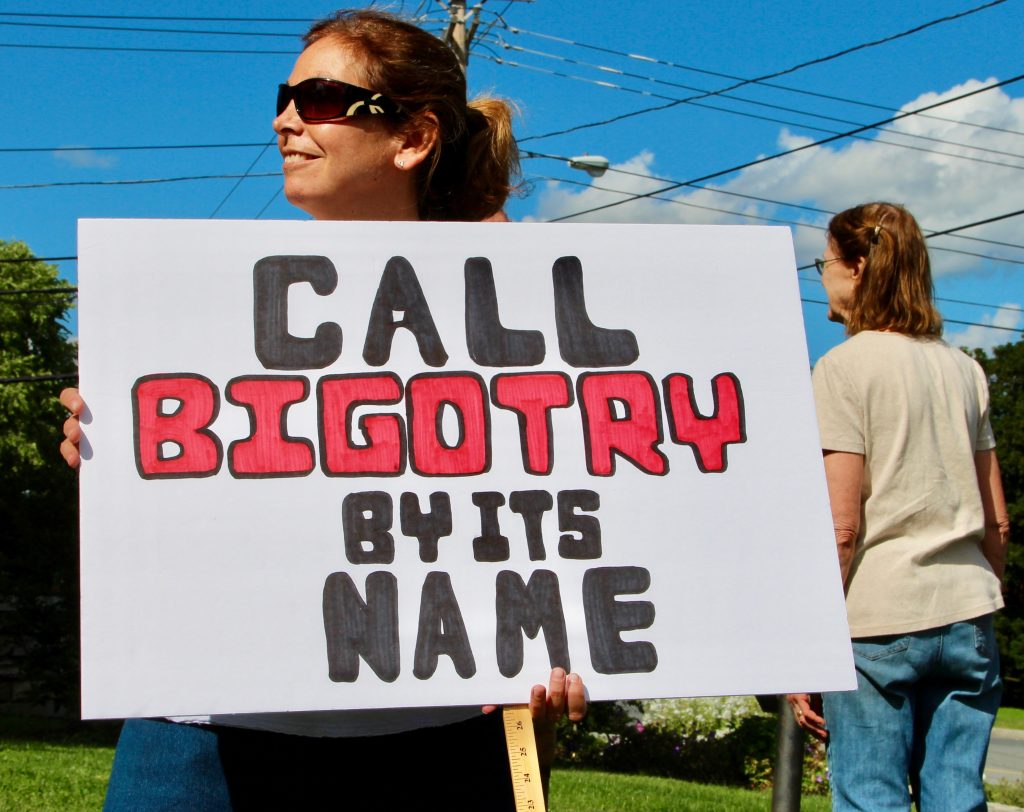 Keeping Track (of some things), Staying Outraged (it is possible), and Resisting (it's essential)
Passages in bold in the body of the texts below are my emphasis. This is an ongoing project, and I update the site frequently. I hope readers will peruse the articles in full for a better understanding of the issues and their context; our democracy and our future depend on citizens who can distinguish between facts and falsehoods and who are engaged in the political process.
Friday, 22 September 2017, Day 246:
Amid new sanctions, Trump calls North Korea's leader 'madman' whose regime will face new tests, The Washington Post, David Nakamura and Anne Gearan, Friday, 22 September 2017: "President Trump lashed back Friday at North Korea's leader, calling Kim Jong Un a 'madman' whose regime will be 'tested like never before' amid new U.S.-imposed financial sanctions. The latest economic pressures announced Thursday come as the Trump administration seeks to build international support for more aggressively confronting the rogue nation, whose escalating nuclear and ballistic missile capabilities have reached what U.S. officials consider a crisis point. The new penalties seek to leverage the dominance of the U.S. financial system by forcing nations, foreign companies and individuals to choose whether to do business with the United States or the comparatively tiny economy of North Korea. U.S. officials acknowledged that like other sanctions, these may not deter North Korean leader Kim Jong Un's drive to threaten the United States with a nuclear weapon, but are aimed at slowing him down. Kim on Thursday reacted angrily to Trump's remarks and actions this week, calling the president a 'mentally deranged U.S. dotard' and Trump's earlier speech at the U.N. 'unprecedented rude nonsense." Kim said he was now thinking hard about how to respond."
Environmental Protection Agency chief Scott Pruitt met with many corporate executives. Then he made decisions in their favor. The Washington Post, Steven Mufson and Juliet Eilperin, Friday, 22 September 2017: "Environmental Protection Agency chief Scott Pruitt has met regularly with corporate executives from the automobile, mining and fossil fuel industries — in several instances shortly before making decisions favorable to those interest groups, according to a copy of his schedule obtained by The Washington Post. There were, by comparison, only two environmental groups and one public health group on the schedule, which covers the months of April through early September. It is the broadest public release of Pruitt's schedule and it adds to understanding about how he makes decisions."
Department of Homeland Security Tells 21 States That Hackers Targeted Their Voting Systems, The New York Times,  The Associated Press, Friday, 22 September 2017: "The federal government on Friday told election officials in 21 states that hackers targeted their systems before last year's presidential election. The notification came roughly a year after officials with the United States Department of Homeland Security first said states were targeted by hacking efforts possibly connected to Russia. The states that told The Associated Press they had been targeted included some key political battlegrounds, such as Florida, Ohio, Pennsylvania, Virginia and Wisconsin. The A.P. contacted every state election office to determine which ones had been informed that their election systems had been targeted. The others that confirmed they were targeted were Alabama, Alaska, Arizona, California, Colorado, Connecticut, Delaware, Illinois, Iowa, Maryland, Minnesota, North Dakota, Oklahoma, Oregon, Texas and Washington. Being targeted does not mean that sensitive voter data was manipulated or that results were changed. A hacker targeting a system without getting inside is similar to a burglar circling a house, checking for unlocked doors and windows. Even so, the widespread nature of the attempts and the yearlong lag time in notification from the Department of Homeland Security raised concerns among some election officials and lawmakers. For many states, the calls on Friday were the first official confirmation that they were on the list — even though state election officials across the country have been calling for months for the federal government to share information about any hacks, as have members of Congress."
Continue reading Week 36, Friday, 22 September-Thursday, 28 September 2017:
Three Ways the New Republican Health Bill (Graham-Cassidy) Differs From Past Repeal Efforts, The New York Times, Haeyoun Park, Friday, 22 September 2017: "Like earlier [Republican] repeal efforts, the new plan would also repeal the individual mandate to purchase insurance and get rid of certain subsidies for out-of-pocket health expenses. But the measure still has important differences from the three bills that failed to pass the Senate in July and the one that passed the House in May. And it is those differences that create more uncertainty about the bill's impact on the lives of millions of Americans."
There Is Not a Single Metric of Health or Health Care That the Graham-Cassidy Plan Makes Better, The New Yorker, Atul Gawande, Friday, 22 September 2017: "The fundamental thing to understand about Senate Republicans' latest attempt to repeal Obamacare is that the bill under consideration would not just undo the Affordable Care Act—it would also end Medicaid as we know it and our federal government's half-century commitment to closing the country's yawning gaps in health coverage. And it would do so without putting in place any credible resources or policies to replace the system it is overturning."
The Graham-Cassidy Health-Care Bill Is a Clear Danger to People With Preëxisting Conditions, The New Yorker, John Cassidy, Friday, 22 September 2017: "As the Senate gets closer to an expected vote, next week, on the health-care-reform bill championed by Senators Lindsey Graham and Bill Cassidy, Republicans—Donald Trump included—are still claiming that the measure keeps in place protections for people with preëxisting conditions, while Democrats, health-care experts, and Jimmy Kimmel are insisting that it doesn't. (My colleague Ian Crouch has more on Kimmel.) The draft legislation doesn't overtly repeal the Affordable Care Act's ban on insurers denying coverage to people with preëxisting conditions, and it doesn't explicitly abandon the A.C.A.'s community-rating regulations that prohibit insurers from charging people with serious illnesses much higher premiums. The bill would, however, allow individual states to obtain waivers from these rules if they persuaded the Department of Health and Human Services (H.H.S.) that they could 'maintain access to adequate and affordable coverage for individuals with pre-existing conditions.' Since the bill doesn't define what 'access to adequate and affordable coverage' means, critics say that it is effectively sanctioning a return to the days before the A.C.A., when sick people in many parts of the country found it extremely difficult and costly to get health coverage. Usually, in these types of disputes, the nonpartisan analysts at the Congressional Budget Office act as the arbiters. When 'scoring' a health-care bill such as Graham-Cassidy, they go through each of its major proposals and provide numerical estimates of its likely effects. In this instance, though, the Republicans are exploiting the fact that the C.B.O. hasn't had time to do a detailed analysis of their bill—it is expected to produce just a truncated report before next week's vote. But the matter shouldn't be allowed to rest there. As Sara R. Collins, a health-care-insurance expert at the Commonwealth Fund, pointed out in a blog post on Wednesday, the C.B.O. analyzed a very similar waiver proposal in May, and its findings were damning. The agency concluded that about fifty-five million Americans would end up living in states that would opt out of the A.C.A. community-rating rules. In these states, the C.B.O. analysis said, 'over time, less healthy individuals (including those with preexisting or newly acquired medical conditions) would be unable to purchase comprehensive coverage with premiums close to those under current law and might not be able to purchase coverage at all.'" See also, Here's a list of medical groups opposing the Cassidy-Graham health-care bill, The Washington Post, Christopher Ingraham, Friday, 22 September 2017.
Education Secretary Betsy DeVos rescinds Obama-era guidance on campus sexual assault, The Washington Post, Nick Anderson, Friday, 22 September 2017: "The Trump administration on Friday withdrew Obama-era guidance on how colleges and universities should respond to sexual violence, giving schools flexibility to use a higher standard of evidence in judging cases and formally shifting the federal stance on what has become an explosive campus issue. The action crystallized a pledge Education Secretary Betsy DeVos made on Sept. 7 to replace what she called a "failed system" of civil rights enforcement related to campus sexual assault. In her view, the government under President Barack Obama did not strike the right balance in protecting the rights of victims and the accused. Under Obama, the Education Department's Office for Civil Rights had declared in 2011 that schools should use a standard known as 'preponderance of the evidence' when judging sexual violence cases arising under the anti-discrimination law known as Title IX. Common in civil law, the preponderance standard calls for enough evidence to determine that something is more likely than not to be true. That is lower than the 'clear and convincing evidence' standard that had been used at some schools. Victim advocates viewed the 2011 letter as a milestone in efforts to get schools to address the long-standing problem of campus sexual assault, punish offenders and prevent violence. It also dovetailed with a high-profile campaign by the Obama White House to combat sexual violence."
Health and Human Services Inspector General is investigating Secretary Tom Price's travel on private charter planes, The Washington Post, Aaron C. Davis, Friday, 22 September 2017: "The Health and Human Services inspector general is investigating Secretary Tom Price's reported use of chartered planes for at least two dozen flights in recent months at taxpayer expense, a spokeswoman said Friday. Investigators will seek records of Price's travel and review the justifications that he and his staff gave for the trips, the spokeswoman for HHS Inspector General Daniel R. Levinson said. House Democrats wrote to Levinson, an appointee of President George W. Bush, on Wednesday requesting the investigation. They said the flights appeared to violate federal law designed to make sure executive branch officials use the most economical travel available."
Saturday, 23 September 2017, Day 247:
Trump Attacks Golden State Warriors' Stephen Curry. LeBron James's Retort: 'U Bum.' The New York Times, Ken Belson and Julie Hirschfeld Davis, Saturday, 23 September 2017: "President Trump took aim at two of the world's most powerful sports leagues and some of their most popular athletes, directly inserting himself into an already fiery debate over race, social justice and athlete activism and stoking a running battle on social media over his comments. In a speech on Friday and a series of tweets on Saturday, he urged N.F.L. owners to fire players who do not stand for the national anthem, suggested that football is declining because it is not as violent as it once was and seemed to disinvite the N.B.A. champion Golden State Warriors from the traditional White House visit because of their star player Stephen Curry's public opposition to him. Speaking in Huntsville, Ala., on Friday, the president used an expletive to describe players who kneel or sit during the anthem to protest police brutality against black Americans and other forms of social injustice. 'Wouldn't you love to see one of these N.F.L. owners, when somebody disrespects our flag, to say, "Get that son of a bitch off the field right now, out, he's fired,"' the president said at a rally for Senator Luther Strange, who was appointed to the Senate this year and is facing Roy Moore in a Republican primary runoff." See also, NFL Commissioner Roger Goodell responds to Trump's call to 'fire' NFL players protesting during the national anthem, The New York Times, Jeremy Gottlieb and Mark Maske, Saturday, 23 September 2017.
The Racial Demagoguery of Trump's Assaults on Colin Kaepernick and Steph Curry, The New Yorker, David Remnick, Saturday, 23 September 2017: "Every day, and in countless and unexpected ways, Donald Trump, the President of the United States, finds new ways to divide and demoralize his country and undermine the national interest. On Tuesday, he ranted from the lectern of the U.N. General Assembly about 'Rocket Man' and the possibility of levelling North Korea. Now he has followed with an equally unhinged domestic performance at a rally, on Friday evening, in Huntsville, Alabama, where he set out to make African-American athletes the focus of national contempt. In the midst of an eighty-minute speech intended to heighten the reëlection prospects of Senator Luther Johnson Strange III, Trump turned his attention to N.F.L. players, including the former 49ers quarterback Colin Kaepernick, and asked a mainly white crowd if 'people like yourselves' agreed with his anger at 'those people,' players who take a knee during the national anthem to protest racism. 'Wouldn't you love to see one of these N.F.L. owners, when somebody disrespects our flag, to say, "Get that son of a bitch off the field right now, out, he's fired!"' 'People like yourselves.' 'Those people.' 'Son of a bitch.' This was the same sort of racial signalling that followed the Fascist and white-supremacist rally in Charlottesville, Virginia. It is no longer a matter of 'dog whistling.' This is a form of racial demagoguery broadcast at the volume of a klaxon. There is no need for Steve Bannon's behind-the-scenes scriptwriting. Trump, who is desperate to distract his base from his myriad failures of policy, from health care to immigration, is perfectly capable of devising his racist rhetoric all on his own. In these performances, Trump is making clear his moral priorities. He is infinitely more offended by the sight of a black ballplayer quietly, peacefully protesting racism in the United States than he is by racism itself. Which, at this point, should come as no surprise to any but the willfully obtuse. Trump, who began his real-estate career with a series of discriminatory housing deals in New York City, and his political career with a racist calumny against Barack Obama, has repeatedly defined his Presidency with a rhetoric that signals solidarity to resentful souls who see the Other as the singular cause of their troubles. Trump stokes a bilious disdain for every African-American who dares raise a voice to protest the injustices of this country."
JAMES CLAPPER: US intelligence assessment of Russia's election interference 'cast doubt on the legitimacy' of Trump's victory, Business Insider, Bryan Logan, Saturday, 23 September 2017: "The former director of national intelligence, James Clapper, said an assessment by the US intelligence community on Russia's US election interference 'cast doubt' on President Donald Trump's legitimacy. Clapper's comments follow an avalanche of recent news about Russia's efforts to sway American voters in 2016. The Russia investigation has gained significant momentum in recent weeks, with several current and former Trump insiders under scrutiny for their ties to, and contacts with Russian operatives."
North Korea's Foreign Minister Ri Yong Ho says strike against U.S. mainland is 'inevitable,' The Washington Post, Carol Morello, Saturday, 23 September 2017: "North Korea's foreign minister warned Saturday that a strike against the U.S. mainland is 'inevitable' because President Trump mocked leader Kim Jong Un with the belittling nickname 'little rocketman.' U.S. bombers, escorted by fighter jets, flew off the North Korean coast in a show of force shortly before Foreign Minister Ri Yong Ho strode to the podium to address the United Nations General Assembly in New York, capping an extraordinary week of militaristic threats from both nations before an organization founded to maintain international peace and security. Ri said that Trump's bombast had made 'our rockets' visit to the entire U.S. mainland inevitable' and linked it to Trump's insulting shorthand references to Kim. Harsh sanctions placed on North Korea's trade with the outside world will have no impact on its ability to complete building a nuclear bomb capable of reaching the United States, Ri said, suggesting that stage is imminent."
Secretary of Health and Human Services Tom Price to halt taxpayer-funded travel on private jets pending a formal review by his department's inspector general, Politico, Dan Diamond, Saturday, 23 September 2017: "Health and Human Services Secretary Tom Price told Fox News on Saturday that he'll stop his taxpayer-funded travel on private jets, pending a formal review by his department's inspector general. 'We've heard the criticism. We've heard the concerns. We take that very seriously and have taken it to heart,' Price said. Price continued to take charter jets after a POLITICO investigation identified that the HHS secretary had been chartering private planes to conduct official business for months. The cost of his trips this past week was $56,500, according to a federal contract…. Politico has identified more than $400,000 in charter jet spending for [Price's] travels since May." See also, Secretary of Health and Human Services Tom Price Says He'll Stop Use of Private Jets Until After the Formal Review by the Department's Inspector General, The New York Times, Matt Stevens, Saturday, 23 September 2017: "Tom Price, the secretary of health and human services, said on Saturday that he did not plan to travel on private jets until the department's inspector general completes a formal review of the use of taxpayer funds for his chartered flights. Mr. Price, a physician and former Republican congressman from Georgia who has advocated cost-cutting at his agency, was sharply criticized by Democrats this week after Politico reported that he had chartered several work-related flights at a steep additional cost to the federal government. In a report published late Saturday afternoon, Politico said it had identified more than $400,000 in spending on private jets for Mr. Price's travels since May. The report said that taxpayers paid for Mr. Price to take at least 26 flights on private charter planes in that time. In an interview on Fox News on Saturday, Mr. Price acknowledged that 'the optics in some of this don't look good.' Still, he maintained that each chartered trip had been legally reviewed."
Sunday, 24 September 2017, Day 248:
New Order Indefinitely Issued by Trump Bars Almost All Travel From Seven Countries, The New York Times, Michael D. Shear, Sunday, 24 September 2017: "President Trump on Sunday issued a new order indefinitely banning almost all travel to the United States from seven countries, including most of the nations covered by his original travel ban, citing threats to national security posed by letting their citizens into the country. The new order is more far-reaching than the president's original travel ban, imposing permanent restrictions on travel, rather than the 90-day suspension that Mr. Trump authorized soon after taking office. But officials said his new action was the result of a deliberative, rigorous examination of security risks that was designed to avoid the chaotic rollout of his first ban. And the addition of non-Muslim countries could address the legal attacks on earlier travel restrictions as discrimination based on religion. Starting next month, most citizens of Iran, Libya, Syria, Yemen, Somalia, Chad and North Korea will be banned from entering the United States, Mr. Trump said in a proclamation released Sunday night. Citizens of Iraq and some groups of people in Venezuela who seek to visit the United States will face restrictions or heightened scrutiny. Mr. Trump's original travel ban caused turmoil at airports in January and set off a furious legal challenge to the president's authority. It was followed in March by a revised ban, which expired on Sunday even as the Supreme Court is set to hear arguments about its constitutionality on Oct. 10. The new order — Chad, North Korea and Venezuela are new to the list of affected countries and Sudan has been dropped — will take effect Oct. 18."
Trump Calls for Boycott if N.F.L. Doesn't Crack Down on Anthem Protests, The New York Times, Julie Hirschfeld Davis, Sunday, 24 September 2017: "President Trump on Sunday called for football fans to boycott N.F.L. games unless the league fires or suspends players who refuse to stand for the national anthem, saying that players must 'stop disrespecting our flag and country.' 'If NFL fans refuse to go to games until players stop disrespecting our country, you will see change take place fast,' Mr. Trump wrote, on the second weekend morning in a row in which he vented over the issue on social media. 'Fire or suspend!' The tweet suggested that the president, who used an expletive on Friday night to refer to players who kneel or sit in protest during the anthem — a practice that took hold last season among some African-American players after Colin Kaepernick, the now-former San Francisco 49ers quarterback, did so to protest racial and social injustice — is bent on deepening a bitter culture-war fight with the N.F.L."
NFL player protests increase after Trump's attacks. Many players kneel, lock arms, or just stay in the locker room. Politico, David Cohen, Sunday, 24 September 2017: "President Donald Trump's swipes at the NFL and at protests by players sparked a wave of demonstrations before football games on Sunday as athletes and coaches across the league kneeled, linked arms or declined to take the field during the national anthem. 'I think it's very disrespectful to our country,' Trump said Sunday afternoon in Morristown, New Jersey. 'I think it's very, very disrespectful to our flag.' The president's weekend tweets and statements related to the world of sports were met with strong pushback from athletes and owners alike, even from supporters such as New England Patriots owner Robert Kraft. "I am deeply disappointed by the tone of the comments made by the President on Friday," he said in a statement Sunday." See also, Fueled by Trump's Tweets, Anthem Protests Grow to a Nationwide Rebuke, The New York Times, Ken Belson, Sunday, 24 September 2017: "On three teams, nearly all the football players skipped the national anthem altogether. Dozens of others, from London to Los Angeles, knelt or locked arms on the sidelines, joined by several team owners in a league normally friendly to President Trump. Some of the sport's biggest stars joined the kind of demonstration they have steadfastly avoided. It was an unusual, sweeping wave of protest and defiance on the sidelines of the country's most popular game, generated by Mr. Trump's stream of calls to fire players who have declined to stand for the national anthem in order to raise awareness of police brutality and racial injustice. What had been a modest round of anthem demonstrations this season led by a handful of African-American players mushroomed and morphed into a nationwide, diverse rebuke to Mr. Trump, with even some of his staunchest supporters in the N.F.L., including several owners, joining in or condemning Mr. Trump for divisiveness." See also, They Took a Knee: This weekend a series of taunting messages from Trump led to a widescale protest among players–in the NFL and beyond, The Atlantic, Megan Garber, Sunday, 24 September 2017. See also, From Louis Armstrong to the N.F.L.: Ungrateful as the New Uppity, The New Yorker, Jelani Cobb, Sunday, 24 September 2017.  See also, A Dignified Day of Protest Against a Most Shameful President, The New Yorker, John Cassidy, published on 25 September 2017.
Senators Revise Health Care Bill in Last-Ditch Effort to Win the Votes of Susan Collins of Maine and Lisa Murkowski of Alaska, The New York Times, Robert Pear and Thomas Kaplan, Sunday, 24 September 2017: "With time running short, the authors of the latest plan to repeal and replace the Affordable Care Act shifted money in the bill to Alaska and Maine, which are represented by Republican senators who appear reluctant to support it. The revised version of the bill, written by Senators Lindsey Graham of South Carolina and Bill Cassidy of Louisiana, would provide extra money for an unnamed 'high-spending low-density state,' a last-minute change seemingly aimed at Alaska and its holdout Republican senator, Lisa Murkowski, who has yet to say how she will vote. It would also send money toward Maine, whose Republican senator, Susan Collins, had said earlier on Sunday that she would almost certainly vote no."
Trump's son-in-law and senior adviser Jared Kushner used a private email account for some White House business, The Washington Post, Carol D. Leonnig, Ellen Nakashima, and Rosalind S. Helderman, Sunday, 24 September 2017: "President Trump's son-in-law and senior adviser Jared Kushner has used a private email account to conduct and discuss official White House business dozens of times, his lawyer confirmed Sunday. Kushner used the private account through his first nine months in government service, even as the president continued to criticize his opponent in the 2016 presidential election, Democrat Hillary Clinton, for her use of a private email account for government business. Kushner several times used his account to exchange news stories and minor reactions or updates with other administration officials. Kushner and his wife, Ivanka Trump, set up the private account before Donald Trump moved into the White House and Kushner was named a senior adviser to the president in January. Once in the White House, Kushner used his private account for convenience from time to time — especially when he was traveling or using a personal laptop, according to two people familiar with his practice. A person who has reviewed the emails said many were quickly forwarded to his government account and none appear to contain classified information. Clinton offered a similar explanation in 2015 when it was revealed that she set up a private email account as her exclusive means of email communication when she was secretary of state. Clinton also said she opted for private email 'as a matter of convenience.' She insisted that she never shared classified information on her private account or tried to sidestep the federal law that requires that official government communications are preserved. She said nearly all of her communication was stored by the government because she was communicating with other officials on their government accounts."
Monday, 25 September 2017, Day 250:
Graham-Cassidy Health Bill Appears Dead as Pivotal Republican Senator Susan Collins of Maine Declares Her Opposition, The New York Times, Thomas Kaplan and Robert Pear, Monday, 25 September 2017: "A last-ditch attempt by President Trump and Senate Republicans to dismantle the Affordable Care Act appeared to collapse on Monday as a pivotal senator announced her firm opposition to the latest repeal plan, virtually ensuring that Republicans would not have the votes they need for passage. The announcement by the senator, Susan Collins of Maine, effectively dooms what had been a long-shot effort by Republicans in the Senate to make one more attempt at repealing the health law after failing in dramatic fashion in July…. Ms. Collins, one of three Republican senators who opposed the last repeal attempt in July, described the latest plan as 'deeply flawed.' She expressed concerns about cuts to Medicaid as well as the rolling back of protections for people with pre-existing medical conditions. 'Health care is a deeply personal, complex issue that affects every single one of us and one-sixth of the American economy,' Ms. Collins said in a statement, lamenting the rushed process and the content of legislation that has shifted as Republican leaders scrambled for votes. 'Sweeping reforms to our health care system and to Medicaid can't be done well in a compressed time frame, especially when the actual bill is a moving target.'"
Trump declares Puerto Rico is in 'deep trouble' in part because of problems that predated Hurricane Maria. Questions are mounting about his commitment to Puerto Rico's recovery. The Washington Post, John Wagner, Monday, 25 September 2017: "President Trump, facing mounting questions about his commitment to Puerto Rico's recovery, took to Twitter on Monday night, saying the U.S. territory is 'in deep trouble,' in part because of problems that predated Hurricane Maria. Trump said Puerto Rico was already suffering from 'broken infrastructure,' including an old electrical grid, which he said was 'devastated' by Hurricane Maria, as well as 'massive debt.' 'Food, water and medical are top priorities — and doing well,' Trump said in his series of tweets, which credited the Federal Emergency Management Agency. [He also tweeted that 'Much of the island was destroyed, with billions of dollars owed to Wall Street and the banks which, sadly, must be dealt with.'] He noted that, by contrast, Texas and Florida, hit by earlier hurricanes, 'are doing great.'… Monday night's tweets were the first from Trump about Puerto Rico since Wednesday, when the hurricane made landfall and Trump declared 'we are with you.'… Criticism of Trump has come from Democratic politicians, celebrities and others, focusing in part on the heavy attention he has put in recent days on his opposition to football players who kneel during the national anthem…. Trump's lack of public attention to Puerto Rico has been striking in part because of the major focus he put on helping Texas and Florida recover from earlier hurricanes, a factor many analysts have cited in explaining Trump's recent uptick in his job approval numbers." See also, It's not complicated: Trump is more interested in NFL protests than the storm in Puerto Rico, The Washington Post, Philip Bump, published on Tuesday, 26 September 2017: "Over the past week, his use of Twitter has been remarkable. Since last Friday, he's tweeted about anti-police violence protests at NFL games some two dozen times — far more than he's tweeted about North Korea or about health-care revision or about the special election in Alabama. It has consumed him. Four tweets on Saturday. Seven on Sunday. Eight on Monday. Four before 9 a.m. on Tuesday. The pattern of Trump's tweeting is clear: He latches on to a subject and then floods the zone (to use an apt analogy) for a few days. Now it's the NFL protests. Before that, international relations (through the lens of the U.N. General Assembly's week of meetings). Before that, the aftermath of Hurricane Harvey in Texas and Irma in Florida. For those storms, Trump's tweeting was incessant. Between Aug. 26 and Sept. 3, he tweeted about Harvey and its aftermath nearly 40 times. When Irma landed in Florida, another 30 tweets, running the gamut of preparation tips, statements of assurance about the government's role and tracking his own visits to the state…. What's gone mostly unmentioned by the president, though, is Hurricane Maria, which stripped huge swaths of the island of Puerto Rico of resources, power and vegetation. Washington Post reporters have documented the plight of the island, with people desperate for aid not finding much…. After the contrast between his eager tweets about the NFL and apathy about Puerto Rico was raised by journalists on Monday, Trump tweeted several times about the island." See also, In Battered Puerto Rico, Governor Ricardo A. Rosselló Warns of a Humanitarian Crisis, The New York Times, Frances Robles, Lizette Alvarez, and Nicholas Fandos, Monday, 25 September 2017: "Gov. Ricardo A. Rosselló of Puerto Rico said on Monday that the island was on the brink of a 'humanitarian crisis' nearly a week after Hurricane Maria knocked out its power and most of its water, and left residents waiting in excruciating lines for fuel. He called on Congress to prevent a deepening disaster. Stressing that Puerto Rico, a United States commonwealth, deserved the same treatment as hurricane-ravaged states, the governor urged Republican leaders and the federal government to move swiftly to send more money, supplies and relief workers. It was a plea echoed by Puerto Rico's allies in Congress, who are pushing for quick movement on a new relief bill and a loosening of financial debt obligations for the island, which is still reeling from a corrosive economic crisis."
North Korea Says That It Has the Right to Shoot Down U.S. Warplanes Even if They Are Not in North Korea's Airspace and That Trump's Comments Suggesting He Would Eradicate North Korea and Its Leaders Were 'A Declaration of War,' The New York Times, Rick Gladstone and David E. Sanger, Monday, 25 September 2017: "North Korea threatened on Monday to shoot down American warplanes even if they were not in the country's airspace, stating that President Trump's comments suggesting he would eradicate North Korea and its leaders were 'a declaration of war.' The warning, made by Foreign Minister Ri Yong-ho of North Korea in New York after a week of United Nations General Assembly meetings, escalated the invective-laced exchanges with Mr. Trump and appeared to further preclude the possibility of a diplomatic exit from the biggest foreign crisis the administration has faced. Administration officials denied that the United States had declared war on the isolated, nuclear-armed country of 25 million people, with Sarah Huckabee Sanders, the White House press secretary, calling such a suggestion 'absurd.'"
What protests looked like on every NFL sideline, The Washington Post, Bonnie Berkowitz, Aaron Williams, and Kelyn Soong, Monday, 25 September 2017: "Before last weekend, the number of NFL players protesting during 'The Star-Spangled Banner' was small, sometimes just one. Most were African American. The first was former San Francisco 49ers quarterback Colin Kaepernick, who began taking a knee during the anthem last season to protest recent police shootings. But then President Trump railed against the protesters, and by the time the Baltimore Ravens and Jacksonville Jaguars kicked off in London on Sunday, players and coaches of every ethnic background — and even some owners — were galvanizing to make very visible statements."
Senate Republicans Plan to Sneakily Gut Major Consumer Protection Rule, The Intercept, David Dayen and Ryan Grim, Monday, 25 September 2017: "In the middle of a consequential week for the future of American health care, Senate Republicans are hoping to sneak through a controversial nullification of a key rule from the Consumer Financial Protection Bureau. Republican leaders are whipping to secure the votes to overturn a rule CFPB finalized in July, which would protect financial companies from class-action lawsuits and deny consumers a day in court. The rule is among the most consequential actions the CFPB has taken since its founding."
Supreme Court Cancels Hearing on Previous Trump Travel Ban, The New York Times, Michael D. Shear, Ron Nixon, and Adam Liptak, Monday, 25 September 2017: "The Supreme Court on Monday abruptly canceled oral arguments on President Trump's travel ban, signaling the beginning of the end for a politically charged legal case that could have produced a blockbuster ruling on the clash between presidential power and claims of religious discrimination. A new, broader ban on travel prompted the unusual move by the justices, leaving Mr. Trump to face scrutiny on a policy that in some ways goes even further — indefinitely banning most travel to the United States from seven countries and imposing restrictions on two others. But the president's third attempt at controlling the border may finally stand up to the expected wave of new legal challenges. The new ban includes two countries that are not majority Muslim, which may insulate him from charges that his actions are based on religious discrimination. And the new ban was developed after a vigorous security review that administration officials said provided a legally unassailable rationale for the travel restrictions. The court was set to hear the challenge to Mr. Trump's travel ban in two weeks. But after the president's announcement over the weekend, the justices now appear likely to declare the case moot. That would allow Mr. Trump to avoid a definitive ruling on whether he had violated the Constitution's protection of religious freedom and exceeded his statutory authority to control the country's borders, as civil rights lawyers argued. With lower courts having ruled against him, Mr. Trump was pinning his hopes for political vindication on an ideologically divided Supreme Court. Critics say Travel Ban 3.0 is still little more than a dressed-up Muslim ban. And despite a less chaotic rollout, questions remain about how the travel ban will be put in place, who will be affected, how the countries were picked and whether it will work to prevent terrorist attacks." See also, Trump's latest travel ban: what's new, who's covered, and why now? The Guardian, Oliver Laughland, Monday, 25 September 2017.
Russian operatives used Facebook ads to exploit America's racial and religious divisions, The Washington Post, Adam Entous, Craig Timberg, and Elizabeth Dwoskin, Monday, 25 September 2017: "The batch of more than 3,000 Russian-bought ads that Facebook is preparing to turn over to Congress shows a deep understanding of social divides in American society, with some ads promoting African American rights groups, including Black Lives Matter, and others suggesting that these same groups pose a rising political threat, say people familiar with the covert influence campaign. The Russian campaign — taking advantage of Facebook's ability to send contrary messages to different groups of users based on their political and demographic characteristics — also sought to sow discord among religious groups. Other ads highlighted support for Democrat Hillary Clinton among Muslim women. These targeted messages, along with others that have surfaced in recent days, highlight the sophistication of an influence campaign slickly crafted to mimic and infiltrate U.S. political discourse while also seeking to heighten tensions between groups already wary of one another."
A New Study Shows Just How Many Americans Were Blocked From Voting in Wisconsin Last Year. Trump won the state by 22,748 votes. Mother Jones, Ari Berman, Monday, 25 September 2017: "A comprehensive study released today suggests how many missing votes can be attributed to the new [strict voter ID] law [in Wisconsin]. Researchers at the University of Wisconsin-Madison surveyed registered voters who didn't cast a 2016 ballot in the state's two biggest counties—Milwaukee and Dane, which is home to Madison. More than 1 out of 10 nonvoters (11.2 percent) said they lacked acceptable voter ID and cited the law as a reason why they didn't vote; 6.4 percent of respondents said the voter ID law was the 'main reason' they didn't vote. The study's lead author, University of Wisconsin political scientist Kenneth Mayer, says between roughly 9,000 and 23,000 registered voters in the reliably Democratic counties were deterred from voting by the ID law. Extrapolating statewide, he says the data suggests as many as 45,000 voters sat out the election, though he cautioned that it was difficult to produce an estimate from just two counties…. The study, which was funded by Dane County Clerk Scott McDonell, provides some of the firmest evidence yet that new restrictions on voting lead to voter disenfranchisement. It's a strong rebuke to supporters of voter ID laws like Wisconsin Gov. Scott Walker, who has claimed that the notion the voter ID law reduced participation is a 'load of crap.' (Wisconsin saw its lowest turnout since 2000, and there were 41,000 fewer voters in Milwaukee compared with 2012.)"
Jeff Mateer, a Trump judicial pick, said transgender children are proof that 'Satan's plan is working,' The Washington Post, Kristine Phillips, Monday, 25 September 2017: "Before Jeff Mateer became President Trump's nominee for federal judgeship in Texas, he fought a local ordinance extending equal protections to members of the LGBT community and said the separation of church and state does not exist in the Constitution. But likely his most controversial statements were made in two 2015 speeches, in which he said transgender children are proof that 'Satan's plan is working' and same-sex marriage is a harbinger for 'disgusting' practices such as polygamy and bestiality. He also appeared to advocate for gay conversion therapy, a discredited practice banned by a handful of states and condemned by human rights and medical groups. Those comments, which did not appear in media reports until CNN unearthed them last week, have outraged LGBT rights groups and drawn scrutiny to Mateer's legal career as he awaits a Senate confirmation hearing. Sen. Dianne Feinstein (D-Calif.), the top Democrat on the Senate committee that confirms judicial nominees, said Mateer's 'reprehensible' views about the LGBT community cast doubt on his ability to be fair and impartial."
Secretary of Education Betsy DeVos Says Defrauded Students Are After 'Free Money,' HuffPost, David Halperin, Monday, 25 September 2017: "Secretary of Education Betsy DeVos, who has blatantly abandoned federal protections for students and taxpayers in swiftly enacting the agenda of the predatory for-profit college industry, added insult to injury on Friday, declaring that under the rules adopted under the Obama administration, 'all one had to do was raise his or her hands to be entitled to so-called free money.' DeVos, speaking at the Mackinac Republican Leadership Conference in Michigan, was, based on the Detroit News account of the speech, referencing the Obama Department of Education's 'borrower defense' rule, which implements a long-standing federal law giving defrauded students the right to have their federal loans cancelled. DeVos has put that Obama rule on hold, along with other reforms implemented after revelations of shocking abuses by for-profit colleges ― using deceptive and coercive recruiting tactics, overcharging, underspending on instruction, lying to government oversight agencies, and defrauding taxpayers of billions of dollars. Numerous for-profit colleges have faced federal and state law enforcement probes for fraud and other abuses. Yet DeVos, pushed by paid for-profit college lobbyist and early Trump supporter Newt Gingrich, has become the industry's full-time advocate. DeVos's Friday remark is false and utterly contemptuous of the hard-working students ― veterans, single moms, and others ― who typically attend for-profit colleges. The rule required much more than that a student raise a hand; the Department had to find that a college had engaged in serious misconduct before any student had loans forgiven. Students who attended honest, quality schools wouldn't be eligible. In addition, no student would get actual money under the rule, just cancellation of debt incurred by predatory practices. Finally, even such loan cancellation would not be 'free': The former student would not get their expensive private loans, which many for-profit students are forced to take out to pay the astronomical tuition, cancelled; in most cases they would not get renewed eligibility for grants or scholarships already used; and they already would have put in countless hours studying, commuting, and attending classes, often with no useful degree to show for all their precious time."
European Diplomats Speak Out Against Trump's Opposition to the Iran Deal, The New York Times, Gardiner Harris, Monday, 25 September 2017: "After months of quietly urging the Trump administration to preserve the Iran nuclear deal, European diplomats have begun an aggressive defense of it, warning of serious consequences if the United States ignores their concerns. President Trump denounced the nuclear agreement in a speech to the United Nations last week as an 'embarrassment to the United States.' But he said later that his real goal is not to scrap the deal right away but to enlist the European allies who were also signatories of the 2015 agreement in an effort toughen its provisions. Responding to his speech, Federica Mogherini, the European Union's foreign policy chief, said there was 'no need to reopen the agreement because it's fully delivering.' And she expressed the near-disbelief among European officials that Mr. Trump might walk away from the Iran accord while trying to resolve an escalating crisis involving North Korea's nuclear and missile programs."
Tuesday, 26 September 2017, Day 250:
Senate Republicans Say They Will Not Vote on the Graham-Cassidy Health Bill, The New York Times, Thomas Kaplan and Robert Pear, Tuesday, 26 September 2017: "Senate Republicans on Tuesday officially abandoned the latest plan to repeal the Affordable Care Act, shelving a showdown vote on the measure and effectively admitting defeat in their last-gasp drive to fulfill a core promise of President Trump and Republican lawmakers. The decision came less than 24 hours after a pivotal Republican senator, Susan Collins of Maine, declared her opposition to the repeal proposal, all but ensuring that Republican leaders would be short of the votes they needed. 'We haven't given up on changing the American health care system,' Senator Mitch McConnell of Kentucky, the majority leader, said after a lunchtime meeting of Republican senators. 'We are not going to be able to do that this week, but it still lies ahead of us, and we haven't given up on that.'… Democrats, who have spent all year fighting to protect the Affordable Care Act, a law that is a pillar of President Barack Obama's legacy, responded by calling for the resumption of bipartisan negotiations to stabilize health insurance markets. Republican leaders had squelched those talks as the latest repeal plan, written by Senators Lindsey Graham of South Carolina and Bill Cassidy of Louisiana, gained steam."
Trump Rates His Hurricane Relief: 'Great.' 'Amazing.' 'Tremendous.' The New York Times, Mark Landler, Tuesday, 26 September 2017: "From the start, Mr. Trump has had trouble separating himself from the story. On his first visit to Texas after Hurricane Harvey swamped Houston, the president went to a firehouse in Corpus Christi, nearly 220 miles away, for a briefing with federal, state and local officials that stopped just short of being a pep rally. 'We'll congratulate each other when it's all finished,' he told the group. Outside, he greeted a crowd of about 1,000 who had gathered by saying, 'What a crowd! What a turnout!'… Puerto Rico, unlike Texas and Florida, is not Trump country. Senator Marco Rubio of Florida trounced him in the Republican primary there in March 2016. And Mr. Trump has been noticeably less vocal about the damage from Hurricane Maria. Over the weekend, as Puerto Ricans ran perilously low on food, water and fuel, he posted nothing about the crisis. Yet he posted 17 tweets about sports — from the dispute he single-handedly revived over the N.F.L. and the national anthem to his withdrawal of an invitation for Stephen Curry and the Golden State Warriors to visit the White House. On Tuesday, Mr. Trump denied that he had neglected Puerto Rico in favor of his feud with professional athletes. 'I've heard that before: "Was I preoccupied?"' he said. "Not at all, not at all. I have plenty of time on my hands. All I do is work."' See also, Nearly Half of Americans Don't Know Puerto Ricans Are Fellow Citizens, The New York Times, Kyle Dropp and Brendan Nyhan, Tuesday, 26 September 2017. See also, Puerto Rico was largely ignored by the media in the wake of Hurricane Maria devastation, CNN, Hadas Gold, Tuesday, 26 September 2017.
The Trump administration says there is no need to waive shipping restrictions to help get fuel and supplies to storm-ravaged Puerto Rico, Reuters, Timothy Gardner, Tuesday, 26 September 2017: "The Trump administration on Tuesday said there was no need to waive shipping restrictions to help get fuel and supplies to storm-ravaged Puerto Rico, because it would do nothing to address the island's main impediment to shipping, damaged ports. The Jones Act limits shipping between coasts to U.S. flagged vessels. However, in the wake of brutal storms, the government has occasionally issued temporary waivers to allow the use of cheaper, tax free or more readily available foreign-flagged ships. The Department of Homeland Security, which waived the act after hurricanes Harvey and Irma, did not agree an exemption would help this time…. Puerto Rico has long railed against the Jones Act, saying it makes the cost of imported basic commodities, such as food, clothing and fuel, more expensive. After Homeland's assessment, Senator John McCain, a Republican and a long time opponent of the Jones Act, sent a letter to [Elaine] Duke [acting head of Homeland Security] asking why the administration opposes a waiver. He asked the department to detail the costs of shipping goods from Florida to Puerto Rico versus the costs of shipping from Florida to the Virgin Islands, which has a permanent Jones Act exemption. 'It is unacceptable to force the people of Puerto Rico to pay at least twice as much for food, clean drinking water, supplies and infrastructure due to Jones Act requirements as they work to recover from this disaster,' McCain said in the letter, a copy of which was seen by Reuters."
Donald Trump threatened to commit genocide in his address to the United Nations General Assembly on 19 September 2017. His rhetoric against North Korea covers acts that are against international law. The Washington Post, Ben Kiernan and David Simon, Tuesday, 26 September 2017: "President Trump's address to the United Nations General Assembly last week was noted for its aggressiveness, bellicosity and emphasis on U.S. sovereignty over multilateralism. Whatever one thinks of that approach, that wasn't the most notable aspect. The speech made an open and outright threat to commit genocide: 'The United States has great strength and patience, but if it is forced to defend itself or its allies, we will have no choice but to totally destroy North Korea.' Had Trump threatened to 'totally destroy' that country's nuclear weapons capacity, its army, its government, or its physical infrastructure, the implications under international law would be different, but carrying out his threat 'to totally destroy North Korea' would necessarily sow mass death among its population of over 25 million, in direct contravention of the 1948 United Nations Convention on the Prevention and Punishment of the Crime of Genocide. The Convention defines genocide as acts that are undertaken with the intent to destroy, 'in whole or in part,' a "national, ethnical, racial or religious group, as such." While simply threatening to commit genocide is not a clear violation of the Convention, conspiracy and public incitement to do so are. If Trump were to act on his threat, he will have signaled his criminal intent in advance."
Trump Plans 45,000 Limit on Refugees Admitted to the U.S., Setting a Historically Low Limit, The New York Times, Julie Hirschfeld Davis and Miriam Jordan, Tuesday, 26 September 2017: "President Trump plans to cap refugee admissions at 45,000 over the next year, according to current and former government officials briefed on the decision, setting a historically low limit on the number of people who can resettle in the United States after fleeing persecution in their own countries. The limit, first reported by The Wall Street Journal, is the lowest any White House has sought since 1980, the year legislation was enacted giving the president a role in determining a cap on refugees; the ceiling has never slipped lower than 67,000, the number Ronald Reagan set in 1986. Administration officials plan to inform senior lawmakers of the decision on Wednesday, according to the officials, who insisted on anonymity because they were not authorized to pre-empt a formal announcement. Mr. Trump's decision follows a fierce internal debate among senior members of his administration. Military and foreign policy officials pressed for resettling more refugees as a national security and moral imperative, while other top officials, led by Stephen Miller, his top policy adviser, and backed by John F. Kelly, his chief of staff and former secretary of homeland security, advocated slashing the number to as low as 15,000 based on concerns about cost and safety."
Bills to Protect Special Counsel Robert Mueller Are Bipartisan, but the Path Forward Is Uncertain, The New York Times, Nicholas Fandos, Tuesday, 26 September 2017: "A majority of the Senate Judiciary Committee appeared on Tuesday to back legislation that would provide an added layer of job protection for Robert S. Mueller III, the special counsel investigating Russian interference in last year's election. But after hours of conflicting testimony from a panel of constitutional scholars, the path forward for the two bipartisan special counsel bills under consideration was unclear. Lawmakers sponsoring the bills said that they were open to combining the measures, but they were uncertain if their legislation would end up on the Senate floor. The measures were hastily introduced in August, after comments by President Trump fueled speculation that he might try to fire Mr. Mueller for straying into unwanted territory, such as Mr. Trump's past business practices. Such speculation has since subsided, leaving at least some Republicans on the panel more circumspect about their efforts."
Exclusive: IRS shares information with special counsel Robert Mueller in the Russia probe into Russia's meddling in the 2016 presidential election, CNN, Manu Raju, Pamela Brown, and Evan Perez, Tuesday, 26 September 2017: "The IRS is now sharing information with special counsel Robert Mueller about key Trump campaign officials, after the two entities clashed this summer over both the scope of the investigation into Russia's meddling in the 2016 election and a raid on former Trump campaign chairman Paul Manafort's home, people briefed on the matter tell CNN. Part of the concern centered on the far-reaching and broad requests from Mueller's team. In the case of Manafort, Mueller's investigators are reaching back 11 years as they investigate possible tax and financial crimes, according to search warrant documents. Mueller is bound by a written order issued by Deputy Attorney General Rod Rosenstein in May which allows the special counsel to investigate 'any matters that arose or may arise directly from the investigation.' After several months of being at odds, one source said, the IRS Criminal Investigation division is now sharing information about campaign associates, including Manafort and former White House national security adviser Michael Flynn. The sharing happened after the two camps reached an agreement following consultation with officials at the Treasury Department."
Roy Moore Wins Senate Republican Runoff in Alabama, The New York Times, Jonathan Martin and Alexander Burns, Tuesday, 26 September 2017: "Roy S. Moore, a firebrand former chief justice of the Alabama Supreme Court, overcame efforts by top Republicans to rescue his rival, Senator Luther Strange, soundly defeating him on Tuesday in a special primary runoff. The outcome in the closely watched Senate race dealt a humbling blow to President Trump and other party leaders days after the president pleaded with voters in the state to back Mr. Strange. Propelled by the stalwart support of his fellow evangelical Christians, Mr. Moore survived an advertising onslaught of more than $10 million financed by allies of Senator Mitch McConnell, the majority leader. His victory demonstrated in stark terms the limits of Mr. Trump's clout. Taking the stage after a solo rendition of 'How Great Thou Art,' an exultant Mr. Moore said he had 'never prayed to win this campaign,' only putting his political fate 'in the hands of the Almighty.'… Mr. Moore, 70, has proved himself to be a political survivor. He has been effectively removed from the State Supreme Court twice — the first in 2003, over his refusal to remove a statue of the Ten Commandments in the courthouse; the second last year, when he urged the state's probate judges to defy federal orders regarding same-sex marriage."
Georgetown Law students and faculty protest speech by Attorney General Jeff Sessions, The Washington Post, Debbie Truong, Sarah Larimer, and Susan Svrluga, Tuesday, 26 September 2017: "Dozens of Georgetown University students gathered Tuesday on the steps of McDonough Hall to protest an address from Attorney General Jeff Sessions that lambasted schools for infringing on students' free-speech rights. The students were joined by faculty members who initially took a knee and later linked arms. They took turns speaking into a bullhorn, decrying Sessions, the process the university used to bring him to campus and posing questions they would have asked the attorney general had they been allowed into the event. 'We, the disinvited, find it extraordinarily hypocritical that AG Sessions would lecture future attorneys about free speech on campus while excluding the wider student body,' third-year law student Ambur Smith said into the bullhorn. Some of the roughly 100 protesters who gathered outside at Georgetown's law school wore duct tape over their mouths. They held signs that proclaimed, 'DEPORT HATE,' 'FREE SPEECH IS NOT HATE SPEECH,' and 'Sessions is afraid of questions.'… 'A Statement from Members of the Georgetown University Law Center Regarding Attorney General Jeff Sessions' 9/26 Visit: On Tuesday, September 26, U.S. Attorney General Sessions will give remarks at Georgetown University Law Center, at the invitation of the Georgetown Center for the Constitution, which is led by our colleague Professor Randy Barrett. Attorney General Sessions' topic has been announced as "Free speech on college campuses." We acknowledge our colleague's right to invite Attorney General Sessions to speak on campus. However, we, the undersigned, condemn the hypocrisy of Attorney General Sessions speaking about free speech. Attorney General Sessions is a key cabinet member in an administration headed by a President who spent last weekend denouncing athletes engaged in free expression and calling for them to be fired. President Trump calls African-American professional football players kneeling in quiet protest "sons of bitches" and [he calls] angry, armed white supremacists "very fine people." Attorney General Sessions' own office is currently prosecuting Desiree Faiooz for unlawful conduct; her alleged crime is laughing for a few seconds during Sessions' Senate confirmation hearings last January and they loudly protesting her unlawful arrest. In August, the Justice Department issued a warrant to a web hosting company named DreamHost to obtain the identifying and contact information of subscribers organizing an online protest of the Trump inauguration. These are just three examples of governmental action antithetical to freedom of speech and association for which Attorney General Sessions is either closely affiliated or directly responsible. This kind of government chilling of speech is precisely what the First Amendment to the United States Constitution is meant to prevent. A man who fails to recognize paradigmatic violations of the First Amendment is a poor choice to speak about free speech on campuses. Attorney General Sessions' positions with respect to other civil rights are just as troubling. He has made clear that his Department of Justice will not pursue federal investigations into police shootings of unarmed black men–the very shootings that athletes are silently protesting. Instead, he dismantled the DOJ agency (Countering Violent Extremism) designed to investigate domestic extremists, like the one in Charlottesville who killed a woman and wounded many others, replacing it with an agency that investigates Islamic Extremists (the agency is now called Countering Islamic Extremism). As a prosecutor, he brought a misguided prosecution of black voting rights activists and continues to this day to perpetrate the myth of voter fraud. He is also the chief architect of the dismantling of the Deferred Action for Childhood Arrivals (DACA). Again, whatever our other objections to Attorney General Sessions' views and positions, we fully acknowledge our colleague's right to invite Attorney General Sessions to speak at Georgetown University Law Center. But we will not be fooled. Adhering to the First Amendment requires more than rhetoric. It requires adherence through action, applied equally and equitably, by the head of the Department of Justice.' [Signed by 30 members of the Georgetown law community at the time of the publication of this article.]"
The Greatest Threats to Free Speech in the US Come From the State, Not From Activists on College Campuses: A Nation of Snowflakes, The Atlantic, Adam Serwer, Tuesday, 26 September 2017: "…[T]he greatest contemporary threat to free speech comes not from antifa radicals or campus leftists, but from a president prepared to use the power and authority of government to chill or suppress controversial speech, and the political movement that put him in office, and now applauds and extends his efforts."
Dismayed by Trump, the Head of the Drug Enforcement Administration, Chuck Rosenberg, Is to Leave, The New York Times, Michael S. Schmidt, Tuesday, 26 September 2017: "The acting head of the Drug Enforcement Administration will resign at the end of the week, according to law enforcement officials, who said he had become convinced that President Trump had little respect for the law. The official, Chuck Rosenberg, who twice served as chief of staff to the former F.B.I. director James B. Comey and remains a close confidant, had grown disillusioned with Mr. Trump. The president fired Mr. Comey in May, and then in July told law enforcement officers 'please don't be too nice' when handling crime suspects. Mr. Rosenberg forcefully rejected Mr. Trump's comment, sending an email to all D.E.A. employees at the time to tell them that they should not mistreat suspects."
Bob Corker, Republican senator from Tennessee, announces his retirement, The Washington Post, Paul Kane and Karoun Demirjian, Tuesday, 26 September 2017: "Sen. Bob Corker (R-Tenn.) announced Tuesday that he will not seek reelection next year, another blow to the Republican establishment on the same day the latest GOP effort to revamp the Affordable Care Act failed. Corker and other Republican leaders in Congress have come under fire from President Trump and his supporters for not delivering in the early days of the administration. Once considered an ally of Trump's national security team, Corker traded insults with the president during the August break amid chatter that staunch conservatives would mount a primary challenge to the Senate Foreign Relations Committee chairman. Corker's retirement will touch off what is likely to be a highly contested, ideologically driven primary. It also creates a vacuum among Senate Republicans for leaders on national security issues. For now, Corker isn't planning on getting involved in either contest."
Interior Secretary Ryan Zinke says a third of Interior employees are not loyal to Trump, and he promises 'huge' changes, Associated Press, Matthew Dayl, Tuesday, 26 September 2017: "Interior Secretary Ryan Zinke said Monday that nearly one-third of employees at his department are not loyal to him and President Donald Trump, adding that he is working to change the department's regulatory culture to be more business friendly. Zinke, a former Navy SEAL, said he knew when he took over the 70,000-employee department in March that, 'I got 30 percent of the crew that's not loyal to the flag.'… Zinke said he is pursuing a major reorganization that would push much of the agency's decision-making outside Washington and move several agencies, including the Bureau of Reclamation and Bureau of Land Management, to undetermined Western states…. Besides moving employees, Zinke said he wants to speed up permits for oil drilling, logging and other energy development that now can take years…. On other topics, Zinke said the Endangered Species Act has been 'abused' by bureaucrats and environmental groups and needs to be reformed to be less 'arbitrary.' Zinke also offered a quirky defense of hydraulic fracturing, a drilling technique also known as fracking that has led to a years-long energy boom in the U.S., with sharply increased production of oil and natural gas. 'Fracking is proof that God's got a good sense of humor and he loves us,' Zinke said without explanation." See also, Interior Secretary Ryan Zinke says his workers are disloyal. They say his personnel moves break the law. The Washington Post, Darryl Fears, Wednesday, 27 September 2017: "As Interior Secretary Ryan Zinke blasted many within his department for being disloyal to the Trump administration's agenda this week, the agency's inspector general's office continued a probe into whether officials acted inappropriately when they abruptly reassigned dozens of senior workers. Deputy Inspector General Mary Kendall is working 'to determine if the U.S. Department of the Interior followed appropriate guidelines and best practices in the reassignment of Senior Executive Service employees,' according to spokeswoman Gillian Carroll. The reassigned workers include Joel Clement, a scientist and policy expert who was removed from his job as director of policy analysis and reassigned to a revenue accounting position for which he has no experience. Clement became a whistleblower when he publicly complained about his switch from his longtime role, in which he assessed climate impact on Alaska Native communities."
Late-night hosts mock Trump's NFL feud: 'How can one person be on the wrong side of everything?' The Washington Post, Emily Yahr, Tuesday, 26 September 2017: "President Trump's feud with the NFL may have started three days ago, but TV's late-night comedians still had plenty of thoughts on it Monday night. Sample comment from Seth Meyers: 'North Korea said today that since President Trump has declared war on the country, it has the right to shoot down United States strategic bombers even when they are not inside their airspace border. "Oh, no you don't," said Trump — to a black athlete kneeling.' [This article looks at] some aspects of the NFL controversy covered by Meyers, Trevor Noah, Stephen Colbert, Jimmy Fallon, Jimmy Kimmel, Conan O'Brien and James Corden."
Wednesday, 27 September 2017, Day 251:
Trump Tax Plan Benefits the Wealthy, Including Trump, The New York Times, Binyamin Appelbaum, Wednesday, 27 September 2017: "The tax plan that the Trump administration outlined on Wednesday is a potentially huge windfall for the wealthiest Americans. It would not directly benefit the bottom third of the population. As for the middle class, the benefits appear to be modest. The administration and its congressional allies are proposing to sharply reduce taxation of business income, primarily benefiting the small share of the population that owns the vast majority of corporate equity. President Trump said on Wednesday that the cuts would increase investment and spur growth, creating broader prosperity. But experts say the upside is limited, not least because the economy is already expanding. The plan would also benefit Mr. Trump and other affluent Americans by eliminating the estate tax, which affects just a few thousand uber-wealthy families each year, and the alternative minimum tax, a safety net designed to prevent tax avoidance." See also, Republicans propose deep tax cuts but provide few details on how to pay for them, The Washington Post, Damian Paletta, Mike DeBonis, and Carolyn Y. Johnson, Wednesday, 27 September 2017. See also, In Trump Tax Plan, a Windfall for Businesses Large and Small, The New York Times, David Gelles, published on Thursday, 28 September 2017: "A lower tax rate for corporations. Reduced taxes for partnerships like law firms. An easy way to bring overseas profits back to the United States without being taxed. Corporate America had a long wish list when it came to tax reform, and on Wednesday, President Trump gave companies just about everything they wanted. 'This is much more than I think anyone could have hoped for,' said Robert Willens, an independent corporate tax expert. 'I've never seen something like this. Taken together, this is the most dramatic and beneficial group of corporate tax reform suggestions we've ever had.' The list of those who stand to benefit from the proposed tax plan, which Mr. Trump promoted on Wednesday during a speech in Indianapolis, is long. Individual earners, small businesses, law firms, hedge funds, manufacturers and multinational corporations could all see dramatic tax cuts. There is no certainty that the main points in the White House plan will become law. Congress must now turn the nine-page proposal into a passable piece of legislation. But business leaders were nonetheless quick to applaud the broad outlines of the proposal, claiming that tax cuts would spur new investment and grow the economy."
Puerto Rican Debt Holders Respond to Catastrophic Hurricane by Offering Puerto Rico More Debt, The Intercept, David Dayen, Wednesday, 27 September 2017: "Puerto Rico, facing absolute devastation after Hurricane Maria barreled through last week, desperately needs immediate funding to restore critical infrastructure, particularly its hobbled electric grid. The entire island — home to over 3.5 million American citizens, roughly equivalent to the state of Connecticut — lost power, and satellite imagery shows how little electricity has come back. This affects not only electricity and telecommunications service but access to clean water, as many pumping stations run on the same grid. A group of bondholders, who own a portion of Puerto Rico's massive $72 billion debt, has proposed what they are calling relief — but in the form of a loan. So they're offering a territory mired in debt the chance to take on more debt. The announcement came after The Intercept spent two days reaching out to 51 of Puerto Rico's known creditors, asking them if they would support a moratorium or cancellation of debt payments for the island, given the humanitarian crisis. Prior to this announcement, only three of the 51 creditors had so much as donated relief funds to charity or offered sympathy for island residents, all of them banks who actually have to face consumers, and so are a bit more adept at handling public relations. No creditor had supported debt relief. Of the 51 creditors contacted by The Intercept, only Citibank, Goldman Sachs, and Scotiabank have pledged no-strings-attached money for Puerto Rico and other Caribbean islands, in the form of donations to relief organizations totaling $1.25 million. Citi has also waived certain fees for citizens within disaster zones."
The Distance Between Donald Trump and Puerto Rico, The New Yorker, Amy Davidson Sorkin, Wednesday, 27 September 2017: "How far away is Puerto Rico, from President Donald Trump's perspective? 'This is an island sitting in the middle of an ocean. And it's a big ocean, it's a very big ocean,' he said, on Tuesday morning, before a meeting with House members. Puerto Rico is, indeed, an island, but it is also an American island, inhabited by three and a half million United States citizens who are in immediate danger, owing to the havoc wrought by Hurricane Maria. The storm made landfall on the commonwealth more than a week ago as a Category 4 hurricane and swept it from end to end, destroying fields of crops and ripping the façades off of apartment buildings. Relief workers have still not been able to reach some towns in the interior. Trump announced that he would visit Puerto Rico and the U.S. Virgin Islands, which were also hard hit, next Tuesday, which he said was the soonest practical date. Meanwhile, the majority of people in Puerto Rico remain without clean water, the electricity grid is inoperable, cell towers are down, roads are impassable, food is rotting, and many of the elderly and the sick have been left without care. All of this is happening in America, rather than some place distant from this country. But instead of emphasizing that closeness, or a sense of mutual obligation, Trump has, so far, focussed on how different Puerto Rico is, and what its people owe him, which is, above all, their gratitude." See also, Puerto Rico is still a victim of colonial neglect, The Washington Post, Ishaan Tharoor, Wednesday, 27 September 2017.
Roy Moore, Who Won a Republican Primary Run-Off for an Alabama Senate Seat, in His Own Words, The New York Times, Jonah Engel Bromwich, Wednesday, 27 September 2017: "Roy S. Moore, who won a special Republican primary runoff for an Alabama Senate seat on Tuesday, is a staunch evangelical Christian, and his often-inflammatory political beliefs are informed by his strongly held religious views. He has condemned homosexuality and used offensive language when talking about race, recently referring to Native Americans and Asian-Americans as 'reds and yellows.' His insistence on the primacy of religion over American law has twice led him to be taken off the Alabama Supreme Court: once in 2003, for refusing to remove a statue of the Ten Commandments from the courthouse, and again in 2016, when he asked state probate judges to disregard a federal ruling on same-sex marriage. [This article covers] some of the ways that Mr. Moore has described his own views in the past." See also, Roy Moore and the Republican Reckoning, The New Yorker, Benjamin Wallace-Wells, Wednesday, 27 September 2017: "On Tuesday, Roy Moore arrived at his polling place, in Gallant, Alabama, wearing a cowboy hat and riding a horse named Sundance. Polls were showing him with a comfortable lead in the Republican primary for Jeff Sessions's old seat in the U.S. Senate. The horse seemed a good sign that Moore was feeling confident. Tuesday night, after the results had come in and his opponent, Luther Strange, had conceded, Moore appeared onstage in Montgomery and pledged to 'return the knowledge of God' to Congress. In Ted Cruz, of Texas, and Rand Paul, of Kentucky, the Republican caucus in the Senate already has a full allotment of preening extremists, but, relatively speaking, those senators are just the chips. Moore—who once argued that Congress should refuse to seat the Democratic Representative Keith Ellison because he is Muslim, who once suggested that 9/11 might have been punishment for America turning away from God, and who was twice forcibly removed as the chief justice of Alabama's Supreme Court for breaking the law—is the old block." See also, Alabama Republicans Bet on Roy Moore, a Familiar Rebel, for Senate, The New York Times, Alan Blinder, Wednesday, 27 September 2017: "Mr. Moore, who twice ran unsuccessfully for governor, is far from universally beloved in this state. For many people in Alabama, he remains part novelty, part demagogue and part embarrassment, his reputation marred not by bribes or sex scandals but by his brand of stubborn populism. More than once, Mr. Moore has found himself rebuffing comparisons to George C. Wallace, the governor who said in 1963 that he wanted 'segregation now, segregation tomorrow and segregation forever.'… Mr. Moore's fame stems almost entirely from years of pitched legal battles over Ten Commandments displays on public property and over the authority of the federal courts to recognize same-sex marriages. Cast aside, even by some in his own party, as a bigot and a hatemonger, Mr. Moore has turned high-decibel clashes with his critics — he blamed 'atheists, homosexuals and transgender individuals' for one conflagration — into opportunities." See also, Trump Deletes Tweets Supporting Luther Strange, The New York Times, Russell Goldman, Wednesday, 27 September 2017: "After enthusiastically endorsing an Alabama senator's campaign for re-election, President Trump distanced himself on Tuesday night from the candidate's loss in the most Trumpian way possible: He deleted his supportive tweets. Hours after Senator Luther Strange, a Republican from Alabama, lost in Tuesday's primary runoff, Mr. Trump excised at least three favorable Twitter posts, including one sent Tuesday morning. In that tweet, posted as the polls in Alabama opened, the president boasted that Mr. Strange 'has been shooting up in the Alabama polls since my endorsement.' Mr. Strange, who was appointed to the Senate early this year after Jeff Sessions vacated his seat to become attorney general under Mr. Trump, conceded on Tuesday night to Roy S. Moore, a former Alabama Supreme Court justice whose candidacy was opposed by leading establishment Republicans."
The FBI is investigating 1,000 white supremacist, domestic terrorism cases, The Washington Post, Devlin Barrett, Wednesday, 27 September 2017: "The FBI is conducting about 1,000 investigations of suspected white supremacists or other types of domestic terrorists who might be planning violence, top federal officials told Senate lawmakers Wednesday. Christopher A. Wray, in his first congressional testimony as FBI director, confirmed that his office has about 1,000 inquiries that people generally categorize as 'domestic terrorism' — a catchall term often used to describe those motivated to commit violence in furtherance of racist causes. Sen. Ron Johnson (R-Wis.), chairman of the Senate Homeland Security and Governmental Affairs Committee, prompted Wray to confirm the number. FBI officials have previously said they had about 1,000 ongoing investigations in the United States of suspects who may be inspired by the Islamic State terrorist group to commit violence. Wednesday's hearing was the first public indication that the FBI is dealing with a similar number of domestic terrorism cases."
The Trump Administration Is Pulling Out of Obamacare Enrollment Events, BuzzFeed News, Kate Nocera and Paul McLeod, Wednesday, 27 September 2017: "Regional representatives from the Department of Health and Human Services will not be participating in open enrollment events in the states as they have in years past, according to an administration source and an email sent to health advocates in Mississippi obtained by BuzzFeed News. The source, who had direct knowledge of the change, told BuzzFeed News that all of the department's 10 regional directors were told to not to participate in state-based events promoting open enrollment — a significant change from years past. The move follows a trend by the Trump administration of stepping away from past federal assistance for Obamacare and, particularly, of dialing back resources for the upcoming open enrollment period."
Baltimore's 'Kushnerville' Tenants File Class Action Suit Against  the Property Management Arm of Jared Kushner's Real-Estate Company, ProPublica, Alec Mac Gillis, Wednesday, 27 September 2017: "Tenants of the Baltimore-area apartment complexes owned by Jared Kushner's real-estate company have brought a class-action lawsuit against the firm's property management arm over its aggressive pursuit of tenants for allegedly unpaid rent. The lawsuit, filed Wednesday in Circuit Court for Baltimore City, alleges that the management company and related corporate entities have been improperly inflating payments owed by tenants by charging them late fees that are often unfounded and court fees that are not actually approved by any court. This, the lawsuit charges, sets in motion a vicious cycle in which tenants' rent payments are partly assessed toward the fees instead of the actual rent owed, thus deeming the tenant once again 'late' on his or her rent payment, leading to yet more late fees and court fees. Making matters worse, the 5 percent late fees are frequently assessed on principal that includes allegedly unpaid fees, not just the rent itself. Tenants are pressured to pay the snowballing bills with immediate threat of eviction, the suit alleges."
Environmental Protection Agency Threatens to Stop Funding Justice Department Environmental Work, The New York Times, Charlie Savage, Wednesday, 27 September 2017: "Scott Pruitt, the Environmental Protection Agency administrator who has aggressively pushed to dismantle regulations and downsize the organization, is threatening to reach outside his agency and undermine the Justice Department's work enforcing antipollution laws, documents and interviews show. Under Mr. Pruitt, the E.P.A. has quietly said it may cut off a major funding source for the Justice Department's Environment and Natural Resources Division. Its lawyers handle litigation on behalf of the E.P.A.'s Superfund program seeking to force polluters to pay for cleaning up sites they left contaminated with hazardous waste. The E.P.A. reimburses the Justice Department for that work, paying more than $20 million annually in recent years, or enough for 115 full-time employees, budget documents show. But Mr. Pruitt has signaled that he wants to end those payments, potentially carving a major hole in the division's budget, in a little-noticed line in the E.P.A.'s budget proposal in the spring. No decision will be made until Congress passes an E.P.A. budget for the fiscal year that begins in October, officials at both agencies said, although the payments were created by the executive branch, not Congress, so Mr. Pruitt may be able to act on his own. Congress hopes to pass a spending plan before a stopgap measure expires in mid-December."
'Imagine Being Surrounded by People Who Hate You and Want to See You Dead,' BuzzFeed News, Mike Hayes, Albert Samaha, and Talal Ansari, Wednesday, 27 September 2017: "White supremacist propaganda and other racist messages flooded college and university campuses in the months following the election of Donald Trump. In the first comprehensive review of hate speech at higher education institutions since the 2016 election, BuzzFeed News has confirmed 154 total incidents at more than 120 campuses across the country. More than a third of the incidents cited Trump's name or slogans; more than two-thirds promoted white supremacist groups or ideology. The spree of hate speech, the majority of which came in the form of graffiti or flyers, reflected an emboldening of young people who subscribe to racist beliefs that no longer seem so taboo during the first year of the Trump presidency — and an extension of the racist bullying that occurred among even younger students in elementary, middle, and high schools. As college students began the fall semester, many found themselves at the frontline of the battle over free speech at institutions that pride themselves on fostering open dialogue and debate."
215 Million People in the U.S. Watched the Solar Eclipse, Study Finds, Many More Than Voted Last Year, The New York Times, Jonah Engel Bromwich, Wednesday, 27 September 2017: "The solar eclipse on Aug. 21 brought the United States together in greater numbers than most any national event in recent memory, according to a study released Tuesday by the University of Michigan. It estimated that 88 percent of American adults — about 215 million people — watched the solar eclipse, either in person or electronically. That's nearly twice the number of people that watched the Super Bowl last year. It's almost 30 percent more Americans than participated in the presidential election last year."
Trump accuses Facebook of being 'anti-Trump,' Politico, Nolan D. McCaskill, Wednesday, 27 September 2017: "President Donald Trump accused Facebook on Wednesday of being 'anti-Trump,' hinting without evidence that the social media giant colluded with 'Fake News' organizations such as The New York Times and Washington Post. 'Facebook was always anti-Trump,' Trump alleged in a tweet. 'The Networks were always anti-Trump hence,Fake News, @nytimes(apologized) & @WaPo were anti-Trump. Collusion?' Facebook has been under scrutiny with critics alleging that Russia-linked advertisements on the social media site attempted to boost Trump's candidacy, particularly by attacking his general election rival Hillary Clinton. Facebook has said it will give congressional investigators details of the Russian-purchased ads, a decision that comes as special counsel Robert Mueller and congressional panels probe the Kremlin's role in last year's presidential election. Trump last week framed the news as a continuation of what he maintains is a 'hoax.'"
Twitter, With Accounts Linked to Russia, to Face Congress Over Role in 2016 Presidential Election, The New York Times, Daisuke Wakabayashi and Scott Shane, Wednesday, 27 September 2017: "After a weekend when Americans took to social media to debate President Trump's admonishment of N.F.L. players who do not stand for the national anthem, a network of Twitter accounts suspected of links to Russia seized on both sides of the issue with hashtags such as #boycottnfl, #standforouranthem and #takeaknee. As Twitter prepared to brief staff members of the Senate and House intelligence committees on Thursday for their investigation of Russian interference in the 2016 election, researchers from a public policy group have been following hundreds of accounts to track the continuing Russian operations to influence social media discourse and foment division in the United States. For three weeks, a harsh spotlight has been trained on Facebook over its disclosure that Russians used fake pages and ads, designed to look like the work of American activists, to spread inflammatory messages during and since the presidential campaign. But there is evidence that Twitter may have been used even more extensively than Facebook in the Russian influence campaign last year. In addition to Russia-linked Twitter accounts that posed as Americans, the platform was also used for large-scale automated messaging, using 'bot' accounts to spread false stories and promote news articles about emails from Democratic operatives that had been obtained by Russian hackers."
U. S. Climate Change Policy: Made in California. A peculiar confluence of history, legal precedent, and defiance has set the stage for a regulatory mutiny in California that would reverberate throughout the country. The New York Times, Hiroko Tabuchi, Wednesday, 27 September 2017: "The Trump administration may appear to control climate policy in Washington, but the nation's most dynamic environmental regulator is here in California. Mary D. Nichols, California's electric-car-driving, hoodie-wearing, 72-year-old air quality regulator, is pressing ahead with a far-reaching agenda of environmental and climate actions. She says she will not let the Trump administration stand in her way. As chairwoman of the California Air Resources Board, or CARB, Ms. Nichols is the de facto enforcer of the single biggest step the United States has taken to combat the effects of climate change: standards adopted under the Obama administration that mandate a deep cut in emissions from the 190 million passenger cars on America's roads. Together, those vehicles regularly emit more earth-warming gases than the country's power plants. At the request of the major automakers, the Environmental Protection Agency officially opened a review of those standards last month. The move was seen as the prelude to a loosening of those targets, which require manufacturers to nearly double the average fuel economy of new cars and light trucks by 2025. But a peculiar confluence of history, legal precedent and regulatory defiance has given California unique authority to write its own air pollution rules. And because 12 other states now follow California's standards, the state finds itself in an extraordinary position to stage a regulatory mutiny of sorts — with much of the country's car market in tow."
Thursday, 28 September 2017, Day 252:
U.S. response in Puerto Rico pales next to actions after Haiti quake in January 2010, The Washington Post, Aaron C. Davis, Dan Lamothe, and Ed O'Keefe, Thursday, 28 September 2017: "After an earthquake shattered Haiti's capital on Jan. 12, 2010, the U.S. military mobilized as if it were going to war. Before dawn the next morning, an Army unit was airborne, on its way to seize control of the main airport in Port-au-Prince. Within two days, the Pentagon had 8,000 American troops en route. Within two weeks, 33 U.S. military ships and 22,000 troops had arrived. More than 300 military helicopters buzzed overhead, delivering millions of pounds of food and water. No two disasters are alike. Each delivers customized violence that cannot be fully anticipated. But as criticism of the federal government's initial response to the crisis in Puerto Rico continued to mount Thursday, the mission to Haiti — an island nation several hundred miles from the U.S. mainland — stands as an example of how quickly relief efforts can be mobilized. By contrast, eight days after Hurricane Maria ripped across neighboring Puerto Rico, just 4,400 service members were participating in federal operations to assist the devastated island, an Army general told reporters Thursday. In addition, about 1,000 Coast Guard members were aiding the efforts. About 40 U.S. military helicopters were helping to deliver food and water to the 3.4 million residents of the U.S. territory, along with 10 Coast Guard helicopters. Leaders of the humanitarian mission in Haiti said in interviews that they were dismayed by the relative lack of urgency and military muscle in the initial federal response to Puerto Rico's catastrophe." See also, The Media Really Has Neglected Puerto Rico, FiveThirtyEight, Dhrumil Mehta, Thursday, 28 September 2017: "While Puerto Rico suffers after Hurricane Maria, much of the U.S. media (FiveThirtyEight not excepted) has been occupied with other things: a health care bill that failed to pass, a primary election in Alabama, and a spat between the president and sports players, just to name a few. Last Sunday alone, after President Trump's tweets about the NFL, the phrase "national anthem" was said in more sentences on TV news than 'Puerto Rico' and 'Hurricane Maria' combined. Those other stories are worth covering, of course. But compared to the other natural disasters of the past few weeks, Hurricane Maria has been relatively ignored. Data from Media Cloud, a database that collects news published on the internet every day, shows that the devastation in Puerto Rico is getting comparatively little attention. TV news coverage reveals a similar trend. Data we collected from the TV News Archive shows that people on TV news shows spoke significantly fewer sentences about Hurricane Maria than about Hurricanes Harvey and Irma. The spike in conversation about Puerto Rico right as the hurricane hit was also much smaller than the spike in mentions of Texas and Florida on television as each of those states was hit by a hurricane." See also, Puerto Rico Rejects Loan Offers, Accusing Hedge Funds of Trying to Profit Off Hurricanes, The Intercept, David Dayen, Thursday, 28 September 2017: "Puerto Rico has rejected a bondholder group's offer to issue the territory additional debt as a response to the devastation of Hurricane Maria. Officials with Puerto Rico's Fiscal Agency and Financial Advisory Authority said the offer was "not viable" and would harm the island's ability to recover from the storm. The PREPA (Puerto Rico Electric Power Authority) Bondholder Group made the offer on Wednesday, which included $1 billion in new loans, and a swap of $1 billion in existing bonds for another $850 million bond. These new bonds would have jumped to the front of the line for repayment, and between that increased value and interest payments after the first two years, the bondholders would have likely come out ahead on the deal, despite a nominal $150 million in debt relief. Indeed, the offer was worse in terms of debt relief than one the bondholder group made in April, well before hurricanes destroyed much of the island's critical infrastructure. Puerto Rico's Fiscal Agency and Financial Advisory Authority suggested that profit motive rather than altruism was the bondholder group's real goal. 'Such offers only distract from the government's stated focus and create the unfortunate appearance that such offers are being made for the purpose of favorably impacting the trading price of existing debt,' the agency said in a statement."
Trump Administration Waives the Jones Act for Puerto Rico for 10 Days, Easing Hurricane Aid Shipments, The New York Times, Niraj Chokshi, Thursday, 28 September 2017: "The Trump administration said on Thursday that it would temporarily waive a century-old shipping law for Puerto Rico that officials there said was hindering disaster relief efforts after Hurricane Maria. The waiver of the law, known as the Jones Act, comes as federal and local officials report more supplies trickling onto the increasingly desperate island. But the Trump administration remains under pressure to step up the recovery effort.… The decision was made by Elaine Duke, the acting head of Homeland Security, and comes after Defense Secretary Jim Mattis determined that doing so would be in the interest of national defense, according to a Homeland Security spokesman. The waiver will be in effect for 10 days." See also, Trump waives shipping restrictions for Puerto Rico for 10 days for hurricane relief, The Washington Post, Anne Gearan, Thursday, 28 September 2017.
Trump Could Save More Than $1 Billion Under His New Tax Plan, The New York Times, Jesse Drucker and Nadja Popovich, Thursday, 28 September 2017: "President Trump could cut his tax bills by more than $1.1 billion, including saving tens of millions of dollars in a single year, under his proposed tax changes, a New York Times analysis has found. On Wednesday, the White House announced a sweeping plan to cut a variety of taxes that would overwhelmingly benefit the wealthy. The estimate of Mr. Trump's savings is based in part on information from his 2005 federal tax return. The analysis compares what his tax burden would be under current law with what it would be under the proposal. Mr. Trump's 2005 return is the most recent available publicly and was released in March by David Cay Johnston on the website DCReport.org. The Times's figure also relies on an estimate of Mr. Trump's net worth, calculated by the Bloomberg Billionaire's Index to be $2.86 billion. 'I don't benefit. I don't benefit,' Mr. Trump said on Wednesday. 'In fact, very, very strongly, as you see, I think there's very little benefit for people of wealth.' In fact, high-income earners like Mr. Trump are likely to benefit disproportionately if the White House proposal becomes law. The estimates, calculated with the help of Robert Willens, an accounting expert, and Stephen Breitstone, a tax lawyer, provide a view into precisely how." See also, How Trump's Tax Plan Would Benefit Trump, The New Yorker, John Cassidy, Thursday, 28 September 2017: "Donald Trump [continually] spouts falsehoods. Sometimes he merely shades the truth outrageously. Other times he tells full-on whoppers. And that's what he did in Indiana on Wednesday, when he said that the new Republican tax-reform plan 'is not good for me.' Trump hasn't released his tax returns, of course, so it's difficult to estimate precisely how much money he will save if his tax plan goes through. But since last summer, when Trump's Presidential campaign released an initial version of his vision for tax reform, tax experts and journalists have been pointing to aspects of it that could benefit him greatly. Among others, the Washington Post's Jim Tankersley, NPR's Jim Zarroli, and Slate's Jordan Weissmann have investigated different ways that Trump stands to benefit. I'll briefly try to explain each of the reform proposals that these reporters have previously looked at, and also mention one additional way that the tax plan could end up being a boon to the President's businesses." See also, How Republicans Ditched Tax Reform for Tax Cuts, The New Yorker, Ryan Lizza, Thursday, 28 September 2017.
Gary Cohn, Trump's Chief Economic Adviser and Former Goldman Sachs President Worth an Estimated $266 Million, Says Americans Can 'Buy a New Car' With $1,000 Tax Cut, HuffPost, Chris D'Angelo, Thursday, 28 September 2017: "President Donald Trump's chief economic adviser — Gary Cohn, the former Goldman Sachs president worth an estimated $266 million — appears to be completely clueless about what the average American family spends on a car, vacation or home improvement project. Hours after falsely claiming that 'the wealthy are not getting a tax cut' under Trump's tax reform plan, Cohn appeared at a White House press briefing and spoke to what middle-class Americans have to look forward to. Based on the administration's assumptions, he said, a typical family that has two children and earns $100,000 per year can expect annual tax savings of approximately $1,000. 'If we allow a family to keep another thousand dollars of their income, what does that mean?' he asked. 'They can renovate their kitchen. They can buy a new car. They can take a family vacation. They can increase their lifestyle.' The rather tone-deaf comment came in response to a question about how Trump — who could see savings of more than $125 million per year under his own plan — can claim the proposal doesn't benefit him personally."
Trump says NFL owners are 'afraid of their players' and calls it 'disgraceful,' The Washington Post, John Wagner, Thursday, 28 September 2017: "President Trump said in an interview broadcast Thursday that NFL owners are 'afraid of their players,' his latest provocative comments in a crusade against those who take a knee during the national anthem. Trump urged the football league to adopt and enforce a rule that requires players to stand during the anthem. He said he has talked in recent days to several team owners, who he said are 'in a box' on the issue. 'I think they're afraid of their players, if you want to know the truth, and I think it's disgraceful,' Trump said in an interview broadcast on 'Fox & Friends' on Fox News. 'They've got to be tough, and they've got to be smart.'"
Exclusive: Jared Kushner didn't disclose his personal email account to the Senate intelligence committee, CNN, Jake Tapper, Thursday, 28 September 2017: "In his closed interview with the staff of the Senate intelligence committee, White House senior adviser and presidential son-in-law Jared Kushner did not share the existence of his personal email account, which he has used for official business, CNN has learned. CNN has also learned that the chair and vice chair of the committee were so unhappy that they learned about the existence of his personal email account via news reports that they wrote him a letter via his attorney Thursday instructing him to double-check that he has turned over every relevant document to the committee including those from his '"personal email account" described to the news media, as well as all other email accounts, messaging apps, or similar communications channels you may have used, or that may contain information relevant to our inquiry.'"
Health and Human Services Secretary Tom Price took military jets to Europe and Asia at a cost of more than $500,000 to taxpayers. The overseas trips bring the total cost to taxpayers of Price's travels to more than $1 million since May. Politico, Rachana Pradhan and Dan Diamond, Thursday, 28 September 2017: "The White House approved the use of military aircraft for multi-national trips by Health and Human Services Secretary Tom Price to Africa and Europe this spring, and to Asia in the summer, at a cost of more than $500,000 to taxpayers. The overseas trips bring the total cost to taxpayers of Price's travels to more than $1 million since May, according to a POLITICO review. Price pledged on Thursday to reimburse the government for the cost of his own seat on his domestic trips using private aircraft — reportedly around $52,000 — but that would not include the cost of the military flights. Price's wife, Betty, accompanied him on the military flights, while other members of the secretary's delegation flew commercially to Europe."
Health and Human Services Secretary Tom Price apologizes for his use of private-charter flights and pledges to repay taxpayers nearly $52,000, a fraction of the costs of his flights on charter planes in recent months, The Washington Post, Juliet Eilperin, Thursday, 28 September 2017: "Health and Human Services Secretary Tom Price said Thursday that he would reimburse the government for a fraction of the costs of his flights on charter planes in recent months, after coming under sharp criticism from members of both parties for the expensive practice….House and Senate investigators are pressing Price, as well as other Cabinet members, to disclose the extent to which they have relied on noncommercial transportation to travel across the United States and overseas. The recent revelations about these costly trips on military and private aircraft, at a time when the same officials have proposed dramatic cuts in the agencies they oversee, have put the administration on the defensive. Price has come under the most intense scrutiny — President Trump chastised him publicly Wednesday and suggested his job was no longer secure — but lawmakers are also demanding probes of travel by Environmental Protection Agency Administrator Scott Pruitt and Treasury Secretary Steven Mnuchin. Pruitt has taken at least four noncommercial and military flights since mid-February, according to congressional oversight records, costing taxpayers more than $58,000, while Mnuchin is under investigation by the Treasury inspector general for his use of a government plane to visit Kentucky as well as one for a trip from New York City to Washington. A private plane chartered this summer by Interior Secretary Ryan Zinke, for a flight from Las Vegas to near his home in Montana, cost taxpayers $12,375, according to a department spokesman. Zinke also used private flights during a trip to the Virgin Islands."
Trump administration to consider refugee 'assimilation and contribution' to the US in addition to their need for protection, CNN, Tal Kopan, Thursday, 28 September 2017: "The Trump administration will consider refugees' ability to assimilate and contribute to the US in addition to their need for protection, according to a report to Congress explaining the decision to admit the fewest refugees in a decade. While the report does not say assimilation will be a primary factor, that it is a consideration at all is a major policy change from previous years, when the basis of the program was on the need of refugees for protection. In the report, which was required by law to be transmitted to congressional judiciary committees and was obtained by CNN, the administration says it will work with the United Nations' refugee agency "to ensure that, in addition to referrals of refugees with compelling protection needs, referrals may also take into account certain criteria that enhance a refugee's likelihood of successful assimilation and contribution to the United States." The State Department did not immediately respond to a request for comment on the shift. The Wall Street Journal reported Wednesday night on the policy change."
Hundreds of immigrants are arrested in sanctuary cities across the US, The Guardian, Sam Levin, Thursday, 28 September 2017: "The Trump administration's immigration enforcement division arrested hundreds of people in raids across 'sanctuary' cities in recent days, in an operation directly targeting communities that are resisting the president's aggressive deportation agenda. Immigration and Customs Enforcement (Ice) announced on Thursday that it had arrested 498 people in a four-day operation and that it was dedicating more resources to the liberal jurisdictions that limit police cooperation with federal agents. The raids, which hit major cities including Los Angeles, San Francisco, Seattle, Denver, New York and Philadelphia, sparked harsh criticisms from human rights campaigners who said the arrests were cruel and vindictive and would only hurt public safety by disrupting families and instilling fear in communities."
U.S. to Collect Social Media Data on All Immigrants Entering the Country, The New York Times, Ron Nixon, Thursday, 28 September 2017: "The Department of Homeland Security will soon begin collecting social media data from all immigrants entering the United States, part of what agency officials call an effort to more effectively screen those coming to the country but privacy advocates see as an unnecessary intrusion that would do little to protect national security. The department will begin collecting the information on Oct. 18, the same day the Trump administration's new travel ban on citizens of seven countries and restrictions on those from two others are set to take effect. Green card holders and naturalized citizens will also have their social media information collected, with the data becoming part of their immigration file. It was unclear whether the monitoring would take place only in the application process or could continue afterward. The department published the new requirement in the Federal Register last week, saying it would collect 'social media handles, aliases, associated identifiable information and search results,' which would be included in an applicant's immigration file. It said the data would come from 'publicly available information obtained from the internet, public records, public institutions, interviewees, commercial data providers.' The data collection has alarmed privacy groups and lawyers, who expressed concerns about how the department would use the information. Advocates say they also worry that the monitoring could suck in information on American citizens who communicate over social media with immigrants. 'This would undoubtedly have a chilling effect on the free speech that's expressed every day on social media,' Faiz Shakir, the national political director for the American Civil Liberties Union, said in a statement. 'This collect-it-all approach is ineffective to protect national security and is one more example of the Trump administration's anti-immigrant agenda.'"
Twitter finds hundreds of accounts tied to Russian operatives, The Washington Post, Elizabeth Dwoskin, Adam Entous, and Karoun Demirjian, Thursday, 28 September 2017: "Twitter said Thursday that it had shut down 201 accounts that were tied to the same Russian operatives who posted thousands of political ads on Facebook, but the effort frustrated lawmakers who said the problem is far broader than the company appeared to know. The company said it also found three accounts from the news site RT — which Twitter linked to the Kremlin — that spent $274,100 in ads on its platform in 2016. Despite the disclosures, Sen. Mark R. Warner (D-Va.) questioned whether the company is doing enough to stop Russian operatives from using its platform to spread disinformation and division in U.S. society. Warner said Twitter's presentation to a closed-door meeting of Senate Intelligence Committee staffers Thursday morning was 'deeply disappointing' and 'inadequate on almost every level.' Twitter also made a presentation to House Intelligence Committee staffers in the afternoon. The company 'showed an enormous lack of understanding . . . about how serious this issue is, the threat it poses to democratic institutions,' a visibly frustrated Warner said." See also, Senator Mark Warner, Democrat of Virginia, Berates Twitter Over 'Inadequate' Inquiry Into Russian Meddling in the 2016 Presidential Election, The New York Times, Nicholas Fandos and Scott Shane, Thursday, 28 September 2017.
Exclusive: Fake black activist accounts linked to the Russian government, CNN, Donie O'Sullivan and Dylan Byers, Thursday, 28 September 2017: "A social media campaign calling itself 'Blacktivist' and linked to the Russian government used both Facebook and Twitter in an apparent attempt to amplify racial tensions during the U.S. presidential election, two sources with knowledge of the matter told CNN. The Twitter account has been handed over to Congress; the Facebook account is expected to be handed over in the coming days. Both Blacktivist accounts, each of which used the handle Blacktivists, regularly shared content intended to stoke outrage. 'Black people should wake up as soon as possible,' one post on the Twitter account read. 'Black families are divided and destroyed by mass incarceration and death of black men,' another read. The accounts also posted videos of police violence against African Americans. The Blacktivist accounts provide further evidence that Russian-linked social media accounts saw racial tensions as something to be exploited in order to achieve the broader Russian goal of dividing Americans and creating chaos in U.S. politics during a campaign in which race repeatedly became an issue."
Vice President Mike Pence sent his outside lawyer, Richard Cullen, to meet with special counsel Robert Mueller over the summer, Politico, Matthew Nussbaum, Thursday, 28 September 2017: "Vice President Mike Pence's outside lawyer met privately with special counsel Robert Mueller at Pence's request last summer, according to a person familiar with the meeting. The meeting, which has not been previously reported, was held at Pence's request to express his willingness to cooperate with Mueller's investigation, the person said. Pence retained Richard Cullen, chairman of McGuireWoods and a former U.S. attorney, in June to represent him in the Russia probe. The meeting with Mueller took place soon after Cullen accepted the job."