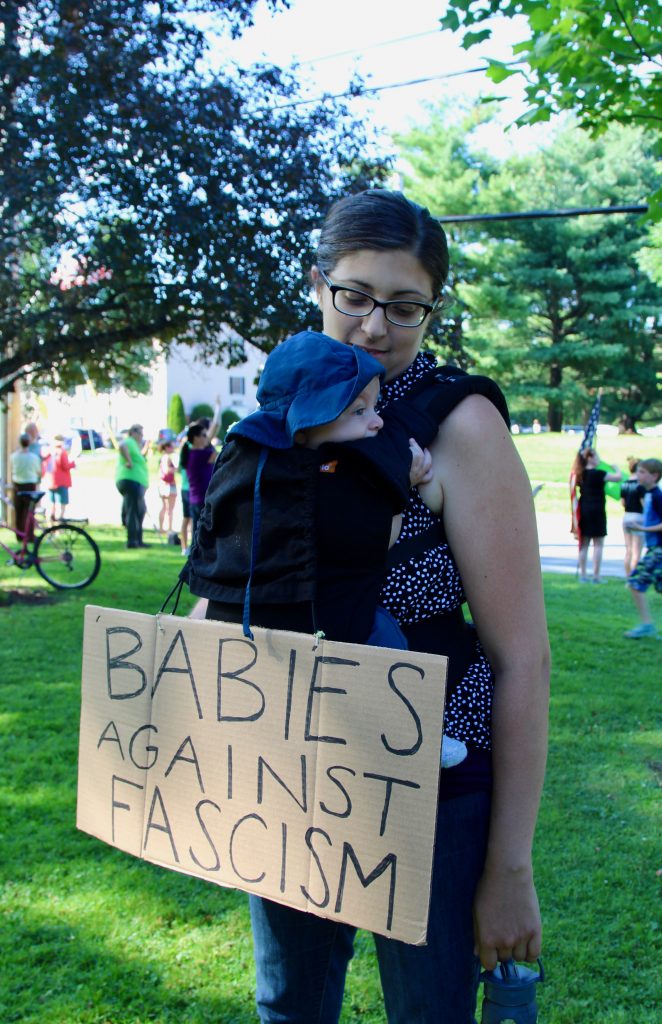 Keeping Track (of some things), Staying Outraged (it is possible), and Resisting (it's essential)
Passages in bold in the body of the texts below are my emphasis. This is an ongoing project, and I update the site frequently. I hope readers will peruse the articles in full for a better understanding of the issues and their context; our democracy and our future depend on citizens who can distinguish between facts and falsehoods and who are engaged in the political process.
Friday, 15 September 2017, Day 239:
Trump's Tweets About London Bombing Anger British Leaders, The New York Times, Mark Landler and Maggie Haberman, Friday, 15 September 2017: "President Trump seized on a terrorist attack in London on Friday to promote his ban on travel to the United States by Muslims and, in the process, ran afoul of Britain by claiming without evidence that the assailants had been 'in the sights' of the British police. In a fusillade of early morning tweets, Mr. Trump cited the chaotic scene in a London Underground station as Exhibit A for his hard-line policies. His ban on visitors from predominantly Muslim countries, he wrote, should be 'far larger, tougher and more specific' — a statement that seemed calculated to mollify his political base after a week in which Mr. Trump suddenly began playing dealmaker with Democrats on immigration. But Mr. Trump's assertion that the assailants had been known to Scotland Yard angered Prime Minister Theresa May, who said it was not helpful for anyone to speculate while an investigation was underway. Mr. Trump was later briefed about the attack and called Mrs. May with condolences, according to a senior official, though he did not apologize. It was the latest episode in which Mr. Trump was at odds with Britain over sensitive security issues. In June, he criticized London's mayor, Sadiq Khan, over his response to another terrorist attack, misconstruing Mr. Khan's words. In March, the White House press secretary at the time, Sean Spicer, repeated allegations that a British intelligence agency had wiretapped Trump Tower, which British authorities dismissed as 'utterly ridiculous.' Trump's assertions were also a sign that for all the talk about a more disciplined White House under the new chief of staff, John F. Kelly — who has urged the president to have tweets vetted by his aides — Mr. Trump was still determined not to censor himself on social media and was fully capable of roiling the diplomatic waters with a single unguarded post."
Trump Declines to Release List of His Visitors at Mar-a-Lago Despite a Federal Court Order, The New York Times, Eric Lipton, Wednesday, 15 September 2017: "The Trump administration on Friday escalated a battle with government ethics groups by declining, even in the face of a federal court order, to release the identities of individuals visiting with President Trump at his family's Mar-a-Lago resort during the days he has spent at the private club in Palm Beach, Fla., this year. The surprising move by the Department of Justice, which had been ordered in July by a federal court to complete its review of Mar-a-Lago visitor records, came after weeks of promotion by Citizens for Responsibility and Ethics in Washington, the liberal nonprofit group known as CREW, that it would soon be getting the Mar-a-Lago visitors logs. Instead, on Friday the Justice Department released a State Department list of just 22 names — all of them members of the delegation of the Japanese prime minister — who visited the club in February for a meeting with President Trump. The dispute centers on what kind of records related to private individuals visiting the president should be open to public inspection. The refusal to disclose the full list of presidential visitors' names also brings renewed scrutiny to the president's private business empire and raises questions about why the administration would want to withhold information that could reveal possible conflicts of interest. CREW and its partners in the effort — the National Security Archive and the Knight First Amendment Institute at Columbia University — sued in April to get access to presidential visitor logs for Mar-a-Lago, the White House and Trump Tower in New York. CREW requested only a list of people explicitly visiting the president, not, for example, all Mar-a-Lago members or other guests who happened to be there on those days." See also, Watchdog groups sought presidential visitor logs for Mar-a-Lago. They finally got a response–22 names –all from the delegation of Japanese officials and assistants who accompanied Prime Minister Shinzo Abe on a February trip, The Washington Post, David A. Fahrenthold, Friday, 15 September 2017.
The Trump administration is working toward renewed drilling in the Arctic National Wildlife Refuge, The Washington Post, Juliet Eilperin, Friday, 15 September 2017: "The Trump administration is quietly moving to allow energy exploration in the Arctic National Wildlife Refuge for the first time in more than 30 years, according to documents obtained by The Washington Post, with a draft rule that would lay the groundwork for drilling. Congress has sole authority to determine whether oil and gas drilling can take place within the refuge's 19.6 million acres. But seismic studies represent a necessary first step, and Interior Department officials are modifying a 1980s regulation to permit them. The effort represents a twist in a political fight that has raged for decades. The remote and vast habitat, which serves as the main calving ground for one of North America's last large caribou herds and a stop for migrating birds from six continents, has served as a rallying cry for environmentalists and some of Alaska's native tribes. But state politicians and many Republicans in Washington have pressed to extract the billions of barrels of oil lying beneath the refuge's coastal plain." See also, Trump Administration Moves to Open Arctic Refuge to Drilling Studies, The New York Times, Lisa Friedman, published on Saturday, 16 September 2017: "An internal Interior Department memo has proposed lifting restrictions on exploratory seismic studies in the Arctic National Wildlife Refuge, a possible first step toward opening the pristine wilderness area to oil and gas drilling. The document proposes ending a restriction that had limited exploratory drilling to the period from Oct. 1, 1984, to May 31, 1986. It also directs the agency to provide an environmental assessment and a proposed rule allowing for new exploration plans. The document, a copy of which was obtained by The New York Times, was first reported by The Washington Post."
Continue reading Week 35, Friday, 15 September – Thursday, 21 September 2017:
C.I.A. Wants Authority to Conduct Drone Strikes in Afghanistan for the  First Time, The New York Times, Eric Schmitt and Matthew Rosenberg, Friday, 15 September 2017: "The C.I.A. is pushing for expanded powers to carry out covert drone strikes in Afghanistan and other active war zones, a proposal that the White House appears to favor despite the misgivings of some at the Pentagon, according to current and former intelligence and military officials. If approved by President Trump, it would mark the first time the C.I.A. has had such powers in Afghanistan, expanding beyond its existing authority to carry out covert strikes against Al Qaeda and other terrorist targets across the border in Pakistan. The changes are being weighed as part of a broader push inside the Trump White House to loosen Obama-era restraints on how the C.I.A. and the military fight Islamist militants around the world. The Obama administration imposed the restrictions in part to limit civilian casualties, and the proposed shift has raised concerns among critics that the Trump administration would open the way for broader C.I.A. strikes in such countries as Libya, Somalia and Yemen, where the United States is fighting the Islamic State, Al Qaeda or both. Until now, the Pentagon has had the lead role for conducting airstrikes — with drones or other aircraft — against militants in Afghanistan and other conflict zones, such as Somalia and Libya and, to some extent, Yemen. The military publicly acknowledges its strikes, unlike the C.I.A., which for roughly a decade has carried out its own campaign of covert drone strikes in Pakistan that were not acknowledged by either country, a condition that Pakistan's government has long insisted on. But the C.I.A.'s director, Mike Pompeo, has made a forceful case to Mr. Trump in recent weeks that the Obama-era arrangement needlessly limited the United States' ability to conduct counterterrorism operations, according to the current and former officials, who would not be named discussing internal debates about sensitive information. He has publicly suggested that Mr. Trump favors granting the C.I.A. greater authorities to go after militants, though he has been vague about specifics, nearly all of which are classified."
A federal judge rules the Justice Department can't withhold grant money from uncooperative sanctuary cities, The Washington Post, Matt Zapotosky, Friday, 15 September 2017: "A federal judge on Friday blocked the Justice Department from withholding grant funds from places that do not provide immigration authorities access to local jails or give advance notice when suspected illegal immigrants are to be released — dealing a major blow to the Trump administration's vowed crackdown on sanctuary cities. U.S. District Judge Harry D. Leinenweber in Illinois wrote in a 41-page opinion that Attorney General Jeff Sessions had probably exceeded his lawful authority when he imposed new conditions on particular law enforcement grants, requiring recipients to give immigration authorities access to jails and notice when suspected illegal immigrants are to be released. The judge blocked Sessions from implementing the conditions not just on the city of Chicago — which had sued over the matter — but also across the nation, writing that there was 'no reason to think that the legal issues present in this case are restricted to Chicago or that the statutory authority given to the Attorney General would differ in another jurisdiction.' His ruling follows an order from another federal judge in California blocking President Trump's executive order on sanctuary cities."
With Cost-Cutting Zeal, Secretary of State Rex Tillerson Whittles U.N. Delegation, Too, The New York Times, Gardiner Harris , Friday, 15 September 2017: "Long called the Super Bowl of diplomacy, the opening session of the United Nations General Assembly attracts diplomats from 193 nations and dozens of heads of state. And every September, hundreds of State Department specialists in regional politics or subjects such as nuclear nonproliferation use the gathering to meet their counterparts from other nations without having to trek to the far corners of the world. Not this year. Under orders from Secretary of State Rex W. Tillerson, the department's overall diplomatic delegation to the meetings that start Tuesday is expected to include about 140 officials, down from twice that number last year. Two weeks ago, the number was hovering around 80. But fierce internal complaints and questions from The New York Times led officials to make dozens of last-minute additions. Even so, the reduced delegation means that scores of meetings traditionally held by American officials will not occur."
Justice Department Ends Program scrutinizing local police forces, The Washington Post, Devlin Barrett, Friday, 15 September 2017: "An arm of the Justice Department said Friday it would roll back Obama-era efforts to investigate local police departments and issue public reports about their failings — another way in which the Trump administration is trying to adopt a tough pro-police stance. The changes were announced by the department's Office of Community Oriented Policing Services, or COPS, which is halting a years-long effort begun in the previous administration to investigate and publicize the shortcomings of police departments. Within the Justice Department, the civil rights division has for decades conducted 'pattern or practice' probes of troubled police departments to determine whether there are systemic problems that require a court-appointed monitor to correct. In recent years, however, the COPS office had gradually expanded to do something similar, issuing public reports about problems it found in individual departments. On Friday, the Justice Department signaled that it will leave such work to the civil rights division and that the COPS office would return to its roots — advising police departments on best practices, offering training and becoming more collaborative…. Vanita Gupta, the former head of the Justice Department's civil rights division who now works as president of the Leadership Conference on Civil and Human Rights, said the decision is 'another indication of the full retreat from police reform by Jeff Sessions.'"
Experts Say the Use of Private Email by Trump's Voter Fraud Commission Isn't Legal, ProPublica, Jussica Huseman, Friday, 15 September 2017: "President Donald Trump's voter fraud commission came under fire earlier this month when a lawsuit and media reports revealed that the commissioners were using private emails to conduct public business. Commission co-chair Kris Kobach confirmed this week that most of them continue to do so. Experts say the commission's email practices do not appear to comport with federal law. 'The statute here is clear,' said Jason R. Baron, a lawyer at Drinker Biddle and former director of litigation at the National Archives and Records Administration."
The four big Russia-Trump stories that flew under the radar this week, The Washington Post, Amber Phillips, Friday, 15 September 2017: "1. Lobbyists can help Trump staffers pay legal fees for the Russia investigation…. 2. Russia investigators are looking into Michael Flynn's son…. 3. Susan Rice told Congress she unmasked Trump advisers…. 4. Trump blew up at his attorney general over Russia."
Senator Charles E. Grassley, the Republican Chairman of the Judiciary Committee, Is Considering Using Subpoenas to Compel Some to Testify Before His Committee, The New York Times, Nicholas Fandos, Friday, 15 September 2017: "Senator Charles E. Grassley, facing what he sees as Justice Department stonewalling, is considering subpoenas to compel several witnesses to appear before the Senate Judiciary Committee and divulge what they know about President Trump's connections to Russia and his firing of James B. Comey as F.B.I. director. Mr. Grassley and the committee's top Democrat, Senator Dianne Feinstein of California, have agreed that the witnesses are key to the committee's investigation and could compel them to appear despite apparent objections by the Justice Department and the special counsel, Robert S. Mueller III…. The witnesses include two top F.B.I. officials who worked alongside Mr. Comey, James Rybicki and Carl Ghattas, as well as Paul Manafort, Mr. Trump's former campaign chairman. Committee rules require Ms. Feinstein to sign off on subpoenas, and she has not made her position clear. But she has expressed her frustration with the delays…. The Justice Department said this week it would not let the two F.B.I. officials voluntarily testify before the committee in deference to Mr. Mueller's work. And lawyers for Mr. Manafort, who has come under intense scrutiny by Mr. Mueller's team, had apparently stopped returning the committee's calls — even after reaching a deal to testify earlier in the summer."
Saturday, 16 September 2017, Day 240:
In message of defiance to Trump, lawmakers vote to make California a sanctuary state, The Washington Post, Kristine Phillips, Saturday, 16 September 2017: "In what appeared to be an act of defiance against President Trump and to the dismay of many in law enforcement, California lawmakers took a significant step toward making the state a so-called 'sanctuary state.' The California Senate on Saturday passed Senate Bill 54, controversial legislation that would protect undocumented immigrants from possible deportation by prohibiting local law enforcement agencies, including school police and security departments, from cooperating with federal immigration officials. It also forbids law enforcement from inquiring about a person's immigration status. The California Values Act provides an expansive protection to the state's undocumented population, estimated to be about 2.7 million, at a time when the Trump administration continues to aggressively crackdown on those who are in the country illegally and on so-called sanctuary cities — communities that limit local law enforcement's cooperation with immigration agents. The strictly party-line vote sends the bill to California Gov. Jerry Brown (D), who is expected to sign it in to law."
Sunday, 17 September 2017, Day 241:
Trump Lawyers Clash Over How Much to Cooperate With Russia Inquiry, The New York Times, Peter Baker and Kenneth P. Vogel, Sunday, 17 September 2017: "President Trump's legal team is wrestling with how much to cooperate with the special counsel looking into Russian election interference, an internal debate that led to an angry confrontation last week between two White House lawyers and that could shape the course of the investigation. At the heart of the clash is an issue that has challenged multiple presidents during high-stakes Washington investigations: how to handle the demands of investigators without surrendering the institutional prerogatives of the office of the presidency. Similar conflicts during the Watergate and Monica S. Lewinsky scandals resulted in court rulings that limited a president's right to confidentiality. The debate in Mr. Trump's West Wing has pitted Donald F. McGahn II, the White House counsel, against Ty Cobb, a lawyer brought in to manage the response to the investigation. Mr. Cobb has argued for turning over as many of the emails and documents requested by the special counsel as possible in hopes of quickly ending the investigation — or at least its focus on Mr. Trump. Mr. McGahn supports cooperation, but has expressed worry about setting a precedent that would weaken the White House long after Mr. Trump's tenure is over. He is described as particularly concerned about whether the president will invoke executive or attorney-client privilege to limit how forthcoming Mr. McGahn could be if he himself is interviewed by the special counsel as requested. The friction escalated in recent days after Mr. Cobb was overheard by a reporter for The New York Times discussing the dispute during a lunchtime conversation at a popular Washington steakhouse. Mr. Cobb was heard talking about a White House lawyer he deemed 'a McGahn spy' and saying Mr. McGahn had 'a couple documents locked in a safe' that he seemed to suggest he wanted access to. He also mentioned a colleague whom he blamed for 'some of these earlier leaks,' and who he said 'tried to push Jared out,' meaning Jared Kushner, the president's son-in-law and senior adviser, who has been a previous source of dispute for the legal team."
National security adviser H.R. McMaster denies that the U.S. is reconsidering the Paris climate deal, The Washington Post, Anne Gearan, Sunday, 17 September 2017: "National security adviser H.R. McMaster denied Sunday that President Trump is reconsidering his decision to pull out of the Paris climate change accord but said the door remains open to a better agreement down the road. 'That's a false report,' McMaster said of published reports over the weekend that the administration might not pull out of the deal after all and might seek new terms instead. 'The president decided to pull out of the Paris accord because it's a bad deal for the American people and it's a bad deal for the environment,' he said on 'Fox News Sunday.' The Wall Street Journal and Agence France-Presse had cited a top European climate official as saying that the United States was seeking ways to remain a party to the deal. The White House denied those reports in a statement Saturday, and McMaster underscored the U.S. position Sunday."
Shrink at least 4 national monuments and modify a half-dozen others, Interior Secretary Ryan Zinke tells Trump, The Washington Post, Juliet Eilperin, Sunday, 17 September 2017: "Interior Secretary Ryan Zinke has recommended that President Trump modify 10 national monuments created by his immediate predecessors, including shrinking the boundaries of at least four western sites, according to a copy of the report obtained by The Washington Post. The memorandum, which the White House has refused to release since Zinke submitted it late last month, does not specify exact reductions for the four protected areas Zinke would have Trump narrow — Utah's Bears Ears and Grand Staircase-Escalante, Nevada's Gold Butte, and Oregon's Cascade-Siskiyou — or the two marine national monuments — the Pacific Remote Islands and Rose Atoll — for which he raised the same prospect. The two Utah sites encompass a total of more than 3.2 million acres, part of the reason they have aroused such intense emotions since their designation. The secretary's set of recommendations also would change the way all 10 targeted monuments are managed. It emphasizes the need to adjust the proclamations to address concerns of local officials or affected industries, saying the administration should permit 'traditional uses' now restricted within the monuments' boundaries, such as grazing, logging, coal mining and commercial fishing. If enacted, the changes could test the legal boundaries of what powers a president holds under the 1906 Antiquities Act. Although Congress can alter national monuments easily through legislation, presidents have reduced their boundaries only on rare occasions."
U.S. is considering closing its embassy in Cuba, The Washington Post, Carol Morello, Sunday, 17 September 2017: "Secretary of State Rex Tillerson said Sunday that the United States is considering closing the U.S. Embassy in Havana in response to mysterious hearing problems that have left at least 21 employees with serious health issues. 'We have it under evaluation,' Tillerson said on CBS's 'Face the Nation' when asked about calls by some senators to shutter the diplomatic mission. 'It's a very serious issue, with respect to the harm that certain individuals have suffered, and we've brought some of those people home. It's under review.' Closing the embassy would be a serious setback to relations between the United States and Cuba, two Cold War adversaries whose enmity stretched more than half a century before they restored diplomatic relations and upgraded their missions into embassies in 2015. But at least 21 Americans who worked in the U.S. Embassy in Cuba have reported medical problems since late last year, when percussive attacks on their residences began. The incidents apparently continued into 2017. Two Cuban diplomats have been expelled from the embassy in Washington in response."
Trump shares GIF of himself striking Hillary Clinton in the back with a golf ball, The Washington Post, Amy B. Wang, Sunday, 17 September 2017: "President Trump retweeted a meme on Sunday morning that showed him hitting Hillary Clinton in the back with a golf ball, prompting another round of outrage from critics who felt the president's tweets had once again crossed the line. The animated GIF spliced together a clip of Trump swinging a golf club with footage of Clinton falling, apparently edited to appear as though a golf ball had struck her down. The image was originally posted as a reply to the president by a Twitter user named @Fuctupmind, whose bio consists of pro-Trump, anti-Clinton hashtags. 'Donald Trump's amazing golf swing #CrookedHillary,' the user wrote in the caption. The retweet immediately drew hundreds of Trump's critics and supporters into a familiar vortex of debate, with many criticizing the GIF for seeming to encourage violence and others defending the president."
Trump's 'election integrity' group is waging war on the right to vote, The Guardian, Sunday, 17 September 2017: "The Trump presidency is opening up a new battlefront in the intense and controversial war over American voting rights. After a decade of wrangling between Democrats who have sought to expand voting opportunities and Republicans who have invoked the specter of voter fraud to restrict them, the focus is now on purging registration lists – even at the risk of kicking large numbers of eligible voters off the rolls. Both Trump's justice department and his newly formed Presidential Commission on Election Integrity are involved in broad data collection and new policy proposals to 'clean up' the voter rolls in ways that critics fear will have a disproportionate impact on blacks, Latinos and newly naturalized citizens. The justice department (DoJ) has also begun issuing legal opinions to support states that have passed restrictive new voting rules, even when they appear to contradict existing federal law. Voting rights activists say these efforts are kicking voter suppression into a higher gear at a time when federal courts are ruling that a flurry of strict new voter ID laws in several Republican-run states discriminate against minority voters and college students."
The Rare, Potent Fuel Powering North Korea's Weapons, The New York Times, William J. Broad and David E. Sanger, Sunday, 17 September 2017: "When North Korea launched long-range missiles this summer, and again on Friday, demonstrating its ability to strike Guam and perhaps the United States mainland, it powered the weapons with a rare, potent rocket fuel that American intelligence agencies believe initially came from China and Russia. The United States government is scrambling to determine whether those two countries are still providing the ingredients for the highly volatile fuel and, if so, whether North Korea's supply can be interrupted, either through sanctions or sabotage. Among those who study the issue, there is a growing belief that the United States should focus on the fuel, either to halt it, if possible, or to take advantage of its volatile properties to slow the North's program. But it may well be too late. Intelligence officials believe that the North's program has advanced to the point where it is no longer as reliant on outside suppliers, and that it may itself be making the potent fuel, known as UDMH. Despite a long record of intelligence warnings that the North was acquiring both forceful missile engines and the fuel to power them, there is no evidence that Washington has ever moved with urgency to cut off Pyongyang's access to the rare propellant. Classified memos from both the George W. Bush and Obama administrations laid out, with what turned out to be prescient clarity, how the North's pursuit of the highly potent fuel would enable it to develop missiles that could strike almost anywhere in the continental United States. In response to inquiries from The New York Times, Timothy Barrett, a spokesman for the director of national intelligence, said that 'based on North Korea's demonstrated science and technological capabilities — coupled with the priority Pyongyang places on missile programs — North Korea probably is capable of producing UDMH domestically.' UDMH is short for unsymmetrical dimethyl hydrazine."
Monday, 18 September 2017, Day 242:
With a Picked Lock and a Threatened Indictment of Paul Manafort, Special Counsel Robert Mueller's Inquiry Sets a Tone, The New York Times, Sharon LaFraniere, Matt Apuzzo, and Adam Goldman, Monday, 18 September 2017: "Paul J. Manafort was in bed early one morning in July when federal agents bearing a search warrant picked the lock on his front door and raided his Virginia home. They took binders stuffed with documents and copied his computer files, looking for evidence that Mr. Manafort, President Trump's former campaign chairman, set up secret offshore bank accounts. They even photographed the expensive suits in his closet. The special counsel, Robert S. Mueller III, then followed the house search with a warning: His prosecutors told Mr. Manafort they planned to indict him, said two people close to the investigation. The moves against Mr. Manafort are just a glimpse of the aggressive tactics used by Mr. Mueller and his team of prosecutors in the four months since taking over the Justice Department's investigation into Russia's attempts to disrupt last year's election, according to lawyers, witnesses and American officials who have described the approach. Dispensing with the plodding pace typical of many white-collar investigations, Mr. Mueller's team has used what some describe as shock-and-awe tactics to intimidate witnesses and potential targets of the inquiry. Mr. Mueller has obtained a flurry of subpoenas to compel witnesses to testify before a grand jury, lawyers and witnesses say, sometimes before his prosecutors have taken the customary first step of interviewing them. One witness was called before the grand jury less than a month after his name surfaced in news accounts. The special counsel even took the unusual step of obtaining a subpoena for one of Mr. Manafort's former lawyers, claiming an exception to the rule that shields attorney-client discussions from scrutiny."
Exclusive: US government wiretapped Paul Manafort, Trump's former campaign chairman, CNN Politics, Evan Perez, Shimon Prokupecz, and Pamela Brown, Monday, 18 September 2017: "US investigators wiretapped former Trump campaign chairman Paul Manafort under secret court orders before and after the election, sources tell CNN, an extraordinary step involving a high-ranking campaign official now at the center of the Russia meddling probe. The government snooping continued into early this year, including a period when Manafort was known to talk to President Donald Trump. Some of the intelligence collected includes communications that sparked concerns among investigators that Manafort had encouraged the Russians to help with the campaign, according to three sources familiar with the investigation. Two of these sources, however, cautioned that the evidence is not conclusive. Special counsel Robert Mueller's team, which is leading the investigation into Russia's involvement in the election, has been provided details of these communications. A secret order authorized by the court that handles the Foreign Intelligence Surveillance Act (FISA) began after Manafort became the subject of an FBI investigation that began in 2014. It centered on work done by a group of Washington consulting firms for Ukraine's former ruling party, the sources told CNN. The surveillance was discontinued at some point last year for lack of evidence, according to one of the sources. The FBI then restarted the surveillance after obtaining a new FISA warrant that extended at least into early this year. Sources say the second warrant was part of the FBI's efforts to investigate ties between Trump campaign associates and suspected Russian operatives. Such warrants require the approval of top Justice Department and FBI officials, and the FBI must provide the court with information showing suspicion that the subject of the warrant may be acting as an agent of a foreign power."
Facebook's openness on Russia is questioned by congressional investigators, The Washington Post, Carol D. Leonnig, Elizabeth Dwoskin, and Craig Timberg, Monday, 18 September 2017: "House and Senate investigators have grown increasingly concerned that Facebook is withholding key information that could illuminate the shape and extent of a Russian propaganda campaign aimed at tilting the U.S. presidential election, according to people familiar with the probe. Among the information Capitol Hill investigators are seeking is the full internal draft report from an inquiry the company conducted this spring into Russian election meddling but did not release at the time, said these people who, like others interviewed for this story, spoke on the condition of anonymity to discuss matters under investigation. A 13-page 'white paper' that Facebook published in April drew from this fuller internal report but left out critical details about how the Russian operation worked and how Facebook discovered it, according to people briefed on its contents. Investigators believe the company has not fully examined all potential ways that Russians could have manipulated Facebook's sprawling social media platform."
Trump pushes reform in United Nations debut and calls for 'changing business as usual,' The Washington Post, David Nakamura, Monday, 18 September 2017: "President Trump called on the United Nations to enact reforms to the world body, pledging Monday in his debut here at the annual General Assembly meetings that he and his administration will be 'partners in your work.' Speaking at the opening session of the four-day conference, Trump said the organization founded in 1945 has 'not reached its full potential' in recent years because of a bloated bureaucracy and 'mismanagement.' 'We encourage all member states to look at ways to take bold stands at the United Nations with an eye toward changing business as usual and not being beholden to ways of the past which were not working,' Trump said, flanked by U.N. Ambassador Nikki Haley and Secretary General António Guterres. Trump had spoken dismissively of multilateral institutions, including the United Nations and NATO, during his campaign, promoting an 'America first' agenda aimed at reducing the United States' interventionism abroad in favor of domestic priorities. His fellow leaders here at the annual gathering of more than 150 delegations are listening for signs of how closely Trump will align himself with the United Nations in the face of a series of international challenges, including North Korea, Syria and Iran."
Senate Passes 700 Billion Pentagon Bill, More Money Than Trump Sought, The New York Times, Sheryl Gay Stolberg, Monday, 18 September 2017: "In a rare act of bipartisanship on Capitol Hill, the Senate passed a $700 billion defense policy bill on Monday that sets forth a muscular vision of America as a global power, with a Pentagon budget that far exceeds what President Trump has asked for. Senators voted 89-9 to approve the measure, known as the National Defense Authorization Act; the House has already adopted a similar version. The vote marked the 56th consecutive year that Congress has passed the defense policy bill — a point of personal pride for Senator John McCain, the Arizona Republican who chairs the Senate Armed Services Committee, and who has spent the past week shepherding the bill on the Senate floor as he battles brain cancer."
The Senate's Military Spending Increase Alone Is Enough to Make Public College Free, The Intercept, Alex Emmons, Monday, 18 September 2017: "One of the most controversial proposals put forward by Sen. Bernie Sanders during the 2016 presidential campaign was a pledge to make tuition free at public colleges and universities. Critics from both parties howled that the pie-in-the-sky idea would bankrupt the country. Where, after all, would the money come from? Those concerns were brushed aside Monday night, as the Senate overwhelmingly approved an $80 billion annual increase in military spending, enough to have fully satisfied Sanders's campaign promise. Instead, the Senate handed President Donald Trump far more than the $54 billion he asked for. The lavish spending package gives Trump a major legislative victory, allowing him to boast about fulfilling his promise of a 'great rebuilding of the armed services.' The bill would set the U.S.'s annual military budget at around $700 billion, putting it within range of matching the spending level at the height of the wars in Afghanistan and Iraq. To put that in further perspective: If the package becomes law, U.S. military spending would exceed the total spending of its next 10 rivals put together, going off of 2016 military spending estimates from the Stockholm International Peace Research Institute."
Obamacare Repeal, Thought Dead in July, May Be Revived in the Senate, The New York Times, Robert Pear and Thomas Kaplan, Monday, 18 September 2017: "Congressional efforts to repeal the Affordable Care Act sprang back to life on Monday as Senate Republicans pushed for a showdown vote on new legislation that would do away with many of the health law's requirements and bundle its funding into giant block grants to the states. The Republican leaders of the latest repeal effort, Senators Lindsey Graham of South Carolina and Bill Cassidy of Louisiana, said their effort — considered all but impossible earlier this month — was gaining momentum. The seven-year drive to repeal President Barack Obama's signature domestic achievement appeared to collapse in July when it fell one vote short in the Senate. And the same three Republicans who opposed it then — John McCain of Arizona, Susan Collins of Maine and Lisa Murkowski of Alaska — have yet to commit to voting for the latest repeal bill.But the last-ditch repeal pitch received a jolt of energy on Monday when Gov. Doug Ducey of Arizona, a Republican, strongly endorsed it, putting pressure on Mr. McCain, who already faced the prospect of having to vote against his best friend in the Senate, Mr. Graham. Mr. Ducey had been a skeptic of earlier bills to repeal and replace the health law. Under the Graham-Cassidy bill, millions could lose coverage, Medicaid would face cuts comparable to those in earlier repeal bills, and insurers in some states could charge higher premiums to people with pre-existing conditions. But only days remain before the expiration of special parliamentary language that protects repeal legislation from a filibuster in the Senate, and pressure is mounting for another vote."
The Latest Health Care Repeal Plan Would Give States Sweeping Discretion, The New York Times, Haeyoun Park and Margot Sanger-Katz, Monday, 18 September 2017: "In a new Republican effort to repeal the Affordable Care Act, Senators Lindsey Graham of South Carolina and Bill Cassidy of Louisiana have released a plan that would essentially allow states to come up with their own health care plans using a federal block grant. The grant money would replace federal dollars currently being spent on Medicaid expansion and on subsidies to help people afford insurance under the health law, also known as Obamacare. All of this funding would expire in 2027. Like earlier Republican health care overhaul bills, the new bill would also make permanent, structural changes to the Medicaid program for beneficiaries who qualified before the expansion, converting it from an open-ended federal health care program to one that caps federal spending on each beneficiary."
Mattis Leaves the Door Open to Military Options in North Korea, The New York Times, Helene Cooper, Monday, 18 September 2017: "The United States and its allies have not shot down any North Korean missiles because Pyongyang has yet to launch one that directly threatens American or Japanese territory, Defense Secretary Jim Mattis said on Monday. But he said that could change. North Korean missiles have been falling 'in the middle of the ocean,' Mr. Mattis said. 'Were they to be aimed at Guam, or U.S. territory,' he added, 'that would elicit a different response.' The defense secretary also said he believed that the United States had found military options to handle the nuclear crisis on the Korean Peninsula that would not put the South Korean capital, Seoul, at grave risk, though he refused to elaborate on what those might be. Most military experts believe that because Seoul is only 35 miles from the demilitarized zone along the border between North and South Korea, the city and its more than 10 million inhabitants would be put in Pyongyang's immediate cross hairs for retaliation if the United States made a pre-emptive strike on the North. As a first strike would be unlikely to eliminate all of North Korea's conventional and nuclear weapons — not to mention its chemical or biological ones — American policy makers have traditionally held the view that a pre-emptive strike would likely put an untenable number of civilians at risk."
Trump Administration Rejects Study Showing Positive Impact of Refugees, The New York Times, Julie Hirschfeld Davis and Somini Sengupta, Monday, 18 September 2017: "Trump administration officials, under pressure from the White House to provide a rationale for reducing the number of refugees allowed into the United States next year, rejected a study by the Department of Health and Human Services that found that refugees brought in $63 billion more in government revenues over the past decade than they cost. The draft report, which was obtained by The New York Times, contradicts a central argument made by advocates of deep cuts in refugee totals as President Trump faces an Oct. 1 deadline to decide on an allowable number. The issue has sparked intense debate within his administration as opponents of the program, led by Mr. Trump's chief policy adviser, Stephen Miller, assert that continuing to welcome refugees is too costly and raises concerns about terrorism. Advocates of the program inside and outside the administration say refugees are a major benefit to the United States, paying more in taxes than they consume in public benefits, and filling jobs in service industries that others will not. But research documenting their fiscal upside — prepared for a report mandated by Mr. Trump in a March presidential memorandum implementing his travel ban — never made its way to the White House. Some of those proponents believe the report was suppressed. The internal study, which was completed in late July but never publicly released, found that refugees 'contributed an estimated $269.1 billion in revenues to all levels of government' between 2005 and 2014 through the payment of federal, state and local taxes. 'Overall, this report estimated that the net fiscal impact of refugees was positive over the 10-year period, at $63 billion.'"
U.S. border security with Mexico is tighter than ever, Department of Homeland Security report finds, The Washington Post, Nick Miroff, Monday, 18 September 2017: "Sneaking across the U.S. border from Mexico is tougher than ever before, and U.S. agents are catching or stopping the majority of those who attempt to do so, according to a new report by the Department of Homeland Security. The report, published last week by the agency's Office of Immigration Statistics, estimates that 55 to 85 percent of attempted illegal border crossings are unsuccessful, up from 35 to 70 percent a decade ago. In one telling sign of the difficulty, the number of illegal migrants and deportees who make repeated attempts to get in has also fallen dramatically, because so many would-be migrants are giving up. The report's findings challenge depictions of the U.S. border as a place where American law enforcement is overwhelmed and ineffective. President Trump has ordered DHS to make preparations for the construction of a wall between the United States and Mexico, and last week he met with Democratic Party leaders to negotiate additional border security improvements. The new DHS report indicates the agency has already made significant progress in its ability to stop people from sneaking in or consider trying. Arrests along the Mexico border fell to historic lows during the Obama presidency, then dropped further after Trump took office vowing a crackdown."
State Department Tightens Rules for Visas to U.S., The New York Times, Gardiner Harris, Monday, 18 September 2017: "The State Department is giving immigration and consular officials new grounds to deny entry to visitors to the United States or to kick them out if they are already here. In a cable to American embassies around the world, Secretary of State Rex W. Tillerson wrote that visitors who require a visa before entering the United States must then follow through on their stated plans for at least three months. If in that period they do something they failed to mention in an interview with a consular official — such as marry an American citizen, go to school or get a job — it will be presumed that they have deliberately lied. That would make it difficult, if not impossible, for them to renew a visa, get a new one or change their status. And if they were still in the United States, it would make those visitors eligible for deportation. Changes of plans that occur after three months may still be problematic but are not presumed to be the result of 'willful misrepresentation,' the cable said. Under previous rules, a change in plans was deemed to be misrepresentation only for the first month after arrival in the United States."
There have been protests in St. Louis for four days, but Trump hasn't acknowledged them, The Washington Post, Eugene Scott, Monday, 18 September 2017: "This is the fourth day of protests in St. Louis after the acquittal of former St. Louis police officer Jason Stockley, who had been charged with murder in the shooting of a black driver, and President Trump still hasn't said anything. He found time Sunday to retweet a GIF of himself hitting his 2016 presidential rival in the back with a golf ball, a projection of his estimated value to Twitter (approximately $2 billion) and a cartoon showing him literally bringing jobs back to the United States from overseas. But he has yet to comment — on Twitter or otherwise — on an incident that is a microcosm of one of the major conversations during the presidential campaign: the relationship between law enforcement and communities of color. In May 2016, prosecutors charged Stockley, who is white, with murder in the death of Anthony Lamar Smith in December 2011. A probable-cause statement said the former St. Louis Metropolitan Police Department officer was caught saying that he was 'going to kill this motherf‑‑‑er, don't you know it.' He was also heard telling another officer to drive into Smith's slowing car. Stockley and a fellow officer say Stockley fired when Smith didn't put his hands up and instead reached for an area where a gun was found. Prosecutors say they believe that Stockley planted a gun in Smith's vehicle."
The Trump Administration is Using the E.P.P. to Prop Up Big Coal, The New York Times, The Editorial Board, Monday, 18 September 2017: "The Trump administration is unflinching in its misbegotten campaign to protect the coal industry from what has become an obvious and inevitable decline. Eight months in, the administration has already killed, or is in the process of killing, rules that would prevent the dumping of coal mining wastes in streams, impose a temporary moratorium on new mine leases in the West, and reduce greenhouse gas emissions from coal-fired power plants — one of President Barack Obama's most important efforts to resist climate change. All of this to prop up an industry whose workers would be best served not by false promises of new mining jobs, but by aggressive programs to retrain them for a changing economy. The latest ritualistic bow from Scott Pruitt, the administrator of the Environmental Protection Agency who has presented himself as an industry savior, was to order last week a two-year postponement of the Obama administration's tighter controls on lead, mercury, arsenic and other coal plant wastes that threaten human health. Delaying the rule's effective date to November 2020, Mr. Pruitt said, merely 'resets the clock.' What it does, rather, is to try to twist the clock back to the day when coal was essentially a monopoly fuel, a day that practical-minded utility executives know is long gone. In fact, these executives are busily shutting down coal-fired plants in favor of more affordable energy sources like natural gas and wind and solar power."
Tuesday, 19 September 2017, Day 243:
With Combative Style and Epithets, Trump Takes America First to the U.N., The New York Times, Peter Baker and Rick Gladstone, Tuesday, 19 September 2017: "President Trump brought the same confrontational style of leadership he has used at home to the world's most prominent stage on Tuesday as he vowed to 'totally destroy North Korea' if it threatened the United States and denounced the nuclear agreement with Iran as 'an embarrassment' that he may abandon. In his first address to the United Nations General Assembly, Mr. Trump framed the conflicts as a test of the international system. The bombastic flourishes that generate approving roars at political events were met by stony silence, interrupted a few times by a smattering of applause, as Mr. Trump promised to 'crush loser terrorists,' mocked North Korea's leader as 'Rocket Man' and declared that parts of the world 'are going to hell.' The president's tone carried real-world implications for the future of the United Nations and the escalating confrontations with international outliers. In the space of 42 minutes, he upended decades of rhetorical support by the United States for the collective philosophy of the United Nations as he defended his America First policy. He repeatedly extolled 'sovereignty' in a setting where the term traditionally has been brandished by nations like Russia, China, Iran and North Korea to deflect criticism." See also, Donald Trump's War Doctrine Débuts, at the U.N., The New Yorker, Robin Wright, Tuesday, 19 September 2017. See also, Trump's menacing United Nations speech, annotated, The Washington Post, Aaron Blake, Tuesday, 19 September 2017.
A blunt, fearful rant: Trump's UN speech left presidential norms in the dust, The Guardian, Julian Borger, Tuesday, 19 September 2017: "Donald Trump's maiden address to the UN general assembly was unlike any ever delivered in the chamber by a US president. There are precedents for such fulminations, but not from US leaders. In tone, the speech was more reminiscent of Nikita Khrushchev, Fidel Castro or Hugo Chávez. It did echo George W Bush's 2002 'axis of evil' speech. That was delivered to a domestic audience, and there was little doubt that in his mind Trump was looking beyond the stony foreign faces looking up at him from the hall – where his customary pauses for applause were filled with uneasy silence – to the cheering crowds of supporters that carried him to his stunning electoral victory, and to the centre of the world stage. He did not even bother to mention climate change, generally seen as the greatest threat to the planet at the UN, but viewed as a liberal hoax by much of Trump's political base – a view he has encouraged over the years. The speech struck some of the darker notes of Trump's earlier rhetoric, like the 'American carnage' he described at his inauguration in January, and his evocation of an embattled western civilisation in his speech in Poland in July. All three used fear as their major key. All three bore the combative hallmark of his chief speechwriter, Stephen Miller, a nativist acolyte of Steve Bannon, Trump's former chief strategist who has left the White House but clearly still wields formidable influence."
Trump is using campaign funds and Republican National Committee funds to pay his legal bills from the Russia probe, Reuters, Karen Freifeld and Ginger Gibson, Tuesday, 19 September 2017: "U.S. President Donald Trump is using money donated to his re-election campaign and the Republican National Committee to pay for his lawyers in the probe of alleged Russian interference in the U.S. election, two people familiar with the matter told Reuters. Following Reuters exclusive report on Tuesday, CNN reported that the Republican National Committee paid in August more than $230,000 to cover some of Trump's legal fees related to the probe. RNC spokesperson Cassie Smedile confirmed to Reuters that Trump's lead lawyer, John Dowd, received $100,000 from the RNC and that the RNC also paid $131,250 to the Constitutional Litigation and Advocacy Group, the law firm where Jay Sekulow, another of Trump's lawyers, is a partner. The RNC is scheduled to disclose its August spending on Wednesday. The Trump campaign is due for a disclosure on Oct. 15. The U.S. Federal Election Commission allows the use of private campaign funds to pay legal bills arising from being a candidate or elected official. While previous presidential campaigns have used these funds to pay for routine legal matters such as ballot access disputes and compliance requirements, Trump would be the first U.S. president in the modern campaign finance era to use such funds to cover the costs of responding to a criminal probe, said election law experts." See also, The Republican National Committee is covering more than $230,000 in Trump legal fees associated with the federal investigation into Russian meddling in the 2016 election, CNN Politics, Jeremy Diamond, Tuesday, 19 September 2017.
Senate Intelligence Committee Cancels Meeting With Trump Lawyer Michael D. Cohen Over Public Comments, The New York Times, Nicholas Fandos and Matt Apuzzo, Tuesday, 19 September 2017: "The Senate Intelligence Committee on Tuesday abruptly postponed an interview with President Trump's longtime lawyer, Michael D. Cohen, shortly after the publication of his opening statement, which asserted his innocence and defended the president. Mr. Cohen was prepared to tell the committee's investigators that the president's critics were using rumors and innuendo about Russian interference in the election in an attempt to undercut Mr. Trump's presidency. But the committee shut down the closed-door hearing, accusing Mr. Cohen of 'releasing a public statement' despite 'requests that he refrain from public comment.' Later in the day, the committee's top-ranking members, Senators Richard M. Burr, Republican of North Carolina, and Mark Warner, Democrat of Virginia, said they had invited Mr. Cohen to come back for a public hearing on Oct. 25. Mr. Cohen's lawyer said his client had accepted." See also, Trump's former lawyer Michael Cohen to testify in public next month in Senate's Russia probe, The Washington Post, Karoun Demirjian and Rosalind S. Helderman, Tuesday, 19 September 2017: "Michael Cohen, a close associate of President Trump and former lawyer for his business, has agreed to speak to the Senate Intelligence Committee for a public hearing next month, after investigators abruptly canceled a private Tuesday session with him. The Oct. 25 hearing is part of the committee's ongoing investigation into Russia's interference in the 2016 election, and it came together just hours after committee investigators dismissed Cohen from the private interview. Cohen had arrived with his attorney, Steve Ryan, but left after about an hour, informing reporters waiting outside that committee staff told him they did not wish to proceed. 'We will come back for a voluntary interview whenever we can to meet with them, and we look forward to voluntarily cooperating with the House committee and with anyone else who has an inquiry in this area,' Ryan said. In a joint statement, committee Chairman Richard Burr (R-N.C.), and ranking Democrat Mark R. Warner (Va.) said the session was canceled because Cohen made public statements before his interview 'in spite of the Committee's requests that he refrain from public comment.'"
Blue States Face Biggest Cuts Under New Republican Health Care Plan, The New York Times, Haeyoun Park, Tuesday, 19 September 2017: "A new Republican plan to repeal the Affordable Care Act would give each state a federal block grant for health care using a complex formula that cuts funding for some states — including many that were won by Hillary Clinton in 2016 — according to a New York Times analysis of estimates from the Center on Budget and Policy Priorities, a left-leaning think tank. The grants would replace federal money currently being spent on Medicaid expansion and on subsidies to help people afford insurance. The bill, introduced by Senators Lindsey Graham of South Carolina and Bill Cassidy of Louisiana last week, would cause 36 states to face funding cuts in 2026."
Trump administration prepares to ease export rules for U.S. guns, Reuters, Mike Stone and Matt Spetalnick, Tuesday, 19 September 2017: "The Trump administration is preparing to make it easier for American gun makers to sell small arms, including assault rifles and ammunition, to foreign buyers, according to senior U.S. officials. Aides to President Donald Trump are completing a plan to shift oversight of international non-military firearms sales from the State Department to the Commerce Department, four officials told Reuters. While the State Department is primarily concerned about international threats to stability and maintains tight restrictions on weapons deals, the Commerce Department typically focuses more on facilitating trade. The officials from multiple agencies, speaking on condition of anonymity, say the new rules will cut government red tape and regulatory costs, boosting U.S. exports of small arms and creating jobs at home."
Chemical Industry Ally Faces Critics in Bid for Top Environmental Protection Agency Post, The New York Times, Sheila Kaplan and Eric Lipton, Tuesday, 19 September 2017: "The scientist nominated to head the federal government's chemical regulatory program has spent much of his career helping businesses fight restrictions on the use of potentially toxic compounds in consumer goods. That record is expected to figure prominently in a Senate confirmation hearing for the scientist, Michael L. Dourson, who critics say is too closely tied to the chemical industry to be its chief regulator. The source of the concern is a consulting group that Mr. Dourson founded in 1995, which has been paid by chemical companies for research and reports that frequently downplayed the health risks posed by their compounds. Four chemicals that are nearly ubiquitous in everyday products — 1,4-dioxane, 1-bromopropane, trichloroethylene and chlorpyrifos — are now under review by agency regulators to determine whether they pose a threat to public health. If confirmed, Mr. Dourson would oversee the review of some chemicals produced by companies that his firm used to represent."
Health and Human Services Secretary Tom Price took chartered aircraft on five flights last week, while his predecessors flew commercial, Politico, Dan Diamond and Rachana Pradhan, Tuesday, 19 September 2017: "In a sharp departure from his predecessors, Health and Human Services Secretary Tom Price last week took private jets on five separate flights for official business, at a cost of tens of thousands of dollars more than commercial travel. The secretary's five flights, which were scheduled between Sept. 13 and Sept. 15, took him to a resort in Maine where he participated in a Q&A discussion with a health care industry CEO, and to community health centers in New Hampshire and Pennsylvania, according to internal HHS documents. The travel by corporate-style jet comes at a time when other members of the Trump administration are under fire for travel expenditures, and breaks with the practices of Obama-era secretaries Sylvia Mathews Burwell and Kathleen Sebelius, who flew commercially while in the continental United States.  Price, a frequent critic of federal spending who has been developing a plan for department-wide cost savings, declined to comment." See also, Hill Democrats vow to probe Health and Human Services Secretary Tom Price's private flights, CNN Politics, Daniella Diaz and Rene Marsh, published on Thursday, 21 September 2017.
Wednesday, 20 September 2017, Day 244:
Special Counsel Robert Mueller Seeks White House Documents Related to Trump's Actions as President, The New York Times, Michael S. Schmidt, Wednesday, 20 September 2017: "Robert S. Mueller III, the special counsel, has asked the White House for documents about some of President Trump's most scrutinized actions since taking office, including the firing of his national security adviser and F.B.I. director, according to White House officials. Mr. Mueller is also interested in an Oval Office meeting Mr. Trump had with Russian officials in which he said the dismissal of the F.B.I. director had relieved 'great pressure' on him. The document requests provide the most details to date about the breadth of Mr. Mueller's investigation, and show that several aspects of his inquiry are focused squarely on Mr. Trump's behavior in the White House. In recent weeks, Mr. Mueller's office sent a document to the White House that detailed 13 areas in which investigators are seeking information. Since then, administration lawyers have been scouring White House emails and asking officials whether they have other documents or notes that may pertain to Mr. Mueller's requests." See also, Special counsel Robert Mueller casts a broad net in requesting extensive records from the Trump White House, The Washington Post, Carol D. Leonnig and Rosalind S. Helderman, Wednesday, 20 September 2017.
Paul Manafort, Trump's campaign manager from June to August 2016, offered to give Russian billionaire Oleg Deripaska 'private briefings' on 2016 presidential campaign, The Washington Post, Tom Hamburger, Rosalind S. Helderman, Carol D. Leonnig, and Adam Entous, Wednesday, 20 September 2017: "Less than two weeks before Donald Trump accepted the Republican presidential nomination, his campaign chairman offered to provide briefings on the race to a Russian billionaire closely aligned with the Kremlin, according to people familiar with the discussions. Paul Manafort made the offer in an email to an overseas intermediary, asking that a message be sent to Oleg Deripaska, an aluminum magnate with whom Manafort had done business in the past, these people said. 'If he needs private briefings we can accommodate,' Manafort wrote in the July 7, 2016, email, portions of which were read to The Washington Post along with other Manafort correspondence from that time. The emails are among tens of thousands of documents that have been turned over to congressional investigators and special counsel Robert S. Mueller III's team as they probe whether Trump associates coordinated with Russia as part of Moscow's efforts to interfere in the 2016 U.S. election."
Paul Manafort, Trump's former campaign manager, used Trump campaign account to email Ukrainian operative Konstantin Kilimnik, Politico, Josh Dawsey, Wednesday, 20 September 2017: "Former Donald Trump aide Paul Manafort used his presidential campaign email account to correspond with a Ukrainian political operative with suspected Russian ties, according to people familiar with the correspondence. Manafort sent emails to seek repayment for previous work he did in Ukraine and to discuss potential new opportunities in the country, even as he chaired Trump's presidential campaign, these people said. Manafort had been a longtime consultant for Viktor Yanukovych, the Ukrainian president until 2014, and his Party of Regions. During the 2016 U.S. presidential campaign, Ukrainian investigators said they had discovered evidence that Manafort received millions of dollars in off-the-books payments for his work there. In the emails to Konstantin Kilimnik, a Manafort protégé who has previously been reported to have suspected ties to Russian intelligence, the longtime GOP operative made clear his significant sway in Trump's campaign, one of the people familiar with the communications said. He and Kilimnik also met in the United States while Manafort worked for the Trump campaign, which he chaired until an August 2016 shake-up. The Washington Post reported Wednesday that the emails also showed Manafort sought to arrange briefings on the 2016 presidential race for Oleg Deripaska, a Russian billionaire with ties to the Kremlin."
Trump's Former Campaign Manager, Paul Manafort, Is Working to Promote Kurdish Independence From Iraq That the U.S. Opposes, The New York Times, Kenneth P. Vogel and Jo Becker, Wednesday, 20 September 2017: "Paul J. Manafort, the former campaign chairman for President Trump who is at the center of investigations into Russian meddling in the 2016 presidential election, is working for allies of the leader of Iraq's Kurdish region to help administer and promote a referendum on Kurdish independence from Iraq. The United States opposes the referendum, but Mr. Manafort has carved out a long and lucrative career advising foreign clients whose interests have occasionally diverged from American foreign policy. And he has continued soliciting international business even as his past international work has become a focus of the investigation by the special counsel, Robert S. Mueller III, into ties between Russia and Mr. Trump and his associates, including possible collusion between them to influence the presidential election. In fact, the work for the Kurdish group appears to have been initiated this summer around the time that federal authorities working for Mr. Mueller raided Mr. Manafort's home in Virginia and informed him that they planned to indict him. While the Kurdish referendum, scheduled for Monday, would not immediately trigger independence, the American government and the international community have expressed serious concerns about it. They fear that, if it passes overwhelmingly, as expected, it could further destabilize Iraq, damage the coalition fighting the Islamic State, and potentially spark violence in disputed areas."
How the Latest Republican Obamacare Repeal Plan (Graham-Cassidy) Would Work, The New York Times, Reed Abelson and Margot Sanger-Katz, Wednesday, 20 September 2017: "The latest Republican proposal to undo the Affordable Care Act would grant states much greater flexibility and all but guarantee much greater uncertainty for tens of millions of people. The legislation, proposed by two Senate Republicans, Lindsey Graham of South Carolina and Bill Cassidy of Louisiana, would not only reduce the amount of federal funding for coverage over the next decade, but also give states wide latitude to determine whom to cover and how. The result is a law that would be as disruptive as many of the Republicans' previous proposals, but whose precise impact is the hardest to predict. The bill would initially preserve nearly all the funding currently provided to Americans through the Affordable Care Act's state insurance marketplace subsidies and expansion of Medicaid. But starting in 2020, that funding would be reallocated to state governments as block grants. Over time, the division of money would shift among the states based on a complex formula, and the total pot would grow according to a set rate, not based on the number of people nationwide who sign up for coverage. States could use the money to replicate the programs in President Barack Obama's signature health law, or to pursue completely different health policy strategies. The bill lays out some standards for program goals, but gives states broad discretion to use the funds in a variety of ways. 'There will be clear differences between states about how they implement,' said Deep Banerjee, an analyst with Standard & Poor's. 'It will create quite a bit of uncertainty over the next few years.'" See also, Insurers Come Out Swinging Against New Republican Health Care Bill, The New York Times, Robert Pear, Wednesday, 20 September 2017: "The health insurance industry, after cautiously watching Republican health care efforts for months, came out forcefully on Wednesday against the Senate's latest bill to repeal the Affordable Care Act, suggesting that its state-by-state block grants could create health care chaos in the short term and a Balkanized, uncertain insurance market. In the face of the industry opposition, Senate Republican leaders nevertheless said they would push for a showdown vote next week on the legislation, drafted by Senators Lindsey Graham of South Carolina and Bill Cassidy of Louisiana. That puts Republican senators in a squeeze, especially those whose states would lose money under a complicated formula in the bill. Generally, it would shift federal funds away from states that have been successful in expanding coverage to states where Republican leaders refused to expand Medicaid or encourage enrollment." See also, Graham-Cassidy health-care bill would cut funding to 34 states a new report shows, The Washington Post, Amy Goldstein, David Weigel, and Juliet Eilperin, Wednesday, 20 September 2017. See also, Graham-Cassidy health-care bill is being sold as giving states flexibility, but it severely cuts federal spending on health care overall, Vox, Andrew Prokop, Wednesday, 20 September 2017. See also, Jimmy Kimmel gets heated about health-care bill and says Senator Bill Cassidy 'lied right to my face,' The Washington Post, Emily Yahr, Wednesday, 20 September 2017. See also, Kimmel, not Cassidy, is right on health care, analysts say, Politico, Dan Diamond, Wednesday, 20 September 2017.
Trump Pushes to Revisit Iran Nuclear Deal and Asks Allies to Help, The New York Times, Peter Baker and Rick Gladstone, Wednesday, 20 September 2017: "President Trump is seeking to revisit the nuclear agreement with Iran to toughen its provisions rather than scrap it right away as he has threatened, enlisting allies to pressure Tehran to return to the negotiating table, administration officials said Wednesday. Mr. Trump, who denounced the agreement in a speech to the United Nations General Assembly this week as an 'embarrassment to the United States,' wants to expand on it by extending its time frame and imposing new limits on Iran's development of ballistic missiles. Although European officials strongly back the current deal, some signaled openness to negotiating a separate follow-up agreement. The maneuvering suggested a possible path forward for Mr. Trump short of abandoning the accord, but it remains uncertain whether he can reach consensus with the European allies, much less with Russia and China, the deal's other patrons. Iran on Wednesday ruled out revisiting the agreement as President Hassan Rouhani declared it a 'closed issue' and warned that if the United States pulled out, Iran might resume uranium enrichment."
Taxpayer dollars fund most oversight and cleanup costs at Superfund sites, The Washington Post, Bryan Anderson, Wednesday, 20 September 2017: "Over the past 20 years, American taxpayers have spent more than $21 billion in cleanup and oversight costs for properties polluted by dangerous wastes, known as Superfund sites, while hundreds of companies responsible for contaminating water paid little to nothing, an analysis of congressional budget data shows. The Superfund program, established in 1980, was meant to hold industries and businesses — such as landfill operators, chemical companies and manufacturers — accountable for polluting communities across the country. For years, petroleum, chemical and corporate taxes imposed by Congress funded the vast majority of the Superfund program, including expensive cleanups. But since the Superfund taxes expired in 1995, the burden of paying the costs shifted dramatically. Today, most of the program's funding comes through taxpayer dollars, according to data reviewed by News21, a national investigative reporting project."
Thursday, 21 September 2017, Day 245:
Facebook to Turn Over More Than 3,000 Russia-Linked Ads to Congressional Committees Investigating the Kremlin's Influence Operation During the 2016 Presidential Campaign, The New York Times, Scott Shane and Mike Isaac, Thursday, 21 September 2017: "Under growing pressure from Congress and the public to reveal more about the spread of covert Russian propaganda on Facebook, the company said on Thursday that it was turning over more than 3,000 Russia-linked ads to congressional committees investigating the Kremlin's influence operation during the 2016 presidential campaign. 'I care deeply about the democratic process and protecting its integrity,' Facebook's chief executive, Mark Zuckerberg, said during an appearance on Facebook Live, the company's video service. He added that he did not want anyone 'to use our tools to undermine democracy.'… The announcement that Facebook would share the ads with the Senate and House intelligence committees came after the social network spent two weeks on the defensive. The company faced calls for greater transparency about 470 Russia-linked accounts — in which fictional people posed as American activists — which were taken down after they had promoted inflammatory messages on divisive issues. Facebook had previously angered congressional staff by showing only a sample of the ads, some of which attacked Hillary Clinton or praised Donald J. Trump. Facebook's admission on Sept. 6 that Russian agents covertly bought ads on the site during last year's campaign has brought intense scrutiny on the social network and on Twitter, entangling both companies in the investigation by Robert S. Mueller III, the special counsel. Both companies have turned over detailed data to Mr. Mueller. The disclosure of the ads also raised the possibility of future regulation of political advertising on social media platforms. This week, congressional Democrats asked the Federal Election Commission to advise on ways to prevent illicit foreign influence on American elections via social media, including possible new laws or regulations." See also, Facebook to turn over thousands of Russian ads to Congress, reversing decision, The Washington Post, Craig Timberg, Carol D. Leonnig, and Elizabeth Dwoskin, Thursday, 21 September 2017.
Kim Jong-un, North Korea's Leader, Called Trump a 'Mentally Deranged U.S. Dotard After Trump Called Kim 'Rocket Man,' The New York Times, Choe Sang-Hun, Thursday, 21 September 2017: "Responding directly for the first time to President Trump's threat at the United Nations to destroy nuclear-armed North Korea, its leader called Mr. Trump a 'mentally deranged U.S. dotard' on Friday and vowed the 'highest level of hard-line countermeasure in history.' The rejoinder by the leader, Kim Jong-un, who is about half as old as Mr. Trump, 71, added to the lexicon of Mr. Kim's choice of insults in the escalating bombast between the two. 'A frightened dog barks louder,' Mr. Kim said in a statement, referring to Mr. Trump's speech at the United Nations General Assembly on Tuesday in which he vowed to annihilate North Korea if the United States were forced to defend itself or its allies against it. 'He is surely a rogue and a gangster fond of playing with fire, rather than a politician,' Mr. Kim said. His statement, carried by North Korea's official Korean Central News Agency on Friday morning in Pyongyang, the North's capital, was his first direct response to Mr. Trump's speech."
Trump Slaps Sanctions on North Korea and Seeks 'Denuclearization,' NBC News, Ali Vitali, Thursday, 21 September 2017: "President Donald Trump announced Thursday that he had signed an executive order authorizing additional sanctions against North Korea by targeting individuals, companies and financial institutions that do business with what he called 'this criminal rogue regime.' Speaking before a meeting with South Korean President Moon Jae-in and Japanese Prime Minister Shinzo Abe, Trump said his goal is the 'complete denuclearization' of North Korea and added that the nation led by Kim Jong Un posed a 'grave threat to peace and security in our world.'
Trump Is Poised to Drop Some Limits on Drone Strikes and Commando Raids, The New York Times, Charlie Savage and Eric Schmitt, Thursday, 21 September 2017: "The Trump administration is preparing to dismantle key Obama-era limits on drone strikes and commando raids outside conventional battlefields, according to officials familiar with internal deliberations. The changes would lay the groundwork for possible counterterrorism missions in countries where Islamic militants are active but the United States has not previously tried to kill or capture them. President Trump's top national security advisers have proposed relaxing two rules, the officials said. First, the targets of kill missions by the military and the C.I.A., now generally limited to high-level militants deemed to pose a 'continuing and imminent threat' to Americans, would be expanded to include foot-soldier jihadists with no special skills or leadership roles. And second, proposed drone attacks and raids would no longer undergo high-level vetting. But administration officials have also agreed that they should keep in place one important constraint for such attacks: a requirement of 'near certainty' that no civilian bystanders will be killed. The proposal to overhaul the rules has quietly taken shape over months of debate among administration officials and awaits Mr. Trump's expected signature. Despite the preservation of the protections for civilians, the other changes seemed likely to draw criticism from human rights groups."
Every contact between Trump's team and Russian actors, graphed, The Washington Post, Philip Bump, Thursday, 21 September 2017: "On Wednesday, The Washington Post reported another contact between someone connected to Donald Trump's 2016 presidential campaign and a person with links to the Russian government. In this case, it was Paul Manafort, who was a chairman of Trump's campaign. While in that role, he emailed with a longtime business associate of his, suggesting that, if desired, a private briefing on the campaign could be arranged for the oligarch Oleg Deripaska. Two weeks later, Trump accepted his party's presidential nomination. Again: This was just one of many such connections. None of these contacts by themselves prove that Trump's team was intentionally working with Russian agents to ensure his victory in November. (Though the June 9 meeting at Trump Tower that was predicated on information from the Russian government certainly  shows some willingness to do so.) Because there is a question about such a relationship, though, we thought it appropriate to map out where and when Russian interests overlapped with Trump's team."
Skadden, a Big New York Law Firm, Faces Questions on Work With Paul Manafort, Trump's Former Campaign Chairman, The New York Times, Kenneth P. Vogel and Andrew E. Kramer, Thursday, 21 September 2017: "Five years ago, Paul Manafort arranged for a prominent New York-based law firm to draft a report that was used by allies of his client, Viktor Yanukovych, the Russia-aligned president of Ukraine, to justify the jailing of a political rival. And now the report is coming back to haunt it. The Justice Department, according to two people with direct knowledge of the situation, recently asked the firm, Skadden, Arps, Slate, Meagher & Flom, for information and documents related to its work on behalf of Mr. Yanukovych's government, which crumbled after he fled to Russia under pressure. The request comes at a time when Mr. Manafort, his work for Mr. Yanukovych's party and for Russian and Ukrainian oligarchs as well as the handling of payments for that work have become focal points in the investigation of the special counsel, Robert S. Mueller III, into Russian meddling in the 2016 presidential election, and connections between Russia, Mr. Trump and his associates. It's unclear if the Justice Department's request to Skadden, as the firm is known, is part of Mr. Mueller's inquiry. But the interest from prosecutors in what Skadden did for the Ukrainian government is one indication of the wide-ranging nature of the inquiries related to Mr. Manafort. It also highlights the risks associated with advising authoritarian governments overseas, a lucrative sideline among Washington lawyers, lobbyists and public relations consultants."
New Effort to Kill Obamacare (Graham-Cassidy Bill) Is Called 'the Most Radical,' The New York Times, Kate Zernike, Reed Abelson, and Abby Goodnough, Thursday, 21 September 2017: "For decades, Republicans have dreamed of taking some of the vast sums the federal government spends on health care entitlements and handing the money over to states to use as they saw best. Now, in an 11th-hour effort to repeal the Affordable Care Act, the party has come up with a way to repackage the funding for the law it loathes into a trillion-dollar pot of state grants. The plan is at the core of the bill that Senate Republican leaders have vowed to bring to a vote next week. It was initially seen as a long-shot effort by Senators Lindsey Graham and Bill Cassidy. But for all its ad hoc, last-minute feel, it has evolved into the most far-reaching repeal proposal of all. It dismantles the Medicaid expansion and the system of subsidies to help people afford insurance. It gives the states the right to waive many of the consumer protections under President Obama's landmark health law. And it removes the guaranteed safety net that has insured the country's poorest citizens for more than half a century. 'This is by far the most radical of any of the Republican health care bills that have been debated this year,' said Larry Levitt, a senior vice president with the nonpartisan Kaiser Family Foundation. 'And the reason for that is that this would be the biggest devolution of federal money and responsibility to the states for anything, ever.'"
Trump praises the health care system of Nambia, a nonexistent African country, CNN, Faith Karimi, Thursday, 21 September 2017: "President Donald Trump lavished praise on the health care system of Nambia during a speech at the United Nations. But there's one little problem — there's no such country. 'In Guinea and Nigeria, you fought a horrifying Ebola outbreak,' Trump told African leaders gathered Wednesday. 'Nambia's health system is increasingly self-sufficient.' Trump mentioned Nambia twice during the session attended by leaders of several nations, including Ghana, Namibia and Uganda. The gaffe lit up social media, with many speculating whether he meant Namibia, Zambia or Gambia. The White House later clarified that Trump was talking about the southwestern African nation of Namibia. Namibia dodged the Ebola outbreak that killed thousands in Africa two years ago and affected several nations, including the United States."
California files a lawsuit to stop construction of the border wall with Mexico, taking aim at one of Trump's key campaign promises, The Washington Post, Rachel Chason, Thursday, 21 September 2017: "California took aim Wednesday at one of President Trump's key campaign promises: building a border wall. A lawsuit filed by the state to stop construction of the wall argues that Trump and the Department of Homeland Security violated federal environmental standards and unconstitutionally overrode the power vested in states. The move by the country's most populous state — which has emerged as a global force in the fight against climate change and a center of opposition to the president — is the most recent obstacle Trump faces in fulfilling his promise to build a 'big, beautiful wall' along the United States-Mexico border. 'No one gets to ignore the laws,' California Attorney General Xavier Becerra (D) said at a news conference Wednesday. 'Not even the president of the United States.'"
Health and Human Services Secretary Tom Price has taken at least 24 flights on private charter planes at taxpayers' expense since early May, Politico, Rachana Pradhan and Dan Diamond, Thursday, 21 September 2017: "Health and Human Services Secretary Tom Price has taken at least 24 flights on private charter planes at taxpayers' expense since early May, according to people with knowledge of his travel plans and a review of HHS documents. The frequency of the trips underscores how private travel has become the norm — rather than the exception — for the Georgia Republican during his tenure atop the federal health agency, which began in February. The cost of the trips identified by POLITICO exceeds $300,000, according to a review of federal contracts and similar trip itineraries. Price's use of private jets represents a sharp departure from his two immediate predecessors, Sylvia Mathews Burwell and Kathleen Sebelius, who flew commercially in the continental United States…. [Price] chartered flights even to cities with frequent, inexpensive commercial options.